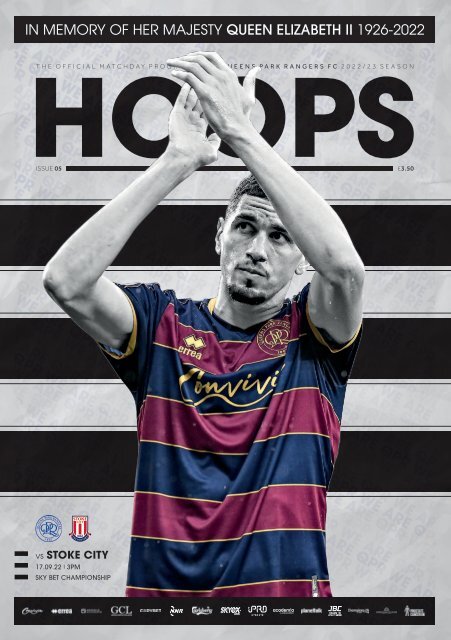 Queens Park Rangers v Stoke City
Official Matchday Programme of Queens Park Rangers | Issue 05 Queens Park Rangers v Stoke City | Sky Bet Championship Saturday 17th September, 2022 | KO 3pm | Loftus Road
Official Matchday Programme of Queens Park Rangers | Issue 05
Queens Park Rangers v Stoke City | Sky Bet Championship
Saturday 17th September, 2022 | KO 3pm | Loftus Road
SHOW MORE
SHOW LESS
Create successful ePaper yourself
Turn your PDF publications into a flip-book with our unique Google optimized e-Paper software.
IN MEMORY OF HER MAJESTY QUEEN ELIZABETH II 1926-2022

THE OFFICIAL MATCHDAY PROGRAMME OF QUEENS PARK RANGERS FC 2022/23 SEASON

ISSUE 05 £3.50

vs STOKE CITY

17.09.22 | 3PM

SKY BET CHAMPIONSHIP
---
Her Majesty, Queen Elizabeth II

(1926 – 2022)
---
hoops

4 WWW.QPR.CO.UK // @QPR // @OFFICIALQPR // OFFICIALQPRFC
---
#QPRSTO

@QPR on Twitter

Contents

hoops

CLUB DIRECTORY

Queens Park Rangers FC

QPR Holdings Ltd, Loftus Road,

South Africa Road, London, W12 7PJ

Main Switchboard: 020 8743 0262

Commercial Sales: 020 8740 2560

Superstore: 020 8749 6862

Direct Mail Order Line: 0870 240 4547

Community Trust: 020 8740 2509

Official Website: www.qpr.co.uk

STAFF

QPR FC/QPR Holdings Ltd Chairman:

Amit Bhatia

QPR Holdings Ltd Vice-Chairmen:

Tony Fernandes, Ruben Gnanalingam

Board members:

Tony Fernandes, Ruben Gnanalingam,

Amit Bhatia, Richard Reilly

CEO: Lee Hoos

Financial Director: Ruban Ghandi

Director of Football: Les Ferdinand

Head Coach: Michael Beale

Club Ambassador: Andy Sinton

Club Historian: Chris Guy

OFFICIAL TWITTER

Queens Park Rangers @QPR

QPR+ Pass @QPRPlusPass

QPR in the Community Trust

@QPRtrust

QPR Women @QPRWFC

PROGRAMME

Editor:

Ben Kosky

Contributors:

Tony Incenzo, Simon Cheshire,

Lennie Harvey

Designed by:

Thomas Ridge

This programme was produced on

behalf of Queens Park Rangers by

Ignition Sports Media.

06 14

25 36

06 THE BOSS

Words from Michael Beale

10 NEWS + MESSAGES

All the latest from W12

34 MAGIC MOMENT

Webb's late winner against Stoke

36 30 YEARS ON

How Ray remembered 92/93

www.ignitionsportsmedia.com

Printed by: Stephens & George Print Group

The views of this publication are not necessarily the

views of Queens Park Rangers Football Club. Material

in this publication is copyrighted and may only be

reproduced with written permission of Queens Park

Rangers Football Club. All information correct at

time of print.

16 THE BIG READ

Interview with Leon Balogun

22 ANDY SINTON

Our ex-winger pens his column

25 VISITING W12

A look at our opposition

48 ONE OF 'R' OWN

Focusing on our U18s

52 JUNIOR HOOPS

Test your knowledge

62 FIXTURES & RESULTS

Stay updated this season

Please note due to print deadlines this edition was printed before the match against Waford

OFFICIALQPRFC // @OFFICIALQPR // @QPR // WWW.QPR.CO.UK

5
---
hoops

OUR HEAD COACH SETS THE SCENE

FOR TODAY'S GAME...

Like everyone around the country, if not the

world, I was greatly saddened when I learned

of the passing of Queen Elizabeth II last week.

For the vast majority of us, the Queen was the

only monarch we'd ever known. Not only was she

our Queen, but also a mother, grandmother and

great-grandmother and I think we all appreciate

that in life family comes first. In respect of the

Queen's passing, it was only right and proper that

football fixtures were postponed last weekend.

Today we're back in action at Loftus Road and

I'd like to warmly welcome Stoke City, Alex Neil

and his staff. Of course we've already come up

against Alex this season when he was in charge at

Sunderland, a club where he did fantastically well –

and I've no doubt he will bring a very strong Stoke

squad to test us this afternoon.

It seems a while ago now but, since my last

programme notes, the transfer window has closed

and we know what our squad's going to look like, at

least until January.

I'm very pleased with the players we've

brought in and, when everyone's fit, I think we'll

have a lot of competition in the squad. But I'm also

really delighted that we've kept all our key players

at the club.

The two we brought in towards the end of the

window are players I've worked with previously,

albeit at different stages of their careers. Leon

Balogun is a Nigeria international with experience

in the Bundesliga and Premier League, as well as

playing in a Scottish Premiership title-winning side,

while Tim Iroegbunam joins us fresh from making

his debut in the Premier League for Aston Villa and

winning the European Under-19 Championships.

I'm delighted to be working with Leon and Tom

6 WWW.QPR.CO.UK // @QPR // @OFFICIALQPR // OFFICIALQPRFC
---
hoops

OFFICIALQPRFC // @OFFICIALQPR // @QPR // WWW.QPR.CO.UK

7
---
hoops

errea.com

We stand for Clean sport.

Even for your skin.

Sport is the most beautiful thing in the world, and nothing must be allowed to pollute that beauty. That is why, besides developing

increasingly high-performance materials that have a low impact on the environment, we at Erreà are the first teamwear company in

Europe to have been awarded STANDARD 100 by OEKO-TEX ® certification. This certification sets extremely strict limits for

substances harmful to health, which is why our fabrics are highly safe in all conditions. With Erreà, sport and health run side by side.

8 WWW.QPR.CO.UK // @QPR // @OFFICIALQPR // OFFICIALQPRFC
---
hoops

again and I know, both from their training sessions

and match time, they are already greatly valued by

their team-mates.

I'm writing prior to our trip to Millwall, which was

due to be our first game since we went down to a

1-0 defeat at Swansea. That was a disappointing

result, especially coming off a really positive week

when we put in two top performances against

Watford and Hull, scoring six goals and playing

some very good football. Overall, you'd have to

say our August goal of the month competition

was one for the ages – we scored some wonderful

goals and we're showing a lot of promise.

Looking at the season so far, it's brought us a lot

of highs and some lows, some encouragement

but also some warnings. With the type of football

we played against Watford and Hull, the energy

we expended and the intensity we played at for

long periods, we need to make sure we recover

between games. It's difficult to change a winning

team – the temptation is always there to keep the

same side, but with hindsight at Swansea maybe

we did lack a bit of the aggression and running

power we'd shown at other times. If we have a

style of play involves high, intense pressing and

running, our preparation and recovery between

games is going to be vital.

An interesting stat I've learned is that we've used

the most players in the Championship so far – 23.

That's come about through a mixture of trying

to implement our philosophy, giving all players a

chance to show what they can do and also injuries.

I'm pleased that the injury situation is continuing

to ease and we're pleased to have Luke Amos and

Jake Clarke-Salter back in training now.

All three games we've lost so far have been

narrow 1-0 defeats that could have gone in our

favour. We need to find the extra inches that turn

those defeats into points and draws into wins

because we're in a league where, as the saying

goes, anyone can beat anyone. Fulham, who won

the league last year, lost 10 games, Luton in sixth

place lost 13 and we lost 18. We believe we're

capable of winning against anyone but we need to

keep improving – and the most important thing is

always to prepare for the next game.

Come on you R's!

OFFICIALQPRFC // @OFFICIALQPR // @QPR // WWW.QPR.CO.UK

9
---
hoops

TOMMY

Best wishes to QPR

fan Tommy Murphy, who

is back in the ring for his

second professional bout

later this month! Tickets

are available direct from

Tommy's Instagram

and Twitter -

@TMURPHY1511.

MILLIE

Happy 17th birthday to

Millie Gale, a season ticket

holder in the Loft Upper.

Love from adopted nan

Sue Russell and nanny

Jackie Gale xx

PAUL

Wishing Paul 'Spenny'

Spencer a very happy

50th! Thanks for being

the best hub and dad!

Love from Sue, Harry,

George and all the family.

BERTIE

Happy ninth birthday

to Junior Hoop Bertie

Baldry, who is celebrating

at today's game with his

friends Max and Alfie.

Bertie's favourite player is

Jimmy Dunne.

Have a great day! Love

from mum, dad, Gracie

and Talulah.

RYAN

Happy 11th birthday to

Ryan Price, from your

whole family. Hope the R's

can get a win for you today!

ZAVANAH

Happy fifth birthday to

Zavanah Carroll, lots of

love from Daddy, Sacha,

Aiden and Nanny. Have

an amazing day! Come on

you Rrrrrr's.

KUNDAN & NIKA

Happy birthday to Kundan

and Nika Mulchandani!

The twins, who are both

season ticket holders in

the Loft Upper, turned 14

last week.

10 WWW.QPR.CO.UK // @QPR // @OFFICIALQPR // OFFICIALQPRFC
---
hoops

JAMES

Happy 21st birthday to

James Reeves. James

comes from a family of

QPR fans and has been

a season ticket holder in

the West Paddock for over

10 years.

He is pictured making his

first appearance in the

matchday programme,

back in the 2004/05

season! Love Dad,

Jemma, George, Lizzie

and Sophia xx.

LEO

Happy sixth birthday to

Leo Bousfield, from ALL of

the W12 Family! And a cake

at half-time or similar?

You da best!!!!

CHARLIE

Happy birthday to Charlie

Ellington, who has just

turned eight. Charlie,

whose favourite players

are Chris Willock and Ilias

Chair, is pictured wearing

the ideal birthday gift – our

new away kit!

COLIN JAMES

CARPENTER

(31.08.48-24.07.22)

Our husband, dad and

grandad. To him Loftus

Road was home, a magical

place which he supported

every day of his life. From

working on the turnstiles

aged 14, forward 50

years and still the biggest

supporter of his beloved

R's. This club will always

have a special place in our

family's hearts.

MARTYN

Congratulations to Martyn

Millard, who is marrying

Natalie King in October, on

your stag do today! Enjoy

your special day here at

QPR. Love Kirsty Xxx

NORMA WEST

My mother Norma

West, who was lately a

season ticket holder in

X Block, died on Sunday

7th August. She will

be sadly missed by her

daughter Nicola and

grandson Daniel, both R's

fans. She will no doubt

be supporting the R's

from heaven with her

granddaughter Josie and

husband Rob, also former

season ticket holders.

RAY LEVELL

The club sends deepest

sympathy to the family

and friends of Ray Levell,

who sadly passed away

recently. Ray was a season

ticket holder for over 50

years and his support will

be greatly missed.

ALAN

Happy 40th birthday Alan

Fletcher! Lots of love from

your boys Franklin, Landon

and Beau Xxx. COME ON

U'RRRRRRRRRSSSSSSS!

OFFICIALQPRFC // @OFFICIALQPR // @QPR // WWW.QPR.CO.UK

11
---
hoops

SPELTHORNE RANGERS

For any QPR fans based in the south of France, Spelthorne

Rangers are in action tomorrow morning at the Stade

Esperanza, Marseille.

The team, who are made up of QPR supporters and play in the

Chiswick & District Football League, stage a game in a different

country each year – with Sunday's game, kick-off 11am, being

the 29th in the series.

For more information, contact Brian Astridge at astridge@

hotmail.co.uk or visit Twitter @SalmonsFC or Instagram

spelthornerangersfc

The team are pictured last year at Scotland's national teams

training facility Oriam, where they played a Hearts Legends

including ex-professionals Gary Wales, Neil Jancyzk, Colin

Cameron, Paul Gallagher, Ashley Carse and Elliot Smith.

JOHN

Huge, happy 80th birthday

to John Allen!

John, who grew up in

White City and attended

Christopher Wren School

on Bloemfontein Road, is a

lifelong QPR supporter.

We all hope you have the

most amazing day and

can't wait to celebrate you.

All our love, always

Dan, Stuart, Louise, Lucy

and all the kids xxx

NOAH

Happy seventh birthday

to Noah Walsh! Enjoy the

game today. You R's!! Love

Mummy, Daddy, Isla, Uncle

Paul and Grandad xxx

GEORGE

Here's QPR's No 1 keeper

– with his idol, Seny Dieng!

Happy 12th birthday to

George Jenkins, have a

fantastic day.

Lots of love Mum, Dad,

Ellie and grandparents x

MARK HARRIS

Happy 60th birthday to

R Block season ticket

holder Mark Harris, a

QPR supporter since

being knee-high to a

grasshopper.

We hope you have a

fantastic day and your

boys do you proud. Love

from your wife Linda, kids

Kimberley and Richard,

Mum and not forgetting

Lofty the dog xxx

12 WWW.QPR.CO.UK // @QPR // @OFFICIALQPR // OFFICIALQPRFC
---
hoops

KIAN

NAGLE

Age 11

Favourite

Player:

Chris Willock

DARCIE

To Darcie, happy 14th

birthday. Love you lots

Mum, Dad, Katie and

Riley xx

CHARLOTTE

Happy birthday to

Charlotte Quigley, who is

celebrating the big day in

the W12 club with Mum &

Dad. Have a great day!

JUDE

Happy eighth birthday

Jude Sharman. You make

us smile every day, never

change. Have a fantastic

day on Monday. Lots &

lots of love. Mum, Dad,

Freddie and River.

FRANK

PORTER

Age 11

Favourite

Player:

Jimmy

Dunne

JAKE BURKE

Age 9

Favourite Player:

Osman Kakay

OLLIE BURKE

Age 11

Favourite Player:

Jimmy Dunne

HARRY BURKE

Age 7

Favourite Player:

Lyndon Dykes

ELI FERRER

Age 7

Favourite

Player:

Ilias Chair

JACK

Happy 14th birthday to

Jack Gatrell, a season

ticket holder in the Loft

Lower. All our love, Mum

and Dad xxx

CHARLIE STONE

Age 13

Favourite Player: All of them!

JACK STONE

Age 10

Favourite Player: Ilias Chair

LOLA

STEVENSON-

BREAGAN

Age: 10

Favourite

player:

Lyndon Dykes

OFFICIALQPRFC // @OFFICIALQPR // @QPR // WWW.QPR.CO.UK

13
---
hoops

14 WWW.QPR.CO.UK // @QPR // @OFFICIALQPR // OFFICIALQPRFC
---
hoops

TV INTERVIEW ROOMS

THERE are four television

interview rooms at Loftus

Road – situated beneath the

South Africa Road Stand in the

corridors between the players'

tunnel and the main reception.

These rooms were created

in order to meet modern

TV requirements when QPR

returned to the Premier League

in 2011.

The rooms are quite compact

and contain just enough space

for the player or manager

being interviewed, as well

as the accompanying club

press officer, the broadcaster

asking the questions and

the cameraman filming the

interview.

There is a backdrop of

advertising boards depicting

the logos of sponsors and

partners for both QPR and the

Football League.

These rooms get very warm

due to the powerful TV lights

overhead, so nobody stays

in there longer than is totally

necessary.

They are sometimes used for

radio interviews as well.

OFFICIALQPRFC // @OFFICIALQPR // @QPR // WWW.QPR.CO.UK

15
---
hoops

16 WWW.QPR.CO.UK // @QPR // @OFFICIALQPR // OFFICIALQPRFC
---
hoops

INTERVIEW: BEN KOSKY

Making an

IMPACT

EXPERIENCED DEFENDER LEON BALOGUN

MADE HIS FIRST APPEARANCE IN A QPR SHIRT IN

OUR RECENT GAME AT SWANSEA. THE FORMER

BRIGHTON AND GLASGOW RANGERS PLAYER

OUTLINES HIS REASONS FOR JOINING THE R'S

– AND REVEALS A MOVE TO W12 MIGHT HAVE

HAPPENED A FEW YEARS EARLIER…

>

OFFICIALQPRFC // @OFFICIALQPR // @QPR // WWW.QPR.CO.UK

17
---
hoops

Leon, you made a brief debut for QPR at

Swansea – how did you feel it went?

It was only 10 minutes, but from a personal point

of view I was very grateful for that. It's been a

tough couple of months, having no team, so

it was nice to be back competing again, even

though unfortunately it wasn't the result we were

hoping for.

It was your first game since helping the 'other'

Rangers to win the Scottish FA Cup final in May.

When you don't do a pre-season, how much

difference does that make in terms of match

sharpness?

Obviously you don't have the daily input and

training. Being in certain spaces and reading

situations and competing physically are things

you can't replicate by yourself. After a month

I started to play five-a-side in Glasgow with a

few mates and I met a chap named Billy from

the university there. Being a Rangers fan, he

kindly allowed me to use their facilities and that

helped me to do box-to-box runs and more

specific stuff. What I was able to work on was a

fitness foundation and I think that went really

well, overall I never felt like I was too far out.

But the first 10 days I had with the team here

were crucial, the legs are coming back and I'm

reaching a level now where it's literally a case of

getting the last few per cent.

You enjoyed a successful two years at Ibrox,

playing under Steven Gerrard and Mick Beale

– was Mick's presence at QPR a key reason for

your decision to join the club?

Definitely one of the main reasons. It always

helps if you've worked with a manager before

and particularly if you've done so successfully. I

remember I wrote him a message when he went

to Aston Villa – we always had a good relationship

and there were things I missed about him. I

don't think it was easy for them to leave their

babies behind in Glasgow! Mick's football brain is

incredible and he knows how to treat his players

well. As you can see after these first few games,

he's also very fair and honest in his analysis.

I knew a bit about QPR anyway because I was

talking to the club a few years ago, before I went

to Glasgow. I've always kept an eye on them and

I know they have a great history. But what Mick

presented to me made me feel that, with my

experience and what I've still got to give, it would

be amazing to be involved.

18 WWW.QPR.CO.UK // @QPR // @OFFICIALQPR // OFFICIALQPRFC
---
hoops

Did you particularly want squad number 26, the

same shirt you wore in Glasgow – or is it just

coincidence?

There's not a particular story to number 26! I

just took that number at Ibrox and it went quite

well for me, so when Gary the kitman said 26 was

free and asked if I wanted it, I said 'brilliant'.

Although you've spent most of your career as a

central defender, you started out at right-back.

Can you believe how the requirements of that

role have changed over the years?

I had my breakthrough in professional football

in that position and I think that's when the

transition started – so I probably jumped ship

at the right time! It was quite demanding, to

work up and down the line all game and I think

there were quite a few games when I ran more

than 12k. When you look at the likes of Trent

Alexander-Arnold and James Tavernier, who I

played with last season – as well as full-backs like

ours – they're extremely busy all game and their

level of fitness is remarkable. The tricky side is,

you cannot neglect the fact that you're still a

defender in the first instance. It's a big ask.

OFFICIALQPRFC // @OFFICIALQPR // @QPR // WWW.QPR.CO.UK

19
---
hoops

20 WWW.QPR.CO.UK // @QPR // @OFFICIALQPR // OFFICIALQPRFC
---
hoops

What were your impressions of the

Championship from your previous spell at this

level, when you played for Wigan back in 2020?

I'm not sure I got a proper taste of the league

because it was when we first went into lockdown

and obviously the games were not coming as

thick and fast as they are now! But I enjoyed it at

Wigan, if it hadn't been for that bitter scenario

with administration I think it would have been a

really successful story for the club.

Given the competitive nature of this division,

how should we approach today's game?

I think complacency is often your biggest enemy.

Swansea didn't come off the back of a great run

when we played them and maybe we dropped our

standards, not massively but a little bit. We still had

enough opportunities to take away a point but it

showed you cannot afford to take any game lightly.

One thing I've learnt about English football is

that you have to earn the right to play, over and

over again. If you think you can take your foot off

the gas because of your last few performances,

you get found out very quickly. I don't think that's

something that will play a massive part in our

mentality as a group.

You've had plenty of success at club level

recently, but narrowly missing out on the World

Cup with Nigeria must have been a blow. Do

you still have ambitions to play in another major

international tournament?

It's quite demanding – the travelling and

everything does take its toll, but at the same

time I really do enjoy playing at international

level. I've been part of the team for eight years

and probably in my mind I thought I'd play in

another World Cup and then clear the way for

younger players. The way we went out, though…

you can't finish on a low. There's another

AFCON coming up soon and I'm going to try

and be there if I can. I'm definitely not done with

international football.

OFFICIALQPRFC // @OFFICIALQPR // @QPR // WWW.QPR.CO.UK

21
---
hoops

SINTON

OUR CLUB AMBASSADOR'S

VIEWS ON ALL THINGS QPR…

Good afternoon everyone and welcome

back to Loftus Road for today's game

against Stoke City.

There is only one place to start and that is with the

sad passing of Her Majesty Queen Elizabeth II.

Like the rest of the nation, I feared the worst

when news started to break last week that

there were real concerns for her health and

that members of the Royal Family were making

their way to Balmoral to be with her. Over the

next few hours I certainly listened to any news

updates I could to find out as much as possible

and I was deeply shocked and saddened when

the death of the Queen – our Queen – was

announced later in the day.

The Queen has been there throughout my

whole lifetime and, in terms of a monarch, she

was all I had ever known from a young child. It

just felt she would go on and be with us for ever.

Sadly that proved not to be the case and with her

sad passing we welcome a new King in Charles III

to the throne as we witness a really historic and

momentous time unfolding before us all.

You just had to see the tributes that have

been made and the outpouring of sorrow and

sadness, not only throughout our nation and

the Commonwealth but across the world, to

see how much the Queen was admired.

As the news of her passing started to sink in

and as we watched the television coverage, I am

sure millions of people like myself took time to

reflect on all things dear to us in our own lives.

We may have lost loved ones ourselves over

the years, which is always extremely sad and

leaves us with only memories to treasure. As I

followed the fast-moving events that were and

still are taking place, what really struck me most

was that here was the Queen gone forever,

mourned across the globe by millions, but she

was a mother, a grandmother and a greatgrandmother

that a family had lost and were

grieving for.

My thoughts and prayers are with all the Royal

Family at this sad and difficult time for them all.

To reign for 70 years is remarkable in itself.

The Queen has been a constant in our everchanging

lives and was a source of hope and

inspiration to us all, serving our country with

great dedication, loyalty, dignity and grace.

We have a chance this afternoon to pay our

respects together to a remarkable lady that

history will always remember.

As our nation mourns – may she rest in peace.

Today's game against Stoke will, as always, be

a very tough encounter and we will need to

be at our best to gain the win we are hoping

22 WWW.QPR.CO.UK // @QPR // @OFFICIALQPR // OFFICIALQPRFC
---
hoops

for. Hopefully we will go into the game after a

positive result and performance at Millwall in

midweek. I write these notes prior to that game

so do not know the outcome.

Stoke have made an indifferent start to the

season but will come here full of confidence

after a superb away victory at Hull City in

midweek. They have a very talented squad and

an excellent manager in Alex Neil, who joined

after leaving Sunderland in August, so they will

provide tough opposition this afternoon.

They are a big club at this level, with an

excellent fan base who travel in their numbers

to support their team. I am convinced they will

start winning games more regularly and climb

the table soon – but hopefully not until after

today's game.

I am sure the squad will be looking forward

to playing again after the enforced fixture

cancellations last weekend. Mick and his

coaching team will have the players ready and

focused on putting in a performance that gives

OFFICIALQPRFC // @OFFICIALQPR // @QPR // WWW.QPR.CO.UK

us the best possible chance of gaining another

three valuable points.

Finally, it is great that the QPR Women's team

are playing at Loftus Road on Sunday and it will

be terrific to see many fans here to support

them when they entertain Norwich City.

The women's and girls' game has come on

hugely in the last few years, highlighted even

more with the England Lionesses' success in

winning the Euros back in July. We wish all the

team and staff the very best of luck, not only

for that game but for the rest of the season and

hope they enjoy the experience of playing here

on Sunday and get a win to remember.

Thanks once again for the tremendous

support you are giving to the team both at

home and away matches. Let's get behind the

lads again today and hopefully we can gain

another three points.

Andy

Enjoy the game. Come on you R's!

23
---
hoops

IS THERE

A BETTER

WAY TO

BUY YOUR

NEXT CAR?

CAZOO

YEAH!

Buy or finance a car online and we'll deliver it to

your door with a 7-Day Money Back Guarantee.

24 WWW.QPR.CO.UK // @QPR // @OFFICIALQPR // OFFICIALQPRFC
---
hoops

Visiting W12:

STOKE CITY

Stadium: Bet365 Stadium - Opened: 1907 - Current Capacity: 29,785 - Club Colours: Red & White

IN THE CABINET:

FOOTBALL LEAGUE

CHAMPIONSHIP (LEVEL 2)

Runners-up: 2007/08

FOOTBALL LEAGUE ONE (LEVEL 3)

Champions: 1932/33, 1962/63, 1992/93 -

Runners-up: 1921/22 - Play-off winners: 1978/79

Promoted: 2001/02

FOOTBALL LEAGUE TWO

DIVISION NORTH 1 (LEVEL 4)

Champions: 1926/27

FOOTBALL ALLIANCE

Champions: 1890/91

FA CUP

Runners-up: 2010/11

FOOTBALL LEAGUE CUP

Winners: 1971/72 - Runners-up: 1963/64

FOOTBALL LEAGUE TROPHY

Winners: 1991/92, 1999/2000

CLUB RECORDS:

RECORD GOALSCORER:

John Ritchie (176)

MOST APPEARANCES:

597 – Eric Skeels (1959-1976)

BIGGEST WIN:

10-3 v West Bromwich Albion, 1937

BIGGEST DEFEAT:

0-10 v Preston North End, 1889

RECORD TRANSFER

FEE PAID:

£18.3 million (Giannelli Imbula, Porto)

RECORD TRANSFER

FEE RECEIVED:

£20 million (Marko Arnautović,

West Ham United)

OFFICIALQPRFC // @OFFICIALQPR // @QPR // WWW.QPR.CO.UK 25
---
hoops

Stoke City

OPPOSITION

OVERVIEW

Lower mid-table

finishes have become

Stoke's niche ever

since they dropped back

into the Championship

but they are starting to

show signs of an upward

trajectory this season.

A mainstay of the Premier

League for exactly a

decade, the Potters have

not yet been able to put

together a sustained

promotion challenge

following their exit from

the top flight in 2018.

They ended their last

four campaigns nestling

between 14th and 16th

place – the most recent

of those despite looking

poised to push for the

play-offs during the first

half of the season.

However, Stoke's

challenge tailed off and,

with Michael O'Neill

unable to arrest the

slump at the start of the

current season, the club

opted to replace him with

Sunderland boss Alex Neil.

One victory in the opening

five games, a 2-0 success

at home to Blackpool,

sealed the former Northern

Ireland manager's fate, with

his final match in charge

coming – ironically – against

Neil's Sunderland team.

The new Potters boss

watched from the stands

as his side triumphed

1-0 at Blackburn before

formally taking charge

for a 1-1 draw against

Swansea four days later.

Stoke picked up their first

win under Neil's guidance

with a resounding

3-0 triumph at Hull in

midweek.

26 WWW.QPR.CO.UK // @QPR // @OFFICIALQPR // OFFICIALQPRFC
---
hoops

The Gaffer

Former Norwich and

Preston boss Alex Neil pits

his wits against QPR for

the second time this season,

having been in the Sunderland

dugout during last month's

dramatic 2-2 draw at the

Stadium of Light.

A midfielder who turned out

for hometown club Airdrie,

Barnsley, Mansfield and

Hamilton Academical, Neil

became the Accies' playermanager

at the age of just 31

and guided them to promotion

to the Scottish Premiership in

his first full season.

His achievements at New

Douglas Park prompted

Norwich to appoint him as their

manager midway through the

2014/15 campaign – and Neil's

star continued to rise as he led

the Canaries to victory in the

Championship play-off final a

few months later.

However, Norwich were

relegated back to the second

tier after a single season and

Neil was sacked the following

year, returning to football

as Preston manager in the

summer of 2017.

He remained at Deepdale for

almost four seasons and was

out of the game for almost a

year before his six-month spell

at Sunderland, during which

time he guided the Black Cats

back to the Championship.

OFFICIALQPRFC // @OFFICIALQPR // @QPR // WWW.QPR.CO.UK 27
---
The Squad

hoops

Jack

BONHAM

GOALKEEPER

Age: 28

Signed from:

Gillingham

Josef

BURSIK

GOALKEEPER

Age: 22

Signed from:

Academy

Ben

WILMOT

DEFENDER

Age: 22

Signed from:

Watford

Aden

FLINT

DEFENDER

Age: 33

Signed from:

Cardiff

Will

SMALLBONE

MIDFIELDER

Age: 22

Signed from:

Southampton

Sam

CLUCAS

MIDFIELDER

Age: 31

Signed from:

Swansea

Nick

POWELL

MIDFIELDER

Age: 28

Signed from:

Wigan

Jordan

THOMPSON

MIDFIELDER

Age: 25

Signed from:

Blackpool

28 WWW.QPR.CO.UK // @QPR // @OFFICIALQPR // OFFICIALQPRFC
---
The Squad

hoops

Morgan

FOX

DEFENDER

Age: 28

Signed from:

Sheff Wednesday

Phil

JAGIELKA

DEFENDER

Age: 40

Signed from:

Derby

Connor

TAYLOR

DEFENDER

Age: 20

Signed from:

Academy

Tom

SPARROW

DEFENDER

Age: 19

Signed from:

Academy

Jacob

BROWN

FORWARD

Age: 24

Signed from:

Barnsley

Liam

DELAP

FORWARD

Age: 19

Signed from:

Manchester City

Tyrese

CAMPBELL

FORWARD

Age: 22

Signed from:

Academy

D'Margio

WRIGHT-

PHILLIPS

FORWARD

Age: 20

Signed from:

Academy

OFFICIALQPRFC // @OFFICIALQPR // @QPR // WWW.QPR.CO.UK 29
---
hoops

Danger Man

A

product

of Chelsea's youth

academy, Lewis Baker left

Stamford Bridge to sign

for Stoke at the beginning of

the year and has since been

handed the captain's armband.

After joining the Blues as a

nine-year-old, the midfielder

worked his way through the

ranks and made his first-team

debut in an FA Cup tie at the

age of 18 prior to a series of

loan spells, initially at Sheffield

Wednesday and then MK Dons.

Having helped the Dons

win promotion to the

Championship that season,

Baker then spent the next

two years on loan at Vitesse

Arnhem before further spells at

Middlesbrough, Leeds, Reading

and Fortuna Dusseldorf.

He turned out for Turkish side

Trabzonspor during the 2020/21

season and finally conceded

defeat in his bid for first-team

football at Chelsea six months

later, making a permanent move

to the bet365 Stadium.

Capped up to Under-21 level

for England, Baker netted eight

goals in 21 appearances for

Stoke during the second half of

last season.

MIDFIELDER

Age: 27

Nationality: English

Signed from: Chelsea

30 WWW.QPR.CO.UK // @QPR // @OFFICIALQPR // OFFICIALQPRFC
---
hoops

Year on Year

1888:

Having been heavily

involved in the formation

of the Football League,

Stoke City became one of

12 official members in its

inaugural season.

1937:

Footballing legend

Sir Stanley Matthews

made his Potters debut

aged just 17, eventually

returning in 1961 and

playing for four more

seasons to extend his

career into his 50th year.

1972:

Goals from Terry Conroy

and George Eastham

secured a League Cup

final victory over Chelsea

and the first significant

piece of silverware in

Stoke's history.

1997:

Stoke ended their 116-

year spell at the Victoria

Ground to move to a new

home – initially known as

the Britannia Stadium and

now the Bet365 Stadium.

2008:

Tony Pulis' side secured

promotion to the Premier

League as Championship

runners-up, returning to

the top flight for the first

time since 1985.

2011:

A 5-0 thrashing of Bolton

secured Stoke's first ever

appearance in the FA Cup

final, where they went

down by a single goal

to Manchester City but

qualified for the following

year's Europa League.

COMINGS

AND GOINGS

COMING IN

Aden Flint (D) –

Cardiff

Harry Clarke (D) –

Arsenal

Dujon Sterling (D) –

Chelsea (Loan)

Liam McCarron (D) –

Leeds

Josh Laurent (M) –

Reading

Tarique Fosu (M) –

Brentford

Will Smallbone (M) –

Southampton

Gavin Kilkenny (M)

AFC Bournemouth

Liam Delap (F) –

Man City

Dwight Gayle (F) –

Newcastle United

GOING OUT

Tommy Smith (D) –

Middlesbrough

James Chester (D) –

Derby

Demeaco Duhaney (D)

Istanbulspor

Joe Allen (M) –

Swansea City

Tom Ince (M) –

Reading

Alfie Doughty (M) –

Luton Town

Mario Vrancic (M) –

HNK Rijeka

Josh Maja (F) –

Bordeaux

Benik Afobe (F) -

Millwall

Steven Fletcher (F) –

Dundee Utd

DID YOU KNOW?

A founding member

of the Football

League, Stoke City

are the second oldest

professional football

club in the world

behind Notts County.

OFFICIALQPRFC // @OFFICIALQPR // @QPR // WWW.QPR.CO.UK 31
---
HERE'S

A ST AT

I BET

YOU

DIDN'T

KN

W
---
OVER HALF A MILLION

SKY BET CUSTOMERS USE DEPOSIT LIMITS

TO MANAGE THEIR BETTING BUDGET.

THAT'S ENOUGH TO FILL:

6 WEMBLEYS.

201 ALLY PALLYS.

OR 8 CHELTENHAM GOLD CUP DAYS.

(THAT'S A LOT OF TWEED)

ALL GOOD BOOKMAKERS

HAVE DEPOSIT LIMITS.

SO WHOEVER YOU BET WITH,

SET AN APPROPRIATE ONE FOR YOU

AND THEN ENJOY THE SPORT.

DEPOSIT LIMITS

THAT'S BETTING BETTER.
---
hoops

QUEENS PARK RANGERS 3

STOKE CITY 2

SATURDAY 29TH NOVEMBER 1975

FOOTBALL LEAGUE DIVISION ONE

A LAST-GASP winner by David Webb clinched

victory for title-challenging Rangers in this

pulsating match.

QPR began the day in second spot and were

without injured stars Gerry Francis and Don

Givens. Cameras from BBC1's Match of the

Day were present to record the action against

seventh-placed Stoke City, who had experienced

players like Alan Hudson, John Mahoney and

Jimmy Greenhoff in their line-up.

Don Masson put Rangers in the ascendancy on

31 minutes with a bullet shot that bounced in off

the crossbar.

But it took Stoke only a minute of the second half

to draw level when a header by Ian Moores looped

over home goalkeeper Phil Parkes.

The visitors forged ahead nine minutes later

as Alan Bloor scrambled over the line from close

range.

R's right-back Dave Clement restored parity on

the hour mark. This came after Dave Thomas

crossed from the flank and the ball was cleverly

dummied by 17-year-old substitute Phil Nutt,

allowing Clement space for a crashing finish.

Some six minutes of injury time were added on

and, in the last attack of the game, Masson's

corner was spectacularly nodded into the net by

Webb to seal victory. The official Golden Goal

Ticket time was 89 minutes 58 seconds, but 96

minutes would have been more accurate!

Brian Madley reported in the Sunday People

newspaper: "Anyone who thinks there is no flair

or skill left in British football should be made to

watch such a match. The midfield artistry of

Hudson. The non-stop perfection of Masson. The

magnificent Mahoney and the flamboyant Bowles

– the battle between the eager, impressive Webb

and the grafting Greenhoff."

RANGERS: Parkes, Clement, Gillard, Hollins,

.McLintock, Webb, Thomas, Beck, Masson, Bowles,

Leach (Nutt 54).

Attendance: 22,328

34 WWW.QPR.CO.UK // @QPR // @OFFICIALQPR // OFFICIALQPRFC
---
hoops

OFFICIALQPRFC // @OFFICIALQPR // @QPR // WWW.QPR.CO.UK

35
---
hoops

36 WWW.QPR.CO.UK // @QPR // @OFFICIALQPR // OFFICIALQPRFC
---
hoops

INTERVIEW: TONY INCENZO

MAJESTIC MIDFIELDER RAY WILKINS

ORCHESTRATED THE QPR TEAM THAT

FINISHED FIFTH IN THE VERY FIRST SEASON

OF THE PREMIER LEAGUE.

Ray, who made 27 league appearances for the club

during that campaign, scoring two goals, was much

loved by the Rangers supporters due to his extensive

range of elegant passing.

Sadly, Ray died in hospital at the age of 61 on 4th April

2018 following a heart attack the previous week.

As a tribute to his memory, we reproduce a QPR

programme interview with Ray Wilkins from 2014/15…

OFFICIALQPRFC // @OFFICIALQPR // @QPR // WWW.QPR.CO.UK

37
---
hoops

RAY, you joined QPR from Glasgow

Rangers in December 1989. How

did that transfer come about?

The R's manager Trevor Francis

contacted Glasgow Rangers and asked

if I could move to London. But strangely

enough, when I came down to sign

Trevor was sacked that night! It was a bit

of a body blow and I didn't know whether

Don Howe – who was going to be the

caretaker boss – would still want me to

join Queens Park Rangers. Thankfully he

did and it was the start of a wonderful

experience for me.

When you joined QPR, a lot of people

said you were at the veteran stage of

your career, but you played some of

your best football in a hooped shirt…

I think I was 33 when I signed, but I

thoroughly enjoyed my time at Loftus

Road. It coincided with the fact that we

had some fabulous players there as well.

The group of guys we had possessed

exceptional talent. There were a number

of international players in the squad and

it was a fantastic club to play for.

A couple of famous games you played

in were our 3-1 win away to Liverpool

in March 1991 and our 4-1 trouncing

"There were a number

of international

players in the squad

and it was a fantastic

club to play for"

of Manchester United at Old Trafford

on New Year's Day 1992. What are your

recollections?

It is always nice to win at Anfield. For

a club like Queens Park Rangers to

go there and get a victory, well it is

not the easiest place to go. Then

the Manchester United game is

remembered for Dennis Bailey's great

hat-trick. We were just waiting for the

red tide to hit us but it didn't come that

day and thankfully we won the game.

Another big away victory was 5-3 at

Everton on Easter Monday 1993 when

Les Ferdinand hit three goals. I also

remember how we got a draw away to

Manchester City in the first evening

televised game of the newly formed

Premier League in 1992/93, when Andy

Sinton scored probably one of the goals

of the season. So we had some really

nice times.

We could give any team in the country

a good match back then…

If you look at the Premier League now, I

think the side we had in the early 1990s

at Queens Park Rangers could still do

very well. We finished fifth in the first

season of the Premier League with

Gerry Francis as manager. Gerry was

a good coach with Frank Sibley as his

assistant. It takes two to tango and I

think they were a very good partnership

– and, as I've said before, we had

some really top footballers. Plus the

Right: Ray

Wilkins was an

integral part of

the QPR side

that finished

fifth in the

first year of

the Premier

League

38 WWW.QPR.CO.UK // @QPR // @OFFICIALQPR // OFFICIALQPRFC
---
hoops

OFFICIALQPRFC // @OFFICIALQPR // @QPR // WWW.QPR.CO.UK

39
---
hoops

Left: Wilkins

returned to

Loftus Road as

player-manager

in 1994

following the

departure of

Gerry Francis

organisation that we had was spot on.

We were always going to be very difficult

to beat and we were always going to

score goals. We were very powerful,

very strong and we had quick players.

There were a lot of top teams who didn't

fancy playing us at that time. We could

take anybody on and we were more than

equal to them all on our day.

Your form for QPR was so good that

there was talk you would be recalled to

the England squad, having won 84 caps

earlier in your career. Were you close to

that recall?

Age was probably not on my side at

the time. But I honestly do believe

you can get better as you get older

in football if you are a midfield player.

It is very different to being a forward,

although there are exceptions like

Teddy Sheringham. Being in midfield,

I think you get wisdom about you

when you become older. If you look at

Andrea Pirlo of Italy – the older he's

got, the more influential he's become.

For a forward player, it is difficult. For a

midfield man, I believe it is essential to

improve your game.

You scored 10 goals in your 207

appearances for the R's. Do you

remember any of those strikes?

Probably the best I scored was when

my dear friend Chris Woods was in

goal for Sheffield Wednesday. I think I

chipped him from the edge of the box

and I did the same against Wimbledon

at Selhurst Park. So they would be the

ones I quite enjoyed. I also hit a 30-yard

left-footer against Liverpool at the

Loft End, although my son said it was a

sideways pass! But in the end, Liverpool

gave us a bit of a hiding to win that game

3-1 so maybe I unleashed the tiger a bit

too early.

40 WWW.QPR.CO.UK // @QPR // @OFFICIALQPR // OFFICIALQPRFC
---
hoops

Above: QPR

paid tribute

to Wilkins at

the first home

game after his

passing in April

2018

You left QPR to sign for Crystal Palace

in May 1994, but six months later you

were back at Loftus Road as playermanager…

I was really looking forward to that

challenge at Queens Park Rangers

as a lot of the players I had played

alongside were still there. Initially, we did

extremely well and we finished eighth

in the Premier League in 1994/95. But

unfortunately we had a bit of a sticky

time after that as we had to sell Les

Ferdinand, then Clive Wilson left us

as well. A lot is spoken about football

dressing-rooms and it is very important

that you keep proper blokes in your

dressing-room. Les and Clive were

massive influences in that respect as

they were the bubbly characters that

"For a midfield man,

I believe it is essential

to improve your game"

you need. Les would always get you

20 to 25 goals a season and Clive was

the best uncapped full-back I have

ever seen. So unfortunately those

departures led to us being relegated in

1995/96.

How do you look back on your time at

Loftus Road?

Myself and my family enjoyed Queens

Park Rangers immensely. It is such a

homely, family club. So I hold it in great

affection and I hope there are good

times ahead for the R's.

OFFICIALQPRFC // @OFFICIALQPR // @QPR // WWW.QPR.CO.UK

41
---
hoops

Play the QPR in the Community

Super Hoops Draw

Win incredible QPR prizes and support QPR in the Community Trust!

£5 a month entry, with entry into every home game.

Your support will help us create a stronger, healthier, more active community

where everyone can thrive, whilst addressing the local needs and making

a difference to individuals and our communities.

Scan to Enter

Amazing cash and club prizes

Scan the QR code or visit:

www.superhoopsdraw.com

QR code

42 WWW.QPR.CO.UK // @QPR // @OFFICIALQPR // OFFICIALQPRFC

QPR in the community registered charity ( 1127806). For T&Cs and

alternative entry routes available- visit:- www.superhoopsdraw.com
---
hoops

Happy Birthday

TERRY!

ANGELA 'TERRY' DORMER, A NAME KNOWN TO MANY QPR FANS

AS AN EMBODIMENT OF THE BEATING HEART BEHIND THE SCENES

AT THE CLUB, CELEBRATED HER 90TH BIRTHDAY LAST WEEKEND.

Terry spent 30 years at the club

in various capacities – on the

switchboard, in the box office

and even including two stints

as kit manager. She finally

retired (for the third time!) at

the age of 79.

Happy 90th birthday to Terry

Dormer from all your friends at

QPR and beyond xx

Terry worked for QPR for many

years and is still a season ticket

holder, along with her husband

John in the West Paddock.

She is a very valued friend to so

many at the club, especially Julie,

Jenny, Diane, Terry and Sarah.

Terry is held in the highest regard

from management to staff and is

always welcome into the offices

for a chat and cup of tea.

She still attends the weekly Over

60s group, where she meets her

friends and joins in the activities.

Terry's friend and fellow

Rangers fan Joanne Connolly

has added the following

tribute:

Having joined the staff in

1978, she was instantly

nicknamed 'Little Terry' on

account of her diminutive

stature, standing on a box to

serve customers in the box

office. When Terry retired

for the first time in 1992,

she used the very same

box to stand on at half-time

on the pitch when she was

presented with a crystal bowl

by her friend and then QPR

manager Gerry Francis, to

chants of "There's only one

Terry Dormer" from the Loft!

Terry has always been full of

fun (and remains so to this

day) and, when a temporary

vacancy arose after Jock

Skinner left, she became

part-time kit manager! Alan

McDonald asked her for a

jockstrap and, not knowing

what it was, she gave him a

numbered bib. He looked at

it and laughed, saying: "You

don't know what it is, do you?!"

Terry replied: "No I don't! But

don't go telling everyone!"

Players were filing in all day and

every single one asked for a

jockstrap. In the end she told

them to go away! The next

day Alan came in with a big

bunch of flowers and a box of

chocolates and said: "That's

for being such a good sport!"

That's exactly what Terry is,

with a heart bigger than she

is. She told me once that

what she cherished most

from her days at Rangers

were the friends she'd made

and that they were like a

family to her. Terry's own

family is a source of great

pride. Son Ian often comes

along to games with her

grandchildren: Izzy, Theo and

Tasmin carrying on the family

tradition.

Terry has a blue and white

hooped heart and a love

for the club which I know is

reciprocated. She counts

ex-managers, ex-players,

staff and fans alike among

her close friends and I'm

sure they will all be delighted

to wish Terry the happiest

of days, on this auspicious

occasion that marks her

90th year young!

OFFICIALQPRFC // @OFFICIALQPR // @QPR // WWW.QPR.CO.UK

43
---
hoops

HALF A CENTURY HAS PASSED SINCE QPR WON PROMOTION

TO THE TOP FLIGHT FOR ONLY THE SECOND TIME IN THE CLUB'S

HISTORY. IN EACH EDITION, WE SHOWCASE SOME OF THE MATCH

PROGRAMMES FROM THAT CLASSIC 1972/73 CAMPAIGN:

DATE: Tuesday 26th

September 1972

RESULT: Hull City 4 QPR 1

COMPETITION: Football

League Division Two

QPR SCORER: Givens

ATTENDANCE: 8,289

THE PROGRAMME:

Twenty-four pages, price

10p

EDITORIAL SNIPPETS: A

column entitled 'In Town

Today' was penned by

Tony Pullein, who used to

contribute to many different

clubs' programmes. He set

the scene for this match

by writing: 'Queen's Park

Rangers manager Gordon

Jago has a snap answer to

critics who claimed the club

ruined its promotion chances

last season by selling Rodney

Marsh to Manchester City

for £200,000. "Look at the

record," he said last week.

"We haven't lost a game since

Marsh went!"

'Indeed, after they had

beaten Nottingham Forest

on 16th September,

Rangers looked back on

an unbeaten run of 18

league games. If there was

any overriding reason for

Rangers failing to regain

their First Division place

– they missed by only two

points – it was probably

the injury to captain Terry

Venables, whose midfield

drive was missing for their

last 14 games.

'Anyway, last season is for

the history books. All that

matters is this season.

And in an attempt to make

sure of one of the top two

positions this time, Mr.

Jago has signed two new

strikers – Don Givens and

Stan Bowles.

'Givens, signed from Luton

during the close-season,

has quickly set himself up

as top scorer. Bowles was

transferred from Carlisle

this month for a Rangers

record £110,000 fee and

celebrated with a goal in his

first game for the club. He

can also play in midfield.'

44 WWW.QPR.CO.UK // @QPR // @OFFICIALQPR // OFFICIALQPRFC
---
hoops

DATE: Saturday 30th

September 1972

RESULT:

QPR 3 Cardiff City 0

COMPETITION: Football

League Division Two

QPR SCORERS:

Givens 2, Bowles

ATTENDANCE: 11,182

THE PROGRAMME: Sixteen

pages, price 7p

EDITORIAL SNIPPETS: In his

'BUSH TELEGRAPH' editorial

notes, QPR club secretary Ron

Phillips wrote: 'Well, it was a good

run while it lasted – and it certainly

lasted! The last time Rangers

were beaten in the league was

way back on 3rd March 1972, at

Bristol City. The unbeaten run

equalled our existing record of

20 league games without defeat,

set up in our Third Division days.

A draw or a win at Hull would have

established a new club record but,

in the end, we were very far away

from it. You may be sure that the

defeat at Hull stung the team

deeply and you may also

be sure of one thing – they

learned from it.'

OFFICIALQPRFC // @OFFICIALQPR // @QPR // WWW.QPR.CO.UK

45
---
hoops

HEROES

JAMIE CURETON VS

COVENTRY CITY

TUESDAY 28TH SEPTEMBER 2004

JAMIE CURETON was in razor-sharp form to

grab a fine hat-trick in our 4-1 home win over

Coventry City in the Championship.

After Cureton missed a couple of early chances,

he opened the scoring on 31 minutes by

sidestepping his marker and firing into the

bottom left-hand corner.

Five minutes before the break, a mistake by

Sky Blues defender Steve Staunton let Cureton

46 WWW.QPR.CO.UK // @QPR // @OFFICIALQPR // OFFICIALQPRFC
---
hoops

in for a whiplash looping volley that scorched

high into the net.

Coventry pulled one back in the 48th minute

through Graham Barrett's left-foot drive as

R's keeper Chris Day got a hand to the ball but

couldn't keep it out.

Then on 73 minutes, Cureton rifled home his third of

the night after a cute through ball by Paul Furlong.

Furlong rounded off the scoring four minutes

into injury time with a diving header from Kevin

McLeod's left flank cross.

Looking back, Cureton said: "That game

against Coventry City was probably my best

moment at Rangers. It was a nice hat-trick and a

good win for us.

"I recall R's boss Ian Holloway likening me to

Marco van Basten afterwards because I banged

home a volley for the second goal!

"It was probably one of the better strikes in my

career and Ollie praised me quite a bit that night.

I've got the hat-trick on DVD so I watch it now

and then.

"It was just a shame I didn't really produce that sort

of form more often in my spell at Loftus Road."

Much-travelled Cureton originally joined QPR in

January 2004 and made his debut as a substitute

in our 3-2 home victory against Notts County

the following month in Division Two.

Cureton made 23 starts in a hooped shirt overall,

plus another 23 appearances from the bench,

scoring seven times in total. He eventually moved

on to join Swindon Town in the summer of 2005.

Despite the fact that he turned 47 last month,

Cureton is still pulling on his boots on a regular

basis as player-manager of Enfield FC in the

Essex Senior League.

OFFICIALQPRFC // @OFFICIALQPR // @QPR // WWW.QPR.CO.UK

47
---
hoops

INTERVIEW: LENNIE HARVEY

Harry Cant

Position: Goalkeeper

From: Wokingham

Joined: Age 14

Pre-Match Meal: Pasta and chicken

Socials: @harrycant1

Pre-Match Song: Please – Lil Baby x Lil Durk

How did you get scouted?

I got scouted playing for my team in High

Wycombe and through word of mouth!

What are your strengths as a player and what

do you need to work on?

My main strengths are my distribution and

communication. I feel I am commanding in

my area and, as a keeper who likes to play out,

starting counter-attacks. I would say I need to

work on my self-belief and confidence.

What's the highlight of your career so far?

Playing in the FA Youth Cup against Oldham last

season, due to the occasion and importance of

the game and the end result (we won!). Training

with the first team last season was another

highlight as it gave me more confidence to reach

the levels they have.

When was the first football match you

attended?

Reading vs Coventry when I was about five years

old and it finished 0-0.

Who's your favourite player or inspiration?

Either Manuel Neuer or Kasper Schmeichel.

Neuer because I believe he changed the position

as a whole and showed incredible standards

throughout his whole career and Schmeichel

because he has his own style of goalkeeping

which really stood out to me.

What's the best aspect of being a QPR player?

The fact that we are in such a good environment

to learn and gain experience at such a high level.

Which stadium in the world would you most like

to play in and why?

I would say the Camp Nou, due to the huge

history and legacy it has in football. The

atmosphere there is surreal!

Who's had the greatest influence on your

career so far and why?

The greatest influence so far has to be my Dad.

This is due to all the sacrifices he has put in to

get me to where I am.

48 WWW.QPR.CO.UK // @QPR // @OFFICIALQPR // OFFICIALQPRFC
---
hoops

Sat Aug 20 Birmingham City W 2-1

Sat Aug 27 Peterborough Utd W 3-1

Sat Sep 3 PL Cup R1

Sat Sep 10 Coventry City PP

Sat Sep 17 Barnsley 11:00

Sat Sep 24 Charlton Athletic 11:00

Sat Oct 1 Reading 11:00

Sat Oct 8 PL Cup R2

Sat Oct 15 Cardiff City 12:00

Sat Oct 22 Watford 10:30

Sat Oct 29 Bristol City 11:00

Sat Nov 5 PL Cup R3

Sat Nov 12 Sheffield Wednesday 11:00

Sat Nov 19 Colchester Utd 11:00

Sat Nov 26 Millwall 11:00

Sat Dec 10 Ipswich Town 11:30

Sat Dec 17 Swansea City/FA Youth Cup R3 11:00

Sat Jan 7 Cardiff City 12:00

Sat Jan 14 Charlton Athletic 11:00

Sat Jan 21 Colchester Utd/FA Youth Cup R4 11:00

Sat Jan 28 Swansea City 13:00

Sat Feb 4 PL Cup QF

Sat Feb 11 Bristol City/ FA Youth Cup R5 11:00

Sat Feb 18 Reading 11:00

Sat Feb 25 Millwall 11:00

Sat Mar 4 Watford/ FA Youth Cup QF 10:30

Sat Mar 11 Ipswich Town 11:30

Sat Mar 18 Wigan Athletic 11:00

Sat Apr 1 Burnley 11:00

Sat Apr 15 Hull City 11:00

Sat Apr 22 Crewe Alexandra 11:00

Sat Apr 29 Sheffield Utd/FAYC final 11:00

OFFICIALQPRFC // @OFFICIALQPR // @QPR // WWW.QPR.CO.UK

49
---
hoops

QPR FC

QPR FC Women will be in action here at

Loftus Road tomorrow when they take on

Norwich City on the back of a three-match

unbeaten run.

Rangers face the Canaries at 2pm and

tickets are available from 11am at the box

office, priced at just £5 for adults and £1

concessions.

Charlotte Edwards, QPR FC Women's general

manager, said: "The excitement around

women's football since the Lionesses' victory

(at Euro 22) has been incredible – there is a

real feeling of pride across the country.

"The team are really looking forward to

playing at Loftus Road and it would be great

to have as many fans there as possible."

The R's collected a point in their most recent

outing, with substitute Emilia Parsons' late

strike securing a share of the spoils away to

Cambridge United.

Sammy Edgar gave the U's a 16th-minute

lead before Steve Quashie's side fought back

to level through Parsons' goal 11 minutes

from time.

50 WWW.QPR.CO.UK // @QPR // @OFFICIALQPR // OFFICIALQPRFC
---
hoops

Tel: 020 8740 2560 | E-mail: corporate@qpr.co.uk | @QPR_Corporate | www.qprcorporate.co.uk

M Mick BEALE

SPONSORED BY:

Phyl & Tina

# 1 Seny DIENG

SPONSORED BY:

Sindy Grewall

Apps: 9 Gls: 1

YC: 1 RC: 0

# 2 Osman KAKAY

SPONSORED BY:

Vivienne

Maclennan

Apps: 4+3 Gls: 0

YC: 1 RC: 0

# 3 Jimmy DUNNE

SPONSORED BY:

Trent Buhaj

Apps: 7 Gls: 1

YC: 1 RC: 0

# 4 Rob DICKIE

SPONSORED BY:

Jakson Buhaj

Apps: 9 Gls: 0

YC: 2 RC: 0

# 5 Jake SALTER-CLARKE

SPONSORED BY:

Deb & Marc

Buhaj

Apps: 1 Gls: 0

YC: 0 RC: 0

# 6 Stefan JOHANSEN

SPONSORED BY:

Nathan Hayes

Apps: 8+1 Gls: 0

YC: 2 RC: 0

# 7 Chris WILLOCK

SPONSORED BY:

Richie Dixon

Apps: 5 Gls: 4

YC: 0 RC: 0

# 8 Luke AMOS

SPONSORED BY:

Tyler Buhaj

Apps: 0 Gls: 0

YC: 0 RC: 0

# 9 Lyndon DYKES

SPONSORED BY:

Ron Hill

Apps: 8 Gls: 1

YC: 1 RC: 0

# 10 Ilias CHAIR

SPONSORED BY:

Riley Hayes

Apps: 9 Gls: 3

YC: 0 RC: 0

# 11 Tyler ROBERTS

SPONSORED BY:

David Hayes

Apps: 2+4 Gls: 1

YC: 1 RC: 0

# 13 Jordan ARCHER

SPONSORED BY:

Available

Apps: 0 Gls: 0

YC: 0 RC: 0

# 14 George THOMAS

SPONSORED BY:

Mark Mosselson

Apps: 1+1 Gls: 0

YC: 0 RC: 0

# 15 Sam FIELD

SPONSORED BY:

Amanda Dixon

Apps: 9 Gls: 0

YC: 3 RC: 0

# #

Marco 16 RAMKILDE Niko HAMALAINEN 27

SPONSORED BY:

Available

Apps: 1+1 Gls: 0

YC: 0 RC: 0

# 17 Andre DOZZELL

SPONSORED BY:

KS Roofing and

building Ltd

Apps: 6+3 Gls: 0

YC: 2 RC: 0

# 18 Macauley BONNE

SPONSORED BY:

Available

Apps: 1+2 Gls: 0

YC: 0 RC: 0

# 20 Taylor RICHARDS

SPONSORED BY:

Trish Phillips

Apps: 0 Gls: 0

YC: 0 RC: 0

# 22 Kenneth PAAL

SPONSORED BY:

Apps: 7 Gls: 0

YC: 0 RC: 0

# 23 Conor MASTERSON

SPONSORED BY:

Available

Apps: 0+1 Gls: 0

YC: 0 RC: 0

# 24 Charlie OWENS

SPONSORED BY:

Available

Apps: 0 Gls: 0

YC: 0 RC: 0

# 25 Olamide SHODIPO

SPONSORED BY:

LLARN Logo and

web address

Apps: 2+2 Gls: 0

YC: 0 RC: 0

# 26 Leon BALOGUN

SPONSORED BY:

Available

Apps: 0+1 Gls: 0

YC: 0 RC: 0

# 27 Ethan LAIRD

SPONSORED BY:

David Loveland

& Nik Cameron

Apps: 5 Gls: 1

YC: 0 RC: 0

# 30 Sinclair ARMSTRONG

SPONSORED BY:

Available

Apps: 0+7 Gls: 0

YC: 0 RC: 0

# 32 Joe WALSH

SPONSORED BY:

Phil & Harry

Newman

Apps: 0 Gls: 0

YC: 0 RC: 0

# 37 Albert ADOMAH

SPONSORED BY:

Martin & Keiran

O'Brien - True

Potential Wealth

Management

Apps: 2+7 Gls: 1

YC: 0 RC: 0

# 38 Murphy MAHONEY

SPONSORED BY:

Phil & Harry

Newman

Apps: 0 Gls: 0

YC: 0 RC: 0

# 47 Tim IROEGBUNAM

SPONSORED BY:

www.spanish

practiceclub.

com

Apps: 0+1 Gls: 0

YC: 0 RC: 0

OFFICIALQPRFC // @OFFICIALQPR // @QPR // WWW.QPR.CO.UK

51
---
hoops

JUNIOR

HOOPS

FUN, GAMES, TRIVIA & MORE!

Hello everyone!

Hey guys, it's your

favourite feline friend

here! Over the next

couple of pages you'll

get the chance to

test your footballing

knowledge! Challenge

your family and friends

to see who comes out

on top!

Jude

SPOT THE BALL

Can you spot the real ball location below?

Follow me on Twitter

@QPRJudeTheCat

52 WWW.QPR.CO.UK // @QPR // @OFFICIALQPR // OFFICIALQPRFC
---
BIRTHDAYS!

Big birthday wishes to all

Junior Hoops celebrating

in September…

Jack Ashley – 1st

Cillian Brennan – 1st

Ben Durcan – 1st

Daniel Gray – 1st

Harley Clayton McNaught – 1st

Peter Milner – 1st

Riley Philbert – 1st

Liam Pullen – 1st

Connor Dardis – 2nd

Felicity Hill – 2nd

Emily Jones – 2nd

Alby O'Toole – 2nd

Ashley Tipping – 2nd

Harry Channing – 3rd

Marlow Perry Chibela – 3rd

Kiki Culverwell – 3rd

Harry Finch – 3rd

Benjamin Hickman – 3rd

Amir Levy-Rapoport – 3rd

Patrick Rooney – 3rd

Archie Tate – 3rd

David Melia – 4th

Bobby Ralph – 4th

Zac Rekowska – 4th

Evie Roohan – 4th

Finley Ryan – 4th

Jamie Spivey – 4th

Jamie Stein – 4th

Lily Stein – 4th

Xenia Wickens – 4th

Nathan Baldwin – 5th

Joshua Barcessat – 5th

Connor McNabb – 5th

Jamie O'Brien – 5th

Emily Oliver – 5th

Jack Rumsey – 5th

Jack Sharland – 5th

Millie Gale – 6th

Emily Garson – 6th

Charlie Johnson – 6th

Dylan Margolis – 6th

Imogen Mitchell – 6th

Rudy Roome – 6th

Rocco Tanner – 6th

Lyle Taylor – 6th

Alexander Ward – 6th

Harrison Galloway – 7th

Freddie Goold – 7th

Freddie Hoare – 7th

George Holden – 7th

Max Kosanovic – 7th

Harry Philpott – 7th

Harry Stevenson – 7th

Alexander Cooper – 8th

Joe Dempsey – 8th

George Jenkins – 8th

Jacob Lyman – 8th

Alice Modle – 8th

Finley Price – 8th

Harley Thomas – 8th

Bertie Baldry – 9th

Ramzi Bell – 9th

Finn Cherry – 9th

Thomas Downie – 9th

Daniel Hayden – 9th

Tess Maddock-Youngs – 9th

Kundan Mulchandani – 9th

Nika Mulchandani – 9th

Ollie Overy-Jones – 9th

Stanley Pollington – 9th

Jack Toomey – 9th

Callum Bagenal – 10th

Daniel Powell – 10th

Barney Power – 10th

Peter Truckle – 10th

Carris Willson – 10th

Maya Bhardwaj – 11th

Stanley Cumming – 11th

Chester Gregory – 11th

Archie Kelleher – 11th

Jack Melton-James – 11th

Gennaro Westcott – 11th

Freddie Willis – 11th

Jack Barber – 12th

Elizabeth Bruce – 12th

Bradley Elliott – 12th

Harry Few – 12th

Ollie Lewis – 12th

Charlie Norville – 12th

Finley Penney – 12th

Stanley Wheeler-Kemp – 12th

Libby Cini – 13th

Antony Cobb – 13th

Joseph Drake – 13th

Joe Eve – 13th

Jayden Foss – 13th

William Rowland – 13th

James Bristow – 14th

Jack Curtis – 14th

Thomas Grant – 14th

Charlie Robinson – 14th

Jonathan Da Costa – 15th

George Edwards – 15th

Kieran Gallen – 15th

Jason Alex Harding – 15th

Frankie Johnson – 15th

David Mantle – 15th

Gracie Ross – 15th

Isaac Walker – 15th

Freddie Wilkinson – 15th

Lily Goodman – 16th

Daniel Lehane – 16th

Saul Linklater – 16th

Luca Szumilewicz – 16th

Francessca Clapinson – 17th

Brian Eavis – 17th

Jamie Driscoll – 18th

Jack Gatrell – 18th

Edward Hanman-Killick – 18th

Lily Lambert – 18th

Conor Murphy – 18th

Keane Nolan – 18th

Alec Baldwin – 19th

Jack Brooke – 19th

Jack Faber – 19th

Noah Lovell – 19th

Jude Sharman – 19th

Freddie Thomas – 20th

Jo Wallis-Prior – 20th

Louis Williams – 20th

Jayden Yorke – 20th

Albie Collins – 21st

Nia Spindler – 21st

Mollie O'Gorman – 22nd

Fred Trinder – 22nd

George Greenland – 23rd

Jack McCarthy – 23rd

Joe McGuinness – 23rd

Louis McManus – 23rd

Ollie Mee – 23rd

Lewis Moxon – 23rd

Olivia Walsh – 23rd

Saoirse Greene – 24th

Patrick Rabey – 24th

Alexander Chambers – 25th

Elizabeth Forster – 25th

Ellie Harwood – 25th

Millie Putman – 25th

Alexander Corpuz – 26th

Jamie Homewood – 26th

John Masterson – 26th

Noeleen McMahon – 26th

Frankie Williams – 26th

Gabriel Hann – 27th

Sam John McDonald – 27th

Liley Stoneman – 27th

William Whitworth – 27th

Joe Baden – 28th

Asher Futerman – 28th

Alfie Harvey – 28th

Louisa Lloyd – 28th

Joey Maltby – 28th

Ava-Mae Waterfield – 28th

Grace Churcher-Holt – 29th

George Grosch – 29th

Jack O'Sullivan – 29th

Finlay Parker – 29th

Rosie Pyle – 29th

Alex Hoile – 30th

Tia Humphrey – 30th

Leo Peverall – 30th

Gabriel Rausch – 30th

Ben Winter – 30th

OFFICIALQPRFC // @OFFICIALQPR // @QPR // WWW.QPR.CO.UK

BACK IN

THE DAY

hoops

Which current Premier League manager

is pictured during his playing days?

TEST YOUR

KNOWLEDGE

Q: Which former QPR and England striker

is Stoke's highest scorer in the Premier

League with 45 goals?

NAME THE

PLAYER

• I was born in 1999, in Ipswich

• My father played in the

Premier League for

both Ipswich Town and

Tottenham

• At the age of 16, I made my

senior debut and scored in

the same match, against

Sheffield Wednesday

• I played in the England

Under-19 side that won the

European Championships

in 2017

53

Answers: Spot the Ball: C, Back in the day: Eddie Howe (Newcastle United),

Test your Knowledge: Peter Crouch, Name the Player: Andre Dozzell
---
3

Jimmy

DUNNE
---
ANYONE WHO ENTERS THE PITCH WITHOUT

PERMISSION AND THOSE CARRYING OR USING

SMOKE BOMBS OR PYROS WILL NOW RECEIVE

AN AUTOMATIC CLUB BAN.

'LOVE FOOTBALL. PROTECT THE GAME'

A message about anti-social and criminal behaviour

To mark the new season, we want to

make you aware of new measures

being taken across all of football

to ensure everyone can have a safe

and enjoyable experience. We are

supporting strong action from the

FA, Premier League and EFL to tackle

anti-social and criminal behaviours

that put all of us at risk.

This reflects the seriousness of

the risks to fans and staff – pyros

can burn at 2000 degrees Celsius

and cause lifechanging injuries,

while entering the pitch endangers

players, managers and match

officials.

We know those who commit these

illegal acts do not represent the

majority of supporters.

#LoveFootball #ProtectTheGame
---
hoops

Columnist

BEN SUMMER

'R' GENERATION WRITER BEN SUMMER

DISCUSSES THE LATEST GOINGS-ON IN W12

It's just our luck that a moment like Seny

Dieng's penalty save should be followed by

a drab 1-0 loss in the rain.

Swansea could have at least done us the

favour of letting us sing about Super Sen for

a few more minutes before flattening the

atmosphere in the away end.

It felt like we'd be in for a fun one in South

Wales in the first few minutes, with Rangers

keeping the ball and getting it into the box. It

didn't last very long.

Some players who were at the top of their

game against Hull looked leggy and a yard late

to everything a few days later. Others didn't

get into the game at all.

You can give Swansea credit for their shape,

which meant there was rarely, if ever a simple

pass forward for Rob Dickie and Jimmy

Dunne to make.

You can lay blame on our midfield for generally

lacking the bite and composure required to

dominate for most of the 90 minutes.

You can lament our bad luck with a couple of

chances, especially a late ball flashing across

the box, where the narrative could have

changed – and one hell of a smash and grab it

would have been.

Usually the metaphorical image of a floodlight

sputtering and dying is delivered from on high

in the most convenient moment to mock a

despondent home team. When it happened

at the Liberty, it somehow still felt aimed at

us; they're Swansea City, they'll sing in the

dark, and we'll sit there and listen.

Personally I'm planning on drawing zero actual

conclusions from the game. We're now into

a month which is lighter on fixtures, and next

time a dreaded seven or eight-game month

rears its head, here's hoping we've got Luke

Amos, Taylor Richards and Jake Clarke-Salter

to pick from.

Players like Sinclair Armstrong, Tyler Roberts

and Albert Adomah who usually make a

good case for themselves off the bench

didn't really get a proper chance to do that at

Swansea, but Tim Iroegbunam had a couple

of moments that make me feel confident

about him as an option.

When Mick Beale gave his post-match

interview after the Hull game, I was absolutely

delighted for him. There was a man, only

seven games into his managerial career,

not just sounding measured and clever, but

sounding like he was growing in confidence

along with his squad. Identity takes time to

establish, and it was seeping more into the

squad game by game.

Swansea was a hiccup in this process. I really

feel for the QPR fans – a great number – who

travelled up from London. From a slightly

shorter train journey home to Cardiff, it feels like

it was a pretty poor way to spend a hangover,

but it won't have me feeling low for very long.

OFFICIALQPRFC // @OFFICIALQPR // @QPR // WWW.QPR.CO.UK

57
---
hoops

Memory Lane

AS THE EALING GAZETTE SPORTS EDITOR, MIKE DONOVAN WAS A

MAINSTAY OF THE LOFTUS ROAD PRESS BOX IN THE 1970S AND 1980S AND

WROTE 'QPR'S GREATEST GAMES'. IN A REGULAR SERIES, HE LOOKS BACK

ON UNFORGETTABLE TIMES FOR RANGERS.

STEWART Houston went

through 'heaven and hell' in

one afternoon when manager

of Queens Park Rangers.

The former Manchester

United full-back and Arsenal

assistant manager's one year

and 55 days in charge at Loftus

Road – with Bruce Rioch as his

assistant – was far from being a

bed of roses.

Houston had taken charge of

a team recently relegated from

the top flight under the late

Ray Wilkins.

His team made a fist of their

campaign, finishing ninth, but

a fixture against Port Vale at

Vale Park on 19th January 1997

exemplified the roller-coaster

nature of it.

It was an extraordinary

encounter, which must live in

the memories of survivors of

the mere 5,000 spectators

who were present and any

others interested in the history

of extraordinary encounters

involving the R's.

The boys from Shepherd's Bush

were being bushwhacked 4-0

at half-time. They even trailed

4-1 with just five minutes left.

And yet – and yet, they returned

to London with a point, with

Scotland international striker

John Spencer making it 4-4 in

injury time.

Amazingly, there was a little of

history repeating itself. Rangers

had trailed by four goals at the

interval to Newcastle United

before clawing back to draw

that fixture 13 years earlier.

The late Glenn Roeder, who

captained Rangers for the 1982

FA Cup final against Tottenham

Hotspur, had flown the Loftus

Road nest for the travelling

Magpies and recalled how the

feathers flew in the visiting

dressing-room post-match,

with manager Jack Charlton

spitting them.

He said to me: "You never

saw such a bunch of cowards

hiding behind each other in

the shower, with the manager

going absolutely apeshit."

Vale manager John Rudge just

might have given his players

similar treatment following

their second-half capitulation.

Former Nottingham Forest

striker Lee Glover, who had

served Brian Clough at the City

Ground, put the hosts ahead

after 24 minutes and Lee Mills

headed Vale's second on 35.

Jan Jansson drove home the

third after 41 minutes and

Rangers' Matthew Brazier

headed a corner from the

Swedish international into his

own net 60 seconds before

the interval as Alan McDonald,

Rangers' stalwart captain,

shook his head in frustration.

Houston got to work on his

players at half-time, reasoning

that if Vale could score four

times in one half, then perhaps

58 WWW.QPR.CO.UK // @QPR // @OFFICIALQPR // OFFICIALQPRFC
---
hoops

Rangers could do the same in

the second period.

The visitors stepped up the

intensity and pace and Jermaine

Holwyn headed a Danny

Dichio-bound cross from Trevor

Sinclair into his own net. 4-1.

The Everest did not now seem

insurmountable for QPR, but

the visitors struggled to reduce

the arrears further until Andrew

Impey volleyed their second in

the 85th minute.

Impey gestured to the Rangers

supporters behind the goal as if

to say 'we can rescue this' and,

two minutes before the end of

normal time, Rangers pulled back

the deficit to just one as Paul

Murray chipped home following a

McDonald surge and smart play

from Gavin Peacock and Sinclair.

Spencer, a recent £2.5m signing

from Chelsea, bagged the point

saver after a Dichio header

rebounded to him. Houston's

faith had been repaid.

Houston, who was initially

replaced the following

November by John Hollins

before Ray Harford was lured

from West Brom, said to the

Independent: "It was like

heaven and hell (the difference

between each half). I told the

players that, if Vale could score

four goals in 45 minutes, so

could we. I didn't think we would

but it was one hell of a game."

Vale supporter Robbie Williams

once sang, "Let me entertain

you". Well, those 5,000 got

plenty that day.

Former Scotland international

defender Houston had

helped Manchester United to

the Division Two title and the

FA Cup as a player in the

mid-1970s.

He had also assisted George

Graham when he managed

Arsenal, helping 'Stroller' stroll

the Gunners to the Division

One title, the FA Cup, the

League Cup and the European

Cup Winners' Cup.

Houston took over as Gunners

caretaker boss when Graham

was sacked and his team were

pipped in the UEFA competition

decider the following year. After

assisting Rioch at Highbury

for a year, he was reappointed

caretaker to keep the seat warm

for Arsene Wenger.

However, he then joined QPR

for his baptism as a permanent

manager with Wenger, who

was to prove a legendary

figure at Arsenal, taking over at

Highbury the following month.

Mike Donovan is an author

and award-winning journalist.

He produced Queens Park

Rangers Greatest Games

in 2013, with Stan Bowles

helping to promote it and Les

Ferdinand writing the foreword.

He has a feel for the Bush and

was taken to Cooke's Pie and

Mash shop in the area's market

by his mum (who worked in

the area) and dad, attended

concerts at the fabulous

Empire and hung out socially in

W12 growing up.

Mike has written a series of

football books – most recently

the Jimmy Greaves We Knew

which is currently available in

bookstores.

OFFICIALQPRFC // @OFFICIALQPR // @QPR // WWW.QPR.CO.UK

59
---
hoops

PUTTING THE SPARK

INTO MATCHDAY

PROGRAMMES...

PROUD PROGRAMME

PARTNERS OF

QUEENS PARK

RANGERS

www.ignitionsportsmedia.com

60 WWW.QPR.CO.UK // @QPR // @OFFICIALQPR // OFFICIALQPRFC
---
hoops

2019-22

qprcommunitytrust.co.uk e: community@qpr.co.uk t: 020 8740 2509

@QPRtrust

EXTRA TIMERS LOVE TO BE BESIDE THE SEASIDE

Members of the popular Extra Time project

were able to enjoy some summer sun on their

trip to Brighton, organised by QPR in the

Community Trust.

First launched in 2009, Extra Time runs every

Wednesday, from 10am to 12pm in the Blue &

White Bar, located in the Loftus Road Stand.

As well as the social aspect of the scheme,

which helps isolated individuals to engage with

each other, the group also encourages physical

activity, with a pilates session provided as part

of the morning.

During periods of Covid quarantine, the group

had to be postponed as many members were

classed as high risk, leaving some of them

housebound.

As a result, the Trust ensured that staff

members maintained regular contact with

them, organising weekly phone calls and

helping to provide support where needed,

Fiona Hodgson, the Trust's business development

manager, said: "The weekly sessions provide

a sense of community, friendship and the

opportunity to take part in physical activity.

"The social aspect is listed as the most

important outcome to the group and the annual

day trip is something they really look forward to,

even more so after the last couple of years."

OFFICIALQPRFC // @OFFICIALQPR // @QPR // WWW.QPR.CO.UK

61
---
hoops

2022/23

FIXTURES & RESULTS

DATE KO OPPOSITION SCORE POS. STARTING XI

JULY

Sat 30 15:00 Blackburn Rovers L 0-1 22 DIENG KAKAY DICKIE CLARKE-SALTER DOZZELL JOHANSEN

AUGUST

Sat 6 15:00 Middlesbrough W 3-2 8 DIENG KAKAY DICKIE DUNNE 1 PAAL FIELD

Tue 9 19:45 Charlton Athletic CC L 1-1* n/a DIENG KAKAY DICKIE DUNNE HAMALAINEN THOMAS

Sat 13 15:00 Sunderland D 2-2 10 DIENG 1 KAKAY DICKIE DUNNE HAMALAINEN JOHANSEN

Tue 16 20:00 Blackpool L 0-1 15 DIENG LAIRD DICKIE DUNNE PAAL DOZZELL

Sat 20 15:00 Rotherham United D 1-1 17 DIENG LAIRD DICKIE DUNNE PAAL FIELD

Sat 27 15:00 Watford W 3-2 11 DIENG LAIRD DICKIE DUNNE PAAL FIELD

Tue 30 19:45 Hull City W 3-1 6 DIENG LAIRD 1 DICKIE DUNNE PAAL DOZZELL

SEPTEMBER

Sat 3 15:00 Swansea City L 0-1 9 DIENG LAIRD DICKIE DUNNE PAAL JOHANSEN

Wed 14 19:45 Millwall

Sat 17 15:00 Stoke City

OCTOBER

Sat 1 15:00 Bristol City

Tue 4 19:45 Sheffield United

Fri 7 20:00 Reading

Sat 15 12:30 Luton Town

Wed 19 19:45 Cardiff City

Sat 22 15:00 Wigan Athletic

Fri 28 20:00 Birmingham City

NOVEMBER

Wed 2 19:45 Norwich City

Sat 5 15:00 West Bromwich Albion

Sat 12 15:00 Coventry City

DECEMBER

Sat 10 15:00 Burnley

Sat 17 15:00 Preston North End

Mon 26 15:00 Cardiff City

Thurs 29 19:45 Luton Town

JANUARY

Mon 2 15:00 Sheffield United

Sat 14 15:00 Reading

Sat 21 15:00 Swansea City

Sat 28 15:00 Hull City

FEBRUARY

Sat 4 15:00 Huddersfield Town

Sat 11 15:00 Millwall

Tue 14 19:45 Sunderland

Sat 18 15:00 Middlesbrough

Sat 25 15:00 Blackburn Rovers

MARCH

Sat 4 15:00 Rotherham United

Sat 11 15:00 Watford

Tue 14 19:45 Blackpool

Sat 18 15:00 Birmingham City

APRIL

Sat 1 15:00 Wigan Athletic

Fri 7 15:00 Preston North End

Mon 10 15:00 West Bromwich Albion

Sat 15 15:00 Coventry City

Wed 19 19:45 Norwich City

Sat 22 15:00 Burnley

Sat 29 15:00 Stoke City

MAY

Sat 6 15:00 Bristol City

TBA TBA Huddersfield Town

All fixtures subject to change. * Lost 3-5 on penalties

62 WWW.QPR.CO.UK // @QPR // @OFFICIALQPR // OFFICIALQPRFC
---
hoops

KEY: GOALSCORER 1 - FIRST SUB - SECOND SUB - THIRD SUB - FOURTH SUB - FIFTH SUB - † OWN GOAL - YELLOW CARD - RED CARD

SUBSTITUTES

REFEREEE

FIELD PAAL SHODIPO CHAIR DYKES

|

THOMAS, ADOMAH, ARMSTRONG, RICHARDS, BONNE, DUNNE, WALSH BRAMALL

JOHANSEN | WILLOCK 1 AMOS CHAIR DYKES 1 ADOMAH, DOZZELL, BONNE, HAMALAINEN, MASTERSON, SHODIPO, WALSH SMITH

FIELD

|

CHAIR DOZZELL BONNE ADOMAH SHODIPO, ROBERTS 1, ARMSTRONG, JOHANSEN, DREWE, DYKES, MASTERSON, WALSH ATTWELL

ADOMAH CHAIR 1 FIELD

|

SHODIPO DYKES ROBERTS, DOZZELL, ARMSTRONG, BONNE, MASTERSON, GUBBINS, WALSH SIMPSON

JOHANSEN FIELD ROBERTS DYKES CHAIR ARMSTRONG, SHODIPO, ADOMAH, KAKAY, HAMALAINEN, MASTERSON, WALSH DAVIES

JOHANSEN ROBERTS CHAIR WILLOCK 1 DYKES DOZZELL |, ADOMAH, ARMSTRONG, SHODIPO, KAKAY, ARCHER, HAMAHLAINEN WOOLMER

| | JOHANSEN DOZZELL CHAIR 1 WILLOCK 1 DYKES ADOMAH 1, ARMSTRONG, MASTERSON, KAKAY, ARCHER, BONNE, SHODIPO STROUD

FIELD JOHANSEN CHAIR 1 DYKES WILLOCK 1 ROBERTS |, KAKAY, ADOMAH, ARMSTRONG, ARCHER, MASTERSON, BALOGUN MARTIN

FIELD DOZZELL WILLOCK DYKES CHAIR ROBERTS, IROEGBUNAM, ADOMAH, ARMSTRONG, BALOGUN, ARCHER, KAKAY O LANGFORD

OFFICIALQPRFC // @OFFICIALQPR // @QPR // WWW.QPR.CO.UK

63
---
Proud to be official

construction sponsors of

QPR FC

A MAJOR SAFETY MILESTONE

5 MILLION HOURS

RIDDOR ACCIDENT FREE

Groundworks

Concrete Frames

Remediation

Tower Cranes

Demolition

020 8238 7000

info@groundconstruction.com

www.groundconstruction.com

GCL IS AN EMPLOYEE OWNERSHIP TRUST

GROUND FOR CONFIDENCE.

INTEGRATED CONSTRUCTION EXCELLENCE SINCE 1997.
---
hoops

CHAMP

LEAGUE TABLE

PACK

TODAY'S

# CLUB P W D L F A +/- PTS

1 SHEFFIELD UNITED 9 6 2 1 17 5 12 20

2 NORWICH CITY 8 5 1 2 12 6 6 16

3 BLACKBURN ROVERS 9 5 0 4 11 11 0 15

4 READING 8 5 0 3 9 11 -2 15

5 BURNLEY 9 3 5 1 15 9 6 14

6 BRISTOL CITY 8 4 2 2 16 11 5 14

7 WATFORD 9 3 4 2 9 9 0 13

8 WIGAN ATHLETIC 8 3 4 1 9 10 -1 13

9 PRESTON NORTH END 9 2 6 1 3 2 1 12

10 SUNDERLAND 8 3 2 3 11 9 2 11

11 QUEENS PARK RANGERS 8 3 2 3 12 11 1 11

12 STOKE CITY 9 3 2 4 11 11 0 11

13 BLACKPOOL 8 3 2 3 9 10 -1 11

14 CARDIFF CITY 9 3 2 4 7 10 -3 11

15 HULL CITY 9 3 2 4 11 18 -7 11

16 ROTHERHAM UNITED 7 2 4 1 9 6 3 10

17 MILLWALL 8 3 1 4 9 11 -2 10

18 WEST BROMWICH ALBION 8 1 6 1 12 10 2 9

19 LUTON TOWN 8 2 3 3 7 8 -1 9

20 MIDDLESBROUGH 9 2 3 4 13 15 -2 9

21 SWANSEA CITY 9 2 3 4 7 12 -5 9

22 BIRMINGHAM CITY 8 2 2 4 5 8 -3 8

23 HUDDERSFIELD TOWN 8 1 1 6 8 13 -5 4

24 COVENTRY CITY 5 0 1 4 5 11 -6 1

LAST UPDATED: 13.09.2022

GOALSCORERS

OSCAR ESTUPINAN

HULL CITY

ROSS STEWART

SUNDERLAND

JOSHUA SARGENT

NORWICH CITY

JOSH BROWNHILL

BURNLEY

LEWIS BAKER

STOKE CITY

VS

VS

VS

VS

ASSISTS

ANDREAS WEIMANN

7 BRISTOL CITY

5544

DANIEL BARLASER

ROTHERHAM UNITED

STEFAN JOHANSEN

QUEENS PARK RANGERS

ROSS STEWART

SUNDERLAND

ILIAS CHAIR

QUEENS PARK RANGERS

4

4

4

3

3

KICK-OFF 3PM UNLESS STATED OTHERWISE

VS

VS

CLEAN SHEETS

FREDDIE WOODMAN

PRESTON NORTH END

WES FODERINGHAM

SHEFFIELD UNITED

RYAN ALLSOP

CARDIFF CITY

THOMAS KAMINSKI

BLACKBURN ROVERS

VIKTOR JOHANSSON

ROTHERHAM UNITED

VS

VS

VS

VS

7

544

3

OFFICIALQPRFC // @OFFICIALQPR // @QPR // WWW.QPR.CO.UK

65
---
hoops

Media Voice

JOURNALIST AND BROADCASTER AIDAN MAGEE

PENS HIS LATEST COLUMN

It's been a while since I was forced to sit

through a VAR delay in the Premier League.

I did so at Brentford recently in their 5-2 win

over Leeds. There was a six-minute wait for

referee Robert Jones and the VAR to award

the home side a penalty.

If you're watching live coverage at home, you can

at least see what the VAR is looking at, and what

the referee will see if he checks his monitor.

I was staring at an electronic screen which

confirmed that VAR was checking for a

possible penalty. The fans are part of the

game and should be seeing what the officials

can see on their monitors and on their

screens at Stockley Park.

The experience made me thankful for what

we have in the Championship.

It will never be perfect, of course – and

decisions will occasionally prompt the kind of

rant we heard from Bristol City manager Nigel

Pearson after his side's win over Luton last

month. Whether VAR is used or not, it may be

an over-simplification to say that decisions

'even themselves out over a season,' as that's

probably not true.

I can't recall many teams in history who were

promoted or relegated over the course of a

league campaign on refereeing decisions alone.

QPR may have benefitted from an imperfect

judgement a week earlier when Watford saw

what would have been their equaliser ruled out.

My friend Dean Spencer and I had a brilliant

afternoon. I put a word in for him with GB

News and, after sailing through the interview,

he deservedly got the job.

As a thank you, he invited me to enjoy

hospitality at Watford and I had a chat

with former QPR loanee Richard Johnson

afterwards.

He was the Australian midfielder who helped

us over the line in our 2004 promotion push

to the Championship and is now academy

director at Watford.

66 WWW.QPR.CO.UK // @QPR // @OFFICIALQPR // OFFICIALQPRFC
---
Ashville is rooted in construction and our history has morphed

from boots on the ground to in house development and government

infrastructure projects. Ashville encompasses every element in

construction and is a fundamental part of all supply chains.

We're proud to have over 15 years' experience within the industry, which in

turn allows us to provide a responsive and reliable service for each of our

customers. Our team and process are completely in-house which allows us

to have control from initial concept to completion.

ashvilleaggregates.com
---
THE SQUADS

QUEENS PARK

RANGERS

HEAD COACH: MICHAEL BEALE

SENY DIENG GK ● 1

OSMAN KAKAY ● 2

JIMMY DUNNE ● 3

ROB DICKIE ● 4

JAKE CLARKE-SALTER ● 5

STEFAN JOHANSEN ● 6

CHRIS WILLOCK ● 7

LUKE AMOS ● 8

LYNDON DYKES ● 9

ILIAS CHAIR ● 10

TYLER ROBERTS ● 11

JORDAN ARCHER GK ● 13

GEORGE THOMAS ● 14

SAM FIELD ● 15

NIKO HAMALAINEN ● 16

ANDRE DOZZELL ● 17

MACAULEY BONNE ● 18

TAYLOR RICHARDS ● 20

KENNETH PAAL ● 22

CONOR MASTERSON ● 23

CHARLIE OWENS ● 24

OLAMIDE SHODIPO ● 25

LEON BALOGUN ● 26

ETHAN LAIRD ● 27

JOE GUBBINS ● 28

AARON DREWE ● 29

SINCLAIR ARMSTRONG ● 30

RAY JONES ● 31

JOE WALSH GK ● 32

ALBERT ADOMAH ● 37

MURPHY MAHONEY GK ● 38

TIM IROEGBUNAM ● 47

STOKE

CITY

MANAGER: ALEX NEIL

1 ● JOE BURSIK GK

2 ● HARRY CLARKE

3 ● MORGAN FOX

4 ● ADEN FLINT

5 ● HARRY SOUTTAR

6 ● PHIL JAGIELKA

7 ● SAM CLUCAS

8 ● LEWIS BAKER

9 ● JACOB BROWN

10 ● TYRESE CAMPBELL

11 ● DWIGHT GAYLE

13 ● JACK BONHAM GK

14 ● JOSH TYMON

15 ● JORDAN THOMPSON

16 ● BEN WILMOT

17 ● LIAM DELAP

18 ● WILL SMALLBONE

19 ● LIAM MCCARRON

20 ● DUJON STERLING

22 ● GAVIN KILKENNY

24 ● TARIQE FOSU

25 ● NICK POWELL

28 ● JOSH LAURENT

29 ● D'MARGIO WRIGHT-PHILLIPS

32 ● CONNOR TAYLOR

34 ● FRANK FIELDING GK

Referee:

Matthew Donohue

Assistant Referee:

Daniel Leach

Assistant Referee:

Bhupinder Gill

Fourth official:

Thomas Kirk