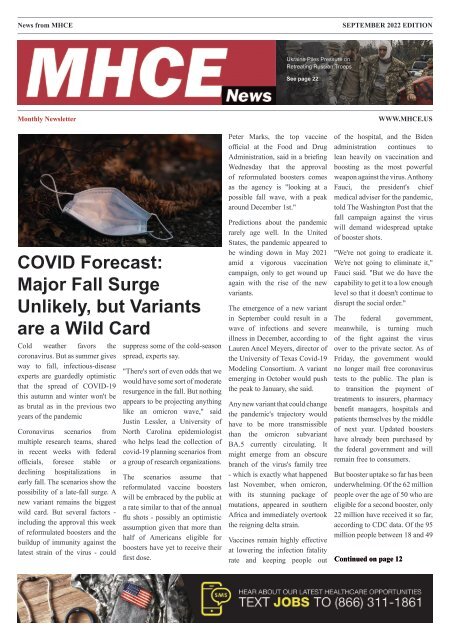 September 2022 — MHCE Newsletter
You also want an ePaper? Increase the reach of your titles
YUMPU automatically turns print PDFs into web optimized ePapers that Google loves.
News from MHCE

SEPTEMBER 2022 EDITION

Ukraine Piles Pressure on

Retreating Russian Troops

See page 22

Monthly Newsletter

COVID Forecast:

Major Fall Surge

Unlikely, but Variants

are a Wild Card

Cold weather favors the

coronavirus. But as summer gives

way to fall, infectious-disease

experts are guardedly optimistic

that the spread of COVID-19

this autumn and winter won't be

as brutal as in the previous two

years of the pandemic

Coronavirus scenarios from

multiple research teams, shared

in recent weeks with federal

officials, foresee stable or

declining hospitalizations in

early fall. The scenarios show the

possibility of a late-fall surge. A

new variant remains the biggest

wild card. But several factors -

including the approval this week

of reformulated boosters and the

buildup of immunity against the

latest strain of the virus - could

suppress some of the cold-season

spread, experts say.

"There's sort of even odds that we

would have some sort of moderate

resurgence in the fall. But nothing

appears to be projecting anything

like an omicron wave," said

Justin Lessler, a University of

North Carolina epidemiologist

who helps lead the collection of

covid-19 planning scenarios from

a group of research organizations.

The scenarios assume that

reformulated vaccine boosters

will be embraced by the public at

a rate similar to that of the annual

flu shots - possibly an optimistic

assumption given that more than

half of Americans eligible for

boosters have yet to receive their

first dose.

Peter Marks, the top vaccine

official at the Food and Drug

Administration, said in a briefing

Wednesday that the approval

of reformulated boosters comes

as the agency is "looking at a

possible fall wave, with a peak

around December 1st."

Predictions about the pandemic

rarely age well. In the United

States, the pandemic appeared to

be winding down in May 2021

amid a vigorous vaccination

campaign, only to get wound up

again with the rise of the new

variants.

The emergence of a new variant

in September could result in a

wave of infections and severe

illness in December, according to

Lauren Ancel Meyers, director of

the University of Texas Covid-19

Modeling Consortium. A variant

emerging in October would push

the peak to January, she said.

Any new variant that could change

the pandemic's trajectory would

have to be more transmissible

than the omicron subvariant

BA.5 currently circulating. It

might emerge from an obscure

branch of the virus's family tree

- which is exactly what happened

last November, when omicron,

with its stunning package of

mutations, appeared in southern

Africa and immediately overtook

the reigning delta strain.

Vaccines remain highly effective

at lowering the infection fatality

rate and keeping people out

WWW.MHCE.US

of the hospital, and the Biden

administration continues to

lean heavily on vaccination and

boosting as the most powerful

weapon against the virus. Anthony

Fauci, the president's chief

medical adviser for the pandemic,

told The Washington Post that the

fall campaign against the virus

will demand widespread uptake

of booster shots.

"We're not going to eradicate it.

We're not going to eliminate it,"

Fauci said. "But we do have the

capability to get it to a low enough

level so that it doesn't continue to

disrupt the social order."

The federal government,

meanwhile, is turning much

of the fight against the virus

over to the private sector. As of

Friday, the government would

no longer mail free coronavirus

tests to the public. The plan is

to transition the payment of

treatments to insurers, pharmacy

benefit managers, hospitals and

patients themselves by the middle

of next year. Updated boosters

have already been purchased by

the federal government and will

remain free to consumers.

But booster uptake so far has been

underwhelming. Of the 62 million

people over the age of 50 who are

eligible for a second booster, only

22 million have received it so far,

according to CDC data. Of the 95

million people between 18 and 49

Continued on page 12
---
2 | MHCE - News www.mhce.us SEPTEMBER 2022 EDITION
---
WWW.MHCE.US Monthly Newsletter | 3

VISIT OUR WEBSITE

AT MHCE.US
---
4 | MHCE - News www.mhce.us SEPTEMBER 2022 EDITION
---
WWW.MHCE.US Monthly Newsletter | 5

Focus on Oversight a Key for Success at

CoreCivic

In the corrections industry, maintaining high standards of

operation is imperative to meeting the needs of the individuals

in our care. That's why CoreCivic adheres to a stringent set of

guidelines set forth by our own standards, as well as those of our

government partners and the American Correctional Association

(ACA).

Founded in 1870, the ACA is considered the national benchmark

for the effective operation of correctional systems throughout

the United States. To become accredited, a facility must achieve

compliance with ACA mandatory standards and a minimum of

90 percent non-mandatory standards. CoreCivic facilities adhere

to ACA standards, and in 2020, CoreCivic earned an average

ACA audit score of 99.6 percent across all facilities.

Key ACA audit areas include facility personnel, resident reentry

programs, resident safety, health care, and more.

holds our facilities and staff to a high standard. To be able to

represent our facility and receive reaccreditation in person is an

honor."

Adhering to ACA standards is only one part of CoreCivic's

commitment to robust oversight. When government partners

utilize CoreCivic's services, we are held not only to our own

high standards and those of the ACA, but we are often held to

the same or higher accountability of our public counterparts

through stringent government contracts, unfettered access to

our facilities for our partners, and hundreds of on-site quality

assurance monitors.

We provide access to our government partners, with most of

our facilities having government agency employees known as

contract monitors who are physically on-site to ensure we are

operating in line with partner guidelines.

Recently, the ACA held in Nashville, Tennessee, its 151st

Congress of Corrections, an annual convention that brings

together corrections professionals from across the country. In

addition to various workshops and events at the convention, the

ACA Commission on Accreditation also held panel hearings to

award accreditation to correctional facilities that meet the ACA's

rigorous requirements. Listed below are the seven CoreCivic

facilities that earned reaccreditation this year, with mandatory/

non-mandatory scores:

• Bent County Correctional Facility - 100/99.0

• Citrus County Detention Facility - 100/100

• Eloy Detention Center - 100/100

• Lake Erie Correctional Institution - 100/99.3

• Saguaro Correctional Center - 100/99.8

• Stewart Detention Center - 100/100

• Tallahatchie County Correctional Facility - 100/100

"The accreditation process is very important," said Warden

Fred Figueroa from Eloy Detention Center, one of the seven

CoreCivic facilities that was awarded reaccreditation. "ACA

To maintain our own high standards, annual on-site audits covering

all operational areas are administered to ensure compliance with

contractual and regulatory obligations and corporate-mandated

requirements. Each CoreCivic Safety facility is audited by our

internal quality assurance division, which is independent from

our operations division. Facilities are expected to be audit-ready

year-round, maintaining continuous compliance with numerous

applicable standards.

CoreCivic employs 75 staff members dedicated to quality

assurance, including several subject matter experts with extensive

experience from all major disciplines within our institutional

operations.

"A lot of hard work goes into preparing for these audits,"

Figueroa said. "Once they're complete, the staff can see their

accomplishments and feel proud."

Having multiple levels of oversight helps CoreCivic maintain

a safe environment for those in our care. By holding ourselves

accountable to our own high standards, along with our

government partners' and ACA's standards, CoreCivic continues

to be a trusted partner working to better the public good.
---
6 | MHCE - News www.mhce.us SEPTEMBER 2022 EDITION
---
WWW.MHCE.US Monthly Newsletter | 7
---
8 | MHCE - News www.mhce.us SEPTEMBER 2022 EDITION

Lawmakers particularly pointed to the precision

weapons and rocket systems that the U.S. and Western

nations have provided to Ukraine as key to the dramatic

shift in momentum, including the precision-guided

High-Mobility Artillery Rocket System, or HIMARS,

and the High-speed Anti-Radiation Missile, or HARM,

which is designed to target and destroy radar-equipped

air defense systems.

US Leaders Avoid

Victory Dance in

Ukraine Combat

Advances

WASHINGTON — U.S. leaders from President Joe

Biden on down are being careful not to declare a

premature victory after a Ukrainian offensive forced

Russian troops into a messy retreat in the north. Instead,

military officials are looking toward the fights yet to

come and laying out plans to provide Ukraine more

weapons and expand training, while warily awaiting

Russia's response to the sudden, stunning battlefield

losses.

Although there was widespread celebration of

Ukraine's gains over the weekend, U.S. officials know

Russian President Vladimir Putin still has troops and

resources to tap, and his forces still control large

swaths of the east and south.

"I agree there should be no spiking of the ball

because Russia still has cards it can play," said Philip

Breedlove, a retired U.S. Air Force general who was

NATO's top commander from 2013 to 2016. "Ukraine

is now clearly making durable changes in its east and

north and I believe that if the West properly equips

Ukraine, they'll be able to hold on to their gains."

"They're there, they're in theater, and they're making

the difference," Sen. Chris Coons, a Delaware

Democrat and member of the Senate Foreign Relations

Committee. In the hands of highly motivated Ukrainian

fighters who are making the most of weapons ranging

from off-the-shelf drones and abandoned Russian arms

to advanced weapons from the West, the HIMARS are

enabling Ukrainians "to turn the tide, dramatically,"

Coons said.

Meanwhile, a senior defense official said the U.S. is

looking at future needs, including discussions about

providing more intensive combat training for larger

Ukraine units, a change from current training focused

on smaller teams learning to handle specific weapons.

It is also considering sending additional air defense

systems, as well as lethal strike drones and more

surveillance drones. The official was one of two who

briefed reporters Monday on condition of anonymity

to discuss planning details.

Ukraine's launch in recent days of a much-anticipated

counteroffensive — in a different part of the country

from where Russian troops occupying Ukraine had

massed strength to meet it — has brought on the

biggest territorial changes in months in the 200-day

war, launched when Putin rolled Russian forces into

the neighboring country, targeting its Western-oriented

government.

The U.S. officials acknowledged that the U.S. provided

information to help the Ukrainian counteroffensive,

but declined to say how much or if Western officials

helped strategize the idea to throw Russian forces off

guard by calling attention to attack plans in the south,

while actually plotting a more formidable campaign

in the east.
---
WWW.MHCE.US Monthly Newsletter | 9

The U.S provided information "on conditions" in the

country, said one of the officials, but "in the end, this

was the Ukrainian choice. The Ukrainian military and

the Ukrainian political leadership made the decisions

on how to conduct this counteroffensive."

Ukrainian forces claimed Monday to have retaken a

wide band of territory and more than 20 Ukrainian

settlements from Russia, pushing all the way back

to the two countries' northeastern border. Russian

soldiers were surrendering in such numbers that

Ukraine was having difficulty making room for them,

Ukrainian military officials said.

Ukrainians have pounded 400 targets in all with the

HIMARS since the U.S. began supplying them, using

them "with devastating effect," Army Gen. Mark

Milley, chairman of the Joint Chiefs of Staff, told

reporters late last week as Ukraine's counteroffensive

was getting underway.

The truck-mounted, GPS-guided systems fire faster,

farther and more precisely than the Soviet-designed

rocket launchers otherwise used by both Russia and

Ukraine. They can hit targets up to 80 kilometers

(50 miles) away. Ukrainian forces have used the 16

HIMARS and several similar systems to strike supply

lines, ammunition depots and other key Russian

targets.

The Ukrainians "believe that this has happened because

of the new technology equipment and weapons that

we've sent them. They ... said well, if you would have

sent them six months ago," said Sen. Dick Durbin, an

Illinois Democrat. "We didn't have them six months

ago, but you know, we had to build the weaponry, and

train their people on it, takes time."

Still, Ukrainian leaders are still pressing for more

— including fighter jets and the longer-range Army

Tactical Missile System, or ATACMS, a surface-tosurface

missile that the U.S. has so far declined to

send.

A key question going forward will be how much more

Congress and the American public are willing to spend

on the war in Ukraine, which the U.S. and the West

say also represents a significant threat to Europe.

It's unclear if, or how, Ukraine fighters' successes in

recent day will affect the ongoing debate. The White

House has asked Congress to greenlight an additional

$11.7 billion in aid as part of an overall government

funding measure that lawmakers must approve before

the end of the month.

"I haven't seen any lack of appetite so far" for

continuing funding for Ukraine, said Sen. Roy Blunt,

R-Mo. "I think to see the ability to take the help that

they've been given and then be clearly successful in

some of their efforts is an encouragement to want to

do more of that."

The U.S. — the lead contributor to Ukraine's war

effort among NATO members — has poured more

than $15 billion in weapons and other military support

into Ukraine since January.

Biden acknowledged the battlefield gains for Ukraine

over the weekend but refused to say more. "I'm not

going to speak to that now because things are in

process," he told reporters.

Breedlove noted that despite the recent battle losses,

Putin still has "a lot of tanks and a lot of trucks and

a lot of people that he can still throw at this problem.

They're just not his best tanks, his best trucks or his

best people."

But he warned that winter may bring the most daunting

challenge. Putin's moves to shut down fuel supplies to

Europe, which is expected to increase prices, are likely

aimed at turning public opinion across the region.

"Even though Mr. Putin's military has taken a beating

on the military front, his big card, yet probably to play

is how well does Europe hold together through a winter

that Mr. Putin is going to make completely miserable

for the European people," Breedlove said. "I think

Mr. Putin is desperately trying to hang on to winter

because his big hope now is to separate the European

people from their European political leadership."
---
10 | MHCE - News www.mhce.us SEPTEMBER 2022 EDITION
---
WWW.MHCE.US Monthly Newsletter | 11

TO ADVERTISE

contact nathan.stiles@mhce.us

VISIT OUR WEBSITE

AT MHCE.US
---
12 | MHCE - News www.mhce.us SEPTEMBER 2022 EDITION

who are eligible for their first booster, only 38

million have availed themselves of it.

Some may be waiting for the reformulated

vaccine before rolling up their sleeves again.

But covid apprehensiveness is not what it

once was, and many may feel that a couple of

shots is enough.

Moreover, some people may need help getting

access to an additional shot, said Brown

University epidemiologist Jennifer Nuzzo.

She would like to see stronger messaging from

the government to encourage vaccination.

"The most important thing we can do - top,

top, top of my list - is make sure that everyone

who is at high risk is up to date with their

vaccinations," she said.

The CDC is reporting about 82,000 new

covid cases daily, on average, although the

true number of infections is assumed to be

many times higher because so many people

test themselves at home. The more reliable

number is hospitalizations, currently about

30,000 patients, according to the CDC. Both

numbers are trending downward, as is the

death toll - a daily average of 387, according to

the CDC. (Average daily deaths peaked above

3,300 in January 2021, as the virus spread in

an overwhelmingly unvaccinated population,

and topped 2,600 per day the following winter

amid the omicron wave.)

If no new coronavirus variant emerges, the

numbers should stay stable or decline until the

new year, the report from Lessler's forecasting

group states.

The most pessimistic scenario is that a new

variant will appear and the booster campaign

will get rolling late, resulting in a projected

1.3 million hospitalizations and 181,000

deaths over a nine-month period (August

2022 to May 2023), compared with 700,000

hospitalizations and 111,000 deaths in the

most optimistic scenario, with no new variant

and an early start to the booster campaign.

Dylan George, director of operations at

the CDC's recently established Center for

Forecasting and Outbreak Analytics, compares

disease modeling to weather forecasting. The

agency looks at many models, incorporating

variables to create a wide range of plausible

scenarios. Right now, he said, the CDC

believes that the BA.5 subvariant is cresting

in most of the country.

Behavior is another variable in the equation.

Precautions have largely been relaxed for
---
WWW.MHCE.US Monthly Newsletter | 13

much of the country. Many companies are

requiring workers to report to the office but

no longer require vaccination or provide

regular coronavirus testing. Schools have

dropped mask mandates.

"People are not wearing masks," George

said. "People are running around in bigger

groups. People are traveling more. Schools

are not having any kind of mitigation. Will

that impact spread in a bigger way as well?"

Waves of infection are to some degree

self-limiting. The virus "burns through all

the susceptibles," as George put it, losing

momentum. But then time passes, and

immunity wanes. Vaccine-based immunity

against infection appears to drop significantly

in a matter of months, even as protection

against severe disease continues.

Another complication is the presence of

other circulating viruses, including influenza,

which also has a cold-weather seasonal

signature.

"There's all sorts of respiratory things,

especially as we go into the school season,"

George said. "How is flu going to play out

now that we're all coming together? . . .

There has always been concern about the

'twindemic.' "

Fauci noted that, following a cascade of

new subvariants earlier this year, the BA.5

omicron subvariant and the almost identical

BA.4 have not been challenged this summer

by a new strain. Immunity against BA.5

and BA.4 has been steadily building in

the population as people get infected and

then recover. That immunity should get

a significant enhancement from the new

boosters that have been designed to fight not

only the original strain of the virus, but also

BA.5/BA.4.

"I don't think it's going to be a major surge if

it stays BA.5," Fauci said of the hypothetical

fall wave of cases.

Amid a broader return to normal behavior

there remains a significant contingent of

people who are covid-cautious - aware that

hundreds of people a day are still dying

from the virus - and continue to wear masks

indoors or limit contacts with others.

Millions are now experiencing the health crisis

of "long covid," an array of post-infection

symptoms that include severe fatigue and

brain fog. It is a slippery disease to diagnose

conclusively because many symptoms could

signal long covid or a different ailment.

One CDC report said 1 in 5 infected people

develop long covid.

Marks, the FDA official, said he routinely

fields calls from people in their 20s and 30s

with long covid symptoms, and said the

illness represents a serious public health

challenge. "The brain fog, in some cases,

the mood changes - people who used to be

very bright and cheery, who now are anxious

and depressed - those things seem to be very

real," he said.

Some patients have struggled with long

covid for more than two years and have been

unable to return to work or resume their prepandemic

way of life.

"Some are young, healthy, athletic people,

and they can't even go back to work," said

Akiko Iwasaki, an immunologist at Yale

University School of Medicine. "People

should know the risk before they remove the

mask and stop getting their boosters."

Evidence points to the virus settling into a

seasonal pattern, said Columbia University

epidemiologist Jeff Shaman. Viral

transmission is enhanced by the low humidity

of the indoor environment during the winter

as well as by the decline in sunshine and its

sterilizing ultraviolet radiation, Shaman said.

He worries that the virus could continue to

sicken and kill people at rates higher than

the seasonal flu, which, according to CDC

data, took between 12,000 and 52,000 lives

per year between 2010 and 2020. If the covid

mortality continues at the same rate as it has

been over the past five months, that would

be roughly 120,000 deaths a year, Shaman

calculated. If that is the new normal, it's

sobering, he said.

Infectious-disease experts don't want to tempt

fate with sunny forecasts. The coronavirus

is still adapting to people as it mutates

randomly, and natural selection favors the

most immune-evasive strains.

"My forecast is that you can't really forecast,"

Fauci said. "It is such an unpredictable virus

in the sense that we've been fooled before,

and we likely will continue to be fooled."
---
14 | MHCE - News www.mhce.us SEPTEMBER 2022 EDITION

Recruiting Crisis

Should Be a Wakeup

Call for The Military

and Its Treatment of

Women

This year, the U.S. military is behind recruiting goals by 23%, with the

Army alone estimating it will miss goals by nearly 40,000 personnel

over the next two years. Now, with the Supreme Court's decision

to overturn Roe v. Wade, a new front has emerged that will likely

exacerbate the military's personnel struggle. The recent decision

by the Department of Veterans Affairs to provide abortion access to

female veterans is much needed; unfortunately, active duty service

members must still work through the military's health care system to

access it.

The Dobbs v. Jackson Women's Health Organization ruling adds

additional stressors to female service members who already face a

difficult military culture and environment that often appear quite

hostile to their needs. Nearly 1 in 4 servicewomen report experiencing

sexual assault in the military, more than half report sexual harassment,

and last year, reports of sexual assault surged in the military by 13%

The suicide rate for women in the military is already double that of

the national population, a fact that holds true today. Women in the

military will now face increased risks if they're stationed in a state

that doesn't provide access to reproductive care.

The Pentagon acknowledged as much July 29 in a congressional hearing

on the growing military personnel crisis. A 2017 report revealed that

7% of women on active duty reported an unintended pregnancy in

2011 — an estimated total of 14,000 unplanned pregnancies alone

— compared to 4.5% of civilian women. More than 90 abortions

since 2016 have occurred at Department of Defense facilities. The

military's struggles to bring in new recruits are often viewed as a

pressing national security concern. Following this logic, anything

that exacerbates personnel problems is also a national security issue.

Restrictive reproductive health laws are now one of those factors.

Due to the military's recruiting crisis, there have been calls to Congress

to fix the issue through various actions, yet there's been little dialogue

about how to ensure that women who do choose to join are guaranteed

reproductive rights at their assigned duty stations. Policymakers

who ignore this fact when complaining about the risks of having a

weakened military — while simultaneously blocking legislation to

enshrine the protection of reproductive rights into law — are being

disingenuous. One in 5 service members are women. They make up

51% of eligible recruits. And as of 2015, all jobs previously closed to

women in the military were opened after years of debate.

Still, the military's culture has continued to be hostile to women.

The military justice system continues to inadequately apply equal

punishment across its ranks, not only in cases of sexual misconduct

but also in cases of domestic violence, which occurs at a higher rate

than in the civilian population.

These issues already push women to leave the military early at

a rate almost 30% higher than men. Federal law prohibits military

health facilities from providing abortion unless the pregnant person,

service member or dependent's life is in danger or if the pregnancy

was caused by rape or incest. That means service members who seek

abortions for issues such as fetal abnormalities already face obstacles

such as having to ask for time off from commanders and being forced

to travel hundreds of miles for treatment. Now, the Dobbs decision

has lessened the already slim available medical options for female

service members and may open them up to future prosecution.

Additionally, there is no Defense Department regulation that clarifies

whether women are guaranteed time off if they need such treatment.

That means they are required to obtain approval from their chain of

command before going on any type of medical leave for reproductive

care not covered by current regulations. This is an immediate privacy

concern, as female service members run the very real risk of retribution

from commanders who may be against abortion. Women already face

retaliation for reporting sexual assaults: A 2015 report from the Human

Rights Watch found that 62% of those who reported sexual assaults

faced vindictive consequences and retaliatory behavior, often from

their own leaders who now hold the power to force decisions upon

thousands of women in the armed services who need reproductive

care.

Without legislative action, the military will rapidly become unviable

to the millions of women in the nation who now have to choose

colleges, jobs and homes based on individual states' reproductive laws.

Worse, for service members with wives or daughters, the restrictions

may push them to quit out of fear for their loved ones, an additional

detrimental effect on military personnel strength.

It's hard to convince anyone to join or stay in an organization that

prides itself on defending our American ideals when that same

organization holds the power to require its members to serve in places

where basic human rights have been taken away.
---
WWW.MHCE.US Monthly Newsletter | 15

Through the

connection of people

and technology,

there's a way to

improve health care

for millions.

Louisiana Tech University's

programs in Health

Informatics and Information

Management connect

health, business, and

technology and prepare

you for rewarding careers

in health care. Here, you'll

learn to manage information

so that better, more efficient

care can be delivered with

improved patient outcomes.

• online

• face to face

• BS and MHI

• RHIA credential

• CAHIIM accredited

Visit latech.edu/HIIM to

learn more.

LOUISIANA TECH

UNIVERSITY
---
16 | MHCE - News www.mhce.us SEPTEMBER 2022 EDITION

A "thorough" lead-based paint inspection on all the

family housing areas in Osan was initiated in March

by U.S. Forces Korea, Wood said.

Engineers were unclear how many coats of paint

covered some of the affected objects and did not

recommend removing it, according to Wood.

Plans are being developed to replace all five of

Osan's aging playgrounds, said Lt. Col. Brian Low,

the 51st Civil Engineer Squadron commander.

Lead-based Paint

Discovery Closes Osan

Air Base Playground;

Authorities Promise

Upgrades

OSAN AIR BASE, South Korea — A children's

playground was shut down and other areas of this

air base are being cordoned off after traces of leadbased

paint were discovered earlier this month,

according to the 51st Fighter Wing.

The playground at the Jirisan Tower residential

complex was closed Friday out of an abundance of

caution after a small amount of lead-based paint was

discovered on the slide last week, 51st Fighter Wing

commander Col. Joshua Wood said Monday during

a town hall at the Osan officers' club.

"I can tell you our team very much cares," Wood

said. "We care about your safety, and we care about

providing as high quality of living exceptions and

experiences as we possibly can."

Not much of the Jirisan Tower's playground was

left after the slides were removed, so it was entirely

closed, Wood said.

Lead-based paint was also found on the crossbar of a

swing set at the playground near the Hallasan Tower

residential complex, a short walk from Jirisan Tower.

The swings were removed; however, children are

still allowed to visit the playground.

"We will phase it in such a way that we don't take

everything down," Low said at the town hall.

Other objects containing lead-based paint near

family residences are also being addressed, Wood

and Low said. Utility areas inaccessible to residents

and the top of a fire hydrant contained the toxic paint

and are being cordoned off until engineers can safely

deal with the issue.

Space Force spouse Katrelle Simmons-Green said

she was concerned with the news of lead-based

paint on the base, but that Wood and Low's plans

assuaged her worries, she told Stars and Stripes

after the town hall. She, her husband and their two

daughters moved to Osan from Colorado in August.

"I definitely feel more at ease with what's going on,"

Simmons-Green said. "To hear that they immediately

took things down, had a town hall — I felt that that

was very helpful. Had that not have happened, I

would have a lot of concerns."

For the past five years, the South Korean government

has limited the use of lead-based paint out of health

concerns, Wood said.

The U.S. Environmental Protection Agency warns

on its website that paint containing lead "in and

around your home can be dangerous if not managed

properly."

The U.S. banned use of lead-based paint by

consumers in 1978; homes that were constructed

before then are more likely to contain the substance,

according to the EPA. The agency warns that lead

paint poisoning among children can lead to "lower

intelligence, learning disabilities and behavioral

issues."
---
WWW.MHCE.US Monthly Newsletter | 17
---
18 | MHCE - News www.mhce.us SEPTEMBER 2022 EDITION

Air Force Loses Appeal in Federal Vaccine

Exemption Lawsuit

A federal appeals court has denied the Air Force's attempt

to overturn class certification and a class-wide preliminary

injunction that protects Airmen from discipline as a lawsuit

continues against the Department of Defense mandate requiring

members to receive the COVID-19 vaccine.

The Sixth Circuit Court of Appeals denied the Department of Air

Force's emergency motion to stay the class certification and the

injunction granted by Cincinnati federal district Judge Matthew

McFarland in July.

McFarland ordered the Air Force to refrain from disciplinary or

separation measures against a class of what plaintiffs' advocates

say is a class of 10,000 unvaccinated service members.

Attorneys have estimated that some 80 to 100 Airmen at Wright-

Patterson Air Force Base are involved in the case.

The legal class in this case is a group of Air Force members

seeking a religious exemption from the military's COVID-19

vaccine mandate.

"The plaintiffs have contended throughout this litigation that

even the handful of exemptions that the department (of the Air

Force) has approved were granted only to service members who

were nearing the end of their service term and thus eligible for

an administrative exemption anyway," the circuit court said.

As of Sept. 6, the Air Force had granted 23 administrative

exemptions from the vaccine mandate to active-duty service

members and 674 "total force" administrative exemptions —

exemptions to members of the National Guard and the Air Force

Reserve. The service counts religious accommodations as a

subset of administrative exemptions.

"From the very first paragraph of their complaint, to their

briefing in opposition to the department's motion now, the

plaintiffs have alleged the existence of a 'systematic effort' by

the department to deny service members' requests for religious

exemptions categorically, while granting thousands of medical

and administrative exemptions," the court wrote.

The court held that the lower district court was correct when

it maintained that the plaintiffs' contention supports litigation

based on the Religious Freedom Restoration Act of 1993 and the

First Amendment.

"We differ with the district court, however, as to what that

relief might look like," the circuit court did add. "The court

appeared to assume that such relief would broadly enjoin the

department to provide a class-wide 'religious accommodation

relating to the COVID-19 vaccine mandate.' But an appropriate

remedy might more narrowly enjoin the department to abolish

the discriminatory policy, root and branch, and to enjoin any

adverse action against the class members on the basis of denials

of religious exemptions pursuant to that policy."

Air Force leaders have said vaccinations are an important part of

fitness and military readiness.

A December 2021 memo from the Air Force directs commanders

to take "appropriate administrative and disciplinary actions

consistent with federal law and Department of the Air Force

... policy in addressing service members who refuse to obey a

lawful order to receive the COVID-19 vaccine and do not have

a pending separation or retirement, or medical, religious or

administrative exemption."
---
WWW.MHCE.US Monthly Newsletter | 19

When the practice of medicine

becomes the business of medicine.

You spent years studying medicine.

But what about the business side of

your practice?

It's easy to get started.

Take the next step toward a

Physicians Executive MBA

and contact us:

auburn-military.mba

334-844-4060

Auburn MBA
---
20 | MHCE - News www.mhce.us SEPTEMBER 2022 EDITION

Gulf War Syndrome. Most recently, we

pushed Congress to fulfill our country's

promise to take care of injured veterans

by passing the PACT Act, granting

benefits to service members exposed to

toxic burn pits.

Now, veterans across the country,

including members of the Department

of Minnesota VFW, are faced with a

new and very different fight, stemming

not from inaction by the federal

government, but from misconduct by a

private company.

Combat Arms Earplug

Manufacturer 3M Must Stop

Mistreating Veterans

Retired Army Chief Warrant Officer

Dale Hoogeveen is the state commander

of the Department of Minnesota

Veterans of Foreign Wars. He served

22 years in the Army, working in the

nuclear weapons field and Military

Intelligence Corps.

Beginning in 2003, 3M sold an

earplug called the Combat Arms to

every branch of the military; they later

became standard issue throughout

much of the armed forces for soldiers

deploying to combat zones such as Iraq

and Afghanistan. In civilian life, people

are rarely exposed to the types of highdecibel

noises soldiers hear every day,

the kind that can easily lead to major

hearing loss if troops go unprotected.

Earplugs are a crucial piece of a

soldier's uniform, and the military has

invested millions of dollars to identity

and better treat the hearing loss that

service members historically would

experience after serving their country.

3M claimed that its earplugs were

"revolutionary." They had two sides:

One would block all noise like a

traditional earplug, and the other would

protect troops from loud noises while

allowing them to hold conversations

and remain combat ready.

But the earplugs never provided the

protection 3M promised. Testing

completed by the company's own

scientists revealed the earplugs were

too short and would loosen, often

imperceptibly to the wearer, letting in

dangerous levels of noise.

Rather than making the military aware

of its findings, 3M continued to claim

the earplugs provided troops with

proper protection, while concealing

evidence to the contrary. This pattern of

acting with impropriety and impunity

by the company caused hundreds of

thousands of service members to suffer

permanent hearing damage.

Throughout the Veterans of Foreign

Wars' 122-year history, we've always

played a critical role in advocating

for the rights of wounded, sick and

injured veterans. The VFW was

instrumental in establishing the

Veterans Administration, now known

as the Department of Veterans Affairs,

as well as in the fights for compensation

for Vietnam veterans exposed to Agent

Orange and veterans diagnosed with

For more than a decade, 3M managed

to avoid scrutiny, even as veterans

returned home with hearing loss

and tinnitus (ringing in the ears) at

alarming rates. Eventually, 3M agreed

to a settlement with the U.S. Justice

Department to resolve allegations that

it defrauded the government. And more

than 230,000 veterans filed lawsuits

against 3M, arguing their hearing

damage was caused by the company's

decision to hide the truth.

Which brings us to 3M's latest

transgression: Through a series of legal

tricks, the company tried to eliminate

veterans' right to trial by jury -- a

constitutional right they fought for --

by pushing them into bankruptcy court,

where it could offer them pennies on the

dollar. Thankfully, a federal bankruptcy

judge put a stop to this, ruling that

veterans can continue their cases in

court against 3M.

Over the last 18 months, juries have

awarded millions in damages to

veterans. 3M knows it has no defenses or

excuses left, and that juries understand

the truth. The question now becomes,

what is 3M's next move going to be?

3M once again has the chance to step

up and finally provide justice to the

service members it harmed. In the face

of lifelong hearing injuries, service

members simply want a just solution.

The VFW of Minnesota will be

watching closely to see if 3M finally

decides to do what is right.
---
WWW.MHCE.US Monthly Newsletter | 21

National Guard

Called on to

Work at Shortstaffed

Prisons

in Florida

Pay hikes, shorter shifts and shuttering facilities are

some of the strategies Florida has employed to try to

rehabilitate a prison system that leaders have said is in

crisis.

But despite the efforts, Gov. Ron DeSantis'

administration is calling on Florida National Guard

members to work at correctional facilities, a dramatic

step meant to alleviate a staffing shortage that has

plagued the prison system for years.

Lawmakers on Friday approved a request from the

Department of Corrections to free up $31.25 million

that, at least in part, will be used to cover the costs of

deploying guard members to prisons.

Mark Tallent, the department's chief financial officer,

told the Joint Legislative Budget Commission that the

money would be used to pay up to 300 guard members

to be deployed to prisons until July.

The guard will assist with perimeter security, entry

and exit security and issuing supplies to inmates from

secure stations, among other things. Members will be

deployed to the Northwest Florida Reception Center,

the Reception and Medical Center and the Calhoun,

Franklin, Hamilton, Jackson, Mayo, Santa Rosa and

Union correctional institutions, according to the

department.

"What all this will allow the department to do is

take the staff that currently do this that are certified

correctional officers and move them into the compound

into direct inmate-contact positions, therefore reducing

stress on the compound, stress on our current officers

and helping reduce overtime," Tallent said.

DeSantis issued an executive order Friday evening

activating the guard "to address the present staffing

shortage on a temporary short-term basis." Currently

employed guard members will not be asked to help the

corrections department, the order said.

In addition to the use of the National Guard, the budget

item approved Friday will allow the Department of

Corrections to "contract with Florida county facilities

for additional staffing that may become available, if

necessary."

The prison staffing shortage is resulting in "extensive

correctional officer overtime," and guard members

will be used for nine months or until the corrections

department "determines it no longer needs National

Guard assistance," the proposal said.

The plan drew harsh criticism from Democratic

lawmakers and criminal-justice reform advocates.

Speaking to reporters before Friday's meeting,

incoming House Minority Leader Fentrice Driskell said

the corrections agency sought the emergency relief as

the governor travels throughout Florida boasting about

the state's record budget reserves.

"Why would we be trying to spread our National Guard

so thin? So, it's a Band-Aid. We know the infrastructure

in our prisons is crumbling, and it's just appalling that

the governor would want to take this sort of tactic,"

Driskell, D- Tampa, said. "Florida has ignored this

agency, ignored this problem and underfunded this

agency for years."

But hours before the legislative meeting began, the

Department of Corrections pushed back with a news

release highlighting praise from sheriffs, a warden and

the leader of the union representing prison officers.

"We received historic pay increases for our correctional

officers and have hired more correctional officers

monthly than we have seen in years," Department of

Corrections Secretary Ricky Dixon said in the release.

"With the temporary support of the Florida National

Guard, we will be able to recover and train the next

generation of public safety professionals to perform

our important mission."

Rep. Bryan Avila, a Miami Springs Republican who

serves on the legislative panel and is a member of the

National Guard, said guard members are prepared to do

whatever is necessary when called upon.

"When they sign up, just like I did, they do it because

they want to serve our great state and they want to serve

our great nation," said Avila, who will join the Senate

in November after winning a seat without opposition.

Lt. Col. Peter Jennison, National Guard deputy director

of policy and plans, assured lawmakers that the guard

will have "full capacity to support the citizens of

Florida if we support the Department of Corrections."

Jennison said the guard "conducted an informal survey"

and believes it will have enough volunteers to fulfill the

correction department's request. The volunteers will be

paid for the work.

"It gives a great opportunity for a lot of our unemployed

guardsmen to have full-time work," he said.

But Sen. Audrey Gibson, D-Jacksonville, remained

unconvinced. The Joint Legislative Budget

Commission, made up of House and Senate members,

has authority to make mid-year budget decisions.

"The issue of our (prison) guard shortage in our prison

facilities is not new. And this Band-Aid, I don't even

know," she said. "It's a policy issue and it's something

that … should have been vetted before we ever left

Tallahassee (during the legislative session). … I

understand that our guard gets trained for what they do

in the community. Within a prison is a totally different

environment."

Legislators over the past year have approved pay raises

and hiring bonuses for corrections workers, hiking

starting pay from $16.40 per hour to $20 per hour

for corrections and probation officers and earmarking

retention-pay increases between $1,000 and $2,500 for

employees who remain on the job.

Tallent told lawmakers Friday that the agency for the

first time in years is hiring more workers than it is

losing.

"We're definitely trending in the right direction," he

said.

Even so, the department has a 24.1% employee-vacancy

rate statewide — rates at some facilities are higher —

and more than 4,000 positions remain unfilled, Tallent

said.

The agency added 761 new corrections workers over

the past four months, Tallent said.

"It's been years and years and years since we've seen

four positive months in a row," Tallent said. "So we

think as we continue to hire and reduce the stress on

the compounds, the existing officers are going to want

to stay because they're not going to be working the

amount of overtime they're currently working."

The prison system housed about 82,000 inmates as of

the end of June, according to a recent report by state

analysts. It has roughly 24,000 authorized positions,

including more than 18,000 security positions.

The plan to use guard members is aimed, in part, at

helping alleviate stress on fatigued prison workers who

continue to log overtime as new employees undergo

training, which takes about three months.

The Department of Corrections spent more than $103

million on overtime during the fiscal year that ended

June 30, 2021, compared to about $35 million five

years earlier. Data for the most recent fiscal year was

not immediately available.

James Baiardi, who leads the state corrections chapter

of the Florida Police Benevolent Association, said in an

interview that the use of the National Guard is a shortterm

fix that will provide relief to prison officers.

"There's only so long officers can continue to work a

bunch of overtime on their days off, excessive hours on

holidays, where it begins to affect your health," he said.
---
22 | MHCE - News www.mhce.us SEPTEMBER 2022 EDITION

Ukraine Piles

Pressure on

Retreating

Russian Troops

KHARKIV, Ukraine — Ukrainian

troops piled pressure on retreating

Russian forces Tuesday, pressing a

counteroffensive that has produced

major gains and a stunning blow to

Moscow's military prestige.

As the advance continued, Ukraine's

border guard services said the army

took control of Vovchansk — a town

just 3 kilometers (2 miles) from Russia

seized on the first day of the war. Russia

acknowledged that it has withdrawn

troops from areas in the northeastern

region of Kharkiv in recent days.

It was not yet clear if the Ukrainian blitz,

which unfolded after months of little

discernible movement, could signal a

turning point in the nearly seven-month

war.

But the country's officials were buoyant,

releasing footage showing their forces

burning Russian flags and inspecting

abandoned, charred tanks. In one video,

border guards tore down a poster that

read, "We are one people with Russia."

Momentum has switched back and forth

before, and Ukraine's American allies

were careful not to declare a premature

victory since Russian President

Vladimir Putin still has troops and

resources to tap.

In the face of Russia's largest defeat

since its botched attempt to capture

Kyiv early in the war, Defense Ministry

spokesman Igor Konashenkov said

troops were hitting back with "massive

strikes" in all sectors. But there were no

immediate reports of a sudden uptick in

Russian attacks.

Late Monday, President Volodymyr

Zelenskyy said his troops had so

far retaken more than 6,000 square

kilometers (2,300 square miles) —

an area more than twice the size of

Luxembourg — in a matter of weeks.

"The movement of our troops

continues," he said.

Reports of chaos abounded as Russian

troops pulled out — as well as claims

that they were surrendering en masse.

The claims could not be immediately

verified.

Ukrainian Deputy Minister of Defense

Hanna Maliar said Kyiv is trying to

persuade even more Russian soldiers

to give up, launching shells filled with

flyers ahead of their advance.

"Russians use you as cannon fodder.

Your life doesn't mean anything for

them. You don't need this war. Surrender

to Armed Forces of Ukraine," the flyers

read.

While dozens of towns and villages

were liberated, authorities moved into

several areas to investigate alleged

atrocities against civilians by Russian

troops.

The Kharkiv regional prosecutor's

office said four bodies bearing signs

of torture were found in the village of
---
WWW.MHCE.US Monthly Newsletter | 23

Zaliznychne. It's not clear how many

other places investigators have entered.

Oleksandr Shtupun, a spokesman

for the Ukrainian military's general

staff, accused Russian forces of

committing hundreds of war crimes

in territory they once held. He said

the danger of minefields in liberated

towns and villages remained high,

and ammunition and high explosives

have been strewn across 70,000 square

kilometers (27,000 square miles).

"The defense forces are taking

measures to return peaceful life to

the liberated communities as soon as

possible," he said.

In one indication of the blow sustained

by Moscow, British intelligence said

that one premier force, the 1st Guards

Tank Army, had been "severely

degraded" during the invasion and that

conventional Russian forces designed

to counter NATO have been badly

weakened.

"It will likely take years for Russia to

rebuild this capability," the analysts

said.

The setback might renew Russia's

interest in peace talks, said Abbas

Gallyamov, an independent Russian

political analyst and former

speechwriter for Putin.

But even if Putin were to sit down at

the negotiating table, Zelenskyy has

made it clear that Russia must return all

Ukrainian territory, including Crimea,

Gallyamov said.

"This is unacceptable to Moscow, so

talks are, strictly speaking, impossible,"

he said.

Putin's previous actions "have

restricted his room to maneuver," so

he "wouldn't be able to put anything

meaningful on the table."

For talks to be possible, Putin "would

need to leave and be replaced by

someone who's relatively untarnished

by the current situation," such as his

deputy chief of staff, the Moscow

mayor or the Russian prime minister,

Gallyamov said.

The retreat did not stop Russia from

pounding Ukrainian positions. Early

Tuesday, it shelled the city of Lozova

in the Kharkiv region, killing three

people and injuring nine, said regional

Gov. Oleh Syniehubov.

And Ukrainian officials said Russia

kept up shelling around Europe's

largest nuclear facility, where fighting

has raised fears of a nuclear disaster.

The Nikopol area, which is across the

Dnieper River from the Zaporizhzhia

nuclear power plant, was shelled six

times during the night, but no injuries

were immediately reported, said

regional Gov. Valentyn Reznichenko.

Strikes have also continued unabated

on the city of Kharkiv, Ukraine's

second-largest and one that has been

hammered by artillery for months.

Zelenskyy specifically criticized Russia

for targeting energy infrastructure in

its attacks over the past days.

"Hundreds and thousands of Ukrainians

found themselves in the dark —

without electricity. Houses, hospitals,

schools, communal infrastructure …

sites that have absolutely nothing to

do with the infrastructure of the armed

forces of our country."

He said the strikes could only point to

one thing.

"This is a sign of the desperation of

those who contrived this war. This is

how they react to the defeat of Russian

forces in the Kharkiv region. They

can't do anything to our heroes on the

battlefield."

Among Kharkiv's battle-scarred

apartment buildings, one man who

returned to feed the birds struck a

defiant tone, saying that the success of

the Ukrainian counteroffensive would

likely prompt harsh Russian retaliation

against civilian targets. But he said it

would not succeed in intimidating

ordinary Ukrainians.

Putin "does not know what to do, and

he will strike here even more. Just on

infrastructure," said Serhii who only

gave his first name. "He will strike

so we don't have water, electricity,

to create more chaos and intimidate

us. But he will not succeed because

we will survive, and Putin will soon

croak!"

The counteroffensive has provoked

rare public criticism of Putin's war.

Meanwhile, some of its defenders in

Russia played down the idea that the

success belonged to Ukraine, blaming

instead Western weapons and fighters

for the losses.

"It's not Ukraine that attacked Izium,

but NATO," read a headline in the

state-supported Komsomolskaya

Pravda newspaper, referring to one

of the areas where Russia said it has

withdrawn troops.

Elsewhere, residents of a Russian

village just across the border from

Ukraine were evacuated after shelling

by Ukrainian troops killed one person,

according to Russia's Tass news

agency.

The report cited the head of the local

administration in Logachevka, who

said Ukrainian troops opened fire at a

border checkpoint.
---
24 | MHCE - News www.mhce.us SEPTEMBER 2022 EDITION

VISIT OUR WEBSITE

AT MHCE.US

TO ADVERTISE

contact Kyle.Stephens@mhce.us
---
WWW.MHCE.US Monthly Newsletter | 25

Creating a Culture

of Caring

Offering master's

and doctoral

degrees for

Registered Nurses

Specialties Offered:

Nurse-Midwife

Family Nurse Practitioner

Women's Health Care NP

Psychiatric-Mental Health NP

Learn more at frontier.edu/military
---
26 | MHCE - News www.mhce.us SEPTEMBER 2022 EDITION

hearing -- citing Pentagon

information -- that just 8%

of young Americans have

seriously considered joining

the military.

Air Force Creates Special Warfare

Program for Cadets to Help Fill Empty

Spots

The Air Force has created

a new program to help

recruit and train collegeaged

ROTC and Air Force

Academy cadets for special

warfare jobs, which it

has been struggling to fill

amid the service's ongoing

recruiting crisis.

"Historically, neither the

Air Force Academy nor

AFROTC filled all of their

commissioning slots for

Special Warfare, which

down the road impacts

mission readiness," Col.

John Graver with Air Force

Special Warfare said in a

press release.

The Air Force's new

program for cadets was

tested at two-week Special

Warfare Orientation

Courses this summer at

the Air Force Academy,

according to a press release

issued Saturday.

More than 60 cadets took

part and went through

exercises such as land and

water fitness, troop leading

procedures, small-unit

tactics, decision making

and personnel recovery

missions, the service added.

One of the issues the service

has faced with selection

for special warfare is that

many candidates have been

physically underprepared to

face the strenuous graded

events that determine

whether they can join

the highly selected field,

something the new course is

designed to remedy.

The new program, which

debuted this summer,

comes as the Air Force

faces its toughest recruiting

environment in decades.

Earlier this year, the service

offered hefty bonuses -- up

to $50,000 -- for its most

challenging and dangerous

jobs, such as special warfare

operators.

Maj. Gen. Ed Thomas, Air

Force Recruiting Service

commander, told Military.

com in an April interview

that getting young men and

women to sign on the dotted

line has been more difficult,

and financial incentives

help.

"Special Warfare is our

toughest area to recruit,"

Thomas said. "We are

looking for people who are

uncommonly physically,

mentally and emotionally

strong. And we're looking

for people who are attracted

to the adventure and the

challenge of being in our

nation's Special Operations

Forces."

Sen. Thom Tillis, R-N.C.,

the ranking member of the

Senate Armed Services

Committee personnel

panel, said during an April

And only about one-quarter

of young Americans are

even eligible for service

these days, a shrinking pool

limited by an increasing

number of potential recruits

who are overweight or

are screened out due to

minor criminal infractions,

including the use of

recreational drugs such as

marijuana.

Air Force Chief of Staff

Gen. Charles "CQ" Brown

Jr., speaking last month at

a Washington, D.C., think

tank, said it's likely the

service will hit its recruiting

goals this year, but it will be

very close.

"We are going to end up

landing on fumes," Brown

said at an event hosted by

the American Enterprise

Institute. "It'll drive some

challenges as we go into

fiscal year 2023. ... The

workforce is a bit different

today than when I got in."

Graver said in a press release

that he hopes the new

program will help younger

cadets feel more confident in

becoming Air Force special

warfare operators.

"It's an extremely

challenging and rewarding

career like no other and it's

one the country needs young

men and women to go into,"

Graver said.
---
WWW.MHCE.US Monthly Newsletter | 27

TO ADVERTISE

contact Kyle.Stephens@mhce.us
---
28 | MHCE - News www.mhce.us SEPTEMBER 2022 EDITION

Navy Gets New Top

Enlisted Sailor Who

Promises to Focus on

Sailors' Needs and Their

Families

The Navy has a new top enlisted sailor after Master

Chief Petty Officer of the Navy James Honea took

over for now-retired Master Chief Russell Smith on

Thursday.

The change not only marks the start of Honea's term

as the sea service's 16th senior enlisted adviser but

also a shift in priorities for the enlisted community.

In a video posted Monday, Honea told sailors that his

"top priority will be you and your families" before

acknowledging that the Navy has "to be better at

investing in you and meeting your needs."

The remarks serve as a shift from what Smith told

sailors in the last months of his service, when he

described being fairly powerless to change their

living conditions and suggested that sailors learn to

cope with hardships.

In a statement, the Navy praised Smith's service,

saying that he instituted "an updated leadership

development career path, revised the command

master chief instruction, and the Sailor of the Year

program."

Smith had served as the master chief petty officer of

the Navy since 2018.

"More importantly, he tirelessly advocated policy

and program improvements for the Navy's Sexual

Assault Prevention and Response program as well

as increased Sailor access for mental health care,"

the statement added.

However, in 2022, Smith generated headlines for

controversial statements and an inspector general

investigation.

In April, Military.com broke the news that the

aircraft USS George Washington was experiencing

a staggering cluster of suicides that sailors attributed

in large part to poor living conditions and arduous
---
WWW.MHCE.US Monthly Newsletter | 29

work schedules. Less than a week later, Smith visited

the ship yard to speak to the crew.

When a sailor asked the then-top enlisted sailor

about those living conditions, Smith said that the

Navy "probably could have done better to manage

your expectations coming in here."

"I hear your concerns and you should always

raise them, but you have to do so with reasonable

expectations and then understanding what ... what

this is like," Smith went on to tell the crew.

'What you're not doing is sleeping in a foxhole like

a Marine might be doing."

The remarks not only struck the sailors on the ship

as callous but resonated with the fleet as a whole.

Navy groups on social media ran with the idea that

the service's top sailor told the fleet tolower their

standards.

After the comments became public, Smith's office

pushed back by noting the master chief never said

the words "lower your standards" and even released

a transcript of the conversation. However, the phrase

continues to crop up in online conversations months

later.

Days after Smith made those comments, the Navy

announced it was moving all the sailorsliving aboard

the George Washington -- a major point of stress and

frustration -- off the ship.

Smith also dealt with an inspector general

investigation, first reported in February by Navy

Times, though the details of that investigation were

never made public. The news drew comparisons to

Smith's predecessor, Master Chief Steven Giordano,

who retired early after reports surfaced of his own

inspector general investigation that was looking

into allegations that he bullied subordinates and

mistreated his staff. Several of the allegations against

Giordano were later substantiated.

Navy spokeswoman Lt. Alyson Hands, told Military.

com that Smith "retired honorably with no pending

adverse or reportable matters."

Meanwhile, Honea appears to be setting his sights on

shifting the narrative and perception junior sailors

have of the office.

In a Saturday post on Facebook, Honea's office noted

that "he will be making his way around the fleet to

discuss and work with Sailors to get after his top

priorities." In his remarks on Thursday, Honea told

the crowd assembled for the change of office that

"you can depend on us to fight for you," as he looked

to Chief of Naval Operations Adm. Mike Gilday.

Gilday is the Navy's top officer.

Although the post of master chief petty officer of

the Navy exists largely to advise "the CNO [and]

the Chief of Naval Personnel in matters dealing with

enlisted personnel and their families," the sailors

who hold the post are often able to highlight and

advocate for changes. Most notably, they are able to

voice concerns or issues directly to top officers and

Congress -- something no average sailor can do.

Gilday, in his own remarks Thursday, said that Honea

"brings the exact kind of professional experience we

need for this immense responsibility."

"I've said it before: He's got saltwater running through

his veins," Gilday said, before alluding to Honea's

job when first joined the Navy -- boatswain's mate.

According to the service record provided by the

Navy, Honea enlisted in 1987 and has served on five

ships, including the now destroyed USS Bonhomme

Richard. He also had postings from Newport,

Rhode Island, and Norfolk, Virginia, to San Diego,

California, and Pearl Harbor, Hawaii.

Before becoming the master chief petty officer of

the Navy, Honea served as the senior enlisted leader

for U.S. Indo-Pacific Command.
---
30 | MHCE - News www.mhce.us SEPTEMBER 2022 EDITION

6 Ways Veterans Can Avoid Crossing Professional

Boundaries in Civilian Life

Question: I thought I was following networking

best practices taught to us as we left the military,

but when I asked a colleague about their recent

surgery, I was told I'd crossed a boundary. What

did I do wrong?

Answer: One of the most overlooked areas of

networking is the topic of professional boundaries.

These limitations are often as vague as the name

sounds. Whose boundaries? When do they come

into play? How can you know you're about to cross

one? What do you do if you've already stepped

over one?

Personal boundaries are sometimes easier to

understand. We set boundaries around what

we feel is appropriate, customary, normal or

acceptable. Are you comfortable having someone

hold the door open for you when you enter a

room? Are you OK with someone sitting very

close to you? How do you react when your private

trauma is mentioned in a group setting? Our sense

of personal boundaries gives us a range of what's

OK and what's not -- for us.

Professional boundaries, on the other hand, tend

to follow societal, cultural or industry norms. For

example, it's crossing a professional boundary to

inquire about someone's sexual preference, plans

to have a family or views on political events at

work. These are considered not to be appropriate

topics for the workplace.

Taken further, there are guidelines regarding

professional boundaries, such as:

• A nurse is advised not to "cross the lines" in

discussing certain non-relevant issues with a

patient.
---
WWW.MHCE.US Monthly Newsletter | 31

• A financial adviser who inquires whether the

client's marriage is stable (under the guise of

sound financial planning but who really wants to

ask the client out) is seen as crossing a boundary.

• The manager who places a hand on the knee

of a subordinate, even just to emphasize their

compassion for them, is certainly headed for

reprimand.

Professional boundaries exist to maintain

appropriateness at work so everyone can be

comfortable. Unfortunately, many of these

boundaries are implicit rather than written, and

this can be problematic for someone coming from

a military culture where standards and processes

are more clearly articulated.

Here are ways to navigate professional boundaries:

1. Check in with Yourself.

If you suspect you've crossed someone's

professional line, ask yourself how you feel about

what you've done. Do you suspect you may have

inadvertently infringed? Are you clear about your

own professional boundaries? What sense do you

have that you've done wrong?

2. Watch for Clues.

Did the other person suddenly shift their body

language? Did their eyes get wide and surprised,

did their arms suddenly cross in front of them and

did they move away from you physically? Body

language can be an indicator the other person is

uncomfortable or unsure, sometimes meaning

you've hit a nerve or crossed a professional

boundary.

3. Speak with Intention.

To avoid crossing boundaries, become focused

with what you say and get familiar with topics

that are deemed "safe." For example, at a business

networking event, it's fine to discuss things that

aren't deemed private or confidential, such as

your current projects, new developments at the

company and happenings in your industry.

But if you're networking with someone in the

finance department and you ask them a personal

tax question, that could be perceived as crossing

a professional line.

4. Check in with the Other Person.

As this may be new behavior for you, it's fine to

check in if you sense you may have offended or

troubled the other person. Gently inquiring, "did

my question upset you?" or "I sense I may have

made you uncomfortable. Is this true?" will reveal

whether you're in the clear or not.

5. Clarify.

Before assuming someone has crossed your

boundary, clarify what's happened. If your recent

divorce is common knowledge, and you've shared

those details with others on the team, yet a new

colleague brings it up to you, are you certain you

see this as a crossed boundary?

Perhaps this person is looking to find connection

with you and knows you're open about your

private life. When in doubt, clarify. Ask questions

to understand their intent, motivation and the

reasoning for the question.

6. Apologize.

If you've crossed a boundary, own it and apologize.

Resist the temptation to justify your actions

("Everyone else gossips about your divorce!") and

own your behavior. The quickest way to move past

an infraction is to take accountability, genuinely

apologize and avoid repeating the behavior.

Professional boundaries can be tricky. This may

be one area of your transition that can't be spelled

out in a series of "how to" steps. By being mindful,

alert and sensitive to the needs of others (and your

own) you'll learn how to navigate these complex,

and often unwritten, rules of the civilian sector.
---
32 | MHCE - News www.mhce.us SEPTEMBER 2022 EDITION

As a punishment, the story

goes, the 18th Wing was

forbidden from having

a home station in the

continental United States.

The further humiliation

comes in the form of its

insignia: a chicken with its

wings in the air, surrendering

on a yellow background to

remind the 18th forever of its

cowardice in the face of the

enemy.

The Story Behind the Urban Legend of

the Air Force's 'Kadena Chicken'

Kadena Air Base on the

Japanese island of Okinawa

is one of the U.S. military's

most storied overseas

postings. It was first captured

from the Japanese during

World War II and has been

in continuous use ever since.

It's also alarmingly haunted.

One of its base housing units

was believed to be the site

of a murder-suicide in the

1970s and has been haunted

ever since. One of the base's

gates gets a regular ghostly

visitor in uniform asking for

someone to light a cigarette.

There's also the spectral

figure of an old Japanese man

that will murder someone

else if he sees you.

Kadena Air Base is the

home of the 18th Wing, an

Air Force unit that predates

World War II. The legend of

the Kadena Chicken is based

on the 18th Wing's insignia,

which features a black

chicken, with its wings held

high on a yellow background

mixed with the unit's history

during the Korean War. The

legend is pretty gruesome,

but luckily for the Air Force,

it's also completely false.

By the end of November

1950, the Korean War was

not going well for North

Korea. United Nations

forces had almost pushed the

Communist North Koreans

to the Yalu River, its border

with China. On Dec. 1, 1950,

the 18th Fighter-Bomber

Wing deployed to an air base

near Pyongyang from its

home in the Philippines, to

support the UN move north.

While the 18th was getting

settled near North Korea's

capital city, the Chinese

People's Volunteer Army

intervened in the war and

began pushing the UN back

toward the 38th parallel.

The UN made its "fighting

withdrawal" against the

overwhelming force as it

moved south at a rapid pace.

The speed with which the

UN was forced to move

caught many by surprise. By

Christmas Eve 1950, 100,000

UN troops and 14,000 North

Korean refugees had to be

evacuated at the port of

Hungnam, on the peninsula's

east coast, or be destroyed.

The (untrue) Legend of the

Kadena Chicken begins

around the same time, back

in Pyongyang.

Pyongyang sits on the

opposite side of the

peninsula, pretty deep inside

North Korea. It's said that the

18th Wing was surprised by

the Communist counterattack

and its pilots abandoned

the airmen on the ground,

evacuating the base in their

aircraft. The ground crews

were left undefended and

faced the combined Chinese-

North Korean assault on their

own.

Reprisals from the

Communists were said to be

brutal. The men of the 18th

Wing who were not killed

outright were tortured and

executed, with some being

hung from the rafters of their

aircraft hangers.

None of this ever happened.

The 18th Fighter-Bomber

Wing also evacuated in

the face of the Chinese

intervention, first moving

to Suwon Air Base (a few

miles from today's Osan Air

Base) and then being forced

to Jinhae Naval Base on the

peninsula's southern tip. An

alternate version of the story

says the Americans fled in

disgrace from Suwon.

Except the Americans didn't

flee in terror at all. The 18th

received a Republic of Korea

Presidential Unit Citation

for damaging or destroying

thousands of enemy vehicles.

Aircraft from the 18th

Fighter-Bomber Wing were

in Korea for the duration

of the war, only moving to

Kadena Air Base on Okinawa

in 1954. It earned the unit the

nickname "truckbusters

As for the cowardly chicken,

it predates the Korean War. It

was chosen in 1927 and first

approved for use by the Army

Air Corps in 1931, when

the unit was still called the

18th Pursuit Squadron. The

"chicken" isn't a chicken at

all; it's a fighting gamecock.

The unit motto "unguibus et

rostro" is Latin for "talons

and beak," meaning the unit

fights with everything it has

at its disposal.