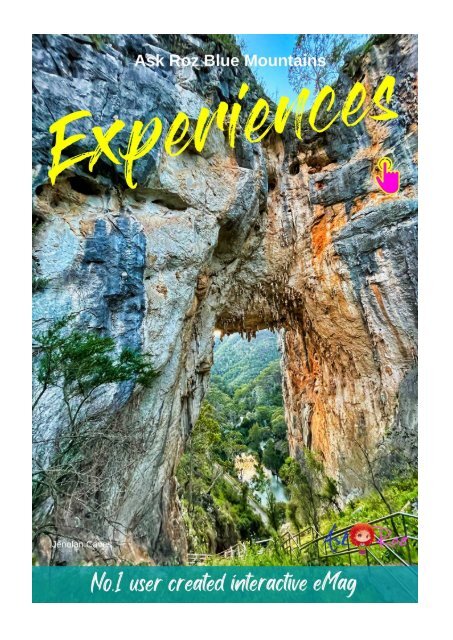 Blue Mountains' Experiences 16-9-22
Blue Mountains' Experiences 16-9-22
Blue Mountains' Experiences 16-9-22
SHOW MORE
SHOW LESS
Create successful ePaper yourself
Turn your PDF publications into a flip-book with our unique Google optimized e-Paper software.
Wentworth Falls Lake

WENTWORTH FALLS, NSW, 2782

More information

Wentworth Falls Lake was originally created by the damming of Jamison Creek to supply water for the

steam railway. The Lake is now home to native birds, ducks, coots, and introduced waterfowl, native fish

such as Gudgeons, water bugs including freshwater crayfish, freshwater shrimp, and dragonflies.

It is also a popular picnic spot with barbeque facilities. Wentworth Falls Lake Reserve has a picnic area and

children's playgrounds and throughout the park there are sandstone sculptures, based on seed pods of

nearby local plants. There is a walking track around the lake of about 3.5 Klm. in length. (this includes

some walking along Waratah and Banksia Roads.)

Leura Cascades walk

Solitary 90 Cliff Drive, LEURA, NSW, 2780

More information

The walk down along Leura Falls Creek to the main cascade area is a wonderful walk. Access to the Picnic

area is by foot or bike. This is a great spot for a family picnic. The top picnic area has 5 well-spaced picnic

tables and lots of run around space for the kids.

Simply park and follow Cliff Drive down to the Cascades. On the Solitary Restaurant end, there is a

wonderful new all-weather orange path that leads all the way to the top picnic area. Return the same way.

Allow 40 mins for the return walk. This is a wonderful family loop walk that offers at least 4 lookouts, the

Leura Cascades and a great picnic area.
---
Copeland Lookout

LEURA, NSW, 2780

More information

Copeland Lookout is a historic lookout that offers is a great viewing point with a short, sandstone wall

around much of it. The lookout provides fantastic views over the Jamison Valley past Sublime Point, along

Kings Tableland and past Mount Solitary.

Park your car near the Solitary Restaurant and walk down. Allow 40 minutes for the return walk.

It's also been known as "Copeland's Outlook" and "Copeland's View". It was named after a Katoomba

"storekeeper" William Raeburn Copeland in the early 1930's.

Wallace Bros Steam Traction Engine

BLACKHEATH, NSW, 2785

More information

This is an easy 2 hours return adventure walk for the family with a bit of history thrown in. The first 900m

of the track is easy and without any steps. The last 200m is a bushbash. You can also enjoy the amazing

Wallace Lookout which is nearby. Incredibly, the engine lies within the bush, but you have to know where it

is to find it, as there are no tracks to it. Around the old engine is lots of artefacts including bed frames,

cables and assorted old stuff.

You can also visit Wallace Lookout. This lookout is amazing, but it has no safety barriers and the cliffs are

very high. Here: https://w3w.co/powered.preheat.cured
---
Scenic World Blue Mountains

1 Violet Street, KATOOMBA, NSW, 2780 More information

Scenic World at Katoomba in the World Heritage-listed Blue Mountains of Australia offers a range of

experiences found nowhere else on earth. The Home of the SCENIC RAILWAY, SCENIC CABLEWAY, SKYWAY,

BOARDWALK and the all-new BEYOND SKYWAY.

Scenic World at Katoomba in the World Heritage-listed Blue Mountains of Australia offers a range of

experiences found nowhere else on earth. Our rides are like our staff... world-class! But there's more to the

magic than our shiny cabin exteriors. Mountainous locale offering cool experiences for sweeping views,

such as a cable car ride & railway. Check the website for hours.

Minni Ha Ha Falls - Minnehaha Falls

Minni Ha Ha Reserve Car Park, 98 Minni-Ha-Ha Rd, KATOOMBA, NSW, 2780

More information

Minnie Ha Ha Falls is a great walk for the family and your "Bucket List". It's one of the best walks in the

Blue Mountains. The walk isn't difficult, although there are many steps and a few ladders. Simply follow the

signs from the carpark. 1st photo: www.david-noble.net/

The track does get a little muddy in patches and take care closer to the falls as there are many places

where there are no handrails and the rocks can be slippery. In summer you can swim at the base of the

falls. Not far into the walk, there are few spots to have a picnic beside the creek. Over time, it has also

been known as: Minnie Ha-ha Falls, Minna-ha-ha Falls, Minne-ha-ha Falls, Minnehaha Falls
---
Cahills Lookout and Boars Head

KATOOMBA, NSW, 2780

More information

Cahills Lookout offers commanding views over the Megalong Valley and is a popular spot with

photographers at sunset as it looks directly west.

The lookout was upgraded in 2016 following a fire in 2014. There is wheelchair access to Boars Head

lookout. Boars Head Lookout gets its name from its unique and quite distinctive appearance; it resembles

a boar of course!

Boars Head stands on top of the cliff overlooking views both of Jamison Valley and Megalong Valley.

Coxs Cave

MOUNT VICTORIA, NSW, 2786

More information

This is a wonderful adventurous circuit walk and takes about 90 minutes. Park your car at the Mount

Piddington Lookout carpark. Follow the sign to Coxs cave. Coxs Cave, almost certainly named after George

Henry Cox, who was a fellow member of Parliament with William Piddington, was reached by a wooden

ladder and track after 1879, while the track north along Fairy Bower Creek to the Toll House was formed

between 1888 and 1898.

Today, you access the cave via a 20 pipe-like rung steel ladder, the view from the cave is great. This

involves a potentially perilous climb up the 20 pipe-like rungs of a steel ladder.
---
Echo Point Lookout

KATOOMBA, NSW, 2780

More information

Echo Point lookout is the gateway to many great walks and nature experiences in the area. If you have

time, Prince Henry Cliff walk connects Echo Point to Leura Cascades and takes you past many scenic

lookouts along the cliff edge. Try going down the Giant Stairway to get to the tracks below the cliffs.

Standing proudly in the land of the Gundungurra and Darug People, the traditional custodians of this

declared Aboriginal Place, the imposing Three Sisters is best seen from Echo Point lookout, on the edge of

the plateau above. Enjoy the new Prince of Wales Lookout providing a closer view of The Three Sisters, and

the140-metre accessible, elevated, night-lit boardwalk.

Leura Forest - Federal Pass

Leura Cascades Picnic Area, LEURA, NSW, 2780

More information

This is one for the bigger kids as it's a 7km walk, one way. This is a wonderful day walk, that will take you

from Leura to Katoomba through a beautiful valley. The Leura Forest canopy includes Turpentines,

Coachwoods and Sassafras trees.

We recommend you do the walk East to West because the walk back out up to the old Solitary restaurant

is a shocker. At least going west, you have the option of taking the Scenic Railway at Scenic World Blue

Mountains (Charges apply) up. Having said that, if you have the energy, you could also walk up Furber

Steps, the views are EXCELLENT
---
Monkey Creek Cafe and Pantry ~ Featured

227 Chifley Road, DARGAN, NSW, 2786 More information

Open: 9am - 4pm Wed - Sun ~ The Monkey Creek Cafe is located in the small community of Dargan on the

Bells Line of Road, just west of Bell. We offer an excellent menu. For all things delicious, Australian Made &

Designed. A curation & collaboration of amazing makers, shakers & creators. Located within a picturesque

setting, where you can have your cake and take in the view.

Nearby is "Gallery H" ~ Metal sculptures and more by Henryk Topolnicki and Merren French. Open ~

9.30-4pm Saturday, Sunday, Monday; 9.30-5pm Friday (or by appointment) You could certainly enjoy a

leisurely lunch and a browse through the gallery.

Butterbox Point

Mount Hay and Butterbox Point Carpark, LEURA, NSW, 2780

More information

The walk to Butterbox Point is a great family walk that offers outstanding views all the way along the walk.

Butterbox Point is a large, high rocky outcrop on the edge of the Grose Gorge, 800m northwest of the

northern end of Mount Hay Road, Leura. You can see across the Grose Valley, to Lockleys Pylon on the

left, and Perry's Lookdown and Mount Banks in the distance.

This walk offers a real WOW factor from the moment you get out of your car. Butterbox Point is not one of

the most widely known lookouts in the Blue Mountains but it is one of the most striking and unusual ones.

Distance: 2.2km return - Time: 60 mins return PLUS browsing time. Kid-friendly with supervision.
---
Lockleys Pylon

Lockleys Pylon walking track, LEURA, NSW, 2780

More information

Lockleys Pylon walking track is an easy walk offering scenic views where you can take in the serenity of

Blue Mountains National Park. The walking track is named after J.G. Lockley, a journalist who supported

conservation efforts to save the Blue Gum Forest from logging in the 1930s. This short walk meanders

through the heath to a small peak overlooking the huge depths of the Grose Gorge.

Golden sandstone cliffs surround the valley of eucalypt forest beneath you. Pack a picnic or a thermos and

enjoy a hot cuppa while you admire the views. Or wander back to Leura for a gourmet meal at one of the

charming local cafes.

LoveBites - The Lake ~ Featured

Wentworth Falls Lake, WENTWORTH FALLS, NSW, 2782

More information

OPEN: Most Thursdays, Fridays, Saturdays & Sundays 9am-4pm

LoveBites is a gourmet coffee and sandwich destination on a mission to deliver best in class service, and a

world-class sandwich experience.

Offering a fresh take on the classics and an exciting host of new additions, our sandwiches are filled to the

brim with the freshest ingredients available. LoveBites lives on a philosophy of 'fresh tasty food for all'.

Serving locally roasted coffee & sandwiches hero-ing fresh local bread, cheese, eggs & more
---
Point Pilcher Lookout

MEDLOW BATH, NSW, 2780

More information

The original track to Point Pilcher was built by Mark Foys gardener. It is about 5.2km from the GWH. The

last 3.5km is a dirt road. The reward, however, is a superb view down to Govetts Gorge and across dense

bushland, known as the Grose Wilderness, which has remained totally untouched.

This is one of the most isolated areas in the Blue Mountains. Named after Charles Edward Pilcher

1844-1916, a barrister and politician. The road to the lookout was constructed in 1964. The story goes

"Mark Foy probably named the area after Norman George Stafford Pilcher, Charles Edward Pilcher

1844-1916, a barrister and politician. Pilcher was the MLA for West Macquarie 1875-1882.

Dargan Arch

Sandham Road, BELL, NSW, 2786

More information

Park your car here: https://w3w.co/splats.weaving.slapstick

The Arch is here: https://w3w.co/excursions.thinking.pluck

Dargan Arch is a picturesque natural sandstone arch tucked away in a lesser-visited part of the Blue

Mountains. It's the result of a long collapsed cave and it's a fun and unusual spot to explore. It's not

signposted and tends to see few visitors so it's likely you'll get the whole thing to yourself.

It has a length of 14m, a width of 8m and a height of 9.3m. Allow 1hr for the return walk.
---
Mountains Tales - Kat & Leura - Featured

The Mall, LEURA, NSW, 2780

More information

Leura and Katoomba - Storytelling walking tours through the historical villages of the beautiful Blue

Mountains with Sue Collins. Maximum of 10 guests with walks departing daily morning and afternoon.

Private groups are welcome.

Mountains Tales offers well-researched quality walking tours of Upper Mountains villages. Our tours are

slow-paced and intimate with a focus on delivering history through the art of storytelling. Each village has

its own unique story, join us for an educational and entertaining walk. See the links below to book your

wonderful historic walk walks.

Pizza Sublime Leura ~ Featured

LEURA, NSW, 2780

More information

12n - 8pm 7 DAYS ~ Pizza Sublime offers authentic artisan-style pizza slices in Roman style. Pizza in pala

Romana is light with a crispy base and easy to digest. With state-of-the-art equipment including an Italian

Marana oven and top-quality ingredients, the product is authentic and truly sublime.

Experience the essence of Italian quality at Pizza Sublime! You may order your whole board and half board

of pizza online in 3 easy steps! Enjoy your pizza with friends and family on a bushwalk or at home.

Get 10% DISCOUNTS with the code ASKROZ - https://bopple.app/menu/7669
---
Undercliff - Overcliff Walk

Wentworth Falls Picnic Area, WENTWORTH FALLS, NSW, 2782

More information

This is an excellent walk. The walk is about 5km and will take you between 2 and 3 hours. It offers

wonderful views. Pack a picnic because there are a number of great spots to enjoy it.

This walk can be started from a few spots. For this listing, we are starting from the Falls Carpark and not

including the Conservation Hut. Park your car at the Wentworth Falls Lookout Carpark and take the Short

Cut track to the Conservation Hut. When you get to the Conservation Hut head down the Valley of the

Waters track and take the Overcliff track. That track will give you the option to take the Undercliff Track or

return to the carpark.

Middle Level Katoomba Falls

KATOOMBA, NSW, 2780

More information

Park your car beside the old Katoomba Falls Kiosk, opposite the Caravan Park entry. Walk down into the

park and follow the signs to the Furber Steps. This can be pretty boggy after rain. Follow this for about 15

mins until you see a hard tight turn the "waterfall". Follow that for about 10 mins.

When you get to the Middle Level the view is quite extraordinary, especially if you visiting during or after

heavy rain. Stay within the safety barriers. You will have wonderful views, up close and personal with

Katoomba Falls as well as over the Jamison Valley. Return the same way. Beautiful scenery and an

amazing waterfall but the track can be VERY muddy track.
---
Anvil Rock Lookout

Anvil Rock Track, BLACKHEATH, NSW, 2785

More information

Anvil Rock was so named as this rock formation resembles the shape of an anvil. Blackheath Council had

named this rock formation, Anvil Rock in 1938 - the same year that an access road was constructed to this

picnic area.

In 1948 an anvil was donated by Stan Miller, Company Secretary, Bradford Kendall Industries Pty Ltd. Stan

was an ardent bushwalker and used to take his holidays at Blackheath.

Sometime in 1970 the anvil disappeared, probably pushed over the cliff. 20 mins for the return walk.

Mumma Jo - Featured

58 Main Street, WALLERAWANG, NSW, 2845 More information

At Mumma Jo's diner we want to bring something that is affordable, good quality and uses locally sourced

produce. So drop on in for some yummy burgers, fries, hog dogs, fried chicken and an assortment of hot

beverages.

American 50's diners are something only most of us have seen in movies or television shows, but now

Wallerawang has their very own. Mumma Jo's Diner opened in December 2021 and has continued to grow

and has become a popular destination for locals and visitors alike. "I ordered the double American cheese

burger it was almost perfect."
---
Visitor eMag

Leura Mall, LEURA, NSW, 2780

More information

Blue Mountains Visitor eMag is the best place to find great things to see and do in the Blue Mountains. The

eMag is interactive, and it will even give you turn-by-turn directions to some amazing things to see and do.

Click the link below to view the lastest update. You can bookmark this page or add it to your home screen

on your mobile device. It's updated most weeks and is the Blue Mountains region's No.1 digital visitor

publication. Blue Mountains Visitor eMag is updated most weeks and will help you find great things to see

and do in the greater Blue Mountains region. Blue Mountains Visitor eMag will help you find great things to

see and do in the greater Blue Mountains Region.

McMahons Point Lookout

WENTWORTH FALLS, NSW, 2782

More information

This area was ravaged by the 2019/20 fires and was only recently fully reopened by the NPWS. Drive down

Tablelands Road which turns into Kings Tablelands Road for 20km. The road is all dirt so drive to the

conditions. The road isn't suited to a car that is low to the road.

Take advantage of the picnic area and fresh air, enjoy a hearty picnic lunch at the tables provided and

drink in the scenic wilderness views. When you get to the carpark the walk to the lookout is an easy 30

minutes each way. Lookout for fungi along the walk. Enjoy sweeping views of Lake Burragorang and the

Greater Blue Mountains wilderness.
---
Katoomba Cascades

KATOOMBA, NSW, 2780

More information

This short walk starts at Katoomba Cascades Picnic area on Cliff Drive. The track heads down to the

popular Katoomba Cascades. There are shade and seats at the base of the cascades.

From here you can either return back to the carpark or take the walk around to the Prince and Princess of

York Lookout and on to Reids Plateau. Here>> https://w3w.co/hives.sanest.culinary

After heavy rain the cascades are amazing. Allow 15 mins for the return walk from the cascades. The

Cascades can also be viewed on the Katoomba Night Lite Walk.

Grand Canyon track

Evans Lookout, BLACKHEATH, NSW, 2785

More information

One of the best walks in Australia. Setting out from Evans lookout, walk the track clockwise. The wellshaded

track meanders through luscious native vegetation of ferns and golden wattles, and remains close

to Greaves Creek, all of which combine to make this a particularly good walk for the summer months.

Although there are loads of semi-ledges that make up this challenging walk, you don't need specialist

hiking equipment. The historic loop track takes you into the heart of this World Heritage-listed landscape.

It's an intimate and adventurous track that walkers have trodden since 1907. The NPWS rate this walk as

Grade 3 and is about a 3hr return walk.
---
Burrabarroo Lookout

KATOOMBA, NSW, 2780

More information

This small, fenced lookout is just off the Prince Henry Cliff Walk, near Carrington Park. The view looks over

the valley and out to Sublime Point and Kings Tablelands in the distance.

The lookout is perched on the top of a rocky buttress at the end of a small point, giving great views. Allow

30mins for the return walk or visit it as part of your walk along the Prince Henry Cliff walk.

A good spot for sunrise photos and when you take a photo looking straight into the sun at sunrise you can

get some dramatic results.

The Gully ~ Catalina Park

21 Gates Ave, KATOOMBA, NSW, 2780 More information

The Gully, also known as Catalina Park or Frank Walford Park, is the largest Aboriginal Place in NSW.

Catalina Park is a natural amphitheatre. Here: w3w:https://w3w.co/chopped.optimum.footpath

Although officially named Frank Walford Park, it has more recently been called by its earlier name The

Gully. The Gully forms the headwaters of the Katoomba Falls Creek and is, therefore, part of the

Warragamba Catchment area that provides Sydney's water.

It is an ecologically and culturally sensitive place. The Gully Interapitive Walk is a must-do.
---
Blue Mountains Cultural Centre

30 Parke Street, KATOOMBA, NSW, 2780 More information

Monday to Friday 10am-5pm - Saturday ad Sunday 10am-4pm

The Blue Mountains Cultural Centre features the Blue Mountains City Art Gallery and World Heritage

Exhibition which is devoted to education about the distinctive environment, history and culture of the Blue

Mountains region. The Cultural Centre is co-located with the new Katoomba Library.

The Cultural Centre showcases innovative, diverse, distinctive and creative cultural programs for

enjoyment by residents of, and visitors to the Blue Mountains.

Walls Lookout

Walls Lookout, Bells Line of Road, MOUNT TOMAH, NSW, 2758

More information

This is a wonderful lookout offering great views of the Grose Valley. Take the Peirces Pass turn-off and Park

the car at the top car park and follow the track out to the Walls Lookout.

This walk offers great views and lots of wildflowers. A one-hour return walk through heath leads to a clifftop

vantage point over the Grose Valley. It's also kid-friendly, but take care there are no safety fences. The

Walls Lookout walking track is a relatively easy 2 km return hike, suitable for all skill and fitness levels. It's

important to wear proper shoes, as the surface is a bit rough sometimes.

PHOTOS by Troy Hovenden Photography.
---
Stonehaven Pass

Wentworth Falls Picnic Area, WENTWORTH FALLS, NSW, 2782

More information

The Stonehaven Pass was named after Baron Stonehaven, Governor General of Australia 1925-1930. It's a

walk that takes about an hour and goes from the Den Fenella track to the Princes Rock Lookout Track.

Walk down the Den Fenella track for about 3 minutes until you see a track turning hard left. There are no

safety rails so take extra care.

Take the track and follow it down to the Cashmans, then Bill Wilsons followed by Roses and Murphys

Spiral. You can leave via Princes Rock Lookout but it does get fairly overgrown and very boggy in places.

We recommend returning the same way.

Walking Tracks Closures NPWS and BMCC

Great Western Highway, KATOOMBA, NSW, 2780

More information

Walking tracks and Lookouts in the Blue Mountains are managed by National Parks and Wildlife Service

(NPWS) and the Blue Mountains City Council (BMCC).

There is no single list that shows who manages what, and neither organisation sends out alerts, so the only

way to know what's open or closed is to check via the links below. The BMCC manages 135kms of walking

tracks in the Blue Mountains.

The NPWS advises: Please check which areas are closed before travelling.
---
Furber Steps

Scenic World, KATOOMBA, NSW, 2780

More information

Furber steps can be accessed via the old Katoomba Kiosk site: https://w3w.co/squeezed.boomerang.willow

for the walk down, or up from the valley floor near the Scenic World base station. It's a steep walk that

visits several smaller lookouts with the option of checking out the mid-level of Katoomba Falls.

They're steep in places, but much less rugged and exposed than the Giant Stairway and there are only

about 996 of them. Furber Steps walking track is a 750m one-way, grade 3 hike. You have the option of

doing the steps one way and catching the Scenic Railway the other way. Charges apply if you use the

Scenic Railway.

Fortress Rock Lookout

LEURA, NSW, 2780

More information

A fantastic return walk with stunning views from the lookout with the sheer cliffs and a deep valley to put it

all in perspective.

From the car park (and Fortress Ridge sign), this walk heads around the gate and up the hill.

The trail leads to an area of low heath, then tends right (down the hill) for approximately 100m before

coming to an intersection. Take the left track. From the lookout look closely and you can see Arethusa

Falls. Off the track to the right is the track to Darks Cave which is not for the casual walker.
---
The Blue Mountains Botanic Garden

Blue Mountains Botanic Garden, MOUNT TOMAH, NSW, 2758

More information

9am-5pm Sunday to Friday - 9.30am-5pm Sat/Public Holidays - Closed Christmas Day

This 252 hectare garden sits on the summit of a basalt capped peak 1,000 metres above sea level in the

World Heritage listed Greater Blue Mountains. The Garden is home to a world class collection of plants

from the cooler southern hemisphere.

Discover all the tours, walking trails, plant displays and natural areas the Blue Mountains Botanic Gardens

has to offer. Take a picnic and enjoy these wonderful gardens.

Bygone Beautys Teapot Collection

Bygone Beautys, 20-22 Grose Street, LEURA, NSW, 2780

More information

CLOSED Wednesdays and Thursdays - Home of world's largest private collection of teawares, including

more than 5,500 teapots from all over the world and spanning five centuries, most items are on display in

the Treasured Teapot Museum.

Enjoy a fine afternoon tea or a light lunch. Bygone Beautys serves one of the best Devonshire teas in the

Blue Mountains, or why not indulge in one of their traditional morning or afternoon teas.

Closed Good Friday, Christmas Day, New Year's Day.
---
Blair Athol No 4 Coal Mine

MOUNT VICTORIA, NSW, 2786

More information

Another great EXERCISE walk. The Blair Athol No 4 Coal Mine, Mount Victoria. If you like a bit of

ADVENTURE, this short walk could be the go for you. BIGGER kids will love it. Allow 30 minutes for this 1km

walk, plus browsing time.

TAKE A GOOD TORCH in case you have the courage to go into the mine. It's VERY DARK, a bit slippery and

muddy in places. TAKE CARE. Wear good walking shoes, consider wearing a cap/hat to protect your head

and maybe even a mask to eliminate other baddies. The MINE: The tunnel slopes at about 15° and extends

about 200m before you reach the 100m flooded section.

Rigby Hill

Rigby Hill, Bells Line of Road, MOUNT TOMAH, NSW, 2758

More information

There are wonderful views up and down the Grose Valley from the top of Rigby Hill. Rigby Hill is just a

short walk from the Pierces Pass Picnic Area, off Bells Line of Road.

It's only about a 15-minute walk out to the end of the trail, but you want to allow a bit more time just to

take in the view. The trail climbs a bit at the end but is pretty easy walking.

Keep well back from cliff edges, especially when taking photos, and supervise children at all times. Take

extreme care as the cliffs are over 200m high and are unfenced.
---
Victoria and Albert Guesthouse ~ Featured

19 Station Street, MOUNT VICTORIA, NSW, 2786 More information

The Finest Blue Mountain Accommodation, cafe, bar and restaurant. Situated in the beautiful Blue

Mountains town of Mount Victoria, this gorgeous rich history endured building is the centre piece of the

town. Located a 1 minute walk from the Mount Victoria Train Station.

Come experience the blend of history and contemporary luxury at our Victoria and Albert Guesthouse.

In House Guest meals are available 7 days a week, Antipasto Wine Bar and Restaurant is open to the

public four days per week.

Blue Mountains Maxi ~ Featured

Katoomba Railway Station, KATOOMBA, NSW, 2780

More information

AVAILABLE 24/7 in the Blue Mountains - call 0423 890 670 Maxi 1-9 Passengers - Wheelchair Taxi 1-12

wheelchairs- Baby Capsule available.

Locals looking after locals and Pre-bookings are available. For the cheapest taxi, catch the Maxi it's Illegal

for us to charge more than a small taxi for 1 to 4 passengers.

We are based in Katoomba and cover the upper Blue Mountains: Wentworthfalls, Leura, Katoomba, Medlow

Bath, Blackheath, Mount Victoria. Reliable, friendly, respectful and efficient.
---
Mount Vic and Me ~ Featured

Great Western Highway, MOUNT VICTORIA, NSW, 2786

More information

Mainly ONLINE SHOPPING - Web link listed below. Occasional open studio days

A little piece of affordable art.

Residing in the quaint little town of Mount Victoria, graphic designer Kara Cooper collages found objects,

favourite things, places, illustrations, photographs and the nostalgia of the Blue Mountains as inspiration to

create fun and quirky art cards, tea towels, mugs, fabrics, jewellery and more for Mount Vic and Me®.

Everything from dog breeds, native birds and animals from Australia, farmyard friends & more.

Kings Tableland Aboriginal Place

WENTWORTH FALLS, NSW, 2782

More information

Park your can at the locked gate and take the walking track to the right of the track. After about 200m

take the track to the right and walk up to the site.

Kings Tableland Aboriginal Place is a camping and meeting place of significance to Gundungurra people.

The Aboriginal Place contains a sandstone rock platform with extensive grinding and other grooves, a

shelter with rock art and containing unique vertically engraved depictions of kangaroo and bird tracks. Soil

deposits and stones found date back 22,000 years. It provides the Gundungurra peoples with a traditional

and historical connection to the Blue Mountains area.