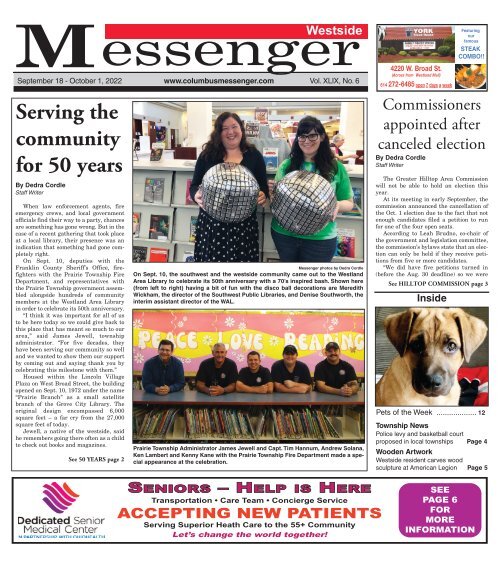 Westside Messenger - September 18th, 2022
You also want an ePaper? Increase the reach of your titles
YUMPU automatically turns print PDFs into web optimized ePapers that Google loves.
Messenger

Westside

September 18 - October 1, 2022 www.columbusmessenger.com Vol. XLIX, No. 6

4220 W. Broad St.

(Across from Westland Mall)

614 272-6485 open 7 days a week

Featuring

our

famous

STEAK

COMBO!!

Serving the

community

for 50 years

By Dedra Cordle

Staff Writer

When law enforcement agents, fire

emergency crews, and local government

officials find their way to a party, chances

are something has gone wrong. But in the

case of a recent gathering that took place

at a local library, their presence was an

indication that something had gone completely

right.

On Sept. 10, deputies with the

Franklin County Sheriff's Office, firefighters

with the Prairie Township Fire

Department, and representatives with

the Prairie Township government assembled

alongside hundreds of community

members at the Westland Area Library

in order to celebrate its 50th anniversary.

"I think it was important for all of us

to be here today so we could give back to

this place that has meant so much to our

area," said James Jewell, township

administrator. "For five decades, they

have been serving our community so well

and we wanted to show them our support

by coming out and saying thank you by

celebrating this milestone with them."

Housed within the Lincoln Village

Plaza on West Broad Street, the building

opened on Sept. 10, 1972 under the name

"Prairie Branch" as a small satellite

branch of the Grove City Library. The

original design encompassed 6,000

square feet — a far cry from the 27,000

square feet of today.

Jewell, a native of the westside, said

he remembers going there often as a child

to check out books and magazines.

See 50 YEARS page 2

Messenger photos by Dedra Cordle

On Sept. 10, the southwest and the westside community came out to the Westland

Area Library to celebrate its 50th anniversary with a 70's inspired bash. Shown here

(from left to right) having a bit of fun with the disco ball decorations are Meredith

Wickham, the director of the Southwest Public Libraries, and Denise Southworth, the

interim assistant director of the WAL.

Prairie Township Administrator James Jewell and Capt. Tim Hannum, Andrew Solana,

Ken Lambert and Kenny Kane with the Prairie Township Fire Department made a special

appearance at the celebration.

Commissioners

appointed after

canceled election

By Dedra Cordle

Staff Writer

The Greater Hilltop Area Commission

will not be able to hold an election this

year.

At its meeting in early September, the

commission announced the cancellation of

the Oct. 1 election due to the fact that not

enough candidates filed a petition to run

for one of the four open seats.

According to Leah Brudno, co-chair of

the government and legislation committee,

the commission's bylaws state that an election

can only be held if they receive petitions

from five or more candidates.

"We did have five petitions turned in

(before the Aug. 30 deadline) so we were

See HILLTOP COMMISSION page 3

Inside

Pets of the Week ................... 12

Township News

Police levy and basketball court

proposed in local townships Page 4

Wooden Artwork

Westside resident carves wood

sculpture at American Legion Page 5

SENIORS – HELP IS HERE

Transportation • Care Team • Concierge Service

ACCEPTING NEW PATIENTS

Serving Superior Heath Care to the 55+ Community

Let's change the world together!

SEE

PAGE 6

FOR

MORE

INFORMATION
---
PAGE 2 - WESTSIDE MESSENGER - September 18, 2022

around the westside

Hilltop Legal Clinic

The Legal Aid Society of Columbus will host a Hilltop Legal

Clinic every Monday from 4 to 6 p.m. at the Columbus

Metropolitan Library Hilltop Branch, 511 S. Hague Ave. in

Columbus. A legal aid attorney will be available to answer questions

regarding landlord and tenant issues, public benefits, consumer

debt, and family law. To receive free advice, you must have

a gross household income below 200 percent of the Federal

Poverty Level. For more information, call Legal Aid at 614-241-

2001.

Free lunch at Hilltop Methodist

The United Hilltop Methodist Church will host a free community

lunch every Friday from 11 a.m. to 1 p.m. The church is located

at 99 S. Highland Ave.

Call today and receive a

FREE SHOWER PACKAGE

PLUS $1600 OFF

1-855-517-1892

With purchase of a new Safe Step Walk-In Tub. Not applicable with any previous

walk-in tub purchase. Offer available while supplies last. No cash value. Must present

offer at time of purchase. CSLB 1082165 NSCB 0082999 0083445

SPECIAL OFFER

50 YEARS

Continued from page 1

"That was all they really had back then, books and

magazines," he said. "But they always had the latest

Sports Illustrated which I appreciated."

Donna Carter, a current member of the Southwest

Public Libraries board of trustees, said she remembers

it being an excellent source of material for her students.

"I was an educator at Prairie Norton back then and

I would always come into this library to find material

for my children," she said. "While much has changed

with the look of the libraries throughout the times, the

commitment from the staff to find and provide any

kind of assistance needed has never wavered."

Over the course of five decades, the library has

undergone major renovations — the first large scale

update took place in 1991 when it was expanded,

remodeled and reopened under its current name. The

latest took place in 2019 when the youth services area

was expanded and remodeled to include new programming

space, a sensory play area, and a new teen space.

Having moved away from the area for several

decades before taking his position as township administrator,

Jewell said walking into the facility they have

now was like a dream for library supporters like himself.

"It is so different from the building of the 70's and it

can now offer so much more for our community."

Like most libraries, it has thousands of books and

educational materials (including computers), it offers a

number of educational and entertaining programs for

youth and adults, and it offers skill building services

for job seekers or assistance for those looking for financial,

housing, or emotional needs.

"We really do a lot here at the library," said Denise

Southworth, the interim assistant director of the WAL.

"This community is why we are still here today and we

have made it our mission to try to help them with anything

they need. It could be just help finding a book or

learning a new craft, or it could be something of a more

fundamental need. If they need anything, we will try to

find the resources to improve their lives."

Because of the strong relationship between the community

and the library, one might think a massive celebration

to commemorate its 50th anniversary would

have been years in the making. Not so said Meredith

Wickham, the director of the SWPL.

"It almost didn't happen," said Wickham.

The near disaster was discovered in May when

Wickham was reading an email from local activist and

community organizer David Donofrio. In this message,

he spoke about the history of the community and the

library and inquired as to whether she had planned a

celebration for the upcoming 50th anniversary.

She had to admit that she had not.

"I couldn't tell him that we had anything planned to

commemorate this milestone because I did not know

the anniversary was forthcoming," she said.

She said the accidental oversight happened because

the grand opening for the library is listed under its former

name on their website. Having only been the

director for a year and a transplant from Mississippi to

boot, Wickham said she wasn't aware of that local history

and did not make the connection in time for extensive

celebratory planning.

"I knew we had to come up with something fast, but

I also know that we have a wonderful and creative

staff who would help throw an event that is fitting for

a 50th anniversary celebration."

Leading the party planning charge was

Southworth. With the help of the library staff and

assistance from Friends of the SWPL and members of

the Lincoln Village Residents Association, the team

www.columbusmessenger.com

Local musician Bill Foley sang a number of 70's hits

during the celebration.

started to put together a party for the ages.

At the event, the interior of the building was transformed

into a 70's theme fantasy, filled with disco

balls, pet rock creation stations, and games and activities

from that era. As music from Bill Foley reverberated

across the stacks, dozens of people lined up to

watch a slideshow with old photos taken of patrons as

they visited the library and families as they attended

festivals outside of the plaza.

Listening to the recollections and watching their

reactions was Donofrio, the community member who

sent that celebration inquiry to Wickham in late

spring.

Donofrio is not originally from the area, but he has

lived on the westside for a number of years. He said he

was overjoyed to see this place that has been making a

positive impact on the community for five decades celebrated.

"I believe a library is the heart of a community, just

like a school," he said.

He commended the staff for putting together such a

groovy event and added he was grateful they reached

out to local organizations for their ideas and input on

this milestone celebration.

While smiles and laughter were found all throughout

the library that day, perhaps the biggest displays

of delight came from Wickham and Southworth and

the library team who worked quickly and tirelessly to

throw such a festive event.

"I'm looking at all of these smiling faces, all these

people having fun, and I'm happy with the way things

turned out," said Southworth.

She added that while she will probably not be able

to plan the 100th anniversary celebration in 2072, she

believes another party will take place because the

library and its connection with the people will only

grow stronger throughout the years.

"We are here for each other, and I hope we always

will be."
---
www.columbusmessenger.com

around the westside

HILLTOP COMMISSION

Continued from page 1

gearing up for an election," she said. "But

within the past couple of days, we had one

candidate withdraw his candidacy and he

will no longer be running."

Those who did keep their names in the

running will be appointed to a three-year

term at the first meeting of the new year.

Two of the candidates, Dan Fagan and

Rachel Wenning, are currently serving on

the commission (their original terms expire

at the end of 2022). Joe Argiro and Andrew

Striker will be the new faces on the commission.

Argiro, a native of Columbus, has been a

resident of the Hilltop for six years.

Although he has never served on an area

commission before, he has been a board

member of the Highland West Civic

Association and a volunteer in many areaactivities

including commission functions

since his relocation to the westside.

He said he decided to run for an open

seat because he lives in the neighborhood,

has an interest in the work of area commissions,

and has an interest in — as well as

experience with — the variety of topics and

issues they discuss and consider.

"As an area commissioner, you liaise

with Columbus City Council and other governmental

and non-governmental agencies

on important issues such as economic and

workforce development, zoning, parks and

recreation, public utilities, and so much

more," he said in an email. "Being a

Columbus native who has been involved in

the community for many years and who

works in higher education in the region,

I've developed a network of neighbors and

officials who can provide guidance and consultation

on issues facing the commission

as well as have developed my own skills in

the functioning of city government."

He said he believes he will be able to

provide a "level-headed approach" to problem-solving

the tough issues that are facing

the community.

Argiro has a number of goals he would

like to accomplish during this first term on

the commission. He said he would like to

join with his colleagues in canvasing to

develop a "fuller understanding of the

micro — and macro — facing our large commission

area" so they can bring that knowledge

to the table when making decisions

School Help Centers

Columbus Metropolitan Library's

School Help Centers are open at 22 of its 23

locations. K-12 students will once again

have a free place to get help with their

schoolwork from friendly staff and volunteers.

Formerly known as Homework Help

Centers, School Help Centers offer students

access to welcoming spaces to study

and learn, as well as computers, printers,

digital research tools, and the library catalog.

The School Help Center hours of operation

are 3 to 6 p.m. Monday through Friday

at the Hilltop and the Franklinton branches.

In addition to providing in-person

School Help, CML also has a School Help

webpage, offering free access to tools and

resources, including Helion: connecting

students one-on-one with virtual tutors

Monday through Friday from 2 to 11 p.m.

Also available is Virtual Reading Buddies,

connecting K-3 students with library staff

members for one-on-one reading help.

Visit combustibility.orc/school-help to

learn more.

that affect the community. He also said he

would like to focus on housing issues and

advocate for safer, reliable, and environmentally-sustaining

public transportation.

Like Argiro, Striker has not served on

an area commission before but he stated he

does have a background in government

service, non-profit organizations, and an

extensive history of volunteer service.

He has been living in the area for three

years and said he ran for a seat on the commission

because he wanted to become more

involved in the community.

"I've waned in my community efforts

since I bought a home, but I look out my

window everyday to see a neighborhood

that has been neglected and people that

have been underserved," Striker said in an

email. "I've spent countless hours improving

my property, cleaning up trash in the

streets, helping my neighbors, and working

with the city to try and make my neighborhood

a safer and better place to live but I

feel like it isn't enough."

He said one of his goals as a member of

the commission is for it to serve as a

"springboard" for him to take a more active

role in the direction of the neighborhood.

"Hopefully, I'll be able to make a notable

difference in the day-to-day life of my

neighbors and their families."

The commission is also looking to

appoint a fifth seat at its meeting in

January. Brudno said interested parties

should reach out to the sitting commissioners

for consideration. They can be reached

via their Facebook page or at cbusareacommissions.org/greater-hilltop.

The appointed

seat will be for a three-year term.

In other news, the Hilltop commission

will be partnering with the League of

Women Voters of Metro Columbus for a

get-out-the-vote registration drive on Sept.

29 from 6 p.m. to 7: 30 p.m. They will meet

at Burroughs Elementary School, 551 S.

Richardson Ave., and canvas the surrounding

neighborhoods to try to get residents

signed up to vote in the upcoming general

election on Nov. 8.

They will also host a local candidates

forum at the Hilltop Branch of the

Columbus Metropolitan Library, 511 S.

Hague Ave., on Oct. 17 at 6:30 p.m. It will

be a non-partisan event.

September 18, 2022 - WESTSIDE MESSENGER - PAGE 3
---
PAGE 4 - WESTSIDE MESSENGER - September 18, 2022

Messenger

Westside

We are the

BEST COMMUNITY NEWSPAPER

on the Westside

Pick-Up

At These

Locations:

Hilltop Library - 511 S. Hague Ave.

United Dairy Farmers - Hague & Sullivant Ave.

Alex Carry-Out - Binns & Sullivant Ave.

Dollar General - Kingsford & Sullivant

Dollar General - Georgesville & Atlanta

M & S Carry-Out - Georgesville & Atlanta

United Dairy Farmers - Georgesville & Parwick by Freeway

Thorton's Gas Station - Georgesville & Norton Rd.

Shell Gas Station - Georgesville & Norton Rd.

Kroger - Georgesville Square

Turkey Hill - Georgesville & Clime Rd.

United Dairy Farmers - Clime & Demorest Rd.

Walgreens - Clime & Demorest Rd.

Certified Gas Station - Briggs & Demorest Rd.

Kroger - Eakin Rd. & Harrisburg Pike

Speedway Gas Station - Eakin Rd. & Harrisburg Pike

Heartland Bank - Great Western Shopping Center

Walgreens - Harrusburg & Hopkins

Certified Gas Station - Broad St. & Orel

Walgreens - Hague Ave. & Broad St.

Marathon Gas Station - Georgesville & Industrial Rd.

La Plaza Tapatta - Georgesville & Hollywood Rd.

BP Gas Station - Georgesville Rd. & Broad St.

Westland Library - Lincoln Village Plaza

Giant Eagle - Lincoln Village Plaza

Thorton's Gas Station - 4990 W. Broad St.

Walgreens - Broad St. & Galloway Rd.

Kroger - Broad St. & Galloway Rd.

CVS Pharmacy - Norton & Hall Rd.

United Dairy Farmers - Norton & Hall Rd.

Circle K Gas Station - Norton & Hall Rd.

Dollar General - Norton & Hall Rd.

Marathon Gas Station - Broad St. & Murray Hill Rd.

Speedway Gas Station - Broad St. & Murray Hill Rd.

Dollar Tree - Broad St. & Murray Hill Rd.

Speedway Gas Station - Broad St. 7 Freeway

Sheetz Gas Station - Westland Mall

Speedway Gas Station - Broad St. & Wilson Rd.

Kroger - Consumer Square Shopping Center

Franklin Township Business Office - 2193 Frank Rd.

READ US ONLINE: www.columbusmessenger.com

Township Focus

By Amanda Ensinger

Staff Writer

Rob Hayes, a Westland High School basketball

coach and a local community member, wants to raise

funds for a basketball court at Lakota Park.

He reached out to the Prairie Township Trustees at

a recent meeting to pitch his idea.

"I would like to work with local law enforcement to

make sure it is safe and would follow existing policies

within the park," Hayes said. "I also would like to get

some programs going within the community."

Trustee Rod Pritchard said there are plans for two

basketball courts at the Galloway Road Sports

Complex.

"There are currently no programs out there for kids,

Pritchard said. "I encourage you to set those up as it

would be beneficial."

Township officials also suggested that Hayes set up

a public involvement meeting to help gather more

information.

In related news, the trustees approved the 2022

Wellness Competition for full-time employees of the

township.

"This year's competition is a 5K walk at the

Galloway Road Sports Complex," said Prairie

Township Administrator James Jewell. "Employees

www.columbusmessenger.com

Trustees place police levy on the ballot

By Amanda Ensinger

Staff Writer

The Franklin Township Board of Trustees approved

a measure asking residents to approve a 7.4-mill permanent

police levy. Residents will vote on the issue

this November.

This will be the fourth time in two years that the

township has asked voters to approve a police levy. In

May, the township asked voters for a 7.3-mill permanent

police levy. In the fall of 2021, the township asked

voters to approve a 7.1-mill levy, and in the spring of

2021, the township asked for a 7.37-mill levy.

All the permanent levies have been rejected by voters.

The department currently collects from two other

levies, bringing in approximately $700,000 a year.

Basketball court proposed at park

By Amanda Ensinger

Staff Writer

Prairie Township Community Center Director

Michael Pollack said the township is taking steps to

correct several issues with the pool.

"Over the past year, the pool floor at the community

center has been eroding in all areas of the pool,"

Pollack said at a recent township board meeting. "In

two spots, bubbles in the plaster have occurred which

required patches. The rest of the pool shows the etching

of the plaster disappearing evenly across the pool

with large amounts being found in our filters and vacuum."

Pollack said algae has also become increasingly

prominent in the deep end due to the porous nature of

Residents asked the trustees how many times they

would try to pass a levy.

"As many times as it takes," responded Franklin

Township trustee John Fleshman.

Recently the department laid off three part-time

police officers and eliminated the third shift. The

department staff only responds to calls on first and

second shift.

Residents have said they have seen a difference

with reduced patrolling.

"There are drug houses in this township and issues

continue to grow," said Jan Legge. "It is getting to the

point where it is a 24/7 issue."

Legge also reported ongoing issues with four wheelers

and motorized scooters in the township.

Franklin Township Police Chief Byron Smith said

they are doing the best they can with the limited

resources they have.

that participate in the 5K will have a $0 insurance premium

deduction on their Dec. 9, 2022 paycheck."

Jewell added that spouses and family members are

not required to participate but are welcome to attend.

The date for the 5K walk is at 5 p.m. on Sept. 29.

In other news, Jewell asked the board to approve a

quote for the upgraded audio system for the meeting

room. This quote includes six new wireless microphones

and the audio mixing equipment to make it

work. The existing table microphones and wireless

podium microphone would stay the same. The total

cost is $11,283.

Residents also asked for an update on water issues

in the township.

"Franklin County water is out of control," said John

Griffith, a landlord in Prairie Township. "I had a bill

for $600. What is being done about the water?"

Some residents have reported steady increases in

their water bills and have asked the township to do

something about it. At one time, the county was looking

at having Columbus take over its water system,

but little headway has been made.

According to Jewell, the city of Columbus hired a

new public service utilities director and the city will

not take over the system unless it gets updated.

"There are houses in this township where this has

been going on for years," Griffith said.

Pool improvements discussed in Prairie

the plaster due to the erosion.

"The original product lifespan is around 8-12 years,"

Pollack said. "We are approaching the eighth year

since it was installed in 2015."

Pollack asked the board to spend $145,585 with

O'Brien Pools to complete the proposed work. The fund

would come from the American Rescue Plan.

Residents asked why this is happening now when

there are four years left before it should be deteriorating.

"This is happening due to a few things that we think

we can do better," Pollak said. "There also is not a lot

of options out there to get a pool liner. We are up

against time."

Trustee Rod Pritchard asked Pollack to make sure

the workmanship is guaranteed before entering into a

contract.
---
www.columbusmessenger.com September 18, 2022 - WESTSIDE MESSENGER - PAGE 5

Our Savings Rates ar

e on the rise!

1.75 %

1

APY

2. 25 %

2

APY

Contact me today for details!

Maggie Colombini

Branch Manager, Wilson Road Office

(614) 351-2100

Maggie.Colombini@Heartland.Bank

1

Annual Percentage Yield (APY). Minimum opening deposit is $1,000. Minimum balance to earn interest is $0.01. Minimum balance to earn promotional APY

is $50,000.00. This is a tiered rate account. The promotional APY of 1.75% is available ailable for the follo

wing tiers: $50,000 - $99,999 and $100,000 - $499,999.99. The

promotional APY for the tier of $25,000 - $49,999.99 is 1.25% APY. Regular rates apply to the following tiers: $0.01 - $9,999.99 is 0.01% APY; $10,000.00 - $24,999.99

is 0.02% APY; and $500,000 + is 0.05% APY. The promotional rate to applicable tiers is guaranteed for 180 days from the day of account opening. After 180 days, the

rate may change at any time as the Heartland Bank Money Market Savings Account is a variable rate account. To qualify for the promotional rate, the opening deposit

must be from funds not currently on deposit with Heartland Bank. Limit one (1) promotional Money Market Savings Account special per household per six (6) months.

APY accurate as of 08/01/2022. Fees may reduce earnings. Accounts closed less than 180 days from date opened will be charged an early close fee of $25.00. Personal

accounts only.

2

Annual Percentage Yield (APY). Minimum balance to open and maintain the advertised 12 month APY of 2.25% is $5,000. APY is accurate as of August 29, 2022.

Maximum deposit is $250,000. Please see your local branch office for disclosure information regarding terms and conditions. Penalty may be imposed for

early

withdrawal. Rates are subject to change at any time. No brokers please. Limited time offer. Limited to one per household. Not valid with money currently on

deposit at Heartland Bank. Personal accounts only.

Messenger photo by Dedra Cordle

Military-inspired creations

Local artist Ted Scherer proudly displays the latest wood carving creation to his

expansive outdoor showcase at the American Legion Don Gentile Post 532, located

at 5171 Demorest Road. For more than a year, the resident of the westside has been

carving mostly military-inspired creations out of felled trees at this location to pay

homage to the men and women who served in the United States Armed Forces. He

said he was given free reign with this piece and decided he wanted to honor the time

he served in the Army's Airborne Division (1969-71). He joked that the reason why

he made this Corcoran boot the focal point was because he wanted to draw attention

to the "greatest piece of footwear the military ever had." Scherer has four pieces

on display at the American Legion Don Gentile Post 532, all located within proximity

to the shelter house closest to the parking lot.

After school snacks at libraries

Columbus Metropolitan Library has

once again partnered with Children's

Hunger Alliance (CHA) to provide afterschool

snacks for children ages 1-18 at several

of its locations including:

• Franklinton Branch: Monday -

Saturday: 3:30 to 4:30 p.m.

• Hilltop Branch: Monday - Friday:

3:15-3:45 p.m. and Saturday: 2:15 - 2:45

p.m.

These locations were selected for the

meal program based on student need. A

typical super-snack provided by Children's

Hunger Alliance consists of a fruit, vegetable,

protein, grain and milk.

"Food insecurity was a pervasive issue

facing our community well before the pandemic,"

said Patrick Lipinski, with the

news and notes

library. "Now, with central Ohio reeling

from simultaneous health and economic

crises, our families need our support more

than ever before. We're grateful for the

tremendous resources and partnership provided

by Children's Hunger Alliance."

Judy Mobley, president of CHA, said,

"We value the continued partnership with

Columbus Metropolitan Library working

with us to provide meals to children in our

community who experience food insecurity.

Together we are making a difference in the

lives of many central Ohio children each

day."

Founded in 1970, Children's Hunger

Alliance is a statewide nonprofit organization

dedicated to ending childhood hunger

in Ohio.

For more information, visit cholecystenterorrhaphy.org.

Westside Messenger Ad

Heartland Bank

September 9, 2022 4:14 PM

1/6 Vertic

CMYK

x 5.75"

gin

SEARCHING

for More Qualified Employees?

October 16 th , 2022

Deadline: October 7 th , 2022 At Noon

Special employment Section Featuring:

Job Openings

Job Fairs

Full and Part Time Employment

Seasonal Job Opportunities and more

Contact

Jonathan Heberline

(614) 392-5156

ALL ADS ARE IN FULL COLOR. Contact us by phone or online to discuss special

advertising rates that are available for this section as well as combination rate

discounts for advertising in multiple coverage areas.

Canal Winchester • Grove City • Groveport • Madison • South • Westside

614-272-5422

Kathy@columbusmessenger.com

Doughenry@columbusmessenger.com
---
PAGE 6 - WESTSIDE MESSENGER - September 18, 2022

www.columbusmessenger.com

Active Lifestyles

A bi-monthly feature celebrating the wisdom, experience and

contributions of our community's senior citizens

Hilltop History

& Heritage

This photo features the home at 2169

Springmont Ave. (between Whitethorne

and Clarendon avenues). It was featured

in the Greater Hilltop Area

Commission publication "Hilltop USA:

History and Homes." This was a guide

to the history and architecture of the

Hilltop neighborhood. The photo was

taken in 1984, the year the guide was

published. Built in 1906, the home is

unique in that its two floors are made of

gray stone and it sits on two lots. The

entryway contains two doors - one

entrance went to the living room and

the door on the right went to a parlor

where guests were seated. If you have a

photo to share, contact Stacy

Berndsen-Campbell at stacyberndsen12@gmail.com.

SENIORS — HELP IS HERE!

Your Doorstep to Your Doctor!

We provide:

• Transportation • Personal Coordinated Team Care

• Concierge Service • Convenience of all services under one roof

• Superior Healthcare • We serve to 55+ Medicare-eligible Community

Call for more information:

Trae White, COS - Community Outreach Specialist

614-551-5367

trae.white@dedicated.care

Let's change the world together!

NORTH

2260 Morse Rd

Partnership with

3 LOCATIONS:

WESTSIDE

50 N. Wilson Rd.

WHITEHALL

5156 E. Main St.

FCSS levy

Voters will

decide on the proposed

Franklin

County Senior

Services levy

renewal on Nov. 8.

The proposed fiveyear

tax levy

renewal is for 1.75

mills, $0.175 per

$100 of valuation,

commencing in

2022. Officials

state it is not a tax

increase. The levy

provides funding

for Franklin

County Senior

Options and its

services designed

to help seniors

remain safely at

home. These services

include mealson-wheels,

transportation

to doctor

appointments, and

emergency

response buttons.

The existing senior

services levy will

expire at the end of

2022. The senior

levy is the main

funding source for

Senior Options programs.
---
www.columbusmessenger.com

Active Lifestyles

September 18, 2022 - WESTSIDE MESSENGER - PAGE 7

Franklin County Board of Commissioners: President Erica C. Crawley • Commissioner John O'Grady, and Commissioner Kevin L. Boyce

The Franklin County Board of Commissioners and The Franklin County Office on Aging join with the Messenger Newspaper in providing this update on aging issues in Franklin County.

Franklin County Office on Aging Presents the

3rd Annual Caring for the Caregiver Expo

Spencer 4Higher Media LLC, in partnership with The Ohio

Sickle Cell and Health Association, recently announced that

the Franklin County Office on Aging will present the 3rd

Annual Caring for the Caregiver Expo on Saturday, Nov. 5,

2022 in Columbus, OH at The Boat House at Confluence

Park.

The 3rd Annual Caring for the Caregiver Expo is a freeone-of-kind

event that allows caregivers, first responders,

essential workers, parents, grandparents and guardians a

chance to enjoy pampering services like massages, reflexology,

mini manicures and facials. Attendees can also participate

in various health and fitness activities throughout the day,

including yoga, aerobics and line dancing. In addition, various

Lunch and Learn sessions with guest speakers will take

place, and community resources and information from health

care organizations, businesses and government agencies will

also be available onsite.

"The Annual Caring for the Caregiver Expo is held on the

first Saturday in November kicking off National Caregivers

Month. This year, we are happy to announce that Franklin

County Office on Aging will serve as our Presenting Sponsor,"

said Brenda D. Spencer, President of Spencer 4Higher

Media LLC and Caring for the Caregiver Expo Creator and

Event Chair. "The Franklin County Office on Aging is a perfect

partner and has supported the Caring for the Caregiver

Expo since its inaugural event in 2019," continued Spencer.

The Franklin County Office on Aging provides centralized

access to diverse programs and individualized services for

older adults, dependent adults, and their families so they can

preserve their independence and stay in their own home.

Franklin County residents aged 60 and older can access various

programs and services through the agency, as well as

support services for caregivers and kinship families, including

adult day services, durable medical equipment, caregiver

counseling and more.

"We are thrilled to be the presenting sponsor for the 3rd

Annual Caring for the Caregiver Expo," said Interim Director

Chanda Wingo. "Many caregivers are taking care of a

loved one while also working and being a parent. The long

hours and around the clock care can take a toll on their physical,

mental and emotional well-being. This event is a chance

for them to relax, unwind and recharge so they can continue

providing quality care for those they love," continued Wingo.

For more information, call (614) 348-2667 or visit

caringforthecaregiverexpo.com.

To learn more about Franklin County Senior Options,

visit officeonaging.org or call (614) 525-6200.
---
PAGE 8 -- WESTSIDE MESSENGER - September - 18, 18, 2022 2022

Emergency Rental Assistance

funding available in Columbus

The city of Columbus and Franklin County have authorized

distribution of another $20 million in federal Emergency Rental

Assistance Funding. This funding supports renters who have

experienced a loss of income from the COVID-19 pandemic and

are at risk of losing housing. Since the pandemic began, the city

has provided more than $40 million in federal funding to residents

for rent and utility assistance.

"In Ohio, employment is back to 97.7 percent of where it was in

February 2020, but for some in our city, the economic effects of the

pandemic are just as present today as they were two years ago.

Many of our neighbors still wonder if they can make this month's

rent, or are choosing between food and utilities. This additional

funding is our way of calming those worries," said Mayor Andrew

Ginther. "Through partnerships with our local nonprofits, we have

put an extraordinary amount of funding in the hands of our residents."

The state of Ohio recently reallocated its surplus ERA funds to

seven cities and counties. Among those local entities, the city of

Columbus and Franklin County were each awarded $10 million.

In late August, while Columbus City Council was on recess,

Ginther authorized $500,000 of the $10 million to be granted to

IMPACT Community Action through an executive order. Action

by city council distributes the remaining $9.5 million to the organization,

which specializes in rent and utility assistance.

"The pandemic helped expose a variety of areas that require

immediate support and attention in our community," said Erica

Crawley, county commission president. "Many families are just

one missed paycheck, health crisis, or car repair away from not

being able to pay their rent. It is incumbent on us not only to support

them in what continues to be a difficult time for many but

also to continue to work on our systems so that these families can

get back on track for the long term."

IMPACT Community Action recently reopened rent and utility

assistance applications after closing applications in July, as existing

funding was spent down. The new funding will also enable

IMPACT team members to return to eviction courts across the

region to offer on-site assistance. Often, these funds are available

to cover a year of rent and utility assistance and can simultaneously

be used to catch up on past-due rent. These funds are available

to pay reasonable late fees, moving expenses, security

deposits and home interest costs. The city of Columbus has also

awarded more than $20 million of its ERA Funding to 26 community

organizations that pursue the equitable distribution of rental

assistance.

Prior to this funding, the county commissioners have provided

more than $8.2 million in emergency rental assistance to Franklin

County residents through IMPACT Community Action. This additional

$10 million will more than double the number of residents

that can be assisted. Households that have been financially hurt

by the pandemic and which are at or below 80 percent of the area

median income will be eligible, and the average amount of assistance

per household will be about $3,500.

For more information on rental assistance and the resources

available throughout the city and county, visit impactca.org.

around the westside

Breakfast at the Lodge to benefit Special Olympics

The Westmeath Masonic Lodge #623 is preparing breakfasts

once a month to benefit the Special Olympics. The public is invited

to have breakfast the second Saturday of each month at 2925 West

Broad St. Adults eat for a donation of $6, children age 3 and above

pay $3. Serving is from 9 a.m. to noon.

Produce giveaway at YMCA

The Hilltop YMCA hosts a fresh produce giveaway the third

Wednesday of each month from 4 to 6 p.m. at 2879 Valleyite Drive

in Columbus. For more information, call the YMCA at 614-276-

8224.

www.columbusmessenger.com

CLASSIFIED ADS

Deadlines: Grove City, Groveport & All editions - Mondays at Noon.

West, Canal Winchester, South & Madison editions -Tuesdays at 5 p.m.

xCraft Shows

ADVER

VERTISE

Your Fall F

Craft Show

Bazaar or

Bake Sale!

In The Columbus Messenger!!

and reach over 20,000 homes

in the West & Southwest areas

Craft Shows

ASSOCIATION ADS

FALL INTO A

NEW HAIRSTYLE!

Come See Me At

My New Location!

Call Marilyn Weaver

For An Appt.

For a New Haircut/Color

614-348-6670

Relax Wellness

3663 Broadway,

Grove City

Have Something

To Sell?

Need To Rent

That Property?

Try The

Messenger!

For Info On Placing

An Ad Call

614-272-5422

ASSOCIATION ADS

Protect your home w/home

security monitored by

ADT. Starting at $27.99/

mo. Get free equipment

bundle including keypad,

motion sensor, wireless

door & windows sensors.

833-719-1073

Call Kathy

614-272-5422

ASSOCIATION ADS

DISH TV $64.99 FOR 190

Channels + $14.95 High

Speed Internet. Free Installation,

Smart HD DVR

Included, Free Voice Remote.

Some restrictions

apply. Promo expires

1/21/23. 1-866-479-1516

The bathroom of your

dreams for as little as

$149/month! BCI Bath &

Shower. Many options

available. Quality

materials & professional

installation. Senior &

Military Discounts

Available. Limited Time

Offer - FREE virtual inhome

consultation now

and SAVE 15%! Call

Today! 1-877-540-2780

Update your home with

beautiful new blinds &

shades. Free in-home

estimates make it

convenient to shop from

home.

Professional

installation. Top quality -

Made in the USA. Free

consultation: 877-212-

7578. Ask about our

specials!

Become a Published

Author. We want to Read

Your Book! Dorrance

Publishing - Trusted by

Authors Since 1920

Book manuscript submissions

currently being reviewed.

Comprehensive Services:

Consultation, Production,

Promotion and Distribution. Call

for Your Free Author's Guide 1-

866-482-1576 or visit

http://dorranceinfo.com/macnet

xCome & Get It!

COME AND GET IT!

Need to Get Rid of Something Fast - Advertise It Here For FREE!

Deadlines are Mondays by Noon

Call For Publication Schedule 614-272-5422

FREE Garden Straw for gardens or bedding. Call for appointment for pickup.

Circle S Farms, 9015 London-Groveport Road, Grove City, 43123

Grove City - 614-878-7980

FREE - Metal from old camper frame, Need a truck to pickup..

CC - Obetz - 614-632-1013

Baby Grand Piano, Mahogany wood w/bench;

Futon Frame & Mattress w/suede-like cover, full size, gently used.

N/B - Grove City - 614-875-8860

FREE - Children's Wooden Play Set - Good Condition w/Sand Box under it, Step Ladder up

Slide to go down & a rope swing. Also separate Swing Set w/4 swings.

190 Inah Ave., Cols, 43228 near the Fire Dept.

West Columbus - 614-878-1930, ask for Linda

. Come and Get It! is a bi-weekly column that offers readers an opportunity to pass along

surplus building materials, furniture, electronic equipment, crafts, supplies, appliances,

plants or household goods to anybody who will come and get them - as long as they're

FREE. NO PETS! Just send us a brief note describing what you want to get rid of, along

with your name, address and phone number. Nonprofit organizations are welcome to

submit requests for donations of items.

Send information to The Columbus Messenger, Attention: Come and Get It, 3500

Sullivant Ave., Columbus, OH43204. Deadline is Mondays at NOON for following

Sunday's publication. Messenger Newspapers is not responsible for any complications

that may occur. Please contact us when items are gone. 272-5422

ASSOCIATION ADS

Vivint Smart Security.

Professionally installed.

One connected system for

total peace of mind. FREE

professional installation!

Four FREE months of

monitoring! Call to

customize your system. 1-

855-870-2073

Become a Published

Author. We want to Read

Your Book! Dorrance

Publishing Trusted Since

1920 Consultation,

Production, Promotion &

Distribution. Call for Free

Author's Guide 1-877-729-

4998 or visit

dorranceinfo.com/ads

Aloe Care Health, medical

alert system. The most

advanced medical alert

product on the market.

Voice-activated! No wi-fi

needed! Special offer-call

and mention offer code

CARE20 to get $20 off

Mobile Companion. Call

today-1-877-728-4065

Internet &WIFI Starts at

$49 Call us Today to Get

Started. Find High-Speed

Internet with Fiber Optic

Technology No Credit

Check, No SSN Required.

Call us Today 866-396-

0515

Come & Get It!

xPreschool/Daycare

advertise

YOUR DAY CARE

OR PRESCHOOL

Call Kathy at the

The Columbus Messenger

For More Info

614-272-5422

Preschool/Daycare
---
www.columbusmessenger.com

September 18, 2022 - WESTSIDE MESSENGER - PAGE 9

CLASSIFIED ADS

Deadlines: Grove City, Groveport & All editions - Mondays at Noon.

West, Canal Winchester, South & Madison editions -Tuesdays at 5 p.m.

xEmployment

WANTED

Host/Hostess • Back-Up Cooks

Grill • Servers • Dishwashers

You Can Work 29+ Hrs. Based on

Your Availability & Performance

Immediate Full/Part-time Openings

We Offer:

• Weekly Pay

• Paid Training

• No Tip Sharing

• Paid Vacation

• Employee Meal Discount

• Position/Salary Advancement Plan

• Discount Purchase Plan

Apply online at crackerbarrel.com/careers for

Hilliard Location 614-878-2027

4 Paws and a Tail

IS HIRING!!!!

Sign on bonus for experienced Pet Groomers

after 6 months of employment!

Hiring for multiple positions

Pet Groomer up to $65,000 a year

Bather $13-$15 an hour

Afternoon Cleaner & Saturday Receptionist

$12-$14 an hour

Please give us a call to schedule an

interview 614-991-0130

ASSOCIATION ADS

Replace your roof with the

best lookng and longest

lasting material -- Steel

from Erie Metal Roofs!

Three styles and multiple

colors available.

Guaranteed to last a

lifetime! Limited Time

Offer - $500 Discount +

Additional 10% off install

(for military, health

workers & 1st responders)

Call Erie Metal Roofs: 1-

855-338-4807

!!OLD GUITARS WANT-

ED!! GIBSON, FENDER,

MARTIN, Etc. 1930's to

1980's. TOP DOLLAR

PAID. CALL TOLL FREE

1-866-433-8277

ASSOCIATION ADS

Wesley Financial Group,

LLC Timeshare Cancellation

Experts Over

$50,000,000 in timeshare

debt & fees cancelled in

2019. Get free

informational package &

learn how to get rid of

your timeshare! Free

consultations. Over 450

positive reviews. 888-965-

0363

DENTAL INSURANCE

from Physicians Mutual

Insurance Company.

Coverage for 350 plus

procedures. Real dental

insurance - NOT just a

discount plan. Do not wait!

Call now! Get your FREE

Dental Information Kit with

all the details! 1-877-553-

1891

www.dental50plus.com/

macnet#6258

ASSOCIATION ADS

BUYING CLASSIC CARS,

TRUCKS, SUVs

**American and Foreign**

Any Condition. Buying

entire car collections.

$$PAYING CA$H$$

Please call 717-577-8206

KRMiller1965@yahoo.com

REPOSSESSED VEHICLE?

Missed payments after

2015? You may be entitled

to substantial money and

improved credit REPO

ALERT! FREE LEGAL

ADVICE 1-800-601-0808

Paying top cash for men's

sportwatches! Rolex,

Breitling, Omega, Patek

Pillippe, Heuer, Daytona,

GMT, Submariner and

Speedmaster. Call 833-

603-3236

Directv Stream - Carries

the Most Local MLB

Games! CHOICE

Package, $89.99/mo for

12 months. Stream on 20

devices in your home at

once. HBOMax included

for 3 mos (w/CHOICE

Package or higher.) No

annual contract, no hidden

fees! Some restrictions

apply. Call IVS 1-866-629-

6086

ASSOCIATION ADS

Don't let the stairs limit

your mobility! Discover

the ideal solution for

anyone who struggles on

the stairs, is concerned

about a fall or wants to

regain access to their

entire home. Call

AmeriGlide today! 1-844-

317-5246

Aloe Care Health medical

alert system. Most

advanced medical alert

product on the market.

Voice-activated! No wi-fi

needed! Special offer

w/code CARE20 for $20

off Mobile Companion. 1-

855-341-5862

TRICKED BY YOUR CAR

BEING REPOSSESSED? You

may be entitled to substantial

money and improved credit if

your vehicle was

repossessed between after

2015. REPO ALERT! FOR

FREE LEGAL ADVICE CALL

1-800-411-1770

HughesNet - Finally, superfast

internet no matter

where you live. 25 Mbps

just $59.99/mo! Unlimited

Data is Here. Stream

Video. Bundle TV &

Internet. Free Installation.

Call 866-499-0141

WANTED!

MOTORCYCLES!

ANTIQUE AND CLASSIC.

Honda, Kawasaki, Suzuki,

Yamaha, Triumph, BSA

and other foreign models.

$$PAYING CA$H$$

717-577-8206

KRMiller1965@yahoo.com

ASSOCIATION ADS

Stroke & Cardiovascular

disease are leading

causes of death according

the American Heart

Association. Screenings

can provide peace of mind

or early detection! Call

Life Line Screening to

schedule your screening.

Special offer - 5

screenings for $149. 1-

866-518-8391

Put on your TVEars &

hear TV w/unmatched

clarity. TVEars Originaloriginally

$129.95 - now

w/this special offer only

$59.95 w/code MCB59! 1-

888-805-0840

Protect your home from

pests safely and

affordablly. Pest, rodent,

termite and mosquito

control. Call for a quote or

inspection today 844-394-

9278

Vivint Smart Security.

Professionally installed.

One connected system for

total peace of mind. Free

professional installation!

Four free months of

monitoring! Call to

customize your system. 1-

833-841-0737

Employment

HIRING WAREHOUSE

UP TO

$19/HR +

UP TO

$3K SIGN-ON

NO WEEKENDS • NO MANDATORY OT

OPEN INTERVIEWS

WEDNESDAY 10AM-1PM

1568 Georgesville Rd. Columbus, OH 43228

JOBS.MSCDIRECT.COM

Applicants must sucessfully pass a background check and drug screen.

Equal Opportunity Employer: Minority, female, veteran, individuals with disabilities, sexual orientation/gender identity.
---
PAGE 10 - WESTSIDE MESSENGER - September 18, 2022

www.columbusmessenger.com

xEmployment

NOW HIRING

CDL Drivers and

Diesel Technicians

In Canal Winchester, OH!

$5000 Sign-on Bonuses!

Competitive Pay, Great Benefits!

Requirements:

18+ years of age

2+ Years of Experience

Call or apply online for

immediate consideration!

1-877-220-5627

careers.wm.com

Equal Opportunity Employer Minority/

Female/Disability/Veteran

DO YOU NEED

SEASONAL EMPLOYEES?

Call KATHY to ADVERTISE!

and reach over 20,000 homes in the

West & Grove City Messengers

614-272-5422

kathy@columbusmessenger.com

ASSOCIATION ADS

Looking for assisted living,

memory care, or

independent living? A

Place for Mom simplifies

the process of finding

senior living at no cost to

your family. Call 1-844-

428-0445 today!

READER

ADVISORY

The National Trade Association

we belong to has

purchased the following

classifieds. Determining

the value of their service

or product is advised by

this publication. In order

to avoid misunderstandings,

some advertisers do

not offer "employment"

but rather supply the

readers with manuals, directories

and other materials

designed to help

their clients establish mail

order selling and other

businesses at home. Under

NO circumstance

should you send any

money in advance or give

the client your checking,

license ID or credit card

numbers. Also beware of

ads that claim to guarantee

loans regardless of

credit and note that if a

credit repair company

does business only over

the phone it's illegal to request

any money before

delivering its service. All

funds are based in US

dollars. Toll Free numbers

may or may not

reach Canada. Please

check with the Better

Business Bureau 614-

486-6336 or the Ohio Attorney

General's Consumer

Protection Section

614-466-4986 for more

information on the company

you are seeking to

do business with.

ASSOCIATION ADS

Safe Step. North

America's #1 Walk-in Tub.

Compreshensive lifetime

warranty. Top-of-the-line

installation and service.

Now featuring our FREE

shower package & $1600

off for a limited time!

Financing available. Call

Safe Step 1-833-356-1954

Eliminate gutter cleaning

forever! LeafFilter, the

most advanced debrisblocking

gutter protection.

Schedule a FREE LeafFilter

estimate today. 15% off

Entire Purchase. 10% Senior

& Military Discounts.

Call 1-855-791-1626

DISH TV $64.99 for 190

Channels + $14.95 high

speed internet. FREE installation,

Smart HD DVR

included. Free Voice Remote.

Some Restrictions

apply. Promo Expires

1/21/23. 1-866-590-5561

Looking for auto insurance?

Find great deals

on the right auto insurance

to suit your needs.

Call today for a free

quote! 866-924-2397

IMPORTANT

NOTICE

The following states: CA,

CT, FL, IA, IL, IN, KY,

LA, MD, ME, MI, MN,

NE, NC, NH, OH, OK,

SC, SD, TX, VT and WA

requires seller of certain

business opportunities to

register with each state

before selling. Call to

verify lawful registration

before you buy.

The Generac PWRcell

solar plus battery storage

system. Save money,

reduce reliance on

grid, prepare for outages

& power your home. Full

installation services. $0

down financing option.

Request free no obligation

quote. Call 1-877-

539-0299

ASSOCIATION ADS

DIAGNOSED WITH

LUNG CANCER? You

may quliafy for a

substantial cash award -

even with smoking history.

NO obligation! We've

recovered millions. Let us

help!! Call 24/7, 1-888-

650-9135

Safe Step. North

America's #1 Walk-in Tub.

Compreshensive lifetime

warranty. Top-of-the-line

installation and service.

Now featuring our free

shower package & $1600

off - limited time!

Financing available. 1-

855-417-1306

Discount air travel! Call

Flight Services for best

pricing on domestic &

international flights inside

& from the US. Serving

United, Delta, American &

Southwest &many more.

Free quote! Have travel

dates ready! 844-951-

2014

The Generac PWRcell, a

solar plus battery storage

system. SAVE money,

reduce your reliance on

the grid, prepare for power

outages and power

your home. Full installation

services available. $0

Down Financing Option.

Request a FREE, no obligation,

quote today. Call

1-866-783-0292

Donate Your Car To

Veterans Today! Help and

Support our Veterans.

Fast - FREE pick up.

100% tax deductible. Call

1-800-245-0398

Thinking about installing

a new shower? American

Standard makes it

easy. FREE design consulation.

Enjoy your

shower again! Call 1-

833-769-0995 today to

see how you can save

$1,000 on installation, or

visit www.newshowerdeal.com/mac

Employment

ASSOCIATION ADS

Prepare for power outages

today with a GENERAC

home standby generator.

$0 Money Down + Low

Monthly Payment Options.

Request a FREEQuote--

Call now before the next

power outage. 1-855-465-

7624

Attention Viagra users:

Generic 100 mg blue pills

or generic 20 mg yellow

pills. Get 45 plus 5 free

$99 + S/H. Call Today 1-

877-707-5518

Want Faster & Affordable

Internet? Get internet

service today with

Earthlink. Best internet &

WiFi Plans. Call us Today

to Get Started. Ask

about our specials! 866-

396-0515

REPOSSESSED VEHICLE?

Missed payments after

2015? You may be entitled

to substantial money and

improved credit REPO

ALERT! FREE LEGAL

ADVICE 1-800-601-0808

Elminate gutter cleaning

forever! LeafFilter, the most

advanced debris-blocking

gutter protection. Schedule

Free LeafFilter Estimate

today. 15% off Entire

Purchase. 10% Senior &

Military Discounts. Call 1-

833-610-1936

NEED IRS RELIEF

$10K-$125K+ Get Fresh

Start or Forgiveness.

Call 1-844-431-4716

Monday through Friday

7am-5pm PST

REPORTER

WANTED

Part-time Reporter wanted to cover

community meetings in the evenings and

write various feature and news stories.

Photography experience helpful.

Please send a resume and

three writing samples to:

Rick Palsgrove, Managing Editor,

Columbus Messenger Newspapers,

3500 Sullivant Ave.,

Columbus OH 43204 or email

southeast@columbusmessenger.com

No Phone Calls!

ASSOCIATION ADS

Dental Insurance -

Physicians Mutual Insurance

Comopany. Covers 350

procedures/ Real insurance -

not a discount plan. Get your

free dental info kit! 1-855-

.526-1060 www/dental50

plus.com/ads #6258

Prepare for power

outages today with a

GENERAC home standby

generator. $0 Down + Low

Monthly Pmt. Request a

free Quote. Call before the

next power outage: 1-855-

948-6176

SELL YOUR ANTIQUE

OR CLASSIC CAR.

Advertise with us. You

choose where you want

to advertise. 800-450-

6631 visit macnetonline.

com for details.

READY TO BUY, SELL

OR RENT YOUR

VACATION HOME OR

HUNTING CAMP?

Advertise it here and in

neighboring publications.

We can help you. Contact

MACnet MEDIA @

800-450-6631 or visit our

site at MACnetOnline.

com

ASSOCIATION ADS

BATH & SHOWER UP-

DATES in as little as

ONE DAY! Affordable

prices - No payments for

18 months! Lifetime warranty

& professional installs.

Senior & Military

Discounts available. Call

855-761-1725

Attention oxygen therapy

users! Inogen One G4 is

capable of full 24/7 oxygen

delivery. Only 2.8

pounds. Free info kit.

Call 877-929-9587

VIAGRA and CIALIS

USERS! 50 Generic pills

SPECIAL $99.00. 100%

guaranteed. 24/7 CALL

NOW! 888-445-5928

Hablamos Espanol

AT&T Internet. Starting at

$40/month w/12-mo agmt.

1 TB of data/mo. Ask how

to bundle & SAVE! Geo &

svc restrictions apply. 1-

855-364-3948
---
www.colulmbusmessenger.com

xFocus on Rentals

WEDGEWOOD

VILLAGE

1, 2 and 3 BR Apts.

Rent Based on Income.

Call 614-272-2800 or visit us

at 777 Wedgewood Dr.

TTY/TDD 711

EQUAL HOUSING OPPORTUNITIES

CHILD CARE

OFFERED

Depend. Quality Child care

in loving hm. Exp. Mom, n-

smkr, hot meals, sncks,

playroom, fncd yd. Reas.

rates. Laurie at 853-2472

HELP WANTED

Kings Kids Daycare

in Grove City is hiring Fun,

Loving Teachers for PT &

FT shifts. Please email

sarragc@outlook.com or

call 614-539-0349

We are now hiring for

Medical Transportation

Drivers. Candidate must

be at least 23 y o with 4 or

less points on license and

able to pass criminal

background check.

Interested parties please

conact Dale Kuhn at 740-

972-0895 for more info.

CRAFT SHOWS

Glenwood UM Church

Fall Festival

2833 Valleyview Dr.

Sat., October 8th, 9a-3p

Looking for Vendors or

Crafters to rent space

inside. Outside spaces are

for Yard Sale items. If

interested, call Pat at

614-465-2928

Crafters/Vemdors needed

FHHS Fall/Winter Craft

Show, Franklin Heights HS,

Sat. Dec. 3rd. Register

today! email for application

fhhsbazaar@gmail.com

DATED SALES

YARD SALE

3368 Cameron St., G.C.

Sept. 22, 23 & 24, 9-4

Longaberger, Match Box,

Books, Furn., Christmas,

Antiqs, Dolls, Vera Bradley,

Hshld Items & much more

ESTATE SALE

Thrs, 9/22 & Fri 9/23, 10-5

Sat., 9/24, 10-Noon

2205 Tatera Ct., Grove City

Hshld goods, Holiday decor

Rentals

INSURANCE

Medicare New Benefit

Medicare-Zero Premium

Free Doctor visit, free ride,

free food card, free

prescrptions.614-805-1084

PETS

HOMING PIGEONS

614-662-8655

WANT TO BUY

BUYING OSU & old sports

items, records, postcards,

old photos, jewelry & more

614-477-5590

WE BUY JUNK CARS

Call anytime 614-774-6797

ANTIQUES

WANTED

Victrolas, Watches,

Clocks, Bookcases

Antiques, Furn.

Jeff 614-262-0676

or 614-783-2629

We Buy Junk Cars &

Trucks. Highest Prices

Paid. 614-395-8775

We Buy Cars & Trucks

$300-$3000.614-308-2626

MISCELLANEOUS

FOR SALE

Washer, Dryer & electric

stove (1yr old). $700 obo

for all 3. 614-377-1652

Spring Free R79 Medium

Round Trampoline, 2 yrs

old, like new. $500 OBO -

Cash Only. 614-619-4038

Shop Equipment: Sanders,

Scroll Saw, Buffer & Stand,

& Much More. Call to see.

614-829-5522

RENTALS

Eakin-1 Br Apt, crpt, appls.

No Pets 614-560-3050

2 BR HOMES

Bsmt. $1000/mo

614-530-8097

MOTORCYCLES

KYMCO 2013 200

downtown - $3000 OBO.

614-619-6903

USED VEHICLES

Thunderbird ?

Chevy Cavalier-make offer

740-973-3206

September 18, 2022 - WESTSIDE0 MESSENGER - PAGE 11

xClassified Services

AIR CONDITIONING CONCRETE

FENCING HOME

LAWN CARE

PAINTING

EDDIE MOORE EAZY FENCE

IMPROVEMENTS

CONSTRUCTION Chain Link - Wood

Quality Concrete Work No Job Too Big or Small

Complete System Lt. Hauling & Room Add., All Repairs ~ Free Est.

Block Work & Excavation Insured. 614-670-2292

Clean & Check

Stamp Patios,

The Lawn Barber

Bsmt. Wall Restoration

GUTTERS

9/25 A

$49.95

Cut, Trim, Blow away

35 Yrs Exp - Lic & Ins.

Hedge Trimming, Edging

Free Ests. 614-871-3834

614-935-1466

AIR CONDITIONING

Free Electronic Leak Testing

All Makes • All Models

46 Yrs. Exp. • Senior Discount

614-351-9025

BLACKTOP

AGM OHIO

ROOFING &

SEALCOATING

Free Estimates

Cell 614-599-0262

SANTIAGO'S

Sealcoating & Services LLC

Quality Materials Used

FALL IS HERE!

Driveway Seal & Repair!

Top Seal Cracks!

Residential & Commercial

Mulching, Edging & Clean-ups

"Ask for whatever you need."

BBB Accredited-Fully Insured

Call or text for Free Est.

614-649-1200

10/9

A/M

BLACKTOP SEALING

Driveways & Parking Lots

614-875-7588

CARPET CLEANING

CARPET CLEANING

Any 5 areas ONLY $75

Home Powerwash $99-$300

614-805-1084

Specializing in Pet Odors

CLEANING

20 y rs Exp. Commerical

& Residential Cleaning.

Call Judy 614-746-0273

INFORMATION

GALLION

CUSTOM CONCRETE LLC

Specializing in Custom Colors &

Custom Designs of Concrete.

Including Remove & Replace

44 yrs exp & Free Est.

Licensed & Insured

Reputation Built

On Quality

Ronnie

614-875-8364

See Us On Facebook

www.gallioncustom

concrete.com

ALL-CITY CUSTOM

CONCRETE

All Types Concrete Work

New or Tear Out-Replace

40 Yrs. Exp.

(614) 207-5430

Owner is On The Job!

AJ's Concrete,

Masonry

Good Work - Fair Prices

Block Foundations

Driveways • Sidewalks

Epoxy/Overlay Floors

Bonded-Ins. • Free Ests.

614-419-9932

www.hastingsnsons.com

Driveways & Extensions

Patio & Walkways,

Porches & Steps,

Garage/Basement Floors

Hot Tub/Shed Pads,

Stamped/colored concrete

Sealing of new &

existing concrete.

FREE ESTIMATES

Contact Adam

614-756-1754

hastingsandsons.

columbus@gmail.com

INFORMATION

LOOK TO

THE PROFESSIONALS

IN OUR

SERVICE DIRECTORY

For Service

"That Is Out Of This World"

9/25 W/SW

9/25 A

Bates & Sons

GUTTER CLEANING

5 ★ Google Reviews

614-586-3417

GUTTER CLEANING

614-323-0128

INFORMATION

ONLY

$50.00

For This Ad In Our

West & Grove City

For Info Call

272-5422

HAULING

DEAN'S HAULING

614-276-1958

DUMPSTER RENTAL

4 Days - $275 & Up

No Hazardous Materials

Tires - $10.00 each

Call 614-254-1131

HOME

IMPROVEMENTS

C&JHandyman

Services LLC

Minor Plumbing & Electric

Install Hot Water Tanks,

Dishwashers & Disposals

All Interior Remodels

Also Fencing &

Interior/Exterior Painting

Free Est. ~ 18 Yrs. Exp.

CDC/EPA Approved Guidelines

614-284-2100

KLAUSMAN HOME

IMPROVEMENT

Siding-Windows-

Doors-Roofing-Soffit-

Fascia-Gutters-Trim

Earn FREE Seamless

Gutters with Siding Over

1000 Sq. Ft.

FREE Shutters with

Soffit & Trim

EPA Certified

Member of BBB

Financing Available

Over 20 yrs exp. • Free Est.

Licensed-Bonded-Insured

Owner & Operator

James 614-419-7500

SLAGLE

HOME REMODELING

Baths, Kitchen,

Plumbing and Electrical.

All your Handyman needs

No Job too Big or Small

Over 30 Yrs. Exp. Lic.-Bond-Ins.

Jerry

614-332-3320

7/17 A

10/9 A

9/25

SW/W

SINCE 1973

Phil Bolon Contr.

Windows & Siding

Decks, Kitchens, Baths

Room Additions,

Flooring, Roofing

Bsmt Waterproofing

Deal With Small Non-Pressure Co.

47 Yrs. Exp. - Refs. Avail.

Lic.-Bond-Ins.

Free Est. - Financing Avail.

Member BBB Of Cent. OH

O.C.I.E.B. ID #24273

614-419-3977

or 614-863-9912

HOME

REMODELING

Handyman Remodeling

Over 35 yrs exp.

Larry 614-376-7006

Classified Services

9/25

A/M

Charlies Handyman

Service

Over 40 yrs. exp.

Hot Water Tanks

Door Locks

Appliances

Rpfomg * Siding

Bathrooms and more!

614-319-6010

blantoncharles894@gmail.com

MultiCraft Const.

& Handyman Services

All Types Handyman Services:

Decks, Fences

Kitchen/Baths

Window/doors installed

Interior Painting

Drywall Repairs

All Types of Flooring

Call/Text 614-774-2923

multicraftconstruction@gmail.com

LANDSCAPING

Debris/Brush Removal,

Mowing, Landscaping

614-619-6903

ONYX

LANDSCAPING

614-407-5214

www.OnyxLandscapingllc.com

Full Service

Lawn Care

Start with Trust!!

A-1 QUALITY

TREE & LANDSCAPE

Family Owned

Serving Central Ohio

Since 2004

Bed & Yard Maint.

Weeding, Mulching, etc.

Hedge/Shrub Trimming

*Stump Removal

614-596-9504

Insured - Free Est.

9/25 A

10/9 W/GC/M

Christian's

Landscaping

Full Service Lawn Care

•Tree/Shrub Trimming

•Mulching •Tree Removal

9/25

•Powerwashing

w/gc

614-282-4443

LET US MAINTAIN

YOUR LAWN & GARDEN

FOR YOU

Summer, Spring,

Winter or Fall

WE DO IT ALL!!!!

Lawn Cuts, Edging,

Trees & Shrubs, Garden,

Mulching, Hauling,

Garden Pond &

Home Maint.

Free Ests. Low Rates

$20 & Up

Kevin - 614-905-3117

PLASTERING

Plaster & Stucco

NEW AND

REPAIR

Established 1917

Geo. F. Neff & Co.

614-274-5629

DRYW

YWALL &

PLASTER

9/25

A&M

REPAIR

Textured Ceilings

614-551-6963

Residential/Commercial

BIA

PLUMBING

MYERS

PLUMBING

Exp. Expert Plumbing

New Const. & Fast Repairs

Lic. - Permit Available

Water • Sewer • Gas

614-633-9694

All About Drains & Plumb.

Will snake any small drain

$145. 614-778-2584

CHRIS'

PLUMBING

"Plumbing & Drain Professional

That You Can Count On"

24 Hrs., 7 Days/Week

No Overtime Charges

24 Yrs. Exp. in Plumbing &

Drain Cleaning Field

Call For A Free Phone Estimate

$100.00 For Any Small Drain

614-622-4482

30% OFF with AD

9/25 A&M

10/9 A

Painter Over 30 Yrs. Exp.

Free Est. Reas. Rates

Daniel - 614-226-4221

A Job Well Done Again

A lic. General Contractor

Some Skilled Services

Incl: Painting • Stucco,

Repair•Carpentry•Exterior

Drainage & Home Maint.

Call Today! 614-235-1819

POOL/SPA

MAINTENANCE

K&L Spa Cleaning

Hot Tub Cleaning and

Weekly Maintenance

Keith 614-316-9809

POWER WASHING

Bates & Sons

Soft Wash & Powerwash

5 ★ Google Reviews

614-586-3417

MRS. POWERWASH

Any house wash $149+tax

Single deck $69+tax

2 Tier deck $99+tax

Best Wash in Town

Over 45,000 washes

Ashley 614-771-3892

ROOFING

RETIRED

ROOFER

BBB "A+" Rating

All Types of Roof Repairs

• New Roof Installation

• Flashing

• Chimneys Rebuilt

• Flat Roof Specialist

• Roof Replacement

avail. upon request

All Work Guaranteed

614-352-7057

Free Estimates

SEWING MACHINE

REPAIR

REPAIR all makes 24 hr.

service. Clean, oil, adjust

in your home. $49.95 all

work gtd. 614-890-5296

TREE SERVICES

BURNS TREE SERVICE

Trimming, Removal &

Stump Grinding.

614-584-2164

Warren Brewer Tree Service

• Tree Removal

• Tree Trimming 9/11

A&M

• Stump Grinding

• Bucket Truck Services

Best Prices • Same Day Service

614-878-2568

A-1 QUALITY

TREE & LANDSCAPE

Family Owned

Serving Central Ohio

Since 2004

614-596-9504

Insured - Free Est.

9/25 A&M

10/9 W/SW
---
PAGE 12 - WESTSIDE MESSENGER - September 18, 2022

Petty Officer 3rd Class Litzy

Lopezramirez, a native of Columbus,

serves the U.S. Navy aboard a U.S. Navy

warship operating out of San Diego,

California.

Lopezramirez joined the Navy three

years ago. Today, she serves as a quartermaster

aboard USS Shoup.

"I was inspired to join the Navy for the

opportunities for college and to be able to

help my family," said Lopezramirez.

Growing up in Columbus, Lopezramirez

attended Westland High School and graduated

in 2019. Today, she relies on lessons

learned in Columbus to succeed in the military.

WESTGATE UNITED

METHODIST CHURCH

61 S. Powell Ave., Columbus,OH 43204

Come - Let's Worship Together

and Meet our New Pastor

Nancy Day-Achauer!

Worship Service 9:00 a.m.

Sunday School 10:00 a.m.

westgateumc@sbcglobal.net

614-274-4271

GLENWOOD UM CHURCH

2833 Valleyview Dr.

(Corner of Valleyview & Hague Ave.)

(614) 274-8469

Pastor Leo A. Cunningham

Join us for In-Person

Sunday Worship at 10:45 a.m. or

Join us for Online Worship at

Glenwood UMC YouTube

http://tinyurl.com/GlenwoodUMC

"My parents raised me to be hard working,

so now anything I get tasked to do is

really easy to do," said Lopezramirez.

These lessons have helped

Lopezramirez while serving aboard USS

Shoup.

Arleigh Burke-class guided-missile

destroyers provide a wide range of

warfighting capabilities in multi-threat

air, surface and subsurface environments.

A Navy destroyer is a multi-mission

ship that can operate independently or as

part of a larger group of ships at sea. The

ship is equipped with tomahawk missiles,

torpedoes, guns and a phalanx close-in

weapons system.

HOGE MEMORIAL

PRESBYTERIAN CHURCH

2930 W. Broad St., Columbus, Ohio 43204

Sundays at 10:30 a.m.

In Person Worship

Live Streaming Sunday Worship Service

at 10:30 a.m. on Hoge Facebook Page

Worship & Free Meal

Saturdays at 5:00 p.m.

www.hogemempresby.org

Please visit the

Westside Church

of your choice.

List your Worship

Services here.

For info. call 614-272-5422

Be a Part of Our Local Worship Guide

Our upcoming Worship Guide is geared toward celebrating faith and helping readers connect with

religious resources in our community. Make sure these readers know how you can help with a presence in

this very special section distributed to more than 25,000 households in the Westside area.

Contact us today to secure your spot in our Worship Guide.

614.272.5422 • kathy@columbusmessenger.com

Messenger

Westside

More than 300 sailors serve aboard USS

Shoup. Their jobs are highly specialized,

requiring both dedication and skill. The

jobs range from maintaining engines to

handling weaponry along with a multitude

of other assignments that keep the ship

mission-ready at all times, according to

Navy officials.

Serving in the Navy means

Lopezramirez is part of a world that is taking

on new importance in America's focus

on strengthening alliances, modernizing

capabilities, increasing capacities and

maintaining military readiness in support

of the National Defense Strategy.

"The Navy contributes to national

defense because we're always going to be

there in case anything happens," said

Lopezramirez.

More than 90 percent of all trade travels

by sea, and fiber optic cables on the ocean

floor carry 95 percent of the world's international

phone and internet traffic. Navy

officials continue to emphasize that the

prosperity and security of the United

States is directly linked to ready sailors

and a strong Navy.

Sailors like Lopezramirez have many

opportunities to achieve accomplishments

Pet Corner

Pets of the week

Cosette is a 2-yearold

tabby girl rescued

from a life on the

streets. She is just

purrfect and would

be a great addition to

any family. She is a

very sweet girl.

Cosette is spayed,

microchipped, and

up to date on vaccines. She is up for adoption

through Colony Cats and Dogs.

FYI: colonycats.org

Woody is a shepherd

mix who is

about 4 months old.

He has a wonderful

personality and is a

good listener. He is

working on crate and

house training.

Woody loves to play

with other dogs and

is also good with

cats. He would be an

ideal family pet. Adopt Woody from Colony

Cats and Dogs.

FYI: colonycats.org

www.columbusmessenger.com

In Achievement

Westland grad serves as quartermaster in Navy

Petty Officer 3rd Class Litzy Lopezramirez

during their military service.

"I'm most proud of doing my job," said

Lopezramirez. "Before, I wasn't the type to

come out of my comfort zone, but when I

started doing this job, I felt really good

about myself. I never thought I would be in

this place."

As Lopezramirez and other sailors continue

to train and perform missions, they

take pride in serving their country in the

United States Navy.

"Serving in the Navy means having

pride in my country and making my family

proud," said Lopezramirez.

These furry friends are available

for adoption at local

rescues and shelters

Elroy is a couch

potato. If you like the

easy life, Elroy could

be your perfect

match. He is a laid

back dog who enjoys

long naps, watching

movies, curling up on

laps, and walking

very short distances

from the couch to the food bowl and back.

Elroy is up for adoption at the Franklin County

Dog Shelter.

FYI: franklincountydogs.com

Pandie is a sweet but

shy guy looking for

his forever home. He

gets along with other

cats, as long as the

cats are calm. He

would do well in a

quiet home. He's FIV

positive, but don't let

that worry you. FIV

cats can live long, normal lives with proper

care. He is a very quiet cat when he's content,

quietly sneaking up beside you to sleep or for

pets. He's a very special boy who has lived a

hard life, but he is ready for a loving indoor

only home. Adopt him from Friends for Life

Animal Haven.

FYI: fflah.org