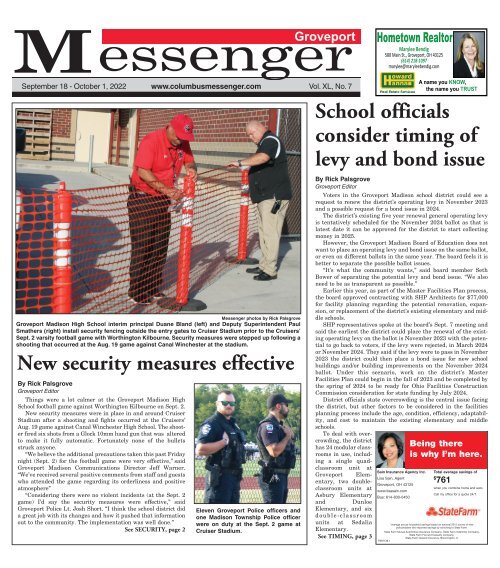 Groveport Messenger - September 18th, 2022
Create successful ePaper yourself
Turn your PDF publications into a flip-book with our unique Google optimized e-Paper software.
Messenger

Groveport

September 18 - October 1, 2022 www.columbusmessenger.com Vol. XL, No. 7

Messenger photos by Rick Palsgrove

Groveport Madison High School interim principal Duane Bland (left) and Deputy Superintendent Paul

Smathers (right) install security fencing outside the entry gates to Cruiser Stadium prior to the Cruisers'

Sept. 2 varsity football game with Worthington Kilbourne. Security measures were stepped up following a

shooting that occurred at the Aug. 19 game against Canal Winchester at the stadium.

New security measures effective

By Rick Palsgrove

Groveport Editor

Things were a lot calmer at the Groveport Madison High

School football game against Worthington Kilbourne on Sept. 2.

New security measures were in place in and around Cruiser

Stadium after a shooting and fights occurred at the Cruisers'

Aug. 19 game against Canal Winchester High School. The shooter

fired six shots from a Glock 10mm hand gun that was altered

to make it fully automatic. Fortunately none of the bullets

struck anyone.

"We believe the additional precautions taken this past Friday

night (Sept. 2) for the football game were very effective," said

Groveport Madison Communications Director Jeff Warner.

"We've received several positive comments from staff and guests

who attended the game regarding its orderliness and positive

atmosphere"

"Considering there were no violent incidents (at the Sept. 2

game) I'd say the security measures were effective," said

Groveport Police Lt. Josh Short. "I think the school district did

a great job with its changes and how it pushed that information

out to the community. The implementation was well done."

See SECURITY, page 2

Eleven Groveport Police officers and

one Madison Township Police officer

were on duty at the Sept. 2 game at

Cruiser Stadium.

Hometown Realtor

Marylee Bendig

580 Main St., Groveport, OH 43125

(614) 218-1097

marylee@maryleebendig.com

A name you KNOW,

the name you TRUST

School officials

consider timing of

levy and bond issue

By Rick Palsgrove

Groveport Editor

Voters in the Groveport Madison school district could see a

request to renew the district's operating levy in November 2023

and a possible request for a bond issue in 2024.

The district's existing five year renewal general operating levy

is tentatively scheduled for the November 2024 ballot as that is

latest date it can be approved for the district to start collecting

money in 2025.

However, the Groveport Madison Board of Education does not

want to place an operating levy and bond issue on the same ballot,

or even on different ballots in the same year. The board feels it is

better to separate the possible ballot issues.

"It's what the community wants," said board member Seth

Bower of separating the potential levy and bond issue. "We also

need to be as transparent as possible."

Earlier this year, as part of the Master Facilities Plan process,

the board approved contracting with SHP Architects for $77,000

for facility planning regarding the potential renovation, expansion,

or replacement of the district's existing elementary and middle

schools.

SHP representatives spoke at the board's Sept. 7 meeting and

said the earliest the district could place the renewal of the existing

operating levy on the ballot is November 2023 with the potential

to go back to voters, if the levy were rejected, in March 2024

or November 2024. They said if the levy were to pass in November

2023 the district could then place a bond issue for new school

buildings and/or building improvements on the November 2024

ballot. Under this scenario, work on the district's Master

Facilities Plan could begin in the fall of 2023 and be completed by

the spring of 2024 to be ready for Ohio Facilities Construction

Commission consideration for state funding by July 2024.

District officials state overcrowding is the central issue facing

the district, but other factors to be considered in the facilities

planning process include the age, condition, efficiency, adaptability,

and cost to maintain the existing elementary and middle

schools.

To deal with overcrowding,

the district

has 24 modular classrooms

in use, including

a single quadclassroom

unit at

Groveport Elementary,

two doubleclassroom

units at

Asbury Elementary

and Dunloe

Elementary, and six

d o u b l e - c l a s s r o o m

units at Sedalia

Elementary.

See TIMING, page 3

Sain Insurance Agency Inc.

Lisa Sain, Agent

Groveport, OH 43125

www.lisasain.com

Bus: 614-830-0450

Being there

is why I'm here.

Total average savings of

$

761

when you combine home and auto.

Call my office for a quote 24/7.

*average annual household savings based on national 2015 survey of new

policyholders who reported savings by switching to State Farm.

State Farm Murual Automotive Insurance Company, State Farm Indemnity Company,

State Farm Fire and Casualty Company,

State Farm General Insurance, Bloomington, IL

P097136.1
---
PAGE 2 - GROVEPORT MESSENGER - September 18, 2022

Groveport Garden Club

The Groveport Garden Club meets the first Tuesday each

month (unless otherwise announced) at Groveport Zion Lutheran

Church, 6014 Groveport Road. Anyone interested in gardening

welcome. Call Marylee Bendig at (614) 218-1097.

SECURITY

Continued from page 1

www.columbusmessenger.com

The Gilmore Group

Office: 614-834-HOME (4663)

Cell: 614-774-4416

www.GilmoreGroupHomes.com

Messenger photo by Rick Palsgrove

The crowd of fans at Cruiser Stadium was sparse at the Sept. 2 game against Worthington Kilbourne as

attendance numbered in the hundreds compared to the estimated 2,500 who attended the Aug. 19 game

against Canal Winchester.

Groveport

Messenger

BEST COMMUNITY NEWSPAPER in Groveport

Pick-Up At These

Locations:

Groveport Senior Village - 5124 Hendron

Madison Township Office - 4575 Madison Lane

Paddock Pub/Groveport Golf Ctr. - 1005 Richardson Rd.

Southeast Library - 3980 S. Hamilton Rd.

Asbury Methodist Church - 4760 Winchester Pike

Groveport Municipal Building - 655 Blacklick St.

Groveport Town Hall - 648 Main St.

Flyers PIzza/Groveport - 296 Main St.

Ace Hardware - 726 Main St.

Little Italy Pizza - 619 Main St.

Huntington Bank/Groveport - 556 Main St.

Groveport Recreation Center - 7370 Groveport Rd.

READ US ONLINE: www.columbusmessenger.com

On Aug. 29, a grand jury indicted James Keys, the

alleged shooter at the Aug. 19 game, on three felony

counts.

According to the Groveport Police, Keys was

arraigned in Franklin County Common Pleas Court on

Sept. 1 on grand jury indictments of felonious assault

(a second degree felony), discharging a firearm on

school grounds (a second degree felony), and tampering

with evidence (a third degree felony). An additional

federal firearms charge is pending.

After the indictments were handed down, the

Franklin County Prosecutor issued an arrest warrant

for Keys, who had earlier been released on bond.

According to Groveport Police Detective Josh Gilbert,

on Aug. 31 officers located Keys in a residence in the

1400 block of East 25th Avenue in Columbus. With

assistance from Franklin County Sheriff's Office

SWAT, Keys was taken into custody. Four handguns

were also recovered from the address at that time.

Gilbert said two of the weapons had been altered to be

fully automatic.

When asked what security measures worked at the

Sept. 2 game and what needs improvement, Short said,

"School staff set up two pre-screening areas that

guests had to pass through prior to the ticket gate. In

these areas visitors were scrutinized for bags (which

were generally forbidden) and other suspicious clothing

or items. Staff shut off all admittance at the end of

the second quarter, which greatly aided in discouraging

the problematic elements from showing up at or

after halftime to not watch the game and generally

cause trouble."

Short said extra police officers were added, which

allowed for "vigorous patrol of the parking lot to prevent

loitering and gathering of disruptive groups."

"We had 11 Groveport Police officers and one

Madison Township Police officer working the game on

Sept. 2," said Short. "Madison Township School

Resource Officer Keith Mallory regularly works the

football games with us as he and Groveport School

Resource Officer Boso are more familiar with the high

school kids. We consider Keith part of our team."

Short said the only incident of note at the Sept. 2

game was one high school student being expelled from

the stadium for yelling at students and attempting to

start a fight.

"Other than that everyone peacefully watched the

game from the bleachers and visited the concession

stand as intended," said Short. "All the officers had

people approach them to thank them for their actions

in responding to and catching the shooting suspect at

the game on Aug. 19. We had many people comment

on the more relaxed atmosphere of this game and the

absence of turbulent juveniles allowing people to simply

'watch some high school football' (where the

Cruisers defeated the Wolves 21-6.)"

Warner said, while there are elements of the safety

and security plans that officials are unable to share

publicly, they believe everything worked as it was

expected.

"We will refine our check-in process, where guests

will go through a safety zone before they can enter the

stadium," said Warner.

Spectator attendance at the Sept. 2 game against

Worthington Kilbourne was noticeably lower than at

the Aug. 19 game against Canal Winchester. About

2,500 fans were estimated to have attended the Canal

Winchester game, but at the game against

Worthington Kilbourne the crowd was estimated to

number in the hundreds.

"Attendance was down significantly from the Canal

Winchester game, so it will be interesting to see how

things shake out if attendance is back up for the

Reynoldsburg and/or Pickerington Central games,"

said Short.

However, Short said there was a special fan in

attendance at the Sept. 2 game.

"(Former Cruiser and NFL star running back)

Le'Veon Bell showed up to watch the game with an

entourage including his small fluffy dog," said Short.

Warner said district officials have no data from

which to draw a definitive conclusion regarding the

lower than usual turnout for the home football gam on

Sept. 2.

"If it was because of the incident at the previous

home game (Aug. 19), we hope that our fans will feel

more assured and comfortable coming out to future

games now that they're aware of the additional safety

and security measures we have in place," said Warner.

"We will continue to monitor and assess the situation

each week and make any necessary adjustments."

Security measures include: not allowing backpacks

or large bags; increasing the number of special duty

police officers; extending the safety check zone at the

gates; eliminating loitering; allowing no entry to the

stadium starting after the end of the second quarter of

football games; restricting student tickets to only

Groveport Madison students and students from the

visiting school (alumni and community members can

still enter); removing troublemakers; removing vehicles

from fire lanes; and issuing school radios to personnel.

Other potential actions include adding lighting

to the high school's north parking lot, using security

scanning wands at entry gates, and checking vehicles

entering the school grounds.
---
www.columbusmessenger.com

9-11 Remembrance

Messenger photos by Theresa Garee

The Madison Township Fire Department Honor Guard, the Madison Township

Police Department, and the Ohio division of Firefighters Pipes & Drums presented

the colors at the 9-11 Remembrance Ceremony held Sept. 11 at Motts Military

Museum in Groveport. The ceremony honored those who lost their lives in the terrorist

attacks of Sept. 11, 2001 in New York City, Washington, D.C., and in the air

over Pennsylvania. See additional photos online at columbusmessenger.com.

TIMING

Continued from page 1

Groveport Madison Superintendent

James Grube said that, if the district staggers

the levy and bond issue requests, the

Master Facilities Plan process would need

to be paused.

"We would have to wait until we are

much closer to the ballot," said Grube.

"There's only so much work we can do

because we would be two years out (from

the 2024 ballot). We can continue to look at

what we can do right now to address

crowding."

September 18, 2022 - GROVEPORT MESSENGER - PAGE 3

Board member Libby Gray said she

wants to see district officials get started

now on getting community involvement in

the facilities planning process and see

what the community is willing to support.

"We need to plan ahead," said Gray.

"We need to better explain the process and

decision making to the community and

have them involved. We've got time to get

everyone involved and let them see what

the proposals could be."

We are the BEST community newspaper!

Need advertising? Call 614-272-5422 today.

Website:Expert-hvac.com

Phone:614-946-8461

Experthvacllc@gmail.com

FREE ESTIMATES

on system installs

$100 Preventative Maintenance (tune up)

Expert service - affordable prices - Locally owned from Groveport

Mention this ad and get $20 off a $110 service call.

Sea Cadets bow their heads for the opening prayer during the 9-11 Remembrance

Ceremony on Sept. 11 at Motts Military Museum. The Naval Sea Cadet Corps is a

congressionally chartered organization for youth ages 10-17 who have a desire to

learn about the Navy, Marine Corps, Coast Guard, and Merchant Marine.

Ohio Firefighter

Pipes and Drums

member, Mike

Montgomery

walks away playing

"Amazing

Grace" to close

the event. An

action he said

symbolizes "carrying

the spirits

of the victims

with us."

DestinationOutlets.com

800-213-9083

8000 Factory Shops Blvd.

Jeffersonville, OH 43128

DOWNLOAD OUR

MEMBERSHIP APP
---
PAGE 4 - GROVEPORT MESSENGER - September 18, 2022

Groveport history films

Two documentary films on the history of Groveport, produced

by the Groveport Heritage Society and Midnet Media, are now

available for viewing online on YouTube.

The films are: "Groveport: A Town and Its People" and "The

Story of John S. Rarey and Cruiser."

Call today and receive a

FREE SHOWER PACKAGE

PLUS $1600 OFF

1-855-517-1892

With purchase of a new Safe Step Walk-In Tub. Not applicable with any previous

walk-in tub purchase. Offer available while supplies last. No cash value. Must present

offer at time of purchase. CSLB 1082165 NSCB 0082999 0083445

SPECIAL OFFER

Groveport

Heritage

Museum

The Groveport

Heritage Museum

contains photographs,

artifacts,

and documents

about Groveport's

history. The museum

is located in

Groveport Town

Hall, 648 Main

St., and is open

during Groveport

Town Hall's operating

hours. Call

614-836-3333.

www.columbusmessenger.com

GRACE BIBLE CHURCH

424 Gender Rd., Canal Winchester

Telephone: 614-833-0700

SUNDAY SERVICES 9:30 & 11:00

Fall Women's Conference

Coming Oct. 21 & 22

Guest Speaker:

Amy Davidson of Mama Bear

Apologetics - Cost $25.00

http://app.onechurchsoftware.com/

gracebiblecw/events/4353

BETHANY LUTHERAN

CHURCH, LCMS

1000 Noe-Bixby Rd. Columbus, OH 43213

Telephone: 614-866-7755

Traditional Worship Service: 9:00 AM

Sunday School at 10:30 AM

Visit us on Facebook or

visit our website at:

bethanylutheranchurch@weebly.com

Be a Part of Our Local Worship Guide

Our Worship Guide is geared toward celebrating faith and helping readers

connect with religious resources in our community. Make sure these readers

know how you can help with a presence in this very special section distributed to

more than 19,000 households in the Groveport area.

Contact us today to secure your spot in our Worship Guide.

614.272.5422 • kathy@columbusmessenger.com

Groveport

Messenger

GROVEPORT ZION

LUTHERAN, NALC

Christ Centered, Mission Driven

Traditionally Grounded

6014 Groveport Rd., Groveport, OH 43125

(Across from Kroger, main parking in the back)

PHONE: 614-836-5611

PASTOR BRIAN MCGEE

Sunday Worship 11 A.M.

In person service in sanctuary, or in

parking lot via radio (92.7)

ASBURY

SOUTH UMC

4760 Winchester Pike

Columbus, Ohio 43232

Telephone: 614-837-4601

Rev. Sherri Upchurch Blackwell

Sunday Worship 10 a.m.

Inside and Parking Lot

Sunday School 9 a.m.

Messenger photo by Linda Dillman

Sparkling at the Honeyfest

Becky Mitchell, a Groveport artisan, helps her suncatchers grab a little sunshine

and sparkle during the Lithopolis Honeyfest. The Honeyfest was held Sept. 9-10

and featured bee beards, beekeepers, art, live music, honey bake-off, Ohio Honey

Show, honey extracting, hive inspections, junior beekeeping, the American Honey

Queen, honey, honey tasting, and more.

Township Police statistics

August crime statistics from the

Madison Township Police: 3 accidents with

injuries, 4 animal complaints, 5 assaults,

83 patrol security checks at Brobst Park, 1

burglary, 28 domestic complaints, 4 driving

under the influence OVI, 7 hit skip

accidents, 11 juvenile complaints, 13 larceny/theft,

9 missing persons, 1 narcotics, 53

parking violations, 2 person with gun, 12

property damage accidents, 2 rapes, 2

shootings, 5 shots fired in area, 17 suspicious

cars,21 suspicious persons, 20 suspicious

persons/vehicles, 5 threats or harassment,

139 traffic stops, 5 vandalism.

Township tire drive

Madison Township will hold a tire drive

where residents of the township, Canal

Winchester, and Groveport can recycle

rimless junk tires - on Sept. 27 from 1-7

p.m. at Brobst Park, 5321 Winchester Pike,

Canal Winchester. No commercial vehicle

tires will be accepted. Maximum of 10 tires

per household. Bring your driver's license

or a utility bill for proof of residency. For

information visit madisontownship.org or

call 614-836-5308.

Tire Sweep at Walnut Creek

The city of Canal Winchester Storm

Water Department will hold its 14th annual

tire sweep and creek clean-up along

Walnut Creek from 8-11 a.m. on Oct. 1.

City staff will work with volunteers to

remove tires in the Walnut Creek basin.

Volunteers should meet at Walnut Woods

Metro Park office, located at 6723

Lithopolis Road, at 8 a.m. on Oct. 1.

Snacks and refreshments will be provided

for all volunteers, compliments of Park

Manager Mindi McConnell. Canoes and

kayaks are welcome or volunteers may

wade through the creek. Tires will be collected

rain or shine. No RSVP is required.

For information, contact Mindi

McConnell, Metro Parks manager, at 614-

836-2683 or Canal Winchester Urban

Forester Dick Miller at 614-834-5110.

Library School Help Centers

The Columbus Metropolitan Library's

School Help Centers for grades K-12 are

open with staff and volunteers are ready to

help. These after-school spaces give students

access to technology, resources and

the library's books and materials.

Visit columbuslibrary.org/school-help.

Local School Help Centers are:

•Southeast Branch, 3980 S. Hamilton

Road, Groveport. Monday-Thursday from

4-7 p.m. and Friday from 3-6 p.m.

•Canal Winchester Branch, 115

Franklin St., Canal Winchester. Monday-

Thursday from 3:30-6:30 p.m. and Friday

from 3-6 p.m.
---
www.columbusmessenger.com

Drowning in dullness

There is a scene in the movie

"Maneater" where a character is knocked

unconscious and drifts away into the ocean

after being hit in the head by a shark fin.

Under normal circumstances, this could

have elicited deep sadness or a sharp burst

of laughter depending on the context of the

material, but in real time all I could summon

was a sense of envy because this person

was able to escape the banality of this

film whereas I still had a half-an-hour to

go.

It is important for me to note that I did

not start watching this creature feature

with any hint of disdain in my heart, nor

did I view it as an opportunity to brush up

on my sass and snark skills.

I always try to keep an open mind about

the movies I will be watching and reviewing,

but I have to admit I had an inkling

this might not be an award-winner.

After all, you can only expect so much

with a plot that revolves around a lone

shark that "hunts" a group of people on

vacation.

Sense of unease aside, I wanted to give

it a chance to see what it had to offer in

terms of acting, directing, writing, cinematography,

or, you know, entertainment

value. Well, it turns out it does not offer

much as a whole besides the sense of relief

you will feel when the final credits start to

roll.

With its plot and the, ahem, talent of its

cast, "Maneater" would have been much

better served had it embraced complete

stupidity. There are plenty of movies out

there who do this — "Piranha 3D" and

"Sharknado" are classic examples of campy

horror comedies that come immediately to

mind — and its writer and director, and its

primary and secondary cast, should have

wrapped their arms around it and just had

so much fun. Instead, writer and director

Justin Lee and its primary and secondary

cast all treat this as a much more serious

affair — or at least I think that's what they

were going for.

This film is so bad that it is really hard

to tell what they wanted to do, other than

go to Hawaii, that is. (Not that I blame

them for that.)

It starts somewhat promising with a

scene that takes place with an underwater

diver exploring a cave. Then, just as they

are getting comfortable with their bearings,

a decent animatronic shark whips

around a dark corner and makes mincemeat

out of his body. The suit, inexplicably,

fares much better.

Having set up a sense of danger and

intrigue, the film then tries to get the audience

to care about the core cast of characters.

It sets up a sob story with its lead,

Jessie (played by Nikky Whelan), who was

dumped shortly before her wedding, and a

rally story with her friends, who are trying

to cheer her up by going on a group vacation.

Despite forlornly looking at her engagement

ring and sighing a lot, she agrees to

do every activity they

want to do, including

taking a trip to a

secluded cove where

there are dolphins a

plenty.

But what they do

not know is that these

waters are being

"stalked" by a maneating

shark and it

apparently has them

in its sights. Maybe it was paid to do so by

the fiancé, or his family who never liked

her anyway?

Attempting to give this Z-movie a B-

movie action hero is country music star

Trace Adkins, who plays a rugged islander

named Harlan. Weeks prior to the main

group's arrival, Harlan's daughter was

killed by this "rogue shark" and he has

made it his mission to track and kill his

nemesis.

Like most of this movie, I'm not sure

what he was going for, but I don't think it

bodes well for his upcoming stint as one of

the leads in the Fox television series

"Monarch."

Anyway, with a hat full of shark teeth

and vest full of shells, he goes out to trap

the shark and maybe play rescue to a

group of friends in distress. If he isn't too

late, that is. Personally, you won't care

much about the characters because they

are so poorly developed it will be hard to

remember their faces or names.

Although I can be quite the movie snob,

I am not above liking a dumb movie (see

the classic examples of campy horror listed

above because I genuinely love those) but

there has to be another contributing factor

to make it likeable, loveable, or even

watchable.

Besides a few cool shots of the island

and a few funny and oddly edited throwaway

scenes of cliff divers diving right into

the mouth of the leaping shark, this film

has nothing truly going for it. It's not full of

intriguing drama, relationship strife, or

even planned absurdity.

It is just dull and a complete waste of

time and a waste of an opportunity to be

something on the right side of entertainingly

stupid.

Grade: F

The Reel Deal

Dedra

Cordle

This film is so bad that it is

really hard to tell what they wanted

to do, other than go to Hawaii,

that is. (Not that I blame them for

that.)

Dedra Cordle is a Messenger staff writer

and columnist.

columbusmessenger.com

Letters policy

The Groveport Messenger welcomes letters

to the editor. Letters cannot be libelous.

Letters that do not have a signature, address,

and telephone number, or are signed with a

pseudonym, will be rejected. PLEASE BE

BRIEF AND TO THE POINT. The

Messenger reserves the right to edit or

refuse publication of any letter for any reason.

Opinions expressed in the letters are not necessarily

the views of the Messenger. Mail letters

to: Groveport Messenger, 3500 Sullivant

Avenue, Columbus, OH 43204; or by email to

southeast@columbusmessenger.com.

Keep tabs on the latest news in

Groveport & Madison Township

Look for Groveport Messenger on

Become a fan!

Our Family Caring For Yours

September 18, 2022 - GROVEPORT MESSENGER - PAGE 5

southeast

Messenger

(Distribution: 8,000)

Rick Palsgrove ...................................Groveport Editor

southeast@columbusmessenger.com

Published every other Sunday by

The Columbus Messenger Co.

3500 Sullivant Ave., Columbus, Ohio 43204-1887

(614) 272-5422

The Columbus Messenger Co. reserves the right to edit, reject or cancel

any advertisement or editorial copy at any time. The company is not

responsible for checking accuracy of items submitted for publication.

Errors in advertising copy must be called to the attention of the company

after first insertion and prior to a second insertion of the same advertising

copy.

AUTO HOME

Beplerinsurance.com

614.837.4379

staff@beplerinsurance.com

3246 Noe Bixby Rd., Columbus, Ohio 43232

Dr. Sacheen Garrison

5055 S. Hamilton Road

Groveport, OH 43125 614-836-0500

www.groveportsmiles.com
---
ActiveLifestyles

PAGE 6 - GROVEPORT MESSENGER - September 18, 2022

www.columbusmessenger.com

A bi-monthly feature celebrating our community's senior citizens

Ohio State Fair honors Groveport's mayor

By Rick Palsgrove

Groveport Editor

Groveport Mayor Lance Westcamp has

been raising Landrace hogs for 50 years

and showing them at fairs and expositions

for 25 years.

"Fifty years ago, in 1972, my mom drove

me in an old pick-up truck to Wapakoneta,

Ohio, where I got my first four Landrace

hogs," said Westcamp.

He has been raising and showing the

hogs ever since, which has resulted in his

having 14 Grand Champions Landrace

hogs - including the 2022 Ohio State Fair

Grand Champion - as well as serving on the

American Landrace Association Board of

Directors from 2011-17.

All this effort was recently rewarded

when Westcamp was inducted into the

Ohio State Fair Swine Hall of Fame at this

year's Ohio State Fair.

"What an honor," said Westcamp. "I didn't

have a clue I was going to be selected for

the hall of fame. It was especially nice

because when they announced it my 90-

year-old mother was there, which meant so

much to me since she drove me to get my

first Landrace hogs 50 years ago."

Westcamp - who is a 1975 graduate of

Groveport Madison High School and has

served as mayor of Groveport since 1994 -

said Ohio State Fair Swine Hall of Fame

inductions are done by breed and that the

last induction for someone who raised the

Landrace breed was 22 years ago.

Westcamp keeps his hogs on a farm

located south of Groveport.

"I've raised pigs all my life," said

Westcamp. "Landrace pigs are great mothers

who produce lots of babies and their

milk production for their offspring is unbelievable."

He said the Landrace breed is a joy to

work with.

"They appreciate the care they get," said

Westcamp. "Give them good food, water,

and keep them clean and they are one of

the happiest animals around."

Over the years Westcamp has shown his

Landrace hogs at shows in Ohio,

Minnesota, Iowa, Pennsylvania, Kentucky,

and Texas.

"The people at the shows are some of the

nicest people you'll ever meet," said

Westcamp.

Westcamp said that, over the past three

years, his family has donated a gilt (female

hog) to a young person who wants to raise

hogs but does not have the opportunity to

buy one themselves.

"It helps them and also helps increase

the number of Landrace hogs being raised,"

said Westcamp.

He said raising hogs is enjoyable and

has become a family project as his grandchildren

are now involved.

"One year we had five grandkids all

showing hogs in the same class at the same

time," said Westcamp. "We have the time of

our lives. That's what it's all about."

Photo courtesy of the Westcamp family and the Ohio State Fair

Groveport Mayor Lance Westcamp with his grandchildren Parker, Savannah, and

Sydney Westcamp. His Landrace hog was the 2022 Ohio State Fair Grand Champion.

Arthritis and exercise

Exercise can be beneficial in the treatment

of arthritis, say many doctors.

Physical activity can reduce stiffness

and increase muscle strength and flexibility.

It also has overall health benefits, such

as improving cardiac fitness and physical

endurance.

Three types of exercise are most appropriate

for those who have arthritis:

•Strength training: Strong muscles help

support and protect joints affected by

arthritis. Lifting weights can provide this.

•Range of motion exercises: Dancing,

tai chi, Pilates, swimming, and other activities

that push the body to stretch and

move help maintain normal joint motion

and relieve stiffness.

•Aerobic activities: Activities such as

brisk walking, bicycle riding, skating and

more are good for the heart.

They also moderate weight, which in

turn puts less strain on joints, particularly

the knees.

Some studies show that aerobic exercise

can reduce inflammation in some joints.

Before beginning an exercise program,

discuss with your doctor what activities

might be right for you.

Columbus Chorus performs

Rise and shine for brunch with the

Columbus Chorus Sweet Adelines at

Groveport Town Hall, 648 Main St., on

Nov. 19 from 10:30 a.m. to noon.

Admission is free. RSVP by Nov. 16.

Call Groveport Town Hall at 614-836-

3333.

Golden Cruiser Club

Groveport Madison Schools invites senior

residents of the district to attend athletic

and performing arts programs showcasing

the talents of its students. The

Golden Cruiser Club is a free program for

residents of the Groveport Madison School

District who are age 60 and older. Club

membership provides free access to all

school and district sponsored athletic contests,

plays, concerts, and other events. To

become a member of the Golden Cruiser

Club, obtain an application at

www.gocruisers.org, at any of the school

offices, or call (614) 492-2520. The requirements

for membership are that applicants

be age 60 or older and be a resident of

Groveport Madison Schools (verified by

the Franklin County Auditor's website).

Senior Services levy

Voters will decide on the proposed

Franklin County Senior Services levy

renewal on Nov. 8.

The proposed five year tax levy renewal

is for 1.75 mills, $0.175 per $100 of valuation,

commencing in 2022. Officials state it

is not a tax increase.

The levy provides funding for Franklin

County Senior Options and its services

designed to help seniors remain safely at

home. These services include meals-onwheels,

transportation to doctor appointments,

and emergency response buttons.

The existing senior services levy will

expire at the end of 2022. The senior levy is

the main funding source for Senior Options

programs.
---
www.columbusmessenger.com

September 18, 2022 - GROVEPORT MESSENGER - PAGE 7

Franklin County Board of Commissioners: President Erica C. Crawley • Commissioner John O'Grady, and Commissioner Kevin L. Boyce

The Franklin County Board of Commissioners and The Franklin County Office on Aging join with the Messenger Newspaper in providing this update on aging issues in Franklin County.

Franklin County Office on Aging Presents the

3rd Annual Caring for the Caregiver Expo

Spencer 4Higher Media LLC, in partnership with The Ohio

Sickle Cell and Health Association, recently announced that

the Franklin County Office on Aging will present the 3rd

Annual Caring for the Caregiver Expo on Saturday, Nov. 5,

2022 in Columbus, OH at The Boat House at Confluence

Park.

The 3rd Annual Caring for the Caregiver Expo is a freeone-of-kind

event that allows caregivers, first responders,

essential workers, parents, grandparents and guardians a

chance to enjoy pampering services like massages, reflexology,

mini manicures and facials. Attendees can also participate

in various health and fitness activities throughout the day,

including yoga, aerobics and line dancing. In addition, various

Lunch and Learn sessions with guest speakers will take

place, and community resources and information from health

care organizations, businesses and government agencies will

also be available onsite.

"The Annual Caring for the Caregiver Expo is held on the

first Saturday in November kicking off National Caregivers

Month. This year, we are happy to announce that Franklin

County Office on Aging will serve as our Presenting Sponsor,"

said Brenda D. Spencer, President of Spencer 4Higher

Media LLC and Caring for the Caregiver Expo Creator and

Event Chair. "The Franklin County Office on Aging is a perfect

partner and has supported the Caring for the Caregiver

Expo since its inaugural event in 2019," continued Spencer.

The Franklin County Office on Aging provides centralized

access to diverse programs and individualized services for

older adults, dependent adults, and their families so they can

preserve their independence and stay in their own home.

Franklin County residents aged 60 and older can access various

programs and services through the agency, as well as

support services for caregivers and kinship families, including

adult day services, durable medical equipment, caregiver

counseling and more.

"We are thrilled to be the presenting sponsor for the 3rd

Annual Caring for the Caregiver Expo," said Interim Director

Chanda Wingo. "Many caregivers are taking care of a

loved one while also working and being a parent. The long

hours and around the clock care can take a toll on their physical,

mental and emotional well-being. This event is a chance

for them to relax, unwind and recharge so they can continue

providing quality care for those they love," continued Wingo.

For more information, call (614) 348-2667 or visit

caringforthecaregiverexpo.com.

To learn more about Franklin County Senior Options,

visit officeonaging.org or call (614) 525-6200.
---
PAGE 8 - GROVEPORT MESSENGER - September 18, 2022

www.columbusmessenger.com

Remembering the old football field

The old football field located behind

Groveport Madison Middle School Central on

Main Street and is glorious in its simplicity.

In the 1950s and 1960s, when the middle

school was the high school, it was the varsity

football field for the Groveport Madison

Cruisers. It is still in use as a middle school

football field, but it has changed a lot from

the days when I was a kid and my family

would walk down Main Street decades ago on

autumn Friday nights to watch the Cruisers

play in the old Mid-Eight League.

The original scoreboard, which was located

at the west end of the field, is gone. It toppled

over during a wind and rain storm years

ago. It's only remnants are the circular concrete

pads in the ground that held the wooden

supports for the scoreboard, and those are

being claimed now by grass. The tall poles

with the field lights were taken down in the

early 21st century. The small, brick ticket

booth at the west entrance near the ramp

was torn down years ago. The original red

and black painted "letter H" shaped goal

posts were replaced by more modern goalposts

a while ago.

In its heyday this field held large crowds

of fans. The bleachers on the home side of the

field (north side) were simple, temporary

wooden plank bleachers that in the spring

were disassembled and reassembled at the

nearby baseball field and track. The wooden

planks were a bit

bouncy when one

walked on them. The

seating on the visitors'

side (south side) was a

bit nicer. Those bleachers

were elevated and

had railings. These

stayed in place until

they eventually were

moved to the then new

football field at the

new high school on

South Hamilton Road.

They were used for a

short while there

before being replaced themselves.

Many Cruiser fans who lived in town

walked to the games, like my family. Those

who drove their cars wedged into the two

parking lots - one by the then high school and

the other behind Groveport Elementary. On

nights when the crowd was particularly

large, cars were parked on the nearby baseball

field.

My family and I went to the games to

cheer on the Cruisers and to see my sister

perform in the Groveport Madison Marching

SEARCHING

for More Qualified Employees?

October 16 th , 2022

Editor's Notebook

Deadline: October 7 th , 2022 At Noon

Special employment Section Featuring:

Job Openings

Job Fairs

Full and Part Time Employment

Seasonal Job Opportunities and more

Rick

Palsgrove

ALL ADS ARE IN FULL COLOR. Contact us by phone or online to discuss special

advertising rates that are available for this section as well as combination rate

discounts for advertising in multiple coverage areas.

Canal Winchester • Grove City • Groveport • Madison • South • Westside

614-272-5422

Kathy@columbusmessenger.com

Doughenry@columbusmessenger.com

Photo courtesy of the Groveport Heritage Museum

Fans are shown here crowded on to the small, wooden plank bleachers at Groveport

Madison's old varsity football field in the mid-1960s.

Band. We had a sideline spot where we stood

and watched the games. It was on the home

side of the field at around the 10 yard line by

the west end zone. It provided a good view of

the game if the action was on the west side of

the 50 yard line, but if it was at the other end

of the field we had to strain a bit to see what

was happening. Often the cheers or murmurs

of the crowd in the bleachers would tip us off

about the action at that end of the field.

The only thing separating the fans from

the field was a metal cable strung between

the light poles. Players would duck under the

cable to get on the field. We could always hear

the players coming from the locker rooms

before the game or after half time because of

the clacking sound their football cleats made

on the asphalt leading to the field.

The red, black and white scoreboard did

not have a digital clock. Instead it had a clock

face with minute and second hands that

moved along counting down the time from 12

minutes to zero in a quarter. The clock was

not exact as, when a referee blew a whistle to

stop play, the second hand always seemed to

keep moving a bit before coming to a stop.

The electric lights on the scoreboard for the

score, quarter, down, and yards to go would

mechanically "click" when they changed.

The field had two concession stands. A

permanent brick one (which is still there) at

the east end of the field and a portable white

concession wagon on wheels at the west end.

This wheeled wagon, like the home bleachers,

would be moved over to the baseball diamond

and track in the spring to be used

there. I have tasty memories of game nights

where I got a treat or two from the wheeled

concession wagon. Early in the fall, when it

was not yet chilly at night, I'd get caramel

apples covered with chipped peanuts. When

it got colder later in the season, a cup of hot

chocolate was called for. The caramel apple

always had that crinkled white paper stuck

to it that you had to pull off at the expense of

a few peanuts.

A noisy aspect of the field was the jet airplanes

that flew directly over the field heading

to Lockbourne (now Rickenbacker) Air

Base. Referees would temporarily stop the

action on the field until the plane passed by

because no one could hear over the roar of the

low flying jet engines. Visiting fans would

look up at the planes in awe and cover their

ears from the noise, while Groveport fans

were so used to seeing and hearing the planes

flying over town daily that they barely

noticed them.

Through my boyhood years of the 1960s

we watched the Cruisers win the Mid-Eight

League title in 1963 and have other successful

seasons. They also had some seasons

where winning was scarce. But it was always

fun to spend a Friday evening at the field

watching the games and absorbing the

atmosphere.

The old football field has long been speculated

to be the burial place of the famed horse,

Cruiser, because his paddock was nearby.

This has never been confirmed, but it seems

to be a likely spot for his last resting place.

This old field has never had an official

name as far as I know. People just call it the

football field.

Maybe, because this field behind

Groveport Madison Middle School Central is

where Cruiser once galloped about, this old

football field should be named Cruiser Field.

Naming the old field this would be a historical

mirror and connection to the current Cruiser

Stadium at the high school on South

Hamilton Road. Just a thought.

Rick Palsgrove is editor of the Groveport

Messenger.
---
www.columbusmessenger.com

www.columbusmessenger.com

September 18, 18, 2022 2022 - GROVEPORT MESSENGER - PAGE 9

CLASSIFIED ADS

Deadlines: Grove City, Groveport & All editions - Mondays at Noon.

West, Canal Winchester, South & Madison editions -Tuesdays at 5 p.m.

INFORMATION

Messenger photo by Pat Donahue

Wrestling at Zucchinifest

Arie Alexander has her hands full with the head of Shawn

Reed during a New Ohio Wrestling match at the Obetz

Zucchinifest held Sept. 2-5.

Doggone good!

Messenger photo by Linda Dillman

People were not the only visitors enjoying the wide variety

of food vendors at the Canal Winchester Labor Day Festival,

held Sept. 3-5. Norman, an eight-month-old golden doodle,

tried sharing Canal Winchester resident Emily Stanley's

lunch.

Have Something

To Sell?

Need To Rent

That Property?

Try The

Messenger!

For Info On Placing

An Ad Call

614-272-5422

ASSOCIATION ADS

Paying top cash for men's

sportwatches! Rolex,

Breitling, Omega, Patek

Pillippe, Heuer, Daytona,

GMT, Submariner and

Speedmaster. Call 833-

603-3236

Donate Your Car To

Veterans Today! Help and

Support our Veterans.

Fast - FREE pick up.

100% tax deductible. Call

1-800-245-0398

Wesley Financial Group,

LLC Timeshare Cancellation

Experts Over

$50,000,000 in timeshare

debt & fees cancelled in

2019. Get free

informational package &

learn how to get rid of

your timeshare! Free

consultations. Over 450

positive reviews. 888-965-

0363

DISH Network. $59.99 for

190 channels! Blazing fast

internet. $19.99/mo. (where

available) Switch & get a

$100 Visa gift card. Free

voice remote. Free HD

DVR. Free streaming on all

devices. 1-866-979-4029

Don't let the stairs limit

your mobility! Discover

the ideal solution for

anyone who struggles on

the stairs, is concerned

about a fall or wants to

regain access to their

entire home. Call

AmeriGlide today! 1-844-

317-5246

HughesNet - Finally, superfast

internet no matter

where you live. 25 Mbps

just $59.99/mo! Unlimited

Data is Here. Stream

Video. Bundle TV &

Internet. Free Installation.

Call 866-499-0141

Safe Step. North

America's #1 Walk-in Tub.

Compreshensive lifetime

warranty. Top-of-the-line

installation and service.

Now featuring our free

shower package & $1600

off - limited time!

Financing available. 1-

855-417-1306

Internet &WIFI Starts at

$49 Call us Today to Get

Started. Find High-Speed

Internet with Fiber Optic

Technology No Credit

Check, No SSN Required.

Call us Today 866-396-

0515

ASSOCIATION ADS

Replace your roof with the

best lookng and longest

lasting material -- Steel

from Erie Metal Roofs!

Three styles and multiple

colors available.

Guaranteed to last a

lifetime! Limited Time

Offer - $500 Discount +

Additional 10% off install

(for military, health

workers & 1st responders)

Call Erie Metal Roofs: 1-

855-338-4807

Update your home with

beautiful new blinds &

shades. Free in-home

estimates make it

convenient to shop from

home. Professional

installation. Top quality -

Made in the USA. Free

consultation: 877-212-

7578. Ask about our

specials!

REPOSSESSED VEHICLE?

Missed payments after

2015? You may be entitled

to substantial money and

improved credit REPO

ALERT! FREE LEGAL

ADVICE 1-800-601-0808

!!OLD GUITARS WANT-

ED!! GIBSON, FENDER,

MARTIN, Etc. 1930's to

1980's. TOP DOLLAR

PAID. CALL TOLL FREE

1-866-433-8277

The bathroom of your

dreams for as little as

$149/month! BCI Bath &

Shower. Many options

available. Quality

materials & professional

installation. Senior &

Military Discounts

Available. Limited Time

Offer - FREE virtual inhome

consultation now

and SAVE 15%! Call

Today! 1-877-540-2780

DENTAL INSURANCE

from Physicians Mutual

Insurance Company.

Coverage for 350 plus

procedures. Real dental

insurance - NOT just a

discount plan. Do not wait!

Call now! Get your FREE

Dental Information Kit with

all the details! 1-877-553-

1891

www.dental50plus.com/

macnet#6258

Become a Published

Author. We want to Read

Your Book! Dorrance

Publishing-Trusted by

Authors Since 1920

Book manuscript submissions

currently being reviewed.

Comprehensive Services:

Consultation, Production,

Promotion and Distribution. Call

for Your Free Author's Guide 1-

866-482-1576 or visit

http://dorranceinfo.com/macnet

xCraft Shows

ASSOCIATION ADS

Vivint Smart Security.

Professionally installed.

One connected system for

total peace of mind. Free

professional installation!

Four free months of

monitoring! Call to

customize your system. 1-

833-841-0737

Elminate gutter cleaning

forever! LeafFilter, the most

advanced debris-blockiing

gutter protection. Schedule

Free LeafFilter Estimate

today. 15% off Entire

Purchase. 10% Senior &

Military Discounts. Call 1-

833-610-1936

Put on your TVEars &

hear TV w/unmatched

clarity. TVEars Originaloriginally

$129.95 - now

w/this special offer only

$59.95 w/code MCB59! 1-

888-805-0840

Looking for assisted living,

memory care, or

independent living? A

Place for Mom simplifies

the process of finding

senior living at no cost to

your family. Call 1-844-

428-0445 today!

DIAGNOSED WITH

LUNG CANCER? You

may quliafy for a

substantial cash award -

even with smoking history.

NO obligation! We've

recovered millions. Let us

help!! Call 24/7, 1-888-

650-9135

ADVERTISE

Your Fall Craft Show

Bazaar, or Bake Sale!

Call Kathy

614-272-5422

Craft Shows

ASSOCIATION ADS

Discount air travel! Call

Flight Services for best

pricing on domestic &

international flights inside

& from the US. Serving

United, Delta, American &

Southwest &many more.

Free quote! Have travel

dates ready! 844-951-

2014

Aloe Care Health, medical

alert system. The most

advanced medical alert

product on the market.

Voice-activated! No wi-fi

needed! Special offer-call

and mention offer code

CARE20 to get $20 off

Mobile Companion. Call

today-1-877-728-4065

Become a Published

Author. We want to Read

Your Book! Dorrance

Publishing Trusted Since

1920 Consultation,

Production, Promotion &

Distribution. Call for Free

Author's Guide 1-877-729-

4998 or visit

dorranceinfo.com/ads

Looking for auto insurance?

Find great deals

on the right auto insurance

to suit your needs.

Call today for a free

quote! 866-924-2397

Vivint Smart Security.

Professionally installed.

One connected system for

total peace of mind. FREE

professional installation!

Four FREE months of

monitoring! Call to

customize your system. 1-

855-870-2073

Looking for assisted living,

memory care, or

independent living? A

Place for Mom simplifies

the process of finding

senior living at no cost to

your family. Call 1-833-

910-1576 today!

ASSOCIATION ADS

TRICKED BY YOUR CAR

BEING REPOSSESSED? You

may be entitled to substantial

money and improved credit if

your vehicle was

repossessed between after

2015. REPO ALERT! FOR

FREE LEGAL ADVICE CALL

1-800-411-1770

AT&T Internet. Starting at

$40/month w/12-mo agmt.

1 TB of data/mo. Ask how

to bundle & SAVE! Geo &

svc restrictions apply. 1-

855-364-3948

IMPORTANT

NOTICE

The following states: CA,

CT, FL, IA, IL, IN, KY,

LA, MD, ME, MI, MN,

NE, NC, NH, OH, OK,

SC, SD, TX, VT and WA

requires seller of certain

business opportunities to

register with each state

before selling. Call to

verify lawful registration

before you buy.

Dental Insurance -

Physicians Mutual Insurance

Comopany. Covers 350

procedures/ Real insurance -

not a discount plan. Get your

free dental info kit! 1-855-

.526-1060 www/dental50

plus.com/ads #6258

BUYING CLASSIC CARS,

TRUCKS, SUVs

**American and Foreign**

Any Condition. Buying

entire car collections.

$$PAYING CA$H$$

Please call 717-577-8206

KRMiller1965@yahoo.com
---
PAGE 10 - GROVEPORT MESSENGER - September 18, 2022

www.columbusmessenger.com

CLASSIFIED ADS

Deadlines: Grove City, Groveport & All editions - Mondays at Noon.

West, Canal Winchester, South & Madison editions -Tuesdays at 5 p.m.

xEmployment

NOW HIRING

CDL Drivers and

Diesel Technicians

In Canal Winchester, OH!

$5000 Sign-on Bonuses!

Competitive Pay, Great Benefits!

Requirements:

18+ years of age

2+ Years of Experience

Call or apply online for

immediate consideration!

1-877-220-5627

careers.wm.com

Equal Opportunity Employer Minority/

Female/Disability/Veteran

ASSOCIATION ADS

WANTED!

MOTORCYCLES!

ANTIQUE AND CLASSIC.

Honda, Kawasaki, Suzuki,

Yamaha, Triumph, BSA

and other foreign models.

$$PAYING CA$H$$

717-577-8206

KRMiller1965@yahoo.com

REPOSSESSED VEHICLE?

Missed payments after

2015? You may be entitled

to substantial money and

improved credit REPO

ALERT! FREE LEGAL

ADVICE 1-800-601-0808

Aloe Care Health medical

alert system. Most

advanced medical alert

product on the market.

Voice-activated! No wi-fi

needed! Special offer

w/code CARE20 for $20

off Mobile Companion. 1-

855-341-5862

ASSOCIATION ADS

Stroke & Cardiovascular

disease are leading

causes of death according

the American Heart

Association. Screenings

can provide peace of mind

or early detection! Call

Life Line Screening to

schedule your screening.

Special offer - 5

screenings for $149. 1-

866-518-8391

Directv Stream - Carries

the Most Local MLB

Games! CHOICE

Package, $89.99/mo for

12 months. Stream on 20

devices in your home at

once. HBOMax included

for 3 mos (w/CHOICE

Package or higher.) No

annual contract, no hidden

fees! Some restrictions

apply. Call IVS 1-866-629-

6086

Safe Step. North

America's #1 Walk-in Tub.

Compreshensive lifetime

warranty. Top-of-the-line

installation and service.

Now featuring our free

shower package & $1600

off - limited time!

Financing available. Call

Safe Step 1-833-356-1954

ASSOCIATION ADS

READER

ADVISORY

The National Trade Association

we belong to has

purchased the following

classifieds. Determining

the value of their service

or product is advised by

this publication. In order

to avoid misunderstandings,

some advertisers do

not offer "employment"

but rather supply the

readers with manuals, directories

and other materials

designed to help

their clients establish mail

order selling and other

businesses at home. Under

NO circumstance

should you send any

money in advance or give

the client your checking,

license ID or credit card

numbers. Also beware of

ads that claim to guarantee

loans regardless of

credit and note that if a

credit repair company

does business only over

the phone it's illegal to request

any money before

delivering its service. All

funds are based in US

dollars. Toll Free numbers

may or may not

reach Canada. Please

check with the Better

Business Bureau 614-

486-6336 or the Ohio Attorney

General's Consumer

Protection Section

614-466-4986 for more

information on the company

you are seeking to

do business with.

Employment

ASSOCIATION ADS

Attention Viagra users:

Generic 100 mg blue pills

or generic 20 mg yellow

pills. Get 45 plus 5 free +

S/H. Call Today 1-877-

707-5518

Eliminate gutter cleaning

forever! LeafFilter, the

most advanced debrisblocking

gutter protection.

Schedule a FREE LeafFilter

estimate today. 15% off

Entire Purchase. 10% Senior

& Military Discounts.

Call 1-855-791-1626

SELL YOUR ANTIQUE

OR CLASSIC CAR.

Advertise with us. You

choose where you want

to advertise. 800-450-

6631 visit macnetonline.

com for details.

DISH TV $64.99 for 190

Channels + $14.95 high

speed internet. FREE installation,

Smart HD DVR

included. Free Voice Remote.

Some Restrictions

apply. Promo Expires

1/21/23. 1-866-590-5561

VIAGRA and CIALIS

USERS! 50 Generic pills

SPECIAL $99.00. 100%

guaranteed. 24/7 CALL

NOW! 888-445-5928

Hablamos Espanol

Protect your home from

pests safely and

affordablly. Pest, rodent,

termite and mosquito

control. Call for a quote or

inspection today 844-394-

9278

4 Paws and a Tail

IS HIRING!!!!

Sign on bonus for experienced Pet Groomers

after 6 months of employment!

Hiring for multiple positions

Pet Groomer up to $65,000 a year

Bather $13-$15 an hour

Afternoon Cleaner & Saturday Receptionist

$12-$14 an hour

Please give us a call to schedule an

interview 614-991-0130

DO YOU NEED

SEASONAL EMPLOYEES?

Call KATHY to ADVERTISE

and reach over 35,000 homes in the

South/Canal Winchester & Groveport Messengers

614-272-5422

kathy@columbusmessenger.com
---
www.colulmbusmessenger.com

xCome & Get It!

COME AND GET IT!

Need to Get Rid of Something Fast - Advertise It Here For FREE!

Deadlines are Mondays by Noon

Call For Publication Schedule 614-272-5422

FREE Garden Straw for gardens or bedding. Call for appointment for pickup.

Circle S Farms, 9015 London-Groveport Road, Grove City, 43123

Grove City - 614-878-7980

FREE - Metal from old camper frame, Need a truck to pickup..

CC - Obetz - 614-632-1013

Baby Grand Piano, Mahogany wood w/bench;

Futon Frame & Mattress w/suede-like cover, full size, gently used.

N/B - Grove City - 614-875-8860

FREE - Children's Wooden Play Set - Good Condition w/Sand Box under it, Step Ladder up

Slide to go down & a rope swing. Also separate Swing Set w/4 swings.

190 Inah Ave., Cols, 43228 near the Fire Dept.

West Columbus - 614-878-1930, ask for Linda

. Come and Get It! is a bi-weekly column that offers readers an opportunity to pass along

surplus building materials, furniture, electronic equipment, crafts, supplies, appliances,

plants or household goods to anybody who will come and get them - as long as they're

FREE. NO PETS! Just send us a brief note describing what you want to get rid of, along

with your name, address and phone number. Nonprofit organizations are welcome to

submit requests for donations of items.

Send information to The Columbus Messenger, Attention: Come and Get It, 3500

Sullivant Ave., Columbus, OH43204. Deadline is Mondays at NOON for following

Sunday's publication. Messenger Newspapers is not responsible for any complications

that may occur. Please contact us when items are gone. 272-5422

Come & Get It!

xFocus on Rentals

APARTMENT MANAGERS

HAVE VACANCIES?

FILL THEM BEFORE

THE LEAVES FALL!

ADVERTISE YOUR

APARTMENT COMMUNITY

IN THE MESSENGER

ASSOCIATION ADS

The Generac PWRcell

solar plus battery storage

system. Save money,

reduce reliance on

grid, prepare for outages

& power your home. Full

installation services. $0

down financing option.

Request free no obligation

quote. Call 1-877-

539-0299

Call Kathy For More Info and Rates

614-272-5422

Rentals

ASSOCIATION ADS

Prepare for power outages

today with a GENERAC

home standby generator.

$0 Money Down + Low

Monthly Payment Options.

Request a FREEQuote--

Call now before the next

power outage. 1-855-465-

7624

BATH & SHOWER UP-

DATES in as little as

ONE DAY! Affordable

prices - No payments for

18 months! Lifetime warranty

& professional installs.

Senior & Military

Discounts available. Call

855-761-1725

ASSOCIATION ADS

NEED IRS RELIEF

$10K-$125K+ Get Fresh

Start or Forgiveness.

Call 1-844-431-4716

Monday through Friday

7am-5pm PST

READY TO BUY, SELL

OR RENT YOUR

VACATION HOME OR

HUNTING CAMP?

Advertise it here and in

neighboring publications.

We can help you. Contact

MACnet MEDIA @

800-450-6631 or visit our

site at MACnetOnline.

com

The Generac PWRcell, a

solar plus battery storage

system. SAVE money,

reduce your reliance on

the grid, prepare for power

outages and power

your home. Full installation

services available. $0

Down Financing Option.

Request a FREE, no obligation,

quote today. Call

1-866-783-0292

DISH TV $64.99 FOR 190

Channels + $14.95 High

Speed Internet. Free Installation,

Smart HD DVR

Included, Free Voice Remote.

Some restrictions

apply. Promo expires

1/21/23. 1-866-479-1516

Protect your home w/home

security monitored by

ADT. Starting at $27.99/

mo. Get free equipment

bundle including keypad,

motion sensor, wireless

door & windows sensors.

833-719-1073

Thinking about installing

a new shower? American

Standard makes it

easy. FREE design consulation.

Enjoy your

shower again! Call 1-

833-769-0995 today to

see how you can save

$1,000 on installation, or

visit www.newshowerdeal.com/mac

ASSOCIATION ADS

Prepare for power

outages today with a

GENERAC home standby

generator. $0 Down + Low

Monthly Pmt. Request a

free Quote. Call before the

next power outage: 1-855-

948-6176

Attention oxygen therapy

users! Inogen One G4 is

capable of full 24/7 oxygen

delivery. Only 2.8

pounds. Free info kit.

Call 877-929-9587

INSURANCE

Medicare New Benefit

Medicare-Zero Premium

Free Doctor visit, free ride,

free food card, free

prescrptions.614-805-1084

HELP WANTED

Hope UM Church in Canal

Winchester needs to hire

a new Choir Director and

Pianist (2 positions). If

interested, please call us

at 614-837-7548 or

email us at

hope.in.canal@gmail.com

Licensed Barber Needed

to take over for retiring

barber. Full or Parttime.

located in Great Southern

Shopping Center. Call

Cindy for more info

614-239-1976

We are now hiring for

Medical Transportation

Drivers. Candidate must

be at least 23 y o with 4 or

less points on license and

able to pass criminal

background check.

Interested parties please

conact Dale Kuhn at 740-

972-0895 for more info.

Kings Kids Daycare

in Grove City is hiring Fun,

Loving Teachers for PT &

FT shifts. Please email

sarragc@outlook.com or

call 614-539-0349

PETS

HOMING PIGEONS

614-662-8655

WANT TO BUY

We Buy Cars & Trucks

$300-$3000.614-308-2626

ANTIQUES

WANTED

Victrolas, Watches,

Clocks, Bookcases

Antiques, Furn.

Jeff 614-262-0676

or 614-783-2629

WE BUY JUNK CARS

Call anytime 614-774-6797

We Buy Junk Cars &

Trucks. Highest Prices

Paid. 614-395-8775

MISC.

FOR SALE

Shop Equipment: Sanders,

Scroll Saw, Buffer & Stand,

& Much More. Call to see.

614-829-5522

Spring Free R79 Medium

Round Trampoline, 2 yrs

old, like new. $500 OBO -

Cash Only. 614-619-4038

USED VEHICLES

Thunderbird ?

Chevy Cavalier-make offer

740-973-3206

September 18, 2022 - GROVEPORT MESSENGER - PAGE 11

xClassified Services

AIR CONDITIONING

AIR CONDITIONING

Complete System

Clean & Check

$49.95

Free Electronic Leak Testing

All Makes • All Models

46 Yrs. Exp. • Senior Discount

614-351-9025

BLACKTOP

SANTIAGO'S

Sealcoating & Services LLC

Quality Materials Used

FALL IS HERE!

Driveway Seal & Repair!

Top Seal Cracks!

Residential & Commercial

Mulching, Edging & Clean-ups

"Ask for whatever you need."

BBB Accredited-Fully Insured

Call or text for Free Est.

614-649-1200

AGM OHIO

ROOFING &

SEALCOATING

Free Estimates

Cell 614-599-0262

CARPET SALES

CARPET

Gray Saxony

270 sq.ft. w/6 lb Pad

$398.00

Other Carpet AvailableA

Phone or text Ray

740-927-3504

Delivery & Inst. avail.

CLEANING

Looking for Mrs. Clean?

For excellent cleaning serv

at reas. rates w/great refs,

dependable. 10% Seniorr

Disc. Free Est. Also runs

Errands - Gwen 614-226-5229

20 y rs Exp. Commerical

& Residential Cleaning.

Call Judy 614-746-0273

CONCRETE

9/25 A

BLACKTOP SEALING

Driveways & Parking Lots

614-875-7588

CARPET CLEANING

10/9

A/M

CARPET CLEANING

Any 5 areas ONLY $75

Home Powerwash $99-$300

614-805-1084

Specializing in Pet Odors

AJ's Concrete,

Masonry

Good Work - Fair Prices

Block Foundations

Driveways • Sidewalks

Epoxy/Overlay Floors

Bonded-Ins. • Free Ests.

614-419-9932

ALL-CITY CUSTOM

CONCRETE

All Types Concrete Work

New or Tear Out-Replace

40 Yrs. Exp.

(614) 207-5430

Owner is On The Job!

9/25 e/se

9/25 A

CONCRETE

www.hastingsnsons.com

Driveways & Extensions

Patio & Walkways,

Porches & Steps,

Garage/Basement Floors

Hot Tub/Shed Pads,

Stamped/colored concrete

Sealing of new &

existing concrete.

FREE ESTIMATES

Contact Adam

614-756-1754

hastingsandsons.

columbus@gmail.com

EDDIE MOORE

CONSTRUCTION

Quality Concrete Work

Lt. Hauling & Room Add.,

Block Work & Excavation

Stamp Patios,

Bsmt. Wall Restoration

36Yrs Exp - Lic & Ins.

Free Ests. 614-871-3834

GUTTERS

GUTTER CLEANING

614-323-0128

Bates & Sons

GUTTER CLEANING

5 ★ Google Reviews

614-586-3417

HOME

IMPROVEMENTS

SINCE 1973

Phil Bolon Contr.

Windows & Siding

Decks, Kitchens, Baths

Room Additions,

Flooring, Roofing

Bsmt Waterproofing

Deal With Small Non-Pressure Co.

47 Yrs. Exp. - Refs. Avail.

Lic.-Bond-Ins.

9/25

A/M

Free Est. - Financing Avail.

Member BBB Of Cent. OH

O.C.I.E.B. ID #24273

614-419-3977

or 614-863-9912

C&JHandyman

Services LLC

Minor Plumbing & Electric

Install Hot Water Tanks,

Dishwashers & Disposals

All Interior Remodels

Also Fencing &

Interior/Exterior Painting

Free Est. ~ 18 Yrs. Exp.

CDC/EPA Approved Guidelines

614-284-2100

KLAUSMAN HOME

IMPROVEMENT

Siding-Windows-

Doors-Roofing-Soffit-

Fascia-Gutters-Trim

Earn FREE Seamless

Gutters with Siding Over

1000 Sq. Ft.

FREE Shutters with

Soffit & Trim

EPA Certified

Member of BBB

Financing Available

Over 20 yrs exp. • Free Est.

Licensed-Bonded-Insured

Owner & Operator

James 614-419-7500

7/17 A

10/9 A

HOME

REMODELING

Charlies Handyman

Service

Over 40 yrs. exp.

Hot Water Tanks

Door Locks

Kitchen Remodels

Roofmg * Siding

Bathrooms and more!

614-319-6010

blantoncharles894@gmail.com

MultiCraft Const.

& Handyman Services

All Types Handyman Services:

Decks, Fences

Kitchen/Baths

Window/doors installed

Interior Painting

Drywall Repairs

All Types of Flooring

Call/Text 614-774-2923

multicraftconstruction@gmail.com

Handyman Remodeling

Over 35 yrs exp.

Larry 614-376-7006

LANDSCAPING

A-1 QUALITY

TREE & LANDSCAPE

Family Owned

Serving Central Ohio

Since 2004

Bed & Yard Maint.

Weeding, Mulching, etc.

Hedge/Shrub Trimming

*Stump Removal

614-596-9504

Insured - Free Est.

LAWN CARE

The Lawn Barber

Cut, Trim, Blow away

Hedge Trimming, Edging

614-935-1466

LET US MAINTAIN

YOUR LAWN & GARDEN

FOR YOU

Summer, Spring,

Winter or Fall

WE DO IT ALL!!!!

Lawn Cuts, Edging,

Trees & Shrubs, Garden,

Mulching, Hauling,

Garden Pond &

Home Maint.

Free Ests. Low Rates

$20 & Up

Kevin - 614-905-3117

PAINTING

A Job Well Done Again

A lic. General Contractor

Some Skilled Services

Incl: Painting • Stucco,

Repair•Carpentry•Exterior

Drainage & Home Maint.

Call Today! 614-235-1819

Painter Over 30 Yrs. Exp.

Free Est. Reas. Rates

Daniel - 614-226-4221

PLASTERING

DRYW

YWALL &

PLASTER

9/25

A&M

REPAIR

Textured Ceilings

614-551-6963

Residential/Commercial

BIA

Classified Services

9/25 A

POOL/SPA

MAINTENANCE

K&L Spa Cleaning

Hot Tub Cleaning and

Weekly Maintenance

Keith 614-316-9809

PLUMBING

MYERS

PLUMBING

Exp. Expert Plumbing

New Const. & Fast Repairs

Lic. - Permit Available

Water • Sewer • Gas

614-633-9694

All About Drains & Plumb.

Will snake any small drain

$145. 614-778-2584

CHRIS'

PLUMBING

"Plumbing & Drain Professional

That You Can Count On"

24 Hrs., 7 Days/Week

No Overtime Charges

24 Yrs. Exp. in Plumbing &

Drain Cleaning Field

Call For A Free Phone Estimate

$100.00 For Any Small Drain

614-622-4482

30% OFF with AD

POWER WASHING

POWERWASHING

at Reasonable Rates

Gwen 614-226-5229

MRS. POWERWASH

Any house wash $149+tax

Single deck $69+tax

2 Tier deck $99+tax

Best Wash in Town

Over 45,000 washes

Ashley 614-771-3892

Bates & Sons

Soft Wash & Powerwash

5 ★ Google Reviews

614-586-3417

SEWING MACHINE

REPAIR

REPAIR all makes 24 hr.

service. Clean, oil, adjust

in your home. $49.95 all

work gtd. 614-890-5296

TREE SERVICES

BURNS TREE SERVICE

Trimming, Removal &

Stump Grinding.

614-584-2164

Warren Brewer Tree Service

• Tree Removal

• Tree Trimming 9/11

A&M

• Stump Grinding

• Bucket Truck Services

Best Prices • Same Day Service

614-878-2568

A-1 QUALITY

TREE & LANDSCAPE

Family Owned

Serving Central Ohio

Since 2004

614-596-9504

Insured - Free Est.

9/25 A&M

9/25 A&M

10/9 A
---
PAGE 12 - GROVEPORT MESSENGER - September 18, 2022

www.columbusmessenger.com

Our Pictorial Past by Rick Palsgrove

Messenger photo by Rick Palsgrove

Leading the band

Groveport Madison Marching Band drum major Nalani

Smedley leads the band during the playing of the National

Anthem prior to a recent Groveport Madison High School

varsity football game.

Old Ohio and Erie Canal bed

Photo courtesy of the Groveport Heritage Museum

This is a view of the former Ohio and Erie Canal bed just north of Groveport's Main Street as it looked in

the late 20th century. This site is where the large parking lot that extends from Main Street to Elm Street

near Ace Hardware is now located.

614.574.4100 Grades K-4 614.574.0037 Grades 5-8

4485 S. Hamilton Rd., Groveport, Ohio 43125

Groveport Community School

Now Enrolling K-8

Check out our Facebook Page or our website

www.imaginegroveport.com to see what we are all about.

Developing Character

and Enriching Minds

• All Day Kindergarten

• Free Breakfast and Lunch

• Free Tuition

• Individualized and small group instruction with rigorous curriculum

• Dress Code

• 1:1 Technology will be offered for all students

• We also offer Gym, Spanish, Music, Technology, Art and Life Skills