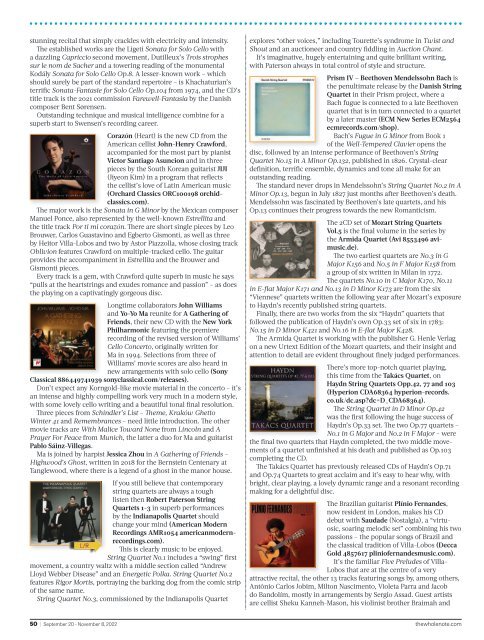 Volume 28 Issue 1 | September 20 - November 8, 2022
Our 28th season in print! "And Now, Back to Live Action"; a symphonic-sized listings section, compared to last season; clubs "On the move" ; FuturesStops Festival and Nuit Blanche; "Pianistic high-wire acts"; Season announcements include full-sized choral works like Mendelssohn's Elijah; "Icons, innovators and renegades" pulling out all the stops.
Our 28th season in print! "And Now, Back to Live Action"; a symphonic-sized listings section, compared to last season; clubs "On the move" ; FuturesStops Festival and Nuit Blanche; "Pianistic high-wire acts"; Season announcements include full-sized choral works like Mendelssohn's Elijah; "Icons, innovators and renegades" pulling out all the stops.
SHOW MORE
SHOW LESS
Create successful ePaper yourself
Turn your PDF publications into a flip-book with our unique Google optimized e-Paper software.
stunning recital that simply crackles with electricity and intensity.

The established works are the Ligeti Sonata for Solo Cello with

a dazzling Capriccio second movement, Dutilleux's Trois strophes

sur le nom de Sacher and a towering reading of the monumental

Kodály Sonata for Solo Cello Op.8. A lesser-known work – which

should surely be part of the standard repertoire – is Khachaturian's

terrific Sonata-Fantasie for Solo Cello Op.104 from 1974, and the CD's

title track is the 2021 commission Farewell-Fantasia by the Danish

composer Bent Sørensen.

Outstanding technique and musical intelligence combine for a

superb start to Swensen's recording career.

Corazón (Heart) is the new CD from the

American cellist John-Henry Crawford,

accompanied for the most part by pianist

Victor Santiago Asuncion and in three

pieces by the South Korean guitarist JIJI

(Jiyeon Kim) in a program that reflects

the cellist's love of Latin American music

(Orchard Classics ORC100198 orchidclassics.com).

The major work is the Sonata in G Minor by the Mexican composer

Manuel Ponce, also represented by the well-known Estrellita and

the title track Por ti mi corazón. There are short single pieces by Leo

Brouwer, Carlos Guastavino and Egberto Gismonti, as well as three

by Heitor Villa-Lobos and two by Astor Piazzolla, whose closing track

Oblivion features Crawford on multiple-tracked cello. The guitar

provides the accompaniment in Estrellita and the Brouwer and

Gismonti pieces.

Every track is a gem, with Crawford quite superb in music he says

"pulls at the heartstrings and exudes romance and passion" – as does

the playing on a captivatingly gorgeous disc.

Longtime collaborators John Williams

and Yo-Yo Ma reunite for A Gathering of

Friends, their new CD with the New York

Philharmonic featuring the premiere

recording of the revised version of Williams'

Cello Concerto, originally written for

Ma in 1994. Selections from three of

Williams' movie scores are also heard in

new arrangements with solo cello (Sony

Classical 886449741939 sonyclassical.com/releases).

Don't expect any Korngold-like movie material in the concerto – it's

an intense and highly compelling work very much in a modern style,

with some lovely cello writing and a beautiful tonal final resolution.

Three pieces from Schindler's List – Theme, Kraków Ghetto

Winter 41 and Remembrances – need little introduction. The other

movie tracks are With Malice Toward None from Lincoln and A

Prayer For Peace from Munich, the latter a duo for Ma and guitarist

Pablo Sáinz-Villegas.

Ma is joined by harpist Jessica Zhou in A Gathering of Friends –

Highwood's Ghost, written in 2018 for the Bernstein Centenary at

Tanglewood, where there is a legend of a ghost in the manor house.

If you still believe that contemporary

string quartets are always a tough

listen then Robert Paterson String

Quartets 1-3 in superb performances

by the Indianapolis Quartet should

change your mind (American Modern

Recordings AMR1054 americanmodernrecordings.com).

This is clearly music to be enjoyed.

String Quartet No.1 includes a "swing" first

movement, a country waltz with a middle section called "Andrew

Lloyd Webber Disease" and an Energetic Polka. String Quartet No.2

features Rigor Mortis, portraying the barking dog from the comic strip

of the same name.

String Quartet No.3, commissioned by the Indianapolis Quartet

explores "other voices," including Tourette's syndrome in Twist and

Shout and an auctioneer and country fiddling in Auction Chant.

It's imaginative, hugely entertaining and quite brilliant writing,

with Paterson always in total control of style and structure.

Prism IV – Beethoven Mendelssohn Bach is

the penultimate release by the Danish String

Quartet in their Prism project, where a

Bach fugue is connected to a late Beethoven

quartet that is in turn connected to a quartet

by a later master (ECM New Series ECM2564

ecmrecords.com/shop).

Bach's Fugue in G Minor from Book 1

of the Well-Tempered Clavier opens the

disc, followed by an intense performance of Beethoven's String

Quartet No.15 in A Minor Op.132, published in 1826. Crystal-clear

definition, terrific ensemble, dynamics and tone all make for an

outstanding reading.

The standard never drops in Mendelssohn's String Quartet No.2 in A

Minor Op.13, begun in July 1827 just months after Beethoven's death.

Mendelssohn was fascinated by Beethoven's late quartets, and his

Op.13 continues their progress towards the new Romanticism.

The 2CD set of Mozart String Quartets

Vol.5 is the final volume in the series by

the Armida Quartet (Avi 8553496 avimusic.de).

The two earliest quartets are No.3 in G

Major K156 and No.5 in F Major K158 from

a group of six written in Milan in 1772.

The quartets No.10 in C Major K170, No.11

in E-flat Major K171 and No.13 in D Minor K173 are from the six

"Viennese" quartets written the following year after Mozart's exposure

to Haydn's recently published string quartets.

Finally, there are two works from the six "Haydn" quartets that

followed the publication of Haydn's own Op.33 set of six in 1783:

No.15 in D Minor K421 and No.16 in E-flat Major K428.

The Armida Quartet is working with the publisher G. Henle Verlag

on a new Urtext Edition of the Mozart quartets, and their insight and

attention to detail are evident throughout finely judged performances.

There's more top-notch quartet playing,

this time from the Takács Quartet, on

Haydn String Quartets Opp.42, 77 and 103

(Hyperion CDA68364 hyperion-records.

co.uk/dc.asp?dc=D_CDA68364).

The String Quartet in D Minor Op.42

was the first following the huge success of

Haydn's Op.33 set. The two Op.77 quartets –

No.1 in G Major and No.2 in F Major – were

the final two quartets that Haydn completed, the two middle movements

of a quartet unfinished at his death and published as Op.103

completing the CD.

The Takács Quartet has previously released CDs of Haydn's Op.71

and Op.74 Quartets to great acclaim and it's easy to hear why, with

bright, clear playing, a lovely dynamic range and a resonant recording

making for a delightful disc.

The Brazilian guitarist Plínio Fernandes,

now resident in London, makes his CD

debut with Saudade (Nostalgia), a "virtuosic,

soaring melodic set" combining his two

passions – the popular songs of Brazil and

the classical tradition of Villa-Lobos (Decca

Gold 4857617 pliniofernandesmusic.com).

It's the familiar Five Preludes of Villa-

Lobos that are at the centre of a very

attractive recital, the other 13 tracks featuring songs by, among others,

Antônio Carlos Jobim, Milton Nascimento, Violeta Parra and Jacob

do Bandolím, mostly in arrangements by Sergio Assad. Guest artists

are cellist Sheku Kanneh-Mason, his violinist brother Braimah and

50 | September 20 - November 8, 2022 thewholenote.com