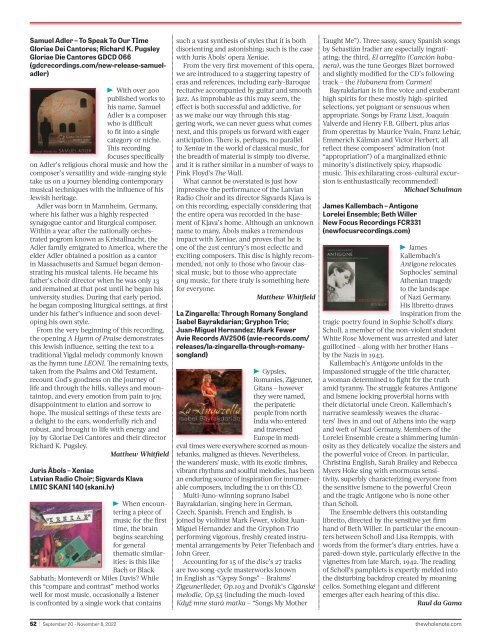 Volume 28 Issue 1 | September 20 - November 8, 2022
Our 28th season in print! "And Now, Back to Live Action"; a symphonic-sized listings section, compared to last season; clubs "On the move" ; FuturesStops Festival and Nuit Blanche; "Pianistic high-wire acts"; Season announcements include full-sized choral works like Mendelssohn's Elijah; "Icons, innovators and renegades" pulling out all the stops.
Our 28th season in print! "And Now, Back to Live Action"; a symphonic-sized listings section, compared to last season; clubs "On the move" ; FuturesStops Festival and Nuit Blanche; "Pianistic high-wire acts"; Season announcements include full-sized choral works like Mendelssohn's Elijah; "Icons, innovators and renegades" pulling out all the stops.
SHOW MORE
SHOW LESS
You also want an ePaper? Increase the reach of your titles
YUMPU automatically turns print PDFs into web optimized ePapers that Google loves.
Samuel Adler – To Speak To Our TIme

Gloriae Dei Cantores; Richard K. Pugsley

Gloriae Die Cantores GDCD 066

(gdcrecordings.com/new-release-samueladler)

! With over 400

published works to

his name, Samuel

Adler is a composer

who is difficult

to fit into a single

category or niche.

This recording

focuses specifically

on Adler's religious choral music and how the

composer's versatility and wide-ranging style

take us on a journey blending contemporary

musical techniques with the influence of his

Jewish heritage.

Adler was born in Mannheim, Germany,

where his father was a highly respected

synagogue cantor and liturgical composer.

Within a year after the nationally orchestrated

pogrom known as Kristallnacht, the

Adler family emigrated to America, where the

elder Adler obtained a position as a cantor

in Massachusetts and Samuel began demonstrating

his musical talents. He became his

father's choir director when he was only 13

and remained at that post until he began his

university studies. During that early period,

he began composing liturgical settings, at first

under his father's influence and soon developing

his own style.

From the very beginning of this recording,

the opening A Hymn of Praise demonstrates

this Jewish influence, setting the text to a

traditional Yigdal melody commonly known

as the hymn tune LEONI. The remaining texts,

taken from the Psalms and Old Testament,

recount God's goodness on the journey of

life and through the hills, valleys and mountaintop,

and every emotion from pain to joy,

disappointment to elation and sorrow to

hope. The musical settings of these texts are

a delight to the ears, wonderfully rich and

robust, and brought to life with energy and

joy by Gloriae Dei Cantores and their director

Richard K. Pugsley.

Matthew Whitfield

Juris Ābols – Xeniae

Latvian Radio Choir; Sigvards Klava

LMIC SKANI 140 (skani.lv)

! When encountering

a piece of

music for the first

time, the brain

begins searching

for general

thematic similarities:

is this like

Bach or Black

Sabbath; Monteverdi or Miles Davis? While

this "compare and contrast" method works

well for most music, occasionally a listener

is confronted by a single work that contains

such a vast synthesis of styles that it is both

disorienting and astonishing; such is the case

with Juris Ābols' opera Xeniae.

From the very first movement of this opera,

we are introduced to a staggering tapestry of

eras and references, including early-Baroque

recitative accompanied by guitar and smooth

jazz. As improbable as this may seem, the

effect is both successful and addictive, for

as we make our way through this staggering

work, we can never guess what comes

next, and this propels us forward with eager

anticipation. There is, perhaps, no parallel

to Xeniae in the world of classical music, for

the breadth of material is simply too diverse,

and it is rather similar in a number of ways to

Pink Floyd's The Wall.

What cannot be overstated is just how

impressive the performance of the Latvian

Radio Choir and its director Sigvards Kļava is

on this recording, especially considering that

the entire opera was recorded in the basement

of Kļava's home. Although an unknown

name to many, Ābols makes a tremendous

impact with Xeniae, and proves that he is

one of the 21st century's most eclectic and

exciting composers. This disc is highly recommended,

not only to those who favour classical

music, but to those who appreciate

any music, for there truly is something here

for everyone.

Matthew Whitfield

La Zingarella: Through Romany Songland

Isabel Bayrakdarian; Gryphon Trio;

Juan-Miguel Hernandez; Mark Fewer

Avie Records AV2506 (avie-records.com/

releases/la-zingarella-through-romanysongland)

! Gypsies,

Romanies, Zigeuner,

Gitans – however

they were named,

the peripatetic

people from north

India who entered

and traversed

Europe in medieval

times were everywhere scorned as mountebanks,

maligned as thieves. Nevertheless,

the wanderers' music, with its exotic timbres,

vibrant rhythms and soulful melodies, has been

an enduring source of inspiration for innumerable

composers, including the 11 on this CD.

Multi-Juno-winning soprano Isabel

Bayrakdarian, singing here in German,

Czech, Spanish, French and English, is

joined by violinist Mark Fewer, violist Juan-

Miguel Hernandez and the Gryphon Trio

performing vigorous, freshly created instrumental

arrangements by Peter Tiefenbach and

John Greer.

Accounting for 15 of the disc's 27 tracks

are two song-cycle masterworks known

in English as "Gypsy Songs" – Brahms'

Zigeunerlieder, Op.103 and Dvořák's Cigánské

melodie, Op.55 (including the much-loved

Když mne stará matka – "Songs My Mother

Taught Me"). Three sassy, saucy Spanish songs

by Sebastián Iradier are especially ingratiating;

the third, El arreglito (Canción habanera),

was the tune Georges Bizet borrowed

and slightly modified for the CD's following

track – the Habanera from Carmen!

Bayrakdarian is in fine voice and exuberant

high spirits for these mostly high-spirited

selections, yet poignant or sensuous when

appropriate. Songs by Franz Liszt, Joaquín

Valverde and Henry F.B. Gilbert, plus arias

from operettas by Maurice Yvain, Franz Lehár,

Emmerich Kálmán and Victor Herbert, all

reflect these composers' admiration (not

"appropriation") of a marginalized ethnic

minority's distinctively spicy, rhapsodic

music. This exhilarating cross-cultural excursion

is enthusiastically recommended!

Michael Schulman

James Kallembach – Antigone

Lorelei Ensemble; Beth Willer

New Focus Recordings FCR331

(newfocusrecordings.com)

! James

Kallembach's

Antigone relocates

Sophocles' seminal

Athenian tragedy

to the landscape

of Nazi Germany.

His libretto draws

inspiration from the

tragic poetry found in Sophie Scholl's diary.

Scholl, a member of the non-violent student

White Rose Movement was arrested and later

guillotined – along with her brother Hans –

by the Nazis in 1943.

Kallembach's Antigone unfolds in the

impassioned struggle of the title character,

a woman determined to fight for the truth

amid tyranny. The struggle features Antigone

and Ismene locking proverbial horns with

their dictatorial uncle Creon. Kallembach's

narrative seamlessly weaves the characters'

lives in and out of Athens into the warp

and weft of Nazi Germany. Members of the

Lorelei Ensemble create a shimmering luminosity

as they delicately vocalize the sisters and

the powerful voice of Creon. In particular,

Christina English, Sarah Brailey and Rebecca

Myers Hoke sing with enormous sensitivity,

superbly characterizing everyone from

the sensitive Ismene to the powerful Creon

and the tragic Antigone who is none other

than Scholl.

The Ensemble delivers this outstanding

libretto, directed by the sensitive yet firm

hand of Beth Willer. In particular the encounters

between Scholl and Lisa Remppis, with

words from the former's diary entries, have a

pared-down style, particularly effective in the

vignettes from late March, 1942. The reading

of Scholl's pamphlets is expertly melded into

the disturbing backdrop created by moaning

cellos. Something elegant and different

emerges after each hearing of this disc.

Raul da Gama

52 | September 20 - November 8, 2022 thewholenote.com