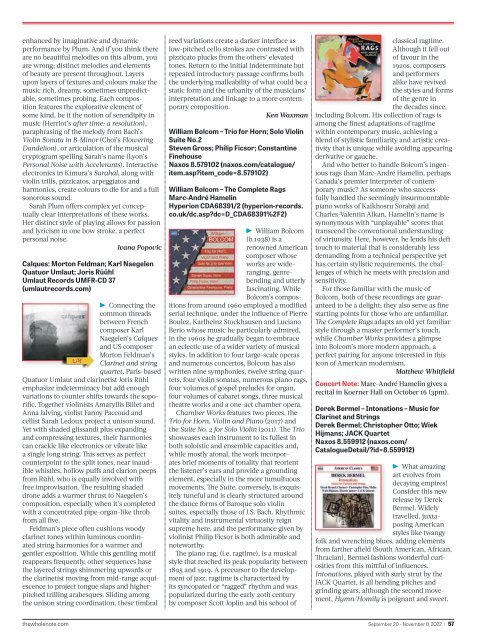 Volume 28 Issue 1 | September 20 - November 8, 2022
Our 28th season in print! "And Now, Back to Live Action"; a symphonic-sized listings section, compared to last season; clubs "On the move" ; FuturesStops Festival and Nuit Blanche; "Pianistic high-wire acts"; Season announcements include full-sized choral works like Mendelssohn's Elijah; "Icons, innovators and renegades" pulling out all the stops.
Our 28th season in print! "And Now, Back to Live Action"; a symphonic-sized listings section, compared to last season; clubs "On the move" ; FuturesStops Festival and Nuit Blanche; "Pianistic high-wire acts"; Season announcements include full-sized choral works like Mendelssohn's Elijah; "Icons, innovators and renegades" pulling out all the stops.
SHOW MORE
SHOW LESS
You also want an ePaper? Increase the reach of your titles
YUMPU automatically turns print PDFs into web optimized ePapers that Google loves.
enhanced by imaginative and dynamic

performance by Plum. And if you think there

are no beautiful melodies on this album, you

are wrong; distinct melodies and elements

of beauty are present throughout. Layers

upon layers of textures and colours make the

music rich, dreamy, sometimes unpredictable,

sometimes probing. Each composition

features the explorative element of

some kind, be it the notion of serendipity in

music (Herriot's after time: a resolution),

paraphrasing of the melody from Bach's

Violin Sonata in B-Minor (Choi's Flowering

Dandelion), or articulation of the musical

cryptogram spelling Sarah's name (Lyon's

Personal Noise with Accelerants). Interactive

electronics in Kimura's Sarahal, along with

violin trills, pizzicatos, arpeggiatos and

harmonics, create colours to die for and a full

sonorous sound.

Sarah Plum offers complex yet conceptually

clear interpretations of these works.

Her distinct style of playing allows for passion

and lyricism in one bow stroke, a perfect

personal noise.

Ivana Popovic

Calques: Morton Feldman; Karl Naegelen

Quatuor Umlaut; Joris Rüůhl

Umlaut Records UMFR-CD 37

(umlautrecords.com)

! Connecting the

common threads

between French

composer Karl

Naegelen's Calques

and US composer

Morton Feldman's

Clarinet and string

quartet, Paris-based

Quatuor Umlaut and clarinetist Joris Rühl

emphasize indeterminacy but add enough

variations to counter shifts towards the soporific.

Together violinists Amaryllis Billet and

Anna Jalving, violist Fanny Paccoud and

cellist Sarah Ledoux project a unison sound.

Yet with shaded glissandi plus expanding

and compressing textures, their harmonies

can crackle like electronics or vibrate like

a single long string. This serves as perfect

counterpoint to the split tones, near inaudible

whistles, hollow puffs and clarion peeps

from Rühl, who is equally involved with

free improvisation. The resulting shaded

drone adds a warmer thrust to Naegelen's

composition, especially when it's completed

with a concentrated pipe-organ-like throb

from all five.

Feldman's piece often cushions woody

clarinet tones within luminous coordinated

string harmonies for a warmer and

gentler exposition. While this gentling motif

reappears frequently, other sequences have

the layered strings shimmering upwards or

the clarinetist moving from mid-range acquiescence

to project tongue slaps and higherpitched

trilling arabesques. Sliding among

the unison string coordination, these timbral

reed variations create a darker interface as

low-pitched cello strokes are contrasted with

pizzicato plucks from the others' elevated

tones. Return to the initial indeterminate but

repeated introductory passage confirms both

the underlying malleability of what could be a

static form and the urbanity of the musicians'

interpretation and linkage to a more contemporary

composition.

Ken Waxman

William Bolcom – Trio for Horn; Solo Violin

Suite No.2

Steven Gross; Philip Ficsor; Constantine

Finehouse

Naxos 8.579102 (naxos.com/catalogue/

item.asp?item_code=8.579102)

William Bolcom – The Complete Rags

Marc-André Hamelin

Hyperion CDA68391/2 (hyperion-records.

co.uk/dc.asp?dc=D_CDA68391%2F2)

! William Bolcom

(b.1938) is a

renowned American

composer whose

works are wideranging,

genrebending

and utterly

fascinating. While

Bolcom's compositions

from around 1960 employed a modified

serial technique, under the influence of Pierre

Boulez, Karlheinz Stockhausen and Luciano

Berio whose music he particularly admired,

in the 1960s he gradually began to embrace

an eclectic use of a wider variety of musical

styles. In addition to four large-scale operas

and numerous concertos, Bolcom has also

written nine symphonies, twelve string quartets,

four violin sonatas, numerous piano rags,

four volumes of gospel preludes for organ,

four volumes of cabaret songs, three musical

theatre works and a one-act chamber opera.

Chamber Works features two pieces, the

Trio for Horn, Violin and Piano (2017) and

the Suite No. 2 for Solo Violin (2011). The Trio

showcases each instrument to its fullest in

both soloistic and ensemble capacities and,

while mostly atonal, the work incorporates

brief moments of tonality that reorient

the listener's ears and provide a grounding

element, especially in the more tumultuous

movements. The Suite, conversely, is exquisitely

tuneful and is clearly structured around

the dance forms of Baroque solo violin

suites, especially those of J.S. Bach. Rhythmic

vitality and instrumental virtuosity reign

supreme here, and the performance given by

violinist Philip Ficsor is both admirable and

noteworthy.

The piano rag, (i.e. ragtime), is a musical

style that reached its peak popularity between

1895 and 1919. A precursor to the development

of jazz, ragtime is characterized by

its syncopated or "ragged" rhythm and was

popularized during the early 20th century

by composer Scott Joplin and his school of

classical ragtime.

Although it fell out

of favour in the

1920s, composers

and performers

alike have revived

the styles and forms

of the genre in

the decades since,

including Bolcom. His collection of rags is

among the finest adaptations of ragtime

within contemporary music, achieving a

blend of stylistic familiarity and artistic creativity

that is unique while avoiding appearing

derivative or gauche.

And who better to handle Bolcom's ingenious

rags than Marc-André Hamelin, perhaps

Canada's premier interpreter of contemporary

music? As someone who successfully

handled the seemingly insurmountable

piano works of Kaikhosru Sorabji and

Charles-Valentin Alkan, Hamelin's name is

synonymous with "unplayable" scores that

transcend the conventional understanding

of virtuosity. Here, however, he lends his deft

touch to material that is considerably less

demanding from a technical perspective yet

has certain stylistic requirements, the challenges

of which he meets with precision and

sensitivity.

For those familiar with the music of

Bolcom, both of these recordings are guaranteed

to be a delight; they also serve as fine

starting points for those who are unfamiliar.

The Complete Rags adapts an old yet familiar

style through a master performer's touch,

while Chamber Works provides a glimpse

into Bolcom's more modern approach, a

perfect pairing for anyone interested in this

icon of American modernism.

Matthew Whitfield

Concert Note: Marc-André Hamelin gives a

recital in Koerner Hall on October 16 (3pm).

Derek Bermel – Intonations – Music for

Clarinet and Strings

Derek Bermel; Christopher Otto; Wiek

Hijmans; JACK Quartet

Naxos 8.559912 (naxos.com/

CatalogueDetail/?id=8.559912)

! What amazing

art evolves from

decaying empires!

Consider this new

release by Derek

Bermel. Widely

travelled, juxtaposing

American

styles like twangy

folk and wrenching blues, adding elements

from farther afield (South American, African,

Thracian), Bermel fashions wonderful curiosities

from this mittful of influences.

Intonations, played with surly strut by the

JACK Quartet, is all bending pitches and

grinding gears, although the second movement,

Hymn/Homily is poignant and sweet.

thewholenote.com September 20 - November 8, 2022 | 57