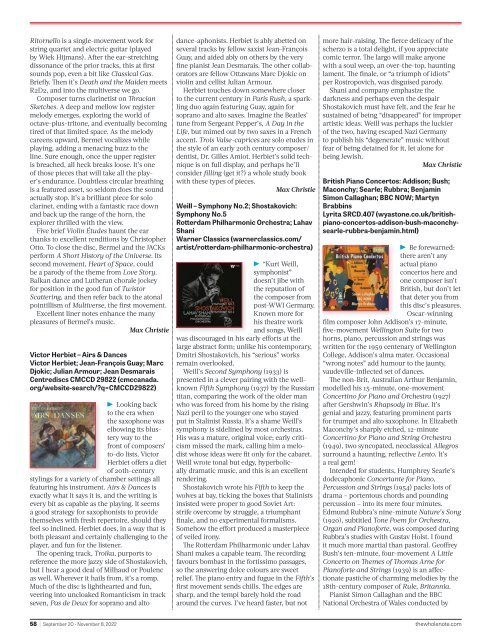 Volume 28 Issue 1 | September 20 - November 8, 2022
Our 28th season in print! "And Now, Back to Live Action"; a symphonic-sized listings section, compared to last season; clubs "On the move" ; FuturesStops Festival and Nuit Blanche; "Pianistic high-wire acts"; Season announcements include full-sized choral works like Mendelssohn's Elijah; "Icons, innovators and renegades" pulling out all the stops.
Our 28th season in print! "And Now, Back to Live Action"; a symphonic-sized listings section, compared to last season; clubs "On the move" ; FuturesStops Festival and Nuit Blanche; "Pianistic high-wire acts"; Season announcements include full-sized choral works like Mendelssohn's Elijah; "Icons, innovators and renegades" pulling out all the stops.
SHOW MORE
SHOW LESS
Create successful ePaper yourself
Turn your PDF publications into a flip-book with our unique Google optimized e-Paper software.
Ritornello is a single-movement work for

string quartet and electric guitar (played

by Wiek Hijmans). After the ear-stretching

dissonance of the prior tracks, this at first

sounds pop, even a bit like Classical Gas.

Briefly. Then it's Death and the Maiden meets

R2D2, and into the multiverse we go.

Composer turns clarinetist on Thracian

Sketches. A deep and mellow low register

melody emerges, exploring the world of

octave-plus-tritone, and eventually becoming

tired of that limited space. As the melody

careens upward, Bermel vocalizes while

playing, adding a menacing buzz to the

line. Sure enough, once the upper register

is breached, all heck breaks loose. It's one

of those pieces that will take all the player's

endurance. Doubtless circular breathing

is a featured asset, so seldom does the sound

actually stop. It's a brilliant piece for solo

clarinet, ending with a fantastic race down

and back up the range of the horn, the

explorer thrilled with the view.

Five brief Violin Études haunt the ear

thanks to excellent renditions by Christopher

Otto. To close the disc, Bermel and the JACKs

perform A Short History of the Universe. Its

second movement, Heart of Space, could

be a parody of the theme from Love Story.

Balkan dance and Lutheran chorale jockey

for position in the good fun of Twistor

Scattering, and then refer back to the atonal

pointillism of Multiverse, the first movement.

Excellent liner notes enhance the many

pleasures of Bermel's music.

Max Christie

Victor Herbiet – Airs & Dances

Victor Herbiet; Jean-François Guay; Marc

Djokic; Julian Armour; Jean Desmarais

Centrediscs CMCCD 29822 (cmccanada.

org/website-search/?q=CMCCD29822)

! Looking back

to the era when

the saxophone was

elbowing its blustery

way to the

front of composers'

to-do lists, Victor

Herbiet offers a diet

of 20th-century

stylings for a variety of chamber settings all

featuring his instrument. Airs & Dances is

exactly what it says it is, and the writing is

every bit as capable as the playing. It seems

a good strategy for saxophonists to provide

themselves with fresh repertoire, should they

feel so inclined. Herbiet does, in a way that is

both pleasant and certainly challenging to the

player, and fun for the listener.

The opening track, Troika, purports to

reference the more jazzy side of Shostakovich,

but I hear a good deal of Milhaud or Poulenc

as well. Wherever it hails from, it's a romp.

Much of the disc is lighthearted and fun,

veering into uncloaked Romanticism in track

seven, Pas de Deux for soprano and alto

dance-aphonists. Herbiet is ably abetted on

several tracks by fellow saxist Jean-François

Guay, and aided ably on others by the very

fine pianist Jean Desmarais. The other collaborators

are fellow Ottawans Marc Djokic on

violin and cellist Julian Armour.

Herbiet touches down somewhere closer

to the current century in Paris Rush, a sparkling

duo again featuring Guay, again for

soprano and alto saxes. Imagine the Beatles'

tune from Sergeant Pepper's, A Day in the

Life, but mimed out by two saxes in a French

accent. Trois Valse-caprices are solo etudes in

the style of an early 20th century composer/

dentist, Dr. Gilles Amiot. Herbiet's solid technique

is on full display, and perhaps he'll

consider filling (get it?) a whole study book

with these types of pieces.

Max Christie

Weill – Symphony No.2; Shostakovich:

Symphony No.5

Rotterdam Philharmonic Orchestra; Lahav

Shani

Warner Classics (warnerclassics.com/

artist/rotterdam-philharmonic-orchestra)

! "Kurt Weill,

symphonist"

doesn't jibe with

the reputation of

the composer from

post-WWI Germany.

Known more for

his theatre work

and songs, Weill

was discouraged in his early efforts at the

large abstract form; unlike his contemporary,

Dmitri Shostakovich, his "serious" works

remain overlooked.

Weill's Second Symphony (1933) is

presented in a clever pairing with the wellknown

Fifth Symphony (1937) by the Russian

titan, comparing the work of the older man

who was forced from his home by the rising

Nazi peril to the younger one who stayed

put in Stalinist Russia. It's a shame Weill's

symphony is sidelined by most orchestras.

His was a mature, original voice; early criticism

missed the mark, calling him a melodist

whose ideas were fit only for the cabaret.

Weill wrote tonal but edgy, hyperbolically

dramatic music, and this is an excellent

rendering.

Shostakovich wrote his Fifth to keep the

wolves at bay, ticking the boxes that Stalinists

insisted were proper to good Soviet Art:

strife overcome by struggle, a triumphant

finale, and no experimental formalisms.

Somehow the effort produced a masterpiece

of veiled irony.

The Rotterdam Philharmonic under Lahav

Shani makes a capable team. The recording

favours bombast in the fortissimo passages,

so the answering dolce colours are sweet

relief. The piano entry and fugue in the Fifth's

first movement sends chills. The edges are

sharp, and the tempi barely hold the road

around the curves. I've heard faster, but not

more hair-raising. The fierce delicacy of the

scherzo is a total delight, if you appreciate

comic terror. The largo will make anyone

with a soul weep, an over-the-top, haunting

lament. The finale, or "a triumph of idiots"

per Rostropovich, was disguised parody.

Shani and company emphasize the

darkness and perhaps even the despair

Shostakovich must have felt, and the fear he

sustained of being "disappeared" for improper

artistic ideas. Weill was perhaps the luckier

of the two, having escaped Nazi Germany

to publish his "degenerate" music without

fear of being detained for it, let alone for

being Jewish.

Max Christie

British Piano Concertos: Addison; Bush;

Maconchy; Searle; Rubbra; Benjamin

Simon Callaghan; BBC NOW; Martyn

Brabbins

Lyrita SRCD.407 (wyastone.co.uk/britishpiano-concertos-addison-bush-maconchysearle-rubbra-benjamin.html)

! Be forewarned:

there aren't any

actual piano

concertos here and

one composer isn't

British, but don't let

that deter you from

this disc's pleasures.

Oscar-winning

film composer John Addison's 17-minute,

five-movement Wellington Suite for two

horns, piano, percussion and strings was

written for the 1959 centenary of Wellington

College, Addison's alma mater. Occasional

"wrong notes" add humour to the jaunty,

vaudeville-inflected set of dances.

The non-Brit, Australian Arthur Benjamin,

modelled his 15-minute, one-movement

Concertino for Piano and Orchestra (1927)

after Gershwin's Rhapsody in Blue. It's

genial and jazzy, featuring prominent parts

for trumpet and alto saxophone. In Elizabeth

Maconchy's sharply etched, 12-minute

Concertino for Piano and String Orchestra

(1949), two syncopated, neoclassical Allegros

surround a haunting, reflective Lento. It's

a real gem!

Intended for students, Humphrey Searle's

dodecaphonic Concertante for Piano,

Percussion and Strings (1954) packs lots of

drama – portentous chords and pounding

percussion – into its mere four minutes.

Edmund Rubbra's nine-minute Nature's Song

(1920), subtitled Tone Poem for Orchestra,

Organ and Pianoforte, was composed during

Rubbra's studies with Gustav Holst. I found

it much more martial than pastoral. Geoffrey

Bush's ten-minute, four-movement A Little

Concerto on Themes of Thomas Arne for

Pianoforte and Strings (1939) is an affectionate

pastiche of charming melodies by the

18th-century composer of Rule, Britannia.

Pianist Simon Callaghan and the BBC

National Orchestra of Wales conducted by

58 | September 20 - November 8, 2022 thewholenote.com