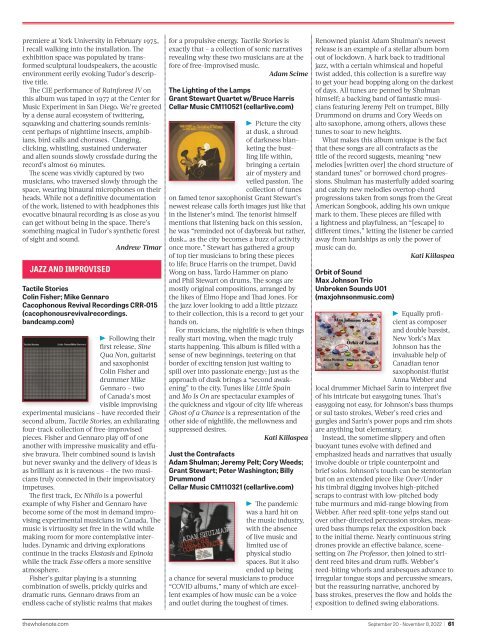 Volume 28 Issue 1 | September 20 - November 8, 2022
Our 28th season in print! "And Now, Back to Live Action"; a symphonic-sized listings section, compared to last season; clubs "On the move" ; FuturesStops Festival and Nuit Blanche; "Pianistic high-wire acts"; Season announcements include full-sized choral works like Mendelssohn's Elijah; "Icons, innovators and renegades" pulling out all the stops.
Our 28th season in print! "And Now, Back to Live Action"; a symphonic-sized listings section, compared to last season; clubs "On the move" ; FuturesStops Festival and Nuit Blanche; "Pianistic high-wire acts"; Season announcements include full-sized choral works like Mendelssohn's Elijah; "Icons, innovators and renegades" pulling out all the stops.
SHOW MORE
SHOW LESS
You also want an ePaper? Increase the reach of your titles
YUMPU automatically turns print PDFs into web optimized ePapers that Google loves.
premiere at York University in February 1975,

I recall walking into the installation. The

exhibition space was populated by transformed

sculptural loudspeakers, the acoustic

environment eerily evoking Tudor's descriptive

title.

The CIE performance of Rainforest IV on

this album was taped in 1977 at the Center for

Music Experiment in San Diego. We're greeted

by a dense aural ecosystem of twittering,

squawking and chattering sounds reminiscent

perhaps of nighttime insects, amphibians,

bird calls and choruses. Clanging,

clicking, whistling, sustained underwater

and alien sounds slowly crossfade during the

record's almost 69 minutes.

The scene was vividly captured by two

musicians, who traversed slowly through the

space, wearing binaural microphones on their

heads. While not a definitive documentation

of the work, listened to with headphones this

evocative binaural recording is as close as you

can get without being in the space. There's

something magical in Tudor's synthetic forest

of sight and sound.

Andrew Timar

JAZZ AND IMPROVISED

Tactile Stories

Colin Fisher; Mike Gennaro

Cacophonous Revival Recordings CRR-015

(cacophonousrevivalrecordings.

bandcamp.com)

! Following their

first release, Sine

Qua Non, guitarist

and saxophonist

Colin Fisher and

drummer Mike

Gennaro – two

of Canada's most

visible improvising

experimental musicians – have recorded their

second album, Tactile Stories, an exhilarating

four-track collection of free-improvised

pieces. Fisher and Gennaro play off of one

another with impressive musicality and effusive

bravura. Their combined sound is lavish

but never swanky and the delivery of ideas is

as brilliant as it is ravenous – the two musicians

truly connected in their improvisatory

impetuses.

The first track, Ex Nihilo is a powerful

example of why Fisher and Gennaro have

become some of the most in demand improvising

experimental musicians in Canada. The

music is virtuosity set free in the wild while

making room for more contemplative interludes.

Dynamic and driving explorations

continue in the tracks Ekstasis and Epinoia

while the track Esse offers a more sensitive

atmosphere.

Fisher's guitar playing is a stunning

combination of swells, prickly quirks and

dramatic runs. Gennaro draws from an

endless cache of stylistic realms that makes

for a propulsive energy. Tactile Stories is

exactly that – a collection of sonic narratives

revealing why these two musicians are at the

fore of free-improvised music.

Adam Scime

The Lighting of the Lamps

Grant Stewart Quartet w/Bruce Harris

Cellar Music CM110521 (cellarlive.com)

! Picture the city

at dusk, a shroud

of darkness blanketing

the bustling

life within,

bringing a certain

air of mystery and

veiled passion. The

collection of tunes

on famed tenor saxophonist Grant Stewart's

newest release calls forth images just like that

in the listener's mind. The tenorist himself

mentions that listening back on this session,

he was "reminded not of daybreak but rather,

dusk… as the city becomes a buzz of activity

once more." Stewart has gathered a group

of top tier musicians to bring these pieces

to life; Bruce Harris on the trumpet, David

Wong on bass, Tardo Hammer on piano

and Phil Stewart on drums. The songs are

mostly original compositions, arranged by

the likes of Elmo Hope and Thad Jones. For

the jazz lover looking to add a little pizzazz

to their collection, this is a record to get your

hands on.

For musicians, the nightlife is when things

really start moving, when the magic truly

starts happening. This album is filled with a

sense of new beginnings, teetering on that

border of exciting tension just waiting to

spill over into passionate energy; just as the

approach of dusk brings a "second awakening"

to the city. Tunes like Little Spain

and Mo Is On are spectacular examples of

the quickness and vigour of city life whereas

Ghost of a Chance is a representation of the

other side of nightlife, the mellowness and

suppressed desires.

Kati Kiilaspea

Just the Contrafacts

Adam Shulman; Jeremy Pelt; Cory Weeds;

Grant Stewart; Peter Washington; Billy

Drummond

Cellar Music CM110321 (cellarlive.com)

! The pandemic

was a hard hit on

the music industry,

with the absence

of live music and

limited use of

physical studio

spaces. But it also

ended up being

a chance for several musicians to produce

"COVID albums," many of which are excellent

examples of how music can be a voice

and outlet during the toughest of times.

Renowned pianist Adam Shulman's newest

release is an example of a stellar album born

out of lockdown. A hark back to traditional

jazz, with a certain whimsical and hopeful

twist added, this collection is a surefire way

to get your head bopping along on the darkest

of days. All tunes are penned by Shulman

himself; a backing band of fantastic musicians

featuring Jeremy Pelt on trumpet, Billy

Drummond on drums and Cory Weeds on

alto saxophone, among others, allows these

tunes to soar to new heights.

What makes this album unique is the fact

that these songs are all contrafacts as the

title of the record suggests, meaning "new

melodies [written over] the chord structure of

standard tunes" or borrowed chord progressions.

Shulman has masterfully added soaring

and catchy new melodies overtop chord

progressions taken from songs from the Great

American Songbook, adding his own unique

mark to them. These pieces are filled with

a lightness and playfulness, an "[escape] to

different times," letting the listener be carried

away from hardships as only the power of

music can do.

Kati Kiilaspea

Orbit of Sound

Max Johnson Trio

Unbroken Sounds U01

(maxjohnsonmusic.com)

! Equally proficient

as composer

and double bassist,

New York's Max

Johnson has the

invaluable help of

Canadian tenor

saxophonist/flutist

Anna Webber and

local drummer Michael Sarin to interpret five

of his intricate but easygoing tunes. That's

easygoing not easy, for Johnson's bass thumps

or sul tasto strokes, Weber's reed cries and

gurgles and Sarin's power pops and rim shots

are anything but elementary.

Instead, the sometime slippery and often

buoyant tunes evolve with defined and

emphasized heads and narratives that usually

involve double or triple counterpoint and

brief solos. Johnson's touch can be stentorian

but on an extended piece like Over/Under

his timbral digging involves high-pitched

scraps to contrast with low-pitched body

tube murmurs and mid-range blowing from

Webber. After reed split-tone yelps stand out

over other-directed percussion strokes, measured

bass thumps relax the exposition back

to the initial theme. Nearly continuous string

drones provide an effective balance, scenesetting

on The Professor, then joined to strident

reed bites and drum ruffs. Webber's

reed-biting whorls and arabesques advance to

irregular tongue stops and percussive smears,

but the reassuring narrative, anchored by

bass strokes, preserves the flow and holds the

exposition to defined swing elaborations.

thewholenote.com September 20 - November 8, 2022 | 61