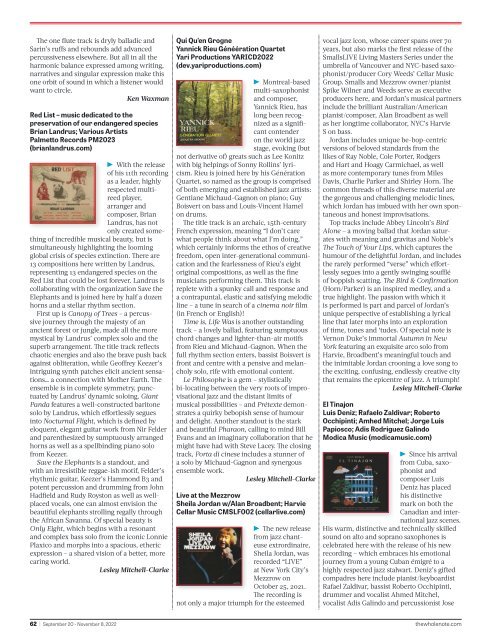 Volume 28 Issue 1 | September 20 - November 8, 2022
Our 28th season in print! "And Now, Back to Live Action"; a symphonic-sized listings section, compared to last season; clubs "On the move" ; FuturesStops Festival and Nuit Blanche; "Pianistic high-wire acts"; Season announcements include full-sized choral works like Mendelssohn's Elijah; "Icons, innovators and renegades" pulling out all the stops.
Our 28th season in print! "And Now, Back to Live Action"; a symphonic-sized listings section, compared to last season; clubs "On the move" ; FuturesStops Festival and Nuit Blanche; "Pianistic high-wire acts"; Season announcements include full-sized choral works like Mendelssohn's Elijah; "Icons, innovators and renegades" pulling out all the stops.
SHOW MORE
SHOW LESS
Create successful ePaper yourself
Turn your PDF publications into a flip-book with our unique Google optimized e-Paper software.
The one flute track is dryly balladic and

Sarin's ruffs and rebounds add advanced

percussiveness elsewhere. But all in all the

harmonic balance expressed among writing,

narratives and singular expression make this

one orbit of sound in which a listener would

want to circle.

Ken Waxman

Red List – music dedicated to the

preservation of our endangered species

Brian Landrus; Various Artists

Palmetto Records PM2023

(brianlandrus.com)

! With the release

of his 11th recording

as a leader, highly

respected multireed

player,

arranger and

composer, Brian

Landrus, has not

only created something

of incredible musical beauty, but is

simultaneously highlighting the looming

global crisis of species extinction. There are

13 compositions here written by Landrus,

representing 13 endangered species on the

Red List that could be lost forever. Landrus is

collaborating with the organization Save the

Elephants and is joined here by half a dozen

horns and a stellar rhythm section.

First up is Canopy of Trees – a percussive

journey through the majesty of an

ancient forest or jungle, made all the more

mystical by Landrus' complex solo and the

superb arrangement. The title track reflects

chaotic energies and also the brave push back

against obliteration, while Geoffrey Keezer's

intriguing synth patches elicit ancient sensations…

a connection with Mother Earth. The

ensemble is in complete symmetry, punctuated

by Landrus' dynamic soloing. Giant

Panda features a well-constructed baritone

solo by Landrus, which effortlessly segues

into Nocturnal Flight, which is defined by

eloquent, elegant guitar work from Nir Felder

and parenthesized by sumptuously arranged

horns as well as a spellbinding piano solo

from Keezer.

Save the Elephants is a standout, and

with an irresistible reggae-ish motif, Felder's

rhythmic guitar, Keezer's Hammond B3 and

potent percussion and drumming from John

Hadfield and Rudy Royston as well as wellplaced

vocals, one can almost envision the

beautiful elephants strolling regally through

the African Savanna. Of special beauty is

Only Eight, which begins with a resonant

and complex bass solo from the iconic Lonnie

Plaxico and morphs into a spacious, etheric

expression – a shared vision of a better, more

caring world.

Lesley Mitchell-Clarke

Qui Qu'en Grogne

Yannick Rieu Généération Quartet

Yari Productions YARICD2022

(dev.yariproductions.com)

! Montreal-based

multi-saxophonist

and composer,

Yannick Rieu, has

long been recognized

as a significant

contender

on the world jazz

stage, evoking (but

not derivative of) greats such as Lee Konitz

with big helpings of Sonny Rollins' lyricism.

Rieu is joined here by his Génération

Quartet, so named as the group is comprised

of both emerging and established jazz artists:

Gentiane Michaud-Gagnon on piano; Guy

Boisvert on bass and Louis-Vincent Hamel

on drums.

The title track is an archaic, 15th-century

French expression, meaning "I don't care

what people think about what I'm doing,"

which certainly informs the ethos of creative

freedom, open inter-generational communication

and the fearlessness of Rieu's eight

original compositions, as well as the fine

musicians performing them. This track is

replete with a spunky call and response and

a contrapuntal, elastic and satisfying melodic

line – a tune in search of a cinema noir film

(in French or English)!

Time is, Life Was is another outstanding

track – a lovely ballad, featuring sumptuous

chord changes and lighter-than-air motifs

from Rieu and Michaud-Gagnon. When the

full rhythm section enters, bassist Boisvert is

front and centre with a pensive and melancholy

solo, rife with emotional content.

Le Philosophe is a gem – stylistically

bi-locating between the very roots of improvisational

jazz and the distant limits of

musical possibilities – and Prétexte demonstrates

a quirky bebopish sense of humour

and delight. Another standout is the stark

and beautiful Pharaon, calling to mind Bill

Evans and an imaginary collaboration that he

might have had with Steve Lacey. The closing

track, Porta di cinese includes a stunner of

a solo by Michaud-Gagnon and synergous

ensemble work.

Lesley Mitchell-Clarke

Live at the Mezzrow

Sheila Jordan w/Alan Broadbent; Harvie

Cellar Music CMSLF002 (cellarlive.com)

! The new release

from jazz chanteuse

extrordinaire,

Sheila Jordan, was

recorded "LIVE"

at New York City's

Mezzrow on

October 25, 2021.

The recording is

not only a major triumph for the esteemed

vocal jazz icon, whose career spans over 70

years, but also marks the first release of the

SmallsLIVE Living Masters Series under the

umbrella of Vancouver and NYC-based saxophonist/producer

Cory Weeds' Cellar Music

Group. Smalls and Mezzrow owner/pianist

Spike Wilner and Weeds serve as executive

producers here, and Jordan's musical partners

include the brilliant Australian/American

pianist/composer, Alan Broadbent as well

as her longtime collaborator, NYC's Harvie

S on bass.

Jordan includes unique be-bop-centric

versions of beloved standards from the

likes of Ray Noble, Cole Porter, Rodgers

and Hart and Hoagy Carmichael, as well

as more contemporary tunes from Miles

Davis, Charlie Parker and Shirley Horn. The

common threads of this diverse material are

the gorgeous and challenging melodic lines,

which Jordan has imbued with her own spontaneous

and honest improvisations.

Top tracks include Abbey Lincoln's Bird

Alone – a moving ballad that Jordan saturates

with meaning and gravitas and Noble's

The Touch of Your Lips, which captures the

humour of the delightful Jordan, and includes

the rarely performed "verse" which effortlessly

segues into a gently swinging soufflé

of boppish scatting. The Bird & Confirmation

(Horn/Parker) is an inspired medley, and a

true highlight. The passion with which it

is performed is part and parcel of Jordan's

unique perspective of establishing a lyrical

line that later morphs into an exploration

of time, tones and 'tudes. Of special note is

Vernon Duke's immortal Autumn in New

York featuring an exquisite arco solo from

Harvie, Broadbent's meaningful touch and

the inimitable Jordan crooning a love song to

the exciting, confusing, endlessly creative city

that remains the epicentre of jazz. A triumph!

Lesley Mitchell-Clarke

El Tinajon

Luis Deniz; Rafaelo Zaldivar; Roberto

Occhipinti; Amhed Mitchel; Jorge Luis

Papiosco; Adis Rodriguez Galindo

Modica Music (modicamusic.com)

! Since his arrival

from Cuba, saxophonist

and

composer Luis

Deniz has placed

his distinctive

mark on both the

Canadian and international

jazz scenes.

His warm, distinctive and technically skilled

sound on alto and soprano saxophones is

celebrated here with the release of his new

recording – which embraces his emotional

journey from a young Cuban émigré to a

highly respected jazz stalwart. Deniz's gifted

compadres here include pianist/keyboardist

Rafael Zaldivar, bassist Roberto Occhipinti,

drummer and vocalist Ahmed Mitchel,

vocalist Adis Galindo and percussionist Jose

62 | September 20 - November 8, 2022 thewholenote.com