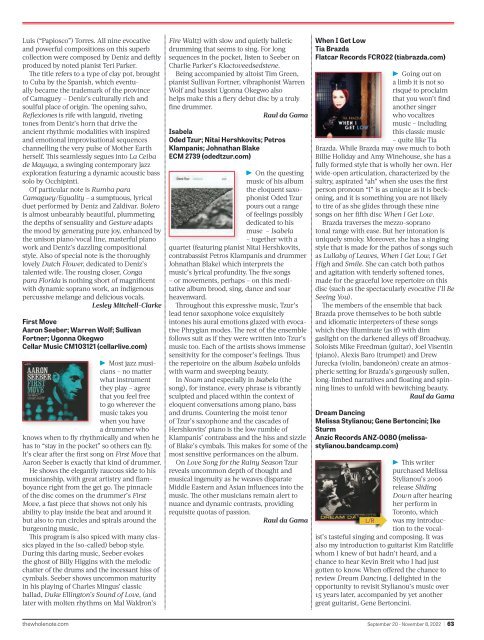 Volume 28 Issue 1 | September 20 - November 8, 2022
Our 28th season in print! "And Now, Back to Live Action"; a symphonic-sized listings section, compared to last season; clubs "On the move" ; FuturesStops Festival and Nuit Blanche; "Pianistic high-wire acts"; Season announcements include full-sized choral works like Mendelssohn's Elijah; "Icons, innovators and renegades" pulling out all the stops.
Our 28th season in print! "And Now, Back to Live Action"; a symphonic-sized listings section, compared to last season; clubs "On the move" ; FuturesStops Festival and Nuit Blanche; "Pianistic high-wire acts"; Season announcements include full-sized choral works like Mendelssohn's Elijah; "Icons, innovators and renegades" pulling out all the stops.
SHOW MORE
SHOW LESS
Create successful ePaper yourself
Turn your PDF publications into a flip-book with our unique Google optimized e-Paper software.
Luis ("Papiosco") Torres. All nine evocative

and powerful compositions on this superb

collection were composed by Deniz and deftly

produced by noted pianist Teri Parker.

The title refers to a type of clay pot, brought

to Cuba by the Spanish, which eventually

became the trademark of the province

of Camaguey – Deniz's culturally rich and

soulful place of origin. The opening salvo,

Reflexiones is rife with languid, riveting

tones from Deniz's horn that drive the

ancient rhythmic modalities with inspired

and emotional improvisational sequences

channelling the very pulse of Mother Earth

herself. This seamlessly segues into La Ceiba

de Mayuya, a swinging contemporary jazz

exploration featuring a dynamic acoustic bass

solo by Occhipinti.

Of particular note is Rumba para

Camaguey/Equality – a sumptuous, lyrical

duet performed by Deniz and Zaldivar. Bolero

is almost unbearably beautiful, plummeting

the depths of sensuality and Gesture adapts

the mood by generating pure joy, enhanced by

the unison piano/vocal line, masterful piano

work and Deniz's dazzling compositional

style. Also of special note is the thoroughly

lovely Dutch Flower, dedicated to Deniz's

talented wife. The rousing closer, Conga

para Florida is nothing short of magnificent

with dynamic soprano work, an indigenous

percussive melange and delicious vocals.

Lesley Mitchell-Clarke

First Move

Aaron Seeber; Warren Wolf; Sullivan

Fortner; Ugonna Okegwo

Cellar Music CM103121 (cellarlive.com)

! Most jazz musicians

– no matter

what instrument

they play – agree

that you feel free

to go wherever the

music takes you

when you have

a drummer who

knows when to fly rhythmically and when he

has to "stay in the pocket" so others can fly.

It's clear after the first song on First Move that

Aaron Seeber is exactly that kind of drummer.

He shows the elegantly raucous side to his

musicianship, with great artistry and flamboyance

right from the get go. The pinnacle

of the disc comes on the drummer's First

Move, a fast piece that shows not only his

ability to play inside the beat and around it

but also to run circles and spirals around the

burgeoning music,

This program is also spiced with many classics

played in the (so-called) bebop style.

During this daring music, Seeber evokes

the ghost of Billy Higgins with the melodic

chatter of the drums and the incessant hiss of

cymbals. Seeber shows uncommon maturity

in his playing of Charles Mingus' classic

ballad, Duke Ellington's Sound of Love, (and

later with molten rhythms on Mal Waldron's

Fire Waltz) with slow and quietly balletic

drumming that seems to sing. For long

sequences in the pocket, listen to Seeber on

Charlie Parker's Klactoveedsedstene.

Being accompanied by altoist Tim Green,

pianist Sullivan Fortner, vibraphonist Warren

Wolf and bassist Ugonna Okegwo also

helps make this a fiery debut disc by a truly

fine drummer.

Raul da Gama

Isabela

Oded Tzur; Nitai Hershkovits; Petros

Klampanis; Johnathan Blake

ECM 2739 (odedtzur.com)

! On the questing

music of his album

the eloquent saxophonist

Oded Tzur

pours out a range

of feelings possibly

dedicated to his

muse – Isabela

– together with a

quartet (featuring pianist Nitai Hershkovits,

contrabassist Petros Klampanis and drummer

Johnathan Blake) which interprets the

music's lyrical profundity. The five songs

– or movements, perhaps – on this meditative

album brood, sing, dance and soar

heavenward.

Throughout this expressive music, Tzur's

lead tenor saxophone voice exquisitely

intones his aural emotions glazed with evocative

Phrygian modes. The rest of the ensemble

follows suit as if they were written into Tzur's

music too. Each of the artists shows immense

sensitivity for the composer's feelings. Thus

the repertoire on the album Isabela unfolds

with warm and sweeping beauty.

In Noam and especially in Isabela (the

song), for instance, every phrase is vibrantly

sculpted and placed within the context of

eloquent conversations among piano, bass

and drums. Countering the moist tenor

of Tzur's saxophone and the cascades of

Hershkovits' piano is the low rumble of

Klampanis' contrabass and the hiss and sizzle

of Blake's cymbals. This makes for some of the

most sensitive performances on the album.

On Love Song for the Rainy Season Tzur

reveals uncommon depth of thought and

musical ingenuity as he weaves disparate

Middle Eastern and Asian influences into the

music. The other musicians remain alert to

nuance and dynamic contrasts, providing

requisite quotas of passion.

Raul da Gama

When I Get Low

Tia Brazda

Flatcar Records FCR022 (tiabrazda.com)

! Going out on

a limb it is not so

risqué to proclaim

that you won't find

another singer

who vocalizes

music – including

this classic music

– quite like Tia

Brazda. While Brazda may owe much to both

Billie Holiday and Amy Winehouse, she has a

fully formed style that is wholly her own. Her

wide-open articulation, characterized by the

sultry, aspirated "ah" when she uses the first

person pronoun "I" is as unique as it is beckoning,

and it is something you are not likely

to tire of as she glides through these nine

songs on her fifth disc When I Get Low.

Brazda traverses the mezzo-soprano

tonal range with ease. But her intonation is

uniquely smoky. Moreover, she has a singing

style that is made for the pathos of songs such

as Lullaby of Leaves, When I Get Low, I Get

High and Smile. She can catch both pathos

and agitation with tenderly softened tones,

made for the graceful love repertoire on this

disc (such as the spectacularly evocative I'll Be

Seeing You).

The members of the ensemble that back

Brazda prove themselves to be both subtle

and idiomatic interpreters of these songs

which they illuminate (as if) with dim

gaslight on the darkened alleys off Broadway.

Soloists Mike Freedman (guitar), Joel Visentin

(piano), Alexis Baro (trumpet) and Drew

Jurecka (violin, bandoneón) create an atmospheric

setting for Brazda's gorgeously sullen,

long-limbed narratives and floating and spinning

lines to unfold with bewitching beauty.

Raul da Gama

Dream Dancing

Melissa Stylianou; Gene Bertoncini; Ike

Sturm

Anzic Records ANZ-0080 (melissastylianou.bandcamp.com)

! This writer

purchased Melissa

Stylianou's 2006

release Sliding

Down after hearing

her perform in

Toronto, which

was my introduction

to the vocalist's

tasteful singing and composing. It was

also my introduction to guitarist Kim Ratcliffe

whom I knew of but hadn't heard, and a

chance to hear Kevin Breit who I had just

gotten to know. When offered the chance to

review Dream Dancing, I delighted in the

opportunity to revisit Stylianou's music over

15 years later, accompanied by yet another

great guitarist, Gene Bertoncini.

thewholenote.com September 20 - November 8, 2022 | 63