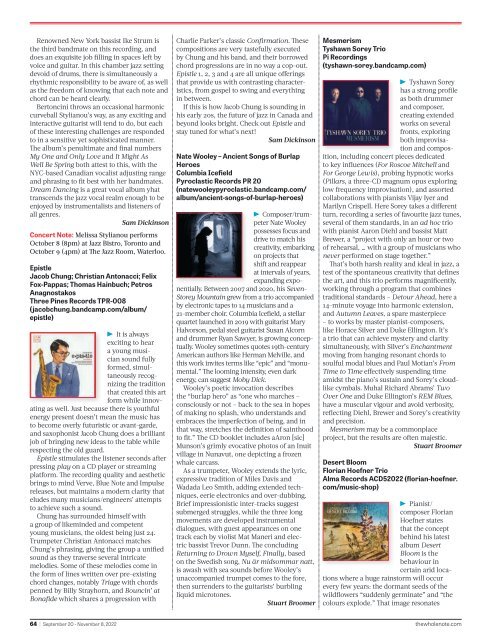 Volume 28 Issue 1 | September 20 - November 8, 2022
Our 28th season in print! "And Now, Back to Live Action"; a symphonic-sized listings section, compared to last season; clubs "On the move" ; FuturesStops Festival and Nuit Blanche; "Pianistic high-wire acts"; Season announcements include full-sized choral works like Mendelssohn's Elijah; "Icons, innovators and renegades" pulling out all the stops.
Our 28th season in print! "And Now, Back to Live Action"; a symphonic-sized listings section, compared to last season; clubs "On the move" ; FuturesStops Festival and Nuit Blanche; "Pianistic high-wire acts"; Season announcements include full-sized choral works like Mendelssohn's Elijah; "Icons, innovators and renegades" pulling out all the stops.
SHOW MORE
SHOW LESS
Create successful ePaper yourself
Turn your PDF publications into a flip-book with our unique Google optimized e-Paper software.
Renowned New York bassist Ike Strum is

the third bandmate on this recording, and

does an exquisite job filling in spaces left by

voice and guitar. In this chamber jazz setting

devoid of drums, there is simultaneously a

rhythmic responsibility to be aware of, as well

as the freedom of knowing that each note and

chord can be heard clearly.

Bertoncini throws an occasional harmonic

curveball Stylianou's way, as any exciting and

interactive guitarist will tend to do, but each

of these interesting challenges are responded

to in a sensitive yet sophisticated manner.

The album's penultimate and final numbers

My One and Only Love and It Might As

Well Be Spring both attest to this, with the

NYC-based Canadian vocalist adjusting range

and phrasing to fit best with her bandmates.

Dream Dancing is a great vocal album yhat

transcends the jazz vocal realm enough to be

enjoyed by instrumentalists and listeners of

all genres.

Sam Dickinson

Concert Note: Melissa Stylianou performs

October 8 (8pm) at Jazz Bistro, Toronto and

October 9 (4pm) at The Jazz Room, Waterloo.

Epistle

Jacob Chung; Christian Antonacci; Felix

Fox-Pappas; Thomas Hainbuch; Petros

Anagnostakos

Three Pines Records TPR-008

(jacobchung.bandcamp.com/album/

epistle)

! It is always

exciting to hear

a young musician

sound fully

formed, simultaneously

recognizing

the tradition

that created this art

form while innovating

as well. Just because there is youthful

energy present doesn't mean the music has

to become overly futuristic or avant-garde,

and saxophonist Jacob Chung does a brilliant

job of bringing new ideas to the table while

respecting the old guard.

Epistle stimulates the listener seconds after

pressing play on a CD player or streaming

platform. The recording quality and aesthetic

brings to mind Verve, Blue Note and Impulse

releases, but maintains a modern clarity that

eludes many musicians/engineers' attempts

to achieve such a sound.

Chung has surrounded himself with

a group of likeminded and competent

young musicians, the oldest being just 24.

Trumpeter Christian Antonacci matches

Chung's phrasing, giving the group a unified

sound as they traverse several intricate

melodies. Some of these melodies come in

the form of lines written over pre-existing

chord changes, notably Triage with chords

penned by Billy Strayhorn, and Bouncin' at

Bonafide which shares a progression with

Charlie Parker's classic Confirmation. These

compositions are very tastefully executed

by Chung and his band, and their borrowed

chord progressions are in no way a cop-out.

Epistle 1, 2, 3 and 4 are all unique offerings

that provide us with contrasting characteristics,

from gospel to swing and everything

in between.

If this is how Jacob Chung is sounding in

his early 20s, the future of jazz in Canada and

beyond looks bright. Check out Epistle and

stay tuned for what's next!

Sam Dickinson

Nate Wooley – Ancient Songs of Burlap

Heroes

Columbia Icefield

Pyroclastic Records PR 20

(natewooleypyroclastic.bandcamp.com/

album/ancient-songs-of-burlap-heroes)

! Composer/trumpeter

Nate Wooley

possesses focus and

drive to match his

creativity, embarking

on projects that

shift and reappear

at intervals of years,

expanding exponentially.

Between 2007 and 2020, his Seven-

Storey Mountain grew from a trio accompanied

by electronic tapes to 14 musicians and a

21-member choir. Columbia Icefield, a stellar

quartet launched in 2019 with guitarist Mary

Halvorson, pedal steel guitarist Susan Alcorn

and drummer Ryan Sawyer, is growing conceptually.

Wooley sometimes quotes 19th-century

American authors like Herman Melville, and

this work invites terms like "epic" and "monumental."

The looming intensity, even dark

energy, can suggest Moby Dick.

Wooley's poetic invocation describes

the "burlap hero" as "one who marches –

consciously or not – back to the sea in hopes

of making no splash, who understands and

embraces the imperfection of being, and in

that way, stretches the definition of sainthood

to fit." The CD booklet includes aAron [sic]

Munson's grimly evocative photos of an Inuit

village in Nunavut, one depicting a frozen

whale carcass.

As a trumpeter, Wooley extends the lyric,

expressive tradition of Miles Davis and

Wadada Leo Smith, adding extended techniques,

eerie electronics and over-dubbing.

Brief impressionistic inter-tracks suggest

submerged struggles, while the three long

movements are developed instrumental

dialogues, with guest appearances on one

track each by violist Mat Maneri and electric

bassist Trevor Dunn. The concluding

Returning to Drown Myself, Finally, based

on the Swedish song, Nu är midsommar natt,

is awash with sea sounds before Wooley's

unaccompanied trumpet comes to the fore,

then surrenders to the guitarists' burbling

liquid microtones.

Stuart Broomer

Mesmerism

Tyshawn Sorey Trio

Pi Recordings

(tyshawn-sorey.bandcamp.com)

! Tyshawn Sorey

has a strong profile

as both drummer

and composer,

creating extended

works on several

fronts, exploring

both improvisation

and composition,

including concert pieces dedicated

to key influences (For Roscoe Mitchell and

For George Lewis), probing hypnotic works

(Pillars, a three-CD magnum opus exploring

low frequency improvisation), and assorted

collaborations with pianists Vijay Iyer and

Marilyn Crispell. Here Sorey takes a different

turn, recording a series of favourite jazz tunes,

several of them standards, in an ad hoc trio

with pianist Aaron Diehl and bassist Matt

Brewer, a "project with only an hour or two

of rehearsal, … with a group of musicians who

never performed on stage together."

That's both harsh reality and ideal in jazz, a

test of the spontaneous creativity that defines

the art, and this trio performs magnificently,

working through a program that combines

traditional standards – Detour Ahead, here a

14-minute voyage into harmonic extension,

and Autumn Leaves, a spare masterpiece

– to works by master pianist-composers,

like Horace Silver and Duke Ellington. It's

a trio that can achieve mystery and clarity

simultaneously, with Silver's Enchantment

moving from hanging resonant chords to

soulful modal blues and Paul Motian's From

Time to Time effectively suspending time

amidst the piano's sustain and Sorey's cloudlike

cymbals. Muhal Richard Abrams' Two

Over One and Duke Ellington's REM Blues,

have a muscular vigour and avoid verbosity,

reflecting Diehl, Brewer and Sorey's creativity

and precision.

Mesmerism may be a commonplace

project, but the results are often majestic.

Stuart Broomer

Desert Bloom

Florian Hoefner Trio

Alma Records ACD52022 (florian-hoefner.

com/music-shop)

! Pianist/

composer Florian

Hoefner states

that the concept

behind his latest

album Desert

Bloom is the

behaviour in

certain arid locations

where a huge rainstorm will occur

every few years: the dormant seeds of the

wildflowers "suddenly germinate" and "the

colours explode." That image resonates

64 | September 20 - November 8, 2022 thewholenote.com