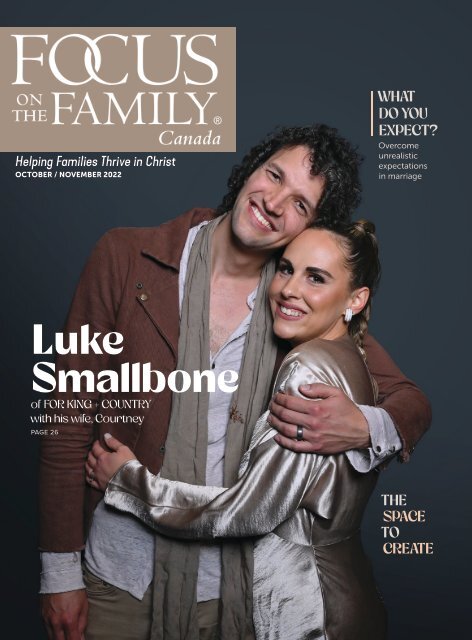 Focus on the Family Magazine - October/November 2022
It can be a struggle to raise a family while balancing your work life, social life and relationships. Focus on the Family magazine is here to help! Each complimentary issue delivers fresh, practical Biblical guidance on family and life topics. Every issue comes packed with relevant advice to build up your kids, strengthen your marriage, navigate entertainment and culture, and handle common challenges you may face in your marriage and parenting journeys. Plus you'll find seasonal advice ranging from back-to-school activities to date night tips for you and your spouse.
It can be a struggle to raise a family while balancing your work life, social life and relationships. Focus on the Family magazine is here to help! Each complimentary issue delivers fresh, practical Biblical guidance on family and life topics.

Every issue comes packed with relevant advice to build up your kids, strengthen your marriage, navigate entertainment and culture, and handle common challenges you may face in your marriage and parenting journeys. Plus you'll find seasonal advice ranging from back-to-school activities to date night tips for you and your spouse.
SHOW MORE
SHOW LESS
Create successful ePaper yourself
Turn your PDF publications into a flip-book with our unique Google optimized e-Paper software.
Helping Families Thrive in Christ

OCTOBER / NOVEMBER 2022

WHAT

DO YOU

EXPECT?

Overcome

unrealistic

expectations

in marriage

Luke

Smallbone

of FOR KING + COUNTRY

with his wife, Courtney

PAGE 26

THE

SPACE

TO

CREATE
---
The pressures facing families

today are growing

You can give couples, parents, grandparents, children, aunts and uncles

practical help for the issues they're facing. Whether it's a broadcast, article,

video series or PDF download, families are finding help through ong>Focusong> on the

Family Canada. Your support will allow us to develop even more resources

and address more of the topics that families are facing these days.

Will you donate today so every family looking for biblically

based support can get the help they need?

Simply visit ong>Focusong>OnTheFamily.ca/HelpFamilies or call 1.800.661.9800
---
OCTOBER / NOVEMBER

Contents

© CAREY SHAW / STOCKSY UNITED

Couples

13 OUR FRIDAY CONNECTION

A marriage insight from Athenia

Angion as told to Sarah Brickens

14 CREAMED, MASHED AND SLAMMED

After feeling belittled by my husband's

family, I found a way to be at peace

with my place at their table

by Karen Ehman

15 OUR JOURNEY TOWARD HEALING

After a difficult season of marriage,

we rediscovered how to have

fun together

by Jill Savage

18 WHAT DO YOU EXPECT?

Learn how to overcome unrealistic

expectations in your marriage

by Mike Bechtle

21 UNREPENTANT PATTERNS

How to recognize signs of

emotional abuse in your marriage

by Darby Strickland

24 TWO MUCH OF A GOOD THING

Can your marriage handle

another you?

by Dave Meurer

Faith & Inspiration

26 'I NEED YOU MORE'

Luke Smallbone's bold faith amid

struggles inspires For King &

Country's musical journey

by Benjamin Hawkins

31 TOO OLD TO FOSTER?

How one couple helped a sibling

group caught in the foster care

system

by Johnston Moore

34 DOING MY BEST TO SPOIL MY KIDS

How I help my children overindulge

in God's goodness

by Sandy Mayle

In Every

Issue

4 LETTER FROM THE

PRESIDENT

5 HACKS & FACTS

Kids & Teens

36 THE BIGGEST REWARD

Our family found a solution

to morning chaos

by Elsa Kok Colopy

38 THE SPACE TO CREATE

Encourage your kids to explore,

innovate and use their imagination

by Lori Z. Scott

42 THE GRAND

CAREGIVING COMPROMISE

Should your parents be your

children's caregivers?

by Susan Layland

44 MEDIA

45 PRODUCTS & RESOURCES

46 MY THRIVING FAMILY

OCTOBER / NOVEMBER 2022 FOCUS ON THE FAMILY 3
---
LETTER FROM THE PRESIDENT

Jean-Paul Beran is

president of ong>Focusong> on

the Family Canada.

I DON'T KNOW ABOUT YOU,

but I find gratitude very easy to practice

when everything is going well. When my

daughters are happy and healthy, my

relationship with my wife, Susan, is strong,

friendships are fulfilling, work is rewarding—

there is so much to be thankful for.

But what about when things aren't going

well? It feels impossible to have a grateful

heart when there's sickness, relational tension,

grief and loss, mental health challenges,

global crises, the list goes on. What is there to be thankful for in

those instances?

In 1 Thessalonians 5:16-18, we are told, "Rejoice always, pray

without ceasing, give thanks in all circumstances; for this is the

will of God in Christ Jesus for you." We are to give thanks in all

circumstances, not because of any personal strength or mindover-matter

thinking, but because Christ Jesus makes it possible.

He is always with us, always ready to pour his love into our lives.

Even in the difficult seasons, he is there, and we can be grateful

for that amazing gift in our lives.

In this issue of the magazine, you'll find a few stories of

people who went through difficult seasons and became more

dependent on God and more at peace. Luke Smallbone from

the band For King & Country shares his story of how his faith

grew amidst struggles (page 26). Jill Savage explains how she

and her husband, Mark, learned to find joy after going through

a rocky season in their marriage (page 15). And Ginny and Ted's

story of fostering reveals God's love in action, even in the midst

of difficulty (page 31).

I pray you are reminded of God's nearness, no matter what

season you find yourself in, and you find reason to rejoice

in him and give thanks to him. And remember, if you need

any support to help your family thrive, visit our website at

ong>Focusong>OnTheFamily.ca, email us at info@fotf.ca or call our

team at 1.800.661.9800.

Blessings,

Jean-Paul Beran

Gratitude in

every season

CLINT BARGEN PHOTOGRAPHY

president Jim Daly

chief operating officer Ken Windebank

chief marketing and

content officer Tim Sawer

focus canada president Jean-Paul Beran

editorial director Sheila Seifert

managing editor Andrea Gutierrez

copy chief Scott DeNicola

associate editors Sarah Brickens,

Faith Wismer

contributing editors Vance Fry,

Marianne Hering, Meredith Hinds,

Thomas Jeffries, Jennifer Lonas, Jeff

Masching, Rebecca Nordquist

art director Anneka Jack

designer Brian Mellema

cover Ronald Pollard for

K-LOVE Fan Awards

media publishing director Kevin Shirin

editorial assistant Kat Bittner

print production Gail Wise

circulation Erika Lynch

Thank you!

ong>Focusong> on the Family provides this magazine and

other resources through the generosity of friends

like you. ong>Focusong>OnTheFamily.ca/Donate

For a subscription, go to ong>Focusong>OnTheFamily.ca/

Magazine.

ong>Focusong> on the Family magazine October/November 2022,

Vol. 7, No. 5 ISSN 2471-5921, © 2022 ong>Focusong> on the Family.

All rights reserved. Published by ong>Focusong> on the Family,

a nonprofit organization recognized for tax-deductible

giving by the federal government. ong>Focusong> on the Family is

a federally registered trademark of ong>Focusong> on the Family.

To notify us of an address change or to contact ong>Focusong>

on the Family Canada: 1-800-661-9800; 19946 80A

Ave, Langley, BC, V2Y 0J8; info@fotf.ca

Scripture quotations, unless otherwise indicated, are

from the ESV® Bible (The Holy Bible, English Standard

Version®), copyright © 2001 by Crossway, a publishing

ministry of Good News Publishers. Used by

permission. All rights reserved. The ESV text may not

be quoted in any publication made available to the

public by a Creative Commons license. The ESV may

not be translated into any other language.

IMPORTANT NOTICE! By submitting letters and other

materials, you agree 1) they become the property of

ong>Focusong> on the Family and will not be returned; 2) ong>Focusong>

on the Family, its assigns and licensees, have been

granted the nonexclusive right to use and/or

reproduce the materials in any manner for any

purpose. Our agreement is made in Colorado and

controlled by Colorado law.

Send author submissions to

ong>Focusong>MagSubmissions@family.org.

REPRINT PERMISSION:

ong>Focusong>OnTheFamily.com/permissions

Website references do not constitute blanket

endorsement or complete agreement by ong>Focusong> on

the Family with information or resources offered at

or through those sites.

Return undeliverable Canadian addresses to:

ong>Focusong> on the Family, 19946 80A Avenue, Langley, BC

V2Y 0J8; 800-661-9800; info@fotf.ca;

GST# 10684 5969 RT0001

Printed in the U.S.A. Paper manufactured by a mill that

practices sustainable forestry.

4

FOCUS ON THE FAMILY

OCTOBER / NOVEMBER 2022
---
Hacks & Facts

CLEVER IDEAS FOR SMARTER PARENTING

YOUR PARENTING HACK

Do you have a parenting tip that other families could apply

at Thanksgiving? If so, it could be published in ong>Focusong> on

the Family magazine.

• Keep it under 150 words.

• Make it hands-on and practical.

• Write it from your own perspective, describing what you did and

how it helped train your kids to be more grateful.

Though not all submissions are published, all are read and

considered. Learn more at ong>Focusong>OnTheFamily.com/Submission.

Or send your idea to Hacks&Facts@fotf.org.

ERIN DRAGO

OCTOBER / NOVEMBER 2022 FOCUS ON THE FAMILY 5
---
HACKS & FACTS / GRATITUDE

76%

of parents rate teaching their

children gratitude as a high priority

source: Mott Poll Report, 2021

grateful for the thought

My kids and I talk through what might happen if one of

them receives a gift that they have no interest in. Together,

we list other things for which they can be grateful.

For instance, my daughter doesn't play with dolls but

occasionally receives them as gifts. We brainstormed

how she could still be grateful that the giver was willing to

spend money to buy or make her the gift. We also talked

about how to express these sentiments to the gift-giver,

such as "How nice of you to think of me!"

By practicing ahead of time, our kids more easily adjust

to a disappointing gift while still expressing (and feeling)

gratitude.

—Elizabeth James

more than a

thank-you

Our family members follow up a

thank-you with a more detailed

appreciation, such as: "Thank you.

I like this kind of sandwich." This

also applies to instances when my

kids have spent time at a friend's

or grandparent's house. We ask

our kids to think of a specific thing

they liked doing as a guest in

someone's house so that when

it's time to leave, a child might

say, "Thank you. I liked the snacks

you made," or "I had fun playing

with your toy train." I've found

that modeling and developing

this habit of speech for and in

my children helps them show

gratitude.

—Christina Nunes

LITTLE

WAYS TO

say thanks

When my daughter was a toddler,

we'd visit veterans at memorials or

parades. Because she wasn't very

outspoken, we decorated labels to

make thank-you stickers. She liked

giving something instead of talking,

so this motivated her to approach a

veteran and thank him or her. The

responses from the veterans were

heartfelt.

My kids are also in charge of our

thank-you box for delivery drivers.

They've made a sign describing the

offered treats and a note saying,

"Thank you for working hard." The

box sits on our porch, and my children

routinely fill it with drinks.

—Allison Struber

SONDEM / STOCK.ADOBE.COM

6

FOCUS ON THE FAMILY

OCTOBER / NOVEMBER 2022
---
GRATITUDE / HACKS & FACTS

LEAVES OF

gratitude

Every fall my children and I tape a

brown, construction-paper tree with

branches to the wall. Then we use

autumn colors such as reds, oranges

and yellows to form different-shaped

leaves. These leaves sit in a basket on

our kitchen table.

Each night at dinner, we talk about

what we're each thankful for. Then

we write our thoughts of gratitude on

the leaves. One by one, family members

tape their leaves to the tree. By the

end of the month, we have a tree covered

in leaves of gratitude—a wonderful

reminder of God's faithfulness and our

many blessings.

—Jenny Nanninga

Download our free Kids of

Integrity lesson on Gratitude!

KidsOfIntegrity.com/Gratitude

pausing for

appreciation

When my children were toddlers, I

would pause in serving their plate at

mealtimes until they first said thank

you. They quickly learned to show

appreciation. I helped them develop

this habit in other situations, too,

including saying thank you when I

delivered their clean laundry to them.

Now they're 10 years old, and they

still thank me if I've washed their bed

sheets or prepared a meal.

—Linsey Driskill

grateful greetings

ERIN DRAGO

Though I may have many thoughts

and worries to unload on my husband

when he comes home, I try to make

sure that the children see a grateful

attitude from me and a lighthearted

exchange between us when we first

greet. And when our family prays

together at the dinner table, it's

become our habit to start off by

praising God for His many blessings.

—Laura Costea

OCTOBER / NOVEMBER 2022 FOCUS ON THE FAMILY 7
---
HACKS & FACTS / CHURCH COMMUNITY

building

BONDS

THROUGH

MINISTRY

talent on display

My two sons helped build wheelchair ramps

and served on the clean-up crew as part of a

men's ministry at our church. The guys volunteer

their time to work on small construction

and maintenance projects for people in the

community. My sons were able to form bonds

with fellow church members and better see how

a team can work together, using their skills to

share the love of Christ with others.

—Carol Bradfield

Our church hosted an open house for all the kids. Children could sign up

for short presentations to display their artwork, play an instrument or recite

poetry. The turnout was fabulous, and the kids learned new things about

one another. My son, Isaac, discovered how beautifully his friend Jacob

could sculpt with clay. Hannah, my preschooler, stood onstage with her

stuffed tiger and told the kids about her trip to the zoo. It created a bond

among the mothers in attendance, and the kids all looked forward to the

next community event.

—Jennifer Henn

little greeter

My 6-year-old daughter expressed

an interest in helping out on

Sundays at church. I'm ashamed

to say I put her off at first because I

thought she would distract me and

others and not stay interested. But

she was persistent. Finally, I asked,

"Honey, how do you want to help?"

"Like you do," she replied.

I was one of our greeters. I made

it my mission to take notice of people

and make conversation with

them. She wanted to show hospitality

as well. So, from then on, she

joined me. Quickly, the greeting

team understood that she wasn't

simply tagging along, but instead a

little sister in Christ who was part of

the team.

—Anna E. Hannigan

VICKY SCOTT

8

FOCUS ON THE FAMILY

OCTOBER / NOVEMBER 2022
---
CANDY / HACKS & FACTS

only AS A TREAT

During meals, my husband and I focus on

highlighting the foods that give us healthy

energy, such as vegetables and meat. When

we do have sweets, we call them "sugary

treats," and we explain how they are delicious,

but they don't provide our bodies with much

nourishment. We talk about how too much

candy or other sugary treats can make our

bodies feel tired and our bellies feel sick. Being

consistent with this messaging has helped my

toddler understand that candy is a treat, not a

food he should eat in abundance.

—Autumn Shaffer

a sometimes food

At our home, candy isn't totally off limits;

it isn't bad, and it isn't meant to be eaten

alone. In order to teach my toddler, I keep

the guideline short and sweet: "Candy is a

sometimes food." When we eat candy, we

share in it together because eating is a social

activity, and we're celebrating or having

fun together. Even our young toddler can

remember that candy is a "sometimes food."

we buy apples

—Melissa Johnson

©LEXIA FRANK / STOCKSY UNITED; (WOOD TEXTURE) BARTSADOWSKI / STOCK.ADOBE.COM

designed for health

The Bible does instruct us to treat our bodies

with respect, but no food by itself is really "good"

or "bad." God simply designed our bodies to

need more vegetables and less candy, and for

our meals and snacks, we honor Him by eating

what we need to stay healthy.

—Claire Walker

I keep fruit on hand for healthy snacks.

Eventually, our son began asking for apple

slices instead of junk food. Our kids will

become what they eat, but he'll eat what

we buy, so we buy what we want. And we

buy apples.

—Priscilla Boafo

Trick-or-treaters on

average consume

up to 7,000 calories,

which is equal to

three cups of sugar

or 169 sugar cubes.

source: National Retail Federation
---
sick day

slideshow

One day when my boys were sick, we

hooked up a laptop to the TV and

watched videos and pictures from our

family photo stream. They loved seeing

pictures of themselves from when they

were younger. This activity kept them

distracted and in a positive mood.

—Iva Saller

comforting care kit

After trying to force our toddler to rest (with little to no success),

we decided to create a care kit. This kit has quiet activities (books,

puzzles and other small toys), tissues, a blanket and easily

digestible foods such as applesauce. When my daughter is sick,

we get out the care kit and let her choose to snuggle up on the

couch with a blanket or do some of the activities. Since the only

time she can use these activities is when she is sick, they are

special enough to motivate her to sit and play for a while. This

allows her body to rest and avoids a power struggle between us.

—Autumn Shaffer

hot water

bottle rescue

I keep my preschool son still and

comforted when he is sick by using an

old-fashioned water bottle. I fill it with

very warm tap water and wrap it in a

soft blanket. While lying on the couch

or in his bed, he puts it where he hurts

or simply cuddles it.

As long as he doesn't have a high

fever, the hot water bottle calms him.

When he calls my name in the middle

of the night, I take him the bottle, and

then I leave his room to retrieve medicine.

Most often, he's already fallen

asleep by the time I return.

—Jennifer Henn

calm recovery

One thing that helped keep our son

calm when he was sick was a late afternoon

walk (weather permitting). Being

cooped up in the house all day felt wearying

after a while, not only for him,

but for me as well. A walk was refreshing,

and if my son got tired, he could

rest in the stroller. Back home, I would

remind my little one that he is loved and

that I was there to comfort him. I would

pray with my son and remind him that

God loved him and would help him get

through this illness. I would sing, "He's

got the whole world in His hands." More

often than not, my boy would fall asleep

or rest quietly afterward.

—Julie Murrin

tent cocoon

When our kids were sick, we frequently

turned a corner of our family room into

a recovery spot. By creating an inviting

"tent cocoon" space complete with an

air mattress, blankets, pillows, stuffed

animals, books, etc., we were more

successful in gaining some additional

resting time. The new space felt like a

treat rather than a forced confinement.

The tent's closer proximity to the main

living area made it easier for me, too.

—Nancy Koenig

doctor

IN CHARGE

When my toddler was sick, we pretended that

she was the doctor in charge of her "patients"

(stuffed animals), and her job was to take care

of them and make sure they got plenty of rest.

We got out her doctor kit and let her put Band-

Aids on them, check their temperature and use

her stethoscope. It helped reinforce my advice

that rest is best when you're sick and helped

her remember how to take care of herself

when she's not feeling well.

—Emily Yang

ERIN DRAGO

10

FOCUS ON THE FAMILY

OCTOBER / NOVEMBER 2022
---
SICKNESS / HACKS & FACTS

under-the weather tales

Nothing helps my children relax and forget about

what is ailing them more than getting lost in a

storybook while staying cozy. If they are feeling up

for it, I even let them become a storyteller. As they tell

the tale, I write down their ideas. This gets their brains

active, and it allows their body to rest when it is most

needed. When they are feeling better it's fun to read

the stories they came up with.

—Alicia Gorski

audio adventures

When they were sick, my kids were much more

willing to lie on the couch or snuggle quietly when I

would let them listen to audio books or other stories.

We listened to Adventures in Odyssey, Your Story

Hour, Curious George and other shorter stories that

were age appropriate. I encouraged them to listen

while closing their eyes, and they would often drift

off to sleep.

—Martha Artyomenko

Colds affect toddlers and

preschoolers around eight

times a year.

source: Dr. Cynthia Gellner, University of Utah

OCTOBER / NOVEMBER 2022 FOCUS ON THE FAMILY 11
---
Make your strong marriage

even stronger with our

conferences and retreats!

Based on proven, biblically based principles, these conferences and

retreats provide couples with practical tools to create a more

vibrant, intimate and loving marriage.

For dates, locations and details, visit

EnrichYourMarriage.ca

a ministry of
---
Couples

our friday

connection

A marriage

insight from

Athenia Angion

as told to Sarah

Brickens

REGARDLESS OF OUR

BUSY SCHEDULES, my husband

and I find time to connect each

week. Since I work out of town and

my husband has Fridays off, he rides

with me to work so we can spend that

time together. He and I have made this

a weekly tradition. While driving, we

listen to and discuss radio programs,

plan weekend activities and make dinner

plans.

Once my husband drops me off,

he'll find a quiet place in town to catch

up on tasks from his two jobs as a pastor

and university president. When

my shift is over, my husband picks me

up, and we go out to eat. Other times,

my husband and I share the high and

low moments of our days at dinner.

No matter our schedules, we look for

opportunities to transform our routines

into meaningful moments in our

marriage. •

Athenia Angion and her husband, the Rev. Dr.

Stanford E. Angion, have been married for 27

years and have two grown daughters.

The Rev. Dr. Stanford

and Athenia Angion

ASHLEY BROOKE PHOTOGRAPHY

OCTOBER / NOVEMBER 2022 FOCUS ON THE FAMILY 13
---
COUPLES / IN-LAW CONFLICT

After feeling belittled by my husband's

family, I found a way to be at peace with

my place at their table

BY KAREN EHMAN

I WAS EAGER to place my firstever

homemade pie among the sweet

offerings at my husband's extended

family's get-together. Grabbing a can

of whipped cream as I headed out the

door, I envisioned satisfied smiles and

sincere compliments surrounding my

pretty pumpkin pastry.

What I hadn't anticipated, however,

was a backhanded comment about

how my husband's family never sprays

canned whipped cream onto their pies.

They whip fresh cream and grate nutmeg

on top. Sigh. My hopes of holiday

glory were deflated, and I felt like a

culinary flop.

I've had my mothering skills subtly

slammed, my method of mashing potatoes

called into question—and worse.

Amid the different personalities, lifestyles,

religious beliefs and political

views—even opinions on pie toppings—

these gatherings had the potential to

cause tension in my marriage. But I

came to realize loving my in-laws was

an extension of loving my husband.

A fresh perspective

Happy family gatherings didn't always

materialize, and my feelings were

repeatedly—and sometimes deeply—

hurt. Although I couldn't change

the people or circumstances, I could

change my outlook and honor my

husband.

I started to rely on Romans 12:18

when interacting with my husband's

extended family members: "If it is possible,

as far as it depends on you, live

at peace with everyone" (NIV). I'm not

single-handedly responsible for bringing

peace to family gatherings and can't

close the curtain on every scene of

drama. But I can control my words and

actions.

At peace

As far as it depends on me, I can

behave.

I can change the subject. I can

speak in a calm tone when answering

a combative person. I can go play

with the children or quietly do the

dishes. Or I can simply say nothing

at all.

As far as it depends on me, I can

weigh each word I say, asking myself

if it's totally appropriate, completely

necessary and ultimately gracious.

Then later, I can look back and see

I chose—to the best of my ability—

to create peace. I can give goodbye

hugs and leave with no regrets. Well,

except for eating that second piece of

pumpkin pie. •

Karen Ehman is a Proverbs 31 Ministries speaker

and a New York Times bestselling author. Karen

and her husband, Todd, reside in Michigan and

have three children.

LISTEN NOW!

Karen Ehman offers ways for busy

families to offer hospitality

ong>Focusong>OnTheFamily.ca/Radio

ILLUSTRATION BY SASKIA BUENO

14

FOCUS ON THE FAMILY

OCTOBER / NOVEMBER 2022
---
RESTORATION / COUPLES

our journey toward healing

After a difficult season of marriage, we

rediscovered how to have fun together

BY JILL SAVAGE

©JOE ST.PIERRE PHOTOGRAPHY / STOCKSY UNITED

(PATTERN) ALEXANDERZAM / STOCK.ADOBE.COM

WE HAD THE CONVERSATION

on a Thursday afternoon while driving

home from our marriage counseling

appointment. My husband, Mark, and I

were just four months into our year-anda-half

marriage restoration journey after

his infidelity. Counseling appointments,

apologies, forgiveness and an attempt to

figure out the underlying dysfunction in

our relationship were consuming most of

our time and energy.

As we made the hour-long drive home,

Mark broke the silence. "So when do we get

to start having fun together again?"

It was a question I'd also been feeling but

hadn't been able to put into words. I was

grateful he'd verbalized my thoughts. Yes, it

was time for us to put some fun back into

our relationship.

Enjoying life again as a couple is important

after experiencing a marriage crisis or a

hard season together. Yet as Mark and I discovered,

this doesn't just happen. We had

to intentionally put the fun back into our

relationship.

Whether you and your spouse have been

through a crisis or just need fresh ideas

to enjoy each other, here are some strategies

that can increase the fun factor in your

marriage. >>>

OCTOBER / NOVEMBER 2022 FOCUS ON THE FAMILY 15
---
COUPLES / RESTORATION

Laugh together

As Mark and I recognized the need for

fun in our relationship, we intentionally

began to look for the funny side

of life again. We shared lighthearted

memes with each other and watched

Christian comedians on YouTube. We

talked about funny things we heard or

experienced throughout the day. As

we laughed together, we felt that easy

bond we'd had with each other return.

When we go through a difficult

season in our marriages, everything

becomes serious. We focus so intently

on the hurt that we often miss the

humor in everyday life. But we can

choose to think about the things that

once made us laugh together as a couple

and pursue them again.

Create a list of things you

enjoy doing together

Sometimes we just need to get back to

the simple things we've always enjoyed

doing as a couple. These may include

activities at home, such as playing

cards or board games, sitting on the

porch together or reading, cooking or

stargazing. Or your activities might

take you on an adventure away from

home, such as going out to dinner,

antiquing, hiking, traveling or playing

golf together.

Mark and I left those fun things

behind during our marriage crisis, so

we made a point of reintegrating them

into our lives. We even scheduled one

fun activity at least every other week.

We enjoyed each activity and now

look forward to those times together.

Scheduling some fun ahead of time

and putting it on the calendar helps

us prioritize time to do the things we

enjoy as a couple.

Reserve hard

conversations for the

counselor's office

One of the best things Mark and I did

was resist tackling hard conversations

on our own. We knew we could easily

slide into confrontation, especially while

we were enjoying an activity together.

Since we didn't want to ruin the

lighthearted tone and fun atmosphere,

we decided to keep a list of issues we

needed to talk about at our weekly

counseling appointments. That was

the safest place to bring up conflicts.

Reserving touchy topics for counseling

kept them from putting a damper

on our fun. Since we knew the issues

would get addressed, we didn't feel the

need to let them leak into our conversations.

This protected our fun and gave

us the freedom to enjoy time together.

16

FOCUS ON THE FAMILY

OCTOBER / NOVEMBER 2022
---
LISTEN NOW!

Mark and Jill Savage share their

personal story of rebuilding trust

in their marriage.

ong>Focusong>OnTheFamily.ca/Radio

©JOE ST.PIERRE PHOTOGRAPHY

/ STOCKSY UNITED; (PATTERN)

ALEXANDERZAM / STOCK.ADOBE.COM

Dream together

When our marriages are in crisis, we

tend to focus on the here and now. It's

hard to think about the future when

we're hurting. But as the wounds begin

to heal, looking forward as a couple

is an important way to restore joy in

our relationships. Mark and I bonded

as we began to share our hopes and

dreams again. We started asking each

other questions like:

• What's one thing on your bucket list?

• Where would you love to go on vacation

sometime?

• What do you think God's vision is for

us as a couple?

• What's one thing you're looking forward

to over the next year?

• If we went on a day-trip, where would

we go and what would we do?

• What dream do we need to pursue

again that we gave up perhaps

prematurely?

Questions like these gave us a vision

for the future and helped us tune in to

each other's desires.

Explore

If you and your spouse have trouble

finding common ground in your pursuit

of fun, you're not alone. This often

happens with couples whose lives and

interests have changed over the years.

But don't believe for one minute that

this makes you incompatible. (After all,

every married couple is wonderfully

incompatible!) Instead, see those differences

as permission to explore new

activities together. You might be pleasantly

surprised.

Mark and I had to resist clinging to

our likes and dislikes and instead be

willing to give new things a try. When

I suggested taking dance lessons, my

husband balked at first, but he found

that he actually enjoyed learning how

to swing dance. Initially I didn't like

the idea of riding with him on his

motorcycle, but after I got past my

fear, I grew to love those times together.

Sure, we tried some activities that one

or both of us didn't enjoy, but we just

crossed them off our list. More often

than not, we were surprised that we

actually enjoyed more activities than

we thought we would.

Ultimately, it's all about attitude.

When it comes to having fun together,

an "I'm willing to give it a try" mentality

goes a long way! •

Jill Savage is a wife, mom and marriage coach.

She and her husband, Mark, are the authors

of No More Perfect Marriages: Experience the

freedom of being real together.

OCTOBER / NOVEMBER 2022 FOCUS ON THE FAMILY 17
---
COUPLES / EXPECTATIONS

what do you expect?
---
EXPECTATIONS / COUPLES

Learn how to overcome

unrealistic expectations

in your marriage

BY MIKE BECHTLE

ILLUSTRATION BY LUISA JUNG

ON DAY ONE OF OUR

HONEYMOON, I was looking

forward to relaxing. For me that meant

reading and having deep conversations

with my new wife. After our crazy season

of wedding preparation, I assumed

Diane would feel the same way. But

she wanted to hike and explore and go

places and was convinced that's what

I wanted to do as well. In the end, we

went for a long hike and had a deep

discussion about expectations. We

addressed them early enough that they

didn't threaten the well-being of our

new marriage.

Clear expectations open the door

to healthy relationships. But when

we don't communicate or handle

our expectations well, they can wreak

havoc on our marriages. Let's consider

two of the most dangerous expectations

so we can identify them when

they pop up and deal with them in a

healthy way.

Unrealistic expectations

of yourself

"I found a great throw pillow on sale

today," Diane told me. "It's the exact

color we've been looking for to go with

the living-room couch. It was $30, but

it's marked down to $6. Do we have

enough money in the budget to get it?"

"Yes," I lied. "Of course."

We didn't have $6. It was early in our

marriage, and money was tight. Since

I handled the finances, Diane was just

asking if we could afford to get the pillow.

Yet I assumed that if I told her the

truth, she would be disappointed—not

just that she couldn't buy the pillow,

but in me as a provider as well.

I believed that because I was the

husband, I should be good at handling

money. In truth, I was terrible at it,

but I tried to cover up my inadequacy,

which made everything worse.

I put our finances at risk because I

expected I could be a perfect husband,

and that was more important to me

than being honest with Diane. Worse,

my wife wasn't getting to know the real

me because I was hiding behind a false

image of myself. I could never meet

my own expectation, but rather than

let it go, I clung to it—until she learned

the truth when checks bounced and

creditors called. That led to tough conversations

that were embarrassing for

me, but it also forced us to be honest

with each other.

I had to admit that I wasn't good

with finances. My gift was creativity,

but Diane was gifted with logic and

order. So she took over the budget, and

we both relaxed. I came to realize that

not being able to handle our finances

didn't mean I wasn't a good husband

or provider.

Our spouses don't need us to be perfect;

they just need us to be honest and

authentic. Had I been up-front with

Diane about our finances and my failure

in managing them, we could have

worked out a solution together rather

than waiting until the truth seeped

out and the problems were bigger and

more consequential.

Unrealistic expectations of

your spouse

The first time I put away the dishes in

our new home, I didn't tell Diane I had

done it. I wanted her to notice and tell

me how amazing I was. But she didn't

notice, and I was hurt. Then I got quiet,

hoping she would figure out what was

wrong. She didn't notice that either.

Expecting our spouses to be mind

readers can lead to untold misunderstandings

and arguments, withdrawal

and a loss of intimacy. Fortunately,

I slowly realized that being a mind

reader wasn't in Diane's skill set. By

placing that expectation on her, I was

disrespecting her. She needed me to

honor her by communicating exactly

what I wanted her to know, understand

or do. >>>

OCTOBER / NOVEMBER 2022 FOCUS ON THE FAMILY 19
---
Patnes

– in life and love –

Does your

marriage

NEED

HEALING?

HOPE RESTORED® INTENSIVES

CAN HELP.

Our multi-day counseling intensives provide

couples with personalized, biblically based

support. Whatever you're going through—

infidelity, intimacy issues, communication

breakdowns, etc.—you and your spouse can

get started on a path toward healing.

TAKE A STEP TOWARD HOPE.

Learn more at HopeRestored.com

Or call 1-866-875-2915

Resources

for your

marriage

Order online at

Shop.ong>Focusong>OnTheFamily.ca

or call 1.800.661.9800

When we moved into our current

house 15 years ago, we noticed how

dated the baseboards looked. We

replaced them one room at a time but

never got around to the guest room.

The room needed new carpeting, so

we figured we'd update the baseboards

then. But finances got tight, and the

old carpet remained.

One day, I noticed those baseboards

had never been painted. I decided to

tackle them even though we still hadn't

replaced the old carpet. So I pulled

back the furniture and gave those baseboards

a fresh coat of white paint.

When Diane came home, I didn't

wait for her to notice. I simply said,

"Could you come into the guest room

so you can ooh and aah over the baseboards

I painted?"

She grabbed my hand, and we

walked into the guest room together.

She slowly looked around and playfully

said, "Ooh! Aah!" Then she followed

up with a genuine compliment: "This

looks like a totally different room. The

new paint lightens the whole place.

You did a great job. Thanks!"

It was direct. It was fun. And the

respect and praise I received from her

lasted several days. Why? Because I

told her exactly what I needed.

Two simple solutions

We can neutralize these dangerous

expectations by applying two simple

solutions. First, we need to adjust our

expectations of ourselves and our

spouses. I've learned that I don't need

to be perfect to be a good spouse. I

love my wife best by being myself with

her. I also honor her when I share what

I'm thinking instead of expecting her

to be a mind reader.

Our spouses don't

need us to be perfect;

they just need us

to be honest and

authentic.

The second solution is to communicate

openly and honestly with each

other. It takes some humility, but once

we start connecting authentically, conversations

about expectations become

easier. Engaging in real dialogue with

our spouses helps us learn what each

person really desires. That builds trust,

which is the foundation of any healthy

relationship. It starts with a simple

statement like "Hey, honey, let me tell

you what I'm thinking" or "Can I share

with you what's going on?"

When a couple get married, two separate

people become one (Matthew

19:5). Expectations can divide us and

ultimately harm our marriage if we

don't talk about them. But sharing

our expectations and listening to each

other with an open mind draws us

closer and safeguards our love. •

Mike Bechtle is the author of many books,

including Dealing With the Elephant in the

Room: Moving from tough conversations to

healthy communication.

LISTEN NOW!

Hear more from Mike Bechtle as

he talks about how to use your

unique personality to share your

faith with others.

ong>Focusong>OnTheFamily.ca/Radio
---
EMOTIONAL ABUSE / COUPLES

How to recognize signs

of emotional abuse in

your marriage

BY DARBY STRICKLAND

SITTING WITH HER HUSBAND in

front of their pastor, trying not to cry, Angela*

spoke softly. "I'm worn out. I've been trying to

please Jason* while also caring for our home and

family. But I feel like nothing I do is ever enough.

I just never know when he'll be angry with me.

When he is, he yells and then ignores me for days."

Angela continued, "Three nights ago, Jason

spent over an hour pointing out all the things

I did not do that day."

Jason interjected: "When I get home, I want

things to be in order and dinner made. Instead,

I come home to find you still in your pajamas and

the house looking like a disaster area!"

Familiar with defending herself, Angela started

to explain. "Hailey was sick that day with a stomach

bug, so . . ."

Jason interrupted her. "You should hear your

whiny voice. Someone devoted to their marriage

doesn't complain about caring for their children or

use them as an excuse!" Jason was looking for the

pastor to agree with his frustration, but instead, he

was handing Angela tissues. >>>

OCTOBER / NOVEMBER 2022 FOCUS ON THE FAMILY 21
---
COUPLES / EMOTIONAL ABUSE

Is this emotional abuse?

Jason's criticism is harsh, and his

words are deeply hurtful and unsettling.

Is this just a typical marriage

conflict, or is it something more serious?

Emotional abuse occurs when one

spouse habitually elevates his or her

self-interest over the interests of the

other. An emotionally abusive spouse

seeks to dominate the other through

patterns of nonviolent, yet coercive,

punishing behaviors. All attention in

the relationship is centered on the

abuser and his or her demands.

But, a word of caution, emotional

abuse is one of the hardest forms of

abuse to recognize. Determining its

presence cannot solely be determined

by incidents of ugly behaviors including

name-calling, blame-shifting and

yelling in anger. Sins like these occur in

most marriages at some time or other.

The difference is that, for most spouses

who've acted out in such an inappropriate

manner, they are moved by the

pain they've caused and eventually

repent. Again, emotional abuse typically

involves ongoing, unrepentant

patterns of coercion and control.

To decide if Jason is abusive to

Angela, we would want to find out

more about their marriage. Are his

desires healthy ones or unreasonable

demands? How does he respond when

he's disappointed? Does he have an

ongoing pattern of ignoring and berating

her when she doesn't meet his

expectations? Is she afraid to express

how he hurts her? Looking for these

patterns of coercive control is key.

Criticism and conflict

As the meeting with their pastor went

on, Jason continued his criticism.

"Angela's always tending to the kids,

but I have needs, too. I've put up with

so much from her. I do not think she

respects me."

Angela tried to protest, "I respect

you and see how hard you work."

But he interrupted her again. "If

you respected me, you wouldn't

question me. You'd take time to put

yourself together and look decent."

At this, the pastor finally spoke up.

"Angela, I hear Jason saying some hard

things. What's that like for you?"

Angela hesitated, but Jason was

quick to speak. "I have to say hard

things, and she needs to stop questioning

me. If she parented better, the kids

would not take up all her time. She

needs to step up and be a better wife."

The longer we listen in, the clearer

the situation becomes. Jason's expectations

are unreasonable, and when

Angela doesn't meet them, he has

no regard for her circumstances and

punishes her with shame and isolation.

We also notice that he frequently

interrupts and berates her, and she

seems to be afraid of setting him off.

Is abuse part of your story?

Do you resonate with Angela's story?

Ongoing crushing expectations and a

domineering attitude from a husband

or a wife are not God-honoring or

acceptable behaviors.

If you're experiencing this in your

home, it's worth taking an inventory of

your marriage because the conflict you

are experiencing might rise to the level

of emotional abuse. Answer the following

questions to get a better sense of

the potential patterns developing in

your marriage:

• Are you anxious around your spouse?

• Are you afraid to make your spouse

upset because of his or her prior

responses?

• Are you exhausted from trying to

please your spouse?

• Are you told you "never get it right"?

• Do your spouse's expectations repeatedly

crush you?

• Does your spouse consistently complain

that you're a disappointment?

Emotional abuse does not always

take the form of cruel words. Abusers

use a variety of control tactics. Some

tactics are aggressive, such as yelling,

threatening, towering over you,

throwing objects or worse. Some are

passive, such as lying, ignoring or

22

FOCUS ON THE FAMILY

OCTOBER / NOVEMBER 2022
---
EMOTIONAL ABUSE / COUPLES

sulking. Abuse may also take the form of creating confusion,

"scorekeeping" or discrediting you. No matter what

tactics abusers use, they seek to coercively change your

behavior so they can live the lives they want. Ask yourself,

Does fear of my spouse change the way I serve him

or her? What am I afraid might happen if my spouse is

unhappy with me? God did not design marriage to be a

place where you feel fearfully enslaved to your spouse.

A final thought

At its core, emotional abuse is a heart problem. Instead of

following God's design for marriage, where each spouse

helps with the care and encouragement of the other, one

spouse coerces the other so that his or her expectations

and desires are met.

Thankfully, Angela's pastor suspected emotional abuse

and sent them for individual counseling. Why not joint

marriage counseling? Marriage counseling is not recommended

when abuse is present because the abused spouse

isn't free to share his or her experiences without risking further

criticism and punishment at home. Initially, individual

counseling is better suited to assess the severity of abuse

and screen for a spouse's safety.

If you remain unsure if what you're enduring is abuse,

please don't wait until things further deteriorate. Seek out

someone who can help you accurately discern your situation

and help to address your concerns. •

SEEK EXPERT HELP

November is National Domestic Violence Awareness

Month in Canada. For more help learning about different

forms of marital abuse, you can sign up for

Darby Strickland's free video series Understanding

Abuse in Marriage by visiting ong>Focusong>OnTheFamily.ca/

AbuseInMarriage.

If you have questions about emotional abuse or

are worried about the dynamics in your marriage,

call ong>Focusong> on the Family Canada at 1-800-661-9800

weekdays from 8 a.m. to 4 p.m. (Pacific time) for a

free one-time phone consultation with one of our

counsellors, or to be referred to a counsellor in

your area.

For a full list of helplines and shelters across Canada,

you can also visit EndingViolenceCanada.org. If

you are in immediate danger or fear for your safety,

please call 911.

*Names changed to protect privacy. This example features a female

victim of emotional abuse, but this advice can be applied to male

victims as well.

Darby Strickland is a counselor and faculty member for the

Christian Counseling & Educational Foundation. Darby has a Master

of Divinity degree in counseling from Westminster Theological

Seminary where she currently teaches a course on counseling

people in abusive marriages.

LISTEN NOW!

Darby Strickland offers guidance

to identify abuse in marriage.

ong>Focusong>OnTheFamily.ca/Radio

IS IT ABUSE?

BY DARBY STRICKLAND

Understand the dynamics of abuse.

This insightful book offers a wealth

of screening questions to help

determine the presence of abuse and

how to find support.

Shop.ong>Focusong>OnTheFamily.ca

OCTOBER / NOVEMBER 2022 FOCUS ON THE FAMILY 23
---
COUPLES / HUMOR

two much of a good thing

Can your marriage handle another you?

BY DAVE MEURER | ILLUSTRATION BY SERGIO EDWARDS

I WATCHED THE FINAL

LEAVES FALL from our tree out of

our large living room window. "I wish

I could create a clone of me to rake all

those leaves. Then I could enjoy the

comfort of my La-Z-Sloth recliner and

watch sports."

My wife, Dale, folded her arms and

frowned. "Two of you? Twice the laundry,

and twice the dirty dishes? If

you're trying to double my irritation,

you're succeeding."

"Think of it this way," I replied, warming

to the idea. "The other me would

technically be me, but a much more

disciplined version. He would pick up

his own socks, walk the dog and perform

oodles of other chores."

Dale looked thoughtful as she

tapped her finger on the windowsill.

"Interesting. I could replace you with

another more improved you. I am

beginning to see the plus side of this."

"Replace?" I shook my head. "No,

this would be an additional me, not a

replacement for me."

But she was now staring off into the

blustery day. "A helpful you. A you

who would rake leaves without complaining.

A kinder, more thoughtful

you. It would be like turning back the

clock to our newlywed days. I might

even want to go out to dinner with

this you."

The hair rose on the back of

my neck. "You can't date the new

me. That imposter would ruin our

marriage."

"I would never leave you," Dale said.

"But the replacement you would, technically,

be you. Same DNA, same

fingerprints, same everything. He could

be the wedding vow version of 'for better,'

and you could be the 'for worse.' "

"You can't replace me with me. I

can't be the other man in your life!"

"You're the one who wanted two of

you," Dale said.

"That was before I thought about

the theological implications. I'm sure

God had a very good reason for making

only one of me." I quickly put on

my jacket. "I'm off to rake the leaves. If

another me dares to touch a single leaf,

I will phone the authorities and have

myself hauled off for trespassing."

Dale blew me a kiss. "You're one of

a kind."

I nodded. "I don't think the world is

big enough for two of me."

"Neither do I," Dale agreed. •

Dave Meurer is a humor writer and nonfiction

book author.

24

FOCUS ON THE FAMILY

OCTOBER / NOVEMBER 2022
---
Faith & Inspiration

FOTF / BRIAN MELLEMA

OCTOBER / NOVEMBER 2022 FOCUS ON THE FAMILY 25
---
FAITH & INSPIRATION / TRUSTING GOD

Luke Smallbone's bold faith

amid struggles inspires For King

& Country's musical journey

BY BENJAMIN HAWKINS

Brothers Luke and Joel Smallbone

of For King & Country

26

FOCUS ON THE FAMILY

OCTOBER / NOVEMBER 2022
---
TRUSTING GOD / FAITH & INSPIRATION

OCTOBER / NOVEMBER 2022 FOCUS ON THE FAMILY 27
---
FAITH & INSPIRATION / TRUSTING GOD

CRADLING HER LIMP,

2-MONTH-OLD SON, Courtney

Smallbone ran out the door of her house. "Call

911," she cried to her husband, Luke, who was

mowing the lawn. "Call 911!"

Only a few moments earlier, on Sept. 15,

2017, Courtney had entered the room where

their son Leo was napping. She found him

silent and still, with blood running from his

nose. His skin was pale, and he wasn't breathing.

Courtney lifted Leo in her arms and darted

from the room, desperate for help.

As soon as Luke saw the motionless Leo, he

called 911 and followed his wife to their gravel

driveway. Courtney held Leo in her arms and

prayed. "In the name of Jesus, bring back my

boy," she said. "In the name of Jesus, put air

into his lungs."

Leo's skin was turning blue, and he was cold

to the touch. Luke wondered if they'd already

lost him. But, as Courtney prayed, Leo suddenly

took a deep breath. Then the ambulance arrived,

rushing Courtney and Leo to the hospital.

After family members arrived to watch their

other children, Luke quickly made his way to the

hospital. As one half of the popular Christianmusic

duo For King & Country, Luke naturally

processes his pain and struggles through lyrics.

As he drove to the hospital, he poured out his

prayer to God in an impromptu song.

In the blink of an eye, life flashed right in front

of my eyes, he sang. Never knew that the fear

could cripple my chest. In the blink of an eye,

the light left.

I need You more, he continued, I need You

more, more than ever before. I need You more.

Thanks to prompt treatment for Leo, Luke and

Courtney's prayers were answered. The medical

scare was over, but the impact of Luke's

prayer-song carried on, resonating on For King

& Country's 2018 album, Burn the Ships.

Luke says the "gift of struggle" has often

inspired his songs, helping to secure For King &

Country's success as four-time Grammy Award

winners. More importantly, however, Luke's

many struggles in life remind him just how

deeply he needs God's love and grace.

"As a young boy and, in some cases since I've

been doing music, I've been given the gift of

struggle," Luke says. "For me, music has been

about writing about those things . . . writing

about the gift of life, in some cases the gift of

sorrow, because it's in the sorrow that you

learn so much."

'We saw God show up'

Even as a child, Luke was familiar with the

struggles of life. In 1991, when Luke was only

5, his concert-promoter father, David, started

a new job in Nashville, Tennessee. He moved

Luke, his then-pregnant wife, Helen, and their

five other children away from their home in

Australia. But soon after they arrived in the

United States, David lost his job.

The Smallbones were stranded in Nashville

with no money, no family and—so they

thought—no friends. The children slept on

piles of laundry and lived on ramen noodles

and Taco Bell 79-cent bean burritos. Both parents

and the kids took odd jobs raking leaves,

mowing lawns and cleaning houses to help

support the needs of their household. They

often circled up as a family in a room with no

furniture, where they asked God to meet each

day's needs.

Despite these struggles, Luke says he had

a joyful childhood and witnessed God's

provision.

"We saw God show up in amazing ways," he

says. "We had people give us a car the very first

day they met us. We had somebody pay for our

little sister to be born in a hospital—to this

day, we don't know who it was. We'd have people

drop bags full of groceries on our doorstep.

Checks would arrive in the mail that covered

our bills by just a few dollars. That was really

the introduction to America for us. Americans

have been so generous and kind to us."

In 1994, the Smallbone family got a big

break when Luke's teenage sister, known

"For me, music

has been about

writing about

those things . . .

writing about

the gift of life, in

some cases the

gift of sorrow,

because it's in

the sorrow that

you learn so

much."

—Luke

Smallbone

28

FOCUS ON THE FAMILY

OCTOBER / NOVEMBER 2022
---
TRUSTING GOD / FAITH & INSPIRATION

Luke and his family (l to r):

Front row: Phoenix, Leo, Jude

Back row: Luke, Courtney, Evie

PHOTOS COURTESY OF LUKE SMALLBONE

professionally as Rebecca St. James, released

her first major Christian music album with

ForeFront Records. Rebecca's musical success

paved the way for her younger brothers, Luke

and Joel. The brothers sang background vocals

and ran the lights for their sister's concerts until

they decided, in 2007, to begin their own musical

duo, eventually named For King & Country.

By 2013, For King & Country had earned

several Dove Award nominations and even

appeared on "The Tonight Show With Jay Leno."

But later that year, Luke became seriously ill,

and the brothers wondered if their dreams

would survive his illness—or if Luke himself

would survive.

Accepting grace

Joel Smallbone was on his honeymoon with

his wife, Moriah, that July when his phone lit

up with a text message—news that Luke had to

stop touring.

Luke had struggled for some time with ulcerative

colitis, a digestive disorder that eventually

withered his 6-foot-4-inch-tall body from 185

pounds to 125 pounds.

"I looked like a concentration camp survivor,"

Luke says. He was extremely weak—too weak to

even hold his 6-month-old son, Jude.

As Luke fought for his life, Courtney—whom

Luke had married in 2010—struggled to nurse

her 26-year-old husband back to health. She

kept a journal of everything he ate and held his

arm whenever he attempted to get some exercise.

For Luke, one lap around their cul-de-sac

each day was all he could handle.

Meanwhile, as he lay in bed exhausted, Luke

struggled with God.

"I made a decision to follow Jesus when I was

8, and man, has that held me in good stead for

life," he says. "But there are moments in life

that it becomes more real than at other times."

One night in particular, he remembers crying

OCTOBER / NOVEMBER 2022 FOCUS ON THE FAMILY 29
---
FAITH & INSPIRATION / TRUSTING GOD

out to God: "Why am I so sick? I'm

doing all the things that You've asked

me to do."

As he prayed in desperation, Luke

began to realize how God was trying

to get his attention. "That struggle

allowed me to accept grace, truly, for

one of the first times in my life. And

I'm not sure that is a lesson that we

can ever get tired of learning."

Luke struggled with the disease for

the remainder of 2013 before he was

healthy enough to tour with Joel once

again the next year. But God wasn't

done teaching Luke amid the struggles

of life—and not just his own

struggles.

God showed up

In 2014, for example, Courtney was

pregnant with their second son,

Phoenix. Her doctor prescribed

anti-nausea medicine to help her

with severe morning sickness, but

she became addicted to the pills.

Courtney's struggle to overcome the

addiction and let go of her feelings

of guilt inspired the title track of For

King & Country's third album, Burn

the Ships.

"Sometimes our past haunts our

futures," Luke says, and Burn the Ships

calls listeners to leave the shame and

pain of the past "to plunge into a

future of hope."

When the COVID-19 pandemic

hit in 2020, Luke and Joel spent their

time in lockdown writing some of

their latest hits—including "Together"

and "Relate"—encouraging their listeners

to show compassion for one

another and pull together amid the

struggles of life. Both songs appeared

on the group's 2022 album, What Are

We Waiting For?

Then, amid the pandemic, Luke faced

yet another struggle. His voice began

to bother him, forcing him to undergo

vocal cord surgery in May of 2021.

Luke knew the risks that accompanied

the surgery. But as he lay in a

hospital bed, unable to speak during

the week after surgery, troubling

thoughts plagued him. What if I can't

talk anymore? What if I can't sing?

What if I can't write songs? What if

my vocal cords are damaged beyond

repair?

Once again, God showed up to ease

Luke's fears: "I felt God really clearly

say to me, 'Look, it's never been about

a voice. It's never been about a song.

It's never been about what you could

do or what you could accomplish. It's

about the very fact that I love you, that

I cherish you despite those things. So,

if your voice never comes back, I'm

still God. I still love you.'

"Maybe," Luke says, "I'm just one

of those silly people who has to have

things happen time and time again . . .

but that lesson never gets old."

Sure enough, Luke's vocal cords

began to mend, and he's returned

once again to his music. But now he

knows, without a doubt, that he needs

God more.

More than ever before. •

Benjamin Hawkins is a freelance writer and

associate editor of The Pathway, the news

journal of the Missouri Baptist Convention.

INSPIRED MUSIC

Get For King & Country's latest album,

What Are We Waiting For?

Shop.ong>Focusong>OnTheFamily.ca

30

FOCUS ON THE FAMILY

OCTOBER / NOVEMBER 2022
---
FOSTER CARE / FAITH & INSPIRATION

too old to foster?

How one couple helped a sibling group

caught in the foster care system

BY JOHNSTON MOORE | PHOTOS BY MATT RENAUD

GINNY AND TED WEREN'T TYPICAL FOSTER PARENTS.

Finding each other later in life, they both had adult children and were in their

60s. "We were in good health," Ginny says, "and I, particularly, wanted to give to

children what my own foster family gave me."

When a group of siblings—two boys, ages 8 and 3, and a 4-year-old girl—

needed a place to stay, this couple took them in. The kids had been in six

different homes in the previous two years. "The children wouldn't even

acknowledge us at first," Ginny says.

God showed Ginny that a word like love might not have the same meaning

to children who had experienced such pain. It had become an empty word. >>>

Ted and Ginny

OCTOBER / NOVEMBER 2022 FOCUS ON THE FAMILY 31
---
FAITH & INSPIRATION / FOSTER CARE

Sitting with him

Ginny and Ted's first priority was to

address the violence between the children.

Every day they prayed for God's

help and guidance, and they also

tapped into the resources available

to them. "It was serious," Ginny says,

"not just bickering. We would separate

[them] and talk to them about treating

others as they would like to be treated."

The oldest brother's violence was

most concerning. Ginny says, "The psychologist

suggested that I have [him]

sit awhile to learn to calm himself."

Ginny decided to sit with him and

hold his hand for short periods of time,

with no interference from his siblings.

Eventually, the time increased to 20

minutes. The one-on-one time became

important to him, and he even began

reminding Ginny that he needed it.

"That was a great moment!" she says.

"He was actually asking for our time

together."

On to adoption

Ginny and Ted faced other challenges

with the children, but God provided

the wisdom they needed to help the

siblings heal. Eventually, all three were

adopted into permanent homes—the

younger two in one and the oldest

in another. Though giving them up

after being with them over a year was

painful, Ginny knew they needed permanent

families.

"Ted and I were too old to raise these

little ones to adulthood," she says.

Now, more than a decade later,

Ginny and Ted have remained in the

children's lives. Because of serious

health problems, they have been

unable to foster additional children.

Still, they are grateful that God blessed

them with these wonderful kids. •

Johnston Moore, along with his wife, Terri, are

parents to seven children who came to them

through the foster care system. Johnston is an

author and speaker, and is actively involved in

the foster care and adoption communities.

WAITING TO BELONG

November is National Adoption Month, a time to celebrate children

being given a forever family. You can be a part of this life-changing step

for adoptive families around you. Adoptive families benefit from the

support of their church, family and community. While not everyone

is called to adopt, we can all bring joy to those families that follow the

Lord's lead to open their homes and hearts to waiting kids. You can learn

more about ong>Focusong> on the Family Canada's ministry for adoptive and

foster families by visiting WaitingToBelong.ca.

32

FOCUS ON THE FAMILY

OCTOBER / NOVEMBER 2022
---
Dr. Karl Benzio

Natasha Crain

Debra Fileta

Ray Vander Laan

Free video series

O

Want to learn how to live out your faith with ray vander laan?

Would you like natasha crain to help you answer your child's tough questions about God?

Could you benefit from debra fileta and dr. karl benzio explaining how to

navigate mental health in life and marriage?

In these free four- to eight-part video series, you will learn from expert guests on a variety

topics, from marriage and parenting to mental wellness and faith. Plus, each short video also

comes with additional resources to help you to dive deeper into each topic.

Explore all our video series and sign up for free!

ong>Focusong>OnTheFamily.ca/VideoSeries
---
FAITH & INSPIRATION / PURPOSEFUL PARENTING

doing my

best to spoil

my kids

How I help my

children overindulge

in God's goodness

BY SANDY MAYLE

I WANT TO SPOIL MY KIDS.

Deliberately, and without remorse.

I want to take them to church week

after week and let them set out too long

in the warmth of God's love expressed

by the fellowship of believers.

I want to throw them into a bushel of

saints—young ones and old ones and

in-betweens—so that they'll come into

contagiously close contact.

I want to overexpose them to God's

glory shining through the Word of God,

glowing on the faces of His people,

radiating from the presence of the Holy

Spirit, reflecting through earnest and

powerful prayer.

I want to overindulge their quest for

freedom and wholeness and fulfillment

by bringing them to the foot of a lonely

cross. There, sin is obliterated by the

blood of Jesus and both self-worship

and self-destruction are crucified with

Christ "so that they may take hold of

that which is truly life" (1 Timothy 6:19).

I want to cater to their desire to "see it

all" and "have it all." I will help remove

the shortsightedness of only earthly

living and surrealism of culture that

envelops them, so that they may glimpse

the hope to which they are called and

grasp the reality of immortality.

The Lord leading me, I want to do

my best to spoil them for this world, so

that it never really satisfies. So that they

have seen too much and understood

too deeply to buy into its message. So

they demand far more than the world

can supply and expect far too much for

it to satisfy, and so that they know Who

can fulfill their longing.

I know that all my spoiling can't

preserve them. They have a choice. I

just want to do all I can to spoil their

likelihood of choosing wrong.

I want to spoil my kids.

On purpose and beyond salvaging.

It's the best method of preservation

I know. •

Sandy Mayle is a freelance writer, wife and

mother of three sons. She has been active in the

music and prayer ministries at her local church.

FOTF / BRIAN MELLEMA

34

FOCUS ON THE FAMILY

OCTOBER / NOVEMBER 2022
---
Kids & Teens

DOWNLOAD

our free coloring sheet.

"Enter his gates with thanksgiving,

and his courts with praise!

Give thanks to him; bless his name!"

PSALM 100:4

The children at your Thanksgiving

gathering can color this festive coloring

sheet this year.

Download the free coloring sheet here.

ong>Focusong>OnTheFamily.ca/Thanksgiving

CREDIT TK

OCTOBER / NOVEMBER 2022 FOCUS ON THE FAMILY 35
---
the biggest reward

Our family found a solution

to morning chaos

BY ELSA KOK COLOPY

©STUDIO FIRMA / STOCKSY UNITED

36

FOCUS ON THE FAMILY

OCTOBER / NOVEMBER 2022
---
TEACHING RESPONSIBILITY / KIDS & TEENS

ARE YOU KIDDING ME? We

were on our way to school, and two of

my four kids had forgotten something.

Again.

"Mom, I forgot my water bottle!"

"I'm sorry, but we don't have time to

go back for it now."

"Mom, I left my homework in the

bathroom!"

"What was it doing in the bathroom?

Never mind. I'd rather not know."

At the start of the school year, my kids

seemed on top of everything and were

prepared when we walked out the front

door in the morning. But only three

weeks later, their schoolwork was getting

sloppy, and there always seemed

to be a crisis on the way to school.

Mornings would start off peacefully

but would inevitably turn chaotic as I

herded them out the door.

"Don't forget your math book!"

"Please grab your lunch box!"

"Why are you wearing sandals when

it's cold out? Run back inside and

change your shoes!"

For the sake of my sanity as a mother

of four little ones, I had to teach them

not only to manage their own daily

responsibilities but also to value a job

well done.

Getting organized

I recalled that my sister-in-law had

used a whiteboard in the kitchen to

communicate with her older kids, so

I decided to purchase one and place

it in a high-traffic area where my children

would be sure to see it. At the end

of each day, I'd write the schedule for

the next day's activities on the board. In

the bottom corner, I included a chart of

tasks my children needed to complete

before school each morning.

I put everything on that little chart:

potty, teeth, hair, school clothes (I put

that one on the list after a mortifying

pajama incident), prayer, homework

in backpack, breakfast, packed lunch,

snack, water bottle.

Using a reward system to gain their

interest, I gave each of them a marble

for completing their tasks every day. At

the end of the week, they could use the

marbles to "buy" something at my shop,

which included items from the dollar

store.

There were consequences as well. If

they checked off tasks they hadn't completed

or failed to check off any they

had finished, they had to forfeit watching

their favorite cartoon that day.

Rewarding hard work

It took time for my kids to get used to

the new system, but once they established

a rhythm, we sailed through our

morning routine. Still, another problem

remained: their bare-minimum

mentality about schoolwork. I wanted

my kids to learn the value of hard work

and do their best in school.

The reward system had helped them

take charge of daily tasks, but I wasn't

sure it would be successful for their

homework. I decided it was worth a

try, so I developed a reward system for

their Accelerated Reader (AR) program

at school. In the AR program, children

select books to read from an approved

list and then answer test questions

about the content to gain points. Each

child must earn a required number of

points by the end of the quarter.

I told my kids they would receive a

financial reward if they earned extra

points by reading more books. The

bonus wasn't much, but they were so

excited about it that they broke through

the point barrier to earn the cash. I

offered the same reward for the online

math games they were required to play

at least three times a week. Taking full

advantage of the incentive, my youngest

entrepreneur bumped up her math

games to seven times a week.

Reaping our rewards

To my surprise, my reward system

turned out to be wildly successful. My

children loved the financial incentives,

of course, but most important, the

rewards helped them learn responsibility

and the value of hard work. As they

grew in reading and math skills, they

also gained confidence and experienced

the joy of doing well in school.

Tangible rewards gave the steppingstones

they needed to develop natural

incentives to do their best, and in time,

reap the long-lasting rewards.

As the first half of the year came to

a close, my children still needed occasional

reminders, but they were pulling

their own weight and taking care of the

things that matter most. That was my

biggest reward as a mom. •

Elsa Kok Colopy is an author and speaker. She

and her husband, Brian, are now parents to

eight children.

OCTOBER / NOVEMBER 2022 FOCUS ON THE FAMILY 37
---
KIDS & TEENS / RESILIENCE

THE SPACE

TO CREATE

Encourage your kids to explore,

innovate and use their imagination

BY LORI Z. SCOTT

ILLUSTRATIONS BY INNA GUNTER

HAVE YOU EVER SEEN A

ONE-LEGGED, THREE-

EYED PIRATE? Me neither, until

I stopped outside my son Michael's

pre-K room to survey student artwork.

The bulletin board showcased

15 identically cut buccaneers and

one quirky monstrosity—with my

son's name crayoned in the corner.

Hoping Michael was just too lazy

to glue on the extra leg, I asked him

to tell me about his craft.

He cocked his head as if the

answer was obvious. "That's Pete the

Pirate."

I pointed to the head. "Why does

he have three eyes?"

"Two 'eye, eye, Captain!' regular

ones." He counted his fingers. "And

one eye that's out to see."

I couldn't argue with that logic.

"And the leg?"

"He likes to jump," Michael

declared. "Who's gonna stop him?"

Certainly not me. Oh, the creativity

of my kid.

Creativity can be fostered in all

people, no matter their interests,

goals or personality. This is good

news for parents. We can cultivate

innovative thinking in our children.

The source of creativity

Developing creativity starts by tapping

into the source—God. The Bible

describes how our creator perfected

every plant and creature, painted every

sunrise and sunset, and placed every

star and galaxy. Even microorganisms,

fingerprints and snowflakes are intricately

designed—the smallest details

of the universe show off God's artistic

flair (Genesis 1:1-27; Psalm 104:24;

Romans 1:20).

The Bible also tells us that we are

made in the image of God, which I

take to mean that we have a capacity

for innovative thinking. "From an

early age, children scribble, build,

plunk on a piano and experiment

with their environment," says Rachel

Savell, an elementary school counselor.

"They don't worry if they don't

draw a perfect circle or play the right

notes. They simply dive in."

So, how do we encourage their

creativity?

38

FOCUS ON THE FAMILY

OCTOBER / NOVEMBER 2022
---
RESILIENCE / KIDS & TEENS

A thousand steps

As children grow, their creativity may

be stifled by negative talk. Some start

believing they must succeed on the

first try. So fear keeps them from

exploring the abilities God gave them.

No one will like this idea. What if I

make a mistake? People will make fun

of me.

Creativity isn't about perfection.

It's about embracing risks and questions.

Creative people try and fail and

try again.

"Let your kids know it's OK to make

mistakes," Linda Kussman, mother of

three, says. "And be OK with letting

them make a mess. If you want creative

kids, you've got to live with a mess.

"And you've got to be creative yourself.

I see my kids following my

example," she says. "I didn't use a

bunch of special tools. I often just took

ordinary objects, like a shoe, and asked,

'What is a different way we could use

this?' The kids would let their imaginations

run wild—inventing games,

putting on shows, and doing all sorts of

silly things with that shoe."

Whether you're cooking, sewing,

acting, dancing, solving a math problem

or mapping out a new routine for

your family, every attempt at doing

something new is a step forward in the

creative process. As Thomas Edison

once said, "I didn't fail a thousand

times. The light bulb was an invention

with a thousand steps."

Embrace the truth

Help your child replace a negative

mindset with God's point of view: I'm

fashioned in God's image. Satisfaction

stems from working to the best of my

ability. God uses me when I surrender

my heart to Him.

"We do a Bible devotional as a family,"

Rachel says. "We pick out a reaffirming

verse and make it visible. I've written

verses on the bathroom mirror or

tables with a dry-erase marker. That's

always fun. Sometimes we invent hand

signs to learn the verse."

Scriptures on sticky notes posted

around the house also work well.

Your child can even help select the

Scriptures and decide where they

should be displayed.

When my daughter felt discouraged,

I wrote a dozen truths on sticky notes

and placed them in a circle around the

mirror. When she looked at the mirror

in the morning, her face was framed by

these affirmations:

God is continually at work within me.

"Now to him who is able to do far

more abundantly than all that we

ask or think, according to the power

at work within us, to him be glory."

(Ephesians 3:20-21)

God will guide me just as He

guided His people.

"And the LORD will guide you

continually."

(Isaiah 58:11)

What I create is for God.

"Whatever you do, work heartily, as for

the Lord and not for men."

(Colossians 3:23) >>>

OCTOBER / NOVEMBER 2022 FOCUS ON THE FAMILY 39
---
KIDS & TEENS / RESILIENCE

Exhaustion vs. boredom

One of my second grade students is simultaneously involved

in basketball and baseball, and he often goes from one practice

to another. Most of his spare time is spent playing video

games. When faced with unstructured free time, he often complains

that he's bored.

But he's not bored. He's exhausted. With exhaustion, the

brain is drowsy, has trouble concentrating and wants to shut

down. With boredom, the brain has energy and is searching

for an outlet.

When children are bored, their thoughts turn inward. A

mind free from stress and free to wander will seek stimulation.

Kids daydream, build connections, problem-solve and formulate

new ideas that hold increasing complexity.

I gave a different antsy second grade boy a tub of tiles and

free rein to explore, and he started building patterned designs

and three-dimensional shapes. He even modeled a strand of

DNA. So don't be too quick to rescue your children when they

complain about being bored. Give them time and perhaps a

few props and see what they cook up.

Play

Unstructured play is essential for cognitive development. My

students use recess not only to learn important social skills

but also to find new avenues for adventure. They invent new

rules to standard games, such as tag or four square. They dig

in the dirt and pretend the rocks they find are buried treasure,

figure out how to trap a grasshopper, build fairy houses out

of woodchips and problem-solve about how to retrieve a ball

from a puddle. Each action forms connections in their brains

that lead to deeper thinking and "aha!" moments.

If your children have demanding schedules, carve out time

for them to play. Shut off electronics at least 30 minutes before

bedtime, and read books together, imagining a new ending to

the story. Or invent a new recipe. Do a puzzle. Take silly pictures.

Build a blanket fort.

My son used to enjoy playing classical music, dressing in a

cape and putting on a show. His dramatics later led to roles in

local theater productions. My daughter spent hours fiddling

with rhythmic sounds and instruments. Now she composes

music for films. If they never had time for unstructured play,

they never would have fostered their creative abilities.

It takes discipline

Nurture your child's creativity, but don't

expect immediate results. Take one step

today and another tomorrow. Athletes

discipline themselves to learn a particular

skill, and we also must be deliberate

in our methods. Here are a few fun

activities that might just do the trick:

• Set a timer for three minutes. Ask

your family to write or draw whatever

comes to mind. Share your creations

and ask what if questions.

• Create an art cart. Stock it with a variety

of materials—crayons, paper,

markers, glue, stickers, play dough,

paint, glitter, craft sticks, yarn. Pull it

out at least once a week.

• Make up new verses to a familiar

song, like "The Itsy-bitsy Spider." How

about "The chunky-chubby spider

squished the waterspout"? The goofier,

the better.

• Raid your recycling bin and use the

materials to create a playground for a

stuffed animal. Or use the materials

to build a roller coaster or maze.

• Set a random rule—You can't speak

a word with the letter B in it or

Every sentence must be a question.

Constraints help stimulate creative

thinking, and the results are hilarious.

• Look at regular items in different

ways. A Frisbee might be a hat or a

dinner plate or a tennis racket. Use

the Frisbee to act out a scene from

your favorite movie or Bible story.

40

FOCUS ON THE FAMILY

OCTOBER / NOVEMBER 2022
---
RESILIENCE / KIDS & TEENS

Keep on

Find ways to do things differently in

everyday life. Creativity trains kids to

be resilient by identifying a problem

and coming up with multiple solutions.

Push past the possible to explore

the impossible. And embrace the mess.

Remember, mistakes allow your kids to

move beyond boredom and celebrate

the masterpieces they discover on their

journey. •

Lori Z. Scott is a bestselling author of

children's books and a freelance writer.

OCTOBER / NOVEMBER 2022 FOCUS ON THE FAMILY 41
---
KIDS & TEENS / ROLES & RELATIONSHIPS

the grand

caregiving

compromise

Should your parents

be your children's

caregivers?

BY SUSAN LAYLAND

WHEN MARISA AND HER HUSBAND,

JUSTIN, asked her mother to care for their son, Hayden,

while they were at work, Brenda was happy to do it. Brenda

and her husband were retired, and she had more free time.

Mother and daughter agreed on a schedule, and everything

seemed like it was working . . . until Marisa requested that

Brenda adhere to Hayden's strict routine.

Brenda was startled. She had raised her own children, and

now she just wanted to enjoy time with her grandson. Marisa

and Justin realized they should have discussed the arrangement

with Brenda beforehand.

Grandparents can be an amazing resource for families. But

before you ask your parents to care for your children while

you're at work, you need to talk about what caregiving success

means to you.

Be willing to compromise

Compromise is important when asking your parents to become

caregivers. Brenda wanted to enjoy unscheduled time with

her grandson, Hayden, so Marisa included a few free hours of

Grandma time into his routine. This compromise seemed to

work well for everyone.

Caring for children can also be physically demanding.

Barbara, another caregiving grandma, agreed to a full-time

schedule because she wanted to be with her grandkids rather

than just see them on a video screen. Although she lived almost

two hours away, she decided to drive to her daughter's house

early on Monday mornings and return home Friday evenings.

By the end of the week, Barbara was exhausted. As time

went on, she wasn't sure she had the energy to continue. She

discussed the situation with her daughter, Jill, who agreed to

hire someone to handle the more demanding tasks, such as

meal preparation, laundry and driving the kids to and from

activities. The compromise worked for them.

Find solutions together

Hannah's situation was different. Her mother, Susie, lived

less than a block away and had the energy and availability

to care for her granddaughter, Faith. It was an ideal

arrangement, but they still had one detail to work out: Since

Hannah's husband, Phil, came from a different culture and

grew up with different family customs, they wanted Faith to

feel included in both cultures. So Susie asked her in-laws to

teach Faith about their unique culture and customs. Then

Susie set aside time to incorporate those traditions into her

time with Faith.

To find the right solutions, parents and grandparents can

have frank discussions, ideally before moving into a caregiving

agreement. The more each knows and agrees to

beforehand, the easier the transition will be. •

Susan Layland is a freelance writer, grandparent and caregiver

to her wonderful grandchildren.

©KELSEY SMITH / STOCKSY UNITED

42

FOCUS ON THE FAMILY

OCTOBER / NOVEMBER 2022
---
A CAREGIVING RELATIONSHIP between your children and their

grandparents can be a fulfilling and rewarding experience for everyone.

It can also enrich family relationships and deepen bonds that will last a

lifetime. Entering this arrangement with open eyes will help you avoid

tensions and enjoy the experience. So consider the following questions

to start the discussion:

QUESTIONS TO

ASK PARENTS

Grandparents shouldn't be

afraid to discuss the need for

parents to be flexible. Here are

some questions grandparents

might ask:

• What makes this arrangement a

priority for you?

• What are your expectations for

this arrangement?

• How long do you expect me to

be a caregiver?

• What are your children's

schedules?

• What are the house rules, and

which ones are nonnegotiable?

• What are the rules for meals

and food?

• Which rules can be relaxed so I

can be a grandparent and not

just a caregiver?

• How do you reward good

behavior and discipline bad

choices?

• What toys or games are only

allowed with strict limits or

require watchful supervision?

• What safety measures will you

require of me on outings?

• Where do you keep your

emergency contact numbers?

QUESTIONS TO ASK

GRANDPARENTS

Before you arrange for your

parents to become your

children's caregivers, here are

some questions to ask:

• What makes this arrangement a

priority for you?

• What are your expectations for

this arrangement?

• How long do you expect to be

our children's caregiver?

• What are your physical

limitations? What other

challenges or limitations do you

foresee?

• What is your most immediate

concern about caregiving?

• What is your go-to approach

for discipline and behavior

reinforcement?

• Are you prepared to honor

our children's boundaries and

dietary restrictions? What are

your concerns with them?

• How would you incorporate

car seats and other safe-driving

practices on outings?

• How do you see your caregiving

role in practical terms?

• How will you synchronize your

way of doing things with our

children's schedules?

Grandma,

You got this!

new from

Adventures in

Learn 18 fresh ways you can

mentor your "grands" in a godly

Odyssey!

way with Rocking It Grand.

AIO #73: 28 Hours

A beautiful day in Odyssey

turns into a nightmarish

countdown as Jason, Connie,

Whit and Jillian race against

time to save their town from

destruction, and the whole

world from war! A special

six-part adventure. Ages 8+

Order today at

Shop.ong>Focusong>OnTheFamily.ca

or call 1.800.661.9800

Get your copy today!

ong>Focusong>OnTheFamily.com/store/RockingItGrand

• What is the procedure you

want me to follow in case of an

emergency?

• How will you explain my role

and authority to your children?

• How might you want to

enhance our children's biblical

worldview?

—SL
---
KIDS & TEENS / MEDIA

UPCOMING REVIEWS

For reviews of these and other titles, visit

PluggedIn.com, ong>Focusong> on the Family's media

review and discernment website.

LYLE, LYLE, CROCODILE

This adaptation of a popular children's book

offers life lessons from a reptile that wants to

prove he's not a bad guy.

Scheduled release: Oct. 7

STRANGE WORLD

Can a family of explorers resolve their

differences and survive their latest mission?

Scheduled release: Nov. 23

WHITE BIRD:

A WONDER STORY

Will a grandmother's recollections of life

in Nazi-occupied France teach today's

children about the power of kindness?

Scheduled release: Oct. 14

SUPERNATURAL

HORROR & YOUR TEEN

BY ADAM HOLZ

EVERY OCTOBER, advertising space is taken over by movie

trailers that delve into the demonic. Back in the 1970s, audiences

were terrified by The Exorcist and The Omen. More

recently, The Cursed and The Unholy are scaring a new generation

of viewers.

The vast majority of Christian parents have no incentive

to give their kids permission to watch people being dragged

off, screaming, into the darkness. But think back to your teen

years. Did you ever stay up late with a friend watching a scary

movie, peeking out over a blanket and wondering who'd

cover their face first?

For teens, especially, supernatural horror packs a "face

your fears" kind of appeal. So how should we think about it

as parents?

These movies get lots wrong, spiritually and theologically.

That said, they also tend to present a world in which good

and evil actually exist, in which demonic forces can influence

human beings. More so than we might realize at first, that

worldview has a very broad parallel with what Paul says in

Ephesians 6 about the reality of the spiritual battle around us.

Still, most of us won't cue up supernatural horror for a

family-movie night—and for good reason. But if we find out

after the fact that one of our kids did happen to see one of

these films, don't panic. Instead, look at it as an opportunity

to talk with your kids about God's Word and the unseen

struggle against evil. •

Adam Holz is the director of Plugged In. He and his wife, Jennifer, have

three children.

(CLOCKWISE FROM TOP RIGHT) HUTCH PARKER ENTERTAINMENT;

LIONSGATE; WALT DISNEY ANIMATION STUDIOS

44

FOCUS ON THE FAMILY

OCTOBER / NOVEMBER 2022
---
PRODUCTS & RESOURCES

OUR fall

PICKS

A few products and resources

The

Chosen,

book 1,

by Jerry B.

Jenkins

Unshackled

by Dr. Elizabeth

Stevens

Find these books—and many

other enriching reads—at

Shop.ong>Focusong>OnTheFamily.ca

AVAILABLE FOR PREORDER

"The Last

Chance

Detectives"

sevenbook

set
---
KIDS & TEENS / MY THRIVING FAMILY

COSTUMES

Emma, 10, Isla, 3, and Lincoln, 8

Superheroes! Our kids love dressing up in matching

costumes.

—Mike and Becky from Saskatchewan

Fielden, 3

Spider-Man loves to decorate sugar cookies!

—Abby from South Carolina

Paul, 6 ½ months

Ready to go out in his first costume, our

baby boy is the sweetest little shark.

—Gizelle from California

Your kids could be in

ong>Focusong> on the Family magazine!

Email photos* of your child commemorating

Thanksgiving or having a tea party. (Put

"Thanksgiving" or "Tea Party" in the subject line.)

Send to: info@fotf.ca

* Largest photo possible. Professional photos are not accepted.

46

FOCUS ON THE FAMILY

OCTOBER / NOVEMBER 2022
---
Kids' magazines

a gift that gives all year!

ong>Focusong>

From

$29 .99

AGES

3-7

Clubhouse Jr.

Faith-building fun

for boys' and girls'

formative years

featuring stories, craft

ideas, jokes and puzzles

that teach God's truth.

AGES

8-12

Clubhouse

An award-winning

magazine for boys and

girls featuring adventure

stories, mysteries, bios

of servant-hearted kids,

crafts and more.

TEEN

GIRLS

Brio

Godly role models,

relationship advice, Bible

readings, fashion tips,

quizzes and more to

help young women build

their life on faith.

Subscribe or renew online at

Shop.ong>Focusong>OnTheFamily.ca/Magazines or call 1.800.661.9800
---
Z

Z

Z

Z

#

Z

Z

Z

Z

Find faith-inspiring Christmas gifts for everyone on your list at

Shop.ong>Focusong>OnTheFamily.ca