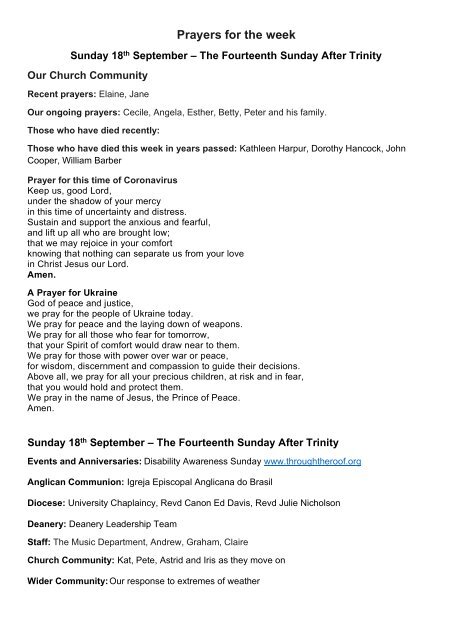 St Mary Redcliffe Prayers for the week 2022 09 18
Create successful ePaper yourself
Turn your PDF publications into a flip-book with our unique Google optimized e-Paper software.
Prayers for the week

Sunday 18 th September – The Fourteenth Sunday After Trinity

Our Church Community

Recent prayers: Elaine, Jane

Our ongoing prayers: Cecile, Angela, Esther, Betty, Peter and his family.

Those who have died recently:

Those who have died this week in years passed: Kathleen Harpur, Dorothy Hancock, John

Cooper, William Barber

Prayer for this time of Coronavirus

Keep us, good Lord,

under the shadow of your mercy

in this time of uncertainty and distress.

Sustain and support the anxious and fearful,

and lift up all who are brought low;

that we may rejoice in your comfort

knowing that nothing can separate us from your love

in Christ Jesus our Lord.

Amen.

A Prayer for Ukraine

God of peace and justice,

we pray for the people of Ukraine today.

We pray for peace and the laying down of weapons.

We pray for all those who fear for tomorrow,

that your Spirit of comfort would draw near to them.

We pray for those with power over war or peace,

for wisdom, discernment and compassion to guide their decisions.

Above all, we pray for all your precious children, at risk and in fear,

that you would hold and protect them.

We pray in the name of Jesus, the Prince of Peace.

Amen.

Sunday 18 th September – The Fourteenth Sunday After Trinity

Events and Anniversaries: Disability Awareness Sunday www.throughtheroof.org

Anglican Communion: Igreja Episcopal Anglicana do Brasil

Diocese: University Chaplaincy, Revd Canon Ed Davis, Revd Julie Nicholson

Deanery: Deanery Leadership Team

Staff: The Music Department, Andrew, Graham, Claire

Church Community: Kat, Pete, Astrid and Iris as they move on

Wider Community: Our response to extremes of weather
---
Monday 19 th September

Anglican Communion: The Diocese of Mpumalanga – The Anglican Church of Southern Africa

Diocese: Almondsbury, The Benefice of South Severnside – in vacancy

Associate Minister: Revd Ann Lloyd, Revd Paul Van Rossum, LLM: Mrs Astrid Domingo-Molyneux

Deanery: Vacant, Filwood Park, St Barnabas

Staff: The Office, Sarah P, Rebecca, Heloise, Rhys, Sarra, Maria, James

Church community: Members of SMR who are ill

Wider local community: Families struggling financially

Tuesday 20 th September

Anglican Communion: The Diocese of Mpwapwa – The Anglican Church of Tanzania

Diocese: Compton Greenfield, The Benefice of South Severnside – in vacancy

Associate Minister: Revd Ann Lloyd, Revd Paul Van Rossum, LLM: Mrs Astrid Domingo-Molyneux

Deanery: Becky Waring, Area Dean, St Martin's, Knowle

Staff: The Outreach Department, David, Sarah J, Phil, Dionne, Andy

Church community: Children's Church Families

Wider local community: Global warming and our response

Wednesday 21 st September

Anglican Communion: The Diocese of Mthatha – The Anglican Church of Southern Africa

Diocese: St Peter Pilning, The Benefice of South Severnside – in vacancy

Associate Minister: Revd Ann Lloyd, Revd Paul Van Rossum, LLM: Mrs Astrid Domingo-Molyneux

Deanery: Anthony Everitt, Assoc. Priest, St Mary Redcliffe

Staff: The Ministry Team, Dan, Aggy, Anthony, Peter, Stephen, Simon, Becky

Church community: The Pastoral Team

Wider local community: All in need of our prayers

Thursday 22 nd September

Anglican Communion: The Diocese of Muhabura – The Church of the Province of Uganda

Diocese: Southmead, Vicar: Revd Jon Roberts

Deanery: Laura Verrall-Kelly, Curate, St Martins Knowle
---
Staff: The Vergers, Matthew, Judith, Paul, Sally

Church community: New members of our congregation

Wider local community: Appreciation of birdsong

Friday 23 rd September

Anglican Communion: The Diocese of Mukono – The Church of the Province of Uganda

Diocese: Bristol City Deanery Area Dean, Lay Chair and Leadership Team,

Area Deans: Revd David Stephenson and Revd Lizzie Kesteven, Lay Chair: Mrs Anne Laurence,

Secretary: Vacant, Treasurer: Mr Bob Bell

Deanery: Vacant, Holy Nativity Knowle

Staff: The Music Department, Andrew, Graham, Claire

Church community: Our Administrants

Wider local community: People who are depressed

Saturday 24 th September

Anglican Communion: The Diocese of Multan – The (united) Church of Pakistan

Diocese: St Alban Westbury Park, Vicar: Revd Emma Langley,

Associate Minister: Revd Mike James

Deanery: Dan Tyndall, St Mary Redcliffe

Staff: The Office, Sarah P, Rebecca, Heloise, Rhys, Sarra, Maria, James

Church community: Our Readers and Intercessors

Wider local community: Awareness of damage to nature

Sunday 25 th September – The Fifteenth Sunday After Trinity

Anglican Communion: The Anglican Church of Burundi

Diocese: St Aldhelm Bedminster, Vicar: Revd Jacqui Kean, Curate: Revd Andy Carter,

LLM's: Mrs Charlie Ewer-Smith, Mrs Rachel Ireland

Deanery: Simon Goodman, Curate, St Mary Redcliffe

Staff: The Outreach Department, David, Sarah J, Phil, Dionne, Andy

Church Community: All who watch our streamed services

Wider Community: The Anxious