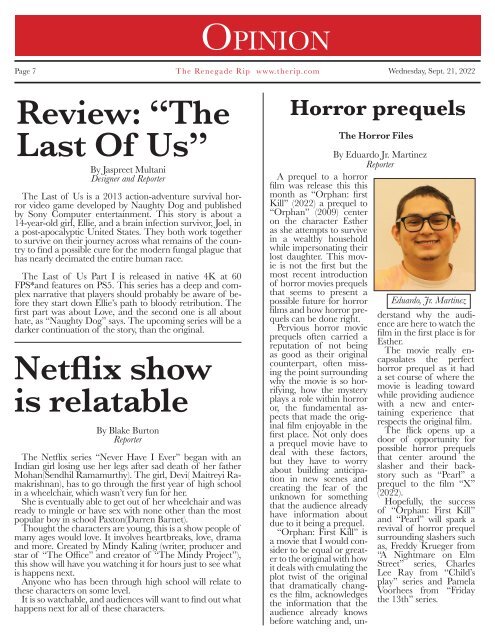 Renegade Rip, issue 2, Sept. 21, 2022
Bakersfield College campus news
Bakersfield College campus news
SHOW MORE
SHOW LESS
Create successful ePaper yourself
Turn your PDF publications into a flip-book with our unique Google optimized e-Paper software.
Page 7

Opinion

The Renegade Rip www.therip.com

Wednesday, Sept. 21, 2022

Review: "The

Last Of Us"

By Jaspreet Multani

Designer and Reporter

The Last of Us is a 2013 action-adventure survival horror

video game developed by Naughty Dog and published

by Sony Computer entertainment. This story is about a

14-year-old girl, Ellie, and a brain infection survivor, Joel, in

a post-apocalyptic United States. They both work together

to survive on their journey across what remains of the country

to find a possible cure for the modern fungal plague that

has nearly decimated the entire human race.

The Last of Us Part I is released in native 4K at 60

FPS*and features on PS5. This series has a deep and complex

narrative that players should probably be aware of before

they start down Ellie's path to bloody retribution. The

first part was about Love, and the second one is all about

hate, as "Naughty Dog" says. The upcoming series will be a

darker continuation of the story, than the original.

Netflix show

is relatable

By Blake Burton

Reporter

The Netflix series "Never Have I Ever" began with an

Indian girl losing use her legs after sad death of her father

Mohan(Sendhil Ramamurthy). The girl, Devi( Maitreyi Ramakrishnan),

has to go through the first year of high school

in a wheelchair, which wasn't very fun for her.

She is eventually able to get out of her wheelchair and was

ready to mingle or have sex with none other than the most

popular boy in school Paxton(Darren Barnet).

Thought the characters are young, this is a show people of

many ages would love. It involves heartbreaks, love, drama

and more. Created by Mindy Kaling (writer, producer and

star of "The Office" and creator of "The Mindy Project"),

this show will have you watching it for hours just to see what

is happens next.

Anyone who has been through high school will relate to

these characters on some level.

It is so watchable, and audiences will want to find out what

happens next for all of these characters.

Horror prequels

The Horror Files

By Eduardo Jr. Martinez

Reporter

Eduardo, Jr. Martinez

A prequel to a horror

film was release this this

month as "Orphan: first

Kill" (2022) a prequel to

"Orphan" (2009) center

on the character Esther

as she attempts to survive

in a wealthy household

while impersonating their

lost daughter. This movie

is not the first but the

most recent introduction

of horror movies prequels

that seems to present a

possible future for horror

films and how horror prequels

can be done right.

Pervious horror movie

prequels often carried a

reputation of not being

as good as their original

counterpart, often missing

the point surrounding

why the movie is so horrifying,

how the mystery

plays a role within horror

or, the fundamental aspects

that made the original

film enjoyable in the

first place. Not only does

a prequel movie have to

deal with these factors,

but they have to worry

about building anticipation

in new scenes and

creating the fear of the

unknown for something

that the audience already

have information about

due to it being a prequel.

"Orphan: First Kill" is

a movie that I would consider

to be equal or greater

to the original with how

it deals with emulating the

plot twist of the original

that dramatically changes

the film, acknowledges

the information that the

audience already knows

before watching and, understand

why the audience

are here to watch the

film in the first place is for

Esther.

The movie really encapsulates

the perfect

horror prequel as it had

a set course of where the

movie is leading toward

while providing audience

with a new and entertaining

experience that

respects the original film.

The flick opens up a

door of opportunity for

possible horror prequels

that center around the

slasher and their backstory

such as "Pearl" a

prequel to the film "X"

(2022).

Hopefully, the success

of "Orphan: First Kill"

and "Pearl" will spark a

revival of horror prequel

surrounding slashers such

as, Freddy Krueger from

"A Nightmare on Elm

Street" series, Charles

Lee Ray from "Child's

play" series and Pamela

Voorhees from "Friday

the 13th" series.