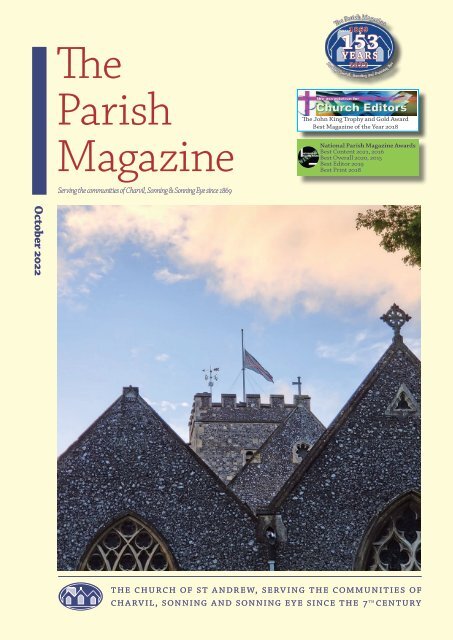 The Parish Magazine October 2022
Serving the communities of Charvil, Sonning and Sonning Eye
Serving the communities of Charvil, Sonning and Sonning Eye
SHOW MORE
SHOW LESS
You also want an ePaper? Increase the reach of your titles
YUMPU automatically turns print PDFs into web optimized ePapers that Google loves.
The Parish Magazine - October 2022 1

The

Parish

Magazine

The John King Trophy and Gold Award

Best Magazine of the Year 2018

National Parish Magazine Awards

Best Content 2021, 2016

Best Overall 2020, 2015

Best Editor 2019

Best Print 2018

Serving the communities of Charvil, Sonning & Sonning Eye since 1869

October 2022

Church of St Andrew

Serving Sonning, Charvil & Sonning Eye

the church of st andrew, SERVING THE COMMUNITIES OF

CHARVIL, SONNING and sonning eye SINCE THE 7 th CENTURY
---
2 The Parish Magazine - October 2022

Please mention The Parish Magazine when responding to this advertisement

Old Bath Road SOLD STC

Recently Sold on Old Bath Road, RG4

With multiple viewings and offers from local and

London buyers, we have more applicants still seeking

their next home in the area.

Get in touch for your market appraisal

0118 960 1000
---
Serving the communities of Charvil, Sonning & Sonning Eye since 1869

Church of St Andrew

Serving Sonning, Charvil & Sonning Eye

The Parish Magazine - October 2022 1

The John King Trophy and Gold Award

Best Magazine of the Year 2018

National Parish Magazine Awards

Best Content 2021, 2016

Best Overall 2020, 2015

Best Editor 2019

Best Print 2018

information — 1

Contents October 2022

THE VICAR'S SERMON, 5

THE PARISH NOTICEBOARD

— Harvest motivation, 7

— Molly's 90th cake, 7

— For your prayers, 7

— Christian Basics, 9

— From the editor's desk, 9

— My favourite, 11

— The Persecuted Church, 13

— STAY, 15

FEATURES

— Further Sonning lad tales, 17-19

— Lord Shaftesbury, 21

— Harvest 2022, 22-23

— Word Smile Day, 25

— Bibles for Ukraine, 25

—around the villages

— Matt Allwright quiz master, 27

— Christmas singing, 27

— Shaw House talk, 27

— Art Club winners, 27

HOME & GARDEn

— Recipes of the month, 29

— Wasps in the garden, 29

— BBC 100 years, 29

health

— Dr Simon Ruffle, 31

THE ARTS

— Poetry Corner, 33

— Looking at nature's glory, 33

— Book Reviews, 35

— Art & Craft Fair, 35

history, 37

THE SCIENCES

— Agri-Tech on the farm, 37

PUZZLE PAGE, 39

children's page, 41

information

— Church services, 3

— From the registers, 3

— Parish contacts, 42

— Advertisers' index, 42

This ISSUE's FRONT COVER

October 2022

The

Parish

Magazine

the church of st andrew, SERVING THE COMMUNITIES OF

CHARVIL, SONNING and sonning eye SINCE THE 7 th CENTURY

Photograph taken by Peter Rennie soon

after the flag was lowered to half mast

to commemorate the death of

Her Majesty the Queen Elizabeth II.

EDITORIAL DEADLINE

The editorial deadline for every issue

of The Parish Magazine is 12 noon on

the sixth day of the month prior to the

date of publication.

The deadline for the November

issue of The Parish Magazine is:

Thursday 6 October at 12 noon

The Parish Magazine online

The most recent issues can be viewed at:

http://www.theparishmagazine.co.uk

Earlier issues from 1869 onwards are

stored in a secure online archive. If you

wish to view these archives contact the

editor who will authorise access for you:

editor@theparishmagazine.co.uk

From the Registers

BAPTISMs

— Sunday 14 August, Mia Faith Platt

The Parish Magazine - October 2022 3

Services at

St Andrew's

Harvest Sunday 2 October

— 8.00am Holy Communion

— 10.30am Family Service

— 4.00pm Choral Evensong

Sunday 9 October

— 8.00am Holy Communion

— 10.30am Parish Eucharist with

STAY and Sunday Club

Sunday 16 October

— 8.00am Holy Communion

— 10.30am Family Communion

— 3.00pm Messy Church in The Ark

Sunday 23 October

— 8.00am Holy Communion

— 10.30am Parish Eucharist with

STAY and Sunday Club

— 6.00pm Sunday at Six

Bible Sunday 30 October

— 2.00am Turn clocks back 1 hour

Timfly, lovethispic.com

— 8.00am Holy Communion

— 10.30am Parish Eucharist with

STAY and Sunday Club

OTHER REGULAR SERVICES

Morning Prayer is held in church

every Tuesday at 9.30am.

Mid-week Communion in The Ark is

held every Wednesday at 10.00am. Tea

and coffee follows the service.

Home Communion at Signature at

Sonning is held on the first Monday of

each month at 11.00am.

weddings

— Saturday 20 August, Hugo Quentin George Davis and Charlotte Ann Bushnell

— Saturday 27 August, Laurence William Cann and Joanne Elizabeth Boseley

funerals

— Wednesday 10 August, Wendy Gertrude Coomber, service in church followed

by cremation at Reading Crematorium

— Thursday 11 August, Linda Hall, memorial service in church

— Tuesday 16 August, Shirley Rose Gray, service at Reading Crematorium

— Wednesday 17 August, Mavis Barbara Surridge, graveside funeral in churchyard

— Friday 26 August, Charles Martin-Bates, interment of ashes in churchyard
---
4 The Parish Magazine - October 2022

Please mention The Parish Magazine when responding to this advertisement

BOOKING NOW

JONNY LABEY

As seen on

Eastenders

BILLIE KAY

8 SEP - 5 NOV 16 NOV - 30 DEC

W A T E R W H E E L B A R

19 JAN - 11 MARCH

Open Tuesday - Sunday 11am - 5pm

for Hot Bar Food, Afternoon Teas, Homemade

Cakes, Cocktails & Artisan Coffee.

Come and treat yourself to a scrumptious lunch

in the most beautiful setting.

PLEASE FIND FULL MENU ONLINE

FIND OUT MORE

millatsonning.com
---
The vicar's sermon

This sermon was preached by Rev Jamie Taylor, Vicar of Sonning, Charvil and Sonning Eye, at the

service of Commemoration of Her Late Majesty, Queen Elizabeth II on Sunday 11 September

In these last few days we have heard a number of public figures, including our Member

of Parliament, the Queen's 13th Prime Minister, say words to the effect that we have all

known that we would have to face the loss of our beloved Queen one day, but that does not

diminish the sadness and yes, the emotion, that so many of us have been experiencing since

last Thursday's sombre news. There is a sense of unreality because so many of us have only

ever known one Sovereign, but nonetheless, I have found it fascinating and somewhat

reassuring to witness the seamless transition to a new reign, with all the traditional

protocols and customs dusted off and put to good use — representing such a powerful link

with our nation's long and noble history over the last 1,000 years.

The Parish Magazine - October 2022 5

Of course, no vicar of this parish has had to preach on an occasion like this in the last 70

years, and we have to go back to Canon Sidney Groves who last stood here and attempted to

do justice to such a consequential loss; the loss of a monarch and supreme governor of our church, in February 1952. The televised

speeches and sermons that are given at national occasions at such times are usually given by those who have known and worked

with the departed Sovereign. They have the advantage over us tuppence ha'penny clergy, and I will admit to a slight sense of

trepidation as I prepared this sermon yesterday. That is one reason why I asked our good friend, Lord Carey, to preach at the

Queen's 90th birthday service and at the recent Platinum Jubilee. Perhaps I should have invited you Theresa to give the sermon

today — I for one want to hear more about your culinary accident at the Balmoral picnic!

THREE GREAT VIRTUES

In my parish magazine letter in the Jubilee month of June I wrote of three great virtues that to me the Queen has demonstrated

in an exemplary fashion for all these years. In the interests of not reinventing the wheel I will restate them today. I believe they are

particularly commendable because they are rare in our age.

— Firstly, Service: In 1947, at the age of 21, she said this in a broadcast to the nation: 'I declare before you all that my whole life, whether

it be long or short, shall be devoted to your service and the service of our great imperial family to which we all belong.' Many of us were deeply

moved as we heard that broadcast played at our Platinum celebration. Well, the Queen more than kept that promise. Sometimes we

may have taken her service to the nation for granted but it's worth remembering that we live at a time when putting yourself first

is almost universally taken to be the first rule of life. Denying this, the Queen served her peoples around the world in a remarkable

and selfless manner, and what an extraordinary photograph, her last ever, we all saw on Tuesday of our frail yet smiling Monarch,

greeting her 15th Prime Minister, two days before her death.

— The second virtue, Faithfulness: We had a Queen on whose shoulders fell enormous responsibilities at a very early age, yet who

remained committed for seven decades to fulfilling them. This lifelong commitment is striking, given how unpopular duty is in

our age. One of the overriding trends in Western culture has been the gradual erosion of commitment and obligation in almost

every area of life. Whether in private or public life, we find that where there were once solemn bonds there are now only loose,

breakable and disposable links. Behind this trend is the belief, now celebrated as a universal truth, that we human beings can only

find the true purpose of life if we have the freedom to seek our own pleasure. Here, too, the Queen went against the flow.

— Finally, the third great virtue, Determination: In one sense determination is the least of virtues. In another, it is the rarest.

After all, we can all do a bit of duty and service for a few hours or even a few days; the challenge is to do it for a lifetime. And that

is exactly what the Queen did. Here again we find that determination is not one of the values of our unsettled age. During her

long reign the currents of shifting values and fashion have flowed so fast and fierce through British life that age-old traditions and

social patterns have been swept away. Amidst it all, the Queen persevered, enduring as a fixed element in the tumult of our time.

Indeed, as the bonds that unite the peoples of Britain seem to become fewer and more strained, her role as the embodiment of

what we are as a nation became even more vital. I am sure that King Charles III will seek to emulate this and we assure him of our

prayers and loyalty as he takes on the mantle of Kingship.

SOMETHING ELSE?

The Queen demonstrated service, faithfulness and determination. That she was able to do this against the spirit of the world

is surely because she took her bearings not from the world and its wisdom, but from something else. That something else was her

strong Christian faith, something that Her Late Majesty openly and unashamedly talked about. The qualities she displayed were

Christian virtues, lived out to the full in Jesus Christ who came to serve and to give his own life for the world. The Queen exhibited

those virtues not simply because she sought to imitate Christ but because she had a relationship with him, now brought to ultimate

fulfilment in heaven, as spoken of in our epistle and gospel reading. She knew, I believe, the great truth that in order to live out

Christ's teaching you must live in Christ. In the Queen we witnessed a great Monarch, perhaps our greatest ever, but her greatness

came from the fact that she trusted in an even greater King.

Just a few short months ago, the Queen's fifth Archbishop of Canterbury stood here and celebrated our Platinum Queen. 20

years previously, he stood in the pulpit of Westminster Abbey and preached at the funeral of Her Late Majesty, Queen Elizabeth,

the Queen Mother. He concluded his sermon with some verses from Proverbs which were appropriate for her and clearly even more

so for her eldest daughter. There are many reasons why he was an Archbishop and I am not and never will be, so I shall conclude

with his choice of an ending as I cannot put it better myself: 'Strength and dignity are her clothing and she laughs at the time to come.'

'Many women do noble things, but you excel them all.' O Lord may your servant Elizabeth rest in peace and rise in glory. Amen.
---
6 The Parish Magazine - October 2022 Please mention The Parish Magazine when responding to advertisements

©Alice Morgan Photography

Summer Issue

| Hair Cutting and Beauty Therapy

| Experts in Colouring and Permanent Waving

| Hairdressing for Men, Women and Children

@stylebyjulieReading

@stylebyjulie

@stylebyjulieRG

Private Hair

and Beauty Salon

Badgers Rise,

Woodley, Reading,

RG5 3AJ

0118 4378178

salon@stylebyjulie.co.uk

www.stylebyjulie.co.uk

Banish limescale with a

TwinTec Water Softener

• Enjoy a scale-free kitchen and bathrooms

• Protect and improve the efficiency

of your boiler

• Lower your energy bills

• Reduce time spent cleaning

• Enjoy softer skin and shinier hair

No buttons or routine maintenance: it's easy

Call for a free installation

survey or quote

Twyford: 0118 9344485

Finchampstead: 0118 9733110

thamesvalleywatersofteners.co.uk

10

YEAR

GUARANTEE

THAMES VALLEY

WATER SOFTENERS
---
the parish noticeboard — 1

Harvest motivation

For your prayers in October

— King Charles III

— All who grow, harvest, prepare and distribute

our food

— All who translate, edit, produce and distribute

the Holy Bible

— Those considering Confirmation

By Rev Kate

At the start of October we celebrate Harvest in our

churches and schools. It is a time of giving; giving food or

money to charitable causes or local food banks, and also,

for Christians, giving thanks to God for his creation.

This year, however, it is hard not to link the tradition of

giving at Harvest with the cost of living crisis that is affecting

many people, some of whom, will not have struggled

financially before.

These are precarious times. I am still shocked at the price

of fuel for my car and the amount that regular household

items have increased in cost. I, like many others, have been

thinking about cutting costs — changing brands, shopping

in cheaper places, reducing outgoings, etc. But, of course,

for many there are no corners left to cut and people simply

cannot afford their bills or the food they need.

This cost of living crisis will affect all of us, directly or

indirectly, and I would argue that it should affect us all.

Let me explain ... in the Bible St Paul uses the image of the

'Body of Christ' to describe the Church. We are all different

members of one body. But we know that when one part of a

body suffers, the whole body suffers.

Whether you have a faith or not, you are part of some

communities or bodies. We exist in families, extended

families, neighbourhoods, workplaces, schools, friendship

groups and so on. We exist in relationship with one another

and so we all have a responsibility to support one another.

When one part of the body is struggling then we should feel

that and help where we can. For many this will be the first

winter they need to use a food bank

A RESPONSIBILITY TO CARE

There is always a Harvest collection at church but perhaps,

for some, giving tins, money or other items may feel far from

home. It is easy, even when we are doing good, to see people

as 'other'. But by thinking about ourselves as part of a body

can change the way we give.

I believe we all have a responsibility to care for one

another, both locally and globally. It is sobering to remember

that we will all have times of worry. We will have times when

we need help and support. Changed circumstances can mean

that people can start to suffer financially very unexpectedly.

I encourage us all to make a change this Harvest. Perhaps

by thinking about supporting others, or by reaching out and

asking for help if we are struggling.

When Jesus said 'love one another as I have loved you' he

was talking about a love which translates into action, service,

generosity and compassion. It's that love for one another that

I pray will motivate us all this Harvest time.

— A peaceful solution to the war in Ukraine

Zenobillis, dreamstime.com

Molly took a

break for her

90th birthday!

Molly Woodley, the

deputy churchwarden

emeritus at St Andrew's

Church, who can often

be found behind the

scenes helping to

organise hospitality in

St Andrew's Church,

Messy Church and

Rendezvous in the Ark,

was forced to take a

break to celebrate

her 90th birthday in

September. And no,

she didn't make

the cake that

members of the

congregation

enjoyed in The

Ark after the

10.30am Sunday

service!

The Parish Magazine - October 2022 7

RENDEZVOUS

IN THE ARK

Tuesday 11 October

and

Tuesday 25 October

at

12 noon

for lunch and

conversation

To reserve your place

call: 0118 969 3298

Sue Peters
---
8 The Parish Magazine - October 2022 Please mention The Parish Magazine when responding to advertisements

TAKE AWAY

FISH AND CHIPS £10

BOOK A BEAUTIFUL

NIGHT STAY WITH

US.

RECEIVE 15% OFF

QUOTE THE CODE

FST1845

The Bull Inn, Sonning on Thames

Berkshire RG4 6UP, T: 0118 969 3901

e: bullinn@fullers.co.uk www.bullinnsonning.co.uk

Gardiner's Homecare is an established family

business that has been serving the local community

since 1968. Proudly supporting people to continue

to enjoy living independent lives in their own homes

for as long as possible.

Our team of experienced care workers can provide

help with personal care, medication, overnight stays,

housework, companionship and much more. You will be

assigned your own Care Manager who will work closely

with you to ensure you receive the care and support

that is tailored to your personal wishes and needs.

For more information, contact us on

0118 334 7474

www.thebmgc.com

10% of the value of your first order will be donated to the new community hall fund when you quote Ref: BMGC-CH

• Pull-up banners

• Point of sale

• Window graphics

• Vehicle livery

• PVC banners

• Posters

• Corporate branding

• Graphic design

• Installation services

• Shop signage

• Exhibition systems

• Signage for commerce

• Bespoke wall coverings

For cost effective, locally produced, quality graphics call us on 0118 934 5016

The Homestead, Park Lane, Charvil, Reading RG10 9TR

email: sales@thebmgc.com
---
the parish noticeboard — 2

Christian Basics — Part 8

By Rev Paul Hardingham

Prayer

Mary Katherine Wynn, dreamstime.com

Most of us identify with the disciples' request: 'Lord,

teach us to pray' (Luke 11:1); having seen Jesus pray,

they wanted to know how to pray!

A LOVING RELATIONSHIP

Jesus begins with Father: 'When you pray, say: Father'

(Luke 11:2). Prayer is like a child asking their parent for

help. This reflects Jesus' own intimate relationship with

his father. He invites us to share this relationship using

the Lord's Prayer, as the way into his presence (Luke 11:

2-4). Imagine using this prayer as a child sitting on a

parent's lap. God delights to hear us!

A LOVING READINESS

Jesus' parable makes the point that God is always ready

to hear our prayer. When the man turns up at midnight

asking for bread, his friend inside gives him whatever

he needs because of his 'shameless boldness' (Luke 11.8).

If the man answers despite all his family being asleep,

how much more will our Father in heaven respond to our

prayers. We should never give up!

A LOVING RICHNESS

Jesus concludes with a threefold promise: 'ask and it will

be given to you; seek and you will find; knock and the door

will be opened to you.' (Luke 11:9). Does this mean that

God will give us whatever we ask for? As earthly parents

only give good things to their children, how much more is

this true of our heavenly Father: 'Which of you fathers, if

your son asks for a fish, will give him a snake instead? Or

if he asks for an egg, will give him a scorpion?' (Luke 11:

11,12). He doesn't give us everything we want, but what is

best for us.

GOD'S CHOICE

'If God were to say to me, 'I want to give you a special

love gift, what would you like?' I would say: 'you choose'

(Samuel Dickey Gordon, author and evangelical lay minister).

From the

editor's desk

editor@theparishmagazine.co.uk

What's your favourite?

The Parish Magazine - October 2022 9

For the past 18 months we have been publishing a series of

reflections written by Elizabeth Spiers, an editor of a parish

magazine who I met through the Association for Church

Editors. ACE is a nationwide organisation that encourages

the more experienced editors to share their magazine

publishing knowledge with those who often have little, or

none, but who are keen to serve God and their churches

through the printed word.

I hope that you have enjoyed Elizabeth's reflections and

found them helpful, but sadly, all good things must come

to an end — we published her last one of the series in the

September issue, which, by the way, you can always refer to

online at http://theparishmagazine.co.uk

If you are wondering what I will be replacing Elizabeth's

articles with turn to page 11 where I have written an

example of what I hope will become a series under the

heading of 'My Favourite . . .' It could be 'My Favourite

Hymn', 'My Favourite Psalm', or with Christmas rapidly

appearing on the horizon, 'My Favourite Christmas Carol'.

As you can see on page 11, I have started with a Bible

passage. It would be good to hear about your favourite Bible

passage — it could be a verse — or psalm, hymn or carol,

and I'm sure that other readers would like to hear about it.

NOT SURE?

If you feel uncomfortable with writing about your

favourite Bible passage, verse, hymn, psalm or carol, do not

worry, I will be happy to turn your thoughts into an article,

just jot down some of the reasons — it may have been a

special time in your life, or it may do something special for

you — or have a chat with me, and I will prepare a draft for

you to comment on and hopefully agree to share it with our

readers. You can find my full contact details on page 42.

We print 2,400 copies of this magazine each month.

All are given away free of charge with the majority being

delivered free of charge to every home in the parish of

St Andrew's Church or taken from the church by visitors

and church members who live outside the parish. Some

copies are sent by readers to friends and family around the

country, and indeed, the world, so you will be sharing your

favourite with more people than you might have imagined.

You will become an internationally published author!

And finally, but only if you agree, I will include your

favourite, in a monthly newsletter that I write for ACE

members. It has two aims: to give tips and advice about

writing and editing church magazines and to share articles

and other content that our members can publish in their

magazines — the reflections by Elizabeth Spiers are a good

example of the type of material that we share.

And don't forget, if you are a Christian, you are called

to share the good news of the gospel message with others,

so by writing about your favourite you will be fulfilling one

the main things that we are called by God to do!
---
10 The Parish Magazine - October 2022

Please mention The Parish Magazine when responding to advertisements

Planning Your

Traditional Wedding?

Then you might like to

discuss the possibility of

marriage in our ancient and

beautiful parish church.

If so, call the vicar, Jamie

0118 969 3298

He will be pleased to help!

In addition to the stunning and historic location in Sonning,

we will work hard to provide you with a memorable and

moving occasion. We can provide a choir, organ, peal of

eight bells, beautiful flowers, over 100 lit candles set in

ornate Victorian chandeliers and the use of our beautiful

churchyard as a backdrop for your photographs.

the church of st andrew SERVING CHARVIL,

SONNING & sonning eye since the 7 th century

QAS_The Parish Magazine - Charvil, Sonning and Sonning Eye_175mmX125mm

Church of St Andrew

October_distribution

Serving Sonning, Charvil & Sonning Eye

KIND HEARTS FIERCE MINDS STRONG SPIRITS

Queen Anne's is an independent boarding and day school for girls aged 11-18

OPEN MORNING

Friday 11 November

Day and boarding

Full and flexi options

An extensive local transport network,

including a Sonning and Charvil service

Queen Anne's School, Henley Road, Caversham, Berkshire RG4 6DX

BOOK TODAY:

qas.org.uk

35 acre campus in the

heart of Caversham
---
the parish noticeboard — 3

My favourite Bible passage

From a trickle to a river

By Bob Peters

About 30 years ago I decided Ezekiel 47:1-12 was my

favourite Bible passage — and it still is today.

I was having difficulty understanding the Holy Spirit,

in fact the subject scared me, so I went to a series of

talks about 'pictures of the Holy Spirit in the Bible' given

by a Baptist minister who is best described as an Old

Testament scholar.

His great love was to relate the Hebrew scriptures

directly to the life and teaching of Jesus that we find in

the New Testament, and to do this, he studied the deep

rooted traditions of the Jewish faith to understand why

Jesus did, and said, the things he did.

PRAYERS FOR RAIN

Ezekiel was a prophet who had been taken into exile in

Babylon in 597BC. The first 12 verses of chapter 47 are part of

a vision he had about the Temple in Jerusalem and the future

return to it of the exiles.

My favourite passage relates to a ceremony on the last

day of the Feast of the Tabernacles, also known as the

ingathering, when the annual harvest was complete, and the

people prayed for rain to water next year's crops. This month

we celebrate it as the Harvest Festival, and prayers for rain at

suitable times will no doubt be on our minds!

BUBBLING UP

The ancient Jewish ceremony began at the Pool of Siloam

(pictured above right) where pilgrims to Jerusalem purified

themselves before climbing the steep steps to the Temple.

According to John 9:1–11, it was at this pool, which had

been created by King Hezekiah of Judah about 700 years

previously, that Jesus healed a man who had been blind since

birth. I was told by a Jewish guide when I visited the Pool of

Siloam during a Christian pilgrimage to the Holy Land that

when the water of Siloam is disturbed, as it is from time to

time, it is the Holy Spirit of God bubbling up. On the last day

of the Feast of the Tabernacles a Rabbi would gather some of

the disturbed water in a container and, leading the crowds of

Jewish pilgrims, he carried it up the steep Southern Steps to

the Temple.

It was a huge occasion with pilgrims from all around the

world crowding in and around the Temple. The Rabbi would

then pour the water bearing the Holy Spirit from the Pool

of Siloam over the altar and allow it to drain away through

special channels that took it out of the Temple to soak into

the dry ground outside.

LIFE-GIVING FORCE

In Ezekiel's vision instead of soaking away the water

bearing the Holy Spirit turns into a spring that flows down

the mountain towards the Dead Sea. A trickle becomes a

stream, and the stream becomes a powerful deep river that

flows into the deepest and deadest part of the world where it

brings new life to everything. It is surely a wonderful picture

of the Holy Spirit of God that, unlike water that soaks away

and dries up, it grows more and more powerful as it spreads

The Parish Magazine - October 2022 11

The Persecuted Church by Colin Bailey

The Pool of Siloam, Jerusalem

Buurserstraat386, dreamstime.com

into the world. It even spreads into to the darkest and

most sinful parts of the world, appropriately symbolised in

Ezekiel's vision by the Dead Sea.

It is into this scene, about 600 years after the vision, that

John 7:37 tells us: 'On the last day, the climax of the festival,

Jesus stood and shouted to the crowds, 'Anyone who is

thirsty may come to me'.

You can understand why the religious leaders and many

of the crowd became angry with Jesus, but time has shown

that by following him and accepting his parting gift of the

Holy Spirit in our lives is like the water in Ezekiel's vision

that became a life-giving force. As the Holy Spirit comes into

our lives she — in the Old Testament the Hebrew name for

the Spirit of God is Ruach, which is a feminine word meaning

'an invisible moving force' — not only grows more powerful

but can overcome even the darkest and most sinful parts of

our world.

In The Ark

Sunday 16 October

at 3pm

Fun, Food, Art & Craft, and

Family Worship

for children of all ages

revkate@sonningparish.org.uk

DO YOU HAVE A FAVOURITE HYMN, PSALM, BIBLE PASSAGE, OR CHRISTMAS CAROL TO SHARE? SEE PAGE 9
---
12 The Parish Magazine - October 2022

Please mention The Parish Magazine when responding to advertisements

Independent And FREE Advice For All Individual & Company Members

• Switch to an alternative scheme – If you are currently insured, switching to a competitor can mean substantially lower rates

• Pre-existing conditions covered – It is often possible to include pre-existing medical conditions currently covered by your existing provider

• Improve your coverage – We can frequently improve your cover whilst also lowering the cost of your premium

• Complexities of different schemes – In many cases, people are over insured – we can ensure you are covered with a scheme that

meets your individual needs and requirements

• Full cover for cancer treatment – Many polices do not cover cancer in full – we are able to advise on your current level of coverage

For further information, please call Steve Maguire at M&L Healthcare Solutions:-

PHONE 01628 945944 or 01223 881779

Email: steve.maguire@mlhs.co.uk

quoting ref: The Parish Magazine

M&L Healthcare Solutions is authorised and regulated by the Financial Conduct Authority (FCA Reference number 554206)

A.D.D. Plumbing & Heating

THE FUNERAL PEOPLE

A FAMILY BUSINESS SERVING

SONNING SINCE 1826

READING 0118 957 3650

HENLEY 01491 413434

CAVERSHAM 0118 947 7007

ALSO AT MAIDENHEAD, BRACKNELL, WOKINGHAM, THATCHAM

TRADITIONAL AND CONTEMPORARY FUNERAL

SERVICE AND DIRECT CREMATION

FLORAL DESIGN & MONUMENTAL MASONRY

PRE-PAID FUNERALS, LATER LIFE LEGAL SERVICES

BEREAVEMENT CARE

WWW.ABWALKER.CO.UK

SELECTED

Independent

FUNERAL HOMES

Heating installation, servicing & repairs

All domestic plumbing

Free written estimates

No job too small

Local and fully insured

References available

0118 934 4624 or 07932 072912

www.addplumbingsolutions.co.uk

In-Home Services for

Seniors by Seniors.

We provide friendly and dependable seniors to help

with services such as light housework, transportation,

shopping, personal care, companionship...and much

more. It's like getting a little help from your friends.

Contact us today 01628 302 132

For more information contact:

steve@seniorshelpingseniors.co.uk

www.seniorshelpingseniors.co.uk
---
the parish noticeboard — 4

The Parish Magazine - October 2022 13

The Persecuted Church by Colin Bailey

Disinformation and hatred drives the persecution

of Hindu converts to Christianity throughout India

November 2019: Christians praying in a Roman Catholic church in Kerala State, South West India

In the Open Doors' World Watch

List, the annual ranking of the 50

countries where Christians face

the most extreme persecution,

India ranked number 10 this year.

The country has a majority Hindu

population, with the number of

Christians standing at just under 69

million — 5% of the population.

Open Doors reports that the driving

force for persecution of Christians by

Hindu extremists is the ideology of

Hindutva.

Hinduism is the name given to

the most ancient and persistent

religion on the Indian subcontinent.

Hindutva is the name by which

the ideology of the Hindu right is

known, represented by the political

party BJP (Indian People's Party).

In an Open Doors blog this

summer it was noted that anticonversion

laws are on the rise in

India and that they are often used

as a weapon to harass and persecute

believers from a Hindu background.

They have been introduced in 11

Indian states and while the wording

of the law is different in each, they

generally state that 'no person should

convert or attempt to convert, either

directly or indirectly, any person from

one religion to another by means of force

or by allurement or by any fraudulent

means'.

In practice, these laws are used

in making false accusations of

coercion against those who have

come to Christianity from a Hindu

background and against those who

have told them the good news about

Jesus. This is despite a constitutional

promise of religious freedom,

to 'profess, practise and propagate

religion'.

At the time of the publishing of

the blog in June this year there were

nine states with anti-conversion

laws and in those states there were

more incidents of violence against

Christians than in all the other 20

states combined.

An Open Doors spokesperson

on persecution in India said that

attitudes were hardening and that it

was no longer small extremist groups

attacking converts but rather entire

communities 'attacking and expelling

them, beating them or handing them

over to the police on false accusations'.

Open Doors asks us to pray for

India:

Aliaksandr Mazurkevich, dreamstime.com

— For the persecuted Christians

there to stand strong in their faith

and 'shine as stars' (Philippians 2:15)

in their local communities

— For the Lord's love and power to

be manifested through healing and

miracles

— For social media companies to

do more to combat the use of their

platforms to spread disinformation

and hatred

— For influential local leaders'

hearts to be softened towards

Christians so that greater protection

is given to them.

Amen!

REFERENCES & GIFTS

Open Doors World Watch List and

opportunities to give a gift:

https://www.opendoorsuk.org/

persecution/world-watch-list/india/

Anti-conversion laws in India:

https://www.opendoorsuk.org/news/

latest-news/anti-conversion-laws-india/

Violent persecution spiralling in India:

https://www.opendoorsuk.org/news/

latest-news/persecution-indiaprecipice/
---
14 The Parish Magazine - October 2022

Please mention The Parish Magazine when responding to advertisements

Follow Us

@ShiplakeCollege

• Top brand name flooring at the lowest price

• Samples to view in your home/office day/evening

• Free Advice / FreeQuotes

• Old flooring uplifted & furniture moved

• Fast turn around on fitting if required

• Carpet, design and wood flooring specialists

Next Open Morning

Saturday 19 November (All Years)

Excellent in All Areas

ISI Inspection (May 2022)

www.shiplake.org.uk/opendays

We supply and install: Amtico

Carpets - Laminate - Wood - Vinyl

Non-slip and more...

Tel: 0118 958 0445

10 Richfield Avenue, Reading, Berkshire, RG1 8EQ

info@richfieldflooring.co.uk/www.richfieldflooring.eo.uk
---
the parish noticeboard — 5

The Parish Magazine - October 2022 15

St Andrew's Youth

STAY for Summer Activities

We finished STAY for Summer activities with two favourites:

paddle boarding and a water park trip! The youth love having

fun together, pushing each other in and sharing stories for

weeks to come of how much they enjoyed it! The next fun

activities will be in the October half term. Watch this space!

STAY Reflections on the past year

As we start this new academic year I thought it would be good

to reflect on the past year and what has been exciting and

worth thanking God for:

— Young leaders has really taken off. Our current four

young leaders are taking responsibility, learning how to

lead and seeing their own potential as leaders in new and

amazing ways. They even designed the young people's rules

into hoodies for the leaders to wear! Our hope is that they

continue to grow in confidence, leadership and potential.

— STAY on Friday has grown with numbers regularly seeing

50-60 youth attending each week. The young people love

being together, having fun and making friends. With the

pandemic behind us, it is important now to have young

people socialising, playing together and enjoying time

outside. Our hope is that we continue to see young people

taking the time to respect each other's differences, learn to

love everyone as equal and grow in confidence in themselves.

— STAY on Sunday. This group of young people wanting to

grow in their Christian faith has also grown with up to 16

attending. When I started the group 4 years ago there were

only four young people so that's been amazing to see. It has

grown so much that we needed a second upper room for extra

space. Our hope is that these young people will have the

confidence to share their faith and know that they are loved

so much by a God who is close and a God who cares.

— STAY Detached Project has seen us out and about each

Thursday building relationships with young people, parents

and local neighbours, with numbers staying consistently

around the 45-50 mark. The young people scream our names

as they see us walking up the road and they engage so well in

conversation, games and sports. Our hope is that we would

continue to deepen positive relationships with young people

and the local community for the good of us all.

— STAY in Schools has also been positive and uplifting this

past year. In one month of assemblies, lessons, mentoring

and lunch time activities I will have been in front of 2,000

young people. It is both an honour and a privilege to be able

to tell stories, share encouragements and bring the Bible to

life for so many children and young people. Our hope is that

they will all know their worth, know they're loved and know

that they have a voice.

The water park, scene of our last summer activity

— STAY Holiday Activities are always amazing because we

see young people outside of the usual settings, and see how

they cope with new experiences and challenges. They are

more resilient than they know and more able than they're

given credit for! The amount of youth who step up to new

challenges and overcome fears always amazes me! Our hope

is that the activities we do in the holiday periods would show

the young people just how brilliant they are and what they're

able to achieve!

— STAY Upper Room. Before the summer we sat with a group

of young people and designed the new upper room (pictured

above). We took their ideas to the rest of youth club and they

added their thoughts. We then did some fund raising and had

some very generous donations from people in the church, the

community, parents of the youth and the office of Theresa

May. We are so thankful to all who gave and now the new

upper room has been kitted out with new equipment for

the youth to enjoy! Our hope is that the space is used to its

full potential and the young people respect and enjoy it and

remain grateful for all that they've been given.

STAY Confirmation Classes

As an Anglican Church it is good practice, but not

compulsory, to be confirmed. Often parents make the choice

to baptise their children at a young age and so confirmation

offers individuals the chance to confirm their Christian

faith in Jesus for themselves. The youth classes run each

Monday, from 12 September, and continue through to the

confirmation service on Sunday 20 November when Bishop

Stephen Croft will lay hands on them and sign them with the

cross in oil. It is both exciting and a pleasure to see over 15

young people choosing this for themselves.

Final Thanks

I wanted to thank all those who stand with us and support

the young people we work with. For the prayers you pray,

the time you give, the money you donate and the effort you

make, it doesn't go unnoticed and it will forever make a

difference!

Email me on youthminister@sonningparish.org.uk for a chat,

coffee or to ask any questions, Westy!
---
16 The Parish Magazine - October 2022

Please mention The Parish Magazine when responding to advertisements

The Window Cleaner

• Interior & exterior

• All windows, frames, sills & doors

• Conservatory cleaning

• Fully insured

We provide a reliable, professional service, ensuring that your home

will sparkle. For a free quote call or email

07967 004426

thewindowcleaner1@googlemail.com

Whatever you want to store...

...for whatever reason - house sale and purchase

not coinciding, travelling, house building work,

paperwork overload or even "de-cluttering" to

sell your house more quickly - we offer a

friendly and flexible local service.

With competitive rates, secure storage

and hassle free 24/7 access,

contact us now!

0118 940 4163

www.barn-store.co.uk

Only 5 minutes

from Henley on

the Reading road!

With 35+ years of experience, the Active Domestic

Appliances team have built an excellent

reputation in and around the local area.

Specialising in the repair of all makes and models

of washing machine, washer dryer, tumble dryer,

dishwasher, oven, hob and refrigeration they are

Gas Safe registered and offer a 12 month

warranty on parts and labour.

Active Domestic Appliances have an extensive

customer base working with letting agents,

landlords, private schools, colleges, care homes

and residential property owners.

Fully insured and DBS checked.

Contact us on:

0118 931 2071

0777 080 6129 (no sms)

repairs@activedomestic.co.uk
---
feature — 1

Further tales of

By Ian Clarke

For the many readers who told us they enjoyed Ian's

memoirs published last month, here's a few more . . .

Sonning was such a different place in

the 60's. None of the traffic that we

see queuing in Thames Street today.

It was a quiet, the peace was only

disturbed by the Thames Valley buses

which plied their trade through the

village and would take me, and my

brother, to school in Wargrave.

TRANSPORT HOBBIES

Can you believe that at 8.30am three

double deckers would trundle through

the village as most people went to

work by bus.

We thought the buses were

pretty special and we collected their

numbers, an obsession shared with

collecting railway engine numbers,

mainly at the Duffield Road Bridge

in Woodley. I think we used to collect

the numbers of almost anything that

moved, including registration plates

on cars and the lorries that came

through the village from the gravel

pits by the river.

Train spotting, however, was the

main obsession and we would spend

many a happy hour collecting their

numbers and, in quieter moments,

putting pennies on the railway track

so that the trains would squash

them out of shape, with some very

interesting results. Great fun but

highly dangerous and illegal!

Another risky business was leaning

over the side of the bridge when a

steam engine came along. When it

reached the bridge we would run to the

Ian Clarke aged 12 years

other side to see if we could get there

before the smoke rose up. How we were

not hit by a car, I'll never know!

I remember going up to London

with my friend David for a serious

day's train spotting. However, due to

catching the wrong trains in London

we eventually arrived back in Sonning

at 11.30pm. Being both only 11 years

old, waiting at the bus stop at the top

of Pound Lane was my mother who

went absolutely mad because we were

so very late. We weren't allowed to go

to London again in a hurry!

FIRE ENGINES

Sonning had two fire engines at

the fire station at the bottom of Pound

Lane, it is now a private house. It was

great fun watching the part-time

firemen racing to the station when the

extremely loud siren sent its wailings

across the village. It meant Roly, Ken,

or one of the other part-time firemen

had to quickly down their pints in the

Sonning Working Men's Club and run

up to the fire station in order to catch

the engine before it left.

We were all very excited if we

managed to see the fire engine as it

came out of the station and would

wondered where it was going.

Sonning had a unique fire engine

that had been designed by Tommy

Edwards — it was the first to be fully

enclosed and it's now in a museum.

Every time we walked past the fire

station we would look at the top of the

pole where the siren was, hoping that

it would go off. I still imagine that I

can hear that siren whenever I'm in

Sonning.

We were sometimes lucky enough

to see the firemen demonstrating their

skills at an annual event in the 'rec'.

Sadly so many of these part-time fire

stations have disappeared into history.

BONFIRE NIGHT

One of the most exciting days of

the year in the 60's was Bonfire Night.

This was in the days when Halloween

was hardly celebrated.

The Parish Magazine - October 2022 17

a Sonning lad

There was always a big bonfire at

the top of the recreation ground where

Ali's pond is now situated and we were

always very excited as we made our

way to see it.

After it had finished burning we

made our way over to the Berkshire

County Sports Ground where there

was an even bigger bonfire, and a

spectacular display of fireworks. They

always had the most enormous rockets

we had ever seen. The display was truly

spectacular and afterwards, and also

on the next day, we would go round

trying to find the large sticks that had

been attached to the rockets.

They even had an enormous bonfire

at the old Adwest ground at the top of

Sonning Lane where they burnt large

parts of old aircraft from the former

Woodley Aerodrome. I can still vividly

see it now. It was like an air crash!

Nowadays you would struggle to

find a proper bonfire and the fireworks

are far too sophisticated. We were

happy with Catherine wheels, jumping

jacks, rockets and bangers. We even

had small bonfires and some of those

simple fireworks in our gardens. It

certainly wouldn't be allowed now.

CELEBRITIES

In my last article I wrote about

what we got up to down by the river,

however the most exciting event was

the making of the film Alfie in 1966

starring Michael Caine. We were really

excited as we watched scenes being

filmed at the White Hart (now the

Great House) and also on the lawn at

the French Horn.

Hollywood had come to Sonning,

well not quite! Alfie and his lady friend

took a boat trip and stopped on the

riverbank to take part in activities not

suitable for this magazine! Not that

we actually saw anything, much to our

disappointment!

Over the years I think Sonning has

featured more than once on TV, in film

and in the media.

It has always been popular with

celebrities such as Jimmy Page, Robert

Beatty, Uri Geller, George Clooney and

it is even rumoured that, in the past,

John Lennon and Taylor Swift wanted

to buy houses here.

turn to page 19
---
18 The Parish Magazine - October 2022

Please mention The Parish Magazine when responding to advertisements

Thinking about

Equity Release?

Then speak to us first!

Mortgage Required is a local, friendly award

winning Equity Release Specialist who puts

their clients first.

We don't spend thousands on expensive TV

advertising or employ celebrities to represent us.

This enables us to pass these savings on to you.

We tick all the boxes

Compare our low fees

Whole of market

Free first

appointments

Mortgage and Equity

Release Advice

Initial chat without providing

personal details

5 star

Google reviews

Typical

Fees

£599

mortgagerequired.com

01628 507477

Finance House, 5 Bath Road, Maidenhead, Berkshire, SL6 4AQ

This is a lifetime mortgage to understand the features and risks, ask for a personalised illustration. There will be no fee for Mortgage Advice. There may be

a fee for arranging a mortgage. The precise amount will depend upon your circumstances, but we estimate it to be £599. Mortgage Required Ltd, Finance

House, 5 Bath Road, Maidenhead, SL6 4AQ is authorised and regulated by the Financial Conduct Authority reference 573718 at www.fca.org.uk.
---
feature — 2

The Parish Magazine - October 2022 19

from page 17

Further tales of a Sonning Lad

SPORTING EVENTS

When we lived in Pound Lane

we were opposite the 'rec' as it was

known. It was a busy place with a

new scout hut being built and the old

cricket pavilion being refurbished. The

primary school was still a few years

away.

Sonning had very good adult cricket

and football teams, but there were not

enough of us kids to form teams. We

kicked a ball about at the top of the rec

and practised our cricket skills using

the base of the old flag pole which

replicated the stumps. I'm not sure if

the pole is still there and, if so, whether

it is used to fly flags any more.

There used to be an old pavilion

or changing room in the field next to

Ali's pond but I'm not quite sure who

played there. The wreck of the pavilion

fascinated and scared us as there were

rumours it was haunted! It certainly

contained certain objects which we did

not need to know about!

RIVER BRIDGES

It is hard to believe when we were

young that the 250 year old Bridge

(above) was two-way with no traffic

lights! We frequently watched vehicles

getting stuck, or sometimes scraping

their paintwork on the sides of the

bridge. It's just as well it is so well built

that 250 years of traffic has passed over

it and it's still doing well.

We used to run from one side of

the bridge to the other by running

under the arches. I vaguely remember

it was the smallest arch we ran under

but I may be mistaken. We certainly

had to change arches as we grew taller

because we could no longer get under

the small one.

Further over the brick bridge

was a metal structure which I think

has now been replaced with a newer

one. However, it was a place of great

intrigue for us kids as it was said that a

grey lady haunted the bridge.

We spent many hours in the

evenings waiting and watching to see

if the grey lady would appear. We were

never lucky enough — or should that

be unlucky enough? — to witness her

walking across the bridge. Apparently

she still haunts the bridge, so beware!

RURAL AFFAIRS

Incredible as it seems, as 16 year

olds in 1966, we were able to get

summer jobs on Reading University's

Sonning farm. Health & Safety would

have a fit today if they had known that

we drove tractors and trailers from the

farm, across Charvil Lane and down to

the fields to collect hay or straw bales.

I remember the summer was hot

and dry, much as it has been this year.

We had to load the bales onto the

trailer, which was hard, thirsty work,

and then drive back to the farm. We

had little training in driving tractors

and I remember many miscalculations

with the loaded trailer and the narrow

gateways! That's why I became a

teacher and not a farmer!

A Massey Ferguson tractor like the one Ian

drove on Sonning Farm

Ian Clarke

Tom Farncombe

Another memory that stands

out for me was a piece of technology

that was very advanced for the time.

Roly Hunt, who worked in the farm

workshop, had developed a system

of driverless tractors where a cable

was buried under the ground and

the tractor followed it without being

steered by anyone.

I remember a group of us watching

the trial, however, the tractor didn't

always understand what it was

supposed to do and constantly veered

off course! Hence it has taken another

50 years to develop driverless cars!

Roly's invention was, however, very

advanced for the time.

Closer to home, when my family

lived in Pound Lane we lived next to

Percy Forward and his family. The

gardens were much longer then and

Percy used to keep pigs at the end of

his. It seems incredible that anyone

would keep pigs in their garden but

that was the case. My brother and I

were fascinated by them and spent

many hours watching them wallowing

in the mud. We never knew what

happened to them!

Our dad could only compete by

keeping chickens. Not quite in the

same league! How times have changed!

Now the area is occupied by houses in

Little Glebe where once there was a

large allotment that we could explore

and play and get up to mischief! We

were even responsible for a fire there

once. They never caught the culprits!

SIXTY YEARS ON?

The village has changed a great

deal over the years and yet some

things remain which give Sonning its

great appeal. I hope my memories are

accurate and may stir some of your

own. I wonder what it will be like in

another 60 years?
---
20 The Parish Magazine - October 2022

Please mention The Parish Magazine when responding to advertisements

Reading's local charity caring for older

"putting care before profits"

Call 01252 979111 today,

to discuss your care needs and availability

at our newly refurbished

Maitland House care home

care | compassion | companionship

"The place is always fresh, clean, cheerful and vibrant. The staff are friendly,

helpful,caring and always available for a chat.

There is a lot of laughter and silliness

which is greatly appreciated" Rosemary (89), resident

Maitland House | 11 Maitland Road | Reading | RG1 6NL

Email | admin@abbeyfieldweyvalley.co.uk

www.abbeyfieldweyvalley.co.uk
---
feature —3

The victim of a loveless

childhood, he became the

best man of his age

Think of Piccadilly Circus and that small statue of the angel

poised with bow and arrow (right). Most people think it represents

Eros. It does not. It is Anteros, his brother, the god of selfless love.

It is a memorial to the greatest Christian Victorian philanthropist,

politician and social reformer of his generation – Lord Shaftesbury

(left) — the Poor Man's Earl.

The Parish Magazine - October 2022 21

Anthony Ashley Cooper, the 7th Earl of

Shaftesbury (1801 – 1885) was a devout

Christian who spent his life fighting to

help ease the plight of lunatics,

chimney sweeps, children in factories,

women and children in the mines,

opium addicts, and children without

any education.

His own early life was loveless and bleak —

his parents formal and frightening, his early

school days a 'horror' of 'cruelty and starvation'.

The only love came from the family's housekeeper,

Maria Millis. A biographer wrote: 'She provided for

Ashley a model of Christian love that would form

the basis for much of his later social activism and

philanthropic work.'

The reality and homely practicality of her

Christian love were a beacon for the young

Ashley. She told him Bible stories and taught him a

prayer.

After Christ Church Oxford, where he proved an

outstanding scholar, Ashley turned to politics. In 1826,

aged 25, he was elected as Tory MP for Woodstock.

He was eager to serve on parliamentary committees

that got things done; his great life's work had begun:

Lunatics: In 1827 lunatics were kept chained naked in

straw, forced to sleep in their excrement. They were washed

in freezing cold water, with one towel for 160 people and

no soap. There was gross over-crowding and inedible food:

asylums were places to die in.

Shaftesbury's maiden speech in Parliament was in

support of a Bill to improve conditions. He wrote: 'By God's

blessing, my first effort has been for the advance of human

happiness.'

It took years: from 1827 to 1884 he fought for a

succession of Lunacy Acts, writing later of 'the years of toil

and care that, under God, I have bestowed on this melancholy

and awful question.'

Child Labour and Factory Reform: Again, reform took

years. Shaftesbury fighting for the Ten Hours Act from

1833, 1842, 1844, 1846 and 1847 – when it finally got

through Parliament. No child under the age of 9 should

Image credits:

Left: Parish Pump

Right: Anizza,

dreamstime.com

work in the cotton or woollen industries and no one under

18 must work more than 10 hours a day.

Miners: In 1842 he fought to outlaw the employment of

women and children in coal mines.

Climbing Boys: Thousands of young boys were dying in

terrible pain— scorched, blinded and suffocated by soot,

or with cancer of the scrotum. Ashley fought for Bills in

1840, 1851, 1853, 1855, 1864 until finally the Chimney

Sweepers Act 1875 closed the practise down.

Education Reform: 1844 Ashley became president of the

Ragged School Union that promoted education for poor

children. He wrote that if it were to fail, 'I should die of a

broken heart'.

Religion: Lord Shaftesbury was a devout Christian who

became a leading figure in 19th Century evangelical

Anglicanism. He was President of British and Foreign

Bible Society for nearly 30 years. He was very sympathetic

to the Jews, and advocated their return to the Holy Land.

POOR MAN'S EARL

Lord Shaftesbury's funeral service at Westminster

Abbey on the morning of 8 October 1885 drew thousands

of people. The streets along the route were thronged

with the poor: costermongers, flower-girls, boot-blacks,

crossing sweepers, factory hands and many more.

They waited for hours just to see his coffin go by. He

was dearly loved by them as the 'Poor Man's Earl'.

One biographer wrote: 'No man has in fact ever done more

to lessen the extent of human misery, or to add to the sum total

of human happiness.'

The great preacher Charles Spurgeon called him 'the

best man of the age'. He 'lived for the oppressed', he was a

'moral anchor in a drifting generation', 'friend of every living

thing', he had a 'fervent love to God, and hearty love to man.'
---
22 The Parish Magazine - October 2022

feature — 4

Join us as we celebrate

Harvest and seek to

help local people in need

There can be little doubt that celebrating a plentiful harvest this year

might seem difficult, or even inappropriate, especially in many parts of

the world where crops have not grown as expected, and in some places

failed completely. However, this does not diminish the part of the Harvest

celebrations that remind us of God's creation and why we give thanks for

that, and why it is more important than ever to share what we have.

202

CELEBRATE HARVEST AT ST ANDREW'S CH

10.30am Family Harvest Service when we wi

4.00pm Harvest Choral Evensong fo

The recent, and ongoing, droughts, wildfires and floods in the UK, Europe,

Africa, America, Australia, and Asia – to name but a few – and the war in

Ukraine which has reduced the world's grain supplies to a trickle, raises

difficult questions about the appropriateness as we prepare for our annual

Harvest celebrations that traditionally involves giving thanks to God for

all the good food that has been safely gathered in.

In Biblical times, however, Harvest was also the time when people came

together to pray for the right combination of rain and sunshine during the

coming year so that the next season's harvest will also be plentiful.

This was what the last day of the Jewish Feast of Tabernacles was all about.

It was a time when prayers were offered to God for rain in the coming months

to water next year's crops. It was the time when Jesus appeared in the Temple

and shouted that the thirsty should come to him. (John 7:37) Jesus, of course,

was referring to those who were thirsty for the Holy Spirit, while the people

and the religious leaders were focussing on more worldly things such as water,

the most valuable worldly item in that part of the world.

SHARING WHAT WE HAVE

So, let's not hold back on our harvest celebrations this year — join us in

St Andrew's Church at 10.30am on Sunday 2 October for our Family Harvest

Service and/or our Harvest Choral Evensong at 4pm, and let's thank God for

both the spiritual and the worldly food that we have received, and pray in

earnest that all the world takes climate change more seriously because it is

clearly climate change that is not only causing this year's poor harvest but the

disastrous floods in Pakistan and other places where thousands of lives have

been lost and even more left starving.

So, if we feel less inclined this year to celebrate a harvest that was below

par, let us remember another Biblical theme that God set out in the Old

Testament and that Jesus taught in the New — we should share what we have

with those who have less.

Usually at St Andrew's our Harvest collection is donated to an overseas

good cause, but this year we have decided to look closer to home and share

what we have locally. Hence at our Harvest services we will be accepting food

and money for the Woodley Food Bank which is facing increasing demands

on its service to the needy in our neighbourhood but struggling to fufil that

demand because donations of food have also been declining. So this year we

are asking for people to bring to church donations of food — see list on the

right — or cash that will also be given to Woodley Food Bank.

If you are not able to join us for the Harvest services, you can always

deposit your food and toiletry gifts, between 10am and 4pm everyday in the

Food Bank collecting box just inside the main entrance to the Church

The Harvest Sunday cash collections to be given to Woodley Food Bank

will enable them to purchase food and toiletries to pass on to those in need. If

you are unable to be in church for the services, you can always leave your cash

donations for our Woodley Food Bank Harvest Appeal in the Parish Office.

Edwin Muller, dreamstime.com

Failed tomato (left) and bean (right) crop

as droughts and floods destroy what w

Woodley Food Bank urgently needs:

— Tinned Soup

— Tinned Potatoes

— Custard

— Dried spaghetti

Other items they will always be

pleased to accept are:

— Baked Beans

— Tinned Tomatoes

— Tea Bags

— Tinned Spaghetti

— Coffee

— Sugar

— Beans/Chickpeas

— Cereal

— Toiletries/Sanitary Pads

— Pasta Sauce

— Tuna

— Toilet Rolls

— Fruit Juice

— Fruit Squash

— Plastic Bags

— Other Tinned Fish

— Tinned Meat

— Tinned Fruit

— Biscuits

— Rice

— Rice Pudding

— Long Life Milk

— Cooking Oil

— Tinned Vegetables

— Dry Pasta

— Dry Noodles

Donations can be placed in the bin inside

St Andrew's Church from 10am — 4pm every day
---
The Parish Magazine - October 2022 23

2

URCH SONNING ON SUNDAY 2 OCTOBER

ll receive donations for Woodley Food Bank

llowed by Harvest Tea in The Ark

Lorraine Addy, dreamstime.com

s are a common sight around the world

ould usually be plentiful food crops

Don't forget spiritual food!

Harvest and Creation go hand in hand

Harvest is a time when we thank God for his Creation, for making

everything we can see and not see around us, for the food we grow and

eat, for the seasons of the year, the rain and the sunshine, the heat

of summer and the coldness of winter. Here is a poem about God's

Creation written by Cecil Frances Alexander in 1848. Most of us are

probably more familiar with the hymn version of her poem that was

put to music in 1887 by William Henry Monk.

1. All things bright and beautiful,

All creatures great and small,

All things wise and wonderful:

The Lord God made them all.

2. Each little flower that opens,

Each little bird that sings,

He made their glowing colours,

He made their tiny wings.

3. The rich man in his castle,

The poor man at his gate,

He made them, high or lowly,

And ordered their estate.

7. He gave us eyes to see them,

And lips that we might tell

How great is God Almighty,

Who has made all things well.

4. The purple headed mountains,

The river running by,

The sunset and the morning

That brightens up the sky.

5. The cold wind in the winter,

The pleasant summer sun,

The ripe fruits in the garden,

He made them every one.

6. The tall trees in the greenwood,

The meadows where we play,

The rushes by the water,

To gather every day.

2 October is also Animal Welfare Sunday

One of the most important ways we can help

victims of the world food shortage is through

prayer. Here a Harvest prayer from Christian Aid:

Loving and compassionate God

When famine stalks the land, nothing grows.

Plants cannot, people cannot,

ideas and dreams cannot.

Everything withers and dies.

It is a violent aberration of your will for the world

and it is multiplied by conflict,

climate change and Covid.

God of the flourishing field,

there is enough to feed us all.

Call us to that sacred sharing neighbour,

to global neighbour.

Your gifts of food, water,

a chance to live the life so delicately crafted

by your divine spirit.

We will not turn away, but turn towards each other

with generosity and a justice-driven compassion

that searches for solutions.

Famine stalks the land, so may our outrage grow,

may our determination steel itself,

may our solidarity spur us into action

God of the flourishing field,

help us feed each other.

Amen

https://www.christianaid.org.uk/appeals/key-appeals/harvest-appeal

St Francis, patron saint of animals and the natural environment

Oliver Perez, dreamstime.com

This year, Animal Welfare Sunday falls on Sunday 2 October, which is

the nearest Sunday to St Francis' feast day on Tuesday 4. It is a good

opportunity to thank God for the animals and the environment, and

to consider how we might help them.

Christians have been involved in animal welfare reform throughout

history — RSPCA, the first animal protection society, was founded

by Rev Arthur Broome, an Anglican priest and many well-known

Christians such as C S Lewis, John Wesley and William Wilberforce

also spoke out against animal cruelty.

As Psalm 148 reminds us, animals in their amazing variety of

species were all created for the glory of God and to praise his name.

They were not created for exploitation and domination.

But sadly, Creation has been abused, and continues to be abused.

The economics of providing low-cost chicken, pork, beef and milk can

often result in cruelty towards millions of animals.

The Anglican Society for the Welfare of Animals works to raise

awareness of animal welfare issues within the Anglican Church and

the wider Christian community.

To find out more: https://www.aswa.org.uk
---
24 The Parish Magazine - October 2022 Please mention The Parish Magazine when responding to advertisements

Pearson Hall Sonning

is an ideal venue for

your parties, regular

classes or meetings

Complete Pest

Solutions

WASPS • RATS • MICE • SQUIRRELS

BED BUGS • FLEAS • BIRDS & RODENT PROOFING

Leslie Parker

parkerleslie65@aol.com

0125 624 2135 0799 081 4143

PROFESSIONAL PEST

CONTROLLERS REGISTER

2 Vyne Lodge Farm Cottage, Bramley, Tadley, Hampshire RG26 5EA

24 hours service | Private client parking | Private chapel of rest

Free home visits | Pre-paid funeral plans | Full written estimate

Woodland funerals | Religious and non-religious services

Find out more and check availability

using our online booking system

www.pearsonhall.org.uk

Tel: 01491 573370

www.tomalins.co.uk tomalin@btconnect.com

Anderson House, 38 Reading Road, Henley-On-Thames, RG9 1AG

A Family Run Independent Funeral Service

COSY UP &

CELEBRATE THE

FESTIVE SEASON

events@variouseateries.co.uk

0118 969 2277

www.coppaclub.co.uk | @the_great_house
---
feature — 5: WORLD SMILE DAY

Smile please!

It's 7 October!

Friday is often said to the happiest day

of the week. Traditionally it was pay day, the end of

the working week. If this is true, then Friday 7 October

could be the happiest day of the year because it is World

Smile Day 2022, the day when we are all asked to do a

small act of kindness that will put a smile on someone

else's face!

And faced this autumn and winter with the worrying

threat of the biggest ever cost of living crisis driven by the

Russian invasion of Ukraine, the ever increasing threat

of volent crime, the continuing worry of pandemics, and

the increasingly serious repercussions of climate changes

that are having a devastating impact on millions of lives

throughout the world, there is a greater need than ever to

share a little happiness.

WEAR A SMILEY

The World Smile Day organisers quite rightly point out

that what we can all do is to focus on the small things we

can control, like taking a little extra time to help someone

with something, or to make them laugh.

The idea is that if we all make an effort to do one small

act of kindness this World Smile Day, then, together, we

can make a huge change in the world.

Why not start by wearing a smiley face emoji that

was designed in 1963 by an artist called Harvey Ball. He

created the smiley face design for a local company that

wanted to boost the morale of their employees.

Over time, the design grew and grew in popularity

until it became the international symbol of cheer and

good will it is today.

BE KIND

Harvey never copyrighted nor trademarked the design,

so, despite the symbol's enormous popularity, the only

money he ever made from the smiley face was the $45 he

was initially paid for it. Harvey, however, maintained a

philosophical attitude about this, and was happy to see

his design becoming used so much.

In the late 1990's, Harvey decided that we should all set

aside one day to simply smile and be kind towards each

other, which is how World Smile Day came about.

On this day, we can forget all our differences and just

focus on being cheerful towards everyone we meet. When

he died in 2001, the Harvey Ball World Smile Foundation

was set up to honour his name and memory by raising

money for small, grassroots charities that would

otherwise receive little attention or funding.

WHEN YOU'RE SMILING

There's a lot of truth in that well known song recorded

by jazz pianist Seger Ellis in 1928, Louis Armstrong in

1929 and numerous famous singers ever since:

When you're smiling, the whole world smiles with you!

The Parish Magazine - October 2022 25

BIBLE SUNDAY 30 OCTOBER

Light in the darkness:

Bibles arrive in Ukraine

By Hazel Southam, Bible Society, 22 August 2022

Chernetskaya, dreamstime.com

During the summer, some 168,000 Bibles and other

Scripture-based books have been delivered to war-torn

Ukraine.

Bibles have been in increasing demand since war broke out.

'Living surrounded by death has caused people to ask questions

about life,' said Anatoliy Raychynets, deputy general

secretary of the Ukrainian Bible Society. 'I have personally

delivered several thousands of Bibles from hand to hand,' said

Anatoliy. 'It is light in the darkness.'

Among the recent delivery were 34,000 compact Bibles

in Ukrainian, 7,000 New Testaments and 57,000 booklets

entitled Beyond Disaster which enable people to look at the

trauma they've experienced through the light of the Bible.

'These are excellent for people on the move, who can't take

much with them,' said Anatoliy.

Being able to give away small copies of the Bible is

important when 14 million Ukrainians are internally

displaced by the war. Since it began, the Bible Society of

Ukraine has been delivering bread, first aid and Bibles,

but stocks soon ran low as demand outstripped supply.

THE DARKNESS IS DEEP

Anatoliy explained how the Bible speaks into daily

life. 'Daily life is heavy,' he said. 'You feel so tired. But,

together with churches, we're doing our best to bring light to

the darkness. The darkness is very deep. I want to express

gratefulness for all the support.'

Donations to the Bible Society have helped to make

this possible, with more than £1 million raised for Bibles

for people in and fleeing Ukraine. This has meant that

since the war began, some 655,700 Bibles and other

Scriptures such as New Testaments in Ukrainian and

Russian have been delivered to people fleeing the conflict.

So far they have been delivered to Hungary, Moldova,

Poland, Romania, and Slovakia, as well as to Ukrainian

refugees in the UK.

Bible Society's Oldi Morava said, 'We are incredibly

touched by the generosity of our supporters and the

unwavering commitment of our colleagues in Ukraine, who

have made this delivery of Bibles to the people of Ukraine

possible, and in so doing, bring words of hope to people living

in unbelievable circumstances.'

https://www.biblesociety.org.uk/
---
26 The Parish Magazine - October 2022

Welcoming girls in Year 7

from 2023

An independent company

rated good

by Care Quality

Commission, our customers

and staff alike.

Home Carers Wanted!

Bridges Home Care is growing...

Rated highly by customers... Staff and the profession...

Providing quality care in the Oxfordshire area...

Why not join our close knit team?

I love care work

and being around

to help people

The managers

are approachable

and supportive

My main carer

is very good, she

is wonderful,

like a friend

The training gives

you confidence to

learn more

With 40 years' experience teaching girls at

A level, Reading Blue Coat is excited to extend

its Co-Ed provision to welcome girls

into Year 7 from September 2023.

Open Morning: Saturday 8 October 2022

Register your attendance at: rbcs.org.uk

Bridges ticks all the boxes

n✔ Full training given

n✔ Existing skills

& experience valued

n✔ Guaranteed work,

local area

n✔ Flexible hours or

shifts available

n✔ Supportive hands-on

management

If you think this might be for you, find out more...

call Bonny or Wendy on 01491 578758

or email bonny@bridgeshomecare.co.uk

visit www.bridgeshomecare.co.uk

An Independent Day School for Boys and Girls 11-18

UKHCA

Supported by Oxfordshire County Council

Oxfordshire Association

of Care Providers

Interior & exterior blinds,

shutters, awnings

& screens

Always excellent service

and great value

www.blinds-reading.co.uk

Call John at Blinds Direct

on 0118 950 4272

johndacre@blinds-reading.co.uk

Bathrooms &Kitchens Ltd

Plumbing, Plastering, Tiling

and all associated work

Contact us today for a

FREE

No obligation Consultation

and Quotation

0778 897 2921

markt@kingfisher-bathrooms.com

http://www.kingfisher-bathrooms.com

167 167 Fairwater Kingfisher Drive, Woodley, Reading, Berks RG5 3JQ
---
around the villages

And my next

question is . . .

Matt Allwright (right), the tv presenter,

journalist, and musician who was born in

Wokingham and was head boy of Reading Blue

Coat School in the 1980's, will be Me2 Club's

quiz master at The Oakwood Centre, Woodley

on Friday 7 October. The night will raise

money for local children having additional

needs.

Matt is also well know for his work with

SANDS, the Stillborn and Neonatal

Death Society, and Launchpad, the

Reading based charity fighting

homelessness. The Me2 quiz night

is being held from 7-10pm for teams of no more than eight people — no under

16's — and includes a fish and chip supper. Tickets, which must be booked in

advance, are £22.15, including the booking fee. Early bird tickets are £18.37 for

the first 50 registered. For more details and to buy tickets go to:

https://www.eventbrite.co.uk/e/me2-clubs-charity-quiz-night-tickets-398863540587

Shaw House insight, and maybe Downton Abbey!

Shaw House, Newbury, Berkshire

Simon Burchell, wikipedia

Sarah Somerville, visitor services officer for Shaw House, one of the best

preserved Elizabethan mansions in England, will be in Pearson Hall on 28

October to give an insight into this historic property built for Thomas Dolman

in 1581. It has seen royal visitors, and played an important part in the Civil War

and World War II. Sarah previously worked at Highclere Castle and so Downton

Abbey may also be on the agenda! The evening will be hosted by Sonning and

Sonning Eye Society and starts at 7.30pm. Tickets are £4 and can obtained from:

https://www.sonning.org.uk/ or penny.feathers@btinternet.com 0118 934 3193

The Parish Magazine - October 2022 27

Book now for your

Christmas and

spring singing!

A 'Twelve Songs of Christmas' fun

singing afternoon for female voices

led by local music teacher and choir

director Suzanne Newman will be

held on Saturday 3 December, 2-4pm,

in Charvil Village Hall.

The afternoon will include

singing a medley of seasonal

favourites arranged for 2-part choir,

including: Deck the halls, What child is

this, Silent night and Joy to the world

Tickets, £10, including music

and light refreshments, can be

obtained from Suzanne Newman on

suzanneynewman@btinternet.com or

0118 934 058.

PROJECT SINGERS

You can also find out more from

Suzanne about the The Project

Singers spring project — 'And

wherever you go!' — for which

booking is also now open.

The Project Singers have a section

for girls in years 5-13 who rehearse

on Sundays from 6.15-7.45pm, and

for ladies who rehearse on Mondays

from 8-9.30pm.

The spring project has a travel

theme with songs such as: All aboard,

Homeward bound, The water is wide,

Wheels of a dream and Route 66.

The Project Singers will be taking

part in Woodley Music Festival

and perform a concert at St Mary's

Church, Twyford in March. The

ladies' choir will also be taking part

in Cheltenham Music Festival, and

the girls' choir will have a pizza party!

Sonning

Show

Art Club

cup

winners

Sonning Art Group's Chairman's Cup competition with the theme, 'A favourite picture

to be entered in the competition at the Sonning Show' was won by Sue Sheppard (left)

with an accomplished oil painting of a young girl. Second was Pauline Simpson with her

acrylic painting of a 'Good Mooring' and third was George Gallocker with his watercolour

depicting '3 Little Ducks'. Congratulations to each artist!
---
28 The Parish Magazine - October 2022

Please mention The Parish Magazine when responding to advertisements

Cruz Kitchens

Bespoke, Made to

Measure Kitchens

Designed | Supplied | Installed

Call 0118 961 1295

Email: info@cruzkitchens.co.uk

Visit: www.cruzkitchens.co.uk

studio dfp

complete graphic

and web design

service on your

doorstep

Since 1984 · 0118 969 3633

david@designforprint.org

WATER SOFTENER SALT

Q Tablet 10kg Q Tablet 25kg Harvey Block

• 5x10kg=£35

*

• 3x25kg=£35

*

Salt 2 x 4kg

*

• 10x10kg=£65

• 20x10kg=£130

• 5x25kg=£55

• 10x25kg=£100

• 5 Packs £35

• 10 Packs £65

• 20 Packs £115

FREE LOCAL DELIVERY

Email: Martyncollins@portmanpm.com

FOR OFFERS & PRICES ORDER ON LINE AT

www.salt-deliveries-online.com

Tel 07785 772263 or 0118 959 1796

Unit 2, 6 Portman Road Reading RG30 1EA

*Prices are subject to change please check our website.

The

50

plus

Home Repairs

Handy and Property

Services for domestic

& commercial customers

Call us or visit our

website for full details of

our broad range of

services, helpful advice

& pricing

• Book a timed appointment

• Free estimates

• Friendly advice

0118 207 1387

www.the50plus.co.uk

Serving customers for over 20 years

For the best deal

on heating oil,

buy direct

Local depots

Order 24/7

online

For a quote call

01635 926606 or

visit cpsfuels.co.uk

Use code

'Sonning'

online for a £10

discount
---
HOME AND GARDEN

Recipe of the month

Zesty Turkey One Pan

From http://www.goodhousekeeping.com

Ingredients

— ½ tbsp olive oil

— 4 turkey breast steaks,

total about 500g

— 12 fl oz chicken stock

— Zest and juice of 2 lemons

— 1 oz capers, rinsed and chopped

— 4 tomatoes, roughly chopped

— Large handful fresh curly parsley, roughly chopped

Method

Heat the olive oil in a large frying pan over high heat and

add the turkey steaks. Fry for 2 minutes, turning once, to

brown the steaks.

Add the stock, lemon zest and juice, the capers, tomatoes

and some seasoning. Simmer for 8 minutes until the

turkey is cooked through.

Add the parsley and check the seasoning.

Serve with rice, seasonal vegetables or salad.

Today there is hardly a home in the UK without a radio or tv which

100 years ago were in their infancy. There were, however, some

innovative engineers and business people who recognised the

potential of theses new 'inventions'. Here, Tim Lenton, a retired

journalist, writes about an organisation that soon became a

household name that is respected throughout the world:

The BBC

100 years ago, on 18 October 1922, the BBC was officially

founded as the British Broadcasting Company (now the

British Broadcasting Corporation).

It was originally a private company in which only British

manufacturers could hold shares. Three years later it was

liquidated and in 1927 replaced by a public corporation —

the British Broadcasting Corporation — which had almost

complete independence and, until the 1954 Television Act, a

monopoly of the television service in Britain.

That year saw the birth of commercial television. The

BBC's monopoly of radio ended when the Government

permitted local commercial broadcasts, starting in the 1970's.

The BBC is not allowed to advertise or broadcast

sponsored programmes. It should also not broadcast any

opinion of its own on current affairs and matters of public

policy, and be impartial on controversial issues. In recent

years the BBC has been criticised for not keeping to these

rules, but they were foremost in the mind of Lord Reith, the

BBC's first Director General – a Scottish Presbyterian with

strong Christian convictions whose influence lingered for

many years.

The BBC has a public service broadcasting requirement to

produce 115 hours of religious content on tv and 370 hours

on radio each year. This, of course, leaves open the definition

of religious content: atheists have complained that there is

too much religion on the BBC, while Christians point to the

overtly secular assumptions of its output.

In the garden

The Parish Magazine - October 2022 29

Maciej Olszewski, dreamstime.com

Forgive the wasps — and

learn to understand them

The chances are that you were irritated by wasps this

summer — there were a lot of them about (and I was

after being stung by one in my garden — editor). But did

you know what the wasps were really looking for?

According to Prof Seirian Sumner, a behavioural ecologist

and entomologist at University College London, we should

try to 'understand what wasps want, and what they're doing

at certain times of the year.'

In early and mid-summer 'they're not that interested

in sugar, they want meat. The adults are vegetarian, but

they hunt prey to feed to the larvae, who give them a sugary

reward,' she says.

'Then, when the larvae pupate in late summer and early

autumn, there are fewer that need feeding, and they don't need

to hunt, so wasps are sort of furloughed. And then they go in

search of sugar, usually in flowers. But your Prosecco, or beer,

or jam sandwich is just as appealing.'

MEAT, JAM OR CIDER?

Prof Sumner's advice is to try to distract wasps from

you by offering them meat in early to mid-summer, and

a saucer of cider or some jam on a lid in late summer and

early autumn.

She also stresses that the world would be much worse

off without wasps: they are excellent at pest control and

are also fine pollinators.

There's more on wasps in her book: Endless Forms: The

Secret World of Wasps (HarperCollins)

Distract wasps in the autumn with jam

Victorass88, dreamstime.com
---
30 The Parish Magazine - October 2022 Please mention The Parish Magazine when responding to advertisements

Louise Amanda Sheppard (BA/Dip)

EMDR Specialist

Hypnotherapist

Mobile Therapist covering

Oxfordshire & Berkshire

EMDR Therapy

(Eye Movement Desensitisation Reprocessing)

A powerful tool, proven to be extremely useful in the

treatment of traumatised individuals, which can give

people back control in just a few sessions

Trauma . Victims of Rape . Assault

Combat . Drug Addiction . Bereavement

Fears/Phobias . Anxiety . Depression

Hypnotherapy

Pain . Anxiety . Fears . Phobias

Smoking . Weight Management

Age Regression/Past-Life Regression

Gestalt Therapy/Dreamwork

Parts Therapy

07842 262 583

lasheppard61@gmail.com
---
Symptoms are not 'just' feeling

a bit down. That is normal and is

transient and recovers daily or can be

overridden.

SAD is persisted depression

symptoms. Feeling hopeless, guilty

or frustrated about trivial things that

you'd normally deal with. A paralysis

of decision making, anger, irritability

and despair.

Biological/physical symptoms

associated with SAD are slightly

different to other depressive

illness but are no less stressful.

With SAD, people often do not lose

their appetite, and indeed, it often

increases. Sleep patterns cause more

sleep being less refreshed, whereas

other depressive illnesses cause early

morning wakening.

Sex drive disappears and the

combination of the above leads to

poor performance at work and home,

loss of interest in hobbies and the

increase in bad habits. All in all, I feel

we should look at this as a 'proper'

depressive illness and treat it just as

seriously.

Treatment suggests a pill and a

cure. This is not the case. Medicines

such as anti-depressants can alleviate

some symptoms but does not remove

the cause — most raise serotonin

availability.

Removing some of the factors that

lead to SAD can help:

— Light. Get out in the day if you

can, exercise to remove fatigue. A

The Parish Magazine - October 2022 31

HEALTH

Dr Simon Ruffle writes . . . Forever Autumn SADness

October. The eighth month of the

old calendar before the Romans

changed it. This meant our seasons

became related to the calendar in a

more constant way. October in the

Northern Hemisphere makes us

forget the summer and 'welcome' in

Autumn.

War of the Worlds is still one of the

most iconic science fiction works

ever. Written in 1898 by HG Wells

it has been made into films, musical

and radio versions. And 40 years

after publishing, Orson Welles used

the piece in his radio show Mercury

Theatre on the Air broadcast by CBS.He

caused panic across America as people

panicked that the show was reporting

news events from far away!

40 years further on Jeff Wayne

produced the musical version of this

that is still selling today.

One of the popular tracks of this

album is Forever Autumn sung by

Justin Hayward. But what else does

autumn usher in?

THEORIES

Lots of illnesses emerge in

autumn. There are many theories

as to why. Some include the use of

central heating, closing windows,

hot housing children and workers in

poorly ventilated areas, such as trains,

tubes, buses, schools and offices. No

doubt this contributes. Vitamin D

levels fall as we are exposed less to

UV light. Vitamin D is vital for the

immune system.

Also, less exposure to natural

light causes our melatonin levels to

be lower and this changes our sleep

patterns and thus our circadian

rhythm. Serotonin production in the

nervous system is also affected.

Many viral infections arise,

influenza, common cold, Norovirus

(D&V) and parasitic infections such

as thread, hook and round worms.

However, these are minor illnesses,

mostly self limiting, some requiring a

pharmacist's advice and of course, flu

is mostly preventable.

Seasonally Adjusted Disorder,

(SAD), on the other hand, is far

less talked about but pervasive and

debilitating. SAD is also known as

seasonally adjusted depression or

winter depression.

Autumn Leaves

HELP

S Ruffle

light box can be useful. Sleep patterns

are important to maintain and that

nagging fatigue and low mood after a

poor night's sleep cannot be pandered

too. Get up and get going.

— Vitamin D supplement (1,000 IU

a day will not cause any harm) and is

available at pharmacies and health

food shops.

— Melatonin. This is a knotty

question. Melatonin is a food

supplement in most countries and

is available as such. However it is

regulated in the NHS as a medicine

and is normally not allowed to

be prescribed. This is because the

evidence behind its use is poor and

not cost effective.

However in my experience some

people really benefit: 3mg or 5mg at

night is the usual dose.

If your symptoms worsen and

changes in your lifestyle do not help,

most areas of the country allow you to

self refer for counselling services, for

example Berkshire's service is: https://

talkingtherapies.berkshirehealthcare.nhs.uk/

SSRI medicine can be prescribed.

CURE

The SAD 'cure' is in the name

— seasonal. But 4-6 months of

feeling awful a year really needs to

be challenged. Don't put SAD down

to being a bit down! As in the song

our protagonist believed he'd lost his

Carrie and his life would be Forever

Autumn but for fans of the War of the

Worlds we know (spoiler alert) things

turn out alright in the end.
---
32 The Parish Magazine - October 2022

Please mention The Parish Magazine when responding to advertisements

For a helpful professional service

FIELDSPHARMACY

Wide range of health advice provided

including private consultation area

www.etsheppard.co.uk

01491 574 644

36 Reading Road, Henley-on-Thames RG9 1AG

1a LONGFIELD ROAD, TWYFORD RG10 9AN

Telephone: 0118 934 1222

Fax: 0118 932 0372

Email: fields.pharmacy@gmail.com

www.afjones.co.uk

0118 9573 537

33 Bedford Road, Reading, RG1 7EX

Established in 1858

A.F. Jones

Stonemasons

Limited

CHRIS the plumber

I offer the same friendly, reliable service as

always but in addition to general plumbing

I now offer domestic and commercial gas

work — boiler repairs, installations, fault

finding, power flush.

Repairs not covered by Homeserve?

Speak to a tradesman, not a salesman!

Emergency call out available

Ask Chris Duvall for a FREE quote

christheplumber75@gmail.com

0785 095 6354

3584769

57732 AF Jones Parish Magazine Advert.indd 1 19/11/2014 10:43

Christmas at

Sonning Golf Club

Whether you are looking for a Shared Party Night,

a Private Event or to dine in our Restaurant, we've got

everything you need to make the Festive Season one to enjoy!

2 & 3 course Lunch and Dinner options available inclusive of

Christmas Novelties, Tea/Coffee & Warm Mince Pies

BOOKINGS NOW OPEN

For more information, please call 0118 969 3332

or email office@sonning-golf-club.co.uk
---
THE ARTS — 1

National Poetry Day is on Thursday 6 October

Pleasant Praises by Steven Rolling

Psalm 149:1-16 Tune: Lasst Uns Erfreuen – All creatures of our God and King

The Parish Magazine - October 2022 33

Looking at nature's glory

Rev Michael Burgess lifts his eyes to the hills

Praise you the Lord, sing a new song

Unto Him be it day, night long

Alleluia, Alleluia!

Make praise among His people here

In the congregation draw near

And worship Him with godly fear

Alleluia, Alleluia, Alleluia!

Rejoice in Him who has you made

His creation's great works displayed

Alleluia, Alleluia!

Let His people be joyful in

Their Lord and King, fresh praise begin

Holy Spirit, rise up within

Alleluia, Alleluia, Alleluia!

Let them praise His name in the dance

Musical instruments enhance

Alleluia, Alleluia!

Of His glory, for the Lord takes

Pleasure in His people, He makes

Them joyful, each to Him awakes

Alleluia, Alleluia, Alleluia!

For the Lord He will beautify

The meek with salvation, no lie

Alleluia, Alleluia!

Let people rejoice in glory

Sing aloud on their beds, so be

Or walking, sitting, standing free

Alleluia, Alleluia, Alleluia!

Let the high praises of God be

In their mouths, and expressively

Alleluia, Alleluia!

A two-edged sword in their hand be

Word of God defeats enemy

In the battle spiritually

Alleluia, Alleluia, Alleluia!

Mpfphotography, dreamstime.com

Wikimedia public domain

'The artist should not only paint what he sees before

him, but also what he sees within him.' These are the

words of a German romantic painter, Caspar David

Friedrich, who lived from 1774-1840.

The inspiration for most of his paintings was the countryside

and the world of nature around him. As he looked at its

beauty and grandeur, it awoke in him feelings of wonder and

awe, which he expressed through his art.

At the age of 34 he painted a cross in the mountains

as an altarpiece for a church in Dresden: the first time a

pure landscape had been used for an altar. Later in 1811 he

painted a similar, but more profound and more moving work:

Morning in the Riesengebirge (pictured above).

Friedrich was a great walker and climber, and he loved

the mountains of East Saxony depicted here. The first rays

of the sun are coming over the horizon to illuminate both

the beauty of the hills, and the tall crucifix placed on the

mountain top.

WE CAN LOOK TO THE HILLS

Friedrich looked at the glory of nature at sunrise and saw

there a sign of God the Creator, and God the one who sent his

Son to redeem that Creation.

Like Caspar David Friedrich, and like the psalmist*,

we can look to the hills and see the glory and greatness of

God. This will be the theme for many of us this month with

Harvest celebrations. But we give thanks for creation and

the bounty of the world at a time when we hear reports

of glaciers melting, water levels rising, greenhouse gases

warming up our planet, and resources of food and fuel

wasted and depleted. It is too easy to take this world for

granted and imagine it is here solely for us.

Caspar David Friedrich invites us to look at the world, its

beauty and greatness, as a gift to cherish, not to manipulate

and exploit for our own use. As we look at this earth with

eyes of wonder and gratitude, then we shall find the God

who created and redeemed it, and ask what service and

stewardship we can offer him in the world.

*I lift up my eyes to the mountains — where does my help come

from? My help comes from the Lord, the maker of heaven and

earth. He will not let your foot slip — he who watches over you

will not slumber; indeed, he who watches over Israel will neither

slumber nor sleep. The Lord watches over you — the Lord is your

shade at your right hand; the sun will not harm you by day, nor

the moon by night. The Lord will keep you from all harm — he will

watch over your life; the Lord will watch over your coming and

going both now and forevermore. (Psalm 121)
---
34 The Parish Magazine - October 2022 Please mention The Parish Magazine when responding to advertisements

Simply

stunning,

simply

Sabella

If you have a love of original art, Sabella Interiors can source, curate and display your

artwork and bring beautiful pieces direct to your home to consider, with no obligation.

We work with galleries, art dealers and experts, all with the knowledge to create the

perfect art collection for you.

Sonning-on-Thames, Berkshire and Alderley Edge, Cheshire

Call us for an informal chat or visit The Studio (by appointment only)

www.sabellainteriors.com | 0118 944 9629 | 07780 836747 | enquiries@sabellainteriors.com
---
THE ARTS — 2

Book Reviews

Bible Sunday 30 October update

Wycliffe Bible Translators latest report, as of 2021, says:

— There are now 3,495 languages which have some

Scripture available to 7.04 billion people.

— There are 717 languages with a complete Bible giving

5.75 billion people access to a Bible in their own language.

— 1,582 languages have a complete New Testament (some

also have Old Testament portions) - 830 million people

— 1,196 languages have some translated Bible portions -

457 million people

Meanwhile, there are a further 828 languages which have

work in progress – 67.6 million people. And also, there are

1,892 languages still waiting for translation (or preparatory

work) to begin – 145 million people. As for the remaining

need for Bible translation: 1.51 billion people, speaking 6,661

languages, do not have a full Bible in their first language.

And 145 million people, speaking 1,892 languages, still need

translation work to begin, this includes:

— Africa with 558 languages, 16 million people

— Americas with 119 languages, 2.4 million people

— Asia with 751 languages, 124 million people

— Europe with 59 languages, 2.3 million people

— Pacific with 405 languages, 0.43 million people

More at: https://www.wycliffe.net/resources/statistics/

Abba Amma– Improvisations on the Lord's Prayer

By Nicola Slee, Canterbury Press, £14.99

The Lord's Prayer is the first, and perhaps only prayer,

that we learn by heart. However, its patriarchal and

kingdom imagery do not resonate universally today. How

do we pray the prayer Jesus taught us in ways which

are authentic and life-giving? This book offers a series

of prayers and poems written in response to it. Each

prayer uses the address Abba or Amma: Aramaic terms of

intimate address to God as father or mother which reflect

Jesus' usage, drawing on the Abbas and Ammas of the

desert tradition as well as our own parental relationships.

Invest Your Future – Listening to God's Voice

Without Abandoning Your Bible or Your Brain

By Paul Mallard, 10Publishing, £8.00

Making big decisions can be difficult. Often, we end

up paralysed with indecision, afraid that making the

wrong choice will ruin our lives. So how do we make good

decisions? When does the Bible guide us, and when should

we just use our common sense or talk things through

with friends and family? Using his huge experience and

pastoral heart, Paul Mallard shows us where to find

wisdom and how it works in God's economy. He helps us

find the balance in what is, for many of us, a constant

challenge. He teaches us how to understand God's

purpose, so we can see the truly important factors in

making our decisions. You don't have to spend your life

in indecision, confusion, guilt or regret. You can cultivate

spiritual discernment in order to grow in maturity and

wisdom, and know where to turn for guidance when

making decisions.

The Parish Magazine - October 2022 35

Arts & Craft Fair to

reduce food poverty

The main beneficiary of this year's Reading Charity Art

and Craft Fair will be the Thomas Franks Foundation's

Feeding Communities which aims to reduce food poverty

by providing free packaged meals for those in need. The

ingredients for the meals are collected from surpluses in

catering sources and so also reduces food wastage.

The Art & Craft Fair, organised by the Rotary Club of

Reading Maiden Erlegh, will be held from 29-30 October

at Leighton Park School. Income from the fair will help

Feeding Communities to increase its production of food

parcels for local support organisations such as food banks,

the Churches Together in Reading Drop-in Centre, and

others in the Reading, Woodley and Earley communities.

The Maiden Erlegh Rotary Club supported these

organisations throughout the pandemic and its aim now

is to help reduce food waste, and the increasing burden of

food poverty expected during the difficult months ahead.

FOOD PARCELS

Thomas Franks is a top-quality catering contract

company serving restaurants of prestigious companies

in the UK and Europe. In the Reading area the company

also provides catering at various independent schools,

including Leighton Park where the Art & Craft Fair is

being held in the Oakview centre which, during school

time, is a spacious restaurant.

Feeding Communities was created to aid as many

people as it could through the early months of the Covid

pandemic, its main focus being on vulnerable people who

were struggling or suffering from food poverty.

Using its clients facilities, Feeding Communities

began producing food parcels and freshly prepared meals

in response to the food shortages that were happening

globally. It states that as long as food poverty exists, it will

continue to provide free meals to all who need them — 'It

doesn't take much to change a life and it can start with as much

as a meal'.

Entry to the Art & Craft Fair is free and visitors can

enjoy a hot or cold drink and a cake in the Art Café run by

the Inner Wheel Club of Reading Maiden Erlegh as well

as viewing a wide range of paintings and craft exhibits.

There will also be the opportunity to purchase art and

craft items produced by local artists and artisans with 25%

of the purchase price being given to Feeding Communities

and other local community support organisations.

For more information:

http://www.readingcharityartfair.org www.thethomasfranksfoundation.org

http://www.feedingcommunities.co.uk/home
---
36 The Parish Magazine - October 2022 Please mention The Parish Magazine when responding this advertisement

RESIDENTIAL | NURSING | DEMENTIA CARE | RESPITE

Relax - you're in great company

We pride ourselves on our family-like community, where residents interact with each

other as well as our Signature staff who are always on hand for a warm drink or just

a chat. It's the little gestures that can make the biggest difference. We appreciate that

knowing and being known within your home provides comfort, ease and reassurance.

We recognise the richness that good company and friends bring to our lives,

not to mention visits by family and friends or excursions in company

to local shops, galleries or theatres.

To find out more, please contact the Client Liaison Manager at a Signature home near you:

Cliveden Manor, Marlow

01628 702310

Sonning

0118 338 2986

signature-care-homes.co.uk
---
History

Was it really . . . ?

. . . 250 YEARS AGO, on 21 October 1772 that Samuel

Taylor Coleridge was born. He co-founded with William

Wordsworth the Romantic Movement of poetry.

The Parish Magazine - October 2022 37

the sciences

Continuing the Celebration!

. . . 200 YEARS AGO, on 20 October 1822 that the Sunday

Times newspaper was first published in the UK.

. . . 150 YEARS AGO, on 11 October 1872 that Emily

Davison, British suffragette, was born. A militant fighter

for her cause, she died after being hit by the King's horse

at the 1913 Derby.

. . . 100 YEARS AGO, on 18 October 1922 that the BBC was

officially founded as the British Broadcasting Company

(now the British Broadcasting Corporation).

. . . 80 YEARS AGO, on 30 October 1942 that crew

from the British destroyer HMS Petard retrieved

codebooks from the German submarine U-559, enabling

cryptographers at Bletchley Park to decipher the Enigma

code used by U-boats.

. . . 70 YEARS AGO, on 6 October 1952 that the world

premiere of Agatha Christie's play, The Mousetrap

opened in Nottingham. It then opened in London on 25

November, and is still running, making it the world's

longest-running play. It has been performed more than

28,000 times.

. . . 65 YEARS AGO, on 9 October 1957 that the

Lovell Telescope began operating at the Jodrell Bank

Observatory in Cheshire. It was the world's largest

steerable dish radio telescope and played an important

role in the early days of space launches.

. . . 60 YEARS AGO, on 15 October 1962 that British

weather forecasts switched from the Fahrenheit scale to

Celsius.

. . . 40 YEARS AGO, on 11 October 1982 that Henry VIII's

flagship the Mary Rose was raised from the bottom of the

Solent, off the coast of southern England, 437 years after

it sank.

The Mary Rose

Pjgibson, dreamstime.com

By Dr Ruth Bancewicz, The Faraday Institute

for Science and Religion, Cambridge.

Kostia Osypov, dreamstime.com

From 9-16 October this year many people around

the world will be celebrating the Jewish festival of

Tabernacles, or Sukkot. They will celebrate the Harvest,

and also remember God bringing the Israelites out of

Egypt and through 40 years in the desert.

The book of Deuteronomy contains a description of what

Tabernacles should have been like: 'Celebrate… for seven days.

Be joyful… you, your sons and daughters, your male and female

servants, and the Levites, the foreigners, the fatherless and the

widows who live in your towns.'

These festivals were not just a celebration, they were also

an expression of gratitude to God: 'celebrate the festival to the

Lord your God...For the Lord your God will bless you in all your

harvest and in all the work of your hands, and your joy will be

complete.' Tabernacles was a proper holiday, with two whole

days off normal work and seven days of feasting.

AGRI-TECH REVOLUTION

Farming is different today. Very few of us sweat long

hours over crops, so we're not as ready for (or deserving of)

a rest and a party as our ancestors were at this time of year.

That might be even more the case in future, as the agri-tech

revolution unfolds. For example, small autonomous tractors

are already becoming available that do less damage to the soil

and make better use of steep or oddly shaped fields.

Many arable farms already hire contractors to do the

routine work with large specialist GPS-equipped machinery.

In future years those people might find themselves using

very different kinds of high-tech kit, acting more as landmanagement

advisors, helping farmers to gather data and

to find ways of improving soil quality, biodiversity and the

water cycle.

I'm very grateful for the food that arrives on my shelves.

Instead of worrying about whether or not we earned it, our

modern-day Tabernacles or Harvest celebration could include

ways of encouraging those involved in agriculture and

developing new agricultural technologies, as well as enjoying

how we can learn about and benefit from God's creation

through science.

So, after you celebrate Harvest, why not make a trip to

a local farm this month? Why not learn from the ancient

Israelites, and follow it up with a meal together? It stands to

reason that those of us who live in countries where food is

plentiful could do with being proportionately more generous

in our gratitude and giving. Should we throw better parties?

Probably!
---
38 The Parish Magazine - October 2022

Please mention The Parish Magazine when responding to advertisements

One of the country's foremost

independent girls' schools from 3-18

Leading with confidence, learning with purpose, living with joy

We would like to invite you to attend

any of our forthcoming events

Little Knellies - Stay and Play - 14 October

Junior School - Open Event - 4 November

Little Knellies - Stay and Play - 8 November

To register your place, please visit:

www.theabbey.co.uk/events

Abbey Events 125H x 175W.indd 1 02/09/2022 14:27
---
CROSSWORD

1 2 3 4 5 6 7

8

9 10

11

13 14 15

19

17 18

16

20 21

22 23

ACROSS Across

1 -- Reverse (4) (4)

3 - Took - Took pleasure pleasure freely (8) freely (8)

9 - Flowers with white petals (7)

- Flowers with white petals (7)

10 - Pure love (5)

10 - Pure love (5)

11 - Connection or association (12)

11 - Connection or association (12)

13 - Provoke (6)

13 15 - Provoke - Marble (6) (anag) (6)

15 17 - Marble - Foreboding (anag) (6) (12)

20 - Cage for small pets (5)

17 - Foreboding (12)

21 - Skills (7)

20 - Cage for small pets (5)

22 - Plot (8)

21 - Skills (7)

23 - Metallic element (4)

22 - Plot (8)

Down

12

1 - Form the base for (8)

2 - Bore into (5)

4 - Person who fails to turn up (2-4)

5 - Modestly (12)

6 - Extremely cold (7)

7 - Profound (4)

8 - Absolute authority in any sphere (12)

12 - Male relation (8)

14 - Motor-driven revolving cylinder (7)

16 - Paler (6)

18 - Interior (5)

DOWN

23 Metallic element (4)

1 - Form the base for (8)

2 - Bore into (5)

4 - Person who fails to turn up (2-4)

5 - Modestly (12)

6 - Extremely cold (7)

7 - Profound (4)

8 - Absolute authority in any sphere (12)

12 - Male relation (8)

14 - Motor-driven revolving cylinder (7)

16 - Paler (6)

18 - Interior (5)

19 - Stylish (4)

CODEWORD

19 - Stylish (4)

13 22 10 13 20 5 2 11 19

1 12 4 25 22 11 4 8 15 24

25 1 9 19 10 16 7

8 20 4 3 24 12 10 4 7 12 14

15 22 26 22 19 21

24 22 25 15 19 1 25 20 12 7 15 24

11 3 10 25

16 20 12 9 9 15 19 7 22 19 4 20

22 20 19 26 1 4

4 18 1 4 8 19 4 25 16 15 19

1 23 4 8 6 20 5

11 22 25 12 19 22 8 5 1 25

24 25 25 19 15 6 20 1 17

A B C D E F G H I J K L M N O P Q R S T U V W X Y Z

1 2 3 4 5 6 7 8 9 10 11 12 13

H

14 15 16 17 18 19 20 21 22 23 24 25 26

X Q

SUDOKU

Each of the nine blocks has to contain all the

numbers 1-9 within its squares. Each number

can only appear once in a row, column or box.

WORDSEARCH

ALL HALLOWS EVE

The Parish Magazine - October 2022 39

PUZZLE PAGE — the answers will be published in the next issue

With October, autumn is underway –

the leaves are turning gold, the chilly

nights are closing in and the shops are

full of Halloween things. Our ancestors

were frightened of the dark and cold

of winter, and feared that evil things

might attack them. So they lit fires and

wore frightening masks, to ward off evil

spirits. But Christianity taught a much

better way: it taught that Jesus Christ

is the Son of God, and that when He

died for us on the cross, he overcame

all the powers of evil that there are. So

we don't need charms to ward off evil,

we just need to turn to Jesus in prayer.

He will protect us from any power of

darkness that menaces our lives. The

Psalms say that he is our shield and

protector!

AUTUMN

GOLD

NIGHT

DARK

PUMPKIN

SWEETS

SAINTS

GOODNESS

SAVING

PRAYER

PROTECTION

LIGHT

JESUS

SON

FEARLESS

SCHOOL

EXAMS

HALF TERM

COAL

LEAVES

BONFIRES

SNEEZE

SCARVES

SOUP

September

Solutions

CROSSWORD

I T E M B L A S T O F F

N J C E U U E

C H E V R O N P A S T A

O C O G E T T

R I T E S T A R N I S H

R S H N N E

U N L O C K D A G G E R

P I O A T W

T O N G U E S U N C L E

I E N T R H I

B E A S T H E A R I N G

L G R M L N H

E V E R Y D A Y H O O T

CODEWORD

S Q U A D R O N L O C O

A S E U N P V

S H E E N T I N U R E

H D O F G L R

S M O O T H N E S S

M J I X T N E

Y E A R N S A C A C I A

T B A S L E S

H A B I T A T I O N

I E I R T S D

C A R G O I H A I K U

A E N F E Z E

L A D Y N E W S R E E L

SUDOKU

WORDSEARCH WEEDS
---
40 The Parish Magazine - October 2022

Local Trades and Services

ACG SERVICES - LOCKSMITH

Locks changed, fitted, repaired and opened

Door and window locks fitted, UPVC door lock expert

Checkatrade member - Which Trusted Trader

Call Richard Homden: 0149 168 2050 / 0771 040 9216

Please mention The Parish Magazine when responding to advertisements

CHIROPODY AND PODIATRY

Linda Frewin MInstChp, HCPC member

General foot care and treatments

25 Ashtrees Road, Woodley RG5 4LP

0118 969 6978 - 0790 022 4999

CLARK BICKNELL LTD - PLUMBING & HEATING

Qualified Plumbing and Heating Engineers Gas Safe

25 years experience - local family run company

Office: 0118 961 8784 - Paul: 0776 887 4440

paul@clarkbicknell.co.uk

COMPUTER FRUSTRATIONS?

For jargon free help with your computer problems

PC & laptop repairs, upgrades, installations, virus removal

Free advice, reasonable rates

0798 012 9364 help@computerfrustrations.co.uk

INTERSMART LIMITED

Electrical Installation and Smart Home Automation

intersmartuk@gmail.com

Elliott — 0777 186 6696

Nick — 0758 429 4986

HANDYMAN & DECORATING SERVICES

Reliable and affordable

Small jobs a speciality!

Call Andy on 0795 810 0128

http://www.handyman-reading.co.uk

JAMES AUTOS

Car Servicing, Repairs and MOT

Mole Road, Sindlesham, RG41 5DJ

0118 977 0831

http://www.jamesautos.co.uk

ALL AERIALS

A local business based in Sonning. TV - FM - DAB aerials etc.

Sky dishes. Communal premises IRS systems, TV points.

Free estimates - All work guaranteed

0118 944 0000

MC CLEANING

We are a family business with excellent references

and we are fully insured

All cleaning materials provided

For free quote call: Maria 0779 902 7901

PROFESSIONAL HOME VISIT SERVICE

Thames Valley Will Service

Also Lasting Powers of Attorney and Probate Service

We are still working during the pandemic period

0134 464 1885 tvwills@yahoo.co.uk

THAMES CHIMNEY SWEEPS

0779 926 8123 0162 882 8130

enquiries@thameschimneysweeps.co.uk

http://www.thameschimneysweeps.co.uk

Member of the Guild of Master Sweeps

CALLAGHAN CARPETS & FLOORING

Thirty-six years local experience

Family run company

0118 962 8527 0779 223 9474

callaghancarpets@btinternet.com

WANT HELP WITH AN 'ODD JOB'?

For local odd jobs please call Phil on

0118 944 0000

0797 950 3908

Thames Street, Sonning

BIG HEART TREE CARE

Reliable and friendly service for all tree care

NPTC qualified — Public Liability of £10million

0118 937 1929 0786 172 4071

bighearttreecare.co.uk info@bighearttreecare.co.uk

SMALLWOOD

Landscaping, garden construction,

patios, lawns, fencing, decking etc

0118 969 8989 https://www.smallwoodlandscaping.co.uk/

office@smallwoodlandscaping.co.uk

ALL WASTE CLEARANCE & DISPOSAL

Waste clearance from office, house, garden, loft

Licensed waste carriers, no job too small or large

Contact: John

0771 021 2056 j.garmston@ntlworld.com

BERKSHIRE STUMP REMOVALS

Stump grinding and tree stump removal

Latest narrow access machinery

Contact: Mark

0798 495 7334 http://www.berkshirestumpremoval

PAINTER and DECORATOR

Roger McGrath has 25 years experience

Restoration painting work of any size undertaken

For a free quotation call

Roger 0742 332 1179
---
CHILDREN'S PAGE

The Parish Magazine - October 2022 41
---
42 The Parish Magazine - October 2022 Please mention The Parish Magazine when replying to advertisements

information — 2

Parish contacts

Ministry Team

— The Vicar: Revd Jamie Taylor (Day off Friday)

The Parish Office, Thames Street, Sonning, RG4 6UR

vicar@sonningparish.org.uk / 0118 969 3298

— Associate Vicar: Revd Kate Wakeman-Toogood

revkate@sonningparish.org.uk / 0746 380 6735

On duty Tuesday, Friday and Sunday

— Youth Minister: Chris West (Westy)

youthminister@sonningparish.org.uk / 0794 622 4106

— Licensed Lay Minister: Bob Peters

bob@sonningparish.org.uk / 0118 377 5887

Children's Ministry

— Alison Smyly office@sonningparish.org.uk / 0118 969 3298

Churchwardens

— Stuart Bowman sdbowman73@aol.com / 0118 978 8414

— Liz Nelson liz.nelson1@ntlworld.com / 0779 194 4270

Deputy Churchwardens

— Simon Darvall sdarvall@businessmoves.com 0793 928 2535

— Sue Peters mail@susanjpeters.com / 0118 377 5887

— Molly Woodley (deputy churchwarden emeritus)

mollywoodley@live.co.uk / 0118 946 3667

Parish Administrator

— Hilary Rennie

office@sonningparish.org.uk / 0118 969 3298

Parochial Church Council

— Secretary: Hilary Rennie 0118 969 3298

— Treasurer: Richard Moore 0118 969 2588

Director of Music, organist and choirmaster

— Hannah Towndrow BA(Oxon), MA(RAM), LRAM

music@sonningparish.org.uk

Sonning Bell Ringers

— Tower Captain: Pam Elliston

pam.elliston@talktalk.net / 0118 969 5967

— Deputy Tower Captain: Rob Needham

r06needham@gmail.com / 0118 926 7724

Parish Website: http://www.sonningparish.org.uk

The Parish Magazine: http://www.theparishmagazine.co.uk

— Editor: Bob Peters

editor@theparishmagazine.co.uk / 0118 377 5887

— Advertising and Distribution: Gordon Nutbrown

advertising@theparishmagazine.co.uk / 0118 969 3282

— Treasurer: Pat Livesey

pat.livesey@yahoo.co.uk / 0118 961 8017

— The Parish Magazine is produced by St Andrew's PCC and delivered

free of charge to every home in Charvil, Sonning and Sonning Eye.

— The Parish Magazine is printed in the United Kingdom by The Print

Factory at Sarum Graphics Ltd, Old Sarum, Salisbury SP4 6QX

— The Parish Magazine is distributed by Abracadabra Leaflet

Distribution Ltd, Reading RG7 1AW

— The Parish Magazine template was designed in 2012 by Roger

Swindale rogerswindale@hotmail.co.uk and David Woodward

david@designforprint.org

Advertisers' index

ABD Construction 6

Abbey School 38

Abbeyfield Wey Valley Society 20

ACG Services Locksmith 40

Active Domestic Appliances 16

Active Security 30

ADD Plumbing 12

All Aerials 40

All Waste Clearance 40

Barn Store Henley 16

Berkshire Stump Removals 40

Big Heart Tree Care 40

Blandy & Blandy Solicitors 14

Blinds Direct 26

Blue Moose 8

Bridge House 43

Bridges Home Care 26

Bull Inn 8

Callaghan Carpets & Flooring 40

Chimney Sweep, Thames 40

Chiropody, Linda Frewin 40

Chris the Plumber 32

Clark Bicknell 40

Comfort in Care 10

Complete Pest Solutions 24

Computer Frustrations 40

CPS Fuels 28

Cruz Kitchens 28

Design for Print 28

EMDR Hypnotherapist 30

Freebody Boatbuilders 6

Fields Pharmacy 32

French Horn 44

Gardiner's Homecare 8

Great House Sonning 24

Handyman and Decorating Services 40

Haslams Estate Agents 2

Hicks Group 16

Intersmart Electrical Installations 40

James Autos 40

Jones & Sheppard Stone Masons 32

Kingfisher Bathrooms 26

MC Cleaning 40

Mill at Sonning 4

M & L Healthcare Solutions 12

Mortgage Required 18

Muck & Mulch 28

Nutrition & Health Consultant 38

Odd Jobs 40

Painter and Decorator 40

Pearson Hall Sonning 24

Queen Anne's School 10

Reading Blue Coat School 26

Richfield Flooring 14

Sabella Interiors 34

SecureHeat 20

Seniors Helping Seniors 12

Shiplake College 14

Signature Care Homes 36

Sonning Golf Club 32

Sonning Scouts Marquees 30

Smallwood Garden Services 40

Style by Julie 6

Thames Valley Water Softeners 6

Thames Valley Wills Service 40

The 50 Plus Home Repairs 28

Tomalin Funerals 24

Walker Funerals 12

Water Softener Salt 28

Window Cleaner 16
---
Please mention The Parish Magazine when responding this advertisement

The Parish Magazine - October 2022 43

BRIDGE HOUSE

of TWYFORD

Because you deserve

the very best

Welcome to Bridge House Nursing Home

Established for 35 years, the elegant Georgian Grade II listed Bridge House has extended its facilities to

include a beautiful, light-filled and airy purpose built nursing home.

Our philosophy is built upon helping residents maintain their independence and dignity, whilst ensuring

their needs and expectations are fully met. We believe that being independent means having the freedom

of choice and flexibility over how the day is spent. Working closely with families and professionals

is fundamental in delivering and maintaining the required level of health and wellbeing.

At Bridge House, our comprehensive facilities and care provision is designed to deliver skilled,

professional and individually planned care in an unobtrusive manner.

Call 0800 230 0206

Visit www.bridgehouseoftwyford.co.uk

INDEPENDENT LIVING • ASSISTED LIVING • NURSING HOME

190821 - Bridge House Ad Parish Mag v01.indd 1 21/08/2019 18:06
---
44 The Parish Magazine - October Please mention 2022 The Parish Magazine when responding this advertisement

The French Horn,

Sonning. Quality.

A continuing commitment to

wonderful food and wine.

0118 969 2204

www.thefrenchhorn.co.uk