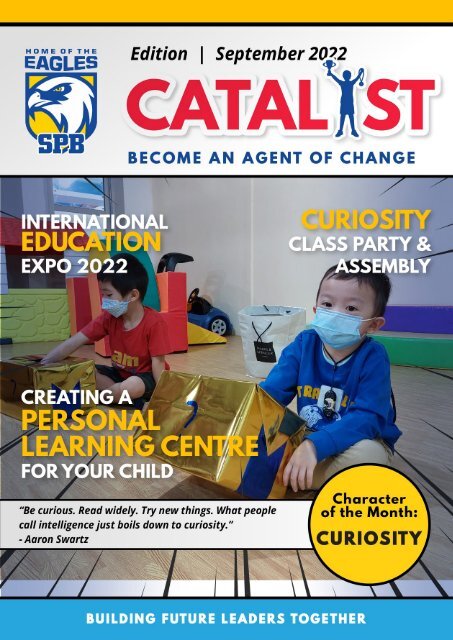 CATALYST | September 2022
Monthly insight of student and teacher activities at SPK Sekolah Pelita Bangsa Cirebon
Monthly insight of student and teacher activities at SPK Sekolah Pelita Bangsa Cirebon

SHOW MORE
SHOW LESS
Create successful ePaper yourself
Turn your PDF publications into a flip-book with our unique Google optimized e-Paper software.
CONTENTS

Principal's Message

SPB International

Education Expo 2022

Nursery - Kindergarten

Curiosity Class Party

Kindergarten

Five Senses Class Party

Students' Achievement

Spotlight On

Primary Curiosity Assembly

Health Check-Up &

Immunization Program

2

4

6

8

11

16

17

Sekolah Pelita Bangsa shares the

optimism that the end of the Covid

pandemic is finally in sight, as declared

by the World Health Organization in the

middle of September 2022. They revealed

that weekly deaths from the virus around

the world were at the lowest level since

March 2020. We have experienced

a similar situation at Sekolah Pelita

Bangsa.

We have not had any report of Covid-19

infections for the last few weeks from any

of the SPB stakeholders.

While WHO still cautioned that the

coronavirus still posed an acute global

emergency, we are grateful to have had

uninterrupted learning for the last few

weeks for all grade levels. At this time,

I would like to thank all the parents and

families who had complied with SPB

Covid-19 policy since the beginning of this

academic year, who reported truthfully

even at a personal cost, and who had their

child and themselves tested for the sake

of safe classroom environments.

Even though the numbers are down,

please note that Sekolah Pelita Bangsa

still adheres to the current SPB Covid-19

policy and we are still applying the same

health protocol day in and out.

This month is a curiosity month at

Sekolah Pelita Bangsa.

At SPB, we constantly encourage

our students, staff, and teachers to

continuously learn and explore various

areas and disciplines. I am excited with

the many activities that we have planned,

and now are in sight with the current

Covid-19 situation. Please continue

to support us by participating in our

field trips, International Expo, Bhinneka

Tunggal Ika, and many other events,

clubs, and extracurricular activities.

Let's continue to foster curiosity and a

growth mindset beyond the month of

September.

Biawak Island

18

Warm Regards,

How to use consequences instead of

punistment

19

Regina Elisabeth T. B.Sc, M.Ed

(Executive Principal)

Creating a Personal Learning Centre

for your child

Hidup Menyediakan Pilihan, Ajarkan

Anak Membuat Pilihan Tepat

20

22

is SPB new magazine in digital format

– Save the earth

– Easy acess & archive, get the previous edition in a finger tip

– Colorful & clean template design

– More interactive! Click to view video

Location : Physic Lab

1
---
2

HIGHLIGHT
---
HIGHLIGHT

HIGHLIGHT

4

5
---
KINDERGARTEN CORNER

KINDERGARTEN CORNER

6

7
---
ACHIEVEMENTS

ACHIEVEMENTS

8

Click link below for share your child achievements:

https://bit.ly/SPB_Achievement

9
---
ACHIEVEMENTS

PROFESSIONAL AT SPB

10 11
---
Video

ADVERTISEMENT
---
PRIMARY CORNER

PRIMARY CORNER

16

17
---
PRIMARY NUSANTARA CORNER

INSIGHT

18

19
---
SPB PARENTING TIPS 1

SPB PARENTING TIPS 1

Source:

20 21
---
SPB PARENTING TIPS 2

SPB PARENTING TIPS 2

Hidup Menyediakan Pilihan, Ajarkan Anak

Membuat Pilihan Tepat

by www.kompasiana.com

Pernah dengar kata bahwa "hidup adalah

pilihan?" Maksudnya bagaimana? Kita

bisa pilih gitu? Mau hidup atau mau tidak

hidup?" Eh ngeri kali.

Sesungguhnya kita harus pandai memilih

kalau mau hidup.

Istilah kerennya decision making skill/

kemampuan pengambilan keputusan,

yaitu kemampuan untuk memilih satu

yang terbaik dari dua atau lebih pilihan

untuk mendapatkan hasil yang terbaik.

Ketika anak masih kecil, ruang lingkup

kegiatan memilihnya hanya sebatas

memilih menu makanan, memilih warna

pakaian, dan hal-hal ringan lainnya yang

tidak akan membawa dampak negatif jika

terjadi salah pilih.

Namun ketika anak beranjak dewasa,

kemampuan memilih akan sangat

menentukan kehidupannya. Bayangkan

jika anak terpaksa kuliah pada jurusan

yang tidak dia sukai akibat salah pilih.

Begitu juga saat masuk dunia kerja,

banyak keputusan-keputusan yang

harus diambilnya yang mempengaruhi

perusahaan ataupun tim kerja. Apa

nasibnya kalau keputusan yang dia ambil

selalu salah.

Orang hidup tidak terlepas dari namanya

masalah, kemampuan memecahkan

masalah/problem solving skill, ditunjang

oleh kemampuan memilih.

Untuk menyelesaikan suatu masalah,

terdapat beberapa alternatif cara, setiap

cara memiliki implikasi masing-masing.

Berikut beberapa tips yang dapat

diterapkan!

1. Pertegas Ruang Lingkup Pilihan

Anak perlu dijelaskan, apa yang harus

dia pilih, apa batasannya. Jika kita

mau mengajak anak membeli pakaian,

pertegas jenis pakaian apa yang memang

harus dia cari. Misal, "Dek, baju tidurnya

sudah kekecilan semua, ayo kita cari baju

tidur."

Dengan kalimat seperti ini, maka anak

tahu bahwa yang harus dia pilih adalah

jenis baju tidur, bukan yang lainnya, bukan

baju bola, bukan pula baju pesta.

Membeli buah juga bisa dijadikan ajang

bagi anak berlatih membuat keputusan,

"Adek pilih mau beli buah apa, asal jangan

pepaya karena kita sudah makan pepaya

kemarin."

2. Beri Alternatif

Ada yang pernah mengeluh, "Anakku kalo

di restoran disuruh milih menu, mie lagi,

mie lagi. Padahal tadi pagi di rumah sudah

makan mie instan."

Nah, sekarang kita izinkan dia memilih

dari alternatif yang kita sediakan. "Dek,

tadi pagi sudah makan mie, mama mau

kita pesan makanan yang ada sayurnya.

Adek mau kangkung tumis atau capcay

atau oseng buncis ?"

Dengan meminta anak memilih dari

alternatif yang kita sediakan, kejadian

selalu memilih mie dapat dicegah.

3. Hargai Pilihan Anak

Ketika ruang lingkup pilihan sudah

disepakati, alternatif pilihan sudah

disodorkan pada anak, hargai hak

pilihnya, jangan diintervensi.

Kebiasaan kita mengintervensi

membuat anak akhirnya menyerah dan

bilang "terserah Mama deh". Maka kita

sebagai orang tua juga perlu berpikir

saat menawarkan pilihan.

4. Ajarkan Konsekuensi dari Pilihan

Sangat wajar jika anak kecil

memilihnya sesuka hati. Kita yang

perlu menjelaskan sejak awal, apa

konsekuensi dari alternatif pilihan yang

ada.

Biarkan anak mengajukan pertanyaan

kalau masih belum jelas hingga dia

benar paham apa konsekuensi dari

pilihannya. Sehingga jika nanti anak

harus jalan mencari angkot, ataupun

pulang lebih awal, dia sudah siap

dan menerima kondisi itu sebagai

pilihannya sendiri.

Nah, mudah bukan mengajak anak

berlatih membuat pilihan?

Tentunya tidak semua keputusan

dalam keluarga perlu diserahkan

kepada anak, namun keputusan

tertentu dapat kita jadikan ajang

berlatih bagi anak, sesuaikan dengan

porsi dan kemampuan anak.

Source:

22

23
---
BOOK CORNER

ADVERTISEMENT

Do you need space to support your event?

Pelita Auditorium

a theatre seated-style,

just might be the right

choice for your venue!

It can accomodate up to 189 person,

equipped with sound mixer, projector,

as well as well-padded accoustic wall.

It also has a spacious foyer space to

support your event.

Further info:

Marketing office: (0231) 208887

Special price for SPB family member

Post your

product in

SPB News

– SPB News is supposedly read by more than 1,000 readers per edition

– Well segmented target market

– It's a right place to build your brand awareness

– Very affordable

Further details, please contact us at: marketing@pelitabangsa.com

24
---
Connect with us

(Click The icons)

Sekolah Pelita Bangsa

@sekolahpelitabangsacirebon

info@pelitabangsa.com

0231-208887

0897 8407 888

www.pelitabangsa.com

Sekolah Pelita Bangsa

Inspiring Minds Podcast

Taman Cipto Blok A1

Kav 6, Cirebon – 45131

Pindai QR Code ini

untuk menyimpan alamat kami