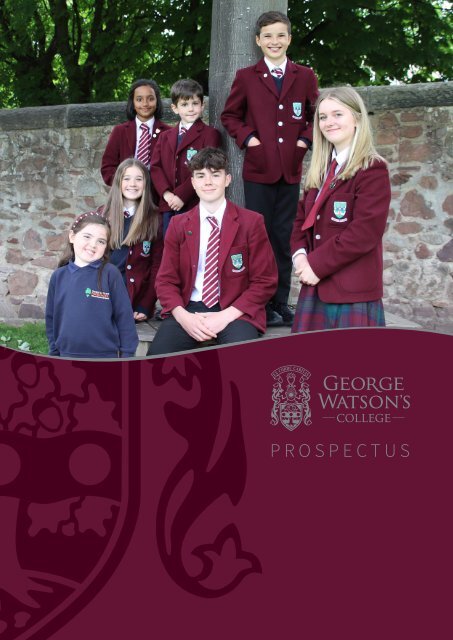 George Watson's College Prospectus 2022
George Watson's College provides a world class education for children and young people from Preschool to S6. We encourage our pupils to develop a love of real learning through an inspiring curriculum and an extensive and inclusive enrichment programme.
George Watson's College provides a world class education for children and young people from Preschool to S6. We encourage our pupils to develop a love of real learning through an inspiring curriculum and an extensive and inclusive enrichment programme.
SHOW MORE
SHOW LESS
You also want an ePaper? Increase the reach of your titles
YUMPU automatically turns print PDFs into web optimized ePapers that Google loves.
PROSPECTUS
---
Our School

We are a single campus independent school in Edinburgh for children

aged 3 to 18.

We encourage our pupils to develop a love for learning through an inspiring curriculum and an

extensive and inclusive enrichment programme. We are a community that supports and challenges our

pupils to discover their own limitless potential.

We nurture the knowledge, skills and confidence our pupils will need to become engaged and

successful citizens and make their own unique contribution to the world.
---
Our Values

Our values sit at the heart of our school. They are who we are. They are what we do. They are the standard

we set to measure ourselves and the contribution we make to the strength of our community.

Aim High

We challenge ourselves and encourage excellence.

Be Kind

We support each other to be confident,

engaged and ambitious.

Join In

We create a diverse range of opportunities and

enjoy the freedom to discover who we really are.

Respect All

We care for others in an environment where

all of our voices are valued and respected.
---
Preschool

We believe our children should be able to go on magical adventures every

day. Our Preschool has been designed to create flexible, collaborative

places for children to learn both in the classrooms and outdoors.

Each of our Preschool classes is teacher-led and children are supported by a team of experienced

Preschool practitioners. This means that our Preschool combines the best of childcare with an

environment that really encourages learning, enabling children to move successfully into our Junior

School when they are ready to do so.

We are committed to creating

a clear pathway where

children will have the best

possible opportunity to move

forward successfully into the

Junior School.
---
The outdoor space around our Preschool provides

a safe yet inspiring space for children to enjoy the

freedom to explore, play and learn. We also make

full use of the wider campus for children to have

their adventures. All our Preschool children have

a hot, healthy and delicious lunch to fuel them

through their busy days.

There are no admission assessments for

Preschool and, as places are allocated on a

first-come, first-served basis, early applications

are advised.
---
Junior School

The journey of learning and discovery that starts in Preschool continues

in our friendly, welcoming Junior School.

The rich and varied Junior School curriculum

ensures that children acquire a deep

understanding of individual subjects including,

English, Maths, Science, History, foreign languages

and the creative arts, whilst cross-curricular

themes ensure that understanding is developed

in interesting and rewarding contexts. By helping

them to understand how they learn, we empower

pupils to be happy, confident and successful in

their learning.

Our classrooms are all fully Wi-Fi enabled and

iPads and other devices are introduced as natural,

but not dominant, tools for learning.
---
We know that children

who are happy and

motivated are the most

successful learners.

Specialist Teachers by Year

Preschool

In addition to the expertise of their class teacher,

Junior School pupils benefit from an increasing

Primary 1–2

number of specialist teachers as they progress

from year to year. Where pupils need additional

support with their learning, our highly experienced

Primary 3

Primary 4

team will be on hand to develop a package to meet

their needs.

Primary 5–7
---
In the early years of the Junior School (P1–P3),

individual year group classes are arranged in

clusters, giving younger pupils positive role models

and enabling older pupils to develop a sense of

responsibility for their younger schoolmates. From

P4 upwards, classes are organised in year groups,

with P7 enjoying a superb suite of classrooms and

a curriculum tailored for successful progression

into the Senior School.

The health and wellbeing of our pupils is our top

priority throughout our school. Our approach

is based on the principles of the United Nations

Convention on the Rights of the Child (UNCRC) and

has been recognised as amongst the more effective

and forward thinking of any school in the country

by the award of the Gold Rights Respecting School

Award by UNICEF.
---
For everyday support, our Wellbeing Hub is staffed

by registered nurses and the Wellbeing Room is

a place where pupils can relax if they are feeling

overwhelmed and need quiet time away from

the classroom.

Throughout their time at Watson's, pupils' lives

and learning are enriched by the many experiences

beyond the classroom. Day trips and residential

visits enable pupils to extend their learning and

develop independence.

Music lies at the very heart of the Junior School

and pupils have the chance to learn an extensive

range of musical instruments and benefit from

many opportunities to perform either individually

or in ensembles, choirs and orchestras. No less

important are the opportunities to perform on the

stage and the sports field. Whilst we encourage

excellence and celebrate success, our real

commitment is to participate and to make sure that

all pupils have the freedom to find out what they

love doing.

Every lesson is

imaginatively planned by

teachers who understand

that each pupil is different.
---
We offer one of the

broadest ranges of

curricular choices

anywhere.

Senior School

In our Senior School pupils develop the knowledge, skills and attributes

they need to thrive as adults and to make their own individual

contribution to the world.

The Senior School curriculum builds on the learning

experiences of the Junior School but is equally

accessible to pupils joining Watson's at other stages.

Excellent specialist teaching is offered within

a structure that enables pupils to explore links

between subjects and understand the fundamental

concepts which underpin their learning.

In Senior 1 and 2, pupils benefit from specialist

teaching in English, Maths, foreign languages,

physical education, creative arts, the sciences and

other "STEM" subjects and social studies.

A common approach to literacy is taken across the

social studies subjects to enable pupils to build on

core writing skills. Similarly, coordinated teaching

takes place across the science subjects to develop

generic STEM skills.

We prepare pupils for Scottish National

Qualifications and provide an exceptional range of

courses in combinations that are designed to suit

the needs of the individual pupil.
---
●

●

●

In Senior 3 and 4, most pupils study eight subjects

for National 5s from the approximately 30 that are

offered. Pupils usually take English, Maths and a

foreign language within their choices.

In Senior 5, pupils usually study five Higher

subjects – often including English and Maths

– from the approximately 34 different courses

available.

In Senior 6, pupils study a range of Higher and

Advanced Higher subjects depending on their

future plans. Again, a wide range of courses

(including 27 at Advanced Higher) in many

combinations is available.

In addition to certificated courses, pupils study

a core curriculum and older pupils may choose

enrichment courses to further broaden their

academic experience.

S3 S4 S5 S6

30

Nat 5s

offered

8 Subjects

(inc English,

Maths & Foreign

Language)

34

Highers

offered

5 Highers

(usually inc

English

& Maths)

27

Advanced

Highers

offered

Mix of Highers

& Advanced

Highers

available
---
We help our pupils develop

the knowledge, skills and

personal attributes they

need to thrive as adults.

The health and wellbeing of pupils remains a key

focus in the Senior School. Working closely with

parents and pupils themselves, Form Tutors,

skilled and experienced pupil support staff, a

school counsellor, school nurses and our network

of trained peer-to-peer supporters combine to

ensure that every pupil can flourish.

We have a long history of helping pupils to overcome

barriers to their learning and there is access to

the expert support for learning that is required.

Additional support for learning is provided in-class

or through small group activity, as needed.

In Senior 6, pupils choose their own Personal

Tutor to guide their choices as they prepare for

university, college or the world of work. The

majority of our pupils progress to university but

we never take it for granted that university is the

right destination for any pupil and we are equally

pleased to support those who wish to pursue a

different path that is right for them.

Senior School pupils benefit from the extraordinary

range of enrichment opportunities including

some of the most extensive programmes of extracurricular

sport and music of any school in the

UK, ambitious drama productions and highly

successful clubs and societies. The programme of

educational visits begins with an orientation trip

in the early weeks of Senior 1. From then on, the

opportunities multiply both for group visits and

individual experiences supported financially or

practically by the school.
---
Exam Results for Session 2021/22

SQA Pass rates A-C

National 5 Higher Advanced Higher

97.1% 95.5% 91.6%

+20.2%* +21.2%* +12.6%*

*Difference from National Average

Figures are percentages of presentations.

SQA exam

presentations

Average UCAS

3,884 score per S5 142.4

candidate

Top 10 University

Destinations (2022)

1. Glasgow

2. Aberdeen

3. St Andrews

4. Edinburgh

5. +29.0%* Dundee

6. Strathclyde

7. Stirling

8. Robert Gordon

9. Glasgow Caledonian

10. Heriot-Watt

Top 10 Subjects

applied for (2022)

7 Business Management

Medicine

Computing Science

International Business

Mathematics

Scots Law

Accountancy with Finance

Economics

Electrical & Mechanical

Engineering

Geography
---
Pupils have every

opportunity to discover

exciting things about

the world and to

develop as individuals

through a huge range

of extracurricular

activities.

Beyond the Classroom

At Watson's, we believe that some of the most important learning takes

place outside the classroom.

Pupils have every opportunity to discover

exciting things about the world and to develop as

individuals through a huge range of extracurricular

activities, a carefully designed programme of

residential trips and other opportunities for

learning off the school site. The friendships that

are made and the fun had participating in these

activities has a hugely positive impact on pupils'

confidence and overall development.

In Preschool children start their discoveries by

exploring first the campus and then further afield.

Our programme of residential trips begins in the

Junior School with a class visit to York in Primary 4.

A camping experience follows in Primary 5 with a

focus on making new friends and team building.

In Primary 6, children visit Meigle to study life

as a Jacobite and the programme culminates in

Primary 7 with a week-long visit to London.
---
Junior School Residential Trips

SEPT NOV FEB/

MAY

MAR

Primary 5

Kingswood

Primary 7

London

Primary 4

York

Primary 6

Meigle

Extra-curricular Activites Available Across the School

67 Clubs

24 Sports 35 Music Ensembles
---
Trip Destinations

Canada

USA

UK

France

Belgium

Spain

Germany

Italy

Switzerland

Japan

China

Taiwan

Malawi

Australia
---
Our unique S3 Projects programme

sees small groups of pupils set

off on a two week trip to multiple

destinations engaging in a wide

variety of activities.

The Senior School offers enrichment opportunities

which include a Global Education Fortnight for

Senior 1 and 2 pupils, language trips in Senior 2 and

S3 Projects in Senior 3. A huge range of cultural and

language exchanges also begins in Senior 3, along

with opportunities to tour with sports teams. Older

pupils can apply for generous financial awards from

the school to help fund their own adventurous plans

and there are exciting opportunities for leavers in

many parts of the world.

Our unique S3 Projects programme sees small

groups of pupils set off on a two week trip to

multiple destinations engaging in a wide variety

of activities. This tradition remains a key part of a

Watson's education.

Project 810 is a College wide

initiative providing opportunities

for all pupils to make a difference

by acquiring new skills and

understanding so they can confidently build

a fairer, kinder, and more sustainable world.

Our aim is to nurture compassionate global

citizens who feel equipped, emboldened and

empowered to take action to improve the

world we live in.
---
Our Facilities

All our educational and sporting facilities are located on our single, easily

accessible campus where all our pupils learn, play and grow together.

They enjoy the freedom of the beautiful green spaces throughout our campus whether that means exploring

in a lesson, playing with friends or eating a snack on the grass.

All our educational and sporting

facilities are located on our single,

easily accessible campus.

Craiglockhart

Pitches

Preschool

Grandstand

Pitch

Myreside

Playing Fields

Lower Primary

(Primary 1–3)

Junior School

Dining Hall

Upper Primary

(Primary 4–7)
---
Preschool

Junior School

We believe our children should be able to go

on adventures every day and our stunning

Preschool classrooms are flexible, collaborative

places to learn with outdoor spaces that promote

exploration and discovery.

Our Junior School provides a range of facilities

to support the learning and development of each

pupil. It is a safe, comfortable yet vibrant place with

indoor and outdoor spaces that encourage both

independence and constructive play. The library

and informal learning spaces in the John Martin

Building support pupils in acquiring good habits

for study and collaboration with others.

Art

Centre for Sport

Senior School

Hockey

Pitches

Tennis

Courts

Design, Technology

& Engineering

Music

School
---
Senior School

Sports Facilities

In the Senior School, bright and spacious

classrooms are complemented by well-equipped

laboratories and a variety of other specialist learning

areas, well-resourced libraries and informal spaces.

Our Senior School Assembly Hall is one of

Edinburgh's finest performance venues with a

heritage that includes hosting some of the world's

greatest musicians. However, it is mainly the place

where our community meets each week, where

we share ideas, music and drama and where we

celebrate the many achievements of our pupils.

Our Centre for Sport boasts four sports halls, a

fitness suite with cardio and resistance training

equipment and a 23.5-metre swimming pool.

Outside, the famous Myreside Grandstand pitch

sits at the centre of a range of other excellent grass

pitches, astroturf pitches, tennis courts and cricket

nets. The Pavilion at Myreside provides social

facilities for the school and wider community and

houses some excellent squash courts. The nearby

boathouse is the home of our Boat Club.

The famous Myreside Grandstand

pitch sits at the centre of a range

of other excellent grass pitches,

astroturf pitches, tennis courts

and cricket nets.
---
The Arts, Design and Technology

Creativity is a crucial component of our pupils'

education and purpose-built facilities support their

enjoyment and achievement in music, art, design

and technology.

An attractive exhibition gallery lies at the centre

of our Art School which also has dedicated areas

for pottery, sculpture, textiles, painting and

photography.

The Music School with its distinctive roof is a

wonderful venue for all kinds of music learning

and performance, whilst the Drama Department

provides specialist performance studios and is the

focus for drama in the Senior School. The Junior

School benefits from performance spaces and

dedicated music rooms at the very heart of the

John Martin Building.

Our Design, Technology and Engineering

Department has excellent facilities where pupils

can develop skills using a wide range of specialist

equipment ranging from a chip forge to the latest

in computer-aided fabrication technology. The

emphasis here as elsewhere is to liberate the

creativity of the individual to identify innovative

design solutions.
---
Fees and Financial

Assistance

Current school fees can be viewed on our website. Fees are reviewed annually in June for the

following session.

George Watson's College aims to be an inclusive and welcoming environment in which children and

young people from a wide range of backgrounds can learn, grow and thrive. We are pleased to be able to

offer the following forms of financial support to help parents and carers who wish their children to join

our school. Children joining from Primary 6 upwards are able to apply for financial support, preference is

given to those pupils joining Primary 6, Primary 7 and Senior 1.

Foundation Places

Foundation Places are intended to provide life-changing opportunities for children and young

people from families with little or no previous experience of independent education. Pupils receiving

Foundation Places may face particular social or educational challenges which attending Watson's could

help to address. Although all pupils awarded Foundation Places must meet, or have the potential to

meet, our usual academic standard, Foundation Places are not scholarships and are not awarded on the

basis of academic criteria alone.

Our Foundation Places can offer families, where the household income (before tax) is less than

£30,000 a year, school fee assistance between 75% and 100%.
---
Financial Assistance

for Parents Scheme (FAP)

We recognise that the payment of independent

school fees can be a daunting prospect for

many parents and, in addition to the award of

Foundation Places, we are also able to support a

small number of families every year through the

FAP scheme. Financial support is calculated on a

sliding scale depending on income. The maximum

award under the FAP scheme is 70% of school

fees where the household income is up to £60,000

(before tax). The funds available through the FAP

scheme are limited and not all families who apply

will be successful in receiving support.

Music Scholarships

Applicants for entry to Senior School can apply

for the Ferguson and Bruce Music Scholarships

which provide free annual music tuition on two

instruments, or for voice and an instrument.

These scholarships are available irrespective of

household income and the award is made initially

for three years. Subsequently, the award depends

on progression during S1 to S3 and commitment to

studying Music at Watson's.

More Information

If you would like an informal chat about Foundation

Places, the FAP scheme or Music Scholarships,

please call Admissions on 0131 446 6005.
---
Making an Application

Our main entry points are Preschool, Primary 1, Primary 6, Primary 7

and Senior 1 but we are pleased to consider pupils for a limited number

of places in other years. Once we have received an application we will

invite applicants in for an assessment.

The entrance assessment provides a valuable opportunity for both the school and parents to ensure that your

child is placed in an environment which is suited to their own set of abilities and needs.

The assessment is not an exam, it is an assessment of your child's true capabilities based on their education

to date. The assessments are age and stage appropriate and differ depending on the year group you are

applying to. Each application is carefully considered on an individual basis.
---
Join us for our

Open Morning

Submit your

application by

mid-November

Primary 2

to

Primary 7

Entrance

Assessments

Primary 2 to

Primary 7

offers made

Primary 1 and

Senior School

offers made

OCTOBER NOVEMBER NOVEMBER DECEMBER JANUARY FEBRUARY FEBRUARY

Primary 1

and Senior

School

Entrance

Assessments

Acceptance

deadline

Please check our website for confirmed dates.
---
General Information

Travel

Wraparound Care

We are a city school with great access to public

bus and rail links. We also provide school buses

from Peebles, Midlothian, East Lothian, West

Lothian and Haymarket Station.

We provide Breakfast Club and Afterschool Club

(7.30am–6pm) from Preschool to Primary 7 and

also offer holiday clubs for these year groups.

We provide a flexible package of care, allowing

parents to opt for the care sessions that suit their

individual needs. Sports and drama camps are also

available during the holiday periods.
---
Catering

Visit Us

Our catering provides our pupils with the fuel

needed for a busy day at school. Pupils are offered

a range of healthy food choices with a commitment

to source from local suppliers. Payment is made

through a cashless payment system providing

parents with quick and easy tracking and top-ups of

their children's lunches.

We would encourage you to visit our school and

take the opportunity to learn more about what we

offer and how your child will benefit from joining

Watson's.

Contact Admissions to arrange a tour.

www.gwc.org.uk/joinus admissions@gwc.org.uk 0131 446 6005
---
www.gwc.org.uk/joinus

George Watson's College, Colinton Road, Edinburgh EH10 5EG

An Edinburgh Merchant Company School, Registered Charity SC009747