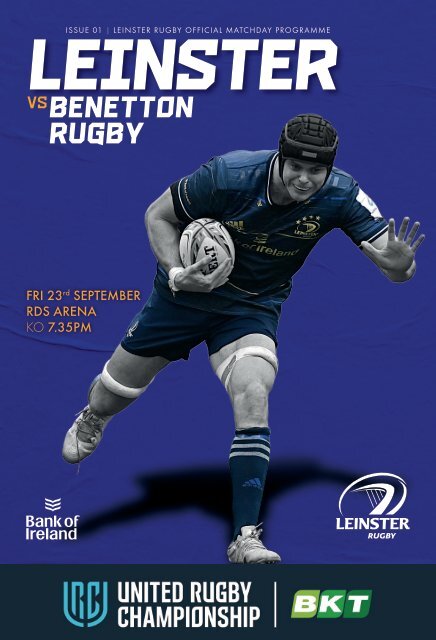 Leinster Rugby vs Benetton Rugby
Leinster | Official Matchday Programme of Leinster Rugby | Issue 01 Leinster Rugby vs Benetton Rugby | United Rugby Championship Friday 23rd September, 2022 | KO 7.35pm | RDS Arena
Leinster | Official Matchday Programme of Leinster Rugby | Issue 01
Leinster Rugby vs Benetton Rugby | United Rugby Championship
Friday 23rd September, 2022 | KO 7.35pm | RDS Arena
SHOW MORE
SHOW LESS
Create successful ePaper yourself
Turn your PDF publications into a flip-book with our unique Google optimized e-Paper software.
LEINSTER

VS

ISSUE 01 | LEINSTER RUGBY OFFICIAL MATCHDAY PROGRAMME

benetton

rugby

FRI 23 rd SEPTEMBER

RDS ARENA

KO 7.35PM
---
Our People, Our Home

TWELVE COUNTIES. ONE SHIRT.

Aaron Craig

From a lad wearing Leinster blue to the RDS, to

designing this season's shirt. Aaron Craig's journey has

been amazing. The adidas Designer talks us through

his design and what it means to create the shirt for his

boyhood club.

How did you begin working with adidas?

When I was at the National College of Art and Design Dublin, I learned

of adidas' intern program. A lifelong fan of the brand, I knew it was an

amazing opportunity. Luckily, I got to join adidas as an intern in 2016

and I've been in Herzogenaurach (adidas HQ) ever since. I'm now a

licensed apparel designer for some of the biggest teams in the world.

What drew you to this project?

Leinster asked if there were any Irish designers at adidas HQ they

could collaborate with. For a lad who comes from Leinster that grew

up supporting the team, this was a massive bucket list moment. My

grandfather even worked the entrance gates the RDS and Donnybrook

for years.

What was your inspiration for the design?

The inspiration came quite naturally. Each county of Leinster was to be

represented equally with their heraldic crests – instantly recognisable

symbols. I wanted to recount my own Leinster memories too. That

meant introducing the darker blue sleeves and the collegiate gold

detailing. To me, it's a design that could be worn by players from any

generation, from O'Driscoll to Sexton.

How do you keep designs fresh year on year?

We work closely with clubs to find authentic and fresh stories. At

adidas, we also want to be at the forefront of performance technologies

and sustainability. So every year we work to combine the two.

Which design excited you the most?

On a professional level, I designed the Spanish national team kits for

the World Cup this season. The biggest sporting event there is. But,

on a personal level, being part of the first adidas Celtic jersey in 2020

and now seeing the framed Leinster kits in my parents' home in Dublin

might just be level with the World Cup.

How does it feel to see your designs worn by thousands of fans?

Seeing your jersey enjoyed by fans is definitely one of the most

rewarding aspects of our jobs. Seeing people of all ages around Dublin

on game day. Outside the pubs and cafés around the RDS. It's a real

pinch yourself moment for sure.
---
Newstead Building A,

UCD,

Belfield,

Dublin 4

#LEIVBEN

The Line up

Telephone:

012693224

Fax:

012693142

E-mail:

information@leinsterrugby.ie

www.leinsterrugby.ie

6

24

EXECUTIVE MANAGEMENT

President: Debbie Carty

Chief Executive: Michael Dawson

Honorary Secretary: Stuart Bayley

Honorary Treasurer: Michael McGrail

RUGBY MANAGEMENT

Head Coach: Leo Cullen

Senior Coach: Stuart Lancaster

Head of Rugby Operations:

Guy Easterby

Assistant Coach: Robin McBryde

Backs Coach: Andrew Goodman

Kicking Coach: Emmet Farrell

Contact Skills Coach: Seán O'Brien

14

PROGRAMME CREDITS

Editorial Team: Marcus Ó Buachalla,

Ryan Corry & Paul Cahill

Advertising: Gary Nolan

Design: Julian Tredinnick,

Ignition Sports Media

Photography: Sportsfile

Chief Steward: Sword Security

Ambulance: St. John's Ambulance

Medilink

Event Control & Safety Services:

Eamonn O'Boyle & Associates

60

82

STAY

CONNECTED

& KEEP

UP-TO-DATE

www.leinsterrugby.ie | 3
---
Debbie Carty welcome

PRESIDENT, LEINSTER RUGBY 2022/23

On behalf of Leinster Rugby, I would

like to welcome you all to the RDS

Arena for this evening's match

against Benetton Rugby in Round

2 of this season's United Rugby

Championship.

In particular, I wish to extend a

warm welcome to Dublin to our

Italian visitors, to the Benetton

Rugby squad, their head coach

Marco Bortolami and their

management team and hope you

are enjoying your visit here for the

URC match.

The season ahead will be challenging for

the Leinster Rugby team, as we strive for

the elusive fifth star in the EPCR and to

take back the URC that was denied to us

last year but I have no doubt that Leo and

his squad are up for the challenge and

we look forward to the season ahead.

With an Emerging Ireland tour, Autumn

Internationals and a Six Nations it will

be a busy rugby season but I know

you will join me in wishing Leo and the

squad every success this season. I look

forward to meeting our many supporters

of the Leinster team be it in Energia Park,

the RDS Arena, the Aviva Stadium and

beyond.

On the domestic front, we are just

returning to rugby after what has been

a difficult two years following the Covid

outbreak, but I look forward to seeing

pitches and stadiums full again after a

tough two seasons. At home we are just

starting our rugby season and it's great

to see the Area leagues are back up and

running ahead of the start of the Leinster

League and AIL next month.

On the age grade interpros side, we've

had a very busy few weeks with a Tour to

Malvern in August which got them ready

to face their interpro games with great

enthusiasm, I was very fortunate that I

was able to make it to some of their well

fought games in the UK.

Whilst unfortunately our U-18 Schools

team didn't win their series, the U-18

Clubs, Girls U-18s and U-19s both won

their series with strong wins over Ulster,

Munster and Connacht. Our Youths teams

are thriving within Leinster and it is a

testament to Phil Lawlor and his staff and

how hard they all work getting players

through the pathway in order to wear

the blue jersey and I look forward to

watching these players proceed into the

Academy and toward the Senior men's

and women's teams in the future. Leinster's

motto of 'From the Ground Up' can

evidently be seen in this framework and

I urge everyone to try to take in a game

when they are playing in Energia Park.

The Leinster 'A' team have also started

their interpro programme with games

against Connacht and Ulster over the past

couple of weeks, under the watchful eye

of Simon Broughton.

The Leinster Senior women's team's

interpro series has changed its fixtures this

season and will be starting in February

2023, I again urge you to drop into

Energia Park to support our 'Girls in Blue'

when they play in their series.

Congratulations to Bective Rangers on

winning the Leinster League Division 1A,

Also, congratulations are due to Boyne on

their success in winning Division 1B, Athy

on winning 2A, New Ross on winning 2B,

and to Portarlington on winning Division

3 of the Leinster League. Those winners

are truly province wide showing strong

activity across our 12 counties.

Congratulations also to Kilkenny RFC on

winning the Bank of Ireland Provincial

Towns Cup against Asbourne last season.

I would like to welcome to the RDS this

evening the mini rugby teams who will

play at half-time in the Bank of Ireland

Mini Games. To the players from from

Gorey, Clondalkin, Old Wesley and

St Mary's College rugby clubs, your

coaches and parents, I know you will

all enjoy the occasion. I would ask all

supporters to show your appreciation and

cheer on these young stars of the future.

To our title sponsor Bank of Ireland, great

patrons of both our professional and

domestic games, who along with all our

premium partners and suppliers, who do

so much to support Leinster Rugby, I offer

my sincere thanks.

Finally, to you the fans, our Season Ticket

Holders, members of the Official Leinster

Supporters Club and Friends of Leinster,

I thank you for the contribution you make

on match days. I am sure this evening

will be no different as you get the roar

going and the flags waving to cheer on

the 'Boys in Blue' to another victory. Let us

hope for an energetic, exciting and injury

free match tonight.

Debbie Carty

Leinster Rugby President 2022/23

4 | www.leinsterrugby.ie
---
With an

Emerging Ireland

tour, Autumn

Internationals

and a Six Nations

it will be a busy

rugby season

but I know you

will join me in

wishing Leo and

the squad every

success this

season.

www.leinsterrugby.ie | 5
---
Leo Cullen

head Coach Welcome

Good evening and welcome back to the RDS

Arena for our first home game of this

season's BKT United Rugby Championship. We

are hugely excited to get back playing in

front of our home support and we hope to

see lots of you throughout what we hope

will be an action-packed season.

A particular welcome to Marco

Bortolami and his Benetton Rugby

team. I played against Marco on

numerous occasions in our former

lives as players, so it's great to

see him making his mark as a

coach.

Many of you will have seen how

impressive Benetton were in their bonuspoint

win over Glasgow Warriors in

Round 1, so we are well aware that we

have a serious challenge on our hands

this evening.

Since the end of last season, there

have been plenty of changes in the

background.

In terms of coaches, it's been great to

welcome Seán O'Brien and Andrew

Goodman back to the club. Andrew was

here for a relatively short stint as a player

but he has amassed plenty of experience

as a coach with Tasman and Crusaders

which we are hoping we can all learn

from.

Seán, on the other hand, is starting out

on his coaching journey after achieving

pretty much everything there is to achieve

as a player. I am really enthused about

having these two great rugby brains join

our group and we're all looking forward

to working together in the months ahead.

We also have a few new members in

our performance team. A big welcome

to Declan Darcy, who many of you will

know from his contribution to Dublin

GAA. Declan brings fresh eyes to

our group as we are all (players and

coaches) looking to improve on what

we deliver on a week-to-week basis.

Welcome also to Eoghan Hickey, who

joins us as performance nutritionist from

Sport Wales.

In welcoming new faces, I also want to

take a moment to remember a sadly

departed friend.

This summer, Leinster learned of the

passing of Ken Ging, our former Team

Manager. Ken was part of the fabric

here, an endless source of good humour

and good stories, and we all miss him

dearly. Our thoughts are with Ken's

family, in particular his daughters Debbie

and Kim.

Last week, we opened our URC

campaign with a bonus point win on

the road against Zebre. The start of the

season is never easy, with players being

managed back into the group post-tour,

so it was pleasing to get up and running

with a win. We had a number of

Academy players involved in the

Zebre game, which will have been

a brilliant experience for them.

It was great to see Jason Jenkins

and Charlie Ngatai make their

Leinster debuts last weekend,

with Jason even managing to

get over for a try. These two

players add greatly to our

playing group in terms of the

different experiences they have

accumulated. We hope both of

them go on to make many more

appearances in blue.

A big thanks to all our sponsors,

particularly Bank of Ireland, for their

generous support. We look forward to

seeing all of you on match-days over the

course of the season ahead.

6 | www.leinsterrugby.ie
---
The start of

the season is

never easy, with

players being

managed back

into the group

post-tour, so

it was pleasing

to get up and

running with a

win.

Good luck to Debbie Carty in her role

as Leinster President. We hope you have

a great year on the circuit. We are lucky

that we have so many people who give

up so much of their time to ensure Leinster

Rugby remains strong and vibrant in all

areas of the game and Debbie is just one

of these and it's great that she is now

getting the recognition she deserves.

All of us involved with the Senior team

witnessed that brilliant energy and

volunteer effort at first hand when we

embarked on a 12 county tour over two

days back in August.

We were greeted with such warm

welcomes everywhere we went and it

was fantastic to see so many Leinster

flags and jerseys.

We have a beautiful province and

we're lucky to have such great support.

Our challenge for this season is to

create a strong connection with you,

our supporters. We hope we can put

on performances that you are fully

invested in, as it means so much for our

players to represent this team of ours.

Starting tonight! Many thanks for

reading and for being here to support

the team this evening. It means a lot

to us.

I hope you enjoy the game and

everything the season ahead has to

offer.

Leo

www.leinsterrugby.ie | 7
---
Carla

Delaney

BANK OF IRELAND

AREA EAST DIRECTOR

Bank of lIreland

are proud

partners to

Leinster Rugby.

Like us, they are rooted in local communities

across the 12 counties of Leinster.

We are delighted to support Leo Cullen and his coaching

team in building Leinster Rugby through clubs and schools,

developing home grown talent and always ensuring that

Leinster #NeverStopCompeting.

Much of that amazing talent will be on display on the pitch

this evening.

We wish Leinster Rugby every success, and hope that you

enjoy the game.

www.leinsterrugby.ie | 9
---
Did you

know?

• Leinster have lost just

one of their last four BKT

United Rugby Championship

matches: 26-27 to the

Vodacom Bulls at the RDS

Arena in last season's semifinal.

• Leinster have only ever

lost back-to-back home

games in the URC just once

before, when they were

playing at Donnybrook in

2004.

• Benetton have won their

last three BKT URC fixtures,

but all those fixtures were

played at Stadio Monigo.

• Benetton have won just

once outside of Italy in the

URC since 2018, on a visit to

Dragons RFC in March 2020.

• Benetton have beaten an

Irish province just once

since 2018: 20-12 at home to

Connacht in the Rainbow Cup

in May 2021.

• Leinster have won their

last three encounters

against Benetton in the URC

since their 27-all draw at

the RDS Arena in April 2019.

• Benetton's only previous

victory at the venue was 17-

15 in April 2018.

COMPARISON

Overall URC head-to-head record:

Played 21, Leinster won 17, Benetton won 2 with 2 matches drawn.

Last 3 URC results:

4 Jun - Glasgow (H) W 76-14 14 May - Zebre (H) W 39-17

10 Jun - Bulls (H) L 26-27 20 May - Cardiff Rugby (H) W 69-21

17 Sep - Zebre (A) W 33-29 16 Sep - Glasgow (H) W 33-11

4TH - W1 D0 L0 - 5PTS

W (5pts)

URC 2022/23

URC form

Top try scorer

3RD - W1 D0 L0 - 5PTS

W (5pts)

2 - Rhys Ruddock 2 - Ignacio Mendy

Top points scorer

10 - Rhys Ruddock 13 - Rhyno Smith

Date Venue L B Leinster scorers Benetton scorers

Sat 14 Apr 18 RDS Arena 15 17 Barry Daly(T) Joey Carbery(C/P) Richardt

Strauss(T)

Sat 27 Oct 18 Stadio Monigo 31 3 Adam Byrne(T) Ross Byrne(3C) Andrew

Porter(T) Joe Tomane(T) James Tracy(T)

Conor O'Brien(T)

Sat 6 Apr 19 RDS Arena 27 27 Noel Reid(P) James Lowe(T) Ciaran

Frawley(T/3C/P) Bryan Byrne(T)

Sat 28 Sep 19 Stadio Monigo 32 27 Adam Byrne(T) Ross Byrne(3C/P) Harry

Byrne(P) Dave Kearney(3T)

Sat 10 Oct 20 Stadio Monigo 37 25 James Lowe(T) Ross Byrne(3C/3P) James

Ryan(T) James Tracy(T) Penalty Try(T)

Sat 5 Mar 22 Stadio Monigo 61 17 Ross Byrne(T/7C) Max Deegan(T)

James Tracy(2T) Sean Cronin(2T) Jordan

Larmour(T) Jimmy O'Brien(2T/C)

Luca Bigi(T) Tommaso Allan(T/C) Federico

Ruzza(T)

Antonio Rizzi(P)

Luca Bigi(T) Tommaso Allan(3C/2P)

Federico Ruzza(T) Iliesa Ratuva Tavuyara(T)

Luca Sperandio(T) Tomas Baravalle(T)

Derrick Appiah(T) Ian Keatley(3C/2P)

Paolo Garbisi(2C/2P) Hame Faiva(T)

Gianmarco Lucchesi(T) Sebastian Negri da

Ollegio(T)

Rhyno Smith(2C/P) Nicola Piantella(T)

Lorenzo Cannone(T)

www.leinsterrugby.ie | 13
---
14 | www.leinsterrugby.ie
---
james

ryan

the big interview

BY MARCUS Ó BUACHALLA

And we go again!

A first home game of

the BKT United Rugby

Championship for Leinster

Rugby and for some players

who missed out on the trip

to Parma last week, a first

game in a Leinster jersey

for the new season.

Excitement levels are

building.

www.leinsterrugby.ie | 15
---
You see

what it

means

to those

supporters

and then

what it

meant to

everyone

back home

and the

lift it gave

everyone.

We were

very much

aware of

that.

After a historic summer down the

way of the silver fern, you could

forgive James Ryan and the other

Irish players for basking a little

while longer in the glory that

comes with a first ever win and

then a first ever series win in New

Zealand.

Far from it.

Instead, for Ryan & Co., their excitement

levels are building nicely too, as he

explains at the Leinster base in UCD.

"It's funny because after a long season,

and then a summer tour, you'd think that

there might be a bit of a slow burn into

a new season but it's not long before

you start to get the itch again and that's

definitely been the case this week.

"Everyone is looking forward to that

first game at the RDS, especially off the

back of a win last week, and being at

home and everything that goes with that,

playing in front of family and friends, just

makes it more special."

Not that Ryan has an insatiable appetite

for rugby. Like everyone else he needed

a break from rugby and thankfully was

able to get away and do just that.

"It was great. After New Zealand, I

barely saw Dublin for five weeks. It

was needed too. Both mentally and

physically to have that time to switch off

and completely step away from rugby

for a while.

"I went to Italy first with my girlfriend,

Sarah, and then it was off to Spain

with a few mates, then back for

a few days, then back to Spain

again for a cousin's wedding.

So yeah, it flew by the five

weeks but then as I said you

get the itch to get back at it

again."

16 | www.leinsterrugby.ie
---
He's mentioned that itch a few times now.

So, when does that 'itch' as he calls it

need scratching?

Thankfully for those around him it doesn't

take hold while on holidays and Ryan

is able to take a proper break but as

he explains it doesn't take much for it to

creep up on him.

"It's that first morning. You open the door,

you walk into UCD for the first day, the

first session of the season and you just

start to feel an energy to get going again.

"Of course you can't just launch straight

into games and there are some tough

sessions ahead but genuinely the energy

is there straight away which is great.

And I think all the lads are the same.

Mad keen to get going now and to get

cracking."

Before taking those first steps of the

new season this evening at the RDS

Arena, how does he reflect on last

season?

"I think we can take a lot of positives

from last season but then, we reached

the knock-out stages of two competitions

and came up short in both and that is a

frustration, massively so."

From the outside many will judge Leinster

on trophies and trophies alone and will

find it hard to see the positives in last

season.

How does Ryan himself look at that

viewpoint and indeed what does he see

as the positives of last season?

"This club and this team is also all about

that to be fair. About challenging for

honours and then about winning trophies

so of course there is that disappointment.

"But for us as a squad, we used 60

players last year, so I think heading into

this season our depth is a lot stronger.

"Then you look at that tour to South

Africa and the players that went down

there, won first caps, experienced playing

in Durban and Cape Town, played

against World Cup winners and nearly

won both games, that makes us stronger

for that experience.

"And to be fair, of course there is that

massive disappointment at the end of

the season, but you don't reach the

Heineken Cup Final without doing a lot

of things right. As I said earlier, we don't

benchmark ourselves on reaching finals,

it's about winning, but again, I think we

can take plenty from that campaign.

"And then the URC itself, the standard

has gone up massively. Not only the

South African teams but I think we saw

with Zebre last weekend and Benetton

beating Glasgow, that all the teams are

lifting their games to compete. So losing

in a semi-final hurts, but we now know

how tough this URC is to win. You can't

afford off days.

www.leinsterrugby.ie | 17
---
MORE

innovation

As Official Innovation Partner to Leinster Rugby,

BearingPoint is embarking on a journey with

Leinster Rugby into the metaverse.

Contact us to learn more

01 418 1111

www.bearingpoint.com

ireland@bearingpoint.com

@bearingpoint_ie
---
"Those are the positives and the lessons,

and I feel with a few new voices into the

coaching mix and a few new players in

too, I am very much looking forward to

the season ahead. Knock-out rugby and

that end game is a long way away yet,

but coming off the back of last season with

Leinster, I genuinely believe there is a lot to

be positive about."

Ryan, who turned 26 over the summer

months, is by no means a veteran yet but

with 58 Leinster caps and 46 Irish caps he

already has a more than solid CV to his

name.

The chance to do

something special and

that has never been

done before and it was

brilliant to see the

support at the grounds.

And as he heads into another season with

Leinster Rugby, he also has an impressive

body of work down in New Zealand to fall

back on and be positive about.

Three tests against the All Blacks, 219

minutes and two wins from three. And the

most important part of it all, a first ever

series win down there for Ireland.

Yet for the first time since 2017, the Leinster

Rugby players were joining the national setup

without a trophy to show for their efforts.

Was it difficult to leave that disappointment

behind them?

"To be honest I actually felt sorry for the

lads not getting selected because it gave

us all that were selected a focus going

into camp and something to move on to.

Straight away. You couldn't stew on what

happened against La Rochelle or against

the Bulls. You had to just park it and move

on and start getting up to speed with

national camp.

"You have to turn the page pretty quickly

and then before long you get energised by

the challenge ahead of you and ahead of

us as a squad and that gets you motivated

again."

And then there is the small matter of

creating history.

"It's why you play the game, isn't it?

"Moments like that. The chance to do

something special and that has never been

done before and it was brilliant to see

the support at the grounds. In Dunedin,

Wellington and Auckland. There were

plenty that travelled from Ireland but even

more so those living over there and even

those that came from Australia to see us in

the games.

www.leinsterrugby.ie | 19
---
You need

to do well

in the URC

to get

into the

Champions

Cup. Nothing

is easy.

20 | www.leinsterrugby.ie
---
"You see what it means to those

supporters and then what it meant to

everyone back home and the lift it gave

everyone. We were very much aware

of that.

"It really was something very special to

be a part of."

It was also the first tour in a while that you

could call a 'proper' tour.

No Covid-19 restrictions, stadiums

bursting at the seams with supporters,

friends and family members and the

squad able to mingle with their opposite

numbers after the games.

It also had the small matter of the midweek

games against the Mãori All-Blacks.

It all added to that feeling of something

special brewing.

"Yeah, the overall experience was

great. It was the first time for some of

the younger lads to really experience a

tour and how good it can be to be away

and able to see different places and

experience a different rugby culture and

also see the local sights.

"I think too the mid-week games were

great because for the whole tour,

everyone felt connected. Everyone felt

they were focusing or building towards

something. It can happen sometimes

where lads don't get game time or don't

get opportunities and they can become

frustrated with life on tour as a result, but

this time everyone bought in and you

could see that in the last ten days or so.

"The win against the Mãori and then

the two test wins against the All Blacks.

Special days definitely and hopefully all

those little things will add up and will help

those younger lads, and all of us really,

as we build towards bigger things over

the next 12 months."

We won't mention the small matter of a

tournament that takes place this time next

year. Too far away and too much can

happen.

You know that it's there somewhere in the

back of all their minds. It can wait.

First though, it's about picking up points

in the URC and then making their way

through the Heineken Champions Cup

pool stages in the coming months.

And first up for Ryan this season is the

visit of Benetton Rugby to the RDS this

evening.

"For the last number of years Glasgow

have been going really well.

"They're a strong, aggressive, abrasive

side and they've been consistent in that

regard. We played them in that final in

Celtic Park only a few season ago so we

know what they can do.

"Benetton put over 30 points on them

last weekend and only conceded

one try. And honestly it's the best I've

seen Benetton play ever. And that just

reinforces to me that you can't stand still

in this competition.

"The same with Zebre last weekend.

They lost over 20 players in the offseason,

took in another 20 and you'd

expect a sloppy performance but after

the first 20 minutes they started to play

really well and again it goes back to

my point earlier, every team knows how

much more difficult it is to do well in the

URC.

"You need to do well in the URC to get

into the Champions Cup. Nothing is easy.

So teams know that now and know that

you need to put in good performances

week in, week out.

"We nearly got caught last weekend by

Zebre but that will hopefully narrow our

focus this week and we'll be better for

that experience."

One man who played last weekend

against Zebre, made his debut and

scored his first try for Leinster Rugby was

new signing, Jason Jenkins.

The two men line out alongside each

other this evening.

What has he made of his new second

row partner?

"Jason has been good, really good. It

goes without saying that he's a big man,

good in the air, a physical player but

what I really like about him is that he is

effective on both sides of the ball.

"He also has a really good rugby IQ.

He's played in South Africa, in Japan, in

Munster, has played for the Springboks.

So he has a lot of experience for

a relatively young man of different

environments already and I think we can

benefit from that as a squad.

"But he has it all really. Good at scrum

time, a good line-out operator, it's been

very enjoyable training with him and I'm

looking forward to playing with him now

on Friday."

The itch is back for James Ryan, for his

fellow players and for all the supporters

that will welcome them onto the pitch this

evening at 7.34pm.

It's time to hear the RDS roar once again!

www.leinsterrugby.ie | 21
---
29

33

Action

replay

SATURDAY 17 SEPTEMBER 2022

STADIO SERGIO LANFRANCHI

REFEREE: BEN BLAIN

ATTENDANCE: 2,000

UNITED RUGBY CHAMPIONSHIP

ZEBRE:

Kriel, Bruno, Cronje, Lucchin, Gesi, Eden,

Cook, Buonfiglio, Du Toit, Nocera, Sisi,

Krumov, Andreani, Pelser, Fox-Matamua.

REPLACEMENTS:

Bigi, Pitinari, Hasa, Furno, Volpi, Fusco,

Smith, Trulla.

TRIES:

Kriel, Bruno, Gesi, Pelser, Smith

CONS:

Eden 2

It's a massive honour to pull

on this jersey and to represent

Leinster. It's a dream start really.

The last 12 months have been tough

for me (with injuries) and it was

nice to start and to score the try

and a bit of a pressure release for

me to get back into it.

Jason Jenkins

LEINSTER:

O'Reilly: Russell, Osborne, Ngatai,

Kearney; R Byrne, McGrath; E Byrne,

Kelleher, Ala'alatoa; Molony, Jenkins;

Ruddock, Penny, Deegan.

REPLACEMENTS:

McKee, Milne, Abdaladze, Deeny,

Soroka, N McCarthy, Frawley, Conners.

TRIES:

McGrath, Ruddock 2, Jenkins, Kearney

CONS:

R Byrne 4

22 | www.leinsterrugby.ie
---
A great first

half where we

put ourselves in

a commanding

position but

the start of the

second half we

were probably

just a bit loose

in terms of the

physical contact

points of the

game. We were

second best for

most of that

second half so

we've plenty to

work on ahead

of the game next

Friday at the

RDS.

Leo Cullen

www.leinsterrugby.ie | 23
---
Ken Ging - A Tribute

BY MATT WILLIAMS

Former Leinster Rugby Team Manager, Ken

Ging, was laid to rest earlier this month.

In tribute, we asked former

Leinster Rugby Head Coach, Matt

Williams, for his reflections on

Ken.

Ken Ging lived a life deeply immersed in

rugby and humour.

Famously, Ken played in the game when

Munster defeated the touring Wallabies

in 1967. This was the first victory over an

international touring team by any Irish

province.

Ken would move on after his playing

days to become a Leinster Rugby selector

in the amateur era, President of his

beloved Greystones Rugby Club and

eventually Team Manager of Leinster in

the first days of professionalism.

Gifted with an extroverted personality,

blessed with the ability to make others

laugh, a natural storyteller, raconteur and

a brilliant after dinner speaker, "Ginger"

as we all called him, was a man far

larger than life itself.

It was during the 1999 Rugby World Cup

that Ken and I first met.

My old friend Mike Ruddock was coach

of Leinster at the time and had asked me

if I could help out for six weeks as the

backs coach across the Heineken Cup

Pool stages campaign. I had just finished

four years with the Waratahs in Super

Rugby and I was feeling more than a little

burned out, so at first, I hesitated.

I remember meeting Ken one morning to

discuss the possibilities of coaching with

Mike in what was then Leinster's spiritual

home and administrative hub, Kiely's Pub

in Donnybrook.

Ross O'Carroll-Kelly has always been

telling the truth about Leinster and Kiely's.

The place was a circus that the Leinster

team used as a restaurant, cafe, office

space, business meeting room and social

venue. All conducted under one big top

roof, with Ken Ging as its ringmaster.

Nothing happened in Donnybrook

without Ginger's knowledge.

Over several cups of coffee, which was

to become a daily ritual between us, I

laughed at all of Ken's jokes as even his

poor ones were good.

That day he reminded me for the first of

thousands of times across our friendship,

that he had played for Munster when

they beat the Wallabies in 1967. That

was to be Ken's running gag with me.

We liked each other immediately and

so I stayed. At the time I thought it was

only for six weeks. I had not planned on

staying 23 years, but Ginger could be

persuasive.

'Kenny' took me under his wing and with

his seemingly endless rugby network of

contacts from electricians, to pension

advisors and bank managers, in no time

at all he had me and my family sorted.

Of course, there was a condition. I had

to settle in what Ken told me was God's

country in Ireland, Greystones, County

Wicklow.

While I was very grateful for his help, I

was not a special case.

Every newcomer to the team had coffee

with Ken and as if by a Harry Potter

magic spell, he had their off-field life

organised.

The early days of professional rugby in

Leinster were not easy.

Moving the Leinster administrators from

focusing on the AIL clubs to viewing

Leinster as an independent club that

required a huge influx of resources was

a massive task that caused friction from

some of the 'old guard' of administrators.

Treading this path took great political

acumen and patience. Qualities that at

the time I did not possess.

Ken's long standing relationships and

understanding of the system greased

the political wheels of change that

empowered that incredibly talented

generation of Leinster players from the

early 2000s, to begin their rise as they

learned how to become professional

rugby players.

Over the years I was privileged to be

the head coach of Leinster Rugby, Kenny

was not only by my side, he always had

my back and that of every player on our

team.

From the most talented of players like

Brian O'Driscoll and Denis Hickie, to the

youngest rookie, Ken surrounded us all

with humour and joy.

One evening in the Bective changing

room after Leinster had performed

magnificently at Donnybrook the joy from

the players and staff was bubbling in the

atmosphere of a great win.

Yet, I saw Ken sitting in the corner with his

head in his hands. For a moment I thought

my old mate was ill. When I reached him

and asked if he was OK, Ken looked up

at me with tears streaming down his face.

He smiled and simply said, "That was a

sensational win."

Ken loved his Leinster players, the running

attacking style that the team played and

his role in supporting us all.

24 | www.leinsterrugby.ie
---
Kenny was also the greatest practical

joker I have ever worked with.

He would often spend hours organising

and setting up a 'sting', as he called

them, on many unsuspecting victims.

Often I was the brunt of Kens multifaceted

organised plans.

One morning when Leinster were playing

Toulouse in France in 2002, Ken and I

were having our morning organisation

meeting over coffee in the foyer of the

hotel at 7am.

Our meeting was interrupted by a heavily

French accented voice calling out loudly,

"Urgent message for a Mr Ging."

Ginger looked at me with a shocked

expression on his face.

"I am Mr Ging," Kenny replied.

The hotel employee ran towards us, then

stopped in his tracks a few metres away,

with his mouth agape staring in awe at

Ginger.

With horrible over acting he cried out,

"Are you THE Mr Ging who played for

Munster when they beat the Wallabies

in 1967?"

Munster have lost a wonderful former

player. Leinster have lost a long serving

administrator whose wisdom guided

some of the club's greatest ever players

in their developing days and helped lay

the foundations for Leinster in the world

of professional rugby.

The Leinster Rugby team from the early

2000s have lost not only a valued team

member but a wonderful and much

loved friend. The coaching staff from

those days have lost a comrade and

a great old mate.

All of that is nothing compared

to the loss being felt by Ken's

cherished family. Many times

Ken told me of his deep

love for his two daughters,

Debbie and Kim, and his

beautiful grandchildren.

Today the planet is a

much lesser place with

Ken Ging no longer

in our midst to make

us smile and bring

us joy.

Kenny looked at me feigning shock.

"Why, yes," he replied with innocence,

"however did you know that?"

All we could both do was laugh until the

tears fell from our eyes. As they have

done this week.

The losses have been great.

Rugby in Ireland has lost a soul mate.

www.leinsterrugby.ie | 25
---
SHOP THE

LEINSTER RUGBY

2022/23 RANGE
---
leo

the lion's

kids

corner

ANAGRAMS

Can you un-jumble

the names of these

academy players?

A ETHICAL

GRAIN

COY JET

CHARM

spot the difference!

Can you find all six?

zoomed in!

WHo is this leinster player

having an extreme close-up?

how did you do?

ANAGRAMS

NAME

ZOOMED IN!

NAME

a...

...maze...

...ing

can you make

your way

through the

maze to the

ball?

28 | www.leinsterrugby.ie
---
AJ Products provides unique

solutions for office,

warehouse and

environment

www.ajproducts.ie
---
AZTO

with

Ross Byrne

A – Action: If you could be a superhero,

which would you be?

Ironman

B – Boyhood: Who was your favourite

sporting idol growing up?

Seán Cronin

C – Childhood: What is your favourite

childhood memory?

Watching Nugget (aka Seán Cronin)

score in 2012 European Final

D – Dish: What's your go-to pre-match

meal?

Pancakes

E – Education: What was your favourite

subject in school?

Economics

F – Film buff: What's your favourite film?

Wedding Crashers

G – Groove: Who is the best dancer in

the squad?

Josh Murphy used to be…haven't

figured out his replacement yet!

H – Holiday: What's your favourite

holiday destination?

Greece

I – Inside: Who is the worst to sit beside

in the dressing room?

Seán Cronin. Do you notice a trend?!

J – Joker: Who is the funniest in the

squad?

Rónan Kelleher….hahahaha!!

K – Kick-off: What's your favourite time

of the day to play a match?

5.00pm

L – Languages: How many languages

can you speak?

Two

M – Music: Your favourite artist and

song right now?

Rory O'Loughlin does a mean version

of Candy…hopefully that has been

well received in Exeter!

30 | www.leinsterrugby.ie
---
N – Number: Do you have a

lucky number?

No

O – Others: What's your

favourite sport outside of rugby?

Football

P – Pal: Who is your best mate in

the squad?

Seán Cronin hasn't been

replaced yet.

Q – Quirky: Who has the most

interesting fashion sense?

James Ryan – that man needs

help!

R – Red Carpet: Who is the most

famous contact in your phone?

Still Seán Cronin

S – Superstitions: Do you have

any matchday routines?

Too many!

T – Trim: What's the worst

haircut you've ever had?

Buzz cut…see Ross Molony for

reference!

U: Under pressure: Who in the

squad would be the best in a

bad situation?

Hugo Keenan

V – Verified: How often do you

use social media?

Not enough

W – Worst fear: What are you

most scared of?

Sharks

X – X-ray: Have you ever broken

any bones?

Nose

Y – Youth: Where did you grow

up?

Dublin

Z – Zoo: What's your favourite

animal?

Wolf

www.leinsterrugby.ie | 31
---
THE

LAIGHIN

DEN

We have some big news for

all Leinster Rugby fans, our

new fanzone the "Laighin

Den" will be launching

tonight in the RDS Arena.

we will have a number of senior Leinster Rugby players appearing in

the Laighin Den before and after the game.

Player appearances, refreshments and live music will make the Laighin Den the perfect

spot for Leinster Rugby supporters on matchday. This week, Riff Shop and Rake the

Ashes will be performing live at the Laighin Den. Season ticket holders will also be able

to collect their Season Ticket packs in the Industries Hall, so the Laighin Den fanzone is

the perfect place to relax before kick off.

Below shows the Laighin Den, located between the South Stand and the Anglesea

Stand near the Simmonscourt Road.

LEINSTER

RUGBY FANZONE

PRE GAME:

17.00

Fanzone Opens

17.15

Live music (Riff Shop Music)

18.30

Player Q&A (MC Bernard Jackman with

three current senior Leinster players)

19.00

Live music until 15 mins before kick off

POST GAME:

Final Whistle

Live Music (Rake the ashes)

22.00

Player Q&A (Senior Coach and player

of the match)

23.30

Fanzone closing time

SEASON TICKET

HOLDER PACK

COLLECTION

This season's pack collection will take

place before the first home game of the

season against Benetton on Friday, 23

September. Collection open pre game

from 5pm – 7.15pm and post game

9.10pm approx.

www.leinsterrugby.ie | 33
---
ENERGIA ALL

IRELAND LEAGUE

2022/23

Saturday,

1 October,

sees the

commencement

of this

season's

Energia

All-Ireland

League.

Eighteen clubs

from across

the province

will compete

across

the five

divisions of

10 teams that

make up the

competition.

Last season saw Clontarf crowned

overall champions after beating

Terenure 29-23 in an epic final

played in front of 6,000 avid

spectators in the Aviva Stadium,

a wonderful spectacle and a

great advertisement for our club

game.

Other Leinster clubs to taste success

were Blackrock who won promotion

from Division 2B to 2A, and Enniscorthy

promoted from 2C to 2B.

Indeed, in a season considered to be one

of the most successful and entertaining for

a number of years, the league attracted

large numbers of supporters at matches

across the country post covid. Another

great season of club rugby is anticipated

as those competing vie to be crowned

champions, win promotion, finish as

high as possible and avoid dreaded

relegation. So, all to play for and each

of our Leinster clubs will want to get off

to a winning start next weekend and set

out their stall for the remainder of the

campaign.

In Division 1A, five Leinster clubs

compete, and in round one, champions

Clontarf will travel across the city to

face the students of UCD at the Bowl

in Belfield. Last season's runners-up

Terenure make the journey to Limerick to

face newly-promoted Shannon. Dublin

University also travel to Limerick to

play Garryowen, while Lansdowne will

entertain Ulster's Ballynahinch.

Division 1B sees four clubs from the

province involved and ironically the

four are matched together in round

one, so two exciting games in prospect.

Old Wesley will have Naas as visitors

to Energia Park, while Old Belvedere

face St Mary's College at home in Ollie

Campbell Park.

In Division 2A, newly-promoted

Blackrock, along with MU Barnhall

and Navan represent the province.

Blackrock start off their campaign at

home in Stradbrook where they will

face Ballymena. MU Barnhall host Old

Crescent in Leixlip, while Navan are also

at home against Cashel.

Division 2B sees four clubs from Leinster

involved and as is the case in division 1B,

they are matched together in round one.

Newly promoted to this division, Wexford

club Enniscorthy visit neighbouring

County Wicklow where they will take on

Greystones in Dr Hickey Park. Wanderers

make the journey northside where the D4

outfit face Malahide.

Skerries and Tullamore fly the flag for the

province in Division 2C. Both clubs are on

their travels first time out as Skerries head

west to play Ballina, while Tullamore

head north to Ulster where they will have

Instonians as opposition.

So, excitement mounts as the start of

this season's Energia All-Ireland League

is upon us. All first- round matches are

scheduled to kick-off next Saturday, 1

October, at 2.30pm. Check the various

websites and club social media outlets

for updates.

When you attend an Energia All-Ireland

League match in your local Leinster club,

you will not leave disappointed by the

experience.

Good luck to all 18 Leinster clubs

involved.

www.leinsterrugby.ie | 35
---
leinster

squad 2022/23

season

Vakhtang Abdaladze #1263

Prop

DOB 6 Feb 1996

HEIGHT 1.85m (6' 1")

WEIGHT 121kg (19st 1 lb)

Michael Ala'alatoa #1301

9

CAPS

Prop

DOB 28 August 1991

HEIGHT 1.91m (6' 3")

WEIGHT 126kg (19st 11lbs)

Ryan Baird #1278

Second Row

DOB 26 July 1999

HEIGHT 1.98m (6' 6")

WEIGHT 113kg (17st 9lbs)

8

CAPS

Ed Byrne #1222

Prop

DOB 9 September 1993

HEIGHT 1.80m (5' 11")

WEIGHT 115kg (18st)

6

CAP

Harry Byrne #1280

2

CAPS

Outhalf

DOB 22 April 1999

HEIGHT 1.91m (6' 3")

WEIGHT 95kg (14st 11lbs)

Ross Byrne #1236

Out-half

DOB 8 April 1995

HEIGHT 1.91m (6' 3")

WEIGHT 92kg (14st 5lbs)

13

CAPS

Thomas Clarkson #1285

Prop

DOB 22 February 2000

HEIGHT 1.85m (6' 1")

WEIGHT 118kg (18st 7lbs)

Jack Conan #1223

30

CAPS

7

CAPS

No 8

DOB 29 July 1992

HEIGHT 1.93m (6' 4")

WEIGHT 110kg (17st 4 lbs)

36 | www.leinsterrugby.ie
---
Will Connors #1264

9

CAPS

Max Deegan #1256

1

CAPS

Brian Deeny #1306

Caelan Doris #1268

20

CAPS

Back Row

DOB 4 April 1996

HEIGHT 1.96 (6' 5")

WEIGHT 99kg (15st 8lbs)

No 8

DOB 1 October 1996

HEIGHT 1.93m (6' 4")

WEIGHT 110kg (17st 4lbs)

Second Row

DOB 2 March 2000

HEIGHT 1.99m (6' 6")

WEIGHT 118kg (18st 8lbs)

Back Row

DOB 2 April 1998

HEIGHT 1.94m (6' 4")

WEIGHT 106kg (16st 10lbs)

Cormac Foley #1299

Scrum-half

DOB 24 October 1999

HEIGHT 1.81m (5' 11 ")

WEIGHT 90kg (14 st 2 lbs)

Ciarán Frawley #1265

Out-half

DOB 4 December 1997

HEIGHT 1.92m (6' 3")

WEIGHT 98kg (15st 5lbs)

Tadhg Furlong #1220

60

CAPS

13

CAPS

Prop

DOB 14 November 1992

HEIGHT 1.85m (6' 1")

WEIGHT 125kg (19st 8lbs)

Jamison Gibson-Park #1247

Scrum-half

DOB 23 February 1992

HEIGHT 1.76m (5' 9")

WEIGHT 80kg (12st 8lbs)

20

CAPS

Cian Healy #1142

118

CAPS

2

CAPS

Robbie Henshaw #1251

60

CAPS

9

CAPS

Jason Jenkins

1

CAP

Dave Kearney #1158

19

CAPS

Prop

DOB 7 October 1987

HEIGHT 1.85m (6' 1")

WEIGHT 116kg (18st 4lbs)

Centre / Full Back

DOB 12 June 1993

HEIGHT 1.91m (6' 3")

WEIGHT 99kg (15st 8lbs)

Lock

DOB 2 December 1995

HEIGHT 2.03 m (6' 8")

WEIGHT 124kg (19st 5lbs)

Wing / Full Back

DOB 19 June 1989

HEIGHT 1.81m (5' 11")

WEIGHT 90kg (14st 2lbs)

Hugo Keenan #1253

23

CAPS

Rónan Kelleher #1277

18

CAPS

Jordan Larmour #1258

30

CAPS

James Lowe #1262

15

CAPS

Full Back

DOB 18 June 1996

HEIGHT 1.85m (6' 1")

WEIGHT 92kg (14st 4lbs)

Hooker

DOB 24 January 1998

HEIGHT 1.85m (6' 0")

WEIGHT 110kg (17st 5lbs)

Wing

DOB 10 June 1997

HEIGHT 1.78m (5' 10")

WEIGHT 88kg (13st 12lbs)

Wing / Full Back

DOB 8 July 1992

HEIGHT 1.88m (6' 2")

WEIGHT 105kg (16st 7lbs)

www.leinsterrugby.ie | 37
---
Joe McCarthy #1303

Nick McCarthy #1241

Luke McGrath #1206

19

CAPS

Michael Milne #1279

Second Row

DOB 26 March 2001

HEIGHT 1.98m (6' 6")

WEIGHT 119kg (18st 8lbs)

Scrum Half

DOB 25 March 1995

HEIGHT 1.8m (5' 11")

WEIGHT 84kg (13st 3lbs)

Scrum Half

DOB 3 February 1993

HEIGHT 1.75m (5' 9")

WEIGHT 82kg (12st 12lbs)

Prop

DOB 5 February 1999

HEIGHT 1.83m (6' 0")

WEIGHT 115kg (18st 1lbs)

Martin Moloney #1300

Ross Molony #1233

Charlie Ngatai

1

CAP

Jimmy O'Brien #1272

Back Row

DOB 19 October 1999

HEIGHT 1.88m (6' 2")

WEIGHT 104kg (16st 5lbs)

Lock

DOB 11 May 1994

HEIGHT 2.00m (6' 6")

WEIGHT 116kg (18st 4lbs)

Centre / Full Back

DOB 17 August 1990

HEIGHT 1.87 m (6' 2")

WEIGHT 102kg (16st 1lbs)

Back Three

DOB 27 November 1996

HEIGHT 1.84m (6' 0")

WEIGHT 89kg (14st 0lbs)

Tommy O'Brien #1283

Jamie Osborne #1294

Scott Penny #1271

Andrew Porter #1246

46

CAPS

Wing

DOB 28 May 1998

HEIGHT 1.83m (6' 0")

WEIGHT 95kg (14st 3lbs)

Centre

DOB 16 November 2001

HEIGHT 1.93m (6' 4")

WEIGHT 97.5kg (15st 5lbs)

Flanker

DOB 22 September 1999

HEIGHT 1.85m (6' 1")

WEIGHT 104kg (16st 4lbs)

Prop

DOB 16 January 1996

HEIGHT 1.84m (6' 1")

WEIGHT 114kg (17st 13lbs)

Garry Ringrose #1237

44

CAPS

Rhys Ruddock #1167

27

CAPS

Charlie Ryan

James Ryan #1259

46

CAPS

Centre

DOB 26 January 1995

HEIGHT 1.87m (6' 2")

WEIGHT 96kg (15st 1lbs)

Back Row

DOB 13 November 1990

HEIGHT 1.91m (6' 3")

WEIGHT 113kg (17st 9lbs)

Lock

DOB 3 February 1999

HEIGHT 2.01m (6' 7")

WEIGHT 115kg (18st 1lbs)

Lock

DOB 24 July 1996

HEIGHT 2.00m (6' 7")

WEIGHT 115kg (18st 1lbs)

38 | www.leinsterrugby.ie
---
Johnny Sexton #1127

108

CAPS

14

CAPS

Dan Sheehan #1286

10

CAPS

James Tracy #1211

6

CAPS

Liam Turner #1287

Out-half

DOB 11 July 1985

HEIGHT 1.88m (6' 2")

WEIGHT 90kg (14st 2lbs)

Hooker

DOB 17 September 1998

HEIGHT 1.91m (6' 3")

WEIGHT 110kg (17st 5lbs)

Hooker

DOB 2 April 1991

HEIGHT 1.85m (6' 1")

WEIGHT 106kg (16st 9lbs)

Centre

DOB 14 July 1999

HEIGHT 1.73m (5' 8")

WEIGHT 93kg (14st 9lbs)

Josh van der Flier #1228

43

CAPS

Flanker

DOB 25 April 1993

HEIGHT 1.87m (6' 2")

WEIGHT 103kg (16st 3lbs)

for full squad profiles please click here

Coaching

Staff 2022/23

Stuart

Lancaster

Senior Coach

season

Leo Cullen

Head

Coach

Emmet

Farrell

Kicking Coach and

Lead Performance Analyst

Robin

McBryde

Assistant Coach

SEÁN

O'BRIEN

CONTACT SKILLS Coach

ANDREW

GOODMAN

ASSISTANT COACH

Guy

Easterby

Head of Rugby Operations

www.leinsterrugby.ie | 39
---
We always strive to be

A beat ahead

layahealthcare.ie
---
Your best support every season

Managed IT Services IT Disaster Recovery

Managed IT Security Services Cloud Services

Delivering bespoke IT services from concept, delivery and support

support@lantech.ie

www.lantech.ie

OFFICIAL

IT PARTNER
---
RUGBY

YOU KNOW BETTER

BECAUSE YOU GET

Official Media Partner of Leinster Rugby
---
Grand Opening of

Skerries RFC 3G Pitch

A milestone moment for Skerries

RFC and a memory made for

many on the August 27, the date

of the official Grand Opening

of their 3G pitch, a delayed

ceremony at the hand of

Covid-19.

A celebration of what a club can achieve

with support, involvement and inclusion

from the wider community and dedication

from the club itself to enhance the

facilities to the betterment of its players,

members and the community of Skerries

as a whole.

Joining in this momentous day for the club

were representatives from the Leinster

Branch Management Committee, Skerries

neighbouring rugby clubs, local Fingal

Government representatives, Leinster

Rugby Community Relation Officers and

the club's many sponsors.

The honours of the official cutting the

ribbon ceremony was given to IRFU

President, John Robinson and Skerries

RFC President, Padraic Connolly.

The day full of entertainment with their

mini and youth rugby players given

the opportunity to exhibit their skills in

front of two of their home-grown heroes,

Leinster Rugby's Ciarán Frawley and

Ulster Rugby's Alan O'Connor. Both Irish

provincial stars gave their time willingly,

chatting and signing anything that came

to hand, a magic moment for these young

players.

Adding to the day was the presentation

from Frawley to the club of his Irish Rugby

jersey that he wore during the historic

tour to New Zealand in July.

Skerries Rugby club are now the envy

of many clubs in Leinster and around

the country, years of fundraising and

campaigning have resulted in a top-class

facility that enables the club to really

help build the player pathway and

increase the numbers of those involved.

A testament to the ethos of this great

club where community is at its core and

always has been, Club is Community!

Skerries will begin their Energia AIL

campaign in Division 2C on the October

1 up against Ballina RFC. Losing out

on promotion to 2B last season to

Enniscorthy, it will be interesting to see

how the seasider Goats get on during this

22/23 rugby season.

www.leinsterrugby.ie | 43
---
A new Era Dawns for

Stillorgan-Rathfarnham RFC

By Robert Deacon

After 50 years, the south Dublin club finally

has a place to call home...

On 10th September, Stillorgan-

Rathfarnham held the official

opening of its new grounds at

Heavey Technology Park on

Tibradden Road in Rathfarnham.

Consisting of three floodlit grass

pitches, modular changing

rooms and large car park, the

new facilities provide a fantastic

foundation for Ireland's fastest

growing rugby club. Membership

this season consists of over 200

minis, girls' teams, youths and

three mens' teams, with plans

afoot to introduce the club's first

womens' team soon.

Founded in 1973 as Salesians RFC,

the club consisted of one or two mens'

teams (depending on the weekend!) and

played matches in Kildare. Renamed

as Stillorgan RFC in the 1990s, the club

played home games from Bird Avenue,

but in 2013 was left without a home as a

result of the development of its pitch for

housing. The club was on the precipice

of dissolution – now without a home, and

with membership numbers falling. Was

the end in sight? The benefit of hindsight

now views this period as the end of the

beginning, rather than the beginning of

the end.

A newly established strategic committee

found training and playing facilities in

both Stillorgan and Rathfarnham to solve

the immediate facilities challenges and

set a medium-term objective of the holy

grail – a home for the club!

Exhaustive research found that ten acres

of farmland at Tibradden was for sale,

and the club secured the land. Planning

Permission was secured for development

and construction began in 2019, with

funding secured from Sports Capital

Grants, LEADER Funding, Dún Laoghaire

Rathdown County Council and club-led

fundraising activities.

The weeks leading up to 10th September

saw the completion of the final aspects

of the development, including installation

of floodlighting, goalposts and changing

room facilities.

While 80,000 people were attending

Garth Brooks in Croke Park on the night

of 9th September, a motley crew of

volunteers put the final touches together

for the opening day, the gentle northerly

wind sending country sounds to the

hills of Rathfarnham – aka new rugby

country!

The opening day of Heavey Technology

Park was a huge success, with over 500

people attending for the ribbon cutting

and to cheer on Stillorgan-Rathfarnham's

1st XV against Monkstown FC in the

inaugural match on the hallowed turf!

The future is bright for Stillorgan-

Rathfarnham RFC, and the club now

boasts home grounds that are befitting of

its ambition.

So, what's next?

Stillorgan-Rathfarnham RFC has two

immediate goals.

Firstly, to continue to expand their minis,

girls and youth programmes so that the

club is represented at every age grade in

both girls and boys rugby. Secondly, the

fundraising process is underway for the

development of a clubhouse at Heavey

Technology Park within a three-year

timeframe.

Stillorgan-Rathfarnham RFC wishes to

thank Ecopipe Ireland, Ma Nolans,

Heavey Technology, Toyota Sandyford,

Kidology Childcare, Cahill's Centra and

Taylor's Three Rock for their fantastic

support. In addition, the club wishes to

express its gratitude to Fleming's Butchers

and CHM for their assistance with the

opening day of Heavey Technology Park.

www.leinsterrugby.ie | 45
---
compiled by stuart farmer

media services limited

Leinster Player

Statistics

SQUAD

CAP

NO

DEBUT

2022/23 SEASON FOR LEINSTER LEINSTER CAREER

ALL GAMES URC EPCR ALL GAMES PRO14/URC EPCR

App Try Pts App Try Pts App Try Pts App Try Pts App Try Pts App Try Pts

SINCE LAST TRY

CAPS

VAKHTANG ABDALADZE 1263 2 DEC 17 0+1 - - 0+1 - - - - - 0+18 2 10 0+17 2 10 0+1 - - 3 -

MICHAEL ALA'ALATOA 1301 25 SEP 21 1 - - 1 - - - - - 13+13 3 15 12+6 2 10 1+7 1 5 3 WS 9

RYAN BAIRD 1278 27 APR 19 - - - - - - - - - 19+19 7 35 17+14 7 35 2+5 - - 6 IR 8

LEE BARRON 1308 23 APR 22 - - - - - - - - - 0+2 - - 0+2 - - - - - - -

ED BYRNE 1222 9 FEB 14 1 - - 1 - - - - - 28+58 12 60 28+45 11 55 0+13 1 5 3 IR 6

HARRY BYRNE 1280 28 SEP 19 - - - - - - - - - 21+15 6 183 21+14 6 178 0+1 - 5 15 IR 2

ROSS BYRNE 1236 4 SEP 15 1 - 8 1 - 8 - - - 86+43 9 834 72+21 4 604 14+22 5 230 12 IR 13

TOM CLARKSON 1285 29 AUG 20 - - - - - - - - - 6+12 - - 6+12 - - - - - - -

JACK CONAN 1223 20 FEB 14 - - - - - - - - - 91+26 25 125 63+16 16 80 28+10 9 45 10 IR 30

WILL CONNORS 1264 9 FEB 18 0+1 - - 0+1 - - - - - 18+8 2 10 17+8 2 10 1 - - 13 IR 9

CHRIS COSGRAVE 1305 26 MAR 22 - - - - - - - - - 1+1 - - 1+1 - - - - - - -

MAX DEEGAN 1256 3 DEC 16 1 - - 1 - - - - - 44+41 24 120 41+29 22 110 3+12 2 10 6 IR 1

BRIAN DEENY 1306 23 APR 22 0+1 - - 0+1 - - - - - 2+1 - - 2+1 - - - - - - -

CAELAN DORIS 1268 28 APR 18 - - - - - - - - - 47+8 8 40 33+6 6 30 14+2 2 10 2 IR 20

CORMAC FOLEY 1299 24 APR 21 - - - - - - - - - 2+3 1 5 2+3 1 5 - - - 1 -

CIARAN FRAWLEY 1265 17 FEB 18 0+1 - - 0+1 - - - - - 31+26 7 179 28+18 5 163 3+8 2 16 3 -

TADHG FURLONG 1220 1 NOV 13 - - - - - - - - - 85+42 10 50 47+34 3 15 38+8 7 35 6 IR 60

JAMISON GIBSON-PARK 1247 2 SEP 16 - - - - - - - - - 60+56 22 110 49+30 15 75 11+26 7 35 2 IR 20

MARCUS HANAN 1295 19 FEB 21 - - - - - - - - - 0+3 - - 0+3 - - - - - - -

CIAN HEALY 1142 5 MAY 07 - - - - - - - - - 160+89 30 150 93+56 16 80 65+32 13 65 1 IR 118

ROBBIE HENSHAW 1251 8 OCT 16 - - - - - - - - - 66+2 16 80 29+1 7 35 37+1 9 45 1 IR 60

JASON JENKINS 1310 17 SEP 22 1 1 5 1 1 5 - - - 1 1 5 1 1 5 - - - 1 SA 1

DAVE KEARNEY 1158 16 MAY 09 1 1 5 1 1 5 - - - 151+23 53 265 125+16 46 230 25+6 7 35 1 IR 19

HUGO KEENAN 1253 5 NOV 16 - - - - - - - - - 41+3 9 45 28+3 5 25 13 4 20 2 IR 23

RONAN KELLEHER 1277 22 FEB 19 1 - - 1 - - - - - 30+7 13 65 17+5 11 55 13+2 2 10 8 IR 18

JORDAN LARMOUR 1258 2 SEP 17 - - - - - - - - - 64+10 27 135 40+7 20 100 24+3 7 35 2 IR 30

TEMI LASISI 1304 12 MAR 22 - - - - - - - - - 0+1 - - 0+1 - - - - - - -

JAMES LOWE 1262 2 DEC 17 - - - - - - - - - 63+2 47 235 39+1 28 140 24+1 19 95 2 IR 15

JOE MCCARTHY 1303 29 JAN 22 - - - - - - - - - 8+3 1 5 8 1 5 0+3 - - 2 -

NICK MCCARTHY 1241 19 DEC 15 0+1 - - 0+1 - - - - - 9+38 5 25 9+32 5 25 0+6 - - 7 -

LUKE MCGRATH 1206 5 MAY 12 1 1 5 1 1 5 - - - 115+61 42 210 80+49 34 170 35+12 8 40 1 IR 19

JOHN MCKEE 1307 23 APR 22 0+1 - - 0+1 - - - - - 2+2 - - 2+2 - - - - - - -

46 | www.leinsterrugby.ie
---
SQUAD

CAP

NO

DEBUT

2022/23 SEASON FOR LEINSTER LEINSTER CAREER

ALL GAMES URC EPCR ALL GAMES PRO14/URC EPCR

App Try Pts App Try Pts App Try Pts App Try Pts App Try Pts App Try Pts

SINCE LAST TRY

CAPS

MICHAEL MILNE 1279 28 SEP 19 0+1 - - 0+1 - - - - - 1+17 2 10 1+17 2 10 - - - 16 -

MARTIN MOLONEY 1300 24 APR 21 - - - - - - - - - 2+5 - - 2+5 - - - - - - -

ROSS MOLONY 1233 20 FEB 15 1 - - 1 - - - - - 83+57 5 25 73+42 4 20 10+15 1 5 17 -

BEN MURPHY 1309 21 MAY 22 - - - - - - - - - 0+1 - - 0+1 - - - - - - -

CHARLIE NGATAI 1311 17 SEP 22 1 - - 1 - - - - - 1 - - 1 - - - - - - NZ 1

JAMIE OSBORNE 1294 30 JAN 21 1 - - 1 - - - - - 14+6 1 5 14+6 1 5 - - - 15 -

JIMMY O'BRIEN 1272 23 NOV 18 - - - - - - - - - 43+10 16 84 34+9 10 54 9+1 6 30 2 -

SEAN O'BRIEN 1297 12 MAR 21 - - - - - - - - - 0+3 - - 0+3 - - - - - - -

TOMMY O'BRIEN 1283 20 DEC 19 - - - - - - - - - 10+11 6 30 10+9 6 30 0+2 - - 2 -

MAX O'REILLY 1291 2 JAN 21 1 - - 1 - - - - - 9+1 1 5 9+1 1 5 - - - 9 -

SCOTT PENNY 1271 23 NOV 18 1 - - 1 - - - - - 35+7 23 115 35+7 23 115 - - - 2 -

ANDREW PORTER 1246 2 SEP 16 - - - - - - - - - 41+50 14 70 29+31 10 50 12+19 4 20 8 IR 46

GARRY RINGROSE 1237 12 SEP 15 - - - - - - - - - 100+2 30 158 60+1 19 103 40+1 11 55 2 IR 44

RHYS RUDDOCK 1167 6 DEC 09 1 2 10 1 2 10 - - - 157+54 14 70 119+35 12 60 37+17 2 10 1 IR 27

ROB RUSSELL 1302 3 OCT 21 1 - - 1 - - - - - 4+2 - - 4+2 - - - - - - -

CHARLIE RYAN - - - - - - - - - - - - - - - - - - - - - -

JAMES RYAN 1259 2 SEP 17 - - - - - - - - - 52+6 3 15 27+1 1 5 25+5 2 10 18 IR 46

JOHNNY SEXTON 1127 27 JAN 06 - - - - - - - - - 156+28 26 1614 89+21 13 857 65+7 12 726 24 IR 108

DAN SHEEHAN 1286 23 OCT 20 - - - - - - - - - 9+20 16 80 8+13 13 65 1+7 3 15 1 IR 10

ANDREW SMITH 1292 2 JAN 21 - - - - - - - - - 1+1 - - 1+1 - - - - - - -

ALEX SOROKA 1296 28 FEB 21 0+1 - - 0+1 - - - - - 2+4 - - 2+4 - - - - - - -

JAMES TRACY 1211 4 NOV 12 - - - - - - - - - 64+77 18 90 57+48 17 85 7+29 1 5 5 IR 6

LIAM TURNER 1287 23 OCT 20 - - - - - - - - - 4+2 - - 4+2 - - - - - - -

JOSH VAN DER

1228 11 OCT 14 - - - - - - - - - 90+24 18 90 52+18 8 40 38+6 10 50 4 IR 43

FLIER

JOHNNY SEXTON 1127 27 JAN 06 8+3 - 107 2+2 - 24 6+1 - 83 156+28 26 1614 89+21 13 857 65+7 12 726 24 IR 108

DAN SHEEHAN 1286 23 OCT 20 6+10 10 50 5+3 7 35 1+7 3 15 9+20 16 80 8+13 13 65 1+7 3 15 1 IR 10

ANDREW SMITH 1292 2 JAN 21 - - - - - - - - - 1+1 - - 1+1 - - - - - - -

ALEX SOROKA 1296 28 FEB 21 1+2 - - 1+2 - - - - - 2+3 - - 2+3 - - - - - - -

DEVIN TONER 1128 27 JAN 06 6+8 - - 6+5 - - 0+3 - - 212+68 4 20 146+47 4 20 63+21 - - 63 IR 70

JAMES TRACY 1211 4 NOV 12 7+5 4 20 7+4 4 20 0+1 - - 64+77 18 90 57+48 17 85 7+29 1 5 5 IR 6

LIAM TURNER 1287 23 OCT 20 - - - - - - - - - 4+2 - - 4+2 - - - - - - -

JOSH VAN DER FLIER 1228 11 OCT 14 15+1 7 35 7+1 1 5 8 6 30 90+24 18 90 52+18 8 40 38+6 10 50 4 IR 43

KICKING

2022/23 SEASON FOR LEINSTER LEINSTER CAREER

ALL GAMES URC EPCR ALL GAMES PRO14/URC EPCR OVERALL

SUCCESS

RATE

C PG DG C PG DG C PG DG C PG DG C PG DG C PG DG ATT Career

%

- - - HARRY BYRNE - - - - - - - - - - 63 9 62 8 1 1 92 78.26%

ROSS BYRNE 80.00% 4 - - 4 - - - - - 258 90 1 199 61 1 59 29 - 445 78.20%

CIARAN FRAWLEY - - - - - - - - - - 54 12 - 51 12 - 3 - - 80 82.50%

JIMMY O'BRIEN - - - - - - - - - - 2 - - 2 - - - - - 4 50.00%

GARRY RINGROSE - - - - - - - - - - 4 - - 4 - - - - - 6 66.67%

JOHNNY SEXTON - - - - - - - - - - 265 307 11 129 171 7 129 132 4 714 80.11%

www.leinsterrugby.ie | 47
---
TITLE PARTNER

OFFICAL KIT PARTNER

PREMIUM PARTNERS

PARTNERS & SUPPLIERS

MEDIA PARTNERS

48 | www.leinsterrugby.ie
---
match Mascots

Tom Glynn

Age: 8

Favourite Player: Jamison Gibson-Park

School: St Mary's BNS Booterstown

Josh

Pratt

Age: 10

School: School – Rathfarnham

NS, Class – 4th

Hobbies and interests: Playing

Rugby with Terenure RFC &

Football for Templeogue Utd

Favourite Player: James Lowe

& Johnny Sexton

Gordon

Glynn

Age: 7

Favourite Player: Josh Van Der Flier

School: St Mary's BNS Booterstown
---
ig picture

26 August 2022

Leinster players during a swim

on day two of the Leinster Rugby

12 Counties Tour at Brittas Bay in

Wicklow.

50 | www.leinsterrugby.ie
---
Photo by Harry Murphy/Sportsfile

www.leinsterrugby.ie | 51
---
Reduce your home energy

consumption with solar.

Our range of Solar PV panels, batteries and hot water diverters

means we've something to suit every home. Solar battery storage

means that energy generated by Solar PV panels during the day

isn't wasted, as it is stored to power your home in the evening

and overnight.

Choose from a solar add-on to maximise your home

energy efficiency:

A hot water diverter to heat your hot water

Battery storage to store any excess electricity your

panels generate. If you export this excess electricity

back to the grid you could be eligible for a payment

through the Clean Export Guarantee (CEG) scheme.

energia.ie/cosy-homes/solar
---
#seaofblue

SUPPORTERS CLUB
---
SUPPORTERS CLUB

Support us by

visiting our

ONLINE

STORE

Keep up to date

OLSC

NEWS

Contact us

olsc@leinsterrugby.ie

#seaofblue

P D E Q
---
THE ULTIMATE

URC EXPERIENCE

JOIN FOR FREE

Personalised team

experience

Exclusive offers

& competitions

Premium opinion

articles & analysis

Match highlights &

exclusive video content

www.leinsterrugby.ie | 57
---
As Official Clean Air Partner to Leinster Rugby,

Novaerus by McGreals Health provides both squad and

management with safe, clean, indoor air, 24/7.

Clean air indoors gives Leinster the edge, helping to

improve physical performance, cognitive ability, make

healthier bodies, reduce the risk of illness and allergies and

give more energy.
---
GETTING

We check social media

for the latest views

and thoughts across

SOCIAL

the 12 counties

www.leinsterrugby.ie | 59
---
WHERE

ARE

THEY

NOW?

60 | www.leinsterrugby.ie

NICK

BY DES BERRY

POPPLEWELL
---
THEN: Nick

Popplewell

played for

Leinster

for 10 years

(1987-1997) on

the way to 48

Ireland caps

and three for

the British

and Irish

Lions.

NOW: He lives

in Wexford

with his wife

Rachel, has

three children

Sophie (25),

Rebecca (23)

and Ben (20)

and works as

an auctioneer

for Sherry

Fitzgerald

Radford.

British and Irish Lions test prop

Nick Popplewell was an Ireland

Schools international alright. Just

at hockey, not rugby.

"I was a sweeper where the philosophy

was the ball could pass you, the player

could pass you. But they couldn't both

pass you at the same time," he says.

This 'thou shall not pass' attitude

translated perfectly to rugby where

Popplewell was something of a late

bloomer, rising from representing Munster

B Schools at Newtown in Waterford in

1982 to playing for Gorey, Greystones,

Leinster and Ireland.

At least, this was the Irish tributary of a

journey that took in English clubs Wasps

and Newcastle Falcons as well as three

test starts for the 1993 Lions in New

Zealand.

Back then, of course, Leinster was about

as far from where it is now as the earth is

from the sun.

A long apprenticeship in the dark arts

of the front row meant meetings with the

likes of Kilkenny's Ned Byrne for Gorey

at the Junior level and Lansdowne's

Des Fitzgerald in the All-Ireland League

marked his ascension.

"The second match I played for

Greystones was against Lansdowne

where I was, as they say, 'seagulling'

against Des, the Ireland tighthead prop

at the time.

www.leinsterrugby.ie | 61
---
"In fairness, after that match, Des came

into the changing room and we met in the

bar afterwards.

"He said: 'Well done, today. Well

played!'

"I said: 'Thanks, my feet literally didn't

touch the ground.'

"He said: 'Listen, I want you to meet Roly

Meates.'"

The Dublin dentist, a legendary lifelong

guru of the scrum, was able to impart his

wisdom to a young man eager to make

headway in the game.

"I went up to Roly's house in Donnybrook

where I did scrummaging sessions with

his wife Heather.

"You couldn't write it as a comedy script.

Can you imagine it? He would have me

locking down with Heather in the garden.

"He would tell me where I was going

wrong, what I should do with my feet,

technical issues that had to be sorted

out."

As Leinster legend Phil Orr moved into

retirement in 1987, the late great Ken

Ging was the man on the other end of

the landline, inviting Nick back from a

year in Australia to battle for his Leinster

shirt.

"My father used to be involved in Pointto-Pointing.

He always had a few spare

lead weights around at home that he had

to put in the saddle for the races.

"I was only 106kg when I first arrived

into Leinster. We had to weigh ourselves

at the beginning of every year. I

remember putting in a couple of lead

weights in my pocket at the first weigh-in,

just to push it up to 108kg.

"The memories of my playing days with

Leinster are vague, to be honest," he

admits.

"The culture was everyone enjoyed a

pint and a few enjoyed a cigarette as

well. We would have trained hard and, I

suppose, you would say we would have

played hard."

The outsider came in blind to the

standards set and immune to the

reputations of those ahead of him.

"I don't know if it was arrogance or

confidence, but I wasn't intimidated. I had

nothing to lose," he says.

"This was back when Ulster was

completely dominant. We never beat

them. We always beat Munster at

Donnybrook and always lost to them

away when I had to deal with John

'Paco' Fitzgerald. I also remember losing

to Connacht twice where Tom Clancy

was my personal challenge."

Once Nick moved beyond fighting for air

at Leinster - he even captained for one

season - to be a 'bona fide' first-choice

Ireland prop, the significance of the

province began to wane.

"My main memories of Leinster are of

the beginning rather than the end," he

declares.

"You looked forward to the pre-season

mini-tours for the fun you would have. I'm

not sure which year it was when we went

to Bath or Bristol one year. The selectors

were Ken Ging, Malachy McEvoy,

Ned Thornton, Mick Cuddy and Eric

Campbell.

"In one game, we had a lineout near

halfway. I took a look up and the five

of them were asleep in the stand. It

was unpaid leave for the players and

selectors back then, so we all enjoyed the

late hours.

"Having said that, I learned a huge

amount about propping from Dessie.

He was at the peak of his powers when

I came into Leinster. There was a vast

amount of information and learning to be

derived from him.

"In those early days, I had Jim Glennon

behind me in the second row. It was like

scrummaging in an armchair. He was

such a big man with the widest shoulders.

You were never going to go backwards.

"You were either going to go forward or

you were going to go up. If you went up,

it only happened once because you were

crucified by Des or Jim. You could say, I

was well-minded."

All the while, Leinster was little more than

a stop off on the way to his destination.

62 | www.leinsterrugby.ie
---
In those early days, I had Jim

Glennon behind me in the second

row. It was like scrummaging

in an armchair.

"Like every rugby-playing kid then, if I

had a dream it was to play for Ireland,

not Leinster," he declares.

"At that stage, if you were aspiring to

play international rugby, the pathway

was through the province, trying to shine

in those derbies, culminating in an Irish

trial based on what happened in those

games.

"Leinster wasn't the be-all and end-all.

It was an avenue to test yourself at the

next level. The Interpros became a way

of ticking off players ahead of me in the

pecking order, men like Tom Clancy and

'Paco' Fitzgerald."

In fact, the glamour lay with the All-

Ireland League where great rivalries were

stoked on a weekly basis.

"Tactics back then were slightly different.

I remember Greystones went down to

play Young Munster in a crucial All-

Ireland League match.

"We went there the night before to let

the young fellas on the team soak in

the atmosphere. There were three fire

brigades putting water on the pitch and

they narrowed the pitch by five metres.

No better tactic than that. It was an epic

three-all."

"Really, your club was Greystones. It

wasn't Leinster. It was a 'Brucey bonus'

on the avenue to playing for Ireland. It

was a process that took up six weeks of

the year. The window for the Interpros

was tight. The club was the priority."

When the game turned professional

in 1996, Nick was already in London

playing for Wasps.

"I was the first to go. I would have made

more money if I was the last to go," he

laughs.

"I left Greystones in 1995 to move to

London to play for Wasps, but not as a

professional. I had an office job in the

city.

"At Wasps, I met Dean Ryan, Rob

Andrew and Steven Bates, all England

internationals. When Rob left for

Newcastle Falcons, he called me and I

became a professional for three seasons.

"Work and career were never a priority

for me. I am not hugely motivated by

money. As long as I had enough to live

on, I was happy to follow my instincts."

Those instincts eventually took Nick back

to Wexford where he settled down with

his wife Rachel and raised his family.

You sense he wouldn't change a thing.

www.leinsterrugby.ie | 63
---
Referees

Corner

BY DAN WALLACE

Welcome to another season!

It is great to be back on the pitch after what

seems a very quick summer break. The 2022/23

season kicked off with our Annual Seminar, held

in the Green Isle Hotel on Sunday August 21st with

over 150 referees taking part in the day.

Our President Gordon Condell

opened proceedings welcoming

the referees to the seminar along

with Leinster Rugby President

Debbie Carty. Peter Donnelly

spoke about International

Tickets, one of the many

benefits of being a referee. Sean

Gallagher, Referee Development

Manager with the IRFU then

spoke about the laws changes

for the season ahead.

The main one is adding brake foot to

scrum engagement.

The trial means that hookers will be

required to have one foot forward as the

scrum sets up (19.10c), which acts as a

brake on the scrum until the call of 'Set'

in the engagement sequence (19.12)

The primary intention of this law trial is

to remove axial loading on the necks

and heads of front row players

Sean also spoke about the previous

Global Law Trials that were adopted

into law.

All five trials were deemed to have

positively enhanced both safety and

spectacle and were unanimously

approved by the Council.

They are:

• 50:22

•Goal Line Drop Out

• Pre-Bound Pods of Players

(or "Flying Wedge")

• Sanctioning of lower-limb

clearout

• Latching

The majority of these trials were born

from the 2018 Player Welfare and Laws

Symposium and reflect the sport's united

and unwavering intent when it comes to

protecting players at all levels.

Each new law has been developed

with the input of experts and reflect an

evidence-based approach to reducing

higher-risk behaviours by changing

the nature of the contact area of the

game or reducing overall contact in

a game situation, according to World

Rugby Chief Player Welfare and Rugby

Services Officer Mark Harrington.

64 | www.leinsterrugby.ie
---
Want to get

involved?

Feel free to make contact

with the Leinster Rugby

Referees at hayley.whyte@

leinsterrugby.ie

If you are interested in

becoming a referee get in

contact with us through

our Facebook, our website

www.leinsterrugbyreferees.

ie or through twitter @

leinsterreferee.

Sean also spoke about technical zones

and safety for the season ahead.

Following Sean's excellent presentation

Tom Tuohy and John Dunne spoke about

the referee panel that people are in for

the season ahead. We also had some

awards handed out, many long overdue

from a pre-Covid era. Barry Armstrong

and Paul Haycock seemed to clean up

on the day, both stopping off in IKEA for

new shelving on the way home.

We were delighted to see 13 of our

referees in this season's IRFU National

Panel.

The referees included are:

Dermot Blake, Andrew Cole, Paul

Haycock, Cillian Hogan, John Carvill,

Glenn Sheridan, John Flynn, Michael

Forrestal, Sam Holt, Paul O'Connor,

Padraic Reidy, Katie Byrne, Robbie

Jenkinson and Colm Roche

The IPAS referee for this season is Kevin

Beakey. IPAS allows referees from all

the provinces to officiate at a selected

number of games across the country.

Collated assessments from these games

will determine who will be promoted

from the provincial ranks to referee at

national league level.

With that we are looking forward to the

season ahead.

www.leinsterrugby.ie | 65
---
W W W . B E S T M E N S W E A R . C O M

OFF

ENTER THE CODE BELOW

LEIN15

Until December 31st 2022

ONLINE ONLY SHOP NOW

T&Cs Apply
---
www.leinsterrugby.ie | 67
---
ank of ireland

MATCHDAY MINIS

Gorey RFC

Players: Hugh Ahern, Rian Cullen, Finn O'Brien,

Charlie Stephens, Ollie Syme, Aidan Hempenstall, Tom Kehoe,

Andrew Jones, Micheal McGuinness, Dylan Copeland,

Jimmy Collier, Hugo Ó Broin, Patryk Glinski, Tiernan Owley,

Shane Rothwell, David Hill, Harry Swaine, Morgan Corbett,

Donnacha Boland, Darragh Morris, Zach Curran,

Tyler Klopper, Hugh Sheriff, Dylan Bailey, Dylan Kavanagh.

Managers: Paddy Syme, Rory Sheriff.

Clondalkin RFC

Players: Charlie Ayres, Cathal Walsh, Tom Flynn,

Callan Staunton, James Murphy, Ruadhan Burke, Aaron Carty,

Cormac Fogarty, Charlie Rodgers, Oisin Doyle Rehner,

Sam Purdy, Tadhg O'Loughlin, John Sheehan, Tomás Connolly,

Tom Gahan, Conor McLindon, Alex Carroll,

Nathan McCormack, Adam Craven, Vilis Luke

Coaches: Ciaran Flynn, Mark Gahan, Andrew McLindon,

Ollie Fogarty and Gavin Doyle.

St Mary's College RFC

Players: Cillian Power, Harry Coates, Cojo Kinnear,

Josh Tilley, Dylan Jay, Harry Wilson, Sam O'Connell,

Mason Wallace, Cian Mitchell, Kyle Kenny, Tom Leech,

Harry Brogan, Daniel Hunt, Sean Óg O'Toole, David Shiels,

Max Lynam, Sam O'Donnell, Christian Ball, Liam Bass.

Coaches:Paddy Power, Conor Leech.

Old Wesley RFC

Players: Alex O'Sullivan, Ben Flynn, Cate Steele, Finn Hodgins,

Georgie Brigg, Harry Wrynn, Isaac Tweed, Jamie O'Farrell,

Jamie Stewart, Leighton Plant, Max McBride, Milo Pust,

Nathan Owens, Reuben Moran, Rory Webb, Zach White.

Coaches: Brendan Wall, Chris Steele, Neville Moran,

Ronan Bools.

www.leinsterrugby.ie | 69
---
KNOWING WHAT ADVICE TO TAKE

IS ESSENTIAL IN THIS GAME.

beauchamps.ie

OFFICIAL LEGAL ADVISOR

Beauchamps LLP | Riverside Two | Sir John Rogerson's Quay | Dublin 2 | D02 KV60
---
Leinster Rugby and

Children in Hospital

Ireland Partnership

Announced

Leinster

Rugby has

announced

Children in

Hospital

Ireland (CIH)

as its latest

charity

partner for

the month of

September

as part of

the Charity

Affiliate

Programme.

Since 1970, CIH's team of staff,

supporters and volunteers have

been playing a major role in

initiating and furthering changes

in how children are cared for in

Irish hospitals.

Each year in Ireland there are, on

average, over 325,000 hospital visits by

children and for over 10,000 of those,

this means an average of a three-night

stay.

Volunteers from all backgrounds, ages,

and experiences give two hours a week

to support children and their families

through providing play in their local

hospitals.

CIH vets, trains and provides ongoing

support for hundreds of volunteers in 14

paediatric units in Ireland every year.

Across Leinster, 145 volunteers are

currently back in the major Dublin

hospitals, Kilkenny and Drogheda.

However, teams are eagerly growing

again as new volunteers are recruited

following long pauses during COVID

restrictions.

Community support means so much to

families at a time filled with stress and

anxiety.

"Our son Freddie was born in June

2021. He is a twin to Theo, but Freddie

had a hard start due to some medical

complexities and spent his first year of

life in Crumlin. With a twin and older

sibling at home there were times we

couldn't always be with Freddie and so

the volunteers in Crumlin were a massive

support to us with this," say Tracy and

Andrew Holmes.

"We used their services a lot in that year

and we could not be more grateful to

them, it would have made our hospital

journey much harder without their

support."

In attendance at the launch in Leinster

Rugby head office in UCD were a

number of Leinster Rugby players, as well

as representatives from CIH.

Welcoming the news of the partnership,

Anna Gunning, CEO of CIH said, "we

are thrilled to have been selected as

charity partner for Leinster Rugby for

September. This provides us with an

opportunity to highlight the work of

Children in Hospital Ireland and bring it

to new audiences.

"We hope to attract new volunteers,

supporters and partners which will help

to develop our services and therefore

72 | www.leinsterrugby.ie
---
Donate

today

support more children in hospital and

their families. Thank you to all the team

in Leinster Rugby for affording us this

opportunity."

Speaking on behalf of Leinster Rugby,

Marcus Ó Buachalla, who manages the

charity partnerships, said, "It was great to

meet the team from Children in Hospital

Ireland here this morning, but more so, to

meet some of their volunteers and some

of the parents and the children that have

come to rely on them over the last few

years.

"Chatting to them and hearing the impact

that the charity has had on them and their

lives while in hospital was eye opening

and hopefully we can highlight over the

month ahead the great work that they

do."

Leinster Rugby also confirmed that Bank

of Ireland would continue to support

the charity partner scheme again this

season and that its player of the month

award donation will now be made to the

monthly charity affiliate, rather than the

player in question, a move that is also

supported by the Leinster Rugby players.

Like all the charities selected, Children in

Hospital Ireland was selected by Leinster

Further information

about the Leinster

Rugby Charity

Affiliate Programme:

The charities supported by

Leinster Rugby as part of this

initiative, include;

2020/21 Season: Women's

Aid (November), Debra Ireland

Rugby after a consultation process

involving the leadership group of the

men, women's and Academy teams and

consultation with the premium sponsors

and partners and the OLSC.

For more information on Children

in Hospital Ireland, please visit their

website.

(December), numerous local causes

supported by Bank of Ireland

(January), ALONE (February), Pieta

(March), AsIAm (April), LauraLynn

(May), the Gavin Glynn Foundation

(June), Irish Heart Foundation (August)

and CRY (September)

2021/22 Season: Alzheimer Society

of Ireland (November), Peter McVerry

Trust (December), numerous local

causes supported by Bank of Ireland

such as Outcomers, Citywise Means

Business, New Horizon and Purple

House (January), the RNLI (February),

Irish Cancer Society (March), Irish

Community Air Ambulance (April), CRY

(May) and Belong To (June)

The selection process for all the

charities includes the Leinster Rugby

players, Leinster Rugby sponsors and

partners and also the Official Leinster

Supporters Club (OLSC).

www.leinsterrugby.ie | 73
---
COUNTRY ITALY HOME GROUND STADIO COMUNALE DI MONIGO FOUNDED 1932

benetton

last time out

rugby

benetton rugby 33

glasgow warriors 11

FRI 16 SEP 17:30 | STADIO MONIGO | URC

Benetton Rugby

won their

opening match

of their 2022/23

BKT United Rugby

Championship

campaign in

Treviso against

Glasgow

Warriors,

playing for the

first time under

new head coach,

Franco Smith.

The home side ran

in four tries to

claim a deserved

33-11 victory.

images: inpho.ie

74 | www.leinsterrugby.ie

Zander Fagerson's second-half

try was not enough to spark a

fightback in northern Italy for

the Warriors, as the home side

claimed a bonus-point win to

claim the full set of spoils under

the floodlights.

With the Stadio Comunale di Monigo

in fine voice at the outset of a new

campaign, the opening exchanges were

dominated by the boot. Tom Jordan

showed some early nice touches with the

boot for the visitors but it would be the

home side who would trouble the scorers

first, with Rhyno Smith making no mistake

from the tee with 12 minutes played after

the Warriors were penalised for offside

at a lineout on their own 22.

It would be a lead that would last all

of three minutes, as the Warriors hit

straight back. When the home side were

penalised for not rolling away, it would

be George Horne who would take

advantage, knocking over the kick to

level the scores at 3-3.

Neither side were really able to establish

a rhythm as the opening quarter drew to

a close, with errors and the concession

of penalties putting paid to the attacks

of both teams. Yet the first try of the

match – and indeed of the URC season

– would go to Benetton; a counter-attack

from turnover ball saw the Italian side

set up camp in the Glasgow 22, before

Giacomo da Re's floated pass over the

top gave Eduardo Padovani a run-in to

the corner. The conversion drifted wide,

but Benetton led 8-3 after 22 minutes.

Benetton were beginning to earn the

upper hand at the scrum, something

that would prove to be the catalyst for

their second try of the evening. Penalties

at successive scrums saw da Re direct

his team into the corner, and when

the lineout drive came on it would be
---
Gianmarco Lucchesi who would emerge

with the ball. Smith's conversion was

pushed wide of the far post, but the home

crowd were roaring their approval.

Horne would cut the deficit with the

final kick of the half, after a series

of thunderous ball-carries inside the

Benetton 22, leaving the gap at 13-6 at

half-time.

The home side were straight out of the

blocks at the start of the second half and

were rewarded for their endeavour with

their third try of the night just two minutes

into the second 40.

A set move from a lineout saw Benetton

work the blindside to set Ignacio Mendy

free on the wing, the Argentina 7s star

sprinting away before stepping inside

the cover defence for the score. Smith's

conversion made it a two-score game,

before extending the lead with a penalty

to make it 23-6 after 46 minutes.

Benetton were enjoying the lion's share

of possession and territory, a monopoly

that Smith took full advantage of with his

third successful penalty of the evening on

56 minutes.

The Warriors needed a response, and

with the coaching team rolling out the

replacements, momentum began to shift.

From a penalty, Glasgow went to the

corner and while the Glasgow maul was

initially stopped short, Ali Price found

Zander Fagerson on the short ball and

the tight-head proved far too powerful

for the covering defence, crashing over

for the score to bring Glasgow back into

proceedings.

With the wind in their sails, Franco

Smith's men began to play from deep

and a second try felt like it was coming,

and no-one came closer than Sebastian

Cancelliere with seven minutes to play.

A Rory Darge turnover saw the winger

thump the ball downfield and win the

foot race, only for the ball to trickle

agonisingly over the dead-ball line before

it could be grounded.

Instead, the final word would belong to

Benetton. The breakdown of a Glasgow

attack on halfway saw Mendy get a boot

to the ball first, with the winger winning

his own race to regather and touch

down. Smith's conversion took the final

score to 33-11, much to the delight of the

home supporters.

A great start to the BKT URC season for

Benetton Rugby and just the start they

would have wanted too with a trip to

Dublin and the RDS Arena next up.

Benetton: (13) 33

Tries: Padovani, Lucchesi, Mendy 2

Cons: Smith 2 Penalties: Smith 3

Glasgow Warriors: (6) 11

Try: Z Fagerson

Penalties: Horne 2

www.leinsterrugby.ie | 75
---
New Nissan Qashqai

coming soon with e-POWER

A unique electric experience, now unplugged.

Order now for 2023 with flexible finance

packages to suit you!

Find out more at www.windsor.ie
---
Marco

Bortolami

Head Coach

Bortolami is a former captain of the

Italian national team. Having impressed

for the Italy U20s, he made his Italian

debut, aged 20, in June 2001 against

Namibia. At the age of just 22, he

became Italy's youngest ever captain.

Bortolami would play over 100 times for

his country and represented Petrarca,

Narbonne, Gloucester, Aironi and finally

Zebre, before retiring from playing in

2016. He moved into coaching after

retirement and took over from Kieran

Crowley in 2021 as head coach of

Benetton Rugby.

Dewaldt

Duvenage

Captain

Duvenage is South African and has been

capped by the Springboks at U20s and

'A' level. The scrumhalf joined Benetton

Rugby in 2018, having represented the

Stormers and Perpignan before that.

The 34-year old is from Bellville in South

Africa.

benetton squad

FORWARDS

FILIPPO ALONGI

PROP

LORENZO CANNONE

LOCK

NICCOLO CANNONE

LOCK

MATTEO DRUDI

PROP

CORNIEL ELS

HOOKER

RICCARDO FAVRETTO

LOCK

SIMONE FERRARI

PROP

THOMAS GALLO

PROP

TOA HALAFIHI

FLANKER

MICHELE LAMARO

FLANKER

MARCO LAZZARONI

FLANKER

GIANMARCO LUCCHESI

HOOKER

SEBASTIAN NEGRI DA OLLEGIO

LOCK

IVAN NEMER

PROP

GIACOMO NICOTERA

HOOKER

TIZIANO PASQUALI

PROP

GIOVANNI PETTINELLI

FLANKER

FEDERICO RUZZA

LOCK

SCOTT SCRAFTON

LOCK

BRAAM STEYN

FLANKER

NAHUEL TETAZ CHAPARRO

PROP

HENRY TIME-STOWERS

FLANKER

CHERIF TRAORE

PROP

CARL WEGNER

LOCK

FEDERICO ZANI

PROP

MANUEL ZULIANI

LOCK

BACKS

TOMAS ALBORNOZ

FLY-HALF

MATTIA BELLINI

WING

NACHO BREX

CENTRE

JOEY CAPUTO

FLY-HALF

GIACOMO DA RE

FULLBACK

FILIPPO DRAGO

CENTRE

DEWALDT DUVENAGE

SCRUM-HALF

ALESSANDRO GARBISI

SCRUM-HALF

SAM HIDALGO-CLYNE

SCRUM-HALF

LEONARDO MARIN

FLY-HALF

IGNACIO MENDY

FULLBACK

TOMMASO MENONCELLO

WING

EDOARDO PADOVANI

FULLBACK

ONISI RATAVE

WING

ILIESA RATUVA TAVUYARA

WING

JOAQUIN RIERA

CENTRE

RHYNO SMITH

FULLBACK

MARCUS WATSON

WING

MARCO ZANON

CENTRE

www.leinsterrugby.ie | 77
---
Club in

Focus

BY DES BERRY

clane RFC

There are

problems

that can

keep you up

at night

for all

the right

reasons.

Craig Ferguson

In a crowded market, there

has to be one or more points of

difference that keep the curious

coming through the front door.

In that regard, Clane Rugby Club has

devised a three-year strategic plan to

embrace the ever-changing challenges

that come along with growing numbers.

The four pillars of the plan, formed in

2020, are developing 21st-century

facilities, enhancing diversity and

inclusion, increasing female participation

and developing player pathways.

First, the simple provision of enough grass

to play on is what all clubs crave, enough

space for everyone to get stuck in.

For this purpose, Clane targeted a third

pitch alongside increasing the lighting,

the tarmacking of the driveway and car

park and improving clubhouse facilities.

To this point, the security of a loan has

enabled Clane to complete the pitch and

install the lighting, while the other works

are in the pipeline.

Second, the 'Everyone Plays' ethos of the

club is particularly central to providing

rugby for players of mixed abilities at the

youth and senior levels.

"We are committed to the simple idea of

having a game for everyone," says club

President Craig Ferguson.

"There are clubs in the area which have

mixed ability teams at the teenage levels.

There is no senior adult club in close

proximity."

This is seen as a niche in the marketplace

that has not yet been accounted for and

Clane want to be first to that starting line

in the area.

"By the end of the year, Clane, led by

Sinead Lawlor, want to put out the adult

team these other clubs can send their

players to. It will be small numbers to start

with the intention to grow."

78 | www.leinsterrugby.ie
---
There is a commitment to making a social

area available to parents and guardians

of players so that they will have a reason

to stay rather than drop and drive away.

"Clane is a small club with membership

standing at around 250. We want

people to feel a part of it. We want

players and families to meet and mingle.

There is the tendency for parents to drop

kids to the club and leave them there for

an hour or however long the sessions

take.

"We want to have a place to stay, chat,

have a coffee and become a social

group in their own right. To aid this, we

are moving the coffee, socialising area

downstairs to give those parents a reason

to stay and get to know each other."

Third, there is a drive to facilitate female

teams for all age groups from U-10 to

U-18, increase U-12 participation by 100

per cent, add at least two female coaches

and field a senior ladies team

"Our Club Community Rugby Officer

(CCRO) Mary Healy does a fantastic

job, going into the local schools and

attracting young girls down to the club to

give it a go.

"We are really focusing on that, giving

young girls in the area the choice of

playing something new with the hope

they come and stay.

"Having said that, you must remember

we are a small club with a membership of

250. We need all the players and all the

help we can muster.

"Already, Molly Fitzpatrick, a former

youths player in the club, has stepped up

to be our first female coach."

The strategy around growing a senior

team has begun with a Clane 'Tag Team',

which attracts 40 women.

www.leinsterrugby.ie | 79
---
Molly Fitzpatrick

"We hope to expand on that, increase

the numbers and encourage the transition

into the full contact game in tandem with

the numbers coming through from the age

grades."

Fourth, the wheels of player development

are already rolling as evidenced by the

representation of Clane's young players

on the regional and schools levels.

"We have players, boys and girls,

coming through the age groups,

representing the North Midlands, namely

Faye O'Toole, Sean Tighe, Nathan Yap,

Ollie Reilly, Killian O'Sullivan, Jack Kelly,

Garrett Davitt and Jamie Mc Cormack,"

issues Craig.

"We have had players going onto

Newbridge College. John Walsh, Ruari

Munnelly, Tadhg Kelly, Shane Davitt,

Daragh Cosgrove and Josh Montgomery

were all part of the Leinster Schools

Junior Cup winning squad as recently as

2021."

There are solid numbers at the U-17,

U-18 and U-20 levels where Clane have

amalgamated with North Kildare (U-

17/18) and Newbridge (U-20).

There is a drive within the club to make

Clane competitive at whatever level it is

80 | www.leinsterrugby.ie
---
involved without compromising on the

values that have been steadily developed

over the last 38 years.

At the adult level, Clane competes in

Division 5 of the Leinster League, a squad

managed by club legend Peter Jackson

and boasting loyal servants like Jimmy

McMahon and Oisin Short.

This summer, a social media campaign

to recruit players led to the welcome of

Conor Tully, Ryan Kettle, Colin Malone,

Paul Leonard.

"We are never going to be a Division 1A

All-Ireland League club. We know that!"

states Craig.

"We want to be a place for players to

come, play for fun and feel a part of

something inclusive, no matter where you

come from or who you are."

This is more than a place to play for

Craig, playing and coaching in Clane for

years. It is a personal matter.

There is a family legacy at stake. His

father David was one of the founding

members in 1984, a natural attachment

his son cannot shake.

"It is the camaraderie that keeps me

coming back. I have friends from my

playing days and coaching days. Those

are great bonds to hold onto."

And he wants to see new bonds made.

www.leinsterrugby.ie | 81
---
Sam

Prenderg

THE ACADEMY

INTERVIEW

BY PAUL CAHILL

July 2022 is a month

that the Prendergast

family will never

forget. Eldest son,

Cian, who plays with

Connacht Rugby, was

called up to the Irish

squad for their tour

of New Zealand.

Before that, mum Ciara, dad Mark

and sister Lara, travelled to Italy

to watch the middle child, Sam

playing for the Ireland u-20 side

in Italy.

While this all sounds great on paper, it

got even better on the pitch.

Sam kicked a last minute penalty to beat

England and Cian played a central role

in both games against the Mãori All

Blacks.

However, Sam is quick to point out which

Prendergast had the best summer and it

was neither of the two boys.

"My dad!" says the Leinster Academy

out half.

"He saw the first three Irish U-20 games

of the Six Nation Summer Series in Italy,

82 | www.leinsterrugby.ie
---
ast

www.leinsterrugby.ie | 83
---
PROUD TO BE OFFICIAL

BUSINESS ADVISORS

TO LEINSTER RUGBY

For further information contact:

Michael Costello, Managing Partner,

on 01 470 0130 or email mcostello@bdo.ie

Click here to visit bdo.ie

BDO is authorised by the Institute of Chartered Accountants in Ireland to carry on investment business. BDO, a partnership established under Irish Law, is a

member of BDO International Limited, a UK company limited by guarantee, and forms part of the international BDO network of independent members firms.
---
efore going straight to New Zealand to

see the final two tests as well as seeing

Cian play in the second Mãori game.

"He had a great summer. He loved it so

much."

While it has been a rugby whirlwind

recently for the Prendergasts, like most

rugby players, Sam began in his local

club. For the Prendergast boys, that was

Cill Dara RFC.

After getting a solid grounding in the

game down at Beech Park, Sam soon

followed his older brother to Newbridge

College.

But, it wasn't a success story from the very

start for Sam.

"I took it seriously from first to third year,

but I wasn't that great. I was a sub on the

junior cup team.

"Then in Transition Year, I really tried to

kick on. We had a new coach with the

Senior Cup Team in Johne Murphy and

he started me at number 10, and that's

when I really focused on rugby."

Three years younger that Cian, Sam

looked up to his older brother, and once

Cian started excelling at rugby, Sam was

determined to emulate him.

"When Cian was about 18 years old,

he started playing with Leinster in the

underage interprovincial series.

"I was watching on and I was really

falling in love with the game around

then. So when I saw that, I was trying to

improve my own game. I pushed on from

there."

As part of a strong Newbridge College

side under Johne Murphy, Sam reached

the 2020 Bank of Ireland Leinster Rugby

Schools Senior Cup Final after a 25-22

semi-final win over St Michael's College.

But, as the pandemic struck, and the final

couldn't take place, they were forced

to share the title with Clongowes Wood

College.

Sam Prendergast was then named

in the Leinster Rugby U-18 squad.

Disappointment struck again as the

competition never went ahead as

Covid-19 lingered.

Instead of sulking, Sam focused on

continuing to improve at home with his

brother during lockdown.

"It was a huge help having a rugby

playing brother during that period.

"We were constantly working on different

stuff in the garden and doing gym work

together. We helped push each other

on."

That hard work paid off as Sam was

named as captain of the Leinster Rugby

U-19 side the following year as well

as earning a spot in the Leinster Sub-

Academy.

It's clear that Cian has been a big

influence on Sam's career to date,

and the young out half is quick to

acknowledge those who have helped him

get to where he is.

www.leinsterrugby.ie | 85
---
It's really

cool to be

able to train

with those

players

and try and

learn from

them as much

as I can.

"Johne Murphy and my brother Cian

have been the two biggest influences on

my rugby career so far.

"I've always been able to talk to my

brother about rugby things. When I was

with the Leinster U-19s and going into the

Sub-Academy, it was easy to talk to him

about it, because he had been through

that kind of experience himself.

"I would say he's one of the main reasons

I've done quite well in rugby so far."

Earlier this year, Sam wore the green of

Ireland for the very first time, as he was

called up to play for the Irish U-19 side

over Easter.

And then in the summer, he was selected

for the Irish U-20s for the Six Nation

Summer Series in Italy. At the same time,

older brother Cian was selected for the

Ireland squad that would travel to New

Zealand, after his fine performances in

the back row for Connacht last season.

A very young Irish U-20 side lost their

opening two games of the series to

France and South Africa.

Up next was a tough game against

England.

Going into the dying minutes, England

led 36-34. The referee blew for an

infringement against England near the

half way line. Despite missing a penalty

earlier, Sam Prendergast stepped up to

take the pressure kick.

His penalty sailed through the uprights

to secure a brilliant 37-36 victory. While

most of his family were cheering on in

the stands, his older brother was awake

at 6am in Auckland cheering on his

younger brother.

A special moment for the Prendergast

family, and one Sam will never forget.

"I wasn't involved in the U-20 Six Nations

last year, so that was my first ever win

with the Irish U-20s. I had been in a few

of the camps but I wasn't involved during

the tournament.

"So, it was great to be involved over the

summer and it was unreal at the final

whistle against England. It was such a

good feeling.

86 | www.leinsterrugby.ie
---
"We were two and a half weeks in Italy at

that stage and we were getting closer as a

group. It meant a lot to get that win."

While Cian made big sacrifices to watch

his brother play, Sam would do the same

just one week later.

"We had a game against Scotland the

same day Ireland played the second test

against the Mãori All Blacks. The first half

of the game was on in the background in

the hotel while we were prepping for our

game. I was trying get ready and keep an

eye on Cian's game!

"When we arrived at the stadium and

went out to walk the pitch before the

Scotland game, there was only 15 minutes

left in the Ireland and Mãori game and I

was watching it on my phone as I walked

around.

"It was nerve wrecking towards the end,

but I got to see that they held on for the

win, which was brilliant."

Not long after returning from Italy, Sam

Prendergast began his new journey in

UCD as a year one member of the Leinster

Rugby Academy. It's another step he has

taken in his stride.

"It's been really enjoyable. I didn't get

much time off after being with the Irish

U-20s but that turned out to be a blessing

because I got to take part in pre-season

with the senior team.

"That was a great experience and you

learn so much every day when you train

with them.

"All of the senior players make it clear that

they are happy to help any of the younger

players. If some of the other out-halves

saw I wasn't sure about a call, they are all

very quick to get you back on track."

At just 19 years of age, Prendergast is

certainly in a privileged position getting to

train with players he looked up to for so

long, such as Johnny Sexton. In fact, Sam

Prendergast was born just 34 days before

Sexton won the Schools Senior Cup with

St Mary's.

Now the two are chewing the fat on the

training pitch.

"I've chatted with him a few times and he's

been really helpful. It's just class to see

how he works.

"Obviously, he's the best at what he

does. It's really cool to be able to train

with those players and try and learn from

them as much as I can."

Having only joined the group in the

summer, Prendergast was hoping to soak

up as much information as he could from

the senior players over pre-season.

But, with a couple of injuries, and

international players not yet available,

the out-half was told he would be on the

bench for the pre-season game away to

Harlequins.

"No, I certainly wasn't expecting to get

minutes in that game, but then the way

things unfolded, I got a chance.

"Ross Byrne picked up a knock during the

game, which thankfully wasn't too bad,

but I ended up getting 45 minutes, which

was an amazing experience.

"There was about 8,500 at the Stoop

that evening. It was the biggest crowd I'd

ever played in front. It was class."

And, who was the first person to

congratulate him after the game? His

dad, Mark, of course.

So what are the aims for the 2022/23

season?

"I'm still eligible for the Irish U-20s. If I'm

selected, we will have a lot of camps

throughout the season leading up to the

Six Nations.

"So my main focus right now is to get

selected for those camps, and hopefully,

repeat what the lads did last year.

"I'd also like to get more games with

Lansdowne. I only played four or five

times for the club last year. Hopefully

I do get the opportunity to play more

All-Ireland League games and have a

successful year with them too."

It's clear Sam Prendergast just wants to

play rugby.

After a strong summer and a good

support network and his family in the

stands at nearly every game, he has

everything in his armoury to succeed.
---
Leinster

Rugby

Academy

Year

Three:

88 | www.leinsterrugby.ie

Marcus Hanan (3) #1295

DOB 3 July 2000

FROM Clane, Co Kildare

HEIGHT 1.85m (6' 0")

WEIGHT 112kg (17st 9 lbs)

POSITION Loosehead prop

SCHOOL Salesian College, Celbridge

CLUB Clane RFC

HONOURS Ireland U-20 (2 caps)

John McKee (3) #1307

DOB 15 February 2000

FROM Belfast

HEIGHT 1.85m ( 6' 0")

WEIGHT 108kg (17st 0lbs)

POSITION Hooker

SCHOOL Campbell College

CLUB Terenure College RFC

HONOURS Ireland U-20 (10 caps)

Seán O'Brien (3) #1297

DOB 31 July 2000

FROM Pittsburgh, PA, USA

HEIGHT 1.91m ( 6 ' 3")

WEIGHT 106kg ( 16st 10lbs)

POSITION Back Row

SCHOOL Blackrock College

CLUB UCD RFC

HONOURS Ireland U-20 (3 caps)

Max O'Reilly (9) #1291

DOB 26 February 2000

FROM Long Island, USA

HEIGHT 1.86m (6' 1")

WEIGHT 90kg (14st 2lbs)

POSITION Full-back

SCHOOL St Gerard's School

CLUB DUFC

HONOURS Ireland U-20 (3 caps)

Andrew Smith (2) #1292

DOB 21 July 2000

FROM Dublin

HEIGHT 1.8 m (5' 11")

WEIGHT 93kg (14st 9lbs)

POSITION Back Three

SCHOOL St Michael's College

CLUB Clontarf FC

HONOURS Ireland U-20 (3 caps)

Leinster

Rugby

Academy

Year

Two:

Alex Soroka (5) #1296

DOB 19 February 2001

FROM Cork

HEIGHT 1.95m (6' 5")

WEIGHT 107kg (16st 12lbs)

POSITION Back Row

SCHOOL Belvedere College

CLUB Clontarf FC

HONOURS Ireland U-20 (8 caps)

Jack Boyle

DOB 10 March 2002

FROM Dublin

HEIGHT 1.86m (6' 1")

WEIGHT 108kg (17st 0lbs)

POSITION Loosehead prop

SCHOOL St Michael's College

CLUB UCD RFC

HONOURS Ireland U-20 (9 caps)

Lee Barron (2) #1308

DOB 15 February 2001

FROM Dublin

HEIGHT 1.93m (6' 3")

WEIGHT 107kg (16st 12 lbs)

POSITION Hooker

SCHOOL St Michael's College

CLUB DUFC

HONOURS Ireland U-20 (2 caps)

Chris Cosgrave (2) #1305

DOB 24 July 2001

FROM Dublin

HEIGHT 1.85m (6' 0")

WEIGHT 86kg (13st 7lbs)

POSITION Back Three

SCHOOL St Michael's College

CLUB UCD RFC

HONOURS Ireland U-20 (3 caps)

Temi Lasisi (1) #1304

DOB 9 May 2001

FROM Enniscorthy, Co Wexford

HEIGHT 1.83m (6' 0 ")

WEIGHT 116.5kg (18st 5lbs)

POSITION Tighthead prop

SCHOOL CBS Enniscorthy

CLUB Lansdowne FC/Enniscorthy RFC

HONOURS Ireland U-20 (3 caps)

(3) = Leinster Rugby Senior caps
---
Ben Murphy (1) #1309

DOB 23 April 2001

FROM Bray

HEIGHT 1.76m (5' 8")

WEIGHT 80kg (12st 8lbs)

POSITION Scrum-half

SCHOOL Presentation College, Bray

CLUB Clontarf FC

HONOURS Ireland U-20 (3 caps)

Leinster

Rugby

Academy

Year

One:

Rob Russell (5) #1302

DOB 13 January 1999

FROM Dublin

HEIGHT 1.83m (6' 0")

WEIGHT 91kg (14st 5lbs)

POSITION Back Three

SCHOOL St Michael's College

CLUB DUFC

HONOURS Ireland U-20 (5 caps)

Ben Brownlee

DOB 28 September 2002

FROM Dublin

HEIGHT 1.87m (6' 2")

WEIGHT 100kg (15st 11lbs)

POSITION Centre

SCHOOL Blackrock College

CLUB UCD RFC

HONOURS Ireland U-20 (3 caps)

James Culhane

Stats correct as of September 16, 2022

DOB 22 October 2002

FROM Enniskerry, Co Wicklow

HEIGHT 1.94m (6' 4")

WEIGHT 110kg (17st 5lbs)

POSITION Back Row

SCHOOL Blackrock College

CLUB UCD RFC

HONOURS Ireland U-20 (5 caps)

Aitzol Arenzana-King

DOB 15 June 2002

FROM Gormanston, Co Meath

HEIGHT 1.91m (6' 3")

WEIGHT 97.5kg (15st 5lbs)

POSITION Back Three

SCHOOL Gormanston College/CUS

CLUB Clontarf FC/Balbriggan RFC

HONOURS Ireland U-20 (8 caps)

Diarmuid Mangan

DOB 6 March 2003

FROM Kildare

HEIGHT 1.93 m (6' 4")

WEIGHT 106kg (16st 10lbs)

POSITION Back Row

SCHOOL Newbridge College

CLUB UCD RFC

HONOURS Ireland U-20 (6 caps)

Rory McGuire

DOB 26 August 2002

FROM Dublin

HEIGHT 1.93m (6' 4")

WEIGHT 118kg (18st 8lbs)

POSITION Tightead prop

SCHOOL Blackrock College

CLUB UCD RFC

HONOURS Ireland U-20 (5 caps)

Sam Prendergast

DOB 12 February 2003

FROM Kildare

HEIGHT 1.94m (6' 4")

WEIGHT 91kg (14st 5lbs)

POSITION Out-half

SCHOOL Newbridge College

CLUB Lansdowne FC

HONOURS Ireland U-20 (4 caps)

Charlie Tector

DOB 28 March 2002

FROM Wexford

HEIGHT 1.89 m (6' 2")

WEIGHT 94kg (14st 11lbs)

POSITION Out-half

SCHOOL Kilkenny College

CLUB Lansdowne FC

HONOURS Ireland U-20 (5 caps)

www.leinsterrugby.ie | 89
---
fixtures and

results 2021/22

Date

17/09

KO/

Result

Opposiotion Venue 15 14 13 12 11 10 9 1 2

W

29-33 URC ZEBRE Stadio Sergio

Lanfranchi

O'REILLY RUSSELL OSBORNE NGATAI

KEARNEY

1T

R. BYRNE

C4

MCGRATH

1T

E BYRNE

KELLEHER

23/09 19:35 URC BENETTON RDS Arena

30/09 19:35 URC ULSTER

08/10 17:05 URC CELL C

SHARKS

Kingspan

Stadium

RDS Arena

14/10 19:35 URC CONNACHT Sportsground

22/10 17:15 URC MUNSTER

28/10 19:35 URC SCARLETS

Aviva

Stadium

Parc y

Scarlets

26/11 15:15 URC GLASGOW RDS Arena

03/12 19:35 URC ULSTER RDS Arena

09/10/11

Dec

16/17/18

Dec

TBC HCC RACING 92 TBC

TBC HCC GLOUCESTER

RUGBY

26/12 19:35 URC MUNSTER

RDS Arena

Thomond

Park

01/01 19:35 URC CONNACHT RDS Arena

07/01 19:35 URC OSPREYS

13/14/15

Jan

20/21/22

Jan

TBC

HCC GLOUCESTER

RUGBY

TBC HCC RACING 92

28/01 17:00 URC CARDIFF

RUGBY

18/02 19:35 URC DRAGONS

RFC

04/03 17:05 URC EDINBURGH

24/03 19:35 URC DHL

STORMERS

15/04 14:00 URC EMIRATES

LIONS

22/04 16:05 URC VODACOM

BULLS

Swansea.

com Stadium

Kingsholm

Aviva

Stadium

RDS Arena

RDS Arena

DAM Health

Stadium

RDS Arena

Emirates

Airline Park

Loftus

Versfeld

90 | www.leinsterrugby.ie
---
3 4 5 6 7 8 16 17 18 19 20 21 22 23

ALAALATOA

MOLONY

JENKINS

1T

RUDDOCK

T2

PENNY DEEGAN MCKEE MILNE ABDALADZE DEENY SOROKA MCCARTHY FRAWLEY CONNORS

www.leinsterrugby.ie | 91
---
matchday

Squads

officials

Jimmy O'Brien

Jordan Larmour

Garry Ringrose [C]

Robbie Henshaw

Dave Kearney

Ciarán Frawley

Luke McGrath

15

14

13

12

11

10

9

FULL BACK

RIGHT WING

OUTSIDE CENTRE

INSIDE CENTRE

LEFT WING

FLY HALF

SCRUM HALF

Ignacio Mendy

Mattia Bellini

Joaquin Riera

Marco Zanon

Onisi Ratave

Giacomo Da Re

Sam Hidalgo-Clyne

REFEREE:

JACO PEYPER

(SARU, 11TH COMPETITION GAME)

ASSISTANT REFEREE:

PAUL HAYCOCK (IRFU)

ASSISTANT REFEREE:

ANDREW FOGARTY (IRFU)

TMO:

IAN DAVIES (WRU)

Andrew Porter

Dan Sheehan

Michael Ala'alatoa

Jason Jenkins

James Ryan

Ryan Baird

Josh van der Flier

Caelan Doris

1

2

3

4

5

6

7

8

LOOSE HEAD PROP

HOOKER

TIGHT HEAD PROP

SECOND ROW

SECOND ROW

BLINDSIDE FLANKER

OPENSIDE FLANKER

NUMBER 8

Ivan Nemer

Giacomo Nicotera

Simone Ferrari

Niccolo Cannone

Scott Scrafton

Giovanni Pettinelli

Michele Lamaro [C]

Toa Halafihi

Rónan Kelleher

Ed Byrne

Cian Healy

Ross Molony

Will Connors

Cormac Foley

Ross Byrne

Charlie Ngatai

16

17

18

19

20

21

22

23

REPLACEMENT

REPLACEMENT

REPLACEMENT

REPLACEMENT

REPLACEMENT

REPLACEMENT

REPLACEMENT

REPLACEMENT

Gianmarco Lucchesi

Federico Zani

Filippo Alongi

Carl Wegner

Henry Stowers

Manfredi Albanese

Tommaso Menoncello

Iliesa Tavuyara
---
*Restrictions apply.

*
---
Parting Shot

17 September 2022

Photo by Harry Murphy/Sportsfile

Leinster debutants Jason Jenkins and Charlie Ngatai after

their side's victory in the United Rugby Championship

match between Zebre Parma and Leinster at Stadio Sergio

Lanfranchi in Parma, Italy.

www.leinsterrugby.ie | 95