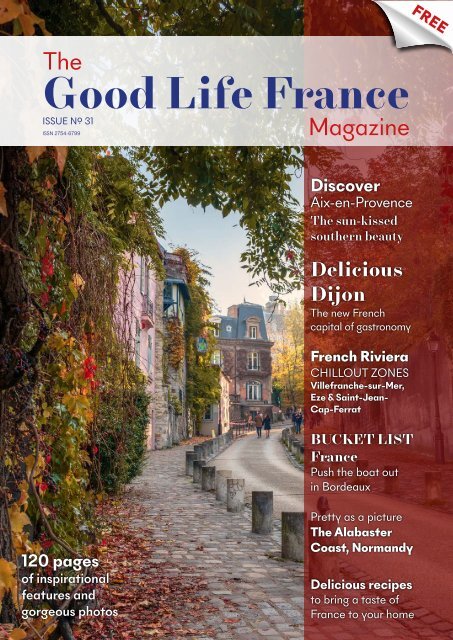 Autumn 2022
Discover Aix, the 'Little Paris' of Provence, the historic region of Beaune, a land of wine and castles. Beautiful Bordeaux and Normandy. The stork villages of Alsace and the pickled-in-the-past, post-card pretty perched town of Saint-Guilhem-le-Desert. Breath-taking Lavender fields in Provence, castles in the air in Dordogne. Exquisite Villefranche-sur-Mer and Nice. Discover what's new, the best tours, recipes, a language lesson, practical guides and much, much more…
Discover Aix, the 'Little Paris' of Provence, the historic region of Beaune, a land of wine and castles. Beautiful Bordeaux and Normandy. The stork villages of Alsace and the pickled-in-the-past, post-card pretty perched town of Saint-Guilhem-le-Desert. Breath-taking Lavender fields in Provence, castles in the air in Dordogne. Exquisite Villefranche-sur-Mer and Nice. Discover what's new, the best tours, recipes, a language lesson, practical guides and much, much more…
SHOW MORE
SHOW LESS
You also want an ePaper? Increase the reach of your titles
YUMPU automatically turns print PDFs into web optimized ePapers that Google loves.
FREE

The

Good Life France

ISSUE Nọ 31

ISSN 2754-6799

Magazine

Discover

Aix-en-Provence

The sun-kissed

southern beauty

Delicious

Dijon

The new French

capital of gastronomy

French Riviera

CHILLOUT ZONES

Villefranche-sur-Mer,

Eze & Saint-Jean-

Cap-Ferrat

BUCKET LIST

France

Push the boat out

in Bordeaux

120 pages

of inspirational

features and

gorgeous photos

Pretty as a picture

The Alabaster

Coast, Normandy

Delicious recipes

to bring a taste of

France to your home
---
Bienvenue

EXCLUSIVE

We have helped 1000's of clients buy and sell property in France

and have a large portfolio of 10,000+ properties listed on our website.

Lakeside Living

Charente €149,950

Ref: A14144 - Renovated 2 bedroom house with a

second house to renovate, garden and barns, in a

friendly hamlet.

9% agency fees included paid by the buyer.

LOCAL KNOWLEDGE YOU CAN TRUST

Dordogne €339,200

Ref: 109535 - Beautifully presented south-facing 5

bedroom farmhouse lovingly renovated by local artisans.

Overlooking a stunning lake it has the most

amazing unspoiled views. The rooms are spread

across 3 floors and accommodate both

summer and winter living. Each window has a

perfect view of the lake and its surroundings.

6% agency fees included paid by the buyer.

EXCLUSIVE

Room to Grow

Bienvenue

Bonjour and bienvenue to The Good Life France Magazine

Autumn 2022 issue.

This is a seriously fabulous issue and it's just teeming with

tempting French destinations, and its chock full of fabulous

photos to inspire daydreams and bring France to you wherever

you are.

Discover Aix, the 'Little Paris' of Provence, one of the most

colourful and gorgeous cities in France, and historic Beaune,

a land of wine and castles. Push the boat out in beautiful

Bordeaux, a bucket list destination for sure, and head to

Normandy to explore its many charms – from the Alabaster

Coast to Ouistreham, a little fishing village with a big history.

See the stork villages of Alsace, sigh over the pickled-in-thepast,

post-card pretty perched town of Saint-Guilhem-le-

Desert where the villagers love to tell stories! Discover how

Alexandre Dumas, author of the Three Musketeers, was in

real life a total foodie, and there are some stunning recipes

for those of you who also love French cuisine – including an

irresistibly sscrumptious brioche and berry pudding. Lavender

fields in Provence, castles in the air in Dordogne, exquisite

Villefranche-sur-Mer and little villages of the French Riviera,

the UNESCO-listed treasures of Nice, what's new, practical

guides and much, much more…

Don't forget to subscribe - the magazine is free (see page 4)

and please share this issue with your friends - that's free too!

Wishing you a very happy autumn,

Bisous from my little corner of rural northern France,

Janine

Janine Marsh

Editor

Follow us on Twitter,

Instagram & Facebook

Start your property search today!

+33 (0)5 53 60 84 88 leggettfrance.com info@leggett.fr

The Good Life France | 3
---
To Subscribe to

THE GOOD LIFE FRANCE MAGAZINE

CLICK HERE

SUBSCRIBE

The magazine is free to read, download and share

Contributors

8

CONTENTS

The Good Life France Magazine

No. 31 Autumn 2022

ISSN 2754-6799

ON THE COVER

8 Sun-kissed Aix-en-Provence

Janine Marsh discovers the

cultural and foodie side of this

southern French beauty.

14

14 Bucket list France: Bordeaux

Push the boat out in the "Pearl

of Aquitaine"…

Gillian Thornton is an

award-winning travel

writer and member

of the British Guild

of Travel Writers,

specialising in French

destinations, city stays,

walking, cruising and

lifestyle. Her favourite

place? 'Usually where I

have just been!'

Laurent Yung was

born and raised in

his 5-generation

family vineyard in

Bordeaux, France.

He now runs, from

San Diego, California,

SomMailier.com, a

fabulous and unique

Wine Club 100%

dedicated to French

wines in the USA. He is

passionate about wine,

especially the small

hard-to-find French

wines.

Sue Aran is a writer,

photographer, and

tour guide living in the

Gers department of

southwest France. She

is the owner of French

Country Adventures,

which provides

personally-guided,

small-group, slow travel

tours into Gascony, the

Pays Basque, Provence

and beyond.

The Good Life France Magazine

Front Cover: Montmartre, Paris by Wazim. Find more of his fabulous

photos at: wazim-photos.com and on Instagram at wazou_75

Editor-in-chief: Janine Marsh

Editorial assistant: Trudy Watkins

Jeremy Flint is an awardwinning

professional

photographer and writer

specialising in travel,

landscape and location

photography. His work is

published extensively in

several magazines. He

is a five-time finalist in

Travel Photographer of

the Year, Association of

Photographers Discovery

Award Winner and

National Geographic

Traveller Grand Prize

Winner.

Press enquiries: editor (at) the Good Life France.com

Advertising: sales (at) the Good Life France.com

Digital support: websitesthatwork.com

Layout design: Philippa French littlefrogdesign.co.uk

Kit Smyth is a

retired chef with a

passion for French

cuisine. Originally

from Australia, Kit is

dedicated to exploring

both old and new

ingredients, techniques

and styles, and

developing recipes for

home cooks, she also

teaches these recipes

online and in-person.

Find out more at her

website: TheBiteLine

ISSN 2754-6799 Issue 31 Autumn 2022, released September 2022

20

20 Pretty as a picture in

Normandy

Gillian Thornton explores the

Alabaster Coast.

28 Delicious Dijon

The new French capital of

gastronomy.

72 French Riviera chillout zones

Villefranche-sur-Mer, Eze &

Saint-Jean-Cap-Ferrat.

DISCOVER

34 Lavender fields forever!

Jeremy Flint wanders the

purple plains of Provence.

40 Seaside getaway in Normandy

Janine Marsh finds Ouistreham

is the perfect weekend

destination.

44 British Normandy Memorial

Gillian Thornton visits the

latest remembrance site to

open along the D-Day landing

beaches.

4 | The Good Life France The Good Life France | 5
---
34

50 Spotlight on:

Saint-Guilhem-le-Désert

One of the prettiest villages in

France was once home to a

giant!

54 Burgundy's finest

Nuns, film stars and UNESCOlisted

vineyards in Beaune!

118 Last word

Life in rural France.

GUIDES

90 Car and Visa Insurance

How to insure your foreign

registered car in France, and

medical insurance for visa

applications.

40

50

60 Castles in the Air

Mike Zampa's humorous tour of

Dordogne's perched chateaux.

64 The stork villages of

northern France

Amy McPherson goes walkabout

in Alsace.

68 Musketeers and cookery books

Sue Aran explores the foodie

credentials of writer Alexandre

Dumas.

76 Nice treasures

Jeanne Oliver explores the

UNESCO-listed riches in the

sunny city.

PHOTO SPECIALS

84 Your Photos

Featuring the most beautiful

photos shared on our

Facebook page.

REGULARS

80 What's New – la Rentrée

All the news and events you

need for your next trip to France.

86 Tours de France

The very best of France for your

tours and holidays.

88 French language lesson

Faux amis – when French words

aren't what they seem!

108 The Wine Expert: Champagne

Find out how the fizz for

its pizzaz!

84

112

80

95 Cut the cost of currency

transfers

The experts explain how to

get the best return on your

transfers.

99 US Connected Persons

Guide for US expats in France.

103 The true south of France?

Joanna Leggett explores the

good life in the cities of Sète

and Montpellier in Herault.

BON APPÉTIT

111 Very more-ish brioche

bread pudding

A rich and creamy pudding with

raspberries, white chocolate –

yes please!

112 Pain perdu with a bourbon

toffee sauce

This oven-baked pudding is a

real winner.

114 Cake salé

Yes you can have your savoury

cake and eat it for breakfast

says Kit Smyth.

116 French Chowder

The French version of this thick

soup is seriously tasty.

4 Subscribe to The Good Life

France Magazine

Everything you want to know

about France and more.

6 | The Good Life France The Good Life France | 7
---
What to do and see in Aix

You'd be forgiven for thinking that in Aix all

roads lead to the Cours Mirabeau and that life

revolves around the hustle and bustle of this

wide boulevard – it does. Once a toll road and

a place for aristocrats and the rich to see and

be seen, it now splits the inner city in two. The

old town is on one side and the 'newer' 17th

century Mazarin district on the other. There

are restaurants, bars, galleries and shops

galore. And on summer nights and Saturday

mornings, market stalls are set up and the

Cours teems with shoppers. It's also home

to a mossy fountain named unsurprisingly,

Fontaine Mossue. Fed by thermal springs (the

Romans built baths in Aix) on cold days steam

swirls above its stone bowl.

Sitting at a café with a glass of local rosé,

enjoying a three hour dinner and watching

the world go by on the Cours is one of life's

great pleasures. Paul Cezanne, Edith Piaf,

Pablo Picasso, Jean Paul Sartre and many

more have done just this. But don't sit there

for too long, there's a lot to see in Aix.

Aix-en-Provence

Is it the gorgeous and colourful historic buildings? Or the many museums and

galleries, the fabulous markets, the Cours Mirabeau with its fountains, the

pretty squares and plane tree-lined avenues? Or the 300 days of sunshine and

700 restaurants in an always bustling but not busy city surrounded by glorious

countryside and vineyards? Aix (pronounced 'X') is a bit like a mini-Paris where the

sun always shines says Janine Marsh…

The old district

8 | The Good Life France The Good Life France | 9
---
The old district

You'll find a warren of cobbled streets,

elegant squares and magnificent ancient

buildings in the old district. There's a lively

daily market in Place Richelme, shaded by

ancient plane trees, lined with cafés whose

chairs and tables spill into the square,

and stalls peddling local produce such as

lavender, bread, cheese, mountains of the

freshest vegetables, great tubs of sunflowers

and curtains of garlic…

In Place de l'Hotel de Ville you'll find a

Saturday morning flower market watched over

by a 15th century astronomical clock featuring

characters representing the four seasons.

Locals say one year Autumn lasted 4 months

when someone forgot to turn the key!

In a city that is nicknamed 'town of 1000

fountains', elegant Place d'Albertas stands out

for its truly beautiful baroque buildings and

central fountain. You can walk your socks off

in Aix and never be bored.

Cours Mirabeau was named in honour of Honoré-Gabriel Riquetti de Mirabeau an early leader in the

French Revolutionist and who represented Aix at the Estates General assembly in 1789.

The Mazarin District

The Mazarin district is named after the

Archbishop of Aix, Michel Mazarin, brother of

Cardinal Mazarin, chief minister to Louis XIV.

He commissioned the extension of the city's

boundaries in the 1600s. The buildings from

this time are luxurious and majestic. Elsewhere

there are traces of older buildings where

you can spot ancient carvings above doors,

religious statues on corners and the Maltese

cross carved into walls.

Arty Aix

Aix's most famous son is Paul Cezanne.

Every morning at dawn, he would walk from

his city apartment up the hill to his studio

to paint. When he died in 1906, the studio

was preserved and is now open to the public.

The objects we see in his paintings are still

there, the three skulls which are real, though

no one knows who they are – anonymously

immortalized. The statue of a cherub, the

bottles and vases he loved to group together.

His brushes and paints, his smock coat and

hat and his Godin fire are all there. You really

do get the feeling the artist has popped out to

wander in his gorgeous garden or to look at his

beloved Mont Saint-Victoire, the subject of so

many of his paintings. (atelier-cezanne.com)

You can find out more about Cezanne at the

Caumont Art Centre, a corker of a museum

in an 18th century mansion a stone's throw

from the Cours in the Mazarin District where

they show a 20-minute film about the life of

Cezanne that is surprisingly grown up and

doesn't sugar coat his story (neither modest

nor particularly likeable by all accounts). The

museum has a super exhibition of sculptures

and paintings including by several great

names such as Monet, Van Gogh, Degas and

many more outstanding artists, plus stunningly

preserved rooms.

Don't miss the ground floor café (you don't

need a ticket to enter) – it is gorgeous with

glorious salons which feel as though nothing

has changed in the last 300 years, and a

No 38 the oldest private mansion on Cours Mirabeau, built before the street was even laid out –

it's impressive wooden door is flanked by two stop-you-in-your-tracks-to-admire muscular figures

Cezanne's studio

10 | The Good Life France The Good Life France | 11
---
eautiful shady garden. This is one of the best

kept secrets of the locals who love to pop in

for a coffee, glass of wine, lunch or fabulous

cake.

Two notable museums in the Mazarin District

are Musée Granet which has a superb

collection of artworks including ten Cezanne

paintings, and it's second part Granet XXe,

housed in a former 17th century chapel

Fondation Vasarely exhibits the optical

illusion art of Hungarian-French artist Victor

Vasarely who chose Aix to showcase his art

due to his admiration for Cezanne. Vasarely's

work is big, bold and incredible.

Eat out

Feast on oysters fresh from the coast in

Marseille, just 30 km away, nibble on

lavender infused goats cheese, enjoy

delicious salads flavoured with local olive oil

and tapenade and sigh over sweet almond

Calisons, a local speciality said to have been

invented for Queen Jeanne, the wife of Good

King René, in 1457. They are said to be the

shape of her eyes!

The king of calisson makers in Aix is the Le

Roy René who've been making them for more

than 100 years and whose calisson gift boxes

feature La Rotonde, a fountain landmark in

Aix. You can visit their fabulous museum and

confectionary where they make calissons

in every flavour from natural – almond and

melon to lavender, chocolate and pistachio.

The Fromagerie du Passage is tucked away

down a secret passage at No. 55 Cours

Mirabeau. Head to the terrace bar for a cool

breeze on a hot night and a perfectly chilled

glass of something delicious to wash down

your plancha of tasty Corsican meats and

some of the best cheeses you'll ever try.

and an ever growing collection of art dotted

around the vineyards including a monumental

meditation bell created by Paul Matisse, son

of Henri Matisse.

Book a tour: Aix has so many secret

places and so much to discover.

Book a tour at the tourist office by

La Rotonde fountain.

aixenprovencetourisme.com

How to get there: Trains from Paris

take just 3 hours. The station is around

25 minutes' drive from the city, you

can take a bus for a few euros or taxi

(expect to pay around 50 Euros).

Where to stay: Hotel Nègre Coste

overlooking the Cours Mirabeau, in the

centre of action but perfectly tranquil

and with comfy rooms, a spa, friendly

staff and a lovely restaurant downstairs.

La Rotonda is the biggest fountain in Aix and a symbol of the city

And for a countryside treat, head to

Chateau la Coste a dreamy vineyard with a

hotel and five restaurants about 20 minutes'

drive from the city. It has three art galleries

Chateau la Coste

12 | The Good Life France The Good Life France | 13
---
BUCKET LIST

France:

Bordeaux

Janine Marsh explores Bordeauxfrom

the city to the vineyards…

Bordeaux is a truly great city – rich

in history, architecture, culture and

gastronomy. Beyond the city, the region

of Bordeaux is famous for its wines and

vineyards, many of which lie along the

rivers which made Bordeaux great. The

half-moon sweep of the river Garonne

in the city made for an ideal port and

the Romans built a great trading centre

here. Centuries later, the English made it

a central trading port, shipping out vast

quantities of wood, wool and local wines.

In the mid 1700s, the governor of Bordeaux,

the Marquis de Tourny did for Bordeaux

what Haussmann was later to do for Paris

– he regenerated the city. He knocked

down the crumbling medieval houses and

commissioned elegant buildings that faced

the river and that area is now the largest

urban UNESCO-listed world heritage site,

encompassing some 1810 hectares. The Port

of the Moon has been regenerated and the

former warehouses transformed into shops,

bars and restaurants. The quaysides are busy

with runners, cyclists and walkers drawn to

admire the Miroir d'Eau, a water sculpture in

front of the impressive Place de la Bourse.

Bordeaux has continued to evolve and

develop. The city is a mix of old and

new, glamour and avant-garde, wine and

water. There are futuristic trams, stellar

restaurants, wine bars and an ever growing

number of museums and art venues. For

visitors to Bordeaux there is so much to see

and do, it's hard to know where to start.

Bordeaux for wine lovers

Push the boat out and take a river cruise to

see more of Bordeaux and discover some

of the finest vineyards in existence.

CroisiEurope are a French family-owned

cruise company who run 5, 6 and 7 day

river cruises from the Port of the Moon

14 | The Good Life France The Good Life France | 15
---
dip their sails in salute: "baisse-voile", which

became Beychevelle.

The UNESCO-listed Vauban-built Citadel of

Blaye is a big surprise in that it's almost a secret

and yet this mini-Carcassonne is extraordinarily

beautiful and well-preserved, dominating the

pretty town below. It has its own vineyards,

shops and restaurants but it's the gorgeous

historic buildings that steal the show.

In Bourg, wine is stored beneath the city in a

maze of caves. It was once a busy port town

but is now a sleepy place with wonderful views

from the top of the town. If you're feeling fit

you can climb the 500 steps of the King's

staircase, named for Louis XIV who stayed in

the upper town as a child and apparently liked

to sneak down the stairs to the old town below.

Blaye

and back. Cruise along the Garonne, the

Dordogne and the Gironde, western Europe's

largest estuary. You'll pass fishing huts on stilts,

birds of prey floating on the breeze, castles

and vineyards that sweep down to the water,

and riverside towns where you can explore the

best of the region.

You'll enjoy wine tastings on board and in

renowned wine domaines (there are no worries

about being a designated driver). You'll visit

castles and some of the region's most historic

and beautiful towns and be spoiled rotten with

fabulous 3 and 4-course meals with excellent

at lunch and dinner.

I joined the 5-day cruise to get to know some

of the highlights of the city and the region…

Highlights of the cruise

In the mornings the ship sails and in the

afternoons there are excellent excursions

(guides speak English and French). It's a

laidback cruise at a relaxed pace.

Tour the vineyards of Bordeaux and enjoy the

stunning landscape punctuated by chateaux,

Bassins des Lumières

mansions, and pretty villages. Enjoy wine

tastings at a famous domaine in the Medoc

and stop off at the chateau de Beychevelle

where rumour has it they cut the grass with

scissors – it's certainly pristine in a sort of

Zen meets French parterre way. Ogling the

gorgeous 18th century mansion and snooping

in the garden is very satisfying! It was once

the home of the Duc d'Eperon, Grand admiral

of France and ships passing the estate would

Saint-Émilion is also on the itinerary and when

you go there, you have to do a wine tasting

– it's practically the law! First at a chateau

and then in the picturesque, cobbled village

of Saint- Émilion. The vineyards (as well as 8

municipalities of Saint- Émilion) were the first to

be listed by UNESCO as a world heritage site

as 'a remarkable example of a historic winegrowing

landscape which has survived intact'

You'll also spend a whole day in Bordeaux,

with a guided tour or free time. It's a really

fabulous way to get to know both the city and

the surrounding area.

Find out more:

Croisieuroperivercruises.com

There's also a 5-day Christmas and a 5-day

New Year cruise of Bordeaux

For culture lovers

There are some 21 museums and art galleries

with themes including history, architecture

and fine arts. One of the most well-known is

the extraordinary Cité du Vin – dedicated to

wine and housed in a swirly topped building

that resembles wine being poured in a glass.

The latest venue to open is the absolutely

stunning Bassins des Lumières. It is the

Bourg

Saint-Émilion

16 | The Good Life France The Good Life France | 17
---
EARLY BOOKING DISCOUNT for reservations till 30/11/2022:

10% OFF on all 2023 European cruises • 5% OFF on all 2023 long haul cruises

© InterContinental Bordeaux – Le Grand Hotel

largest digital art centre in the world and

is housed in a Former German submarine

base built between 1940-1943 to house

multiple U-boats. This vast concrete space,

constructed from 600,000 cubic metres

of concrete, now hosts extraordinary and

spectacular immersive exhibitions.

More on what to see in Bordeaux

This is a city

for walking and

admiring. Explore

the old town with its

Grosse Cloche, 13th

century gate, the

Place du Parlement

created in 1754

by Tourny, Porte

Cailhau constructed

in the late 1490s

and the masterpiece

of the neo-classic

Porte Cailhau

rebuild, the Grand-

Theatre, whose spectacular staircase was the

model for the Opera Garnier in Paris.

For food lovers

Darwin: Cross to the right bank to experience

Darwin. A former military barracks turned

eco-rehabilitated area with street art,

performances and great places to eat out.

Locals love: Le Bordeaux restaurant is

popular not just with visitors but with

locals, it's part of the city's history in its

oh-so-memorable location opposite the

Grand-Theatre. The Bordelais (people of

Bordeaux) grow up knowing this restaurant,

celebrating good times with dishes made to

perfection…

More on where to eat out in Bordeaux

Bucket list Hotel: InterContinental

Bordeaux – Le Grand Hotel presides over

Place de la Comédie and is plush and

luxurious with a big dollop of old school

glamour and a glorious, theatrical tearoom.

Stay here and you actually might not

want to leave the hotel at all except that

Bordeaux's temptations are simply too

irresistible. Indulge in the spa which has

one of the most unusual and stunning pools

I've ever seen – like swimming in your front

room, complete with curtains and paintings!

There's a Michelin Starred Gordon Ramsay

restaurant, Le Pressoir d'Argent, named

after a pure silver lobster press created by

renowned Maison Christofle. They actually

use it in the restaurant if you order lobster.

And you can enjoy a glass of Bordeaux's

finest wines on the stunning roof top bar

overlooking the famous opera house. Find

out more and book at:

bordeaux.intercontinental.com

WHY CHOOSE TO CRUISE WITH CROISIEUROPE?

Europe's largest river

cruise line

Authentic Brittany,

the Loire and its castles

8-DAY / 7-NIGHT ITINERARY

NEW FOR 2023

2023 Departures: April to October

From £ 1 895 (2) per person

46 years' experience

and more than 50 ships

INFORMATION AND RESERVATIONS: Tel. 0208 3281 281 • resuk@croisieurope.com

www.croisieurope.co.uk

IM067100025. (1) On majority of departures on French rivers. (2) Based on double occupancy cabin

Non-contractual photos - Copyrights: CroisiEurope, Shutterstock - CreaStudio 2208066.

All inclusive for drinks

onboard (1)

Short break in Paris

along the Seine

4-DAY / 3-NIGHT ITINERARY

2022 Departures: November & December

2023 Departures: February to December

From £ 379 (2) per person

2208066_ap180x267_offre_loire_canaux_the_good_life_france.indd 1 01/09/2022 15:32

18 | The Good Life France The Good Life France | 19
---
Painting by the sea

Normandy's Alabaster Coast had a big

impact on the Impressionist painters. Gillian

Thornton took a scenic coastal drive to find

out why.

For a very small place, Veules-les-Roses packs

a pretty picturesque punch with its period

cottages and ancient watermills, seaside villas

and sandy beach. And there are more clues

in the name. Nestled in the wooded valley of

the Veules, France's shortest river, the narrow

streets are splashed with the colour of roses

during the summer months.

Victor Hugo was a big fan of the village, coming

here regularly in the late 19th century. One

hundred and fifty years later, Veules-les-Roses

is still popular, a gem of the Alabaster Coast

and the only community in the Seine-Maritime

department of Normandy that is classified

amongst the Plus Beaux Villages de France.

Stretching from Le Tréport in the north to Le

Havre in the south, the dramatic coastline

of Seine-Maritime earns its name – the Côte

d'Albâtre – from the towering white chalk cliffs

that dominate the undulating shoreline. The

Impressionists loved a chalk cliff so as a big

fan of their work, I've come to see for myself

the landscapes they loved.

Heading down by car from Calais, I cross from

the Hauts-de-France region into Normandy

at Le Tréport on the Bresle estuary. Walk the

bustling quayside, relax on the beach, and

take the funicular up the chalk cliffs to enjoy

sweeping views over coast and countryside.

I'm no painter but already I can understand

why artists are captivated by the big skies and

ever-changing light here.

Don't leave Le Tréport without taking a minidetour

to Eu, a small inland town of just 7,000

residents. Eu's chateau was a favourite home

of France's last king, Louis Philippe, and it's

here that Queen Victoria and Prince Albert

stayed in 1843 for the signing of the first

Entente Cordiale, a diplomatic agreement

between France and Great Britain. Louis-

Philippe lived his final years in exile in England

after being forced to abdicate in 1848, but

his beautifully restored Norman mansion still

20 | The Good Life France The Good Life France | 21
---
Le Treport

Dieppe

boasts exquisite parquet floors, a priceless art

collection, and extensive gardens. Nor was

Victoria the only English monarch to make

her mark on Eu. William of Normandy married

Matilda of Flanders here in the Cathedral

of Notre Dame, some 15 years before they

became King and Queen of England in 1066.

Back on the coast road, I stop in the bustling

fishing port of Dieppe with its deep water

harbour protected by those signature white

cliffs. France's first ever seaside resort, Dieppe

became popular with Parisians from 1822,

attracting the attention of Impressionists

such as Camille Pissaro who painted the inner

harbour in 1902. Look out for reproductions of

Impressionist paintings all along the Alabaster

Coast in the exact places where the artists

placed their easels.

Today Dieppe is classified as a French Art

and History Town so I stop to learn about

its seafaring and trading traditions, as well

as its Impressionist connections at the

museum in the hilltop castle. Just west of

Dieppe is Varengeville-sur-Mer and the

12th century church of St Valery, renowned

Chateau of Eu, rear garden

for its coastal views and sailors' cemetery.

Master Impressionist Claude Monet painted

the exterior of St Valery from many angles, but

look inside too. The Tree of Jesse stained glass

window is the work of Georges Braque who

died in 1963 and is buried in the churchyard.

Beyond Veules-les-Roses, bustling with visitors

on market day, I find another Valery, the

pretty port of St-Valery-en-Caux with its

small harbour nestled between high chalk

cliffs. Then it's on to the fishing port of

Fécamp. Hardy fishermen in centuries past

set off from Fécamp and Dieppe to fish for

cod off Newfoundland. Discover their story at

the excellent Fisheries Museum, housed in a

converted fish-smoking and packing building

beside the harbour.

There are circular views from the seventh floor

roof terrace, including a tantalising glimpse

of the extraordinary Benedictine Palace in

the heart of the old town. Benedictine liqueur

was reputedly created in the 16th century by a

Benedictine monk named Dom Bernado Vincelli,

using a secret mix of 27 plants and spices.

22 | The Good Life France The Good Life France | 23
---
Monet 'at work' in Etretat Gardens

Misty Monet morning, Etretat

The formula was lost in the French Revolution

but in 1863, local wine merchant Alexandre

Le Grand found the recipe, recreated the

drink, and commissioned a flamboyant

turreted mansion in its honour. A combination

of museum and art gallery, it holds the

distinction of being the world's only distillery

for Benedictine liqueur.

Le Grand's art collection spans sacred to

modern art and is as eclectic as the building

he commissioned.

Every new coastal view reminds me why the

Impressionist painters were so enamoured

of Normandy's light and landscape. But the

place I most want to see with my own eyes

is Etretat with its famous rock arch attached

to the Aval cliff. I'm thrilled to catch a distant

view over a sunset aperitif in the garden of

the Domaine de Saint-Clair hotel just outside

town, however I'm gutted next morning to

wake to thick sea mist. Despite the June

heatwave, Monet's iconic subject is barely

visible, even from the beach.

But after my initial disappointment I console

myself with the thought that Monet loved

to capture changing weather conditions. If

I look on this as a Moody Monet Moment,

50 Shades of Grey suddenly takes on a very

different connotation!

As the sun burns off the morning mist, I head

up to the Amont cliff to visit the magical

Etretat Gardens, an extraordinary topiary

garden which includes – no surprise here – a

reproduction in wicker of Monet at work,

complete with palette and easel.

My final stop on the Alabaster Coast is

somewhere I've never really wanted to go,

but feel I really should. Le Havre. This busy

commercial port at the mouth of the Seine

was bombed to near oblivion during World

War II, leaving 80,000 homeless, so little

remains of the original town. It was also the

accidental birthplace of Impressionism

in 1872 when Claude Monet painted a

shadowy picture entitled 'Impression. Sunrise',

dubbed by a disparaging art critic

as Impressionism.

Thanks to the vision of celebrated

architect August Perret and his team, Le

Havre was rebuilt in the 1950s with broad

avenues, public open spaces, and concrete

apartment blocks. But despite the city's

UNESCO World Heritage status, I've never

had any great desire to see it. Big mistake.

The innovative period design turns out to

be far more attractive than I imagined.

Don't miss the church of St Joseph, Perret's

masterpiece, nor the Perret Show Flat, full

of 1950's nostalgia.

But the real treat for me is MuMa – the

Museum of Modern Art André Malraux

– which houses the second-largest

Impressionist collection outside Paris.

The young Monet was encouraged by

established artist Eugène Boudin from

nearby Honfleur, widely considered as

the 'master of skies' for his seascapes with

racing clouds and wide horizons. Boudin

Eglise Saint-Joseph ®Ludovic Maisant

24 | The Good Life France The Good Life France | 25
---
Fecamp, Palais Benedictine

never considered himself an Impressionist

but he takes his rightful place here in Le

Havre's glorious quayside museum alongside

Monet and his contemporaries.

Thanks to those pioneer painters, art lovers

all over the world have discovered the

beauty of Normandy's Alabaster Coast. See

it with your own eyes however, and you might

just find yourself reaching for the paintbox!

Alabaster Coast

Getting there

Sail direct to Normandy with DFDS

(Newhaven-Dieppe) and Brittany Ferries

(Portsmouth to Le Havre and Caen-

Ouistreham); take the short ferry crossing

from Dover to Calais with DFDS or P&O; or

the fast undersea rail route with Eurotunnel

from Folkestone to Calais. Le Havre is just

over 2 hours by train from Paris St Lazare.

For visitor information, see

seine-maritime-tourism.com

26 | | The Good Life France

The Good Life France | 27
---
DIJON

the new French capital of gastronomy

When presented with good food and wine,

the French are apt to break out into song says

Janine Marsh.

Ban Bourguignon may sound like a robust

chicken casserole flavoured with red wine but in

fact it's an anthem, a catchy ode that celebrates

the French lifestyle. The words go 'La – La la –

La la la lère – La la – La la – La la la la la'. It's

a tuneful round of applause sung in honour of

a superb dish or a sumptuous glass of vin, with

hands raised above the head – twisting, turning

and clapping in time to the rhythm.

It's said the song was born in a bar in Dijon

in 1905, the capital of Burgundy, a part of

France that has a reputation for the very best

in French cuisine and wine.

Well, the proof is in the pudding – and

you'll find it at the Cité International de la

Gastronomie et du Vin in Dijon.

It's a bit of a mouthful, and it may sound

rather a dry title but I promise you this

landmark destination which opened in May

2022, is anything but.

UNESCO added the "Gastronomic meal

of the French" to their Intangible Cultural

Heritage list in 2010. The accolade recognises

a thousand-year-old tradition of preparing

good food that includes making everyday

meals a celebration. The French Government

decided to create a venue to showcase and

promote French gastronomy and wine, and

Dijon was chosen. It has form. UNESCOlisted

vineyards, boeuf bourgignon, gougères

– and in Dijon library there's even a specialist

collection of food books and menus, more

than 30,000 of them.

Homage to gastronomy

The Cité de la Gastronomie et du Vin is on

the site of an abandoned hospital built in

1204 along the old Roman road – it has been

a landmark for visitors for centuries and now

is a landmark for gastronomy. The ancient

buildings have been restored and rejuvenated

and additional architecturally fabulous

buildings created for this foodie city within a

28 | The Good Life France The Good Life France | 29
---
city. You'll find a monumental exhibition space

dedicated to the food and wine of France

and around the world, with inventive and

interactive displays, films, whimsical patisserie

showcases, cakes that look like they were

made for the land of the giants, team games

involving virtual cooking sessions, rooms set

out like dining rooms and kitchens and a

former chapel dedicated to the UNESCOlisted

"Climats" the winegrowing vineyards

of Burgundy. Theatrical, flamboyant and

fascinating.

Did you know that at 12.30 each day – around

50% of the entire French population will

be sitting at a table to eat lunch?! You'll

certainly learn that the French are a nation of

epicureans who know how to make a meal of

it when it comes to cooking, and that French

gastronomy truly deserves its UNESCO listing.

And that's not all you'll find – not by a long

way. In this grand homage to the culture of

food – there's more…

Gastronomic village

Themed stores that showcase the best

of France including cheese, mustard,

charcuterie, seafood, chocolate, bread,

cakes and more can be found in this brand

new gastro-village. Many of the shops have

cooking stations, you choose your food

inside, they'll cook it for you there and then

– and you can sit and enjoy it in a superb

setting.

There are pop-up bistros, the Experiential

Kitchen holds masterclasses with guest chefs,

cooking lessons, tasting sessions, cocktail

workshops, 'battle of the chef' sessions and

a fabulous rooftop terrace where barbecue

classes are held.

There are also pop up "Degustations" –

tasting stalls. When I was there Thierry

Marx's team (yes THE Thierry Marx, the two

Michelin Starred chef who is one of the most

celebrated chefs in France) were there giving

away samples of his divine breads and cakes.

And when it comes to wine, the Cave de la

Cité is in a league of its own. Three floors

form a sort of 'wine library', 3000 bottles of

wine, 250 of them sold by the glass. They

range from a few Euros to a lot more when

you descend to the Cave des Grand Crus.

Here they have some of the most expensive

wines in the world – up to a whopping 3000

Euros a bottle – the sort of wines most of

us will never be able to sip (unless we're

on Government expenses). For instance, I

spotted a 2017 Musigny, a Burgundian red

that will set you back up to 2000 euros a

bottle, but here you can have a taste for a

mere 65 Euros for a (small) glass.

There's also the Ferrandi Paris School of

Culinary Arts, the Harvard of Gastronomy,

where they teach lessons in English. There

are fabulous tableware shops. And there's a

Centre of Heritage and Architecture called

30 | The Good Life France The Good Life France | 31
---
1204 which covers the history of Dijon over

the centuries.

A truly scrumptious tribute to glorious gallic

gastronomy.

Cite de la Gastronomie and du Vin

How to get there: Trains from Paris to Dijon

takes 1 hour 34 minutes.

Where to eat: In a city in which gastronomy

is revered, it's hard to know where to go for

a great meal, unless you have friends who

are prepared to share their tips. I do – and

now you do, beause I'm happy to tell you my

favourite restaurant in Dijon. L'Essentiel is

superb.

Chef Richard Bernigaud creates seasonal

dishes that are on another level on the

tastebud scale. The portions are generous,

the staff are friendly, the food is superb. I

had melon gazpacho as a starter that I won't

forget in a hurry – zesty and zingy. The menu

is created for the season and guaranteed to

appeal to your inner glutton.

L'Essentiel, 12 Rue Audra, 21000 Dijon

Where to stay: Vertigo Hotel and Spa, a

super designer style hotel in the heart of

Dijon from where it's a short walk to the

Cité de la Gastronomie et du Vin via the

gorgeous public park.

Dijon tourist office

32 | The Good Life France The Good Life France | 33
---
A photo guide

to lavender

in Provence

Uncover the beauty of Provence with

Jeremy Flint's guide to the best places to

photograph the lavender fields in the region

34 | The Good Life France The Good Life France | 35
---
Nestled in a picturesque corner of the

South of France that borders Italy and the

Mediterranean sea, Provence is a truly

delightful place that attracts visitors with its

warm sunny climate, great gastronomy and

scenic lavender fields. The lavender fields

have become an icon of the area and are

now a tourist attraction in their own right,

drawing visitors from all corners of the globe.

Every June and July, the region is ablaze with

fragrant lavender fields where swathes of

purple carpet the fields as far as the eye can

see. The captivating beauty of the lavender

fields makes Provence a photographer's

paradise and a popular region to visit during

the summer.

In this rural, idyllic region of diverse

landscapes and stunning hilltop villages, the

lavender fields take centre stage. Lavender

has been an important crop for the people

of Provence for centuries where much of

the lavender is distilled for essential oil and

fragrant water. The plants are also dried

and added to scented objects such as soap,

perfume, honey, tea, ice cream, scented

packages and natural cosmetics.

There are many wonderful locations to visit in

Provence, this guide highlights the best places

to see and capture the most impressive sights

and the most spectacular lavender fields.

The road from Valensole to Manosque

provides some of the best photo viewing spots

as many rows of lavender come into view.

There are some wonderful scenes to shoot and

the lavender farms of Lavandes Anglevin and

Terraroma are great to visit too.

Another great spot for capturing the

blossoming lavender is along the road heading

north-east from Valensole where an old stone

building can be found. The structure looks

great surrounded by the flowing lavender

and mountains. Follow the road all the way

to Puimoisson where during summer you will

find even more lavender fields. The flowers in

full bloom can be a magical spectacle and

are incredible to witness, especially as the sun

casts its rays on the scene and the play of light

transforms the sea of purple.

The Luberon

Besides Valensole, you will find a variety of

other attractive lavender fields in Provence.

The Luberon Massif named after a mountain

range that runs east-west between Cavaillon

and Manosque is a Provencal patchwork of

miles of fragrant lavender fields, hilltop villages,

vineyards and ancient abbeys. The spectacular

natural park covers some 600 square

kilometres where the best lavender fields can

be viewed from Avignon towards Gordes.

Near Gordes the Abbaye Notre-Dame de

Senanque offers an iconic lavender scene.

Built in the 12th century, the Abbey is a

sublime example of the region's architecture

set in a stunning woodland valley. The graceful

Cistercian Abbey makes a magnificent

backdrop to the lines of lavender grown and

harvested by the resident monks. Aim to

arrive morning or late in the day to avoid the

crowds of tourists and combine your visit with

a wonderful trip inside the abbey's cloistered

interior whilst marvelling at the incredible

lavender that surround its grounds.

Gordes itself makes for a fantastic scene

as the spectacular hilltop village juts out of

the white-rock face of the Vaucluse plateau.

The medieval village is another of Provence's

quintessential sights that rears up high on the

slopes with a labyrinth of winding roads and

cobblestone paths at its core.

Pays de Sault

Directly north of the Luberon natural park, the

Pays de Sault is a great place to see lavender

without the crowds and heat of Valensole.

Attractive villages and beehive shaped bories

(traditional dry-stone structures) blend perfectly

with the lavender fields. Nearby the area

around Apt and the valley at the foot of Mount

Ventoux offer colourful shades of purple.

Verdon Gorge ©Kylie Russel

Valensole

Other sights

The Plateau of Valensole

Verdon Gorge

Situated in the heart of Provence, the plateau

of Valensole has picture-postcard views of

lavender fields at every turn, providing some

of the most beautiful landscapes in Haute

Provence. It is simply the stuff of dreams and

an area that has captured the imagination of

artists and photographers for years. Situated

at an altitude of 500 metres in the south of

the Alpes-de-Haute-Provence between the

Luberon and the gorgeous Gorge du Verdon,

Valensole is dedicated to the cultivation of

lavender. Rich in luxuriant lavender fields,

their sight and smell is truly enchanting and

worth exploring.

Abbaye Notre Dame de Senanque © Tatiana Košťanová

Mont Ventoux © Michel Bergier

Beyond the lavender fields, other highlights of

the region include the gorgeous gorges and

canyons. Few sights match the impressive

Gorges du Verdon, also known as the Grand

Canyon of Europe with its jaw dropping

beauty. Situated in the Verdon natural park,

it is a haven for adventure seekers with its

incredible views of the plunging gorge to

the Verdon river snaking 600 metres below.

Hikers, bikers and rock climbers seek out

the best trails and craggy mountain peaks

to summit whilst thrill seekers find solace

canoeing on the water as birds of prey

including vultures circle overhead.

36 | The Good Life France The Good Life France | 37
---
Lavender harvest Plateau de Valensole

Valensole

The town of Valensole is a great place to

visit and makes an ideal base to explore the

lavender fields. Its lively weekly market is

packed with stalls selling local specialities

including olive oil, honey and lavender. There

is also a wonderful old fountain and array of

shops, restaurants and cafés in the centre well

worth visiting.

Moustiers-Sainte-Marie

Rougon and Moustiers-

Sainte-Marie

Don't miss the spectacular hill-top villages

synonymous with the area. The picturesqu

hilltop village of Rougon offers charming

buildings and commanding vistas of the

Gorges du Verdon snaking off into the

distance whilst Moustiers-Sainte-Marie is one

of the region's most beautiful villages, founded

by monks,it dates back to the 5th century.

Getting there

The lavender fields of Provence are best

explored by car as the locations are some

distance apart. There is a fast TGV train

from Paris to Avignon, and airports at

Avignon, Nimes and Marseille from where

you can hire a car. Or take a guided tour,

recommended: Your Private Provence:

small group tailored tours

Your Private Chauffeur Provence:

bespoke tours

Ophorus for shore excursions, half-day

and day trips

38 | The Good Life France The Good Life France | 39
---
Le weekend in:

OUISTREHAM

Ouistreham in the apple-growing department of Calvados in

Normandy, is steeped in history and has a jolly seaside air to it.

It's a great place to stroll with a long promenade, a fabulous

fish market and a charming town says Janine Marsh…

Ouistreham's Riva-Bella beach is a listed

seaside resort known as the 'Pearl of the Côte

de Nacre' (mother of pearl coast). It has an air

of yesteryear with its endless stretch of sandy

beaches along the English Channel, beautiful

Belle Epoque and Art Deco villas, little

wooden bathing cabins and gently sloping

beach.

Made popular by Parisians at the end of the

19th century, with the train journey taking

just 6 hours, it took its name from the first

beautiful villa built there. In 1866 a Monsieur

Longpré built a house at no. 53 rue Pasteur, he

called it Belle Rive. When his friend, a painter,

came to stay, he found the sunsets on the

coast were as beautiful as those he had seen

on his travels in Italy and he nicknamed the

villa 'Riva Bella'. Many more architecturally

stunning houses were built here (if you play

Sims World, you might spot a Ouistreham villa

on the vacation home list!) and it reminds me

of its glamorous neighbour Deauville though

Ouistreham is smaller, more tranquil and less

celebrated. It does though, like Deauville,

have a casino. It's a great base for visiting this

area of Normandy and makes for an ideal

weekend getaway.

Ouistreham is a great place to stroll and

take in the fresh air. The seaside walkway

from Lion-sur-Mer to Hermanville-sur-Mer,

follows the route of the Via Turonensi, part

of the Santiago de Compostela. The walk is

lined with many lovely houses dating from the

Second Empire – the regime of Napoleon III,

whose legacy is also present in the canal he

commissioned which connects Caen marina

to Ouistreham.

40 | The Good Life France

The Good Life France | 41
---
There are fabulous views from Ouistreham

Lighthouse if you climb the 171 granite steps

to the top. Look over Ouistreham's bijou ferry

port and on a clear day you can see as far as

Mont-Saint-Michel. You'll also have panoramic

views over the coastline and historic Sword

Beach, the most easterly of the D-Day landing

beaches and the only beach where French

forces took part on 6 June 1944, forces, led by

Commando Philippe Keifer, took part on

4 June 1944. .

Traces of the past can be seen in many places

in and around Ouistreham, with the famous

Pegasus Bridge just 10 minutes away by car.

Memorials abound, including one in honour

of Piper Bill Millin, the soldier who landed on

Sword Beach playing the bagpipes. Le Grand

Bunker, a former German command post is

now a fascinating museum and listed historic

monument. The Musée du Debarquement no.

4 (No. 4 Commando Museum) preserves the

memory of the 1st Battalion of Naval Fusiliers,

set up by Commander Philippe Kieffer which,

incorporated in the British No 4 Commando,

was the only French unit to take part in the

Normandy landings. The Hillman Site was one

of the biggest German command posts during

WWII and in the summer months, 'Friends of

the Suffolk Regiment' Association are on site

to tell stories of the past.

Take an audio guided tour called La Délicate

– Ouistreham an unusual format as the guide

is contained in an umbrella! The tour takes in

the beaches and streets of Ouistreham and

tells the history of the town through stories

and memories of those who lived here. Or

take a bike ride! There are several cycle routes

including along the canal to Caen, and the

route of the Vélo Francette which begins in La

Rochelle and ends in Ouistreham.

A daily fish market is held in Ouistreham.

Friendly stall holders pile up the day's haul

including the most delicious scallops – which

this area is famous for. Enjoy the freshest fish

dishes in the many restaurants and brasseries,

washed down with local cider and finish with

salted caramel. Try La Table d'Hôtes where

Chef Yoann serves creative, seasonal dishes,

or push the boat out at La Voile Blanche

overlooking the sea.

This is also a great area for nature lovers.

To the east of Ouistreham Riva-Bella, is the

Pointe du Siège and Orne estuary, the largest

nature area in Calvados. Dunes, marshes, salt

meadows and forests are home to many wild

birds and seals.

Info: Tourist office website

How to get there: Caen ferry port is in

Ouistreham (15km from Caen) and ferries

run from/to Portsmouth. The nearest train

station is Caen and buses run regularly

between the two towns.

42 | The Good Life France The Good Life France | 43
---
British NORMANDY

MEMORIAL

Gillian Thornton visits the latest remembrance site

to open along the D-Day landing beaches

Walking amongst the white stone columns

of the British Normandy Memorial on a

stunning blue-sky day, I can't help feeling that

my father would have thoroughly approved.

In June 1944, the 20-year-old farmer's son

landed at Sword Beach as part of the D-Day

landings that kick-started the liberation of

France. He had never been out of England

before and he wasn't to see home again for

nearly three years.

They were difficult years but at least my father

came back. He resumed his legal training,

met my mum, and together they worked hard

to build a future and a family together. Fast

forward to my teens and we enjoyed many

holiday road trips round France, but we never

went to Normandy. Maybe there were just too

many memories for a conscripted ex-soldier.

But strolling around the tranquil cliff-top site

at Ver-sur-Mer with its sweeping views over

land and sea, I know my dad would have loved

this stunningly beautiful commemoration

of the comrades he left behind. He rarely

showed emotion but my father was moved to

44 | The Good Life France The Good Life France | 45
---
tears by the television coverage of the 70th

anniversary of D-Day in 2014. A month later,

he slipped quietly away aged 90, perhaps to

meet up with some of those who never caught

the troop carrier home.

For many years, families of Allied soldiers have

been able to visit memorials, museums and

beaches on the Normandy coastline in the

footsteps of relatives who fought for freedom

in Europe. But only now is there a memorial

to the British soldiers who didn't return from

the conflict, a spot where relatives can see the

names of lost family members inscribed for

posterity.

The campaign for the British Normandy

Memorial began in 2015 when D-Day

veteran George Batts, formerly of the Royal

Engineers, pointed out to BBC broadcaster

Nicholas Witchell that no national memorial

in Normandy recorded the names of all those

under British command who had died on

D-Day and during the Battle of Normandy.

As a result, the Normandy Memorial Trust was

established and the project began to move

forward.

In March 2017, the British government

pledged £20 million towards the construction

of the Memorial on farmland overlooking the

shoreline codenamed Gold Beach. The site

was formally inaugurated on 6 June 2019 in

the presence of then British Prime Minster

Theresa May and French President Emmanuel

Macron, and construction work began soon

afterwards. Despite delays due to the Covid

pandemic, the Memorial was officially opened

by video link by HRH The Prince of Wales on 6

June 2021.

Carved on 160 stone columns are the names

of 22,442 individuals – British personnel

and other nationalities serving British units

– whose lives were lost in the Normandy

campaign. Also included are members of the

RAF who supported the mission, and secret

agents and Special Forces personnel working

behind enemy lines. Names are listed in

chronological order of death, day-by-day, and

grouped by branches of the armed forces. This

huge undertaking was greatly aided by the

Commonwealth War Graves Commission and

supplemented by other military institutions

and individuals.

But you don't need a family connection

to enjoy a visit to this special place which

is easily reached by car, midway between

Bayeux and Caen. Buses also run from both

towns, except on Sundays, stopping outside

the Memorial gate. Admission is free with just

a 3€ parking charge that goes towards the

upkeep of the site. Visitors will find toilets at

the entrance and a picnic area near the car

park, but no visitor centre, no shop, no guides,

and no cafe. Nothing that detracts from the

tranquillity and beauty of the site. If you need

snacks, the village shops are just five minutes'

walk away.

Access to the Memorial is via a level gravel

path, suitable for wheelchairs and walking

aids – expect an 8-10 minute walk from the

car park. Along the way, stone information

panels are carved with the story of the D-Day

landings, English on one side, French on the

other.

As the Memorial came into view, my first

thought was 'Stonehenge beside the sea', its

uniform stone columns topped with a lattice

of timber. The full beauty of the design doesn't

hit you until you get close and can see the

layout, a rectangle criss-crossed by paths in

the shape of a Union Jack, which flies on a

tall flagpole at the centre beside the French

tricolore.

46 | The Good Life France The Good Life France | 47
---
More flags fly on the grass between the

columns and the natural meadow that

overlooks the sea, ablaze with a Monet palette

of wildflowers during my June visit. I stopped

to take in the dramatic sculpture of three

soldiers 'running' in from the beach, an iconic

moment frozen in time that could so easily

have shown my dad.

Then I crossed the grass for a close up view

of the five wrought iron panels designed

by sculptor Charles Bergen, each one

pointing towards a D-Day landing beach

and illustrating key elements from the battle

– the British soldiers at Sword beach to the

east and here at Gold; the Canadian assault

between the British beaches at Juno; and to

the west, the American targets at Omaha

and distant Utah. On such a clear day, the

floating Mulberry harbours at neighbouring

Arromanches were clearly visible, and

beyond them, the headland of Pointe du Hoc

pinpointed the beaches of Omaha and Utah,

a unique and moving panorama.

Turning my back on the waves that brought

the Allied troops to France, I stopped by the

tablet commemorating the many French

civilians who also died in the summer of 1944

in Normandy. And to read the stirring words

spoken as the assault began – the D-Day

broadcast by King George VI, the address by

General de Gaulle on BBC Radio, and the

speech by Sir Winston Churchill.

This Memorial may be long overdue but it's

a fitting tribute to all those young men who

sacrificed their futures in France. A real mustsee

on this beautiful stretch of Calvados

coastline.

Further information from

britishnormandymemorial.org

For tourist information on Calvados, visit

calvados-tourisme.co.uk

For the best battlefield and memorial tours of

Normandy see sophiesgreatwartours.com

48 | The Good Life France The Good Life France | 49
---
In the heart of the Hérault Gorges, in the Val de Gellone, just 40km from Montpellier,

you'll find, wedged into a narrow valley, the tiny medieval village of Saint-Guilhemle-Désert.

Janine Marsh visits the fairy tale pretty town…

SPOTLIGHT ON:

Saint-Guilhem-le-Désert

Saint-Guilhem-le-Désert is best approached

from the winding road of the Grand Chemin

Val de Gellone which gives you stupendous

views of the town which sits atop a hill, and

leave via the main street on the far side of the

town, lined with boutiques, bistros and artisan

workshops.

Saint-Guilhem-le-Désert is a Plus Beaux

Village de France (an official classification for

the prettiest villages in France). In the centre,

the main square is home to an imposing plane

tree. Over 150 years old, it's said to be the

biggest plane tree in France. All around it,

tables and chairs sprawl out from the cafés

that line the square, the perfect place to sip

chilled wine and nibble on olives as you listen

to the cicadas sing.

On one edge of the square sits the Abbey

of Gellone, one of the oldest Romanesque

churches in France and a UNESCO World

Heritage Site on the Camino de Santiago

(Way of St James) pilgrim route.

The abbey was founded in 804 by Guilhem,

Count of Toulouse. When he moved to this

remote location, his cousin the great Emperor

Charlemagne, gave him what was said to

be a relic of the Holy Cross which made the

abbey an important stop for pilgrims. The wellpreserved

abbey has an air of serenity to it,

and there is a small museum behind the cool

cloisters.

Guilhem made the town famous by defeating

a giant who took up residence in the ruins of

the town's castle, accompanied by a magpie.

The terrified locals asked Guilhem to help

rid them of the giant. Guilhem dressed as a

maid and, hiding his sword, set out to trick the

beast. But he was recognised by the magpie

who flew off to warn his mate. Sure of his

superiority, the giant ignored the magpie and

fought with the 'maid' who of course won, and

Guilhem threw his opponent off a cliff. The

locals claim that though many wild birds live in

the area – no-one has ever seen a magpie in

Saint-Guilhem-le-Desert since that day!

Around the abbey a warren of narrow cobbled

winding alleys spread up and down the hilly

town. As you wander, you'll pass the 12th

century Tour des Prisons. Along the streets,

water trickles from ancient fountains, some

50 | The Good Life France The Good Life France | 51
---
of them decorated with scallop shells, the

pilgrims emblem, and picturesque ancient

houses lean against each under their sunbaked

tiled roofs.

Despite the name, you won't see a desert,

the name comes from the fact that not many

people lived there centuries ago. Today it

gets rather more crowded, especially in peak

summer months, though it barely has more

than 250 permanent residents.

Step back in time

A stone's throw from the village you'll find

another incredible monument – the medieval

Pont du Diable which arches high above a

steep gorge. Legend has it that yet again

Guilhem was the hero. The bridge was taking

so long to build that Guilhem did a deal

with the devil who agreed to get the job

done in return for the first soul to cross after

completion. Guilhem sent a dog across and

the devil, in a fit of pique tried to destroy the

bridge and fell into the gorge below which

became known as the Gouffre Noir (the black

abyss). To this day, pilgrims and locals crossing

the bridge throw a stone into the gorge – to

keep the devil on the bottom!

Embedded in the hills are the remains of a

Visigoth fortress and an old mule path, trod for

centuries by pilgrims and today part of a hike

that begins at the edge of the village on the

rue du Bout-du-Monde - the street of the end

of the world. And you can take a detour to visit

the ruins of the Giant's castle, a very peaceful

spot with fabulous views.

Janine Marsh visited Saint-Guilhem-le-Désert

whilst on a CroisiEurope Rhone River tour

from Sète to Arles, which includes excursions

of the most iconic destinations en route.

Azincourt1415.com

24 Rue Charles VI

62310 Azincourt

and discover the past at

Azincourt 1415 historic centre

52 | The Good Life France The Good Life France | 53
---
Wine adventure in

Janine Marsh traces the route of one of the most popular films ever made in France –

to Beaune, wine country extraordinaire…

BEAUNE

If you've ever wondered where French people

go on holiday in France, the simple answer

is – all over the country, it's got such a varied

offering, there really is something to suit

everyone. I can also tell you that many French

people dream of visiting Beaune in Burgundy.

For the wine, the glorious countryside, history

and culture and for another reason that is

largely unknown outside of France. Beaune

stars in one of France's most popular films:

La Grande Vadrouille (vadrouille means to

gad about or gallivant). It's a comedy that

follows the fortunes of some hapless British

Airmen (including the moustachioed English

actor Terry Thomas) dropped over Paris by

parachute during World War II. They lose

their way and are aided by a workman, the

conductor of the Paris orchestra and a pretty

Parisienne puppeteer. Eventually they escape

to Burgundy where a nun from the famous

Hospices de Beaune joins the gang. The film

was released in 1966, and it's said that the

entire population of France over the age of 16

have watched it at least once!

Trace the footsteps of the film's stars in the

Côte d'Or department, and enroute discover

the most authentic, beautiful and delicious

parts of Beaune and its surroundings. This

is an unspoiled area, perfect for a road trip,

where the folk are friendly, the food is fabulous

and the wine is exquisite – and there are many

surprises…

The Petite Vadrouille

I joined a Petite Vadrouille tour which kicked

off at the Hospices de Beaune, the famous

former hospital for the poor in the heart of the

city. Founded in 1443, nursing was provided by

nuns called the Hospitalier Soeurs de Beaune.

The tour included an exquisite dinner in the

King's Room, originally a bedroom created

for Louis XIV. He visited the Hospital in 1658,

Hospices de Beaune © Joux Agence RPEvents

54 | The Good Life France The Good Life France | 55
---
Hospices de Beaune

Wine bike © C Lorch Agence RP Events

The King's Room, Hospices de Beaune

but didn't sleep here, instead he headed to

what is now the Hotel le Cep just around the

corner. The "sisters" were there to join the party

complete with authentic coifs – their famous

wing-like headwear. In the film, it was here in

the distinctive ancient hospital beds that the

fugitive airmen hid in plain sight. The Hospices

looks much as it did 600 years ago, a glittering

tiled roof you can only see from the vast

courtyard, gargoyles hanging from the historic

wooden ceilings, stunning artworks, religious

artefacts, an ancient kitchen and pharmacy.

10km away, a major part of the film took

place in the charming town of Meursault. The

townsfolk are proud of the old fashioned fire

engine that appeared in the film and it is now

displayed in a showcase outside the chateaulike

town hall!

UNESCO-listed vineyards

This whole area is in the heart of the

UNESCO-listed vineyards of the Côte d'Or

known as the Climats of Burgundy. The

Climats are a series of 1247 plots of land that

form a ribbon of vineyards which run about

60km from the gastronomic city of Dijon to

the south of Beaune, where there is a Maison

des Climats exhibition centre.

Alterpiece, Hospices de Beaune, The Last Judgement, Rogier van der Weyden circa 1450

These vineyards are the legacy of a tradition

of viticulture dating back as far as 2000

years, small parcels of land shaped by man

to grow vines and make wine that reflects

that every parcel of land is unique. Some

vineyards are just a few acres in size, others

are considerably larger. Each vineyard is

precisely defined and named. The names have

Celtic, Gallic, Latin and German roots and

record the influence of those who worked here

and helped shape the landscape such as Les

Casse-Têtes in Meursault which means 'brain

teaser', indicating the hardness of the soil and

the difficulty of planting vines here! One of

the best known is the Clos de Vougeot, the

headquarters of the Climats de Bourgogne

and seat of the Confrérie des Chevaliers du

Tastevin. Built in the 12th century by monks

from the nearby Abbey of Cîteaux there is

also a 16th century château where you can

discover more about the Climats, wine and

Burgundy, and enjoy a 5-wine tasting.

Each plot is influenced by its own unique

terroir – the French word that's impossible to

translate into English. It refers to the growing

conditions - the soil, the grapes, the local

climate, know-how, altitude, exposure to sun

and rain, and local vegetation. This is an area

that produces some of the best wines in the

world with names like Montrachet, Romanée-

Conti, Clos de Vougeot, Corton, Musigny,

and Chambertin. And there are many cellars

where you can stop for a tasting including

56 | The Good Life France The Good Life France | 57
---
La Petite Vadrouille@C Lorch Agence RPEvents

some of the most prestigious domaines

– Chateau de Meursault Chassagne-

Montrachet, Le Chateau de Saint Aubin and

Domaine Joillot Pommard. At Maison Olivier

Leflaive you can even tour the vineyards by

bike. Not just any old bike, a wine powered

bike! Seating 12, sip the finest wines as you

pedal!

There's no better way to appreciate this

patchwork of vines than from the air. We took

to the skies in a helicopter and got a birds eye

view of the tapestry of vineyards, peppered

with tiny stone huts, paths trod for thousands

of years, stone walls, mills and castles. The

countryside around is glorious and after

the helicopter dropped us off in a vineyard

for a picnic and wine tasting, we set off to

discover the Cirque du Bout du Monde - the

Circus at the end of the world. It's a unique

mountainous part of Burgundy, a classified

site of outstanding natural beauty where you

can stand under a 40 metre high waterfall,

surrounded by vineyards.

It doesn't matter if you've never seen the film,

a tour of Beaune and its surroundings is a soulsoaring

experience.

Domaine Lucien Muzard & Son, Santenay

Tour details:

lapetitevadrouilledebourgogne.com

How to get there: Trains from Paris to

Beaune via Dijon (TGV fast train) take around

two hours.

Where to stay: Hotel le Cep, a luxurious

and charming hotel with a Michelin starred

restaurant and a fabulous bar. Parts of it date

to the 14th century and it has two listed 16th

century courtyards.

Beaune Tourist office

Exceptional arts and

crafts made in Provence

L'AUGUSTE Provence

create a unique artisanal

collection of bags and

accessories from exclusive

watercolors to bring a little

Provencal style into your

life wherever you are.

laugusteprovence.com

58 | The Good Life France The Good Life France | 59
---
Castles in the sky in

the Dordogne Valley

Beynac-Dordogne

Roque Gageac

Aim for the top and have a sense of

humour when it comes to castles in

Dordogne says Mike Zampa…

We recently moved into our part-time home in

France's Dordogne Valley. Our village is called

La Roque Gageac. We're halfway up a steep

hill above the glistening Dordogne River AKA

the suburbs of this 13th-century town of 400

people. Downtown is nestled at the foot of a

sheer cliff hundreds of feet straight up.

People like to be on top of things in Southwest

France – or more precisely, on top of the

world. At our house in California, heaven is

a flat lot for the swimming pool. Here, only

water sans gazeuse is flat. Everything else is

built on perches.

Historians say hilltop towns reflect the

Dordogne's brutish history. Marauders and

invading armies convinced villagers that they

should build above the fray. Far enough up

and the pillagers would look for alternatives

the rationale went.

Fortunately for us, the strategy worked…

sort of. Villagers were still terrorized through

the Middle Ages. But their towns survived.

What's left are hamlets listed among the most

beautiful in France. Breath-taking in every

sense of the word.

Here's a list of top (pun intended) towns at

altitude in the Dordogne, each more beautiful

than the last. Their names are followed by their

rating on our highly scientific high-o-meter.

La Roque Gageac

(Nosebleed high)

The village dates to the 12th century

when troglodytes lived in caves. It begins

on the banks of the Dordogne then goes

straight up. From the river, it's a picture in a

storybook. From the cavern-like fort etched

out of a cliff face, it's a nosebleed. Villagers

retreated to the fort to escape Vikings with

world domination issues. Today you can scale

174 stairs to the fort. The staircase clings to

the cliff. You would too if you saw a Viking.

Beynac (uncomfortably high)

Beynac is overshadowed by its castle rising

hundreds of feet above the Dordogne. It's

within eyesight of its adversary, Castelnaud,

just minutes up the river. Both fortresses

were focal points of the Hundred Years

War. To understand which country – France

or Britain – controlled which castle, read

a book. It's too hard to explain here. You

can reach the castle by climbing a twisting,

cobblestone path flanked by dreamy stone

cottages. What they don't tell you is that

you don't need to walk up the steep path.

There's a road going up to a parking lot near

the castle entrance. And they said there

were no jokes coming out of the Hundred

Years War.

60 | The Good Life France The Good Life France | 61
---
Castelnaud

Castelnaud (Like Beynac

only steeper)

This restored castle is illuminated at night. You

can see it from all over the Dordogne Valley.

You can see the moon, too, though it's not

quite as high. Quaint cottages tumble down

-figuratively speaking – the hillside below

Castelnaud. There's an impressive trebuchet,

a catapult-like weapon that flung 400-pound

boulders 40 meters. Scared the heck out

of the enemy but took 60 minutes to load.

During the other 59 minutes, there was hell

to pay.

Limeuil (Feral cats

use handrails)

Two natural phenomena define this

gorgeous hilltop village. The first: the

Dordogne and Vézère rivers converge

here under two lovely arched bridges. The

second: no two Frenchmen pronounce

Limeuil the same way. Take the sharp

vertical drop from the hilltop lookout past

picturesque shops. It will take your mind off

the fact you're basically descending the

face of the Chrysler Building.

Trafic%5D-%5Bthegoodlife_france%5D-%5B300x-

250%5D-

Domme © Lori Shimizu Peterson

View from Limeuil

Domme (Don't look down)

This is a classic Bastide town. That means

it was built behind a wall on a hilltop to

discourage invaders. What a waste of

time. The first invaders took one look at

Domme and said: "No way I'm climbing

that." In addition to altitude, Domme has one

other claim: the most beautiful view in the

world. You can see miles of geometrically

cultivated farmland from its Belvedere.

There's also a magnificent river view of

the Dordogne making a hard left turn to

neighboring Vitrac.

In summary, Southwest France has peaks and

a valley. It's all beautiful, but the peaks will

have you over the moon…quite literally.

62 | The Good Life France The Good Life France | 63
---
The STORKS

of Alsace

Amy McPherson strolls

through the villages of

Alsace in search of the

famous storks…

Eight AM. It was the first day of my multi-day

walking journey along the wine route of Alsace

and anticipation filled my heart. One of the

smallest regions of France, Alsace is big on

wonders, with many hilltop castles, tranquil

forests and picture-book-pretty villages with

restaurants that serve hearty Alsatian dishes

paired with excellent local wines.

As I left the already bustling cobbled streets

of Eguisheim behind, I lost myself in the vast

vineyards that carpet the surrounding hills.

Over the next few days walking from one

village to the next, I would find myself devoid

of human contact, but not so alone that I was

completely without company. Silently gliding

with the wind above me, I saw the distinct long

red beaks and the black-tipped wings of the

famed white storks as they accompanied me

on most of my journey.

Storks of Alsace

Visit Alsace in spring or summer and you'll spot

giant nests on rooftops, roadside poles and

church towers in almost every village, town

and city. This is home to storks which migrate

each year from Africa to spend the warmer

months in Europe and seem to particularly like

Alsace's natural environment.

The storks are faithful, not only to their

spouse, but to their dwelling, returning every

year to the same nest after their laborious

long distance journey. The male arrives first,

ensuring the nest is of optimum condition

before the female joins him. Their young carry

the migratory instinct and begin their own

journey back south in autumn. Amazingly,

when the parents make their path back, they

know exactly where to find their offspring.

Eguisheim © Donald Druker

Telling of time

These birds have become somewhat of an

oracle of the time of the year for farming

activities, much like the groundhog of

America. Stork abundance signifies a good

year to come, the lack of storks means some

hardship in living conditions.

The locals are friendly to storks, many of the

nests are formed on top of iron cages put there

specially for the storks to move in. Perhaps it

isn't all for the storks though. If a stork decides

to nest on top of a house, it is believed that

good fortune (or a baby, if you wish for it) will

come to those who live in this house.

The obsession with storks doesn't stop at

encouraging nest-making. Throughout

Alsace, storks feature as names of hotels

and restaurants, mountain bike trails, walking

tours and even a theme park dedicated to

the storks.

Walking from village to village in the spring,

the sight of majestic storks appearing above

the nests, perched high atop somewhere

impossibly high, looking graceful and proud,

was a constant feature.

64 | The Good Life France The Good Life France | 65
---
Bird of Peace

Alsace has had a long association with its

storks, known as störig in Alsatian, with a

folktale dating back to 817. Louis the Pious,

Emperor of the Carolingian Empire, wanted

to divide his land among his three sons.

Unfortunately, he was persuaded by his

second wife to gift the full entitlement to her

son only, which caused the other two sons to

wage war against their father.

The peaceful storks saw the devastation and

bloodshed that followed. And with blood

staining their beaks and feet as they surveyed

the land, decided to dip the tip of their wings

in black and lose their voice in mourning.

Storks have remained silent ever since.

Conservation of the

white stork

Mute from birth, storks communicate by body

language and clapping their beaks. A fact

that I learned at the NaturOparC, a stork

sanctuary and wildlife education centre in the

village of Hunawihr.

In the 1970s, due to human expansion and

loss of habitat, the stork population in Alsace

hovered between extinction and survival until

less than ten breeding pairs were sighted

throughout the region. In 1983, a stork reintroduction

programme was begun. One of

the first repopulation centres was established

in Cernay, whose 30 stork couples are often

seen flying around the town centre along the

river looking for food.

Today, the region of Alsace is home to more

than 600 couples.

NaturOparC was part of this successful

program, and continues to provide a safe,

open sanctuary to storks that come to nest in

the treetops. Other than the storks undergoing

medical treatment, the birds are free to come

and go as they please, and the fact that so

many stay is a sign that the environment is

ideal for them.

Strategically built ladders and walkways

allowed me to approach some of the nests at

a safe distance (for the storks) and view them

up close. Watching the storks relaxing in their

nests, sleeping, preening, clapping their beaks

– perhaps a couple in argument over whose

turn it was to look after the baby – was a fairy

tale moment, truly captivating.

The wine bringers

No visit to Alsace is complete without going

to a few wine cellars for some tasting. And it is

also of no surprise, that the storks have a beak

in the wine business too.

"Oh, there are plenty of storks this year,"

chuckled the bartender at the Bléger winery

in Saint-Hippolyte, a town famous for Alsace's

only red wine, Pinot Noir. "When there are

plenty of storks in spring, you know we are

going to have a good harvest in autumn."

Not only do the storks symbolise fertility,

the Alsatian consider the storks to be the

bringer of luck and wealth, and for the many

winemakers of the region, they also bring a

year of good harvest, meaning more wine for

everyone.

You can visit NaturOparC in Hunawihr as part

of the Inntravel self-guided walking itinerary in

Alsace. For more information visit:

inntravel.co.uk

66 | The Good Life France The Good Life France | 67
---
Pantheon

Alexandre Dumas –

Musketeers and

cookery books!

Sue Aran investigates the cuisine

credentials of France's most famous

novelist – Alexandre Dumas…

Pantheon

In 2002, for the bicentennial of Alexandre

Dumas' birth, then French President Jacques

Chirac arranged a ceremony honouring the

renowned author by transferring his ashes to

the Panthéon, a mausoleum for France's most

distinguished citizens, in Paris. The most read

French novelist in the world, Dumas' remains

were laid to rest alongside those of Victor

Hugo and Émile Zola, his casket was carried

through the street of Paris by Four Republican

guards dressed as the 4 Musketeers

Dumas, wrote in an amazing variety of

genres – plays, essays, short stories, histories,

historical novels, romances, crime stories and

travel books. And he also wrote a cookbook:

the 1,150-page, Le Grand Dictionaire de

Cuisine, for he was not only a prolific writer,

but a consummate gourmet, cook and bon

vivant.

Alexandre Dumas was born Dumas Davy

de la Pailleterie in 1802 in Villars-Cotterêts,

Picardy, France, to Marie-Louise Labouret

and General Thomas-Alexandre Davy de la

Pailleterie. Dumas' nom de plume derives from

his grandmother on his father's side, Marie-

Cosette Dumas, a Haitian slave, and his

grandfather, the Marquis Alexandre-Antoine

Davy de La Pailleterie.

His father, Thomas-Alexandre, rose to the

distinguished rank of general at the young

age of 31 under Napoléon Bonaparte's

command, but died a few years later when

Dumas was still a child. His mother, Marie-

Louise, struggled to make ends meet and

provide an education for her son using the

few resources she had. The precocious

Dumas' young appetite lusted for literature

and he read everything he could find, while

his mother's stories about his father's bravery

during Bonaparte's campaigns fuelled his

imagination. And, although poor, his paternal

grandfather's aristocratic lineage and his

father's illustrious reputation eventually

helped him secure a place in school, and then,

in 1822, at the age of 20, a position at the

Palais Royal in Paris in the office of the Duc

d'Orléans. In his spare time, while working

for the Duc, Dumas began writing plays in a

Romantic style similar to his contemporary

(and later rival) Victor Hugo. They were so

popular that he made enough money to quit

his job and write full-time.

In 1830, King of France Charles X was

overthrown and the Duc d'Orléans became

the ruler of France: King Louis-Philippe. By

now Dumas was making good money and

founded a writing studio with a willing cadre of

assistants and collaborating writers. His novels

including The Three Musketeers and The

Count of Monte Cristo were so popular they

were first translated into English, and then into

68 | The Good Life France Château d'If Alexandre Dumas

The Good Life France | 69
---
Château de Mont Cristo

a hundred languages, and were eventually

transformed into over 200 films. The books

earned him enormous sums of money and

enabled him to indulge his love of sumptuous

living. He loved rich food and expensive

wine and was said to have more than 40

mistresses – despite being married. He was

a man of tremendous energy and enormous

self-esteem, described by peers as a giant,

both in mind and body. Dumas boasted, "If I

were locked in a room with five women, pens,

paper, and a play to be written, by the end of

an hour I would have finished the five acts and

had the five women."

He also had a castle built which he called the

Chateau de Monte-Cristo, and in the grounds

a smaller castle which was his writing studio,

which he called the Chateau d'If after the

setting of The Count of Monte Cristo, a small

fortress island in the Bay of Marseille. Here he

hosted fabulous parties, serving up dishes he

created. The castle is now open to the public,

a legacy of Dumas' fertile imagination.

The idea of writing a cookbook had been in

Dumas' mind for years. He would begin it,

he said, "…when I caught the first glimpse of

death on the horizon."

In 1869 he retreated to Normandy with his

cook. Six months later, his Grand Dictionnaire

de Cuisine was finished. Of his book he said,

"It will be read by wordily people and used

by professionals. In cookery as in writing, all

things are possible." He called it his "pillow of

my old age.:

True to his vision, Dumas succumbed to a

stroke in December 1870.

Dumas's epicurean tour of the alphabet,

from absinthe to zest, is a treasure chest

of hundreds of recipes, and reminiscences.

Written without measurements, it is a master

storyteller's collection of consummate

prose, worthy of being read as literature. Le

Grand Dictionnaire de Cuisine was published

posthumously in 1873 and remained in print

in its original form until the 1950s. In 1882 Le

Petit Dictionnaire de Cuisine was published

consisting of just Dumas' recipes. In 2005,

Alexandre Dumas' Dictionary of Cuisine was

edited, abridged and translated into English by

Louis Colman.

Le Grand Dictionnaire de Cuisine is truly a

monumental work. Not only amazing for its

collection of old world recipes, stories and

historical facts, it creates a cumulatively

unique portrait of the man himself. Dumas

avowed he would not eat pâté de foie gras

because the ducks and geese "…are submitted

to unheard of tortures worse than those

suffered under the early Christians."

And his description of the perfect number

of dinner guests within the parentheses

of ancient history still holds true today: "…

Varro, the learned librarian, tells us that the

number of guests at a Roman dinner was

ordinarily three or nine — as many as the

Graces, no more than the Muses. Among the

Greeks, there were sometimes seven diners,

in honour of Pallas. The sterile number seven

was consecrated to the goddess of wisdom,

as a symbol of her virginity. But the Greeks

especially liked the number six, because it

is round. Plato favoured the number 28, in

honour of Phoebe, who runs her course in 28

days. The Emperor Verus wanted 12 guests

at his table in honour of Jupiter, which takes

12 years to revolve around the sun. Augustus,

under whose reign women began to take their

place in Roman society, habitually had 12 men

https://frenchcountryadventures.com/

Dumas had a metro station on line 2 named after him in 1970. There is also a

Rue Alexandre-Dumas in Paris

and 12 women, in honour of the 12 gods and

goddesses. In France, any number except 13

is good."

For Dumas a perfect dinner is also "a major

daily activity which can be accomplished in

worthy fashion only by intelligent people. It

is not enough to eat. To dine, there must be

diversified conversation which should sparkle

with rubies of wine between courses, be

deliciously suave with the sweetness of dessert

and acquire true profundity by the time coffee

is served."

70 | The Good Life France The Good Life France | 71
---
Laidback, chilled

and taking it easy

on the French Riviera

Gillian Thornton travels

east from Nice to explore

three contrasting coastal

communities

Villa Ephrussi © Thomas Dupaigne

Stand amongst the cacti and exotic blooms

of Les Jardins d'Eze and you're treated to

one of the most glorious views on the French

Riviera. From this hilltop garden high above

the Mediterranean, I'm looking westward

over the stone walls and terracotta roofs of

medieval Eze towards Nice. On a sparkling

morning like this, breath-taking doesn't

even come close. And with 300 sunshine

days a year, it's a view that can be enjoyed

all year round.

Villas tumble down the steep hillside in front

of me and beyond a wooded headland,

the slim peninsula of St-Jean-Cap-Ferrat

marks the eastern boundary of Villefranche

Bay, the pretty resort tantalisingly hidden

from view. The city of Nice is out of sight

too behind the southern tip of the Alpes

Maritimes, but its coastal airport is clearly

visible in the far distance, a reminder that

UNESCO's 'Winter Resort of the Riviera' is

only a bus ride away.

Take a city break in Nice and it's easy to

spend your time exploring the quaint streets

of Vieux Nice, the Baroque churches,

tempting boutiques and eclectic mix of

museums. But the Greater Nice area includes

a huge variety of picturesque locations from

the mountain villages of the Mercantour to

a clutch of coastal communities that lie east

of the city. A stunning combination that just

begs to be explored.

Easy in Eze

Classified as an elite 'Jardin Remarquable',

the Exotic Garden of Eze features succulent

plants from arid areas across the globe,

the cacti, aloes and agaves dotted with

sculptures in terracotta and bronze. This

magical plot stands at the highest point of

the medieval village, 1400 feet above the

modern town centre at sea level. Today,

the steep streets of the showpiece village

are beautifully maintained and manicured,

popular with cruise ship passengers and for the

atmospheric accommodation that includes

three 5-star hotels. For a special occasion,

treat yourself to a meal at La Chèvre d'Or

restaurant with its two coveted Michelin stars.

But it's still easy to feel the atmosphere of

ancient stones in Eze, especially if you can

visit early or late in the day, or in low season.

There's a real sense of time gone by as you

pass beneath medieval gateways, walk beside

walls that date back to the Bronze Age, and

contemplate the Riquier Mansion, home to

the powerful Lords of Eze from the 12th to 15th

centuries.

It's also easy just to soak up the view over

a refreshing glass on a café terrace, but to

see a different side of the village, take one

of the marked hiking routes along winding

paths fringed with bougainvillea and jasmine.

There's plenty of Riviera fragrance to be had

too on a free tour and workshop at Parfumerie

72 | The Good Life France The Good Life France | 73
---
esort in the Belle Epoque era, the first luxury

hotel opening in 1904 – now the Hotel Royal-

Riviera. In the 1950s, it attracted artists like

Jean Cocteau and Henri Matisse, as well

as movie stars such as Roger Moore and

Elizabeth Taylor, Charlie Chaplin and Tony

Curtis. Today you can still spot a famous face

sipping coffee by the quayside.

Gallimard and at the Fragonard factory. Plus a

wealth of small craft boutiques for that special

present to give away, or even keep yourself.

Laidback in Villefranche

With its sheltered harbour and calm waters,

Villefranche-sur-Mer is one of the major cruise

ports of the Côte d'Azur, despite numbering

just 5,000 residents. In the 13th century, local

people preferred to live in the hills away from

the threat of pirates. So in 1295, Charles Duke

of Anjou and Count of Provence, established

a 'free port' – ville franche – offering various

tax privileges in a bid to persuade them to

relocate to sea level, concessions that largely

remained until the 18th century.

Today the pretty fishing port is also home

to a flotilla of yachts and traditional fishing

boats known as pointus, yet Villefranche still

manages to retain an air of laidback loveliness

with its seafront cafes, colourful facades and

quaint 16th century back streets. It's hard not

to smile in a place where every narrow street

has houses painted in a palette of lemon and

apricot, russet and terracotta, and I loved the

stylish, upbeat feel of the baroque bell towers,

painted shutters, and wrought-iron balconies

overlooking the harbour.

Even my lunch at Le Cosmo bar was ablaze

with Mediterranean atmosphere. Fresh white

fish, scarlet tomato salsa, bright green rocket,

and a wedge of lemon, all presented with a

swirl of balsamic vinegar on a speckled blue

and white plate. Just add a glass of chilled

local rosé and some crisp baguette for the

Moule Frites at Villefranche – looking on to Cap Ferrat © J'adore la France

Saint Jean-Cap-Ferrat from the Jardins d'Eze

perfect light lunch. I even had a front row view

of the 16th century Chapel of Saint-Pierre,

used as a storeroom for fishermen until artist

Jean Cocteau restored it in 1957, adorning

the interior with murals of St Peter and local

fishermen.

Stroll through the citadel built in 1554, eleven

years after the town was burned to the ground

following the siege of Nice by combined

French and Ottoman forces. With sweeping

views over the harbour, it served as a military

base after Nice and Savoie became part of

France in 1860, then was bought by the city

council in 1965 and transformed into a City

Hall and cultural centre.

Chilled in

Saint-Jean-Cap-Ferrat

Villefranche

If I had money – lots of money – a holiday

home in Saint-Jean-Cap-Ferrat would be

high on my wish list. This slim peninsula

between Villefranche-sur-Mer to the west and

neighbouring Beaulieu-sur-Mer fans out into

a wooded Y-shape where luxury homes nestle

discreetly in the pine trees behind high fences.

But there appears to be no envy on the part

of less well-off residents who insist that the

wealthy don't flash their cash here unless it

is to support local businesses, albeit on the

way to their luxury yachts in the harbour. But

compared to many wealthy enclaves around

the Mediterranean, Saint-Jean-Cap-Ferrat is

amongst the most discreet.

This once small fishing village flourished as a

My tip is to follow one of the marked trails –

free leaflet from the Tourist Office – to explore

the village centre and the hidden beaches and

monuments around the headlands. You could

even walk the 9km-trail to Nice and catch a

No 15 bus back.

But don't leave without visiting the outstanding

Villa and Gardens of Ephrussi de Rothschild.

Another Jardin Remarquable as well as a

Monument Historique, this extraordinary

property with sea views on both sides offers

nine themed gardens, musical fountains, and

an opulent interior, plus the irresistible story

of the extraordinary Béatrice de Rothschild

who created it. Well, maybe not all local

residents have been low key, but she did leave

something for us all to enjoy!

Getting Around

Catch a train from Nice to the seafront

station at Villefranche, or hop off the

Nice Grand Tour sightseeing bus. Eze is

also accessible by train – sea level station

beneath the medieval village – or by

public bus from Nice (Line 82) or by train.

nicetourisme.com

The French Riviera Pass gives free access

to a wide range of attractions and activities

in Nice, but also in Villefranche, Eze and

Cap-Ferrat – chose from 12, 48 or 72 hours

frenchrivierapass.com

Alternatively, do as I did and take a bespoke

tour by car with Villefranche resident

Sandra Ottaviani. Particularly good if time

is short or you are travelling in a small group.

inspiring-cotedazur.com

74 | The Good Life France The Good Life France | 75
---
© Juliet V Simpson

The UNESCO-listed

Treasures of Nice

Think of Nice and images of the glistening

Mediterranean bordering the iconic

Promenade des Anglais swim into view.

Less well-known are the many sites and

neighborhoods that achieved UNESCO World

Heritage status in July 2021. According to

UNESCO, Nice "reflects the development

of a city devoted to winter tourism, making

the most of its mild climate and its coastal

situation, between sea and mountains."

Jeanne Oliver explores the tourist heritage

of Nice…

@ ElfieNeuberger

UNESCO-listed "Nice

Winter Resort Town of the

Riviera"

Tourism has defined the development of Nice

for well over 200 years. And it's this that has

seen UNESCO recognise the "Outstanding

Universal Value" of Nice's heritage in terms of

architecture, landscape and urban planning.

it is an area of 522 hectares shaped by the

cosmopolitan winter resort which has resulted

in a spectacular fusion of international

cultural influences.

The first tourist was arguably Scotsman

Tobias Smollett who praised Nice in his

bestseller Travels Through France and

Italy published in 1766. His British readers

were intrigued and began visiting Nice in

the late 18 th century. They first settled on the

land west of Cours Saleya, which opened

for development after the town walls were

destroyed in 1706. Rue François de Paule was

considered chic even before the Opera was

built in the late 19 th century.

By the beginning of the 19th century the

trickle of British visitors turned into a steady

stream. They fanned out to what is now the

Carré d'Or and clustered in a community

around the Croix de Marbre. Stores selling

76 | The Good Life France The Good Life France | 77
---
Bay of angels Adam and Eve

products from home sprouted up in the

neighborhood they called "Newborough".

These early Brits avoided the crowded, dirty

streets of the Old Town but they liked to stroll

the rue des Ponchettes which bordered the

square Cours Saleya which was turned into

a garden promenade. However, to access

the walkways, they had to cross a bridge

which spanned the Paillon river and then

make their way through the Old Town. In

1822 the Reverend Lewis Way of Nice's new

Anglican Church raised money to construct

a path along the sea, easily accessible from

their neighborhood. The path, Chemin des

Anglais, was completed in 1824 and it reached

from the western banks of the Paillon river to

rue Meyerbeer. Over the course of the 19 th

century, it was extended west and eventually

became the Promenade des Anglais.

A stroll west along the Promenade reveals

spectacular examples of Belle Epoque

architecture. The Villa Masséna, now the

Masséna Museum, is a fine example of a

private villa on the Promenade, while the

Hotel Negresco heads a procession of elegant

19th century hotels.

century seaside park, while the ruins of the

old Colline du Chateau became a hilltop park

with sea views.

The opening of the Nice train station in 1864

shortly after Nice became part of France

in 1860, sparked the development of the

Quartier des Musiciens. Boulevard Victor

Hugo was the first street to be laid out and the

rest followed in a grid pattern. Fabulous Belle

Epoque residences such as the Palais Baréty

were followed by a new style, Art Deco, in the

interwar period.

The verdant hill of Cimiez already had a

few Belle Epoque hotels even before Queen

Victoria chose the Excelsior Regina Hotel as her

preferred holiday spot in 1895. Within a decade

the entire neighborhood was transformed from

farmland to a playground for European nobility.

The stately apartment buildings now lining the

Boulevard de Cimiez were designed as hotels

and followed contemporary tastes. When

Orientalism came into vogue at the turn of the

20th century, minarets were chosen to adorn the

Hotel Alhambra.

Another neighborhood favored by 19thcentury

Brits was Mont Boron, the hill

between Nice and Villefranche-sur-Mer.

In 1891 they founded the l'Association

Des Amis Des Arbres to protect trees and

wooded areas against over-development.

The Chateau de l'Anglais, built by Colonel

Robert Smith was inspired by his tour of duty

in India and brings a touch of exoticism to

this forested hill.

Just as the British aristocracy congregated

in Cimiez and Mont Boron, the Russian

aristocracy followed Tsar Alexander II to the

Piol neighborhood after he wintered there

in 1864. The Russian Orthodox Cathedral of

Saint Nicholas, consecrated in 1912, testifies

to the long Russian presence in Nice.

The only part of the more than 500-hectare

UNESCO-protected area that had little to

do with tourism development is Port Lympia.

It was vital to Nice's export trade however

and most of it does date from the late

19th-century.

Cours Saleya

Nice's World Heritage designated area covers

almost all the city's highlights except for

one surprising omission. The winding streets

of Vieux Nice north of Cours Saleya are

not UNESCO listed. Most of the baroque

churches and pastel buildings date from

the 18th century and thus are before Nice's

development as a tourist destination.

Nice's 19th-century rulers, the Dukes of

Savoy, quickly recognized the potential of

the "distinguished foreign visitors" which

included Russians, Germans, and Americans.

From the mid-19th century onward, every

urbanization decision taken was aimed at

increasing the comfort and enjoyment of

holidaymakers. Foreign tourists liked exotic

vegetation? Let's plant the Promenade des

Anglais with palm trees! Foreign tourists liked

gardens? The Jardin Albert 1er became a 19th-

78 | The Good Life France The Good Life France | 79
---
What's

New?

Autumn 2022

palace, above the kings, and has been closed for restoration involving 50 craftsmen for almost

two years. chateauversailles.fr

Versailles du Barry apt

David Hockney at the Bayeux Tapestry Museum

22 September 2022 – 23 April 2023

The Bayeux Tapestry Museum welcomes artist David Hockney for an exhibition of his giant

fresco entitled 'A Year in Normandy.' Hockney moved to Normandy in 2019, and, inspired

by the Bayeux tapestry, created a 90-meter long frieze using digital brushes on an iPad.

bayeuxmuseum.com

It's la Rentrée in France, the time of the year when people are back from their

summer holidays and there's a feeling of renewal in the air and it's the time when

museums and galleries put on new exhibitions galore. We've picked some of the best

new events and openings for this autumn…

National Events:

Semaine du Gout – Taste Week: A foodie

event taking place throughout France.

Taste Week hosts events, workshops for the

public include cooking classes, tastings and

entertainment. 10-16 October, 2022

legout.com

1st November La Toussaint – All Saints'

Day: a day to remember loved ones who

have passed on and place pots of colourful

chrysanthemums on their graves.

11th November Armistice Day:

commemorative services are held in almost

every town and village in France in honour of

those who lost their lives in World War I and

other wars.

Beaujolais Nouveau: the new season's wine

arrives in cafés, bars & restaurants at midnight

on Wednesday the night before the 3rd

Thursday of November!

Chateau Versailles

18 October 2022 to

19 February 2023

New Exhibition: Louis XV, tastes and

passions of a King

For the first time the Palace of Versailles is

presenting a major exhibition dedicated to

Louis XV to celebrate the 300th anniversary

of his coronation. Born in 1710 in Versailles,

Louis XV was the great-grandson of Louis XIV.

He became king at the age of five, in 1715,

on the death of the Sun King and his reign

spanned more than 50 years. The exhibition

of more than 400 works looks at the man

behind the crown and his passions for science,

botany, architecture and more. Madame du

Barry's rooms in Versailles will also reopen to

the public. The famous mistress of Louis XV

had one of the most refined apartments in the

World Poached Egg

Championship in

Bordeaux,

8-9 October 2022

If you're lucky enough to be near the Château

du Clos de Vougeot in the heart of Burgundy's

wine-growing countryside (Côte-d'Or) on

the first weekend of October, you're in for

a treat! It's the 'Ouef en Meurette' World

Championship where chefs compete in

a poached egg in wine contest. Tastings,

cooking classes and fun guaranteed.

meurette.fr

Palais Galliera, Fashion Museum Of The City Of Paris

Frida Kahlo. Beyond Appearances

15 September 2022 – 5 March 2023

Frida Kahlo (1907-1954) is one of the most recognized and influential artists of the 20th century.

For the first time in France and in close collaboration with the Museo Frida Kahlo, the exhibition

brings together more than two hundred objects from Casa Azul, the house where Frida was born

and raised: clothes, correspondence, accessories, cosmetics, medicines , medical prostheses…

80 | The Good Life France The Good Life France | 81
---
These personal effects were sealed by her

husband, the Mexican mural painter Diego

Riviera when the artist died in 1954. They

were rediscovered fifty years later, in 2004.

This precious collection includes traditional

Tehuana dresses, pre-Columbian necklaces

that Frida collected, examples of corsets and

hand-painted prostheses and is presented

along with films and photographs of the

artist, to constitute a visual account of her

extraordinary life. Palaisgalliera.fr

Opening of the Glass

Museum in Eure,

Normandy

Lovers of glass sculptures, stained glass

windows, Art Deco and Art Nouveau objects

will love the François Décorchemont Glass

Museum in a former 19th century hospice

which is due to open in Autumn 2022.

eure-tourism.com

Lyon Festival of Lights, © Brice Robert, Lyon Tourist Office

Festival of Lights, Lyon, 8-11 December 2022

4 nights of enchantment in Lyon. The Festival is innovative, intriguing and startling, and it's all

free. Each night brings a different theme, colour scheme and vibe with designers from around

the world taking part. Video, Music and Sound effects are used to accompany the vibrant

images dotted around the city. Fetedeslumieres.fr

Nuit Blanche Paris | 1-2 October 2022

This incredible free event sees the doors of some of the city's most popular cultural sites and

museums to the public from dark on Saturday night until the wee hours of Sunday…

Nuit Blanche Paris

The Good Life France podcast

Everything you want to know about

France and more...

thegoodlifefrance.com

Nuit Blanche artwork by Gilbert Moity © Jacques Lebar, Paris Tourist Office

82 | The Good Life France The Good Life France | 83
---
Your Photos

Every weekend we invite you to share your photos on Facebook and Twitter – it's a great

way for everyone to "see" real France and be inspired by real travellers snapping pics

as they go. Every week there are utterly gorgeous photos being shared, and here we

showcase just a few of the most popular. Share your favourite photos with us and the most

'liked' will appear in the next issue of The Good Life France Magazine

Sunset over the rooftops of Paris by

Romain Gandré

This stunning photo is one to fall in love

with. Romain is on Instagram: @rom_buff

Rouen, Normandy

Fantastic photo by Nathalie Geffroy who is on

Instagram: @nathparis

Cordes-sur-Ciel

The village in the sky in the Tarn,

by Ian MacCuish

La Gacilly, Brittany

Fred Tassart's photo of the pretty

village in Morbihan is so dreamy …

Join us on Facebook and

Twitter to like and share

your favourite photos of

France...

84 | The Good Life France

The Good Life France | 85
---
Tours de France

Winter is one of the best times to visit France – the museums are uncrowded (and

warm!), and there's still plenty going on. And the holiday season is an ideal time to take

a tour in style. So, if you're dreaming of visiting France here are some of our top tour

recommendations for winter, Christmas and New Year visits…

CroisiEurope – the best

for Christmas & New Year

cruises

The largest cruise operator in France,

CroisiEurope's cruises are unbeatable and

their Christmas tours are legendary. Visit

the famous Christmas markets of Alsace,

Strasbourg, AKA the Capital of Christmas

with its many festive markets and beautifully

decorated streets and stores. Visit picturesque

villages, take in a show, follow the wine route

and be captivated by Colmar. It doesn't get

more magical than this.

CroisiEurope's Christmas and New Year cruises

also weave their magic in the Loire Valley and

the Seine Valley – Paris to Honfleur, enchanting

any time of the year but never more so than at

Christmas, as well as the south of France from

Lyon to Provence including festive Avignon, and

in beautiful Bordeaux.

Enjoy all-inclusive life onboard with the

finest food and wines and fabulous tours that

take you to the heart of each destination.

No stressing, no driving, no wondering how

to fit in all the glorious must-see places or

how to reach the off the beaten track gems,

CroisiEurope's cruises and excursions take you

to the very best of France – in style.

croisieurope.co.uk

Winter Holiday Tour in

Provence

Planning for an end of the year seasonal

treat? Join Goût et Voyage's Winter Holiday

Tour of Provence. It's a small group tour

that features fabulous food and wine, a

truffle hunt and santon markets. You'll visit

beautifully decorated towns and villages

including the beautifully decorated towns

of Saint-Rémy-de-Provence, Arles and Aixen-Provence.

And take cooking lessons with

chefs plus of course plenty of time for holiday

shopping. Seasonally sublime.

goutetvoyage.com

Alsace Christmas day and

half day tours

Family run Ophorus Tours, one of the most

renowned and popular tour companies in

France have a huge range of half

and full day trips including

Christmas market

tours in Alsace in

Strasbourg, the

pretty villages and

Colmar. They

pick you up, drop

you off and have

the best English

speaking guides in

the business.

Ophorus.com

Winter tours of Provence

Fabulous tours of Provence at Christmas, VIP

wine tours, culture, markets and parades. And

in the new year join a truffle tour in January

or February when the "black diamonds" are

at their best on a gourmet experience tour.

Yourprivateprovencecom

Cours Mirabeau Aix

Battlefield tours

and historical travel

experiences

Sophie's Great War Tours are tailor-made

historical travel experiences. This family-run

specialist tour operator creates exceptional

WWI and WWII battlefields tours across

France, Belgium and the Netherlands. Travel

at your pace and explore the destinations

you really want to get to know, at a time to

suit you. Sophie will research the history and

background of soldier so that each battlefield

tour is a personal historical experience. Her

team can also include additional experiences

to suit you such as chateau visits in the Loire,

Champagne tastings in Champagne and a

classic car tour in Provence. Every itinerary is

created to be perfect – for you.

sophiesgreatwartours.com

Christmas Truce statue by Andy Edwards commemorates Christmas day on the

Western Front 1914 when some men emerged from trenches into No Man's Land,

exchanged gifts and played football.

86 | The Good Life France The Good Life France | 87
---
"Faux Amis"

Deceptive Language

What are they?

"Faux amis", or false friends, are not what

they seem! No, they are not the friendships

that end badly, but instead are an expression

which means words that look similar or

identical in French and English by that have

an added layer of complexity to them and can

subsequently be confusing to learn for French

native speakers!

As the expression suggestions, a "faux amis"

is a word that is not what you think it is at

first glance, and once translated can cause

confusion to the French speaker. When a word

looks identical across the two languages, they

ought to mean the same thing, right?

Wrong! A "faux amis" is in fact an English

word that resembles a French word yet has a

completely different meaning. These "faux amis"

have the displeasure of misleading learners of

English, especially to those just beginning their

language journey because of their wide use

across different categories of words.

What are the origins of

"faux amis"?

In this instance many English and French

words are false cognates because of their

shared heritage. Today's French, for example,

is composed of predominantly Latin and

Greek roots. However, there are also

sprinklings of Celtic, Arabic and Germanic

languages in there too.

The English language has experienced the

same range of influences, including old

French, but the language has undergone a

slightly different evolution over time. A great

example of this is the old French word jornee

(meaning journey or labour of a day) led to the

French word journée (daytime) and in English

journey. The French kept the notion of time

when using the word, however the English

instead preferred travel.

Here are 5 of our favourite "faux amis"

that have been confusing speakers of both

languages:

French speakers would describe coins as une

pièce de monnaie.

Assist (eng.) // assister (fr.)

Assister à when used in French means to

attend something, yet in English would be used

to help or support someone or something.

Advertisement (eng.) // Avertissement (fr.)

Un Avertissement can be translated as a

warning or a caution, and comes from the

French verb avertir – to warn. However, an

advertisement translated into French would

be une publicité, une réclame, or un spot

publicitaire.

Chair (eng.) // Chair (fr.)

La chair when used by a French speaker would

be translated as flesh, not the seat! A chair for

English speakers would be une chaise.

In Summary

To conclude, be wary of "faux amis" when

navigating between French and English, they

can lead to some embarrassing moments!

However, despite the intimidating nature of

making an awkward mistake when conversing,

it is all part of the journey. Slip ups are a

natural part of learning languages and not

something to worry about! The more you

expose yourself to French "faux amis" the

better equipped you will be to deal with them!

Practice your French language

reading and speaking skills and

learn more about France with

Newsdle's fun and easy to use

news-based app – and get 25%

off, just input coupon code

goodlfife25 during checkout.

What are they known as?

However "faux amis" are part of a wider

language phenomenon known as false

cognates, or words that look identical in both

language but have different etymologies. They

are not exclusive to English and French, and

can be found across many, many different

languages.

Library (eng.) // Librairie (fr.)

One of the more common "faux amis",

despite the book connection, une librairie is

where you would buy a book, not borrow one.

To get the English meaning of library, one must

visit une bibliothèque.

Coin (eng.) // coin (fr.)

The French word coin is translated as corner,

and has no connection to what English

speakers would describe as their loose change.

88 | The Good Life France The Good Life France | 89
---
Find out about

French Insurance…

fabulously easy.

Insurance services for English speakers in France

Speak to a dedicated English-speaking Broker who's

also a French native speaker so to avoid the pitfalls and

headaches of the French system.

Medical Insurance

Home Insurance

Car Insurance

Visa Insurance

and more

We work with more than 30 insurers and many more

providers so we are always able to find the best and most

affordable solution for your situation.

We've got you covered.

33 (0)5 35 65 50 50

hello@fabfrenchinsurance.com

www.fabfrenchinsurance.com

Two questions come up time and again when it comes to insurance in France: medical

insurance for visa applications – and car insurance for foreign registered vehicles. Fabien

Pelissier of FAB French Insurance whose team specialise in helping English speakers in

France with all their insurance requirements, explains the process of insuring a non-France

registered car, and why you should make medical insurance a critical part of your visa

application process…

Car Insurance for foreign

registered vehicles

Most people believe that you can't have a

foreign registered car insured in France, but

this isn't true. If you're planning to move to

France and register your foreign car – which

is a legal requirement – then this can take

time. And while you're waiting – you will need

insurance.

We can insure foreign registered vehicles

in the same way as we can for a French

registered vehicles with a "standard" policy.

This is based upon the assumption that you

will register the car or bike in France. Failure

to do so may open you up to consequences

which can have long term effects in France

where there is a central insurer's database. Do

not consider insuring the vehicle in France if the

import project isn't solid or may be reversed.

Foreign insurance history, for instance 'no claims

bonus/no claims discount', can be converted

into the French equivalent – called the CRM or

the bonus. The conversion may look weird at

first as France doesn't work like the rest of the

world (which may not surprise you).

The maximum discount in France is 13 years

(50% bonus or CRM = 0.50). The "CRM" is

like your own index. It starts at 1 and each year

without a claim it's multiplied by 0.95 with a

maximum discount reached when your CRM

is at 0.50 (e.g. 13 years without a claim). Every

claim deemed to be your fault will multiply

your CRM by 1.25 (so it takes roughly 5 years

to write off a claim in France). Unlike other

countries (for instance the UK), it's not possible

to "protect" your discount here, that's why

French insurers will need to see your full history

(proof of no claim) and not just the "insurer's

discount" or 'no claims bonus', because they

know a 9 years no claims bonus doesn't mean

you've been claim free for the past 9 years.

That said they also don't care about anything

that happened more than 3 years ago as

French insurers only look at the past 3 years of

insurance. The upside of this is that you may

have a 9 years NCD with claims 5 years ago

which won't be considered when you convert

your NCD into a French CRM. French insurers

90 | The Good Life France The Good Life France | 91
---
equire proof of no claims from the previous

three years which can be onerous when you've

changed insurers each year.

Another major difference is that French

insurers really hate insurance gaps. The "off

road" status doesn't exist in France. You must

be insured even if the vehicle is no longer in

driving condition. A gap in your insurance

record of more than 3 months is bad for

your future premiums – and a gap of more

than 6 months is most certainly going to be

problematic.

One big difference with French car insurance

is that it's the vehicle that's insured – not the

driver. You can allow anyone to drive your

vehicle in France if you pay for increased

excess which is not expensive.

Most successful applications have the following elements in common:

The certificate shows cover for at least the duration of your VISA and if this is not

possible or if it ends before the VISA, then the certificate should mention that the

visa insurance policy is scheduled for automatic renewal.

It mentions that you're covered for medical expenses and hospitalisation (not just

hospitalisation).

The medical cover should be for at least €30,000.00

The certificate should not mention any medical exclusions.

It must cover your public liability in the EU and include a repatriation plan.

If you fulfil these five requirements and if the rest of your file is complete, you should

be off to a flying start with your visa application.

Get in touch with Fabien Pelissier, find out more or apply for insurance at

fabfrenchinsurance.com

Applying for a Visa –

medical Insurance

If you're a non-EU citizen and want to stay in

France for longer than 90 days in a 180 day

period you'll need a visa. To begin you apply

for a Visa Long Séjour (VLS-TS). Even If you

want to live in France, you'll need to apply for

the one year VLS-TS. At the end of your first

year, you'll need to either renew your VLS-TS

or apply for a Carte de Séjour (Titre de Séjour)

which can be valid for up to ten years.

When you apply for your VLS-TS, you'll need

to gather several documents that show things

such as proof of your economic situation

(bank statements etc) and most importantly,

private medical insurance (PHI). The general

information on the france-visas.gouv.fr site

is quite vague, especially for 'tourist long-term

visas' – in other words, visas for retirees/early

retirees or long-term travellers. If you want to

stay in France for more than six months (and

possibly request residency at a later date)

then you'll find more information on the

TLS-contact website.

One of the most common reasons for a refusal

on a visa application is the insurance element.

Fabien explains how to make sure your visa

application is 'French-administration-proof'…

Brexit didn't just impact the British, when it

comes to applying for a visa, it also resulted in

a tightening of rules for other non-EU citizens,

including those from the US. After years of

experience as insurance brokers and hundreds

of Visa applications, we know that the type of

insurance certificate is a critical factor that

will determine the fate of your application.

Moving to France, made easy

Relocating to a new country can be frustrating and

sometimes stressful, especially in a different language

BUT DON'T WORRY

French Connections HCB is your one-stop administration partner in France.

HOUSE PURCHASES • RESIDENCY DOCUMENTATION • VEHICLE REGISTRATION

PROCESSING • DRIVING LICENCE EXCHANGE • BUSINESS CONSULTANCY

FINANCIAL ADVICE SERVICES • PROPERTY DEVELOPMENT ADMINISTRATION

...and a whole host of other support services.

TO FIND OUT MORE ABOUT HOW WE CAN HELP OR TO

BOOK A FREE 15 MINUTE CONSULTATION, GO TO

FRENCHCONNECTIONSHCB.COM OR SCAN THE QR CODE

NEW FRENCH PERSONAL

ASSISTANT SUBSCRIPTION

SERVICE

If you need on-going support

having already moved to France,

our monthly subscription service

could be just what you need.

For just 89€ per month, it

will save you time and limit

frustration while you enjoy your

life in France.

Contact us today for more

information.

info@frenchconnectionshcb.com

+33 1 85 65 74 98

frenchconnectionshcb.com

92 | The Good Life France The Good Life France | 93
---
Prestige French Property & Lifestyle Show

Portsmouth 8-9 October, 2022

CUT THE

COST

✂

of currency

transfers

to France

The Prestige French Property & Lifestyle Show

is dedicated to buying in France and the French

lifestyle. There will be estate agents from many

regions of France showcasing their properties.

Caravans in the Sun will be promoting their

mobile homes and available sites. And Prestige

Property Services Europe will be showcasing

holiday rentals which cover Normandy and

Brittany in the North to as far south as sunny

Ceret on the Spanish border.

There will also be professional services present

including banking, insurance, currency exchange

and investment advice services as well as

others specialised in the requirements of

moving to France.

Prestige Property Services

Europe are proud to host this

dedicated show which highlights

some of the best property for

sale in France and also offers a

taste of the French Lifestyle.

If you're moving money to or from France

you'll want to get the best return possible

on your currency transfers. But how do you

make sure you get the best rate? We asked

Calum Harkiss at Currencies Direct who have

been helping people maximise their currency

transfers for almost 30 years, to explain the

process, and why timing is important when

transferring money overseas…

The currency market is always moving, so

picking the right time to make a transfer can

be tricky. Even a seemingly small discrepancy

in the exchange rate you secure can make a

massive difference to how much you receive,

and rates can shift by as much as 5% in a

matter of weeks.

Over the last ten years we have seen several

historic shifts in the currency market due to

events like the EU referendum, Covid-19,

Brexit, the war in Ukraine and (most recently)

the turbulent political situation in the UK.

In 2022 alone the GBP/EUR exchange rate

has fluctuated between highs of 1.21 and lows

of 1.15.

If you had £100,000 euros to transfer you

would have received €121,000 at the higher

rate, but €6,000 less when exchange rates

were at their lowest. When you transfer money

through Currencies Direct, we'll provide, and

agree, an exchange rate with you over the

phone, online or via our app. We can help you

buy currency to use at a later date, we set rate

alerts and we send your currency as soon as

we receive your payment. It's simple.

And it's not just the timing of your transfer

that's important, the exchange rate you

receive can be very different depending on the

provider you use to move your money abroad.

Get your tickets

for the show here

94 | The Good Life France The Good Life France | 95
---
While most banks will offer you uncompetitive exchange rates and tag on transfer

fees, as a leading currency provider, Currencies Direct will make sure you receive

exceptional exchange rates, potentially saving you thousands on larger transfers.

What's more, we don't charge transfer fees and we offer a range of specialist services to

help make your money go further.

Whether you want to fix an exchange rate ahead of making a transfer, buy currency in

advance or target an exchange rate higher than the current market level, Currencies

Direct can help. currenciesdirect.com

Contact Calum Harkiss to find out more. Call +33 (0) 631 559 607 or

email calum.h@currenciesdirect.com

If you'd like to talk to the Currencies Direct Team and find out how they can help you

maximise currency transfers to and from France, you can see them on 8 and 9 October

at the Prestige French Property & Lifestyle Show – the dedicated show for people

buying in France or interested in the French lifestyle.

Visit Eventbrite to get your ticket

TOUJOURS LA FRANCE

Warm, uplifting and

effervescent, Janine Marsh's

voice and humour bubble

right off the page, making

you want to pack your

bags and head off to

rural France...

From Amazon,

Barnes & Noble, Waterstones

and all good bookshops this spring

96 | The Good Life France The Good Life France | 97 Chamonix
---
Guide for US-Connected

Persons Living in France

Beacon Global Wealth Management

Standing out, amongst the best

UK and French financial advice

Tax and investment advice

Inheritance advice

Reviewing pension arrangements

It's simple...

We care about you and your money

Our vision is to build a long term strategy

to take care of your financial requirements

for your life in France.

Please contact

Our UK office 0044 33 3241 6966

enquiries@bgwealthmanagement.net

beaconglobalwealth.com

Introduction

At Beacon Global Wealth, we meet many

interesting people from all over the World.

People who packed their bags left behind family

and friends, whether for lifestyle or professional

reasons, and relocated to different climates and

cultures.

France has long been a location Americans

have chosen to relocate. An estimated 200,000

Americans currently living in France.

One of the most extensive client areas we work

with is Americans abroad and their financial

affairs. The investment and retirement planning

needs of US-connected persons are complex and

multifaceted and need special care, review, and

planning from a team of expert and joined-up

advisers. This includes Financial Specialists, Tax

Specialists, and Investment Specialists.

With this significant decision comes fundamental

uncertainty and worry around how tax laws and

rulings apply, both in the new country of residence

and the country of origin. We at Beacon Global

Wealth recognize these worries as something we

have been through ourselves. We aim to provide

peace of mind, so our clients can focus on the

essential things in their life.

Are you a US Connected Person?

• Were you born in the USA?

• Do you own a US passport?

• Have you lived in the USA?

• Have you worked in the USA?

If you answer yes to any or all of these questions,

you are likely a US Connected person.

Issues Facing US Connected Persons and

what FATCA Means

Since the implementation of FATCA in 2014

(Foreign Account Tax Compliance Act), getting

retirement and investment solutions for US

Connected Persons has become increasingly

problematic. This is because most investment

solutions in many countries do not comply with

US tax law. You may have noticed the number

of banks and financial institutions that no longer

deal with US-connected persons. You may even

have been affected.

The problem is as simple as opening your US

passport and then looking at item D on the

inside cover.

"All US citizens working and residing

abroad must file and report on their

worldwide income."

Over 9 million US-Connected Persons live

abroad, holding an estimated one trillion dollars.

Many people do not realize they need to file

US tax returns. If your affairs are not structured

correctly, and you do not accurately report ALL

income, including investment income, you will

breach US tax law.

Options for Clients

How to hold your Assets

Many investment options available in Europe to

US-Connected Persons will automatically put

them in contravention of the US tax regime. For

instance, one of the more tax-efficient options

in France of an Assurance Vie creates severe

taxation issues in the US. This causes concern,

worry, and, in some cases, unnecessary financial

costs.

To provide peace of mind and help you sleep

at night, we at Beacon Global Wealth have

created a series of solutions for the US –

Connected Persons using fully regulated

Securities and Exchange Commission (SEC)

investment managers and partners.

These solutions provide US and Current

Country tax compliant and flexible options

to meet all clients' US tax reporting and

investment needs.

98 | The Good Life France The Good Life France | 99
---
Investment Options

Our process starts with an in-depth meeting with

the client to ascertain their investment goals and

objectives. We will then build a portfolio of assets

that meets their exact criteria. We run many

investment portfolios across the whole spectrum

of risk.

After much research and experience, several

leading fund managers have been appointed

because of their consistent long-term risk

graded investment performance, US-compliant

investment models, SEC regulation, and IRS tax

reporting. This is vital for the client to achieve their

financial goals and objectives.

Reporting to the IRS

Our investment and platform partners provide all

the annual returns required by the individual for

the IRS and in the required IRS format. Reporting

to the IRS is simplified this way.

More Complex Situations

We understand that tax isn't easy and can get

complicated and confusing. We work with several

top tax firms and lawyers who will help unravel

any issues or glitches that may have occurred

over time. They understand both US and current

country issues.

Individual and personalized planning is essential,

and in conjunction with our US Tax Partners, we

can produce this compliant and modern solution

without unnecessary costs or wrappers.

Retirement Planning

Planning for the future is a vital part of our service,

including retirement planning for US Connected

Persons. Non-resident US Connected Persons

can fund domestic US pensions, but several issues

revolve around the tax treatment of this group of

individuals.

We can facilitate a pension solution for nonresident

US Connected Persons with the added

advantage that if you decide to return to the USA,

it is still a compliant and tax-efficient retirement

structure.

Summary

All our solutions comply with US reporting and

investment requirements as we have outlined. Our

investment managers are all SEC-regulated.

We have US-qualified advisers to assist when a

client returns to the United States. The service,

pension, and investment will not be affected if the

client wishes.

If you have any questions or want to know your

investment options, reach out to Beacon Global

Wealth Management to set up a free financial

consultation with a financial advisor.

Beacon Global Wealth Management are not tax experts, and due to the

complexities of the tax system and your aims and objectives, it is highly

advisable that you seek an independent tax opinion. You are fully aware

that BGWM are not Tax Advisers and, as such cannot be held responsible

should the applicable tax authority raise a claim against you for any future

taxes.

The information on this page does not disclose all the risks and other

significant issues related to the investments. Prior to transacting, potential

investors should ensure that they have consulted with their financial adviser

and fully understand the terms of the investments and any applicable risks.

Any views, opinions, or estimates expressed in this document reflect the

current views and opinions of Beacon Global Wealth Management,however,

these views, opinions, and estimates are subject to change.

The value of investment products may go down as well as up and any

data on past performance, modeling, or back-testing contained herein is

no indication as to future performance. No representation is made as to

the reasonableness of the assumptions made within or the accuracy or

completeness of any modeling or back-testing. The value of any investment

may fluctuate as a result of market changes. The information in this

document is not intended to predict actual results and no assurances are

given with respect thereto.

It's so nice out...

Dear Holiday Home Owners,

Luxury bedding at professional prices

Contact hello@lachambreparis.com

for more details.

www.lachambreparis.com

100 | The Good Life France

The Good Life France | 101
---
Joanna Leggett explores the good life in the cities of Sète and Montpellier in the

Herault department, Occitanie, southern France…

Is this the

true South

of France?

Sète

Sète

Sète sits at the head of a narrow isthmus

which encloses the Étang de Thau, a

saltwater lagoon which runs down as far as

Marseillan to the Canal du Midi. All along

this western coast of the Mediterranean

there are such lagoons, and many if not all,

are renowned for the quality of their seafood

with oysters and mussels a speciality! The

town, with its many canals which give it

the nickname the 'Venice of Occitanie', is

famous for its water jousting – a tradition

that was born in the year 1666 when Louis

XIV was living in the Louvre and Versailles

was still a country hunting lodge!

Discover Sète

The first stones of the port in Sète were laid

in 1666 and water jousting took place to

celebrate the event and it quickly became the

local sport. In fact this maritime sport most

likely dates to Roman times – though it's now

firmly a passionate feature of Languedoc

culture.

From mid-June onwards, water-borne

contests are held along the canals. Huge

rowing boats are specially crafted with

raised ladders at one end, four jousters stand

on these 'tintaine' while ten rowers propel

102 | The Good Life France The Good Life France | 103
---
along the coast and the weather is usually so

mild that eating Christmas lunch outside is not

unknown!

And it's well connected too, for in 1839

the Montpellier-Séte railway was opened,

connecting the port to the ancient city just 10

kms inland.

Discover Montpellier

Montpellier is home to one of the oldest

universities in the world as well as the oldest

medical school still in operation. Past alumnae

include Petrarch, Rabelais and Nostradamus.

Sète

Montpellier remains a leading university

town – it's estimated as many as a third of its

residents are students, and it has a rich cultural

life dating back centuries. The city was called

Monspessulanus by the Romans. It survived

Cathars and wars of religion, and became part

of Aragon when Marie of Montpellier brought

the city with her as part of her dowry when she

married Peter II of Aragon. It became a major

economic centre and primary source for the

spice trade in France. In the 14 th century Sète

passed to James III of Majorca who then sold

it to the French crown to raise money for a war

back in the 14 th century.

Montpellier

the boats – all dressed in white. On-board,

bands of pipers and drummers knock out a

beat to encourage each boat forward. Like

an orchestrated ballet, boats pass each

other seven times while, at the same time,

huge brass bands blast forth to excite and

encourage spectators lining the quay.

As boats get closer the first jouster picks

up the shield and jousting pole and tries

to dislodge the opposition boat's jouster

from their platform. Naturally there's great

applause when anyone falls into the canal!

As with any self-respecting sport there are

different categories. Children start learning

from the age of 10. And there's a junior division

for the under 21's. But, the most prestigious

competition is the heavyweight (anyone over

88 kg in weight) and this is considered the

Blue Ribbon event!

It all culminates with the feast of St Louis (the

patron saint of Sète). A carnival lasting several

days is held in mid to late August which bears

the grandiose title of 'World Championship'.

Jousts are well attended and it's best to book

a seat on the temporary stands to get a good

view. Or better still watch from a table at one

of the many restaurants which line the sides

of the Royal Canal. The finest seafood, local

wine and unmatched entertainment – it's a

pretty unbeatable combination.

Sète however is far more than just 'world

headquarters' for water jousting, it has an

extremely pretty marina and busy port. There

are wonderful sandy beaches which run all

When Louis XIV made Sète the capital of

Bas Languedoc, the town became ever more

important and grew accordingly. Parts of its

historic centre date back to this time including

the Promenade de Peyrou and Esplanade.

Its position on hilly ground just inland with

abundance of year round sunshine and sea

breezes made perfect growing conditions for

the vines. This made its citizens very wealthy

and they built grand houses and upgraded

their living conditions – until phylloxera killed

the vines off in the 1890s. Modern grafting

methods have overcome the vine disease

and today the city is once more surrounded

by vineyards and garrigue (Mediterranean

scrubland).

All around in the hills of the Hérault there are

charming villages and small market towns.

Montpellier

104 | The Good Life France The Good Life France | 105
---
The Port in Marseillan

Marseillan at the south of the Étang de Thau,

the point where the Canal du Midi joins the

salt waters of the Mediterranean, is home to

the sweet vermouth Noilly Prat. Along the

coast, ancient fisherman's cottages have been

converted into seaside des res and summer

villas dot the landscape. In villages there are

old townhouses clustered around squares.

And in the countryside there are old villas and

winegrowers' homes. It's an enchanting area

and with its simpler way of life, some even call

this the true South of France!

Take a look at the property

market in Herault:

Herault is a surprisingly affordable part of

southern France. Prices for properties vary

enormously with bargain houses from less

than £50,000 for a doer upper to £750,000

for a 9-bed stunning villa with a lot of land

and a pool.

106 | The Good Life France

Montpellier

Here are just a few examples of what's on offer:

SURROUNDED BY VINEYARDS – A12682

€560,000

Close to the lively towns of Narbonne

and Beziers, surrounded by Saint-Chinian

vineyards, a fabulous 4-bed villa with

wonderful pool plus a possible gite.

frenchestateagents.com

FORMER WINE MAKERS' HOME –

88580AS34 – €249,000

An elegant 19th century 'maison vigneronne'

in a charming, medieval wine growing village

with amenities. 4 bedrooms with the possibility

for more, the house is in tip top condition.

Features include a marble staircase, brand

new roof and high speed internet.

frenchestateagents.com

SPACIOUS CHARACTER VILLAGE HOUSE

– A09853 – €51,600

A charming -bed house with a vaulted cellar

is in a lively village. It needs doing up but has

oodles of potential.

frenchestateagents.com

Joanna Leggett is marketing director at

Leggett Immobilier – you can view the full

portfolio of properties for sale in Herault at:

frenchestatagents.com

frenchestateagents.com

MOVING TO FRANCE?

ClickMoves.com can help. They take care of all

the paperwork, the packing and your precious

things. Get a free quote and expert help.

FOR MORE INFORMATION CONTACT

CLICKMOVES.COM - ENQUIRIES@CLICKMOVES.COM

The Good Life France | 107
---
42,000 bottles in his lifetime. He liked to be

served champagne at 11am precisely – Pol

Roger was his favourite.

He wasn't the only famous person to enjoy

champagne. Napoleon Bonaparte declared

'"I cannot live without Champagne. If I win,

I deserve it; If I lose, I need it" and F Scott

Fitzgerald claimed "Too much of anything is

bad. Except Champagne – too much is just

right."

In fact, the reason it's so popular probably

originates from the tradition or royals and

aristocrats drinking it to mark celebrations

in the 18th century when the expensive drink

(even then, though largely this was due to

its habit of the bottes blowing up) made it

a status symbol, plus it was thought to have

'positive effects on a woman's beauty and a

man's wit, and who are we to disagree?!

Oh, and one more reason to enjoy the bubbles

– according to some scientists, a couple of

glasses of Champagne is thought to help

counteract the process of memory loss as you

age. I'll raise a glass to that!

If you want to find out more about

Champagne, read more here where Laurent

explains: how Champagne is made – and

how to serve it

Find out more and

join the club at:

somMailier.com

and get a special

introductory offer

of 10% on any

product including

Champagne –

just use the

code TGLF2022

on the check

out page…

CHAMPAGNE –

how it got its pizzaz!

Wine expert Laurent Yung of SomMailier.

com, the French Wine Club in the USA, shares

some sparkling fizzy facts about the world's

favourite celebratory drink!

Champagne is irrevocably associated with

glamour, luxury and festive occasions. Is it the

bubbles? There's an estimated 49 million of

them in each bottle. Or perhaps it's the pop

of the cork, shot out due to the staggering 90

pounds per square inch of pressure in a single

bottle (a car tyre has about 30 pounds per

square inch!). There are people who obsess

about the 'recorded flight of a cork' and the

record is a whopping 177 feet (54 metres). And

corks are fast – flying out at a speed of up to

around 30 mph (much more if you shake the

bottle)!

For me it's the taste and the feeling you get

when you sip a glass of Champagne. Some

300 million bottles are produced each year

in Champagne and left to mature for at least

15 months, and to ferment twice (that's what

gives it the bubbles) in hundreds of miles of

underground cellars. It's exported to around

190 countries and after the French, Americans

are the biggest consumers of Champagne,

followed by the British with Winston Churchill

setting an example by drinking an estimated

The ONLY

Authentic

French Wine Club

in the U.S.

somMailier.com

The Perfect Gift:

Exclusive Boutique

French wines!

108 | The Good Life France

The Good Life France | 109
---
Your one stop shop for the finest quality

food from Britain and Ireland.

Brioche berry &

white chocolate pudding

WE OFFER THE LARGEST REFRIGERATED HOME DELIVERY

NETWORK ACROSS MAINLAND EUROPE.

Quality Fresh Beef, Pork and Lamb, Cheeses, Clotted Cream,

Fresh Cream, Pies, Sausages, Bacon, Pudding, Tea & Coffee, Sauces,

Crisps & Chocolate, plus Vegetarian and Vegan products

Free home delivery France, Belgium & Luxembourg

baconbythebox.com

INGREDIENTS

1 packet 10 mini brioche or 1 brioche loaf

150g/5½oz white chocolate, chopped

300g/10½oz fresh or frozen raspberries

55g/2oz caster sugar (powder sugar)

1 tbsp plain flour

500ml/18 fl oz sour cream or

crème fraiche (half fat if desired!)

3 eggs

½ tsp vanilla essence

2 tbsp icing sugar

METHOD

Preheat oven to 200°C/400°F/gas mark 6.

Layer the slices of brioche or cut into small

pieces. Coarsely chop chocolate.

Place half of the Brioche in a deep sided pie

dish. Sprinkle with half of the chopped white

chocolate and half of raspberries and then

repeat with a top layer.

If you're using frozen raspberries, pop them in

a microwave oven for 3 minutes.

Mix the sugar and flour. Whisk together

sour cream/crème fraiche, eggs and vanilla

essence. Pour evenly over the top.

Bake for 25-30 minutes or until golden brown

and set in the centre. Leave to cool for 10

minutes. Sprinkle with icing sugar for extra

wow factor and sweetness

Delicious served with ice cream or cream.

The Good Life France | 111
---
METHOD

Preheat oven to 180C/350F/Gas Mark 4

Pain perdu:

You can keep the puddings in the fridge for

up to two days; reheat in a microwave for 60

seconds and crisp the tops for about a minute

under a grill/pre-heated broiler.

Oven-cooked

chocolate

pain perdu

with bourbon toffee sauce

This absolutely delicious adaptation

of a classic French pain perdu by Chef

Rachel Howard (Le Cordon Bleu Paris),

Gîte La Vuzelle, Chambéranger, Savoie,

France features chocolate and a rich

toffee bourbon sauce. It's utterly, utterly

scrumptious!

Makes approximately 10 ramekins or small forms,

depending on the size

INGREDIENTS

Pain Perdu:

¼ teaspoon salt

4 medium eggs

1 litre (4 cups) milk (demi or whole)

200g (cup) white granulated (caster) sugar

1 tablespoon vanilla essence

900g (4 ½ cups) day-old bread, cubed (see

note below)

300g (1 ½ cups) milk or dark chocolate chips

or chocolate disks, chopped medium

Optional: 3 ripe to over-ripe bananas,

halved and sliced

Optional: Cinnamon-sugar mixture for

sprinkling

Toffee Bourbon (or rum) Sauce:

½ cup (100g) white granulated (caster) sugar

½ cup (113g) butter

½ cup (120ml) double cream (heavy cream/

crème entière), room temperature

¼ cup (60ml) rum (light or dark)

Whisk the salt, eggs, vanilla, milk and sugar

until well combined and the sugar is dissolved.

Cut the bread into cubes and add to the

egg mixture and let them soak for about 10

minutes but no more than 20 minutes. If left

too long in the mixture, the bread will begin

to dissolve and there will more of a pudding

texture to the final product. You may find that

you have leftover egg mixture after filling the

ramekins; if so, add some more bread cubes

and fill one or two more ramekins.

If you decide to use one large form rather than

individual ramekins, then prepare the form by

buttering well.

Pour the mix into each ramekin until about

half full. Then sprinkle over the chocolate (and

bananas if using) and fill each ramekin with

remaining mix to the rim. Ensure that each

ramekin is about half full of liquid mix.

Pop some more chocolate drops over the top.

You can also sprinkle the top of each ramekin

with a small amount of cinnamon-sugar – just

check more often while baking to ensure that

the top does not burn and cover lightly with a

sheet of foil if the cinnamon-sugar is browning

too quickly.

Place the ramekins in large high sided pan and

place on the middle oven rack. Fill the pan with

hot water until it reaches about halfway up the

sides of the ramekins (a 'bain marie').

Bake for approximately 30 minutes,

depending on your oven. Be careful not to

overbake or they will lose the pudding texture.

They should be softer than a quiche coming

out of the oven. While baking, begin preparing

the rum sauce (see below).

Remove the puddings from the oven and

allow to set for at least ten minutes. Serve

at room temperature (Chantilly cream goes

well) or warm with toffee sauce (a sprinkling of

powdered sugar is attractive, with the sauce

served in a shot glass on the side).

Toffee bourbon Sauce:

Place the butter in a small saucepan and melt

on medium heat. After the foam has subsided,

watch the fat solids carefully for their color, until

they have turned a medium-dark brown and

the butter begins to smell nutty. The color of the

butter will determine the color of the sauce, as

well as the depth of the nutty flavor, so don't lose

your nerve and pull the butter off too soon. While

still on the heat, add the sugar and whisk until

the sugar is completely dissolved.

Add the heavy cream (be careful; it will boil

up quickly and then subside). Whisk to ensure

that the sauce is a smooth consistency, since

adding the cream may re-crystallize the sugar,

especially if the cream was cool. If the sauce

has a grainy texture, then continue whisking

on medium heat until the sugar has dissolved,

and the sauce has come together again. Add

the bourbon (or rum) and continue heating

for a few minutes to cook off the alcohol (this

will ensure that the sauce retains the flavor

without the harsh notes of raw alcohol).

The sauce is best served immediately with the

warm pudding, either on the side or drizzled

over the top. However, it can be saved in

a plastic container in the refrigerator, and

either reheated as a whole or in individual shot

glasses in the microwave. If reheated, stir or

whisk after reheating to ensure that the sauce

has a smooth consistency.

You can use any kind of day-old bread that is on

hand: for example, baguette will have more texture

and yield more crunchy bits at the top (a more

dramatic presentation), while brioche will dissolve

into more of a cohesive pudding texture. Also, if

more texture is desired, then cut larger cubes, or cut

smaller cubes for a more pudding-like texture.

112 | The Good Life France The Good Life France | 113
---
INGREDIENTS

1 cup/200gr All Purpose flour

4 large eggs

¾ cup/180g cheese, grated; Gruyère,

Emmental, or other strong cheese (Comté

also works well)

½ cup/125ml milk

¼ cup/60ml olive oil

½ tbsp baking powder

Pinch salt and pepper

Flavouring Ingredients

¾ cup/180gr lardons, or chopped ham,

cooked and cooled

¼ cup/60gr of pitted green olives, sliced

1 tbsp dried chives, or 2 tbsp fresh chives

METHOD

Preheat the oven to 180˚C/350˚F and lightly

grease a 'loaf' or similar sized tin.

Place the oil, milk and eggs in a bowl and mix

thoroughly.

In a separate bowl, mix the flour and baking

powder, salt and pepper. Once mixed, add the

chives and the grated cheese, and mix again.

Next, add the cooked and cooled lardons, or

chopped ham, and sliced olives to the flour

mixture and combine so that everything is

lightly coated in flour.

Finally, add the wet mixture to the dry, and

combine thoroughly – being sure not to leave

any pockets of flour.

Pour the mixture into the baking tin, and place

into the preheated oven for 45 minutes or until

the top is lightly browned, and coming away

from the edges of the tin.

Remove from the oven when cooked, and

leave in the tin for 10-15-minutes to set before

removing, allowing a further 10-15-minutes

before serving.

Cake Salé

Prep Time: 15 minutes

Cook Time: 45 minutes

Total Time: 1 hour

Portions: 10

by Kit Smyth

Perfect for a light lunch, or a conversation-starting

brunch, this Provençal classic raises glasses and

eyebrows with equal ease. Who says you can't have cake

for breakfast?! Kit Smyth's savoury cake recipe is easy

to make and utterly scrumptious…

114 | The Good Life France The Good Life France | 115
---
Chaudrée Française

or French Chowder

Option 1: Clams, tinned or fresh, but keep

the juice if using tinned.

Option 2: Seafood mix – often comes with

mussels, cockles, calamari rings, etc.

Option 3: Cod or other white fish: always

good, but do stir the soup with care, as the

chunks can break up.

METHOD

Heat a large saucepan, or Dutch oven, over

medium-high heat, and add the lardons,

gently frying until any fat has dissolved and

only nice chunks of bacon remain. Remove

half and keep for later.

Add the oil and butter to the pan, and wait

for the butter to foam. When ready, add

the onions and garlic, reduce the heat to

medium, and cook until the onion is soft and

just caramelising. Sprinkle the flour over and

stir to mix thoroughly. Cook for 1 minute,

stirring constantly.

Increase the heat to high, wait 30 seconds,

and add the vermouth/white wine, then stir

vigorously to scrape all the flavourful bits from

the bottom of the pan.

Note: BE CAREFUL, the pan will be HOT

and adding alcohol can cause spontaneous

flames. It's advisable to step back as you pour

the alcohol in, and allow it to 'flash' before

returning to inspect.

Add the diced potatoes, and the stock/canned

juices, together with the herbs, cover and

allow to simmer for 5 minutes.

Lifting the lid, add the seafood selection,

stir thoroughly and check the potatoes for

doneness. Re-cover and cook for a further

10 minutes or until the potatoes are cooked

through.

When cooked, add the single cream or

a healthy dollop of creme fraiche to the

potatoes, and bring to a gentile simmer.

To serve, ladle the soup into bowls, and

sprinkle the reserved bacon lardons over the

top, or fresh parsley if you prefer.

Usually associated with Northeastern America, where a hearty clam chowder is a staple

on many New England menus, this version has a distinct French kick. Chef Kit Smyth's

Chaudrée Française, or French Chowder, is perfect throughout the year, but all the more

so as the days draw shorter.

With its abundance of fresh fish and shellfish, and of course world renowned dairy

products, France's rich gastronomic traditions ensure this thick and creamy soup is

perfect for any dinner table

Serves 6

INGREDIENTS

1 cup/200g lardons/thick-cut bacon batons

1 tbsp/20ml olive oil

2 tsp/10ml butter

1 large/150g onion, finely diced

2 cloves garlic, finely minced

1 shot/30ml Vermouth, or ½ cup/100ml white

wine, dry – Chardonnay or Sauvignon Blanc

½ cup/65g all-purpose flour

2 large/300g potatoes, waxy, diced large

1 cup/250ml single cream, or thinned creme

fraiche

1 cup/250ml fish stock, including tinned/

canned clam juice if using.

1 tsp each dried Tarragon, chives, parsley

300g seafood: you can use any of the

following combinations, depending on what is

available in your area and within the season.

116 | The Good Life France The Good Life France | 117
---
Last

Word

LOCAL KNOWLEDGE YOU CAN TRUST

chalet villa château farmhouse apartment vineyard gîte cottage coast country city

French philosopher Albert Camus once said, 'autumn is like a second spring when

every leaf is a flower.' And as I walk the dogs along the narrow roads in my little

corner of rural France, the hedges are festooned with plum-hued berries and plump

rose hips, and the leaves of the trees are turning every colour of the autumnal

rainbow – from chartreuse to flamboyant fiery crimson and burnished copper…

Mushrooms flourish, sprouting from tree trunks and forest floors, and lurking under

hedges. Wandering through the woods, we encounter basket-carrying neighbours,

foraging for fungi – chestnut coloured, flashy yellow and coral and polka-dotted

like something out of a fairy tale, girolles, chanterelles and cèpes.

If any are not sure whether their haul is safe to sauté, there are plenty of experts in

the village. Paul, who is a noted mushroom specialist, Stefan who claims to be one,

or the local pharmacy.

The only time I have foraged was with a friend. We went to Stefan as we knew no

better. He held up our bounty and compared the varieties to barely legible, badly

drawn images in a book published in 1896.

"Yep, they're all good, delicious cooked in butter" and he kissed his fingers and

closed his eyes, enraptured at the thought.

Just to be sure, we popped to the pharmacy. The chemist put on his little round

glasses and examined the piles in our baskets. He picked each mushroom up,

popped some to one side and placed others back in the basket. At the end, he'd

put all the mushrooms in the basket except for our prize jumbo-sized, pointy hatted

specimen

"Are you married" he asked. We nodded.

"Happily married?" he said.

"Yes" we assured him "why do you ask?"

"Well, if you love your husbands, you should not feed them this one"

"Would it kill my husband if I had given him that one" asked my friend, turning a

ghostly shade of pale at the thought of it.

"No" said the pharmacist snickered, "but he would shit for a week!"

Janine

Janine Marsh lives in France with her husband and 72 animals. Her latest book,

Toujours la France: Living the Dream in Rural France, is out now on Amazon

and all good book shops.

118 | The Good Life France

EXCLUSIVE

Provençal Style

Drôme €695,000

Ref: A14811 - Beautiful 4 bedroom villa

with excellent view, garden and pool.

Agency fees paid by seller.

Mayenne €249,000

Ref: A15134 - Former 1868 presbytery

with scope to expand.

Agency fees paid by seller.

EXCLUSIVE

Sought after Location

Maine-et-Loire €149,875

Ref: A14058 - Pretty 18th century 2

bedroom cottage with garden, in a village.

9% agency fees included paid by the buyer.

Vienne €199,800

Ref: A14112 - Pretty 4 bedroom maison

de maître surrounded by fields.

8% agency fees included paid by the buyer.

EXCLUSIVE

Superb Property

Morbihan €230,050

Ref: A15421 - 3 Bedroom house with

gardens and room for a granny annexe.

7% agency fees included paid by the buyer.

Paris 75010 €549,000

Ref: A13934 - 2 Bedroom 55m² apartment

with a 10m² terrace.

Agency fees paid by seller.

EXCLUSIVE

Ideal Holiday Home

Haute-Vienne €149,000

Ref: A14008 - Partially renovated 3

bedroom 3 bathroom town property.

8% agency fees included paid by the buyer.

Lot €275,000

Ref: A14025 - 4 Bedroom house and barn

on the edge of the Quercy regional park.

5% agency fees included paid by the buyer.

EXCLUSIVE

Sitting Pretty

Creuse €125,350

Ref: A07373 - 3 Bedroom traditional

cottage with pool, in a quaint village.

9% agency fees included paid by the buyer.

Start your property search today!

+33 (0)5 53 60 84 88 leggettfrance.com info@leggett.fr

The Good Life France | 119
---
WE LOVE TO SHARE

JOIN US ON:

Subscribe to our weekly newsletter for a ray of sunshine from

France – just click the website link below

www.thegoodlifefrance.com