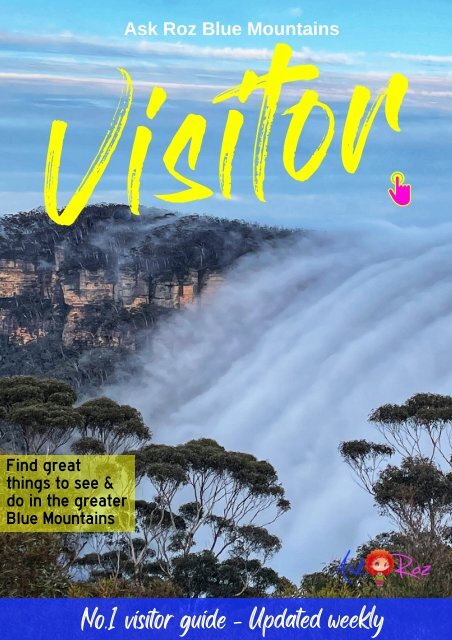 Blue Mountains Visitor eMag - 22-10-22
Create successful ePaper yourself
Turn your PDF publications into a flip-book with our unique Google optimized e-Paper software.
Ask Roz Blue Mountains

Visitor

Find great

things to see &

do in the greater

Blue Mountains

No.1 visitor guide - Updated weekly
---
A S K R O Z B L U E M O U N T A I N S

BLUE MOUNTAINS

ACKNOWLEDG

EMENT TO

COUNTRY

The Blue Mountains is located

within the Country of the

Dharug, and Gundungurra, and

peoples. Ask Roz, Blue

Mountains City Council, and The

Blue Mountains Visitor

Information Centres, recognises

that Dharug, and Gundungurra

Traditional Owners have a

continuous and deep connection

to their Country and that this is

of great cultural significance to

Aboriginal people, both locally

and in the region.

For Dharug, and Gundungurra

People, Ngurra (Country) takes

in everything within the physical,

cultural and spiritual landscape -

landforms, waters, air, trees,

rocks, plants, animals, foods,

medicines, minerals, stories and

special places. It includes

cultural practice, kinship,

knowledge, songs, stories and

art, as well as spiritual beings,

and people: past, present and

future.

VISITOR INFORMATION

The Blue Mountains is a special place of ancient landscapes, towering golden

hued stone escarpments, crashing waterfalls and magnificent eucalypts all set

among inspiring panoramas that will take your breath away.

With a spectacular environmental setting, the Blue Mountains is home to a

community of nearly 80,000 people living in 27 towns and villages located over

100 km of mountainous terrain.

Surrounded by World Heritage Listed wilderness, the Blue Mountains is a natural

wonder right on Sydney's doorstep.

With lookouts with sensational views of deep mountain troughs that seem to go

forever and waterfalls large and small there is plenty of amazing things to see and

do.

It is one of only two destinations in the world surrounded by a UNESCO-declared

World Heritage National Park.

It has ancient landscapes, towering golden hued stone escarpments, crashing

waterfalls and magnificent eucalypts all set among inspiring panoramas that will

take your breath away. You won't be disappointed.

Enjoy one of the Blue Mountains many bushwalks from easy strolls to hour long

hikes. Grab your bike and head onto one of the many mountain bike trails or just

grab a bite to eat and take it easy.

SUPPORT: Ask Roz Blue Mountains offer support via What'sApp

0414 592 690 - Message Only - Sunrise to Sunset - 7 days

Ask Roz, Blue Mountains City

Council, and The Blue

Mountains Visitor Information

Centres pay respect to Elders

past and present while

recognising the strength,

capacity and resilience of past

and present Aboriginal and

Torres Strait Islander people in

the Blue Mountains region.
---
INFORMATION

SUPPORT: Ask Roz Blue Mountains offer

7 day Sunrise to Sunset message only

support via What's App 0414 592 690

TRACK CLOSURES

National Parks - Council

VISITOR INFORMATION CENTRES

Glenbrook Visitor Information Centre

Great Western Highway, Glenbrook

7 days a week: Mon - Sat 8.30am - 3.30pm and Sun

8.30am - 3pm (closed Christmas Day) 1300 653 408

Echo Point Visitor Information Centre

Echo Point, Katoomba 1300 653 408

7 days a week, 9am - 4pm (closed Christmas Day)

Blue Mountains Heritage Centre, National Parks

Govetts Leap Road, Blackheath 02 4787 8877

Open 9am - 4.30pm daily

Lithgow Visitor Information Centre

1137 Great Western Highway, Lithgow

Tel: 02 6350 3230 - Open 9am - 5pm daily

Oberon Visitors Information Centre

44-48 Ross Street, Oberon

Tel: 02 6329 8210 - Open 9.30am - 5pm daily

Closed Christmas Day, Boxing Day, and New Years Day

____________________________________________

LISTEN to local Radio Stations

• Radio Blue Mountains 89.1FM

Community station

• 2LT 900AM (Lithgow)

READ the local Newspaper - Digital version

Blue Mountains Gazette

LATEST WEATHER

Click here for the latest Weather Bureau - BOM

Also HERE >>

Emergency - call: 000
---
&OLFNKHUHIRUPRUHLQIRUPDWLRQ
---
Discover

AND ENJOY

Within 60 seconds, you can find great things

to see and do in the Blue Mountains and

crate your own amazing bespoke interactive

digital eMag. Click the link below

Click here to make it happen
---
&OLFNKHUHIRUPRUHLQIRUPDWLRQ
---
&OLFNKHUHIRUPRUHLQIRUPDWLRQ
---
&OLFNKHUHIRUPRUHLQIRUPDWLRQ
---
D R E A M H O M E F O R T H E

S E R I O U S E N T E R T A I N E R

1 0 C O X S T R E E T , G L E N B R O O K

E X P R E S S I O N S O F I N T E R E S T

I N S P E C T I O N S B Y A P P O I N T M E N T

The renovations that have been completed to

the kitchen, both bathrooms, and laundry

create a sense of relaxed luxury and the

combination of timber flooring and quality

carpet throughout create a warm and inviting

ambiance to complete the exceptional

location and design of this home.

The outdoor area is definitely a place you want

to be when the sun shines, or as you relax at

the end of the day as the large balcony looks

over the rear of the property to the valley

below where you can watch the kids play or

just inhale the peace and quiet.

4 BDRM 4 BATH

1081

M2

P R O P E R T Y F E A T U R E S

This bespoke, split level home offers 4

bedrooms with built in robes and walk

in wardrobe to the main.

The luxurious master bedroom suite

occupies the top level of the floor plan

and offers a gorgeous brand new

ensuite with dual vanities.

The new kitchen offers both electric and

steam cooking, an induction cooktop,

double granite sink, dishwasher, ample

bench and storage space PLUS a walk-in

pantry.

MORE information

2/84-90 OLD BATHURST ROAD

EMU HEIGHTS, NSW, 2750

P 4760 0812 F 4744 3680

MERRICKPROPERTYGROUP.COM.AU
---
&OLFNKHUHIRUPRUHLQIRUPDWLRQ
---
TREE CHANGE

PROPERTIES
---
Premium Houseplants for the Blue Mountains.

Bring The Jungle supplies the best quality indoor rare tropical plants, related gifts &

homewares to the Blue Mountains Area and beyond. We also offer advice and workshops

on how to best care for your beloved houseplants. Are you ready to #BringTheJungle

34 Katoomba Street. Katoomba

Wed, Thur, Fri: 10:30 am - 4 pm • Sat: 10:00 am - Late • Sun: 10:00 am - 4pm
---
CELLAR DOOR

Saturday 11am - 5pm

Sunday 11am - 4pm

226 Aspinall Rd, Megalong Valley
---
&OLFNKHUHIRUPRUHLQIRUPDWLRQ
---
&OLFNKHUHIRUPRUHLQIRUPDWLRQ
---
&OLFNKHUHIRUPRUHLQIRUPDWLRQ
---
&OLFNKHUHIRUPRUHLQIRUPDWLRQ
---
&OLFNKHUHIRUPRUHLQIRUPDWLRQ
---
&OLFNKHUHWRJHW\RXUGLVFRXQW
---
&OLFNKHUHIRUPRUHLQIRUPDWLRQDQGGLUHFWLRQV
---
&OLFNKHUHIRUPRUHLQIRUPDWLRQ
---
&OLFNKHUHIRUPRUHLQIRUPDWLRQ
---
&OLFNKHUHIRUPRUHLQIRUPDWLRQ
---
&OLFNKHUHIRUPRUHLQIRUPDWLRQ
---
&OLFNKHUHIRUPRUHLQIRUPDWLRQ
---
&OLFNKHUHIRUPRUHLQIRUPDWLRQ
---
&OLFNKHUHIRUPRUHLQIRUPDWLRQ
---
&OLFNKHUHIRUPRUHLQIRUPDWLRQ
---
&OLFNKHUHIRUPRUHLQIRUPDWLRQ
---
&OLFNKHUHIRUPRUHLQIRUPDWLRQ
---
6WDUW\RXUZDONKHUH
---
&OLFNKHUHIRUPRUHLQIRUPDWLRQ
---
&OLFNKHUHIRUPRUHLQIRUPDWLRQ
---
&OLFNKHUHIRUPRUHLQIRUPDWLRQ
---
:DOOV/RRNRXW

:DOOV/RRNRXW%HOOV/LQHRI5RDG02817720$+16:

0RUHLQIRUPDWLRQ

7KLVLVDZRQGHUIXOORRNRXWRiHULQJJUHDWVYLHZVRIWKH*URVH9DOOH\7DNHWKH3HLUFHV3DVVWXUQRiDQG

3DUNWKHFDUDWWKHWRSFDUSDUNDQGIROORZWKHWUDFNRXWWRWKH:DOOV/RRNRXW

7KLVZDONRiHUVJUHDWYLHZVDQGORWVRIZLOGkRZHUV$RQHKRXUUHWXUQZDONWKURXJKKHDWKOHDGVWRDFOLi

WRSYDQWDJHSRLQWRYHUWKH*URVH9DOOH\

,WVDOVRNLGIULHQGO\EXWWDNHFDUHWKHUHDUHQRVDIHW\IHQFHV3+2726E\7UR\+RYHQGHQ3KRWRJUDSK\

7KH%OXH0RXQWDLQV%RWDQLF*DUGHQ

%OXH0RXQWDLQV%RWDQLF*DUGHQ02817720$+16:

0RUHLQIRUPDWLRQ

DPSP6XQGD\WR)ULGD\DPSP6DW3XEOLF+ROLGD\V&ORVHG&KULVWPDV'D\

7KLVKHFWDUHJDUGHQVLWVRQWKHVXPPLWRIDEDVDOWFDSSHGSHDNPHWUHVDERYHVHDOHYHOLQWKH

:RUOG+HULWDJHOLVWHG*UHDWHU%OXH0RXQWDLQV7KH*DUGHQLVKRPHWRDZRUOGFODVVFROOHFWLRQRISODQWV

IURPWKHFRROHUVRXWKHUQKHPLVSKHUH

'LVFRYHUDOOWKHWRXUVZDONLQJWUDLOVSODQWGLVSOD\VDQGQDWXUDODUHDVWKH%OXH0RXQWDLQV
---
0RXQW%DQNV

0RXQW%DQNV%HOOV/LQH2I5RDG02817720$+16:

0RUHLQIRUPDWLRQ

7KLVLVDQHDV\WRPHGLXPDSSUR[LPDWHO\KRXUZDON0RXQW%DQNVDWPHWUHVLVDEDVDOWFDSSHG

PRXQWDLQZKLFKLVDPRQJWKHKLJKHVWSHDNVRIWKH%OXH0RXQWDLQVDQGZDVQDPHGE\ERWDQLVW*HRUJH

&D\OH\DIWHUKLVERWDQLFDOEHQHIDFWRU6LU-RVHSK%DQNV0RXQW%DQNVZDVWKHIXUWKHVWSRLQWUHDFKHGE\

&DJH\LQKLVH[SHGLWLRQ

0RXQW%DQNVFDQEHVHHQIURPPRVWORRNRXWVDURXQGWKHULPRIWKH*URVH9DOOH\DQGIURP6\GQH\

PW

0HUPDLGV&DYH

0HUPDLGV&DYH%/$&.+($7+16:

0RUHLQIRUPDWLRQ

0HUPDLGV&DYHLVDVKRUWPZDONRiWKHHDVWHUQVLGHRI0HJDORQJ5RDGNPVRXWKRI6KLSOH\5RDG

LQWHUHFWLRQ

,WSDVVHVWKURXJKDQDUURZFOHIWDVLQJRHVGRZQLQWRWKHFDYHUQOLNHDPSKLWKHDWUH5HWXUQWKHVDPHZD\

0HUPDLGfV&DYHEHFDPHIDPRXVDIWHUEHLQJXVHGDVDORFDWLRQIRUWKHjOP0DG0D[%H\RQG

7KXQGHUGRPH

)LUVWSKRWRE\$QGUHZ%RVPDQ
---
0RXQW%ODFNKHDWK

%/$&.+($7+16:

0RUHLQIRUPDWLRQ

7KLVLVPXFKPRUHWKDQ\RXUDYHUDJHORRNRXW,WVRiWKHQRUPDOWRXULVWWUDLODQGLVZHOOZRUWKDYLVLW*R

KHUHKWWSVZZFRH[SHULHQFHVHDUWKZRUPGLVKZDWHU,WVDOVRDJUHDWELNHULGHIURP%ODFNKHDWK0RXQW

%ODFNKHDWKRiHUVYLHZVWRWKHQRUWKDQGZHVWRYHUWKH.DQLPEOD9DOOH\

,WVDJUHDWVSRWIRUDSLFQLFDQGLWVGRJRQOHDVKIULHQGO\7KHWUDFNWRWKHORRNRXWLVGLUWVRGULYHWRWKH

FRQGLWLRQV$WPLWLVWKHSHUIHFWSODFHWRUHOD[DQGZDWFKWKHVXQJRGRZQ,WRiHUVYLHZVWRWKH

QRUWKDQGZHVWWRWKH*UHDW'LYLGLQJ5DQJHRYHUWKH.DQLPEOD9DOOH\

7+,1.EHIRUH\RX7UHN

*UHDW:HVWHUQ+LJKZD\.$7220%$16:

0RUHLQIRUPDWLRQ

*RLQJEXVKZDONLQJ"6WD\VDIHE\SODQQLQJ\RXUWULSIRUDOOFRQGLWLRQVDQGWHOOLQJVRPHRQHDERXWLW7KLQN

%HIRUH
---
)DLUID[+HULWDJH:DONLQJ7UDFN

%OXH0RXQWDLQV+HULWDJH&HQWUH%/$&.+($7+16:

0RUHLQIRUPDWLRQ

)DPLO\DQGZKHHOFKDLUIULHQGO\)DLUID[+HULWDJHZDONLQJWUDFNRiHUVVXPPHUZLOGkRZHUVDQGVFHQLF

ORRNRXWVZLWKZDWHUIDOOYLHZVRYHU*URVH9DOOH\)DLUID[+HULWDJHZDONLQJWUDFNPHDQGHUVIURPWKH%OXH

0RXQWDLQV+HULWDJH&HQWUHWRWKHGUDPDWLFFOLiVDQGORRNRXWVRI*RYHWWV/HDSDW%ODFNKHDWK

7KLVHDV\ZDONLVSHUIHFWIRUIDPLOLHV7KHSDWKWKHQRSHQVXSWRIRUHVWRISHSSHUPLQWDQGVFULEEO\JXPV

GRWWHGZLWKJUDVVWUHHV,QHDUO\VXPPHU\RXPD\VHHWKHYLEUDQWUHGkRZHUVRIZDUDWDKVDVZHOODV

PDQ\RWKHUFRORXUIXOZLOGkRZHUVNPRQHZD\

:DOODFH%URV6WHDP7UDFWLRQ(QJLQH

%/$&.+($7+16:

0RUHLQIRUPDWLRQ

7KLVLVDQHDV\KRXUVUHWXUQDGYHQWXUHZDONIRUWKHIDPLO\ZLWKDELWRIKLVWRU\WKURZQLQ7KHjUVWP

RIWKHWUDFNLVHDV\DQGZLWKRXWDQ\VWHSV7KHODVWPLVDEXVKEDVK
---
:LQG(URGHG&DYH

:LQG(URGHG&DYH%/$&.+($7+16:

0RUHLQIRUPDWLRQ

7KHFDYHLVORFDWHGRQWKHHQGRI+DW+LOO5RDGDERXWPZHVWRI$QYLO5RFNRQ$QYLO5LGJH%ODFNKHDWK

)ROORZWKHVLJQIURPWKHFDUSDUNWRWKHFDYH$OORZPLQVIRUWKHUHWXUQZDON

7KHLQWHUHVWLQJFDYHLVIRUPHGE\DWDOODQGORQJVHFWLRQRIZLQGFDUYHGVWRQH7KHFDYHLVPXFKWDOOHUWKDQ

LWLVGHHSDQGWKHUHDUHVRPHQLFHURFNIRUPDWLRQV

1%7R)LQGJUHDWWKLQJVWRVHHDQGGRLQWKH%OXH0RXQWDLQVYLVLWZZZDVNUR]FRPDX

$QYLO5RFN/RRNRXW

$QYLO5RFN7UDFN%/$&.+($7+16:

0RUHLQIRUPDWLRQ

$QYLO5RFNZDVVRQDPHGDVWKLVURFNIRUPDWLRQUHVHPEOHVWKHVKDSHRIDQDQYLO%ODFNKHDWK&RXQFLOKDG

QDPHGWKLVURFNIRUPDWLRQ$QYLO5RFNLQWKHVDPH\HDUWKDWDQDFFHVVURDGZDVFRQVWUXFWHGWRWKLV

SLFQLFDUHD

,QDQDQYLOZDVGRQDWHGE\6WDQ0LOOHU&RPSDQ\6HFUHWDU\%UDGIRUG.HQGDOO,QGXVWULHV3W\/WG6WDQ

ZDVDQDUGHQWEXVKZDONHUDQGXVHGWRWDNHKLVKROLGD\VDW%ODFNKHDWK

$OORZPLQVIRUWKHUHWXUQZDON
---
&HQWHQQLDO*URYH*URWWR&DQ\RQ

&ROOLHUV&DXVHZD\%/$&.+($7+16:

0RUHLQIRUPDWLRQ

*RKHUHKWWSVZZFRH[WHULRUVJURXSLQJVJHQHUDWRUV

7KLVFLUFXLWZDONFRYHUVPDQ\RIWKHWUDFNVMXVWWRWKHZHVWRI%ODFNKHDWK7KHZDONIROORZVWKHFOLiOLQHV

ERWKDERYHDQGEHORZZLWKDPD]LQJYLHZVRIWKH.DQLPEOD9DOOH\URFNIHDWXUHVDQGZDWHUIDOOV7KHZDON

WDNHVLQDFURVVVHFWLRQRISODQWVZLWKGHjQHGFKDQJHVWKURXJKWKHFOLiSDVVHV

7KHZDONWDNHVKRXUVLVNOPFLUFXLWDQGLVDKDUGZDONLQJWUDFN

:($7+(5a%OXH0RXQWDLQVZHDWKHU

*UHDW:HVWHUQ+LJKZD\.$7220%$16:

0RUHLQIRUPDWLRQ

&/,&.WKHOLQNEHORZWRVHHWKHODWHVWGD\IRUHFDVWIRUWKHJUHDWHU%OXH0RXQWDLQV5HJLRQ

KWWSVZZZDVNUR]FRPDXEORJEOXHPRXQWDLQVGD\ZHDWKHUIRUHFDVW

$ERXW%OXH0RXQWDLQVZHDWKHU7KHFOLPDWHYDULHVZLWKHOHYDWLRQ$W.DWRRPEDPDERYHVHDOHYHO

VXPPHUDYHUDJHPD[LPXPWHPSHUDWXUHLVDURXQGcFZLWKDIHZGD\VH[WHQGLQJLQWRWKHVDOWKRXJKLW

LVTXLWHFRPPRQWRVHHPD[LPXPWHPSHUDWXUHVVWD\LQWKHWHHQVZKHQHDVWFRDVWWURXJKVSHUVLVW
---
9DQLPDQV/RRNRXW

.$7220%$16:

0RUHLQIRUPDWLRQ

9DQLPDQZDVDQ$PHULFDQSKRWRJUDSKHUEDOORRQLVWLQYHQWRUDQGDUWLVW&KHVWHU0HOYLQ9DQLPDQ

YLVLWHGWKH%OXH0RXQWDLQVLQ7KLVORRNRXWZDVQDPHGLQKLVKRQRXULQ

'HVFULEHGLQWKH6\GQH\0DLODV3HUKDSVWKHjQHVWSRLQWWRREWDLQDYLHZRIWKH7KUHH6LVWHUV

.DWRRPED)DOOVDQGWKH-DPLVRQ9DOOH\

3DUN\RXUFDUEHVLGHWKHROG.DWRRPED.LRVNDQGZDONLQ,WVDQHDV\ZDON

.DWRRPED&DVFDGHV

.$7220%$16:

0RUHLQIRUPDWLRQ

7KLVVKRUWZDONVWDUWVDW.DWRRPED&DVFDGHV3LFQLFDUHDRQ&OLi'ULYH7KHWUDFNKHDGVGRZQWRWKH

SRSXODU.DWRRPED&DVFDGHV7KHUHDUHVKDGHDQGVHDWVDWWKHEDVHRIWKHFDVFDGHV

)URPKHUH\RXFDQHLWKHUUHWXUQEDFNWRWKHFDUSDUNRUWDNHWKHZDONDURXQGWRWKH3ULQFHDQG3ULQFHVVRI

---
0LQQL+D+D)DOOV0LQQHKDKD)DOOV

0LQQL+D+D5HVHUYH&DU3DUN0LQQL+D+D5G.$7220%$16:

0RUHLQIRUPDWLRQ

0LQQLH+D+D)DOOVLVDJUHDWZDONIRUWKHIDPLO\DQG\RXUg%XFNHW/LVWh,WfVRQHRIWKHEHVWZDONVLQWKH

%OXH0RXQWDLQV7KHZDONLVQfWGLlFXOWDOWKRXJKWKHUHDUHPDQ\VWHSVDQGDIHZODGGHUV6LPSO\IROORZWKH

VLJQVIURPWKHFDUSDUNVWSKRWRZZZGDYLGQREOHQHW

7KHWUDFNGRHVJHWDOLWWOHPXGG\LQSDWFKHVDQGWDNHFDUHFORVHUWRWKHIDOOVDVWKHUHDUHPDQ\SODFHV

ZKHUHWKHUHDUHQRKDQGUDLOVDQGWKHURFNVFDQEHVOLSSHU\,QVXPPHU\RXFDQVZLPDWWKHEDVHRIWKH

IDOOV1RWIDULQWRWKHZDONWKHUHDUHIHZVSRWVWRKDYHDSLFQLFEHVLGHWKHFUHHN

7KHUDEXODW/RRNRXW

&RUQHU6WXDUWV5RDGDQG)DUQHOOV5RDG.$7220%$16:

0RUHLQIRUPDWLRQ

/RRNRXWIRUWKHVLJQ3DUN\RXUFDUZKHUH\RXFDQDWWKHHQGRI6WXDUWV5RDGDQGIROORZWKHWUDFNIRU

DERXWPLQ

/RRNRXWIRUDSRRUO\PDUNHGVLGHWUDFNWKDWZLOOWDNH\RXWRWKHORRNRXW3DUNLVOLPLWHG*2+(5(!!

KWWSVZZFRKXJJHGHQWHUWDLQHUVDWLQV

,I\RXfUHORRNLQJIRUDJUHDWgRXWRIWKHZD\hZDONWRGRFKHFNRXWWKLVZRQGHUIXOZDON
---
7KHUDEXODWDQG1RUWKV/RRNRXWV

&RUQHU6WXDUWV5RDG$QG)DUQHOOV5RDG.$7220%$16:

0RUHLQIRUPDWLRQ

7KLVLVDJUHDWRXWRIWKHRUGLQDU\HDV\ZDON3DUNDWWKHFRUQHURI6WXDUWfVDQG)DUQHOOfV5RDG.DWRRPED

+HUHKWWSVZZFRKXJJHGHQWHUWDLQHUVDWLQV3DUNLQJLVYHU\OLPLWHG$OORZPLQVIRUWKHNP

UHWXUQZDON+HDGRiDORQJWKH%RQQLH'RRQ7UDFN7KHjUVWORRNRXW\RXfOOFRPHWRLV7KHUDEXODWWKH

LQGLJHQRXVQDPHLV'KXUDEXOOD
---
&DWDOLQD3DUN5DFHZD\

*DWHV$YH.$7220%$16:

0RUHLQIRUPDWLRQ

7KHNPFLUFXLWZDVRSHQHGLQDQGUHPDLQHGLQXVHXQWLOWKHV,WZDVRULJLQDOO\XVHGIRUWRS

OHYHO0RWRUVSRUWLQFOXGLQJWRXULQJFDUVRSHQZKHHOHUVPRWRUF\FOHDQGVLGHFDUUDFLQJLQWKHV

7KHPRXQWDLQORFDWLRQZDVSUREOHPDWLFDOZLWKIRJFDXVLQJGHOD\VLQWKHUDFHSURJUDPVWKHWUDFNZDV

QDUURZE\WRGD\VVWDQGDUGVDQGVXUURXQGHGE\ZDOOV$UPFRUDLOLQJVDQGKLOOVLGH7KHFLUFXLWEHFDPHXVHG

OHVVZLWKWKHRSHQLQJRIRWKHUFLUFXLWVQHDUHUWR6\GQH\VXFKDV2UDQ3DUNDQG$PDURR3DUN

.DWRRPED9LVLWRU,QIRUPDWLRQ&HQWUH

,QIRUPDWLRQ&HQWUH(FKR3RLQW5RDG.$7220%$16:

0RUHLQIRUPDWLRQ

%OXH0RXQWDLQV9LVLWRU,QIRUPDWLRQ&HQWUHDW(FKR3RLQWLVDQDFFUHGLWHGLQIRUPDWLRQFHQWUHZLWKIXOO\

WUDLQHGVWDiZKRZLOODVVLVW\RXSODQ\RXUDFWLYLWLHVGXULQJ\RXUVWD\LQWKH%OXH0RXQWDLQVUHJLRQ

(YHU\WKLQJIURPORFDODWWUDFWLRQVHYHQWVDQGDGYHQWXUHDFWLYLWLHVWRGLQLQJRSWLRQVDQGDFFRPPRGDWLRQ

ZK\QRWWDNHDGYDQWDJHRIWKHIUHHERRNLQJVHUYLFHSURYLGHGGXULQJ\RXUYLVLWWRWKHFHQWUH

/RFDWHGDWWKH7KUHH6LVWHUVLQ.DWRRPEDRQWKHHGJHRIWKH%OXH0RXQWDLQV1DWLRQDO3DUNWKHYLHZVLQWR

WKH-DPLVRQ9DOOH\DUHVSHFWDFXODU
---
6SRRQHUV/RRNRXW

.$7220%$16:

0RUHLQIRUPDWLRQ

3DUN\RXUFDUDQGZDONWRWKH7RXULVW,QIRUPDWLRQ&HQWUHDW(FKR3RLQW7DNHWKHSDWKWRWKHOHIWRIWKH

,QIRUPDWLRQ&HQWUHWRZDUGWKH6LVWHUV$OPRVWLPPHGLDWHO\\RXOOVHHWKHWUDFNWR6SRRQHUV/RRNRXWRQ

WKHULJKW

7KHORRNRXWRYHUORRNV-DPLVRQ9DOOH\7R\RXUULJKW\RXFDQVHHWKH(FKR3RLQWORRNRXWDQGWRWKHOHIW\RX

FDQVHHRIWKH6LVWHUV7KHORRNRXWZDVQDPHGDIWHU(ULF6\GQH\6SRRQHU0DUFKd-XQH

ZKRZDVDQ$XVWUDOLDQSROLWLFLDQ

%OXH0RXQWDLQV0D[La6SRQVRUHG

.DWRRPED5DLOZD\6WDWLRQ.$7220%$16:

0RUHLQIRUPDWLRQ

$9$,/$%/(LQWKH%OXH0RXQWDLQVFDOO0D[L3DVVHQJHUV:KHHOFKDLU7D[L

ZKHHOFKDLUV%DE\&DSVXOHDYDLODEOH

/RFDOVORRNLQJDIWHUORFDOVDQG3UHERRNLQJVDUHDYDLODEOH)RUWKHFKHDSHVWWD[LFDWFKWKH0D[LLWV,OOHJDO

IRUXVWRFKDUJHPRUHWKDQDVPDOOWD[LIRUWRSDVVHQJHUV

5HOLDEOHIULHQGO\UHVSHFWIXODQGHlFLHQW
---
&DWDOLQD3DUNa/DNH

*DWHV$YH.$7220%$16:

0RUHLQIRUPDWLRQ

&DWDOLQD3DUNDQG/DNHLVRIJUHDWKLVWRULFDOVLJQLjFDQFHLQWKHKLVWRU\RIWKH%OXH0RXQWDLQV7RGD\\RX

FDQHQMR\DSLFQLFEHVLGHWKHODNHRUGRDZDONDURXQGWKHROG&DWDOLQD5DFHZD\FLUFXLW
---
(FKR3RLQW/RRNRXW

.$7220%$16:

0RUHLQIRUPDWLRQ

(FKR3RLQWORRNRXWLVWKHJDWHZD\WRPDQ\JUHDWZDONVDQGQDWXUHH[SHULHQFHVLQWKHDUHD,I\RXKDYH

WLPH3ULQFH+HQU\&OLiZDONFRQQHFWV(FKR3RLQWWR/HXUD&DVFDGHVDQGWDNHV\RXSDVWPDQ\VFHQLF

ORRNRXWVDORQJWKHFOLiHGJH7U\JRLQJGRZQWKH*LDQW6WDLUZD\WRJHWWRWKHWUDFNVEHORZWKHFOLiV

6WDQGLQJSURXGO\LQWKHODQGRIWKH*XQGXQJXUUDDQG'DUXJ3HRSOHWKHWUDGLWLRQDOFXVWRGLDQVRIWKLV

GHFODUHG$ERULJLQDO3ODFHWKHLPSRVLQJ7KUHH6LVWHUVLVEHVWVHHQIURP(FKR3RLQWORRNRXWRQWKHHGJHRI

WKHSODWHDXDERYH

(FKR3RLQWWR+RQH\PRRQ%ULGJH

.$7220%$16:

0RUHLQIRUPDWLRQ

3DUN\RXUFDUDQGZDONGRZQWKHSDWKWRWKHOHIWRIWKH,QIRUPDWLRQ&HQWUHXQWLO\RXUHDFKWKHORRNRXW

/DG\*DPH/RRNRXWRYHUORRNLQJWKHVW6LVWHUPLQV$QRWKHUJUHDWIDPLO\ZDON

%HVLGHWKHORRNRXW\RXOOVHHVWHSVJRLQJGRZQWR+RQH\PRRQ%ULGJH7KHZDONLVVKRUWDQGVWHHS

7KHYLHZIURPWKHEULGJHLVRXWVWDQGLQJ2QWKHZDON\RXSDVV6SRRQHUV/RRNRXW2UHDGHV/RRNRXWDQG

/DG\*DPH/RRNRXWHDFKKDVH[FHOOHQWYLHZV
---
)RVVLO5RFN

.$7220%$16:

0RUHLQIRUPDWLRQ

)RVVLO5RFNZDVQDPHGDIWHUZKDWZHUHWKRXJKWWREHIRVVLOVZLWKLQWKHURFNIRUPDWLRQ7KHIRVVLOOLNH

DSSHDUDQFHRIWKHIRUPDWLRQLVGXHWRZLQGZDWHUDQGOLPH

',5(&7,216

3DUN\RXUFDULQWKHUHVWDXUDQWFDUSDUNDQGORRNIRUWKH0RQXPHQWDFURVVWKHURDGIURPWKHUHVWDXUDQW

1HDUWKHUHLVDWUDFNOHDGLQJGRZQWRWKHORRNRXWDERXWPHWHUVDZD\%HFDXVHWKHORRNRXWIDFHVVRXWK

LWSURYLGHVJUHDWDOOGD\YLVWDV+HUHKWWSVZZFRKDQGZULWLQJVHDZHHGUHFHVV

6FHQLF:RUOG%OXH0RXQWDLQV

9LROHW6WUHHW.$7220%$16:

0RUHLQIRUPDWLRQ

6FHQLF:RUOGDW.DWRRPEDLQWKH:RUOG+HULWDJHOLVWHG%OXH0RXQWDLQVRI$XVWUDOLDRiHUVDUDQJHRI

H[SHULHQFHVIRXQGQRZKHUHHOVHRQHDUWK7KH+RPHRIWKH6&(1,&5$,/:$
---
0RXQWDLQV7DOHV.DWRRPEDDQG/HXUD

7KH0DOO/(85$16:

0RUHLQIRUPDWLRQ

/HXUDDQG.DWRRPED6WRU\WHOOLQJZDONLQJWRXUVWKURXJKWKHKLVWRULFDOYLOODJHVRIWKHEHDXWLIXO%OXH

0RXQWDLQV0D[LPXPRIJXHVWVZLWKZDONVGHSDUWLQJGDLO\PRUQLQJDQGDIWHUQRRQ3ULYDWHJURXSV

ZHOFRPH

0RXQWDLQV7DOHVRiHUVZHOOUHVHDUFKHGTXDOLW\ZDONLQJWRXUVRI8SSHU0RXQWDLQVYLOODJHV2XUWRXUVDUH

VORZSDFHGDQGLQWLPDWHZLWKDIRFXVRQGHOLYHULQJKLVWRU\WKURXJKWKHDUWRIVWRU\WHOOLQJ(DFKYLOODJHKDV

WKHLURZQXQLTXHVWRU\MRLQXVIRUDQHGXFDWLRQDODQGHQWHUWDLQLQJZDON

&DKLOOV/RRNRXWDQG%RDUV+HDG

.$7220%$16:

0RUHLQIRUPDWLRQ

&DKLOOV/RRNRXWRiHUVFRPPDQGLQJYLHZVRYHUWKH0HJDORQJ9DOOH\DQGLVDSRSXODUVSRWZLWK

SKRWRJUDSKHUVDWVXQVHWDVLWORRNVGLUHFWO\ZHVW

7KHORRNRXWZDVXSJUDGHGLQIROORZLQJDjUHLQ

7KHUHLVZKHHOFKDLUDFFHVVWR%RDUV+HDGORRNRXW1%7R)LQGJUHDWWKLQJVWRVHHDQGGRLQWKH%OXH

0RXQWDLQVYLVLWZZZDVNUR]FRPDX
---
(DJOH+DZN/RRNRXW

(DJOH+DZN/RRNRXW.$7220%$16:

0RUHLQIRUPDWLRQ

(DJOH+DZN/RRNRXWRiHUVFRPPDQGLQJYLHZVWRWKHHDVWRYHUWKH-DPLVRQ9DOOH\DQGRQWRWKH6LVWHUV

,QWKHDIWHUQRRQJLYHV\RXWKHFODVVLF6LVWHUVSRVWFDUGYLHZWKDWZHYHDOOVHHQ

*UHDWVSRWIRUVXQULVHDQGVXQVHWSKRWRV$WERWKVXQULVHDQGVXQVHWWKHFKDQJLQJFRORXUVRYHU0W6ROLWDU\

DUHDOVRYHU\EHDXWLIXO

1%7R)LQGJUHDWWKLQJVWRVHHDQGGRLQWKH%OXH0RXQWDLQVYLVLWZZZDVNUR]FRPDX

+RQH\PRRQ3RLQW/RRNRXW

.$7220%$16:

0RUHLQIRUPDWLRQ

7KLVLVDGRXEOHOHYHOORRNRXWWKDWRiHUVH[FHOOHQWYLHZVWRZDUG/HXUD
---
5HLGV3ODWHDX

5HLGV3ODWHDX.$7220%$16:

0RUHLQIRUPDWLRQ

5HLGV3ODWHDXRiHUVFRPPDQGLQJYLHZVRYHUWKH-DPLVRQ9DOOH\2USKDQ5RFNDQG.DWRRPED)DOOV
---
0RXQW9LFDQG0H6SRQVRUHG

*UHDW:HVWHUQ+LJKZD\028179,&725,$16:

0RUHLQIRUPDWLRQ

21/,1(6+233,1*21/
---
(YHUJODGHV+RXVHDQG*DUGHQV

(YHUJODGHV*DUGHQV(YHUJODGHV$YHQXH/(85$16:

0RUHLQIRUPDWLRQ

7KXUVGD\0RQGD\DPSP

7KH1DWLRQDO7UXVWEULQJV$XVWUDOLDVKHULWDJHDOLYHDW(YHUJODGHV*DUGHQV

'UDZLQJIURPWKHJUHDWWUDGLWLRQVRI(XURSHDQODQGVFDSHGHVLJQDVZHOODVWKHXQLTXH%OXH0RXQWDLQV

EXVKODQG(YHUJODGHVZLOOFKDUPZLWKLWVJUDFHDQGEHDXW\

&RQVWUXFWHGLQWKHVE\'DQLVKERUQODQGVFDSHJDUGHQHU3DXO6RUHQVHQLQFRQMXQFWLRQ

3L]]D6XEOLPH/HXUDa6SRQVRUHG

/(85$16:

0RUHLQIRUPDWLRQ

QSP'$
---
%ULGDO9HLO9LHZ/RRNRXW

/(85$16:

0RUHLQIRUPDWLRQ

7KH%ULGDO9HLO9LHZLVDVPDOOIHQFHGORRNRXWDWWKHEDVHRIDkLJKWRIVWDLUVLQWKHVRXWKZHVWFRUQHURI

/HXUD

7KHIDOOVDUHDERXWPDZD\DQGORRNLQJGRZQIURPWKHWRSWKH%ULGDO9HLOOLNHQHVVLVDSSDUHQW

3DUN\RXUFDULQWKHFOHDULQJDWWKHVLGHRI&OLi'ULYH7KHWUDFNVWDUWVDFURVVWKHURDGDWWKHEHQG*R

GRZQWKHWUDFNWRZKHUHLWMRLQVWKH3ULQFH+HQU\&OLi:DONDQGWXUQOHIW

(O\VLDQ5RFN/RRNRXW

(O\VLDQ5RFN/RRNRXW/(85$16:

0RUHLQIRUPDWLRQ

7KH(O\VLDQ5RFN/RRNRXWVRiHUVRPHRIWKHEHVWYLHZVLQWKH%OXH0RXQWDLQV7KHORRNRXWVDUHMXVWD

VKRUWZDONIURPWKHVWUHHW
---
:KDWVRQLQWKH%OXH0RXQWDLQV

*UHDW:HVWHUQ+LJKZD\/(85$16:

0RUHLQIRUPDWLRQ

)LQGJUHDWWKLQJVWRVHHDQGGRLQWKH%OXH0RXQWDLQV&OLFNRQWKHOLQNVEHORZIRUWKHPRVWFRPSUHKHQVLYH

OLVWRIHYHQWVLQWKH%OXH0RXQWDLQV$VN5R]LVWKHPRVWSRZHUIXODQGDFFXUDWHDFWLYLW\UHVRXUFHVDQG

DWWUDFWLRQVGLJLWDOUHVRXUFHDYDLODEOHLQ$XVWUDOLDDQGLVSURYLGHGDVDIUHHVHUYLFHWRXVHUV

:HDUH$XVWUDOLDfVSUHPLHUGLJLWDO9LVLWRU,QIRUPDWLRQ6HUYLFH7KH$VN5R]GLJLWDOSODWIRUPOHDGVWKHZD\LQ

SURYLGLQJGLJLWDOWRROVWKDWDOORZSHRSOHWRjQGJUHDWWKLQJVWRVHHDQGGR2XUDPD]LQJGLJLWDO$VN5R]

H0DJSODWIRUPLVZKHUH\RXFDQFUHDWHDEHDXWLIXOPDJD]LQHLQDPDWWHURIVHFRQGV

/HXUD&DVFDGHVZDON

6ROLWDU\&OLi'ULYH/(85$16:

0RUHLQIRUPDWLRQ

7KHZDONGRZQDORQJ/HXUD)DOOV&UHHNWRWKHPDLQFDVFDGHDUHDLVDZRQGHUIXOZDON$FFHVVWRWKH3LFQLF

DUHDLVE\IRRWRUELNH7KLVLVDJUHDWVSRWIRUDIDPLO\SLFQLF7KHWRSSLFQLFDUHDKDVZHOOVSDFHGSLFQLF

WDEOHVDQGORWVRIUXQDURXQGVSDFHIRUWKHNLGV

6LPSO\SDUNDQGIROORZ&OLi'ULYHGRZQWRWKH&DVFDGHV2QWKH6ROLWDU\5HVWDXUDQWHQGWKHUHLVD

ZRQGHUIXOQHZDOOZHDWKHURUDQJHSDWKWKDWOHDGVDOOWKHZD\WRWKHWRSSLFQLFDUHD5HWXUQWKHVDPHZD\

$OORZPLQVIRUWKHUHWXUQZDON
---
%ULGDO9HLO/RRNRXW

/(85$16:

0RUHLQIRUPDWLRQ

%ULGDO9HLO/RRNRXWRiHUVJUHDWYLHZVRIWKH-DPLVRQ9DOOH\0RXQW6ROLWDU\DQGEDFNWR%ULGDO9HLO)DOOV

$OORZPLQVIRUWKHUHWXUQZDON

7KHORRNRXWLVDFFHVVHGYLDWKH3ULQFH+HQU\&OLi:DON

---
2O\PSLDQ5RFN/RRNRXW

2O\PSLDQ5RFN2O\PSLDQ5RFN:DONLQJ7UDFN/(85$16:

0RUHLQIRUPDWLRQ

7KLVLVDVPDOORXWVWDQGLQJORRNRXWRQWKH3ULQFH+HQU\&OLi:DONWKDWLVDOVRDFFHVVLEOHIURP2O\PSLDQ

3DUDGHYLDDVKRUWZDONRUYLDWKH3ULQFH+HQU\&OLi:DON

7KHORRNRXWIDFHVVRXWKVRWKHYLHZLVEHVWDWVXQULVHDQGVXQVHW

+DYLQJVDLGWKDWWKHYLHZLVRXWVWDQGLQJDOOGD\

1%7R)LQGJUHDWWKLQJVWRVHHDQGGRLQWKH%OXH0RXQWDLQVYLVLWZZZDVNUR]FRPDX

8QGHUFOLb2YHUFOLb:DON

:HQWZRUWK)DOOV3LFQLF$UHD:(17:257+)$//616:

0RUHLQIRUPDWLRQ

7KLVLVDQH[FHOOHQWZDON7KHZDONLVDERXWNPDQGZLOOWDNH\RXEHWZHHQDQGKRXUV,WRiHUV

ZRQGHUIXOYLHZV3DFNDSLFQLFEHFDXVHWKHUHDUHDQXPEHURIJUHDWVSRWVWRHQMR\LW

7KLVZDONFDQEHVWDUWHGIURPDIHZVSRWV)RUWKLVOLVWLQJZHDUHVWDUWLQJIURPWKH)DOOV&DUSDUNDQGQRW

LQFOXGLQJWKH&RQVHUYDWLRQ+XW3DUN\RXUFDUDWWKH:HQWZRUWK)DOOV/RRNRXW&DUSDUNDQGWDNHWKH6KRUW

&XWWUDFNWRWKH&RQVHUYDWLRQ+XW:KHQ\RXJHWWRWKH&RQVHUYDWLRQ+XWKHDGGRZQWKH9DOOH\RIWKH

:DWHUVWUDFNDQGWDNHWKH2YHUFOLiWUDFN
---
3ULQFHV5RFN/RRNRXW

3ULQFHV5RFN/RRNRXW:(17:257+)$//616:

0RUHLQIRUPDWLRQ

3DUN\RXUFDULQWKHFDUSDUNDQGZDONGRZQWKHSDWKXQWLO\RXVHHWKHWUDFNJRLQJGRZQWRWKHORRNRXW

7KLVORRNRXWLVEHORZDQGEHWZHHQ-DPLVRQ/RRNRXWDQG:HQWZRUWK)DOOV/RRNRXW:HQWZRUWK)DOOV$OORZ

PLQXWHVIRUWKHUHWXUQZDON
---
.LQJV7DEOHODQG$ERULJLQDO3ODFH

:(17:257+)$//616:

0RUHLQIRUPDWLRQ

3DUN\RXUFDQDWWKHORFNHGJDWHDQGWDNHWKHZDONLQJWUDFNWRWKHULJKWRIWKHWUDFN$IWHUDERXWP

WDNHWKHWUDFNWRWKHULJKWDQGZDONXSWRWKHVLWH

.LQJV7DEOHODQG$ERULJLQDO3ODFHLVDFDPSLQJDQGPHHWLQJSODFHRIVLJQLjFDQFHWR*XQGXQJXUUDSHRSOH

7KH$ERULJLQDO3ODFHFRQWDLQVDVDQGVWRQHURFNSODWIRUPZLWKH[WHQVLYHJULQGLQJDQGRWKHUJURRYHVD

VKHOWHUZLWKURFNDUWDQGFRQWDLQLQJXQLTXHYHUWLFDOO\HQJUDYHGGHSLFWLRQVRINDQJDURRDQGELUGWUDFNV6RLO

GHSRVLWVDQGVWRQHVIRXQGGDWHEDFN\HDUV

:HQWZRUWK)DOOV/RRNRXW 3LFQLF*URXQG

:(17:257+)$//616:

0RUHLQIRUPDWLRQ

'ULYHRUZDONWRWKHHQGRI)DOOV5RDGDQGWXUQULJKWLQWR6LU+%XUUHOO'ULYH3DUN\RXUFDULQWKHFDUSDUN

DQGZDONGRZQWKHSDWKWRWKHQGORRNRXWZKLFKLVDERXWPDZD\WKLVSDUWRIWKHZDONLVZKHHOFKDLU

DFFHVVLEOH7KLVORRNRXWJLYHVOLPLWHGYLHZVRIWKHIDOOVDQGJUHDWYLHZVRI)HGHUDO3DVVDQGWKH-DPLVRQ

9DOOH\)URPKHUH\RXFDQKHDGGRZQWKHWUDFNWRWKHIDOOVWKLVSDUWLVQRWZKHHOFKDLUDFFHVVLEOH7KHUH

DUHRWKHUZDONLQJWUDFNVQHDUE\VREHVXUHWRKDYHDJRRGORRNDURXQG

7KHSLFQLFJURXQGVDUHULJKWQHDUWKHFDUSDUN3DUNLQJDWWKHZHHNHQGFDQEHGLlFXOWVRJHWWKHUHHDUO\
---
RYH%LWHV7KH)DOOVa6SRQVRUHG

6LU+%XUUHOO'ULYH:(17:257+)$//616:

0RUHLQIRUPDWLRQ

23(16DWXUGD\ 6XQGD\DPSP

/LO/RYH%LWHVLVDJRXUPHWPRELOHFDIHDQGFDWHUHURQDPLVVLRQWRGHOLYHUDZRUOGFODVVFRiHHDQG

VDQGZLFKH[SHULHQFH/LO/RYH%LWHVSURPLVHIUHVKIDVWDQGGHOLFLRXVFRiHHHDWVDQGWUHDWV

1RUWKRU6RXWK/DNHRU)DOOV3LFQLFRU%XVKZDON":HYHJRW\RXFRYHUHG7ZRJUHDWORFDWLRQVRQHJUHDW

SURPLVH'HOLFLRXV&RiHH(DWVDQG7UHDWVVHUYHGZLWKD6PLOH

:HQWZRUWK)DOOV/DNH

:(17:257+)$//616:

0RUHLQIRUPDWLRQ

:HQWZRUWK)DOOV/DNHZDVRULJLQDOO\FUHDWHGE\WKHGDPPLQJRI-DPLVRQ&UHHNWRVXSSO\ZDWHUIRUWKH

VWHDPUDLOZD\7KH/DNHLVQRZKRPHWRQDWLYHELUGVGXFNVFRRWVDQGLQWURGXFHGZDWHUIRZOQDWLYHjVK

VXFKDV*XGJHRQVZDWHUEXJVLQFOXGLQJIUHVKZDWHUFUD\jVKIUHVKZDWHUVKULPSDQGGUDJRQkLHV

,WLVDOVRDSRSXODUSLFQLFVSRWZLWKEDUEHTXHIDFLOLWLHV:HQWZRUWK)DOOV/DNH5HVHUYHKDVDSLFQLFDUHDDQG

FKLOGUHQVSOD\JURXQGVDQGWKURXJKRXWWKHSDUNWKHUHDUHVDQGVWRQHVFXOSWXUHVEDVHGRQVHHGSRGVRI

QHDUE\ORFDOSODQWV
---
5RFNHW3RLQW

:HQWZRUWK)DOOV3LFQLF$UHD:(17:257+)$//616:

0RUHLQIRUPDWLRQ

:LWKLQFUHGLEOHZDWHUIDOOYLHZVDQGVSHFWDFXODUELUGZDWFKLQJWKLVVKRUWZDONLQJWUDFNZLOOWDNH\RXWRWKH

HGJHTXLWHOLWHUDOO\,GHDOIRUEXVKZDONHUVZKRDUHVKRUWRQWLPHEXWKXQJU\IRUDGYHQWXUHWKLVPRGHUDWH

WUDFNRYHUODSVVHYHUDOLFRQLFZDONLQJWUDFNV

67$57,1*DW:HQWZRUWK)DOOVSLFQLFDUHDZDONDFURVVWKHWRSRIWKHDFWXDOIDOOVDQGFRQWLQXHRQIRUDERXW

PLQXWHVXQWLO\RXVHHDVLJQRQWKHOHIWWR5RFNHW3RLQW7DNHWKDWWUDFNXSWKHKLOOIRUDERXWPLQXWHV

XQWLO\RXJHWWRWKHORRNRXW5HWXUQWKHVDPHZD\$SSUR[KRXUIRUWKHUHWXUQZDON

1RUPDQ/LQGVD\*DOOHU\ 0XVHXP

1RUPDQ/LQGVD\*DOOHU\DQG0XVHXP)$8/&21%5,'*(16:

0RUHLQIRUPDWLRQ

7UDGLQJKRXUV

7KXUV6XQDPSP

&HOHEUDWH$XVWUDOLDQ$UWDQG/LWHUDWXUHdYLVLWWKH1RUPDQ/LQGVD\*DOOHU\KRPHRIe7KH0DJLF3XGGLQJf

7KH1RUPDQ/LQGVD\*DOOHU\DW)DXOFRQEULGJHLVWKHKRPHRIWKH0DJLF3XGGLQJDQGGLVSOD\VWKHZRUNRI

DUWLVWDQGZULWHU1RUPDQ/LQGVD\5XQE\WKH1DWLRQDO7UXVWWKHVDQGVWRQHFRWWDJHDQG

ODQGVFDSHGJURXQGVDUHRSHQGD\VDZHHNDQGWKHUHLVDVSHFLDOLVWJLIWVKRSDQGFDIH
---
Prince Henry Cliff Walk, Katoomba

The view from Reids Plateau, Katoomba
---
8QGHUFOLb2YHUFOLb:DON

:HQWZRUWK)DOOV3LFQLF$UHD:(17:257+)$//616:

0RUHLQIRUPDWLRQ

7KLVLVDQH[FHOOHQWZDON7KHZDONLVDERXWNPDQGZLOOWDNH\RXEHWZHHQDQGKRXUV,WRiHUV

ZRQGHUIXOYLHZV3DFNDSLFQLFEHFDXVHWKHUHDUHDQXPEHURIJUHDWVSRWVWRHQMR\LW

7KLVZDONFDQEHVWDUWHGIURPDIHZVSRWV)RUWKLVOLVWLQJZHDUHVWDUWLQJIURPWKH)DOOV&DUSDUNDQGQRW

LQFOXGLQJWKH&RQVHUYDWLRQ+XW

3ULQFHV5RFN/RRNRXW

3ULQFHV5RFN/RRNRXW:(17:257+)$//616:

0RUHLQIRUPDWLRQ

3DUN\RXUFDULQWKHFDUSDUNDQGZDONGRZQWKHSDWKXQWLO\RXVHHWKHWUDFNJRLQJGRZQWRWKHORRNRXW

7KLVORRNRXWLVEHORZDQGEHWZHHQ-DPLVRQ/RRNRXWDQG:HQWZRUWK)DOOV/RRNRXW:HQWZRUWK)DOOV$OORZ

PLQXWHVIRUWKHUHWXUQZDON
---
0LOH+ROORZ6SRQVRUHG

JUHDW:HVWHUQ+LJKZD\:22')25'16:

0RUHLQIRUPDWLRQ

23(1:HG)ULDPSP6DW6XQDPSP

)DPLO\RZQHGDQGRSHUDWHGE\DEXQFKRI3DUUDPDWWD(HOVWUDJLFV,QFUHGLEOHFRiHHDPD]LQJIUHVKIRRG

DQGDUHOD[HGDQGIULHQGO\DWPRVSKHUH&RPHDQGFKLOOZLWKXVDQGIHHOIUHHWREULQJ\RXUGRJJR

7KHFDIHLVRSHQIRUGLQHLQRUWDNHDZD\DQGRiHUVDGHOLFLRXVUDQJHRIEUHDNIDVWPRUQLQJWHDOXQFKDQG

DIWHUQRRQWHDJRRGLHV

(GLWKDQG0DEHO)DOOV

0RXQW9LHZ$YHQXH:22')25'16:

0RUHLQIRUPDWLRQ

7KLVLVDQHDV\NPZDONWKDWLVSDUWRIWKHORQJHU7UDQVLWRI9HQXVZDON3DUN\RXUFDULQWKHFDUSDUN

DQGWDNHWKHWUDFN

7KHYDOOH\kRRUKDVWKHPRVWEHDXWLIXOJLDQW6FULEEO\*XPV%RWKIDOOVQRUPDOO\KDYHDORZZDWHUkRZVR

IRUEHVWLPDJHVYLVLWDIWHUVRPHUDLQ
---
(GLWKDQG0DEHO)DOOV

0RXQW9LHZ$YHQXH:22')25'16:

0RUHLQIRUPDWLRQ

7KLVLVDQHDV\NPZDONWKDWLVSDUWRIWKHORQJHU7UDQVLWRI9HQXVZDON3DUN\RXUFDULQWKHFDUSDUN

DQGWDNHWKHWUDFN

7KHYDOOH\kRRUKDVWKHPRVWEHDXWLIXOJLDQW6FULEEO\*XPV%RWKIDOOVQRUPDOO\KDYHDORZZDWHUkRZVR

IRUEHVWLPDJHVYLVLWDIWHUVRPHUDLQ
---
Click here for more information
---
&OLFNKHUHWROHDUQPRUHDERXW/RYH/RFDO