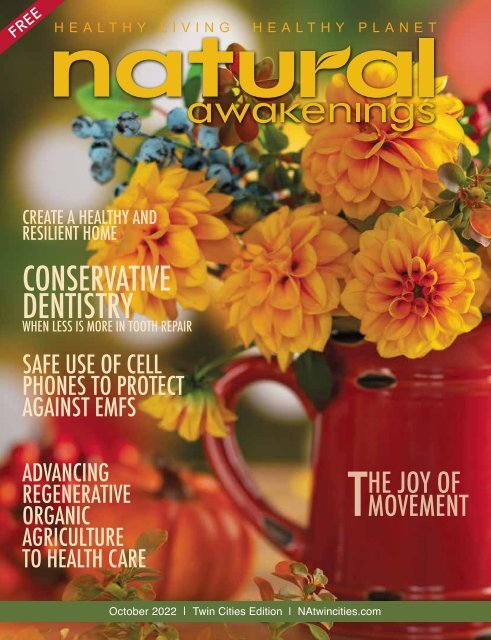 Natural Awakenings Twin Cities October 2022
Read the October 2022 edition of Natural Awakenings Twin Cities magazine. This is our annual Healthy Planet Issue which features articles on sustainable sanctuaries, safe use of cellphones dancing to boost health, climate change, monarch butterflies, conservative dentistry and so much more! Be sure to check out our local content, including News Briefs announcements, Community Resource Guide with providers throughout the metro who can meet your individual wellness needs, and all the happenings in the Calendar of Events. There is additional online-only content that can be found at NATwinCities.com.
Read the October 2022 edition of Natural Awakenings Twin Cities magazine. This is our annual Healthy Planet Issue which features articles on sustainable sanctuaries, safe use of cellphones dancing to boost health, climate change, monarch butterflies, conservative dentistry and so much more!

Be sure to check out our local content, including News Briefs announcements, Community Resource Guide with providers throughout the metro who can meet your individual wellness needs, and all the happenings in the Calendar of Events. There is additional online-only content that can be found at NATwinCities.com.
SHOW MORE
SHOW LESS
Create successful ePaper yourself
Turn your PDF publications into a flip-book with our unique Google optimized e-Paper software.
FREE

HEALTHY LIVING

HEALTHY PLANET

CREATE A HEALTHY AND

RESILIENT HOME

CONSERVATIVE

DENTISTRY

WHEN LESS IS MORE IN TOOTH REPAIR

SAFE USE OF CELL

PHONES TO PROTECT

AGAINST EMFS

ADVANCING

REGENERATIVE

ORGANIC

AGRICULTURE

TO HEALTH CARE

THE JOY OF

MOVEMENT

October 2022 | Twin Cities Edition | NAtwincities.com
---
The The Online Self-Paced

"Armor" Meditation

Course

Empower yourself

an — with an —

Armor

of Clear, Calm

Energy ... ...

Energy ...

... in just 10-20 minutes.

OJAYA OJAYA Deep Deep Meditation — the the Ancient Ancient Anti-Stress,

Anti-Stress,

Anti-Anxiety Meditation .

Anti-Anxiety Meditation . . for Healthy, for Youthful Healthy, Aging

Youthful Aging

P ROFOUNDLY easier and far far more potent than

ROFOUNDLY guided guided meditations, easier and mindful far more practices, potent or than

tedious tedious guided

efforts efforts meditations,

to to "watch "watch mindful

your your breath," practices,

the the ancient or

tedious

OJAYA OJAYA efforts

Deep Deep to Meditation "watch your "Armor" breath," technique the ancient

OJAYA

quickly

quickly Deep

settles

settles Meditation

you

you

into

into

a

a

calm

calm "Armor"

state

state technique

of

of

deep,

deep,

quickly

blissful,

blissful, settles

rejuvenating

rejuvenating you into

rest.

rest. a calm state of deep,

It's

It's

totally

totally

effortless,

effortless,

and

and

blissful, so powerful rejuvenating that you rest. do not It's need totally effortless, meditate long and

so powerful that you do not need to meditate long

so hours. powerful Just that 10-20 you minutes do not attacks need to and meditate dissolves long the

hours. Just 10-20 minutes attacks and dissolves the

hours. deep Just roots 10-20 of anxiety, minutes lethargy attacks and and stress. dissolves Brain fog the

deep roots of anxiety, lethargy and stress. Brain fog

deep evaporates roots of and anxiety, your vital lethargy energies and stress. get recharged Brain fog in

evaporates and your vital energies get recharged in

evaporates and your vital energies get recharged in

2 Twin Cities Edition NAtwincities.com

Empower

Empower

yourself

yourself at:

at:

Empower yourself at:

—

— OJAYA.COM —

OJAYA.COM —

OJAYA is the first and only

OJAYA is is the the first first and and only only

method I can method

that

that

I can

I can

actually

actually

feel the effects when I I

feel the effects when I

meditate. — Zoe Gordon,

meditate. — Zoe Gordon,

Hoover, Alabama

Hoover, Alabama

★★★★★

★★★★★

mere minutes — the perfect antidote to to the the fatigue

and mere frenzy minutes of life — in the

in the perfect real world antidote , , , , and to

and a the

a rare fatigue

rare

ancient and frenzy beauty of life secret in the for real

for healthy world youthful , , , and aging. a rare

aging.

ancient OJAYA beauty makes secret you you strong for healthy

strong from from the youthful

the inside inside — aging.

so so

you

you OJAYA can

can

get makes

get

out

out

there you strong from the inside — so

there

and

and

do

do

something

something

great.

great.

you Closely can get out there and do something great.

Closely

guarded

guarded

for

for

generations,

generations,

these

these

classic

classic

secrets Closely of guarded the OJAYA for "Armor" generations, technique these are classic now

secrets of the OJAYA "Armor" technique are now

revealed secrets of to the you OJAYA on our exquisitely "Armor" technique beautiful are videos now

revealed to you on our exquisitely beautiful videos

— revealed produced to you with on love our in exquisitely the Earthborn beautiful Rainforest. videos

produced with love in the Earthborn Rainforest.

— produced Learn OJAYA with love on our in site the — Earthborn start now Rainforest. free.

Learn OJAYA on our site start now free.

Learn OJAYA on our site — start now free.

The not-for-profit School of OJAYA Deep Meditation in the Earthborn Rainforest / US Tel. 641-472-3300

The not-for-profit School of OJAYA Deep Meditation in the Earthborn Rainforest / US Tel. 641-472-3300

The not-for-profit School of OJAYA Deep Meditation in the Earthborn Rainforest / US Tel. 641-472-3300
---
Defend What Matters Most

with SP Children's Immune

Help the immune system stand up for itself with SP Children's Immune — the first children's product from

Standard Process ® . It delivers key nutrients for proper immune system functioning and development. * It can

help protect their wellness to keep them on the path to optimal health.

NEW!

Is an excellent source

of vitamin D, zinc, and

antioxidant vitamin C

Everyday support

with elderberry and

prebiotic 2'-FL

Includes organic,

whole food-based

ingredients: beet root,

elderberry, and strawberry

Chewable supplement

Find a health care professional who offers Standard Process

products at standardprocess.com/Find

*These statements have not been evaluated by the Food and Drug Administration.

These products are not intended to diagnose, treat, cure, or prevent any disease.

©2022 Standard Process Inc. All rights reserved. LN02777 08/22

standardprocess.com
---
HEALTHY LIVING HEALTHY PLANET

TWIN CITIES EDITION

Publisher Candi Broeffle

Editors Cheryl Hynes

Randy Kambic

Ad Sales Candi Broeffle

Design & Production Sara Shrode

CONTACT US

P.O. Box 27617

Golden Valley, MN 55427

Ph: 763-270-8604

NAtwincities.com

SUBSCRIPTIONS

Subscriptions are available by sending $25

(for 12 issues) to the above address.

NATIONAL TEAM

CEO/Founder Sharon Bruckman

COO/Franchise Sales Joe Dunne

Layout & Design Gabrielle W-Perillo

Financial Manager Yolanda Shebert

Asst. Director of Ops Heather Gibbs

Digital Content Director Rachael Oppy

National Advertising Lisa Doyle-Mitchell

Administrative Assistant Anne-Marie Ryan

Natural Awakenings Publishing Corporation

4851 Tamiami Trail N., Ste. 200

Naples, FL 34103

NaturalAwakeningsMag.com

© 2022 by Natural Awakenings. All rights reserved.

Although some parts of this publication may be

reproduced and reprinted, we require that prior

permission be obtained in writing.

Natural Awakenings is a free publication distributed

locally and is supported by our advertisers. Please

call to find a location near you or if you would like

copies placed at your business.

We do not necessarily endorse the views expressed in

the articles and advertisements, nor are we

responsible for the products and services advertised.

Check with a healthcare professional regarding the

appropriate use of any treatment.

The evening air is crisp and clean followed by pleasantly warm

daytime temperatures, making it official—fall is in the air.

I have always loved the coziness of autumn. As children,

we would spend our weekends and after school helping our parents

bring in the fall crops and clean out the garden beds. We heated our

home with wood and the warm smell coming out of the chimney

always made me smile. We would often come in after spending hours

in the cold moist air, feeling the chill deep in our bones, to change into Candi Broeffle

dry clothes and sit by the fire as we sipped hot cocoa and laughed at

one of Dad's silly stories. It made all our work worthwhile.

Nowadays, I do not often smell wood burning, but when someone stokes their fireplace

and the neighborhood is enveloped in the smoky scent, it takes me right back to 1980.

The comfort, peace and security I feel in those moments is only broken by the sudden sense

of grief I feel knowing that I will never be able to call Mom or Dad to share the memories

they created in my childhood. It has been over a decade since I lost my parents, and though

the grief is no longer every day, it still shows up on a regular basis.

Prior to losing my parents, I extended my condolences to one of my parents' friends

who had recently lost his mother. This 70-year-old man who was easily six foot five inches

tall and well over 300 pounds, was reduced to a small child as he shared with me how he

was now an orphan. His mother passed in her 90s, and I remember feeling at the time what

an odd comment that was. He was not a child, and he had to know that his elderly mother

would not live forever.

Sadly, it wasn't until I lost my own mother, three years after my father's death, that I completely

understood what he meant. I was lost. Alone. Scared. I worried about who I would live

with if my husband and I got divorced, even though that was not even a conversation we were

having after nearly 25 years of marriage. It was completely disorienting.

I wanted to get back to my old self. I wanted to get rid of the pain and be happy again.

I tried all the things in my toolbox of self-development, but nothing worked. I sunk deeper

into grief. One phrase kept coming back to me. "You have to feel it to heal it." Eventually, I

stopped resisting and allowed the feelings to come. All of them.

It is one of the most difficult things I have ever done, feeling all the emotions that I had

been trying to tamp down. After many months, the "negative" emotions started to ease and

a broader array of emotions came back to me. Now, 10 years later, I am so grateful for that

time of grief. It has made me a more empathetic person, more understanding of others who

are fearful, depressed, apathetic, angry and overwhelmed.

It has also made me keenly aware of our culture cries of "pulling ourselves up by our

bootstraps", "getting over it", and "moving on" have damaged us as human beings. We are

a country—a world even—of hurting people who are unknowingly inflicting our pain on

others. Not honoring our grief, not allowing ourselves to feel it, means we can never truly

heal it. Now more than ever we must be willing to step into the ugliness, healing our own

injured souls, so we can make space for others to do the same.

I am not naïve and I will not try to convince you that everything will go back to how it

once was, because we can never go back to the time before our losses. We are different now.

Not better. Not worse. Just different.

Natural Awakenings

Magazine is ranked

5th Nationally in

CISION'S ® 2016

Top 10 Health &

Fitness Magazines

Natural Awakenings is printed on

recycled newsprint with soy-based ink.

In compassion,

Candi Broeffle, Publisher

4 Twin Cities Edition NAtwincities.com
---
Natural Awakenings is a network of holistic lifestyle

magazines providing the communities we serve with

the tools and resources to lead healthier lives on a

healthy planet.

Contents

14

13 SAFE USE OF CELL

PHONES TO PROTECT

AGAINST EMFS

13

14 SUSTAINABLE

SANCTUARIES

Supporting Human and Planetary

Health at Home

18

18 INEXPENSIVE

MARKETING IDEAS

THAT ACTUALLY WORK

20 CONSERVATIVE

DENTISTRY

Why Less is More in Tooth Repair

24

ADVERTISING & SUBMISSIONS

22 THE JOY OF MOVEMENT

Dancing Boosts our Health and Happiness

HOW TO ADVERTISE

To advertise with Natural Awakenings or request a

media kit, please contact us at 763-270-8604 or email

Publisher@NAtwincities.com. Deadline for ads: the 15th

of the month.

EDITORIAL SUBMISSIONS

Email articles, news items and ideas to:

Publisher@NAtwincities.com.

Deadline for editorial: the 5th of the month.

CALENDAR SUBMISSIONS

Email Calendar Events to: Publisher@NAtwincities.com.

Deadline for calendar: the 10th of the month.

REGIONAL MARKETS

Advertise your products or services in multiple markets!

Natural Awakenings Publishing Corp. is a growing franchised

family of locally owned magazines serving communities since

1994. To place your ad in other markets call 239-449-8309.

For franchising opportunities call 239-530-1377 or visit

NaturalAwakeningsMag.com.

24 NADINE CLOPTON

on Advancing Regenerative

Organic Agriculture to Health Care

DEPARTMENTS

6 news brief

8 health briefs

10 global briefs

12 eco tip

20 healing ways

22 fit body

24 wise words

25 crossword puzzle

26 calendar

28 resource guide

October 2022

5
---
GROW

YOUR BUSINESS

Secure this

ad spot!

Contact us for special

ad rates.

763-270-8604

news brief

Transforming Grief

to Reclaim Our Joy

The world is full of people grieving significant

losses; whether it's the loss of a

loved one, the end of a career or the need to

let go of a belief system, many are struggling.

Too often, they are told to think positively

and smile more, but what is really needed

is the ability to feel the pain in order to heal

it. This is the idea behind the innovative

day-long retreat, Reclaiming Joy: Healing Grief Together, taking place from 10-4pm on

December 4, at the Carondelet Center, in St. Paul.

Candi Broeffle, publisher of Natural Awakenings Twin Cities magazine and owner

of Composure Coaching, was called to create this event after many conversations with

friends and clients who were grappling to find support in their healing journey.

"So many people shared with me how they were looking for someone who could listen,

hold space with them as they deal with the ugly feelings that come with grieving, deep sadness,

anger and fear," explains Broeffle. "Instead, they are greeted with advice and the other

person's stories of loss. Some are even asked how long it will take them to get over it, as if it

is something that is just brushed off in a week."

Having a strong network of trusted professionals who work with grieving people on a

regular basis, Broeffle invited those experts who can provide attendees the opportunity to

do significant healing work in community with others facing similar troubles. Attendees

will learn techniques and exercises they can use immediately to begin the healing process.

"We are striving to provide a powerful experience unlike anything people have had in

the past," shares Broeffle. "It is time that we learn how to feel our pain and truly appreciate

the grieving process. After all, it wouldn't be so difficult if the people and opportunities we

lost weren't so very important to us."

Cost: $99 (registration opens Oct. 15). Location: Carondelet Center, 1890 Randolph Ave, St

Paul. For healing professionals that have products or services to share with the attendees of

this event, there will be a limited number of exhibitor booths available to purchase. For more

information including on how to become an exhibitor, call 763-270-8604 or email Candi@

ComposureCoaching.com. See ad, page 23.

Tooth by the Lake

HOLISTIC GENERAL DENTISTRY

Kari Seaverson DDS

John Seaverson DDS

1401 Mainstreet

Hopkins, MN 55343

952-475-1101

ToothByTheLake.net

Experience healthier dentistry

6 Twin Cities Edition NAtwincities.com
---
A Cooperative

of Private Practices

7550 France Ave S. Suite #200 | Edina, MN 55435

612-859-7709 | Bhakticlinic.com

Healthy Gums and Teeth

Neurofeedback

ADHD, Anxiety, TBI

Harness the power of

Red Light for a bright

healthy smile

Buy ONLINE BhaktiLabs.com

or CALL 612-859-7709

MicroCurrent Facial

everyone will notice...no one will know

Jessie Odishaw

MicroCurrent Technician

Non-surgical Facelift Facial

softens, smooths, volumizes, tones'

612-859-7709 Book online now at bhakticlinic.com

Guy Odishaw, NFP, CST

612-859-7709

GOdishaw@BhaktiClinic.com

of Edina

Kirsten Nelson DC

Chiropractor

General Wellness, Pre/Post Natal, Pediatric,

Auto Accident, Work Accident, DOT Physicals

612.200.9993 Dr.Nelson@PremierHealthMN.com

Energy Therapy

bhakticlinic.com

Healing

Balance

Release

CHRISTINA GREGORY

Reiki Master & Healing Touch Practitioner

innerkimcg@gmail.com

612.839.5255

HOLISTIC PSYCHOTHERAPY

for Individuals & Couples

Neurodegenerative Diseases

Shockwave Therapy For Every

Call Now for our FREE OFFER

www.amwave.org

Body

Fast Results. No Surgery. Drug Free.

Infrared light therapy, Neurotherapy,

Functional Medicine

Optimize Brain Health As You Age

- Muscle Pain

- Tendinopathy

- Back Pain

- Body Sculpting

- Sports Medicine

Your brain isn't just for thinking,

it runs every system in your body!

Treat it well and it will treat you well.

507-400-WAVE

Schedule your brain health consult NOW!

Myofascial Release Bodywork

MESSAGES@BHAKTICLINIC.COM

612-859-7709 | BHAKTICLINIC.COM

"Years of pain now diminished..."

October 2022

~R.S.

7
---
health briefs

Cordyceps Sinensis

Enhances Performance

in Distance Runners

A Himalayan fungus that has long been used in Traditional

Chinese Medicine, Cordyceps sinensis, attracted

global attention in 1993 when Chinese athletes broke

world records in track and field. To study its effects,

Brazilian researchers conducted a randomized,

double-blind, placebo-controlled study

in which they gave 30 amateur

marathoners two grams of the fungus

each day for 12 weeks. Compared to the

placebo group, those in the Cordyceps

group had significantly lower heart

rates at eight weeks and

improved aerobic

performance at

12 weeks.

Malignant Melanoma Linked

to Seafood Consumption

Eating higher amounts of

fish, specifically tuna

and non-fried fish,

appears to increase

the risk of malignant

melanoma, according to a

Brown University study of

491,367 U.S. adults published in the

journal Cancer Causes and Control.

Examining 15 years of data, the

researchers found that compared to

subjects with a median daily fish intake

of .11 ounces, those with a median

daily intake of 1.5 ounces had

a 22 percent higher risk of malignant

melanoma and a 28 percent increased risk of melanoma

in situ, characterized by abnormal cells in the outer layer

of the skin. "We speculate that our findings could possibly

be attributed to contaminants in fish, such as polychlorinated

biphenyls, dioxins, arsenic and mercury," says study

author Eunyoung Cho, an associate professor of dermatology

and epidemiology. Pending further research on the

underlying biological mechanisms, the authors did not

recommend any changes to fish consumption.

8 Twin Cities Edition NAtwincities.com

Viewing Art Online

Improves Well-Being

Art and music have long

been said to soothe the savage

soul, and hundreds of

studies have shown that

people's moods and sense of

well-being are improved by

everything from artwork displayed

in mental institutions

and offices to regularly

visiting art museums.

With the pandemic,

many museums began

offering extensive online tours and exhibits, and a new

study from the University of Vienna suggests that online

art can have the same effect as "real life" art.

Researchers tested 84 individuals that viewed Monet's

The Water Lily Pond and also photographs of a Japanese

bento box that included information on its traditions and

food preparation, such as might be found in a history

museum. Participants typically spent one to two minutes

with each viewing. Follow-up questionnaires found

that even a short online experience encouraged positive

states like serenity, happiness and stimulation, while also

lowering negative states like fear, anger, anxiety and loneliness.

Well-being effects are most pronounced, wrote the

authors, when "such content is beautiful, meaningful and

inspires positive cognitive-emotional states in the viewer."

Probiotic May

Increase Skin Moisture

Dry skin can afflict people

at any age, particularly

those living in dry climates,

and it is commonplace in

older people due to the

natural loss of oil glands.

Japanese researchers have

found a possible solution: a

probiotic originally fermented

from a Southeast Asian

rice-and-fish dish that

boosts skin moisture within

weeks. In a double-blind study, they tested 80 middleaged

adults with a supplement of heat-killed Lactiplantibacillus

plantarum probiotics for 12 weeks. They found the

supplement significantly increased skin water content and

reduced transepidermal water loss in the face, particularly

for seniors and those with the driest skin.

photo by NutraIngredients.com

Visualmind/AdobeStock.com

prot/AdobeStock.com

Oksana/AdobeStock.com
---
Supplements, Exercise

and Non-Western Diet

Lower Cancer Risk

bit24/AdobeStock.com

The critical importance

of simple lifestyle

strategies in cancer

prevention has been

borne out by two recent

endeavors.

In a five-year

study of 2,157

physically active

people over 70

from five European

countries, international

researchers found that 2,000 International Units a

day of vitamin D 3

and one gram a day of marine omega-3s,

plus a simple home-strength exercise program, reduced

the risk of invasive cancers by 61 percent. Researchers at

Brigham and Women's Hospital, in Boston, that analyzed

the diets and health outcomes of 134,775 people, found

that a Western-style diet rich in red and processed meat,

sugar, refined grains and carbohydrates was linked with

an E. coli strain prominent in colorectal cancer.

BETTER

MOVE

FREE

LIVE

NEW PRACTICE MEMBER SPECIAL

$49

CadenceChiroMN.com

Delivered right to your

mailbox for just

$25/year?

Yes, please!

Subscribe Today

Email

Publisher@NATwinCities.com

"My passion is to

be able to bring

that healing

modality to

people who

haven't

previously

had access."

Joyce Sobotta

Natural Breast Health Consultant

Published Author:

"Breast Health Is in Your Hands"

Contact Me!

JoyceSobotta.com | 715-828-0117

AromatherapyNaturesWay.com

Joyce@AromatherapyNaturesWay.com

Improve lives with a

massage therapy education.

nwhealth.edu/na-mt

October 2022

9
---
Luis/AdobeStock.com

global briefs

Save the Sequoias

The U.S. Forest Service is speeding efforts to protect giant

sequoias from wildfires; almost 20 percent of the ancient

trees have been destroyed by wildfire in the last two years.

They will thin the forest in and around sequoia groves

by removing brush and smaller trees from 13,000 acres

of national forest to protect 12 giant sequoia groves this

summer and conduct prescribed burns using the agency's

emergency authority under the National Environmental

Policy Act. Forest Service Chief Randy Moore says, "Without

urgent action, wildfires could eliminate countless more

iconic giant sequoias."

Giant sequoias can live for more than 3,000 years and

are found only on the western slopes of California's Sierra

Nevada mountains. The trees are adapted to fire with

thick, spongy bark, and the heat releases seeds from their

cones, allowing young trees to take root in areas cleared

by fire. A policy to put out wildfires as quickly as possible

has created unnaturally dense forests and allowed

brush and dead wood to accumulate. Climate change has

led to hotter temperatures, severe drought, a year-round

fire season and the proliferation of bark beetles that have

killed the drought-weakened trees. Bigger, hotter fires are

more likely to reach giant sequoias' crowns, killing them.

Global Network of Artists

Addresses Climate Change

The World Weather Network is an international coalition

of 28 arts organizations that believe artists and

writers should be a larger part of the dialogue surrounding

climate change. A creative team at each

weather station will conduct local programming on

the ground and post "weather reports" on the network

website over the course of the year. Project organizer

Michael Morris of Artangel (UK) says, "We want to see

what happens when artists and writers start to use their

imagination and lateral kind of abilities to think through

something which is difficult to think about." The project

will continue through June 2023.

The Fogo Island, Newfoundland, weather station that

sits in the Labrador current, an "iceberg alley" along

which melting ice travels, is focused on three different

ecosystems. Other stations are located in Peru and

London, where visitors can interact with a sound installation

called A Thousand Words for Weather at the

Senate House Library. One thousand words in 10 languages

describing various weather terms were recorded

and the weather outside the building as reported by

live updates alters the mix, velocity and volume, so that

on any day the experience will be completely different.

10 Twin Cities Edition NAtwincities.com

10 NA Edition/Location website address
---
thawats/AdobeStock.com

fotomaster/AdobeStock.com

Decontaminating Water

with Plant Waste Protein

Scientists have created a membrane using sunflower and

peanut oilseed meal that shows potential as a cheap, lowpower,

sustainable and scalable method to decontaminate

heavy metals from water. As published in the journal

Chemical Engineering, a research team led by Professor

Ali Miserez, of the Nanyang Technological University

(Singapore) School of Materials Science and

Engineering and School of Biological Sciences,

and visiting Professor Raffaele Mezzenga,

from the Department of Health Science and

Technology at the Swiss Federal Institute

of Technology, discovered that proteins

derived from the byproducts of peanut or

sunflower oil production can effectively

attract heavy metal ions. They demonstrated

that the process of attraction called adsorption

is able to purify contaminated water to a degree that

meets international drinking standards.

Miserez says, "Water pollution remains a major global

issue in many parts of the world. Heavy metals represent

a large group of water pollutants that can accumulate in

the human body, causing cancer and mutagenic diseases.

Current technologies to remove them are energy-intensive,

requiring power to operate, or are highly selective

in what they filter. Our protein-based membranes are

... viable for use throughout the world, and especially in

less-developed countries." They are exploring commercial

applications with the water filtration company BluAct.

International Plan to Rewild Large Mammals

Research underscores the importance of large mammals as ecosystem engineers, shaping

natural processes and sequestering carbon. Now scientists are planning to reintroduce

these animals to the wild. According to a study published in the journal Ecography,

reintroducing just 20 large mammal species—13 herbivores and seven predators—can

help increase biodiversity around the world and mitigate climate change. Some candidates

for rewilding are brown bears, bison, wild horses, jaguars, reindeer, Eurasian

beavers, elk, moose, wolverines, tigers and hippopotami. Large herbivores and

predators continue to suffer alarming losses, and researchers estimate that

almost two-thirds of the world's large carnivores are threatened

with extinction. Only 6 percent or less of 730 ecoregions retain the

large mammal communities that were dominant 500 years ago.

In the paper, a global team of researchers led by the U.N.

Environment Programme World Conservation Monitoring Centre

and the U.S. nonprofit RESOLVE point out that the rewilding

of large mammals is an essential, but often omitted component

of restoration efforts, and should become a global priority in the

decade ahead. Restoring intact communities of large mammals

won't be easy. Populations have feared large wild animals, especially predators,

often undertaking popular measures to minimize their numbers or eliminate

them completely.

Monarch Butterfly Now

Officially Endangered

The International Union for Conservation

of Nature (IUCN) Red List of

Threatened Species numbers

147,517 species, including 41,459

that are threatened with extinction. The

latest update adds the migratory monarch

butterfly, a subspecies of the monarch

butterfly (Danaus plexippus). In the

past decade, the native population

has shrunk by between 22 percent and 72

percent during winter migrations from Mexico and

California to summer breeding grounds throughout

the U.S. and Canada due to logging and deforestation

for agriculture and urban development. Pesticides and

herbicides kill butterflies and milkweed, the host plant

that the larvae of the monarch butterfly feed on. Drought

related to climate change limits the growth of milkweed

and increases the frequency of catastrophic wildfires, and

temperature extremes trigger earlier migrations before

milkweed is available, while severe weather has killed millions

of butterflies.

Possible remedies are planting native milkweed, reducing

pesticide and protecting the overwintering sites. IUCN

Director General Dr. Bruno Oberle says, "To preserve the

rich diversity of nature, we need effective, fairly governed,

protected and conserved areas alongside decisive action

to tackle climate change and restore ecosystems. In turn,

conserving biodiversity supports communities by providing

essential services such as food, water and sustainable jobs."

October 2022

11
---
eco tip

Silver Fillings:

Just ugly?

Or harmful too?

This is a picture

of a "Silver"

or "Amalgam"

filling. It is 50 -

52% MERCURY!

If the mercury in

this filling were spilled in a school,

it would be evacuated....

This is a picture

of a "light cured"

composite filling.

They can last as

long or longer

than mercury

fillings with no danger of releasing

harmful heavy metals.

As noted on Dr. Mercola,

Dr. Oz, and 60 Minutes...

Mercury fillings may have a

significant negative impact on your

overall health.

Make 2022 2017 YOUR year

for healthy choices!

Dr. Madelyn Pearson is the

current president of the

Holistic Dental Association and

has advanced training in safe

mercury removal.

Call or visit our website for

more info: (651) 483-9800

www.NaturalSmilesDental.com

The Helpful Nature

of Houseplants

Nestled among books on a shelf,

soaking up sunlight by a kitchen

window or filling the bare corner of a

living room, nothing adds beauty and

interest to a home quite like a living

plant. Bringing nature indoors also has

numerous human health advantages.

Benefits of Houseplants

They oxygenate the air. We inhale

oxygen and exhale carbon dioxide,

while plants do the opposite during

photosynthesis. This makes them

ideal air fresheners. At sundown,

when photosynthesis stops, most

plants go back to absorbing oxygen

and releasing CO 2

, except for orchids,

succulents and bromeliads, making

them wonderful bedside companions.

They eliminate toxins. Studies have

shown that plants filter indoor air,

removing volatile organic compounds

like benzene, xylene, toluene, trichloroethylene,

ammonia and formaldehyde,

which are commonly found in

furniture adhesives, paints, carpets,

chemical cleaners and craft supplies.

They humidify the indoor environment.

Through a process called

transpiration, moisture travels from

plant roots to small pores on the

underside of leaves, where it changes

to vapor and is released into the air. In

arid climates and during winter, this

creates a favorable indoor atmosphere

that decreases dry skin, colds,

sore throats, dry coughs and even the

transmission of the flu virus.

They enhance our mood. Research

shows indoor plants boost our mental

health. One study found that viewing

plants while recovering from surgery

led to physiological improvements by

lowering blood pressure and reducing

the perception of pain, anxiety and

fatigue. Also, the act of taking care of

plants has been shown to be emotionally

helpful.

They help with productivity. Placing

a philodendron by the computer

might be a good idea, as a number of

studies have shown that being close

to nature improves concentration,

memory and productivity.

Pet-Friendly Varietals

Some plants can be toxic to dogs and

cats, but here are a few that are perfectly

safe for our furry best friends:

rattlesnake plant, spider plant, parlor

palm, ponytail palm, African violet,

bird's nest fern, Venus flytrap, Boston

fern, polka dot plant, orchid, staghorn

fern, bromeliad, date palm and herbs.

Maintenance Tips

Watering: Over- or under-watering

are the most common houseplant killers,

but there are easy fixes. One is a

relatively inexpensive moisture meter

that helps monitor hydration levels in

a planter. Or simply stick a finger into

the soil and add water only when it is

dry one inch below the surface.

Low-light choices: Many plants

thrive indoors with partial, indirect

sunlight, and some are low-light tolerant,

including lucky bamboo, spider

plant, pothos, snake plant, staghorn

fern, English ivy, peace lily, maidenhair

fern, philodendron, anthurium,

corn plant and dragon tree.

Anna/AdobeStock.com

12 Twin Cities Edition NAtwincities.com
---
Safe Use of Cell Phones

to Protect Against EMFs

by Joyce Sobotta

Electromagnetic Frequencies (EMFs) are man-made frequencies that are affecting

every person. Very few people know about the many dangers they pose. The cumulative

effect of radiation from exposure to cell phones, Wi-Fi, cellphone towers,

microwaves, body scanners and mammogram scans are a fundamental concern.

There are many other devices that we use every day in our homes such as blow dryers,

electric toothbrushes, microwaves, laptops, tablets, smart TVs and smart meters that have

EMF radiation. It is essential to unplug electrical cords that are not being used.

Millions of people are wearing fitness tracking devices and smart watches that emit EMF

radiation. Manufactures deny harm coming from them, saying that the amount or EMFs is

insignificant. But the accumulation of so many sources should be concerning. Cell towers

with the new 5G emit higher levels of EMFs and raise additional havoc with our health and

immune systems. Studies have shown that cell phone towers and the use of cell phones are

emitting the highest amounts of EMFs.

Safe Use of Cell Phones

The National Research Council has reported that exposure to cell phone radiation may affect

the immune, endocrine and nervous systems, fetal development and overall metabolism.

Small lifestyle adjustments can be made to reduce potential risks associated with mobile

phone technology.

Minimize your risk by taking these precautionary measures: use speakerphone or a

safe headset. Keep the phone away from your head as much as possible. If you hold the

phone two inches away, the signal is about one-fourth the original strength. When possible,

hold the phone away until you connect or text. It limits the duration of exposure and keeps

the phone farther from your head and body.

Avoid weak signals. When the phone must work hard to find a signal, more radiation is

emitted. Use the phone outside when possible

and avoid use in basements, elevators

or a closed area like a parked car. Switch to

flight mode when not in use. Flight mode

turns off the wireless transmitter, thereby

reducing exposure to radiation fields. Avoid

use in a moving vehicle where the cell phone

antenna is constantly scanning for contact.

Carry it away from your body and never

in your bra. Position the keypad toward your

body and the back away from your body to

help direct the electromagnetic fields away

from you. Do not sleep near your cell phone.

Electromagnetic fields have been shown to

disrupt melatonin production. Sleep and

overall health are disrupted. Always charge

your phone in another room.

There is technology that reduces the effects

of EMFs on your body. Tachyon technology

is available in the form of pendants,

disks for computers and cell phones, and

cubes for electrical cords. This provides the

potential needed to create a balanced flow

of energy that will be unaffected by EMFs

and 5G technology.

Allow your body to absorb the natural

healing energy of the earth to help with

EMF exposure. Spend time outside in

nature—barefoot, if possible—near natural

bodies of water, working in the soil or hiking

in a woodland.

Joyce Sobotta is the founder

of the international business,

Healthy Girls Breast Oil, a

unique, effective essential oil

blend for breast health. She

offers consultations for

natural breast health and is

the author of Breast Health is in Your Hands,

Tips for Breast Vitality and Sensuality. For

more information, visit Aromatherapy

NaturesWay.com. See ad, page 9.

October 2022

13
---
SUSTAINABLE SANCTUARIES

SUPPORTING HUMAN AND PLANETARY HEALTH AT HOME

by Sandra Yeyati

Nothing underscored the importance

of a comfortable and

versatile sanctuary quite like the

pandemic. Stuck at home isolating, many

families reconfigured their living arrangements

to accommodate expanding uses for

work, schooling, cooking, entertainment

and more. Today, that spirit of renewal

lingers, prompting steady and robust activity

in the construction and interior design

industries.

A house is literally our shelter from the

storm, made more critical as we increasingly

encounter extreme and unprecedented

weather events due to climate change.

When we upgrade, remodel, build or buy

new cocoons for our families, the time is

ripe to incorporate elements that preserve

and promote the health of humans and the

planet.

Inspiring Goals

Lindsay Baker, CEO of the International

Living Future Institute (ILFI), is part of a

growing community of industry professionals trying to figure out how to design, build

and operate structures in more environmentally sustainable, socially impactful and

healthy ways. "We ask what would it look like if a building were to give back more to the

world than it took," she explains. "We're a resource-consumptive industry with a large

carbon footprint. Forty percent of global carbon emissions are caused by the energy required

to construct and operate buildings. We also use lots of materials that pose negative

impacts on people's health—products known to contain carcinogens or cause respiratory

problems—and people spend 90 percent of their time indoors, so everything we're

exposed to indoors has a huge impact on our health."

The ILFI Living Building Challenge

sets bold aspirational goals, and buildings

around the world have proven that it

is possible to hit these benchmarks. "The

energy imperative is that the building

produces more energy than it consumes,

and that happens by generating renewable

energy like solar power onsite and using

very little energy," Baker asserts. "For water,

we ask that everyone return the water

that goes through the building cleaner

than it entered, which means people need

to treat water onsite and use a lot less of it.

You can do that with composting toilets, as

well as grey water systems and rainwater

recapture strategies."

Photo courtesy of Pulte Homes at Babcock Ranch

Photo courtesy of International Living Future Institute

14 Twin Cities Edition NAtwincities.com
---
Baker is proud of ILFI's ambitious goals. "If you decide to do a renovation to save 5 or 10

percent of your water or energy consumption, it will feel good to get there, but what we've

found is that when you set a really exciting target for yourself, the whole process is more

fun and you get further with similar amounts of effort and money, because you're thinking

about systems differently, questioning assumptions about what a home might be capable

of doing and employing a different level of creativity. At the end of the day, it can lead to a

much more beautiful, more efficient building."

Energy Conservation

Energy conservation is job number one for Jennifer Languell, founder and president of

Trifecta Construction Solutions, in Babcock Ranch, Florida. "An inexpensive but impactful

upgrade is adding insulation. If you're in an existing house, add insulation on top of

what you already have. If you're new construction, beef it up. You also want to address

unwanted points of air infiltration using gaskets, weather stripping and caulking around

exterior doors and windows. Over time, these items can shrink or get damaged, and may

need to be replaced to seal the house and minimize air drafts," she says. "You want to improve

efficiency first, which costs much less than transitioning to renewable energy. And

when you do transition, you only have to buy smaller quantities of photovoltaic panels to

offset your power generation."

According to Languell, windows are climate-specific and can be modified by adding or

subtracting panes, coatings and treatments.

"In Montana, I want the heat from the sun

coming into my house, but in Florida, I

don't," she says. "Natural light is great, but

there's a balance between your glass-to-wall

ratio. In Florida, you would never have a

skylight, but up north you'd consider it.

And at this point, everyone should be transitioning

to LED lighting, which will save

money and energy."

Алексей Кочев/AdobeStock.com

modifications are low-flow shower heads,

toilets and faucets, which cost the same

as traditional-flow fixtures, as well as a

visit from the plumber to fix any leaks.

Minimizing or eliminating turf grass and

planting drought-tolerant, native vegetation

outside will also significantly cut water

use, Languell suggests.

"Grey water and rainwater collection

systems are gaining momentum, and these

systems for home use have come leaps and

bounds from where they were 10 years

ago," she says. "They can take water from

your laundry or shower, treat it, and use it

to flush toilets, for example—a huge benefit

for the West Coast and a huge water savings,

because you're using your water twice

before you dispose of it."

Eco-Responsible Materials

With regard to building materials and

products, the annual ILFI Red List calls

out chemicals with negative human health

impacts that shouldn't be used in buildings,

such as bisphenol A, chlorofluorocarbons,

formaldehyde, flame retardants, phthalates,

toxic heavy metals and volatile organic

compounds (VOC). Its Declare label is

like a nutrition sticker that details what is

in a building product, whether it is free

of Red List chemicals and what its carbon

footprint is.

"Consumers should demand transparency;

they should know what is in the

products put in their homes," Baker says.

"One of the rules of thumb I like to apply

is to ask, 'How far is this material removed

Water Preservation

As waterways dry up and areas around

the world become more drought-prone,

water conservation becomes an increasingly

important imperative. The simplest

Zstock/AdobeStock.com

October 2022

15
---
from nature?' Wood is one of the better

materials from an ecological and health

standpoint. Fake wood flooring that is

meant to look like wood but in fact isn't—

not so much. A lot of what we're supporting

is about getting back to the basics,

removing chemicals and using brick, wood

and clay."

According to Languell, the more durable

and local a material is, the better for the

environment. "I'd never say no to a metal

or concrete roof that lasts 50 years versus

shingles with a 15-year cycle. Although

bamboo is rapidly renewable, most of it

comes from China, so the greenhouse

gases associated with the transportation

makes it less environmentally friendly.

Local materials are ideal. The closer the

better. Get granite from Georgia, instead

of Italy."

When it comes to human health, home

décor and cleaning products are equally as

important as the construction materials,

Languell advises. "Many times we'll build

a healthy and efficient home and then

people put all sorts of fabrics and chemicals

in there that are off-gassing because

they're not thinking about the health of

the indoor environment."

Sustainable and Healthy

Furnishings

"There's good, better and best quality furniture,"

says Robin Wilson, a New York City

eco-designer and founder of Robin Wilson

Home. "Good might use inexpensive

wood or heavy-duty cardboards that look great, but if you sit on the arm of the sofa, it

caves in. Better might have a less expensive wood, but it's solid frame construction. The

best is a very good wood and solid frame construction made for heirloom quality. There

are costs associated with each level, and I recommend spending the most budget you

have on a quality product, because that sofa, if it's made well and it's styled in a classic

design, can be recovered over and over again; therefore, you're being eco-friendly to the

world because it's not going into a landfill."

Her favorite materials for furnishings are sustainably forested or reclaimed wood,

long-lasting metals like steel and aluminum, fast-growing bamboo and recycled or reclaimed

plastics. She's also a proponent of vintage pieces. "With all furniture, if it can be

salvaged, salvage it. Healthwise, make sure the materials are hyper-washed to protect you

from allergens. Old glazes or paints might have lead in them, so take vintage furniture to

a professional that uses the right safety equipment or go to YouTube University and make

sure that you protect yourself with gear to rework the piece in a garage or outdoor space.

Always choose nontoxic paints and stains with low to no VOCs."

Biophilic Design

Baker is particularly excited about interior design innovations that reconnect us

to nature, known as biophilic design. "Natural light is

important, but also, lighting manufacturers are figuring

out how to produce lighting that feels like you're sitting

outside in a forest while a cloud passes by or under a tree

with dappled light. Mohawk and Interface offer lowcarbon,

healthy carpets that mimic natural forms

like a rocky beach," she says. "Fractals are often

mentioned in biophilic design because they're

fascinating geometric compositions in nature like

fly wings and bark that have an inherent intelligence

to them, and we've come to understand

that these natural elements are not just interesting,

they also have measurable positive impact on

our psyche and mental health."

Durability

"I rate durability over everything else. If you

build it once and it doesn't get destroyed by a

Katecat/AdobeStock.com

Susan Vineyard/AdobeStock.com

16 Twin Cities Edition NAtwincities.com
---
natural disaster, you're going to generate less waste and use fewer

resources," Languell says. "Durability might mean fireproofing in

California, windproofing in Florida and floodproofing in Louisiana.

It also means futureproofing your home, especially if you're

building new. Anticipate technologies that are coming. Even if you

can't afford photovoltaic panels now, for a couple of bucks, you

can run electric conduit from your panel up to your roof so if ever

you decide to buy them, it's not a major overhaul of your house.

Dual-pipe your house and have the pipes ready to tie in rainwater

or grey water, even if it's not financially viable right now. Wire

your house for a 220-volt plug in your garage so everyone that has

an electric vehicle can charge it overnight."

Sandra Yeyati, J.D., is a professional writer and editor. Reach her at

SandraYeyati@gmail.com.

THIRD-PARTY CERTIFIERS

AND WEBSITES

n LEADERSHIP IN ENERGY AND ENVIRON-

MENTAL DESIGN (LEED) (usgbc.org) is the most

widely used green building rating system in the

world.

n SUSTAINABLE FURNISHINGS COUNCIL

(SustainableFurnishings.org) champions wood

from sustainable forests and elimination of toxins

in furniture; links to eco-responsible vendors.

n ENERGY STAR (EnergyStar.gov) certifies products

and offers guidance for efficient home solutions by

U.S. regions and climates.

n THE ASTHMA AND ALLERGY FOUNDATION

OF AMERICA (AsthmaAndAllergyFriendly.com)

certifies asthma- and allergy-friendly options for

insulation, air filters, flooring and paint.

n HOMEFREE (HomeFree.HealthyBuilding.net)

showcases less toxic options for flooring, paint,

drywall, countertops, cabinetry, doors, insulation,

sealants and more.

n WATERSENSE (epa.gov/watersense) offers guidance

by the U.S. Environmental Protection Agency

for water conservation and water-saving products.

n UNDERWRITERS LABORATORY (ul.com) certifies

safe and environmentally sound solutions in

renewable energy, building materials, consumer

electronics and home goods.

n INTERNATIONAL LIVING FUTURE INSTITUTE

(Living-Future.org) accredits industry pros and

certifies buildings that positively impact human

and natural health.

Health Coaching with Leah

Let's explore your vision for the future,

while fostering joy and satisfaction

along the way.

Schedule your free

consultation today!

Visionairium.com

Leah@Visionairium.com

C A L L N O W !

( 7 0 1 ) 2 1 2 - 2 8 0 0

ask for Karen

BEEF FOR

SALE!

Self- Care for the Soul

Nurture Yourself from Within

AnnetteRugolo.com

612-394-3736

RODEWALD

FARMS

Black Angus/Holstein cross

either grass fed, grass

finished; grass fed, grain

finished; or strictly corn fed.

$2.45 per pound

(hanging weight) - processing paid separately.

$5.85 or less/lb.

Estimated take home price

https://AnnetteRugolo.com/sessions/

Locally owned and independent since 1968!

Mastel's

HEALTH FOODS

EST. 1968

vitamins, minerals, supplements, herbs, grocery,

personal care, homeopathy, tcm

1526 ST. CLAIR AVENUE, ST. PAUL, MN 55105

T. 651-690-1692 • WWW.MASTELS.COM

OPEN WEEKDAYS 9-8 • SATURDAY 9-6 • SUNDAY 12-5

October 2022

17
---
Inexpensive Marketing

Ideas that Actually Work

by Laila De Guzman

Small businesses need to create a big impact with their marketing to stay ahead of the

competition. However, in most cases, they have a limited marketing budget, finding

it challenging to compete with bigger brands with a substantial marketing budget.

Though it is true that to make money one needs to spend money, small businesses can

still promote their brand effectively by being creative in their approach. Small enterprises

can do well in the market and attract potential customers by understanding their unique

selling proposition and making the elevator speech perfect. With the right approach, a

startup can build a strong brand and get the best bang for its limited budget.

Here are some budget-friendly yet effective ideas that a small business can implement

to improve their flow of traffic and money.

Strengthen Online Presence

Today, with the advancement of technology, marketers are using digital platforms to

promote their brands. Small businesses, too, should grab this opportunity and promote

YESologist Intuitive

Transformational Coach

Teacher Visionary

www.neaclare.com

IT'S TIME

TO LIVE YOUR

LIFE

Book your FREE

Discovery Session

today.

themselves through different digital platforms.

To start with, focus on building a

solid website that tells the visitor how the

business can improve their well-being.

In the digital world, a website gives a

face to the business and helps it connect

with its target audience(s). To make the

website content even more effective, publish

a blog on it. Blogging helps the marketer

share valuable information and address

their main points to the audience, thus

creating a larger market for the business.

Apart from website development, small

businesses can also opt for social media

marketing. It is one of the most effective

low-budget marketing plans that can help

startups to strengthen their bond with their

target audience and create an authority in

the market. Social media platforms like

Facebook, Twitter, Instagram and Linked-

In are excellent for promoting a business

through relevant and appealing content.

Create Engaging Content

One of the most effective ways to promote a

business is publishing relevant yet engaging

content. Businesses tight on marketing

budgets may focus on blogging as a costeffective

means to connect with potential

customers. Blogging costs only time. The

right blog content can improve a company's

rank on search engines and provide value

for its leads. The more quality content

published, the more opportunity to attract

potential customers to their businesses. Relevant

and problem-solving content builds

trust credibility with customers.

Print content is equally as important. It

is not as easy to be published in a reputable

publication, like local magazines and newspapers.

Those who are published are seen

by the reader as the expert in the field since

the content must be high-quality, relevant

and proven. Submitting articles with valuable

information for the reader and without

directly promoting the business gives the

best chance of getting published.

Opt for Search Engine

Optimization

Search Engine Optimization (SEO) is one

of the most effective contemporary marketing

techniques to grow a business organically.

It is one of the marketing types that

targets internet users who are looking for

a specific product or service. When done

right, SEO ranks a website higher on search

engine result pages and improves its overall

18 Twin Cities Edition NAtwincities.com
---
Small businesses struggle to create a big impact

in the market due to a limited marketing budget.

Read the blog to learn about inexpensive marketing

tips that truly work.

traffic. It focuses on creating informative

website content, title tags and meta

descriptions using relevant keywords.

Connect with the

Community

When it comes to marketing, most

businesses think of national campaigns.

However, if the company has a tight marketing

budget, it must opt for community

campaigns. Community campaigns such

as local SEO help to improve business cash

flow by targeting a local audience. Once

the business does well at the community

level and earns a decent profit, it can think

of large scale national campaigns for targeting

a larger audience base.

Create Winning Email

Marketing Campaigns

Another cost-effective way to promote

a business is email marketing. It helps

businesses to reach and engage new leads

irrespective of their location and time.

This is a great digital marketing strategy

to get in touch with new customers and

build stronger bonds with existing ones.

The costs involved to send emails to a huge

email list are minimal. Compared to other

digital marketing tactics, email marketing

takes much less time to get developed. It is

one of the most preferred marketing techniques

for good reason. Email marketing

is not only known for its cost-effectiveness,

but also for providing the best returns on

investment in a short span.

Ask for Referrals

Small businesses should be asking their

satisfied customers for referrals. Word of

mouth is one of the oldest marketing techniques

still celebrated amongst marketers.

Small businesses take advantage of their

customers' enthusiasm can acquire new

prospects from them. Brands can provide

incentives to people referring their business

or leaving positive reviews. Referral

marketing is an inexpensive way to bring

new leads and higher lead quality.

Apart from the above-mentioned

ideas, there are several more to promote a

business with a limited budget. One only

needs to think outside the box and be

creative to maximize the impact of their

marketing dollars. To improve return on

investment, a business can also consult

an experienced professional marketer or

agency for better traffic and cash flow.

Laila De Guzman is the

Facebook ad manager for

Partnering Up Virtual

Assistant Services. Partnering

Up takes pride in

helping small business

owners outsource their

tasks to top-notch trained and highly skilled

virtual and marketing assistants who can

help them automate their business. For

more information, visit PartneringUpVA.

com. See ad, page 30.

October 2022

19
---
healing ways

Conservative Dentistry

WHY LESS IS MORE IN TOOTH REPAIR

by Linda Sechrist

neonshot/AdobeStock.com

fizkes/AdobeStock.com

Whether dentistry is described as being conservative,

biological or biomimetic, the description that precedes

such health care is extremely important. That

10- or 12-letter term signifies a specific type of dentistry that's the

best option for both our teeth and the rest of our bodies, as Ann

Lee found out when the pieces to her dental puzzle fell together in

just the right order.

Lee, a naturopathic doctor and licensed acupuncturist who

owns the Health for Life Clinic, in Lancaster, Pennsylvania, had

been experiencing problems with her sinuses for years. She had

been alerted to a potential problem with one of her teeth via a

preventive tool known as medical infrared thermograph screening.

But it wasn't until after she read an interview with dentist

Blanche Grube in a naturopathic magazine about conservative

dentistry that she made the connection. She bought Grube's book,

Chew on This But Don't Swallow: A Must-Read Before Your Next

Dental Visit, and read it from cover to cover. Grube drew upon 46

years of clinical observation, continuing education conferences

and thousands of hours of study to analyze how the whole body

functions and what part teeth play in overall health.

Says Lee, "I had a capped tooth with metal underneath. Once

I got it removed, all the things connected to it resolved. My sinus

issues, post-nasal drippage, coughing, and even my trigeminal

neuralgia that I had for 10 years resolved." Trigeminal neuralgia

affects the nerves running from the face to the brain, causing electrical

shock sensations to the jaw and face that can be triggered by

stress or certain movements.

Today, when Lee suspects a correlation between the physical

problems a patient has with the amount of metal in their mouth

such as fillings, crowns and permanent retainers, she relates their

physical problems to metal oxidation and inflammation that can

manifest in numerous ways, and suggests that the patient read Grube's

book and consider any of the non-metal options now available.

Bernice Teplitsky, DDS, owner of Wrigleyville Dental, in

Chicago, interprets biological dentistry as dealing with the whole

person. "Both biological and conservative dentistry deal with

biocompatible materials, making sure that each is right for the

individual. Determining the compatibility of dental materials is

important for those who have existing allergies, because their

immune systems have already been compromised, and having to

20 Twin Cities Edition NAtwincities.com
---
Kateina/AdobeStock.com

CONSERVATIVE DENTISTRY

A dentistry branch whose goal is

to conserve the teeth in the mouth,

using operative practices, as well as

endodontics. It also involves various

types of direct and indirect restorations

of the individual teeth.

BIOLOGICAL DENTISTRY

Dental practices that utilize mercuryfree

and mercury-safe dentistry, the

impact of dental conditions, devices

and treatments on oral and systemic

health, including the biocompatibility of

dental materials and techniques.

BIOMIMETIC DENTISTRY

A type of tooth-conserving dentistry,

treats weak, fractured and decayed teeth

in a way that keeps them strong and seals

them from bacterial invasion; eliminates

cutting teeth down for crowns and

destructive root canal treatment.

deal with new allergies to dental materials

may only worsen their condition," she says.

Conservative dentistry involves removing

a minimum of healthy tooth structure

during the restorative process. By conserving

natural enamel and dentin, many of the

complications caused by excessive tooth

shaving and drilling are avoided. "Students

who went to dental school 15 years ago

weren't taught biological, biomimetic or

conservative dentistry, and they didn't have

the superior materials that we have today,"

says Teplitsky. "Unless they took continuing

education units that taught these

things, they didn't learn that traditional

approaches require unnecessary removal

of tooth structure and fail to replicate

the properties of natural teeth, leading

to major complications including root

canals, fractures and extractions. They

also didn't learn that what is going in the

mouth with the teeth and gums relates to

the overall condition of a person's health."

According to studies reported in

Science Direct, which offers the latest

peer-reviewed research papers, teeth

naturally have the optimal properties and

structure to withstand the many challenges

of the oral environment. Conservative

dentistry, with its innovative materials,

efficiently preserves this natural tooth

structure, particularly when combined

with early detection.

Linda Sechrist is Natural Awakenings'

senior staff writer.

Connect with your soul's

innate wisdom through

your Akashic Record

Discover who you were created to be

Receive healing from trauma

Create a purpose-filled life

BarbaraBrodsho.com 612-444-9751

October 2022

21
---
fit body

The Joy of Movement

DANCING BOOSTS OUR HEALTH AND HAPPINESS

by Marlaina Donato

Whether it's salsa, hip-hop, belly dance or

ballet, finding our groove has proven to

ease depression, support the cardiovascular

system and improve overall joint function. By

all accounts, dancing gives us a step toward better

health, but equally as noteworthy is its potential

to bring more fun into our lives. Contrary

to popular opinion, dancing is not just for

kids, and special ability is not necessary.

"You are never too old, and there is no

such thing as two left feet, but we can

also argue: When you have great instructors

teaching you, you can learn anything

as a beginner," says Monique Maldonado,

marketing director of the Latin Rhythms Academy

of Dance and Performance, in Chicago.

Brainy Benefits

Stepping into a dance studio can help us

enrich our lives while sharpening cognitive

function. After participating in an

eight-month dance program during

which they memorized intricate steps of

the merengue, salsa and samba, Spanish-speaking,

middle-aged and older

adults had significant improvement

in working memory scores, reported

University of Illinois Chicago

researchers in Frontiers in Aging

Neuroscience. "Just like working

out and puzzles, dancing works

out brain paths and keeps

them active and healthy,"

says Maldonado.

Tango lovers will be

pleased to know that the

passionate dance style has

22 Twin Cities Edition NAtwincities.com

been shown in a 2017 study published in

Complementary Therapies in Medicine to lower

anxiety and stress levels more effectively

than mindfulness meditation.

Individual Moves

Mike Hallworth teaches cruise

ship passengers, mostly in

their 60s and 70s, how to

navigate the dance floor.

"We teach all the main

dance genres, including

ballroom and Latin American,

salsa and mambo, along

with modern jive," says the Southport,

England-based, lifelong dancer

who teaches with his wife, Jan. "For

those not as agile as they would like

to be, I would suggest starting with

ballroom, social foxtrot and waltz,

then progress to Latin American, chacha

and rumba."

At age 75, he partially attributes his

basal metabolic rate of 60—common in

men 15 years his junior—to his love of dancing,

which "can burn up to 385 calories per hour

with salsa or 400 calories per hour with

swing," he notes.

Joan Price, a contemporary

line dance instructor in

Sebastopol, California, also

attests to the longevitypromoting

perks of moving

joyfully. "At 78, line dancing

keeps me physically fit,

mentally alert and happy to be

alive. The older we get, the more we

New Africa/AdobeStock.com
---
Broeffle, CPC

Candi

ComposureCoaching.com

need social activity, physical movement

and mental stimulation. You get all three

at once with line dancing."

The form has long outgrown its country-western

music roots and now offers

something for everyone, including Latin,

swing, contemporary pop and Broadway.

"Since you dance on your own in a row,

line dancing is ideal for singles and for

partners of non-dancers. It's also wonderful

for people who want a social activity

that doesn't involve dating or partnering,"

says Price. She says that there are

thousands of different line dances, ranging

from super-simple to extraordinarily

complex. "As a beginner, be sure and

choose a class that is beginning level,"

she says. "Beginning level teaches basic

steps, patterns and terminology—and the

joy of dance!"

For those looking for a little more heat,

Latin dance can accommodate any fitness

level. "If you are looking for a fun, new

"Being a part of any dance

community can truly be

life-changing."

~Monique Maldonado

hobby, any style is a fit, but if you are more

interested in advancing your salsa skill

level, trying mambo and cha-cha can be a

nice challenge," says Maldonado. "Sensual

bachata is for those who want a little more

spice and advanced body movement."

Hallworth often sees people approaching

dance with uncertainty and apprehension,

and he encourages an open mind:

"Dancing isn't for everyone, but if you

give it a chance, you will be well rewarded.

Most people learning to dance are a

friendly bunch and will help newcomers."

For Maldonado, it is also about shared

experience, which she feels is one of the

most beautiful aspects of Latin dance:

"It's a great, diverse group of people who

can change your outlook on life. Being a

part of any dance community can truly be

life-changing."

Brrraaavveeee Endeeeeaaavvorrr?

Are you ready for your

Coaching for those ready for

their next chapter of life:

Follow your dreams

Start a business

Become the person you

were destined to be

Call (763) 270-8604 today

I t ' s T i m e t o L i v e feeeeaaarrrlleeeesssslly

NEED BALANCE?

Start With Your Hormones!

Our Customized Programs Will Help:

Balance Hormones

Find The Root Cause

Increase Energy

for a free Discovery Session

Let's Talk Natural Wellness

In-depth interviews with natural health

professionals who share the latest

information for you to lead a

healthier, happier life.

Sleep Better

Improve Digestion

Clearer Skin

"I was having a hard time falling asleep AND WAKING

up with hot flashes every night! I was also having hot

flashes during the day. After 2 weeks on the nutrition

program, I am able to sleep through the night, I am not

experiencing hot flashes day or night!" -I.B.

Sundays from 10-11 am

Podcasts available at AM950Radio.com

Marlaina Donato is an author, composer and

painter. Connect at WildflowerLady.com.

October 2022

23
---
wise words

Nadine Clopton on

Advancing Regenerative Organic

Agriculture to Health Care

During the last century, the rise of

chemical-based agriculture has

severely changed the way food is

produced, and we have failed to recognize

its unintended consequences. Research has

revealed that if we continue on this path,

our soil will give out and we will be unable

to feed our children and grandchildren

within the next 60 years. Thankfully, there

is still time and positive transformation is

possible through regenerative organic agriculture,

which has its roots in Indigenous,

traditional, ecological knowledge.

by Kirby Baldwin

24 Twin Cities Edition NAtwincities.com

For more than 70 years, the Rodale

Institute has been on the leading edge of

the movement to promote a better, natural

and more responsible way of modern

farming by conducting research into the

cultivation of healthy, living soils. Today,

Nadine Clopton is advancing its related

efforts through regenerative health care.

Clopton has been an NGO youth representative

to the United Nations for more

than six years, was the first young person

to serve as a director on the board, and is

now serving as an elected vice president of

the Global NGO Executive Committee. In

her role as program manager with Rodale

Institute, Clopton combines her loves of

health, advocacy and the ecosystem. Learning

about food as medicine was transformative

in her own health journey with chronic

illnesses, and she hopes that others are also

able to experience the transformative sense

of well-being and connection that comes

through such a lifestyle practice.

What does the regenerative

health care movement

mean for both human

health and agriculture?

Regenerative health care carries potent

"medicine" for a lot of the things that are

ailing us in this country: the epidemic of

chronic illnesses, the climate crisis, global

food insecurity and ecological health. We

believe that healing our soil is a prerequisite

for healing ourselves. Regenerative

health care draws the link between agriculture

and health care because we need those

two systems to talk with one another, and

the answers are right beneath our feet.

How do we better connect

our farming, food and

healthcare systems?

The best thing we can do is take those three

things out of a silo and look at them as

part of a complex, interconnected web. In

Rodale Institute's "farm to hospital" model

with St. Luke's Hospital, we have a working

farm at the hospital and much of the produce

grown there ends up on the patient's

plates, in the cafeteria or in a CSA [community-supported

agriculture] share that

the hospital employees can take home. At

Rodale Institute, we're hoping to build that

bridge between agriculture and health care,

and invite doctors and farmers to be part

of the cycle of health care: thinking about

the health of our soil and the health and the

nutrient density of what's on our plates.

What is next in your plans

for the future of regenerative

health care?

The heart and soul of what I'm working

on right now centers around connect-
---
ing health care and agriculture with Rodale Institute's first-ever

Regenerative Healthcare Conference. We're inviting doctors,

nurses, RDs [registered dietician], nutritionists and others with

interests in health and well-being to the farm for four days to get

their hands in the soil and learn about how soil health is directly

correlated to human health and how food is medicine.

We're working closely with Dr. Scott Stoll's team at The Plantrician

Project and bringing together some incredible luminaries like

Dr. Uma Naidoo, Dr. Maya Shetreat, Dr. Rupa Marya, Dr. Michelle

Perro, Dr. Mark Hyman, Dr. T. Colin Campbell and others. To our

knowledge, this is the first-ever medical conference to be taking

place on a living, breathing, working farm. We're passionate about

the idea of getting doctors out of their practices and letting them

get their hands in the soil. There's no better way to learn about the

real fundamental difference between conventional and regenerative

organic agriculture than by picking up a scoop of soil in our

conventional model and picking up a scoop of soil in our regenerative

organic model.

Healing our planet begins with healing ourselves and how we

relate to the planet and to one another, so through these tangible,

in-person experiences, we can get even closer to that ultimate goal of

a healed system.

What are some tips for

consumers and practitioners to help this

movement?

Get to know a farmer! Go get your hands in the soil, talk to

your local farmers and start to rebuild that web of connection and

relationship. Look around you and see how the Earth responds

when we're operating in a way that's regenerative and allows

natural systems to thrive. And for practitioners, get curious! Start

breaking out of the siloed worldview of health and medicine and

learn about the potent medicines that are all around us in our

food and our soil.

Kirby Baldwin writes for KnoWEwell, the Regenerative Whole

Health Hub and collaborative partner of Natural Awakenings

Publishing Corp.

Begin today. Declare out loud

to the universe that you are willing

to let go of struggle and

eager to learn through joy.

~Sarah Ban Breathnach

crossword puzzle

Across

1 Contributing to future

survival long term

8 Choose

9 American naturalist,

Henry ____

11 British, abbr.

12 Yellow fruit filled

with vitamin C

15 The E in EV

16 Wear away the shoreline

19 Large deer

23 Prefix with center

25 Craftsman

26 Green vegetable in the

goosefoot family

27 Versatile, nutritious,

colorful and flavorful

vegetables

29 Natural material found

in teeth

32 Not man-made

33 Included, in a recipe

Answers and a full-page crossword puzzle can be

found at NATwinCities.com.

Down

1 Long-lasting metal for

home construction

2 Cook in a healthy way

3 Prado display

4 The best type of vegetation

5 Relating to interior design

innovations that reconnect

us to nature

6 Holiday lead-in

7 Blue sky color

10 Skillful

13 Center of a daisy, e.g.

14 Botanical joints

17 Private place

18 They set emissions targets,

abbr.

20 Came together, like bees

21 Exercised on a bike

22 Undesirable emissions

and footprint

24 Octopus defense

28 Knight, in the UK

30 Basketball org.

31 Light metal. abbr.

October 2022

25
---
calendar of events SATURDAY, OCTOBER 8

featured event

Discover Your Highest

Purpose

Sri Harold Klemp, the spiritual leader

of Eckankar, shares wisdom through

stories and spiritual insights that bring

meaning, connection and humor to the

workings of Spirit in everyday life.

Fridays at 7pm

Watch on Channel 6 or via MCN6.org

For more information, visit Eckankar.org,

TempleOfECK.org or Facebook.com/

Eckankar. See ad, page 19.

WEDNESDAY, OCTOBER 5

Medicare Counseling – 9am-1pm. Get help from

Senior LinkAge Line at no charge with Medicare Open

Enrollment. Free. Registration is required. Plymouth

Library, 15700 36th Ave., N. Plymouth. TrellisConnects.

org/get-help/medicare/. Choose to make an in-person

appointment, select Plymouth Library and a date/time.

Photo & Video Conversion – 10am-1pm. Come

learn about the Library's digitization equipment

that can convert physical photos, slides, negatives,

cassette tapes, film and VHS to digital files. Free.

2180 North Hamline Ave., Roseville. RCLReads.

Bibliocommons.com/events.

WEDNESDAYS, OCTOBER 5, 12,

19, 26

Fearless and Friendly Knitting Group – 10am-12pm.

For people at all skill levels. Make new friends while

creating your own handmade masterpieces. Learn how

to knit or practice new techniques. Bring your own needles

and yarn. Free. Nokomis Library, 5100 34th Ave.

S., Minneapolis. Hclib.Bibliocommons.com/events.

THURSDAY, OCTOBER 6

Nokomis Library Writing Group – 3:30-5:30pm. Join

fellow writers for encouragement, feedback and to help

each other take writing to the next level. Bring works

in progress, paper and a pen. Free. 5100 34th Ave. S.,

Minneapolis. Hclib.Bibliocommons.com/events.

Creating a Successful Etsy Shop: Stocking Your

Shop – 6-7:30pm. Learn how to establish an online

business to sell your handcrafted or vintage products

using Etsy. Each session will focus on a best practice

for your business; register for specific sessions or attend

the entire series. Free. 2180 North Hamline Ave.,

Roseville. RCLReads.Bibliocommons.com/events.

FRIDAY, OCTOBER 7

Infant Caregiver Conversations – 9:30-10:30am.

Come together as a community of North Minneapolis

caregivers and children (birth-24 months) to explore

and connect. Staff will lead a short program before

encouraging caregivers to converse while children

play with age-appropriate toys. Free. Webber Park

Library, 4440 Humboldt Ave. N., Minneapolis. Hclib.

Bibliocommons.com/events.

26 Twin Cities Edition NAtwincities.com

Reimagine Your Daily Routine: Integrating Health

– 10am-3pm. In celebration of Twin Cities Wellness

Week, over 30 local practitioners collaborate to bring

you a day-long integrative experience. Throughout

the day, attendees will listen to panel discussions, join

hands-on experiences, and shop the marketplace. $10-

$60. Online. EventBrite.com/e/reimagine-your-dailyroutine-integrating-health-tickets-409973300177.

Gallery Reading Event at Ojiketa Regional

Park – 10am-3pm. Gallery Reading and one-on-one

readings in a beautiful rustic setting. $35 per person

Gallery Reading, $30-$89 for one-on-one services.

Ojiketa Regional Park, 27500 Kirby Ave, Aspen

Cabin, Chisago City. NATwinCities.com/events.

Make Your Own Pupusas – 10:30am-12pm. Learn

how to make an authentic Salvadoran pupusa filled

with zucchini, beans and cheese. You'll also learn

how to make curtido, a delicious cabbage relish,

to serve as a topping with your pupusas. $20 for

members, $25 for non-members. 740 East 7th Street,

Saint Paul. MSMarket.coop/event.

Pregnancy, Childbirth, Postpartum and Baby

Classes – 6-7pm. Classes are held virtually online

throughout the month and are led by our top AID

instructors. AID utilizes state-of-the-art 3D visual

aids and activities to keep it fun and engaging while

presenting the latest evidence-based material on

each topic. $35. Online. Childbirth-Classes.com.

TUESDAY, OCTOBER 11

Women of Color Affinity Group – 6:30-7:30pm.

Looking for a space where women of color can

come together and share their experiences? WOC

Affinity group seeks to promote healing and fostering

a safe space within our community. Free.

Hosmer Library, 347 E. 36th St., Minneapolis.

Hclib.Bibliocommons.com/events.

Women in the Woods: Forest Fantasy – 7-8:30pm.

Join Dodge naturalist Pam Welisevich for a natureinspired

fairy program. Become more comfortable

and knowledgeable about the natural world by joining

other women interested in getting outdoors. Start with

a beverage or glass of wine before a hike through the

enchanted woods on a fairy trail. $20. Main Property,

Farm Entrance 3, 1701 Charlton Street, West St. Paul.

DodgeNatureCenter.org/event.

WEDNESDAY, OCTOBER 12

Virtual Class – The Joi of Cooking: Meal Prep for

the Revolution – 5-7:30pm. It can be tempting to

turn to food for a lift when you're feeling exhausted.

Discover foods and spices that are good to you and

for you in this hands-on virtual meal prep workshop.

A full list of items to shop for in advance will be

provided. Free. Online. MSMarket.coop/event.

Muscle Test Your Family – 6:15-7pm. Understand

the basics of muscle testing and learn how you can

test your family at home. Must bring a testing partner.

Free. MetroEast Natural Healing Center, 6993

35th St N, #2, Oakdale. RSVP at 651-771-1703.

NutritionChiropractic.com/events.

MONDAY, OCTOBER 17

Green Seniors: Amphibians of Dodge – 9-10am.

Discover the many different frogs, toads and salamanders

that make their homes at Dodge. Together,

we'll learn the strategies they use to survive the cold

winter and identify their springtime songs. $5. Main

Property, Farm Entrance 3, 1701 Charlton Street,

West St. Paul. DodgeNatureCenter.org/event.

TUESDAY, OCTOBER 18

Virtual Class – Budget Cooking: Roasted Cabbage

and Crispy Chickpea Salad – 5:30-6:30pm. This

virtual Budget Cooking class features a delicious and

affordable roasted cabbage Caesar salad with crispy

chickpeas that can feed four people for less than $15

and can be adapted based on what is in your pantry.

Free. Online. MSMarket.coop/event.

WEDNESDAY, OCTOBER 19

How To Accelerate Your Healing – 6:15-7pm. Learn

what steps to take to get better quicker, stay healthy

longer and save money. Speaker: Dr. Martin P Furlong,

DC - Holistic Health Practitioner. Free. MetroEast Natural

Healing Center, 6993 35th St N, #2, Oakdale. RSVP

at 651-771-1703. NutritionChiropractic.com/events.

FRIDAY, OCTOBER 21

"Best of Dodge" Day Camp for Adults – 1-3pm.

Your kids have so much fun at Dodge camps—have

you been wishing you could try the activities too?

Now's your chance. Let's spend the afternoon learning

about Dodge animals and how to build fires. S'mores

are on the menu. $20. Main Property, Main Office

Entrance 1, 365 Marie Avenue W., West St. Paul.

DodgeNatureCenter.org/event.

SATURDAY, OCTOBER 22

Zombie Make-Up Workshop – 1-2pm. Planning a

scary zombie costume for this year's Halloween, or

interested in learning new special effects make-up?

Join us for this hands-and-face-on class where local

theater make-up artist Ahnika Lexvold will teach

you the Zombie basics. Free. 400 10th St., NW, New

Brighton. RCLReads.Bibliocommons.com/events.

featured event

The Light Up

with Nea Clare

This Live Channeling Event with

Nea Clare is an opportunity for you

to connect with a community of

like-SOULed beings for inspiration,

connection and alignment.

Sunday, October 23

from 5-8pm

Cost: $20

Strike Theatre, 824 18th Ave NE., Minneapolis.

YesWardCoaching.com/lightup.

TUESDAY, NOVEMBER 1

Inner Diamond Advanced Virtual Class – 7-8:30pm.

The Inner Diamond Advanced Meditation Program

will help you master your emotions, your thoughts,

and prepare you for your Enlightenment. Learn about

the Seven Mountains of Initiation and the path that

every soul travels on their way to Enlightenment and

Ascension. Join Annette Rugolo, Master Inner Diamond

Teacher, for the next level of the Inner Diamond

Meditation Program. $248. Online. AnnetteRugolo.

com/product/inner-diamond-advanced-virtual-class.
---
EVENTS FOR KIDS

WEDNESDAY, OCTOBER 5

PreK Take-and-Make Kit: Apple Coffee Filter

Suncatchers – All day. Drop by RCL-Mounds View

for a take-home Maker Kids activity while supplies

last. Best for ages 2-5. Available first come, first served,

while supplies last. Free. 2576 Mounds View Boulevard,

Mounds View. RCLReads.Bibliocommons.com/events.

Paws to Read with Maslow – 6:30pm-7:30pm.

Come work on your reading skills in a low-stress

environment. Our licensed therapy dogs welcome

all school-age readers to participate in this special

program. Free. 3025 Southlawn Drive, Maplewood.

RCLReads.Bibliocommons.com/events.

SATURDAY, OCTOBER 8

October Story Stroll – All day. Entering grades 3-12.

Hike from page to page reading Kevin Henkes' In the

Middle of Fall. The Stroll will be near the playground

at Bossen Field Park. Come anytime to read with your

family! Free. Bossen Field Park, 5701 South 28th Avenue,

Minneapolis. Hclib.BiblioCommons.com/events.

Creative Pastels: Autumn Cardinal – 10:30am-

12pm. Karen Tan from Creative Pastels will lead

children through the process of creating a still life oil

pastel painting of a Northern cardinal in an autumn

setting. Participants will leave with a finished piece

of art. Free. 2180 North Hamline Ave., Roseville.

RCLReads.Bibliocommons.com/events.

SATURDAYS, OCTOBER 8, 15,

22, 29

Paws to Read with Duke or Trevor –10am-

11:30am. Work on your reading skills in a low-stress

environment with Duke or Trevor, licensed therapy

dogs who welcome school-age readers that need extra

reading practice. Free. 2180 North Hamline Ave.,

Roseville. RCLReads.Bibliocommons.com/events.

MONDAY, OCTOBER 10

Keystone FoodMobile Distribution – 10am-12pm.

The Keystone Community Services FoodMobile

will be distributing free groceries in the parking

lot at the Ramsey County Library in Roseville on

the second Monday of every month. This service is

available to anyone in need. Participants will receive

shelf stable items, produce, milk, meat, and other

staples. Free. 2180 North Hamline Ave., Roseville.

RCLReads.Bibliocommons.com/events.

MONDAYS, OCTOBER 10, 17, 24

Baby Storytime –9:30-10am. For children from birth

to 24 months and their caregivers. Talk, sing, read,

write and play together. Share books, stories, rhymes,

music and movement in a format especially designed

for babies. Free. Plymouth Library, 15700 36th Ave.,

N. Plymouth. Hclib.BiblioCommons.com/events.

Baby and Me Storytime – 9:45am-11:15am. Share

stories, songs, rhymes, and engage in play with your

baby at this storytime designed for the youngest

learner. For ages 6-23 months and their caregiver, no

registration necessary. Free. 2150 2nd Street, White

Bear Lake. RCLReads.Bibliocommons.com/events.

Homework Help – 5:30-7:30pm. Need help with

your homework? Students of all ages are welcome to

stop by for assistance with completing assignments.

A tutor will be on hand to help keep you stay on

track. Free. 2180 North Hamline Ave., Roseville.

RCLReads.Bibliocommons.com/events.

SATURDAY, OCTOBER 14

Nature Playdate: A is for Apple – 10-11am. The

blossoms of spring are long gone, and the apples

are finally ready. Let's explore the orchard and

help harvest apples to taste, make cider, and gather

windfall for the farm animals. Share your child's joy

in discovering and interacting with nature through

outdoor adventures, live animals, and creative play.

$10. Main Property, Farm Entrance 3, 1701 Charlton

Street, West St. Paul. DodgeNatureCenter.org/event.

SATURDAY, OCTOBER 15

Haunted Gingerbread Houses – 2-3pm. Use graham

crackers, frosting and other items to create a spooky

and sweet masterpiece to take home. Space is limited.

Registration is required. Free. 2180 North Hamline Ave.,

Roseville. RCLReads.Bibliocommons.com/events.

Star Turtle – 2:30-3pm. How can you help keep alive

an endangered Indigenous language? Join Z Puppets

Rosenschnoz for the launch of STAR TURTLE, a musical

adventure with a Turtle & Wabbit into the Cherokee

language. Free. Eden Prairie Library, 565 Prairie Center

Dr., Eden Prairie. Hclib.BiblioCommons.com/events.

SATURDAYS, OCTOBER 15, 29

Kids Chess Club – 10am-11:30am. Welcome all

kids who want to play chess with other kids. Play for

fun and to learn chess basics. Open to all children in

grades K-6. All levels are encouraged to attend, and

new players will be offered help to learn the rules and

get started. Free. Walker Library, 2880 Hennepin Ave.,

Minneapolis. Hclib.BiblioCommons.com/events.

Family Storytime: Arvonne Fraser – 10:30-

11:15am. For children of all ages and their caregivers.

Talk, sing, read, write and play together. Share

books, stories, rhymes, music and movement. Stay

for fun activities afterward! Free. Arvonne Fraser

Library, 1222 4th St., S.E., Minneapolis. Hclib.

BiblioCommons.com/events.

Fun Fact Saturday – 2-3pm. K-6. Dive into a variety

of science and nature topics with library staff. Expect

reading, trivia, STEAM activities and more! Uncover

new fun facts to share with family and friends. Free.

Webber Park Library, 4440 Humboldt Ave., N. Minneapolis.

Hclib.BiblioCommons.com/events.

WEDNESDAY, OCTOBER 19

Family Storytime at the North St. Paul Fire Station

– 10:30am-11am. Join us in-person for a special

storytime at the North St. Paul Fire Station. Learn

about fire safety, meet a firefighter, and explore a

firetruck. Please note, firetrucks may need to leave

early due to emergencies. Free. North St. Paul Fire

Station, 2400 Margaret Street North, North Saint

Paul. RCLReads.Bibliocommons.com/events.

Camp Create – 1-2:30pm. K-6 and their families.

Bring your sense of wonder and experiment with

STEM activities, create art out of unexpected materials,

and more. A different activity every time,

and no need to register – just drop in and explore

with us. Free. Plymouth Library, 15700 36th Ave.,

N., Plymouth. Hclib.BiblioCommons.com/events.

THURSDAY, OCTOBER 20

Game On! – 1-2:30pm. Bring a friend and enjoy

your favorite card game, board game, Xbox Kinect,

Switch and more. Play an old favorite or learn a

new one. Free. Plymouth Library, 15700 36th Ave.

N., Plymouth. Hclib.BiblioCommons.com/events.

Perler Bead Fun – 2-3pm. Join us during MEA

Break for an afternoon of Perler Bead Fun. No

registration necessary, best for ages 5 and up. Free.

2576 Mounds View Boulevard, Mounds View.

RCLReads.Bibliocommons.com/events.

FRIDAY, OCTOBER 21

Glow-in-the Dark Owl with KidCreate –

1-2:30pm. Celebrate owls with this starry night,

glow-in-the-dark collage project with KidCreate!

Best for ages 6 and up. Registration is required.

Free. 3025 Southlawn Drive, Maplewood. RCL-

Reads.Bibliocommons.com/events.

Cartoon Character Creation – 2-3pm. Learn the

basics of cartooning and create your own characters.

Young artists will learn techniques used in cartooning.

Subjects like characteristics, features, exaggeration,

action and personification will contribute

to your child's artistic advancement. For ages seven

and up. Free. 400 10th St., N.W., New Brighton.

RCLReads.Bibliocommons.com/events.

SATURDAY, OCTOBER 22

Costume Party Storytime – 10:30am-11am. Get

dressed up and join us for a special storytime featuring

stories, songs, and crafts related to Halloween.

Appropriate for ages 2-6. Free. 4560 Victoria St., N.,

Shoreview. RCLReads.Bibliocommons.com/events.

Dinomania Scene with KidCreate – 10:30am-

12pm. Celebrate fall by creating a DinoMANIA

scene from KidCreate Studio. Best for ages 6 and

up. Free. 2300 North St. Paul Drive, North, St. Paul.

RCLReads.Bibliocommons.com/events.

SUNDAY, OCTOBER 23

Shoua and the Northern Lights Dragon: A Musical

Story – 2-2:45pm. Join Chione for a musical

story based on local author Ka Vang's Shoua and

the Northern Lights Dragon. Vang's short chapter

book tells the story of Shoua, a Hmong American

girl who discovers her voice as she saves an injured

dragon in the north woods of Minnesota. Free.

Sumner Library, 611 Van White Memorial Blvd.,

Minneapolis. Hclib.BiblioCommons.com/events.

THURSDAY, OCTOBER 27

Wild Pride: Animal Costumes – 6:30-8pm. Visit

Dodge's animal lab and meet reptiles, amphibians,

and insects. Let's explore the awesome diversity

of what animals "wear" to help them survive and

be their best selves. Everyone is encouraged to

wear a costume! $15. Main Property, Main Office

Entrance 1, 365 Marie Avenue W., West St. Paul.

DodgeNatureCenter.org/event.

SATURDAY, OCTOBER 29

Halloween Extravaganza – 12-4pm. Let's celebrate

Halloween at Dodge Nature Center's Shepard

Farm in Cottage Grove. Trick-or-treat through the

woods and ride on the hay wagon to look for ghosts

and goblins. You can meet slithery creatures, dance

to the music, and warm up by the bonfire. Try your

luck at field games to win extra treats, then settle

in for some silly science skits that will educate

and entertain. Food available for purchase while

you are enjoying the fall fun. $8. Shepard Farm in

Cottage Grove, 8946 70th Street S., Cottage Grove.

DodgeNatureCenter.org/event.

October 2022

27
---
community resource guide

Connecting you to the leaders in natural health care and green

living in our community. To find out how you can be included in the Community

Resource Guide, email Publisher@NAtwincities.com to request our media kit.

BODY WORK

MYOFASCIAL RELEASE &

CRANIOSACRAL THERAPY

Barb Ryan, LMT • 612-922-2389

Bhakti Wellness Center

7550 France Avenue S, #220, Edina

Specializing in persistent and

chronic pain and mysteries of the

body. Also providing care to

clients seeking the experience of

deep relaxation and more selfconnection.

Skilled and compassionate

care. See ad, page 7.

BREAST HEALTH

CONSULTANT:

NATURAL BREAST HEALTH

Joyce Sobotta, Published Author

AromatherapyNaturesWay.com

Joyce@AromatherapyNaturesWay.com

JoyceSobotta.com • 715-828-0117

Joyce Sobotta, published author

of Breast Health Is in Your

Hands, is a natural breast health

educator whose work is endorsed

by doctors and thermographers

nationwide. She is passionate

about teaching women to love

their breasts and take responsibility

for their health. She has

facilitated breast health programs for leading health

organizations and is available for private consultations

and speaking engagements. See ad, page 9.

CHIROPRACTOR

CADENCE CHIROPRACTIC

Dr. Amanda Haeg

6409 City W Pkwy #105, Eden Prairie

CadenceChiroMN.com • 952-855-7656

Dr. Amanda Haeg is the

only chiropractor in Minnesota

offering the Pierce

Results System. With a

specific system of analysis

and correction, your care

will be tailored to your exact needs, providing you

with precisely what will help you get your health

back. See ad, page 9.

COACHING

ANNETTE RUGOLO

Soul Coach, Author and Teacher

AnnetteRugolo.com

We are in a time of fast evolution

and we have the opportunity to release

deeply held emotional and

mental patterns along with karmic

lifetimes that are keeping us stuck.

The tools I have acquired and honed

for more than 20 years will help you

move beyond the stuck places in

your life and help you align with the light of your soul.

You will receive tools of empowerment that will help

you continue on your life's path and soul's journey.

See ad, page 17.

COMPOSURE COACHING

Candi Broeffle, MBA, CPC

Candi@ComposureCoaching.com

763-270-8604

ComposureCoaching.com

Master your business so you can

practice your passion. Business

coaching for purpose-driven entrepreneurs

to clarify your vision,

build your confidence and create

a soul-centered strategy. Call today

for a free Discovery Session

and get on your path to business

success. See ad, page 23.

SOUL PURPOSE COACH

& HOLISTIC HEALER

Barbara Brodsho, MA

612-444-9751 • BarbaraBrodsho.com

Providing spiritual guidance to

help live your purpose and thrive

utilizing your soul's Akashic

Record. Discover your soul's

innate gifts, create a vocation that

aligns with your soul's passion,

and gain new perspective, clarity

and insight about your life's

challenges by understanding the

lessons your soul chose to experience. Schedule a free

discovery session to learn how to create a purposefilled

life. See ad, page 21.

COACHING

TRANSFORMATIONAL COACH AND

LIFE MASTERY TEACHER

Nea Clare

NeaClare.com • Nea@NeaClare.com

Would you like to say "YES" and

make your dreams come true? If

so, I can help! Book a strategy call

with me today. I work exclusively

for extraordinary women who are

tired of waiting on the right time or

circumstances before pursuing

their dream career path – we'll

explore how life coaching has tremendous

transformative power in strengthening selfconfidence

while also giving one unshakeable faith in

your capability to achieve your goals. What you want

is on the other side of your hesitation. If it is time to

breakthrough, schedule a call today at 612-227-3854 or

email Nea@NeaClare.com. See ad, page 18.

VISIONAIRIUM

Leah Martinson, Health Coach

23 4th St SE Suite 201, Minneapolis

Visionairium.com • 651-315-1347

Leah's superpower is intuition and

insight, and she uses it to teach

people how to use their bodies as

a guide to wellness. Instead of

kicking tired, overwhelmed people

in the butt, her mind-body,

medicine-based health coaching

process touches on all areas of

well-being in your life. Schedule

your free discovery session today. See ad, page 17.

DENTIST

HEALTH CENTERED DENTISTRY

N7915-902 St

River Falls, WI • 715-426-7777

HealthCenteredDentistry.com

Whole Person Dentistry observes

and deals with the mind,

body and spirit, not just your

teeth. This approach to dentistry

encompasses both modern

science and knowledge

drawn from the world's great

traditions in natural healing. See ad, page 15.

NATURAL SMILES DENTAL CARE

3434 Lexington Ave. N., Suite 700

Shoreview • 651-483-9800

NaturalSmilesDental.com

We're an integrative

practice committed to

promoting dental wellness

and overall assistance to

the whole person. We

desire to participate in the

creation of healthier lives,

while being sensitive to physical, philosophical,

emotional and financial concerns. See ad, page 12.

28 Twin Cities Edition NAtwincities.com
---
DENTIST

PURE DENTAL

Dr. Amy Ha Truong

6230 10th St. N., Ste 520, Oakdale

651-731-3064 • PureDentalMN.com

Pure Dental offers integrative,

holistic, alternative and biological

dentistry for your dental health.

We take pride in providing

quality, holistic dental care and

service for our patients. See ad,

page 21.

SEDATION AND IMPLANT DENTISTRY

1815 Suburban Ave, St. Paul

ToothBuilder.com

651-735-4661

We are a holistic dental practice

devoted to restoring and enhancing

the natural beauty of your smile

using conservative, state-of-the-art

dental procedures that result in

beautiful, long lasting smiles! We

specialize in safe removal of

infected teeth as well as placing

ceramic implants and restorations. See ad, page 13.

TOOTH BY THE LAKE

1401 Main St, Hopkins

952-475-1101 • ToothByTheLake.net

We build a foundation of trust

by treating our patients as

individuals. Understanding

how uneasy some patients

may feel about their dental

visits, we make a difference

by providing a relaxing and

positive experience. See ad, page 6.

EDUCATION

NORTHWESTERN HEALTH

SCIENCES UNIVERSITY

2501 W. 84th St., Bloomington

NWHealth.edu • 952-888-4777

Learn about the leading health

science programs including

Acupuncture and Chinese

Medicine, Massage Therapy

and more. Prepare for success

at a leading natural integrative

medicine university. See ad, page 9.

ENERGY HEALING

EMOTION CODE HEALING

Master Hong

Certified Emotion Code Practitioner

11012 Cedar Lake Rd., Minnetonka

952-513-7285 or 914-708-9463

Chronic pain? Suffering from

emotions? Relationship problems?

Life not going as planned? The

Emotion Code is a tool I use to

help you break through any

emotional and spiritual blocks so

you can live your best life. Trial

session only $35.

ENERGY HEALING

VISIONAIRIUM

Leah Martinson, Reiki Master

23 4th St SE Suite 201, Minneapolis

Visionairium.com • 651-315-1347

Our bodies store all our memories

and experiences just as much, if

not more than our minds. Sometimes

we need support to release

the emotions and stressors that

get stuck in our bodies. Leah

offers both massage and energy

healing to help facilitate this

release, calm the nervous system

and relieve tension. See ad, page 17.

ENVIRONMENTAL HEALING

ANNETTE RUGOLO

Master Dowser

AnnetteRugolo.com

Is the energy of your home depleting

you or supporting you?

If you feel like you are hitting

your head against a brick wall, it

may be the wall of dense energy

in your home. To more easily

expand into our light and our

soul purpose, it is important that

the spaces we live energetically

support us. Contact me for more

information on dowsing, environmental healing and

space clearing. See ad, page 17.

GRAPHIC DESIGN

CAMPFIRE STUDIO

Sara Shrode, Graphic Designer

612-554-6304 • CampfireStudio.net

Sara@CampfireStudio.net

Ignite the possibilities of

your next project by

having Campfire Studio

design it! Innovative, fullservice

graphic design studio that takes the essence

of a campfire—warmth, stories, community—and

infuses it into every design project we do.

HEALTH FOOD STORES

MASTEL'S HEALTH FOODS

1526 St Clair Ave, St Paul

Mastels.com • 651-690-1692

Mastel's Health Foods is Minnesota's

oldest health and wellness

store. We carry a full line of

vitamins, minerals, supplements,

herbs and more. We emphasize

organic, biodynamic, biodegradable,

holistic and hypoallergenic

products and pride ourselves on

stocking hard-to-find items. See

ad, page 17.

HOUSING - SUPPORTIVE

BROEFFLE LATIMORE

ADULT FOSTER CARE

License #1102359 • 763-600-6967

8600 Northwood Parkway, New Hope

Providing a caring and supportive

home for adults, no

matter their abilities. With

28-plus years of experience,

we offer a nurturing and family-like

environment for up to

four residents who are elderly and/or have developmental

disabilities. Residents receive assistance

with personal cares, meal prep and feeding assistance,

medication administration, transfers and

mobility, transportation and advocacy. We treat your

loved one like family.

INTEGRATED HEALTH

BHAKTI WELLNESS CENTER

7550 France Ave. S., #220, Edina

612-859-7709 • BhaktiClinic.com

Bhakti provides a holistic

environment where independent

practitioners come

together to offer an integrative

path to wellness; mind,

body and spirit. Our providers offer chiropractic,

energy therapy, massage, microcurrent therapy,

acupuncture, psychotherapy and much more so that

you can feel your best, remain healthy & thrive. See

ad, page 7.

METROEAST NATURAL

HEALING CENTER

6993 35th St N, #2, Oakdale

651-771-1703 • NutritionChiropractic.com

Nutrition Response Testing

(NRT) is a noninvasive

system of analyzing the

body to determine the underlying

causes of illness and non-optimum health.

Our clinically proven system may be quite different

from any other healing practice you have experienced.

The actual procedure is simple and direct,

with the body providing all of the information and

feedback needed. See ad, page 23.

NUTRITIONAL SUPPLEMENTS

STANDARD PROCESS

Kathy Kiss

Sr. Account Manager

KKiss@StandardProcess.com

Standard Process is a

Wisconsin-based, familyowned,

whole food-based

nutritional supplement

company that partners with

health care practitioners to address issues related to

health conditions. See ad, page 3.

October 2022

29
---
coming in the

november issue

PHYSICIANS

DR. ISAAC M. ENGHOLM

Deploy Health Family Practice/

Bhakti Wellness Center

7550 France Ave. S, Ste. 220, Edina

DeployHealthFP.com • 612-712-4423

Dr. Engholm's practice offers

unlimited office visits,

with most lasting over an

hour. He offers telehealth

and home visits at no additional

charge and his patients

can call 24/7, which reduces the need to utilize

after-hours urgent care or emergency room visits.

Memberships are $75/mo for adults, and $25/mo for

children (added to adult member). See ad, page 7.

PSYCHOTHERAPY

FRAN BIEGANEK, MS, LP

Bhakti Wellness Center

7550 France Ave. S., Suite 220, Edina

612-564-9947 • FranBieganekTherapy.com

As a Licensed Psychologist,

Fran provides holistic, traumainformed

therapy to help clients

identify areas of potential

growth, obstacles to growth,

and processes that facilitate

healing and transcendence. She

also provides QEEG (brain

mapping) and neurofeedback

services that facilitate increased brain efficiency.

See ad, page 7.

RADIO/PODCASTS

AM950 THE PROGRESSIVE VOICE

OF MINNESOTA

AM950Radio.com

The only Progressive Talk Radio

station in Minnesota. We strive to

provide the best progressive

programming available and

feature national talkers Thom

Hartmann, Stephanie Miller, Mike

Crute and Brad Friedman. We are

also dedicated to local programming that creates a

community forum for important Minnesota Progressive

issues. See ad, page 32.

SPIRITUAL TEACHING

ECKANKAR TEMPLE OF ECK

7450 Powers Blvd., Chanhassen

952-380-2200 • Eckankar.org

Are you looking for the

personal experience of God?

Eckankar can help you fulfill

your dream. We offer ways to

explore your own unique and

natural relationship with the

Divine through personalized

study to apply in your everyday life. See ad, page 19.

Grow Your Business with Our

Team of Virtual Assistants

Let us help you with:

Administrative tasks

Email marketing

Social media management

Video editing

Podcast production

Facebook ad management

Website development, including

WordPress, Squarespace, Woo Commerce

and more!

PartneringUpVA.com

30 Twin Cities Edition NAtwincities.com
---
Nature's Virus Killer

Copper can stop a virus

before it starts

Scientists have discovered a

natural way to kill germs fast.

Now thousands of people

are using it against viruses and bacteria

that cause illness.

Colds and

many other

illnesses start

when viruses

get in your

nose and

multiply. If

you don't stop

them early,

they spread

and cause

misery.

Hundreds of studies confirm copper

kills viruses and bacteria almost

instantly just by touch.

That's why ancient Greeks and

Egyptians used copper to purify water

and heal wounds. They didn't know

about viruses and bacteria, but now we

do.

"The antimicrobial activity of copper

is well established." National Institutes

of Health.

Scientists say copper's high

conductance disrupts the electrical

balance in a microbe cell and destroys it

in seconds.

The EPA recommended hospitals use

copper for touch surfaces like faucets

and doorknobs. This cut the spread of

MRSA and other illnesses by over half,

and saved lives.

The strong scientific evidence

gave inventor Doug Cornell an idea.

He made a smooth copper probe

By Doug Cornell

with a tip to fit in the bottom of the

nostril, where viruses collect.

When he felt a tickle in his nose

like a cold about to start, he rubbed

the copper gently in his nose for 60

seconds.

"It

worked!" he

exclaimed.

"The cold

never

happened.

I used to

get 2-3 bad

colds every

year. Now

I use my

device whenever I feel a sign I am about

to get sick."

He hasn't had a cold in 10 years.

New research: Copper kills viruses in seconds.

Users say:

"It works! I love it!"

"I can't believe how good my nose

feels."

"Is it supposed to work that fast?"

"One of the best presents ever."

"Sixteen flights, not a sniffle!"

"Cold sores gone!"

"It saved me last holidays. The kids

all got sick, but not me."

"I am shocked! My sinus cleared,

no more headache, no more

congestion."

"Best sleep I've had in years!"

After his first success with it, he

asked relatives and friends to try it.

They all said it worked, so he patented

CopperZap® and put it on the market.

ADVERTORIAL

Soon hundreds of people had tried it.

99% said copper worked if they used it

right away at the first sign of germs, like

a tickle in the nose or a scratchy throat.

Longtime users say they haven't

been sick in years. They have less

stress, less medical costs, and more time

to enjoy life.

Customers report using copper

against:

Colds

Flu

Virus variants

Sinus trouble

Cold sores

Fever blisters

Canker sores

Strep throat

Night stuffiness

Morning congestion

Nasal drip

Infected sores

Infected wounds

Styes

Ringworm

Other microbial threats

The handle is curved and textured to

increase contact. Copper can kill germs

picked up on fingers and hands after you

touch things other people have touched.

The EPA says copper works just as

well when tarnished.

Dr. Bill Keevil led one of the science

teams. He placed millions of viruses on

a copper surface. "They started to die

literally as soon as they touched it."

CopperZap® is made in the USA of

pure copper. It has a 90-day full money

back guarantee. Price $79.95. Get $10

off each CopperZap with code NATA31.

Go to www.CopperZap.com or call

toll-free 1-888-411-6114.

Buy once, use forever.

Statements are not intended as

product health claims and have not been

evaluated by the FDA. Not claimed to

diagnose, treat, cure, or prevent any

disease.

October 2022

31
---
32 Twin Cities Edition NAtwincities.com