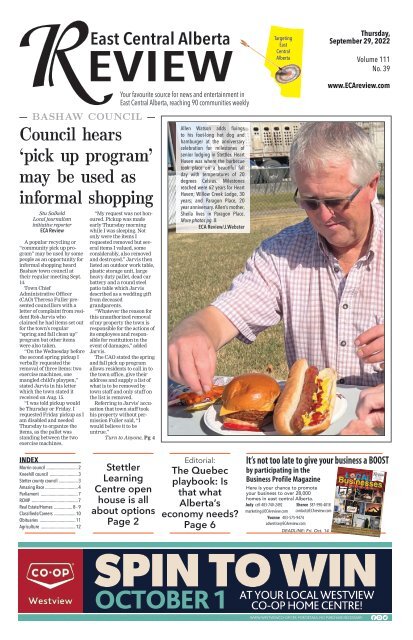 ECA Review - 2022-09-29
ECA Review - 2022-09-29
ECA Review - 2022-09-29
SHOW MORE
SHOW LESS
Create successful ePaper yourself
Turn your PDF publications into a flip-book with our unique Google optimized e-Paper software.
R

R

R

R

R

72 pt

60 pt

48 pt

36 pt

30 pt

24 pt

18 pt

R

R

BASHAW COUNCIL R

72 pt

East Central R Alberta

EVIEW

60 pt

R

48 pt

R

36 pt

Your favourite source for news and entertainment in

East R

30 pt

Central Alberta, reaching 90 communities weekly

Council hears

R

'pick up program'

may be used as

informal shopping

Stu Salkeld

Local journalism

initiative reporter

ECA Review

A popular recycling or

"community pick up program"

may be used by some

people as an opportunity for

informal shopping heard

Bashaw town council at

their regular meeting Sept.

14.

Town Chief

Administrative Officer

(CAO) Theresa Fuller presented

councillors with a

letter of complaint from resident

Rob Jarvis who

claimed he had items set out

for the town's regular

"spring and fall clean up"

program but other items

were also taken.

"On the Wednesday before

the second spring pickup I

verbally requested the

removal of three items: two

exercise machines, one

mangled child's playpen,"

stated Jarvis in his letter

which the town stated it

received on Aug. 15.

"I was told pickup would

be Thursday or Friday. I

requested Friday pickup as I

am disabled and needed

Thursday to organize the

items, as the pallet was

standing between the two

exercise machines.

"My request was not honoured.

Pickup was made

early Thursday morning

while I was sleeping. Not

only were the items I

requested removed but several

items I valued, some

considerably, also removed

and destroyed." Jarvis then

listed an outdoor work table,

plastic storage unit, large

heavy duty pallet, dead car

battery and a round steel

patio table which Jarvis

described as a wedding gift

from deceased

grandparents.

"Whatever the reason for

this unauthorized removal

of my property the town is

responsible for the actions of

its employees and responsible

for restitution in the

event of damages," added

Jarvis.

The CAO stated the spring

and fall pick up program

allows residents to call in to

the town office, give their

address and supply a list of

what is to be removed by

town staff and only stuff on

the list is removed.

Referring to Jarvis' accusation

that town staff took

his property without permission

Fuller said, "I

would believe it to be

untrue."

Turn to Anyone, Pg 4

24 pt

18 pt

Allen Watson adds fixings

to his foot-long hot dog and

hamburger at the anniversary

celebration for milestones of

senior lodging in Stettler. Heart

Haven was where the barbecue

took place on a beautiful fall

day with temperatures of 20

degrees Celsius. Milestones

reached were 62 years for Heart

Haven; Willow Creek Lodge, 30

years; and Paragon Place, 20

year anniversary. Allen's mother,

Sheila lives in Paragon Place.

More photos pg. 8.

ECA Review/J.Webster

Targeting

East

Central

Alberta

Thursday,

September 29, 2022

Volume 111

No. 39

www.ECAreview.com

INDEX

Morrin council ............................ 2

Kneehill council ......................... 3

Stetter county council ................. 3

Amazing Race ............................. 4

Parliament ................................. 7

RCMP ......................................... 7

Real Estate/Homes ................ 8 - 9

Classifieds/Careers ................... 10

Obituaries ................................ 11

Agriculture ............................... 12

Stettler

Learning

Centre open

house is all

about options

Page 2

Editorial:

The Quebec

playbook: Is

that what

Alberta's

economy needs?

Page 6

It's not too late to give your business a BOOST

by participating in the

Business Profile Magazine

Here is your chance to promote

your business to over 28,000

homes in east central Alberta.

Judy cell 403-740-2492 Sheree 587-990-4818

marketing@ECAreview.com contact@ECAreview.com

Yvonne 403-575-9474

advertise@ECAreview.com

DEADLINE: Fri. Oct. 14

L CAL

Buslnesses

in East Central Alberta

Get to Know Us Better: Community

Automotive Services • Energy & Oilfield Services

R

REVIEW

East Central Alberta

R

B Section

Business Profile 2022

East Central Alberta Review

Farming Services • Retail & Professional Services & So Much More

SPIN TO WIN

OCTOBER 1

AT YOUR LOCAL WESTVIEW

CO-OP HOME CENTRE!

WWW.WESTVIEWCO-OP.CRS FOR DETAILS. NO PURCHASE NECESSARY.
---
2 S eptember 29'22 HANNA/CORONATION/STETTLER, AB. ECA REVIEW

MORRIN COUNCIL

Former mayor sends village bill for expenses

Stu Salkeld

Local Journalism

Initiative reporter

ECA Review

The former mayor of the

Village of Morrin sent the

municipality an $1,800 invoice

for expenses he claims he

incurred due to a non-functioning

sewer system.

Councillors discussed the

invoice at the Sept. 21 regular

meeting of council.

Village Chief Administrative

Officer (CAO) Annette Plachner

presented councillors with an

invoice from former mayor

Howard Helton, who has been at

odds with the village for at least

the previous year over his residential

sewer hook-up which

Helton says did not work

properly.

As councillors examined the

invoice Coun. Lorraine

MacArthur noted one expense

was listed as $350 for a plumber.

The CAO noted Helton stated he

hired a company to use cameras

inside the sewer system.

Mayor Chris Hall also noted

the invoice included costs for a

port-a-potty that Helton has on

his property to address the lack

of sewer service.

Hall stated that it appeared

the invoice was drawn up by

Helton, and didn't include any

other bills or invoices from the

services he claimed he used.

MacArthur stated she wanted

to see evidence the expenses

were incurred before she

approved paying them and

listed proof of the camera work

and proof of any blockage found.

The CAO stated Helton never

proved to the village that his

sewer line was malfunctioning.

During discussion it was stated

that the village bylaw requires

a resident to contact the village

immediately upon having a

sewer problem, and it was stated

Helton didn't do that.

It was agreed the village

would send a letter to Helton

declining to pay the bill and

asking for evidence as

discussed.

Short cut

Coun. M'Liss Edwards mentioned

she was concerned about

motorists cutting across grass

between the school and ball diamonds

because of the safety

hazard involved.

CAO Plachner noted she'd

also had been made aware of

the short-cutting.

Public Works Foreman Dave

Benci stated people were probably

doing it because Main

Street has been closed for

construction, but he's been told

Main Street will be open again

by the end of September.

During discussion councillors

agreed they wanted

something done to stop the

short-cutting, as it may continue

even after Main Street

re-opens.

Benci stated he can dig some

holes with the backhoe that will

prevent the short-cuts.

Tax recovery

Councillors passed a resolution

that a tax recovery sale be

held on Nov. 17 at the village

office for properties linked to

unpaid tax bills.

The CAO noted it will be

advertised multiple times and

the first advertisement will be

sent to all involved parties.

Mysterious hook-up

Benci stated he tried his best

to accommodate a request from

the community hall board

which stated they wanted the

valve shut-off on the north side

removed, but he said he could

not locate it.

Benci stated the valve shut-off

can't be in anyone's way

because he spent considerable

time looking for it and came up

with nothing.

Benci stated he could keep

Stettler Learning Centre

open house is all about options

Stu Salkeld

Local journalism initiative reporter

ECA Review

The Stettler Learning Centre (SLC)

opened its doors for an open house

Sept. 21, but it was really more of a

transformation centre from a science

fiction story. As one board member

noted, learning is a person's ticket to a

new and different future.

Dave Goodwin, SLC board member

for almost five years, is a Stettler resident

who's virtually dedicated his life

to learning: he served as a school

teacher for years and continues to

serve as a substitute, has previously

spent years as a school board trustee

and now serves on the learning council's

board.

Goodwin stated he joined the SLC's

board during his tenure as a trustee,

adding that serving the community

often means one thing leads to another.

"It does indeed," said Goodwin at the

open house.

The board member stated the open

house is an opportunity to illustrate

that a place like the SLC offers options

for people who may not be satisfied

with their current career and people

who want to be more satisfied with

their lives will find many options at

SLC.

He pointed out SLC offers general

equivalency diploma (GED) programs.

Not having a high school diploma can

be a serious obstacle to overcome in

the work world and this simple

achievement can open up a number of

doors.

On top of GED, the centre also offers

high school upgrading. Goodwin

pointed out upgrading your courses

may allow you to move up the ladder at

work which could result in an increase

in earning ability.

But Stettler and area residents don't

have to stop at high school if they don't

want to. SLC is a community adult

learning program that has connections

to all sorts of other learning

opportunities, including Red Deer

Polytechnic and Olds College;

Goodwin pointed out many classes

from those two post-secondary schools

can be accessed here in Stettler.

Other career training is available

too. Goodwin stated career training

like licensed practical nurse and

healthcare aide are available through

SLC, rewarding careers that are in

demand.

Goodwin pointed out that SLC can

access grant programs that cover

tuition for some programs, including

one of his favourites, the Building

Better Business entrepreneur course.

The roughly $3,000 tuition is 100 per

cent covered by the grant.

For newcomers to Stettler, Alta. and

Canada, English as a second language

(ESL) could be a very important

resource that's available right here at

- COPYRIGHT NOTICE -

All printed material, written, display advertising and photographs are

the sole property of The ECA Review. No reproduction of this material or

layout including social media is permitted without written consent of the

Publisher. Call us for more info.

the SLC.

Goodwin added

the nice part of

the ESL program

is that volunteer

tutors help out

students.

Through online

learning the SLC

also partners

with other communities

like

Rocky Mountain

House, which further

boosts the

number of

options available

to Stettler and

area residents.

Goodwin noted

that the best way

to transform a

career or a life

could be to simply

call the SLC at

403-742-6700.

looking for it if council

wished, but Mayor Hall told

Benci to leave it alone and

get on with his other work.

Reservoir work

Benci gave council an

update on the water reservoir,

noting it needs some

work which was pointed out

by Alberta Environment. He

said he got a quote from

another contractor that was

quite a bit less money than

previous investigation.

Benci added that there is

grant money available for

this project.

Water back-up

The foreman pointed out

he needs a back-up named

for water testing in the event

Benci is unavailable. The

foreman went on to explain

the short term back-up

doesn't necessarily need

certification if the help is for

less than a week.

Mayor Hall volunteered to

be Benci's short term

back-up.

Solar switch

The foreman reported on

a solar power switch which

burned out and an inspector

advised wasn't needed

anyway. Benci stated an on/

off switch for the village's

water system solar panels

Town of Bashaw

Notice of Public Hearing

BYLAW 814 - 2022

Land Use Bylaw Amendment –

Rear Setback Requirement

Pursuant to Section 606 of the Municipal Government Act,

the Bashaw Town Council gives notice that it has given First

Reading to By-law No. 814 - 2022 to amend Land Use Bylaw

No. 780 – 2018.

The purpose of this Bylaw is to amend Land Use Bylaw No.

780-2018 to amend the bylaw in the Central Commercial

District, to change the rear yard minimum setback

requirements from 6 meters to nil. This will enable applicant

to place a c-can on the rear property line.

Anyone affected by this amendment may make written

submissions before 4:00 pm October 17, 2022, at Box 510,

5011 – 52 Avenue, Bashaw, Alberta. The Public Hearing for

By-law No. 814 - 2022 will be held on Monday, October 24,

2022, 6:00 pm in the Bashaw Town Council Chambers, 5011

– 52 Avenue, Bashaw, Alberta. Written submissions will be

heard first, oral submissions will be heard as time permits.

Copies of the proposed By-law are available at the Bashaw

Town Office during office hours, 8:30 am – 4:30 pm

weekdays, closed for lunch 12:30 pm – 1:30 pm, or online at

www.townofbashaw.com.

Village of Donalda

Franchise Fee Increase Notice

Please be advised the Village of Donalda is proposing to increase the local

franchise fee, which is charged to ATCO Electric for use of the municipal lands for its

power lines effective January 1, 2023. The fee is recovered by ATCO Electric from its

customers that receive electric service in the Village of Donalda.

The franchise fee will be increased from 11% to 12% on the delivery charge of ATCO Electric excluding

energy related riders. The average residential increase has been estimated at $1.32 per month based on

the average consumption of 625kWh.

Residents of the Village of Donalda will have until October 14, 2023, at 4:00 p.m., to make their

concerns known to the Village of Donalda. Please contact Kristie Vallet, Chief Administrative Officer at:

Village of Donalda

PO Box 160 Donalda, AB T0B 1H0

Ph: 403 883 2345 Email: cao@village.donalda.ab.ca

burned out, with a $525

replacement cost.

However, an inspector

advised Benci that because

the system has breakers and

fuses, the on/off switch was

redundant.

New cameras

Benci also reported on

new security cameras. He'd

been advised that retail

stores offer a wide range of

decent cameras and the village

would likely find what

it needs there.

He predicted motion

sensing cameras would cost

between $200 and $300 and

can be placed in a cage to

protect them. It was noted

council already approved

this expenditure.

Franchise agreement

The CAO noted during her

regular report that the village's

franchise agreement

with utility provider Apex is

coming due; the village has

the opportunity to increase

the franchise fee if so

desired.

The franchise fee is paid

by Apex to the village as a

fee for working within the

municipality. Coun.

MacArthur stated she was

not in favour of increasing

the fee, which currently sits

at 12 per cent.
---
#

ECA REVIEW HANNA/CORONATION/STETTLER, AB September 29'22 3

KNEEHILL COUNCIL

County reimburses after water over billed for years

Stu Salkeld

Local Journalism

initiative reporter

ECA Review

Kneehill County council

unanimously agreed to reimburse

a ratepayer who was over

billed on a water account for

years after a routine inspection

revealed two water meters on a

single line. The reimbursement

was decided at the Sept. 13 regular

meeting of council.

Councillors heard a report

from John McKiernan, manager

of environmental services,

regarding a request to reimburse

about $9,000 in water

meter overcharges and other

billing at a farm residence

dating back a number of years.

"Routine water meter reading

detected a possible water leak

on a meter located at 203042A

Twp 2-85," stated McKiernan's

report.

"A utility operator attended

the site and determined that

two existing water meters were

installed on the same line.

"Through the investigation it

was found that three houses

occupy this yard and that there

are water meters installed

within two of the houses. The

connection to the water service

is through 203042A Twp Rd 2-85

and from this house, private

plumbing services the other two

houses. 203042 does not have a

water meter installed and

203042B has the other meter

installed. The private plumbing

did not effectively separate the

two water meters resulting in

Innovation Strategy

We will be Coun. leaders and Wade partners Christie acting as catalysts agreed for transformation

in order to meet the needs of those we serve.

MISSION

We are called to continue

the healing ministry of Jesus

by serving with compassion,

Stettler County hears

upholding the sacredness of

life in all stages, and caring

for the whole person –

body, mind and soul.

Byemoor "not up to snuff"

Strategic Objectives

after contractor work

Acute Care Optimization and Expansion Strategy

We will transform and expand care and service in acute care to

respond to growing populations and changing demographics.

Community Care Integration and Expansion Strategy

We will expand our community care capacity to transform care

delivery, and address gaps in service, growing populations and

changing demographics.

Stu Salkeld

Local journalism initiative reporter

ECA Review

The County of Stettler wants its

managers to more closely examine

tender contracts to ensure roads are

returned to the condition they were in

before excavations. The issue was discussed

at the Sept. 14 regular meeting

of council.

Coun. Ernie Gendre asked that the

subject of post-contract remediation be

added to the agenda.

Gendre began the discussion by

stating the matter was brought to his

attention during a county council

"walkabout" in the Hamlet of Byemoor

this spring.

Gendre stated apparently a water

line was excavated and repaired by a

contractor working for the county but

the road construction afterward, "...

was not really up to snuff."

Gendre stated he didn't know

exactly when the work was done but

stated he felt the contract should

clearly state that when a road is excavated

for repair work, the road must be

returned to its pre-excavation

condition.

Gendre added that Stettler County

shouldn't have to spend money go to

the first meter reading the that has been going on for so

entire water consumption and long.

the second meter recorded "They have asked me to do

water which had already passed what I can to effect those two

through the first meter.

outcomes before getting

"Even though there are only involved themselves. They live

two meters installed, monthly in Germany as you may know..."

maintenance fees have been McKiernan noted there were

charged for three meters, these three options for councillors to

fees have historically been $25 consider including reimbursing

per month per meter. The water over $9,000 for all charges

consumption fees charged historically

related to this situation, reim-

coincided with the bursing almost $6,000 for only

water rates as per the master water charges and maintenance

rates bylaw at the time.

fees or declining the request

"This system was originally entirely.

the privately run Churchill He also pointed out county

Water Co-op. Kneehill County staff compared their records

assumed operations in 2008 and with documents sent by the

meters were replaced at some Baumgartners and they match

point, although no other infrastructure

up.

was changed. The Coun. Ken King asked if the

infrastructure in question is family is going to remove the

private and not county-owned second water meter. McKiernan

other than the water meters." stated he didn't know.

A representative of the property

Coun. Debbie Penner stated it

owner sent the request to looked to her like the

reimburse.

Baumgartners had the intention

"I am writing to you, rather

of renting the property as

than calling, so that we have a people who rent often put a

clear basis on which to proceed,"

second meter on.

stated the redacted letter Penner stated she felt the

which also referred to the monthly fee for the second

account holder in question as meter shouldn't be reimbursed.

the Baumgartners.

However, she supported reimbursing

"Before we implement any

the excess water

plumbing changes to bypass the charges and maintenance

duplicate reading issues and the charges.

second meter, the matter of the

over billing at the farm needs to with Penner, noting there is no

Catholic Leadership Strategy

be addressed.

We will benefit leverage the to legacy Kneehill and strength County of Catholic healthcare to

nationally and internationally to be of greater service.

"In speaking with the owners have two water meters there.

Strategic Christie Objectives stated if the second

they are eager to both correct

the plumbing so that this does

not occur in the future and to be

reimbursed for the over billing

STETTLER COUNTY

repair a road or return it to pre-construction

condition.

"We already paid for it once, we're

paying for it a second time," said

Gendre.

Councillors Justin Stevens concurred.

"I actually support this

stance," said Stevens, who added that

one year warranties on earthworks

are typically included in the construction

industry. "This is standard in a lot

of private industries."

Coun. Dave Grover also agreed that

proper remediation should be included

in the contract and that one year warranties

are commonly included in such

work.

Grover stated that if the work was

done through a tendered contract, the

contractor should return the following

spring and return the county road to

its previous condition.

County Chief Administrative Officer

(CAO) Yvette Cassidy also agreed contracts

with the municipality should

clearly include that stipulation. She

noted county staff will re-examine

such contracts to ensure the stipulation

is clearly presented.

Reeve Larry Clarke pointed out

though that some of these requirements

may need to be flexible when

emergencies occur.

meter stays on the line, the

property owner should pay for

it.

Councillors

accepted the discussion

as

information.

Dentist

Dr.McIver

In Coronation (Located in Coronation Mall)

MONDAYS 9 a.m. - 5 p.m.

Call Anytime for Appointments

403-578-3811

Reeve Jerry Wittstock

said the property owners

must have requested the

second meter be

put on the line.

"Somewhere

along the line

there was a

request to have

those two meters

there," said

Wittstock who

added there was

no request to

remove it.

Councillors

unanimously

approved a

motion to reimburse

the account

holder $5,882.87

for only water

charges on

account

Lawyer

E. Roger Spady

Professional Corporation

Barrister & Solicitor

Coronation Mall Coronation, AB

403-578-3131

Office Hours: Tuesday to Friday 9 a.m. to 5 p.m.

WEEKEND

ON-CALL HOURS

#060220.00 and maintenance

fees on account #060240.00.

Hanna Hospital Auxiliary

Rummage

SALE

Sat., October 1 10am-3pm

Hanna Arena & Curling Rink

Drop off Thurs. Sept. 29 9am-8pm; Fri. Sept. 30 9am-3pm

Dolores Clow 403-854-0546

Maureen Tyers 403-854-1001

For medical emergencies and life-threatening

conditions, call 911.

October 2022

October 1 & 2 .............. Castor Hospital

SERVE

October 8, 9, 10

We

...

will strengthen

Coronation

our mission and live our

Hospital

values to meet the needs of those we serve

October 15 & 16 .......... Castor Hospital

through excellence in care, an engaged team,

and wise use of our resources.

October 22 & 23 .......... Castor Hospital

VISION

October 29 & 30 ... Coronation Hospital

Inspired by our mission of

service, we will be leaders

CONTRIBUTE and partners in transforming

For Urgent Medical Problems call:

We will leverage our

health care and creating

legacy to maximize the

• 811 for health advice vibrant communities

strategic contribution of

from a registered

Catholic health care.

of health and

nurse 24/7

healing.

For Routine or Ongoing Medical Issues:

• Schedule an appointment system with and grow your through

family physician

communities, especially those

Important: Patients are most vulnerable. advised to

telephone the hospital on-call prior to going

there.

Coronation (403) 578-3803

Castor (403) 882-3434

Visit ahs.ca/knowyouroptions

Sept 2019

TRANSFORM

AND GROW

We will transform the health

integration, innovation, and

shared learnings to respond to

the strengths and needs of our

#

Professional Directory

Optometrist

CORONATION VISION CLINIC

Dr. Ward ZoBell

Tues & Thurs 10 - 4

403-578-3221

HANNA VISION CENTRE

Eye Health, Glasses, Contacts

Dr. Dennis A. Heimdahl Dr. Ward ZoBell

Tues, Wed 9-4:30; Thurs, Fri 9-4

403-854-3003

Dentist

Our families serving yours!

Phone: 825-300-0049

Email: drballdental@gmail.com

Location: 4913 50 St, Killam AB, T0B 2L0

Mail: Box 389, Killam AB, T0B 2L0

Pe

We

em

in

Qu

We

ac

Re

We

an

St

St

Se

We

to

the

Ad

We

me

co

Pa

We

of
---
4 S eptember 29'22 HANNA/CORONATION/STETTLER, AB. ECA REVIEW

Anyone could have

taken 'clean up' items

The 'Dream Team' of Coronation read the first clue in the Amazing Race, from the right,

Yeva; mom, Tania Boiko; and Tania's mom, Olha, along with dad, Sergii and Tania's

brother Vanya (not pictured). The team took first place in the Paintearth & Neutral Hills

Family-Community Connection Amazing Race event on Thurs. Sept. 22 in Coronation.

The team chose the prize of four nights camping at Coronation Dam for arriving first

back at the pit stop.

Cont'd from Pg 1

Fuller noted that Public Works staff

are extremely busy and wouldn't have

time to load up stuff not on the list and

pointed out most Bashaw residents

know about spring and fall clean up

and that items would be sitting in the

back alleys, her point being that

anyone could have taken the items.

Coun. Cindy Orom asked what

Jarvis wanted the town to do. Orom

also stated she didn't think town staff

would take items that weren't on the

list.

Coun. Jackie Northey noted it

seemed Jarvis wanted restitution for

the missing items. The CAO responded

the town has no responsibility for

missing items.

Coun. Bryan Gust asked if the town

had heard any other complaints from

Jarvis about this incident, to which

Fuller responded no, this was the first

time it was mentioned.

Gust stated in a

situation like this

he believed the

property owner

bears some

responsibility to

quickly notify

authorities that

property is

missing, and

waiting three

months is too

long.

Public Works

Foreman Patrick

Taylor stated he

spoke to his staff

and they told him

they did not take

anything from

Jarvis they

weren't supposed

to.

check us out

online

www.ECAreview.com

With Sincere Thanks

On behalf of the Elaine Cummings family, we

would like to thank everyone for the cards, flowers,

food and the kind expressions of

sympathy shown following

Elaine's passing.

Special thanks to the

Youngstown Community

Luncheon Ladies for

providing a beautiful

luncheon, the

Youngstown School

Leadership Class for

setting up chairs for the

funeral, Cathy Watts for

officiating the service, and

John Armstrong for providing

a beautiful tribute to Elaine.

Taylor also stated if there were items

sitting next to "clean up" items

someone walking by may have thought

he didn't want them.

Coun. Kyle McIntosh stated he saw a

couple of solutions to this problem, the

first being the cancellation of the

spring and fall clean up entirely.

Another solution, noted McIntosh,

would be to introduce a "removal tag"

system where town staff would only

remove items that had town-approved

tags on them.

Public Works Foreman Taylor stated

the service does seem to be popular as

some residents don't have any other

way to get rid of some unwanted items.

Councillors decided staff would

respond to Jarvis noting it's been too

long since the items went missing for

the town to get involved, and also

notify him that the town plans to introduce

a "removal tag" system for the

spring and fall clean up program.

An extra special thank you to Dr. Fortna and the

staff at Hanna LTC for caring and loving Elaine.

Your support at this difficult time was very much

appreciated and a great comfort to all of the

family.

Sincerely, Len Cummings & family.

Jordan, Ryker and Brynlee Usselman along with Kelsey Racher (not pictured) read the

first clue in the Amazing Race. Five families participated taking them to four challenges

plus one 'road block' to get them to the final pit stop. Other families participating was

the "mischief makers' comprised of the Hilmer and Glazier families combined, and

the Dedora family.

Dallya Dedora (6) completes one of the tasks wearing 'wonkie' goggles for the

Amazing Race with the help of mom, Kayla while brothers Dace and Dunn look on.

ECA Review/J.Webster

• Hearing Tests

• Medical Referrals

• Hearing Aid Fittings & Ongoing Support

• No Obligation Hearing Aid Trials

• Custom Ear Plugs

• All makes and models of Hearing Aids

• Batteries and Accessories

• Vendor for AADL, DVA

• Vendor for WCB AB and SK,Work Safe BC

• L.A.C.E – (Listening & Communication

Enhancement) training

413 Main Street Three Hills, Alberta

119 2nd Ave. West, Hanna, Alberta

(403) 443-2288

1 (888) 536-MAXX (6299)

hello@maximumhearing.ca

Maxine Williams-Herbert,

Owner

Registered Hearing Aid Practitioner, BC HIS

HOURS:

THREE HILLS: M-W 9 am - 4:30 pm

HANNA: Th 9 am - 4:30 pm; F 9 am - 3 pm

www.maximumhearing.ca

Follow and like us on
---
SPORTS

ECA REVIEW HANNA/CORONATION/STETTLER, AB September 29'22 5

SLAP

Shots

SLAP

Shots

• Comedy writer

Brad Dickson of

Omaha, in the

aftermath of

Nebraska coach

Scott Frost's firing:

"A number

of UNL students

are reportedly

hoping for a new

football coach

who's already

won a national

championship …

I didn't realize

hallucinogenic

drugs were popular

on campus

these days."

• New York Post

reader Lloyd

Stone, during

a recent NFL

televised game:

"Is there any

way to watch

this in black and

white? Seattle's

garish green

uniforms should

be restricted to

prisoners on trash

patrol along the

Jersey Turnpike."

• Comedy guy

Steve Burgess

of Vancouver:

"Congratulations

to (Saskatchewan

QB) Cody Fajardo

who became a

father this week.

In his honour,

the Riders laid an

egg."

• Headline at

the onion.com:

"Referees call for

replay to admire

great call."

• Scott Ostler of

the San Francisco

Chronicle,

suggesting yet

another MLB

rules change:

"If there are five

or more people

in line at a beer

stand, everyone

in line gets free

beer. Hire more

damn vendors. If

we want to stand

in line, we'll go to

Disneyland or the

DMV."

• Portland State

football coach

Bruce Barnum,

to JohnCanzano.

com, sizing up

the Washington

roster after losing

52-6: "I got

a good look at

everybody except

their punter."

FROM THE BLEACHERS

MLB sluggers

chasing history

by Bruce Penton

It has been a baseball season to

remember for a number of sluggers,

but Aaron Judge, New York Yankees'

No. 99 — who shows absolutely no disrespect

to that royal athletic number

— is probably having the most unforgettable

campaign.

Zeroing in on the American

League home run record for

one season, Judge was on pace

in mid-September for 65 home

runs, which would surpass the

61 HRs hit in 1961 by Roger

Maris of the Yanks. That

number has been long surpassed

by three National

League hitters — Barry

Bonds, Mark McGwire and

Sammy Sosa — but their

accomplishments are questionable

given the steroid implications

surrounding their seasons of hammering

baseballs into outer space.

Judge has no such negativity surrounding

his sensational season. He's

a 6-foot-7, 282-pound Samson of a man

who launches baseballs as if they were

sitting on a tee, just waiting for his bat

to make contact.

At last look, Judge had 57 homers

and was 18 ahead of his nearest MLB

rival, Kyle Schwarber of the Phillies.

Judge's dominance in the home-run

statistical column is reminiscent of the

Wayne Gretzky era in the National

Hockey League, when the Oilers' No.

99 was 79 points ahead of the runnerup

(Paul Coffey) in 1983-84.

A fluke? Not really, Gretzky won by

73 points (208 to second-place Jari

Kurri's 135) the following season.

Judge, however, isn't the only

slugger in MLB to have an unforgettable

season. Shohei Ohtani and Mike

Trout of the Angels have done some

amazing things; Freddie Freeman has

quieted the critics who suggested his

stats might fall off after leaving

Atlanta; St. Louis Cardinals' Paul

Goldschmidt is proving that

some hitters just get better

with age; and the amazing

Albert Pujols just keeps on

slugging.

Ohtani, who has no peer

as an all-around superstar,

is among the American

League leaders in home

runs, pitching victories and

earned-run average; threetime

MVP Trout was close

Penton

to an A.L. record in

September by hitting home

runs in seven consecutive games;

Freeman, MVP for the Braves two

years ago, leads the National League in

hits and doubles and his Dodgers are

the runaway leaders in victories;

Goldschmidt has an outside chance at

winning the N.L. triple crown, with

impressive mid-September numbers of

35 home runs, 112 runs-batted-in, and

a .322 batting average; and the 42-yearold

Pujols is playing like a kid,

averaging a home run every five

games for the Cardinals, and he's

closing in on the exclusive 700-homer

club, of which Bonds, Hank Aaron and

Babe Ruth are the only members.

If he falls short this season, watch

for him to return next year for as long

as it takes to get to 700.

The way Judge is hitting, maybe the

Yankee slugger will get there first.

Family fun following the Coronation

Evangelical Free Church service Sept. 25

included hot dogs, salads and desserts plus

a ballgame at the Coronation diamonds, a

tradition of many years at annual Sunday

School picnics. Top left, Jaxon Kroeker; Dad

Barry Lindmark (top,right) pitches to son

Renn while daughter, Jayda collects some

rocks. Bottom left, Catcher Bo Lindmark

is ready as Christian Grice strikes the ball.

Below Grandpa Kinakin helps Jayda at bat.

Castor Little Theatre

is looking for

Actors & Actresses

for their 2023 Production.

Castor Little Theatre

Fall General Meeting

& 'Read Through'

Thurs. Oct. 6

7 p.m. at

Castor Community Centre

New members are

always welcome!

Bring your ideas & enthusiasm

and let's "put on a show"!

• RJ Currie of

sportsdeke.com,

on Forbes pegging

the Knicks

as the most

lucrative NBA

team at $5.8

billion: "Who

would guess

there could be

so much value in

laughing stock?"

• Mike Bianchi

of The Orlando

Sentinel, on

Broncos coach

Nathaniel Hackett

opting for

a 64-yard field

goal instead of

trusting Russell

Wilson on

fourth-andfive:

"This was

the dumbest

decision since

Prohibition."

• Bianchi again:

"Please tell

me Nebraska

wouldn't sell

its soul and

consider hiring

Urban Meyer.

If it happens,

they should just

change their

name to the

Scornhuskers!"

• Washington

State Dept. of

Natural Resources,

on Twitter:

"Remember

that fantasy

football and

tsunami evacuation

both start

with a strong run

game."

• RJ Currie of

sportsdeke.com:

"The Banjo Bowl

outcome: Blue

Bombers 54,

the flu-ridden

Roughriders 20.

Saskatchewan

QB Cody Fajardo

said many

Riders were so

ill they couldn't

keep anything

down — including,

it seems, the

score."

Care to

comment?

Email

brucepenton2003

@yahoo.ca
---
6 September 29'22 HANNA/CORONATION/STETTLER, AB. ECA REVIEW

OPINION

The opinions expressed are not necessarily

the opinions of this newspaper.

R

R

R

R

R

Published by

Coronation

Review

Limited

Subscriptions:

$52.50 in Canada; $98.70 in US;

$183.75 Overseas.

72 pt

East Central Alberta

EVIEW

60 pt

48 pt

36 pt

Website ECAreview.com

Office Hours Mon. - Fri. 9 am - 5 pm

R

30 pt

4921 - Victoria Avenue

Tel. (403) 578-4111

R

24 pt

Mail: Box 70, Coronation, AB Canada, T0C 1C0

EDITORIAL

The Quebec playbook: Is that what

Alberta's economy really needs?

Brenda Schimke

ECA Review

Why do Albertans want to be

Quebec? We have so much more going

for us yet Premier Jason Kenney and

leading contenders for the UCP leadership

seem more focussed on being

Quebec than growing or governing

Alberta.

Alberta has been so successful

within confederation. With our young

and highly educated population, a

renowned entrepreneurial spirit, provincial

wealth, developed natural

resources and the skill-set to become

leaders in high

tech and green

"

innovations, we

should envy no

one.

Quebec on the

other hand, with

a much larger

geographic footprint

and an

abundance of

natural

resources still

languishes as a 'have not' province.

Much of the Quebecois attitude goes

back to their defeat by the English,

even though English Canada has bent

over backwards to support their language,

culture and traditions.

In 1969, Canada became officially

bilingual, but it wasn't enough to stop

the explosion of anger in Quebec

during the 1970s—kidnappings, an

assassination, violence and the subsequent

enactment of the War Measures

Act. Nor did it stop two independence

referendums in 1980 and 1995, both of

which narrowly failed.

More changes were made in 1995 by

Prime Minister Brian Mulroney. His

government passed a resolution

granting French-speaking Quebec special

status as a 'distinct

society'—reinforcing civil law in

Quebec and gave the province primary

authority over cultural affairs, education

and broadcasting—key issues in

Francophone Quebec.

The resolution also gave all 10 provinces

specific provincial control over

natural resources, primarily forestry

and oil and gas production and called

for future 'self government' for

Indigenous and Inuit peoples.

Prime Minister Mulroney, as a

leader of all of Canada, said at the time,

"it represents the government's best

calculation of what the various sections

of the country want." He didn't

treat every province the same, but

gave in areas most important to

everyone.

That's important to remember –

Alberta was also given more powers

over natural resources, when Quebec

was designated a 'distinct society'.

It was in 2006, however, when Prime

Minister Stephen Harper's government

passed a resolution to recognize

Quebec as a nation within Canada.

The Liberals were totally opposed to

such a move, yet voted with the

Conservative government for political

reasons—Quebec seats are a necessity

for Liberal electoral success.

The Harper move opened up a can of

worms and today it has led right-wing

politicians in Alberta and

Saskatchewan to demand that they,

too, become a nation within a nation.

On reflection, we now clearly understand

Harper's hidden agenda in his

2006 proclamation

for Quebec.

It was the

opening salvo to

devolve an

increasing

number of federal

responsibilities

to the provinces

and fulfill his

long-time goal to

Americanize

Canadian federalism.

In Canada, the federal government

has been given powers and responsibilities

in matters that concern all

Canadians, most notably matters that

cross interprovincial and/or international

borders. These include

immigration, criminal law, banking,

national defence, citizenship and trade

with other countries.

Provincial governments have jurisdiction

in matters of local interest and

local well-being including primary and

secondary education, social services,

property and civil rights, provincial

and municipal courts, health care.

Then there are some areas that have

overlap between federal or provincial

laws such as transportation, policing

and the environment.

Quebec, thanks to Stephen Harper,

has now gone far beyond its recognition

of a 'distinct society' and is forging

ahead assuming powers that were

never intended at a provincial level—

including immigration.

So how has this been working out for

Quebec? I would argue from an economic

and human rights point of view,

not very well, at all.

In 1950 Quebec's population was 88

per cent of Ontario's. After each separation

referendum, Quebec's

population continued to decline. In

1980 Quebec's population was 75 per

cent of Ontario's, by 1995, 67 per cent

and in 2021 Quebec's population is only

60 per cent of Ontario's population.

This divergence of population

directly affects Gross Domestic

Product (GDP) or economic

output. Statistics Canada reports that

in 2019, Ontario had the largest

Alberta is not a

distinct society, we are

not a defeated people,

we are not poor.

"

LETTERS POLICY • Letters to the Editor are welcomed •

Must be signed and a phone number included so the writer's

identity can be verified. • ECA Review reserves the right to edit

letters for legal considerations, taste and brevity. Letters and

columns submitted are not necessarily the opinion of this

newspaper.

MEMBER OF:

economy in Canada, making up

around 38.6 per cent of Canadian GDP.

In contrast Quebec represents 19.9 per

cent of national GDP, virtually half the

output of Ontario.

Consider as well, Alberta has only

half of Quebec's population, yet our

GDP today only lags theirs by 4.6 per

cent.

Political unrest and governance by

ideology unsettles businesses and

investors or those looking to relocate

for work—all critical components for

the economic health and wellbeing of

any jurisdiction.

In June 2019, Quebec passed Bill 21

that makes it illegal to wear religious

symbols at work including hijabs,

niqab, burkas, turbans, and skull caps.

Supposedly Catholics aren't allowed to

wear crosses either, but how easy a

cross is to hide under clothing. Bill 21

is simply religious persecution of

Muslims, Sikhs and Jews, something

that is illegal in the rest of Canada.

Then there is Bill 96 passed in June

which makes significant amendments

to the Charter of the French language.

Newcomers have six months to learn

French, then they will only receive

services (health, public safety and justice)

in the French language.

Businesses with more than 25

employees must certify with the language

police that French is the

common language used in the workplace.

Today, statistics show that only

half of Montrealers work in French.

Everyone knows it is nearly impossible

to become fluent in a new

Local Journalism Initiative is funded

by the Government of Canada.

JOYCE WEBSTER

Publisher/Editor

publisher@ECAreview.com

YVONNE THULIEN

Marketing/Digital 403-575-9474

advertise@ECAreview.com

language within six months, even

more so for those working in technical

fields such as biotechnology, aerospace,

engineering, high tech, medical

or aeronautics—all important industries

in Quebec.

Everyone knows there is a worldwide

shortage of skilled and unskilled

workers—immigrants are the answer

to many first-world country staff

shortages. Yet there are only 300 million

French speakers worldwide, with

the vast majority living on the African

continent. Ironically Africa has the

most devout Muslim or Christian followers

in the world.

Quebec also should remember how

many Quebec-based corporations fled

to Toronto during the era of separation

talk and referendums. Quebec corporations,

if unable to attract skilled

French-speaking workers, will once

again move their corporations

elsewhere.

Alberta is not a distinct society, we

are not a defeated people, we are not

poor, our citizens have always shown

initiative and we understand the international

competition for skilled labour

is absolutely critical for economic

success.

Quebec has put the French language

and secularism ahead of everything

else. What, pray tell, is Alberta so bent

on protecting that we are prepared to

follow the Quebec playbook and lose

our economic clout? Surely if we must

emulate an eastern province, let's pick

a successful one like Ontario.

JUDY WALGENBACH

Marketing 403-740-2492

marketing@ECAreview.com

BRENDA SCHIMKE

Editorial Writer

SHEREE BAILLIE

Marketing 587-990-4818

contact@ECAreview.com

STU SALKELD

LJI Reporter 403-741-2615

reporter@ECAreview.com

LISA MYERS-SORTLAND

Graphic Artist

R

18 pt
---
R

R

R

R

72 pt

60 pt

48 pt

36 pt

30 pt

24 pt

18 pt

ECA REVIEW HANNA/CORONATION/STETTLER, AB September 29'22 7

GUEST OPINION

Woke ideology doesn't belong in schools

All students deserve a learning environment that is free of political indoctrination

by Michael Zwaagstra

If you've been around for a while,

you probably remember the phrase

"politically correct." Being called

politically correct was not a compliment.

Instead, it meant that you had an

unhealthy obsession with not

offending anyone, even if you had to

say some rather silly things in the

process.

For example, instead of saying husband

or wife, you'd say partner so you

didn't imply that being married is

better than living together common

law. Or you might avoid phrases such

as "ladies and gentlemen" so that you

don't offend the non-binary people in

the room. Political correctness also

meant tossing out classic books and

authors that used unacceptable terminology

by modern-day standards.

The oppressive nature of political

correctness was bad enough.

Unfortunately, today we face an even

greater threat to healthy intellectual

discourse – woke ideology. Wokeness

has become the new politically correct,

except it's far more demanding than

political correctness ever was.

Woke ideology places such a strong

emphasis on personal identity that it

sees everything through the lens of

race, gender, and sexual orientation.

This ideology makes it possible to call

others privileged without knowing

anything about them. Hence, we hear

terms such as "white privilege" or "cisgender

privilege."

Obviously, people are free to hold

whatever woke beliefs they want. The

PARLIAMENT

problem arises when we try to make

everyone else conform to our assumptions

about identity. When woke

ideology takes over our schools, it

moves from being merely annoying to

downright toxic.

In addition, woke ideology tends to

twist normal words and phrases into

something completely different. For

example, being anti-racist used to

mean that you were opposed to all

forms of discrimination based on skin

colour. Now, anti-racism has become

an ideology that sees all people

through a racial prism.

Thus, when anti-racist consultants

conduct workshops, one of the first

things they do is divide participants up

according to their race. They want

everyone to be acutely aware of the

widespread prevalence of white

supremacy, even if no one in the room

has ever said or done anything racist.

When anyone objects to being stereotyped

in this way, the presenter

accuses them of exhibiting "white fragility,"

another common woke phrase.

The irony is that woke ideology is

supposed to be about inclusion.

However, in many cases, it drives

people apart. When a teacher sends the

message that some students benefit

from white privilege while others are

ongoing victims of systemic racism, it's

hard to see how this creates a productive

learning environment. The same

is true of classrooms where teachers

focus on gender identity by having all

students declare their personal pronouns

on a regular basis.

Fixing Canada's finances,

bringing back accountability

by Damien C. Kurek, M.P.

Battle River—Crowfoot

Parliament is sitting once again and

Canada's Conservatives are ready to

get back to work on Parliament Hill.

With our new leader, the Hon. Pierre

Poilievre, Canada has a steady hand at

the helm of His Majesty's Official

Opposition, and we are ready to

address the issues that

matter to you and your

fellow Canadians.

The role of the Official

Opposition is to provide

feedback on government

policies and to ensure the

ruling government is held

to account.

It's in this role

Conservatives have

Kurek

insisted action must be

taken to curb inflation and

address the affordability crisis.

For years, we have signalled the

Liberals' agenda of overspending, business-killing

red tape, and anti-oil and

gas sentiment would suffocate the

Canadian economy and contribute to

inflation but… they ignored our warnings

and are seeing the consequences

of that.

Many Canadians are facing hardship

as their hard-earned dollars are

worth less than they were a year ago

as inflation eats up their money. Food

prices are up 10.8 per cent, inflation is

at seven per cent, and interest rates

were raised to 3.25 per cent. With this

adversity, there is no financial relief

for Canadians as they are finding it

harder and harder to make ends meet.

Conservatives have made it clear

that we are willing to work with the

Government and any party that will

acknowledge the challenges we face as

a nation, such as showing fiscal

restraint and a commitment to not

raise taxes.

Further, Canada's Conservatives

have outlined how we would tackle the

affordability crisis. We would cap

inflation-causing government

spending with a Pay-As-You-Go

Law requiring the government

to find a dollar of savings for

each new dollar of spending,

scrap carbon tax to reduce the

cost of fuel and remove red tape

and gatekeepers to allow businesses,

farmers and workers to

produce more affordable

energy, food and housing.

These are all measures we

can implement when we are in

government and advocate for

while we wait to be elected as your

next government.

I have heard it loud and clear from

the people of Battle River-Crowfoot:

life is getting more expensive.

Conservatives have been listening to

you, and we are finding solutions to

help Canadians who are struggling

and ensuring that your future is not

held back by the shortfalls of

government.

By getting out of Canadians' way, we

can foster innovation and grow the

economy so we can all live in a better

society led by incentive and merit.

It is my hope, with the solutions

Conservatives have proposed and will

continue to present, that Canadians

will look to themselves and build with

us to work towards a better future for

all.

It's important to remember that

while schools play an important role in

society, parents remain the primary

educators of their children. If parents

feel that teachers do not respect their

values or are constantly pushing woke

ideology on their children, they will

quickly lose trust in the school system.

This is one of the fastest ways to undermine

the public education system in

Canada.

There is nothing wrong with

teachers ensuring that all students feel

safe in the classroom. It makes sense to

stamp out racist comments and educate

students on the importance of

respecting their classmates, including

those with different gender identities.

Bullying has no place in the school

system and should never be tolerated

by teachers or principals. All students

have the right to a safe learning

environment.

However, pushing woke ideology on

students is ineffective in combatting

bullying. There is no need for all students

to think the same way or hold

RCMP

the same beliefs. All that is necessary

is a willingness to treat other people

with respect. Good teachers have

always been kind, yet firm, when it

comes to upholding the basic rules of

decorum.

Students should never feel pressured

to conform to any teacher's political

ideology or worldview. When teachers

push woke ideology in their classrooms,

they are indoctrinating

students rather than educating them.

Everyone knows there is a huge difference

between teaching students how to

think and teaching them what to

think.

Woke ideology doesn't belong in

schools. All students deserve a

learning environment that is free of

political indoctrination.

Michael Zwaagstra is a public high

school teacher, a senior fellow with the

Frontier Centre for Public Policy, and

author of A Sage on the Stage: Common

Sense Reflections on Teaching and

Learning.

Charges in drug

investigation

Submitted

Drumheller RCMP entered into an

investigation involving drug trafficking

and weapons offences on Sept.

16 after an allegation was made that a

male was assaulted and threatened

with a firearm at a residence in the

north end of Drumheller.

As a result of executing a search

warrant on Sept. 17, police assisted by

the Calgary Police Emergency

Response Team and Calgary Police

Dog Services located fentanyl, methamphetamine,

as well as several other

items that were confirmed to be stolen.

Lloyd Smith (56)of Drumheller has

been charged with possession of fentanyl

for the purpose of trafficking,

methamphetamine and property

obtained by crime.

He was released from custody and

will be appearing in Drumheller

Provincial Court on Nov. 25, 2022.

Shane Pentelescu (37), of Drumheller

has been charged with pointing a

firearm, uttering threats and assault.

Pentelescu was released from custody

following a judicial interim

release hearing and will be appearing

in Drumheller Provincial Court on

Oct. 21, 2022.

Home invasion

Wainwright RCMP responded to a

report of a home invasion on Sept. 14

involving a firearm at a residence in

Wainwright.

The investigation determined that

three individuals were involved, two

known to the victim, and it appeared to

be a targeted event. The suspects

departed the residence in the victim's

vehicle.

Wainwright RCMP notified area

detachments of the incident on the following

day Kitscoty RCMP observed

the suspect vehicle at a rural residence

in the Paradise Valley area with at

least one of the suspects inside the

vehicle.

Kitscoty RCMP, with assistance

from Vermilion Detachment,

Vermilion Traffic Unit, EAD Crime

Reduction Unit and St Paul Police Dog

Service, were able to locate and apprehend

all three individuals.

As a result of the investigation, Skye

Martin (29), of Paradise Valley,

Corinne Chaisson (23), of Wainwright

and Steven Brazeau (31), of Slave Lake,

were charged with various offences

including robbery with a firearm,

assault with a weapon and possession

of a stolen vehicle.

Chaisson was subsequently released

on bail with her next court appearance

set for Oct. 20, 2022, at Wainwright

Provincial Court.

Martin was remanded in custody

with her next court date set for Sept.

27, 2022, at Lloydminster Provincial

Court.

Brazeau was remanded in custody

with his next court appearance set for

Oct. 6, 2022, at Wainwright Provincial

Court.

It's not too late to give

your business a BOOST

by participating in the

Business Profile Magazine

L CAL

Buslnesses

in East Central Alberta

Get to Know Us Better: Community

Automotive Services • Energy & Oilfield Services

R

REVIEW

East Central Alberta

R

R

B Section

Business Profile 2022

East Central Alberta Review

Farming Services • Retail & Professional Services & So Much More

Here is your chance

to promote your business to over

28,000 homes in east central Alberta.

Judy cell 403-740-2492

Sheree 587-990-4818

marketing@ECAreview.com contact@ECAreview.com

Yvonne 403-575-9474

advertise@ECAreview.com

DEADLINE: Fri. Oct. 14
---
REAL ESTATE/HOMES

8 S eptember 29'22 HANNA/CORONATION/STETTLER, AB. ECA REVIEW

Dorothy and Tony Hebert look over the antique car on display after

enjoying their free lunch while waiting for the bus to pick them up and

take them back to Paragon Place.

Brenda Reid serves up hamburgers and

foot-long hot dogs to guests including

Mel Hillier, a Stettler resident, at the

County of Stettler Housing Authority's

barbecue that also included salads,

desserts and the anniversary cake,

celebrating the milestone anniversaries

of their three senior residents lodges

in Stettler with the free lunch at Heart

Haven on Thurs. Sept. 22.

Thinking of Selling

your Home or Land?

Let Our Reach Work for you!

The ECA Review reaches over 28,000 homes that

equates to 60,000 readers in east central Alberta.

PLUS online readers at ECAreview.com

Contact us at 403-578-4111 or office@ECAreview.com

Call Dallas Ellerby

Your Farm & Ranch Specialist

403.578.8105

LAND FOR SALE

CROP LAND

4500 acres - Chinook area

6000 T:3.2283"

acres - Cereal area

2400 acres - south of Hanna

GRASS LAND

16 quarters - south of Veteran

90 quarters - Youngstown area

117 quarters - south of

Youngstown

www.greaterpropertygroup.com

GREATER PROPERTY GROUP

1/4 section north of

Veteran - 90 acres

broke, home site,

16' x 76' mobile

home, 40' x 60'

shop & working

corrals. Owner

willing to subdivide

acreage out.

cancow@

xplornet.com

Don't get caught

out in the cold.

Call

to book

your

Furnace

ANNUAL FALL

Another Way We Make You Feel Better.

Service

C

FINANCE A NEW LENNOX ® SYSTEM

for as

per

low as

$

80 month*

C

er, AB T0C

Phone:

2L2

(403) 742-5208 / Fax: (403) 742-1609

-5208

hanical.com

hanical.com

6118 - 50 th Ave Stettler, AB

info@burmacmechanical.com

6118 50th

403

www.burmacmechanical.co

4

info@b
---
REAL ESTATE/HOMES

ECA REVIEW HANNA/CORONATION/STETTLER, AB September 29'22 9

The Stettler Variety Showcase opens

their 2022-23 season with a dinner

show on Nov. 5 featuring the music

of Frankie Vallie in The New Jersey

Jukebox. ECA Review/Submitted

Single Offices To Rent on Main St.

Stettler (4830 - 50 St.) Three available.

Call 403-741-9355, drop in, or email

rwarren@combatspraying.com

Join our family of friendly co-renters and cut your overhead costs!

Stettler Variety Showcase

begins 2022-2023 season

Submitted

The Stettler Variety Showcase is

launching a full season of entertainment

starting on Sat. Nov. 5 with the dinner

show.

Four additional Sunday shows will run

throughout the year with an eclectic mix

Winter-safe stairs

To keep you and your visitors safe

during the winter months, here are three

materials that make exterior stairs less

slippery.

1. Polypropylene Fibre - Available in

an array of

colours and patterns,

polypropylene

fibre can be

bought in mats or

rolls. While this

product can stand

up to heavy

traffic, it should

be treated against

UV rays. To prevent

seepage, it

has waterproof

backing made of

vinyl or rubber,

which increases

its durability.

2. Recycled

Rubber - Black

tread covers

made of recycled

rubber are

remarkably resistant

to shocks,

inclement

weather,

humidity, ultraviolet

rays, oil and

mildew. They are

easy to install,

maintain and

store. They can,

however, be quite

heavy.

3. Coir - This

material, made of

coconut fibre,

typically comes

in a natural ecru

colour. It can

give your exterior

a unique look and

works best on

wood and concrete

surfaces.

The downside?

Coir tends to

retain water and

dust. In addition,

if not installed

well, it may

become loose

over time.

Visit flooring

experts in your

area.

of music and entertainment.

Season tickets, including our

dinner show featuring the music of

Frankie Vallie in The New Jersey

Jukebox, are now available for an

incredible $150 for adults, $100 students;

or $100 for adults and $75 for

students for the Four Concert

Series. Reserve seating is available.

The dinner show is almost sold

out, so get your tickets now!

Tickets available at Grate in

Stettler or by calling 403-742-6615.

Check out the great lineup at

Stettlershowcase.com.

Linden Tree Farm

Hardy Locally Grown Trees and Shrubs

Feature Trees Size Price

Colorado Spruce 5'-6' $140

The hardiest evergreen for our area.

A well-branched 10 year old tree. Green or blue.

Manitoba Maple 7 gal. 6'-7' $60

10 gal. 7'-8' $75

A great alternative to poplar as they have a much longer

lifespan. Well branched and very hardy. Propagated on our

farm.

Paskapoo Poplar 7 gal. 5' $40

A native dwarf poplar with a long lifespan. Round shape.

Feature Shrubs

Cotoneaster, Lilacs, Ninebark, Potentilla, Spirea & more

Many other trees and shrubs available

Complete price list at: www.lindentreefarm.ca

email: info@lindentreefarm.ca or text 403-888-9178

New homes for sale

• 2 bedroom

• plus den/office

• 2 bathroom

• 1472 sq ft

main level duplex

• 26x30 spacious

attached garage

• 5 year new home

warranty

• Close to amenities

in Hanna

• 50plus community

For more information please

contact Dale at

dalecrowle@hotmail.com

or Deryl 403-854-8172

New Listing

4602 York Ave, Coronation

Beautiful 3 bedroom bungalow

located at the back of a cul de sac

fenced yard, covered patio double

attached insulated and heated

garage.

4826 Norfolk Ave., Coronation,

AB - Unique home 2 bedrooms on

the main floor and 1 downstairs. This

property was converted in 2007 and

is now an updated beautiful home!

Listed for $114,500

SOLD

4801 Windsor Ave, Coronation 5

bedroom character home located on

a large 100'x115' lot. This home has a

metal roof & siding, single detached

garage a newer furnace and hot

water tank and includes 5 appliances

Listed @$85,000

5021 Imperial Ave, Coronation -

4 bedroom 1 1/2 storey home

located on a corner lot that is approx

85x115. There is a newer shed with a

loft, an older shed and 5 appliances

included in the sale. Listed for

$47,500!

SOLD

4725 Windsor Ave, Coronation -

3 bedroom bungalow, main floor

laundry, new windows,furnace, hot

water tank, and shingles. This home

is close to school and uptown!

Listed @ $69,900

SOLD

4714 York Ave, Coronation

1050 sqft well cared for 3 bedroom

2 bath home located on the north

east part of Coronation. Fenced

back yard, double detached

garage, shed, patio, 5 appliances,

all window coverings. This home is

available for immediate

possession. Listed for $169,900

Coronation

Diana and Harry Lane acreages,

Coronation 7 fully serviced

acreage lots available west of the

Hospital in Coronation. 1.72-3.33

acres $22,360-$43,290

5206 Victoria Ave, Coronation

6 bedrooms, 3 bathrooms, wood or

gas fireplace, new carpet and paint,

A/C, double attached insulated and

heated garage. REDUCED $349,900

4710 Windsor Ave, Coronation

Move in ready inside unit of a 4 plex;

2 bedroom 1 1/2 bathrooms fenced

backyard partial covered deck back

parking 5 appliances $74,900

5101 Norfolk, Coronation

Beautiful 3 bedroom family home

located on a corner lot, the majority

of this home has been completely

renovated. Includes 5 appliances,

spacious 100'x115' yard double

detached garage that is 1/2 garage

and 1/2 revenue property, deck and

a covered seating area and

gardening space. There is a lot to this

property Listed @ $149,900!

for additional photos: screasy.ca or realtor.ca

Shelly

Creasy

Ph. (780) 434-4700

Hm/Off. (403) 578-2255

Cell. (403) 578-7000

Veteran

212 Redan Street, Veteran-

Spacious 2 bedroom 2 bathroom

home located on a large corner lot in

Veteran. 2 single detached garages,

newer furnace and hot water tank,

and 6 appliances. Listed for

$90,000

Commercial

4905 Royal Street, Coronation

Restaurant space for sale. This

property is to be sold as is. Approx

2600 sqft, 2 bathrooms and multiple

storage a prep spaces. Listed

@$40,000

5001 Railway Ave, Coronation

24'x30' insulated and heated

commercial building close to

downtown. Front office, washroom,

shop area and chainlink enclosed

yard. REDUCED $24,000

5117 Railway Ave, Coronation

200'x115' Commercial lot located

along secondary 872. Listed at

$46,000

4301 Victoria Ave, Coronation

200'x115' Commercial lot located

along secondary 872. Listed at

$46,000

4511 Tudor Ave, Coronation 1.76

acre commercial lot in a newer

commercial sub division towards the

east end of Railway Ave. Listed at

$40,000
---
10 S eptember 29'22 HANNA/CORONATION/STETTLER, AB. ECA REVIEW

Ph. 403-578-4111CLASSIFIEDS/CAREERSEmail: office@ECAreview.com

Classified Ad Rates

$13.85 + tax for 25

words or less + 20¢ a word

after 25 each week or 3

weeks for $38.55 + tax

(based on 25 words or less).

Reach 75,000 readers with

your classified. This

includes For Sale, For Rent,

Card of Thanks, Coming

Events, etc.

Payment Necessary

All Classified Ads are on a

Cash Only basis and must

be prepaid before running.

There will be a $5.00

service charge on every

classified not paid for prior

to publication.

REAL ESTATE

The Affordable

Business Partner:

Affordable & confidential

rural Alberta

family business selling

coaching, marketing

and business

selling solutions. How

can we help you?

P:403.708.0903.

www.theaffordable

businesspartner.com

3 QUARTERS OF

Cropland South of

Weyburn, SK.

Distressed sale.

Priced below market

at 1.27 x assessment,

with a 4%

return with lease.

$594,800.00. Call

Doug at 306-716-

2671.

FARMLAND AND

Pasture Land by

Saskatchewan River.

160 acres. Best hunting

in Saskatchewan.

Excellent fishing.

Thick pine & poplar

bluffs, by water coulee.

Old yard site with

power and water.

Revenue Potential.

East of Prince Albert,

SK. $248,000. Call

Doug 306-716-2671.

MISC.

WHITE SPRUCE

Trees: 5' average

$50. Installation ONLY

$19. Includes: hole

augered, Wurzel Dip

enzyme injection,

bark mulch application,

staking. Minimum

order 20. One-time

fuel charge: $125-

175. Crystal Springs.

403-820-0961. Quality

guaranteed.

FEED AND SEED

WE BUY DAMAGED

Grain - Heated,

Mixed, Tough, Light,

Bugs, Spring

Thrashed....Barley,

Wheat, Oats, Peas,

Flax, Canola. "On

Farm Pickup".

Westcan Feed &

Grain 1-877-250-

5252.

ALBERTA FEED

Grain: Buying Oats,

Barley, Wheat,

Canola, Peas,

Screenings, Mixed

Grains. Dry, Wet,

Heated, or Spring

Thresh. Prompt

Payment. In House

Trucks, In House

Excreta Cleaning. Vac

Rental. 1-888-483-

8789.

WANTED

GOLD, SILVER &

Platinum Buyers purchasing

all gold & silver

bullion, jewelry,

coins, nuggets, dust,

scrap, pre-1968 coins,

bulk silver, sterling

+++ Numismatist purchasing

entire coin

collections & accumulations,

Royal

Canadian Mint coins,

world collections, old

$$$. +++ 250-864-

3521.

Business

Directory

L. Strom

Custom Corral Cleaning

and Manure Spreading

• available for stock piling

• equipped for big/small jobs: low sheds, confined areas

General Contracting

• Track skid steer with high flow; available for all types

of services including mulching, landscaping etc.

403 574 2222 / 741 9974

Bill's Waterwell

Services Ltd.

Well Drilling

Pumps & Repairs

403-747-2120

drillerbill@xplornet.com

Big Country Construction

& Building Supplies

2018 Ltd.

• Custom New Homes • All Farm Buildings

• Renovations • Windows and Doors

• Overhead Doors & Service • Retail Sales

Quality Customer Care

403-854-3585

HELP WANTED

Help required for part

time casual inserting of

flyers on Tuesdays and

Wednesdays at the

ECA Review,

Coronation office. Call

403-578-4111 or drop

into the office at 4921 -

Victoria Ave.

Coronation for more

information.

UPCOMING SALES

MOVING SALE:

Antique Bake Table,

Karol Fedor canvas

print, high quality

Kawai (oak) piano &

stool, Canadian-made

china cabinet (2 piece),

glass end tables,

Elliptical trainer, Queen

size bed & more; original

and printed artworks.

1-403-740-3507

Big Valley, Ab.

MEIER UNRESERVED

Gun & Sportsman

Auction. Sat. Oct 1 -

10am, Located 4740

57 St Wetaskiwin, AB

Consign Now. Phone

780-446-4360. Visit

www.meierauction.com

For More Details.

LEGAL NOTICE

NOTICE TO Creditors

and Claimants. Estate

of Bertha Thornton

who died on July 26,

2022. If you have a

claim against this

estate, you must file

your claim by

November 1, 2022 with

E. Roger Spady,

Barrister and Solicitor

at Box 328,

Coronation, Alberta,

T0C 1C0. If you do not

file by the date above,

the estate property can

lawfully be distributed

without regard to any

claim you may have.

SERVICES

GET BACK ON

TRACK! Bad credit?

Bills? Unemployed?

Need Money? We

Lend! If you own your

own home - you qualify.

Pioneer

Acceptance Corp.

Member BBB. 1-877-

987-1420. www.pioneerwest.com.

CRIMINAL RECORD?

Why suffer employment/licensing

loss?

Travel/business

opportunities? Be

embarrassed? Think:

Criminal Pardon. US

entry waiver. Record

purge. File destruction.

Free consultation.

1-800-347-2540.

www.accesslegalmjf.

com.

Ask us about

available

discounts.

UNLIMITED

HIGH‐SPEED INTERNET

Now Serving:

Coronation, Veteran, Talbot, Brownfield,

Alliance, Fleet, Castor, Halkirk, Botha, &

Stettler areas. More to come!

Plans starting at $50/mo.

Packages from 7 to 50Mbps

403-578-4214

Toll Free 866.57.VITAL

53' Ground Load Services

Benson Van Hienen

403-741-5735

bvhtrucking@gmail.com

PRIVATE

MORTGAGE Lender.

All real estate types

considered. No credit

checks done. Deal

direct with lender

and get quick

approval. Toll free

1-866-405-1228

www.firstandsecondmortgages.ca.

PERSONALS

I would like

a lady for

companionship

to live with me

and also

help me with

odds & ends.

Call Vern Dodd

1-403-565-3863

Reporter required

for Hanna, Ab. satellite office including

reporting in surrounding districts

and counties. The ECA Review is an

independently-owned successful awardwinning

regional publication (located

in East Central Alberta) with a print

circulation over 28,000 and an online and

social media presence.

The successful candidate must have

strong writing skills, be a self-starter,

organized multi-tasker with excellent time

management skills.

A journalism degree, computer and typing

skills and experience preferred. Must have

their own reliable vehicle and camera

equipment.

A vehicle allowance and a Benefits Plan

is part of the employment agreement.

Email a cover letter explaining why you

think this position is ideal for you and

include your resume to:

publisher@ECAreview.com

space available

for under $30

Scott Lourance

403-916-4600 Cell

403-742-2551 Home

HEALTH

GET UP TO $50,000

from the

Government of

Canada. Do you or

someone you know

have any of these

conditions: ADHD,

Anxiety, Arthritis,

Asthma, Cancer,

COPD, Depression,

Diabetes, Difficulty

Walking,

53' Cattle Liner

53' Ground Load

Hay Trailer

CAN'T SEE OUT?

Option #1

Replace

the Foggy

Unit

Option #2

Replace

the

window

Financing Available

Anchor Glass

403-854-4414 • 1-800-463-3148

www.anchorglass.ab.ca

tim@anchorglass.ab.ca

Fibromyalgia,

Irritable Bowels,

Overweight, Trouble

Dressing...and

Hundreds more. ALL

Ages & Medical

Conditions qualify.

Call The Benefits

Program 1-800-211-

3550 or send a text

message with Name

and Mailing Address

to 403-980-3605 for

your FREE benefits

package.

check us out online www.ECAreview.com

LEGACY DRILLING LTD is looking for a

Full-time, Permanent

Water Well Drilling Roughneck.

Operating out of the Delburne, Ab area

Year round employment.

Must have class 5 license.

Drilling training for the right person

Will respond to phone calls ONLY

Call 403-396-2254 and leave a message

Stettler Curling Club

Seeking for the 2022/23 season

Ice Technician/Club Manager

Stettler Curling Club is a 6 sheet facility operated by a

new Freon ice plant commissioned in 2021. Successful

candidate is responsible for installation and ongoing

maintenance of ice and general building maintenance.

This is a contract position from October 1 to April 15 and

salary is approximately $4000 /month. Hours are flexible

consisting of days, evenings and occasional weekends.

Preference would be to those with previous experience

in installing and maintenance of curling ice. Will also be

responsible for some Club Manager position duties.

To learn more about this opportunity,

please contact StettlerCurlingClub@gmail.com

or through our facebook page.

The Stitchn' Shoppe

Upholstery

1 (403) 803-2067

BY APPOINTMENT ONLY

NEADASTITCH@GMAIL.COM

THESTITCHNSHOPPE.COM

Serving Stettler Ab. & Area

McSteel

SALVAGE &

CLEAN-UP

LTD.

Wainwright, AB

We Buy

Scrap Metal

Call

780-842-8622

www.mcsteel.ca

• Specializing in Repairs to

ALL Makes & Models of RVs & Trailers

• Full selection of RV Parts & Accessories

• RV Storage

HIP/KNEE

REPLACEMENT.

Other medical conditions

causing

Trouble Walking or

Dressing? The

Disability Tax Credit

allows for $3,000

yearly tax credit and

$30,000 lump sum

refund. Take advantage

of this offer.

Apply NOW; quickest

refund

Nationwide: Expert

help. 1-844-453-

5372.

403 742 5667 generationsrv@gmail.com
---
ECA REVIEW HANNA/CORONATION/STETTLER, AB September 29'22 11

Truly the solid rock of her family

Brenda Joy Braglin

Jan. 24, 1959 – Sept. 5, 2022

It is with deep sadness and heavy

hearts that we announce the sudden

passing of Brenda Joy Braglin.

Brenda Milner was born on Jan.

24,1959 in Stettler, Alta. to Fred and

Evelyn Milner. Family

time was everything to the

Milner family and they

spent many weekends

camping in the coulees,

snowmobiling and riding

the minibikes. They

enjoyed many summers at

the lake where time was

spent water skiing, catching

waves on the boat, singing

around campfires and Braglin

exploring the 'haunted'

houses.

They took annual trips to Hundred

Mile House where Auntie Susan and

Uncle David made sure everyone had

the best trip ever – the experiences of

riding in helicopters and airplanes, as

well as riding horses on trail rides,

were major highlights of these trips.

Brenda was to Disneyland four times

in her life and Brenda loved the thrill

of the theme park.

Brenda attended kindergarten to

Grade 9 in Stettler. She attended

Lethbridge LCI for Grades 10 and 11.

Brenda was very happy when the

family moved home after two years

and she graduated from Stettler

William E. Hay in 1977.

During Brenda's school years she

enjoyed babysitting, figure skating,

piano, tap dancing, attending Brownies

and girl Guides in which she earned

many badges.

Brenda was a very 'crafty" lady,

doing crochet, petti point, cross

stitching, paper toll, painting, quilting

and sewing. Brenda took great pride in

what she did and it showed in her

many meticulous projects. Brenda

sewed many Christmas pajamas for

her nephew and all of her nieces, adult

and children Halloween costumes,

wedding dresses, including her own,

bridesmaids' dresses, flower girl

dresses, and ring bearer suits and

pillows.

Brenda met Brian Braglin and after

a short courtship, they were married

June 27,1987. Sara Rose was born on

May 11, 1991. Sara would be

their only child and Brenda

adored her.

The Braglin's lived on an

acreage south of Stettler where

they had horses, dogs and cats.

Brian was often away trucking

and Brenda and Sara would

attend many events around

town together. She really loved

going to rodeos and made sure

that Sara had her own horse to

learn how to ride in 4-H.

Brenda was a great cook and

her buns and homemade pickles were

always a hit at the family holiday

meals. She made Skor cake each year

for Sara's birthday. She hosted one of

the most epic construction birthday

parties for Gage that the Stettler park

has ever seen, complete with hard hat

signs labelling all of the themed food.

Brenda's nieces and nephew

remember the sleepovers with the best

popcorn. She would make it on the

stove. She taught many of them how to

cross stitch and gave mini painting

lessons.

On Dec. 24, 2013 Brenda received the

best early Christmas present and was

delighted to become a Grandma! Gage

was the light of her life and very soon

after he was born she became the sole

caregiver of him. She loved this little

boy with everything she had and did

her best. She spent hours neatly and

meticulously documenting everything

about him in his baby book. The level

of detail and thought she put into this

book is amazing! One day Gage will

read this remarkable collection of

memories and cherish his baby book.

It is a true testament of the love, joy

and pride that she had for him.

Brenda always had time for a visit

and was happy to stop and chat with

friends, family or strangers and always

left the conversation with a smile.

Throughout her life she was fortunate

to be surrounded by family and

grandparents that lived long lives.

Brenda visited them often and had

such a big heart for them! She was

always one of the firsts to watch the

parade in front of Grandma and

Grampa Milner's house. She took costumes

to Grandpa when he was living

in the home to make sure that he was

the best dressed resident for every special

event. She had a special place in

her heart for Rylie, Cody, Nola and Si

and went on adventures with them and

Gage including this year's trip to

Banff.

Brenda was an integral part of every

family reunion and family holiday.

She headed up the planning and organizing

and there were the binders…

Brenda was meticulous with family

history and compiled these binders for

both the Rowland and Fischer families

and they were huge. She kept up to

date with all of the births, marriages,

deaths and any important event that

happened in between. If you needed to

know a date, Brenda was the one to

ask. With our large families continually

growing and growing, it is quite an

accomplishment to keep them current!

Just like Gage's baby book, these

binders are pristine, very detailed and

filled with exquisite penmanship.

Brenda's working career saw her as

a seamstress, owning her own crafts

store, an AGT phone operator, Stettler

Curves and working for dear friends

Terry and Cathy Anderson at the Shim

Shop.

As time passed Brenda's health was

deteriorating but she still gave everything

she had. Her struggles were real

and sometimes unbearable but Brenda

was stubborn, persistent and determined

to raise her grandson and look

after her ailing husband Brian by

herself.

Brian passed away April 29, 2020 and

Brenda and Gage continued to live on

the acreage. She was truly the solid

rock of her family. Her heart may have

been physically weak but it never

stopped giving all it could.

We are so saddened that she had to

endure so much during the last month

of her life - an amputation, ICU, a house

fire and dialysis. Through it all, she

joked with the nurses, laughed with

her dad about going out to the garage

and making her a peg leg, and she

fought hard. She really kept her spirits

up, was getting healthier, and was

moved to the physio unit to start her

road to recovery and going home, but

she quietly slipped away and she is at

peace now.

Brenda was a true testament to the

saying, "A mother's love is unconditional

"and we were reminded and saw

it over and over again through the

years. She will continue watching over

Sara and Gage, as she always did.

Her sudden passing was a shock to

us all and Brenda will be sadly missed

by her loving family, daughter Sara

Braglin of Red Deer; grandson Gage

Braglin of Stettler; parents Evelyn and

Fred Milner of Stettler; sisters Cindy

Milner of Stettler and Sheila (Larry)

Clarke of Gadsby; nephew and nieces:

Cody Bibaud, Rylie Bibaud, Megan

(Brandon) McPhee, Lyndsey (Clay)

Gordon, Rebecca Clarke and Hillary

Clarke (Sheldon); nine great nieces and

nephews; other relatives, and many

dear friends and neighbours.

Brenda was predeceased by her husband

Brian Braglin.

A celebration of her life was held

Tues. Sept. 13, 2022 at the Stettler

Funeral Home and laid to rest at

Stettler Lakeview Cemetery. To send

condolences to the family, please visit

www.stettlerfuneralhome.com.

Stettler Funeral Home &

Crematorium were entrusted with the

care and funeral arrangements,

403-742-3422.

Listener, councillor, a common sense approach to life

Sylvia Joan Wold

1947 - 2022

Sylvia passed away peacefully at the

Red Deer Hospital on Sept. 17, 2022 at

the age of 74 years.

Sylvia trained as a certified Nursing

Aid in the 60's and nursed at Castor

Hospital, Slave Lake Hospital and

Castor Medical Centre.

She also was a school librarian slave,

school secretary and

teachers aid at Alliance

school, a law office receptionist

and administrator

for seniors housing in

Castor for 23 years.

She was a successful

motivational speaker

throughout the years,

including a guest presentation

to a seniors housing

group in Toronto which

was cancelled because she

had a heart attack instead!

Wold

Other jobs over the years included

dishwasher, waitress, ward aid, dreamland

nursery adoption agency,

telephone operator, horse walker for

Bob's chuckwagon, Deer home aid for

special needs, local reporter, board

member at Flagstaff Family and

Community Support Services, flagstaff's

initiative to relationship and

spousal trauma and village councillor.

Sylvia loved her husband and family

deeply and unconditionally! She was

always so blessed that her amazing

sons chose such lovely wives who

meant the world to her and her four

grandchildren who were perfect and

loved beyond measure.

She loved being the only sister with

three older brothers who worshiped

her always. She loved family and loved

spending time with them.

Sylvia was happiest watching family

play sports particularly baseball and

fastball – even for God's sake, slow

pitch.

She and Dale had many

interesting adventures and

after retirement travelled

together on Dale's jobs

searching for abandoned oil

wells all over Alberta and

Saskatchewan, as well as sales

calls for Shaun's company.

Most of it was fun and most of

the time they ended up where

they were intending to go!

They loved raising two sons

(Dale the worrier, Sylvia the

controller!) and remained involved

with her lovely daughters-in-law and

grandchildren, always ready with solid

advice whether solicited or not!

She often remarked about how fortunate

she was to have Sherry and Celina

in her life. The girls were so special to

her, as were all her sisters-in-law, and

so were those wonderful nieces and

great-nieces who became such good

friends, and nephews and greatnephews

who she was so proud of.

Sylvia thoroughly enjoyed the young

friends of her sons over the years and

they were always welcomed and loved

in Mom and Dad's home – that

OBITUARIES

continued forever. She loved having

young people around always.

You always knew where you stood as

she was outspoken and called a spade

whatever she wanted to call it. In spite

of that outspokenness, she has garnered

some amazing friends. She truly

valued each and every one of them. She

was a noted listener, and a good councillor

with a common sense approach

to life – she did not suffer fools gladly

though, so you needed to be making

good effort to make your life successful

or be willing to hear about it!!

She left behind a lot of stuff to her

husband and sons who have no idea

what they are going to do with it all.

So, if you happen to be looking for a

slightly used toaster, or a couple of well

used VCRs, then we have a great deal

for you. Please consider waiting the

appropriate time and then get in touch

– tomorrow would be fine for us.

Sylvia is survived by her loving husband

Dale; sons Shane (Sherry) Wold

and Shaun (Celina) Wold; grandchildren:

Jordan, Keegan, Rylan and

Gracyn.

She is also survived by Baird relatives;

Anita Baird and Lorna Baird

and Wold relatives; Ken (Marie),

Dianne (Brian), Rob (Darlene);

numerous nieces, nephews and

friends.

Sylvia is predeceased by her parents

Charles and Irene (Foster) Baird;

brothers Ronald, Grant and Merle; sisters-in-law

Marilyn and Violet;

nephews Terry and Drew; nieces

Laurie Hutchinson and Lois Baird.

A Celebration of Life will be held at

the Alliance Hall, Alliance, Alta. on

Thurs. Sept. 29, 2022 at 2 p.m.

Condolences can be sent to the

family at www.parkviewfuneralchapels.com.

Memorial contributions may be

made in Sylvia's memory to the

Paintearth Lodge or to a charity of

your choice. Parkview Funeral

Chapels & Crematorium entrusted

with the care and funeral

arrangements.

The shelf life for

Facebook, Twitter

and the like is

short-lived.

Send birth, wedding, birthday

& anniversary announcements

to the ECA Review to ensure that

these life-changing events become

part of history forever, and

for as little as $13.85 in the word

classifieds to a display ad with

photo for as little as $78.60 + tax.

403-578-4111
---
12 S eptember 29'22 HANNA/CORONATION/STETTLER, AB. ECA REVIEW

AGRICULTURE

AGRI-NEWS

Reason to be optimistic about fall calf prices

"Although there are some concerns

of increasing costs and dry pasture,

there is reason to be optimistic about

fall calf prices," says Ann Boyda, livestock

economist with Alberta

Agriculture, Forestry and Rural

Economic Development. "Calf and

feeder prices showed strong performance

this summer, with calf prices

ending the second week of September

at the highest pricing in recent history,

but not reaching the record highs

experienced in 2015."

Typically, the fourth quarter sees

feeder prices seasonally decline with

the increased supply of weaned calves.

Boyda says it is safe to presume that

this decline will be smaller this year.

Other factors that come into play in

pricing include the prospect of better

grain crops this year, strong beef

export demand, smaller U.S. and

Canadian cattle herds and strong

cattle futures.

"New-crop barley is being delivered

to Alberta feedlots and replacing some

of the U.S. corn. Decline in barley price

through summer has recently stabilized

but demand for new-crop may see

a slow rise."

As of July 1, 2022, Statistics Canada

reports western Canadian cattle inventories

being down 3.2% to 9.5 million

head. Increases were reported in

Alberta (up 1.4%); however, the

increase in Alberta was expected to be

greater given the drought in 2021.

Breeding heifers declined across the

Western provinces with Alberta

reporting a decline of 9.4%. Boyda

notes there are no signs of herd expansion

in the U.S. either.

"Futures support a strong finish to

2022. We look to futures contract prices

as an indicator of what the market

thinks cattle will be worth at a specific

future time. The Chicago Mercantile

Exchange live and feeder cattle futures

ended higher on September 2, 2022 for

upcoming contracts expiring in

October and December."

The supply side is supportive of

strong prices and the beef markets on

the demand side

have shown resilience

to changes

in economic conditions.

For the

first half of 2022,

Alberta live cattle

and beef (Fresh,

Frozen or

Chilled, incl.

Offal) exports

increased by

40.2% and 5.7% in

volume over the

first half of 2021.

"Domestically,

there has been

some movement

to purchase of

Video Ante-Mortem Inspection program

"The Video Ante-Mortem (VAMI)

program allows for an ante-mortem

inspection by video for animals that

cannot be transported to an abattoir so

that they may be humanely slaughtered

on site," says Kelly Sawka,

operations manager north, with

Alberta Agriculture, Forestry and

Rural Economic Development. "The

program has already assisted several

producers who had animals that were

lame and difficult to transport."

Once the animal has passed antemortem

inspection by video the

animal must be humanely stunned

and bled and transported to a participating

provincially-licensed abattoir

for a post-mortem inspection and

where additional activities related to

slaughter are completed.

The meat may be sold if both an

ante-mortem inspection and a postmortem

inspection have been

conducted and passed, and the meat

has been deemed fit for human

consumption.

"The VAMI program may not be able

to assist in all cases due to limited

inspection resources or availability of

licensed abattoirs," explains Sawka.

"Also, for some cases, rural connectivity

to the internet may limit

participation in VAMI as an internet

connection is required to access the

online VAMI tool and submit a video.

Alternative slaughter options available

to producers include the Appointed

Inspector Program, On-farm

Slaughter

Operation

licence, or a

licensed mobile

butcher."

The VAMI webpage

provides

detailed information:

https://

www.alberta.ca/

video-antemortem-inspection.aspx

Call Mike

780-385-4664

Bin Anchors

Don't Let The Winds Bother You!

less expensive cuts but beef prices are

expected to hold steady. This reinforces

an optimistic outlook for fall of

2022," says Boyda.

LEGACY DRILLING LTD.

Water Wells

Pasture Wells

Drilling and Servicing

Jeff Southworth

Phone: 403-854-0172 • Hanna, AB

Phone: 403-396-2254 • Delburne, AB

E-Mail: legacydrillingltd@outlook.com

Emergency 24/hr On Call

22102CC0

UPCOMING 2022 FALL SALES

Fall Run ls Here!

Regular sales every Friday at 9:00 AM,

followed by Feeder sales at 11:00 AM all through September

PRE-BOOK CALF SALES

PRE-BOOK CALF SALES

Every Monday & Wednesday at

10:00 AM Starting

October 12 th to November 9 th

LAST CHANCE

PRE BOOK CALF SALE

December 12 th at 10:00 AM

BRED SALES

BRED COW & HEIFER SALES

Every Saturday at 12:00 PM

Starting

November 12 th to December 17 th

BSSA SPECIAL

BRED COW & HEIFER SALE

December 12 th at 12:00 PM

HARDGRASS

Black & Red Angus

Bull & Female Sale

November 28 th

1:00 PM

BULL SALES

GEMSTONE CATTLE

Hereford& Angus

Bull & Female Sale

December 7 th

1:00 PM

66 RANCH

9 th Annual

Bull & Bred Female Sale

December 14 th

1:00 PM

403-362-5521

Lachie McKinnon- Manager 403-362-1825

Erik Christensen- Asst. Manager 403-363-9942

Sam Mckinnon- Field Rep 403-793-1731

bowslope.com