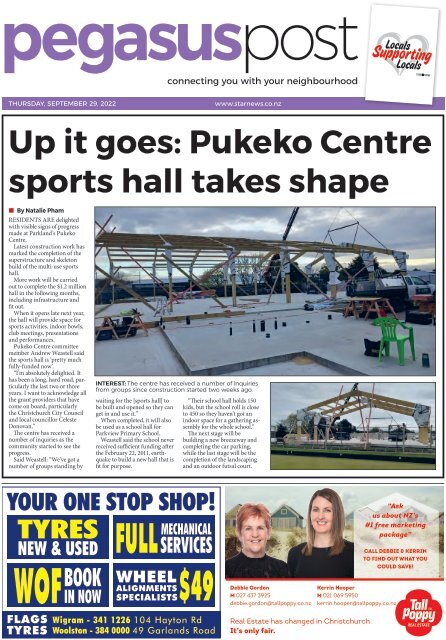 Pegasus Post: September 29, 2022
You also want an ePaper? Increase the reach of your titles
YUMPU automatically turns print PDFs into web optimized ePapers that Google loves.
connecting you with your neighbourhood

Locals

Supporting

Locals

THURSDAY, SEPTEMBER 29, 2022

www.starnews.co.nz

Up it goes: Pukeko Centre

sports hall takes shape

• By Natalie Pham

RESIDENTS ARE delighted

with visible signs of progress

made at Parkland's Pukeko

Centre.

Latest construction work has

marked the completion of the

superstructure and skeleton

build of the multi-use sports

hall.

More work will be carried

out to complete the $1.2 million

hall in the following months,

including infrastructure and

fit out.

When it opens late next year,

the hall will provide space for

sports activities, indoor bowls,

club meetings, presentations

and performances.

Pukeko Centre committee

member Andrew Weastell said

the sports hall is 'pretty much

fully-funded now'.

"I'm absolutely delighted. It

has been a long, hard road, particularly

the last two or three

years. I want to acknowledge all

the grant providers that have

come on board, particularly

the Christchurch City Council

and local councillor Celeste

Donovan."

The centre has received a

number of inquiries as the

community started to see the

progress.

Said Weastell: "We've got a

number of groups standing by

INTEREST: The centre has received a number of inquiries

from groups since construction started two weeks ago.

waiting for the [sports hall] to

be built and opened so they can

get in and use it."

When completed, it will also

be used as a school hall for

Parkview Primary School.

Weastell said the school never

received sufficient funding after

the February 22, 2011, earthquake

to build a new hall that is

fit for purpose.

"Their school hall holds 150

kids, but the school roll is close

to 450 so they haven't got an

indoor space for a gathering assembly

for the whole school."

The next stage will be

building a new breezeway and

completing the car parking,

while the last stage will be the

completion of the landscaping

and an outdoor futsal court.

YOUR ONE STOP SHOP!

TYRES

NEW & USEd

WoF

FLAGS

TYRES

bOOk

IN NOW

FULL MECHANICAL

SERVICES

WHEEL

ALIGNMENTS

SPECIALISTS$49

Wigram - 341 1226 104 Hayton Rd

Woolston - 384 0000 49 Garlands Road

Debbie Gordon

M 027 437 3925

debbie.gordon@tallpoppy.co.nz

Kerrin Hooper

M 021 069 5950

kerrin.hooper@tallpoppy.co.nz

Real Estate has changed in Christchurch

It's only fair.

"Ask

us about NZ's

#1 free marketing

package"

CALL DEBBIE & KERRIN

TO FIND OUT WHAT YOU

COULD SAVE!
---
2 Thursday September 29 2022

DELIVERERS WANTED!

Are you honest, reliable and over

the age of 11? Why not earn money

and get fit doing it. Get in touch

with your interest today:

deliveries@alliedpress.co.nz

029 983 2293

Your local community newspaper connects

neighbours in the following suburbs

Linwood • Avonside • Richmond • Shirley • Bexley

Burwood • Dallington • Wainoni • Bromley

Aranui • Avondale • New Brighton • Northshore

Queenspark • Parklands • South Brighton

19,600 readers every week.

ADVERTISING

Frank Greenslade

Ph: 021 662 975

frank.greenslade@starmedia.kiwi

NEWS

Natalie Pham

Ph: 022 013 6028

natalie.pham@starmedia.kiwi

GENERAL INQUIRIES Ph 379 7100

CLASSIFIED ADVERTISING Ph 379 1100

www.starmedia.kiwi

Nielsen Media NRS

what's on

this week

Dallington Landing

Community Planting

Saturday, 10am-2pm

Dallington Landing, Dallington Tce

CVNZ volunteers are helping to

create a forest in Christchurch's red

zone. Volunteers will be planting

around 40,000 different trees,

shrubs and grasses to increase

biodiversity and recreate a forest-type

environment. Tools and team leaders

will be provided. Volunteers need to

bring gardening gloves, a water bottle

and wear sturdy footwear. Register on

conservationvolunteers.co.nz

Email Donna at christchurch@cvnz.

org.nz or phone 021 457 568 for more

information.

Parklands Business

Networking Meeting

Friday, 9-10am

460 Bower Ave

Calling all business owners in

Parklands, Shirley and north-eastern

Christchurch areas. Go and join an

inspiring meeting to complete the

week.

Linwood Village Market

Saturday, 10am-1pm

388 Worcester St, Linwood

Corner of Worcester and Stanmore,

the market will be back with this

and that, odds and ends, free box,

and always reasonably priced

refreshments and a friendly welcome.

Wā Pēpi - Babytimes, Tuesday, 10.30-10.30am, Shirley Library.

Meet others in the community and join our relaxed, fun group for interactive

songs, rhymes, and books that will delight and develop your baby

or toddler. Please note: Guardians and children 12 and over will need to

wear a face mask.

New Brighton Seaside Market

Saturday, 10am-2pm

New Brighton Pedestrian Mall

Every Saturday, New Brighton's

pedestrian mall is filled with colour

and creativity. Go to the seaside and

enjoy, live entertainment, great food,

fresh produce, arts, crafts, jewellery

and more. There's also a bouncy castle

and free face-painting for children.

Inquiries text 027 517 4250 or email

info@seasidemarket.org.nz.

Mahjong Group

Thursday, 1-3pm

Linwood Library

Interested in playing Mahjong? For

beginners and advanced players alike.

Go along and join in a friendly game

at the library.

Backpack buddies

October 3-8, all day

Parklands Library

Build a best bud for your backpack

Free, no bookings required. This is an

unsupervised activity.

JP Clinic

Friday, noon-2pm

Parklands Library

A justice of the peace will be available

to members of the community, to

witness signatures and documents,

certify document copies, hear oaths,

declarations, affidavits or affirmations

as well as sign citizenship,

sponsorship or rates rebates

applications. There is no charge for

this service.

Chinese Calligraphy

Workshop – After school

activity zone

Friday, 3.30-4.30pm

Shirley Library

Go join a special Chinese Calligraphy

Workshop during NZ Chinese

Language Week until October 1.

You will get your Chinese names

and learn and practice Chinese

brushwork. Free, no bookings

required. The event will be delivered

in Mandarin.

Not-for-profit organisations can send their What's On listings to

pegasus@starmedia.kiwi

Bin Good with

recycling

By putting the right clean items in the yellow bin,

you're helping to reduce waste going to landfill.

These are the only items that can go in the

yellow bin:

Remember:

Give your bottles

and containers a rinse

and make sure they

are loose.

Plastic bottles & containers

numbered 1, 2 and 5

(3 litres and under and put lids

in the red bin)

Glass bottles and jars

(put lids in the red bin)

Thanks for

bin good

If you need more

info download our

handy Christchurch

Bins app

ccc.govt.nz/bin-app

7th, 8th & 9th Oct

1 day admission: $5.00 | 3 day admission: $10.00

www.canterburybranchvintagecarclub.org.nz

Want To Burn Fat Fast?

Burn Up To 2.5 x More Calories In Just 14 Minutes a Day!

Bobbi | Bowflex Max Trainer User

I lost 15kg in 10 weeks. That is ridiculous. The fat just

melts right off. I mean, it absolutely changed my life!

Why Bowflex Works For You

Plus

Flattened cardboard

and paper

(no smaller than a standard envelope)

Aluminium cans

and metal tins

(please don't squash)

Save Time - Don't let "lack of time"

slow you down.

Lose Weight - Burns Up To 2.5x More

Calories.

Get Motivated - Fun, low impact

workouts combined with a personalised

fitness program.

Get Healthy with the HIIT technology

Free

$950.00 Gift *

*Call for Terms

& Conditions CALL NOW! 0800 665 665
---
Thursday September 29 2022 3

Toy library searching for a new librarian

• By Natalie Pham

A JOB opportunity for toy-lovers

is now available at a library in

Shirley, but with a catch.

The hunt for a toy librarian

at the Shirley Toy Library has

begun after its longest librarian

resigned this year.

Said president Rachel Seddon:

"It's a cool job because you get to

play with toys all day."

However, the opening hours

are "a little bit odd".

At the moment, this not-forprofit

library only opens twice

a week – Wednesday afternoon

and Saturday morning.

While committee members

want to open the library more

often, limited funding and

grants have stopped them from

doing so.

As most of the grants are

spent on acquiring new toys,

the library is left with little to no

money.

This also restricts them from

advertising to attract more

members.

"We tend to make a little loss

every year. We rely on grants,

donations, and membership fees

to keep us afloat," Seddon said.

The library will be looking into

increasing its hours once there

are more members on board.

It used be the biggest toy

library in the country with

more than 100 members until

a decrease in membership in

recent years.

It currently has 62 members,

with 32 full members and 28

duty members.

A full membership costs

$120 per year, whereas a duty

membership costs $40. As duty

members pay less fees, they are

required to complete four duties

during their membership year,

including rostering at the library

and fundraising.

However memberships do not

cover the additional rental fees

ranging from 50 cents to $5,

depending on the toys.

Members can borrow up to 10

toys at a time, with a collection

of 1000 toys catering from

newborn to seven years old.

"While the full membership

gives us more money, it also

makes the finding of a new

librarian more important,"

Seddon said.

She joined the library as a

duty member in 2018 before

getting more involved with the

committee a year later.

As a mother of two, Seddon

knows how quickly a child can

grow out of a toy.

"So the library works very well.

And it's very good for reducing

VACANCY:

Shirley Toy

Library is on

a hunt for

a new toy

librarian to

look after its

collection of

almost 1000

toys, catering

from

newborn to

seven years

old.

and recycling toys because

everyone is sharing toys," she

said.

The memories her two

children have made with these

toys are what she likes most

about volunteering at the library.

Seddon recommended people

get involved with a toy library,

particularly new mothers or

parents.

NUMBER ONE SUPPLIER

TO THE NZ JET BOATING

COMMUNITY FOR OVER

50 YEARS

Conceived and Originally

Directed by JOHN‐MICHAEL TEBELAK

MUSIC AND NEW LYRICS BY STEPHEN SCHWARTZ

Originally Produced on the New York Stage by

EDGAR LANSBURY / STUART DUNCAN / JOSEPH BERUH

Licensed exclusively by Music Theatre International (Australasia).

All performance materials supplied by Hal Leonard Australia.

6 – 15 OCTOBER 2022

VENUE: THE DRAMA THEATRE, RANGI RURU SCHOOL, CHRISTCHURCH

TO BOOK PHONE: (03) 338 4699 OR VISIT:

WWW.RICCARTONPLAYERS.CO.NZ

GREAT READS INSTORE AT TAKENOTE FERRYMEAD

The Daughter of Auschwitz

My story of resilience, survival and Hope

by tova Friedman, Malcolm Brabant,

Foreword by Ben Kingsley

The harrowing, moving and poignant account of one of the youngest

survivors of Auschwitz: a girl who was only five years old when she

was sent to an extermination camp, and was one of the few people who

entered a gas chamber and lived to tell her story.

'I am a survivor. That comes with a survivor's obligation to represent one

and half million Jewish children murdered by the Nazis. They cannot

speak. So I must speak on their behalf.'

Breaking History - A White

House Memoir by Jared Kushner

ULTIMATE INSIDER-No one spent more time closer to President Trump on

bigger issues than Jared Kushner. There are no secrets he has not learned.

LONG-AWAITED-Few figures have been as enigmatic as Kushner, driving

speculation everything from him being "Q" to heading the Deep State.

In this book, we'll finally find out where he really stands. STUNNINGLY

HONEST-Most WH memoirs are driven by a desire to establish a base

of support in politics, either to run for office or to become a talking head.

Kushner is not interested in either, and he has no agenda but the truth.

GLOBAL MEDIA COVERAGE This book will dominate the headlines on

release We'll be pitching for key TV and News mastheads nationally

• Part Boats & Hulls

• Turn Key Packages

• New Jet Units

• Custom Fabrication

• Expert Advice

SERVICING

03 962 0505

Lunns Road, Middleton

• Spare Parts Retailer

• Jet Unit Refurbishment

• Engine Tune-Ups

• Insurance Repairs

• Impellor Reconditioning

DELHI 6

AUTHENTIC INDIAN FOOD

Dine In & Takeaway, BYO (wine only)

OPEN 7 DAYS LUNCH & DINNER

5/245 Ferry Rd, Waltham. Ph: 03 365 1873

www.delhi-6.co.nz

1005 Ferry rd Ph 384 2063

CLOSED SUNDAY

While stocks last

(see instore

for terms and

conditions)

Please

stay saFe

everyone!

Barry & kerry
---
4 Thursday September 29 2022

Entrepreneurship Thriving

at Te Aratai College

Our Business Studies has been experiencing

rapid growth, resulting in several successes

in the national Young Enterprise Scheme

competition. Our kura is punching well above

its weight, placing well in the competition and

scooping up exclusive spots on the Young

Enterprise Scheme trips. The Lion Foundation

Young Enterprise Scheme (YES) is an

opportunity for students to unleash their innerentrepreneur

and experience the start-up world

first-hand. YES is an experiential programme

where students set up and run a real business.

This year three of our students have secured

spots on business trips to learn about

entrepreneurship in China, Latin America,

and an immersive two-day "Entrepreneurs in

Action" course in Wellington.

In the past, some of our ākonga have garnered

local and national media attention with

their endeavours. There was the "Popcoin"

enterprise that spotted a gap in the snack

food market – gourmet popcorn. The Year 13

entrepreneurs sold the snacks at markets and

pop-up stalls across Christchurch. Not only did

the company make a profit and have to employ

other students to meet demand, but they were

named winners of the 2019 Canterbury Young

Enterprise product launch.

Another successful endeavour was the Year

13 business team that created a children's

book, 'A Trip Around the World'—designed to

promote diversity amongst young readers and

to "say no to racism." The first print run of the

book flew off the shelves resulting in

a sellout within two weeks. The book

can also be found in several libraries

around Christchurch. Their success

was also picked up in the national

media. Additionally, they were

presented with the excellence award

for customer and market engagement

at the Young Enterprise regional

finals.

This year Te Aratai has 10 teams

from two Year 13 business classes

competing in the Young Enterprise

Scheme, a competition where

students learn key business skills and

compete against schools nationally

by setting up their own businesses.

Two teams have been featured

in local media and have received

positive feedback from the

community, including local MPs.

Launched by five enterprising

Year 13 students, "Cheeky Grill"

combines the best of Indian and

Mexican food to create exceptional

butter chicken burritos and

quesadillas. It started when Azkiya

Mohammed, Ashlyn Reddy, Nitin

Ratui, Dipshay Prasad and Lupe

Mahoni wanted to produce some

soul-warming food. Since March

this year, the students have been

selling at their school sites and the Mt Pleasant

Food Truck Alley. They were amazed by the

success of their "Mindian" dishes. Cheeky Grill

have sold out at the locations they've been to,

with the most successful stint at the Food Truck

Alley.

Another successful team to feature in the

news this year is the "pHyzi" team who have

prototyped, produced and sold colourful fizzy

bombs that can be used to wash dishes. Chief

executive Manisha Baines said the group was

inspired to develop the product after seeing

young children becoming frustrated and bored

with household chores. Marketing director

Fabian Kazakos-Gardner said, "We thought

about how we could help and being keen on

science came up with the idea of colourful fizzy

dish tablets that work like bath bombs."

Kaltan Kazakos-Gardner, our current Deputy-

Head Student, who has taken Business

Studies throughout his senior schooling, was

recently awarded a spot in the Latin American

Business programme that places Year 13

NCEA Business students on a two-day course

in Auckland. This course teaches students

about developing business opportunities in

Latin America. He says, "Business Studies at

Te Aratai College offers a range of amazing

opportunities that teach you real-world skills.

There are also plenty of chances to be a part

of activities and trips where you will meet

amazing people. I was fortunate to be a part

of one of these trips, which led me to meet the

ambassador of Argentina."

Ad: 85 Aldwins Road, Phillipstown | Ph: 03 9820100 | Em: office@tearatai.school.nz | Wb: tearatai.school.nz
---
Thursday September 29 2022 5

Shirley Boys' High School kapa haka group was invited

to perform for Te Wiki o Te Reo Māori at The Palms

shopping centre two weeks ago. While the group wasn't

at full strength due to exam week, it was great to come

together and celebrate te reo Māori.

The Harcourts Geraldine Festival,

featuring the Alpine Energy Art

Exhibition and Awards, is delighted

to be returning after a hiatus during

COVID, with plenty in store for

everyone to enjoy at this year's event.

The Festival opens on the evening of

Thursday 10th November with the

Alpine Energy Art Awards, marking

the 25th year that Alpine Energy

has supported and sponsored the

exhibition. We will be celebrating this

important silver anniversary in style

that evening with refreshments and

nibbles, and awards announcements,

plus the first chance to view and

purchase art. Everyone is welcome.

Friday gives way to the busy and vibrant

street market in the centre of Geraldine,

with local favourites OJ and the Drama

Queens entertaining the crowds.

Saturday is the main event, when the

peaceful Geraldine Domain becomes

a bustling hub for a day as stalls, food

trucks, kids' entertainment, and live music

blend to create a great family day out.

Our open gardens are a hugely popular

part of the festival, and most are open

Friday through to Sunday, giving

everyone a chance enjoy them at

their leisure. There are also a range of

complementary events taking place in

and around Geraldine that weekend,

including vintage car displays and rides,

book-a-rama, Soul Food Concert and

much more.

FOR YOUR FUTURE

Vote now. Voting closes noon, 8 October

Make the most of spring 2022 and join us for a

fabulous Harcourts Geraldine Festival 2022.

For more info go to www.geraldine.nz/geraldine-festival/.

ccc.govt.nz/elections
---
6 Thursday September 29 2022

GOAL: Harry Priestley marked his second participation in a dressage event at Christchurch Riding for the Disabled last week.

Young Harry happy to be back

in horse riding programme

• By Natalie Pham

SIX YEARS ago, Harry Priestley

got frustrated and walked away

from his horse riding programme.

However, the 11-year-old has

marked his second participation

in a dressage event at the Christchurch

equestrian centre last week.

Harry was among 10 riders of

varying ages and disabilities taking

part in the event organised

by Christchurch Riding for the

Disabled.

Because the event focused on the

rider achieving the goal of completing

the test and getting marked

on the completion, each participant

received a certificate and a score

sheet.

Said CHCHRDA president

Philippa Parker: "We make it as

fun and relaxed as possible."

All participants have been

attending weekly sessions prior

to the event, with each session

tailoring to their specific needs and

personal goals.

The Christchurch South

Karamata Intermediate pupil was

diagnosed with autism when he

was three.

Said his mother Rachel: "For

Harry and the way that his brain

works, it's about what Harry wants

and what Harry needs. But as

humans, we need to learn how to

work with other people."

Harry is enrolled in two programmes

– education and sport

and recreation, where he gets

to learn about horse riding and

challenges himself with exercises

require teamwork.

"Everyone has helped me in all

different ways," he said.

"I used to get really, really angry

but now I don't get angry at all.

Well, I'm better at managing my

anger than I used to."

The organisation also offers a

therapy programme for riders who

have higher support needs, ranging

from building muscle strength to

improving walking ability.

Harry began the riding sessions

with New Zealand Riding for the

Disabled at five-years-old. However,

his sessions have been on and

off due to high demands.

Like many riders, he started with

a small pony and worked his way

up. After many years, he is finally

paired with Zeus - a 'big and tall'

horse.

When Harry first walked in

with his new horse, Parker said he

looked proud of himself.

"Zeus challenges Harry to

work with it. That horse can be

independent if it wants to, so Harry

has to make sure that the horse is

listening to the instruction."

SUCCESS: Harry was proud when he finally got paired up with his new horse Zeus.

Restoring your confidence through your smile

Full service Denture Clinic

and Laboratory

Caldent Denture Cleaner

Free Consultation

No Obligation

Ph: 385 5517 + 396 Innes Road, St Albans

admin@denturesplus.co.nz

+ denturesplus.co.nz

Ensors Road Trade

Account Holder

SpEciAl

Dry

Screened

Soil

$

52.50m 3

(Including GST)

T's and C's – Trade Account Holders Only – Minimum 1m3 – Special applies to

purchases ex Fulton Hogan Ensors Rd Yard only – Offer expires 30 September 2022.
---
Thursday September 29 2022 7
---
8 Thursday September 29 2022

Kick into spring with

a plant-based diet

Alison Lambert has been balancing her weekly food budget

by digging into her pantry and experimenting with pulses

and grains, with warming results

Panelle – Sicilian chickpea fritters

Ingredients

230g chickpea flour

3 cups water, room temperature

2 Tbsp fresh parsley, finely chopped

1 litre vegetable oil

1 lemon

Sea salt flakes

Freshly cracked black pepper

PHOTOS: SIMON LAMBERT

Directions

Pour the water into a large bowl.

Gradually add the flour, stirring constantly

to remove all lumps.

Pour the mixture into a saucepan, and

cook over medium heat until thick like

polenta or porridge.

Remove from the heat and add salt and

pepper to taste. Add the parsley and stir to

combine.

Have a clean chopping board or something

similar ready.

Pour the mixture immediately on to

the board and spread evenly. Cover with

baking paper and gently roll to a thickness

of 4mm.

Cool the dough for at least 2 hours to

firm up.

Cut the dough into rectangles sized 5cm

x 3cm.

Pour the oil into a deep-sided, heavybased

pan. Heat to 170degC.

Cook two to four panelle at a time – it

is important not to overcrowd the pan.

Fry until golden for 3 minutes then turn

and cook for a further 3 minutes or until

golden and puffy. Remove with a slotted

spoon and drain on kitchen paper.

Continue until all the panelle are all

cooked.

Squeeze over a little lemon juice and

sprinkle sea salt and pepper.

Enjoy them as a tasty snack.

continuing education

Adult and Community

Education Courses at

Papanui High School

As the weather gets warmer and the

evenings get longer it is the ideal time to

get out of the house and learn something

new. Papanui High School's Term 4

Nightclasses begin from Tuesday 25

October. Enrolling in a class will help you

gain new skills, meet new people, you can

begin a new hobby and also keep mentally

active or follow a particular passion.

Education can be life changing and we are

providing over 40 opportunities in Term 4

for you to begin your journey.

From Art to Yoga and everything in

between we are sure regardless of your

age or interest you will find something

to tempt you. Classes at Papanui High

School are held in a warm, friendly relaxed

environment and our tutors are supportive

and well qualified in their chosen fields.

We have expanded our range of craft

courses for this term to include: Soap

Making, Printmaking, Creating Christmas

Fragranced Candles, Patchwork, Paverpol

Sculpture, Jewellery Making using Resin,

Stone Carving, Basket Weaving, Christmas

Wreath Making and Making Paper

Flowers. Come along and try something

new and create some Christmas gifts at the

same time.

In addition to these craft courses we

are also offering our traditional Cooking

classes, Cake Decorating, Photography,

Pilates, Yoga, Dressmaking, Woodwork,

Special Effects Makeup, Ukulele and

Guitar, Beekeeping, Barista, Meditation

and many more.

For further information and

enrolment in this or any of our Term

4 courses please visit our website on

https://www.papanui.school.nz/com-ed/

all-courses or email ace@papanui.school.

nz or telephone our office on 3520701.

Quinoa crepes

Makes 10

Ingredients

1½ cup quinoa

1½ cups filtered water

1 cup tightly packed greens such as

spinach, silverbeet or kale

2 tsp coconut oil or olive oil

2 spring onions, roughly chopped

½ tsp salt

½ chilli

Coconut oil for cooking

Suggested toppings:

Grated carrot and beets

Tofu or tempeh

Cashew or chickpea hummus

Salad leaves

Sprouts, seeds and nuts

Directions

Begin by generously covering the quinoa

in cold water. Let sit for 12 hours at room

temperature.

Drain the quinoa and rinse.

Place the quinoa, filtered water, greens,

coconut oil, spring onions, salt and chilli

in a blender.

Blend until smooth.

Pour the batter into a non reactive bowl

and let sit at room temperature for at least

6-12 hours. You will notice little bubbles

appearing on the surface. This is perfectly

fine, in fact this is part of the fermentation

process. This stage will help be kind on

your gut.

When ready to cook, place a medium

sized fry pan over moderate heat.

Add a little coconut oil and ladle or

measure about ¼ cup, gently smooth out

the crepe so it is a circle 12-15cm diameter.

Cook for 3 minutes or until you see the

crepe change colour, flip and cook the

other side for 2 minutes more. Remove and

repeat until the crepes are all cooked.

You can eat these with a filling and roll

up and enjoy, you can use as you would

bread and scoop up dips etc. I like to have

many tasty bowls of ingredients laden over

the table and place the crepes around so

you can assemble your own.
---
continuing education

[Edition datE] 3

Thursday September 29 2022 9

Risingholme Community Centre

sticking to their roots with new

brand "Risingholme Learning"

We are pleased to announce that Risingholme

Community Centre is now trading as

Risingholme Learning. The rebrand includes a

rollout of a new logo and a new website.

Our new brand pays homage to the last 75+

years, the present and is a `nod to the future'.

The rebrand highlights Risingholme's focus on

the importance of lifelong learning.

For over 75 years Risingholme Learning has

operated under the same roof, with the same

goals and values: to promote community spirit

through face-to-face adult education.

Although the centre has officially rebranded

from `Risingholme Community Centre'

to 'Risingholme Learning' Director Lynda

Megson, wants to ensure the message is still the

same.

"We've been running for over 75 years and

plan to run for another 75+ years" Megson says.

"We are continuing to provide the

community opportunities to gain new skills,

knowledge and experiences by providing a wide

range of exciting courses at different locations

across the city. Every term, we have over 800

enrolments, so the demand for learning new

things is a priority for many" Megson says.

"The Risingholme homestead and park in

Opawa is still our base and so acknowledges

our history. We have kept our green colour

and the 'R' of our name to reflect the park and

previous branding and are using one of our

park's trees to better reflect our mission. Our

own 'tree of life' represents the relationships

we nurture with our communities: growth,

learning, connections, enjoyment, and strength,

all held within the maturity of our 75+ years

of operation. We believe our rebrand is a fresh

way of communicating this" Megson says.

With term 4 fast approaching, it's the perfect

time to check out our new website and see the

amazing variety of courses.

Most of Risingholme Learning courses

start the week of Monday 17 October 2022.

Check individual course starting dates on the

website.

Come learn with us!

Full details are available on: www.risingholme.org.nz

Risingholme office: 22 Cholmondeley Ave, Opawa | Phone 03 332 7359

Email: info@risingholme.org.nz

COURSES

Risinghome offers a wide range of short courses, each term, around Christchurch

3 0 0 +

C O U R S E

O P T I O N S

www.risingholme.org.nz

info@risingholme.org.nz

(03) 332 7359

Face-To-Face

Affordable

Experienced Tutors

Small Classes
---
10 Thursday September 29 2022

CHRISTCHURCH

CREMATORIUM

FUNERALS

CROSSWORD

1 2 3 4 5 6 7 8

9 10

263

SUDOKU

Every row, column and box should

contain the digits 1 to 9.

WordBuilder

WORDBUILDER

163

6

K S R

S A P

11 12

13 14 15 16 17

18 19 20

How many words of three or more letters,

How including many plurals, words can you of make three from or the more six

letters, using each letter only once? No foreign

words or words beginning with a capital are

from allowed. the There's six letters, at least one using six-letter each word. only

once?

TODAY

Good 17 Very Good 21 Excellent 25

Solution 162: ace, act, ape, apt, ate, cake, cap, cape,

cat, cep, eat, kea, kept, pace, pack, PACKET, pact,

pat, pate, pea, peak, peat, peck, pet, tack, take, tap,

word.

tape, tea, teak, tec.

letters, including plurals, can you make

No words beginning with a capital are

allowed. There's at least one six-letter

Good 17 Very Good 21 Excellent 25

21 22 23 24

25 26

27 28

Across

1. Outdo (7)

5. Express an opinion (5,2)

9. Drives out (5)

10. Eggplant (9)

11. Porous (9)

12. Cut in two (5)

13. Perch (5)

15. Attacker (9)

18. Capitulate (9)

19. Social blunder (5)

21. Rent (5)

23. Building (9)

25. Similar (9)

26. Black and white mammal (5)

27. Interpreter (7)

28. Excess (7)

Decoder

Down

1. Bung (7)

2. Cistern (9)

3. Passageway (5)

4. Right (nautical) (9)

5. Sword (5)

6. Inhabitant of Earth (9)

7. Major source of food for baleen

whales (5)

8. Excuse (7)

14. Consequently (9)

16. Startles (9)

17. Wealth (9)

18. Rescue (7)

20. Stylish (7)

22. Saying (5)

23. Cooker (5)

24. Cavort (5)

Tel: 020 7622 1467 Fax: 020 7622 1522

Email: info@knightfeatures.co.uk

20 Crescent Grove, London SW4 7AH

Supplied by KNIGHT FEATURES

X V A I J M W B K Z G H F

14 15 16 17 18 19 20 21 22 23 24 25 26

S R N U D P E L Y C Q O T

1 2 3 4 5 6 7 8 9 10 11 12 13

Each number in our DECODER grid represents a different

letter - there is a number for all 26 letters of the alphabet.

DECODER

Enter the given letters into all squares with matching numbers.

The challenge now is to work out which letters are represented

Each by the number other represents numbers. a As different you get letter the of letters, the alphabet. enter them Write into the

given the main letters grid, into all and squares the reference with matching grid. numbers. To keep Now track work of out the

which letters letters you are have represented found, cross by them other off numbers. the alphabet provided.

1 10 2 17 19 6 16 1 13 25 19 16

8 3 3 16 16 3

19 12 1 11 4 7 6 8 16 1 19 16

1 4 4 15 1 8

18 4 13 7 19 12 3 12 13 12 3 9

N O T

2 1 12 17 10 1

21 7 16 13 7 3 24 16 1 22 7 13

16 19 17 25 7 4

1 13 16 8 20 16 2 13 19 16 3 9

25 23 25 19 17 4

26 2 17 24 17 5 16 3 13 17 10 1

4 3 1 2 17 25

8 17 24 25 13 1 7 14 10 4 1 7

A B C D E F G H I J K L M N O P Q R S T U V W X Y Z

1 2 3 4 5 6 7 8 9 10 11 12 13

N O T

14 15 16 17 18 19 20 21 22 23 24 25 26

SOLUTION

No.162

163

1 2 3 4 5 6 7 8 9 10 11 12 13

E L I N O P V T S A F D R

J Y M X H B U Z K W Q G C

14 15 16 17 18 19 20 21 22 23 24 25 26

R

U

N

A F Shuker

Supplied by KNIGHT FEATURES

20 Crescent Grove, London SW4 7AH

Tel: 020 7622 1467 Fax: 020 7622 1522

Email: info@knightfeatures.co.uk

23 3 1 22 24 20 22 24 5 11 12 4

24 2 8 1 25

11 21 3 5 24 11 13 26 4 20

10 17 6 23 12 10

4 10 11 9 24 18 11 12 21 4 24 19

24 12 9 23 12 24 17

9 14 26 1 1 23 24 9 20 24 4 24

A B C D E F G H I J K L M N O P Q R S T U V W X Y Z

1 2 3 4 5 6 7 8 9 10 11 12 13

N U R

14 15 16 17 18 19 20 21 22 23 24 25 26

All puzzles copyright

T H E P U Z Z L E C O M P A N Y

www.thepuzzlecompany.co.nz

4 8 7 24 11 23

A F Shuker

SOLUTION

No.163

Crossword

Across: 1. Surpass, 5.

Speak up, 9. Ousts, 10.

Aubergine, 11. Permeable,

12. Halve, 13. Roost, 15.

Assailant, 18. Surrender,

19. Gaffe, 21. Lease, 23.

Structure, 25. Analogous,

26. Panda, 27. Exegete, 28.

Surfeit.

Down: 1. Stopper, 2.

Reservoir, 3. Aisle, 4.

Starboard, 5. Sabre, 6.

Earthling, 7. Krill, 8. Pretext,

14. Therefore, 16. Surprises,

17. Affluence, 18. Salvage,

20. Elegant, 22. Adage, 23.

Stove, 24. Caper.

WordBuilder

ark, arks, ask, asks, asp,

asps, ass, par, park, parks,

pars, pas, pass, rap, raps,

rasp, rasps, sap, saps,

sark, ska, spa, spar, spark,

SPARKS, spars, spas.

Sudoku

19 26 9 22 19 24 4 9 24 24

26 26 19 24 23 17

CHRISTCHURCH

20 12 2 2 24 4 19 10 4 21 24 19

CREMATORIUM

FUNERALS

3 24 7 24 16 3 10
---
Thursday September 29 2022 11

Classifieds Contact us today Phone our local team 03 379 1100

Trades & Services

ELECTRICIAN

Trades & Services

Wanted To Buy

TOOLS, Garden garage,

saw benches, Lathes. Cash

buyer Phone 355-2045

Public Notices

Contact for a free quote

phone 027 331 0400

dave@davesimpsonelectrical.co.nz

davesimpsonelectrical.co.nz

Experienced Domestic Electrician

Quality Workmanship

• New Build

• Renovations

• Fault finding

• Power

• Lighting

• Switchboards

WINDOW TINTING

tintawindow

advanced film solutions

99% uv block

fade protection

heat control

reduce glare

25 Years Experience

privacy films

frosting designs

non-darkening films

Workmanship Guaranteed

Lifetime Warranties on Most Films

UV

block

FOR ALL YOUR

★Garden Clean-ups

★Pruning

★Lawn Mowing

★Garden Maintenance

Call us today for a FREE quote

PH 0800 4 546 546

(0800 4 JIMJIM)

Trades & Services

CARPET LAYING

Exp. Repairs, uplifting,

relaying, restretching.

Phone John on 0800

003181, 027 240 7416

jflattery@xtra.co.nz

ELECTRICIAN

A Prompt & reliable

registered electrician

with 24 years experience

for all residential and

commercial work, new

housing and switch board

replacements. Phone Chris

027 516 0669

Free Quotes Canterbury and Districts

03 365 3653 0800 368 468

Collision Repairs

QEII Collision Repairs.

Free Courtesy Cars

apply),All

Insurance work, Rust

Repairs & Private work.

Spray-painting.

Free pickup & delivery.

Ph. 03 388 5187

(conditions

263 x 180

Need A Ladder?

The Amazing, Portable, Easy to Use Ladder System

Margann. | "Best Ladder on the Market"

Simply the best ladder I've ever used, it's everything it's cracked up to

be and the little extras such as the work platforms, leg adjusters and

wall standoff make it incredible value.

• Certified Safety Rating up

to 180kg

• Use it on Stairs Safely

• Create your own

Scaffolding System

• Versatile, Compact and

Telescopic

Free

Free Free

Free

Gifts *

Worth

$660.00

*Ts & Cs Apply

*1 x Wall Standoff + 2 x Work Platforms + 2 x Leg Levellers

Limited Time Offer! Call Now! 0800 665 665
---
12 Thursday September 29 2022

Christchurch

16 Watts Rd, Sockburn.

tradedepot.co.nz

BIRTHDAY

ON NOW

T-Canopy Rangehood

600 m³/h

$

349

LOW PRICE

330360

Super Fast

Induction Cooktop

$

649

LOW PRICE

320262

24 Month Warranty

60cm

W I D E

60cm

W I D E

Gas Cooktop

$

389

LOW PRICE

320358

Wall Oven

9 Function

Convection Fan

$

799

LOW PRICE

310749

24 Month Warranty

60cm

W I D E

60cm

W I D E

Platinum

Induction Hob

$

1299

WAS $ 1499

320220

Platinum

Catalytic Wall Oven

$

1499

WAS $ 2499

310720

36 Month Warranty

65cm

W I D E

60cm

W I D E

Platinum

T-Canopy Rangehood

$

1499

WAS $ 2099

330396

5 Year Warranty

Platinum

Induction Hob

$

1799

WAS $ 3499

320223

36 Month Warranty

90cm

W I D E

65cm

W I D E

900mm

W I D E

Round Shower

$

475

LOW PRICE

902203

10 Year Warranty

Multi Function

Slide Set

$

35

LOW PRICE

245100

24 Month Warranty

Thea Basin Mixer

$

105

LOW PRICE

241705

10 Year Warranty

Novo Floor Vanity

$

399

LOW PRICE

902165

5 Year Warranty

*TAPWARE NOT INCLUDED

900mm

W I D E

Locke Square Shower

$

499

WAS $ 599

902204

10 Year Warranty

Slide Shower

$

115

LOW PRICE

245145

3 Year Warranty

Polaris Basin Mixer

$

115

LOW PRICE

241722

10 Year Warranty

Zara Floor Vanity

$

549

WAS $ 599

903954

5 Year Warranty

*TAPWARE NOT INCLUDED

Side-by-side

Fridge Freezer

Canopy

Rangehood

Freestanding

Oven

Freestanding

Dishwasher

Cleo Freestanding

Bath

S20 Toilet Suite

Cora Basin &

Shower Mixer Set

790 mm

W I D E

404 l

60cm

W I D E

56 l

60cm

W I D E

60cm

W I D E

$

899

WAS $ 1099

353404

24 Month Warranty

$

159

WAS $ 179

330175

24 Month Warranty

$

399

WAS $ 565

310110

24 Month Warranty

$

579

LOW PRICE

340543

24 Month Warranty

$

949

LOW PRICE

271710

5 Year Warranty

$

399

WAS $ 699

233160

5 Year Warranty

$ 189

LOW PRICE

244200

10 Year Warranty

Hampton

Cutlery Set

Serene Dinner Set

Keep Warm Kettle

Air Fryer

Wine Fridge

High-Speed Blender

Kitchen Stand

Mixer

70

PIECE

16pcs

5.5L

46L

5L

$

129

LOW PRICE

760410

$

49

LOW PRICE

760210

$

99

LOW PRICE

350125

12 Month Warranty

$

165

LOW PRICE

350102

12 Month Warranty

$

279

LOW PRICE

356046

24 Month Warranty

$

149

LOW PRICE

350141

12 Month Warranty

$

249

LOW PRICE

350142

12 Month Warranty

Prices Guaranteed as of 1/10/22. Subject to change.

CAN-C 28

KITCHENS | BATHROOMS | APPLIANCES