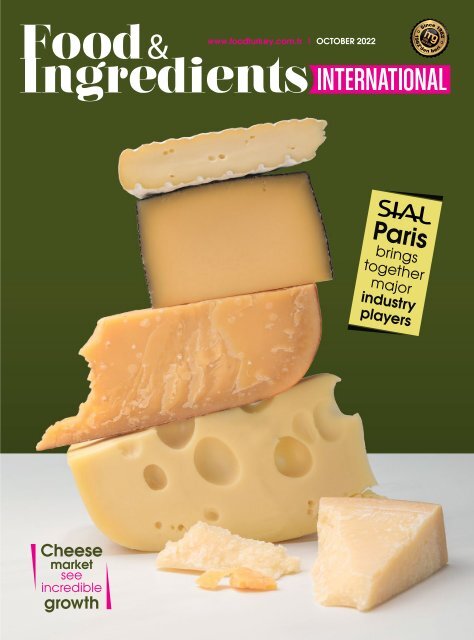 Food & Ingredients International October 2022
Food & Ingredients International October 2022
Food & Ingredients International October 2022
SHOW MORE
SHOW LESS
Create successful ePaper yourself
Turn your PDF publications into a flip-book with our unique Google optimized e-Paper software.
SIALPARIS.COM

PROMOSALONS TURQUIE

Temas: Müge Gezeroglu

www.foodturkey.com.tr | OCTOBER 2022

Paris

GİRİŞ KARTINIZI

SİPARİŞ EDİN!

brings

together

major

industry

players

INSPIRE

FOOD

3

GIDA ,

ilham ve yenilik için

SIAL PARIS FUARINI

ZİYARET ETMEK İÇİN

NEDEN

DÜNYANIN EN BÜYÜK

MERKEZİ

TÜM KÜRESEL

GIDA PAZARI,

benzersiz bir networking için

BUSINESS * Paris

TOPLANDI

* GIDA PAZARINA İLHAM VERİN

GIDA SEKTÖRÜNÜN

BAŞLICA ETKİNLİKLERİ,

özel çalışmalar, ilham verici

konuşmacılar

15 EKİM CUMARTESİ

19 EKİM 2022 ÇARŞAMBA

PARİS NORD VILLEPINTE FUAR ALANI - PARIS

#SIALParis

173-AP-SIAL-PARIS-TURQUIE-210X297-FR.indd 1 01/08/2022 09:32

muge.gezeroglu@promosalons.com.tr

Cheese

market

see

incredible

growth
---
8-10 NOV 2022

DUBAI WORLD TRADE CENTRE

Leading the

Future of Food

Production

1600 F&B manufacturers from over 60 countries, over the course of three days,

are set to convene in Dubai to showcase the latest solutions in ingredients,

processing, packaging, supply chain solutions and control and automation.

REGISTER TO VISIT

gulfoodmanufacturing.com

Platinum Sponsor

5 EVENTS | 3 DAYS | 1 VENUE
---
THIS

MONTH

HIGHLIGHTS

10

Outlook on the fillings

and toppings market

20

Lakidis offers highest

quality food machinery

22

Functional beverage industry

gains momentum

30

SIAL Paris brings together

major industry players

56

pacprocess MEA and

Food Africa will take place

in December

58

Prebiotic effect evidenced

for chicory root fibres

by the first systematic review

with meta-analyses

64

Industry relies on the leading

global trade fair, Anuga

69

Italian flour companies

to promote premium

organic flours

MSC takes off!

The next issue

will be at

8-10 NOV 2022

DUBAI WORLD TRADE CENTRE
---
Ayça SARIOGLU

Coordinator

ayca.sarioglu@img.com.tr

Good leaders

strive for

excellence

Every community usually has a leader.

All families, all societies, all companies,

all successful teams have their own

leaders… The leaders lead the way. They

guide their followers to new doors, new

ideas, new opportunities, new horizons…

They are admired, applauded, imitated

and followed. Some other times, they are

blamed, accused, slandered, prisoned,

exiled or executed.

If it's the leader in the show business for

a certain industry, it might be a source of

pride, a source of inspiration… It must be a

venue for innovation. It has to be the place

hosting most diversity and quality. Actually,

SIAL Paris has them all. It is the largest, it is

the leader in the food and beverage trade

show business. It is held biennially.

When it comes to the media business,

the leadership is not an easy task; one

should have a respectful history, happy

clientele, the largest distribution network,

an excellent content and a professional

and enthusiast team to lead the way.

Pronouncing and mentioning these

features orally does not mean anything

and people feel that fact very well.

The leading magazine of the food

industry is at the most leading trade

event this month. We will continue with

the leading annual events in the coming

months as Gulfood Manufacturing Dubai,

Food & Drink Expo UK, Anuga, ISM and

Gulfood Dubai. If you happen to be in

Dubai for Gulfood Manfufacturing fair for

three days from 8 November on, please

stop-by to say hello and pick up your

free copy at the show. To be represented

in that magazine, just give me a ring or

better to drop an email to my inbox. I

will get back to you immediately. I wish

lucrative business for all.

Publisher

Hüseyin Ferruh IŞIK

on behalf of

ISTMAG

Magazin Gazetecilik Yayıncılık

İç ve Dış Tic. Ltd. Şti.

Managing Editor (Responsible)

Mehmet SOZTUTAN

mehmet.soztutan@img.com.tr

Editor

Yaren KAYIKCI

info@img.com.tr

International

Sales Coordinator

Ayca SARIOGLU

ayca.sarioglu@img.com.tr

+90 212 454 22 33

Technical Manager

Tayfun AYDIN

tayfun.aydin@img.com.tr

Graphics & Design

Hakan SOZTUTAN

hakan.soztutan@img.com.tr

Digital Assets Manager

Emre YENER

emre.yener@img.com.tr

Subscription

sales@img.com.tr

HEAD OFFICE

İSTMAG MAGAZİN GAZETECİLİK YAYINCILIK

İÇ VE DIŞ TİC. LTD. ŞTİ.

İHLAS MEDIA CENTER

Merkez Mahallesi 29 Ekim Caddesi No: 11

Medya Blok Kat: 1 P.K. 34197

Yenibosna - Bahçelievler / İSTANBUL / TURKEY

Tel: +90 212 454 22 22 Fax: +90 212 454 22 93

LIAISON OFFICE

Buttim Plaza A Blok Kat: 4 No: 1038

Bursa / TURKEY

Tel: +90 224 211 44 50-51 Fax: +90 224 211 44 81

PRINTED BY | İH LAS GAZETECİLİK A.Ş.

İHLAS MEDIA CENTER Merkez Mahallesi

29 Ekim Caddesi No: 11 A/41

Yenibosna - Bahçelievler / İSTANBUL / TURKEY

Tel: +90 212 454 30 00

www.foodturkey.com.tr

sales@img.com.tr

foodturkeymagazine

foodturkeymag

foodingredientsturkeymag

Food Ingredients Turkey

Food & Ingredients Turkey
---
Celebrating

OF DELIVERING

ON COMMITMENTS

Complete range of flavours, natural food colours, spice blends for food products and

fragrances for body sprays, hand wash, sanitizers, cosmetics, soaps and detergents.

Sonarome Private Limited

One Sonarome Way

KIADB Industrial Area, Doddaballapur

Bangalore 561 203, India

FSSC 22000 & GMP CERTIFIED COMPANY

T +91 80 68902200

F +91 80 68902299

sonarome@sonarome.com

www.sonarome.com

Partner
---
BRIEF

DMK Group introduces vegan products with MILRAM

As part of its Strategy 2030, DMK Group

is expanding its product range to

include plant-based products. With

its MILRAM brand, Germany's largest

dairy cooperative is now also launching

vegan puddings, a cocoa drink, and a

rice dessert. Products in other important

categories will follow by the first quarter

of the new year at the latest.

In addition, the company plans to

launch further new products in the retail

sector in the future.

"The average consumer of DMK products does not eat a purely vegan diet, but they are part of

the large mass of nutrition-conscious people who integrate plant-based alternative products as an

additive in their everyday lives. For us, it is therefore a matter of creating an overall portfolio that

offers different consumer groups products that fit their respective eating habits and accompany

them in everyday life." emphasizes Ingo Müller.

BASF to divest its Nutrilife ®

baking enzymes business

to Lallemand

BASF has entered into a binding

agreement with Lallemand Inc's subsidiary,

Danstar Ferment AG, to divest the BASF

Nutrilife ® baking enzymes portfolio

and business. Nutrilife ® enables food

suppliers produce affordable, healthy

and appealing food products while

contributing to more efficient use of

resources. Subject to customary closing

conditions, the transaction is expected to

complete on September 30, 2022.

"Baking enzymes is not a strategic fit for

BASF. With Lallemand we have found

an excellent partner to strategically continue and strengthen our baking enzymes business and

to be a reliable supplier. We will accompany the transaction to ensure a smooth handover for our

customers," said Michael de Marco, BASF's Vice President, Global Business Management Enzymes.

Lallemand entered recently into the development and production of enzymes. The acquisition of

the Nutrilife ® baking enzymes portfolio and business will further broaden their product portfolio and

geographical footprint.

"We look forward to continuing to provide Nutrilife ® customers with enzyme expertise as well as

access to innovative ingredients based on the Lallemand yeast and bacteria technology platforms,"

said Lars Asferg, President of Lallemand Bio-Ingredients.

4 FOOD & INGREDIENTS INTERNATIONAL OCTOBER 2022
---
Transforming global food

production to maximize

food safety and minimize

food loss by making sure

Every Resource Counts.

www.tomra.com/food

TOMRA 5C

TOMRA 5X

TOMRA 3C

www.tomra.com/food
---
MSC

takes off!

MSC Mediterranean Shipping

Company SA, a global leader in

transportation and logistics, has

started developing a new MSC

Air Cargo solution in response

to customer demand and as a

complementary service to its

container shipping solutions.

MSC Air Cargo has been under

development for several months

and the new solution will be

available from early 2023,

following the delivery of the first

of four MSC-branded Boeing 777-

200F aircraft that will be operated

by Atlas Air, a subsidiary of Atlas

Air Worldwide Holdings, Inc.

MSC has appointed Jannie Davel,

formerly of Delta Cargo, Emirates

SkyCargo and DHL to develop its

air cargo business and to build

the team that will implement it.

The global leader

cargo company

develops

air cargo solution

in response

to market demand.

Commenting on the new

initiative, MSC Chief Executive

Officer Soren Toft said:

"We are delighted to announce

the development of MSC Air

Cargo and to welcome Jannie

Davel to spearhead this exciting

new offering for MSC clients.

This is our first step into this

market and we plan to continue

exploring various avenues to

develop air cargo in a way that

complements our core business

of container shipping."

6 FOOD & INGREDIENTS INTERNATIONAL OCTOBER 2022
---
BRIEF

Yili scoops two IDF Dairy

Innovation Awards as the biggest

winner among dairy producers

IDF World Dairy Summit 2022 was convened in New Delhi, India. Zhang Jianqiu, CEO of Yili Group,

delivered a virtual speech at the World Dairy Leaders' Forum and attended the "Dairy in the Next

25 Years" panel discussion.

Representing the industry's most prestigious honor, the IDF Dairy Innovation Awards are presented

simultaneously with the Summit. Among 144 entries, Yili was the only dairy producer in the world to

receive two innovation awards. The Yili Food Safety Risk Analysis Model received the innovation award

for food safety and Yili Drinkable Cheese received the innovation award for new product development.

Yili's low-temperature sterilization and concentration technology and Yili Cute Star precision nutrition

formula innovation were also included as finalists for the awards of "Innovation in Sustainable

Processing" and "Innovation in Research & Development – Consumer Nutrition", respectively.

In his speech themed "Ushering in Green Growth and Moving Towards a Net-Zero Carbon Future",

Zhang Jianqiu said, "To contribute to a net-zero carbon future, the dairy industry should develop

net-zero carbon products and build a net-zero carbon supply chain by following a green growth

path and embracing digital transformation. Sustainable development of the global dairy industry

will add new momentum to the global economy."

Elmhurst ® 1925 fan-favorite oat milk just got

creamier and more nutritious

This new formulation of Elmhurst's popular Oat Milk offers increased nutritional benefits

including more whole grain, fiber, calcium, potassium and healthy fat. Now even

creamier, Elmhurst's non-dairy milk is still the cleanest oat milk option in the category,

with an ingredient panel consisting of only three ingredients: real whole-grain oats,

water and salt. This new formula includes more calcium, healthy fat and potassium

than prior Elmhurst Oat Milk recipes and is in line with the highest dietary fiber content

in the industry with 3g per serving from real whole-grain oats.

The recent reformulation has squeezed in more whole-grain oats than ever before, 5g

more precisely, loading this recipe with a whopping 25g of whole grains. Made with

52% the daily recommended serving of whole-grain oats to keep your heart healthy,

support good cholesterol levels and keep you full, Elmhurst's Oat Milk is the only oat

milk in the category with the Whole Grain Stamp, certified by the Whole Grain Council

guaranteeing 100% of its grain ingredients are whole grain.

Health-Ade introduces new glow up line

Each flavor in Health-Ade's Glow Up line offers carefully selected functional ingredients.

• Strawberry Glow: Refreshing notes of strawberry and kiwi join forces with biotin and bamboo

extract to nourish skin from the inside out.

• Biotin is proven to improve hair health — boosting both shine and volume – and helps improve skin's

hydration and appearance.

• Bamboo extract is the richest source of natural silica, which our

body relies on to make collagen in skin, bones, and hair.

• NEW Citrus Immune Boost: Support your inner fighter with

immune-boosting Vitamin C, zinc, and a blend of juicy oranges.

• An excellent source of Vitamin C, a potent antioxidant, and

Zinc to give your immune system a boost

• Extra probiotics support a diverse microbiome, and a diverse

microbiome supports a healthy gut. Each bottle of Ginger

Pineapple Belly Rest includes 6 billion CFU of living probiotics at

the time of bottling.

• Cold pressed ginger juice has been shown to help increase

digestive motility, improve indigestion, decrease bloating, and

reduce intestinal cramping.

OCTOBER 2022 FOOD & INGREDIENTS INTERNATIONAL

7
---
Cheese market

see incredible growth

Amid the COVID-19 crisis, the global market

for Mozzarella Cheese estimated at US$37.3

Billion in the year 2022, is projected to reach a

revised size of US$47.3 Billion by 2026, growing

at a CAGR of 5.7% over the analysis period.

Blocks, one of the segments analyzed in the

report, is projected to grow at a 6.2% CAGR

to reach US$19.7 Billion by the end of the

analysis period. After a thorough analysis of

the business implications of the pandemic

and its induced economic crisis, growth in the

Shredded segment is readjusted to a revised

5.7% CAGR for the next 7-year period. This

segment currently accounts for a 26.2% share

of the global Mozzarella Cheese market.

Mozzarella Cheese is an Italian cheese product

produced from Italian buffalo's milk, with the

use of the pasta filet method. The color of the

cheese is usually white but may vary according

to the animal's diet and the output of the milk.

The cheese has higher moisture content and

because of that, it is usually served the day

after it is made. It can be kept in vacuumsealed

packages for a significant amount of

time. Several types of mozzarella cheese are

used for several types of pizza and pasta dishes,

and it is also used or served with basil and

sliced tomatoes. Several variants of the cheese

have been formulated over time. One of them

is low-moisture mozzarella cheese, which is

used especially on pizza. This type of variant

is widely used in the food service industry

because of its minimum galactose content.

Consumer preference toward moderate or

minimum brewing for cheese on pizza has led

to the adaption of different types of mozzarella

cheese variants. In Italy, buffalo milk is used to

make mozzarella cheese. Only selected and

government-approved mozzarella cheese is

made or produced from buffalo milk.

This type of cheese holds more significance

than other types of mozzarella, whose

production is done from semi-coagulated

and non-Italian milk. These types of cheese

can also be made from cow, sheep, and goat

milk cheese made from goat milk is registering

significant demand because goat milk is more

digestible than cow milk. It is a novel source

for making cheese, and there are not many

producers for that. Mozzarella made from cow's

milk is cheaper than the one made from buffalo

milk. Major companies have been developing

clean, healthy, and nutritious mozzarella cheese

products, with plant-based cheese generating

significant demand in the market. Recently,

Miyoko, one of the market's key participants,

has just begun making vegan mozzarella

cheese products. With the addition of

Mozzarella cheese to its inventory, the company

has seen tremendous market expansion. Other

companies and startups have been playing

an imperative role in the growth of the market.

Hello Friend, an Australian plant-based cheese

company, has been providing premium vegan

mozzarella cheese products to its customers.

The company has been using soy as an

ingredient to make mozzarella cheese products.

Pizza cheese will drive market growth.

Several varieties and types of cheese are

manufactured, especially for pizza use. These

include modified and processed mozzarella

cheeses and variants. The majority of the

content in pizza cheese is typically mozzarella,

which will have a positive market impact

because pizza cheese is widely popular

worldwide. The International Dictionary of Food

and Cooking states that pizza cheese is similar

to mozzarella made from cow's milk. It is a softspun

curd cheese. Low moisture mozzarella

cheese is widely used to produce pizza cheese.

Cheese is usually available in blocks from

which it can be sliced or made into granules

for its use in other types of food dishes. The

advantage of lower moisture mozzarella is that

it is easier to grate, has a firm texture, and has

better melting and browning characteristics.

It is also less perishable. Mozzarella is the most

popular and used pizza cheese globally. In the

United States, 30% of pizza cheese is made from

Mozzarella. Various companies, manufacturers,

and food chains have been experimenting and

developing innovative and novel pizza cheese

products for their use in the foodservice industry.

Source: Knowledge-Sourcing /

Global Industry Analysts

8 FOOD & INGREDIENTS INTERNATIONAL OCTOBER 2022
---
Outlook

on the fillings

and toppings

market

The fillings and toppings market size is estimated to be valued at USD

11.9 billion in 2022 and is projected to reach USD 15.9 billion by 2027,

recording a CAGR of 6.0% during the forecast period in terms of value.

There has been a significant change in the

food consumption pattern of consumers.

Ready-to-eat or convenience food products

are largely demanded over homemade food

products. The use of fillings and toppings

by food manufacturers for enhancing the

taste, texture, aesthetic appeal, flavor,

and color of food and beverage products

is expected to drive the demand in the

market. Growing urbanization in developing

countries has boosted the market for bakery

and confectionery products which in turn

increases the market for fillings and toppings,

especially in developing countries.

The liquid segment is estimated to grow at the

highest CAGR during the forecasted period

Liquid toppings include honey; whipped

cream; sauces such as marshmallow,

butterscotch, peanut butter, chocolate and

hot caramel and hot fudge; and syrups such

as rose- and maple-flavored syrups are widely

used in beverages. Caramel drizzle and

chocolate drizzle are available in liquid form

for cake fillings and toppings. Moreover,

the rising demand for baked goods

with chocolate flavors is one of

the major drivers boosting the

market for chocolate liquid

toppings. Thus, this rising

demand for chocolate and its

flavor is expected to positively

impact the market for fillings

and toppings.

Dairy ingredients segment is estimated to

witness the steady growth rate over the

forecast period

Dairy Yogurt, sour cream, milk, and cheese

are essential dairy ingredients used for fillings

and toppings. Fresh cream such as whipped

cream, creme fraiche, clotted cream, single

cream, double cream, and light cream are

often used as a filling and topping materials

for desserts, chocolate puddings, shakes, hot

chocolate drinks, cookies, scones, jam cakes,

and pastries, depending on their butterfat

content. Consumers are increasingly looking

for dairy ingredients that will provide them

with the nutrition they are seeking for their

wider health goals, hence increasing the

demand for the fillings and toppings market

in the forecast period.

Sprinkles segment

Sprinkles are small particles of sugar,

chocolate, and candy that provide a sweet

taste to products. In fillings and toppings,

sprinkles are used in the form of chocolate

sprinkles and rainbow sprinkles.

Large varieties of sprinkles include

confetti, nonpareils, and sparkles

which are thin and long.

Moreover, Consumers are

demanding more from their

sweet baked goods in terms

of cleaner label products

that provide a premium

eating experience. Moreover,

10 FOOD & INGREDIENTS INTERNATIONAL OCTOBER 2022
---
toppings in the form of sprinkles

provide an aesthetic quality

to the food products hence

helping with the growth of

fillings and toppings in the

forecast period.

The chocolate segment

is estimated to be the

second largest flavor

market after the fruit

segment

Fillings such as chocolate

fudge, chocolate pudding,

chocolate mousse, chocolate

ganache, and chocolate

fudge are used for chocolate

flavors in cakes. The growing

trend for dessert-inspired products

and for the sweet tooth, chocolate fudge,

caramel, and hazelnut flavors are providing

inspiration to innovate across categories. And

for the more adventurous palette, innovative

flavors are being increasingly associated with

chocolate, hence increasing the market for

fillings and toppings.

Dairy products and frozen desserts segment

Dairy products and frozen desserts include

yogurts, creams, sour cream, custard, ice

cream, kefir, and sherbet. Chocolate split

fillings are used mainly in dairy products. The

increasing demand for flavored dairy products

has led to increased use of various fillings and

toppings such as fruit fillings and chocolate

toppings in the dairy industry. Furthermore, the

consumption of desserts has also increased in

recent times owing to the increasing inclusion

of various non-traditional products such as ice

creams and cakes in desserts.

are the major factors driving the fillings

and toppings market growth. Other

major factors that drive the fillings

and toppings market growth are

changes in consumer tastes and

preferences; strong infrastructure,

and a highly-skilled workforce,

which complement the

growth of the fillings and

toppings market; and

increasing population density

and education level, increasing

health awareness of the

population, and rising economic

status and living standard of

people.

Market Dynamics

Drivers

• Rapidly growing confectionery and bakery

industries

• Evolving consumer lifestyle

Restraints

• Volatile raw material pricing trends

• Adherence to international quality

standards and regulations

Opportunities

• Growth potential in developing nations

• Rising middle-class population presenting

attractive opportunities for filling and

topping products

Challenges

• Rising trends for clean-label products

• Health-conscious consumers in

developed countries

Asia Pacific, fastest growing region

The Asia Pacific is estimated to be

the fastest growing region in the

global fillings and toppings market

in 2021. The countries considered in

the Asia Pacific fillings and toppings

market include China, India, Japan,

Australia and New Zealand, and the

Rest of Asia Pacific.

The immense growth in the processed food

industry and the growing consumer demand for

syrups, pastes, and variegates in food products

12 FOOD & INGREDIENTS INTERNATIONAL OCTOBER 2022
---
THE HEART OF

SWEETS AND SNACKS

IN THE MIDDLE EAST

8-10 NOV 2022

Dubai World Trade Centre

REGISTER TO VISIT

www.ism-me.com

Discover the world's most

flavorful, innovative, and trending

product lines at the ISM ME

CONFECTIONERY & DESSERTS I SNACK FOODS I COCOA I CHOCOLATE & CHOCOLATE PRODUCTS

ICE CREAM I DATE & DATE PALM PRODUCTS

5 EVENTS | 3 DAYS | 1 VENUE
---
Cornellis

1888,

the favorite

brand in

sweets and

snacks

industry

Offering chocolates,

truffles, pralines and

hazelnut creams,

RC Foods Polska's

products have

already gained

a respectful place

in the global market.

Cornellis brand

of the company

is something blending

innovation, novelty

and satisfaction

with passion.

The company produces and distributes

sweets and snacks under the brand called

Cornellis 1888. From the very beginning, the

company has focused on quality, innovation

and customer satisfaction.

Cornellis 1888 products are sold in more than

sixteen countries around the world.

natural ingredients, without the addition of

preservatives or sugar.

One of the latest products is the Tostados

snack – toasted bread in two flavor variants.

Tostados products have a Clean Label - they

do not contain artificial colors, preservatives

or flavor enhancers.

RC Foods Polska product range includes

chocolate products such as Belgian

chocolates, truffles, pralines and hazelnut

cream. In addition, the company offers

butter cookies in metal tins, stuffed biscuits,

Italian cookies, Grissini sticks with olive oil,

garlic or sesame, and Marshmallows in

various shapes and sizes.

The RC Foods catalog also includes fit

cookies, made of nuts, honey and other

Another novelty is the UFO Stars snack – colorful

wafers filled with sweet and sour sparkling filling.

RC Foods firm aims to meet the expectations

of its customers, develop its sales, but also

provide its customers with high-quality

products and services.

For more details you may visit the website of

the company, check its catalog, and contact

them for a lucrative business.

14 FOOD & INGREDIENTS INTERNATIONAL OCTOBER 2022
---
Made with love

RC Foods Polska Sp. z o.o.

Płocka 5a, 01-231, Warsaw/Poland

www.rcfoods.eu

www.rcfoods.eu
---
Gulfood Manufacturing 2022

set to tackle global food

system challenges and power

ground-breaking innovation

Gulfood Manufacturing 2022 will be the

definitive destination leading the future

of food production – from new ingredients

and advanced technologies to integrated

supply chain solutions and breakthrough

developments driving the industry forward.

Dubai World Trade Centre (DWTC) has

announced leading global trade fair, Gulfood

Manufacturing, will take place from 8-10

November 2022. Showcasing new global

products, solutions and technologies across

the food and beverage value chain, this year's

edition is set to be 40% larger than the previous

years', with 25% of exhibitors new to the

show. A steep growth trajectory that further

demonstrates Dubai's global market attraction

and the overall competitiveness of the UAE's

industrial sector and its business ecosystem, in

line with the National Strategy for Industry and

Advanced Technology, Operation 300Bn.

The event will bring together the F&B

manufacturing industry across sectors in

processing, packaging, ingredients, supply

chain solutions and control & automation; in

16 FOOD & INGREDIENTS INTERNATIONAL OCTOBER 2022
---
a single food ecosystem with an agenda that

will shape the future of the manufacturing

industry - amplifying the opportunity

created by the Fourth Industrial Revolution,

and building upon and supporting the

transformation of the country's industrial sector

into a global manufacturing hub, in line with

the UAE's 'Make it in the Emirates' vision.

Over the three days of the event, Gulfood

Manufacturing 2022 will examine themes of

Sustainability, and advanced Technology

adoption; Nutrition and Efficiency evolution,

and stimulating Innovation, in order to

help organisations reduce costs, grow and

transform. The biggest challenges in global

food production will also be addressed, rising

food prices principal among them. With

food prices having risen by nearly 14% this

year in emerging markets and by over 7% in

advanced economies, inflation - and the

repercussions for the world's poorest - will be a

key focus area for conversations this year.

Trixie LohMirmand, Executive Vice President,

Dubai World Trade Centre commented,

OCTOBER 2022 FOOD & INGREDIENTS INTERNATIONAL

17
---
"Through Gulfood Manufacturing, we will

unveil the next era in the evolution of the

F&B manufacturing industry. From addressing

global food challenges, to discussing

the ESG wave that is transforming food

systems, and together exploring the huge

opportunities presented by innovation –

particularly in the tech space - our aim is to

create lasting positive impact on the industry

and take it to new heights, further cementing

the UAE's reputation as a global destination

for leading future industries".

Leading the future of food production

The event aims to create a more sustainable,

resilient, agile and efficient industry for the

future, bringing global experts, decision-makers

and thought leaders together for insightful

and inspiring sessions, to share ideas on the

advancement of the industry. A key feature

this year includes the Food Tech Summit where

over 100 of the industry's most dynamic and

engaging speakers will convene to discuss

an issue-driven agenda ranging from food

engineering innovations, factories of the future,

web 3.0 applications in food, emerging markets,

food safety, circular ecosystems, sustainabilitylinked

finance models, and much more.

Powerful line-up of global speakers

Visitors will have the chance to hear first-hand

from industry leaders, regulatory and policy

makers, financial institutions, geo-political

and risk advisors, investors and research

& development specialists. Dr Aman Puri,

Consulate General of India, Dubai; Ahmad

Sultan Al Haddad, Chief Operating Officer,

Parks and Zones, DP World, UAE Region;

Amadou Diallo, Chief Executive Officer

Middle East & Africa, DHL Global Forwarding

and Kebour Ghenna, Executive Director of

the Pan African Chamber of Commerce

and Industry are among the names slated to

speak at the Food Tech Summit.

A platform to do business and network

Gulfood Manufacturing continues to

garner interest from top global food

production players, with exhibition stand

space having sold out for this year already.

From the ingredients sector alone, 95% of

the world's top ingredients brands have

confirmed participation for the 2022 edition,

including Wilmar (Gulfood Manufacturing

2022 Platinum Sponsor), Givaudan, Cargill,

and International Flavors & Fragrances.

Furthermore, from the processing and

packaging sector, Riekermann, Tetrapak,

Siemens, GEA, SIG and Krones will also be

participating. This year's edition will see the

biggest representation in recent years from

Europe, with countries like Switzerland and

Portugal returning to the event in full force.

"Leading our industry in sustainability with

our people, products and solutions, we are

setting new industry standards in packaging.

We are very excited to take part in Gulfood

Manufacturing again this year with a stand

showcasing our latest innovations and valueadded

solutions. Gulfood Manufacturing's

exhibition is the most important forum where

industry leaders come together to discuss the

latest trends and developments in the food

and beverage industry and what they mean

for the sector. We are thrilled to take part in the

discussion on what the future of packaging is

going to be and how we are shaping it today."

Abdelghany Eladib, President and General

Manager, SIG Middle East and Africa.

The event will create a platform for the largest

companies in the food industry to present their

products, services, and solutions to influential

buyers from across the globe, creating multiple

opportunities to network and do business.

This year will be no exception as participants

have the opportunity to build new professional

relationships, strengthen existing ones, and

execute high-value deals.

Global portfolio expansion

The overseas events company of Dubai

World Trade Centre, Kaoun International

recently announced, in a JV partnership

with dmg events, the development of an

international portfolio in the food and

hospitality sectors outside of the UAE. The

collective vision and focus being to develop

new markets and providing the global food

& beverage community with access to

emerging growth markets.

In its first international market expansion, the

inaugural Saudi Food & Beverage Show and

The Saudi Food Manufacturing Show will be

held in Riyadh, from 20 - 22 June 2023. The

inaugural event will be affiliated to Gulfood

Global, the world's largest go-to event brand

trusted by the global F&B industry.

18 FOOD & INGREDIENTS INTERNATIONAL OCTOBER 2022
---
8-10

NOV 2022

DUBAI WORLD

TRADE CENTRE

SOURCE IT. OWN IT.

BRAND IT.

MENA's No.1 event to meet private label &

contract manufacturers from across the globe

FREE ENTRY FOR TRADE VISITORS

WWW.PRIME-EXPO.COM

REGISTER

TODAY!

Category Sponsor

Official Knowledge

Partner

Consumer Insights

Partner

Association Partners

Media Partner

Official Supporter
---
Lakidis offers highest quality

food machinery

The company's sales team

works with customers' team

from beginning to the end

to understand their needs,

define a budget and develop

balance between quality -

production and costs. This

way the customer gets what

they really require and what

is the most ideal for them.

Founded in 1965 and headquartered in Greece,

LAKIDIS SA company is a constantly growing

brand. As a reliable producer of integrated

solutions in the field of food machinery for over

57 years with a global network of around 30

agencies that distribute Lakidis Food Machinery

and a great number of customers worldwide,

Lakidis SA supports the processing of meat,

poultry and fish products. The company also

supports and provides solutions for industries

such as petfood, snacks, puff pastry, sauce &

dips, baby food, fruit and plant-based products.

R&D development, production and assembling

take place in private owned facilities, thus

enabling compliance with the highest quality

standards. Its vertical production unit ensures

that it has full control over the production

processes, accurate timing and maintain

quality standards throughout all stages. The

manufacturing of the company's various

codes starts with the selection of exclusive raw

materials, runs through each stage with precision

& consistency robot welding, CNC processing,

glass blasting (surface treatment), and electric

& electronic assembly. The production takes into

account all known industry standards and goes

far beyond that. Reliability, ease of use and

compliance with the highest hygiene standards

are the special features of the Lakidis products.

Recommending the appropriate machine

for each customer's specific requirements is

something Lakidis takes great value in. The

company's sales team works with customers'

team, from start to finish, to understand their

needs, define a budget and develop

balance between quality - production and

costs. As a professional approach and respect

to the customer, the Lakidis team is always

close by and ready to help with meetings,

video calls and technicians training when

required. From the first spark of inspiration to

implementing a solution, Lakidis is committed

to excellence in everything they do. Because

this is what they say: #welovewhatwedo.

More information the company

can be attained at: www.lakidis.gr,

14th Old National Rd., Thessaloniki-Veria,

Greece, +30 2310 722772, +30 2310 722367,

sales02@lakidis.gr

20 FOOD & INGREDIENTS INTERNATIONAL OCTOBER 2022
---
Functional beverage

industry gains

momentum

According to the latest market intelligence

research report by InsightAce Analytic, the

global functional beverages market size was

valued at US$ 118.7 Billion in 2021, and it is

expected to reach US$ 265.9 Billion in 2030,

record a promising CAGR of 9.38% from

2021 to 2030.

The significance of foods and beverages in

disease prevention and treatment has been

increasingly recognized in recent years.

Thus, functional beverages have gained

acceptance among conscientious consumers

due to their perceived health benefits.

These are nonalcoholic drinks that contain

bioactive substances such as vitamins,

minerals, antioxidants, omega-3 fatty acids,

plant extracts, fiber, prebiotics, and probiotics,

as well as other nutrients and bioactive

compounds. Consumption of these beverages

is related to weight management, improving

energy, athletic endurance, hydration. Those

are linked with several health benefits such as

a healthy cardiovascular (CV) system, healthy

digestive system, immune defense, cholesterol

management, among others. In the current

times, functional beverages have become

increasingly popular due to various key factors

ranging from convenience to handle, ease

of storage and distribution, the possibility

of meeting consumer demand, and shelf

stability. Commercially available functional

beverages can be divided into several

categories, including energy drinks, sports

drinks, cannabis-infused drinks, functional

fruit and vegetable juices, and other dairybased

beverages.

The growth of the market is expected to be

driven by the number of fitness enthusiasts

and growing consumer inclination from sugary

soft beverages to healthier alternatives.

22 FOOD & INGREDIENTS INTERNATIONAL OCTOBER 2022
---
Moreover, increasing disposable incomes

and rising health awareness are also driving

the demand for functional beverages. This

growth enables industry players to introduce

beavers with low calories and fats and add

fruit and vegetable flavoring additives such

as vegan, probiotic, and plant-based drinks,

increasing market growth. E-commerce plays

an essential role in the market's development

since it allows businesses to reach out to a

more extensive customer base more readily.

The functional beverages market consists

of sales of functional beverages and

related services. Functional beverages are

non-alcoholic drinks which contain nontraditional

ingredients such as vitamins,

minerals, dietary fibers, probiotics, and

added fruits. Function drinks include energy

drinks, sports drinks, enhanced fruit drinks,

and functional bottles water.

The main type of functional beverages are

energy drinks, sports drinks, nutraceutical

drinks, dairy-based beverages, juices,

enhanced water, and others. Energy

drinks are beverages or drinks that contain

ingredients marketed to increase energy

and mental performance. The functions are

health & wellness, and weight management

and various type of distribution channel are

brick & mortar and online.

The ever-evolving tendency of shoppers

toward health-situated beverages has

involved probiotic food products as an

essential in the rundown. Likewise, the deal

advancing slogans, for example, "ready to

drink", "in a hurry" and other accommodation

factors, for example, positive bundling

altogether served by beverages, further

expands the interest for probiotic drinks,

including fermented tea. Shoppers have

begun to favor functional drinks over organic

product squeezes and carbonated drinks.

With buyers now progressively mindful of

the health suggestions related to soda

pops classifications, concerned drinkers are

much of the time disregarding denounced

classifications, similar to carbonates and

squeezes, for healthier decisions, like soymilk,

probiotics, and other functional drinks.

Customer training has been the critical factor

behind the rising interest in healthy hydration

drinks. The pattern of healthy hydration

owes its prosperity to the developing

mindfulness toward matured drinks with

regular ingredients and the expanding

acknowledgment of polishing off probiotics.

OCTOBER 2022 FOOD & INGREDIENTS INTERNATIONAL

23
---
Aqua Dominus offers

environmentally friendly

waters effortlessly

and at less cost

Aqua Dominus offers pure and

environmentally friendly water, obtained

with simplicity and minimal costs.

Access to quality drinking water is on red alert

in many countries today.

The possible water crisis is pushing large

companies around the world to adopt

alternative ways of using water resources.

In view of this situation, the Italian company

Aqua Dominus Technologies, has proposed

itself to the market by offering a new water

culture, and ensuring that access to quality

water is quick and easy, and no longer

considered a luxury.

The company has signed up to a series

of projects and initiatives, which, while

respecting nature, enhance its sustainability,

it distributes, mainly in Europe, a significant

quantity of innovative products and

equipment in the water sector.

Aqua Dominus, which can be defined as

a young and dynamic company, sets itself,

through its industrial production, aims to

optimise the use of water resources.

Innovative equipment: technologically

sophisticated, but simple and practical to use,

making drinking water clear, pure and healthy.

Aqua Dominus, began to establish itself in

Access to quality potable

water is now a red alert

in many societies. At this

point, Aqua Dominus

ensures that you no longer

see quick and easy access

to water as a luxury.

the sector in the early 2000s by proposing the

new experience of purified drinking water,

adapted to one's tastes and needs, directly at

the point of use.

This proved to be a new and pleasant

experience for users!

The Brand, which has developed with a new

and special focus on growing environmental

issues, aims to make a contribution to the

development of an increasingly recyclable

and sustainable world.

It offers environmentally friendly, practical, safe

and affordable equipment.

A unique opportunity to step into the future

and reduce the use of plastic bottles.

Plastic containers and bottles are increasingly

24 FOOD & INGREDIENTS INTERNATIONAL OCTOBER 2022
---
causing visible damage to the entire planet.

Dispersed in the environment they only

degrade over 400 years or more.

According to some research, the average time

a plastic bottle is used is only 15 minutes,

and consider that about 1 million are

sold every minute in the world !

Researchers Hannah Ritchie and

Max Roser, of Oxford University,

have established that only 9%

of these are recycled, 12% are

incinerated and the rest end up

in the common waste or in the

ocean waters.

All this causes only one thing: the

massacre of the planet.

Sometimes it takes centuries for the

waste we throw away in nature to

dissolve and become inert, mixing with

soil, air and water.

For this reason, natural water resources are in a

critical condition and people are increasingly

at risk of drinking unsafe water that can

threaten their health.

Furthermore, it is known that worldwide, water

suitable for consumption is being rapidly

depleted, and that only 3% of the available

resources are being properly utilised.

Preserving and conserving adequate water

reserves for future generations therefore seems

almost impossible in the current situation.

Although some countries make serious

investments in this regard, this is not enough

to eliminate the problems of unconscious or

inconsiderate water consumption and the

use of plastic bottles.

All these dangers force us to

consider that purification systems

are now absolutely indispensable,

and it is an undeniable fact that

the use of such equipment will

have to be further developed

in the future: to protect nature,

protect our planet and build a

healthier tomorrow for all of us.

Individual water treatment will be

a safe investment for the future.

In light of the research carried out

and the data that has emerged,

Aqua Dominus Technologies has been

committed to this, offering specific sustainable

and ecological products for some time now.

The company, which favours systems that

provide targeted solutions to such problems,

already offers more than 50 products using this

technology, and continues its research and

development studies for further production

alternatives on a daily basis.

In this context, the food and ho.re.ca. sector are

among the leading industries in terms of drinking

water consumption, so the economic factor is

certainly not of secondary importance either.

OCTOBER 2022 FOOD & INGREDIENTS INTERNATIONAL

25
---
According to a careful assessment of the

market, for example, the daily requirement

of water for sale in an average restaurant

is about 250 litres, which if met with bottled

water will produce in a single year: 60,000

plastic bottles, the consumption of 10 tonnes

of oil to make them, and over 2.7 tonnes of

CO2 released into the air.

In addition to the damage to the environment

and our health, if we consider the cost of

purchasing, storing and refrigerating this water,

we can at that point, without a shadow of

a doubt, state that on-site water treatment

systems are much cheaper than any other

method, as well as safer.

The company, which we questioned, stated

that it intends to reach all major European

cities with additional outlets, and announced

that it will contact and inform customers

directly to inform them of the possibility of

using these alternative tools.

The Aqua Dominus managers, think that in the

future there will be a 'water purifier' in every

home, to be used like the other appliances

now present in every home: such as ovens,

dishwashers or other electrical appliances,

and they are thinking of integrating this new

system with many others.

Already today, the Aqua Dominus catalogue

presents more than 50 models of devices

as well as accessories for them, all made

of stainless steel, glass and other materials,

which in addition to being all certified,

are fully recyclable several times over and

suitable for various needs.

It has been observed that those approaching

such systems for the first time and savouring

the quality of purified, cooled and carbonated

water to their taste, decisively choose and

prefer these products.

Pure and good-tasting !

Communities that desire quality water can,

with this equipments, quickly access healthy

water thanks to the purification processes.

The water that passes through the microfilters

and subsequent treatments, is as clear as

spring water and pleasant in taste.

All potentially harmful chemicals, microbes

and bacteria, turbidity, colour and odour

are removed. At the same time, the water is

softened by reducing its salt content, a unique

choice for a healthy future.

The brand offers water produced with different

techniques and equipment, offering several

product lines, which are explained:

Professional Line

which allows those who use water as a

commercial product, to serve their customers

purified water in elegant and refined

containers of the finest crystal-clear glass,

customised to their needs.

This line includes equipment capable of

delivering up to 280 litres/hour of treated

and chilled water.

Top Commercial

The commercial line, preferred above all by

medium and large enterprises, is also used by

commercial companies, law firms, gyms, etc.,

which make corporate welfare and modernity

an added value.

It is also offered to consumers with equipment

for work groups in facilities with a small number

of employees and collaborators. Finally,

Domestic Line,

intended primarily for private homes, and

preferably for use in kitchens.

Where they are used, in addition to drinking

water, for any other kitchen use: tea, coffee,

steaming etc.

These treatment systems remove contaminants

from the water, particularly those originating in

and coming from the aqueduct network.

They produce water distinctly suitable for

human consumption, avoiding the short or long

term risk of possible negative health effects.

Aqua Dominus offers environmentally friendly,

practical, safe and cost-effective equipment.

Without a shadow of a doubt, the onsite

water treatment system is much more

convenient, compared to others, as well

as safer, which is why Aqua Dominus is

committed to initiatives to publicise and

disseminate these systems to consumers.

The company, which intends to ensure its

presence in all major European cities with

additional outlets, has announced that it

will put in place information systems aimed

directly at its potential customers.

A representative of the company stated that

A.D. will continue to work in the most favourable

way to optimise the use of water resources,

and he is of the opinion that water treatment

systems and equipment will be massively

present in the coming years in our homes,

workplaces, restaurants and hospitality sector.

While we live in the midst of a critical period for

the environment, which we will surely drag on

with its effects for at least the next 30 years, we

can help safeguard our planet and our future by

including water treatment systems in your life.

26 FOOD & INGREDIENTS INTERNATIONAL OCTOBER 2022
---
Sayhun supplies

excellent water

The Uzbek beverage brand

Sayhun has been exporting very

quality still and sparkling mineral

water to CIS countries and preparing

to export to Asian, Middle Eastern

and European countries soon.

"Sayhun Group Botllers" LLC was established

in November 2021 and received all

properties and and activities of former

owner Trade Mark "Sayhun".

The capacity of the factory is considered

about 12 million bottles per month. The factory

produces drinking water with the Trademark

"Sayhun" with mineralization 149 mg, still and

sparkling, beverages in 5 kinds Trademark

"WF". Production of carbonated and noncarbonated

soft drinks, carbonated and

non-carbonated treated with ozone) drinking

water in PET packaging. The volume begins

from 0.5 l, 1l, 1.5l, 5l and 10l. There are three

water resources which comply international

standards and have international certificate

SGS. Three modern production lines TM "KHS"

(Germany) are activated at this factory.

Nowadays, "Sayhun Group Botllers" LLC exports

its products to the CIS countries. The company

has good contacts and negotiations to export

to the Asia, Middle East, Europe and Turkey.

Short-term goals of the company:

1. To establish new additional water resources

2. To take part in all international exhibitions

3. To establish Trade Houses in 50 countries

Long-term goals:

1. To produce mineral water which is useful

for health

2. Full modernization of production line

3. To establish factories at neighboring countries

The position of TM "Sayhun" is considered among

the three well known other local trademarks

such as Hydrolife, Family and Montela.

28 FOOD & INGREDIENTS INTERNATIONAL OCTOBER 2022
---
High quality drinking water and beverages

by Sayhun Group Bottlers

Sayhun Group Bottlers

110702, Uzbekistan, Tashkent Region, Bustanlyk District, Sayhun Street, House 9

Whatsapp & Telegram: +998977714753 • +998938099070 • E-mail: tashkentland@gmail.com
---
SIAL Paris brings together

major industry players

SIAL Paris, one of the world's largest

international food fairs, with nearly 150

thousand visitors and nearly 7 thousand

participants from many countries of the

world, waits for its exhibitors and

visitors on 15-19 October 2022.

Every two years, manufacturers, importers,

buyers and retailers, media professionals and

independent associations and firms of all

shapes and sizes meet at the largest exhibition

space in Paris for five days of inspiration,

discussion and exchange.

All preparations have been completed for

this great organization where hundreds of

companies from many countries will

present the most special products

and sectoral developments with their

stakeholders. At the fair, which will be held

for the first time after the pandemic, the

sectoral changes and developments after

the COVID-19 will be discussed.

For over 50 years, SIAL Paris has been

inviting industry players to the French

capital to share their know-how.

30 FOOD & INGREDIENTS INTERNATIONAL OCTOBER 2022
---
GİRİŞ KARTINIZI

SİPARİŞ EDİN!

INSPIRE

FOOD

BUSINESS *

SIAL PARIS FUARINI

ZİYARET ETMEK İÇİN

3

NEDEN

GIDA ,

ilham ve yenilik için

DÜNYANIN EN BÜYÜK

MERKEZİ

TÜM KÜRESEL

GIDA PAZARI,

benzersiz bir networking için

TOPLANDI

GIDA SEKTÖRÜNÜN

BAŞLICA ETKİNLİKLERİ,

özel çalışmalar, ilham verici

konuşmacılar

* GIDA PAZARINA İLHAM VERİN

Paris

15 EKİM CUMARTESİ

19 EKİM 2022 ÇARŞAMBA

PARİS NORD VILLEPINTE FUAR ALANI - PARIS

SIALPARIS.COM #SIALParis

PROMOSALONS TURQUIE

Temas: Müge Gezeroglu

muge.gezeroglu@promosalons.com.tr

173-AP-SIAL-PARIS-TURQUIE-210X297-FR.indd 1 01/08

Many food products, from materials to

equipment, will be exhibited at the fair, where

more than 7 thousand companies from more

than 109 countries are expected to participate.

At the same time, SIAL Paris continues to bring

together the giants of the food and beverage

industry as the world's largest food fair,

providing more than 2.48 billion Euros of trade.

The fair, which was last held in 2018, hosted

7,200 exhibitors from 109 countries and 310,000

visitors from 194 countries.

At the fair, you can get information by

reaching professional participants under

the same roof, and closely follow the

developments and expectations in the

sector. SIAL Paris, which is the point of choice

for manufacturers who want to seize new

investment opportunities, also promises

effective organizations to establish new

business connections and partnership

agreements. The fair, which has a large

participant audience, is the meeting point

of those who want to promote new products,

make customer analysis and have the

opportunity to open up to new markets.

SIAL Paris will host important producer

companies that have made innovations in

the name of food technologies, milk and

dairy products, frozen foods, delicatessen

products, juices, ice cream, fish, meat and

chicken products, seafood, beverages,

dessert products, bakery equipment, diet

products, functional foods, canned goods,

ready meals, spices, the organic products,

olive and olive oil sectors.

OCTOBER 2022 FOOD & INGREDIENTS INTERNATIONAL

31
---
Corner

GİRİŞ KARTINIZI

SİPARİŞ EDİN!

INSPIRE

FOOD

BUSINESS *

Menz&Gasser - Chef Professional cocoa fruit

SIAL PARIS FUARINI

ZİYARET ETMEK İÇİN

3

GIDA ,

ilham ve yenilik için

NEDEN

DÜNYANIN EN BÜYÜK

MERKEZİ

TÜM KÜRESEL

GIDA PAZARI,

benzersiz bir networking için

TOPLANDI

Menz & Gasser presents itself with new bakery products

designed to meet the demands of a market that

is increasingly attentive to the needs of the final

consumer: Chef Professional with Cocoa Fruit is an

innovative, full, and exotic flavor that adds to the

existing range of the high quality Menz & Gasser line of

preparations. Designed for use in the oven, it is excellent

as a filling for cocoa shortbread, to customize and flavor

creams and jams and to flavor leavened products.

The company will showcase its products at SIAL Paris during the exhibition.

GIDA SEKTÖRÜNÜN

BAŞLICA ETKİNLİKLERİ,

özel çalışmalar, ilham verici

konuşmacılar

* GIDA PAZARINA İLHAM VERİN

Meat-Bone separators, deboners, grinders-desinewers

Paris

LIMA is present 15 worldwide, EKİM CUMARTESİ on all continents, offering more than 70 different LIMA machines

models from 19 100 EKİM to 2022 000 ÇARŞAMBA kg/hr / 220 to 44 000 lb/hr of raw product. A complete range of:

PARİS NORD VILLEPINTE FUAR ALANI - PARIS

Meat-bone separators for MSM (Mechanically Separated Meat)

SIALPARIS.COM #SIALParis

Deboners for coarse structured PROMOSALONS TURQUIE meat or ground meat MSM, with low calcium content.

Temas: Müge Gezeroglu

Grinders-Desinewers muge.gezeroglu@promosalons.com.tr

for ground and desinewed meat with controlled C/P ratio.

The purpose of LIMA Grinders-Desinewers GD/GDM is to valorize good meat into a highquality

coarse ground meat by separating remaining hard tissues such as sinews, tendons,

gristles, cartilage, bone chips as well as foreign plastic bodies at very high yield, from 80%

to 98% while Collagen/Protein ratios remain under controlled values and the temperature

hardly increases during the process. The recovered meat is NOT MSM (Mechanically

Separated Meat) but actual ground and desinewed meat processed from bone-out meat.

L-PARIS-TURQUIE-210X297-FR.indd 1 01/08/2022 09:32

Main advantages of LIMA's

technology: high quality of the end

product at optimum yields, low

temperature increase, no extra prebreaking

or pre-grinding required,

machine with hygienic design,

quick and simple assembling /

dismantling, easy & accurate yield

adjustment, low maintenance cost.

LIMA specialists are at your service

to explain in details the advantages

of this new LIMA technology from

the point of view of finished product

quality, machine high hygiene, very

easy maintenance, simplicity of its

exploitation, very quick cleaning

and disinfection operations at SIAL

Paris at Hall 7 – D381.

32 FOOD & INGREDIENTS INTERNATIONAL OCTOBER 2022
---
Corner

Olives we love!

GİRİŞ KARTINIZI

SİPARİŞ EDİN!

In the center of one of the most important

olive-producing areas of Greece, AMALTHIA

SA, has made its first steps in the field of

olive processing and exporting, utilizing one

of the oldest and most valuable products of

the Greek land… the olive!

INSPIRE

FOOD

Since 1966 and with the same passion and love, the people of the company continue to

produce and offer a wide range of products based on olives, which are BUSINESS available in * more

than 26 different countries.

SIAL PARIS FUARINI

ZİYARET ETMEK İÇİN

3

NEDEN

GIDA ,

ilham ve yenilik için

DÜNYANIN EN BÜYÜK

MERKEZİ

TÜM KÜRESEL

GIDA PAZARI,

benzersiz bir networking için

TOPLANDI

With the power of a blessed fruit, the accumulated experience and the constant commitment

to the modernization of its productive and administrative function, AMALTHIA perfectly meets

the expectations of consumers, associates and its employees and achieve its goals.

AMALTHIA presents its new products at Hall 2 – L156.

The best of foodtech comes together at Sial start-up

Every SIAL Paris show is an amazing showcase for global innovation in food, and welcomes

hundreds of the start- ups that are now reprofiling the landscape of the food ecosystem.

This year, the show is taking things up another notch by offering visitors the chance to

meet a curated collection of food gems in its new SIAL START- UP space created with

the help of Start-up Sesame. All these innovative French and international businesses

are less than 5 years old and are exhibiting at SIAL for the first time. These vibrant young

challengers are totally on-message with the exhibition vision of Own the Change,

with their commitment to offering new solutions to food industry challenges: some by

responding to the desire for new, more eco-friendly and healthier products, others

by reinventing the foodservice model, helping manufacturers achieve zero waste,

responding to the challenges of food delivery or driving innovation in retail.

The SIAL START-UP space will have a high-profile presence in the reception gallery

of Hall 5A for the full 5 days of the event to propel these young companies into the

limelight, and introduce them to a much wider audience through the introduction of a

new dedicated discovery pathway.

SIAL Paris offers start-ups a unique opportunity to develop new business with new customers

and meet potential financial partners by pitching their ideas and projects to French and

international investors. The show also facilitates face-to-face meetings with a matchmaking

platform that helps exhibitors and visitors maximize their opportunities.

* GIDA PAZARINA İLHAM VERİN

Paris

GIDA SEKTÖRÜNÜN

BAŞLICA ETKİNLİKLERİ,

özel çalışmalar, ilham verici

konuşmacılar

15 EKİM CUMARTESİ

19 EKİM 2022 ÇARŞAMBA

PARİS NORD VILLEPINTE FUAR ALANI - PARIS

SIALPARIS.COM #SIALParis

PROMOSALONS TURQUIE

Temas: Müge Gezeroglu

muge.gezeroglu@promosalons.com.tr

173-AP-SIAL-PARIS-TURQUIE-210X297-FR.indd 1 01/0

OCTOBER 2022 FOOD & INGREDIENTS INTERNATIONAL

33
---
Corner

GİRİŞ KARTINIZI

SİPARİŞ EDİN!

INSPIRE

FOOD

BUSINESS *

SIAL PARIS FUARINI

ZİYARET ETMEK İÇİN

3

NEDEN

GIDA ,

ilham ve yenilik için

DÜNYANIN EN BÜYÜK

MERKEZİ

TÜM KÜRESEL

GIDA PAZARI,

benzersiz bir networking için

TOPLANDI

Brinkers presents new chocolate

spreads at SIAL Paris 2022

Brinkers Food will attend SIAL Paris 2022 to exhibit its

new developments and trends in the chocolate spread

category and will compete for the SIAL Innovation Award

with a selection of its new products.

Brinkers is a certified organic producer of high-quality

chocolate spreads. The company is based in the

Netherlands and started its spread journey more than

130 years ago with a margarine substitute.

* GIDA PAZARINA İLHAM VERİN

GIDA SEKTÖRÜNÜN

"Just like previous editions,

BAŞLICA ETKİNLİKLERİ,

we have listed several new products for the SIAL Innovation

özel çalışmalar, ilham verici

konuşmacılar

Award competition. We expect that our new products will be selected again, just as in the

2018 edition with our protein spreads," said the company.

Brinkers Foods will present its latest spread innovations for visitors to taste and enjoy at hall

Paris

5A, stand 105.

15 EKİM CUMARTESİ

19 EKİM 2022 ÇARŞAMBA

PARİS NORD VILLEPINTE FUAR ALANI - PARIS

SIALPARIS.COM #SIALParis

PROMOSALONS TURQUIE

Frostkrone: A Variety of freshness at the SIAL in Paris

Temas: Müge Gezeroglu

muge.gezeroglu@promosalons.com.tr

International, incredibly diverse, trendy: the selection of delights that the Company Group

will be showcasing in Paris from 15-19 October. And there will indeed be plenty to discover

and try out. It is especially for the chilled cabinets that the Company Group will now also be

offering an interesting selection:

L-PARIS-TURQUIE-210X297-FR.indd 1 01/08/2022 09:32

"Ready To Eat" comes to you straight off the refrigerated shelves. This range can be

eaten hot or cold and boasts a huge choice of vegan and vegetarian flavours and also

variations with chicken. Every type of snack is wrapped in a luscious coating, created

out of delicious spices, seeds and grains.

• Beetroot Tots: a vegetable

mix made up of beetroot,

potato, onion, apples, all

flavoured with the slightly

piquant aroma of horseradish

and scrumptiously

enveloped in a coating of

millet, quinoa and linseeds.

Vegan. Nutri-Score A.

• Chicken Tikka Masala

Coins: bursting with

flavoursome breaded

chicken breast, coconut,

sieved tomato and rice, all

wrapped in a coating of red

curry, linseeds and garlic.

34 FOOD & INGREDIENTS INTERNATIONAL OCTOBER 2022
---
BRIEF

Barry Callebaut leverages

polygon mapping to bolster

sustainable cocoa and

eliminate deforestation

Barry Callebaut is ramping initiatives to make

effective traceability across global value chains

and sustainable chocolate the norm. The Swiss

manufacturer is partnering with key stakeholders as it scales efforts toward achieving full transparency

and traceability of cocoa using technologies such as polygon mapping and geo-localization.

Traceability to farm level, knowing where the cocoa we source is grown, is crucial in addressing

structural and sustainability issues in the cocoa supply chain.

Accurate insights into cocoa sourcing, gathered through polygon mapping and geo-localization

based on satellite images, are imperative for Barry Callebaut as it plans to eliminate deforestation

from the cocoa supply chain.

According to the World Cocoa Foundation (WCF), around half of the world cocoa bean supply is

sourced indirectly by chocolate companies from independent exporters and traders, primarily due

to the regulatory and licensing requirements in origin countries.

Ithaca Hummus releases first of its

kind in a portable, squeezable bag

Leading cold-crafted hummus brand, Ithaca Hummus,

known for its fresh ingredients and bold flavors, gives snack

time a tasty upgrade with the launch of new travel-friendly

snack, Ithaca Squeeze.

Ithaca Squeeze is the first hummus product to come in a pouch for kids, offering a protein-packed,

gut-friendly and wholesome snack for kids and adults alike. Available in three flavorful varieties, Plain,

Beet, and Red Pepper, Ithaca Squeeze packs powerful flavor in a convenient, portion-controlled 3oz

pouch with 5g of fiber and 7-8g of plant-based protein, to take with you wherever you go.

Rhythm launches new beverage for relaxation

Rhythm Relax, the newest beverage by Rhythm Sparkling Hemp Beverages, was crafted to turn every

day into a tranquil spa day. The functional wellness beverage brand is targeting a primary CBD use

case, relaxation, in this new variety that delivers calm vibes to quiet the anxious mind.

Similar to the cucumber water found in the lobby of luxury resorts and spas, Rhythm Relax pairs

cool, mild cucumber flavors with a hint of juicy melon to refresh and revitalize the taste buds. The

Cucumber Honeydew flavors are matched with 25mg of broad spectrum hemp extract and 100mg

of L-Theanine, the amino acid found primarily in

green tea that promotes relaxation without causing

drowsiness. Research shows that L-Theanine can

assist in reducing acute stress and anxiety in people

experiencing stressful situations.

OCTOBER 2022 FOOD & INGREDIENTS INTERNATIONAL

35
---
Sunkoy achieved success

in international edible oil market

Saying that they are in the competitive side of the edible oil market,

SUNKOY carries out very successful works in the international arena.

SUNKOY, which has gained great

momentum in the edible oil sector

since May 2022, expanded its target

audience and markets. The brand,

which continues to achieve its goals

successfully, especially after the food,

oil and pandemic crisis, welcomes a

great demand in international market.

Bringing sunflower, canola and corn

oils to the tables, SUNKOY processes its

products with high quality harvesting

machines and presents them to the

taste of the consumers. The brand,

which produces edible oils under the

SUNKOY brand or as a private label,

has increased its production capacity.

The famous oil brand, which met the

consumers with the products harvested from

the most fertile lands of Türkiye, took measures

to meet the rapidly increasing demand.

Increasing the production and quality in the

same direction in order to meet the

demand, SUNKOY received full marks

from its customers.

Stating that Türkiye and many

countries survived the edible oil crisis

that broke out all over the world

after the war between Russia and

Ukraine, SUNKOY officials believe that

the problem is not caused by the

manufacturer but by the intermediary

companies not delivering the products

to the consumers. Stating that they

trust the production line to the end,

SUNKOY officials stated that they have

no problems with the supply chain.

While the recent record increase in

sunflower seed prices and the 64% increase in

sunflower oil end product prices in the last 5

years are caused by foreign dependency in raw

materials, the increase in the dollar exchange

36 FOOD & INGREDIENTS INTERNATIONAL OCTOBER 2022
---
ate and the high taxes applied to imports, it is

a fact that the producers and consumers are

adversely affected by this situation.

Reasonable price, real quality

Considering the rising prices, the food industry

takes the biggest share from this. While cooking

oil is a real need in this

field, consumers are in

a difficult situation with

rising prices. At this point,

SUNKOY brings affordable

but high quality cooking

oils to consumers. The

products produced with

seeds from Marmara and

Black Sea for sunflower oils,

from the Mediterranean

and Aegean for canola oil,

especially from Anatolia

for corn oils, and from the

Aegean and Marmara for

olive oils are very popular.

Sunflower oil obtained by cold pressing

method is generally light yellow in color. In

addition, if it is obtained by hot pressing, it

is reddish in color. With the application of

extraction and purification processes applied

after pressing, the color of the oil becomes

yellowish and light again.

The fatty acids in sunflower oil generally

vary from seed to seed. The oil obtained

from traditional seeds contains 48-74%

unsaturated fatty acids. However, the mono

or polyunsaturated fatty acids here may be in

different proportions from crop to crop.

In addition, the ratio

of unsaturated fatty

acids in the structure

of the oil obtained

from the seeds of

sunflower seeds called

"high oleic sunflower"

is lower than the ratio

of oil obtained from

traditional sunflower.

It is known that the oil

obtained from high oleic

sunflower has about 10%

unsaturated fatty acids.

Known for its very light structure and rich

vitamin content, SUNKOY oils are a source

of Vitamins A, D, E and K. In this context,

the brand, which received positive

feedback from its customers, underlines the

importance of not only being high quality

but also maintaining a solid target market

and collaborating with distributors in order to

become a successful oil brand in the world.

OCTOBER 2022 FOOD & INGREDIENTS INTERNATIONAL

37
---
The goal is to reach many parts

of the world

SUNKOY, which has close

relations with APAC, Middle East,

African countries and the USA,

has gained great momentum

in the edible oil exports realized

in these countries. With the

acceleration achieved, Türkiye's

edible oil exports are expected

to reach 1.7 billion USD in the first

half of the year. In this context,

SUNKOY officials, stating that

they will increase their support for oil exports,

express that they will take more place in the

international market.

Focusing on the needs of the foreign market

rather than the domestic demands for more

than a year, SUNKOY reaches many points of

the world with its quality and assurance. The

brand, which expects to achieve a higher

performance than the next half of the year,

aims to be in a high ranking in the 2023

export statistics.

fast feedback from SUNKOY,

which uses digital channels

very actively in order to

stay one step ahead of its

competitors.

R&D studies continue

Adding innovations to its R&D

studies within the scope of

customers' needs, the brand

tests its products for shelf life

after correct packaging,

bottling and microbiological

controls. SUNKOY, which invests heavily in

laboratory studies, provides oil and moisture

determination, pH determination, brix, ash,

salt determination and product quality

assurance to its consumers.

Stating that the adventure of all products in

its portfolio is under the control of SUNKOY

at every stage, from filling to reaching the

consumer, the authorities announced that all

certificates and analyzes of edible oils comply

with international standards.

The company, which receives faster returns

from its customers thanks to the developing

channels, quickly catches the target

audience and demands in this direction. In

the current process, it is also possible to get

As a result of these analyzes, SUNKOY,

which succeeded to be one of the reliable

addresses of the quality edible oil sector,

became one of the most preferred brands in

the international oil market.

38 FOOD & INGREDIENTS INTERNATIONAL OCTOBER 2022
---
Polenkoy expands its product range

with healthy product options

Continuing its R&D studies, the brand aims to add different

product groups to its portfolio in the coming years.

Turkey-based famous food brand Polenkoy

brings sustainable and innovative products to

consumers in the international market. Keeping

every stage of production under control, the

company takes place on the shelves with its

wide product range such as honey, molasses,

tahini halvah, jam, olives and olive oil.

The brand has increased its production

of tahini halva at the same rate as the

world's best sesame seeds are produced

in Turkey. Polenkoy produces additive-free

tahini halvah, which is frequently preferred

especially in the Middle East. Aiming to

combine all products under a single brand

in recent years, when preferences have

changed and shaped from region to region,

Polenkoy also provides services in this area

where there are few honey producers.

Additive-free honey is mostly preferred by

America and Canada

When the competition in the honey sector

has gained such momentum, the brand

offers honey that is at its original form,

without added sugar and any additives.

In general, it has been determined that

honeys have different aroma, taste, color,

density and crystallization according to

different plant sources from which they are

collected. In terms of nutritional value, honey

is one of the consumer items that recover

blood values the fastest. Researchers,

who stated that honey should be the new

choice instead of sweet consumption due

to increasing health problems, think that

honey without additives is the product that

40 FOOD & INGREDIENTS INTERNATIONAL OCTOBER 2022
---
alances the sugar ratio

that our body should take.

Continuing production in line

with this idea, Polenkoy aims

to achieve a good position

in honey export in Turkey.

Offering its products to its

customers in kilogram and liter varieties,

the brand stated that they are in demand

from many parts of the world. For Middle

East countries the like honey, tahini halva,

molasses and jam. For USA and Canada;

jam, honey and olive oil. For European

countries; jam, honey and olives. For APAC

countries; honey, olives, olive oil and jam

are highly preferred.

Polenkoy olive oils, which are highly preferred

in America and Canada, are sent through first

class quality from production to distribution.

Polenkoy, which wants to compete with olive

oils produced in Mediterranean countries,

aims to expand its product range by

incorporating different product groups.

The brand, which has nearly 60 products

in its portfolio, continues its R&D studies to

improve its product range.

With the pandemic, the

culture of eating at home

has gained momentum in

the last few years. Breakfast

is one of these meals. Jams,

one of the most consumed

products of breakfast,

are preferred by consumers. In this context,

Polenkoy divided the jams it produces into

three groups. Firstly, Premium Series jams

that do not contain sugar, glucose, artificial

sweeteners or additives are produced with

fruit sugar instead of granulated sugar, and

secondly, Form Series jams are produced with

the extract of the stevia plant. Finally, Pure

Series jams are produced from fruit and fruit

juices and offered to consumers.

It is an undeniable fact that in these years,

when the APAC region and Turkey quickly

adapted to the organic nutrition culture,

their products were also in demand at the

same rate. Officials state that "cherry" is

the favorite in jam, which is one of the most

delicious accompaniments of breakfasts,

and they bring different varieties such as

watermelon and eggplant to the sector.

OCTOBER 2022 FOOD & INGREDIENTS INTERNATIONAL

41
---
Innovation

Awards

The SIAL Innovation 2022

awards of the international

food exhibition are awarded

* GIDA PAZARINA İLHAM VERİN

Awards by sector

GİRİŞ KARTINIZI

SİPARİŞ EDİN!

Meat & Fish Products Award

La Truitelle ecological conserves

• Brand: LA TRUITELLE

• Product description: organic mountain

INSPIRE

FOOD

BUSINESS *

SIAL PARIS FUARINI

ZİYARET ETMEK İÇİN

trout in a can. Fish raised and processed in

France. Artisanal preparation.

NEDEN

• Manufacturer: 3

LA TRUITELLE SAS

• Launch date:

November 2021

GIDA ,

ilham ve yenilik için

DÜNYANIN EN BÜYÜK

MERKEZİ

TÜM KÜRESEL

GIDA PAZARI,

benzersiz bir networking için

TOPLANDI

GIDA SEKTÖRÜNÜN

BAŞLICA ETKİNLİKLERİ,

özel çalışmalar, ilham verici

konuşmacılar

Alcoholic Beverages Award

Boliba Green Beer - The Empeltre one

• Brand: Oliba Green Beer

• Product description: green colored beer

brewed with olives. 5% alcohol by volume.

Produced in

Paris

the Pyrenees.

• Manufacturer:

15 EKİM CUMARTESİ

ERM Del Pallars

19 EKİM 2022 ÇARŞAMBA

Productions, S.L.

PARİS NORD VILLEPINTE FUAR ALANI - PARIS

• Launch date:

December SIALPARIS.COM 2020 #SIALParis

PROMOSALONS TURQUIE

Temas: Müge Gezeroglu

muge.gezeroglu@promosalons.com.tr

Meat & Fish Alternative

Products Award

Leggie Plant Base

• Brand: Leggie & Leggie Ready Meals

• Product description: clean label meat

substitute made from carob and rice flour.

Made with few ingredients. With meaty

appearance and texture.

Allergen free. Rich in fiber.

• Manufacturer:

MRM

• Launch date:

September 2022

Non-Alcoholic Beverages Award

Maté Taragüi Initiation Kit

• Brand: Taragüi

• Product description: kit for yerba mate

source of caffeine, antioxidants, B vitamins

and minerals. Contains 1 cup with yerba

mate, a straw, and a 250g package of yerba

mate. Gluten free. Vegan.

• Manufacturer:

Establecimiento Las Marias

• Launch date:

January 2021

Grocery Savoury Products Award

L-PARIS-TURQUIE-210X297-FR.indd 1 01/08/2022 09:32

Kimchi V Kimchi Block

• Brand: Spoonkey

• Product description: freeze-dried kimchi.

Rich in probiotics. Gluten free. Sugar free.

• Manufacturer:

OPEN SAUCE LAB

• Launch date:

March 2022

Cooking Aids &

Condiments Award

Cristaux Aux Tomates

• Brand: TERRA DEL TUONO

• Product description: small crystallized

flakes for seasoning. Natural. Easy to use. In

a bottle with a 2-hole measuring cap.

• Manufacturer:

ACETAIA TERRA

DEL TUONO

• Launch date:

October 2022

Grocery Sweet Products Award

Toogood Cotton Candy

• Brand: TRIOMPHE SNAT

• Product description: sugar-free cotton

candy substitute. Made with chicory fiber.

No color or additives. Nutri-Score : A.

• Manufacturer:

TRIOMPHE SNAT

• Launch date:

May 2022

Fruits & Vegetables Award

100% Fresh Frozen Wolffia

• Brand: Make Me More

• Product description: Water lentils rich in

vegetable proteins. Rich in fiber, minerals

and vitamins.

• Manufacturer:

THAI COCONUT PUBLIC

COMPANY LIMITED

• Launch date:

July 2022

42 FOOD & INGREDIENTS INTERNATIONAL OCTOBER 2022
---
Innovation

Awards

Dairy Products &

Ice Cream Award

Chestnut Cream Ice Cream with Chunks of

Candied Chestnuts

• Brand: Clément Faugier

• Product description: chestnut cream ice

cream with chunks of candied chestnuts.

• Manufacturer:

Clément Faugier

• Launch date:

July 2022

Frozen Products Award

IO'DÉS

• Brand: ZALG

• Product description: Frozen seaweed

cubes for pan-frying. With crispy texture.

Made from Breton macro-algae. Rich in

iodine, fiber and minerals.

• Manufacturer:

Marche & Co

• Launch date:

April 2022

Equipments and

Technologies Award

Roastinstep

• Brand: ROASTINSTEP

• Product description: 100% electric and

vertical continuous roasting for energy

saving. Recirculation system of the

generated hot air. Top feeding to capture

the rising calories when the

product goes down.

• Manufacturer:

FCD SYSTEM

• Launch date:

April 2022

Packaging Award

UHT Semi-Skimmed Organic

Sterilized Cow's Milk

• Brand: Natur'Avenir

• Product description: organic milk in a

recycled and recyclable gray bottle. Light

bottle without seal. French milk.

• Manufacturer:

LSDH

• Launch date:

January 2022

* GIDA PAZARINA İLHAM VERİN

GİRİŞ KARTINIZI

SİPARİŞ EDİN!

Dairy Alternative Products Award

Plant-Based Range of Desserts

• Brand: SOON

• Product description: yogurt substitute

made from French plant-based milk.

Packaged in Brittany.

• Manufacturer:

OLGA

• Launch date:

May 2022

INSPIRE

FOOD

BUSINESS *

Intermediate Food Products

(f.m.ı) / Ingrédients Award

Vegetable Collagen (H)

• Brand: RAWGA

• Product description: vegetable collagen Paris

from hibiscus, with a high antioxidant

content and a high adsorption rate.

• Manufacturer:

AGRICULTURAL CORPORATION

RAWGA CO. LTD.

• Launch date:

January 2021

Catereing and Food Services

(C.F.S) Award

3

GIDA ,

ilham ve yenilik için

DÜNYANIN EN BÜYÜK

MERKEZİ

TÜM KÜRESEL

GIDA PAZARI,

benzersiz bir networking için

TOPLANDI

GIDA SEKTÖRÜNÜN

BAŞLICA ETKİNLİKLERİ,

özel çalışmalar, ilham verici

konuşmacılar

15 EKİM CUMARTESİ

19 EKİM 2022 ÇARŞAMBA

PARİS NORD VILLEPINTE FUAR ALANI - PARIS

SIALPARIS.COM #SIALParis

SIAL PARIS FUARINI

ZİYARET ETMEK İÇİN

NEDEN

PROMOSALONS TURQUIE

Temas: Müge Gezeroglu

muge.gezeroglu@promosalons.com.tr

173-AP-SIAL-PARIS-TURQUIE-210X297-FR.indd 1 01/0

Vegan Flavor and Taste

• Brand: Uhhmami

• Product description: organic umami

seasoning rich in taste. Vegan. Clean

label.

• Manufacturer:

Uhhmami

• Launch date:

October 2022

Start-up Award

BUBBLe iT !

• Brand: BUBBLe iT !

• Product description: Powdered

preparation for sparkling drinks to limit the

use of plastic. Ideally diluted in the Bubble

It glass bottle. Eliminates the use of plastic

bottles, plastic carbonation machines and

aluminum CO2 cartridges.

No sugars or sweeteners.

• Manufacturer:

Bubble It Drinks

• Launch date:

January 2022

Awards by sector Special Awards

OCTOBER 2022 FOOD & INGREDIENTS INTERNATIONAL

43
---
Turkish Aquatic and Animal

Products want a bigger slice

of the UAE's food market

The Mediterranean Aquatic and Animal

Products Exporters' Association (ASHiB),

has achieved greater levels of awareness

among UAE buyers and importers over

the past three months, resulting on an

increase in demand for different Turkish food

products, a recent trade survey reported.

The survey included 50 key players within the

UAE exporting industry aimed at measuring

product perception and identifying what

current and potential buyers think of the newly

introduced products to the UAE market.

Commenting on the results of the survey,

Ali Can Yamanyilmaz, Deputy Chairman of

44 FOOD & INGREDIENTS INTERNATIONAL OCTOBER 2022
---
Mediterranean Aquatic and Animal Products

Exporters' Association (ASHiB) said: "We are

so glad to see an increase in demand for our

high-quality products and we're anticipating

more increase as the year goes on,"

"We are capitalising on the fast-growing

economic ties and increased bilateral trade

between our two countries, and we've been

investing in strategic partnerships, physical

networking and awareness campaigns to help

keep up with growing demand for our gourmet

products.", Ali Can Yamanyilmaz added.

According to the official website of the UAE's

Ministry of Foreign Affairs & International

Cooperation; the volume of non-oil trade

between the UAE and Turkey has reached

about AED 50.4 billion in 2021, growing by 54%

as compared to 2020.

Around 72 agreements and Memorandums of

Understanding have been signed in various

field, between the two countries.

Respondents of the survey were local

supermarket chains, retailers, importers and

manufacturers from the UAE and wider region.

The survey included food products like

dried fruits which recorded 16% increase in

awareness among buyers and importers, from

March-May 2022, milk and dairy products

reported 14% increase.

Olive oil, honey and vinegar achieved increase

in awareness by 14%, while products like figs,

apricots, hazelnuts and pistachio scored 14%

increase in awareness, during the same period.

The Mediterranean Aquatic and Animal

Products Exporters' Association (ASHiB)'s vision

is to increase overseas trade with neighboring

countries and across international borders.

The Association works with public institutions,

non-governmental organizations private

sector and international entities, to ensure

professional ethics and solidarity among

exporters and promote mutually beneficial

economic partnerships with strategic markets.

OCTOBER 2022 FOOD & INGREDIENTS INTERNATIONAL

45
---
Linde MH'nin

T14 - T20 Model

Yaya Kumandalı

Elektrikli

Transpaletleri

Sayesinde

En Dar Alanlarda

Maksimum

Manevra Kabiliyeti

Linde MH'nin 1,4 ton'dan 2,0 ton'a yük kapasitesine

sahip T14 – T20 model yaya kumandalı elektrikli

transpaletleri özellikle kompakt tasarımları sayesinde en

dar alanlarda bile kolay ve hızlı manevra yapabilir. Bu

sayede deponuzda taşıma işlemlerini hızlandırarak, size

intralojistik operasyonlarınızda zaman kazandırır.

Sağlam şasisi ve güçlendirilmiş çatalları sayesinde,

modele bağlı olarak 2 tona kadar olan yükleri rahatlıkla

taşıyabilir. Merkezi ve alçak konumlandırılmış kumanda

kolu, ekipmanın manevra kabiliyetini artırırken, isteğe bağlı

olarak sunulan orantısal hız kontrolü, kumanda kolu açısına

göre sürüş hızını otomatik olarak azaltarak, gerek operatör

gerekse yüklerin güvenliğini artırır.

46 FOOD & INGREDIENTS INTERNATIONAL OCTOBER 2022
---
OCTOBER 2022 FOOD & INGREDIENTS INTERNATIONAL

47
---
Ergonomik Tasarım

T14 – T20 model yaya kumandalı elektrikli

transpaletler, konfor ve kullanım kolaylığı

için tasarlanmıştır. Alçak konumlandırılmış

kumanda kolu, yük merkezine yakın olması

sebebiyle operatörün yükü daha rahat

taşımasını sağlarken aynı zamanda ekipmanın

manevra kabiliyetini artır.

Buna ilave olarak ergonomik kumanda

kolundaki tüm kontroller her iki elle de kolayca

erişilebilir ve rahat olduğu kadar hassas bir

kullanım sağlar. Özellikle daha sessiz bir hidrolik

pompa ile donatılan T14 – T20 model yaya

kumandalı elektrikli transpaletler, konutların

altındaki süpermarketlere veya zincir marketlere

sabah çok erken veya geceleyin çok saatlerde

ürün teslimatı sırasında konut sahiplerine

rahatsızlık vermemesi için operasyon sırasında

daha sessiz olabilmesi için optimize edilmiştir.

Çalışma saati sayacı, bakım programı,

hata kodu ve akü şarj seviyesi göstergesine

sahip çok işlevli ekran, operatörün dikkatini

dağıtmadan her zaman tüm önemli bilgilere

hakim olmasını sağlar.

Artırılmış Güvenlik Özellikleri Sayesinde

Artan Verim

T14 – T20 model yaya kumandalı

transpaletlerin tasarımı operatör güvenliğini

artırır. Alçak şasi eteği ayakları korurken,

uzun, alçak konumlandırılmış kumanda kolu,

operatörün çalışma sırasında transpaletle

arasında her zaman yeterli güvenlik

mesafesini korumasını sağlar.

Ayrıca ergonomik kumanda başlığı

sayesinde operatörün eli operasyon sırasında

her daim korunur. Kumanda kolundaki

kelebek butonu serbest bırakıldığında veya

sürüş yönünü değiştirildiğinde, ekipman

otomatik olarak frenleme yapar, buna ek

olarak otomatik park freni ise eğimlerde

istem dışı kaymayı önler. Operasyon sırasında

operatör kumanda kolu arasında sıkıştırma

tehlikesiyle karşı karşıya kalırsa, kumanda

kolundaki göbek butonu ile ekipmanı

durdurabilir. Bu da operatörün ve yükün

güvenliğine katkı sağlar.

İsteğe bağlı Lityum İyon enerji çözümü

Yeni model T14-T20 yaya kumandalı

elektrikli transpaletler isteğe bağlı olarak

Li-İYON aküyle de donatılabilir. Özellikle ara

şarja elverişli Li-İYON aküler, ekipmanın kısa

molalar sırasında bile şarj edilerek çalışmaya

hazır hale getirilmesine imkan vermektedir.

Ekipmanda görev yapan Lityum iyon akü

çalışma süresini operasyonun özelliklerine

bağlı olmak şartıyla 3 saate kadar

uzatabilmektedir.

48 FOOD & INGREDIENTS INTERNATIONAL OCTOBER 2022
---
Save the date F İSTANBUL 2023 on your calendar, where more

than 1000 food industry stakeholders from 40 countries

will exhibit their products at İstanbul Expo Center on 12-14 July 2023!

F İSTANBUL will bring all sector

stakeholders together at İstanbul

F İSTANBUL 2022 was held with the

participation of 268 companies representing

over 300+ brands from 21 countries and more

than 5500+ professional buyers attended

from 96 countries especially Europe, CIS,

North Africa, and the Middle East.

F İSTANBUL will bring all sector stakeholders

together at İstanbul Expo Center on 12-14 July

with 4 concurrent exhibitions in 2023. Food

and Beverage Exhibition in hall 2-4, Food

Processing, Ingredients and Packaging

Exhibition in hall 6-7, Shop Design and

Franchising Exhibition in hall 5 and Confectionery,

Nuts and Dried Fruit, Snacks Exhibition in hall 8

will take place at F İSTANBUL 2023.

Türkiye food and beverage industry exports

total 13.28 billion dollars

According to foreign trade data, in the first

7 months of 2022, exports of the food and

beverage sector increased by 18.6% compared

to the same period of the previous year and

reached 13.8 billion dollars. In this context,

F İSTANBUL 2023 will create an important

channel for all manufacturers and intermediary

companies that want to reach "value added

export" in the sector in the growing Turkish

market with the business volume it creates. F

İSTANBUL 2023 will bring together the industry

with professional buyers from Europe, Central

Asia, Africa, and Middle East markets.

Date : 12-14 July 2023

Sub Events : F Istanbul- Food and Beverage Exhibition (Halls 2- 4)

F Istanbul - Confectionery, Nuts and Dried Fruit, Snacks Exhibition (Hall 8)

F Istanbul - Food Processing, Ingredients and Packaging Exhibition (Halls 6 - 7)

F Istanbul - Shop Design and Franchising Exhibition (Hall 5)

Visiting Hours : 10:00- 18:00 (12 July 2023, openning time 12.00)

Venue : İstanbul Expo Center, Yeşilköy

Web-Site : https://www.f-istanbul.com/

E-mail : july@f-istanbul.com

Organizer : Federal Fuar ve Kongre Yönetimi Limited Şirketi

50 FOOD & INGREDIENTS INTERNATIONAL OCTOBER 2022
---
Ken Moynihan, Senior Vice President

and Head of TOMRA Processed Food

TOMRA Processed Food's

management team visits Turkey

The leadership team from one of TOMRA Food's two business areas, TOMRA

Processed Food, has visited Turkey as the TOMRA brand celebrates its 50th anniversary.

TOMRA Food İşlenmiş Gıda

yönetim ekibi, Türkiye'yi ziyaret etti

TOMRA Food'un iki iş alanından biri olan TOMRA İşlenmiş Gıda'nın liderlik ekibi,

TOMRA markası 50. yılını kutlarken Türkiye'yi ziyaret etti.

TOMRA Food, a division of TOMRA Group,

has been providing sensor-based sorting

machines and integrated post-harvest

solutions to the food industry in Turkey for

25 years. TOMRA's technologies enable

food processors to improve operational

efficiency, increase profitability, and

TOMRA Group'un bir üyesi olan TOMRA Food,

25 yıldır Türkiye'de gıda endüstrisine sensör

tabanlı ayıklama makineleri ve entegre

hasat sonrası çözümleri sunuyor. TOMRA'nın

teknolojileri, gıda işleyicilerinin operasyonel

verimliliği geliştirmesine, kârlılığı arttırmasına

ve güvenli gıda tedariği sağlamasına destek

52 FOOD & INGREDIENTS INTERNATIONAL OCTOBER 2022
---
oluyor. Türk işletmelerinin bu hedefleri nasıl

gerçekleştirdiğini görmek ve sundukları

çözümleri yerinde takip etmek üzere

TOMRA İşlenmiş Gıda yöneticileri, TOMRA

Group dünya çapında 50. yılını kutlarken

Türkiye'deki müşterilerinin tesislerine

ziyarette bulundular.

Ziyaretleri sırasında açıklamalarda bulunan

TOMRA Food İşlenmiş Gıda Başkanı Ken

Moynihan, "Türkiye, stratejik öneme sahip

bir ülke. Kabuklu yemişten, kuru meyveye,

yaş meyveden çeşitli sebzelere kadar

dünyada pazar liderlikleri bulunan çok

özel bir bölge. Türkiye'deki gıda işleyicileri

dünya pazarına ürünlerini sundukları

için talep edilen standartları sağlamak

üzere kendilerini kesintisiz geliştiren, üstün

kalitede ve güvenilirlikte ürün sunmak için

otomasyona yatırım yapan alanında lider

firmalar. TOMRA Food olarak işleyicilerin

bu yüksek standartları karşılamalarına

yardımcı olmak için 25 yıldır Türkiye'de

ürün ve hizmetlerimizi sunuyoruz. Gıda

sınıflandırma, ayıklama, soyma ve analitik

teknolojileri geliştiriyoruz. Türkiye pazarında

ilk kez bir temsilci aracılığıyla faaliyet

gösterdikten sonra, müşterilerimize daha

yakın destek sunmak üzere uzun süre önce

kendi ofisimizi kurduk," şeklinde belirtti.

ensure safe food supply. To see how Turkish

businesses are fulfilling these objectives,

executives from TOMRA Processed Food

have visited customers' facilities in the

country in the year that the TOMRA Group

celebrates its 50th anniversary globally.

Ken Moynihan, Senior Vice President

and Head of TOMRA Processed Food,

said: "Turkey is a country of strategic

importance - a market leader in nuts and

dried fruits, as well as some fresh fruit and

vegetables. Because food processors in

Turkey offer their products to world markets,

they make continuous improvements to

meet the required standards, investing in

automation to supply safe, high-quality

products. To help processors meet these

high standards, TOMRA Food has been

providing its products and services in

Turkey for 25 years now. We offer food

grading, sorting, peeling and analytical

technologies. After first operating in the

Turkish market through a representative, we

established our own office here to support

customers a long time ago."

More than 12,800 TOMRA units are installed

at food growers, packers, and processors

worldwide for fruit, vegetables, dried fruit,

OCTOBER 2022 FOOD & INGREDIENTS INTERNATIONAL

53
---
nuts, grains and seeds, potato products,

proteins, nuts, and confectionery.

Turkey leads the food industry in many areas

Ken Moynihan explained: "Turkey is the

world leader in nut production, especially

hazelnuts. Turkey also ranks first in the world

in apricot, fig and cherry production. And

when we look at the production of fruits like

apple, cherry and tangerine - and many

vegetables – we see that Turkey is among

the top five growers globally. The country

has a significant place as the world's

largest exporter.

"However, quality expectations in the

food sector are gradually increasing, both

in domestic and export markets. Issues

such as global warming, climate change,

limited agricultural areas, and sustainability

are raising difficulties in processing.

To counteract these challenges and

stay competitive, food manufacturers

and processors are investing more in

technology. Our customers are increasing

their investments and the number of

processors who prefer TOMRA optical

sorting machines is also increasing day by

day. By enhancing our presence in Turkey,

we are working to be even closer to our

customers, to provide the best solutions for

each individual business."

TOMRA's sorting and grading solutions

are in operation in Turkey handling nuts,

dried fruits, fresh fruits and vegetables,

potatoes, and frozen fruits and vegetables.

TOMRA's sorting machines help meet high

standards in product quality by detecting

and sorting impurities from production

and processing lines based on color,

shape, size, structure and even biological

properties. By sorting out unwanted

foreign objects and defective products

without discarding saleable materials,

they also help prevent food waste.

Ken Moynihan explained: "TOMRA's

solutions reduce the waste, known as

"false rejects", to extremely low levels in

products such as hazelnuts, raisins, and

seeds to less than 1%. To give an example,

an average nut or dried fruit plant in

Turkey has a production capacity of

approximately 20,000 tons per year and

would see approximately 5% of good

product go to waste with the defected

product. Because TOMRA's technologies

Meyve, sebze, kuru meyve, kabuklu

yemiş, tahıl ve tohum ürünleri, patates,

protein, şekerleme için dünya genelindeki

gıda üretim, paketleme ve işleme

tesislerinde 12.800'den fazla kurulu TOMRA

ünitesi bulunuyor.

Türkiye, pek çok alanda gıda endüstrisine

öncülük ediyor

Ken Moynihan, açıklamasında, "Türkiye,

kabuklu yemiş üretiminde başta fındık

olmak üzere dünya lideri. Kayısı, incir ve

kiraz üretiminde yine Türkiye, dünyada

birinci sırada. Elma, vişne ve mandalina

gibi meyve ve birçok sebze üretimine

baktığımızda dünyada ilk beşte yer alan

pek çok ürün Türkiye'de yetiştiriliyor ve

dünyanın en büyük ihracatçısı olarak da

önemli bir yere sahip," diyerek ekledi;

"Ancak bu arada gıda sektöründe de kalite

beklentileri, hem ülkelerin iç pazarında hem

de ihracatlarında giderek artıyor. Küresel

ısınma, iklim değişiklikleri, tarım alanlarının

kısıtlı kalması, sürdürülebilirlik gibi konular

da süreçleri zorlaştırıyor. Bu nedenle gıda

üreticileri ve işleyicileri, teknolojiye daha

fazla yatırım yaparak ürünlerini kusursuz

sunmaya ve rekabet güçlerini arttırmaya

çalışıyorlar. Dolayısıyla Türkiye'de hali

hazırda TOMRA çözümlerini sunan

müşterilerimizin yatırımları artarken TOMRA

optik ayıklama makinelerini tercih eden

işleyicilerin sayısı da her geçen gün artıyor.

Biz de TOMRA Food olarak Türkiye'de

varlığımızı arttırarak hem ürünlerimiz hem

de çözümlerimiz ile müşterilerimize daha da

yakın olmaya çalışıyoruz."

TOMRA'nın sınıflandırma ve ayıklama

çözümleri, Türkiye'de kuruyemişler, kuru

meyveler, taze meyve ve sebzeler,

patatesler, dondurulmuş meyve ve

sebzelerin işlenmesinde kullanılıyor. TOMRA

ayıklama makineleri, renk, şekil, boyut, yapı

ve hatta biyolojik özelliklerine göre üretim

54 FOOD & INGREDIENTS INTERNATIONAL OCTOBER 2022
---
ve işleme hatlarından istenmeyen malzemeleri

tespit edip ayıklayarak ürün kalitesinde yüksek

standartların karşılanmasına destek oluyor.

İstenmeyen yabancı maddeleri ve kusurlu ürünleri

satılabilir malzemeleri kaybetmeden ayıklayarak

gıda israfının önüne geçilmesini sağlıyor.

Ken Moynihan, konuyla ilgili olarak, "TOMRA,

sunduğu çözümlerle "hatalı seçim" diye

tanımlanan israfı, Türkiye'de has fındık, kuru

üzüm ve tohum gibi ürünlerde yüzde 1'in altına

düşürüyor. Örnek vermek gerekirse Türkiye'de

ortalama bir kabuklu yemiş veya kuru meyve tesisi,

yılda yaklaşık 20.000 tonluk üretim kapasitesine

sahiptir ve iyi ürünün yaklaşık yüzde 5'i kusurlu

ürünlerle çöpe gitmektedir. TOMRA'nın teknolojileri

"hatalı seçim" oranını yüzde 5'ten yüzde 1'in

altına indirerek ortalama büyüklükte bir işletme

için her yıl 800 ton fındık ya da kuru üzümün, atık

içerisinde değer kaybetmesini önleyebiliyor. Bu,

sadece müşterilerimize değer katmakla kalmayıp

aynı zamanda gıda israfını azaltma hedeflerimize

ulaşmamıza da yardımcı oluyor," diye belirtti.

Türkiye'deki test ve demo merkezimiz

TOMRA Food'un dünya genelinde bulunan 10 ayrı

Test ve Demo Merkezinden biri, İstanbul'daki bölge

merkezinde yer alıyor. Burada gıda üreticileri

ve işleyicileri, ürünlerine özel ideal ayıklama

çözümlerini bulmak üzere TOMRA'nın teknolojileri

ile demo gerçekleştirebiliyorlar.

Konu ile ilgili bilgi veren Ken Moynihan, "Geçmişte

Türkiye'deki gıda üreticileri ve işleyicilerini

Belçika'daki demo tesisimize davet ediyorduk.

Ancak 2017 yılında Türk müşterilerimizin ayıklama

çözümlerimizi kendi ürünleriyle test etmelerini

kolaylaştırmak için İstanbul'da bir Test ve Demo

Merkezi açtık. Demo sırasında katılımcılar,

TOMRA'nın ayıklama çözümlerini çalışırken

yakından inceleyebiliyorlar. TOMRA Food uzmanları

ile görüşerek bu teknolojilerin kalite, gıda güvenliği,

kârlılık ve sürdürülebilirlik açısından faydaları

hakkında daha fazla bilgi alabiliyorlar," diyor.

Yerel satış sonrası hizmetler ile müşterilere yakın

Ken Moynihan, "TOMRA Food bünyesinde

müşterilerimize yakın olmanın ve yerel düzeyde

güçlü destek sağlamanın önemine inanıyoruz. Bu,

ön görülemeyen aksaklıkların mümkün olduğunca

engellenmesine ve üretim hatlarının kesintisiz

çalışmasına yardımcı oluyor. Türkiye'de büyüyen

eğitimli satış sonrası ve servis ekibimiz ile düzenli

müşteri ziyaretlerimizi gerçekleştiriyoruz. Ayrıca yerel

olarak geniş bir yedek parça stoğu bulundurarak

hızlı bir şekilde satış sonrası hizmeti verebiliyoruz.

Bu gelişmiş yapımız, Türkiye'deki müşterilerimiz ile

güven bağımızın gelişmesini sağlıyor," dedi.

significantly reduce the "false

reject" rate from 5% to less than 1%,

an average-size processing business

could prevent 800 tons of hazelnuts

or raisins from going to waste every

year creating a major impact not

only to our customer's bottom line,

but also helping us reach our goals

to reduce food waste."

Test and Demonstration Center

in Turkey

One of TOMRA Food's 10 Test

and Demonstration Centers

around the world is located at its

regional headquarters in Istanbul.

Here, food processors can test

TOMRA's technologies to find the

sorting solutions that are ideal for

their business.

Ken Moynihan said: "In the past,

we invited food manufacturers

and processors in Turkey to visit our

demonstration facility in Belgium.

However, in 2017 we opened a

Test and Demonstration Center in

Istanbul to make it easier for our

Turkish customers to test our sorting

solutions with their own products.

During the demos, participants

can closely observe TOMRA's

sorting solutions in action. And

by meeting TOMRA Food experts,

they can gain detailed information

about how these technologies

improve food safety, food quality,

sustainability, and profitability."

Close to customers with local

after-sales services

Ken Moynihan emphasized,

"At TOMRA Food we believe it's

important to be close to our

customers and to provide strong

support at the local level. This helps

prevent unpredicted disruptions

on production lines as as much as

possible, to ensure uninterrupted

operation. Our trained after sales

and service team in Turkey –

which is growing – makes regular

customer visits. And by keeping a

big stock of spare parts in Turkey,

we can provide after-sales service

quickly. Our advanced structure

strengthens the bond of trust with

our customers here."

OCTOBER 2022 FOOD & INGREDIENTS INTERNATIONAL

55
---
Already 80 % booked up:

pacprocess MEA and Food Africa

will take place in December

The Middle East and Africa (MEA), and especially Egypt as a hub for the entire region,

is an attractive market for the international packaging and related

process industries. pacprocess MEA and Food Africa are the perfect platform.

A 20% increase in demand in the Middle East

and Africa – this is the kind of growth that the

German Mechanical Engineering Industry

Association (VDMA) is currently expecting to

see. The need for packaged food in this region

will presumably increase to 93 million tons

over the next four years. This shows the huge

potential hidden in this segment of the market

alone for the international packaging sector

and the related process industry.

pacprocess MEA and Food Africa are coming

at exactly the right time. The trade fair duo

will take place in 2022, from December 5th

to 7th in Cairo, under the umbrella of the

interpack alliance fair. The synergy between

the events is huge, as the food industry is the

biggest consumer of packaging.

"The enormous dynamics of the market in the

Middle East and Africa were already palpable

during past events," says Thomas Dohse,

Director of the interpack alliance. "Now is the

ideal moment to enter this fascinating market."

A rising profile: pacprocess MEA

pacprocess MEA has been the most important

trade fair for processing and packaging in the

region since 2019. In 2021, around 16,000 visitors

came to Cairo for pacprocess MEA and Food

Africa. Both events profit from support by local

businesses, public authorities, associations and

Egyptian governmental organisations.

The African food industry's number one:

Food Africa

As the largest professional trade fair for

the food industry in Africa, Food Africa is a

unique platform for entry into the African

mega-market for food and agriculture.

This is even more relevant in the face

of the burgeoning global food crisis. At

the trade fair, exporters can engage in

targeted networking with local, regional and

international industry representatives.

Food Africa has been part of the interpack

alliance portfolio since last year. Here, as well as

for pacprocess MEA, Messe Düsseldorf is working

with the event organisers IFP Egypt and Konzept.

Taking advantage of the opportunities

in the MEA region

After South Africa, Egypt is the most

industrialised nation on the continent, and

one of the fastest growing food markets

in the world. Numerous trade agreements

and an advantageous geographic position

on one of the most important trade routes,

the Suez Canal, offer ideal conditions. For

manufacturers of food producing machines

and packaging machines from Egypt, but also

from all of North Africa and the Middle East,

this is an important sales market. The African

food market is expected to more than triple by

2030 and reach one trillion dollars. Accordingly,

investments in production capacities are

being made. Manufacturers with large export

quotas in particular are focusing on modern

technology to meet the demands of their

different national sales markets.

For more information about pacprocess

Middle East Africa and Food Africa, visit

www.pacprocess-mea.com and

www.foodafrica-expo.com

56 FOOD & INGREDIENTS INTERNATIONAL OCTOBER 2022
---
Prebiotic effect evidenced

for chicory root fibres

by the first systematic review

with meta-analyses

Meta analizlerle yapılan

ilk sistematik incelemede

hindiba kökü liflerinin

kanıtlanan prebiyotik etkisi

A new systematic literature review with

meta-analyses, conducted by Dávid

U. Nagy et al. İ , demonstrates that

chicory root fibre intake (starting at 3g/

day) promotes significant growth of

Dávid U. Nagy ve arkadaşları İ tarafından

yürütülen meta analizlerle yapılan

yeni bir sistematik kaynak taraması,

hindiba kökü lifi alımının (günde 3 gr'dan

başlayarak) bağırsak mikrobiyomundaki

58 FOOD & INGREDIENTS INTERNATIONAL OCTOBER 2022
---
Intake

of chicory

root fibres

increases

Bifidobacteria

and supports

bowel

function.

Hindiba kökü

liflerinin

alımı

Bifidobakterileri

arttırır ve

bağırsak

fonksiyonunu

güçlendirir.

Bifidobakterilerin tüm yaş gruplarında

önemli ölçüde gelişimini arttırdığını

ve bağırsak fonksiyon parametrelerini

iyileştirdiğini göstermektedir. Hindiba

kökünden elde edilen inülin tipi fruktanların

Bifidobacteria in the gut microbiome

in all age groups and improves bowel

function parameters. It is the first study of

this kind, based on randomised control

trials, that has investigated the effect of

OCTOBER 2022 FOOD & INGREDIENTS INTERNATIONAL

59
---
inulin-type fructans derived from chicory

root on Bifidobacteria abundance in gut

microbiota and health-related outcomes.

Included in the systematic review with

meta-analyses, considered the strongest

methodology in the hierarchy of scientific

evidence, were 50 human intervention

studies, with a total of 2,495 participants.

These were selected based on an extensive

literature search and review process that

followed the guidelines of the Cochrane

Handbook for Systematic Reviews and

Interventions. İİ This research evidenced

that inulin, oligofructose and combinations

thereof, derived from the chicory root as

the source of origin, act as a bifidogenic

factor, promoting the selective growth

of Bifidobacteria. The systematic review

with meta-analyses also demonstrates

that chicory root fibre is a prebiotic that

complies with the ISAPP (International

Scientific Association for Probiotics and

Prebiotics) definition of prebiotics.

The researchers further reported that the

bifidogenic effects of the chicory root fibres

were accompanied by improved bowel

regularity. This was validated by increased

bağırsak mikrobiyotasındaki Bifidobakteri

bolluğuna ve sağlıkla ilgili sonuçlara etkisini

araştıran randomize kontrollü çalışmalara

dayalı bu türdeki ilk çalışmadır.

Bilimsel kanıt hiyerarşisinde en güçlü

metodoloji olarak kabul edilen meta

-analizler ile sistematik derlemeye toplam

2.495 katılımcı ile 50 insani müdahale

çalışması dahil edilmiştir. Bu çalışmalar,

Cochrane Handbook for Systematic Reviews

and Interventions İİ El Kitabı yönergelerine

bağlı kalarak yapılan kapsamlı bir

kaynak arama ve inceleme sürecine

bağlı kalarak seçilmiştir. Bu araştırma,

hindiba kökünden köken kaynağı olarak

türetilen inülin, oligofruktoz ve bunların

kombinasyonlarının, Bifidobakterilerin seçici

büyümesini arttıran bir bifidojenik faktör

olarak hareket ettiğini kanıtlamıştır. Meta

analizlerle yapılan bu sistematik inceleme,

hindiba kökü lifinin ISAPP (International

Scientific Association for Probiotics and

Prebiotics) prebiyotik tanımına uyan bir

prebiyotik olduğunu da göstermektedir.

Araştırmacılar ayrıca hindiba kökü liflerinin

bifidojenik etkilerinin bağırsağın düzenli

çalışmasına yardımcı olduğunu bildirmişlerdir.

60 FOOD & INGREDIENTS INTERNATIONAL OCTOBER 2022
---
Bu, sağlıklı yetişkinlerde artan dışkılama sıklığı

ve sağlıklı bebeklerde ve çocuklarda daha

yumuşak dışkılar ile doğrulanmıştır.

Bulgular hakkında yorum yapan BENEO

Ruhsatlandırma İşleri ve Beslenme İletişimi

Başkan Yardımcısı Anke Sentko şunları söyledi:

"Meta analizlerle bu ayrıntılı ve önemli

sistematik incelemenin yapılmış olmasından

son derece memnunum. En nitelikli bilimsel

kanıt metodolojisini takip eden bu çalışmada,

hindiba kökünden elde edilen inülin tipi

fruktanların prebiyotik etkisi doğrulanmaktadır.

Yine hindiba kökü liflerinin bir kişinin günlük

diyetine entegre edilmesinin, Bifidobakterileri

ve dolayısıyla bağırsak mikrobiyomlarını

desteklediğini ve aynı zamanda en

gencinden en yaşlısına kadar bağırsak

işlevlerini iyileştirdiğini göstermektedir."

BENEO'nun prebiyotik lifleri, Orafti ® İnülin ve

Oligofruktoz, inülin tipi fruktanlardır. Suni veya

kimyasal olarak yapılan diğer bazı liflerin

aksine, yumuşak bir sıcak su ekstraksiyon

yöntemi ile hindiba kökünden türetilen doğal,

GDO'suz, temiz etiketli prebiyotik liflerdir.

Ulusal yasalara göre, bebek maması da dahil

olmak üzere çok çeşitli yiyecek ve içecek

uygulamalarında kullanılabilirler. Kanıtlanmış

prebiyotikler olarak hindiba kökü lifleri (inülin,

oligofruktoz) sağlıklı bir bağırsak mikrobiyotasını

destekler ve Bifidobakteriler gibi yararlı

mikroorganizmaların bağırsakta gelişmesine

özellikle yardımcı olur. Hindiba kökü lifleri, bu iyi

mikroorganizmalar için tercih edilen besinlerdir

ve dolayısı ile gelişmelerine ve çoğalmalarına

yardımcı olur. Kalın bağırsakta bakteriyel

metabolizmanın artması nedeniyle bağırsakta

düzenlilik meydana gelir.

stool frequency in healthy adults, and by

softer stools in healthy infants and children.

Commenting on the findings, Anke

Sentko, Vice President Regulatory Affairs &

Nutrition Communication at BENEO said:

"I am extremely pleased that this detailed

critical systematic review with metaanalyses

has been conducted. Following

the highest quality scientific evidence

methodology, the prebiotic effect of inulintype

fructans sourced from the chicory

root is confirmed. It yet again shows

that integrating chicory root fibres into a

person's daily diet supports Bifidobacteria

and thus their gut microbiome, while also

improving the bowel functions of the very

young to the very old."

BENEO's prebiotic fibres, Orafti ® Inulin and

Oligofructose, are inulin-type fructans.

They are natural, non-GMO, clean label

prebiotic fibres that are derived from

chicory root via a gentle hot water

extraction method, unlike some other fibres

that are artificially or chemically made.

They can be used in a wide range of food

and beverage applications including baby

food, according to national legislations.

As proven prebiotics, chicory root fibres

(inulin, oligofructose) support a healthy

gut microbiota and selectively promote

the growth of beneficial microorganisms,

such as Bifidobacteria, in the gut. Chicory

root fibres are the preferred food for those

good microorganisms and thus help

them to grow and multiply. Due to the

increased bacterial metabolism in the

large intestine, regularity is improved.

İ

Nagy DU, Sándor-Bajusz KA, Bódy B, Decsi T, Van Harsselaar J, Theis S & Lohner S (2022)

Effect of chicory-derived inulin-type fructans on abundance of Bifidobacterium and on bowel function:

a systematic review with meta-analyses. Critical Reviews in Food Science and Nutrition.

Yayın Tarihi: 14 Temmuz 2022, DOI: 10.1080/10408398.2022.2098246

İİ

Nagy DU, Sándor-Bajusz KA, Bódy B, Decsi T, Van Harsselaar J, Theis S & Lohner S (2022)

Effect of chicory-derived inulin-type fructans on abundance of Bifidobacterium and on bowel function:

a systematic review with meta-analyses. Critical Reviews in Food Science and Nutrition.

Published 14 July 2022, DOI: 10.1080/10408398.2022.2098246

İ

Higgins JPT, Thomas J, Chandler J, Cumpston M, Li T, Page MJ, Welch VA (editörler)

Cochrane Handbook for Systematic Reviews of Interventions sürüm 6.3 (Şubat 2022 'de güncellenmiştir).

Cochrane,2022. Şu adresten ulaşılabilir: www.training.cochrane.org/handbook

İİ

Higgins JPT, Thomas J, Chandler J, Cumpston M, Li T, Page MJ, Welch VA (editors).

Cochrane Handbook for Systematic Reviews of Interventions version 6.3 (updated February 2022).

Cochrane, 2022. Available from www.training.cochrane.org/handbook

OCTOBER 2022 FOOD & INGREDIENTS INTERNATIONAL

61
---
BRIEF

Mondelez restarts output at site hit

by Barry Callebaut salmonella scare

Production at Mondelez International's biscuits factory in France has restarted following a halt linked to

a salmonella scare at supplier Barry Callebaut. However, it will take some weeks for full capacity to be

reached at the site in Cestas, Gironde, in south-west France and for supplies to customers to resume.

Switzerland-headquartered chocolate ingredients maker Barry Callebaut stopped output at its

Wieze facility in Belgium in June after salmonella was detected in a batch of products. The incident

caused a wave effect up the value chain, with Mondelez one of the customers impacted.

Following a "precautionary" cleaning of the Cestas facility, which Mondelez said "took several

weeks and required the shutdown of the lines", it is now safe to resume production.

"It will take several more weeks before normal production capacity is restored," Mondelez said in

a statement. "This gradual restarting of production should allow the supplying of products put in

disruption following the interruption of the site's activities to resume in the coming weeks."

Barry Callebaut, one of the world's largest business-to-business suppliers of chocolate, informed Just

Food as September began that production was restarting at its own factory in Wieze following a

similar cleaning exercise. "The Wieze factory is continuing to gradually ramp up to full capacity over

the following weeks," Barry Callebaut said.

RIND ® snacks sweetens portfolio

with new Dark Cocoa

Sea Salt Coconut Crisps

With Dark Cocoa Sea Salt Coconut Crisps, RIND ® retains

the fruit's nutrient-rich inner husk, then dusts them with

real dark cocoa and a hint of sea salt for a treat that

snackers can feel good about finishing. High in fiber—7g

per serving—as well as heart-healthy fats, these craveable

crisps are amazing straight from the bag, dynamite

out of the freezer and highly versatile as a topper to

almost any dish. This delectable, nutrition-rich snack is also naturally low in carbs and added sugar,

making them a great option for keto-friendly diets and leaving snackers satisfied and energized.

"Our new Dark Cocoa Sea Salt Coconut Crisps embody all the qualities consumers crave in a snack:

sweet, salty, simple and sustainable," said Matt Weiss, RIND ® founder & CEO. "It represents our first

foray into clean and wholesome seasonings and it's the first in our line of single-serve snack bags,

making RIND ® an even more convenient and 'a-peel-ing' option for on-the-go snacking."

Nestle setting up Health Science unit for growth

Nestle SA's Nestle Health Science business unit is an amalgam of acquisitions. Since 2011, the

company has invested heavily in such nutrition brands as Nature's Bounty, Nuun and Vital

Proteins, the medical nutrition category and pharmaceuticals. Now the company is setting the

stage for greater margin growth from the business unit.

Nestle Health Science sales are "north" of 6 billion

Swiss francs ($6.24 billion), said Roger, and the three

segments are growing mid-single digits. "… We need to

bring consistency between these different businesses,"

he said. "We need to make sure that they complement

each other both in terms of brand architecture, in terms

of price points, (and) in terms of distribution."

He added that he sees Nestle Health Science having

a similar portfolio structure as Nestle's coffee business,

with super premium, premier and mainstream options.

62 FOOD & INGREDIENTS INTERNATIONAL OCTOBER 2022
---
−10 nov 2022

Dubai World Trade Centre

REGISTER TO VISIT

www.gulfhost.ae

GULFHOST

The Complete Hospitality Equipment & Foodservice

Expo for the Middle East, Africa & Asia

#GULFHOST

Get a taste of the

region's finest

hospitality and

foodservice event

Back of house Front of house Horeca Tableware Café and Counter

5 events | 3 days | 1 venue
---
Industry relies on the leading global trade fair, Anuga:

High number of applications during

the early booking campaign

The food and beverage industry is on the

move - and so is its leading global trade fair,

Anuga. Currently dwindling sales markets and

the search for new business potential, faltering

supply chains, climatological developments

and the related discussions about energy

and raw materials are challenging the food

and beverage industry more than ever.

Worldwide leading, export-oriented trade

fairs like Anuga provide the opportunity to

establish business contacts and promote

personal, trusting customer relations. Exhibiting

companies can book their stand at the early

bird price up until 30 September 2022 and

make sure they are on board for the start of

the allocation of the placements.

64 FOOD & INGREDIENTS INTERNATIONAL OCTOBER 2022
---
"It is important to us that Anuga offers an

international presentation platform and above

all the opportunity for an exchange. Personal

encounters are more important than ever and

our exhibitors are confirming this. A mood of

optimism prevails throughout the ten trade

shows of Anuga. And we are receiving similar

feedback from political circles, for example

we are looking forward to welcoming the

Federal Minister for Food and Agriculture, Cem

Özdemir, at the opening of Anuga," explained

Stefanie Mauritz, Director Anuga.

Quotes from exhibitors of Anuga Meat or

Anuga Chilled & Fresh Food like "our company

is focusing on Anuga" or "participating at

Anuga is a must", confirm the trust in the

world's largest trade fair for the food industry.

Discussions with top brands, who are showing

an interest in Anuga again for the first time

in many years are also ongoing for Anuga

Drinks and Anuga Hot Beverages. In the bio

segment, beyond the specialised trade, the

suppliers are betting on Anuga Organic to

reach a wider target group of buyers.

"Furthermore, in the scope of Anuga Fine

Food we are clearly noticing that countries

and companies want to use Anuga to tap

into new sales markets after the collapse

of markets like Russia and the Ukraine. In

addition to innovative industry newcomers we

are looking forward to being able to present

the complete offer of the national and

international dairy industry again at Anuga

Dairy in 2023. The Dairy Alternatives Area that

was introduced for the first time in 2021 will

be further extended in 2023. And nearly all

relevant players are on board again at Anuga

Bread & Bakery," is how Mauritz summed up

the present number of applications.

The further developed Anuga Out of Home

(previously "Anuga Culinary Concepts") will

include new exhibitor groups for example from

the delivery or to-go segments for the first time.

OCTOBER 2022 FOOD & INGREDIENTS INTERNATIONAL

65
---
Shemesh launches unique

new gummies line

Gummies and jellies are renowned in the

food, supplements, and nutraceuticals

sectors for being one of the most awkward,

hard to handle products. But the growing

market of sticky sweets and supplements

has now met its match with the launch of a

brand new, highly innovative 60 products

per minute A-Z gummies packaging line from

Shemesh Automation – the TKS-G60.

Shemesh has applied its decades of

engineering expertise to seamlessly combine

a unique sequence of technologies that

feed, load, fill, cap and label bottles and

gummies of all common sizes – and ultimately

case pack and palletize them too. Shemesh

Automation's VP Global Sales & Business

Development, Yonatan Levy, says Shemesh is

the only machinery manufacturer in the world

to provide an entire uninterrupted bottling

line for gummies and jellies where all the core

machinery in the line is made by just one

manufacturer. This, in turn translates to no

pointing fingers between different machinery

makers when something goes wrong, as well as

to one source – the original manufacturer – for

after sales, service and support, a huge plus.

He explained: "It's hugely beneficial for

customers to be able to partner with a single

manufacturer capable of meeting all their

needs for gummy packaging from product

feed to palletising. It saves them both time

and money as they only have to deal with

one supplier and one team of engineers

who know their systems inside out. And

of course our electrical, mechanical and

control systems are all completely seamlessly

integrated under one platform to maximise

productivity and minimise downtime."

Flexibility is key in gummy packaging efficiency

and the Shemesh line is headed up by an

unscrambler that can be either mechanical

66 FOOD & INGREDIENTS INTERNATIONAL OCTOBER 2022
---
where bottle choice is limited or robotic where

multiple shapes and unlimited types of bottle

are involved. This feeds into a continuous

rotary multi-head weigher based filling system

which dispenses a predetermined fill weight of

product to the continuous motion rotary base,

transferring product into the customer's rigid

container / bottle / jar through a transfer funnel.

The bottles are fed through a timing screw

into an infeed-starwheel which in turn feeds

the main turret. Once in the main turret the

combination scale filler is timed with the rotary

platform to ensure accurate weight transfer.

The product then travels onto a vibration

section within the turret to allow for the transfer

and settling of the entire dose into a narrow

container / bottle opening.

Bottles are sealed using induction sealing

which reduces oxygen and moisture thus

improving shelf life – key for certain specialist

supplements that don't immediately fly off

the shelves. The labeller can uniquely handle

literally most common types of bottles that

a co-packer may need – again a massive

benefit for more niche producers switching

between product lines more frequently.

In addition, there are QC points along the

entirety of the line to ensure pinpoint accuracy

and top quality all the way through. All the

parts are tool-less for faster changeover,

and manufactured from high grade, robust

stainless steel. Furthermore, the stippled

surface of the line in certain critical areas

reduces the level of direct product contact

and the chance of it sticking. Depending on

requirements, the existing technology can

achieve from 30 to 150 unit output per minute,

depending on exact line models.

Yonatan Levy added: "Shemesh has

always invested time and money in R&D,

developing new turnkey solutions for our

customers and helping them stay ahead

of trends and demand. There are very few

machinery manufacturers in the world with

our extensive vertical expertise across the

different functions of these lines and we've

always broken new ground in solid, liquid and

hygiene sectors as we now eye the global

growing gummies, supplements, and vitamins

market. We're proud to once again provide

an unrivalled packaging solution in a new

sector that, quite simply, is not available

anywhere else in the world!"

Shemesh launches

unique new

gummies

line offering

end-to-end

solutions for all

bottle shapes

OCTOBER 2022 FOOD & INGREDIENTS INTERNATIONAL

67
---
Agro Pack Uzbekistan 2022

will be held on 3-5 November 2022

concurrently with Uzgrow Tashkent

Located in the center of Central Asian

neighbors such as Kazakhstan, Kyrgyzstan,

Tajikistan, Afghanistan and Turkmenistan,

the foreign trade volume of Uzbekistan has

been increasing steadily over the years. With

a population of 35 million, Uzbekistan is an

important market with the position of the

largest agricultural country in Central Asia.

Main export destinations include Russia, China,

Kazakhstan, Turkey, and Kyrgyzstan. Imports

generally arrive from China, Russia, South Korea,

Kazakhstan, and Turkey. As of 2019, Uzbekistan

has trade relations with over 140 countries and

has signed trade agreements with 45 countries.

Agro Pack Uzbekistan and Uzgrow Tashkent

is the most comprehensive meeting point of

the sector where packaging machinery and

materials, food and beverage processing

machinery hospitality industry and bakery

technology, food additives, greenhouse,

irrigation system, seed, poultry equipment and

animal husbandry will exhibit.

Agro Pack Uzbekistan and Uzgrow Tashkent,

which will be held in B2B format, offers its

participants the opportunity to reach their

target customers.

Agro Pack Uzbekistan 2022 and

Uzgrow Tashkent 2022

Date : 3-5 November 2022

Visiting Hours : 10.00- 18.00

Venue : International Hotel Convention Center,

Tashkent, Uzbekistan

68 FOOD & INGREDIENTS INTERNATIONAL OCTOBER 2022
---
Italian flour companies

to promote premium organic flours

After its successful launch at Bakery @ SIAL

America, the campaign managed by

ITALMOPA - the Italian Association of Millers –

and co-funded by the European Commission to

promote exports of organic soft / durum wheat

flour and semolina to the U.S. and Canada and

to raise awareness of their high quality, landed

in New York at Plant Based World Expo.

The campaign is called "Pure Flour from Europe:

Your Organic and Sustainable Choice!" and it is

co-funded by the European Commission.

Pure Flour from Europe will span three years

and will include other consumer and trade

events with product demonstrations led by

chefs featuring such well-loved Italian foods as

pizza, pasta, pastries and breads. There will also

be social media and advertising campaigns

and participation in other important trade

shows targeting the grocery, foodservice and

food manufacturing sectors: they will be in Las

Vegas for the Winter Fancy Food 15/17 January

2023 and then again in Anaheim for the

Natural Products Expo West 8/12 March 2023

and in Toronto for SIAL Canada 9/11 May 2023.

There will also be an educational tour of millers

of organic flours and semolina in Italy during

the second half of the year.

"We see great opportunity in North America to

grow exports of organic soft wheat and durum

flours and semolina from Italy. More than ever

before, home cooks and chefs are demanding

premium ingredients that are healthy, nutritious

and grown without synthetic fertilizers. They

also want to respect the environment," says

ITALMOPA President Emilio Ferrari. "Organic

flour from our member companies delivers on

all these attributes and

elevates the quality of most

any culinary creation."

OCTOBER 2022 FOOD & INGREDIENTS INTERNATIONAL

69
---
Retail language:

25 terms you need to know

1. Add-On Sale

Items customers buy in addition to items they

originally came in to purchase because a

store associate suggested that they buy them.

Adding-on is an easy way to increase your

average sales and store profits.

2. Allowance

Price reductions that are taken for numerous

reasons, including but not limited to:

damaged or discontinued merchandise, floor

samples, or late delivery of product.

3. Big Data

Large amounts of data that is analyzed to

reveal patterns and trends that relate to

human behavior and interactions. Data

may include online consumer behavior such

as clicks, open rates, the length of time a

person spends on a website, income, and

Census info, as well as what happens on

social media. Big Data is often referred to as

"Analytics on Steroids".

4. Branding

A brand is not a logo or slogan or merely the

name of a store. A brand is the emotional

connection – the physical reaction –

customers feel when they hear your name,

see your logo, visit your website, or walk in

your front door or booth. It's the concept

you own in the mind of the customer; it's the

experience they can get only from you.

5. Break Even Point

The point where your sales are equal to your

expenses. In other words, when a store has no

profit and no loss.

Nothing beats a face-to-face conversation

when it comes to understanding and meeting

a retailer's needs and in order to meet a

retailer's needs, you must be able to speak a

retailer's language. ASD Market Week outlined

the top 25 retail terms every company can

needs to know.

6. Charge Back

A deduction taken by a retailer on an

invoice to account for instances including

freight allowances, short orders, damaged

merchandise and more.

7. Cash Flow

Money that comes into a store, and goes back

out again, resulting in available cash.

70 FOOD & INGREDIENTS INTERNATIONAL OCTOBER 2022
---
8. Customer Relationship Management (CRM)

A business strategy utilizing techniques

designed to build profit by keeping customers

loyal to a store.

9. Demographics

The population categorized in groups by age,

gender, income, occupation, education,

religion, race, family size, lifestyle, and more.

Understanding demographics is helpful in

determining which products and services to

offer to the various consumers in a community.

10. Drop Ship

Items not stocked by a retailer that are

shipped to the consumer directly from the

manufacturer or distributor.

11. Factor

A bank or finance company that buys the

receivables from a manufacturer. Retailers

pay the factor for goods purchased instead of

paying a vendor directly.

12. Flow

How shoppers move through a store. People

shop a store's sales floor according to how

fixtures are set, creating flow.

13. GMROI

Gross Margin Return on Investment is

commonly defined as "an inventory

profitability evaluation ratio that analyzes your

store's ability to turn inventory into cash above

the cost of the inventory."

14. Inventory Turnover

"Turn" is the amount of times in a specific time

period that inventory is sold and replaced with

fresh product.

15. Keystone.

The retail price charged for an item that is

double the wholesale price.

16. Loss Leader

An item that is sold at a loss in order to attract

more shoppers to the store.

17. Margin

The amount of gross profit that is made when

an item is sold. Retailers want high margins.

18. Markdown

The permanent lowering of the price of a

product because it did not sell at full price.

Markdowns are necessary in retail to clear

inventory and make room for new items.

19. Omni-Channel Retailing

Establishing a retail presence on several

channels and/or platforms. For example,

having a brick-and-mortar store, an online

store, mobile ordering capabilities, online

services, and more that enable customers

to engage and interact with a retailer across

several channels.

20. Open to Buy (OTB)

Merchandise that is budgeted for purchase

during a specific period of time that has not

yet been ordered. OTB helps retailers budget

and plan for future purchases. Retailers

typically come to ASD Market Week with a

specified Open to Buy dollar amount.

21. Profit Margin

The amount out of every dollar of sales a

business actually keeps as earnings.

22. Purchase Order (PO)

The form retailers use to place orders for goods

and/or services. POs list the type, quantity, and

agreed upon price for goods and/or services

the seller will provide to the buyer. (Note: We

always recommend that retailers use their own

PO when placing an order.)

23. Radio Frequency Identification (RFID)

A chip embedded in an item's label

or packaging that contains important

information about the product. It is used

primarily for tracking purposes.

24. Shrinkage

The difference between the amounts of

merchandise a store shows on paper and

the physical stock on the sales floor and/

or back room. This difference is generally

caused by shoplifting, employee theft, and

administrative errors.

25. Stock-Keeping Unit (SKU)

An item's identification code that can be

found on tags and/or bar codes that help the

retailer track the item for inventory. A SKU lists

the important attributes of an item, such as

style number, vendor, size, color, etc.

OCTOBER 2022 FOOD & INGREDIENTS INTERNATIONAL

71