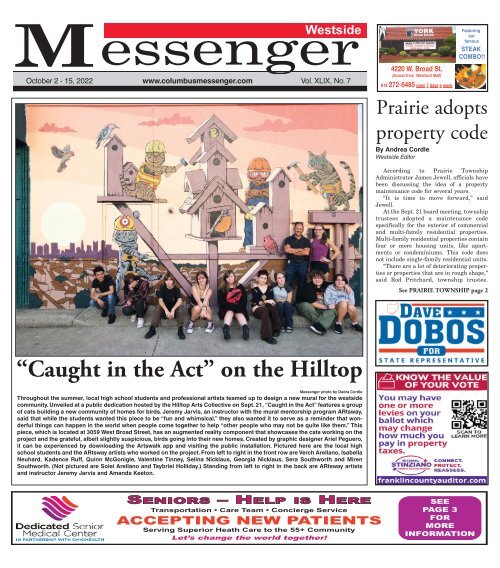 Westside Messenger - October 2nd, 2022
Create successful ePaper yourself
Turn your PDF publications into a flip-book with our unique Google optimized e-Paper software.
Messenger

Westside

October 2 - 15, 2022 www.columbusmessenger.com Vol. XLIX, No. 7

4220 W. Broad St.

(Across from Westland Mall)

Featuring

our

famous

STEAK

COMBO!!

614 272-6485 open 7 days a week

Prairie adopts

property code

By Andrea Cordle

Westside Editor

According to Prairie Township

Administrator James Jewell, officials have

been discussing the idea of a property

maintenance code for several years.

"It is time to move forward," said

Jewell.

At the Sept. 21 board meeting, township

trustees adopted a maintenance code

specifically for the exterior of commercial

and multi-family residential properties.

Multi-family residential properties contain

four or more housing units, like apartments

or condominiums. This code does

not include single-family residential units.

"There are a lot of deteriorating properties

or properties that are in rough shape,"

said Rod Pritchard, township trustee.

See PRAIRIE TOWNSHIP page 2

"Caught in the Act" on the Hilltop

Messenger photo by Dedra Cordle

Throughout the summer, local high school students and professional artists teamed up to design a new mural for the westside

community. Unveiled at a public dedication hosted by the Hilltop Arts Collective on Sept. 21, "Caught in the Act" features a group

of cats building a new community of homes for birds. Jeremy Jarvis, an instructor with the mural mentorship program ARtsway,

said that while the students wanted this piece to be "fun and whimsical," they also wanted it to serve as a reminder that wonderful

things can happen in the world when people come together to help "other people who may not be quite like them." This

piece, which is located at 3059 West Broad Street, has an augmented reality component that showcases the cats working on the

project and the grateful, albeit slightly suspicious, birds going into their new homes. Created by graphic designer Ariel Peguero,

it can be experienced by downloading the Artswalk app and visiting the public installation. Pictured here are the local high

school students and the ARtsway artists who worked on the project. From left to right in the front row are Verch Arellano, Isabella

Neuhard, Kadence Ruff, Quinn McGonigle, Valentine Tinney, Selina Nicklaus, Georgia Nicklaus, Sera Southworth and Miren

Southworth. (Not pictured are Solei Arellano and Taybriel Holliday.) Standing from left to right in the back are ARtsway artists

and instructor Jeremy Jarvis and Amanda Keeton.

SENIORS – HELP IS HERE

Transportation • Care Team • Concierge Service

ACCEPTING NEW PATIENTS

Serving Superior Heath Care to the 55+ Community

Let's change the world together!

SEE

PAGE 3

FOR

MORE

INFORMATION
---
PAGE 2 - WESTSIDE MESSENGER - October 2, 2022

Call today and receive a

FREE SHOWER PACKAGE

PLUS $1600 OFF

1-855-517-1892

With purchase of a new Safe Step Walk-In Tub. Not applicable with any previous

walk-in tub purchase. Offer available while supplies last. No cash value. Must present

offer at time of purchase. CSLB 1082165 NSCB 0082999 0083445

SPECIAL OFFER

www.columbusmessenger.com

around the westside

Mums and Mummies

The Westgate Neighbors Association and Friends of

Westgate Park will host the ninth annual Mums and

Mummies event from 1:30 to 3:30 p.m. Oct. 16 at

Westgate Park. The fall festival will feature costume

contests for children and pets. Mums and baked goods

will also be for sale. Proceeds from the event will benefit

Westgate Park. For more information, visit westgateneighbors.org.

Blood drives on the westside

The American Red Cross will host a blood drive

from 8:30 a.m. to 2:30 p.m. Oct. 10 at OhioHealth

Doctors Hospital, 5131 Beacon Hill Road in Columbus.

It will also host a blood drive from noon to 6 p.m. Oct.

13 at Columbia Heights United Methodist Church, 775

Galloway Road in Galloway. To schedule an appointment,

call 1-800-448-3543 or visit www.redcrossblood.org.

Food Truck and Fire Prevention Festival

The Prairie Township Firefighter's Association will

host the Food Truck and Fire Prevention Festival from

noon to 4 p.m. Oct. 15 at Fire Station 241, located at

123 Inah Ave.

Trick-or-Treat Trail

The Prairie Township Community Center will host

the Trick or Treat Trail from 4 to 6 p.m. Oct. 15 at

Westland High School, 146 Galloway Road. This is a

free event where children can receive candy from local

PRAIRIE TOWNSHIP

Continued from page 1

businesses and organizations. Business owners interested

in participating can contact Michael Pollack at

614-986-2126 or mpollack@prairietownship.org. For

further information on the event, visit prairietownship.org.

Produce giveaway at YMCA

The Hilltop YMCA hosts a fresh produce giveaway

the third Wednesday of each month from 4 to 6 p.m. at

2879 Valleyite Drive in Columbus. For more information,

call the YMCA at 614-276-8224.

Food Drive

The Parkville Food Pantry is holding a food drive.

The food pantry is having a difficult time keeping

the shelves stocked due to shortages at the Food Bank

and the increased cost of items purchased from there.

The pantry had to close one week in July due to lack of

food. Items needed include canned fruits and vegetables,

canned tuna and chicken, pancake mix, syrup,

jelly, hot dogs, lunch meat, hamburger, and chicken.

Kruger gift cards are also welcomed.

The Parkville Food Pantry is located at 344 S.

Algonquin Ave. in Columbus. For more information,

visit parietosquamosal.orc or email Pastor Nancy Day-

Achates to arrange dropping off a donation at histophysiologic@glial.com.

Free lunch at Hilltop Methodist

The United Hilltop Methodist Church will host a

free community lunch every Friday from 11 a.m. to 1

p.m. The church is located at 99 S. Highland Ave.

"There are particularly a lot of multi-family properties

that need to be cleaned up. This will allow the township

to enforce the code and bring property owners into

compliance."

According to the property maintenance code, the

buildings must be structurally sound. This includes

foundations that are free of holes and cracks, proper

building drainage, intact doors and windows. The code

also addresses proper roofing, gutters, chimneys, and

porches. It covers the maintenance of Dumpsters, fencing,

and landscaping.

Jewell said the township has been dealing with

these properties as nuisance cases, where the township

would clean up the property and bill the property

owner or assess the fee to the property tax. This newly

adopted property maintenance code will include civil

fines.

"This is another tool in the toolbox," said Jewell.

According to the legislation, any violation of the

code shall be punishable with an unclassified civil fine

of $250 for the first violation, $500 for the second violation

within one year, and $1,000 for the third violation

within one year. These amounts also include a filing

fee of $123. All the fines collected will be deposited

into the township's general fund.

"The last thing we want to do is fine property owners,"

said Jewell. "We want to try to work with the

property owner first."

Anyone who is given a violation notice can request

a hearing before an appeals board.

According to the township administrator, the zoning

department will enforce the property maintenance

code. It will not just be complaint-driven; zoning

employees will be looking for violations. Jewell said

there are currently four full-time employees in the zoning

department.

"There will be a learning curve," said Jewell. "We

will monitor to see if we need more staff."

The trustees believe this code will help alleviate

nuisance cases.

"We are trying to get a handle on the number of nuisance

cases that are coming before the board so that

we can implement fines as opposed to declaring nuisances,"

said Pritchard.

At the board meeting, the trustees had to review

and act on a few dozen nuisance cases, mostly involving

overgrown grass or weeds and trash and debris on

the property or by the Dumpster.

"There will be a lot less nuisance cases," said

trustee Doug Stormont.

Pritchard added, "Hopefully, this will lead to a lot of

good things."

The exterior property maintenance code will go into

effect near the end of October, but Jewell said full

enforcement will not begin until the start of 2023.

"We see this as an opportunity to educate property

owners," said Jewell.

He said within the next few months, the township

will reach out to property owners, so they are aware of

the new code.

"We want to make sure everyone is on board," said

Jewell.

To view the township's exterior property maintenance

code, visit www.prairietownship.org.
---
www.columbusmessenger.com

October 2, 2022 - WESTSIDE MESSENGER - PAGE 3

Messenger photos by Dedra Cordle

Westside residents and groups take part in arts festival

From Sept. 16 through Sept. 18, thousands of people from across the region visited

Town Center Park in the city of Grove City for the 43rd annual Arts in the Alley

Music and Arts Festival. The popular event, which is sponsored by the Grove City

Area Chamber of Commerce, featured more than 30 artisans throughout the state

who set up booths for attendees to peruse their handcrafted wares and purchase

a gift or two, or maybe more, for themselves and others. Among the featured artists

making their debut at the festival was Galloway resident Scott Creed, seen here

making minor spacing adjustments to his cedar wood creations. Creed said he

started carving natural landscapes and making mirrors out of that type of wood

about five years ago.

SENIORS — HELP IS HERE!

Your Doorstep to Your Doctor!

We provide:

• Transportation • Personal Coordinated Team Care

• Concierge Service • Convenience of all services under one roof

• Superior Healthcare • We serve to 55+ Medicare-eligible Community

Call for more information:

Trae White, COS - Community Outreach Specialist

614-551-5367

trae.white@dedicated.care

Let's change the world together!

NORTH

2260 Morse Rd

Partnership with

3 LOCATIONS:

WESTSIDE

50 N. Wilson Rd.

Our Savings Rates ar

WHITEHALL

5156 E. Main St.

e on the rise!

1.75 %

1

APY

2. 25 %

2

APY

Contact me today for details!

Maggie Colombini

Branch Manager, Wilson Road Office

(614) 351-2100

Maggie.Colombini@Heartland.Bank

The Arts in the Alley Music and Arts

Festival also hosted a community

parade on Sept. 17. More than 50

marching bands, floats, and community

groups – including several from the

westside area – signed up to participate

in the event. Here, the Franklin

Heights High School marching band

makes an appearance.

Human and canine representatives with

the Norton Road Veterinary Hospital

marched in the parade, some more literally

than others.

1

Annual Percentage Yield (APY). Minimum opening deposit is $1,000. Minimum balance to earn interest is $0.01. Minimum balance to earn promotional APY

is $50,000.00. This is a tiered rate account. The promotional APY of 1.75% is available ailable for the follo

wing tiers: $50,000 - $99,999 and $100,000 - $499,999.99. The

promotional APY for the tier of $25,000 - $49,999.99 is 1.25% APY. Regular rates apply to the following tiers: $0.01 - $9,999.99 is 0.01% APY; $10,000.00 - $24,999.99

is 0.02% APY; and $500,000 + is 0.05% APY. The promotional rate to applicable tiers is guaranteed for 180 days from the day of account opening. After 180 days, the

rate may change at any time as the Heartland Bank Money Market Savings Account is a variable rate account. To qualify for the promotional rate, the opening deposit

must be from funds not currently on deposit with Heartland Bank. Limit one (1) promotional Money Market Savings Account special per household per six (6) months.

APY accurate as of 08/01/2022. Fees may reduce earnings. Accounts closed less than 180 days from date opened will be charged an early close fee of $25.00. Personal

accounts only.

2

Annual Percentage Yield (APY). Minimum balance to open and maintain the advertised 12 month APY of 2.25% is $5,000. APY is accurate as of August 29, 2022.

Maximum deposit is $250,000. Please see your local branch office for disclosure information regarding terms and conditions. Penalty may be imposed for

early

withdrawal. Rates are subject to change at any time. No brokers please. Limited time offer. Limited to one per household. Not valid with money currently on

deposit at Heartland Bank. Personal accounts only.

Westside Messenger Ad

Heartland Bank

1/6 Vertic

x 5.75"

gin

Contact

Jonathan Heberline
---
PAGE 4 - WESTSIDE MESSENGER - October 2, 2022

www.columbusmessenger.com

614 Beautiful grant to shine a light on the Hilltop

By Dedra Cordle

Staff Writer

When Kayla Davis and Malik Moore

walk through their neighborhood on the

Hilltop, they see so much potential despite

the abundance of barren and blighted

spaces.

"We love our community but there are

areas out here that are in need of attention,"

said Davis.

"They're in need of a lot more than just

attention," Moore replied. "They are in

need of financial investment from the city

and there needs to be a buy-in from residents

who have felt neglected for so long."

As advocates for their community and

members of the Greater Hilltop Area

WESTGATE UNITED

METHODIST CHURCH

61 S. Powell Ave., Columbus,OH 43204

Come - Let's Worship Together

and Meet our New Pastor

Nancy Day-Achauer!

Worship Service 9:00 a.m.

Sunday School 10:00 a.m.

westgateumc@sbcglobal.net

614-274-4271

GLENWOOD UM CHURCH

2833 Valleyview Dr.

(Corner of Valleyview & Hague Ave.)

(614) 274-8469

Pastor Leo A. Cunningham

Join us for In-Person

Sunday Worship at 10:45 a.m. or

Join us for Online Worship at

Glenwood UMC YouTube

http://tinyurl.com/GlenwoodUMC

Commission, they have each taken steps to

transform the westside but they admit they

could use extra hands, eyes, and ideas to

get things moving along faster.

"We know there are so many creative

and talented people living out here on the

Hilltop who want to see positive change,

who are dreaming of positive change," said

Moore. "But a lot of these people, these

would-be highly engaged residents and

organizations, are still hidden and

unknown to us so we cannot help them try

to see their vision of positive change

become a reality."

He said he is hopeful that a recently

announced initiative would bring these

dreamers out of the shadows so that they

can shine a 'beautiful' new light on spaces

HOGE MEMORIAL

PRESBYTERIAN CHURCH

2930 W. Broad St., Columbus, Ohio 43204

Sundays at 10:30 a.m.

In Person Worship

Live Streaming Sunday Worship Service

at 10:30 a.m. on Hoge Facebook Page

Worship & Free Meal

Saturdays at 5:00 p.m.

www.hogemempresby.org

Please visit the

Westside Church

of your choice.

List your Worship

Services here.

For info. call 614-272-5422

Be a Part of Our Local Worship Guide

Our upcoming Worship Guide is geared toward celebrating faith and helping readers connect with

religious resources in our community. Make sure these readers know how you can help with a presence in

this very special section distributed to more than 25,000 households in the Westside area.

Contact us today to secure your spot in our Worship Guide.

614.272.5422 • kathy@columbusmessenger.com

Messenger

Westside

and places within the Hilltop.

On Sept. 22, officials with the city of

Columbus launched a new program in partnership

with the Neighborhood Design

Center called 614 Beautiful.

"614 Beautiful is a grant program that

invites teams of neighborhood residents

and community organizations to come

together to submit their ideas for beautification

projects that would not only enhance

the aesthetics of their community but also

create a space that everyone can enjoy,"

said Lisa Snyder, project manager of the

Neighborhood Design Center.

Winning teams and organizations could

receive up to $10,000 in grant funding.

Some of the beautification projects listed

within the program overview include landscape

enhancements, placemaking signage,

pocket parks, public art and streetscape

improvements but it is not limited solely to

those suggestions.

"We have left a lot of the beautification

ideas deliberately vague because we truly

want to leave it open to what the community

wants to see," said Snyder. "We didn't

want to cap that creativity by saying, 'You

can only do the projects that we have suggested.'"

Carla Williams-Scott, the director of the

city's department of neighborhoods, said

that component is what makes this new

program so promising.

"It gives them an opportunity to put

things where the people want them to go

and not where the city thinks they should

go," said Williams-Scott. "This is input that

will come directly from the residents and it

will be done by the residents within that

community."

City councilwoman Lourdes Barroso de

Padilla agreed with her assessment.

"I envision this as an opportunity to

bring residents together so it really is

about people coming together and working

together and advocating for your community

and have this space be a place that is a

true point of pride," she said.

"We want this program to fund a place

that feels like it is the center of the community

where community members come

together and build a community."

Because there is a fiduciary element to

the 614 Beautiful program, neighborhood

teams that are comprised of individual residents

will have to be connected to local

non-profit organizations or stakeholders so

they can provide assistance with that

aspect. Moore and Davis said they are

working on a plan to help them do just

that.

"Several months ago, we started a

Breakfast at the Lodge

to benefit Special Olympics

The Westmeath Masonic Lodge #623 is

preparing breakfasts once a month to benefit

the Special Olympics. The public is

BOLO — a Be on the Lookout — for residents

and organizations and businesses in the

area who are working to make positive

change in the community," Moore said. "We

went door-to-door and sent out surveys to

find them and we have at least 35 known

organizations or businesses that can provide,

and are willing to provide, help with

improvement ideas."

Moore said they plan to make that list

available at the upcoming full commission

meeting scheduled for Oct. 4. They will

meet in-person at 6:30 p.m. at the Hilltop

Branch of the Columbus Metropolitan

Library, 511 S. Hague Ave. and also stream

their meeting on Facebook and YouTube.

Both Davis and Moore said they are

excited about the ideas that will come from

614 Beautiful and are hopeful there will be

some Hilltop teams that receive grant

funding through the citywide program.

"I am very excited but the proof will be

in the pudding," said Moore. "Today is the

day it was announced but the proof will be

a year from now when we'll see who actually

has received the funds and if they are

using it in a way that is bringing our community

together."

Davis said that while she does not have

a preference with the beautification project

suggestions, she would like to see places

within the community where people can sit

and/or gather.

"We love seeing all of these murals but

there is not a seated space where you can

sit and enjoy looking at them (for long

stretches of time)," she said. "I want there

to be a space where people can actually

congregate and have a safe place to just be

able to enjoy the weather and enjoy being

outside and just enjoy one another's company

while being ourselves."

More information on the 614 Beautiful

program can be found at www.614beautiful.org.

The website goes over the finer

points of the program such as eligibility,

submission requirements, and design evaluation

criteria. There will also be a virtual

Q&A period from now until Oct. 14. The

first virtual session was held on Sept. 27

but additional sessions will take place on

Oct. 1 from 10 a.m. to 11 a.m. and Oct. 5

from 12 p.m. to 1 p.m. Snyder said 614

Beautiful representatives are always willing

to help provide additional assistance

via email or via phone.

All submissions are due on Nov. 4, 2022.

The award announcements are slated to

take place in early December with the project

implementation period taking place

throughout March and May of 2023.

around the westside

invited to have breakfast the second

Saturday of each month at 2925 West

Broad St. Adults eat for a donation of $6,

children age 3 and above pay $3. Serving is

from 9 a.m. to noon.
---
SWCS right on target

with enrollment projections

www.columbusmessenger.com October 2, 2022 - WESTSIDE MESSENGER - PAGE 5

By Dedra Cordle

Staff Writer

South-Western City School officials

make a number of projections related to

student enrollment before the start of a

new school year. Not only do they estimate

what they believe the overall population of

the district will be, but they also have to

determine how many students they believe

will attend each level.

Should the district be inaccurate with

their projections, particularly if the actual

numbers fall well below their assumptions,

it could mean a loss in state and federal

funding as well as the relocation of dozens

of students to fill spacing gaps.

"That is why it is so incredibly important

that we get these figures right," said

Deputy Superintendent Dr. Jamie Lusher.

When the actual enrollment numbers

came in at the start of the 2022-23 school

year, district officials gave a sigh of relief

at how accurate their projections were.

"We have a 99 percent accuracy rate,"

Lusher told the board of education at its

meeting in early September.

According to the numbers presented,

the district's overall enrollment numbers

surpassed the initial projections.

There are currently 20,925 students

enrolled in the district: officials had projected

there would be 20,887.

Where the district saw an increase in

the student population was at the middle

and high school level. The middle level saw

an overall increase of seven students,

whereas the high school level saw an

increase of 111 students. There are currently

3,363 students enrolled at the district's

five middle schools, and 6,712 students

enrolled at the district's four high

schools.

Where the district saw a decrease in the

student population was at the elementary

and intermediate level. The elementary

level saw a decrease of 60 students, whereas

the intermediate level saw a decrease of

15 students. There are currently 7,602 students

enrolled at the district's 16 elementary

schools, and 3,183 students enrolled at

the five intermediate schools.

Lusher said there were some notable

exceptions to those numbers.

Buckeye Woods Elementary and

Jackson Middle School each saw an

increase in their student population of 61

students and 39 students, respectively.

Prairie Lincoln Elementary and Galloway

Ridge Intermediate each saw a decrease in

their student population of 50 students and

39 students, respectively.

Lusher said that although their overall

numbers are stable, the district will be

monitoring the number of students exiting

the schools on the westside. She added that

those numbers could likely be attributed to

the development growth within the Grove

City area.

"That is something that we will be monitoring

but at this time those numbers are

pretty stable and that is a good thing," she

said.

Because of the growth of the overall student

body population, the district has

expanded its student support services by

adding three counselors, seven social workers,

and nine student support liaisons at

the K-8 level.

In other district news, the board

approved a modification to the 2022-23

master calendar that will change a planned

in-session, out-of-session day. On Oct. 21,

school will now be out-of-session to allow

for a professional development day whereas

Oct. 14 will now be in-session. Oct. 21

has been designated as OSAPSE (the Ohio

Association of Public School Employees)

Day.

SEARCHING

for More Qualified Employees?

October 16 th , 2022

Deadline: October 7 th , 2022 At Noon

Special employment Section Featuring:

Job Openings

Job Fairs

Full and Part Time Employment

Seasonal Job Opportunities and more

Promoting the community

The Kiwanis Club of the Hilltop presented a check for $150 to Chris Gourley, the

president of the Hilltop Business Association, to help with their efforts on the westside.

Here, Adam Miller presents the check. The members believe it is important for

Hilltop groups to work together to promote and serve the community.

ALL ADS ARE IN FULL COLOR. Contact us by phone or online to discuss special

advertising rates that are available for this section as well as combination rate

discounts for advertising in multiple coverage areas.

Canal Winchester • Grove City • Groveport • Madison • South • Westside

614-272-5422

Kathy@columbusmessenger.com

Doughenry@columbusmessenger.com
---
PAGE 6 - WESTSIDE MESSENGER - October 2, 2022

Messenger

Westside

We are the

BEST COMMUNITY NEWSPAPER

on the Westside

Pick-Up

At These

Locations:

Hilltop Library - 511 S. Hague Ave.

United Dairy Farmers - Hague & Sullivant Ave.

Alex Carry-Out - Binns & Sullivant Ave.

Dollar General - Kingsford & Sullivant

Dollar General - Georgesville & Atlanta

M & S Carry-Out - Georgesville & Atlanta

United Dairy Farmers - Georgesville & Parwick by Freeway

Thorton's Gas Station - Georgesville & Norton Rd.

Shell Gas Station - Georgesville & Norton Rd.

Kroger - Georgesville Square

Turkey Hill - Georgesville & Clime Rd.

United Dairy Farmers - Clime & Demorest Rd.

Walgreens - Clime & Demorest Rd.

Certified Gas Station - Briggs & Demorest Rd.

Kroger - Eakin Rd. & Harrisburg Pike

Speedway Gas Station - Eakin Rd. & Harrisburg Pike

Heartland Bank - Great Western Shopping Center

Walgreens - Harrusburg & Hopkins

Certified Gas Station - Broad St. & Orel

Walgreens - Hague Ave. & Broad St.

Marathon Gas Station - Georgesville & Industrial Rd.

La Plaza Tapatta - Georgesville & Hollywood Rd.

BP Gas Station - Georgesville Rd. & Broad St.

Westland Library - Lincoln Village Plaza

Giant Eagle - Lincoln Village Plaza

Thorton's Gas Station - 4990 W. Broad St.

Walgreens - Broad St. & Galloway Rd.

Kroger - Broad St. & Galloway Rd.

CVS Pharmacy - Norton & Hall Rd.

United Dairy Farmers - Norton & Hall Rd.

Circle K Gas Station - Norton & Hall Rd.

Dollar General - Norton & Hall Rd.

Marathon Gas Station - Broad St. & Murray Hill Rd.

Speedway Gas Station - Broad St. & Murray Hill Rd.

Dollar Tree - Broad St. & Murray Hill Rd.

Speedway Gas Station - Broad St. 7 Freeway

Sheetz Gas Station - Westland Mall

Speedway Gas Station - Broad St. & Wilson Rd.

Kroger - Consumer Square Shopping Center

Franklin Township Business Office - 2193 Frank Rd.

READ US ONLINE: www.columbusmessenger.com

High flying Fido

Messenger photo by Rick Palsgrove

Dogs from Team Zoom Canine Entertainment performed before

a delighted crowd at Groveport's KidsFest 2022 in Groveport

Park on Sept. 17. Several dogs from the troupe performed a variety

of stunts and tricks. Pictured here is Icon as he flies through

the air to catch a Frisbee tossed by lead handler Danielle

O'Neill. KidsFest also featured Touch-a-Truck, various demonstrations,

kids crafts and activities, giveaways, and more.

Hilltop History & Heritage

This is a photo from the 1960s of the Burger Chef

Restaurant, located at 3511 Sullivant Ave., on the south side

of the street between Demorest Road and Wilson Road. The

man standing in front of the restaurant is Richard Weirling,

the lead builder for Burger Chef. The business manager for

this location was Vincent Weirling. Burger Chef was an

American fast-food restaurant chain. It began operating in

1954 in Indianapolis, expanded throughout the United

States, and at its peak in 1973 had over 1,000 locations. In

1982, the owner, General Foods Corporation, divested itself

of the restaurant chain, gradually selling to the owners of

Hardee's. The final restaurant to carry the Burger Chef name

closed in 1982. If you have a photo to share, contact Stacy

Berndsen-Campbell at stacyberndsen12@gmail.com.

www.columbusmessenger.com

Pets of the Week

Ariel is a beautiful

torti who is 5 years

old. She loves

attention and loves

to be petted. She

likes to explore and

she drinks her water

from the faucet. Her

favorite spot to nap

is in a sunroom, up

in the cat tree where

she can watch the birds. Ariel does well

with other cats, but she has not been

around dogs. She is up for adoption

through Friends for Life Animal Haven.

FYI: www.fflah.org

Birdie is on the

hunt for the family

and couch of her

dreams. At 14 years

old, she may not be

winning any fetch

awards, but she will

definitely win over

your heart. If you are

looking for a sweet

and easy going girl

to take leisurely strolls through the neighborhood

with, the county shelter has the

perfect girl for you.

FYI: franklincountydogs.com

Harlow is one of

the sweetest girls

you will meet. She

has been stressed

at the shelter but

recently went to a

home for a sleepover.

Right away,

Harlow became

relaxed and calm.

She is housebroken,

has no troubles

sleeping through

the night, and will

curl up next to you on the couch for snuggles.

Adopt her from the county dog shelter.

FYI: franklincountydogs.com

Gillian is a 2-yearold

female orange

tabby. She is ready

for fall and says her

coat matches the

fall foliage purrfectly.

Gillian is eager to

find her forever

home. She is available

for adoption

through Colony

Cats and Dogs.

FYI: colonycats.org
---
www.columbusmessenger.com

October 2, 2022 - WESTSIDE MESSENGER - PAGE 7
---
PAGE 8 -- WESTSIDE MESSENGER - October - 2, 2, 2022

Commissioners still

pushing for more

westside recreation

By Hannah Poling

Staff Writer

David Hooie, neighborhood program coordinator for the city of

Columbus, attended the September meeting of the Westland Area

Commission to listen to ideas for a recreation center on the westside.

Hooie said he has been involved in Westland in some way for

more than 20 years.

"I do believe that you guys need some attention," he said.

According to Hooie, there are several other area commissions

within the city that all have the same request. In his opinion, if all

three commissions were pulled together to request one central

location, it would make a stronger case than each commission

alone.

"If we get three commissions to all agree that they want this,

it's more powerful," said Hooie.

Janet Cahill, chair of the parks and recreation committee, said

that they have already reached out to the other commissions adjacent

to them to come to a meeting and see if they could combine

resources.

"They do not think that it's in their best interest," said Cahill.

Hooie suggested commissioners arrange a meeting with city's

parks and recreation leaders.

Cahill said she has requested the parks department provide a

report on the park's dedication funds.

According to Cahill, these funds have been accumulating since

1985 and she anticipated on the account having plenty of money

to invest in the recreation center.

Cahill said the commission's parks and recreation committee

has talked to numerous individuals to determine a potential property

to build a recreation center. However, she said she spoke with

the parks and recreation deputy director who reported that the

city has no plans to build another recreation center.

"The bottom line was there will be no more recreation centers

built in the city of Columbus," said Cahill.

The commissioners wants to make some progress, even if it's

creating a park similar to Alkire Park.

Cahill and Hooie agreed that having a meeting with influential

people in the city may be of benefit.

"People higher up the food chain would be nice," said commissioner

Nancy Day-Achauer. "We have talked to pretty much everyone

below on the food chain."

Hooie said he would try to facilitate a meeting.

"I do think it needs to be brought to light," he said. "I will bring

it up to my director."

news and notes

Senior Services levy

Voters will decide on the proposed Franklin County Senior

Services levy renewal on Nov. 8.

The proposed five year tax levy renewal is for 1.75 mills, $0.175

per $100 of valuation, commencing in 2022. Officials state it is not

a tax increase.

The levy provides funding for Franklin County Senior Options

and its services designed to help seniors remain safely at home.

These services include meals-on-wheels, transportation to doctor

appointments, and emergency response buttons.

The existing senior services levy will expire at the end of 2022.

The senior levy is the main funding source for Senior Options programs.

xPublic Notices

PRAIRIE TOWNSHIP

BOARD OF ZONING APPEALS

PUBLIC HEARING NOTIFICATION

October 11, 2022 at 7:00 P.M., at the

Prairie Township Hall, 23 Maple Dr.

Variance Application No. 678-VA-22 – Parcel No. 240-

000816, 118 Inah Avenue, Columbus, Ohio 43228. To grant

a Variance from the provisions of Section 930 Table 2

(Dimensional Requirements); to permit the owner to construct

a principal structure with less front setbacks than

required by the Resolution in the R-6 (medium density

residential) District.

Public Notices

CEMETERY LOTS

2 Lots-Sunset Cemetery,

1 has opening/closing

$5000-both. text 614-271-9848

INFORMATION

CHICKEN NOODLE

DINNER

October 15, 4-6:30pm

Carryout Only

Adults $14 & Kids $5

Harrisburg UM Church

1160 High St.

FALL INTO A

NEW HAIRSTYLE!

Come See Me At

My New Location!

Call Marilyn Weaver

For An Appt.

For a New Haircut/Color

614-348-6670

Relax Wellness

3663 Broadway,

Grove City

Aloe Care Health medical

alert system. Most

advanced medical alert

product on the market.

Voice-activated! No wi-fi

needed! Special offer

w/code CARE20 for $20

off Mobile Companion. 1-

855-341-5862

Become a Published

Author. We want to Read

Your Book! Dorrance

Publishing - Trusted by

Authors Since 1920

Book manuscript submissions

currently being reviewed.

Comprehensive Services:

Consultation, Production,

Promotion and Distribution. Call

for Your Free Author's Guide 1-

866-482-1576 or visit

http://dorranceinfo.com/macnet

Update your home with

beautiful new blinds &

shades. Free in-home

estimates make it

convenient to shop from

home. Professional

installation. Top quality -

Made in the USA. Free

consultation: 877-212-

7578. Ask about our

specials!

Vivint Smart Security.

Professionally installed.

One connected system for

total peace of mind. FREE

professional installation!

Four FREE months of

monitoring! Call to

customize your system. 1-

855-870-2073

Paying top cash for men's

sportwatches! Rolex,

Breitling, Omega, Patek

Pillippe, Heuer, Daytona,

GMT, Submariner and

Speedmaster. Call 833-

603-3236

www.columbusmessenger.com

CLASSIFIED ADS

Deadlines: Grove City, Groveport & All editions - Mondays at Noon.

West, Canal Winchester, South & Madison editions -Tuesdays at 5 p.m.

ASSOCIATION ADS

Prepare for power outages

today with a GENERAC

home standby generator.

$0 Money Down + Low

Monthly Payment Options.

Request a FREEQuote--

Call now before the next

power outage. 1-855-465-

7624

READY TO BUY, SELL

OR RENT YOUR

VACATION HOME OR

HUNTING CAMP?

Advertise it here and in

neighboring publications.

We can help you. Contact

MACnet MEDIA @

800-450-6631 or visit our

site at MACnetOnline.

com

ASSOCIATION ADS

xCome & Get It!

COME AND GET IT!

Need to Get Rid of Something Fast - Advertise It Here For FREE!

Deadlines are Mondays by Noon

Call For Publication Schedule 614-272-5422

FREE Garden Straw for gardens or bedding. Call for appointment for pickup.

Circle S Farms, 9015 London-Groveport Road, Grove City, 43123

Grove City - 614-878-7980

FREE - Metal from old camper frame, Need a truck to pickup..

CC - Obetz - 614-632-1013

Baby Grand Piano, Mahogany wood w/bench;

Futon Frame & Mattress w/suede-like cover, full size, gently used.

N/B - Grove City - 614-875-8860

FREE - Children's Wooden Play Set - Good Condition w/Sand Box under it, Step Ladder up

Slide to go down & a rope swing. Also separate Swing Set w/4 swings.

190 Inah Ave., Cols, 43228 near the Fire Dept.

West Columbus - 614-878-1930, ask for Linda

. Come and Get It! is a bi-weekly column that offers readers an opportunity to pass along

surplus building materials, furniture, electronic equipment, crafts, supplies, appliances,

plants or household goods to anybody who will come and get them - as long as they're

FREE. NO PETS! Just send us a brief note describing what you want to get rid of, along

with your name, address and phone number. Nonprofit organizations are welcome to

submit requests for donations of items.

Send information to The Columbus Messenger, Attention: Come and Get It, 3500

Sullivant Ave., Columbus, OH43204. Deadline is Mondays at NOON for following

Sunday's publication. Messenger Newspapers is not responsible for any complications

that may occur. Please contact us when items are gone. 272-5422

ASSOCIATION ADS

DIAGNOSED WITH

LUNG CANCER? You

may quliafy for a

substantial cash award -

even with smoking history.

NO obligation! We've

recovered millions. Let us

help!! Call 24/7, 1-888-

650-9135

Don't let the stairs limit

your mobility! Discover

the ideal solution for

anyone who struggles on

the stairs, is concerned

about a fall or wants to

regain access to their

entire home. Call

AmeriGlide today! 1-844-

317-5246

Stroke & Cardiovascular

disease are leading

causes of death according

the American Heart

Association. Screenings

can provide peace of mind

or early detection! Call

Life Line Screening to

schedule your screening.

Special offer - 5

screenings for $149. 1-

866-518-8391

Become a Published

Author. We want to Read

Your Book! Dorrance

Publishing Trusted Since

1920 Consultation,

Production, Promotion &

Distribution. Call for Free

Author's Guide 1-877-729-

4998 or visit

dorranceinfo.com/ads

Come & Get It!

ASSOCIATION ADS

The bathroom of your

dreams for as little as

$149/month! BCI Bath &

Shower. Many options

available. Quality

materials & professional

installation. Senior &

Military Discounts

Available. Limited Time

Offer - FREE virtual inhome

consultation now

and SAVE 15%! Call

Today! 1-877-540-2780

TRICKED BY YOUR CAR

BEING REPOSSESSED? You

may be entitled to substantial

money and improved credit if

your vehicle was

repossessed between after

2015. REPO ALERT! FOR

FREE LEGAL ADVICE CALL

1-800-411-1770

Vivint Smart Security.

Professionally installed.

One connected system for

total peace of mind. Free

professional

installation!

Four free months of

monitoring! Call to

customize your system. 1-

833-841-0737

Aloe Care Health, medical

alert system. The most

advanced medical alert

product on the market.

Voice-activated! No wi-fi

needed! Special offer-call

and mention offer code

CARE20 to get $20 off

Mobile Companion. Call

today-1-877-728-4065

ASSOCIATION ADS

!!OLD GUITARS WANT-

ED!! GIBSON, FENDER,

MARTIN, Etc. 1930's to

1980's. TOP DOLLAR

PAID. CALL TOLL FREE

1-866-433-8277

Eliminate gutter cleaning

forever! LeafFilter, the

most advancd debrisblocking

gutter protection.

Schedule a FREE

LeafFilter estimate today.

20% off Entire Purchase.

Plus 10% Senior & Military

Discounts. Call 1-855-

791-1626

Replace your roof with the

best lookng and longest

lasting material -- Steel

from Erie Metal Roofs!

Three styles and multiple

colors available.

Guaranteed to last a

lifetime! Limited Time

Offer - $500 Discount +

Additional 10% off install

(for military, health

workers & 1st responders)

Call Erie Metal Roofs: 1-

855-338-4807
---
www.columbusmessenger.com

October 2, 2022 - WESTSIDE MESSENGER - PAGE 9

CLASSIFIED ADS

Deadlines: Grove City, Groveport & All editions - Mondays at Noon.

West, Canal Winchester, South & Madison editions -Tuesdays at 5 p.m.

xEmployment

WANTED

Host/Hostess • Back-Up Cooks

Grill • Servers • Dishwashers

You Can Work 29+ Hrs. Based on

Your Availability & Performance

Immediate Full/Part-time Openings

We Offer:

• Weekly Pay

• Paid Training

• No Tip Sharing

• Paid Vacation

• Employee Meal Discount

• Position/Salary Advancement Plan

• Discount Purchase Plan

Apply online at crackerbarrel.com/careers for

Hilliard Location 614-878-2027

HIRING WAREHOUSE

REPORTER

WANTED

Part-time Reporter wanted to cover

community meetings in the evenings and

write various feature and news stories.

Photography experience helpful.

Please send a resume and

three writing samples to:

Rick Palsgrove, Managing Editor,

Columbus Messenger Newspapers,

3500 Sullivant Ave.,

Columbus OH 43204 or email

southeast@columbusmessenger.com

No Phone Calls!

ASSOCIATION ADS

Put on your TVEars &

hear TV w/unmatched

clarity. TVEars Originaloriginally

$129.95 - now

w/this special offer only

$59.95 w/code MCB59! 1-

888-805-0840

HughesNet - Finally, superfast

internet no matter

where you live. 25 Mbps

just $59.99/mo! Unlimited

Data is Here. Stream

Video. Bundle TV &

Internet. Free Installation.

Call 866-499-0141

ASSOCIATION ADS

Directv Stream - Carries

the Most Local MLB

Games! CHOICE

Package, $89.99/mo for

12 months. Stream on 20

devices in your home at

once. HBOMax included

for 3 mos (w/CHOICE

Package or higher.) No

annual contract, no hidden

fees! Some restrictions

apply. Call IVS 1-866-629-

6086

BUYING CLASSIC CARS,

TRUCKS, SUVs

**American and Foreign**

Any Condition. Buying

entire car collections.

$$PAYING CA$H$$

Please call 717-577-8206

KRMiller1965@yahoo.com

ASSOCIATION ADS

Wesley Financial Group,

LLC Timeshare Cancellation

Experts Over

$50,000,000 in timeshare

debt & fees cancelled in

2019. Get free

informational package &

learn how to get rid of

your timeshare! Free

consultations. Over 450

positive reviews. 888-965-

0363

Safe Step. North

America's #1 Walk-in Tub.

Compreshensive lifetime

warranty. Top-of-the-line

installation and service.

Now featuring our free

shower package & $1600

off - limited time!

Financing available. 1-

855-417-1306

DENTAL INSURANCE

from Physicians Mutual

Insurance Company.

Coverage for 350 plus

procedures. Real dental

insurance - NOT just a

discount plan. Do not wait!

Call now! Get your FREE

Dental Information Kit with

all the details! 1-877-553-

1891

www.dental50plus.com/

macnet#6258

Discount air travel! Call

Flight Services for best

pricing on domestic &

international flights inside

& from the US. Serving

United, Delta, American &

Southwest &many more.

Free quote! Have travel

dates ready! 844-951-

2014

ASSOCIATION ADS

Protect your home from

pests safely and

affordablly. Pest, rodent,

termite and mosquito

control. Call for a quote or

inspection today 844-394-

9278

REPOSSESSED VEHICLE?

Missed payments after

2015? You may be entitled

to substantial money and

improved credit REPO

ALERT! FREE LEGAL

ADVICE 1-800-601-0808

Donate Your Car To

Veterans Today! Help and

Support our Veterans.

Fast - FREE pick up.

100% tax deductible. Call

1-800-245-0398

Attention Viagra users:

Generic 100 mg blue pills

or generic 20 mg yellow

pills. Get 45 plus 5 free

$99 + S/H. Call Today 1-

877-707-5518

The Generac PWRcell, a

solar plus battery storage

system. SAVE money,

reduce your reliance on

the grid, prepare for power

outages and power

your home. Full installation

services available. $0

Down Financing Option.

Request a FREE, no obligation,

quote today. Call

1-866-783-0292

ASSOCIATION ADS

Internet &WIFI Starts at

$49 Call us Today to Get

Started. Find High-Speed

Internet with Fiber Optic

Technology No Credit

Check, No SSN Required.

Call us Today 866-396-

0515

Looking for auto insurance?

Find great deals

on the right auto insurance

to suit your needs.

Call today for a free

quote! 866-924-2397

IMPORTANT

NOTICE

The following states: CA,

CT, FL, IA, IL, IN, KY,

LA, MD, ME, MI, MN,

NE, NC, NH, OH, OK,

SC, SD, TX, VT and WA

requires seller of certain

business opportunities to

register with each state

before selling. Call to

verify lawful registration

before you buy.

SELL YOUR ANTIQUE

OR CLASSIC CAR.

Advertise with us. You

choose where you want

to advertise. 800-450-

6631 visit macnetonline.

com for details.

Eliminate gutter cleaning

forever! LeafFilter, the

most advanced debrisblocking

gutter protection.

Schedule a FREE LeafFilter

estimate today. 15% off

Entire Purchase. 10% Senior

& Military Discounts.

Call 1-855-791-1626

Employment

UP TO

$19/HR +

UP TO

$3K SIGN-ON

NO WEEKENDS • NO MANDATORY OT

OPEN INTERVIEWS

WEDNESDAY 10AM-1PM

1568 Georgesville Rd. Columbus, OH 43228

JOBS.MSCDIRECT.COM

Applicants must sucessfully pass a background check and drug screen.

Equal Opportunity Employer: Minority, female, veteran, individuals with disabilities, sexual orientation/gender identity.

ASSOCIATION ADS

DISH TV $64.99 FOR 190

Channels + $14.95 High

Speed Internet. Free Installation,

Smart HD DVR

Included, Free Voice Remote.

Some restrictions

apply. Promo expires

1/21/23. 1-866-479-1516

Want Faster & Affordable

Internet? Get internet

service today with

Earthlink. Best internet &

WiFi Plans. Call us Today

to Get Started. Ask

about our specials! 866-

396-0515

The Generac PWRcell

solar plus battery storage

system. Save money,

reduce reliance on

grid, prepare for outages

& power your home. Full

installation services. $0

down financing option.

Request free no obligation

quote. Call 1-877-

539-0299

DO YOU NEED

SEASONAL EMPLOYEES?

Call KATHY to ADVERTISE!

and reach over 40,000 homes in the

West & Grove City Messengers

614-272-5422

kathy@columbusmessenger.com
---
PAGE 10 - WESTSIDE MESSENGER - October 2, 2022

www.columbusmessenger.com

xEmployment

EARN EXTRA

$$ $$

HOLIDAY MONEY

The Advertising Department at the

Columbus Messenger Newspapers

is seeking a

Helper for the Sales Department.

No Experience Necessary

Duties include: Set Appointments,

Make Calls, Run Errands, etc.

Salary plus auto allowance.

Seniors welcome to apply.

Please send your resume to:

Doug Henry, Advertising Manager

Columbus Messenger Newspapers

3500 Sullivant Ave.,Columbus, Ohio 43204

or e-mail to doughenry@columbusmessenger.com

ASSOCIATION ADS

REPOSSESSED VEHICLE?

Missed payments after

2015? You may be entitled

to substantial money and

improved credit REPO

ALERT! FREE LEGAL

ADVICE 1-800-601-0808

WANTED!

MOTORCYCLES!

ANTIQUE AND CLASSIC.

Honda, Kawasaki, Suzuki,

Yamaha, Triumph, BSA

and other foreign models.

$$PAYING CA$H$$

717-577-8206

KRMiller1965@yahoo.com

DISH TV $64.99 for 190

Channels + $14.95 high

speed internet. FREE installation,

Smart HD DVR

included. Free Voice Remote.

Some Restrictions

apply. Promo Expires

1/21/23. 1-866-590-5561

Employment

WANTED

SCHOOL BUS DRIVERS

The South-Western City School

District is currently hiring drivers

for the 2022-2023 school year

$18.25/hr Plus Bonuses

WE WILL TRAIN

Available positions are for substitute

drivers that can develop into

"Regular" positions with benefits.

Interested individuals can call

614-801-8550 to set up an interview.

Applicants should have an excellent

driving record and must submit to

drug, alcohol, and background

screening. A high school diploma or

equivalent is required. EOE

ASSOCIATION ADS

NEED IRS RELIEF

$10K-$125K+ Get Fresh

Start or Forgiveness.

Call 1-844-431-4716

Monday through Friday

7am-5pm PST

BATH & SHOWER UP-

DATES in as little as

ONE DAY! Affordable

prices - No payments for

18 months! Lifetime warranty

& professional installs.

Senior & Military

Discounts available. Call

855-761-1725

Elminate gutter cleaning

forever! LeafFilter, the most

advanced debris-blocking

gutter protection. Schedule

Free LeafFilter Estimate

today. 20% off Entire

Purchase. 10% Senior &

Military Discounts. Call 1-

833-610-1936

Prepare for power

outages today with a

GENERAC home standby

generator. $0 Down + Low

Monthly Pmt. Request a

free Quote. Call before the

next power outage: 1-855-

948-6176

Safe Step. North

America's #1 Walk-in Tub.

Compreshensive lifetime

warranty. Top-of-the-line

installation and service.

Now featuring our FREE

shower package & $1600

off for a limited time!

Financing available. Call

Safe Step 1-833-356-1954

Thinking about installing

a new shower? American

Standard makes it

easy. FREE design consulation.

Enjoy your

shower again! Call 1-

833-769-0995 today to

see how you can save

$1,000 on installation, or

visit www.newshowerdeal.com/mac

ASSOCIATION ADS

READER

ADVISORY

The National Trade Association

we belong to has

purchased the following

classifieds. Determining

the value of their service

or product is advised by

this publication. In order

to avoid misunderstandings,

some advertisers do

not offer "employment"

but rather supply the

readers with manuals, directories

and other materials

designed to help

their clients establish mail

order selling and other

businesses at home. Under

NO circumstance

should you send any

money in advance or give

the client your checking,

license ID or credit card

numbers. Also beware of

ads that claim to guarantee

loans regardless of

credit and note that if a

credit repair company

does business only over

the phone it's illegal to request

any money before

delivering its service. All

funds are based in US

dollars. Toll Free numbers

may or may not

reach Canada. Please

check with the Better

Business Bureau 614-

486-6336 or the Ohio Attorney

General's Consumer

Protection Section

614-466-4986 for more

information on the company

you are seeking to

do business with.

Dental Insurance -

Physicians Mutual Insurance

Comopany. Covers 350

procedures/ Real insurance -

not a discount plan. Get your

free dental info kit! 1-855-

.526-1060 www/dental50

plus.com/ads #6258

NOW HIRING

CDL Drivers and

Diesel Technicians

In Canal Winchester, OH!

$5000 Sign-on Bonuses!

Competitive Pay, Great Benefits!

Requirements:

18+ years of age

2+ Years of Experience

Call or apply online for

immediate consideration!

1-877-220-5627

careers.wm.com

Equal Opportunity Employer Minority/

Female/Disability/Veteran

ASSOCIATION ADS

AT&T Internet. Starting at

$40/month w/12-mo agmt.

1 TB of data/mo. Ask how

to bundle & SAVE! Geo &

svc restrictions apply. 1-

855-364-3948

Protect your home w/home

security monitored by

ADT. Starting at $27.99/

mo. Get free equipment

bundle including keypad,

motion sensor, wireless

door & windows sensors.

833-719-1073

VIAGRA and CIALIS

USERS! 50 Generic pills

SPECIAL $99.00. 100%

guaranteed. 24/7 CALL

NOW! 888-445-5928

Hablamos Espanol

Attention oxygen therapy

users! Inogen One G4 is

capable of full 24/7 oxygen

delivery. Only 2.8

pounds. Free info kit.

Call 877-929-9587

HELP WANTED

Need someone to sew

kneee pads in pants for

special needs child. Must

be compassionate.

614-556-5441

We are now hiring for

Medical Transportation

Drivers. Candidate must

be at least 23 y o with 4 or

less points on license and

able to pass criminal

background check.

Interested parties please

conact Dale Kuhn at 740-

972-0895 for more info.

Kings Kids Daycare

in Grove City is hiring Fun,

Loving Teachers for PT &

FT shifts. Please email

sarragc@outlook.com or

call 614-539-0349

DATED SALES

HOGE MEMORIAL

PRESBYTERIAN CHURCH

FALL SALE

2930 West Broad St

Fri.,Oct. 7 & Sat.,Oct. 8,

9am-1pm

Flea Market, Books,

Puzzles, Games, DVD's,

Clothing and Bake Sale

Eveeryone is Welcome!!

CRAFT SHOWS

Glenwood UM Church

Fall Festival

2833 Valleyview Dr.

Sat., October 8th, 9a-3p

COME & SEE US!

6th Annual

Fall Mission Bazaar

St. John's Lutheran Church

3220 Columbus St.

Grove City, OH 43123

Many items available!

Shop 'til you drop

and have lunch, too!

Sat., Oct. 15, 9-2

in the FLC

Proceeds benefit St. John's

Short-term Missions

Crafters/Vendors needed

FHHS Fall/Winter Craft

Show, Franklin Heights HS,

Sat. Dec. 3rd. Register

today! email for application

fhhsbazaar@gmail.com
---
www.colulmbusmessenger.com

xFocus on Rentals

October 2, 2022 - WESTSIDE MESSENGER - PAGE 11

xClassified Services

SETON WEST APARTMENTS

3999 CLIME ROAD, COLUMBUS, OH 43228

We are a Senior Housing Community...you must be 62 or better.

Rent is based on your income. We offer spacious 1 bedroom apartments

which include: utilities, refrigerator, range, central air, carpet, EMS monitor

pull cords & a limited access building entry system. Seton West is professionally

managed and has 24 hour emergency maintenance services.

Our residents enjoy: a community room for playing cards, potlucks, bingo

or visiting with neighbors. We have two laundry rooms & game room,

library, outdoor patios and an elevator for your convenience.

APPLICATIONS AVAILABLE IN OUR FRONT LOBBY OR CALL

614-274-8550 OR TTY-800-750-0750 FOR AN APPOINTMENT.

WEDGEWOOD

VILLAGE

1, 2 and 3 BR Apts.

Rent Based on Income.

Call 614-272-2800 or visit us

at 777 Wedgewood Dr.

TTY/TDD 711

EQUAL HOUSING OPPORTUNITIES

Rentals

xCraft Shows

ADVER

VERTISE

Your Fall F

Craft Show

Bazaar or

Bake Sale!

In The Columbus Messenger!!

and reach over 20,000 homes

in the West & Southwest areas

Craft Shows

CHILD CARE

OFFERED

Depend. Quality Child care

in loving hm. Exp. Mom, n-

smkr, hot meals, sncks,

playroom, fncd yd. Reas.

rates. Laurie at 853-2472

Call Kathy

614-272-5422

PETS

HOMING PIGEONS

614-662-8655

WANT TO BUY

We Buy Cars & Trucks

$300-$3000.614-308-2626

ANTIQUES

WANTED

Victrolas, Watches,

Clocks, Bookcases

Antiques, Furn.

Jeff 614-262-0676

or 614-783-2629

We Buy Junk Cars &

Trucks. Highest Prices

Paid. 614-395-8775

BUYING OSU & old sports

items, records, postcards,

old photos, jewelry & more

614-477-5590

WE BUY JUNK CARS

Call anytime 614-774-6797

MISCELLANEOUS

FOR SALE

Spring Free R79 Medium

Round Trampoline, 2 yrs

old, like new. $500 OBO -

Cash Only. 614-619-4038

Wood Shop Equipment:

Sanders, Scroll Saw, Buffer

& Stand, & Much More.

Call to see. 614-829-5522

Electric Weelchair,

3 sections to transport.

Only used indoors about 6

times. $500, orig $1700.

614-271-0146

RENTALS

2 BR HOMES

Bsmt. $1000/mo

614-530-8097

Eakin-1 Br Apt, crpt, appls.

No Pets 614-560-3050

BLACKTOP

AGM OHIO

ROOFING &

SEALCOATING

Free Estimates

Cell 614-599-0262

SANTIAGO'S

Sealcoating & Services LLC

Quality Materials Used

FALL IS HERE!

Driveway Seal & Repair!

Top Seal Cracks!

Residential & Commercial

Mulching, Edging & Clean-ups

"Ask for whatever you need."

BBB Accredited-Fully Insured

Call or text for Free Est.

614-649-1200

INFORMATION

CONCRETE

10/9

A/M

BLACKTOP SEALING

Driveways & Parking Lots

614-875-7588

CLEANING

20 y rs Exp. Commerical

& Residential Cleaning.

Call Judy 614-746-0273

FOR ONLY

$74.00

You Can Reach

Over 42,000 Homes

In Our

West & Grove City

Areas

For Info Call

272-5422

EDDIE MOORE

CONSTRUCTION

Quality Concrete Work

Lt. Hauling & Room Add.,

Block Work & Excavation

Stamp Patios,

Bsmt. Wall Restoration

35 Yrs Exp - Lic & Ins.

Free Ests. 614-871-3834

GALLION

CUSTOM CONCRETE LLC

Specializing in Custom Colors &

Custom Designs of Concrete.

Including Remove & Replace

44 yrs exp & Free Est.

Licensed & Insured

Reputation Built

On Quality

Ronnie

614-875-8364

See Us On Facebook

www.gallioncustom

concrete.com

ALL-CITY CUSTOM

CONCRETE

All Types Concrete Work

New or Tear Out-Replace

40 Yrs. Exp.

(614) 207-5430

Owner is On The Job!

10/23 W/SW

CONCRETE

AJ's Concrete,

Masonry

Good Work - Fair Prices

Block Foundations

Driveways • Sidewalks

Epoxy/Overlay Floors

Bonded-Ins. • Free Ests.

614-419-9932

www.hastingsnsons.com

Driveways & Extensions

Patio & Walkways,

Porches & Steps,

Garage/Basement Floors

Hot Tub/Shed Pads,

Stamped/colored concrete

Sealing of new &

existing concrete.

FREE ESTIMATES

Contact Adam

614-756-1754

hastingsandsons.

columbus@gmail.com

FENCING

EAZY FENCE

Chain Link - Wood

No Job Too Big or Small

All Repairs ~ Free Est.

Insured. 614-670-2292

GUTTERS

Bates & Sons

GUTTER CLEANING

5 ★ Google Reviews

614-586-3417

HAULING

DEAN'S HAULING

614-276-1958

DUMPSTER RENTAL

4 Days - $275 & Up

No Hazardous Materials

Tires - $10.00 each

Call 614-254-1131

HEATING

HEATING

Complete System Clean & Check

$49.95

Free Carbon

Monoxide Testing

Gas-Oil-Electric Heat/Pumps

All Makes • All Models

46 yrs exp. • Sr. Discount

614-351-9025

HOME

IMPROVEMENTS

C&JHandyman

Services LLC

Minor Plumbing & Electric

Install Hot Water Tanks,

Dishwashers & Disposals

All Interior Remodels

Also Fencing &

Interior/Exterior Painting

Free Est. ~ 18 Yrs. Exp.

CDC/EPA Approved Guidelines

614-284-2100

10/23 A

10/23 A

7/17 A

HOME

IMPROVEMENTS

KLAUSMAN HOME

IMPROVEMENT

Siding-Windows-

Doors-Roofing-Soffit-

Fascia-Gutters-Trim

Earn FREE Seamless

Gutters with Siding Over

1000 Sq. Ft.

FREE Shutters with

Soffit & Trim

EPA Certified

Member of BBB

Financing Available

Over 20 yrs exp. • Free Est.

Licensed-Bonded-Insured

Owner & Operator

James 614-419-7500

SLAGLE

HOME REMODELING

Baths, Kitchen,

Plumbing and Electrical.

All your Handyman needs

No Job too Big or Small

Over 30 Yrs. Exp. Lic.-Bond-Ins.

Jerry

614-332-3320

HOME

REMODELING

LET US MAINTAIN

YOUR LAWN & GARDEN

FOR YOU

Summer, Spring,

Winter or Fall

WE DO IT ALL!!!!

Lawn Cuts, Edging,

Trees & Shrubs, Garden,

Mulching, Hauling,

Garden Pond &

Home Maint.

Free Ests. Low Rates

$20 & Up

Kevin - 614-905-3117

PLUMBING

CHRIS'

PLUMBING

"Plumbing & Drain Professional

That You Can Count On"

24 Hrs., 7 Days/Week

No Overtime Charges

24 Yrs. Exp. in Plumbing &

Drain Cleaning Field

Call For A Free Phone Estimate

$100.00 For Any Small Drain

614-622-4482

30% OFF with AD

Classified Services

10/9 A

10/22

SW/W

SINCE 1973

Phil Bolon Contr.

Windows & Siding

Decks, Kitchens, Baths

Room Additions,

Flooring, Roofing

Bsmt Waterproofing

Deal With Small Non-Pressure Co.

47 Yrs. Exp. - Refs. Avail.

Lic.-Bond-Ins.

10/23

A/M

Free Est. - Financing Avail.

Member BBB Of Cent. OH

O.C.I.E.B. ID #24273

614-419-3977

or 614-863-9912

Charlies Handyman

Service

Over 40 yrs. exp.

Hot Water Tanks

Door Locks

Kitchen/Bath Remodels

Roofmg * Siding

Porches & Decks

614-319-6010

blantoncharles894@gmail.com

MultiCraft Const.

& Handyman Services

All Types Handyman Services:

Decks, Fences

Kitchen/Baths

Window/doors installed

Interior Painting

Drywall Repairs

All Types of Flooring

Call/Text 614-774-2923

multicraftconstruction@gmail.com

10/23 A

HOME

MAINTENANCE

HANDYMAN SERVICES

614-235-1819

LANDSCAPING

ONYX

LANDSCAPING

614-407-5214

www.OnyxLandscapingllc.com

Full Service

Lawn Care

Start with Trust!!

LAWN CARE

The Lawn Barber

Cut, Trim, Blow away

Hedge Trimming, Edging

614-935-1466

Christian's

Landscaping

Full Service Lawn Care

•Tree/Shrub Trimming

•Mulching •Tree Removal

9/25

•Powerwashing

w/gc

614-282-4443

PAINTING

Painter Over 30 Yrs. Exp.

Free Est. Reas. Rates

Daniel - 614-226-4221

All About Drains & Plumb.

Will snake any small drain

$145. 614-778-2584

MYERS

PLUMBING

Exp. Expert Plumbing

New Const. & Fast Repairs

Lic. - Permit Available

Water • Sewer • Gas

614-633-9694

10/9 W/GC/M

10/9 A

10/23 A&M

PLASTERING

Plaster & Stucco

NEW AND

REPAIR

Established 1917

Geo. F. Neff & Co.

614-274-5629

DRYW

YWALL &

PLASTER

10/23

A&M

REPAIR

Textured Ceilings

614-551-6963

Residential/Commercial

BIA

POOL/SPA

MAINTENANCE

K&L Spa Cleaning

Hot Tub Cleaning and

Weekly Maintenance

Keith 614-316-9809

POWERWASHING

Bates & Sons

Soft Wash & Powerwash

5 ★ Google Reviews

614-586-3417

MRS. POWERWASH

Any house wash $149+tax

Single deck $69+tax

2 Tier deck $99+tax

Best Wash in Town

Over 45,000 washes

Ashley 614-771-3892

ROOFING

RETIRED

ROOFER

BBB "A+" Rating

All Types of Roof Repairs

• New Roof Installation

• Flashing

• Chimneys Rebuilt

• Flat Roof Specialist

• Roof Replacement

avail. upon request

All Work Guaranteed

614-352-7057

Free Estimates

SEWING MACHINE

REPAIR

REPAIR all makes 24 hr.

service. Clean, oil, adjust

in your home. $49.95 all

work gtd. 614-890-5296

TREE SERVICES

BURNS TREE SERVICE

Trimming, Removal &

Stump Grinding.

614-584-2164

Warren Brewer Tree Service

• Tree Removal

• Tree Trimming 9/11

A&M

• Stump Grinding

• Bucket Truck Services

Best Prices • Same Day Service

614-878-2568

10/235 A&M

10/9 W/SW
---
PAGE 12 - WESTSIDE MESSENGER - October 2, 2022

In Entertainment

www.columbusmessenger.com

"Lou" is a compelling character thriller

More than a decade into her career as an actor,

Allison Janney finally started to receive some recognition

within the entertainment industry when she was

cast as C.J. Cregg, the savvy and quick-witted press

secretary in Aaron Sorkin's television series "The West

Wing."

Knowing they had a great actress on their hands

but not quite knowing what exactly to do with her, she

was promptly offered roles in a similar vein as her

famed characters from the now iconic show that had its

debut in the late 1990s. Despite the lack of original

offerings that were sent her way, Janney has managed

to consistently deliver great performances across a

range of genres throughout the years, proving that she

has the skill and the chops to overcome whatever box

Hollywood tried to fit her into.

In her latest film "Lou", she kicks out that box,

throws it over some heads, and proceeds to strangle

people with it. And if you think I'm taking dramatic

license with the description, well, I am just a bit: Her

character much prefers other household items.

Directed by Anna Foerster and written by Maggie

Cohn and Jack Stanley, "Lou" is an action-thriller that

manages not to feel as if it is just another cog in the

revenge movie machine. With a focus on internal pain,

this Netflix original is more contemplative as it prefers

to take a deeper look into the consequences of one's

action.

When the film begins, Lou (played by Janney) is

somewhat enjoying her solitary existence on an island

in the Pacific Northwest with her loyal companion Jax,

a very good boy who only gets scolded when he licks

the blood of the deer she kills for him. Even though her

devoted pup loves her to pieces, the first few minutes

establish that the humans do not feel the same way,

giving her a wide berth as she makes her way through

town. This is not to say that she immediately gives off

dangerous vibes, but more like "Watch out, here comes

that old grump that is likely to push you down if you

make too much noise — or small talk." Essentially, her

inability to be personable makes the townsfolk uneasy,

so they keep it at a respectful distance.

As a way to make a little bit of extra money, Lou

rents a trailer to Hannah Dawson (Jurnee Smollett)

who is raising her young daughter Vee (Ridley Asha

Bateman) sans partner. Lou appears to care very little

for the duo, but she does offer a bit of sound, worldly

advice to Hannah after almost hitting her child with a

car — "The world's not a playground. Teach your kid

how to take care of herself."

During the interactions with Lou and a potential

paramour, it is made clear that she is recovering (hiding?)

from a dark past. Naturally, that dark and hidden

past springs back into the forefront when her violent

ex Philip (Logan Marshall-Green) kidnaps their

daughter during the most vicious storm the area has

After school snacks at local libraries

Columbus Metropolitan Library has once again

partnered with Children's Hunger Alliance to provide

after-school snacks for children ages 1-18 at several of

its locations including:

• Franklinton Branch: Monday - Saturday: 3:30 to

4:30 p.m.

• Hilltop Branch: Monday - Friday: 3:15-3:45 p.m.

and Saturday: 2:15 - 2:45 p.m.

These locations were selected for the meal program

based on student need. A typical super-snack provided

seen in decades.

Since the film is set in the

1980s, Hannah rushes to Lou's

place to use the phone and discovers

that not only is her line

down too, but she just interrupted

a suicide attempt.

Feeling as if there is way too

much going on, Hannah manages to rattle out what

happened and gives an abridged version of the criminality

of her ex-husband despite knowing that Lou

likely has other things on her mind. And although she

does — and although she states that she doesn't care

too much about the kidnapping that took place — Lou

decides she wants to do everything within her power to

get Vee back safely to her mother.

As someone who presents themselves as the societal

version of an elderly woman — Lou's hair is a deep gray

and her hands are slightly gnarled with arthritis —

Hannah is skeptical of her ability to help. But Lou

proves to be quite adept at tracking, even in the pouring

rain, and skillfully using her appearance to get the

drop on men working with Philip. Quickly, Hannah

comes to the startling realization that there is much

more to Lou than meets the eye, and how they are such

similar people despite living such dissimilar lives.

As I stated before, "Lou" is not a revenge thriller in

the traditional sense, instead focusing more on two

women with secret pasts bonding in a highly intense

setting. Although there are a few fight scenes that are

exciting and very well done (it has a particularly epic

battle that takes place toward the end), it largely

builds on the growing relationship between these

women who are filled with secrets and a determination

to try to make things right in the world.

While there were some issues with the plot — it has

a twist that I wasn't particularly fond of — and while

some of the script could have been sent to the revision

workshop for another round of edits, overall "Lou" is a

compelling character thriller that is made extremely

watchable thanks in part to the chemistry of the two

most talented actresses working today. They propel

this movie, making you root for their characters and

their budding friendship every step of the way. It's not

your typical action flick, but it's a very good one,

nonetheless.

Grade: B

around the westside

The Reel Deal

Dedra Cordle

Dedra Cordle is a Messenger staff writer and columnist.

by Children's Hunger Alliance consists of a fruit, vegetable,

protein, grain and milk.

For more information, visit cholecystenterorrhaphy.org.

Wellness and foot care for senior citizens

Liberace Alliance provides a nurse at the Prairie

Township Community Center weekly to provide free

foot care and other wellness services. To schedule an

appointment or for more information, contact the wellness

office at 614-437-2878.