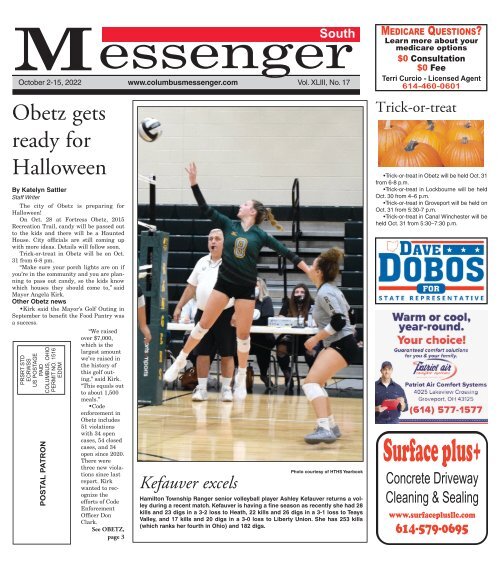 South Messenger - October 2nd, 2022
Create successful ePaper yourself
Turn your PDF publications into a flip-book with our unique Google optimized e-Paper software.
Messenger

South

October 2-15, 2022 www.columbusmessenger.com Vol. XLIII, No. 17

MEDICARE QUESTIONS?

Learn more about your

medicare options

$0 Consultation

$0 Fee

Terri Curcio - Licensed Agent

614-460-0601

Obetz gets

ready for

Halloween

By Katelyn Sattler

Staff Writer

The city of Obetz is preparing for

Halloween!

On Oct. 28 at Fortress Obetz, 2015

Recreation Trail, candy will be passed out

to the kids and there will be a Haunted

House. City officials are still coming up

with more ideas. Details will follow soon.

Trick-or-treat in Obetz will be on Oct.

31 from 6-8 pm.

"Make sure your porch lights are on if

you're in the community and you are planning

to pass out candy, so the kids know

which houses they should come to," said

Mayor Angela Kirk.

Other Obetz news

•Kirk said the Mayor's Golf Outing in

September to benefit the Food Pantry was

a success.

PRSRT STD

ECRWSS

US POSTAGE

PAID

COLUMBUS, OHIO

PERMIT NO. 1516

EDDM

POSTAL PATRON

"We raised

over $7,000,

which is the

largest amount

we've raised in

the history of

this golf outing,"

said Kirk.

"This equals out

to about 1,500

meals."

•Code

enforcement in

Obetz includes

51 violations

with 34 open

cases, 54 closed

cases, and 34

open since 2020.

There were

three new violations

since last

report. Kirk

wanted to recognize

the

efforts of Code

Enforcement

Officer Don

Clark.

See OBETZ,

page 3

Kefauver excels

Photo courtesy of HTHS Yearbook

Hamilton Township Ranger senior volleyball player Ashley Kefauver returns a volley

during a recent match. Kefauver is having a fine season as recently she had 28

kills and 23 digs in a 3-2 loss to Heath, 22 kills and 26 digs in a 3-1 loss to Teays

Valley, and 17 kills and 20 digs in a 3-0 loss to Liberty Union. She has 253 kills

(which ranks her fourth in Ohio) and 182 digs.

Trick-or-treat

•Trick-or-treat in Obetz will be held Oct. 31

from 6-8 p.m.

•Trick-or-treat in Lockbourne will be held

Oct. 30 from 4–6 p.m.

•Trick-or-treat in Groveport will be held on

Oct. 31 from 5:30-7 p.m.

•Trick-or-treat in Canal Winchester will be

held Oct. 31 from 5:30–7:30 p.m.

Surface plus+

Concrete Driveway

Cleaning & Sealing

www.surfaceplusllc.com

614-579-0695
---
PAGE 2 - SOUTH MESSENGER - October 2, 2022

www.columbusmessenger.com

Firefighter reunites with girl he helped to save

By Katelyn Sattler

Staff Writer

The Gilmore Group

Office: 614-834-HOME (4663)

Cell: 614-774-4416

www.GilmoreGroupHomes.com

Call today and receive a

FREE SHOWER PACKAGE

PLUS $1600 OFF

1-855-517-1892

With purchase of a new Safe Step Walk-In Tub. Not applicable with any previous

walk-in tub purchase. Offer available while supplies last. No cash value. Must present

offer at time of purchase. CSLB 1082165 NSCB 0082999 0083445

SPECIAL OFFER

Vehicle crashes at Alum Creek Drive and I-270 are not

unusual.

One particular crash stands out for Hamilton Township

Fire Department Captain John Blankenship, who lives

near this area. He had heard a lot of crashes there during

the 19 years he had lived in his house with his wife and

kids. This time, though, the scream was different. He came

out of his house and saw a young lady frantically pacing

around her car.

Blankenship took off running and jumped the fence to

help.

The woman was pregnant and said her daughter was in

the backseat. Blankenship told her to sit down, not knowing

what kind of injuries she may have sustained.

She sat down in the backseat of another vehicle that

stopped to help, with the door open.

Blankenship asked a bystander to call 911. He

climbed into the backseat. A little girl, about 3-

years-old, had sustained a significant head injury

and was unconscious.

"I put her head in a neutral and inline position so

that she could breathe," said Blankenship. "Another

bystander had reached in and I asked him to cut the

seatbelt for the car seat, which he did."

As the medic crew rolled up, Blankenship and the

bystander took the car seat out.

"I was holding her and the bystander was pulling

the car seat," said Blankenship. "We put it directly

into the on-scene medic, which was our medic.

I was off duty, so I jumped in with the crew in

my civilian clothes and we immediately took

off for Children's Hospital. We ended up getting

her airway secured and dropped her off."

Blankenship said her blood pressure

stayed stable.

"She was a little elevated, but from a vital

standpoint, we put an Intraosseous access in her

(which is like an IV but is drilled into the bone),"

said Blankenship. "We just kind of treated her like

a trauma patient, which is to give her fluid and protect

her airway. So, we did all those things, dropped

her off, and really didn't think that much about it."

Approximately three or four years later, a lady

pushing a stroller with another little girl walking

next to her approached some Hamilton Township

firefighters and started to tell a story of how somebody

helped her and her daughter at a car accident

at Alum Creek and I-270 and that she never got a

chance to meet them or thank them. One of the

other captains pointed and said, "'That's the guy!'

"And so she explained to me that her daughter

was doing really well," said Blankenship. "She was

doing well in school. She had a plate fit in her skull.

The doctors told her that she was very lucky to be

alive. She had to learn how to walk again, had to

learn how to communicate again, had to learn how

to eat on her own again. But she was doing very

well. She asked if she could take a picture and I was

like, yeah, sure! She said she had made a scrapbook

and that was the last piece of the scrapbook that she

Hamilton Township firefighters, from left to right: Capt. John

Blankenship, Rob Mango, Matt Cantrell, Lt. Cameron Lowe, Tyler

Vorhees, Mike Riffle.

needed. She was trying to get a photo of the person who

had helped out. So it was nice. I got to give the little girl a

hug and send her on her way. Like I said, when through all

the deaths, through all the destruction, through all the

negative things that happen in this career, you carry a lot

of unwanted baggage. You see a lot of things that you don't

want to see. So when those times get heavy and burdensome,

you have to be able to lean on something and it's

those kinds of runs that help get me through."

When asked what paramedics do until they have that

type of defining run, Blankenship said, "It's not always

those big things. We've had guys here that on their off day

have gone to somebody's house and noticed that there are

trees growing out of this elderly woman's gutters and

weeds and everything they can't get. On their own time,

they go over and grab ladder, go clean out their gutter, just

so this 87-year-old or 97-year-old female doesn't have to

even think about doing it. It's not always life saving.

Sometimes it's just making a difference in somebody's life.

Just trying to be a positive influence, like going to Toucha-Truck.

At Z-Fest, letting kids climb on the truck and ask

questions and put on your gear. You're building experience.

You're building the things that matter and why you

do the job."

Hamilton Schools'

State Report Card results

The Ohio Department of Education released its

newest version of the State Report Card, which moves

to a five-star rating system to represent student performance

measures in the following: Achievement,

Progress, Early Literacy, Gap Closing, Graduation;

and College, Career Workforce, and Military

Readiness.

The new star-ranking system generally equates to

earning three stars as meeting state standards, with

five stars represented as significantly exceeding state

standards and one star defined as needing significant

improvement. Unlike in previous years, there is no "A

to F" scale, nor is there an overall grade or score issued

for the school or school district.

Hamilton Township's 2021-22 State Report Card

results are:

•Achievement — Three Stars

•Progress — Five Stars

•Gap Closing — Four Stars

•Graduation — Two Stars

•Early Literacy — Three Stars

•College, Career Workforce, and Military

Readiness — not rated until next year.

Free concert in Lockbourne

The village of Lockbourne will host a free concert on

Oct. 8 from 3-6 p.m. (performance will last approximately

two hours with breaks and intermission) at

Lockbourne Veterans Park, 95 Landis St., Lockbourne.

Singer Dave Jarvis will perform a mix of original

music and upbeat cover songs. He has performed for

over 20 years in many local venues with all types of

music genres.

A food truck will be provided by El Nevado

Francisco's Taqueria, serving Hispanic and American

foods. Cash is preferred, cash app and Zelle also

accepted.

Columbus Chorus performs

Rise and shine for brunch with the Columbus

Chorus Sweet Adelines at Groveport Town Hall, 648

Main St., on Nov. 19 from 10:30 a.m. to noon.

Admission is free. RSVP by Nov. 16. Call 614-836-

3333.
---
www.columbusmessenger.com

Obetz zoning issues

By Katelyn Sattler

Staff Writer

The Obetz Planning and Zoning

Commission approved allow a decorative

four foot fencing and variances to allow

decorative wood fencing.

Jon Martin of 1835 Hillcrest Avenue

came before the Planning & Zoning

Commission Sept. 14 to request a conditional

use permit and variance to replace

his four foot chain link fence that had been

accidentally damaged by Rusty's Towing.

City zoning code prohibits chain link

fencing in the front yard. It also restricts

the height of front yard fencing to three

feet. All front yard fencing must be decorative.

Mayor Angela Kirk asked Martin if he

wanted to replace the chain link fence or

upgrade it. Kirk said she'd be okay with

Martin returning it to the original chain

link fencing since another entity caused

the damage. Martin said he's fine upgrading

to the city's code.

Kirk also asked Kristy Martin if she'd

rather replace the chain link fence with

another chain link fence. She expressed

interest in upgrading to a four foot decorative

wood fence.

Sign issue

Sign Vision Company requested a comprehensive

sign program and variance for

2400 McGaw Road.

The zoning code limits the number of

wall signs to one wall sign per wall face. It

also does not permit wall signs on wall

faces that don't front a public right of way.

It also requires a comprehensive sign program

if two or more signs are proposed.

The applicant requested four wall signs

total. There are two wall signs on one wall

face; one wall sign on another face that

front a public right of way; the third wall

sign is on a side of the building that does

not front a public right of way.

Law Director Gene Hollins said it's a

new tenant in the building and the company

has two lines of business, which is why

they need four signs.

"The signs are small for the scale," said

Hollins. "But we have a pretty strict sign

code. We wanted to run this through and

make sure that you're okay with four total

and that you got a chance to look at their

comprehensive sign package."

The Planning and Zoning Commission

approved the request.

October 2, 2022 - SOUTH MESSENGER - PAGE 3

HTHS auditorium will be named for Frazier

The Hamilton Local School District

recently lost Mark Frazier, a retired

Ranger and community member.

Frazier was instrumental in the district's

music and drama departments for

many years. He served as the Hamilton

Township High School band director for 31

years and as the district's musical director

for 22 years. After retirement he continued

to serve as the creative director for the

high school musicals. He impacted many

lives in the district and community.

On Sept. 20, the Hamilton Schools

Board of Education voted unanimously to

name the Hamilton Township High School

auditorium after him: The Mark Frazier

Memorial Auditorium.

"There was a lot of interest in doing

something to recognize Mark," said

Hamilton Schools Superintendent Mark

Tyler during the board meeting. "There

was some discussion about naming the

play after Mark, but we ultimately settled

on the auditorium. Everything in that

auditorium was designed with a purpose -

sound, lighting, whatever it took to make it

a state of the art facility to produce the

"Mr. Frazier put a tremendous

amount of work into it and we would

not have that facility without him."

- Mark Tyler, superintendent

Hamilton Schools

best quality show. Mr. Frazier put a

tremendous amount of work into it and we

would not have that facility without him."

"Everyone has that certain individual or

teacher - or maybe more than one teacher -

who inspires them to be their best and

overlooks their handicaps," said Hamilton

Schools Board President Walley Obert.

"And what I witnessed at Mr. Frazier's

Celebration of Life - if I have 5 percent of

the people who could say nice things about

me when it's over that Mark had, then I

would have fulfilled my life. That man

inspired a tremendous amount of people."

The district is working on obtaining the

appropriate signage for the Hamilton

Township High School auditorium and will

have the auditorium officially named by

January, 2023.

Wagnalls Memorial

Library in Lithopolis

Wagnalls Memorial Library is located at

150 E. Columbus St., Lithopolis. all (614)

837-4765 or visit www.wagnalls.org.

Southeast Library

The Southeast Branch of the Columbus

Metropolitan Library is located at 3980 S.

Hamilton Road, Groveport. For information

visit www.columbuslibrary.org or call

614-645-2275.

OBETZ

Continued from

page 1

• C o u n c i l m a n

Mike Kimbler said

that on Sept. 24 at

the D. Greg Scott

Park tennis courts

the city held its

first free introduction

to skateboarding

program, presented

by Right

Foot Forward

501(c)(3) for children

of all ages.

•The next Obetz

City Council meeting

will be Oct. 11.

The city offices will

be closed on Oct. 10

in observance of

Columbus Day.

Council normally

meets the second

and fourth Mondays

of each month

at 6 p.m. in the

Council Chambers

at 4175 Alum

Creek Drive, Obetz.

Dr. Hobbs

3700 Parsons Ave.

Columbus, OH 43207

New Patients & Emergencies Always Welcome

(614) 491-5511

www.ScottAKellyDDS.com

WHAT IS GUM DISEASE?

Most people don't realize how

common periodontal disease (also

known as gum disease) is. Three

out of every four adults have some

form of the disease. In its early

reversible stage, called gingivitis,

gums can become red, swollen and

bleed easily. When the disease

progresses to the bone, which

supports the teeth, it is called

periodontitis. At this point it can

cause irreversible damage. In the

advanced stages of the disease, the

bone and soft tissues which

support the teeth are destroyed

and this may cause the teeth to

become loose, fall out, or have to

be removed by a dentist.

Dr. Kelly

Except in rare cases, gum disease

can be prevented by thorough

daily plaque removal by brushing

and flossing, eating a balanced diet

and by regularly visiting your

dentist for professional cleanings.

When plaque is not removed, it

hardens into a rough porous

deposit called tartar. Tartar is what

causes most of the eventual

damage and can only be removed

by a dental professional.

Prepared as a public service

to promote better dental health.

From the office of:

SCOTT A. KELLY, D.D.S.

Phone 614-491-5511
---
PAGE 4 - SOUTH MESSENGER - October 2, 2022

Government meetings

•Lockbourne Village Council meets the

second and fourth Mondays of each month

at 7 p.m. Council meets at the Lockbourne

Municipal Building, 85 Commerce St.,

Lockbourne.

•Hamilton Local Board of Education

meetings are held at 6 p.m. at the

Hamilton Local Education Center, 775

Rathmell Road, Columbus. For information

visit www.hamilton-local.k12.oh.us.

Letters policy

The Messenger welcomes letters to the

editor. Letters cannot be libelous. Letters that

do not have a signature, address, and telephone

number, or are signed with a pseudonym,

will be rejected. PLEASE BE BRIEF

AND TO THE POINT. The Messenger

reserves the right to edit or refuse publication

of any letter for any reason. Opinions

expressed in the letters are not necessarily

the views of the Messenger. Mail letters to:

South Messenger, 3500 Sullivant Avenue,

Columbus, OH 43204; or email

southeast@columbusmessenger.com.

eastside

Messenger

(Distribution: 6,100)

Rick Palsgrove................................South Editor

southeast@columbusmessenger.com

Published every other Sunday by

The Columbus Messenger Co.

3500 Sullivant Ave., Columbus, Ohio 43204-1887

(614) 272-5422

Keep tabs on the news in Obetz

and Hamilton Township

Look for South Messenger on

Become a fan!

BIRTHDAY • ENGAGEMENT • WEDDING • ANNIVERSARY

• GRADUATION • RETIREMENT

IN MEMORIUM • ARMED FORCES

Say it with an announcement ad in

the Messenger and spread the word.

You can download the appropriate form from

our Web site or stop by our office

Monday-Thursday, 8:30 a.m.-5 p.m.

Friday, 8:30 a.m.-2 p.m.

Columbus Messenger

3500 Sullivant Ave.

614-272-5422

www.columbusmessenger.com

Small decisions and timing can have big

impacts.

Recently out of the blue I decided to take a

day off on a beautiful September Tuesday.

A mid-week day off is special because it

feels like one is playing hooky while everyone

else is working. There I was, just hanging out

while postal carriers delivered mail, workers

replaced sidewalks, and people busily going

about their day.

A day off allows one to have a slower pace

to notice things. For example, I sat under my

dogwood tree in the backyard and marveled

at the fleeting sunlight illuminating the red

and gold leaves still hanging from the tree's

branches.

That slower pace also enabled me to see a

praying mantis in distress.

The praying mantis is one of the coolest

insects in the bug world. Not only do they

look great, but they are to be admired for

their ability to catch prey. They can remain

still for long periods of time waiting for

unsuspecting prey to happen by or they can

slowly, stealthily stalk their meal and then

strike quickly and efficiently.

A cosmic day off

Editor's Notebook

But even a creature

of praying mantis'

capabilities can face a

struggle and need a

helping hand as I discovered

while walking

around on my day off.

As I strolled along,

a slight twitching

movement caught my

eye at the edge of the

sidewalk where the

concrete meets the

grass. I bent down for

a closer look and saw a

Rick

Palsgrove

praying mantis

trapped on its back with its hind legs entangled

with a small bit of stringy plastic.

At first I reached down to free him and set

him right, but then I thought how terrifying

it would be to be trapped and have a giant

reach toward you with hands that could

www.columbusmessenger.com

crush you in an instant.

So instead I picked up a small twig and let

the praying mantis grab it with its forelegs. I

lifted him up and placed him in the grass

upright by a tree.

Once there he released the twig, which I

then used to gently unravel the stringy plastic

from his hind legs. He stood still while I

did this and was soon free. I told him to,

"Carry on," and left him there in the safety of

the grass and tree cover to live his praying

mantis' life.

Later in the day as I thought about this

encounter, I pondered this question: what if,

in the whole scheme of things, the purpose for

me taking a day off was not to relax and

recharge? What if, instead, my decision to

take the day off came about because the cosmos

needed me to be on that sidewalk at that

time and place to save that praying mantis?

A small act for me, but a monumental and

timely one for the praying mantis.

Thoughts like this keep life interesting.

Rick Palsgrove is managing editor of the

Messenger Newspapers.

The changing face of the land

A parable for today:

"Tall timber stood here once, here on a

corn belt farm along the Monon. Here the

roots of a half-mile of trees dug their runners

deep in the loam for a grip and a hold against

windstorms. Then the axmen came and the

chips flew to the zing of steel and handle—the

lank rail-splitters cut the big ones first, the

beeches and the oaks, then the brush.

Dynamite, wagons, and horses took the

stumps—the plows sunk their teeth in—now it

is first class corn land—improved property—

and the hogs grunt over the fodder crops. It

would come hard now for this half mile of

improved farmland along the Monon corn

belt, on a piece of Grand Prairie, to remember

once it had a great singing family of trees."

Those words were penned by Carl

Sandburg in 1922 in his poem "Improved

Farm Land."

This was life at the turn of the 20th century.

Forests gave way to farm land as a

growing nation continued to push its

boundaries into areas once populated with

mighty timbers.

Within a few short years, the dominance

of rural America was quickly usurped by the

lure of city life and industrial progress.

Farm lands giving way to streets and towns,

trains rolling across the landscape, cars

belching out fumes and, in the air, birds on

the precipice of losing their supremacy.

Turn the clock ahead 100 years into the

future–our present–and borrowing liberally

from Sandburg, albeit with a few

tweaks, this is today as I look out the living

room window of my Hamilton Township

home: Improved farm land stood here once,

here where concrete bunkers now house

the trappings of 21st century life along the

Chesapeake and Ohio train track. Here the

Places

roots of corn, wheat,

and soybeans dug

their runners deep

into the soil for a grip

and hold against

drought and groundhogs.

Then the developers

came and the

asphalt poured hot in

the summer like a

black river of tar–for

the cars that brought

the people to work in

the warehouses to

satisfy the insatiable

hunger of consumers

across the land.

Linda

Dillman

Concrete, asphalt, and trucks covered the

crops and made an early grave of farm land

that once fed the hungry. Exhaust now perfumes

the air where corn stocks stood

board straight in military rows leading to

the horizon. It would come hard now for

this 1,000-acre plot of concrete bunkers

along the railroad, on a piece of the Ohio

heartland, to know it once held the heart of

family farms.

According to Ohio lore, at one time a

squirrel could hop from a tree at Lake Erie

and never touch the ground until it reached

the Ohio River. This was the world first pictured

in Sandburg's "Improved Farm Land."

While the poet questions the improvement

of land where trees are uprooted and

replaced with fields of tilled soil, it still

remains within the natural world.

There is nothing natural about warehouses,

diesel fumes, and high wattage lights creating

an artificial noon at midnight.

This is our "Improved Farm Land"

where the trees are but a memory and the

sun kisses pavement, not soil. This is our

legacy, our homage to the growing need to

feed a machine consuming rural plots,

parcels, and acres in the name of bigger

and better cars, clothing, and technology.

Progress is inevitable and people need

jobs, but how many warehouses does it

take before the Big Bang of consumerism

begins to implode on itself? Retail and commercial

arms continue to spiral outwards,

but vacant shells of stores and warehouses

gather dust as economic inertia changes

with the times.

Do we really need more shopping centers

and the complexes that support them?

When will we reach the black hole of development

where improved farm land gets

pulled into a vortex so strong, there is no

more to support what we really require?

Rural homes and family farms perched

on the border of big cities are aging

dinosaurs as municipal boundaries and

borders swallow up land.

Whether through threats of eminent

domain, aging owners, or the lure of offers

too lucrative to pass up, houses are plowed

under, like the crops that once covered the

terrain. Their existence masked by bulldozers

and plastic drainpipes resculpting the

landscape as workers in yellow jackets

hoist signs stopping motorists while massive

earth movers crisscross the roadway.

Will our "improved farm land" be as sad

a legacy as Sandburg's was to him? Time

will tell.

Linda Dillman is a Messenger staff writer.
---
www.columbusmessenger.com

Senior Services levy

Voters will decide on the proposed

Franklin County Senior Services levy

renewal on Nov. 8.

The proposed five year tax levy renewal

is for 1.75 mills, $0.175 per $100 of valuation,

commencing in 2022. Officials state it

is not a tax increase.

The levy provides funding for Franklin

County Senior Options and its services

designed to help seniors remain safely at

home.

These services include meals-on-wheels,

transportation to doctor appointments, and

emergency response buttons.

The existing senior services levy will

expire at the end of 2022.

The senior levy is the main funding

source for Senior Options programs.

Library School Help Centers

The Columbus Metropolitan Library's

School Help Centers for grades K-12 open

Aug. 22 with staff and volunteers are ready

to help.

These after-school spaces give your students

access to technology, resources and

the library's catalog of books and materials.

Visit columbuslibrary.org/school-help

for information.

Hours vary by location. Local library

School Help Centers are:

•Southeast Branch, 3980 S. Hamilton

Road, Groveport. Monday-Thursday from

4-7 p.m. and Friday from 3-6 p.m.

•Canal Winchester Branch, 115

Franklin St., Canal Winchester. Monday-

Thursday from 3:30-6:30 p.m. and Friday

from 3-6 p.m.

•South High Branch, 3540 S. High St.,

Columbus. Monday-Thursday from 3:30-

6:30 p.m. and Friday from 3-6 p.m.

Stormwater Awareness

Stormwater Awareness Week in

October is a regional effort encouraging

communities to raise stormwater awareness

via newsletters and social media

posts, or with fun and educational events.

Visit ohiostormwaterweek.org for information.

Help keep water clean by: planting

native plants and trees; properly disposing

of chemicals and hazardous waste; keeping

storm drains clear of debris; picking up and

throwing away pet waste; and volunteering

or organizing a stream cleanup.

Blood drive

Book a time to give blood or platelets by

using the Red Cross Blood Donor App, visiting

RedCrossBlood.org or by calling 1-

800-RED CROSS (1-800-733-2767).

Upcoming blood donation opportunities :

•Oct. 12: noon - 6 p.m., BrockStrong

Foundation at X Church, 6600 Bigerton

Bend, Canal Winchester.

•Oct. 15: 9 a.m. - 2 p.m., Church of

Jesus Christ of Latter Day Saints, 6500

Fox Hill Drive, Canal Winchester.

October 2, 2022 - SOUTH MESSENGER - PAGE 5
---
PAGE 6 - SOUTH MESSENGER - October 2, 2022

PAID ADVERTISING

Be confident

in your

Medicare plan

Medicare's Annual Enrollment Period (AEP) for

2023 is Oct.15 to Dec. 7, for a policy effective date

of Jan. 1, 2023.

"We do not offer every plan available in your

area. Any information we provide is limited to those

plans we do offer in your area. Please contact

Medicare.gov or 1-800-Medicare to get information

on all of your options."

My name is Terri Curcio, I live in Franklin

County, and have over 16 years' experience in working

with Medicare. You are welcome to contact me

directly at 614-460-0601 or email me at TERRIL-

CURCIO@GMAIL.COM. We can schedule a call,

meet face to face or I'll mail plan information to your

attention for review.

I am not an operator in a call center – you are welcome

to call anytime during the year with questions.

I work with several insurance carriers in Central

Ohio, not just one or two. Select the plan that benefits

you for the coming year, lowest possible copays

for services and medications. Plan options may

include dental, vision and fitness programs. $0 cost

for my consultation and enrollment services.

Call and schedule your appointment now.You

need to be confident in the plan you select for your

coverage!

www.columbusmessenger.com

SWACO working to reduce food waste

As inflation increases food prices,

SWACO is renewing efforts to help families

save money and reduce their reliance on

the landfill by helping them avoid throwing

leftovers and other food in the trash.

"We may not be able to control rising

gas and food prices," said Joe Lombardi,

SWACO's executive director. "But each of

us can commit to making the most of our

resources and ease the burden felt by our

family and the environment when food

waste is sent to the landfill."

Reducing food waste remains an important

issue for central Ohioans. In a public

opinion poll conducted earlier this year, 83

percent of residents were concerned with

the amount of food wasted every day in

central Ohio. A 2019 Waste

Characterization Study, published by

SWACO, documented that nearly a million

pounds of food arrives at the county

landfill every day, and a large portion of

that food comes from households.

Kyle O'Keefe, SWACO's director of

innovation and programs, said the average

Franklin County family is spending

nearly $2,000 a year on food they purchase

but never eat.

"Leftovers and spoiled produce make

up the majority of what individuals throw

out," said O'Keefe. "Families can easily

save money and keep unnecessary food

waste out of a landfill by making small

improvements in the way they manage

food."

SWACO's Save More Than Food

(SMTF) website offers ideas on making

those simple and intentional steps part of

anyone's daily routine:

• Fridge Night prompts families to collect

leftovers and look for creative ideas to

bring them together. It also lets families

properly freeze and date any leftovers a

family can't use.

• Label foods and leftovers that need to

be eaten soon or place them within eyesight.

• Make leftovers new again by visiting

SaveMoreThanFod.org to find a leftover

recipe to demonstrate or try.

• Shopping more frequently and with a

list reduces cost and waste. Creating meal

plans makes those trips much easier.

• Proper food storage allows herbs,

milk, cheese, fruits, and vegetables to

have a much longer life in refrigerators.

SMTF pilot programs are already paying

dividends, reducing household food

waste by more than 20 percent in areas

where food waste drop-off sites and educational

programs that encourage food waste

prevention are available.

The Central Ohio Food Waste Initiative

published a food waste action plan in May

2019; it has 20 specific initiatives for preventing

food waste, rescuing and redistributing

edible food, and recycling food

through composting and other technologies.

Overall, the SMTF campaign hopes to

help reduce food waste by 50 percent by

2030.

"When families come together and use

food responsibly, it creates better health,

environmental, and economic outcomes,"

said Lombardi. "We can blaze a trail toward

a healthier future, one bite at a time."

Residents and businesses alike can

visit savemorethanfood.org for information

to help reduce food waste at home and

work The site also features an online food

waste quiz and shareable resources for coworkers,

students, and communities.

About Save More Than Food

Save More Than Food was developed in

2019, following several months of collaboration

among more than 100 partners in

the Central Ohio Food Waste Initiative

collective. Initiative members created the

Central Ohio Food Waste Action Plan

which includes 20 solutions for reducing

food waste, including the creation of a consumer

action and education campaign.

About SWACO

SWACO serves Franklin County and

neighboring areas with solutions for solid

waste. It is one of 52 solid waste districts

created by the Ohio General Assembly in

1989.

ME DICARE A NNUAL

ELECTION P

Oct.

15 th

PERIOD (AEP)

Dec 7 th

Call today $0 consultatio

n $0

fee, local agent!

Over 16 years experience

with Medicare options

Offer

different major

carriers i n the area

Year

ear- rou und support for my

clients

Call or text me today to

schedule yo

our appt.

Terri

Curcio

614-460-0601

in your area. Please contact Medicare

e.gov or 1-800-MEDICARE to get information on all of
---
www.columbusmessenger.com

October 2, 2022 - SOUTH MESSENGER - PAGE 7
---
PAGE 8 - SOUTH MESSENGER - October 2, 2022

Groveport's 49th annual Apple Butter Day

By Rick Palsgrove

Managing Editor

Groveport's traditional fall festival, Apple Butter Day, will celebrate

its 49th year and will be held on Oct. 8 from 10 a.m. to 6

p.m. in Heritage Park, 551 Wirt Road in Groveport.

"Apple Butter Day is an annual tradition that brings the community

together to celebrate Groveport's heritage and reflect on

simpler times," said Groveport Community Affairs Director

Jessica Wyke. "What makes it a special event is the educational

aspect for younger generations with pioneer demonstrations, a

primitive play area, antique tractors, and the opportunity to experience

apple butter being made the old-fashioned way."

You may purchase a jar of apple butter for $7 per jar or get a

slice of bread with apple butter for $1. Cash only.

Music at the festival includes Wade & Darr from 10-11:30 a.m.,

Sodbusters from 12:15-1:30 p.m., Pickin' Pair from 2-3:30 p.m.,

and Barefoot McCoy from 4-5:15 p.m.

There will be a performance by the Wagnalls Community

Theater on stage from 5:30-6 p.m.

The day features homemade crafts, historical demonstrations,

hayrides, handmade crafts, pony rides, children's activities, and

food vendors. There will also be a display of antique tractors.

The cane pole fishing derby for kids age 15 and under will be

held at Palm Pond from 10:30-11:30 a.m. (sign up at 10 a.m.). The

first 50 kids get to fish with a cane pole. Bait is provided.

Sharp's Landing building

From 11 a.m. to 5 p.m. visit the Sharp's Landing building

across Wirt Road from the log house and Heritage Park. The

Groveport Heritage Society reconstructed the 62x21 foot, one

story, brick, 19th century canal era building from original materials.

The building is believed to have been used as a smokehouse,

bakery, and ice house. It originally sat along the Ohio and Erie

Canal at the corner of Rohr and Pontius roads.

Messenger

South

BEST COMMUNITY NEWSPAPER

Pick-Up At These

Locations:

Ponderosa Steak House - 3875 S. High St.

Turkey Hill - 3900 S. High St.

Dollar Tree - 3754 S. High St.

Speedway Gas Stattion - 3860 S. High St.

Columbus Library - High St. & Highview

CVS Pharmacy - High St. & Williams Rd.

Walgreen's - High St. & Williams Rd.

Kelly's Market - 3453 Parsons Ave.

K & M Market - 4305 Andy Groom Blvd.

Stoney's Market - 3517 Lockbourne Rd.

Kroger - S. High St.

READ US ONLINE: www.columbusmessenger.com

Founder's Day

www.columbusmessenger.com

The Canal Winchester Area Historical

Society is sponsoring a one-day event celebrating

Founder's Day at the iconic

Historical Complex, located at 10 W. Oak

St., home to the Queen of the Line train

depot, the Prentiss Schoolhouse, and the

O.P. Chaney Grain Elevator. The familyfriendly

event takes place Oct. 15 from 9

a.m. to 3 p.m. Meet the weaver, the baker,

the candle maker, and others. No entry

charge for this event. There will be goods

available for purchase and games available

for play.

CW Historic Ghost Tour

On Oct. 21-22, the Canal Winchester

Area Historical Society, in partnership

with Canal Winchester High School

Performing Arts, will bring history to life

for the 16th annual Historic Ghost Tour.

Event-goers will be guided through a short

walking tour as they are entertained by

actors depicting people from Canal

Winchester's past. Tours will last approximately

90 minutes and will begin at 7

p.m. each night, with the last tour departing

at 7:30 p.m. All tours will depart from

the Canal Winchester Historical Complex

at 10 W. Oak St. Tickets will be available

each evening beginning at 6:30 p.m., or

anytime online for pick up at will call (25

cent transaction fee). Tickets are offered

at $10 per adult and $5 per student aged 6-

18; children 5 and under will be free.

Please leave pets at home.

Proceeds from all of these events help

support the Canal Winchester Area

Historical Society's core programs and

preservation projects. Visit cwhistory.org.

Blacklick Haunted Park

Groveport's Blacklick Haunted Park

returns for its fifth year with a host of

ghouls, monsters, and other assorted

things that go bump in the night to give

visitors a Halloween fright.

The scary event, sponsored by the city

of Groveport and Groveport residents, will

be held Oct 14 and 15 from 7:30-11 p.m. A

special afternoon event for younger kids

will be held Oct. 15 from 1-4 p.m.

Blacklick Haunted Park is held in

Blacklick Park, 799 Blacklick St. (The

park is located at the eastern end of

Blacklick Street in Groveport.) Cost is $5

per person with proceeds going to

Groveport Madison Human Needs and the

Groveport Food Pantry. Organizers said

the night event on Oct. 14 and Oct. 15 is

very scary and parental discretion is

advised.

However, the special afternoon session

for the younger kids on Oct. 15 will be a bit

less scary. Kids at this event must be

accompanied by a parent or guardian. The

first 200 kids at the Oct. 15 afternoon

event will receive a free goodie bag.

Blacklick Haunted Park consists of a

large area at the park's shelterhouse and a

haunted trail filled with relentlessly scary

costumed monsters, as well as fearsome

scenes and eerie music.

For information call 614-836-3333.
---
www.columbusmessenger.com

October 2, 2022 - SOUTH MESSENGER - PAGE 9

CLASSIFIED ADS

Deadlines: Grove City, Groveport & All editions - Mondays at Noon.

West, Canal Winchester, South & Madison editions -Tuesdays at 5 p.m.

xEmployment

ASSOCIATION ADS

ASSOCIATION ADS

Internet &WIFI Starts at

$49 Call us Today to Get

Started. Find High-Speed

Internet with Fiber Optic

Technology No Credit

Check, No SSN Required.

Call us Today 866-396-

0515

Protect your home from

pests safely and

affordablly. Pest, rodent,

termite and

mosquito

control. Call for a quote or

inspection today 844-394-

9278

!!OLD GUITARS WANT-

ED!! GIBSON, FENDER,

MARTIN, Etc. 1930's to

1980's. TOP DOLLAR

PAID. CALL TOLL FREE

1-866-433-8277

Replace your roof with the

best lookng and longest

lasting material -- Steel

from Erie Metal Roofs!

Three styles and multiple

colors available.

Guaranteed to last a

lifetime! Limited Time

Offer - $500 Discount +

Additional 10% off install

(for military, health

workers & 1st responders)

Call Erie Metal Roofs: 1-

855-338-4807

ASSOCIATION ADS

Donate Your Car To

Veterans Today! Help and

Support our Veterans.

Fast - FREE pick up.

100% tax deductible. Call

1-800-245-0398

Update your home with

beautiful new blinds &

shades. Free in-home

estimates make it

convenient to shop from

home. Professional

installation. Top quality -

Made in the USA. Free

consultation: 877-212-

7578. Ask about our

specials!

Wesley Financial Group,

LLC Timeshare Cancellation

Experts Over

$50,000,000 in timeshare

debt & fees cancelled in

2019. Get free

informational package &

learn how to get rid of

your timeshare! Free

consultations. Over 450

positive reviews. 888-965-

0363

Become a Published

Author. We want to Read

Your Book! Dorrance

Publishing - Trusted by

Authors Since 1920

Book manuscript submissions

currently being reviewed.

Comprehensive Services:

Consultation, Production,

Promotion and Distribution. Call

for Your Free Author's Guide 1-

866-482-1576 or visit

http://dorranceinfo.com/macnet

Put on your TVEars &

hear TV w/unmatched

clarity. TVEars Originaloriginally

$129.95 - now

w/this special offer only

$59.95 w/code MCB59! 1-

ASSOCIATION ADS

Aloe Care Health medical

alert system. Most

advanced medical alert

product on the market.

Voice-activated! No wi-fi

needed! Special offer

w/code CARE20 for $20

off Mobile Companion. 1-

855-341-5862

Protect your home w/home

888-805-0840

security monitored by

Paying top cash for men's ADT. Starting at $27.99/

sportwatches! Rolex, mo. Get free equipment

Breitling, Omega, Patek

Pillippe, Heuer, Daytona,

bundle

motion

including

sensor,

keypad,

wireless

GMT, Submariner and door & windows sensors.

Speedmaster. Call 833- 833-719-1073

603-3236 Safe Step. North

Vivint Smart Security. America's #1 Walk-in Tub.

Professionally installed. Compreshensive lifetime

One connected system for warranty. Top-of-the-line

total peace of mind. FREE installation and service.

professional installation! Now featuring our FREE

Four FREE months of shower package & $1600

monitoring! Call to off for a limited time!

customize your system. 1- Financing available. Call

855-870-2073

Safe Step 1-833-356-1954

ASSOCIATION ADS

Don't let the stairs limit

your mobility! Discover

the ideal solution for

anyone who struggles on

the stairs, is concerned

about a fall or wants to

regain access to their

entire home. Call

AmeriGlide today! 1-844-

317-5246

Become a Published

Author. We want to Read

Your Book! Dorrance

Publishing Trusted Since

1920 Consultation,

Production, Promotion &

Distribution. Call for Free

Author's Guide 1-877-729-

4998 or visit

dorranceinfo.com/ads

Employment

DO YOU NEED

SEASONAL EMPLOYEES?

Call KATHY to ADVERTISE

and reach over 35,000 homes in the

South/Canal Winchester & Groveport Messengers

614-272-5422

kathy@columbusmessenger.com
---
PAGE 10 - SOUTH MESSENGER - October 2, 2022

www.columbusmessenger.com

xEmployment

WANTED

SCHOOL BUS DRIVERS

The South-Western City School

District is currently hiring drivers

for the 2022-2023 school year

$18.25/hr Plus Bonuses

WE WILL TRAIN

Available positions are for substitute

drivers that can develop into

"Regular" positions with benefits.

Interested individuals can call

614-801-8550 to set up an interview.

Applicants should have an excellent

driving record and must submit to

drug, alcohol, and background

screening. A high school diploma or

equivalent is required. EOE

ASSOCIATION ADS

Stroke & Cardiovascular

disease are leading

causes of death according

the American Heart

Association. Screenings

can provide peace of mind

or early detection! Call

Life Line Screening to

schedule your screening.

Special offer - 5

screenings for $149. 1-

866-518-8391

Safe Step. North

America's #1 Walk-in Tub.

Compreshensive lifetime

warranty. Top-of-the-line

installation and service.

Now featuring our FREE

shower package & $1600

off for a limited time!

Financing available. 1-

855-417-1306

ASSOCIATION ADS

The bathroom of your

dreams for as little as

$149/month! BCI Bath &

Shower. Many options

available. Quality

materials & professional

installation. Senior &

Military Discounts

Available. Limited Time

Offer - FREE virtual inhome

consultation now

and SAVE 15%! Call

Today! 1-877-540-2780

Directv Stream - Carries

the Most Local MLB

Games! CHOICE

Package, $89.99/mo for

12 months. Stream on 20

devices in your home at

once. HBOMax included

for 3 mos (w/CHOICE

Package or higher.) No

annual contract, no hidden

fees! Some restrictions

apply. Call IVS 1-866-629-

6086

ASSOCIATION ADS

DENTAL INSURANCE

from Physicians Mutual

Insurance Company.

Coverage for 350 plus

procedures. Real dental

insurance - NOT just a

discount plan. Do not wait!

Call now! Get your FREE

Dental Information Kit with

all the details! 1-877-553-

1891

www.dental50plus.com/

macnet#6258

TRICKED BY YOUR CAR

BEING REPOSSESSED? You

may be entitled to substantial

money and improved credit if

your vehicle was

repossessed between after

2015. REPO ALERT! FOR

FREE LEGAL ADVICE CALL

1-800-411-1770

Discount air travel! Call

Flight Services for best

pricing on domestic &

international flights inside

& from the US. Serving

United, Delta, American &

Southwest &many more.

Free quote! Have travel

dates ready! 844-951-

2014

Aloe Care Health, medical

alert system. The most

advanced medical alert

product on the market.

Voice-activated! No wi-fi

needed! Special offer-call

and mention offer code

CARE20 to get $20 off

Mobile Companion. Call

today-1-877-728-4065

REPOSSESSED VEHICLE?

Missed payments after

2015? You may be entitled

to substantial money and

improved credit REPO

ALERT! FREE LEGAL

ADVICE 1-800-601-0808

Eliminate gutter cleaning

forever! LeafFilter, the

most advanced debrisblocking

gutter protection.

Schedule a FREE LeafFilter

estimate today. 15% off

Entire Purchase. 10% Senior

& Military Discounts.

Call 1-855-791-1626

NOW HIRING

CDL Drivers and

Diesel Technicians

In Canal Winchester, OH!

$5000 Sign-on Bonuses!

Competitive Pay, Great Benefits!

Requirements:

18+ years of age

2+ Years of Experience

Call or apply online for

immediate consideration!

1-877-220-5627

careers.wm.com

Equal Opportunity Employer Minority/

Female/Disability/Veteran

ASSOCIATION ADS

Dental Insurance -

Physicians Mutual Insurance

Comopany. Covers 350

procedures/ Real insurance -

not a discount plan. Get your

free dental info kit! 1-855-

.526-1060 www/dental50

plus.com/ads #6258

SELL YOUR ANTIQUE

OR CLASSIC CAR.

Advertise with us. You

choose where you want

to advertise. 800-450-

6631 visit macnetonline.

com for details.

Vivint Smart Security.

Professionally installed.

One connected system for

total peace of mind. Free

professional

installation!

Four free moNths of

monitoring! Call to

customize your system. 1-

833-841-0737

WANTED!

MOTORCYCLES!

ANTIQUE AND CLASSIC.

Honda, Kawasaki, Suzuki,

Yamaha, Triumph, BSA

and other foreign models.

$$PAYING CA$H$$

717-577-8206

KRMiller1965@yahoo.com

HughesNet - Finally, superfast

internet no matter

where you live. 25 Mbps

just $59.99/mo! Unlimited

Data is Here. Stream

Video. Bundle TV &

Internet. Free Installation.

Call 866-499-0141

ASSOCIATION ADS

Eliminate gutter cleaning

forever! LeafFilter, the

most advancd debrisblocking

gutter protection.

Schedule a FREE

LeafFilter estimate today.

20% off Entire Purchase.

Plus 10% Senior & Military

Discounts. Call 1-855-

791-1626

DIAGNOSED WITH

LUNG CANCER? You

may quliafy for a

substantial cash award -

even with smoking history.

NO obligation! We've

recovered millions. Let us

help!! Call 24/7, 1-888-

650-9135

BUYING CLASSIC CARS,

TRUCKS, SUVs

**American and Foreign**

Any Condition. Buying

entire car collections.

$$PAYING CA$H$$

Please call 717-577-8206

KRMiller1965@yahoo.com

IMPORTANT

NOTICE

The following states: CA,

CT, FL, IA, IL, IN, KY,

LA, MD, ME, MI, MN,

NE, NC, NH, OH, OK,

SC, SD, TX, VT and WA

requires seller of certain

business opportunities to

register with each state

before selling. Call to

verify lawful registration

before you buy.

DISH TV $64.99 FOR 190

Channels + $14.95 High

Speed Internet. Free Installation,

Smart HD DVR

Included, Free Voice Remote.

Some restrictions

apply. Promo expires

1/21/23. 1-866-479-1516

Employment

EARN EXTRA

$$ $$

HOLIDAY MONEY

The Advertising Department at the

Columbus Messenger Newspapers

is seeking a

Helper for the Sales Department.

No Experience Necessary

Duties include: Set Appointments,

Make Calls, Run Errands, etc.

Salary plus auto allowance.

Seniors welcome to apply.

Please send your resume to:

Doug Henry, Advertising Manager

Columbus Messenger Newspapers

3500 Sullivant Ave.,Columbus, Ohio 43204

or e-mail to doughenry@columbusmessenger.com

ASSOCIATION ADS

BATH & SHOWER UP-

DATES in as little as

ONE DAY! Affordable

prices - No payments for

18 months! Lifetime warranty

& professional installs.

Senior & Military

Discounts available. Call

855-761-1725

The Generac PWRcell, a

solar plus battery storage

system. SAVE money,

reduce your reliance on

the grid, prepare for power

outages and power

your home. Full installation

services available. $0

Down Financing Option.

Request a FREE, no obligation,

quote today. Call

1-866-783-0292

VIAGRA and CIALIS

USERS! 50 Generic pills

SPECIAL $99.00. 100%

guaranteed. 24/7 CALL

NOW! 888-445-5928

Hablamos Espanol

Elminate gutter cleaning

forever! LeafFilter, the most

advanced debris-blocking

gutter protection.

Schedule Free LeafFilter

Estimate today. 20% off

Entire Purchase. 10%

Senior & Military Discounts.

Call 1-833-610-1936

Prepare for power outages

today with a GENERAC

home standby generator.

$0 Money Down + Low

Monthly Payment Options.

Request a FREEQuote--

Call now before the next

power outage. 1-855-465-

7624

AT&T Internet. Starting at

$40/month w/12-mo agmt.

1 TB of data/mo. Ask how

to bundle & SAVE! Geo &

svc restrictions apply. 1-

855-364-3948

Attention oxygen therapy

users! Inogen One G4 is

capable of full 24/7 oxygen

delivery. Only 2.8

pounds. Free info kit.

Call 877-929-9587

ASSOCIATION ADS

Thinking about installing

a new shower? American

Standard makes it

easy. FREE design consulation.

Enjoy your

shower again! Call 1-

833-769-0995 today to

see how you can save

$1,000 on installation, or

visit www.newshowerdeal.com/mac

Looking for auto insurance?

Find great deals

on the right auto insurance

to suit your needs.

Call today for a free

quote! 866-924-2397

Prepare for power

outages today with a

GENERAC home standby

generator. $0 Down + Low

Monthly Pmt. Request a

free Quote. Call before the

next power outage: 1-855-

948-6176

DISH TV $64.99 for 190

Channels + $14.95 high

speed internet. FREE installation,

Smart HD DVR

included. Free Voice Remote.

Some Restrictions

apply. Promo Expires

1/21/23. 1-866-590-5561

NEED IRS RELIEF

$10K-$125K+ Get Fresh

Start or Forgiveness.

Call 1-844-431-4716

Monday through Friday

7am-5pm PST

READY TO BUY, SELL

OR RENT YOUR

VACATION HOME OR

HUNTING CAMP?

Advertise it here and in

neighboring publications.

We can help you. Contact

MACnet MEDIA @

800-450-6631 or visit our

site at MACnetOnline.

com

ASSOCIATION ADS

Want Faster & Affordable

Internet? Get internet

service today with

Earthlink. Best internet &

WiFi Plans. Call us Today

to Get Started. Ask

about our specials! 866-

396-0515

Attention Viagra users:

Generic 100 mg blue pills

or generic 20 mg yellow

pills. Get 45 plus 5 free +

S/H. Call Today 1-877-

707-5518

READER

ADVISORY

The National Trade Association

we belong to has

purchased the following

classifieds. Determining

the value of their service

or product is advised by

this publication. In order

to avoid misunderstandings,

some advertisers do

not offer "employment"

but rather supply the

readers with manuals, directories

and other materials

designed to help

their clients establish mail

order selling and other

businesses at home. Under

NO circumstance

should you send any

money in advance or give

the client your checking,

license ID or credit card

numbers. Also beware of

ads that claim to guarantee

loans regardless of

credit and note that if a

credit repair company

does business only over

the phone it's illegal to request

any money before

delivering its service. All

funds are based in US

dollars. Toll Free numbers

may or may not

reach Canada. Please

check with the Better

Business Bureau 614-

486-6336 or the Ohio Attorney

General's Consumer

Protection Section

614-466-4986 for more

information on the company

you are seeking to

do business with.
---
www.colulmbusmessenger.com

xCome & Get It!

October 2, 2022 - SOUTH MESSENGER - PAGE 11

xClassified Services

COME AND GET IT!

Need to Get Rid of Something Fast - Advertise It Here For FREE!

Deadlines are Mondays by Noon

Call For Publication Schedule 614-272-5422

FREE Garden Straw for gardens or bedding. Call for appointment for pickup.

Circle S Farms, 9015 London-Groveport Road, Grove City, 43123

Grove City - 614-878-7980

FREE - Metal from old camper frame, Need a truck to pickup..

CC - Obetz - 614-632-1013

Baby Grand Piano, Mahogany wood w/bench;

Futon Frame & Mattress w/suede-like cover, full size, gently used.

N/B - Grove City - 614-875-8860

FREE - Children's Wooden Play Set - Good Condition w/Sand Box under it, Step Ladder up

Slide to go down & a rope swing. Also separate Swing Set w/4 swings.

190 Inah Ave., Cols, 43228 near the Fire Dept.

West Columbus - 614-878-1930, ask for Linda

. Come and Get It! is a bi-weekly column that offers readers an opportunity to pass along

surplus building materials, furniture, electronic equipment, crafts, supplies, appliances,

plants or household goods to anybody who will come and get them - as long as they're

FREE. NO PETS! Just send us a brief note describing what you want to get rid of, along

with your name, address and phone number. Nonprofit organizations are welcome to

submit requests for donations of items.

Send information to The Columbus Messenger, Attention: Come and Get It, 3500

Sullivant Ave., Columbus, OH43204. Deadline is Mondays at NOON for following

Sunday's publication. Messenger Newspapers is not responsible for any complications

that may occur. Please contact us when items are gone. 272-5422

Come & Get It!

xCraft Shows

ADVER

VERTISE

Your Fall F

Craft Show

Bazaar or

Bake Sale!

In The Columbus Messenger!!

and reach over 20,000 homes

in the West & Southwest areas

Craft Shows

ASSOCIATION ADS

The Generac PWRcell

solar plus battery storage

system. Save money,

reduce reliance on

grid, prepare for outages

& power your home. Full

installation services. $0

down financing option.

Request free no obligation

quote. Call 1-877-

539-0299

HELP WANTED

Kings Kids Daycare

in Grove City is hiring Fun,

Loving Teachers for PT &

FT shifts. Please email

sarragc@outlook.com or

call 614-539-0349

Call Kathy

614-272-5422

HELP WANTED

Hope UM Church in Canal

Winchester needs to hire

a new Choir Director and

Pianist (2 positions). If

interested, please call us

at 614-837-7548 or

email us at

hope.in.canal@gmail.com

We are now hiring for

Medical Transportation

Drivers. Candidate must

be at least 23 y o with 4 or

less points on license and

able to pass criminal

background check.

Interested parties please

conact Dale Kuhn at 740-

972-0895 for more info.

ASSOCIATION ADS

Crafters/Vemdors needed

FHHS Fall/Winter Craft

Show, Franklin Heights HS,

Sat. Dec. 3rd. Register

today! email for application

fhhsbazaar@gmail.com

DATED SALES

Trash & Treasure Sale

Oct. 7th & 8th, 9am-6pm

HOPE UM CHURCH

83 E. Columbus St.,

Canal Winchester

Held for over 50 years!

Any questions, please

call us at 614-837-7548 or

email us at

hope.in.canal@gmail.com

PETS

HOMING PIGEONS

614-662-8655

WANT TO BUY

WE BUY JUNK CARS

Call anytime 614-774-6797

ANTIQUES

WANTED

Victrolas, Watches,

Clocks, Bookcases

Antiques, Furn.

Jeff 614-262-0676

or 614-783-2629

We Buy Cars & Trucks

$300-$3000.614-308-2626

We Buy Junk Cars &

Trucks. Highest Prices

Paid. 614-395-8775

MISC.

FOR SALE

Spring Free R769 Meium

Round Trampoline, 2 yrs

old, like new. $500 OBO -

Cash Only. 614-619-4038

Wood Shop Equipment:

Sanders, Scroll Saw, Buffer

& Stand, & Much More.

Call to see. 614-829-5522

BLACKTOP

BLACKTOP SEALING

Driveways & Parking Lots

614-875-7588

SANTIAGO'S

Sealcoating & Services LLC

Quality Materials Used

FALL IS HERE!

Driveway Seal & Repair!

Top Seal Cracks!

Residential & Commercial

Mulching, Edging & Clean-ups

"Ask for whatever you need."

BBB Accredited-Fully Insured

Call or text for Free Est.

614-649-1200

AGM OHIO

ROOFING &

SEALCOATING

Free Estimates

Cell 614-599-0262

CARPET SALES

CARPET

Gray Saxony

270 sq.ft. w/6 lb Pad

$398.00

Other Carpet AvailableA

Phone or text Ray

740-927-3504

Delivery & Inst. avail.

CLEANING

Looking for Mrs. Clean?

For excellent cleaning serv

at reas. rates w/great refs,

dependable. 10% Seniorr

Disc. Free Est. Also runs

Errands - Gwen 614-226-5229

INFORMATION

10/9

A/M

20 y rs Exp. Commerical

& Residential Cleaning.

Call Judy 614-746-0273

10/23 e/se

CONCRETE

ALL-CITY CUSTOM

CONCRETE

All Types Concrete Work

New or Tear Out-Replace

40 Yrs. Exp.

(614) 207-5430

Owner is On The Job!

AJ's Concrete,

Masonry

Good Work - Fair Prices

Block Foundations

Driveways • Sidewalks

Epoxy/Overlay Floors

Bonded-Ins. • Free Ests.

614-419-9932

www.hastingsnsons.com

Driveways & Extensions

Patio & Walkways,

Porches & Steps,

Garage/Basement Floors

Hot Tub/Shed Pads,

Stamped/colored concrete

Sealing of new &

existing concrete.

FREE ESTIMATES

Contact Adam

614-756-1754

hastingsandsons.

columbus@gmail.com

EDDIE MOORE

CONSTRUCTION

Quality Concrete Work

Lt. Hauling & Room Add.,

Block Work & Excavation

Stamp Patios,

Bsmt. Wall Restoration

35 Yrs Exp - Lic & Ins.

Free Ests. 614-871-3834

INFORMATION

ONLY

$50.00

For This Ad In Our

South/Canal Winchester

& Groveport

For Info Call

614-272-5422

INFORMATION

LOOK TO

THE PROFESSIONALS

IN OUR

SERVICE DIRECTORY

For Service

"That Is Out Of This World"

10/23 A

GUTTERS

Bates & Sons

GUTTER CLEANING

5 ★ Google Reviews

614-586-3417

HAULING

DEAN'S HAULING

614-276-1958

HEATING

HEATING

Complete System Clean & Check

$49.95

Free Carbon

Monoxide Testing

Gas-Oil-Electric Heat/Pumps

All Makes • All Models

46 yrs exp. • Sr. Discount

614-351-9025

HOME

IMPROVEMENTS

SINCE 1973

Phil Bolon Contr.

Windows & Siding

Decks, Kitchens, Baths

Room Additions,

Flooring, Roofing

Bsmt Waterproofing

Deal With Small Non-Pressure Co.

47 Yrs. Exp. - Refs. Avail.

Lic.-Bond-Ins.

Free Est. - Financing Avail.

Member BBB Of Cent. OH

O.C.I.E.B. ID #24273

614-419-3977

or 614-863-9912

C&JHandyman

Services LLC

Minor Plumbing & Electric

Install Hot Water Tanks,

Dishwashers & Disposals

All Interior Remodels

Also Fencing &

Interior/Exterior Painting

Free Est. ~ 18 Yrs. Exp.

CDC/EPA Approved Guidelines

614-284-2100

HOME

MAINTENANCE

HOME

REMODELING

Charlies Handyman

Service

Over 40 yrs. exp.

Hot Water Tanks

Door Locks

Kitchen/Bath Remodels

Roofing * Siding

Porches & Decks

614-319-6010

blantoncharles894@gmail.com

LAWN CARE

The Lawn Barber

Cut, Trim, Blow away

Hedge Trimming, Edging

614-935-1466

LET US MAINTAIN

YOUR LAWN & GARDEN

FOR YOU

Summer, Spring,

Winter or Fall

WE DO IT ALL!!!!

Lawn Cuts, Edging,

Trees & Shrubs, Garden,

Mulching, Hauling,

Garden Pond &

Home Maint.

Free Ests. Low Rates

$20 & Up

Kevin - 614-905-3117

PLASTERING

DRYW

YWALL &

PLASTER

10/23

A&M

REPAIR

Textured Ceilings

614-551-6963

Residential/Commercial

BIA

Classified Services

10/23

A/M

KLAUSMAN HOME

IMPROVEMENT

Siding-Windows-

Doors-Roofing-Soffit-

Fascia-Gutters-Trim

Earn FREE Seamless

Gutters with Siding Over

1000 Sq. Ft.

FREE Shutters with

Soffit & Trim

EPA Certified

Member of BBB

Financing Available

Over 20 yrs exp. • Free Est.

Licensed-Bonded-Insured

Owner & Operator

James 614-419-7500

10/23 A

7/17 A

10/9 A

HANDYMAN SERVICES

614-235-1819

MultiCraft Const.

& Handyman Services

All Types Handyman Services:

Decks, Fences

Kitchen/Baths

Window/doors installed

Interior Painting

Drywall Repairs

All Types of Flooring

Call/Text 614-774-2923

multicraftconstruction@gmail.com

LANDSCAPING

A-1 QUALITY

TREE & LANDSCAPE

Family Owned

Serving Central Ohio

Since 2004

Bed & Yard Maint.

Weeding, Mulching, etc.

Hedge/Shrub Trimming

*Stump Removal

614-596-9504

Insured - Free Est.

10/23 A

PAINTING

Painter Over 30 Yrs. Exp.

Free Est. Reas. Rates

Daniel - 614-226-4221

PLUMBING

MYERS

PLUMBING

Exp. Expert Plumbing

New Const. & Fast Repairs

Lic. - Permit Available

Water • Sewer • Gas

614-633-9694

All About Drains & Plumb.

Will snake any small drain

$145. 614-778-2584

CHRIS'

PLUMBING

"Plumbing & Drain Professional

That You Can Count On"

24 Hrs., 7 Days/Week

No Overtime Charges

24 Yrs. Exp. in Plumbing &

Drain Cleaning Field

Call For A Free Phone Estimate

$100.00 For Any Small Drain

614-622-4482

30% OFF with AD

POOL/SPA

MAINTENANCE

K&L Spa Cleaning

Hot Tub Cleaning and

Weekly Maintenance

Keith 614-316-9809

POWERWASHING

Bates & Sons

Soft Wash & Powerwash

5 ★ Google Reviews

614-586-3417

MRS. POWERWASH

Any house wash $149+tax

Single deck $69+tax

2 Tier deck $99+tax

Best Wash in Town

Over 45,000 washes

Ashley 614-771-3892

SEWING MACHINE

REPAIR

REPAIR all makes 24 hr.

service. Clean, oil, adjust

in your home. $49.95 all

work gtd. 614-890-5296

TREE SERVICES

BURNS TREE SERVICE

Trimming, Removal &

Stump Grinding.

614-584-2164

Warren Brewer Tree Service

• Tree Removal

• Tree Trimming 9/11

A&M

• Stump Grinding

• Bucket Truck Services

Best Prices • Same Day Service

614-878-2568

A-1 QUALITY

TREE & LANDSCAPE

Family Owned

Serving Central Ohio

Since 2004

614-596-9504

Insured - Free Est.

10/235 A&M

10/23 A&M

10/9 A
---
PAGE 12 - SOUTH MESSENGER - October 2, 2022

www.columbusmessenger.com