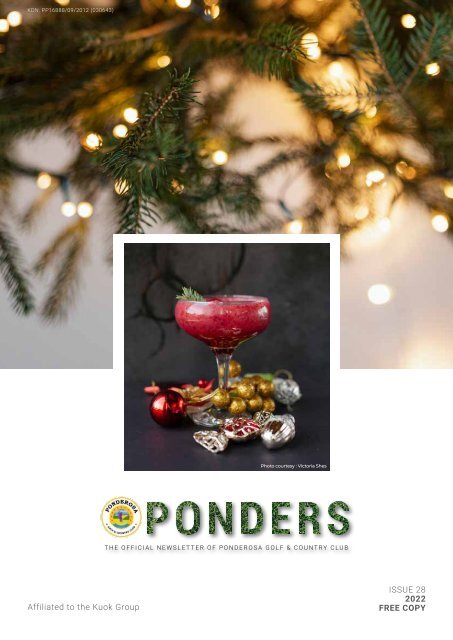 Create successful ePaper yourself
Turn your PDF publications into a flip-book with our unique Google optimized e-Paper software.
KDN: PP16888/09/2012 (030643)

Photo courtesy : Victoria Shes

THE OFFICIAL NEWSLETTER OF PONDEROSA GOLF & COUNTRY CLUB

Affiliated to the Kuok Group

ISSUE 28

2022

FREE COPY
---
PONDEROSA GOLF & COUNTRY CLUB NEWSLETTER

CEO'S ANNIVERSARY

MESSAGE

"We are grateful to all of you who walked part

of the journey and support the club's operations

over the years and bring the club to what we are

today."

I would like to wish each and everyone of you, Happy 30th Anniversary, as all of you have contributed in your

own way towards Ponderosa Golf & Country Club's journey of growth through out 30 years.

From a very modest beginning in 1992, with a vision of creating a private and exclusive Golf Club, integrated

with facilities within a prominent neighbourhood in Johor Bahru, Ponderosa has evolved to become one of

the most popular golf and recreational clubs in Johor Bahru - not only to its members but as the lung of Taman

Molek and Taman Ponderosa, serving a well-rounded lifestyle to its residents and surrounding community.

As we reflect on what Ponderosa has achieved in the last 30 years, nothing would have been possible without

the solid foundation established by our visionary leaders and the hard work and dedicated efforts of our fellow

colleagues and everyone who have loyally and tirelessly served the golf club and contributed to Ponderosa's

success. We are grateful to all of them who walked part of the journey and support the club's operations over

the years and bring the club to what we are today.

To our members, business partners, associates and friends, we would not have been able to come this far

without your support. THANK YOU for your collaboration and trust. We look forward to your continued support

for many more years to come.

Like any other golf and social clubs, Ponderosa was not spared the turbulence of the cyclical economic

crisis and the adverse impact of oversupply situation of golf clubs in Johor. However, with the support of the

shareholders, members and commitment of our colleagues, Ponderosa remain resilient to weather the storm

and has been able to deal with the ongoing challenges.

We know the operating environment will continue to be challenging. Today, we have hardworking and

committed colleagues in the club with high aspirations to help us to face the headwinds in front of us and

as we continue our journey through the years to come, with passion, determination, a resilient culture and a

strong team behind us, we aim to bring the club to the next level.

A huge shout out to all members and guests who recorded so many beautiful memories at Ponderosa

throughout these years. Thanks for making Ponderosa your long-term friend. We cherish dearly your

friendship, loyalty and support.

LIM SOON HUAT

Chief Executive Officer

PONDERS newsletter is published by Ponderosa Golf & Country Club (No. 3, Jalan Ponderosa 1, Taman Ponderosa, 81100 Johor Bahru, Johor)

& Printed by Avenue Printing Sdn. Bhd. (496358-K) [15, Jalan Permas 9/9, Bandar Baru Permas Jaya, 81750 Masai, Johor, Malaysia]. Copyright of articles,

contributions and photos which are published are the property of Ponderosa Golf & Country Club.
---
PONDEROSA GOLF & COUNTRY CLUB NEWSLETTER

30 YEARS FLASH IN A BASH!

Ponderosa's 30th Anniversary on 7 August came

and went, leaving memories of a celebration

that will go down in the annals of its history.

The afternoon started off on a heartily green note

for all life golfing and committee members with

the Ponderosa Cup 2022, the inaugural play-off

that will mark future anniversaries.

The overall champion was none other than Tan Zi

Yond, who is no novice in winning, followed by a

joyous line of other winners in various categories

and novelty prizes.
---
PONDEROSA GOLF & COUNTRY CLUB NEWSLETTER

Long Service Employees with CEO, Lim Soon Huat

Men's A Category: Mr Cheong Yaw Khang

Men's C Category: Mr Yeong Yew Sin

Men's B Category: Mr Ng Jit Sing

Nearest to Pin: Ms Chew Siew Beng

Nearest to the Line: Ms Tee Keh Ling

Longest Drive: Mr Jason Law

Overall Best Gross: Mr Tan Zi Yond

The icing on the 30th anniversary celebration must surely be the specially-organised dinner with an

evening flourishing with mirth and camaraderie with the Ponderosa Cup award ceremony as well as

the Long Service Awards in honour of staff, with years spanning up to 29 years of employment with

Ponderosa. Guests were feted with glorious food and entertainment from start through the finale

that featured popular stand-up comedian, Dr Jason Leong.

An evening resplendent in black and gold, aptly encapsulating the golden 30 years of Ponderosa's

past and more into the future.
---
PONDEROSA GOLF & COUNTRY CLUB NEWSLETTER
---
PONDEROSA GOLF & COUNTRY CLUB NEWSLETTER

Staff Club to the Aid of Orphans

FULFILLING A WISH LIST

The Staff Club brought packed, fast-food lunch for the 25 children aged between 9 – 17 years.

In conjunction with Ponderosa's 30th Anniversary

celebration, Ponderosa's Staff Club took to collecting

donations from employees to buy and donate items

from a wish list posted by the Villa Paulos Care

Organisation for Orphans and Poor Children.

A total of RM2000 were collected to buy six multipurpose,

foldable work tables, four drawer cabinets

and a Sharp microwave oven, a carom table, football

game table and a Monopoly set for the children's

recreation.

The boys look forward to play-time

Abdul Aziz, Facility Manager and Mohd Sani,

Chairman of the Staff Club presented the

microwave oven and other needs.
---
PONDEROSA GOLF & COUNTRY CLUB NEWSLETTER

EXCESSIVE BLUE LIGHT FROM OUR GADGETS

MAY ACCELERATE THE AGING PROCESS

Changes in cell chemistry from blue light exposure observed in fruit flies could also potentially

cause detrimental effects on our body, including accelerated ageing

researchers in the cells of fly heads. In particular, they

found that the levels of the metabolite succinate

were increased, but glutamate levels were lowered.

"Succinate is essential for producing the fuel for

the function and growth of each cell. High levels

of succinate after exposure to blue light can be

compared to gas being in the pump but not

getting into the car," said Giebultowicz. "Another

troubling discovery was that molecules responsible

for communication between neurons, such as

glutamate, are at the lower level after blue light

exposure."

Too much screen use has been linked to obesity

and psychological problems. Now a new study

has identified a new problem – a study in fruit

flies suggests our basic cellular functions could

be impacted by the blue light emitted by these

devices. These results are published in Frontiers in

Aging.

"Excessive exposure to blue light from everyday

devices, such as TVs, laptops, and phones, may have

detrimental effects on a wide range of cells in our

body, from skin and fat cells to sensory neurons,"

said Dr Jadwiga Giebultowicz, a professor at the

Department of Integrative Biology at Oregon

State University and senior author of this study.

"We are the first to show that the levels of specific

metabolites – chemicals that are essential for

cells to function correctly – are altered in fruit flies

exposed to blue light."

"Our study suggests that avoidance of excessive

blue light exposure may be a good anti-ageing

strategy," advised Giebultowicz.

Turn off the light

The researchers at Oregon State University have

previously shown that fruit flies exposed to light

'turn on' stress-protective genes and that those

kept in constant darkness lived longer.

"To understand why high-energy blue light is

responsible for accelerating ageing in fruit flies, we

compared the levels of metabolites in flies exposed

to blue light for two weeks to those kept in complete

darkness," explained Giebultowicz.

Accelerating ageing

The changes recorded by the researchers suggest

that the cells are operating at a suboptimal level,

and this may cause their premature death, and

further, explain their previous findings that blue

light accelerates ageing.

"LEDs have become the main illumination in display

screens such as phones, desktops and TVs, as well as

ambient lighting, so humans in advanced societies

are exposed to blue light through LED lighting

during most of their waking hours. The signalling

chemicals in the cells of flies and humans are the

same, so there is potential for negative effects of

blue light on humans," explains Giebultowicz.

Future work hopes to study the effects directly on

human cells.

"We used a fairly strong blue light on the flies –

humans are exposed to less intense light, so cellular

damage may be less dramatic. The results from

this study suggest that future research involving

human cells is needed to establish the extent to

which human cells may show similar changes

in metabolites involved in energy production in

response to excessive exposure to blue light,"

concluded Giebultowicz.

From "Chronic blue light leads to accelerated aging

in Drosophila by impairing energy metabolism

and neurotransmitter levels" in Frontiers in Aging:

https://www.frontiersin.org/

Blue light exposure caused significant differences

in the levels of metabolites measured by the
---
PONDEROSA GOLF & COUNTRY CLUB NEWSLETTER

CHRISTMAS AND COMMERCIALISATION

Adapted from the article 'Commercialization of holidays harms all' - The Daily Targum, Nov 13, 2019

As Christmas is nearing in the

calendar and so also Deepavali

before it – let us ponder on the

aspect of commercialisation of

all the festive holidays, especially

dominant in a multi-cultural

landscape like Malaysia which is

year round.

It is no secret that Christmas is

now a commercialized festival

with decorations being decked

out from as early as the first week

of November in retail centres,

hotels, offices and the like as it

is a supposedly joyous time of

year to celebrate with friends,

family and for gift-giving. By

commercializing it, Christmas is

extended to all those who want to

celebrate regardless of whether

they are of the Christian faith.

It started as a commercial

holiday when America's former

President Franklin D. Roosevelt

pushed Thanksgiving up a week

— from Nov. 30 to Nov. 23 — in

1939, an act the government

hoped would stimulate the

fragile pre-war economy.

Although the move met with

some criticism and was dubbed

as "Franksgiving," the tradition

stuck. Thanksgiving marks the

beginning of the holiday season

in America, the climax of which is

reached around Christmas.

the religious teachings and

life of Jesus. However, the free

market led to commercialisation

through marketing. In fact, it

is just an excuse to buy more

than we actually need and more

often than not, we buy based

on assumptions of what other

people need and want to buy,

which may not be, ending up as

a load of unused trinkets stuffed

away in the drawer somewhere.

All these are due to pervasive

advertising campaigns that have

imprinted 'must-have' notions

through repetitive messages.

A stark example is the persona

of Santa Claus as a heavy, jolly,

white-bearded man in a red

suit that is fast-stuck on our

impression. The Santa Claus we

all know and love — that big, jolly

man in the red suit with a white

beard — didn't always look that

way. In fact, Santa was depicted

as everything from a tall gaunt

man to a spooky-looking elf.

The custom of giving presents

at Christmas time has its origin

in the story of the Wise Men,

where each of them brought one

gift that was meaningful – gold,

myrrh and frankinsense – who

travelled from far to see Jesus

after his birth. Today, however,

gift-giving and shopping are

synonymous with the Christmas

season which are all part of the

commercialisation of Christmas.

Some say it has been transformed

into something materialistic and

superficial.

In conclusion, commercialisation

need not be harmful as long as

consumers are aware of their

limitations and not be drawn into

the vortex of temptation spun by

advertisements. You don't have

to join the crowd of gift-grabbers

at retail centres and feel you have

lost out if you don't. (In other

words, don't be a 'kiasu!')

List down who to give and what

to give, and allocate a budget. If

you have not already observed

what they need, you can always

ask the recipient what he or she

wants for Christmas. It doesn't

always have to be a surprise.

By the way, have you heard

of "National Dessert Day",

"National Bathtub Day",

National "White Chocolate Day"

and "Hug a Vegetarian Day"?

Commercialisation and social

media has made it possible

to turn every other day into a

special day for celebration.

Commercializing holidays —

be it New Years, Valentine's

Day, Chinese New Year, Hari

Raya Puasa, the mid-autumn

Mooncake festival, Deepavali

or Christmas — may seem

harmless but in actuality they

are predictable by-products of a

capitalist economy in which the

bottom line is the bottom line.

First and foremost, it completely

dilutes the original intention of the

holiday's origin. Using Christmas

as an example, it was originally

a simple feast in celebration of

Jesus Christ and its importance

rests on spending time with

loved ones and celebrating

A Coca-Cola ad in 1931 helped to shape the image of Santa as we

know him today.
---
PONDEROSA GOLF & COUNTRY CLUB NEWSLETTER
---
PONDEROSA GOLF & COUNTRY CLUB NEWSLETTER

PING FOR HOPE

Getting Together for the Love of Golf, Benefitting

the Community in Need

The Young & Dangerous – Johor organised

and raised a total amount of RM112,654 to help

Kidney Dialysis patients under the care of the

Rotary Club of Kulai Foundation through the

bonds of friendship and goodness brought

about by Golf.

The event was held on Sunday, 14 August 2022

teed off to the format of Texas Scramble with a

total of 108 participants in 27 teams. Despite the

sirens halting the game momentarily due to heavy

rain and lightning, the spirit of giving was strong

while the passion of golf unrelenting.

CATEGORY A CHAMPIONS: Team CMSB

CATEGORY B CHAMPIONS: Team G4

CATEGORY C CHAMPIONS: Team Salary

MOCK CHEQUE PRESENTATION: RM112,654 for

Dialysis Patients
---
PONDEROSA GOLF & COUNTRY CLUB NEWSLETTER

GIVING HOPE: A day out on the greens for sport with hearts full of generosity

9-HOLE GOLF CHALLENGE

CALENDAR for 4th Quarter of 2022

Winners of every series of the 9-Hole Golf Challenge will have their names listed on a plague at

the Café, and will compete in a Grand Final organised either at Home Club or at an Off-site Club

at the end of each year's run.
---
PONDEROSA GOLF & COUNTRY CLUB NEWSLETTER

NEW RECOMMENDATIONS @ HOP SING

More than just our signature Ginger Fried Chicken, there are dishes that are fast-becoming-hot

favourites among members and the regulars. Come into Hop Sing during lunch time from 11.00 am

to 3.00 pm daily to discover what they are, just freshly added to the a'la carte menu.

干 煎 豉 油 皇 虾

Soya Sauce Fried Prawns

蒜 香 奶 油 虾

Garlic Butter Prawns

芒 果 日 式 芝 麻 酱 鲜 虾

Mango Shrimp Salad with Japanese Sesame Sauce

XO 炒 饭

XO Fried Rice

镇 江 鸡 骨 皇

Braised Chicken in Black Vinegar Sauce

FOR ENQUIRIES, PLEASE CONTACT 019-758 8093
---
PONDEROSA GOLF & COUNTRY CLUB NEWSLETTER

READYING TO WELCOME THE AUSPICIOUS RABBIT

RABBIT OF PROSPERITY 5

玉 兔 迎 春 添 新 家

RM338+ (for 5 persons)

福 禄 连 年 齐 捞 生

Noble Prosperity Mango Yee Sang

挂 炉 烧 鸡

Whole Oven Roasted Chicken

清 蒸 金 目 卢

Hong Kong Style Steamed Seabass

佛 本 罗 汉 斋

Loh Han Chai in Yam Basket

XO 酱 海 鲜 炒 饭

XO Fried Rice

陈 皮 红 豆 沙

Red Bean Soup with Mandarin Peel

RABBIT OF PROSPERITY 8

玉 兔 迎 春 添 新 家

RM888+ (for 8 persons)

福 禄 连 年 齐 捞 生

Noble Prosperity Salmon Yee Sang

鱼 鳔 海 鲜 羹

Fish Maw Seafood Broth with Enoki Mushrooms

鎮 江 鸡 骨 皇

Braised Chicken Drummets in Black Vinegar Sauce

清 蒸 石 斑 鱼

Hong Kong Style Steamed Grouper

干 煎 豉 油 皇 虾

Soya Sauce Prawns

佛 本 罗 汉 斋

Loh Han Chai in Yam Basket

XO 酱 海 鲜 炒 饭

XO Fried Rice

陈 皮 红 豆 沙

Red Bean Soup with Mandarin Peel

RABBIT OF WEALTH 5

新 春 旺 市 迎 玉 兔

RM468+ (for 5 persons)

福 禄 连 年 齐 捞 生

Noble Prosperity Mango Yee Sang

蒜 香 牛 油 虾

Fragrant Garlic Butter Prawns

酱 汁 蒸 石 斑 鱼

Steamed Grouper in Chef's Special Sauce

豆 根 冬 菇 西 兰 花

Braised Broccoli with Black Mushrooms

and Soy Puffs

招 牌 炒 生 面

Ponderosa Signature Fried Noodle

金 瓜 芋 泥

Yam Paste with Gingko Nut &Pumpkin

RABBIT OF WEALTH 8

新 春 旺 市 迎 玉 兔

RM888+ (for 8 persons)

福 禄 连 年 齐 捞 生

Noble Prosperity Salmon Yee Sang

红 烧 蟹 肉 鸡 丝 伴 金 针

Braised Crab Meat with Shredded Chicken

挂 炉 烧 鸡

Whole Oven Roasted Chicken

酱 汁 蒸 石 斑 鱼

Steamed Grouper in Chef's Special Sauce

芒 果 日 式 芝 麻 酱 鲜 虾

Mango Shrimp Salad with Japanese Sesame Sauce

豆 根 冬 菇 西 兰 花

Braised Broccoli with Black Mushrooms

and Soy Puffs

招 牌 炒 生 面

Ponderosa Fried Noodles

金 瓜 芋 泥

Yam Paste with Gingko Nut &Pumpkin

EARLY BIRD : GET RM100

REBATE!

Only when you Book & Pay for our

Rabbits of Wealth 8 and Rabbit of

Prosperity 8 Menus

FROM NOW - 31 DECEMBER

2022

For enquiries, please contact 019-728 8464 (Zainab) or 019-779 9841 (Jamie)
---
PONDEROSA GOLF & COUNTRY CLUB NEWSLETTER

THE WINNING STROKES!

TENNIS CHAMPIONSHIP@PONDEROSA

A flash back on Ponderosa's very own friendly play-to-compete Tennis event held on 18 June 2022 at the newlyresurfaced

artificial court which was open only to Ponderosa Members.

This marks the first of a yearly affair for tennis enthusiasts and it attracted a total of 17 participants for 3 categories.

The winners walked away with a total of RM1,800 worth of prizes, including an impressive Challenge Trophy.

MEN'S SINGLES – MR CHUA THIAN KWEE

WOMEN'S SINGLES – MS DHAARSINI A/P JAYASANGER

MEN'S DOUBLES – MR NACHIAPPAN A/L N SUBRAMINAM & MR CHEE YON FOI
---
PONDEROSA GOLF & COUNTRY CLUB NEWSLETTER

EVERY 2 IN 3 BIZ IN SEA IS A

RANSOMWARE VICTIM

Only 5% of the C-suite confirms the presence of an

internal or a third-party incident response team,

showing the need to fill the gap in the detection and

response capabilities of enterprises in SEA.

Ever since the infamous Wannacry attack,

ransomware has become something of a buzzword

within the corporate world, with large attacks on

enterprises appearing in headlines month after

month. Businesses in Southeast Asia (SEA) are well

within the radar of these cybercriminals with three

in five (67%) confirming that they have been victims,

according to the latest research by Kaspersky.

Global cybersecurity company, Kaspersky, surveyed

900 respondents across North America, South

America, Africa, Russia, Europe, and Asia-Pacific,

100 of which were from SEA. Conducted in April

2022, the research titled "How business executives

perceive ransomware threat" gathered the answers

from those in senior non-IT management (such as

CEOs, VP, and Director level) and business owners or

partners at companies with 50-1000 employees.

Half of those (34%) who have admitted having

their data maliciously encrypted by cybercriminals

experienced ransomware attacks not once but

several times. The remaining respondents (33%) said

they have experienced such incidents one-time only.

Half of those (34%) who have admitted having

their data maliciously encrypted by cybercriminals

experienced ransomware attacks not once but

several times. The remaining respondents (33%) said

they have experienced such incidents one-time only.

The most common denominator among

ransomware victims in the region is that almost

all paid the ransom (82.1%). In fact, 47.8% of the

surveyed executives confessed that they paid the

ransom as soon as possible for immediate access to

their business data, two digits higher than the global

average of 38.1%.

Almost a quarter (23.9%) did try to get their data back

through back-ups or decryption but failed and paid

ransom within two days while 10.4% took a week of

effort before paying up.

When the ransomware victims were asked of the

steps they will conduct should they face the same
---
PONDEROSA GOLF & COUNTRY CLUB NEWSLETTER

incident, majority (77%) of the business leaders in

SEA confirmed that they will still pay the ransom

showing a worrying tendency for companies

that have already been a victim of ransomware to

pay up, encouraging cybercriminals to continue

their attacks.

"It is concerning to see that only 17.9% of

businesses here in SEA victimised by ransomware

did not budge on the cybercriminals' demands.

We stand firm that paying the ransom should

not be a kneejerk reaction for enterprises. But,

with more than half (67%) of those we surveyed

admitting that their organisations would not

survive without business data if attacked, we

understand the urgency and the desperation

to get their data back as soon as possible, by

all means," comments Yeo Siang Tiong, General

Manager for Southeast Asia at Kaspersky.

Kaspersky's study also revealed a key puzzle

piece – that majority (94%) of enterprises in SEA

will seek external help if attacked by ransomware.

This is a tad higher than the global rate at 89.9%.

Almost a quarter (20%) of which will contact the

law enforcement, while 29% will reach out to a

third party cybersecurity incident investigation

and response service provider like Kaspersky.

The remaining percent will contact both of these

external organisations to know how to respond

to a ransomware attack.

"With only 5% of enterprise leaders confirming

that they have internal incident response

capabilities or they have the regular IT team

or service provider to figure out a ransomware

attack, it is clear that our enterprises here in SEA

need help. We advocate for cross-border and

public-and-private cooperation that will help

governments and companies to combat threats

like ransomware. However, such is not the only

answer. Enterprises here should really look into

acting on concrete steps to upskill or even to

build their own security defence team with

intelligence-led incident detection and response

capabilities," adds Yeo.

Global cybersecurity company Kaspersky cofounded

the global project called "No More

Ransom Initiative" which has grown from

four partners to 188 and has contributed 136

decryption tools covering 165 ransomware

families.

Since its launch in 2016, it has helped more than

1.5 million people decrypt their devices all over

the world. Nearly 30,000 ransomware victims

from July last year to June end of 2022 in SEA

were also able to retrieve their data through this

project.

The project is done by Kaspersky along with

National High Tech Crime Unit of the Dutch

National Police, Europol's European Cybercrime

Centre, and other partners.

Kaspersky, however, puts emphasis on preventing

a ransomware attack. The global cybersecurity

company encourages businesses to follow these

simple and effective recommendations to help

protect their organisations against this threat:

• Always keep up-to-date copies of your files

so you can replace them in case they are

lost (e.g. due to malware or a broken device).

These should be stored not only on a physical

device but also in cloud storage for greater

reliability. Make sure you can quickly access

your backups in the event of an emergency.

• Install all security updates as soon as they

become available. Always update your

operating system and software to eliminate

recent vulnerabilities.

• Provide security education to your staff.

Explain that by following simple rules,

employees can help prevent ransomware

incidents. Check out dedicated training

courses, such as the ones provided in the

Kaspersky Automated Security Awareness

Platform.

• Enable ransomware protection for all

endpoints. There is a free Kaspersky Anti-

Ransomware Tool for Business that shields

computers and servers from ransomware

and other types of malware, prevent exploits

and is compatible with already installed

security solutions.

• Enterprise companies are recommended to

use anti-APT and EDR solutions, enabling

capabilities for advanced threat discovery

and detection, investigation and timely

remediation of incidents, as well as to have

access to the latest threat intelligence. An

MDR provider could help to effectively hunt

any advanced ransomware attack. All of the

above is available within Kaspersky Expert

Security.

If you become a victim, never pay the ransom. It

won't guarantee you get your data back but will

encourage criminals to continue their business.

Instead, report the incident to your local law

enforcement agency and get help from incident

response experts such as Kaspersky.

Companies can also try to find a decryptor on the

internet – some of these are available at https://

www.nomoreransom.org/en/index.html
---
PONDEROSA GOLF & COUNTRY CLUB NEWSLETTER
---
PONDEROSA GOLF & COUNTRY CLUB NEWSLETTER