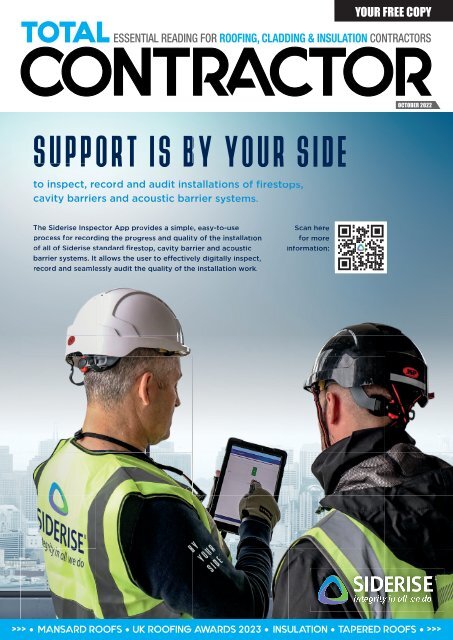 Create successful ePaper yourself
Turn your PDF publications into a flip-book with our unique Google optimized e-Paper software.
OCTOBER 2022

SUPPORT IS BY Y

OUR

SIDE

to inspect, record and audit installations of firesto ps,

cavity barrie ers and acoustic bar rrier systems.

The Siderise Inspector App provides a simple, easy-to-use

process for record ding the progress and qualit ty of the installation

of all of Siderise standard firestop, cavity bar rier and acoustic

barrier systems. It

allows the user to effective

ely digitally inspect,

rec

ecord and seamlessly sly audit the quality of the

installa

tallation tion work.

Scan here

for more

information:

>>> • MANSARD ROOFS • UK ROOFING AWARDS 2023 • INSULATION • TAPERED ROOFS • >>>
---
Technical support

Roofing experts on-hand to offer help and advice

Assured standards

Meets all British Standards and regulations

High-quality components

Tested for maximum performance, meaning no call backs

Estimates & fixing specs on demand

We'll help you create them on site and on the go

Comprehensive roof solution

Easy installation with tried and tested compatible components

Need a complete

roof system?

We've got you covered.

With all elements brought together from a single

source, you can be confident that everything

will work together perfectly – and that high

performance is all backed up with a 15-year

system guarantee. Find your peace of mind.

marley.co.uk/roofsystem
---
Editor's Comment

MATT DOWNS

EDITORIAL DIRECTOR

MATTDOWNS@MEDIA-NOW.CO.UK

07963 330774

SUPPORT IS BY Y

OUR

SIDE

to inspect, record and audit installations of firesto ps,

cavity barrie ers and acoustic bar rrier systems.

The Siderise Inspector App provides a simple, easy-to-use

Scan here

process for record ding the progress and qualit ty of the installation

for more

of all of Siderise standard firestop, cavity bar rier and acoustic information:

barrier systems ystems. It

allows the user to effective

ely digitally inspect,

rec

ecord and seamlessly sly audit the quality of the

installa

tallation tion work.

September saw the collapse of another big player in the roofing and

cladding sector, as Avonside Group Services entered administration.

Avonside was said to be the largest roofing contractor in the UK, operating 39

branches across its three divisions – Avonside Roofing, Avonside Energy and

Avonside Plumbing. Whilst the pre-pack sale of nine of Avonside's 37 branches

was announced, and private investor Rcapital completed a 'solvent deal' for

the acquisition of Avonside Energy Limited, which was not part of the wider

group insolvency – saving 100 jobs, the Group's collapse has still been felt

throughout the supply chain with employees losing jobs, manufacturers,

suppliers and sub-contractors left unpaid, and projects left unfinished.

Discussing the challenges that employees and those affected by companies

falling into administration face, Ruth Scarrott, Head of Careers at NFRC,

told Total Contractor on page 8: "The impact goes wider than the business

owner and senior teams – long standing valued employees suddenly find

themselves without the safety and security of their jobs. This is where our

Roofing Careers Service comes in, especially as some will need support

updating their CVs and preparing for interviews with other employers."

Elsewhere in this issue, sticking with the impact of administration, Alison

Rowley of Taylors Solicitors offers advice for different parties in the supply

chain when contractors enter administration (p14); we put the questions to

Paul Duffy, MD of manufacturer Onduline UK, in our latest Total Talk (p18);

John Mercer talks mansard roofs in his latest roof shapes focus (p22); we

take a look at Proteus Facades' role in the new Compton and Edrich stands

at Lord's (p38); whilst Tony Beer explains the opportunities for contractors

on retrofit projects (p52). So read on for all this and much more...

Matt

Front cover courtesy of Siderise: Find out more about Siderise's

range of solutions at www.siderise.com.

FOLLOW US @TOTCONTRACTORUK

SIGN UP FOR YOUR E-NEWSLETTER AT

WWW.TOTAL-CONTRACTOR.CO.UK

Advertising:

Publishing Director: Andy Dunn

DD: 01892 732 047

Mob: 07963 330777

Email: andydunn@media-now.co.uk

Registered office: 1 Forstal Road, Aylesford, Kent, ME20 7AU

Commercial Manager: Jake Roxborough

DD: 01892 732 047

Mob: 07956 133314

Email: jakeroxborough@media-now.co.uk

The content of Total Contractor magazine (and website) does not necessarily reflect the views of the editor or publishers and are

the views of its contributors and advertisers. The digital edition may include hyperlinks to third-party content, advertising, or

websites, provided for the sake of convenience and interest. The publishers accept no legal responsibility for loss arising from

information in this publication and do not endorse any advertising or products available from external sources. No part of this

publication may be reproduced or stored in a retrieval system without the written consent of the publishers. All rights reserved.

Supported by:

38
---
Contents

3 KEY FEATURES

44

14 ASK THE SOLICITOR...

This month Alison Rowley, Senior Associate in

the disputes team at Taylors Solicitors,

explains the steps to take for different parties

within the supply chain when a contractor

enters administration

18 TOTAL TALK: ONDULINE

We put the questions to Paul Duffy, MD of

Onduline UK, discussing his career, the

changing role of manufacturers, and

challenges and opportunities moving forward

34 FUTURE GAINS

We talk to CUPA PIZARRAS' Hannah Wall,

lecturer Brian Hutton and roofing student

Callum Rae, about the slate specialist's training

support and wider issues affecting roofing skills

34

FURTHER READING

20 MAINTAINING STANDARDS

Shaun Revill of SR Timber reflects on the state of the

industry and says don't compromise on batten quality

24 TOP TIPS

The team at Marley discuss the key considerations roofers

should make when choosing and using battens

30 TAPERED ROOF INSULATION

Rob Vass of TaperedPlus says it's important to avoid

steps when utilising insulation on flat and tapered roofs

40 BUILD IT TIGHT & RIGHT

Permavent's Craig Fyall says additional insulation isn't

always the answer when looking to achieve new targets

20

52 RETROFIT READY...

Tony Beer of RetrofitWorks discusses the retroft

challenge and opportunities for contractors

58 SAFETY AT HEIGHT

Werner's Trevor Rabson talks ladder and tower safety

training, explaining what it entails and how to access it

4 TC OCTOBER 2022
---
REGULARS

16 NFRC ROOFING TALK

Tanya Cooper, MD of NFRC CPS, discusses the

value of being able to prove you and your team

are competent within roofing

22 ROOF SHAPES

Want to know more about mansard roofs?

Pitched Roofing Consultant John Mercer explains

all in his latest Perfectly Pitched column

44 ASK A. PROCTOR GROUP

This month the team discuss whether the best

way to meet airtightness requirements is by

using an internal VCL

50 KNAUF INSULATION

TECH TALK

Bradley Hirst explains what embodied carbon is

and discusses its role in determining how

sustainable a building is

INDUSTRY NEWS

06 SOLAR SURGES ON IN 2022

Data from MCS shows that new solar PV installations in

2022 surpassed the total for 2021 in just eight months

12 IS YOUR PROJECT A WINNER?

Could one of your roofing projects pick up an award at the

UK Roofing Awards 2023? Find out more about the awards...

SECTIONS:

TOTAL

ROOFING

18

TOTAL

CLADDING

38

TOTAL

INSULATION

50

06

VEHICLES, TOOLS

& WORKWEAR

58

OCTOBER 2022 TC 5
---
Industry News

SOLAR SURGES IN

2022

The latest data from MCS (Microgeneration

Certification Scheme) for solar panels

installed on UK homes shows that new

solar PV installations in 2022 have

surpassed the total for 2021 just eight

months.

MCS, which defines and maintains standards

for small-scale domestic renewable energy

and heating across the UK, has recorded all

certified installations on its central database

since 2008.

Figures show that 79,560 solar PV

installations were completed from January –

August 2022, a 30% increase on the 61,431

installed in the whole of 2021.

There was a 144% increase of solar PV

installations registered with MCS in August

2022 – 12,411, compared with 5,082 in

August 2021.

MCS says the data combats concerns in the

renewable energy sector that domestic solar

PV demand would diminish after the Feed-in

Tariff (FiT) incentive ended in April 2019.

Ian Rippin, CEO of MCS, explained: "With UK

homeowners quite rightly worried about the

cost of living amid rising energy costs, we are

pleased to report the installation of solar PV is

powering on as homeowners look to invest in

home-grown energy. We are seeing more

installations registered on the MCS database

and our certified contractor base also

continues to grow.

"Our data indicates more companies than

ever before are diversifying into solar as well

as seeing more new market entrants. This

trend will be essential to maintain as there is

a constant need to upskill the industry and

meet increasing levels of demand."

www.mcscertified.com

More news, updates and interviews at www.total-contractor.co.uk

TAKE THE FIRST STEP AND

TEXT BOB TO 8528 FOR SUPPORT

To build on the success

of last year's Big Brew

campaign in highlighting

issues with mental health

in the construction

industry, Band of

Builders has launched a

new text line so that

tradespeople,

contractors and their

families struggling to

open up in person can text BOB to 85258 at

any time to get much-needed help.

Also new for this year is the Big Brew tea scale –

an image of different strengths of cups of tea –

which will act as an icebreaker to start

conversations where tradespeople can ask one

another where they rank on the scale.

The Big Brew – which is sponsored by Big Red

Construction – is an initiative by national

construction charity Band of Builders, a registered

charity that helps members of the UK construction

industry who are battling illness or injury through

the completion of practical projects carried out by

volunteer tradespeople using donated materials.

The event aims to build on last year's inaugural

Big Brew which saw more than 175 events held,

and raised enough money to fund a new free

construction industry-only counselling service for

two years.

Peter Cape, the Big Brew lead at Band of Builders,

explained:"The first ever Big Brew highlighted just

how much the construction industry was crying

out for something that gave tradespeople and

contractors the outlet to get together over a cuppa

and discuss the wider issue of mental health and

wellbeing – and open up individually to

workmates or even staff at their local builders'

merchants," explained Peter.

"The campaign is proving to be a vital lifeline at a

time when suicide rates in the sector were already

at one per day before the

COVID pandemic –

according to ONS figures –

and it's widely accepted

that these have worsened

to closer to two per day.

"The challenge has been to

make it as easy as possible

for tradespeople and

contractors to take that allimportant

first step and reach out for help. The

new tea scale is a great icebreaker, prompting

people to ask where their mental health is on the

scale. And if someone isn't in a place where they

can open up face to face, the new text service is

another way to get the ball rolling in seeking help.

"It's fair to say that construction workers, like

everyone else in the UK, are facing difficult times

with the ongoing cost-of-living crisis, so it's more

important than ever that they have somewhere to

turn to if they need to talk – whether that's in

person or via text."

Peter thanked the construction industry for its

ongoing support of the campaign: "The industry's

reaction to the Big Brew has been incredible, with

companies including the likes of Big Red

Construction, Jewson, Talasey, DeWalt and

Williams all supporting the campaign, hosting

events and spreading the message to their

customers and clients.

"We know from feedback from last year that the

Big Brew has already changed people's lives –

with tradespeople and contractors telling us that a

simple cuppa with a workmate had been that allimportant

first step in admitting they were having

issues with their mental health. In a few cases,

there were people who were in crisis," he added.

Find out more about the Big Brew event at

www.bandofbuilders.org, and you can join in the

conversation online by using the hashtag

#GiveYourselfABreak.

6 TC OCTOBER 2022
---
oof

lantern

10%

NEW TRADE

CUSTOMER

DISCOUNT

QUOTE CODE:

TCK01

glazed in

seconds

faster

to fit

Supply & install the multi-award-winning aluminium Korniche Roof Lantern.

Fitted in minutes, glazed in seconds. The strongest lantern in class, available

up to 3x2.5m in four glass panels and a maximum size of 6x4m

Delivering the best products, with the best

service, at the best price

Contact Made for Trade for a Kwikquote today

madefortrade.co | sales@madefortrade.co | 01642 610799

*Discount applies to all trade customers and applied to the first, single item purchase only of the Korniche Roof Lantern
---
Industry News

AVONSIDE UPDATE

Following the collapse of Avonside Group

Services, which entered administration on

September 7, 2022, private investor

Rcapital has announced it acquired

Avonside Energy Limited, the insulation

and solar PV service provider, on

September 13.

A statement from the company further

explained that 'the transaction incorporates

the Avonside Renewables business which has

also been rescued by Rcapital as part of the

deal', plus 'the acquisition has been a solvent

deal and Avonside Energy is not part of the

wider group insolvency.'

Following the news that nine of Avonside's 37

branches were secured days after the company

fell into administration, it has emerged that the

buyer was Andrew Morley Business

Consultancy (AMBC), which is owned by

Andrew Morley, former Chief Operating Officer

of Avonside Group, alongside Vincent Hughes,

former Commercial Development Director at

Avonside Group Services.

Despite these acquisitions which saved jobs,

Ruth Scarrott, Head of Careers at NFRC,

recognises that many will still need support as

they look to secure new jobs. Ruth explained:

"We at the NFRC will always offer our support to

those impacted by any roofing contractor who

has to make the difficult decision to cease

trading. The impact goes wider than the

business owner and senior teams – longstanding

valued employees suddenly find

themselves without the safety and security of

their jobs. This is where our Roofing Careers

Service comes in, especially as some will need

support updating their CVs and preparing for

interviews with other employers. This can be

done through careers advice sessions with me,

at no charge. I urge anyone impacted to contact

me at careers@nfrc.co.uk."

Ask the Solicitor, page 14.

More news, updates and interviews at www.total-contractor.co.uk

SUSSEX ROOFING COMPANY'S RACE DAY

RAISES VITAL FUNDS FOR CANCER CHARITY

Richard Soan, Managing Director at the

family-owned Richard Soan Roofing Services

in Lewes, has announced the company's Race

Day raised over £38,000 for the charity

Teenage Cancer Trust.

Richard, along with his family, has been

supporting the charity for over decade, and on

Friday 5th August their hugely popular Race Day

event returned to Brighton Racecourse. Funds

donated on the day brings the company's total

raised for the charity, which supports young

people with cancer, to nearly £250,000!

Richard and his team say the event receives huge

support from the roofing and construction

industry, with suppliers, contractors, surveyors,

architects and their guests enjoying the day. This

was highlighted again this year, as 285 people

came together to show generous support for the

charity through the raffle and auction, bidding

very generously for the auction items which had

all been kindly donated.

He points out that Teenage Cancer Trust's vital

services for young people with cancer are entirely

dependent on income through fundraising, and

statistics show every day seven young people in

the UK (aged 13-24) hear the devastating words

"you have cancer", turning their lives upside

down.

The money raised will now be used by Teenage

Cancer Trust to fund specialist hospital units,

nurses and youth workers across the UK that

provide outstanding age-appropriate care and

emotional support to those in need.

Speaking about the event, Richard Soan

explained: "We are delighted to continue our

support for Teenage Cancer Trust and are

naturally very pleased with the amount raised on

the day.

"My thanks go to all the organisations who

supported the day, and to those individuals who

Richard Soan pictured at the charity Race Day which was

held at Brighton Racecourse.

participated in the auction and especially those

that were successful with winning bids, because

without their support this event could not happen.

"Teenage Cancer Trust deserves all the support it

can get as it receives no Government funding, so

survives on fundraising events and donations."

Helen Farquharson, Senior Relationship Manager

for South & South East at Teenage Cancer Trust,

said: "We're so grateful to Richard and his family

for putting on this event and for their incredible

support over many years.

"The money raised will mean that we can

continue to provide young people with expert

nurses to support them through treatment in

Sussex and beyond, dedicated youth workers to

help them cope with anxiety and isolation, and a

network of other young people to chat to.

"No teenager or young adult should ever have to

face cancer alone.

"Every pound raised is vital in allowing us to

protect and grow our specialist services to ensure

young people get access to the very best

treatment, care and support possible and are

treated as young people first, cancer patient

second."

To find out how to fundraise or make a donation

for Teenage Cancer Trust visit:

www.teenagecancertrust.org

www.richardsoan.co.uk

8 TC OCTOBER 2022
---
Handrails:- EasyGuard

free-standing Guardrails

*CurveyGuard – an aesthetically pleasing curved rail.

*EasyGuard – raked or straight legs dependant on

application. *FoldGuard – folding handrail.

Trip hazard reduction – long thin base-plates with

Counterweights used on un-secured ends only. Placed at 2m

centres maximum to enable use for leading edge protection.

Galvanised or powder coated finish. Protective mats 5mm

bonded to the base plates.

Standards – Exceeds Class A EN13374- Class A; For

leading edge protection HSE/SR 15, September 1988.

Nationwide delivery or contract installation. – Free material

quantifying service – info@safetyworksandsolutions.co.uk

Ladders:- Easy Fit

Compliant to both BS/EN 5395 and 14122 –

To comply with the standards for

permanent ladders all mild steel then hot

dipped galvanised to BS/EN 1461.

All typical ladders bespoke – email

info@safetyworksandsolutions.co.uk for a

survey check sheet.

Easy Fit, all ladder components are Easy

to assembly; in manageable parts Easy to

handle and install.

Rest Platforms and ladders with special

fixing requirements; solutions provided by

Safetyworks in house.

(All components for British Standard

compliant ladders require steel components

with timber and aluminium recommended

for temporary use only)

HANDRAILS

-

LIFELINES

-

WALKWAYS

-

FALL GUARDS

-

FLEXIDECK

-

DEMARKATION

-

LADDERS

-

STEELWORK

-

Tel: 01487 841400

www.safetyworksandsolutions.co.uk
---
Industry News

More news, updates and interviews at www.total-contractor.co.uk

GREEN ROOF FIRE

SAFETY WHITEPAPER

Designing and installing fire-safe green

roofs is the subject of a new White Paper

from living roof specialist Wallbarn.

The company says the paper aims to help

designers and installers navigate relevant fire

performance regulations and guidance,

exploring the requirements of Approved

Document B and DCLG documents, together

with guidance laid out in the GRO Code and the

importance of EXAP Reports.

WERNER'S 3 IN 1 LADDER SHORTLISTED FOR AWARD

Werner has announced that it has been

shortlisted for this year's Building Innovation

awards. The awards recognise and celebrate

the pioneering individuals, organisations and

partnerships that are embracing emerging

technologies and digital transformation in

order to take UK construction to the next level.

The company is a finalist in the Most Innovative

New Product category with its flexible 3 in 1

combi-ladder, the Leansafe X3. Designed

following user feedback, this professional ladder

minimises the need for multiple ladders on a job.

"Evaluating the fire performance of green roofs

has become increasingly important in the

post-Grenfell years as the fire safety of

buildings, their components, assembly,

construction methods and management take

centre stage," explained Wallbarn Director

Julian Thurbin.

"It is a complex issue influenced by

government policies, BRE requirements,

guidance from the Green Roof Organisation

(GRO), European standards and

classifications. The aim of the White Paper is

to discuss what's required and why / how

designers and installers can mitigate risk.

Well-designed, correctly installed and

maintained green roofs can resist the spread

of flame," added Julian.

View the whitepaper at www.wallbarn.com or

request an electronic copy by e-mailing

info@wallbarn.com.

Bushra Imtiaz, UK Marketing Manager for Werner,

said: "The Building Innovation Awards recognises

products that are helping to elevate the UK

construction market and Werner is delighted that

the Leansafe X3 ladder has been shortlisted for

this award.

"We wanted to support the construction industry

by addressing work at height challenges and

listened to the feedback from users to design a

ladder that would increase productivity. Feedback

from users has shown that the ladder is making a

real difference throughout the construction

industry, and we couldn't be prouder of that."

Listening to feedback from professionals, Werner

says it knew that users had a need for a

professional, flexible 3 in 1 ladder solution.

According to the company, within the industry an

incorrect ladder is often used for a job as the user

only has one in the van or is unable to transport

multiple ladders – and this is where the Leansafe

The Leansafe X3 from Werner. Read Werner's latest column

on ladder safety and safety at height on page 58.

X3 originated from. Using market research,

Werner designed a product based on user

demand that makes working at height easier and

safer.

This professional ladder features a singlehanded

unlocking system that allows users to

seamlessly change from a step to a straight

ladder in one easy adjustment. It has also been

uniquely designed with a multi-mode top,

providing a solution for all leaning modes,

enabling the ladder to be securely used against

flat wall surfaces, external and internal corners,

poles and wall studs, as well as having the

ability to perform as a standard stepladder or

extension ladder.

www.wernerco.co.uk

FURTHER INVESTMENT AT BEESLEY & FILDES

Beesley & Fildes has opened a new £2m

distribution centre in Widnes to accommodate

the growth in demand for building products.

Situated near key strategic highways, including the

M56, M62 and M57, the facility will support the

business's 11 north west-based branches and its

online click and collect customers. The 4.2-acre

distribution centre is said to be a key part of

Beesley & Fildes' wider £3.2m expansion plans,

enabling it to purchase and house more stock for its

customers across the building, civils, and drainage

market.

James Beesley, Commercial Director at Beesley &

Fildes, said: "As we see the demand for building

products continually increasing, it was vital that we

broadened our in-house capabilities and

operations. Plus, with our click and collect service

now rolled out across each of our branches, we

have an additional route to purchase."

www.beesleyandfildes.co.uk

10 TC OCTOBER 2022
---
ARCHITECTURAL ALUMINIUM FABRICATION SPECIALISTS

WE'RE ICB, SPECIALIST FABRICATORS AND SUPPLIERS OF

STUNNING ALUMINIUM ARCHITECTURAL PROFILES.

Our solutions offer exceptional outcomes in design accuracy &

minimalism, operational performance, installation ease & environmental

impact.

Discover more at icbfabrications.co.uk

01202 785200 enquiries@icbfabrications.co.uk www.icbfabrications.co.uk

UK Head Office Unit 9-11 Fleets Industrial Estate, Willis Way, Poole, Dorset BH15 3SU

Design / Bespoke Fabrication / Standard Profile Supply / Polyester Powder Coating / Installation
---
Industry News

HAS YOUR PROJECT GOT WHAT IT TAKES TO WIN A UK ROOFING AWARD?

The UK Roofing Awards return to

InterContinental London – The O2,

on Friday 12 May 2023, and NFRC

is now welcoming entries from across

the roofing and cladding industry.

Can I enter?

Entries are now open, with submissions

welcome from members of NFRC, NFRC

Competent Person Scheme (formerly

CompetentRoofer), and selected other

trade associations. Uniquely this time,

NFRC is accepting entries for projects

that were completed within a two-year

window between 1 January 2021 and

31 December 2022.

The deadline to submit your project is Friday 13

January 2023. Whilst many entries are made by

contractors, submissions from manufacturers,

architects and specifiers are also encouraged and

welcomed, as long as the roofing contractor on

the project is a member of one of the qualifying

trade associations.

Entries are welcome in the following

categories:

• Bituminous Hot Applied Liquid

Waterproofing

• Cold Applied Liquid Waterproofing

• Fully Supported Metal

• Green Roofing – sponsored by Bauder

• Heritage Roofing

• Leadwork

• Mastic Asphalt

• Multi-discipline Project over £250k –

sponsored by ICB

• Rainscreen Facades – sponsored by Siderise

• Reinforced Bitumen Membranes –

sponsored by Sika

Above: Ellis & Co won the Heritage Roofing category at the 2021 UK Roofing

Awards for the stunning Little Sodbury Manor project.

• Roof Slating – sponsored by CUPA PIZARRAS,

S.A.

• Roof Tiling – sponsored by Marley

• Sheeting & Cladding

• Single Ply Roofing – sponsored by Recticel (UK)

• Small Scale Project (Under £25k)

• Industry Choice Award – sponsored by

Radmat Building Products

• Roof of the Year Award

• Young Roofer of the Year – sponsored by BMI

NFRC says entrants should include highresolution

photographs of the project, both in

progress and when complete, to give the judges

the best possible understanding of your project.

More information on each category is available at

roofingawards.co.uk.

NFRC says the Awards recognise and reward

outstanding standards of workmanship and

health and safety among competent roofing

companies, and winning or being shortlisted at

the UK Roofing Awards means that your team is

recognised for their great work and your company

raises its profile across the industry, as well as

receiving free PR in industry newsletters and

publications.

Can I attend?

You can now purchase tickets for the

2023 UK Roofing Awards.

NFRC Members can obtain tickets for

£195 per seat – or it's even better

value when purchasing a whole table

of ten seats, at £1,750.

Non-Members are also

very welcome, with

tickets at £250 per

seat, or a whole table

for £2,150.

NFRC says it would like

to thank the event's

sponsors: Radmat Building Products (headline

sponsor), Bauder, BMI, CUPA PIZARRAS S.A.,

ICB, Marley, Recticel Insulation, Siderise, SIG,

and Sika.

James Talman, NFRC CEO, explained: "I am

delighted that the UK Roofing Awards will be back

in 2023 after a hugely successful Awards last

November. Once again I am looking forward to

this major opportunity to celebrate excellent

workmanship, innovation, and safe practices in

our industry.

"We decided not to run a 2022 event in order to

run the 2023 Awards in May, returning to the pre-

Covid timing of the event – it would have been

too soon after November's event to go ahead in

May 2022. It takes time to prepare an event on

this scale and to such a high standard."

Robert Speroni, Managing Director of headline

sponsor Radmat Building Products, said:

"Radmat Building Products is delighted to be the

headline sponsor of the UK Roofing Awards once

again for 2023 – we were very pleased to be

associated with the 2021 event, the largest

Roofing Awards yet. We are looking forward to the

2023 Awards, which will be another great chance

to celebrate the very best work in our industry."

www.nfrc.co.uk/uk-roofing-awards/

12 TC OCTOBER 2022
---
KEMPEROL ®

Liquid Roofing &

Waterproofing

KEMPEROL ®

The first choice

for liquid membranes

Long term protection for flat roofs, buildings

and critical structures

Warm roofs, inverted roofs, green roofs, podium

Whatever your requirements,

we have a certified and proven

solution to meet your needs.

Contact us to discuss

Kemperol Liquid Waterproofing

With over 60 years' experience, there's not many challenges we

haven't faced, confronted and overcome.

Whether it's a school, hospital, hotel, car park, balcony, the list is endless,

KEMPEROL ® has a range of cold applied products to suit every application.

visit www.kemperol.co.uk

To find out more about the KEMPEROL ® range of products

Tel: 01925 445532

Email: enquiries@kempersystem.co.uk

06/4388

95/3139
---
Ask the Solicitor

ADMINISTRATION: HOW TO LIMIT THE

IMPACT AND WHAT TO DO NEXT

Following the news that roofing giant Avonside Group Services Limited went into

administration on 7 September, another casualty in what is a turbulent time for

roofing and construction in general, Alison Rowley, Senior Associate in the disputes

team at commercial law firm Taylors Solicitors, addresses what administration could

mean for parties involved in similar situations...

Discovering the company you have been

working with or employed by has gone

into administration is the last thing you

want to hear.

Whether you are a homeowner with an

unfinished job, a commercial employer under a

construction contract, a sub-contractor,

supplier or an employee, numerous issues can

arise.

Who will complete outstanding works? What if I

am owed money? What happens to equipment

and materials left on site?

What does going into administration

mean?

A company in financial difficulties may be placed

into administration by a bank, a creditor or by the

directors/shareholders who realise that it is

insolvent and cannot continue to trade. When that

happens, the company's affairs become

managed by an appointed professional, usually a

licensed insolvency practitioner, who becomes

the administrator.

The administrator's primary goal is to sell the

business of the company as a going concern. If

this is not quickly achievable, then they must

work to maximise funds for return to creditors by

winding up the business, selling the assets and

(hopefully) making a distribution.

Companies House records the name and

address of the administrator, so it is easy to

check.

About the author: Alison Rowley is a Senior Associate in the

disputes team at commercial law firm Taylors Solicitors. She

has more than 15 years' experience on a range of legal

issues, including handling contractual and supply chain

disputes and recovering monies owed. For further

information, contact Alison via

alison.rowley@taylors.co.uk.

Commercial contracts

As a commercial employer under a construction

contract, you can terminate the contract with a

main contractor who has entered administration

unless it has entered a Part A1 Moratorium under

the Corporate Insolvency and Governance Act

2020 (CIGA). CIGA was brought in during COVID

to give companies breathing space to see whether

they can be rescued. If a moratorium is in place,

then speak to the administrator to see if the

situation can be rescued. You will only be able to

terminate if the company cannot be saved.

Otherwise, most standard form construction

contracts ('SFC') such as JCT or NEC contain

termination provisions in the event of

administration. However, check the provisions

carefully. If you try to terminate before your right

has crystalized, the contractor may be entitled to

treat the termination as a breach and seek to

recover damages.

Once properly terminated, you can employ other

contractors to complete the works. You can use

the contractor's temporary buildings, plant, tools,

equipment and site materials to do this. The

contractor is required to provide you with a copy

of the design documents for this purpose,

although this may be subject to payment of any

sums due under the contract.

Following completion, you can claim in the

administration for the difference between the sum

you would have paid and the amount it has

actually cost you to complete the works. A Proof

of Debt claim should be submitted to the

insolvency practitioner. What is recovered will

depend on the number of creditors and the value

of any assets.

Tips:

• Check any parent company guarantee or

performance bond given to you.

• Check whether you can terminate any subcontractor

contracts on grounds the main

contractor is in administration – they may still be

entitled to be paid by you.

• Secure the site and any materials on it.

• Value the works done and undertake a formal

14 TC OCTOBER 2022
---
valuation if necessary. Calculate the cost to

finalise the works, and claim as a creditor in the

administration.

Sub-contractors/suppliers

For sub-contractors and suppliers, the position is

different. The CIGA broadly prevents contracts for

supply of goods and services from being

terminated simply because a company enters

administration. As such, sub-contractors and

suppliers will have to continue working even

though they may have unpaid bills and a contract

which expressly gives the right to terminate. This

is the case even if a contractual termination right

was available prior to the administration.

The former exemptions for small business have

now ended, so the only way to terminate the

contract is with the consent of the administrator

or permission of the court on grounds that

continuing the contract would cause hardship.

Alternatively, it may be possible to suspend works

for non-payment due by a final date.

If you can establish that you own something

which remains in the main contractor's

possession, usually through a 'retention of title'

clause in your contract or terms and conditions of

supply, contact the administrator as soon as

possible with full proof of ownership and ask to

go on site to identify your property.

However, you must act promptly. Leaving it too

late may cause the administrator to assume the

goods belong to the main contractor and so they

might be sold before you stake your claim.

Further, if you own property on site such as tools

plant or machinery which may have been on hire

to the main contractor, again you should contact

the administrator quickly, preferably with

evidence of your ownership.

Tips:

• Check you can terminate for late payment

before main contractor insolvency, and do so if

there are significant arrears.

• Ensure you have incorporated well drafted

'retention of title' clauses into your supply

contracts.

• Ensure you have a right to terminate subcontracts

in the event of main contractor insolvency.

• Put a 'pay when paid' clause in your subcontractor

agreements.

Employees of a company in

administration

Employees of a company in administration, where

there are insufficient funds to pay them, will be

entitled to claim from the National Insurance

Fund (NIF) for:

• Statutory redundancy pay;

• Holiday pay (in the current holiday year);

• Up to 8 weeks' outstanding unpaid wages

including overtime and commission;

• Statutory notice pay.

The appointed administrator or Official Receiver

must tell employees how their job is affected and

provide them with a redundancy payment fact

sheet telling them what to do next. Employees will

be provided with a case reference number to be

used in their application to the NIF for the above

payments.

Often, when a large company goes into

administration, it's not all bad news, and a

division or department can be sold as a going

concern to third-party buyers, or the existing

Directors or shareholders, and trade of that part

continues. If it happens that the part of the

business in which you are employed is sold on,

often in what is known as a pre-pack

arrangement, you will be entitled under the

Transfer of Undertakings (Protection of

Employment) regulations (known as TUPE) to

continued employment with the new owners,

usually on the same terms except as regards your

pension arrangements.

Domestic customers

If you have discovered that the company you

have engaged to do work on your property, has

entered administration, you should contact the

administrator as soon as possible. He may decide

to complete the job and get paid. Failing this, you

will need to get someone else to finish off the job

and claim for the difference in the cost as a

creditor.

If you paid a deposit on a credit card, try claiming

money back from your credit provider under the

Consumer Credit Act 1974. This could cover the

deposit and any out-of-pocket expenses. Under

the Act, your credit provider has equal liability in

law for any breach of contract by the company.

Tips:

• Before engaging a contractor, do some checks.

See how long they have been trading, and gain an

idea of their financial situation by free online

searches at Companies House.

• Be wary of particularly low quotes and of

requests for large deposits/upfront payments.

• If you are asked to pay for materials up front,

make it clear they belong to you on delivery. They

can then be used to complete the job if the worst

happens.

• Agree clear instalment payments against

progress, and be wary of requests for earlier

settlement.

Administration is a complex area of law and it

would be sensible, given the general concerns

that a recession is coming, to consult with

specialist lawyers at the earliest opportunity to

check out your construction contracts, terms of

engagement of a contractor or terms and

conditions of supply of goods and services

(including hire).

Have you got a legal or business query you'd

like the team at Taylors to address? Email:

mattdowns@media-now.co.uk and we'll ask

the experts to provide clarity in a future column.

Contact Taylors Solicitors

01254 297900

www.taylors.co.uk

@taylorslawfirm

OCTOBER 2022 TC 15
---
NFRC Roofing Talk

COMPETENCE IS KEY

Tanya Cooper, Managing Director of NFRC CPS, discusses the importance of proof of

competence for the roofing industry.

Ensuring health and safety management

systems are actively applied and

functioning is of the utmost importance in

construction. One of the overarching elements of

maintaining health and safety in the workplace

is to ensure competency amongst the workforce.

Competence is defined by the HSE as 'the

combination of training, skills, experience and

knowledge that a person has and their ability to

apply them to perform a task safely'. But how do

customers know if the contractor they have hired

is competent or employs a competent workforce

to carry out its work?

NFRC realises the importance of proving

competence across the roofing industry.

Contractors who join NFRC's Competent Person

Scheme (CPS) are thoroughly vetted against a

robust set of technical evaluations to ensure

that they have skilled and competent operatives

carrying out their roof refurbishment work.

Unfortunately, roofing is still seen by some as a

rogue trade, which for the majority of the roofing

industry, who are proud of their highly skilled

trade, is extremely unfair.

NFRC has also developed RoofCERT,

a competency

scheme for

the individual

to provide

roofing

operatives with a

specialist

accreditation to

demonstrate that

alongside their

existing skills and

knowledge, they have

maintained awareness of the latest standards

and building regulations relating to the

Above: Tanya Cooper, Managing Director of NFRC CPS.

"Using RoofCERTaccredited

operatives

also lets businesses

demonstrate that they

employ competent

roofers, giving them

the edge when

tendering for work"

installations they undertake.

How do schemes like CPS and

RoofCERT help roofers and

roofing businesses?

NFRC CPS

Becoming an NFRC

CPS registered

contractor offers

your customers peace of mind

that the work is undertaken by a

company that is continuously

vetted against its workmanship.

Additionally, you are able to self-certify that

your work meets the requirements of Approved

Document L1B of the Building Regulations,

without having to go through the lengthy and

costly process of obtaining Building Control signoff.

Your customers will receive a Building

Regulations Compliance Certificate directly upon

completion of the project and, where eligible, an

insurance-backed guarantee to protect them in

the future. Your business will be listed in a

dedicated directory, generating leads from

customers looking for a competent roofer.

RoofCERT

By obtaining RoofCERT accreditation – which is

currently fully funded, so operatives don't need to

pay to get accredited – an individual roofing

operative is able to provide their employer with

visible proof of their essential roofing skills,

together with their knowledge of health and safety

requirements, putting them ahead of the game

when seeking employment. Using RoofCERTaccredited

operatives also lets businesses

demonstrate that they employ competent roofers,

giving them the edge when tendering for work.

Making these small investments will support

the roofing industry in

proving that

competency is

key, as part of

efforts to

decrease the

number of fatal

injuries in the

industry and to make

roofing a career of

choice to our next

generation.

More information is available for businesses and

operatives at: www.nfrccps.com /

www.roofcert.co.uk

Contact NFRC

www.nfrc.co.uk

@TheNFRC

16 TC OCTOBER 2022
---
For further r

inform

ation

or a hire quotation call

01858 412 100

Email: sales@cookerhire.com

www.cookerhire.com
---
Total Talk: Onduline

CHALLENGES AND OPPORTUNITIES

AS THE SECTOR MOVES FORWARD

Total Contractor puts the questions to Paul Duffy, Managing Director of Onduline UK,

Ireland and Scandinavia, discussing his career, challenges within the sector, and how

the role of the manufacturer has changed, plus much more...

Total Contractor (TC): What was your path

into the construction sector and roofing?

Paul Duffy (PD): I started work in the

construction sector in a sales capacity and

thoroughly enjoyed how big and varied the market

was. I've now been in the construction materials

sector for over 20 years, working for companies

such as Saint Gobain and Reynaers Aluminium.

The progression to Onduline made sense and I

have been Managing Director for the UK, Ireland

& Scandinavia since 2019.

TC: Tell us a bit about Onduline, the

company's offering and the types of

projects your products get utilised on…

PD: The Onduline sheet was initially launched in

1944 and since then the company has gone from

strength to strength and is now the market leader

in lightweight roofing and waterproofing solutions.

Many people will know Onduline for its classic

original bituminous corrugated sheet which is

extremely popular for roofing projects from

agricultural sheds, stables and garden projects.

But we have a wide product range including our

under roofing solutions and membranes.

Our latest product launch, ISOLINE LOW LINE, is

a new and unique under roof system. It is the

only system in the UK to be BRE tested and BBA

Accredited, with a 30-year waterproofing

guarantee, for pitches as low as 10 degrees for

all tiles – this is huge for the construction

industry and we have received some fantastic

feedback so far. LOW LINE allows contractors to

use tiles regardless of the manufacturer's

recommended pitch, making life easier for

heritage projects and renovation works.

Our professional range of

'ONDUTISS' breathable roof

membranes are also BBA

accredited and are available in

100 – 160gsm. Used to protect

the insulation of houses and

increase water tight performance,

they are fast and easy to install and can

also be used as temporary protection of the roof.

All of our products are also in line with the

growing awareness of 'green' issues and the need

to offer sustainable solutions as our sheets are

made of a minimum 50% recycled cellulose

fibres, contain no asbestos and do not release

any hazardous substances.

TC: How are you finding the market

currently?

PD: During the pandemic we experienced huge

growth in the DIY market, as I'm sure many other

businesses did. However, post pandemic this

area has suffered a decline due to the economic

pressures in retail and consumers tightening their

belts with the ongoing energy crisis and increase

in bills.

Within the professional market (contractors,

merchants and OEM's), net sales are really

positive but we are seeing reductions in volumes

due to a market slowdown and the fact that there

are high stock levels within the sector.

In terms of growth, our focus is most definitely on

the professional market with the key drivers being

our under roofing products – ISOLINE LOW LINE

and ONDUTISS AIR membranes and also a push

into the specification market with our asbestos

and renovation products, ONDUCLAIR RENOV.

Left: Paul Duffy.

TC: Nobody has a crystal

ball, but is the end in sight

with regards to challenges

around pricing and

availability?

PD: Raw material prices are clearly

settling, however, with enormous increases in

energy costs, I feel it's still going to be a turbulent

12 months ahead for the industry.

Onduline plants have all secured fixed contracts

with energy suppliers to guarantee supply and

keep disruption to a minimum, and our stock

levels have also been increased to support

customers with a view to minimising price

fluctuations wherever possible. It's been a very

tricky few years and here's hoping that within 12

months the industry will have some sort of

stability resumed and we can all move onwards

and upwards.

TC: There's a lot for contractors and

installers to take onboard with regards to

building safety, sustainability and

changing regs – how has your role as a

manufacturer changed?

PD: As a business, Onduline is keen to work with

architects, specifiers and roofing contractors as

closely as possible. We work closely with our

customers to facilitate leads and ensure that the

end user is receiving the most suitable product

for the project they're working on.

In terms of sustainability, that is something that

is very close to our hearts here at Onduline. We

have a very low carbon footprint with regards to

CO ²

emissions, due to the products that are used

18 TC OCTOBER 2022
---
in the manufacture of our roofing and underroofing

sheets, and typically our sheets use a

minimum of 50% recycled materials. This helps

specifiers and contractors when it comes to

fulfilling 'green' issues.

Onduline also takes health and safety very

seriously. This is highlighted in the way we pack,

stack and deliver our products to customers,

ensuring weight limits and stacking heights are

strictly adhered to.

We are also currently in the process of reducing

our packaging and plastic content by 40%, which

will be effective from next year – something that

we're very proud of.

TC: Despite the talk around sustainability

and improving build quality on projects,

would you say price is the main driver for

projects?

PD: Unfortunately, I think that price is always a key

driver over sustainability in the professional sector,

although the discussions around reducing plastics

in packaging seem to be at the forefront with DIY

and professional merchants, which is encouraging.

It's going to be difficult to change this mentality in

the short term, taking into account the downturn

and struggles with the current UK economy.

From Onduline's point of view, we strive to meet

both objectives by reducing plastic content in

packaging, increasing (where possible) the

amount of recycled materials used in our core

products, as well as keeping prices competitive

with the price instability still in the market due to

the volatile energy costs.

TC: Speak to most contractors and they'll

point to a lack of skilled labour for

projects. Is this something you recognise,

and what more do you feel roofing needs

to do to not only attract more roofers, but

skilled labour to the sector?

PD: Training, and lack of it, is a real issue within

the sector. I think that to attract more roofers to the

industry there is a need to establish more

apprenticeship roles and support businesses with

"With enormous

increases in energy

costs I feel it's still

going to be a turbulent

12 months ahead for

the industry"

this, starting from the ground up to ensure that we

have a qualified and competent wealth of roofers

within the sector. This should then also be backed

up by providing ongoing training courses for

employees to ensure their skills are up to date.

There is also a big need to support colleges and

training centres to help them provide product and

installation training.

TC: What's the most satisfying thing about

your job?

PD: My career has been varied and I started my

'work life' in sales, which I absolutely love. Being

Managing Director at Onduline, as it's a modest

size, means that I still have the ability to go out

and interact with customers and that, for me, is

brilliant.

Being able to speak with our customers, find out

what they need, what challenges they're facing

and how we, at Onduline, can help them –

there's just no feeling like it.

Also, we're a very tight knit team here at Onduline

and I'm proud of the training and development that

we have in place to help staff grow and improve.

TC: And the most frustrating?

PD: The past two years have really been a

challenge, dealing with the continual price

instability within the market and struggling with

the shortage of certain products has made the job

hard. That, and the inability to be able to go out

and interact with clients, has made for a really

frustrating time.

Hopefully the worst of that is behind us now and we

can concentrate on some form of normality, growing

the business and relishing some new challenges.

TC: After a challenging, stop-start few

years, are there reasons to be hopeful for

the roofing sector and wider construction

industry moving forward?

PD: Yes, I think there definitely is. Industry wide

there appears to be a lot of investment within the

sector and a push to increase the skill set across

the construction industry. With more investment

into apprenticeship schemes, investment in

innovation to improve systems and

manufacturing, and a big push towards

investment in 'greener' solutions and packaging

to lower carbon footprints – these are all

extremely positive routes to help improve the

industry as a whole.

TC: What's next for Onduline? How do you

see the company developing over the next

few years?

PD: For the next 12 months we have a real focus

on targeting the specification market, working

with architects and specifiers and the main

contractors for commercial projects. We have a

suite of products that are suitable for asbestos

renovation, and heritage projects which are very

much on the specification side and which we are

less well known for.

Further along, we are very keen to work with

colleges and universities to help provide training

and support when it comes to apprenticeships

within the roofing sector.

I'm excited about what's next for Onduline, as we

have a suite of newly launched professional

products that we're really proud of, such as our

BBA accredited ONDUTISS AIR membranes and

our ISOLINE LOW LINE low pitch under roofing

system, and we will be maximising these within

the industry.

Read the full version of this interview at

www.total-contractor.co.uk

Contact Onduline UK

www.onduline.co.uk

@ondulineUK

OCTOBER 2022 TC 19
---
Roofing Battens

STAYING ON TOP OF STANDARDS

As summer sets, Shaun Revill, Trading Director at SR Timber, reflects on the state of the

industry and what we can expect in the short term.

It's no secret that the whole industry, from

supplier to contractor, has taken some hits in the

past few months. From the ever-rising cost of

energy, through to the emergence of substandard

and highly dangerous batten entering the UK

market, we've all felt the squeeze.

To me, the issue of potentially dangerous

substandard blue batten products entering the UK

market is the number one challenge to the

reputation of our industry. I am delighted to see

that a growing awareness of issue does seem to

be reducing the quantity of this material in the UK,

but concerned that rising materials costs and

pressure on margins could lead to a resurgence as

the whole supply chain looks for cheaper options.

An example of heightened awareness and

industry co-operation is a recent round table

event chaired by NFRC, involving SR Timber and

other timber batten suppliers. The companies

gathered to discuss and agree the need to

highlight quality within our own networks and

move forward with ways to help all our customers

make the right choices for their businesses.

Following this discussion, Timber Development

UK (TDUK) has released a technical note for

importers, merchants, and manufacturers

highlighting the issue of poor quality standards.

This document urges readers to follow through on

spot checks, highlighting what to look for and why

these standards are important.

Staying alert for substandard product

Initiatives like this are having an impact. We are

seeing a gradual reduction of the substandard

product entering the UK. We've had reports from

importers and sawmills that increasing focus on

standards from their customers is resulting in

quality control being tightened at the source.

On the face of it, this is good news. Though I

would still encourage all those involved

in the batten supply chain to

continuously check the product

they're selling or working with. While

there is less entering the market, the

UK still has stocks of this dangerous

blue batten.

We all have a responsibility to ensure the battens

we're handling meet exacting British Standards.

To the untrained eye, this substandard product

may look and be labelled 'correctly' but when

inspected closely, you can see the tolerances for

sizing and knots are not within acceptable

ranges. Therefore, we're encouraging our

customers to make these checks for themselves

as the risk isn't worth taking.

Looking forward, we must acknowledge the rise in

energy prices and its effect on production costs.

Across the supply chain we expect cost to be a

huge driver for what we believe is the biggest risk

to the market – insolvencies. The burden of rising

cost and weakening demand often falls to those

at the end.

This pressure manifests in owners looking for

ways to protect business by finding the better

deal or the better 'value' product, but this often

comes at a hidden cost.

Softening the squeeze

While the housebuilding sector is still strong the

urgent question is how rising prices are passed

on. Ultimately, the whole supply chain is under

pressure to keep costs keen and operate on razor

tight margins. As we've seen with recent news of

companies going into administration, this

squeeze drastically increases the risk of a

company within the chain faltering and collapsing

under the pressure.

This inevitably affects the product choices being

Left: Shaun Revill, Trading Director at SR Timber.

made. When it comes to battens,

housebuilders have a duty of care to

ensure their subcontractors are only

using product which meets the

standards set by the National House

Building Council – this includes battens

confirming to BS 5534.

Subcontractors who turn to cheaper batten,

unaware of the presence of substandard

material, then place themselves at greater risk

financially should this batten be identified as

ungraded.

If caught out, they would be left with batten they

can't use and therefore would need to purchase

again from a legitimate supplier. Paying twice for

batten, potentially at a higher cost due to price

rises, could easily cripple a business already

operating on thin margins.

Although the use of substandard batten

masquerading as graded may appear to be a

short-term solution, in the longer term the

financial risk is greater and, most importantly,

there are significant health and safety risks

inherent with using lower quality batten products.

My continued focus for the industry is raising the

awareness of quality and its importance. By using

reputable suppliers who guarantee quality

standards, merchants and contractors can better

protect their liability and manage costs more

effectively. The temptation to go cheap might be

there, but with the industry rightly clamping down

– that choice is likely to turn out to be expensive

in every sense.

Contact SR Timber

01623 446800

www.sr-timber.co.uk

@SR_Timber_

20 TC OCTOBER 2022
---
A GREAT PRODUCT IS GOOD QUALITY AND EASY TO USE.

THINK WE'VE

NAILED IT!

Real reviews of Easy-Trim Verge

Units from installers*

EASY FIT. NICE

QUALITY AS ALWAYS.

As a professional I like this

brand. Easy to fit and clip

together. Lots of installation

videos on YouTube

TERRIFIC

Terrific product, so easy

to install

GREAT PRODUCT

Very good product. Easy to slot

together but still a firm hold.

Plastic is rigid but not brittle like

some I have used.

QUICK AND EASY

Easy to fit, roof line

looks great. A1.

HAPPY CUSTOMER

Good quality product.

Easy to use. Sturdy.

REALLY EASY TO FIT

EasyVerge is well named as it's

really easy to fit and looks good.

EASY TO INSTALL

Easy to install, great

finish to roof.

ASK FOR US BY NAME IN YOUR LOCAL MERCHANTS

Unit 12B, Metcalf Drive,

Altham Industrial Estate,

Altham, Lancashire,

England, BB5 5TU

Tel 01282 930680

sales@easy-trim.co.uk

www.easy-trim.co.uk

* Reviews taken from a selection of online independent merchants
---
Perfectly Pitched

ROOF SHAPES PART THREE:

MANSARD ROOFS

In this article, the third in his series dealing with different roof shapes, Technical

Pitched Roofing Consultant John Mercer focuses on mansard roofs.

Mansard roofs are usually pitched at

more than 75 degrees, in which case

they are defined in BS 5534 as a

wall cladding.

These were popularised by French architect

François Mansart during the 17th century.

Although he did not invent the style, his extensive

use of it gave rise to the popular term 'mansard

roof'. It is thought that a mansard roof was a way

of bypassing building height restrictions at that

time. The maximum height of a building in Paris

was set at 20 metres, but as this was measured

from the ground to eaves level, a mansard

enabled extra storeys of living space to

be incorporated within what is

essentially an extended roof.

Mansard roofs were also

widely adopted in the USA,

especially for tall buildings,

as a way of setting back the

top storeys to reduce the

impact of the building's height.

A more recent form of mansard roof,

though not a true mansard, is its use on buildings

with a large plan area such as supermarkets and

other retail stores. Used in this way, the mansard

is really a sloping façade hiding a flat roof behind

it, where equipment such as mechanical

extractors, air conditioning units, and solar

panels can be situated and hidden from view.

General setting out

If the mansard roof has verges, or gables at each

end, then the roof tiles should ideally be set out

across the roof to avoid or minimise cutting tiles

at the roof verges. Account should be taken of the

verge overhangs; where the verge tiles are to be

mortar bedded, the overhang should be between

Left: John Mercer; Above: a mansard roof. Below: Mansard roof detail.

30 and 60mm for

single lapped tiles,

and between 38

and 50mm for double

lapped plain tiles. Though

it's important to remember that

mortar bedding at such a steep pitch is

difficult, if not impossible. Ensure that

any cut tiles are large enough to be

secured using two fixings. For dry or cloaked

verge systems, set the batten overhang at the

dimension recommended by the tile or dry verge

system manufacturer.

Junction with roof

Where the mansard roof meets the main roof, the

joint is normally weathered using a lead flashing

detail – an example of this is shown in the image

above. Some tile manufacturers will produce

purpose made mansard tiles which can be used

at the junction instead of the flashing.

Where double lapped plain tiles are

used, especially handmade plain tiles,

a traditional way of detailing the

junction between roof and mansard is

to pick out tiles with the largest

longitudinal camber and use these at

the junction. Alternatively, some plain

tile manufacturers produce two types

of mansard tiles which can be used in the top

course of the mansard and the first course of the

main roof to weather the junction.

Fittings

Slates, plain tiles, and single lapped tiles can be

used on mansard roofs to enhance the

prominence of the roof, though designers should

be aware beforehand of the suitability of the

associated fittings for use on the mansard. For

example, if the mansard has hips, these are likely

22 TC OCTOBER 2022
---
to be very steep and mortar bedding hip tiles

would be impractical, even if used with screws or

nails. Therefore, a dry fix system would be

required. The manufacturer should be consulted

about the maximum recommended pitch of the

dry fix system. Also, round hip tiles must be

deep enough to fit, and angled hip tiles

manufactured to an appropriate angle for the

hip junction. If double lapped plain tiles are to

be used, check if the manufacturer produces a

suitable arris hip tile.

Fixing

For any roof over a 55-degree pitch, all the tiles

must be twice fixed. For double lapped plain tiles,

this means that all tiles be twice nailed. For

single lapped tiles, which are more vulnerable to

wind uplift at their tails, every tile must be head

nailed and tail clipped. Ideally, consider using

screws in place of nails. Care must be taken to

ensure that cut tiles at hips are securely fixed.

"For any roof over a 55º

pitch, all the tiles must

be twice fixed"

Although the maximum fixing of all tiles is

required as a default, a calculated fixing

specification should still be carried out to check

that the proposed method of fixing is adequate.

Always consult the tile manufacturer.

Roof space ventilation

In some cases, depending on the type of

construction and design of the building, it will not

be necessary to ventilate the mansard roof.

For the main roof, the need to ventilate and the

level of ventilation required, will depend on a) the

ceiling type, b) the underlay type, and c) the roof

covering. High level – e.g. at the ridge –

ventilation can be provided using a dry ridge

system. If low level ventilation is required, it may

be necessary to fit tile vents in a tile course just

above the ceiling insulation.

The alternative is to use an air permeable

underlay which does not require extra ventilation.

Advice should be sought from the underlay

manufacturer.

To prevent the spread of fire within the mansard

batten cavity (the space between the tiles and

wall) it is important to use fire resistant

materials to close the batten cavity above

window and door openings and to ensure fire

cannot spread through the soffit into the roof

space.

Next month: John will focus on curved roofs

and consider how best to install tiles and

slates.

Contact John Mercer

www.johnmercerconsultant.co.uk

Johnmercer 3

MEET

DANELAW'S

VERG FAMILY

Our innovative range of tile verge units remove the need for mortar

and allow for a secure application to the roof. They are all tested for

wind uplift resistance and comply with the BS 8612 Standard for dry

Our unique, patented design suitable for single and double

cambered concrete and clay plain tiles at batten gauges 88mm to 104mm.

intermediate gauge single-lap interlocking tile types.

Designed for all single lap interlocking plain tile types

between 170mm and 200mm batten gauges.

IDV Our original interlocking dry verge which suits most single lap

interlocking concrete tiles between 260 and 355mm batten gauges.

TIDV Suits all large format thin leading edge concrete tile types

between 260mm and 355mm batten gauges.

call us: 01327 701 910

email: sales@hambleside-danelaw.co.uk

www.hambleside-danelaw.co.uk

For interlocking roof

verges, only the Slate

Grey contains up to

100% recycled PPC

45+ YEARS OF ROOFING INNOVATION
---
Battens: Top Tips

KNOW YOUR BATTENS

The team at Marley discuss the key considerations roofers should make when choosing

and using roofing battens...

Roofing battens are not just small section timbers that are quickly covered over. In fact, they are

one of the most important parts of a pitched roof, acting as a structural and load bearing

element. As well as supporting the dead weight of tiles and the imposed wind loads, roofing

battens can also be used as a secure foothold during installation, so it makes sense to use the best

battens – all roofing battens must be BS 5534 graded.

However, there are increasing concerns that due

to the high demand for treated timber following

recent supply issues, roofing battens that aren't

compliant or haven't been through the right

preservative treatment process may have entered

the supply chain. This means that roofing

contractors could be inadvertently using inferior

roofing battens, thinking they are fully BS 5534

compliant. Posing significant health and safety

risks, if a roofer were to step on a batten that

didn't have the required strength, it would only

take a single batten failure to have serious

consequences.

Trusted brand

Not all battens are fully BS 5534 compliant, and

this is something that roofing contractors need to

be aware of. The best way to have peace of mind

about safety, quality and BS 5534 compliance of

the batten is to buy a trusted batten brand, such

as JB Red.

Below, we look at some of the most common

questions asked about batten safety, so roofers

know what to look out for when it comes to

battens.

1Can roofers stand on a

roofing batten during

installation? Any battens

sold as roofing battens should be

graded to the BS 5534 standard,

but unfortunately this is not

always the case. It is very

important to note that only BS

5534 graded battens should be

used as a secure foothold during

roof installation. Unless you buy from a trusted

manufacturer, it would be risky to assume that

just because you buy roofing battens they are

fully compliant and safe to stand on.

2How can I check that a roofing batten is

safe to use? When the battens are

delivered to site, four simple visual checks

should be carried out:

• Grading stamp: Make sure there is an

indelible BS 5534 stamp on the batten – only

battens that have been pre or factory graded to

BS 5534 can be called roofing battens.

• Third party accreditation: Look for an

independent quality mark – Marley's JB Red

battens have a BBA stamp to demonstrate this.

• Check for damage or defects: When picked

up from one end, the batten should be straight

and not snap (within the agreed BS 5534 limit of

5mm distortion). Some defects are allowed – for

a full list, email info@marley.co.uk for a free

battens pocket checklist.

If there is a defect you are unsure of, contact the

manufacturer.

• Timber: The species of tree

from which the timber has come

from should be stamped on the

batten. Marley only uses slow

grown imported redwood or

whitewood for its JB Red battens.

Also look out for an FSC or PEFC

stamp to ensure sustainable

sourcing.

3My batten has a BS 5534 stamp, but it

does have quite a few defects. Should I

use it? As a natural material, timber

battens will obviously have varied

characteristics, but BS 5534 is very strict about

what is and isn't allowed. Marley's machine

grading process scans JB Red battens by the

millimetre to make sure they meet the

requirements of the standard. If there are any

doubts about defects, the batten should not be

used and the manufacturer contacted – it's far

better to be safe than sorry.

4Are all coloured roofing battens fully

compliant with BS 5534? There is a

misconception that colour is proof of

compliance and effective preservative treatment

but unfortunately this isn't the case. The colour of

Marley's JB Red battens helps indicate to

merchants and their customers, as well as

building inspectors, that the battens used are

compliant. However, they also have all the correct

stamps, third party accreditation and supporting

documentation to back this up. Never take colour

alone as proof of quality.

Find out more about Marley's JB Red battens

JB Red battens can be purchased as part of a full

Marley roof system, backed up with a free 15-

year warranty.

www.marley.co.uk/products/roofingbatten/jb-red-batten

01283 722222

24 TC OCTOBER 2022
---
Trade Counter

INVESTING FOR THE FUTURE TO

MEET CUSTOMERS' NEEDS

James Beesley, Commercial Director at Beesley & Fildes, discusses the importance of

investing for the future and staying one step ahead of customers' needs.

The past two years have been challenging for

all businesses, creating ongoing uncertainty

and for many, a focus on survival. Against

this backdrop, investment can feel high risk but

without it, a business stands still and in the

builders merchant industry, this risks failing to

keep up with customers' demands.

When considering an investment in your

business, there is inevitably a tricky balance to

strike between risk and opportunity. However,

with some strategic planning and a focus on the

future and its impact, the rewards are vast.

Building confidence

When I returned to Beesley & Fildes as

commercial director nearly 12 months ago, I

began to look more forensically at previous

investment in our Widnes depot. In the main, it

had been ad-hoc and largely reactive. As a result,

some of the depot's facilities were the same as

they were 25 years ago.

The issue was that we had never really had a plan.

Ideas were raised but not followed through and

that slowed the whole process. As far as new

equipment was concerned, this meant we were

failing to keep up with advances in new technology.

To address this, we put an investment strategy in

place with the expertise of our Mill Manager. We

looked at what we needed to improve to meet our

customers' needs now and in the future, and

achieve business growth. This plan gave us the

confidence to make a significant, long-term

investment aimed at benefiting Beesley & Fildes

for the next 5-10 years.

Shaping the future

In total, this plan has seen us invest £3m in

upgrading our facilities. This includes £1.2m in

overhauling equipment at our timber

milling facility in Widnes, and a

further £2.2m in the development

of a new distribution centre

spanning 4.2 acres. This

improvement and expansion will

ensure we can meet customers'

changing demands, fulfil orders more

quickly and efficiently, and are in a

strong position for further business

growth.

The introduction of new,

automated technology is central

to our strategy. This machinery has

been selected based on several

factors, including the ability to maximise

productivity, ease of use and throughput. As we

want to keep growing over the next five years, the

technology can also accommodate any increases

in capacity, giving us the flexibility to potentially

purchase new sites in the future.

A further benefit is that our employees no longer

have to spend time learning how to operate old,

complex, and labour-intensive machinery. This

has shifted our recruitment priorities which now

include attracting people with more computerbased

skills. As the equipment is very userfriendly,

only limited training is required which is

also helping to open opportunities for a broader

range of people and helping us to overcome skills

shortages in the construction sector.

Putting people first

Of course, even the most advanced machinery is

no substitute for good people, so continuous

investment in our workforce is also crucial. We

want to ensure all branches are fully staffed and

offer customers the appropriate level of expertise.

Left: James Beelsey, Beesley & Fildes.

Below: Eddie Rose working on the Weinig

P3000 high speed planning line.

To achieve this aim, we have

recently appointed a recruitment

specialist, enabling us to be more

proactive and efficient when hiring

new team members. We also invest heavily

in ongoing training and support to keep

people motivated and on a firm

career path. That includes

industry-specific learning with the

BMF, within product sectors or

from suppliers, training from

counter level through to sales, and the

opportunity to partake in specialist courses

such as mental health awareness.

Taking a long-term view is as important for

people as it is for machinery. Ultimately, this

continuous investment will ensure we have

employees with strong and diverse skill sets and

the knowledge to deliver the highest levels of

customer service and quality.

Staying ahead

As our customers' demands continue to rapidly

grow and change, the builders merchant industry

has to keep up with the pace. Investing for the

future is key to achieving this. While not without

risk, a strategic investment focused on both

people and processes can create opportunities

that are too valuable to miss – both for

merchants and the customers we serve.

Contact Beesley & Fildes

0151 480 8304

www.beesleyandfildes.co.uk

@beesleyandfilde

26 TC OCTOBER 2022
---
Economy

Dry

6m & 10

0m

NO

FIXE LU

G

̌ Now with fixed lugsG

for quicker,

̌ Mortar free, without the need for maintenance.

̌ Lightweight

an nd easy to handle for added safet

View th e range at:

klober.co
---
Roof Windows

A STEP UP IN SAFETY

The Health and Safety Executive (HSE) reports that between April 2021 and March 2022

the sector saw a total of 123 work-related deaths, 30 of which were caused by working at

height. David Loughran, Technical Team Leader at Keylite Roof Windows, feels this is far

too high and offers his advice on how to stay safe working at height...

Despite a shocking 25%

increase in the rate of

fatal injuries to

construction workers in 2021,

the sector has begun to see a

slow, long-term downward trend in

fatalities thanks to a renewed way of

thinking in more recent years.

Training, risk assessments and

method statements are widely

used in the construction

industry to help manage work

and communicate required safety

aspects. The HSE suggests trying to avoid

working at height whenever possible, but for jobs

such as roof window installation, this may appear

all but impossible.

Over 60% of deaths while working at height

involve falls from ladders, scaffolds, working

platforms and roof edges, or through fragile roofs

and rooflights. But what may be surprising is that

it's actually the smaller projects that often lead to

fatal and serious injuries.

Roof work accounts for a quarter of all deaths in

the construction industry due to its high-risk

conditions. During the fitting of roof windows, the

surrounding area can be considered high hazard,

with loose tiles and fragile footing demanding

careful planning and action.

The Work at Height Regulations 2005 suggests

that employers and those in control of any work

at height activity (e.g. building owners, facilities

managers, site managers) must make sure work

is properly planned, supervised and carried out

by those who are competent and fit to work.

They go on to say that installers have general

Left: David Loughran. Above: Keylite installation projects.

legal duties to take reasonable care of

themselves and others who may be affected

by their actions, and they must co-operate with

their employer to enable their health and safety

duties and requirements to be complied with.

Assess the risks

Installers should first assess the risks. Height,

duration, frequency, and weather conditions all

affect worker safety. Precautions should be in

place to stop materials and objects from falling,

or at the very least to stop anyone from being

injured by using the likes of exclusion zones or

mesh on scaffolding.

When installing roof windows, each area where

the installer will work at height needs to be

checked before use, every time, and risk

assessments should be carried out so that

employees can plan for possible emergencies.

It is vital to consider safety measures that protect

everyone at risk before measures that only

protect the individual – whether it be clients who

are inhabiting the house while work goes on, or

colleagues that are working nearby.

Workers should ensure that they can get to and

from a window installation with ease, while all

equipment must be maintained and

checked regularly to ensure they are

suitable, stable, and strong enough for

the job.

This means taking care to not overload or

overreach on ladders or platforms, and to

never rest equipment on weak surfaces

such as glazing.

Seemingly low-risk, relatively

straightforward tasks like installing roof

windows will of course require less effort

when it comes to planning; but employers and

contractors alike should remain in control and

always assess the risks.

The government provides advice on how to do

this at: www.hse.gov.uk/risk/riskassessment.htm.

Keylite is a firm believer that manufacturers

should be doing more to protect those on site.

As suggested by HSE, Keylite wants to keep

installers' feet on the ground for as much time as

possible. This is why all Keylite roof windows are

designed so that they can be fitted from the

inside of a building, with the glazed sash already

in place – thanks to its patented Flick-Fit

brackets and sash hinge finger springs.

In fact, an expanding thermal collar and Flick-Fit

brackets are integrated as standard on all Keylite

roof windows, and lead to safer, faster and

cheaper installation.

Contact Keylite Roof Windows

01283 200158

www.keyliteroofwindows.com/installers/

@Keylite

28 TC OCTOBER 2022
---
Fire protection below,

life goes on above.

AIM Raised Access Floor Barriers prevent the passage of fire and

smoke as well as help reduce airborne sound transmission through

underfloor cavities.

Tested to BS EN 1366-4 and the principles of TR31, they can provide

up to 120 minutes Integrity & Insulation, with solutions for power &

communication cables passing under the barrier.

Call us on 01293 582400

Download datasheet at

www.aimlimited.co.uk/rafb

Easy to install and available cut to size or in slabs suitable for cutting on site.
---
90

110

Tapered Board Thickness

60

160

Tapered Roofs

STEPPING UP TO THE

COMPARTMENTATION CHALLENGE

By Robert Vass, Chief Technical Officer at TaperedPlus.

Currently, fire and compartmentation are

rightly high on the agenda and in the press

within the construction industry. While

building safety should always take precedence, it is

important to remember that when high focus is on

one area of compliance, others are not bypassed.

typically non-combustible insulation needs to be

Whether the aim is to reduce the risk of fire

thicker than combustible insulation to meet the

spreading over a flat roof from one

same thermal performance (See Pic 1 above).

'compartment' to another in the domestic setting

as outlined in in Approved Document B (B3), or Creating steps in insulation like this can become

an insurer's requirement on a data centre to make further complicated when considering roof

a fire break between the main data storage and drainage, as the steps may result in trapped

back up servers, there is often a request to utilise water if upwards steps are created between

combustible insulants such as PIR

ridgelines and outlets or gutters.

(Polyisocyanurate) or EPS (Expanded Polystyrene)

The right mix

in field areas, and non-combustible insulation like

As an independent designer and supplier of flat

Stonewool or Cellular Glass above a partition wall.

and tapered roof insulation, at TaperedPlus we're

In these scenarios, specifiers run in to the issue not tied to any material type or manufacturer. We

that most insulation manufacturers will readily have the ability to mix insulation products for the

calculate the thermal performance of their own ideal technical solution and the increasingly

product, whether it be flat board insulation or common compartmentation enquiries tie in well

tapered insulation, but are less willing to consider with the skill set we offer.

the effect of the insulation performance of

Our approach to dual product

another manufacturer's material, even though a

compartmentalisation specifications is to assess

percentage of the roof area is to be covered with

roof areas and how much of the roofs are covered

an alternative material with a differing thermal

with each product before conducting area

performance.

weighted thermal calculations, with the aim to

If each individual manufacturer targets the

use just enough of each insulation material to

specified U-value (W/m²K) in their material only, the create a smooth top surface, avoiding a step in

result would be numerous steps in the insulation as insulation, while achieving the specified U- value

7200

1500 1500

K 11 11 K

K

J 10 10 J

J

I 9 9 I

I

H 8 8 H

6000

8

G 7

7 G

F

F 6 6 F

F

E

E 5 5 E

E

D D 4 4 D D

C

C 3 3 C

C

Pic 2

K

J

I

H

1500 1500

G

6

5

4

3

6 F

F

5 E

E

1500 1500

11 11 K

K

10 10 J

J

9 9 I

I

8 8 H

8

7

7 G

6 6 F

F

5 5 E

E

4 D

D 4 4 D

D

3 C

C 3 3 C

C

6000

as an area weighted performance.

While this calculation is straight forward with flat

board insulation where falls are provided in the

structure, it can become far more complicated

when tapered insulation is needed. As a tapered

insulation specialist, at TaperedPlus we're able to

perform insulation calculations to BS EN ISO

6946:2017 Annex E for each roof area effected by

the varying insulation types, lean on our

knowledge of material stock profiles to ensure the

insulation thicknesses tie in with one another,

and provide user-friendly drawings to aid site

installation.

The dual insulation approach is typically taken to

try and reduce material costs versus full

coverage of the non-combustible insulant,

however, projects with close neighbouring party

walls can result in practicality issues and added

labour when mixing products in such proximity

(See Pic 2 left).

For this reason, at TaperedPlus we work closely

with tendering installers as well as specifiers to

work towards the best holistic cost option.

B

A

B 2 2 B

A 1 1 A

1500 1500

B

A

2

1

2

1

1500 1500

Material: Tissue Faced PIR

Multi Layered Tapered Build Up Section - 1:60

(Not To Scale)

90

B

A

100mm Packer Board

100mm Packer Board

A 110 B 30 C 50 D 70 E 90 F 110 G 30 H 50 I 70 J 90 K

310

B

A

2

1

2

1

1500 1500

B

A

Material: Rockwool Multi-fix

Multi Layered Tapered Build Up Section - 1:60

(Not To Scale)

90

120mm Packer Board

30mm Underlay

1 80 2 100 3 120 4 140 5 160 6 60 7 80 8 100 9 120 10 140 11

B

A

310

Contact TaperedPlus

01642 677342

www.taperedplus.co.uk

@TaperedPlus

30 TC OCTOBER 2022
---
DATAC

CONTRACTORS

HAVE THE EDGE

Contact us today to become a DATAC member

Design & Technology Accredited Contractors (DATAC) is a UK organisation with an exclusive membership of expert

contractors, who have access to a specialist range of SIG Design & Technology high performance roofing products,

systems and guarantees that are not available to any other contractor.

3 Advantage when tendering for major projects

3 Priority notification of new product launches

3 Fast track training in new products and techniques

3 Technical on-site support

3 Designed to provide specifiers and clients with local,

quality installers

As product agnostic specialists,

SIG Design & Technology can advise

specifiers, designers and clients

on the right system to use.

CALL US TODAY: 01509 505714

SIG Design & Technology

Mannheim House, Gelders Hall Road, Shepshed,

Leicestershire, LE12 9NH www.sigdandt.co.uk

DTDATACAT0922 V1 | © SIG Trading Ltd 2021. All rights reserved.
---
i-folding

door

15%

INTRODUCTORY

DISCOUNT *

QUOTE DISCOUNT

CODE

TCK02

Delivering the best products,

with the best service, at the best price

Contact Made for Trade for a KwikQuote today

madefortrade.co | sales@madefortrade.co | 01642 610799

*Discount applies to all trade customers and applied to the first, single item purchase only of the Korniche Bi-folding Door | *Korniche Bi-folding door price is based on 7-7-0 configuration 5100 x 2000

stock colour, delivered. Unglazed. Price is correct at point of publishing. Delivery restrictions apply. Product specification and prices may be subject to change without prior notice.

*PAS24 as standard requires laminated glass installation
---
SAVE HOURS ON SITE

with the only clip-bead that delivers glazing

and de-glazing in seconds. The Korniche

Bi-Folding Door has more to offer..

As standard!

Competitive glass supply

Trickle vents positioned in outer frame (No frame

extenders required for PART F compliance)

PAS24 security as standard*

Korniche matching hardware, including brushed

stainless steel

EASY GLIDE

EVERY TIME

Precision

engineered

articulated axle

with fully bearinged

rollers

Enhanced thermal

performance

FREE nationwide

delivery

10 YEAR warranty

GLAZED IN

SECONDS

UNGLAZED, EXC VAT

Including FREE delivery

BEADED IN

SECONDS
---
Training Support

SUPPORTING THE FUTURE OF

ROOFING – COLLEGES & STUDENTS

CUPA PIZARRAS, an international supplier of natural slate, has been running a college

sponsorship scheme for four years to help equip the next generation of roofers with slatespecific

skills. Despite the challenges that resulted from the last two years, the scheme

has continued to grow. Below, we talk to Hannah Wall, UK Marketing Manager at CUPA

PIZARRAS, Brian Hutton, a lecturer at Fife college and his roofing student Callum Rae,

who is new to the scheme this year.

TC: Could you give us a brief overview of

the college sponsorship scheme – what

does it entail?

Hannah Wall (HW): Through the scheme, we

offer different types of training to students. One

key part of this is the presentation of our RIBAapproved

CPD on Specifying Natural Roofing Slate

to the colleges. This CPD covers everything a

construction professional needs to know about

natural slate – from the production process to

installation, as well as the necessary standards

and testing to look for. We also provide pallets of

free slate to the colleges for use during training

as well as a goodie bag for every student.

Furthermore, we give two students from each

college the chance to win a trip to Northern Spain

"As highly skilled roofers graduate and develop

their careers, we hope this will eventually

encourage more people to see roofing as an

exciting and prosperous career path" – Hannah Wall

to visit CUPA PIZARRAS' headquarters, quarries

and processing plants, along with their lecturers.

This takes place at the end of the academic year

and is a great opportunity for those who have

excelled during their training to discover what it

takes to produce high quality slate.

Thanks to the ongoing success of the scheme,

this year we have been able to double the number

of colleges and training centres that are involved,

from six colleges to twelve.

TC: How does the scheme benefit students

from the twelve colleges?

HW: Through the face-to-face CPDs students

gain technical knowledge about natural slate

and learn about the importance of specifying

from a reputable supplier that can offer full

traceability for each slate. This will greatly

benefit the students later on in their career as it

will ensure that they can distinguish between

high and low quality slate. They will also gain new

practical skills through the hands-on experience

and guidance that is included as part of the

scheme.

TC: Is there a particular part of the

scheme that you think is especially

important?

Hannah Wall (centre), UK Marketing Manager at CUPA PIZARRAS on the recent college trip to CUPA PIZARRAS' HQ in Spain.

HW: The fact that we supply our products to the

colleges throughout the year for students to work

and practice with is crucial in my view. As slate is

almost a roofing discipline in itself, it requires a

different skillset than other artificial products.

34 TC OCTOBER 2022
---
Brian Hutton (centre), lecturer at Fife College with students in Spain including Callum Rae (right)

Hopefully, this exposure to our high quality

crafted slate will encourage the younger

generation to develop an interest in the craft.

Brian Hutton (BH): Personally, I think one of the

most important parts of the scheme is the quarry

trip. This benefits the students massively, giving

them a crucial insight into the slate

manufacturing process from start to finish,

ensuring they have a far more specialised

understanding and knowledge of the material.

Furthermore, it also gives students from across

the country the opportunity to meet and discuss

shared experiences. By doing this, they can learn

from each other and discover methods to solve

potential problems. Hopefully they will be able to

build long-term relationships.

TC: A number of the colleges have already

visited the CUPA PIZARRAS quarry in

"We had the

opportunity to split the

slates down to size

ourselves, which was a

positive and useful

experience" – Callum Rae

Northern Spain. What did this trip entail

and has it been beneficial?

Callum Rae (CR): We were taken to the quarry

and shown how slates are produced – from the

mountain right through to the loading of the lorry.

Afterwards, we had the opportunity to split the

slates down to size ourselves, which was a

positive and useful experience. In addition, it was

great to spend time with students from the other

colleges, make friends and create some great

memories. All in all, it was a fantastic trip.

"(The quarry trip) benefits the students

massively, giving them a crucial insight into the

slate manufacturing process from start to finish,

ensuring they have a far more specialised

understanding and knowledge of the material"

– Brian Hutton

Fife College roofing student Callum Rae.

TC: Do you think schemes like this will

encourage more young people to opt for a

career in roofing?

BH: I would be hesitant to say that it will bring

more students in the door, but I think it will

encourage a higher level of effort and quality from

the group involved, as students compete to earn

a place on the trip.

CR: I would agree with Brian – I don't think it will

necessarily mean that more young people will join

the roofing sector, but it will create an incentive to

work harder, which should improve the standard

of the roofers that are passing through the

system.

HW: Supporting colleges and training centres to

run engaging and enriching courses can only

benefit the industry in the long-term. As highly

skilled roofers graduate and develop their

careers, we hope this will eventually encourage

more people to see roofing as an exciting and

prosperous career path.

Contact CUPA PIZARRAS

020 3318 4455

www.cupapizarras.com/uk

@CUPAPIZARRAS_en

OCTOBER 2022 TC 35
---
Roofing Updates

BIO PLUS POINTS WITH BRETT MARTIN

Brett Martin says it is set to reduce the

carbon footprint of buildings around the

world with a remarkable new Polycarbonate

glazing product largely based on bio-circular

attributed material, such as used cooking oil,

produced in an ISCC Plus certified mass

balanced approach.

Called Marlon BioPlus, the new sheet offers a

major carbon footprint reduction by cutting the use

of fossil-based material by 70%. This raw material

delivers an 84% decrease in carbon emissions,

and in addition Brett Martin achieves further

reductions in carbon by producing the sheet using

100% renewable energy, generated at its own site.

Marlon BioPlus has already achieved International

Sustainability & Carbon accreditation with ISCC

Plus certification. ISCC PLUS is a globally

recognised sustainability certification program for

bio-based and bio-circular (recycled) raw

materials with a focus on the traceability of raw

materials within the supply chain.

What makes Marlon BioPlus unique is the

combination of this certification and Brett

Martin's 100% onsite renewable energy which

together represents a huge step towards a zerocarbon

polycarbonate sheet.

This new low carbon alternative retains all the

physical and performance properties of the

company's other Polycarbonate ranges and will be

available to be specified in any of Brett Martin's

Marlon polycarbonate multiwall, corrugated or

flat sheets for use in roofs and walls.

Employing over 1,000 people in total and with

sales of £220 million, Brett Martin is already one

of Europe's largest plastic sheet producers for

the construction industry, and the new range is

expected to create strong demand from a

construction market eager to reduce its

environmental impact.

Brett Martin Director, Paul Martin said: "This

development of this new product reflects the

Brett Martin anticipates strong demand for Marlon BioPlus,

which will be available soon.

newest technology in the plastic industry to

introduce bio-based material. The process,

known as mass-balancing, certifies the input of

the material through the production system,

similar to the way renewable energy enters the

power grid. Importantly, the material is a

recycled source and therefore the bio-based

content does not compete with food production.

"And because the substitution occurs at the earliest

stage of the resin production process, all the visual

and mechanical properties of the finished sheet

remain completely unchanged," he added.

www.brettmartin.com

SLIM SOLUTION FOR INVERTED ROOFS

Kingspan Insulation has launched the OPTIM-R E Inverted Roofing System, the latest evolution in its

innovative vacuum insulation panel (VIP) range, providing a thin solution for challenging

applications. The VIPs feature a protective spray coating, providing a robust finish

which allows easy handling around site.

With a declared thermal conductivity as low as 0.008 W/mK, and a design thermal conductivity as low

as 0.009 W/mK, Kingspan OPTIM-R E offers an excellent solution on new and refurbishment projects where a lack

of construction depth or space is an issue. These include applications where the upstand height is already set or where an

even transition is needed between internal and external spaces.

The system combines OPTIM-R E VIPs with infill strips of the same thickness which can be cut to size to fit around the perimeter of the roof, to fill any

awkward gaps between the VIPs and to allow for penetrations through the roof.

Each project is supported by Kingspan's dedicated design service, tailoring the solution to ensure the target U-value can be met with the slimmest

possible insulation depth.

Each layout clearly illustrates the size, number and location of the OPTIM-R E VIPs, facilitating a fast, dry installation on site.

The system, manufactured at Kingspan Insulation's facility in Pembridge, Herefordshire, also provides excellent protection for the waterproof membrane

and is compatible with most green roof systems.

www.kingspaninsulation.co.uk/optim-r-e

36 TC OCTOBER 2022
---
125 years of building smart

around the world.

Today's smart, sustainable building solutions from Ubbink

are built on a unique heritage.

Be part of smart. Scan here to see our video.

PITCHED & FLAT

ROOF VENTS &

TERMINALS

NON-LEAD

FLASHING

SOLUTIONS

MVHR UNITS

DUCTWORK

SYSTEMS

ROOFLINE

PRODUCTS

Ubbink UK Ltd • 01604 433000 • info@ubbink.co.uk • www.ubbink.co.uk
---
Project Focus

'HOWZAT!' FOR A CLADDING

PROJECT?

A range of systems from Proteus Facades have been utilised for the new Compton and

Edrich stands at Lord's Cricket Ground. Total Contractor finds out more...

Proteus Facades has supplied

striking aluminium cladding

to Lord's Cricket Ground's

new Compton and Edrich stands.

The existing stands on the

ground's Nursery (eastern) End

had become inadequate due to the

needs of modern spectators, with

restricted sightlines in the lower

tiers and upper tiers entirely

exposed to the elements. A

decision was therefore taken to

replace them with two new-build

stands, named after the famous cricketers

Dennis Compton and John Edrich.

WilkinsonEyre architects were commissioned by

the Marylebone Cricket Club (MCC) for the £53m

redevelopment of the new stands which flank

either side of the Stirling Prize-winning Media

Centre.

The curved, elliptical form of WilkinsonEyre's

design makes the stands appear like 'objects

landed from outer space', while providing a

range of additional seating and hospitality areas

(increasing the previous capacity from 9000 to

11,600 seats), new concourses and circulation

areas which overlook the Nursery Ground, public

realm and landscaping, and allow the spectators

to enjoy the facilities and hopefully a good game

of cricket.

Proteus HR Solid and Perforated cladding panels

in PPC aluminium with a RAL 7040 finish were

specified for the corporate facilities at the rear of

Compton and Edrich. A number of these panels

had to be curved to accommodate the radius of

the hospitality spaces.

The wall build-up on these elements comprises

Above: Proteus Facades supplied products for the new

Compton and Edrich stands at Lord's Cricket Ground.

an SFS frame with cement board and insulation.

A Proteus railing system comprising of bespoke

helping hand brackets and the company's

50x50mm mullion grid allow the panels to be

installed in a landscape pattern, giving the

hospitality boxes on level one some horizontal

definition in contrast to the portrait feel of the

primary roof cladding.

Around the first floor soffit, Proteus SC Perforated

panels were introduced in a 3mm aluminium

with an RAL 9003 finish. These were installed at

an angle to generate a zone for the various M&E

routes that were required between the two

stands. They extend at an angle from the service

access up to the projecting first tier level. These

angled soffits are again on a curve that follows

the overall stand design. This

required a number of elliptical and

shaped panels manufactured to

specific locations on the detailed

plan.

The positioning of the panels and

structural connection points meant

that there was a relatively large

drop down from the concrete slab

to accommodate M&E services. A

combination of L and U aluminium

extrusion sections and brackets

developed a standard framework

to which Proteus's 125mm x 50mm mullions

could connect to. The spanning capacity of the

125mm x 50mm section allowed a reduced

framing structure which improved the access

zones for the M&E installation trades.

This considered approach to the structure and

panels allowed for a simplistic installation

through an agreed installation sequence,

allowing the manufacturing process to keep the

site's teams busy during condensed installation

periods created by the Covid pandemic.

As cladding projects go, the Compton and Edrich

stands have generated more than their fair share

of interest – and deservedly so. Blending

harmoniously with the previously constructed

Media Centre, the aluminium clad, elliptically

shaped, 24 metre high designs soften the bold

media box and blend the new with the historical

aspect of this great amphitheatre for the home of

cricket.

Contact Proteus Facades

www.proteusfacades.com

@ProteusFacades

38 TC OCTOBER 2022
---
sales@britmet.co.uk | 01295 250998 | www.britmet.co.uk | #TheBritmethod

Liteslate

designed with the environment in mind

Lightweight Composite Slate | Lightweight Granulated Tile Panels | Lightweight Tile Effect Sheets | Flat-to-Pitch Roof Systems

Structural Liner Trays | Door Canopies | Decorative Exterior Paint

RAISING THE STANDARDS IN LIGHTWEIGHT ROOFING
---
Walling Membranes

BUILT IT TIGHT, BUILD IT RIGHT

By Craig Fyall, Category Director at Permavent.

The publication of the new Approved

Document Part L on thermal efficiency for

new buildings came into effect on June

15th 2022, introducing higher performance

targets: a 31% reduction in CO ²

emissions for

dwellings and 27% for all other buildings.

Previous sustainability targets, like those set out

by government in 2010 for all new build dwellings

to be zero carbon by 2016, widely missed the

mark in terms of even being achievable in the

first place.

However, the latest round of amends, combined

with advances in building material technology,

should allow us to substantially reduce CO ²

emissions and deliver on the rigorous but realistic

Government target. Households are responsible

for as much as 40% of UK carbon dioxide

emissions; a huge contributor to climate change.

The necessity to adopt a fabric-first approach

moving forward is essential to achieving these

targets, but it's important to consider all

materials within the building element when

working towards this goal; additional insulation is

not always the answer.

Thermal efficiency is a key consideration in

sustainable building design. The technology

behind insulation materials has vastly improved

in recent years and as a nation we are getting

better at insulating houses, both old and new. By

definition this will provide some improvement to

the thermal performance of the structure, but it

does come at a cost.

Aside from the fact that increasing insulation

will increase building costs as more materials

are required, the added thickness to the element

can provide further difficulties in building

design. Instead, the use of still air cavities and

radiant barriers can provide simple solutions in

vastly improving thermal efficiency in

construction.

Build it tight – airtight

Air tightness is often overlooked in

design and specification, and

many do not realise how

significant a role a completely

airtight building can play towards

achieving the theoretical

U-value as intended. U-value

calculations assume that the building, when built,

will achieve a high level of airtightness which in

simple terms reinforces the strong link between

air tightness and thermal performance. Building

modelling research has shown that even the

smallest of gaps will have a detrimental effect on

the thermal performance of a structure. For

example, a theoretical U-value of 0.20m²K will,

with a 1mm gap between the insulation, provide

an actual or as built U-value of 0.96W/m²K – a

worsening factor of 4.8. A good airtightness

strategy and design will not only improve and

assist the thermal performance of the building,

but will also significantly reduce mass moisture

vapour movement through the structural element.

Unintended heat loss from buildings also carries

a significant volume of moisture within it.

Building tighter and building better prevents heat

loss and is achieved by thermal performance and

airtightness in combination. The revised Part L

lower U-value targets for the thermal elements of

construction are challenging, but not beyond

reach. High purity radiant barriers provide a costeffective

solution to achieving these challenging

targets. A low emissivity cavity will not only

improve the thermal performance and reduce

insulation costs, but will allow the building to

perform as intended: an airtight, thermally

optimised structure.

A complete solution

At Permavent we've recently launched our brand

new walling membrane range which has been

designed with sustainability and Part L

amendments in mind. Envirotect boasts one of the

About the Author: Craig Fyall has over 20 years

of knowledge and experience in roofing and

construction membranes, dealing with

condensation control, airtightness,

reflective thermal technology and

building structure fire safety. In 2012

Craig led the design team in the

specification and detailing of the first

Passivhaus 56-bedroom care home in the

UK. With his extensive product knowledge,

Craig has developed products that are now

widely used in the construction industry.

highest R values in the walling membrane market,

demonstrating its comprehensive performance

when compared to what is currently available.

The Envirotect range of membranes are a complete

solution, including external vapour permeable wall

membranes available with or without high purity

aluminium reflective technology which improves

the overall thermal performance of the cavity. Our

external membranes, used individually or as part of

the wall system in combination with our high purity

aluminium reflective Air & Vapour Control Layer

(AVCL) and Floor Cassette Membrane (FZT), deliver

a full and robust solution to the control of heat loss

and moisture within a wall structure. Envirotect

provides a cost effective and market leading

solution to airtightness and thermal performance.

The Government's changes to Part L are the road

map to the Future Homes and Building Standards

due to be published in 2025, and will allow the

housebuilding industry to deliver these targets

from their introduction in 2025.

By improving our methods of construction and

adopting a fabric first approach, we can build

better. Join me on the 26th October where I will be

hosting a CPD webinar on Air Tightness and

Condensation Control. You can register for this

CPD by following this link:

www.permavent.co.uk/learning

Contact Permavent

www.permavent.co.uk

01305 766 703

40 TC OCTOBER 2022
---
The Complete

Supply Chain

MCRMA members provide the

complete supply chain for

sustainable metal-clad building

solutions in the industrial and

commercial sectors.

Our members encompass

• Systems manufacturers

• Component manufacturers

• Systems installers

• Stockholders

• Independent roofing and

cladding inspectors

• Industry support services

providers

Visit www.mcrma.co.uk

to find out more about the MCRMA and its members.

The 'MCRMA The Building Envelope Authority' is a registered Collective Trademark of the Metal Cladding and Roofing Manufacturers Association Limited.
---
Advertorial: Cedral

USING CLADDING TO PROVIDE A

NEW LEASE OF LIFE

Cedral's fibre cement cladding has given a100-year-old dilapidated farmhouse in Kent a

totally new lease of life, with the homeowner praising the product and explaining: "It's

not just about the longevity and insulation – though that's important of course – it's also

about the end result and kerb appeal."

A100-year-old

dilapidated

farmhouse in

Westerham, Kent, was a

sorry sight when the Taylor

family first bought it. The

cream rendered bungalow

had turned green and was

harbouring a multitude of

cracks inside and out, with

wet and mouldy internal

walls.

After researching the

market, the Taylor

family decided that

cladding was the most

viable option for an easymaintenance

solution that

looked good. It would also give them the

barn-effect finish they wanted, in keeping with

the countryside surroundings, and would

significantly improve the look and quality of the

property.

Making the Cedral choice

"When I saw Cedral, I liked the grain, I liked the

texture, I liked the fact it looks really realistic and

I was very impressed with the minimum life

expectancy of 50 years," explained Amy Taylor.

"Cedral has helped us to transform the look of the

main building and annex, allowing us to turn

something so unappealing and run down into a

beautiful home."

The design

The Taylors chose Cedral weatherboards, laid

horizontally, for the main house and the annex

The 100-year-old farmhouse in Westerham, Kent, has been transformed by

the installation of Cedral's weatherboard, which is available in 21 colours.

"We never

looked at the

property before we

bought it and said,

that's our dream house.

But now it really is"

and created an eye-catching feature wall by

laying the boards vertically in one section. Cedral

provided a stylish wood effect, without the hassle

of caring for real wood with its high maintenance

demands and associated costs.

Cedral facades are available in a choice of 21 longlasting

shades, as well as two woodstain options

and a choice of a woodgrain or smooth finish.

The benefits of Cedral facades:

Long-lasting appeal: For the Taylor family, a

product that continues to look good through the

years is key. "I don't want something that looks

good but in a year's time becomes extremely

high maintenance,"

explained Amy.

Low maintenance, high

safety: Cedral's durable

fibre cement cladding met

the family's requirements

perfectly: manufactured to

withstand the harshest

weather conditions, it

doesn't need regular

repainting and won't rot,

rust, warp or crack. It is

frost, mould and water

resistant and has an

excellent fire performance classification of

A2-s1, d0.

Adding insulation and value: Cedral cladding

acts like a second skin on a building's exterior.

Amy explained: "We hope it has added

substantial value to the property, not only lookswise

but also in terms of adding extra insulation,

which is also good for the EPC rating."

And the final result?

"It is more than I ever could have dreamed of,"

concluded Amy. "I would recommend Cedral 100

per cent. It's not just about the longevity and

insulation – though that's important of course –

it's also about the end result and kerb appeal. We

never looked at the property before we bought it

and said, that's our dream house. But now it

really is."

Contact Cedral

01283 501 555

www.cedral.world/en-gb/

@CedralUK

42 TC OCTOBER 2022
---
01_GS0421 1

Green Roof Myths

ROOF

TUBE

maximise the exposure and make

video content more accessible

www.roof-tube.co.uk

- Build your own channel and

create a new audience for your content

- We can

compile playlists ensuring relevant content

is shown to your target audience

GREENSCAPE

MAGAZINE

In collaboration with

the Green Roof

Organisation.

and Safety Equipment

If you supply green

roofing products to

the green roof market,

Greenscape is the

magazine for you!

put your business and products in front of

a new audience

Get your marketing

message in front of over

5,000 professionals who

specify/purchase green

roofing products

GREENSCAPE

Ensuring Best Practice for Green Roof & Solar PV Projects

Updated GRO Code

MAGAZINE

SPRING 2021

For more information contact

andydunn@media-now.co.uk or

jakeroxborough@media-now.co.uk

For advertising

opportunities contact

Andy Dunn

07963 330777

Jake Roxborough

07956 133314

From the publishers of

Green Talk Q&A

#WGRD2021: Get involved!

News, views and projects

In collaboration with the Green Roof Organisation

10:21
---
Ask The A Proctor Group

MEETING AIRTIGHTNESS

REQUIREMENTS

In this series, the A. Proctor Group examines some commonly held myths in the

construction industry concerning thermal and acoustic insulation, condensation control,

and fire protection. In this article, the team tackle the question: Is it true that the best

way to meet airtightness requirements is by using an internal VCL?

AVCL, or vapour control layer, is a layer

within a building construction that

prevents water vapour passage. The VCL

is positioned on the side of a construction

element that would have the highest vapour

pressure and therefore protects the insulation

and structure from the ingress of water vapour.

In the UK, vapour drive flows from inside to

outside, so a vapour control layer should be

applied to the warm side of the insulation. VCLs

are typically made of polyethylene, or foil, which

are impermeable to both water vapour and to air.

Therefore, they are often called Air and Vapour

Control Layers, or AVCLs. As these AVCLs are air

impermeable, many constructions incorporate

them as the primary airtightness line for the

building, though this does present some

challenges that must be overcome.

Being positioned on the internal face of a

construction means that the AVCL interfaces with

many building services which could damage it.

For example, services such as plumbing or

electrical fixtures in the external walls will need

to puncture the airtight line. Typically, these

require specialist airtight backing boxes or other

seals which need to be taped to the AVCL to

ensure the continuity of the airtight line. Any hole

in the airtight line that has been improperly

sealed is detrimental to the airtightness of the

construction. Therefore, the VCL and

plasterboard fixings need to be carefully

considered during the design phase.

Additionally, the internal lining of the building is

subject to punctures created by the building user.

Things like picture hooks and television brackets

cause unexpected penetrations in the airtight

membrane, which can lead to air leakage that

has not been accounted for in the original design

of the building.

Internal airtight membranes also require careful

and accurate detailing around floors, ceilings,

and internal walls. The level of airtightness that

an internal membrane can provide to a building

depends on how well it is detailed, with small

holes potentially creating significant issues.

Externally wrapped

An alternative and more effective option is to

make the building airtight from the outside. Using

an airtight vapour permeable membrane means

the entire structure can be wrapped externally.

This external membrane means that a

homogenous airtight line is formed around the

entire construction, which results in interaction

with far fewer building services.

Using an external airtight membrane provides the

benefit that it only needs to interact with the

fixing brackets and possibly external insulation.

This results in a more robust construction, which

maintains its effective airtightness even after

completion.

A commonly held belief is that all airtight

membranes are vapour control layers, which

would cause condensation if used outside of the

insulation. As part of its extensive highperformance

range of construction membranes,

the A Proctor Group offers Wraptite, a unique,

fully self-adhered airtight and vapour permeable

membrane. The Wraptite membrane is typically

adhered to the sheathing board. The membrane

can span across concrete frames and columns,

allowing for complete encapsulation of the

building with detailing that is far easier. Because

Wraptite is self-adhered, it doesn't require

fixings, and in exceptional circumstances that do

require fixings (e.g. for a rainscreen façade), the

adhesive will provide a measure of airtightness.

Depending on the type and placement of the

Continued on page 46

44 TC OCTOBER 2022
---
We are now a recommended fixings

supplier for the QuadCore Assured

System Warranty.

W: fixfast.com l T: +44 1732 882387 l E: sales@fixfast.com
---
Ask The A Proctor Group

Continued from page 44

insulation in the construction, the need for a

vapour control layer can be negated entirely.

However, it is typically best to include a VCL as

good practice. If the airtightness is handled

externally and the construction works from a

hygrothermal perspective, any work internally

would only improve the performance. Often, a

vapour control layer, in these cases, is only

needed for moisture management, which

simplifies the detailing required.

Part L of the Building Regulations has recently

been updated to ensure that new constructions in

the UK achieve no more than 7 m³/m²/h@50Pa.

This revision to the regulations means that for

each square metre of a building element, no more

final test, with the pre-tests typically being

than 7 cubic metres of air should be able to

conducted when the internal lining (and,

permeate through it in an hour when the building

therefore, the typical airtight line) has not been

is pressurised to 50 pascals. Building Regulations

installed. This often results in buildings that allow

also require that 50% of all homes built are

more than 10 m³/m²/h@50Pa of air to permeate,

tested for air leakage to meet this target. Many

though this would be expected to be reduced

contractors choose to take both a pre-test and a

when the internal linings are installed. If the

airtight line is outside the construction, the end

result would be far closer to the final outcome.

As building design becomes more and more

energy focused, the allowable air permeability of

a construction reduces. Many buildings are

designed to achieve below 3 m³/m²/h@50Pa,

while energy-efficient standards such as

Passivhaus are increasing in popularity, resulting

in an ever-increasing need for robust airtightness.

Traditionally, this has been provided at the

internal lining through an AVCL, but as this article

has demonstrated, there are alternative, more

effective methods. The most airtight building will

use both internal and external airtight

membranes, resulting in buildings with almost no

uncontrolled air leakage or draughts at all.

Contact The A Proctor Group

01250 872 261

www.proctorgroup.com

@proctorgroup

CLADDING IS COMING...…

Fibre cement cladding does not often

share the stage with dragons, white

walkers or marauding armies from

the frozen north, but that is exactly the

case at the Game of Thrones Studio Tour,

where Equitone Tectiva TE10 in linen greets

visitors to this unique attraction in

Northern Ireland.

Opened in February 2022, the

Game of Thrones visitors' centre

has already welcomed thousands

of fans into the fantasy world of George RR

Martin. However, those with a keen eye for stylish,

natural cladding will have noticed the 8mm

Equitone cladding which is used extensively on

the exterior of the main entrance.

Vivalda Ireland was responsible for supplying and

cutting the 650m² of non-flammable rainscreen

cladding which was specified by architects

McAdam Design to fit in with the timeless theme

Darren Bowden, Branch Manager at Vivalda

Ireland, said: "Given the significant footfall and

cultural importance of this building, it was

imperative that we cut each and every fibre

cement board to exacting standards. Using our

offsite CNC cutting technology, we were able to

achieve tolerances within 0.5mm, enabling the

installers to create a really smart finished building.

"The project also required straight through

drilled holes for rivet fixing and undercut

holes for secret fixing, which added further

complexity to the job.

"Vivalda worked very closely with the

installer on this project, Thornton Roofing,

suggesting multiple products from our

extensive range. The facade was originally

supposed to be rendered on this project,

Left: Darren Bowden, Branch Manager at Vivalda Ireland. but after many conversations between

Above: The Game of Thrones Studio Tour building, Northern Ireland.

contractors and architects, Equitone was

of the Game of Thrones Studio Tour experience. the chosen material.

"The Equitone product is ideal for this type of

architectural application, as it looks like classic

stone, but is lightweight and easy to install.

"Given its natural, all-through fibre cement material,

the cladding is hardwearing and easy to clean –

which will look great for many years to come."

www.vivalda.co.uk

46 TC OCTOBER 2022
---
The

Power to

WOW!

BEFORE

AFTER

Only Freefoam installers have

the power to transform homes

Homeowners want to feel good about their

homes and like them to be admired. So, help

your customers transform their homes to

stand out from the crowd.

Freefoam's comprehensive range of stunning,

easy to install, unique cladding transforms the

look and insulation value of a home. No wonder

homeowners smile at Freefoam installers'

stunning transformations.

Call 01604 591110 now if

you want the Power to WOW.

#HelpingCustomersGrow

With thanks to

Call 01604 591110 freefoam.com info@freefoam.com BUILDING PARTNERSHIPS
---
Updates

For further info on all these updates and more, visit www.total-contractor.co.uk

THE COMPLETE PACKAGE FROM STO

Sto's ability to provide a bespoke package of

external wall insulation, brick slips and

render has been highlighted by a new £115

million mixed-use development in Kent.

The company's StoTherm Mineral M insulation

system, StoCleyer B brick slips and StoSilco

external render have been installed on five

buildings which make up the latest phases of the

Riverside development in Canterbury.

"This is an extremely high-profile development

which sits on an 8.4-acre site in the centre of the

historic city's new leisure quarter," explained Ivan

Kyurkchiyski of PRC Architecture & Planning. "This

exerted a considerable influence on every aspect of

the project, including the selection of the materials.

Sto worked very closely with us and the other

parties involved to provide a large number of

samples and help us select the most appropriate

façade finish and colours. Their input was also very

valuable when it came to designing the different

insulation detailing that was required around the

windows on the various buildings."

The BBA-certified StoTherm Mineral external wall

insulation system uses durable mineral-fibre

insulation boards, classified A1 reaction to fire, to

provide outstanding thermal and fire performance.

Ideal for new-buiId developments such as

Riverside, the StoTherm system can also be used

on refurbishment projects due to its efficient,

single-leaf construction which means that interior

space is not reduced.

The insulation boards were installed to some areas

of the buildings using Sto's innovative Sto-Rotofix

Plus mechanical fixings, which reduce installation

times and minimize thermal bridging compared to

conventional surface-mounted ETICS anchors.

Designed for use on masonry and cement particleboard

substrates, the fixings create a cavity behind

the insulation board allowing any excess moisture

to drain. They also allow the insulation boards to be

adjusted both during and after the installation to

ensure a perfectly level outer surface is created,

ready for the final façade finish. As the position of

all the fixings can be viewed during installation,

Sto-Rotofix makes it far easier to ensure that the

Sto's ability to provide a bespoke package of external wall

insulation, brick slips and render has been highlighted on

the new £115 million Riverside development in Canterbury.

right number of fixings have been used so that

long-term security is guaranteed. StoLevell Uni

adhesive and dowel-fixings were used to secure

insulation on other areas of the building.

Some of the new buildings feature the BBAcertified

StoCleyer B mineral brick slips in a multiblend

red colour, chosen to create a striking

contrast with the various façade finishes used

elsewhere on the commercial units.

PRC Architecture & Planning were supported by

Bryden Wood to help finalize the façade engineering

and the main contractor for this project was

Bouygues UK. www.sto.com

FREEFOAM SUPPORTS STOCKISTS & INSTALLERS

Yorkshire-based stockist Building Plastics

Direct says Freefoam has helped the

company and its installer customers

grow.

With two branches in Barnsley and Castleford

and a thriving online business, Building

Plastics Direct supplies fascias, soffits,

cladding, guttering and other PVC products to

customers across Yorkshire and beyond. For

husband-and-wife team, Scott and Nikki

Whitelam, Freefoam is a brand they trust.

Scott explained: "We started off just stocking

Freefoam's fascias, soffits and guttering. We

have since added different ranges, and we now

stock Geo-panel and Fortex cladding in five

different colours. As we've expanded the range,

we've increased our range of customers as

well.

"A lot of customers will buy off us just for

Freefoam. We have quite a few registered

installers that work with us and insist on

Freefoam products. It's been nice we've been

able to support them. If we try and do the best

for our customers, they're always going to

come to us.

"Freefoam want us to grow, and we see a

positive future. We've been with Freefoam for a

number of years now and I can't see that

changing anytime soon."

Nikki added: "In the building trade, Freefoam is

just one of those logos you know you can

trust."

Above: Scott and Nikki Whitelam of Building Plastics Direct.

Colin St John, Commercial Director at

Freefoam, concluded: "We support all of our

customers and building strong and lasting

relationships with them is so important to us.

We want to help our customers grow and

flourish with Freefoam's support.

"It's great to see Building Plastics Direct doing

just that."

www.freefoam.com

48 TC OCTOBER 2022
---
Knauf Insulation Tech Talk

EMBODIED CARBON AND

INSULATION

Changes to Approved Document L (Part L) have introduced new energy efficiency

standards, which help reduce operational carbon – but this is not the only factor that

determines how sustainable a building is. This month Bradley Hirst, Technical Services

Manager from Knauf Insulation, discusses the role of embodied carbon.

What is embodied carbon?

The UK Green Building Council states that

embodied carbon is the total greenhouse

gas emissions (carbon) generated to

produce a built asset. It includes the emissions

from the extraction of materials,

manufacturing/processing and transportation of

every product and element used in that asset, as

well as the construction process itself.

EMBODIED CARBON COMPARISON FOR R=1

All published data is based on published EPDs from August 2022 data

This differs from operational carbon which is the

greenhouse gas emissions from the energy used

to run the building – heating, lighting, etc. – as

well as energy used by occupants.

Do you need to consider

embodied carbon when

choosing insulation?

Yes. While there are no legal limits,

RIBA and many construction clients

have introduced targets for embodied

carbon, so it is something you will need to

consider in the future.

What affects levels of embodied carbon?

There are many factors that affect a product's

levels of embodied carbon, such as how it's

made, packaged and transported.

Unlike other types of insulation materials that are

made using materials from unsustainable sources,

Knauf Insulation's Glass Mineral Wool insulation is

made from up to 80% recycled content – mostly

glass bottles and jars collected locally. While our

Rock Mineral Wool insulation is made from

materials that come from naturally abundant

sources and increasingly includes recycled material

from slag, a waste product from blast furnaces.

Left: Bradley Hirst. Above, left: compression packaging reduces the number of trucks on the road and transport

related carbon emissions, as well as reducing packaging used per m² of insulation. Top right: Chart showing the

levels of embodied carbon for different insulation materials. Bottom right: Using recycled glass cullet to

manufacture Glass Mineral Wool insulation uses less energy than is needed for virgin raw materials.

Most of our products are

manufactured with ECOSE Technology,

Knauf Insulation's unique bio-based binder that

contains no added formaldehyde or phenol. It is

made from natural raw materials that are rapidly

renewable and is 70 percent less energyintensive

to manufacture than traditional binders,

so it is more environmentally friendly.

We also compress our Glass Mineral Wool

insulation up to a tenth of its original size so

there's more product per pack or pallet, so less

packaging is used. There's also more product per

truck which means fewer vehicles on the roads.

Which insulation products have the lowest

levels of embodied carbon?

Glass Mineral Wool is a good choice because it

has the lowest levels of embodied carbon of any

mainstream insulation material.

The best way to check a product's carbon

footprint is through the manufacturer's

Environmental Product Declarations (EPDs),

which should comply with European Standard

EN 15804. You can also view third party

verification such as BRE Green Guide rating,

Declare 'Red List Free' label, BES 6001 or Made

in Britain.

Knauf Insulation produces EPDs for all its

products, which can be downloaded from:

www.knaufinsulation.co.uk.

Contact Knauf Insulation

www.knaufinsulation.co.uk

@KnaufUK

50 TC OCTOBER 2022
---
The Ultimate Mineral

HybriQ ® Surface

Introducing the new Silestone ®

with HybriQ+ technology ®

HybriQ+® and HybriQ Technology® are registered trademarks owned by Cosentino Global SLU

HybriQ and HybriQ+® incorporate patented or patent-pending technologies.

COSENTINO UK - CENTRAL OFFICES

Unit 10 Bartley Point / Osborn WayHook Hampshire RG27 9GX

HQ: info.uk@cosentino.com / Follow Us: F T

Find out more

on YouTube
---
Retrofit Projects

ACCELERATING THE RETROFIT

MOVEMENT: GET INVOLVED!

Tony Beer, Managing Director of RetrofitWorks, the UK's leading, not-for-profit cooperative

established to improve homes in an environmentally friendly way through

Trustmark accredited improvement works, explains why the required retrofit upgrades to

the UK's housing stock represents the biggest engineering challenge our sector has ever

faced, but why it's also one of the biggest opportunities ever for contractors…

At the time of writing, the UK is

beset by heatwaves, droughts

and the imminent threat of

flash flooding. If ever anyone needed

clearer evidence that severe climate

change is happening now, the last few

weeks are exactly that proof. Add to

this the frightening cost of living hikes

and energy costs that we're seeing,

and we have a perfect storm that

needs collective action now. This

collective action to focus on the

retrofitting of the UK's housing stock

is something that RetrofitWorks has

been working hard to advocate and

implement since 2012. As you'll see in

this article, we're delighted to say

we've made huge progress, but we

need more skilled individuals and

businesses to help us deliver these

retrofit works.

Why does retrofit matter?

The retrofitting of the national housing stock is

the most critical climate problem to solve and

without 'joined up thinking' from Government and

industry, we will not beat climate change. Put

simply, getting our 28 million homes retrofitted

and renovated is the biggest engineering

challenge the UK has ever faced. Our homes use

35% of all the energy on the grid and emit 20%

of the carbon dioxide emissions that contribute

to climate change. More than 80% of existing

homes will still be standing and occupied in

2050; building 250,000 new homes per year only

"We also need policymakers,

trade specialists and home

improvement contractors to grasp

the fact that it's holistic changes that

are vital for sustainable and

impactful change to happen"

adds 1% per year to the stock and reduces

domestic emissions by 0.3%, so simply building

new zero carbon homes will not get us close to

the target.

As a collective, we also need policymakers, trade

specialists and home improvement contractors to

grasp the fact that it's holistic changes that are

vital for sustainable and impactful change to

happen. Retrofitting or building new homes with

energy efficient technologies and materials in

isolation does not work. What's the point of

putting heat pumps into poorly insulated homes?

It's a vicious circle of creating energy, supplying it

and then simply squandering it.

New schemes need your skills!

At RetrofitWorks, we are determined

to effect change and are working

tirelessly to try to get the right

messages in front of the right people

through action. We have been

appointed to manage the £40m

planned investment to improve the

energy efficiency of Greater London

homes as part of the Mayor of

London's Warmer Homes

programme. The Warmer

Homes scheme offers over

£36m to owner-occupied

and privately rented homes to

support the installation of a variety

of measures such as External Wall

Insulation, loft and underfloor

insulation, as well as Air Source

Heat Pumps and Solar PV. Grants of

between £5,000 and £25,000 can

be applied for, with funding dependent on the

existing energy efficiency rating of the home, the

tenure and the current fuel type installed. The

programme also targets supporting 2,890 lowincome

households, and aims to achieve annual

fuel bill savings of £1,072,000, and annual CO ²

savings of 3,469 tCO ²

/yr.

We have also just launched a new one-stop-shop

retrofit service – Your Home Better – to cover

Greater Manchester which is supported by the

Greater Manchester Combined Authority and the

Mayor's Office and delivered by a consortium of

partners led by RetrofitWorks. We are also

52 TC OCTOBER 2022
---
managing other schemes across the UK, so visit our website to see which

would be potentially attractive to your business in your area.

Your industry and the UK climate need you!

What we've been describing as the Retrofit Movement is really starting to

gather traction as these latest initiatives show. Retrofit offers a fantastic

opportunity for contractors, installers, builders, retrofit coordinators and

retrofit assessors, to join us to help make the service a success. As a

RetrofitWorks contractor member, you will get access to:

• Consistent workflows, the management of which you have an active

say in shaping. This is a true partnership in contrast to the sometimes

more adversarial nature of stereotypical main / sub-contracting

relationships.

• Trustmark registration.

• Pre-checked, qualified leads. The likelihood of landing your next job is

much greater with RetrofitWorks compared to battling through a

competitive tender against low quality competitors.

• Retrofit coordinators who coach contractors on how to approach these

new skills and techniques, both before and during the programme. This

coaching prior to even pricing for a job means contractors are exposed to

minimal risk.

• The opportunity for us to give contractors' expertise and experience

new meaning – each client we have needs or wants retrofit to make a

difference to their lives and others.

Through the schemes we're offering across the UK, your business will be

guaranteed great potential for reliable, long-term business opportunities, in

parallel helping take on the battle to mitigate climate change. We urge you

to join us now to help shape the future of your business, and the planet.

Join the Retrofit Movement – Contact RetrofitWorks

www.retrofitworks.co.uk

0330 123 1334

OCTOBER 2022 TC 53
---
Comment

THE REAL VALUE OF THIRD-PARTY

PRODUCT CERTIFICATION

By Joan Ferrer, Commercial Director UK & Ireland, at Ravago Building Solutions.

Compared to lockdown parties, phone

hacking and police bribery, a politician

feeding his young child a burger seems an

improbably innocuous start to a crisis of public

confidence – but maybe not for those who

remember, more than 30 years ago, the then-

Minister for Agriculture John Gummer's welldocumented,

yet ill-fated attempt to negate

health concerns over British beef, amidst the

mounting "mad cow" disease crisis.

Despite Gummer's insistence that there was

nothing to worry about, the BSE outbreak went on

to claim the lives of 178 people. The

Government's handling of the crisis played a

devastating role in eroding consumer

confidence in British agriculture.

Restoring confidence

Today is a very different story: the British public

trusts the safety and quality of British food far

more than they trust the police or the

newspapers. This dramatic turnaround is credit to

independent assurance schemes such as Red

Tractor (founded in 2000) – which people

perceive to be more influential than the

Government in maintaining the highest

standards.

Contractors, take heart. Third-party product

certification offers a similar route to restoring

public confidence in the construction industry

post-Grenfell: voluntary schemes run by bodies

such as the British Board of Agrément (BBA)

provide formal, objective assurance of conformity

to recognised standards of safety, quality, and

performance, confirming the product can reliably

Left: Joan Ferrer, Ravago Building Solutions. Above: Installing Ravatherm at Hanover Square.

process is more than a tick-box

exercise, and therefore requires

skilful assessment of multiple factors,

against multiple standards, and accounting for

various considerations. When specifying and

installing roof insulation, for example,

certification should cover thermal performance;

durability; risk of interstitial and surface

condensation; strength and stability; and

behaviour in relation to fire. This not only tells you

if the product is fit for purpose, but how fit, and

for which purposes – is your chosen product

suitable for a heavy-traffic car park? How many

years will pass before the roof needs to be

replaced? Will it help the project to meet stringent

U-value requirements? To give the right answers,

you need to have the right answers. This might

seem common sense, but not all certificates are

created equal.

demonstrate their competence through

independent accreditation. In the UK, the sole

recognised public authority on this is the National

Accreditation Body, UKAS – which was appointed

by the government under the Accreditation

Regulations 2009, but operates entirely

separately. Through a rigorous assessment

process, and regular audits, UKAS ensures that

third-party certification bodies and their

assessors meet internationally-recognised

standards of technical competence, including

compliance with the ISO 17021 standard for

conformity assessment; UKAS is a full signatory

to several mutual recognition agreements – the

vision for these MLAs being "accredited once,

accepted everywhere."

Although UKAS accreditation isn't a legal

requirement, the 'Crown and Tick' logo is often

what makes a certificate worth more than the

deliver the expected outcomes when specified,

paper it is printed on. For contractors, it should

installed, and maintained as directed.

Ensuring competence

be reassuring to know that whoever signed-off on

Implicit trust in third-party certification leans on

the safety and performance of the products in

Going beyond compliance

implicit trust in the body that awards it. Thirdparty

'approved bodies' are strongly advised to

Continued on page While there's no standard format, the certification 56

54 TC OCTOBER 2022
---
A2

Greener Ideas.

Greener Future.

Rainwater System Solutions

Kytun

GutterClad

northwestaluminium.com
---
Comment

Continued from page 54

question was proficient to make that significant –

and potentially reverberating – decision.

An organisation is only accredited for the

activities listed on their accreditation schedule,

so it's important to look closer. On further

inspection, the UKAS seal of approval for a body's

competence to assess and certify 'building

products' might just apply to cement and mortar,

for example, and not to the products you work

with. Contractors should be aware that the BBA –

which has been the UK's primary authority for

assurance of construction product quality for over

50 years – is still the only body able to offer UKAS

accredited certification for insulation products,

through the BBA Agrément scheme.

Avoiding costly errors

Accredited third-party certification ensures

calculations are made according to the correct

and safest methodology set out in the relevant

standards. For example, the BBA Agrément for an

inverted roof system combining Ravatherm XPS X

300 SL (in conjunction with the Ravatherm MK

water flow reducing layer) specifies the

methodology laid out in BS EN ISO 6946:2017

and BRE Report BR 443:2019, using the design

lambda value (whereby a moisture correction

factor is applied to the declared value) and the fx

drainage correction for the system.

This is essential to compliance with ETAG 031:

European Technical Approval Guideline for

inverted roof kits, which requires that a design

lambda must be used for U-value calculations to

account for the rainwater cooling effect (more

detail is available in the LRWA's Guidance Note

No.15). Not all third-parties take the same view;

some make reference only to the declared

lambda.

By designing and installing an inverted flat roof

system in accordance with these methods, you

risk significantly under-insulating the roof. Being

aware of how these organisations interpret

regulations can help you avoid potentially costly,

embarrassing mistakes – particularly considering

the major changes to the liability landscape under

the Building Safety Act 2022.

A culture of curiosity

Some oversights come at much greater cost. In

the 1990s, an 'unwillingness to know' about

public health risks proved lethal, and the tragedy

at Grenfell made it plain that 'deliberate

incuriosity' continues to cost lives. This parallel

highlights a second home truth for construction:

the British public will never again take claims of

safety and quality at face value – so nor can we.

An increased, and more inquisitive, focus on the

value third-party certification offers can help

contractors demonstrate movement beyond

"compliance mode" to truly inspire confidence in

construction.

Contact Ravago Building Solutions

www.ravagobuildingsolutions.com

@RInsulationUK

BIG GAINS WITH NYROCK CAVITY SOLUTION

ROCKWOOL has launched NyRock Cavity

Slab 032, providing a low lambda, noncombustible

stone wool slab for full and

partial fill masonry cavities that enables a thinner

wall construction.

NyRock Cavity Slab 032 has been developed

using NyRock technology, the manufacturer's

patented production process that creates a more

efficient fibre structure than traditional stone

wool products. With its 0.032 W/mK thermal

conductivity value, users can achieve a U-value

of 0.18 W/m²K with a thickness of 150mm,

depending on construction type, which is 25mm

thinner than standard stone wool cavity products

within the same wall build up.

As with all ROCKWOOL stone wool insulation,

NyRock Cavity Slab 032 can withstand

temperatures in excess of 1000°C, achieving the

highest Euroclass A1 non-combustible reaction to

fire classification. It also benefits from a high

density semi rigid composition, meaning it will not

slump in the cavity and

retains the same thermal

and fire resistance properties

more than 55 years after installation,

according to independent research.

NyRock Cavity Slab 032 comes in

455mm widths to suit standard vertical

wall tie spaces and achieves a closely

knitted joint with adjacent slabs, without the need

for taping of the joints. This helps eliminate gaps

allowing for continuity of insulation across the

cavity.

"Energy efficiency is a very real and immediate

challenge for the construction sector," said Paul

Barrett, Head of Product Management at

ROCKWOOL UK. "Alongside the need to improve

the thermal effectiveness of existing buildings

against a backdrop of rising energy bills, our eyes

must also be on the more onerous requirements

of the Future Homes Standard and the UK's wider

2050 net zero carbon target too.

"NyRock Cavity Slab 032 gives

specifiers a new level of

thermal performance for stone

wool alongside space

saving capabilities, and

acoustic and fire

performance that are equally critical when

providing occupants with comfortable and safe

spaces. These performance benefits are also

backed by a strong commercial offer including a

competitive price point and installation

efficiencies such as ease of cutting and fitting

on-site."

Having undergone an extensive testing

programme, NyRock Cavity Slab 032 is suitable

for new build, renovations and extensions, and

has British Board of Agrément (BBA) certification

for full and partial fill applications.

www.rockwool.com/uk/nyrock

56 TC OCTOBER 2022
---
NOW PLAYING

Wraptite UV

available

for use

behind open

jointed

façades

WRAPTITE ®

THE SELF-ADHERING AIRTIGHT AND VAPOUR

PERMEABLE MEMBRANE

0:03 3:29

01250 872 261

contact@proctorgroup.com

@proctorgroup

www.proctorgroup.com
---
Safety Articleat Height

TRAINING & GAINING

Werner, a leading manufacturer and distributor of ladders and access equipment, is

championing health and safety training with the launch of its new campaign 'Stepping

up to Safety'. In this mini-series, Trevor Rabson, Werner's Training Manager, will look at

why training is so important when it comes to working at height safely, what contractors

need to consider, and how best practice can make all the difference between safe

working and potential injuries.

In his third instalment, Trevor explains what training is available when it comes to

ladder and tower safety, plus what it entails and how to access it.

There are a variety of work at height training

courses available within the construction

industry, depending on what equipment users

utilise. Most of these courses can be completed

within one day and are a cost effective way of

ensuring that workers are safe and competent

when using equipment to work at height.

But what are they, who organises them and where

can they be undertaken?

Ladder Association affiliated safety training

The Ladder Association is a not-for-profit lead

industry body dedicated to promoting the safe use

of portable ladders. As part of this remit it works

closely with organisations, such as Werner, to

support codes of good practice, minimum

standards for equipment and education in the

work at height sector.

Above: Inspecting ladders and utilsing an access tower.

Courses comprise practical and theory

assessments and cover when and how to choose

and use, how to handle and how to store a ladder,

understanding the law and standards, as well as

how to highlight potential hazards. They include:

Ladders & Stepladders for Users

This course is for anyone who regularly uses

ladders or stepladders as part of their daily work. It

consists of practical and theory assessments and

covers when and how to use a ladder, handling

and storage, understanding the law, standards,

and potential hazards. (Half day course)

"Werner has recently

launched its Stepping

up to Safety campaign

to help professionals

stay safe when working

at height"

Ladders & Stepladders Inspection

This course is aimed at anyone who is

responsible for inspecting and maintaining

ladders or stepladders in their workplace. It is as

comprehensive as the Ladder & Stepladder User

course, and covers practical guidance on

assessing the need for inspection, fault-finding

and recommending actions, record keeping, as

well as the law. (Half day course)

Combined User & Inspection

This course is aimed at anyone who is

responsible for using AND inspecting ladders or

stepladders in their workplace. It covers

Legislation and Criteria for Ladder Use, Ladder

Types, Components and Standards, Hazard

Assessing Risks – S.T.E.P, Storage, Transportation

& Maintenance and Inspection of Ladders & Step

Ladders. (Full day course)

58 TC OCTOBER 2022
---
CLAIM A FREE PRODUCT

DMR110

DAB+ Site Radio

BL1850B

18V LXT 5.0Ah Battery

ADP05

18V / 14.4V LXT

USB Charger

B-53811

100 Piece Bit Set

DML186

18V LXT LED Torch

Claim a FREE Product with Selected

Promotional Machines and Kits

makitauk.com/redemption

DHP482JX14, DHP484TJX9, DHP485TJX8: FREE ADP50 or DML186 / DLX2202TJ1, DLX2134TJ: FREE DMR110 or BL1850B / DHP453F001, DHP485T001: FREE B-53811

Claims can be registered on-line from 1st October 2022 and must be registered within 28 days of purchase for qualifying models.

Qualifying models must be purchased by 31st March 2023 to qualify and registered within 28 days.
---
Safety at Height

Steps and Step Stools for users

This is a shorter course (minimum 2.5 hours),

aimed at more occasional users of stepladders

and step stools – those working in shops, offices,

schools, hospitals and other sectors where using

this equipment to access height is infrequent. The

course covers essential information in the safe

use of ladders, ladder standards, hazards and

regulations.

At the end of these Ladder Association courses,

users will receive a certificate and LadderCard,

which is valid for five years, to demonstrate

competence when working with ladders.

PASMA affiliated access tower and

podium safety training

Founded in 1974, the Prefabricated Access

Suppliers' and Manufacturers' Association

(PASMA), is the recognised focus and authority

for mobile access towers. PASMA advances

safety, standards and best practice across a wide

range of sectors and represents the interests of

its members. Through PASMA affiliated trainers,

such as Werner, there are a range of courses

available that will equip users with the specialist

knowledge they need to work safely with mobile

access towers.

For users who purely use towers, there is a oneday

course available, PASMA Towers for Users.

Through this course users will learn:

• How to safely assemble, dismantle, alter and

move mobile access towers

• How to safely use mobile access towers

• How to inspect mobile access towers

• How to identify hazards relating to their

use

• What legislation, regulations and

guidance are applicable to these

towers

For those who work with towers

and low-level access equipment,

there is a combined course that

will equip users with the

specialist knowledge they need to work safely

Leansafe closed

with this equipment.

If a user is new to towers or tower training,

Towers for Users, and/or the combined course is

the ideal starting place. It's taken by more than

70,000 delegates each year and once it's been

completed, users become eligible for more

advanced courses which cover different tower

configurations, such as

linked towers, towers on

stairways, cantilever towers

or towers with bridges.

Once one of the above

courses had been

completed, if applicable,

users can then move on to

more advanced tower

configurations. There's a

dedicated course for each

standard tower configuration.

They each last one day and can

be completed in any order.

Learning to work safely with

advanced standard configurations

means that users can use towers on

more challenging sites, overcome

obstacles and create larger platforms.

At the end of these PASMA training

courses, users will receive a

certificate and card, which is valid for

five years, to demonstrate competence

Leansafe open

"Working at height

injuries and fatalities

can be reduced with

the drive for change"

when working with towers.

Training partner

Werner is proud to work as a partner with both

the Ladder Association and PASMA to offer ladder

safety and tower training courses to individuals

and businesses with a view to increasing the

safety of working at height.

Stepping up to Safety

As part of its bid to help increase safety when

people are working at height, Werner has recently

launched its Stepping up to Safety campaign to help

professionals stay safe when working at height.

Working at height injuries and fatalities can be

reduced with the drive for change from industry

manufacturers and associations to lead the way

in safety when working at height, leaving

employers and employees feeling confident and

safe at work.

Contact Werner UK

www.wernerco.com/uk/ladder-safety

www.wernerco.com/uk/training

@WernerLadderUK

60 TC OCTOBER 2022
---
HOW DO |

FINd NEW

CUStOMERs

FASt?

Insight Data helps you pinpoint

your ideal trade and commercial

customers using our database of

60,000 prospects – with detailed

business and financial data not

available anywhere else.

• Local builders

• Construction companies

• Housebuilders

• Builders merchants

• Architects & specifiers

For more information

or your free demo, call

01934 808 293

Visit: www.insightdata.co.uk
---
Updates

For further info on all these updates and more, visit www.total-contractor.co.uk

BE SEEN ON SITE WITH SNICKERS

As workplace visibility decreases and

the potential for accidents increases,

Snickers Workwear High Visibility

garments work hard to protect your

wellbeing and safety on site.

The extensive range of jackets, trousers,

shorts, toolvests, Shirts and fleeces all

work together to satisfy the requirements

of Class 1, 2 and 3 protection levels.

These outstanding products combine

Snickers' unrivalled hallmarks for

protective wear with the requirements of

the EN 20471 standard for high visibility

warning clothes.

With advanced designs and sustainable

SORONA fabrics, all these working clothes

have a durable, colour-fast protection

retaining shape and comfort throughout

the life of the garments. Added to which,

all Snickers Hi Vis garments can be

custom profiled to ensure stand out

coverage for your corporate brand.

www.snickersworkwear.co.uk

STAY CONNECTED WITH HILTI NURON

Hilti Group has announced the launch of a huge difference to their operations in many

new innovation providing the construction ways. We are proud to deliver the most

industry with a fully-connected tool park comprehensive solutions to solving some of the

experience: Nuron, a more-powerful 22V bottlenecks of construction sites today,

cordless battery platform.

increasing productiveness, introducing stateof-the-art

data-driven solutions and improving

Launching with more than 70 tools, Nuron is

health and safety at the construction sites",

the biggest launch in Hilti's history, covering

explained Sebastiaan Groenhuijsen, Head of

areas including building construction,

Product Marketing Northern Europe at Hilti.

mechanical and engineering, interior finishing,

heavy industry and steel and metal work. Hilti says the development of Nuron has taken

years of deep research and is based on an indepth

understanding of the industry, and one of

After a successful launch in North America,

Germany and other key regions for the Hilti

the most important aspects of developing the

Group, Nuron is set to launch in the UK and

new platform was to understand the everyday

northern European markets at the end of 2022.

working conditions of customers including the

Nuron is not just a new set of tools or batteries; it

roadblocks and obstacles they face in their work.

is the future of Hilti's cordless offering, with the

power to make job sites cordless across both The company explains that Nuron's primary

light and heavy applications. Launching with an value proposition is split into four key areas of

entire ecosystem of 70 cordless new tools, and innovation. Firstly, the power of one, which sees

reengineered all on one 22V battery platform, all tools powered by one single source, the 22V

Hilti says it is set to change the cordless battery, making all batteries interchangeable

experience for the construction industry forever. and compatible with the full Nuron roster. One

platform reduces the need for multiple

"We are very excited to bring this new platform

batteries, chargers and corded power sources

to our customers in the UK. From customer

usually found on construction sites. This makes

feedback on what kind of innovations they

using tools and the management of them much

would find useful we know this will make a

more streamlined.

A second area of innovation is that the cordless

tools provide more power than even corded or

gas-powered tools do, thanks to the

reengineered batteries.

The third and fourth areas of improvement are

in health and safety and the data driven

services that link all Hilti tools to the cloud. The

redesigned tools use real world insights to

improve the design and health and safety

aspects of the tools. From a practical

perspective, tools have been redesigned to

weigh less, with ergonomically enhanced grips

and improved robustness through shock

resistant bumpers. Sebastiaan Groenhuijsen

concluded: "We want to provide the

construction professionals with the best tools

and solutions available, so that they can get on

with what they do best, building society's future

infrastructure and doing it in a safe and

efficient way." www.hilti.co.uk

62 TC OCTOBER 2022
---
PURPLEXED

ABOUT YOUR

MARKETING?

In a world where marketing and customer behaviour is constantly

changing, you could be forgiven for being in a state of confusion

when it comes to your own marketing.

As a fully integrated marketing agency, Purplex is powered to

alleviate this stress and help ambitious companies like yours build

their reputation, business, and future.

With more than 35 years industry experience our specialist teams

build campaigns that cut-through the noise and create integrated,

consistent, and clear messages across all platforms to build brand

awareness and drive your business to greater heights.

SPEAK TO THE EXPERTS IN:

MARKETING

CONSULTANCY

PR & MEDIA

RELATIONS

VIDEO PRODUCTION

& EDITING

BRANDING &

CREATIVE

WEB & E-COMMERCE

DESIGN

SOCIAL MEDIA

MARKETING

SEARCH ENGINE

OPTIMISATION

PAY-PER

CLICK

IF YOU'RE PURPLEXED ABOUT YOUR MARKETING, SPEAK TO THE EXPERTS

T: 020 3137 9319

E: grow@purplexmarketing.com | W: www.purplexmarketing.com

HQ: 200 Worle Park Way, Weston-super-Mare, BS22 6WA
---
Updates

For further info on all these updates and more, visit www.total-contractor.co.uk

ENERGY BOOST

Makita has launched its largest capacity

battery to date with an impressive 288 watthours

of energy. The 8.0Ah BL4080F offers the

longest runtime for its XGT products, meaning

less downtime and improved productivity.

Especially useful when used on higher drain

XGT machines, this new battery pushes

performance even harder.

The 40VMax XGT BL4080F 8.0Ah battery has

been designed to be both robust and highly

intelligent. Equipped with 20 cells, it has a higher

power output that enables Makita's XGT tools to

be pushed even harder and perform heavy duty,

continuous operation over extended periods.

Thanks to its heavy-duty and durable outer and

cell casing, this product has a significantly

improved impact resistance. The BL4080F is also

IPX4 rated with a water and dust-resistant triple

layer structure and an enhanced terminal

structure to handle any job site condition.

The battery has been designed with Makita's

digital communication function between the tool,

battery and charger to optimise the charging

process, reduce charge times and protect the

battery from damage. This real-time digital

communication actively monitors heat, overload,

and over-discharge, as well as delivering up to

2X longer sustained power during demanding

applications.

Kevin Brannigan, Marketing Manager at Makita,

said: "We are very excited to be releasing this

product as our largest capacity battery to date.

Offering the longest runtime for our XGT products,

this product will considerably improve

productivity on site, as users won't need to down

tools to recharge batteries as often. Furthermore,

despite its capacity, the battery can be charged

in just over an hour – at approximately 76-

minutes when using the DC40RA charger, which

makes it stand out in the market. It truly is a

gamechanger, and we cannot wait for people to

test it for themselves." www.makitauk.com

DIGITAL TIMES!

After 30 years of production, Screwfix has

announced it will no longer be printing

physical copies of its catalogue, instead

introducing digital screens in store showing

its full 37,000 product range, compared to

just 16,000 in the catalogue. The move

comes with a commitment to remain

responsive and offer Screwfix customers

market leading prices and deals.

With increasing numbers of customers shopping

online and a significant reduction in the number

of customers using the catalogue, the retailer is

focused on delivering hyper convenience,

centred around its digital offering across its app,

website, and in store order points. John Mewett,

Screwfix CEO, commented: "Our iconic catalogue

has been a huge part a part of our brand identity

for the past 30 years, however it only includes a

small part of our extensive range and doesn't

reflect our latest prices. In recent years we've

seen customers increasingly prefer to shop with

our app or online, and switching to digital

screens in store will mean we can provide the

same great experience." www.screwfix.com

BRINGING THE LIGHT AND SOUND TO SITE

Makita has launched three new cordless

radio lanterns for its LXT and XGT battery

platforms. The DMR055, DMR056 and

MR009G have all been designed to offer

function and entertainment for both leisure

and professional applications.

The DMR055 18V/14.4V LXT Cordless Lantern is

a work light delivering ultra-bright illumination,

versatility, and convenience. Featuring a built-in

AM/FM radio, and lamp extending to 360-

degree light coverage, users can choose

between lighting the entire workspace or a

focused area thanks to its flexible settings. The

lantern is also equipped with a memory

function to recall the user's preferred

brightness and light tone levels.

The 18V/14.4V LXT DMR056 and 40VMax XGT

MR009GZ are packed with further features in

addition to the above, including an LCD digital

display, Bluetooth and DAB/DAB+ Radio

station frequency. Users can choose from two

brightness settings and three light tone

settings: Daylight White, Neutral White and

Warm White. What's more, the DMR056 and

MR009GZ also have two flashlight modes: torch

and strobe and are equipped with a USB output

port for charging mobile devices.

Makita has designed its latest additions to offer

impressive continuous run times: On a single,

full battery charge, the

18V LXT DMR055 has a

radio run time of 52h, a

lantern run time of 16h, or a combination of

12h (when used with the 5.0Ah BL1850B

battery).

Kevin Brannigan, Marketing Manager at Makita

UK, said: "While power tools are what we are

known for, Makita aims to bring performance,

quality and convenience on site in various ways.

For this reason, we are very excited to be

launching our new range of lantern radios –

equipped with an impressive light and sound

quality radio, and even more impressive battery

run time." www.makitauk.com

64 TC OCTOBER 2022
---
ALSO

TOOL

• Great for sawing, cutting,

sanding, polishing,

chiselling & much more

• 250W motor

• Variable speed

£ FROM ONLY

37 DOUBLE

.99 EXC.VAT

£45.59 FOOTER inc.VAT

COMPOUND

8" SLIDING

MITRE SAW

• 2000W motor

• Laser Guide

CMS216S

VISIT YOUR LOCAL SUPERSTORE

V

BARNSLEY Pontefract Rd, Barnsley, S71 1EZ 01226 732297

B'HAM GREAT BARR 4 Birmingham Rd. 0121 358 7977

B'HAM HAY MILLS 1152 Coventry Rd, Hay Mills 0121 7713433

BOLTON 1 Thynne St. BL3 6BD 01204 365799

BRADFORD 105-107 Manningham Lane. BD1 3BN 01274 390962

BRIGHTON 123 Lewes Rd, BN2 3QB 01273 915999

BRISTOL 1-3 Church Rd, Lawrence Hill. BS5 9JJ 0117 935 1060

BURTON UPON TRENT 12a Lichfield St. DE14 3QZ 01283 564 708

CAMBRIDGE 181-183 Histon Road, Cambridge. CB4 3HL 01223 322675

CARDIFF 44-46 City Rd. CF24 3DN 029 2046 5424

CARLISLE 85 London Rd. CA1 2LG 01228 591666

CHELTENHAM 84 Fairview Road. GL52 2EH 01242 514 402

CHESTER 43-45 St. James Street. CH1 3EY 01244 311258

COLCHESTER 4 North Station Rd. CO1 1RE 01206 762831

COVENTRY Bishop St. CV1 1HT 024 7622 4227

CROYDON 423-427 Brighton Rd, Sth Croydon 020 8763 0640

DARLINGTON 214 Northgate. DL1 1RB 01325 380 841

DEAL (KENT) 182-186 High St. CT14 6BQ 01304 373 434

DERBY Derwent St. DE1 2ED 01332 290 931

DONCASTER Wheatley Hall Road 01302 245 999

DUNDEE 24-26 Trades Lane. DD1 3ET 01382 225 140

EDINBURGH 163-171 Piersfi eld Terrace 0131 659 5919

32183

GENERATORS

FROM HEADER ONLY

£

239 .00 EXC.VAT

£286.80 inc.VAT

HYUNDAI DIESEL

GENERATORS UP TO 125KVA

PG3800A

Model KVA HP Volts exc.VAT inc.VAT

PG2500A 2.2 5.6 230 £239.00 £286.80 Honda

PG3800A 3 5.6 230 £289.00 £346.80 engine

PG3800ADV 3 5.6 230/110 £319.00 £382.80 models

PG6500ADVES* 5.5 9.7 230/110 £569.00 £682.80 available

* with wheels

£ FROM ONLY

199 DOUBLE

.00 EXC.VAT

PETROL DUMPER

DOUBLE £238.80 FOOTER inc.VAT

ELECTRIC

TRUCK

3 forward gears with reverse Narrow 760mm

COMPACTOR

width, fi ts through most doorways £ FROM ONLY

1349 DOUBLE

PLATE

.00 EXC.VAT

23KG

6.5HP

£1618.80 DOUBLE FOOTER inc.VAT

BIG 4 WHEEL DRIVE

230

125LTR CDT300

VOLT

bucket

HULK

£ FROM ONLY

379 DOUBLE

.00 EXC.VAT

DOUBLE £454.80 FOOTER inc.VAT

3400W

TRANSFORMERS

Power Tool Socket Outlets Weight exc.

Model Rating No Type kg VAT inc.VAT

CTR750/1 750VA 1 16A 9 £63.99 £76.79

CTR1000/1 1000VA 1 16A 10 £66.99 £80.39

CTR1500/2 1500VA 2 16A 12 £79.98 £95.98

CTR4000/2 4000VA 2 16A 20 £149.98 £179.98

CTR5000/3 5000VA 2/1 16A/32A 32 £199.98 £239.98

CTR6300/3 6300VA 2/1 16A/32A 40 £309.00 £370.80

MULTI FUNCTION

BEST

SELLER

CMFT250

£ FROM ONLY

169 DOUBLE

.98 EXC.VAT

DOUBLE £203.98 FOOTER inc.VAT

400x320mm

VIDEO

ON-LINE

INVERTER

GENERATORS

£ FROM ONLY

229 DOUBLE

.00 EXC.VAT

DOUBLE £274.80 FOOTER inc.VAT

IG1700F

1700W

Max

Model Output Sockets Weight exc. inc.

kg VAT VAT

IG1700F 1700W 2 22 £229.00 £274.80

IG3500AF 3400W 2 35 £379.00 £454.80

TOP QUALITY

FROM ONLY

£ DOUBLE

63 DOUBLE

.99 EXC.VAT

£76.79 FOOTER inc.VAT

All of these transformers include 2m mains lead

NEW

IG3500AF

300

KG

CCM125D

WET & DRY

VACUUM

CLEANERS

Compact, high

performance wet &

dry vacuum cleaners

for use around the

home, workshop,

garage etc.

* SS = Stainless Steel

Britain's Tools &

Machinery Specialist!

FROM ONLY

£ DOUBLE

229 .00 EXC.VAT

DOUBLE £274.80 FOOTER inc.VAT

CEMENT

MIXERS

Max.

Cap Volts exc.VAT inc.VAT

Model

CCM125D 79L 230V £229.00 £274.80

DRAPER 160L 90L 230V £299.00 £358.80

BELLE MINI 150 90L 230V £425.00 £510.00

BELLE MINI 150 90L PETROL £749.00 £898.80

FROM ONLY

£ DOUBLE

57 DOUBLE

.99 EXC.VAT

£69.59 FOOTER inc.VAT

Dry/Wet

Capacity exc.VAT inc.VAT

Model Motor

CVAC20P 1250W 17/13 ltr £57.99 £69.59

CVAC20PR2 1400W 14/12 ltr £71.99 £86.39

CVAC20SS* 1400W 17/13 ltr £69.98 £83.98

CVAC25SS* 1400W 20/17 ltr £77.99 £93.59

CVAC30SSR* 1400W 24/22 ltr £99.98 £119.98

ELECTRIC TILE

CUTTERS

180mm continuous rim diamond blade

Table tilts up to 45° for bevel cutting

Max depth of cut: 35mm at 90° /

22mm at 45°

BEST

SELLER

ETC8

£ FROM ONLY

49 DOUBLE

.98 EXC.VAT

£59.98 FOOTER inc.VAT

BIG 16" ALL

TERRAIN TYRES

Ideal for use with concrete, stone,

granite,brick,fence post footing etc Inc.

pointed chisel, fl at chisel & carry case

BELT SANDERS

FROM ONLY

£ DOUBLE

39 DOUBLE

.98 EXC.VAT

£47.98 FOOTER inc.VAT

CBS2

DEMOLITION

HAMMER

CON1500DD

Model Motor M/Min exc.VAT inc.VAT

Clarke BS1 900W 380 £39.98 £47.98

Clarke CBS2 1200W 480 £89.98 £107.98

Makita 9911 650W 75-270 £99.98 £119.98

Max. Auger

Depth / Width exc.VAT inc.VAT

560mm / £219.00 £262.80

150mm

up to 1.6m / £379.00 £454.80

250mm

DRYWALL

SANDERS

DWS180

11

EXETER 16 Trusham Rd. EX2 8QG 01392 256 744

GATESHEAD 50 Lobley Hill Rd. NE8 4YJ 0191 493 2520

GLASGOW 280 Gt Western Rd. G4 9EJ 0141 332 9231

GLOUCESTER 221A Barton St. GL1 4HY 01452 417 948

GRIMSBY ELLIS WAY, DN32 9BD 01472 354435

HULL 8-10 Holderness Rd. HU9 1EG 01482 223161

ILFORD 746-748 Eastern Ave. IG2 7HU 0208 518 4286

IPSWICH Unit 1 Ipswich Trade Centre, Commercial Road 01473 221253

LEEDS 227-229 Kirkstall Rd. LS4 2AS 0113 231 0400

LEICESTER 69 Melton Rd. LE4 6PN 0116 261 0688

LINCOLN Unit 5. The Pelham Centre. LN5 8HG 01522 543 036

LIVERPOOL 80-88 London Rd. L3 5NF 0151 709 4484

LONDON CATFORD 289/291 Southend Lane SE6 3RS 0208 695 5684

LONDON 6 Kendal Parade, Edmonton N18 020 8803 0861

LONDON 503-507 Lea Bridge Rd. Leyton, E10 020 8558 8284

LUTON Unit 1, 326 Dunstable Rd, Luton LU4 8JS 01582 728 063

MAIDSTONE 57 Upper Stone St. ME15 6HE 01622 769 572

MANCHESTER ALTRINCHAM 71 Manchester Rd. Altrincham 0161 9412 666

MANCHESTER CENTRAL 209 Bury New Road M8 8DU 0161 241 1851

MANCHESTER OPENSHAW Unit 5, Tower Mill, Ashton Old Rd 0161 223 8376

MANSFIELD 169 Chesterfi eld Rd. South 01623 622160

MIDDLESBROUGH Mandale Triangle, Thornaby 01642 677881

NORWICH 282a Heigham St. NR2 4LZ 01603 766402

NORTHAMPTON Beckett Retail Park, St James' Mill Rd 01604 267840

NOTTINGHAM 211 Lower Parliament St. 0115 956 1811

PETERBOROUGH 417 Lincoln Rd. Millfi eld 01733 311770

PLYMOUTH 58-64 Embankment Rd. PL4 9HY 01752 254050

POOLE 137-139 Bournemouth Rd. Parkstone 01202 717913

PORTSMOUTH 277-283 Copnor Rd. Copnor 023 9265 4777

PRESTON 53 Blackpool Rd. PR2 6BU 01772 703263

SHEFFIELD 453 London Rd. Heeley. S2 4HJ 0114 258 0831

SIDCUP 13 Blackfen Parade, Blackfen Rd 0208 3042069

SOUTHAMPTON 516-518 Portswood Rd. 023 8055 7788

SOUTHEND 1139-1141 London Rd. Leigh on Sea 01702 483 742

STOKE-ON-TRENT 382-396 Waterloo Rd. Hanley 01782 287321

SUNDERLAND 13-15 Ryhope Rd. Grangetown 0191 510 8773

SWANSEA 7 Samlet Rd. Llansamlet. SA7 9AG 01792 792969

SWINDON 21 Victoria Rd. SN1 3AW 01793 491717

TWICKENHAM 83-85 Heath Rd.TW1 4AW 020 8892 9117

WARRINGTON Unit 3, Hawley's Trade Pk. 01925 630 937

WIGAN 2 Harrison Street, WN5 9AU 01942 323 785

WOLVERHAMPTON Parkfi eld Rd. Bilston 01902 494186

WORCESTER 48a Upper Tything. WR1 1JZ 01905 723451

FREE

492 PAGE

CATALOGUE

GET YOUR

FREE COPY!

65 SUPERSTORES

NATIONWIDE

IN-STORE

£ FROM ONLY

159 DOUBLE

.98 EXC.VAT

DOUBLE £191.98 FOOTER inc.VAT

ELECTRIC/PETROL

EARTH BORERS

Ideal for fence/gate posts. Fast, easy hole boring

Model

CEA150

Electric

ED160A

Petrol

FROM ONLY

£ DOUBLE

49 DOUBLE

.98 EXC.VAT CON850B

£59.98 FOOTER inc.VAT

• 850W motor

• 28mm stroke length

• Includes 2 wood & 1 metal cutting blades

FROM ONLY

£ DOUBLE

219 .00 EXC.VAT

DOUBLE £262.80 FOOTER inc.VAT

ELECTRIC

CEA150

RECIPROCATING

SAW

ABRASIVE

SANDING

BELTS IN

STOCK

ABRASIVE

CUT-OFF

SAWS

Cuts ferrous

metals up to

100mm dia

FROM ONLY

£ DOUBLE

134 .99 EXC.VAT

DOUBLE £161.99 FOOTER inc.VAT

PHONE

0844 880 1265

ONLINE

www.machinemart.co.uk

18V

BRUSHLESS

COMBI DRILLS

2 forward and

reverse gears

PROFESSIONAL

ROUTER

• Plunge depth

up to 66mm

• Variable

speed

• Inc. 1 /4",

3/8" & 1 /2"

collets

INC. DISC

& HANDLE

2 X 4AH

ONLINE

www.machinemart.co.uk

TELESALES

0115 956 5555

CLICK & COLLECT

OVER 10,500 LOCATIONS

CALL & COLLECT

AT STORES TODAY

SAME DAY

Calls to the catalogue request number above (0844 880 1265) cost 7p per minute plus your telephone company's network access charge. For security reasons, calls may be monitored. All prices correct

at time of going to press. We reserve the right to change products and prices at any time. All offers subject to availability, E&OE. * Terms & conditions apply see machinemart.co.uk/finance for more details

AVAILABLE IN

230

&

110

VOLT

AVAILABLE IN

230

&

110

VOLT

ROTARY

HAMMER

DRILLS

Powerful

heavy duty

professional

drill ideal

AVAILABLE IN

230

&

110

VOLT

Model Motor

Disc

Size exc.VAT inc.VAT

CON14110 1800W 355mm £134.99 £161.99

CON14 2400W 355mm £139.98 £167.98

for trade

use FROM ONLY

£ DOUBLE

62 DOUBLE

EXC.VAT

£75.59 FOOTER inc.VAT

Model

Power

(W)

Cap.

(mm) exc.VAT inc.VAT

CRD1100 1100 13-40 £62.99 £75.59

CON1200RD 1200 13-40 £79.98 £95.98

CON720RHD 720 13-40 £89.98 £107.98

CON1500RDV 1500 13-40 £99.98 £119.98

TURBO AIR COMPRESSORS

Superb range ideal for hobby

& semi-professional use

FROM HEADER ONLY

£

119 .98 EXC.VAT

£143.98 inc.VAT

TIGER

16/550

FROM ONLY

£ DOUBLE

99 DOUBLE

.98 EXC.VAT

£119.98 FOOTER inc.VAT

CON180LI

Model Volts Batteries exc.VAT inc.VAT

CON18LIC 18V 2x 2.0Ah Li-Ion £99.98 £119.98

CON180LI 18V 2x 4.0Ah Li-Ion £129.00 £154.80

ONLY

£ DOUBLE

99 DOUBLE

.98 EXC.VAT

£119.98 FOOTER inc.VAT

ANGLE GRINDERS

CON1150

FROM ONLY

£ DOUBLE

28 DOUBLE

.99 EXC.VAT

£34.79 FOOTER inc.VAT

Model Disc (mm) Motor exc.VAT inc.VAT

CAG800B 115 800W £28.99 £34.79

CON1150 115 1150W £32.99 £39.59

CAG2350C 230 2350W £64.99 £77.99

*Pumps solids up to 30mm diameter HIPPO 2

Max Flow Max

Model LPM Head exc.VAT inc.VAT

Model Motor CFM Tank exc.VAT inc.VAT CSE400A 115 8.0m £39.98 £47.98

Tiger 8/260 2HP 7 24ltr £119.98 £143.98 PSV3A 133 8.0m £44.99 £53.99

Tiger 11/550 2.5HP 9.3 50ltr £189.98 £227.98 PSV1A* 140 5.8m £54.99 £65.99

Tiger 16/550 3HP 14.5 50ltr £249.00 £298.80 HIPPO 2 (230V) 85 6.0m £59.98 £71.98

HEAVY DUTY PSP125B 116 7m £69.98 £83.98

CAT117

PSV5A 217 8m £69.98 £83.98

SUB PUMPS

FROM ONLY

£ DOUBLE

86 DOUBLE

.99 EXC.VAT

£104.39 FOOTER inc.VAT

SDS

+

IN STOCK

110

VOLT

CON1500RDV

• Auto ON/OFF

fl oat switch

FROM ONLY

£ DOUBLE

39 DOUBLE

.98 EXC.VAT

£47.98 FOOTER inc.VAT

HUGE CHOICE

INC. BOOSTER

PUMPS IN

STOCK NOW

BOOSTER

PUMPS

FROM ONLY

PVP11A

Maintain mains

£ DOUBLE

DOUBLE

.98

59

*Pumps solids

EXC.VAT

pressure

£71.98 FOOTER inc.VAT

up to 30mm

dia. #Clean/

dirty water

DWS 225LR (solids up

Ideal for to 5mm

dry sanding dia.)

BPT600

DUST & smoothing

†Sewage

FROM HEADER ONLY

EXTRACTION hard to reach cutter pump

£

HSEC650A 179 .00 EXC.VAT

OUTLET

areas

Max Flow Max

£214.80 inc.VAT BPT1200SS

Disc

Model LPM Head exc.VAT inc.VAT

Max. Tank

Model

Size

Extension exc.VAT inc.VAT PVP11A* 258 11.0m £86.99 £104.39 Model Output Cap. exc.VAT inc.VAT

DWS180

190mm Handheld £59.98 £71.98 HSE130A# 140 7.0m £109.98 £131.98 BPT600 50 L/Min 19ltr £179.00 £214.80

DWS225LR (230V)

225mm up to 1.7m £99.98 £119.98 HSE650A† 290 9.5m £229.00 £274.80 BPT1200SS 61 L/Min 19ltr £219.00 £262.80

DWS225LR (110V)

225mm

up to 1.7m £109.98 £131.98 HSE1400A† 430 13m £359.00 £430.80 CBM250SS 100 L/Min 24ltr £419.00 £502.80

OPEN MON-FRI 8.30-6.00,

5 EASY WAYS TO BUY...

SAT 8.30-5.30, SUN 10.00-4.00

SUPERSTORES

NATIONWIDE

CR4

SUBMERSIBLE

WATER CAT117 PUMPS

PSV1A
---
Updates

For further info on all these updates and more, visit www.total-contractor.co.uk

TOOLS DESIGNED TO LAST

Well on the way to becoming most

preferred tool brand for discerning

tradespeople, the hallmark of Hultafors

Tools is the Swedish design that's made to

last.

Whether you're measuring, marking or

levelling, cutting, chopping or chiseling,

prying, striking or wrecking, the innovative

designs, precision and ergonomics of

Hultafors Tools can handle the toughest of

applications to always deliver a precise,

quality finish.

These are tools that are forged and tempered

to perfection with quality materials to

complement the knowledge and skill-sets of

tradespeople who want to perform at their

best on site.

And, with a brand heritage from the likes of

Hults Bruk and Fisco that's built on passion

and pride for making the best equipment

possible, Hultafors Tools will always deliver

quality, reliability and top-class performance,

whatever the job in hand.

www.hultafors.co.uk

ADD FURTHER LIGHT TO THE ONSITE SITUATION...

Makita has launched two new

and a colour temperature of 5,000k,

cordless work lights, compatible

offering optimum visibility for

with both 40VMax XGT and 18V

intricate work or decoration. They

LXT batteries. The perfect onsite

can be rotated from -30° to 210° for

companions, the ML005 and

easy adjustment of the light angle

ML009 benefit from a compact

and can be mounted on an optional

design and are IP65 certified

tripod lighting stand (GM00002073,

dust and water resistant.

not included).

The ML005 40VMax XGT Cordless

Worklight has three brightness

settings, delivering up to

3,600 lumens and

offers approximately

3.5 hours of

continuous

illumination on high

mode, when used with

the BL4040 battery. The

light has a controller with a

memory function, so it will return to the last

brightness setting when turned on.

For increased brightness, the ML009 40VMax

XGT Cordless Worklight delivers up to 10,000

lumens, with a lighting coverage of

approximately 9.7m to the front and 11.4m to

either side. In addition, an optional lamp shade

can provide widespread illumination

and reduce the glare of LED light and

multiple shadows. When in high

mode, the

ML009 can offer

up to 2.4 hours of

illumination,

when used with

2 x BL4040

batteries.

Both lights have

an LED colour of

daylight white

Kevin Brannigan, Marketing

Manager at Makita, said: "Cordless

work lights offer the ultimate in

convenience, as there is no need for

a power source, and they can be

easily moved around the

workspace. The new ML005 and ML009 work

lights offer the additional benefit of being nice

and compact – due to the retractable handles –

whilst still delivering powerful

illumination."

To find out more about Makita's

40VMax XGT lighting range and

other ranges of products available,

visit:

www.makitauk.com/products/xgtmachines.

66 TC OCTOBER 2022
---
FALL

PREVENTION

30

Year Product

Warranty

SOLUTIONS

www.roodsafe.com

Operating in UAE - SAUDI ARBIA - UK - EUROPE

The experts at working at height solutions

Email donna.martindale@rooDsafe.com • TEL +44 (0)115 9274111

• WALKWAY

• HANDRAIL

• EYEBOLTS

• PPE HARNESSes

• ABSEIL ANCHORS

• MOBILE ANCHORS

• ROOF MOUNTED

• CABLE SYSTEMS

• DAVIT SYSTEMS

For Road Safety

www.roadflash.co.uk