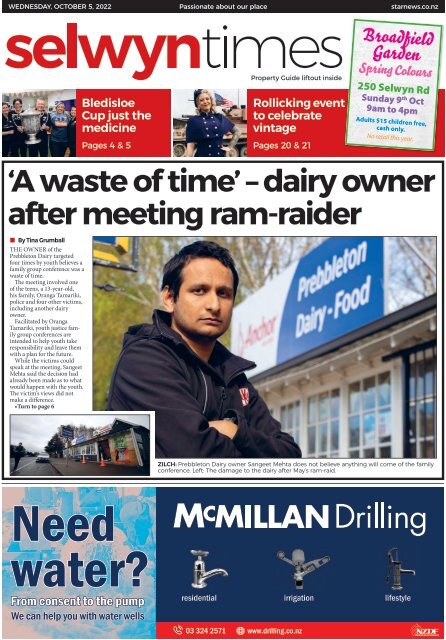 Selwyn_Times: October 05, 2022
Create successful ePaper yourself
Turn your PDF publications into a flip-book with our unique Google optimized e-Paper software.
WEDNESDAY, OCTOBER 5, 2022

Passionate about our place

starnews.co.nz

Bledisloe

Cup just the

medicine

Pages 4 & 5

Property Guide liftout inside

Rollicking event

to celebrate

vintage

Pages 20 & 21

Broadfield

Garden

Spring Colours

250 Selwyn Rd

Sunday 9 th Oct

9am to 4pm

Adults $15 children free,

cash only.

No retail this year.

'A waste of time' – dairy owner

after meeting ram-raider

• By Tina Grumball

THE OWNER of the

Prebbleton Dairy targeted

four times by youth believes a

family group conference was a

waste of time.

The meeting involved one

of the teens, a 13-year-old,

his family, Oranga Tamariki,

police and four other victims,

including another dairy

owner.

Facilitated by Oranga

Tamariki, youth justice family

group conferences are

intended to help youth take

responsibility and leave them

with a plan for the future.

While the victims could

speak at the meeting, Sangeet

Mehta said the decision had

already been made as to what

would happen with the youth.

The victim's views did not

make a difference.

• Turn to page 6

ZILCH: Prebbleton Dairy owner Sangeet Mehta does not believe anything will come of the family

conference. ​Left: The damage to the dairy after May's ram-raid.

Need

water?

From consent to the pump

We can help you with water wells

residential irrigation lifestyle

03 324 2571 www.drilling.co.nz
---
2 Selwyn Times Wednesday October 5 2022

DELIVERERS WANTED!

Are you honest, reliable and over

the age of 11? Why not earn money

and get fit doing it. Get in touch

with your interest today:

deliveries@alliedpress.co.nz

029 983 2293

Your local community newspaper connects

neighbours in the following suburbs

Ladbrooks • Tai Tapu • Leeston • Lincoln

Southbridge • Prebbleton

Rolleston • Burnham • Kirwee

West Melton • Darfield • Arthur's Pass

50,000 readers every week.

ADVERTISING

Lynette Evans

Ph: 021 222 7831

lynette.evans@starmedia.kiwi

NEWS

Nielsen Media NRS

Susan Sandys

Ph: 021 914 742

susan.sandys@starmedia.kiwi

from the editor's desk

IN THIS PC world we live

in, it is good to see someone

speaking their mind

publicly.

Dairy owner Sangeet Mehta

(page 1) opens up about

the family group conference

he attended to face one of

the young ram-raiders who

struck his dairy in Prebbleton.

The dairy has been hit a

number of times.

Sangeet says the conference,

where the young

offender's family and social

workers also attended, was a

waste of time.

I can understand why. A

number of years ago a very

young (but experienced)

burglar broke into a relative's

house. A ring handed

news

Anglers out in force

Opening day for the fishing season drew many anglers to the rivers,

beaches and lakes in the district.

Pages 6 & 7

news

down from her late grandmother

was taken.

At the family group conference

the burglar

was asked where the ring

might be. He wouldn't play

ball.

The conference? – a waste

of time.

– Barry Clarke

barry@starmedia.kiwi

Fords on display

An event showcasting British-made cars was held to commemorate the

reign of Queen Elizabeth II.

GENERAL INQUIRIES Ph 379 7100

CLASSIFIED ADVERTISING Ph 379 1100

www.starmedia.kiwi

Page 27

OCTOBER - now showing!

DC LEAGUE OF SUPER-PETS PG

DON'T WORRY DARLING R13

LYLE, LYLE, CROCODILE TBC

MILLIE LIES LOW M

MINIONS: THE RISE OF GRU PG

MOONAGE DAYDREAM M

MURU M

SEE HOW THEY RUN M

THE RAILWAY CHILDREN RETURN

TOP GUN: MAVERICK M

PG

cinema

TUE

4

WED

5

THU

6

FRI

7

@

17 West Belt, Lincoln

SAT

8

SUN

9

11:00 AM 1:00 PM 2:45 PM 1:00 PM 1:30 PM

5:00 PM 7:30 PM 11:00 AM 6:00 PM

12:45 PM 11:00 AM 1:15 PM

7:00 PM 7:15 PM 8:15 PM

1:00 PM 3:00 PM 11:00 AM

4:45 PM 7:30 PM 11:00 AM

7:15 PM 3:30 PM

5:00 PM 5:30 PM

2:45 PM 11:00 AM 3:00 PM

5:00 PM 3:30 PM

2022

Heat Pumps

web

phone

email

apollo.thelaboratory.co.nz

03 325 3006

goodparties@thelaboratory.co.nz

private hire &

gift vouchers

available

Smile with

confidence

BEFORE

Full or Partial Dentures

Immediate Dentures

Winz Approved

Insurance Claims

Urgent Denture Repair & Reline

Payment Options Available

aFtER

914 Colombo St | Ph: 03 365 2859

www.cosmeticdentureclinic.co.nz
---
Wednesday October 5 2022 Selwyn Times

• By Susan Sandys

TARGETED Government

funding is set to benefit Lincoln

to the tune of $5.1 million,

enabling the town's main street

upgrade to kick off earlier than

planned.

The Lincoln Town Centre Plan

has been a project in long-term

planning for the district council

for about seven years. The funding

would allow the first stage

of the project to be brought

forward one year, to begin in the

2023/24 financial year.

Improvements will be along

the eastern end of Gerald St,

from West Belt to Kildare Tce,

including installation of traffic

signals with pedestrian crossings

at the intersection with West Belt,

cycle lanes replacing parallel car

parks, footpath and streetscape

upgrades, and intersection and

drainage improvements.

The district council will add

$1.2m of its own funding for

improvements, including the addition

of nearby open-space car

parking, located behind shops

on Gerald St, between William

St and Lyttelton St.

The district council is due to

receive $5.59 million from the

first round of the Better Off

Funding package assigned by the

Government as part of the Three

Waters Reform. It has chosen the

first stage of the Lincoln Town

Centre Plan as its key project.

Springs Ward

district councillor

Malcolm Lyall

welcomed the

allocation and

the district

council decision,

confirmed at its

meeting last week.

"It (the Lincoln

Town Centre Plan) is well

Latest Canterbury news at starnews.co.nz

Lincoln town centre upgrade

receives $5.1 million boost

Malcolm

Lyall

BENEFITS:

Lincoln's

Gerald St

will be made

safer for

cyclists and

pedestrians

with $5.1m of

Government

funding.

and truly overdue. The people

of Lincoln have had to wait

and wait, while we have seen

development happening around

the district. The three ward

councillors have been fighting

for funding in this area, I'm

overjoyed we are getting this

going," Lyall said.

He said the district council

could also bring forward the

following stages, of extending

improvements along Gerald St

and more car parking, as it went

through its long-term planning

process.

Lyall said the district council

had responded to public concern

earlier in the planning process

about losing parallel parks to the

cycle lanes, by purchasing series

of sections for car parking.

He said the improvements

would make the town centre

safer for pedestrians and cyclists.

Chief executive David Ward

commented on climate change

considerations in his report to

district councillors for the meeting.

"The Lincoln town centre upgrade

supports improved mode

choice and low emissions travel

through the provision of safe,

accessible and enjoyable walking

and cycling options within the

town centre," Ward said.

The district council plans to

use the remainder of the $5.59m

Better Off Funding package for

feasibility studies for a Leeston

health facility and enhancing

the scope of the Arthur's Pass to

Te Waihora Cycle Trail, along

with supporting mana whenua

governance participation in

district council subcommittees

in future.

A second round of Better

Off funding will be released

to district councils around the

country in 2024.

NEWS 3

Pak 'N Save

step closer

in Rolleston

• By Susan Sandys

PAK 'N SAVE is set to come

to Rolleston, after a hearing

commissioner has issued a

decision to grant an application

by Foodstuffs.

The grocery giant plans to build

the supermarket at 157 Levi Rd,

where it will include parking for

500 vehicles and five new vehicle

access points, and employment

for up to 260 staff.

About 50 submissions were

received for the resource consent

application. While supporters

were looking forward to cheaper

groceries and more competition

in the town, objectors were concerned

about an increase in traffic

congestion, noise from heavy

vehicles and the supermarket's

mechanical services plant and car

park, visual effects from signage,

light spill from external lighting,

and adverse effects from earthworks

during construction.

District council group manager

growth and development Tim

Harris said the decision was

subject to conditions around construction

and operation, ensuring

minimum disruption to neighbours

and to address concerns

raised in submissions.

An appeal period is now open

to submitters until October 20.

SELWYN

AQUATIC CENTRE

PARTIAL CLOSURE FOR UPGRADES

10–16 OCTOBER

Selwyn Aquatic Centre will be partially closed from 10 to 16

October for maintenance work in the main pool hall.

The new aquatic centre extension will remain open

throughout with:

• Lanes for general use

• Aqua Fitness classes

• Changing spaces will be available and accessible from the

temporary entry

The Selwyn Sports Centre has a great school holiday programme

on offer from Monday to Friday, 3 to 14 October.

To find out more about the maintenance work visit

selwyn.govt.nz/sac

For details on the school holiday events visit

selwyn.govt.nz/events

GOULDS ROAD

SELWYN AQUATIC CENTRE

OPEN

TEMPORARY

MAIN

ENTRANCE

CLOSED

BROADLANDS DRIVE

SELWYN.GOVT.NZ/SAC

SELWYNAQUATICCENTRE
---
Selwyn Times Wednesday October 5 2022

4

NEWS

Latest Canterbury news at starnews.co.nz

Bledisloe Cup just the medicine

• By Barry Clarke

IT CONTAINS 48 stubbies

and it was filled four times –

deservedly – after the All Blacks

breathtaking win over Australia

in Melbourne.

And now the time-honoured

Bledisloe Cup has been toasted

by rugby and sports fans in

Lincoln.

The cup had pride of place

in the Selwyn Community

Pharmacy last week. News of its

temporary home spread quickly

around the township.

"It's been unbelievable,"

pharmacist Dave Wyatt told the

Selwyn Times.

"There's disbelief that it's actually

the genuine Bledisloe Cup.

It's not a fake or a look-a-like.

The size of it . . . I can't believe

how big it is."

So how did the cup get

from Melbourne after the

All Blacks nail-biting

controversial 39-37 win, and the

40-14 thumping of the Aussies

at Eden Park on Saturday, to

Lincoln?

Over a couple of beers.

Wyatt is a neighbour of Jason

Ryan, one of the All Blacks assistant

coaches. They both live in

Lincoln.

When the All Blacks

had returned to their respective

parts of the country, Ryan

and Wyatt caught up for a

beer.

Said Wyatt: "Jase texted me

and said 'pop over for a beer'.

Jase cracked open a beer and we

went through to the next room

and there's the Bledisloe Cup! I

thought: 'Jeepers, how good is

that'."

Wyatt was told the cup can

take 48 stubbies and during

the post match celebrations in

HAPPY AS:

The Selwyn

Community

Pharmacy

team with the

Bledisloe Cup.

From left: Krystle

Barnes, Kylie

Gallagher, Dave

Wyatt, Kelly

Smitheram,

Holly Stevenson.

PHOTOS: JOHN

SPURDLE

• Watch the

video on

starnews.co.nz

Melbourne it was filled four

times.

Ryan asked Wyatt if he would

like to put it on display in the

pharmacy.

MEARES WILLIAMS

LAWYERS

Over 10 Years in Selwyn

ROLLESTON OFFICE

80A Rolleston Drive, Rolleston

Belinda Ferguson

Anita Molloy-Roberts

Olivia Johnston

Maddy France

Kieran Heenan

Ruby Jones

W: www.meareswilliams.co.nz

T: (03) 374 2547

E: reception

@meareswilliams.co.nz

Offices also located at:

43 Gerald Street, Lincoln

225 Papanui Road, Christchurch

25 %

off

Resene Premium Paints,

Wood Stains, Primers,

Sealers, Wallpaper,

Decorating Accessories

and Cleaning Products!

Come in and see us today!

Ashburton Resene ColorShop

327 Burnett St, (03) 307 6510

or shop online at shop.resene.co.nz

Discounts off the normal retail price 35-31 October 2022 at

Resene owned ColorShops and participating resellers. Paint offers

also available at participating Mitre 10 MEGA/Mitre 10 stores.

Valid only with cash/credit card/EFTPOS purchases. Not available

in conjunction with account sales, promotional vouchers/coupons

or other offers. Excludes trade, ECS, WallPrint, wall decals, Crown

products and PaintWise levy.

TREE TROUBLE?

Call for a FREE Quote

03 384 9630

www.thetreepeople.nz
---
Wednesday October 5 2022 Selwyn Times

Latest Canterbury news at starnews.co.nz

NEWS 5

for sports fans

So when the pharmacy re-opened

last Tuesday after Monday's public

holiday, the Bledisloe Cup was put

into a protective crate, put on to the

flat deck of a vehicle and driven to the

pharmacy.

"We've had so many people

coming in, grandparents with their

grandkids. It's been just amazing,"

said Wyatt.

Wyatt and his staff are big rugby

supporters. Crusaders and All Blacks

flags take pride of place whenever

big games are on, and staff wore their

rugby attire when the Bledisloe was

on display.

The cup has returned to Ryan's

custodianship.

USEFUL: The Bledisloe Cup can take 48 stubbies, apparently. Brodie Retallick,

Jason Ryan and Nic Gill after the victory in Melbourne.

ONE TO KEEP: Karen Gay takes a photo of her grandchildren

Isabelle and Henry Wilson with the cup.

VICTORY:

Jordie

Barrett

celebrates

with Richie

Mo'unga

after

scoring the

last minute

winning

try in the

Bledisloe

Cup test

match in

Melbourne.

spring

SALE

Now on – selected items in store & online.

Charlie Angular

Chaise Sofa

WAS $

2799

Dario

Outdoor Range

ON SALE

3 Seater NOW $ 1399

Egg Chair NOW $ 699

Coffee Table NOW $ 599

NOW

$

2499

TIME FOR A REFRESH? JUST LANDED

Industrial

Dining Table – W180

WAS $

799

Laine

Single/Double

Bunk Bed

NOW $

849

Alma

Barstool

NOW $

159

Demi

Electric

Recliner

NOW $

799

NOW

$

679

24

MONTHS INTEREST FREE*

with q Mastercard

*Available on Long Term Finance (LTF) purchases until 17/10/22. Minimum spend

$499. Exclusions may apply. Lending Criteria, $50 annual account fee, fees, T&C's

apply. An Establishment fee of $55 (first LTF transaction) or a $35 Advance Fee

(subsequent LTF transactions) applies. Standard Interest Rate, currently 25.99%

p.a. applies to any outstanding balance at end of interest free period. Rate and

fees correct as at date of publication, subject to change. Mastercard is a registered

trademark and the circles design is a trademark of Mastercard International

Incorporated.

Scan to find store

250 Moorhouse Ave, Christchurch

0800 TARGET (0800 827438)

targetfurniture.co.nz

Offers and product prices advertised here expire

17/10/22. Sale Excludes Accessories.
---
Selwyn Times Wednesday October 5 2022

6

NEWS

• From page 1

He was also left wondering

what police were waiting for as

the teen had about 44 charges.

"Still our law and order says

we have to give him a chance to

be a better person. Within six

months, 44 crimes he (committed),

so why are you waiting for

the 45th?"

Mehta had a simple answer:

"If you do the crime, you need to

face it and that's what I told the

boy."

The youths would not stop

while they believed "no one can

touch (them)," Mehta said.

Mehta's business had been

ram-raided three times and had

been the target of an armed robbery.

The robbery happened in late

August when teenagers – the

youngest who has been identified

as 10 – burst into the shop armed

with a spanner at about 7pm one

evening.

They tried to strike his wife but

she avoided the blows by pushing

a Covid screen at the offenders.

Their toddler was in the back of

the shop and Mehta was visiting

a patient at Christchurch Hospital

at the time.

When Mehta asked for a trespass

notice for the four offenders

police had identified, he was told

the notices had been given.

But when he asked for photographs

of the boys so he would

know who to stop, police would

not give them to him.

The offenders had been wearing

masks and hoods, he said.

How would his wife know who

they were if they walked into

their shop again?

He asked the boy at the conference

why he did it. The teen

replied he did it for fun and for

social media videos.

'If you do the crime, you

need to face it and that's

what I told the boy.'

– Sangeet Mehta

Mehta said he would not be

waiting for an email regarding

the outcome as he honestly believed

nothing would happen.

He also wondered who was

helping business owners hit by

ram-raiders. He had to fix the

door and the wall, and install a

steel gate and bollards. He had to

pull back his open hours because

of safety concerns.

"I'm losing my business. Who

is it affecting? Me. Why? Because

Latest Canterbury news at starnews.co.nz

Offenders as young as

10 involved in robbery

Bollards have been installed

outside the Prebbleton

Dairy.

of youth, and we're still thinking

about 'oh, we should have to give

him another chance to become a

nicer person'."

Mehta queried why he should

have to pay insurance excess and

fix everything when he was the

victim.

He said all of the dairy owners

around him who had been hit

were tired of being left to pick

up the pieces without more help

from the Government or action

from the police.

When asked if he was still

intending to sell his business,

Mehta noted that "millions of

dairies want to sell but no one

will buy".

"If I know your car is going to

break down next year, is anyone

going to buy?" he said.

Anglers out

CANTERBURY anglers were out

in force on Saturday to fish the

first day of the new season.

October 1 is always the start

of the new season, and this year

it fell on a Saturday and was

also the first day of the school

holidays.

This made opening day in the

region a popular family affair in

many instances.

Fish & Game New Zealand

rangers were out checking

compliance and reported a lot of

anglers from the top of the Lewis

Pass all the way down to the

Waitaki River.

The weather was great for fishing,

frosty but clear, throughout

the region and many anglers travelled

hours to fish their favourite

spots.

Canterbury angler Neil Goldie

braved the early morning frost

to fish the Waimakariri River

mouth.

Trying first for a sea-run

salmon, Goldie said: "It's a

little bit early for a salmon, but

with warmer temperatures at

sea in summer, there's a chance

of a salmon taking advantage of

the cooler waters now to make a

run.

GOOD TO GO: Fish & Game New Zealand ranger Chris

Aldous (left), checks the licences of Warren Mackie, Russell

Mackay and Neil Goldie at Harts Creek.

PHOTO: RICHARD COSGROVE

Christchurch

Heritage

Festival

7 – 24 October 2022

Our Stories

Milestones and Moments

Discover some of the exciting events on offer…

Introducing Kā Kōrero o Waikirikiri Selwyn Stories

Selwyn Libraries, selected dates 7–13 October

Lincoln Township History – milestones and memories

22 James Street, Lincoln, 8 October

From Poland With Music

The Piano: Centre for Music and the Arts, 14 October

For the full programme and event details, visit

ccc.govt.nz/heritagefestival

Ensuring Safer Water –

Chlorination Upgrades 2022

New Zealand's drinking water laws have changed.

Under the Water Services Act 2021, councils must chlorinate public

drinking water supplies by 15 November 2022. Selwyn District Council has

started applying for exemptions for its previously unchlorinated supplies

and is expecting feedback on these applications from Taumata Arowai in

early 2023.

If you're on a water supply that isn't currently chlorinated, we will be

installing chlorination in order to comply with the law as per the

below timetable.

Location

Rolleston

Rakaia Huts

West Melton

Lincoln

Taumutu

Leeston

Prebbleton

Jowers Road

Proposed Rollout Date (Week commencing)

17 October

25 October

31 October

7 November

14 November

21 November

28 November

5 December

If you'd like a reminder text or email when chlorination is due to begin on

your water supply, sign up at selwyn.govt.nz/wateralerts.

selwyn.govt.nz/water-chlorination
---
Wednesday October 5 2022 Selwyn Times

Latest Canterbury news at starnews.co.nz

NEWS 7

in force on opening day

"With it being the second year

of the sea-run salmon season bag

limit and the harvest card, you

have to selectively harvest your

salmon, so fishing in cooler waters

will be great for the fish if you

need to release it.

"The sea-run salmon fishery has

moved to more of a sports fishery

than a harvest fishery as anglers

do their bit to help the recovery of

the fishery," Goldie said.

Trout anglers in the Te Waihora/Lake

Ellesmere area were out

in numbers.

The scenic Harts Creek was

popular as the day progressed,

with many anglers trying to tempt

the elusive fish inhabiting the

creek.

With Te Waihora/Lake Ellesmere

open to the sea at the moment,

the Halswell, L2, Selwyn

Rivers and Harts Creek were enticing

for many sea-run trout that

have entered the lake, making the

area a popular spot for anglers.

Central South Island Fish &

Game officer Nicola Dellaway

spent her first day on the job with

colleagues checking licences on

Lake Opuha, South Canterbury.

Forty anglers were checked,

mostly boat anglers but a few

shore-based. This was a typical

number for this popular opening

day destination, with many travelling

from as far as Dunedin and

Christchurch.

The fishing was excellent, with

most anglers catching two or

three brown or rainbow trout for

the dinner table.

Below State Highway 1 at

the Opihi River, father and son

anglers, Stephen and Alfie Henly,

went out on an opening day mission.

In spite of the frosty start, they

both had luck, catching and

releasing some trout caught on

soft-bait lures.

Jet boat-based fishing is a

tradition on the Waitaki River

for opening, and there were at

least 18 boats on the river in the

morning. Shore-based anglers

near Kurow were also successful –

mainly on rainbow trout around

700gm.

KEEN: Neil Goldie makes his first cast of the new fishing season at the Waimakariri River

mouth on Saturday morning. He later moved on to Harts Creek.

HOPEFUL: Hamish Nairn at Harts Creek.

PHOTOS: RICHARD COSGROVE

CATCH: Kristen and Robert McKey, of

Christchurch, with a rainbow trout from Lake

Opuha, South Canterbury.

PHOTO: NICOLA DELLAWAY

VOTE for PETER TROLOVE

ENVIRONMENT CANTERBURY

HEALTHY WATER

HEALTHY PEOPLE

Water is the single issue on which I stand.

Having attended several "meet the candidate" events which included

both District and Regional Council candidates, it is clear a majority of

those attending are concerned about the state of our freshwater.

Environment Canterbury (Ecan), the Canterbury Regional Council, has

accountabilities to maintain or enhance the quantity and quality of

Canterbury's freshwater, aquatic ecosystems, and coastal waters.

District Councils are responsible for ensuring community water

supplies are safe. District Councils are firmly in the sights of the Three

Waters Bill and the chlorination mandate following the failure of

the Ministry of Health and Hastings District Council to protect 14,000

residents of Havelock North from death and illness due to waterborne

disease.

If Ecan were effective in protecting Canterbury's freshwater at source,

chlorination and the Three Waters Bill would be less of an issue.

Unfortunately previous Governments have long failed to give

direction to Ecan. Worse from 2010 until the end of 2019 the

Government appointed its own commissioners to take control of

Ecan to facilitate massive irrigation development in response to

the 2008 recession. This irrigation development paid little heed to

the environmental consequences for our iconic braided rivers and

groundwater sourced lowland rivers and streams.

Rural residents limited to drinking from private wells are left to meet

the high cost of removing the pathogens and nitrate that is leaching

into our shallow aquifers due to diffuse pollution from intensive

farming systems, especially dairying.

If action is not taken soon to prevent contamination of the deeper

semi-confined aquifer layers, community water supplies will be

similarly affected. This has already

occurred with community water

supplies at the South Rangitata Huts

and with the Morven water supply.

For as long as Ecan has a majority

on the council whose wealth is linked

to irrigation and the right to diffusely

pollute our groundwater, "democratic

reality" will ensure the status quo

remains.

As a fifth generation New Zealander, angler, and rural veterinarian for

48 years, I have witnessed the massive degradation of our rivers first

hand. I am asking ratepayers from the towns within the Selwyn and

Ashburton ward to consider voting for the sake of future generations

rather than the short term economic benefits of Ecan's unsustainable

water management plan.

Ecan has spent $NZ 60 million on its LWRP based on what farmers are

prepared to accommodate rather than environmentally sustainable

limits for nitrate pollution and environmentally sustainable residual

flows for our rivers and streams. Recent Government guidelines

will require an additional $30 million to update the plan to new

standards. Let us take the time and care to get it right this time rather

than set limits that accommodate short term unsustainable farming

practices.

Swimmable rivers and pure drinking water are priceless.

Authorised by Peter Trolove, trolovep@gmail.com
---
$15,999

h tp: /kaywa.me/8aVdQ

download the Kaywa QR Code Reader (A p Store &Android market) and scan your code!

my Kaywa QR-Code

w.valuecarswarehouse.co.nz

Ce l 021 8 5 84

Cnr Main South Rd and Epsom Rd, Christchurch

Ph: 03 348 4129 | avoncityford.com

h tp: /kaywa.me/8aVdQ

download the Kaywa Qr Code reader (a p Store &android Market) and scan your code!

My Kaywa Qr-Code

w.valuecarswarehouse.co.nz

Ce l 021 8 5 84

AERIALS

FROM

ONLY:

h tp: /kaywa.me/8aVDQ

Download the Kaywa QR Code Reader (A p Store &Android Market) and scan your code!

My Kaywa QR-Code

w.valuecarswarehouse.co.nz

Ce l 021 8 5 84

Selwyn Times Wednesday October 5 2022

8

NEWS

PICK IT UP...

DRIVE AWAY

Incorporating

ISSUE 651 | FrIday 31 JUly 2020

The biggest range of vehicles in one location

2015 mazda demio

See page 4

for more info!

32 Moorhouse Ave | P: (03) 366 7768 | www.valuecarswarehouse.co.nz

GET THAT

PEACE OF MIND

VEHICLE INSPECTIONS

free

best motorbuys

261 stanmore road, Christchurch For more, see their advert on page 25

$149

FROM

ONLY:

www.gRCAudIO.CO.Nz

PH 03 web

www.drivesouth.co.nz

Incorporating

ISSUE 652 | FrIday 7 aUgUSt 2020

2016 NIssAN LeAf 24s

$17,990 FACELIFT MODEL

LEd headlights, heated seats &

steering wheel, Bluetooth/USB

audio, 21,000km with Japanese

service history. Includes New

NZ charging cable & OrC.

1996 toyota Landcruiser

Prado $8,990

7 seater, 3.0 litre diesel,

very rare find!

See inside for this week's

4WD feature!

40 Years Finance

Experience

Cannot be Beaten!

• Talk to us about finance for your next

motor vehicle purchase

Specialising in Finance for Private Purchases

Very quick approvals, sensational interest rates

• From no deposit (terms & conditions may a ply)

Dyna spares

C h r i stC h u rCh

Now Available @ NZ Van Spares

location: 68 Falsgrave Street, Woolston, Christchurch

email: nzvanspares@hotmail.com | phone: 03 379 3932 / 0508 698 267

41 Sandyford Street

0800 400 040

• www.kickthetyres.co.nz

free

best motorbuys

PH 03 web

MOBILE INSTALLATION SERVICE 0800 212 777

www.drivesouth.co.nz

331 blenheim road, Christchurch For more, see their advert on page 25

The biggest range of vehicles in one location

2006 mitsubishi outlander

$11,999

See page 5

for more info!

32 Moorhouse Ave | P: (03) 366 7768 | www.valuecarswarehouse.co.nz

2004 BMw 530d Nz NEw

151, 0kms, black leather interior, very

economical, reliable vehicle, in exce lent

condition. Exce lent buying at only

454 St Asaph Street, 03 378 1818 or 021 480 201

$11,999

A fordable new parts available for BMW / MERCEDES BENZ / AUDI

INCLudINg ORC

see inside for this week's

Hybrid & electric feature!

40 Years Finance

Experience

Cannot be Beaten!

• Talk to us about finance for your next

motor vehicle purchase

Specialising in Finance for Private Purchases

Very quick approvals, sensational interest rates

• From no deposit (terms & conditions may a ply)

Cnr Main South Rd and Epsom Rd, Christchurch

Ph: 03 348 4129 | avoncityford.com

Hilux, Hiace &

everytHing in between

68 Falsgrave Street, Woolston W: nzvanspares.co.nz

E: nzvanspares@hotmail.com Ph: 03 379 3932 / 0508 698 267

CAR AUDIO CAR SECURITY REVERSE CAMERAS PARKING SENSORS DASH CAMERAS

AUDIO VISUAL CELLULAR RADAR DETECTORS

GPS/TRACKING

GET THAT

PEACE OF MIND

VEHICLE INSPECTIONS

Incorporating

ISSUE 653 | FrIday 14 aUgUSt 2020

See inside for this week's

motorcycle feature!

CHRISTCHURCH

MOTORCYCLES LTd

The biggest range of vehicles in one location

See page 5

for more info!

2013 peugeot 4008

$19,999

32 Moorhouse Ave | P: (03) 366 7768 | www.valuecarswarehouse.co.nz

$149

See our ad on page 2

free

best motorbuys

www.drivesouth.co.nz

40 Years Finance

Experience

Cannot be Beaten!

• Talk to us about finance for your next

motor vehicle purchase

Specialising in Finance for Private Purchases

Very quick approvals, sensational interest rates

• From no deposit (terms & conditions may a ply)

USED CARS | TRUCKS | VANS

COMMERCIAL VEHICLES | SUVS

MOTORCYCLES | CARAVANS

BOATS | AUTOMOTIVE SERVICES

Available for FREE every

Friday at convenient

pick up points near you!

PLUS check out this week's

edition, plus past issues

online now at

bestmotorbuys.co.nz

INCORPORATING besT mOTORbuys

www.drivesouth.co.nz

PH 03 web

For more, see their advert on page 22

Cnr Main South Rd and Epsom Rd, Christchurch

Ph: 03 348 4129 | avoncityford.com

Hilux, Hiace &

everytHing in between

68 Falsgrave Street, Woolston W: nzvanspares.co.nz

E: nzvanspares@hotmail.com Ph: 03 379 3932 / 0508 698 267

41 Sandyford Street

0800 400 040

• www.kickthetyres.co.nz

2008 Victory Vegas

Customised x USa

arlan Ness themed

$12,999

A FUNDRAISER for popular

Motukurara harness racing

owner-trainer Murray

Edmonds has been labelled

a massive, and at times

emotional, success.

More

than 300

people were

involved in

the sell-out

dinner at

the Silks at

Addington

Raceway on

Murray

Edmonds

Latest Canterbury news at starnews.co.nz

Huge support for popular trainer

September

22, with

thousands

of dollars also raised through

raffles and more than 50 auctions.

The function was organised

by Stevie Golding, Sandi

Curtin and Murray's niece

Aimee Edmonds, after the recent

news that Edmonds had

been diagnosed with a brain

tumour.

Edmonds was at the function

along with family and

friends from all over the

country. Clearly touched by

the occasion he described the

night as "pretty unreal".

"We are just over the

moon," said Golding, who

also emceed the night. "Everyone

enjoyed themselves,

and there were so many kind

words."

GOOD CAUSE: This Dexter Dunn racing suit was auctioned off at the sell-out

fundraiser for Murray Edmonds at Addington Raceway.

While it was emotional and

heartfelt at times it also had its

raucous moments, none more

so than when it looked like

one of the Edmonds-trained

runners was going to win

race 5.

Watching Our Coin was

ahead with 100 to go, only

to be beaten on the line by

Rakanotta.

"Man – everyone was yelling

at the top of their lungs.

I've never been in a louder

room during a horse race, it

was unreal.

"It was just a fantastic

night," said Curtin.

"The number of items that

were donated by people, some

of them didn't even know

Muzz, but they could see it

was such a good cause."

One example of that

generosity came just hours

before the function. Golding

was picking up some items

when he met up with Gary

Roberts from Sulky Wheels in

Templeton. On hearing what

Golding was up to Roberts

donated a work sulky. It sold

for $2800.

Other popular items included

a signed Kiwis Anzac

rugby league jersey that sold

for $2400, a signed Dexter

Dunn racing suit ($2300), a

Marcoola service fee ($2100),

and an old Phar Lap photo

($2200).

An offer by Robbie and

Carla Holmes to break in a

yearling was also sought after,

going for $2300.

Some items raised a few

laughs, including a fishing

trip with Golding himself that

went for $2000 (bought by

David Butt) and Mark Purdon

buying a case of pinot noir

donated by brother Barry for

$2000.

A final tally up for the night

is still a few days away – but

the night achieved all it set out

to do, and more.

"We can't thank everyone

enough, the people at

Addington and everyone who

was involved," said Golding,

"it was amazing."

– Harness Racing Desk

• Harness racing news

page 35

MEET CHRISTOPHER LUXON

Hear the National Party Leader's vision

for New Zealand and his plans to take

the country forward.

Friday 14 October, 4.30pm – 6.00pm

Rolleston College Theatre (enter via Broadlands Drive)

631 Springston Rolleston Road, Rolleston

Nicola Grigg MP for Selwyn

Contact: Nicola.GriggMP@parliament.govt.nz

03 344 2800

Authorised by Nicola Grigg, Parliament Buildings, Wgtn.
---
Wednesday October 5 2022 Selwyn Times 9
---
Selwyn Times Wednesday October 5 2022

10

NEWS

Latest Canterbury news at starnews.co.nz

Rising costs

see businesses

put up prices

• By Susan Sandys

MANY SELWYN businesses are

raising their prices to customers

in the face of increasing costs.

Impacts of rising costs

nationally and internationally

were shown up starkly in results

from the recent six-monthly

Selwyn Business Survey,

organised by the district council.

It was undertaken in August,

and 107 businesses responded.

Eighty-four per cent reported

increased costs. In line with this,

44 per cent of businesses said

they had increased prices in the

past six months, and similar

numbers expected to increase

prices again in the coming

months.

Business investment in Selwyn

was lower over the past six

months, with six per cent of

businesses investing, compared

to 15 per cent in the previous six

months.

There were 21 per cent of

businesses that reported reduced

profits over the previous six

months, while 11 per cent

reported falling sales and four

per cent reduced staff.

At the same time, 18 per cent

of businesses were expecting

their profits to increase over the

next six months, 18 per cent were

expecting to increase investment

in the next six months, and 11

per cent were intending to hire

new staff.

District council group

manager community services

and facilities Denise Kidd said it

was good to see businesses had

a positive outlook in spite of the

economic challenges.

"It's particularly pleasing to

see businesses reporting that

they're planning to hire and

invest over next six months. It

shows the underlying strength of

the Selwyn economy that even in

tougher times our businesses are

generally holding up well," Kidd

said.

Selwyn Printing Company

owner Derek Smith said he was

increasing prices where possible

in response to rising costs, but

had lost clients doing this.

Figuring out the formula

Five-year-old Arlo Stinson of Lincoln feeds kunekune piglet Spot at Lincoln University's

annual community day last week, assisted by Brooke Kenyon. About 2000 people attended.

"In the print industry, it's quite

competitive in the high value

jobs," Smith said.

The last six months had been

"unbelievably tough".

As well as increasing costs,

about 20 per cent of his staff had

been away sick on any given day

since May. Levels of illness with

winter bugs and other ailments

was still high in the wake of

Covid.

The company had 12 staff

across three offices, at Lincoln,

Rolleston and Christchurch, and

was advertising for more.

Nevertheless, he generally had

good business confidence and

was optimistic about the future.

"The economy seems to have

held better than what I was

expecting," he said. "The demand

is there at the moment, we are

just struggling to fulfil it."

Power poles

check-up

We've started our routine, power poles

inspection programme across the

Banks Peninsula area.

We are proactively checking 4,500 power

poles throughout Akaroa, Lincoln and

Springston. The inspection is underway

and will be carried out over the next few

months, wrapping up in January 2023.

Where poles need to be replaced, power

outages may be necessary to carry out

the work safely. In those cases, we will let

the affected people know ahead of time.

If we need to access private property to

inspect power poles, Orion will contact

landowners.

Thank you for your understanding as

we ensure we continue to deliver a safe,

reliable and resilient network.

If you have any questions, please do not

hesitate to contact our Customer Support

team. Additional information can be

found at www.oriongroup.co.nz.

03 363 9898 | 0800 363 9898

oriongroup.co.nz

Orion operates and maintains the electricity distribution

network that provides power to Central Canterbury.

We are always here to help if you have any questions

or concerns about the network.
---
Wednesday October 5 2022 Selwyn Times 11

When Spring Gardening

Water deeply and regularly

during the growing period.

Give them a feed every

4 weeks with specially

formulated tomato food for

best results.

Deadhead regularly to get

repeat flowering all summer.

Most varieties of lavender

are very hardy and easy care.

For great results with any of

your fruit trees and vegetable

plants, dig in some compost

and sheep pellets at planting

time. You can plant fruit

trees any time of the year.

The great benefit of

perennials is they come back

each year, and most are easy

care and full flowering. They

are a great way to add colour

to your garden.

Big Range, Low Price, Local Advice

Tomato Tasty

Tom 1 litre

Specially bred to put

the taste sensation

back into tomatoes!

A great all round

tomato with fantastic

flavour, perfect no

matter how you chose

to prepare them.

147507

Tui

Tomato Mix 30 litre

Tui Tomato Mix is a high

quality planting mix

containing the right blend

of nutrients to provide

your tomatoes with the

best possible start and

sustained growth through

out the season.

142733

$14 98

Assorted

Grafted

Tomatoes

Vigorous and

disease-resistant.

Harvest in 12

weeks

188527

Tui

Tomato Food 1.5kg

Tui Tomato Food is a blend of

nitrogen, phosphorus and a

generous amount of potassium,

formulated to promote the

growth and fruit potential of all

types of tomatoes.

139448

Living Fashion

Lavender Ghostly

Princess 17cm

Pink

Beautiful silver foliage and

aromatic soft pink flower

heads are features of this

striking new lavender.

318769

Lavender Major

10.5cm Purple

The Lavender Major

is one of the best

lavenders around. Rich,

dark purple heads set

on long stems set the

standard in the garden

all summer long.

342773

Gardening Solutionz

Lavender Ruffles

Vanillaberry 1.9 litre

The Ruffles series of Lavender

feature a gorgeous range of

flower colours which smother

the plant for a long period

from late winter through till

early summer.

393474

$17 39

Lavender The Princess 1.5L

With a long blooming season, compact

habit and aromatic foliage it will be a

must have for low hedging, containers,

and waterwise gardens. Needs a sunny

location with well-drained soil. Clip back

to two thirds its size in late summer.

201639

Meyer Lemon

Tree 4.7 litre

Spruce up your

backyard with

NZ's most popular

home garden

citrus favourite.

227517

Rhubarb Moulin

Rouge 2 litre

When it comes to

reliable and durable

crops, rhubarb is at

the top of the list. It is

best grown in full sun,

as a lack of sun equals

spindly stems and

green stalks.

185679

$19 79

Incredible Edibles

Blackberry Black Satin 3 litre

This Black Satin Blackberry is an excellent rambling

berry of upright canes with serrated green leaves which

turn to beautiful dark autumn colours.

151557

Sky Series

Petunia

Assorted 1.5

litre

Very easy to grow

and will work

wonders for your

garden beds,

containers or

hanging baskets.

307141

$10 79 $17 89

$12 59

each

$15 98

$6 49

$27 97

$10 79

$7 69

$9 98

ToMATo LAvEnDEr FooD PLAnTS PErEnnIAL

30%

off

fRuit

tReeS

only available at Hornby,

Papanui & Beckenham stores

Dowdeswell's

Delphinium

Assorted 1 litre

Strong growing, New

Zealand bred perennial

Delphiniums.

178029

Gardening Solutionz

Armeria Pretty Petite

1.5 litre

Armeria Pretty Petite is part of a

new generation of Armeria bred

for better performance with

bolder colours and an almost

endless flowering period.

183587

$12 98

Federation Daisies

Assorted 17cm

Compact growers with

big flowers. Grown for

its long flowering period

and improved garden

performance. Grow in full

sun and prune lightly after

flowering. Protect from

frost when young.

238668

$28 79 $16 79

each

Mitre 10 MEGA Hornby

☎ 03 349 8497

/ Mitre10MegaHornby

Mitre 10 MEGA Papanui

☎ 03 359 5443

/ Mitre10MegaPapanui

Mitre 10 Beckenham

☎ 03 322 7557

/ Mitre10Beckenham

Prices valid until the 12th of

October only while stocks last.

If you find a lower price on an identical stocked product locally we will beat it by 15%

*if you find the same product cheaper from another Mitre 10 store or Mitre 10 website we'll match that price.

Excludes trade and special quotes, stock liquidations and commercial quantities. The in-store price may be lower than advertised.

www.mitre10.co.nz
---
12 Selwyn Times Wednesday October 5 2022
---
• By Susan Sandys

FUDGE CAKES, caramel slices,

Belgian slices and hot fluffy

scones.

This enticing array, and more,

is set to cover the kitchen bench

at the Leeston home of Wilma

Grant, as she prepares to enter

the Ellesmere A&P Association's

Selwyn Spring Show.

The show is returning to its full

glory this year. The 150th jubilee

show was canned in 2020 due to

the pandemic, while the postponed

150th jubilee show was

held with restricted classes and

for exhibitors only last year.

"It's good to get back into it,"

Wilma said.

After about 30 years of entering

the home industries sections

of cooking, knitting and cut

flowers, she had missed these

when they were not held for the

last two years.

Wilma, 73, said in earlier years

she could have 20 or so entries.

She had won dozens of prize

cards and prizes, and claimed

many trophies, over the years.

Among her highlights was receiving

a medal at the royal show

of 2008.

Her family had four generations

of entering the show. Her

mother Joyce Hillyer entered

once with a chocolate cake, while

her three children and grandchildren

entered many a category as

youngsters.

This year Wilma had about 10

entries in baking and knitting,

and would be entering cut flowers

closer to the day. She said the busy

week leading up to the event would

all be worth it come show day.

Latest Canterbury news at starnews.co.nz

Full steam ahead for

Selwyn Spring Show

FAMILY TIME: Wilma Grant is looking forward to getting

her creations back in the home industries shed at Selwyn

Spring Show.

"It's a great family time, to be

out and about and meet different

friends," Wilma said.

"And I just love to see other

people's work, it's always interesting

to see what other people can

make and do."

The Selwyn Spring Show

will be held on October 15 at

Ellesmere Showgrounds.

THE DISTRICT council and

the Hororata Community Trust

have signed a memorandum

of understanding around the

creation of a community hub in

the township.

Mayor Sam Broughton

signed the memorandum

last week confirming

the district council will

transfer the Hororata

Community Hall and

surrounding endowment

land to the trust, along

with a $1 million grant to

support the trust building

a new community

hub.

The memorandum underlines

that the district council and the

trust will work together and

are committed to an ongoing

partnership in relation to

achieving positive outcomes

for the Hororata community.

It commits to beginning work

on the new hub within the next

four years.

Said district council chief

executive David Ward: "The district

council has been working

with the Hororata community

Wednesday October 5 2022 Selwyn Times

NEWS 13

New Hororata

community hub

one step closer

and the trust for a number of

years with a view to building a

new community facility for the

township, and the memorandum

is an important stage in

that process.

"The district council

is excited to have this

agreement in place and

confirm its support for

the trust to get the community

facility built. A

lot of hard work has gone

into this from all sides to

ensure Hororata receives

a facility that meets

David Ward its needs now and into

the future, and this is a

positive step towards seeing that

completed."

Said trustee Richard Lang:

"It was an important day for

the trust. The trust and the

Go Hororata committee are

pleased to have reached an

agreement with the council

and to be moving forward with

this project. We are looking

forward to developing a vibrant

community hub which will

feature our areas heritage and

celebrate our stories."

thE bEst cuts,

toDAy.

ExpEriEncE corEy's

MobilE butchEr shop

South Point, Faringdon Rolleston

every Thursday 2pm-6.30pm

West Melton every Tuesday 2pm-6.30pm

orDEr onlinE For

WEDnEsDAy DEliVEry

Online orders to be placed prior

to 10am Tuesday for Wednesday

afternoon delivery.

Come and experience

the quality

www.coreysbutchery.com

VOTE

Moneel Pratap

Councillor Rolleston

"Your life is my life"

FOCUSES:

1. Your quality of life

2. Innovative infrastructure

and community facilities

3. Crime prevention and

community safety

Voting closes midday 8th

October. If you haven't

received your papers, pop

in to a Selwyn library or

Council office to vote.

020-4-Moneel

(020-4-666337)

Facebook and TikTok

@lifeinrolleston

Authorised by Moneel Pratap

moneel.pratap@outlook.com
---
14 Selwyn Times Wednesday October 5 2022
---
Wednesday October 5 2022 Selwyn Times

Latest Canterbury news at starnews.co.nz

NEWS 15

Elaine takes top award

ELLESMERE TENNIS Sub

Association member Elaine

Rodley has been recognised in

Tennis Canterbury's annual

awards.

Rodley was named

Administrator of the Year

for the 2021/2022 season,

in acknowledgement of her

multiple roles at the sub

association, where she has been

involved for more than 14 years.

Treasurer Tracy Henderson

said the award was well

deserved. Rodley was the sub

association's statistician for

both the senior and junior interclub.

Her integral knowledge

of Tennis New Zealand Match

Hub software meant she had

been able to quickly manoeuvre

draws throughout the pandemic,

ensuring a full season for

players.

In addition, she was an

active and valued member of

the Ellesmere management

committee, competitions

committee, and junior advisory

committee, where she supported

all clubs ensuring players were

involved in games each week

and at tournaments.

"In her spare time she updates

the Ellesmere senior, junior

websites and Facebook as part

of a team. She also plays a lot of

tennis!"

ADMINISTRATOR OF THE YEAR: Ellesmere Tennis Sub

Association president Belinda Edmond (left) congratulates

Elaine Rodley on her award.

Relationship to form

between council and

Te Taumutu Rūnanga

THE DISTRICT council and Te

Taumutu Rūnanga will sign a

formal relationship agreement

next month.

At its fortnightly meeting last

week, the district council voted

to sign the agreement between

itself and Te Taumutu Rūnanga,

following on from long-running

discussions.

The agreement encourages

continuing strong relationships,

while acknowledging the

commitments of both to work

together and grow a new age of

local government, reflecting the

role of mana whenua as a treaty

partner of the Crown.

District council chief

executive David Ward said the

document was a stepping stone

on the journey of relationship

between the district council

and mana whenua. It was

intended to be the first of potentially

a number of similar agreements

with mana whenua and

tangata whenua for Waikirikiri/

Selwyn.

"This is something we've been

working on for a while and it

will be a special day to finalise

a lot of hard work when we sign

this document. It will also be

special to move to the next stage,

developing the opportunities

that exist for us to work in partnership

for Waikirikiri/Selwyn,"

Ward said.

It would be an enabling

document which recognised the

role and responsibilities of both

rūnanga and the district council

across the district.

Selwyn Fireworks

Spectacular 2022

LIMITED

TICKET SALES

AVAILABLE

FREE BUSES

AFTER EVENT

FOSTER PARK, ROLLESTON - 5TH of NOVEMBER, 5PM-10PM

ONLINE TICKETS ON SALE NOW!

WWW.TRYBOOKING.CO.NZ/KUC

Entry 5 & under free | 6 - 16 years $5 | 17 years plus $10 | Family pass $25 (2 Adults and up to 3 kids)

Find us on facebook for more details!
---
Selwyn Times Wednesday October 5 2022

16

NEWS

Latest Canterbury news at starnews.co.nz

A&P SHOW: Cassels Brewery has come on board as the

anchor sponsor of the NZ Agricultural Show.

Cassels Brewery major show sponsor

THE CANTERBURY A&P

Association has signed beer

brewer Cassels Brewery as the

anchor sponsor for the show

grounds.

The deal comes with the local

association needing to service

a $1 million loan from the city

council.

The 10-year loan was provided

to the organisers of the NZ

Agricultural Show following the

Covid lockdowns and the effects

on income with no spectators for

the last two NZ shows.

Show general manager Tracy

Ahern said the three-year

deal with Cassels Brewery is

crucial for the future of the

association.

"Without the support, we

would be struggling to meet our

key performance indicators to

pay back our loan that we owe to

the council," said Ahern.

"We are very excited to have

them on board . . . a local iconic

brand like our own."

Cassels Brewery will feature

prominently at the show, the

biggest week of the year in

Christchurch, from November

9-11.

"They will be on our members'

marquee . . . on our corporate

hosting and they are bringing

their Cassels bus along, which

will be exciting," said Ahern.

There will also be the Cassels

Baabaa bar and evening

entertainment for the first time

at the show, from Tuesday to

Friday night.

"We have got TikiTane, lots of

bands and music, mechanical

bull, paint by numbers," said

Ahern.

There will also be a BBQ

competition.

While Ahern won't reveal how

much the sponsorship deal is

worth for commercial reasons,

she says it is "significant".

"We can't rely on one week of

income a year.

"Our challenge is to put

Canterbury A&P Association

and the show in a far sounder

financial position by forming

new relationships with

businesses that share our vision."

Cassels Brewery chief

executive Marshall Moir says

they are thrilled to support

CAPA and to help bring the A&P

show back to the community.

"As a family-owned

Christchurch business, we're

really excited by the plans the

show team have for this year.

The focus on local, quality and

craftsmanship are the values that

are most important to us," said

Moir.

It was only six months ago

Cassels Brewery lost its company

founder and developer Alasdair

Cassels.

The 71-year-old died in April.

Cassels is well known for his

investment in the brewery after

the 2011 earthquake and after

100 days their structurally sound

but broken brewery was reborn

to include a bar, café, music

venue and restaurant.

Ticket prices:

General admission

Single day pass:

• Adult - $30

• Student - $29

• Senior - $19

Three day passes:

• Adult - $80

• Student - $50

• Senior - $50

Consultations Soft Landscape Plans Delivery & Planting

Allwood Trees, 913 Shands Road,

Prebbleton 7676

Phone: (03) 349 9240

allwood.co.nz

Allwood-Trees-Limited

allwoodtrees

Quotations

Landscaping

Construction &

Garden Maintenance

Spring

A great time to

plant

Let's start by protecting

our corner of the world

In Ōpākihi, it's in our common interest to look out for each other. Let's face it – flood policies that are

unfair to farmers will hurt urban residents too. Similarly, better water management benefits both town

and country, and preserving Mid-Canterbury's wetlands matters to everyone. Let's work towards

environmental stewardship.

My motivation:

Climate

change

Nitrates in

water

Smarter

budgeting

Authorised by Ian Mackenzie,

902 Longbeach Road, Ashburton 7774.

Vote for someone in your corner, from your corner. Vote Ian Mackenzie for the ECan Council.

Ian Mackenzie
---
Wednesday October 5 2022 Selwyn Times 17

10 – 23 October 2022

SWELL Expo

Monday 17 October, 9am–2.30pm

Lincoln Event Centre

Connect with over 70 community clubs, organisations and wellbeing

providers, plus enjoy live entertainment, guest speakers, activities, food

vendors and market stalls.

Speaker Topics:

• Retirement villages – all you need to know

• Ageing and disability

• Living stronger for longer

• Starting your own business

• Powers of attorney, wills, and occupational

rights agreements

• Advance care planning

• Succession law

• Hapai - access card

• Online safety and scams

• Brain health – minimising the risk of dementia

• Accessing Ministry of Social Development

support

Plus, check out our two-week activity series around Selwyn!

Garden Tours

Astronomy Course

Table Tennis, Pickleball

& Bowls Have-a-Go!

Puzzle-a-thon

High Tea

Bingo

Liffey Walk

Scrapbooking

An Afternoon With

Rebecca Nelson

Painted Greeting

Cards

Pick up a copy of the What's on in Selwyn brochure from your local library or

Council Community Centre to find out more.

selwyn.govt.nz/swell
---
18 Selwyn Times Wednesday October 5 2022

CAPSULE SPRING

WARDROBE WORKSHOP

How to pick the perfect items to suit your

lifestyle and personal taste.

Let Vicki teach you the tricks in this masterclass on

choosing the right pieces for your capsule and how to mix

and match them to create multiple looks. A denim jacket

or a blazer, a black skirt or a wide leg trouser.

FREE to attend, no booking required

Thursday, October 20th

Session times:

VIP tickets available

10am, 11am, 12pm, 5.30pm and 7pm

See our website for more details at:

www.thehubhornby.co.nz

FREE SHOWS

ITS FUN TO BE FOOLED !

Amazing magic,

Exotic Parrots,

Family shows
---
Wednesday October 5 2022 Selwyn Times

Latest Canterbury news at starnews.co.nz

NEWS 19

Rolleston's Rotary centenary a glam affair

THE ROARING twenties came to

Rolleston on Saturday night, as Rolleston

Rotary Club celebrated 100 years of

Rotary in New Zealand at a glamorous

ball.

The Gatsby Ball was held at Rolleston

College's auditorium, which was transformed

complete with dance floor, round

tables, and music from 10-piece band

Sound Sensation.

President David Lewes was happy with

the high turnout of about 220 guests to

the event, which had been postponed

from last year.

"What was remarkable was seeing the

young demographic of those in attendance,

enjoying a fantastic night out, all in

the name of showcasing an organisation

that unites individuals and sees people

creating lasting change within their communities,"

Lewes said.

He said he and fellow ball goers had

been in awe of the skill of a group of

Rolleston College senior hospitality students,

who catered for the evening.

Funds raised would be distributed back

into the community through various

initiatives and projects.

ROARING TWENTIES: Feathers, furs and finery were out in force at the

Gatsby Ball on Saturday night, as Rolleston Rotary Club celebrated 100

years of Rotary in New Zealand. Above – Tracey van der Kley, Wendy

Camp, Sarah van der Kley.

DUO: Duan Zhao and wife Claire.

A bit stiff in the morning?

"Exclusive"

Ravelli ULEB Wood Pellet Fires

The perfect

excuse

to stay in

bed longer

in the

mornings.

Try this easy, full body

stretching routine

to unstiffen those

morning joints before

jumping out of bed!

Only $20 and 1/2

the profits will go to

supporting the Lincoln

volunteer fire brigade.

Available at

stretchingsloth.com

Pellet and Wood Fire Specialists

472 Blenheim Road

Sockburn

Phone: 03 343 1651

Open 8:30am - 5pm

Sat 10am - 3pm

www.heatstore.co.nz
---
Selwyn Times Wednesday October 5 2022

20

NEWS

Latest Canterbury news at starnews.co.nz

Inaugural festival celebrates all

• By Geoff Sloan

A DREAM became reality as

dancers jived and jitterbugged their

way around the dance floor at the

inaugural Vintage Fest NZ, held at

the Lincoln Event Centre over the

long weekend.

The brand new event was the

brainchild of Rolleston's Sharvelle

Mackay, a long-time fan of all

things vintage.

"This was an opportunity to put

the love of vintage into one place

and make a really prestigious event

for all of our vintage lovers," she

said.

The festival showcased everything

vintage, with the theme of wartime

and the victory era. Classic car and

military vehicles were on display,

along with vintage stall-holders and

a best dressed pageant.

Mackay said she worked with

her fellow committee members

for a year-and-a-half to create the

community event, but admits to a

few sleepless nights.

"It costs a lot of money to put on

an event like this, and to have the

money up front, to be able to pay

for certain things has been quite

difficult. So that has definitely been

our biggest challenge".

Any proceeds will be reinvested

back into next year's event, which

she hints might have an 'old

Hollywood' theme.

- Public Interest Journalism funded

through NZ On Air

DEDICATION:

Vintage Fest

NZ event

manager

Sharvelle

Mackay from

Rolleston.

Left – The

Starlets.

PHOTOS:

GEOFF

SLOAN

• Watch the video on

starnews.co.nz

STYLE: Jasmine Aitken

'Jazzylicious' from Ruapuna

was runner up in the Miss

Vintage Australasia pageant.

NO TRICKS, JUST TREATS.

EERIE-SISTIBLE DEAL$

$14.99

EACH

$17.99

EACH

$21.99

EACH

$22.99

EACH

$23.99

EACH

$23.99

EACH

$24.99

EACH

$26.99

EACH

$27.99

EACH

$36.99

EACH

Clean Collective

5% 300ml

4pk bottle range

Jim Beam Gold; CC

Premium

7% 330ml 6pk cans

Tui Vodka Soda

(ex bourbon) 7% 250ml

12pk can range

KGB

(incl Guarana) 7% 250ml

12pk cans

Jim Beam & Cola; CC

(incl zero)

CC Soda & Lime

10pk can ranges

JB Gold 7% 8pk all 330ml cans

Southern Comfort 375ml;

PTR 330ml all 10pk cans

Cruiser

5% 12pk bottle range

$24.99

EACH

Good & Great

10pk bottle range

Long White

10pk bottle range

Smirnoff Ice Jack Daniel's & Cola

Double Black Guarana 12pk bottles

(incl Zero) 7% 250ml

12pk cans

$13.99

EACH

$14.99

EACH

$15.99

EACH

$15.99

EACH

$15.99

EACH

$16.99

EACH

$36.99

EACH

$40.99

EACH

$42.99

EACH

$45.99

EACH

$46.99

EACH

Stoneleigh

Marlborough;

Lighter ranges

Villa Maria

Private Bin

range (ex PN/Syrah)

Penfolds

Koonunga Hill

(Cab Sauv, Shiraz)

Grant Burge 5th

Generation

Waipara Hills

(ex reds) ranges

Taylors Estate

Brown Brothers

Prosecco

(incl Ultra Low) ranges

19 Crimes

(ex Cali Red) range

Larios Original 1L

Midori 700ml

Gordon's & Smirnoff 1L

Gordon's Pink;

Orange;

Sicilian Lemon

700ml

Stolen Dark Rum

Teachers 1Ltrs

Stolen White &

Gold Rum (ex smoked) 700ml

JB 1.125ml

JB Devils Cut; JB Black 1L

Absolut;

Ballantines

Beefeater 1L

Beefeater 24 700ml

$55.99

EACH

$57.99

EACH

$58.99

EACH

$58.99

EACH

$59.99

EACH

$69.99

EACH

$69.99

EACH

$14.99

EACH

$14.99

EACH

$19.99

EACH

$19.99

EACH

$20.99

EACH

Jameson 1L

Jameson Black Barrel

Olmeca Altos 700ml range

Jack Daniel's1L

Woodford Reserve

Gentleman Jack 700mls

Malfy

700ml range

Mt Gay Eclipse

1L

JB Double Oak 1L

Haku Vodka; Roku Gin

Ratu Rum range 700mls

Johnnie

Walker

Black 1L

Jim Beam

1.75L

Monteiths

6pk bottle & can ranges

(ex cider)

Rekorderlig Ultra

(berry; passionfruit)

6pk can range

Pan Head

(ex rat rod) 6pk cans & bottles

Kiwi Lager

330ml 15pk cans

Fortune Favours

6pk range

$24.99

EACH

$26.99

EACH

$26.99

EACH

$26.99

EACH

$27.99

EACH

$28.99

EACH

$33.99

EACH

$38.99

EACH

$39.99

EACH

$43.99

EACH

$43.99

EACH

Kingfisher

Sol 12pk bottles

Mac's

12pk can & bottle range

(incl cider)

Peroni

12pk bottles

THIRSTY LIQUOR WEST MELTON

1147 WEST COAST RD, WEST MELTON

03 347 8460

Heineken

12pk bottles

Tui; Export Gold;

Extra Low Carb; DB Draught

15pk bottles

Export 33

15pk bottles

THIRSTY LIQUOR STORES

THIRSTY LIQUOR DARFIELD

45 SOUTH TERRACE, DARFIELD

03 317 9499

THIRSTY LIQUOR RAKAIA

114 RAILWAY TERRACE, RAKAIA

03 302 7973

Haagen

24pk bottles

Lion Red; Waikato

Speights or Summit

(ex ultra) 24pk bottles

THIRSTY LIQUOR PREBBLETON

585 SPRINGS ROAD, PREBBLETON

03 349 6031

Speights Summit

Ultra Low Carb

24pk bottles

Asahi

24pk bottles

Steinlager

24pk 330ml bottles

Promotion period between 1/10/2022 to

31/10/2022. While stocks last. Promotion only

available at participating stores – please contact

your local store to confirm whether they are

participating in the promotion and check the pricing

in-store prior to purchase. Online pricing will vary.
---
Latest Canterbury news at starnews.co.nz

Wednesday October 5 2022 Selwyn Times

NEWS 21

things vintage in rollicking style

ON SHOW: Judges at the Miss Vintage Australasia pageant, while outside there were plenty of classic cars and military memorabilia on display.

Free Water

Testing Instore

NEW MODELS READY FOR

DELIVERY NOW!

FLOAT INTO

SUMMER WITH

10% OFF

CHEMICALS FOR THE

MONTH OF OCTOBER

Valid until 31st October 2022

75 BLENHEIM RD, CHRISTCHURCH

PHONE: 0800 766 578 WWW.PARAMOUNTPOOLS.NZ
---
22 Selwyn Times Wednesday October 5 2022

Christchurch

16 Watts Rd, Sockburn.

tradedepot.co.nz

BIRTHDAY

ON NOW

60cm

W I D E

Canopy Rangehood

430m³/h

$

149

LOW PRICE

330156

24 Month Warranty

Induction Cooktop

$

479

LOW PRICE

320168

24 Month Warranty

60cm

W I D E

Luxury Cross Door

Fridge Freezer

Family Sized Storage

Black Glass

$

1599

WAS $ 1749

353547

24 Month Warranty

545 l

833mm

W I D E

Freestanding

Dishwasher

12 Place, 2 Rack

6 programs

4.5 Stars WELS

$

399

LOW PRICE

348215

24 Month Warranty

12

PLACE

60cm

W I D E

Freestanding

Oven

4 Functions

4 Gas Burners

$

479

LOW PRICE

310115

24 Months Warranty

56 l

50cm

W I D E

Churro Freestanding Bath

Linear Floor Mounted Bath Filler

Black Square Shower

Flat Liner

Edge Wall Vanity

900mm

W I D E

Zaha Basin Mixer &

Shower Mixer

All Pressure

WELS 5 Star

Bathroom Combo

2 Drawer Wall Cabinet

Wall Side Cabinet

Bathroom Mirror

$

1399

LOW PRICE

902857

5 Year Warranty

1500mm

$

499

LOW PRICE

800mm

W I D E

$

599

WAS $ 649

211198

902238

5 Year Warranty 10 Year Warranty

$

135

LOW PRICE

244370

10 Year Warranty

$

695

LOW PRICE

908245

5 Year Warranty

Bread Maker

Air Fryer

Multi Cooker &

Slow Cooker

6-in-1 Multi Use

Pressure Cooker

i5C+WiFi Robot

Vacuum Cleaner

P12 Flex Cordless

Vacuum Cleaner

Outdoor, Indoor

Heater

580W

4.8 l

5.0 l

6.0 l

450W

$

125

WAS $ 149

350155

24 Month Warranty

$

169

LOW PRICE

350103

24 Month Warranty

$

99

LOW PRICE

350116

24 Month Warranty

$

119

LOW PRICE

350110

24 Month Warranty

$

299

WAS $ 399

386600

24 Month Warranty

$

279

LOW PRICE

385619

24 Month Warranty

$

199

WAS $ 249

740110

12 Month Warranty

Industrial Grade

Measuring Tape

Claw Hammer

Caulking Gun

Class 5 Earmuff

Safety Glasses

Latex Crinkle

Coated Gloves

General Purpose

Silicone Sealant

8M

20oz

$

5.50

LOW PRICE

732008

$

10

LOW PRICE

731845

$ 4.00

LOW PRICE

750320

12 Month Warranty

$

5.00

LOW PRICE

731882

$

6.00

LOW PRICE

731764

Prices Guaranteed as of 8/10/22. Subject to change.

$

1.40

LOW PRICE

731902

$

3.60

LOW PRICE

753031

CAN-C 29

KITCHENS | BATHROOMS | APPLIANCES
---
Wednesday October 5 2022 Selwyn Times

Latest Canterbury news at starnews.co.nz

NEWS 23

Harry happy to be back horse riding

• By Natalie Pham

SIX YEARS ago, Harry

Priestley got frustrated and

walked away from his horse

riding programme.

However, the 11-year-old has

marked his second participation

in a dressage event at the

Christchurch equestrian centre

in late September.

Harry was among 10 riders

of varying ages and disabilities

taking part in the event organised

by Christchurch Riding for

the Disabled.

Because the event focused on

the rider achieving the goal of

completing the test and getting

marked on the completion, each

participant received a certificate

and a score sheet.

Said CHCHRDA president

Philippa Parker: "We make it as

fun and relaxed as possible."

All participants have been

attending weekly sessions prior

to the event, with each session

tailoring to their specific needs

and personal goals.

Harry was diagnosed with

autism when he was three.

Said his mother Rachel: "For

Harry and the way that his

brain works, it's about what

Harry wants and what Harry

needs. But as humans, we need

to learn how to work with other

people."

Harry is enrolled in two

programmes – education and

sport and recreation, where he

gets to learn about horse riding

and challenges himself with

exercises require teamwork.

"Everyone has helped me in

all different ways," he said.

"I used to get really, really angry

but now I don't get angry at

all. Well, I'm better at managing

my anger than I used to."

The organisation also offers a

therapy programme for riders

who have higher support needs,

ranging from building muscle

strength to improving walking

ability.

Harry began the riding sessions

with New Zealand Riding

for the Disabled at five-yearsold.

However, his sessions have

been on and off due to high

demands.

Like many riders, he started

with a small pony and worked

his way up. After many years, he

is finally paired with Zeus – a

'big and tall' horse.

When Harry first walked in

with his new horse, Parker said

he looked proud of himself.

"Zeus challenges Harry to

work with it. That horse can

be independent if it wants to,

so Harry has to make sure that

the horse is listening to the

instruction."

GOAL: Harry

Priestley marked

his second

participation in a

dressage event at

Christchurch Riding

for the Disabled

in September. He

was proud when he

finally got paired up

with his new horse

Zeus (left).

THERE'S'SPACE ON OUR TEAM

Apply at southpacificmeats.co.nz

We're hiring team players in all sorts of positions, with the opportunity

to earn more than $1,200 from the get-go with no experience required.

For on-the-job training, great people and sweet perks, join us for the season.

JOIN THE TEAM THIS SEASON.

WAVE200439 HP A
---
24 Selwyn Times Wednesday October 5 2022

Our mission is to empower our

learners to transform their

lives, communities and futures.

Whakamanatia ngā ākonga kia

pikia ngā taumata o nāianei,

o ngā tau kei te heke mai,

ā-tangata, ā-hapori hoki.

Term 3 Update

Principal's Message

What a busy term it has been!

Term three has seen learners participating

in a wide variety of activities including

Exhibition Night, Rolleston X Factor,

Tournament Week and the Senior Film

Festival.

Our Yr 10 learners have been busy piloting

the Literacy and Numeracy exams. The

idea of a pilot is to provide data, give

feedback and to iron out issues and make

modifications. The school's participation

contributes valuable feedback to the

Ministry of Education and NZQA to ensure

that exams are pitched at the correct level

before they are launched nationwide.

Senior learners have been busy with mock

exams which provide an opportunity to

practice under exam conditions for the

NCEA exams in

November and

we have been

impressed

by the efforts

of our senior

learners in

their approach

to these exams.

Progress continues

both on the extension to the current

campus and on the new campus and

we are planning to hold another series

of meetings in term 4 to present back

on progress made. There are certainly

some very exciting things on the horizon

that we look forward to sharing with our

community in term 4.

Rachel Skelton, Principal

Police vs

Student day

We had a great day hosting

the Selwyn Police in 5 different

events for the now annual

Selwyn Police Vs Students

day. These events were Touch

Rugby, Basketball, Netball,

debating and a "chase" styled

quiz. The students took it out

3 - 2 with wins in all 3 sports

while the Police won both the

quiz and the debate. A massive

thanks to Officer Glenn

Dawson who helped organise

the event with school.

Cadets

Selwyn Cadets

runs at Rolleston

College every

Thursday. Please

contact them

through the

Selwyn Cadets

Facebook page.

phone. 03 595 2490 email. admin@rollestoncollege.nz

He kākano i ruia mai i Rangiātea

The Seed will not be lost.
---
Wednesday October 5 2022 Selwyn Times 25

C.A.S.E Update

Cultural: Tongan Language Week:

Tongan Language Week / Uike Kātoanga'i

'o e lea faka-Tonga is an annual event

that exists to celebrate the culture and

language of Tonga, a Polynesian kingdom

of 169 South Pacific islands. This year Tavu

Liki and Suli Iketau lead our celebrations,

singing to staff, teaching school new

words and presenting during Hui. Was an

amazing week.

Te wiki o te reo Māori: Māori Language

Week has been celebrated in Aotearoa

since 1975. This special week is an

opportunity for the concentrated

celebration and promotion of te reo Māori,

helping to secure its future as a living,

dynamic, and rich language.

This year performances by our Kapa

Haka group, karakia led by Head Student

Hunter Keno, our Pepeha series on

Facebook and a whānau hui were part

of celebrations. To finish the week was

our annual Haka competition. This year

Raumati Whānau took first place.

Thank you to Matua Jase, Matua Tim,

Kelsey Flynn, Hunter Keno and all our

Kapa Haka group.

Sport: Winter Sports Tournament: This

year we sent our largest cohort to the

Winter Tournament. It shows that sports is

fast growing at Rolleston College. Thank

you Grant Ross (Sports Director and

Carolyn Corbett (Sports Coordinator) for

all your organising and work to get these

teams away. Thank you to the staff and

parents who coached, managed or went

with the teams as supporters. Here are the

results for Winter Sport. If you would like

to sponsor, coach, manage or support a

team please reach out to Grant on grant.

ross@rollestoncollege.school.nz

U15 Boys Basketball in Nelson

Round 1 vs. Greymouth High - Won 80-50

Round 2 vs. Darfield High- Won 97-77

Round 3 vs. Westland High - Won 90-54

Round 4 vs. Hillview Christian - Lost 95-98

Round 5 vs. Nayland College - Won 64-59

QF vs. Garin College - Lost 48-87

5th-8th Play Offs SF vs. Nayland College -

Won 75-65

5 & 6th Play Off vs. Hillview Christian - Lost

68-89

- Team finished 6th Place

Senior Boys Basketball in Invercargill

Round 1 vs. Shirley Boys - Lost 80-86

Round 2 vs. Ashburton College - Won

107-78

Round 3 vs. St Bedes College - Lost 75-93

Round 4 vs. John McGlashan College -

Won 86-72

Round 5 vs. CHCH Boys High - Won 91-80

QF 9-16th vs. Kaiapoi High - Lost 92-98

SF 13-16th vs. Burnside High - Lost 78-114

- Team finished 16th Place

Senior Netball in Timaru

Round 1 vs. Waimea College - Lost 25-28

Round 2 vs. Papanui High - Lost 25-33

Round 3 vs. Bayfield High - Won 29-24

QF vs. Mount Hutt College - Won 29-24

SF vs. Kaikoura High - Won 30-10

17/18th Final vs. Aparima College - Lost

21-28

- Team Finished 18th Place

U15 Boys Rugby in Nelson

Round 1 vs. South Otago High - Won 29-28

Round 2 vs. Motueka High - Won 19-5

Round 3 vs. Cashmere High - Won 52-19

QF vs. Cromwell High - Won 21-14

SF vs. Dunstan High - Lost 24-31

- Team finished 3rd Place

Boys 1st X1 Hockey in Ashburton

Round 1 vs. Toko College - Won 2-1

Round 2 vs. Middleton Grange - Won 4-2

Round 3 vs. West Coast Combined - Won

2-0

SF vs. Taieri College - Won 3-1

FINAL vs. Logan Park High Lost 3-2

- Team finished 2nd Place

Girls 1st X1 Hockey in Ashburton

Round 1 vs. St Andrews 2nd X1 - Lost 4-2

Round 2 vs. Waitaki Girls - Drew 5-5

Round 3 vs. Buller High - Won 12-0

SF vs. St Hildas - Won 3-1

FINAL vs. St Andrews 2nd X1 - Lost 2-1 -

Team finished 2nd Place

Boys 1st X1 Football in Christchurch

Round 1 vs. Marlborough Boys - Lost 3-2

Round 2 vs. Tawa College - Lost 2-1

Round 3 vs. Buller High - Won 12-1

QF vs. Wakatipu High - Won 2-0

SF vs. Rangiora High - Lost 3-1

11/12th FINAL vs. Kapiti College - Lost 4-1 -

Team finished 12th Place

Arts: Blood Brothers

Our second musical production this year

was Willy Russell's Blood Brothers. This

was a dramatic musical with a creative

team coming from our local Community.

A huge thank you to Phil Dean (Director)

and Lex Dean (musical Director) for your

leadership of this show. Brock Cottrell,

Elijah Barton and Evie Freller were

outstanding leads and were supported

by a cast and crew of junior and senior

learners. Performing arts department

are in discussions for our 2023 musical

production.

Student Leadership

2023

Student Leadership Announcement:

This year our student leaders were

announced at our Term 3 Exhibition

Night. It was in front of friends, staff,

and family who were all there to

celebrate the announcements. The

following learners will be our 2023

Year 13 leaders. We wish them all the

best and can not wait to see them

Flourish in their roles next year.

Peer Support Leaders

Claudia Anderson

Noah Schulte

New Learner Leaders.

Isobel Jones

Saskia Prendergas

Eotc Leaders

Shaun Kempton

Roman Keno

Nathan Edge

Ict Leaders

Roan Laas

Shawn Neal

Events Leaders.

Hannah Nolan

Anna Madriaga

Indigo Stirling

Duncan Trentelman

Inclusivity Leaders

Paige Stephens

Akmal Zulkarnain

Cultural Leaders

Jewel Perez

Lavanya Chaudhary

Lucy Wang

Arts Leaders

Isabella Mcconaghty

Yana Chernova

Austin Cook

Ben Stevens

Sports Leaders

Clark Pithie

Izzy Hill

Brianna Hill

Tony Worthington

Keza Kopelani

Media Leaders:

Christian Coetzer

Daniil Petrenko

Board Of Trustees Student Rep

Jess Knowles

R2A Captains

Jasmine Rowland

Rebecca Hunter

R2F Captains

Donia Mikaeil

Stephanie Francis

R2L Captains

Heath Burton

Charlotte Youngman

Raumati Captains

Emelia Newman

Kate Hendry

Ngahuru Captains

Quinn Richards-White

Rahil Prasad

Hotoke Captains

Brooke Henderson

Callum Newscombe

Koanga Captains

Danelle Wolmarans

Tayler Robinson

2023 Head Students

Thomas Garner

Dakota Stokes

Gemma Jarvis

Ezra Green

Ted Ward

phone. 03 595 2490 email. admin@rollestoncollege.nz

He kākano i ruia mai i Rangiātea

The Seed will not be lost.
---
26 Selwyn Times Wednesday October 5 2022

meet us in

the Country

Garden

open days

Visit Selwyn's award-winning

gardens opening in spring.

Get a group of friends together

and explore beautiful gardens and

nurseries in bloom . There are plenty

of open days to choose from with

great walks and cafes nearby.

For garden opening times and

addresses go to Selwyn.nz/spring

THE SELWYN SPRING SPECIAL

You're in for a treat with this tour. With five gardens and

nurseries in this itinerary, you will truly get to experience

how special spring is in Selwyn.

Saturday 22 October, times vary per garden

Price $0–$15 per garden

TOUR: Cedar Park, Dalkeith, Broadfields, K&L Nurseries,

RhodoDirect, Herbal garden, Casa Rossa, Hauora

Produce-at RhodoDirect.

WEST MELTON TO HORORATA

Follow the footsteps of early settlers, as they moved out

onto the Canterbury Plains. Start your day at Stoneycrop

followed by RhodoDirect; where you will discover beautiful

rhododendrons growing in Selwyn. During your stop,

staff from Hauora Produce will be providing tasty fresh

strawberries. Visit the historical woodland gardens of Terrace

Station which was once owned and curated by one of New

Zealand's historic politicians, one of New Zealand's historic

politicians, Sir John Hill and his wife Rose, Lady Hall. Finish

off your journey by stopping in at Nat's Nursery where you

will find locally grown native plants to take home.

Sunday 2 October, times vary per garden

Price: $0–$15 per garden

TOUR: RhodoDirect, Stoneycrop, Hauora Produce-at

RhodoDirect, Terrace Station, Nats Nursery Hororata.

GARDENS OF HORORATA

Immerse yourself in a garden curated by historical politician

Sir John and Lady Rose Hall. Delight in the woodland garden

and mass planting of spring bulbs. Just around the corner,

you will find Gunyah Country Estate. One of New Zealand's

grand old homesteads rich in history that is linked to Terrace

Station. Enjoy 12 acres of gardens that have matured over

the past 100 years. You may find some delicious preserves

and products made from the orchard. On your way home,

stop in at Nat's Nursery to find locally raised and grown

plants to take home.

Sunday 30 October, times vary per garden

Price $0–$10 per garden

TOUR: Terrace Station, Gunyah Country Estate, Nats

Nursery Hororata.

FLOWERS OF ROLLESTON

This open day is being offered twice in the month of October

- on the Saturday 1 and Saturday 8.

Venture through Cedar Park and discover 1.5 acres full of

a variety of vibrant plants, trees, and shrubs. Then as you

are travelling out of Rolleston, your next stop is Dalkeith

Garden. Described as a tranquil oasis of sunshine, birdsong

and peacefulness, this four-acre garden on Boundary Road,

dates back to 1955. Next, see how spring has brought the

award-winning Broadfield Garden to life. Before you finish

for the day, visit K&L Nurseries, and be inspired to grow your

own flowers and plants.

Saturday 1 October and Saturday 8 October,

times vary per garden. Price: $0–$15 per garden

TOUR: Cedar Park, Dalkeith, Broadfields, K&L Nurseries.

WHERE THE PLANTS GROW

Discover the transformation of an old quarry at Casa Rossa

into an established award-winning garden. Right next door

you will find The Herbal Garden with a mix of medicinal

herbs and plants grown for health and wellbeing. Enjoy the

splendor of Stoneycrop which has wheelchair accessible

paths. Not far down the road is RhodoDirect where you will

discover some of the most beautiful rhododendrons growing

and for sale in Selwyn. During your stop at RhodoDirect, staff

from Hauora Produce will be selling delicious strawberries

for you to take home.

Wednesday 19 October, 10am–4pm

Price $0–$15 per garden

TOUR: RhodoDirect, Stoneycrop, Herbal Garden, Casa Rossa,

Hauora Produce-at RhodoDirect.

WEST MELTON IN BLOOM

RhodoDirect has been supplying rhododendrons throughout

New Zealand to keen gardeners for over 20 years. Check

out their fine collection, and taste fresh strawberries from

Hauora Produce. Wander through Stoneycrop; a garden

which has been carefully created to provide year-round

interest from the first English snowdrops (Galanthus) in July

through to the dahlias, asters and other perennials flowering

until the first frosts in May. Stoneycrop has wheelchair

accessible paths.

Sunday 9 October and Wednesday 12 October,

10am–4pm

Price $0–$10 per garden

TOUR: RhodoDirect, Stoneycrop, Hauora Produce-at

RhodoDirect.

A BOTANICAL EXPERIENCE

Your first stop on your botanical experience is Cedar Park

where you will discover 1.5 acres of vibrant plants, trees and

shrubs. Next is the beautiful oasis - Dalkeith Garden where

you'll find birdsong, rhododendrons, camellias, maples

and magnolias. Discover Broadfields where you will roam

through 3.5 hectares of blossoming plants and flowers. Then

stop at K&L Nurseries and stock up on plants and supplies.

Travel out to West Melton for your two final stops. Find

organic and handcrafted herbal teas, salts and skin at the

Herbal Garden. Finally finish off at the Shakespeare inspired

stunning garden of Casa Rossa. You will never know it was

once an old quarry!

Saturday 15 October, times vary per garden

Price $0–$15 per garden

TOUR: Cedar Park, Dalkeith, Broadfields, K&L Nurseries,

Herbal garden, Casa Rossa.
---
Wednesday October 5 2022 Selwyn Times

• By Shelley Topp

AN EVENT showcasing

British-made cars has been

held to commemorate the

reign of Queen Elizabeth

II.

The line-up included a

1981 Ford Cortina 2.0L

owned by West Melton's

Zac Haywood.

The car was purchased

new by Haywood's greatgrandfather,

Aleck Blank,

of Yaldhurst, and restored

by Haywood after it had

been left unused, parked in

a shed for years.

The display was organised

by Trevor Stanley-

Joblin, of Amberley, and

it was held at his Spring

Classic Car gathering at

Leithfield's Better Half

Kitchen and Bar.

''It was a special, one-off

event, to commemorate

the Queen,'' Trevor says.

''I asked drivers of

all British vehicles,

irrespective of being classic

or not, to attend. We had

106 classic cars in total and

around 50 of those were

British,''

The show also included

two Triumphs owned by

a Christchurch father and

son.

Yanni Woods had his

Triumph 1973 GT6 Mk3

on show, while his son,

NEWS 27

FABULOUS

FORD: Zac

Haywood, of

West Melton,

with his 1981

Ford Cortina

taking part in

the British

vehicle

display at the

Spring Classic

Car gathering

in Leithfield.

PHOTO:

SHELLEY

TOPP

Fords line-up to

commemorate Queen

Jonty Woods, had his

1975 Triumph 2.5 Mk2 on

display.

A 1982 Morgan Plus

8, sports car, owned by

Rangiora's Tim Palmer,

was also included in the

line-up.

The British theme was

continued during the event

with live music by covers

band Magic, including

Philip Chapman, of

Rolleston, Denis Gempton,

of Reefton, Craig Gribble,

of Christchurch, Nigel

Cook, of Kaiapoi,

and Sharon Miller, of

Rangiora, playing some

popular British rock 'n' roll

classics.

favourite fashion store

Fashion Quarterly oCtoBer 2022

Wow it has been a busy time at our

shop, with new arrivals coming and

selling just as fast.

A big thank you to all our customers

for your continued support.

Spring is such a beautiful time of the

year life comes back to the garden

with blossoms and spring blooms,

and your wardrobe should be just

as pretty, with dresses from casual

to evening, linens and cottons and

casual sneakers and heels.

We have a lot going on at the

moment so keep reading as we get

you through spring.

COOP spring has arrived and we

are just oozing with excitement with

the gorgeous choices, too many

to mention. Picks are The Shir Skirt

available in apricot and navy, Shir

Thing Dress, plenty more styles in store

or browse online. Melia Blouse from

Esmaee is made from a lightweight

cotton, take a look at the detail.

Elm casual dresses are now in, with

the favourite Joanna Tee Dress and

Gemma Dress. Betty Basics have

delivered with the Portsea Blazer

in hot pink and green. It doesn't

get more classic than this versatile

layering piece. It features stretch that

moves with you all day long.

Made in a Ponte

fabric it will add a

pop of style and

colour to any outfit.

A big selection of

tops to go with any

outfit, we are loving

the Luna Top from

Lemon Tree with it's

statement sleeves.

Ivy Blu Eve Tanks

are a great layering

piece or just wear it

with jeans, available

in black or navy.

Other new arrivals include Ketz Ke,

New London Jeans, Caju and new

season footwear is here!

Don't forget to follow us on Facebook

and Instagram for all the latest arrivals.

Gift Vouchers available

online or instore if you are

stuck for an idea for that

someone special.

Pay online or instore with Zippay and Laybuy, get your

purchase now and pay it over 6 weeks interest free.

Our web site is continually updated with new arrivals, you can

shop online 24/7 and we can have your purchase either couriered

(free shipping) or you can select pick up in store option.

Free shipping for orders over

$50 New Zealand wide

meet us in the Country

SEPTEMBER–NOVEMBER 2022

Visit Selwyn's award-winning gardens opening in spring with peonies, rhododendrons and daffodils. There are plenty of open days to

choose from with great walks and cafes nearby.

Book a farm tour and experience country life with your family. Get up close to alpaca, lambs and farm dogs – don't forget your camera!

Immerse yourself in traditional A&P shows where you will cheer on the woodsmen, shearers and horse trials.

Find out more at selwyn.nz/spring.

Visit selwyn.nz Follow Selwyn NZ Share selwyn.nz

Like us on Facebook and keep updated

with new arrivals, specials and competitions.

www.vivalamoda.co.nz

Shop 12, Rolleston Square, Rolleston. Phone 347 1151
---
28 Selwyn Times Wednesday October 5 2022

BAYLEYS CANTERBURY

IS PROUD TO SPONSOR

THE ELLESMERE

A&P ASSOCIATION

SELWYN

2022

SPRING

SHOW

Saturday 15 October

Ellesmere Showgrounds

1650 Leeston Road

As part of our commitment to the Show,

we are proudly presenting the Bayleys

Matson & Allan Young Achiever Award,

celebrating outstanding young achievers

in their communities.

Join us at the Bayleys tent for a sausage

sizzle and the chance to win with our

Guess the Weight of the Pig competition.

bayleysselwyn.co.nz

Bayleys Darfield

62 South Terrace

03 975 4559

Bayleys Leeston

70 High Street

03 375 4700

Bayleys Rolleston

92 Rolleston Drive

03 347 9949

WHALAN AND PARTNERS LTD, BAYLEYS, LICENSED UNDER THE REA ACT 2008

Residential / Commercial / Rural / Property Services
---
Wednesday October 5 2022 Selwyn Times

Latest Canterbury news at starnews.co.nz SPONSORED CONTENT 29

Vibrant new addition to

entertainment precinct

LAUNCHING October 7, Funlab is

bringing its all-immersive fun-zones,

Archie Brothers Cirque Electriq and

Holey Moley Golf Club, down to

Christchurch for its biggest and best

funtainment space yet.

Located in Christchurch's EntX

complex, just below Hoyts, Archie

Brothers Cirque Electriq and Holey Moley

Golf Club are the two new kids on the

block – boasting mind-blowing arcade

games, crazy golf courses and eight lanes

of bowling, all jam-packed into one epic

precinct.

FunLab chief executive Michael

Schreiber says the decision to launch

in Christchurch was a response to the

vibrant rejuvenation of the city centre.

"When choosing where to next launch

Archie Brothers Cirque Electriq and

Holey Moley in New Zealand, we were

excited by Christchurch as a city that is

thriving in revitalised growth – we're

thrilled that our two hit entertainment

spaces are set to elevate and add

excitement to EntX in the city centre," he

says.

The hybrid opening is part of a relaunch

of EntX Christchurch, the entertainment

complex situated in the heart of the city

centre, where Mackersy Property director

of investment and transactions Adam

Copland is excited to see the space come

alive.

FUNLAB: Archie Brothers Cirque Electriq and Holey Moley Golf Club are

opening in EntX this Friday.

"We're thrilled to be relaunching

EntX and hit the ground running with

the opening of Archie Brothers Cirque

Electriq and Holey Moley. This space is

a vibrant addition to the EntX precinct

and a huge win for the Christchurch

community.

"We can't wait to see more locals

venturing into the city to experience all

the food and entertainment excitement

that EntX and the city centre has to offer"

Copland says.

Archie Brothers Cirque Electriq and

Holey Moley welcome reservations for

all occasions, including wild work dos,

brilliant birthday parties, unforgettable

Christmas functions and more – book

early to avoid disappointment.

• For more information, visit

www.holeymoley.co.nz and www.

archiebrothers.co.nz

Fresh in

for spring

03 322 4548 | Easy Parking

17 Lillian Street, Halswell

www.maxwellfashion.co.nz

Winter Hours

Open Mon-Fri 9.30am - 4.30pm

Saturday 10.00am - 1.00pm

Check out our facebook page

LAYBY WELCOME

NOW OPEN SATURDAY

9.00am – 4.00pm

Farmlands Darfield

For full store hours visit farmlands.co.nz

FROM

$

4780

We help you

grow it &

mow it

WE SERVICE ALL MAJOR BRANDS OF

OUTDOOR POWER EQUIPMENT:

• Riders

• Lawnmowers

• Chainsaws

• Brush Cutters

• Hedge Trimmers

• Blowers

FREE

EARMUFFS

THIS OCTOBER!

Get yours with every finished

product purchased in October.

p. 03 324 3880

22 Station St, Leeston

thinkwatercanterbury.co.nz
---
30 Selwyn Times Wednesday October 5 2022

RURAL | LIFESTYLE | RESIDENTIAL

KIRWEE 10 Saint Andrews Lane

Private, Quiet & Space

Welcome to 10 St Andrews Lane, Kirwee. This property of 1027sqm

has living the good life written all over it, and the modern permanent

material home is set back from the road in a quiet cul-de-sac.

Well fenced for security for small children or a pet or two, the home

is west and north facing to capture the sun.

The home offers a large open-plan kitchen, with walk-in pantry,

dining, and family area with a separate lounge. Sliding glass doors

lead out to a west-facing patio area and the garden. Up the hallway

are four large bedrooms, an office (complete with fibre), family

bathroom, and the master with a walk-in robe and modern en suite.

Internal access is derived from a double garage. The home is very

well heated with double glazing, free-standing log fire, two heat

pumps, and a built-in gas fire. On the roof are solar panels keeping

that electricity bill very low.

To the back of the home are wood sheds, and two small utility sheds.

A large lawn area has an easy-care garden of trees and shrubs.

Darfield is your nearest main town with the City and Airport being

half an hours drive away.

]

DEADLINE PRIVATE TREATY

GST Inclusive

(Unless Sold Prior)

Closes 2.00pm, Thursday 20 October

VIEW

1.00-1.30pm, Sunday 9 & 16 October

Min Cookson

M 027 249 5417

E min.cookson@pggwrightson.co.nz

pggwre.co.nz/LCN36609

FANTASTIC

OPPORTUNITY!

LIST

WIN

AND

Just list your property with one of our Darfield salespeople

listed below during August, September and October to go in

the draw to win an action packed weekend for two in

Kaikoura valued at $3,118 *T&Cs apply

In conjunction with PGG Wrightson Real Estate,

Darfield and South Pacific Helicopters, Kaikoura.

Mark Terry 027 572 2559

Karen Hennessy 027 967 0186

Min Cookson 027 249 5417

Rob McGregor 021 334 469

Linda McCarthy 022 692 6090

Sam Davidson

Sales Manager

027 488 8269

PGG Wrightson Real Estate Limited, licensed under REAA 2008

6/19 Gerald Street, LINCOLN

42 South Terrace, DARFIELD

Phone: 03 341 4301 | Email: christchurch@pggwre.co.nz

Helping grow the country

For more great listings, visit www.pggwre.co.nz

PGG Wrightson Real Estate Limited, licensed under the REAA 2008

Helping grow the country
---
Wednesday October 5 2022 Selwyn Times

Latest Canterbury news at starnews.co.nz SPONSORED CONTENT 31

Now's the time to PowerUp your career

ŌTAUTAHI businesses are

facing a major skills shortage.

Border closures plus strong

economic growth has meant a

record number of jobs advertised

online – up 33 per cent over the

last year.

Approximately 20,000 women

are either underemployed or

underutilised in the workforce,

a statistic that kickstarted

ChristchurchNZ's PowerUp

initiative to support more

women into work.

PowerUp is centred

around an information hub

at powerupyourcareer.co.nz

and is focussed on supporting

Canterbury women into

work and arming them with

knowledge and tools to make

informed choices about their

career path. It also offers

support to local employers

through a pilot series of

workshops around diversity,

equity and inclusion.

It is fronted by four

Christchurch women who share

relatable, inspiring stories about

overcoming challenges in their

careers.

For Dale Jackson, low

confidence and an overwhelming

job hunt held her back after

redundancy and, with support

from a career coach, she had

to work hard to rediscover her

value.

"My career coach changed my

life. She got my confidence to

powerupyourcareer.co.nz

YOUR FUTURE

Gazelle Lowcay, Ceryse Scott, Dale Jackson and Angela Godenho share their career

journeys as part of PowerUp campaign.

where it's never been before by found on PowerUp and are a key

showing me that it was all about part of why the hub offers a lot

starting with the basics and more than just CV advice and

discovering what makes me tick," cover letter templates.

Dale said.

"The PowerUp hub is a onestop-shop

for women looking to

Local support groups also

played an integral role in Dale's grow their career in Christchurch.

career journey, particularly There's so much support available,

Dress for Success, a group that but it can be difficult to access –

provides support and advice the hub collates all the support

on professional attire and services in one place to make it

development skills.

easier for women to connect to

Karen Haigh, talent specialist the services and events that are

at ChristchurchNZ said groups right for them, whether they be

like Dress For Success can be jobseekers, career changers or

new to Christchurch," Karen

said.

Ceryse Scott agrees that a

regionalised information hub

would've been the perfect place

for her. After losing her job due

to Covid, she spent a long time

searching for inspiration and the

right job.

Now settled in her role as a

case manager for the Ministry

of Social Development, Ceryse

credits support networks that

gave her insights into people and

diverse groups and built on her

passion for community work.

Through these Ceryse developed

a portfolio of transferable skills.

Gazelle Lowcay and Angela

Godenho complete the group of

four and have powerful messages

for women looking for work or

thinking about changing career

direction.

Gazelle, a migrant from the

Philippines, retrained in IT after

eight years as a nurse and now

works as a software developer

for Jade Software. Gazelle says

it's a really supportive work

environment for women and she

feels empowered.

Mother of three Angela was

apprehensive about returning

to work and assumed a work/

life balance wasn't on the cards.

But her employer, Warren and

Mahoney, have embraced her

part-time hours and Angela says

workplaces are becoming more

family friendly.

"Mums probably get more done

in a day than many get done in

three. We're really driven and

that's becoming more valued and

appreciated. You just have to back

yourself, women are prone to

imposter syndrome so it's really

important to get the right support

and information to help get back

on your feet," Angela said.

•Visit

powerupyourcareer.co.nz

for more support, events

and information.

Celebrating

20 YEARS IN BUSINESS

Purchase a heat pump

from us during October and go

in the draw to win one of two

65" Panasonic LED TV's

41A SHAKESPEARE RD, WALTHAM

PHONE 03 366 0525

www.enviromaster.co.nz

80%

SubSidy

Warmer KiWi HomeS

Programme

*Eligibility criteria apply

APPROVED SUPPLIERS AND SERVICE AGENTS OF ALL LEADING BRANDS

'Famous for their roasts!'

RESTAURANT & CAFÉ

Weekend Brunch

Check out our extensive brunch

selection. Special kid's menu too.

Saturday & Sunday 10am-2pm

Seniors SPECIAL

Two courses $24

Soup/Roast or

Roast/Dessert

Special available lunch only

Monday - Saturday 12pm - 2.30pm

$20

TREAT THE

FAMILY!

Kid's 2 course

special

School

Holidays

We are family

friendly.

Great Kids menu

plus designated

play area.

$13

The

RACECOURSE HOTEL

& Motorlodge

118 Racecourse Rd, Sockburn,

Christchurch. Ph 03 342 7150

www.racecoursehotel.co.nz

Local elections are every

three years We stand for

you every day

FOR LEGAL EXPERTISE THAT COMES WITH A VOTE OF CONFIDENCE, LET'S TALK.

03 379 7690 | LAWYER@SAUNDERS.CO.NZ | WIGRAM, CITY, FERRYMEAD, PAPANUI | SAUNDERS.CO.NZ
---
32 Selwyn Times Wednesday October 5 2022

Community funding available

Groups planning an activity or event that will help make Selwyn

an even better place to live, work and play are being encouraged to

apply for the Council's Selwyn Community Fund.

The Selwyn Community Fund supports initiatives that contribute

to community wellbeing, bring communities together and attract

visitors to the district. Applications for the second round of funding

are open until Monday 31 October.

Since establishing in 2018, the fund has supported a range of

sports, arts and music events, groups or activities that benefit

the district.

Rolleston Brass, a community-based band, is one of these groups.

Last few days – get your

votes in and have your say

Voters in Selwyn's local elections have just a few days left to get their votes in.

The deadline for voting is 12 midday this Saturday, 8 October – and all votes must be in the

Council's hands by then to be counted.

The best option this week is to drop voting papers into a Council ballot box. These are

available all week at the Council's Rolleston offices, libraries and most Council facilities, right

up to 12 midday on Saturday.

Anyone who hasn't received voting papers, or who has moved since they last enrolled, can

apply for a special vote by contacting the Council on 0800 SELWYN (735 996) or email

electoral.officer@selwyn.govt.nz.

Voters can also apply for a special vote at the Council offices, Darfield, Leeston and Lincoln

libraries, and at Te Ara Ātea, during open hours.

"There's still time to vote, and we're hoping to see more people getting their votes in over the

next few days to have their say," says deputy electoral officer Stephen Hill.

"Voting is an important way residents can help shape Selwyn's future. The people you vote

for have a major say on how local services are planned and funded, and where the district's

priorities should be over the coming three years."

Initial results for the Selwyn elections are expected to be available on the Council website

from mid-afternoon on Saturday, 8 October.

For more details on the elections, including candidate profiles and special voting information,

visit our elections pages at selwyn.govt.nz/elections.

Band Manager Leigh Martin says the fund made it possible to hire a

space at Rolleston School for the group's weekly rehearsals.

"We try to offer music at a reasonable cost for people, so the grant

was really helpful in covering our room hire.

"We were quite fortunate to get into the Rolleston School. Many of

our players are based in Rolleston, so it's a perfect location for us."

Since establishing two years ago, Rolleston Brass has grown

significantly, welcoming all ages to play and compete in

competitions. The band has already competed in three competitions

around the country, and also perform locally.

"Being able to grow and provide something like this in our

district is very satisfying," Leigh says. "The Council has been

really supportive."

Find out more or apply for the Selwyn Community Fund at selwyn.

govt.nz/services/funding-and-grants.

You can be the change

Support your community, be a part of the change, yours can be a voice for

youth in Selwyn.

Get involved in your community and help young people share their views

on what is important in their lives.

Applications open 1 to 31 October.

Apply for a position on the Selwyn Youth Council at selwyn.govt.nz/

youthcouncil.

SelwynYouth

selwyn_youth

Selwyn's diversity celebrated at CultureFest

The tastes, music, dance and customs of Selwyn's many cultures came together in a wonderful

CultureFest celebration last month from 10-25 September.

The festivities kicked off with an exciting day of

performances, food and activities at Lincoln Domain on

Sunday 11 September. A crowd of 3,000 festival-goers was

treated to an array of delicious food stalls, and 12 'have a go'

activities including Brazilian Jujitsu, Latin fire dance, Muay

Thai kick boxing, and traditional Filipino street games. On

the main stage, Polish folk dancing, kapa haka, West African

drumming and a Bangladesh fashion show were some of

the 21 performances to entertain the crowds.

The festivities continued over the two weeks with 26

activities and events held around the district.

A Women's Only night at the Selwyn Aquatic Centre was

a big hit, as around 100 women came to learn about water

safety and participate in an aqua fitness class.

Twenty-six people sharpened their culinary skills at an

Austrian sauerkraut and bratwurst workshop. Scottish

dance, an intro to Bollywood dancing, Budo skills, a

volunteer planting day, and an exhibition on immigrant journeys to Aotearoa were among the

many other activities residents and visitors enjoyed across the festival.

Group Manager Community Services and Facilities Denise Kidd says there was a real sense of

pride and community across the festival.

"It was wonderful to see people being so eager and excited to share their culture and customs

with each other. They were really leading the experiences and offering a variety of ways for

people to enjoy their cultures, which I think enhanced the festival even more. Thank you to all of

the groups and contributors who helped make this year's celebrations such a success."

The Council is already beginning preparations for CultureFest 2023, with plans to build on the

popularity of the interactive activities.

Protect your bike from theft with

529 Garage

Selwyn residents wanting to deter potential bike thieves or help find

their bike if it is stolen are being encouraged to register their bike

with the free 529 Garage service.

Canterbury Police have teamed up with the community-powered

bike recovery initiative in a bid to curb bike thefts and reunite

owners with their stolen property. It follows a costly year for owners

in 2021, with more than $2 million worth of bikes pinched and an

average of four bikes a day reported stolen to Canterbury Police.

The 529 Garage service works by recording a bike's details,

including serial numbers, photos and identifying features. This

makes it easy for Police to identify stolen bikes and return them to

their rightful owners.

Once registered, owners can obtain a unique code on a tamperresistant

shield to stick on their bike, which acts as a warning to

would-be thieves that the bike is registered. Potential buyers can

also search the database to check if a secondhand bike they're

looking at has been flagged as stolen.

If stolen, bike owners can update the 529 Garage app, and a

notification is sent to the local 529 Garage community, advising

them to keep an eye out for the bike.

The initiative is a collaboration between Canterbury Police, Project

529, and Christchurch City Council, with Auckland and Wellington

also participating.

The 529 Garage app can be downloaded for free from the App Store

and Google Play.

Once registered, tamper-resistant shields can be obtained from

Christchurch City Council or from several Christchurch bike stores.

Visit the Christchurch City Council website ccc.govt.nz for

more information.

Council Call

SELWYN DISTRICT COUNCIL

Norman Kirk Drive, Rolleston

Ph 0800 SELWYN (735 996)

TE ARA ĀTEA

56 Tennyson Street, Rolleston

Ph 347 2880

DARFIELD LIBRARY & SERVICE CENTRE

1 South Terrace, Darfield

Ph 318 8338 or 347 2780

CC051022
---
Milestone reached for Hororātā community hub

The Council and the Hororātā Community Trust have signed a Memorandum of Understanding

(MOU) around the creation of a community hub in the township.

Mayor Sam Broughton signed the MOU last week confirming the Council will transfer the

Hororātā Community Hall and surrounding endowment land to the Trust, along with a grant of $1

million to support the trust in building the new community hub.

The Council has been working with the Hororātā community and with the Trust for a number

of years, with a view to building a new community facility for the township, and the MOU is an

important stage in that process, Council Chief Executive David Ward says.

"The Council is excited to have this agreement in place, and confirm its support for the Trust to

get the community facility built. A lot of hard work has gone into this from all sides to ensure

Hororātā receives a facility that meets its needs now and into the future, and this is a positive step

towards seeing that completed."

Hororata Community Trust Trustee Richard Lang said it was an important day for the Hororātā

community. "We are looking forward to developing a vibrant community hub which will feature

our areas heritage and celebrate our stories."

Notices

Private Plan Change 74 (Rolleston): Call for further submissions

Hughes Developments Limited has requested to rezone approximately 20 hectares of Rural Inner

Plains-zoned land in West Melton to enable approximately 130 residential sites. A summary of

the submissions on the plan change request, along with a copy of the original submissions is now

available for viewing at selwyn.govt.nz/pc74. Further submissions are limited to supporting or

opposing an original submission. Information on who can make a further submission and how

to make a further submission is available at selwyn.govt.nz/pc74. The closing date for further

submissions is 5pm Wednesday 19 October 2022.

Dog microchipping

This free monthly service is available on Friday 14 October at:

• Darfield Library, 9-9.30am

• Lincoln Library, 9-9.30am

• Rolleston Council Offices, 11-11.30am

• Leeston Library & Service Centre – no clinic this time

If your dog was first registered after 30 June 2006 and is not a working dog, the law requires him or

her to be microchipped.

• Clinics last for 30 minutes

• Rolleston venue is Norman Kirk Drive (off Rolleston Drive).

• Microchipping will not take place if wet.

• Clinics in Darfield and Leeston will be alternated each month

Any questions regarding microchipping, please contact Animal Control on 0800 SELWYN (735996)

Meetings

Public Forums: Council, Community Board and local committee meetings are open to the public. Time is

available at the start of meetings for people to speak on matters of concern. Please notify Therese Davel or

Bernadette Ryan if you wish to speak at the Council meeting at least five days before the meeting.

Township, Hall and Reserve Committees: To list or make changes to meeting details, email

meeting.changes@selwyn.govt.nz or phone 0800 SELWYN (735996) by 9am Wednesday the week

before publication.

COUNCIL & COMMUNITY BOARD MEETINGS

Following the end of the triennium, the Council and

Community Boards are in recess until the results of

the 2022 local government elections are confirmed

On the Roads

Weedons Ross Road seal widening

Final tidy up works are taking place on the Newtons Road

intersection. Stop/go controls will be required on some days.

Other repairs and upgrades

The Hawkins River ford on Homebush Road is closed for repairs. Repairs are also

taking place on Telegraph Road between Essendon Road and Charing Cross, and

on Selwyn Lake Road.

Please take care around work sites and follow site signage. Follow the QR code with this story for a

map of these works, or view our road closures map at selwyn.govt.nz/roadclosures.

Business Support

DISTRICT COMMITTEE MEETINGS

Springston Community Committee

Wednesday 19 October 7.30pm

Errol Tweedy Pavilion, Springston Reserve

Jason MacRae, Business Growth Advisor for Canterbury Chamber of Commerce

will be offering free advice for Selwyn businesses, through sessions for

businesses of all sizes and stages looking to grow and overcome challenges.

Each business will be provided with individual feedback and suggestions along

with expert connections and resources to move their business forward.

Dates for support sessions:

Wed 12 October Wed 26 October

-

The support sessions are 45 minutes each, held at Te Ara Atea, Rolleston,

8.30am – 1pm.

Bookings essential. Contact Jane Denton at

jane.denton@selwyn.govt.nz to book.

Wednesday October 5 2022 Selwyn Times 33

Event Guide

Thursday 6 October

Let's Grow a Pumpkin (Growing

Competition – Step One)

Darfield Library, 1.30pm–2.30pm

Join Helen from Rolleston Community Garden and

begin your pumpkin growing journey. Learn some

great pumpkin growing tips and get ready to enter

our biggest pumpkin competition next autumn! All

resources supplied. Suitable for all ages, including

families. Caregiver required for children under 8

years. Free. Bookings required at selwyn.govt.nz/

events.

Friday 7 October

Introducing Kā Kōrero o Waikirikiri

Selwyn Stories

Darfield Library, 10.30am–11.30am

A presentation introducing the new library digital

heritage repository, Kā Kōrero o Waikirikiri Selwyn

Stories. It's a place to celebrate our past knowledge

and collective stories - a marker of where we've been

and our shared journey towards the future. Free.

Bookings required at selwyn.govt.nz/events.

Saturday 8 October

Teen School Holiday Pool Party

Selwyn Aquatic Centre, 6pm–8pm

Join us for an epic pool party, featuring inflatables,

a bombing platform, water rollers, music, giveaways

and more! Open to people aged 10-17. $5 per person,

bookings required. Visit selwyn.govt.nz/events.

Monday 10 October

Introduction to Astronomy

Rolleston Community Centre, 9am–12 noon

Join us for a five-day short course to learn all about

the night sky. Gain fascinating insights into the

planets, stars and galaxies that make up our solar

system, plus delve into the Big Bang theory and the

role it played in creating our universe.

$50 per person. Bookings required for this SWELL –

Aging Well in Selwyn event. Book online at selwyn.

govt.nz/events.

Tuesday 11 October

Dinosaur Party Storytime

Te Ara Ātea, 10am–10.30am

T-Rex, Triceratops, Pterodactyl, Velociraptor -

whatever dinosaur you like, come along to our

awesome dino storytime party and take part in

our interactive stories, songs and activities! Free.

Bookings not required. For more times and locations

visit selwynlibraries.co.nz/events.

Tuesday 11 October

Connecting Selwyn

Leeston Library, 10am–12 noon

A drop-in session where you can find out about

support in employment, education and training. The

people at Connected will assist in finding the right

service for your needs, joined by the Ministry of

Social Development and supported by the Selwyn

District Council. Free. Suitable for all job seekers.

Register your interest at selwyn.govt.nz/events, and

drop-in any time during the session.

FOR MORE COUNCIL EVENTS VISIT

SELWYN.GOVT.NZ/EVENTS

LEESTON LIBRARY & SERVICE CENTRE

19 Messines Street, Leeston

Ph 347 2871

LINCOLN LIBRARY & SERVICE CENTRE

Gerald Street, Lincoln

Ph 347 2876

0800 SELWYN

SELWYN.GOVT.NZ

SELWYNDISTRICTCOUNCIL
---
34 Selwyn Times Wednesday October 5 2022

STYLE & QUALITY

FOR LESS

Outdoor Furniture

NOW IN

REBEL SPORT

STOCK

CHRISTCHURCH'S MOST AFFORDABLE

NZ MADE LOUNGE SUITES

CUSTOMISE TO YOUR REQUIREMENTS

IN STOCK NOW

WAS $3839

$

3499

Sahara Electric Corner

Raglan Egg Chair

12

Palm Beach

Egg Chair

WAS $2599

$

2399

WAS $179

$

159

Marley Outdoor Dining Chair

Available in Black or White

Piha Extension

Outdoor Table

Lending criteria, $50 Annual Account Fee, fees, Ts&Cs apply. Standard Interest Rate

(currently 25.99%p.a.) applies to any outstanding balance at end of interest free period.

Offer ends 31 December 2023. Min spend and exclusions may apply,

$55 Establishment Fee or $35 Advance Fee applies to Long Term Finance Purchases*.

WAS $1049

$

899

WAS $1049

$

899

Palm Beach

Outdoor

WAS $2899

$

2599

Akaroa Lounge Setting

WAS $3149

$

2899

Three Seater, two Single Seaters & Coffee

FREE

CARPARKING

SOUTH CITY

BATH ST

WE ARE

HERE

255 MOORHOUSE AVE

REBEL SPORT

COLOMBO ST

WWW.AFFORDABLEFURNITURE.NZ

MON-FRI 9:30AM – 5:00PM

SAT-SUN 10AM – 5:00PM

0800 268 264
---
Wednesday October 5 2022 Selwyn Times

Latest Canterbury news at starnews.co.nz

RACING 35

Purdon perplexed after strange night

• By Michael Guerin

BLOOD TESTS could shed

some light on just why punters

got such a bleeding nose at

Addington on Friday night.

Top trainer

Mark Purdon

will have

bloods taken

from several

of his team

after a rollercoaster

night

Mark Purdon

last Friday,

which most

expensively

saw Akuta beaten in the Lazarus

Stakes at $1.20.

It was a strange night for

punters with Akuta's defeat

followed up by both Muscle

Mountain and Sundees Son

galloping in the main trot and

several other favourites underperforming.

The two superstar trotters

galloping, while costly, is at

least easy enough for punters to

understand but Akuta sitting in

the one-one and not running

past a horse back in three-yearold

company was a real head

scratcher.

"He was disappointing," Purdon

said.

"I know they were running

fast times off the front and the

winner (Republican Party) is a

good horse but we still didn't

run past anything.

"So I am suspicious the team

might have a bug. There was

no sign of anything before they

raced and their work had been

good but usually when they have

a virus they might have a cough

after the race.

"That was the case with Akuta

and couple of others so we will

take bloods off them on Tuesday

and know more when we get

those results back."

Purdon says Akuta's defeat will

not play into his eventual decision

whether to start in the IRT

NZ Cup or not.

"First thing first we will get

him checked out and see if needs

to be treated and then his next

aim is the Three-Year-Old Flying

Stakes at Addington on October

14.

"Then, all going well, he would

probably go to the Ashburton

Flying Stakes against some of the

best ones and if he does that, that

is when we will decide about the

New Zealand Cup.

CHECKS:

Blood tests

will reveal

if Akuta is

carrying a

bug.

"But just because he got

beaten last Friday doesn't change

anything, he still has the same

ability."

Purdon said the Addington

track felt fair and even on Friday

night, dispelling thoughts the inside

may have been faster, which

would only really be the case if

the track was graded unevenly

and was deeper wider.

"I think the fact the leaders

were running such fast times and

maybe a virus going around were

factors, while the spring growth

(grass) is really coming through

now and some of the horses may

be doing a little too well because

of that."

Purdon was pleased with both

Spankem and Self Assured's

placings behind B D Joe in the

Canterbury Classic and they

could even head to the Methven

Cup this Sunday.

Among those who is likely

to meet them there is Alta

Wiseguy as trainers Steve

and Amanda Telfer look to

continue their great start to the

NZ Cup campaigns of he and B

D Joe.

"Alta Wiseguy will go to Methven

but B D Joe will wait and he

could even return to Addington

on the 14th and then Ashburton,"

says Telfer.

While the superstar trotter's

defeats will mean little to their

eventual chances Dominion

there was already a market

move pre-race that saw Bolt For

Brilliance, who resumes

at Alexandra Park this Friday,

join Sundees Son as joint favourite.

"We hadn't been taking a lot

of money for Sundees Son

and we really liked Bolt

For Brilliance's workout

performance against the pacers

at Pukekohe so we rate them

equal chances now," said TAB

bookmaker Matt Peden.

PROSTATE CANCER

SUPPORT GROUP

A support group is operating in Selwyn for

men and their families who are living with a

diagnosis and treatment for Prostate Cancer.

Coordinators Chris & Dianne Ward

Phone: 027 437 1254

email: selwyn@prostate.org.nz

For more information call 0800 477 678

Organised by the Prostate Cancer Foundation of New Zealand

www.prostate.org.nz

SEE HOMEPLUS

FOR ALL YOUR

HOME

PRODUCTS

Meeting

WeDneSDAY

12th OCtOBeR

7.30PM

Lincoln event Centre,

Meijer Drive, Lincoln

Speakers: Canadian Guests

& Patient Empowerment

Programme

Division of Tuffnell Drainage Ltd

We

unblock

drains

Call us now 03 974 3561

Now servicing the Selwyn District

based out of Rolleston and Leeston

High pressure waterblasting • CCTV • 7 days a week service

Measured, made

and installed by our

team of experts.

5 year warranty.

AWNINGS & BLINDS BALUSTRADES FENCING & GATES INSECT SCREENS LOUVRE ROOFS SECURITY SCREENS SHOWERS WARDROBES & DOORS

88 Gasson St, Sydenham | 03 379 3740 | www.homeplus.co.nz
---
36 Selwyn Times Wednesday October 5 2022

X-TRAIL

RUNOUT

Nissan X-Trail ST 2WD 7 Seater

+CCF

$39,990+ORC

3 YEARS

CHRISTCHURCH NISSAN, 380 Moorhouse Avenue, Christchurch

Ph: 03 595 6820

www.christchurchnissan.co.nz

FREE SERVICE

Complimentary 3 years/45,000km (whichever occurs first) no cost service applies to X-TRAIL T32 models first registered from September 1st 2022. The complimentary service offer to be carried

out by Christchurch Nissan includes all items listed in the service schedule including parts, lubricants and labour. Excludes all lease and some fleet purchasers. Offer available while stocks last.

christchurchnissan.co.nz

GTR 230

This watercraft is one of the

easiest ways to get into the

musclecraft scene. It comes

with a powerful supercharged

230-hp Rotax engine and

it is now equipped with the

exclusive LinQ Quick-Attach

System for cargo and the 100W

Bluetooth Audio System.

FEATURE HIGHLIGHTS

BRP Audio - Premium System

(Optional)

The industry's first

manufacturer-installed

truly waterproof

Bluetooth‡ audio system.

VTS (Variable Trim System)

Provides handlebaractivated

settings so

riders can easily find the

ideal trim for

varying conditions.

Swim Platform with Integrated

LinQ® System

Exclusive quick-attach

system on a large swim

platform that allows for

easy installation of

storage accessories.

ROTAX® 1630 ACE

230-hp Engine

This powerful engine

comes standard with

a supercharger and

external intercooler.

It is optimized to run

on regular fuel, which

lowers fuel costs.

GTI Hull

This moderate V-shaped

hull guarantees a stable,

enjoyable ride in variable

water conditions.

Confident, predictable

handling but incredibly

playful when you want it

to be.

Large Front Storage

An impressive 40 gallons

of sealed storage space

allows riders to safely

stow belongings while

riding.
---
Wednesday October 5 2022 Selwyn Times 37

CHRISTCHURCH

CREMATORIUM

FUNERALS

CROSSWORD

1 2 3 4 5 6 7 8

9

10 11

262

SUDOKU

Every row, column and box should

contain the digits 1 to 9.

WordBuilder

WORDBUILDER

162

6

A K E

T P C

12 13

14 15 16 17 18

19 20 21

How many words of three or more letters,

How including many plurals, words can you of make three from or the more six

letters, using each letter only once? No foreign

words or words beginning with a capital are

allowed. There's at least one six-letter word.

once?

TODAY

Good 20 Very Good 24 Excellent 28

Solution 161: bel, belt, bet, blue, bluer, blur, blurt,

brut, brute, bur, burl, but, BUTLER, let, leu, lube,

lure, lute, rebut, ret, rub, rube, ruble, rue, rule, rut,

word.

true, tub, tube, tuber.

letters, including plurals, can you make

from the six letters, using each only

No words beginning with a capital are

allowed. There's at least one six-letter

Good 20 Very Good 24 Excellent 28

22 23 24 25 26

27 28

29

Across

1. Sepsis (5,9)

10. Noble gas (5)

11. Voyager (9)

12. Very active or busy (2,3,2)

13. Empower (7)

14. Sports group (5)

16. Revive (9)

19. Winter Olympic sport (9)

20. Not as good (5)

22. Receives (7)

25. Protection (7)

27. Miscreant (9)

28. Flattens (5)

29. Mischievous behaviour (inf) (6,8)

Decoder

Down

2. Source of illumination (9)

3. Unit of weight (5)

4. Jar of dried flower petals (9)

5. Picture (5)

6. Depose (9)

7. Small waterway (5)

8. Item of clothing (7)

9. Renowned (6)

15. Idle or frivolous action (9)

17. Enters into a timetable (9)

18. Incorrect (9)

19. Bloom (7)

21. However (4,2)

23. Barb (5)

24. Scour (5)

26. Pretend (5)

Tel: 020 7622 1467 Fax: 020 7622 1522

Email: info@knightfeatures.co.uk

20 Crescent Grove, London SW4 7AH

Supplied by KNIGHT FEATURES

J Y M X H B U Z K W Q G C

14 15 16 17 18 19 20 21 22 23 24 25 26

E L I N O P V T S A F D R

1 2 3 4 5 6 7 8 9 10 11 12 13

A F Shuker

A B C D E F G H I J K L M N O P Q R S T U V W X Y Z

1 2 3 4 5 6 7 8 9 10 11 12 13

N O T

14 15 16 17 18 19 20 21 22 23 24 25 26

All puzzles copyright

T H E P U Z Z L E C O M P A N Y

www.thepuzzlecompany.co.nz

SOLUTION

No.162

8 17 24 25 13 1 7 14 10 4 1 7

Crossword

Across: 1. Blood poisoning,

10. Argon, 11. Traveller, 12.

On the go, 13. Entitle, 14.

Squad, 16. Resurrect, 19.

Bobsleigh, 20. Worse, 22.

Obtains, 25. Defence, 27.

Scoundrel, 28. Irons, 29.

Monkey business.

Down: 2. Lightbulb, 3.

Ounce, 4. Potpourri, 5.

Image, 6. Overthrow, 7. Inlet,

8. Garment, 9. Famous, 15.

Dalliance, 17. Schedules,

18. Erroneous, 19. Blossom,

21. Even so, 23. Thorn, 24.

Scrub, 26. Feign.

WordBuilder

ace, act, ape, apt, ate, cake,

cap, cape, cat, cep, eat, kea,

kept, pace, pack, PACKET,

pact, pat, pate, pea, peak,

peat, peck, pet, tack, take,

tap, tape, tea, teak, tec.

Sudoku

Each number in our DECODER grid represents a different

letter - there is a number for all 26 letters of the alphabet.

DECODER

Enter the given letters into all squares with matching numbers.

The challenge now is to work out which letters are represented

Each by the number other represents numbers. a As different you get letter the of letters, the alphabet. enter them Write into the

given the main letters grid, into all and squares the reference with matching grid. numbers. To keep Now track work of out the

which letters letters you are have represented found, cross by them other off numbers. the alphabet provided.

22 9 5 19 5 8

3 4 23 10 13 12 26 5 13 6 9 1

4 1 19 19 2 8 4

25 2 10 21 3 1 13 9 6 1 2 8

12 8 8 1 8 12 18

5 17 1 4 16 10 8 1 9

16 13 23 22 13 25 15

H I T

14 3 11 11 15 10 13 1 10

26 10 9 10 7 1 13

18 3 8 26 18 9 8 5 13 16 1 12

10 2 11 8 20 2 10

5 6 10 24 20 1 10 26 18 3 4 25

9 9 2 18 4 1

A B C D E F G H I J K L M N O P Q R S T U V W X Y Z

1 2 3 4 5 6 7 8 9 10 11 12 13

I

T

14 15 16 17 18 19 20 21 22 23 24 25 26

H

SOLUTION

No.161

162

1 2 3 4 5 6 7 8 9 10 11 12 13

K S W J R M U Y B D V X O

N A I P C Z F E T L H G Q

14 15 16 17 18 19 20 21 22 23 24 25 26

2 1 12 17 10 1

21 7 16 13 7 3 24 16 1 22 7 13

16 19 17 25 7 4

1 13 16 8 20 16 2 13 19 16 3 9

25 23 25 19 17 4

26 2 17 24 17 5 16 3 13 17 10 1

4 3 1 2 17 25

N O T

18 4 13 7 19 12 3 12 13 12 3 9

CHRISTCHURCH

1 4 4 15 1 8

CREMATORIUM

FUNERALS

19 12 1 11 4 7 6 8 16 1 19 16

8 3 3 16 16 3
---
Selwyn Times Wednesday October 5 2022

38

GARDENING

Latest Canterbury news at starnews.co.nz

Get seedlings started now under cover

IN WARMER districts, where no

more frosts are expected, runner

and butter beans can be sown. In

most gardens, it is better to delay

growing these tender vegetables

outdoors and to get seed started

under cover. This is also true of

sweet corn and outdoor tomatoes.

From the time they germinate,

runner beans, such as Scarlet

Runner, take 90 days to mature,

while dwarf or butter beans will

produce crops in 60 days. The

latter are generally recommended

for smaller gardens, but a few

runner beans can be grown

anywhere they can climb.

If sowing them in their

permanent position, put runner

bean seeds about 5cm apart

around a bean teepee or against

the netting or trellis they are to

climb.

Pinching out the tips to make

bushier plants is a waste of

effort, as it reduces the crop. Like

climbing types, butter bean seeds

should be set 5cm apart, with

60cm between rows.

Plant out cabbages, cauliflower,

lettuces, parsley and silverbeet,

and check that autumn-sown

broad beans have adequate

support.

Sow spinach and orach where

they are to mature. Orach, or

red mountain spinach, is a lowgrowing,

purple-leaved vegetable

cooked like spinach.

Sow white turnips, spring

onions and quick-maturing mini

beetroot, such as Bonny Baby.

Small beetroot plants can be

transplanted to fill gaps.

Main-crop beetroot can be

sown next month.

Turnips and beetroot should

not be grown in soil where traces

of animal manure remain, as this

causes the roots to fork. Maincrop

potatoes Rua, Moonlight,

Red Rascal (the improved form

of Desiree), Red King, Heather,

Iwa and Agria, for example, can

be planted now in areas that

experience hot summers. In

cooler districts, wait until next

month.

Flowers

Many spring-flowering shrubs

are pruned as soon as they have

finished blooming. This is so the

plants can make new growth over

summer and autumn, as it is on

this new wood that they flower

next season.

Clematis (right), which has its

peak flowering next month, is

often left to grow unchecked but

most types can be pruned hard

after flowering. Cut C. montana

to 1m above ground, leaving only

a main stem with two to four

buds to develop.

Rhododendrons and azaleas

can still be planted. They are

shallow-rooted, with fibrous roots

close to the surface, making them

easy to transplant. Set the shrubs

with the highest roots just 2cm to

3cm below the soil surface.

Adequate moisture is vital to

this group, so mulch around the

roots with rotted autumn leaves,

pine needles or old sawdust from

wood that is not tanalised. Being

woodland plants, rhododendrons

and azaleas need an acid soil, so

never apply lime.

Azaleas come in two types –

evergreen and deciduous – and

the latter have colourful autumn

foliage in orange or red. Winter

roses (Helleborus) can be divided

this month. They do better

in semishade rather than full

shade, and can be boosted with

leaf mould or well-rotted cow

manure.

Lawns can be planted or

renewed now. Rake any bare

patches to give a slightly rough

surface, then scatter with a lawn

grass mix – usually chewings

fescue and browntop seed in a

2:1 ratio – then cover with fine

soil and press down lightly. Water

HELPING HAND:

In early spring

it's best to get

seeds, such as

beans, started

under cover.

Below: Prune

spring-flowering

shrubs as

soon as they

have finished

blooming.

PHOTOS: ODT

if the soil is dry, then cover with

netting to stop birds eating the

seed.

Fruit

Grafting of apples, pears and

other fruit trees is usually done

this month. This is an important

way of saving heritage fruit trees,

and courses on how to graft trees

are run each season by specialinterest

groups.

Raspberries put in over winter

should be cut back to 30cm

above the ground to encourage

new stems (canes) to grow over

summer for a better crop next

year.

This treatment is also

recommended for blackberries,

tayberries, boysenberries,

loganberries and marionberries.

New blackcurrant bushes

should be pruned to about 25cm

above the ground, but red and

white currants need only to have

last season's growth trimmed

by about half. This growth is

identified by its lighter bark.

Gooseberries are pruned in the

same way as red currants.

$456

$525

TAKE CHARGE WITH STIHL BATTERY TOOLS

STIHL FSA 57

LINETRIMMER

KIT

•AK 10 BATTERY

•AL 101 CHARGER

$456

$525

STIHL HSA 56

HEDGETRIMMER

KIT

•AK 10 BATTERY

•AL 101 CHARGER

$456

$525

STIHL BGA 57

LEAF BLOWER

KIT

•AK 20 BATTERY

•AL 101 CHARGER

BUY ALL 3 TOOLS WITH ONE AK 20 BATTERY & AL 101 CHARGER FOR ONLY $935

Terms & Conditions apply.

Offer valid until 31 October 2022,

while stocks last.

Coupon Deal In store only.

STIHL SHOP FOSTERS

559 Blenheim Road,

Sockburn, Christchurch

03 343 6339

STIHL SHOP NORTHWOOD

554 Main North Road

Belfast, Christchurch

03 974 2469

STIHL SHOP RANGIORA

Corner Lineside & Station Road

Rangiora

03 313 3398
---
2

[Edition datE]

IF YOU'VE got an area

in your garden where you

want to create a mass of

colour, you can't go past

petunias.

They are prolific bloomers

that, if looked after,

will continue to flower all

summer.

You can choose from

plain purple, red, pink or

white. How about purple

with dashes of white like on

the primetime violet star?

Or the duo red and white

variety which, like the

name suggests, produces

a beautiful mixture of red

and white flower?

GARDENING 39

PROLIFIC: Try a mixed petunia bundle to give a myriad of colour.

Bedding flowers will give

you beautiful blooms

Not sure what colour to

select? Then try a mixed

bundle.

Don't have a big garden

to fill with bedding flowers?

Don't worry about that

either. All petunias really

need to flourish is a sunny,

free-draining spot. They

grow equally as well in pots

and hanging baskets making

them perfect for just

about any garden.

Once you've selected

your seedlings and sunny

spot to plant, simply dig

small holes, around 3cm

deep and 25cm apart, and

plant.

Be sure to watch out for

slugs. It also pays to keep

an eye out for aphids. If you

spot these pesky pests, a

general insecticide or spray

of organic alternative, neem

oil will sort that problem.

And make sure to keep

them watered. If you're not

sure how thirsty they are,

stick your finger in the soil

2cm deep. If the soil is dry,

they will need a drink.

Then sit back and wait

just four to six weeks for

your beautiful petunias to

bloom. Remember to pick

off dead heads to encourage

re-flowering.

ARA INSTITUTE OF CANTERBURY

Pasifika mum shows

how it's done

Not so long ago, Epe Valavala was a

full-time, stay-at-home mum. Now, she's

the proud recipient of a business degree

specialising in human resources and on a

mission to get more Pacific people into the

corporate world.

Epe's accomplishment provides an

inspirational example — for her family, the

Pasifika community and mature students —

of what's possible through study.

When Epe first visited Ara Institute

of Canterbury to enquire about its

study options, she literally had a baby

on her hip and needed to know if study

would fit around her lengthy list of daily

responsibilities. "I found out that the

scheduling at Ara worked perfectly for me

as a parent and I wouldn't need to try to

attend one-hour, lecture-style classes," she

says.

Epe admits that she was apprehensive

about the thought of being a mature student

among lots of young adults but discovered

she needn't have worried. "The smaller

class sizes and the atmosphere at Ara let me

contribute my practical life experience to

the mix."

Epe's study experience was a revelation

in many ways. "From the classroom

experience to group work, presentations

and sleepless nights, it's showed me my

worth, my capability and reminded me

of my purpose in life and the many great

things I want to achieve."

One of those things is diving deeper

into human resources. "I want to be

able to weave in some more cultural and

sustainable practices because I believe if

Wednesday October 5 2022 Selwyn Times

those things are taught at your workplace,

they change the way you work, your

homelife and the way you teach your

children."

Ultimately, Epe wants see more Pasifika

people in corporate roles. "Seeing more

people who look like us in the corporate

world will encourage others to get

into business and it will increase our

independence. It will also open more

doors for our people. That's why I chose to

study business, and to specialise in human

resources."

Epe "100%" encourages all single mums

out there to make the sacrifices needed

to study. "It's hard work, but with a bit of

dedication it can be done, and at Ara you're

surrounded by the right people, and you're

well supported."

To explore Ara's flexible business

study options, visit ara.ac.nz or call

0800 24 24 76.

Garden

In the

with intelligro

Ready, Set, GROW

Spring is perfect for growing your own veggies.

Intelligro has a variety of raised garden beds, Vegepods

and planters to help you create a space to love and

grow veggies the whole family can enjoy. Veggie Garden

Mix is packed with nutrients to support healthy plant

growth and is perfect for raised beds and planters. If

you are growing straight in the ground, Garden Soil

Mix is excellent for establishing new garden beds. With

an even blend of soil and organic compost, this will be

excellent for a wide range of plants, trees, and shrubs.

Bagged Super Saver!

Intelligro have an amazing deal

running on a selection of their

best growing mixes! Save up to

30% when you mix and match our

Organic Compost, Veggie Garden

Mix, All Purpose Potting Mix,

Screened Soil, Garden Mix and Peat.

Simply pick any of the products

in the list, and once you hit the

volume bracket the price drops!

PRODUCT RRP$ 2-9 BAGS 10-19

BAGS

20+

BAGS

30+

BAGS

Compost 35L $8.50 $7.65 $6.80 $5.95 $ 5.50

All Purpose Potting 35L $17.00 $15.30 $13.60 $11.90

Veggie Mix 35L $13.50 $12.15 $10.80 $9.45

Peat 35L $13.50 $12.15 $10.80 $9.45

Garden Soil Mix 20L $8.50 $7.65 $6.80 $ 5.95

Screened Soil 20L $7.00 $6.30 $5.60 $4.90

Get down

to business

Equip yourself to succeed in business with a qualification

from Ara, starting in February. You'll learn from experts and

get the skills, knowledge and experience you need to thrive.

Choose from certificates to postgraduate courses in a range

of business areas.

Learn more and apply at ara.ac.nz

August – April

Mon – Sat 7am – 5.30pm, Sun 8.30am – 4.30pm

Labour Day 8.30am – 4.30pm

www.igro.co.nz /igro.co.nz /intelligro_nz

261 Manion Road, Weedons 7677 | P: 03 347 9012 | E: info@igro.co.nz
---
40 Selwyn Times Wednesday October 5 2022

A dAy out in dArfield

Darfield Artweek 2022 is here!

Darfield's Butchery

• Beef • Lamb • Chicken • Pork • Small Goods • Pet Food

All of our beef is 100% grass-fed and grass-finished and our pork

and lamb is pasture raised, the way it should be! We source our meat

regularly to maintain quality and freshness. Not only do we pride

ourselves on having the highest quality local meat available, but also

on delivering the highest level of customer service.

DARFIELD

VILLAGE

MEATS

Dual operation home kill

processor and craft butcher

with over 30 years experience

Hours: Mon-Fri 9am - 5.30pm

Sat 9am-12pm, Sun closed

35 South Terrace, Darfield. P: (03) 925 8956

www.darfieldvillagemeats.co.nz

Darfield Tyre Centre t/a

The much-loved annual event, run by

the The Malvern Community Arts Council

(MCAC), is widely anticipated by artists,

creatives and art lovers alike.

Katrina Ellis, arts administrator for

MCAC, says Darfield Artweek starts

with an opening gala night on Friday 7

October and the exhibition is open to the

public from Saturday 8 October through

to Sunday 16 October at the Darfield

Recreation Centre located at 92 North

Terrace, Darfield. Entry is a gold coin

donation.

The event, now in its 41st

year, originally started at the

Darfield High School and has

grown exponentially over the

years and now features over

300 works of art including

painting, photography,

jewellery, ceramics, quilting

and much more. The youth

section is also back again this

year with 13 youth artists

participating and Katrina says

she looks forward to seeing it

grow in the future.

Artweek is an opportunity

for both emerging and

established artists to share

their creative talent with the public plus

be in contention for the premier award – a

cash prize of $2000 as well as other cash

prizes and voucher prizes donated by

The Drawing Room. This year's judge is

Dorothee Pauli, a Principal Academic staff

member at the School of Art and Design at

Ara, CPIT plus there will also be a people's

choice competition, where members of the

public can vote for their favourite work of

art.

Darfield Artweek is organised by a

Last year's People's Choice winner, Silver

Daisies by Cathie Bell (Windwhistle).

dedicated team of volunteers from the

MCAC, who also run Te Huanui Art

Gallery in Darfield. This year the gallery

will run a special exhibition alongside

Artweek, featuring four guest artists. The

gallery is open weekly 11am-2pm Tuesday

to Thursday and 10am-4pm Friday to

Sunday.

Save the date

15 October - Malvern Anglican Parish

Spring Craft Fair 9am - 1pm, Darfield High

School Hall

18 October - She Loves Golf 6pm at

Hororata Golf Course. Coaching with

Pip Deans – cost $5pp with snacks and

refreshments in the club house afterwards.

Gear provided. All abilities welcome!

24 October - Hororata Spring Fair

9:30am - 2pm, Hororata Domain

5 November - Hororata Highland

Games 9am - 5pm, Hororata Domain

4 December - Christmas Creations

Market 10am-2pm, 17 Domain Rd,

Springfield

NOW OPEN IN HORNBY

• All types and sizes WOF of tyres ONLY available $29

FOR A LIMITED TIME ONLY

- Wheelbarrows, Cars, Trucks,

Tractors and TYRE more SPECIAL

ll mechanical services

etrol & Diesel

ew wheel alignment equipment

ll range of tyres. Economic –

igh performance

175/65R14 Bridgestone Ecopia $135

245/45R18 Bridgestone Ecopia $257

215/55R17 Bridgestone ER33 $280

• Wheel Alignments

Prices include fitting balancing and GST.

Only while stocks last.

• Batteries

Bridgestone Tyre Centre Hornby

- wide range at great prices

Ph: (03) 349 5505 • 39 Carmen Rd, Hornby

Monday – Friday 7.30am to 5pm. Saturday 9am to 12 noon

• Fleet Service

Call now for Competitive Rates

facebook.com/BridgestoneNZ

2-6 South Terrace, Darfield Ph. 03 318 8201

Open Mon - Fri 8.30am - 5pm Sat 8am - 12noon

At A Twisted Bunch we specialise in bespoke

florals- everyday, events, sympathy, weddings &

corporate, we offer gift ware and gift baskets.

Get in touch with us

03 318 8699

atwistedbunch@gmail.com

www.atwistedbunch.co.nz

We are a very versatile salon with a friendly

team of 8, ranging from large colour

correction jobs, barbering services and

regular maintenance clients.

Ali Van Groen

Floral Designer

Ph: 03 318 8699

South Terrace, Darfield

www.atwistedbunch.co.nz

Open 4 late nights a week Ph: 03 3188701

Always happy to take on new clients

One stop shop for

all your needs

✓ Barista Coffee

✓ Homemade Pies and Food to go

✓ LPG bottle fill and swap

✓ Forecourt Concierge

✓ 24 hour fuel

10 cents per litre discount

for Super Gold card holders *

*

Conditions apply.

Challenge Darfield

Ali Van Groen

Floral Designer

Ph: 03 318 8699

South Terrace, Darfield

www.atwistedbunch.co.nz

33 South Terrace, Darfield

Ph 03 318 8421

Comfortable Country Hotel

With ensuited accommodation

rooms, our "BackCountry Kitchen"

70-seat Restaurant, Bottlestore

and a vibrant Sports Bar with TAB,

Jackpot Linked Pokies, Pool Tables

and plenty of entertainment.

Ali Van Groen

Floral Designer

Ph: 03 318 8699

South Terrace, Darfield

www.atwistedbunch.co.nz

Ali Van Groen

Floral Designer

Ph: 03 318 8699

South Terrace, Darfield

www.atwistedbunch.co.nz

Main West Coast Highway 73, South Terrace, Darfield

Phone: 03 318 8325

Email: darfieldhotel99@gmail.com · Website: www.darfieldhotel.co.nz

Ali Van Groen

Floral Designer

Ph: 03 318 8699

South Terrace, Darfield

www.atwistedbunch.co.nz

Ali Van Groen

Floral Designer

Ph: 03 318 8699

South Terrace, Darfield

www.atwistedbunch.co.nz

Ali Van Groen

Floral Designer

Ph: 03 318 8699

South Terrace, Darfield

www.atwistedbunch.co.nz

2 Day Pairs Championship

Saturday 26th & Sunday 27th November 2022

Day 1: Ambrose

Day 2: Best Ball Nett

Fundraising to complete the new Cart Shed

Entries to: j.b.morten@xtra.co.nz

For more information contact: Laurie Goodson 0800713340

Ali Van Groen

Floral Designer

Ph: 03 318 8699

South Terrace, Darfield

www.atwistedbunch.co.nz
---
Wednesday October 5 2022 Selwyn Times 41

SELWYN RURAL LIFE

Advertising Feature

Farmers still stuck in

connectivity slow land

Coverage, reliability and speed of mobile and

internet services for many farming families and

businesses are treading water, if not going backwards,

the 2022 Federated Farmers Rural Connectivity

Survey shows.

More than half of the nearly 1,200 farmers who

responded to the survey report internet download

speeds at or less than what could be considered a

bare minimum (20 megabytes per second/Mbps)

and those who said their mobile phone service had

declined in the last 12 months jumped from 20% to

32%.

"For a sector that underpins the lion's share of

New Zealand's export earnings, and one where

productivity gains and reporting requirements

are increasingly aligned with used of technology,

apps and devices, this is really concerning,"

Federated Farmers national board member and

telecommunications spokesperson Richard McIntyre

said.

"It's a given that it's easier and more profitable to

deliver high standards of mobile and broadband to

urban areas. But rural families and farm businesses

- who due to remoteness and road travel times can

really benefit from strong on-line connectivity access

- must not be left behind."

The survey showed a continuing trend of farmers

moving to wireless broadband (now 52%) and,

despite the expense, satellite services (19%) as old

copper lines fail to deliver on speed and reliability.

"But we saw a greater number of farmers remark

that the quality and reliability of their internet

connections had deteriorated as local network

infrastructure had become over-subscribed, either by

increased numbers of users or increased demand by

those users," McIntyre said.

A similar issue is happening with mobile phone

services.

"When a third of rural users are saying mobile

connectivity has declined in the last year, it points to

severe reliability issues."

Nearly 69 percent of respondents reported problems

with calls dropping out, an inability to make and

receive calls or send and receive text messages even

when they have two signal bars on their cellphone.

For many, the decline in mobile services meant they

were no longer able to rely on mobile broadband

as a back-up for those times where their internet

connection to the farm is disrupted. For others, it

appears nearby mobile towers have become incapable

of handing voice calls and mobile data as they have

become overburdened by more people making

greater use of the same towers.

"This is an issue Federated Farmers raised with

government following our 2020 and 2019 surveys

and we acknowledge that of $60 million earmarked

for rural telecommunications in this year's Budget,

some $45m is dedicated to upgrading or adding

towers," McIntyre said.

"This work can't happen too soon."

Canterbury

Timber & Hardware

Call in today for your free quote!

Rural Farm

Shed Series

The CTH Rural Farm

Shed Series is your

affordable choice

for feed or vehicle

storage, workshop, or

utility shed. Designed

and engineered for

Canterbury's high

wind and 0.9kpa

snow loading they are

available in a range of

kitset sizes and prices

to suit most budgets.

167 Manion Road, Rolleston

P 03 347 7465 E sheds@cthl.co.nz W www.cthl.co.nz

Monday-Friday: 7am-5pm Saturday: 8am-12pm

Selwyn Auto

ALL YOUR MOTORING NEEDS

› WOF's › Diagnostics

› Repairs › Servicing

› Batteries › Tyres

› Courtesy Cars Available

Phone 329 5841 | 132 Leeston Road, Springston

www.selwynauto.com | office@selwynauto.com

Come and

meet our team

at the Selwyn

Spring Show.

Visit us at the show

and find out how to

increase your farm's

value through clever

subdivision options.

Call 0800 787 775 for a chat

hello@survusrural.co.nz

www.survusrural.co.nz
---
42 Selwyn Times Wednesday October 5 2022

SELWYN RURAL LIFE

Advertising Feature

Spring show largest one-day show

There aren't many places where you'll

see such a diverse range of exhibits–from

eels, alpacas, woodchopping, crafts,

dog trials, and wearable arts to show

jumping, vintage machinery and more!

The Selwyn Spring Show, held on the

15 October, is the largest one-day show

in New Zealand. The 151st Annual

Show of the Ellesmere Agricultural and

Pastoral Association will attract visitors,

competitors, judges and organisers from

all over the South Island.

Come and experience the first

unrestricted show since 2019, with

something everyone can enjoy. The

show's theme, 'Food for Thought - Kai

mō te Whakaaro', demonstrates the many

facets of agriculture and how food is an

intrinsic part of our existence. This focus

includes traditional beef, sheep, dairy,

pig, poultry, produce, grain and seed,

with the opportunity for local school

students to participate in the Schools

Master Class Challenge with The Muster

Chef (Chef Robinson). For others,

there is the 'Smoke @ the Lake' BBQ

competition or the fantastic food from at

least 28 food vendors on site.

Celebrate New Zealand's agricultural

success and see the not-to-be-missed

sheep dog trials, show jumping, and

sheep shearing competition along

with the Sheep, Alpaca, Dairy, Beef

and Dairy Goats sections and the Kids

Farmyard. You'll also be impressed by

the famous Erewhon Clydesdales's team

of magnificent horses in their gleaming

gear and wagon.

Trade and machinery displays will

feature some of the biggest machinery

Canterbury Ltd

• Quotations for water system designs and water testing

• Pipes, valves, fittings sales

• Filtration supply and installation

• Pump service, repairs and maintenance

• Bore flush and development

• Bore pump sales, servicing and maintenance

• We also sell, service and repair most pump

brands including sewage pumps

551 Halswell Junction Road

0800 GRUNDFOS / 0800 478 633

For sales and service or

after hours service call

Jason 021 649 944

or Mike 021 560 044

www.pumps-filters.co.nz

GET YOUR RURAL

BUSINESS NOTICED

When you advertise your rural business in the Rural Life feature

in The Selwyn Times, your ad will reach 21,720 rural and

residential households across the ENTIRE Selwyn District.

The Selwyn Times is delivered FREE each Wednesday, covering

the latest local news and information with digital editions also

available to view online at www.starnews.co.nz.

CALL Lynette TODAY to discuss how she can help

PROMOTE YOUR BUSINESS to local Selwyn readers,

or to the entire Canterbury district.

Don't forget to ask about our "Support Local" packages to

assist the Covid Business recovery. We're here to help!

Contact Lynette Mobile: 021 222 7831 Email: Lynette.Evans@starmedia.kiwi
---
SELWYN RURAL LIFE

Advertising

Feature

Wednesday October 5 2022 Selwyn Times 43

Big push by Kia

in New Zealand

in EV market

brands in Canterbury, with brand-new

tractors and accessories and technology

showcasing new ideas and a range of

trade sites. Also, this year's show will

include the Ellesmere Vintage Club's

special exhibition.

The annual Christchurch District

Young Farmers Contest and Skills

Extravaganza will be a fun learning

opportunity for New Zealand Young

Farmers members as competitors,

organisers, and spectators. The

contestants aged 18-31 compete

against each other in various modules

showcasing the five pillars of the

competition: innovation, technology,

people, environment and food, gaining

new skills, "having a go", and offering the

chance to represent the District at the

Regional Final.

Bringing loads of entertainment,

Selwyn's Got Talent will showcase the

amazing variety of local Selwyn talent,

with a chance to win cash prizes.

Another spectacular display is the

Wearable Arts showcasing ensembles

representing the "Food for Thought"

theme. Additionally, teams of Year

5 and 6 students from around the

Ellesmere district participate in the

Sport Canterbury-hosted Cochranes

Top Team Challenge Competition,

participating in team-based activities

testing skills in speed, ingenuity and

craftiness.

With so many things to see and do,

come along, have fun, and experience

agriculture at its best with numerous

attractions, displays, activities, stalls,

food and entertainment offering

something for everyone.

Gates open to the public at 8.00 am -

$15 for adults and children aged 0-12yrs

free. Family passes $40 for two adults

and three children. Free parking on

the day with cash or Eftpos accepted at

the gate and Eftpos facilities within the

showgrounds.

Firewood & Coal

Coal

20 kg bags or

500kg bulk bags

Firewood

Pick up or deliver

(delivery charges apply)

Free delivery to Darfield township when

3 cubic metres or more is ordered.

Landscape Products

Now Available!

• Forest Mulch

• Bark Mulch

• Bark Nuggets (10/20mm)

• Premium Organic Compost

• Screened Soil

• Landscape Rocks

• Paparoa Red Rock available in 3 grades

• Railway Sleepers (2.1 Lengths)

• Kindling Wood

• Unscreened Bark

Delivery fees apply.

417 Creyke Road,

Darfield

Phone 03 975 4502

Eftpos now available

Open Monday to Friday 6am-6pm, Saturday 8am-1pm or after hours by appointment

THERE'S A BATTLE raging

in the new car market that

I'm very interested in, and it's

not just about the total sales

figures.

You see, there's a battle

within a battle and it is in the

fully electric vehicle segment,

those companies that have

EVs are fighting amongst

each other for market share.

Of course, the winners will

always be the companies that

have affordable cars for the

mainstream – Peugeot, MG

and newcomer BYD will fall

into that category.

However, you can't

discount the models landing

here from South Korea,

Hyundai and Kia are both

well established in the EV

market and new models are

landing on a regular basis.

Kia has just introduced a

newcomer and it is simply

badged EV6, it's part of a

series of models that will

cover a broad spectrum of

the EV market. The EV6 isn't

mainstream, its price tag

from $72,990 won't lure Joe

Average, in fact the rangetopping

EV6 is priced at

$109,990. However, if you are

determined to buy into the

EV6 there are two variants

that list from under $80k,

and that will net you a $5750

New Zealand Government

Clean Car Programme

rebate. The remaining three

models in the line-up are

priced at $78,990, $94,990

and $106,990.

That's quite an extensive

range, and if you are

wondering where the cost

differences lie, the two

entry models have battery

capacities of 58kW and

77.4kW respectively and are

rear-wheel-drive only, the

rest have the high power

batteries and have drive to all

four corners, the four-wheeldrive

models utilising two

electric motors.

The EV6 can be described

as a crossover between sedan

and a sport utility vehicle,

its design is spherical and

all enveloping, much like a

sedan, but with its height of

1.5m it is tall and fits the SUV

bracket.

All models have five seats

only, but they share a wealth

of internal space and comfort

is high. The EV6 is also

minimalistic in its layout.

Don't get me wrong, it has

a wealth of specification,

yet it's all manipulated by

simple dial and push-button

controls, you may expect

there to be a lot of functions,

but many of those that

would ordinarily be guided

by switches can be made

electronically through one of

the central display screens.

The EV6 has a high graphic

percentage, and the logic

behind the touch surfaces is

deep yet intuitive.

I find it interesting that

both Kia and Hyundai offer

the varying power supplies

for their flagship electric

KIA EV6: Range of electric models that include

rear-wheel-drive or all-wheel-drive. Prices start at

$72,990

models, the difference is not

just extra power on tap, but

the high output versions will

take you further.

The evaluation car was

the range-topper, and it

is good for almost 500km

driving distance if conditions

are conducive to load-free

motoring. If you feel more

comfortable topping up

along the way the EV6 will

recharge from 10 to 80 per

cent in around 18min using a

designated charge port.

• Price – Kia EV6 GT-

Line AWD, $112,990

• Dimensions –

Length, 4635mm;

width, 1890mm;

height, 1605mm

• Configuration

– Two electric

motors, four-wheeldrive,

225kW,

605Nm, automatic

• Performance –

0-100km/h, 5.2sec

My charging experience

consisted only of using

the domestic supply on

my property. Under those

conditions the charge time is

quite lengthy – an overnight

charge will only net you a

half tank, so to speak. On a

more positive note, I used the

EV6 as many drivers would,

when parked up hook into

the household supply and

just let it continually top up.

If found that on a standard

suburb to city commute it

was more than adequate to

keep range plentiful.

What's more, it comes with

decent charge cable length

– almost 6m which meant

it was long enough for my

unique situation. The type

2 to type 2 cable (the one

for accessing charge ports)

is also quite lengthy, which

means you don't have to get

too close to the structure

and risk bumping into it like

I saw just recently when a

driver of a Tesla got too close.

As you would expect, the

EV6 drives smoothly and

quietly, there are minor

extraneous noises such as

wind and a slight roar off the

big tyres (255/45 x 20in), but

its movement is very hushed

and I guess that's what you

would want and expect when

buying an electric vehicle.

Along with a lot of innercity

running around, I took

the evaluation car west

towards Darfield, returning

via Burnham and Lincoln. It is

an adept highway cruiser, it's

also very swift with a standstill

to 100km time of 5.2sec,

and it will lunge through a

highway overtake in 4.2sec

(80-120km/h). Those figures

come from the benefit of huge

power figures – 225kW and

over 600Nm of torque.

Not only is the massive

amount of torque something

that supplies that urgency,

the EV6 also drives like a

sports car. It is firmish in the

suspension which always

augurs well when quick

corners are presented.

The steering loads up

to provide solid off-centre

support with plenty of

feedback coming off the

front tyres. That's the kind

of feel I like, the EV6 is fully

involving and covers distance

like a sports car. That is one

of the benefits of electric

power, there's no point

anywhere where acceleration

isn't met with urgency. Of

course, you don't have to

drive the EV6 in sport mode,

it's also happy plying the city

commute or every other dayto-day

dawdle.

There's no doubt Kia is

keen to impress with its

electric-only line-up. The EV6

is futuristic, yet it carries the

electric vehicle ingredients

that will lure those who don't

see fossil fuel in the future of

personal transport. How it all

plays out is something that I'll

continue to keep an eye on,

and it's interesting how the

raft of new EVs are pitched

in terms of price, many are

sitting just below the 80k

threshold whereby owners

can capitalise on the rebate.

We are certainly in for

some exciting times ahead,

and Kia will no doubt be

a big part of how future

direction shapes up.
---
44 Selwyn Times Wednesday October 5 2022

Classifieds Contact us today Phone our local team 03 379 1100

YOur GuIde TO

TrusTed Trades and

PrOFessIOnaL servIces

To place your advertisement

contact Vicky Sayers

379 1100 or email

vicky.sayers@starmedia.kiwi

TRACTOR SERVICE

AND REPAIR

Massey Ferguson

Ford / International / Fiat

Ph 0274 317 259

BPH ProPerty Maintenance

• Lawns & Gardens

• HedGe CLean Ups

• deCks & LandsCapinG

projeCts

• window & door repairs

• GeneraL HoUseHoLd

MaintenanCe

• Handy Man jobs

• LifestyLe work

call Brent MoBile 021 676 336

No job to big or small.

Supply carpet, underlay and garage carpet.

Experienced in installing second hand carpet.

Carpet samples.

Free measure and quote!

Call David 0272319931

www.davidfarmercarpetlayer.co.nz

Advanced Service,

Advanced Upholstery

Auto & Marine Upholstery

• Auto restoration

• Boat upholstery

• Caravan & motorhome

squabs & awnings

• Authorised agents for Cvana awning

• Machine, truck & ute

covers

• Farms Covers

• & Much More!

3967 West Coast Road (between Waddington & Darfield)

Tue/Wed/Fri: 8am – 4.30pm • Thur: 8am – 6.30pm

Sat: 8.30am – 12noon • Closed: Sun & Mon

Ph 03 318 7378 www.advancedupholstery.co.nz

shelterbelt trimming

Re Roofing

Roof Repairs

Approved Age Concern provider

Over 30 years experience

Licensed Building Practitioner

N A BARRELL

ROOFING LTD

Ph: 0275 389 415

Email: nabroofing@xtra.co.nz

PRIVACY

Fence Top Trellis Panels

ELLESMERE

AUTO ELECTRICAL

• Air Conditioning • WOF Repairs

• Oil Change & Servicing

• Diagnostics - Computer Scanning

• Wiring & Wiring Repairs

• Alternators • Starter Motors

• Mechanical Repairs • Tyres • Batteries

Loan car available

Workshop Location: 84 Hayes Rd, Ladbrooks

Mobile Auto Electrician

022 644 9664

Stop Rats, Birds,

Snow & Leaves!

Superior

Metal

Gutter Guards

DIRECT FROM THE FACTORY

For: Outdoor Privacy, Windbreak, Decorative.

All Styles made to your requirements.

Optional: Painting, Installation, & Local Delivery Service.

Ph Mike: 027 272 8058 OR 03 324 4323 A/H

sales@gmcontracting.co.nz

www.gmcontracting.co.nz

Boundary Trimming

Call Tony Dempsey

Mobile 0274 323 943

Phone or Email your measurements

FOR A FREE QUOTE

Email: towntrellis@xtra.co.nz Phone: 03 3494995

Address: 38A Waterloo Road

www.towntrellis.co.nz

0800 333 101

www.guttersolutionz.co.nz

DECORATORS

Digga Rental

GARAGE DOORS

Excavations

• Driveways

• Car Parks

• Site Cleaning

• Demolition

• Farm Tracks

• Drain Cleaning

• Stump & Hedge

Removal

• Asphalt Concrete

Wide range

oF TruckS

For a Free Quote

on your next project

Phone Steve on

021 338 247

Selwyn based but

service the whole of

the South Island

• New Paint • Floor & Roof

• Repaints Painting

• Wallpapering • Spray Painting

• Fences • Commercial

• Repairs • Timber Finishing

• Feature Walls • Plastering

027 724 6846 027 PAINTIN

email: andertondecorators@gmail.com

• Tennis Courts &

Swimming Pools

• Chip Seal Driveways

• Diggers – 2 Ton

up to 20 Ton

• Excavators

• Bobcat & Drilling

• For Posthole &

Fence hole

Free

QuoTe

• 1.5t, 1.8t, 3t, 6t, 12t, 22t Excavators

Very Short to Long Term Hire

Very Competitive & Flexible Rates

16 Weedons Ross Rd, Rolleston

Millars Machinery, High St, Leeston

0800 344 425

Hedge Trimming

& Landscaping

• Hedge Trimming/Garden Maintenance

• Trees and Shrubs Topped Shaped or Removed

• Arborist

• Trenching and Digging Buckets

• Landscaping/Water Systems

• Cleanups Available for Small and Large Hedges

• Wood Splitter for Hire

• Fully Insured

• Hedge Trimming/Garden Maintenance

• Trees & Shrubs Topped Shaped or Removed

• Arborist

• Trenching & Digging Buckets

• Landscaping/Water Systems

• Cleanups Available for Small & Large Hedges

• Wood Splitter for Hire

• Fully Insured

HEDGES

AND

MORE.

Stu Reid Owner Operator

Ph: (03) 325-4664 Mob: 021-500-519

hedgesandmore.co.nz

The Genuine

Custom Made Garage

Door Professionals

0800 661 366

info@custommade.co.nz

Auckland, Christchurch, Wanaka

www.custommade.co.nz

landscaping

Landscape

Construction and

Garden Maintenance

You can have your gardens, trees,

shrubs, plants and lawns maintained to look their best

all year round, for a great price.

Residential & Commercial Landscaping

• Maintenance • Pruning • Reconstruction & Rejuvenation

• Rental Property and Commercial Maintenance

• Pre-Sale Tidy-Ups

New Home Landscaping

Lawns • Gardens • Decks • Paving • Water Features

• Quality • Value for money • Experienced • Punctual

• Professional • Flexible • Knowledgeable • Reliable

Call Ross Legg - 027 222 0388

Email ross@revivelandscaping.co.nz

www.revivelandscaping.co.nz

Division of Tuffnell Drainage Ltd

We unblock drains

Call us now 03 974 3561

Now servicing the Selwyn District

based out of Rolleston and Leeston

High pressure waterblasting

CCTV • 7 days a week service

STOP BIRDS

hail, leaves, snow & vermin from

blocking & damaging your spouting

Quality materials: BHP Colorbond steel mesh with

unique patented louvre will even keep out pine needles.

Will not rust or sag with age or load. 10 year warranty,

range of colours.

Proven in Australia & New Zealand over the last 15 years.

FOR SAFE, PURE DRINKING

WATER FROM YOUR ROOF.

NOW AVAILABLE: STAINLESS STEEL

MICO MESH

Call Rohan anytime Mon-Sat for a

no-obligation assessment & quote

03 982 8850 0800 486532

www.gumleaf.co.nz
---
YOur GuIde TO

It's time to

SPRING CLEAN

the exterior of your

property

Wednesday October 5 2022 Selwyn Times 45

Classifieds Contact us today Phone our local team 03 379 1100

TrusTed Trades

and PrOFessIOnaL

servIces

Working in the Selwyn District

Specialising in lifestyle & small farms

• Shelter

trimming

• Mulching

• Paddock

topping

Franklin Shelter Trimming

Dallis Yates 021 287 4668

franklinsheltertrimming@outlook.com

Follow us on Facebook

LANDSCAPING

Call Aaron &

the team today!

For the Outdoor

Space of your

Dreams...

Paving, Irrigation,

Lawns, Planting,

Fences, Pergolas,

Water-features,

Outdoor fires,

Raised Vege beds,

Decks, Artificial

grass & more...

Phone: 03 347 4422

or 021 542 402

Email: Aaron@theoutdoorspace.co.nz

www.theoutdoorspace.co.nz

We are your local specialists

in House Washing and Moss

Treatments, including paths,

roofs and decks and much more.

Rejuvenate and prolong the life of

your paint work – saving you money!

Call us today on 0274 907 364.

'we sell businesses'

Thinking of selling?

Looking to buy?

Clyth MacLeod,

NZ's longest running

business brokerage,

is now represented in

Christchurch.

Email for a FREE copy

of our useful 'Business

Sellers Guide'

Call now for a confidential chat.

Joanne Bush 021 177 6009

joanne@cmbusiness.co.nz

Licensed Salesperson REAA 2008

www.cmbusiness.co.nz

LIFESTYLE BLOCK MOBILE SHEARING

NO JOB TOO BIG OR TOO SMALL

• Shearing • Crutching • Tailing

• Drenching • Foot Trimming

• Single & Double Crutching Trailers

A professional, friendly service

Call Shaun Adams for a free quote

021 204 1274 or 03 960 3112

adamsshearing.com

• shearing contracting • mobile shearing trailer • mobile crutching trailer

Selwyn

Carpet

Binding

Have your carpet off

cuts bound by us

2 Villa Mews,

Rolleston

Phone or text

021 254 4465

Mon-Thur 9-2.30

UDI PAINTING &

DECORATING

For all painting and

decorating services.

Fully Qualified

• Interior &

Exterior Painting

• Wallpapering

• Plastering

• Roof Painting

Quality Services

FREE QUOTES

Contact Udi Aale

Ph. 021 074 2075

EST.

1979

Arthur's

Roof & Property

Moss Kill & Proof

Silicone Sealing

Roof Repairs

Gutter Clean/Repairs

Pest Control

Butynol Roof Repairs

Bird Proofing

03 347 2635

arthursroofandproperty.co.nz

FOR ALL YOUR

★Garden Clean-ups

★Pruning

★Lawn Mowing

★Garden Maintenance

Call us today for a FREE quote

PH 0800 4 546 546

(0800 4 JIMJIM)

To place your advertisement

contact Vicky Sayers

379 1100 or email

vicky.sayers@starmedia.kiwi

GLAZING

TWISTY GLASS &

GLAZING LTD

• Mirrors • Pet Door Specialists

• Splashbacks • All Broken Windows

THE CAT DOOR MAN

Phone Cushla or Darren Twist

027 352 6225

TRACTOR SERVICE

AND REPAIR

Massey Ferguson

Ford / International / Fiat

Ph 0274 317 259

BAILEY

PAINTING

CONTRACTORS

High Quality

Professional Service

Interior & Exterior Residential

Apartments Light Commercial

Rural Homesteads

Large & Small Jobs

FREE QUOTES

Contact Brent

021 363 432

www.baileypaintingcontractors.com

WINDOW TINTING

tintawindow

advanced film solutions

99% uv block

fade protection

heat control

reduce glare

25 Years Experience

privacy films

frosting designs

non-darkening films

Workmanship Guaranteed

Lifetime Warranties on Most Films

UV

block

CHIM CHIM CHIMNEY

sWEEPs

We'll sweep your

logburner's flue, check

firebricks, baffles, airtubes

& controls. We're experts

on coal-rangers, and can

sweep any sized open fire.

We quote & undertake

repairs, flue extensions &

install bird netting. 0800

22 44 64 www.chimchim.

nz

ELECTRICIAN (REG)

Prompt, quality. Call

Jack 027 206 0080

ELECTRICIAN (REG)

Prompt, quality. Call Jack

027 206 0080

Bellamy's

Furniture

Furniture made to

order and restoration

by tradesman with

35yrs experience.

PH Stephen

021 073 2624

BATHROOM TILER

wet area waterproofing,

underfloor heating, soap POWER TOOLs

boxes, old to new, for best

REPAIRs

results, call Devon on 021

Parts & Sales for over 40

375-888 or 03 329 5511

years. All main brands

CARPET LAYING

serviced. Grossman Trade

Exp. Repairs, uplifting,

Tools, 23 Watts Road,

relaying, restretching.

Christchurch. Ph 389 9230

Phone John on 0800

003181, 027 240 7416

RJB PLuMBING

jflattery@xtra.co.nz

Renovations, New Houses,

CARRs CHIMNEY Hot Water Cylinders,

CLEANING

Kitchens Bathroom

Servicing Lincoln, Upgrades, Laundries,

Tai Tapu, Motukarara, General Maintenance ,

Ladbrooks, Broadfields, Water Filters. Phone Mark

Springston & Prebbleton, 0278690026

$70 a Chimney. Phone sTuMP GRINDING

Rodney 03 324 2999 & Best price guarantee Tony

leave a message.

0275 588 895

Free Quotes Canterbury and Districts

03 365 3653 0800 368 468

Cars Wanted

CLASSIC Car wanted

1950s, 60s, 70s, 80s, or a

modern classic.

American, Japanese,

English or what have

you., Mazda RX2, 3, or

4. Keeping options open.

Text me with what you

have, I can call / txt you

back, Ph 021 861 732.

Clothing &

Accessories

RETRO Clothing wanted

for a dress up 70's party.

Would love to get a

safari suit but anything

considered.Ph or txt

021861732

RETRO Clothing wanted

for a dress up 70's party.

Would love to get a

safari suit but anything

considered.Ph or txt

021861732

Ideal for

landscaping

1-5m

We cut to

length

Garage Sales

LEESTON

7 Showground Place

Saturday 9am

Every thing priced

to go and all good

condition. Fishing &

hunting, clothing,

boots & shoes, tables

& storage shelving,

garden & garage

tools, toys, bbq,

treadmill, 100 ltr

sprayer & many more.

Gardening & Supplies

Gardening

& Supplies

ellesmere

lions

Pea straw

ALL STRAW SOLD!

Taking orders

for Jan/Feb

2023 delivery

Contact alex Hayward

03 324 4094 or email

lionspeastraw02

@gmail.com

with name,

phone no, address

and amount required

Macrocarpa Sleepers

200x100

Phone

021 059 4945

21 Manion Road, Rolleston

sales@macrocarpasupplies.co.nz

To Lease

Office space to lease,

CBD area. 60 - 100 sqm.

Comp priced. Flexible

lease period. Call Shane

for more details on 021

381 765

Vehicles Wanted

Heating

Log Fires

Pellet Fires

Heat Pumps

Sales

Service

Installations

Free Quotes

03 343 1651

472 Blenheim Rd

www.heatstore.co.nz

CAR REMOVALS

$$CASH PAID$$

CARS, VANS, UTES

& 4X4 WANTED

NZ OWNED

AND

OPERATED

FOR

24 YEARS

We use world class vehicle

depollution systems

0800 77 80 80

www.pickapart.co.nz
---
46 Selwyn Times Wednesday October 5 2022

Classifieds Contact us today Phone our local team 03 379 1100

Wanted To Buy

WANTED

OLD TOYS

• Matchbox • Dinky

• Corgi • Fun Ho!

• Tinplate • Tonka

• Pedal Cars

Situations Vacant

COOK

Permanent part time or full time

required 9am - 3pm for small country

rest home in Darfield.

Training and support provided.

Pay rate will be in accordance to

qualifications.

Phone Carol for further details

on 0221926255

Situations Vacant

NIGHTSHIFT AND/OR

DAYSHIFT CAREGIVER

Permanent or casual - part time or

full time required for small country

rest home in Darfield.

Shift days and times negotiable.

Training and support provided.

Pay rate will be in accordance to

Career Force Pay Parity Qualifications.

Phone Carol for further details

on 0221926255

Situations Vacant

Travlon Coachlines

Casual Bus Drivers Required

Ph: 027 293 6139

or 027 414 2426

Wanted To Buy

Vintage push bike wanted.

I'm looking for an old

chopper or dragster bike.,

had one when I was a

kid. Want to put it on the

mancave wall. can be

in any condition ph/txt

021861732

ADD SOME

COLOUR

TO YOUR ADVERT!

Minerva Farms Ltd

– Riverside

Block Manager

Permanent Part Time or Contract

We are looking for an experienced farmer

to manage our 89ha runoff block on

Selwyn Lake Road, Irwell.

Reporting directly to the Owner and working

to a farm plan, responsibilities would include:

• Managing two lines of Dairy Youngstock daily.

Including shifting breaks and feeding

supplement when required.

• Monthly weighing and animal health

treatments.

• Shifting a rotorainer during irrigation season.

• Maintaining a tidy farm.

All machinery and equipment supplied.

This position may suit a semi-retired farmer or

small block owner in the area looking for extra

work.

Please contact Allan Pye on 027 222 3748.

P endorsement helpful.

Class 2 Licence.

Great way to be part of the

community and get out and about.

Please phone 021 337 299

Situations Vacant

Situations Vacant

Creating Landscapes in

the Canterbury region

SINCE 1987

Over 35 years in the industry

We are looking for

Truck Drivers class 4

• Someone with Excavator skills including reading plans, site set outs and levels. At

least 3 years experience

• Class 4 Truck Driver to be part of our expanding team! We require someone who can

offer experience in a Class 4 Tipper Truck and has some experience in a Landscape

role or similar field of works. The work will involve driving predominantly, but also

some physical site work also.

What is required for the role:

• Proven experience in excavation operations.

• Proven experience in driving a tipper truck (Class 4 and 2 preferably)

• Excellent communication and relationship building skills

• The ability to work in a team environment

• The ability to follow instructions and meet deadlines

• Attention to detail and all other aspects of quality control

• A conscientious, proactive approach towards health and safety and good up to date

knowledge of safety practices

• Ability to pass a pre-employment drug test/alcohol test

• A good level of physical fitness and willingness to work onsite as well as drive

• Class 2 or 4 License and WTR would be beneficial

We can offer you:

• The opportunity to work on a variety of projects and jobs, domestic and commercial

• A competitive remuneration package with ongoing career progression

• An energetic, professional team environment in an established family owned

company

Sound like something you want to be a part of? Apply now!

Applicants for this position should have NZ residency

Creating Landscapes in

the Canterbury region

SINCE 1987

Over 35 years in the industry

We are looking for

Landscape Workers

to be part of our expanding team!

What is required for the role:

• Excellent communication and relationship building skills

• The ability to work in a team environment

• The ability to follow instructions and meet deadlines

• Proven experience within the landscaping industry

• Attention to detail and all other aspects of quality control

• A conscientious, proactive approach towards health and safety

and good up to date knowledge of safety practices

• Ability to pass a pre-employment drug test/alcohol test

• A good level of physical fitness and willingness to work

onsite as well as drive

• Class 2 or 4 License and WTR would be beneficial

We can offer you:

• Training, growth, development, security and stability

• The opportunity to work on a variety of projects and jobs,

domestic and commercial

• A competitive remuneration package with ongoing career progression

• An energetic, professional team environment in an established family

owned company

Sound like something you want to be a part of? Apply now!

Applicants for this position should have NZ residency

60 Ivey Rd, RD6, Christchurch 7676

P: 03 349 2929 | M: 027 559 9966

60 Ivey Rd, RD6, Christchurch 7676

P: 03 349 2929 | M: 027 559 9966
---
Wednesday October 5 2022 Selwyn Times 47

Classifieds Contact us today Phone our local team 03 379 1100

Public Notice

Public Notices

Sporting Notices

SELWYN DISTRICT PLANS

Notice of insertion of housing bottom

lines to Selwyn district plans

At its meeting on 14 September 2022, the Selwyn District Council resolved to amend

the Operative Selwyn District Plan and Proposed Selwyn District Plan to incorporate

"housing bottom lines" in accordance with clause 3.6 of the National Policy Statement

on Urban Development 2020 (NPS-UD). Specifically, Section Objective B4.3.9 of the

Operative District Plan and UG-P13 of the Proposed District Plan have been amended.

The housing bottom lines represent the additional development capacity over the shortmedium

(2021-2031) and long term (2031-2051) that must be enabled by the district

plans to meet expected housing demand in the Selwyn district.

The housing bottom lines replace the previous minimum targets, which were inserted

under the National Policy Statement on Urban Development Capacity 2016.

Clause 3.6(4) of the NPS-UD requires the housing bottom lines to be inserted into the

district plans without using a process in Schedule 1 of the Resource Management Act

1991 (RMA) (this means submissions cannot be made on these amendments).

The amendments to the Operative and Proposed Plans have been made under section

55(3) of the RMA.

The amendments are effective from the date of this notice (5 October 2022).

The Operative and Proposed District plans can be viewed on the Council's website at

www.selwyn.govt.nz.

The full text of the decision can be read online at www.selwyn.govt.nz/publicnotices.

More information

For further information, please contact us at 0800 SELWYN (735 996) or

contactus@selwyn.govt.nz.

Public Notice

Lincoln Rugby

Football Club

CoaChes Wanted

Lincoln Rugby Football Club is at

the forefront of country rugby and is

committed to this tradition along with

providing a modern attitude to ensure a

vibrant and competitive environment for

all our players and coaches.

Lincoln RFC plays in the Ellesmere

Sub Union competition and is seeking

Coaches in the following senior grades

for the 2023 season:

• Div 1 • Div 2 • Colts

If you interested in joining a

supportive and progressive club

please email by 10th of October to

secretary@lincolnrugby.org.nz or

ph. Corran for more info 021 386 794

Come & join Lincoln RFC for 2023!

selwyn.govt.nz

Situations Vacant

Operative Selwyn District Plan

Clause 7 of Schedule 1 of the Resource Management Act, 1991

NOTIFICATION OF THE SUMMARY OF SUBMISSIONS AND CALL FOR

FURTHER SUBMISSIONS ON PRIVATE PLAN CHANGE REQUEST 74

Hughes Developments Limited has requested to rezone approximately 20 hectares of Ruralzoned

land located on the eastern side of the West Melton township, bounded by Halkett

Road and West Coast Road to residential land. Selwyn District Council notified the private

plan change request (PC74) for public consultation on 4 May 2022, and submissions closed

on 2 June 2022.

A summary of the submissions on PC74, along with a copy of the original submissions, is

now available for viewing online at Council libraries and service centres, and at

www.selwyn.govt.nz/pc74. A hard copy of this information is also available for viewing at

Council's Rolleston Headquarters.

Further submissions may only be lodged by the following:

• Any person representing a relevant aspect of the public interest.

• Any person that has an interest in the plan change greater than the interest the

public has.

• The local authority itself.

Further submissions must be limited to matters either in support of or in opposition to an

original submission made on PC74. This must be in writing and in accordance with Form 6,

which is available from any Council service centre or online at www.selwyn.govt.nz/pc74

Further submissions may be:

• posted to: Planning Department, Selwyn District Council, PO Box 90, Rolleston 7643

Attention: Further Submission on PC74

• delivered to: A Selwyn District Council service centre in Darfield, Leeston, Lincoln

or Rolleston.

• emailed to: submissions@selwyn.govt.nz (Subject line: Further submission on PC74)

• made online: www.selwyn.govt.nz/pc74

A person who makes a further submission must also serve a copy of it on the person who

lodged the original submission no later than five working days after a copy is provided to

the Council.

The closing date for further submissions is 5pm Wednesday 19 October 2022.

More information

For further information regarding this plan change or the process outlined above, please

contact Rachael Carruthers, Strategy and Policy Planner, on 0800 SELWYN (735 996) or

rachael.carruthers@selwyn.govt.nz.

selwyn.govt.nz
---
48 Selwyn Times Wednesday October 5 2022

Team Ange and Chris

Proven

marketing

strategies

Proven

communication

commitments

+ +

Proven

negotiation

skills

= Proven results!

Your proven lifestyle and residential real estate team focused on

achieving the best possible outcome for you

Call Team Ange and Chris today

Angela Hunt 021 548 777 | Chris Moore 027 288 0563

pb.co.nz

Property Brokers Ltd Licensed REAA 2008

PB059928
---
Love the life

at Summerset

Prebbleton

Wednesday October 5 2022 Selwyn Times 49
---
50 Selwyn Times Wednesday October 5 2022

Brand new two and three bedroom villas available now!*

At Summerset, our retirement villages are

designed to make sure you get the best

out of your retirement. Our new village

Summerset Prebbleton is no exception.

Join us at our upcoming Open Weekends to

view Summerset Prebbleton's range of brandnew

two and three bedroom villas selling now,

ready to move in and make your own in

time for Christmas.

Our single-storey villas are warm, modern

and designed with everything you could

need for the perfect retirement lifestyle.

There are no worries about maintenance

or upkeep as we do it all for you, and pets

are also welcome. You can even go away

on holiday knowing your home will be safe

and secure.

We'll also make sure you're aware of all

costs, giving you the certainty that there

won't be any unexpected surprises.

Once the village is complete, you can

spend your leisurely days enjoying our

village centre with fantastic recreational

facilities, such as a movie theatre and

indoor pool. When it comes to activities

and events, there's always something

happening, and you can choose

to do as much or as little as you like.

If you're interested in Summerset

Prebbleton for yourself or a family

member, come along to our upcoming

Open Weekends or call the Sales Manager,

Grace Hickland on 03 353 6312 to find

out more.

At Summerset we put you

at the heart of everything

we do, so you can enjoy the

freedom of living the life

you choose.

*Licence to occupy
---
Wednesday October 5 2022 Selwyn Times 51

Love the Choice

At Summerset Prebbleton, you'll find a wide

range of brand-new homes specifically

designed for the over 70s. Choose from one

of our lovely, modern, purpose-built homes,

then make it your own. All our homes are

designed with accessibility as a priority and

there's no worries about maintenance or

upkeep as we do it all for you.

Love the Community

At Summerset Prebbleton, you can continue

to live the life you choose, with the added

peace of mind of living in a warm and friendly

community where you can make new friends

and socialise with like-minded people. And

family and friends are always welcome. Once

the Village Centre is complete, you can enjoy

a coffee in the café, a drink at happy hour

in the bar and lounge or tinker away in the

resident's workshop.

Love the Confidence

We are proud to have been operating villages

since 1997 and have over 7,000 residents

calling Summerset home. A call bell system

is monitored 24/7 and security gates are

locked at night so you can always feel secure.

With no hidden charges you have financial

surety, and our Summerset Sure guarantee

means you'll have 90 days to be sure your

independent living home or serviced

apartment is right for you, and if not

— we'll give you your money back (some

conditions apply).

Love the Care

Our village is designed so that as your needs

change, you can access the additional levels

of support as you need them (subject to

availability), we call this our continuum of care.

Once complete, our care centre will offer rest

home, hospital level care and state of the art

memory care – where residents have priority

for transfer (subject to availability).

See for yourself why our residents love

the Summerset life at one of our upcoming

Open Weekends.
---
52 Selwyn Times Wednesday October 5 2022

Join us at Summerset Prebbleton's Open Weekends

Come along to our first public Open

Weekends this Saturday 8 & Sunday

9 October and Saturday 15 & Sunday

16 October. Take a tour of our brand-new

two and three bedroom villas selling now,

ready to move in and make your own in

time for Christmas!

Summerset Prebbleton is located close

to main transport links to the city and

Christchurch surrounds, and for those not

wanting to drive, there is a bus stop

right outside. The village is also conveniently

located only 500m from the local shopping

area and recently opened Prebbleton Village.

Once complete, the village will offer

resort-style facilities and help on hand via

our care centre if you need it.

Come along to our Open Weekends and

see for yourself why residents love the

Summerset life!

Secure your brand-new home today!

2019-2022

Aged Aged Care & Retirement Villages

Villages

Open Weekends

10am – 2pm

Saturday 8 & Sunday 9 October

Saturday 15 & Sunday 16 October

Summerset Prebbleton,

578 Springs Road, Prebbleton | 03 353 6312
---
LiFt oUt

FeAtURing the BeSt

PRoPeRtieS AcRoSS

the SeLWYn DiStRict

PUBLiSheD eVeRY WeDneSDAY

Week commencing WeDneSDAY, 5th octoBeR, 2022

Spread Out, Relax & Enjoy!

Merging contemporary design & an idyllic village location, this

one-of-a-kind, 6-bedroom residence offers large families a stylish

sanctuary just 20-minutes from the CBD. Enjoying a quiet cul-de-sac

position in the sought-after Ardrossan Subdivision with a reserve

boundary, allows you to have peace of mind for a safe area your

children can explore.

Designed to capture the sun & boasting excellent indoor/outdoor

flow, the open plan living areas combined with the fresh neutral

décor gives the home a light & airy feel that will draw you in & make

you want to stay! Sliders lead outdoors from both sides of the living

area, providing a choice of spaces in which to host friends & family.

An adjoining lounge has been cleverly designed to transform into

a closed-off retreat for watching movies or having quiet time out.

Keen foodies & entertainers will feel right at home in the sleek,

well-designed kitchen which boasts stone bench tops, induction

cooktop plus dual ovens, not to mention a large scullery. Watch

the sunset beyond the neighbouring reserve & farmland from the

tranquil master suite, which features a WIR, ensuite with tiled

shower plus sliders to its own patio. A further 5 bedrooms all include

double wardrobes with mirrored doors, giving large families space to

spread out & enjoy. Radiating luxury, the main bathroom showcases

a free-standing bath, twin sinks & a tiled shower plus a 3rd separate

toilet for guests. Ducted heating keeps the home comfortable & the

carpeted, double internal access garage includes attic trusses with

pull-down ladder along with an insulated garage door. The generous

877m2 grounds include a garden shed, pop up irrigation in the lawn,

22 Ardrossan Way, Tai Tapu

raised vege planters plus ample space for the little ones

to enjoy.

If you can picture coming home to this idyllic spot you

need to make a time to view this property now!

rwtownandlifestyle.co.nz

Listing ID: LIC30273

Deadline Sale - All offers to be

considered on or before 4pm

Thursday, 27th October 2022 -

unless sold prior

Town & Lifestyle Real Estate Ltd

Licensed (REAA 2008) - Rolleston

Emma Langton-George

Contact:

Mobile: 027 555 0568

Fiona Shearing

Contact:

Mobile: 021 229 6009

Viewing: Sunday 2.00 - 2.30pm

Our new office at

Prebbleton Village

is now OPEN!

Call in and see us for all your Real Estate needs

Proudly locally owned & operated

Rolleston - Lincoln - West Melton - Prebbleton

Town & Lifestyle Real Estate Ltd. Licensed (REAA 2008)
---
2

Selwyn's largest locally owned & operated

property management company

Paul Clement

Business Development Manager

bdm.redchili@raywhite.com

027 522 8210

Warner Wilson

Business Development Manager

redchili.bdm@raywhite.com

027 212 9619

Cara Callister

Manager/ Property Manager

Debbie Drewett

Senior Property Manager

Lucy Campbell

Senior Property Manager

Erica Afonso

Property Manager

Olly Drew

Property Manager

Call or email Paul or Warner for a free rental appraisal

Rolleston | West Melton | Lincoln | Prebbleton

rwrolleston.co.nz | rwwestmelton.co.nz | rwlincoln.co.nz | rwprebbleton.co.nz | redchilipm.co.nz

Town & Lifestyle Real Estate Ltd. Licensed (REAA 2008)
---
3
---
4
---
5
---
6

BETTER

IMAGINE A REAL ESTATE

COMPANY THAT THINKS LIKE YOU

Connecting people and property is what we do, and we've always endeavoured

to do it better, by putting our clients first. We have built our business around

selling property for people who think that quality consultancy and exceptional

service are not a luxury, but a given. People like us.

For you this means you'll have better access to market insights and local

expertise as a standard, so you can get back to the things you love sooner.

Let's work together | bayleys.co.nz/canterbury

Bayleys Darfield 03 975 4559 | Bayleys Leeston 03 375 4700 | Bayleys Rolleston 03 347 9949

LICENSED UNDER THE REA ACT 2008

AIRPOINTS PROGRAMME TERMS AND CONDITIONS APPLY
---
7

SELLING

RURAL

PROPERTY

WITH BAYLEYS

Local knowledge trusted advice.

With two decades of experience as real estate

professionals and local Selwyn residents for over 40 years,

our success and dedication to the sale of rural property

in Selwyn and Central Canterbury has been proven time

and time again. We are delighted to be part of the Bayleys

country team selling more farmland in New Zealand than

any other agency.

With connections to an extensive network of real estate

professionals, with buyers across the country, we know

that selling rural property is a specialised process that

requires unique skills and experience. And we are qualified

to provide you with comprehensive local knowledge,

advice and specialised assistance throughout the process.

Let's work together.

Andrew Taylor | 027 435 5930

andrew.taylor@bayleys.co.nz

Chris Flanagan | 027 433 4657

chris.flanagan@bayleys.co.nz

bayleysselwyn.co.nz

WHALAN AND PARTNERS LTD, BAYLEYS, LICENSED UNDER THE REA ACT 2008

Residential / Commercial / Rural / Property Services
---
8

ACHIEVING BETTER

RESULTS ACROSS

CANTERBURY

Lifestyle | Residential | Developments

Chris Jones | 027 220 5043 | chris.jones@bayleys.co.nz

BAYLEYS NO. 1

SALESPERSON

NATIONWIDE - Country

CANTERBURY - All Divisions

2021/2022

WHALAN AND PARTNERS LTD, BAYLEYS, LICENSED UNDER THE REA ACT 2008
---
9

NEW LISTING

Charing Cross 684 Telegraph Road

A property to be proud of

Exceptional quality, immaculately presented 205.3495ha property. The excellent system of lanes across the farm

means you can drive throughout the property without opening a gate, enabling ease of management and

movement. Irrigated from good wells, with the addition of CPW water, providing both reliability and simplicity. The

excellent infrastructure includes Turbo rain irrigators and Zimmatic pivots, there are outbuildings aplenty along

with grain storage making this property well set up for a multitude of uses, the property also ticks the required

boxes for dairy support. Unique and striking, the house combines adobe mudbrick with solid timber joinery and the

result is a property many would feel privileged to call home. This is an example of a property that truly has

options, with highly regarded soils, robust water resources and excellent infrastructure.

bayleys.co.nz/5519472

205ha 3 2 2

Deadline Sale (unless sold prior)

12pm, Tue 1 Nov 2022

3 Deans Avenue, Chch

View by appointment

Ben Turner 027 530 1400

ben.turner@bayleys.co.nz

Craig Blackburn 027 489 7225

WHALAN AND PARTNERS LTD, BAYLEYS, LICENSED UNDER THE REA ACT 2008

NEW LISTING

Boundary lines are indicative only

Darfield 1103 Greendale Road

Superb rural refinement - two hectares (more or less)

Contemporary character pervades this private rural residence which offers a lifestyle of first-class excellence. An

impressive open-plan living layout with its contemporary kitchen, sophisticated appliances and butler's pantry

represents the social hub, while the separate lounge is geared towards winding down in comfort. Embracing three

bedrooms, the master is superb, enjoying outdoor access, a deluxe walk-through robe and a well-appointed

ensuite. A highly-specified bathroom services the remaining two bedrooms, which include built-in robes, plus there

is a separate powder room for guests. Settled atop the floor plan is a highly versatile mezzanine. A separate

sleepout, equipped with a bathroom and gas water heating, is also plumbed for a kitchen. Outdoors includes two

paddocks, around 50 Oak trees, an expansive steel framed garage with power and a separate woodshed.

bayleys.co.nz/5519419

4 2 2 5

Deadline Sale (unless sold prior)

1pm, Tue 8 Nov 2022

View by appointment

Chris Jones 027 220 5043

chris.jones@bayleys.co.nz

Sam Sidey 027 346 3500

sam.sidey@bayleys.co.nz

WHALAN AND PARTNERS LTD, BAYLEYS, LICENSED UNDER THE REA ACT 2008

bayleys.co.nz
---
10

NEW LISTING

Dunsandel 1095 Hororata Dunsandel Road

Superb location and proven results

Capitalise on past success and look ahead to a bright future with this substantial 272.4031-hectare (more or less)

dairy operation located in a prime farming location. Demonstrating a history of solid performance, this wellequipped

property is budgeted to produce approximately 360,000kgMS, remaining consistent with past results.

The 44-bail rotary dairy shed has received a series of technological and automation upgrades in recent years. Fully

irrigated via Central Plains Water stage one irrigation scheme, the generous supply currently allows the entire farm

to be irrigated. There are also two consented groundwater bores if required but are currently unused. Currently

irrigated via four centre pivots, Rotorainers, G-SET and K-line irrigation. The modern, easy-care main home features

generous open-plan living, offering the prospect of relaxed family living plus four further staff dwellings.

272.4031ha

Deadline Sale (unless sold prior)

12pm, Thu 3 Nov 2022

3 Deans Avenue, Chch

View by appointment

Adam Whitelock 027 408 3424

adam.whitelock@bayleys.co.nz

WHALAN AND PARTNERS LTD, BAYLEYS, LICENSED UNDER THE REA ACT 2008

bayleys.co.nz/5519498

Halswell 28 Richmond Avenue

Living the dream in Knights Stream

If primary school zones are important, then you will love our feature home situated within easy walking distance of

highly sought-after Knights Stream Primary School. The family-friendly community is surrounded by parks,

playgrounds and reserves and is a dream for those who love to explore, being centrally located to all that

Christchurch and its surrounds has to offer. The open plan living/dining areas are bathed in sunshine offering a

warm and welcoming environment year-round. With doors opening out from two sides to the extensive patio area

there's plenty of room to host children's parties or family barbecues. The modern kitchen is ideally located for the

family chef to keep an eye on what's happening both inside and out and the large breakfast bar makes light work of

food prep and entertaining. There is sure to be a lot of interest here so don't delay, contact me today.

4 1 2 2

Deadline Sale (unless sold prior)

1pm, Thu 20 Oct 2022

View Sun 1-1.30pm or by appointment

Helen Lee 027 503 9219

helen.lee@bayleys.co.nz

WHALAN AND PARTNERS LTD, BAYLEYS, LICENSED UNDER THE REA ACT 2008

bayleys.co.nz/5519326

bayleys.co.nz
---
11

NEW LISTING

Leeston 10 Palladio Avenue

Contemporary country winner

Ideally situated on a quiet street in Leeston's sought-after Monticello development with a sunny aspect and

attractive outlook, this 181sqm (approx) four-bedroom, two-bathroom home presents a rare opportunity for

discerning buyers. Crisp, sleek, and chic, the spacious wraparound kitchen with built-in appliances and a scullery

naturally flows through to the dining area on one side with deck access and an adjoining living area complete with a

comforting log burner where you will find a safe haven to retreat from the day-to-day stresses of life. The lounge is

an abundant space with large sliding doors opening to the 56sqm (approx) deck to offer seamless alfresco living,

and morning and evening sunshine amidst grounds that have been designed with a thoughtful mixture of soft and

hard landscaping and a large lawn that makes it ideally suited for entertaining.

4 1 2 2

For Sale offers invited over $749,000

Phone for viewing times

John Bailey 027 893 0234

john.bailey@bayleys.co.nz

WHALAN AND PARTNERS LTD, BAYLEYS, LICENSED UNDER THE REA ACT 2008

bayleys.co.nz/5519504

Leeston 23 Selwyn Street

Picture perfect

Situated in the heart of Leeston with a gorgeous classical street frontage, this permanent material home sits on a

645sqm (approximately) section with established planting and outdoor living spaces. The kitchen has an island, a

breakfast bar, and ample bench space for the home chef to work their magic. Open plan design links this space with

the dining and living areas, as well as an additional separate living area that offers lovely views out to watch the

world go by through the large windows. French doors open from the dining room to the sheltered patio and provide

the perfect spot to enjoy alfresco living and soak up the summer sun. Accommodation is a sweepingly expansive

master bedroom and two further bedrooms. With our vendor moving, this property is for definite sale. The house

presents a fabulous opportunity for those looking to update the aesthetic and add their own sense of style.

3 2 1 2

Deadline Sale (unless sold prior) 1pm, Tue 11 Oct 2022

Phone for viewing times

Suzy McPherson 027 695 0519

suzy.mcpherson@bayleys.co.nz

WHALAN AND PARTNERS LTD, BAYLEYS, LICENSED UNDER THE REA ACT 2008

bayleys.co.nz/5519512

bayleys.co.nz
---
12

NEW LISTING

Little River 4449 Christchurch Akaroa Road

Commercial investment

Situated in Cooptown, Little River, this 2,023sqm (more or less) property includes a large (as-is-where-is) lockable

building and a smaller storage shed. The vacant buildings would be well-suited for a range of uses.

Originally built as a dairy factory and used as an automotive workshop over the last 59 years, the property has a

continuing income with a lease to Allied Petroleum Limited, included with the sale.

The property is fully fenced and is currently supplied with both water and power.

Situated on the Main Road, this is a fantastic space noticed often by visitors to the Peninsula.

bayleys.co.nz/5518992

2,023sqm

Deadline Sale (unless sold prior)

12pm, Fri 28 Oct 2022

3 Deans Avenue, Chch

View by appointment

Evan Marshall 027 221 0910

evan.marshall@bayleys.co.nz

Peter Foley 021 754 737

WHALAN AND PARTNERS LTD, BAYLEYS, LICENSED UNDER THE REA ACT 2008

NEW LISTING

Man cave

Boundary lines are indicative only

Prebbleton 118 McDrurys Road

Relaxed multigenerational living in Ladbrooks

Contributing appeal to this 6,032sqm property are the large array of outbuildings, protection from the easterly

winds and less upkeep than a conventional lifestyle block. Located so close to Ladbrooks School, and just over 5

minutes drive to Prebbleton, Halswell, Tai Tapu or Lincoln and 14km from the city, this is an exceptional opportunity.

The home is spacious and enjoys effortless outdoor access. While entirely comfortable, there is untapped potential

to add value. The private and sheltered grounds feature an in-ground swimming pool for summertime fun. A

recently constructed self-contained one-bedroom family flat is ideal for visitors, teenagers or elderly parents. Other

buildings include a large workshop and ultimate man cave, another workshop, woodsheds and a second studio

perfect for hobbies, home office or overflow of family or friends. Good living starts here.

bayleys.co.nz/5519535

4+1 3+1 2+1

Deadline Sale (unless sold prior)

1pm, Thu 27 Oct 2022

Phone for viewing times

Sam Sidey 027 346 3500

sam.sidey@bayleys.co.nz

Chris Jones 027 220 5043

chris.jones@bayleys.co.nz

WHALAN AND PARTNERS LTD, BAYLEYS, LICENSED UNDER THE REA ACT 2008

bayleys.co.nz
---
13

NEW LISTING

Rolleston 1 Othello Drive

Central location, vendor motivation

With the benefit of mature plantings around the spacious 786sqm section, here you can experience an established

setting yet enjoy the benefits of a modern family home with lots of desirable features. The over-height entry leads

into a huge, sunny open plan living room, also with higher stud ceilings to enhance the feeling of light and

spaciousness; and the separate lounge provides additional space for the whole family to spread out. From the wellappointed

kitchen, complete with stone benchtops and a walk-in pantry, there is a lovely open aspect to the patio

and fully-fenced rear garden. The practical floor plan comprises three double bedrooms next to the central family

bathroom for convenience, with the expansive master bedroom appreciating a walk-in robe and ensuite. A

dedicated office beside the front door is perfect as a work-from-home option or even a hobby space.

4 2 2 2

Deadline Sale (unless sold prior)

4pm, Tue 18 Oct 2022

View 11-11.30am Sun 9 Oct

Nick Booth 027 306 3186

nick.booth@bayleys.co.nz

WHALAN AND PARTNERS LTD, BAYLEYS, LICENSED UNDER THE REA ACT 2008

bayleys.co.nz/5519532

Rolleston 26 Taita Drive

Finished to perfection

Completed in only July 2021, this beautifully presented home has been finished to perfection. The 229sqm floor plan

provides generous room sizes throughout, with practical inclusions for ease of family living. The kitchen has a 90cm

oven, a plumbed double fridge space, striking black granite benchtops, a walk-in pantry and is tiled through to the

defined dining area. Stacker sliders from the main living room, lounge and master bedroom lead out onto the

extensive wrap-around Kwila deck and rear lawn. The low-maintenance garden of the 695sqm section means that

weekends can be better spent relaxing on the sun-soaked deck. Highly spec'd, the home features a wall-to-wall tiled

shower in the ensuite, two heat pumps, Bluetooth speakers, carpet and attic storage in the garage and a separate

laundry. My vendors' plans are set, giving a new family the chance to love and enjoy this home as they have.

4 2 2 2

Deadline Sale (unless sold prior)

3pm, Thu 13 Oct 2022

View 2-2.30pm Sun 9 Oct

Sarah Booth 027 527 8258

sarah.booth@bayleys.co.nz

WHALAN AND PARTNERS LTD, BAYLEYS, LICENSED UNDER THE REA ACT 2008

bayleys.co.nz/5519404

bayleys.co.nz
---
14

NEW LISTING

Rolleston 55 Farnborough Way

Hurry, this won't last long

Freshly painted for the benefit of the new owners, this smart two-bedroom home is ready for immediate

occupancy. Whether you are a first home buyer, a downsizer or are looking for a sound investment property, early

viewing is recommended, as properties in this price bracket are highly sought-after. The open plan living room,

which is orientated to benefit from all-day sun, extends out to the established, private rear garden of the 292sqm

section. The master bedroom has direct access to the family bathroom, which also services the second double

bedroom. Situated in a lovely wide street, just a short stroll to Faringdon's eateries and shops, this immaculately

presented home, built by Golden Homes in 2015, is ready to be snapped up.

bayleys.co.nz/5519350

2 1 1 1

Asking Price $595,000

View 12-12.30pm Sun 9 Oct

Sarah Booth 027 527 8258

sarah.booth@bayleys.co.nz

Nick Booth 027 306 3186

nick.booth@bayleys.co.nz

WHALAN AND PARTNERS LTD, BAYLEYS, LICENSED UNDER THE REA ACT 2008

NEW LISTING

Rolleston 31-41 Westland Place

Rolleston 39 Burford Way

For lease - cheap modern

office

• 426sqm available

• Ample car parking available

• Located in the popular Izone Business Park

Locate your business in one of New Zealand's largest

growing suburbs. 20 minutes from Christchurch's

CBD and 25 minutes from Christchurch International

Airport. This leasing opportunity consists of first floor

modern office of approximately 426sqm on the onefloor

plate with lift and stair access.

Price by Negotiation

View by appointment

Graeme Donaldson 021 225 2130

graeme.donaldson@bayleys.co.nz

Alex White 027 785 4211

alex.white@bayleys.co.nz

WHALAN AND PARTNERS LTD, BAYLEYS, LICENSED REAA 2008

Step up to style

Proudly positioned upon a superbly tended corner site

in Faringdon sits this three-bedroom brick and linear

beauty, which extends a warm welcome to the

modern-day family. The kitchen incorporates superb

storage, trusted appliances and is armed with an

island bench. A sun-loaded outdoor area runs

alongside the living room and is hemmed by

beautifully established landscaped gardens.

Practicality has also been prioritised by excellent

storage and the presence of a heat pump for yearlong

comfort.

3 1 2 2

Deadline Sale (unless sold prior)

1pm, Wed 19 Oct 2022

Phone for viewing times

Nathan Collett 027 826 1535

nathan.collett@bayleys.co.nz

Bianca Davidson 027 322 9055

bianca.davidson@bayleys.co.nz

WHALAN AND PARTNERS LTD, BAYLEYS, LICENSED REAA 2008

bayleys.co.nz/5519026

bayleys.co.nz/5519487

bayleys.co.nz
---
15

NEW LISTING

Southbridge 312 Wabys Road

The way home

Families looking for privacy, charm and modern convenience will be immediately taken with this beautifully situated

four-bedroom, two-bathroom home on the outskirts of Southbridge that is ideally suited for country living and sits

on a 4.6 ha (approximately) lifestyle block within an idyllic rural setting. Open plan kitchen, dining and living are at

the heart of this home; the spacious wraparound kitchen is a generous space with a breakfast bar and an attached

dining area that presents the perfect space for family living. Expansive and separate, the lounge offers light-filled

outlooks to the surrounding grounds, French doors that provide easy access to the patio area, and a log burner with

a heat transfer system alongside double glazing to keep the space warm and cosy in winter.

4.6868ha 4 2

Deadline Sale (unless sold prior)

1pm, Tue 25 Oct 2022

Phone for viewing times

John Bailey 027 893 0234

john.bailey@bayleys.co.nz

WHALAN AND PARTNERS LTD, BAYLEYS, LICENSED UNDER THE REA ACT 2008

bayleys.co.nz/5519556

Southbridge 29 Sarsfield Street

Get in quick

Sheltered by established trees and greenery with a woodland section, this peaceful bungalow has been updated

and offers an ideal prospect for first home buyers looking for a reliable property in the heart of Southbridge's

friendly environs. The light-filled open plan kitchen and dining area have a modern breakfast bar and a great

wraparound design with plenty of storage and has an adjoining natural flow through to the spacious lounge. A log

fire and heat pump alongside ceiling and wall insulation ensure the climate is controlled throughout the year. The

neutral and updated colour scheme is modern and there is a splendid opportunity to move in and enjoy the

property immediately. Accommodation is provided by three generous double bedrooms, which share a large family

bathroom with a shower over the bath, while a separate laundry caters for the practicalities of life.

3 1 1 2 1

Deadline Sale (unless sold prior)

1pm, Thu 13 Oct 2022

3 Deans Avenue, Chch

Phone for viewing times

Suzy McPherson 027 695 0519

suzy.mcpherson@bayleys.co.nz

WHALAN AND PARTNERS LTD, BAYLEYS, LICENSED UNDER THE REA ACT 2008

bayleys.co.nz/5519489

bayleys.co.nz
---
16

NEW LISTING

Boundary lines are indicative only

Artist's impression

Boundary lines are indicative only

Boundary lines are indicative only

Springston 428 Leeston Road

Tai Tapu 219 Gerkins Road

Top notch dairy opportunity

111.9443ha

Masterpiece in the making

28.741ha 3 1 2

Situated on the doorstep of Lincoln township, this

solid 111ha dairy farming operation is ready for a new

owner to capitalise on the existing infrastructure and

past performance. Currently milking approximately

400 cows through a 39ASHB dairy, the farm has

enjoyed consistent production of approximately

200,000kgMS per annum in recent years. The

property includes two good homes, calf-rearing and

hay sheds. Excellent soils, pivot irrigation and recent regrassing

underpin the performance record, setting it

up for continued success. Schools and amenities closeby

makes this a great place to farm.

Deadline Sale (unless sold prior)

12pm, Wed 26 Oct 2022

3 Deans Avenue, Chch

View by appointment

Ben Turner 027 530 1400

ben.turner@bayleys.co.nz

Evan Marshall 027 221 0910

evan.marshall@bayleys.co.nz

WHALAN AND PARTNERS LTD, BAYLEYS, LICENSED REAA 2008

Tucked away in the hills above Tai Tapu, this underconstruction

residence on 28.74 hectares captures

awe-inspiring views across the Canterbury Plains to

the Southern Alps. The current owners will complete

the house construction and hand over keys at

settlement, earthworks and installation of retaining

walls are completed, and the home will come with a 10

year Master Build guarantee. Just over 19 hectares of

mature pine tree forest currently registered for carbon

credits, provides the perfect backdrop for a

recreational wonderland. This could be your ultimate

retreat.

Deadline Sale (unless sold prior)

1pm, Wed 19 Oct 2022

Phone for viewing times

Chris Jones 027 220 5043

chris.jones@bayleys.co.nz

Sam Sidey 027 346 3500

sam.sidey@bayleys.co.nz

WHALAN AND PARTNERS LTD, BAYLEYS, LICENSED REAA 2008

bayleys.co.nz/5519043

bayleys.co.nz/5519452

NEW LISTING

Boundary lines are indicative only

West Melton 973 Hoskyns Road

Wouldn't you love to live here?

Set amongst mature gardens in perfect seclusion, this well-established home and 10ha property will appeal to

many. Lifestyle and location are the key, plus a walnut orchard providing an income opportunity. The large family

home has an open-plan kitchen/living area and separate lounge, catering to family life. An upstairs landing offers a

functional space that could be a playroom, craft area or work-from-home office. The walnut orchard has around

800 trees, creating an absolute haven for guests to roam and children to play. Most trees are the REX variety,

regarded as the most well-suited to Canterbury's environment and are between 20 and 30 years of age, producing

around seven tonnes of nuts annually, sold to the NZ Walnut Co-op. Well set up with infrastructure and irrigation

water to continue or expand - or change the land use to suit yourself. Imagine your new life here.

bayleys.co.nz/5518849

10ha 4 2

Deadline Sale (unless sold prior)

12pm, Fri 4 Nov 2022

3 Deans Avenue, Chch

View by appointment

Ben Turner 027 530 1400

ben.turner@bayleys.co.nz

Craig Blackburn 027 489 7225

WHALAN AND PARTNERS LTD, BAYLEYS, LICENSED UNDER THE REA ACT 2008

bayleys.co.nz
---
2

[Edition datE]

17

Looking for a Property?

What really counts

You are in the market for a new property,

scrolling the Internet, examining

properties for sale and zeroing in on those

with potential. They might be in locations

that offer cheaper land, larger houses, or

convenience to work or school. You may

have visited show homes and open homes

becoming confused, overwhelmed or

swept away with emotional factors like

having everything new, or extra features

such as three car garaging.

To be happy with your choice, list the

features that you need, considering:

• Family space – Is there room for

the children to play indoors and for

television and entertainment units?

Should this be open plan or separated?

• Kitchen – What needs to be in your

kitchen? How serious are you about

a butler's pantry? Is it a whim or

something that offers a practical solution

to the way you use your kitchen?

• Bedroom sizes – What are optimum

sizes? Smaller bedrooms may translate

to slightly lower building costs while

extra space can be useful. When looking

at existing homes, consider whether the

size of each bedroom is sufficient.

• Garaging – A standard double garage

once two cars are parked there offers

little space for the toys. What toys

do you have and could they live with

the lawnmower in a garden shed, a

cheaper option to three car garaging?

If the budget allows and a larger garage

with workshop is important, make it a

selection priority.

• Size of land – Lifestyle properties offer

space for children, pets, hobbies, an

expansive garden and perhaps a homerun

business but they require work so

are not for everyone and a compact

section might be more sensible if a tight

budget or busy lifestyle.

• Bathrooms – Second and third

bathrooms are great in homes with

teenagers and a wet shower room is

ideal for young children. A bath might

be fashionable though is often not used

and its absence could mean a more

spacious bathroom.

• Laundry – Would a laundry in the

garage do the job?

• Storage – How much storage do you

need? Weigh up what can truly be

stored in the garage once vehicles are

in, a preference in winter. Garages vary

in size so check the size to ensure your

vehicles will fit. Look also at where

else the house offers storage capacity

such as in hall cupboards, a large hot

water cylinder cupboard, wardrobes

(check their width and depth), walkin

robe, attic storage trusses, as well as

the potential for hooks and shelving

in the garage for bikes, tools, garden

equipment and even kayaks.

• Off-street parking – How many

vehicles can be parked on the driveway?

Will this space be sufficient?

• Garden - Is there sufficient space

for your children to play or for

entertaining?

A checklist will allow you to determine

what will suit your needs, the point of

the exercise, saving you time looking at

properties or potential house designs

while assisting you to decide whether

to buy a new or existing home with

both options having advantages and

disadvantages.

West Melton 25 Fairmont Rise

Where memories are made and dreams are fulfilled

The substantial 355sqm floor plan has been designed to impress and yet be practical for everyday family living.

Appreciate the natural warmth of the engineered Oak flooring, the ease of meal preparation in the up-to-the-minute

kitchen, which has both stone and stainless steel counter tops, Bosch appliances and a butler's pantry. The bedroom

configuration is a winner, with bedrooms two and three boasting their own walk-in robes, a dual access ensuite and

individual heat pumps. The master suite also has its own heat pump and an enviable wall-to-wall tiled shower in the

ensuite. Triple car garage with an extra-length bay for boat storage, attic access, 2.85m stud ceilings and 2.45m

doors with a drive-through. But wait there's more...family and friends can spend time together making memories in

the heated pool or playing out on the large fully-irrigated lawn of the fabulous 2,041sqm section.

4 2 2 3

Auction (unless sold prior)

12pm, Thu 13 Oct 2022

3 Deans Avenue, Chch

View 3-3.30pm Sat 8 Oct

Sarah Booth 027 527 8258

sarah.booth@bayleys.co.nz

WHALAN AND PARTNERS LTD, BAYLEYS, LICENSED UNDER THE REA ACT 2008

bayleys.co.nz/5519363
---
18

Four Seasons Realty

Four Seasons Realty

CONSISTANTLY EXCEEDING EXPECTATIONS!

Better Price, Superior Service and Genuine Customer Care.

Sell with confidence

FOR

SALE FOR

SALE

SOLD

9 th September

SOLD

13 th September

SOLD

11 th August

17a Millstream Drive, Lincoln

17 Owen Drive, Darfield

FOR FREE REAL ESTATE

027 229 3657 | 03 346 4711

SHONA ROBB

ADVICE PLEASE CALL shona.robb@harcourts.co.nz

LICENSED SALES CONSULTANT

Four Seasons Realty

Four Seasons Realty 2017 Ltd | Licensed Agent REAA 2008
---
19

Four Seasons Realty

Four Seasons Realty

WED

5 OCTOBER 2:00 PM

RUSSLEY GOLF CLUB

428 MEMORIAL AVENUE, CHRISTCHURCH.

Auctions

Four Seasons Realty

(Unless sold prior)

THIS WEEK

AUCTION

Hornby 16 Brynley Street

Harcourts ID: HR6088

Hollie Beeby

027 623 8788

AUCTION

Hanmer Springs 108 Jacks Pass Road

Harcourts ID: HS22264

AUCTION

LIVE AUCTION STREAM

Riccarton 4/86 Brockworth Place

Harcourts ID: RG9816 www.harcourtsauctions.co.nz

Jackie Frame & Sue Mercer

027 435 9810 | 027 436 8548

Karen Ward

021 221 7027

AUCTION

Kirwee 1694 Hoskyns Road

Harcourts ID: RL2720

AUCTION

Rolleston 876 Selwyn Road

Harcourts ID: LN3676

Ferg Spain

027 608 4768

Pritpal Singh & Stephen Singh

021 106 9799 | 021 031 7529

AUCTION

Rangiora 89 Johns Road

Harcourts ID: RG9841

AUCTION

Loburn 133 Stonyflat Road

Harcourts ID: BF37446

Lisa Tippen

027 454 5416

Rhiannon Moss

027 440 4449

AUCTION

Leithfield 458 Ashworths Road

Harcourts ID: RG9806

AUCTION

Oxford 541 Steffens Road

Harcourts ID: RG9824

Victoria Thompson & Brian Davey

027 352 7913 | 029 232 3583

Lisa Tippen

027 454 5416

Your home for local property

Four Seasons Realty 2017 Ltd Licensed Agent REAA 2008

Four Seasons Realty
---
20

Stand out with best-in-class

marketing geared to get

you great results!

Don't undersell your property - call us

on 0800 367 5263 to book your FREE

appraisal today and get the premium

your property deserves!*

pb.co.nz/standout

*Terms and Conditions apply | Licensed REAA 2008
---
21

What a team!

Amy & Shar work together to consistently achieve

outstanding results.

#1

Marketer Canterbury/

West Coast

#2

Office

Nationwide

#3

Top Units

Nationwide

If you're considering selling,

talk to an award winning team today

Amy Jones

Residential & Lifestyle

Sales Consultant

M 021 077 9945

E amy.jones@pb.co.nz

Shar Simôn

Residential & Lifestyle

Sales Consultant

M 027 555 0654

E shar@pb.co.nz

Property Brokers Licensed REAA 2008

PB063296

Greendale 1856 Coaltrack Road

Considerable Country Charm

A tree-lined driveway, an expansive established garden, set a classy scene on arrival to this stunning 224m2 (approximately)

character bungalow. Its accompanying eight-car garaging will send your lifestyle into top gear.

• Four spacious bedrooms, master with ensuite

• Plenty of outbuildings, including a mancave

• Expansive deck and wrap-around veranda

• Crafted with Oamaru stone and weatherboard

Soaking up rural seclusion, it's only 10 minutes from Darfield and under half an hour from Rolleston to propose a highly

appealing lifestyle opportunity. Contact me for more information.

Property Brokers Ltd Licensed REAA 2008 | pb.co.nz

4 2 2 8

Deadline Sale closes Wednesday 19th October, 2022 at 4.00pm,

(unless sold prior)

View Sun 9 Oct 12.30 - 1.00pm

Web pb.co.nz/DFL108494

Simon Anderson

M 021 0828 5532

E simon.anderson@pb.co.nz
---
22

West Melton 295A Jowers Road

When town and country collide!

295a Jowers Road offers a wonderful opportunity for those looking for lifestyle living without sacrificing anything that

residential living offers. This 8403m2 lifestyle block offers easy lifestyle in a fantastic location, with great privacy and

space. As you enter the property through the tree lined driveway, an imminent sense of quality greets you as you

arrive at the 256m2, 3 bedroom + office, architecturally designed home. The open plan living area is spacious and ties

perfectly with an outdoor entertaining area. Capturing all day sun, this area makes for fantastic family living or

entertaining. An absolute feature of the living area is the modern kitchen, complete with stone top benchtops,

modern appliances and a large walk in butlers pantry. The spacious master bedroom enjoys all day sun and boosts a

quality, tiled ensuite and good sized walk in robe. 2 large double bedrooms complete with wardrobes are supported by

a large, tiled family bathroom. The home also features a study/office, separate laundry and a large double garage,

with a real feature being the storage options throughout the home. The property is fenced into 2 paddocks and is

complete with a 3 bay implement shed. If you have been thinking lifestyle but didn't want to sacrifice the quality and

convenience of a residential home, then this could well be the property you've been waiting for.

Property Brokers Ltd Licensed REAA 2008 | pb.co.nz

3 2 1 2

Tender closes 5.00pm, Wed 26th Oct, 2022 (unless sold

prior)

View Sun 9 Oct 2.30 - 3.15pm

Web pb.co.nz/ROL102243

Chris Moore

M 027 288 0563 E chris.moore@pb.co.nz

Justin Le Lievre

M 022 628 1306 E justinl@pb.co.nz

Angela Hunt

M 021 548 777 E angela.hunt@pb.co.nz

Proud to be here
---
23

Rolleston 12 Grace Way

Enjoy summer entertaining!

With summer just around the corner, you will absolutely love the fabulous outdoor space this home offers! Sited well on its

750sqm section to capture the sun right throughout the day, this home provides the perfect place to host bbqs with family &

friends or watch the kids play. Warm & welcoming, the home itself features an open plan kitchen/living/dining room that flows

out to the large deck, overlooking the generous back yard. The kitchen is well designed, offers stone bench tops and factuality

is a key component here. The separate living room offers space for a growing family to spread out, or enjoy sitting in the sun

reading a book. 3 bedrooms all offer built in robes and are serviced with a lovely updated bathroom with full tiled walls to add

to the luxury appeal. The master suite offers generous space for bedroom furniture, plus a walk-in robe and a lovely full tiled

updated ensuite for you to enjoy. Heating is sorted with a heat pump and ventilation system throughout to help keep the

home warm and dry, and hot water is gas. Our vendors have new plans on the horizon & are ready to pass on their much-loved

home to one lucky family to enjoy for years to come.

4 2 2 2

Deadline Sale closes Wednesday 19th October, 2022 at 6.00pm,

(unless sold prior)

View Sun 9 Oct 1.15 - 1.45pm

Web pb.co.nz/ROU109341

Chris Moore

M 027 288 0563

Angela Hunt

M 021 548 777

E chris.moore@pb.co.nz

E angela.hunt@pb.co.nz

Rolleston 68 Quartz Drive

Sure to be a winner!

Built post-quake, this beautifully presented 3-bedroom home offers views out onto the reserve at Stonebrook Park. The kids

will love running around in the park and feeding the ducks right on your doorstep! In the open plan kitchen/dining/living, floor

to ceiling windows fill the area with natural light and a ranch stacker leads out onto the patio, creating a great indoor-outdoor

flow to the tidy easy care back yard. Keeping you toasty warm during these cooler months is a heat pump and a wonderful

eco low emission log burner. All the bedrooms have double robes and large floor-to-ceiling windows which capture the sun

throughout the day. The Master also benefits from its own ensuite. The further 2 double bedrooms are serviced by the main

all-in-one bathroom, which also has a heated towel rail, separate shower and bath. The laundry is located in the internal access

double garage, with a door that leads out to a concreted area with the washing line and a garden shed. The easy-care gardens

have been recently landscaped but there is still scope to stamp your own mark. Enjoy the peace and serenity this beautiful

home offers. It is sure to be a winner!

Property Brokers Ltd Licensed REAA 2008 | pb.co.nz

3 2 1 2

Deadline Sale closes Wednesday 19th October, 2022 at 4.00pm,

(unless sold prior)

View Sun 9 Oct 2.00 - 2.30pm

Web pb.co.nz/ROU89273

Angela Hunt

M 021 548 777

Chris Moore

M 027 288 0563

E angela.hunt@pb.co.nz

E chris.moore@pb.co.nz

Proud to be here
---
24

Rolleston 13F Fairfield Way

Affordable family living

With an exciting change on the horizon, our vendor's instructions are clear! Present all offers at deadline! This whole property

is well designed and offers very spacious living areas and sizable bedrooms too. Being double glazed throughout and placed

well for the sun, the home is lovely and warm, but rest assured the log burner will definitely keep you toasty warm during the

winter months. The Master bedroom is serviced with an en-suite and walk in robe and the main bathroom and separate toilet

caters for the additional 3 bedrooms. There is good off street parking for extra cars and a carpeted double garage which also

houses the laundry. The section offers space for the kids to kick the ball around, or a short stroll to the local park for a change

of scenery and great playground. If security is important to you, this property boasts a great FBI system. This home truly

offers fantastic buying in Rolleston and quick action is recommended!

4 2 2 2

Deadline Sale closes Thursday 20th October, 2022 at 5.00pm,

(unless sold prior)

View Sun 9 Oct 1.00 - 1.30pm

Web pb.co.nz/ROU107637

Chris Moore

M 027 288 0563

E chris.moore@pb.co.nz

Angela Hunt

M 021 548 777

E angela.hunt@pb.co.nz

Rolleston 155a Lowes Road

Best In Show

Beautifully positioned for sun on the 1002m2 section this 250m2 executive style build is available for you to move in straight

away knowing that all the hard work has been done and you simply have the pleasure of putting your own personal touch in

the interior of the home. There is plenty of everything here for all members of the family with four genuine double bedrooms,

a spacious family living dining area, a separate living space/media room, a beautiful kitchen complete with stone bench tops

and walk in pantry, two stunning bathrooms and of course the massive triple garage with separate laundry attached. The

stylish decor is complimented by the quality fixtures and fittings and the house comes with a ten year Masterbuild Guarantee.

Outdoors finds several large north and west facing patios positioned to make the most of the outdoor living opportunities on

offer and fences to provide privacy. There is also a spacious utility area and the lawn will be hydroseeded with plenty of space

for you to utilize the lawn and garden area in any way that suits you. Viewing is sure to impress. Deadline Sale with all offers to

be presented on or before 4pm on the 12th of October

Property Brokers Ltd Licensed REAA 2008 | pb.co.nz

4 2 2 3

Deadline Sale closes Wednesday 12th October, 2022 at 4.00pm,

(unless sold prior)

View Wed 5 Oct 5.00 - 5.30pm

Sun 9 Oct 11.30 - 12.00pm

Web pb.co.nz/LEU106687

Stephan Knowler AREINZ

M 027 229 9522 E stephan.knowler@pb.co.nz

Proud to be here
---
25

Leeston 10 Vitruvius Way

Bring the cricket bat!

Perfectly positioned on a sunny and spacious 978m2 section this 4 bedroom home built in 2017 will ensure your family's

summer months and beyond are well-and-truly sorted! With a clever design on its side making the most of all available space

you will enjoy the functionality of the open-plan living, dining and brilliant size kitchen with excellent bench space. The home

offers 4 bedrooms (master with ensuite & WIR) with the 4th smaller bedroom being conveniently located close to the front

door, just perfect for the home office option. The well-appointed family bathroom is light, bright and positioned in a

functional spot for the home. With a double internal access garage with an insulated door, a ducted heat pump system and

double-glazed windows, this sunny home will be comfortable all year round. The fully-fenced, low-maintenance but

exceptionally spacious section is a selling point of the home, giving you more time and space to enjoy your summer BBQs.

There are vegetable planters, a sand-pit for the kids, a sturdy garden shed, an enclosed concrete pad; excellent for a dog run or

possible additional shed and even a parking spot for the caravan or boat!

4 2 1 2

For Sale Buyers $699,000+

View Sun 9 Oct 12.30 - 1.00pm

Web pb.co.nz/ROU108159

Sarah Yeates

M 027 447 2719

Andy Ayyar

M 021 556 764

E sarahy@pb.co.nz

E andy.ayyar@pb.co.nz

Springston Chamberlains Road

Blank Canvas

15.7ha of productive soil situated on Chamberlains Road (Goulds Road End). 4 post and wire fenced paddocks of Temuka &

Peat Soils. Ideal 1st farm or lifestyle block. Currently used as stock breeding and finishing plus arable crops. Excellent location

within 10 minutes drive to Rolleston and with consent to build or relocate your new home.

Deadline Sale closes Thursday 20th October, 2022 at 2.00pm,

(unless sold prior)

View By appointment

Web pb.co.nz/LER108197

Noel Lowery

M 027 432 8859

E noell@pb.co.nz

Property Brokers Ltd Licensed REAA 2008 | pb.co.nz

Proud to be here
---
26

2022

Tanya & Monty Marillier

Outstanding Achievement

Top Marketers for 2022

Canterbury/West Coast

What a team!

If you're looking for outstanding

results, give them a call!

Tanya Marillier

Residential/Lifestyle Sales Consultant

M 027 383 3844

E tanya@pb.co.nz

Monty Marillier

Residential/Lifestyle Sales Consultant

M 021 943 973

E monty@pb.co.nz

pb.co.nz

Property Brokers Ltd Licensed REAA 2008

PB060766
---
2

[Edition datE]

Buying a lifestyle block

27

City life getting you down? Dreaming of

living in the country, where you 'commute'

from the breakfast table to a barn or your

home office? It might look like an easy life

but buying a lifestyle property can be a

complex business.

While living in the country has much

to recommend it, you need to do more

preparation for buying a place there than

buying a pair of gumboots and comparing

the merits of ride-on mowers.

We recommend comprehensive due

diligence when buying any kind of property,

but rural ones come with a whole extra set

of things to think about compared to buying

a straightforward stand-alone home in

town".

While it's tempting to focus on the dream

wish list for your bucolic bolt-hole, but you

should also compile a list of issues to be

aware of (and people who can help you learn

about them).

"If the property you like is being sold by

a licensed real estate agent, remember that

you can ask them anything you like about it".

"Rural real estate agents have special

skills in this area and they'll be able to help

you figure out what information you need

to make a well-informed decision. It's also

a good idea to get your lawyer onboard

early to check titles, consents and other

information that you gather in the process."

It might feel like you're getting away from

it all when moving out of town, but rural

developments can be subject to rules that

restrict what you can do. REA recommends

getting your lawyer to check if there are any

covenants on the property that might have

an impact on a future business you may

run there, or any planned building projects.

You don't want to invest in an alpaca herd

for your new dream property only to find

that it's not allowed to carry any livestock.

Similarly, it would be tough to discover that

your subdivision plans are not permitted by

council rules.

Be aware that there may be tax

implications if you're planning to use the

property as a business.

"In general, if it is currently being used for

a business that is tax-registered – whether

that's selling organic eggs, grazing stock

or running a B&B – then the seller will

probably add GST to the price. This means

you'll pay an extra 15 per cent, unless you

are also registered for GST. Ask your lawyer

or accountant to check if the house or any

other buildings on the property are GSTexempt.

They will also be able to advise you

on whether you need to be GST-registered."

A good place to start when trying to

figure out what tax obligations might

attach to your purchase of the property

is Inland Revenue's property tax decision

tree (available at http://www.ird.govt.

nz/property/property-terms-and-tools/

property-decision-tree/), but keep in mind

that it is always best to seek professional

advice before you make a decision.

Rural properties (like all properties) can

also have easements on the title that relate to

access, water or power. You should ask your

lawyer to check the title and work out what

the easements are, and how they will have an

impact on your rights and responsibilities as

an owner.

"For example, if the title allows a

neighbour access to a piece of their land

through your property, do you have any

right to limit the type and frequency of that

access if you buy it?"

Be aware too that there may be 'unofficial'

easements operating; the incumbent

owners may have an informal arrangement

with their neighbours, but this may not

remain when the property passes into new

ownership.

Things that we take for granted when

living in urban environments, like water,

sewage and access, can require more

involvement in rural areas. Check the water

sources for the property – if it has its own

bore, are there limits on the amount of

water you can draw from it? What is the

process for ensuring it is safe to drink? What

happens to wastewater and sewage? Are you

prepared for life with a septic tank? Will the

current owner ensure the tank is empty as a

condition of sale?

When it comes to access, will you

share a private road or right of way with

other properties? What will be your

responsibilities and potential costs for

maintaining it? Don't forget that your

neighbours may be involved in unglamorous

activities at ungodly hours – check the

zoning rules for nearby properties if you're

worried about noise, smells or traffic. You

might think it's lovely to have stock grazing

out the window, but are you ready for a

milk tanker driving past every morning? Be

aware that the LIM will not always alert you

to any pending or current NZTA decisions

regarding local highway linkages that often

divert traffic away from urban centres in

favour of immediate rural areas on the town

boundary. Check with NZTA if you think

your property could be affected by road

changes.

Like all property purchases, buying a place

in the country requires careful, objective

consideration.

"There are lots of great things about

living on the land, but it's best to be realistic

about it. You don't want to be like the

former townie I met a few weeks ago, who

mournfully told me that their lifestyle

block had become "a life sentence". Do your

homework and you're far more likely to live

happily ever after in rural bliss."

For independent advice on buying or

selling property, check out settled.govt.nz.

REAL ESTATE SPECIALISTS

18 Kildare Terrace, Lincoln

DEADLINE SALE

Contemporary Character in Central Lincoln!

Uniting traditional charm with modern convenience, this character-packed 3 bedroom bungalow offers lifestyle

ease in the beating heart of Lincoln.

There's no shortage of unique personality on display, with a timeless weatherboard exterior whilst inside, exposed

timber panelling and wooden flooring have been thoughtfully retained. Modern styling has been introduced in

both the kitchen and bathroom, with the open plan kitchen, lounge & dining area opening out to a lovely decked

area bathed in sunshine.

With Lincoln's array of cafes, restaurants and everyday conveniences all a short stroll away, it ensures absolute

ease of living for its eventual occupants. Currently tenanted, please contact Mike today for more information.

3 Lucca Crescent, Rolleston

OFFERS OvER $759,000

2 Chilton Drive, Rolleston

DEADLINE SALE

Summertime Sanctuary!

Step inside and be impressed! This 3 bedroom family home

is beautifully presented and offers so many extras that you

really need to view to appreciate all that is on offer! The

contemporary centre for everyday living is the polished

kitchen which naturally interacts with the dining space that sits

beneath feature lighting while the relaxed lounge lies beyond.

Exceptionally crafted for outdoor entertaining, the louvretopped

patio flows from the living area and turns its attention

to the inviting outdoor fire, which doubles as a pizza oven.

This quiet pocket of Rolleston is exceptionally accessible to

countless amenities, making it a perfect fit for a vast range of

buyers. Contact Mike today for more information on how to

make this your new home.

Deadline Sale: All offers to be presented 3pm Oct 13th

(unless sold prior)

Polished to Perfection!

Constructed in 2020 and still bearing the quality stamp of

a new home, this 176 sqm 3 bedroom home is sited on a

494sqm corner site offering considerable curb appeal without

the onerous upkeep. A striking exterior with a sleek colour

scheme throughout creates a contemporary elegance with

a superbly styled kitchen & spacious open-plan living &

entertaining space. The sliding door leads you out to a fully

fenced, low maintenance backyard to which you could easily

add your own flair. A double garage with internal access and

integrated laundry rounds out the floor plan, while off-street

parking is another bonus. This beautiful home is now vacant

and waiting for you to move in and call it home!

Contact Mike now to get the ball rolling!

**All offers to be presented 3pm, Oct 19th (unless sold prior)

68 Rolleston Drive, Rolleston

0800 645 346

www.oneagencyres.co.nz

Mike Goatley

027 249 5561

Wade Goatley

027 749 6468

Shane Jarvis

022 130 0766

Wayne McFarlane

027 337 6093

Real Estate Specialists Ltd Licenced REAA (2008)
---
2

28

[Edition datE]

Extending

outdoor living

Rain and wind-proofing an outdoor space adds value

to a property. With a roof or clear vinyl sides, your

buyers can see an area where rain doesn't stop play.

Thanks to blitz advertising, most

Kiwis have heard the name Archgola.

The company and others like it can add

canopies to decks, enclosing the space for

year-round use.

Undercover verandas, pergolas and

gazebos can be turned into living space

by adding side panels, which effectively

create a conservatory. Restaurants often

use these spaces, so there's no reason why

home owners can't as well.

Roll-down clear vinyl blinds are a

popular choice, which, if you're lucky,

can be bought ready made from hardware

stores such as Bunnings and Mitre10. If

not, there are plenty of companies that

will custom manufacture to fit. Usually

these blinds zip into place and are stored

using a rope-and-pulley system.

Mounting your blinds is very simple.

Typically it involves screwing the

mountings into wood or installing a track

then fitting the blind.

Other options include roll-up shade

cloths or other gazebo or veranda sides,

such as canvas. These aren't as windproof

as the vinyl blinds, meaning they're not a

12-month solution.

If you don't already have an outdoor

living space, building a pergola doesn't

generally need planning permission..

Provided the pergola is less than 10 sq

m in size, it is usually okay to add a roof.

But a quick call to the council is a good

idea; never risk building an unpermitted

structure.

Another option for quick and easy rain

and windproof outdoor living is a pop-up

gazebo. These can be turned into dining

areas to give buyers a glimpse of what they

could do themselves.

It's important to dress them so it doesn't

look like you've just plonked a gazebo

on the lawn. Lights, plants, furniture

and even place settings can really give a

gazebo the Pinterest touch and bring it to

life as an outdoor entertaining hub for the

home.

The more you pay for pop-up gazebos,

the better UV protection of the fabric and

powder coating of the steel you get.

Heating the outdoor space also makes it

more usable. The cheap option is a patio

heater. Permanent gas, wood or pellet

fireplaces and fire pits are easier on the

eye and can make a design statement, allimportant

when selling a home.

For wind protection, it's reasonably

simple to erect trellis and staple brush

sides to it or the existing fence.

Bamboo is particularly good for this

purpose, especially if you have access to a

free source - although you could also buy

it at all good hardware stores.
---
2 [Edition datE]

29

Dressing your property

up for sale

Your house is on the market and you hope to

get a good price. While market performance

will largely influence this, presenting your

home at its best will help.

First impressions count from

the moment potential buyers view

a property from the street to the

moment they walk through the front

door.

Weed the garden, cut back unruly

shrubs and prune trees where needed.

Kill off weeds in the lawn, sprinkle

grass seed over bald patches and

fertilise the lawn.

Indoors, tidy up. Get rid of excess

or bulky furniture, toys, books, hobby

items or fitness equipment and if too

many photos on the wall pack these

away so the home looks roomy.

If there is a gap or a room needs

enhancing, look at what you have. A

piece of furniture might be painted up

or an old leather bound book popped

on the coffee table. Shelves will also

add depth to a narrow space while

mirrors may give the illusion of a

larger space. In entryways, add an easy

chair, small table, bookcase or large

vase.

Awkward spaces such as coved

ceilings in attics or upstairs rooms

might be converted into storage

shelving and the room given a purpose

as an office, playroom or extra

bedroom so viewers can see how the

room might be used.

Stow possessions neatly in

containers, shelving or tidily in

cupboards; highlighting the storage

potential within the home, ensuring

it is clean and tidy for viewing at any

time.

Move the pets outside as not all

buyers will be pet lovers while some

may suffer pet allergies putting them

off a house if they see a pet inside.

If parts of the house look tired,

consider renovating by painting

walls, replacing worn carpet, or

modernising the kitchen, bathroom

and toilet; rooms that should sparkle.

Replace tired cabinetry, or the benches

and cupboard/drawer fronts then

update old toilets, showers or kitchen

appliances. Modernising these rooms

can lift the final selling price.

Use consistent and light paint

colours throughout for balance and

seamlessness, making the house

appear more spacious. An effect that

is increased when walls and curtains

share the same or a similar colour.

Consider the personality and

purpose of a room. Bright colours

lift living areas especially if large and

open. However, bedrooms are suited

to calmer softer colours with just a

touch of bold. Layer bedding or use

throws for effect along with cushions

or a stuffed toy in a children's room.

With curtaining, smaller patterns or

plain fabrics are the rule for smaller

rooms whereas larger patterns make

spacious areas cosier. If blinds or

drapes are past their best, replace these

even if it is only with neutral cotton

curtains. The effect will be worth it.

Eco-friendly features will also add

value for some buyers though not

universally, however earthy natural

colours and features are popular.

Consider who your target buyers are

likely to be and what will appeal to

them.

Move the pets outside

as not all buyers will

be pet lovers while

some may suffer pet

allergies
---
30

Making the most of

show home viewing

Looking through show homes is a great way to get ideas for

features and fittings to put into a new home. It can also be helpful

for getting a spatial feel for other aspects of a house design.

[Edition datE] 1

Before heading out for a day's

viewing, conduct an internet search.

identify the locations of show home

villages and the types and sizes of the

various building company's homes on

display, noting down the square metre

size of each home.

if wanting a high end, architectural

design, focus on the larger homes that

have desirable design features. if at the

entry or middle level of the market,

earmark homes that fit this taking in

other show homes for extra ideas.

allow sufficient time when visiting each

show home, asking for a floor plan that

has room sizes before walking through.

Check also the floor to ceiling height

of the rooms and consider how this feels

and whether you prefer a cosier feel with

the standard ceiling eight of 2.4 metres or

more spaciousness created with a higher

stud or exposed ceiling beams.

if doors and windows are taller than

normal, weigh their effect in creating

a more luxurious and spacious feel,

against potential inconvenience for small

children, cleaning and maintenance.

on entering each room, take account of

how much furniture is in each room and

whether there is sufficient space for the

furniture you will have in the room and

the size needed in a walk-in robe. Look

too, at storage capacity throughout the

home and whether this is adequate.

in the living areas, consider whether a

lounge separated from the family living

room or a true open plan kitchen, dining,

living/lounge area is preferable, and

compare internal kitchens with those that

have natural light.

Look too at the layout of

the kitchen: whether to have

an island sink or breakfast

bar where a newspaper can

be read, and children can

sit and draw or complete

homework; the positioning

of appliances; and how

important having a pantry is.

for the little rooms, equate

space and features desired

with that needed, especially

if the budget needs to be

sharp. it might be nice to

have a large walk-in shower

with double shower heads

but is this just fanciful and

will the extra cleaning annoy you long

term. a laundry in the garage is also more

economical though a separate laundry

may be handier.

Bring the garage size into the equation

also. as these vary considerably, assess

the actual measurements of each garage

viewed comparing this with the space

SELLING YOUR HOME?

needed for your motor vehicles and other

items to be stored there. if a good number

of toys will be housed there, it may be

sensible to increase the size of this area of

the home.

By imagining what you need, want and

will have in your new home, you will be in

a better position to confidently choose a

design that works for you.

Potential buyers are

likely to be living in your

neighbourhood, it's an

area that they already love

and are actively seeking

to stay in. That's why it

makes sense to advertise

your property in the

Selwyn Property Guide.

We are the only media

that reaches across the

entire Selwyn District.

73

Arthur's Pass

1

77

Springfield

Glentunnel DarfieldTempleton

Rolleston

Burnham Lincoln

Dunsandel Tai Tapu

Leeston

For cost effective, highly

targeted advertising that delivers

results, contact a local Real

Estate Company that advertises

in the Selwyn Property Guide.
---
security system are just a few of the many extras on

offer with this property. There is a separate standalone

spacious office/studio that gives options for

those who require a dedicated work from home space

or alternatively, room for a dependant relative.

a short, easy commute into the city or out to Ro leston.

Karen Hennessy

Mobile: 027 967 0186

karen.hennessy@pggwrightson.co.nz

Week commencing Tuesday, 3Rd ocToBeR 2017

As always, this builder has finished his latest new build to

perfection, incorporating a l the 'must haves' and more for

keep cool or warm, as required, at the push of a bu ton with

2 heat pumps.

The home's practical layout also includes a walk-in linen

room, a substantial separate laundry, a tic storage with

ladder access and last, but certainly not least, hugely sought

after 4 car garaging. From the moment you approach this

www.flemington.co.nz

Mobile: 027 527 8258

Mobile: 027 224 4733

Week commencing WeDneSDAY, 23RD mAY 2018

Your guide to all things Real Estate

in the Selwyn District

31

New building code update

for insulation

New Zealand homes have long been

under the spotlight for being cold,

damp and unhealthy. However, the

MBIE Building Code update from 3

November 2022 is working towards

rectifying this problem ensuring New

Zealand has safe, healthy and durable

buildings. These changes affect all

residential dwellings under 300m2.

MBIE states, "The building

code sets the minimum standard

for building compliance. This is

effectively the lowest standard that

can be legally built. Our homes and

buildings will need to perform better

to help meet long-term national net

zero carbon targets." New Zealand's

goal is to reach this target by 2050.

So, the Building for Climate Change

programme starts with reviewing the

roof, slab and window R-value (the

thermal resistance measure) of new

builds' insulation and bringing them

up to international standards.

Windows represent the largest

source of heat loss in new homes. As a

result, Canterbury will need to reach

a minimum R-value of 0.37 for all

windows and doors by 3 November

2022, increasing to R0.50 by 1 May

2023. Prue McCaughan from Dark

Horse Building Ltd, based in Kirwee,

advises that you can still install

aluminium frames, but glass will

require argon gas between panes.

Additionally, as of 1 May 2023, they

will need to be in a thermally broken

aluminium or uPVC frame. As a

result, manufacturer numbers could

impact supply, and a cost increase of

30-40% may occur. Skylight size will

also be affected, reducing to no less

than 1.5 metres or 1.5% of the roof

area. However, greater insulation will

minimise cold airflow and help to

prevent condensation.

Roof insulation will also have

an increase in R-value. Currently,

Canterbury's minimum insulation

is R3.3, increasing to R 6.6,

meaning a double insulation

thickness will be required.

Therefore, building costs will

increase due to the cost of

materials and labour costs for

installation.

Flooring currently has an

R-value of R1.3, with the slab

on the ground increasing

to R1.6, while other floors

(driven piles or floors with

underfloor heating) will

have a new R-value of R3.0.

Any new home buyers

would benefit from

submitting consents now

to save money. As Prue

suggests, the changes

will increase by an

estimated "$20,000

on 180sqm property,

mostly due to the

windows". However, with

these updates, Prue says," If

you are looking for a house to

build and live in for longevity,

you will save that money in

your heating costs, and overall

be better; it will just bring us

up to international standards,

which New Zealand needs to

do."

As New Zealand heads

towards more passively heated

homes, the way we build our

houses will change. The upfront

costs may increase, but overall,

homes will be warmer, dryer,

healthier and cheaper to heat for

all New Zealanders.

Selwyn Times

PUBLiSHeD eVeRY WeDneSDAY

THe BeST PRoPeRTieS AcRoSS

THe SeLWYn DiSTRicT

INSIDE

Brand new 'show stopper' with 4 car garaging

EVERY WEDNESDAY inside Selwyn Times

Quality Home, Private Setting, Sought After Location

A large, quality home sited in a private and established

5021m 2 park-like setting in the sought after Claremont

Estate on the boundary of Christchurch City.

The home features four bedrooms (master with

en suite and walk-in robe), open-plan kitchen, dining

and living along with formal dining, lounge and

conservatory. Great indoor outdoor flow to a large

sheltered deck set in sprawling lawns and easy care

gardens with automated watering. Triple car garaging,

security gates, ducted heating, solar energy and

Auction (unless sold prior)

Thursday 19 October, 2pm

411 Blenheim Road

www.pggwre.co.nz/DAR26164

the discerning buyer. Situated on a 1200m 2 section, with

an established backdrop, the substantial 315m 2 floor plan

provides the ultimate in family living options. The sunny &

spacious open plan living room boasts a designer kitchen

with 90cms oven, stone bench tops & a walk in pantry,

together with define dining, living & study spaces that

extend through sliding doors to a large deck & covered 'al

fresco' entertaining area.

The formal lounge als opens to the landscaped garden

& has a boxed high stud ceiling with sound speakers. A l 4

bedrooms are fabulously proportioned queen sized rooms,

with the master suite providing the perfect parents' retreat

featuring an amazing dressing room with fu l wardrobe

system, additional storage & a beautiful tiled ensuite with

double tiled shower, freestanding bath & twin vanities. The

family bathroom is equa ly elegant with a tiled shower &

twin vanities. Cosy up in front of the log burner, keep your

toes warm with the under tile heating in the bathrooms &

DeaDline Sale:

Closing 4pm on Monday

11th June 2018

(unless sold prior)

rwro leston.co.nz/RLL23148

Town & Lifestyle Real Estate Ltd

Licensed (REAA 2008) - West Melton

Sarah Booth

Contact:

Set amongst other quality homes on larger sections,

this property maintains a semi-rural feel whilst being

Contact:

Phone: 03 341 4301

premium property, you wi l appreciate what a privilege it

would be to be able to ca l it 'home'.

Brendan 'Big Red' Shefford

Contact:

Address: 19 Devine Drive, Templeton Open Home: Sunday 8 & 15 October, 1pm - 1.45pm

63 Rossington Drive, West Melton Open Home: Sunday 2.00pm - 2.30pm

Get your messages into homes throughout

the Selwyn District.

Delivered to every home & rural letterbox

(also available at selected pick up points).

For full information on placing

your advertising call:

Lynette Evans

Ph 021 222 7831 | email: lynette.evans@starmedia.kiwi

Get the power

of three offices

working for you

Your section hunt

starts here

New Falcon's Landing sales office open, 17 Branthwaite Drive, Ro leston,

Thursdays, Fridays and Sundays from 1-3pm. Come, visit and share in our vision

for Ro leston. Or ca l us anytime 03 741 1340. Email enquiries@yoursection.nz

Ray White Rolleston,

Lincoln & West Melton

Sales - Property Management - Loan Market

Residential - Lifestyle - Commercial

Lincoln - 03 325 7299

Ro leston - 03 347 9988

West Melton - 03 347 9933

Town & Lifestyle Real Estate Ltd

Licensed (REAA 2008)

Selwyn Times dedicated to getting you outstanding results & making our district a better place to live.
---
32

THIS WEEKS SELWYN DISTRICT

Wednesday 5 October

12.30pm – 1.00pm

1.00pm – 1.30pm

4.00am – 4.30pm

5.00pm – 5.30pm

5.00pm – 5.30pm

5.00pm – 5.30pm

Thursday 6 October

12.30pm – 1.00pm

1.00pm – 1.30pm

2.00pm – 3.00pm

5.00pm – 5.45pm

5.45pm – 6.15pm

Saturday 8 October

11.00am – 11.30am

11.45am – 12.15pm

12.00pm – 1.00pm

12.30pm – 1.00pm

12.45pm – 1.15pm

1.00pm – 1.30pm

1.15pm – 1.45pm

1.30pm – 2.00pm

1.30pm – 2.00pm

2.00pm – 2.30pm

2.00pm – 2.30pm

2.00pm – 3.00pm

2.45pm – 3.15pm

3.00pm – 3.30pm

3.30pm – 4.15pm

21 Byron Street, Rolleston

Ray White Town & Lifestyle

16 Bronte Way, Rolleston

Ray White Town & Lifestyle

11 Salisbury Drive, Rolleston

Harcourts

13 Tiny Hill Drive, Rolleston

Harcourts

155a Lowes Road, Rolleston

Property Brokers

10a Baxter Crescent, Rolleston

Property Brokers

9 Maltby Drive, Rolleston

Harcourts

25 Edward Law Boulevard, Prebbleton

Harcourts

46 Bavaria Drive, Rolleston

Harcourts

537 Springston Rolleston Rd, Rolleston

Bayleys Canterbury

41 Farthing Drive, Prebbleton

Ray White Town & Lifestyle

8 Juniper Way, Prebbleton

Ray White Town & Lifestyle

18B Tosswill Road, Prebbleton

Ray White Town & Lifestyle

17 Strauss Drive, Rolleston

Harcourts

32 Oakwood Mews, Prebbleton

Ray White Town & Lifestyle

129 Shillingford Boulevard, Rolleston

Harcourts

25 Edward Law Boulevard, Prebbleton

Harcourts

6 Glenwood Drive, Prebbleton

Ray White Town & Lifestyle

26D Kissel Street, Templeton

Ray White Town & Lifestyle

9 Maltby Drive, Rolleston

Harcourts

29 Birchwood Close, Prebbleton

Ray White Town & Lifestyle

28 Stanford Way, Rolleston

Ray White Town & Lifestyle

46 Bavaria Drive, Rolleston

Harcourts

6B Hampstead Lane, Prebbleton

Ray White Town & Lifestyle

25 Fairmont Rise, West Melton

Bayleys Canterbury

16 Dunstan Crescent, Hornby

Ray White Town & Lifestyle

11.30am – 12.00pm

11.30am – 12.00pm

11.30am – 12.00pm

11.30am – 12.00pm

11.45am – 12.15pm

11.45am – 12.15pm

12.00pm – 12.30pm

12.00pm – 12.30pm

12.00pm – 12.30pm

12.00pm – 12.30pm

12.00pm – 12.30pm

12.00pm – 12.30pm

12.00pm – 1.00pm

12.15pm – 12.45pm

12.15pm – 12.45pm

12.30pm – 1.00pm

12.30pm – 1.00pm

12.30pm – 1.00pm

12.30pm – 1.00pm

12.30pm – 1.00pm

12.30pm – 1.00pm

12.45pm – 1.15pm

12.45pm – 1.15pm

1.00pm – 1.30pm

1.00pm – 1.30pm

1.00pm – 1.30pm

1.00pm – 1.30pm

1.00pm – 1.30pm

1.00pm – 1.30pm

1.00pm – 1.30pm

7 alpha Way, Rolleston

Ray White Town & Lifestyle

6 asha Close, Rolleston

Ray White Town & Lifestyle

155a Lowes Road, Rolleston

Property Brokers

67 Station Street, Leeston

Harcourts

18B Tosswill Road, Prebbleton

Ray White Town & Lifestyle

79 Charlbury Drive, Rolleston

Ray White Town & Lifestyle

67 Newman Road, Rolleston

Ray White Town & Lifestyle

55 Farnborough Way, Rolleston

Bayleys Canterbury

56 Hardingstone Drive, Rolleston

Bayleys Canterbury

626 East Maddisons Road, Rolleston

Property Brokers

143 Telegraph Road, Burnham

Property Brokers

25 Edward Law Boulevard, Prebbleton

Harcourts

17 Strauss Drive, Rolleston

Harcourts

10 Palladio avenue, Leeston

Bayleys Canterbury

22 Fairhurst Place, Rolleston

Ray White Town & Lifestyle

32 Oakwood Mews, Prebbleton

Ray White Town & Lifestyle

75 Jean archie Drive, Rolleston

Ray White Town & Lifestyle

2/266 Halswell Road, Halswell

Ray White Town & Lifestyle

1856 Coaltrack Road, Greendale

Property Brokers

10 Vitruvius Way, Leeston

Property Brokers

19 Patiki Street, Lincoln

Bayleys Canterbury

129 Shillingford Boulevard, Rolleston

Harcourts

29 Sarsfield Street, Southbridge

Bayleys Canterbury

2 Coles Lane, Rolleston

Bayleys Canterbury

14 Talon Drive, Rolleston

Bayleys Canterbury

37 Wigmore Crescent, Rolleston

Bayleys Canterbury

28 Richmond avenue, Halswell

Bayleys Canterbury

14 McKenzie avenue, Southbridge

Bayleys Canterbury

13F Fairfield Way, Rolleston

Property Brokers

9 Barley Mow, Leeston

Property Brokers

1.15pm – 1.45pm

1.15pm – 1.45pm

1.30pm – 2.00pm

1.30pm – 2.00pm

1.30pm – 2.00pm

1.30pm – 2.00pm

1.30pm – 2.15pm

1.45pm – 2.15pm

1.45pm – 2.15pm

1.45pm – 2.15pm

1.45pm – 2.15pm

2.00pm – 2.30pm

2.00pm – 2.30pm

2.00pm – 2.30pm

2.00pm – 2.30pm

2.00pm – 2.30pm

2.00pm – 2.30pm

2.00pm – 2.30pm

2.00pm – 3.00pm

2.00pm – 2.30pm

2.15pm – 2.45pm

2.30pm – 3.00pm

2.30pm – 3.00pm

2.30pm – 3.15pm

2.45pm – 3.15pm

2.45pm – 3.15pm

2.45pm – 3.15pm

3.00pm – 3.30pm

3.00pm – 3.30pm

12 Grace Way, Rolleston

Property Brokers

99 Renoir Drive, Rolleston

Property Brokers

9 Maltby Drive, Rolleston

Harcourts

139 Wards Road, Rolleston

Ray White Town & Lifestyle

19 Hungerford Drive, Rolleston

Ray White Town & Lifestyle

3 Milrose Court, Lincoln

Bayleys Canterbury

537 Springston Rolleston Rd, Rolleston

Bayleys Canterbury

312 Wabys Road, Southbridge

Bayleys Canterbury

10a Baxter Crescent, Rolleston

Property Brokers

38 Selwyn Street, Leeston

Property Brokers

23 Selwyn Street, Leeston

Bayleys Canterbury

718 Selwyn Road, Rolleston

Bayleys Canterbury

26 Taita Drive, Rolleston

Bayleys Canterbury

28 Stanford Way, Rolleston

Ray White Town & Lifestyle

22 ardrossan Way, Tai Tapu

Ray White Town & Lifestyle

41 Farthing Drive, Prebbleton

Ray White Town & Lifestyle

29 Birchwood Close, Prebbleton

Ray White Town & Lifestyle

1 Soar Terrace, Rolleston

Harcourts

46 Bavaria Drive, Rolleston

Harcourts

68 Quartz Drive, Rolleston

Property Brokers

14 papatahora Drive, Lincoln

Ray White Town & Lifestyle

17C Kingsdowne Drive, West Melton

Ray White Town & Lifestyle

103a Lowes Road, Rolleston

Property Brokers

295a Jowers Road, West Melton

Property Brokers

77 Gordon Street, Southbridge

Property Brokers

6B Hampstead Lane, Prebbleton

Ray White Town & Lifestyle

764 Selwyn Road, Rolleston

Bayleys Canterbury

94 Oaks Drive, Lincoln

Bayleys Canterbury

39 School Road, Tai Tapu

Ray White Town & Lifestyle

Sunday 9 October

1.00pm – 1.30pm

26 Edward Street, Lincoln

Property Brokers

3.00pm – 3.30pm

729 East Maddisons Road, Rolleston

Ray White Town & Lifestyle

11.00am – 11.30am

8 Juniper Way, Prebbleton

Ray White Town & Lifestyle

1.00pm – 1.30pm

21 andesite Drive, Rolleston

Ray White Town & Lifestyle

3.15pm – 3.45pm

6 Bruce McLaren Way, Rolleston

Ray White Town & Lifestyle

11.00am – 11.30am

7 Nicolau avenue, Rolleston

Ray White Town & Lifestyle

1.00pm – 1.30pm

53a Park Lane, Rolleston

Ray White Town & Lifestyle

3.15pm – 3.45pm

63 Shepherd ave, West Melton

Ray White Town & Lifestyle

11.00am – 11.30am

866 Hoskyns Road, West Melton

Ray White Town & Lifestyle

1.00pm – 1.30pm

1 Colebrook Drive, Rolleston

Ray White Town & Lifestyle

3.30pm – 4.00pm

12 The Mews, Lincoln

Ray White Town & Lifestyle

11.00am – 11.30am

1 Othello Drive, Rolleston

Bayleys Canterbury

1.15pm – 1.45pm

6 Glenwood Drive, Prebbleton

Ray White Town & Lifestyle

3.30pm – 4.15pm

16 Dunstan Crescent, Hornby

Ray White Town & Lifestyle

CHECK OUT THE SELWYN TIMES PROPERTY DIRECTORY EVERY WEDNESDAY FOR THE BEST OF PROPERTY IN THE SELWYN DISTRICT

For full details of all

Open Homes, please

contact the Real

Estate companies

RAY WHITE

Rolleston 03 347 9988

www.rwrolleston.co.nz

West Melton 03 347 9933

www.rwwestmelton.co.nz

Lincoln 03 325 7299

www.rwlincoln.co.nz

PROPERTY BROKERS

www.propertybrokers.co.nz

Rolleston 03 929 0306

Darfield 03 975 4506

Leeston 03 929 0306

Lincoln 03 595 6954

HARCOURTS

www.fourseasons.harcourts.co.nz

Hornby 03 349 9919

Rolleston 03 347 4711

Lincoln 03 662 9933

BAYLEYS

www.bayleys.co.nz

Rolleston +64 3 347 9949

Darfield +64 3 9754559

Leeston +64 3 324 3704

Christchurch +64 3 375 4700