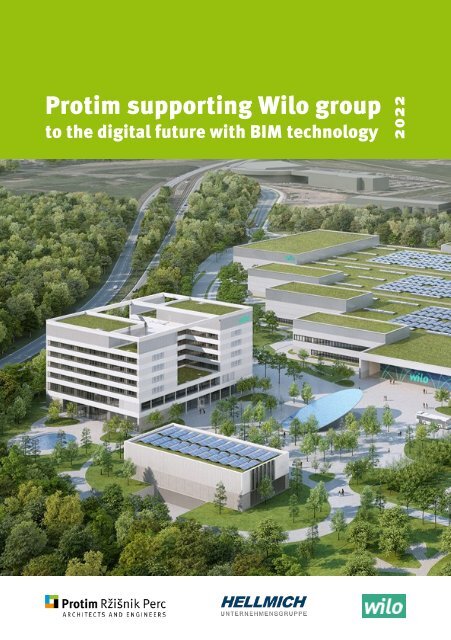 You also want an ePaper? Increase the reach of your titles
YUMPU automatically turns print PDFs into web optimized ePapers that Google loves.
Protim supporting Wilo group

to the digital future with BIM technology

2022
---
KEY POINTS OF THE

PROJECT

Two buildings connected by the overhead

passage are located in Wilopark, a modern,

innovative industrial centre in Dortmund.

OFFICE II

OFFICE BUILDING

Dimensions: 51,30 x 16,20 m

Total area (net): 4546 m2

Year of construction: 2022

Investor: WILO SE

General contractor: Hellmich group

Location: Dortmund

EE-LAB

LABORATORY BUILDING

Dimensions: 44,58 x 43,83 m

Total area (net): 2903 m2

Year of construction: 2022

Investor: WILO SE

General contractor: Hellmich group

Location: Dortmund

2
---
PROJECT GOALS

The Dortmund-based world market leader

and pump manufacturer WILO SE is

converting its headquarters into the WILO

campus.

As part of this development, WILO SE

plans to complete the master plan for the

efficient consolidation of administrative

and production areas on the traditional

WiloPark-Allee

(formerly

Nortkirchenstrasse). The aim is to secure

existing jobs in the region and to create

the basis for additional modern jobs in

Dortmund. The further development and

expansion of the company's premises in

Dortmund is thus a clear commitment to

the Ruhr region.

WILOPARK

To be future-oriented, flexible and adaptable and

WILO GROUP AND

SUSTAINABILITY

The concept aims to connect the two

parts of the area as closely as possible

and the function-related

heterogeneous typologies and

dimensions on both sides of the Wilo-

Park-Allee. The subject of this service

description is the design and

construction of a new turnkey facility

for use as an office and administrative

building of the development. Directly

related, is the new construction of the

laboratory building EE-LAB, which is

being built.

The goal of the project is to achieve a

functional and economical construction,

taking into account the requirements of

WILO SE to acquire. By this, its urban

development, architectural and

functional qualities, as well as energy

and ecological quality, attach great

importance to ecological sustainability.

to be able to provide space for a broad product

portfolio and production technologies of the

future, a total area of 20 hectares was required for

the new plant structure. For this reason, Wilo

decided not to simply expand and extend the

traditional location.

3
---
GREEN CERTIFICATION

A S Y S T E M A T I C A P P R O A C H T O S U S T A I N A B I L I T Y

In March 2021 Wilo achieved climate neutrality

and received LEED Gold and DGNB Gold

certification. The Wilo Group celebrated no

fewer than three sustainability milestones

during this time: The successful completion of

TÜV certification as a "climate-neutral

company in Dortmund" as well as the

Leadership in Energy and Environmental

Design (LEED) Gold certification award from

the U.S. Green Building Council (USGBC) and

Gold certification from the German

Sustainable Building Council (DGNB), both for

the "Pioneer Cube" administrative building.

The goal for this project is to be certified by

DGBN Mix 18 (common certificate for the

office building and EE-lab) and LEED v4 Gold

(for each building separately).

LEED

LEED (Leadership in Energy and

Environmental Design) is the most

widely used green building rating

system in the world. Available for

virtually all building types, LEED

provides a framework for healthy,

efficient, and cost-saving green

buildings. LEED certification is a

globally recognized symbol of

sustainability achievement and

leadership.

DGNB

The DGNB certification system is

considered the most advanced

system of its kind in the world and

is internationally recognized as the

global benchmark for

sustainability.

The DGNB System is based on

three fundamental factors:

Life cycle assessment

Holistic approach

Emphasis on performance

4
---
OUR ROLE ON THE

PROJECT

WHAT WE DO

We work as subcontractors for the

General constructor – Hellmich group –

connect all subcontractors' solutions in

one BIM model, with the support of

consultants and experts involved in the

project to come to the desired result.

Modelling architectural part

Modelling concrete structures

Coordination of electrical and mechanical models

Coordination and clash detection between disciplines

OUR APPROACH

All Ržišnik Perc solutions are designed with the customers' success in mind. We strive to build

long lasting and mutually beneficial relationships rather than focus on short-term business.

Integrated design and construction management relies on the interdisciplinary and collaborative

efforts of all parties involved on every stage of design, construction and operation.

5
---
ARCHITECTURAL MODELLING

T H E M O S T D E M A N D I N G P A R T O F T H E P R O J E C T

The architectural model is the basis for all

other disciplines, that is why it is the most

demanding and responsible part of work.

If something goes wrong in the

architectural model, the cost of changes is

too high, as it affects every other project

party.

The very first challenge is that another

company did the initial project. From the

time of submission of the conceptual

design, a lot of changes happened, that

have to be implemented in a new design.

One of the significant modifications was a

complete change of the structural schema

- from the precast concrete system to a

monolithic type. High demand on the

market for prefabricated concrete panels

did not allow the construction to be

finished on time.

The architectural model is in Revit based

on the template and according to the

investor standard. The model of LOD 350

will be delivered at the end of the detailed

design phase.

6
---
Our role is to provide formwork and

reinforcement shop drawings first to the

proofer for verification and then directly

to the construction site.

The main challenge is the high speed of

changes (change in the construction

type, architectural plans or MEP systems).

DESIGNING CONCRETE

STRUCTURES

One of the peculiarities of this project is

the high groundwater level. In

collaboration with other structural teams

taking part in the project, our structural

engineers implemented a solution for a

waterproofed connection of the existing

building concrete structure to the new.

The solution for the construction of a

waterproof concrete foundation slab was

implemented in the project. The problem

solved there was a high heat release

during the hardening process that could

cause concrete cracking in large areas.

Also, based on the preliminary design and

calculations provided by Hellmich, our

structural team developed the Vierendeel

beam for eight meters-long cantilever.

The main challenge in this project is

the high speed of changes

An additional level of complexity was

added by the fact that construction

started before the design phase was

finished. That is why, all the changes that

are happening, are important to

implement and communicate with other

participants as soon as possible.

Apart from the fast velocity of work

demanded, we have structural puzzles to

solve in this project.

7
---
MEP MODEL COORDINATION

C R U C I A L P O I N T S O F M E P I N T E G R A T I O N

Integrating MEP model with the structural and

architectural solutions is a sensitive task. Some of

the crucial points that need consideration for

MEP BIM integration include – space allocation

during the design phase, fulfilling spatial

requirements for MEP systems and individual

equipment etc. Even though we are not the main

MEP systems designer, we play a substantial role

in coordinating them all in one model.

We collect drawings and models in different

formats from 4 design companies. The goal is to

coordinate them between each other and

architectural and structural parts, as well as

provide an optimal solution for the building. That

is all while constant changes in design are

happening and construction of the building is

ongoing.

8
---
COORDINATION AND

CLASH DETECTION

Project coordination and clash detection are

critical parts of the integrated BIM design

process. At this point, all the inconsistencies and

problems are coming out. It is a necessary

process because several models are integrated

into one BIM model. In the case of the current

project, the high complexity of the systems and

a big number of participants could cause

multiple bigger and smaller mistakes,

discovered only during the construction.

More than 20 different design companies are

involved in this project. They all use different

software and must be coordinated in the same

model to avoid all possible conflicts during

construction. We coordinate in Navisworks and

communicate weekly with all project teams.

BENEFITS OF CLASH DETECTION

Accurate engineering design

documentation

Fewer iterations during the construction

phase

Better coordination and collaboration

between teams

A streamlined and integrated approach

9
---
P R O T I M R Ž I Š N I K P E R C

Protim is an independent consulting and design

company that guides clients through all phases of

construction, from the first designs to the final

construction of the facility and optimization of

operations. We advise the investor, represent him in

negotiations with contractors, ensure transparency of

procedures and bear full professional responsibility in

all phases of the project.

Our own personnel provides integrated management of

expert, technical and organizational tasks given by the

demanding investment processes. On investors´ behalf,

we take care of coordination, optimization and

supervision of the investment process, which is brought

about as a result of unambiguously defined

responsibilities of all participants. A constant

information flow proves essential here, which sets the

conditions for wise and timely decision-making.

Significant time and, primarily, cost savings and the

achieved quality of an optimized construction are the

products of our project management approach that

creates added value.

10
---
H E L L M I C H

The Hellmich Group covers the entire value chain of

services in the construction and real estate sector. For

more than three decades, their main focus has been on

the classic general contractor business. In this area,

Hellmich is primarily active in large-scale projects in

the retail, logistics, industrial and hotel sectors.

W I L O G R O U P

Wilo is a premium supplier of pumps and pump

systems for heating, ventilation and air-conditioning,

water supply and wastewater disposal around the

world. The extensive product portfolio ranges from

high-efficiency pumps designed for houses, apartment

blocks and public and commercial buildings, via special

pumps, agitators and wastewater treatment solutions

for water management, to specific products and

solutions for industrial applications or flood control.

11
---
Protim Ržišnik Perc d.o.o.

Poslovna cona A 2

SI-4208 Šenčur

protim@r-p.si

www.protim.si