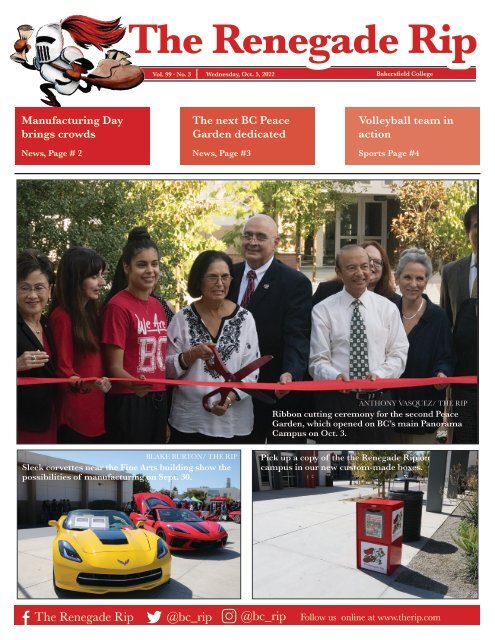 Renegade Rip, issue 3, Oct. 5, 2022
Student news publication of Bakersfield College
Student news publication of Bakersfield College
SHOW MORE
SHOW LESS
You also want an ePaper? Increase the reach of your titles
YUMPU automatically turns print PDFs into web optimized ePapers that Google loves.
The Renegade Rip

Vol. 99 ∙ No. 3 Wednesday, Oct. 5, 2022

Bakersfield College

Manufacturing Day

brings crowds

The next BC Peace

Garden dedicated

Volleyball team in

action

News, Page # 2 News, Page #3 Sports Page #4

ANTHONY VASQUEZ/ THE RIP

Ribbon cutting ceremony for the second Peace

Garden, which opened on BC's main Panorama

Campus on Oct. 3.

BLAKE BURTON/ THE RIP

Sleek corvettes near the Fine Arts building show the

possibilities of manufacturing on Sept. 30.

Pick up a copy of the the Renegade Rip on

campus in our new custom-made boxes.

The Renegade Rip @bc_rip @bc_rip Follow us online at www.therip.com
---
Page 2

News

The Renegade Rip www.therip.com

Wednesday, Oct. 5, 2022

Manufacturing Day at BC

By Blake Burton

Reporter

Bakersfield College Career

Education, Industrial Automation,

and STEM hosted

a Manufacturing Day event

in and around BC's outdoor

theater on Sept. 30.

Students from high schools

throughout Kern County

attended, and there were

booths from different companies

such as API and Amazon.

Students interviewed at

the event said they were

there to gain insights on the

career they wanted to be in.

Many hovered around the

Corvette, which was one of

the most popular displays.

All the booths on hand offered

information and even

treats such as candy, pens,

stickers etc.

Representatives from the

American Petroleum Institute

(API) said they wanted

to share knowledge about

their company, and that they

give out different scholarships.

Scott Bender and Jeff

Hamson said they gave out

about $80,000 of scholarships

in the past.

J.G Boswell Co., an ag

company, said they wanted

to get their name out and

to find students to have options

in what they want to do

with their career. Martha H.

a representative at J.G Boswell

said, "You can't really

go wrong with AG (agriculture)."

Amazon representatives

said that they were there to

educate the different students

on the different positions

they have at Amazon, and

the different departments

they have. Breana Renteria,

a representative from

Amazon said she has gone

through four departments

and there is always room to

grow at Amazon. Another

representative at Amazon,

Amanda Gray, said they also

are forming a program for

awareness for women and

to say that women are a big

part of Amazon too.

The aerospace company

Stratolaunch said they wanted

to develop a connection

with different students and

even offer some jobs at their

company

Brianna Vogel, a teacher at

West High School, said she

wanted to show her students

the different opportunities

they have in Bakersfield for

STEM and IT.

Anthony Vasquez, a mentor

at South High School

said, Virtual Enterprise, a

program at his high school,

invited him to this event. He

said he made connections

with NASA, and they had

a lot of opportunities and

were very cool to talk to.

High school student Sofia

Villaverde said that she

wanted to explore the different

opportunities they

had here at BC and in Bakersfield

and that the NASA

booth was very interesting.

Another student, Aaliyah

Gonzales said she was chosen

to be here and that her

favorite booth was the corvette,

one and that she might

be interested in working

there.

Elian Bravo, a student

from West High School, said

he came to this event because

he was interested in auto

tech. He went to the PLC

booth and said it seemed like

a good environment to be in.

Matt Mcknisht said he is

in the ROC program at his

school and that he was interested

in the IT career. He

stated that he went to the

Silicon booth and that it was

pretty cool and that it was

very hands-on.

BLAKE BURTON/THE RIP

High school students from around Kern County attend the

Manufacturing Day event at BC on Sept. 30.

BLAKE BURTON/THE RIP

A classic corvette on display at Manufacturing

Day on Sept. 30.
---
Page 3

News

The Renegade Rip www.therip.com

Wednesday, Oct. 5, 2022

Peace Garden #2 opens at BC

ANTHONY VASQUEZ/THE RIP

BC's new Peace Garden on Oct. 3

By Anthony Vasquez

Editor-in-chief

A place to read, reflect,

and recharge was brought

to BC with the opening

of the new peace garden

Monday, Oct. 3. The new

peace garden was presented

to the BC community

through a ribbon cutting

ceremony as BC President

Dr. Zav Dadabhoy,

Behavioral Sciences Department

Chair Krista

Moreland, KCCD Student

Trustee and BCS-

GA president Shehrazad

"Raz" Barraj, and several

other officials were there

to speak at the ceremony.

"This garden is a symbol

of inspiration that Gandhi

left for everyone, emulating

the examples he set

for everyone," Dadabhoy

said. He further elaborated

that the garden's initial

inspiration came from the

impacts of what the historical

figure Gandhi had left

regarding world peace.

The garden's aim of

representing peace can be

found through the six poles

that spreaded around parts

of the garden. They each

show a series of engravings,

in a total of 21 languages,

that were designed

by Professor Klint Rigby

chair of the Industrial

Technology department at

BC, and students. They all

translate as, "May peace

prevail on earth." The

poles were paid for by several

rotary clubs throughout

the community.

"Many of my fellow renegades

have found refuge

at the peace garden found

in the library. This garden

will be another place to reflect

and recharge," Barraj

stated. She also explained

that these projects were

also needed to show values

and opportunities that

students have the potential

to bring through their education.

MADD dash raises funds and

awareness about safe driving

By: Amanda Hernandez

Reporter

The 9th annual walk like

MADD and MADD dash

was held on Sept. 25 at Riverwalk

Park and hosted by

Chain Cohn Clark law firm.

The purpose of the event

was to raise awareness and

funds for drunk and drug induced

driving.

The event began with a

range of speakers including

the surviving parents of car

crash victims, Mayor Karen

Goh, and CHP officers.

They proceeded with a

kids' race and a 5k walk/

run where many family

survivors gathered together

to spread awareness of just

how devastating these accidents

can be.

In fact, they had a display

of a damaged truck, which

held an innocent young boy

who lost his life when another

individual slammed directly

into him after running

through a red light. This allowed

the reality of driving

under these circumstances

to hit home.

The attempt for prevention

continues year after

year. In a statement, Carla

Pearson, victim service

specialist said "We won't

stop speaking out about this

100% preventable crime

until we see zero crashes

caused by impaired drivers

on our roadways."

According to a news release,

the event raised over

$55,000 which will be used

for educational programs,

prevention services and to

support local crash victims.

BY AMANDA HERNANDEZ/THE RIP

A sign was posted in the grass at Riverwalk Park to

remind family, survivors, and participants of the importance

of safe driving.
---
Page 4

Sportss

The Renegade Rip www.therip.com

Wednesday, Oct. 5, 2022

BC Volleyball defeats SBCC

By Jaspreet Multani

Reporter

The Bakersfield College

Renegades won in five sets

over the Santa Barbara City

College Vaqueros on Sept.

23 winning the series in 3-2

matches.

BC started out pretty strong

but lost the first set, 22-25.

However, they came back

in the second and third sets

and won by 25-17 and 25-15,

respectively. Unfortunately,

in the fourth set, Santa Barbara

was not going to let the

guards down without putting

a fight against Bakersfield

and won with just one point,

25-24.

The last and final match

was very frazzled. SBCC and

BC were fighting back and

forth every second. In the

end, SBCC took the lead and

would be tied at 14, but BC

grabbed the last two points to

take the game home with the

score of 3-2.

Freshman Alexandra Johnson

ended the night with

another triple-double on

the season totaling 11 aces,

19 kills, and 14 digs while

teammate Aubree Dees had

a season-high of 28 digs, according

to BC Athletics website.

JASPREET MULTANI/THE RIP

BC team celebrates scoring a point during

Sept. 23 game versus SBCC.

JASPREET MULTANI/THE RIP

BC in defense mode during fourth set versus SBCC

on Sept. 23.

JASPREET MULTANI/

THE RIP

(Right) Volleyball

sails past BC defenders

during one

of the matches.

GOGADES.COM

BC October volleyball
---
Bakersfield College Homecoming 22-23

RENEGADE FEVER

RENEGADE FEVER

SATURday, October 15, 2022

RENEGADE PROMENADE

11 A.M. - 4 p.m.

Monday, October 17, 2022

DISCO DYE 11 A.M. - 2 P.M.

feel the fever

office contest begins

TUESday, October 18, 2022

GROOVY GLASSES 11 A.M. - 2 P.M.

bc talent show

6 - 9 p.m.

Wednesday, October 19, 2022

VOLLEY A-GO-GO 11A.M. - 2 P.M.

PAINT THE NIGHT AWAY

6- 9 p.m.

Thursday, October 20, 2022

pancakes & pep rally 11 a.m. - 2 p.m.

killer dueling pianos

6- 9 p.m.

Friday, October 21, 2022

FEEL THE FEVER JUDGING 11 A.M.

RENEGADE FEVER HOMECOMING DANCE

6-10 P.M.

SATURday, October 22, 2022

homecoming parade 5 - 6 P.M.

homecoming Game 6 p.m.

CROWNING OF

HOMECOMING ROYALTY (HALFTIME)
---
Page 6

Campus

The Renegade Rip www.therip.com

Wednesday, Oct. 5, 2022

The BC Gadfly Cafe is back

By Jocelynn Landon

Reporter

On the third Wednesday of every month, there is a Gadfly

Cafe that happens at Bakersfield College. A Gadfly Cafe is

"Informal, roundtable discussion of social and political issues

concerning our campus, community, and nation", according

to the email that was sent out to the BC students from Reginald

Williams. This month's topic was about thoughts on

standardized testing. The event kicked off with Williams explaining

the main ideas that are discussed when talking about

standardized testing to help the audience broaden their understanding

about the subject.

It quickly turned into a respectful conversation with students

firing off their opinions, questions, and personal experiences

with the matter. Gadfly Cafe is a discussion that is "

Helping people realize that we are all human, and that we

all have perspective, and that we all need to be heard," Stated

Williams.Although students had different opinions about

the subject, this conversation allowed them to see a different

perspective.

Most people came in with strong opinions about standardized

testing, and if you were there, you would most likely

leave with even more questions and knowledge than you

thought you had. This is an engaging, open, and respectful

conversation that leaves you wanting more than an hour to

dive deeper into the topic.

Gadfly Cafe happens every third Wednesday in the Levan

Center and there is always a different current topic that is

going on. If you're hungry for information and have a desire

to challenge what you think you know, check this event to do

just that.

Voter Bowl kicks off at BC

By Nicolas Watson

Reporter

First place nationally for two year college Websites at

the Associated Collegiate Press 2020 midwinter conference.

Fifth place newspapers. First place for newspaper

in 2011, third place in 2013, 2014, 2015 for CNPA General

Excellence

Fourth place nationally in 2019 for website publication

by Associated Collegiate Press

The Renegade Rip is produced by Bakersfield College

journalism classes and is circulated on Thursdays

during the fall and spring semesters. The newspaper is

published under the auspices of the Kern Community

College District Board of Trustees, but sole responsibility

for its content rests with student editors. The Rip is

a member of the California Newspaper Publishers Association,

Associated Collegiate Press, and California

Colleges Media Association.

The Renegade Rip

EDITORIAL BOARD

Editor-in-Chief..............Anthony Vasquez

Jaspreet Multani........................Designer

Adviser.........................................Erin Auerbach

STAFF

Reporters/photographers:

Blake Burton

Amanda Hernandez

Jocelynn Landon

Eduardo "E.J." Martinez

Jason Mena

Jaspreet Multani

Nicolas Watson

Bakersfield College kicked off its entry

into the California University & College

Ballot Bowl on Sept. 20, National

Voter Registration Day, with a push to

register as many students as possible to

vote over the next few months.

BC will be competing with colleges

and universities across the state in two

main categories – how many students

an institution can register and the percentage

of the student body registered.

Ongoing since Aug. 15, the competition

will continue through the months

of September and October, eventually

finishing on Nov. 8th – election day.

Speaking to The Rip, Harvind Grewal,

the Director of Legislative Affairs

for BCSGA, highlighted the goals of

this year's Ballot Bowl efforts, specifically

citing his hopes to increase student

involvement, especially after Covid.

Grewal believes that this drive to register

voters can give students the push

to become more civically active in their

communities and help people see past

the polarization of politics and see the

value in voting and participation, stating

"young people seem to be more

engaged, but don't have a platform to

really engage with."

Any change in name, primary residence,

or political party affiliation may

require one to register to vote again.

Students looking to register to vote can

visit the Student Life Center on campus

for more information. There, students

can register using the special link for

BC's ballot bowl so that their registration

will count towards BC's score.

Write The Rip

Letters should not exceed 300 words,

must be accompanied by a signature

and the letter writer's identity must be

verified.

The Rip reserves the right to edit

letters, however, writers will be given

the opportunity to revise lengthy or

unacceptable submissions.

If an organization submits a letter as a

group, it must be signed by only one person,

either the leader of the organization

or the letter writer. Anonymous letters

will not be published.

How to reach us

-Address: Bakersfield College,

1801 Panorama Drive, Bakersfield,

CA 93305

-Phone: (661) 395-4324

-Email: ripmail@bakersfieldcollege.edu

-Website: therip.com
---
Opinion

Page 7

The Renegade Rip www.therip.com

Wednesday, Oct. 5, 2022

Next time,

make the Fair

prices fair

By Jocelynn Landon

Reporter

The Kern County Fair

is back in full swing and is

hotter (maybe literally) than

ever. In preparing to go

to fair, the biggest tip is to

make sure that you get your

parking tickets and your admission

tickets online versus

getting your tickets in person.

The fair has upgraded its

technology system this year,

and it is more convenient for

everyone. When you first arrive,

go to the shops, as they

have tons of local vendors

from sustainability groups

to political parties that are

there to give you information.

From there, you can hit

the rides and test your luck

with the carnival games. I

took photos at the top of

the ferris wheel, went on the

giant swings, and walked

around admiring the thrill

seekers who were able to go

on all the rides that dropped,

swirled, and threw people

around.

Now, while the fair is all

fun and games, it is overly

expensive. In all transparency,

I spent $14 for parking

and my ticket, $20 on my

wristband, which only allowed

me on three rides, and

about $15 on food, coming

out to a grand total of about

$50.

It would be nice if the fair

offered options for student

discounts. There are some

opportunities for people to

get discounted tickets. Those

who donate blood are able

to get two free tickets. The

fair also had a program on

Sept. 27, where people who

donate make six cans of

food to get free entry. But

what about those who can't

donate blood due to medical

reasons, or those who can't

go on a Tuesday because of

previous engagements?

Another suggestion is to

consider pushing back the

timing of the fair. The Kern

County Fair happens during

September and early October.

We all know that those

can be some of the hottest,

and driest, months to do

things over in Kern Valley.

Because we live in the desert,

there should be more

thought put into that and

fair should be moved to a

month that's colder… or at

least a bit milder. I'm pretty

sure that I'm not the only

one who experienced burn

out and the desire to leave

early because of the heat.

Overall, the fair was pretty…

fair. The singers, the

showing of animals, concerts,

food and everything

in between were presented

very well. Being able to go

to an event with friends and

family is something that everyone

seemed excited to get

back into. Make sure that

you stay hydrated, and take

breaks because the heat is

brutal out there.

Horror for kids?

Hey kids, do you like violence?

Because adults are

not the only ones who like

horror movies. There has

been a lot of horror media

directed toward kids

While most adults would

like to argue that introducing

children to the genre may be

dangerous or unsafe; horror

could actually help children

in building confidence when

facing something that they

fear. It can help build management

in risk-taking and

stress, and could help some

kids find comfort, especially

if they feel like outcasts.

This is very significant as

childhood can be terrifying.

Children are often subjected

to the knowledge that they

do not have any power over

their life while being told that

they are in constant danger.

Films and shows that

would be good for kids

would be the "Courage the

Cowardly Dog," "Coraline"

and the "It" miniseries.

"Courage the Cowardly

Dog" by John R. Dilworth is

a show about a dog named

Courage trying to protect

his owners from monsters

on a farm in the middle of

nowhere. While Courage is

often cowardly when confronted

by these monsters,

he continues to face them.

It shows kids that courage is

not about having no fear at

all but having fear and doing

it anyways.

"Coraline," directed by

Henry Selick, is about a girl

named Coraline who discovers

a parallel world hidden

behind a secret door from

which she needs to save her

The Horror Files

By Eduardo Jr. Martinez

Reporter

Eduardo, Jr. Martinez

parents. Though powerless

in this parallel world

created by the antagonist's

design, Coraline willingly

takes on the risk and potentially

deadly situations to

save her parents. This flick

shows kids the use of managing

risk and stress under

pressure.

"It," the 1990 miniseries

directed by Tommy Lee Wallace,

is set in the 1960s. The

story centers on seven young

outcasts who fight a monster

posing as a child-killing

clown. While the miniseries

does take on the theme of

cycle of violence it also takes

on the issue of being an outcast

and finding solace with

other outcasts. This series

could help kids who feel like

they don't belong find comfort

in knowing they're not

alone and that the pressure

they face in childhood won't

last forever.

While there are many other

movies that could be recommended

this short list of

flicks and shows is a great

starting point for small horror

fans.
---
Page 8

Opinion

The Renegade Rip www.therip.com

Wednesday, Oct. 5, 2022

"House of The

Dragon" reclaims

interests

By Jason Mena

Reporter

HBO's new series "House of The

Dragon" must reclaim viewers' interest

after the latest time jump

replaces two fan-favorite actresses,

Milly Alcock and Emily Carey, for

their roles as Rhaenyra Targaryen

and Alicent Hightower.

The new cast members include

Emma D'arcy and Olivia Cooke,

who are well aware of the big shoes

they need to fill for the rest of the

season. In a recent interview with

The Independent, D'arcy reflected

on her new role and the impact Alcock

leaving the series had on fans,

"It's a difficult point at which to

meet an audience. They only get

me when they lose Milly, so they

meet me in a place of grief."

The bold decision had been

planned by directors from the

start, and viewers have already

been supplement to monthlong

time skips previously, but

all paled in comparison to the

10 year time skip that marked

the second half of the season.

Thankfully, D'arcy and Cooke

entered their roles seamlessly,

allowing for the focus to shift to

the Targaryen children who will

comprise a large portion of the

rest of the story. HBO even saw

a 3% viewership increase with

the release of "The Princess and

The Queen," according to The

Variety, displaying promising signs

for the rest of the season.

Episode 6 drew many parallels to

the first episode of the series, and

with the new cast, it came off as a

second pilot. In the latest episode,

we see Daemon Targaryen face a

similar decision that his brother

Viserys had to come to terms with

at the climax of episode 1. In the

midst of a difficult childbirth, Viserys

is prompted with the choice of

a C-Section. The cost of his wife

for the life of his son. The Queen

or an Heir. Love or Duty. Will Daemon

make the same choice? As

things heat up, The "House of The

Dragon" rears its fangs.

GOOGLE IMAGES

Renegade Events

Campus Events

Oct. 5: Panorama Music Summit, Edward

Simonsen Indoor Theater, 7 p.m.

Oct. 5 -15: Kern Shakespeare Festival featuring

performances of "Romeo and Juliet"

and "Love's Labour's Lost," Edward Simonsen's

Outdoor Theater

Oct. 11: Bad Deal for America: A Conversation

with Dr. David Schein, Levan Center, 6

- 7:30 p.m.

Through Oct. 13: "Eden," a solo exhbition

of Fresno-based artist Aduia Yvonne Dixon,

Jones Fines Gallery (located in the BC Library),

Monday - Thursdays, 2 - 5 p.m.

Oct. 15: Inaugural Renegade Promenade:

Alumni, Family, & Friends Day at BC! Admission

is FREE! Panorama Campus, 11 a.m. - 4

p.m.

Oct. 18: BC Talent Show, "Show your talent,"

Renegade Ballroom, 3rd floor, Campus

Center, Panorama Campus, 6:00 p.m.

Oct. 20: Killer Dueling Pianos, Renegade

Ballroom, 3rd floor, Campus Center, Panorama

Campus, 6:00 p.m.

Oct. 28: Fall Choir Concert, "Be the Water,"

Edward Simonsen Indoor Theater, 7:30 p.m.

Nov. 7: Jazz Ensemble, Big Band Favorites,

Edward Simonsen Indoor Theatre, 7:30 p.m.

Nov. 15: Distinguished Speaker Mark Rabbitt,

Renegade Ballroom, 3rd floor, Campus

Center, Panorama Campus, 2 p.m. and 7 p.m.

Nov. 17-19: "Celestials: The Chiness Question."

a play directed by Professor Kimberly

Chin, Edward Simonsen Indoor Theatre

Nov. 29: BC Concert Band, Classical, Contemporary

and Holiday Favorites, Edward Simonsen

Indoor Theatre, 7 p.m.

Nov. 30: BC/CSUB Orchestra, Classic and

Contemporary String Music, Edward Simonsen

Indoor Theatre, 7:30 p.m.