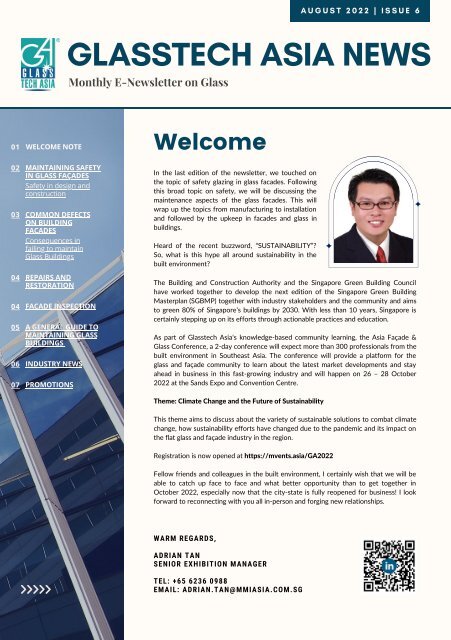 Glasstech Asia Newsletter
You also want an ePaper? Increase the reach of your titles
YUMPU automatically turns print PDFs into web optimized ePapers that Google loves.
A U G U S T 2 0 2 2 | I S S U E 6

GLASSTECH ASIA NEWS

Monthly E-Newsletter on Glass

01 WELCOME NOTE

Welcome

02

03

MAINTAINING SAFETY

IN GLASS FAÇADES

Safety in design and

construction

COMMON DEFECTS

ON BUILDING

FACADES

Consequences in

failing to maintain

Glass Buildings

In the last edition of the newsletter, we touched on

the topic of safety glazing in glass facades. Following

this broad topic on safety, we will be discussing the

maintenance aspects of the glass facades. This will

wrap up the topics from manufacturing to installation

and followed by the upkeep in facades and glass in

buildings.

Heard of the recent buzzword, "SUSTAINABILITY"?

So, what is this hype all around sustainability in the

built environment?

04 REPAIRS AND

RESTORATION

04 FACADE INSPECTION

05 A GENERAL GUIDE TO

MAINTAINING GLASS

BUILDINGS

06

07

INDUSTRY NEWS

PROMOTIONS

The Building and Construction Authority and the Singapore Green Building Council

have worked together to develop the next edition of the Singapore Green Building

Masterplan (SGBMP) together with industry stakeholders and the community and aims

to green 80% of Singapore's buildings by 2030. With less than 10 years, Singapore is

certainly stepping up on its efforts through actionable practices and education.

As part of Glasstech Asia's knowledge-based community learning, the Asia Façade &

Glass Conference, a 2-day conference will expect more than 300 professionals from the

built environment in Southeast Asia. The conference will provide a platform for the

glass and façade community to learn about the latest market developments and stay

ahead in business in this fast-growing industry and will happen on 26 – 28 October

2022 at the Sands Expo and Convention Centre.

Theme: Climate Change and the Future of Sustainability

This theme aims to discuss about the variety of sustainable solutions to combat climate

change, how sustainability efforts have changed due to the pandemic and its impact on

the flat glass and façade industry in the region.

Registration is now opened at https://mvents.asia/GA2022

Fellow friends and colleagues in the built environment, I certainly wish that we will be

able to catch up face to face and what better opportunity than to get together in

October 2022, especially now that the city-state is fully reopened for business! I look

forward to reconnecting with you all in-person and forging new relationships.

WARM REGARDS,

ADRIAN TAN

SENIOR EXHIBITION MANAGER

TEL: +65 6236 0988

EMAIL: ADRIAN.TAN@MMIASIA.COM.SG
---
Maintaining Safety

Safety in the design and

construction of Glass Facades

Over the last few decades, large buildings and especially

skyscraper facades were arguably more simple and easier to

maintain with their windows open. In the 1950s, however, glass

curtain walls became common as a part of building

envelopes, and windows became a fixed part of building

envelopes. Keeping them maintained required access from

the outside, which became more difficult since windows did

not open anymore. The need for building maintenance

systems arose as a result.

Back in the day, maintenance equipment could easily be

accommodated in flat roofs and suspended platforms could

move up and down on facades when buildings were built with

flat roofs and straight angles.

In today's world, periodic building maintenance is as important

as ever, but designing safe and aesthetic access systems has

become increasingly complex. Think about famous Sydney

Opera House, Burj Khalifa in Dubai or Petronas Twin Towers in

Kuala Lumpur.

Gradually, buildings started becoming an art with the complex

shapes and curves. Architects of these buildings must

consider façade maintenance and cleaning systems from the

very beginning to ensure safety and aesthetics are not

compromised.

On top of the complex shapes, even relatively small buildings

that contains many components requires regular inspection,

maintenance, and repair. In terms of maintenance, most

people understand the importance of maintaining roofing

systems and HVAC systems, but often times than not, the

importance of maintaining the façade of a building is

overlooked.

Most people understand that roofing systems such as heating,

ventilation and air conditioning (HVAC) need periodic

maintenance, but too often the façade of the building is

overlooked in terms of maintenance. In the absence of regular

inspection and maintenance, problem such as rust, spalling, or

sealant can go undetected for long period of time.

Therefore, a comprehensive and regular maintenance

program is crucial for keeping a building safe and in good

shape. Façade access systems are essential to perform

inspections and maintenance on heights effectively.

As a general guide, there are two types of

inspection in accordance to Building and

Construction Authority:

The full visual inspection

is conducted from ground level or other

suitable vantage points in order to

observe and assess the condition of the

entire building façade.

The close-range inspection

uses probing tools, non-destructive

testing or a combination of those tools

to examine the building's façade with

close-up visuals and tactile

assessment (e.g. touching physically).

For façade inspections, the Competent

Person must obtain the Commissioner

of Building Control's approval before

adopting any technologies - such as

robotic automated tapping devices,

automated scanning equipment,

Infrared and ultrasound scanners, etc.

A U G 2 0 2 2 | I S S U E 6

0 2
---
According to a report from News

Channel Nebraska...

considering the COVID-19 situation, the 2022 report cited

that the global Automated Facade Cleaning System

market size is estimated to be worth USD 61 million in

2022 and is forecast to a readjusted size of USD 294.3

million by 2028 with a

CAGR of 30%.

C O M M O N D E F E C T S

ON BUILDING FACADES

CONSEQUENCES OF

FAILING TO MAINTAIN

Glass Buildings

Facades are the "skin" of a building, and much like the skin

on your body, they are crucial to its appearance and

health. However, nothing lasts forever, and buildings are no

exception. Throughout the life of a building, all surfaces

deteriorate, reducing the building's visual appeal and

becoming a health hazard. It is possible for elements to

become weak and detach, posing a danger to people and

objects below.

It is the legal responsibility of owners and occupier to

ensure the safety of their buildings, regardless of whether

cities require periodic façade inspections. Building owners

should use a professional or expert who specializes in

façade to catch problems early. In the event that visitors,

occupiers, neighbors, third parties, or property are injured,

or damage is caused, an owners may be exposed with

serious liability. Moreover, installing facades from a reliable

expert is only the beginning. To achieve their intended

working life, all facades require some maintenance. Early

detection of defects can mitigate expensive repairs or

replacement later.

DID YOU

Know?

In an era when buildings are

becoming taller and more

valuable, it is more important

than ever to maintain and

clean façades properly.

Building owners generally

develop maintenance plans

for internal properties, but

neglect external façade

elements, which are often

inaccessible. The appearance

of a poorly maintained

façades and dirty windows

can annoy building

occupants, leading to a

negative impact on building

value and rental returns.

A U G 2 0 2 2 | I S S U E 6

0 3
---
Repair &

Restoration

Depending on the type of damage, different types of

repairs are required. The most common façade repairs

include replacing joint sealants, repointing mortar joints,

re-pinning masonry, patching or replacing masonry units,

or even partially rebuilding walls. Furthermore, addressing

water-leakage issues may require masonry removal to

install through wall flashings, the replacement of copings,

or the repair of roof-to-wall interfaces.

Subsequently, it must be noted that in terms of façade

maintenance, different types of buildings present different

challenges. For example, concrete façades are typically

exposed to moisture, causing it to be damaged and have

poor masonry quality. This problem can be solved by

coating, hydrophobic, and painting.

On the other hand, glass facades are prone to scratches,

often caused by grime etching into the glass. They also may

be stained by water leaching mineral deposits that cause

mist lines or shadows. Therefore, this problem must be

prevented by regularly cleaning the glass.

Façade inspection

Façade inspection is a complex process involving numerous

elements.

Historical analysis is the first step. – "What has been done

over time to maintain the building", and "what has been

done to upgrade or modernized its façades"? – If possible,

the restoration team should review original blueprints and

other relevant drawings and reports.

Before addressing the façade's physical condition, it's

imperative to understand the façade's original

construction, including what materials and design

approaches were used. Additionally, all related

documents must be reviewed. These includes the prior

improvement programs, or maintenance work

performed throughout the building's lifespan.

Not only the history of the building is important, but also its

context. Restoration professionals can better understand

its nature and façade by knowing when it was built.

Buildings constructed before 1870 usually featured loadbearing

construction.

Meanwhile, between 1870 and 1920, most buildings featured

framed structural systems, curtain walls, and newly

developed cladding materials. Modernism and

postmodernism evolved following 1920, each with their own

characteristics. When restoration professionals know the

structure's history, they can determine what steps to take

next.

A comparative exterior assessment is conducted once the

historical research is completed. An expert restoration

professional conducts the initial assessment using

scaffolding systems, boom lifts, or even rappelling systems

to gain a close-up, hands-on view of the façade elements.

To examine a building's veneer's cavities and anchorages, a

façade professional may use a borescope, just like a doctor

uses an arthroscope. In order to develop an action plan, the

restoration team takes photographs to note any damage.

Alternatively, methods such as observation through high-
---
powered binoculars and unmanned aerial vehicle (UAV)

inspections may be used as well.

There are other investigative methods besides visual

observation. Sounding is a process which involves tapping on

façade sections with hammers to determine if there are voids

underneath the façade exterior. Restoration professionals are

trained to identify the different tones during sounding, and to

determine what each tone means with no damage to the

façade. In general, mason's hammers are used to sound

concrete, brick, and stone exteriors, while wooden mallets are

used for terra cotta exteriors.

Among the other non-destructive testing methods are

ground-penetrating radar (GPR), which can be used to

examine the façade behind the surface; sonar, which can be

used to determine the condition of interior sections through

impact-echo and impulse-response methods; water

absorption with RILEM tubes, which can detect water damage;

and infrared photography. It is possible to detect different types

of façade deterioration using all of these testing methods.

A GENERAL GUIDE TO

MAINTAINING GLASS BUILDINGS

This cannot be stressed enough - identifying potential problems and addressing them before they require

expensive repairs. Thus, an assessment and maintenance program must be established. The most common are

programs that establish regular assessments of building façades every five or ten years. These programs are

particularly common at universities, government buildings, commercial building portfolios, and other complexes

with numerous buildings or historic facilities.

A long-term maintenance program can benefit any building. Early assessment of the structure's condition allows

restoration professionals to create a hierarchy of issues to address and plan restoration work more effectively. This

allows some parts of the project to be deferred, or deterioration to be corrected before serious damage occurs.

While complex, façade evaluation and restoration are essential to the maintenance and long-term viability of any

building. The façade must be properly maintained and restored, no matter what the structure is, whether it is a large

and highly utilitarian building, a historic landmark, or something in between.

A U G 2 0 2 2 | I S S U E 6

0 5
---
Industry news

Guardian: Design

with glass, 6 trends

Read more

The newest iconic building designs are a

feast for the eyes, inside and out. Yet the

competition is fierce to also offer a

technological feast, whether that's to

meet the WELL Building Standard or

provide the most digitally integrated

building system. Click to read more.

Hegla: Creating

added value

together

Read more

"Creating added value together" is the

motto under which the HEGLA Group

showcased at the glasstec exhibition in

Germany. "We have focused on the here

and now, and want to show solutions that

our customers can use to create

sustainable added value," said Managing

Director Bernhard Hötger. Learn more

about their solutions here.

Digitalization

Transforms The

Façade System

Read more

The advent of media/digital facades is a

key trend gaining popularity in the façade

systems market. According to the façade

system market research, the increasing

demand for the digital façade is driving

the demand for its implementation across

the façade system market. Learn More In

The Business Research Company's Market

Analysis.

Overheating in

Domestic Dwellings

– Overcoming the

challenge

In this series of articles on Part O and the

up-and coming changes, Gurprit Bassi,

Wintech's Associate Director, Façade

Engineer & Sustainability Lead examines

the issue of overheating in domestic

dwellings. Find out more here.

Read more

A U G 2 0 2 2 | I S S U E 6 0 6
---
GLASSTECH ASIA X PERAFI WEBINAR #8

APPLICATIONS IN

FACADES AND BUILDINGS

Safety and Technology

20 OCTOBER 2022

2.30PM-4.30PM JKT (GMT+7)

3.30PM- 5.30PM SGT (GMT+8)

9.30AM - 11.30AM CET

Sponsored by:

P O W E R E D B Y B A U & B A U C H I N A

P O W E R E D B Y

B A U & B A U C H I N A

Visitor

Registration

Open

REGISTER NOW
---
The Glass Hub of Southeast Asia

Asia Façade & Glass

Conference 2022

KEYNOTE SPEAKERS

Climate Change and the

Future of Sustainability

26 - 28 October 2022

LEM YANG LIM

HEAD (CERTIFICATION)

SINGAPORE GREEN

BUILDING COUNCIL

KEN YEANG

EXECUTIVE DIRECTOR

T. R. HAMZAH & YEANG

Marina Bay Sands Convention Centre, Singapore

Powered by BAU & BAU China

GLASSTECH ASIA 2022

FENESTRATION ASIA 2022

The Glass Hub of Southeast Asia

MARINA BAY SANDS CONVENTION CENTRE, SINGAPORE

26-28 OCTOBER 2022

P o w e r e d b y B A U & B A U C h i n a

CLICK HERE TO REGISTER NOW!

FOLLOW GLASSTECH ASIA ON:

#Glasstechasia

#Fenestrationasia

#BAUNetwork