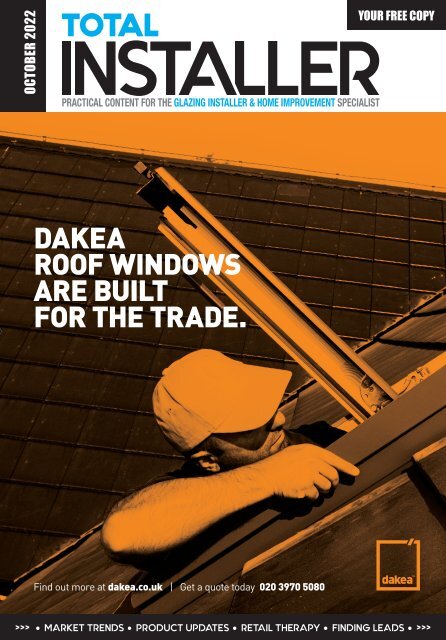 You also want an ePaper? Increase the reach of your titles
YUMPU automatically turns print PDFs into web optimized ePapers that Google loves.
OCTOBER 2022

PRACTICAL CONTENT FOR THE GLAZING INSTALLER & HOME IMPROVEMENT SPECIALIST

DAKEA

ROOF WINDOWS

ARE BUILT

FOR THE TRADE.

Find out more at dakea.co.uk | Get a quote today 020 3970 5080

>>> • MARKET TRENDS • PRODUCT UPDATES • RETAIL THERAPY • FINDING LEADS • >>>
---
217 113

U-Value

From 1.2 W/m²K

138 77

#STYLISH

Colour-Matched

Hardware

198 113

London's Favourite Window and Door Manufacturer

#ArkayWindows #Edgeglide+ #AluminiumWindows #SlimSlidingDoors #WindowInstallers

Speak to an expert today, call 01923 803 923

Scan and visit www.arkaywindows.com
---
Quality is at

Our Core

Get the EDGE with our expertly crafted,

ultra-modern aluminium sliding door.

Unbelievably Slim. Unexpectedly Strong.

Speak to an expert today, call 01923 803 923

www.arkaywindows.com

sales@arkaywindows.com
---
Loved by Installers

The EdgeGLIDE+ is a sleek and modern sliding door with an ultra slim 35mm interlock and spanning up to

2.2m x 2.6m per panel. The highly efficient design can achieve 1.4 W/m²K U-Value with our standard double

glazing and is ready for changes to Part L of the Building Regulations coming this June. Best of all, the lightweight

sashes come pre-glazed for ultra-fast installation.

35mm interlock

ULTRA

#SLIM

143 54

ENGINEERED

TO BE

COMPETITIVE

316 24

www.arkaywindows.com

sales@arkaywindows.com
---
Editor's Comment

GEORGE LEWIS

EDITOR

GEORGELEWIS@MEDIA-NOW.CO.UK

This month has, like many before it this year, been a mix of positives

with negatives, which now feels like the norm for our industry.

The ongoing cost of living crisis continues to cause problems for

homeowners and businesses alike. And the recent Government 'minibudget'

did nothing to quell the worries the country as a whole is facing.

But whilst the 45p tax rate for high earners was put on the back burner, the

Government did offer a glimmer of hope in that they will support business's

energy consumption, at least for six months. Which having spoken to a few

companies now, whilst bills will still be huge, without help could have been

catastrophic for some.

Elsewhere, the most recent Business Pilot Barometer showed signs of an

'ok' month for UK window and door sales. Sales did slightly drop compared

to last month, but average order values were up 8%, while conversion

rates stayed steady. You can see the full stats from this month on page 12.

Thom Emerson of Ideal Window Solutions is also feeling positive about

opportunities within the sector. Thom suggests that lead generation should

be high on the agenda to maximise opportunities, and selecting the right

channels is vital to ensure a good return. You can read more of Thom's

thoughts on page 66.

Elsewhere in the issue, Sternfenster's Nathan Court discusses the

battle for new business (page 24), industry newcomer Nat Weaver of

manufacturer Aspen Windows & Doors takes part in this month's Industry

Insights column (page 34), and Chief Executive Faisal Hussain talks about

the DGCOS's newly published installer guide for conservatories (page 52).

So read on for all of the above, plus lots more...

Enjoy the issue!

George

Cover courtesy of Dakea. Find out more about the company's comprehensive

rooflight and skylight range at: dakea.co.uk

FOLLOW US @INSTALLERTOTAL

SIGN UP FOR YOUR REGULAR E-BLAST AT

WWW.TOTAL-INSTALLER.CO.UK

Editorial Director: Matt Downs

DD: 01892 732047

Mob: 07963 330774

Email: mattdowns@media-now.co.uk

Advertising:

Publishing Director: Andy Dunn

DD: 01892 732047

Mob: 07963 330777

Email: andydunn@media-now.co.uk

The content of Total Installer magazine (and website) does not necessarily reflect the views of the editor or publishers and are

the views of its contributors and advertisers. The digital edition may include hyperlinks to third-party content, advertising, or

websites, provided for the sake of convenience and interest. The publishers accept no legal responsibility for loss arising from

information in this publication and do not endorse any advertising or products available from external sources. No part of this

publication may be reproduced or stored in a retrieval system without the written consent of the publishers. All rights reserved.

Registered office: 1 Forstal Road, Aylesford, Kent, ME20 7AU

Supported by:

Editor: George Lewis

DD: 01892 732047

Mob: 07715 550351

Email: georgelewis@media-now.co.uk

Commercial Manager: Jake Roxborough

DD: 01892 732047

Mob: 07956 133314

Email: jakeroxborough@media-now.co.uk
---
Contents

ISSUE HIGHLIGHTS

24 WORKING SMARTER

As the market cools, the battle for new business will be won

with exceptional product quality and industry-beating lead

times, says Sternfenster's Nathan Court

24

38 BECOMING IONIC

UAP's David Jennings discusses the new IONIC

electronic door lock and his excitement surrounding its

potential in the market

66 A NEW WAY TO LOOK FOR

LEADS?

With lead generation firmly back on the agenda, Ideal

Window Solutions' Thom Emerson explains which channels

he feels will work for for home improvement businesses

FEATURES

28 A W SMART SOLUTION

Morley Glass Managing Director Ian Short discusses the

W Smart solar shading system and how it can help

homeowners minimise their energy use

36 SUPPORT OF THE HIGHEST

ORDER

Freefoam's Colin St John says that as prices increase,

customers need the highest levels of support from their

suppliers to help them grow

42 MAKING THE Q-SMART

DECISION

Gary Gleeson of VBH (GB) explains why sales of its

Q-Smart electronic door handle keep on increasing

46 GOING ABOVE AND BEYOND

Barrie Gazzard, Director at Cornwall Glass & Glazing,

says that looking after your customers will be the key

to weathering a downturn...

62

52 CONVERTING TO

CONSERVATORIES

Faisal Hussain discusses the DGCOS's new installer

guide for conservatories

58 SEEING THE SIGNS

In the latest instalment of our regular business column,

the experts at Know-It look make sure you recognise

the early signs that a client isn't going to pay...

62 DIVERSIFYING YOUR OFFERING

Total Installer hears how despite inflationary pressures,

homeowners continue to invest in home improvements,

delivering opportunities for companies such as Bohle

4 T I OCTOBER 2022 PRACTICAL CONTENT FOR THE GLAZING INSTALLER & HOME IMPROVEMENT SPECIALIST
---
REGULARS

14 RETAIL THERAPY

Listers Group MD Roy Frost discusses the strategy

and benefits of combining GJB Group with Listers

and what the future holds for the company...

16 THE SMART COLUMN

Ryan Bromley, Co-Founder of Kubu Smart Security,

explains how offering a simple yet effective

product is helping his company win new business

18 THE VIEW FROM CERTASS

TRADE ASSOCIATION

Jon Vanstone discusses Building Regs

compliance, and the importance of ventilation for

homeowners both and the UK housing stock

34 INDUSTRY INSIGHTS

This month we hear from newcomer to

the industry, Nat Weaver of Derby-based

manufacturer Ashfen Window & Doors

SECTIONS:

WINDOWS

24

DOORS

38

GLAZED

EXTENSIONS

52

10

HOME

IMPROVEMENT

INDUSTRY NEWS

06 GET TRADESPEOPLE TALKING

A new text service has been launched by the Band of

Builders to get tradespeople speaking about their mental

health over a cuppa

10 APPRECIATING APPRENTICES

The Cornwall Group has been nominated for an award

reflecting on its ongoing commitment to hiring apprentices

62

VEHICLES, TOOLS

& WORKWEAR

70

PRACTICAL CONTENT FOR THE GLAZING INSTALLER & HOME IMPROVEMENT SPECIALIST

OCTOBER 2022 T I 5
---
News Roundup

A SECOND RECORD

MONTH

Arched and angled frame supplier Premier

Arches has seen its second record month

in less than a year, with significant

investment and a commitment to quality

said to be contributing to its growth.

Working from a 10,000 square foot

manufacturing facility in St Helens, Premier

Arches manufactures and supplies arched,

angled, gable, circular and entirely bespoke

windows and doors in a range of systems

including Residence 9 and Optima from

Profile 22.

The company says it transforms the often

daunting procedure of profile bending into

a simple and pain-free process, saving

fabricators time and money, and helping

them win more lucrative projects which

would otherwise be turned down.

Managing Director Sean Greenall commented:

"While we've seen a small softening of

volume from our regular customers in line

with the rest of the industry quietening down,

we have still managed to achieve a record

sales month. This is due to an influx of new

customers, as well as some of our existing

customers widening the range of products

they buy to include glazed frames, fully

manufactured frames, and angled frames as

well as the usual arches.

"I'm incredibly proud of the business and

all we've achieved – we've built a culture of

putting our customers first, being honest and

sending quality products out of the door first

time; core principles which I believe have

played a huge part in our success, and will

continue to do so as we grow even further."

www.premierarches.co.uk

NEW TEXT SERVICE LAUNCHED BY BOB

A new text service has been launched by the

charity Band of Builders as part of a growing

campaign to get tradespeople to open up

about their mental health over a cuppa.

The new service coincides with the return of the

Big Brew – an industry-wide campaign led by the

charity in a bid to shine a spotlight on the mental

health crisis in construction, where two people are

thought to take their own lives every day.

Launched last year and returning this October, the

Big Brew aims to encourage more tradespeople

and contractors to come together over a cuppa as

the first step in seeking help with a range of issues

from general anxiety – due to factors such as the

cost-of-living crisis – to suicidal thoughts.

More than 250 Big Brew events are expected

to take place in builders' merchants and on

construction sites across the UK, building on last

year's campaign and encouraging more people to

seek help where needed.

To build on the success of last year's Big Brew

campaign in highlighting issues with mental health

in the construction industry, Band of Builders has

launched a new text line so that tradespeople and

An industry survey carried out by hardware

distributor Window Ware has revealed that

73% of businesses grew in the last 18 months.

Of that 73%, more than half (54%) grew

between 1-24% and over a third (38%) grew

between 26-50%.

The investigation was put together by Window

Ware in conjunction with data supplier Insight

Data.

Unsurprisingly, many businesses (41%) agreed

that rising prices was the biggest challenge they

faced in the last year, and almost half (44%)

predicted price increases will be the biggest issue

for them in 2023.

And when asked what key change they would

have to make to their business to ensure success

their families who are struggling to open up in

person can text BOB to 85258 at any time to get

much-needed help.

To register interest in hosting a Big Brew event,

visit https://bandofbuilders.org, and you can join

in the conversation online by using the hashtag

#GiveYourselfABreak.

Peter Cape, the Big Brew lead at Band of Builders

said: "The campaign is proving to be a vital lifeline

at a time when suicide rates in the sector were

already at one per day before the COVID pandemic –

according to ONS figures – and it's widely accepted

that these have worsened to closer to two per day."

https://bandofbuilders.org

73% OF FIRMS GREW IN LAST 18 MONTHS

over the next six months, almost a third (31%)

also said price increases.

Sam Nuckey, MD of Window Ware, said: "It's

no surprise to see that rising costs has been a

huge concern for the industry over the last 18

months, and this concern is definitely ongoing

following the significant increases passed onto

homeowners recently compared to the projected

austerity in future years."

www.windowware.co.uk

6 TI OCTOBER 2022 PRACTICAL CONTENT FOR THE GLAZING INSTALLER & HOME IMPROVEMENT SPECIALIST
---
For more news and the latest updates, visit www.total-installer.co.uk

NEW APPOINTMENTS BOLSTER SHEERLINE

Sheerline says its newest appointments

will bolster the sales team and support its

ambitious next level expansion plans.

The newest member of the Sheerline sales team,

George Esler, Area Sales Manager, joins to look after

customers based in the North. As part of his new

role, he is supporting installers and fabricators who

are ready to switch to Sheerline's Part L compliant

and fully matched system.

Having previously worked for Window Ware as an

Area Sales Manager, Sheerline says George brings

with him a wealth of valuable industry experience

and will play a crucial role in helping new and

existing customers to get the most out of the

Sheerline range.

In addition, Tony Basile has been promoted to

Sheerline Sales Director. He has worked for

Garnalex CEO Roger Hartshorn since 1991 at

Eurocell, Liniar, and now Sheerline.

The Glass and Glazing Federation (GGF)

has announced that Kevin Jones has been

appointed as Senior Technical Officer for the

GGF Technical Department. His appointment

follows recent changes within the Technical

Team including a new Head of Department in

Dave Borland.

Kevin commented: "I'm thrilled to have been

appointed as Senior Technical Officer and look

forward to working closely with Dave to ensure our

members get everything they need from the GGF in

all matters technical. Having worked for the GGF for

more than two and a half years, I'm well positioned

In his new role, Tony is responsible for the sales

team and spearheads growing the Sheerline brand.

Roger Hartshorn, Garnalex CEO, said: "The

strategic decisions we are making now will take

our business to the next level. We're putting

the right people in the right positions to help

us improve our systems while maintaining our

efficiency. It is a pleasure to work with such a

dedicated, hard-working, and knowledgeable

team and I look forward to seeing our strategic

vision come to fruition."

www.sheerline.com

GGF APPOINTS KEVIN JONES TO TECHNICAL DEPARTMENT

Kevin Jones has been appointed the new Senior Technical

Officer at the GGF

to take a step up in supporting the technical team and of course all our members."

Dave Borland, Head of Department added: "Kevin will be well known to many of our members and

particularly those in the Home Improvement sector. He has played a major part in discussions with

Government regarding changes within Approved Documents F, L, O & Q, and acts as secretary to

most of the Home Improvement Groups. Since a recent reshuffle of the GGF team, it was obvious that

someone was needed to assist me in both the running and development of the Technical Department.

"Kevin was the obvious candidate for this position considering the excellent work he has done and the

support he has already given me since joining the GGF. We are looking forward to continuing to support

our members with a strong bank of technical knowledge in our new team." www.ggf.org.uk

A STELLAR JOB

Stellar aluminium windows and doors have

been installed in a palatial refurbishment

project in South Buckinghamshire.

The five-bedroom detached property was

fitted with 25 Stellar aluminium fully flush

casement windows and five sets of Stellar

flush doors. The products were manufactured

by Epwin Window Systems' fabricator Capital

Windows of Uxbridge, and fitted by Absolute

Windows in Buckinghamshire.

Richard Embleton, Owner of Absolute Windows

said: "Stellar's flush detailing on both the

internal and external faces delivers the

sympathetic aesthetics this project demanded

and was the perfect product solution for this

job. The windows and doors were manufactured

with a black external face to replicate the

traditional charm with a clean white internal

face to complement the interior decor. The use

of leaded lights to the glass units also helped

to replicate the original window and door

features." www.stellaraluminium.co.uk

SHELFORCE UP FOR

AWARD

Birmingham window and door

manufacturer Shelforce is a finalist for

Diversity Champion at the Scale-Up

Awards 2022.

The company works closely with Birmingham

City Council, has an inclusive approach to

training and employment, with 75% of its

workforce having a disability.

Howard Trotter, Shelforce's Business

Manager, said: "We are delighted to be

nominated for Diversity Champion at the

2022 ScaleUp Awards. It's testament to

the company culture we have at Shelforce,

the leadership and management, and the

initiatives we have in place here for our staff.

We have created a hugely supportive work

environment that both inspires and benefits

our team, and this has created exceptional

staff satisfaction, development and increased

employee engagement with Shelforce's

values and goals." www.shelforce.com

PRACTICAL CONTENT FOR THE GLAZING INSTALLER & HOME IMPROVEMENT SPECIALIST

OCTOBER 2022 TI 7
---
i-folding

door

15%

INTRODUCTORY

DISCOUNT *

QUOTE DISCOUNT

CODE

TIK02

Delivering the best products,

with the best service, at the best price

Contact Made for Trade for a KwikQuote today

madefortrade.co | sales@madefortrade.co | 01642 610799

*Discount applies to all trade customers and applied to the first, single item purchase only of the Korniche Bi-folding Door | *Korniche Bi-folding door price is based on 7-7-0 configuration 5100 x 2000

stock colour, delivered. Unglazed. Price is correct at point of publishing. Delivery restrictions apply. Product specification and prices may be subject to change without prior notice.

*PAS24 as standard requires laminated glass installation
---
SAVE HOURS ON SITE

with the only clip-bead that delivers glazing

and de-glazing in seconds. The Korniche

Bi-Folding Door has more to offer..

As standard!

Competitive glass supply

Trickle vents positioned in outer frame (No frame

extenders required for PART F compliance)

PAS24 security as standard*

Korniche matching hardware, including brushed

stainless steel

EASY GLIDE

EVERY TIME

Precision

engineered

articulated axle

with fully bearinged

rollers

Enhanced thermal

performance

FREE nationwide

delivery

10 YEAR warranty

GLAZED IN

SECONDS

UNGLAZED, EXC VAT

Including FREE delivery

BEADED IN

SECONDS
---
News Roundup

DOORS MEAN PRIZES

PVC-U door panel and composite door

manufacturer Hurst Doors has launched

an Installation of the Month competition

that commenced at the start of October.

Prize winners will receive a year's free

subscription to the retail version of the Hurst

Composite Door Designer, worth £399 plus VAT.

To be in with a chance to win, all the

company's customers have to do is send in

their pictures of recent Hurst door installations.

The Hurst team will then judge the winner, with

the help of followers voting for their favourite

on Hurst's social channels, and the company

responsible will be awarded 'Installation of

the Month' and win the prize! In addition, the

homeowner of the winning installation will also

receive a £50 Amazon voucher.

"We know that every week our fantastic

customers complete hundreds of stunning

installations all across the country,"

commented Sales Director Mark Atkinson.

"With our new competition, we want to shine

a light on their workmanship and skill, and

celebrate their success.

"We look forward to receiving some excellent

submissions, and crowning our first

Installation of the Month!"

To enter the competition, installers of Hurst

Doors can either share their project images on

Facebook, Instagram or Twitter, making sure to

tag Hurst Doors or alternatively, send in their

images to marketing@hurstdoors.co.uk. Terms

and Conditions apply, see website for details.

www.hurstdoors.co.uk

The Cornwall Group has been nominated in

the Large Employer of the Year category in

the Cornwall Apprenticeship Awards 2022,

reflecting its ongoing commitment to nurture

talent within the region.

Apprenticeships are said to be highly regarded

within Cornwall Group companies, and many of

the group's senior employees – including board

directors – joined the independent family-owned

business via an apprenticeship.

APPRECIATING APPRENTICES

The Cornwall Group Apprenticeship Journey is an

occupational competency training and assessment

programme designed to highlight and promote a

career in the glass and business industry, and to

develop new skills and careers. It's a key element

A survey from Ironmongery Direct showed that

lmost half (45%) of UK tradespeople want to

do additional training but are unable to do so

because of barriers like time and finances.

Half (50%) say that they enjoy learning new things,

but the survey shows one in eight (12%) have

reached a stage where they rarely do so anymore.

This is largely due to the obstacles preventing them

from pursuing further training, and the most cited

barrier said to be a lack of awareness. Almost one

in seven (13%) tradespeople say that they wouldn't

know where to look for development opportunities.

in the company's strategy for growth post-Covid, as

well as bringing a new generation into the IGU and

glass processing industry through said to be a wide

variety of roles from production through to business

administration. The awards are hosted by Truro and

Penwith College. Winners will be announced at the

gala awards dinner on November 18th.

www.cornwallglass.co.uk

BARRIERS TO TRAINING APPARENT

The current challenges around rising costs are

expected to prompt more than 40,000 SMEs to

lean on finance providers to help support their

businesses according to new research from

Nucleus Commercial Finance (NCF).

The study found that 15% of small and medium

sized UK businesses expect to need a loan to

support the running of their business. While just

1% of sole traders expect to have to go down

this route, it rose notably to 16% among smaller

businesses, employing between 50-249 staff.

For more company news visit www.total-installer.co.uk

Maisie Simpson is doing an 18-month apprenticeship in

Marketing through Truro College

The money and time (both 12%) required for

training courses is also discouraging, and, sadly, so

too is social pressure.

One in 12 (8%) say that they don't ask for more

training as they worry what other people would

think of them for making such a request.

Such barriers are said to be significant, as less

than a fifth (17%) of tradespeople say that their

initial training was enough to set them up fully

for their career, highlighting the importance of

continuous learning. www.ironmongerydirect.co.uk

COST OF LIVING CRISIS HITS SMES

The study also showed two thirds (66%) of UK SMEs

are worried about the prospect of rising business

costs over the next 12 months. Among small and

medium sized businesses, this figure rises to 74%,

with 29% of this group stating that they are very

worried about costs going up over the next year.

And just 38% of businesses say they are

confident about being able to access affordable

finance in the next 12 months should they need it.

https://nucleuscommercialfinance.com

10 T I OCTOBER 2022 PRACTICAL CONTENT FOR THE GLAZING INSTALLER & HOME IMPROVEMENT SPECIALIST
---
INTRODUCING OUR SELF CARE TOOLKIT

for better

mental health

DGCOS is looking to

launch the first dedicated

self care toolkit

The startling and emotional statistics from

our Glass and Glazing Industry Mental

Health Survey have prompted us to take

a proactive approach to support those

affected. We'd like to provide installers

with items to help practice self care,

including headphones and therapeutic

items to aid exercise, relaxation and sleep.

We'd like to hear from you

We're interested to hear what you'd like

to see included in our toolkit that can be

used during your day to day life to help

lower stress levels and ease tension.

Please send your thoughts to:

f.hussain@schemes.org.uk

DGCOS is a consumer protection scheme for the installation

of double glazing products. Being a member of DGCOS

shows that as an installer you are committed to complying

with high standards of consumer protection.

Find out more: 0345 053 8975 | info@dgcos.org.uk | installers.dgcos.org.uk
---
The Business Pilot Barometer

STICKING TO THE PLAN

Neil Cooper-Smith, Senior Analyst at Business Pilot, says Barometer figures this month paint

a picture of a slower, yet still solid market...

Despite massive political and economic

upheaval, September was, on balance, an

'ok' month for UK window and door sales.

There was a small drop of 7% on sales compared

to August, but average order values were up 8%

at £4,848 and the conversion rate held firm.

This was despite inflation running at just under

10% and an interest rate rise of 0.5 percentage

points on 22 September.

Year-on-year, sales were down 27% on

September 2021 but order values were up 40%.

It paints a picture of a slower but still solid market,

the home improvement sector making the inevitable

readjustment post-boom and post-lockdown.

Higher average order values suggest that many

homeowners have chosen to invest in whole-house

window and door replacements. This is something

which we believe can be directly linked to consumer

spend on improved home energy efficiency in the

run up to the increase in average energy bills under

the Energy Price Guarantee of £2,500.

This remains, in our view, a continuing area of

opportunity for the window and door industry.

At £2,500 it still represents an increase of more

than £1,200 on where average household bills

were before April.

The point to emphasise here is the word 'average'.

For many homeowners, particularly those with

larger properties, the bills will be far higher.

This is the demographic which, despite current

instability in the UK economy, is most likely to continue

to have money to spend on home improvements.

It's where we go from here that is frankly

impossible to call. Leads were down month-onmonth

in September by 14%. This would imply

that the market was going to continue to cool

going into October anyway.

It is our view that the response of markets to the

'mini-budget' on 23 September make it likely that

this slowdown will accelerate.

Although we would take care not to imply cause

and effect, there appears to be a correlation

between the Government's policy announcements

at the end of the month and panic in the UK

pensions sector, prompting the intervention seen

from the Bank of England on the 28th September.

The Bank has also made it clear that further

increases in the base rate are likely, something

which prompted the scramble by homeowners to

secure fixed rates and withdrawal of more than 300

mortgage products temporarily from the market.

This has contributed to a lower availability of

credit, something which analysts argue eats up

any potential gains for buyers from the changes

to the Stamp Duty Threshold announced by

the Chancellor. This, they warn, could lead to

stagnation in the housing market and a fall in

house prices of 10% next year.

If this happens, it will reduce activity in the

housing market but also lower the equity that

people have in their homes and may impact on

their willingness to invest.

Business Pilot can't help you unpick Government

policy, but it can help you maximise opportunities

and your profitability, through business-critical

management information, lead generation and

automation of process, saving you time and

money in the office and on site.

How you negotiate the next few months may

mean the difference between the success or

failure of your business.

The Business Pilot Barometer offers a monthly analysis of the key trends defining window and door

retail, drawing on real industry data collated by the Business Pilot customer relationship management

system (CRM). Business Pilot uses cloud-based technologies to give installers complete visibility of every

element of their operation from leads and conversions to job scheduling, cost of installation, service

calls, and financial reporting.

www.businesspilot.co.uk www.businesspilot.co.uk/barometer

12 T I OCTOBER 2022

PRACTICAL CONTENT FOR THE GLAZING INSTALLER & HOME IMPROVEMENT SPECIALIST
---
oof

lantern

10%

NEW TRADE

CUSTOMER

DISCOUNT

QUOTE CODE:

TIK01

glazed in

seconds

faster

to fit

Supply & install the multi-award-winning aluminium Korniche Roof Lantern.

Fitted in minutes, glazed in seconds. The strongest lantern in class, available

up to 3x2.5m in four glass panels and a maximum size of 6x4m

Delivering the best products, with the best

service, at the best price

Contact Made for Trade for a Kwikquote today

madefortrade.co | sales@madefortrade.co | 01642 610799

*Discount applies to all trade customers and applied to the first, single item purchase only of the Korniche Roof Lantern
---
Contract Retail Therapy Talk

TWO BRANDS - ONE VISION

In his latest column, Roy Frost, Listers Group MD, discusses the strategy of combining GJB

I

wouldn't say we've necessarily been 'off-grid',

but we have been busy working behind the

scenes, doing stuff that a lot of people probably

don't know about.

Without being too introspective, I'd like to take a

moment to just explain what we've been up to,

why we've been doing it, and why we believe that

translates into a better service offer for our customers.

Change was always on the cards from the moment

we acquired Listers in 2017, we just probably didn't

know quite how much.

We've been through COVID, a market boom, a

really challenging situation on supply – and then

on top of that our journey, the integration of two

businesses, and really importantly, the evolution

of our product and our service offer.

As a senior leadership team we acquired GJB

Developments & Newbuild in Essex in June 2017. It

was owned and run by Gary Bristow, who still sits as

part of our team but he wanted to step back.

When I first saw it I realised instantly that it was a

great business because of the way that Gary and his

team focussed on customer service and support.

The culture was brilliant. Nothing was ever too much

trouble, for anyone!

We were drawing up our plans for GJB and the

Listers thing happened. Listers has always been

regionally focussed but its reputation has always

extended far further.

When it became available we jumped at the chance.

Now, with the benefit of hindsight, with what

followed with COVID and everything else, we were

probably being quite ambitious in what we were

doing, and at times the road got a little bit rocky, but

would I do it again? Absolutely I would, because of

what it's given us.

Group with Listers in order to become the 'easiest fabricator to work with'...

Don't get me wrong, there were moments along the

way when we really did think that we'd bitten off

more than we can chew, but what we've come out

the other side with is a great, and now integrated

business, operating under a single brand and with a

single culture – the right culture.

What's happened has been unusual. Normally the

acquiring brand, in this case GJB, absorbs the other

business. With GJB, while everyone who worked with

them loved them, nobody knew them.

A brand that resonates

Listers had a profile, iconic is probably too strong a

word but that primary blue background, the big yellow

stripe underneath it – it resonates in our industry.

It was the logical choice to move forward as Listers.

What we've spent the last five years doing, is

embedding the culture that drove GJB's success, the

focus on customer service and support, a genuine

partnership approach to working, across our second

site in Stoke. That's so important because retail is

a tough game. You can be the best business but if

you're let down by your supplier, there's very little

room for manoeuvre. What impressed me from the

first day that I walked into GJB was that everyone

understood that. Not only the customer services

team, but the guys running the factory, dispatch, the

delivery drivers – everyone was tuned into what their

customers needed from them.

Listers Group MD

Roy Frost

Our culture in Stoke is now the same. We're branded

Listers, our culture is GJB. Where GJB didn't have all

bases covered was product range. There were gaps,

particularly in the premium space, which we've

since been able to fill because of Listers.

We've been able to open up new opportunities for

customers buying from our Listers Essex site by

expanding the range of products that we supply

to them. This includes introducing the complete

Residence Collection and our market leading

Timeless Flush Sash Windows.

As a business, we continue to see big opportunities

for installers in the premium space. We've seen for a

long time an increasing focus on aesthetics, colour,

flush. It was something I personally pushed very

hard during my time as MD at Deceuninck.

The retail environment has changed

immeasurably in the last two or three years

across PVC-U and aluminium. That's also why

we took a decision to expand our aluminium offer,

introducing the new Sheerline Aluminium range

alongside Reynaers, at the start of this year. With

aluminium representing a key part of our growth

strategy this year into next.

The other thing that Essex customers have been able

to access is our wider service and support offer. We

know how in retail you're pulled in multiple directions

all of the time. We've brought our easy ordering

system Easy Connect, to our customers in Essex

but also our wider marketing and lead generation

support offer, Easy Marketing.

That is our strategy in a nutshell. We want to be the

easiest fabricator to work with. We're doing that

through our product and our service offer.

View Roy's latest video at Glaze-Tube here:

https://glaze-tube.co.uk/two-brands-one-vision/

Contact Listers:

01782 391900

www.listerwindows.co.uk/

@ListerTF

14 T I OCTOBER 2022 PRACTICAL CONTENT FOR THE GLAZING INSTALLER & HOME IMPROVEMENT SPECIALIST
---
Article Thought Leader: Smart Sensors

KEEPING IT SIMPLE

In his latest comment, Ryan Bromley, Co-Founder of Kubu Smart Security explains how

offering a simple product at an attractive price is, whilst not easy to produce, is leading

installers to increase their use of smart home products...

One of the godfathers of today's smart

industry, Steve Jobs, is famous for saying:

"Simple is harder than complex; you have

to work really hard to get your thinking clean to

make things simple".

Bringing Smart technology into the Fenestration

industry has been a slow, and sometimes

clunky process.

Fitting the required mechanics and electronics

into a box, has thus far, resulted in some

pretty hefty accessories (with pretty hefty price

tags) being mounted in full view onto your

customers doors and windows, resulting

in a relatively small uptake for

such products. They've just not

been simple enough to appeal to

today's consumer.

Understandably, this has resulted

in a really difficult sell for all installers,

giving smart technology a bad name in the

industry. Yes, you could make a few extra quid, but

is the hassle really worth it? Most of you said no.

So creating a product that is not only simple to

use by the end user, but also simple to fit by

a fabricator, simple to set up and sell for the

installer – all at an attractive price point for the

mass market – has been no easy task.

Working together

We now have a product that has virtually no

setup or maintenance and is calibration free,

is completely concealed inside your customers'

frames, that works intuitively and will seamlessly

function with their existing Smart technology,

including lighting and heating. As a consumer,

Fenestration smart tech doesn't come any

simpler.

As an installer, the process is just so simple too.

Above: Kubu is seeing an increase in installers

wanting to use its smart sensors. Left: Ryan Bromley.

You can now buy doors and windows that

'Work with Kubu' from most fabricators in

the UK, on pretty much any system.

Any special Kubu requirements are pre-fabricated

before you even receive the items, so all you

have to do is fit the doors and windows as you

normally would. Simple, huh? Well…kind of.

Increased attention

We have had an ever-growing number of

installers that are fitting doors and windows that

are said to "work with Kubu".

The consumer receives their door or window that

is ready to be upgraded to smart, but it's still not

actually smart – they still need to add the sensors.

It's amazing to see our products really

penetrating the UK market in this way, but it can

still be a bit confusing to some consumers, so the

question we asked ourselves is how we make this

more simple for everyone involved.

And to be honest, we think we've cracked it.

There has been an emergence of installers that

have started to fit our sensors as standard when

they install a door or window – in exactly the

same way as heating engineers are doing with

their smart tech.

This led us to run some tests around the country,

where we have asked the installer to quote

their jobs with Kubu Smart Security included

as standard. All doors and windows fitted, fully

setup and activated at the point of installation.

The feedback has been pretty impressive.

All installers have reported how easy Kubu is to

fit, an increased rate of quote conversion, and

that their consumers have been much happier

as a result. Consumers have been choosing their

quotes over others because the smart technology

is built in with the price.

Their business has improved, when all those

around have been slowing down. In today's

climate that's pretty powerful stuff, and it's

incredibly hard to ignore.

So if you're interested in winning more business

by 'quoting with Kubu' and supplying smart as

standard to your customers, why not get in touch?

We'll support you every step of the way – whether

that is sales or fitter training, handover materials,

customer service or showroom support.

We'll even support you with a few sensors, so you

can try "quoting with Kubu' risk free. Simple, huh?

Definitely!

Contact Kubu:

0800 124 4308

kubu-home.com/

@GetKubu

16 T I OCTOBER 2022 PRACTICAL CONTENT FOR THE GLAZING INSTALLER & HOME IMPROVEMENT SPECIALIST
---
New Part L

Building

Regulations

Compliant.

Nationwide Coverage.

Competitive Lead Times.

Unlimited Colour Choice.

Oh so

SWEET

New from Virtuoso, the 'Sweet' range of stylishly simple, exquisitely

designed hardware, offering additional choice in style and aesthetics.

Letterplates, knockers and handles are available in three colour

options – Rose Gold, Stainless Steel and Chrome. They are all tested

against corrosion thirty times more than the required corrosion

standard. Because of this, 'Sweet' has the confidence to offer your

homeowner customers an extended 20-year guarantee * . And of course,

alongside our existing range of hardware ** , it provides an even wider

choice for an Oh So perfect finish.

There's Oh So much more to discover, contact

sales@virtuoso-doors.co.uk or visit virtuoso-doors.co.uk/sweet

BY

*Subject to registration with 'Sweet' by the homeowners.

**Hardware must be maintained as per our manufacturer's guide.
---
Contract The View Talk from Certass TA

A HEALTHY FUTURE

In this month's column, Jon Vanstone, Chair of Certass Trade Association, discusses the

importance of compliance with the new Building Regulations, and why ventilation is important

for homeowners' health and the country's housing stock.

Since the new Building Regulations were

introduced in June of this year, they have

been nothing if not contentious. Installers

and tradespeople have been apprehensive to

adopt measures and guidance from the updated

Approved Document F on improving ventilation

and airflow in homes.

We have heard several accounts on industry

forums of installers and manufacturers outright

ignoring these new regulations and installing

systems that are not equipped with or supported by

appropriate ventilation systems – whether this be

trickle vents or a compliant alternative ventilation

method. This is concerning. Many consumers are

not happy with the new rules regarding ventilation

– namely trickle vents for aesthetic reasons,

finding them unsightly. However, this new guidance

has been introduced for a reason.

Keeping that fresh air feeling this winter

As we all know, trickle vents help to provide

continuous and discreet background ventilation,

allowing fresh air into the home when open. This

helps combat poor ventilation and reduces issues

such as condensation and mould build-up for

your customers.

As we try and keep homes warm during the

colder months, we should still be mindful of

reducing the number of pollutants such as germs,

bacteria, carbon dioxide, and carbon monoxide

that can circulate inside the home. By allowing a

small amount of air to flow from one side of the

window to the other, trickle vents provide fresh air

benefits without opening your windows or doors,

which reduces the number of germs and bacteria

throughout the property.

Ensuring that we are fully compliant with these

updated rules on ventilation is not just important

for safety and regulatory reasons, but for actively

Jon Vanstone

reinforcing trust and belief in the industry.

The introduction of Operational Standards Rules

(OSRs) in the Building Safety Act 2022 has helped

to strengthen the standing of regulatory boards

like us here at Certass Trade Association as well

as providing a clear framework of how we should

guide our members on delivering great installations

that are fully compliant with Building Regulations.

Setting the standard

Setting more stringent standards for the

implementation of Building Control Functions

means that our industry as a whole is more

accountable. All Building Control bodies are

required to report to the Building Safety Regulator

(BSR), which means that the implementation of

new standards on ventilation and airflow are the

prerogative of every reputable installer.

These regulations are not there to make the lives

of tradespeople and installers more difficult, in

fact it is quite the opposite. OSRs have been

designed to offer consistent, targeted regulation

to areas of the industry that require it most

and has come about purely to help improve air

quality in homes. However, stringent standards

and regulations will always help to drive higher

confidence in the work done by our installers and

tradespeople, but the introduction of OSRs should

help to drive a sea-change in attitude, culture, and

the overall performance of industry professionals.

Since their appointment as the Building Safety

Regulator (BSR), the Health and Safety Executive

(HSE) has made it abundantly clear that they

will be enforcing the new regulations. Installers

who are willfully ignoring the new guidelines on

ventilation will soon feel the full weight of industry

watchdogs bearing down on them. With HSE's

new priorities and increased budget, prosecution

for offenders will be inevitable.

Compliance with these new measures is not just

a win in terms of best practice, but for customers

and homeowners across the UK.

There is still a lot of work to be done in terms of

convincing homeowners of the benefits of trickle

vents and additional ventilation measures. As an

industry, we need to promote a unified message

alongside the likes of TrustMark, Which?, the

National Home Improvement Council and Local

Authority Building Control.

With the help of the BSR and HSE, promoting the

necessity of well-ventilated homes will be much

easier. As consumer awareness for said issues

rises, so will the demand for compliant and

efficient homes that support the new regulations.

Unless enforcement begins properly, the goal

of safer, healthier and more energy efficient

buildings is unlikely to be achieved.

Those who follow the rules may not be able to

compete with the cowboys who will ignore the

regulations and see it as another commercial

advantage that can be plied to the homeowner.

Contact Certass Trade Association:

01292 292 095

certassta.co.uk

@CertassTa

18 T I OCTOBER 2022 PRACTICAL CONTENT FOR THE GLAZING INSTALLER & HOME IMPROVEMENT SPECIALIST
---
ORION

WITH THE

proteQ10 £2000

GUARANTEE

proteQ10

FEATURES AND BENEFITS

10 year performance guarantee

Key/key & thumb-turn variants

PASSWORD

KEY SECURITY

PROTECTED

Brass & nickel finishes

5 Q-branded keys supplied as standard

Bespoke Keyed Alike service available

sales@vbhgb.com

www.vbhgb.com

01634 263 300

@vbhgb
---
Glazing Summit

INDUSTRY READY FOR GLAZING

SUMMIT 2022

With this year's Glazing Summit on the horizon, we look ahead to what's in store, the topics

being covered and why it is an event not to be missed...

The countdown is on until Edgbaston

Stadium opens its doors to the glazing

industry for this year's Glazing Summit –

and it is reportedly set to be another key event.

Andrew Scott will once again be a

keynote speaker, discussing the

State of the Industry' Report

The fourth Glazing Summit, and the third at the

legendary cricket venue, takes place on Tuesday,

October 18th – and after last year's sell-out more

than 400 of business leaders from across the

supply chain will come together to help shape the

future of the fenestration industry.

The event is headline sponsored by Yale and

Glazing Summit Founder Andrew Scott said:

"The roller-coaster ride in the glazing industry

continues and navigating the challenges we face

will require leadership, vision, and collaboration.

"This year I've lined up some of the industry's

most experienced people to share their views

on the biggest issues. Backing from the industry

for the Glazing Summit gets stronger every year

and I'm looking forward to welcoming attendees

to Edgbaston for a phenomenal day of insight,

debate and discussion."

"With the big issues facing the industry coupled

with the UK economy and global uncertainty,

there has never been a more important time to

come together"

An important agenda

Once again, an agenda featuring the biggest and

most current issues affecting the industry has

been put together for a 20-plus strong line-up of

expert panellists to debate and discuss.

With sky-rocketing price increases and the threat

of energy shortages, the 'New Supply Chain

Crisis' debate will discuss whether the industry

has recovered lead-times and customer service

levels, and the likely impact of the energy crisis.

To attract quality staff, the industry must embrace

new thinking and attitudes. A people and skills

debate will ask whether the industry is doing enough

to encourage women into the sector and challenge

perceptions around mental health and well-being.

The third debate of the day asks how the industry is

responding to the latest regulations, including Part

L and Part F of the building regs, and Document Q,

and how we tackle those failing to comply.

A debate on the what the future of innovation

looks like, with the panellists discussing the latest

product innovations, and ask what opportunities

there are for the industry to diversify and add

value to avoid the 'race to the bottom' on price.

And with economic uncertainty and rising costs

ready to take their toll, the final debate looks at

how business owners and company directors

can navigate through the fog, take advantage of

new opportunities and acquire new customers,

suppliers or competitors.

'World class' keynotes

Attendees will also be able to hear from three

keynote speakers, including Andrew Scott who, as

Managing Director of Insight Data, will reveal the

facts and figures from the 'State of the Industry'

Report on how the industry has fared and give

his view on its future, Barclays Chief Economist

William Hobbs will also give his outlook for the

glazing industry following the tax-cutting budget.

With a master's in international business and

economics, William is a reportedly frequent

contributor of economic insight to Bloomberg,

CNBC and many other media outlets. He will share

his views on the economic outlook and what the

road ahead may look like for UK business.

Continued on page 22

20 T I OCTOBER 2022 PRACTICAL CONTENT FOR THE GLAZING INSTALLER & HOME IMPROVEMENT SPECIALIST
---
" I save 30

hours a month

on quoting with

Framepoint"

Liam Best,

Kalico Home

Improvements

...and it's as simple as

sketching on a pad.

book a demo - www.tommytrinder.com
---
Glazing Summit

Continued from page 20

Then retail and customer experience expert Peter

Cross will share his insights on the future of

shopping and how the home improvement industry

can become irresistible to its target customers.

As a former director of John Lewis and Waitrose

for eight years, and business partner of Mary

Portas, dubbed 'the queen of retail,' for 10 years,

Peter hopes he will leave delegates inspired with

actionable strategies to succeed at a higher level.

An inspirational evening

While there are numerous opportunities

throughout the day to network, the evening sees

the Glazing Summit Dinner and guests will be left

inspired by legendary athlete Kriss Akabusi MBE.

"Last year's Glazing

Summit came at a

pivotal moment after

the pandemic and this

year's event is no less

important "

Former Olympian Kriss Akabusi is said to be one of

the most sought-after, and inspirational business

speakers in the country and he will take to the stage

to deliver a high-energy after-dinner speech as only

he can.

Held in the evening after the Glazing Summit and at

the same venue in the Edgbaston Banqueting Suite,

it's the perfect backdrop to bring more than 200 of

the industry's most influential business owners,

directors and key decision makers together for an

evening of fine-dining and great conversation.

Guests will enjoy a champagne drinks reception,

three-course gala dinner and private bar. Spaces

are limited, and delegates are welcome to attend

the Glazing Summit, the Dinner or both.

Places still left

At the time of writing, there are still a few tickets

for the Glazing Summit still available for those who

have not yet booked their place.

"After the boom in home improvements, business

has slowed – and with the big issues facing the

industry coupled with the UK economy and global

uncertainty, there has never been a more important

time to come together," added Andrew.

"Last year's Glazing Summit came at a pivotal

moment after the pandemic and this year's event

is no less important and will be crucial in seeing

how we move forward as an industry. It's not to

be missed."

There are more than 20 panellists throughout

the day debating all the key talking points

from all across the supply chain

Contact Glazing Summit:

01934 808293

www.glazingsummit.co.uk

@GlazingSummit

22 TI OCTOBER 2022 PRACTICAL CONTENT FOR THE GLAZING INSTALLER & HOME IMPROVEMENT SPECIALIST
---
Innovation comes built-in

60

Quotes

available in

60 minutes

FIRE-RATED

INTEGRAL BLINDS

PRACTICAL

PRIVACY

PROTECTION

Fully accredited and independently tested

Manufactured in the UK using Pyroguard fire glass

Delivers 30 to 120 minutes integrity and insulation fire-resistance

Wide range of coloured slats

Choice of manual or motorised control systems

Ideal for hospital and healthcare environments

Morley Glass & Glazing Ltd

Unit 3

Leeds 27 Industrial Estate

Bruntcliffe Way

Leeds LS27 0HH

morleyglass.co.uk

0113 277 8722 sales@morleyglass.co.uk
---
Market Cooldown

WORKING SMARTER

Total Installer hears from Sternfenster's Sales Director Nathan Court, who suggests that

as the market cools, the battle for new business will be won with exceptional product

quality and industry-beating lead times...

The market for window products has changed

over the last 12 months, as we've seen

increased demand across the board shift to a

focus on high-end, high margin products.

Sternfenster's Sales Director

Nathan Court

This follows the uncertainty created by lockdowns

and the subsequent raw material supply

shortage.

As a result, window companies at the sharp end

have had to manage these shifting sands, while

keeping customers happy and balancing books in

the face of rocketing inflation.

And key to maintaining an even keel has been the

secure relationship retail companies have with

their window supplier.

"Everyone's been exposed to the same pressures

over the last three years, but it's how we respond

to them that makes a difference to customer

satisfaction and your ability to maintain a healthy

profit," Sternfenster's Sales Director Nathan

Court explained.

"Investing in the powder coating plant means

we could follow those trends for colour that

we were seeing in the PVC-U market a lot more

reactively"

"For us, it is about supplying the right products

on the right lead times, and that means we are

constantly re-evaluating our product offer."

In July, the Lincoln-based trade fabricator

announced that lead times for its most popular

PVC-U and aluminium ranges were back down to

five days, ensuring customers who partnered with

Sternfenster as a single source for window and

door product supply were responding quickly to

market demand.

"And understanding that demand is vital as a

supplier, because we don't want to tie-up our

production facility and stockholding with products

that are too niche to be profitable, and slow down

our response time elsewhere," Nathan said.

Sternfenster opened its aluminium production

facility in 2017. At £3.6m it was a sizeable

investment that included a 30,000 square-foot

factory, 10,000 square-feet of office space, and

an in-house powder coating line.

Further improvements to machinery and production

capacity included a six-figure investment into a

Schirmer ALU BAZ Composite Orbit-C machining

and cutting centre, and a 4-head Ever Theta frame

crimping machine from FOM, which introduces

exceptional accuracy during manufacture.

"We went on a journey 12 months prior to the

first lockdown, and we looked at where we were

offering a number of different aluminium window

products, but through consumer and customer

research we realised that offering everything to

everyone was not efficient.

"So, we rationalised our product offering and

focused on the Alitherm 300 window, which is

now our core seller in the aluminium range.

"It offers quicker lead times, and it's a better

quality of product because we are making one

single window system more efficient, more

effective, and out to the customer on shorter lead

times."

The Alitherm 300 was originally designed for light

commercial use, but its slim modern frame has

won market share in the residential sector from

homeowners looking to balance more light with

greater security and thermal performance.

Sternfenster also offers the Visifold 1000 Smarts

bi-folding door, and the Heritage 47 Window.

Together, they form the core aluminium offering

Continued on page 26

24 T I OCTOBER 2022 PRACTICAL CONTENT FOR THE GLAZING INSTALLER & HOME IMPROVEMENT SPECIALIST
---
Rio French Door

REHAU have expanded their Rio product range

to include the Flush Fit French Door. We have

taken the design elements of our Rio Flush Fit

Window and developed a complementary

French Door that allows you to apply its unique

clean aesthetic to every element at home.

Windows. Reinvented for modern life.

www.rehau.uk/rio

enquiries@rehau.com

Tel: 01989 762600
---
Market Cooldown

Continued from page 24

Nathan feels that product design, quality

and colour will be key to tackling the

change in the market

and they reflect the key trends in the window and

door industry.

"Importantly, we are able to focus on product

design, quality and colour," Nathan said.

"For us, it is about supplying the right products

on the right lead times, and that means we are

constantly re-evaluating our product offer'"

"These are the key selling points as the markets

starts to cool, because this is where the demand

is coming from.

"For example, we have our own in-house powdercoating

facility which, in conjunction with the

aluminium shop, enables us to have much more

flexibility, more control, enables us to be more

agile, and allows us to react to customers'

demands and needs more quickly, while driving

down prices."

The Visifold 1000 Bi-Fold is available in just five

days in the five most popular colour choices,

which matches the response time for the most

popular PVC-U products.

"Significantly, colour choice across all aluminium

products is in line with Sternfenster's PVC-U

offering of 30+ colourways in under 25 days.

"Investing in the powder coating plant means we

could follow those trends for colour that we were

seeing in the PVC-U market a lot more reactively,"

Nathan concluded.

"It gives us greater control over product quality

and allows us to offer on-trend coloured

aluminium products to our installer customers on

the same lead times as PVC-U.

"It's about flexibility of choice, variety, and

being able to match that with the PVC-U colour

styles, while processing orders more quickly, and

getting high-quality products to our customers on

competitive lead times."

Sternfenster opened its

aluminium production

facility in 2017

Contact Sternfenster:

01522 512525

www.sternfenster.com

@Sternfenster

26 TI OCTOBER 2022 PRACTICAL CONTENT FOR THE GLAZING INSTALLER & HOME IMPROVEMENT SPECIALIST
---
New Part L

Building

Regulations

Compliant.

WITH ENGINEERING

ON THIS LEVEL,

ONLY THE SKY'S THE LIMIT.

Our engineering know-how not only delivers one of the slimmest sightlines

in a roof lantern – but also unmatched performance and durability.

Each lantern is tested for ultimate security, watertightness, thermal efficiency,

and strength. And roofs have been engineered to make installation quick and easy.

• 40mm internal ridge, rafter & hip

• No boss or Y cover

• Hidden tie bar

• Variable dual roof pitch – 17 degrees to 35 degrees

• Equally proportioned

• Stronger construction

Lantern Flat Rooflight Skyroom Conservatories Verandas Lean-tos

To see more, contact our Technical Team at 0283 832 7741

or visit atlasroofsolutions.co.uk/engineering
---
Energy Saving

Next generation solar powered gadgets

are reportedly helping us benefit from

home-tech without having to think about

electricity use or professional installation by an

electrician. From garden lights and automated

gate openers to mobile phone chargers and

Bluetooth speakers, the number of low powered

devices that take their energy from the sun is

increasing all the time.

A W SMART SOLUTION

Ian Short, Managing Director of integral blinds manufacturer Morley Glass, explains why

choosing solar powered automation for window and door shading with its W Smart system

helps minimise home energy use....

One of the latest solar powered innovations that is

reportedly gaining widespread appeal is the Uni-

Blinds W Smart integral blind from Morley Glass.

The ScreenLine system is a motorised 'betweenthe-glass'

Venetian or pleated blind that is powered

by a rechargeable battery.

The battery is charged by a small photovoltaic

panel mounted on the external window or door

frame, which is said to provide more than enough

charge for routine use of the blinds. Should

the availability of natural light not be sufficient

however, the W Smart's battery power can be

boosted at any time using a micro-USB lead

plugged in to the mains.

Morley Glass says this is why the W Smart is

ideal for anyone wanting to equip their home with

smart technology without adding to the amount

of electricity they use during times of high energy

costs. But that is just the start.

A glass act

There is also the option – as with all types of

Uni-Blinds integral blinds – to upgrade the type

of glass used in the sealed unit's construction to

add energy-saving potential.

When ordering Uni-Blinds, the standard glass

used for the sealed unit is Saint-Gobain

Planitherm Total+, which is said to balance

thermal insulation with solar gain extremely well.

However, you may be looking to provide

homeowners with a better level of insulation

so they can reduce their heating bills. In these

circumstances, Planitherm One could be an

Above: The W Smart integral blinds can help homeowners reduce electric bills. Inset: Ian Short, Managing Director of Morley Glass.

attractive option, with a very low U-value of 1.0

W/m2K. Morley Glass says Planitherm One is

a great proposition now energy bills are higher,

especially in conjunction with W Smart, which

needs virtually zero electricity to run!

Easy to operate

W Smart is controlled via a remote control, or

a slim module mounted on the window or door,

which also contains the rechargeable battery.

This features two LED arrows that intuitively show

the commands given to the blind or the need for

recharging – and at only 18mm deep, this device

said to be ideal for placing on sliding windows, in

vertical or horizontal positions.

The blind system will soon be controllable via a

new app that is currently being rolled out. This

smart home enhancement is a new plug and play

smart hub called ScreenHub was developed by

ScreenLine manufacturer Pellini.

This enables the blind to be controlled using a

smart phone app – a further benefit in addition to

the remote control device already provided.

The Venetian blind is available in 10 colours

and for pleated blinds there are 12 colours to

choose from, with a choice of colours for the

battery module and headrail providing the perfect

finishing touch.

Beating summertime overheating

W Smart, like all the Uni-Blinds integral blinds,

can also reportedly help homeowners protect their

home from summertime overheating so they can

avoid the expense of installing an air conditioning

unit.

Whilst less than 5% of our homes are equipped

with these systems, the 2022 heatwave and

predictions of warmer summers in future due to

climate change will inevitably see more air-con

installations, leading to greater electricity use.

Advances in glass technology over recent

decades mean Uni-Blinds integral blind units

can be made using two of the best performing

products of their kind – Saint-Gobain COOL-LITE

SKN 176 II and 183.

These are available as a glass upgrade, providing

advanced solar control to cut excessive heat

from strong sunlight while at the same time

maximising heat insulation in winter.

Contact Morley Glass:

0113 277 8722

www.morleyglass.co.uk

@MorleyGlassGlaz

28 T I OCTOBER 2022

PRACTICAL CONTENT FOR THE GLAZING INSTALLER & HOME IMPROVEMENT SPECIALIST
---
STRICTLY TRADE ONLY

A+ RATED AUTHENTICITY

Authentic sash window aesthetics,

combined with outstanding energy

efficiency

With energy bills soaring, when it comes to home

improvements, consumers are looking for one thing

more than any other – energy efficiency.

ECOSlide has always led the way in sustainability –

but now, it's more energy efficient than ever.

A+ rated as standard, and delivering U Values of just

1.4, it's the perfect choice when your clients want

timeless style and twenty-first century performance.

Why ECOSlide?

Any size for

*

£249

Up to 1300mm x 2400mm

A+ rated energy efficiency

U Values of 1.4

Toughened glass as standard

Anti-jemmy bar

Part L & F compliant

Coloured foils and RAL available

Britain's biggest sash window manufacturer

Take the first step to make sales –

speak to Danny today.

Call 01269 846200 or visit

victoriansliders.co.uk

*Any size white PVC-U window to a maximum width of

1300mm by a maximum height 2400mm. Includes white

hardware and trickle vents as standard. Excludes

curved, foiled or sprayed colours and georgian

bars/astragal bars. All prices exclude VAT &

delivery. Oversized windows are available

at extra cost. (Maximum size 1600mm x

3000mm) Subject to any surcharge at

time of sale. E&OE.
---
PVCu & ALUMINIU
---
CALL:

EMAIL:

VISIT:

M LEAD TIMES FROM JUST 5WORKINGDAYS!
---
Updates

P22 FITS THE PROFILE FOR PREMIER ARCHES

For further windows updates visit www.total-installer.co.uk

Thanks to a new account with the Epwin Group, Premier Arches has added Optima from Profile 22

to its broad range of systems.

Managing Director Sean Greenall commented: "Since starting out, we've been supplying arched and angled

frames in a wide range of PVC systems, many of which have always been a part of our in-house stock.

"By investing in new formers and adding Optima from Profile 22 to this list, we've now opened the door

to fabricators and installers of this leading system, meaning they don't need to look any further than

Premier Arches when it comes to their arched and angled frame needs. With over 60 fabricators across

the UK manufacturing Optima from Profile 22 products, this investment has significantly increased our

potential to grow our customer base, positioning Premier Arches as the leading supplier of quality arched and angled frames. "We're incredibly proud of this

investment, and we look forward to growing our customer base, and assisting a new wave of fabricators get ahead of the competition with our unique and

market-leading products." www.premierarches.co.uk

FENTRADE 'TAILORED TO OUR REQUIREMENTS'

Oxford's New Garden Room Company, part of the New Home Improvement Group, has chosen aluminium

fabricator Fentrade as its bifold and casement window supplier.

Darren Field, Founder and Group Managing Director, said: "We've worked with larger aluminium manufacturers, but

we changed to Fentrade because we needed a much more personal service tailored to our requirements. Fentrade has

delivered in a way the bigger companies didn't." The level of product and service New Garden Room Company says it

has received from Fentrade means it is diversifying into the refurbishment market, where it will be supplying the AluK

range of Document L-compliant residential products. Darren commented: "Our confidence in Fentrade has allowed

us to think bigger and expand into new areas. These are exciting times and we are looking forward to deepening our

relationship with Fentrade as we grow." fentradealuminium.co.uk

A 'NEW SYSTEM SOLUTION' FROM SHEERLINE

When the foundations for the Sheerline system were laid, the company says one of the weaknesses of

existing aluminium systems that needed addressing was the sector's reliance on polyamide thermal breaks.

Thermlock multi-chambered thermal breaks are unique to Sheerline and sit at the heart of every

Sheerline product. Made from a special high melting point formulation, which is almost half as thermally

conductive as polyamide, Thermlock allows for wider, integrated one-piece designs that add rigidity to

profiles, eliminating the distortion that can occur with separate top and bottom polyamide thermal breaks.

This means that every Sheerline product meets the new Part L standards with regular double glazing –

helping customers supply high performance products without adding cost. With Sheerline, the company

says Part L compliance comes as standard. www.sheerline.com

MORE SUCCESS AS PREMIER ARCHES NAMED FINALIST

Following a record breaking year, Premier Arches has been named a finalist in the Scale-Up Awards.

The St Helens-based company has been nominated for the 'Manufacturing Excellence' Award, a highly

coveted category that recognises businesses with a world-class manufacturing ethos, outstanding

productivity, and business performance to match.

The nomination follows a record breaking year for Premier Arches, with increasing demand across its

entire product range, which includes arched, angled, gable, circular and entirely bespoke windows and

doors in a range of systems.

To support this rising demand, Premier Arches has made several investments in the past 12 months, and has stuck by its three core business principles

of outstanding quality, clear and honest customer service, and a make life easier offering. www.premierarches.co.uk

32 T I OCTOBER 2022

PRACTICAL CONTENT FOR THE GLAZING INSTALLER & HOME IMPROVEMENT SPECIALIST
---
DON'T LET GENERIC HAND TOOLS HOLD YOU BACK

Choose quality glazing tools and consumables specifically designed for use in the window and door industry.

To find your local stockist

scan the QR code or visit

www.xperttools.co.uk/stores

DESIGNED BY XPERTS.

FOR EXPERTS.

Easy to fit

SlimFold

bi-fold doors

DELIVERED IN 2 WEEKS

1.4

u-value

Easy-click beads 100mm sightlines Pre-fitted cill Part L compliant

SPEAK TO REBECCA ON: 07507 792532
---
Industry Insights

PUTTING ON THE CHARM OFFENSIVE

Nat Weaver, Co-Owner of manufacturer and aluplast fabricator Ashfen Windows and

Doors, which opened for business in February 2022, gives a newcomer's view of

window fabrication, and how the company likes to 'kill customers with kindness'...

Total Installer (TI): What was your path into

the sector?

Nat Weaver (NW): While my partner, Nick

Ashford, took a more conventional route into

window fabrication (he ran his own building

company before deciding to manufacture

windows and doors earlier this year) I worked in

the social care sector for almost 20 years.

Recently, I started to burn out and I started to look

for something completely different to concentrate

on. When Nick realised I was thinking about moving

jobs, he encouraged me to join Ashfen Windows &

Doors because the company was growing at such

a rate that we needed to get more hands in the

business to keep it running efficiently.

While I helped Nick set up the business since the

start of 2022 – alongside my old job – I came on

board full time at the end of August. Since then,

I've loved getting involved in the order processing

and dealing with customers, which has allowed Nick

to get on with the job of making great windows.

Nat co-owns Ashfen Windows & Doors with her partner Nick

I've since realised I am very process-driven, and

I enjoy finding new ways to help the business

run smoothly and building relationships with new

customers. Much of this has been done on social

media, and we are building a great presence on

LinkedIn.

TI: If you had one piece of advice about

starting a window fabrication business, what

would it be?

NW: Don't be afraid to give it a go. And I'm saying

that from someone who has had zero experience in

window fabrication.

This is the biggest learning curve I've gone through

since joining the prison service aged 21, and we

set up the business at the back end of a pandemic.

It's unlikely to be plain sailing, but the rewards are

more than worth it!

TI: Tell us about a recent project you are

proud of...

NW: As I write this, we've just sent out a

massive job to a joinery company for a project in

Nottinghamshire. I've just looked it up, and I was

gobsmacked – it looks like a stately home.

The feedback we got from our customer was that

products from previous suppliers don't come

close to ours in terms of overall quality – they

feel cheap in comparison to ours.

34 T I OCTOBER 2022 PRACTICAL CONTENT FOR THE GLAZING INSTALLER & HOME IMPROVEMENT SPECIALIST
---
We provided large windows and doors using the

aluplast Ideal 70 profile, with arched tops, and

our customer has left with a smile on his face

and spring in his step.

He's also got another prestigious job coming up,

and he says he wants to use us for that as well.

Compliments don't get better than that!

TI: What is the most difficult/challenging

project that you've worked on?

NW: It is the nature of the UK window industry

that every job is unique, and every product

you make is completely bespoke. We recently

completed one job where we made several

windows for a customer on the Isle of Wight. It

was very difficult to keep track of all the different

products, but the end result was amazing....

TI: What's the most frustrating thing about

your job?

NW: The most frustrating aspect for Ashfen

Windows & Doors is that we set up the business

to be different to all other suppliers, including

the prompt delivery of product. Unfortunately, a

window is made up of lots of component parts,

and you only need a delay on a small ancillary,

and the whole order is affected. It's tough being

the person who has to then feedback these

challenges to the customer, but honesty and

openness is absolutely key in this industry.

Everyone knows there are challenges, so we just

need to work with them and do whatever it takes

to give the customer what they want.

TI: And the most satisfying?

NW: When you get a customer leaving with a

smile on their face, because we've supplied the

best product we can, feels fantastic. I've also

enjoyed building up those relationships with my

customers – I've been getting to know everyone!

TI: How do you deal with difficult customers?

NW: Patience. From a great deal of personal

experience, I understand that if someone presents

as 'difficult' it is usually because they are dealing

with significant frustrations their end. Either they

are working to a deadline that isn't working out,

or they are frustrated about something that has

nothing to do with me or my company.

"Everyone knows there are challenges, so we just

need to work with them and do whatever it takes

to give the customer what they want"

So, what I'm not going to do it lose my temper or

get impatient with them – I'd rather work out the

problems together.

TI: What is your opinion of online reviews? Are

they a blessing or a curse?

NW: Online reviews can be absolutely brilliant,

if they are done in liaison with the customer.

So, we will invite satisfied customers to leave

us a positive review in the appropriate places.

Where online reviews become a curse is where

somebody has got a problem and they choose

to bypass coming back to us, and air their

frustrations on review sites instead.

Touch wood, we haven't had a really bad

experience yet. I like to think that we are so

personable with customers that if anything were

to go wrong, then they would just ring us. Our

strategy is to kill our customers with kindness,

so that if something doesn't go as smoothly as

planned then we can work together amicably.

TI: What's the biggest issue currently affecting

you?

NW: As a new business in an industry that is

facing significant supply issues, we've had

to adjust to new ways of working with little

experience. Products aren't moving as efficiently

around the globe as they were three years ago,

and demand for high quality windows and doors

– which we supply thanks to our partnerships

with what I think are some of the industry's best

suppliers, such as aluplast has gone through the

roof.

This is a big issue for small businesses like

ours because we are committed to providing the

best products and the best service, but we are

sometimes at the mercy of situations beyond our

control.

Interestingly, while we are supposedly entering a

period of recession, and homeowners are tightening

the purse strings as the cost-of-living crisis bites,

our customer base appears to be less affected.

I think this is because we decided to target the

high value end of the market, and we continue to

successfully supply flush casements in a range of

colours, which end up on stately homes!

Contact Ashfen Windows & Doors:

07415 743692

ashfenwindowsanddoors.co.uk

@ashfenwindows

PRACTICAL CONTENT FOR THE GLAZING INSTALLER & HOME IMPROVEMENT SPECIALIST

OCTOBER 2022 TI 35
---
Contract Installer Scheme Talk

SUPPORT OF THE HIGHEST ORDER

As prices escalate, Freefoam's Commercial Director, Colin St John says customers need the

Costs of everyday commodities in Britain

are soaring, and are at the forefront of

everyone's minds at home and at work.

With inflation exceeding 10% and rising, prices

are expected to continue to surge too.

highest levels of support from their suppliers to help them grow.

According to the ONS, nine out of 10 adults living

in the UK have reported an increase in their cost

of living. With 57% of people spending less on

non-essentials, 35% who have experienced an

increase in living costs are cutting back on

food and essentials.

Construction has not escaped. While sales

of building materials are high, inflation is

driving up prices of building products and

raw materials. That affects the end-user, the

homeowner, and stockists and installers.

That's why, now more than ever, it's vital for

stockists and installers to feel confident with

their suppliers and the support they receive.

From technical expertise and quality customer

service to strong marketing, manufacturers need

to provide a consistent level of support. We have

to become an integral part of their business

delivering value at every stage.

As one of the largest independent manufacturers

of PVC building products in the UK, we recognise

the importance of helping, and enabling, our

customers' growth.

At Freefoam, we don't compete with our customers

in the market. We manufacture and our customers

distribute. Together, we sell products that are

relevant to the marketplace and deliver tangible

benefits for the homeowner. We do this through

providing a range of support functions that enables

our customers to win business and grow.

The Freefoam Registered Installer Scheme is 20

years in the making. We currently have around 1,200

registered installers across the country already

reaping the benefits of working closely with us.

With benefits for installers,

and stockists and

homeowners, the scheme offers

additional support and aims to bring

added value to our customers.

Terry Luscombe of Weatherproof Systems is a

Freefoam Registered Installer. He said: "Being

an officially Registered Installer of Freefoam

products certainly helps. I always take a sample

box, supplied by Freefoam, on my first visit to

customers and tell them about the 10-year

guarantee the company offers on cladding

products."

Added value

We generate qualified homeowner leads for

our installers, helping them to win business.

Alongside this, we provide extended guarantees

on roofline and cladding products. This includes

our 50-year guarantee on white roofline products.

The lifetime guarantee only applies when

Freefoam products only are used, fitted and

registered by Freefoam registered installers. This

offers installers extra peace of mind when selling

Freefoam products to homeowners.

Steve Bray of Freefoam Registered Installer C&S

Fascias said: "What I like is the fact they support

us with the guarantees that they offer. That gets

us a hell of a lot of work."

The Installer scheme has around 1,200 registered installers across the country. Inset: Colin St John

We hold regular competitions for our installers

to show off the home transformations they have

created using our products. We also provide a

wide range of marketing materials and literature

to help installers develop their business and

convert leads. And there is also a dedicated

website for Freefoam installers where marketing

materials can be ordered.

But it's not just Freefoam installers that the

scheme benefits. Stockists benefit too. We also

have a Registered Stockist scheme, and registered

stockists can nominate their own customers to

become Freefoam Registered Installers.

"A lot of customers will buy off of us just for

Freefoam," said Scott Whitelam of stockist

Building Plastics Direct. "We have quite a few

registered installers that work with us and they

insist on Freefoam products."

After all, we are all in this together, and if it's

important to our customers then it's important to

us. That's why providing all-round support for our

installers and stockists is crucial to the success

of our business.

Contact Freefoam:

0800 002 9903

www.myfreefoam.com

@Freefoam

36 T I OCTOBER 2022 PRACTICAL CONTENT FOR THE GLAZING INSTALLER & HOME IMPROVEMENT SPECIALIST
---
Membership

just £24.95 +VAT

per month

Job registrations

from £1.50 +VAT

It's time to switch to

The certification body that's on your side

Direct line to our Chair through

Facebook forum

Heads-up on future regulation &

Government position

Free Certass Trade Association

membership

Free listing on our

"Find an Installer" search

Free unique company profile

page

Free customer ratings

Legal, Tax, HR & Health and

Safety advice

Technical & installation advice

Free Covid secure procedure pack

JOIN US

TODAY

Call

01292 502 398

Email

info@certass.co.uk
---
Smart Locking

BECOMING IONIC

Due to launch at the end of the year, UAP has developed an electronic door lock named

IONIC. We hear from David Jennings, Chief Executive Officer at UAP, who discusses its

USPs and the excitement surrounding its potential in the market...

A door can be opened and closed

using Bluetooth on a mobile phone

Following five years of research and

development, UAP is gearing up to launch an

ultra-secure electronic door lock, enabling

access via a smartphone App.

Manufactured for timber, aluminium and composite

doors, the IONIC is the first in a series of 'smart'

products set to be launched under UAP's Fullex-ai

brand. Simple to install and easy to use, the

electronic lock is suitable for domestic properties,

student accommodation and social housing.

Ideal for factory fitting, the IONIC can be adjusted

to different door sizes with a design based on the

Fullex Crimebeater lock, which is engineered to

provide long-term reliability and security.

A smart way of locking

Featuring an integrated power supply and

wireless charging, the IONIC enables a door to be

opened and closed using Bluetooth on a mobile

phone. To provide flexibility for users, the lock can

also be opened using a fob, a push button on the

inside, a thumb turn, or an override key if there is

an emergency.

To allow even easier door access, the fob can

be paired with the app and offers 'the most

advanced security encryption on the market'.

"We know that many people are concerned

about keyless car theft and could have similar

worries about an electronic door lock," said David

Jennings, Chief Executive Officer at UAP.

"To overcome this, the IONIC fobs can't be cloned,

and the codes can't be stolen by intercepting the

signal. We achieved this by manufacturing every

fob with two million rolling codes, which means

that every transmission is unique and there are

more than four billion unique codes.

"We've also built additional security authentication

into the app with face recognition so if a user loses

their phone, no one can access it."

Further enhancing security, door access logins

can be managed via a mobile phone and the app

enables users to see who has opened the door. An

infinite number of door openings can be registered

by the app and up to 1,500 on the lock itself.

With a simple interface that hides complex

Left: A cut through of the

IONIC lock

Middle: The IONIC lock case

38 T I OCTOBER 2022

PRACTICAL CONTENT FOR THE GLAZING INSTALLER & HOME IMPROVEMENT SPECIALIST
---
The IONIC key fob can be paired

with the app for even easier access

technology, the app has several access functions.

In addition to large, bright buttons for unlock and

lock, the operator can set up new users and a

wide range of time settings.

"If regular access is required for a cleaner or

carer for example, the homeowner can set the

other user's app to open the lock between certain

times," explained David.

"It's also possible to set up one-time-only access

for workmen and to add and delete users at the

press of a button.

"These customisable settings provide a very simple

and flexible solution, especially for owners of rented

holiday accommodation such as Airbnb properties."

A wireless unit, which fits easily to a door frame,

connects to a control system which is used to

power the IONIC. Customers can either use a USB

wire with a plug or a power pack to charge the

lock via this system. If there was a power cut,

a charged lock can operate for up to four weeks

without a power supply.

A choice of colours

Available in anthracite grey, chrome and white,

the IONIC has been designed with a modern and

minimalist appearance. UAP has also created a

mechanism which enables the lock to be paired

with rose handles further improving aesthetics and

allowing handles to be matched inside a property.

Specialist doorset company, PDS, is the first

company to test the IONIC.

Ben Davies, Technical Compliance Manager, said:

"The IONIC is really simple to use and that's one

of the major positives about it. The app is easy to

download and it's very simple to set up the users

and the fobs.

"More people are opting for modern door designs

and specifying lever on rose door handles where

the lever is fixed to a circular plate. As the

IONIC is compatible with this design, architects,

interior designers and homeowners have much

more choice and flexibility when opting for an

electronic lock."

David concluded: "The IONIC is just the start of

UAP's Fullex-ai journey and we're excited about

its potential.

"We're confident that its unique, patented design

will become the standard for all electronic

multipoint locks and in the long term, could even

set the benchmark for all locks that go into solid

frame doors."

The IONIC is scheduled to be available by the end

of the year.

A close up of the IONIC lock

Contact UAP:

0161 796 7268

https://uapcorporate.com/

@UAP_Limited

PRACTICAL CONTENT FOR THE GLAZING INSTALLER & HOME IMPROVEMENT SPECIALIST

OCTOBER 2022 TI 39
---
Advertorial - Origin

20 YEARS OF INNOVATION

Launched in 2002, Origin Global has gone from from humble beginnings to worldleading

product innovation. We hear more about its ever-increasing product range and

Over the last 20 years, the manufacturing

industry has shown that, when it comes to

innovation, you simply cannot beat great

British design.

From breaking the land speed record with a

jet-fuelled car designed and made in the UK, to

achieving a remarkable feat of engineering in The

Falkirk Wheel – the world's first rotating boat lift,

there are countless examples of why 'made in

Britain' remains a mark of excellence.

what the future holds for the company...

This ambition and thirst for innovation is equally

prevalent in the glazing industry, where Origin

leads the way. Since launching in 2002, it has

become one of the most successful British

manufacturers in the world, excelling in both

product and service.

Humble beginnings

Origin was established by cousins, Neil Ginger

and Victoria Brocklesby, who had great ambition

to manufacture a high quality, sustainable folding

sliding door. Made in Buckinghamshire, the Origin

Bi-fold Door (OB-72) offers superior performance

– a cleverly designed aluminium door with a

unique free-glide running system.

Today, Origin has grown significantly and now

offers solutions for every part of the home,

including internal and external windows, doors,

and sliders. Made from high quality aluminium,

the Origin range is sustainable and thermally

efficient, with unique security features.

Launched in 2014, the fully customisable Origin

Window (OW-80) was the first to feature an

internal and external flush casement. Available

in fixed or sash casement configurations, bays,

gables, or French windows, it was the first to

offer Aerogel technology as an optional upgrade.

Originally designed for space shuttles and space

suits, Aerogel optimises thermal efficiency to

achieve unrivalled energy ratings.

Over the years, Origin has designed new systems

to fit growing homeowner demand for maximum

The Origin OB-72

Bi-fold Door

views. When the company launched its first inline

slider in 2017 (OS-20), it featured unrivalled

panel sizes and sightlines of just 20mm. Shortly

after, Origin introduced its slimline window (the

OW-70) and slimline bi-fold door (OB-49), both

allowing for large expanses of glass.

Launched in 2019, Origin's patio slider range

(OS-44 and OS-77) provides a modern take on

traditional patio doors. The OS-29, introduced in

2021, is the slimmest semi-dry glazed patio door

on the market with an impressive 29mm sightline.

The Origin Residential Door, introduced in 2016,

is a stylish external front door which is available

in a wide range of panel and colour options.

Most recently, the Origin Internal Door (OI-30),

launched this year, is a fully customisable steellook

system that divides space without disrupting

the flow of natural light inside a home.

Two decades of uncompromising service

In addition to innovative product design, Origin

has built a reputation for supporting its network

of over 1,200 Partners.

In 2010, it became the first manufacturer in the

industry to remove lead times. The revolutionary

'Your Lead Time, Not Ours' promise guarantees

delivery of its popular coloured products in as

little as 24 hours, or whenever they are specified

to be delivered. A 55,000sq ft facility, opened in

2020, ensures Origin can always deliver on this

zero-lead-time promise. 'Origin Sale Safe', an

intuitive ordering and quoting system launched

in 2016, streamlines the ordering process so

Partners can accurately quote for projects in

minutes, while a dedicated Origin commercial

team, introduced in 2019, helps Partners win

bigger, multi-site and multi-plot projects.

Royal recognition

In 2020, Origin received the Queen's Award for

Enterprise. This true mark of manufacturing

excellence recognises the company's growth and

success in international trade markets.

This year, Origin celebrates 20 years of

innovation. With so much already achieved, it is

exciting to anticipate what the future holds as the

company continues to support its Partners and

transform the way families enjoy their homes,

inside and out.

.

Contact Origin Global:

www.origin-global.com

0808 239 1984

@Originbifolds

40 T I OCTOBER 2022

PRACTICAL CONTENT FOR THE GLAZING INSTALLER & HOME IMPROVEMENT SPECIALIST
---
New Part L and

Part F Building

Regulations

Compliant.

Polyframe.

Delivered on

time and in full.

Now you're talking.

With probably the most comprehensive range of styles,

colours and applications, our Rehau and Duraflex beautifully

crafted designs, premium hardware and exquisite glass

options come together for the perfect project. And with our

very own fleet, we can deliver your Rehau systems within

CASEMENT

WINDOWS

FLUSH FIT

WINDOWS

TILT & TURN

WINDOWS

competitive lead times, whilst confidently delivering our

Duraflex systems within just five days.

Easy to order. Easy to deal with. Easy to contact us.

ENTRANCE

DOORS

SLIDING

DOORS

FRENCH

DOORS

For an industry leading turnaround time on our

excellent Rehau and Duraflex systems, let's get

talking. Visit polyframetrade.co.uk/delivery

or call 01453 826884.
---
Hardware

MAKING THE Q-SMART DECISION

Gary Gleeson, Marketing Manager at hardware manufacturer VBH, discusses the

increase in sales of its Q-Smart electronic door handle and why installers should be

'getting a sample in place as soon as possible'...

"They are reporting that

Q-Smart really is an

attention grabber"

Hardware manufacturer VBH, the company

behind the greenteQ brand, has announced

that customers who have added the Q-Smart

electronic door handle to their door furniture options

have seen increased sales recently.

Q-Smart is a stand-alone product that enables the

user to gain entry to their home without the need of a

traditional key. Instead, they can use their fingerprint,

contact card or a phone app to gain entry. Locking is

carried out by simply lifting the lever.

Temporary or permanent 'keys' can be sent to

anyone from anywhere via the smartphone app,

which is ideal for granting access to carers, or when

family members need to be let in unexpectedly.

Companies who buy Q-Smart have the option of

joining the Q-Smart Network, which is a list of

companies that end users are directed to if they

contact VBH for a Q-Smart quote or installation.

VBH says it has invested in direct marketing

of Q-Smart to help provide free leads to the

network's members.

Activities have included localised advertising and

telesales campaigns, advertising in well-known

national consumer titles, and even sponsorship in

the 2022 British Touring Car Championship.

Gary Gleeson, Marketing Manager at VBH,

said: "The vast majority of our products mean

absolutely nothing to the general public as

they are just components on a window or door.

Q-Smart is an exception though, as it is a standalone

item and anyone can easily see what it

does and what benefits it brings.

"With that in mind, we decided to support

our customer base by carrying out some B2C

marketing, in a similar way to what we do with

our Q-secure consumer security guarantee. We

have picked up quite a few sales as a result,

which is great for us and great for the members

of the Q-Smart Network.

"Many customers have built on the work that we

are doing and have installed a Q-Smart in their

own showroom.

"They are reporting that Q-Smart really is an

attention grabber. We would recommend that

installers talk to us about getting a sample in

place as soon as possible."

Contact VBH:

www.vbhgb.com

Email: marketing@vbhgb.com

@vbhgb

42 T I OCTOBER 2022

PRACTICAL CONTENT FOR THE GLAZING INSTALLER & HOME IMPROVEMENT SPECIALIST
---
DoorGlass Brochure 21/22 Total Fabricator Half Page.qxp_Layout 1 18/08/2021 14:01

Press play on

quality content

for your sector

NEW DEFINITIVE GUIDE TO

COMPOSITE DOOR GLASS

U P D A T E D F O R 2 0 2 1 / 2 0 2 2

Easily

accessible on

your desktop,

mobile or

any device

AVAILABLE TO

DOWNLOAD

NOW!

Free

content that

is constantly

updated

Subscribe

to channels

for your specific

areas of

interest and

expertise

The new platform for digital

content from the key players in

your sector, including: How-to's;

Projects and product focuses;

Installation advice; Training

and webinars; Interviews

and opinions.

www.glaze-tube.co.uk

In association with Total Installer &

Total Fabricator magazines.

To discuss showcasing your video content,

contact Andy or Jake on: 01892 732 047

or email andydunn@media-now.co.uk

jakeroxborough@media-now.co.uk

All designs are Document L & Q compliant

Available in any thickness up to 52mm

Call 0161 946 1164 to request your hard copy

RegaLead Limited | Columbus House | Altrincham Road

Sharston | Manchester | M22 9AF

Telephone: 0161 946 1164

Email: sales@regalead.co.uk | Web: www.regalead.co.uk
---
Updates

VBH says its greenteQ Clearslide lock has been well received by manufacturers of Deceuninck,

Kömmerling, Rehau and VEKA PVC-U sliders since its launch.

The lock and keep are manufactured from hardwearing stainless steel, and both are covered by a 10-year guarantee.

Eight sliding hooks and two anti-lift pins ensure that Clearslide locks provide a very strong connection to the frame.

The lock meets the requirements of all relevant security standards, and is covered by Kitemark KM727991 (Building

Hardware used in Windows & Doorsets). As a consequence of this, VBH has added Clearslide to the Approved Hardware

list for its Q-secure PREMIUM consumer guarantee. This means that Q-secure installers can offer a guarantee of up to

£8000 on their sliding doors. VBH Business Development Director, Rob Norman, said: "We do great business with Clearslide on the four profiles that we launched with

and have had many requests from users of other PVC-U systems who want to use the lock on their doors." www.vbhgb.com

A VIRTUOSO EXPERIENCE

A PREMIER PARTNERSHIP FOR LISTERS

For further doors updates visit www.total-installer.co.uk

MANUFACTURERS LOCK IN ON CLEARSIDE FROM VBH

Composite door manufacturer Virtuoso Doors has launched an updated website featuring a new

'design-a-door' portal.

The new site is said to showcase the complete range of composite doors and accessories, in both traditional and

contemporary styles. It also includes the design-a-door portal, an easy-to-use service which allows you to create

the perfect door for your project in just a few clicks. Professional users have the option to create an account using

Virtuoso's trade log in function to streamline the order process. David Wheatcroft, Managing Director of Virtuoso

Doors, said: "We have been making improvements to the quality and choice of our products – so it's great to be able

to demonstrate this quality with a new website. The design-a-door portal offers you the opportunity to build your customer the perfect door for their requirements –

whether it's a different choice of door design, glass, hardware or one our extensive colour options." https://virtuoso-doors.co.uk

Arched and angled frame manufacturer Premier Arches says it has maintained a long list of fabricators wanting

to benefit from the company's unique product offering thanks to its excellent product quality matched with

unwavering customer service. One of which is Listers Essex, part of the GJB Group.

Managing Director Roy Frost commented: "Manufacturing quality arched and angled frames requires specific technical

expertise, and Premier Arches was the ideal supplier to help us meet increased customer demand for these premium

products. We partnered with them back in November 2019, and for nearly three years they've delivered consistent

quality, reliability, and service. At Listers Essex, we have a strong focus on professionalism, product quality, organisation,

and order flow management, qualities that are certainly mirrored by the team at Premier Arches. This is matched with on-time and in-full deliveries every time, as well

as clear and honest communication, which is something quite hard to find in today's market. Premier Arches has certainly made our lives easier, we're extremely happy

with their service and we very much look forward to a long and prosperous partnership ahead." www.premierarches.co.uk

A SOLAR POWERED SHADING SOLUTION

The Uni-Blinds W Smart integral blind system from Morley Glass is enabling homeowners to benefit from the

convenience of a motorised shading and privacy solution for their windows and doors without, adding to their

electricity use.

Using power generated from a small photovoltaic panel mounted on the exterior frame of the window or door, the W

Smart operates completely independently of a home's mains electricity supply. The 'free' solar energy from the sun

ensures a rechargeable battery is continuously charged-up to give the integral blind more than sufficient electricity

to operate it under normal conditions. Available in a Venetian or pleated style, as with all Uni-Blinds the W Smart is

manufactured exclusively using the ScreenLine integral blind systems to guarantee superior long term performance

and excellent aesthetics. It is simple to operate using a slide touch button control device magnetically attached to the

window, or by a remote control unit, both of which raise and lower the blind – and, in the case of the Venetian, tilt the

slats. www.morleyglass.co.uk

44 T I OCTOBER 2022

PRACTICAL CONTENT FOR THE GLAZING INSTALLER & HOME IMPROVEMENT SPECIALIST
---
THE

NATION'S

LEADING

SHOWCASE.

FOR THE WINDOWS, DOORS, GLAZING,

HARDWARE AND COMPONENTS INDUSTRY,

FOR 10 YEARS.

EVERYONE'S GOING.

NEC BIRMINGHAM | 23 - 25 MAY 2023

www.fitshow.co.uk/exhibit
---
Customer Satisfaction

GOING ABOVE AND BEYOND

Total Installer hears from Barrie Gazzard, Director at Cornwall Glass & Glazing, who believes that

looking after your customers will be the key to weathering a downturn.

The pressures on companies working

in the glass supply chain, from glass

manufacturers to product installers, have

increased beyond expectation over the last three

years. As input costs rise and demand slows,

companies are left balancing the books while

looking for new opportunities and growth.

Barrie Gazzard, Director at Cornwall Glass &

Glazing, has always taken the firm view that it

is better to take on a few select new customers

where possible, while focusing on the customers

you do have.

"Competing for new customers is not an enviable

position to be in," Barrie said.

"On the one hand you're doing it because you've

got to meet overheads and keep your team

busy, but a new customer is more than just

about selling products, it's also about building

relationships and understanding their specific

requirements, and that's not done overnight.

"When I was a branch manager in the Cornwall

Group, I didn't want to win lots of new clients.

"Instead, I wanted to take on fewer really

good customers, and make sure I serviced

them as well as I could. That involved building

relationships where you can have honest, open

conversations.

"These are longer lasting and ultimately more

profitable because you are not wasting money

looking for new business."

Cornwall Glass & Glazing is the trade counter and

installation arm of the wider Cornwall Group, and

this philosophy, regarding stability, runs through

the manufacturing and merchanting arms as well.

"The model we have at Cornwall Glass & Glazing

is optimised so we can win and maintain key

accounts across the whole region," Barrie said.

"Each of our eight branches across Cornwall,

Devon, and Somerset services our customers on

a personalised local level, but we are developing

access to the broader strength within the business.

"For example, we will move people between

branches if the work demands it, and we have a

very agile delivery network.

"The branches also have access to leading

products and processing capabilities from

Cornwall Manufacturing, and specialist items

from Mackenzie Glass."

Customers that benefit from this model include

social housing providers, housebuilders and

Cornwall Glass & Glazing is the trade counter and

installation arm of the wider Cornwall Group

Inset: Barrie Gazzard

"As a group, we have a great

offering, but as a company,

Cornwall Glass & Glazing punches

way above its weight because we

can be very local in our approach"

insurance companies, among many others.

"As a group, we have a great offering, but as

a company, Cornwall Glass & Glazing punches

way above its weight because we can be

very local in our approach, while providing a

significant regional coverage," explained Barrie.

A case in point is a West Country-based social

housing landlord, which owns more than 66,000

properties across the region.

Cornwall Glass & Glazing can give local

knowledge and a consistent service from all

their branches, so that they can then pass this

assurance on to their tenants.

Continued on page 48

46 T I OCTOBER 2022 PRACTICAL CONTENT FOR THE GLAZING INSTALLER & HOME IMPROVEMENT SPECIALIST
---
CERTIFIED BY

Why choose SupaLite?

Dedicated Account Sales and

Customer Service Teams

Accredited Building Regulations

Approval

FREE training days at SupaLite HQ

Overnight stay included if travelling 2+ hours

Quickest Lead Times On The Market

For Replacement Roof Systems

ACHIEVING A

FROM DAY ONE

Join our Registered Installer

scheme and get leads

direct from SupaLite

Look out for our advert on the HGTV channel

Freeview

44

Sky

158

Freesat

166

and on Discovery+ or Sky GO

We'd love to hear from you! Get in touch

with our sales team today - 01772 828060

www.supaliteroof.co.uk | sales@supaliteroof.co.uk
---
Customer Satisfaction

Continued from page 46

Cornwall Glass & Glazing is able to move customers

between branches if required

"Competing for new

customers is not an

enviable position to

be in"

The customer will also benefit from the speed

of response from Cornwall Manufacturing, and

specialist items – a specific obscure glass for

example – from Mackenzie Glass.

"This particular customer has been with us for

the best part of a decade, and their needs are

not going to change as we enter a downturn,"

Barrie said.

"A similar customer is company that provides

responsive services to insurance companies

across the country.

"Multi-outlet companies take out a policy with a

national provider, to which we supply the local

and regional services.

"If a supermarket in Newquay requires

replacement glazing, say, then our Truro branch

will mobilise a fitting team to survey the damage,

make good, and repair.

"And if they are busy, then St Austell will be on

hand to take the slack."

These are valuable relationships, Barrie pointed

out, because they provide a steady stream of

work even as other markets contract.

"We have got a number of these repair and

maintenance contracts that we manage, and we

value them very much," Barrie said.

"Some of them are slow-burning, and we are

developing the relationships gradually, but

that's important because they need to trust that

we can deliver.

"We have a dedicated person nominated to be

point of contact for them, who will champion

their cause within our company to ensure the

service they receive is consistently high.

"But they are definitely buying into the

specialist nature of our offering, which is a local

strength backed up by regional resource and

group-wide expertise."

Contact Cornwall Glass:

01726 66325

www.cornwallglass.co.uk

@CornwallGlass

48 TI OCTOBER 2022 PRACTICAL CONTENT FOR THE GLAZING INSTALLER & HOME IMPROVEMENT SPECIALIST
---
Advertorial - Eurocell

ENVIROTILE - THE LIGHTWEIGHT,

SUSTAINABLE ROOF TILE

A close up of Envirotile

used in the Equinox

Vega conservatory

Envirotile is a 'revolutionary' roof

tile system with a unique fixing

system which is fully compliant

with BS 5534 and can be installed to a

minimum of 12.5° pitch.

It is significantly lighter than other

tiles, making Envirotile extremely

suitable for use on modular and

timber frame constructions.

The lightweight tile aids the build by

minimalising differential movement in

such structures.

Plus, due to the unique fitting system

developed by roofers, installation

is simple and easy, saving time

compared to traditional tiles, and

offers a complete dry fix system with

no mess cutting.

"Due to the unique fitting system

developed by roofers, installation

is simple and easy, saving time

compared to traditional tiles"

The sustainable choice

Envirotile is manufactured from 75%

recycled product and is fully recyclable

at end of life.

It is backed by GreenSpec which is the

foremost 'Green Building' resource in

the UK.

Independent of companies and trade

bodies and launched in 2003 with

government funding, GreenSpec

promotes sustainable building

products, materials and construction

techniques.

Finishes

Envirotile is available in two finish

effect options – our original tile with a

textured finish and our latest addition

of the slate-effect finish. Both are

aesthetically pleasing in all aspects.

50 T I OCTOBER 2022 PRACTICAL CONTENT FOR THE GLAZING INSTALLER & HOME IMPROVEMENT SPECIALIST
---
The Equinox warm tiled roof range

The textured finish tile is available in Brown, Slate

Grey and Anthracite Black, and the slate-effect

tile in Brown, Slate Grey and Anthracite Grey.

Plus, ridge, hip and end caps are available to

ensure the roof is completed to the same green

credentials.

Designed to perform

Envirotile has undertaken rigorous testing with

many professional bodies so that we can ensure

that it is more than fit-for-purpose and will

withstand all the British weather will throw at it.

So much so that we guarantee it for 40 years.

It is also fully guaranteed to perform against

severe UK wind loads in any designated

zonal area within the UK, and we offer a free

replacement service for dislodged roof tiles

caused by gale force winds up to 65mph (subject

to our Terms & Conditions).

Evirotile at a glance:

• Cost saving, sustainable roof tile

• BBA certified

• Conforms to BS 5534:2014

• Greenspec Endorsed

• Only 12 tiles per sq. metre

• 80% lighter than concrete tiles for easier

handling and safety

• Choice of standard and slate effect across 5

colours to match most roof types

• No harmful dust created during the cutting process

• Proven and tested at a low degree pitch of 12.5°

against wind driven rain

• Weather tested to 147mph wind loads

• Improved grip surface

• Virtually unbreakable

• Anti-fungal properties

• Low maintenance

• UK manufactured

• Ridge products available

At less than 8 kilos per m², Envirotile is the

lightest synthetic roof tile making it the ultimate

choice within lightweight roofing, yet it is also

virtually unbreakable.

Envirotile is a tiled roof system

which has a 'simple and easy'

installation

Contact Eurocell:

0333 005 6525

www.eurocell.co.uk

@eurocellplc

PRACTICAL CONTENT FOR THE GLAZING INSTALLER & HOME IMPROVEMENT SPECIALIST

OCTOBER 2022 TI 51
---
Conservatory Installation

CONVERTING TO CONSERVATORIES

Faisal Hussain, Chief Executive of the Double Glazing & Conservatory Ombudsman

Scheme (DGCOS), talks to Total Installer about its newly published installer guide for

conservatories, and how the report can help installers avoid common pitfalls...

Since the beginning of the Covid-19

pandemic, we have seen some trends

among consumer spending that have been

beneficial to the door, window and conservatory

industry.

As our lives were curtailed in a variety of ways,

and without the opportunity to spend on leisure

or the High Street, some homeowners found they

were saving money.

The result was a boom in the home improvements

sector as people recognised the benefit of using

these savings to add space and value to their

homes.

Adding a conservatory is a popular way to do this

and with this in mind, DGCOS has published a

new Installer Guide: Building A Conservatory.

This is a general guidance document for installers

to ensure best practice from start to finish, based

on the experiences DGCOS has had in dealing

with dispute resolutions for their customers over

the last decade.

It covers everything from defining what a

conservatory is, which might sound obvious but

actually isn't always, to excavations, foundations,

drainage and building the structure – issues that

all installers should consider from the beginning.

In all cases installers must satisfy themselves

as to the suitability of what they propose

to construct, following all of the latest

manufacturer's requirements.

The aim of the guide is to help installers be aware

of potential areas where issues may arise, in

order to construct a quality build that does not

require come-backs due to errors in any part of

the planning or building process.

In this way, a quality build equals happy

customers, boosting reputations and leading to

more recommendations. It also supports our aim

"A quality build equals

happy customers,

boosting reputations

and leading to more

recommendations"

of ensuring all DGCOS members have access to

support and documentation that raises standards

in our industry.

We hope that this information will help installers

avoid some of the pitfalls we have seen from the

industry.

What is a conservatory?

While it may at first glance be obvious what

constitutes a conservatory, the DGCOS installer

guide starts by giving a clear definition. It

specifies official rules laid out by Local Authority

Building Control (LABC) which represents all local

authority building control in England and Wales.

It is important to check these rules as

conservatories as defined by the LABC are

exempt from building regulations; anything that

falls outside the rules will not be.

DGCOS Chief Executive Faisal

Hussain has helped develop a

conservatory installation guide

This has particular relevance if an installer has

built something that is not exempt and then

ceases to trade, as the cost of retrospectively

fixing any problems can be expensive.

Support from start to finish

The guide goes on to explain best practice in

terms of assessing a potential site before starting

any groundworks to ensure foundations will be

the correct depth; the strata the builder is likely

to encounter; and whether there are any trees or

drains in the area which may be an issue.

There is a section on excavations giving advice

on how to deal with different soil types – anyone

building on clay, for example, knows how

important that is – plus other things to look

out for such as circumstances under which a

structural engineer should be engaged.

Getting the foundations right is obviously key and

there is a section dedicated to this too. The report

also deals with the substructure, addressing

topics such as damp proofing, and building the

superstructure itself.

52 T I OCTOBER 2022 PRACTICAL CONTENT FOR THE GLAZING INSTALLER & HOME IMPROVEMENT SPECIALIST
---
"Even among middle income groups, spend on home improvements has

been strong over the last few years and whatever the economic forecasts

for the next twelve months, conservatories are an integral part of the home

improvements sector"

The final section addresses drainage in relation to

roof run-off, gutters, outlet pipes and soakaways.

The guide is an invaluable start for anyone involved

in building conservatories, but there are also useful

links to external bodies that can provide further

detailed information such as the Government

website for information about the Party Wall Act

1996 and Approved Document A, Citizens Advice

for guidance on drains and sewers and links to

local authority building control departments.

There is support within the support!

Conservatories are here to stay

It remains to be seen what the impact will be of

the Mini Budget announced by the Chancellor

recently, but ONS Family Spending reports higher

income groups could be less negatively impacted

by the increasing cost of living rise in interest

rates if they have fixed rate mortgages, meaning

disposable income could be under less pressure

in this instance.

Even among middle income groups, spend on

home improvements has been strong over the last

few years and whatever the economic forecasts

for the next twelve months, conservatories are an

integral part of the home improvements sector.

They are here to stay and I would urge any

installer involved in their installation to

download our DGCOS Installer Guide: Building a

conservatory.

The guide can be found on the Total Installer

website here: https://total-installer.co.uk/wp-

content/uploads/2022/09/DGCOS-Installer-

Guide-DGCOS-GNB-001-29Apr22.pdf

Contact DGCOS:

www.dgcos.org.uk

@DGCOS

PRACTICAL CONTENT FOR THE GLAZING INSTALLER & HOME IMPROVEMENT SPECIALIST

OCTOBER 2022 TI 53
---
Case Study: Supalite

TICKING ALL THE BOXES

Total Installer hears from Richard Abrahams, MD of Leeds-based Elmhurst Windows.

Richard discusses his experience buying roofs directly from the supplier Supalite,

praising the company's ability to provide technical support and easy to install products...

In addition to offering replacement roof

products, tiled-roof specialists, SupaLite is said

to be committed to delivering the best customer

service. And one company that says it has truly

benefitted from this service for over two years is

Yorkshire-based Elmhurst Windows.

Since the early 1970s, the Leeds-based

company has installed thousands of replacement

windows, doors, and roofs for conservatories and

orangeries across the county.

Elmhurst Windows' Managing Director Richard

Abrahams (above) said: "We have been with

SupaLite since 2020, and after having challenges

with an existing supplier, it was refreshing to buy

roofs directly from a company that offers excellent

service and provides fantastic communication.

"As a supplier, SupaLite certainly tick all the

boxes, and this move is one of the best things

we've ever done."

Dedicated to offering the best support to its

customers throughout the whole process,

SupaLite ensures it can quickly answer any

queries.

"As far as technical support is concerned, we

sometimes find there are questions and challenges

that our fitters have on site," added Richard.

"But, without hesitation, SupaLite's technical

team is always on hand.

"Depending on what we need, they're happy to

jump on the phone or send across any technical

information we need via email. Working with the

team is such a positive experience that we'd

highly recommend."

The quality of the SupaLite systems also received

high praise from the Elmhurst team, as Richard

explained.

"I always listen to the feedback from our

installers because they're the ones on the

front-line, and they say SupaLite products are

incredibly easy to fit.

"Like anything new, there are always a few

challenges but once the team is on site, the

efficiency of the high-quality system means the

time to complete an installation is very, very quick.

"SupaLite goes over and above what we expect to

help keep us in the loop, and that's so important

when you're trying to run a business successfully.

"As a registered installer of SupaLite, I can see

first-hand that they're dedicated to keeping their

customers happy, to help make everything run

smoothly."

Cassie Watters, Sales and Marketing Manager at

SupaLite, said: "We're delighted that Elmhurst

Windows are happy with the service and products

they receive from us.

"We're incredibly passionate and committed as a

team to build great working relationships with our

customers and this is something we will continue

to deliver in the future."

Supalite says that all installers looking to grow

should become a member of its exclusive

SupaLite Registered Installer Scheme, which

enables them to access a full range of benefits

including, a dedicated account manager and onhand

technical support.

Contact Supalite:

01772 828060

www.supaliteroof.co.uk

@SupaLiteRoofs

54 T I OCTOBER 2022 PRACTICAL CONTENT FOR THE GLAZING INSTALLER & HOME IMPROVEMENT SPECIALIST
---
sales@britmet.co.uk | 01295 250998 | www.britmet.co.uk | #TheBritmethod

Liteslate

designed with the environment in mind

Lightweight Composite Slate | Lightweight Granulated Tile Panels | Lightweight Tile Effect Sheets | Flat-to-Pitch Roof Systems

Structural Liner Trays | Door Canopies | Decorative Exterior Paint

RAISING THE STANDARDS IN LIGHTWEIGHT ROOFING
---
Updates

WEBSITE

UPGRADES

Atlas Roof Solutions has launched an updated

website, which includes its range of 19

lanterns with five-day delivery including

glass, which are said to be proving a hit with

installers.

The website includes a new trade area where

installers can find all the technical downloads for

lantern products, information on Atlas' response

to the recent changes to building regulations,

marketing support and an updated range of easy

to use contact forms.

Customers looking for a new conservatory/lantern

may be focusing on the energy efficiency of their

chosen product – and Atlas is best placed to help

with that.

Given the potential heat-loss from a glazed

roof, it is worth advising customers to look for the

roofing systems which demonstrate the maximum

heat efficiency to give the reassurance of knowing

that they aren't losing heat – and money.

Upgrading to a triple glazed conservatory or

lantern roof will result in even more savings on

energy bills over the lifetime of the installation

– providing that the triple glazing is specified

correctly and has the optimum spacer size.

Atlas now has a range of 19 stock roofs ready

for dispatch, with roof and glazing delivered in one

vehicle by our dedicated fleet, providing complete

care and offering installers assurance that they can

complete jobs on time, in budget.

www.atlasroofsolutions.co.uk

Eurocell has appointed

PCL Building Products

(PCL), reportedly one

of the UK's largest

independent roof

manufacturers, to its

network of fabrication

partners.

The relationship will see

PCL fabricate a wide range

of high performing, quality

PVC-U product solutions,

including aesthetically

pleasing conservatory roofs

and extension products for

its customer base.

Said to be attracted by Eurocell's 'one stop

shop' approach and market-leading status,

PCL aims to use the fabrication agreement

to broaden its product range and support

additional growth ambitions.

Phil Coppell, Managing Director at PCL,

For further glazed extensions updates visit www.total-installer.co.uk

EUROCELL ADDS TO FAB PARTNERS

commented: "Joining

Eurocell's fabrication

network will enable us to

work in a collaborative

manner to design,

manufacture and deliver

products that enhance home

living spaces and add value

to people's homes."

Gary Driscoll, Sales and

Commercial Director for

Eurocell, added: "We only

want to work alongside

companies that operate

to the highest standards

and can offer added value product solutions

to the market. PCL's track record is testimony

to this, and we look forward to collaborating to

create the next generation of innovative PVC-U

conservatory roof and extension solutions the

market needs, and consumers are demanding."

www.eurocell.co.uk

ARC UP FOR BEST STARTUP AWARD

Tech startup Augmented Reality Creations

(ARC) has been named as a finalist in the

Tech South West Awards, in recognition

of ARC Design, its visualisation tool that

sits within an installer's website, helping

homeowners design and fully customise

their own conservatory within minutes.

The Tech South West Awards are said to

celebrate and showcase the best of the

sector across the entire South West region,

with ARC being shortlisted in the 'Best

Startup Award' category.

With the click of a button, the homeowner can then view their design in 3D augmented reality, allowing

them to view the conservatory in situ on their house, helping them make their final decision.

ARC COO and Co-founder Andy Clear commented: "It's an honour to have been named a finalist in the

Tech South West Awards, and to be recognised for ARC Design is an incredibly humbling achievement.

"Augmented reality has really taken off within the glazing industry, and with ARC Design, we've created

something that's already seen a huge difference to conservatory installers across the country.

"We're delighted to have the judges' recognition, and I'd like to take this opportunity to wish our fellow

finalists the very best of luck." www.arc-solutions.co.uk

56 T I OCTOBER 2022

PRACTICAL CONTENT FOR THE GLAZING INSTALLER & HOME IMPROVEMENT SPECIALIST
---
Advertorial: Cedral

The problem

RENOVATING A 100-YEAR-OLD

FARMHOUSE WITH CEDRAL

The cream rendered bungalow had turned green

and was harbouring a multitude of cracks inside

and out, with wet and mouldy internal walls. The

new owners wanted a solution that looked good,

suited the countryside setting and would be easy

to maintain.

The options

After researching the market, the Taylor family

decided that cladding was the most viable option

to give the house a barn-effect feel – in keeping

with its surroundings, but also significantly

improving the look and quality of the property.

Cedral helped with the renovation of a 100-year-old dilapidated farmhouse building and annex in Westerham, Kent

Making the Cedral choice

"When I saw Cedral, I liked the grain, I liked the

texture, I liked the fact it looks really realistic

and I was very impressed with the minimum life

expectancy of 50 years," said owner Amy Taylor.

"Cedral has helped us to transform the look of

the main building and annex, allowing us to turn

something so unappealing and run down into a

beautiful home."

The design

The Taylors chose Cedral weatherboards, laid

horizontally, for the main house and the annex,

and created an eye-catching feature wall by

laying the boards vertically in one section.

Cedral gave the Taylors the stylish wood-look

barn effect they wanted, without the hassle of

caring for real wood with its high maintenance

demands and associated costs.

Cedral facades are available in a choice of 21 longlasting

shades, as well as two woodstain options

and a choice of a woodgrain or smooth finish.

The benefits of Cedral facades

Long-lasting appeal: For the Taylor family, a

product that continues to look good through the

years is key.

"I don't want something that looks good but

in a year's time becomes extremely high

maintenance," said Amy.

Low maintenance, high safety: Cedral's

durable fibre cement cladding met the family's

requirements perfectly. Manufactured to

withstand the harshest weather conditions, it

doesn't need regular repainting and won't rot,

rust, warp or crack. It is frost, mould and water

resistant and has an excellent fire performance

classification of A2-s1, d0.

Adding insulation and value: Cedral cladding

acts like a second skin on a building's exterior.

Amy said: "We hope it has added substantial

value to the property, not only looks-wise but also

in terms of adding extra insulation, which is also

good for the EPC rating."

The final result

"It is more than I ever could have dreamed of,"

explained Amy. "I would recommend Cedral 100 per

cent. It's not just about the longevity and insulation

– though that's important of course – it's also about

the end result and kerb appeal. We never looked at

the property before we bought it and said, that's our

dream house. But now it really is."

Contact Cedral:

01283 501 555

www.cedral.world/en-gb/

@CedralUK

PRACTICAL CONTENT FOR THE GLAZING INSTALLER & HOME IMPROVEMENT SPECIALIST

OCTOBER 2022 T I 57
---
Business Advice

SEEING THE SIGNS

In the latest instalment of our regular business column, the experts at Know-It explain how

to make sure you recognise the early signs that a client isn't going to pay...

With the number of late payments rising

dramatically, it has never been more

important to remain vigilant to ensure

your invoices are paid on time.

Not only are late payments a huge expense for

businesses, but they also take up a considerable

amount of time to chase, with Intuit QuickBooks

finding businesses spend 56.4 million hours a year

chasing late invoices!

To keep your cashflow healthy by taking payment

on time and eliminate wasted time chasing late

payments, you should always act quickly when you

suspect payment could be delayed.

Here are the early warning signs to look out for that

we typically see when payments aren't paid on time.

Excuse after excuse with no payment

Our team at Know-it have over 50 years combined

experience in the credit industry, and we have heard

every excuse in the book when it comes to late

payments. The most common you tend to hear are:

"To keep your cashflow healthy by taking payment

on time and eliminate wasted time chasing late

payments you should always act quickly when you

suspect payment could be delayed"

• We've already paid the invoice

• We haven't received your invoice

• We didn't receive goods or service

• We're changing bank accounts

• I thought our credit terms were longer than those

specified on the invoice

• My accountant isn't available right now

• We pay all our invoices on a particular date each

month

•Our director isn't here to sign off the payment

As soon as you hear your client come out with one

of these excuses alarm bells should be sounding.

This is your cue to put contingency measures in

place and have a plan B when you are inevitably not

paid on time.

Now, mistakes can be made, and your client may

have a genuine reason for not paying for goods

and services, for example if what they ordered has

arrived faulty, they didn't receive their goods or the

service wasn't carried out to an agreed standard.

However, when you know for a fact that your client

is lying and trying to worm their way out of not

paying, you must act and press on to recover the

outstanding amount.

Another classic excuse is a customer arguing that

they thought the credit terms were longer.

Continued on page 60

58 T I OCTOBER 2022 PRACTICAL CONTENT FOR THE GLAZING INSTALLER & HOME IMPROVEMENT SPECIALIST
---
QUITE SIMPLY, THE

UK'S MOST AUTHENTIC

TIMBER-ALTERNATIVE

SASH WINDOW

Seamless

run-through

horns

Seamless

no horn

option

True

mechanical

joints

Optional

deep

cill

01234 712 657

trade@roseview.co.uk

www.roseview.co.uk
---
Contract Business Talk Advice

Continued from page 58

Always tell them to refer to the credit terms agreed

when they signed the contract.

You may come across clients who say that they

pay all their invoices on a particular date, usually

the end of the month. In these instances, it is

important to remain strong and again explain

that they have already agreed to the credit terms

stipulated on your invoice.

They cut all communication

This is a major red flag to look out for.

This is typical debtor behaviour as they'll try to hide

and hope your outstanding invoices just disappear.

But we know it doesn't work like that.

If your emails continue to go unanswered after

three attempts, we'd recommend picking up the

phone and calling them directly. Phone calls are

much harder to ignore than emails and if you get

through to your customer you need to explain that

your invoice is now overdue and ask when you can

expect to receive payment.

If your customer has already tried avoiding you,

then you must keep the pressure on them to ensure

that you are paid quickly.

Changes to your customer's credit report

Company credit checking and monitoring your

customers' credit file is critical to mitigate credit

risk whilst offering credit terms that will still drive

revenue for your business.

Because company credit scores are dynamic

and can fluctuate, it's critical that you continue

to monitor for any changes. A significant drop in

your customer's credit score could signal financial

trouble ahead where they may have trouble paying

any outstanding invoices they owe.

They begin disputing the debt after they

have accepted goods or services

Disputes happen from time to time, and many times

they may be valid.

However, if your customer only begins raising

disputes once you begin chasing the outstanding

payment then it's likely you'll have a fight on your

hands to recover what you're owed.

"Because company credit scores are dynamic

and can fluctuate it's critical that you continue to

monitor for any changes"

They begin changing the terms of the

credit agreement

When you accept an order and issue an invoice,

your credit terms will have already been agreed by

your client.

However, this does not stop some businesses trying

to change the credit terms after the invoice has

been accepted and it is time for payment.

When this happens, it is very likely to be a stalling

tactic to avoid payment. In these instances, you

should be firm and explain that the credit terms

have already been agreed and payment must be

made in accordance to these terms.

You notice changes in their buying and

payment behaviour

When you have repeat customers, you should notice

changes in their payment and buying patterns.

If you notice something is off, for instance a

customer who regularly pays on time is now making

excuses or placing orders much smaller than usual,

you should think about offering payment terms that

mitigates some credit risk.

Know-it is the all-in-one credit control solution that

makes credit management simple by automating

the complete process. Credit check and monitor,

automatically chase payments and collect overdue

invoices all in one place!

Try Know-it free for 12 months with our extended

free trial exclusively for Total Fabricator/Total

Installer readers! Plus get two free company credit

reports. Use referral code TF12 when you sign up.

Contact Know-it

www.know-it.co.uk

@Knowitglobal

60 TI OCTOBER 2022 PRACTICAL CONTENT FOR THE GLAZING INSTALLER & HOME IMPROVEMENT SPECIALIST
---
REQUEST INFO

YOUR PERFECT TRADE PARTNER

FOR WINDOWS, DOORS & ROOFS

01226 890 890 | WWW.SOLROOFS.CO.UK | QUOTES@SOLROOFS.CO.UK
---
Article Glass Products

DIVERSIFYING YOUR OFFERING

Despite inflationary pressures, homeowners are continuing to invest in home

improvements, delivering opportunities for glass processors and window and door

We might be feeling the pinch of inflation

and rising energy costs, but as a

nation we've still got the bug for home

improvements with many of us still investing in

our homes. So, what are the growth areas and

where are the opportunities for diversification for

glass processors and installers?

"Post-COVID there's been a crystallisation of

what has been the direction of travel for the

market for a little while", said Dave Broxton, MD

Bohle. "That's a shift to a more comprehensive

approach to home improvements. If people are

extending, or having new windows, they're also

opting for balustrading or a Juliet balcony.

companies, such as Bohle. Total Installer finds out more...

"They're redefining space internally, putting in

en-suites, which often require bespoke solutions

to make the most out of limited or difficult

spaces; they're redefining existing spaces but

don't want to lose light.

"That all points to opportunities for installers and

glass processors."

So, what home improvements are most popular

and where are the opportunities?

Easy-installation balustrading

Well, according to an analysis of more than

800,000 live jobs on the home improvement

platform, Rated People, after painting (38%) and

new carpets (21%), garden landscaping was

one of the home improvement jobs homeowners

wanted to do most this year (2022).

"People have been using balustrading around

balconies, garden walls and patios for decades.

There has, however, been a notable increase in

demand since lockdown as people have looked

to connect indoor and outdoor spaces", Dave

explained.

"We supply a number of different balustrading

systems but have invested in the development

of a dedicated retail solution, Vetromount. It does

everything that you could need it to do but maximises

margin by massively simplifying installation."

This includes eliminating the requirement

for specialist tools and because unlike other

balustrading systems its counterbored, it's also

suitable for use with standard, rather than more

expensive counter-fix fixings. The design of the

system also means that drill holes can be set further

apart at distances of up to 400mm (top-mounted).

Suitable for retrofit, it's supplied with a highly

innovative clip-and-fix finishing option, which

allows installers to apply a stainless steel 'skin'

to the standard anodised finish.

Shower and bathroom fittings

Next on Rated People's list of the most popular

home improvements is a new bathroom (14%) –

an area which is said to make up one of Bohle's

core areas of expertise. As well as a wide range

of hinges and hardware, it also offers a dedicated

shower door system, MasterTrack ST.

It draws down on the same pioneering carriage

and unique hydraulic damper system as the

reportedly popular MasterTrack Internal Sliding

Door, to apply it to a shower cubicle system.

In doing so, it eliminates any requirement to

process glass on site, simplifying installation

– something which Dave argues delivers new

opportunity to glass processors and home

improvement specialists.

Vetromount is Bohle's dedicated retail

solution for balustrading systems

"Post-COVID there's been a crystallisation of what

has been the direction of travel for the market for

a little while"

62 T I OCTOBER 2022 PRACTICAL CONTENT FOR THE GLAZING INSTALLER & HOME IMPROVEMENT SPECIALIST
---
Bohle has collated all its

home improvement products

into a new brochure

"MasterTrack ST is one of those products that you

only have to fit once to grasp all of the benefits

that it delivers", Dave continued. "There's no

glass processing on site; operation is incredibly

smooth; and you can configure it to accommodate

almost any application.

"The carriage and damper-system are a step up

from anything else that I've fitted, in how easy they

are to work with and then how they perform."

Bohle's shower product range also includes a

range of easy-to-fit shower hardware including

the Bilbao Premium HD shower fitting and

Juna Shower Door hinge. Designed to offer

significant installation efficiencies, it includes

a zero-position adjusting screw which is easily

accessible and makes adjustment simple.

MasterTrack ST is part of the wider MasterTrack

family of products, which launched with

MasterTrack FT, Bohle's internal Sliding Door

system. Fitted in as little as 10-minutes it's a

perfect solution for the 11% of homeowners

looking to create multi-functional spaces but still

define their use without losing light.

"Working from home has meant people have

revisited existing living space", Dave continued.

"We offer a wide range of partitioning systems

but also internal sliding doors, which allow people

to segment space but still make sure that they

retain natural light."

"Working from home

has meant people

have revisited existing

living space"

In common with MasterTrack ST, there's no

onsite processing required in the installation of

MasterTrack FT, employing instead a simple but

highly effective clamping system.

It also uses specially developed hydraulic

dampeners, which can be pre-set according to

the weight category for optimum cushioning, the

slim sightline system is available in aluminium,

stainless steel, black and anthracite grey finishes.

It accommodates glass thickness from 8mm to

12.76mm and maximum weights of 60kg, 80kg,

120kg and 150kg, as either a wall-mounted or

ceiling hung system.

The BT version offers some further high-end

additions, including flush mounting, and antijump

protection. It is also suitable for spacesaving

pocket applications, which are increasingly

popular among interior designers.

Home extensions

According to Dave, the MasterTrack FT and BT

are also equally well suited to the division of

pre-existing spaces and home extensions, which

made up 7% of homeowners' most wanted

home improvements. Dave continued: "The

MasterTrack FT and the BT are both ideal for use

for separating for example a kitchen extension

from other living space.

"The BT in particular offers some very neat

innovations, including an option for synchronous

opening, so that two doors can open at the same

time, and telescopic opening, which allows two or

three leaves to retract simultaneously, retaining

a light and open connection between spaces but

allowing them also to be closed off."

Brochure now available

Bohle has pulled its home improvement offer together

'under one roof' in its new Home Improvements

brochure. Launched this summer, it brings detail

on Bohle's dedicated domestic fit-out offer to the

fingertips of glass processors – but also installers.

"We know leads aren't going to land on installers

and glass processors in quite the same way as

they did over the last two years but the demand

for home improvements – and particularly interior

and exterior glass – remains high.

"The opportunity for add-on sales is massive",

concluded Dave.

Contact Bohle:

0800 616151

www.bohle.com

@BohleLtd

PRACTICAL CONTENT FOR THE GLAZING INSTALLER & HOME IMPROVEMENT SPECIALIST

OCTOBER 2022 TI 63
---
Article Rooflights: Comment

It's hard to imagine a tougher economic climate.

Having emerged from the pandemic, businesses

and homeowners are beset by the rising costs of

fuel and materials, economic shockwaves from the

war in Ukraine and stark warnings of 11% inflation

from the Bank of England. This is compounded by

ongoing building supply issues that are still being

experienced as a result of Brexit.

COST VERSUS CONSERVATION

As the cost of most building materials such as

timber, steel and glass continues to increase,

the impact will most keenly be felt among

those working on self-build, renovation and

extension projects. No doubt, this perfect storm of

economic woe has resulted in the postponement

of many such projects. However, for those that

are pressing on, most will be looking to cut

back on budgets in whatever way they can and

compromises on quality are inevitable.

Fortunately, when it comes to the majority of

building projects, especially new build or modern

homes, there is plenty of choice out there for most

materials and components, and shopping around a

little can yield useful savings. Yet if your project is

historically sensitive, for example a Listed building,

barn conversion or a property in a conservation

area, then choices may be more limited.

There are many examples of imitation

'conservation' products on the market, for

example plastic being used as a replacement

for cast iron rainwater goods, windows and

rooflights. While these products might offer

a cheaper alternative, there are few, if any

,examples where these materials are appropriate.

Historic England argues that "some materials

can actually harm the existing historic fabric

and speed up deterioration", and urge for

consideration to be given to "the potential

durability of the material used and its future

maintenance requirements", they conclude in

saying "what might seem like the cheapest option

might not always work out so in the long run."

By Paul Trace of Stella Rooflight.

Looking more closely at the rooflight market; just

because something is sold as a conservation

product, that doesn't automatically make it

suitable for all building types. If a rooflight is going

to be introduced it has to meet the conservation

specifications of that particular area or type of

building. If your building is Listed or in a conservation

area then the criteria for using conservation

rooflights are much stricter and you should always

gain approval, not only for their use but also the

manufacturer that you would want to use.

Genuine conservation designs

There are only a handful of companies that

specifically make conservation rooflights and even

fewer who design, manufacture and assemble in

the UK. Many conservation rooflights available

online are simply other products which have been

spruced up to look like they meet the requirements

of that type of product. There are many elements

which go into a genuine conservation design and

price is always a reflection on quality.

If a conservation rooflight is all frame, then there

is little point in having one. Genuine conservation

designs should be manufactured with slim, clean lines

and a low-profile to match the roofline. A number of

skylight companies try to produce conservation

rooflights using modern bulky aluminium or

plastic profiles, which sit proud of the roofline,

particularly slate. It is widely accepted that

most authentic conservation rooflights are

An example of a

Stella rooflight

manufactured from steel because it provides

great strength while offering a slim profile and

excellent glass to frame ratios. There are many

types of steel conservation rooflights and for

unrivalled protection and lifespan, one should

always consider 316 stainless steel, which will

protect against the common issue of rust.

Consideration should also be given to the

viewable area of a rooflight. Large rooflights do

not always guarantee lots of light and you should

always check what the finished viewable (often

referred to as clear viewable) area of the rooflight

will be. You might think that a conservation

rooflight with a whole frame size of 900mm

(w) x 1200mm (h) would have a similar clear

viewable area regardless of the manufacturer, but

you would be wrong and bulky framed modern

types, or the flat rooflights posing as pitched

conservation styles will let in considerably less

light than a genuine steel framed version.

Understanding what constitutes a genuine

conservation product is vitally important in an age

where we are witnessing far too many cheaper,

often imported, plastic products, being used in

sensitive buildings across the UK. The use of

such products very rarely contributes anything

to the historic character of a building, indeed the

visual impact of using modern materials on older

buildings usually has quite the opposite effect.

While there is no denying that bone fide conservation

products are more expensive – and hopefully the

reasons for this have been demonstrated above –

builders, architects and homeowners must resist the

temptation to use alternative materials when looking

at areas in which to cut back on budgets. As we

continue to feel the economic squeeze we can only

hope that decisions are taken in the best interests

of the long-term preservation of our heritage and

that cost cutting does not end up having a long

term impact on our important historical buildings.

Contact Stella Rooflight:

01794 745445

www.stellarooflight.co.uk

64 T I OCTOBER 2022 PRACTICAL CONTENT FOR THE GLAZING INSTALLER & HOME IMPROVEMENT SPECIALIST
---
Does your secondary glazing supplier

leave you in the dark?

Switch.

Secondary glazing is simplicity itself.

It's simple to sell, survey and install. It offers great acoustic and

thermal performance. It has great profit margins. And it gets you

into projects you couldn't normally get into.

So why make it more complicated? Call Roseview today and ask

about adding Incarnation secondary glazing to your range.

phone: 01234 712657 | email: hello@roseview.co.uk | web: roseview.co.uk
---
Article Lead Generation

A NEW WAY TO LOOK FOR LEADS?

Lead generation is back on the agenda. So which channels work for home improvement

businesses? Thom Emerson, Sales Director of Ideal Window Solutions and Emplas

The tap hasn't been turned off, but the flow

has slowed. According to the latest figures

from Business Pilot, year-on-year sales in

summer were down around 30% on where they

were in 2021, and 60% on where they were in

July 2020. Leads are down by approximately 30%

and 50% over the same period.

Consumer confidence is at a record low and

inflation at a 40-year-high, yet despite that Thom

Emerson, Sales Director, Ideal Window Solutions,

seems unruffled.

Operating throughout Hampshire and West

Sussex, Ideal Window Solutions was founded by

Chris Palmer in 1996 and later joined by Thom as

a co-owner in 2012.

customer, discusses this in more detail...

The business operates across commercial

and retail sectors buying-in product from

Emplas since 2017. The boom in the former

and the installer's split across two sectors

perhaps providing a foundation for Emerson's

philosophical outlook.

"There are a lot of people talking about the

pressures on the market, falling leads, price

increases. I don't think we're looking at a

catastrophe. It's much more an adjustment

following the inflated demand that we've

seen in retail, and little bit of a panic that it's

happening", he said.

A continued partnership

Ideal Window Solutions has just agreed a new

three-year supply deal with Emplas, in part to

protect itself from rising product costs on projects

which are often won on a six-month or more lead

time. He is again non-plussed about the prospect

of trade price increase in retail.

"There's a big difference", he continued.

"You price a commercial job, you win it and you are

contractually committed to it. Price increases can

be very damaging because they can erode margin

to the point that you're not making anything.

"Retail is a different thing. We don't know what

we're fitting until we sit down with the homeowner.

"We price it on EVA, the Emplas portal, we build

in our costs and put it in front of the customer.

They don't have a preconception about what they

are going to pay.

"If we have to build in a little more because

something has gone up, we do. If they are

committed to buying new windows and doors, the

homeowner doesn't really care...It just happens."

As one of the key drivers of inflation, energy

prices have dominated the headlines throughout

the summer. Households are expected to see

average bills hit £3,500 from this month [OCT]

with annual energy bills rising to £4,650 from

January and £5,456 from April.

Thom argued that although suppressing elements

of the market, others will continue to spend, with

higher energy prices providing an incentive for

people to do so.

Thom Emerson is Sales Director of

Ideal Window Solutions

"People don't want to follow us forever, they have

an interest in windows and doors for a period of

time and that's it"

66 T I OCTOBER 2022 PRACTICAL CONTENT FOR THE GLAZING INSTALLER & HOME IMPROVEMENT SPECIALIST
---
Ideal Window Solutions has recently

signed a new three-year deal with Emplas

"There are some of us who are a bit more

insulated from the impact of inflation. We operate

in Hampshire and West Sussex, so we are in an

area with perhaps more wealth but people are

still coming to us and energy efficiency is a big

driver of the sales that we're making", Thom said.

Triple glazing

This is something that Ideal Window Solutions

has also pushed historically. Run across print

and radio a campaign to promote triple-glazing

delivered an immediate uplift in retail sales from

£40k to £120k in its first week of running.

This time around Ideal Window Solutions isn't

pushing triple-glazing but is instead upselling on

glass specification, and specifically, Planitherm

from Saint-Gobain.

"At the time we could offer triple glazing at

no extra cost and it worked for us as a lead

generation exercise but the guys didn't particularly

enjoy fitting it because of the extra weight and

complexity of handling", Thom explained.

"We've flipped that this time around, pushing

the benefits of Planitherm, which we buy through

Emplas and selling thermal performance but also

solar control, security and acoustics.

"The investment Emplas made in Padiham and

is making in Padiham, brought more security and

control to their supply chain and our supply chain."

"Digital is delivering far less for us than it did.

The volume of leads but also the quality of leads

is down"

The digital revolution

Emplas acquired Padiham Glass in 2018. It will

expand the IGU and glass processor's capability

later this year with the delivery of a £1million plus

state-of-the-art Forel Vertical IGU-line.

This will reportedly significantly increase its

current 10,000 IGU a week capacity but also drive

an uptick in quality.

If Thom is unpanicked by the market shift over the

summer, he nonetheless, adopts a forensic approach

to lead generation and analysis, having built its own

lead management tool and CRM, Contour.

Turning off local radio and print media three

years ago, Ideal Window Solutions switched to

digital channels, but even so, he argues that the

landscape continues to be reshaped.

"Digital is delivering far less for us than it did.

The volume of leads but also the quality of leads

is down", he said. "Compared to print where

maybe the cost per lead was around £400, it's

still cheaper at around £23 per lead but pay per

click and SEO spend is delivering less than it did.

"What is working for us is organic growth. Organic

social posts but also our own content on website.

We invest very significantly in high quality blog

content - good stories with good links. That

accounts for around 76% of the leads we bring

in. PPC accounts for around 24%."

He argued return on some social channels has

also diminished. He cites Facebook in particular

as delivering a diminishing return with Instagram

assuming increasing performance.

"Fundamentally you need to approach things with

a dose of reality," he explained.

"We aren't Coca-Cola, we aren't a big consumer

brand, we supply windows and doors, people

don't want to follow us forever, they have an

interest in windows and doors for a period of time

and that's it."

In contrast, picking out quality content which

drives engagement continues to deliver tangible

return, "People read content that's relevant", he

concluded.

Contact Emplas:

01933 674880

www.emplas.co.uk

@EmplasWindows

PRACTICAL CONTENT FOR THE GLAZING INSTALLER & HOME IMPROVEMENT SPECIALIST

OCTOBER 2022 TI 67
---
Updates

F.H BRUNDLE ADDS TO GLASSSPIGOT RANGE

F.H. Brundle's has added the new Spig-Lite Pro to its product catalogue, saying it is a great addition to an

already successful collection of tried and tested glass spigots from the Pro-Railing range.

Using a similar but updated version of the clamping and adjusting method as the Posi-Glaze balustrade

system, the Spig-Lite Pro can be bolted directly into the substrate, including concrete and steel. This

channel-free system ensures clean lines and greater visibility, plus the gap between the substrate and glass

ensures free dispersal of water and debris such as leaves.

For use with glass from 12mm to 21.5mm thickness, with only two spigots required per metre of glass,

and only a single bolt per spigot, this system is currently one of the fastest to install on the market. The new

vertical adjustment device ensures each panel of glass can be horizontally adjusted once in position and

tightened to a torque, guaranteeing alignment and efficient installation every time. www.fhbrundle.co.uk

For further home improvement updates visit www.total-installer.co.uk

CARPORT & CANOPY SYSTEM 'PACKED WITH FEATURES'

Leka Systems has launched its latest product innovation, the new Leka Carport & Canopy System.

Rhys Hoddinott, the company's Managing Director, said: "The Leka Carport & Canopy System provides a durable,

lightweight and rapid construction alternative to more traditional carport systems. It's packed with features and

benefits that homeowners and installers will welcome."

The Leka Carport & Canopy System features Leka's renowned lightweight, structurally sound GRP framework that

means no thermal bridging or moisture absorption. It means the system is incredibly robust and built to stand the

test of time. Installation involves just five simple steps. In most cases, it takes a day or two, with no heavy ground

works, mess or weeks of build time. Each section is modular, pre-fabricated and highly engineered. This is said to

give peace of mind that every piece has been factory-tested before delivery, ensuring a smooth and straightforward installation. www.lekasystems.co.uk

HOME SECURITY STILL TOP OF THE AGENDA FOR YALE

National Home Security Month (NHSM) from Yale returned on 1st October, celebrating its tenth year of

helping homeowners across the UK prioritise their home security.

Paul Atkinson, Managing Director at Yale Door and Window Solutions, commented on the campaign: "We're

extremely proud National Home Security Month is celebrating its 10th campaign.

"This year, we once again have several big-name brands including B&Q, Screwfix and Amazon, supporting

the NHSM campaign, all with the same aim of spreading the message of improved home security far and wide.

And NHSM will be doing this through a national radio campaign, social media content and promotions in-stores

and online. With the heightened promotion of NHSM this year, the door and window industry should look to get

behind the campaign and this increased interest and focus on home security." www.homesecuritymonth.com www.yaledws.co.uk

FREEFOAM HELPS CUSTOMERS GROW

Yorkshire-based stockists Building Plastics Direct says that Freefoam has helped them and their installer

customers grow.

With two branches in Barnsley and Castleford and a thriving online business, Building Plastics Direct supplies fascias,

soffits, cladding, guttering and other PVC products to customers across Yorkshire and beyond. For husband-and-wife

team, Scott and Nikki Whitelam (pictured), Freefoam is said to be a brand they trust.

Scott said: "We started off just stocking Freefoam's fascias, soffits and guttering. We have since added different ranges, and we now stock Geo-panel and

Fortex cladding in five different colours. As we've expanded the range, we've increased our range of customers as well. We have quite a few registered installers

that work with us and insist on Freefoam products. It's been nice we've been able to support them. Freefoam want us to grow, and we see a positive future. We've

been with Freefoam for a number of years now and I can't see that changing anytime soon." https://freefoam.com/professional

68 T I OCTOBER 2022

PRACTICAL CONTENT FOR THE GLAZING INSTALLER & HOME IMPROVEMENT SPECIALIST
---
FUEL YOUR

GROWTH

Hungry for business growth? Team up with Purplex,

the marketing powerhouse.

Our unique blend of industry know-how and vast

marketing resources will give your business all the

essential nourishment it needs to gain some serious

mass, even during challenging times.

*Contains over 100% of your recommended daily marketing intake.

WANT TO BULK UP YOUR BUSINESS?

CONTACT PURPLEX TODAY ON

020 3137 9319 | grow@purplexmarketing.com

www.purplexmarketing.com

#FUELYOURGROWTH
---
Working at Height

TRAIN TO GAIN

In the third instalment of this mini-series, Trevor Rabson, Werner's Training Manager, looks

at why training is so important when it comes to working at height safely.

There are a variety of work at height training

courses available within the construction

industry, depending on what equipment

users utilise.

Most of these courses can be completed within

one day and are a cost effective way of ensuring

that workers are safe and competent when using

equipment to work at height.

But what are they, who organises them and where

can they be undertaken?

Ladder Association affiliated safety training

The Ladder Association is a not-for-profit lead

industry body dedicated to promoting the safe use

of portable ladders.

As part of this remit it works closely with

organisations, such as Werner, to support codes of

good practice, minimum standards for equipment

and education in the work at height sector.

Courses comprise practical and theory

assessments and cover when and how to choose

and use, how to handle and how to store a ladder,

understanding the law and standards, as well as

how to highlight potential hazards.

They include:

Ladders & Stepladders for Users

This course is for anyone who regularly uses

ladders or stepladders as part of their daily work. It

consists of practical and theory assessments and

covers when and how to use a ladder, handling and

storage, understanding the law, standards, and

potential hazards. (Half day course)

Ladders & Stepladders Inspection

This course is aimed at anyone who is responsible

for inspecting and maintaining ladders or

stepladders in their workplace.

It is as comprehensive as the Ladder & Stepladder

User course, and covers practical guidance on

assessing the need for inspection, fault-finding and

recommending actions, record keeping, as well as

the law. (Half day course)

Combined User & Inspection

This course is aimed at anyone who is responsible

for using AND inspecting ladders or stepladders in

their workplace.

It covers Legislation and Criteria for Ladder Use,

Ladder Types, Components and Standards, Hazard

Assessing Risks – S.T.E.P, Storage, Transportation

& Maintenance and Inspection of Ladders & Step

Ladders. (Full day course)

Steps and Step Stools for users

This is a shorter course (minimum 2.5 hours),

aimed at more occasional users of stepladders

and step stools – those working in shops, offices,

schools, hospitals and other sectors where using

this equipment to access height is infrequent.

The course covers essential information in the

safe use of ladders, ladder standards, hazards

and regulations.

Werner works with the Ladder

Association and PASMA to provide ladder

safety and tower training courses for both

individuals and businesses

At the end of these Ladder Association courses,

users will receive a certificate and LadderCard,

which is valid for five years, to demonstrate

competence when working with ladders.

PASMA affiliated access tower and

podium safety training

Founded in 1974, the Prefabricated Access

Suppliers' and Manufacturers' Association

(PASMA), is the recognised focus and authority for

mobile access towers.

PASMA advances safety, standards and best

practice across a wide range of sectors and

represents the interests of its members.

Through PASMA affiliated trainers, such as Werner,

there are a range of courses available that will

equip users with the specialist knowledge they

need to work safely with mobile access towers.

For users who purely use towers, there is a one-

70 T I OCTOBER 2022

PRACTICAL CONTENT FOR THE GLAZING INSTALLER & HOME IMPROVEMENT SPECIALIST
---
day course available, PASMA Towers for Users.

Through this course users will learn:

• How to safely assemble, dismantle, alter and

move mobile access towers

• How to safely use mobile access towers

• How to inspect mobile access towers

• How to identify hazards relating to their use

• What legislation, regulations and guidance are

applicable to these towers

For those who work with towers and low-level

access equipment, there is a combined course that

will equip users with the specialist knowledge they

need to work safely with this equipment.

Werner has launched its Stepping

up to Safety campaign for when

people are working at height

If a user is new to towers or tower training, Towers

for Users, and/or the combined course is the ideal

starting place.

It's taken by more than 70,000 delegates each

year and once it's been completed, users become

eligible for more advanced courses which cover

different tower configurations, such as linked

towers, towers on stairways, cantilever towers or

towers with bridges.

Once one of the above courses had been

completed, if applicable, users can then move on

to more advanced tower configurations.

There's a dedicated course for each standard

tower configuration.

They each last one day and can be completed in

any order. Learning to work safely with advanced

standard configurations means that users can

use towers on more challenging sites, overcome

obstacles and create larger platforms.

At the end of these PASMA training courses, users

will receive a certificate and card, which is valid

for five years, to demonstrate competence when

working with towers.

Training partner

Werner is proud to work as a partner with both

the Ladder Association and PASMA to offer ladder

safety and tower training courses to individuals

and businesses with a view to increasing the

safety of working at height.

Stepping up to Safety

As part of its bid to help increase safety when

people are working at height, Werner has recently

launched its Stepping up to Safety campaign, to help

professionals stay safe when working at height.

Working at height injuries and fatalities can be

reduced with the drive for change from industry

manufacturers and associations to lead the way in

safety when working at height, leaving employers

and employees feeling confident and safe at work.

To find out more information on the Stepping up to

Safety campaign please visit:

www.wernerco.com/uk/ladder-safety

Contact Werner:

www.wernerco.com/uk

@WernerLadderUK

PRACTICAL CONTENT FOR THE GLAZING INSTALLER & HOME IMPROVEMENT SPECIALIST

OCTOBER 2022 TI 71
---
Xpert Advice

The first thing to know about Xpert is that

it's not your average tool brand, explained

Richard. Like a fine dining restaurant that

serves choice dishes done to perfection, Xpert

Tools offers a carefully selected range of quality

tools and accessories specially developed for

glazing professionals. This niche focus makes

total sense given that Xpert Tools was founded by

a team of ex-window fitters who were fed up with

having to make do with generic hand tools that

simply weren't up to the task of many common

installation jobs.

PARTNERING UP

In this Xpert Advice column, Richard Bryant, Commercial Director at Window Ware, tells

Total Installer why now is the right time to add Xpert to your team...

"It's undoubtedly this first-hand understanding of

installers' pain points, and a continued passion

to find altogether better solutions, that has helped

the Xpert team create a proven range of triedand-tested

hand tools, air tools and equipment

which both fitters and fabricators can rely on to

help them achieve professional results in less

time versus general purpose tools."

Richard continued: "Today, there's an Xpert tool

to streamline many of the glazing professionals'

most frequent tasks such as toe and heeling

glazed units, removing sprues or beading and

deglazing windows, routing holes, sanding and

polishing frames, trimming window gasket, or

cutting cleanly through plastic window trim.

"What's more, some products have been

designed with handy features that enhance their

usability further, such as the Xpert saws which

include a ruler along the top edge of the blade to

make marking up quick and easy."

Expert supply partner

Richard maintains that for trade counters and

retailers sourcing their next top seller, the Xpert

range is a sound choice, boasting highly usable,

must-have products your customers will want to

buy, delivered when and where you need them,

helping to keep your shelves stocked and your

customers satisfied.

He said that since the start of this year, 98.9%

of Xpert product lines arrived 'on time and in

full, making Xpert the perfect partner to relieve

your restocking

headaches.

"We always strive

to ensure the very best

purchasing experience for our stockists, right

from the first moment they call and place their

order until they receive their goods.

"That's why, since April last year, we've

answered 98.36% of calls in three rings or less,

achieved order input accuracy rates of +98%,

and an average pick accuracy rate of 99%. Plus,

our customer satisfaction rate has typically

been 91.33% for the last 17 months, giving our

customers exactly the level of responsiveness,

attention to detail and dependability they need to

run their retail business smoothly."

Richard commented: "As well as a ready supply of

products, Xpert is also on hand with a wide range

of effective promotional materials and marketing

support for the Xpert range to help stockists attract

and engage with customers and drive sales.

"Useful resources such as Xpert brochures,

leaflets, re-order tags and high-quality product

images, as well as free-standing display units,

are available to help them boost their sales both

online and in store."

Capture Xpert @ work

To celebrate Xpert's growing fanbase and its

thriving community of stockists, and encourage

trade professionals to share their positive

experiences of using Xpert Tools, the team are

running a photo competition.

To enter, simply take a photo showing how you put

your trusty Xpert tools to good use and tweet Xpert

Tools your image by Tuesday 15th November 2022.

Don't forget to tag in @XpertTools and make sure

you're following them, otherwise they won't be

able to see your photo or contact you if you win.

The three favourite photos will each receive an

Xpert goody bag and a £20 Amazon voucher.

To find out more about the competition and read

the entry terms and conditions, visit:

www.xperttools.co.uk/photocomp22

Contact Xpert Tools:

01234 242 724

www.xperttools.co.uk

Tradespeople can enter the Xpert

@ work competition to win a goody

bag and a £20 Amazon voucher

Inset: Richard Bryant

72 T I OCTOBER 2022

PRACTICAL CONTENT FOR THE GLAZING INSTALLER & HOME IMPROVEMENT SPECIALIST
---
HOW DO |

FINd NEW

CUStOMERs

FASt?

Insight Data helps you pinpoint

your ideal trade and commercial

customers using our database of

60,000 prospects – with detailed

business and financial data not

available anywhere else.

• Local builders

• Construction companies

• Housebuilders

• Builders merchants

• Architects & specifiers

For more information

or your free demo, call

01934 808 293

Visit: www.insightdata.co.uk
---
Updates

For further vehicles, tools & workwear updates visit www.total-installer.co.uk

BE SEEN ON SITE THIS AUTUMN WITH SNICKERS

Snickers Workwear has unveiled its extended range of sustainable and functional high

visibility working clothes for light to night, dawn to dusk.

As workplace visibility decreases and the potential for accidents increase, Snickers Workwears

high visibility garments are said to work hard to protect your well-being and safety on site.

The extensive range of jackets, trousers, shorts, tool vests, shirts and fleeces all work together to

satisfy the requirements of Class 1, 2 and 3 protection levels.

These outstanding products combine Snickers' unrivalled hallmarks for Protective Wear with the

requirements of the EN 20471 standard for high visibility warning clothes. With advanced designs

and sustainable SORONA fabrics, all these working clothes have durable, colour-fast protection,

retaining shape and comfort throughout the life of the garments. Added to which, all Snickers Hi Vis

garments can be custom profiled to ensure 'stand out' coverage for your corporate brand. www.snickersworkwear.co.uk

SHINING BRIGHT WITH MAKITA

Makita has launched two new cordless work lights, compatible with both 40VMax XGT and 18V LXT batteries.

The ML005 40VMax XGT Cordless Worklight has three brightness settings, delivering up to 3,600 lumens

and offers approximately 3.5 hours of continuous illumination on high mode, when used with the BL4040

battery. The light has a controller with a memory function, so it will return to the last brightness setting

when turned on. The ML009 40VMax XGT Cordless Worklight delivers up to 10,000 lumens, with a lighting

coverage of approximately 9.7m to the front and 11.4m to either side. In addition, an optional lamp shade

can provide widespread illumination and reduce the glare of LED light and multiple shadows. When in high mode the ML009 can offer up to 2.4 hours

of illumination, when used with 2 x BL4040 batteries. Both lights have an LED colour of daylight white and a colour temperature of 5,000k, and can be

rotated from -30° to 210° for easy adjustment of the light angle and can be mounted on an optional tripod lighting stand. www.makitauk.com

A FEIN ADDITION TO THE RANGE

Power tools and accessories manufacturer FEIN has announced its MultiMaster oscillating multi-tool range will be

available on the 18v AMPShare battery platform, powered by Bosch, from this month.

The AMPShare battery platform will reportedly complement FEIN's MultiMaster by ensuring high performance, due

to an enhanced power source, enabling the tool to operate at maximum efficiency.

Andy Mills, Managing Director of FEIN UK, commented: "This is an incredibly exciting move for us, which will

strengthen our 18v cordless portfolio. We understand that our end users want the freedom to choose the best tool for the job, rather than being tied into

a single manufacturer's battery platform. By making our original multi-tool available on the AMPShare platform, we are opening this product up to 60

million+ batteries on the market. It also means we can get back to doing what we do best, which is focusing on developing the next generation of power

tools to revolutionise the way those across the construction, trades and metalworking sectors work." https://fein.com/en_uk

V12 FOOTWEAR AIMS TO BE INVINCIBLE

V2180 INVINCIBLE IGS is said to be V12 footwear's most innovative and advanced safety boot ever.

Developed over two years through collaboration with carbon experts, university professors and industry

specialists, it features the latest thinking and pioneering technology to offer never-before-seen patented

metatarsal protection.

A met boot is designed to protect the metatarsals, the long bones connecting your toes to your ankles. The

Metatarsals are vulnerable because they sit under a thin layer of skin and aren't protected by fat or muscle. Furthermore, they are relatively thin bones,

and like the toes, they are exposed as they extend beyond the body line. At the heart of the ExoGuard is a specialised protective carbon strap featuring

graphene mixed with resin, which is reportedly over 200 times stronger than steel. The company said that when tested against seven other leading

metatarsal boots, not only did Invincible outperform all other boots, but it achieved 10% over the required clearance level. https://v12footwear.com/

74 T I OCTOBER 2022

PRACTICAL CONTENT FOR THE GLAZING INSTALLER & HOME IMPROVEMENT SPECIALIST
---
Help keep the lights on

Your Christmas donation will help people who are homeless, and those

who need hospice care, by constructing the buildings they need.

Together we create places that care for people now, and for years to come.

Find out how you can help this Christmas

and donate at crash.org.uk/christmas

0795 1 446 532 fundraising@crash.org.uk
---
ALU SPACE

INTERIOR SCREEN & DOOR SYSTEM

Available Now

We pride ourselves on our reliability

Interior Screening Solutions

Sliding (single or double), Hinged (single or double),

Pivot or Fixed Screen

• Designed to divide or delineate spaces of any

shape and size, whilst providing an effective

acoustic barrier

• Elegant slim lines provide maximum light and space

• Suitable for residential or commercial use

Call us now for enquiries :

Tel : 01296 668899

or email: sales@garrardwindows.co.uk

Visit our website :

www.garrardwindows.co.uk