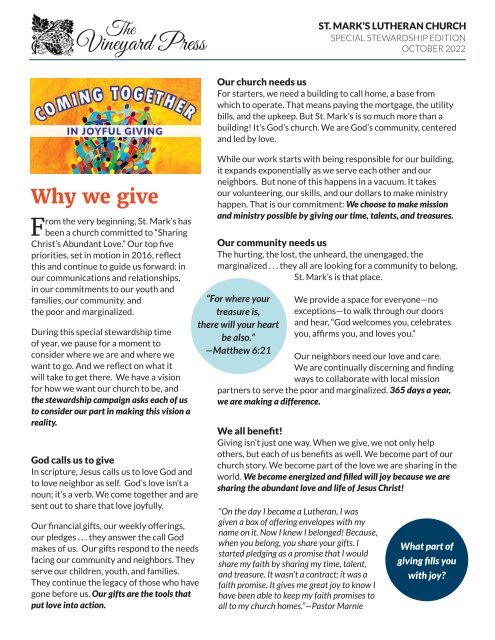 October 2022 Vineyard - Special Stewardship Edition
Monthly newsletter of St. Mark's Lutheran Church (Aurora, IL)
Monthly newsletter of St. Mark's Lutheran Church (Aurora, IL)
SHOW MORE
SHOW LESS
You also want an ePaper? Increase the reach of your titles
YUMPU automatically turns print PDFs into web optimized ePapers that Google loves.
The

Vineyard Press

ST. MARK'S LUTHERAN CHURCH

SPECIAL STEWARDSHIP EDITION

OCTOBER 2022

Why we give

From the very beginning, St. Mark's has

been a church committed to "Sharing

Christ's Abundant Love." Our top five

priorities, set in motion in 2016, reflect

this and continue to guide us forward: in

our communications and relationships,

in our commitments to our youth and

families, our community, and

the poor and marginalized.

During this special stewardship time

of year, we pause for a moment to

consider where we are and where we

want to go. And we reflect on what it

will take to get there. We have a vision

for how we want our church to be, and

the stewardship campaign asks each of us

to consider our part in making this vision a

reality.

God calls us to give

In scripture, Jesus calls us to love God and

to love neighbor as self. God's love isn't a

noun; it's a verb. We come together and are

sent out to share that love joyfully.

Our financial gifts, our weekly offerings,

our pledges . . . they answer the call God

makes of us. Our gifts respond to the needs

facing our community and neighbors. They

serve our children, youth, and families.

They continue the legacy of those who have

gone before us. Our gifts are the tools that

put love into action.

Our church needs us

For starters, we need a building to call home, a base from

which to operate. That means paying the mortgage, the utility

bills, and the upkeep. But St. Mark's is so much more than a

building! It's God's church. We are God's community, centered

and led by love.

While our work starts with being responsible for our building,

it expands exponentially as we serve each other and our

neighbors. But none of this happens in a vacuum. It takes

our volunteering, our skills, and our dollars to make ministry

happen. That is our commitment: We choose to make mission

and ministry possible by giving our time, talents, and treasures.

Our community needs us

The hurting, the lost, the unheard, the unengaged, the

marginalized . . . they all are looking for a community to belong.

St. Mark's is that place.

"For where your

treasure is,

there will your heart

be also."

—Matthew 6:21

We provide a space for everyone—no

exceptions—to walk through our doors

and hear, "God welcomes you, celebrates

you, affirms you, and loves you."

Our neighbors need our love and care.

We are continually discerning and finding

ways to collaborate with local mission

partners to serve the poor and marginalized. 365 days a year,

we are making a difference.

We all benefit!

Giving isn't just one way. When we give, we not only help

others, but each of us benefits as well. We become part of our

church story. We become part of the love we are sharing in the

world. We become energized and filled will joy because we are

sharing the abundant love and life of Jesus Christ!

"On the day I became a Lutheran, I was

given a box of offering envelopes with my

name on it. Now I knew I belonged! Because,

when you belong, you share your gifts. I

started pledging as a promise that I would

share my faith by sharing my time, talent,

and treasure. It wasn't a contract; it was a

faith promise. It gives me great joy to know I

have been able to keep my faith promises to

all to my church homes."—Pastor Marnie

What part of

giving fills you

with joy?
---
Impact of your giving

One of the great joys of giving is seeing the impact our gifts make. A child hears God loves

them. A homeless person gets fed. A worship service re-connects us with each other and

God. A burdened soul finds hope in the music. A Bible study brings new understanding. A

neighbor moves into a new home. A student thrives with tutoring.

These are the impacts we make possible when we share our gifts, This is how we make a

real difference in real people's lives!

• For our youth to continue to have strong programs,

we need you to volunteer your time on Wednesdays and Sundays.

• For our worship to continue to help others experience Christ,

we need you to give your talents to enhance the service.

• For our mission to continue to serve our community,

we need your treasures.

Read and see how your time, talents, and treasures make an impact.

Read and see how your pledges and offerings make a difference!
---
"Giving is not just about making a donation. It is about making a difference."

—Kathy Calvin, former President and Chief Executive Officer of the United Nations Foundation
---
Your giving makes ministry happen!

Your gifts make St. Mark's the church we want it to be.

Real dollars make a real difference!

To put your pledge into perspective, consider some of the ways your pledge dollars can be put to use.

WORSHIP

&

MUSIC

CHURCH

LIFE

Your pledge of $50/month

can make it possible to offer

Adult Education Hour

Your pledge of $350/month can

pay for our worship supplies

Your pledge of $200/month can

pay for our festival musicians

OUTREACH

Your pledge of $400/month

can cover the utility expenses

for ESSE's use of our building

FACILITIES

Your pledge of

$500/month can

cover our phone

expenses

Your pledge of

$150/month can

pay for our office

supplies

Your pledge of

$100/month can

cover our Rally Day

expenses

Your pledge of

$200/month can

pay for our Sunday

School expenses

YOUTH

&

FAMILIES

Where do we go from here?

The answer is in your pledge.

During the "Coming Together in Joyful Giving" stewardship

campaign, we've been hearing St. Mark's story, seeing how

we're connected to each other and our community. Now it's

time to write the next chapter. Where do we go from here?

The answer to that question is in your pledge. While we have

an abundance of imagination and potential, our financial

resources determine the kind of church we will be. As

dreamers, we want St. Mark's to keep growing, to see our

programs flourish, our music groups expand, our educational

experiences grow in impact. We want to be leaders in our

community, to contribute to the larger ELCA organization.

Yet the reality is, if we want more or expect more from our

church, we need to be willing to provide the support to make it

happen.

Where do you see yourself in the next chapter of our story?

Pre-budget presentation

Sat, Oct 15 and Sun, Oct 16

offered after each service

We're doing something we've never

done before! Council and Stewardship

Team are inviting you to take a first look

at next year's proposed budget.

• What are the needs?

• What are the hopes?

You'll get a preview of how our pledges

will determine how we operate in 2023

and important information to consider

as you make your own pledge decision.

Plan to stay after the service on either

Saturday, Oct 15 or Sunday, Oct 16 for

this unique Pre-Budget presentation.

(Sunday presentation will also be available via

Zoom. See Friday email for link.)

Watch for your 2023 pledge materials to arrive the week of Oct 17th!

Pledge cards will be collected Oct 22/23 and Oct 29/30.