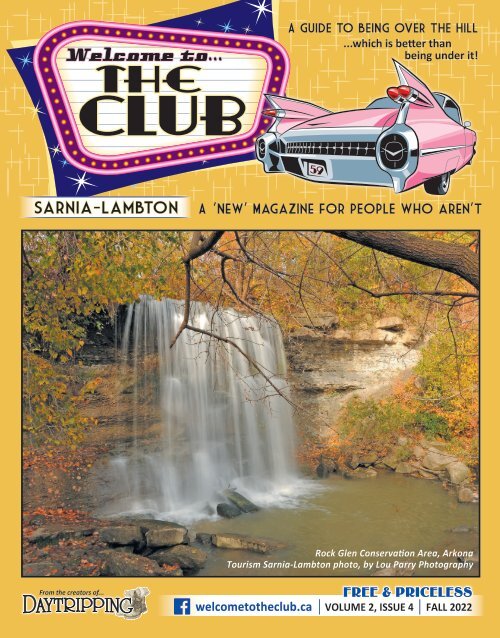 Welcome to The Club October 2022
A Magazine for 55+ Like No Other! Welcome to The Club features timeless articles and anecdotes including many from the archives of Daytripping Magazine. It's online at www.welcometotheclub.ca and is also distributed free in Sarnia-Lambton, Ontario.
A Magazine for 55+ Like No Other!
Welcome to The Club features timeless articles and anecdotes including many from the archives of Daytripping Magazine. It's online at www.welcometotheclub.ca and is also distributed free in Sarnia-Lambton, Ontario.
SHOW MORE
SHOW LESS
You also want an ePaper? Increase the reach of your titles
YUMPU automatically turns print PDFs into web optimized ePapers that Google loves.
Welcome to ...

THE

A GUIDE TO BEING OVER THE HILL

...which is better than

being under it!

CLUB

Sarnia-Lambton

A ''New' Magazine for PEOPLE who aren't

Rock Glen Conservation Area, Arkona

Tourism Sarnia-Lambton photo, by Lou Parry Photography

From the creators of...

welcometotheclub.ca

FREE & PRICELESS

VOLUME 2, ISSUE 4 FALL 2022
---
Welcome to ...

THE Club

Welcome to our Fall issue!

Welcome to ...

fall 2022

VOLUNTEER WITH

"It feels so good to help

people. So get out there and

feel good!" - Simon Sinek

Adopt-a-Driveway

Volunteer to shovel snow for a

person in need this winter!

Want to help someone in your neighbourhood?

30+ homes waiting to be adopted.

Presented by

Diner's Club!

Social Time. Hot Meal. Informative Presentation.

One Wednesday per Month • 11:30am - 1:30pm

Wellings of Corunna, 180 Bunker Ave., Corunna

Contact LEO for details:

519-845-1353 ext. 301

dcroxford@lambtonelderlyoutreach.org

$

15

WE ARE HIRING!

Working at LEO Means:

PEER SOCIAL

CLUB

1st Thursday - North Lambton

2nd Tuesday - Port Lambton

2nd Thursday - Alvinston

4th Tuesday - Sarnia

Socialize over

healthy snacks and activities!

Register: 519-845-1353 ext. 301

dcroxford@lambtonelderlyoutreach.org

Age-Friendly Best Practices for

Business and Service Providers

e-Certificate Course

Apply

Now!

• Directly supporting your community and the people who live in it

• Connected work environment

• Opportunities for growth

View all opportunities at: www.lambtonelderlyoutreach.org/join-our-team

Is your business positioned to serve the

fastest growing market group in Sarnia-Lambton?

Integrate Age-Friendly training tools into your workplace

A free, easy, and informative way for organizations to embed a

healthy aging lens into the delivery of programs and services.

https://bit.ly/age-friendly-course

Looking for a meaningful way

to connect to our community?

We could use

your help

in a variety

of client

support

areas and

program

development

at LEO!

Volunteer for:

• Board of Directors

• Friendly Visiting

• Bingo Helpers

• Meals on Wheels

• Transportation

• Diner's Club

• Forever Fit

• Administration

TO GET INVOLVED: 519-845-1353

volunteer@leohelps.ca

lambtonelderlyoutreach.org

How We Can

Help You Live

at Home

Transportation

Non-Urgent Stretcher Van

Meals on Wheels

Home Maintenance

Personal Care

Home Help

Care Giver Respite Support

Crisis Intervention

Housing Support

The Peer Program

Friendly Visiting

Diners Club

LEO Scored 98% Exemplary Standing

for providing Quality Services

Funded in part by the United Way of Sarnia-Lambton

and Jackpot City, Sarnia

Lambton Elderly Outreach • 1-800-265-0203 • www.lambtonelderlyoutreach.orgb ld l h

P A G E

2

The bottom borders in this issue contain Phobias - what are YOU afraid of?
---
This FREE magazine is distributed in most of Sarnia-Lambton.

Welcome to ...

THE Club

EXPIRES

Nov. 30,

2022

No Cash

Value.

1298 Exmouth Street

Sarnia • 519-542-4771

fall 2022 Phobias… The fear of air travel is called aerophobia

P A G E 3
---
Welcome to ...

Our local cover

photographer is

Lou Parry Sprenger

THE Club

Cover of the CLUB

Lou Parry Sprenger is a life long Lambton County

resident who loves to capture the beauty and elegance

of its natural wonders along with the genuine heartfelt

smiles of its residents. You can view more of Lou's

photography on Facebook or on his website.

louparryphotography.com

@louparryphotography

You must be 55 or over to read this magazine.

Welcome to ...

fall 2022

VULNERABLE PERSONS REGISTRY

Do you know someone living with dementia?

3 out of 5 people living

with dementia will go

missing at some point, a

frightening experience,

and a dangerous one.

That's why the Alzheimer

Society of Sarnia-Lambton

is partnering with The

Sarnia Police Services and

OPP to provide an

opportunity for individuals living with dementia to be registered as someone

at risk of going missing. Critical information collected provides searchers with

quick access to key information to assist in locating the individual and

returning them home safely.

Registration

is easy!

Christmas shopping is a great reason

for daytripping all over the county to find

the right gift. Many small shops offer

desirable items never found in malls - a

hand knit sweater, or an unusual bird

feeder. Some farm equipment dealers

carry tiny replicas of tractors. Who knows

where a daytripper might pick up a

mince pie to freeze until the family feast?

It wasn't always that way...

Santa Claus, that overstuffed, pipe

smoking fire hazard, got credit for the

things we found under the Christmas tree

years ago. But it was the rural mailmen

who never were given more than a half

hearted thank you for their diligence and

concern who brought the bundles to the

roadside mailbox. Since each mail route

was awarded to the one who put in the

lowest bid, the "winners" had a hard time

eking out a living.

Most of their Christmas deliveries

came from the T. Eaton Co. That was

where you could find variety and special

items not found in local stores. A large

number of mail orders were sent late,

so that mountains of packages had to

be delivered the last few days before

Christmas. The mailmen piled their

ramshackle autos full of parcels, along

with the regular mail.

One year my mother sent her mail

order, calculating the goods would arrive

Let's all do our part to help individuals with

dementia live safely in our community.

Simply call Alzheimer Society Sarnia-Lambton

at 519 332 4444 to learn how.

Move Over, Santa

by H. H. Irwin, Ruthven • from Daytripping Nov-Dec 2005

on the twenty second or twenty third -

lots of time, she thought. She felt worse

than we did on Christmas morning.

"Santa Claus didn't get here last night."

So what! We each had a stocking

crammed with an orange, peanuts, a

handful of candy and some mitts just like

Grandma knit for us. An early package of

gifts from an aunt contained some books.

What more could one want?

"Why didn't he come?" Perhaps he

thought we had been bad that year.

Perhaps he was right!

"I think he got stuck in the snow," said

father.

"Deer wouldn't get stuck." contributed

small wise acres.

"No, but a sleigh loaded up could."

That finished the conversation. We were

too busy shelling peanuts to bother.

Another cold, snowy winter my father

thought only a team and sleigh could be

relied upon to get through the drifts to

our grandparents' house. Sometimes the

horses struggled through the giant heaps,

sometimes they trotted with trace chains

jingling. We children loved the ride.

Grandma's radio, crackling the noon

broadcast, said the

Toronto to Windsor train

that had been stuck in

drifts had been cleared in

the early afternoon of Christmas Eve. Mail

handlers stayed to dispatch the delayed

mail to the county post offices, which,

I have been told, were crammed to the

doors. The small town offices stayed open

to let residents claim their parcels. The

rural mailmen had shoveled and chugged

around their routes to deliver any mail on

hand. Christmas Eve darkened into night.

Christmas at Grandma's was

wonderful. As shadows began to

lengthen, father decided we had better

go home. We piled on the sleigh, cuddly

robes around us, along with the swag

we had received from our grandparents.

Lovingly hand made clothing, a short

lived wind up toy each, and the inevitable

books. It had been an exciting Christmas

day for us.

As we neared home, father said, "Look.

Santa Claus couldn't get in the lane so he

left your gifts by the mailbox."

My sister (aged a knowing five) and I

looked at each other. We knew the tracks

in the snow near the mailbox could only

have been made by the mailman's car.

We didn't ask where the deer tracks were.

More gifts! Eaton's policy was to

substitute equal or better items if

something was sold out. The Eaton

Special dolls were gone so they sent us

Eatonia dolls, beauties with hair and

shoes. A big teddy bear instead of the six

inch one ordered. A wondrous toy each.

And regular purchases too, rubber boots

for father and a supply of stockings for

mother.

Our mailman, a fellow with small

children, said there were too many kids

being disappointed for him to stay home.

It took him until dark to finish, and he had

to go back three times. There may have

been a heater in his car, but in those days

the best heater was weak. He shoveled

snow, and bucked drifts but he made sure

no kid on his route missed Christmas day.

He wasn't the only one. No one can

name them now, no one particularly

thanked them. Despite the economic

depression, the T. Eaton Co. did great

business then, and a good deal of their

success was due to the rural mailmen

who made sure the mail went through.

Mailmen, not Santa, made Christmas

memorable.

Publisher's Note: It sounds to me like

your mailman was Santa Claus!

P A G E

4

Phobias… The fear of cats is called ailurophobia
---
We're all getting older, we may as well laugh about it!

Sunday Drives

It's strange how we can manage to

forget thousands of details and events

that were once an important part of our

lives, but then remember the oddest

things very clearly. And this can happen to

people of almost any age - you don't need

to be elderly for this to happen, though it

certainly does help.

I vividly remember being on a Sunday

drive with my family as a child and seeing

a large bird, probably a hawk, takeoff from

a tree, and the large, dead branch it had

been perched on falling simultaneously

to the ground. It was really cool because

it appeared to my childish eyes that the

bird had ripped that branch right off of the

tree. It's much more likely that the branch

just gave out and the bird had no choice

but to fly away and I was simply looking in

the right place at the right time. I doubt I

was more than eight years old at the time.

I don't remember anything else from

that day or any Sunday drives for that

matter, though I think we went on lots of

them. At least I don't remember anything

about being in the car. Being the youngest

and smallest it's safe to assume that I was

safely tucked away in the back window

ledge. My parents had nine kids, not a lot

of money, and used cars that were usually

slightly smaller than the Titanic. Not that

I remember the cars either, though one of

them had really large back fenders. I just

know we had a lot of seats to be filled.

My dad was James Moran (Jimmy) and

he was reeve of Sombra Township for a

number of years and warden of Lambton

County in 1973. I was born in 1965 and

I'm guessing that some of these excursions

took us kids to functions throughout the

county that he wanted to attend. So my

love of Lambton started early in life.

It's the Sunday drives that I wanted

to talk about though, and it turns out

that they can take place on any day of

the week, especially if you're retired.

Later in life, when I was 16, I moved to

the Wyoming/Petrolia area, made a lot

of new friends, bought crappy cars and

thoroughly explored the back roads of the

county. One friend in particular is Steve

Loxton, who has since become one of

the most informed local historians. I was

always content to just drive and look at

scenery and take pictures of abandoned

houses but even at an early age Steve was

a walking encyclopedia of local history.

He's never forgotten anything he's read,

or so it seems.

He would have us driving and hiking in

search of abandoned railway beds, always

looking at the fence lines and patterns

of where the forests were cut, indicating

where steel rails once

connected

by Mark Moran, Publisher

towns from the past and the present. He

would drag me along on canoe trips to get

the optimal view of bridge abutments of

roads and rails that were no longer used…

I had no clue what a bridge abutment

even was but didn't tell him that. I didn't

mind getting the history and geography

lessons… it was always interesting

(because he never stopped talking). Barely

marked cemeteries, vanished villages,

general stores, little known waterfalls,

one-room schoolhouses, river cuts,

mills, watersheds, abandoned oil wells,

foundries and factories… there are a lot

of historic places in our own big backyard.

Some are right in front of us, some are

grown over and others you'd have to dig

to locate. I was lucky enough to have a

narrator for these trips, and there were

hundreds of trips. There still are for that

matter.

The point of this article is to suggest

that you get out and explore them for

yourselves. Fall is the perfect time, with

fewer bugs and the leaves changing colour.

I caught up with Steve the other day and

asked what his three favourite roads are

in Lambton County. The St. Clair Parkway

didn't count because it's just too obvious

but his other picks surprised me.

Ridge Road that runs east-west below

Thedford was one of them. East River

Road that hugs the Sydenham from

Wallaceburg north for quite a ways

north was another, though most of it is

in Chatham-Kent. Steve's third choice

was River Road south of Grand Bend.

When you're heading north on Highway

21 just past Port Franks, you go over the

Ausable River, but that's a man-made cut

that was built to drain the Thedford bog.

I only know this because Steve told me at

least 100 times. The road that followed

the river's previous path still exists and

the easiest way to find it would be to take

Greenway Road at the Lambton Heritage

Museum for about three kms. and it will

be on your right.

One of my own favourites is Aughrim

Line north of Shetland where you'll pass

by St. Johns-in-the-Woods Church. Feel

free to stop in… it will be open and you

can even sit down and play the Clavinova

if you like.

All the area north-east of the Oil

Museum in Oil Springs is another group

of roads that I'll never get tired of, with

the pump jacks still pulling oil from the

ground and numerous metal sculptures

that Murray Watson created detailing the

history of the area. If I can only pick three

and the portion of Old Lakeshore Road in

Brights Grove is too short to count, I'd pick

Egremont Road which winds its way from

Old Lakeshore through Camlachie and off

to Warwick.

If you need an excuse

to go, you can stop in at a

farm market, restaurant,

brewery, trail or whatever

else suits your mood. Take

a few photos while you're

at it, and we'd love to see

them.

Thanks for reading.

Welcome to ...

Welcome to ...

THE

CLUB

THE Club

The Club Features

You'll find

current and

nostalgic

articles

throughout

The Club.

Events 26

Discount List 24

Community Resources 29

Giving List (Volunteering) 32

Word Search 12

Postcards from the Past 17

Trivia 10

Recipes 19

Crossword 37

Lou Parry Sprenger, p er

, Glen e C. . Phillips, i lips

, #Local, L

o Francis n

i

Martin, a t

i Barbara b

ara Perrin, Lambton b

Shores Nature Trails, l , Sipkens Nurseries,

r s,

Chris Treftlin, e i , Kelly-Lynn y Musico, i o Cathy Dobson, b

n Susan Iedema,

d

ema,

Tina Trivett, r t , J.J. J Francisson, r n so

n,

H.H. H

Irwin, n Norma West e t Linder, d

e , Janet

n t

Fraser, a e , C. C W. Tiffin, T in

, William ia

m Bedford, d,

Kathryn K t

h y

Hixon Lees, s Glynn l A.

Leyshon, y n

Spokeshave, p k

e,

Jean e n Leedale ed

l

Hobson, on, Arthur A

h

Wood,

d

Lambton b

County Archives and d all the Recipe i

contributors.

ors.

Mark a k Moran o a - Publisher, b i e Ad Salesa Carrie Ann Timm - Associate Publisher

Carla MacGregor - Advertising Sales

Rhonda Long - Advertising Sales

Angela Lyon - Graphics & Editing

Carla Mejia - Graphic Design

From the

publishers of

DAYTRIPPING

ING

MAGAZINE

VOLUME 2,

ISSUE 4

Fall 2022

YOUR CONTRIBUTORS

CLUB STAFF

P.O. Box 430 • Brights Grove, ON •N0N 1C0

519-491-1676 • info@welcometotheclub.ca

www.welcometotheclub.ca

SUBSCRIBE!

To receive eive

The Club in the

mail for $20/year (4 issues),

s)

give us a call to discuss payment.

t

You can also view each issue online -

just ask to be added d

to our email notification tion

list.

t

Welcome to The Club is published four times annually by Moran Advertising, Brights Grove, Ontario. The publisher reserves

the right to reject, discontinue or omit any advertisment without notice or penalty to either party. No portion of this

publication can be reproduced in whole or in part without the permission of Moran Advertising. The content of this

publication does not necessarily represent the opinions of the publisher. The content of this publication has not been deemed

by the publisher to be correct and accurate. The advertiser agrees that the publisher shall not be liable for damages arising

directly or indirectly from errors occuring in this publication beyond the amount paid for the space actually occupied by that

portion of the advertisment in which the error occurred, whether such error is due to the negligence of its servants or

otherwise, and there shall be no liablity for non insertion of any advertisment beyond the amount paid for such advertisment.

Use of Material: submitted articles, letters, and other works or materials may be used, published, distributed and stored by

Moran Advertising, Welcome To The Club, and Daytripping Magazine, in whole or in part, in print or by any other means.

fall 2022 Phobias… The fear of germs is called bacteriophobia

P A G E 5
---
Welcome to ...

THE Club

Feel free to send in photos showcasing Sarnia-Lambton.

Welcome to ...

fall 2022

Forest Pharmacy

Unique Gifts & Greeting Cards

Herbal Products & Supplements

Compression Stockings • Mobility Aids

Purses, Scarves & Jewellery

*Free Delivery in Lambton Shores

* Some restrictions apply

Seniors Save *15% Wednesdays

View our flyer and services at

forestpharmacy.ca

Mon-Fri 9-6, Sat 9-5, Sun & Holidays 10-2

19 King Street West, Forest, ON

519-786-5161

info@forestpharmasave.ca

Your Local

& Lake

Inspired

Artisan

Shop!

Apparel that Gives Back

Glass Fusing Workshop

30+ Canadian Makers

3811 Lakeshore Road • Camlachie • 519-328-2217

Visit website for current hours & info! www.lakelifestudio.com

Steamed Up Kitchen Windows

By Susan Iedema, London

from Daytripping Fall/Winter 2022/23

As cooler weather returns, my

thoughts also return to cold weather

memories of my childhood. One such

memory is of coming home from

school, climbing the veranda stairs of the

whitewashed, clapboard house where I

grew up and seeing steamed up kitchen

windows. This sight was evidence of the

welcoming warmth within.

My Mom would be there in the

kitchen. Pots on the stove and a meat

dish in the oven meant that she had

started supper. Maybe there would be

P A G E

6

a fresh baked pie, or two, or

cookies, cooling on a rack on

the counter.

The kitchen's cast iron

radiator was also where fingers

and toes were thawed after my

siblings and I had been outside

playing on a cold, winter day. I

can still remember the stinging

pain that appeared as warmth

returned to them.

Once the chilly weather

arrives, I still look forward to

that welcoming warmth that

greets me when I arrive home

and walk through the door.

I also look forward to the many

changes and events that occur with the

cooler weather and the new seasons of

fall then winter.

Halloween always brings a smile to

my face as it evokes the same feelings

I had as a child and produces an

atmosphere of mystery, excitement and

spookiness. Halloween is actually one of

my favourite, fun times of the year!

High on my list of things I will welcome

with the drop in temperatures are all

the heartier foods and baked dishes

that appear on the menu, especially at

Thanksgiving, then Christmas. Turkey

and stuffing, ham, mashed potatoes and

gravy as well as all the local vegetables

like squash, carrots and turnip, to name

just a few.

The lights and decorations of

Christmas were always awe inspiring

as a child. As an adult I must admit

my Christmas tree and decorations

come out in November. They light

up my world, and my apartment, on

the shorter, darker days of winter. So,

instead of putting them away after the

holiday season has passed, I remove

all Christmas themed items and my

tree becomes a winter one. It usually

remains up until about St. Patrick's

Day, possibly a bit longer, or shorter,

depending on when winter decides to

depart. Or when I think it's time for

spring to start!

The icy cold conditions of winter

also mean bundling up for a refreshing,

invigorating walk, even if just to run

errands. However, as a kid, running an

errand usually meant it was my turn

to walk to the store for milk. But, back

then, this chore was akin to some type

Phobias… The fear of bridges is called gephyrophobia

of punishment so I trudged along as

woe was me!

Putting pajamas on and getting

under the blankets signaled bedtime in

my younger years. Wool blankets were

even sent over from relatives in the

Netherlands to help keep us warm. I am

sure letters and pictures home told of the

Canadian winter weather conditions. As

an adult though, putting jammies on

and curling up under a blanket is a cue

to relax and read, journal or watch a

favourite program or movie.

And how could I forget a good, hot

cup of coffee as a cold weather comfort!

Although as a child, coffee was not

allowed. Apparently, it would turn my

hair green! Instead there were special

times on a Sunday afternoon when a

cup of tea, with sugar and lots of milk,

was served up in a beautiful teacup to

my siblings and me.

So as the days grow shorter and the

warmth fades, memories of cold weather

experiences invade my thoughts,

especially one memory in particular

from when I was a kid, coming home

from school and seeing the welcoming

sight of steamed up kitchen windows.
---
Most articles in here have been written by people like you.

CAROLYN R L N MOSIER

BscP.T. MCPA

Registered

ered

ed

Physiotherapist

ist

Forest Physiotherapy

and Rehabilitation

10 Watt Street, et

Forest • 519-786-3336

36

Comfort Food

It's like a warm blanket, soft and cozy

with the power to make the problems of the

day disappear, even if only for a moment.

A familiar aroma drifts across time and

space and you are suddenly a child at

the dinner table digging into your second

helping of macaroni and cheese with lots

of crispy buttered breadcrumbs topping the

scrumptious casserole.

The moment passes and you are once again

browsing the shelves in the grocery store,

wondering what to buy for supper. Thoughts of

those wonderful meals of your childhood stay

with you as you pick up a box of Kraft Dinner

and a package of back bacon. "Not quite the

same thing, but who has time these days?"

A familiar scene? For many people it is. We

want to remember the comfort foods of our

past and as much as we would like to prepare

the same meals and re-live the memories it

is not practical with our busy schedules and

varied dietary needs.

Almost everyone I know loves food. All

kinds of food, from healthy salads and fruit

to chocolate fudge brownies. No matter

the occasion there are foods to delight

every palate. But what is comfort food?

What memories come to mind when you

think of favourite foods from the past? The

answers to these questions are as diverse as

the people who prepare and enjoy comfort

food.

Aunt Lena is the epitome of comfort. A

southern lady who opens her home and

heart to everyone, Lena and her husband

Wayne became members of our family

years ago when we met them on a trip – in

fact, they began to call my husband and me

their "adopted Canadian step-kids" and we

in turn called them Aunt Lena and Uncle

Wayne. Just after Wayne passed away, we

visited Lena in Mississippi. Even though she

was in mourning, her heart was full of love

and we had a wonderful visit.

foresttravelservice.com 519-786-2319

We're here to help you

make travelling easier.

18 King Street West, Forest

ESTABLISHED

IN 1977

by Kathryn Hixon Lees, Hamilton

from Daytripping May-June 2003 issue

Lena prepared us the most delicious meal

of Chicken Gumbo and biscuits and, when

not cooking dinner herself, she treated us to

some down home southern catfish at a local

restaurant that was her family's favourite

place to eat. When I think of Lena I think

of comfort and warmth.

I began to think about my own favourite

meals from when I was a child. One that

comes to mind is Hot Pot. My mother would

prepare this dish every Monday, with the

leftovers from Sunday's roast beef. Before

supper the family would sit at the table while

Mom finished getting the meal ready. We

would talk about our day and my dad would

have a beer (a bottle of Molson Golden). He

would let me pour the amber liquid into his

mug, making me feel so grown up.

There were many comfort food meals that

my mother would prepare but my all-time

favourite was her chili con carne. The best

chili ever! She made it at least once a week

and there was always a bottle of crushed

chilies on the table for my brother and me

– we loved it HOT! Sometimes she served

it with hot buttered toast and sometimes

with boiled new potatoes. Either way it was

wonderful. I have never tried to recreate her

recipe for chili but thoughts of it make me

wonder if I should add kidney beans and

crushed chilies to my shopping cart on my

next trip to the grocery store.

Whatever the reason, the need for comfort

food stems from our desire to return to

simpler times. Memories are made early

in our lives and are cherished as we grow

to adulthood and almost always carried on

with our own families even as we make new

memories and traditions.

One of the best descriptions I have heard

of for comfort food is this: "It's like your

best friend. You don't need explanations,

you just know it is there and will never let

you down."

Welcome to ...

7143 Forest Road,

Plympton-Wyoming

(4 km S. of Forest)

Come

to our

on farm

Brewery!

stonepickerbrewing.com

Follow us for live band announcements.

THE Club

By appt please

Available frozen

as whole, quartered

or by individual cuts.

7078 Wisbeach Rd,

ARKONA

• Farm Raised • Free Range • Non-Medicated

519-494-1139 • wisbeachchickens@gmail.com

also at Williamson Farms Country Store

Drop us a line…

we'd love to know what you think!

Feedback

Comments from Our Readers

Hey Mark, just wanted to text you and let you know your Welcome to The

Club paper is all over the long term care home I work at and they love it.

One of the day program workers reads the stories to the residents all the

time. Just today one of our residents was very worked up, yelling out and

sounding a bit aggressive and she started reading her the story about tea

and she completely calmed down and they started talking about it and

laughing. Just thought you might want to know your paper is offering a bit

of happiness at the home!

Talia Fadel, Lambton Meadowview Villa

Once again, you 'nailed it' in terms of a great read with the Winter 2022

edition of Welcome to The Club. I read it from cover to cover enjoying the

various articles, stretching my mind to complete the puzzles, and even look

through the advertisements. It is truly a timely publication for those of us in

our exclusive club (why not, we earned it!).

Cheryl Cassin

I want to tell you I love your paper The Club. It is the best thing I have ever

read. I have told so many people about it and they are now reading it also. I

love the jokes, stories like Opening Remarks, Quotables, The Last Laugh.

I loved the articles in E-mail in-box, Exasperation, For Those Feeling Younger

Than Old, Ode to My Mother. There really isn't anything that I don't like.

I love the Daytripping paper also but this is the best. Keep up the great

work. I also love the sayings on the bottom of the pages.

Linda Lajoie

Send your thoughts to info@welcometotheclub.ca

or r

comment m

me n t

on our u

Facebook ok page

g

An Old Fashioned Country Store with a Modern Twist!

• Collecbles & Giware • Kids Secon • Fudge

• Maple Buer Tarts & Baking • Williamson Farms Beef & Local Pork,

Cider, Cheese & Maple Syrup • Gi Baskets

Shop Online: www.williamsonfarmsmarket.com

14 King St. W., FOREST • 226-520-0144

Open Monday to Friday 10am-6pm • Saturday 10-5

fall 2022 Phobias… The fear of marriage is called gamophobia

P A G E 7
---
Welcome to ...

THE Club

Thank you for continuing to shop locally!

Welcome to ...

fall 2022

Do you

want

copies

of...

They're T

FREE

for people 55+!

Welcome to ...

THE

CLUB

For a group,

apartment

building,

or meeting?

Call 519-491-1676 or email

info@welcometotheclub.ca

Stop & Shop in

DOWNTOWN

FOREST

CHECK OUT

OUR DOWNTOWN -

browse our shops,

enjoy a meal at one of

our fantastic restaurants

or take in a movie at the

historic Kineto Theatre!

Make a day of it in Forest!

Holiday Events:

Open the door to your

financial well-being.

Pat Smits

Financial Advisor

12 Mac Donald Street

Forest, ON N0N 1J0

519-786-4924

www.edwardjones.ca

Take the High Road…

and the Low Road!

Lambton County Heritage Forest

By Mary Lou Tasko, Lambton Shores Nature Trails • www.lsntblazers.com

Lambton Shores Nature Trails (LSNT)

is a local volunteer organization that

works to build a network of user-friendly

nature trails that inspire people to

experience the biodiversity of Lambton

Shores and vicinity. Volunteers blaze,

trim and clear trails, but also undertake

projects that improve accessibility,

protect environmentally sensitive areas

and beautify public spaces. If you would

like to learn more about our initiatives,

visit LSNTBlazers.com.

In previous issues of "Welcome to

the Club," we highlighted the Ausable

River Cut Conservation Area Trails and

Ipperwash Dunes and Swales Trails. In

this issue we focus on the trails in the

Lambton County Heritage Forest (LCHF),

accessed at the Port Franks Community

Centre where there is a large parking lot

and accessible washrooms.

The Lambton County Heritage Forest is

a 238-hectare property located between

the Port Franks Road and Outer Drive.

The area was originally owned by the

Canada Company who sought to clear

and develop it for agriculture. However,

the dunes were not suitable for cropgrowing

so, in the 1930's, the County

of Lambton purchased the property to

preserve it as a natural area. Initially,

several varieties of pine and spruce

were planted in the open areas but were

later removed when it was determined

that these open areas were actually oak

savanna or pine barrens. In 1984, the

Lambton County Heritage Forest and

surrounding forest was designated as an

Area of Natural and Scientific Interest

(ANSI) named the Port Franks Wetlands

and Forested Dunes.

The LCHF lies within the Carolinian

Life Zone, commonly referred to as

Carolinian Canada. Compared to the

rest of Ontario, the Carolinian Life

Zone experiences warmer average

temperatures, milder winters and the

longest frost-free season. It supports

an incredibly diverse array of flora and

fauna, many of which are species at

risk (SAR). The landscape in the LCHF

includes low-lying marshy areas, open

woodland and a high ridge of forested

dune. Vegetation ranges from swamp

oaks to oak-pine forest to savanna and

pine barrens due to elevation changes

and environmental stressors. Birdlife

is abundant; in fact, over 400 species

of birds have been sighted in the Port

Franks Wetlands and Forested Dunes!

The Lambton County Heritage Forest

Ladies Weekend

Nov 18 & 19

Light up the Park

Nov 25

Santa Claus Parade

Nov 26

12 Days of Christmas

starts Dec 8!

Keep up to date with event & shopping information

on our website, Facebook & Instagram!

is one of five properties and 18 km of

trails within a 4 km radius of the 'Heart

of the Trails' trailhead in Port Franks.

This showcase trailhead features

information panels and indigenous

artwork, including paintings and

carvings by local artists. The adjacent

'Circle of Life' is a symbol of indigenous

people's belief in the interdependence

of all forms of life. It is a meditative

place with benches, native plantings

and carvings of the Seven Grandfathers.

Three separate but connected trails

are available in the LCHF. The Tulip Trail

is a 3.1 km loop that starts at the trailhead

and finishes behind the community

centre. It is moderately difficult with

some steeper slopes and valleys.

Approximately halfway

around the loop, you can

Lambton County

pick up the Savannah

Heritage Forest

Trail, another moderately

High Ridge Trail (2.8 km) Difficult

difficult loop that adds

Tulip Trail (3.1 km) Moderate

2.1 km to your trek. For

Savannah Trail

the adventurous, the (2.1 km)

High Ridge Trail (2.8 km), Moderate

which can be accessed

from the Savannah Trail

or Tulip Trail loop, follows

the ridge of an extensive

forested dune. It includes

several inclines and

declines, and is narrow

in some sections, but

provides impressive views

of the surrounding forest.

Outer Drive

➢

N

In combination with the adjoining trails,

the High Ridge Trail offers a total hike

distance of over 6 km.

Trails in the LCHF are well-marked

with maps at trail forks and several

resting or lookout spots. As horseback

riders also use the Lambton County

Heritage Forest, it's important to

remember that hikers should always

yield to horses by stepping off the path.

In addition to the forest trails, a 550 m

long wheelchair accessible path through

a 'tree tunnel' is available behind

the community centre. A children's

StoryWalk® follows this loop.

The Lambton Heritage Forest Trails

are appealing for a variety of hikers as

they offer plenty of options for exercise

—and plenty of opportunities to

experience the Carolinian environment

with its menagerie of plant and animal

life. Take the high road or the low road

but be sure to visit this gem of nature!

For more information or trail maps, visit

LSNTBlazers.com.

43°13'28.7"N

81°53'34.4"W

P

Port Franks

Community

Centre

Hwy 21

Pt Franks Rd

Grand

Bend

P A G E

8

Phobias… The fear of ghosts is called phasmophobia
---
Life is short. Smile while you still have teeth.

Welcome to ...

THE Club

BOB BAILEY

MPP – Sarnia-Lambton

Building A Better Sarnia-Lambton

Welcoming Sarnia Police Service

Chief Derek Davis, who has been

very proactive in meeting with the

public and community leaders in

his new role.

With the Clerk of the Legislative

Assembly of Ontario during the

swearing-in ceremony for the

new government.

Special swearing-in ceremony at

Queen's Park with my colleagues,

the Solicitor General and MPP

Christine Hogarth.

With longtime educator Kim Henry

at Great Lakes Secondary School

for the grand opening of the Kim

Henry - Gnaajwi Biidaabiniikwe

(Beautiful Morning Woman) Room

(also known as Owaanzhgan –

"The Den") and the 580-seat

GLSS Auditorium.

Hello, Club readers! I hope you're all enjoying the beautiful

autumn weather! For many of us, this is the nicest time of the

year, as life slows down a bit, the leaves change colour, and we

all get to enjoy the bountiful harvest from our local farmers.

As I'm writing this message, we're in the midst of mourning the

loss of Queen Elizabeth II. On behalf of the people of

Sarnia-Lambton, I was proud to sign the book of condolences

at Queen's Park, offering my heartfelt thoughts to the Royal

Family on their great loss.

Most Canadians have never known another Canadian

monarch in our lifetimes, so the Queen's passing has hit many

of us especially hard. To me, the Queen always represented

strength, stability and a sense of decorum that defined a

different era. With the Queen's passing, our generation has

lost an important piece of our heritage and identity, but our

memories of Her Majesty will remain strong. God save the

Queen's son and successor, King Charles III.

In other news, it was a very busy summer at Queen's Park. The

government passed a wide range of legislation following the

election, the most important being the provincial budget.

Going forward, the government also continues working hard to

make Ontario's public health care system the best it can be,

build more long-term care beds, and address the needs of

Ontarians 55+.

Best wishes to all The Club's readers for a fabulous fall

season. All the best to you and your family!

Attending a Garden Party in

Sarnia's Germain Park in

celebration of the late Queen

Elizabeth II's Platinum Jubilee.

The event was a stirring

celebration and a great tribute to

the Commonwealth's longest

serving monarch.

After meeting with the firefighters

at the East Street Fire Hall, I

finally got a chance to check off

"sliding down a fire pole" from

my bucket list.

Farmers are the lifeblood of

Lambton County – and this is

the perfect time of year to

enjoy the fruits of their

labour, including the friendly

fourth-generation farmers

from Vrolyk's Farm Produce.

Meeting with Lambton Army Cadets

on bivouac during their MRE (Military

Combat Ration) lunch, as they

prepare for maneuvers. What a

hard-working group of cadets!

CONSTITUENCY OFFICE

805 Christina St. North, Suite 102

Point Edward, ON N7V 1X6

Contact Bob Bailey

Tel.: 519-337-0051

Fax: 519-337-3246

E-mail: bob.baileyco@pc.ola.org

Website: bobbaileympp.com

fall 2022 Phobias… The fear of shadows is called sciophobia

P A G E 9
---
Welcome to ...

Wyoming's First and Only

Health Food Store & Refillery

Wednesday is Seniors' Day! 15% disc. (65+)

647 Broadway Street, Wyoming

226-307-0694 • suncoastnaturalhealth.ca

THE Club

4622 London Line, Reeces Corners • 519-845-3482

Don't let old age get you down - it's too hard to get back up!

PICK YOUR OWN • Strawberries • Raspberries

• Apples • Pears • Pumpkins (in season)

PRODUCE FRESH FROM OUR FIELDS

FARM STORE with fresh produce,

bakery items, preserves, maple syrup,

honey & more. Stop by soon!

www.zekveldgardenmarket.ca

OPEN MON-SAT

Children Welcome

FARM FRESH ARTISAN GOAT CHEESE

GLUTEN FREE • LOW LACTOSE

SPECIALTY FOODS AS WELL

569 BROADWAY ST, WYOMING • 519-845-1613

Welcome to ...

fall 2022

Growing

A Greener

Community,

One Tree

At A Time

SENIORS 10% OFF (65+)

Contact Us: 519-845-0847

info@wyomingtreeservice.ca

Grandma's

Apron

Poem by

Tina Trivett

From

Daytripping

Spring 2022

The strings were tied, it was freshly washed, and maybe even pressed.

For Grandma, it was everyday to choose one when she dressed.

The simple apron that it was, you would never think about;

the things she used it for, that made it look worn out.

She may have used it to hold some wildflowers that she'd found.

Or to hide a crying child's face when a stranger came around.

Imagine all the little tears that were wiped with just that cloth.

Or it became a potholder to serve some chicken broth.

She probably carried kindling to stoke the kitchen fire.

To hold a load of laundry, or to wipe the clothesline wire.

When canning all her vegetables, it was used to wipe her brow.

You never know, she might have used it to shoo flies from the cow.

She might have carried eggs in from the chicken coop outside.

Whatever chore she used it for, she did them all with pride.

When Grandma went to heaven, God said she now could rest.

I'm sure the apron that she chose, was her Sunday best.

Driving

TRIVIA

Answers Below

1. In George Orwell's "Animal Farm" what kind of animals were

Napoleon and Snowball?

2. What is the proper name of "the house that Ruth built"?

3. What puts the pink in a Pink Lady?

4. In the last scene of Hamlet, Hamlet kills the king of which country by

stabbing him?

5. In mythology, Jason assembled the Argonauts to fetch which item?

6. Natives of which large French Island speak a dialect of Italian, not

French?

7. How long did the Hundred Years War last?

8. Which bands song "Take on Me" made them the first Norwegian group

to have a U.S. #1 hit?

9. Meaning "air weapon," what has been the name of the German Air

Force since 1935?

10. James Earl Ray was arrested near London for the murder of which man?

11. Which biblical person's children were named Ham, Japheth and Shem?

12. What inventor of vulcanized rubber died penniless?

a] Bradford Franklin Goodrich b] Charles Goodyear c] Antonio Pirelli?

13. The Dodge Omni came with a GLH model. What did GLH stand for?

14. Who lives in a pineapple under the sea?

15. If you spelled out all the numbers (IE: o-n-e, t-w-o) what would be the

first number in which you would use the letter "A"?

ANSWERS:

1. pigs (boars) 2. Yankee Stadium 3. Grenadine 4. Denmark 5. the Golden Fleece 6.

Corsica 7. 116 years 8. A-ha 9. Luftwaffe 10. Martin Luther King Jr 11. Noah 12. b]

Charles Goodyear 13. goes like hell 14. Spongebob Squarepants 15. one thousand

You've got a lot riding on those tires!

Wyoming

Auto Centre

You can trust

Wyoming Tirecraft

for personal

small town service.

ALL MAJOR BRANDS

Cars, Trucks, Performance

Specializing in Farm

AUTO SERVICE

We can also do repairs,

oil changes, brakes, batteries,

seasonal maintenance

and much more

It's worth

the trip

to Wyoming!

547 Ontario Street, Wyoming • 519-845-0813 • tirecraft.com

P A G E

10

Phobias… The fear of lightning is called astrapophobia
---
Maybe we should stop it with the elderly jokes. They're getting old.

Marcanda Gifts

Tea Room & Boutique

Bed & Breakfast

Gift Shop

& Ladies

Fashions!

4562 London Line

Reeces Corners

519-845-3133

LICENSED

• Manicures • Pedicures • Waxing

• Cosmetic Injections (Botox & Fillers)

• Electrolysis • Independent Hair Stylists

a getaway from the everyday

635 Broadway Street

WYOMING

226-307-0772

Welcome to ...

THE Club

I'm sorry,

did I roll my eyes

out loud?

Do you live in the

BOONIES?

The CLUB is

available at all

Lambton County

libraries

(while they last)!

623 Broadway St., Wyoming • 519-845-9915 • VillageFireplaceShop.com

It is part of the wedding vows if I

remember correctly... 'till death do us

part.' It is a vow often kept, even in this

day and age. As I travel along this road

of life, I often see it played out from

time to time. It always seems to me

that men seldom express the love they

feel for their wives openly, almost as if

expressing it shows a sign of weakness.

There are of course exceptions to the

rule and one day I encountered one

of these exceptions in a gentleman I

worked with at a plant where I worked.

These were his words, or at least the

ones I remembered most.

"We came over to this country from

Malta many years ago, me, my two sons,

and my wife. I love this country and

my kids, but mostly I love my beautiful

wife! I couldn't live without my wife.

Well, maybe sometime, heaven forbid,

if something took her from this earth I

would have to!"

I remember thinking at the time,

I love my beautiful wife also, but I

would seldom say those words aloud,

especially to a stranger! Still those words

coming from him that day didn't seem

out of place. Instead they sounded most

sincere and his face seemed to show his

love for his wife and family.

So, we come to what prompted me

to write this short story. Some time

Ties that Bind

ago, I became quite ill. I wound up in

the hospital for about a month and was

slow to recover. When I eventually did,

I ended up taking four different kinds

of pills, some of these twice a day. My

mind wanders quite a bit. My wife

always says I'm always thinking about

everything but what's important, and

for this reason I was forever forgetting

to take my medication. I guess my wife

still loves me because she solved this

problem by always placing a glass of

water beside my plate at every meal

and making sure I drank it while taking

my pills...which is about the only time I

drink water.

Then one day, about a year ago, I

walked down to the community mail

box to pick up our mail. I don't mind

the short walk down to the mailbox, it's

one of the few exercises I do anymore.

Oft times I meet someone walking their

dog and stop to chat. This particular day,

when I reached the mailbox, a young

lady in her late teens or early twenties

had just picked up her mail as I reached

there. She was about the same age as a

couple of our granddaughters. I expected

her to walk away without speaking but

By C. W. Tiffin, Chatham

From Daytripping

May-June 2016

instead, she turned and looked towards

me as she said, "You look to be about

the same age as my father." I happened

to notice a few tears sliding down the

cheeks of her face as she spoke. "My

mother passed away a few weeks ago.

My father took it really hard. We both did

for that matter but I feel so sorry for him,

he misses her so. He is supposed to take

pills for his heart, he had a heart attack a

few years ago and he is so despondent.

He has just stopped taking the pills for

his heart! I don't think he wants to live

anymore." As she said those last few

words, the flow of tears increased. I felt

so bad for her and remembered my old

friend from years before speaking about

his wife when he said, "I couldn't live

without her."

For a moment I stood there, feeling

sorry for her dad, her mother and

mostly for her. One of our sons had

passed away about a year earlier and I

knew the pain she was experiencing. I

felt I had to say something to her.

"I can understand how your father

must miss your mother and how he

feels he no longer wants to go on living,

but you must tell him how much you

miss her also and how much you really

need him now in your life more than

ever before. I probably would forget to

take my own pills before each meal but

my wife sets out a glass of water each

mealtime and watches to see I take my

pills. Tell your father you are going to do

the same for him and if he has any love

for you, he will take his pills!"

For a moment she brushed away the

tears and a smile began to appear. "I will

try that!" she said as she turned to leave.

"I really will!" she said as she hurried

away.

I never saw her again, nor did I know

her name, I only hoped things worked

out for her and her dad. Sometimes

the hardest thing in life is

saying goodbye to those

you love.

MARLEY PHARMACY

59 9Y Years of fS Service i to oWyo

Wyoming o &Th The Surrounding S o un

i Community!

C i

!

"Where Good Friends Meet!"

Physician Consults

available through our

VIRTUAL

WALK-IN CLINIC

Call us for details

• Compounding Service

• Rapid COVID Tesng

607 Broadway Street, Wyoming 519-845-3341

fall 2022 Phobias… The fear of fire is called pyrophobia

P A G E 11
---
Welcome to ...

THE Club

Thank you, to all the advertisers you see throughout the magazine.

Welcome to ...

fall 2022

Green County Ebikes

and

Mobility Scooters

New • Used

Parts • Sales • Service

Financing Available

Ebike &

Mobility Scooter

Batteries

Also Sundays in Grand Bend

at Pinery Antique Flea Market

638 Broadway Street, Wyoming • 519.333.8313 • www.greencountyebikes.com

TUES. TO FRI.

9AM - 5PM

663 Broadway Street

Wyoming, ON N0N 1T0

519-845-3212

beth@bethhackettins.ca

Great Local Service

AUTO • HOME • FARM • INSURANCE

Autumn WORD SEARCH

Find these words hidden vertically, horizontally, diagonally and backwards.

Hot Water

When I was a boy (back before

the earth cooled) we did not have hot

water on tap. It is something we take

for granted today, this merely turning

on a tap for hot water. In those days,

hot water was a totally different

commodity. For daily hot water, my

immigrant parents filled a kettle and

heated enough water to make tea or to

wash dishes. Other than those two uses,

there was no further call for hot water,

at least on a daily basis.

Once a week on Mondays, my

mother, rest her weary soul, did the

laundry. Once a week we had a bath.

Yes, once a week on Saturday night. My

mother gave me the onerous task of

lighting the gas jet next to the

coal furnace to heat the bath

water in the coiled pipe.

There was instruction

about the procedure but

of the most perfunctory

nature. The thing she

kept driving into me,

however, was that if I

did not get the gas lit

shortly after turning

it on, disaster could

happen. The gas could

seep out into the room and

when finally a match caught, or some

heretofore hidden spark ignited the

gas, the ensuing explosion would bring

down the house and kill us all. A bit of a

burden for a ten year old!

I should explain that the water was

heated in a metal cylinder in which sat a

coil of pipe connected to a large, round

tank. In the bottom of the cylinder,

seemingly out of reach to a small boy

(even if he was the eldest) was the gas

jet. When one opened a small door at the

bottom of the cylinder it gave one just

enough room to snake into the cramped

interior a small, quivering hand holding

a lit match. It was awkward and scary

to reach in knowing that with a sudden

"whoosh" the gas would light and

maybe singe your hand but at least not

explode and set the house afire. Many a

time I grazed my knuckles on the edges

By Glynn A. Leyshon, London

from Daytripping July-Aug. 2010

of that narrow little slot attempting to

jerk my hand to safety after the gas

caught. As the oldest of four it became

my responsibility to heat the water for

our once-weekly bath. Many times I

failed to light the damn thing on my

first, tentative attempt, usually because

I did not reach in far enough and the

match burned down until it singed the

end of my fingers without igniting the

gas. At this juncture I had to withdraw

my hand, turn off the hissing doom

before it became enough to blow up the

house, wait until the invisible, gaseous

cloud had dissipated sufficiently and

try again. Sometimes I rolled a bit of

newspaper into a torch and shoved it

into the opening. This wasn't much

better as I was nervous and the opening

was far too small. In my anxiety

I would jam the paper

into the cramped

space and put

out the flame, or

the paper would

burn too quickly

and I would fail to

get it through the

opening before its

flame died. When

this happened I, once

again, had to shut off the gas

and repeat the steps. I never did master

the process. Oh, it was wearisome being

the oldest - except for what came next.

When it became evident there was

enough hot water in the tank (which

was easy to do - I just felt the side of

the tank), I ran the water into the tub

upstairs. As eldest, I had first crack at

this pristine luxury and wallowed in

it, ignoring the clamor set up by my

brothers waiting their turn outside in the

hall whining that they did not want cold

water when their turn came. I merely

shouted at them to go down and light

the gas if they were concerned about

the temperature. Having witnessed my

terrified antics trying to carry out this

chore they quieted down.

What was a bit of tepid, gray bath

water to an explosion and fire!

P A G E

12

Phobias… The fear of dogs is called cynophobia
---
As you may have guessed by now, it's for people 55+

Welcome to ...

THE Club

fall 2022 Phobias… The fear of number thirteen is called triskaidekaphobia P A G E 13
---
Welcome to ...

THE Club

Do you remember being 19? Neither do we!

Welcome to ...

fall 2022

SARNIA

519-337-3713

OIL SPRINGS

519-834-2833

VAST SELECTION OF

TEAS & COFFEE

Exquisite Giftware

Home & Garden Decor

Jewellery • Gourmet Foods

4192 Petrolia Line • Petrolia • 519-882-0238

We want your

photos, stories

& anecdotes

showcasing

Sarnia-Lambton!

Welcome to ...

THE

CLUB

Send them to

info@welcometotheclub.ca

We also welcome your ideas,

comments or questions.

FULL SERVICE FLORIST • LOCAL ART

4194 Petrolia Line, Petrolia • 519- 882-1330

HOGAN

P•H•A•R•M•A•C•Y

• AUTO • HOME • FARM

• TENANTS • COMMERCIAL

1-800-265-7506 • www.cam-ron.ca

Full Service Pharmacy

Full Service Cosmetic Department

Full Service Home Health Care Dept.

Wednesday is Senior's Day ~ 20% OFF* for Customers 60+

Beautiful Gift Shop

• Wedding • Birthday

• Baby • Home Decor

Enjoy our Holiday Events! !

Customer Appreciation Week: Nov. 7-12

Kick off to Christmas Event: Nov. 15

Cosmetics Supreme Sparkle Event: Nov. 22

LADIES NIGHT - All Day/All-Night Event: Dec. 6

MEN'S NIGHT - All Day/All-Night Event: Dec. 13

Last Minute Christmas Event: Dec. 20

*SOME EXCLUSIONS

MAY APPLY, PLEASE

SEE STORE FOR DETAILS

4177 Petrolia Line, Petrolia • (519) 882-1840 Mon-Fri 9-9, Sat 9-6, Sun10-5

395 FLETCHER ST. • PETROLIA

226-738-0665 • WWW.BLACKGOLD.BEER

Phrase Origins

Fly off

the

Handle

Refers to a person

who is venting or

angry - we say

that he/she "flies off the handle."

The expression refers to the head

of an ax. A wood-chopper giving

vent to his anger will chop so

violently that the head of the ax

will "fly off the handle."

The

Wisdom of...

• Fresh Produce

• Fresh Meat

• Party Trays

• Bakery

• Deli

• Bulk Food

• Seasonal

Merchandise

• Flower

Market

Winston Churchill

A pessimist sees the difficulty in every opportunity; an optimist

sees the opportunity in every difficulty.

All the great things are simple, and many can be expressed in a

single word: freedom, justice, honour, duty, mercy, hope.

An appeaser is one who feeds a crocodile, hoping it will eat him

last.

A fanatic is one who can't change his mind and won't change

the subject.

Criticism may not be agreeable, but it is necessary. It fulfils the

same function as pain in the human body. It calls attention to an

unhealthy state of things.

Courage is what it takes to stand up and speak; courage is also

what it takes to sit down and listen.

A lie gets halfway around the world before the truth has a

chance to get its pants on.

If you're going through hell, keep going.

History will be kind to me for I intend to write it.

These are not dark days: these are great days - the greatest days

our country has ever lived.

Every Tuesday is SENIORS DISCOUNT DAY

10% OFF for age 60 and over (must tell cashier)

Doesn't apply to tobacco, lottery or gift cards

Use our easy

ONLINE

SHOPPING

SERVICE

www.yourindependentgrocer.ca

We'll bring your groceries to your car!

4136 Petrolia Line,

Petrolia • 519-882-2211

www.yourindependentgrocer.ca

P A G E

14

Phobias… The fear of spiders is called arachnophobia
---
Putting the "old" back in "Damn, you're old!"

Butter Wrapper

Lambton Creamery, Petrolia, circa 1940

While international and domestic

dynamics of trade thinned out the

ranks in Lambton's cheesemaking

industry, commercial milk

processing began its ascendancy.

Undoubtedly putting to rest the

anxieties of local dairy farmers, this

business trend sprang from a set

of interrelated factors. Around the

turn of the nineteenth century, the

interplay between an increasing

standard of living and widening

knowledge about the dietary and

health needs of both children and

adults fostered rising demand,

particularly in urban centres, for

the efficient and sanitary delivery

of milk. Each producing milk from

their own cows and each directly

hauling the same to customers,

dairy farmers were simply not

capable of individually responding

to the task. Unwilling to ignore the

possibilities of a changing world,

they instead pooled their resources

to form corporate dairies and

creameries. (Technically speaking,

a creamery was defined at the

turn of the century as a factory

where butter was manufactured.

However, since many also dealt in fluid milk, creameries often operated as dairies

in the conventional sense.)

Established in 1902, the Lambton Creamery Company was one of the county's

first corporate dairies. It operated in a local industry that at various times included

milk plants in Alvinston, Watford, Forest, Ravenswood, Oil Springs, Wyoming,

Brigden, and Sarnia. Besides butter and bottled milk and cream, the Lambton

Creamery sold eggs, cheese, ice cream, and, on a limited scale, garden produce.

The company also rented cold storage space to the general public. In 1943, in what

was likely a measure to strengthen itself against the threat posed by the aggressive

giant of Ontario's dairy industry, Silverwood's of London, the Lambton Creamery

expanded to Wallaceburg and changed its name to Lambton-Kent Creameries. The

move initially gave the company some room

to breathe. However, over time, Silverwood's

proved to be too strong. Amid stiff competition,

the Petrolia enterprise closed in the early

1960s. LHM

Welcome to ...

Established in 1978,

Lambton Pharmacy continues to

provide caring, professional pharmacy

services to residents of the beautiful

town of Petrolia and Lambton County.

4130 Glenview Rd, Unit 2, Petrolia

519-882-0650

Danielle Edgar, B.Sc., PharmD

Pharmacist

Monday–Friday 9–6

Saturday 9–12

THE Club

Country Yarns

Retirement

Village

Downtown Retirement Living

in a Quaint Victorian Town

v1.1 LEO

v1.2 Forest Kineto Theatre

v1.3 Heritage St. Clair

Call to Book a Tour:

v1.4 Sarnia Blessings

v2.1 Canatara Log Cabin

423 Albany

Restoration

Street

v2.2 Sarnia-Lambton Rebound Petrolia, ON

v2.3 Lambton Shores 519-882-3157

Nature Trails

v2.4 nuSarnia Foundation

www.albanyretirementvillage.com

Everything for

your Kning,

Crocheng,

Cross Stch &

Needlepoint

Needs!

- Menon this ad for a 15% discount -

2776 LaSalle Line, PETROLIA • 519-882-8740

(BETWEEN MANDAUMIN & WATERWORKS)

Wed.10-5 • Thurs.10-6 • Fri.10-5 • Sat. 10-3

www.country-yarns.com

Enjoy Friends | Enjoy Independence | Enjoy Life

THE WALK

OF DOWNTOWN PETROLIA

Welcome to ...

THE Club

We donate $25 for each reprinted

Daytripping Magazine article.

$2300 donated since Jan. 2021

THIS ISSUE'S RECIPIENT is...

nuSARNIA FOUNDATION

Petrolia's

Luxury

Downtown

Development

The Walk is Petrolia's only luxury

apartment project in the downtown

core. Within walking distance to the

grocery store, hospital, pharmacies and

more, the location is ideal for adopting

Petrolia's trendy downtown lifestyle. 519-882-3157

Courtesy of Glen C. Phillips -

Lambton: An Illustrated History of the County

© 1999

www.albanyretirementvillage.com/the-walk

fall 2022 Phobias… The fear of mirrors is called eisoptrophobia

P A G E 15
---
Welcome to ...

THE Club

Laughter is the best medicine - here's to your health.

Welcome to ...

fall 2022

Welcoming

New Patients

SARNIA PHARMACY

Corunna Pharmasave

• Pharmacist available 24/7 for our paents

• FREE Delivery • FREE Compliance Packs

• $2.00 Co-Pay waived on elegible ODB Prescripons

• 10% discount on otc items every Tuesday & Friday

Open Monday-Friday 9-6, Saturday 9-2, Sunday Closed SARNIA: 206 Maxwell Street • 519-337-3215

MEDICATION MANAGEMENT • AWARENESS • COMPLIANCE CORUNNA: 409 Lyndoch Street • 519-862-2020

Shop Our

Fall Fashion

Boutique!

Clothing, purses, jewellery,

gifts & much more!

563 Front Street N., Sarnia • 519-337-9998 • GlassAndPillarSpa.com

Mural Celebrates the Life of

Barbara Perrin

940 MURPHY ROAD

Sarnia • 519-542-1491

Here at Napoli Pizza

we're not just a food

business, we're a

family business. Our

specialty is homemade

pizza, pasta and so

much more.

We are dedicated to

providing you with

only the highest

quality ingredients. We make our food the old

fashioned way. With classic Italian dishes, we

offer our customers a warm atmosphere filled

with the same friendly faces and aromas of

freshly made dough, sizzling pizza and delicious

fresh pasta. Whether you're dining in or

ordering out, we've made your food with the

same quality & care we would make for our own

family, so that you can enjoy it with yours!

The five paintings reflecting Petrolia's past and future are the work of Francis Martin,

who has created murals in Watford, Strathroy and numerous other towns. The paintings

have been photographed for the mural, have been donated to the Petrolia Heritage

Committee and will be displayed in public buildings in the town. The mural itself is made

of two 5' x 10' aluminum sheets.

These five paintings can be viewed in Petrolia's public buildings.

HISTORY

Petrolia was born in a fevered frenzy for oil in the 1860s.

Petrolia's boom proved to be unlike the earlier one in nearby Oil Springs. In Petrolia, the prolific King Wells kickstarted the

oil rush in 1866. This led to rail and more oil discoveries. By 1884, Imperial Oil established its headquarters, refinery and barrel

plant in town, sprawling over 50 acres. The boom stretched for more than three decades, making Petrolia the oil capital of

Canada. And it was not just the vast quantities of oil, it was the ingenious technology the men developed and the expertise

they took to open oil wells in 86 countries between 1873 and 1945. Petrolia produced large amounts of chemicals, boilers, stills,

brass goods, and hand-forged driller tools that were shipped to all corners of the globe as coal was eclipsed by oil.

GRACE

Petrolia's grand homes and buildings provide a visual history of immense wealth, the towns early settlers and entrepreneurs

also created legacies for the generations that followed. In 1911 Charlotte and Jake Englehart endowed their beloved home,

Glenview so the community would have a hospital. Since its inception, Charlotte's House, as it is affectionately known by

many locals, has remained a highly regarded and loved facility in the community and ensured the wellness of our ancestors and

descendants.

PRIDE

Oil! That is what created the Best Town on Earth. Historic wealth is still evident in the homes, buildings, and parks. And

yes…you can smell the oil. But our Heritage is much more than the black gold that continues to be drawn from creaking wells

located just a short stroll from our thriving downtown. Oil may have enticed folks here, but Petrolia was created, nurtured, and

sustained by hardworking visionaries, shopkeepers, builders, drillers, labourers, and leaders. Our residents have been and

continue to be our greatest resource contributing an abundance of architecture, theatre, industry, education, healthcare, and

social institutions.

PERSEVERANCE

Completed in 1889 at the height of Petrolia's oil boom, Victoria Hall reflects a time when Petrolia was among the wealthiest

towns in Canada. Victoria Hall has long been the social and political centre of the town's life.

In its centennial year Victoria Hall experienced a catastrophic fire. In 1992, the renewed interior and restored exterior

architecture of this magnificent landmark was celebrated.

From it's days as an Opera House hosting grand balls and famous artists to todays professional theatre and continued service

as Petrolia's municipal office Victoria Hall represents a time when Petrolia was the oil capital of Canada.

FUTURE

As Petrolia grows, our history remains part of the cultural landscape in our buildings, oil fields and institutions. Our residents

and visitors continue creating new legacies and our past lives comfortably with the future.

Welcome to Petrolia. You'll be Surprised!

in Southwestern Ontario

The five paintings are by Francis Martin. This project is in memory of Barbara Perrin, artist.

No, that's not Barbara Perrin

portrayed in the above mural. That

would be Charlotte Eleanor Englehart.

She bequeathed her home to the town

of Petrolia as a hospital, which it is to

this day. That painting is one of five that

Daytripping Magazine commissioned

local artist Francis Martin to create

as the basis of a mural that will find

a home on the side of Heidi's Your

Independent Grocer in Petrolia's

Francis Martin

historic downtown. Daytripping, as you

probably know, promotes unique shops

and stops throughout Southwestern

Ontario and is something of a "parent"

to this publication. Many of the articles

in Welcome to The Club originated were

originally published in Daytripping over

the past 27 years.

Barbara Perrin was very well known

as an artist that sought to preserve

the rural elements of Lambton County

through her sketches and paintings.

Barns, windmills, one-room

schoolhouses, fence posts—these

were some of the everyday images

that she imagined would be gone from

the local landscape in time, and she

aimed to capture them before they

disappeared. Barbara was also well

known to Daytripping readers, having

been on many covers including our

very first, and the "Boots" logo that's

become our trademark is her work. She

had a studio called Perrin Art Cellar

for many years near Shetland and

eventually moved her home and studio

to Petrolia and then to Sarnia.

Barbara passed away in 2013 and,

with her relatives being older and living

too far away, Daytripping publisher Mark

Moran was left with countless books,

drawings and art supplies and about

Petrolia is a very special place for

Daytripping. It was where John Redden

first suggested the concept for the

magazine and it was our home base

for many years. It is a great honour

for Daytripping to be able to create

this project to preserve the memory of

Barbara Perrin, but also encourage and

display the work of another gifted artist,

Francis Martin of Watford.

160 original paintings of various sizes.

Many were donated to charities that

were having silent auctions, but some

Shetland School by

Barbara Perrin

were sold and the proceeds are being

put toward this project. The Lambton

County Creative Fund encourages

culturally significant projects, and it

matched those funds to make this

mural possible. Numerous working

drawings that were remarkable

themselves have been donated to the

Lambton Heritage Museum.

P A G E

16

Phobias… The fear of computers is called cyberphobia
---
It's the advertising that makes this magazine possible, and free!

In 1920 my father, who was a First

World War veteran, learned the barber

trade through the Canadian Army at

Fort Osborne Barracks in Winnipeg,

Manitoba. In 1921 he was employed at

the Orpheum Barber Shop on Fort Street

in downtown Winnipeg.

In 1924 he went into business for

himself, purchasing his first shop in

St.Boniface from a retiring barber. In

later years Dad's shop was at various

locations in the area. Our living quarters

were always behind the barbershop.

Haircuts at that time were thirtyfive

cents and shaves or shampoos

a quarter. When haircuts went up to

fifty cents, my Dad lost many of his

customers.

Dad worked long hours in his shop,

weekdays to 7 pm and Saturdays to

10 pm. Shorter hours came into effect

when barbers finally became unionized.

My father was also authorized to

provide barbering services in the nearby

St.Boniface Hospital. There were a great

number of war veterans in the Hospital

and initially the bulk of his business was

conducted in the Veteran's Ward.

Dad was a great raconteur

with an extensive repertoire

and having him cut your

hair was not an unpleasant

experience.

At one time, the bedroom

where my brother and I

slept was located above

our father's barber shop.

The only heat for the

Welcome to ...

I Need Your Head in My Business

by Arthur Wood, Dorchester • from Daytripping Nov-Dec 2003

bedroom came from a register located

in the floor. On Saturday nights when

Dad cut hair until 10 o'clock we were

able to lie on the floor and listen to the

stories that were being passed back

and forth.

The shop was always full of

customers until closing time.

Some, having already had their

hair cut, just hung around for

the tall tales. I imagine we were

exposed to some colourful

language at an early age.

When one of Dad's Frenchspeaking

customers discovered

that I had become more or less

fluent in French in my teen

THE Club

years, he insisted that I speak with him

in his own language. I was only too

pleased to do so as he always gave me

a dollar. I looked forward to him having

his hair cut as often as possible.

My father became very well known

in the Norwood-St.Boniface area for his

long-time services to the local residents

as "Woods the Barber," not to mention

his generosity in loaning money to

poverty-stricken neighbours as well as

providing countless haircuts on credit.

Dad did quite well over the years in his

one-man barber shop, probably above

average during those lean years in the

"dirty-thirties."

He was proud of his independence

in his "two-by-four business," as he

called it. A favourite saying to his

customers was, "I need your head in

my business!"

POSTCARDS of

SARNIA-LAMBTON

See the Dave Burwell Postcard Collecon at sarniahistoricalsociety.com

F. Filia & Associates Ltd.

2-565 Murphy Road, Sarnia Franco Filia

519-332-5400 I franco_filia@cooperators.ca Advisor/Owner

Sponsored o o By:

B y

Animal Farm in Point Edward

Victoria Park in Sarnia

Sarnia Collegiate, Sarnia

Petrolia looking West

Beach at Brights Grove

Sarnia Town Hall

Vendome Hotel, Sarnia

fall 2022 Phobias… The fear of mice is called musophobia

P A G E 17
---
Welcome to ...

Kids' Letters to God

Dear God,

I would like to live

900 years, like the

guy in the bible.

THE Club

- Chris

Do you want to reach

our age 55+ readers?

advertise

in the club

Call 519-491-1676

info@welcometotheclub.ca

This magazine comes with a free, built-in, old fashioned fly swatter!

Magic Place

By William Bedford

from Daytriping Sept-Oct 2009

Standing in the knee-deep weeds and

grass in the front yard, I take one more

picture of the dilapidated fieldstone house,

which stands half-hidden by the hardwood

bush. The sagging roof is ready to cave in.

The front porch has already given up the

ghost. As I gaze at the broken windows

and ragged shingles, I have to admit that

it looks like any other old, abandoned

Ontario farmhouse, and not a magic place

at all.

But I remember this sad old place as it

was long ago, and it was old even then,

when I was young and the world was

still a wonderland. In those days, this old

homestead, with its barbecues in the now

weed-covered yard, was a magic place

indeed.

As a gust of wind blows the crisp maple

leaves around me, memories of the old

place cross my mind like faded pictures

in an old album: memories of fresh cobs

of corn bubbling in a giant cauldron, of

wieners being roasted on the tips of sticks

over a wood fire, of fragrant smoke hanging

dense in the still, chilly air.

Memories of Halloween - a terrifying

night for the ancient Celts. But at this old

house among the maples and sumac, it

was a night for fun, games & spooky tales.

Off in the distance, a dog's barking

interrupts my reverie. It still has a wellremembered

haunting sound. A wormy

apple falls to the ground beside me with

a soft thud. Picking it up, I'm reminded of

a favourite fall poem: "Plums purple and

red, pears amber and brown, thud! In the

garden-bed, ripe apples fall down."

Memories, memories. I remember

the aroma of hot chocolate and burnt

marshmallows. I remember rolling in huge

mounds of crunchy leaves beneath a coalblack

sky glittering with endless stars that

seemed close enough to touch. How, I ask

myself, can a lifetime fly away so quickly,

while those long-gone October days seem

like only yesterday?

The setting sun reminds me that it's

time to leave this magic place of happy

memories. As I drive away through the

swirling leaves on this lovely fall evening,

I give the crumbling old house one last,

fond look. I know I'll never pass this way

again. I also know that, like the old house

itself, most of my own Octobers have also

slipped away.

On a frigid winter evening, or on a

humid summer morning, when I'm stuck

in the din and the poisonous traffic fumes

of the "real world," I only have to close

my eyes to picture my magic place in the

hardwood bush as the creeping autumn

dusk enfolds it in its dark embrace. I just

have to close my eyes to see a "V" of

Canada geese winging high in the October

sky, or to recall the aroma of hot pumpkin

pie topped with freshly-whipped cream.

In a secret corner of my soul, I'm always

young and carefree. There, the fields of long

ago are forever ablaze in their fall splendor.

In this inner sanctum, where only I can go,

"God's in his heaven, and all's right with

the world," and it's always October.

Welcome to ...

fall 2022

P A G E

18

Phobias… The fear of beards is called pogonophobia
---
Many of the articles are from the archives of Daytripping Magazine.

Recipes

Send Us

Your u

Recipes!

e c es

We'll be bringing you recipes from Club contributors & from local

fundraising cookbooks we've collected over the last quarter of a century.

You're welcome to send your own recipes, or on behalf of an organizaon

that has a new cookbook, & we can help promote those cookbooks for free.

Cream of Broccoli Soup

1 large bunch fresh broccoli

1 medium sized onion, chopped

2 cups chicken stock (I use bouillon cubes)

2 Tbsp buer

Cappuccino Thumbprint

Cookies

2 tsp Instant coffee granules

2 tsp vanilla

2/3 cup buer, so

3/4 cup packed brown sugar

By: Liz Boere (Holy Rosary

School, Wyoming 50th

Anniversary Cookbook)

1 1/2 Tbsp flour

1 tsp salt

Dash mace

Pepper to taste

2 cups whole milk

Chop up broccoli stems and heads. Combine with chopped onion and

chicken stock. Boil slowly for 10 to 12 minutes. Put through the blender. In

a large pan, melt buer. Add salt, pepper, flour and mace. Mix unl

smooth over moderate heat. Add milk slowly srring unl thickened and

smooth. Add broccoli, broth and onion mixture and heat to serve.

Hint: Sprinkle grated cheese over the top when serving.

My daughter doubles the recipe and uses a head of broccoli, a 1/2 head of

cauliflower and a few carrots to make a vegetable cream soup that the

kids love.

Black Forest Brownie Squares

2 cups Nestle Toll House semi-sweet

chocolate morsels, divided

1/2 cup buer or margarine,

cut into pieces

3 eggs

1 1/4 cups all purpose flour

By: Vicky O'Brien Ness

(from Wyoming Lioness

Club 30th Anniv. Cookbook)

ook)

1 egg

2 cups all purpose flour

1/2 tsp baking powder

1/4 tsp salt

1/2 cup white chocolate chips

3/4 tsp cinnamon

(from Point Edward

Ex-Servicemen's

Assoc. Cookbook)

1 cup granulated sugar

1 tsp vanilla extract

1/4 tsp baking soda

1 1/2 cups frozen whipped

topping, thawed

2 cup cherry pie filling or topping

Melt 1 cup morsels and buer in large heavy saucepan over lowest

possible heat, srring unl smooth. Remove from heat, sr in eggs.

Gradually sr in flour, granulated sugar, vanilla and baking soda. Sr in

remaining morsels. Spread into greased 13 x 9 inch baking pan. Bake in

preheated 350 degree F oven for 20 to 25 minutes, or unl wooden pick

inserted in centre comes out slightly scky. Cool completely in pan on

wire rack. Spread with whipped topping. Top with pie filling. Cut into

squares. Makes 24 squares.

Line two rimless baking sheets with parchment paper or grease them.

Dissolve coffee in vanilla. Set aside. Beat buer and sugar in large bowl

unl fluffy. Beat in egg and coffee mix. Whisk dry ingredients together. Add

to buer mix and sr unl smooth. Shape by rounded teaspoonfuls into

balls. Place 2" apart on prepared pans. Using floured thumb or thimble,

make 1/4" indent into center of each. Bake in top and boom thirds of

oven at 350 degrees F for 12 minutes, rotang and switching pans halfway

through, unl lightly browned on boom. Place 3 chips in each indent. Let

stand ll melted, about 5 minutes. With a toothpick, swirl chocolate to

blend together. Sprinkle cinnamon over chocolate. Transfer to rack to cool.

Mocha Thumbprints: Replace 1/2 cup flour with 1/2 cup cocoa.

Send Your Recipes to info@welcometotheclub.ca

Welcome to ...

Mainframe

• Canvas Stretching

• Jersey Frames

• Needlework Stretching

• Frame Repairs

• Glass Replacement

THE Club

QUALITY PICTURE FRAMING

Sarnia's

choice

for

over

40 years

• Object Framing such

as War Medals and

Sports Memorabilia

(the list is endless)

• Plak-it also available

1249 London Rd, Sarnia • 519-383-7114 In Teppermans's Plaza

A Wee Bit of Church Humour!

A Sunday School teacher began her lesson with a question,

"Boys and girls, what do we know about God?"

A hand shot up in the air.

"He is an artist!" said the kindergarten boy.

"Really? How do you know?," the teacher asked.

"You know... Our Father, who does art in Heaven."

fall 2022 Phobias… The fear of snakes is called ophidiophobia

P A G E 19
---
Welcome to ...

Seniors

Save

Young @

Heart

THE Club

Earn Free

Rewards

on almost

everything you

buy at Pharmasave.

LONDON ROAD PHARMACY

Locally Owned and Operated

www.londonroadpharmacy.com

* Every surface & product is disinfected daily for your safety!

Kern

water

1804 London Line, Sarnia

519-542-4211

kernwater.com

Mon–Fri 9 am–6 pm • Sat 8 am–2 pm

20%

OFF

Regular Priced

Items In-Store

Every Thursday of every month!

Tammy Maure

1249 London Rd

519-491-6778

U-Fill

Water

Delivery

Service

Reverse

Osmosis

and Alkaline

We're living life to the fullest (until about 9 pm).

The

A gentleman in his 90's, very

well groomed, great looking

suit, smelling of a good

after-shave, walks into an

upscale cocktail lounge.

Seated at the bar is a lady,

about mid 80's. The

gentleman walks over, sits

alongside of her, orders a

drink, takes a sip and turns to

her and says, "So tell me, do I

come here often?"

Sexy. Sassy. Spectacular.

For a good time,

call Lola's Lounge!

!

Downtown at 110 CHRISTINA ST.

SARNIA 519.336.8088

Welcome to ...

fall 2022

A Path to Wellness—Get Moving

By Chris Treftlin, Shine at Home, Sarnia

Throughout this series of articles,

we have discussed many issues that

impact seniors' health and well-being.

From over-prescribing and misuse

of medications, nutrition, getting

assistance with daily living (ADLs),

along with others. Do them all, but if

there was one thing that you can do

that would immediately and positively

impact a senior's health it would be to

GET MOVING!

I didn't say exercise. Although you

can exercise, I'm not stopping you.

When I say exercise, I am referring

to moderate to vigorous action over a

sustained period. Go for it! What I am

talking about is getting out of the easy

chair. Yes, that's right, put down the

remote, and just get moving.

Sitting is the new smoking

This expression is making the rounds

at the moment. Studies are showing

that a sedentary lifestyle contributes to

many of the same issues that smoking

causes, and some others as well. If

you think about it, we sit when we are

driving, on the computer, watching

the television, and we watch too

much television. The other expression

making the rounds is, "screen time."

Between work and our leisure time we

are in front of screens too much.

The human body is designed for and

works best when it spends a significant

portion of time throughout the day

standing and walking. Blood flow,

better digestion, and metabolism are

all improved.

So, if moving improves blood

circulation and metabolism then

sitting, on the other hand, stalls those

processes, making your body less able

to perform it's best. Further, we know

that too much sitting puts strain on the

neck and lower back, which are not

designed to support the body in a sitting

position for long periods. The negative

effects will compound over time. Here

is another word that is linked to the

sitting epidemic, that word is…

at·ro·phy verb

1. (of body tissue or an organ/bone)

waste away, especially as a result of

the degeneration of cells

"without exercise, the muscles will

atrophy"

2. gradually decline in effectiveness

or vigor due to underuse or neglect.

"her artistic skills atrophied from

lack of use"

Opposite: strengthen

More walking and standing

Of course, there are many great and

detailed exercise programs. Seniors'

centres, church groups, community

centres, heck, health clubs are starting

to do more and more for their senior

clients. Like I said before, go for it. To

the person that knows they are sitting

too much: how do we get you or your

loved one out of the easy chair?

Here are some suggestions to get

moving. Instead of reading the paper

while sitting, try reading at the kitchen

counter. If you pay your bills at your

desk, pick up your cheque book, grab

your laptop and do it while preparing

supper. Don't worry, I won't suggest to

eat your supper while standing!

Stand up and get

moving—Here's why:

• Maintain a healthy weight

and lose body fat

• Prevent or manage various

conditions, including heart

disease, stroke, high blood

pressure, cancer and type 2

diabetes

• Improve cardiovascular

fitness

• Strengthen your bones and

muscles

• Improve muscle endurance

• Increase energy levels

• Improve your mood,

cognition, memory and

sleep

• Improve your balance and

coordination

• Strengthen immune system

• Reduce stress and tension

Attack that household To Do List.

The other benefit to this will be making

your partner happy. Another excellent

way to get moving is gardening. I

recently saw a program that had raised

beds. That is, gardens that are off the

ground in planter boxes and raised to

waist level.

Pets, particularly dogs are great

incentives to get you moving. Here is

a confession, my doggie, Sophie will

come over to me and give me the big

stare down. If that doesn't work, she will

give me a headbutt to suggest that we

should go outside—she never gives up.

BTW—just go for a walk. No need to

over-think it!

A Cautionary note

If you have been inactive, overweight,

and dealing with other chronic issues

such as diabetes, arthritis, etc., a moving

program will help lessen and even

reverse these conditions. However, in

these circumstances speaking first with

your primary care provider is a good

thing to do.

There you are. I have presented a

case to Get Moving. Does it sound like

it is worth the effort?

P A G E

20

Phobias… The fear of needles is called belonephobia
---
You're welcome to send in articles to help build this magazine.

Owen R. Wyrzykowski

WYRZYKOWSKI & ROBB

Barristers and Solicitors

Whether you are buying or selling real estate, or need to

update your estate planning, we provide personal service

to help you through the legal process.

Welcome to ...

THE Club

Owen R. . Wyrzykowski

y

ki

519-336-6118

6118

orw@wrlawoffice.ca

722 Lite Street, Point Edward

• Real Estate Purchases & Sales

• Mortgages & Credit Lines

• Wills & Powers of Aorney

• Estate Planning & Administraon

30 Years Experience

As reported by

Heather Smith never takes the

comforts and opportunities she has

living in Sarnia for granted. That's

because as the executive director for

Rayjon Share Care she has seen the

extreme poverty people living in Haiti

endure. The charity was started by

John Barnfield and Ray Wyrzykowski

in 1986. "In 1985 they were part of

what was called a poverty awareness

expedition to Haiti," Heather says.

"They went to visit Haiti and learn

more about the culture, the country

and what was happening there. They

saw poverty and they were expecting

that, but they were not expecting

to be overwhelmed by the vitality

www.hashtaglocal.com

Rayjon Share Care of Sarnia Inc.

Photo Submitted

of the culture and the beauty of the

people and everything they learned

there." When John and Ray returned,

they started to tell people about their

experiences and what came from that

was a desire to help, so they founded

Rayjon Share Care.

Heather has been on board for

five years. "I do have a history in

international development," Heather

says. "I have always been fascinated

with other cultures. I studied non-profit

management and worked in health

care. I grew up in Sarnia so I was very

aware of the organization. I connected

with it first as a volunteer and later

became a board member. Now I am

the executive director."

Heather says John

and Ray's original goals

were simple. "They

were primarily trying to

raise awareness of some

of the various injustices

that were happening in

Haiti; helping people

to understand some of

the causes of poverty

and what they might

do to be involved"

Heather says. "They

were also helping to

spread the message

of what an amazing

culture Haiti has, trying

to combat some of

the negative stereotypes. When you

are here in Canada and you think of

Haiti you think of the headlines that

we see in newspapers and they are

never positive. They wanted to bring

some awareness of what it is really

like there." From the beginning, there

was the intention to build relationships

between Canada and Haiti and to use

that to help communities reach some

of their goals for development.

Like so many organizations, Rayjon

Share Care has been negatively

affected by the COVID-19 pandemic.

"For us it has meant some canceled

live fundraisers that we normally rely

on to keep our programs running,"

Heather says. Without in-person

meetings it's difficult for the board to

connect with the volunteers. "We are a

very local, very grassroots organization

that relies heavily on our volunteers

and our donors from Sarnia-Lambton.

We are supporting local leadership in

Haiti and the Dominican Republic so

they can realize their local vision for

their community."

Heather says working with a charity

has plenty of rewards. "For me, it is

seeing others accomplish their goals,"

Heather says. "It is just incredibly

rewarding to be a part of this when you

see people personally overcoming their

barriers, whether that is some social

injustice or conditions of extreme

poverty. When people reach their

potential and step by step they are

creating lasting change it is amazing to

see."

Read more stories like this at www.

hashtaglocal.com

You've wanted

one of these for

40 YEARS!

YES,

you

can!

"Miami Blue"

Fender

Stratocaster

430 Exmouth Street, Sarnia

519-344-7740

pickersalley.com

fall 2022 Phobias… The fear of bees is called apiphobia

P A G E 21
---
Welcome to ...

You can't buy

Happiness

but you can

THE Club

BUY

LOCAL!

Is there a magic cutoff period when

offspring become accountable for their

own actions? Is there a wonderful

moment when parents can become

detached spectators in the lives of their

children and shrug, "It's their life," and

not worry?

When I was in my twenties, I stood in

a hospital corridor waiting for doctors

to put a few stitches in my son's head.

I asked, "When do you stop worrying?"

The nurse said, "When they get out of

the accident stage." My mother just

smiled faintly and said nothing.

When I was in my thirties, I sat on a

little chair in a classroom and heard how

one of my children talked incessantly,

disrupted the class, and was headed for

a career making license plates. As if to

read my mind, a teacher said, "Don't

worry. They all go through this stage

519-627-0719

70 Duke Street

info@wallaceburgretirementresidence.com

www.wallaceburgretirementresidence.com

Will We Always Worry?

and then you can sit back,

relax and enjoy them." My

mother listened and said

nothing.

When I was in

my forties, I spent a

lifetime waiting for

the phone to ring, the

cars to come home,

the front door to

open. A friend said,

"They're trying to

find themselves. Don't

worry. In a few years, you

can stop worrying. They'll

be adults."

Author Unknown

I'd write something better here, but I forgot to!

By the time I was 50, I

was sick & tired of being

vulnerable. I was still

worrying over my

children, but there

was a new wrinkle.

There was nothing I

could do about it.

I continued to

anguish over their

failures, be tormented

by their frustrations

and absorbed in their

disappointments. My

friends said that when

my kids got married I could

Cats!

People who

don't like cats

were probably

mice in an

earlier life.

(unknown)

stop worrying about them and lead my

own life.

I wanted to believe that, but I was

haunted by my mother's wan smile

and her occasional, "You look pale. Are

you all right? Call me the minute you

get home. Are you depressed about

something?"

Can it be that parents are sentenced

to a lifetime of worry? Is concern for

one another handed down like a torch

to blaze the trail of human frailties &

the fears of the unknown? Is concern a

curse or is it a virtue that elevates us to

the highest form of life?

One of my children became quite

irritable recently, saying to me, "Where

were you? I've been calling for 3 days,

and no one answered. I was worried." I

smiled a wan smile.

The torch has been passed.

Welcome to ...

fall 2022

Plus

Get Your

Very Own

Deals

by Email

Weekly!

P A G E

22

Phobias… The fear of enclosed places is called claustrophobia
---
We'd like to hear your honest opinions on how you like this magazine.

Welcome to ...

Going Above & Beyond for Our Clients!

STEPHANIE MURRAY

Sales Representave

Cell: 519-383-5185

Office: 519-542-9999

movewithsteph@gmail.com

sarnia realty Inc., Brokerage*

*Indepentently owned and operated

1319 Exmouth Street, Sarnia

Show your BONES some extra LOVE

By Kelly-Lynn Musico, Brights Grove • Registered Physiotherapist, Registered Yoga Teacher

Our skeleton is the rigid

support system made

of collagen and calcium

phosphate that help keep

us upright and serves as

a protective cage for our

internal organs. Our bones are

constantly in flux, building up

or breaking down depending

on the signals we are sending

them. This remodeling

continues throughout life so

that most of our adult skeleton

is replaced about every 10 years! Who

knew?

So, what contributes to good

bone health? Both our genes and our

environment do. While we cannot

change our genetic make-up, we can

modify external factors, such as physical

activity and diet which are both critically

important to our bone health throughout

life.

Weight bearing increases bone density.

So, what does this mean? The repeated

impact of our feet striking the

ground, is like strength training

for our entire musculoskeletal

system.

How can we do this?

Studies suggest, walking at

least 5,000 steps (3.5 km) a

day can preserve bone density.

I just purchased a Fitbit for the

first time and am enjoying

seeing how many steps I am

taking in a single day. I am

grateful to have a profession

that allows me to stay active when I am

seeing clients. If you have a sedentary

job, even more reason to get up and

moving. What a great reason to explore

a new area with a lunch walk.

Jumping or even dancing can increase

our bone density. Every

time we land after a

jump, we put stress on

our legs and hip bones,

strengthening them over

time. Admittedly, I do

not jump daily, although I

now have a great reason

to start. However, I do

love to dance. If you

have never been on

the Duc D'Orleans, while a band like

the amazing Painkiller Jane is playing,

I highly recommend it. I'm pretty sure

my balance and bone health are all

strengthened from this most enjoyable

social night.

Strength training is a great way to

increase our bone density. Strength

training causes

our muscles to

pull on bones,

which activates bone-building cells in

our body. Strength training is not limited

to using dumbbells at a gym, many

other activities can increase our muscle

strength. Gardening requires activities

like digging and pulling weeds, which

challenge and strengthen bones. Yoga

is another great way to increase bone

density in our spines, hips, legs and even

arms, especially if we are doing down

dogs or arm balances. So, getting on our

mats even for a mini yoga session a few

times a week can add up to big gains for

our bones.

If land-based exercises hurt your joints,

maybe move some of your workouts to

the water. Although water

is a non weight-bearing

activity, pushing our limbs

against the water forces

our muscles to work

harder, helping us build

strength in our muscles

which can strengthen our

bone minerals.

So how does our

nutrition come into play

with our bone health?

Our bones are a storehouse for

essential minerals—calcium and

phosphorous to name a few. If they are

in short supply, our hormones take them

from our bones to serve vital organs—too

many withdrawals can lead to weakened

bones. Also, vitamin D deficiency can

THE Club

LAURIE LAURIN

Sales Representave

Cell: 519-328-7251

Office: 519-542-9999

laurie.l@bell.net

#laurieloveslambton

lead to a softening of the bones which

can lead to fractures and deformities.

A diet rich in calcium and

phosphorous food will help increase

our stores of calcium and phosphate.

So, foods like milk, eggs, salmon

and dark-green leafy vegetables

all contain this essential vitamin.

According to the recent trivia on Sarnia's

99.9 FOX FM, one of the main things

that people do not like to make at home

is a salad. So, the next time you are out

supporting a local restaurant, maybe

rethink... and order a salad!

As the song goes, "I'm walking on

sunshine, and don't it feel good!" walking

outdoors not only makes us feel good by

releasing endorphins, it helps our bone

health by increasing our vitamin D. Our

body produces vitamin D when exposed

to the sun. The so-called "sunshine

vitamin," which helps our body absorb

calcium, is essential for bone health.

So, investing some time and energy

in our bone health will ultimately set us

up for a longer, healthier life, and maybe

a fitter, firmer body. Find your favourite

way to show your bones some extra love.

The more active we are now, the more

active and independent we will remain.

Remember, we are banking our mobility

for an active retirement.

MOVE BETTER.

FEEL BETTER.

LIVE BETTER.

Affordable Rates • All Work Guaranteed • 25 Years Experience

GENERATION PAINT COMPANY

Interior & Exterior Painting and Makeovers

All types of

painting,

feature walls,

wallpaper

15% Seniors

DISCOUNT

PLUS HANDYMAN SERVICES:

• Repairs • Waterproofing (caulking)

• Maintenance • Renovations

Call Mark 519-330-4424 or email 1863989ontarioinc@gmail.com

PRIME RIB

WEEKENDS

2713 Old Lakeshore Road, Brights Grove

519-869-2794 • skeeterbarlows.com

Join us by the Lake!

• Authentic Hickory Smoked Ribs

• Genuine Broasted Chicken

• Seafood, Sandwiches, Wraps

Reserve for panoramic views

of Lake Huron from our patio!

• Take Out • Lakeside parks & benches nearby

TUESDAY

WING NIGHT

NIGHTLY

SPECIALS

fall 2022 Phobias… The fear of birds is called ornithophobia

P A G E 23
---
Welcome to ...

THE

DISCOUNT

LIST

Sponsored By:

THE Club

Plenty of discounts offered on this list - let us know what's missing!

Welcome to ...

The DISCOUNT LIST

A list i of o local discountsi

s or offers that a t

benefit n

efi t

people ple e over e acertain a a i

age.

PLEASE LET US KNOW OF ANY THAT ARE MISSING!

TOWN

BUSINESS

Welcome to ... fall 2022

SPECIAL OFFER

AGE+

CONTACT

BRIGHTS GROVE Shoppers Drug Mart 20% OFF Thursdays 65+ 519-869-4224

CORUNNA Corunna Pharmasave 10% OFF Tuesdays & Fridays 65+ 519-862-2020

Shoppers Drug Mart 20% OFF Thursdays 65+ 519-862-1451

Corunna Foodland 2% OFF Wednesdays 60+ 519-862-5213

Get It

Done Right

The First

Time

JOBS BIG OR SMALL:

• Faucet Installation

• Leak Repairs

• Clogged Drains

• Camera Inspection

• Toilet Replacement

& Installation

• Sump Pump

• Frozen Pipes

• Sewer & Waterline

Replacement

Ask for your

Seniors Discount

Family i

l

Owned e d

& Operated

p and a d Proudly Serving

Lambton b

t n County u Since 1991

345 Ontario Street, Unit B

SARNIA • 519-337-1545

CustomPlumbingSarnia.com

Give us a call with

your plumbing questions

or for a free estimate!

FOREST CDS Pharmacy 15% OFF Wednesdays 60+ 519-786-2104

Forest Naturals & Home Health 15% OFF Wednesdays 65+ 226-520-0054

Forest Pharmasave 15% OFF Wednesdays 65+ 519-786-5161

Williamson Farms Country Store Various Wednesdays 55+ 226-520-0144

PETROLIA Bargain Shop 20-30% 1st Wednesday of month 60+ 519-882-0057

Country Yarns 15% OFF See ad in The Club all ages 519-882-8740

Gramma's Candy Store 5% OFF Tuesdays 60+ 519-882-1212

Gray's Floral Market 50% OFF Fresh & Premade all ages 519- 882-1330

Saturdays 2-4pm only

Heidi's Your Independent Grocer 10% OFF Tuesdays 60+ 519-882-2211

Hogan Pharmacy 20% OFF Wednesdays 60+ 519-882-1840

M&M Meats 10% OFF Tuesdays 60+ 519-882-4316

McDonald's 20% OFF* Coffee/Tea daily 55+ 519-882-3678

PT EDWARD Twin Bridge Lighting 15% OFF Mondays 55+ 519-344-3535

SARNIA Bulk Barn 10% OFF Wednesdays 65+ 519-542-6668

Custom Plumbing 10% OFF Every day 65+ 519-337-1545

Generation Paint Company 15% OFF Every day 65+ 519-330-4424

Giant Tiger 10% OFF Ist Monday of month 65+ 519-336-0831

Goodwill 25% OFF 2nd Monday of month 55+ 519-541-9273

London Road Pharmacy 20% OFF Thursdays 60+ 519-491-6778

M&M Meats 10% OFF Tuesdays 60+ 519-542-8398

McDonald's 20% OFF* Coffee/Tea daily 55+ 519-336-7096

Michaels 10% OFF Every day 60+ 519-542-3200

Mission Thrift Store 20% OFF Last Thursday of month 65+ 519-337-1614

Don's Home Renovations 10% OFF See ad in The Club all ages 226-343-2265

OMG Poutine 15% OFF Tuesdays 60+ 519-491-5563

Petsmart 10% OFF Grooming on Tuesdays 65+ 519-542-2822

Peavey Mart 20% OFF Last Tuesday of month 55+ 519-542-4091

Pet Valu 10% OFF Last Thursday of month 60+ 519-541-0468

Rexall Pharmacy 20% OFF Tuesdays 55+ 519-332-5575

Russell Street Home Hardware 20% OFF See ad in The Club 60+ 519-383-0688

Salvation Army Thrift Store 25% OFF 1st Wednesday of month 60+ 519-344-3781

Sarnia Pharmacy 10% OFF Tuesdays and Fridays 65+ 519-337-3215

Shoppers Drug Mart 20% OFF Thursdays 65+ 519-337-3727

Value Village 30% OFF Tuesdays 60+ 519-541-0153

STRATHROY M&M Meats 10% OFF Tuesdays 60+ 519-245-6355

McDonald's 20% OFF* Coffee/Tea daily 55+ 519-245-3821

WYOMING SunCoast Natural Health 15% OFF Wednesdays 65+ 226-307-0694

Wyoming Tree Service 10% OFF Every day 65+ 519-845-0847

Call 519-491-1676 or email info@welcometotheclub.ca to add one!

Please remember: e

r: These discounts are for reference. eren

en

They may change & may not

apply ply to specific c items. Stores are not obligated to adhere to what we've printed.

You may also need to ask in order to get the discount. t Thanks for understanding.

ndin

P A G E

24

Phobias… The fear of American people and things is called Americophobia
---
Contact us any time by email - info@welcometotheclub.ca

A Price To Pay

When the Second

World War was history,

young people could

plan weddings, homes,

children, their lives no

longer on hold, but a

major problem loomed

-- a housing shortage. In

our town, apple orchards

and farms turned into

suburbia, human needs

taking priority now that life was normal

again. My husband and I bought one of the

affordable lots offered to service families at

low mortgage rates, and a few months later

we moved into our first home. Living on

the last street on the edge of town, we felt

lucky to overlook a few acres of a vegetable

farm, selfishly hoping it would remain a

green belt.

From our garden I could see a stocky

figure bending, hoeing, picking, day in,

day out. Over the back fence the woman

had told me she and her husband had built

the farmhouse when they came from the

old country years ago. Widowed, she still

ran the farm; her son was now back from

overseas, working in town and taking the

produce to market on Saturdays.

Some weeks later Mrs. Borowski beckoned

me to the fence. "Missus, I think I sell

farm," she said. "Builder talk to us, needs

land for new houses." She rubbed a workroughened

hand over her forehead. "I

not want to go, but work is too hard now.

My boy get married soon, live in his own

home."

I visualized bulldozers, cementmixers

shattering the silence, months of

construction, then an invasion of people

and cars, street lights, not stars, in the

night sky. I shook the nightmarish scene

away, guilty that I was thinking of my selfish

wishes instead of understanding the other

woman's problems.

"Couldn't you hire help?" I suggested.

"No, too much money. And soon house

too big for me. I think we sell."

A week later Mrs. Borowski called to me

when I was at the clothesline.

"Missus, come. I have news!"

With a heart heavier than my garden boots

I went to the fence, dreading to hear that

the deal was done.

"We not sell farm!" she said. "We have

better plan."

The imaginary subdivision disappeared

like a mirage on the desert. "Oh, I am so

glad!" I said, and waited for her explanation.

"Alex and Kathy have wedding soon,

then they live upstairs. I not have to leave

my home."

"Well, I couldn't be happier for you," I

said, meaning it, but adding silently, or

EACH OFFICE INDEPENDENTLYOWNED AND OPERATED

by Jean Leedale Hobson, West Vancouver, BC

Artwork by Barbara Perrin

from Daytripping May-June 2003 issue

for us! "But didn't you

say the work was too

much for you?"

She nodded,

saying that after the

wedding, Alex's wife

would take over the

outside work, leaving

her mother-in-law

as the homemaker

instead. I went back

into the house feeling this was a pipe dream

with holes in it. "I can't see that working

out," I said to my husband, adding in a wry

tone, "I hope Kathy has a love of the land

and a good strong back!"

Later, in the wedding photos the woman

showed me, I saw the bride, young, pretty,

slim, definitely not a clone of the older

woman's sturdy build.

It didn't surprise me to see Mrs. Borowski'

still working outside, as the young couple

would be away on their honeymoon. But

time went by and nothing changed. One

morning I swallowed my pride and, holding

out a little wedding gift, called to her and

asked, "Are the bride and groom still away?"

The woman straightened her back and

came, puffing, to the fence. "No, they back

home now. Alex at work and Kathy fixing

upstairs all nice."

"Well," I smiled. "I'll miss seeing you

out here, but it'll be better for you to take

things easier."

"Oh no, Missus," she said, "I work

on farm, same as always." Sensing my

unspoken question about the switch, she

explained. "I change my mind. But will

be good for me. Kathy take care of house,

and I go in to nice hot supper, not cleaning,

washing, ironing at night. Oh yah, will be

better, Missus."

It wasn't hard to tell it was a trade-off, not

what she'd had in mind. She gave me a

conspiratorial wink. "I told Alex and Kathy

I really not want to be in house all day. Like

prison! I like better outside."

She might have been able to convince

them, but I saw through her ruse. The

long hours and hard work, rough hands

and aching back were not what she wanted

for her son's wife, a young woman from a

different background.

My throat tightened and I couldn't speak. I

leaned over the fence, handing the gift. She

took it, thanked me, then reached out and

we hugged, as women do when words fail.

Walking away, I thought, Why am I not

ecstatic that it's turned out this way? Our

green belt is safe. Mrs. Borowski doesn't

have to leave her home. So why did it seem

like a bittersweet victory? But I knew the

answer: as with so many of the good things

in life, there had been a price to pay.

Send your

Welcome to ...

Text Only

Listings

s

EVENTS

are FREE

Include town, date, name of the event,

website/phone e/ph

number.

info@welcometotheclub.ca

Display Space Is Also Available

THE Club

Treat Yourself

Wellness Centre

Boost Your Immune System Naturally

141 Mitton St. S, Sarnia • 519-339-8999 • info@tywc.ca • www.tywc.ca

Fall In Love With Our

Fall

Fashion

Eyewear!

Stop In & See The Difference An Independent,

Locally Owned Business Can Offer!

• Fashionable designer frames

at compeve prices

• Durable, high quality brands

• Personal aenon to your vision needs

• Honest opinion on your frame fit & style

• Value brands available to fit your budget

• Offer direct billing to most vision plans

... A Frankly Optical Experience!

van Goozen Music

DAYTIME LESSONS

For yourself, your kids

or grandkids!

STORE & STUDIO • 519-344-2319

115 Mitton Street South, Sarnia

TYWC has

what you need

for all ages

in all stages

of life.

See You Soon!

Beth Kolthoff

With Beth's 30 years of

experience she is dedicated

to helping you find

just the right pair

from her great selecon

of eyewear including

sunglasses & contact lenses!

Walk in or book a one on one appointment time!

147 N. Mion St., Sarnia • 519-337-4060 • TheEyeGuySarnia.com

fall 2022 Phobias… The fear of water is called hydrophobia

P A G E 25
---
Welcome to ...

THE Club

Upcoming

EVENTS

Enjoy the many fall & holiday events this year... email to submit yours.

Welcome to ...

THE

CLUB

Events are listed d FREE for

non-profit groups

(space

perming).

OCTOBER 2022

S M T W T F S

1

2 3 4 5 6 7 8

9 10 11 12 13 14 15

16 17 18 19 20 21 22

23 24 25 26 27 28 29

30 31

NOVEMBER 2022

S M T W T F S

1 2 3 4 5

6 7 8 9 10 11 12

13 14 15 16 17 18 19

20 21 22 23 24 25 26

27 28 29 30

DECEMBER 2022

S M T W T F S

1 2 3

4 5 6 7 8 9 10

11 12 13 14 15 16 17

18 19 20 21 22 23 24

25 26 27 28 29 30 31

DATES SUBJECT TO CHANGE. Please check ahead if possible.

Welcome to ...

fall 2022

WEEKLY EVENTS

Mon ongoing Zoom Genealogy meetings, last Mon/month 2-3:30 www.lambton.ogs.on.ca

Mon starts Oct 17 Adult Lunch Time Skate, Petrolia www.town.petrolia.on.ca

Mon ongoing Adult Skate, Forest www.lambtonshores.ca

Mon ongoing Adult Skate, Thedford www.lambtonshores.ca

Tues through Dec Adult Skating, East Lambton Community Complex www.warwicktownship.ca

Tues ongoing Euchre Night, Wyoming Legion, 7pm Facebook

Tues ongoing Adult Skate, Thedford www.lambtonshores.ca

Wed Starts Nov 2 Meat Bingo, Wyoming Lions Club (1st Wed monthly) Facebook

Wed ongoing Jamboree at Petrolia Legion (3rd Wed monthly) Facebook

Thurs starts Oct 13 Adult Lunch Time Skate, Petrolia www.town.petrolia.on.ca

Thurs ongoing Optimists Meat Raffle, Skeeter's, Brights Grove Facebook

Thurs ongoing Petrolia Opt Club Meat Raffles, Crabby Joe's Facebook

Thurs ongoing Petrolia Lions Club Meat Raffles, Haywood Tap & Grill Facebook

Thurs ongoing Adult Skate, Thedford www.lambtonshores.ca

Thurs ongoing Adult Skate, Forest www.lambtonshores.ca

Sat thru Dec Gwetaandaawe Indigenous Market (2nd Sat month) burlacher@aamjiwnaang.ca

Sat ongoing Meat Raffles, Forest Legion www.forestlegion.com

EXHIBITS

ongoing online Nnigiiwemin/We are going home exhibit (virtual) www.heritagemuseum.ca

ongoing online Lambton Agricultural Hall of Fame (virtual) www.heritagemuseum.ca

ongoing online Lambton at War (virtual) www.heritagemuseum.ca

ongoing online Shine: Spotlight on Women of Lambton www.heritagemuseum.ca

Oct 7-29 Sarnia The Power of Line & Colour Juried Exhibition www.lawrencehouse.ca

thru Oct Oil Springs Oil Heritage District Driving Tour oilmuseum.ca

til Mar2023 Sarnia Beneath the Mask: Symbols as a Healing Phenomenon www.jnaag.ca

Nov5-Dec17 Brights Grove Gifts of the Season at Gallery in the Grove www.galleryinthegrove.com

OCTOBER 2022

13 Sarnia LC Branch of Ontario Ancestors Meeting: Donna Bjore lambton.ogs.on.ca

14-15 Sarnia ABBAmania Live at Imperial Theatre www.imperialtheatre.net

15 Port Franks Poinsettia Tour, Community Centre 10-3 Facebook

15 Thedford Fall into Christmas Craft & Vendor Sale, Arena Facebook

15-16 Grand Bend Lambton Fall Colour & Craft Festival www.heritagemuseum.ca

16 Forest G.T.R. Gravel Ride, Bicycle Tour Forest to Thedford 519-381-0869

19 Camlachie P-W Historical Society: Speaker Gordon MacKenzie plymptonwyomingmuseum.ca

19 Corunna LEO Diner's Club: Speaker NLCCHC on Diabetes www.lambtonelderlyoutreach.org

19 Sarnia Witch Perfect - singing/comedy parody www.imperialtheatre.net

20 Petrolia Thursday Night Community Pumpkin Carving www.town.petrolia.on.ca

20 Sarnia An evening with Cliff Erikson and John Wing www.imperialtheatre.net

21-23 Petrolia Pumpkin Lighting Display at Petrolia Discovery www.town.petrolia.on.ca

22 Sarnia Robb Sharp and Lit'l Chicago Rhythm & Blues Revue www.imperialtheatre.net

22 Petrolia Fiery Faces Family Day at YMCA www.town.petrolia.on.ca

28 Sarnia The Lovettes in the Leaders of the Pack www.imperialtheatre.net

28 Sarnia About Face & Body Fall Open House www.aboutfacesarnia.com

29 Thedford Halloween Party - The Fish & The Train Wreck Band www.widderstation.com

29 Wyoming Plympton-Wyoming Spooktakular Event Facebook

29 Wyoming Wyoming Legion Ladies Aux. Fall Vendor Show Facebook

29 Sarnia Sarnia Street Cruisers Trunk or Treat, Hiawatha Horse Pk Facebook

29 Grand Bend The Bookends Celtic Quartet https://grandbendplace.ca

29 Sarnia Fright Night at Cana-Scare-a (Canatara Park, Pt Edward) www.sarnia.ca/events

NOVEMBER 2022

2 Sarnia Infusion Baroque at Imperial Theatre www.imperialtheatre.net

3 Forest Forest Excelsior Band Concert at Kineto Theatre 7 pm Facebook

4-5 Wyoming Christmas Makers Market, Country Lane Greenhouse Facebook

5 Petrolia Optimist of Lamb Central-Petrolia Craft & Gift Show www.lcpetroliaoptimist.org

5 Forest Forest Legion Annual Remembrance Day Dinner www.lambtonshores.ca

6 Camlachie Remembrance Day Service - Community Centre to Cenotaph -----

7-12 Petrolia Hogan Pharmacy Customer Appreciation Week www.hoganpharmacy.com

9 Sarnia Menopause the Musical at Imperial Theatre www.imperialtheatre.net

10 Sarnia Brass Transit - The Musical Legacy of Chicago www.imperialtheatre.net

11 Various Remembrance Day Services throughout the County

NOVEMBER 2022 Continued

11 Sarnia Classic Albums Live - Supertramp Breakfast in America www.imperialtheatre.net

11-12 Sarnia Fusion: A Discovery of Food Wine & Craft Beer for LCDS www.discoverfusion.ca

12 Petrolia Christmas Open House at Willow & Oak www.willowandoakpetrolia.com

12 Sarnia Jeremy Hotz at Imperial Theatre www.imperialtheatre.net

12-13 Sarnia 49th Big Sister's Show & Sale, 1257 Michigan Ave Facebook

15 Petrolia Hogan Pharmacy Christmas Event Kick-off www.hoganpharmacy.com

16 Grand Bend Pavlo, world-renowned Mediterranean guitarist www.lambtonshores.ca

18-19 Forest Ladies Weekend www.shopforest.ca

18-19 Petrolia Christmas Open House at Olde Post Office Gift Shoppe 519-882-0747

18-26 Sarnia Beauty and the Beast Musical at Imperial Theatre www.imperialtheatre.net

19 Corunna 2nd Annual Winter Market, Legion Br. 447 Facebook

25 Mooretown Christmas Organ Concert (tentative) www.mooremuseum.ca

25 Forest Light up the Park www.shopforest.ca

25-Dec11 Petrolia Starbright Christmas at Victoria Playhouse www.thevpp.ca

26 Corunna Santa Claus Parade 6:30pm www.corunnasantaclausparade.com

26 Forest Santa Claus Parade www.shopforest.ca

27 Sarnia Motown Soul at Imperial Theatre www.imperialtheatre.net

29 Sarnia Shaun Majumder at Imperial Theatre www.imperialtheatre.net

30 Sarnia Swan Lake - the State Ballet Theatre of Ukraine imperialtheatre.net

DECEMBER 2022

1 Sarnia O Christmas Tea - British Comedy www.imperialtheatre.net

2 Petrolia Christmas in the Park www.town.petrolia.on.ca

2-3 Sarnia Christmas on the Farm, Canatara Park, Pt. Edward www.sarnia.ca

3 Sarnia Santa Claus Parade www.sarniakinsmen.ca

3 Watford Santa Claus Parade www.ontbluecoast.com

3 Wyoming Breakfast with Santa, Wyoming Legion 8-11am Facebook

3 Wyoming Christmas in the Village Facebook

3 Petrolia Outdoor Christmas Market www.town.petrolia.on.ca

3 Petrolia Santa Claus Parade 2pm www.town.petrolia.on.ca

3 Point Edward Christmas in the Village www.villageofpointedward.com

6 Petrolia Ladies Night at Hogan Pharmacy (all day/night) www.hoganpharmacy.com

6 -7 Petrolia Christmas for Everyone Luncheon www.town.petrolia.on.ca

7-10 Sarnia The Christmas Star - Nightingale Chorus www.imperialtheatre.net

8 Forest 12 Days of Christmas starts www.shopforest.ca

13 Petrolia Mens Night at Hogan Pharmacy (all day/night) www.hoganpharmacy.com

16-18 Petrolia The VPP Christmas Jamboree www.thevpp.ca

20 Petrolia Last Minute Christmas Event at Hogan Pharmacy www.hoganpharmacy.com

22 Petrolia Boomers Luncheon Facebook

JANUARY 2023

25-29 Sarnia Clue on Stage at Imperial Theatre www.imperialtheatre.net

FEBRUARY 2023

2 Sarnia Miraculum: Sleight of Mind www.imperialtheatre.net

15 Sarnia Kim Mitchell in concert www.imperialtheatre.net

17 Sarnia Classic Albums Live: Billy Joel - The Stranger www.imperialtheatre.net

18 - 20 Sarnia Bluewater Anglers Ice Fishing Derby www.bluewateranglers.com

Send us your Events now

for FREE TEXT LISTING ING in the next issue

Include locaon, date,

name of the event,

website or contact number.

Send to:

info@welcometotheclub.ca

Welcome to ...

THE

CLUB

P A G E

26

Phobias… The fear of work is called ergophobia
---
Our next issue will come out around the beginning of January 2023.

Welcome to ...

THE Club

Call Mark or Carla

to promote your

business in ...

Welcome to ...

THE

CLUB

THANK YOU to all the wonderful, local businesses

that have made this free magazine possible!

Mark Moran 519-491-1676

Carla MacGregor 519-464-3230

info@welcometotheclub.ca

carla@welcometotheclub.ca

For Lambton Shores area advertising, contact Rhonda Long

519-657-1869 • rhonda@welcometotheclub.ca

1362 Lambton Mall Rd. Sarnia • 519-542-3301

301

mysecretgarden.ca

CLOSED

SUNDAYS

• Fresh &Silk Arrangements

• Gis & Home Decor

• Jewellery • Greeng Cards

About Grandparents?

(taken from papers written by a class of 8-year-olds)

• Grandparents are a lady and a man who have

no little children of their own. They like other people's.

• A grandfather is a man grandmother.

• Grandparents don't have to do anything except

be there when we come to see them. They are so

old they shouldn't play hard or run. It is good if they

drive us to the store and have lots of quarters for us.

• When they take us for walks, they slow down past things like pretty leaves

and caterpillars.

• They show us and talk to us about the colour of the flowers and also why

we shouldn't step on "cracks."

• They don't say, "Hurry up!"

• Usually grandmothers are fat, but not too fat to tie your shoes.

• They wear glasses and funny underwear.

• They can take their teeth and gums out.

• Grandparents don't have to be smart.

• They have to answer questions like "Why isn't God married?" and

"How come dogs chase cats?'

• When they read to us, they don't skip. They don't mind if we ask for the

same story over again.

• Everyone should try to have a grandmother, especially if you don't have

television, because they are the only grown ups who like to spend time

with us.

• They know we should have snack-time before bedtime and they say prayers

with us every time, and kiss us even when we've acted bad.

A 6 year old was asked where his grandma lived. "Oh," he said, "She lives at

the airport, and when we want her we just go get her. Then when we're done

having her visit, we take her back to the airport."

Think Gourmet... Feel like you're in Paris at Sarnia's Hidden Gem!

Amazing Flavour!

We're Not Fast Food

Breakfast

Lunch

Dinner

Any Time!

Alll Made In-House with Fresh Ingredients!

• Slow Roasted Meats

• Locally Sourced Fruits & Vegetables

• Homemade Sauces, Aiolis, Jams & Seasonings

SENIORS

60+

15% OFF

Tuesdays

260 Indian Road South, Sarnia • 519-491-5563

Follow Us On Facebook For Specials, Trials, Taste Tests, Contests & More!

fall 2022 Phobias… The fear of pain is called algophobia

P A G E 27
---
Welcome to ...

Back to School

means more

time to Knit!

Heaven is

Handmade

"A Yarn Boutique"

ue"

Everything you

need ed

for

Knitting ting

& Crochet!

250 North Christina Street

Sarnia • 519-491-9276

www.HeavenIsHandmade.ca

THE Club

A GRANDFATHER'S GIFT

From my earliest recollection until

the age of twelve, I was lucky enough to

have a grandfather in my life. At first, we

all shared a house on Manitoulin Island.

Then our family grew from two children to

three, and Grandpa built himself a cabin.

He still ate dinner and supper with us.

After supper, he used to stretch out on the

couch in one corner of our comfortable big

kitchen. One of his favourite rabbits (we

had several) would sometimes rest for a

time on his chest. That particular bunny

was a smoky blue colour, he matched

exactly the sweater Grandpa usually wore.

When they were both snoozing, it was

hard to tell where the rabbit left off and

Grandpa began.

I loved Grandpa's snug little cabin a few

yards away from our house. On weekends,

I'd join him there for breakfast, and we'd

wolf down big bowls of Dr. Jackson's

Roman Meal. I still have vivid recollections

of that cabin, the freshly varnished

light shingles on the outside, the knotty

floorboards, the white enamel-topped

table, the pot-bellied stove which served as

heater and cooker, the old brass bedstead,

and the smell of pipe tobacco.

When my sister and I were very small,

Grandpa would sing to us of a peanut on

Growing old is inevitable, but growing up is optional!

railways tracks becoming peanut butter,

and a frog intent on making Miss Mouse his

bride. "Sing it again, Grandpa," we'd beg,

and he would always oblige. My favourite

was about a grasshopper sitting on a sweet

potato vine. After three repetitions of that

line, he'd holler, "A turkey gobbler sneaks

up behind, and YANKS him off the sweet

potato vine." On the word "yanks" he'd

make a grab for one of us and we'd run

screaming out of his reach. It was nine

parts of enjoyment mixed with one part

of abject terror.

My father, whom we grandly referred to

as an interior decorator, was away painting

and hanging wallpaper much of the time.

But Grandpa was always there, his sash

and door factory taking up a large portion

of our huge yard. Though he worked hard,

he took time each spring to make us new

wooden stilts. We learned to use them

with surprising dexterity. I dreamed often

of becoming a circus performer.

The seventh son of a seventh son,

my grandfather was born in Creemore,

Ontario in 1875. A lean, imposing figure,

he stood six feet tall and never slouched.

When meeting people for the first time,

he'd boom, "Chauncey's the name,

Chauncey Berry." Later, I learned that his

By Norma West Linder, Sarnia

from Daytripping, Nov-Dec 2007 issue

middle name was Ulysses. Quite a handle.

My sister and I spent hours playing in

his factory. We delighted in the leftovers

of blade, planer, and saw; corkscrew curls

grew there like pigtails and sawdust was

heaped everywhere. Apparently some of

the men who frequented the place found

those sawdust piles a little too convenient,

for above his workbench, Grandpa put up

a sign reading: "IF YOU URINATE ON THE

FLOOR AT HOME, DO SO HERE." I had to

ask my older sister what that word meant

and was shocked when she told me.

My two younger sisters remember a

different grandfather. My parents were

living in London then, and Grandpa moved

in with them. He was in his seventies and

in poor health because of asthma. I was

married and living in Toronto. The call of

the Island proved too strong for Grandpa,

however, and he moved back there where

he died in 1953. He's buried in Providence

Bay, near his mother and father, Lydia and

Hiram.

Grandpa never did get to see his first

great grandchild. I often wish we had been

able to make the trip up to the island to

visit him. But I still have letters he sent

me then, and he'll live on always in my

memory.

Welcome to ... fall 2022

SARNIA

Auto Centre

and more reputable brands.

Be prepared with

Winter Tires and

winterize your vehicle.

24 HOUR EMERGENCY TIRE SERVICE

519-383-1000

1341 4 Plank a k

Road, a ,

Sarnia

a a

Wallaceburg ac b

g

Location: c

i

on:

JACK'S J

A S TIRE

T

I E

7966 6

McCleary c

e

y Line • 519-627-3335

9

-333

335

35

GET YOUR

VEHICLE

WINTER

ROAD

READY!

SARNIA

Auto Centre

www.tirecraft.comw.ti i

c f

ITALIAN

A happy heart is better

than a full purse.

Between saying and doing,

many a pair of shoes

is worn out.

The cheat always lies

at the feet of the cheated.

Fools grow without watering.

Let not your tongue say that for which

your head may pay.

Never do by proxy what you can do by yourself.

Short is the road that leads from fear to hatred.

No sooner is a law made

than a way around it is discovered.

Beware of the person who has nothing to lose.

Have an open face, but conceal your thoughts.

A person who begins many things finishes but few.

If you have a cellar at home do not go drinking at the tavern.

A good answer knows when to stop.

Never let people see the bottom of your purse

or your mind.

The person who puts up with insult invites injury.

A man who enjoys good health is rich,

though he knows it not.

P A G E

28

Phobias… The fear of open places is called agoraphobia
---
If your business offers anything to people 55+, you can advertise too!

"Big or Small, JohnnyRemax

Sells T hem All"

Welcome to ...

THE Club

John A. McCharles, Broker

Re/Max Sarnia Realty Inc. Brokerage

519-383-4812

johnnyremax@bellnet.ca

All Inclusive Suites & Apartments with kitchenettes.

CUSTOM MENU OPTIONS • ACTIVITIES • 24HR CARE

Call for a personal tour.

WALLACEBURG • 519-627-9292

COMMUNITY RESOURCES FOR AGES 55+

(From the booklet "A Seniors' GuideTo Sarnia-Lambton")

a Resource booklet available through Age-Friendly Sarnia-Lambton

by calling 519-332-0527 or visiting www.agefriendlysarnialambton.ca

RESOURCE NAME SERVICES OFFERED PHONE WEB/EMAIL

211 Mental Health Support, Food Services, Financial Assistance 211 211oncovid19.ca

Age-Friendly Sarnia Lambton List of Supports & Services 519-332-0527 agefriendlysarnialambton.ca

Bayshore Home Care Solutions Assistance with Housekeeping, Errands & Meal Prep 519-383-6979 bayshore.ca

Canadian Red Cross Grocery Pickup & Transportation Services 519-332-6380 redcross.ca

Care-A-Van Door-to-Door Public Transportation - lift equipped vehicles 519-336-3789

Habitat for Humanity Low-Cost Home Reno Services 519-339-7957 habitatsarnia.org

Heart to Home Meals Pre-Made Frozen Meal Delivery to 60+ 877-404-4246 hearttohomemeals.ca

Instacart Delivery from several local stores 888-246-7822 instacart.ca

Lambton Elderly Outreach Home & Yard Maintenance, Meals, Various Resources 800-265-0203 lambtonelderlyoutreach.org

Lambton Public Health Individual, Agency and Cargiver help 226-254-8222 lambtonpublichealth.ca

Neighbourlink Household Chores, Transportation, Shopping, Companionship 519-336-5465 neighbourlinksarnia.org

Sarnia Blessings Free Meals for Seniors & Vulnerable People 519-402-9093 sarniablessings@outlook.com

Shine at Home Transportation, 24 hr Housekeeping, Shopping, Meal Prep 519-336-9898 shineathome.com

Strangway Community Centre Recreational, Social & Educational Programs & Activities 519-332-0656 strangway@sarnia.ca

Victorian Order of Nurses (VON) Dementia Programs, Home Nursing, Respite, Much More 519-542-2310 von.ca/en/site/sarnia

fall 2022 Phobias… The fear of thunder is called brontophobia

P A G E 29
---
Welcome to ...

THE Club

Don't put this down! You'll have to bend over to pick it back up!

Welcome to ...

fall 2022

Established in 2010, Shine at Home serves seniors who wish

to live in full independence. Since our earliest beginnings we

have learned that with just a little help, people can remain

in their homes for many years safe and free in the

knowledge that a dedicated team is there for them.

Seniors' Home Independence Network

Life is Better When

You're Home

Seniors live at home -

independently,

comfortably & happily.

It doesn't matter how old you are, life is always better

when you're home. There's a deep comfort that comes

from being in familiar surroundings, sleeping in your own

bed, and living under a roof that belongs to you.

Housekeeping

Companionship

and Care

Call today and find out

how Shine at Home

can help you:

519-336-9898

"All the staff go out of their

way to make life easier for our

Mom when we aren't able to

be there everyday! We

definitely recommend Shine at

Home to others looking for

excellent care for their elderly

parents"

Heather – Daughter of Client

"The lady who does my

housekeeping is so nice and

efficient and always fits in

special requests"

Ruth Ann - Client

shineathome.com

I bet you're wondering what the heck?

Bathing? On Thanksgiving? What has

this got to do with travel? Thanksgiving

2020 was a dismal affair, and 2021 was

shaping up to be—different. Covid was

still hanging around like an unwanted

guest, or, shall we say, pest.

Not to be brought down by the onceagain

rising cases of Covid, my daytripping-dude

(spouse) and I set off to

Rock Glen Conservation Area outside

of Arkona last fall. This conservation

area is part of the Ausable Bayfield

Conservation Authority. It had been over

20 years since we visited.

Once we arrived, we noticed that this

out-of-the-way spot was now a popular

picnic area, filled with like-minded

folks who opted for an outside locale

for their Thanksgiving lunch or dinner.

We also realized that a lot had changed

in 20 years. There were designated

parking areas, washrooms, barbecues,

potable water and two playgrounds.

Included is the Arkona Lions Museum

and Information Centre, which boasts a

fluorescent mineral room with exhibits

of fossils, meteorites and other displays

and artifacts. Rock Glen is rich with

Devonian-era fossils. The park is open

seven days a week and there is a park

entrance fee of $4.00 (children - 5 years

and under are free). They will accept

cash, debit and credit cards.

After we parked and ate our packed

lunch, we hit the hiking trails, and we

soon realized that our idea of a quiet,

relaxing walk through the woods was

not to be. It was busy with people, along

with their kids and dogs. So much for

our day of Shinrin-yoku.

In Japan, taking a hike or a stroll

through a wooded area is called Shinrinyoku.

Translated, it means forest

The Thanksgiving Bath

By J.J. Francissen, London • from Daytripping Fall/Winter 2022/23

bathing. The term was first coined

in 1982 by the Japanese Ministry of

Agriculture, Forestry and Fisheries. The

exercise of shinrin-yoku encourages

people to make contact by walking in a

forest atmosphere, or simply spending

time in a natural setting without the

bathing suit. My kind of bathing!

This physiological and psychological

practice can be done at any time and

season. Those who partake of this

practice benefit from the therapeutic

energy of fresh air from various plants

and trees, reducing stress hormone

production, lowering heart rate and

blood pressure, boosting the immune

system and accelerating recovery from

illness. It also improves feelings of

Photo: Lou Parry Photography for Tourism Sarnia Lambton

happiness and can elevate creativity.

Rock Glen is the perfect place to

absorb the Carolinian forest atmosphere

with its 27 hectares and 1.5 km

trail with steep stairways and scenic

lookouts. Birds trill out their song as you

pass by Sycamore, Sugar Maple, Beech

and White Elm trees, to name a few of

the trees in this area. Hearing birdsong

always reduces my stress, which is

music to my ears.

There are over 50 types of wildflowers

for those who love the flora. While,

small mammals inhabit the area for

those who love the fauna. I spent time

photographing the flora, wanting to take

a piece of the forest with me and to look

at when I can't get into the woods for a

shinrin-yoku.

Once you've hiked the trails, which

cross over the Hobbs MacKenzie drain

(a creek that empties into the Ausable

River), you must visit the beautiful

waterfalls.

Those with mobility issues can find

wheelchair-accessible trails to see the

park highlights and an overlook to take

in the 10.7-metre high waterfalls, the

park's crowning jewel.

Like all waterfalls, the flow of water

depends on the season. Due to the

overabundance of rain that summer,

the falls were stunning! Long veils of

lacy water fell from the precipice above

and into the creek below. Spray from

the breeze as the water dropped cooled

our heated skin, and it felt like heaven.

In that regard, I had to be thankful to

Mother Nature.

Geocaching is another activity that

takes place in Rock Glen. There is a

Commemorative Woods in the park,

where family and friends plant trees in

memory of loved ones, a living legacy.

Rock enthusiasts will like the fossil

collection area, while those who love

history will thrill by the significance of

this area over the thousands of years.

Visit the Arkona Room to view the

historical photos that are on display.

Due to the number of visitors to Rock

Glen Conservation Area, our Shinrinyoku

felt more like a communal bath.

Yet, I was still grateful for the bountiful

trees, which were showing off the

change of colours, the fresh air, the birds

singing and the forest bathing on this

warm Thanksgiving day.

Publisher's Note: Just one question,

Judy. We're bathing in the forest without

the bathing suit... are we wearing anything

else? I'm going to assume you'll say, "Yes."

P A G E

30

Phobias… The fear of speed is called tachophobia
---
1. Drop out 2.silver bullet 3.Spot 4.A Timex watch 5.Buddy Holly 6.beatniks

7. Transistor Radio 8. Talking horse

Please tell our advertisers that you saw their ad in this magazine!

Seniors

SAVE 20%

Every Thursday!*

*Discount applies to

regular priced merchandise

Available with a PC Optimum card at

the following Shoppers Drug Mart stores:

510 Exmouth Street, Sarnia

123 Mitton Street South, Sarnia

420 Lyndoch Street, Corunna

Welcome to ...

Mario Moscone, Sales Representative

THE Club

1. The 'battle cry' of the hippies in the 60's was 'Turn on, tune in, ...?

• Fear war • Love others • Drop out • Peace

2. After the Lone Ranger saved the day and rode off into the sunset,

the grateful citizens would ask, 'Who was that masked man?'

Invariably someone would answer, 'I don't know,

but he left this behind.' What did he leave behind?

• silver bullet • mask • shirt • horse

3. We read about the lives and adventures of Dick

& Jane. What was the name of Dick & Jane's dog?

• Speckle • FiFi • Rover • Spot

4. What takes a licking and keeps on ticking?

• A Timex watch • A computer • an alarm clock • A bomb

5. In 1971, singer Don McLean sang a song about 'the day the

music died' This was a reference and tribute to...

• Led Zeppelin • The Rolling Stones • Buddy Holly • The Who

6. In the 70's, we called the drop-out nonconformists 'hippies.' But in

the early 60's, they were known as

• hoodlums • bad boys • beatniks • gangsters

7. Before cassettes, 8 tracks & CDs, the masses listened to what?

• Tubeless radio • Transistor radio • DVDs • Transmission radio

8. Who or what was Mr. Ed?

• Donkey • Disc jockey • Talking horse • Invisible rabbit

fall 2022 Phobias… The fear of inoculation is called trypanophobia/vaccinophobia P A G E 31
---
Welcome to ...

THE Club

A new magazine for people who aren't (new that is!)

Welcome to ...

fall 2022

Welcome to ...

The Giving List

o

These listings in

are for reference eren

en

only. Please contact the organization i

on

for details.

Many a

of us have a e time e to

give, consider n being i

a

volunteer! Here's a list of

opportunities po

ies to give back

to our community.

muni

Call 519-491-1676 or email info@welcometotheclub.ca to add an organization to our list.

ORGANIZATION

O

R

A

I

Z

AT

IO

ON

VOLUNTEER V

O

U

N

T

E

ER

OPPORTUNITY

P

PO

OR

T

U

N

I

TY

CONTACT

Sarnia Lambton Rebound Program & Special Event Volunteers, Cinderella Project Volunteer Committee 519-344-2841 ext. 101

Victorian Order of Nurses Visitor, Footcare Clinic Assistant, Bingo Volunteer, Adult Day Program 519-542-2310 ext. 4267

LC Long-Term Care Living Various opportunities from Coffee Program to organist/pianist to dining companions lambtoncares.ca/volunteer

Lambton Elderly Outreach Reception, Transportation, Friendly Visiting, Meals on Wheels, Diner's Club, Forever Fitness 519-845-1353

Alzheimer Society of SL Program, Event and Bingo Volunteers 519-332-4444

Habitat for Humanity Handyman Assistant, ReStore: Sales Floor Support, Cashier 519-339-7957

St. Joseph's Hospice Sarnia

Lambton

ORGANIZATION

Residence Reception, Volunteers for Kitchen, Grocery Shopping, Direct Support, Housekeeping,

Maintenance, Gardening Volunteer and more

Literacy Lambton Volunteer opportunities in the Adult or Family Literacy Programs, Special Events, Promotions

Committee or Board of Directors.

Sarnia & District Humane

Society

DONATIONS

Several volunteer opportunities. Needed items: non-clumping cat litter, horse bedding pellets,

towels and small fleece blankets, and more. Visit website for full list.

519-337-0537

www.stjosephshospice.ca

www.literacylambton.org/

volunteer/

CONTACT

www.sarniahumanesociety.com

River City Vineyard Donation of food, extra clothing, valuables, and small household items to foodbank and shelter 519-383-8463(VINE)

Petrolia Food Bank Monetary and food donations to food bank (please check expiry dates) 519-882-3950

Christmas for Everyone

Inn of the Good Shepherd

Women's Interval Home

Gift Cards for teens, Monetary donations; toy shopping is underway now for Christmas Hampers.

www.christmasforeveryonepetrolia.weebly.com

Needed items: Clothing, linens & bedding, small kitchen appliances, dishes & cutlery, cereal,

school snacks, juice boxes, sugar, coffee. Volunteer opportunities available.

New unused items only will be accepted to shelter: hygiene items, clothing, gift cards, etc.

Please email kyla@womensintervalhome.com to schedule a time for item drop off.

226-349-8660

519-344-1746

www.womensintervalhome.com

P A G E

32

Phobias… The fear of children is called paedophobia
---
Sometimes, no news really is good news.

Welcome to ...

FOOT ORTHOTICS

SLIPPERS, SHOES, BOOTS, SANDALS

THE Club

Julie Munday, Certified Pedorthist

www.soledecisions.com

30+ YEARS

EXPERIENCE!

For help with comfort,

support, circulation,

fatigue and balance.

ASK ABOUT IN-HOME SERVICE

303 Davis St, Sarnia • 888-971-6345 Essential Business - Onsite Lab

GIFTWARE & UNIQUE HOME DÉCOR

SHOWCASING MANY LOCAL ARTISANS

Home of Just-A-Nuff Antiques

It's been almost 200 years

since stories of poltergeists and

flying objects gripped southern

Lambton County and created a

mysterious tourist attraction in

early Sombra Township.

The haunting that terrorized

the John Taylor McDonald farm

near McDonald Park along the

St. Clair Parkway, came to be

known as the Baldoon Mystery.

Historians and those who

study supernatural events

say what happened to the

McDonalds is consistent with

poltergeist phenomena reported

in modern times.

McDonald and his family

were among Lambton's first

European settlers, having

arrived from Scotland in 1804

to colonize the Baldoon Settlement.

The community was founded largely

on swampland, and malaria wiped

out many early inhabitants. Others

despaired over the poor farming

conditions and left. But John McDonald

stayed with his wife and young family to

try to make a go of it.

In 1829, trouble of a different sort

began. The McDonald women were

working in a barn when three poles

from the roof inexplicably fell to the

ground, narrowly missing them. They

ran away terrified.

Soon, unexplained noises were a

common occurrence. Lying in their

beds, the family would repeatedly hear

the sound of men marching to battle in

the kitchen. The baby's cradle rocked

violently and couldn't be stopped even

with the effort of three men.

Rocks and bullets frequently flew

through windows, as witnessed by

The Baldoon Mystery

By Cathy Dobson

The John Taylor McDonald homestead, which was located in

Sombra Township, near present day McDonald Park.

Photo courtesy, Lambton County Archives

numerous visitors to the house. The

family marked the rocks and threw

them in the river, only to have the same

rocks come back through the glass

minutes later.

In frustration, McDonald boarded up

the windows, but the rocks flew through

the boards.

Fires would ignite without

explanation, sometimes as many as 12

at a time.

It became clear that someone or

something wanted the family to leave.

So they moved to a relative's home

nearby. But the hauntings followed

them there.

As news of the strange events spread

people came to see for themselves.

Some gave eyewitness accounts that

survive to this day.

One of the most detailed accounts

was written by Neil McDonald, one

of John's children, who lived through

it as a boy. He waited for his

father to die 30 years later, then

interviewed 26 witnesses and

wrote a book. Five people said

they witnessed the flying stones,

marked them, and saw them

return through the window

glistening with water.

The McDonalds tried

numerous times to stop the

activity. A local priest performed

an exorcism, which only made

matters worse. A St. Clair

Township head master named

Robert Barker, who dabbled

in the occult, volunteered

to investigate. But Barker

was convicted of pretending

to practice witchcraft and

sentenced to a year in jail. He

won on appeal and was released.

Then, in 1830, the incidents abruptly

stopped.

As the story goes, they ended when

a desperate John McDonald contacted a

"reader" in Long Point who told him to

shoot a silver bullet at a black goose on

his property.

There was talk of an old woman, a

shapeshifter, with a grudge against the

family. McDonald did indeed find a black

goose on his farm and hit the bird's wing

with a bullet. The following day he saw

an old woman who lived nearby and

noticed her arm was in a sling.

The haunting was over.

Those eerie events of 1829 and 1830

continue to fascinate researchers even

today even though the homestead is

longsince gone. Numerous books, plays,

scholarly papers and articles have been

written based on the eyewitness reports.

Recently, historians Rick Fehr and

Christopher Laursen studied the Baldoon

TUESDAY-FRIDAY 10-5 • SATURDAY 10-3

850 Colborne Street @ Exmouth Street

Northgate Plaza, Sarnia • 519-336-3838

Mystery and shared their analysis

during a special presentation hosted

by Lambton County Archives. (You can

watch it on YouTube at https://www.

youtube.com/watch?v=9nIinYNq7yo).

Fehr is originally from Wallaceburg

and has published research on the

folklore of Baldoon. Laursen has studied

poltergeists for 15 years and published

on how people have interpreted the

events at the McDonald farm.

The Baldoon Mystery has been called

Canada's most famous ghost story,

Laursen said. It's difficult to dismiss it

as fake because of the consistencies

among eyewitnesses.

"It's such a rich story," said Fehr,

adding that the shapeshifter theory

is not a surprise since witchcraft was

commonly blamed for many strange

activities in the 19th century.

Laursen and Fehr said their research

relied heavily on material from Lambton

County Archives in Wyoming.

Both have high praise for the amount

of historical information available to

the public at the archives, which is

located behind the Lambton County

administration headquarters at 787

Broadway Street. It's open Wednesday

– Saturday.

Details can be found at lambtonarchives.ca,

@LambtonCountyArchives on Facebook,

@HeritageLambton on Twitter,

or by calling 519-845-5426.

fall 2022 Phobias… The fear of darkness is called scotophobia

P A G E 33
---
Welcome to ...

Personal

Training

in a Private

& Safe

Environment!

THE Club

Lorrie Williams

Personal

Trainer

Specialist

519-541-1005 lwilliams11@cogec .ca

by Lorrie

Russell Street

Family Owned

and Operated

Since 1989.

120 Russell Street North, Sarnia • 519-383-0688

60 might be the new 40, but 9 pm is the new midnight.

SAVE 20%

O ff 1 regular priced

item with this coupon.

(some exclusions apply)

(For Seniors 60+)

JOHN PARKER

Vote for City Council

• TO STOP THE WASTE

OF TAXPAYER MONEY

• TO REDUCE TAXES

• TO REDUCE THE

DRUG & THEFT

PROBLEM IN

THE CITY

226-222-8630

"A voice

for you"

Welcome to ...

fall 2022

AYear Round Garden Centre, Gi Shop & Bouque!

Extraordinary

selecon of

Plants & Unique

Decoraons

& Poery for

enhancing your

indoor & outdoor

living spaces.

DON'T WORRY

ABOUT OLD AGE.

IT DOESN'T LAST

THAT LONG.

www.sipkensnurseries.com

ww.sipkensnurseries.com

w

i

snurseries FALL OPEN HOUSE

OCTOBER 28 • 10AM - 4PM

Everything on Sale!

1098 London Rd, SARNIA • 519-542-0079

www.aboutfacesarnia.com

OPEN Monday to Saturday

Just tEastofSarniaonCty arni

on CtyRd22

Take Exit 15 off Hwy 402

USA

Sarnia

22

Bright's

Grove

From

26

London

401

From

Wallaceburg

3261 London Line (Rd. 22)

East of SARNIA

519-542-8353

FOLLOW US!

Welcome to ...

N

SIPKENS

NURSERIES

Proud Member of...

To find (and post) current events

& community information, please

follow our Facebook page.

THE Club

Letting Go is Beautiful

Frosty mornings and fabulous shades

of colour on the trees and in the gardens,

combine so well with autumn mums

and asters to celebrate shorter days and

cooler nights—a most favourite time

of the year for many who spend much

time in the outdoors.

Fall has as much appeal to many

gardeners as the spring emerging from

winter. In southern Ontario, our fall is a

long transition most years as the angle of

the sun changes our weather to convince

most plants to prepare for winter. There

are always flashes of colour to be found

in the garden and landscape and not just

from our flowering plants. The iconic

Canadian Maple, burning bush and many

small perennials give great excitement

to this season. Winterberry, tall grasses,

and many evergreens' colour become

the focus of the garden. When we pay

attention to these changes, we too can

be encouraged to savour this season and

not rush it to pass. Not always do we need

to go for a drive to enjoy the fall colours.

Check out your local parks and habitats

or add plant to your own garden, to bring

cheer to these shorter days.

The farmlands being harvested

and ploughed, the birds flocking and

migrating, and the aroma of wood smoke

in the air are all things to be celebrated

and thankful for. Gather with friends and

family—enjoy the company and great

outdoors together to build memories and

refresh your body and mind.

Story Courtesy of

Sipkens Nurseries

Dustings of snow soon follow as the

leaves leave the trees and remind us

that it can be beautiful to let things go

too.

As fall soon welcomes winter, so

should we. Take care of some of the

projects in the garden that summer's

heat kept you from doing.

• Care for your lawn so it can rebuild

with cooler seasons with fertilizer or

seed.

• Finely mulch leaves so they do

not smother your grass and return

nutrients to the earth.

• Top up mulch in gardens to insulate

new plantings and freshen the look

of your home.

• Change out your seasonal flowers

for fresh greenery boughs and

berries to create a warm welcome

to your guests.

• Plant your seed garlic for next

summer harvest.

• Add compost and manure to your

gardens to improve the soil fertility.

• Collect seeds from your favourite

summer annuals to sow next year.

• Create a habitat for the wild

creatures in your yard with an

area left 'wild and untended' with

branches and leaves.

• Remember our feathered friends by

leaving out seed heads and putting

out feeders.

• Clean up empty pots and trays and

return for recycle or reuse.

P A G E

34

Phobias… The fear of everything is called panophobia/pantophobia
---
You're not getting older, you're just becoming a classic!

NORTH END APPLIANCE

Serving Sarnia-Lambton for 33 Years

519-336-7676

635 Cathcart Blvd., Sarnia

northendappliance.ca

It will take just moments to read this

and change your thinking.

Two men, both seriously ill, occupied

the same hospital room. One man was

allowed to sit up in his bed for an hour

each afternoon to help drain the fluid

from his lungs. His bed was next to the

room's only window. The other man

had to spend all his time flat on his back.

They talked for hours on end. They

spoke of their wives and families, their

homes and jobs, their involvement in the

military, and vacations they had taken.

Every afternoon, when the man in

the bed by the window could sit up,

he'd pass the time by describing to his

roommate all the things he could see

outside. The man in the other bed began

to live for those one hour periods where

his world would be enlivened by all the

activity and colour of the world outside.

The window overlooked a park with

a lovely lake. Ducks and swans played

on the water while children sailed their

model boats. Young lovers walked arm in

arm amidst flowers of every colour and

a fine view of the city skyline could be

seen in the distance. As the man by the

window described all this in exquisite

detail, the man on the other side of the

room would close his eyes and imagine

this picturesque scene.

One warm afternoon, the man by the

Welcome to ...

THE Club

HOME HANDYMAN!

Reasonable Prices

FREE ESTIMATES

E-Mail

The E-Mail

Decks, Sheds, Repairs...

(Excludes plumbing/electrical)

YOU NAME IT,

I'll get it done for you.

10% OFF with mention of this ad

IN-BOX

Send the good stuff to info@welcometotheclub.ca

The Present

window described a parade passing by.

Although the other man could not hear

the band - he could see it in his mind's

eye as the gentleman by the window

portrayed it with descriptive words.

Days, weeks and months passed. One

morning, the day nurse arrived to bring

water for their baths only to find the

lifeless body of the man by the window,

who had died peacefully in his sleep. She

called the hospital attendants to take the

30 YEARS

EXPERIENCE

Call Don at

226-343-2265

body away. As soon as it felt appropriate,

the other man asked if he could be

moved next to the window. The nurse

was happy to make the switch.

Slowly, painfully, he propped himself

up on one elbow to take his first look at

the world outside. He strained to slowly

turn to look out the window. It faced a

blank wall. The man asked the nurse

what could have compelled his deceased

roommate who had described such

wonderful things outside this window.

The nurse responded that the man was

blind and could not even see the wall.

She said, 'Perhaps he just wanted to

encourage you.'

Epilogue: There is tremendous

happiness in making others happy, despite

our own situations. Shared grief is half

the sorrow, but happiness when shared, is

doubled. "Today is a gift, that is why it is

called The Present.'

WE MAKE

Beautiful Smiles

50

CELEBRATING YEARS

OF MAKING DENTURES!

As a way of giving back to our community this year,

we are donating a portion of every denture we make

to the United Way of Sarnia Lambton.

~ Are you unhappy with the way

your Dentures make you look or feel?

~ Are your Dentures loose? ~ Sore spots?

~ Not eating the foods you love?

~ Are they over five years old?

WE ARE HERE TO HELP YOU!

Digital

(photographic)

impressions now

available

Since 1972, our family has made thousands of dentures for our patients.

Ask your dentist to refer you to us or call yourself for your free consultation.

We are adhering to strict Covid guidelines to keep you safe.

Call to book your free consultation.

519-336-6580

1200 Lambton Mall Road, Sarnia

www.feigedentureclinics.com

fall 2022 Phobias… The fear of failure is called kakorrhaphiaphobia

P A G E 35
---
Welcome to ...

THE Club

"Big or Small, JohnnyRemax

Sells T hem All"

This FREE Magazine is made possible by the

companies you see adversing in these pages.

Please consider them when making your

purchasing decisions, and please let them

know that you saw their ad in...

Welcome to...

THE

John A. McCharles, Broker

Re/Max Sarnia Realty Inc. Brokerage

519-383-4812

johnnyremax@bellnet.ca

THECLUB

If this brings back good memories, send us some of your own.

Cenotaph

in

Petrolia,

Ontario

Poem By

Spokeshave

We Shall

Remember Them

In Flander's Fields, where poppies blow,

Brave heroes rest from long ago.

In battles, amid the shot and shell,

Is where these gallant soldiers fell.

They gave their all, to right a wrong,

The road they trod, was just too long.

They didn't make it all the way,

Now in their graves, in France, they lay.

These were the sons of nations wide,

They came to help, reverse this tide.

The battles raged, by day and night,

Through winter storm and summer bright.

The dead and wounded, many fell.

Their buddies carried on, through hell.

Each day to day, from dawn to dawn,

The fighting lads, pressed on and on.

It wasn't easy, but time would come,

The enemy, eventually would succumb.

The wounded, dead and thousand more,

Gave life and limb, to win this war.

On foreign soil, so many rest,

They gave their all, they gave their best.

They shall be mourned forever more,

From the ghastly aftermath of war.

Lest we forget, remember well,

These all were heroes, men who fell.

Forever more and in November,

We shall remember, we shall remember.

Welcome to ...

fall 2022

I served in the conflict in continental Europe with the Canadian Armed Forces in World War II

1939-1945. I was very fortunate - I did get home. Many of my buddies that had become like

brothers, or family were not so lucky. They shall be cradled in those graves forever, with many,

many others. It is with misty eyes, I still remember my war time chums. I dedicate this poem,

not only to the men I knew and lived with, but to all others who did not make it back home.

Spokeshave a.k.a. James Canning passed away in 2014

1982

Billboard Hits

1 Physical Olivia Newton-John

2 Eye of the Tiger Survivor

3 I Love Rock 'n Roll Joan Jett & The Blackhearts

4 Ebony and Ivory Paul McCartney and Stevie Wonder

5 Centerfold The J. Geils Band

6 Don't You Want Me The Human League Source:

www.billboard.com

7 Jack & Diane John Cougar

8 Hurts So Good John Cougar

Source:

9 Abracadabra Steve Miller Band

the-numbers.com

10 Hard to Say I'm Sorry Chicago

Gandhi

(Oscar for Best Picture)

Source: ET: The Extra-Terrestrial

Country Songs playback.fm

Rocky 3

1 Willie Nelson Always On My Mind

On Golden Pond

2 Bob Seger Shame on the Moon

An Officer and a Gentleman

3 Sylvia Nobody

4 Kenny Rogers Love Will Turn You Around

Porky's

5 Juice Newton The Sweetest Thing

Star Trek II:

The Wrath of Kahn

6 Jerry Reed She Got The Goldmine

Poltergeist

7 Oak Ridge Boys Bobbie Sue

8 Waylon & Willie Just To Satisfy You

The Best Little

Whorehouse in Texas

9 Gene Watson Fourteen Carat Mind

Chariots of Fire

10 Juice Newton Heart of the Night

Annie

TOP 10

Movies

P A G E

36

Phobias… The fear of blood is called haemophobia
---
Let's grow old together. You go first.

THE CLUB Fall 2022

CROSSWORD

Welcome to ...

THE Club

WHERE THERE IS SOMETHING FOR EVERYONE OF ALL AGES!

595 MURPHY ROAD, SARNIA • 519-337-1614

missionthriftstore.com/store/sarnia

ACROSS

The carpenter I hired to help me restore an old farmhouse had just finished

a rough first day on the job. A flat tire made him lose an hour of work, his

electric saw quit, and his pickup refused to start.

While I drove him home, he sat in silence. On arriving, he invited me in to

meet his family. As we walked toward the front door, he paused briefly at a

small tree, touching tips of the branches with both hands.

When opening the door, he underwent an amazing transformation. His tanned

face was wreathed in smiles as he hugged his two kids and gave his wife a kiss.

Afterward, as he walked me to the car, we passed the tree and my curiosity

got the better of me. I asked him about what I had seen him do earlier.

"Oh, that's my trouble tree," he replied, "I know I can't help having

troubles on the job, but one thing's for sure. Troubles don't belong in the

house with my wife and kids. So I just hang them up on the tree every night

when I come home. Then in the morning I pick them up again. "Funny thing is,"

he smiled, "when I come out in the morning to pick'em up, there aren't nearly

as many as I remember hanging up the night before."

Looking for

PRIVATE IN-HOME

PHYSIOTHERAPY?

Mobility Works Physio Yoga

will come to you!

Balance Training,

Funconal Strength.

Falls Prevenon, and more!

DOWN

PUZZLE SOLUTION ON PAGE 38

MOBILITY WORKS

phy s i o

y oga

MOVE. FEEL. LIVE.

Book IN-HOME

Physiotherapy or Private Yoga

at: www.mwphysioyoga.com

Covered under most

Extended Health Benefits.

Kelly-Lynn

Musico

REGISTERED

PHYSIOTHERAPIST

REGISTERED

YOGA TEACHER

Contact Kelly-Lynn at 519.312.6122

or mwphysioyoga@outlook.com

fall 2022 Phobias… The fear of new things is called neophobia

P A G E 37
---
Welcome to ...

TAKE HOME!

Fresh Made Comfort Food

A tradition since 1992!

105 MICHIGAN AVENUE

PT. EDWARD • 519-344-2855

BUTTONS

&

Bows

THE Club

One Liners

I'm reading a book

about anti-gravity.

It's impossible

to put down.

LADIES

CLOTHING

& Accessories

From size 6 to 18!

OPEN Tuesday to Friday 10 to 5,

Saturday 10 to 3

www.buttons-and-bows.ca

13

491-1412

1412

116 Michigan Ave

POINT EDWARD

(519) 344-3535

Mon-Fri 9am-5pm

www.twinbridgelighng.com

Putting the Grey in Great!

Puzzle

Solution

For The Club Fall 2022

CROSSWORD on page 37

Welcome to ...

fall 2022

"Your Feet Will Be In Good Hands"

Contact Julie Today!

Are your feet f sore r

and a n

d

keeping i

you o

from

r m

doing i the things that t you u love?

Cerfied Cerfied Master t

Pedicurist ist - Julie Coulombe

ombe

will give you the best experience and the

professional aenon your feet need!

ADVANCED FOOTCARE

Diabecs, Ingrowns, Corns, Fungus

and other common foot problems

519-344-1071 • Julie@athomespa.ca

At Home Spa @ Mara Surgical Clinic

704 Mara St. Point Edward, Unit 106

Serving

Sarnia

Since 2006

AMAZING AZ

North t

American e a

& IndianI d

BREAKFAST DAILY 8am a

to 1pm

at a t

Sitara a a Point i t Edward

• BUTTER CHICKEN • NAAN BREAD

• CHICKEN TIKKA MASALA • KORMA

•

BIRYANI • SAMOSA • SEEKH KABAB

B

• PANEER TIKKA • VINDALOO

• CHICKEN TIKKA SIZZLER

• TANDOORI CHICKEN • LAMB CURRIES

DINE IN • TAKE OUT • DELIVERY

Party Room, On-site Cooking & Catering with Sitara Food Truck

#1 RATED

RESTAURANT

on TRIPADVISOR IS R

for

the last 9 YEARS!

Rated among the

TOP 10% WORLD WIDE

YEAR 2020 & 2021

21

on TRIPADVISOR!

ISOR

721 LITE ST., POINT EDWARD • 519-491-5606 WWW.SITARASARNIA.COM

Once a Home

By Janet Fraser, Chatham

from Daytripping

Fall/Winter 2022/23

The hinges on the screen door

creaked as she slowly pushed it open

and stepped gingerly inside. The old

farmhouse had been abandoned for

years, evident by the broken windows,

junk strewn all over the floor and signs

of animal activity. Broken dishes and

homework, laughing and at times,

crying. Now there was only emptiness.

She took up her camera and started

taking pictures. Careful where she set

her feet, she photographed almost every

inch of the room then moved toward

the living room. Debris consisting of

shattered window panes crunched a three-legged chair, straw furniture

under her shoes.

Tracy stopped and looked around.

This had been the kitchen. Someone

cooked dinner on that white enamel

stove as the rest of the family sat at

that table discussing their day, doing

stuffing, broken picture frames, and

books covered the hardwood floor.

Taking more pictures, Tracy made her

way toward the staircase. With newels

missing and wooden steps warped

from water damage or missing, she

climbed the stairs using the

wall to balance as she did

not trust the railing. There

were three bedrooms and

a bathroom complete with

a broken mirror, a cracked

commode and an enamel

claw footed tub. Chrome

plated fixtures, peeling and

rusting contrasted against

the black and white floor

tiles, pink and blue wall tiles

Daytripping Photo

and the water damaged,

mouldy ceiling.

The first bedroom

was small, wallpapered

with cowboys on horses

brandishing lassos and

six shooters. A twin sized,

brown metal bed frame

and spring were leaning

against a wall and a small

wooden school desk sat in

a corner. Tracy imagined

a young boy sitting at

the desk gluing a model

airplane together. Smiling

she raised the camera to

her eye and took more photographs. The

other two rooms were in similar disarray.

The larger room had flowery wallpaper

and remnants of a chest of drawers while

the end bedroom was once painted pink

but the plaster walls were crumbling.

A mother and father and their son

and daughter had lived here. Tracy could

almost hear them getting ready for

work, getting ready for school, getting

ready for bed. The din of a home. She

made her way back down the stairs and

out the back door.

The backyard was overgrown with

vegetation and vine covered trees. A

tire with a rope attached lay under an

old willow tree, weeds growing through

it like a flower planter. A bicycle with

bent wheels leaned against what was

Daytripping Photo

probably a tool shed. Looking back at

the house, Tracy took more photos of

the sunken roof line and the chimney

with bricks missing. This house was not

long for this world.

Walking toward her car, Tracy pushed

the remote control to open her trunk.

She pulled the camera over her head

and carefully put in its case. Closing the

trunk, she took another look back at the

old house. The house that once was a

home. She opened the driver side door,

settled into her seat, turned the key in

the ignition and slowly drove off down

the gravel road into the setting sun.

Publisher's Note: I've checked out and

photographed quite a few over the years

and your description brings me back to

them.

P A G E

38

Phobias… The fear of fear is called phobophobia
---
Thanks again - keep this copy of pass it on to a friend please.

Welcome to ...

THE Club

fall 2022 Phobias… The fear of crowds is called demophobia/ochlophobia P A G E 39