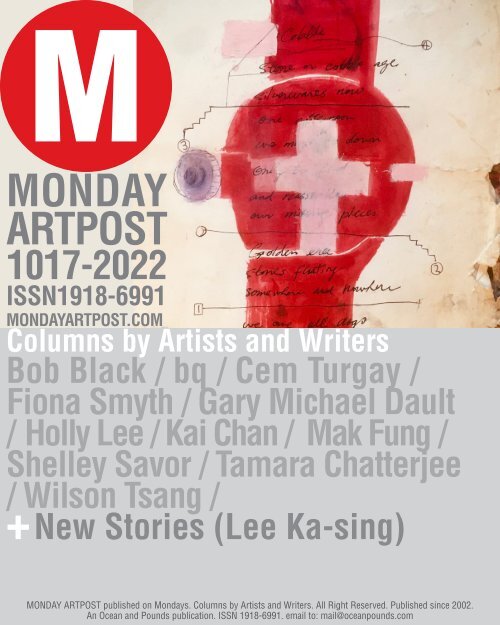 Create successful ePaper yourself
Turn your PDF publications into a flip-book with our unique Google optimized e-Paper software.
MONDAY

ARTPOST

1017-2022

ISSN1918-6991

MONDAYARTPOST.COM

Columns by Artists and Writers

Bob Black / bq / Cem Turgay /

Fiona Smyth / Gary Michael Dault

/ Holly Lee / Kai Chan / Mak Fung /

Shelley Savor / Tamara Chatterjee

/ Wilson Tsang /

+ New Stories (Lee Ka-sing)

MONDAY ARTPOST published on Mondays. Columns by Artists and Writers. All Right Reserved. Published since 2002.

An Ocean and Pounds publication. ISSN 1918-6991. email to: mail@oceanpounds.com
---
A number of WAYS to not miss your weekly

MONDAY ARTPOST

Subscribe inbox Notifications about new issue

https://oceanpounds.com/pages/artpost

Browse OCEANPOUNDS front page

https://oceanpounds.com

Visit OCEAN POUNDS Reading Room

https://oceanpounds.com/blogs/rr

Follow FACEBOOK Page

https://facebook.com/mondayartpost

Follow INSTAGRAM

https://www.instagram.com/oceanpounds

Follow TWITTER

https://twitter.com/ocean_pounds

Join PATREON membership

https://patreon.com/doubledoublestudio

"Where can I find a

man who has forgotten

words so I can have a

word with him?"

Zhuangzi
---
CHEEZ

Fiona Smyth
---
Open/Endedness

bq 不 清

空 想 性 錯 視

PAREIDOLIA

不 知 道 該 披 上 誰 的 皮 毛 :

一 隻 過 時 的 羊

和 狼 也 曾 有 牠 們 非 一 般 的 時 刻

而 你 想 過 扮 演 灰 姑 娘

把 時 間 慢 慢 地 滲 濾

到 那 對 玻 璃 鞋 裡 , 於 午 夜 過 後

成 為 另 一 位 相 同 的 追 隨 者

月 球 , 正 大 光 明

並 不 需 要 裝 扮

而 太 陽 , 有 舒 芙 蕾 般 的 雲

將 之 掩 蓋

Not sure whose clothing I should be in:

An expired sheep

And a wolf had their unusual moment,

But you who thought of playing Cinderella

Percolated time bit by bit

Into those glass slippers, and past midnight

It turned into a new, yet identical follower with

The moon being out into the open,

And didn't dress up,

While the sun was covered

by soufflé of clouds.

聽 說 這 一 片 像 你

像 你 害 羞 時 躲 藏 的 樣 子

沈 靜 、 不 可 觸 碰

如 昨 日 在 你 背 後

那 位 軟 弱 鬆 弛 的 跟 蹤 者

來 到 城 市 的 盡 頭

碰 壁 , 繼 而 張 開 眼 睛

他 發 現 城 外 有 峻 嶺

山 上 的 樹 木 , 於 秋 天

並 沒 有 如 寓 言 所 說

落 起 紅 葉

I heard that this particular one looked

like you when you shied away,

peaceful, untouchable,

like that flabby stalker

behind you yesterday,

Who hit a wall, after arriving at

the city's end. He opened his eyes and

Discovered these mountains outside the city.

There were trees and in autumn

no red leaves were falling

as it was described in the fables.
---
From the Notebooks

(2010-2022)

Gary Michael Dault

Number 159: Ice Cream--for Marilyn Powell.

(September 24, 2022)
---
Greenwood

Kai Chan

Drawing

watercolour, pastel on paper
---
ART LOGBOOK

Holly Lee

For the Birds is a multidisciplinary exhibition and program series inspired by the Garden's resident

birds, as well as "For the Birds: The Birdsong Project," a multialbum set of original recordings

celebrating birds by 200-plus artists, compiled by Randall Poster.

https://www.bbg.org/feature/birdhouses
---
Caffeine Reveries

Shelley Savor

Autumn Mindset
---
Poem a Week

Gary Michael Dault

Inside a Lightbulb

inside a lightbulb

there is a filament

but also a vacuum ocean

of warm glowing fishes

sizzling seaweed

incandescent clams

and mussels

son-et-lumiere shipwrecks

sometimes a bigtail shark

hot as a radiator
---
TANGENTS

Wilson Tsang

cobble
---
Travelling Palm

Snapshots

Tamara Chatterjee

France (March, 2022) – While gallivanting

the city streets we wandered down to see

what remains of Notre Dame. It was highly

upsetting to see the hallowed building in

partial ruins. It was hard to escape the

juxtaposition of reconstruction with emotions

running high. The giant and I circled back

to reality walking along the banks, people

watching and reminiscing of our yesteryears.
---
Leaving Taichung

Station

Bob Black

19 Fragments of Youth, Athirst

"Have you feared the future would be nothing to you?"--Whitman

VII: 2013

I left home awoken

all limbs and eyes,

boys scribbling along the swelling of my lower lip,

boys writing love songs along my breasts and beneath my chin,

boys whispering sound upon my collarbone, words canned as rusted tin

I was beautiful but indifferent, the stars frozen teeth above me, splintering

What they could not understand, until I met one who listened, actually

was that my heart, a heel halved, chaffed under the obvious

such as story-telling or gift-giving or re-arranging of hair and midriff:

before him, boys' words stiffened like clots and cloven dirt.

What those who chased me had not realized was transparent as ice,

I was unbowing quicker than thought, arranged.

Euclidian geometry, horse brushing, stanzas left on the shelf:

if the moment met man or a twinning turned right,

my heart could be drawn up without fret or slipping away.

not needled words or cast aside insurances, cadavers or complicated plots

only something lucent, touch
---
an ear to my story,

a waiting,

the many who had failed to see or

another I

who failed to allow their missteps and markings.

Rune upon the light and lacquer the box, after this.

and winters and summers would rearrange carelessly before

his bones would splinter in front of me,

phosphate and calcium, as if my own.

Mended what was left poured from the netting

later leaving black nylon wet with sea brine on the rocks

and we became there alone in the dunes

one.

VIII: 2014

I came to him because he noticed I was listening

silence replacing the easy algebra of words and winks

only later I noticed the parts of him, long in the limbs.

hands reminding me of chicken bone, knotty elbows, flesh de-feathered,

the color of mottled hen and meat-stamp blue

finger tips like a tree's rings, the forearms all goosebumps and wind-scars--

not that he was old but that he wore his geography on his skin uncomfortably

carried his heart in his mouth like a caged sun

carried shadows along his outer edges,

slow buckets of hope in his strides, running tendons along sidewalks.

Here was a man unafraid, and I fell

in love with the back of his palms

and the way his back recalled my grandmother pouring tea.

His spine, her bending while humming and careless concentration.

I had taken him into my arms long before i took him into my arms:

barn lass, horseshoe, bridle, looming.

He, though he did not know at first, had returned me home

after such a long journey and I watched him,

I first wrote him along the lines of my wrists,

and memorized the way he fell toward Earth when he walked by me,

and around others as Icarus toward the sea,

only not of fear but audacity

the looseness of love from which he tumbled.

And I knew then that before his shadow and his confusion

I had caught him before his bones broke fully
---
ProTesT

Cem Turgay
---
Yesterday Hong Kong

Mak Fung

Stanley Street (Central Hong Kong, 1956)

8x10 inch, gelatin siver photograph printed in the nineties

Edition 4/10, signed and titled on verso

From the collection of Lee Ka-sing and Holly Lee
---
Support and Become a Patreon member of

Double Double studio

https://www.patreon.com/doubledoublestudio

Unlimited access OCEAN POUNDS

read-on-line publications
---
An excerpt from

Reality. Irreality. Augmented Reality.

DOUBLE DOUBLE September edition

Lee Ka-sing

New Stories

photo print paired

with ready-made

object (2018)

200 pages, 8x10 inch (20x25 cm), paperback, perfect bound

Published by OCEAN POUNDS, 2022
---
"2K 2.0" was the second exhibition I collaborated with Kai Chan, which was held at my gallery in the

Spring 2018. Kai used images from my "Mobile Poetry Lab" series as base-lines for his collaboration

pieces, and I made photographs from a shoebox of things and objects he gave me. Those works were

later grouped into part of my "Time Machine" series. In the exhibition I set my photographs into five

pieces of vertical panels, and I named them "Five Poems".

Apart from the main body of collaboration work, on a wall of the side gallery, in a playful mood I

tried to pair those objects Kai gave me, with fragments of photo prints from my archives, test strips of

jobs that I collected from our studio from the eighties to nineties. These juxtapositions, I called them

"New Stories", pined spontaneously on the wall, and I wrote the caption line after each pairing.

Published here is the documentation of the pairings photographed on site. I always long for a chance,

that I can set up the shots once more and do it in a proper way, or even develop it into a larger body

of work.

2K 4.0 - the fourth chapter of Kai Chan and Lee Ka-sing collaboration exhibition, will be held at

50 Gladstone Avenue artsalon, begins on the second week of November 2022.

An exhibition catalogue is available for Pre-order

Enquiry: mail@oceanpounds.com
---
Three Roses
---
Daydream of

a Firecracker
---
Photograph Hidden

Secrets with a Large

Format Camera
---
An Artificial Satellite

Sending Messages to

the Fake Planet
---
The Wind, the Cloud,

and the Songs of a

Rainy Day
---
Two pieces of Sliced

Lemon Looking

Forward to Being as

an Artist
---
A Happy Day in the Life

of a Baby Phoenix
---
This Book, in the Shape

of a Fingernail, can

Teach you How to Light

up a Piano
---
Languages in the

Post-digital Era
---
Alarm Signal Pop-up

from the Pink Colour

Mini-tablet
---
Data Being Transmitted

into Memory
---
Under the management of Ocean and Pounds

Since 2008, INDEXG B&B have served curators, artists,

art-admirers, collectors and professionals from different

cities visiting and working in Toronto.

INDEXG B&B

48 Gladstone Avenue, Toronto

Booking:

mail@indexgbb.com

416.535.6957