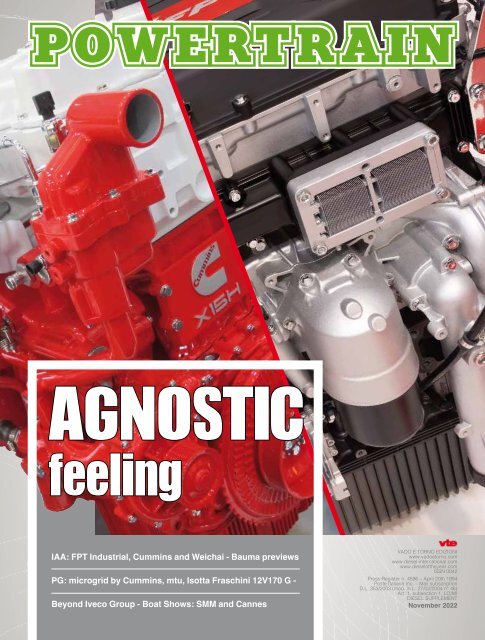 Powertrain | Diesel International 2022-11
DIESEL OF THE YEAR KOHLER KSD: Easy to maintain ONROAD IAA HANOVER: Hydrogen ICE: Cummins, FPT Industrial, Weichai POWER GENERATION ISOTTA FRASCHINI: 12V170 G and IFuture CUMMINS: Power Integration Center, Minnesota ROLLS-ROYCE POWER SYSTEMS: PG Symposium, Friedrichshafen MITSUBISHI: In Africa, with Linz Electric PREVIEWS BAUMA MUNICH: Hatz, Kohler, Kubota, Liebherr, Yanmar, Volvo EVENTS IVECO GROUP: Beyond... the power of sharing MARINE CANNES YACHTING FESTIVAL: Electric, hybrid and methanol SMM HAMBURG: ABB, Baudouin, FPT Industrial, MAN, mtu, Volvo BATTERY MANAGEMENT BORGWARNER: For electric cars MARELLI: Wireless Distributed BMS COLUMNS Editorial; Newsroom; Automotive; Techno (Siemens)
DIESEL OF THE YEAR
KOHLER KSD: Easy to maintain
ONROAD
IAA HANOVER: Hydrogen ICE: Cummins, FPT Industrial, Weichai
POWER GENERATION
ISOTTA FRASCHINI: 12V170 G and IFuture
CUMMINS: Power Integration Center, Minnesota
ROLLS-ROYCE POWER SYSTEMS: PG Symposium, Friedrichshafen
MITSUBISHI: In Africa, with Linz Electric
PREVIEWS
BAUMA MUNICH: Hatz, Kohler, Kubota, Liebherr, Yanmar, Volvo
EVENTS
IVECO GROUP: Beyond... the power of sharing
MARINE
CANNES YACHTING FESTIVAL: Electric, hybrid and methanol
SMM HAMBURG: ABB, Baudouin, FPT Industrial, MAN, mtu, Volvo
BATTERY MANAGEMENT
BORGWARNER: For electric cars
MARELLI: Wireless Distributed BMS
COLUMNS
Editorial; Newsroom; Automotive; Techno (Siemens)

SHOW MORE
SHOW LESS
You also want an ePaper? Increase the reach of your titles
YUMPU automatically turns print PDFs into web optimized ePapers that Google loves.
POWERTRAIN

AGNOSTIC

feeling

IAA: FPT Industrial, Cummins and Weichai - Bauma previews

PG: microgrid by Cummins, mtu, Isotta Fraschini 12V170 G -

Beyond Iveco Group - Boat Shows: SMM and Cannes

VADO E TORNO EDIZIONI

www.vadoetorno.com

www.diesel-international.com

www.dieseloftheyear.com

ISSN 0042

Press Register n. 4596 – April 20th 1994

Poste Italiane Inc. – Mail subscription

D.L. 353/2003 (mod. in L. 27/02/2004 n° 46)

Art. 1, subsection 1, LO/MI

DIESEL SUPPLEMENT

November 2022
---
HISTORY

+

S E R V I C E

+

S U P P O R T

+

TECHNOLOGY

+

D I S T R I B U T O R S

POWERTRAIN diesel-international.com

NOVEMBER 2022

GENERIC

ICE

H2 HYDROGEN

kWe ELECTRIC

GAS

FIND DIESEL INTERNATIONAL ON:

06

DIESEL OF THE YEAR

06. KOHLER KSD

Easy to maintain

ONROAD

14. IAA HANOVER

Hydrogen ICE: Cummins, FPT Industrial, Weichai

POWER GENERATION

18. ISOTTA FRASCHINI

12V170 G and IFuture

20. CUMMINS

Power Integration Center, Minnesota

24 ROLLS-ROYCE POWER SYSTEMS

PG Symposium, Friedrichshafen

28. MITSUBISHI

In Africa, with Linz Electric

CONTENTS

PREVIEWS

30. BAUMA MUNICH

Hatz, Kohler, Kubota, Liebherr, Yanmar, Volvo

EVENTS

34. IVECO GROUP

Beyond... the power of sharing

MARINE

38. CANNES YACHTING FESTIVAL

Electric, hybrid and methanol

CONNECTION.

IT'S WHERE THE REAL POWER LIVES.

There's an unbreakable bond between John Deere products and

the people who choose them. It gives you the power to take your

equipment where it needs to go, with premium John Deere quality

standing behind you. And the power to work confidently knowing a

global network of more than 9,000 John Deere dealers are ready to

offer service and support whenever you need it. That's the unique

connection you get with John Deere power.

JohnDeere.com/Connection

18

20

42. SMM HAMBURG

ABB, Baudouin, FPT Industrial, MAN, mtu, Volvo

BATTERY MANAGEMENT

46. BORGWARNER

For electric cars

47. MARELLI

Wireless Distributed BMS

COLUMNS

4. Editorial 8. Newsroom 10. Automotive 48. Techno

Editorial: Microgrids & Co.

"Microgrid, possibly 'smart', you who are so desired

and so frequently in the thoughts of so many,

who are you really?"

3
---
EDITORIAL

by Fabio Butturi

MICRO-GRIDS MACRO-WISHES

Credits are from "Rolls-Royce Power Systems"

Microgrid, possibly "smart", you who are so

desired and so frequently in the thoughts

of so many, who are you really? And

what's the buzz? According to Wikipedia,

"A microgrid is a local electrical grid

with defined electrical boundaries, acting as a single

and controllable entity. It is able to operate in gridconnected

and in island mode. A 'stand-alone microgrid'

or 'isolated microgrid' only operates off-the-grid and

cannot be connected to a wider electric power system."

If you google it, you can have hundred of different

answers. We experienced the opening of the Cummins

Power Integration Center in Minnesota, US. We attended

to PG Symposium by Rolls-Royce Power Systems in

Friedrichshafen, at the border between Germany and

Switzerland. We had a follow-up about industrial engines

roadmap with Isotta Fraschini Motori team, in South

Italy, to talk about the new 12-cylinder diesel engine.

The answer is unanimous: microgrids are of big interest.

Yes, the conjunctural phase is critical, the chill of winter

already seem to be upon Europe and Gazprom's gas

taps seem increasingly gas tight. The need to optimise

the limited energy sources available therefore goes far

beyond the alarmism of climatologists and the claims of

the Greta generation. The idea of having enough biomass

to produce enough biomethane to replace natural gas,

we know, is pure utopia. Or an arithmetic dystopia. The

same arguments apply to HVO. However, the perspective

would change completely if one were to assume that

microgrids would be installed in every energy-intensive

power station, such as hospitals, schools and universities,

facilities and, why not, motorway service stations,

wherever possible. Also because microgrids are no longer

necessarily islands, at most clustered in archipelagos.

Also thanks to AI, IoT and 4.0, they communicate with

the grid, from which they can disengage as required.

Moreover, power outages are the order of the day, several

tens of thousands in California alone. And yet, at the

IAA in Hanover and Bauma in Munich there is talk of

electrifying everything, the European Union has banned

ICE from 2035, Tesla is the only paradigm to be declined.

One way only. Yet there is no shortage of wind or sun

on a large part of the planet. What's more, microgrids

represent the crossroad of Western countries' technology

with that of the Far East. No one has a magical stick,

but the gas price boom calls for immediate reaction and

equally quick follow-up action. Otherwise, be prepared to

wear very warm clothes and light many candles.

The power to bring you here.

4
---
DIESEL OF THE YEAR

#DIESELOFTHEYEAR #KSD #DIESEL #MAINTENANCE

KSD 1403TCA

EASY

TO

MAINTAIN

The Kohler Board of Directors has elected President and Chief

Executive Officer David Kohler to the additional role of Chair

of the Board, following the passing of Executive Chairman

Herbert V. Kohler, Jr. on September 3 at age 83.

Easy to maintain: a promise or

an adv claim? For Kohler it is

simply the best practice, and

therefore also applied to its latest

"son", the KSD, Diesel of the Year

2022. We asked more details to Chris

Rector, Director, Aftermarket Parts

and Service, Kohler Engines.

Can we talk about the benefits of electronic

fuel injection? "Yes, specifically

with the KSD engine. The engine

has been designed to increase service

intervals. As an example, in particular,

attention has been given to the oil

deterioration allowing for a-500 hour

and even a 1000-hour service interval

with the relatively low volume oil

sumps. So, this is a bunch extended

oil change interval and the smaller

oil sumps also allow for the engine

compactness. Further, in addition to

the oil change interval, we have a

heavy duty Poly-V belt with a service

interval of 2000 hours. This is approximately

4 times longer than other

competitors in the market and it also

does not require periodic adjustment.

Once again, the standard oil filter is a

500-hour service interval where others

in the market are 250 hours, and

again we offer for the 1000 hour service

interval for the oil filter matching

the the oil itself service interval."

I think it could be also a good idea in

the wish lists of your potential cus-

Chris Rector explains

Kohler's "Easy to

maintain" programme,

also for KSD engines

tomers. "Of course, to reduce service

intervals means more uptime, which

means you're you're making more

money with the equipment versus

having the equipment in the shop."

Does the low-pressure rail lead to

problems in terms of serviceability,

being able to digest even the most

impure fuels? "Our electronic fuel

injections with the electronic controls

on the fuel injection allows for

very precise metering of the fuel and

therefore controlling the air to fuel

ratio, helping to drive a a very low

fuel consumption without sacrificing

transient load response or machine

drivability issues. Ensuring altitude

compensation there is more power

available even in extreme altitudes

versus the industry standard of approximately

1% power loss per 100

meters above sea level for a naturally

aspirated engine. Basically, no derating.

However, by being low pressure,

our low pressure common rail system

does not have the same sensitivities

that a high pressure system does with

sulfur content as you talk about fuels

globally."

Still about assistance, on such compact

applications, how much does the

absence of ATS impact? "The package

size has been an advantage of

Kohler engines for quite some time.

Since the launch of the KDI, minimising

the aftertreatment system has

benefited both service and engine

size. Indeed, the compactness has

increased because global standards

do not require an ATS below 19 kW.

According to our design, the KSD is

also compact in its muffler and over-

all package dimensions to ensure

continuity in dimensional interfaces."

Can you "account" for the benefits

of accommodating multiple engines

within a container because of its

compactness, considering the maddening

shipping prices? "Yes, in fact,

the shipping costs have roughly increased

by about five times. We think

about the dimensions when it comes

to integrating the engine into the application.

Obviously, a smaller unit

means less space required for the engine.

This is a great advantage that is

not often talked about: thanks to the

small size, we can fit more engines in

a container. For logistics, this is an

advantage of between 15 and 20 percent.

A greater number of engines inside

each container, which obviously

reduces the shipping cost per engine,

which is also very important as shipping

costs have increased dramatically."

Also in this vein, thoughts on the

advantages of minimized derating

at high altitudes, wiring, and rapid

load response. "KSD has a superior

performance by nature of the EFI

system and the fuel up to about 4000

meters (13,000 feet). It also comes

with a Pebble sensor assembly that

allows for accommodating existing

mechanical type control. We're able

to respond to all sorts of load conditions

from various different types of

applications. But the way the engine

has been designed to allow for the oil

filter fuel filter dipstick to be changed

on the engine, it is really a critical

point because so many applications

are very tight."

6

7
---
NEWSROOM

#INTERACTANALYSIS

INTERACT ANALYSIS

CHINA

TRUCK

& BUS

According to Interact

Analysis, in July 2022,

new energy vehicles

accounted for 7.5%

of total bus and truck

sales in China, up by 4.4

percentage points from

the same period last year

Interact Analysis is our never-ending

and accurate source of information

on the Chinese market. Shirly Zhu

and Jan Zhang provide us with

some basic figures. 16,793 units of new

energy buses and trucks were sold in

July, up by over 90% year-on-year,

those sales figures being second only to

June's. The month of June saw a large

number of deliveries of new energy buses

and trucks which had been postponed

due to the pandemic, and this inflated

that month's figures. Hence July's slight

dip in the sales (-4% month-on-month).

6,546 new energy trucks were delivered

in July, up by 66% year-on-year.

Total sales reached 38,435 units in the

first 7 months, accounting for 46% of

total bus and truck sales. Heavy-duty

vehicle sales maintained high growth,

up by 114% year-on-year to 1,433 units.

Light-duty vehicles led new energy truck

sales, totaling 4,933 units, or a 75% share.

Registration of battery electric vehicles

increased by 62% year-on-year, holding

a 93% share in new energy truck sales.

356 fuel cell trucks were sold, of which,

light-duty trucks were the majority, accounting

for 72% of total fuel cell truck

sales. 123 units of hybrid trucks were

delivered. The top 10 OEMs together

accounted for 67% of total registrations

in July. Geely still topped the list

this month. Foton and Guangxi Auto

ranked second and thirdr espectively.

Dongfeng, which was third last month,

slipped to fifth place. Sinotruk entered

the top ten list, benefiting from its sales

of heavy-duty and light-duty trucks.

In July, new energy buses recorded

the highest monthly sales in 2022 –

10,247 units – an increase of 114% yearon-year.

From January to July 2022,

registration sales of new energy buses

numbered 44,955 units, a 42% increase

year-on-year. Sales of large-size buses

achieved their first growth since March,

almost doubling from last year. Medi-

um-size buses maintained their growth

momentum in June, up by 92% year-onyear.

Small-size buses continued to lead

new energy bus sales with a 125% yearon-year

growth, standing at 6,878 units,

or 67% of total bus sales. With the rollout

of demonstration projects, fuel cell

bus sales soared to 228 units – a near

45-fold increase. Hybrid buses sales fell

15% year-on-year to only 73 units. The

top 10 OEMs held a combined share

of 86% of sales in June. Thanks to the

hot sales of light-duty vehicles, Geely

still ranked first, King Long Motor and

SAIC Motor took the second and third

positions, respectively.

An estimated 1.8 GWh of batteries

were installed in buses and trucks in

July, up by 97% year-on-year. CATL

dominated the market with a share of

over 70%. Drive motor installations

increased by 92% to nearly 16.8 thousand

units in July. The largest supplier,

Wolong, with productsmainly supplied

to Geely, accounted for over 15% of total

motor units installed in the month. In

July, thanks to a surge in fuel cell truck

and bus sales, 584 fuel cell systems were

installed. SinoHytectook a strong lead in

the supplier ranking with 365 units sold.

C

M

Y

CM

MY

CY

CMY

K

8
---
H2 - ONROAD

ENI

THE FIRST

ATOM OF A

CLUSTER

Behind life's

every moment

For 90 years we've provided dependable power for over

22 million machines. Today, our solutions continue to power

livelihoods, build communities and grow businesses.

Visit us at

Stand number

A4.336

ENI has chosen the hinterland of

Venice to inaugurate its first hydrogen

plant with two supply

points and a capacity of over

100 kilos per day. Ideally, this is the

first step towards the creation of an

infrastructure that meets the needs of

the two main European manufacturing

hubs (Bavaria and Baden Württemberg

in the north, and the north-eastern

quadrant of Italy in the south).

ENI pursues a holistic view in terms

of energy vectors, despite not being

"in love" with the colour of hydrogen,

unless it is decarbonised, and has

identified the Po Valley as the right

cluster, considering heavy automotive

as a fertile application shore for

hydrogen. The countdown has begun

and the chase for this energy vector

starts right here, with the blessing of

the Lion of St. Mark. Giuseppe Ricci,

Energy Evolution General Manager

at ENI: "We are at the starting phase,

through technical gas suppliers. In the

future there will be electrolysers. It

is a mixed model, we are not in love

with the colour of hydrogen (blue,

brown, grey, green, editor's note), the

most important thing is that it is decarbonised.

The hydrogen from this

station will be available for refuelling

ENI opened a

hydrogen station

near Venice, the

first of a cluster

that will link up with

Southern Germany

both light and heavy vehicles. If, as it

seems, the metropolitan city develops

hydrogen-powered public transport,

we will be ready to build the necessary

service stations". As confirmed by the

mayor, Luigi Brugnaro, the Venetian

multi-utility company, ACTV, will

commission 95 hydrogen-powered

buses. Ricci continues, "hydrogen is

the cornerstone of a system, it is the

molecule with the highest energy density

and must be exploited to the fullest

both for mobility, as it does not

suffer from the long refuelling times

and typical low autonomy of the electric

alternative, and for the most energy-intensive

industries. In Marghera

we will build three reforming plants,

which will soon be equipped to capture

CO 2

and pipe it into the Ravenna

site. A huge reserve of blue hydrogen

www.perkins.com

10
---
H2 - ONROAD

#ENI #ITALY #TOYOTA

TOYOTA: AN HYDROGEN HUB?

Toyota Motor Italia is part of this operation and will put at

least 10 Mirai on the road. Toyota is gaining a central position

at the intersection of the various candidate applications

for hydrogenisation. Fuel cells for the Mercedes e-Citaro, the

FC2 rail (a reaction to the hydrogen train signed by Alstom

and Cummins), the agreement with Isuzu and Hino. The one

with Parker. The nautical industry, with the REXH2 module

and the collaboration with Yanmar.

Luigi Ksawery Lucà, CEO of Toyota Motor Italia, confirms:

"Toyota pursues a multi-technological approach by trying

different paths to achieve low and zero emissions. This Eni

station represents us, because it includes the charging for

battery-based electric vehicles, the hydrogen refuelling and

traditional fuels. Mirai welcomes its second generation,

which can be charged for a 650-kilometre autonomy in just

5 minutes, and costs like an electric car."

Does Toyota plan to increase its presence in the last mile?

"At this stage our goal is to provide the technological solution,

that is the fuel cell. We have a partnership with Caetano

Bus, in that case the fuel cells are from Toyota. We also

have a second partnership with Mercedes. Our idea is to

meet the needs of road transport more and more."

3

2

1

Ready to Go!

Kubota Micro Hybrid Engine

Visit us: A4.327

for industries and service stations.

We will build more stations, we will

take part in the hydrogenisation of the

Italian and, hopefully, also European

network, and depending on the model

of the service station we will supply

it with gas, either by tank wagon

or by electrolyser. As for Italy, Europe

has set a target of 270,000 tonnes of

hydrogen per year for transports in

2030, which could double in light of

the REPowerEU, thus hundreds of stations,

even larger than this one, will be

needed. The quality of the materials is

paramount, requiring only stainless

steel. Storage has to be at 1,000 atmospheres,

and its supply cannot be at

more than 700 atm. We therefore need

technologically prepared players,

such as ENI."

What are the future prospects in light

of the decarbonisation goal to be

reached by 2035?

Ricci replies. "It is a very important

challenge that we face with a holistic

approach, making all energy vectors

available, so that our customers will

be able to choose according to their

convenience and type of transport.

The electric option is very good for

light transport and short distances,

so much so that our standard offers

high-power charging stations. Traditional

fuels are fine to ensure the continuity

of the existing fleet. They will

gradually diminish, but there are currently

38 million vehicles circulating

in Italy, mostly powered with petrol

and diesel. Compressed and liquefied

gas is good too, and we are changing

it to biomethane, with 22 plants producing

biogas, to which we intend to

add new ones. Our goal is to reach

200 million normal cubic metres of

biomethane per year in five years,

which will supply our service stations.

Hydrogen is in addition to biofuels,

which from the first of January we will

also sell in their pure form, with the

same level of decarbonisation as an

electric vehicle, but using traditional

engines and infrastructure. Hydrogen

currently costs more than 10 euros

per kilo. A vehicle like Toyota Mirai

travels about 100 kilometres with one

litre, equivalent to 6/7 litres of diesel,

so all in all it is not too expensive, also

thanks to the absence of excise duty. I

believe that in about ten years hydrogen

will become competitive. Vehicles

will continue to rely on different fuels:

electric, hydrogen, biomethane, LNG,

petrol, diesel, biofuels."

Economical solution for short-term high loads

The Kubota Micro Hybrid engine is equipped with a 48-volt motor generator and provides up to 10 kW of additional

electrical power to match short-term infrequent high loads. This allows customers to select an efficient engine with

an output power matching the lower and medium load demands frequently used. Applications already equipped

with a compatible Kubota engine can be converted retrospectively.

• Simple, easy to install system

• High torque, direct response

• Lower operating costs

global.engine.kubota.co.jp/en/technology/microhybrid

12
---
AUTOMOTIVE

#IAA #HANNOVER #TRUCK #BUS #LCV #MERCEDESTRUCKS

IAA HANNOVER

I WANT

TO BE

GREEN

MERCEDES-BENZ TRUCKS

eActros is the first full electric truck developed by

Daimler Truck for long haul transportation. What's

new, as for the truck technology, mainly deals with

the batteries, made of lithium iron phosphate cell

technology (LFP), ensuring long service life and more

usable energy, as stated by Mercedes-Benz Trucks.

As for the powertrain, three battery packs provide an

installed total capacity of over 600 kWh. Two electric

motors, as part of a new e-axle, generate a continuous

output of 400 kW and a peak output of over 600 kW.

In addition to the tractor unit, Mercedes-Benz Trucks will

also produce rigid variants of the eActros LongHaul right

at market launch. The aforementioned LFP batteries are

characterized, above all, by a long service life and more

usable energy.

The batteries of the

production eActros

LongHaul can be

charged from 20 to

80 percent in well

under 30 minutes

at a charging station

with an output of

about one megawatt.

The reference to Queen's hit

is practically a must. In Hannover,

Freddie Mercury's voice

dissolved in the frenetic previews

of electrification, announced,

and hydrogenization, advocated. Especially

OEMs, both truck and bus,

have rushed towards these two directions

of decarbonisation. Among

the engine manufacturers, on the

other hand, represented on this stage

by Cummins, FPT Industrial and

Weichai, things were not exactly like

that. Cummins and FPT went out of

their way to present an agnostic platform.

What does this mean? That electric

motors and fuel cells are definitely

the future, not even a remote one,

but in the short to medium term why

not turn an "old-fashioned" engine

block to a multifuel approach? So, we

at the IAA. The casing has changed,

the more futuristic Cursor X capsule,

but the tasks and mission have been

transferred to the more conventional

13-litre with crankcase, flywheel, cylinders

and the entire ICE aesthetic and

technological equipment. The diesel

version delivers e up to 600 hp (441

kW) and 2850 Nm, resulting in +5%

power and 14% torque compared to

the current Cursor 13 model. The

methane version delivers up to 520 hp

(382,4 kW) and 2500 Nm resulting in

+13% power and +25% torque compared

to the current Cursor 13 Natural

Gas. CO 2

emissions reductions stand

at 9% for the diesel unit and 10% for

the methane model, but the latter can

achieve net-zero CO 2

emissions when

fueled by biomethane. The XC13 will

be ready for Euro 7 with a few upcan

start from the Italian company.

This story begins in 2018, at the CNH

Industrial Village, in Turin. At Tech

Day, FPT Industrial announced the

Cursor X, a multi-power, modular and

multi-application concept. That was

the big bang of the XC13, unveiled

The three engine

kingpins at the IAA

were Cummins, FPT

Industrial and Weichai.

In common they have

hydrogen for the

ICE, fuel cells and an

eye on Euro 7 future

regulations

grades. Braking power also achieves

a +29% increase on the diesel version

(up to 530kW at 2300 rpm) and

a +300% on the methane model (up

to 245kW at 2300 rpm). Last but not

least, both versions are significantly

lighter: -10% (100 kg) for diesel and

-10% (80 kg) for the methane model.

This weight reduction is due to the

Compacted Graphite Iron casting for

the cylinder head and block, reducing

wall thickness while improving thermo-mechanical

strength. According

to FPT Industrial, economic and environmental

sustainability is improved

by enhanced combustion efficiency,

thanks to a new fuel injection system

and higher peak cylinder pressure,

reduced friction, down speeding and

new divided-flow turbo, auxiliary

equipment management, and by FPT

Industrial's proprietary software for

integrated combustion and ATS control.

"The evolution of a carbon-based

economy into a new, sustainable circular

economy is perhaps the greatest

technological challenge of the industrial

era," adds Sylvain Blaise, President

of the Iveco Group Powertrain

Business Unit. "And as producers of

propulsion systems we are at the core

of it."

And now we move the the adjacent

pavillion, where Cummins's podium

hosted the speech of Jennifer Rumsey,

President and CEO since August. "We

power some of the world's most demanding

and economically vital applications.

There is no single technology

that will work for all of our customers.

We must advance solutions in a way

that secures a sustainable future for

the industries that keep the world running.

That's why we have developed a

company with the broadest range of

ultra-low and zero-emission technologies

dedicated to the commercial vehicle

industry," she said. Cummins had

its fill of alternative solutions: the electrified

axles, heirs to the Meritor acquisition;

the fuel cell (it is the fourth-generation

hydrogen fuel cell engine.

Designed to meet the duty-cycle, performance

and packaging requirements

of medium- and heavy-duty trucks

and buses, the fuel cell technology is

available in 135 kW single and 270

kW dual modules) and a Lithium Iron

Phosphate (LFP) battery. In addition

Cummins exhibited the first fruit of the

agnostic platform, the 15-litre engine,

and the X10, correctly identified as the

"next generation diesel", which claims

14

15
---
AUTOMOTIVE

#CUMMINS #FPTINDUSTRIAL #WEICHAI #RENAULTGROUP

RENAULT GROUP: 'elec'TRAFIC

at both upstream and downstream

positions. The 10 liters diesel engine

allows a compact installation for vehicles

across the 26-to-44 ton GVW

range focused on maximizing payload,

as well as low-cab trucks for urban operations.

The X10 design incorporates

a similar fuel-agnostic capability to

that of X15, with the potential to offer

hydrogen and biogas versions.

The triad of engine makers at the IAA

is completed with Weichai. Apart from

the usual difficulty in finding information,

the stand proved adequate for the

challenges of Fit for 55. We finally saw

the engine of record, the WP13H. This

is the 6 dylinder (BxS 130x162 mm),

13-litre diesel engine that achieved

51.09% efficiency, in synergy with

Bosch, who supplied the 2500 bar

common rail and control unit. An efogas,

the X15N will offer ratings extending

from 400-to-510 hp (298-380

kW) with a peak torque of 2500 Nm

available. Using an LNG high-storage

capacity system, a heavy-duty tractor

is capable of achieving a range of over

1000 kilometres.

The next generation X10 diesel engine

is equipped with XPI common rail system,

a four-handed score conceived

and played from the beginning by

Cummins together with Scania. Across

a 320-to-450 hp (240-335 kW) ratings

range and a peak torque of 2300

Nm, is equipped with with the new

Heavy-Duty Compact Cross aftertreatment

system. HDCC is a modular system

incorporating dual-SCR together

with a twin-dosing system for precision

injection of the AdBlue emissions

reduction fluid into the exhaust gas,

to be ready for Euro 7.

What, concretely, does this agnostic

platform actually consist of? There is

a common base engine with cylinder

heads and fuel systems specifically tailored

for the X15H to use carbon-free

hydrogen and for the X15N to use biogas

with up to 90% carbon reduction.

With X15H ratings up to 530 hp (395

kW) and X15N ratings up to 510 hp

(380 kW) and a peak torque of 2600

Nm, they are ideally suited for trucks

up to 44-ton gross vehicle weight

(GVW). The X15 advanced diesel can

use either sustainable HVO fuel or

B100 biodiesel with ratings up to 650

hp (485 kW) for the most demanding

heavy haul duty-cycles. H2-ICE powered

heavy-duty trucks will be able to

fully refuel in just 15 minutes. For truck

applications powered by renewable bi-

ficiency level with a strong symbolic

value and practical effects, in terms of

homogenization of the comburent in

the combustion chamber. Scania also

announced this milestone in the truck,

with the Super engine platform (also

initially calibrated with the 13-litre).

Weichai has also aligned itself with

its Euro-American competitors, with a

15-litre hydrogen ICE. The 6-cylinder

WP15H2 engine (BxS 136x167 mm),

delivers 390 kW at 1700 rpm amd 2500

NM from 950 to 1350 rpm. According

to the Chinese company, stepless regulation

of hydrogen rail pressure can

be realized by the electronic pressure

regulator, each cylinder injects fuel

independently. The H2 rail cavity is

directly connected with the hydrogen

injector to improve the transient injection

response.

The comet of Hanover was electrification and Renault Group certainly could not

deviate from the astral indications. What better stage, after all, for the epiphany

of the Trafic Van E-Tech Electric? The most popular among professional vehicles

with the lozenge on the nose closes the electric triangulation with the Kangoo

and the Master. The most obvious curiosity concerns autonomy. A mortgage

on every electrical application, regardless of payload and mission profile. The

Traffic comes with a credible expectation, which projects it into the coveted

dimension of the last mile. To close the circle, could we hypothesize an electric

Trafic, for (almost) zero kilometer deliveries, and autonomous driving? In this

regard, a statement by Heinz-Jürgen Löw, from February 1 st at the head of

light commercial vehicles (LCV) of Renault Group, seems appropriate. Löw,

who comes from Volvo, Renault Trucks and the Volkswagen group, has clearly

stated that autonomous driving was thrown into the public opinion and to the

professionals themselves in a probably hasty way. "It will certainly assert itself",

said the Senior Vice President, Renault Brand, Light Commercial Vehicle, "but in

a longer time than expected". In any case, the Trafic E-tech Electric promises a

range of 240 kilometers, in accordance with the WLTP (Worldwide harmonized

light vehicles) cycle, equipped with a 90 kilowatt engine, standard units of

synchronous and asynchronous (literally, they are 122.4 horsepower) and the 52

kilowatt battery pack. And in terms of performance? The towing capacity is 750

kilos, for a load capacity of 1.1 tons. It is presented to admirers in the 5.08 meter

version and in the increased version, equal to 5.48 meters, for a useful height

of almost 2 and 2.5 meters (to be picky, 1,967 and 2,498 meters). To deduct the

useful volume, consider a load length of 4.15 meters, which in the L2 version,

with the door for the "long load", has an opening in the bulkhead. The option

with a cab floor should not be underestimated. The result is a load volume (in

van mode) ranging from 5.8 to 8.9 cubic meters. To complete a hypothetical

appendix of FAQ, the final question is about the methods of recharging, which

literally goes into three. This "pure and hard" single-phase alternating current

electric has an alternative: to the 7 kilowatt supply, for conventional household

sockets alongside the 22 kilowatt one, by attaching itself to public columns.

Finally, the third mode, direct current, on request, for fast charging in the

motorway network, which allows you to revitalize the battery status indicator

from 15 to 80 percent in about 50 minutes.

16

17
---
POWERGEN

#ISOTTAFRASCHINI #IFUTURE #12V170G #PHOENIX #FINCANTIERI

ISOTTA FRASCHINI MOTORI

12V170 G

AND R&D

HOUSE

At the Isotta Fraschini Motori HQ in Bari, solar PV of about one thousand kWh

will be installed, which will switch heating and air conditioning off from fossil fuels

from the beginning of 2023.

lously taking care of for the 16-cylinder.

We are able to deliver the engines

within two months at the latest, with

the possibility of ready stock as well.

The 12-cylinder is aimed at the same

applications as the 16, with modularity

of the large majority of the components,

since it is the removals of four

cylinders, therefore maintaining the

power line, front and rear end, rep-

Isotta Fraschini

Motori, Fincantieri

Group, is moving

ahead with its IFuture

program. The R&D

centre (CIS) and the

12V170 G are ready

At Isotta Fraschini Motori, the

IFuture project goes on. The

CIS, the innovation and development

centre, is fully operational

and the 16-cylinder has a "little

brother", the 12-V diesel engine. We

sit down with Giovanni Bruni, the

COO of the Fincantieri Group company,

Maurizio Bianco, Sales Manager,

and Piero Violante, CIS Program

Manager. Bianco: "The 12V170 G

confirms the program that we started

in October 2021 in the industrial

scenario. The available power settings

have been extended, including

for the 16-cylinder, with some more

specific configurations, suitably engineered

for the 16 and replicated on

the 12-cylinder, which will be available

from the end of this year. Prompt

delivery is something we are scrupulicating

the same interfaces, both for

continuous and emergency use."

Smart grids are very much "cuddled"

by engine manufacturers,

as our reports from Cummins and

Rolls-Royce prove.

Bruni: "The need for energy is growing

much faster than the 'grid' was

'smart'. To make any business grow

you need investment. The old grid concept

cannot withstand the speed imposed

by the current model of investment

and technological development."

Let us recap the stages of IFuture.

Bruni: "In the first instance we put the

16 industrial cylinders on the market,

then the 12. We completed the

32 recruitments of engineers within

the first months of the year, and we

are at an advanced stage of training

and resource allocation. The CIS, the

training and development centre, the

container for this work group, is also

now operational."

On the topic of CIS, the innovation

and development centre, Piero Violante

spoke. "We have developed

the common rail versions for marine

applications, to leverage economies

of scale, due to cost reductions, and

transferred the benefits optimized in

industrial to commercial marine. We

have pursued significant improvements,

also in remote monitoring

logics, which will soon be tested on

a platform for a market release, with

the utmost attention to cybersecurity,

in partnership with our parent company,

Fincantieri."

Piero Violante again speaks on the

V170 G. "The first 16-cylinder engine

will perform 3,000 hours to check

that all components comply with the

quality level required by Isotta Fraschini,"

he points out. "As of today

(22 July 2022, ed.), after performing

both bench test hours in the 1,500

and 1,800 rpm versions, including

800 continuous hours in the genset

version, thanks to the collaboration

of the genset manufacturers, we have

disassembled the engine. We carried

out a series of inspections, down to

the crankshaft level, and reassembled

it to complete the cycle at 1,800

rpm, for another 800 hours, and thus

gained an overall view."

Now let's talk about Phoenix, which

in Isotta Fraschini's vision stands for

an 8-, 12- and 16-cylinder engines

platform, with a layout designed together

with FEV. "We will be ready to

release the data sheet of the top of the

range, the 16-cylinder, which we will

assemble by 2023. It will run conventionally,

on diesel fuel, and from this

we will develop hydrogen-only operation

engine. It will be aimed at applications

requiring power in the range

of 1 to 4 MW. Between diesel and hydrogen,

however, we do not rule out

gas versions, of which we will begin

single-cylinder tests".

On the horizon there is a fuel cell to

be integrated on a system that will be

tested on a ship, in tandem with Fincantieri.

Finally, there is a proposal

for collaboration with the Singapore

Port Authority, for a hybrid system,

consisting of fuel cells, a ICE and

a battery pack, intended to equip a

typical commercial application with

cycles of use that lend themselves to

hybrid power, a tugboat.

18

19
---
POWER GENERATION

#CUMMINS #SMARTGRID #FRIDLEY #VERSATILE

CUMMINS FRIDLEY

POWER

INTEGRATION

CENTER

HYDROGEN ENGINE WITH VERSATILE

Cummins and Buhler Industries announced that they

have signed a letter of intent and plans to integrate

the Cummins 15-liter hydrogen engines in Versatile's

equipment. Since 1967, Versatile has used Cummins

engines exclusively in all four-wheel drive tractors.

"While diesel engines continue to be the flexible power

of choice for the foreseeable future in agriculture, such

a collaboration enables both companies to develop

low and zero carbon solutions that are ideally suited to

farming," said Adam Reid, Versatile's Vice-President of

Sales and Marketing.

"Cummins has recently announced its plan to leverage

existing platforms and expertise in spark ignited

technology to build hydrogen engines. The high

commonality among engine components between

diesel and hydrogen leverages scale advantages for

OEMs, while delivering the reliability that farmers

need," added Ann Schmelzer, General Manager, Global

Ag Business at Cummins.

Gary Johansen, Vice President - Power Systems Engineering and Project

Sponsor: "The PIC is the realization of a significant investment in engineering

technology and innovation that will impact how companies use and build power

systems to meet sustainability goals for a greener future."

Google "microgrid" and you'll

find hundreds of different results.

The link at the most

fundamental level consists of

sources, loads, and control. Additionally,

"we believe that a microgrid is

a type of electricity system that can

function, at least in part, independently

of larger grids". So, can microgrids

help break Western economies from

reliance on CNG and fossil fuels? It

is increasingly believed that they can,

and at Cummins they have structured

themselves to meet the demands of

the market. The answer is called PIC,

Power Integration Center. Based at

Cummins Power Systems facility in

Fridley, Minnesota, the PIC is a facility

that allows for the configuration,

integration, and testing of power system

technologies including diesel and

riety of possible microgrid configurations.

The outdoor test area includes

five 500 kW test pads and two 2000

kW test pads, which can be connected

as sources or loads. Two 500 kW programmable

load banks allow for scenarios

to be run using real customer

load profile data, at up to 0.8 leading

or lagging power factor.

The significance of the PIC can be

gleaned from the words of Gary Johansen,

Vice President – Power Systems

Engineering and Project Sponsor.

"It has a very flexible structure

that allows us to quickly reconfigure

the control, the power connections,

and all of these systems to meet

changing market demands and customer

requirements," Johansen said.

"This flexibility is something that you

really need to prove. PIC is completenatural

gas generator sets, photovoltaic

(PV) solar panels, battery storage

systems, fuel cells, transfer switches,

switchgear, and system-level controls.

The PIC spans 20,000 square feet of

lab space including an outdoor test

area, main switchgear room, electrical

mezzanine, and engineering control

room. Many different types of assets

such as generator sets, energy storage

systems, fuel cells, and inverters can

be brought in for testing in a wide va-

Cummins has opened

the Power Integration

Center, the "home" of

microgrids, at its plant

in Fridley, Minnesota

ly adaptable to a variety of energy

and power sources, as well as many

different types of flexible loads."

For at least CE applications, could

the smart grid be used to convert ICE

in e-motors? "It depends on the load

profile of the CE machinery, what exactly

are the power needs, what kind

of energy is available, and how much

does it cost them to get that energy."

Delivering the microgrids in a different

configuration each time at a different

time is challenging. And how

do you go about doing it throughout

the microgrids' lifetime? You develop

when a specific chemistry that is now

available and a specific storage capability.

To accomplisch this mission, at

Cummins PIC three indoor switchgear

lineups connect the different assets

in the lab, as well as tie into the site

utility connection. A 500 kW permanently

installed roof-mounted PV system

is connected to the lab, as well as

PV and energy storage simulators for

testing various types of inverters. The

engineering control room includes

workstations where technicians can

access all elements of the microgrid

system, and work collaboratively with

customers and technical partners.

What about customization? Johansen

replies that "We invite clients to join us

for the research and learning, look at

trade-offs, optimize all solutions, and

also consider how they will need to

change in the future. We also engage

clients in codesign and the development

of commissions in a new site."

And now we take you on a journey

through the three key areas of the centre.

Let's start with the control room.

They explain us that the purpose of

this PIC is integration, research, development

and production test, testing

gensets, fuel cells, transfer switch,

battery storage system, for any type

of facility. "In a lab here we can connect

different sources in many different

combinations. We have a facility

we can reconfigure into in different

microgrid tipologies and power systems

layouts." It was a chance to take

a closer look at the electrical diagram.

All the wires represent cable connections,

all the boxes, connecting different

assets we have in the lab. They

resume the micro-grid's composition.

"We have two diesel generators right

now, a natural gas generator, two PV

roof top solar, connected to the lab,

we have a solar simulator, two batteries

storage systems, and we have a

20

21
---
POWER GENERATION

#INTEGRATION #NATURALGAS #DIESEL #HYDROGEN

ACOUSTICAL TECHNOLOGY CENTER

Cummins Acoustical Technology Center (ATC) located at the

Cummins Power System factory in Fridley, Minnesota, has

a hemi-anechoic sound testing chamber with the ability

to test and record precision-grade acoustical data from 20

Hz to 20,000 Hz… the entire range of the human auditory

recognition. Measuring 105 feet long, 80 feet wide, and

36.5 feet high, (around 32m x 24,4m x 111,2m) the ATC is

one of the largest of its kind in the world in diesel or power

generation business and exemplifies Cummins' commitment

to innovation, precise engineering, and its dedication to

providing quiet products for a sustainable future. The team's

commitment to innovation and precise engineering is reflected

in the construction of the ATC. Despite its massive size, more

than three-quarters of the materials used to build the center

have been recycled or salvaged. The building materials include

recycled or partially recycled metal paneling, fly ash concrete

and locally sourced material such as steel made from ore mined

in northern Minnesota. In addition, the center was built on a

site that qualifies as a brownfield redevelopment by the U.S.

Green Building Council.

battery simulator."

And now we approach the microgrid's

"thinking brain". They note that

"since the average US home needs 1

kW, or $500 every pack, each pad has

facilities for diesel and natural gas,

as well as AC connections, control

commands, digital and analogue connections,

Ethernet and fiber. The major

goal of this space is to fully configure

these pads; everything in here

may be replaced tomorrow, and you

can simply use a forklift to transport

your assets and link them to ours".

Pointing out step by step, panel by

panel they say: "We currently have

two rental 275 kW gensets over there

to my right, and directly behind me is

a 150 kW natural gas genset, despite

the fact that these pads are equipped

for 500 kW. All three generator sets

are manufactured in this plant. There

is a control system that regulates

communication with the engine ECM,

controls the voltage and frequency of

our start-and-stop sensors, and safeguards

the gensets. These gensets are

designed to be quickly installable at

the disaster relief side or at a temporary

function. The radiator system

and batteries are located in the back,

and here we have our voltage selector

switch so that this genset may run

at different voltages (three phase and

single phase). Currently, batteries

are still a significant component of

microgrids due to their capacity to

store electricity produced by sources

like solar and wind energy and

their quick response time to changes

in load. Therefore, over here to the

right, we have a 250 kW battery sys-

tem; it has a 500 kWh battery system

and can provide that much power for

up to two hours. The batteries themselves

are housed in these two cabinets,

which also house the inverters

and controllers. A 125 kW battery

system with 250 kWh is located lower

on the left and was created in partnership

with Cummins. We can create

a true power system out in the field

with all the assets running at nearly

the same power node because all

the assets on these pads are roughly

about the same power node."

Finally, we go to the outdoor area,

where the generation and battery storage

systems are located. "We wanted

this space to be a place where you

could bring an incomplete product off

the production line and test it; these

pads allow you to install and run it

without a formal closure. We are able

to keep an eye on every aspect of

each of these assets. We had a few options

when deciding where to locate

the Power Integration Center, so we

worked closely with our acoustic engineers

to model how the wind direction,

speed, and temperature change

throughout the year affect how noise

travels across the site. This modeling

helped us determine the best location

for the power integration center on

our property. Because we wanted to

make sure we were good neighbors,

we actually sent engineers with microphones

to our neighbors' living

rooms at the property line. This was

a crucial but unnoticed component

of the project. We built our acoustic

technology center, a $15 million investment

trust, through noise testing

that was previously conducted outside.

It is now completely closed, and

I believe it is safe to say that a university

marching band could safely

use the space. As a result, all of these

assets and investments contribute to

our sustainability strategy."

Somebody asked "when will HVO

fuel be available for everybody?".

"If you consider the carbon footprint

over the course of a person's entire

life, it may not always be zero because

the source of HVO fuel varies

even if it is quite consistent. Additionally,

given that all of our clients'

on-site energy is wind, they might not

have access to fuels like HVO liquid,

which can be used as a direct substitute

for diesel. Accordingly, I believe

our mission is to take their available

energy and transform it into usable

power in the most cost-effective and

environmentally friendly manner

possible," these are the premises.

"We have already released all of our

emergency standby products certified

to use full 100% HVO fuel; there

are no changes to the rating, performance,

or emissions. Our products

that run for a longer period of time

are already approved for 25% HVO;

we're moving toward 100% as soon

as our field trials are complete. We

simply acknowledge that HVO is not

for everyone. Natural gas in your

pipeline is one solution, but you can

also obtain it from other things like

blending hydrogen and diesel. We

already see the potential for a natural

gas distribution network to inject

some percentage of hydrogen into the

mix with natural gas."

22

23
---
POWER GENERATION

#MTU #FRIEDRICHSHAFEN #ICE #MICROGRID

ROLLS-ROYCE PG SYMPOSIUM

PROBLEM?

NO,

SOLUTION

MICROGRID VALIDATION CENTER

The Microgrid Validation Center in Friedrichshafen combines

different energy generation assets with storage and load to

enable validation of different stationary energy solutions.

In offgrid mode, the assets and control algorithms'ability to

maintain grid stability can be validated. In on grid mode, gridforming

functionality and the offering of grid services such as

frequency response can be validated and further developed.

Main Benefits:

Development and validation of new control algorithms &

technologie; Realistic show case for customers; CO 2

and cost

savings for factory.

Rolls-Royce Power Systems solution:

12V4000 Diesel 1300kW

12V4000L64 Gas 1300kW

EnergyPack 2000kVA/1000kWh

• PV 80kW

• Fuel Cell250kW

• Emulator (SMA) 2500kW

The business unit "Sustainable Power Solutions", which was newly created a

year ago to deal with sustainable system solutions, is continuously expanding

its portfolio. One step in this direction was the complete takeover of the

previous majority subsidiary Rolls-Royce Solutions Berlin GmbH (formerly

Qinous), which forms the core of the Microgrid Competence Centre.

Rolls-Royce Power Systems believes

in the diversification of

energy sources. For instance,

they have invested in the smartgrid

pattern, meaning power generation

in a stable, predictable and efficient

mode. In Friedrichshafen, we have been

able to verify how many parameters the

mtu control system is capable of assessing.

But the PG Symposium, which we

reported on extensively in the September

issue, does not stop there. At mtu,

they do not forget that ICE, as Michael

Wagner, director product and solutions

management stationary business, says:

"it can be part of the solution and not

part of the problem". And we begin just

with Wagner, an Austrian mechanical

engineer, almost a whole professional

life spent in Friedrichshafen, who spoke

about "Fuel Flexibility: Increasing the

Sustainability of Internal Combustion

Engines."

"Speaking of renewable fuels, our diesel

lineup, including the 1600 and 4000 Series,

is completely released to run on EN

15940 fuels. The 2000 Series will follow

the next year, when we optimize the fuel

At the PG Symposium,

Rolls-Royce Power

Systems showcased that

ICE is not the evil but it

is part of the solution.

With HVO, biofuels and

hydrogen mixtures.

Finally, electrolyzers

in a glimpse

pump. The main topic of my talk will be

HVO. Based on our assessment of its sustainability

qualities, as well as its potential

to reduce CO 2

emissions from well to

wheel and improve performance, HVO

is a promising fuel. We compared diesel

and HVO soot emissions extensively

and we found a considerable reduction

in soot emissions across the entire power

range between 50 and 80%."

According to ISO 8258-5-G3, Rolls-

Royce carried out extensive evaluations

of frequency, electric power, and voltage

and found no performance variations between

diesel and HVO. Transient behavior

is comparable as well. Also the storage

capability is much better compared

to fossile diesel fuel. "It's a very important

feature for back-up installation", according

to Wagner, "because the power

is used for few hours a year, you need a

big amount of fuel stored at site, and the

fuel consumption is lower because of its

positive chemical properties".

In a nutshell, HVO is attractive because

of reduction of harmful pollutants up to

-80% soot (mg/m 3 ) and up to -8% ppm

NOx. It achieves the same performances,

in terms of maximum power, load

acceptance and consumption. Simple

drop-in fuel: no engine hard or software

adaptions necessary. Blends are possible.

No effect on service and maintenance

intervals: standard warranty conditions

apply. Hydrotreated Vegetable Oil has

a long storage capability. Global HVO

processing and co-processing volumes

will quadruple by 2025 versus 2020. Finally,

a few remarks on the feasability of

Otto Cycle. "In our road map," Wagner

says, "we want to reach the 100% hydrogen

goal by 2025. Talking about LNG

marine engine, the challenge is that

the performance needs to behaves diesel-like.

The gas injection is cylinder individual,

before each inlet valve into the

compressed air. This enables us to have

a very dynamic operation."

Rolls-Royce Power Systems developed

a conversion kit to retrofit natural gas

engines in 100% hydrogen operation engines

in the future when hydrogen will

be available. Hydrogen engine injects

fuel on the multiport injection valves

with a pressure in the range of 4 to 6

bars into the air coming compressed to

the turbocharger. In the chamber the

piston's going up and down, nearly up

the spark when the ignition starts. The

fuel ratio of the lambda range is pretty

high. This is the way how they control

the combustion, using a lot of air to keep

the flame speed of the combustion under

control. The second key has to be a very

homogeneous mixture in order to have a

stable combustion of the hydrogen. The

German company expects to achieve

a mean effective pressure of the hydrogen

engine in the order of 40 bars versus

standard gas engines we achieve a mep

of 22 bars. It means that it will be a power

output reduction in a range of 40% in

the next step. "We're confident that over

the time we'll be in a position step by step

to stabilize the output of the specific hydrogen

ICEs at the current range of NG

engines," concludes Micahel Wagner.

The fresh references to hydrogen allow

us to switch to Armin Fürderer, Director

Sustainable Customer Solutions. The

topic of his speech is "Hydrogen: The

Fuel of the Future".

"We started with a 500 kW solutions net

for the PEM fuel cell container, but we

24

25
---
POWER GENERATION

#MTU #FUELCELL #HYDROGEN #ELECTROLYZERS

Stacks are designed to last a minimum

of 80.000 hours of operation. The water

consumption amounts to less than 1 liter

per Nm 3 H2. What about response time?

It is less than 10 seconds in both directions.

Hydrogen production features are

up to 680 kg/day operating at 40 bar

pressure, with a stack operating temperature:

80 degrees Celsius maximum.

Finally, let us now go into detail about

the architectures available for hydrogen

fuels. They started with FCD250, 65kW

per module, that they are not using anymore.

In the pilot phase, they use the

100 kW modules, which in 2025 will

be upgraded to 150 kW per module. "At

the moment we guarantee 10,000 hours,

but when we reach zero production we'll

reach 25,000 hours end of life. We are discussing

with a customer a 1.5 MW solution

in order to test it in a scalable environment.

We need something is working,

especially in the storage site." By being

operable under the open sky without any

infrastructure apart from hydrogen, the

standalone Fuel-Cell Demonstrator is

much more than a test bench. Equipped

with a static online-UPS system and Liion

batteries, the demonstrator can be

adapted for various different customer

use cases. Demonstration of new concepts

for modular FC system integration

will set the foundation for large scale PG

from PEM fuel cell technology.

now have a little bit more power options.

The first three generator units, which

have replaced diesel generators, will

be noticeable at the port of Duisburg in

April of the following year. They have the

same configuration as the diesel generators

they replaced and are essentially

replacements." This is how Fürderer introduces

us to the topic, pointing out that

"as a result of conversations with customers,

particularly in the field of data

centers, that will no longer be the case in

the future. The future is DC grids; nothing

is now ready or on the market, but

we will be ready if the switch from AC to

DC occurs. This will be another benefit

of fuel cell and battery technologies."

Hydrogen has a long-standing storage

problem due to its energy density. "Hydrogen

is essentially ten times lower than

natural gas and to achieve a similar vol-

26

umetric density, it must be compressed,

starting at 500 bar, to a size that allows

energy storage; the system is very expensive,

liquefaction requires 600 and more

degrees. A solution for small customers

is to store 1 tonne of hydrogen in a 40-

foot container, which brings 1.5 MW of

backup power in about 12 hours."

Several companies in Europe have announced

that they want to create a decentralised

H2 network. Basically, they

install electrolysers powered by green

energy and place them in a storage area.

They want to bring the hydrogen as close

as possible to the customers, serving at

least the last mile or even through small

pipelines. "What will be the hydrogen

carrier in the future?" Fürderer asks to

the audience. The answer: "At the moment

it seems to be ammonia."

In the first part of the report from the

Symposium, we told you about the

Hoeller Electrolyzer. To follow up on

what was written in the September issue,

we report some key improvements of the

1.5MW per stack technology: better connectivity

to reduce catalyst need; porous

transport layer, for having lower resistance

in order to increase power and efficiency;

bipolar plate, for the optimization

of the flow field to maximize power.

Following, some additional technical

information about the second generation

Prometheus L Stack (in the Greek

mythology Prometheus was the Titan

who stole the fire to give it to humanity).

The power consumption is up to 1.5

MW with approximately 312 cells, with

an active surface: around 1.180 cm 2 /cell.

Up to DC750Volt and 2.500 Ampere, the

AC power consumption at full capacity

is approximately 4,5 kWh / Nm 3 (stack).

Honing machine for

in-line or "V"

monoblocks

HONITECH

Mobile column type, replacement of a

monoblock while processing the other.

Control gauge with automatic recovery of

wear stones

Honitech S.r.l.

Tel: +39 02 6152662

Video links on honitech.net
---
POWER GENERATION

#MITSUBISHI #LINZELECTRIC #AFRICANMARKET #POWERPACK

MITSUBISHI & LINZ ELECTRIC

POWER

PACK

PLUS

MITSUBISHI POWER & EGYPTIAN H2

According to the company, Mitsubishi Power signed a full

turnkey contract with leading Egyptian O&G Company Alexandria

National Refining & Petrochemicals Company (AN-

RPC) to provide advanced hydrogen fuel conversion technology

solutions, supporting the company to achieve its

decarbonization goals. The solution will be installed at the

ARNPC refinery plant in Alexandria, which provides 30%

of Egypt's gasoline supply for domestic consumption. Mitsubishi

Power will be responsible for the design, engineering,

procurement, construction, and commissioning of fuel

conversion solutions for the existing 100 ton/hour boiler,

enabling it to fire up to 100 percent hydrogen by the end

of 2023. This includes the installation of-the-art hydrogen

burner technology and advanced control solution to ensure

efficient and safe operations.

Paul Kaliski, Product Manager, MTEE G-Drive Engines: "MTEE operates

under the MHI Group Code of Conduct and Corporate Social Responsibility

guidelines. Basic principles of honesty, integrity, mutual respect and taking

responsibility for our actions are paramount to how we do business and, as a

group, we have continuing Sustainable Development Goals in relation to the

environment, society and governance."

When you mention Mitsubishi,

in the environment of

the PG, your mind jumps

to the big powers. An

equation that also applies to the giants

of the sea. You say Mitsubishi and the

echoes reach back to the Middle East

Energy, Dubai. Perhaps not everyone

knows, however, that Mitsubishi has

an established partnership with Linz

Electric, which supplies the other

essential component: the alternator.

According to Mitsubishi Turbocharger

and Engine Europe, as part of its

strategy to support genset OEMs in

the African region, MTEE launched

PowerPackPlus product range,

equipped with Linz Electric alternator.

Four variants of the PowerPack-

Plus are currently available – 15 KVA

50 Hz Prime, 20 KVA 50 Hz Prime,

28 KVA 50 Hz Prime and 40 KVA 50

Hz Prime. In addition to the engine,

radiator and alternator, the Power-

PackPlus range includes intake, assembly

and connection kits, which

allow the OEM to tailor the specification

to match their needs.

Paul Kaliski, Product Manager,

MTEE G-Drive Engines, and Alberto

Azzolini, Linz Electric Sales Manager

alternators, answered some questions

about the cooperation between Mit-

Mitsubishi Turbocharger

and Engine Europe

launched the new

PowerPackPlus range

with Linz Electric

subishi and Linz Electric.

Why is the African market so important

for Mitsubishi and Linz

Electric?

MTTE: "The demand for generator

sets in Africa is continuing to grow

and MTEE would like to grow with it.

Mitsubishi is already an appreciated

brand in Africa and our products fit

the market needs of reliable energy

solutions that are easy to install and

maintain. More so than in Europe, the

demand for generator sets includes

the residential, commercial and small

to medium-scale manufacturing sectors

so we are tailoring our product

range for the African market and are

steadily expanding our dealer network

in the region."

Linz: "Linz Electric have important

collaborations in Africa and we do

believe that for the future it will be

increasingly a key market for us. The

demand of electrical energy is constantly

expanding, and Linz Electric

want to be a part of the electrification

process in the African region".

Why did you create the PowerPack-

Plus product?

MTEE: "The African diesel generator

set market is highly competitive with

many OEMs servicing the demand

from local production sites in Africa,

as it is more economical to carry

out the final assembly of the gensets

closer to the final destination. Furthermore,

some of the bulkier components,

such as base frames, supports,

fuel tanks, canopies etc., are even

more cost-effective to manufacture at

or local to the OEMs in Africa. However,

obviously, some items still need

to be sourced from further afield. The

PowerPackPlus takes the basic components

of a genset that are not fabricated

in-house, or easy to source

locally, at the African OEMs and

packages them as a single product

from a single supplier.

This simplifies the various processes

that surround these items, giving

benefits in order processing, customs

administration, transportation costs,

stock management and delivery coordination.

Regardless of sector or size,

efficient supply chain management is

vital for the success of any company.

Moreover, with the PowerPackPlus,

MTEE has undertaken some of the

technical analysis work for the OEMs

and streamline the aftersales support

processes. All of which enhances our

core business of providing powerful,

reliable diesel engines that are easy to

install and maintain."

Linz: "In our opinion, it is really important

for the African OEM to deal

with just one contact for both the engine

and alternator. This will lead to

several advantages: being in contact

with only one supplier will end up saving

time and make the entire purchase

process easier, not to the mention the

fact that both engines and alternators

will be on stock together and ready to

be delivered. Additionally, the Power-

PackPlus will simplify all of the aftersales

processes as a result of the Mitsubishi

service network being able to

provide aftermarket support for both

engine and alternator."

28

29
---
EVENTS

#BAUMA #HATZ #KUBOTA #KOHLER #LIEBHERR #YANMAR

BAUMA MUNICH

THE

ACID

TEST

LIEBHERR

Liebherr does not have a single formula for

decarbonisation. According to the German company,

they enhance the ICE and offer various hydrogen

injection solutions. The system approaches for port fuel

injection (PFI) and direct injection (LPDI) are based on

a common, scalable injector platform. To optimise the

operating performance of hydrogen-powered commercial

and construction vehicles, Liebherr is also developing

electric turbochargers. Air compression provides a higher

oxygen partial pressure and thus a higher power density.

The challenge on fully electrified or hybrid-powered

construction sites is operating machines at maximum

power, charging all machines during break periods, or

smoothing power peaks on sites with limited grid supply.

Liebherr meets these challenges by developing energy

storage systems with the highest power density, efficiency

and quality. The Liebherr-Werk Ehingen has been fuelling

its mobile and crawler cranes solely with pure HVO fuel

since the start of September 2021. In Europe HVO is also

experiencing a significant growth in demand in the area of

maritime cargo handling, which is particularly noticeable

in Great Britain and Scandinavian countries. Also in the

product segments Earthmoving, Mining and Material

Handling Technology of the Liebherr Group HVO is used.

cat; the iOntron e-mixer by Putzmeister;

an all-electric rough terrain

crane by Tadano; the 5055e allwheel

drive electric wheel loader

from Kramer-Werke. OEMs, then,

obeyed to the "electricity" com-

The Diesel cycle will

maintain its strategic

role in spite of any

"age limit" imposed

by the European

Union. At the Bauma

2022 we'll see many

innovations by

Kubota, Hatz, Kohler,

Yanmar, Volvo Penta

By January, 10 months before

Bauma, 97 percent of the

available space had already

been confirmed by exhibiting

companies. The 2022 edition

of the show – rescheduled from the

customary springtime appointment

to the 24 th of October – has finally

come, but a first sneak peek at it was

offered well in advance to the specialized

press gathered at Munich's

International Centre on the 21 st and

22 nd of June.

Of course, electric drives will be

under the spotlight. In a nutshell,

among the others we will see the

APU3050e, the battery-powered

reversible vibratory plate with a

direct drive by Wacker Neuson;

eight tandem rollers by Hamm; the

track-loader concept T7X by Bobmands

right at a time when this energy

commodity is made as crucial

as ever by scheduled blackouts in

European city areas – and not just

that. There are, however, tiny signs

of "resilience" – such a trendy word

in connection with internal combustion

engines now facing an acid

test after the European Parliament's

death sentence.

So what's new on the engine makers'

front? Before landing to Munich, we

already knew that Deutz and MAN

Engines were going to skip the date.

Kubota will present a brand-new

engine that borrows the features of

the D902-K – their other flagship

engine we'll see at the end of October,

the D1105-K.

We'll also see the V5009 – that was

crowned Diesel of the Year right at

Bauma Munich in 2019 – as well as

the micro-hybrid, the greenest incarnation

of Rudolf Diesel's word in

the Osaka-based maker's armoury

of weapons, adding to their openness

to e-fuels and HVOs. And their

unhidden penchant for hydrogen.

Not far from Munich, in Rusthorf,

there's the same confidence in the

resources of the Diesel cycle.

Hatz will present the only engine

below 19 kW with a DPF – a

far-sighted choice, not the requirement

of any current emission regulation.

An addition that completes the upgrade

of three years ago, when

single-cylinder engines were seen

sporting an electronic livery. Hatz

will be increasingly geared towards

service. For example, Messe

München will be the stage for the

announcement of their Performance

Tracking service – working with

electronic engines via an electronic

module sending data to other fleet

management systems through a

standardized platform – as well as

the IoT dashboard designed for fleet

management. And we shouldn't forget

Inecosys, with which Hatz has

been partnering over the last nine

months, merging competencies on a

demonstrator project that combines

Hatz's experience with application

and Inecosys' expertise in battery

electric transmissions.

Kohler has embarked on a journey

from engines to energy solutions.

But again the Diesel cycle will

maintain its strategic role in spite

of any "age limit" imposed by the

European Union. The application

for EPA type-approval of HVOs to

be used with the engines made in

Reggio Emilia (already considered

compliant in Europe) points in this

direction. Again on the internal

combustion front, a new version of

the hybrid to flank the HEM series

will be unveiled; it features direct

diesel-electric coupling which suits

applications such as aerial platforms

and telescopic handlers.

The version we're going to see includes

clutch engagement between

the engine and the motor so that a

full-electric mode can be selected.

Now in our imaginary journey

we get back to Osaka, this time to

check out Yanmar. A whole different

story: despite the ongoing improvements

of their diesel engine

30

31
---
EVENTS

#VOLVOPENTA #ZF #BOSCHREXROTH #WALVOIL #HYDRECO #DUPLOMATIC

as well as of the after-treatment

package, the thirty-third edition of

the Bauma show will formalize the

Japanese engine maker's switch to

electric. Batteries will take centre

stage as the keystone of their electric

architecture. The new battery

production plant in the Netherlands

is scheduled for completion by the

end of the year, and Yanmar is set

on a path towards becoming a system

integrator.

The last engine maker we'll find at

the show booths for the customary

B2B meetings is Volvo Penta. After

the Volvo Group's 2021 joint strategy

aimed at propelling the Swedish

company to the forefront of the

energy transition got frozen due to

the pandemic, the time has finally

come for their electric powertrain. A

solution that's currently in operation

on a terminal tractor – namely under

a collaboration with Tico – whose

versatility and modularity are going

to be showcased at Bauma. But the

devotion to the alternative drives

philosophy goes beyond electrification.

Hydrogen engines and fuel

cells keep being developed, and so

do alternative fuels. These latter

have recently hit the news at the

Sweden Rock Festival, where nine

gensets equipped with a D16 have

run on a 100% HVO fuel. In Scandinavian

countries, HVOs are almost

exclusively made from forestry residues.

So much for the engine makers, now

we're taking a preview of the component

manufacturers novelties. In

Germany, at ZF they have clear ide-

as. They're presenting their electric

motor and transmission designed

for wheeled excavators from 5 to

10 tonnes, including inverters and

ECU. ZF's voltage range stretches

from 48 to 650 Volts. Cross-system

communication makes it possible to

incorporate sensors, cameras or other

devices into the package.

They're targeting CO 2

by lowering

fuel consumption by 30% – not only

on excavators – by providing enough

torque also at very low speeds. For

massive equipment, hydrogen is the

best solution, both for internal combustion

and fuel cells.

Bosch Rexroth's Oil Control Division

developed compact directional

valves. For the first time, focus was

not on "metal" – meaning on the

product – but on connectivity and

software. Their aim is clear: diversification.

They'll keep working on

hydraulics and more and more on

electronics and digitalization, and

they're becoming an increasingly

electric company.

Now we're crossing the Alps. In Italy,

Walvoil still believes in trade

fairs so they're going to be at Sima,

Eima, Bauma Munich and Bauma

China (if not cancelled). Inspired by

the LS already featured on the vehicles

by Dieci, they're providing

it in other forms and with other hydraulic

systems in mind. Again for

flow sharing – their core business

– they've created another product

platform: the FPX, allowing to recover

a portion of the energy used in

the hydraulic system. Exactly as the

LS, it enables mode selection. For

instance, using oil from the various

operations, under pressure, to generate

new voltage and charge batteries;

or even recovering oil to be used

for other functions, such as cooling

or operating an auxiliary valve. Depending

on system complexity, up

to 20 percent of the energy already

used can be recovered, which is a

good fit for electrification.

Hydreco (Duplomatic Group), a

candidate to a spot among the Daikin

stars, will present their 60 L pump

range at Bauma. Developed in Vignola,

province of Modena, they're

strongly rooted in the Emilia region.

The hometown of tasty red cherries

is where the MS90 configurable distributors

range from 90 to 120 L is

produced. At the Parma plant – manufacturing

steel pumps and gears,

Group 1 and 2 are already being

manufactured, while Group 3 (up to

63 cc) is scheduled for end of summer;

it includes the possibility of a

cast iron lid for increased pressure.

The options include a low-noise

version, with inclined gears. OCS

cylinders for construction equipment

are made in San Cesario, near

Vignola, in the Italian motor valley;

they can be customized, chromed,

including balancing valves, up to

450 bar. A cast iron pump range is

manufactured in India, again with

mobile applications in mind; the

range covers 12 to 88 cc, peak pressure

of 360 bar, higher than for steel

pumps that can reach a maximum of

310 bar. Hydreco is in charge of the

"mobile" aspects, Duplomatic of the

industrial ones.

32

33
---
EVENTS

#IVECO #BLUENERGYMOTORS #INDIA

IVECO GROUP DAYS

BEYOND

FPT'S

SOUL

LOOK WHO'S HERE

Sporting the Iveco brand, we had the fully electric Daily

and the 7.2 fuel-cell Daily prototype boasting an integrated

fuel cell system. The S-Way was indeed there in its Plus

Autonomous Driving version. Natural Gas, Amazon version,

was also present; it can run on 100% biomethane and it is

fitted with the Driver Pal system. The Alexa Voice Assistant

can be used for route planning, checking maintenance and

requesting servicing. Plus, it provides traffic and weather

info. Nikola Tre in its battery electric version features a driving

range up to 500 km and a charging time of 100 minutes,

while the fuel cell version has an 800 km driving range and a

charging time of less than 20 minutes. The Magirus Wolf R1

is a fully electric vehicle designed for firefighting and rescue

operations. The Daily Access Methane Power, the E-way.

The Cursor 16 1000, the F28, hybrid version, the Industrial

Battery Pack and the Microvast module for commercial

vechicles and minibuses, holding promises for high energy

density, low battery weight and long life. The eAxle designed

for heavy vehicles guarantees high performance, efficiency,

reliability and a low TCO. Hythane concept is a system for

blending hydrogen developed jointly with Landi Renzo. Lastly,

e-Novia showcased their Yape, a solution for driverless lastmile

coverage. Yape can interact with the e-Daily thanks to

the onboard Driver Pal and Alexa devices.

The Beyond Iveco Group Days

mirrored Iveco Group's corporate

identity. FPT Industrial

comfortably slipped into the

role of "playmaker" of a genuinely

automotive team, without, though,

abandoning its offroad nature. Latest

hot news include the agreement

with Blue Energy Motors on the first

LNG trucks hitting the roads in India,

powered by Bharat VI-compliant

N67 NG engines. We grabbed the

chance to be at the backstage events

held this July at the Officine Grandi

Riparazioni in Corso Castelfidardo,

Turin, set against a scenic bare masonry

backdrop that's reminiscent of

the Venetian Arsenal. We sat down

with Sylvain Blaise, who took the

helm of FPT Industrial precisely in

October, 2021. Since then, Iveco

Group has started walking on its own

(and so has FPT) war has been ignited

on Europe's eastern borders and

the European Union has launched

REPowerEU. So we took the opportunity

to hear what Mr. Blaise thinks

of EU's plan.

FPT Industrial is the

powertrain soul of the

Iveco Group and it was

also at "Beyond", the

event that showed its

drive for innovation.

The gas-powered

Cursor 13 arrives on

Indian trucks

Shall this be a consecration of biomethane's

breakthrough role not

only in heating, but also in automotive

applications?

"The current geopolitical trends have

strongly revived the efforts towards

energy independence," he says at the

outset. "I see an opportunity to speed

up the path we have taken, but if we

look at the plan, certainly it won't be

able to meet all of Europe's gas needs

in the short term. In the mid to long

term, instead, REPowerEU may indeed

accelerate the energy transition.

The gas used for transport is a small

fraction of the total gas consumption

in Europe, but I think that at least it

has become an item on the agenda.

Natural gas is in our DNA, we're

leader in propulsion systems using

this fuel and we see it as an integral

component of the future mix. Even

when we take hydrogen into consideration,

we do it in terms of application

to internal combustion engines, based

on our know-how. To us it is a natural

evolution".

Sylvain Blaise's opening words before

the audience at Beyond defined

FPT as a "key enabler" of the energy

transition. In essence, his speech

touched on the four pillars of FPT

Industrial's approach, that basically

overlap those of Cursor X: the future

is about multiple energy sources (natural

gas and biomethane, green hydrogen,

electrification, electric axles,

batteries), modularity, a multi-application

approach that's "smart". We

asked him to elaborate on that. What

should we expect? We can guess

he'll be pretty satisfied with the inauguration

of the new electrification

plant in Turin. And indeed, "I'd like

to start from electrification," says the

President of the Powertrain business

unit, "because we're going to inaugurate

our electrification plant right

here in Turin. Plus, with Nikola we'll

also have electric heavy vehicles, and

e-axles have been produced for some

months now. The plant has been entirely

renovated, because continuous

development is part of our history,

and it's right there where our roots

and the 'brain' of our powertrain are.

That's the backdrop for our state-ofthe-art

industrialization and the implementation

of Industry 4.0 and IoT

development processes. This plant is

going to be carbon neutral from day

one. We've got axles for heavy vehicles,

by the end of the year we'll also

have electric Daily vans, and a 1.4

GW capacity battery line, plus a few

bus applications".

Under the spotlight is the agreement

signed with Blue Energy Motors to

put into service the very first liquified

natural gas trucks driven by Bahrat

VI-compliant N67 NG. These engines

will be manufactured on Turin's production

lines. We asked Anirudh Bhuwalka

– CEO of the Pune-based company

– to sketch out a rough picture

of the European, North-American and

Indian truck markets.

"The truck market in India is very

different than in Europe and North

America. In Europe and North America

trucks travel an average of 1200 km

a day; in India, the longest distance

covered by a heavy vehicle is 350 km,

which makes power requirements very

34

35
---
EVENTS

#FPTINDUSTRIAL #MICROVAST #AMAZON #ENELX #PLUS

PARTNERSHIP ARE KEY

Of the thick web of partnerships spun by the Iveco Group,

some are well-known such as the ones with con Nikola Motor

and Eni. We tackled the one with Blue Energy Motors and

we mentioned the cooperation with the Hyundai Motor

Company. But it's worth remembering a few other names,

starting with Iveco Driver Pal, stemming from the partnership

with Amazon Web Services. We're talking – it's appropriate

to say – with a pioneering voice-activated travel buddy that

allows the driver to interact with the vehicle as well as with

other drivers through Amazon Alexa's voice commands. The

partnership with Microvast reached a turning point in January

2022, with the announced creation of a full battery pack for

the low-floor Crossway for city and intercity transport. This

battery pack is going to provide the Crossway LE with up

to ten years of battery life. In late March 2022, the Group

signed a memorandum of understanding with Enel X exploring

opportunities to reap the full potential of electric mobility

for European commercial vechicles. With Plus – a leader in

self-driving transport vehicles – Iveco signed a memorandum

of understanding to jointly develop self-driving commercial

vehicles incorporating into the S-Way the whole vanguard

PlusDrive self-driving system.

different. In developing countries, the

power-to-weight ratio for diesel is

still much lower than in Europe and

North America. You must also take

driver comfort into account; India is

very different than Europe and North

America, where driver comfort standards

are much higher."

Is the rush to electrification going to

bring production standards closer

to truck drivers' needs?

"Batteries are batteries," Bhuwalka

rightly points out, "you can fit them

indifferently on a European, American

or Indian truck. I think electrification

is going to help standardize

processes, because batteries are getting

the same on all markets, with the

only difference being that you need at

least 700 kW in Europe, while India

has lower power requirements. The

same applies to powertrains, they're

also becoming standardized. The only

difference will still be cab size, it'll be

more 'entry-level' on the Indian market."

Lastly, a few side comments on the

N67 NG agreement on LNG trucks.

"Gas in India has been available for

quite some time now. So the change is

going to be about the introduction of

LNG. Basically, I think gas availability

won't be an issue for us. Considering

gas supplies in the light of the current

geopolitical picture, one can see that

historically Europe has been getting

its gas through pipelines, while India

can secure very low prices, as we're

not dependent on any pipeline. The

convergence of government policies,

the availability of infrastructures and

other factors needed to successfully

switch to gas all play in our favour. I

think it is only a matter of time, LNG

holds great potential for the years to

come and it will turn tables."

What's beyond NEF?

"For tractors in the 46 to 55 tonnes

range, the 6.7 L by FPT Industrial is

the ideal engine, a perfect combo of

right size, torque and power ratio. Indeed,

this engine must generate positive

running costs as compared to

diesel."

Will it become a retrofit?

"We're pioneering the use of liquified

natural gas in India, so we still have

to build a market for it. As time goes

by and as LNG is spreading, we'll

also bring in aftermarket solutions.

This is going to be stage two of our

integration plans, we're currently still

at stage one."

The cooperation between Iveco and

Htwo – Hyundai Motor Group's hydrogen

brand – completes this heavy

vehicle overview. With the well-proven

fuel-cell technology used on Hyundai

hydrogen vehicles, Htwo is expanding

the range of manufacturers it supplies

this system to. A note says Iveco Bus

is submitting applications to European

call for tenders on fuel-cell powered

buses using Htwo technology. Furthermore,

the recently announced plans to

relaunch bus production in Italy will

provide a further opportunity to manufacture

buses powered by Htwo fuel-cell

technology.

Domenico Nucera, President Bus

Business Unit at Iveco Group, said:

"Thanks to our partnership with a

leader in the industry such as Htwo,

boasting over 20 years of experience

in Hyundai's hydrogen fuel-cell technology,

Iveco Bus can respond quickly

to our customers' demand for zero

emission vehicles to be powered by

vanguard propulsion technology. We

started applying for public tenders on

hydrogen-fuelled buses and we'll keep

going in the months to come, while we

also keep being at the forefront of energy

transition in the European mass

transportation sector." Nucera adds a

few more comments on Iveco Group's

choice to restart bus production in Italy.

Which provides him with a chance

to emphasize the Group's internal synergy:

"Buses will be assembled in Foggia

(South Italy, editor's note), where

we also have an engine production

plant". That's right where F1 engines

are produced and where smallest units

for mobile industrial applications are

also bound to take root. " In the years

to come starting from next year, we expect

to reach a production of over 3

thousand low and zero emission buses.

If the market responds well, we'll keep

producing 1 thousand units a year,"

he pointed out. "New lines at the Foggia

plant will also produce the most

advanced generation of battery electric

buses. I am very glad to say that

the R&D activities and production of

such batteries will take place here in

Turin, alongside the production of cutting-edge

methane, biomethane, diesel

and biodiesel engines," he added,

specifying that "FPT will be in charge

of production".

36

37
---
MARINE

#CANNES #MANENGINES #FPTINDUSTRIAL #VULKAN

CANNES YACHTING FESTIVAL

HOW

MUCH

ICE?

Above. At Cannes Massimo Perotti (left), chairman

and CEO of Sanlorenzo, and Gianluca Bononi

(right), deputy head of the Rolls-Royce Power

Systems marine business, unveiled the joint project

to pave the way for the yacht industry to move

toward sustainability.

Oh yes, it was hot, really hot, the

kind of heat that has an African

echo, and then there was

the usual triumph of buyers,

flip-flops and sunglasses. The excitement

was in the air, as high as the thermometer

line, and a stroll through the

motor engineers' pavilion confirmed

the mood. We had announced it. The

V12X from MAN Engines unveiled

itself. With a thrust of the back which

is worth 10 percent of its total power,

the 30-litre left its all-time rivals, the

Caterpillar C32 and mtu's V2000M96,

behind. The available hp to the 12-cylinder

engine became 2,200, and torque

went from 6,500 to 7,350 Nm. An advance

that cannot be justified solely by

the MPE, or some magic trick in the

combustion chamber and between the

lines of the software. There is a 5-litre

difference in displacement compared

to the previous V12. The alchemy is

quickly said: the stroke stands out for

those extra 10 mm, while 8 mm are

gained at the bore (AxC 138x165 mm).

And what has changed in the engine

block, apart from the cylinder size? In

the crankcase, the wall thickness has

been increased and the bolt connection

between the top and bottom parts has

been optimised. Furthermore, a different

crankshaft with larger diameter

mtu and the methanol

4000 Series, MAN

V12X, FPT Industrial's

hybrid, Volvo Penta, AS

Labruna, SAIM Marine

bearings has been installed. The coolant

pump and thermostat housing are

also new. There is provided the option

of having an outer-skin cooling system

instead of the closed coolant circuit.

The cylinder head has been optimised

in terms of flow and cooling, as well as

the oil supply, thanks to the oil pumps

and coolers. We will talk about this engine

in more detail in the next comparison,

the most popular in these last few

years, which re-proposes the antagonism

amongst Cat, MAN and Rolls-

Royce. We will also discuss deeply

about mtu when reporting the full transcript

of the press conference. Methanol

was the real star, starting with

the agreement signed with Sanlorenzo

shipyard: an exclusive agreement

for yachts from 40 to 70 metres. The

4000 Series, converted to methanol for

that purpose, will power a Sanlorenzo

yacht, which should be launched in

2026. While ammonia is an increasingly

strong candidate for commercial

shipping, the alcohols option, in this

case green %70VPN methanol, is coming into

the limelight for yachts. This fuel is

produced using solar or wind energy:

the first step is to capture hydrogen and

synthesise it into methanol (CH 3

OH)

by using carbon and oxygen from the

air. Carbon in the form of CO 2

is released

into the air during combustion,

but not more than is taken up during

fuel production. As a result, the cycle is

carbon neutral. "In this way we create

a radically different yacht experience,"

stated Denise Kurtulus, Vice President

of Global Marine at Rolls-Royce Power

Systems. Minimising particulate

and nitrogen oxide emissions allows

the bottom of the hull to be freed from

the mortgage of the SCR. Since the energy

density of methanol is about half

of that of diesel, the fuel tanks must be

approximately twice as large. This is

considering its low safety requirements

since methanol isn't toxic. Amongst

the engine manufacturers, FPT Industrial

told us about the hybridisation of

the C9 650 Evo, which is the result of

a collaboration with Vulkan. We can

here anticipate some facts about such

collaboration with Vulkan Hybrid Architect.

The architecture consists of the

aforementioned C9 650 Evo, a hybrid

clutch for engaging and disengaging

the thermal engine, an electric machine

composed of a synchronous permanent

magnet and an axial-flow electric motor,

a frequency converter, a marine

gearbox, a mechanical interface and a

vibro-acoustic isolation system. There

are four conventional modes of operation.

Starting from the E-Sailing,

which zeroes exhaust emissions during

manoeuvring and sailing, thanks to the

disengagement of the diesel engine by

the hybrid clutch. Then to the diesel

one, which synchronises the thermal

and electric parts and connects to the

shaft drive via the clutch. The power

developed by the diesel engine can

be used by the e-machine to power

on-board devices or recharge the batteries.

The Generator mode allows the

diesel engine to idle (with the gearbox

in neutral position) and generate power

through the e-machine when the boat

is in port or at anchor. When in Boost

mode the e-machine is powered by the

battery and this helps to operate the

shaft drive at a maximum speed.

38

39
---
MARINE

#ASLABRUNA #VOLVOPENTA #SAIMMARINE

AS Labruna gave an encore at the

Palais, after the 2021 edition, under

the signs of e-vision. "We are launching,

right here in Cannes, a range of

outboards up to 11 kilowatts with low

voltage, 50 Volts, and submerged motor,"

Massimo Labruna tells us. "This

feature gives the system a remarkable

simplicity of construction, the foot has

a very simple architecture, it has no

angle heads and no bevel gears. We

can equip these units either with manual

control or with separate steering,

for larger vessels. We can fit up to a

quad, for a total power of 44 kilowatts.

The batteries have a total capacity of

2.5 kilowatt-hours, with a continuous

discharge of 3C, namely 150 amps.

The autonomy is reduced, but by coupling

this solution with our hydrogen-methanol

fuel cells, we are able

to increase it significantly, even with

small battery packs." At this point,

Labruna summarises some of the key

concepts of his "e-vision". "For low

power boats, the option with an electric

motor, battery pack and fuel cell

is more than adequate. In this case

the range extender is the fuel cell. For

larger vessels it would be appropriate

to use ICE, which is currently powered

by diesel but, in the future, it will be

powered also by hydrogen and DME.

The sun belongs to everyone, so does

CO 2

. The ICE will have a long life, if

combined with alternative fuels. I consider

the 2035 deadline as a stimulus

to actively encourage the transition. I

strongly believe in micro-generation

to recover energy that would otherwise

get wasted. I would like to install

in the AS headquarters a generator

with an engine operating with DME,

feeding a battery pack to store energy,

and combined with solar panels. DME

currently costs a lot of money, despite

the fact that it comes from renewable

sources, thus allowing to close the CO 2

balance. In the future, I can also see

opportunities for multi-fuel ICEs". In

conclusion, "one solution is to use excess

electricity to produce hydrogen,

instead of dissipating it. Then electric

mobility would take on another value".

For Volvo Penta, just one year ago

Cannes was the setting to showcase

IMO Tier III solutions. The Swedish

company has recently launched a new

range of variable speed marine generator

sets. According to Gothenburg,

Volvo Penta is offering the range with

models starting from D8, 190 kWe and

running up to 545 KWe for the D16.

Adding to the range's ability to improve

an operation's sustainability credentials,

all Volvo Penta diesel engines

can run on HVO 100 fuel, instead of

standard diesel, to reduce fossil CO 2

emissions by up to 90 percent – providing

a robust and sustainable solution

for today. A typical installation sees a

modular series of variable speed marine

generator sets installed to power

electric drives with or without battery

packs. This DC grid system is easy to

upgrade with alternative power sources

and has fewer components, weighing

less – especially when compared

to batteries as the sole energy carrier

– making the vessel more efficient.

We concluded with Andrea Fabbri,

B.U. Marine Manager at SAIM Marine.

"The present? It's already the

future," Fabbri says, "starting with the

collaboration with Kohler, extended to

anything that is associated to the generator,

then the distribution, the automatic

parallel. The management system

concept changed in parallel with

the increased focus on comfort. Other

developments in this direction come

from the IoT, which creates a cluster

amongst all Saim products equipped

with a canbus output and communication.

The integration of this system,

which can be entrusted both to us and

the construction site, enables predictive

maintenance, thereby shortening

intervention times. It is the lowest

common denominator of all products

in SAIM Marine's portfolio". Moving

on to the electric alternatives, "we

reconfirm the SeaDrive electric pod,

presented last year in Genoa: a transmission

for medium-sized vessels that

also serves as an integration for boats

with endothermic engines. We have extended

the QS range. On display at the

SMM is the new three-phase propeller

with a diameter of 6100 mm for 1,400

kilos of thrust, for 60-metre yachts or

commercial hulls. At last, we are displaying

the variable-speed Dynamica.

The target, here at the Cannes Yachting

Festival, is the mid-high-end boat,

around 50 feet." How about sailing

boats? "The sailing boat market is revitalising

after a few years of flat calm,

due to a significant shift from sailing

boats to engine vessels. The Dynamica,

the Mini 40, a compact 3,000-rpm

generator that can be installed amidships

between bulkheads, and the retractable

propellers, ideal for the hydrodynamics

of sail boats, are good

candidates for them".

40

41
---
MARINE

#SMM #BAUDOUIN #WÄRTSILÄ #ROLLSROYCEPOWERSYSTEMS

SMM HAMBURG

A CLEAN

SHIPPING

SECTOR

BAUDOUIN AT SMM: NEW 6F21 ENGINE

At the SMM, French engine manufacturer Baudouin unveiled the 6F21.

This new 6-cylinder, 12.5-liter engine produces up to 735 kW/1000 HP,

enabling a best-in-class power density in a very compact and light original

marine design. The 6F21 includes a strengthened engine structure to

withstand high torque and a higher cylinder pressure well over 200 bar.

A two-stage turbocharger system is also fitted on the engine, along with two

intercoolers, and a high-end common rail system, operating at 2200 bar.

Every 6F21 engine also has optimized maintenance for low total cost of

ownership, and complies with IMO II and EPA III standards, with IMO III

and EPA IV following soon. The 6F21 is available in three duty ratings with

continuous compact power. This includes best-in-class for power output at

intermittent duty 599 kW/815 HP and light duty 662 kW/900 HP, and coleader

at the high-performance

rating delivering 735 kW/1000

HP. Steven Wang, Ceo at

Baudouin, says: "The 6F21 is

the first step toward a new

series of engines offering the

best power in the market. For

larger applications, we are

also preparing to expand the

burgeoning F series with an

8-cylinder 17L version of the

engine, coming later in 2022."

The enthusiasm was palpable.

After a four-year wait, the international

maritime community

was finally able to meet for

a physical SMM in Hamburg again:

for four days, 2,000 exhibiting companies

and over 30,000 industry visitors

from more than 100 countries formed

the "United Nations of Shipbuilding".

"There was an enormous sense of anticipation,

and expectations were high.

The more enthusiastic I am to see that

we have been able to confirm our status

as the leading global maritime trade

fair once again," said Bernd Aufderheide,

President and CEO, Hamburg

Messe und Congress. The maritime

energy transition and the technologies

and expertise it requires, along with a

clear commitment to making the necessary

changes, were at the top of the

agenda throughout the fully occupied

exhibition campus and the accompanying

conference programme of

SMM. Retrofitting ships was one of

the key topics of this fair. The industry

is facing the enormous challenge

to retrofit its fleet of roughly 60,000

merchant ships progressively to make

them more eco- and climate-friendly.

The presence of political leaders at-

During the 30 th edition

of the flagship fair

the maritime industry

demonstrated its

commitment to tackling

the necessary energy

transition

tested to the special importance of

the shipping industry in the efforts to

achieve the climate goals. During his

tour of the exhibition, Kitack Lim,

Secretary-General of the International

Maritime Organization, IMO, was visibly

impressed by the range of innovative

technologies showcased. German

Chancellor Olaf Scholz, the honorary

patron of SMM, said in his video message,

the focus of this SMM on climate-friendly

technology was more

than welcome since "every innovation

in the maritime sector supports the

global economy as a whole". The German

Federal Maritime Coordinator,

Claudia Müller, praised the motto of

the 30 th SMM, "Driving the Maritime

Transition": "It perfectly describes the

challenges facing the maritime industry

today while demonstrating that we

Royce. The company is initially developing

methanol engines based on the

mtu Series 4000 and will launch them

on the market from 2026. The energy

density of this fuel is high compared to

other sustainable fuels, and its liquid

state makes it easy to store and refuel

at ambient temperatures. In addition

to reduced complexity, the more attractive

investment costs are another

advantage of the methanol tank system.

Rolls-Royce Power Systems is

already working on the development

of fuel cell systems for marine applications

and will launch its own mtu

fuel cell systems for main propulsion

and on-board power generation from

2028. It is Benjamin Oszfolk, systems

engineer at Fuel Cell Energy

Storage Systems Marine RRPS, to

illustrate this aspect: fuel cells poware

actively driving these changes."

The industry has set its goal: achieving

climate-neutral shipping by 2050.

This calls for practicable solutions

from engineering firms, shipyards

and suppliers, but also from fuel

manufacturers. "As a marketplace

for innovations, SMM is an important

basis for investment decisions

of German shipowners. The focus

is on the climate-neutral transformation

of the maritime sector," said

Martin Kröger, Managing Director

of the German Shipowners Association

(VDR). "We are communicating

about this with shipbuilders and suppliers

as well as experts around the

world, many of whom we can meet at

SMM in Hamburg."

It is not by coincidence that SMM

is the international platform of the

maritime industry, from small startups

through to global market leaders.

For example, propulsion system specialists

Wärtsilä Voyage showcased

their new Fleet Optimisation System

(FOS). "This holistic platform for

data analytics, voyage planning and

fleet performance optimisation can

help shipping companies operate their

ships and fleets with optimum safety,

efficiency and sustainability," explained

Sean Fernback, President of

Wärtsilä Voyage.

Engine manufacturer Rolls-Royce

Power Systems presented fuel cell

concepts, hybrid systems and engines

designed to operate on e-methanol.

"For the future, we are firmly committed

to this ship fuel which we want to

pioneer," said Denise Kurtulus, Vice

President Global Marine at Rolls-

42

43
---
MARINE

#ABB #FPTINDUSTRIAL #VOLVOPENTA #MANENGINES

DEBUTS AT THE SMM

hibited a new semiconductor power

switch for safe, energy-efficient

next-generation direct-current systems.

Thorsten Strassel, Global Product

Manager at ABB, said: "SMM is

an ideal platform to present this innovative

technology in support of the

energy transition in the shipping sector."

Renewable energies, battery storage

and smart grids are key factors in

making shipping more sustainable, he

added.

Retrofitting ships was one of the key

topics of this fair. One of the challenges

the industry faces is retrofitting

its 60,000 merchant ships stepby-step

to make them more eco- and

climate-friendly. An enormous market

for Europe's supply industry is opening

up here, was the forecast given by

Stephen Gordon, Managing Director

ered by hydrogen do not produce any

harmful emissions, neither CO 2

nor

nitrogen oxides or particulates. Fuel

cells powered by green methanol emit

only small amounts of CO 2

due to the

required methanol reformer, but no

more than was previously bound in

the e-methanol and are thus operated

in a CO 2

-neutral manner.

Mecklenburgische Metallguss (MMG)

offer a portfolio of optimised-flow

ship propellers which are used by

shipowners such as Hapag-Lloyd to

retrofit a major portion of their fleet

in operation, enabling fuel and CO 2

savings of more than 10 percent. As a

symbol for the entire fair, a high-efficiency

MMG propeller was displayed

at the entrance to SMM to greet the industry

visitors.

The technology company ABB exof

Clarksons Research.

Inventions such as the Mewis Duct,

which earned the two shipbuilding

engineers Friedrich Mewis and Dirk

Lehmann the German National Environmental

Award during SMM week,

are significant contributions to climate

protection. The flow optimisation device,

which is sold by Becker Marine

Systems, has already saved more than

12 million tonnes of CO 2

worldwide.

SMM was again accompanied by

high-profile conferences covering

specific topics such as digitalisation

(Maritime Future Summit), ocean research

(Offshore Dialogue), as well

as security and defence (International

Conference on Maritime Security

& Defence). A conference which received

special attention this year was

the global maritime environmental

congress, Gmec: for the first time,

one of the panel discussions was open

to the general public. Environmental

campaigners and industry decision-makers

discussed the responsibility

of the shipping industry for climate

protection.

Apart from providing opportunities

for knowledge-sharing, the organisers

of SMM placed major emphasis

on networking formats, providing the

new Transition Stages as a new, dedicated

platform for exhibitors to highlight

their favourite topics. Additional

highlights included the Start-up Award

as well as the Maritime Career Market

where young talents were able to

make contact with interested potential

employers.

The next SMM will take place in

Hamburg from 3 to 6 September 2024.

FPT Industrial was for the first time an exhibitor at SMM Hamburg.

For its debut, coinciding with the celebrations to mark SMM's 30 th

edition, FPT Industrial showcased an exclusive premiere on its

stand, alongside the latest additions to its marine propulsion lineup,

interesting new perspectives in the field of auxiliary engines.

Among the novelties, the C16 1000 marine engine, presented

for the first time in its Keel Cooling configuration, the C90 410

for medium- and heavy-duty commercial applications, and the

N67 450N Keel Cooling for pleasure-vessel and commercial marine

applications.

Volvo Penta presented its new range of variable speed marine

generator sets. This range (with models starting from D8, 190 kWe

and running up to 545 KWe for the D16) is a core part of Volvo

Penta solutions designed for hybrid and electric applications.

The variable speed marine generator sets make it possible to build

vessels with smaller battery banks and charge them while on the

move, which makes the switch to hybrid-electric marine propulsion

more cost-efficient and accessible today. This technology is already

being used by Volvo Penta customers, such as Swedish Transport

Administration and MHO-Co. All Volvo Penta diesel engines can run

on HVO 100 fuel, instead of standard diesel.

MAN Engines has focused on sustainable propulsion solutions

at SMM and presented two ways of reducing CO 2

emissions for

workboats. The MAN Smart Hybrid Experience enables sailing and

anchoring without any emissions, and with the dual fuel engine,

exhaust emissions can be noticeably reduced when operating on

hydrogen. The MAN Smart Hybrid Experience was first introduced

for yacht applications in 2021. Because it can be combined with

all MAN marine engines of the current D2862 (V12), D2868 (V8)

and D2676 (R6) series, it can also be used to upgrade the output

of engines for light, medium and heavy-duty applications in

commercial shipping. In addition, MAN Engines will present a dual

fuel hydrogen engine with SCR system. The first two engines of this

type were handed over back on 10th May 2022 for series operation

powered by hydrogen on a workboat. The MAN dual fuel hydrogen

engine is a twelve-cylinder diesel engine of the type MAN D2862

LE448 with 749 kW (1019 hp) at 2100 rpm. This was prepared by

MAN Engines for dual fuel operation and supplemented with a

hydrogen injection system from development partner CMB.Tech.

44

45
---
kWe - ONROAD

#BORGWARNER #BATTERY #PASSENGERCARS

kWe - ONROAD

#MARELLI #BATTERY #WIRES

BORGWARNER BMS

MARELLI WBMS

WEIGHT

Frédéric Lissalde, President

and CEO, BorgWarner, Inc:

"We are proud of the significant

progress we have made in

recent years toward embracing

sustainability in our culture and

advancing electrification efforts

in everything we do."

IT'S

THE

SAVINGS

E-BRAIN

David Slump has taken over as

Marelli CEO and President of the

company after Beda Bolzenius

stepped down on January 6, 2022.

ible BMS technology is a step forward

for BorgWarner on our path to executing

our Charging Forward electrification

strategy," said Stefan Demmerle,

President and General Manager, Borg-

Warner PowerDrive Systems. Borg-

Warner's battery management system

for hybrid and electric vehicles contains

a master control unit connected

to multiple cell management control

units. It is designed to monitor the

state of charge, health and battery

temperature of each battery cell, and

also precisely measure battery pack

current and voltage. The distributed

B- and C-segment

cars as well as light

commercial vehicles

to be equipped by

BorgWarner BMS

beginning in 2023

B

orgWarner is increasingly focused

on the electrical infrastructure

of cars. A privileged

viewpoint for what will be

mirrored in industrial applications.

The Auburn Hills-based company's

appeal to the automotive industry is

not limited to the West, as evidenced

by the supply of dual inverter units for

a Chinese automaker and high-voltage

hairpin (HVH) eMotors for a leading

electric vehicle brand in China. And

we report news just from May. And

now let's talk about battery management

system. BorgWarner's BMS has

been selected by a leading global vehicle

manufacturer to equip the entirety

of its B-segment, C-segment and light

commercial vehicle platforms. Initially,

model years from mid-2023 will

be equipped with the new BorgWarner

BMS technology, which optimizes

battery pack performance, safety and

life span.

"This OEM business win for our flexcell

management units also perform

cell balancing, which allows a higher

state of charge to be achieved, optimizes

battery lifespan and enhances

battery safety by preventing over- and

under-charging. The system is suitable

for battery applications that operate up

to 800 volts and also includes contactor

control and diagnostics.

The compact design of the BorgWarner

BMS makes a positive contribution to

weight saving and vehicle range goals.

By adopting a distributed configuration,

the master and cell management

controllers can be decoupled to allow

optimum flexibility in system layout

and weight distribution.

For electric vehicles, optimized efficiency

and performance is more important

than ever. BorgWarner's electric

propulsion portfolio offers a range of

solutions and technologies, featuring

modular hardware and software platforms

that allow for scalable architecture,

packaging and system deployment.

M

arelli expanded its range of

battery management technologies

for electric vehicles

with a new Wireless

Distributed Battery Management System

(wBMS). This technology eliminates

the wired physical connections

typically needed in other BMS architectures,

allowing for greater flexibility,

increased efficiency, improved

reliability and reduced costs. This

solution is available from the second

quarter of 2022, to support customer

launches in 2024. The wBMS doesn't

need any daisy-chain communication

and wiring by using wireless technology

to enable the communication between

batteries and control unit. Compared

to previous wired distributed

solutions, the new wBMS developed

by the company reduces the wiring

harness by 90% and simplifies the

battery cell construction and installation.

In particular, the wBMS reduces

complexity in the assembly and grants

more flexibility for battery modules

placement. The reduced weight due to

connectors removal allows for more

energy efficiency, thus increasing the

driving range of the vehicle with the

same charge. The solution also opens

up room in the battery pack to allow

larger batteries to fit, guaranteeing

versatility, scalability, optimization;

ultimately, under the right circumstances,

larger batteries also translate

to enhanced power performance and

again extended vehicle range. "Wireless

BMS is a real game-changer for

the automotive industry, eliminating

the need for the battery harness,

wires and connectors associated with

Marelli Wireless

Distributed Battery

Management System.

It reduces wiring

harness by 90%

the standard wired BMS systems,"

said Razvan Panati, Head of Power

Electronics Technology of Marelli's

Vehicle Electrification Division.

"Marelli designed both the wBMS

and the Wired BMS with identical

base architectures, supported by two

different ways of communication and

interfaces. In that way our technology

can be applied across multiple vehicle

platforms with minimal change. This

flexibility of the solution guarantees

significant reduction in engineering

costs and allows Marelli to make this

high-end technology affordable for the

mass market." The Marelli wBMS can

be delivered with a software application

layer that uses algorithms based

on a proprietary technique so-called

"Sensor Fusion". The algorithms estimate

several crucial parameters of

each battery cell, to ensure an accurate

calculation of the battery overall

status, and informs the components of

the powertrain accordingly.

46

47
---
TECHNO

SIEMENS XCELERATOR,

DIGITAL TRANFORMATION

C

M

Y

CM

MY

CY

CMY

K

S

iemens strongly believes in the

need to simplify and make digital

transformation scalable. For

this reason, with an event broadcast

online, it presented an open digital

platform which, as the name itself suggests

(Xcelerator), aims to create an

ecosystem of partnerships to accelerate

the creation of value in companies

of all sizes in the sectors of industry,

transport, infrastructure and buildings.

The platform includes a complete

portfolio of hardware, software

and IoT enabled digital services from

Siemens and certified third parties and

an evolving marketplace to facilitate

interactions and transactions between

customers, partners and developers.

Roland Busch, President and CEO of

Siemens, said, "Siemens Xcelerator

will enable companies to embark on

digital transformation more easily,

quickly and at scale. By combining

the real world and the digital world,

through OT and IT technologies, we

allow our customers and partners to

increase productivity and competitiveness,

and make innovations scalable."

The launch of Siemens Xcelerator, together

with the recent acquisition of

Brightly Software, and the expansion

of the partnership with Nvidia represent

important milestones in the strategy

of the German multinational. With

the launch of the new product, step by

step, Siemens will transform its entire

portfolio of hardware and software

solutions to make it modular, connected

to the cloud and built on standard

application programming interfaces.

To ensure high standards and deliver

value to all parties involved, sound

principles of technical and commercial

governance will be applied. Simultaneously

with the presentation of Xcelerator,

Siemens announced the launch

of Building X, the first new generation

offering designed and built within the

new platform. This is a new suite for

smart buildings that acts as a single data

source to eliminate complexity and

supports zero-emission goals, managing

energy, safety and building maintenance

in one place. Building X is an

open, modular and completely cloudbased

suite, with applications enabled

for artificial intelligence, strong connectivity

and integrated cybersecurity.

During the launch of the platform,

Siemens confirmed the growth targets

for the digital business announced on

the last capital market day, which envisage

a compound annual growth rate

of approximately 10 percent over the

business cycle. The digital turnover in

fiscal year 2021 was 5.6 billion euros.

48
---
THERMO KING PREMIERES

THE E-SERIES

A

t the IAA Transportation 2022

in Hanover, Thermo King, a

company active in temperature

control solutions in transportation

and a brand of Trane Technologies,

premiered the new E-Series all-electric

battery-powered refrigeration units for

light commercial vehicles (LCVs) between

3.5 and 7.5 tons. The new series,

presented in collaboration with Iveco,

is mounted on the new Iveco eDaily

zero-emission van. The new E-Series

will have a reduced impact on vehicle

range and provide our customers with

greater value, while contributing to a

50

TECHNO

#THERMOKING #IAA #JOHN DEERE #BAUMA

lower total cost of ownership. The new

E-Series units are connected and powered

directly from the vehicle's battery.

To deliver optimum temperature control

performance with low power consumption,

the new E-Series features custom

designed, patented inverter technology

and a powerful hermetic variable speed

refrigeration compressor. The patented

power management and control system

intelligently optimizes the supply and

demand of energy in real time, minimizing

the impact on the vehicle's battery

when it is on the road or out for a

delivery.

JOHN DEERE POWER SYSTEMS @ BAUMA MUNICH

John Deere at Bauma brings all the strings to its bow. The next

generation engine lineup includes the JD4, JD14, and JD18 (Diesel

of the Year 2021) as well as the Kreisel Battery Pack 63 (KBP63),

a modular battery solution that utilizes Kreisel Electric's patented

immersion cooling technology. John Deere has plans to expand

its telematic technology offerings to John Deere-powered OEM

equipment through Connected Support.

POWERTRAIN

SUPPLEMENT

Engines and components for OEM

Culture, technology, purposes

and market of diesel engines

Established in 1986

Editor in chief

Fabio Butturi

Editorial staff

Stefano Agnellini, Ornella Cavalli,

Fabrizio Dalle Nogare

Cristina Scuteri, Roberto Sommariva

Contributors

Carolina Gambino,

Maria Grazia Gargioni,

Erika Pasquini

Layout & graphics

Marco Zanusso (manager)

Editorial management

Fabio Zammaretti

Printing

Industrie Grafiche RGM srl,

Rozzano (MI)

Milano City Court Authorization

n. 860 – December 18th 1987 National

Press Register n. 4596 – April 20th 1994

Poste Italiane Inc. – Mail subscription

D.L. 353/2003 (mod. in L. 27/02/2004 n°

46) Art. 1, subsection 1, LO/MI

VADO E TORNO

EDIZIONI

MANAGEMENT

ADMINISTRATION

via Brembo 27 - 20139 Milan.

Tel. +39 02 55230950

Website

www.diesel-international.com

ADVERTISING

Management

via Brembo 27

20139 Milan

tel. +39 02 55230950

e-mail: pubblicita@vadoetornoedizioni.it

Head of Sales

Luca Brusegani

Sales agents

Roberto Menchinelli (Rome)

Maurizio Candia

Angelo De Luca

Emanuele Tramaglino

DIESEL Annual subscription

Italy 35 euro, International 55 euro

Air Mail Annual subscription

65 euro

Back issues

7 euro

Payments

Current account 50292200

Vado e Torno Edizioni srl,

via Brembo 27, 20139 Milan.

e-mail: abbonamenti@vadoetorno.com

E-Mail

INFO@DIESEL-INTERNATIONAL.COM

Copyright 2022 Vado e Torno Edizioni

Notice to subscribers

Vado e Torno Edizioni srl, within the framework of its

commitment to transparency and in compliance with the

new European Regulation on the protection of personal

data, known as GDPR 2016/679, in force from 25

May 2018, has updated the policy regarding personal

data processing and has adapted the methods of data

management in accordance with the new requirements.

We invite you to take a look at the new policy, which

you can consult (www.vadoetorno.com). It provides

clearer and more specific information on the processing

of your personal data and your rights in this regard.

If you no longer wish to be contacted from Vado e

Torno Edizioni srl click write an email to:

privacy@vadoetorno.com.

Copyright 2022 Vado e Torno Edizioni

POWER TO

MAXIMIZE

PRODUCTIVITY

More power with less complexity and less weight. The Cummins

B6.7 engine delivers the productivity you need to keep your

equipment running. The power increases up to 326 hp / 243 kW

and peak torque up to 1014 lb-ft / 1375 Nm, enabling

replacement of engines with higher displacement

with no impact on productivity.

Visit us at ConExpo 2023, Booth S84615.

©2022 Cummins Inc.
---
HISTORY

+

S E R V I C E

+

S U P P O R T

+

TECHNOLOGY

+

D I S T R I B U T O R S

CONNECTION.

IT'S WHERE THE REAL POWER LIVES.

IT'S WHERE THE REAL POWER LIVES.

There's an unbreakable bond between John Deere products and

the people who choose them. It gives you the power to take your

equipment where it needs to go, with premium John Deere quality

standing behind you. And the power to work confidently knowing a

global network of more than 9,000 John Deere dealers are ready to

offer service and support whenever you need it. That's the unique

connection you get with John Deere power.

JohnDeere.com/Connection