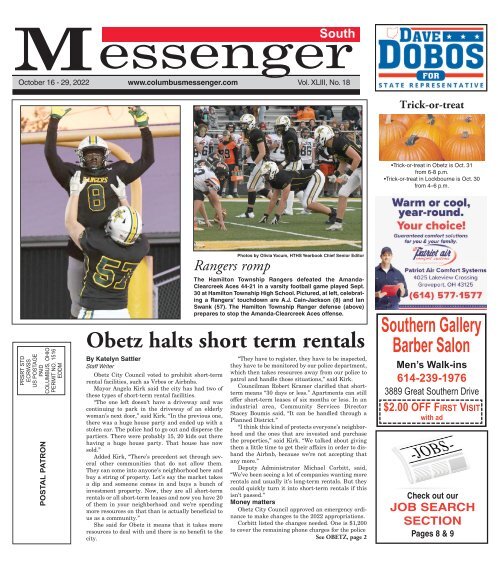 South Messenger - October 16th, 2022
You also want an ePaper? Increase the reach of your titles
YUMPU automatically turns print PDFs into web optimized ePapers that Google loves.
Messenger

South

October 16 - 29, 2022 www.columbusmessenger.com Vol. XLIII, No. 18

Trick-or-treat

•Trick-or-treat in Obetz is Oct. 31

from 6-8 p.m.

•Trick-or-treat in Lockbourne is Oct. 30

from 4–6 p.m.

PRSRT STD

ECRWSS

US POSTAGE

PAID

COLUMBUS, OHIO

PERMIT NO. 1516

EDDM

POSTAL PATRON

Photos by Olivia Yocum, HTHS Yearbook Chief Senior Editor

Rangers romp

The Hamilton Township Rangers defeated the Amanda-

Clearcreek Aces 44-21 in a varsity football game played Sept.

30 at Hamilton Township High School. Pictured, at left, celebrating

a Rangers' touchdown are A.J. Cain-Jackson (8) and Ian

Swank (57). The Hamilton Township Ranger defense (above)

prepares to stop the Amanda-Clearcreek Aces offense.

Obetz halts short term rentals

By Katelyn Sattler

Staff Writer

Obetz City Council voted to prohibit short-term

rental facilities, such as Vrbos or Airbnbs.

Mayor Angela Kirk said the city has had two of

these types of short-term rental facilities.

"The one left doesn't have a driveway and was

continuing to park in the driveway of an elderly

woman's next door," said Kirk. "In the previous one,

there was a huge house party and ended up with a

stolen car. The police had to go out and disperse the

partiers. There were probably 15, 20 kids out there

having a huge house party. That house has now

sold."

Added Kirk, "There's precedent set through several

other communities that do not allow them.

They can come into anyone's neighborhood here and

buy a string of property. Let's say the market takes

a dip and someone comes in and buys a bunch of

investment property. Now, they are all short-term

rentals or all short-term leases and now you have 20

of them in your neighborhood and we're spending

more resources on that than is actually beneficial to

us as a community."

She said for Obetz it means that it takes more

resources to deal with and there is no benefit to the

city.

"They have to register, they have to be inspected,

they have to be monitored by our police department,

which then takes resources away from our police to

patrol and handle those situations," said Kirk.

Councilman Robert Kramer clarified that shortterm

means "30 days or less." Apartments can still

offer short-term leases of six months or less. In an

industrial area, Community Services Director

Stacey Boumis said, "It can be handled through a

Planned District."

"I think this kind of protects everyone's neighborhood

and the ones that are invested and purchase

the properties," said Kirk. "We talked about giving

them a little time to get their affairs in order to disband

the Airbnb, because we're not accepting that

any more."

Deputy Administrator Michael Corbitt, said,

"We've been seeing a lot of companies wanting more

rentals and usually it's long-term rentals. But they

could quickly turn it into short-term rentals if this

isn't passed."

Money matters

Obetz City Council approved an emergency ordinance

to make changes to the 2022 appropriations.

Corbitt listed the changes needed. One is $1,200

to cover the remaining phone charges for the police

See OBETZ, page 2

Southern Gallery

Barber Salon

Men's Walk-ins

614-239-1976

3889 Great Southern Drive

$2.00 OFF FIRST VISIT

with ad

Check out our

JOB SEARCH

SECTION

Pages 8 & 9
---
PAGE 2 - SOUTH MESSENGER - October 16, 2022

Journey ends short of goal

According to the Ohio Division of Wildlife, in August, State

Wildlife Officer Jeff Berry, assigned to Muskingum County, was

patrolling the Muskingum River near Duncan Falls when he

noticed two boats and a kayak on the side of the river. He stopped

to talk to four individuals who were there with one of the boats.

They were a family from Loudonville. They had started on the

Mohican River in Loudonville and were travelling to Baton Rouge,

La., 1,500 miles away. They were 13 days into their trip and had

traveled about110 miles. Berry assisted them in shoving off from

the shore as they departed. He checked in with the family. They

traveled 850 miles in 36 days, but their journey ended when they

had boat motor issues. Their highlights were fishing, watching

ospreys catch turtles, and hearing bald eagles chattering at night.

The Gilmore Group

Office: 614-834-HOME (4663)

Cell: 614-774-4416

www.GilmoreGroupHomes.com

PROVIDING MORE SINCE '94

Messenger photo by

Linda Dillman

Skeletons

on the

loose!

These frightening

skeletons and

other ghoulish

creatures could be

seen on the loose

in a yard in

Hamilton

Township.

This time of year

people become

very creative with

their frightful and

fun Halloween

yard decorations.

Take a drive

around the area

and enjoy the

scenes and sights!

www.columbusmessenger.com

Dr. Hobbs

614-836-9119

Give us a call

to schedule your

appointment today.

Service & Installation

Residential & Commercial

FRANKLINHEATING.COM

OH LICENSE #20692

3700 Parsons Ave.

Columbus, OH 43207

New Patients & Emergencies Always Welcome

(614) 491-5511

www.ScottAKellyDDS.com

POST EXTRACTION CARE

If you have a tooth extracted,

there are some developments

to be aware of and precautions

to take. If some swelling develops

in the face, this is usually

nothing to worry about. It can

be minimized by the application

of an ice bag.

The bleeding should stop

shortly after the tooth removal

by the formation of a clot in the

socket. This clot should not be

disturbed. For starters, do not

suck on the hole or drink

through a straw. Do not take hot

foods or drinks for 5 or 6 hours,

by which time the clot should

be firmed. If you get hungry,

have a cold drink or eat a soft,

Dr. Kelly

cold food (like ice cream). Don't

smoke and avoid eating hard

foods.

If delayed bleeding occurs,

fold a piece of gauze and bite on

it. A moistened tea bag will also

do the job. If bleeding persists,

by all means, call your dentist.

Free bleeders, especially people

with hemophilia, should tell

their dentist BEFORE any extraction

takes place so that special

precautions can be taken.

Prepared as a public service to

promote better dental health.

From the office of:

SCOTT A. KELLY, D.D.S.

Phone 614-491-5511

GriefShare group

at Groveport UMC

The GriefShare group will host a free event on Nov.

19 from 1-3 p.m., at the Groveport United Methodist

Church, 512 Main St., Groveport. The Surviving the

Holidays video seminar is for people who are grieving

a loved one's death. The seminar is combined with support

group discussion of the video. To register call the

church office at 614-836-5968 or sign up at

https://www.griefshare.org/leaderzone/my/holiday_eve

nts/43294

OBETZ

Continued from page 1

department and $1,500 is for the reconditioning of

youth football helmets and $10,000 to purchase new

helmets for next year.

"It's a supply chain issue," said Corbitt. "If we don't

order them now, we won't get them for next season.

That's why this is a bigger hit here. Then, $3,000 for

employee winter wear and $5,300 for bank charges. A

lot of that has to do with inflationary issues and their

bank rates are pulling up."

Councilman Derek Varney asked, "We shouldn't see

that helmet charge show up next year, right?"

Corbitt responded, "Yeah. We would not budget the

$10,000 next year."

Varney said, "I don't want to see another hit. You

know what I mean?"

Other news

• "We have our Halloween Fright Night at the

Fortress on Oct. 28 from 6-10 p.m. in the Fortress

parking lot," said Kirk. "We will be passing out candy

and have the Haunted Hayride like we did before back

in the woods."

•Trick-or-treat is Oct. 31 from 6-8 p.m. The city is

Senior Services levy

Voters will decide on the proposed Franklin County

Senior Services levy renewal on Nov. 8. The proposed

five year tax levy renewal is for 1.75 mills, $0.175 per

$100 of valuation, commencing in 2022. Officials state

it is not a tax increase. The levy provides funding for

Franklin County Senior Options and its services

designed to help seniors remain safely at home. These

services include meals-on-wheels, transportation to

doctor appointments, and emergency response buttons.

The existing senior services levy will expire at

the end of 2022. The senior levy is the main funding

source for Senior Options programs.

following the Mid-Ohio Regional Planning

Commission's recommendation that all communities

have trick-or-treat on the same night.

"We'll also have officers again in the neighborhoods,"

said Kirk. "The fire department usually comes

out while the neighborhoods hand out candy. There

won't be any Trunk-or-Treat this year. We'll just have

the tunnel, like we have in the past."

•Three lights were repaired on Acadia and two in

Butler Farms. Sodium bulbs are being transitioned to

LED bulbs to be more cost effective and look much better.

•Groveport will hold its Veteran's Day ceremony on

Nov. 11 at 11 a.m. at Groveport Veterans Park at 421

Main St.

•Police Chief Mike Confer provided his department's

recent statistics since the last meeting. The

police had 774 calls for service, patrolled 2,929 miles,

issued 23 moving violations, one speeding violation, 22

offense reports, two domestic violence incidents. He

also said there were 17 semi-trucks in the neighborhoods.
---
www.columbusmessenger.com

Halloween in Obetz

By Rick Palsgrove

Managing Editor

Fortress Obetz is the place to be for

Halloween fun.

The annual Obetz Halloween Party,

"Fortress Fright Night,"will be held at the

Fortress, 2015 Recreation Trail, Obetz, on

Oct. 28 from 6-10 p.m. More details about

the event will be available soon on the city

of Obetz's social media and website.

In addition, trick-or-treat in Obetz will

be held on Halloween, Oct. 31, from 6-8

p.m.

Trick-or-treat in other nearby areas will

be held as follows:

•Lockbourne: Oct. 30 from 4—6 p.m.

•Groveport: Oct. 31 from 5:30-7 p.m.

•Canal Winchester: Oct. 31 from 5:30—

7:30 p.m.

While trick-or-treating can provide a lot

of fun, general precautions should be

taken. Some basic safety tips to follow

include:

•Have an adult accompany children

while they trick-or-treat.

•Only let children visit houses of people

they know who have turned on an outside

light to welcome trick-or-treaters.

•Inspect all candy before eating, and

throw out any open or suspicious looking

candy.

•Tell children to walk instead of run

and look both ways before crossing the

street.

•Encourage children to wear reflective

costumes or add light sticks to their costumes

to help make them more visible to

motorists.

•Be extra cautious of children crossing

the street if driving during or shortly

before or after trick-or-treat hours.

Other upcoming

events at the Fortress

The Fortress is home to a variety of

activities and events, including:

•Bally Sports Flag Football on Mondays

through Oct. 17.

•Barcelona Youth Soccer Camp on

Tuesdays and Wednesdays through Oct.

26.

•Gahanna Lincoln vs. Grove City —

High School Football on Oct. 14.

•SCAA Autocross on Oct. 15.

•Bishop Ready vs. KIPP Columbus —

High School Football on Oct. 21.

•OHSAA — Middle School Cross

Country Invitational on Oct. 22.

•OHSAA — High School Cross Country

State Championships on Nov. 5.

Visit fortressobetz.com for information.

Musical Recital Showcase

Hope United Methodist Church, 83 E.

Columbus St., Canal Winchester, will host

The Otterbein University Music

Department in a Musical Recital Showcase

on Oct. 30 at 2:30 p.m. The free event will

be followed by refreshments and a meet

and greet. All are welcome.

October 16, 2022 - SOUTH MESSENGER - PAGE 3

Columbus Chorus performs

Rise and shine for brunch with the

Columbus Chorus Sweet Adelines at

Groveport Town Hall, 648 Main St., on

Nov. 19 from 10:30 a.m. to noon.

Admission is free.

RSVP by Nov. 16. Call 614-836-3333.

EXPANDING OUR MAIN LOCATION

(Closed our Restaurant)

Biggest Seafood Sale Ever!!!!

• Flounder....................10 Lb. Froz....................$4.99 Lb.

• Homemade Crab Cakes.........3 Oz..............$6.00 Ea.

• Salmon (Skin On)..........................................$10.59 Lb.

• Fresh Black Grouper Fillets............................$9.00 Lb.

WE ACCEPT

All Major Credit Cards

EBT Cards (SNAP)

• Fresh Sword Fish Steak...................................$9.99 Lb.

• King Crab Legs.....(2 Lb. Bag)..............................$74.99

• Snow Crab Legs....(2 Lb. Bag)......$34.99 (8-10 Clusters)

Oyster Season is Coming!

IF IT SWIMS - WE SELL IT!!!

WE ACCEPT All Major Credit Cards EBT Cards (SNAP)
---
PAGE 4 - SOUTH MESSENGER - October 16, 2022

www.columbusmessenger.com

Life as a Hamilton Township firefighter

By Katelyn Sattler

Staff Writer

The day starts early for the Hamilton

Township firefighters/paramedics.

They begin and end their 24-hour shift

at 7 a.m. with roll call. All Hamilton

Township firefighters are also paramedics.

They work a 24-hour shift, then are off for

48 hours to enjoy life. They are grouped in

three units: 1 Unit led by Capt. John

Blankenship; 2 Unit led by Capt. Tom

Ferrell; and 3 Unit led by Capt. Scott

Johnson.

"When we show up at fires, everybody

has an assignment," said Blankenship. "It's

controlled chaos. If everybody does their

job, the fire goes out and everybody goes

home. If there's somebody trapped, we all

go and do the rescue."

He said the ladder trucks' job is to come

in and do a search.

"They do exposure, like to find hidden

fires in the wall and the ceiling," said

Blankenship. "They're helping support the

engine do their work. They also do little

things like cut the electric, disconnect the

power to it, the gas, anything like that."

After roll call, the firefighters check and

stock the vehicles.

Firefighter/Paramedic Steve Shirkey

was the engine driver and pump operator

for Engine 171 for the day. Probationary

VOTE

DAVE

DOBOS

For

State Representative

"Sacrifices are always made.

There have been numerous times

where I've missed out on family

gatherings, Christmases, holidays,

sporting events. But it just

comes with the nature of the job."

- Steve Buzzard

Firefighter/paramedic

Hamilton Township

Fire Department

recruit Zeb Liston was the engineer who

sat in the back of the truck. Liston makes

sure his tools and hose lines are set up

right.

Shirkey explained the pump side of the

truck and the mixing of foam and water to

put out fires. He joked that the controls are

color coded to make them, "fireman-proof."

Firefighter/Paramedic Steve Buzzard

arrived for the day after a shift as full-time

assistant fire chief at Rickenbacker Air

National Guard Fire Department.

Buzzard and Blankenship were

assigned Medic 171.

"On our computer program, we have the

accountability sheets where we go in and

account for everything, all the tags and

stuff, because of state mandates for drugs

"I offer my common-sense values and solutions as your

candidate for the State Legislature. As your

Representative, I'll fight for our families so they can build a

better future for themselves. I will lead the way with

economic, educational, and workforce development

initiatives, and I'll work to keep our communities safe. I will

engage with both Republicans and Democrats to advance

the common good. I humbly ask for your vote."

"Dave's abilities will help us move

Ohio forward"

—Ohio Governor Mike Dewine

"Dave's work on the Columbus School Board and in our

community well suits him for our legislature."

—Ron O'Brien

former Franklin County Prosecutor

We need Dave Dobos FIGHTING FOR US.

DaveforUs.com

PAID FOR BY THE OHIO HOUSE REPUBLICAN ALLIANCE

Messenger photo by Katelyn Sattler

Hamilton Township Fire Department Capt. John Blankenship (left) teaches probationary

recruit Zeb Liston some life saving techniques.

and everything," said Buzzard. "And we

keep them under seals and all the seals are

accounted for day to day."

When asked if anyone ever tried to steal

the necessary and life-saving drugs firefighters

keep aboard their trucks, Buzzard

said, "Oh, we've had a couple of times,

being on scene, where people tried to get in

here and tried to pry the doors open. That's

why we've gone to more of a secure keypad

because back in the day, we had the five

punch tab or the cipher or the key lock

where people would actually try to crowbar

or try to pull and break it open. This makes

it harder to do with that."

With many firefighters having part-time

jobs in addition to full-time work fighting

fires or helping people, "Sacrifices are

always made," Buzzard said. "There have

been numerous times where I've missed

out on family gatherings, Christmases, holidays,

sporting events. But it just comes

with the nature of the job."

It's a dangerous job and loved ones are

supportive, but they also worry. Buzzard

said his wife does worry about him at work.

"Oh yeah," said Buzzard. "She always

tells me, 'Have a safe day and hopefully

things aren't too bad.' You plan for the best.

You always expect the worst, though,

because today, everything's good. Later on,

we could have a big fire or somebody gets

hurt. It's just one of those things in this

career field. You have a passion and a drive

to do it. It takes a different kind of mindset

and mainframe to do what we do."

Buzzard said the job chose him in 1972.

"Remember the old TV show,

'Emergency'? that's where I began," said

Buzzard. "My mom and dad could show you

all the stuff they bought me back then. My

mom worked at a daycare center and went

through first aid classes. She would get certified

in first aid, bandaging, or CPR. When

we went to my grandparents' house, I

would take all the stuff I had made, med

kits and things like that. I would take a big

sack of stuffed animals, put them around

the house, and do search and rescues and

triage and all that stuff on the stuffed animals."

Buzzard said the nature of the job

means one has to have a short-term memory.

"You kind of have to flip the switch

quick," said Buzzard. "Once a case is over

and you get them there. Okay. Refocus to

the next one. After I get off work, I go right

to the gym. I spend like two hours there,

put the headphones on, turn the music on.

I don't carry a phone or anything. That's

my time just to do my thing."

The Hamilton Township Fire

Department will conduct training fires on

the three houses on the Wilburn farm on

October 12, 13, and 14.

Anyone interested in working as a firefighter/paramedic

for Hamilton Township

Fire Department, can visit www.hamtwpfcoh.gov/htfd-employment.

The Hamilton Township Fire

Department has been providing fire and

EMS services to its residents since 1944.

The department serves Hamilton

Township, Obetz, Lockbourne, Reese,

Rickenbacker, Shadeville, and the surrounding

communities.
---
www.columbusmessenger.com

October 16, 2022 - SOUTH MESSENGER - PAGE 5
---
PAGE 6 - SOUTH MESSENGER - October 16, 2022

We are the BEST community newspaper!

Advertise with us by calling

614-272-5422.

The Franklin County Commissioners

and Sheriff dedicated the new James A.

Karnes Corrections Center at 2551 Fisher

Road on Columbus' west side.

The new facility is scheduled to open

later this year and will replace the county's

downtown jail, which was built in the

1960s. It provides 864 beds, and a second

phase of the new jail will open next year

with an additional 426 beds.

"This jail is a legacy project and one that

will serve our community for many years to

come," said board of commissioners president,

Erica Crawley. "And the way that it

can do that most effectively is by providing

mental health services, job training and

other educational programing so that our

neighbors in the jail are able to find success

when they become our neighbors outside

of the jail."

The county team responsible for planning

to replace the county's jail facilities

partnered with the National Institute of

Corrections and traveled the nation to visit

the country's most progressive and successful

jails. The James A. Karnes

Corrections Center combines all the best

features in use around the country including

mental health and detoxification centers,

accommodations for virtual visitation,

natural lighting for both inmates and

deputies, and training and programming

space to help prepare inmates for their

return to the community.

"If you want to know how a community

regards its people, you don't have to look

any farther than its jail," said commissioner

John O'Grady. "And with the new James

A. Karnes Corrections Center, we've finally

got a jail facility that's worthy of our community

and its residents."

The new facility is designed to accommodate

a new model of corrections focused

on Strategic Inmate Management and

www.columbusmessenger.com

Franklin County jail dedicated

Direct Supervision. It's a model in which

deputies share space in pods with the

incarcerated persons they're supervising.

Each pod has built-in rooms for medical

checks or other professional visitation and

its own area for recreation. The space will

allow for increase programing, training,

and education to prepare the inmates for

success when they return to the community,

and the updated philosophy has been

shown to make jails safer for both inmates

and staff.

"It's not just a jail, it's an investment in

rehabilitation," said commissioner Kevin

Boyce. "Bettering this infrastructure first

helps support those in a crisis situation, it

then reduces recidivism and generates positive

long-term outcomes."

Jim Karnes was the longest-serving

sheriff of Franklin County, capping off a

48-year career in law enforcement. Karnes

first joined the sheriff's office as a deputy

in the corrections division in 1963, and

served as sheriff from 1992 until his death

in 2011.

"We know that today's inmate is tomorrow's

neighbor," said Sheriff Dallas

Baldwin. "The vast majority of people who

enter our doors will leave the facility in a

few days. The sheriff's office is committed

to helping those individuals start down a

better path in the sincere hope they won't

come back to jail."

The James A. Karnes Corrections

Center encompasses nearly 430,000 square

feet and cost about $360 million to build.

The facility includes enough concrete to

build a sidewalk from Columbus to Dayton,

more than two miles of plumbing, and its

roof covers approximately four acres.

To learn more about Franklin County's

jail facilities, visit sheriff.franklincountyohio.gov.

Call today and receive a

FREE SHOWER PACKAGE

PLUS $1600 OFF

1-855-517-1892

With purchase of a new Safe Step Walk-In Tub. Not applicable with any previous

walk-in tub purchase. Offer available while supplies last. No cash value. Must present

offer at time of purchase. CSLB 1082165 NSCB 0082999 0083445

SPECIAL OFFER

Emergency

services in

Obetz

Emergency medical,

fire, and rescue

services in the

Obetz area are provided

by either the

Hamilton

Township Fire

Department or

Madison Township

Fire Department

depending on your

location. For nonemergencies,

call

the Hamilton

Township Fire

Department at

(614) 491-1013.

The Madison

Township Fire

Department may

be reached at (614)

837-7883.
---
www.columbusmessenger.com

The simple fun of trick-or-treat

Editor's Notebook

Halloween trick-or-treat is an exciting and

special time when you are a kid.

It's a time when you can disguise yourself

and become someone or something else for a

few hours. You get to walk around the neighborhood

streets in that twilight time when

dusk settles in and shadows can become

whatever your imagination wants them to be.

Plus there is candy, lots of candy.

As a kid growing up in the 1950s and

1960s in Groveport, I have fond memories of

trick-or-treating. I liked seeing the sidewalks

filled with other kids in costume darting

about from house to house. I was awed by the

crazed faces of jack-o-lanterns lit by the dancing

flames of candlelight that beckoned to us

trick-o-treaters to front porches. It was fun to

be out adventuring in the forbidden dark - a

time one was normally safe at home.

I recall stopping by the old fire station on

College Street (now gone) and getting hot

dogs and doughnuts. Speaking of doughnuts,

there was one house that gave out doughnuts

and they even let you pick which doughnut

you wanted! They could probably afford to do

that back then because the town was much

smaller and there weren't as many of us kid

goblins showing up at the door.

We used paper grocery bags to collect our

treats, a haul that could include candy bars of

all kinds, as well as assorted other sugary

delights, but also popcorn balls.

In the days leading up to trick-or-treat,

our school classrooms and homes were

adorned in assorted orange and black

Halloween decorations and crepe paper.

These decorations were not cute, but instead

tended to have a scary edge to their appearance

in keeping with the other worldly spirit

of Halloween. These unusual visages were

great to look at and inspired our imaginations.

Also in those days, while some kids did

have store bought costumes, most kids, with

the help of their parents, made their own costumes

from whatever

was at hand. That

being said, there are

still some kids today

who still create their

own costumes because

I have seen some great

ones at recent

Halloween trick-ortreats.

As for my costumes

when I was a kid, I

remember being a

ghost a couple of times

- which was an easy

Rick

Palsgrove

costume as evidenced by the "Peanuts" characters

in the great Halloween television

show, "It's the Great Pumpkin Charlie

Brown." Probably my favorite costume was

when my mom helped me put together a Civil

War era Union Army cavalryman outfit. The

Civil War centennial was being remembered

in the mid-1960s so it was easy to find a

cheap blue, felt fabric replica Union Army

hat. My mom then stitched a stripe down the

side length of the legs of a pair of my blue

jeans. We then added a small black mask, a

blue shirt, a toy sword and toy gun and I was

set. I was proud of that outfit. I had hoped the

stripe would remain on that pair of blue jeans

after Halloween, but mom removed it the

next day because those were my good "school

blue jeans."

So trick-or-treat is coming soon and

today's kids will form their own memories

that they will hold onto with fondness as the

years go by. It is simple fun, which is the best

kind of fun.

Rick Palsgrove is managing editor of the

Messenger Newspapers.

October 16, 2022 - SOUTH MESSENGER - PAGE 7

County takes action on minimum wage

The Franklin County commissioners

passed a resolution authorizing updates to

their employee pay structure, including

raising the minimum pay of their employees

to $17 per hour ($35,360 per year).

In order to address the "wage compression"

that happens when just the lowest

pay is increased, the changes will also

include raising the minimum starting pay

in each of the commissioners' job classifications,

and tenure raises for long-term

employees. The changes come following a

salary and wage study performed by the

national consulting firm, Clemans Nelson

& Associates, and during what continues to

be a tight labor market.

Each board of commissioners job is slotted

into one of 30 tiered pay grades. Under

the updated pay scheme, employees who

are currently paid less than $17 per hour

will see their rate raised to that new

amount. In addition, the minimum hourly

rate for each pay grade will be increased by

$2 per hour or 8 percent, whichever is

higher. Also, employees will receive raises

based on the length of time they've been

employed by the county.

The commissioners have long worked to

ensure that their employees are paid a fair,

living wage, first establishing an updated

minimum of $13.69 in 2016, and raising it

to $15 per hour several years later. The

county also offers what the commissioners

believe to be the best package of benefits

for any public employer in central Ohio.

The changes approved apply to nonunion

board of commissioners employees

and will go into effect in September, but

the commissioners have said that they will

work with other county agencies through

the budgeting process to allow them to

offer similar adjustments in their own pay

scales. Any change in pay for union members

(even for a higher salary) must first

receive approval from the bargaining

units, which the commissioners expect this

week. The commissioners' own salaries are

set in Ohio law and are not affected by the

resolution.

For more information on the Franklin

County Board of Commissioners, visit commissioners.franklincountyohio.gov.

Drug Take Back Day

Canal Winchester and Diley Ridge

Medical Center, in cooperation with the

Fairfield County Sheriff's Office and the

Drug Enforcement Administration, will

host a National

Prescription Drug

Take Back Oct. 29 at

the Diley Ridge

Medical Center, 7911

Diley Road, from 10

a.m. to 2 p.m.

The National

Prescription Drug

Take Back Day provides

a safe, convenient,

and responsible

means of disposing of

prescription drugs.

The site is set up in a

stop and drop model,

allowing those discarding

unwanted

prescription drugs to

remain in their vehicles,

drop medications

with collection agents.

Liquids (including inhalers and their

refills), as well as needles or sharps, may

not be dropped off. The service is free and

anonymous; no questions asked.

Visit www.DEATakeBack.com.

4850 Haughn Rd. Grove City

Drive through Fish Fry

October 22nd from 12:00pm to 6:00pm

$10.00 dinner - Fish, Fries, and Coleslaw

$7.00 - Sandwich & Fries

$5.00 - Sandwich

Carry-Out Only

No drinks
---
PAGE 8 - SOUTH MESSENGER - October 16, 2022

www.columbusmessenger.com
---
www.columbusmessenger.com

October 16, 2022 - SOUTH MESSENGER - PAGE 9
---
PAGE 10 - SOUTH MESSENGER - October 16, 2022

www.columbusmessenger.com

Film adaptation plays it too safe

There were few bright spots to come out

of the year 2016, but one of the best was the

release of a novel called, "My Best Friend's

Exorcism." Although it did not immediately

shoot up the best-selling charts domestically

or internationally, the nostalgic horrorcomedy

written by Grady Hendrix quickly

amassed a small but vocal following of fans

who told every corner of the Internet that

they had to get their hands on this book.

I was one of the readers who came in a

little late to the party, but when I decided

to join, I went full-on stan for this author.

To me, Hendrix was one of those rare male

writers who actually tried to explore female

friendships and his female characters in a

way that was not exploitative or unnecessarily

catty or twee. Despite the supernatural

elements within this book and throughout

his other ventures, his writing was

spot-on and realistic, so much so that I

thought about going on his Facebook page

to ask whether his wife helped him write

his novels. (Note: I did not because I still

have boundaries on social media.)

In regard to this specific novel, however,

he was able to spin a tale about a demonic

possession into a sweet and tragic comingof-age

tale where the two 'best friends forever'

go to battle against acne, impending

adulthood and each other as one is overtaken

by evil spirits. It was equal parts hilarious

and horrifying and utterly relatable. I

am not being facetious when I say reading

this book made me cringe, cry and laughout-loud

in the middle of the night.

Because this book was so good, and

because it has a fiercely loyal cult following,

I knew sooner-or-later it would get the

theatrical treatment. And sure enough, it

was announced it would be adapted into a

film back in 2018 but it has just now made

its way to the streaming service Amazon

Prime in time for the "spooky season."

Much to my disappointment, I have to

relay to the book fans out there that there

is nothing genuinely "spooky" about this

adaptation — it doesn't even have that

sense of scary fun that was such a staple

within the novel. Instead, this screen version

waters down much of the content,

making the retelling of the tragic tale of

teenage friendship between Abby and

Gretchen (aka the would-be-exorcist and

the would-be-exorcised) much softer and

safer for a general audience. Although not

a total deal breaker, it would have been

nice to see this adaptation take some risks.

Ditching the sad set up that establishes

how Abby and Gretchen (played by Elsie

Fisher and Amiah Miller) became friends

and the event that made them so ride-ordie,

the film begins with their friendship

firmly in place as teens: only pictures on

their bedroom cork board show that they

have been besties for years.

Having discovered that Gretchen's parents

plan to move the family out-of-state at the end

of the school year, the pair decide to spend

every spare moment they have together before

their forced separation. Although they vow

that not even a work transfer can break-up

their life-long friendship, they secretly know it

is not always the case when friends move to

The Reel Deal

different states.

During a girls-only

overnight trip to their

Dedra

Cordle

sometimes friend,

sometimes nemesis'

lakeside home, they stumble into an abandoned

structure rumored to be a place

where ritual sacrifices took place. Though

skeptical of the claims, the crumbling home

is downright gross, filled with needles and

strange markings on the wall. They think

they see a pile of remains move and try to

get out of there as fast as they can. Only

Abby makes it out safely; Gretchen is found

much later, disheveled, bloodied, and missing

much of her memory.

Over the course of several weeks,

Gretchen's behavior gets increasingly hostile

— her other friends and her parents

write it off as teenage angst but only Abby

takes it seriously. When more bizarre stuff

starts to happen, like when the immaculately

dressed Gretchen starts showing up

to school with frizzy hair and re-wearing

rumpled and smelly clothing only Abby

shows true concern.

Puzzled by what is happening to her

best friend, Abby starts to dig further and

experiences a "break-through" moment

when the normal Gretchen returns for a

brief stretch to say some force is inside of

her, controlling her actions.

Gretchen's moods and action start to get

scarier and more violent, eventually turning

on her childhood friend and driving a

real wedge in their relationship. Despite

the cruelty that is shown towards her, Abby

makes it her mission to reach her friend

and bring her back to herself — even if it

involves hiring a meatball would-be-exorcist

named Christopher Lemon (Christian

Lowell) to provide an assist.

Possession movies of late like to focus

more on body horror rather than genuine

gore, and "My Best Friend's Exorcism" is no

exception. There are quite a few scenes of

contorting bodies, unwieldy retching, and

long tapeworms being pulled out of a

mouth. These moments, especially the latter

scene, can invoke the creepy crawlies

but it doesn't go too hardcore with them.

Despite its story that focuses more on

the horror elements rather than the friendship

elements — I'm still smarting because

director Damon Thomas and writer Jenna

Lamia dumped the introductory scene

where Gretchen is the only person to show

up to Abby's E.T.-inspired birthday party —

"My Best Friend's Exorcism" is an overall

decent film made watchable by the sweet

chemistry between Fisher and Miller. Those

two had a really great rapport and interpretation

of the ride-or-die book duo, but I just

wish the rest of the movie was on their level

of wanting to do justice to its hilarious and

horrifying page-turning counterpart.

Grade: C (P.S. Read the book.)

Dedra Cordle is a Messenger staff writer

and columnist.
---
www.columbusmessenger.com

Edith, 3, was found on

the streets with her kittens

and was quickly

determined to be friendly

and social. She went

to live in a foster home

with her kittens, where

she also lived with two

dogs and another resident

cats. Edith is very

sweet, laid back, and

friendly. She is always looking for a chin

scratch. She will do well in most households,

either as a single cat or a companion for existing

animals. Meet her at the Colony Cats

cage free adoption center in Dublin.

FYI: colonycats.org

Cosette is a 2-year-old

tabby girl rescued from

a life on the streets.

She is just purrfect and

would be a great addition

to any family. She

is a very sweet girl.

Cosette is spayed,

microchipped, and up

to date on vaccines. She is up for adoption

through Colony Cats and Dogs.

FYI: colonycats.org

Ivy Rose is a shy girl who is looking for someone

with a quiet home and the patience to

give her the time she needs to adjust. Ivy is

not a lap cat but can be affectionate and likes

pets of the week

to be near you. Her

favorite trick is to flop

on you when she

approaches you for

affection. She gets

along with other cats

and could potentially

be good with older children

who would understand

her shyness. Ivy Rose needs a home of

her very own to flourish in, to love a family to

her full potential. Adopt her from Friends for

Life Animal Haven.

FYI: fflah.org

Persephone is a 5-

year-old cutie who

loves kisses, cuddles,

and playing with her

toys. She will greet you

with a toy in her mouth

and a wiggly bum

when you come home.

This smart girl is crate

trained, clicker trained,

and knows many commands

like sit, stay,

down, dance, and crawl. Persephone has

been waiting a year to find her perfect forever

family at the Franklin County Dog Shelter and

Adoption Center.

FYI: franklincountydogs.com

These furry friends are available for

adoption at local rescues and shelters.

Obetz City Council

The Obetz Council is made up of six

elected officials who are elected at-large

and serving staggered four-year terms

under the rules of the Charter of the

Village of Obetz. Council meets the second

and fourth Mondays of each month at 6

p.m. in the Council Chambers at 4175

Alum Creek Drive, Obetz, to review and

pass legislation and hear concerns from the

residents.

If the meeting date occurs on a holiday,

the regular meeting is held on the next

Tuesday following the holiday. Call (614)

491-1080.

October 16, 2022 - SOUTH MESSENGER - PAGE 11

Lockbourne Council

Lockbourne Village Council meets the

second and fourth Mondays of each month

at 7 p.m. Council will meet in-person at

the Lockbourne Municipal Building, 85

Commerce St., Lockbourne.

Hamilton school board

Hamilton Local Board of Education

meetings are held at 6 p.m. at the

Hamilton Local Education Center, 775

Rathmell Road, Columbus.

For information on meeting dates visit

www.hamilton-local.k12.oh.us.

FALL IN LOV VE WITH

E

CHECK

KING

CHOI ICE

Telhio' elhio's Choic e Checking featur

es Early Deposit,

• ID Th heft Assistance

• Discounts at S

• Road dside Assistance • Cell Phone Pro

OPEN YOUR ACCOUNT TODAY AT TELHIO.

ORG $

Telhio is open to anyone who lives s, w orks, worships, or goes to school in Central and Southwest Ohio. Federally Insured

b y NCUA. EqualHousing Lender. Early Dir

ect Deposit

is free to all members. Enrollment is automatic and is available only to personal checking acc

ounts. You must contact us to opt out of this service. We cannot guarantee early

availability of any direct de posit you receive. Please see our Funds Availability Policy Disclosure for additional details. Membership eligibility requirements apply.

614-221-3233
---
PAGE 12 - SOUTH MESSENGER - October 16, 2022

www.columbusmessenger.com

Food drive

Photo courtesy of Eastland-Fairfield Career Centers

On Aug. 30, the Fairfield Career Center chapter of the National Technical Honor Society was named a 2022

recipient of the Silver Star of Excellence Award by the NTHS national organization. This award is presented

to NTHS chapters that distinguish themselves through their consistent excellence in career-technical education

and is a reflection of their commitment to community service, chapter advancement, and active civic

involvement. During the past school year, Fairfield Career Center's NTHS chapter has participated in philanthropic

food drives, donut sales, and educational activities. Their members collected approximately

3,000 boxed and canned goods for a local food pantry during the 2021 holiday season. Additionally, last

year's members raised over $1,200 to be used for membership fees and educational field trips that will benefit

NTHS students during the 2022-23 school year.

Messenger

South

BEST COMMUNITY NEWSPAPER

Pick-Up At These

Locations:

Ponderosa Steak House - 3875 S. High St.

Turkey Hill - 3900 S. High St.

Dollar Tree - 3754 S. High St.

Speedway Gas Stattion - 3860 S. High St.

Columbus Library - High St. & Highview

CVS Pharmacy - High St. & Williams Rd.

Walgreen's - High St. & Williams Rd.

Kelly's Market - 3453 Parsons Ave.

K & M Market - 4305 Andy Groom Blvd.

Stoney's Market - 3517 Lockbourne Rd.

Kroger - S. High St.

READ US ONLINE: www.columbusmessenger.com

columbusmessenger.com

Letters policy

The Messenger welcomes letters to the

editor. Letters cannot be libelous. Letters that

do not have a signature, address, and telephone

number, or are signed with a pseudonym,

will be rejected. PLEASE BE BRIEF

AND TO THE POINT. The Messenger

reserves the right to edit or refuse publication

of any letter for any reason. Opinions

expressed in the letters are not necessarily

the views of the Messenger. Mail letters to:

South Messenger, 3500 Sullivant Avenue,

Columbus, OH 43204; or email

southeast@columbusmessenger.com.

eastside

Messenger

(Distribution: 6,100)

Rick Palsgrove................................South Editor

southeast@columbusmessenger.com

Published every other Sunday by

The Columbus Messenger Co.

3500 Sullivant Ave., Columbus, Ohio 43204-1887

(614) 272-5422

Keep tabs on the news in Obetz

and Hamilton Township

Look for South Messenger on

Become a fan!
---
www.columbusmessenger.com

October 16, 2022 - SOUTH MESSENGER - PAGE 13

Messenger photo by Rick Palsgrove

Working themselves to the bone

These hard working skeletons are carrying a load of skulls away from a house in

Canal Winchester.

ME DICARE A NNUAL

ELECTION P

Oct.

15 th

PERIOD (AEP)

Dec 7 th

Call today $0 consultatio

n $0

fee, local agent!

Over 16 years experience

with Medicare options

Offer

different major

carriers i n the area

Year- rou und support for my

clients

Call or text me today to

schedule yo

our appt.

Terri

Curcio

614-460-0601

in your area. Please contact Medicaree

.gov or 1-800-MEDICARE to get information on all of
---
PAGE 14 - SOUTH MESSENGER - October 16, 2022

www.columbusmessenger.com

CLASSIFIED ADS

Deadlines: Grove City, Groveport & All editions - Mondays at Noon.

West, Canal Winchester, South & Madison editions -Tuesdays at 5 p.m.

xEmployment xPreschool/Daycare

xCraft Shows

DO YOU NEED

SEASONAL EMPLOYEES?

Call KATHY to ADVERTISE

and reach over 35,000 homes in the

South/Canal Winchester & Groveport Messengers

614-272-5422

kathy@columbusmessenger.com

INFORMATION

NEED

SOMETHING

DONE THIS

FALL?

CHECK OUT OUR

CLASSIFIED

SERVICES!

FOR

ADVERTISING

INFO. CALL

(614) 272-5422

THE COLUMBUS

MESSENGER

ASSOCIATION ADS

Update your home with

beautiful new blinds &

shades. Free in-home

estimates make it

convenient to shop from

home. Professional

installation. Top quality -

Made in the USA. Free

consultation: 877-212-

7578. Ask about our

specials!

Employment

ASSOCIATION ADS

Aloe Care Health medical

alert system. Most

advanced medical alert

product on the market.

Voice-activated! No wi-fi

needed! Special offer

w/code CARE20 for $20

off Mobile Companion. 1-

855-341-5862

Directv Stream - Carries

the Most Local MLB

Games! CHOICE

Package, $89.99/mo for

12 months. Stream on 20

devices in your home at

once. HBOMax included

for 3 mos (w/CHOICE

Package or higher.) No

annual contract, no hidden

fees! Some restrictions

apply. Call IVS 1-866-629-

6086

Donate Your Car To

Veterans Today! Help and

Support our Veterans.

Fast - FREE pick up.

100% tax deductible. Call

1-800-245-0398

Put on your TVEars &

hear TV w/unmatched

clarity. TVEars Originaloriginally

$129.95 - now

w/this special offer only

$59.95 w/code MCB59! 1-

888-805-0840

advertise

YOUR DAY CARE

OR PRESCHOOL

Call Kathy at the

The Columbus Messenger

For More Info

614-272-5422

Preschool/Daycare

ADVERTISE

Your Fall Craft Show

Bazaar, or Bake Sale!

Call Kathy

614-272-5422

Craft Shows

ASSOCIATION ADS ASSOCIATION ADS ASSOCIATION ADS

ASSOCIATION ADS

Wesley Financial Group, The bathroom of your Vivint Smart Security.

AT&T Internet. Starting at

LLC Timeshare Cancellation

Experts Over $149/month! BCI Bath & One connected system for

1 TB of data/mo. Ask how

dreams for as little as Professionally installed.

$40/month w/12-mo agmt.

ASSOCIATION ADS $50,000,000 in timeshare Shower. Many options total peace of mind. Free

to bundle & SAVE! Geo &

debt & fees cancelled in available. Quality professional installation!

svc restrictions apply. 1-

Aloe Care Health, medical

2019. Get free materials & professional Four free moNths of

855-364-3948

alert system. The most

informational package & installation. Senior & monitoring! Call to

advanced medical alert

SELL YOUR ANTIQUE

learn how to get rid of Military Discounts customize your system. 1-

product on the market.

OR CLASSIC CAR.

your timeshare! Free Available. Limited Time 833-841-0737

Voice-activated! No wi-fi

Advertise with us. You

consultations. Over 450 Offer - FREE virtual inhome

consultation now

needed! Special offer-call

Stroke & Cardiovascular

choose where you want

positive reviews. 888-965-

and mention offer code

disease are leading ASSOCIATION ADS to advertise. 800-450-

0363

and SAVE 15%! Call

CARE20 to get $20 off

causes of death according

6631 visit macnetonline.

DENTAL INSURANCE

Today! 1-877-540-2780

Safe Step. North

Mobile Companion. Call

the American Heart

America's #1 Walk-in Tub.

com for details.

today-1-877-728-4065 from Physicians Mutual Protect your home from Association. Screenings

Compreshensive lifetime VIAGRA and CIALIS

Insurance Company. pests safely and can provide peace of mind

Internet &WIFI Starts at

warranty. Top-of-the-line USERS! 50 Generic pills

Coverage for 350 plus affordablly. Pest, rodent, or early detection! Call

$49 Call us Today to Get

installation and service. SPECIAL $99.00. 100%

procedures. Real dental termite and mosquito Life Line Screening to

Started. Find High-Speed

Now featuring our FREE guaranteed. 24/7 CALL

insurance - NOT just a control. Call for a quote or schedule your screening.

Internet with Fiber Optic

shower package & $1600 NOW! 888-445-5928

discount plan. Do not wait! inspection today 844-394- Special offer - 5

Technology No Credit

off for a limited time! Hablamos Espanol

Call now! Get your FREE 9278

screenings for $149. 1-

Check, No SSN Required.

Financing available. Call

Dental Information Kit with

866-518-8391

Eliminate gutter cleaning

Call us Today 866-396-

DIAGNOSED WITH

Safe Step 1-833-356-1954

all the details! 1-877-553-

forever! LeafFilter, the

0515

LUNG CANCER? You The Generac PWRcell

1891

solar plus battery storage

system. Save mon-

BUYING CLASSIC CARS, most advanced debrisblocking

gutter protection.

may quliafy for a

HughesNet - Finally, superfast

internet no matter macnet#6258

ey, reduce reliance on

www.dental50plus.com/

TRUCKS, SUVs

substantial cash award -

**American and Foreign** Schedule a FREE

even with smoking history.

where you live. 25 Mbps

grid, prepare for outages

Any Condition. Buying LeafFilter estimate today.

Safe Step. North NO obligation! We've

just $59.99/mo! Unlimited

& power your home. Full

entire car collections. 20% off Entire Purchase.

America's #1 Walk-in Tub. recovered millions. Let us

Data is Here. Stream

installation services. $0

$$PAYING CA$H$$ Plus 10% Senior & Military

Compreshensive lifetime help!! Call 24/7, 1-888-

Video. Bundle TV &

down financing option.

Please call 717-577-8206 Discounts. Call 1-855-

warranty. Top-of-the-line 650-9135

Internet. Free Installation.

KRMiller1965@yahoo.com 791-1626

installation and service.

Request free no obligation

quote. Call 1-877- Vivint Smart Security. The Generac PWRcell, a

Call 866-499-0141

Now featuring our FREE

Discount air travel! Call

!!OLD GUITARS WANT- shower package & $1600

Flight Services for best

539-0299

Professionally installed. solar plus battery storage

ED!! GIBSON, FENDER, off for a limited time!

pricing on domestic &

system. SAVE money,

DISH TV $64.99 FOR 190 One connected system for

MARTIN, Etc. 1930's to Financing available. 1-

international flights inside

Channels + $14.95 High total peace of mind. FREE reduce your reliance on

1980's. TOP DOLLAR 855-417-1306

& from the US. Serving

Speed Internet. Free Installation,

Smart HD DVR Four FREE months of

professional installation! the grid, prepare for power

outages and power

PAID. CALL TOLL FREE

United, Delta, American &

Replace your roof with the

1-866-433-8277

Southwest &many more.

your home. Full installation

services available. $0

best lookng and longest

Included, Free Voice Remote.

Some restrictions

monitoring! Call now to

Become a Published

Free quote! Have travel

lasting material -- Steel

customize your system. 1-

Author. We want to Read

dates ready! 844-951- apply. Promo expires

Down Financing Option.

from Erie Metal Roofs!

855-870-2073

Your Book! Dorrance

2014

1/21/23. 1-866-479-1516

Request a FREE, no obligation,

quote today. Call

Three styles and multiple

Don't let the stairs limit

Publishing - Trusted by

Become a Published Elminate gutter cleaning your mobility! Discover

Authors Since 1920

colors available.

Author. We want to Read

1-866-783-0292

forever! LeafFilter, the most the ideal solution for

Book manuscript submissions Guaranteed to last a Your Book! Dorrance

DISH TV $64.99 for 190

advanced debris-blocking

gutter protection.

currently being reviewed. lifetime! Limited Time

anyone who struggles on

Publishing Trusted Since

Channels + $14.95 high

Comprehensive Services: Offer - $500 Discount + 1920 Consultation,

the stairs, is concerned

speed internet. FREE installation,

Smart HD DVR

Consultation, Production, Additional 10% off install Production, Promotion &

Schedule Free LeafFilter about a fall or wants to

Promotion and Distribution. Call (for military, health Distribution. Call for Free Estimate today. 20% off regain access to their included. Free Voice Remote.

Some Restrictions

for Your Free Author's Guide 1- workers & 1st responders) Author's Guide 1-877-729- Entire Purchase. 10% entire home. Call

866-482-1576 or visit Call Erie Metal Roofs: 1- 4998 or visit Senior & Military Discounts. AmeriGlide today! 1-844- apply. Promo Expires

http://dorranceinfo.com/macnet 855-338-4807

dorranceinfo.com/ads Call 1-833-610-1936 317-5246

1/21/23. 1-866-590-5561
---
www.colulmbusmessenger.com

xCome & Get It!

COME AND GET IT!

Need to Get Rid of Something Fast - Advertise It Here For FREE!

Deadlines are Mondays by Noon

Call For Publication Schedule 614-272-5422

FREE Garden Straw for gardens or bedding. Call for appointment for pickup.

Circle S Farms, 9015 London-Groveport Road, Grove City, 43123

Grove City - 614-878-7980

FREE - Metal from old camper frame, Need a truck to pickup..

CC - Obetz - 614-632-1013

Baby Grand Piano, Mahogany wood w/bench;

Futon Frame & Mattress w/suede-like cover, full size, gently used.

N/B - Grove City - 614-875-8860

FREE - Children's Wooden Play Set - Good Condition w/Sand Box under it, Step Ladder up

Slide to go down & a rope swing. Also separate Swing Set w/4 swings.

190 Inah Ave., Cols, 43228 near the Fire Dept.

West Columbus - 614-878-1930, ask for Linda

. Come and Get It! is a bi-weekly column that offers readers an opportunity to pass along

surplus building materials, furniture, electronic equipment, crafts, supplies, appliances,

plants or household goods to anybody who will come and get them - as long as they're

FREE. NO PETS! Just send us a brief note describing what you want to get rid of, along

with your name, address and phone number. Nonprofit organizations are welcome to

submit requests for donations of items.

Send information to The Columbus Messenger, Attention: Come and Get It, 3500

Sullivant Ave., Columbus, OH43204. Deadline is Mondays at NOON for following

Sunday's publication. Messenger Newspapers is not responsible for any complications

that may occur. Please contact us when items are gone. 272-5422

ASSOCIATION ADS

READER

ADVISORY

The National Trade Association

we belong to has

purchased the following

classifieds. Determining

the value of their service

or product is advised by

this publication. In order

to avoid misunderstandings,

some advertisers do

not offer "employment"

but rather supply the

readers with manuals, directories

and other materials

designed to help

their clients establish mail

order selling and other

businesses at home. Under

NO circumstance

should you send any

money in advance or give

the client your checking,

license ID or credit card

numbers. Also beware of

ads that claim to guarantee

loans regardless of

credit and note that if a

credit repair company

does business only over

the phone it's illegal to request

any money before

delivering its service. All

funds are based in US

dollars. Toll Free numbers

may or may not

reach Canada. Please

check with the Better

Business Bureau 614-

486-6336 or the Ohio Attorney

General's Consumer

Protection Section

614-466-4986 for more

information on the company

you are seeking to

do business with.

Come & Get It!

ASSOCIATION ADS

Dental Insurance -

Physicians Mutual Insurance

Comopany. Covers 350

procedures/ Real insurance -

not a discount plan. Get your

free dental info kit! 1-855-

.526-1060 www/dental50

plus.com/ads #6258

Paying top cash for men's

sportwatches! Rolex,

Breitling, Omega, Patek

Pillippe, Heuer, Daytona,

GMT, Submariner and

Speedmaster. Call 833-

603-3236

Prepare for power outages

today with a GENERAC

home standby generator.

$0 Money Down + Low

Monthly Payment Options.

Request a FREEQuote--

Call now before the next

power outage. 1-855-465-

7624

IMPORTANT

NOTICE

The following states: CA,

CT, FL, IA, IL, IN, KY,

LA, MD, ME, MI, MN,

NE, NC, NH, OH, OK,

SC, SD, TX, VT and WA

requires seller of certain

business opportunities to

register with each state

before selling. Call to

verify lawful registration

before you buy.

Thinking about installing

a new shower? American

Standard makes it

easy. FREE design consulation.

Enjoy your

shower again! Call 1-

833-769-0995 today to

see how you can save

$1,000 on installation, or

visit www.newshowerdeal.com/mac

Looking for auto insurance?

Find great deals

on the right auto insurance

to suit your needs.

Call today for a free

quote! 866-924-2397

ASSOCIATION ADS

Attention Viagra users:

Generic 100 mg blue pills

or generic 20 mg yellow

pills. Get 45 plus 5 free +

S/H. Call Today 1-877-

707-5518

WANTED!

MOTORCYCLES!

ANTIQUE AND CLASSIC.

Honda, Kawasaki, Suzuki,

Yamaha, Triumph, BSA

and other foreign models.

$$PAYING CA$H$$

717-577-8206

KRMiller1965@yahoo.com

Attention oxygen therapy

users! Inogen One G4 is

capable of full 24/7 oxygen

delivery. Only 2.8

pounds. Free info kit.

Call 877-929-9587

Prepare for power

outages today with a

GENERAC home standby

generator. $0 Down + Low

Monthly Pmt. Request a

free Quote. Call before the

next power outage: 1-855-

948-6176

Want Faster & Affordable

Internet? Get internet

service today with

Earthlink. Best internet &

WiFi Plans. Call us Today

to Get Started. Ask

about our specials! 866-

396-0515

NEED IRS RELIEF

$10K-$125K+ Get Fresh

Start or Forgiveness.

Call 1-877-705-1472

Monday through Friday

7am-5pm PST

READY TO BUY, SELL

OR RENT YOUR

VACATION HOME OR

HUNTING CAMP?

Advertise it here and in

neighboring publications.

We can help you. Contact

MACnet MEDIA @

800-450-6631 or visit our

site at MACnetOnline.

com

ASSOCIATION ADS

BATH & SHOWER UP-

DATES in as little as

ONE DAY! Affordable

prices - No payments for

18 months! Lifetime warranty

& professional installs.

Senior & Military

Discounts available. Call

855-761-1725

Protect your home w/home

security monitored by

ADT. Starting at $27.99/

mo. Get free equipment

bundle including keypad,

motion sensor, wireless

door & windows sensors.

833-719-1073

HELP WANTED

Hope UM Church in Canal

Winchester needs to hire

a new Choir Director and

Pianist (2 positions). If

interested, please call us

at 614-837-7548 or

email us at

hope.in.canal@gmail.com

Kings Kids Daycare

in Grove City is hiring Fun,

Loving Teachers for PT &

FT shifts. Please email

sarragc@outlook.com or

call 614-539-0349

DATED SALES

Crafters/Vemdors needed

FHHS Fall/Winter Craft

Show, Franklin Heights HS,

Sat. Dec. 3rd. Register

today! email for application

fhhsbazaar@gmail.com

PETS

HOMING PIGEONS

614-662-8655

WANT TO BUY

WE BUY JUNK CARS

Call anytime 614-774-6797

ANTIQUES

WANTED

Victrolas, Watches,

Clocks, Bookcases

Antiques, Furn.

Jeff 614-262-0676

or 614-783-2629

We Buy Cars & Trucks

$300-$3000.614-308-2626

We Buy Junk Cars &

Trucks. Highest Prices

Paid. 614-395-8775

MISC.

FOR SALE

Bariatric Rollator

500 lb Capacity, Lg. Seat,

Like New - $100

614-877-9453

Spring Free R769 Meium

Round Trampoline, 2 yrs

old, like new. $500 OBO -

Cash Only. 614-619-4038

BUSINESS

OPPORTUNITY

Snow Removal Accounts

avail. in Canal Winchester

area - Price Negotiable.

email for more info

SYNeeds@mail.com

CONDOMIUMS

Condo for Sale By Owner

4483 Greystone Village

Dr, Cols. 2 Bed/1.5 bath,

900 sq ft, att. 2 car gar.

Built in 1993. For details

visit: 4483greystone.com.

OPEN HOUSE

Oct. 29, 2-4 pm.

Written offers accepted

until Nov. 7, 2022

October 16, 2022 - SOUTH MESSENGER - PAGE 15

xClassified Services

BLACKTOP

BLACKTOP SEALING

Driveways & Parking Lots

614-875-7588

SANTIAGO'S

Sealcoating & Services LLC

Quality Materials Used

FALL IS HERE!

Driveway Seal & Repair!

Top Seal Cracks!

Residential & Commercial

Mulching, Edging & Clean-ups

"Ask for whatever you need."

BBB Accredited-Fully Insured

Call or text for Free Est.

614-649-1200

AGM OHIO

ROOFING &

SEALCOATING

Free Estimates

Cell 614-599-0262

CARPET SALES

CARPET

Gray Saxony

270 sq.ft. w/6 lb Pad

$398.00

Other Carpet AvailableA

Phone or text Ray

740-927-3504

Delivery & Inst. avail.

CLEANING

Looking for Mrs. Clean?

For excellent cleaning serv

at reas. rates w/great refs,

dependable. 10% Seniorr

Disc. Also does Painting. Free

Est. Gwen 614-226-5229

DEEP CLEANING &

WALL WASHING

Call Judy 614-746-0273

CONCRETE

11/6

A/M

AJ's Concrete,

Masonry

Good Work - Fair Prices

Block Foundations

Driveways • Sidewalks

Epoxy/Overlay Floors

Bonded-Ins. • Free Ests.

614-419-9932

www.hastingsnsons.com

Driveways & Extensions

Patio & Walkways,

Porches & Steps,

Garage/Basement Floors

Hot Tub/Shed Pads,

Stamped/colored concrete

Sealing of new &

existing concrete.

FREE ESTIMATES

Contact Adam

614-756-1754

hastingsandsons.

columbus@gmail.com

EDDIE MOORE

CONSTRUCTION

Quality Concrete Work

Lt. Hauling & Room Add.,

Block Work & Excavation

Stamp Patios,

Bsmt. Wall Restoration

35 Yrs Exp - Lic & Ins.

Free Ests. 614-871-3834

ALL-CITY CUSTOM

CONCRETE

All Types Concrete Work

New or Tear Out-Replace

40 Yrs. Exp.

(614) 207-5430

Owner is On The Job!

10/23 e/se

10/23 A

GUTTERS

Bates & Sons

GUTTER CLEANING

5 ★ Google Reviews

614-586-3417

HAULING

DEAN'S HAULING

614-276-1958

HEATING

HEATING

Complete System Clean & Check

$49.95

Free Carbon

Monoxide Testing

Gas-Oil-Electric Heat/Pumps

All Makes • All Models

46 yrs exp. • Sr. Discount

614-351-9025

HEATING & COOLING

HVAC

HEATING & A/C

Fast Service - Licensed

614-633-9694

HOME

IMPROVEMENTS

C&JHandyman

Services LLC

Minor Plumbing & Electric

Install Hot Water Tanks,

Dishwashers & Disposals

All Interior Remodels

Also Fencing &

Interior/Exterior Painting

Free Est. ~ 18 Yrs. Exp.

CDC/EPA Approved Guidelines

614-284-2100

SINCE 1973

Phil Bolon Contr.

Windows & Siding

Decks, Kitchens, Baths

Room Additions,

Flooring, Roofing

Bsmt Waterproofing

Deal With Small Non-Pressure Co.

47 Yrs. Exp. - Refs. Avail.

Lic.-Bond-Ins.

10/23

A/M

Free Est. - Financing Avail.

Member BBB Of Cent. OH

O.C.I.E.B. ID #24273

614-419-3977

or 614-863-9912

KLAUSMAN HOME

IMPROVEMENT

Siding-Windows-

Doors-Roofing-Soffit-

Fascia-Gutters-Trim

Earn FREE Seamless

Gutters with Siding Over

1000 Sq. Ft.

FREE Shutters with

Soffit & Trim

EPA Certified

Member of BBB

Financing Available

Over 20 yrs exp. • Free Est.

Licensed-Bonded-Insured

Owner & Operator

James 614-419-7500

10/23 A

11/6 A

11/6 A

HOME

MAINTENANCE

HANDYMAN SERVICES

614-235-1819

HOME

REMODELING

Charlies Handyman

Service

Over 40 yrs. exp.

Hot Water Tanks

Door Locks

Kitchen/Bath Remodels

Roofing * Siding

Porches & Decks

614-319-6010

blantoncharles894@gmail.com

MultiCraft Const.

& Handyman Services

All Types Handyman Services:

Decks, Fences

Kitchen/Baths

Window/doors installed

Interior Painting

Drywall Repairs

All Types of Flooring

Call/Text 614-774-2923

multicraftconstruction@gmail.com

LANDSCAPING

A-1 QUALITY

TREE & LANDSCAPE

Family Owned

Serving Central Ohio

Since 2004

Bed & Yard Maint.

Weeding, Mulching, etc.

Hedge/Shrub Trimming

*Stump Removal

614-596-9504

Insured - Free Est.

LAWN CARE

MANNY'S LANDSCAPE

FALL CLEANUP

Free Estimates

,Mulching, Trees Removed,

Call 614-378-1237

The Lawn Barber

Cut, Trim, Blow away

Hedge Trimming, Edging

614-935-1466

LET US MAINTAIN

YOUR LAWN & GARDEN

FOR YOU

Summer, Spring,

Winter or Fall

WE DO IT ALL!!!!

Lawn Cuts, Edging,

Trees & Shrubs, Garden,

Mulching, Hauling,

Garden Pond &

Home Maint.

Free Ests. Low Rates

$20 & Up

Kevin - 614-905-3117

PAINTING

Painter Over 30 Yrs. Exp.

Free Est. Reas. Rates

Daniel - 614-226-4221

PLASTERING

DRYW

YWALL &

PLASTER

10/23

A&M

REPAIR

Textured Ceilings

614-551-6963

Residential/Commercial

BIA

Classified Services

10/23 A

PLUMBING

All About Drains & Plumb.

Will snake any small drain

$145. 614-778-2584

MYERS

PLUMBING

Exp. Expert Plumbing

New Const. & Fast Repairs

Lic. - Permit Available

Water • Sewer • Gas

614-633-9694

CHRIS'

PLUMBING

"Plumbing & Drain Professional

That You Can Count On"

24 Hrs., 7 Days/Week

No Overtime Charges

24 Yrs. Exp. in Plumbing &

Drain Cleaning Field

Call For A Free Phone Estimate

$100.00 For Any Small Drain

614-622-4482

30% OFF with AD

POOL/SPA

MAINTENANCE

K&L Spa Cleaning

Hot Tub Cleaning and

Weekly Maintenance

Keith 614-316-9809

POWERWASHING

Bates & Sons

Soft Wash & Powerwash

5 ★ Google Reviews

614-586-3417

MRS. POWERWASH

Any house wash $149+tax

Single deck $69+tax

2 Tier deck $99+tax

Best Wash in Town

Over 45,000 washes

Ashley 614-771-3892

SEWING MACHINE

REPAIR

REPAIR all makes 24 hr.

service. Clean, oil, adjust

in your home. $49.95 all

work gtd. 614-890-5296

TREE SERVICES

BURNS TREE SERVICE

Trimming, Removal &

Stump Grinding.

614-584-2164

Warren Brewer Tree Service

• Tree Removal

• Tree Trimming 9/11

A&M

• Stump Grinding

• Bucket Truck Services

Best Prices • Same Day Service

614-878-2568

A-1 QUALITY

TREE & LANDSCAPE

Family Owned

Serving Central Ohio

Since 2004

614-596-9504

Insured - Free Est.

10/235 A&M

10/23 A&M

11/6 A
---
PAGE 16 - SOUTH MESSENGER - October 16, 2022

www.columbusmessenger.com