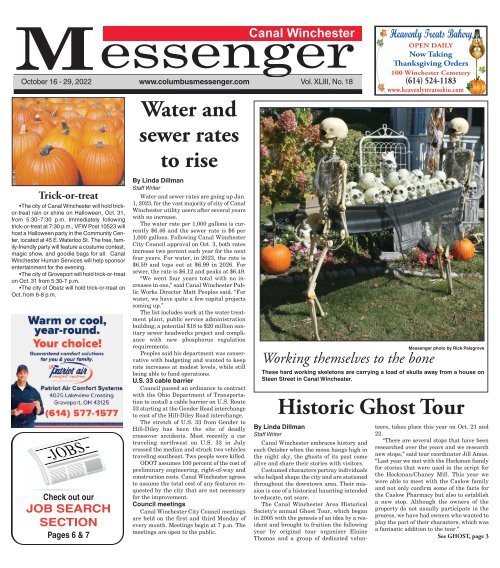 Canal Winchester Messenger - October 16th, 2022
You also want an ePaper? Increase the reach of your titles
YUMPU automatically turns print PDFs into web optimized ePapers that Google loves.
Messenger

Canal Winchester

October 16 - 29, 2022 www.columbusmessenger.com Vol. XLIII, No. 18

Water and

sewer rates

to rise

Heavenly Treats Bakery

OPEN DAILY

Now Taking

Thanksgiving Orders

100 Winchester Cemetery

(614) 524-1183

www.heavenlytreatsohio.com

Trick-or-treat

•The city of Canal Winchester will hold trickor-treat

rain or shine on Halloween, Oct. 31,

from 5:30–7:30 p.m. Immediately following

trick-or-treat at 7:30 p.m., VFW Post 10523 will

host a Halloween party in the Community Center,

located at 45 E. Waterloo St. The free, family-friendly

party will feature a costume contest,

magic show, and goodie bags for all. Canal

Winchester Human Services will help sponsor

entertainment for the evening.

•The city of Groveport will hold trick-or-treat

on Oct. 31 from 5:30-7 p.m.

•The city of Obetz will hold trick-or-treat on

Oct. from 6-8 p.m.

Check out our

JOB SEARCH

SECTION

Pages 6 & 7

By Linda Dillman

Staff Writer

Water and sewer rates are going up Jan.

1, 2023, for the vast majority of city of Canal

Winchester utility users after several years

with no increase.

The water rate per 1,000 gallons is currently

$6.46 and the sewer rate is $6 per

1,000 gallons. Following Canal Winchester

City Council approval on Oct. 3, both rates

increase two percent each year for the next

four years. For water, in 2023, the rate is

$6.59 and tops out at $6.99 in 2026. For

sewer, the rate is $6.12 and peaks at $6.49.

"We went four years total with no increases

in one," said Canal Winchester Public

Works Director Matt Peoples said. "For

water, we have quite a few capital projects

coming up."

The list includes work at the water treatment

plant, public service administration

building, a potential $18 to $20 million sanitary

sewer headworks project and compliance

with new phosphorus regulation

requirements.

Peoples said his department was conservative

with budgeting and wanted to keep

rate increases at modest levels, while still

being able to fund operations.

U.S. 33 cable barrier

Council passed an ordinance to contract

with the Ohio Department of Transportation

to install a cable barrier on U.S. Route

33 starting at the Gender Road interchange

to east of the Hill-Diley Road interchange.

The stretch of U.S. 33 from Gender to

Hill-Diley has been the site of deadly

crossover accidents. Most recently a car

traveling northwest on U.S. 33 in July

crossed the median and struck two vehicles

traveling southeast. Two people were killed.

ODOT assumes 100 percent of the cost of

preliminary engineering, right-of-way and

construction costs. Canal Winchester agrees

to assume the total cost of any features requested

by the city that are not necessary

for the improvement.

Council meetings

Canal Winchester City Council meetings

are held on the first and third Monday of

every month. Meetings begin at 7 p.m. The

meetings are open to the public.

Messenger photo by Rick Palsgrove

Working themselves to the bone

These hard working skeletons are carrying a load of skulls away from a house on

Steen Street in Canal Winchester.

Historic Ghost Tour

By Linda Dillman

Staff Writer

Canal Winchester embraces history and

each October when the moon hangs high in

the night sky, the ghosts of its past come

alive and share their stories with visitors.

Costumed characters portray individuals

who helped shape the city and are stationed

throughout the downtown area. Their mission

is one of a historical haunting intended

to educate, not scare.

The Canal Winchester Area Historical

Society's annual Ghost Tour, which began

in 2005 with the genesis of an idea by a resident

and brought to fruition the following

year by original tour organizer Elaine

Thomas and a group of dedicated volunteers,

takes place this year on Oct. 21 and

22.

"There are several stops that have been

researched over the years and we research

new stops," said tour coordinator Jill Amos.

"Last year we met with the Hockman family

for stories that were used in the script for

the Hockman/Chaney Mill. This year we

were able to meet with the Caslow family

and not only confirm some of the facts for

the Caslow Pharmacy but also to establish

a new stop. Although the owners of the

property do not usually participate in the

process, we have had owners who wanted to

play the part of their characters, which was

a fantastic addition to the tour."

See GHOST, page 3
---
PAGE 2 - CANAL WINCHESTER MESSENGER - October 16, 2022

Musical Recital Showcase

Hope United Methodist Church, 83 E. Columbus St., Canal Winchester,

will host The Otterbein University Music Department in a

Musical Recital Showcase on Oct. 30 at 2:30 p.m. The free event

will be followed by refreshments and a meet and greet.

The Gilmore Group

Office: 614-834-HOME (4663)

Cell: 614-774-4416

www.GilmoreGroupHomes.com

Call today and receive a

FREE SHOWER PACKAGE

PLUS $1600 OFF

SPECIAL OFFER

www.columbusmessenger.com

Chamber seeks support from city

By Linda Dillman

Staff Writer

Questions about an August request by the local

Chamber of Commerce for the city to provide financial

support for a new full-time position found Canal Winchester

City Council asking for more information before

making a final decision.

The chamber is asking for a three-year commitment

from the city. The total base salary, benefits, training,

etc. for the fulltime position is estimated at $64,160;

year two is $66,845; and year three is $68,580.

The chamber job would focus on strategic planning,

increasing membership and creating meaningful and intentional

training and certification opportunities for

members, while keeping membership costs and sponsorship

opportunities affordable for the business community.

The chamber hired a consultant on an initial 90-day

contract while working through funding opportunities

with the city.

"Nothing has changed in my opinion from the original

ask until now," said Councilwoman Jill Amos.

"There's still a lot of questions for me. I still don't think

we have the full picture of why the city needs to be responsible."

Councilman Bob Clark said he has concerns about

the financial request with the number of projects the

city is also considering, such as the police study and the

potential for adding more officers, McGill Park, and

street signage.

"I'm getting concerned about the money and this

(chamber request) could open up something we might

not want to go down," said Clark.

Council President Chuck Milliken said the potential

of allocating up to $68,000 might need to be negotiated.

"I do share your concern to some degree, but I would

like to see a thriving chamber," said Milliken. "How can

we play a part to make that happen while protecting the

interests of the city?"

Councilwoman Laurie Amick compared city support

of the Joint Recreation District with the chamber proposal,

calling the request "seed money" in getting the

chamber moving in the right direction for a brief period

of time.

However, Amos said the JRD, unlike the chamber,

has city representatives sitting on its board.

"We don't serve on the chamber," said Amos. "It's not

a committee or function of council. That's a big amount

of money we're asking our city residents to invest in."

Councilman Patrick Shea thinks the chamber and

Destination: Canal Winchester could be more effective

if both organizations joined forces.

"I think a good healthy chamber is good for our community,

but with the size of our community, having an

organization that serves both of those functions would

be worth looking at," said Shea.

Amick thinks the missions of the two organizations

are different and believes it would be appropriate for

chamber representatives to answer that question for

themselves in a future discussion.

While council held their first reading of the financial

support ordinance on Oct. 3, the legislation can be

amended before a final vote is taken.

1-855-517-1892

With purchase of a new Safe Step Walk-In Tub. Not applicable with any previous

walk-in tub purchase. Offer available while supplies last. No cash value. Must present

offer at time of purchase. CSLB 1082165 NSCB 0082999 0083445

Journey ends short of goal

According to the Ohio Division of Wildlife, in August, State

Wildlife Officer Jeff Berry, assigned to Muskingum County, was patrolling

the Muskingum River near Duncan Falls when he noticed

two boats and a kayak on the side of the river. He stopped to talk

to four individuals who were there with one of the boats. They were

a family from Loudonville. They explained that they had started on

the Mohican River in Loudonville and were travelling to Baton

Rouge, Louisiana, 1,500 miles away.

They were 13 days into their trip and had traveled approximately

110 miles. Officer Berry assisted the family in shoving off

from the shore as they departed. He recently checked in with the

family on their adventure. They had traveled 850 miles in 36 days,

but their journey ended when they had boat motor issues. The family

shared that some of their highlights were fishing, watching ospreys

catch softshell turtles, and hearing bald eagles chattering at

night.

PROVIDING MORE SINCE '94

614-836-9119

Give us a call

to schedule your

appointment today.

Service & Installation

Residential & Commercial

FRANKLINHEATING.COM

OH LICENSE #20692

Drug Take Back Day

The city of Canal Winchester and Diley

Ridge Medical Center, in cooperation with

the Fairfield County Sheriff's Office and the

Drug Enforcement Administration, will host

a National Prescription Drug Take Back

event on Oct. 29 at the Diley Ridge Medical

Center parking lot, 7911 Diley Road, from

10 a.m. to 2 p.m.

The National Prescription Drug Take

Back Day aims to provide a safe, convenient,

and responsible means of disposing of

prescription drugs, while also educating the

public about the potential for abuse of medications.

Since 2010, DEA, along with its

law enforcement partners, has collected

nearly 16 million pounds of unneeded prescription

medications. Canal Winchester's

collection site is set up in a convenient stop

and drop model, allowing those discarding

unwanted prescription drugs to remain in

their vehicles, drop medications with collection

agents, and continue on their way.

Note that collectors may only accept pills.

Liquids (including inhalers and their refills),

as well as needles or sharps, may not

be dropped off. The service is free and

anonymous; no questions asked.

Visit www.DEATakeBack.com for a list

of additional collection sites in other communities.

CW school board meetings

The Canal Winchester Board of Education

meets on the third Monday of each

month at 7 p.m. in the Canal Winchester

Education Center, 100 Washington St. on

the second floor in room 204/206. The public

is welcome to attend.
---
www.columbusmessenger.com October 16, 2022 - CANAL WINCHESTER MESSENGER - PAGE 3

GHOST

Continued from page 1

Before the first tour stepped off in

2006–led by lantern-carrying guides–

countless hours were spent on securing

sites and delving into the society's archives

by Jeanette Schneider and Judy Fleming

in researching potential tour stops.

Readying the inaugural event involved

planning on many levels and in areas unfamiliar

to historical society volunteers,

such as publicity, ticketing and tour logistics.

And while problems occasionally pop

up–in the first year, two actors on opposite

sides of the street thought the tour was

over, changed clothes and started to leave

(one was eventually flagged down, changed

back into period dress and made it back in time for the

next group) or church doors that do not open–visitors

are rarely aware of any glitches.

Actors are now notified when the last group passes

their stop by a simple system of forward and reverse

cards given to them by the last tour guides.

In 2019, students from the Canal Winchester performing

arts department started participating in the

ghost tour as teen volunteers and historical characters

and now hone their performances in the weeks leading

up to the tour.

"This is the third year that the drama team has partnered

with us," said Amos. "They usually have about 10

to 15 students participating in the tour and they are incredible.

They bring a lot of energy to the tour. We start

meeting with Director Abbey Phillips in March to start

setting the stops, seeing what new stops we want to research

and creating our plan for the year."

Once locations are determined, previous

scripts are updated and rewritten and new

scripts are created, as necessary.

Amos said, in working with the drama

department students, the historical society

created a number of smaller, additional

stops or run-ons along the way, which help

break up the walking portion of the tour.

"The potential for ad-libbing is totally

up to the character," said Amos. "We provide

them with a researched script and ask

that they stick to the facts since we are a

history based tour, but I do know that

some of our characters are very interactive

with the guests and ask questions or talk

with them."

The rain or shine walking tour of seven stops takes

place Oct. 21 and 22. Tours last approximately 90 minutes

and begin at 7 p.m. with a new tour departing

every 15 minutes.

Tours starts from the historical complex located at

10 W. Oak St.

Tickets may be purchased at the Queen of the Line

Train Depot beginning at 6:30 p.m. with the last tour

departing at 7:30 p.m.

Ticket prices have not changed since 2006 and are

still $10 for adults and $5 for students, ages 6-18. Children

under age 5 are free. A bus tour runs Friday night

and has limited seating. Tickets must be purchased in

advance for the bus tour. For more information, visit

www.cwhistory.org.

"This is a great partnership that shares some of the

great history of our amazing city," said Amos. "Today's

memories are tomorrow's history."

Bed Tax Grant Program

The city of Canal Winchester is accepting applications for its

2023 Transient Occupancy Tax (Bed Tax) Grant Program.

The grant program is open to non-profits or private organizations

located within the city of Canal Winchester to help fund projects to

enhance Canal Winchester for residents and/or visitors to the community.

Grants are funded with the hotel/motel tax revenue collected

by the city of Canal Winchester.

Canal Winchester has levied a 6 percent transient occupancy tax

(bed tax) that is imposed when lodging is furnished to transient

guests by a hotel, motel, or similar business. One half (3 percent)

of this tax is contributed to Destination: Canal Winchester, the designated

visitors and convention bureau for Canal Winchester. The

second half of the tax is designated to fund the annual Bed Tax

Grant Program.

Grant applications are competitively reviewed and awards will

be made to those projects meeting all requirements and the intent

of the program. Grant applications are available on the city's website.

Completed applications must be submitted by mail or email to

the attention of the finance director no later than Nov. 30. Canal

Winchester City Council will make award determinations in December.

Award checks will be drawn in early 2023 and all awards

must be used within the 2023 calendar year. Questions regarding

the grant program or application process should be directed to

Amanda Jackson, finance director, city of Canal Winchester at 614-

837-6937 or ajackson@canalwinchesterohio.gov.

Hopeful Hearts

Hope United Methodist Church, 83 E. Columbus St., Canal Winchester,

will hold its monthly giveaway of clothing for children in

sizes infant to five. It is open the third Saturday of each month.

They also accept donations of the same sizes and any children's

items in good repair. Donations can be left at our side door beside

the parking For information call 614-837-7548 or email us at

hope.in.canal@gmail.com.

EXPANDING OUR MAIN LOCATION

(Closed our Restaurant)

Biggest Seafood Sale Ever!!!!

• Flounder....................10 Lb. Froz....................$4.99 Lb.

• Homemade Crab Cakes.........3 Oz..............$6.00 Ea.

• Salmon (Skin On)..........................................$10.59 Lb.

• Fresh Black Grouper Fillets............................$9.00 Lb.

WE ACCEPT

All Major Credit Cards

EBT Cards (SNAP)

• Fresh Sword Fish Steak...................................$9.99 Lb.

• King Crab Legs.....(2 Lb. Bag)..............................$74.99

• Snow Crab Legs....(2 Lb. Bag)......$34.99 (8-10 Clusters)

Oyster Season is Coming!

IF IT SWIMS - WE SELL IT!!!

WE ACCEPT All Major Credit Cards EBT Cards (SNAP)
---
PAGE 4 - CANAL WINCHESTER MESSENGER - October 16, 2022

Letters policy

The Messenger welcomes letters to the editor.

Letters cannot be libelous. Letters that do

not have a signature, address, and telephone

number, or are signed with a pseudonym, will

be rejected. PLEASE BE BRIEF AND TO

THE POINT. The Messenger reserves the

right to edit or refuse publication of any letter

for any reason. Opinions expressed in the letters

are not necessarily the views of the Messenger.

Mail letters to: Canal Winchester

Messenger, 3500 Sullivant Avenue, Columbus,

OH 43204; or email southeast@columbusmessenger.com.

Keep tabs on the news

in Canal Winchester

Look for CW Messenger on

Become a fan!

eastside

Messenger

(Distribution: 6,500)

Rick Palsgrove........................Canal Winchester Editor

southeast@columbusmessenger.com

Published every other Sunday by

The Columbus Messenger Co.

3500 Sullivant Ave., Columbus, Ohio 43204-1887

(614) 272-5422

No matter where you are on life's journey,

you're welcome at

DAVID'S UNITED CHURCH OF CHRIST

80 W. Columbus St., Canal Winchester

614-837-7734 www.davidsucc.net

10 a.m.-Worship Service

10:15 a.m. - Sunday School

Please join us October 31

from 5:30 to 7:30 p.m.

in our parking lot for our

TRUNK-OR-TREAT

Be a Part of Our Local Worship Guide

Our Worship Guide is geared toward celebrating faith and helping readers

connect with religious resources in our community. Make sure these readers

know how you can help with a presence in this very special section distributed to

more than 19,000 households in the South/Canal Winchester area.

Contact us today to secure your spot in our Worship Guide.

614.272.5422 • kathy@columbusmessenger.com

Canal Winchester

Messenger

Library School Help Centers

The Columbus Metropolitan Library's

School Help Centers for grades K-12 are

open with staff and volunteers are ready to

help.

These after-school spaces give your students

access to technology, resources and

the library's catalog of books and materials.

Visit columbuslibrary.org/school-help for

information. Hours vary by location. Local

library School Help Centers are:

•Southeast Branch, 3980 S. Hamilton

Road, Groveport. Monday-Thursday from 4-

7 p.m. and Friday from 3-6 p.m.

•Canal Winchester Branch, 115

Franklin St., Canal Winchester. Monday-

Thursday from 3:30-6:30 p.m. and Friday

from 3-6 p.m.

Area libraries

•The Canal Winchester Branch of the

Columbus Metropolitan Library, 115

Franklin St., is located in the rear portion

of the former school at 100 Washington St.

For information visit www.columbuslibrary.org

or call 614-645-2275.

•Wagnalls Memorial Library is located

at 150 E. Columbus St., Lithopolis. For information

call (614) 837-4765 or visit

www.wagnalls.org.

•The Southeast Branch of the Columbus

Metropolitan Library is located at 3980 S.

Hamilton Road, Groveport. For information

visit www.columbuslibrary.org or call 614-

645-2275.

Please visit a

Canal Winchester

Church of your choice.

List your Worship

Services here.

For info. call 614-272-5422

Halloween trick-or-treat is an exciting and

special time when you are a kid.

It's a time when you can disguise yourself

and become someone or something else for a

few hours. You get to walk around the neighborhood

streets in that twilight time when

dusk settles in and shadows can become

whatever your imagination wants them to be.

Plus there is candy, lots of candy.

As a kid growing up in the 1950s and

1960s in Groveport, I have fond memories of

trick-or-treating. I liked seeing the sidewalks

filled with other kids in costume darting

about from house to house. I was awed by the

crazed faces of jack-o-lanterns lit by the dancing

flames of candlelight that beckoned to us

trick-o-treaters to front porches. It was fun to

be out adventuring in the forbidden dark - a

time one was normally safe at home.

I recall stopping by the old fire station on

College Street (now gone) and getting hot

dogs and doughnuts. Speaking of doughnuts,

there was one house that gave out doughnuts

and they even let you pick which doughnut

you wanted! They could probably afford to do

that back then because the town was much

smaller and there weren't as many of us kid

goblins showing up at the door.

We used paper grocery bags to collect our

treats, a haul that could include candy bars of

all kinds, as well as assorted other sugary delights,

but also popcorn balls.

In the days leading up to trick-or-treat, our

school classrooms and homes were adorned in

assorted orange and black Halloween decorations

and crepe paper. These decorations were

not cute, but instead tended to have a scary

edge to their appearance in keeping with the

other worldly spirit of Halloween. These unusual

visages were great to look at and inspired

our imaginations.

Also in those days, while some kids did

have store bought costumes, most kids, with

the help of their parents, made their own costumes

from whatever

was at hand. That

being said, there are

still some kids today

who still create their

own costumes because

I have seen some great

ones at recent Halloween

trick-or-treats.

As for my costumes

when I was a kid, I remember

being a ghost

a couple of times -

which was an easy costume

as evidenced by

www.columbusmessenger.com

The simple fun of trick-or-treat

Photo courtesy of Eastland-

Fairfield Career Centers

Food drive

Editor's Notebook

Rick

Palsgrove

the "Peanuts" characters in the great Halloween

television show, "It's the Great Pumpkin

Charlie Brown." Probably my favorite

costume was when my mom helped me put together

a Civil War era Union Army cavalryman

outfit. The Civil War centennial was

being remembered in the mid-1960s so it was

easy to find a cheap blue, felt fabric replica

Union Army hat. My mom then stitched a

stripe down the side length of the legs of a

pair of my blue jeans. We then added a small

black mask, a blue shirt, a toy sword and toy

gun and I was set. I was proud of that outfit.

I had hoped the stripe would remain on that

pair of blue jeans after Halloween, but mom

removed it the next day because those were

my good "school blue jeans."

So trick-or-treat is coming soon and today's

kids will form their own memories that they

will hold onto with fondness as the years go

by. It is simple fun, which is the best kind of

fun.

Rick Palsgrove is managing editor of the

Groveport Messenger.

On Aug. 30, the Fairfield

Career Center

chapter of the National

Technical Honor

Society was named a

2022 recipient of the

Silver Star of Excellence

Award by the

NTHS national organization.

This award is

presented to NTHS

chapters that distinguish

themselves through their consistent excellence in career-technical education

and is a reflection of their commitment to community service, chapter advancement,

and active civic involvement. During the past school year, Fairfield Career Center's

NTHS chapter has participated in philanthropic food drives, donut sales, and educational

activities. Their members collected approximately 3,000 boxed and canned

goods for a local food pantry during the 2021 holiday season. Additionally, last year's

members raised over $1,200 to be used for membership fees and educational field

trips that will benefit NTHS students during the 2022-23 school year.
---
www.columbusmessenger.com October 16, 2022 - CANAL WINCHESTER MESSENGER - PAGE 5

Get those skeletons out of your closets!

By Linda Dillman

Staff Writer

Skeletons are creeping their way across Canal Winchester,

but there is no need for alarm.

Destination: Canal Winchester is inviting bone-rattling

ghouls of every shape and size to take part in a skeleton decorating

contest where the community judges the contestants.

The event was inspired by a Facebook request and a

similar contest held by the organization for the past two

years ago.

"In the midst of all the COVID shutdowns in 2020, Destination:

Canal Winchester wanted to give people something

fun to do and at the same time possibly help the local

restaurants who had been greatly affected by the shutdowns,"

said Director Karen Stiles. "We knew that Fairfield

County had held their Tour of Scarecrows for a couple of

years, but much of Canal Winchester is in Franklin County,

so Destination: Canal Winchester so we held a Tour of

Scarecrows for Canal Winchester."

Prizes were awarded in four categories and each scarecrow

winner received an assortment of gift cards that could

be used at local restaurants. The same type of prizes will be

awarded for the 2022 skeleton competition.

"Though the restaurants were closed for dine-in, they

were open for pick-up, so our hope was this would encourage

the winners to order take-out from those restaurants," said

Stiles, who said the tour was conducted the following year

as well. "This year, a post on social media where members

were asking for a skeleton competition, was brought to our

attention, so we decided to go in that direction for 2022."

Contestants – residents, individuals, groups, organizations

and businesses in the 43110 zip code–are free to construct

their own skeleton or use pre-made ones, dressed up

Messenger photo by Linda Dillman

Destination: Canal Winchester is holding a skeleton

display contest.

and staged in a creative way. Judging categories include:

Largest, Funniest, Most Creative and Best Cemetery or Ensemble

Scene. Voting is done online through the Destination:

Canal Winchester website.

Participants must send a picture of their skeleton, including

the skeleton's name and location to info@destinationcw.org.

The location of each entry will be labeled on a

map posted on the organization's website so people know

where to go to view the skeleton.

Only those who submit their information to Destination:

Canal Winchester will be entered in the contest. Voting

ends on Oct. 24 and the winner will be announced on Halloween.

Those voting for a skeleton display may go to

https://www.destinationcw.org/fallFestival and enter the

display's name.

Contest rules include a minimum height of three feet and

a display consisting of a single skeleton or a gathering of

skeletons.

"You can use any materials you like to build your skeleton,

there are no restrictions," said Stiles. "All skeletons

(and display names) must be made and displayed in good

taste. Any entrant designing their skeletons to cause deliberate

offense will be disqualified. All skeletons must be displayed

so it is unnecessary for anyone to access your

property or business to view them. They must also be secured

in a manner that they will not blow away and not be

a danger or possibly cause injury to anyone. Owners are

held solely responsible for the safety and security of their

display."

When voting for an entry, Stiles asks the community to

look for skeleton displays with a little bit extra in the use

of materials, the way the skeleton(s) and/or other appropriate

themed characters are displayed or is an idea that really

catches the eye.

"Pictures will be posted on our Facebook page for those

who don't have time to drive around and look at the skeletons,"

said Stiles. "At the online voting site, the categories

will be listed and people will vote by entering the skeleton's

name in the appropriate category. We will again be giving

away packets of gift cards. Neighbors, co-workers and organizations

can come together and create an entry. As individuals

create entries, neighbors enjoy the displays.

Additionally, the prizes encourage participants to visit our

Canal Winchester businesses to use the gift cards."

ME DICARE A NNUAL

ELECTION P

Oct.

15 th

PERIOD (AEP)

Dec 7 th

Call today $0 consultatio

n $0

fee, local agent!

Over 16 years experience

with Medicare options

Offer

different major

carriers i n the area

Year

ear- rou und support for my

clients

Call or text me today to

schedule yo

our appt.

Terri

Curcio

614-460-0601

in your area. Please contact Medicaree

.gov or 1-800-MEDICARE to get information on all of
---
PAGE 6 - CANAL WINCHESTER MESSENGER - October 16, 2022

www.columbusmessenger.com
---
www.columbusmessenger.com October 16, 2022 - CANAL WINCHESTER MESSENGER - PAGE 7
---
PAGE 8 - CANAL WINCHESTER MESSENGER - October 16, 2022

Hinshaw named elementary counselor of the year

Beth Hinshaw, school counselor at Canal Winchester's

Indian Trail Elementary, was named the Ohio Elementary

Counselor of the Year by the Ohio School

Counselor Association at the annual All Ohio Counselors

Conference held Oct. 17-19 at the Columbus Convention

Center.

She has worked at Canal Winchester Schools for four

years and during that time has built a comprehensive

school counseling program to support all students in

their educational journeys.

"Mrs. Hinshaw has an amazing rapport with the students,

staff, parents, and community members," said Indian

Trail Principal Eric Riddle. "Her positive attitude,

engaging personality, compassion, and energy are just

a few characteristics that describe the accomplished

counselor Beth is. She always put the needs, and best

interests, of the students at the forefront of her decisionmaking."

Hinshaw excels at using data and research to develop

programs that foster strong engagement and connection

in her students. As a counselor, her role is to

support the educational growth of students by addressing

wellness and cwschools.org social-emotional health

needs through building-wide programs, training for

staff, and individual and small-group interventions.

"I feel so honored and humbled to be recognized for

doing the work that I love," said Hinshaw. "It is truly a

joy to partner with the educators and families in Canal

Winchester to provide the best learning environment for

all students."

During the COVID-19 pandemic, Hinshaw and other

staff developed the concept of individual regulation

boxes for students to use at home when they didn't have

access to the regulation tools they used at school. She

helped train homeroom teachers on the use of these

HINSHAW

tools so they could successfully implement their use during

online learning.

Hinshaw also oversees mentor programs at Indian

Trail called Guys and Ties and Girls and Pearls. Each

program connects students with adult mentors, including

staff, high school students, and community members.

During meetings and events, mentors help the

students develop leadership skills and positive skills.

Senior Services levy

www.columbusmessenger.com

Voters will decide on the proposed Franklin County Senior Services

levy renewal on Nov. 8.

The proposed five year tax levy renewal is for 1.75 mills, $0.175

per $100 of valuation, commencing in 2022. Officials state it is not

a tax increase.

The levy provides funding for Franklin County Senior Options

and its services designed to help seniors remain safely at home.

These services include meals-on-wheels, transportation to doctor

appointments, and emergency response buttons.

The existing senior services levy will expire at the end of 2022.

The senior levy is the main funding source for Senior Options programs.

GriefShare group

The GriefShare group will host a free event on Nov. 19 from 1-3

p.m., at the Groveport United Methodist Church, 512 Main St.,

Groveport. The Surviving the Holidays video seminar is for people

who are grieving a loved one's death. The seminar is combined with

support group discussion of the video. To register call the church

office at 614-836-5968 or sign up at https://www.griefshare.org/leaderzone/my/holiday_events/43294

Township Police statistics

September crime statistics from the Madison Township Police:

5 accidents with injuries, 9 animal complaints, 4 assaults, 77 patrol

security checks at Brobst Park, 3 burglary, 27 domestic complaints,

1 driving under the influence OVI, 2 fireworks complaints, 7 hit

skip accidents, 29 juvenile complaints, 19 larceny/theft, 2 missing

persons, 31 parking violations, 14 property damage accidents, 2

rapes, 2 shots fired in area, 3 stolen vehicles, 2 suicide/suicide

threat, 2 suspicious cars, 34 suspicious persons, 17 suspicious persons/vehicles,

11 threats or harassment, 108 traffic stops, 9 vandalism.

FALL IN LOV VE WITH

E

CHECK

KING

CHOI ICE

Telhio' elhio's Choic e Checking featur

es Early Deposit,

• ID Th heft Assistance

• Discounts at S

• Road dside Assistance • Cell Phone Pro

OPEN YOUR ACCOUNT TODAY AT TELHIO.

ORG $

Telhio is open to anyone who lives s, w orks, worships, or goes to school in Central and Southwest Ohio. Federally Insured b

y NCUA. EqualHousing Lender. Early Dir

ect Deposit

is free to all members. Enrollment is automatic and is available only to personal checking acc

ounts. You must contact us to opt out of this service. We cannot guarantee early

availability of any direct de posit you receive. Please see our Funds Availability Policy Disclosure for additional details. Membership eligibility requirements apply.

614-221-3233
---
www.columbusmessenger.com October 16, 2022 - CANAL WINCHESTER MESSENGER - PAGE 9

Veterans Day in CW

The city of Canal Winchester, with VFW

Post 10523, will host a Veterans Day Celebration

on Nov. 12. The public is invited to

join veterans, local leaders, and distinguished

guests for this annual patriotic

event set in the heart of historic downtown

Canal Winchester.

The day begins with a Pancake Breakfast

from 8:30-10 a.m. for veterans and their

families at the CW Community Center, 45

E. Waterloo St.

The breakfast will be served by volunteers

from Canal Winchester Senior Citizens

Club, with food arrangements by the

family of the late Fred Bivens, U.S. Air

Force veteran and long-time club member.

A Veterans March will begin at the Community

Center's Waterloo Street entrance

at 10 a.m. and make its way through the

city's flag-lined downtown streets. Veterans

will travel west along East Waterloo Street,

turn south onto South High Street, fare

right on to West Columbus Street, and making

another right on to Warehouse Alley to

end at the greenspace of Stradley Place at

30 S. High St., where a traditional Veterans

Day ceremony will be held. The ceremony

will begin immediately following the march.

Veterans marching through the city's

historic downtown will be joined by several

military vehicles provided by Motts Military

Museum from Groveport. The ceremony will

include remarks from Canal Winchester

Mayor Mike Ebert and VFW Post 10523

Commander Rick Williams, as well as a patriotic

keynote address. Other highlights

will include a special performance of the National

Anthem by Councilman Mike Walker,

patriotic selections by CWHS Select Vocal

Ensemble, a 21 Gun Salute, and the playing

of Taps.

During October, event organizers request

submissions of veteran photos to be included

in an honorary digital exhibit at City Hall

and during the Nov.12 celebration.

Photos previously submitted to Community

Affairs office will be exhibited again

and do not need to be resubmitted this year.

Photo submissions should be copies of an

original photo, show veterans or active military

personnel in uniform and include the

following information: name, branch of service,

service dates or number of years served,

and a phone number or email address for

any follow-up questions.

Photos can be mailed to the Community

Affairs Office at 45 E. Waterloo St. Submissions

may also be submitted electronically

on the city's website or emailed to

hwoodruff@canalwinchesterohio.gov. Submit

photos by Nov. 1 for inclusion.

Visit www.canalwinchesterohio.gov or

call 614-834-9915 for information.

Barber Museum

The National Barber Museum in Canal

Winchester is located at 135 Franklin St.

(behind the former CW High School building).

The museum, housed in approximately

5,000 square feet, showcases art, artifacts,

and memorabilia from decades of the barbering

profession. For information call(614)

837-8400.

Our Pictorial Past by Rick Palsgrove

Photo courtesy of the Groveport Heritage Museum

CW interurban depot

This is a view of the Scioto Valley Traction Line (electric interurban

railway) station in Canal Winchester in 1907. The historic

station, which is located behind the businesses on

South High Street and near Stradley Park, recently underwent

restoration. The interurban was an electric railway that operated

throughout Central Ohio from 1904 to the 1930s.

We are the BEST community newspaper!

Need advertising?

Call 614-272-5422 today.

Messenger

Canal Winchester

BEST COMMUNITY NEWSPAPER in Canal Winchester

Pick-Up At These

Locations:

Walgreen's - Gender & Winchester Blvd.

BP Gas Station - Gender Rd. & Freeway

Aldi - Gender Rd. & Freeway (behind BP Station)

Kroger - Winchester Square

The Wigwam Restaurant - 4 South High St.

Marie Scramblers - 6402 Winchester Blvd.

Shade on the Canal - 19 South High St.

Canal Winchester Library - 115 Franklin St.

CW City Hall and Community Center – 45 E. Waterloo St.

Harvest Moon - 7 N. High St.

Rex Barber Shop - 1 W. Waterloo

Sunoco Gas Station - 501 W. Waterloo St.

Panera - 685 W. Waterloo St.

READ US ONLINE: www.columbusmessenger.com

Messenger

Canal Winchester
---
PAGE 10- CANAL WINCHESTER MESSENGER - October 16, 2022

www.columbusmessenger.com

CLASSIFIED ADS

Deadlines: Grove City, Groveport & All editions - Mondays at Noon.

West, Canal Winchester, South & Madison editions -Tuesdays at 5 p.m.

xEmployment xPreschool/Daycare

xCraft Shows

DO YOU NEED

SEASONAL EMPLOYEES?

Call KATHY to ADVERTISE

and reach over 35,000 homes in the

South/Canal Winchester & Groveport Messengers

614-272-5422

kathy@columbusmessenger.com

INFORMATION

NEED

SOMETHING

DONE THIS

FALL?

CHECK OUT OUR

CLASSIFIED

SERVICES!

FOR

ADVERTISING

INFO. CALL

(614) 272-5422

THE COLUMBUS

MESSENGER

ASSOCIATION ADS

Update your home with

beautiful new blinds &

shades. Free in-home

estimates make it

convenient to shop from

home. Professional

installation. Top quality -

Made in the USA. Free

consultation: 877-212-

7578. Ask about our

specials!

Employment

ASSOCIATION ADS

Aloe Care Health medical

alert system. Most

advanced medical alert

product on the market.

Voice-activated! No wi-fi

needed! Special offer

w/code CARE20 for $20

off Mobile Companion. 1-

855-341-5862

Directv Stream - Carries

the Most Local MLB

Games! CHOICE

Package, $89.99/mo for

12 months. Stream on 20

devices in your home at

once. HBOMax included

for 3 mos (w/CHOICE

Package or higher.) No

annual contract, no hidden

fees! Some restrictions

apply. Call IVS 1-866-629-

6086

Donate Your Car To

Veterans Today! Help and

Support our Veterans.

Fast - FREE pick up.

100% tax deductible. Call

1-800-245-0398

Put on your TVEars &

hear TV w/unmatched

clarity. TVEars Originaloriginally

$129.95 - now

w/this special offer only

$59.95 w/code MCB59! 1-

888-805-0840

advertise

YOUR DAY CARE

OR PRESCHOOL

Call Kathy at the

The Columbus Messenger

For More Info

614-272-5422

Preschool/Daycare

ADVERTISE

Your Fall Craft Show

Bazaar, or Bake Sale!

Call Kathy

614-272-5422

Craft Shows

ASSOCIATION ADS ASSOCIATION ADS ASSOCIATION ADS

ASSOCIATION ADS

Wesley Financial Group, The bathroom of your Vivint Smart Security.

AT&T Internet. Starting at

LLC Timeshare Cancellation

Experts Over $149/month! BCI Bath & One connected system for

1 TB of data/mo. Ask how

dreams for as little as Professionally installed.

$40/month w/12-mo agmt.

ASSOCIATION ADS $50,000,000 in timeshare Shower. Many options total peace of mind. Free

to bundle & SAVE! Geo &

debt & fees cancelled in available. Quality professional installation!

svc restrictions apply. 1-

Aloe Care Health, medical

2019. Get free materials & professional Four free moNths of

855-364-3948

alert system. The most

informational package & installation. Senior & monitoring! Call to

advanced medical alert

SELL YOUR ANTIQUE

learn how to get rid of Military Discounts customize your system. 1-

product on the market.

OR CLASSIC CAR.

your timeshare! Free Available. Limited Time 833-841-0737

Voice-activated! No wi-fi

Advertise with us. You

consultations. Over 450 Offer - FREE virtual inhome

consultation now

needed! Special offer-call

Stroke & Cardiovascular

choose where you want

positive reviews. 888-965-

and mention offer code

disease are leading ASSOCIATION ADS to advertise. 800-450-

0363

and SAVE 15%! Call

CARE20 to get $20 off

causes of death according

6631 visit macnetonline.

DENTAL INSURANCE

Today! 1-877-540-2780

Safe Step. North

Mobile Companion. Call

the American Heart

America's #1 Walk-in Tub.

com for details.

today-1-877-728-4065 from Physicians Mutual Protect your home from Association. Screenings

Compreshensive lifetime VIAGRA and CIALIS

Insurance Company. pests safely and can provide peace of mind

Internet &WIFI Starts at

warranty. Top-of-the-line USERS! 50 Generic pills

Coverage for 350 plus affordablly. Pest, rodent, or early detection! Call

$49 Call us Today to Get

installation and service. SPECIAL $99.00. 100%

procedures. Real dental termite and mosquito Life Line Screening to

Started. Find High-Speed

Now featuring our FREE guaranteed. 24/7 CALL

insurance - NOT just a control. Call for a quote or schedule your screening.

Internet with Fiber Optic

shower package & $1600 NOW! 888-445-5928

discount plan. Do not wait! inspection today 844-394- Special offer - 5

Technology No Credit

off for a limited time! Hablamos Espanol

Call now! Get your FREE 9278

screenings for $149. 1-

Check, No SSN Required.

Financing available. Call

Dental Information Kit with

866-518-8391

Eliminate gutter cleaning

Call us Today 866-396-

DIAGNOSED WITH

Safe Step 1-833-356-1954

all the details! 1-877-553-

forever! LeafFilter, the

0515

LUNG CANCER? You The Generac PWRcell

1891

solar plus battery storage

system. Save mon-

BUYING CLASSIC CARS, most advanced debrisblocking

gutter protection.

may quliafy for a

HughesNet - Finally, superfast

internet no matter macnet#6258

ey, reduce reliance on

www.dental50plus.com/

TRUCKS, SUVs

substantial cash award -

**American and Foreign** Schedule a FREE

even with smoking history.

where you live. 25 Mbps

grid, prepare for outages

Any Condition. Buying LeafFilter estimate today.

Safe Step. North NO obligation! We've

just $59.99/mo! Unlimited

& power your home. Full

entire car collections. 20% off Entire Purchase.

America's #1 Walk-in Tub. recovered millions. Let us

Data is Here. Stream

installation services. $0

$$PAYING CA$H$$ Plus 10% Senior & Military

Compreshensive lifetime help!! Call 24/7, 1-888-

Video. Bundle TV &

down financing option.

Please call 717-577-8206 Discounts. Call 1-855-

warranty. Top-of-the-line 650-9135

Internet. Free Installation.

KRMiller1965@yahoo.com 791-1626

installation and service.

Request free no obligation

quote. Call 1-877- Vivint Smart Security. The Generac PWRcell, a

Call 866-499-0141

Now featuring our FREE

Discount air travel! Call

!!OLD GUITARS WANT- shower package & $1600

Flight Services for best

539-0299

Professionally installed. solar plus battery storage

ED!! GIBSON, FENDER, off for a limited time!

pricing on domestic &

system. SAVE money,

DISH TV $64.99 FOR 190 One connected system for

MARTIN, Etc. 1930's to Financing available. 1-

international flights inside

Channels + $14.95 High total peace of mind. FREE reduce your reliance on

1980's. TOP DOLLAR 855-417-1306

& from the US. Serving

Speed Internet. Free Installation,

Smart HD DVR Four FREE months of

professional installation! the grid, prepare for power

outages and power

PAID. CALL TOLL FREE

United, Delta, American &

Replace your roof with the

1-866-433-8277

Southwest &many more.

your home. Full installation

services available. $0

best lookng and longest

Included, Free Voice Remote.

Some restrictions

monitoring! Call now to

Become a Published

Free quote! Have travel

lasting material -- Steel

customize your system. 1-

Author. We want to Read

dates ready! 844-951- apply. Promo expires

Down Financing Option.

from Erie Metal Roofs!

855-870-2073

Your Book! Dorrance

2014

1/21/23. 1-866-479-1516

Request a FREE, no obligation,

quote today. Call

Three styles and multiple

Don't let the stairs limit

Publishing - Trusted by

Become a Published Elminate gutter cleaning your mobility! Discover

Authors Since 1920

colors available.

Author. We want to Read

1-866-783-0292

forever! LeafFilter, the most the ideal solution for

Book manuscript submissions Guaranteed to last a Your Book! Dorrance

DISH TV $64.99 for 190

advanced debris-blocking

gutter protection.

currently being reviewed. lifetime! Limited Time

anyone who struggles on

Publishing Trusted Since

Channels + $14.95 high

Comprehensive Services: Offer - $500 Discount + 1920 Consultation,

the stairs, is concerned

speed internet. FREE installation,

Smart HD DVR

Consultation, Production, Additional 10% off install Production, Promotion &

Schedule Free LeafFilter about a fall or wants to

Promotion and Distribution. Call (for military, health Distribution. Call for Free Estimate today. 20% off regain access to their included. Free Voice Remote.

Some Restrictions

for Your Free Author's Guide 1- workers & 1st responders) Author's Guide 1-877-729- Entire Purchase. 10% entire home. Call

866-482-1576 or visit Call Erie Metal Roofs: 1- 4998 or visit Senior & Military Discounts. AmeriGlide today! 1-844- apply. Promo Expires

http://dorranceinfo.com/macnet 855-338-4807

dorranceinfo.com/ads Call 1-833-610-1936 317-5246

1/21/23. 1-866-590-5561
---
www.colulmbusmessenger.com

xCome & Get It!

COME AND GET IT!

Need to Get Rid of Something Fast - Advertise It Here For FREE!

Deadlines are Mondays by Noon

Call For Publication Schedule 614-272-5422

FREE Garden Straw for gardens or bedding. Call for appointment for pickup.

Circle S Farms, 9015 London-Groveport Road, Grove City, 43123

Grove City - 614-878-7980

FREE - Metal from old camper frame, Need a truck to pickup..

CC - Obetz - 614-632-1013

Baby Grand Piano, Mahogany wood w/bench;

Futon Frame & Mattress w/suede-like cover, full size, gently used.

N/B - Grove City - 614-875-8860

FREE - Children's Wooden Play Set - Good Condition w/Sand Box under it, Step Ladder up

Slide to go down & a rope swing. Also separate Swing Set w/4 swings.

190 Inah Ave., Cols, 43228 near the Fire Dept.

West Columbus - 614-878-1930, ask for Linda

. Come and Get It! is a bi-weekly column that offers readers an opportunity to pass along

surplus building materials, furniture, electronic equipment, crafts, supplies, appliances,

plants or household goods to anybody who will come and get them - as long as they're

FREE. NO PETS! Just send us a brief note describing what you want to get rid of, along

with your name, address and phone number. Nonprofit organizations are welcome to

submit requests for donations of items.

Send information to The Columbus Messenger, Attention: Come and Get It, 3500

Sullivant Ave., Columbus, OH43204. Deadline is Mondays at NOON for following

Sunday's publication. Messenger Newspapers is not responsible for any complications

that may occur. Please contact us when items are gone. 272-5422

ASSOCIATION ADS

READER

ADVISORY

The National Trade Association

we belong to has

purchased the following

classifieds. Determining

the value of their service

or product is advised by

this publication. In order

to avoid misunderstandings,

some advertisers do

not offer "employment"

but rather supply the

readers with manuals, directories

and other materials

designed to help

their clients establish mail

order selling and other

businesses at home. Under

NO circumstance

should you send any

money in advance or give

the client your checking,

license ID or credit card

numbers. Also beware of

ads that claim to guarantee

loans regardless of

credit and note that if a

credit repair company

does business only over

the phone it's illegal to request

any money before

delivering its service. All

funds are based in US

dollars. Toll Free numbers

may or may not

reach Canada. Please

check with the Better

Business Bureau 614-

486-6336 or the Ohio Attorney

General's Consumer

Protection Section

614-466-4986 for more

information on the company

you are seeking to

do business with.

Come & Get It!

ASSOCIATION ADS

Dental Insurance -

Physicians Mutual Insurance

Comopany. Covers 350

procedures/ Real insurance -

not a discount plan. Get your

free dental info kit! 1-855-

.526-1060 www/dental50

plus.com/ads #6258

Paying top cash for men's

sportwatches! Rolex,

Breitling, Omega, Patek

Pillippe, Heuer, Daytona,

GMT, Submariner and

Speedmaster. Call 833-

603-3236

Prepare for power outages

today with a GENERAC

home standby generator.

$0 Money Down + Low

Monthly Payment Options.

Request a FREEQuote--

Call now before the next

power outage. 1-855-465-

7624

IMPORTANT

NOTICE

The following states: CA,

CT, FL, IA, IL, IN, KY,

LA, MD, ME, MI, MN,

NE, NC, NH, OH, OK,

SC, SD, TX, VT and WA

requires seller of certain

business opportunities to

register with each state

before selling. Call to

verify lawful registration

before you buy.

Thinking about installing

a new shower? American

Standard makes it

easy. FREE design consulation.

Enjoy your

shower again! Call 1-

833-769-0995 today to

see how you can save

$1,000 on installation, or

visit www.newshowerdeal.com/mac

Looking for auto insurance?

Find great deals

on the right auto insurance

to suit your needs.

Call today for a free

quote! 866-924-2397

ASSOCIATION ADS

Attention Viagra users:

Generic 100 mg blue pills

or generic 20 mg yellow

pills. Get 45 plus 5 free +

S/H. Call Today 1-877-

707-5518

WANTED!

MOTORCYCLES!

ANTIQUE AND CLASSIC.

Honda, Kawasaki, Suzuki,

Yamaha, Triumph, BSA

and other foreign models.

$$PAYING CA$H$$

717-577-8206

KRMiller1965@yahoo.com

Attention oxygen therapy

users! Inogen One G4 is

capable of full 24/7 oxygen

delivery. Only 2.8

pounds. Free info kit.

Call 877-929-9587

Prepare for power

outages today with a

GENERAC home standby

generator. $0 Down + Low

Monthly Pmt. Request a

free Quote. Call before the

next power outage: 1-855-

948-6176

Want Faster & Affordable

Internet? Get internet

service today with

Earthlink. Best internet &

WiFi Plans. Call us Today

to Get Started. Ask

about our specials! 866-

396-0515

NEED IRS RELIEF

$10K-$125K+ Get Fresh

Start or Forgiveness.

Call 1-877-705-1472

Monday through Friday

7am-5pm PST

READY TO BUY, SELL

OR RENT YOUR

VACATION HOME OR

HUNTING CAMP?

Advertise it here and in

neighboring publications.

We can help you. Contact

MACnet MEDIA @

800-450-6631 or visit our

site at MACnetOnline.

com

ASSOCIATION ADS

BATH & SHOWER UP-

DATES in as little as

ONE DAY! Affordable

prices - No payments for

18 months! Lifetime warranty

& professional installs.

Senior & Military

Discounts available. Call

855-761-1725

Protect your home w/home

security monitored by

ADT. Starting at $27.99/

mo. Get free equipment

bundle including keypad,

motion sensor, wireless

door & windows sensors.

833-719-1073

HELP WANTED

Hope UM Church in Canal

Winchester needs to hire

a new Choir Director and

Pianist (2 positions). If

interested, please call us

at 614-837-7548 or

email us at

hope.in.canal@gmail.com

Kings Kids Daycare

in Grove City is hiring Fun,

Loving Teachers for PT &

FT shifts. Please email

sarragc@outlook.com or

call 614-539-0349

DATED SALES

Crafters/Vemdors needed

FHHS Fall/Winter Craft

Show, Franklin Heights HS,

Sat. Dec. 3rd. Register

today! email for application

fhhsbazaar@gmail.com

PETS

HOMING PIGEONS

614-662-8655

WANT TO BUY

WE BUY JUNK CARS

Call anytime 614-774-6797

ANTIQUES

WANTED

Victrolas, Watches,

Clocks, Bookcases

Antiques, Furn.

Jeff 614-262-0676

or 614-783-2629

We Buy Cars & Trucks

$300-$3000.614-308-2626

We Buy Junk Cars &

Trucks. Highest Prices

Paid. 614-395-8775

MISC.

FOR SALE

Bariatric Rollator

500 lb Capacity, Lg. Seat,

Like New - $100

614-877-9453

Spring Free R769 Meium

Round Trampoline, 2 yrs

old, like new. $500 OBO -

Cash Only. 614-619-4038

BUSINESS

OPPORTUNITY

Snow Removal Accounts

avail. in Canal Winchester

area - Price Negotiable.

email for more info

SYNeeds@mail.com

CONDOMIUMS

Condo for Sale By Owner

4483 Greystone Village

Dr, Cols. 2 Bed/1.5 bath,

900 sq ft, att. 2 car gar.

Built in 1993. For details

visit: 4483greystone.com.

OPEN HOUSE

Oct. 29, 2-4 pm.

Written offers accepted

until Nov. 7, 2022

October 16, 2022 - CANAL WINCHETER MESSENGER - PAGE 11

xClassified Services

BLACKTOP

BLACKTOP SEALING

Driveways & Parking Lots

614-875-7588

SANTIAGO'S

Sealcoating & Services LLC

Quality Materials Used

FALL IS HERE!

Driveway Seal & Repair!

Top Seal Cracks!

Residential & Commercial

Mulching, Edging & Clean-ups

"Ask for whatever you need."

BBB Accredited-Fully Insured

Call or text for Free Est.

614-649-1200

AGM OHIO

ROOFING &

SEALCOATING

Free Estimates

Cell 614-599-0262

CARPET SALES

CARPET

Gray Saxony

270 sq.ft. w/6 lb Pad

$398.00

Other Carpet AvailableA

Phone or text Ray

740-927-3504

Delivery & Inst. avail.

CLEANING

Looking for Mrs. Clean?

For excellent cleaning serv

at reas. rates w/great refs,

dependable. 10% Seniorr

Disc. Also does Painting. Free

Est. Gwen 614-226-5229

DEEP CLEANING &

WALL WASHING

Call Judy 614-746-0273

CONCRETE

11/6

A/M

AJ's Concrete,

Masonry

Good Work - Fair Prices

Block Foundations

Driveways • Sidewalks

Epoxy/Overlay Floors

Bonded-Ins. • Free Ests.

614-419-9932

www.hastingsnsons.com

Driveways & Extensions

Patio & Walkways,

Porches & Steps,

Garage/Basement Floors

Hot Tub/Shed Pads,

Stamped/colored concrete

Sealing of new &

existing concrete.

FREE ESTIMATES

Contact Adam

614-756-1754

hastingsandsons.

columbus@gmail.com

EDDIE MOORE

CONSTRUCTION

Quality Concrete Work

Lt. Hauling & Room Add.,

Block Work & Excavation

Stamp Patios,

Bsmt. Wall Restoration

35 Yrs Exp - Lic & Ins.

Free Ests. 614-871-3834

ALL-CITY CUSTOM

CONCRETE

All Types Concrete Work

New or Tear Out-Replace

40 Yrs. Exp.

(614) 207-5430

Owner is On The Job!

10/23 e/se

10/23 A

GUTTERS

Bates & Sons

GUTTER CLEANING

5 ★ Google Reviews

614-586-3417

HAULING

DEAN'S HAULING

614-276-1958

HEATING

HEATING

Complete System Clean & Check

$49.95

Free Carbon

Monoxide Testing

Gas-Oil-Electric Heat/Pumps

All Makes • All Models

46 yrs exp. • Sr. Discount

614-351-9025

HEATING & COOLING

HVAC

HEATING & A/C

Fast Service - Licensed

614-633-9694

HOME

IMPROVEMENTS

C&JHandyman

Services LLC

Minor Plumbing & Electric

Install Hot Water Tanks,

Dishwashers & Disposals

All Interior Remodels

Also Fencing &

Interior/Exterior Painting

Free Est. ~ 18 Yrs. Exp.

CDC/EPA Approved Guidelines

614-284-2100

SINCE 1973

Phil Bolon Contr.

Windows & Siding

Decks, Kitchens, Baths

Room Additions,

Flooring, Roofing

Bsmt Waterproofing

Deal With Small Non-Pressure Co.

47 Yrs. Exp. - Refs. Avail.

Lic.-Bond-Ins.

10/23

A/M

Free Est. - Financing Avail.

Member BBB Of Cent. OH

O.C.I.E.B. ID #24273

614-419-3977

or 614-863-9912

KLAUSMAN HOME

IMPROVEMENT

Siding-Windows-

Doors-Roofing-Soffit-

Fascia-Gutters-Trim

Earn FREE Seamless

Gutters with Siding Over

1000 Sq. Ft.

FREE Shutters with

Soffit & Trim

EPA Certified

Member of BBB

Financing Available

Over 20 yrs exp. • Free Est.

Licensed-Bonded-Insured

Owner & Operator

James 614-419-7500

10/23 A

11/6 A

11/6 A

HOME

MAINTENANCE

HANDYMAN SERVICES

614-235-1819

HOME

REMODELING

Charlies Handyman

Service

Over 40 yrs. exp.

Hot Water Tanks

Door Locks

Kitchen/Bath Remodels

Roofing * Siding

Porches & Decks

614-319-6010

blantoncharles894@gmail.com

MultiCraft Const.

& Handyman Services

All Types Handyman Services:

Decks, Fences

Kitchen/Baths

Window/doors installed

Interior Painting

Drywall Repairs

All Types of Flooring

Call/Text 614-774-2923

multicraftconstruction@gmail.com

LANDSCAPING

A-1 QUALITY

TREE & LANDSCAPE

Family Owned

Serving Central Ohio

Since 2004

Bed & Yard Maint.

Weeding, Mulching, etc.

Hedge/Shrub Trimming

*Stump Removal

614-596-9504

Insured - Free Est.

LAWN CARE

MANNY'S LANDSCAPE

FALL CLEANUP

Free Estimates

,Mulching, Trees Removed,

Call 614-378-1237

The Lawn Barber

Cut, Trim, Blow away

Hedge Trimming, Edging

614-935-1466

LET US MAINTAIN

YOUR LAWN & GARDEN

FOR YOU

Summer, Spring,

Winter or Fall

WE DO IT ALL!!!!

Lawn Cuts, Edging,

Trees & Shrubs, Garden,

Mulching, Hauling,

Garden Pond &

Home Maint.

Free Ests. Low Rates

$20 & Up

Kevin - 614-905-3117

PAINTING

Painter Over 30 Yrs. Exp.

Free Est. Reas. Rates

Daniel - 614-226-4221

PLASTERING

DRYW

YWALL &

PLASTER

10/23

A&M

REPAIR

Textured Ceilings

614-551-6963

Residential/Commercial

BIA

Classified Services

10/23 A

PLUMBING

All About Drains & Plumb.

Will snake any small drain

$145. 614-778-2584

MYERS

PLUMBING

Exp. Expert Plumbing

New Const. & Fast Repairs

Lic. - Permit Available

Water • Sewer • Gas

614-633-9694

CHRIS'

PLUMBING

"Plumbing & Drain Professional

That You Can Count On"

24 Hrs., 7 Days/Week

No Overtime Charges

24 Yrs. Exp. in Plumbing &

Drain Cleaning Field

Call For A Free Phone Estimate

$100.00 For Any Small Drain

614-622-4482

30% OFF with AD

POOL/SPA

MAINTENANCE

K&L Spa Cleaning

Hot Tub Cleaning and

Weekly Maintenance

Keith 614-316-9809

POWERWASHING

Bates & Sons

Soft Wash & Powerwash

5 ★ Google Reviews

614-586-3417

MRS. POWERWASH

Any house wash $149+tax

Single deck $69+tax

2 Tier deck $99+tax

Best Wash in Town

Over 45,000 washes

Ashley 614-771-3892

SEWING MACHINE

REPAIR

REPAIR all makes 24 hr.

service. Clean, oil, adjust

in your home. $49.95 all

work gtd. 614-890-5296

TREE SERVICES

BURNS TREE SERVICE

Trimming, Removal &

Stump Grinding.

614-584-2164

Warren Brewer Tree Service

• Tree Removal

• Tree Trimming 9/11

A&M

• Stump Grinding

• Bucket Truck Services

Best Prices • Same Day Service

614-878-2568

A-1 QUALITY

TREE & LANDSCAPE

Family Owned

Serving Central Ohio

Since 2004

614-596-9504

Insured - Free Est.

10/235 A&M

10/23 A&M

11/6 A
---
PAGE 12 - CANAL WINCHESTER MESSENGER - October 16, 2022

www.columbusmessenger.com

Next Community Plan workshop set for Nov. 9 & 10

The city of Canal Winchester is creating

a new Community Plan — a long-range guiding

policy document that will provide a vision

for future development in the city.

The Community Plan will address topics

including land use, community character,

housing, transportation, natural resources,

public services, and economic development.

The plan is being developed through a series

of collaborative Community Workshops,

at which Canal Winchester residents, business

owners, and stakeholders can work together

in an open and transparent environment

to develop the key ingredients of the

plan - including a vision statement, a statement

of core values, and a draft future land

use map.

"Taking a collaborative, workshop-based

approach to creating the city's new Community

Plan gives us a unique opportunity to

envision an even brighter future for Canal

Winchester, helping us to remain 'The

Greatest Little City in Ohio,' " said Mayor

Mike Ebert.

The first Community Workshop was

Sept. 20-22, Canal Winchester. It featured

a series of working sessions, focus groups,

and public events that will take place. The

complete workshop schedule is available at

https://www.cwgrowingtogether.com/.

PAID ADVERTISING

Major League Eaters at pumpkin

pie eating championship

The #1-ranked female competitive eater, Miki

Sudo, faced off against the #2 ranked competitive

eater in the world, Geoffrey Esper, and other topranked

eaters from around the nation at the Destination

Outlets World Pumpkin Pie Eating

Championship. The competition took place Oct. 9

at Destination Outlets, located just off I-71 at

Highway 71, 8000 Factory Shops Boulevard, Jeffersonville,

OH.

The eight-minute all-you-can-eat pumpkin pieeating

record is held by Matt Stonie, who consumed

20 pounds, 13 ounces in 2014. Last year,

#1-ranked eater in the world, Joey Chestnut, consumed

a whopping 16 pounds, 12 ounces in eight

minutes.

"The Destination Outlets World Pumpkin Pie

Eating Championship is one of the most compelling

contests of the season," said Sam Barclay,

emcee at Major League Eating. "Eaters should not

underestimate the skill and determination it will

Development of the new Canal Winchester

Community Plan began in June 2022,

guided by an active steering committee composed

of residents, officials, and business

owners from all areas of the city.

The committee, and city staff, are working

with McKenna, a planning and design

firm specializing in midwestern communities.

Workshop presentations are recorded

and posted on the project website,

https://www.cwgrowingtogether.com/.

The next Community Workshop will be

Nov. 9 and 10 in the historic Old Town district,

further refining the ideas developed in

September and focusing on community

character and urban design.

take to beat the world record of 20 pounds and 13

ounces of pie."

Top-ranked Major League eaters competing in

the event included #4-ranked Nick Wehry; #13-

ranked Steve Hammond; #23-ranked Derek Jacobs;

#39-ranked John Gebhard.; #40-ranked

Matthew Raidble, and Andy Krawczyk.

The winner on Oct. 9 ate 55 slices of pie in

eight minutes.

Destination Outlets is a 411,000 square foot

shopping complex featuring a variety of brandname

and designer outlet stores for fashion, apparel,

housewares, and more. The new Destination

Outlets is well loved by shoppers far and wide for

its great deals, family entertainment, and amazing

dog park agility course. The shopping center regularly

hosts top-tier events aimed at bringing the

local community together. For information, visit

destinationoutlets.com

DestinationOutlets.com

800-213-9083

8000 Factory Shops Blvd.

Jeffersonville, OH 43128

DOWNLOAD OUR

MEMBERSHIP APP

Messenger photo by Doug Henry

Destination Outlets World Pumpkin Pie Eating Championship took place Oct. 9 at Destination

Outlets, located just off I-71 at Highway 71, 8000 Factory Shops Boulevard,

Jeffersonville, OH.