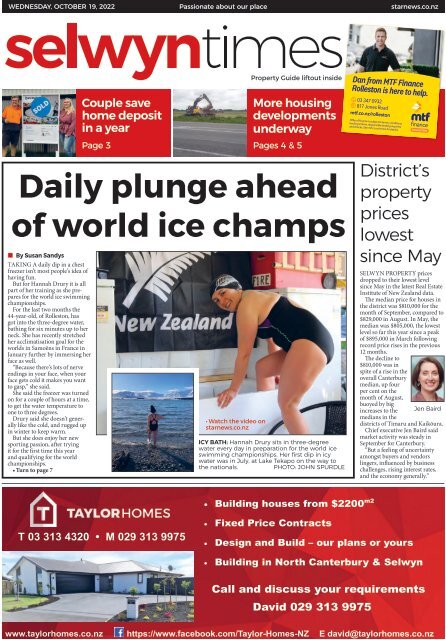 Selwyn_Times: October 19, 2022
You also want an ePaper? Increase the reach of your titles
YUMPU automatically turns print PDFs into web optimized ePapers that Google loves.
WEDNESDAY, OCTOBER 19, 2022

Passionate about our place

starnews.co.nz

Couple save

home deposit

in a year

Page 3

Property Guide liftout inside

More housing

developments

underway

Pages 4 & 5

Daily plunge ahead

of world ice champs

• By Susan Sandys

TAKING A daily dip in a chest

freezer isn't most people's idea of

having fun.

But for Hannah Drury it is all

part of her training as she prepares

for the world ice swimming

championships.

For the last two months the

44-year-old, of Rolleston, has

got into the three-degree water,

bathing for six minutes up to her

neck. She has recently stretched

her acclimatisation goal for the

worlds in Samoëns in France in

January further by immersing her

face as well.

"Because there's lots of nerve

endings in your face, when your

face gets cold it makes you want

to gasp," she said.

She said the freezer was turned

on for a couple of hours at a time,

to get the water temperature to

one to three degrees.

Drury said she doesn't generally

like the cold, and rugged up

in winter to keep warm.

But she does enjoy her new

sporting passion, after trying

it for the first time this year

and qualifying for the world

championships.

• Turn to page 7

• Watch the video on

starnews.co.nz

ICY BATH: Hannah Drury sits in three-degree

water every day in preparation for the world ice

swimming championships. Her first dip in icy

water was in July, at Lake Tekapo on the way to

the nationals.

PHOTO: JOHN SPURDLE

Dan from MTF Finance

Rolleston is here to help.

03 347 0932

817 Jones Road

mtf.co.nz/rolleston

Offer of finance is subject to terms, conditions,

lending criteria, responsible lending inquiries

and checks. See mtf.co.nz/terms for details.

District's

property

prices

lowest

since May

SELWYN PROPERTY prices

dropped to their lowest level

since May in the latest Real Estate

Institute of New Zealand data.

The median price for houses in

the district was $810,000 for the

month of September, compared to

$829,000 in August. In May, the

median was $805,000, the lowest

level so far this year since a peak

of $895,000 in March following

record price rises in the previous

12 months.

The decline to

$810,000 was in

spite of a rise in the

overall Canterbury

median, up four

per cent on the

month of August,

buoyed by big

increases to the

medians in the

Jen Baird

districts of Timaru and Kaikōura.

Chief executive Jen Baird said

market activity was steady in

September for Canterbury.

"But a feeling of uncertainty

amongst buyers and vendors

lingers, influenced by business

challenges, rising interest rates,

and the economy generally."

• Building

houses from $2200 m2

T 03 313 4320 • M 029 313 9975

• Fixed Price Contracts

• Design and Build – our plans or yours

• Building in North Canterbury & Selwyn

Call and discuss your requirements

David 029 313 9975

www.taylorhomes.co.nz

https://www.facebook.com/Taylor-Homes-NZ

E david@taylorhomes.co.nz
---
2 Selwyn Times Wednesday October 19 2022

DELIVERERS WANTED!

Are you honest, reliable and over

the age of 11? Why not earn money

and get fit doing it. Get in touch

with your interest today:

deliveries@alliedpress.co.nz

029 983 2293

Your local community newspaper connects

neighbours in the following suburbs

Ladbrooks • Tai Tapu • Leeston • Lincoln

Southbridge • Prebbleton

Rolleston • Burnham • Kirwee

West Melton • Darfield • Arthur's Pass

50,000 readers every week.

ADVERTISING

Nielsen Media NRS

Lynette Evans

Ph: 021 222 7831

lynette.evans@starmedia.kiwi

from the editor's desk

PUN TOTALLY intended

here: Hannah Drury is one

cool lady.

So cool, in fact, she has a

daily routine of getting into

a water-filled chest freezer;

the water being three

degrees.

She's preparing for

the world ice swimming

championships (see page 1)

in France in January. Like

any top athlete she needs to

train. But the water now

isn't cold here, so what better

way to get the body used

to what lies ahead than to

improvise. A chest freezer

full of very cold water does

the trick.

news

Huge turnout for Selwyn Spring Show

About 14,000 went along to the show on Saturday at the Ellesmere A & P

grounds at Leeston.

Page 11

Also on water sports, we

have the latest on jetskier

Corban Farnley (page 21).

The 17-year-old West

Melton teenager has just got

back from a big contest in

Arizona, with a trophy.

- Barry Clarke

barry@starmedia.kiwi

NEWS

Susan Sandys

Ph: 021 914 742

susan.sandys@starmedia.kiwi

GENERAL INQUIRIES Ph 379 7100

CLASSIFIED ADVERTISING Ph 379 1100

www.starmedia.kiwi

OCTOBER - NOW SHOWING

cinema

MON

17

TUE

18

WED

19

THU

20

@

17 West Belt, Lincoln

AMSTERDAM M 11:00 AM 7:45 PM 1:00 PM 5:45 PM 7:30 PM 4:30 PM

DAME VALERIE ADAMS: MORE THAN GOLD M 5:40 PM 3:45 PM

1:00 PM

DON'T WORRY DARLING R13

10:45 AM 7:30 PM 1:30 PM 5:00 PM

LITTLE MONSTERS PG 1:00 PM 2:45 PM

LYLE, LYLE, CROCODILE PG 3:00 PM 11:00 AM

MILLIE LIES LOW M

8:00 PM 3:30 PM

MOONAGE DAYDREAM M

3:30 PM 1:00 PM

MRS. HARRIS GOES TO PARIS PG 3:30 PM 8:15 PM

7:00 PM

MURU M

6:00 PM 11:00 AM

SEE HOW THEY RUN M

1:30 PM 11:00 AM

TOP GUN: MAVERICK M

11:00 AM

WHERE THE CRAWDADS SING M

5:25 PM

FRI

21

SAT

22

SUN

23

news

Iconic fun run back from city to surf

After a post-quake reroute, next March the Les Mills City2Surf will

start in the central city and wind its way to New Brighton, finishing at

Rawhiti Domain, surf-side once more.

Page 28

thE bEst cuts, today.

ExpEriEncE corEy's

MobilE butchEr shop

South Point, Faringdon Rolleston every Thursday 2pm-6.30pm

West Melton every Tuesday 2pm-6.30pm

web

phone

email

apollo.thelaboratory.co.nz

03 325 3006

goodparties@thelaboratory.co.nz

private hire &

gift vouchers

available

Come and experience

the quality

www.coreysbutchery.com

4 November to 8 December

Tours | TALKS | Workshops

Celebrate Art

in Selwyn

selwynlibraries.co.nz/events

Janna van Hasselt, Chromacase (detail), 2022. Image courtesy of Jennifer Partington.
---
• By Nikki Preston

A COUPLE who has managed

to snag their first home at the

young ages of 19 and 21 say even

they are surprised at how quickly

it happened.

Emily Walker, 19, and Bradyn

Taylor, 21, only started saving

for their first home at the start of

this year and were not expecting

to be in a position to have a 10

per cent deposit needed to buy a

house until 2023.

But four weeks ago, a threebedroom

home in Rolleston

caught Walker's eye while she

was scrolling through a property

website one night.

They did a quick search on

OneRoof to check the property

estimate and when it looked like

it could be within reach, they

quickly arranged a private viewing.

Two days later they submitted

their offer with just two hours to

spare before the deadline closed

and were shocked to hear their

conditional offer of $550,000 had

been accepted. The offer is also

the maximum amount they can

spend in Christchurch to

be eligible for the First Home

Grant.

"It was mental," Walker said.

Walker, who works on a service

desk for an IT company, and

Taylor, a landscape gardener, had

been looking at suburbs all over

Christchurch and had initially

thought Rolleston was over their

budget.

The 1980s home on Byron St

had been a rental property so

had some minor paint chips,

but Walker didn't expect the

cosmetic work to cost too much

to fix.

"It's a bit of an older home. It's

definitely not the nicest one in

Rolleston, but it's hopefully going

to look amazing by the time

we are done with it.

"We thought it would be an

amazing opportunity because of

Latest Canterbury news at starnews.co.nz

how much Rolleston is growing

and I think it's going to just continue

climbing from there."

After their conditional offer

was accepted, the couple then

worked with their mortgage

brokers at Loan Market and by

gaining approval for Kāinga

Ora's First Home Grant and First

Home Loan they were able to

secure their first home with just

a five per cent deposit.

The property went unconditional

two weeks ago and Walker

said she's still in shock.

"It was incredible. Honestly,

we thought we were not going to

get it because of how hard it has

been for lots of buyers."

Walker said they saved their

$32,000 contribution by being

really careful with their spending

this year. Their deposit was

further bolstered by the $20,00

in their KiwiSaver accounts and

the First Home Grant.

"We had been saving non-stop

and spending as little money as

possible, but also we wouldn't be

missing out on things."

Their only bills were rent, utilities

and groceries so they didn't

have any major debts other than

a couple of credit cards which

they have now paid off. On the

budget they set themselves, they

were still able to save $600 a

week.

They also got in a flatmate to

help pay the rent on their twobedroom

inner-city apartment

so they could save more money.

"We tried not to spend too

much, but at the same time we

didn't feel like we were always

trapped by the boundaries of

which we had set ourselves.

"Something that's also quite

amazing is that we had no financial

help from parents or anyone,

it was just the banks and Kāinga

Ora."

While moving about 30 minutes

out of the central city would

mean Walker would have to

endure a longer commute on the

NEWS 3

Young couple save home deposit in a year

STOKED: Bradyn Taylor, 21, and Emily Walker, 19, outside

their new three-bedroom home in Rolleston.

PHOTO: NZ HERALD

Wednesday October 19 2022 Selwyn Times

days she went into the office, she

said it was worth it to be paying

off their own mortgage and not

someone else's.

A lot of people their age

thought home ownership was a

pipe dream, she said, but they

were proof that it is achievable.

She urged first home buyers

to also keep any eye out on what

was for sale as the right property

could pop up when they least

expected it. The Government

increasing the cap on how much

could be spent on properties

and still be eligible for the First

Home Grant had also worked in

their favour.

Loan Market mortgage adviser

Angela Wanoa, who helped

Taylor and Walker, said it is absolutely

achievable for first home

buyers to get in the market now

as long as they have prepared

themselves.

"I seriously think at school

there's a real missing piece for

young people and as soon as kids

get their first job they should

start contributing as much as

they can into KiwiSaver to start

building your deposit."

Keeping short-term debts low

– or even better not having them

– and making sure the accounts

stay within their limits will also

help people when they apply to

the bank for their first mortgage,

she said.

– NZ Herald

2022

Heat Pumps

Smile with confidence

Community Recycling and

Bulky Waste Drop-Off Day

Bulky Waste* | Garden waste | Scrap metal | Tyres

Child car seats | E-Waste | Cardboard

BEFORE

Full or Partial Dentures

Immediate Dentures

Winz Approved

aFtER

Insurance Claims

Urgent Denture Repair & Reline

Payment Options Available

Sunday 30 October 2022, 10am–4pm

Hawkins Pit, Darfield

Entry off Cullens Road, east of Bangor Road

Sunday 20 November 2022, 10am–4pm

Cemetery Pit, Southbridge Leeston Road

*Important: Please refer to strict criteria for bulky waste acceptance

914 Colombo St | Ph: 03 365 2859 | www.cosmeticdentureclinic.co.nz

For more info check out

selwyn.govt.nz/recyclingday
---
Selwyn Times Wednesday October 19 2022

4

NEWS

Latest Canterbury news at starnews.co.nz

Neighbours disagree over proposed

• By Susan Sandys

NEIGHBOURING Prebbleton

residents are divided on

whether to chop their land up

as the pressure goes on from the

district council and developers to

intensify the district.

Prebbleton is about to increase

by another 820 sections after

a successful plan change, and

would almost double in size if

two other plan changes are approved.

Several residents live on one

of the latest chunks of rural land

that could go into housing –

some support development while

others are avidly opposed.

The Plan Change 79 rezoning

application, for 527 sections

on 37ha on Birchs Rd, recently

received 36 submissions.

It comes as the Lincoln Voice

residents' group continues to

fight Plan Change 69 in the Environment

Court. PC69 would

see 1710 sections on 190ha of

rural land.

Neighbours John and Sue

Sheaf and Tom and Helen Fraser

believe PC79 will not be successful

as the National Policy Statement

for Highly Productive Land

came into effect on Monday.

The PC79 area comprises mostly

class 1 and 2 soils, which have

been given enhanced protection

in the new legislation.

Nevetheless, they fear it will

be approved and they will be

surrounded by fences and dense

housing, up to three stories high,

in spite of the PC79 area being

half a kilometre outside the

Prebbleton town boundary.

Sheaf said while rezoning to

residential would dramatically

increase the value of their home,

no money in the world would

make them want to sell to a

developer.

"That's a matter of principle

that we are prepared to put our

bank balance against," he said.

Not only did they not want to

move, they did not want to see

the valuable soils "going underneath

houses and asphalt".

Sheaf said he and Sue had lived

happily at their 0.6ha property

for six years. They had rebuilt the

interior of their home, cleared

weeds, and planted the area with

natives, an orchard and vegetable

gardens, and had hens for free

range eggs.

The Frasers said they had

PARADISE: No amount of money in the

world would make John Sheaf want to

leave his lifestyle section on the outskirts of

Prebbleton. Sheaf opposes Plan Change 97.

lived on their 4ha property since

buying it in 1970 as a bare block.

They had built their home, planted

it out, and to this day farmed

prime lambs there. They enjoyed

living in a rural environment

and believed their grandchildren

would one day take it over and

bring up their children there.

"We are the longest-term residents

within the proposed subdivision.

We find it incomprehensible

that someone can apply to

subdivide our land without our

consent," Tom Fraser said.

"It's morally wrong, we don't

want to shift, but it's also morally

wrong to take highly productive

land and convert it to concrete."

The Sheafs and Frasers

were among the majority of

submitters who opposed PC79.

Reasons given by submitters

also included pressure on

infrastructure, increase in

traffic, and oversupply of

homes following the other two

Prebbleton plan changes.

Styles may differ to images shown.

409 Main South Rd, Hornby

dress-smart.co.nz
---
Wednesday October 19 2022 Selwyn Times

Latest Canterbury news at starnews.co.nz

NEWS 5

plan change

GROWING: Work

started this week on

a 25-hectare block

on the south side of

Edward St, Lincoln,

where about 240

residential sections

will go, and next

to it potentially a

retirement home.

PHOTO: BARRY

CLARKE

Among supporting submitters

were the Sheafs' and Frasers'

neighbours, who live in the PC79

area.

John and Bev Broadway,

Anthony Sutton, and Jason

Rademaker submitted separately,

but outlined the same reasons,

including that building houses

would be a better and more efficient

use of their land, the PC79

area would be a logical extension

to the township and it would be

well-placed to connect with the

new Kakaha Park across the road.

The Broadways also said their

lifestyle block was too small for

a viable farming business. It was

currently used for grazing "a few

sheep and a couple of horses".

Rademaker also said Kakaha

Park would have hundreds of

car parking spaces and lighting,

which was more suited to the

residential lifestyle the subdivision

would bring.

The PC79 application was

made by Birchs Village Ltd, of

which Ryan Geddes is the sole

director. He lives in Christchurch

and is understood to own

one of the eight blocks of land

which make up the PC79 area.

Geddes did not return calls to

the Selwyn Times.

Meanwhile, the two remaining

plan changes pertaining to

Prebbleton are Plan Change 68,

for 820 sections on Trents Rd,

and Plan Change 72, for 295 sections

on the south side of Trices

Rd and eastern side of Birchs Rd.

PC68 is soon to be operative

after no appeals were received

by the deadline date of Friday

last week, while PC72 is being

appealed in the Environment

Court.

New development plus

retirement home bid

• By Barry Clarke

PRELIMINARY groundwork

is underway on another big

residential housing development

in Lincoln, which may eventually

also see a retirement home next

to it.

About 240 sections are

planned for a 25-hectare site

bordering Edward St back to the

Lincoln Wetlands area, a popular

recreation area for walkers,

joggers and cyclists, and home to

numerous bird species.

Lime Developments owner

Jack Lin said engineering consents

are still being worked

through, but the company

was able to start preliminary

ground work to take advantage

of the spring and early summer

weather.

The subdivision was given

building consent late last year.

It was hoped the titles for the

first stage of 62 sections would be

available by mid next year.

The proximity of the wetlands,

Liffey Springs Reserve and

walking tracks along the

Ararira-LII River would make

the development attractive to

buyers, said Lin.

The longer term plan was for

a retirement home to be built on

land purchased by the company

on the southern side of Edward

St and Ellesmere Rd. There were

discussions with a retirement

home operator.

Fencing with marketing would

soon go up along Ellesmere Rd

where the residential sections

were to be developed, he said.

The subdivision would be

called Brookvale and the rest

home, The Sterling, Lincoln.

Before

you start

your deck

check for

power lines

03 363 9898 | 0800 363 9898

oriongroup.co.nz

You don't want to be within touching distance of the

power lines when the deck's done. It might take a bit

of extra thought, but it could save your life!

You're our priority.

Orion operates, and maintains, the electricity distribution network

that provides power to central Canterbury. We are always here

to help if you have any questions or concerns about the network.
---
6 Selwyn Times Wednesday October 19 2022

LABOUR DAY

STOREWIDE

HEAPS of HOT DEALS!

SALE

SCAN QR TO SHOP

Capri GRC Outdoor

3 Piece Dining Set

WAS $

3099

NOW

$

2699

NEW SEASON OUTDOOR NOW IN STORE!

MYKONOS WATSON RANGE OUTDOOR

RANGE

ON SALE

ON SALE

Kate Sofa Bed

WAS $

599

MIX IT UP WITH THE

MADdOX DINING CHAIR

NOW

$

549

Cascade

Outdoor Dining

Table – W180

WAS $

849

Single Seater NOW $ 600

2 Seater NOW $ 1099

Coffee Table NOW $ 699

NOW

$

599

ALL LIVING & DINING ON SALE

MELVE RANGE

ON SALE

Buffet NOW $ 849

Macey

Swivel Chair – River

WAS $

1199

Woodwall

Ballet Desk

WAS $

299

NOW

$

229

Entertainment Unit

NOW $

699

Side Table NOW $ 299

NOW

$

979

ALL BEDROOM ON SALE

HAVEN DARK

ON SALE

Queen Bed NOW $ 999

Bedside NOW $ 295

FOSTER

ON SALE

Queen Bed – 2 Drawers NOW $ 1149

Bedside NOW $ 295

Tallboy NOW $ 899

Lowboy NOW $ 899

Scan to find store

250 Moorhouse Ave, Christchurch

0800 TARGET (0800 827438)

targetfurniture.co.nz

Offers and product prices advertised here expire

31/10/22. Sale Excludes Accessories.
---
2-for-1 tickets

Wednesday October 19 2022 Selwyn Times

Latest Canterbury news at starnews.co.nz

NEWS 7

'I'm absolutely loving this' - ice swimmer

COLD STUFF: Hannah Drury being helped by teammates

after finishing her first 500m ice swim at the nationals in

Alexandra.

• From page 1

Ice swimming is swimming in

water with a temperature of five

degrees or lower, with swimmers

wearing only their togs, cap and

goggles.

Drury said she had not tried

out the sport until competing in

the first-ever national championships

in New Zealand at Alexandra

in July. Having a background

as an open water competitor,

she had been drawn by the challenge

much colder water would

provide.

Her first foray into icy water

was on the way there, where she

stopped for a dip in Lake Tekapo.

She had ended up enjoying the

swimming events themselves,

having focused on the end goal

of completion, rather than the

pain of the cold on her skin,

hands and feet. She had also

been buoyed by the camaraderie

of fellow swimmers and supporters,

who had cheered her on.

"During the swim I was thinking

'I'm absolutely loving this,'

which was quite a surprise to me,

I didn't think I would enjoy doing

it," Drury said.

"Just the feeling when you are

in there, you feel really alive," she

said.

"It's not easy, so you feel really

good when you have succeeded

at it."

The longest she was in the

water for at the nationals was

about eight minutes, for a

500-metre freestyle race. In

France, she will compete in the

100-metre butterfly, and 100-metre

individual medley where she

will complete one length each of

freestyle, backstroke, butterfly

and breast stroke.

For fitness, Drury is training

at Lake Rua, swimming there

twice per week, where the current

water temperature is about

12 degrees. She is also doing pool

swimming three-to-four times

a week.

Prior to the championships,

Drury will travel to England to

see family with husband Alex

and their two sons. She will

then meet up with fellow New

Zealand team members for a

pre-championships training

camp.

Drury said ideally the lake

temperature would be around

four degrees at the champs. But

as the lake was located in a ski

resort with snow all around, it

could easily plummet closer to

the zero mark.

Nevertheless, she was looking

forward to it and could not wait

to compete.

"It's the chance of a lifetime,"

she said.

Free events

Riverside Market

Conduit Square

Victoria Square

botanic gardens picnic

Tram Jam, Fat Eddie's

12 Bar, Rolling Stone

Ticketed events

Ngā Reo Tīoriori

Fat Eddie's

Big Band Boogie Ball

/chchbigbandfest

Chchbigbandfest.com

20-24

2022

Stories from the Grave at Hororata

On this day we remember the departed.

All Saints Day November 1st 5.30pm

Stories From the Grave.

Meet at the First Church at 5.30 p.m.

Hororata Road, Scotts Road corner

Cash bar • Light food • Once the shadows fall, you will tour the graveyard

and hear stories of some of the early settlers and some who were just as

interesting for other reasons.

Entrance $10 per person (cash only paid at the door).

As spaces will be limited, we recommend you pre book before

Friday October 21st by emailing the secretary Hororata Historical Society

at: hororatahistoricalsociety@gmail.com

Sturdy shoes, a jacket and a torch may be required for the tour.

WIN

$400 Thin Lizzy

Gift Pack

Enter at the expo!

Sat 29 & Sun 30 Oct | Christchurch Arena

Opening hours: Saturday 10am-5pm & Sunday 10am-4pm

• Over 180 Exhibitors • Taste Zone • Artisan Craft Zone • Fashion & Beauty • Health & Wellbeing

• Thin Lizzy Makeup Lounge • Smile Glow Lounge • Aspiring Beauty Lounge • Hair & Barber GHD Lounge

• Goodie Bags & much more! • Door Sales $10 & Kids U12 Free

womenslifestyleexpo.co.nz
---
8 Selwyn Times Wednesday October 19 2022
---
Shed fire

deemed not

suspicious

• By Tina Grumball

A SEVERE fire that gutted a shed

where a gang-related shooting

took place has been ruled as nonsuspicious.

The shed, or workshop, caught

fire at 9.50pm on Sunday, October

9. After an investigation, it was

found that old burn piles had

been reignited elsewhere.

Their embers were carried by

strong winds to the Maddisons

Rd address and set the structure

alight.

Four firetrucks and four tankers

attended and it was finally

contained at about half-past midnight.

The site was also in the news in

early July when a man was shot. A

31-year-old Mongols MC affiliate

was arrested and charged with

wounding with intent to cause

grievous bodily harm and unlawful

possession of a firearm.

He pleaded not guilty and will

reappear in Christchurch district

court on December 15.

A neighbour nearby said the

fire was "not a nice wake-up call".

When asked if the building was

unoccupied, she said she had not

seen any activity for a while and

thought whoever lived there had

moved out.

THREE MORE Chorus street

cabinets are set to become works

of art.

They come out of a call for

designs, which now takes the

number of publicly inspired art

works in the district to seven.

Chorus spokesperson Jo Seddon

said the task of selecting the

winning designs proved to be

NEWS 9 TICKETS

4 MARCH 2023 LINCOLN

selwynsounds.co.nz

very difficult.

"We've been really lucky with

the standard of designs that

were submitted and it was very

hard to narrow it down to just

two," she said.

Sea Avery's A Native Feast and

Veronica Ek's The Gang were

the winning designs.

But another also caught the

eye of the judges – Anne Mc-

Donald's Coloured Pencils.

So they went with all three.

Said Seddon: "In fact we were

so impressed with the standard

of designs, a further mural was

commissioned – one that reflects

support of diversity and inclusion.

"The design shows multicoloured

pencils that symbolise

Wednesday October 19 2022 Selwyn Times

ON SALE

WINNERS: The judges were so impressed by the standard of designs they decided to commission three, rather than

two, new cabinet murals.

Vibrant new artwork commissioned

that while we may all be different,

we can all be accepted for

who we are.

"Selwyn District Council

has been very supportive,

particularly Mayor Sam

Broughton, and we are looking

forward to building on this

to bring more art work to the

community," Seddon said.

Waihora Ellesmere Trust

Presenting:

The 2022 Te Waihora/

Lake Ellesmere Living

Lake Symposium

On Saturday 29th of October 9am – 4pm at

Waihora Clay target club, Gammacks Road,

canal end of Ridge Road, this is a public

symposium – all welcome.

Comprising a Field Trip (via Bus) to

Kaitorete Spit. Discussion on Tāwhaki and

the aerospace potential of Kaitorete Spit as

well as local pest control projects. Visit Ahuriri

wetland to discuss the linkages between

these restoration projects and bicycle trails

that enable access to these projects.

Race Week

START YOUR DAY WITH US!

Cooked breakfasts from $20

We are open from 6.30am

LIVE MUSIC

ALMOST JOHNNY SATURDAY 5TH NOV

DnD TRIO WEDNESDAY 9TH NOV

CODE RED SATURDAY 12TH NOV

Presentations:

A series of presentations

giving updates on ecological

restoration projects in the

Te Waihora/Lake Ellesmere

catchment, from Environment

Canterbury, Selwyn District

Council, Department of

Conservation, Ellesmere

Sustainable Agriculture, and

Pest Free Banks Peninsula.

Registration:

Registration is free for Waihora

Ellesmere Trust members and

the public. Please register with

manager@wet.org.nz Due to

limited capacity on bus; we will

be limited to 52 bus passengers.

Food and drink will be provided.

RESTAURANT & CAFÉ

'Famous for their roasts!'

FAMILY FRIENDLY

Kid's Special

Two courses

Great Kids menu plus designated play area.

SENIORS SPECIAL

Two courses:

Soup/Roast or Roast/Dessert

Special available lunch only

Monday - Friday 12pm - 2.30pm.

Conditions apply

$

13

$

24

The

RACECOURSE HOTEL

& Motorlodge

118 Racecourse Rd, Sockburn,

Christchurch. Ph 03 342 7150

www.racecoursehotel.co.nz

Ensuring Safer Water –

Chlorination Upgrades 2022

New Zealand's drinking water laws have changed.

Under the Water Services Act 2021, councils must chlorinate public

drinking water supplies by 15 November 2022. Selwyn District Council has

started applying for exemptions for its previously unchlorinated supplies

and is expecting feedback on these applications from Taumata Arowai in

early 2023.

If you're on a water supply that isn't currently chlorinated, we will be

installing chlorination in order to comply with the law as per the

below timetable.

Location

Rakaia Huts

West Melton

Lincoln

Taumutu

Leeston

Prebbleton

Jowers Road

If you'd like a reminder text or email when chlorination is due to begin on

your water supply, sign up at selwyn.govt.nz/wateralerts.

selwyn.govt.nz/water-chlorination

Proposed Rollout Date (Week commencing)

25 October

31 October

7 November

14 November

21 November

28 November

5 December
---
10 Selwyn Times Wednesday October 19 2022

BETTER

SO YOU CAN

GET BACK TO

THE THINGS YOU

LOVE SOONER

IMAGINE A REAL ESTATE COMPANY

THAT THINKS LIKE YOU.

Connecting people and property is what

we do, and we've always endeavoured to

do it better. By putting our clients first.

We have built our business around finding,

selling and renting property for people like

you. People who think that flexibility, quality

consultancy and exceptional service are not

a luxury, but a given. People like us.

Just think about it, we have all the strengths

of a national brand, with a passionate team

of agents who know the ins and outs of

every postcode across Canterbury – and

New Zealand.

What does that mean for you? It means that

wherever you are or wherever you want to be,

you'll have better access to our national market

insights and local expertise as a standard.

If you're now thinking we're exactly the

kind of people to find you the perfect

buyer or tenant, you'd be spot on.

Let's work together

Bayleys Darfield 03 975 4559

Bayleys Leeston 03 375 4700

Bayleys Rolleston 03 347 9949

bayleys.co.nz/canterbury

LICENSED UNDER THE REA ACT 2008

AIRPOINTS PROGRAMME TERMS AND CONDITIONS APPLY
---
Wednesday October 19 2022 Selwyn Times

Latest Canterbury news at starnews.co.nz

NEWS 11

Spring show returns to full glory

SELWYN SPRING Show

organisers were thrilled with

the huge turnout to their annual

event on Saturday.

About 14,000 turned out to

the show on a stunning sunny

spring day at the Ellesmere A & P

grounds at Leeston.

Show president David Birkett

said he and fellow committee

members could not have been

more pleased with how the show

went as it returned to its full glory

following the pandemic. A scaleddown

150th jubilee show was held

last year after being postponed

from the previous year.

"After a two-year break for

public entry, it was fantastic that

the show was as popular as ever.

It was marvellous to see so many

people," Birkett said.

"It takes such a huge effort by

volunteers and the community to

put the day on but it is all worth

it when you see the delight on

everyone's faces."

Supreme Champion

Huacaya Shamarra Galactica

with judge Dean Ford and

owner Anya Walkington.

Competitors get

up a sweat in the

woodchopping.

Right – Chef Paul

Robinson, with Bella Rose

Pua and Caitlin White of

Ellesmere College, at a

cooking demonstration.

Leeston and Lincoln

primary schools go headto-head

in the relay

competition (above left),

which was ultimately won

by the Southbridge's The

Bandits. Shearing and

highland dancing also

proved popular.

Kate Lye models the winning supreme Wearable Arts outfit,

made by Sam McGregor and Ragavi Meiyalaghan.
---
12 Selwyn Times Wednesday October 19 2022
---
Wednesday October 19 2022 Selwyn Times

Latest Canterbury news at starnews.co.nz

NEWS 13

Call goes out to join emergency services

BURNHAM ARMY firefighter

Sophie Wardell is on a mission

to inspire more young people to

pursue careers in the emergency

services.

The 21-year-old

is bringing the

Youth Search and

Rescue training

programme to

Canterbury, after

it inspired her own

Sophie

Wardell

army career.

YSAR offers

a three-year

programme to

14-18-year-olds and aims to help

combat an ageing workforce in

the search and rescue and emergency

management sectors.

Launched 14 years ago, until

now the programme has only

been available in Tauranga and

Auckland.

Wardell completed the programme

in Tauranga while she

was at high school, before joining

the army in 2019. Having been in

the army for the past three years

and now settled in Canterbury,

she's ready to "give back".

The programme involves 26

weekly classroom-based training

sessions and eight outdoor weekend

exercises a year, in which

students learn a range of skills,

from bushcraft and river crossings,

to first aid and navigation.

In the second year students

FIRST RESPONSE: Burnham Army firefighter Sophie Wardell is bringing the Youth Search and Rescue training programme

to Canterbury, after it inspired her own army career.

complete modules through partner

organisations such as Land-

SAR, Coastguard and AREC,

and during their third and final

year they gain competencies in

managing a full-scale emergency

response.

"It was definitely YSAR that

pushed me towards the army.

I've always loved the outdoors

and being in the bush," said

Wardell.

"It was so helpful during my 16

weeks' basic training at Waiouru.

When we were out in the middle

of nowhere and it was freezing

cold and everyone was complaining,

I didn't find it too bad

because I'd been in worse.

"It was funny to watch all

these boys who'd never been in

the bush before struggle with

it, and here's this girl showing

them how it's done. I was well

prepared in terms of navigation

and bushcraft skills."

Wardell said being a firefighter

with the army joins both her

passions together.

"I enjoy being outdoors and

exercising and I like helping

people, so I get the best of both

worlds being an army firefighter.

I would love to help young

people get into the emergency

services and LandSAR."

YSAR general manager Steve

Campbell said YSAR is focused on

building a robust, diverse future

workforce in search and rescue

and emergency management.

"Research released in 2010

suggested that 67 per cent of all

search and rescue volunteers

were male and over the age of 40.

It was clear that the emergency

response sectors were entering

a period where there was an

increase in the number of

volunteers unsuitable for field

deployment and that this would

continue to a point of crisis from

2020 and beyond unless this was

addressed at a strategic level."

• To find out more visit

www.ysar.org.nz

Hororata Parish

Spring Fair offers

fun in the country

The Hororata Parish

Spring Fair is a traditional

country fair is a "must

do" for many people with

the emphasis on family

entertainment. After

missing the event last

year, the Parish is looking

forward to welcoming

everyone back to the

Hororata Domain this

Labour Day.

The always popular

Country Auction will

return and as well as

offering a huge range

of second-hand items

at bargain prices it will

feature the Agri Garden Art Competition.

This competition challenges locals to

"Show their No.8 wire skills" creating fabulous

sculpture that are auctioned with

all proceeds going to the Hororata Parish.

This is a chance to secure a one-off piece

of art for your garden with the theme this

year 'movement'.

The Children's Races are always great

fun and entertaining for the adults to

watch! Kids can join in the sack, egg and

spoon and other fun races at 10.30am

with great prizes up for grabs. Pony rides

and bouncy castles will keep the little

ones entertained while adults can browse

the stalls offering delicious homemade

jams and speciality foods, handmade

crafts, a wide range of plants and a large

selection of second-hand books.

The Fair is the Hororata Parish's biggest

fundraiser each year and contributed to

the pastoral care that it offers in this rural

community.

Labour Day, 24th October, Hororata

Domain, entry is free. Held wet or fine.
---
14 Selwyn Times Wednesday October 19 2022

RURAL | LIFESTYLE | RESIDENTIAL

WEST MELTON Weedons Ross Road

Leasehold Farming Opportunity

• 175 ha bare land, of which 20ha is in trees, the

rest for farming

• Well subdivided into 20 paddocks with stock

water in all paddocks

• Three-stand raised board woolshed with attached

covered yard (400 capacity), three-bay shed, and

cattle yards

• Good internal access via well-formed track, stop

bank and fenced to allow ease of stock

movement

• Irrigation for approximately 20ha

DEADLINE PRIVATE TREATY

Plus GST (if any)

Closes 12.00pm, Tuesday 15

November

Dan van der Salm

M 021 918 233

E dan.vandersalm@pggwrightson.co.nz

]

Michael Bickley

M 027 555 0777

E michael.bickley@pggwrightson.co.nz

COALGATE TAVERN 125 Bridge Street

Exceptional Value - Endless Potential!

The Coalgate Tavern, a popular country hotel and

restaurant strategically located on SH77 is for sale as a

freehold going concern. The hotel sits on a 9123sqm

section and includes a public bar, large restaurant with

its own bar, beer garden, bottle store, gaming area,

three bedroom managers accommodation and

NZMCA parking. Here's a fantastic opportunity to buy

yourself a fabulous lifestyle and enjoy the benefits of

being your own boss! Expand your wings into the

hospitality sector with certainty now that Covid

restrictions have lifted and become a very special part

of this growing community!

ENQUIRIES OVER $1.1M

Plus GST (if any)

VIEW By Appointment Only

Mark Terry

M 027 572 2559

E mark.terry@pggwrightson.co.nz

Karen Hennessy

M 027 967 0186

E karen.hennessy@pggwrightson.co.nz

pggwre.co.nz/LCN36709

pggwre.co.nz/DAR36473

FANTASTIC

OPPORTUNITY!

LIST

WIN

AND

Just list your property with one of our Darfield salespeople

listed below during August, September and October to go in

the draw to win an action packed weekend for two in

Kaikoura valued at $3,118 *T&Cs apply

In conjunction with PGG Wrightson Real Estate,

Darfield and South Pacific Helicopters, Kaikoura.

Mark Terry 027 572 2559

Karen Hennessy 027 967 0186

Min Cookson 027 249 5417

Rob McGregor 021 334 469

Linda McCarthy 022 692 6090

Sam Davidson

Sales Manager

027 488 8269

PGG Wrightson Real Estate Limited, licensed under REAA 2008

6/19 Gerald Street, LINCOLN

42 South Terrace, DARFIELD

Phone: 03 341 4301 | Email: christchurch@pggwre.co.nz

Helping grow the country

For more great listings, visit www.pggwre.co.nz

PGG Wrightson Real Estate Limited, licensed under the REAA 2008

Helping grow the country
---
THE QUESTION being raised

is should the Selwyn ratepayers

contribute to the costs of the new

stadium in Christchurch, which

the budget has already been

blown out of all proportion. The

answer is categorically no.

It is no fault of the Selwyn

ratepayers the Christchurch

City Council could not get its

act together in a timely manner,

hence the enormous blowout on

its original budget.

Now it has the gall to come

cap-in-hand asking for a

financial commitment from

other councils. It is hoped that

when the time comes the Selwyn

council has enough backbone

to say no, given the ratepayers

of Selwyn are already heading

for an increase of six per cent in

the next few years on top of an

already exorbitant rates bill.

However, there is another

option available should the

need arise. In your rates bill you

will note there is a Canterbury

Museum levy of $35, so looking

outside the box let's drop this

levy to $15 and the remaining

$20 be earmarked for the

stadium at no extra cost to the

ratepayers of Selywn. Simple.

-Trevor Longmuir

Rolleston

We agree with contributing to

the Christchurch stadium. We

will use it and take the grand

kids.

Many people travel into

Christchurch daily, it's not

as though we don't utilise

Christchurch infrastructure.

It is a Canterbury asset. The

Crusaders are Canterbury, for

example.

The fact it was ever allowed

to so incompetently escalate

out of control in the first place,

though, still aggravates

us.

-Rob and Pete Davies

Tai Tapu

Latest Canterbury news at starnews.co.nz

I do not believe any residents,

whether it be from Selwyn or

any other region, should be held

to ransom for the blowout of the

stadium.

Times are tough for a lot

of people. The cost of living

is continuing to increase and

increasing the rates by six per

cent annually will definitely add

more unnecessary pressure on

residents.

A stadium for sports events

and concerts is considered a

luxury for most, not a necessity.

Having just, or still trying to

recover from the impact of

Covid, many are under financial

pressure. Inflation is at an all

time high, well over seven per

cent, and guaranteed that not

many received a pay increase in

line with inflation.

-Michael Romkes

Lincoln

With only 29,000 rateable

properties and the fact Selwyn

ratepayers will have a rates

increase, I say no to helping

fund the remainder of stadium

costs. Corporates that

benefit should definitely

contribute.

-S Woodham

Te Taumutu

relationship

There was an article in the

Selwyn Times regarding the

signing of a formal relationship

between the Selwyn District

Council and Te Taumutu

Rūnanga.

The article has blindsided

many people. How many

residents of Selwyn even know

about this relationship and what

it is all about?

Surely before anything is

signed the people of Selwyn

have the right to know what

the agreement is all about.

An article, published with no

LETTERS 15

Should Selwyn contribute to the stadium?

PHOTO: NEWSLINE

Wednesday October 19 2022 Selwyn Times

explanation and an agreement

with no discussion with our

people, is very undemocratic.

The wording "the role of mana

whenua as a treaty partner of

the Crown" is obviously what

our council believe in and is

following a Government

policy.

The purpose of local

government (from the

Selwyn website) states very

clearly: democracy and local

accountability.

So the council made a

decision, but where does the

democracy come in or the local

accountability?

-Margaret Holding

(abridged)

Rolleston

We want to hear your views

on the issues affecting life

in Selwyn

Send emails to:

barry@

starmedia.kiwi

Letters may be edited or rejected

at Star Media's discretion. Letters

should be about 200 words.

A name, postal address and phone

number should be provided.

Please use your real name, not

a nickname, alias, pen name or

abbreviation.

Allwood Trees, 913 Shands Road,

Prebbleton 7676

Consultations Soft Landscape Plans Delivery & Planting

Phone: (03) 349 9240

allwood.co.nz

Allwood-Trees-Limited

allwoodtrees

Quotations

Landscaping

Construction &

Garden Maintenance

Spring

A great time to

plant

WE'RE

HERE, HERE, HERE & HERE

TO HELP

You'll find all the legal expertise you need at our four handy Christchurch locations. Let's talk.

03 379 7690 | LAWYER@SAUNDERS.CO.NZ | WIGRAM, CITY, FERRYMEAD, PAPANUI | SAUNDERS.CO.NZ
---
ISSUE 98

ISSUE 99

NOVEMBER-DECEMBER 2021

$10.50

ALLAN McCALL: JIM CLARK'S KIWI MECHANIC | FIAT COLLECTOR | DOUG DRAKE: MINI MAESTRO

QUEENSTOWN'S CAPTAIN CLASSIC | UK CLASSIC RACING: SILVERSTONE & CADWELL PARK

JANUARY-FEBRUARY 2022

$10.50

Selwyn Times Wednesday October 19 2022

JAGUAR XK140 | KAISER SPECIAL | INDIANAPOLIS MOTOR SPEEDWAY MUSEUM | WIGRAM | SIMPSON ESCORT | FORGOTTEN KIWI CARS | CLASSIC JAGUARS IN NEW ZEALAND | TRUE CONFESSIONS | GOODWOOD REVIVAL

NOV-DEC 2021

WOF

only $60

• Courtesy cars • Transmission flush

service

• Oil changes

• Tyres & batteries

• Full mechanical repairs

• Petrol & diesel

• Brake & clutch repairs servicing

COVERING THE COLOURFUL

PAST OF MOTORING

EXCLUSIVE BOOK OFFER: CLASSIC JAGUARS IN NEW ZEALAND

NASH METROPOLITAN | TONY SHELLY | FIAT | MINI MAESTRO | SIMPSON ESCORT | FORGOTTEN KIWI CARS | UK CLASSIC RACING | KEVIN LANCASTER | GOODWOOD MEMBERS' MEETING | CAPTAIN CLASSIC

TOP CAT

1955 JAGUAR XK140 FHC

TONY SHELLY: NEW ZEALAND'S FORGOTTEN FORMULA ONE DRIVER

AND NOW FOR SOMETHING

completely DIFFERENT...

1954 KAISER SPECIAL | DAVE SIMPSON'S ESCORT TWIN-CAM

THE INDIANAPOLIS MOTOR SPEEDWAY MUSEUM'S KIWI CONNECTION

FORGOTTEN KIWI CARS | COPYCATS | WIGRAM: THE RACING DAYS

ALLAN DICK: TRUE CONFESSIONS | GOODWOOD REVIVAL

9 416770 121332

NEW ZEALAND SUPERCARS | DAVE SIMPSON'S ESCORT TWIN-CAM

KEVIN LANCASTER: A LIFE IN MOTORSPORT | GOODWOOD MEMBERS' MEETING

JAN-FEB 2022

9 416770 121332

Save up to 32% when you subscribe

classicdriver.co.nz 0800 624 295

16

NEWS

BACKYARD CRITTERS

Mike Bowie is an ecologist who specialises in

entomology (insects and other invertebrates). Each

week he introduces a new species found in his

backyard at Lincoln. His column aims to raise public

awareness of biodiversity, the variety of living things

around us. Check out the full list of invertebrates found

at www.inaturalist.org/projects/backyard-biodiversitybugs-in-my-lincoln-section

MANY PEOPLE

hate cockroaches,

particularly when

they are around

food.

In the cooler

south we are less

likely to see the

larger exotic roach

species, but with

our warming

climate, species

distributions are

changing.

The Gisborne

cockroach is one

of those that is dispersing

south and

this week I found

my first specimen

of Drymaplaneta

semivitta in our

section at Lincoln.

This species has

made its way down

to Invercargill, but

as it is flightless,

it is likely to have

hitched a ride.

The Gisborne

cockroach is actually

an Australian

species that was

first recorded in

Gisborne in the

1960s. This large

cockroach (20-

45mm long and

12-15mm wide) has

a shiny dark brown

body with a tan to

translucent strip

on the edges of its

head and thorax.

All six of its legs are

covered in spines

and its hind legs are

much larger.

Fortunately,

it is not often

found inside or

around our food,

so is less likely to

transmit disease

as the German

or American

cockroaches can.

The Gisborne

cockroach prefers

being outside in

bark or woodchips

and usually likes to

squeeze into narrow

gaps only a few

millimetres wide

to hide.

Latest Canterbury news at starnews.co.nz

Warming climate sees

cockroach hitch a ride south

SPOTTED IN LINCOLN: The Gisborne cockroach

prefers being outside in bark or woodchips.

PHOTO:

GETTY
---
Wednesday October 19 2022 Selwyn Times 17

Supporting the wellbeing and inclusion of our older residents in Selwyn

Following on from swell give it a go fortnight, swell is taking to the airwaves to bring you interesting interviews

from people and organisations supporting older people living well in Selwyn. Hear about social activism,

healthcare, life planning, community groups and even about rare breed animals.

Pop on the jug, get comfy and tune in to fascinating programmes at Plains FM.

Wednesday

19 October

Episode 1

Starts 11am

Thursday

20 October

Episode 2

Starts 11am

Friday

21 October

Episode 3

Starts 11am

Saturday

22 October

Episode 4

Starts 11am

Part 1

Part 2

Part 3

Part 1

Part 2

Part 3

Part 1

Part 2

Part 3

Part 1

Part 2

Part 3

What Age Concern Offers and Elder Abuse

Simon Templeton, CEO of Age Concern Canterbury will discuss elder abuse and what services are available to help. He will also talk

about the advocacy, educational programmes and information that Age Concern is able to offer older people in our community.

Retirement Village Residents Association and you

Whether you're in a retirement village or thinking about moving into one – understanding the pros and cons of such a move is important

for enjoying this next stage of your life. Nigel Matthews, Chief Executive of Retirement Village Assn. will provide practical advice.

Succession Law and Occupation Rights Agreements

The Law Commission has recently released recommendation for a new statute to the Inheritances (claims against estates) act.

Kate Warren Associate lawyer at Tavendale and Partners will discuss what that means. She will also talk about Occupation Rights

Agreements, a lifetime right to occupy within a retirement village and what this means legally.

Ageing and Disability

Disabled Persons Assembly's Prudence Walker (Chief Executive) will discuss ageing, disability and what this means for people.

She will provide insight into accommodating impairments while maintaining independence.

The Hāpai Access Card – Making Access Easy

The Hāpai Access Card is a unique solution to assist a disabled person with access issues receive the reasonable

accommodations they require to access businesses and leisure activities. Susan Jackman, Hāpai Executive Manager, will explain

how the card works, where it can be used and how to apply for one.

Polio – Now and Then

Those who contracted polio in the past are continuing to live with the effects today. Jessie Snowdon, founder of On-the-Go Physio

will talk about the effect that polio is still having on people in 2021 and what help is available with the new Christchurch Polio Hub.

Advanced Care Planning

Jenna Cook, Advanced Care Planning Facilitator for Te Whatu Ora Waitaha, will discuss what is needed to get started on setting

up an Advanced Care Plan.

Wills and Enduring Powers of Attorney

Wills and Enduring Powers of Attorneys are important documents that can help reduce the emotional and financial stress on your

family after your death, or if you lose capacity. Join Paul Owens and Cora Granger from Parry Field Lawyers to learn what Wills

and Enduring Powers of Attorney are, how to get them in place, things to considering when preparing them and what can go

wrong when you don't have them in place.

Brain Health – Minimising the Risk of Getting Dementia

Research published by the Lancet Commission in 2020 tells us that approximately 40% of dementias worldwide can be prevented

or delayed. Today, Lee Andrews, Dementia Educator/clinical leader Dementia Canterbury, will talk about some of the lifestyle

factors that will help to reduce our personal risk of getting dementia.

Online Safety and Scams

Using the internet and having to complete essential tasks on-line is a necessary part of our lives. Cyber criminals, scams

and computer viruses are real threats we need to be aware. Join Aram Raof-Karim, cybersecurity expert at the University of

Canterbury, as he talks about how to spot when things aren't quite right and what to do to keep you and your family cyber safe.

Seniors: Start Your Own Business

Are you over 50? Do you have an idea that could start your own business? Research shows that those over 50 who are setting

up a new venture have their own set of unique advantages and challenges. Business startup coach Dr Chris Kirk and founder of

Later-in-life innovators, will provide information about what you could do.

Live Stronger for Longer

The Live Stronger for Longer project is a national initiative supporting older adults to stay living independently and injury free, in

their own homes. Lily Purdon, community group strength and balance programme lead at Sports Canterbury will discuss how

ageing affects our ability to do daily activities, the latest exercise guideline for over 65's, along with importance of strength and

balance activities for active ageing.

selwyn.govt.nz/swell
---
18 Selwyn Times Wednesday October 19 2022

STYLE & QUALITY

FOR LESS

Outdoor Furniture

NOW IN STOCK

Palm Beach

Outdoor

Raglan Egg

Chair

Palm Beach

Egg Chair

LANDED

$

2899

Three Seater, two Single Seaters & Coffee Table

LANDED

$

899

LANDED

$

899

Pegasus 3 + 1 + 1 + Coffee Table

12

LANDED

$

2399

LANDED

$

3299

Lending criteria, $50 Annual Account Fee, fees, Ts&Cs apply. Standard Interest Rate

(currently 25.99%p.a.) applies to any outstanding balance at end of interest free period.

Offer ends 31 December 2023. Min spend and exclusions may apply,

$55 Establishment Fee or $35 Advance Fee applies to Long Term Finance Purchases*.

LANDED

$

159

Marley Outdoor Dining Chair

Available in Black or White

Piha Extension

Outdoor Table

Corsair

Outdoor

LANDED

$ LANDED

2599 $

2899

Akaroa Lounge Setting

3 + 1 + 1 + Coffee Table

FREE

CARPARKING

SOUTH CITY

BATH ST

WE ARE

HERE

255 MOORHOUSE AVE

REBEL SPORT

COLOMBO ST

WWW.AFFORDABLEFURNITURE.NZ

MON-FRI 9:30AM – 5:00PM

SAT-SUN 10AM – 5:00PM

0800 268 264
---
Wednesday October 19 2022 Selwyn Times

Latest Canterbury news at starnews.co.nz

SPORT 19

Chamberlain's ton steers the way again

HARRY Chamberlain's second

consecutive match-winning

century on Saturday has

given him and his Leeston-

Southbridge team a dream

start to the new country cricket

season.

In a Canterbury Country premier

one day competition clash

of the titans at Darfield Domain,

Chamberlain's innings of 101 not

out, off just 83 balls, steered his

team to a tense two-wicket win

over rivals Darfield.

There were also victories for

Weedons, Cheviot, and Sefton

in round two in what is shaping

up to be a quality, hard-fought

season.

Leeston-Southbridge won the

toss and elected to bowl first – a

decision they were soon ruing

when Canterbury representatives

Zak Foulkes (89 off 108) and

Henry Shipley (37 off 40) were

cruising against the balanced,

disciplined bowling unit.

Darfield finished their 45 overs

on 211/7, confident that they

could defend the total on their

home patch.

And they soon had Leeston-

Southbridge reeling at 89/6,

before Chamberlain, hot off

an unbeaten century the week

before, teamed up with Dougald

Munro (30 off 37) for an ultimately

match-winning 99-run

seventh-wicket partnership.

IN FORM: Harry Chamberlain in a Leeston-Southbridge

win against Darfield earlier this year.

PHOTO: KAREN CASEY

There were still some tense

moments before the winning

runs were knocked off in the

40th over, however, with just two

wickets to spare.

Sefton secured their second

big win in as many matches with

a 93-run win over Peninsula-

Harbour in spite of their top

order failing to fire.

Batting first, at 49/4, it was

seasoned campaigner Matt

Laffey who came to the rescue,

caressing 85 runs off 113 balls to

help lift Sefton to 217. Akhil Pant

and David Neal claimed three

wickets apiece.

Micah Campbell was

destroyer-in-chief for Sefton,

taking the new ball and knocking

off the combined side's top

order. Campbell finished with

match-best figures of 4/15, as the

competition newcomers struggled

with the bat for the second

week in a row, falling to be all

out in the 30th over for 124.

At Southbrook Park, on a

deceptively dicy-looking pitch,

Cheviot elected to bowl first

against the combined home side

representing Oxford-Rangiora-

Southbrook.

It was only the typicallydogged

innings of opener Calvin

Scott who showed any resistance

against the Magpies attack, with

Scott carrying his bat for an

unbeaten 42 off 99 balls.

No other batsman was able to

hang around with him and they

were rolled for just 103 in 38.3

overs, with the three Fitzpatrick

brothers, Tom, Johnny and

Harry, sharing seven wickets

between them.

Cheviot opener Ryan Ellis

quickly showed how few

demons there were in the newlyrefurbished

'Brook pitch by

smashing an unbeaten 61 off just

33 balls to complete the ninewicket

thrashing in just 13 overs.

Ohoka suffered another

heavy loss, this time a sevenwicket

defeat to Weedons who

rolled them for 111 before

Blake Coburn almost singlehandedly

knocked off the runs

by smashing 72 off just 52 balls,

including four sixes.

Short scorecard:

Darfield 211/7 (Z Foulkes

89, H Shipley 37, J Frew

28; C Beatson 2/28, W

Macfarlane 2/47)

Lost to Leeston-

Southbridge 212/8 (H

Chamberlain 101no, D

Munro 30, J SImpson 28; J

Frew 4/27).

Sefton 217 (M Laffey 85,

C Warner 23; A Pant 3/39,

D Neal 3/54)

Beat Harbour-Peninsula

124 (M Campbell 4/15, M

Smith 2/22).

Oxford-Rangiora-

Southbrook 103 (C Scott

42no; J Fitzpatrick 3/14, T

Fitzpatrick 3/29, W Smith

2/13)

Lost to Cheviot 106/1 (R

Ellis 61no, H Fitzpatrick

37).

Ohoka 111 (D Lyons 26;

C Robson 3/18, J Parker

2/18, J Benton 2/22, B

Coburn 2/26)

Lost to Weedons 113/3

(B Coburn 72).

03 322 4548 | Easy Parking

17 Lillian Street, Halswell

www.maxwellfashion.co.nz

Open Mon-Fri 9.30am - 5.00pm

Saturday 10.00am - 1.00pm

Check out our facebook page

LAYBY WELCOME

25 %

off

Resene Premium Paints,

Wood Stains, Primers,

Sealers, Wallpaper,

Decorating Accessories

and Cleaning Products!

Come in and see us today!

Ashburton Resene ColorShop

327 Burnett St, (03) 307 6510

or shop online at shop.resene.co.nz

Discounts off the normal retail price 35-31 October 2022 at

Resene owned ColorShops and participating resellers. Paint offers

also available at participating Mitre 10 MEGA/Mitre 10 stores.

Valid only with cash/credit card/EFTPOS purchases. Not available

in conjunction with account sales, promotional vouchers/coupons

or other offers. Excludes trade, ECS, WallPrint, wall decals, Crown

products and PaintWise levy.

SELWYN

SPORTS CENTRE

THE SELWYN STRIDERS

MONDAYS 10–11AM

Enjoy a walk around our 240-metre indoor track with optional exercise stations set

up at each corner. A great opportunity to meet new people or have a catch up with

friends with a complimentary tea/coffee and biscuit when you're finished.

Suitable for all ages.

$3 per session. $2 Gold card holders.

SELWYN.GOVT.NZ

SELWYNSPORTSCENTRE

Starts 31

October!
---
20 Selwyn Times Wednesday October 19 2022

Christchurch

16 Watts Rd, Sockburn.

tradedepot.co.nz

BIRTHDAY

ON NOW

T-Canopy Rangehood

600 m³/h

$

349

LOW PRICE

330360

Super Fast

Induction Cooktop

$

649

LOW PRICE

320262

24 Month Warranty

60cm

W I D E

60cm

W I D E

Freestanding

Oven

4 Functions

4 Gas Burners

$

479

LOW PRICE

310115

24 Months Warranty

56 l

50cm

W I D E

Freestanding

Dishwasher

12 Place, 2 Rack

6 programs

4.5 Stars WELS

$

399

LOW PRICE

348215

24 Month Warranty

12

PLACE

60cm

W I D E

Luxury Cross Door

Fridge Freezer

Family Sized Storage

Black Glass

$

1599

WAS $ 1749

353547

24 Month Warranty

545 l

833mm

W I D E

Edge Side Cabinet

300mm X 1600mm

Right Hung

Edge Wall Vanity

2 Drawers

Soft Close

$

499

LOW PRICE

211199

5 Year Warranty

800mm

W I D E

$

449

LOW PRICE

261557

Thea Basin Mixer

$

105

LOW PRICE

241705

10 Year Warranty

Novo Floor Vanity

$

399

LOW PRICE

902165

5 Year Warranty

*TAPWARE NOT INCLUDED

Zaha Basin Mixer &

Shower Mixer

All Pressure

WELS 5 Star

$

135

LOW PRICE

244370

10 Year Warranty

Black Square Shower

Flat Liner

Edge Wall Vanity

$

499

LOW PRICE

900mm

W I D E

800mm

W I D E

$

599

WAS $ 649

211198

902238

5 Year Warranty 10 Year Warranty

6-in-1 Multi Use

Pressure Cooker

Bread Maker

Air Fryer

High-Speed Blender

i5C+WiFi Robot

Vacuum Cleaner

P12 Flex Cordless

Vacuum Cleaner

Wine Fridge

6.0 l

580W

4.8 l

450W

46L

$

119

LOW PRICE

350110

24 Month Warranty

$

125

WAS $ 149

350155

24 Month Warranty

$

169

LOW PRICE

350103

24 Month Warranty

$

149

LOW PRICE

350141

12 Month Warranty

$

299

WAS $ 399

386600

24 Month Warranty

$

279

LOW PRICE

385619

24 Month Warranty

$

279

LOW PRICE

356046

24 Month Warranty

Industrial Grade

Measuring Tape

Claw Hammer

Caulking Gun

Class 5 Earmuff

Safety Glasses

Latex Crinkle

Coated Gloves

General Purpose

Silicone Sealant

8M

20oz

$

5.50

LOW PRICE

732008

$

10

LOW PRICE

731845

$ 4.00

LOW PRICE

750320

12 Month Warranty

$

5.00

LOW PRICE

731882

$

6.00

LOW PRICE

731764

$

1.40

LOW PRICE

731902

$

3.60

LOW PRICE

753031

Prices Guaranteed as of 23/10/22. Subject to change.

CAN-C 31

KITCHENS | BATHROOMS | APPLIANCES
---
Wednesday October 19 2022 Selwyn Times

Latest Canterbury news at starnews.co.nz

SPORT 21

WINNER: Corban Farnley preparing to launch his jetski into the water and competing at Lake Havasu in Arizona at the world championships, where he

won the Pro Am Ski Lite class.

Teen jetski champ follows in dad's footsteps

• By Susan Sandys

RACING ON a jetski is

something Corban Farnley, of

West Melton, has been doing

since the age of 10.

It is also something the

17-year-old is very good at,

proving that last week as he

arrived home from America with

a trophy for winning the Pro Am

Ski Lite class at the International

Jet Sports Boating Association

annual world finals.

Competitors from 34 nations

competed for a number of

world titles at the 42nd annual

championships, held at Lake

Havasu, Arizona.

Farnley said there was no

secret to his success, it was just a

case of practice makes perfect.

"Practice is the best way to

get better, just keep riding, keep

riding," he said.

He is following in the footsteps

of dad Chris, a former national

champion who owns jetski

shops in Christchurch and

Auckland. The pair are regulars

on Christchurch's Lake Roto

Kohatu, where they get out and

ride together.

Farnley is also a national

champ, and is not new to world

titles either, having won three at

Lake Havasu three years ago, in

amateur and kids' classes.

He said his goal was to move

up to open classes at the world

champs next year, where the

speeds of jetskis reach about

125kmh, compared to about

80kmh in the lite class.

He said he had been grateful

to compete at the world

championships this year, after

not initially expecting to make

it there.

He has recently started

a building apprenticeship

at Rolleston's Clark Bros

Construction, which paid for his

flights, but his passport expired

during the pandemic.

Mum Melissa Farnley recalled

the whirlwind of getting ready

to go once the decision was

made.

"He phoned me and said 'Mum

do you think you could get me

a passport, because my boss (at

Clark Bros) has sponsored me

to the worlds'. That's how quick

it was, there was no full-on

training like there usually is,"

Melissa said.

She applied for an urgent

passport, which arrived just in

time for him to make a New

Zealand team members'

flight.

"We got it on the Friday, and

the Sunday morning he was on

the plane. It was full bore."

MEARES WILLIAMS

LAWYERS

Over 10 Years in Selwyn

Belinda Ferguson

Anita Molloy-Roberts

Olivia Johnston

Maddy France

Kieran Heenan

Ruby Jones

New brochure

out now.

W: www.meareswilliams.co.nz

T: (03) 374 2547

E: reception

@meareswilliams.co.nz

ROLLESTON OFFICE

80A Rolleston Drive, Rolleston

Offices also located at:

43 Gerald Street, Lincoln

225 Papanui Road, Christchurch

Celebrating

20 YEARS IN BUSINESS

Purchase a heat pump

from us during October and go

in the draw to win one of two

65" Panasonic LED TV's

41A SHAKESPEARE RD, WALTHAM

PHONE 03 366 0525

www.enviromaster.co.nz

80%

SubSidy

Warmer KiWi HomeS

Programme

*Eligibility criteria apply

APPROVED SUPPLIERS AND SERVICE AGENTS OF ALL LEADING BRANDS

Pick up a copy from any Council

facility or view it online:

selwyn.govt.nz/events
---
22 Selwyn Times Wednesday October 19 2022

Shop

Local

ROLLESTON

ABOUT US

Techpro is a professional platform for

digital device repairs.

This platform integrates all relevant

resources online and offline, aims to

provide NZ consumers with convenient,

secure, reliable, and prompt repair

services for their digital devices.

WHAT OUR CLIENTS SAY ABOUT US

Techpro @ Rolleston

★★★★★

"Brilliant to have this well stocked store in

Rolleston. We had great service from Terry

who helped us get 3 requirements sroted

easily." - Jane Mcskimming

CONTACT

03 928 1688

rolleston@techpro.net.nz

review us

on Google

techproltd

Shop 36/9 Masefield Drive,

Rolleston 7614, New Zealand

www.techpro.net.nz

Best Mobile Phone

Repair Services

at affordable prices
---
Wednesday October 19 2022 Selwyn Times 23

Your Selwyn Property Brokers

Real Estate Team.

Our work family, look

forward to working

with your family.

Call us for a no obligation

free market appraisal:

Rolleston (03) 929 0306

Darfield (03) 975 4506

Lincoln (03) 595 6954

Leeston (03) 281 8704

Property Brokers Ltd Licensed REAA 2008 PB061983
---
24 Selwyn Times Wednesday October 19 2022

advertising

Lincoln Envirotown's

Annual Clothes Swap

This popular event will take place

on the evening of Thursday 17th

November at the Lincoln Event

Centre.

This event was hugely successful

last year and large numbers of people

and clothes are expected this year.

People are encouraged to bring their

clothing items (those that we all have,

unused in our cupboards) and drop

them off at designated drop off points

in Lincoln and Rolleston. The times

and locations of these can be found

on Humanitix (Lincoln Clothes Swap)

or Lincoln Envirotown's Facebook or

website. Those who do these early drop

offs will be given an "Early Bird" ticket

which entitles them and one other, to

early entry on the evening.

Textiles are a major contributing

element to landfill and the longer that we

are able to keep them in circulation the

better. It is a means of helping reduce the

negative impacts of the fashion industry

on our environment.

There is no payment for entry or for

clothes. The event provides a chance to

enjoy changing one's wardrobe, as well as

keeping resources circulating.

Lincoln Envirotown looks forward to

welcoming everyone and hopes that the

normal busy evening will be enjoyed by

all.

Clothes

Swap

FREE EVENT

Drop off your clothes prior to the event to receive a

ticket that gives you and a friend early entry.

7pm -

8.30pm

Thursday

17

November

Lincoln

Event

Centre

Drop off details are below, we will be in our blue Envirotown T-Shirts

Te Ara Ātea,

Rolleston Library

Thursdays 7pm-7.45pm

20th October

27th October

3rd November

10th November

Lincoln Library

Thursdays 7pm-7.45pm

20th October

27th October

3rd November

10th November

Drop off by arrangement:

03 423 0445 | 021 2617 251

DM @LincolnEnvirotown | lincolnenvirotowntrust@gmail.com

Mrs O's Cafe,

Lincoln University

Mondays, 9am-10am

17th & 31st October

7th & 14th November

or

Wednesdays, 9am-10am

26th October

2nd, 9th & 16th November

FROM

$

4780

We help you

grow it &

mow it

WE SERVICE ALL MAJOR BRANDS OF

OUTDOOR POWER EQUIPMENT:

• Riders

• Lawnmowers

• Chainsaws

• Brush Cutters

• Hedge Trimmers

• Blowers

FREE

EARMUFFS

THIS OCTOBER!

Get yours with every finished

product purchased in October.

p. 03 324 3880

22 Station St, Leeston

thinkwatercanterbury.co.nz
---
Wednesday October 19 2022 Selwyn Times 25

Selwyn

Events

We're Back in 2022!

Enjoy exciting events this season in Selwyn.

Selwyn Fireworks

Spectacular

Saturday 5 November 2022

Foster Park, Rolleston

Come along to this family friendly

community fireworks display. There

will be live entertainment, carnival

rides, bouncy castles and food. Get

your friends and family together to

watch the fantastic display.

For more information visit

selwynfireworks

Motorfest

Sunday 20 November 2022

Halpet Park, Rolleston

Nothing is more exciting to a

motor enthusiast than a festival

purely dedicated to the art of cars.

Motorfest is a community event with

over 500 vehicles on display. Live

music, stalls and food available. A

great day out for the whole family.

For more information visit

SelwynMotorFest

Proudly supported by Selwyn District Council
---
26 Selwyn Times Wednesday October 19 2022

Community recycling days coming up

Community recycling drop-off days are about to be held in Malvern

and Ellesmere.

Wherever you live in Malvern or Ellesmere, this is a great opportunity to clean

up the backyard, shed or garage, and get rid of items from old child car seats

and E-waste to scrap metal, garden waste and old tyres.

2022 triennial

election results

Three new Councillors have been elected to join returning Mayor Sam Broughton

and seven returning Councillors.

The new Council has been confirmed following the release of the final results for

the 2022 Selwyn District Council elections.

Mr Broughton says he's excited about the opportunity to continue leading on

behalf of the district, and welcomed the three new councillors.

"It's so encouraging to be supported by our community. The result is an

endorsement of our Council's vision for Selwyn and the hard work we have put

in to get us to where we are today. There is still much to be done and I'm looking

forward to the opportunities and challenges the next three years will bring.

"It's also really exciting for the new Councillors joining the team. Well done

Lydia Gliddon, Elizabeth Mundt and Phil Dean. We also owe a big thank you to

Councillors Jenny Gallagher, Mark Alexander, Murray Lemon and Geoff Bland for

all their work on the Council over the last three years."

The successful candidates are:

MAYORALTY

Sam Broughton

ELLESMERE WARD (2 VACANCIES):

Shane Epiha

Elizabeth Mundt

MALVERN WARD (2 VACANCIES):

Lydia Gliddon

Bob Mugford

ROLLESTON WARD (3 VACANCIES):

Phil Dean

Nicole Reid

Sophie McInnes

SPRINGS WARD (3 VACANCIES):

Malcolm Lyall

Grant Miller

Debra Hasson

MALVERN COMMUNITY BOARD

TAWERA SUBDIVISION (1 VACANCY)

Sean Ellis

Dropping off scrap metal, including old bicycles, BBQs, small appliances,

whiteware, and pots and pans is free. Charges apply for bulky items that

would be too large for your wheelie bin, such as couches, mattresses, desks

and curtains. Charges also apply for green waste, tyres, car seats and some

E-waste such as TVs and monitors. Disposal of other E-waste and recyclable

cardboard items is free.

Smelly waste, wet waste or waste that can't easily be transferred to a skip

without making a mess cannot be accepted. Hazardous waste, gas bottles,

items containing oil or fuel and tyres covered in dirt also can't be accepted.

Flax, cabbage tree leaves, trees or branches over 10cm in diameter, and

general rubbish cannot be included in green waste, but can be accepted as

general rubbish.

Only household quantities will be accepted. Please ensure you are able to

unload your own materials.

The drop-off days will be at Hawkins Pit, Darfield, on Sunday 30 October,

10am-4pm and Cemetery Pit, Southbridge Leeston Rd on Sunday 20

November, 10am -4pm.

Cash only (no eftpos). A donation will be made to a local not-for-profit

organisation for their help with these events. For more information visit

selwyn.govt.nz/recyclingday.

Halloween coming to town at

'Trunk-or-Treat'

It's time to pull out your spookiest costumes and frightfully good decorations!

Trunk-or-Treat is coming to Selwyn for the first time to celebrate Halloween.

The two free Trunk-or-Treat events, on 31 October, will see people decorate the

boots of cars with a Halloween theme. Sweets, prizes for the best decoration

and even a haunted house will be among the other attractions at the events

which encourage family fun in a safe, community friendly atmosphere.

Special guests will be there from the Rolleston and Dunsandel fire and

emergency services, St John New Zealand, New Zealand Police, and Burnham

Military Camp.

The first Trunk-or-Treat will be held at the Dunsandel Community Centre from

3.30 to 4.30pm, followed by the Rolleston Community Centre's event from

5.30 to 6.30pm.

A Halloween Disco will also be held at the Lincoln Event Centre from 3.45

to 5pm.

See Council's website for the most up-to-date information and to register your

vehicle. Bookings are required if you are going to decorate your car. For more,

visit selwyn.govt.nz/events.

Enter your team in the Corporate

Floorball League

The Selwyn Sports Centre is inviting residents to get their workmates together

for a competitive five-week corporate floorball challenge.

Teams of between five and eight people are welcome to take part in the fun,

fast league, with games kicking off from Tuesday 1 November at 6.30pm.

The sport is a type of indoor floor hockey, with teams fielding four players and

a goalie.

To register your team, visit selwynsportscentre.co.nz.

HAWKINS SUBDIVISION

(2 VACANCIES)

Ken May

Sharn Nu'u

WEST MELTON SUBDIVISION

Calvin Payne

Bruce Russell

The voter return was 42.44%, or 20,497 votes, excluding special votes.

For full election results visits selwyn.govt.nz/elections.

The new Council will hold its inaugural meeting on 2 November.

SELWYN

SPORTS CENTRE

CORPORATE FLOORBALL

Tuesdays

Skills Session 25 October, 6.30–7.30pm

Games 1–29 November, 6.30–9.30pm

Council Call

SELWYN DISTRICT COUNCIL

Norman Kirk Drive, Rolleston

Ph 0800 SELWYN (735 996)

TE ARA ĀTEA

56 Tennyson Street, Rolleston

Ph 347 2880

DARFIELD LIBRARY & SERVICE CENTRE

1 South Terrace, Darfield

Ph 318 8338 or 347 2780

CC191022
---
Wednesday October 19 2022 Selwyn Times 27

SWELL expo hitting the airways on Plains FM

Topics as diverse as brain health, starting your own business for those aged 50+, and the pros and

cons of moving into a retirement village will be covered on this year's SWELL on air programme on

Plains FM 96.9.

The radio show is part of the SWELL series running from 9–23 October. "The radio programme was

developed last year, as the expo was unable to run, and was such a success we had to do it again,"

Community and Economic Development Advisor Kirstin Dingwall-Okoye says.

This year's programme has been developed by Robyn Johnston of Transition Navigators with Plains

FM, and includes interviews with a wide range of people supporting older people to live well

in Selwyn.

Episodes will run at 11am on Plains FM, this Wednesday to Saturday 22 October. The programmes

will be available through Spotify and Apple podcasts, once they have aired. The series has been

curated from presentations held during last week's SWELL expo speaker series.

Dingwall-Okoye says "SWELL is all about celebrating wellbeing and inclusion for older

people, particularly those living or thinking about living in Selwyn district. There are now large

communities of older people in Selwyn and we're keen to make people aware of organisations,

groups and information that will support them to live well here."

For more SWELL events visit selwyn.govt.nz/swell.

Labour Day Hours

Council facilities will be closed on Monday 24 October. This includes Rolleston offices,

Selwyn Libraries and Service Centres, Council-managed community centres and the

Selwyn Sports Centre.

The Selwyn Aquatic Centre is open 8am–8pm.

Pines Resource Recovery Park will be open normal business hours 9am–4.30pm.

Rubbish and recycling collections will take place as normal.

Notices

Water race and land drainage maintenance

Land drainage

All property owners who have a watercourse

running through or adjacent to their property

are reminded they are responsible for the

maintenance of these watercourses, including

ensuring there are no obstructions which could

affect the flow of water. Planting or allowing

trees/vegetation within the watercourse is also

prohibited. If you wish to plant the banks of the

watercourse please consult with the Council.

We will provide further information on this

procedure. Please also ensure if you are weed

spraying that this only occurs in the dry base of a

watercourse, or the top of the bank. Spraying on

the sides of the banks can cause instability and

lead to the banks slumping.

Meetings

Public Forums: Council, Community Board and local committee meetings are open to the public. Time is

available at the start of meetings for people to speak on matters of concern. Please notify Therese Davel or

Bernadette Ryan if you wish to speak at the Council meeting at least five days before the meeting.

Township, Hall and Reserve Committees: To list or make changes to meeting details, email

meeting.changes@selwyn.govt.nz or phone 0800 SELWYN (735996) by 9am Wednesday the week

before publication.

COUNCIL & COMMUNITY BOARD MEETINGS

Council Meeting*

Wednesday 23 November 1pm

Rolleston Council Offices

Malvern Community Board

Monday 7 November 4pm, Darfield Library

* Livestreamed on the Council YouTube channel

DISTRICT COMMITTEE MEETINGS

Rolleston Residents' Association Inc.

Monday 31 October 7.30pm

Rolleston Community Centre

On the Roads

Water races

If you have a privately cleaned water race

please remember it should be cleaned

frequently enough to keep sufficient flows for

all users. Failing to clean a race may result

in disruption for downstream users. You're

also responsible for making sure vegetation,

such as large trees and hedge lines, doesn't

impede water race flows. Council cleaned

races will be cleaned from October to March.

If a Council cleaned water race is within your

property, please provide clear access to the

water race.

Springfield Township Committee

Tuesday 1 November 7.30pm, Tawera Memorial Hall

Springston Community Committee

Wednesday 19 October 7.30pm Errol Tweedy

Pavilion, Springston Reserve

Springston South Soldiers Memorial Hall AGM

Tuesday 1 November 7pm

Springston South Soldiers Memorial Hall

All welcome. For more information phone

Helen Duckworth 329 5079

East Maddisons Road is closed between Lemonwood Drive and 570

East Maddisons Road until 4 November, while the subdivision owners

carry out works to install a sewer main. A detour is in place.

Traffic management is in place on Whitecliffs Road for construction of the next

stage of the Whitecliffs to Glentunnel walkway.

Please take care around work sites and follow site signage. Follow the QR code with this story for a

map of these works, or view our road closures map at selwyn.govt.nz/roadclosures.

Event Guide

Thursday 20 October

SWELL: Have a go!

Selwyn Sports Centre, 12–2pm

Pop down to the Selwyn Sports Centre in Rolleston

to try out the indoor walking track before testing

your skills at table tennis, pickleball and indoor

bowls. No experience needed! A great way to meet

new friends. Free to attend. Bookings required at

selwyn.govt.nz/events.

Thursday 20 October

Virtual Reality (VR) drop-in sessions

All Selwyn Libraries

Kayak with the penguins in Antarctica, fly to the

international space station and experience zerogravity,

complete our Beat Saber challenge; or even

tour Anne Frank's house. 13+ years. For times at each

library visit selwynlibraries.co.nz/events.

Thursday 20 October

Predator trapping–how and why?

Lincoln Library, 6.30–7.30pm

Join Ali Duncan, Lincoln Envirotown's trap expert, for

predator trapping advice and information on how to

hire traps (for free) through the trap library.

Suitable for 18+ years.

Free. Bookings required selwynlibraries.co.nz/events.

Friday 21 October

SWELL: The Liffey Walk

Cnr Kildare Tce and Gerald St, Lincoln

10–11.30am

Take a guided walk from Lincoln township, along the

banks of the Liffey to the Lincoln Wetlands. Selwyn

District Council's biodiversity team will provide

information about the flora and fauna in the area. An

easy flat track, perfect for beginners. Please wear

good outdoor walking shoes and bring a drink bottle

and sunscreen. Free to attend. Bookings required at

selwyn.govt.nz/events.

Sunday 23 October

Board Games Club

Te Ara Ātea, 1.30–3pm

Love board games? Head along to Te Ara Ātea to

play a variety of exciting games. Suitable for those

new to board games, as well as regular players.

Bookings not required for this free event.

Sunday 30 October

Swap Shop

Hororātā Community Hall, 3–5pm

Bring unwanted items such as clothing, small

household accessories and plants to the Hororātā

Community Hall to pass on to people in your

community. Everyone will get a table to display their

goods. Pass on things you no longer need and pick

up some new items for yourself. Gold coin entry.

Bookings required at selwyn.govt.nz/events. Also,

keep an eye out for the next Swap Shop at Tawera

Memorial Hall on 26 November, 3–5pm.

FOR MORE COUNCIL EVENTS VISIT

SELWYN.GOVT.NZ/EVENTS

LEESTON LIBRARY & SERVICE CENTRE

19 Messines Street, Leeston

Ph 347 2871

LINCOLN LIBRARY & SERVICE CENTRE

Gerald Street, Lincoln

Ph 347 2876

0800 SELWYN

SELWYN.GOVT.NZ

SELWYNDISTRICTCOUNCIL
---
Selwyn Times Wednesday October 19 2022

28

NEWS

Latest Canterbury news at starnews.co.nz

Iconic fun run back from city to surf

IT'S BACK TO the future for

Christchurch's most notable fun

run.

The Les Mills City2Surf in

March will start in the central

city and wind its way to New

Brighton, finishing at Rawhiti

Domain.

It will be 50 years since the

first Les Mills City2Surf, which

has seen hundreds of thousands

of Cantabrians take part over the

decades.

Because of the damage the

February 22, 2011 earthquake

caused to the original route, the

event was switched from starting

at Pioneer Stadium to the finish

at Ferrymead Historic Park.

Star Media regional manager

Steve McCaughan said it was

fantastic the City2Surf was

returning to the central city out

to the coast.

"After all these years it's great

to be going from city to surf

again," he said.

Starting at Latimer Square

at 9am, the full 12km route

includes the Otakaro Loop and

Avonside Drive, continuing

along New Brighton Rd and

finishing at the City2Surf village

at Rawhiti Domain.

For those who want to take

part, but find the 12km distance

too long, the shorter, 6km

route starts at 10am at Avon

Park, opposite Porritt Park in

Avonside Drive, also finishing at

Rawhiti Domain.

In the early years, the event

started from Cathedral Square

and finished at New Brighton

beach. After four years it

finished at QEII Park, then in

2012, following the earthquakes,

the finish line changed to the

Ferrymead playing fields.

The event will mark the 50th

year since the inauguration of

the City2Surf in 1974, and it will

be the 48th running of the event.

McCaughan says the organisers

are hoping to see 15,000 people

taking part, making it the

biggest event to date.

The naming sponsor for the

2023 City2Surf is again the

Christchurch Les Mills fitness

club.

Club manager Tevita

Siulangapo, who describes

himself as "a born-and-bred

Christchurch boy" says he has

always viewed the City2Surf

event as an "integral part

of mobilising the people of

Otautahi".

"So, having the opportunity to

support such an iconic gathering

through Les Mills makes me

incredibly proud," he said.

While City2Surf is billed

as a fun run, participants can

complete the course by walking,

jogging or even pushing the baby

in a pram, however they wish,

though many do treat it as a

serious running event.

Groups of people can also

enter as a team, and can book a

team site at the finish line. On

reaching the finish, participants

are invited to spend time at the

new City2Surf village, with its

live music, warm-down exercises

and food stalls.

"We're excited about the

new village and the festive

atmosphere it will create for

everybody so we encourage them

to stick around and enjoy it,"

McCaughan says.

There will also be a prize

pool. Every entry bib will have a

unique number giving everyone

the chance of their number

being drawn to win a prize.

• Entries opened Saturday,

October 15.

Fees: Adults (12+), $35;

children (five to 11), $20.

Both include bus fare to

the starting point and from

the finishing point. Children

under five enter free.

Entries can be purchased

online at the City2Surf

website or from advertised

outlets.

LBP117593

64mm

Bealey Ave

Kilmore St

12KM

START

Madras St

Design by Deb Ltd

Deborah Wilson

Architectural Designer

& Technician for 20years

Deb@DesignByDeb.co.nz

Office 03 338 5415

Cell 0274143000

Fitzgerald Ave

Medway

Footbridge

Stanmore Rd

Grayhurst Rd

Snell Place

Footbridge

6KM

START

New Brighton Rd

Avondale

Footbridge

Wainoni Rd

ANZAC Dr

Pages Rd

Rawhiti

Domain

FINISH

Bus Loading

Location

Water Station

Foot Bridge

www.city2surf.co.nz

FUN RUN FACTS

• Since the start of City2Surf

the distance participants will

have covered is equal to 120

times around the world.

• And they will have burnt off

an estimated 188,730,000

calories.

• The City2Surf is also

a fundraiser. Since its

inauguration the event has

raised over $5 million in

benefits for local charities.

DESIGN

BY DEB LTD

90mm

Residential &

commercial design in

3D, Alterations and new

builds from concept to

building consent to build

and code of compliance.

BEFORE

AFTER

From concept design in 3D, through to

Deborah Wilson

building consent and build.

Architectural Designer & Technician for 20 years

Phone: 03 3385415 Cell: 027 414 3000

Email: Deb@DesignByDeb.co.nz

Before

After

Division of Tuffnell Drainage Ltd

We

unblock

drains

Call us now 03 974 3561

Now servicing the Selwyn District

based out of Rolleston and Leeston

High pressure waterblasting • CCTV • 7 days a week service
---
Wednesday October 19 2022 Selwyn Times 29

SELWYN RURAL LIFE

First for Water Quality Monitoring

For the first time, people can explore the health of New

Zealand's monitored lakes on an interactive map.

Everyone can check the results of freshwater monitoring in their

region on the LAWA project's environmental data website, www.

lawa.org.nz.

LAWA Lake Science Lead Dr Jane Groom said the new LAWA

Lake Quality topic map showed interesting spatial patterns – in

particular the difference in lake condition between our high

elevation lakes that are generally in good health, and lowland

lakes that are in poor condition.

"In our analysis we found 82% of monitored lowland lakes are

in a poor or very poor condition, meaning they are nutrient

enriched with an increased likelihood of algae bloom events."

The interactive map function has been available for four years

on the LAWA River Quality topic and tens of thousands of people

have used it to better understand the health of our waterways.

Dr Groom was hopeful that having this function now available

for lakes would help more people to connect with these precious

waterbodies.

"Through the interactive map, people can see the state and

trend of a whole range of lake health indicators and click through

to a site page to see monitoring histories for nutrients, algae,

bacteria, and water clarity. It's a big step forward in making

information about New Zealand's lakes freely available," she said.

LAWA River Science Lead Dr Coral Grant said the science

team have also been exploring the state of rivers and streams at a

national level, and how this varies over time and by surrounding

land cover.

"The common theme between degraded lakes and stressed

rivers is that they are found in areas where the land is highly

modified, whether that be urban environments or pasture.

The latest river and lake water quality assessment from Land,

Air, Water Aotearoa (LAWA) shows Canterbury is a "mixed

picture", Environment Canterbury says.

Regional council Canterbury chair Jenny Hughey said it was

important to reflect on the state of all Canterbury rivers, streams

LAWA's online interactive map covers 16 areas in New Zealand and reports on river water

quality, lake water quality, groundwater quality, air quality, land cover and estuary health.

and lakes, particularly our iconic braided rivers.

Hughey also noted the recent launch of a new website for one of

our most iconic "lakes" (actually a coastal lagoon), Te Waihora/

Lake Ellesmere.

"The LAWA river water quality national picture summary from

2012 to 2022 shows Canterbury has similar challenges to the rest

of Aotearoa," she said.

"It's a mixed picture at a high level showing little change

over the last few years. Clearly though, the more modified the

landscape (with urban being the most modified), the poorer the

water quality."

Canterbury had been addressing this for several years, mainly

via the Canterbury Water Management Strategy and our

freshwater planning framework," Hughey said.

Firewood & Coal

Coal

20 kg bags or

500kg bulk bags

Firewood

Pick up or deliver

(delivery charges apply)

Free delivery to Darfield township when

3 cubic metres or more is ordered.

Landscape Products

Now Available!

• Forest Mulch

• Bark Mulch

• Bark Nuggets (10/20mm)

• Premium Organic Compost

• Screened Soil

• Landscape Rocks

• Paparoa Red Rock available in 3 grades

• Railway Sleepers (2.1 Lengths)

• Kindling Wood

• Unscreened Bark

Delivery fees apply.

417 Creyke Road,

Darfield

Phone 03 975 4502

Eftpos now available

Open Monday to Friday 6am-6pm, Saturday 8am-1pm or after hours by appointment

Canterbury

Timber & Hardware

Call in today for your free quote!

Rural Farm

Shed Series

The CTH Rural Farm

Shed Series is your

affordable choice

for feed or vehicle

storage, workshop, or

utility shed. Designed

and engineered for

Canterbury's high

wind and 0.9kpa

snow loading they are

available in a range of

kitset sizes and prices

to suit most budgets.

167 Manion Road, Rolleston

P 03 347 7465 E sheds@cthl.co.nz W www.cthl.co.nz

Monday-Friday: 7am-5pm Saturday: 8am-12pm

GET YOUR RURAL

BUSINESS NOTICED

When you advertise your rural business in the Rural Life feature

in The Selwyn Times, your ad will reach 21,720 rural and

residential households across the ENTIRE Selwyn District.

The Selwyn Times is delivered FREE each Wednesday, covering

the latest local news and information with digital editions also

available to view online at www.starnews.co.nz.

CALL Lynette TODAY to discuss how she can help

PROMOTE YOUR BUSINESS to local Selwyn readers,

or to the entire Canterbury district.

Don't forget to ask about our "Support Local" packages to

assist the Covid Business recovery. We're here to help!

Contact Lynette Mobile: 021 222 7831 Email: Lynette.Evans@starmedia.kiwi
---
30 Selwyn Times Wednesday October 19 2022

X-TRAIL SALE

HUGE SAVINGS ON ALL MODELS

Available to drive home today from

$

37,990

+ORC

+CCF*

Price from is for a Nissan X-TRAIL ST 7 SEAT model at a special run out price of $37,990 excludes ORC and Clean Car Fees. On road costs include initial 12 month registration & WOF, fuel and vehicle delivery.

While stocks last. Offer cannot be used in conjunction with any other offer. Nissan reserves the right to vary, extend or cancel this offer.

CHRISTCHURCH CHRISTCHURCH NISSAN, NISSAN, 380 Moorhouse 380 Moorhouse Avenue, Avenue, Christchurch Christchurch

Ph: 03 Ph: 595 036820

595 6820

www.christchurchnissan.co.nz

www.christchurchnissan.co.nz

NISSAN 150,000 KM'S

FACTORY

5YR WARRANTY

christchurchnissan.co.nz

GTR 230

This watercraft is one of the

easiest ways to get into the

musclecraft scene. It comes

with a powerful supercharged

230-hp Rotax engine and

it is now equipped with the

exclusive LinQ Quick-Attach

System for cargo and the 100W

Bluetooth Audio System.

FEATURE HIGHLIGHTS

BRP Audio - Premium System

(Optional)

The industry's first

manufacturer-installed

truly waterproof

Bluetooth‡ audio system.

VTS (Variable Trim System)

Provides handlebaractivated

settings so

riders can easily find the

ideal trim for

varying conditions.

Swim Platform with Integrated

LinQ® System

Exclusive quick-attach

system on a large swim

platform that allows for

easy installation of

storage accessories.

ROTAX® 1630 ACE

230-hp Engine

This powerful engine

comes standard with

a supercharger and

external intercooler.

It is optimized to run

on regular fuel, which

lowers fuel costs.

GTI Hull

This moderate V-shaped

hull guarantees a stable,

enjoyable ride in variable

water conditions.

Confident, predictable

handling but incredibly

playful when you want it

to be.

Large Front Storage

An impressive 40 gallons

of sealed storage space

allows riders to safely

stow belongings while

riding.
---
Wednesday October 19 2022 Selwyn Times 31

Special sounds from VW's Golf R

IF YOU ARE anything like me

you have probably hankered after

a Volkswagen Golf GTi at some

point in your life.

Well, now is the time to buy,

the eighth-generation GTi hot

hatchback is here and it lives up

to all expectation.

But wait, the GTi has an inhouse

competitor in the form of

Golf R and from $79,990 it is just

$14k more in cost, and supply

lines aren't too onerous.

The Golf R shares much the

same concept as the GTi, but

it has higher power outputs –

235kW against 180Kw, and it

gets a few extra trick goodies

such as four-wheel-drive and

a torque vectoring system, the

latter allowing the driver to

explore adhesion limits without

wandering off the chosen line.

Under the bonnet sits a 1984cc

turbocharged engine that also

releases 400Nm of torque. What

makes these power figures

even more impressive are the

areas where they are developed,

both are realised consistently

through the rev band, 5600 to

6500rpm for power and 2500

to 5600rpm for torque. Those

figures are the secret of the Golf

R's performance, it doesn't need

to be revving hard to perform,

the power spread is broad and

unwavering.

The turbocharged boost

provides a linear flow of power,

a solid surge is delivered right

through the rev band. Of course,

the engine will sing to the red

line, but it doesn't need to, the

EXCITING:

Four

exhaust

pipes

impart a

bark and

angry throb

as power

is applied

in the

Volkswagen

Golf R.

torque surge will usher in early

acceleration from low revs.

Coupled to the engine is a

direct shift seven-speed gearbox.

Effectively it works much like a

traditional automatic but it can

be felt shifting like a manual

with noticeable changes, they are

smooth, but there is a distinctive

change pattern and between shifts

the exhaust crackles and barks,

that along with shrill wailing

and shrieking up front is a joy to

listen to.

Sequential shift movements

can be made through steering

wheel-mounted paddles, right to

change up, left to change down.

The ratios help keep the engine

excitable, it revs quickly to speed

and has strong power delivery,

there's little reason to expect any

turbo lag.

Engine sound is constant,

it is rorty along with some

vibrant shrieks and wails, and

with a heavy exhaust throb it is

infectious to listen to, the driver

is constantly reminded that a very

special piece of engineering lies

under the bonnet.

Acceleration is swift. According

to Volkswagen the Golf R will

reach 100km/h from a standstill

in 4.8sec. Throughout the midrange

it will scorch through a

highway overtake (80-120km/h)

in just under 4sec. The Golf R is

deceptively quick, but it is casual

in its delivery and is an easy car

to drive quickly when conditions

allow.

The driver has at his/her

control a set of varying drive

VOLKSWAGEN GOLF R: Ready for a club day on the race track.

mode settings that mean you

can drive it as quickly or as

casually as you wish. The modes

are activated through a central

display screen – comfort, sport,

race, individual, drift and 'Special

– Nürburgring.'

Quite obviously I didn't get

to sample the latter, but I did

alternate between comfort

and sport frequently, and even

in sport mode the ride is far

from harsh, both are perfectly

acceptable when road ripples and

ruts sneak up.

Power is directed to all four

corners through Volkswagen's

Haldex 4-Motion system, it is

a clever drive system that puts

power to ground decidedly

neutral and balanced. Steering

accuracy is delightful, the Golf

R can be forced into a corner

knowing that the high levels of

grip and extraordinary balance

mean entry speed and exit are

high.

The steering is a delight and

won't deviate off-line when power

is applied mid-corner. Turn-in is

sharp through low profile 19in

tyres, while grip levels are barely

challenged. Of course, traction

and stability control add into

the equation, but the chassis

is so good it doesn't rely on

electronic monitoring, the Golf

R's suspension and driveline are

high class, as are the brakes, huge

• Price – Volkswagen Golf

R, $79,990

• Dimensions – Length,

4290mm; width,

1789mm; height,

1439mm

• Configuration – Fourcylinder,

four-wheeldrive,

1984cc, 235kW,

400Nm, seven-speed

direct shift automatic

• Performance –

0-100km/h, 4.8sec

• Fuel usage – 8.6/100km

ventilated discs front and rear

take care of slowing the Golf R

quickly with strong under-pedal

feel.

True to the concept of its

stablemates, the Golf R is also

quite thrifty, on the run up to

Lake Coleridge Village, my

favourite high country road,

the trip computer was showing

a nine-litre per 100km average

with instantaneous returns of

5.2/100km at a steady 100km/h

(engine speed 1800rpm).

Volkswagen claims an

8.6l/100km combined cycle

average, although I would suspect

you'd have to drive conservatively

to achieve that, and that is not

what the Golf R is all about.

To complement its

performance and handling

character, the Golf R gets a

tasteful sporty interior, black

leather trim with blue strips and

embossed R logos are unusual,

however, I liked it. The layout is

almost minimalistic, the controls

are intuitive and user-friendly,

it's not overly showy but it does

fit the character of the car, you

certainly know you are sitting in

something very special.

While the Golf GTi and R

conundrum might be raging

in the heads of those buying

hopefuls, there's also another

equation that should be

considered, the Golf R comes

in two variants. The test car

was the 1st Edition model that

has the drift and special driving

modes that make it track day

ready.

The 1st Edition will also set

you back an extra $6k, which

is over and above the $79,990

(and Government $5170.50

clean car fee), but what it does

serve to prove is that there are

plenty of choices in Volkswagen's

performance car line-up, and I

haven't even got to adding the

Tiguan R into that proposition.

It is a sport utility vehicle I am

driving next, and I simply can't

wait.

As Volkswagen say in its

advertising promotions – 'it's an

R thing.' I can relate to that, in my

mind it certainly is something

rewarding.

NOW OPEN SATURDAY

9.00am – 4.00pm

Farmlands Darfield

For full store hours visit farmlands.co.nz
---
Selwyn Times Wednesday October 19 2022

32

NEWS

LET'S GO TO

LEESTON

St John's

Anglican Parish

HISTORIC: Last year's winner was Lynda Sadler, of Tai Tapu, with her

father's photo 'Balloonist in Lancaster Park'.

PHOTO: NEWSLINE

of Ellesmere Fair

Time to hunt out

your old photos

HAVE A look in your

garage, cupboard or

anywhere else you might

have stored that old and

probably forgotten photo.

Because it could be a

competition winner.

Last year, Tai Tapu resident

Lynda Sadler found a

photo taken at Lancaster

Park in 1899 in her garage,

developed by her father

from a glass plate.

The image 'Balloonist in

Lancaster Park' was taken

just weeks before the turn

of the century, during

a parachute display by

Murder of Dobson brother

makes true crime podcast

• By Susan Sandys

THE MURDER of a

man in 1866 who helped

discover Arthur's Pass

has featured in a new true

crime podcast.

Surveyor George

Dobson was ambushed

near Greymouth by three

members of the notorious

Burgess gang, in a crime

which later became known

as one of the infamous

Maungatapu murders.

The crime features as

episode 15 on the Sinister

Dynasty podcast, which

was released on Sunday.

The podcast was established

this year by three

Greymouth case manager

work colleagues – Andi

Butler and Ayla Odea, who

are the hosts, and Chris Efford,

who is the editor.

Dobson was walking

near Greymouth to

meet a colleague in his

job maintaining and

constructing roads along

the Grey River when he

famous daredevil Captain

Charles Lorraine.

Hours after the photograph

was taken the parachute

came apart from the

balloon and was blown out

to sea. Tragically Captain

Lorraine drowned.

The image won the

Christchurch City Libraries

Photo Hunt annual

competition, which is under

way again this year.

City council head of

libraries and information

Carolyn Robertson said

the image was chosen as

last year's winner because

George Dobson

was held up by Richard

Burgess, Joseph Sullivan

and Thomas Kelly.

They strangled him,

mistaking him to be a local

storekeeper and gold buyer,

but came away empty

handed when they found

he had no gold on him.

"He was a nice young

fellow, but we couldn't

let him go," the podcast

quotes Burgess later saying

of its connection to social

history and the incredible

detail in the image,

especially as those watching

the balloon who were

unaware they were being

photographed.

"The hope is that this

image will inspire people

to take a look in their

garage, or back cupboards

to find their old photos,"

she said.

• The competition

is open until October

31 as part of the

Christchurch Heritage

Festival.

in court of the murder.

Dobson had two years

previously worked alongside

his brother Arthur,

after whom Arthur's Pass

was later named, as a surveyor.

Arthur was credited

with discovering the pass

after being tasked with

finding a route between the

Waimakariri River basin

and the West Coast.

The Maungatapu murders

involved a further

five men robbed and killed

near Nelson later that same

year. For these crimes the

Burgess gang trio were

joined by another gang

member, Philip Levy.

Burgess, Kelly and

Levy were later hung for

their crimes in jail in

Nelson, while Sullivan

was pardoned for turning

evidence on the gang.

• The Sinister

Dynasty podcast can

be accessed via most

podcast platforms

and at sinisterdynasty.

com

While Covid may have previously

disrupted Leeston's St John's fairs, this

year sees the return of a small-scale event

on Saturday, 22nd October 2022, at High

Street, Leeston. From 9 am until 1 pm,

there will be a White Elephant stall in the

church hall, and Mike's Tomatoes plants

and a variety of other plants will be set up

on the church grounds. With decluttering

a current trend, it is the perfect time to

get rid of those items that you no longer

want. The stall is looking for community

donations of good quality household

items (excluding electrical goods), small

(only) furniture, clothing, toys, books,

garage and shed tools and other wares.

Betty Walls has advised she will be at the

church to accept any items to be dropped

off on Thursday, the 20th, 2 pm–4 pm

and Friday, the 21st, 10 am–4 pm. So for

those looking for a bargain, an unusual

item, a conversation piece or the chance

to buy plants ready for the garden, the

fair is the place to be. With the fair's

return to Leeston, Betty Walls says, "We

Lakeland Art Gallery, the heart of Leeston's

art community, offering great NZ artworks,

sculpture, ceramics etc. Plus Tutored art classes,

Life drawing and Wednesday's art group.

usually have a crowd standing at the doors

waiting for us to open." You can contact

Betty on 03 324 3408 if you have any

enquiries about the White Elephant stall.

80 High Street, Leeston

Ph: 027 820 3045

Email: lakelandart@yahoo.com

Featured Artist for October

Svetlana Orinko

Svetlana Orinko is a leading

master of watercolour and oil

mediums and has been at the

forefront of the New Zealand

art scene for over 25 years

Mt Aspiring
---
LET'S GO TO

LEESTON

Wednesday October 19 2022 Selwyn Times 33

Evenings in Leeston

Leeston may be a small town, but that doesn't mean

there's nothing to do in the evenings, with businesses

and clubs providing several options. Evening dining

is available during the week and weekend at various

venues and times. The Crate and Barrel in Market

Street is open seven days for an extensive menu

and family-friendly dining. Located on High Street,

Dalchini serves delicious curries, and a traditional

menu for a taste of India and Suburban Eatery offers a

contemporary menu. Another dine-in option is Soul

Food Leeston in Station Street, with ribs, roasts and

plenty of burger choices. Leeston Takeaway has classic

takeaways to tempt your taste buds.

Carbon Health and Performance provides

seven-day gym access with personal

training, classes and training programmes

for health and well-being. Meanwhile, the

yoga studio at the Sun and Moon Wellness

Centre offers some evening yoga classes.

Also, Bowls Leeston runs several evening

sessions yearly, with everyone welcome at

the Bowls, Beers, and Burgers event at 6pm

on Wednesday, 19th October 2022.

The Ellesmere Pottery Group has a

members' night every Wednesday from

7pm–9pm and some beginner classes

throughout the year for those after creative

activities.

The renowned Crate and Barrel is also

a hive of activity, with regular events

organised to provide some fun and entertainment.

On Monday nights, you can give Housie a go or

participate in the Darts Competition on Tuesday

nights. Also, Texas Hold'Em Poker is on every second

Tuesday for those who enjoy the game. For your

entertainment, The Crate and Barrel has live bands

featuring at different times, along with Happy Hours

and special promotions.

Whether it's an outing for fun and entertainment,

health and well-being or the chance to savour some

tasty food, there is a range of choices in Leeston;

contact the organisation directly or follow them on

social media for updates.

LEESTON

TAKEAWAYS

Fish & Chips

Chinese meals

Burgers

Dine in available

114 High Street, Leeston

Phone: 03 324 3592

Text: 027 324 3592

XCV84U

Garden Supplies

• Soil • Bark • Sand

• Compost • Chip & more

Courtesy trailers available

0274 313 389

www.xcv84u.co.nz

xcv84u@xtra.co.nz

1552 Leeston Road

(1km North of Leeston)

Open 6 days. Closed Sunday & public holidays.

9113487AC

9113487AE

Bridgestone Tyre

Centre Leeston

NOW OPEN IN HORNBY

• All types and WOF sizes ONLY of tyres $29

FOR A LIMITED TIME ONLY

available - Wheelbarrows, Cars,

TYRE SPECIAL

Trucks, Tractors 175/65R14 and Bridgestone more Ecopia $135

• Full mechanical services

• Petrol & Diesel

• New wheel alignment equipment

• All range of tyres. Economic –

High performance

245/45R18 Bridgestone Ecopia $257

215/55R17 Bridgestone ER33 $280

• Wheel Alignments

Prices include fitting balancing and GST.

Only while stocks last.

• Fleet Service

Bridgestone Tyre Centre Hornby

Ph: (03) 349 5505 • 39 Carmen Rd, Hornby

Monday – Friday 7.30am to 5pm. Saturday 9am to 12 noon

Call now for competitive rates

facebook.com/BridgestoneNZ

1631 Leeston Road, Leeston

Ph. 03 324 3709

Open Mon - Fri 7.30am - 5pm, Sat & Sun closed

Leeston Consolidated School

He Puna Karumata

Educating students from Year 0 – Year 6

Enrol now for 2023

For enquiries phone 03 3243 493

email: admin@leeston.school.nz

Caring for our Environment,

Each Other and Ourselves

Ka manaakitia te Taio,

te Tangata, ko Matou

www.leeston.school.nz

Lynda Taylor

Principal / Tumuaki
---
34 Selwyn Times Wednesday October 19 2022

HOME PROFESSIONALS

Top quality garden supplies

available locally

The Intelligro team is ready with top

quality landscape and gardening supplies

to help you create your dream outdoor

space.

Intelligro's product range is extensive

which includes their very own growing

mixes that are manufactured onsite and

are regularly tested to ensure they meet

their quality standards. Other products

you will find include barks, mulches,

stones, pavers, tools and accessories.

The majority of Intelligro's product

range can be ordered online at www.igro.

co.nz. If you are after bagged products,

tools or fertilisers, these can be ordered

from their website and delivered straight

to your door. Bulk orders for delivery can

be done over the phone or via email.

There is a wealth of information on their

website covering a huge range of topics.

These include plant and lawn care, along

with gardening guides for the different

seasons. You'll also find advice about

how to grow healthy herbs, vegetables,

create planter boxes or beautiful hanging

baskets, with recommendations for which

product to use to get the best results.

If you have any questions or need any

gardening advice that is not covered

within their website, use the helpful chat

function on the website, or send an email

to the friendly team at info@igro.co.nz.

Intelligro has trailers for hire and a

home delivery service for both bulk and

bagged products. They are about to add a

hire range, so watch this space.

Intelligro is not only for the home

gardener. They also have a commercial

division, assisting landscapers, councils,

and contractors with their larger-scale

projects. One point of difference is The

Mulch Man truck which is a great tool

to get larger volumes or mulch and chip

blown into playgrounds and large garden

beds. This is especially beneficial for jobs

where access is an issue or the terrain is

steep or when working on slopes. if you

have a job requiring a specialised mix, the

team are there to help you through your

requirements and tailor a solution to suit.

For orders of bulk products, you

can email the helpful team at info@

igro.co.nz or call them on 03 347

9012. Locally owned and operated,

Intelligro is a must stop for those keen

on gardening, landscaping and DIY.

Located at 261 Manion Road, Weedons

and open seven days a week.

Garden

In the

with intelligro

BAGGED SUPER SAVER!

Save up to 30%

when you mix

and match our

Organic Compost,

Veggie Garden

Mix, All Purpose

Potting Mix,

Screened Soil,

Garden Mix

and Peat.

Simply pick any of the products in the list, and once you hit the volume bracket the price drops!

PRODUCT RRP$ 2-9 BAGS 10-19 BAGS 20+ BAGS 30+ BAGS

Compost 35L $8.50 $7.65 $6.80 $5.95 $ 5.50

All Purpose Potting 35L $17.00 $15.30 $13.60 $11.90

Veggie Mix 35L $13.50 $12.15 $10.80 $9.45

Peat 35L $13.50 $12.15 $10.80 $9.45

Garden Soil Mix 20L $8.50 $7.65 $6.80 $ 5.95

STOP BIRDS

hail, leaves, snow & vermin from

blocking & damaging your spouting

Quality materials: BHP Colorbond steel mesh with unique patented louvre

will even keep out pine needles. Will not rust or sag with age or load.

10 year warranty, range of colours.

Proven in Australia & New Zealand over the last 15 years.

FOR SAFE, PURE DRINKING WATER

FROM YOUR ROOF.

NOW AVAILABLE: STAINLESS STEEL MICO MESH

Call Rohan anytime Mon-Sat for a

no-obligation assessment & quote

03 982 8850 0800 486532 www.gumleaf.co.nz

For the Outdoor Space

of your Dreams...

Paving, Irrigation, Lawns, Planting,

Fences, Pergolas, Water-features,

Outdoor fires, Raised Vege beds,

Decks, Artificial grass, Garden

maintenance & more...

Screened Soil 20L $7.00 $6.30 $5.60 $4.90

Labour Weekend hours:

Saturday 22nd Oct 7.30am–5.30pm,

Sunday 23rd & Monday 24th Oct 8.30am–4.30pm

August – April opening hours:

Mon – Sat 7am – 5.30pm, Sun 8.30am – 4.30pm

www.igro.nz /igro.co.nz /intelligro_nz

261 Manion Road, Weedons 7677 | P: 03 347 9012 | E: info@igro.co.nz

Call Aaron & the team today!

Phone: 03 347 4422 or 021 542 402

Email: Aaron@theoutdoorspace.co.nz

www.theoutdoorspace.co.nz
---
Wednesday October 19 2022 Selwyn Times 35

HOME PROFESSIONALS

Keeping cool this summer

With this summer's temperatures

predicted to be hotter than normal, it is

a good time to think about how to keep

your home cool and comfortable on a hot

day.

Air conditioners are common in many

homes and can be used throughout the

year but are not always energy efficient.

One tip is to use the dehumidifier or

fan functions rather than the cooling

function. There are several other things

you can do to use less energy including

setting the temperature at around 24'C,

cooling just one room at a time – with

the door shut - and avoiding using the air

conditioner's automatic option as it could

turn on the heat instead of the cold.

There are a huge range of fans available

in the marketplace – small ones for your

desk or larger stand-alone ones. While

fans circulate rather than produce cold

air, they can have an cooling effect.

Ceiling fans should be counter-clockwise

during summer to blow the air directly

downwards on a high speed.

Most of the heat entering your home

will come through the windows so this is a

good place to look at in terms of reducing

the temperatures inside. Like a heat pump,

double glazing can work all year around,

keeping the heat in your home during

winter and out during summer.

Opening windows may sound like

a simple option but if opened on the

opposite sides of your home they can

create a breeze to cool things down. By

adding security latchets these windows

can be left open while you're out.

Drawing thermal lined curtains and

shutting blinds can also prevent the heat

from coming in through your windows,

particularly in those parts of the house

who receive direct sunlight. Light

coloured window coverings rather than

darker are better at reflecting heat and

light away from your home.

External window awnings, a shade

sail or blinds can also help reduce the

impact of the hotter temperatures during

summer.

Creating shade in your outdoor area

can also help reduce the heat in your

home, particularly deciduous trees which

will also allow light through in the winter

when they lose their leaves.

By thinking ahead, the hot summer

will be cooler when you're at home so

you can relax and unwind in comfort.

Our Services

• House Re-Wiring

• Garden Lighting

• New Builds

• Mitsubishi Heat Pumps

• Office Re-Fits

• Internet & Telephone

• TV Aerials

• Spa Pool Installation

• Industrial Installation

• Electrical Safety

Certificates

Mobile 021 22 77 275

Web juiceelectrical.co.nz

Email greg@aelectrical.co.nz

03 379 6644

PO Box 7778,

Sydenham,

Christchurch 8240

On A Roll

Curtains

Your local window treatment

provider... Premium products

at affordable prices

• New build specialist for all window

treatments needs

• Providing a full range of major brands in

curtains, blinds, venetians, shutters, tracks

and motorisation.

• Competitively priced

• Service from concept to install

• End of lines, select quality curtain and

upholstery fabrics

Please ring Dot: 021 1051 202 E: onarollcurtains@gmail.com

"Exclusive"

Blaze King ULEB Wood Fires

Your award winning

partner in home building.

PRINGLEHOMES.CO.NZ

Pellet and Wood Fire Specialists

472 Blenheim Road

Sockburn

Phone: 03 343 1651

Open 8:30am - 5pm

Sat 10am - 3pm

www.heatstore.co.nz
---
36 Selwyn Times Wednesday October 19 2022

HOME PROFESSIONALS

Fresh eye gives a

new perspective

A fresh eye when it comes to your outdoor areas can give

a new perspective of what options might be available.

Sharon from Sharon Crofts Landscape Design not

only works locally in the Selwyn area but has a wealth of

knowledge and ideas to transform your outdoor space. Her

many years of experience also helps when it comes to what

planting works well in the Canterbury climate and local

soils.

Sharon covers all aspects of landscape design from

the initial site consultation to preparing design concepts

and planting proposals, making it easy for homeowners

to implement themselves if they prefer or, if not, Sharon

Crofts Landscape Design has a team of experienced and

professional contractors who will complete the work to

exacting standards. The team works throughout Canterbury

including residential properties, rural and lifestyle blocks

and new subdivisions, particularly in the Selwyn area.

"We really enjoy turning an initial dream or concept

into reality – on time and on budget," says Sharon. A

professionally designed paving or decking area can also add

value.

"If you are thinking of selling your home, a beautifully

landscaped lawn and garden and clever outdoor spaces

can make a huge difference to the first impression of the

property."

The selection of plants and materials can totally change

the look of the property and it is also important that any

outdoor areas are both functional and fit in with the existing

structures within the property.

With so much selection to choose from a personalised

landscape plan from Sharon Crofts Landscape Design can

take away all the stress and confusion about where to start

and will guarantee a cohesive and well thought out design.

Whether your landscape project is small or large give

Sharon Crofts Landscape Design a call on 03 329 6229,

mobile 0274 311 558 or email s-crofts@xtra.co.nz.

Is your retirement plan

under your feet?

Sharon CroftS

LandSCape d e S ign

• Consultations • Design Concepts • Planting Plans

Find out what subdividing could do for you.

P. 329 6229

M. 0274 311 558

s-crofts@xtra.co.nz

www.sharoncrofts.co.nz

+ Surplus house subdividing

+ Residential & In-fill

+ Farm & Lifestyle

Get in touch today.

SCAN ME

0508 787 887

hello@survus.co.nz

www.survus.co.nz
---
HOME PROFESSIONALS

Wednesday October 19 2022 Selwyn Times 37

Make a difference at your home

It is fairly obvious but the design of your garage doors have a huge impact

on the appeal of your home and can create a real focus to the property.

It's not all about looks, however, they also have to stand up to the elements

and that is where a professional company like Custom Made Garage Doors

can help.

This local company is New Zealand's leading architectural garage door

company and builds high quality garage doors and design for your money

while providing the look of tomorrow today.

Custom Made Garage Doors not only cater to their many clients but

also supply doors to more than 35 other door companies throughout New

Zealand.

The experienced team enjoy finding a garage door solution that will best

satisfy your budget, individual requirements and home aesthetics. They

stand by both their workmanship and their huge range of innovative door

design.

Well-known for the best flat panel insulated sectional doors on the market

the Custom Made Garage Doors range includes the popular Phoenix

flat panel and Idaho negative detail sectional doors. They also have the

Smartline range which is also available in aluminium, corten steel and

copper.

Custom Made Garage Doors also specialises in timeless cedar doors and

gates. Choose from the popular vertical and horizontal TG&V cedar style or

consider a barn style cedar door to create a memorable impression.

Their extensive range of doors can be manufactured to suit their clients'

needs with some doors being up to eight metres wide. Affordable off-theshelf

sectionals and tilt and roller doors are also available. The company is

the authorised dealer for Merlin garage door openers with MYQ security.

If your garage door needs repairs, spare parts or servicing, Custom Made

Garage Doors can also help. All their products and workmanship are fully

guaranteed.

Call Custom Made Garage Doors Ltd on 0800 661 366 to discuss your

options or visit www.custommade.co.nz.

Corten

rustic look

in colour

steel.

Flush

mounted

doors that

blend

into the

exterior of

the house

GARAGE DOORS

The Genuine

Custom Made Garage

Door Professionals

0800 661 366

info@custommade.co.nz

Lagoon

Pools

03 349 2160

0800 92 72 82

Auckland • Christchurch • Wanaka

www.custommade.co.nz

Canterbury Ltd

• Quotations for water system designs and water testing

• Pipes, valves, fittings sales

• Filtration supply and installation

• Pump service, repairs and maintenance

• Bore flush and development

• Bore pump sales, servicing and maintenance

• We also sell, service and repair most pump

brands including sewage pumps

551 Halswell Junction Road

0800 GRUNDFOS / 0800 478 633

For sales and service or

after hours service call

Jason 021 649 944

or Mike 021 560 044

www.pumps-filters.co.nz
---
Selwyn Times Wednesday October 19 2022

38

GARDENING

Latest Canterbury news at starnews.co.nz

Raised garden beds are easy to build

A raised garden bed

is the perfect way to

tidy a garden, writes

Stephen Jaquiery

With the threat of frosts

hopefully behind us for another

year, Labour Day weekend is

traditionally when vegetable

gardens are planted out.

A tidy idea for your garden is

to build a raised bed, which can

be done quite cheaply by most

people with a minimum of tools

and building skills.

The material used to contain

your raised garden can be as

varied as ponga logs, demolition

timber, corrugated iron or the

more traditional rough-sawn

timber from your local hardware

supplier.

The key to a successful raised

bed is a way of securing the

framework together so the weight

of the soil does not make the

structure collapse.

For this raised bed I used macrocarpa

timber, 200mm deep and

50mm thick.

The garden is 4.2m long and

2.5m wide.

If you buy timber from a

hardware shop you can usually

save yourself a task by choosing

one that will cut your timber to

length.

Step by step

• Lay your timber sides accurately

BOUNDARIES: How to build a raised garden bed in stages.

on the ground and use a spade

to mark the outside edge of the

garden.

• Chip off any existing grass.

• Using a level as a guide, dig out

the top side of the ground if your

garden is on a sloping site until

the first layer of your garden

bed sides sit square and level.

To check your timber frame is

square measure across the diagonal

from each corner and adjust

until both measurements are the

same.

• Fix the corners. I used coach

screws into predrilled holes in

the timber and countersank the

heads. A simple alternative is to

use right-angled nail plates or to

drive sturdy pegs on the outside

of each corner.

• Once the bottom timber is

secure, drive pegs on the inside

of the garden to nail the second

(and third or fourth if desired )

layer of timber. Again, nail plates

could be used for this.

• Top up your garden with soil,

plant your seedlings and it's time

for a cup of tea and to plan your

summer salads.

–ODT

Time to get flowering annuals in the ground

OUTDOOR fuchsias,

Californian tree poppy and

willows grown for bark effects

can be pruned now.

Young rooted pieces can be

taken from the outside of violet

plants and the central portion of

old clumps discarded.

Herbaceous perennials, such as

Michaelmas daisies, can still be

increased by taking side growths.

Hardy annuals can be sown

outdoors this month – clarkia,

asters, nasturtiums, calendula

and sweet peas.

Dwarf sweet peas do not need

staking. Little Sweetheart is one

of the smallest, growing to 25cm.

The soil for sweet peas should

be well limed and the ground

worked to a fine crumb. Phosphate

worked into the soil (30g

per sq m) will give the seedlings

a good start and a sturdy root

system.

Lawns that have become patchy

because of grass-grub damage

or the removal of weeds on a

large scale can be brought back

to order now with a dressing of

one part superphosphate and

three parts sulphate of ammonia

mixed and spread at a rate of 30g

per sq m. Apply this mix now

and in early autumn, as growth

restarts after summer. Mossy soil

can be dressed with the same

mixture, with the addition of a

half-part of sulphate of iron to

suppress moss.

Dwarf annuals for the front

of garden beds include phacelia

(blue shades), nemophila (blue),

Linum grandiflorum and

limnanthes (yellow).

$456

$525

TAKE CHARGE WITH STIHL BATTERY TOOLS

STIHL FSA 57

LINETRIMMER

KIT

•AK 10 BATTERY

•AL 101 CHARGER

$456

$525

STIHL HSA 56

HEDGETRIMMER

KIT

•AK 10 BATTERY

•AL 101 CHARGER

$456

$525

STIHL BGA 57

LEAF BLOWER

KIT

•AK 20 BATTERY

•AL 101 CHARGER

BUY ALL 3 TOOLS WITH ONE AK 20 BATTERY & AL 101 CHARGER FOR ONLY $935

Terms & Conditions apply.

Offer valid until 31 October 2022,

while stocks last.

Coupon Deal In store only.

STIHL SHOP FOSTERS

559 Blenheim Road,

Sockburn, Christchurch

03 343 6339

STIHL SHOP NORTHWOOD

554 Main North Road

Belfast, Christchurch

03 974 2469

STIHL SHOP RANGIORA

Corner Lineside & Station Road

Rangiora

03 313 3398
---
Wednesday October 19 2022 Selwyn Times 39

in the garden with intelligro

Spring is a wonderful time of year,

with warmer days and longer

daylight hours, there are plenty

of things that can be done in the

garden. A time of new growth,

spring is great for establishing and

repairing lawns, refreshing existing

gardens, and preparing new ones.

Intelligro has an extensive range of

quality products that will see you

through your growing season.

Refresh and

Rejuvenate

Garden beds will benefit from an

application of Organic Compost

and Sheep Pellets to give them a

boost of nutrients in preparation

for planting.

Lush Lawns

From establishing new lawns or repairing

and fertilising existing, spring is the time

to get stuck into your lawn. Intelligro

have a great new range of products that

will have your lawn looking fantastic in

no time.

Get Growing

Garden Soil Mix is excellent for establishing new

gardens. With an even blend of soil and organic

compost, this will be excellent for a wide range of

plants, trees, and shrubs. If you are creating a space

to grow your own veggies, we suggest our Veggie

Garden Mix. Packed with nutrients to support healthy

plant growth, you are sure to love this mix. Intelligro

has a variety of raised garden beds, Vegepods and

planters to help you create a space to love.

Intelligro Hire

Got a DIY project on the cards

but need some tools to help?

Check out our hire range!

Safety in the garden

Keeping yourself safe in the garden is important, especially at this

time of the year. Legionnaire's Disease is one of the main risks in the

garden, so protecting yourself is key. Below are some precautions

you can take to reduce the risk of contracting Legionnaires:

• Open bags with a sharp knife – away from the face - in open

spaces, not in enclosed areas like sheds or greenhouses

• Remember to use gloves and masks when handling the mix

• Dampen any dry mix – taking care not to inhale dry, dusty mix

• Store bags out of direct sunlight

• Always wash your hands after gardening, and before eating or

drinking

If you develop any flu-like symptoms after working in the garden

head to your doctor immediately. Make sure you let them know you

have been gardening and need to get tested for Legionnaires.

261 Manion Road, Weedons 7677

P: 03 347 9012

E: info@igro.co.nz

www.igro.nz /igro.co.nz /intelligro_nz

August – April Hours:

Monday – Saturday: 7.00am – 5.30pm

Sunday/Public Holidays: 8.30am – 4.30pm

Labour Weekend hours: Sat 22nd Oct 7.30am–5.30pm, Sun 23rd & Mon 24th Oct 8.30am–4.30pm
---
40 Selwyn Times Wednesday October 19 2022

CHRISTCHURCH

CREMATORIUM

FUNERALS

CROSSWORD

1 2 3 4 5 6 7

8

9 10

264

SUDOKU

Every row, column and box should

contain the digits 1 to 9.

WordBuilder

WORDBUILDER

164

6

B I M

E N L

11 12

13 14 15

16 17 18 19

How many words of three or more letters,

How including many plurals, words can you of make three from or the more six

letters, using each letter only once? No foreign

words or words beginning with a capital are

from allowed. the There's six letters, at least one using six-letter each word. only

once?

TODAY

Good 13 Very Good 16 Excellent 20

Solution 163: ark, arks, ask, asks, asp, asps, ass, par,

park, parks, pars, pas, pass, rap, raps, rasp, rasps,

sap, saps, sark, ska, spa, spar, spark, SPARKS, spars,

word.

spas.

letters, including plurals, can you make

No words beginning with a capital are

allowed. There's at least one six-letter

Good 13 Very Good 16 Excellent 20

20

21 22 23

24 25

26 27

Across

1. Frolic (6)

4. Internet business (3,3)

9. Prohibits (4)

10. Immobile (10)

11. Middle (6)

12. Give up, resign (8)

13. Challenger (9)

15. Chomp (4)

16. Female relative (4)

17. Say sorry (9)

21. Salutation (8)

22. Nonchalant (6)

24. Inverted (6-4)

25. Out of control (4)

26. Delicate or slender build (6)

27. Defeated (6)

Decoder

Down

1. Control drug (7)

2. Valuable possession (5)

3. Water tank (7)

5. Edible bulbs (6)

6. Baffling (9)

7. Amazing occurrence (7)

Tel: 020 7622 1467 Fax: 020 7622 1522

Email: info@knightfeatures.co.uk

20 Crescent Grove, London SW4 7AH

Supplied by KNIGHT FEATURES

8. Feathered messenger (7,6)

14. Fruit (9)

16. Regarding, in connection with (7)

18. Permit (7)

19. Kaimoana (7)

20. Noiseless (6)

23. Tilt (5) R

K B Q G F D C W H L E P I

14 15 16 17 18 19 20 21 22 23 24 25 26

T M A N V J X Y S U R O Z

1 2 3 4 5 6 7 8 9 10 11 12 13

A F Shuker

A B C D E F G H I J K L M N O P Q R S T U V W X Y Z

1 2 3 4 5 6 7 8 9 10 11 12 13

R O

14 15 16 17 18 19 20 21 22 23 24 25 26

E

All puzzles copyright

T H E P U Z Z L E C O M P A N Y

www.thepuzzlecompany.co.nz

SOLUTION

No.164

18 5 15 19 21 8 15 17 10 7 25

Crossword

Across: 1. Prance, 4. Dot

com, 9. Bars, 10. Stationary,

11. Centre, 12. Renounce,

13. Contender, 15. Bite, 16.

Aunt, 17. Apologise, 21.

Greeting, 22. Casual, 24.

Upside-down, 25. Amok, 26.

Svelte, 27. Bested.

Down: 1. Placebo, 2. Asset,

3. Cistern, 5. Onions, 6.

Confusing, 7. Miracle,

8. Carrier pigeon, 14.

Tangerine, 16. Apropos, 18.

Licence, 19. Seafood, 20.

Silent, 23. Slant.

WordBuilder

bel, ben, bile, bin, elm, lei,

lib, lie, lien, limb, lime, limen,

limn, line, men, mien, mil,

mile, mine, neb, nib, nim,

NIMBLE.

Sudoku

Each number in our DECODER grid represents a different

letter - there is a number for all 26 letters of the alphabet.

DECODER

Enter the given letters into all squares with matching numbers.

The challenge now is to work out which letters are represented

Each by the number other represents numbers. a As different you get letter the of letters, the alphabet. enter them Write into the

given the letters main grid, into all and squares the reference with matching grid. numbers. To keep Now track work of out the

which letters letters you are have represented found, cross by them other off numbers. the alphabet provided.

25 26 5 26 15 15

23 3 1 22 24 20 22 24 5 11 12 4

3 24 7 24 16 3 10

20 12 2 2 24 4 19 10 4 21 24 19

26 26 19 24 23 17

19 26 9 22 19 24 4 9 24 24

U

N

24 2 8 1 25

11 21 3 5 24 11 13 26 4 20

10 17 6 23 12 10

4 10 11 9 24 18 11 12 21 4 24 19

24 12 9 23 12 24 17

9 14 26 1 1 23 24 9 20 24 4 24

4 8 7 24 11 23

A B C D E F G H I J K L M N O P Q R S T U V W X Y Z

1 2 3 4 5 6 7 8 9 10 11 12 13

N U R

14 15 16 17 18 19 20 21 22 23 24 25 26

SOLUTION

No.163

164

1 2 3 4 5 6 7 8 9 10 11 12 13

S R N U D P E L Y C Q O T

X V A I J M W B K Z G H F

14 15 16 17 18 19 20 21 22 23 24 25 26

11 16 8 11 23

E

13 11 21 5 3 13 5 1 21 10 15

R

9 16 22 21 5 8 16

O

6 15 10 21 21 14 10 13 5 2 21 10

A F Shuker

Supplied by KNIGHT CREMATORIUM

FEATURES

FUNERALS

20 Crescent Grove, London SW4 7AH

Tel: 020 7622 1467 Fax: 020 7622 1522

Email: info@knightfeatures.co.uk

7 21 16 14 13 15

18 24 15 14 25 21 6 13 22 16 20 2

23 23 2 14 14

15 17 5 21 17 15 8 6 21 14 22

2 17 16 13 12 8 24

2 26 7 15 10 5 13 14 2 15 5 16

16 6 25 1 5 14

CHRISTCHURCH
---
Wednesday October 19 2022 Selwyn Times 41

Classifieds Contact us today Phone our local team 03 379 1100

YOur GuIde TO

TrusTed Trades and

PrOFessIOnaL servIces

To place your advertisement

contact Vicky Sayers

379 1100 or email

vicky.sayers@starmedia.kiwi

TRACTOR SERVICE

AND REPAIR

Massey Ferguson

Ford / International / Fiat

Ph 0274 317 259

shelterbelt trimming

ELLESMERE

AUTO ELECTRICAL

• Air Conditioning • WOF Repairs

• Oil Change & Servicing

• Diagnostics - Computer Scanning

• Wiring & Wiring Repairs

• Alternators • Starter Motors

• Mechanical Repairs • Tyres • Batteries

No job to big or small.

Supply carpet, underlay and garage carpet.

Experienced in installing second hand carpet.

Carpet samples.

Free measure and quote!

Call David 0272319931

www.davidfarmercarpetlayer.co.nz

Advanced Service,

Advanced Upholstery

Auto & Marine Upholstery

• Auto restoration

• Boat upholstery

• Caravan & motorhome

squabs & awnings

• Machine, truck & ute

covers

• Farms Covers

• & Much More!

• Authorised agents for Cvana awning

3967 West Coast Road (between Waddington & Darfield)

Tue/Wed/Fri: 8am – 4.30pm • Thur: 8am – 6.30pm

Sat: 8.30am – 12noon • Closed: Sun & Mon

Ph 03 318 7378 www.advancedupholstery.co.nz

Boundary Trimming

Call Tony Dempsey

Mobile 0274 323 943

Digga Rental

• 1.5t, 1.8t, 3t, 6t, 12t, 22t Excavators

Very Short to Long Term Hire

Very Competitive & Flexible Rates

16 Weedons Ross Rd, Rolleston

Millars Machinery, High St, Leeston

0800 344 425

Excavations

• Driveways

• Car Parks

• Site Cleaning

• Demolition

• Farm Tracks

• Drain Cleaning

• Stump & Hedge

Removal

• Asphalt Concrete

Wide range

oF TruckS

For a Free Quote

on your next project

Phone Steve on

021 338 247

• Tennis Courts &

Swimming Pools

• Chip Seal Driveways

• Diggers – 2 Ton

up to 20 Ton

• Excavators

• Bobcat & Drilling

• For Posthole &

Fence hole

Free

QuoTe

Loan car available

Workshop Location: 84 Hayes Rd, Ladbrooks

Mobile Auto Electrician

022 644 9664

Hedge Trimming

& Landscaping

• Hedge Trimming/Garden Maintenance

• Trees and Shrubs Topped Shaped or Removed

• Arborist

• Trenching and Digging Buckets

• Landscaping/Water Systems

• Cleanups Available for Small and Large Hedges

• Wood Splitter for Hire

• Fully Insured

• Hedge Trimming/Garden Maintenance

• Trees & Shrubs Topped Shaped or Removed

• Arborist

• Trenching & Digging Buckets

• Landscaping/Water Systems

• Cleanups Available for Small & Large Hedges

• Wood Splitter for Hire

• Fully Insured

HEDGES

AND

MORE.

Stu Reid Owner Operator

Ph: (03) 325-4664 Mob: 021-500-519

hedgesandmore.co.nz

Ph Mike: 027 272 8058 OR 03 324 4323 A/H

sales@gmcontracting.co.nz

www.gmcontracting.co.nz

'we sell businesses'

Thinking of selling?

Looking to buy?

Clyth MacLeod,

NZ's longest running

business brokerage,

is now represented in

Christchurch.

Email for a FREE copy

of our useful 'Business

Sellers Guide'

Call now for a confidential chat.

Joanne Bush 021 177 6009

joanne@cmbusiness.co.nz

Licensed Salesperson REAA 2008

www.cmbusiness.co.nz

Re Roofing

Roof Repairs

Approved Age Concern provider

Over 30 years experience

Licensed Building Practitioner

N A BARRELL

ROOFING LTD

Ph: 0275 389 415

Email: nabroofing@xtra.co.nz

Working in the Selwyn District

Specialising in lifestyle & small farms

• Shelter

trimming

• Mulching

• Paddock

topping

Franklin Shelter Trimming

Dallis Yates 021 287 4668

franklinsheltertrimming@outlook.com

Follow us on Facebook

DECORATORS

Selwyn based but

service the whole of

the South Island

• New Paint • Floor & Roof

• Repaints Painting

• Wallpapering • Spray Painting

• Fences • Commercial

• Repairs • Timber Finishing

• Feature Walls • Plastering

Stop Rats, Birds,

Snow & Leaves!

Superior

Metal

Gutter Guards

Division of Tuffnell Drainage Ltd

We unblock drains

Call us now 03 974 3561

Now servicing the Selwyn District

based out of Rolleston and Leeston

It's time to

SPRING CLEAN

the exterior of your

property

We are your local specialists

in House Washing and Moss

Treatments, including paths,

roofs and decks and much more.

Rejuvenate and prolong the life of

your paint work – saving you money!

Call us today on 0274 907 364.

027 724 6846 027 PAINTIN

email: andertondecorators@gmail.com

0800 333 101

www.guttersolutionz.co.nz

High pressure waterblasting

CCTV • 7 days a week service
---
42 Selwyn Times Wednesday October 19 2022

YOur GuIde TO

Classifieds Contact us today Phone our local team 03 379 1100

TrusTed Trades and

PrOFessIOnaL servIces

To place your advertisement contact Vicky Sayers

379 1100 or email vicky.sayers@starmedia.kiwi

LIFESTYLE BLOCK MOBILE SHEARING

NO JOB TOO BIG OR TOO SMALL

• Shearing • Crutching • Tailing

• Drenching • Foot Trimming

• Single & Double Crutching Trailers

A professional, friendly service

Call Shaun Adams for a free quote

021 204 1274 or 03 960 3112

adamsshearing.com

• shearing contracting • mobile shearing trailer • mobile crutching trailer

BUTCHER

SERVICE

Book now for

mobile slaughterman

Watkins Home Kill

Processing Beef, Pigs,

Sheep, Deer & Fish.

Smoking Bacon, Ham

and small goods.

124 Burdons Rd, Burnham

Phone Tim 347 6693

UDI PAINTING &

DECORATING

For all painting and

decorating services.

Fully Qualified

• Interior &

Exterior Painting

• Wallpapering

• Plastering

• Roof Painting

Quality Services

FREE QUOTES

Contact Udi Aale

Ph. 021 074 2075

EST.

1979

Arthur's

Roof & Property

Moss Kill & Proof

Silicone Sealing

Roof Repairs

Gutter Clean/Repairs

Pest Control

Butynol Roof Repairs

Bird Proofing

03 347 2635

arthursroofandproperty.co.nz

FOR ALL YOUR

★Garden Clean-ups

★Pruning

★Lawn Mowing

★Garden Maintenance

landscaping

25 Years experience

• Landscape construction and

garden maintenance

• Residential & light commercial

• Garden makeovers

For a proFessional job call

ross legg 027 222 0388

email ross@revivelandscaping.co.nz

PRIVACY

Fence Top Trellis Panels

DIRECT FROM THE FACTORY

For: Outdoor Privacy, Windbreak, Decorative.

All Styles made to your requirements.

Optional: Painting, Installation, & Local Delivery Service.

Phone or Email your measurements

FOR A FREE QUOTE

Email: towntrellis@xtra.co.nz Phone: 03 3494995

Address: 38A Waterloo Road

www.towntrellis.co.nz

BPH ProPerty Maintenance

• Lawns & Gardens

• HedGe CLean Ups

• deCks & LandsCapinG

projeCts

Call us today for a FREE quote

• window & door repairs

• GeneraL HoUseHoLd

PH 0800 4 546 546

MaintenanCe

(0800 4 JIMJIM)

• Handy Man jobs

BATHROOM TILER

wet area waterproofing,

underfloor heating, soap

boxes, old to new, for best

• LifestyLe work

call Brent MoBile 021 676 336

results, call Devon on 021

375-888 or 03 329 5511

ELECTRICIAN (REG) sTuMP GRINDING

Prompt, quality. Call Jack

CARPET LAYING

Best price guarantee Tony

027 206 0080

Exp. Repairs, uplifting,

0275 588 895

relaying, restretching.

Bellamy's

Phone John on 0800

Selwyn

003181, 027 240 7416 Furniture

jflattery@xtra.co.nz

Furniture made to Carpet

CARRs CHIMNEY

order and restoration Binding

CLEANING

Servicing Lincoln,

by tradesman with

Tai Tapu, Motukarara, 35yrs experience.

Ladbrooks, Broadfields, PH Stephen

Have your carpet off

Springston & Prebbleton, 021 073 2624 cuts bound by us

$70 a Chimney. Phone

Rodney 03 324 2999 & POWER TOOLs 2 Villa Mews,

leave a message.

REPAIRs

Rolleston

CHIM CHIM CHIMNEY Parts & Sales for over 40 Phone or text

sWEEPs

years. All main brands 021 254 4465

serviced. Grossman Trade

We'll sweep your

Tools, 23 Watts Road, Mon-Thur 9-2.30

logburner's flue, check

Christchurch. Ph 389 9230

firebricks, baffles, airtubes

& controls. We're experts RJB PLuMBING

on coal-rangers, and can Renovations, New Houses,

sweep any sized open fire. Hot Water Cylinders,

We quote & undertake Kitchens Bathroom

repairs, flue extensions & Upgrades, Laundries,

install bird netting. 0800 General Maintenance ,

22 44 64 www.chimchim. Water Filters. Phone Mark

nz

0278690026

ADD SOME

COLOUR

TO YOUR ADVERT!

WINDOW TINTING

tintawindow

advanced film solutions

99% uv block

fade protection

heat control

reduce glare

25 Years Experience

privacy films

frosting designs

non-darkening films

Workmanship Guaranteed

Lifetime Warranties on Most Films

UV

block

Free Quotes Canterbury and Districts

03 365 3653 0800 368 468

Animals Livestock/

Supplies

MEADOW HAY Med sq,

bright good quality shed

stored $90 per bale + GST.

Ph 318 1794

Cars Wanted

CLASSIC Car wanted

1950s, 60s, 70s, 80s, or a

modern classic.

American, Japanese,

English or what have

you., Mazda RX2, 3, or

4. Keeping options open.

Text me with what you

have, I can call / txt you

back, Ph 021 861 732.

Clothing &

Accessories

RETRO Clothing wanted

for a dress up 70's party.

Would love to get a

safari suit but anything

considered.Ph or txt

021861732

Ideal for

landscaping

1-5m

We cut to

length

Gardening & Supplies

Macrocarpa Sleepers

200x100

Phone

021 059 4945

21 Manion Road, Rolleston

sales@macrocarpasupplies.co.nz

Gardening

& Supplies

ellesmere

lions

Pea straw

ALL STRAW SOLD!

Taking orders

for Jan/Feb

2023 delivery

Contact alex Hayward

03 324 4094 or email

lionspeastraw02

@gmail.com

with name,

phone no, address

and amount required

Heating

Log Fires

Pellet Fires

Heat Pumps

Sales

Service

Installations

Free Quotes

03 343 1651

472 Blenheim Rd

www.heatstore.co.nz

Personals

Group sort for CE5 or

similar mysteries. Tell

me about yourself. Not

sure? Ask! Please send

all replies to Box 36, c/o

Star Media, PO Box 1467,

ChCh.,

To Lease

Office space to lease,

CBD area. 60 - 100 sqm.

Comp priced. Flexible

lease period. Call Shane

for more details on 021

381 765

Wanted To Buy

COLLECTOR paying

up to the following prices:

$2,500 for No. 1 Plane,

$1,000 Work Bench &

Vice, $500 Cast Iron

Levels. Also wanting

Brace & Bits, Tool Chests,

Trammels, Squares,

Chisels, Plumb Bobs,

Tack Hammers, Oil Cans

& Pourers, Clamps, Draw

Knives. $200 Old Tins,

$500 Old Toys, Money

Boxes, $1000 Swords

Bayonets. Old Number

Plates, Paper Clips,

Tilley Lamps, Musical

Instruments, Fishing Rods,

Reels, Landing Nets, Cane

Creel (fishing baskets)

$500 Skis & Poles. Phone

021 441 400

Vintage push bike wanted.

I'm looking for an old

chopper or dragster bike.,

had one when I was a

kid. Want to put it on the

mancave wall. can be

in any condition ph/txt

021861732

STOP BIRDS

hail, leaves, snow & vermin from

blocking & damaging your spouting

Quality materials: BHP Colorbond steel mesh with

unique patented louvre will even keep out pine needles.

Will not rust or sag with age or load. 10 year warranty,

range of colours.

Proven in Australia & New Zealand over the last 15 years.

FOR SAFE, PURE DRINKING

WATER FROM YOUR ROOF.

NOW AVAILABLE: STAINLESS STEEL

MICO MESH

Call Rohan anytime Mon-Sat for a

no-obligation assessment & quote

03 982 8850 0800 486532

Vehicles Wanted

CAR REMOVALS

$$CASH PAID$$

CARS, VANS, UTES

& 4X4 WANTED

NZ OWNED

AND

OPERATED

FOR

24 YEARS

We use world class vehicle

depollution systems

0800 77 80 80

www.pickapart.co.nz

Public Notices

Prebbleton

Netball Club

AGM

Wednesday,

2 November 2022

7.00pm

Prebbleton

Netball Club,

80 Tosswill Road,

Prebbleton

All welcome.

Public Notices

www.gumleaf.co.nz

Public Notices

LincoLn

RFc

AGM

Monday

31st October

7.00pm

Lincoln Rugby

Club Rooms

Meijer Drive

Lincoln

Waihora Park AGM & Elections

The Waihora Park Reserve is seeking

people with energy and community spirit

to join the Management Committee.

Elections will be held 1 November 2022,

7:30pm, Motukarara Hall, 114 Park Road,

Motukarara.

For more information contact:

Janine: 022 329 7377
---
Wednesday October 19 2022 Selwyn Times 43

Classifieds Contact us today Phone our local team 03 379 1100

Situations Vacant

Travlon Coachlines

Casual Bus Drivers Required

Situations Vacant

Situations Vacant

P endorsement helpful.

Class 2 Licence.

Great way to be part of the

community and get out and about.

Please phone 021 337 299

Head of School

Guidance Counsellor

(Full-time, permanent position)

We seek a strongly relational, down-to-earth,

highly organised and culturally responsive

registered guidance counsellor to work alongside

our learners, staff and broader community in our

rapidly growing school.

While your core role is to offer counselling

services to learners, staff and whānau as

required, our counselling team will work

collaboratively to ensure school-wide Hauora

(wellbeing), and care systems evolve, so we

continue to meet the needs of our school

community. Working collaboratively with the

staff, you will play a key role in ensuring a safe

and inclusive climate in the College, free of

intolerance, harassment and bullying.

The successful applicant will be responsible

for leading the counselling service at the

College within the framework of its pastoral

care strategy, managing the counselling team,

providing practical and professional counselling

to students, parents and staff, and training and

equipping teachers with skills for effective

pastoral care.

Remuneration will be dependent upon the

qualifications and experience of the successful

applicant.

Requirements:

• A strong sense of calling and willingness to

fully commit to the mission, vision and values

of Rolleston College

• Relevant recent experience in a school

counselling leadership role

• Appropriate qualifications/degree in the field

of Counselling, Social Work or Psychology

• Member of NZ Association for Counsellors

(NZAC) or Member of NZ Association for

Christian Counsellors (NZACC) or equivalent

professional association

• A registered teacher with a current practising

certificate is desirable but not essential.

This role is a full-time, permanent position.

Please apply by completing and emailing

a current CV with a covering letter

to recruitment@rollestoncollege.nz.

Applications close Friday 4th November.

Situations Vacant

Rolleston College 631 Springston Rolleston Road

Phone. 03 595 2490 Email. recruitment@rollestoncollege.nz

www.rollestoncollege.nz

CAN YOU

HELP?

Dementia Canterbury

Annual Appeal

Dates: Friday 18th and Saturday 19th

November 2022

Can we "Appeal" to you to help

collect?

Teams/Service Groups of 6-8 to

oversee a site for a day, individuals to

collect for 2-hour slots.

Please phone or email 03 379 2590 extn 216 appeal@dementiacanterbury.org.nz
---
44 Selwyn Times Wednesday October 19 2022

Team Ange and Chris

Proven marketing

strategies

Proven communication

commitments

+ +

= Proven results!

Proven negotiation

skills

53 Bradbury Drive, Rolleston

44 Shadbolt Lane, Rolleston

69 Sunline Avenue, Lincoln

32 Temple Avenue, Lincoln

4/20 Old Red Barn Road, Halswell

39 Chandler Way, Rolleston

26 Sherborne Drive, Rolleston

1 Power Place, Rolleston

38 Whitburn Avenue, Halswell

74 Sunline Avenue, Lincoln

47 Kinsella Crescent, Aidanfield

4 Bethany Road, Rolleston

35 Quartz Drive, Rolleston

3 Sandhurst Drive, Rolleston

Call Team Ange and Chris today

Angela Hunt 021 548 777 | Chris Moore 027 288 0563

17 Old Red Barn Road, Halswell

pb.co.nz

Property Brokers Ltd Licensed REAA 2008

PB059928
---
Wednesday October 19 2022 Selwyn Times 45

Spring sale

starts this

weekend.

Great deals on thousands of trees and

shrubs. Open all long weekend!

At least

20%

off all plants

Sat 22nd Oct to

Sun 30th Oct

Visit our great plant centre - Open 7 days at 1002 Robinsons Road - Between Templeton & Rolleston 0800 800 352 southernwoods.nz
---
46 Selwyn Times Wednesday October 19 2022

At least 20%

off all plants.

The Southern Woods Spring Sale

begins this Saturday. 8 days only!

It's that time of the year again. Spring is an ideal planting season, and

we've got you covered with a great selection of expertly grown trees

and shrubs, all on sale until October 30th 2022.

Great Garden Colour

Our nursery team have been busy stocking up our plant centre,

located here in Selwyn between Templeton & Rolleston. We pride

ourselves on expert advice, an extra-friendly team and Canterbury's

largest range of trees & shrubs.

Come down and say hello!

In addition to 20% off plants, you'll receive 15%

off tools, planting accessories & pots and a great

selection of Red-Tag Super Specials

Specimen

New Zealand Natives

Heaps of

Red-Tag

Great deals on thousands of

trees and shrubs. Specials

Sat 26th October to

Sun 3rd See what November

we're up to:

/ southernwoodsnursery

Visit our great plant centre - Open 7 days at 1002 Robinsons Road Between Templeton & Rolleston
---
Wednesday October 19 2022 Selwyn Times 47

Saturday 22nd October to

Sunday 30th October

Open 9am-5pm Every Day

Ferns & Shade

Loving Plants

ecimen Trees

ery

Spring Flowering Trees

Thousands of plants to

pick from...

We supply to residential, rural and

commercial customers. With the whole

plant centre on sale, there's sure to be

something to get you growing.

We've got great red tag specials on:

• Tough New Zealand natives

• Hedging Plants

• Berries & Fruit Trees

• Ornamentals

• Select Specimen Trees

• And plenty more!

* All specials instore at the plant centre only,

Discount is off the Retail unit price. Excludes Vouchers

+ Glasshouses.

Bring your plans

(and the puppy)

We've got an expert team on hand to

help out with any plant questions you

might have. Our plant centre is child

and dog friendly, with great display

gardens and plenty of parking.

your local plant

specialists

0800 800 352 southernwoods.nz
---
48 Selwyn Times Wednesday October 19 2022

You can't miss us!

Where SH1 meets the new motorway, between Templeton & Rolleston

New Motorway

SH1 to Christchurch

1002 Robinsons Road

Robinsons Road underpass gives you easy access to Southern

Woods from Jones Road, West Melton and beyond.

Coming from Christchurch? Take the Berketts Road exit

Check out our NZ-Made architectural glasshouses

2 Display Models in store, not on sale sorry!

15% off all

tools, pots

and planting

accessories

We stock an awesome range of top quality tools and

premium planting accessories. Plus, we'll give you great

advice on how to get the most out of them.

There's also 15% off decorative pots, fertilisers, compost and

everything else you'll need for your plants this season.

* All specials instore, plant centre only,

Discount is off the Retail unit price. Excludes Vouchers + Glasshouses.

Visit our great plant centre - Open 7 days at 1002 Robinsons Road Between Templeton & Rolleston 0800 800 352 southernwoods.nz
---
Wednesday October 19 2022 Selwyn Times 49
---
50 Selwyn Times Wednesday October 19 2022
---
Wednesday October 19 2022 Selwyn Times 51
---
52 Selwyn Times Wednesday October 19 2022
---
LiFt oUt

FeAtURing the BeSt

PRoPeRtieS AcRoSS

the SeLWYn DiStRict

PUBLiSheD eVeRY WeDneSDAY

Week commencing WeDneSDAY, 12th octoBeR, 2022

We're Moving North, Must Sell!

4 2 2 3

Built in 2015, this stunning home is packed full of features and

desirable qualities than even the most discerning buyer will love.

With classic Linea cladding and sought-after triple garaging, this

home has fantastic curb appeal and sets up what is waiting for you

inside.

The well configured layout maximises family life to a tee and offers

you plenty of light, sun and space.

The stylish kitchen boasts two wall ovens, double fridge space,

amble bench space and generous walk-in-pantry.

A designated study nook is positioned perfectly so you can

keep an eye on the kids doing their homework plus an adjoining

separate family room gives you that extra space to relax or for

entertaining and complements the main living area. Two sets of

bi-fold doors from both living areas flow out to the covered patio

area and overlooks the 767m2 section...offering plenty of options

for the kids and pets to play.

Extras include: Archgola, tiled showers in both bathrooms with

underfloor heating, separate toilet with basin, Large separate

laundry, storage room, two heat pumps, off street parking with

room for the boat or trailer plus attic storage.

Due to work commitments, our lovely owners are regretfully

selling their cherished home and making the trip up North.

Situated at the end of a quiet cul-de-sac in Faringdon, close to the

Southpoint retail and food complex and zoned for Lemonwood

Grove and Rolleston Christian Schools, this fantastic property is a

real winner!

Deadline sale: Wednesday 26th October

at 2pm (unless sold prior)

harcourts.co.nz/RL2725

Caine Hopcroft

Contact:

Mobile: 027 330 1002

Phone:03 347 1411

Email: caine.hopcroft@harcourts.co.nz

Four Seasons Realty 2017 Ltd | Licensed Agent REAA 2008

9 Whitney Court, Rolleston

Viewing: Sunday 1.30pm – 2.00pm

Hornby Office 03 349 9919

Lincoln Office 03 662 9933

MEET YOUR

Rolleston Office 03 347 4711

SELWYNTeam Four Seasons Realty 2017 Ltd | Licensed Agent REAA 2008

Four Seasons Realty
---
2

Four Seasons Realty

Four Seasons Realty
---
3

Four Seasons Realty

Four Seasons Realty

AUCTION

WED

12 OCTOBER 2:00 PM

RUSSLEY GOLF CLUB

428 MEMORIAL AVENUE, CHRISTCHURCH.

Auctions

Four Seasons Realty

(Unless sold prior)

THIS WEEK

AUCTION

Rangiora 38 Aspen Street

Harcourts ID: PLS4873

AUCTION

LIVE AUCTION STREAM

Hanmer Springs 30 Lochiel Drive

Harcourts ID: HS22266 www.harcourtsauctions.co.nz

Nathan & Becky Gilbert

021 668 925 | 027 909 0384

Harley & June Manion

021 149 8050 | 021 823 824

AUCTION

Hillmorton 9/34 John Campbell Crescent

Harcourts ID: RL2715

AUCTION

Hanmer Springs 91 Chalet Crescent

Harcourts ID: HS22276

Katie Harrison

021 135 0887

Jackie Frame & Sue Mercer

027 435 9810 | 027 436 8548

AUCTION

Somerfield 2 Milton Street

Harcourts ID: RG2723

AUCTION

Ilam 244a Waimari Road

Harcourts ID: BF37458

Ferg Spain

027 608 4768

Geoffrey Twiss

027 738 6145

AUCTION

Cashmere 4/55 Holliss Avenue

Harcourts ID: BF37464

AUCTION

Kirwee 1694 Hoskyns Road

Harcourts ID: RL2720

Glen Young

022 493 7037

Ferg Spain

027 608 4768

Your home for local property

Four Seasons Realty 2017 Ltd Licensed Agent REAA 2008

Four Seasons Realty
---
4

Congratulations!

TO OUR TOP 20 PERFORMERS

FOR THE SECOND QUARTER

JULY - SEPTEMBER 2022

Experience, Local Knowledge, Focus and Commitment.

01

02

03

04

05

CHRISTINE TALLOTT

RANGIORA

CAINE HOPCROFT

ROLLESTON

RHIANNON MOSS

BELFAST

GEMMA + SUE ROBERTS

BELFAST

KATIE HARRISON

ROLLESTON

06

07

08

09

10

MITCH + MANA

THE PALMS

GLEN YOUNG

BELFAST

FERG SPAIN

ROLLESTON

MIKE BROWN

HORNBY

LINDA VEITCH

RANGIORA

11

12

13

14

15

GEOFFREY TWISS

BELFAST

RICHARD + SUE WOERLEE

RANGIORA

JAN GREEN

LINCOLN

BILL DOWLE

BELFAST

JASON DAY

ROLLESTON

16

17

18

19

20

LISA TIPPEN

RANGIORA

HARLEY MANION

HANMER SPRINGS

JACKIE FRAME

HANMER SPRINGS

ROSS MITCHELL

LINCOLN

LEIGH + DIV

RANGIORA

These outstanding results are all thanks to our clients. We take pride in

working harder, adding value and getting the best results for you.

If you want a team where outstanding service = outstanding results, talk

to a Harcourts Four Seasons Sales Consultant today!

Four Seasons Realty

Your home for local property

Four Seasons Realty 2017 Ltd Licensed Agent REAA 2008 0800 789 1011 fourseasons@harcourts.co.nz
---
5

Greendale 1856 Coaltrack Road

Considerable Country Charm

A tree-lined driveway, an expansive established garden, set a classy scene on arrival to this stunning 224m2 (approximately)

character bungalow. Its accompanying eight-car garaging will send your lifestyle into top gear.

• Four spacious bedrooms, master with ensuite

• Plenty of outbuildings, including a mancave

• Expansive deck and wrap-around veranda

• Crafted with Oamaru stone and weatherboard

Soaking up rural seclusion, it's only 10 minutes from Darfield and under half an hour from Rolleston to propose a highly

appealing lifestyle opportunity. Contact me for more information.

Property Brokers Ltd Licensed REAA 2008 | pb.co.nz

4 2 2 8

Deadline Sale closes Wednesday 19th October, 2022 at 4.00pm,

(unless sold prior)

View Sun 16 Oct 12.30 - 1.00pm

Web pb.co.nz/DFL108494

Simon Anderson

M 021 0828 5532

E simon.anderson@pb.co.nz

Your local

Rural Specialist

Thinking of selling?

Call Simon for service that

makes a difference.

Simon Anderson

Rural/Lifestyle Sales Consultant

M 021 0828 5532

E simon.anderson@pb.co.nz

pb.co.nz

Property Brokers Ltd Licensed REAA 2008

PB062361
---
6

Leeston 623 Leeston Dunsandel Road

Killinchy Gold

Showcasing thoughtful design, space and position this superb country lifestyle property located on a well-manicured

easy care 1.3-hectare (approximately) block at Killinchy is sure to appeal above the rest.

The 276m2 (approximately) family home built in 2011 enjoys many outstanding features including 4 generous

double bedrooms with master enjoying a tiled ensuite and WIR. A well-appointed kitchen with scullery located in the

spacious open plan dining/living flowing seamlessly to covered deck and outdoor patio areas ideal for entertaining,

Separate media room featuring gas fire and external access. Family bathroom with tiled shower complemented by a

separate toilet and separate laundry located adjacent to the internal access double garage. Heating supplied by two

heat pumps accompanied by gas fire and heat transfer system ensures comfortable living in all seasons. Outbuildings

include 3 bay fully enclosed shed with 3 roller doors and power connected. 5kw grid tied solar power system. The

established grounds have been developed with excellent attention to detail offering enviable privacy and shelter for

your family and friends to enjoy.

Don't miss your opportunity to secure this outstanding lifestyle within commuting distance of Christchurch City and

Airport. We highly recommend your inspection.

Property Brokers Ltd Licensed REAA 2008 | pb.co.nz

4 2 2 2

Deadline Sale closes Thursday 3rd November, 2022 at

3.00pm, (unless sold prior)

View Thu 13 Oct 5.30 - 6.15pm

Sun 16 Oct 1.30 - 2.15pm

Web pb.co.nz/DFL107264

Gareth Cox

M 021 250 9714 P 03 975 4506

E gareth@pb.co.nz

Fliss Cox

M 021 354 779

E felicityc@pb.co.nz

Proud to be here
---
7

Springston Chamberlains Road

Blank Canvas

15.7ha of productive soil situated on Chamberlains Road (Goulds Road End). 4 post and wire fenced paddocks of Temuka &

Peat Soils. Ideal 1st farm or lifestyle block. Currently used as stock breeding and finishing plus arable crops. Excellent location

within 10 minutes drive to Rolleston and with consent to build or relocate your new home.

Deadline Sale closes Thursday 20th October, 2022 at 2.00pm,

(unless sold prior)

View By appointment

Web pb.co.nz/LER108197

Noel Lowery

M 027 432 8859

E noell@pb.co.nz

Irwell Selwyn Lake Road

Irrigated 55ha in two titles

Located in the popular and productive Irwell District this property is well set up and offers the opportunity for the purchaser to

walk in and commence their farming operation with immediate effect. Perfectly set up with a travelling Turborain Irrigator

and an ample water consent of 30l/sec from a 37.75m well this property has produced excellent yields of Seed Peas, Wheat,

Radish, Mustard and Linseed in recent years and also provided grazing for store lambs. This property would also make an ideal

support block in the way of cut and carry through grass silage, chopped maize or lucerne. The property is well serviced with an

all weather lane, shelter, two road frontages and the two titles offering opportunities for the future.

Tender closes 4.00pm, Thu 17th Nov, 2022, Property Brokers

Leeston, 74 High Street, Leeston, 7632

View By appointment

Web pb.co.nz/LER109666

Stephan Knowler AREINZ

M 027 229 9522 E stephan.knowler@pb.co.nz

Noel Lowery

M 027 432 8859

E noell@pb.co.nz

Property Brokers Ltd Licensed REAA 2008 | pb.co.nz

Proud to be here
---
8

West Melton 295A Jowers Road

When town and country collide!

295a Jowers Road offers a wonderful opportunity for those looking for lifestyle living without sacrificing anything that

residential living offers. This 8403m2 lifestyle block offers easy lifestyle in a fantastic location, with great privacy and

space. As you enter the property through the tree lined driveway, an imminent sense of quality greets you as you

arrive at the 256m2, 3 bedroom + office, architecturally designed home. The open plan living area is spacious and ties

perfectly with an outdoor entertaining area. Capturing all day sun, this area makes for fantastic family living or

entertaining. An absolute feature of the living area is the modern kitchen, complete with stone top benchtops,

modern appliances and a large walk in butlers pantry. The spacious master bedroom enjoys all day sun and boosts a

quality, tiled ensuite and good sized walk in robe. 2 large double bedrooms complete with wardrobes are supported by

a large, tiled family bathroom. The home also features a study/office, separate laundry and a large double garage,

with a real feature being the storage options throughout the home. The property is fenced into 2 paddocks and is

complete with a 3 bay implement shed. If you have been thinking lifestyle but didn't want to sacrifice the quality and

convenience of a residential home, then this could well be the property you've been waiting for.

Property Brokers Ltd Licensed REAA 2008 | pb.co.nz

3 2 1 2

Tender closes 5.00pm, Wed 26th Oct, 2022 (unless sold

prior)

View Sun 16 Oct 2.30 - 3.15pm

Web pb.co.nz/ROL102243

Chris Moore

M 027 288 0563

E chris.moore@pb.co.nz

Justin Le Lievre

M 022 628 1306

E justinl@pb.co.nz

Proud to be here
---
9

Rolleston 7 Fairhurst Place

Refined Luxury with an Emphasis on Space!

This delightful, modern home has been meticulously designed and boosts innovative inclusions for 21st century living. As you

arrive at the property via the gated entrance, you will be instantly impressed. The 369m2 home, set on a 1,656m2 section

offers a wonderful balance of superb quality, privacy, security and spacious family living. Featuring a large spacious living area

and a stunning open plan kitchen/dining complete with top of the line Bosch appliances, a Schweigen Rangehood, island

bench and walk in pantry, entertaining and catering will be a pleasure. The private patio is easily accessible from the open

plan kitchen and living area, allowing for great indoor-outdoor flow. A separate lounge provides the perfect environment for

family and friends to relax in a quiet space, with the added bonus of a study nook complete with 2m glass desk and storage.

The size and scale continues throughout the home with high ceilings, spacious bedrooms with sliding doors leading out to the

backyard and a master suite with ensuite, large walk in robe, and access out onto a private patio. Private, secure and peaceful,

this stunning home really needs to be viewed to be truly appreciated!

4 2 2 4

Deadline Sale closes Wednesday 2nd November, 2022 at

5.00pm, (unless sold prior)

View Sun 16 Oct 1.00 - 1.45pm

Web pb.co.nz/ROU108069

Chris Moore

M 027 288 0563

E chris.moore@pb.co.nz

Rolleston 12 Grace Way

Enjoy summer entertaining!

With summer just around the corner, you will absolutely love the fabulous outdoor space this home offers! Sited well on its

750sqm section to capture the sun right throughout the day, this home provides the perfect place to host bbqs with family &

friends or watch the kids play. Warm & welcoming, the home itself features an open plan kitchen/living/dining room that flows

out to the large deck, overlooking the generous back yard. The kitchen is well designed, offers stone bench tops and factuality

is a key component here. The separate living room offers space for a growing family to spread out, or enjoy sitting in the sun

reading a book. 3 bedrooms all offer built in robes and are serviced with a lovely updated bathroom with full tiled walls to add

to the luxury appeal. The master suite offers generous space for bedroom furniture, plus a walk-in robe and a lovely full tiled

updated ensuite for you to enjoy. Heating is sorted with a heat pump and ventilation system throughout to help keep the

home warm and dry, and hot water is gas. Our vendors have new plans on the horizon & are ready to pass on their much-loved

home to one lucky family to enjoy for years to come.

Property Brokers Ltd Licensed REAA 2008 | pb.co.nz

4 2 2 2

Deadline Sale closes Wednesday 19th October, 2022 at 6.00pm,

(unless sold prior)

View Sun 16 Oct 12.00 - 12.30pm

Web pb.co.nz/ROU109341

Chris Moore

M 027 288 0563

E chris.moore@pb.co.nz

Proud to be here
---
10

Rolleston 13F Fairfield Way

Affordable family living

With an exciting change on the horizon, our vendor's instructions are clear! Present all offers at deadline! This whole property

is well designed and offers very spacious living areas and sizable bedrooms too. Being double glazed throughout and placed

well for the sun, the home is lovely and warm, but rest assured the log burner will definitely keep you toasty warm during the

winter months. The Master bedroom is serviced with an en-suite and walk in robe and the main bathroom and separate toilet

caters for the additional 3 bedrooms. There is good off street parking for extra cars and a carpeted double garage which also

houses the laundry. The section offers space for the kids to kick the ball around, or a short stroll to the local park for a change

of scenery and great playground. If security is important to you, this property boasts a great FBI system. This home truly

offers fantastic buying in Rolleston and quick action is recommended!

4 2 2 2

Deadline Sale closes Thursday 20th October, 2022 at 5.00pm,

(unless sold prior)

View Sun 16 Oct 12.15 - 12.45pm

Web pb.co.nz/ROU107637

Chris Moore

M 027 288 0563

E chris.moore@pb.co.nz

Rolleston 68 Quartz Drive

Sure to be a winner!

Built post-quake, this beautifully presented 3-bedroom home offers views out onto the reserve at Stonebrook Park. The kids

will love running around in the park and feeding the ducks right on your doorstep! In the open plan kitchen/dining/living, floor

to ceiling windows fill the area with natural light and a ranch stacker leads out onto the patio, creating a great indoor-outdoor

flow to the tidy easy care back yard. Keeping you toasty warm during these cooler months is a heat pump and a wonderful

eco low emission log burner. All the bedrooms have double robes and large floor-to-ceiling windows which capture the sun

throughout the day. The Master also benefits from its own ensuite. The further 2 double bedrooms are serviced by the main

all-in-one bathroom, which also has a heated towel rail, separate shower and bath. The laundry is located in the internal access

double garage, with a door that leads out to a concreted area with the washing line and a garden shed. The easy-care gardens

have been recently landscaped but there is still scope to stamp your own mark. Enjoy the peace and serenity this beautiful

home offers. It is sure to be a winner!

Property Brokers Ltd Licensed REAA 2008 | pb.co.nz

3 2 1 2

Deadline Sale closes Wednesday 19th October, 2022 at 4.00pm,

(unless sold prior)

View Thu 13 Oct 1.00 - 1.30pm

Sun 16 Oct 1.00 - 1.30pm

Web pb.co.nz/ROU89273

Chris Moore

M 027 288 0563

E chris.moore@pb.co.nz

Proud to be here
---
11

Rolleston 10A Baxter Crescent

DESIRABLE FAMILY HOME IN GREAT LOCATION

Bright and vibrant living with immaculate presentation and a premium location make this five bedroom home on

941m2 an irresistible choice. Conveniently located, this property blends a little bit of that town and country feel.

Spread over 284m2, the layout is effortlessly functional and focuses on a comfortable family lifestyle. On offer here is

five double bedrooms accompanied by stylish bathroom facilities, two masters with their own ensuites and walk in

robes and patio areas. The two separate living areas are spacious and heated by a large log burner (on wetback) and

heat pump; offering a relaxed and cosy ambience. The well-appointed kitchen with its wall oven, gas hob and walk in

pantry and abundance of space and storage will keep the cook in the house well satisfied. Some of the additional

features of this home include; study nook, carpeted garage, car port and a great outdoor living area. One of the stand

out features of this property has to be the large 941m2 private and secure section. Astute buyers will appreciate that

larger sections are becoming increasingly harder to find and coupled with a fantastic family home, makes for

intelligent buying. A must view. TO BE SOLD BY DEADLINE SALE Offers to be presented on or before 12pm, Thursday

27th October 2022 (unless sold prior)

Property Brokers Ltd Licensed REAA 2008 | pb.co.nz

5 3 2 2

Deadline Sale closes Thursday 27th October, 2022 at

12.00pm, (unless sold prior)

View Wed 12 Oct 5.00 - 5.30pm

Sun 16 Oct 1.45 - 2.15pm

Web pb.co.nz/LEU109351

Cameron McRae

M 027 769 6696

E cameron.mcrae@pb.co.nz

Proud to be here
---
12

Rolleston 103a Lowes Road

Entertainers Delight both indoor and outdoor

My vendors have their sights set on new horizons, paving the way for a new family to enjoy this stylish and immaculately

presented home positioned on a 778m2 section (approx). From the moment you step through the front door it is obvious this

spacious 255m2 home is set apart by quality design and premium materials, and a meticulous configuration and flow that will

be envied by all. A few key features of the home; Separate lounge with recessed ceiling and gas fire, Open plan

kitchen/living/dining and study nook, Tri-stone bench tops, Bosch appliances, walk in pantry, Alfresco dining, large Kwila decks

with Pergola canopy and outdoor pizza oven, Separate laundry and good storage throughout, Generous master, fully tiled ensuite,

double vanity, underfloor heating and walk in robe, Beautifully landscaped garden with plenty of fruit trees and

irrigation, Double garage with drive-through and parking for an extra vehicle, Large shed with work bench, Mod cons include

App to open the garage door and a security camera. The Rolleston shops are a short 2-minute drive, plus the Selwyn pools,

Foster Park, the sports complex, dog park are not too far away. Zoned for Clearview Primary School.

Property Brokers Ltd Licensed REAA 2008 | pb.co.nz

4 2 2 2

Deadline Sale closes Tuesday 25th October, 2022 at 2.00pm,

(unless sold prior)

View Wed 12 Oct 12.00 - 12.30pm

Sun 16 Oct 2.30 - 3.00pm

Web pb.co.nz/LIU108729

Dawn Pollard

M 022 073 7580

E dawn.pollard@pb.co.nz

Selling? Buying?

For all your real estate needs think

Property Brokers Lincoln first!

Call us today

Holly Siddons

020 4153 5251

Dawn Pollard

022 073 7580

Tanya Marillier

027 383 3844

Monty Marillier

021 943 973

pb.co.nz

Property Brokers Ltd Licensed REAA 2008

PB063617
---
2

[Edition datE]

13

What build requirements are there?

Explore what a new stage will look like.

Buying in a subdivision

Section availability is mostly in new

housing estates and the district generally

has a number to choose from, especially in

Rolleston and Lincoln.

Factors influencing section choice will be:

the distance from your workplace, ease of

travelling, services available, size and price

of available sections, and where you would

like to live.

Ground conditions may also be a

consideration. In Selwyn, the land

is generally good for building with

only a standard 364 foundation often

required. Many people are choosing a

RibRaft foundation as it offers seismic

strengthening and may work out more

economical.

A factor which should be high on your

list should be the covenants a developer has

in place and whether these will present any

issues for you.

Any new housing subdivision is likely

to have covenants stipulating what can

and cannot be constructed, in terms of

minimum and maximum house size on

a given section, and aesthetic features

like the roof pitch, acceptable claddings,

landscaping and what is permitted on view

from the street.

The covenants will be supplied with the

Purchase and Sale Agreement. Read these,

asking your lawyer for advice and checking

with your builder to ensure these can be

met before signing on the dotted line.

Before finalising your house plan

with your builder and building consent

application is lodged with Council, send

this and a landscape plan to the developer

for approval. This will avoid costly changes

or problems down the line. There may

be a charge associated with Developer's

Approval or a refundable bond may be

incurred. This process is put in place to

protect the overall look and integrity of

the housing estate and ensure any damage

incurred during construction is put right.

Certain covenants may seem annoying

however, they protect the environment you

are buying into and can be accommodated

with good design.

The standard of builds in respective

subdivisions may vary from smaller

economic housing to larger sections and

homes. There may also be variations in

the features in each subdivision such as

the street width, number of children's play

areas, walkways and beautification.

Where you are purchasing off a plan for

a section in a new stage of a subdivision,

ask questions so you appreciate what the

area will ultimately look like. Doing your

homework will help give you surety that

what is proposed will happen. This includes

when title is due, something which can be

slowed by Council consent requirements or

the weather delaying earthworks.

Closeness to schools, shops and public

transport may also be considerations,

especially if you want your children to have

independence by walk to school, a park

or sporting activities. Consider how each

subdivision might suit your lifestyle.
---
14

BETTER

SO YOU CAN GET BACK TO

THE THINGS YOU LOVE SOONER

Connecting people and property is what we do,

and we've always endeavoured to do it better.

By putting our clients first.

Let's work together | bayleys.co.nz/canterbury

Bayleys Darfield 03 975 4559 | Bayleys Leeston 03 375 4700 | Bayleys Rolleston 03 347 9949

LICENSED UNDER THE REA ACT 2008

AIRPOINTS PROGRAMME TERMS AND CONDITIONS APPLY
---
15

NEW LISTING

Burnham 162 Burdons Road

High-performing, once in a lifetime opportunity

This highly-productive Burnham dairy farm boasts an exceptional location and a superior homestead designed to

house your family in luxury. The 250.5828-hectare property has proven performance showing consistently with the

average production over the past four seasons at 573,381kgMS, along with low costs, this is a very profitable

property. The meticulous attention to detail on this farm sets it apart from others. Simple and efficient systems,

environmentally sound with quality infrastructure and irrigation means it's well set up for the new owners. The

centrally located 70-bail rotary shed with Read milking plant has new automatic cup removers, Tru-test auto draft

system and includes large feed pads. The immaculately maintained farm is complemented by an equally impressive

home, second three-bedroom home, and a further four-bedroom home.

bayleys.co.nz/5519481

250.5828ha

Deadline Sale (unless sold prior)

12pm, Fri 4 Nov 2022

3 Deans Avenue, Chch

View by appointment

Chris Flanagan 027 433 4657

Ben Turner 027 530 1400

Craig Blackburn 027 489 7225

WHALAN AND PARTNERS LTD, BAYLEYS, LICENSED UNDER THE REA ACT 2008

Charing Cross 684 Telegraph Road

A property to be proud of

Exceptional quality, immaculately presented 205.3495ha property. The excellent system of lanes across the farm

means you can drive throughout the property without opening a gate, enabling ease of management and

movement. Irrigated from good wells, with the addition of CPW water, providing both reliability and simplicity. The

excellent infrastructure includes Turbo rain irrigators and Zimmatic pivots, there are outbuildings aplenty along

with grain storage making this property well set up for a multitude of uses, the property also ticks the required

boxes for dairy support. Unique and striking, the house combines adobe mudbrick with solid timber joinery and the

result is a property many would feel privileged to call home. This is an example of a property that truly has

options, with highly regarded soils, robust water resources and excellent infrastructure.

bayleys.co.nz/5519472

205ha 3 2 2

Deadline Sale (unless sold prior)

12pm, Tue 1 Nov 2022

3 Deans Avenue, Chch

View by appointment

Ben Turner 027 530 1400

ben.turner@bayleys.co.nz

Craig Blackburn 027 489 7225

WHALAN AND PARTNERS LTD, BAYLEYS, LICENSED UNDER THE REA ACT 2008

bayleys.co.nz
---
16

Boundary lines are indicative only

Darfield 1103 Greendale Road

Superb rural refinement - two hectares (more or less)

Contemporary character pervades this private rural residence which offers a lifestyle of first-class excellence. An

impressive open-plan living layout with its contemporary kitchen, sophisticated appliances and butler's pantry

represents the social hub, while the separate lounge is geared towards winding down in comfort. Embracing three

bedrooms, the master is superb, enjoying outdoor access, a deluxe walk-through robe and a well-appointed

ensuite. A highly-specified bathroom services the remaining two bedrooms, which include built-in robes, plus there

is a separate powder room for guests. Settled atop the floor plan is a highly versatile mezzanine. A separate

sleepout, equipped with a bathroom and gas water heating, is also plumbed for a kitchen. Outdoors includes two

paddocks, around 50 oak trees, an expansive steel framed garage with power and a separate woodshed.

bayleys.co.nz/5519419

4 2 2 5

Deadline Sale (unless sold prior)

1pm, Tue 8 Nov 2022

View by appointment

Chris Jones 027 220 5043

chris.jones@bayleys.co.nz

Sam Sidey 027 346 3500

sam.sidey@bayleys.co.nz

WHALAN AND PARTNERS LTD, BAYLEYS, LICENSED UNDER THE REA ACT 2008

Leeston 10 Palladio Avenue

Contemporary country winner

Ideally situated on a quiet street in Leeston's sought-after Monticello development with a sunny aspect and

attractive outlook, this 181sqm (approx) four-bedroom, two-bathroom home presents a rare opportunity for

discerning buyers. Crisp, sleek, and chic, the spacious wraparound kitchen with built-in appliances and a scullery

naturally flows through to the dining area on one side with deck access and an adjoining living area complete with a

comforting log burner where you will find a safe haven to retreat from the day-to-day stresses of life. The lounge is

an abundant space with large sliding doors opening to the 56sqm (approx) deck to offer seamless alfresco living,

and morning and evening sunshine amidst grounds that have been designed with a thoughtful mixture of soft and

hard landscaping and a large lawn that makes it ideally suited for entertaining.

4 1 2 2

For Sale offers invited over $749,000

Phone for viewing times

John Bailey 027 893 0234

john.bailey@bayleys.co.nz

WHALAN AND PARTNERS LTD, BAYLEYS, LICENSED UNDER THE REA ACT 2008

bayleys.co.nz/5519504

bayleys.co.nz
---
17

Boundary lines are indicative only

Ladbrooks 118 McDrurys Road

Little River 4449 Christchurch Akaroa Road

Relaxed multi-generational

living in Ladbrooks

Contributing immense appeal to this 6,032sqm (just

under two acres) property is the large home with

potential to add value, an array of outbuildings, a treelined

drive, protection from the cold easterly winds

and the lack of upkeep of a conventional lifestyle

block. Centrally located only a few hundred metres

from Ladbrooks School, and just over five minutes'

drive to Prebbleton, Halswell, Tai Tapu or Lincoln and

14km from central Christchurch, this is an exceptional

opportunity awaiting one fortunate purchaser.

bayleys.co.nz/5519535

4+1 3+1 2+1

Deadline Sale (unless sold prior)

1pm, Thu 27 Oct 2022

Phone for viewing times

Chris Jones 027 220 5043

chris.jones@bayleys.co.nz

Sam Sidey 027 346 3500

sam.sidey@bayleys.co.nz

WHALAN AND PARTNERS LTD, BAYLEYS, LICENSED REAA 2008

Commercial investment

Situated in Cooptown, Little River, this 2,023sqm

(more or less) property includes a large (as-is-whereis)

lockable building and a smaller storage shed. The

vacant buildings would be well-suited for a range of

uses. Originally built as a dairy factory and used as an

automotive workshop over the last 59 years, the

property has a continuing income with a lease to Allied

Petroleum Limited, included with the sale. The

property is fully fenced and is currently supplied with

both water and power. Situated on the Main Road, this

is a fantastic space noticed often by visitors to the

Peninsula.

bayleys.co.nz/5518992

2,023sqm

Deadline Sale (unless sold prior)

12pm, Fri 28 Oct 2022

3 Deans Avenue, Chch

View by appointment

Evan Marshall 027 221 0910

evan.marshall@bayleys.co.nz

Peter Foley 021 754 737

WHALAN AND PARTNERS LTD, BAYLEYS, LICENSED REAA 2008

Boundary lines are indicative only

Boundary lines are indicative only

Prebbleton Lots 2, 3, 4 & 9, 1/82 Blakes Road

Blade Mews - subdivision earthworks now completed

Lots 2, 3, 4 and 9 (550sqm each) - $480,000 each

A desirable location nestled amongst quality built homes with access via Hinterland Drive, Blade Mews offers an

effortless lifestyle. Blade Mews is just steps into the Prebbleton township providing all of your daily essentials

including 'The Prebbleton Village'. Also, an easy commute is ensured into the central city being only approximately

15-minutes' drive via the Southern Motorway.

At Blade Mews you will find quality TC1 sections with services to the boundary and titles for sections due around

December 2022. Please note two-storey dwellings are not permitted.

550sqm

Asking Price $480,000

View by appointment

Chris Jones 027 220 5043

chris.jones@bayleys.co.nz

Nathan Collett 027 826 1535

nathan.collett@bayleys.co.nz

WHALAN AND PARTNERS LTD, BAYLEYS, LICENSED UNDER THE REA ACT 2008

bayleys.co.nz/5517946

bayleys.co.nz
---
18

Rolleston 55 Farnborough Way

Hurry, this won't last long

Freshly painted for the benefit of the new owners, this smart two bedroom home is ready for immediate occupancy.

Whether you are a first home buyer, a downsizer or are looking for a sound investment property, early viewing is

recommended, as properties in this price bracket are highly sought-after. The open plan living room, which is

orientated to benefit from all-day sun, extends out to the established, private rear garden of the 292sqm section.

The master bedroom has direct access to the family bathroom, which also services the second double bedroom.

Situated in a lovely wide street, just a short stroll to Faringdon's eateries and shops, this immaculately presented

home, built by Golden Homes in 2015, is ready to be snapped up!

bayleys.co.nz/5519350

2 1 1 1

Asking Price $595,000

View by appointment

Sarah Booth 027 527 8258

sarah.booth@bayleys.co.nz

Nick Booth 027 306 3186

nick.booth@bayleys.co.nz

WHALAN AND PARTNERS LTD, BAYLEYS, LICENSED UNDER THE REA ACT 2008

Rolleston 1 Othello Drive

Central location, vendor motivation

With the benefit of mature plantings around the spacious 786sqm section, here you can experience an established

setting yet enjoy the benefits of a modern family home with lots of desirable features. The over-height entry leads

into a huge, sunny open plan living room, also with higher stud ceilings to enhance the feeling of light and

spaciousness; and the separate lounge provides an additional space for the whole family to spread out. From the

well-appointed kitchen, complete with stone benchtops and a walk-in pantry, there is a lovely open aspect to the

patio and fully-fenced rear garden. The practical floor plan comprises three double bedrooms next to the central

family bathroom for convenience, with the expansive master bedroom appreciating a walk-in robe and ensuite. A

dedicated office beside the front door is perfect as a work from home option or even a hobby space.

4 2 2 2

For Sale offers invited over $799,000

View by appointment

Nick Booth 027 306 3186

nick.booth@bayleys.co.nz

WHALAN AND PARTNERS LTD, BAYLEYS, LICENSED UNDER THE REA ACT 2008

bayleys.co.nz/5519532

bayleys.co.nz
---
19

NEW LISTING

Rolleston 56 Hardingstone Drive

So central and so many features

Spread across an impressive 257sqm footprint, it is evident this home has been designed with both indoor and

outdoor entertaining in mind. The wide entry flows effortlessly to the spacious open-plan living area and separate

lounge at the heart of the home. Ease of entertaining over the upcoming summer months is assured in the high-spec

kitchen, complete with Corian benchtops, quality appliances, a plumbed double fridge space and a scullery with its

own sink. The expansive master suite is sure to appeal, complemented by an impressive walk-in robe and ensuite

with a tiled shower. Three additional generously proportioned bedrooms, one with its own walk-in wardrobe, are

sure to cater to sleeping arrangements. Sought-after carpeted triple car garaging and an abundance of off-street

parking are bound to tempt.

4 2 2 3

Deadline Sale (unless sold prior)

4pm, Wed 26 Oct 2022

View 12-12.30pm Sun 16 Oct

Nick Booth 027 306 3186

nick.booth@bayleys.co.nz

WHALAN AND PARTNERS LTD, BAYLEYS, LICENSED UNDER THE REA ACT 2008

bayleys.co.nz/5519598

Rolleston 31-41 Westland Place

Rolleston 39 Burford Way

Office opportunity, Rolleston

Step up to style

3 1 2 2

Locate your business in one of New Zealand's largest

growing suburbs, just 20 minutes from Christchurch's

CBD and 25 minutes from the Christchurch

International Airport.

This leasing opportunity consists of first floor modern

office measuring at approximately 426sqm on the one

floor plate, with both lift and stair access. The space

presents great natural light complemented by an ideal

mix of open plan and individual offices/meeting

rooms.

bayleys.co.nz/5519026

Price by Negotiation

View by appointment

Graeme Donaldson 021 225 2130

graeme.donaldson@bayleys.co.nz

Alex White 027 785 4211

alex.white@bayleys.co.nz

WHALAN AND PARTNERS LTD, BAYLEYS, LICENSED REAA 2008

Proudly positioned upon a superbly tended corner site

in Faringdon sits this three-bedroom brick and linear

beauty, which extends a warm welcome to the

modern-day family. The kitchen incorporates superb

storage, trusted appliances and is armed with an

island bench. A sun-loaded outdoor area runs

alongside the living room and is hemmed by the

beautifully established landscaped gardens.

Practicality has also been prioritised by excellent

storage and the presence of a heat pump for yearlong

comfort. This fully fenced property also plays

host to a garden shed, a raised vegetable garden.

Deadline Sale (unless sold prior)

1pm, Wed 19 Oct 2022

Phone for viewing times

Nathan Collett 027 826 1535

nathan.collett@bayleys.co.nz

Bianca Davidson 027 322 9055

bianca.davidson@bayleys.co.nz

WHALAN AND PARTNERS LTD, BAYLEYS, LICENSED REAA 2008

bayleys.co.nz/5519487

bayleys.co.nz
---
20

Southbridge 29 Sarsfield Street

Get in quick

Sheltered by established trees and greenery with a woodland section, this peaceful bungalow has been updated

and offers an ideal prospect for first home buyers looking for a reliable property in the heart of Southbridge's

friendly environs. The light-filled open plan kitchen and dining area have a modern breakfast bar and a great

wraparound design with plenty of storage and has an adjoining natural flow through to the spacious lounge. A log

fire and heat pump alongside ceiling and wall insulation ensure the climate is controlled throughout the year. The

neutral and updated colour scheme is modern and there is a splendid opportunity to move in and enjoy the

property immediately. Accommodation is provided by three generous double bedrooms, which share a large family

bathroom with a shower over the bath, while a separate laundry caters for the practicalities of life.

3 1 1 2 1

Deadline Sale (unless sold prior)

1pm, Thu 13 Oct 2022

3 Deans Avenue, Chch

Phone for viewing times

Suzy McPherson 027 695 0519

suzy.mcpherson@bayleys.co.nz

WHALAN AND PARTNERS LTD, BAYLEYS, LICENSED UNDER THE REA ACT 2008

bayleys.co.nz/5519489

Southbridge 312 Wabys Road

The way home

Families looking for privacy, charm and modern convenience will be immediately taken with this beautifully situated

four-bedroom, two-bathroom home on the outskirts of Southbridge that is ideally suited for country living and sits

on a 4.6 ha (approximately) lifestyle block within an idyllic rural setting. Open plan kitchen, dining and living are at

the heart of this home; the spacious wraparound kitchen is a generous space with a breakfast bar and an attached

dining area that presents the perfect space for family living. Expansive and separate, the lounge offers light-filled

outlooks to the surrounding grounds, French doors that provide easy access to the patio area, and a log burner with

a heat transfer system alongside double glazing to keep the space warm and cosy in winter.

4.6868ha 4 2

Deadline Sale (unless sold prior)

1pm, Tue 25 Oct 2022

Phone for viewing times

John Bailey 027 893 0234

john.bailey@bayleys.co.nz

WHALAN AND PARTNERS LTD, BAYLEYS, LICENSED UNDER THE REA ACT 2008

bayleys.co.nz/5519556

bayleys.co.nz
---
2

[Edition datE]

21

Buying a property with trees

enjoyment of their land, which means

that you can't let your trees become a

problem at their place (and vice versa).

If your neighbours have trees that are

giving you grief, think carefully before

swinging an axe or chainsaw. Legally, you

are entitled to trim any branches or roots

from a tree (or large shrub, or plant) that

encroach on your property unless they

are protected, in which case you may

need resource consent first. However, for

the sake of being a decent human being,

it's a good idea to talk to the tree's owners

first. Don't be tempted to take matters

into your own hands and poison the tree,

or trespass onto a neighbour's property

to chop parts of it off. One way to resolve

the situation is to seek advice from a

professional arborist. Getting an expert

to prune the tree in a way that doesn't

destroy it completely will be far cheaper

than engaging a lawyer.

In the worst-case scenario, if you can't sort

out tree issues with a chat over the fence

or the aid of an arborist, it may be time to

seek help from the Disputes Tribunal or

the District Court. If the trees are causing

a nuisance, such as blocking views and/

or light, and you're unable to come to an

agreement with the neighbour, you can

apply to the District Court for an order to

get the neighbour to trim or remove the

tree.

For independent advice on buying or

selling property, check out settled.govt.

nz.

Whoever said 'the best time to plant a tree

was 20 years ago' obviously never dealt

with overhanging branches, wayward

roots or grumpy neighbours. As anyone

who lives in a leafy area will tell you, trees

can cause no end of bother. Trees can

block views, damage fences and interfere

with power lines. Roots can disrupt pipes,

branches can reduce sunlight availability,

leaves can block gutters and windfall fruit

can attract rodents. It's a wonder people

ever plant them!

These problems are often caused by wellmeaning

property owners who plant

trees without thinking about how big

they will grow. By the time a tree is wellestablished,

it may be already wreaking

havoc both overhead and underground.

Overhanging branches may present

obvious hassles, but tree roots are usually

out of sight, out of mind until they start

to snaking their way into retaining walls,

foundations or drains (at which point they

become difficult to ignore and expensive

to re-route).

If you own a property, you are allowed

to do whatever you like to your trees,

within the bounds of the law that says

you have the right to the ordinary use and

enjoyment of your land. This is subject

to any protection that may apply to your

trees. If they're protected (for example,

because they are historic, considered

to be significant or needed to prevent

erosion), you may need to get resource

consent before doing anything to them.

Remember that you can't unreasonably

interfere with your neighbours' use and

Boundary lines are indicative only

Springston 428 Leeston Road

Top notch dairy opportunity

Situated on the doorstep of Lincoln township, this solid farming operation is ready for the new owner to capitalise

on the existing infrastructure and past performance. Currently milking approximately 400 cows through the 39 a-

side herringbone shed, the farm has enjoyed consistent production of approx. 200,000kgMS per annum in recent

years. At approximately 111.9443 hectares (more or less), the property includes two dwellings; a four-bedroom

family home kept cosy and warm year-round by two log burners and a heat pump and a second three-bedroom

home, which gives you options for staff accommodation or rental income. Farm performance is assisted by Allflex

collars for mating and animal-health monitoring, in-shed feeding, Protrack drafting technology plus an automated

teat sprayer to maximise efficiency. The yards and feed pad can accommodate approximately 400 cows.

bayleys.co.nz/5519043

111.9443ha

Deadline Sale (unless sold prior)

12pm, Wed 26 Oct 2022

3 Deans Avenue, Chch

View by appointment

Ben Turner 027 530 1400

ben.turner@bayleys.co.nz

Evan Marshall 027 221 0910

WHALAN AND PARTNERS LTD, BAYLEYS, LICENSED UNDER THE REA ACT 2008
---
22
---
23
---
24
---
25
---
2

26

[Edition datE]

Show homes

the ultimate way to shop around

Across the selwyn district, we are blessed with an

extensive array of very good quality show homes.

Building companies build show

homes to demonstrate their

workmanship, display innovative

design ideas and present a snapshot

into a new and luxurious lifestyle,

featuring all the latest in materials,

fittings and fixtures.

A show home can inspire you in a way

nothing else can. You can absorb the

ambiance they present and admire the

innovative techniques, new materials

and technology.

You can ask questions, take notes

and compare. You can see at a glance

features you would love to emulate or

would avoid when building your home.

Best of all, you ;will see the building

companies' attention to detail.

Show homes are the perfect way to get

a good idea of pricing, discover good

quality and value, learn about superior

use of space, future-proofing, ongoing

maintenance and long-term returns.

So what are you waiting for? Check

out our maps, grab a notepad and

pencil and begin the exciting project of

building your own home.

LOOKING FOR DESIGN INSPIRATION?

Visit one of our stunning showhomes to gather ideas for your dream home

Faringdon, 47 Lanner Drive, Rolleston

Faringdon, 49 Lanner Drive, Rolleston

SHOWHOMES

Both showhomes

Open Wed-Sun 12pm-4pm

SHOWrOOM / OfficE

31 Watts Road, Sockburn

Open Mon-Fri 9am-5pm

0800 844 488

signature.co.nz

30th November 2022

Rolleston Brass Band

Sam Allcorn - Cadets

Selwyn Diwali

Selwyn Motor Fest

Darfield Toy Library
---
27

Your guide to Show Homes & New Sections

in the Selwyn District

Faye Homes showcases the

latest trends for new builds

The Te Whariki show home village

in Lincoln provides an opportunity to

discover what's new in the new home

world by revisiting companies to see the

latest designs and trends.

Faye Homes is no exception with their

Southfield Drive corner property bringing

a new development in kitchens that is,

according to their sales team, popular

overseas, particularly in apartment living.

In the kitchen two matching vertical bifold

doors fold out from recesses in front of

the oven to match up with the cupboard

doors on the left and the pantry doors on

the right.

Other upgrade options that feature

include the skylights and sun tunnels,

ducted heating, schist cladding (to match

the internal schist wall in the hallway) and

the outdoor gas fire.

In the kitchen, stylish Bosch appliances

and black tapware create an impression

while the fridge sits in the pantry with

a third sink available for the after party

clean-up.

The Te Whariki show home also

continues to surprise with a clever setup

in the family bathroom with separate

basin, toilet and shower areas that can be

shut off from each other – imagine how

much easier that would make the morning

rush!

Featuring the impressive outdoor fire, a

large sheltered deck can be accessed from

the lounge and living rooms - and the

kitchen – opening out towards the huge

corner section. The perfect space to create

another room for entertaining and long

summer nights.

A second smaller deck opens from the

master bedroom which also has a walkin-robe

which takes up the entire width

of the room. There are three other double

bedrooms suitable for a range of family

sizes or separate study spaces.

A galley style laundry is spacious with

heaps of storage and opens outdoors

making washing day more convenient. In

the double garage there is a Tesla charging

unit for electric vehicles – a definite plus

these days.

The Faye Homes in Southfield Drive

is well worth a visit and is open from

Wednesdays to Sundays, 12pm until 4pm.

Your award winning partner in home building.

PRINGLEHOMES.CO.NZ
---
28

THIS WEEKS SELWYN DISTRICT

Wednesday 12 October

12.00pm – 12.30pm

5.00pm – 5.30pm

6.00pm – 6.30pm

Thursday 13 October

12.30pm – 1.00pm

1.00pm 1.30pm

1.00pm – 1.30pm

5.30pm – 6.15pm

Saturday 15 October

12.00pm – 12.30pm

12.15pm – 12.45pm

12.30pm – 1.00pm

12.45pm – 1.15pm

1.00pm 1.30pm

1.00pm 1.30pm

1.00pm 1.30pm

1.00pm 1.30pm

1.30pm – 2.00pm

1.30pm – 2.00pm

2.00pm – 2.30pm

2.15pm – 2.45pm

Sunday 16 October

11.00am – 11.30am

11.00am – 11.30am

11.00am – 11.30am

11.00am – 11.30am

11.30am – 12.00pm

11.30am – 12.00pm

11.45am – 12.15pm

12.00pm – 12.30pm

12.00pm – 12.30pm

103a Lowes Road, Rolleston

Property Brokers

10a Baxter Crescent, Rolleston

Property Brokers

53a Park Lane, Rolleston

Ray White Town & Lifestyle

2/266 Halswell Road, Halswell

Ray White Town & Lifestyle

25 Edward Law Boulevard,Prebbleton

Harcourts

68 Quartz Drive, Rolleston

Property Brokers

623 Leeston Dunsandel Road, Leeston

Property Brokers

13 Tiny Hill Drive,Rolleston

Harcourts

17 Owen Drive, Darfield

Harcourts

2/266 Halswell Road, Halswell

Ray White Town & Lifestyle

129 Shillingford Boulevard,Rolleston

Harcourts

1 Soar Terrace, Rolleston

Harcourts

876 Selwyn Road,Rolleston

Harcourts

25 Edward Law Boulevard,Prebbleton

Harcourts

73 Preston avenue, West Melton

Harcourts

9 Maltby Drive, Rolleston

Harcourts

9 Whitney Court,Rolleston

Harcourts

22 ardrossan Way, Tai Tapu

Ray White Town & Lifestyle

6 Vaughan Drive, Rolleston

Harcourts

22 Fairhurst Place, Rolleston

Ray White Town & Lifestyle

69 Hume Street, Sydenham

Ray White Town & Lifestyle

94 Oaks Drive, Lincoln

Bayleys Canterbury

24 Bentley Drive, Rolleston

Bayleys Canterbury

14 Papatahora Drive, Lincoln

Ray White Town & Lifestyle

7 Nicolau avenue, Rolleston

Ray White Town & Lifestyle

79 Charlbury Drive, Rolleston

Ray White Town & Lifestyle

99 Renoir Drive, Rolleston

Property Brokers

155a Lowes Road, Rolleston

Property Brokers

12.00pm – 12.30pm

12.00pm – 12.30pm

12.00pm – 12.30pm

12.00pm – 12.30pm

12.00pm – 12.30pm

12.00pm – 12.30pm

12.00pm – 12.30pm

12.00pm – 12.30pm

12.00pm – 12.30pm

12.00pm – 12.30pm

12.00pm – 1.15pm

12.15pm – 12.45pm

12.15pm – 12.45pm

12.30pm – 1.00pm

12.30pm – 1.00pm

12.30pm – 1.00pm

12.30pm – 1.00pm

12.30pm – 1.00pm

12.30pm – 1.00pm

12.30pm – 1.00pm

12.45pm – 1.15pm

1.00pm 1.30pm

1.00pm – 1.30pm

1.00pm – 1.30pm

1.00pm – 1.30pm

1.00pm – 1.30pm

1.00pm – 1.30pm

1.00pm – 1.30pm

1.00pm – 1.30pm

1.00pm – 1.30pm

1.00pm – 1.30pm

1.00pm – 1.45pm

1.15pm – 1.45pm

12 Grace Way, Rolleston

Property Brokers

36 Liffey Springs Drive, Lincoln

Property Brokers

16 Fibonacci Way, Leeston

Property Brokers

56 Hardingstone Drive, Rolleston

Bayleys Canterbury

7 alpha Way, Rolleston

Ray White Town & Lifestyle

14 Talon Drive, Rolleston

Bayleys Canterbury

53a Park Lane, Rolleston

Ray White Town & Lifestyle

729 East Maddisons Road, Rolleston

Ray White Town & Lifestyle

1 Clydesdale Way, Lincoln

Ray White Town & Lifestyle

626 East Maddisons Road, Rolleston

Property Brokers

25 Edward Law Boulevard,Prebbleton

Harcourts

17 Owen Drive, Darfield

Harcourts

5 allingham Lane, Rolleston

Ray White Town & Lifestyle

13 Tiny Hill Drive,Rolleston

Harcourts

18 Patiki Street, Lincoln

Bayleys Canterbury

19 Hungerford Drive, Rolleston

Ray White Town & Lifestyle

2309 Main South Road, Burnham

Ray White Town & Lifestyle

6 Vaughan Drive, Rolleston

Harcourts

1856 Coaltrack Road, Greendale

Property Brokers

2/266 Halswell Road, Halswell

Ray White Town & Lifestyle

129 Shillingford Boulevard,Rolleston

Harcourts

876 Selwyn Road,Rolleston

Harcourts

153 Curraghs Road, Rolleston

Property Brokers

13F Fairfield Way, Rolleston

Property Brokers

10 Palladio avenue, Leeston

Bayleys Canterbury

76 Thornborough Drive,Rolleston

Bayleys Canterbury

26 Taita Drive,Rolleston

Bayleys Canterbury

1 Colebrook Drive, Rolleston

Ray White Town & Lifestyle

21 andesite Drive, Rolleston

Ray White Town & Lifestyle

34 Heathridge Way, Lincoln

Ray White Town & Lifestyle

6 archie Lane, Rolleston

Property Brokers

7 Fairhurst Place, Rolleston

Property Brokers

139 Wards Road, Rolleston

Ray White Town & Lifestyle

1.15pm – 1.45pm

1.30pm – 2.00pm

1.30pm – 2.00pm

1.30pm – 2.00pm

1.30pm – 2.00pm

1.30pm – 2.00pm

1.30pm – 2.00pm

1.30pm – 2.15pm

1.30pm – 2.15pm

1.45pm – 2.15pm

1.45pm – 2.15pm

1.45pm – 2.15pm

2.00pm – 2.30pm

2.00pm – 2.30pm

2.00pm – 2.30pm

2.00pm – 2.30pm

2.15pm – 2.45pm

2.15pm – 3.00pm

2.30pm – 3.00pm

2.30pm – 3.00pm

2.30pm – 3.00pm

2.30pm – 3.00pm

2.30pm – 3.15pm

3.00pm – 3.30pm

3.00pm – 3..30pm

3.00pm – 3.30pm

3.00pm – 3.30pm

3.00pm – 3.30pm

3.45pm – 4.15ppm

26 Michaels Road, Tai Tapu

Ray White Town & Lifestyle

9 Maltby Drive, Rolleston

Harcourts

73 Preston avenue, West Melton

Harcourts

Lot 51 Jean archie Drive, Rolleston

Ray White Town & Lifestyle

9 Whitney Court,Rolleston

Harcourts

55 Manse Road, Leeston

Property Brokers

3 Milrose Court, Lincoln

Bayleys Canterbury

623 Leeston Dunsandel Road, Leeston

Property Brokers

537 Springston Rolleston Rd,Rolleston

Bayleys Canterbury

312 Wabys Road, Southbridge

Bayleys Canterbury

15 Ocean View Place, Rakaia Huts

Ray White Town & Lifestyle

10a Baxter Crescent, Rolleston

Property Brokers

37 Wigmore Crescent,Rolleston

Bayleys Canterbury

1 Soar Terrace, Rolleston

Harcourts

12 The Mews, Lincoln

Ray White Town & Lifestyle

28 Stanford Way, Rolleston

Ray White Town & Lifestyle

17C Kingsdowne Drive, West Melton

Ray White Town & Lifestyle

1694 Hoskyns Road, Kirwee

Harcourts

17 Stables Drive,Lincoln

Bayleys Canterbury

103a Lowes Road, Rolleston

Property Brokers

38 Selwyn Street, Leeston

Property Brokers

68 Quartz Drive, Rolleston

Property Brokers

295a Jowers Road, West Melton

Property Brokers

27 Burford Way, Rolleston

Ray White Town & Lifestyle

2 Corriedale Lane, West Melton

Ray White Town & Lifestyle

718 Stables Road, Rolleston

Bayleys Canterbury

59 Halswell Junction Road,Halswell

Harcourts

33 Stables Drive, Lincoln

Bayleys Canterbury

63 Shepherd avenue, West Melton

Ray White Town & Lifestyle

For full details of all

Open Homes, please

contact the Real

Estate companies

RAY WHITE

Rolleston 03 347 9988

www.rwrolleston.co.nz

West Melton 03 347 9933

www.rwwestmelton.co.nz

Lincoln 03 325 7299

www.rwlincoln.co.nz

PROPERTY BROKERS

www.propertybrokers.co.nz

Rolleston 03 929 0306

Darfield 03 975 4506

Leeston 03 929 0306

Lincoln 03 595 6954

HARCOURTS

www.fourseasons.harcourts.co.nz

Hornby 03 349 9919

Rolleston 03 347 4711

Lincoln 03 662 9933

BAYLEYS

www.bayleys.co.nz

Rolleston +64 3 347 9949

Darfield +64 3 9754559

Leeston +64 3 324 3704

Christchurch +64 3 375 4700

CHECK OUT THE

SELWYN TIMES

PROPERTY

DIRECTORY

EVERY

WEDNESDAY

FOR THE BEST

OF PROPERTY

IN THE SELWYN

DISTRICT

House and Land Packages

From $645,000

Start your new lifestyle

in Christchurch

Signature Homes has a range of House

& Land packages available and all for a

fixed price. Contact Signature Homes

Christchurch South to discuss your new

home requirements today.

0800 844 488 | signature.co.nz

TKR20221001