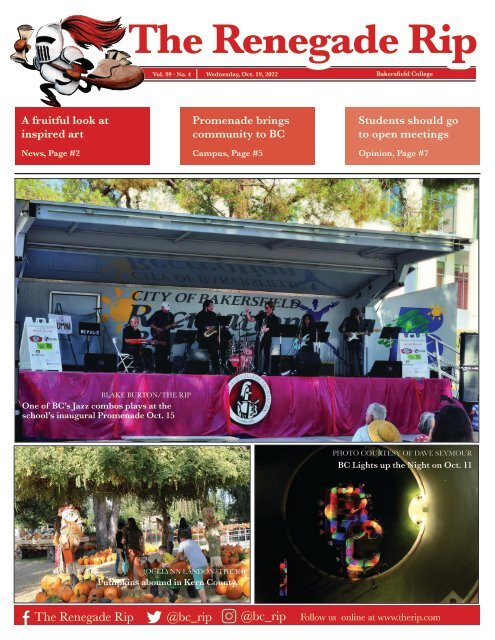 Renegade Rip issue 4, Oct. 19, 2022
Student news publication at Bakersfield College.
Student news publication at Bakersfield College.
SHOW MORE
SHOW LESS
Create successful ePaper yourself
Turn your PDF publications into a flip-book with our unique Google optimized e-Paper software.
The Renegade Rip

Vol. 99 ∙ No. 4 Wednesday, Oct. 19, 2022

Bakersfield College

A fruitful look at

inspired art

Promenade brings

community to BC

Students should go

to open meetings

News, Page #2 Campus, Page #5 Opinion, Page #7

BLAKE BURTON/THE RIP

One of BC's Jazz combos plays at the

school's inaugural Promenade Oct. 15

PHOTO COURTESY OF DAVE SEYMOUR

You can now pick up the Renegade Rip on

campus in our new BC custom-made Lights up the boxes. Night on Oct. 11

JOCELYNN LANDON/THE RIP

Pumpkins abound in Kern County.

The Renegade Rip @bc_rip @bc_rip Follow us online at www.therip.com
---
Page 2

News

The Renegade Rip www.therip.com

Wednesday, Oct. 19, 2022

KCCD gains $50 million

By Anthony Vasquez

Editor-in-chief

KCCD officially announced a $50

million state allocation at their past ceremonial

event on Oct. 5, secured by

California State Representative Rudy

Salas. The allocation had been possible

through Salas due to the recent budget

changes within the state of California.

The funds are set to go toward a

California renewable energy laboratory.

The project aims to create many

resources for the Kern community

through health, economic, and environmental

equity.

KCCD Chancellor Sonya Christian

spoke at the press event and stated that

the energy program is the next "era" of

work for Kern County.

She said, "Kern county has the right

geology to take on a new generation of

work for the future. Across the nation,

we face issues through power outages,

but we must create power resolutions."

She also stated that there is an aim to

bring improvements to these issues

through the new implementations that

will be created through these upcoming

projects.

Salas claims that the investment will

also be a huge resource to improve the

rural areas that can be found throughout

Kern County.

He stated, "On behalf the state of

California, state senate assembly, we

are happy to invest 50 million dollars to

our rural communities." He also added

that the funds will help create cleaner

transportation which could potentially

lead to fewer harmful emissions for the

environment.

A fruitful look at inspired art

By Amanda Hernandez

Reporter

David Koeth, a retired BC professor,

spoke about his citrus art pieces at the

Levan center on Oct. 7.

Koeth had a decent sized audience

and many trickled in throughout his

presentation.

Koeth began his artistic career as

a graphic designer and spent twenty

years in the industry before he came to

Bakersfield College and became an Art

Instructor.

Interestingly, his artistic nature was

first noticed in first grade when the

teacher asked the class what color a tree

was. He boldly yelled out "They're kind

of gray with green moss and intensive

brown." His classmate said, "no they're

not, they are brown."

It was then that he realized he viewed

the world differently than most people

did.

During his presentation, Koeth introduced

the basic concepts of art through

very popular quotes. He presented one

by Pablo Picasso which states, "good

artists copy, great artists steal." The

purpose of this was to highlight this

idea that art isn't invented, it is re-created.

Although Koeth has done many different

types of art pieces, one of his

major ones was the Citrus designs he

created out of mandarin peels.

He began this design in 2009 after

he noticed mandarin peels lying on his

desk. He was a professor at the time,

and had minimal time between classes

to eat, so he always had mandarin oranges.

The peels had been in the desk for

quite some time and had hardened. It

was then that he began playing around

with them and used his new

ideas to create what would later

become the Citrus series.

All of the materials he used to

create this piece were recycled,

which later helped him uncover

the meaning of his artwork.

He went on to explain that

they signify this idea of using

recycled materials to re-create

something and the shape of

the work being a circle stands

for community, earth, the suns,

the planets and various other

things.

Koeth's work was recognized

in many different public showings

and he has received many

different awards. However, in

specific, he won a second place

award at the Surface Gallery in

Bakersfield California.

After the end of his presentation,

the Bakersfield College culinary

team had many different citrus dishes

prepared for the audience to taste.

There was citrus soup, citrus ceviche

and citrus pasta.

If Koeth could give artists any advice

about entering their work into shows,

he states, "you have to personally create

art and disconnect from it and allow

others to connect to it."

AMANDA HERNANDEZ/THE RIP

Citrus desserts were offered to the audience

at the Levan Center
---
Page 3

By Jason Mena

Reporter

Bakersfield College hosted its

first segment of The Renegade

Roundtable on Oct. 5, an interdisciplinary

panel that discusses

political and timely social issues

with students and other staff faculty.

The panels members consisted

of Savannah Andrasian,

Dave Moton, Javier Llamas, and

Joe Saldivar, who are all professors

and educated instructors in

their own right.

This month's installment discussed

the topic of loan forgiveness,

primarily focused on the

Biden administration's plan to

forgive up to $10,000 in federal

student loan debt for single

borrowers earning less than

$125,000 a year or couples

earning less than $250,000.

This sparked heated discussion

among the panel on whether

or not they support the bill

with many of the voices present,

including Moton, who believes

it is only a bandage for a

much larger problem presently

at hand.

The panel also gave insight on

some of the tuition models used

News

The Renegade Rip www.therip.com

Loan forgiveness

throughout the country currently.

"There is a public university

in Indiana, Purdue University,

that will pay for your entire tuition

and room and board until

you graduate. Once you receive

a salary, they take out 5% for 10

years, which in the long run, is a

lot less than what we are paying

now," Saldivar explained. "And

they don't just take it out of the

blue, the 5% isn't enacted until

you receive your first paycheck."

The goal is to someday

achieve free higher education.

Similar to Norway's fully funded

public Universities, but Andrasian

believes that with America's

current capitalistic structure, it

will be a long time before we can

achieve it.

The next Renegade Round

Table will be on Wednesday

Oct. 24 in the Levan Center

from 6:00 to 7:45 pm for those

who'd like to attend. The panel

will include Michael Harvath,

Steven Holmes, Erin Miller and

Neal Stanifer on the Discussion:

Does Our Society Send Too

Many People to College?

By Nicolas Watson

Reporter

The first Student Media Teleconference of the academic

year for California Community Colleges was Oct.6. This

also served as the first teleconference hosted by the new Interim

Chancellor, Daisy Gonzales.

The teleconference covered a wide variety of topics that

pertained to California Community College students, with a

heavy focus on immigration. The first of such to be touched

on was a series of changes that came as a ruling by the 9th

Circuit Court of Appeals, which left the legal status of DACA

(Deferred Action for Childhood Arrivals) up in the air.

As a result, the State of California and the California

Community Colleges system are urging any and all DACA

students to renew their status immediately.

When speaking to The Rip and other Community College

news outlets across the state, Chancellor Gonzales reaffirmed

the organization's commitment to its undocumented students,

Wednesday, Oct. 19, 2022

Pumpkin patches

abound in Kern

Jocelynn Landon

Reporter

It's October and that

means that it's time for

Bakersfield's Pumpkin

Patches to open back up

for Halloween decorations

and pumpkin seeds.

There are two main ones

in Bakersfield: Banducci's

Family Pumpkin

Patch and Murray Family

Farms.

Full story on therip.com

JOCELYNN LANDON/THE RIP

Photos from Murray Family Farms

First Student Media Teleconference of year held

stating, "California Community Colleges, the University of

California, and California State University systems' mission

has not changed; we serve everyone who comes through our

doors." Following this statement, the Chancellor segued to

the start of the sixth annual Undocumented Student Action

Week, which begins the week of Oct. 17.

The week serves as a way to highlight and focus on advocacy

for and the professional development of undocumented

students across the state.

And, in accordance with the theme of academic and professional

development for undocumented students, two weeks

prior, Governor Gavin Newsom signed into law SB1411.

This allows AB540 students' education to be more accessible

and affordable by cutting the three-year requirement that

prior legislation contained, which often led many students

to take non-credit courses in order to fill that requirement,

costing extra money.
---
Page 4

Sportss

The Renegade Rip www.therip.com

Wednesday, Oct. 19, 2022

BC Men's basketball

team prepares for season

By Amanda Hernandez

Reporter

The Bakersfield College Men's

basketball team opened their season

with a home scrimmage against

Cuesta College on Oct. 14.

The score was not kept considering

the fact that it wasn't an official

game; however, the team played

competitively throughout each

quarter.

They have a strong team this

season and have been preparing

all summer for the games that lie

ahead.

Sophomore and point guard Isaiah

Dockery explained, "As the beginning

of the season approaches,

I expect us to start off strong and

keep that momentum throughout

the season. We have been in the

gym almost everyday since June."

He continued, "Personally there

is no off season for me because every

day off is a day you fall behind

the competition."

The head coach Aaron Chavez

has a unique style of coaching according

to the team.

Dockery explained, "He is very

firm and strict due to the fact that

he was raised by very strict parents:

a marine and a principal. Most of

our guys have to spend time getting

used to his style, but after a while

they buy in and realize he cares for

them by helping them achieve new

levels so they can go on to a better

school."

The team has great adaptability

skills and when November approaches

they plan to show up

strong in game one.

They are set to play their first

game at Santa Barbara community

college on Nov. 9

AMANDA HERNANDEZ/THE RIP

Isaiah Dockery steals the ball and dribbles

toward the basket

AMANDA HERNANDEZ/THE RIP

Eloy Medina scans the floor as he prepared for a pass.

GOGADES.COM

The mens's basketball schedule for November.
---
Page 5

Campus

The Renegade Rip www.therip.com

Wednesday, Oct. 19, 2022

Inaugural Promenade at BC

By Blake Burton

Reporter

Bakersfield College hosted its first Renegade Promenade

Event on Oct. 15 on the quad next to the cafeteria. This

was an interactive event that featured booths from campus

groups and many area vendors spread out through the BC

campus.

There were students, alumni and community members

from all over Bakersfield and booths from different companies

such as GBLA (Greater Bakersfield Legal Assistance)

and Amazon. The Rip spoke to the event coordinator as well

as the workers from different booths.

The students and faculty at this event were treated to music,

courtesy of BC's jazz combos, drumline and choir, which

performed at various points throughout the day. The event

also had a lot of booths with giveaways such as bags, pens,

and stickers.

Courtney Carter, alumni and donor relations coordinator

at BC, stated that this event was the brainchild of the alumni.

She said that the Bakersfield College Alumni Association

wanted to get people back on campus after the COVID-19

pandemic, so they can see how funds from Measure J have

transformed the campus while bringing community members

out to campus.

BC's Rodeo team was there and stated that they were a

new club and looking for new people to sign up and were also

there to sell hats to fundraise for different rodeo travels.

The Agriculture Club was also there, connecting with students

to let them know the different opportunities and internships

they have within the club.

The student health booth shared knowledge about the

health services on campus and featured a mask decoration

contest.

GBLA (Greater Bakersfield Legal Assistance) wanted to

share knowledge about their legal firm and how it can help

students and the community. They also stated they had internships

and volunteer opportunities.

Amazon recruiters provided information about their company

such as how it helps pay for higher education.

EOPS was out and had a booth and wanted to share some

of the things they had to offer and how they wanted to help

their students to get to the next step in their lives.

The BC Transfer booth was there to promote the finish in

four program to help students to get closer to attaining their

career goals.

BLAKE BURTON/THE RIP

Rows of booths wound around the new campus center

on Oct. 15 for BC's inaugural Promenade.

BLAKE BURTON/THE RIP

A member of BC's Rodeo Club gives a roping demonstration

at Promenade on Oct. 15.
---
Page 6

Campus

The Renegade Rip www.therip.com

Wednesday, Oct. 19, 2022

BC hosts Light Up the Night event

By Jocelynn Landon

Reporter

Throughout the year Bakersfield

College hosts different

events in support of the

LGBTQ+ community. This year

Bakersfield College hosted its

first BC light up the night.

Leonardo Ayala, assistant director

of student life, started by

highlighting why Bakersfield

College hosts events, such as National

Coming Out Day. "Showing

BC, and showing everybody

at BC, the love and support that

we have for our LGBTQIA folks

on campus," Ayala said.

Then, Adrianna Oceguera, the

host of the event, spoke about

the history of the importance of

National Coming Out Day. The

people bowed their heads for 11

seconds, as they honored those

who identify in the community,

who are no longer with us,

and those who fought for them.

Students were then able to have

a safe and open space as they

reflected on their journeys to

where they are today.

As they gathered in a circle,

they shared their names and pronouns,

and some even told their

coming out stories.

"Out, loud, proud," It's never

too late to come out," and "It's

not an ending of the story, it's the

beginning," were some of the

words that you would hear from

the various faculty, staff, community

members, and students who

attended.

The Open-Door Network,

the merging of the Bakersfield

Homeless Shelter and The Alliance

Against Family Violence &

Sexual Assault, was there to let

students know that there are services

and support available from

the community. The representative

also shared how the Network

years ago helped them come out

and be themselves amidst all the

struggles they faced.

Bakersfield College contributed

to the event with multi-colored

flashlights that students

were able to take to shine light

at the Admin Circle where the

grass-imprinted BC sign lays.

They had their pride flags, pride

pins, pronoun pins, and each

other. The people who attended

were all there to do something

in BCs history and were bold

enough to participate.

There were 24 people at the

event, where students lingered

after the event was over to chat

and connect.

PHOTO COURTESY OF LEONARDO AYALA

The BC emblem in the administrative circle

is lit in a rainbow of colors on Oct. 11 to show

support for the LGBTQIA community.

First place nationally for two year college Websites at

the Associated Collegiate Press 2020 midwinter conference.

Fifth place newspapers. First place for newspaper

in 2011, third place in 2013, 2014, 2015 for CNPA General

Excellence

Fourth place nationally in 2019 for website publication

by Associated Collegiate Press

The Renegade Rip is produced by Bakersfield College

journalism classes and is circulated on Thursdays

during the fall and spring semesters. The newspaper is

published under the auspices of the Kern Community

College District Board of Trustees, but sole responsibility

for its content rests with student editors. The Rip is

a member of the California Newspaper Publishers Association,

Associated Collegiate Press, and California

Colleges Media Association.

The Renegade Rip

EDITORIAL BOARD

Editor-in-Chief..............Anthony Vasquez

Jaspreet Multani........................Designer

Adviser.........................................Erin Auerbach

STAFF

Reporters/photographers:

Blake Burton

Amanda Hernandez

Jocelynn Landon

Eduardo "E.J." Martinez

Jason Mena

Jaspreet Multani

Nicolas Watson

Write The Rip

Letters should not exceed 300 words,

must be accompanied by a signature

and the letter writer's identity must be

verified.

The Rip reserves the right to edit

letters, however, writers will be given

the opportunity to revise lengthy or

unacceptable submissions.

If an organization submits a letter as a

group, it must be signed by only one person,

either the leader of the organization

or the letter writer. Anonymous letters

will not be published.

How to reach us

-Address: Bakersfield College,

1801 Panorama Drive, Bakersfield,

CA 93305

-Phone: (661) 395-4324

-Email: ripmail@bakersfieldcollege.edu

-Website: therip.com
---
Page 7

Opinion

The Renegade Rip www.therip.com

Students have the right

to go to open meetings

By Jocelynn Landon

Reporter

There are various matters

that happen at the Bakersfield

College campus throughout

the year, and students and faculty

can go to the board meetings

and bring up things that

they are concerned about or

would like to see implemented

on the campus.

On Oct.11 there was an

EODAC (equal opportunity

and diversity advisory committee)

meeting hosted on the

Bakersfield College main campus.

Even though these meetings

are public and are open

to students, a staff member

overheard a member of the

faculty state "what the f* are

they doing here?" as the students

walked into the meeting.

This is why students should

attend more board meetings

and start speaking up.

Later that week, on Oct. 13,

there was a Kern Community

College District meeting

at the Weil Institute located

in Downtown Bakersfield.

KCCD has frequent district

board meetings to talk about

things going on at Bakersfield

College, Cerro Cosa, and Porterville

community colleges.

Board meetings are important

because they are voting

on matters that deal with the

budgets of the schools, school

programming, and other subject

matters that concern the

student body.

Angela Williams, a Bakersfield

College early college advisor,

spoke up regarding how

she felt at the EODAC meeting.

"I was basically traumatized,"

stated Williams as she

explained to the board how

she felt disrespected at how

chemistry professor Ximena

Da Silva Tavares said that

classified staff should not have

as much say when it comes to

deciding certain campus matters,

because of the possibility

that they can be influenced to

vote certain ways.

So why does all of this matter?

Because these meetings

are deciding on campus matters

that affect the students.

Some staff members who are

trying to help make changes

around the Bakersfield College

Campus are being told that

their voice and vote doesn't

matter, or should not matter

as much. Some of these staff

members have been advocating

and helping students for

over 20 years.

The EODAC meeting has

had serious structure issues

that staff members are starting

to complain about. With the

toxic dynamic that the meeting

has, it makes the committee

not able to vote on some

issues as well, making it harder

for things to get done, passed,

or even discussed.

These meetings should also

be recorded so that committee

members can be held accountable

for their actions and

so others can be informed on

what is being said and what

is going on around campus. I

encourage students and staff

to continue to speak up regarding

matters going on at

Bakersfield College and bring

them to the respective committee

meetings. It is their job

to listen and advocate for Bakersfield

College as a whole,

and no one should be silenced

by those who tell you that your

voice doesn't matter.

By Eduardo Jr. Martinez

Reporter

Wednesday, Oct. 19, 2022

Flicks from the crypt

Readers beware, you are

in for a scare when you

watch these flicks. Halloween

is just around the corner,

and there is the perfect

time to watch horror movies.

For this terrifying evening

of terror and frights,

I wish to recommend a

curated list of nightmarish

flicks for your viewing

pleasure.

"Trick r' Treat" by Michael

Dougherty is about

an interconnected series of

stories taking place on the

same Halloween night surrounding

Halloween traditions

in a small town. This

film will send you chills

down your spine being

back memories of campfire

stories and horror comics

such as "Creepshow." Or

else our little friend Sam

might just have to make a

visit to your house this Halloween

night.

"House of 1000 Corpses"

by Rob Zombie is

about two young couples

writing a book about roadside

attractions left to take

on the hospitality of a psychotic

family after their

car breaks down during

Halloween. This film

wears its inspiration on its

sleeve from "The Texas

Chainsaw Massacre" and

"The Hills Have Eyes" as

we watch as this psychotic

family torture these young

couple.

What is a horror movie

list without a haunted

house? "Hell House LLC"

by Stephen Cognetti centers

on a group of Halloween

haunted house

creators as they prepare

The Horror Files

Eduardo, Jr. Martinez

their Halloween attraction,

Hell House, only for tragedy

to strike on opening

night. This haunted house

flick takes a different turn

than other films of the

same genre, being shot as

a documentary with the

supernatural experiences

that have already occurred,

leaving only found footage

tapes as evidence with dark

figures always hidden out

of shot.

"The Rocky Horror

Picture Show" by Jim

Sharman is a horror classic

when a newly engaged

couple stuck with a flat tire

are left to take housing in

an eerie mansion of Dr.

Frank-N-Furter (Tim Curry),

a transvestite scientist.

While this movie may not

be your ordinary horror

flick with musical numbers

instead of jump scares and

serial killers, it is a mustwatch

for all horror fans.

For a more detailed information

please, check

the Renegade Rip online
---
Page 8

Opinions

The Renegade Rip www.therip.com

Wednesday, Oct. 19, 2022

Shakespeare

Festival: Romeo

and Juliet

By Jocelynn Landon

Reporter

As Shakespeare says, "Parting is

such sweet sorrow" the Bakersfield

college theater department shows

their dedication as they perform for

the 38th anniversary of the Shakespeare

Festival this year showcasing

Romeo and Juliet.

Romeo and Juliet, directed by

Brian-by-Brian J. Sivesind, was

played during the second week in

October at the Bakersfield College

outdoor theatre. It started off with

a fight scene between the Montagues

and the Capulets, the two

fair households in Verona.

Romeo, played by Connor Deming,

entered the scene with heartbreak

and ends up going to the

masquerade house party of his

sworn enemy, the Capulets. Juliet,

played by Marina Gradowitz, enters

the scene and falls in love with

the "star-crossed lover" Romeo

during their first dance.

As the party ends, and the Montagues

leave, Romeo is all but in the

scene. As he jumps into the audience

to hide from Mercutio, played

JOCELYNN LANDON/THE RIP

Pereformers dancing during one of the scenes

by Nathan Armendariz, and some

of Romeo's friends. As they gather

into a group of laughter and fun,

making fun of Romeo. Mercutio

had the audience laughing as he

drunkenly portrayed the acts of

how young Romeo acted when he

was in love.

The plot of Romeo and Juliet

continues, and they continue to

spend the night together with the

help of the aunt, played by Kara

McDonald. The nurse, who played

the role of Juliet's Aunt and comfort,

while Juliette was swooning

over the guy she just met, and her

family's sworn enemy, helped the

two lovers stay in touch.

As fights happen and people play

with knives, during fights and corrals,

in the hope of happiness Juliet

is forced to wed Paris. As she obviously

was distraught about that

and confessed her love for young

Romeo, Juliet's Father, played by

Kevin Ganger, played an emotional

scene that had the audience

silenced in captivation by his performance

of telling the family that

Juliet would be disowned if she

didn't marry Paris.

Now, all know how

the ending goes, and

Bakersfield college

tells you so.

Renegade Events

Campus Events

Oct. 20: Killer Dueling Pianos, Renegade

Ballroom, Third floor, ampus Cente, Panorama

Campus, 6:00 pm.

Oct. 21: Renegade Homecoming Dance,

Renegade Ballroom, 3rd floor, Campus Center,

Panorama Campus, 6:00 p.m. to 10:00 p.m.

Oct. 22: Homecoming Parade, BC Memorial

Stadium, 5:00 p.m. to 6:00 p.m.

Oct. 22: Homecoming Game, BC Memorial

Stadium, 6:00 p.m. to 6:00 p.m.

Oct. 28: Fall Choir Concert, "Be the Water,"

Edward Simonsen Indoor Theater, 7:30 p.m.

Nov. 7: Jazz Ensemble, Big Band Favorites,

Edward Simonsen Indoor Theatre, 7:30 p.m.

Nov. 15: Distinguished Speaker Mark Rabbitt,

Renegade Ballroom, 3rd floor, Campus

Center, Panorama Campus, 2 p.m. and 7 p.m.

Nov. 17-19: "Celestials: The Chiness Question."

a play directed by Professor Kimberly

Chin, Edward Simonsen Indoor Theatre

Nov. 29: BC Concert Band, Classical, Contemporary

and Holiday Favorites, Edward Simonsen

Indoor Theatre, 7 p.m.

Nov. 30: BC/CSUB Orchestra, Classic and

Contemporary String Music, Edward Simonsen

Indoor Theatre, 7:30 p.m.

JOCELYNN

LANDON/

THE RIP

Juliet (Marina

Gradowitz),

and Aunt

Kate (Kara

Mcdonald)

performing

during

the second

act of the

show.