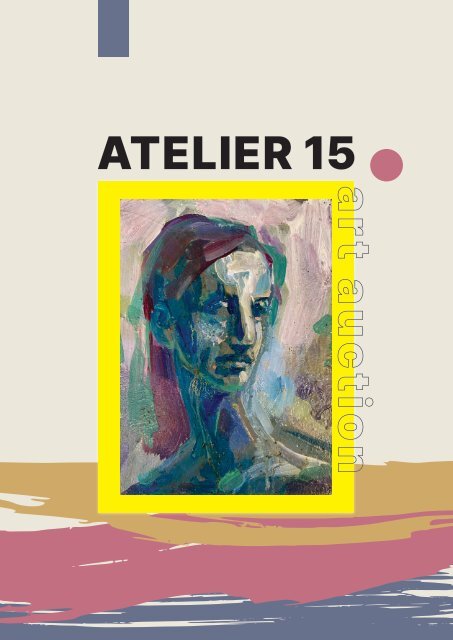 Atelier 15 Katalog
Für und mit der Gitschiner 15 am 5. November in der Heilig-Kreuz-Kirche, Berlin. Eine Benefiz-Kunstauktion von Rotaract Berlin International mit Unterstützung von Rotary Gedächniskirche.
Für und mit der Gitschiner 15 am 5. November in der Heilig-Kreuz-Kirche, Berlin.

Eine Benefiz-Kunstauktion von Rotaract Berlin International mit Unterstützung von Rotary Gedächniskirche.
SHOW MORE
SHOW LESS
You also want an ePaper? Increase the reach of your titles
YUMPU automatically turns print PDFs into web optimized ePapers that Google loves.
ATELIER 15

INTL

art auction
---
ATELIER 15

inhaltsverzeichnis

overview
---
2022

01 – Vorwort

05 – Gitschiner 15

09 – Rotaract Berlin Intl.

11 – Kunst+Künstler*innen

03 – Prefix

07 – Gitschiner 15

09 – Rotaract Berlin Intl.

11 – Art + Artists
---
vorwort

prefix

01
---
Das Projekt Atelier 15 (A15) ist erstmalig 2018

aus einem Gespräch zwischen zwei Mitgliedern

der rotarischen Familie - einem Rotarier

und einem Rotaracter - und dem Bedürfnis,

gesellschaftliche und soziale Entwicklungen

in Berlin zu fördern, entstanden.

Ziel des Projekts ist es, die

sozialintegrative- und spenden-

finanzierte Einrichtung

Gitschiner 15 ("G15") und ihre

Künstler*innen finanziell zu

unterstützen. Diese Förderung

erfolgt durch eine Benefiz-Kunstauktion

am 5. November 2022

in der Heilig-Kreuz-Kirche in

Berlin, Kreuzberg. Alle Erlöse

kommen der G15 und deren

Künstler*innen zu Gute.

Der Rotaract Club Berlin International

setzt sich durch die

Förderung der Institution zudem

für die Sichtbarkeit der G15 und

ihren Künstler*innen ein. Die

Philosophie, "Armut ist verschwendeter

Reichtum", ist das

Grundverständnis der Einrichtung.

Im zweiten Stockwerk, wo

sich das Atelier befindet, entstehen

Werke, die nur allzu selten

Sichtbarkeit und Wertschätzung

erfahren. Ziel der Kunstauktion

ist es, den Künstlern und Künsterinnen

zu zeigen, dass sie

selbst sowie ihre Arbeit gesehen

und gewertschätzt werden.

2018 wurde diese Auktion bereits

einmal mit großem Erfolg vom

Rotaract Club Berlin International

organisiert. Das Ergebnis:

Die Erlöse von insgesamt 7.500

Euro sind der Einrichtung und

ihren Künstler*innen zugute

gekommen. Bereits 2020 sollte

diese Kunstauktion daher erneut

stattfinden. Corona-bedingt

geht es aber erst jetzt in die

zweite Runde. Wir freuen uns

darauf, die diesjährige Auktion

gemeinsam mindestens

genauso erfolgreich abzuhalten.

Die Künstler *innen der G15

sowie der Rotaract Club Berlin

International freuen sich auf Ihr

zahlreiches Erscheinen – oder

vielleicht sogar auf ein Wiedersehen.

02
---
The project Atelier 15 (A15) arose in 2018

through a conversation between two members

of the Rotarian family - a Rotarian and a Rotaracter

- and shared desire to promote social and

societal development in Berlin.

The aim of the project is to

financially support the socially

integrative and donation-funded

institution Gitschiner 15 (G15) and

its artists. This support will be provided

by a charity art auction on

November 5th 2022 in the Passionskirche

in Berlin, Kreuzberg.

All proceeds will benefit the G15

and its artists.

Through this project, Rotaract

Club Berlin International is advocating

for the G15, its visitors, and

its artists. The foundational world

view of the organization falls

under the philosophy "poverty is

wasted wealth". On the second

floor of the house, in the atelier,

countless artworks reside, which

seldom receives public appreciation

and visibility. The aim of this

art auction is to show the artists

that they themselves and their

work is seen and has value.

Back in 2018, this auction was

organized by Rotaract Club Berlin

International for the first time. The

evening was a great success: In

total 7,500 Euros were raised for

G15 and its artists. The second

edition was planned for 2020, but

was postponed due to the pandemic.

Finally, the A15 art auction

will enter the second round in

2022. With your help, we look forward

to making this year's auction

just as successful as the auction

held in 2018. The artists of G15 as

well as the Rotaract Club Berlin

International are looking forward

to meeting you in person at the

event. We hope to recognize some

returning faces amongst you!

03
---
"Poverty is wasted wealth"

04
---
die gitschiner 15

the gitschiner 15

05
---
KUNST TROTZ(T)

ARMUT

Die Gitschiner 15, das "Zentrum für Gesundheit

und Kultur gegen Ausgrenzung und Armut", ist eine

Anlaufstelle für sozial ausgegrenzte und teilweise

obdach- und wohnungslose Menschen, die mit

wenig Geld auskommen müssen. Die sozialintegrative

Einrichtung setzt seit 2000 ihr Motto, "Kunst

trotz(t) Armut", um.

In einer alten Fabrik in Berlin-Kreuzberg können

Besucher kostenlos diverse Angebote wahrnehmen.

"Malen, Zeichnen, Musizieren, im Chor singen,

Schreinern, Fahrräder reparieren, Spanisch oder

Englisch lernen – all diese Aktivitäten bieten den

Besucher*innen der Gitschiner 15 die Möglichkeit,

einer Tätigkeit gemäß ihren Wünschen nachzugehen".

Im Erdgeschoss finden die Besucher einen

gemeinschaftlichen Raum und einen ruhigen

Innenhof zur Entspannung und Unterhaltung. Ein

alkoholfreies Café bietet Kaffee und Speisen zu günstigen

Preisen an. Darüber hinaus unterstützt und

berät die Einrichtung bei Behördengängen, wie z.B.

bei der Beantragung von Arbeitslosengeld, welches

oftmals eine große Hürde für die Besucher darstellt.

Dieses Projekt der Ev. Kirchengemeinde Heilig-Kreuz-Passion

wird von Ehrenamtlichen und

ehemals arbeitslosen Menschen geleitet. So bietet

die Gitschiner 15 auch Reintegration für Menschen,

die auf dem ersten Arbeitsmarkt keine Arbeit bekommen

würden. Als niedrigschwelliges Sozialprojekt ist

die Gitschiner 15 auf bürgerschaftliches Engagement

angewiesen und wird ausschließlich von Spenden

finanziert. Wir bedanken uns somit vorab für Ihre

Unterstützung!

06
---
ART IN SPITE OF +

IN RESISTANCE TO

POVERTY

The Gitschiner 15 Center for Health and Culture

against Exclusion and Poverty provides a starting

point for socially-excluded and homeless people

who have to make do with very little. Since the year

2000, this socially integrative institution has been

implementing its motto "art in spite of, and in resistance

to poverty".

In an old factory building in Berlin-Kreuzberg, visitors

can take advantage of various activities free of

charge. Painting, drawing, music, choir, carpentry,

bicycle repairing, learning Spanish or English are

all activities provided to Gitschiner 15 visitors. This

gives them the opportunity to engage with their

community creatively and learn new skills. On the

ground floor of the house, there is space for relaxation

and conversation. A non-alcoholic café offers

coffee and food at affordable prices. In addition, the

institution offers support and free consultations for

dealing with government authorities–such as applying

for unemployment benefits–which often presents

a great hurdle for people experiencing joblessness.

This project was founded by the Protestant parish

of Heilig-Kreuz-Passion and is run by volunteers

and formerly unemployed individuals. Thus, the

Gitschiner 15 also provides an opportunity for the

reintegration of people who cannot otherwise find

work in the general labor market. As a low-threshold

social project, the Gitschiner 15 relies on local

engagement and is funded exclusively by donations.

We thank you in advance for your participation!

"Arm

07
---
ut ist verschwendeter Reichtum"

08
---
otaract berlin international

rotaract berlin international

Unser Ziel ist es, eine Atmosphäre zu schaffen, in der unsere Gäste und

Mitglieder sich persönlich weiterentwickeln können, die Bedürfnisse

Berlins auf nachhaltige Weise zu erfüllen und durch einen Rahmen

von Freundschaft und Service Brücken zu bauen und bessere Beziehungen

zwischen allen Menschen und Kulturen zu fördern.

Der Rotaract Club Berlin International

ist der neuste Rotaract Club in Berlin

und feierte seine Gründungscharter im

Juni 2018. Die Mitglieder sind sowohl

Studierende als auch Berufstätige im

Alter von 18 bis 30 Jahren. Die

Clubsprache ist Englisch, da unsere

25 Mitglieder aus insgesamt 11

verschiedenen Ländern kommen.

Unser Club zeichnet sich durch sein

Motto, "Building bridges, leaving tracks",

aus: wir wollen Brücken bauen – sowohl

innerhalb der rotarischen Familie

als auch zwischen verschiedenen

Bevölkerungsschichten. Darüber hinaus

haben wir einen nachhaltigen Anspruch

an unsere Aktivitäten und wollen

langfristig positive Veränderungen

bewirken.

Die Clubaktivitäten orientieren sich

an den drei Rotaract-Säulen "Helfen

– Lernen – Feiern". Neben der

Durchführung diverser sozialer Projekte

bilden wir uns durch spannende

Vorträge weiter und führen ein aktives

Clubleben, wo viel gelacht wird und

Freundschaften entstehen. Wir treffen

uns ein- bis zweimal die Woche. Mehr

Informationen zu unserem Club finden

Sie hier:

www.berlin-international.rotaract.de.

Per email erreichen Sie uns unter berlininternational@rotaract.de

.

Rotaract ist mit rund 194.120 Mitgliedern

in 8.440 Clubs eine der größten

Jugendorganisationen der Welt. Der

Name Rotaract setzt sich zusammen

aus den Worten "Rotary" und "Action"

und steht für "Jugend in Aktion" – Aktion

im Sinne der rotarischen Idee. Wir sind

eine von einem Rotary Club geförderte

und betreute und dennoch unabhängige

und selbstständige Gemeinschaft junger

Leute.

09
---
v

10
---
v

11
---
We aim to create an atmosphere where our guests and members

can further their personal development, address the needs

of Berlin in a sustainable way, and build bridges and promote

better relations between all people and cultures through a

framework of friendship and service.

The Rotaract Club Berlin International

is the newest Rotaract Club in Berlin,

recently celebrating its founding in

June 2018. Members are both students

and young professionals aged

between 18-30. Our operating language

is English, as our 25 members

come from 11 different countries.

Our club is characterized by our motto

"Building bridges, leaving tracks". We

want to build bridges both within the

Rotarian family and between different

social strata. Our activities also aim

to foster positive, long-term sustainable

change. We meet once or twice a

week, with club activities that fall under

the three Rotaract pillars "Helping -

Learning - Celebrating". In addition to

the implementation of various social

projects, we continue our education

through exciting and informative lectures,

and an active club life, where

laughter prevails and friendships are

born.

More information about our club can

be found at www.berlin-international.

rotaract.de.

You can reach us per email through

berlin-international@rotaract.de.

With around 194.120 members in 8.440

clubs, Rotaract is one of the largest

youth organizations in the world. The

name Rotaract is made up of the words

"Rotary" and "Action" and stands

for "Youth in Action" - action in the

sense of the Rotarian idea. We are a

Rotary sponsored and supported club.

However we still remain an independent

and self-sufficient community of

young people.

12
---
13

Shara

The Park

72x71 cm

Acryl auf Leinwand
---
1

14
---
Shara

Candy says

50x40 cm

Acryl auf Leinwand

2

15
---
3

Shara

Moldavite filigree

50x40 cm

Acryl auf Leinwand

16
---
17

Shara

Pangbourne summer, 2019

181x168 cm

Acryl auf Leinwand
---
4

18
---
19

5
---
Shara

Angelica at work

80x58 cm

Acryl auf Leinwand

"This is where you are supposed to be.

This is where you will be. This is the fashion

of the future".

20
---
"Hier sollst Du sein. Hier wirst Du

Das hier ist die Mode der Zukunft"

Shara

Turquoise sky, turquoise earth

72x52 cm

Acryl auf Leinwand

21
---
in der Zukunft sein.

6

22
---
7

Shara

The moving life/Venus

40x40 cm

Acryl auf Leinwand

23
---
Shara

Sheltered from the rain

71x80 cm

Acryl auf Leinwand

8 24
---
mit shara im

gespräch

Was gefällt Dir am besten an der G15 Einrichtung?

Mir gefällt die Idee von frei zugänglicher Kunst für Jedermann.

Was gefällt Dir am besten am Malen?

Ich mag das Gefühl einfach. Es ist eine Bewusstseinssache.

Wenn man im Einklang ist mit allem...ich denke, dieses

Gefühl kann jeder haben im echten Leben, wenn man etwas

kindlich ist und das Erkennen von Übereinstimmungen. Dann

fühlt es sich an, als wäre man in dieser Energieblase seiner

Erlebnisse. Wenn du im Urlaub bist, hast du wahrscheinlich

mehr Übereinstimmungen, wo alles "eins" ist. Vielleicht ist das

sogar so, als ob eine höhere Gewalt am Werk ist, wobei man

nicht ausmachen kann, was falsch ist weil es wie ein Jigsaw-

Puzzle ist, weißt du? Man kann keine wirklichen Wertung

von einem selbst vornehmen. Alles ist verbunden irgendwie.

Wie bist Du in Berlin gelandet?

Ich komme aus Bradford, Yorkshire. Das ist fast so, als käme

man aus Irland. Yorkshire hat diese komische Verbindung mit

Irland und Schottland. Einer der Gründe warum ich herkam

war, dass ich mich wieder künstlerischen Dingen widmen

wollte, denen ich mich zuvor in England gewidmet hatte.

Um eine Malerin zu sein. In England bin ich in viele Dinge

eingetaucht. Beispielsweise in abstrakte Kunst. Wenn man

denkt, dass Kunst alles ist [...] musste man sich einen Job

suchen, den man nicht wirklich mochte. Bei mir waren dies

Haus-zu-Haus Verkäufe von Büchern. [Das war Dein Job?]

Ja genau. Den habe ich dann an den Nagel gehangen. Im

Job kam ich mir vor wie bei Monty Pythons, kennst du die

Komödie? [...] Später ging ich dann auf die Kunsthochschule.

Ich war in Berlin und hatte Leute getroffen,mit denen ich

in einen Ginger & Fred Film gehen wollte. Die Nacht zuvor

träumte ich von Leuten, welche in meiner Ankleide standen.

[Ein Freund] drehte sich langsam zu mir um und sagte: "Hier

sollst Du sein. Hier wirst Du in der Zukunft sein. Das hier ist die

Mode der Zukunft". Und mein Freund trug Ketten im Gesicht,

die sich von seiner Wange zu seinem Mund zogen und ein

Netz über die Hälfte seines Gesichts. Diese Mädchen, das

neben mir saß bei dem Film, wie schauten Ginger & Fred.

Und der Film hatte eine Passage wie aus meinem Traum.

Ich sah sie an und sie mich. Es war komisch und irgendwie

so wie in meinem Traum. Mit ihr baute ich eine Beziehung

auf und wohnte eine Weile bei ihr. Ich blieb so lange da sie

mir half...Ich hatte nie geplant so lange in Berlin zu bleiben.

25
---
[Verrückt, dass Du Dich an diesen Traum erinnerst. Wie eine

Antizipation.] Ja, es war wie eine Stimme in meinem Kopf.

Gab es Momente, in denen Du fandest, dass Deine Kunst

nicht genügend gewürdigt wurde?

Warum denkst Du, dass Berlin der richtige Ort für Dich

ist? Warum nicht New York oder Paris?

Irgendwas stimmt nicht mit New York. Ich habe einen Künstler

getroffen, der dort gelebt hat und mir, nachdem er zurück

nach Berlin kam, erzählte, dass alles zu "glatt" in New York ist.

Mit 16 ging ich zum Jobcenter. Ich sagte, dass ich eine Künstlerin

werden möchte. Man antwortete, dass man keinerlei

solcher Jobs für mich hat. Sie hatten lediglich Jobs in der

Floristik – Blumenläden also. [Das war sehr mutig von Dir den

Sprung in die Kunst zu wagen.] Ja, aber ich wurde fast schon

missachtet. Und so fühle ich mich immer noch. Alles scheint

genau so zu sein, wie als ich ein Kind war. Die Leute nehmen

den Beruf des Künstlers nicht wirklich ernst.

Wann hast Du Dich entschieden, dass Du eine Künstlerin

sein möchtest?

Mein Bruder und meine Schwester waren schon immer gut

im Malen. Deswegen habe ich angefangen. Wir waren alle

sehr schüchtern. Darum haben wir nicht viel

daraus gemacht. Wir haben uns nicht verkauft.

Was gefällt Dir an Berlin am besten?

Ich war schon immer, und das klingt bestimmt komisch, an

Europa interessiert. An europäischer Kultur.

Was ist Dein Lieblingskunstwerk, das Du erstellt hast?

Naja, das wäre ja eine Wertung, daher kann ich das nicht

richtig sagen.

Was kannst du uns über deine Werke sagen, die dieses

Jahr ausgewählt wurden?

Ich bin froh, dass diese Gemälde ausgewählt wurden.

Sie symbolisieren eine progressive Phase gegenüber den

Gemälden der letzten Auktion.

26
---
a conversation

with shara

What is your favorite thing about G15?

I like the idea of art for the people.

What is your favorite thing about painting itself?

I just like the feeling. The feeling of painting. It's a consciousness

thing. If you are tuned to everything…like anybody could have it

in real life just by being a bit orphan and noticing coincidences.

And you feel like you are in this energy bubble of experiences.

See, if you are on holiday you possibly get more of cuddlish

coincidences where everything is one. Maybe it is even like

you are part of higher forces working where you cannot make

out what is wrong because it is like a jigsaw puzzle, you know?

You cannot really make any value judgements about yourself.

Everything is all connected somehow.

How did you end up in Berlin?

I'm from Bradford in Yorkshire. It's a bit like you are from Ireland.

Yorkshire has got that kind of funny link with Ireland and Scotland.

One of the reasons I came was to get back to artistic kind of

things that I was doing in England. To be a painter. In England

I started to dive into all kinds of things. You know, abstract

concept art or whatever. When you think art is everything […]

you had to get a job you do not really like, like selling books doorto-door.

[Is that what you did?] I did. And then I left it. It was like

Monty Pythons, do you know the comedy? […] Then, I went to

the art college. I was in Berlin and I met some people and we

decided to go see a Ginger & Fred movie. But just the night

before I dreamt that there were these people in a dressing room.

[My friend] was slowly turning around and looking towards me

and his voice said: "This is where you'll be. This is where you'll

be in the future. This is the fashion of the future". And he [my

friend] had these chains running from his cheek to his tooth and

netting over half of his face. There was this girl sitting next to me

and we were looking at the film, Ginger & Fred, and there was a

part sort of like in my dream. I looked to her and she looked at

me. It was weird. It was all kind of like in the dreams. And then I

got a relationship with her and stayed with her a while. Because

she helped me out… I never wanted to stay in Berlin so long. [It

is crazy you remember this dream. It's like an anticipation.] Yeah

it was like a voice in my head.

27
---
Were there moments when you felt that your art was not

appreciated enough?

When I was 16, I went to the job center. I said that I wanted to

become an artist. They replied that they had no such jobs for

me. They only had jobs in floristry - flower stores that is. [That

was very brave of you to take the leap into art] Yes, but I was

almost disregarded. And I still feel that way. Everything seems

exactly the same as when I was a kid. People don't really take

the profession of being an artist seriously.

What do you like most about Berlin?

I was always interested, and this sounds weird now, in Europe.

In European culture.

What can you tell us about you pieces that are in this years

auction?

I'm happy these paintings were picked. They symbolize a

progressive stage from the ones in the last auction.

When did you decide you wanted to be an artist?

My brother and sister were always good at art. That's why I got

into it. We were all very shy. That is why we did not make much

out of it. We were not selling ourselves.

Why did you feel that Berlin is the right place for you? Why

not New York or Paris?

There is something sort of wrong about New York. I met an

artist who used to live in New York that came back to Berlin. He

said it was too smooth in New York.

28
---
Hans Jürgen Grimm (Grimmi)

Viererbande

A4

Bleistift auf Papier

10

29
---
9

Hans Jürgen Grimm (Grimmi)

Quattro nomini

A4

Bleistift auf Papier

30
---
31

Shara

Chrome Yellow

51x61 cm

Acryl auf Leinwand
---
11

32
---
33

12
---
Rolf

Untitled

91x58 cm

Acryl auf Leinwand

34
---
13

Shara

Tower in Bridge

62x60 cm

Acryl auf Leinwand

35
---
Shara

Colloseum

45x25 cm

Acryl auf Leinwand

14

36
---
37

15
---
Shara

Portmeiron

50x60 cm

Acryl auf Leinwand

38
---
39

Unknown

Untitled

75x75 cm

Acryl auf Leinwand
---
16

40
---
41

17
---
Shara

Clock of Spiralling Time

84x58 cm

Acryl auf Leinwand

42
---
mit karlkuno

im gespräch

Glaubst Du, dass jeder Mensch ein Künstler ist?

Ja. Die Kunst entspringt der Individualität des Menschen.

Darüber hinaus beschränkt sich Kunst natürlich nicht nur auf

Malerei. Beispielsweise kann auch ein Kaufmann ein Künstler

sein – jeder ist schließlich ein Individuum. Dem Individuum

folgt die Kunst.

Was bedeutet Kunst für Dich?

Ich habe schon als Kind angefangen. Ich war Polizist und

dieses Leben hat mir nicht gefallen. Ich wollte was Neues

machen. Der Alltag als Polizist war unangenehm. Das in

Formen "gepresst sein" hat mich dazu bewogen, mich der

Kunst zu widmen. Kunst ist vielleicht eine Form von Freiheit.

Wie reagieren Leute auf Deine Kunst?

Ich male sehr gefällige Bilder. Die Reaktionen sind normalerweise

sehr positiv. Bei mir sind sowohl die Farbgebung als

auch die Thematik auf Harmonie ausgelegt.

Was gefällt Dir am besten an der G15 Einrichtung?

Die G15 ist eine tolle Einrichtung. Die Möglichkeit hier zu

malen ist fantastisch. Sowie die Mission, den weniger Wohlhabenden

zu helfen.

Was macht einen guten Künstler aus?

Man muss man selbst sein.

Was gefällt Dir am besten am Malen?

Freiheit. Zu nichts gezwungen sein.

Welche Themen favorisierst Du in Deiner Kunst?

Reisen. Ich bin sechs Jahre lang zwischen Südamerika und

Deutschland hin- und her gependelt. Die Winter verbrachte

ich zum Arbeiten in Deutschland und die Sommer in Südamerika.

Fun Fact: Ich habe in dieser Zeit im Nachtclub Tresor als

Handwerker gearbeitet.

Gibt es sonst etwas/eine "Message", die du verbreiten

möchtest?

Jeder muss sich die Freiheit nehmen, die er haben will. Man

muss darüber philosophieren und entsprechend handeln.

Man kann auch frei in einem System sein.

43
---
Wenn Du einen Wunsch frei hättest, was würdest Du

Dir wünschen?

Ich habe Familie in Südamerika – in Brasilien, um genau zu

sein. Die letzten vier Jahre war ich nicht mehr dort. Mein Ziel

ist es, meinen Sohn in Südamerika wiederzusehen.

Hast Du Vorbilder (in der Kunst)?

Tyngueli. Der Kunsthandwerker, der Brunnen und sich bewegende

Skulpturen aus Schrott baut.

Was bedeutet das A15 Projekt für Dich? Ich finde das A15

Projekt toll. In erster Linie freue ich mich über die Anerkennung

und die finanzielle Unterstützung der G15 Einrichtung.

44
---
a conversation

with karlkuno

Do you think everyone is an artist?

I do think that everyone is an artist. Art comes from the individuality

of people. Further, Art is not limited to painting. For

example, a business man could also be an artist as the business

man is also an individual. Art stems from individuality

no matter the kind of output.

What does art mean to you?

I started painting when I was very little. I was a policeman

but I did not enjoy my everyday life in that job. I wanted to

do something new. As a policeman I felt like I was pushed

into a form. That's why I decided to dedicate myself to art. I

think art may be seen as a kind of freedom.

How do people react to your art?

I like to create paintings that are easy to like. Usually the

reactions are positive. I like to paint both with colors and

about things that produce harmony.

What is your favorite thing about G15?

G15 is an awesome facility. The fact that we are getting the

opportunity to paint is amazing as well as G15's mission to

help the less wealthy.

What makes a good artist?

You need to be yourself.

What is your favorite thing about painting itself?

Freedom. Not being forced to do anything.

What topics do you like to paint?

I like to paint about travel. I commuted between Germany

and South America for six years spending the winters working

in Germany in order to save money and then going to

South America during the summers. Fun fact: I worked as

a carpenter in the night club called Tresor during that time.

Is there anything else/a message you would like to

spread?

Everybody has to take the freedom they desire. I would suggest

philosophizing about this and to act accordingly. You

can also be free within a given system.

45
---
If you could wish for one thing, what would it be?

I have got family in South America – in Brazil to be exact. I

have not been able to visit the last four years. It is my goal

to visit my son in South America again.

Do you have a role model (in art)?

Tyngueli. The artists that build wells and create sculptures

from scrap metal.

What does the A15 Project mean to you?

The A15 project is great. In particular, I am happy about the

recognition and the financial support of the G15 facility.

46
---
47

Karlkuno

Punk im Nordlicht

100x70 cm

Acryl auf Leinwand
---
18

48
---
Karlkuno

ganz allein 2

13x10x8 cm

Acryl auf Gips

19

49
---
20

Karlkuno

Badesaison

70x100 cm

Acryl auf Leinwand

50
---
21

Karlkuno

ganz allein 1

9x8x13 cm

Acryl auf Gips

51
---
Karlkuno

Don Quichotte

60x80 cm

Acryl auf Leinwand

22

52
---
53

23
---
Unknown

Untitled

35x26 cm

Bleistift auf Papier

54
---
Unknown

Untitled

28,5x25,8 cm

Acryl auf Leinwand

24

55
---
25

Unknown

Untitled

53x37 cm

Acryl auf Leinwand

56
---
57

Charlie

Untitled

90x60 cm

Acryl auf Leinwand
---
26

58
---
mit mariyan

im gespräch

Glaubst Du, dass jeder Mensch ein Künstler ist?

Natürlich geht es darum, Zeit zu investieren, um besser zu

werden. Es ist ein Prozess. Für mich ist es eine Form von Kommunikation

mit mir selbst. Meine Gedankengänge sind ganz

anders wenn ich mich entspanne und male. Meine Gedanken

ordnen, sich irgendwie. [...]. Kunst ist auch als eine Form der

Meditation zu verstehen.

Wie bist Du nach Berlin gekommen?

Zuerst kam ich zehn Tage zu Besuch und die Stadt hat mir

sehr gut gefallen. Nachdem ich mich entschieden hatte nach

Berlin zu ziehen, blieb ich ein Jahr in Bulgarien, um noch

einige Dinge zu erledigen. Daraufhin habe ich mir dann eine

Einzelfahrt nach Berlin gekauft. Seitdem ich hier bin, [3 Jahre]

wohne ich bei einem Freund.

Was bedeutet Kunst für Dich?

Ich habe Kunst von klein auf studiert. Als ich 18 war, habe ich

mich entschieden mein Leben der Kunst zu widmen. Das ist

mein Leben. Zu der Entscheidung bin ich gekommen, da ich

mich einfach besser fühle, wenn ich male. Kunst ist etwas

friedliches, entspannendes und kreatives. [Wenn also jeder

malen würde, hätten wir dann Frieden?] Ja, wahrscheinlich,

mit einer geringen Chance [lacht].

Was gefällt Dir am besten an der G15 Einrichtung?

Ich bin sehr froh, diese Einrichtung gefunden zu haben. Hiervon

habe ich immer geträumt. Jeden Tag komme ich her – und

das seit drei Jahren. Auf die Einrichtung bin ich durch einen

Freund aufmerksam geworden.

Was ist das Schwierigste am Dasein als Vollzeitkünstler?

Für mich wäre dies der Management-Teil – das Verkaufen

ist schwer, zumindest für mich, da ich fast meine gesamte

Zeit mit dem Malen verbringe. Was auch schwer ist, ist sein

Können zu verbessern, aber dieser Prozess ist eben die Kunst.

Wie sieht Dein Alltag als Künstler aus?

Die meiste Zeit verbringe ich damit, Inspiration zu finden und

diese Inspiration dann natürlich auch umzusetzen. Obwohl

ich die meiste Inspiration aus der Natur und aus der Wissenschaft

bekomme, ist mein wesentlicher Arbeitsplatz immer

noch der, der entsteht wenn ich meine Augen schließe.

59
---
Erzähl uns mehr darüber, wie Du malst.

Manchmal fange ich einfach an, Farben auf die Leinwand

zu bringen. In den Farbflecken kann ich dann oft bereits

Gesichter erkennen, die sich dann ergeben.

Wie erstellst Du diese Gipsfiguren?

Ich erstelle diese Gips-Figuren weil es Spaß macht und relativ

einfach ist. Als David Bowie starb wusste ich, dass ich

eine solche Figur machen muss. Zuerst modelliere ich diese

mit meinen Händen aus Ton, dann mit Gips. Zuletzt erstelle

ich dann eine Silikonform, mit der ich die Figuren repliziere.

Ist es schwieriger, kleine oder große Gipsfiguren zu

machen?

Es gibt herausfordernde Momente bei beiden Figuren. Die

Details sind schwer zu modellieren bei den kleinen Figuren.

Bei den großen Figuren ist es das Gewicht. [Ist Dir schon

einmal eine Skulptur runtergefallen?] Natürlich, aber es waren

lediglich zwei Stück in drei Jahren [lacht].

Malst Du mehr oder modellierst Du mehr?

Ich mache beides gern. [Im Verhältnis 50/50?] Das versuche

ich, ja. Denn nachdem man modelliert hat, stellt sich bereits

ein gewisses Gefühl für die Form ein, welches sich dann auf

die Leinwand übertragen lässt.

Machst Du noch andere Kunst? Spielst du beispielsweise

ein Instrument?

Nein. Und das ärgert mich auch ein wenig, dass ich zu viel

Zeit mit visueller Kunst verbringe. Ich würde gerne ein Instrument

spielen, verwende jedoch lieber meine Zeit auf das

Malen. [Welches Instrument würdest Du spielen?] Ich würde

elektronische/digitale Musik machen.

60
---
in conversation

with mariyan

Do you think everyone is an artist?

Of course it is about investing time to become better and

better, but art is the process. I do not know what is happening

with everyone, but with me it is like communication with

myself. My thoughts move differently when I am relaxed and

paint. They organize somehow. Art is close to meditation,

also.

What does art mean to you?

I [have] studied art since I was a child. When I was 18, I

decided to dedicate my life to it. To me, this is my life. This

decision came about as a result of the fact that I feel much

better when I do art. Art is a peaceful, relaxing, creative thing.

[So if everybody painted, we would have peace?] I mean…

probably, it is possible to certain percent [chuckles]

What is your favorite thing about G15?

In general, I am super happy that I found this place here.

This is what I always dreamed about. It is my everyday work

to come here and I have been doing it for three years now. I

got to know the facility through a friend.

How did you end up in Berlin?

First, I came for 10 days and I liked it a lot. After deciding I

wanted to move to Berlin, I spent one more year in Bulgaria

taking care of a few things and then bought a one-way ticket.

Ever since coming here [five years ago], I have been staying

with a friend.

What are the toughest aspects about being a full-time

artist?

I think it is the management part – the selling is really hard,

at least for me, as I spend all my time dedicated to painting

– I keep it simple. Another part is reaching [a] new level of

skill. But that is art.

What does your typical day as an artist look like?

The biggest problem is thinking about what I can take out

from my imagination. And then trying to make them. While I

get most of my inspiration from nature, my main work space

is when I close my eyes, that is when I see paintings. Maybe

I also get inspiration from science.

Tell us some more about how you paint.

Sometimes, I just put colors on the canvas and when I look

61
---
at the spots [of paint], I see faces.

Is it harder to make the big sculptures or the small ones?

They both have hard moments. The small ones are hard for

their small details. What is easy with the small ones is that

they are not heavy. The big ones are heavier. [Have you ever

broken one?] Yes, but in three years I have dropped two

pieces [chuckles].

Do you paint more or do you make more sculptures?

It is great to have both painting on one side and sculpting on

the other side. [So do you spend your time on these things

50/50?] That's the best, if I can do it that way. When you

sculpt and then paint you already have a sense for the shape.

Do you engage in other forms of art? Like playing music?

No, I am angry because I always spend my time with visual

arts. I mean I would love to start with music, but when I see

how much time it would need, I prefer to invest this time in

paintings. [What instrument would you play?] I would make

digital music.

62
---
63

Mariyan

Untitled

20x25 cm

Acryl auf Leinwand
---
27

64
---
28

65
---
Mariyan

Untitled

18x24 cm

Arcyl auf Leinwand

66
---
67

Mariyan

Untitled

25x25 cm

Arcyl auf Leinwand
---
29

68
---
69

30
---
Mariyan

Flash Bowie

18x6x4 cm

Gips

70
---
71

Mariyan

Rainbow Bowie

18x6x4 cm

Gips
---
31

72
---
32

73
---
Lama

Untitled, 2019

102x103 cm

Acryl auf Leinwand

74
---
ATELIER15.ROTARACT.DE

ein projekt von rotaract berlin international für und mit der gitschiner 15

5. november 2022