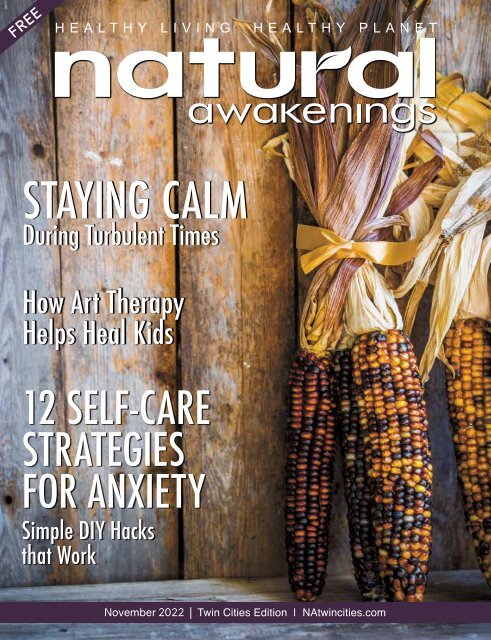 Natural Awakenings Twin Cities November 2022
Read the November 2022 edition of Natural Awakenings Twin Cities magazine. This is our annual Mental Health and Well-being Issue which features articles on staying calm during turbulent times, self-care strategies for anxiety, art therapy for kids, mushrooms and herbs for mental wellness, healing mental health in the new age, grief on the healthcare frontlines and so much more. Be sure to check out our local content, including News Briefs announcements, Community Resource Guide with providers throughout the metro who can meet your individual wellness needs, and all the happenings in the Calendar of Events. There is additional online-only content that can be found at NATwinCities.com.
Read the November 2022 edition of Natural Awakenings Twin Cities magazine. This is our annual Mental Health and Well-being Issue which features articles on staying calm during turbulent times, self-care strategies for anxiety, art therapy for kids, mushrooms and herbs for mental wellness, healing mental health in the new age, grief on the healthcare frontlines and so much more.

Be sure to check out our local content, including News Briefs announcements, Community Resource Guide with providers throughout the metro who can meet your individual wellness needs, and all the happenings in the Calendar of Events. There is additional online-only content that can be found at NATwinCities.com.
SHOW MORE
SHOW LESS
Create successful ePaper yourself
Turn your PDF publications into a flip-book with our unique Google optimized e-Paper software.
FREE

HEALTHY LIVING

HEALTHY PLANET

STAYING CALM

During Turbulent Times

How Art Therapy

Helps Heal Kids

12 SELF-CARE

STRATEGIES

FOR ANXIETY

Simple DIY Hacks

that Work

November 2022 | Twin Cities Edition | NAtwincities.com
---
Revitalize Your Wellness

with Standard Process ® detoxification supplements

Toxins are virtually everywhere and may be responsible for a number of challenges —

everything from fatigue to joint discomfort. Give your body the detoxification support*

it needs with Standard Process ® supplements. They're driven by science, packed with

high-quality ingredients, and formulated to help you revitalize your wellness.

SP DETOX BALANCE

Contains ingredients from the Standard Process

certified organic farm. Supports whole body

detoxification and helps your liver in the processing

and removal of toxins from your body.*

GI ADSORB

Helps with the body's removal

of naturally occurring toxins by

supporting a healthy GI barrier

and normal elimination.*

Find a health care professional near you who offers

Standard Process ® products at standardprocess.com/Find

standardprocess.com

*These statements have not been evaluated by the Food and Drug Administration.

These products are not intended to diagnose, treat, cure, or prevent any disease.

©2022 Standard Process Inc. All rights reserved. LN02778 09/22

2 Twin Cities Edition NAtwincities.com
---
November 2022

3
---
Reclaiming Joy:

Healing Grief Together

Our world is full of significant losses. Some are struggling with the loss of a loved one, an end of a career,

or the need to let go of a belief system.

Whatever painful loss you are going through right now, know that your pain is valid.

Too often, people are told to think positively and smile. However, grief demands to be honored and felt, and

the only way to heal is to face it head-on.

It's time we learn to appreciate the grieving process. We have to feel our pain and give it the time and attention

it deserves. After all, we wouldn't be shrouded with sorrow if what was lost wasn't important to us.

Join us as we reclaim joy and heal grief together in this innovative day-long retreat!

Our Guest Speaker, Pat Sheveland, founder of the Confident Grief Coach School and author of "The Confident

Grief Coach", will share with us the healing practice called "B.R.E.A.T.H.E." This practice has helped grieving

clients move on to a life worth living after experiencing unbearable losses.

You deserve to live a life with renewed sense of purpose and happiness.

Register now by going to PartneringUpVA.com/Grief

Are you a healing professional who has products to share with this event's attendees? We have a

limited number of exhibitor booths available for you to purchase! Call us now at 763-270-8604 or

email Hello@PartneringUpVA.com to learn how you could be an exhibitor.

4 Twin Cities Edition NAtwincities.com
---
Natural Awakenings is a network of holistic lifestyle

magazines providing the communities we serve with

the tools and resources to lead healthier lives on a

healthy planet.

Contents

14

12 NOURISHING HERBS

AND MUSHROOMS FOR

MENTAL WELLNESS

14 STAYING SERENE

IN TURBULENT TIMES

How to Turn Anxiety into Positive Action

12

17 KEY NUTRIENTS

IN CHILDREN'S IMMUNE

HEALTH

18

18 HEALING MENTAL

HEALTH IN THE NEW AGE

20 12 QUICK FIXES

FOR ANXIETY

Simple Strategies for Mental Well-Being

22

ADVERTISING & SUBMISSIONS

HOW TO ADVERTISE

To advertise with Natural Awakenings or request a

media kit, please contact us at 763-270-8604 or email

Publisher@NAtwincities.com. Deadline for ads: the 15th

of the month.

EDITORIAL SUBMISSIONS

Email articles, news items and ideas to:

Publisher@NAtwincities.com.

Deadline for editorial: the 5th of the month.

CALENDAR SUBMISSIONS

Email Calendar Events to: Publisher@NAtwincities.com.

Deadline for calendar: the 10th of the month.

REGIONAL MARKETS

Advertise your products or services in multiple markets!

Natural Awakenings Publishing Corp. is a growing franchised

family of locally owned magazines serving communities since

1994. To place your ad in other markets call 239-449-8309.

For franchising opportunities call 239-530-1377 or visit

NaturalAwakeningsMag.com.

22 THE COLORS

OF HEALING

Art Therapy for Kids

24 RACHEL JONES

on Grief in the Healthcare Front Lines

DEPARTMENTS

6 news brief

8 health briefs

10 global briefs

20 healing ways

22 healthy kids

24 wise words

25 crossword puzzle

26 calendar

28 resource guide

November 2022

5
---
Courtesy of Pathways

news briefs

Pathways Names Erika Backberg

as Its New Executive Director

Erika Backberg

Pathways, a nonprofit that offers complementary healing

services to people with life-threatening and chronic physical

illnesses, has named Erika Backberg as its new executive

director. Her appointment was effective October 10. Backberg

fills the role that Tim Thorpe held for the past 14 years.

Based in Minneapolis and founded in 1988, Pathways

serves individuals that seek healing for body, mind, heart and

spirit. The organization offers free holistic services for people

with critical and life-changing health situations that may or

may not be using conventional medical treatment. Pathways

encourages the understanding that healing and curing are

two different things, and that healing is always available even

when a cure is not.

Backberg brings two decades of experience building holistic systems and social impact

solutions to her new role. Before joining Pathways, she was the chief impact officer at the

Kresser Institute for Functional Medicine where she oversaw all aspects of the company's

internal and external social impact operations, including health equity-focused partnerships

and sustainable business practices.

"Erika has a passion for health equity and for building culture through intentional

listening and systems design thinking," states Pamela Lampert, Pathways board chair. "We

are excited for her to bring her holistic lens, passion and community-building capacity to

benefit the Pathways community, including the participants we serve, providers who offer

their services, partners aligned with us, staff and the board."

Prior to her position at the Kresser Institute, Backberg founded and ran a creative solutions

consultancy. She has worked as a researcher and consultant for state and federal legal

defense teams; held the role of director of donations and sustainable business manager for

Los Angeles-based EcoSet, a company that implements zero-waste practices for productions

and events; and served as a media literacy educator and outreach coordinator for the

Saint Paul Neighborhood Network, a community media and technology resource center for

youth, adults and nonprofits.

"I have been intentionally designing safe spaces centered on whole-person healing

for 20 years," Backberg shares. "The Pathways community is a beloved haven, and it is my

privilege to support a space where people can show up as their whole, authentic selves and

feel seen, valued, heard and nourished."

Location: 3115 Hennepin Ave., Minneapolis. For more information, visit

PathwaysMinneapolis.org.

IT'S TIME

TO LIVE YOUR

Free Light Meditations

for You and the World

December is the time when the darkness

outside starts to creep into our

homes, and the stress of the holidays begins

to weigh on us. Counter the darkness and

stress by bringing in light for yourself and

the world with Annette Rugolo's free Light

Meditations. Rugolo will use her 20 years of

experience to guide the group into meditation,

tapping into the light that is available

to all. The meditations will be held virtually,

at 7 p.m., December 5, 12 and 19.

Rugolo will also be offering daily Facebook

live meditations from noon to 12:30

p.m., December 1 through 24. During this

time, she will lead the group in meditation

to connect with the 24 quantum colors

that are both within and around each of us.

Each color will reawaken a quality within

that brings balance and wholeness. All are

welcome to join for one or all 24 sessions.

This holiday season, stay connected

to the light and uplift your season wholly

with these free powerful meditations.

For more information, visit AnnetteRugolo.

com/calendar. Join Rugolo's Facebook group

at Facebook.com/ConsciousLifeResources.

See ad, page 8.

©Kieferpix

YESologist Intuitive

Transformational Coach

Teacher Visionary

www.neaclare.com

LIFE

Book your FREE

Discovery Session

today.

Give thanks for unknown blessings

already on their way.

~Native American Saying

6 Twin Cities Edition NAtwincities.com
---
Courtesy of Prairie Naturopathic Doctors

New Naturopathic Primary Care

Clinic in Plymouth

Prairie Naturopathic Doctors, founded in

2009, in Moorhead, has opened its second

clinic in Plymouth, just off 55 and 494.

Dr. Brianna Vick and the staff are committed

to helping as many people as possible

regain and maintain their health by addressing

the true causes of disease and not

just the symptoms. Their goal is corrective

care (not just relief) with long-term health

Brianna Vick

support for individuals and families.

"We are excited to have opened our second clinic and to

continue to grow," shares Vick. "Naturopathic medicine is a

comprehensive medicine that is holistic and treats the individual,

not the condition. We diagnose and treat acute and chronic

conditions and have health solutions that work in conjunction

with the body's vital force."

Prairie Naturopathic Doctors offers acute visits to established

patients and has a variety of treatment options available,

including naturopathic physiotherapies—think of these like oil

changes for the blood and lymphatic systems.

Vick is the healthcare provider in the Plymouth location. Previously,

she was seeing patients at the Moorhead clinic for several years.

Location: 3140 Harbor Lane North, Ste. 102, Plymouth. For more

information, call 612-236-0002 and/or visit PrairieND.com.

Courtesy of Midwest Women's Herbal Conference

Gladstar, Other Experts Lead

Online Women's Wellness Herbal

& Healing Workshops

Rosemary

Gladstar

World-renowned herbalist Rosemary

Gladstar and a dynamic star lineup

will present a virtual Women's Wellness Series,

produced by Midwest Women's Herbal, In Our

Own Hands, every other Saturday, from January

through April 2023. In workshops covering

many topics, participants will be supported and

inspired to work with herbs, archetypes, magic

and healing in their own lives and communities.

Led by herbalists and healers who are

interested in offering women tools they can

bring into their own lives for health and wellness, this unique series

of workshops offers a supportive community learning environment.

Each workshop is unique and complementary to the next.

Participants have the opportunity to attend live and interact with the

instructor. For those not able to attend or who wish to review the

workshop, recordings will be sent.

Instructors include Gladstar; Indigenous Earthkeeper Brooke

Medicine Eagle; bioregional Wise Woman and herbalist Linda

Conroy; ancestral ritual practitioner and author Caitlin Mathews;

American Herbalist Guild Director and herbalist Mimi Hernandez;

acupuncturist and herbalist Jiling Lin; and spiritual doula, rootworker

and conjurer Angela Smith.

For more information, visit MidwestWomensHerbal.com. See ad, page 3.

Grow Your Business with Our

Team of Virtual Assistants

Let us help you with:

Administrative tasks

Email marketing

Social media management

Video editing

Podcast production

Facebook ad management

Website development, including

WordPress, Squarespace, Woo Commerce

and more!

PartneringUpVA.com

November 2022

7
---
"My passion is to

be able to bring

that healing

modality to

people who

haven't

previously

had access."

Improve lives with a

massage therapy education.

nwhealth.edu/na-mt

Self- Care for the Soul

Nurture Yourself from Within

AnnetteRugolo.com

612-394-3736

https://AnnetteRugolo.com/sessions/

C A L L N O W !

( 7 0 1 ) 2 1 2 - 2 8 0 0

ask for Karen

BEEF FOR

SALE!

$2.45 per pound

(hanging weight) - processing paid separately.

$5.85 or less/lb.

Estimated take home price

8 Twin Cities Edition NAtwincities.com

RODEWALD

FARMS

Black Angus/Holstein cross

either grass fed, grass

finished; grass fed, grain

finished; or strictly corn fed.

health briefs

Fruit and Vitamin B 6 May

Relieve Anxiety and Depression

The best strategy to stay upbeat may

be to reach for the fruit bowl, suggests

a new study comparing

the habits and mental states

of 428 people published in

the British Journal of Nutrition.

Researchers at the UK's Aston

University found that the more

often people ate fruit, the lower

they scored for depression and the

higher for mental well-being. The frequency of fruit consumption

seemed to be more important to psychological

health than the total amount consumed. People that ate

savory snacks such as potato chips, which are low in nutrients,

were more likely to report more frequent memory

lapses and greater levels of anxiety and depression. The

researchers found no connection between eating vegetables

and psychological health. Nutrients can be lost during

cooking. "As we are more likely to eat fruit raw, this could

potentially explain its stronger influence on our psychological

health," says lead author Nicola-Jayne Tuck.

In another study, researchers from the UK's University

of Reading gave 478 young adults either high doses of vitamins

B 6

or B 12

or a placebo. After one month, they found

that 100 milligrams of the B 6

(about 50 times the recommended

daily allowance) significantly boosted gamma

aminobutyric acid, which inhibits excitatory impulses in the

brain, and reduced self-reported anxiety and depression

levels. B 12

had no such effects.

Different Fibers

Produce Different Results

Although high-fiber diets reduce the risk of heart attack,

stroke and cardiovascular disease, the latest research

from Stanford University indicates that not all fibers are

equal in their effect on different species of probiotics in

the intestines. Arabinoxylan, which is common in whole

grains, was found to reduce cholesterol naturally and was

easier to digest than long-chain inulin, which is found in

onions, chicory root and Jerusalem artichokes. Commonly

used for weight-loss products, inulin was linked to a modest

decrease in inflammation markers and an increase in

Bifidobacterium, a "good" gut microbe; however, at high

doses it increased inflammation and raised the possibility

of liver damage.

Marek Studzinski/Unsplash.com

Jo Sonn/Unsplash.com
---
Mislabeling Found in Some

Immunity Supplements

Immunity supplements may

not be all they claim to be,

according to a new study in

the Journal of the American

Medical Association. Researchers

conducted liquid

chromatography and mass

spectrometry tests on 30 of

the bestselling, four-star-and-up immunity products on

Amazon and found that only 13 contained the exact ingredients

listed on their labels. Thirteen were missing some of

the listed ingredients and nine contained ingredients not

listed on the labels. Missing ingredients were mainly plant

extracts such as aloe vera, astragalus, eleuthero, ginger

root and slippery elm. Added ingredients included black

rice seed in elderberry extracts and pantothenic acid.

Stretching and Balance

Exercises Can Avert

Mental Decline

iofoto/AdobeStock.com

To protect against memory loss, simple stretching and

balance exercises work as well as hard-driving aerobics,

concludes a new study from Wake Forest University.

The study enrolled 296 sedentary older adults with mild

cognitive decline such as forgetting dates, keys and

names. Those that performed simple stretching routines

for 120 to 150 minutes per week experienced no memory

decline in a year's time, as measured by cognitive tests

and brain scans that showed no

shrinkage. These results matched

the outcome of people that did

moderate-intensity

aerobic training

on treadmills or

stationary bikes four times a week,

striving for about 30 to 40 minutes

of a heightened heart rate. A control

group of equally matched people that

did not exercise did decline cognitively.

The people that exercised

were supervised by trainers at local

YMCAs, which may have helped them

stay motivated, say the researchers.

MIA Studio/AdobeStock.com

Longevity Diet

Involves Fasting, Too

After reviewing hundreds

of studies on

nutrition, diseases

and longevity in laboratory

animals and

humans, the optimal

diet for longevity has

"lots of legumes,

whole grains and

vegetables; some fish;

no red meat or processed

meat and very

low white meat; low

sugar and refined grains; good levels of nuts and olive oil,

and some dark chocolate," reports University of Southern

California gerontology professor Valter Longo. According

to the literature review he and others authored for Cell, a

day's meals should ideally occur within a window of 11 to

12 hours, allowing for a daily period of fasting. A five-day

fast or fast-mimicking diet every three to four months was

also suggested to help reduce insulin resistance, blood

pressure and other risk factors for those with increased

disease risks.

logo3in1/AdobeStock.com

Health Coaching with Leah

Let's explore your vision for the future,

while fostering joy and satisfaction

along the way.

Schedule your free

consultation today!

Visionairium.com

Leah@Visionairium.com

Locally owned and independent since 1968!

Mastel's

HEALTH FOODS

EST. 1968

vitamins, minerals, supplements, herbs, grocery,

personal care, homeopathy, tcm

1526 ST. CLAIR AVENUE, ST. PAUL, MN 55105

T. 651-690-1692 • WWW.MASTELS.COM

OPEN WEEKDAYS 9-8 • SATURDAY 9-6 • SUNDAY 12-5

November 2022

9
---
global briefs

Ben Klewais/Unsplash.co,,

Google Downplays

Flight Emissions

The world's biggest search

engine has taken a key

driver of global warming

out of the carbon

calculator embedded in

the company's Google

Flights search tool, making

journeys appear to have

much less impact on the

environment than before.

Dr. Doug Parr, chief scientist

of Greenpeace, says,

"Google has airbrushed a

huge chunk of the aviation

industry's climate impacts from its pages."

With Google hosting nine out of every 10 online searches,

this could have wide repercussions for people's travel

decisions. In July, the search engine decided to exclude all

the global warming impacts of flying except CO 2

following

consultations with its industry partners.

Kit Brennan, a founder of Thrust Carbon, a UK company

that helps businesses reduce the effect their travel has on

the climate, fears consumers could come to believe that

non-CO 2

impacts on the climate are not relevant in the

longer term, despite the science that contradicts this view.

That would mean up to 1.5 percent of the warming caused

by human activity would be ignored, and the pressure on

airlines to reduce their emissions would be cut accordingly.

Some experts say Google's calculations now represent just

over half of the real impact of flights on the climate.

tanvi sharma/Unsplash.co,,

Plastic Recycling

Hoax Revealed

According to a new report

(Tinyurl.com/Chemical

Recycling) from the nonprofit

Global Alliance for Incinerator

Alternatives (GAIA), 20

states have passed bills to

exempt chemical recycling

facilities from waste management

requirements,

despite significant evidence

that most facilities actually incinerate the plastic they receive.

The petrochemical industry, as represented by the American

Chemistry Council, has been lobbying for state-level

legislation to promote "chemical recycling", a process that

critics say is recycling in name only. Their goal is to reclassify

chemical recycling as a manufacturing process, rather than

waste disposal, with more lenient regulations concerning

pollution and hazardous waste.

GAIA Policy and Research Coordinator and author of the

report Tok Oyewole says, "These facilities are in actuality

waste-to-toxic-oil plants, processing plastic to turn it into

a subpar and polluting fuel." The report calls for federal

regulation to crack down on the plastic industry's misinformation

and affirm chemical recycling's status as a waste

management process.

The U.S. Environmental Protection Agency is considering

whether chemical recycling should be regulated under

Section 129 of the Clean Air Act, which would define chemical

recycling processes as incineration, potentially short-circuiting

the petrochemical industry's state legislative strategy,

although Oyewole says it's unclear whether the agency's

determination would override existing state legislation.

Dentistry: Are You Missing Vital Information?

Avoid Putting Toxic Materials In Your Mouth / Body!

Doctors have said, "99% of Disease Starts In The Mouth," How Is Your Oral Health?

Holistic Dentistry is an

important component in ANY

health & wellness program

An approach to dentistry that

promotes health and wellness instead

of only treating "dis"ease.

Call or visit our website for more info: (715) 426-7777

Dr. Laughlin has spent thousands of hours

in continuing education over his 45+ years

in practice. His knowledge, combined with

advanced technologies, provide the best

chance to improve your oral health and

positively impact your overall wellbeing.

www.Health Centered Dentistry.com

10 Twin Cities Edition NAtwincities.com

10
---
HEALTHY LIVING HEALTHY PLANET

TWIN CITIES EDITION

Publisher Candi Broeffle

Editors Cheryl Hynes

Randy Kambic

Ad Sales Candi Broeffle

Design & Production Sara Shrode

CONTACT US

P.O. Box 27617

Golden Valley, MN 55427

Ph: 763-270-8604

NAtwincities.com

Let's Talk Natural Wellness

In-depth interviews with natural health

professionals who share the latest

information for you to lead a

healthier, happier life.

Sundays from 10-11 am

Podcasts available at AM950Radio.com

SUBSCRIPTIONS

Subscriptions are available by sending $25

(for 12 issues) to the above address.

NATIONAL TEAM

CEO/Founder Sharon Bruckman

COO/Franchise Sales Joe Dunne

Layout & Design Gabrielle W-Perillo

Financial Manager Yolanda Shebert

Asst. Director of Ops Heather Gibbs

Digital Content Director Rachael Oppy

National Advertising Lisa Doyle-Mitchell

Administrative Assistant Anne-Marie Ryan

Natural Awakenings Publishing Corporation

4851 Tamiami Trail N., Ste. 200

Naples, FL 34103

NaturalAwakeningsMag.com

© 2022 by Natural Awakenings. All rights reserved.

Although some parts of this publication may be

reproduced and reprinted, we require that prior

permission be obtained in writing.

Natural Awakenings is a free publication distributed

locally and is supported by our advertisers. Please

call to find a location near you or if you would like

copies placed at your business.

We do not necessarily endorse the views expressed in

the articles and advertisements, nor are we

responsible for the products and services advertised.

Check with a healthcare professional regarding the

appropriate use of any treatment.

NEED BALANCE?

Start With Your Hormones!

Our Customized Programs Will Help:

Balance Hormones

Find The Root Cause

Increase Energy

Sleep Better

Improve Digestion

Clearer Skin

"I was having a hard time falling asleep AND WAKING

up with hot flashes every night! I was also having hot

flashes during the day. After 2 weeks on the nutrition

program, I am able to sleep through the night, I am not

experiencing hot flashes day or night!" -I.B.

Kari Seaverson DDS

John Seaverson DDS

Tooth by the Lake

HOLISTIC GENERAL DENTISTRY

1401 Mainstreet

Hopkins, MN 55343

952-475-1101

ToothByTheLake.net

Natural Awakenings

Magazine is ranked

5th Nationally in

CISION'S ® 2016

Top 10 Health &

Fitness Magazines

Natural Awakenings is printed on

recycled newsprint with soy-based ink.

Experience healthier dentistry

November 2022

11
---
Nourishing Herbs

and Mushrooms for

Mental Wellness

by Linda Conroy

Maintaining and promoting mental wellness is as important as keeping up with

physical health. Often neglected, stress and anxiety can contribute to illness and

can exacerbate mental health conditions. Staying well, getting enough sleep and

exercise, and eating well are important for physical and mental health. Adding herbs and

mushrooms to our daily routine can be an effective way to support mental wellness and get

relief from anxiety, mild/situational depression, stress, sadness and other issues.

Herbs and mushrooms tend to work in collaboration with the body. Knowing which

herbs impact different body systems can assist in bringing them into our daily lives, as well

as ingesting them when we are struggling with specific issues. There are several categories of

herbs that are helpful in relation to mental wellness. Nervines strengthen and support the nervous

system and adaptogens assist the body in adapting and recovering from the physiological

impact of stress and anxiety.

Nervines Can Help Strengthen and Support the Nervous System

Oatstraw (Avena sativa): Traditionally, Avena has been used as a long-term tonic to

nourish, rebuild and revitalize a worn-down nervous system. It is also ingested to maintain

the nervous system once is restored. Drinking this plant in an infusion as a daily tonic is the

best way to enjoy its benefits.

Lion's Mane Mushroom (Hericium erinaceus): This mushroom is fast becoming a favorite

food of many, as well as a remedy. It can be eaten as a vegetable and there are many creative

ways to prepare it. It can also be added dry to decoctions or taken as a tincture (alcohol

extract). Studies have shown that this mushroom has the capacity to ease mild depression and

anxiety. It also has been shown to regenerate brain cells, thus improving cognitive functioning.

Lemon Balm (Melissa officinalis): Drunk as a tea or taken as a tincture or alcohol

extract, lemon balm is a tried and true nervine. Lemon balm contains chemicals that have

a sedative and calming effect. People use lemon balm for relieving anxiety, stress, insomnia,

indigestion, dementia and many other conditions.

American Skullcap (Scutterlia lateriflora): It has been used for more than 200 years

as a mild relaxant and to relieve anxiety and nervous tension. It can be drunk as a tea or

taken as a tincture.

These are only a few of the nervines. Ingesting them on a regular basis and when we need

extra support can leave us feeling uplifted and more ready to face everyday challenges.

Adaptogens Can Help the Body Recover from and Adjust to Stress

Adaptogens bring the body back to a steady balance by managing both physical and mental

stressors. In other words they assist the body in adapting to/adjusting to physical stress. We

can take adaptogens by adding them to food or beverages or take them as tinctures.

Reishi Mushroom (Ganaderma sp): There are many species of this mushroom that

grow around the world. The species most widely used is Ganoderma lucidum, yet if foragers

find a local species, they may be able to apply it in similar ways. Reishi has been shown to

support the function of the adrenal glands, which secrete cortisol, a hormone that helps the

body respond to stress. Research supports

hundreds of years of use this mushroom

in Chinese medicine, where it is believed

to be a longevity tonic, thus the nickname,

"mushroom of immortality".

Holy Basil (Ocimum tenuiflorum):

People use holy basil to promote sleep, quell

anxiety and reduce stress. Drink this herb

as a tea, take it as a tincture or steep it in

honey and add to other teas.

American Ginseng (Panax quinquefolium):

This plant offers immune system

support (immune modulators) that helps

reduce inflammation and relieves pain

(anti-inflammatory). In addition, this type

of ginseng combats stress and boosts the

nervous system, which improves how the

body responds to stimuli (fight-or-flight).

Some studies suggest American ginseng can

reset dopamine levels and regulate mood.

Nervous System-Calming

Herbal Infusion Recipe

To make a nourishing herbal infusion of

Oatstraw:

• Boil water (1 quart for every ounce of

herb)

• Place one ounce of herb (for each quart

of water) in a tea pot, French press or

canning jar.

• When the water boils, pour the water

over the herb (if using a canning jar,

place a butter knife in the jar to act as a

conduit; the knife will absorb some of the

heat and keep the jar from breaking).

• Put a lid on the container and set it

aside for four to eight hours.

• After four to eight hours, strain the

herb and enjoy. Infusions can be

drunk warmed, iced or sweetened.

Note: Infusions can be stored in the

refrigerator for 2-3 days, after which they

will start to spoil. They are nutrient-rich

and become food—if they spoil, feed them

to house plants.

Linda Conroy is an herbalist,

community organizer,

founder of Moonwise Herbs

and founder and organizer

of the annual Midwest

Women's Herbal Conference.

For more information, visit MoonwiseHerbs.

com and MidwestWomensHerbal.com.

12 Twin Cities Edition NAtwincities.com
---
A Cooperative

of Private Practices

7550 France Ave S. Suite #200 | Edina, MN 55435

612-859-7709 | Bhakticlinic.com

Healthy Gums and Teeth

Neurofeedback

ADHD, Anxiety, TBI

Harness the power of

Red Light for a bright

healthy smile

Buy ONLINE BhaktiLabs.com

or CALL 612-859-7709

MicroCurrent Facial

everyone will notice...no one will know

Jessie Odishaw

MicroCurrent Technician

Non-surgical Facelift Facial

softens, smooths, volumizes, tones'

612-859-7709 Book online now at bhakticlinic.com

Guy Odishaw, NFP, CST

612-859-7709

GOdishaw@BhaktiClinic.com

of Edina

Kirsten Nelson DC

Chiropractor

General Wellness, Pre/Post Natal, Pediatric,

Auto Accident, Work Accident, DOT Physicals

612.200.9993 Dr.Nelson@PremierHealthMN.com

Energy Therapy

bhakticlinic.com

Healing

Balance

Release

CHRISTINA GREGORY

Reiki Master & Healing Touch Practitioner

innerkimcg@gmail.com

612.839.5255

HOLISTIC PSYCHOTHERAPY

for Individuals & Couples

Neurodegenerative Diseases

Shockwave Therapy For Every

Call Now for our FREE OFFER

www.amwave.org

Body

Fast Results. No Surgery. Drug Free.

Infrared light therapy, Neurotherapy,

Functional Medicine

Optimize Brain Health As You Age

- Muscle Pain

- Tendinopathy

- Back Pain

- Body Sculpting

- Sports Medicine

Your brain isn't just for thinking,

it runs every system in your body!

Treat it well and it will treat you well.

507-400-WAVE

Schedule your brain health consult NOW!

Myofascial Release Bodywork

MESSAGES@BHAKTICLINIC.COM

612-859-7709 | BHAKTICLINIC.COM

"Years of pain now diminished..."

November 2022 13

~R.S.
---
STAYING SERENE

IN TURBULENT TIMES

HOW TO TURN ANXIETY INTO POSITIVE ACTION

by Ronica O'Hara

miniartkur/AdobeStock.com

In this day and age, we have good reason

to toss and turn in our beds at night. As

our nation faces climate catastrophes,

acrid politics, stubborn inflation, unpredictable

virus variants and hot-button issues

like abortion and guns, there's good reason

our collective anxiety levels are at a high

pitch. A recent Yale survey found that 70

percent of Americans report being anxious

or depressed about global warming, and a

Penn State survey this year found that 84

percent of us say we are "extremely worried"

or "very worried" about where the country is

headed. Researchers are coining new terms:

"polycrisis", for complex, cascading crises

in interacting systems, and "pre-traumatic

stress disorder", when fear of an outcome

makes it as good as real to our psyches.

"It's easy for people to feel overwhelmed

now, feeling there are break-

14 Twin Cities Edition NAtwincities.com

downs and threats on many fronts. People can wonder 'Where do I even start?' and

feel powerless and hopeless and numb," says psychiatrist Janet Lewis, M.D., a founder

of the nationwide Climate Psychiatry Alliance and a University of Rochester clinical

assistant professor of psychiatry. "We are part of a complex system that is moving

into new ways of functioning, but there's no way of predicting ahead of time exactly

what all the features of the new ways of operating will be. That makes it impossible

for us to wrap our minds around everything that is happening."

Still, she adds, "We are also by definition part of the system, and therefore have a

responsibility to do what we can. We can't sit on the sidelines and merely hope that

things transform in good directions. The situation being so serious also means that

what we do now is really important."

To move from anxiety into effective action, mental health experts advise several

strategies: taking a wider perspective, building resilience through self-care and taking

individual steps to make a collective difference. As the Dalai Lama encourages,

"If you think you are too small to make a difference, try sleeping with a mosquito!"

Taking a Wider Perspective

News reports almost always sound dire—just like the amygdala of our brains, journalists

often see their function as focusing on threats to alert us to dangers. "Still, if you take the long

view of history, we are much better off than we were 200 years ago or 1,000 years ago, but it
---
andrea/AdobeStock.com

took many years to make those changes," counsels Robert L. Leahy,

Ph.D., director of the American Institute for Cognitive Therapy and

author of the bestselling The Worry Cure and the upcoming If Only.

"We never know if something is hopeless until we have all the

data, and we seldom have all the data," he says. "And when it comes

to political emotions, many of the predictions that are made by the

'talking heads' in media never come true."

Leahy counsels patience: "Social change does not come about by

one person doing something. That usually comes about by a long

process of millions of people changing their attitudes and changing

their behavior. Small efforts can be made on a daily basis that move

this slow process forward. We need to take a longer view, rather

than expect immediate change."

In this ongoing process, anxiety has its rightful place. "Anxiety

makes us look around, figure out solutions and act. This can absolutely

be turned into something positive," says neuropsychologist

Barbara Easterlin, of Jackson, Wyoming, an expert on eco-anxiety

LIGHTFIELD STUDIOS/AdobeStock.com

Building Resilience with Self-Care

Fears about the shape of the planet and nation are often piled on top of

our everyday living anxieties about family and finances, which can induce

emotional overload. "We all have a 'zone of resilience' or 'window

of tolerance', outside of which we become more reactive, less able to

function effectively. But it is not fixed. We can learn tools to expand

it and cultivate the capacity to be with more," says Easterlin.

Therapy can be a part of that process by challenging us to

examine "the mental narratives that can exacerbate distress," says

Leslie Davenport, a climate psychology consultant and author of

Emotional Resiliency in the Era of Climate Change. It's important

to find a therapist, she says, that "validates that your feelings are a

normal response to an existential crisis." She has helped develop

new programs at the American Psychology Association and the

California Institute of Integral Studies to train therapists in treating

eco-anxiety. For low-cost online support, the Good Grief Network

offers a 10-step, 10-week program to help process personal

anxiety and grief about climate change. People are also sitting

down to share their distress at climate cafes, small local gatherings

springing up across the country and globe, including some online.

Mediteraneo/AdobeStock.com

who is on the steering committee of the Climate Psychology Alliance

of North America. "Doing just one thing to help the planet

consistently helps defeat anxiety."

Taking action moves us into our power—as 15-year-old Greta

Thunberg demonstrated by holding a sign outside the Swedish

parliament. Personal actions matter because numbers add up. Only

25 percent of individuals in a social group need to make a shift before

significant social change follows, conclude researchers at the University

of Pennsylvania School of Engineering and Applied Science that

analyzed a decade of societal changes in voting, health, technology

and finance. Once a group reaches that tipping point, it can trigger

a change in the rest of society, says study author Damon Centola,

Ph.D., author of Change: How to Make Big Things Happen.

November 2022

15
---
Getting enough sleep, eating healthy and exercising are also key

self-care strategies. When anxiety strikes, psychologists advise

shifting attention from the head to the body, using such approaches

as mindful breathing, dancing and grounding. Meditation,

easily accessed these days through apps like Calm and Headspace,

helps us to enter into what religious and spiritual teachings call

"the still point within."

Rather than "doomscrolling" when anxiety mounts, cutting back

our media use can significantly lower stress levels, studies show.

Wise media strategies include choosing well-established, credible

news sources; reading rather than watching the news to lower its

emotional impact; limiting news intake to 10 minutes once or twice

a day; taking a "news fast" on occasion; and passing up sources that

incessantly feed fury.

On the other hand, it's essential to find sources for hope, an

emotion important in recovery from anxiety disorders, according

to a study in Behavior Therapy. Googling "good news on climate

change" will bring up articles about alternative energy growth,

new super-enzymes that eat plastic rubbish and black rhinos coming

back from the brink of extinction. Although dystopic books

abound, others offer hope, such as Drawdown, with its sensible,

scaled-down strategies to stop global warming by 2050.

Moving into Action

Virtually no one can take on all the problems of the nation and

globe at once—and the good news is that unless we hold high

public office, we don't have to. Instead, "In taking action, focus on

what you are good at, what your sphere of influence might be," advises

Lewis. "What are you most heartbroken over? Get involved

in that and allow yourself to feel really good about what you're

doing and other people are doing."

By narrowing our focus, we can hone in on an issue and figure

out our part in its solution. "We need a broad range of collective

action for transformation," says Davenport. "For climate change,

a teacher could bring social-emotional learning to climate education

into the classroom or start an after school 'green club'; an artist

could use their creative medium to communicate about climate

in a moving way that could engage others; a nurse could create a

waste-reduction initiative within a medical setting. These efforts all

have ripple effects and help to elevate each other."

In one recent study, people were found to consume less energy

if they believed their neighbors did so and personally cared about

conservation. Our neighborhoods are the place to take the small,

meaningful steps that address the "crisis of connection" underlying

rancorous national crises, says New York Times columnist

David Brooks. He advocates "radical mutuality", saying, "Nothing

we do, however virtuous, can be accomplished alone." Through

simple actions like having casual conversations around town,

pitching in to help a family in crisis, bringing a salad to a block

party, tutoring a child or holding a civic post, we build the warm

relational bonds that strengthen communities. As we meet others

that feel as strongly as we do about our issues, our numbers start

building and collective action can unfold.

"Independent of political beliefs, many people can find common

values such as wanting safety for their families, a clean

environment with clean waterways and recreation in natural

environments," says Easterlin.

That, in turn, helps lower our distress. A recent Yale study

found that eco-anxiety was linked to depression only among students

not involved in group activities; those engaged in collective

action such as being part of an environmental group, working in

a letter-writing campaign or going to events or protests did not

spiral downward emotionally. "Personal transformation and social

transformation happen simultaneously. When you reach out and

build community, you nourish yourself," Brooks says.

As Thunberg has put it: "When I'm taking action, I don't feel

like I am helpless and that things are hopeless, because then I feel

like I'm doing everything I can. And that gives me very much

hope, especially to see all the other people all around the world,

the activists, who are taking action and who are fighting for their

present and for their future."

Health writer Ronica O'Hara can be reached at OHaraRonica@

gmail.com.

16 Twin Cities Edition NAtwincities.com
---
KEY NUTRIENTS IN

Children's Immune Health

by Keri Barron

Kids are exposed to many germs, viruses and potential intruders from a very

young age. Supporting children's immune health through nutrients and dietary

compounds can help reduce time spent sick and provide a much-needed boost to

their developing immune systems.

Vitamin C is probably the best-known nutrient for supporting immune health in

both adults and children. It can stimulate the immune system and plays a critical role in

preventing oxidative damage that can occur as part of the response to an infection.

Vitamin D is a powerful immune regulator due to the presence of specific receptors

on almost every type of immune cell.

Zinc, a mineral involved in hundreds of reactions in the body, is an important component

for rapidly dividing cells, including those in the immune system. It helps defend

against oxidative stress, increases components of the immune response such as antibodies

and helps maintain the integrity of skin and mucosal membranes, the first line of defense

against invading pathogens.

Gut health is an important but often forgotten piece of immune health. Maintaining

a diverse, healthy population of beneficial bacteria can help the immune system respond

properly when it encounters a pathogen. Probiotics can help deliver specific good bacteria

to the gut, whereas prebiotics are a source of food for bacteria that are already present.

Elderberry (Sambucus nigra) can also support children's immune health. Elderberry

contains high concentrations of phenolic compounds called anthocyanins, which are potent

antioxidants and capable of supporting the immune system's response to an infection.

Children are especially vulnerable to pathogens due to their developing immune system.

Providing additional support through vitamins, minerals, herbs and prebiotics can

enhance the immune response and provide both acute and long-lasting immune support.

Keri Barron, Ph.D., is the scientific nutrition writer for Standard Process. For more information,

visit WholisticMatters.com. See ad, page 2.

Silver Fillings:

Just ugly?

Or harmful too?

This is a picture

of a "Silver"

or "Amalgam"

filling. It is 50 -

52% MERCURY!

If the mercury in

this filling were spilled in a school,

it would be evacuated....

This is a picture

of a "light cured"

composite filling.

They can last as

long or longer

than mercury

fillings with no danger of releasing

harmful heavy metals.

As noted on Dr. Mercola,

Dr. Oz, and 60 Minutes...

Mercury fillings may have a

significant negative impact on your

overall health.

Make 2022 2017 YOUR year

for healthy choices!

Dr. Madelyn Pearson is the

current president of the

Holistic Dental Association and

has advanced training in safe

mercury removal.

Call or visit our website for

more info: (651) 483-9800

www.NaturalSmilesDental.com

November 2022

17
---
HEALING MENTAL

Health in the New Age

by Leah Martinson

©Candy1812

Over the last decade, if not longer, there has been an emergence of research linking

traumatic experiences to physical and mental health issues. This research has

been ongoing for well over three decades, but only recently has it started to gain

mainstream acceptance.

It is hoped this will result in a transformation of the way we approach mental health

care. It is difficult to believe there was a time when the possibilities of traumatic experiences

were not explored during patients' routine health history intakes. This information

was either ignored or not considered to be of clinical value. Consequently, the potential

negative impact of a trauma history on a patient's mental and physical health lacked the

acknowledgement and respect it deserved.

To this day, there are still institutions and practitioners who do not consider the link

between trauma and illness. There have been a number of researchers at the forefront of

the growing movement to understand trauma and how it affects our minds, brains and

bodies. A particularly influential leader of this revolution, Bessel van der Kolk, and his

New York Times bestseller, The Body Keeps the Score, pushed the envelope on bringing

this conversation mainstream.

Another pioneer in this arena, even more well known for his work in exploring and

demonstrating the linkage between trauma and addiction, is Gabor Maté. In his most

recent book, The Myth of Normal, he takes an eloquent, raw and deep dive into the various

forms of trauma and how it is passed down through the generations. Often, there are

things we may not even consider to be trauma, including events that happened before

our brains could form memories. Increasingly, we are learning that these traumas have a

lasting impact and they often manifest themselves somewhere in our bodies.

Though there are a number of trauma research centers throughout the world,

such as van der Kolk's Trauma Research Foundation, we have a long way to go in

better understanding the impact of trauma. We must continue this work to catch up

with how we respond to mental health and physical illness. It would behoove us to

become more trauma-informed as a collective in order to help us continue transforming

health care.

One of the revolutionary efforts being brought back into research centers and

some private practices is the use of psychedelics in the treatment of trauma, addiction,

anxiety disorders and depression, as well as improving wellbeing and expanding consciousness.

In the 1950s and early 1960s, there were powerful research efforts emerging

on the incredible effectiveness of certain psychedelics in the treatment of anxiety

disorders, severe depression and PTSD, among other mental health challenges.

Largely due to President Nixon's war

on drugs, these medicines became classified

as schedule one drugs and made illegal—even

for medical uses. There is much

yet to understand as to why these naturally

occurring compounds that were proving

to be very effective in healing the mind

and body became illegal and demonized.

The resulting prohibition, in part, led to

the beginning of the psychedelic movement

in the late 1960s and early 1970s. As

the war on drugs raged on, it forced practitioners

engaging in psychedelic-assisted

therapy to go underground.

The practices and research never came

to a complete halt, but they were certainly

thwarted by mainstream resistance and the

law. Over the last decade or so, institutions

such as Johns Hopkins University, New

York University, University of California at

Los Angeles, and Mount Sinai have gained

federal approval to resume the study of

these plant compounds.

Thus far, the results are as promising

as the results that were coming out 70 years

ago. Currently, ketamine-assisted therapy is

legal in the U.S. for treatment of depression,

and phase three trials are underway for the

use of methylenedioxymethamphetamine

to treat PTSD. A few cities in states such

as Colorado, Michigan, California and

Washington have decriminalized psilocybin

and it is fully legal in the state of Oregon.

Psilocybin is the psychoactive compound

found in the well-known magic mushroom.

18 Twin Cities Edition NAtwincities.com
---
We must continue this work to catch

up with how we respond to mental health

and physical illness.

The general consensus among researchers is that while the

findings thus far are promising, there is still a lot we do not know

and more research is necessary. Nonetheless, as this information

permeates the political and social mainstream, people are

eager to heal, and many are willing to go to great lengths to do

so—even through the many obstacles in gaining access to these

powerfully healing plants.

The work of investigative journalist Michael Pollan and

his 2018 book, How to Change Your Mind, and its subsequent

Netflix documentary series earlier this year, have changed

the public's view of psychedelics and greatly increased the

acceptance of psychedelic uses for healing and expanding

consciousness. One method that is gaining popularity is

micro-dosing. The psychedelic most often used for this therapeutic

approach is psilocybin. Paul Stamets, one of the leading

experts in mycology specializing in the therapeutic uses of a

variety of mushroom species, is largely responsible for what

we know about mushrooms to-date. A 2019 study by the University

of British Columbia found that, in general, there were

statistically significant improvements in mood that were consistent

across gender, age and mental health status. This study

and many similar to it have resulted in comparable effects.

Micro-dosing is a means of ingesting such a small amount

of the therapeutic compound that you do not experience any

psychoactive effects. The positive impact on mood, cognition and

sense of wellbeing are cited as the prime drivers in people pursuing

micro-dosing therapy.

It is important to note that use of psychedelics in public is

still largely illegal as the brain and consciousness are both poorly

understood. Therefore, a continuation of the research will be vital

in broadening our understanding of these entheogenic compounds.

It is the hope of the psychedelic community that further

research will lead to further understanding and a greater acceptance

of the role these medications can play in healing our minds

and bodies and expanding our consciousness.

In the words of the renowned Czech psychiatrist, Stanislav

Grof, "Psychedelics will be for the study of the mind what the

telescope was for astronomy and the microscope was for biology."

Leah Martinson is a board-certified health and

wellness coach, licensed massage therapist, reiki

practitioner and owner of Visionairium, in

Minneapolis. She enjoys helping individuals

connect to their heart center and heal unresolved

emotions so they can experience optimal health.

For more information, Visionairium.com. See ad, page 9.

TRY

FOR

FREE!

YOUR NATURAL MATCH

IS WAITING TO MEET YOU!

DON'T MISS

YOUR

CONNECTION

Welcome to the largest holistic, conscious,

spiritual and green network of dating sites

online. We invite you to become a member

and feel the energy on our site from the

moment you first log in.

Join now at NaturalAwakeningsSingles.com

November 2022

19
---
healing ways

12 Quick Fixes for Anxiety

SIMPLE STRATEGIES FOR MENTAL WELL-BEING

by Ronica O'Hara

It is an all-too-human experience to have anxiety—feeling

fear or apprehension about what might happen. A survival

mechanism for our species, it can easily get out of hand in

times of uncertainty, morphing from a timely signal to a crippling,

chronic condition. Happily, mental health professionals have

found many useful anti-anxiety strategies to ease

us through difficult moments.

Breathe Deeply

"Controlling your breathing is a

fantastic hack to help

you move out of a

stress/anxiety response state. It's important to try different breathing

techniques to figure out which ones work for you," says Krista

Jordan, Ph.D., a clinical psychologist in Austin, Texas. Many

options exist such as breathing slowly into the belly; inhaling

through the nose for a count of four, holding the breath for a

count of seven and exhaling through the mouth for a count of

eight; slowing the breath so that the in and out breaths equalize;

and placing mindful attention on our breathing until 10 breaths

are completed.

Tap with the Fingers

Emotional Freedom Technique (EFT) is a five-minute

approach using two fingers to tap on specific points of the

head and chest in a certain sequence. In one 5,000-person

study, 76 percent of participants found anxiety relief after

three EFT sessions, while only 51 percent experienced

relief after 15 sessions of cognitive

behavioral therapy.

finde zukunft/Unsplash.com

20 Twin Cities Edition NAtwincities.com
---
"EFT sends a calming signal to the brain

that reduces your anxiety, which allows

for newfound thinking and solutions,"

says Colorado Springs therapist Dana C.

Avey. Simple instructions can be found

online and in YouTube videos.

Write It Off with Journaling

Whether it's a three-page brain dump in

the morning, a frantic scribbling on paper

in a stressful moment or a nightly ritual

in a bound journal, writing out anxious

thoughts helps clarify worries and puts

things into perspective, research shows.

Seattle spinal surgeon David Hanscom,

a chronic pain expert and author of Back

in Control, counsels writing down in

longhand whatever is on the mind using

graphic and descriptive language twice a

day for 10 to 30 minutes, and then promptly

tearing it up to let the thoughts go.

Meditate Mindfully

Many soothing types of meditation can

be tried out on apps like Calm, Insight-

Timer and Headspace, but the beststudied

approach for anxiety is mindfulness,

which involves focusing on the

breath and body sensations while letting

distracting thoughts float by. A 2017 Australian

study found that just 10 minutes

of daily mindful meditation can help

prevent the mind from wandering and is

particularly effective for repetitive, anxious

thoughts. "Just be clear that having

a constant stream of thoughts is fine and

part of the process. It's sadly ironic that

people turn to meditation to help with

anxiety, and then get anxious that they

are doing it wrong," advises Jordan.

Move the Body in Nature

According to the Harvard Health Letter,

"Just a single bout of exercise can ease anxiety

when it strikes." Studies have proven

the value of everything from aerobics to

swimming and yoga, and it's even better if

exercising can be done outdoors, because

decades of research have found that being

amidst the sights, sounds and scents of

natural settings lowers anxiety markers.

In a recent study, walking without using a

smartphone or another electronic device

in urban settings just two hours a week reduced

cortisol levels 21 percent in 20 minutes,

"which helps to reduce the medical

effects of stress, including chronic inflammation,

GI disorders and heart problems,"

says Santa Barbara-based John La Puma,

M.D., co-founder of the ChefMD health

media brand and creator of MyNatureDose.

com, a free, anti-anxiety walking program.

Say a Favorite Prayer

Making a deep spiritual connection—an

age-old anxiety solution—can involve praying

or for example, reading psalms, saying a

rosary, chanting a mantra or reading sacred

scripture. Eric Almeida, a mental health

practitioner in Bernardston, Massachusetts,

recommends the Serenity Prayer: "God,

grant me the serenity to accept the things

I cannot change, the courage to change

the things I can and the wisdom to know

the difference." He says, "It doesn't matter

if you believe in God, the wisdom is useful

nonetheless."

Chill Out

"Sip cold water, hold ice cubes, take a cold

shower, blast the AC in your face. Our

body and mind are very connected, so if

you can't cool down your mind, cool down

your temperature," advises San Diego-based

marriage and family therapist Sarah

O'Leary. Some people find the opposite

works: taking a long, hot bath infused with

essential oils like bergamot, frankincense

and lavender.

Get Rooted

Stand barefoot in grass or dirt while

breathing deeply or imagine the roots of

trees growing from the soles of the feet

deep into the earth. "This helps 'ground'

you or 'root' you, and can help you find

steadiness rather than getting lost in anxiety,"

says mindfulness trainer and author

Joy Rains of Bethesda, Maryland.

Soothe with Supplements

Boston integrative medicine physician

Sarika Arora, M.D., of the Women's

Health Network, recommends vitamins

B 5

, B 6

and B 12

to improve cellular energy,

lower cortisol and restore equilibrium to

the nervous system; magnesium to support

balanced metabolism and increase

feelings of calm; L-theanine, found in

green tea, to lower stress hormone levels;

eleuthero (Siberian ginseng) to limit

excess cortisol; and vitamin E to support

hormone production and stress recovery.

Be with the Anxiety

Tyler Read, the San Francisco-based owner

of Personal Trainer Pioneer, decided

to bite the bullet by using the tools of

dialectical behavior therapy to put himself

into anxiety-producing public places.

"Instead of convincing myself that I was

at peace or not nervous, I accepted that I

was nervous. I gave myself permission to

shake, sweat and feel nauseous; at times, I

acknowledged that I felt like I was dying.

And by permitting myself to be nervous,

the anxiety decreased over time," he says.

Move to Music

Relaxing music can be as effective as

medication in altering brain function,

research suggests, especially if the

rhythm is 60 beats per minute, which

encourages the slow brainwaves associated

with hypnotic or meditative states.

Dancing to upbeat music like no one is

watching can also chase worries away.

Holistic psychotherapist Kellie Kirksey,

Ph.D., of Youngstown, Ohio, suggests

shaking to a favorite song: "Begin by

shaking out the hands while holding

the thought, 'I let go.' If shaking the

hands feels good, add in shaking one leg

at a time. Shake the whole body while

imagining yourself releasing the tension

stored in your muscles."

Bond with an Animal

Merely petting a dog or cat releases the

feelgood bonding hormone oxytocin into

our system. "Animals speak to you in a

nonverbal communication, so the interactions

require you to be present and to feel.

Both allow for a meditative experience that

is tremendously impactful for reducing

anxiety," says Shannon Dolan, an Austin,

Texas, nutritional therapist and horse owner.

"If you don't have your own pet, look up

equine therapy in your area, go to a local

dog shelter, spend time with a friend's dog

or travel out to a petting zoo, where you can

experience the healing power of animals."

Health writer Ronica O'Hara can be reached

at OHaraRonica@gmail.com.

November 2022

21
---
healthy kids

The Colors of Healing

ART THERAPY FOR KIDS

by Marlaina Donato

Opening a brand-new box of crayons or making a happy mess with homemade

salt dough can provide hours of fun for most kids, but art therapy—based in

a clinical setting—can help children achieve emotional equilibrium, cultivate

social skills and increase their capacity for learning. Dipping a brush into bright colors

or creating a collage under the guidance of a qualified therapist can help a child express

what is beyond spoken language: unprocessed trauma, emotional and physical pain or

the multilevel challenges of autism spectrum disorder.

"Art therapy is completely different from arts and crafts, or even teaching a child how

to do art. The idea behind art therapy is that not everyone attending therapy is able to

talk about what is going on inside of them," says Robyn Spodek-Schindler, owner of Paint

the Stars Art Therapy, in Manalapan, New Jersey.

Art and the Nervous System

According to 2018 research published

in the Journal of Applied Psychology &

Behavioral Science, painting-based art

therapy has been effective in reducing

symptoms of depression and anxiety in

preschool-aged children. Dipping into the

unconscious wellspring of creative impulse

through doodling and drawing, finger

painting or taking a photograph can help

Sukjai Photo/AdobeStock.com

22 Twin Cities Edition NAtwincities.com

Connect with your soul's

innate wisdom through

your Akashic Record

Discover who you were created to be

Receive healing from trauma

Create a purpose-filled life

BarbaraBrodsho.com 612-444-9751
---
kids bounce back more easily from bullying

or family conflicts, including divorce.

Splashing color on a canvas or throwing

pottery has been shown to enhance fine

motor skills, increase attention spans and

instill a sense of accomplishment. For

those that are not neurotypical, engaging

in guided artistic expression can foster

sensory integration and promote positive

social interaction.

"I have worked with children who have

lost a parent, experienced abuse, abandonment,

consequences of addiction in the

family, COVID [-19] anxiety and autism

spectrum disorders," says Andrea Davis,

founder and CEO of Dallas Art Therapy,

in Richardson, Texas. "Many times, the

body is expressing the trauma in the

form of sleep disturbance, eating changes,

anxiety, depression and panic attacks,

to name a few. Art-making bypasses the

brain's trauma response. The art therapist is

trained to support the person in the process

of creation and allows the person to utilize

their other senses to express themselves."

Celeste Wade, an art psychotherapist

at the Child and Family Art Therapy

Center, in Haverford, Pennsylvania,

emphasizes that emotional processing

cannot occur when an individual is on

the alert for potential danger, a physiological

response from an overstimulated

amygdala. "Trauma needs to be

processed for the client to gain mastery

and function in a calm state versus fight,

flight or freeze. Art making can also

activate this area of the brain and have

calming effects to counteract trauma

responses," she says.

Willingness, Not Talent

The art therapist provides a nourishing

presence without art instruction or

critiquing, and sessions can be private, in a

group setting or include family members.

Conversation, combined with art making, is

typical in any art therapy session. Schindler

stresses that creating pretty images is

not the goal of an art therapy session and

dispels the common assumption that "the

Sukjai Photo/AdobeStock.com

person attending art therapy needs to have

either a talent in art or an interest in art.

They just need the willingness to participate

in a session." Some children see immediate

benefits, while others realize emotional

progress after several sessions.

Art therapy, sometimes in conjunction

with other modalities, not only gives

children a voice, but provides them with

an opportunity to stretch their wings.

Group therapy, says Davis, "can look like

working together to create a collaborative

mural. In the process, taking turns,

hearing one another's ideas, sharing materials,

respecting boundaries and each

other's art becomes an important part of

meeting goals."

During an initial art therapy assessment,

Wade might ask a client to draw a

family of animals, which creates an opportunity

"for the client to share about

their own family dynamics in a safe way.

If the client has experienced any type of

familial trauma and I were to present the

same directive as, 'draw you and your

family doing something,' the child may

be more hesitant or may shut down."

In a world that can be overwhelming,

self-expression through art can give a

young person a safe harbor. Schindler

accentuates human rapport in the

clinical setting, saying, "Art, much like

play, is a universal communication tool

for children. Sometimes you just feel

better when creating and sharing with a

trusted person."

Marlaina Donato is an author, painter and

composer. Connect at WildflowerLady.com.

November 2022

23
---
wise words

Rachel

Jones

on grief in

the healthcare

front lines

by Sandra Yeyati

After earning a journalism degree from Columbia University, Rachel Jones spent

four years as a reporter in Caracas, Venezuela, including a year and a half as

a correspondent for The Associated Press. Her articles have appeared in Time

magazine, The Lancet, The Delacorte Review and Scientific American. In her book, Grief on

the Front Lines: Reckoning with Trauma, Grief and Humanity in Modern Medicine, Jones

examines the emotional challenges that healthcare workers face in hospital emergency

rooms, hospices and other front-line settings.

What are your most surprising

findings about healthcare

heroes?

That they're humans, just like the rest of

us. They can make mistakes. Their work

affects them, and they take it home. We

have this impression that they're emotionally

cut off from their work, and this

couldn't be less true. Also, healthcare

workers don't have all the answers. We

have this fantasy that if anything goes

wrong, we can go to the doctor and have it

fixed, but they can't save everybody. Even

the concept of a hero—that they're going

to swoop in and save us—does a disservice

because it feeds into that false impression.

What are the most

pressing challenges in

these medical settings?

There's a stigma where it's considered

weak if you need mental health care, even

though you work in a stressful environment

dealing with death and traumatic

incidents. Many doctors and nurses don't

access mental health services for fear that

when they renew their licenses, they'll have

to reveal that and be further investigated—

even in states where that's not the case.

Another problem is the shortage of doctors

and nurses that we're experiencing and will

be experiencing in the next decade as Baby

Boomers age. Many places are short-staffed,

heightening the burden on those that remain,

which doesn't help retain people. Patching

things with travel nurses for short-term

contracts isn't sustainable, and we don't have

enough new people coming into the system.

24 Twin Cities Edition NAtwincities.com
---
How do these challenges affect patient care?

Medical errors increase when healthcare workers haven't slept or

eaten, which seems to be the standard, especially medical residents

who work insane schedules or hospital nurses who don't have time

to take breaks. Also, mental health issues and depression closes

them off from colleagues and patients, giving them tunnel vision.

Then there are issues such as bullying where because of the toxicity

of the work environment, maybe doctors and nurses aren't sharing

information in the way that they should be, and that can have a very

detrimental impact on patients.

Why is it important for healthcare workers to

remain emotionally connected with patients?

Traditionally, doctors and nurses are taught to keep an emotional

distance, but that can cause them to compartmentalize and numb

out feelings, which then spreads to their personal lives. They may

be less able to engage with loved ones and feel disconnected from

patients so their work isn't as meaningful. Most healthcare workers

care about people. They want to help patients and want to feel

connected, so that disconnection is harmful to them and to their

patients who don't feel seen or cared for.

At the opposite end, some healthcare workers take on their

patients' suffering, bringing it home and obsessing about it. The

idea is to find a balance—remaining open enough to connect, but

not seeing yourself as the sole responsible person for a patient's

recovery. You're not entirely in control, so realizing there are other

forces at play when things go wrong, even if you made a mistake.

What coping strategies can help practitioners?

It's essential that healthcare administrations provide space and

time off for staff to heal and grieve, encouraging staff to speak

with chaplains or therapists—normalizing mental health care—

and ensuring that therapy is covered by insurance and widely

available in safe and confidential settings.

Jonathan Bartels, a nurse in Virginia, came up with The Medical

Pause—a moment of silence after a patient dies to honor their

life, think about what they meant to you and understand you did

everything you could to save their life. Honor walks for organ

donors are where everyone lines the hallway and watches as a patient

is wheeled into the operating room after they've died and are

going to have their organs transplanted into others. Stepping back

for a brief moment of mindfulness is a powerful way to set down

emotions, rather than letting them lodge in your body.

Self-care—things like yoga, exercise, journaling, taking walks—

and peer support are important, but administrations need to

make time for them to happen. At Johns Hopkins Hospital, a

project called RISE [Resilience In Stressful Events] allows practitioners

to page a peer after a bad outcome. Sometimes, talking

to someone like you that has been there themselves can be more

helpful than a therapist.

Sandra Yeyati, J.D., is a professional writer and editor. Reach her at

SandraYeyati@gmail.com.

crossword puzzle

Across

1 "If you think you are too

small to make a difference,

try sleeping with a ____!"

Dalai Lama

6 Advantages

10 Time before an event

11 Compass point, abbr.

12 Physical activity good for

health

13 Customer

14 Check out

15 Tree juice

17 Muscles to be crunched

18 Story line

20 Type of food that can cause

an inflammatory response

in the gut

23 Like desirable energy and

environment

25 Muted, 2 words

27 Supermarket item

28 Super-duper, 2 words

29 Bring about change

32 "__ Man"- cartoon character

34 Purpose

35 Looking for

36 Eases one's anxiety

Down

1 Crosses paths with

2 Vital nighttime refresher

3 Never explored before

4 Lab work

5 Finished

7 Ability to rebound

8 "___ moment, please"

9 Neurotransmitter that

regulates mood and other

functions like digestion and

sleep

16 Summer mo.

19 Concerning finances

21 Genealogy

22 Architectural prefix

24 Social standing

26 Battle

30 Mountain shoe

31 Dot follower

32 Guy referred to

33 Medical emergency teams,

abbr.

34 R and B singer, Greene

Answers and a full-page

crossword puzzle can be

found at NATwinCities.com.

November 2022

25
---
Broeffle, CPC

Candi

ComposureCoaching.com

calendar of events

featured event

Discover Your Highest

Purpose

Sri Harold Klemp, the spiritual leader

of Eckankar, shares wisdom through

stories and spiritual insights that bring

meaning, connection and humor to the

workings of Spirit in everyday life.

Fridays at 7pm

Watch on Channel 6 or via MCN6.org

For more information, visit Eckankar.org,

TempleOfECK.org or Facebook.com/

Eckankar. See ad, page 3.

THURSDAY, NOVEMBER 3

Mary Ann Key Book Club – A Community

Discussion of Parable of the Sower – 7-8:30pm.

The Mary Ann Key Book Club uses reading as

a catalyst for conversation as we attempt to

better understand past and current injustices –

including systemic racism, other forms of discrimination,

and bias that affects marginalized

communities. Free. Minneapolis Central, 300

Nicollet Mall, Minneapolis. Hclib.BiblioCommons.com/events.

THURSDAYS, NOVEMBER 3, 10

Indigenous Foods Class Series – 6-7:30pm.

These classes will focus on different recipes using

traditional ingredients. We will learn how to make

delicious meals, drinks, medicines, and desserts

as instructors share their expertise on sourcing,

sustainability, and environmental impacts on

local and native-grown foods. Free. Online.

MSMarket.coop/event.

FRIDAY, NOVEMBER 4

Artful Watercolors for Adults 55+ – 11am-

12pm. This course is intended for all levels:

beginning through advanced. We will be creating

two paintings: one of a bouquet of flowers and one

of a single flower. Free. St. Anthony Park, 2245

Como Avenue, Saint Paul. Sppl.BiblioCommons.

com/events.

SATURDAYS, NOVEMBER

5, 12, 19, 26

Pregnancy, Childbirth, Postpartum and Baby

Classes – 6-7pm. Classes are held virtually

online throughout the month and are led by our

top AID instructors. AID utilizes state-of-the-art

3D visual aids and activities to keep it fun and

engaging while presenting the latest evidencebased

material on each topic. $35. Online.

Childbirth-Classes.com.

TUESDAYS, NOVEMBER 8, 22

Women of Color Affinity Group – 6:30-7:30pm.

Looking for a space where women of color can

come together and share their experiences? WOC

Affinity group seeks to promote healing and fostering

a safe space within our community. Free.

Hosmer Library, 347 E. 36th St., Minneapolis.

Hclib.BiblioCommons.com/events.

TUESDAYS, NOVEMBER

8, 15, 22, 29

Talk to a Social Worker – 1-5pm. Get one-toone

assistance and referrals for shelter/housing

options, mental health/short term counseling,

Food/SNAP benefits, government resources, community

resources, legal resources. Free. George

Latimer Central Library, 90 West 4th Street, Saint

Paul. Sppl.BiblioCommons.com/events.

WEDNESDAY & MONDAY,

NOVEMBER 9, 21

How To Accelerate Your Healing – 6:15-7pm.

Learn what steps to take to get better quicker, stay

healthy longer and save money. Speaker: Dr. Martin

P Furlong, DC - Holistic Health Practitioner.

Free. MetroEast Natural Healing Center, 6993

Brrraaavveeee Endeeeeaaavvorrr?

Are you ready for your

Coaching for those ready for

their next chapter of life:

Follow your dreams

Start a business

Become the person you

were destined to be

Call (763) 270-8604 today

I t ' s T i m e t o L i v e feeeeaaarrrlleeeesssslly

for a free Discovery Session

35th St N, #2, Oakdale. RSVP at 651-771-1703.

NutritionChiropractic.com/events.

THURSDAYS, NOVEMBER 10, 17

Coordinated Entry Housing Assessment –

1-4pm. Single adults who are 25 years or older,

currently experiencing homelessness and not

staying in a shelter, will need to complete a

housing assessment to determine long-term

housing options. Free. George Latimer Central

Library, 90 West 4th Street, Saint Paul. Sppl.

BiblioCommons.com/events.

SATURDAY, NOVEMBER 12

Fix-It Clinic – 12-4pm. Bring your broken

household items to a free Fix-It Clinic and

work together with friendly, skilled volunteers

to diagnose, troubleshoot and fix your item. We

can help you with small appliances, clothing that

is clean, electronics, mobile devices and more.

No registration is required, and events are family

friendly. Free. Saint Louis Park Recreation

Center, 3700 Monterey Drive, St. Louis Park.

Hclib.BiblioCommons.com/events.

SATURDAY, NOVEMBER 12

Funding for Artists – 1-3:30pm. Learn how to

think creatively about diversifying your funding

streams by exploring traditional and new models

for generating value, resources, and revenue. Free.

Online. HCLib.BiblioCommons.com/events.

SUNDAY, NOVEMBER 13

Fidgety Fairy Tales: The Mental Health Musical

– 2-3pm. Once upon a time, familiar fairy

tales were re-imagined to raise awareness about

children's mental health. Live music and talented

youth actors will be featured in "The Three Little

Pigs," a story about anxiety. Free. Sumner Library,

611 Van White Memorial Blvd., Minneapolis. Hclib.

BiblioCommons.com/events.

MONDAY, NOVEMBER 14

Muscle Test Your Family – 6:15-7pm. Understand

the basics of muscle testing and learn how you can

test your family at home. Must bring a testing partner.

Free. MetroEast Natural Healing Center, 6993

35th St N, #2, Oakdale. RSVP at 651-771-1703.

NutritionChiropractic.com/events.

Adult Take-Home Art Kit: Watercolor Resist

Leaf Rubbings – 11:30-11:45pm. Adult Take-

Home Art Kits provide adult patrons with an

at-home creative experience away from screens

and technology. Experiment with color and texture

through this art project. Using the method of

resist painting explore how leaves collected from

outside can turn into stunning visual art pieces

through a very simple process. Free. Online.

RCLReads.BiblioCommons.com/events.

TUESDAY, NOVEMBER 15

Virtual Class – Eat More Plants: Holiday Celebrations

– 5:30-6:30pm. Learn to incorporate

more plants into your diet and eat less meat with

Chef Jess, who will inspire a more sustainable

diet and future for our environment with creative

recipes. Jess will inspire a plant-based holiday

celebration this month featuring whole roasted

cauliflower and warm kale and Brussels sprouts

salad with tahini dressing. Free. Online. MS

Market.coop/event.

26 Twin Cities Edition NAtwincities.com
---
WEDNESDAY, NOVEMBER 16

Wild Pride: Night Ventures – 6:30-8pm.

Whooo's active in the autumn evening? Nighttime

at Dodge is the natural environment of nocturnal

creatures. Explore the nature center trails at night,

focusing on using your senses other than vision.

Start inside with a warm beverage (spirited, if

you wish), walk the trails, then gather around

the campfire to watch and listen for animals active

at night. $20. Main Property, Farm Entrance

3, 1701 Charlton Street, West St. Paul. Dodge

NatureCenter.org/event.

THURSDAY, NOVEMBER 17

Budget Cooking: Tofu Banh Mi Bowls – 5:30-

6:30pm. This Budget Cooking class will take

place at our East 7th Street store with an option to

join online. We'll feature a delicious and affordable

tofu banh mi bowl with quick-pickled carrots

and daikon radish that can feed four people for

less than $15 and can be adapted based on what

is in your pantry. Free. 740 East 7th Street, Saint

Paul. MSMarket.coop/event.

Narrative Healing – 6-7:30pm. This class offers

participants the unique opportunity to explore

writing as a healing art. A Loft instructor will

lead workshops on writing for healing, writing to

remember, and writing to connect at your health or

human services organization. Free. Online. Hclib.

BiblioCommons.com/events.

FRIDAY, NOVEMBER 18

Genealogy: Tools of the Trade – 2:30-4pm. Are

you interested in learning your family's history but

don't know where to start? Library Associate Emily

is trained in genealogical research and can show

you the tools you need to get started or to break

down that wall. Learn what sources the library has

and what is available online for free. Free. Highland

Park, 1974 Ford Parkway, Saint Paul. Sppl.

BiblioCommons.com/events.

SATURDAY, NOVEMBER 19

Let's Talk Turkey – 1-2pm. They gobble and

strut and wobble when they run. Wild turkeys are

amazing! During this program, you'll get to learn

about their fascinating lives. Preregistration is

required. $5. Main Property, Main Office Entrance

1, 365 Marie Avenue W., West St. Paul. Dodge

NatureCenter.org/event.

featured event

The Light Up

with Nea Clare

This Live Channeling Event with

Nea Clare is an opportunity for you

to connect with a community of

like-SOULed beings for inspiration,

connection and alignment.

Sunday, November 20

from 5-8pm

Cost: $20

Strike Theatre, 824 18th Ave NE.,

Minneapolis. YesWardCoaching.com/lightup.

save the date

ONLINE: Women's Wellness Series: In Our

Own Hands – Jan-Apr. With world-renowned

herbalist Rosemary Gladstar and a dynamic

star lineup. Produced by Midwest Women's

Herbal. Workshops covering a wide variety

of topics spread over the winter months every

other Sat. Be supported and inspired to work

with herbs, archetypes, magic and healing in

their own lives and communities. Midwest-

WomensHerbal.com.

Light Meditations for You and the World – December

5, 12 & 19. 7:00pm - 8:00pm. December

EVENTS FOR KIDS

MONDAYS, NOVEMBER

7, 14, 21, 28

AniMondays –3:30-5pm. For tweens and teens in

grades 6-12. Please join us for a fun hang out space

to watch and geek out about your favorite anime.

Free. Roseville Library, 2180 North Hamline Ave.,

Roseville. RCLReads.BiblioCommons.com/events.

TUESDAY, NOVEMBER 8

Youth Restorative Circle Movie Night – 4-6:30pm.

The Youth Restorative Circle Movie Night is an opportunity

for youth ages 8* and up to come together

to develop community through building relationships

with one another. After the circle meeting, we

will watch Minions: The Rise of Gru. Free. Hosmer

Library, 347 E. 36th St., Minneapolis. Hclib.Biblio

Commons.com/events.

TUESDAYS, NOVEMBER

8, 15, 22, 29

Highland Park Preschool Storytime in the Gym

– 10:30-11:30am. Join us in the Highland Park

Rec Center gym for Tot Time at 9:30 am, followed

by library stories, songs, rhymes, and fun.​Free.

Highland Park, 1974 Ford Parkway, Saint Paul.

Sppl.BiblioCommons.com/events.

Board Game Day at Sun Ray – 3-5pm. Tuesdays

are the days for board games at Sun Ray Library.

Come play an old favorite, or try something new. All

ages welcome.​ Free. Sun Ray Library, 2105 Wilson

Ave, Saint Paul. Sppl.BiblioCommons.com/events.

THURSDAYS, NOVEMBER 10 & 17

Baby and Me Storytime -Roseville – 9:30am-

10am. Share stories, songs, rhymes, and engage in

play with your baby at this storytime designed for

the youngest learner. For ages 6-23 months and their

is a time when the darkness outside starts to

creep in and the stress of the holidays can start

to weigh on us. Counter the darkness and stress

by bringing in light for yourself and the world

with Annette Rugolo's Free Light Meditations

for the World. Annette will use her 20 years of

experience to guide the group into meditation

where they will tap into the light that's available

to us all. Free. Virtual. AnnetteRugolo.com/

calendar brings together K'Nyaw teens and adults

together at George Latimer Central Library to

engage in hands on activities like photography,

recording studio, sewing machines, 3-D printer,

painting, laser printing. Free. George Latimer

Central Library, 90 West 4th Street, Saint Paul.

Sppl.BiblioCommons.com/events.

caregiver, no registration necessary. Free. Roseville

Library, 2180 North Hamline Ave., Roseville. RCL-

Reads.BiblioCommons.com/events.

Baby Storytime – 10-10:45am. For children from

birth to 24 months and their caregivers. Talk, sing,

read, write and play together. Share books, stories,

rhymes, music and movement in a format especially

designed for babies. Free. Minnetonka Library,

17524 Excelsior Blvd., Minnetonka. Hclib.Biblio

Commons.com/events.

THURSDAYS, NOVEMBER

10, 17, 24

Gaming Thursdays for Teens: Virtual Gaming

– 5-7pm. For tweens and teens grades 6-12. Please

join us on Zoom for a variety of fun board games

and video games! Free. Online. RCLReads.Biblio

Commons.com/events.

SATURDAY, NOVEMBER 12

November Story Stroll – All day. Hike from

page-to-page reading Julie Flett's We All Play/

Kimêtawânaw. The Stroll will be at Lake Nokomis

Park, as part of their Craft Fair. Free. Lake Nokomis,

4955 West Lake Nokomis Parkway, Minneapolis.

Hclib.BiblioCommons.com/events.

Finger Crochet & Knitting for Kids – 10:30-

11:30am. Learn the basics of finger crochet and

finger knitting. Using your hands and brightly

colored, super chunky, eco (recycled) yarn, learn

how to knit and crochet ropes to decorate your

favorite room, stitch them together for a scarf,

or turn them into fun little creatures. Free. White

Bear Lake Library, 2150 2nd Street, White Bear

Lake. RCLReads.BiblioCommons.com/events.

Family Chess – 1-3pm. Make a move and come

play chess at the library. Kids and caregivers are

invited to practice your chess skills with some

November 2022

27
---
new partners and each other. Beginners welcome,

drop-in anytime during the session. Free. White

Bear Lake Library, 2150 2nd Street, White Bear

Lake. RCLReads.BiblioCommons.com/events.

SATURDAYS, NOVEMBER

12, 19, 26

Paws to Read with Duke or Trevor –10am-

11:30am. Work on your reading skills in a lowstress

environment with Duke or Trevor, licensed

therapy dogs who welcome school-age readers

that need extra reading practice. Free. 2180 North

Hamline Ave., Roseville. RCLReads.Biblio

Commons.com/events.

WEDNESDAY, NOVEMBER 16

Family Storytime – 10:30am-11am. Join us inperson

for stories, songs and rhymes designed to enhance

your child's early literacy skills. Appropriate

for ages 2-5. Free. 2300 North St. Paul Drive, North

St. Paul. RCLReads.BiblioCommons.com/events.

FRIDAY, NOVEMBER 18

Nature Playdate: H is for Hide-and-Seek –

10-11am. Learn how animals can hide in plain

sight and hone your observational skills during

a camouflage scavenger hunt in the forest. Share

your child's joy in discovering and interacting

with nature through outdoor adventures, live animals,

and creative play. $10. Main Property, Farm

Entrance 3, 1701 Charlton Street, West St. Paul.

DodgeNatureCenter.org/event.

SATURDAY, NOVEMBER 19

Saturday Vibe: Penguins on Parade – 11:30am-

1pm. ArtStart workshop called Penguins on

Parade. Learn about the many different species of

penguins who live in Antarctica and some of the

challenges they face with melting of the icebergs.

Then create your own penguin headpiece with

colorful mylar and markers. Free. George Latimer

Central Library, 90 West 4th Street, Saint Paul.

Sppl.BiblioCommons.com/events.

FRIDAY, NOVEMBER 25

Createch After Dark – 5:45-7:45pm. Hang out,

mess around and geek out at the Rice St Library with

video games, art/crafts, technologies and so much

more. For ages 12-18. Free. 1011 Rice Street, Saint

Paul. Sppl.BiblioCommons.com/events.

SATURDAYS, NOVEMBER 26

Kids Chess Club – 10am-11:30am. Welcome

all kids who want to play chess with other kids.

Play for fun and to learn chess basics. Open to all

children in grades K-6. All levels are encouraged

to attend, and new players will be offered help

to learn the rules and get started. Free. Walker

Library, 2880 Hennepin Ave., Minneapolis. Hclib.

BiblioCommons.com/events.

WEDNESDAY, NOVEMBER 30

K'Nyaw Innovation Lab – 5-7:30pm. Innovation

Lab brings together K'Nyaw teens and adults

together at George Latimer Central Library to

engage in hands on activities like photography,

recording studio, sewing machines, 3-D printer,

painting, laser printing. Free. George Latimer

Central Library, 90 West 4th Street, Saint Paul.

Sppl.BiblioCommons.com/events.

community resource guide

Connecting you to the leaders in natural health care and green

living in our community. To find out how you can be included in the Community

Resource Guide, email Publisher@NAtwincities.com to request our media kit.

BODY WORK

MYOFASCIAL RELEASE &

CRANIOSACRAL THERAPY

Barb Ryan, LMT • 612-922-2389

Bhakti Wellness Center

7550 France Avenue S, #220, Edina

Specializing in persistent and

chronic pain and mysteries of the

body. Also providing care to

clients seeking the experience of

deep relaxation and more selfconnection.

Skilled and compassionate

care. See ad, page 13.

COACHING

ANNETTE RUGOLO

Soul Coach, Author and Teacher

AnnetteRugolo.com

We are in a time of fast evolution

and we have the opportunity to release

deeply held emotional and

mental patterns along with karmic

lifetimes that are keeping us stuck.

The tools I have acquired and honed

for more than 20 years will help you

move beyond the stuck places in

your life and help you align with the light of your soul.

You will receive tools of empowerment that will help

you continue on your life's path and soul's journey.

See ad, page 8.

COMPOSURE COACHING

Candi Broeffle, MBA, CPC

Candi@ComposureCoaching.com

763-270-8604

ComposureCoaching.com

Master your business so you can

practice your passion. Business

coaching for purpose-driven entrepreneurs

to clarify your vision,

build your confidence and create

a soul-centered strategy. Call today

for a free Discovery Session

and get on your path to business

success. See ad, page 26.

COACHING

SOUL PURPOSE COACH

& HOLISTIC HEALER

Barbara Brodsho, MA

612-444-9751 • BarbaraBrodsho.com

Providing spiritual guidance to

help live your purpose and thrive

utilizing your soul's Akashic

Record. Discover your soul's

innate gifts, create a vocation that

aligns with your soul's passion,

and gain new perspective, clarity

and insight about your life's

challenges by understanding the

lessons your soul chose to experience. Schedule a free

discovery session to learn how to create a purposefilled

life. See ad, page 22.

TRANSFORMATIONAL COACH AND

LIFE MASTERY TEACHER

Nea Clare

NeaClare.com • Nea@NeaClare.com

Would you like to say "YES" and

make your dreams come true? If

so, I can help! Book a strategy call

with me today. I work exclusively

for extraordinary women who are

tired of waiting on the right time or

circumstances before pursuing

their dream career path – we'll

explore how life coaching has tremendous

transformative power in strengthening selfconfidence

while also giving one unshakeable faith in

your capability to achieve your goals. What you want

is on the other side of your hesitation. If it is time to

breakthrough, schedule a call today at 612-227-3854 or

email Nea@NeaClare.com. See ad, page 6.

VISIONAIRIUM

Leah Martinson, Health Coach

23 4th St SE Suite 201, Minneapolis

Visionairium.com • 651-315-1347

Leah's superpower is intuition and

insight, and she uses it to teach

people how to use their bodies as

a guide to wellness. Instead of

kicking tired, overwhelmed people

in the butt, her mind-body,

medicine-based health coaching

process touches on all areas of

well-being in your life. Schedule

your free discovery session today. See ad, page 9.

28 Twin Cities Edition NAtwincities.com
---
DENTIST

HEALTH CENTERED DENTISTRY

N7915-902 St

River Falls, WI • 715-426-7777

HealthCenteredDentistry.com

Whole Person Dentistry observes

and deals with the mind,

body and spirit, not just your

teeth. This approach to dentistry

encompasses both modern

science and knowledge

drawn from the world's great

traditions in natural healing. See ad, page 10.

NATURAL SMILES DENTAL CARE

3434 Lexington Ave. N., Suite 700

Shoreview • 651-483-9800

NaturalSmilesDental.com

We're an integrative

practice committed to

promoting dental wellness

and overall assistance to

the whole person. We

desire to participate in the

creation of healthier lives,

while being sensitive to physical, philosophical,

emotional and financial concerns. See ad, page 17.

PURE DENTAL

Dr. Amy Ha Truong

6230 10th St. N., Ste 520, Oakdale

651-731-3064 • PureDentalMN.com

Pure Dental offers integrative,

holistic, alternative and biological

dentistry for your dental health.

We take pride in providing

quality, holistic dental care and

service for our patients. See ad,

page 24.

SEDATION AND IMPLANT DENTISTRY

1815 Suburban Ave, St. Paul

ToothBuilder.com

651-735-4661

We are a holistic dental practice

devoted to restoring and enhancing

the natural beauty of your smile

using conservative, state-of-the-art

dental procedures that result in

beautiful, long lasting smiles! We

specialize in safe removal of

infected teeth as well as placing

ceramic implants and restorations. See ad, page 23.

TOOTH BY THE LAKE

1401 Main St, Hopkins

952-475-1101 • ToothByTheLake.net

We build a foundation of trust

by treating our patients as

individuals. Understanding

how uneasy some patients

may feel about their dental

visits, we make a difference

by providing a relaxing and

positive experience. See ad, page 11.

EDUCATION

NORTHWESTERN HEALTH

SCIENCES UNIVERSITY

2501 W. 84th St., Bloomington

NWHealth.edu • 952-888-4777

Learn about the leading health

science programs including

Acupuncture and Chinese

Medicine, Massage Therapy

and more. Prepare for success

at a leading natural integrative

medicine university. See ad, page 8.

ENERGY HEALING

EMOTION CODE HEALING

Master Hong

Certified Emotion Code Practitioner

11012 Cedar Lake Rd., Minnetonka

952-513-7285 or 914-708-9463

Chronic pain? Suffering from

emotions? Relationship problems?

Life not going as planned? The

Emotion Code is a tool I use to

help you break through any

emotional and spiritual blocks so

you can live your best life. Trial

session only $35.

ENERGY HEALING

VISIONAIRIUM

Leah Martinson, Reiki Master

23 4th St SE Suite 201, Minneapolis

Visionairium.com • 651-315-1347

Our bodies store all our memories

and experiences just as much, if

not more than our minds. Sometimes

we need support to release

the emotions and stressors that

get stuck in our bodies. Leah

offers both massage and energy

healing to help facilitate this

release, calm the nervous system

and relieve tension. See ad, page 9.

ENVIRONMENTAL HEALING

ANNETTE RUGOLO

Master Dowser

AnnetteRugolo.com

Is the energy of your home depleting

you or supporting you?

If you feel like you are hitting

your head against a brick wall, it

may be the wall of dense energy

in your home. To more easily

expand into our light and our

soul purpose, it is important that

the spaces we live energetically

support us. Contact me for more

information on dowsing, environmental healing and

space clearing. See ad, page 8.

GRAPHIC DESIGN

CAMPFIRE STUDIO

Sara Shrode, Graphic Designer

612-554-6304 • CampfireStudio.net

Sara@CampfireStudio.net

Ignite the possibilities of

your next project by

having Campfire Studio

design it! Innovative, fullservice

graphic design studio that takes the essence

of a campfire—warmth, stories, community—and

infuses it into every design project we do.

HEALTH FOOD STORES

MASTEL'S HEALTH FOODS

1526 St Clair Ave, St Paul

Mastels.com • 651-690-1692

Mastel's Health Foods is Minnesota's

oldest health and wellness

store. We carry a full line of

vitamins, minerals, supplements,

herbs and more. We emphasize

organic, biodynamic, biodegradable,

holistic and hypoallergenic

products and pride ourselves on

stocking hard-to-find items. See

ad, page 9.

HOUSING - SUPPORTIVE

BROEFFLE LATIMORE

ADULT FOSTER CARE

License #1102359 • 763-600-6967

8600 Northwood Parkway, New Hope

Providing a caring and supportive

home for adults, no

matter their abilities. With

28-plus years of experience,

we offer a nurturing and family-like

environment for up to

four residents who are elderly and/or have developmental

disabilities. Residents receive assistance

with personal cares, meal prep and feeding assistance,

medication administration, transfers and

mobility, transportation and advocacy. We treat your

loved one like family.

INTEGRATED HEALTH

BHAKTI WELLNESS CENTER

7550 France Ave. S., #220, Edina

612-859-7709 • BhaktiClinic.com

Bhakti provides a holistic

environment where independent

practitioners come

together to offer an integrative

path to wellness; mind,

body and spirit. Our providers offer chiropractic,

energy therapy, massage, microcurrent therapy,

acupuncture, psychotherapy and much more so that

you can feel your best, remain healthy & thrive. See

ad, page 13.

November 2022

29
---
INTEGRATED HEALTH

METROEAST NATURAL

HEALING CENTER

6993 35th St N, #2, Oakdale

651-771-1703 • NutritionChiropractic.com

Nutrition Response Testing

(NRT) is a noninvasive

system of analyzing the

body to determine the underlying

causes of illness and non-optimum health.

Our clinically proven system may be quite different

from any other healing practice you have experienced.

The actual procedure is simple and direct,

with the body providing all of the information and

feedback needed. See ad, page 11.

NUTRITIONAL SUPPLEMENTS

STANDARD PROCESS

Kathy Kiss

Sr. Account Manager

KKiss@StandardProcess.com

Standard Process is a

Wisconsin-based, familyowned,

whole food-based

nutritional supplement

company that partners with

health care practitioners to address issues related to

health conditions. See ad, page 2.

PHYSICIANS

DR. ISAAC M. ENGHOLM

Deploy Health Family Practice/

Bhakti Wellness Center

7550 France Ave. S, Ste. 220, Edina

DeployHealthFP.com • 612-712-4423

Dr. Engholm's practice offers

unlimited office visits, with

most lasting over an hour. He

offers telehealth and home

visits at no additional charge

and his patients can call 24/7,

which reduces the need to utilize after-hours urgent care

or emergency room visits. Memberships are $75/mo

for adults, and $25/mo for children (added to adult

member). See ad, page 13.

PSYCHOTHERAPY

FRAN BIEGANEK, MS, LP

Bhakti Wellness Center

7550 France Ave. S., Suite 220, Edina

612-564-9947 • FranBieganekTherapy.com

As a Licensed Psychologist, Fran

provides holistic, traumainformed

therapy to help clients

identify areas of potential growth,

obstacles to growth, and

processes that facilitate healing

and transcendence. She also

provides QEEG (brain mapping)

and neurofeedback services that

facilitate increased brain efficiency. See ad, page 13.

RADIO/PODCASTS

AM950 THE PROGRESSIVE VOICE

OF MINNESOTA

AM950Radio.com

The only Progressive Talk Radio

station in Minnesota. We strive to

provide the best progressive

programming available and

feature national talkers Thom

Hartmann, Stephanie Miller, Mike

Crute and Brad Friedman. We are

also dedicated to local programming that creates a

community forum for important Minnesota Progressive

issues. See ad, page 32.

SPIRITUAL TEACHING

ECKANKAR TEMPLE OF ECK

7450 Powers Blvd., Chanhassen

952-380-2200 • Eckankar.org

Are you looking for the

personal experience of

God? Eckankar can help

you fulfill your dream. We

offer ways to explore your

own unique and natural

relationship with the Divine

through personalized study to apply in your

everyday life. See ad, page 3.

30 Twin Cities Edition NAtwincities.com
---
Ten years without

a cold?

Copper can stop a virus before it starts

Scientists have discovered a

natural way to kill germs fast.

Now thousands of people

are using it against viruses and bacteria

that cause illness.

Colds and

many other

illnesses start

when viruses

get in your

nose and

multiply. If

you don't stop

them early,

they spread

and cause

misery.

Hundreds of studies confirm copper

kills viruses and bacteria almost

instantly just by touch.

That's why ancient Greeks and

Egyptians used copper to purify water

and heal wounds. They didn't know

about viruses and bacteria, but now we

do.

"The antimicrobial activity of copper

is well established." National Institutes

of Health.

Scientists say copper's high

conductance disrupts the electrical

balance in a microbe cell and destroys it

in seconds.

The EPA recommended hospitals use

copper for touch surfaces like faucets

and doorknobs. This cut the spread of

MRSA and other illnesses by over half,

and saved lives.

The strong scientific evidence

gave inventor Doug Cornell an idea.

He made a smooth copper probe

By Doug Cornell

with a tip to fit in the bottom of the

nostril, where viruses collect.

When he felt a tickle in his nose

like a cold about to start, he rubbed

the copper gently in his nose for 60

seconds.

"It

worked!" he

exclaimed.

"The cold

never

happened.

I used to

get 2-3 bad

colds every

year. Now

I use my

device whenever I feel a sign I am about

to get sick."

He hasn't had a cold in 10 years.

New research: Copper kills viruses in seconds.

Users say:

"It works! I love it!"

"I can't believe how good my nose

feels."

"Is it supposed to work that fast?"

"One of the best presents ever."

"Sixteen flights, not a sniffle!"

"Cold sores gone!"

"It saved me last holidays. The kids

all got sick, but not me."

"I am shocked! My sinus cleared,

no more headache, no more

congestion."

"Best sleep I've had in years!"

After his first success with it, he

asked relatives and friends to try it.

They all said it worked, so he patented

CopperZap® and put it on the market.

ADVERTORIAL

Soon hundreds of people had tried it.

99% said copper worked if they used it

right away at the first sign of germs, like

a tickle in the nose or a scratchy throat.

Longtime users say they haven't

been sick in years. They have less

stress, less medical costs, and more time

to enjoy life.

Soon people found other things they

could us it against.

Colds

Flu

Virus variants

Sinus trouble

Cold sores

Fever blisters

Canker sores

Strep throat

Night stuffiness

Morning congestion

Nasal drip

Infected sores

Infected wounds

Styes

Ringworm

Other microbial threats

The handle is curved and textured to

increase contact. Copper can kill germs

picked up on fingers and hands after you

touch things other people have touched.

The EPA says copper works just as

well when tarnished.

Dr. Bill Keevil led one of the science

teams. He placed millions of viruses on

a copper surface. "They started to die

literally as soon as they touched it."

CopperZap® is made in the USA of

pure copper. It has a 90-day full money

back guarantee. Price $79.95. Get $10

off each CopperZap with code NATA32.

Go to www.CopperZap.com or call

toll-free 1-888-411-6114.

Buy once, use forever.

Statements are not intended as product

health claims and have not been evaluated

by the FDA. Not claimed to diagnose,

treat, cure, or prevent any disease.

November 2022

31
---
32 Twin Cities Edition NAtwincities.com