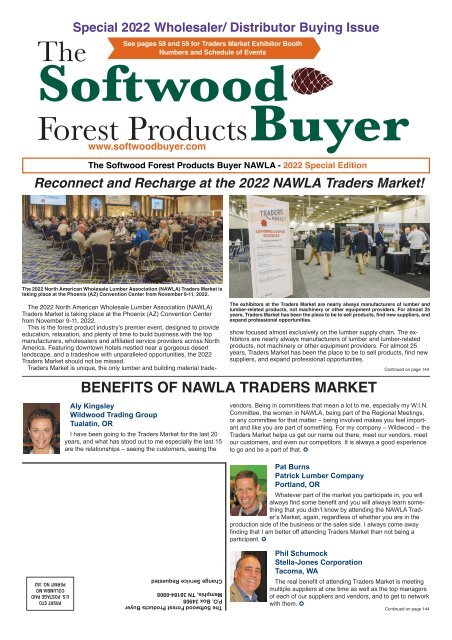 The Softwood Forest Products Buyer - NAWLA Special Edition 2022
The NAWLA Traders Market edition of The Softwood Forest Products Buyer is the must-have companion to the annual market. Learn more about the market and what exhibitors will be in town for the event.
The NAWLA Traders Market edition of The Softwood Forest Products Buyer is the must-have companion to the annual market. Learn more about the market and what exhibitors will be in town for the event.
SHOW MORE
SHOW LESS
Create successful ePaper yourself
Turn your PDF publications into a flip-book with our unique Google optimized e-Paper software.
The

Special 2022 Wholesaler/ Distributor Buying Issue

See pages 58 and 59 for Traders Market Exhibitor Booth

Numbers and Schedule of Events

Softwood

Forest Products Buyer

www.softwoodbuyer.com

The Softwood Forest Products Buyer NAWLA - 2022 Special Edition

Reconnect and Recharge at the 2022 NAWLA Traders Market!

The 2022 North American Wholesale Lumber Association (NAWLA) Traders Market is

taking place at the Phoenix (AZ) Convention Center from November 9-11, 2022.

The 2022 North American Wholesale Lumber Association (NAWLA)

Traders Market is taking place at the Phoenix (AZ) Convention Center

from November 9-11, 2022.

This is the forest product industry's premier event, designed to provide

education, relaxation, and plenty of time to build business with the top

manufacturers, wholesalers and affiliated service providers across North

America. Featuring downtown hotels nestled near a gorgeous desert

landscape, and a tradeshow with unparalleled opportunities, the 2022

Traders Market should not be missed.

Traders Market is unique, the only lumber and building material trade-

BENEFITS OF NAWLA TRADERS MARKET

Aly Kingsley

Wildwood Trading Group

Tualatin, OR

I have been going to the Traders Market for the last 20

years, and what has stood out to me especially the last 15

are the relationships – seeing the customers, seeing the

The exhibitors at the Traders Market are nearly always manufacturers of lumber and

lumber-related products, not machinery or other equipment providers. For almost 25

years, Traders Market has been the place to be to sell products, find new suppliers, and

expand professional opportunities.

show focused almost exclusively on the lumber supply chain. The exhibitors

are nearly always manufacturers of lumber and lumber-related

products, not machinery or other equipment providers. For almost 25

years, Traders Market has been the place to be to sell products, find new

suppliers, and expand professional opportunities.

Pat Burns

Patrick Lumber Company

Portland, OR

Continued on page 144

vendors. Being in committees that mean a lot to me, especially my W.I.N.

Committee, the women in NAWLA, being part of the Regional Meetings,

or any committee for that matter – being involved makes you feel important

and like you are part of something. For my company – Wildwood – the

Traders Market helps us get our name out there, meet our vendors, meet

our customers, and even our competitors. It is always a good experience

to go and be a part of that. J

Whatever part of the market you participate in, you will

always find some benefit and you will always learn something

that you didn't know by attending the NAWLA Trader's

Market, again, regardless of whether you are in the

production side of the business or the sales side. I always come away

finding that I am better off attending Traders Market than not being a

participant. J

PRSRT STD

U.S. POSTAGE PAID

COLUMBIA MO

PERMIT NO. 353

Change Service Requested

The Softwood Forest Products Buyer

P.O. Box 34908

Memphis, TN 38184-0908

Phil Schumock

Stella-Jones Corporation

Tacoma, WA

The real benefit of attending Traders Market is meeting

multiple suppliers at one time as well as the top managers

of each of our suppliers and vendors, and to get to network

with them. J

Continued on page 144
---
Table of Contents

NAWLA Traders Market Education........................................1

Supplier Testimonials.............................................................1

Who's Who in Softwoods.......................................................4

Shaping the Future..................................................................6

2022 Traders Market Committee Chair Judy Haney.............8

The Delta Group.....................................................................10

Bitterroot Valley Forest Products........................................14

Shelton Lam & Deck..............................................................16

Humboldt Sawmill.................................................................18

Neiman Enterprises...............................................................20

Elk Creek Forest Products...................................................22

San Group..............................................................................24

Robbins Lumber Inc..............................................................26

Nordic Structures..................................................................28

Diorio Forest Products..........................................................30

NAWLA Traders Market Photos........... 32, 34, 36, 38, 40 & 42

Hood Industries.....................................................................44

Huscroft, J.H., Ltd..................................................................46

The Teal-Jones Group...........................................................48

Irving Forest Products..........................................................50

Richardson Timbers..............................................................51

Beasley Group.......................................................................52

Hancock Lumber Co.............................................................53

Leslie Forest Products..........................................................54

Bowers Forest Products.......................................................55

Durgin and Crowell Lumber Co............................................56

Montreal Wood Convention..................................................57

Traders Market Exhibitors List.............................................58

Traders Market Schedule of Events.....................................59

Manufacturers/Vendors Photos ............................... 62 & 114

Who's Who in Forest Products Services ...........................63

TS Manufacturing..................................................................64

Stiles, A.W., Contractors.......................................................66

King City Forwarding USA, Inc............................................68

Messersmith Manufacturing.................................................70

DMSi.......................................................................................72

(Distribution Mgmt. Systems, Inc.)

U-C Coatings..........................................................................74

Nyle Dry Kilns........................................................................78

Biolube...................................................................................79

SII Dry Kilns...........................................................................82

D&L Timber Technologies Ltd..............................................84

PPG Industries.......................................................................86

Automation & Electronics.....................................................88

Valutec Wood Dryers.............................................................90

Paw Taw John Services........................................................92

Ally Global Logistics.............................................................94

Blair Logistics........................................................................96

USNR......................................................................................98

Taylor Machine Works, Inc.................................................100

TP Logistics.........................................................................102

Corley Manufacturing Co....................................................104

Lewis Controls.....................................................................106

McDonough Manufacturing................................................108

BID Group.............................................................................110

Brunner Hildebrand Lumber Dry Kiln Co..........................112

Continental Underwriters, Inc............................................113

Legna Software....................................................................115

South Coast Lumber Co. & Pacific Wood Laminates......117

Western Forest Products....................................................118

Rosboro................................................................................119

Nicholson and Cates Ltd....................................................120

Idaho Timber........................................................................121

DiPrizio Pine Sales..............................................................122

McGinnis Lumber Co..........................................................123

Boise Cascade Wood Products.........................................124

C&D Lumber.........................................................................124

Gates Milling, Inc.................................................................125

Cersosimo Lumber Co........................................................126

Bennett Lumber Products, Inc...........................................126

Pacific Western Wood Works Ltd......................................127

Calvert Co. a div of Western Forest Products..................128

Westervelt Lumber..............................................................128

Patrick Lumber Co., Inc......................................................129

All Star Forest Products.....................................................130

NELMA..................................................................................130

Lumber Blue Book Services...............................................131

Vaagen Bros.........................................................................132

Gorman Group.....................................................................133

Sprenger Midwest...............................................................134

Boise Cascade BMD............................................................135

Prime Forest Products........................................................137

Zip-O-Laminators.................................................................137

Restoration Forest Products..............................................138

WRCLA.................................................................................139

Capital Forest Products......................................................140

Andersen Pacific Forest Products.....................................140

AHC Hardwood Corp...........................................................141

Thompson River Lumber....................................................142

Wholesale Wood Products.................................................142

Collins..................................................................................143

index of Advertisers.................................................. 149 &150

Inland Red Cedar • Idaho White Pine •

Ponderosa Pine • ESLP • Shop Grades

White Fire • Fir/Larch

A Bi-Monthly newspaper serving

North America's Softwood Forest Products Buyers

Published by Softwood Trade Publications, Inc.

P. O. Box 34908 • Memphis, Tenn. 38134

Tel. (901) 372-8280 FAX (901) 373-6180

Web Site: www.softwoodbuyer.com

E-Mail Addresses:

Advertising: apryll@millerwoodtradepub.com

Editorial: editor@millerwoodtradepub.com

Subscriptions: circ@millerwoodtradepub.com

Terry Miller - President/Publisher

Zachary Miller - Sales Representative

Paul J. Miller Jr. - Vice President

Apryll Cosby - Advertising Manager

Sue Putnam - Editorial Director

Matthew Fite - Staff Writer

Rachael Stokes - Production/Graphic Artist

Lisa Carpenter - Circulation Manager

Canadian Correspondents: Toronto, Ontario, Vancouver, B.C.

The Softwood Forest Products Buyer is the product of a company and its

affiliates that have been in the publishing business for over 94 years.

Subscriptions: U.S. and Canada: $65 (U.S. dollars) - 1 year; $75 - 2 years; $90

- 3 years; Foreign (airmail) $140 - 1 year; $235 - 2 years. Canadian and foreign

orders must be paid by check drawn on U.S. bank or by wire transfer. Fax for

more information.

The Publisher reserves the right to accept or reject editorial

content and Advertisements at the staff's discretion.

National Lumber Sales

Larry Schmedding

larrys@empirelumber.com

(509) 534-0266

Wholesale/Wholesale Distributor Special Buying Issue ADVERTORIAL Page 3
---
IN SOFTWOODS

Terri Littlefield is a division product manager for

Boise Cascade Building Materials Distribution,

located in Lake Oswego, OR. She handles procurement

of KD and green long length solids, finger

joint long length lumber, green and KD timbers, and

green Douglas Fir dimension lumber.

Boise Cascade Building Materials Distribution is

a national distributor of lumber and building materials

with 38 distribution locations. They sell a broad

Terri Littlefield Continued on page 145

Roxanne Celentano is the sales manager for the

Southwest region for Humboldt Sawmill Company,

LLC. Roxanne works out of the company's Northern

California distribution center in Woodland, CA.

Along with her team, she is responsible for developing

and growing the Humboldt Sawmill brand

of Douglas Fir and Redwood products, along with

the Allweather Wood brand of preservative treated

lumber products in California and Nevada.

Continued on page 146

Roxanne Celentano

Cassidy Bowers is the account manager for Bowers

Forest Products, located in Beavercreek, OR.

In this role, she oversees all aspects of the Woodway

product line.

Bowers Forest Products is a lumber remanufacturer

producing 15 million board feet of Softwood

lumber per year, including green and dry Douglas

Fir, Hemlock, Cedar and Redwood.

The company also manufactures furring strips,

Ian Foley is a lumber trader at Diorio Forest

Products operating in Ashland, VA. The wholesale

lumber company supplies distributors, retailers

and manufacturers throughout North America and

carries specialty Softwood products in species of

Eastern White Pine, Ponderosa Pine, Southern

Yellow Pine and Spruce.

Diorio Forest Products is a member of Northeastern

Lumber Manufacturers Association and

Cassidy Bowers

Continued on page 145

Continued on page 146

Ian Foley

Al Fitzpatrick

Al Fitzpatrick is the General Manager of Cedar

for Delta Cedar Specialties, located in Delta, BC.

Delta Cedars' two Coastal sawmills produce 125

million board feet of lumber annually. Delta Cedar

Specialties' main products include: DC Premier

Timbers (Appearance grade in rough or S4S 8'-32',

3x6"-3x12", 4x4"-4x12"); DC Premier FOHC Timber

(rough or S4S 8'-24' and 3x6"-3x12", 4x4"-4x12",

6x6"-6x12", 8x8"-8x12"); DC Superior (Select tight

Continued on page 145

James Webb works in sales for Robbins Lumber

Inc. in Searsmont, ME. His responsibilities include

lumber sales, account management, lumber acquisition,

product development and logistics.

Robbins Lumber Inc. is a sawmill with sales

locally, regionally and nationally, manufacturing

50 million board feet of Softwood lumber per year.

Robbins manufactures Eastern White Pine. Services

offered include end matching and a full-ser-

Continued on page 146

James Webb

FENCES THAT

FENCES THAT

STAND FOR

Alex Darrah

Mark Swinth

Alex Darrah is Sales Manager at Durgin & Crowell

Lumber Co., located in New London, NH.

Durgin & Crowell is a manufacturer of kiln-dried

Eastern White Pine. The company is certified under

the Sustainable Forestry Initiative® Sourcing program.

Founded in 1976, Durgin & Crowell Lumber

Co. has a history of innovation, continually seeking

new opportunities to grow and diversify its business.

The company employs around 85 people,

Continued on page 145

Mark Swinth's role includes both sales and

purchasing at Elk Creek Forest Products in McMinnville,

OR. Swinth specializes in the firm's specialty

appearance board programs, as well as timber

programs with stocking distributors.

Elk Creek is recognized as one of the largest

manufacturers of kiln-dried Douglas-fir (DF) timbers

in the U.S. The company produces 94 million board

feet of lumber annually, providing solid sawn Doug-

Continued on page 145

Lucas Rodakowski is vice president of Prime

Forest Products, LLC, a secondary remanufacturer

of Softwood lumber, based in Beaverton, OR.

Prime Forest Products sells its wood products

locally, regionally, nationally and internationally

(including in North America, the United Kingdom,

the European Union and North Africa).

Prime Forest Products manufactures 20 million

board feet annually of beveled siding, tongue and

Continued on page 146

Mark Gray is West Coast sales manager for

Patrick Lumber Company based in Portland, OR.

He also carries out sales and marketing of niche

high-grade Softwood lumber products.

Patrick Lumber offers high grade and knotty

Doug Fir, Cedar, Hemlock, and Alaskan Yellow

Cedar. They custom manufacture rough and

finished products, kiln dry, resaw and handle

logistics. Patrick Lumber is a member of the North

Continued on page 146

Lucas Rodakowski

Mark Gray

Page 4 ADVERTORIAL Wholesale/Wholesale Distributor Special Buying Issue

STAND FOR

SOMETHING.

SOMETHING.

At Alta Forest Products, our fences stand just a little bit taller. Craftsmanship,

sustainability and American-grown Western Red Cedar are at the core of who we

At are. Alta We Forest value relationships Products, our more fences than stand anything, just a and little believe bit taller. in giving Craftsmanship, our partners

sustainability the right tools and to get American-grown the job done. Western Red Cedar are at the core of who we

are. We value relationships more than anything, and believe in giving our partners

the right tools to get the job done.

www.altafp.com 800-599-5596

www.altafp.com 800-599-5596

Page 11 The Sofwood Forest Products Buyer n NAWLA Special Edition 2019
---
A Message from the Chairman - NAWLA'S Traders Market Heads to Phoenix in November

Shaping the Future

Bill Price

Bert and Bud Vaagen founded Vaagen

Brothers lumber in the early 1950's.

Today, the company continues as a

closely held corporation owned by

members of the Vaagen family. This

continuity of management, vision, and

leadership has helped guide the

company for more than half a century.

Creating a culture of innovation,

integrity, and cooperation that's

fueled Vaagen's advancement, evolution

and growth over the years.

In January, I wrote that my focus as chairman

this year would be on 'legacy' – for our

member companies, our board and our organization.

Just as we inherited a proud NAWLA

legacy, we have the responsibility to pass

along a bright future to our members.

That's why we're so excited about the upcoming

Traders Market, to be held in Phoenix,

Arizona from November 9-11, 2022. This event

is designed to create the best possible future

for attendees, bringing together leaders from

across the supply chain to network and expand

business.

Over the past 25 years, Traders Market has

been the only lumber and building material

tradeshow focused almost exclusively on the

lumber supply chain. Our exhibitors are almost

always manufacturers of lumber-related products,

not machinery or other equipment providers.

More than 94 percent of those who attended

last year's Traders Market said it would lead

directly to new business.

This year, Traders Market Committee Chair

Judy Haney and the other outstanding volunteers

have organized a remarkable event. For

any NAWLA member wanting to sell a lumber

product, find new suppliers, or expand their

network, this is their show. Among the highlights:

•A full eight hours of tradeshow floor time to

buy, sell and network;

•Dedicated networking

time outside of tradeshow

hours to develop

and expand your network;

•The opportunity to meet

with NAWLA members

from across the country,

in one beautiful and

convenient location; and

•A special keynote

presentation during the

opening luncheon.

For more 2022 Traders

Market details and

information please visit

our website. Please visit

now to sign up and make

your hotel arrangements.

This event promises to

be useful, enjoyable and

educational.

At NAWLA we aren't just

preparing for the future,

we are shaping it. That's

OUR legacy.

I look forward to seeing

you in Phoenix!

The Sales Team: Brandon Cox and Truss Beasley

Beasley's new continuous dry kiln

Beasley's new sawmill.

Truck waiting to be tarped and shipment going to a wholesale

distributor.

2x4 - 2x12 up to 16' • 4x6 and 6x6 • MC target 19% or less

Currently producing 150,000,000 bf (3,000,000 bf per week)

Vaagen Bros. Lumber

565 W. 5TH Ave

Colville, Wa 99114

Sales - 509-684-5072

www.vaagenbros.com

Do you know how your

lumber is made?

Scan the QR Code below to

see our fascinating step by

step process

Bill Price, President

All Star Forest Products

2022 NAWLA Chair

www.nawla.org

Projected goal: to produce over 300,000,000 bf annually

(912) 375-5174

beasleygroup.com

sales@beasleygroup.com

Sales contacts:Brandon Cox and Truss Beasley

Page 6

Wholesale/Wholesale Distributor Special Buying Issue
---
2022 Traders Market Committee Chair Judy Haney

Judy Haney

Teamwork and hard work have been the keys to

planning NAWLA's 2022 Traders Market, taking

place at the Phoenix Convention Center this November

9-11, 2022.

It has been a privilege to join with other volunteers

and staff as we get ready for the forest product

industry's premier event for buyers and sellers.

Traders Market is a unique gathering of leaders

from across the lumber supply chain, designed to

provide education, fun and time to build business

opportunities with the top manufacturers, wholesalers

and affiliated service providers across North

America. All of the 2022 Traders Market information

can be found at nawla.org – here are just

some of the highlights.

Welcome Reception:

The First-Ever Block Party!

Join us for the kick-off plenary event in Phoenix,

a block-party-at-sundown-in-the-desert to reconnect,

recharge and remind you of what you love

about Traders Market! Attendees will enjoy live entertainment

and locally-themed food and beverage.

Networking Opportunities

Traders Market is designed to facilitate networking,

in both small groups and larger gatherings.

There will also be an all-attendee Networking Reception

during the evening of November 10th.

Keynote Speaker

Ron White, one of the top memory experts in

the world, will talk about ways to improve your

memory, for personal enjoyment and professional

success. Ron is a two-time national memory

champion and part of the History Channel show

Stan Lee's Super Humans as The Memory Expert.

He joined the US Navy as a reservist after September

11th and completed a tour in Afghanistan

during 2007. As a tribute to the fallen, Ron has

memorized the names of more than 2,300 American

service members killed

in Afghanistan.

Explore Phoenix

When you're not on the

tradeshow floor, take in

some of the history and culture

of Phoenix while enjoying

the beautiful landscape

and climate. A sampling of

offerings include:

•Camelback Mountain

•Papago Park

•Phoenix Art Museum

•Roosevelt Row

•Musical Instrument

Museum

•Melrose District

You can also enjoy a

delicious meal at one of

these restaurants, perfect for

hosting clients! Restaurant

Recommendations include

Arrogant Butcher; Blanco

Tacos; Chico Malo; Cham

Pang Lanes; Dog Haus Biergarten;

Kaizen; Pa'La; Pizza

Bianco; The Churchill; The

Larry; The Pemberton; and

Wren & Wolf.

The Place to Be

Traders Market is among

the highlights of my year,

and this one will always hold

a special place in my heart.

Bringing together professionals

from across the country

– people who have become

close friends over the years

– the event is a celebration

of our industry and the place

to plan for the future.

I hope to see you in Phoenix!

Judy Haney

Boise Cascade

2022 NAWLA Traders

Market Chair

HOOD

PLYWOOD

HOOD INDUSTRIES

1978 Hood Blvd., Ste. 100

Hattiesburg, MS 39401

Phone: 601-264-2962

www.hoodindustries.com

HOOD

LUMBER

Hood Lumber is an industry-leading supplier known for strength, durability, treatability, and fastener holding capabilities. Made from

sturdy Southern Yellow Pine, Hood Lumber is a preferred choice among architects, builders and homeowners.

Grade 8'-16' 18' 20' 22' 24' Pcs/Pk

MSR 2400

208

#1

208

#2 Prime

104

#2

208

Studs

208

#3

208

#4

208

MSR 2400

128

#1

128

#2 Prime

64

#2

128

Studs

128

#3

128

#4

128

MSR 2400

96

#1

96

#2 Prime

48

#2

96

#3

96

#4

96

For more information about how to purchase our products, please contact Hood

Plywood Sales at (601) 296-4869.

Page 8 ADVERTORIAL Wholesale/Wholesale Distributor Special Buying Issue Wholesale/Wholesale Distributor Special Buying Issue ADVERTORIAL Page 9

2x4

2x6

2x8

Corner

Protection

Grade

DDS

#1

#2 Prime

#2

#3

#4

#1

#2 Prime

#2

#3

#4

#1

#2

#4

8'-16' 18' 20' 22' 24' Pcs/Pk

For a list of items available by manufacturing facility, please contact Hood Lumber sales at (601) 296-4860

Hood Plywood is an industry-leading supplier,

providing customers with a mix of quality and reliable

products made from sturdy Southern Yellow Pine.

Product applications range from structural sheathing,

preservative and fire-retardant treatment, underlayment

and subfloor, siding, concrete forming, and industrial

applications. Hood Plywood is a member of the APA –

Engineered Wood Association with all certified products

in accordance with APA guidelines

2x10

2x12

4x4

Grade

Prem & Deco Siding

A-C

B-B O&ES

B-C

SIF T&G

SIF & UL SE

SIF O&ES

C-C PTS

C-D PTS

C-C X

C-D

Hood Frame

Structural 1 & V-Series

Rated Sheathing T&G

Rated Sheathing SE

Full Pack Size

Half Pack Size

Edge

Protection 11/32''

80

80

40

80

80

80

64

32

64

64

64

65

65

65

Corner

Protection

3 Ply 4 Ply 5 Ply 7 Ply

3/8'' 15/32'' 15/32'' 19/32'' 19/32'' 23/32'' 7/8'' 6&7 31/32'' 11/32''

90 90 70 70 57 57 47 40 37 35

45 45 35 35 29 29 24 20 n/a n/a
---
Welcoming Growth At The Delta Group

QUALITY

Delta Saw Mill Rough Cut Cedar. Delta Mill has an annual production capacity of 60

million board feet and mills primarily Cedar and other Softwoods such as Fir and Hemlock.

"Coming to the NAWLA Traders Market

has been an important part of the way we

work at The Delta Group of Companies and

we look forward to every year," says Dean

Garofano, President and COO. "From the

education sessions to meeting peers and

customers, it is a great industry mixer where

innovation and strategy get to mingle. And

we are always looking for ways to innovate,

run plants more effectively, and deliver on

quality." Looking forward to seeing everyone

at NAWLA - Booth 719 - in Phoenix.

Delta Cedar Specialties Ltd., a

long-standing star in The Delta Group of

Companies, offers not only Western Red

Cedar and Yellow Cedar, but also Douglas

Fir, Hemlock and other local timber

varieties. Quality has been part of the Delta

Specialties' process, products and thinking

since 1958. It is what our customers count

on and what our employees are guided by.

Our team, who have decades of experience

from across the forest industry, deliver

quality to our customers through individual

attention and solutions.

The Delta Sales team works to move

products to our customers with the speed

that is attainable in this environment keeping

lines of communication open to avoid

unwanted surprises. Allen Fitzpatrick, Gen-

Halo Saw Mill Log Pond

eral Manager of the Cedar Division, says

"Our customers have asked us to stretch in

the last year to help them reach their goals

and we have responded by being resourceful

and getting the best product out to them."

Dean DeCraene, Sales Rep, has retail,

installation, and remanufacturing experience,

and his customers appreciate when

he brings this 30+ years of experience to

help them improve their business. "As a

distributor, I appreciate how Dean takes

time to understand problems faced by our

customers and jumps in with ideas," says

one lumber company.

Our teams work with their customers to

Halo has a capacity of 60 million fbm annually

and the expertise to mill both large

runs in standard sizes and specialty orders

for unique sizes when needed.

help them reach their goals. Gary Reid from

our sales team at Delta Cedar Specialties

supports his buyers when they want to develop

customers' industry knowledge by presenting

at their in-house customer education

days. "Working with our partners, as they

build up their customers' knowledge base,

is a great way to see the overall industry

thrive," says Sales Executive, Gary Reid.

In 2022 Delta rebranded our logging

division: Delta Timber Ltd. the homebase for

running all our logging activities. "Delta has

been active in the logging community for

years, and under Delta Timber we will

be expanding our reach and making it

more convenient for our customers and

partners to work with us," says Ryan

Stanyer, Fiber Supply Manager.

Making the most of supply is the focus

COUNTS

We build on generations

of excellence and

innovation,

so you can build

with confidence.

DC PREMIER

Appearance timbers

and 2" dimension

Logging - Milling - Finishing

DC SUPERIOR

STK kiln dried

fascia, decking,

siding and boards

DC SUPREME

STK green fascia

decking, siding,

and boards

Delta Cedar Specialties

604 589 9006 deltacedar.com

DC SELECT

std&btr no hole

green decking

and boards

Wood chips produced in the mill are

collected and sent to a local pulp

and paper mill. All parts of the log

are used, even the residual wood

chips, hog (used for fuel) and sawdust

(used for blueberry farms) (not

shown here.)

at our sawmills. Delta Mill and Halo Mill,

offer mill customers timely orders centering

on attention to product detail and to

customer requirements. Each mill has a

capacity of 60 million board feet per year

for a total production of 120 million fbm.

When needed, our skilled team can also

mill smaller, specialty orders for customers

who need unique unit sizes.

In a previous NAWLA article, we

mentioned a new line going in at the mill

as well as expanded office space. This

exciting upgrade is underway, however,

plans are a little behind our anticipated

2021 dates. The construction of the

new capital investment is at the Halo

site, "The Halo Sawmill is in the process

of a multimillion-dollar upgrade of an

optimized Rapture automated trim line

that will feed into a newly installed 80-bin

sorter." According to Glen Franke, Mill

CEO, "the install is expected to increase

overall production as well as enhance

lumber recovery."

At the mills and offices, we continue

to make small upgrades such as moving

from paper forms to digital forms, and

switching to more economical LED lighting,

in alignment with the Delta Group of

Company's goals to be more sustainable

across the company.

In the year ahead, we look forward to

maintaining our nimble approach to meet

customer needs by finding out what our

customers are working on and digging

into ways to help them reach their business

goals.

We invite you to meet us at the NAW-

LA Traders Market in Booth 719, or find

out more on our website www.deltacedar.com.

Check out our NAWLA ad. We

look forward to connecting!

Page 10 ADVERTORIAL Wholesale/Wholesale Distributor Special Buying Issue

Quality • Durability • Sustainability

Since the beginning, The Westervelt Company has

delivered exceptional value and service to the

customer. Westervelt Lumber continues to deliver on

that promise, delivering premium products responsibly

sourced from well-managed company-owned and

privately-owned forests.

With more than 50 years of lumber manufacturing

experience, Westervelt Lumber produces a wide variety

of high-performance products made from Southern

yellow pine.

Ask about our

FSC®- certified

and SFI®-certified

products.

800.633.5963 • WesterveltLumber.com

Moundville, Alabama • Thomasville, Alabama
---
P R O D U C T S R

SOUTHERN YELLOW PINE

770 MMFBM AND GROWING

ANTLERS, OK

154 MMFBM

LIBERTY, MS

26 MMFBM

PLAINE DEALING, LA

320 MMFBM

MARTINSVILLE, VA

178 MMFBM

KINSALE, VA

92 MMFBM

Shakes and Shingles

Western Red and Alaskan Yellow Cedar

Handsplit Resawn Shakes

Tapersawn Shakes

18 inch perfection shingles

Custom dimensions available

CCA preservative and Fire

Jody Boates

Sales Manager

jboates@tealjones.com

Scott Boates

General Manager

Sales - Worldwide

sboates@tealjones.com

Sidewall Shingles

Grooved sanded or natural pre-primed or

custom pre-stain system

Multi-coat primer and top coat Treatment

Up to 25 year factory finish warranty

Comprehensive sample program

Classic Butt decorative shingles

17897 Trigg Road • Surrey, BC V4N 4M8 • Ph: 604-587-8700

d i m e n s i o n

2X4 • 2X6 • 8'-16' • PRIME

DSS • PET

t i m b e r s

4X4 • 6X6 • 4X6 • 5X5 RGH

b o a r d s

1X4 • CORRAL FENCE

KIEL MILLER, VICE PRESIDENT

SYP SALES & MARKETING

KMILLER@TEALJONES.COM

JOE BELKNAP, MANAGER

EWP, US EXPORT & IMPORT

JBELKNAP@TEALJONES.COM

t i m b e r s

12X12 • 10X10 • 8X8 • 10'-30'

b o a r d s

1X12 • 1X10 • 1X4 • DECKING

CLEARS • RGH EXPORT

c u s t o m

SPECIALTY SIZES

UP TO 44' • CYPRESS

2 0 2 3 Q 4

g r e e n f i e l d e x p a n s i o n

d i m e n s i o n

2X4 • 2X6 • 2X8 • 2X10 • 2X12

8'-20' • PRIME • MSR

RAIL ACCESS

d i m e n s i o n

2X4 • 2X6 • 2X8 • 2X10 • PRIME

LONG LENGTH 24'/22'

p a l l e t c a n t s

3.5X6 • 3.5X8

b o a r d s

1X4 • 1X6

d i m e n s i o n

2X4 • 2X6 • PRIME

t i m b e r s

4X4 • 6X6 • 4X6

3X8 • 4X8

b o a r d s

1X4 • 4X6 • DECKING

LONG LENGTH FINGER JOINT, CROSS LAMINATED TIMBER, GLULAM AND OTHER MASS TIMBER ELEMENTS

AVAILABLE THROUGH OUR PARTNERS IN MONTANA & ALABAMA

NEIL TATUM, SALES MANAGER

MARTINSVILLE, VA

NTATUM@TEALJONES.COM

LISA MCGINNESS, SALES MANAGER

KINSALE,VA

LMCGINNESS@TEALJONES.COM

Quality is our focus

The

Teal-Jones Group

A Family Of Fine Forest Products

Meeting the needs of our customers with the highest quality Timbers and Dimensional lumber available…PEFC certified…

Western Red Cedar

All Sizes • Dimensions • Cedar Decking Boards • Siding

Yellow Cedar KD Decking

2x6 • 5/4x6

John Gardner

President,

Surrey Lumber Operations

jgardner@tealjones.com

604-587-8700

Len van Ryswyk

Vice President

Whitewood Marketing

lvanryswyk@tealjones.com

Art Barker

North American

Whitewood Sales

Manager

abarker@tealjones.com

Timbers – Hem-Fir / D. Fir

4x4 to 12x12

Grades #1 /btr / #2/btr appearance

Rough and Surfaced

Lengths: up to 24'

Specialty Lengths: 26'-40' available

KD Hem-Fir Dimensional Lumber

2x4 to 2x10

Grades: MSR / Premium / 2/Btr / #3 / Econ

Lengths up to 24'

For more information contact Teal Jones Group

604-587-8700 • info@tealjones.com • tealjones.com

Paul Saini

China Region

Sales Manager

psaini@tealjones.com

Page 12 ADVERTORIAL Wholesale/Wholesale Distributor Special Buying Issue Wholesale/Wholesale Distributor Special Buying Issue ADVERTORIAL Page 13
---
Bitterroot Valley

Forest Products:

Manufacturing Products With

A Look Of Distinction

By Terry Miller

Missoula, MT—Bitterroot Valley Forest Products,

headquartered here, offers several product lines that

include EPEX Trim; a log home division; timber and log

siding; wood shavings; and Montana Ghost Wood.

Established in 1976 as a planer remanufacturing plant,

the operation has grown and diversified throughout the

years. According to Sales Manager Pat Duchien, "You

name it, we can do it."

Offering products in Douglas Fir, Hemlock Fir, Spruce/

Pine/Fir and Western Red Cedar, the sales team includes

Duchien, Dennis Ebel and Quinn Chamberlain.

Duchien said the primary market for Bitterroot Valley

Forest Products is distributors. Procuring lumber from

Canada down into the Idaho/Montana and West Coast

region, the company shares its success with its suppliers.

"Roughly we are working with about 15 sawmills,"

Duchien said. "I always like to give compliments to our

mills. We have a lot of good wholesalers that help us

with procurement also."

Value-added products are the name of the game for

Bitterroot Valley Forest Products. "We thrive on offering

value-added rustic elegance," he stated. "Anybody can

buy a 1x6 WP4 T&G and come to Bitterroot Valley and

DiPrizio Pine Sales

A Team of Over 50 Dedicated Men & Women Producing

Eastern White Pine Lumber

Products for Our Valued Customers!

Our company has been working with this

MAJESTIC RENEWABLE RESOURCE...

since 1938

Great People. Great Facilities. Great Solutions. Great Pine.

Mixed Truckloads • PTL • Partial Units • Partial Loads • Custom Programs

Custom Kiln Drying • Trucking Arrangements

800-647-8989

or 603-473-2210

Route 153, Kings Hwy

Middleton, NH 03887

Bitterroot Valley Forest Products' staff includes Quinn

Chamberlain, Sales; Dennis Ebel, Sales & Buying; Rachel

Plenger, Softwood Shaving Sales; Pat Duchien,

Sales Manager; Gordon Watson, Controller

ask for a circle sawn face on the WP4. If they're looking

for a circle sawn face on a 2x12 site or a high-end raised

grain on any profile to put in an entire house–that's what

we do."

Circle sawing, band sawing and raised grain are the

strong suites at Bitterroot Valley. "Our raised grain is

unmatchable," Duchien explained. "We have a unique

style and state-of-the-art equipment that allows us this

advantage."

A Bitterroot proprietary product, Ghost Wood has

taken the industry by storm. Duchien commented, "We

are not harvesting reclaimed wood and turning it into

100 percent useable wood. We are taking beetle-killed

wood and salvageable wood and putting it through a

multi-step distressing process, which turns it as close as

you can get to wood of old farmhouses, iconic or historic

buildings without having to tear any down."

NELMA Patterns & Custom Patterns

Double-milled with Weinig Moulder Finish

4/4, 5/4, 6/4 and Timbers • 1/2 x 6" & 8" Bevel Siding

Primed D Select Boards • DPS- "Band - Tex" Finish

Email Jamie Moulton

jmoulton@lavalleys.com

Quinn Chamberlain is pictured inspecting Ponderosa

Pine and Lodgepole, 1x6 Shiplap.

With two factory finishing plant locations in Stevensville

and in Missoula, MT, Duchien said Ghost Wood has

grown over time. "Ghost Wood has become so popular

that we had to separate both places to be able to make it

work and to mass produce."

As for the species offered in Ghost Wood, Duchien

said, "Primarily Ghost Wood is offered in Ponderosa

Pine, Lodgepole Pine and Spruce for interior and Doug

Fir/Larch for exterior. We are targeting dead standing

timber to try to help clean up our forests here in Montana."

Equipment utilized by Bitterroot Valley Forest Products

includes a Yates and a Woods planer; a Weinig moulder;

a circle saw and a band saw. "We also have a handhewn

machine which is a very intricate part of a lot of

things that we do outside of Ghost

Wood," Duchien explained.

No part of the wood goes to waste

at Bitterroot Valley. "We use 100

percent of the bi-product," he said.

"Everything that we plane goes into

our bagger and we are selling it for

horse and cattle bedding."

The company also has a factory

finishing plant in Missoula. "We cater

to both PPG and Sherwin Williams,"

he said. "Sherwin Williams works

with us hand in hand to try to invent

new solutions for our products, which

works out very well. We have two

moulders in Stevensville and an

age-enhancement machine along

with stain line finishing capabilities."

Ghost Wood is offered in signature

colors such as Bannack Brown,

Silver City, Ruby River, Blackfoot and

Wise White. Duchien said Ruby River

is the color of an old barn that was

taken down.

Bitterroot Valley is marketing its

products into all of North America

and Canada along with some businesses

in China and the Caribbean.

The company employs 42 people

between the two locations.

Offering both Western Wood Products

Association and Northeastern

Lumber Manufacturers Association

patterns, Duchien said Bitterroot can

offer custom patterns. "We make our

own knives in-house and we have a

knife-grinding room. Our knife-grinding

room is probably one of the

highest tech knife-grinding rooms in

the reman industry," he explained.

Duchien attributes ingenuity and

repeat business to Bitterroot Valley's

continued success. "A lot of the

things that we do are specialized for

our specific customers. We are proactive

and we communicate with our

customers. We are good people and

we like to interact with good people.

We trust people and people trust us,

which is something that's often overlooked

in business. That's part of it, a

handshake, honor and respect."

Bitterroot Valley Forest Products

is a member of the North American

Wholesale Lumber Association

(NAWLA), Architectural Millwork

Association and attends the International

Builders Show.

For more information, visit

www.MTGhostwood.com.

Bitterroot Valley Forest Products' staff includes Quinn Chamberlain, Sales; Dennis Ebel, Sales & Buying; Rachel Plenger,

Softwood Shaving Sales; Pat Duchien, Sales Manager; Gordon Watson, Controller

Quinn Chamberlain is pictured inspecting

Ponderosa Pine and Lodgepole, 1x6 Shiplap.

YOUR TEAM at

Bitterroot Valley Forest Products

Ghost Wood Products being primed.

Dennis Ebel is shown here with 2x8, SPF, MT

Hewn, Log Cabin Siding.

With over 100 years of experience,

we are the solution-provider for highly specialized

products of distinction!

dipriziopine.com

Dennis Ebel is shown here with 2x8,

SPF, MT Hewn, Log Cabin Siding.

Page 14 ADVERTORIAL Wholesale/Wholesale Distributor Special Buying Issue

www.bvfpmontana.com • www.mtghostwood.com

406-728-2946 • Quinn@bvfpmontana.com
---
Lock-Deck: Shelton Lam & Deck's Signature Product

The strength you need. The price you want.

Custom milled Douglas Fir Lock-Deck was installed at

the Springfield Coliseum in Springfield, IL.

The Ark Encounter in Williamstown, KY, is one of the

high-profile projects for which Shelton Lam & Deck produced

Lock-Deck material.

Shelton Lam & Deck was one of the material suppliers

for the recent expansion at the Bozeman Yellowstone International

Airport in Bozeman, MT.

Rosboro offers quality lumber and highly durable Engineered Wood Products.

Based in Springfield, OR, Rosboro is dedicated to bringing your commercial or residential project to life.

For almost 25 years, Lock-Deck laminated roof decking has been the signature product of

Shelton Lam & Deck, located in Chehalis, WA. Shelton filled a niche created in the early 1990's,

when Potlatch Corporation and other large manufacturers focused on their commodity businesses

and stepped away from specialty products like laminated decking, that required custom manufacturing.

The Lock-Deck product line was the cornerstone of the partnership created between

Shelton Structures and Disdero Lumber to fill that niche.

Basically unchanged since the early 1960's, Lock-Deck was developed as a complimentary

product to glued-laminated timber, both made possible by the emerging laminating technology

at that time. The concept behind Lock-Deck was adding value to ordinary board lumber, by combining

the timeless beauty, strength and durability of wood in a structurally engineered product.

It quickly became a popular product for buildings of all types. The design and construction pos-

LOCK-DECK

Lock-Deck combines the timeless beauty, strength and durability of wood in a structurally

engineered product. The design and construction possibilities are limited only by imagination.

Lock-Deck is used in buildings where the beauty of the wood structure is left exposed to create a

unique architectural experience for its occupants.

The flexibility of the unique laminated manufacturing process makes any combination of species,

size, length, texture and color possible.

Species: Douglas-Fir, Pine, Cedars, and many more

Sizes: 2x6 through 5x8 and lengths up to 34'

Textures: Smooth or rough sanded, re-sawn, wire-brushed, circle sawn.

Factory finishing in 24 colors or custom matched.

Lock-Deck is manufactured with pride by Shelton Structures, Inc. in Chehalis, WA

For more information visit LockDeck.com or

contact Gunnar Brinck at Disdero Lumber at

GBrinck@disdero.com

1-800-547-4209

Photo courtesy of Ark Encounter Williamstown, KY

Nearly one million feet of Lock-Deck used in Noah's Ark replica!

sibilities were unlimited and allowed architects to use their imagination and creativity to create

beautiful wood buildings. Today, the flexibility of the unique laminated manufacturing process

makes any combination of species, size, length, texture and color possible. At the same time,

Lock-Deck is as relevant today as it was in the 1960's. The interest in Mass Timber design has

stimulated resurgence in wood being used for commercial construction. Lock-Deck is perfectly

positioned to take advantage of it.

Lock-Deck continues to be used in buildings where the beauty of the wood structure is left

exposed to create a unique architectural experience for its occupants.

The Ark Encounter Project in Williamstown, KY used nearly a million board feet of Lock-Deck.

White-Fir was the species selected because of its superior fire rating. 5x6, 3x6, 2x6 and 1x8

T&G were used throughout the full-size replica of Noah's Ark.

The historic renovation of the Illinois

State Fair Coliseum building used

220,000 board feet of 3x6 Douglas Fir

Lock-Deck.

The deck is custom milled to match

the original double beaded profile installed

in 1906 when the Coliseum building

was first built. Modern finger-jointing

technology allowed Shelton to provide

the long lengths required to meet current

structural requirements. The new Great

Wolf Lodge in Manteca, CA, will use

300,000 board feet of 3x6 Douglas-Fir

Lock-deck. This giant waterpark is the

latest on a long list of water parks built

across the country in recent years; the

most recent in Scottsdale, AZ, Atlanta,

GA, and Colorado Springs, CO.

The Bozeman, MT, Airport expansion

project required 105,000 board feet of

Lock-Deck. It is one of many regional airports

that have used a Lock-Deck wood

roof system. Water parks, churches,

schools, golf club-houses, YMCA's, retirement

centers; projects across America

continue to use Lock-Deck because of its

timeless beauty, strength and durability.

Over the years, Shelton Lam & Deck

has continued to invest in its Chehalis,

WA, manufacturing facility, in order

to maintain quality while improving

efficiency and flexibility. Radio frequency

presses cure the waterproof adhesive,

finger-jointing equipment was added

to better utilize random length sawmill

production of boards. More recently,

finger-jointing has allowed long length

Lock-Deck up to 34' to be used in designs

where Lock-Deck previously would

not have been considered. End-matching

makes random length installations fast

and economical. Band re-saws, sanders,

circle saws and wire-brushing equipment

have been added to offer any texture

or appearance specified. The factory

finishing line saves time and money and

provides a high-quality finish not always

possible on site. Shelton Lam & Deck

has continued to improve and update

the state-of-the-art equipment used to

produce their signature product, but at

the same time providing the flexibility and

diversification to offer much, much more.

Lock-Deck finds its way into projects

across the country through a complex

network of wholesale distributors and

representatives. Shelton Structures and

Disdero Lumber depend on wholesalers,

architectural reps, and glulam manufacturers

to help get Lock-Deck to market.

While they provide technical support

to architects, engineers and designers

to get Lock-Deck specified for these

projects, the contractors and retailers will

look to wholesalers to help them get the

product they need to the jobsite.

Shelton Lam & Deck is proud of their

signature product, and their partnership

with Disdero Lumber, but they are always

looking for good companies to be part

of the team and to help them take Lock-

Deck to market, so it can be included in

the next beautiful wood building.

To learn more, visit

www.lockdeck.com

or call 1-800-547-4209.

Rosboro X-Beam TM is the industry's first full framing-width architectural

appearance glulam, making it ideal for both exposed and concealed

framing applications. X-Beam fits to the wall and is the preferred

glulam for framers and builders.

Rosboro's heavy timber X-Rim is used as a fire stop in floor systems

and around stair wells and elevator shafts. It is installed in walls

perpendicular to the floor joist, and is a zero-camber fire-assembly

solution. It installs flat, straight, and square, and is available with

LiquidWrap sealer to protect against rainy building seasons.

Rosboro Big Beam DF TM is a high-strength 3,000fb, 2.1 E balanced

layup Douglas fir glulam. It's the perfect solution for longer spans

and heavy load conditions.

STUDS & DIMENSIONAL LUMBER

Rosboro offers a variety of high-quality studs and dimension lumber

including green and dry Douglas fir as well as dry Hem-fir. Rosboro

#2 & Better PET Studs are a builder's choice because they are "No

Prior Select."

Page 16 ADVERTORIAL Wholesale/Wholesale Distributor Special Buying Issue

Call: (888) 393-2304

ROSBORO.COM
---
Sonoma Raceway Turns To Redwood In Spectacular Hospitality Project

Photos by Jack Hutcheson Photography

Turn 11 at Sonoma Raceway incorporates

extensive use of Humboldt Sawmill clear

Redwood pattern stock and S4S material

on both the exterior façade and interior

finishes.

Turn 11 at Sonoma Raceway offers a premium,

luxury hospitality and viewing experience

on major event race weekends,

as well as, at year-round racing events

at the track. The facility is available as

an exclusive venue rental for corporate

outings, community events, tradeshows,

meetings and parties.

Sonoma, CA—Nestled in the heart of California's world-famous wine country

is Sonoma Raceway, a world-class motorsports facility home to one of six road

courses on the 2022 NASCAR Cup Series race schedule. The Sonoma Raceway

property encompasses 1,600 acres in total. The track itself is a 2.52-mile,

twelve-turn road course (1.999-mile, 10-turn for NASCAR and ARCA), and a

1/4-mile modern dragstrip that hosts a stop on the NHRA Camping World Drag

Racing Series schedule.

Beyond the two major event races, Sonoma Raceway features an expansive

industrial park housing more than 70 motor sports-based businesses. The

facility is also home to the Sears Point Racing Experience – the official racing

school of Sonoma Raceway – as well as the Sonoma Raceway Karting Center.

Sonoma Raceway is a world-class motorsports

facility in the heart of California's

wine country. The new Turn 11 hospitality

facility at the track was completed in June

2022.

The beauty and warmth of Humboldt Sawmill

Redwood give the 19,000 square foot

Turn 11 facility an intimate feel.

In total, the track hosts year-round racing events, as well as thriving venue and

track rental programs.

Humboldt Sawmill

Recognizing a need for upgraded spectator amenities, in particular shade on

hot summer days during major event race weekends, Sonoma Raceway invited

Humboldt Sawmill Company to become a corporate partner. The partnership

has blossomed over the years centering around extensive use of Redwood

lumber and timbers throughout the property, most notably on the 135-foot Real

Strong. Humboldt Sawmill Deck at Turn 2, as well as on numerous Redwood

pergolas throughout the track.

Take Comfort In

Our Reputation

Our wood helps build some of the most comfortable

furniture available, but our reliability has

helped build something even more enduring…

our reputation. For over 70 years, we've been

providing wholesalers with one of the country's

largest, most consistent supply of quality White

Pine and northeastern hardwoods from extensive

forests in northern New England. No

hassles. No misrepresentations. Just

a level of integrity

that's as solid as

our products.

And that's

something you

can feel very

comfortable with.

www.cersosimolumber.com

Turn 11

In June 2021, Sonoma Raceway

announced it had broken

ground on a 19,000 square foot

upgraded hospitality facility overlooking

the hairpin Turn 11 on the

road course. Completed in time

for the 2022 Toyota/Save Mart

350 NASCAR Cup Series weekend,

the Turn 11 facility offers a

luxury indoor/outdoor hospitality

and viewing experience on major

event race weekends and is available

as an exclusive venue rental

for corporate outings, community

events, tradeshows, meetings and

parties.

Designed by Perkins Eastman's

Charlotte, North Carolina studio

and built by Tilton Pacific Construction

of Rocklin, California,

the Turn 11 facility incorporates

extensive use of Humboldt Sawmill

clear Redwood pattern stock

and S4S material on the exterior

eaves and interior paneling. The

Redwood material also wraps

large steel beams spanning the

interior ceilings. The front entrance

barn doors and additional

pergolas on the front lawn complete

the use of Humboldt Sawmill

Redwood on the Turn 11 project.

"We worked closely with Speedway

Motorsports (owner and

operator of Sonoma Raceway),

Perkins Eastman, and Tilton

Pacific Construction to specify

and deliver the Redwood for this

impressive project. We couldn't

be happier with how the project

turned out, and more importantly,

how happy the client is," said

Sam Patti, VP, Sales for Humboldt

Sawmill Company.

Patti continues, "The building

is pretty simple with an open,

modern aesthetic and lots of glass

for optimal views of the track. The

beauty and warmth of the Redwood

give the space an intimate

feel and carry through the Redwood

theme evident throughout

the Sonoma Raceway property."

Commercial and hospitality

businesses interested in upgrading

their facilities with the beauty

and warmth of Redwood are encouraged

to contact the Humboldt

Sawmill sales team for additional

information.

For more information, visit

www.MendoCo.com.

Please visit us at

Booth #806.

From our 440,000 acres of Northern California timberlands to our company-owned sawmills,

treating plants,and distribution centers, to you — we are your source for top-quality, certified

sustainable redwood, Douglas-fir, and preservative treated lumber and timbers.

REDWOOD

Uppers available in 1-inch, 2-inch,

and 4-inch dimensions in lengths

from 6–20 feet. Timbers available

in 6-inch and larger dimensions,

up to 12" x 24", and lengths

up to 24 feet.

DOUGLAS-FIR

Joists and planks available in 3-inch

and 4-inch dimensions in lengths up

to 24 feet. Posts and beams available

in 6-inch and larger dimensions, up to

12" x 24", and lengths up to 24 feet.

PRESERVATIVE TREATED

Comprehensive product assortment including

Douglas-fir, Hem fir, and Southern Yellow Pine

lumber, timbers, and plywood, available in a range

of preservative treatments for above ground,

ground contact, and fire-retardant applications.

To order, please call (707) 764-4450 • MendoCo.com

Page 18 ADVERTORIAL Wholesale/Wholesale Distributor Special Buying Issue

Wholesale/Wholesale Distributor Special Buying Issue Page 19

CERSOSIMO SFWD ISLAND 2019.indd 1

4/23/19 2:01 PM
---
Neiman Enterprises: We Have Solutions

App: InDesign CC Bleed Size: no bleed

Colors: 4CP Close Date: 07.15.22

The Neiman Enterprises sales team includes, from left,

Wes Bush, Brian Benson, Dela Bears, John McPartland,

Mike Stevens, April Harrison, Corey Knapp, DJ Wolfskill

and Wayne Jordan.

Neiman Enterprises, a fourth-generation family-owned

business, prides itself on providing industry

leading customer service and strives to offer the finest

in Ponderosa Pine Boards, Pattern, Shop and also

ESLP Premium studs. The continued success of Neiman

Enterprises is dependent upon offering customers

a high-quality product with exceptional customer

Sustaining

thriving forests.

CollinsWood ®

We provide our customers with the assurance that

our products are backed by a legacy as positive as the

products themselves. A family-owned business since

1855, ours is a heritage of responsibility to the land

and to the people. From the foresters in the field,

through operators in the plants, to sales people in the

marketplace, we relentlessly pursue the best

utilization and applications of our natural and

renewable resources.

See you at the 2022 NAWLA Traders

Market in Phoenix.

The company town and sawmill in Gilchrist, OR were

built in 1938.

service. Neiman currently operates four mills cutting

Ponderosa Pine including Devils Tower Forest Products,

Spearfish Forest Products, Montrose Forest Products

and Gilchrist Forest Products. The Montrose facility

also produces ESLP Premium Studs. With total production

of over 260 MMBF per year, Neiman Enterprises

has solutions for all your Pine products and ESLP stud

needs.

The Ponderosa Pine product mix includes 1x4

through 1x12 in No. 2 common, No. 3 common and

No. 4 common boards. All items are packaged in full

packs and half packs and are pulled to length for

customer convenience. Custom moulder facilities at

Spearfish Forest Products, Montrose Forest Products

and Gilchrist Forest Products allow production of over

Collins Lakeview Forest

Building strong

communities.

Forest Stewardship Council ®

Look for our certified wood products

Bainbridge Island City Hall, Photo: Miller Hull Architects

Gilchrist Forest Products is the newest addition to Neiman

Enterprises, Inc.

50 MMBF of Solid Pine Pattern and reach markets

throughout the United States. 5/4 and 6/4 Ponderosa

Pine Shop is produced at Devils Tower Forest Products

and Gilchrist Forest Products as market needs dictate.

Buyers can purchase highly mixed truckload and

carload tallies of various sizes, lengths and grades. This

allows great flexibility to reach many markets with great

flexibility at highly competitive rates.

The product mix of 2x4 and 2x6 ESLP studs out of

Montrose Forest Products include standard stud lengths

of 92-5/8", 104-5/8" and 116-5/8", all precision end

trimmed. Additionally, many custom trims are available

between 84" and 120". Studs are packaged in smaller,

more manageable sized units, 2x4 at 208 and 2x6 at

128. Montrose studs are end-branded and end-waxed

for a neater appearance, and paper

wrap is available upon request for

the yards that may need to inventory

the stock a little longer than usual.

The Montrose stud has the ability to

reach many major markets by truck

with a complete mix of all dimensions

and lengths.

All of the Neiman mills continue to

seek out and implement new technologies,

equipment, and processes

to ensure that the products produced

exceed the expectations of their

customers. The latest projects at

the Gilchrist, OR mill are also aimed

at the facility's ability to increase

production. Numerous upgrades in

the sawmill, kilns, planer and new

moulder facility have been completed

since the purchase of the mill in

late 2020.

Neiman Enterprises is fully

committed to providing products that

have been harvested using responsible

forestry management practices

and preserving the forest for current

and future generations. The continued

growth and survival of Neiman

Enterprises depends on maintaining

healthy forests. To achieve this,

we are an active member with the

Sustainable Forestry Initiative. This

important initiative is dedicated to

maintaining and preserving forests

not only for industries dependent on

timber, but also for private and public

landowners. Our commitment to sustainable

forestry not only ensures the

long-term stability of our company,

but also guarantees future resources

through a cycle of renewability.

We will continue to strive toward

advances in renewable energy and

value-added products to meet the

demands of our markets while maintaining

a healthy environment.

With today's evolving markets it is

even more important that customers'

needs are understood and what can

be done to meet those needs. Highly

mixed loads, specified tallies, specialized

packaging, flexible logistical

services, and just-in-time shipping

solutions are all part of being an

industry leader in customer service.

The Neiman Sales Team combines

over 150 years of industry experience

in sales, shipping, manufacturing,

and forestry and is ready to find

solutions to all your lumber needs.

Quality Products

Smart Environmental Practices

Exceptional Customer Service

Neimen Enterprises is a third-generation American family business dedicated to the

environment and quality products that is devoted to maintaining and preserving

healthy forests, not only for industries dependent on timber, but also for private and

public landowners. As an active member of the Sustainable Forestry Initiative, we are

committed to protecting and enhancing US forest health, water resources, biological

diversity, and wildlife for future generations.

We pride ourselves in an ardent commitment to customers, the land and our Country.

hrough our family of prestigious companies evils ower Forest Products, Spearsh

Forest Products, Montrose Forest Products and Gilchrist Forest Products, you can count

on the dedication of Neiman Enterprises to ensure quality American made products.

The finest in responsibly sourced Hardwood, Softwood and Particleboard.

CollinsWood.com | TruWoodSiding.com | 800.329.1219

@collinswood_1855 facebook.com/CollinsCompanies

For more information, go to

www.neimanenterprises.com.

Please visit us at

Booth #1001.

Page 20 ADVERTORIAL Wholesale/Wholesale Distributor Special Buying Issue
---
Elk Creek Forest Products: Growing Farther And Faster

While Honoring Company's Foundations

Precision End Trimmed 3x6 ready for job site delivery.

Operating since 2001 from its home in Oregon's scenic Willamette

Valley, Elk Creek Forest Products (ECFP) continues its

strategic growth as a full-service lumber processor, remanufacturer,

and high-volume distributor of premium Douglas-Fir,

specializing in kiln-dried custom timbers and dimensional

commodity products. Brett Slaughter, founder and president

of ECFP said, "We've added machinery and equipment here.

The focus hasn't changed from doing high value timbers, we're

just adding to our product offering with Doug-Fir dimension

products including green and kiln-dried upper select structural."

elkcreekforest.com

(503) 474-4446

Specialty S1S2E Fascia and T&G products in stock.

The company takes pride in sourcing sought after raw material

from the region's finest sawmills ranging from British Columbia

throughout Oregon and Washington, and into Northern California.

The ECFP business model is built on the ability to take

away large quantities of fiber from initial log breakdown at

primary mills. Elk Creek then transforms that root stock into

a wide variety of secondary and custom products in both

green and kiln-dried, including surfaced and resawn exposed

appearance textures. The kiln drying, grading, sorting, and

Elk Creek Forest Products

Premium Douglas-fir Lumber

Processor

• Over 20 million BF of on

ground inventory

manufacturing process take place at the company's 23-acre

main location in McMinnville. In addition, ECFP utilizes an extensive

network of offsite manufacturing and custom processing

facilities. Slaughter stated, "Our partner mills and variable

cost remanufacturing locations are strategic along the I-5 corridor

of the West Coast, and most are longtime partners that

we work hard to keep consistently supplied with work. It is a

great two-way street, and we are always adding capacity with

more companies to process material for us." Slaughter goes

on to state, "Operating in only Douglas-Fir allows us to have

incredible strength and relationships with a closely knit vendor

group and, working at becoming an expert in one area rather

than being pretty good at many, is invaluable to surviving in a

very competitive industry."

The key to the company's success is accredited to its people…the

dedicated and synergized ECFP team who understand

and value every customer, mill vendor, and manufacturing

partner relationship.

Recently while simultaneously adding new machining

capabilities and opening five acres for dry storage and future

machine centers at the McMinnville site, ECFP recruited a new

team member, Aaron Fleming, who brings a wealth of expertise

in the Doug-Fir commodity market. Fleming stated, "My

goal is to have prompt wood on the ground in every length,

two-by-four through two-by-twelve, in particular, two-by-four

eight-foot, nine-foot stud lengths, and standard PET sizes. We

want to let buyers know that you don't have to buy a random

two-by-six and a random two-by-eight to get your six units,

we have all that on the ground and you can custom pick your

tally."

Along with the premium Doug-Fir

dimension products now available ECFP

markets over ninety-million board feet

of lumber per year in a wide array of

products including over ten-thousand

SKU's, all from a single species of fiber.

Founder Brett Slaughter estimates that

in Douglas-Fir, Elk Creek stocks more

kiln-dried on-the-ground premium timbers

than anyone else in the United States.

Product diversity and intentional vendor

support have been key factors to sustaining

growth through the various downturns

and market challenges.

Aaron Fleming

Pat O'Donnell

Steve Snyder

Marcos Flores

Terry

Rasmussen

Mark Swinth

Kevin Grindy

Brett Slaughter

Mike Taron

• Kiln Dried stock 2x4 –

16x16 up to 40'

• Custom Timbers both Green

and Dry

• Full truck loads, yard packs, job

specific tallies

• Outstanding Customer Service

If it's Douglas-fir,

we've got you covered.

Large in-stock inventory for just in

time delivery.

The company sells primarily to

distribution centers, industrial accounts,

wholesale companies and some retail

stores. ECFP ships by railcar as well as

truck loads, which are often made up

of multiple products including custom

pieces, partial packs, and full units. This

is done mostly on a "just-in-time deliver"

basis, according to Slaughter. "Keeping

20 to 25 million board feet of lumber

on hand at any given time allows us to

respond quickly to customers and tailor

specific loads to meet the needs of the

ECFP stocking distributors across the

country."

As ECFP continues to grow, "Our

goal is to gain market share through

unmatched service and by becoming a

low-cost producer," Slaughter noted. And

after two decades, Slaughter, who while

eager to continue the site's expansion,

said "you can't grow farther or faster

than the foundations you have available

to build on." Through internal development,

training up a new generation

of lumber experts, and strengthening

outside relationships, Elk Creek is

building depth and laying foundations for

the future.

Learn more at

www.elkcreekforest.com

Please visit us at Booth #833.

Page 22 ADVERTORIAL Wholesale/Wholesale Distributor Special Buying Issue

Wholesale/Wholesale Distributor Special Buying Issue Page 23
---
San Group Continues To Reinvent Itself

Celebrating

San Port Alberni: A & B Mill.

San Port Alberni B Mill: Hewsaw out feed.

Many businesses claim to be fully integrated lumber companies, but when it comes

to processing forestry products, San Group in Langley, BC, actually lives up to that

promise. Senior Vice President John Langstroth noted that the company's motto –

From Harvest to Home – embodies the company's philosophy.

"San Group is a multi-level horizontally and vertically integrated forestry company

designed to manufacture the best value-added forestry products in the world," he

said, quoting the opening of San Group's mission statement. "So that statement really

captures what we have become from the very start; from being a re-manufacturer to

the level that we've taken it now. Everything we do – from the forest all the way to the

sawmill, where we have primary breakdown, and everything we do with that fiber until

it's a finished product – speaks volumes as to where we see the forest industry going.

You have to have your hands on it from the forest to delivering to the customer in order

to make that claim of being a fully integrated forestry industry company."

DEPENDABLE PARTNER,

DEPENDABLE SERVICE

No matter what the times bring, we'll keep things moving for you.

Boise Cascade ® Building Material Distribution has 60+ years of delivering

exactly what building material dealers, home improvement centers, and

industrial customers need when they need it. That's not going to

change — no matter what the times throw at us.

With 38 locations, and local dedicated experts ready to lend a hand,

(maybe even a tool) we're prepared to get you exactly what

you need, in the volume you need it, on time.

Choose a partner who is consistent, stable, and dependable.

bc.com/distribution

© 2020 Boise Cascade Company. All rights reserved.

San Port Alberni B Mill: Bin sorter building (background)

and B Mill storage yard (foreground).

To accomplish this, San Group focuses on downstream, valued-added manufacturing,

where every step in the process is designed to help extend the lives of forests

throughout British Columbia by creating more with less.

"We are taking what has commonly been just ground up for pulp and paper and

utilizing that fiber to make solid products that will be used in the most prestigious and

well-finished homes out there," Langstroth explained, adding that the company utilizes

a wide range of species, including Western Red Cedar, Hemlock, Douglas Fir, Sitka

Spruce, Yellow Cedar, Alder and Coastal White Pine.

Langstroth also spoke about the company's recent acquisition of Delta's Acorn

sawmill from Interfor.

"That sawmill has the production capabilities of three-and-a-half times more per hour

of any of our other facilities. That's the primary breakdown," he said. "Just to break

that down: our facilities over on Vancouver Island are averaging 10,000-12,000 feet

per hour, whereas the Acorn facility

is capable of 32,000-36,000 feet per

hour."

In addition, San Group's Port

Alberni value–added facility has

expanded to include more than 25

machine centers–meaning that

the company can have more than

25 different processes going on at

the same time catering to the ever

changing needs of the market.

John noted that additional processes

that focus on the finished

product market are being eyed

as part of future expansion plans,

including a panel line.

"We will be able to use some of

the processes that we already have

in mind for finger-jointing and laminating,"

he said. "Then this panel line

will be able to produce up to four-foot

by eight-foot sheet products and

down to the size of an 18-inch shelf."

In addition to the new production

capabilities coming online, Langstroth

also noted that San Group is

working closely with the indigenous

peoples of Canada to build mutually

beneficial and mutually respectful

working relationships.

"We see the way the forest industry

is going. Our primary concern

is not only to respect, but also to

include First Nations in the process

of our business as well, because

without them, there is no future

with this industry," he said. "We are

currently dealing with eight different

First Nations groups. We look to

expand that, but their territories are

here, there, and everywhere, and in

order to get the correct fiber for each

of our sawmills, we have to rely on

building all of those relationships."

Langstroth added that there is also

an environmental imperative to how

San Group conducts its business,

noting, "Our goal is to get down

to zero waste, where everything

is being utilized in the product in

one shape or form instead of being

turned into a landfill."

As far as what the future holds,

Langstroth said the company plans

even more growth and expansion.

"We've got capital projects

planned through the end of 2022,

2023 and 2024, including upgrades

at all our sawmills. We know there

is a little bit of hesitancy on the part

of a lot of forestry companies when

they look at the market. So, what we

are going to do is step up and meet

the needs of the industry and the

customer."

To learn more, go to

www.sangroupinc.com

Please visit us at

Booth #535.

Page 24 ADVERTORIAL Wholesale/Wholesale Distributor Special Buying Issue

since 1922

Years

100 Business

In Thank you to our customers,

suppliers, and our employees for their

contributions to the success we've

enjoyed over these many years.

905 22nd Avenue • Meridian, MS 39301

(601) 483-3991

www.mcginnislumber.com
---
Longstanding Goal At

Robbins Lumber Is To Invest

In The Company's Future

By Terry Miller

From left to right: Tyler Day, Eugene Parker, Win Smith, Lonnie Kollander and Jim

Henderson

The Latest Technology.

Expanded Capacity.

No Supply Chain Issues.

Your Partner in Meeting Record-breaking Market Demand.

Searsmont, ME—Robbins Lumber, located in Searsmont and East Baldwin

Maine is looking towards the future with equipment purchases and new employees.

In East Baldwin they recently updated their blower system, replaced the boiler

vessel and added a new back pressure turbine.

In Searsmont they recently purchased a new Lico edger with vision scanning, a

new UV coater, resaw, and a new strapping machine.

Alden Robbins, vice president, noted, "One of our foundational beliefs that we

have always carried forward from generation to generation is that we must continuously

invest in our company – both in equipment and employees. Our employees

are key to our success. Equally as important is our customer service – we

strive to deliver service to our customers that cannot be matched."

Jim Robbins, president of Robbins Lumber, stated, "This year we are re-investing

in key areas of the mill with updated grade scanning technology, a new power

plant turbine, additional UV coating

line and various updates to machine

centers. If you are not reinvesting,

then you are falling behind."

Catherine Robbins-Halsted,

president of Robbins Lumber East

Baldwin, said, "Last year Robbins

purchased Limington Lumber.

When the transition occurred, it was

seamless because the core values

aligned with similar cultures, beliefs,

a focus on quality and safety. 100

percent of the Limington employees

stayed on to become Robbins

Lumber East Baldwin employees.

That is a testament to how well the

acquisition has gone and speaks

volumes of the relationship between

Robbins Lumber and its employees

in this job market.

"The Robbins' teams are excited

to have broadened their ability to

deliver the highest quality Eastern

White Pine products that our customers

have come to expect from

us. The partnership helped position

the organization to better serve our

loyal customers now and those we

will have the opportunity to serve in

the future."

Robbins' output of Eastern White

Pine lumber is 50+ million board

feet, plus another 10 million board

feet processed.

In sales, Robbins Lumber has six

people: Alden Robbins, Win Smith,

John Ritz, Jason Fuller, James

Webb and brand new to sales is

Justin Toole.

Robbins, founded in 1881, is a

fifth-generation company. A few

members of the sixth generation of

the Robbins family have been working

their school breaks and summer

vacations at Robbins Lumber.

S4S & Architectural Mouldings

Cabinet & Furniture Components

Siding & Exterior Trim

Shiplap & Nickle-gap Paneling

1,000+ Finished Profiles

Atlanta, GA

Cleveland, GA

Crystal Spring, PA

Clarksville, TN

www.hardwoodweb.com

800.476.5393

Alden, Jim and Catherine serve

on a number of boards in the industry.

Alden is on the board of the

Retail Lumber Dealers Association

of Maine, and Northeastern Lumber

Manufacturers Association, and is

on the executive committee of the

North American Wholesale Lumber

Association (NAWLA).

Jim is on the board of Farm Credit

East.

Catherine is on the board of Land

for Maine's Future, on the executive

committee and board of the Forest

Society of Maine and on the board

of Forest Legacy of Maine and the

local school board.

Robbins Lumber is a member of

NAWLA.

For more information,

visit www.rlco.com

Please visit us at

Booth #932

Page 26 ADVERTORIAL Wholesale/Wholesale Distributor Special Buying Issue

PDX Next

Brewington Photography

Tsawwassen Shores

Harp Specialty Lumber

Think it can't be done?

Ask us at Zip-O-Laminators!

Side Curve

Weyerhaeuser

541-228-3626

www.zipolaminators.com

Tsawwassen Shores

Harp Specialty Lumber

PDX Next

Brewington Photography
---
Nordic Structures: Providing Over 50 Years of Experience

and Expertise as Wood Processing Innovators

Dave Davidson, OWL Distribution Inc., Woodstock, ON; Francois Fortier, Benoit & Dionne

Produits Forestiers, Drummondville, QC; Josée Tessier, Scierie Landrienne Inc.,

Landrienne, QC; Albert Renaud, Nordic Structures, Montreal, QC; Robert Filion, Nordic

Structures, Chantiers Chibougamau, QC; Michel Audette, Benoit & Dionne Produits

Forestiers; Vèronique Petit and Joe Hanas, Nordic Structures, Montreal, QC; and Todd

Lindsey, Eastern Engineered Wood Products, Bethlehem, PA

Visit Us:

NAWLA BOOTH

1018

Nordic Structures, headquartered in Montreal, is a company dedicated to engineered

wood products for the construction industry. Their solutions are made for

tomorrow's school, commercial, industrial, infrastructure, institutional, multi-residential,

recreational and residential projects.

With its sister company, Chantiers Chibougamau, Nordic Structures has over 50

years of experience and expertise as wood processing innovators. Cross-laminated

timber (CLT) is the latest addition to their product line. They also provide technical support

to architects and engineers. From product distribution to turnkey wood structures,

Nordic Structures is known for its technical expertise and product quality. Nordic Structures'

mission statement is: We aspire to provide the best sustainable wood solutions

for the construction industry.

As Nordic Structures' most recent solution, CLT provides new design possibilities,

facilitating the construction of structures with a pared-down, organic look and giving

free rein to architectural creativity. Nordic X-Lam is an alternative construction material

that is light, cost effective and sustainable.

CLT can be used for floor slabs, roof slabs and wall panels. Due to its bidirectional

composition, it can be used with light framing to provide lateral stability, thus allowing

for greater building heights, or mixed structures. Cross-laminated timber is a processed

timber product of superior strength and stability that offers unique new possibilities

and unparalleled advantages in wood construction.

CLT offers distinct advantages:

•Build more quickly and cost effectively,

•Integrated design process accommodates building services,

•Simple assembly with little need for specialized equipment,

•Quick erection: no formwork or curing time required,

•Planned delivery and erection sequences,

•Lighter structures (wood is five

times lighter than concrete and

fifteen times lighter than steel),

•Negligible financial impact for

winter construction and

•Faster continuous workflow than

with other construction methods

A natural choice for sustainable

construction, cross-laminated timber

is an ideal, ecologically sound alternative

destined to replace concrete

and steel. Cross-laminated timber is

unparalleled as a carbon sink due to

its volume and composition. It is truly

the building material of the future.

Through its research and development

efforts, Nordic Structures has

developed an innovative transformation

technology that they call the

Enviro-Lam process. The process

makes it possible to retrieve and utilize

more viable tree fibers than any

other previous process. Traditional

glulam techniques involve assembling

standard-size lumber (2 × 4, 2

× 6 and 2 x 8 in.) to produce large

structural members. The Enviro-Lam

process, however, uses sizes as

small as 25 x 50 mm (1 x 2 in.).

This new process makes it possible

to optimize fiber recovery from

the entire tree. Besides reducing

waste, the use of very small wood

pieces with fewer defects enables

Nordic Structures to obtain better

dimensional stability and greater

mechanical resistance, along with an

improved appearance.

Fire resistance refers to the time

during which building elements are

able to continue performing their

functions despite the presence of

a fire. The burning rate of wood

structural elements depends on the

species used and their thickness, the

moisture content, and the amount of

exposure to fire. Mass timber burns

slowly since a carbon layer forms on

the surface and impedes combustion.

Its resistance is relatively unaffected

by heat. This is not the case with

so-called "incombustible" materials.

Since burning rates are known,

designers can specify the minimum

dimensions needed to maintain the

mechanical performance of elements,

in accordance with the degree

of fire resistance required.

Wood is one of the most ancient

building materials used by humankind.

Through the ages it has been a

popular solution, one that is natural

and reliable. Today, the decision to

build with wood is a conscientious

and informed choice, consistent with

the principles of sustainable development.

Timber frame construction

combines the wisdom of nature with

the intelligence of man.

For more information, you may

visit www.nordic.ca.

Please visit us at Booth #327

nordic.ca

WE TRANSFORM

WHAT WE GROW

ENGINEERED WOOD PRODUCTS

A FULL RANGE OF I-JOISTS FOR RESIDENTIAL

AND LIGHT-COMMERCIAL USE

Page 28 ADVERTORIAL Wholesale/Wholesale Distributor Special Buying Issue Wholesale/Wholesale Distributor Special Buying Issue ADVERTORIAL Page 29
---
Diorio Forest Products: "Celebrating Our 16th Anniversary"

Diorio Forest Products' VA Office Lumber Traders: Carter

Zierden, Dante Diorio, Zach Hathaway and Ian Foley.

Ashland, VA – 2022 marks the 16th year Diorio

Forest Products (DFP) has provided partners with a

relationship-first business model. When Dante Diorio

launched DFP in 2006, he set out to build a company

focused on one thing, Service with Integrity. As DFP

has continued to expand, this commitment is more

important now than ever. Reflecting on the past 16 years

elicits a number of emotions, but perhaps none of them

more than gratitude. To our suppliers, thank you. To our

customers, thank you. The confidence you place in us is

something we will never take for granted. We recognize

the diverse market conditions since 2006 but providing

GREEN & KD LUMBER

GREEN TIMBERS

ROUGH OR DRESSED

ATLANTIC WHITE CEDAR

POPLAR

OAK

Diorio Forest Products' VA Logistics Dept: William Norris,

who has moved into a trading role, and Wes Steenburgh.

Service with Integrity is still our first priority.

According to Dante, "We are dedicated to continued

growth, focused on non-commodity specialty products

where our product knowledge and expertise set us

apart."

As a wholesale lumber company with strategically

placed trading offices in Virginia, Oregon, New York,

Georgia, and Maine, DFP has provided customers with a

uniquely accessible sales staff. This level of accessibility

does not end with our staff. DFP has strategically located

warehousing and re-manufacturing locations across the

United States. This allows us to be as responsive to our

QUALITY PEOPLE CREATING QUALITY WOOD PRODUCTS

OVER 100 FINISHED

PROFILES

DISTRIBUTION

NATIONWIDE &

INTERNATIONALLY

252.357.0116 681 NC HWY 37 S. GATESVILLE, NC 27938 WWW.GATESMILLING.COM

customers as possible with minimal lead times. This is

imperative in a time when lean manufacturing is a priority

in our industry. We understand how important it is to

get material quickly, which is why the DFP logistics team

is entirely focused on creating a streamlined process to

move material as efficiently as possible.

The company actively buys and sells boards, dimensional

lumber, and timbers in: Eastern White Pine,

Ponderosa Pine, Southern Yellow Pine, SPF, Inland

Red, and Western Red Cedar, as well as industrial hardwoods.

DFP operates warehouses in Northeast Georgia,

Knoxville, TN, Dallas-Fort Worth, TX, Richmond, VA,

and White River Junction, VT. DFP has future plans

to add two more warehouses along the West Coast.

DFP differentiates itself from other wholesalers by the

amount and variety of physical inventory we carry, over

2 million feet, with specs ranging from clears to low

grade lumber for the industrial market. This dynamic

blend of species, product type, and availability allows

DFP to become a one-stop shop for both customers and

vendor partners. DFP believes in partnering with suppliers

to move a wide variety of their material, not just the

"hot product of the week."

Dante Diorio leads a team of 10 traders, which includes

six who have over 25+ years of experience in the

industry and three who have joined DFP within the last

five years. This combination of knowledgeable veterans

and enthusiastic young talent creates a business culture

that is focused on consistency, the

customer, and further shaping the

lumber industry. Diorio's most recent

hires include:

William Norris has been in his current

position as lumber trader with Diorio

since July of this year. He joined

the company as a logistics manager

two years ago. Norris handles Eastern

White Pine, Southern Yellow Pine

and SPF for the company. He graduated

in 2016 from Virginia Commonwealth

University with a Bachelor of

Science degree in Economics. He is

a sporting enthusiast who particularly

enjoys golf and hiking.

Zach Hathaway in the Virginia

office was DFP's first intern. He

graduated from Virginia Tech in 2014

with a B.S. in Wood Science and

Forest Products, Forest Products

Business. He has now been at DFP

for five years and has carved himself

a niche in Southern Yellow Pine as

well as other industrial Softwoods

and hardwoods. Outside of work, he

enjoys time with his wife Casie, sons

Will and Brooks, and dog Mack. He is

an avid outdoorsman, soccer player,

and Hokie fan.

Ian Foley is also in the Virginia

office and a graduate of Virginia Tech

with a B.S. in Forest Resource Management

(2013). Has been at DFP

for three years and previously spent

five years as a procurement forester.

His understanding of the wood

supply chain has quickly made him

a strong resource to the DFP team.

He is focused on high-end boards

and White Pine products, as well as

industrial Softwoods and hardwoods.

When he isn't in the office, he enjoys

the outdoors and spending time with

his wife Kimberly and sons Thomas

and Waverly, and new son, Harry.

Drew Christopher is the latest

colleague to join the DFP. He graduated

from St. John Fisher College

in 2016 with a B.S. in Finance. After

three years in the financial sector he

realized his true calling was in the

lumber industry. Having the opportunity

to grow up listening to his father

talk about the lumber business,

spending four summers working in a

lumberyard and financial background

have given him a unique skill set to

begin his career. When not working,

he enjoys spending time outdoors

hiking, golfing, playing soccer, or at

his wife's cottage on Seneca Lake in

Geneva, NY.

Diorio Forest Products is a member

of NELMA and the Virginia Forest

Products Association.

All DFP traders look forward to

continuing to provide Service with

Integrity to our current and future

customers.

For more information, visit DFP online

at www.diorioforestproducts.com.

Page 30 ADVERTORIAL Wholesale/Wholesale Distributor Special Buying Issue Wholesale/Wholesale Distributor Special Buying Issue ADVERTORIAL Page 31
---
NAWLA Photo Recap

Time-Tested Products • Modern-Day Applications

HANCOCK PINE

Truss Beasley, Beasley Forest Products, Hazlehurst, GA; Hal Mitchell, AHC Hardwood

Group, Mableton, GA; David Warford, U.S. Lumber Group LLC, Duluth, GA; Calvin Biddix,

U.S. Lumber Group LLC, Reidsville, NC; and Jay Hudson, Everwood Treatment Co.

Inc., Spanish Fort, AL

Rob Rowe, Pacific Wood Laminates Inc., Brookings, OR; David Preston, Capital Lumber

Company, Castro Valley, CA; Jay McArthur, Capital Lumber Company, Woodburn,

OR; Win Smith, Robbins Lumber Inc., East Baldwin, ME; and Kirk Todish, Bennett Lumber

Products Inc., Princeton, Idaho

Chris Sprague and Victoria Collier, U.S. Lumber Group

LLC, Duluth, GA; and Matt Duprey, Aaron Schulte and

Jack Bowen, Hancock Lumber Company, Casco, ME

Zach Miller, The Softwood Forest Products Buyer, Memphis,

TN; Ian Kelly, Prime Forest Products LLC, Portland,

OR; Hal Mitchell, AHC Hardwood Group, Mableton, GA;

and Russell Kelly, UFP Industries Inc., Auburn, AL

Bryan Darrah and Alex Darrah, Durgin and Crowell Lumber

Co. Inc., New London, NH; Rob Reed, Hood Industries

Inc., Milton, VT; Chris Mello, Hood Industries Inc.,

Durham, CT; and Allen Smith, Hood Industries Inc.,

Mount Washington, KY

Harris Gant, ECMD Inc., North Wilkesboro, NC; Win Smith, Robbins Lumber Inc., East

Baldwin, ME; Bernie Nugent, Warren Trask Co. Inc., Lakeville, MA; James Webb and Alden

Robbins, Robbins Lumber Inc., Searsmont, ME; and Michael Miller, Warren Trask

Co. Inc.

Gary Stewart, The Teal-Jones Group, Liberty, MS; Lisa McGinness, The Teal-Jones

Group, Kinsale, VA; Jo Anne Battles, The Teal-Jones Group, Antlers, OK; Neil Tatum,

The Teal-Jones Group, Martinsville, VA; Erica Goodnight, Sammy Lail, Loren Walker,

Union Grove Lumber Inc., Union Grove, NC

Ian Faight and Linda Jovanovich, Southern Cypress

Manufacturers Association, Pittsburgh, PA; Hal Mitchell,

AHC Hardwood Group, Mableton, GA; and Ryan Collins,

Beasley Forest Products, Hazlehurst, GA

Justin Storm, J.H. Huscroft Ltd., Creston, BC; John

Langstroth, San Group Inc., Langley, BC; Chris Schofer,

J.H. Huscroft Ltd.; and David Bernstein, U.S. Lumber

Group LLC, Branchburg, NJ

Jay Poppe, Western Red Cedar Lumber Association,

Vancouver, BC; and Kevin Cheung, Western Wood Products

Association, Portland, OR

A time-tested species trusted and loved for centuries, Eastern White Pine is showcased

here in a variety of modern-day applications. From textured shiplap and nickel gap patterns,

stained and painted solutions, Hancock Pine is making its mark on modern projects.

Chelsea Zuccato, Patrick Lumber Company, Portland, OR; Lillie Hamel, Shamrock

Building Materials Inc., Bend, OR; Judy Haney, Boise Cascade Building Materials Distribution

LLC, Boise, ID; Nick Lake, Zip-O-Logs Mills Inc., Eugene, OR; and Natalie

Heacock and Kalayna Crook, Patrick Lumber Company

Ryan Hagen, Adam Hazelwood, Addison Ross, Suki Sanghera and John Langstroth,

San Group Inc., Langley, BC; and Amit Shaker, San Group Inc., Atlanta, GA

Additional photos on page 34

Page 32 ADVERTORIAL Wholesale/Wholesale Distributor Special Buying Issue

View our pine gallery online: HancockLumber.com/PineInspiration
---
NAWLA Photo Recap

Rich Mills, Hood Industries Inc., Hattiesburg, MS; Kalayna

Crook, Patrick Lumber Company, Portland, OR; and

Greg Hodge, Hood Industries Inc.

Mike Cameron, Humboldt Sawmill Company LLC, Scotia,

CA; Jamie Hursh, Richardson Timbers, Dallas, TX; and

Don Dye, Humboldt Sawmill Company LLC

Kaycee Hallstrom, Zip-O-Log Mills Inc., Eugene, OR;

Chris Knowles, Timber Products Company, Springfield,

OR; David Jones, Timber Products Inspection Inc.,

Peachtree City, GA; and Rebecca Richey, Pacific Woodtech

Corporation, Burlington, WA

QUALITY WOOD PRODUCTS, GROWN RESPONSIBLY

TJ Rosengarth, Collins, Wilsonville, OR; Ian Kelly, Prime Forest Products LLC, Portland, OR; Jeff Stoddard, Dean

Johnson, Joe La Berge and Cameron Waner, Collins, Wilsonville, OR; and Arturo Guerrero, Freedom Sourcing LLC,

Tucson, AZ

Curt Heinrich, UFP Industries Inc., Windsor, CO; Nikole

Robbins, UFP Industries Inc., Lansing, MI; and Patty

Cook and Rick Brignac, Westervelt Lumber Company

Inc., Tuscaloosa, AL

Chad Hammonds, Robinson Lumber Company, New

Orleans, LA; Truss Beasley and Brandon Cox, Beasley

Forest Products, Hazlehurst, GA; and Court Robinson,

Robinson Lumber Company

Eric Durham, Viking Forest Products LLC, Minneapolis,

MN; Doug O'Rourke, Lauren Bradley and Bill Schlottman,

Biewer Lumber LLC, Saint Clair, MI

Jim Stuckey, Wholesale Wood Products Inc., Dothan, AL;

Suki Sanghera and Amit Shaker, San Group Inc., Atlanta,

GA; and Curt Stuckey, Wholesale Wood Products Inc.,

Birmingham, AL

Mike McInnes, Restortion Forest Products, Mesa, AZ;

Dave Farley, BC Wood Specialties Group, Vancouver,

BC; and Adam Cooley, Restoration Forest Products

Joe Honochick, Zip-O-Log Mills Inc., Eugene, OR; Annette Bartsch, Hy Mark Wood Products Inc., Surrey, BC; Chad

Fowler, Capital Lumber Company, Denver, CO; Nick Lake, Kelcee Hallstrom and Kaycee Hallstrom, Zip-O-Log Mills

Inc.

PRODUCTS

Douglas Fir-Larch, Hem Fir, SPF –

2x4 and 2x6 framing lumber

Spruce, Pine, Fir (SPF) 2x4 and 2x6 studs

and 6- to 9-ft. trims

Southern Yellow Pine – 2x4 and 2x12

framing lumber

Machine Stress Rated (MSR) Southern

Yellow Pine - 4x4 and 4x6 timbers

Douglas Fir Plywood – AC, BBOES, CCPTS,

CCX, Industrial Panels

ST. MARIES

BEMIDJI

GWINN

OLA

WARREN

WALDO

Joel Osterloh and Johnny Hudson, International Forest

Products LLC, Foxboro, MA; and Kevin Smith and Pat

Lynch, Timber Products Company, Springfield, OR

Brian Oberg, Brittany Coltrane and Doug Calvert, Calvert

Company Inc., Vancouver, WA

Cecil Higby, Cassidy Bowers and Jeff Bowers, Bowers

Forest Products Inc., Beavercreek, OR

Additional photos on page 36

Page 34 ADVERTORIAL Wholesale/Wholesale Distributor Special Buying Issue

LANDHOLDINGS | Alabama | Arkansas | Idaho | Louisiana | Minnesota | Mississippi

CONTACT US WITH SUPPLIER INQUIRES!

PotlatchDeltic | 601 West First Avenue Suite 1600 Spokane, WA 99201 | Tel (509) 328-0930 | Fax (509) 327-9409 | www.potlatchdeltic.com
---
NAWLA Photo Recap

Thompson River Lumber

Our Team of dedicated employees are manufacturing and providing

MONTANA'S FINEST

Mark Swinth, Elk Creek Forest Products LLC, McMinnville,

OR; and Brittany Coltrane, Brian Oberg and Doug

Calvert, Calvert Company Inc., Vancouver, WA

Mark Gray, Patrick Lumber Company, Portland, OR; Craig Blakemore, Hixson Lumber Company, Dallas, TX; Dave

Luce, Idaho Timber of Texas LLC, Fort Worth, TX; Charley McGovern, Pacific Western Lumber Inc., Lakewood, WA;

and Jim Bowen, Idaho Timber Corporation, Chadbourn, NC

A rail car is loaded to the max with highquality

lumber, carrying the Thompson River

Lumber logo.

This Douglas Fir dimension has been prepped

for kiln drying at Thompson River Lumber.

Tony Hester, Bright Wood Corporation, Madras, OR; and

Jonny Wilford, Woodgrain Millwork Inc., Meridian, ID

Mark Kelly and Brett Slaughter, Elk Creek Forest Products

LLC, McMinnville, OR; Paul Owen, Vanport International

Inc., Sandy, OR; and Tyler Freres, Freres Lumber

Co. Inc., Lyons, OR

Jeff Hardy, Cersosimo Lumber Co. Inc., Brattleboro, VT;

Peter Crowell, Alex Darrah and Bryan Darrah, Durgin and

Crowell Lumber Co. Inc., New London, NH

The bin sorter at Thompson River Lumber is

fine-tuned to work very efficiently.

• Douglas Fir

• Engelmann Spruce

Lumber being further processed at the

precision end trimmer system.

• Lodgepole Pine

Todd Lindsey, Eastern Engineered Wood Products, Bethlehem, PA; Pike Severance,

Coastal Forest Products LLC, Bedford, NH; Joe Hanas, Nordic Structures,

Montreal, QC; David Destiche, Amerhart Limited, Green Bay, WI; and Rob Latham,

Tri-State Forest Products Inc., Springfield, OH

Matt Duprey, Hancock Lumber Company, Casco, ME; Jeff Easterling, Northeastern Lumber

Manufacturers Association, Cumberland, ME; and Jack Bowen and Aaron Schulte, Hancock

Lumber Company, Casco, ME

• Hemlock

• White Fir

• Ponderosa Pine

• Western Larch

Thompson River Lumber, located in Montana,

takes pride in manufacturing the best

possible dimensional lumber, boards,

industrials and specialty items available.

Dan Claridge, Vice President, Laura Ganatos,

Sales and Logistics, and Chuck Dotson, Sales

and Marketing.

Dennis Mazorra, Humboldt Sawmill Company LLC, Scotia,

CA; Mike Taron, Elk Creek Forest Products LLC, Mc-

Minnville, OR; and Mike Thelen, Humboldt Sawmill Company

LLC, Calpella, CA

Ryan Satterfield, Cersosimo Lumber Co. Inc., Brattleboro,

VT; Terry Miller, The Softwood Forest Products

Buyer, Memphis, TN; and Jeff Hardy, Cersosimo Lumber

Co. Inc.

Gil Adams, Jack Curry and John Burns, Warren Trask

Company, Lakeville, MA

Sawmill, Dry Kilns, Planer Mill

Laura Ganatos - Sales and Logistics

laura@thompsonriver.net

406-827-3321

241 Airport Rd, Thompson Falls, MT 59873

Phone: 406-827-4311 Fax: 406-827-5506

Chuck Dotson - Sales and Marketing

chuck@thompsonriver.net

406-827-6074

Ricky Stanley, T.R. Miller Mill Co. Inc., Brewton, AL; and

Casey Miller and Dean Griffey, A.W. Stiles Contractors

thompsonriverlumber.com

Doug O'Rourke, Biewer Lumber LLC, Saint Clair, MI; Lillian and Rick Ekstein, Steven and Elizabeth Rustja and Steve Inc., McMinnville, TN

Additional photos on page 38

Rhone, Weston Forest Products Inc., Mississauga, ON

Page 36 ADVERTORIAL Wholesale/Wholesale Distributor Special Buying Issue Wholesale/Wholesale Distributor Special Buying Issue ADVERTORIAL Page 37
---
NAWLA Photo Recap

Jim Stuckey, Wholesale Wood Products Inc., Dothan,

AL; Lindsey DiGangi, Pennsylvania Lumbermens Mutual

Insurance Company, Philadelphia, PA; Bethany Doss,

Capital Lumber Company, Healdsburg, CA; and Grant

Phillips, Wildwood Trading Group, Tualatin, OR

Sarah Gornik, NAWLA, Chicago, IL; Melissa and Chris

Knowles, Timber Products Company, Springfield, OR;

and Hayley Feichter, NAWLA

John and Andrea Murphy Jr., Murphy Company, Eugene,

OR; and Lawrence Newton, U.S. Lumber Group LLC, Duluth,

GA

Harris Gant, ECMD Inc., North Wilkesboro, NC; Jim and Sally Stuckey, Wholesale

Wood Products Inc., Dothan, AL; Nancy and Kent Beveridge, Skana Forest

Products Ltd., Vancouver, BC; and Chris Sainas, Dakeryn Industries Ltd., North

Vancouver, BC

Natalie Heacock, Patrick Lumber Company, Portland, OR; Terry Haddix, Patrick Lumber

Company, Tigard, OR; Tiffany and Bo Richardson, Empire Building Materials Inc., Bozeman,

MT; and Alyssa Lett, UFP Industries Inc., Grand Rapids, MI

Mike TerMolen, Do It Best Corp., Fort Wayne, IN; Ann

Baker, UFP Industries Inc., Grand Rapids, MI; Nate Jorgensen,

Boise Cascade Company, Boise, ID; and Judy

Haney and Mike Mann, Boise Cascade Building Materials

Distribution LLC, Boise, ID

Lori Byrd, RoyOMartin Lumber Co. LLC, Alexandria,

LA; Mark Wells, UFP Industries Inc., Union City, GA; Aly

Kingsley, Wildwood Trading Group, Tualatin, OR; and

Rick Brignac, Westervelt Lumber Company Inc., Tuscaloosa,

AL

Sven Gustavsson, Montreal Wood Convention, Quebec

City, QC; and Morgan Wellens and Mike Andrew, Nicholson

and Cates Ltd., Burlington, ON

Mike Limas, Anthony Muck and Henry German, DMSi Software, Omaha, NE; Jim Robbins

Sr., Robbins Lumber Inc., Searsmont, ME; and Jeremy Howard, Nyle Dry Kilns,

Brewer, ME

Riley Tough and Slim Picken, Skana Forest Products Ltd., Vancouver, BC; Anne-

Frédéric Cousineau and Melyna Cormier, Boscus Canada Inc., Montreal, QC; and Kent

Beveridge, Skana Forest Products Ltd.

Alden and Amy Robbins, Ann and Jim Robbins Sr., and Erin Robbins, Robbins Lumber Inc., Searsmont, ME

Kate and Steven Godowski, Weyerhaeuser, Denver, CO;

and Dennis Wight, Pacific Western Wood Works Ltd.,

Delta, BC

Additional photos on page 40

Page 38 ADVERTORIAL Wholesale/Wholesale Distributor Special Buying Issue Wholesale/Wholesale Distributor Special Buying Issue ADVERTORIAL Page 39

Wholesale/Wholesale Distributor Special Buying Issue Page 57
---
NAWLA Photo Recap

Since 2006

Jon Teague, Hampton Lumber, Portland, OR; Andre and Susan Beaulieu, J.D. Irving Limited,

Saint John, NB; Scott Gascho, Hampton Lumber; Cozette Ellis, Idaho Timber LLC,

Meridian, ID; Mark Porter, Hampton Lumber; and Ted Ellis, Idaho Timber LLC, Meridian,

ID

Curt and Karly Stuckey, Wholesale Wood Products Inc., Birmingham, AL; Bill and

Kathy Price, All Star Forest Products Inc., Jackson, MS; and Jim McGinnis, The Mc-

Ginnis Lumber Company Inc., Meridian, MS

Bill Christopher

14 Years With Diorio

Industry Experience 40 Years

Dante Diorio

15 Years With Diorio

Industry Experience 30 Years

Richard Winemiller

13 Years With Diorio

Industry Experience 47 Years

Asa Johnson, Capital Lumber Company, Denver, CO;

Lance Doalson, Capital Lumber Company, Phoenix, AZ;

and Brad Flitton, Western Forest Products Inc., Vancouver,

BC

Ben McKinnon, Perry Williams, Paul Harvey and Ara Koh, Western Forest Products Inc., Vancouver, BC; and Dorela

Gandila, Western Forest Products Inc., New Westminster, BC

Carter Zierden

12 Years With Diorio

Industry Experience 33 Years

Tom Jenkins

2 Years With Diorio

Industry Experience 40 Years

EXPERIENCED.

Stewart Clark and Jake Power, PowerWood Corp., Agassiz,

BC; and Greg Smith, Gilbert Smith Forest Products

Ltd., Barriere, BC

Aidan Coyles and Michael Mitten, Gilbert Smith Forest

Products Ltd., Barriere, BC

Diana Lyn Moravits and Stephen Geistweidt, Dixie Plywood

and Lumber Company, San Antonio, TX; and Ryan

Furtado and Max Jones, Furtado Forest Products Ltd.,

Port Coquitlam, BC

Zach Hathaway

10 Years With Diorio

Industry Experience 10 Years

Mike Ralston

9 Years With Diorio

Industry Experience 35 Years

Nick Allen and Jay Bowling, Blair Logistics Inc., Birmingham,

AL; and Vernon Boyd, Interfor, Peachtree City, GA

Jonathan Brown, NAWLA, Washington, DC; Jeff Easterling,

NELMA, Cumberland, ME; and Mark Swets, NAWLA,

Chicago, IL.

Jamie Moulton, DiPrizio Pine Sales, Middleton, NH; B

Manning, Sawmill Associates LLC, New London, NH;

Dan Paige, Sandy Neck Traders, South Dennis, MA; and

Matt Chesley, DiPrizio Pine Sales

Ian Foley

4 Years With Diorio

Industry Experience 8 Years

William Norris

Newest Team Member

Drew Christopher

3 Years With Diorio

Industry Experience 3 Years

Derek Dryden and Mike Flynn, PotlatchDeltic, Spokane, WA; Jack Emmeer, Viking Forest

Products, Minneapolis, MN; Bob Mai, PotlatchDeltic; Tom Hamilton and Jeff Wiesner,

Viking Forest Products

Page 40

Erol Deren, James Mortimer, Kody Miller, Brett Green and Garth Williams, Idaho Forest

Group, Coeur d' Alene, ID

Additional photos on page 42

Wholesale/Wholesale Distributor Special Buying Issue

Eastern White, Ponderosa, Radiata, S-P-F, Southern Yellow Pine,

and decades of experience.

www.diorioforestproducts.com

877-4DIORIO (877-434-6746) FAX: 804-752-3584

• ashland, va • portland, OR • syracuse, ny • cohutta, ga
---
NAWLA Photo Recap

David Warford, US Lumber Group, Duluth, GA; Dean Decraene

and Dean Garofano, Delta Cedar Specialties Ltd.,

Delta, BC; and Bill Hurst, US Lumber Group

Brian Benson, Neiman Enterprises Inc., Hulett, WY;

Carroll Korb, Forest Products Distributors Inc., Rapid

City, SD; Steve Hollingsworth, Neiman Enterprises Inc.;

Douglas Bates, Forest Products Distributors Inc.; and

Mike Stevens, Neiman Enterprises Inc.

Quinn Chamberlain and Addison Stapleton, Bitterroot

Valley Forest Products LLC, Missoula, MT; and Terri and

Chuck Dotson, Thompson River Lumber Co., Thompson

Falls, MT

Superior quality

products & service

for over 20 years.

Don Dorazio, West Bay Forest Products Ltd., Langley, BC;

Laura Ganatos, Thompson River Lumber Co., Thompson

Falls, MT; Darren Barker, West Bay Forest Products Ltd.;

and Chuck Dotson, Thompson River Lumber Co.

Robert Eslinger, Sherwood Lumber Corp., Melville, NY;

Raegan Stratton, Ray Marker and Michael Kirkelie, Rosboro,

Springfield, OR

Lee Greene Jr. and Leslie Southwick, C & D Lumber Co.,

Riddle, OR; Carl Shelley, Capital Lumber Co., Salt Lake

City, UT; and Jay McArthur, Capital Lumber Co., Woodburn,

OR

Woodway® is America's #1 Lattice manufacturer.

Discover what makes us different, explore our

product lines and get answers to your questions

by visiting us online: bowersforestproducts.com

and woodwayproducts.com.

(Front from left) Doug Griffith and Vince Goodman, Solidwood

Forest Ltd., Houston, TX; Scott Suh, Todd Shipp

and Eric Oien, Alta Forest Products, Chehalis, WA; (Back

row) James Venters, Alta Forest Products; and Robby

Griffith, Solidwood Forest Ltd.

Tyson Sands, Disdero Lumber Co., Clackamas, OR; Paul

Ericson and Sandy Oitra, Shelton Structures Inc., Chehalis,

WA; and Gunnar Brinck, Disdero Lumber Co.

Matt Wittschiebe and Phil Schumock, Stella-Jones Corp.,

Tacoma, WA; and Nicole and Joe La Berge, Collins Pine,

Portland, OR

Matthew and Krystle Cunningham, Foxworth-Galbraith Lumber Company, Plano, TX;

Jim Williams, Seaboard International, Nashua, NH; Erin Klosterman, Wildwood Trading

Group, Portland, OR; and John C. Branstetter, Wildwood Trading Group/Vaagen Bros.

Lumber Inc., Colville, WA

Bill DenHoed, Sprenger Midwest Wholesale Lumber, Sioux Falls, SD; Rick Palmiter,

BPWood Ltd., Penticton, BC; Kevin Fykstra, Sprenger Midwest Wholesale Lumber;

Boyd Ballard, Idaho Fence & Deck Supply, Meridian, ID; and Larry Schmedding, Empire

Lumber Company, Spokane, WA

Products we manufacture:

Nursery Boxes • Shipping Dunnage • Stakes

Lath • Gate Material • Tilt Stickers • Lattice • Trellis

BOWERS

FOREST PRODUCTS

Dave Davidson, OWL Distribution Inc., Woodstock, ON; Francois Fortier, Benoit & Dionne Produits Forestiers, Drummondville,

QC; Josée Tessier, Scierie Landrienne Inc., Landrienne, QC; Albert Renaud, Nordic Structures, Montreal,

QC; Robert Filion, Nordic Structures, Chantiers Chibougamau, QC; Michel Audette, Benoit & Dionne Produits Forestiers;

Vèronique Petit and Joe Hanas, Nordic Structures, Montreal, QC; and Todd Lindsey, Eastern Engineered

Wood Products, Bethlehem, PA

Kaitlyn Wood, Mark Tuck and Kelsey Kennedy, Gates

Milling Inc., Gatesville, NC

jeff@bowersfp.com | (503) 631-4408

First Class Customer Service with Integrity

Page 42 ADVERTORIAL Wholesale/Wholesale Distributor Special Buying Issue Wholesale/Wholesale Distributor Special Buying Issue ADVERTORIAL Page 43
---
Hood Industries Manufactures SYP Lumber and Plywood

R

Richardson Timbers is a wholesaler

and sells exclusively through our

dealer network.

10100 Denton Drive

Dallas, Texas 75220

214.358.2314

Hattiesburg, MS—Hood Industries, Inc. has two plywood

plants and four lumber manufacturing facilities, producing

an array of Southern Yellow Pine products. In 1986, two

plywood manufacturing plants in Beaumont and Wiggins,

MS were merged into one company: Hood Industries. The

company continued to grow with acquisitions including four

Superior

Softwood

Solutions

SYP lumber manufacturing plants in Waynesboro, MS, Silver

Creek, MS, Bogalusa, LA and Metcalfe, GA. With these

plants, Hood Industries enjoyed phenomenal growth. Hood

Industries Inc. supports responsible forest management and

is SFI (Sustainable Forestry Initiative) fiber-sourcing certified

at all of its mills. The SFI program is committed to continuously

improving forest

management practices

Come see us

at NAWLA!

Booth #328

and reducing risk to future

forests. SFI program

participants must meet or

exceed applicable water

quality laws, regulations

and SFI Standards with

measures to manage and

protect wetlands and riparian

zones on all lands

that supply fiber to their

facilities. Participants

Delivering Quality Timbers to

Our Dealers Nationwide

Look to Richardson Timbers for all your timber needs.

Douglas Fir 20" x 20" up to 40' - Cedar 16" x 16" up to 40'

Richardson Timbers, founded in 1949, specializes in milling wood timbers and

producing custom millwork products. We offer Douglas Fir, Kiln Dried Fir, Western Red

Cedar, Mixed Hardwoods, Red Oak, White Oak, Cypress and specialty exotic timbers.

Timber Products offers a variety of

softwood plywood products to cover all

your project needs. Our offerings range

from marine panels to underlayment,

sheathing, custom cuts and more.

Contact us today to learn more!

1-800-547-9520 | timberproducts.com

Available now

KodiakPly Siding Panels

4' x 8' with 18 patch only

Douglas fir

Applications include for sheds,

apartments, townhomes

CCPTS or BC Panels

Width: 4' and 5'

Lengths: 8', 9' and 10'

Good 1 side, Good 2 side

must continually evaluate

habitat and biodiversity

impacts from forest activities

– which leads to

improved habitat quality,

and protection of imperiled

or critically imperiled

species. SFI program

participants are audited

annually by independently

accredited third-party

certification organizations

to ensure compliance

with SFI Principles

and Standards. Hood is

a member of NAWLA,

MLMA (Mississippi Lumber

Manufacturing Association)

and SFPA.

For more information,

you can visit

www.hoodindustries. com.

• Corbels, Brackets and Rafter Tails

• Exclusive

T ru-

R uf

Surfacing

• Custom Siding Patterns

Products and Services Include:

• Surfacing (all sides up to 20" x 20")

• Trailer Flooring

• Barge Decking

• Saw Texture

• Precision End Trimming

• Reman Customer material to specifications

Locations in Dallas and Bertram, Texas

RichardsonTimbers.com

Page 44 ADVERTORIAL Wholesale/Wholesale Distributor Special Buying Issue Wholesale/Wholesale Distributor Special Buying Issue ADVERTORIAL Page 45
---
J.H. Huscroft:

Supplying Customers Across

North America With a Wide

Range of Quality Softwoods

F O R E S T

Chris Schofer, who handles marketing and sales for J.H.

Huscroft Ltd., says, "One of the things that sets us apart

from our competitors is our willingness to bend over

backwards for our customers."

Creston, BC – In 1927 John Henry Huscroft, along with his children, founded a bush-run sawmill

in nearby Dodge Creek that was eventually re-located to its present location. Following in his father's

footsteps, Ken Huscroft carried on the company business for decades that bore his father's name –

J.H. Huscroft Ltd.

During that time, Justin Storm started working at the sawmill in 1999 when he was 16. In 2007,

he was promoted to general manager, and in 2013 signed a purchase agreement with the Huscroft

Join a NAWLA 10 Group

NAWLA 10 Groups are small networking forums that provide members with an

avenue to freely share ideas, information and best practices to positively

impact their organizations. Each 10 Group is comprised of approximately 10

members with like interests who convene in an informal, close-knit setting

to address issues and grow together in the industry.

By participating in a NAWLA 10 Group you will:

• Gain actionable ideas from other group members who are facing similar

challenges and opportunities

• Get a direct pulse on the industry by hearing first-hand experiences

• Share and receive feedback in a confidential, small group setting

• Make meaningful, close connections with peers you can consult anytime

Ready to get involved?

J.H. Huscroft primarily manufactures boards made from

ESLP and Douglas Fir/Larch. The company also handles

Hemlock and White Fir custom orders.

Participating in a 10 Group gives members the opportunity to meet with a

small group of industry peers to discuss a variety of topics in an intimate

setting. I have learned a lot from listening and interacting with the members

of my group. More importantly, I have gained nine close friends that I can

turn to for both professional and personal needs."

– Jim McGinnis, President and CEO, The McGinnis Lumber Company, Inc.

Browse current 10 Groups at www.nawla.org/10-Groups and email

info@nawla.org for more information on getting involved.

Pictured are pallets of J.H. Huscroft products wrapped

and ready to ship. The company utilizes the services of

two railroads to transport products as well as trucks.

family and now serves as president/general manager. Through the years, J.H. Huscroft has steadily

grown and today employs 85 people on a one shift basis.

"We operate a two-line sawmill," said Storm. "Our big headsaw handles any log over 12 inches in

diameter, and we have a HewSaw that handles logs that are less than 12-inches. We buy logs within

a 125-mile radius."

Those logs are used to produce high quality Softwood products at J.H. Huscroft. Storm explained,

"All the wood we buy and harvest is SFI

certified. We buy mainly Spruce, Pine,

Douglas Fir, and Larch. We have an

allowable cut of 80,000 cubic meters, but

we're cutting beyond that – up to 100,000

– and we purchase the rest from our local

community forest and private sales. We

also have a joint venture with the lower

Kootenay Band, which is Kootenay-Huscroft

Forest Products, where we run a

pattern moulder and end-matcher.

As for products manufactured at J.H.

Huscroft, sales representative Chris

Schofer said, "Our main species are ESLP

and DFL. We cut 1x4 through 1x12 boards

in both ESLP and DFL and pattern stock up

to 1x8. We also cut Douglas Fir and Larch

2" dimension 2x4 through 2x12 and supply

a lot of 1 and 2-inch lam stock for Canadian

and U.S customers. Operating an in-house

moulder and end-matcher, we run 1x4, 1x6,

1x8 into many different profiles including a

high quality flooring product. We do a lot

of specialty things, such as Hemlock and

White Fir custom orders. We try to add as

much value to those difficult species as

possible."

Storm added, "We do turn a lot of products

into paneling and glulam stock. It's all

very high end, value-added products, and

we have all the high quality fiber we need

to sustain our operations."

J.H. Huscroft Ltd. has the dry kiln capacity

to complement the 26 million board

feet of production, and Storm said that total

could go higher. "Kiln capacity is our main

limiting factor in production at this point,"

he explained. "At the volume that we operate,

do we run into bottlenecks sometimes?

Yes, but I view a bottleneck as a good thing

because it means you're pushing yourself."

Storm estimated that 18 million board

feet of the company's production is

dedicated to producing 1" boards, with

the remaining annual production in 2" and

specialty products.

Wholesale distributors comprise the bulk

of J.H. Huscroft's clientele, said Schofer,

who added, "We deal with a lot of contract

customers. Once we set up a program,

we do our best to keep everything running

smoothly with our customers in those

categories. We treat our customers like

business partners, both sides need to be

happy."

Forty percent of the company's products

are shipped to the United States, and the

remainder is sold within Canada. J.H. Huscroft

utilizes the services of two railroads

to transport its products, as well as via

trucks, on which the lumber is tarped for

protection from the weather.

As a high quality lumber producer, Storm

attributes his company's success to product

diversity and hard work. "A lot of companies

in our area choose to do one wood species

very well versus what we do," he said. "We

choose to do many different species, and

do our best on each one, so we can serve

a broad selection of customers."

Schofer, who handles all marketing and

sales for the company, added, "One of the

things that sets us apart from our competitors

is our willingness and ability to go the

extra mile for our customers. It's not always

about what makes us the most money, it's

about providing our long term customers

with what they need. If we are there for

our customers, they will be there for us.

Our focus is on the future, and we plan on

being around for a long time."

For more information, visit

online at www.jhhuscroft.com.

Please visit us at

Booth #335

Page 46 ADVERTORIAL Wholesale/Wholesale Distributor Special Buying Issue

All Star Forest Products

Supporting you with an All Star Team

Jackson, MS

Mobile, AL

Nashville, TN

Nashville, TN:

Kevin Lammons, Sales

klammons@allstarforest.com

769.216.3986

Grenada, MS:

Bruce Brannan, Sales

bbrannan@allstarforest.com

769.216.3963

Manufacturing - Jackson, MS

Headquarters - Jackson, MS

Mark Hoffman, Sales

mhoffman@allstarforest.com

601.914.3863

Pensacola, FL:

Jeff Chamberlain, Sales

jchamberlain@allstarforest.com

601.932.1904

Gulfport, MS:

Charlie Barnes, Sales

cbarnes@allstarforest.com

601.487.1180

Patrick Price, Sales

pprice@allstarforest.com

601.421.8890

We are a 25+ year old company that has grown to be a recognized leader in forest products distribution.

Our qualified Sales Team has over 200 years of combined knowledge and experience in the industry.

All Star Forest Products Inc.

5757 N McRaven Road, Jackson, MS 39209

601-664-0700

allstarforest.com ap@allstarforest.com

Mobile, AL:

David "Bubba" Lammons, Sales

dlammons@allstarforest.com

601.487.7134
---
The TEAL-JONES Group: Fully Integrated and Family Owned

No matter what, we'll work relentlessly

to promote WRC over composites.

Jawinder Athwal finishes Cedar shakes for shipping for

use in the housing or architectural markets. He's working

in one of seven milling operations at Teal-Jones' primary

mill site in Surrey, BC. Having seven operations at

the one site allows the company to direct wood to its

best possible use and produce more than 18,000 distinct

products to the specifications of customers from homebuilders

to specialty furniture makers.

Teal-Jones is focused on maximizing value for customers

from every log it mills in British Columbia and the U.S. With

seven milling operations on its headquarters site in Surrey, BC,

Teal-Jones is able to direct logs to the best possible use and

has the flexibility to retool for specific orders, producing more

than 18,500 Sku's from that one site alone. More recently, the

company has expanded into the U.S., and now has several

Southern Yellow Pine operations there.

Founded by Jack Jones in 1946 as a one-man cedar roofing

mill, Teal-Jones is today BC's largest privately-owned timber

Workers sort lumber just cut at Teal-Jones' small log

mill in Surrey, BC. The mill uses the latest technology to

maximize the return from each small, second growth log

coming into the operation.

harvesting and primary lumber product manufacturing company

on BC's coast.

Since its early days, Teal-Jones has consistently invested

in the latest milling technologies, today offering clients cutting-edge

small and large log milling operations able to meet

the most stringent requirements and product specifications in

lengths of up to 24' and special orders up to 40'.

Teal-Jones cuts Hemlock, Douglas Fir, Sitka Spruce,

Western Red Cedar, and Yellow Cedar in BC. In addition to a

range of dimension lumber in both metric and imperial measurements,

the Teal Cedar Shake and Shingle division offers

the industry's most complete line of Western Red Cedar and

Alaskan Yellow Cedar roofing and siding products, along with a

custom pre-finish line for sidewall shingles.

Teal-Jones team member Tony Saurga carefully cuts a

select Cedar log into specialty blocks, which will go to

another mill the company operates for further work making

acoustic guitar tops. Teal-Jones is one of the world's

largest makers of acoustic guitar tops from Cedar and

Spruce 'tone wood.'

With several specialty mills, the company is also one of the

world's largest producers of guitar tops, sliced from special

pieces of Spruce and Cedar 'tone wood,' as well as specialty

cuts for furniture and musical instrument makers.

As a vertically integrated forestry company, Teal-Jones has

timber licenses in BC, giving the company the operational footprint

and flexibility to optimize the logs destined for its mills.

Teal-Jones directly employs more than 1,000 staff in BC,

and further supports hundreds of direct union and non-union

contractor jobs in its timber harvesting operations.

The company is committed to the ongoing health and sustainability

of forests, the environment and the forest industry's

future. All timber Teal-Jones cuts in Canada

is certified under the Programme for

the Endorsement of Forest Certification

(PEFC) chain of custody system, and

the company voluntarily meets Canada's

leading national standard for sustainable

forest management through the

Canadian Standards Association Forest

Management Z809 Standard.

More recently, Teal-Jones has

expanded its lumber operations into the

U.S., with a Southern Yellow Pine (SYP)

milling operation in Oklahoma (acquired

in 2014), two SYP mills in Virginia (acquired

in 2018), and more recently the

Pine Antlers SYP operation in Oklahoma.

The company recently announced it is

investing $110.5 million USD to build a

lumber mill in Louisiana – what will be its

fifth operation in the U.S.

Teal-Jones has invested heavily in the

optimization of its U.S. mills, increasing

their drying capacity with new Continuous

Dry Kilns, expanding the range of

product offerings, and improving product

quality and grade outturn by installing

new Automated Planer Grading Systems.

(But it would be a heck of a lot easier if you joined us.)

The WRCLA counts on its membership

to mitigate competitive threats from

composite products and grow market

share. In the last 65 years we've

grown from being the advocate for the

industry to an influence in the industry.

We need companies like yours to

make our voice even louder.

Join today, and help keep WRC front

and center in a changing market.

Why be a member?

• Louder, stronger voice over man-made substitute products.

• Grow your brand while we collectively compete against man-made composites.

• 2 MM+ annual budget with 1/3 government funding to promote WRC.

• 1,000,000+ visitors to realcedar.com last year.

• 450,000+ visits to the Real Cedar retailer locator to date.

• Retailer locator and Get-a-Quote feature drive customers to your products.

• Access to members only website portal and marketing resources.

• Market research, media platforms and technological opportunities to grow market share.

• Industry events, trade show presence, co-op ads and more to grow your brand

and increase sales.

Western Red Cedar is naturally beautiful, completely renewable and proven to be a

smarter choice for the environment over composite products (backed by third-party

LCA's and EPD's). Join today and help unify our message against the competition.

Visit us at Booth 1027 at the 2022 NAWLA Traders Market in Phoenix, AZ.

realcedar.com | 1.866.778.9096

WE ARE

Quality Lumber. Superior Customer Service.

From Our Family to Yours.

Woodgrain has expanded its lumber production and capacity with the

Whether you are a small dealer or large distributor, we want to fulfill your

lumber needs for your overall company solution.

For more information or to get a quote, call: 855.804.1575

Or visit our website: www.woodgrainlumber.com

OUR PRODUCTS

Whether you're looking for raw construction

lumber, Cedar shakes and shingles,

or unique cuts of wood for custom

projects of all sizes, Teal-Jones can help

you get exactly what you need.

Teal Cedar Shakes and Shingles are

manufactured from fine grain Western

Red Cedar, providing weather resistance,

thermal insulation and longevity. The Teal

Cedar division is one of the largest shake

and shingle producers in the world, operating

from four major facilities throughout

British Columbia. Teal Cedar is the only

shake and shingle producer that owns its

own timber supply, ensuring continuous

raw fiber to the mills.

Teal-Jones' exposed Western Red

Cedar timbers including decking, bevel

and channel siding, panels, and fascia

give warmth to residential and commercial

spaces, including gardens.

Teal-Jones' Whitewood Lumber

products are made from the finest west

coast Douglas Fir, Hemlock, and Sitka

Spruce. Products are prepared with the

quality needs of custom builders in mind

and are dimensionally milled either rough

or finished.

The Teal-Jones Group's operations in

the United States manufacture dimensional

Southern Yellow Pine lumber —

the preferred choice for today's building

applications. The company offers a wide

.erofeb revenaht emuloveromgnireffowon ,sllim was owt fonoitida

range of high-quality dimensional lumber

and specialty wood products, including

timbers and decking.

Learn more at

www.tealjones.com.

Please visit us at

Booth #817

Page 48 ADVERTORIAL Wholesale/Wholesale Distributor Special Buying Issue Wholesale/Wholesale Distributor Special Buying Issue ADVERTORIAL Page 49
---
Investing in Technology

J.D. Irving Limited's Investments Lead To Safer Workplace

Quality, Experience and Consistency at Richardson Timbers

By Terry Miller

The robots in Veneer are known on site as Buckdjeuve and Tie-Rex

One hundred years ago the sawmilling process was completely manual. From

moving logs to and around the mill, to the cutting of lumber. Technology has

greatly improved efficiency, safety, and speed since those days and today we use

machines to make much of what happens on site possible. The labor-intensive

sites that used to exist are nearly gone with technology and machinery being the

primary investment within the industry.

Roger Berry and the robot in Dixfield

Our first robot was installed in our Value Added Centre in Doaktown, New

Brunswick as part of the paint line. A few years later an improvement in employee

experience was discovered when building the new planer mill in Dixfield.

The planer mill project was a

$26.5 million investment that made

the Dixfield Sawmill an industry

leader. As Dixfield is the largest

Eastern White Pine sawmill in

the world, it only made sense to

ensure it had the latest technology

when upgrading the planer mill,

which included a robot.

The robot in Dixfield, aptly

named Roger (the gentleman who

used to do the job manually but

now operates the robot), is used

to stack boards prior to wrapping.

This robot, similar to those at the

other sites was used to remove

a labor intensive, repetitive and

strenuous job. The production

workers who used to work in this

section of the mill were either redeployed

throughout the site or took

the new role of Robot Operator.

"It's great to finally have robots

set up and functioning; they're

going to create a much safer and

more ergonomic environment for

our employees. We're happy that

we can invest in our sawmills in a

way that improves the overall safety

and job satisfaction for our employees,"

says Susan Coulombe,

General Manager of the White Pine

Sawmills and Hardwood Sawmill.

Most recently, two robots were

added to the tie-line at our Veneer

Sawmill. The tie-line previously

had a vacuum system to help

employees lift the exceptionally

heavy pieces of wood. However,

the installation of the two robots

has eliminated a safety risk and

hard to fill role in the mill. These

two new pieces of technology will

work seamlessly, side by side in

the mill, unloading product from the

line and stacking it for shipping.

They will be lifting ties and pallet

blocks off the line and stack them

for shipment.

JDI is a company that strongly

believes in investing in their people

and their operations. The new robots

are a clear example of that.

If you're interested in working in

North America's largest and most

advanced Eastern White Pine

sawmill operations, you can reach

out to our recruiting team at sawmills@jdirving.com.

Please visit us at

Booth #1130

Left to right, Jamie Hursh and David Lawrence

Richardson Timbers, headquartered in Dallas, Texas and with a new location in

Burnet County in the Texas Hill Country, offers exclusive surfacing (all four sides up

to 20" x 20"); custom Tru-Ruf texture; custom siding patterns; precision end trimming;

trailer flooring; barge decking and custom reman services. They stock #1&Btr.

in both green and kiln-dried Douglas Fir, Appearance grade Western Red Cedar,

C&Btr. mixed grain, vertical grain Fir, C&Btr. vertical grain Hemlock, A&Btr. vertical

grain Western Red Cedar and Mixed hardwoods.

"Everything that we stock in our #1&Btr. green Fir up to an 8"x12"x24' is free of

heart center. We also stock the bigger sizes such as 20"x20" up to 40' in Fir," Sales

Manager Steven Rogers explained. "We are stocking #1&Btr. KD S1S2E Douglas Fir

1"x4" through 1"x12" board that is 7/8-inch thick and produced on the West Coast."

Rogers said the product is mainly used for a soffit material, but experience found the

board is a good remanufacturing

product for siding.

Extensive milling capabilities set

Richardson apart from stocking

distributors. Rogers offered, "The

custom side of what we do is sizing

material to your specification such

as when the customer is trying to

replace timbers in an old house. We

have the ability to run standard siding

patterns, but we can also make

patterns to your spec's, or what's

trending at the time. There's a

tongue and groove penny gap trending

in the market right now which we

are able to produce because of our

custom capability."

Rogers said the company's employees

also play an integral part in

Richardson's success. "Our people

and our capabilities are bringing

added-value to our product. For

example, our longest-term employee,

Lucio Martinez, can take a set

of plans, scale the plans and cut

architectural details from them to

match exact specification requests.

In other areas we will go to the job

site and measure specific dimensions

to verify what we need for

brackets, corbels and arches plus

we educate the customer as well.

We offer full service from the first

phone call to the point of installation;

we're available for every step."

Regional Salesman Jamie Hursh

said, "We have long-standing

relationships with our partnership

mills that have spanned over 25

years in many cases. Our niche is

also in finding what other people

won't. We're willing and able to find

everything, and that's our bread and

butter."

Hursh said the sales territory is

divided among himself, Nick Zilliken,

David Lawrence and Chris Brennan.

"I handle the Dallas/Ft. Worth area

on the West side and Nick handles

the East side of Dallas and East

Texas. I go as far West as Abilene

and north to Oklahoma City. Nick

goes East into Shreveport and

Tulsa. David covers Central and

Southern Texas plus far West Texas

and New Mexico. Chris handles

Southeast Texas including Houston

and Beaumont. Todd Besser recently

joined us as an Inside Salesman

after many years of experience

in the lumber/building materials

industry,"

Receiving material from our mill

partners, Hursh said Richardson

moves 48 rail cars per year each

having 60,000 board feet per car.

"Sixty percent of our product comes

by rail and the other 40 percent is by

truck," he explained.

All the machining capabilities at

Richardson are made possible with

a 72-inch McDonough Resaw; a

PET precision and trim machine;

Bill Wilk, Mill manager, with a Doug Fir Timber being processed

through Richardson's resaw, which has recently

been replaced with a new/used McDonough resaw.

Left to right, Chris Brennan, Nick Zilliken, Jamie Hursh,

Steven Rogers and Todd Besser

a Weinig moulder; Tannewitz bandsaw and a Cantek surfacer. "We also offer

hand-hewing for the old-world look and Tru-Ruf surfacing," Rogers added. "Tru-Ruf

surfacing is an addition to rough timbers, green or kiln dried, that provides a unique

texture to the timber. For the dealer, this means a product upgrade that removes

common material handling problems like band marks or strap marks from sawmill

handling, weather or mill stains during order fabrication. Tru-Ruf surfacing can be

used on any species of wood," he explained.

Richardson Timbers handles and sells approximately 4.2 million board feet of

lumber and lumber products per year. Lynn Surls is chairman.

For more information visit www.richardsontimbers.com.

. Make Money by the Truckload .

Savvy buyers know that ordering lumber by truck can be more profitable

than by car. How so? Just-in-time service by truck from regional mills delivers

the right product, right when you need it, in 1-2 days instead of 2-3 weeks.

Smaller, faster shipments improve every facet of inventory performance:

• Capital costs – Why pay a big car invoice for 110,000BF well before it arrives? You

could already have the 27,500BF from a quick truck delivery sold and posted to your

A/R before its small invoice is even due. This does wonders for cash flow, typically

dropping capital requirements and carrying costs by over 80%.

• GMROI – The same 110,000BF turns 4 times faster when received as needed in four

truck increments than if received all at once by car. This triples gross margin return on

inventory. And mixed trucks help keep inventory balanced, pushing GMROI higher still.

• Storage – Up to 82% of lumber storage space can be freed up for more productive,

more profitable use. And stocking less wood may enable you to get it all under roof.

• Shelf life – Wood is perishable; the longer you own it the more culls develop.

Truckloads sell in 1/4 the time of carloads, saving needless cull losses.

• Reload costs – Eliminated. Save some $15/M on this needless step alone. Plus time.

Trucks turn 4x faster than cars, require 80% less capital and space, keep inventory balanced.

Idaho Timber's just-in-time service from our 8 regional mills can lower your

true lumber cost by greatly improving inventory performance for higher net profits.

So kick the car habit. Call today and start making money by the truckload.

800-654-8110

Page 50 ADVERTORIAL Wholesale/Wholesale Distributor Special Buying Issue Wholesale/Wholesale Distributor Special Buying Issue ADVERTORIAL Page 51
---
Beasley Forest Products Brings New Southern Yellow Pine Mill Online

By Terry Miller

Hancock Lumber Celebrates Nearly Two Centuries of Responsibly

Cultivating Eastern White Pines

Beasley Forest Products' sales team includes (from left):

Linwood Truitt, John Stevenson, Brandon Cox, Ryan

Collins and Truss Beasley.

Hazlehurst, GA–Beasley Forest Products, established

in 1968 and headquartered here, is a premier

producer of matting products for the energy transmission,

utility and construction industries. The company

offers a full line of hardwood mats that includes crane

mates, bridge mats, oilfield mats, and various specialized

mats. Switch ties for the railroad industry and a

wide variety of pallet products, including cants, stringers

and cut stock of various widths and dimensions, are

also available.

Perhaps best known for their premium grade Softwood

and hardwood lumber in Cypress, ash, poplar,

red and white oak, Beasley Forest Products recently

Two rail cars loaded with numerous SYP products are

pictured ready to ship. One car is going to a treater and

the other to a wholesale distributor.

brought a new facility online for Southern Yellow Pine.

Vice President of Business Development Truss Beasley,

a third-generation lumberman, offered, "We added on to

our existing hardwood facility that produced 115 million

board feet in 2019. We wanted to continue to be more

efficient and to have more throughput, so we built the

new mill that can run Southern Yellow Pine or hardwood

efficiently."

An $80 million investment for Beasley Forest Products,

the new facility will cut an estimated 150 million

board feet of Pine and also continue to cut the 115

million feet of hardwood on the same line. Beasley said

the new mill cuts about 3.5 million board feet a week

Supplying Building Materials to North America

through Five Trusted Brands

Three million feet of dry inventory is on hand at all times

for prompt shipment out of the warehouse, which has

the capacity to hold up to 26 million feet.

currently with a goal of 5 million board feet per week at

full capacity on Pine. Offering 2x4 through 2x12, 4x6 to

6x6 timbers, available grades include MSR, DSS, No. 1

through 4, Prime and lengths up to 16 feet.

"Our business is built on relationships and we support

our stocking distributors," Beasley said. "Wholesalers,

brokers and distributors offer some services that mills

can't necessarily provide. We support our wholesalers

and wholesale distributors. We also market our products

to treaters, retailers, remanufacturers, and truss manufacturers."

Located on the Norfolk Southern

Railway, the company is competitive

in the Northeast and New England

area. "We have a 40-rail car capacity

and we can load eight cars at once,"

Beasley explained. "We also have

our own trucks that serve a 200

mile radius. But we're flexible, we

can certainly handle the freight, or

the customer can handle it if they

prefer."

With 3 million board feet on the

ground at any time, Beasley's warehouse

has a 26-million-foot capacity.

"We are also manufacturing rough

SYP," he explained. Utilizing Timber

Products grading agency with our

mill number being 597, Beasley

said every board that goes out has

that number along with the Beasley

stamp. "We have confidence in the

products we produce and we want

our customers to know we back our

quality," he explained. From a packaging

standpoint, Beasley Forest

Products has two stackers and offers

mixed loads. Beasley said, "Our

prime lumber can be shipped in full

units or half packs."

As for construction of the new

mill Beasley said the company used

a variety of well-known suppliers.

"Timber Automation supplied our

trim saw, stacker and sorting line.

USNR installed the edger, scanner

and the gang saw and McDonough

Manufacturing put in the bandsaws,"

he explained. "On the dry line TS

Manufacturing led the project on installing

the planer and putting in the

additional stacker and the scanner.

The planer is Gilbert." Last but not

least, the company has a continuous

dry kiln provided by Tinsley and the

burner was provided by Hurst that

complements their SYP production.

With about 1,500 employees

throughout the Beasley Group and

Thompson Hardwoods, Beasley said

key salesmen at the new mill other

than himself will include Ryan Collins

and Brandon Cox. The Beasley

Group CEO is Darrell Beasley.

"One of the key selling points for

our SYP lumber is that we have the

ability to cut a large log because

this mill is set up for hardwoods,"

Beasley said. "We prefer to run the

bigger logs because the end result

is a product with less wane because

more of the meat in the middle is

coming out without the wane. That's

a big emphasis in this industry, having

products available free of wane."

Beasley Forest Products is a

member of NAWLA and the Southern

Forest Products Association.

For more information visit

www.beasleyforestproducts.com.

Please visit us at

Booth #1126.

Aerial view of Hancock's Bethel sawmill, the largest of

their four Eastern White Pine operations.

For nearly 175 years, Hancock Lumber has been an integral part of New England's forest

products industry. Responsibly growing, selectively harvesting, and manufacturing madein-Maine

Eastern White Pine products, we have helped ensure Maine's signature resource

remains vibrant for future generations. Eastern White Pine has been the heart of Hancock

Lumber since the original contract was signed on October 4th, 1848 for the construction of a

new mill for the grand sum of $850. Today, we operate four state-of-the-art sawmills and are

one of the largest producers of Eastern White Pine products in North America.

Forest stewards since the 19th century, Hancock Lumber has been carefully managing

the harvesting and growth process to ensure that trees are growing faster than they're being

cut down. Trees are ready for timber manufacturing when they're 80 to 100 feet tall and 2

to 3 feet in diameter, a level of growth that can take up to 100 years. Eastern White Pines

naturally regenerate—once the trees are 50 years old, they produce pinecones every other

year, which open their blades and release seeds that grow into new trees. Foresters stagger

their harvests to retain wildlife habitat,

maintain the leafy canopy that keeps

nearby waterways cool, and make sure

trees' natural regeneration process isn't

disrupted. Hancock doesn't use pesticides,

and loggers remove dead limbs to

reduce fire risk so there will be plenty of

trees for future generations to harvest.

In our nearly two centuries of business,

Hancock Lumber has experienced

just two complete harvest cycles—being

in the Eastern White Pine business is

a long-term commitment and one that

we've been passionate about since

1848. Today, we open our timberlands

to the public, including our 5,000-acre

parcel called Jugtown Forest, where we

maintain trails for hiking, horseback riding,

ATV-ing, biking, and other activities.

A natural wonder, Eastern White

Pines have long been admired for their

unique characteristics including the size,

strength, and durability of their wood

fiber, as well as their tendency to grow

straight. All these traits make Pinus strobus

ideal for creating flat, bright, stable

boards that can be used in both interior

and exterior applications including siding,

wall paneling, sheathing, moulding,

millwork components, ceilings, trim,

packaging, and more.

More than four centuries ago, Maine's

vast troves of this treasured tree convinced

the British to develop a "New

England" here. When explorers discovered

Maine's pines were perfectly suited

for ship masts, King George III had the

largest and strongest trunks marked with

the King's Broad Arrow, three hatchet

marks indicating they were reserved

for the Royal Navy. Colonists rebelled,

and the riots that ensued were among

the first acts of resistance against the

crown, helping to spark the American

Revolution.

At Hancock's four Eastern White

Pine mills in Casco, Bethel & Pittsfield,

Maine—plus its newest in Madison,

NH—each day some 3,800 logs are debarked,

cut, measured, graded, dried in

a kiln, and planed. Combined, the mills

produce 120+ million board feet of lumber

each year. On average, logs arriving

at Hancock Lumber sawmills journey 50

miles from the forest to mill.

At Hancock's sawmills, every part

of the log is used, producing a variety

of byproducts that make their way into

various markets. Our kiln-dried and

heat-treated wood shavings are most

popular as animal bedding. Bark from

Eastern White Pine trees is a wonderful

resource commonly used for erosion

control and made into mulch. Pine wood

chips are sold to paper mills and can be

used as a natural and safe landscaping

accent. Sold in bulk, our fine, soft sawdust

is used to help power the sawmills'

clean, energy-efficient biomass boilers,

as well as used as animal bedding.

Another major capital investment project,

two of our three sawmills also have

installed back pressure steam turbines

that produce energy from otherwise

wasted steam from our dry kilns.

Log scaling in action at Hancock Lumber's Casco facility.

Grown-in-Maine, made-in-Maine Hancock Pine showcased

at a local lakeside retreat.

From the sawmills, lumber goes to Hancock's eleven lumberyards in Maine and New

Hampshire, as well as to national manufacturers, distributors, and retailers. Roughly 10 percent

of Hancock Lumber boards are exported all over the globe, reaching Canadian markets

all the way to Pakistan.

Eastern White Pine is a favorite with home builders, in part because it's so soft, you don't

have to worry about chipping and cracking as you do with harder woods, says Ryan Crowell,

vice president of Crowell Construction, a Harrison-based custom builder. He values the

ability to buy local. "They're not just selling someone else's lumber," Crowell says. "They're

stewards of the forest, and they're rooted in the community. And there's a peace of mind that

comes from knowing the product was grown a few miles away."

Learn more at www.HancockLumber.com.

Please visit us at Booth #918

Page 52 ADVERTORIAL Wholesale/Wholesale Distributor Special Buying Issue Wholesale/Wholesale Distributor Special Buying Issue ADVERTORIAL Page 53
---
Automation is Key at Leslie Forest Products

By Zach Miller

Bowers Forest Products - Focusing on Integrity and Customer Service

added, "Historically Bowers Forest

Products has built their reputation on

quality and service, shipping on time,

and shipping quality products. We want

to maintain that while reorganizing the

administrative side of our business.

All of this is to expand the volume of

what we are doing with our existing

product."

KEY PERSONNEL

Jeff Bowers, President/Owner

2x2 Clear Cedar.

Delta, BC–Leslie Forest Products Ltd. (LFP) is family-owned

and has been in its current location since 1972.

Producing 30 million board feet of Softwoods annually,

Leslie Forest Products offers an array of custom sizes,

patterns, and lengths in Hemlock, Douglas Fir, SPF, and

Western Red Cedar.

Situated on 13 acres, LFP is among the largest capacity

remanufacturing facilities in British Columbia. With machine

centers strategically located in several large buildings

that maximize lumber flow, President Ron Sangara

said automation is key for overall productivity, and quality

control. "We installed two new stackers recently and we

already had three, so this allows us to maintain higher

This is an aerial view of Leslie Forest Products Ltd., located

in Delta, BC.

volumes. The 2x2, the 1x3, and 1x4 are now all handled

by (Bevco) stackers."

Over the years, major investments in land, machinery,

and buildings have resulted in a 10-fold increase in

manufacturing capacity. An impressive array of planers,

moulders, chop lines, and specialty machines allow LFP

to offer a large and diverse product line–from lath and

dunnage to furniture components to Export Clears/STK

and Specialty Products. Our long-term customers have

come to appreciate our versatility, diversity, and most of all,

our integrity. With program business, LFP takes pride in

shipping as scheduled, consistently high-quality products

that are competitively priced.

Leslie Forest Products gratifies itself in producing a

Leslie Forest Products' planer and moulder building.

consistent, quality product. Sangara explained, "Our large

dry shed provides storage for lumber products that require

protection from the elements. Our inventory and shipping

yards are all paved, well organized, and accessible for

lumber inputs and finished product shipping."

He continued, "Our ability to produce a wide variety

of specialty lumber products is key to our longevity and

success. Our remanufacturing equipment has been tuned

to produce everything from 1x1" strips and lumber lath

to specialty lumber in Hemlock, Cedar, DFir, and SPF, in

addition to customized components.

One of the things that differentiates Leslie Forest Products

is its ability to handle requests quickly. "We're always

willing to entertain special requests or a specific need to

get a product in a fast way," Sangara

explained. "We've always had the ability

to get them that product they need

in a timely manner. We understand

the significance of having the products

that we make so that they can have

the products that they need to make."

He continued, "What also sets us

apart from most reman plants is that

we don't waste anything. Even our

waste is utilized by producing pulp

chips. Most of the people that compare

with us are hauling their waste away

or giving it away and we process ours

through a chipper. Of course, sawmills

have chippers but you won't find a lot

of reman plants that do."

According to Sangara, LFP also

doesn't compete with other companies.

"We work with the people that

you might consider our competitors

in this region," he explained. "We buy

and sell together with them and there

isn't a sawmill here where we don't

have some interaction."

Owners Ron, Dave, and Jas Sangara

continue to work closely with each

other, alongside other key family members

to remain successful in today's

markets. Sangara said, "The next

generation is already in place and part

of our management team. Our level

of commitment is shared with our 30

highly skilled and unionized workforce.

Some of our team members have

worked for Leslie Forest Products for

more than four decades."

LFP has achieved many milestones

since their early days. Sangara

explained, "My father was in the

business and when he stopped I

decided I wanted to work for myself.

I turned 70 this year and started this

business when I was 20. I started with

a couple of guys and over the last 50

years, we've grown to where we are

now. I started from nothing and we've

grown and remained successful and

look forward to continuing to serve our

customers."

LFP is also involved and makes

contributions to the following charities:

Michael Cuccione Foundation, Deepak

Binning Foundation, St. Pauls Hospital,

Covenant House and ALS.

Leslie Forest Products Ltd. is a

member of the North American Wholesale

Lumber Association, Western

Red Cedar Association, BC Wood and

Building Supply Association of BC. For

more information visit www.Leslieforest.com.

Please visit us at

Booth #812

Woodway Diagonal Cedar Lattice with frame mouldings.

Beavercreek, OR — Established in 1999 by Jeff and

Cheryll Bowers, Bowers Forest Products fulfilled a need in

lumber remanufacturing, and for more than 20 years has

produced and distributed specialty wood products across

the United States. We have grown to over 60 employees,

all while maintaining the same quality and service our

customers have grown to expect. "You get your money's

worth," exclaims Jeff Bowers, President/Owner, "I am

probably not going to be the least expensive out there, but

our quality and service will be exemplary. We operate our

company with honesty and integrity, and our customers

see the difference."

The future of Bowers Forest Products

continues to be exciting with potential

growth in the market moving forward. Our

main focus will be on diversification to

continue this growth. Diverse products,

services, and relationships with customers

and suppliers will keep us around

for years to come. While supply chain

demands have been challenging, we

have kept production moving. Our solid

relationships with suppliers have been

instrumental in keeping our facility running

seamlessly.

Bowers Forest Products offers a variety

of Softwood items. Our primary offering

of products include Cedar planter boxes

for the nursery industry, construction and

survey lath, tile-battens and furring strips,

pallet and crating material, blocks for the

wood truss industry, lattice panels, garden

trellis, post caps, and deck balusters. We

have also added several new products,

which include Cedar 1x2/8', 1x3/8' and

2x2/8' STK furring strips, Cedar 2x2 deck

balusters, Japanese Cedar 1x6 and 2x6

Tongue and Groove, as well as vented

and beveled pre-cut truss blocks. To

produce such a diverse product line, we

purchase between 600-800 truckloads of

lumber annually. Other services include

custom remanufacturing, kiln-drying, planing,

trimming, and ripping and resawing.

When asked about how we market our

products, Jeff stated, "Ninety percent of

our Cedar boxes stay local. While we do

ship some to the East Coast, truss blocks

mainly go into West Coast markets to

manufacturers. The furring strips ultimately

end up in big box stores on the West

Coast. Our elevated tile batten, that is an

exclusive patented product, ships nationwide.

Our Woodway brand lattice panels,

post caps and deck balusters, and garden

trellis also ship nationwide." Our industrial

products have been the primary product

offering until acquiring the Woodway

product line in 2019. Woodway products

include lattice panels, post caps, deck

balusters, privacy panels, fence toppers

and garden trellises. These are made

from Western Red Cedar, Redwood,

Douglas Fir and mahogany.

Bowers Forest Products is excited to

continue to expand the Woodway line to

larger distribution channels. "The Woodway

Products line is known for high-end

products and has a great following," Jeff

said. "We are excited to expand this line

into other distribution channels and have

recently added an additional distributor

who is covering the Pacific Northwest. We

are also looking at two more areas to add

to our distribution and have increased our

marketing budget to help facilitate this.

New distribution prospects are an exciting

step for us and additional volume will

help us run much more efficiently." Jeff

further explained, "Our mill facility spans

20 acres giving us about 100,000 sq. ft.

of manufacturing space, including dry kiln

space."

The Bowers continue to reinvest in

their business with state-of-the-art equipment.

"We have a full line of remanufac-

Woodway Catalina Estate Lattice.

turing capabilities, including a planer, twin band

resaws, gang ripsaws, chop saws, pointing

machines, assembly machines, sanders, a lath

mill, dry kilns, hunchers and a new moulder.

In 2022, we added a Weinig Moulder, a Nyle

Controlled dry box and a Hain Vented Truss

Block machine. We have fitted our facility to

be efficient at making 1x2s and 1x3s, which

gives us an edge over the competion. This ties

in well with manufacturing our trellis product,

which is made from 1x1s. So, when it comes

to surfacing and gang ripping boards into 1x1s

and 1x2s, we have found our niche." Bowers

Cheryll Bowers, CFO

Cecil Higby, Purchasing

Cassidy Bowers,

Sales for Woodway/National Accounts,

Customer Service

Jeanine Dubose,

Sales for Woodway/National Accounts,

Customer Service

Bowers Forest Products is a member

of the North American Wholesale

Lumber Association, the Oregon Association

of Nurseries and the NFIB.

For more information visit

www.bowersforestproducts.com

or www.woodwayproducts.com.

Bowers Forest Products Cedar Planter

Box with folding trellis.

Please visit us at

Booth #1016

Page 54 ADVERTORIAL Wholesale/Wholesale Distributor Special Buying Issue Wholesale/Wholesale Distributor Special Buying Issue ADVERTORIAL Page 55
---
Planer Mill Offers Durgin and Crowell Capacity and Tremendous Flexibility

Springfield, NH – Durgin and Crowell Lumber Co. Inc., based

here, is an Eastern White Pine sawmill. Established in 1976, the

company has grown to become one of New England's largest

manufacturers of kiln-dried Eastern White Pine lumber, annually

producing over 30 million board feet.

After a fire destroyed its previous planer mill, Durgin and Crowell

rebuilt with a new, state-of-the-art planer mill. With the ability to

provide even more capacity and sorts, the operation is exceeding

their expectations.

Sales Manager Alex Darrah explained, "The installation of this

mill was extensive. We put in two new Weinig Powermat 2500

Planer/Moulders and a state-of-the-art CNC Grinding Shop. We

now have even more capability than before. With this new mill,

we now have the opportunity to take on some auxiliary milling and

have done a fair amount of custom milling this year.

He continued, "We have twice the tray capacity we had before

so we can offer more packaging options like one- and two-length

units for example."

Durgin and Crowell has a reputation for excellent packaging,

providing a tight uniform pack. "We are now putting lumber bunks

on the bottom of the packs. Our customers have been asking for

that for a long time for ease of moving packs around. Trucks are

loaded indoors, and we are right back to handling lumber at a

minimum and running packs to order," he said.

Darrah said handling time is low with the newly automated mill.

"Some packs only get handled once before they leave our facility.

They go on the truck and right out the door, tarped in a covered

facility and on to the customer in the same condition that product

came off the line in," he explained.

Known for being meticulous, the folks at Durgin and Crowell

utilize a street sweeper to keep the floors clean, which keeps the

lumber clean. "We want to make sure the customer gets a clean

(From left) The Durgin & Crowell sales team consists of Alex Darrah,

Sarah Welch (marketing), and Bryan Darrah.

pack not just one time, but every time," he said.

With the ability to run lumber to specific order, Darrah said that capability

affords the company flexibility with its customers. "If a customer wants to

change patterns a week or two down the line, that's not a problem. We are

going to run that lumber to order, which is nice to be able to offer. We are

not pulling a lot of lumber from stock, we are running to order and have that

flexibility."

Serving mostly wholesale distributors and lumber brokers, Durgin and

Crowell has earned a tremendous amount of loyalty with its customer base.

"We'd like to take the opportunity to thank our customers for their loyalty and

their patience as we rebuilt," Darrah said. "In any start-up there will be some

bumps along the way. Our customers have been tremendous in patiently

Patrick Lumber Company

Over 100 Years in Business

Est 1915

Patrick Lumber Company is a secondary manufacturer and exporter of niche high-grade

softwood products sold to a network of worldwide distribution.

Products:

Doug Fir

Western Red Cedar

Southern Yellow Pine

Western Hemlock

Alaskan Yellow Cedar

West Coast Softwoods

Services:

Remanufacturing

Packaging & Transport

Consultation

Procurement

317 SW Alder Street,

Suite 1050

Portland, OR 97204

503-222-9671

sales@patlbr.com

patlbr.com

By Terry Miller

This is one of the company's Weinig Powermat

2500 Moulder/Planers.

waiting with the attitude of being ready when we are."

Durgin and Crowell recently introduced its new

"Knive Sawn" rough face offering. "We produced a nice

bandsawn finish rough face board in the old mill," Darrah

explained. "But with the new high tech lumber line and

moulders, there was no good way to incorporate an

inline bandsaw. Instead, we experimented

with a new style knife head and have found

a way to create that bandsawn look utilizing

high speed heads in our moulders. We

call it Knive Sawn. It delivers that classic

bandsawn look, but with the consistency of

a planed finish."

In the Pre-finishing plant this year, they

added a second oven to their line to double

their pre-finishing capacity. The company

offers 1x6 and 1x8-inch premium in WP4,

ECB and Nickel Gap. Three colors are available:

a U-V cured coating in clear, almond

and whitewash.

With 88 employees, Darrah said the

company wouldn't be a success without

its devoted employee base. "Bob Messer

was our dry kiln supervisor for 40 years and

he retired last winter. Chris LaCourse was

working in our sales department. He had an

interest in the position and from a sales perspective

I loved the idea of someone knowing

the sales department side and what the

customer base is looking for. He knew the

ins and outs of our customers' needs so he

can apply it for specific drying of different

orders. So with this opportunity he has really

dialed it in and taken that customer's voice

a step further in our operation. We have had

that approach with sales from the beginning,

my brother Bryan Darrah and I are handling

the sales and scheduling the mill production.

By having our hands in directly scheduling

the production of the mill, we can bring that

customer's voice that much closer to the

actual production and see it through to completion.

Now, we have extended that right

through to the dry kiln department."

Durgin & Crowell's new Knive Sawn

rough face is shown.

As for what sets Durgin & Crowell apart

from their competitors, Darrah said, "For us

it's making the best product that we can. We

do things the right way. It's those basic key

principles that keep our customers coming

back. We strive to do things the right way,

we don't cut corners, we look at all the details

and provide a uniform, quality product."

The company manufactures all NELMA

patterns through their high performance

Weinig moulders.

Durgin and Crowell is a member of the

Northeastern Lumber Association and

the North American Wholesale Lumber

Association.

For more information, visit

www.durginandcrowell.com.

Please visit us at

Booth #718

Register for the Montréal Wood Convention 2023

Elite speakers take part in seminars, panels and conferences.

Wood

Trade

The Montreal Wood Convention is the perfect place to do business and make new

contacts.

Montréal, QC – After a successful return to an in-person event in 2022, the

Montréal Wood Convention (MWC) is looking forward to connecting with even

more participants and exhibitors at its 2023 event. Next year's edition will mark the

return to a three-day event from April 18th to 20th. The renowned Fairmont Queen

Elizabeth Hotel in downtown Montréal will again be the venue.

For the 2023 edition, the organizing committee is eager to welcome all the

returning participants, and new ones interested in experiencing the great wood

industry business opportunities offered by the Montréal Wood Convention.

For an early start to the convention, NAWLA (the North American Wholesale

Lumber Association) is inviting people to their Eastern Canadian Regional Meeting

on Tuesday, April 18th, to kick off the opening of the MWC 2023. It will be followed

by two action-packed days of trade show hours, conferences, and a cocktail reception.

The exhibition hall, company meeting rooms, and receptions provide a variety of

occasions to meet new and existing customers or suppliers.

For Sven Gustavsson, event director of the MWC, the 2023 edition could be the

biggest one yet.

"We are anticipating a great 2023 edition in many aspects," he said. "First of

all, the return to a three-day event will allow us to have more face-to-face time

between all the participants. These meetings between producers and buyers of

wood products enhance the key business contacts, which lead to the creation and

the maintenance of sustainable alliances.

"It also leaves more time for conferences, panels and discussions during the

convention while not disturbing the trade show hours. We have to remember that

The Montréal Wood Convention is not only a trade show, it is also a learning experience.

Seminars are set during the week to inform people about industry news,

and elite speakers share their knowledge about innovations to come," he added.

The organizing committee is presided over by Christian Gilbert, Sales Manager

of J.D. Irving. Other companies represented on the committee include Weston Forest,

GreenFirst Forest Products, Resolute Forest Products, Boscus, Group GDS

and Interfor. This group ensures input from the industry from all corners of Eastern

Canada.

According to Christian Gilbert, "It is very inspiring to work with such a dynamic

group of industry peers in the creation of one of the best industry meetings in

North America." He went on to say, "The direct industry input on the content and

the format of the event is a key factor in its success to attract suppliers and buyers

from across the United States, Canada and beyond."

The Montréal Wood Convention has gone from success to success and has

grown steadily drawing over 1,000 participants from 14 countries and 115 exhibitors

in 2022.

The event, which has its roots in the Canadian Lumbermen's Association (CLA)

Convention, first held in 1908, was revamped and restarted in 2013 by four industry

associations in Eastern Canada, the Maritime Lumber Bureau (MLB), the Ontario

Forest Industries Association (OFIA), the Québec Forest Industry Council (QFIC)

and the Québec Wood Export Bureau (QWEB).

Are you interested in registering for the Montréal Wood Convention 2023? Go to

the event website www.montrealwoodconvention.com and click on Register. To

receive all information and updates about the event, follow us on our social media

accounts on LinkedIn, Twitter and YouTube!

EvEnt

Please visit us at Booth #303

20

23

lE rEndEz-vous du commerce du bois

#MWC2023

18•19•20

avril/april

FairmonT

le reine Elizabeth

FairmonT

the Queen Elizabeth

#MWC2023

montrealwoodconvention.com

Page 56 ADVERTORIAL Wholesale/Wholesale Distributor Special Buying Issue Wholesale/Wholesale Distributor Special Buying Issue ADVERTORIAL Page 57
---
Exhibitor Name

Booth Number(s)

2022 Traders Market Exhibitor List

Exhibitor Name Booth Number(s) Exhibitor Name Booth Number(s)

526 Media Group 201

Alta Forest Products 1019

Andersen Pacific Forest Products Ltd. 1005

ante-holz GmbH 207

Arauco 345

Arauco 813

Arrow Reload Systems Inc. 936

Arxada (formerly Lonza Wood Protection) 706

Atlanta Hardwood Corporation 839

Avon Plastics 814

Beasley Forest Products 1126

Benjamin Obdyke 407

Bennett Lumber Products, Inc. 700

Biewer Lumber 635

Binderholz Timber Inc. 500

BLG Cargo Logistics GmbH 705

Blue Book Services 815

BNSF Railway 1025

Boise Cascade Building Materials

Distribution 445

Boise Cascade Plywood & Lumber 528

Boise Cascade Wood Products Glulam

Beams 526

Boozer Laminated Beam Company 427

Border Brokers

(formerly A.D. Rutherford International) 608

Bowers Forest Products / LWO Corp. 1016

BPWood LTD. 502

Bramwood Forest Products 309

Bright Wood Corporation 914

Brunner-Hildebrand Lumber Dry Kiln Co. 504

Buchanan Sales Inc. 304

C & D Lumber Co. 1018

Calculated Structured Designs Inc. 312

Canfor 923

Cedar Valley Manufacturing, Inc. 739

Century Aluminum Railings 422

Cersosimo Lumber Co. 908

Claymark USA 703

CM Maderera Itda 1002

CMPC USA 1013

CMPC USA 545

Collins 917

Combilift 326

Conifex Timber Inc. 300

Dakeryn Industries Ltd. 429

Delta Cedar Specialties 719

Digger Specialties, Inc. 912

DMSi Software 809

Downie Timber LTD/

Selkirk Specialty Wood 522

Durgin & Crowell Lumber Co. 718

e2open LLC 637

Eagle Plywood Specialties 235

Elk Creek Forest Products, Inc. 833

Empire Lumber Company 906

Envision Outdoor Living Products 330

Epicor Software 1008

Everwood Treatment Company 836

F.H. Stoltze Land & Lumber Co. 402

Fastmarkets 428

Flexpak Corporation 707

Forest City Trading Group LLC 934

Fraserview Cedar Products 430

Freres-Lumber Co. Inc. 605

Furtado Forest Products Ltd. 602

Gilbert Smith Forest Products Ltd. 634

Goodfellow Inc. 339

Gorman Bros. Lumber Ltd. 524

Group Lebel 302

Hampton Lumber Sales 1026

Hancock Lumber Company 918

Hardel Mutual Plywood Co. 538

Hoover Treated Wood Products 803

HS Timber Group GmbH 737

HUB International 203

Humboldt Sawmill Company LLC 806

Hunt Forest Products, LLC. 808

Hy Mark Wood Products 509

Idaho Forest Group 1029

Idaho Timber 701

ILIM Nordic Timber 404

Independent Dispatch Inc. 401

Interfor 1145

Interfor 832

International Forest Products, LLC. 907

Irving Forest Products 1130

J.H. Huscroft Ltd. 335

Jazz Forest Products Ltd. 219

Johnson Lumber Co. LLC 1030

Kop-Coat Protection Products 412

Koppers Performance Chemicals 308

Krauter-AutoStak 601

Leslie Forest Products 812

Lignum Forest Products Ltd. 913

Louisiana-Pacific (LP Building Solutions) 800

Lumin Forest Products LLC. 1118

Mason Forest Products 716

Maze Nails 704

McShan Lumber Co. 619

Mercer Timber Products 501

MillTech Inventory Management Systems 534

MiraTEC by JELD-WEN 508

Montreal Wood Convention 303

Mountain View Reload 1123

Muhlbock Drying Technology 431

Murphy Company 600

Natural Trade Ltd. 424

Neiman Enterprises, Inc. 1001

Nordic Structures 327

Norfolk Southern Corporation 215

North American Forest Foundation 403

North Enderby Timber Ltd. 1007

Northeastern Lumber Manufacturers

Association (NELMA) 1015

Nova USA Wood Products 816

Nyle Dry Kilns 900

Olympic Industries 1023

Oregon Canadian Forest Products 406

Oy Lunawood Ltd. 904

Pacific Lumber Inspection Bureau 709

Pacific Western Wood Works LTD 305

Pacific Wood Laminates, Inc. 319

Pacific Woodtech Corporation 632

Pacific Woodtech Corporation 945

Pakira 838

Patriot Timber Products Inc. 613

Pennsylvania Lumbermens Mutual Insurance

Company 416

Pfeifer Timber GmbH 807

Pinkwood Ltd. 314

Pollmeier Massivholz GmbH & Co. KG 505

Polymax, Inc. 539

Porcupine Wood Products Ltd 1122

PotlatchDeltic Corporation 408

Power Wood 1028

PPG 313

Princeton TMX 336

Progressive Rail, Inc. 325

RDB Solutions, LLC. 617

Ready Pine 604

Restoration Forest Products 903

Rex Lumber Company 1014

Rielly Lumber Inc. 316

RISE Building Products 324

Robbins Lumber Inc. 932

Rosboro 1022

Roseburg Forest Products 733

Roy O Martin 929

Rukert Terminals 1000

Ryder System Inc. 603

Samuel Coding & Labeling 909

San Group 535

Sawarne Lumber Co. Ltd. 533

Shakertown 506

Sidca Trading 507

Sierra Pacific Industries 818

SII Dry Kilns 322

Silver Valley Forest Products 804

Skana Forest Products Ltd. 423

Snavely Forest Products 645

Sodra USA, Inc. 400

Solutions 21 639

Stimson Lumber Company 503

StoneX Financial Inc. – FCM Division 1024

Stora Enso Wood Products 1004

Sunbelt Rack - CT Darnell Construction 307

Sunset Moulding 532

Swanson Group 405

Synergy Wood Products, Inc. 1009

Taupo Wood Solutions (Tenon Clearwood) 301

Taylor Machine Works Inc. 901

Terminal Forest Products Ltd. 213

The Nelson & Ft. Sheppard Railway Corp.

DBA NFTS425

The Probyn Group Ltd. 1114

The Softwood Forest Products Buyer 418

The Sundher Group 306

The Teal-Jones Group 817

Thompson River Lumber Co. 223

Timber Products 328

Timber Products Inspection 318

TIVA Building Products Inc. 1101

Tolko Marketing and Sales 713

Transload Inc. 837

Triad Forest Products Ltd. 1017

TrimJoist Corporation 708

Tripp Lumber Company 609

Tri-State Lumber Co., Inc. 329

U-C Coatings, LLC. 712

UFP-Edge 231

Union Pacific Railroad 414

Valutec Wood Dryers Inc. 636

Vancouver Specialty Cedar Products Ltd. 938

Veer Plastics Canada Inc. 805

VERSATEX Building Products 409

Weaber Lumber 1108

West Bay Forest Products 802

West Fraser 606

Western Forest Products 245

Western Forest Products 738

Western Lumber Company LLC 1012

Western Red Cedar Lumber Association

(WRCLA) 1027

Western Wood Products Association 607

Westlake Royal Building Products 702

Westlam Industries Ltd. 1128

Weston Wood Solutions 323

Weyerhaeuser 927

WFP Engineered Products 736

White Mountain Apache Timber Company 1124

Winston Plywood and Veneer 317

Woodgrain Lumber 801

Woodtone 1006

Yesler Marketplace 732

Zip-O-Log Mills 715

Wednesday, Nov. 9th

11:00 a.m. – 5:00 p.m. Exhibitor Set-Up

11:00 a.m. – 7:00 p.m. Registration Open

1:00 p.m. – 3:00 p.m. Committee Meetings

3:30 p.m. – 4:30 p.m. 10 Group Meetings

5:30 p.m. – 7:30 p.m. NAWLA Welcome Block Party

Thursday, Nov. 10th

7:00 a.m. – 7:00 p.m. Registration Open

7:00 am. – 11:00 a.m. Exhibitor Set-up

9:30 a.m. – 10:45 a.m. Education Session

11:15 a.m. – 1:15 p.m. Keynote Luncheon

1:30 p.m. – 3:15 p.m. Trade Show Open

2022

TRADERS

MARKET

Schedule of

Events

3:15 p.m – 3:45 p.m. Break -

Trade Show Floor

1:30 p.m. – 3:15 p.m. Trade Show Open

3:45 p.m – 5:30 p.m. Trade Show Close

6:00 p.m. – 7:00 p.m. Networking

Reception

Friday, Nov. 11th

8:00 a.m. – 11:30 a.m. Registration Open

8:00 a.m. – 12:00 p.m. Trade Show Open

9:45 a.m. – 10:15 a.m. Break - Trade Show Floor

10:15 a.m. – 12:00 p.m. Trade Show Close

8:00 a.m. – 12:00 p.m. Brunch on the Show Floor

8:30 a.m. – 11:30 a.m. Learning Lounges

12:00 p.m. – 6:00 p.m. Exhibitor Move-out

Page 58 ADVERTORIAL Wholesale/Wholesale Distributor Special Buying Issue Wholesale/Wholesale Distributor Special Buying Issue ADVERTORIAL Page 59
---
q

q

q

Service Providers to:

Sawmills

Remanufacturers

Wholesale &

Wholesale Distributors

and more can be

found between

pages 63 and 115.

Page 60 ADVERTORIAL Wholesale/Wholesale Distributor Special Buying Issue

Wholesale/Wholesale Distributor Special Buying Issue ADVERTORIAL Page 61
---
Equipment / Dry Kiln Manufacturers / Other Vendors

IN FOREST PRODUCTS SERVICES

Jeremy Pitts, Nyle Dry Kilns, Lenoir, NC; George Stedeford

and Ted Dergousoff, Restoration Forest Products,

Mesa, AZ; and Henco Viljoen, Nyle Systems LLC, Brewer,

ME

Suki Sanghera, San Group Inc., Langley, BC; and Jos

aan de Stegge, Brunner Hildebrand Lumber Dry Kiln Co.,

Nashville, TN

Lee Stiles, A.W. Stiles Contractors Inc., McMinnville, TN;

Philip Lowndes, Thompson Mahogany Company/East

Teak Fine Hardwoods, Donalds, SC; and Glenn Thompson,

A.W. Stiles Contractors Inc.

Casey Miller

Casey Miller is a project manager at A.W. Stiles

Contractors Inc. of McMinnville, TN. The company

manufactures and installs continuous dual path

and batch lumber dry kilns, kiln parts, boilers and

boiler parts.

A.W. Stiles also provides energy-efficient kiln

reskins, power vents, steam management, kiln

controls, kiln coating, rebuilds, repairs, upgrades,

relocation of kilns and service to existing equipment.

The company can work on all kiln brands,

not just their own.

Michael G. Baker

Michael G. Baker is the owner of Northeast Mill

Services LLC, a consulting firm representing BID

Group products and services for the sawmill and

processing industries.

BID Group offers optimization systems and

integrated solutions for transformational wood

processing technologies using Artificial Intelligence

(AI) designed specifically for Softwood and hardwood

grading.

Baker has worked in the industry for 11 years,

beginning at Pinkham Lumber Company in Ash-

Continued on page 105 Continued on page 105

Scott Parker, NAWLA, Chicago, IL; Trent Johnson, Blue

Book Services Inc., Carol Stream, IL; Tom LeVere,

Weekes Forest Products Inc., Saint Paul, MN; and Mark

Erickson, Blue Book Services Inc.

Dave Sondel, U-C Coatings LLC, Buffalo, NY; Steve Anderson, U-C Coatings LLC, Portland, OR; Noelia Ragland, U-C

Coatings LLC, Seattle, WA; Kip Anderson, U-C Coatings LLC, Portland, OR; and Eric Degenfelder, Chris Fehr, U-C

Coatings LLC, Buffalo, NY

Nelson K. Miller

Nelson K. Miller is owner of Air Systems Mfg. of

Lenoir Inc. in Lenoir, NC.

Air Systems Mfg. of Lenoir offers dust collection

and filtration systems used in the forest products

industry. In addition to new items an extensive

inventory of reconditioned equipment is also available.

The company was founded in 1988 by Miller.

Additional services offered include troubleshooting,

written assessments, conceptual and final

design, as well as on-site maintenance.

Nick Allen

Nick Allen is the President of Blair Logistics. Nick

was raised in Scottsboro, AL until moving across

the state to further his education at the University

of North Alabama where he received his Master's

degree in Business Administration.

He began his career in trucking in 2003 and has

now been in the industry for almost 19 years. Nick

started with Blair in 2011 as a Director of Customer

Service working with his counterpart, Travis Nobinger,

standing at less than 150 contractors. Now

sitting at over 800 contractors, Nick has led his

team to significant growth.

Continued on page 105 Continued on page 105

Shane Glascock, PPG Industries Inc., St. Louis, MO;

Bill Reynolds, PPG Industries Inc., Evansville, IN; Craig

Combs, PPG Industries Inc., Medford, OR; and David Jeffers,

PPG Industries Inc., Raleigh, NC

Jim McGinnis, The McGinnis Lumber Company Inc., Meridian,

MS; Mike Limas, Anthony Muck and Jordan Lynch,

DMSi Software, Omaha, NE; Dave Lefler, DMSi Software;

and Kris Page, F.H. Stoltz Land & Lumber Co., Columbia

Falls, MT

Corey Bounds, Continental Underwriters Inc., Newton,

MS; Melissa Berry, Continental Underwriters Inc., Richmond,

VA; Jeff Jordan, Jordan Lumber & Supply Inc., Mt.

Gilead, NC; and Woody Stanchina, Continental Underwriters

Inc., Richmond, VA

CORLEY TILTED CARRIAGES

Saving You

Money On

Sylvain Dionne, Michael Baker, Mario Tremblay, Normand Langlois and Felix-Antoine Caron, BID Group, Mirabel, QC

Thomas Brodie and Rory Brodie, Charles Ingram Lumber

Co. Inc., Effingham, SC; and Cali and Woody Rich, Legna

Software LLC, Winston-Salem, NC

EVERY

Turn

Peter Lovett, King City Northway Forwarding Ltd., Montreal,

QC; Terry Miller, The Softwood Forest Products

Buyer, Memphis, TN; Anisa Gjoka, King City Northway

Forwarding Ltd.; and Mark Metzger, U-C Coatings LLC,

Buffalo, NY

Brian Delbrueck, Arxada, Alpharetta, GA; and Drew Harrigan,

Harrigan Lumber Company Inc., Monroeville, AL

Gus Welter, Granite Valley Forest Products Inc., New

London, WI; and Jeremy Mortl and Craig Albright, Messersmith

Manufacturing Inc., Bark River, MI

Additional photos on page 114

CORLEY

SAWMILL MACHINERY

Chattanooga, Tennessee

Phone 423-698-0284

LEWIS CONTROLS

OPTIMIZATION

Cornelius, Oregon

Phone 503-648-9119

Page 62 ADVERTORIAL Wholesale/Wholesale Distributor Special Buying Issue Wholesale/Wholesale Distributor Special Buying Issue ADVERTORIAL Page 63
---
TS Lineshaft Trimmer in a Sawmill in New Zealand

TS Manufacturing Celebrates 50 Years Of Business

TS Horizontal Resaw in a Southern Yellow Pine

Sawmill

As TS Manufacturing marks its milestone 50

years in business supplying sawmill and lumber

handling machinery to the wood industry, founder

and CEO Ted Smith commented on the various

rewards and challenges he's experienced. "This

industry is always interesting, and always evolving

which keeps it exciting," he stated. "While

Curve Sawing, Profiling, and Auto Grading have

been revolutionary, it's amazing how many little

things have brought us to this point. Take VFD's

(Variable Frequency Drives) for example. As

recently as 20 years ago most mills had a couple;

while today almost all the motors are VFD or

servo controlled."

These layered improvements in technology

have been the foundation for the expansion of

TS Manufacturing in the last 10 years, especially.

Going from a manufacturer who supplied equipment

with other people's controls to one with

an international controls department, full panel

shop, and software team – TS has utilized these

'architecture' improvements to guide its development

and improvement of equipment. "Before

undertaking our own controls department, it was

easy to play hot potato with challenging machinery

questions and say – 'that can be handled in

controls.' The customer / supplier dynamic we

had with our controls vendors probably limited

the frank discussions about how a simple

mechanical tweak can allow dramatic improve-

TS AccuPlacer and Stacker, a stick placing system that

can be retrofitted to many existing stackers

ments in the 'integration' of the controls and the

machinery, giving the customer a better product,"

explains Dustin Smith, VP of Engineering. "A

perfect example of the evolution of equipment

and controls is our AccuPlacer. We're currently

installing the newest generation of Stick Placer in

Indiana. While previous ones were pneumatically

operated, and have been reliable for the last nine

years, through collaboration of our Mechanical

and Electrical engineering department, we were

able to revise it to a servo electric operation

which will increase performance and reduce

complexity."

TS Manufacturing has the range of equipment

to give their controls and software department a

breadth of applications to work on. Starting in the

1970's as a manufacturer and installer that built

transfers, log decks and installed others' equipment,

today TS has one of the most complete

lines of machinery for a company of 120 people.

"We are a family business that offers our customers

a diverse product range. We build Conveyors

and Transfers, Bandmills, Sharpchains, Twins,

Edgers, Gangs, Resaws, Trimmers, Sorters,

Stackers, Stick Placers, Tilt Hoists, and Residual

Handling Equipment like Vibrating and Belt

Conveyors as well as Chip Screens and Bins,"

reminds Riley Smith, VP of Sales. "This diversity

of machinery gives us opportunities to work with

customers and help them discover the optimum

solution for their niche. Our most successful

customers work as 'partners' to develop their machinery

to their needs and our experience." This

partnership has even led to the development of

TS Continuous Tilt Hoist on a Planer Line

To learn more, visit www.tsman.com.

their software division. "AccuTally was developed

because a customer wanted 'One number to call'

for support, and the missing piece was the Sorter

Software," highlights Geoff Gannon, System

Sales. Since developing AccuTally, TS has been

able to help customers like Robbins Lumber,

Inc., A. Johnson Co. LLC, and Allegheny Wood

Products with sorter software upgrades, even

when there were no machinery purchases

involved; as of writing there have been over 50

AccuTally systems sold to customers worldwide.

"We're a family business, and we treat our

customers and employees as more than numbers,

obviously," expresses Kris Smith, VP of

Manufacturing. "This family atmosphere works

to provide open communications and suggestions

between departments, which allows us

to incorporate modernization in the plant into

improvements in our equipment, and ultimately

our customers' bottom lines." Evidence of continuous

improvement is everywhere to be seen,

from simple things like Bin Sorter walls, through

to the Precision Sharp Chain Links on their highspeed

sharp chains. However, perhaps the most

obvious example of this partnership is on their

most recent product – Robotic Lumber Stacking.

"Some of our customers needed something different.

Bin Sorters were too expensive, and labor

is too difficult; so our team worked with one of

our customer partners to fill their needs," beams

Ev Smith, co-owner and CFO. "Our extended

family of employees is always working to help

our customers; and we're excited to see what the

next 50 years will bring."

Page 64 ADVERTORIAL Wholesale/Wholesale Distributor Special Buying Issue Wholesale/Wholesale Distributor Special Buying Issue ADVERTORIAL Page 65
---
A.W. Stiles Contractors:

Family Owned And

Operated Since 1976

In the early 1970s, A.W. Stiles was a small-town farmer and factory foreman. A few days after

painting his barn himself, A.W. got a call from a neighbor who wanted their barn painted as well.

From there, A.W. continued to accept work as a painter until he was an independent commercial

paint contractor and incorporated in 1976. The completion of a paint job for Burroughs-Ross-

Colville Co., located in McMinnville, TN, could be said to represent the foundation on which A.W.

Stiles Contractors is now built.

During the time he was

growing his business, A.W.

fathered two sons––Tony and

Tommy Stiles. Tony, the older

son, worked for the family business

during his early years but

pursued a different career path

as his own family grew.

Tommy, meanwhile, worked

alongside his father through

high school and college, which

he graduated from in 1990 with

a business degree.

Tony eventually returned

to the family business, which

Direct drive circulation fan shafts for Vicksburg Forest

Products are pictured here.

was then helmed by Tommy.

Many changes were seen at the

company in 2004. Tommy's wife,

Christie, joined as office and

accounts manager; A.W. retired; and the company installed its first dry kilns that were manufactured

completely in-house.

Now, 18 years later, A.W. Stiles Contractors has manufactured numerous new lumber dry kilns

throughout the country. During the building of those first kilns, Lee Stiles, who is Tony's son and

Tommy's nephew, began working for the company. Lee apprenticed under Tommy and learned

many facets of the business. In step with his uncle, Lee earned a business degree in 2008.

Up until 2010, the company's customer base was predominately hardwood. It was about an 80

percent hardwood and 20 percent Softwood business at that time. Since then, the company has

grown their market share in the Softwood industry, especially in the Southeast.

Among the products brought to market by A.W. Stiles Contractors are:

•Continuous dry kilns

•Complete reskins on walls and roofs

•Door repair and replacements

•Construct and install heating coils

•Complete steam line installations

•Relocation of existing dry kilns

•Heat ducting and downcomers for direct fired kilns

•Replacement fan shaft assemblies

•Structural repairs

•Full line parts sales

A.W. Stiles Contractors works through Tinsley Consulting Group of Hot Springs, AR, anytime a

continuous dry kiln project comes through the Stiles bid list. And while A.W. Stiles Contractors can

build kilns new from the ground, sometimes it's possible to add extension chambers to an existing

batch kiln, thus creating a continuous style kiln.

To list a few of our most recent customers who have entrusted us with some of their kiln work:

•Faircloth Forest Products, Inc., Swainsboro, GA

•Potomac Supply, Kinsale, VA

•T.R. Miller Mill Company, Brewton, AL

•Charles Ingram Lumber, Effingham, SC

•Hankins Lumber, Grenada, MS

•Vicksburg Forest Products, Vicksburg, MS

•Langdale Industries, Valdosta, GA

•PotlatchDeltic, Waldo, AR

•Dudley Lumber/East Alabama Lumber, Lafayette, AL

•Griffin Lumber, Cordele, GA

•Interfor - Multiple locations

A.W. Stiles Contractors lived through a tragedy in November 2017. Tommy and a flight instructor

had been out of town, checking on a job. During the return flight, the two men were involved

in a plane crash near McMinnville, TN, which claimed both their lives. Tommy always led the

company by example. His hearty smile and optimistic outlook on life carried over to the entire crew

at A.W. Stiles Contractors.

Lee stated in a recent interview, "We miss Tommy every single day. All of us do. Had it not been

for all his hard work and effort, we certainly would not be where we are today as a business. He

did an amazing job building relationships in our industry. In addition to developing our name and

reputation, Tommy also invested a huge amount of time leading the company and encouraging

Steam condensate trap piping provided by A.W. Stiles are seen here at Vicksburg Forest

Products DPKs.

Lumber enters one of two completed NoRev DPKs at Vicksburg Forest Products.

growth from within. We've

all been trained by the best.

Tommy had a simple outlook

which worked well. Go to work,

do a good job, work hard, and

be fair. The rest will always

take care of itself, and he was

right. People want someone

they can depend on and trust.

That's what we're continuing

to do. We still have great management

in place, and most of

our team has been with us for

many years."

A.W. Stiles Contractors has

the experience, knowledge and

man power to install, relocate,

repair and modify kilns for

whatever their customers

need. Many times the kilns

can be rebuilt much cheaper

than they can be replaced. Other

times, a newly built kiln is more

economical. We provide either option.

One of two newly completed NoRev DPKs installed by

A.W. Stiles Contractors at Vicksburg Forest Products,

Vicksburg, MS.

Lee noted, "We are able to complete jobs quickly and efficiently because we have a capable

crew of employees who do amazing work. Long-term, repeat business has played a significant

role in our growth and track record for quality. In a tight-knit industry like ours, word travels fast if

you're bad at your job. We are proud of the fact that most of our new customers come from referrals

made by our existing customers."

For all quotes and inquiries, contact Lee Stiles or Casey Miller.

Lee Stiles

Mobile - 931-409-0144

Email: lee@awscontractorsinc.com

Casey Miller

Mobile - 931-607-7451

Email: casey@awscontractorsinc.com

Office 931-668-8768

More information can also be found at www.awscontractorsinc.com.

A.W. Stiles Contractors: Family Owned and Operated since 1976.

CUSTOM BUILDS TO MEET YOUR SPECIFICATIONS:

Through the years, A.W. STILES CONTRACTORS has

done everything imaginable to lumber dry kilns. From

complete new green field fabrication and installation

projects to minor repairs.

• Batch Track Kilns & Continuous Kilns

• Aluminum or Steel Structure

• Aluminum or Stainless Steel Interior Wall Sheeting

• Aluminum Corrugated Exterior Wall Sheeting

• High R-Value Polyiso Board Insulation

• Energy Efficient, Non-Proprietary, Extremely User Friendly Controls

• Turnkey Projects

DRY KILNS REPAIRS WE DO ROUTINELY:

• Complete Energy Efficient Rebuilds

• Roof Replacements

• Door Replacements, Existing Door Repairs

• Electrical Controls & Upgrades

• New Coil/Steam Pipe Replacements

• Patching Walls & Roofs

No matter the size of your kiln project, we will be happy to take a look at it with you!

Office: (931) 668-8768 • Fax: (931) 668-7327

286 Bass Lane, McMinnville, Tennessee 37110

Casey Miller: casey@awscontractorsinc.com or cell (931) 607-7451

Lee Stiles: lee@awscontractorsinc.com or cell (931) 409-0144

Here are extension chamber and catwalk supports for one of the two newly completed

NoRev DPKs at Vicksburg Forest Products.

Pictured are recently installed steam control valves for Vicksburg Forest Products'

NoRev DPKs.

Page 66 ADVERTORIAL Wholesale/Wholesale Distributor Special Buying Issue

www.awscontractorsinc.com
---
This is the Taylor container lifter owned by King City. The lifter, nicknamed "Big Red," has a 35-ton capacity for container lifting.

King City: Proud To Be A New Member Of The SFPA

King City is a company that has had roots in the forestry

industry for over 50 years. Consisting of three divisions –

King City Northway Forwarding Ltd., King City Forwarding

USA, Inc. and King City Containers Ltd. – together the

three companies provide full service for every aspect of

forestry exports, whether it is Softwood, hardwood, logs,

plywood, MDF or cut to size (dimension) lumber.

Our offices are located in Montreal, Quebec; Alliston,

Ontario; Pittsfield, Massachusetts and Norfolk, Virginia.

Even though we have several offices, the customer just

dials one number (800-335-5394) to contact anyone of

our staff. The locations in Montreal and Alliston, aside

from being an office, are fully equipped terminals that

offer services such as container loading, drayage to port,

fumigation, heat treatment, phyto sanitary inspections,

log waxing, log washing, warehousing outside or inside,

inventory control and transloading. Our Alliston location

has been preapproved by the Australian government for

fumigation and heat treatment for any commodity being

shipped to Australia.

"King City has years of longevity within the industry

and our dedicated employees prove it," commented Lloyd

Lovett, President, King City Forwarding USA Inc. "Our

senior account executives (Bruna Romano and Johanne

Zizian) have been with the company since the early 1980s

Peter Lovett, second generation and Vice President

(far left) leads an experienced team of professionals

who provide export solutions to North American

exporters shipping containers to any lane globally.

and have witnessed the growth and technological changes

of the industry over the last 40 years. They, along with

other members of our staff who have over 20 years of

experience as well, have worked to train and mentor the

new employees and ensure that the high level of customer

service is met."

Many on the company's staff are multi-lingual and

speak English, French, Spanish, Greek, Italian and Mandarin.

"All of our staff boasts previous experience in shipping

and a unique drive to learn about the industry. The goal of

King City is to hire quality, bright staff and to foster their

development over time. Many of our employees have been

promoted or have experienced vast title/job changes since

they started. In alignment with our corporate goals we want

our staff to grow and prosper over time just as King City

has," Lloyd explained. One of the only export companies

Pictured are: (from left) Lloyd Lovett, President, King City Forwarding USA Inc.; Michel Berard, founding

member of King City Northway Forwarding Ltd./King City Forwarding USA Inc.; and Peter Lovett, second

generation, Vice President of King City Northway Forwarding Ltd.

specializing in forestry to provide customized, full service

for every aspect of the trade, when you come to King

City, "We've got you covered. If you need logs fumigated

and loaded, King City can work with you. We ship from

any ramp or port across all of North America to any lane

globally," said Lloyd. The majority of King City's business

is shipping to China, Vietnam, India/Pakistan, Southeast

Asia, UK, and the Mediterranean. However, the company

can ship to any port in the world.

King City has worked tirelessly to foster and develop excellent

relationships with the steamship lines across North

America. The company has individual contracts/matrixes/

relationships with every major steamship line in Canada

and the U.S., and King City is proud to offer customers

competitive rates at every turn. "We will always work with

the customer to get the best rate, period," Lloyd stated.

Some of the lines King City works closest with are MSC,

Zim, Cosco, APL and Yang Ming to name a few. Lloyd

added, "We've spent years cultivating these relationships

with the hopes of benefitting our loyal customers. There is

no need to outsource with King City. If you need a rate for

anywhere in North America, we have you covered. If you're

a U.S.-based customer that needs to ship something out of

Canada or vice versa we can handle that without needing

to farm out or outsource to another forwarder.

"We are well-respected and known in the industry. We

are part of multiple different associations and guaranteed

to make appearances at any conference or meeting,"

added Lloyd. "Most recently we joined the Southern Forest

Products Association (SFPA) and we are also very proud

to be part of the following associations: National Hardwood

Lumber Association, Canadian Hardwood Bureau,

Kentucky Forest Industries Association, American Walnut

Manufacturers Association, Indiana Hardwood Lumber-

King City's operation in Alliston, ON includes: a

10,000 square-foot loading dock, a 9,600 squarefoot

dome for lumber, and the building on the far

left is the fumigation area for 4x40' containers. On

the right in the picture is the company's mechanic

shop.

man's Association, Appalachian Lumbermen's Club, New

England Lumbermen's Association, Penn York Lumbermen's

Club, Lake States Lumber Association."

To conclude: King City is proud to be considered a pioneer

in the export forestry industry and after 40+ years with

the same ownership team, we are just getting started. The

goal of the company is to keep moving full-steam ahead.

If you'd like to reach out to have any of your North American

forestry export needs met please contact Peter Lovett

(plovett@kingcitynorthway.com), or Lloyd Lovett (llovett@

kingcityusa.com ) who will be happy to assist you or call us

at 800-335-5395.

In these challenging times that we are facing I wish the

best of health, happiness and prosperity to all. Be safe.

Lloyd Lovett

Page 68 ADVERTORIAL Wholesale/Wholesale Distributor Special Buying Issue Wholesale/Wholesale Distributor Special Buying Issue ADVERTORIAL Page 69
---
This is Messersmith Manufacturing's green sawdust fired boiler system rated at 450 BHP or 15 MMBTU/hr. It is installed at Roy Anderson

Lumber Company in Tompkinsville, KY and supplies steam for their dry kilns.

Messersmith Manufacturing:

Powering Lumber Facilities For Nearly Four Decades

"Combustion System Chicago

Flameproof" is a wood fired combustion

system rated at 200 BHP or

7 MMBTU/hr. Messersmith Manufacturing

installed it at Chicago Flameproof

in Kinsale, VA and supplies

low pressure steam for their dry

kilns.

Messersmith Manufacturing

Inc. based out of Bark River, MI

is proudly celebrating 40 years of

supplying wood boiler systems for

industrial customers. They offer full

design, manufacturing, installation,

and service of wood fired boiler

systems. Whether it's for heating a

facility, drying lumber, or generating

power, Messersmith boiler systems

offers a solution to fit your needs.

Messersmith offers a wide range

of boiler room equipment from full

turn-key boiler plants to control

systems or conveying upgrades on

an existing boiler system. Their

equipment line starts with fuel reclaim

and material handling equipment

featuring their Traveling Auger

system for reclaiming wood chips,

sawdust, shavings or bark out of a storage bin. Messersmith's solid

fuel combustion systems feature 40 years of experience and technology

into a system that is user friendly and easy to operate. They also offer

emissions control equipment guaranteed to achieve state and federal

emissions standards.

Jeremy Mortl, co-owner and president of Messersmith says, "Customer

service is our top priority as we strive to build long-term relationships and

business partnerships with our customers. Our customers prefer Messersmith

because service matters. Supporting your success is our commitment.

"We take great pride in the efficient equipment and reliable services we

offer. Maximizing system energy efficiency and minimizing maintenance

are hallmarks of our systems. The result is a lower total operating cost

that creates increased, ongoing profitability for our customers."

With rising fossil fuel costs, the ROI of a new wood boiler system is

quite low. One ton of dry wood residue is the equivalent of approximately

120 gallons of propane or 110 therms of natural gas. Similarly, one ton

of green wood residue is the equivalent of approximately 92 gallons of

propane or 83 therms of natural gas. The paybacks to drying lumber or

generating energy with wood residues can be quickly realized. It is also

a good long-term way to control lumber drying and energy costs without

concerns of volatile fossil fuel markets.

Let our uniquely qualified craftsmen and technicians provide your company

with the highest quality energy efficient system.

For more information, visit www.burnchips.com.

Jeremy Mortl, Messersmith co-owner and president, is pictured in front of a

Messersmith Manufacturing's wood fired combustion system.

Page 70 ADVERTORIAL Wholesale/Wholesale Distributor Special Buying Issue

TRUSTED NATIONAL LEADER

FULL BIOMASS WOOD BOILER SYSTEM

Design, Fabrication and Installation –

Hot Water and Steam

• Lifetime Support of Equipment with Full-Service

Team and Parts Division

• Experts in All Aspects of Boiler Room Equipment –

Combustion System, Boiler, Emissions Control

Equipment, Controls, and Material Conveying

Equipment

• Installing throughout the US and Internationally

www.BurnChips.com

sales@burnchips.com 906-466-9010
---
Evaluating a Technology Partner?

Swap your RFP for an RFI.

By Anthony Muck

Stay Above

Supply Struggles

ANTHONY MUCK

(Anthony Muck is currently serving

on the NAWLA Leadership Summit

Committee. He is Vice President of

Sales and Marketing at DMSi, an

Omaha, NE-based company providing

business management software

for the building materials industry.)

At some point or another, businesses find themselves evaluating

potential software partners. Even we at DMSi, who make our bread

and butter from being chosen as software partners, go through this

process when we evaluate vendors to integrate with our software.

To make a wise software investment, we've found that you need

to learn whether a vendor can deliver the things that matter most

to your business. But software vendors all build slightly different

products. Businesses that prioritize systems that function like their

current one might end up with software that has the things they

want. But they may discover it's missing the things they need.

As a software provider, we know vendors respond to information

a prospect supplies and demo features accordingly. We also know

that businesses often choose new software by using a formal Request

For Proposal (RFP). The reasoning behind RFPs is simple:

with enough information, the "right" decision reveals itself. The

process entails:

1. Making a list of every required and desired feature.

2. Asking vendors whether their system has each feature.

3. Assigning points for each answer.

Presto! The highest scoring vendor has the best software. Right?

Wrong. While RFPs can be a helpful tool for a company to start

understanding what different vendors offer, they can also lead

businesses in the wrong direction.

This is because RFPs prioritize software features over business

needs. As scorecards, RFPs ask questions with simple yes/no

answers like, "Does the system have feature X?" An RFP doesn't

include key questions such as, "How can your system help us cut

costs?" Without open-ended questions, deeper discussions are

missing.

features with must-have business improvements, and then asking

a prospective vendor what their software can do to address the

improvements.

It makes sense. Business goals drive every major company

investment. From opening a new location to adding a new product

line, businesses pursue actions that help increase revenue, improve

customer loyalty and grow market share. The same logic should

apply when choosing new software.

To create an RFI for choosing new software, go through the following

three questions and write down your answers:

1. STRATEGIC GOAL: What does the company need to focus

on to be successful over the next 10-15 years?

2. BUSINESS STRATEGY: What should we prioritize in our

operation to achieve that goal?

3. IMPROVEMENT GOALS: How can we change processes to

better achieve our goals?

Coming up with the answers takes time and discussion, and you'll

need to include insights from executive leadership. But once you go

through this exercise, you will have what you need to ask the most

important question in your RFI: "What can you, the prospective software

vendor, do to help us?"

Instead of a feature checklist, vendors will talk about your specific

business goals and the different ways the software might help to

achieve them.

With business goals as the conversation focus, it should become

much clearer what a software vendor can offer and who you'll want

to partner with. After all, changing software is a long-term commitment

and you want to know exactly what you're getting. With an

RFI, you'll like the odds of choosing the right system to help your

business achieve those goals and the right partner to help you do it.

Learn more at www.dmsi.com.

C

M

Y

CM

MY

CY

CMY

K

Agility ERP keeps your inventory and order management info in one place.

Real-time. Automatically updated. At your fingertips 24/7.

This is how you make powerful, data-driven decisions.

Learn more at DMSi.com

Say Hello to the RFI

So, what's a business to do? How can you be thorough without

missing (lumber analogy noted) the forest for the trees?

We suggest a simple twist on the RFP by making it an RFI

(Request for Information). An RFI starts with replacing must-have

Please visit us at booth #809.

Page 72 ADVERTORIAL Wholesale/Wholesale Distributor Special Buying Issue

Wholesale/Wholesale Distributor Special Buying Issue ADVERTORIAL Page 73
---
Lumber, plywood &

OSB branding paint.

Britewood XL diptank or spray box application can be optimized for cost

effective sapstain and mold control.

Process And Equipment

Support From

U-C Coatings

You know U-C Coatings as the Leader in Wood Protection

serving sawmills, pressure treaters, plywood plants, and many

other wood products manufacturing facilities. We help our customers

deliver high value, great looking lumber and wood products

to the market. The highest quality finished product results

from a combination of the process materials and the application

process. In addition to high performance products, U-C offers

application equipment solutions.

The Contechem product line of Britewood® sapstain and mold

control chemicals are specifically formulated for use in protecting

fresh sawn lumber. Each sawmill is unique with different species,

market requirements, and process conditions. U-C Coatings

will work with you to determine the best application method

and dilution ratio for your operation. To simplify chemical handling,

we design, build and install automated small bulk delivery

systems and spray equipment. The system reduces the need for

mill personnel to contact concentrated products which improves

quality, enhances safety, reduces labor, and lowers cost. Many

customers have commented on how the spray system provides

even coverage with low waste, and how simple it is to operate.

With our products and equipment, you can count on a yard full

of bright, fresh-looking lumber that meets the most stringent

customer requirements.

Our Eco Chemical® line of wood stains and coatings adds

beauty and value to pressure treated wood, fencing, and other

factory prefinishing applications. In-house prefinishing adds

value, expands product offerings, and increases margins. Our

technical support ensures a productive, high quality application

process with fast dry times and consistent color. For efficient,

controlled application, we offer custom designed spray systems

that take up a very small footprint in the factory. They are engineered

to deliver ease of operation, consistency and cost effectiveness

even at very high production rates. Our water-based,

Gempaint gives fast dry and strong color with a one coat application for lumber branding.

ultra-low VOC (volatile organic compounds),

environmentally friendly product systems are

easy to handle, very low odor, and minimize site

emissions.

The Gempaint® product line for lumber branding

is designed for ease of application, with fast

dry times and excellent hiding. U-C Coatings

provides easy to use spray equipment that

works well across any location in your facility.

Our team can help train your personnel for efficiency

and great looking results.

U-C Coatings is your partner in the cost-effective

production of wood products your customers

will love. Visit us at the 2022 NALWA Traders

Market, call us at 888-363-2628, or visit our

website at www.uccoatings.com.

Please visit us at Booth #712

Eco Chemical stains can be optimized

for application via flood

coat or spray.

Wood stain protection.

Mold & sapstain control.

FIND US AT THE

# 7 1 2

B O OT H

Eco Chemical fast dry times and consistent color provide productivity and

appearance on prestained wood.

Our technical support ensures mold and stain free lumber week after week.

Buffalo | Portland | Seattle

716-833-9366 toll free: 1-888-363-2628 www.uccoatings.com

Page 74 ADVERTORIAL Wholesale/Wholesale Distributor Special Buying Issue Wholesale/Wholesale Distributor Special Buying Issue ADVERTORIAL Page 75
---
POWERED BY INNOVATION.

DRIVEN BY QUALITY!

kilnsales@nyle.com (800) 777-6953 www.nyle.com

Page 76 ADVERTORIAL Wholesale/Wholesale Distributor Special Buying Issue Wholesale/Wholesale Distributor Special Buying Issue ADVERTORIAL Page 77
---
Biolube Engineers Redesign® Lubie Spray System with added Safety Features

Spray bar versatile enough for a variety of factory-installed

equipment or added to existing equipment.

A Nyle Dry Kilns' control system can control all aspects of the drying process.

Nyle's New

Offerings Innovate

Kiln Efficiency

Nyle Dry Kilns believes that due to the state of the economy and market

we currently live in, now is the time to ensure your kilns are running

as efficiently as possible. "We provide the tools to help your kiln reach its

full potential no matter the manufacturer," says Jeremy Howard, President

of Nyle Dry Kilns. The "tools" he is speaking of are their Heat Recovery

Ventilation Systems and a new industry-leading NDK 2.0R kiln control.

"At Nyle, we believe that every company wants to improve their kiln drying

performance, efficiency, and results, but sometimes they don't always

have a clear path to make that happen," says Howard. "We believe we

can help draw that map."

Heat loss through venting can be one of the most notable downfalls

when drying lumber. Heat loss requires the kiln to use more energy to

bring the chamber back to temperature. This energy loss also causes

a delay in the schedule resulting in added drying time. Nyle believes

that their Heat Recovery Vents, or HRV, as it's typically referred to, can

become a valuable addition to any kiln. The vent utilizes the heat being

vented from the kiln to warm the incoming air minimizing the need for

"reheating," reducing the overall fuel consumption and increasing overall

production quality. "We have seen our customers save 70 percent or

more of their normal heat loss when switching to our HRVs," says Howard.

Another downfall Nyle believes some sawmills face is proper control

over their lumber drying. Nyle took this hurdle and developed a new

Industry-leading kiln control they rolled out this year. "Our new NDK 2.0R

puts an advanced controller into the hands of the kiln operator, allowing

them complete control over their kiln schedules and product quality," says

Henco Viljoen, Drying Specialist for Nyle Dy Kilns and creator of the new

control. "This new control system boasts the same features Nyle had had

in their controls for years while adding advanced features such as Electronic

Wet-Bulb/ Dry-Bulb, Mobile/Web-based controls, and advanced

scheduling system." The "R" in the controls name stands for "Retrofit,"

meaning their control will work with any kiln regardless of the manufacturer.

One of Nyle's customers, Pleasant River Lumber, has already seen

success with this updated control system. Their Enfield location utilizes

the NDK 2.0R's Hybrid mode. Viljoen explains, "The Hybrid mode reverses

the main function of the Dehumidification system; from primary

water remover and secondary heating to primary heating and secondary

water removal. In other words, the primary function of "adding" heat is

controlled by running the compressor as a "heat pump," and the removal

of moisture is controlled through traditional venting and, of course, the

moisture removed by running the compressor anyway."

HRVs work by using the hot air that is vented to heat the incoming air.

Pleasant River's Enfield location dries a substantial amount of Fir. "Fir

is notorious for having wet pockets. The lumber dries fairly easily down to

around 30 percent moisture content," says Viljoen. "After that, the bound

water moves out very slowly." Their kiln, a Nyle HT 162, holds approximately

85,000 board feet. "To dry that amount of Fir down to 18 percent

moisture content, you need to remove 140,000-160,000 lbs. of water,"

explains Viljoen. "Pleasant River's kiln is normally rated to remove 16,200

lbs./day, putting their drying time at around 8-10 days. Using the Hybrid

mode, they are able to complete their drying cycle in approximately five to

six days, a 30-40 percent reduction in drying time from a normal dehumidifier."

"Seeing our customers benefit from the advancements we are putting

into the industry is truly what inspires us," Howard states. "We're not just

looking to sell a kiln and then move on. Sure, we can install new systems,

but we're interested in helping our customers increase efficiency and

quality wherever possible, including upgrades to third-party equipment

that might have been in operation for years." If you want to learn more

about Nyle's high-efficiency kilns or to talk to someone about how to increase

your drying productivity and efficiency, be sure to reach out to the

team at Nyle or visit their website at www.nyle.com/kiln-drying-systems/.

Please visit us at Booth #900

An installed Heat

Recovery Vent

(HRV) from Nyle Dry

Kilns is seen on the

back of a kiln.

Lubie® 1000 Spray System accurately atomizes the correct

Lubie formula. The rugged Lubie spray system is specifically

Fort Wayne, IN - Biolube engineers went over and

above the industry's safety standards while finding a

sensible production solution in today's tough economy

and supply chain. Operators will immediately

notice the improved safety features on the Lubie®

1000 Spray System, which incorporates a pressure

relief valve on a robust re-designed venturi block.

Key Features

·New safety relief valve

·Increased durability

·Venturi block quick disconnect

·New manifold design with less componentsbackwards

compatible with the 900 series tanks

·Serialization for easy asset and warranty tracking

·Shorter delivery times-less than 2 weeks

·100% satisfaction guarantee

For a limited time Receive a FREE DRUM of

Lubie® Lube and up to $250 in shipping allowance

when you order a New Lubie 1000 Spray System!

The Perfect Solution Proven For All Softwoods!

Lubie®

Spraymaster

System

• Most cost effective of any lubes on the market

• Eliminate or minimize pitch build-up

• Increase saw performance

• Non-flammable, no odor, biodegradable

• 100% satisfaction guaranteed

We know your industry. Visit our website

and see it in action or give us a call.

www.biolube1.com

email: sales@biolube1.com • 260-414-9633

designed for Lubie products and backed with a 100%

satisfaction guarantee. Lubie Systems are reliable

and a cost-effective way to accurately atomize the

correct formula of Lubie Lube onto the saw blade,

wheel or other tooling. Customers report longer

blade life and quicker turn-around in the file room.

Filers will spend less time cleaning and sharpening

blades. Simply install the nozzles, connect your air

supply and the spray system is operational. Lube

flow is quickly and easily adjusted.

Easily installs on:

• Band sawmills of all sizes, both vertical and

horizontal

• Thin Kerf Gang Rips and edgers

• Finger jointers, moulders, Scragg mills, package

saws and more

Visit Biolube's full list of authorized Lubie partners

at www.biolube1.com along with a complete list

of Lubie products or request a brochure at sales@

biolube1.com.

Biolube

Saw

Lubricant

+ =

®

Lubie®

More

Linear Feet

per Shift

BIOLUBE

New venturi block and manifold designed with safety

and durability in mind.

Lubie® is the leader and original innovator in saw

lubrication for over 20 years. Lubie®, a Federally

Registered Trademark of Biolube, is the only name

you can trust to provide trouble free Lubie® spray

application equipment and proven saw lubricants,

moulder bed lubricants, grinding coolants, pitch

cleaners and other specialty products.

All products are covered by a 100% satisfaction

guarantee, distributed nationwide by distributors who

know the woodworking industry and work with you to

improve your mill's efficiency.

The Lubie logo, Lubie TM, and all products

denoted with ® or TM are registered trademarks of

Biolube.

Biolube, Inc., 4611 Newaygo Road, Suite D, Fort

Wayne, IN 46808 • 260-414-9633

www.biolube1.com • sales@biolube1.com

The home of Lubie® saw lubricating systems and Lubie lubricants.

Biolube_SW_Perfect_1/2_ad4.indd 1

Page 78 ADVERTORIAL Wholesale/Wholesale Distributor Special Buying Issue Wholesale/Wholesale Distributor Special Buying Issue ADVERTORIAL Page 79

2/8/21 11:00 AM
---
Miller Wood Trade Publications

est. 1927

What is A CUSTOMER?

A customer is the most important person ever in this office…

in person, phone or email.

A customer is not dependent on us… we are dependent on them.

A customer is not an interruption of our work…they are the

purpose of it.

We are not doing them a favor by serving them…they are doing us

a favor by giving us the opportunity to do so.

A customer is not an outsider to our business…they are a part of it.

A customer is not a cold statistic…but a human being with feelings

and emotions like your own and with biases and prejudices.

A customer is not someone to argue or match wits with.

Nobody ever won an argument with a customer.

A customer is a person who brings us their wants. It is our job

to handle them profitably for their benefit and ours.

To the thousands of buyers of Softwood products, The Softwood

Forest Products Buyer wants to give YOU a big heartfelt thank

you! Because of you (retail and contractor yards, big box stores,

the industrial markets, wholesalers and wholesale distributors,

and remanufacturers) and your loyal following and readership, the

Softwood Buyer continues to grow and is the leading wood trade

publication serving you and your industry!

To those we represent (sawmills, engineered wood products,

producers, plywood and OSB plants, and remanufacturers) you have

allowed us to be the leader in this remarkable industry serving you –

Our Valued Customer!

Best Regards,

Zach Miller

Sales

P.S. We also want to recognize the partnerships we've developed

with sawmill equipment vendors, dry kiln manufacturers, and

software and insurance providers – our sincere appreciation for your

contributions to the industry and our publication!
---
SII Dry Kilns manufacturing plant in Lexington, NC

SII Dry Kilns Celebrates Over 50 Years

The foundation for SII Dry Kilns, located in Lexington,

NC, was originally laid in 1970 by Paul D. Mathews when

he began selling and installing kilns manufactured by

existing kiln manufacturers. By 1976 he was joined by his

youngest son Tom Mathews. Tom's desire to manufacture

their own products is what eventually took shape into SII

Dry Kilns. In the early 1990's, they were joined by Paul's

other children, Dan and Paula. The SII family gradually

molded their individual strengths, vision, and hard work

into one of the most successful Dry Kiln companies in the

U.S.

Today, SII Dry Kilns has one of the best if not the best

reputation in the hardwood kiln industry and for the last 10

years we have been working hard to establish that same

reputation in the SOFTWOOD industry! SII provides continuous

"DPK" dry kilns, package loaded kilns and double

track traditional batch style track kilns.

Our Softwood Kiln Features:

•Prefabricated 3" thick R-22 kiln panels of aluminum or

stainless steel construction. Manufactured in our plant

for quality, NEVER field fabricated.

•The heaviest steel or aluminum structures in the

industry.

•Fan systems providing up to 1500 FPM.

•Insulated aluminum roof vents for on/off or modulating

control.

•Allen Bradley ControlLogix PLC controls and Motor

Controls.

•Continuous flow "Dual Path Kilns" and traditional Batch

kilns.

Heating Systems:

•Direct fired systems for green or dry biomass fuels or

natural gas.

•Steam coils available in steel or stainless steel with

aluminum fins.

•Emergency by-pass systems are provided on all

biomass systems.

WE NOW OFFER COMPLETE TURN-KEY PROJECTS

At SII, we realize that aside from the actual sawmill,

drying lumber is one of the largest energy costs that any

sawmill faces. In the last year we have seen several competitors

offer reworked "progressive kiln" designs from the

past with minor modifications calling them "new concepts."

In addition to the increased drying production, the

other major accomplishment of the "Dual Path" concept is

the ENERGY SAVINGS. Unfortunately, these "new" ideas

Canfor Southern Pine, El Dorado, AR

do not provide the ability to pre-heat the entering lumber

and cool down while conditioning the exiting lumber strictly

by moving air across the opposing tracks. The preheating

of green lumber is the most important aspect of the

DPK design that creates the energy savings.

Fast forward 50 years and our family's third generation

is currently active in the company and continues the

tradition learned from their grandparents and parents that

maintaining a reliable reputation is our number one goal.

Brian Turlington, VP Sales and Project Management, has

been with SII for 25 years. Ben Mathews, VP Engineering

and Operations, has been with SII for 18 years. Mary

Mathews, Inside Sales Manager, has been with the company

for 10 years.

Each family member has found their own niche as they

work their way through the business, being able to use

their individual strengths and come together as one company.

Each growing up watching Paul D., Tom, Dan, and

Paula's way of creating a successful kiln company and

have been able to take the company into the next generation

of computerized innovations, thus moving forward not

only in generations but in technology.

SII President Dan Mathews agrees that, "While we

agree that designs and products should constantly evolve

and improve, we also agree that somethings should

stay the same. Things such as customer relationships,

honoring promises, your word should mean something

and supporting our customers long after the project is

completed."

Family business involves trust, letting each person

use their individual strengths to excel in their area of the

company, ultimately coming together as a family and a

business to create well designed products and machinery.

Cultural changes in the world and in the industry means

younger generations have a lot to bring to the table that

Canfor Southern Pine, El Dorado, AR

Steely Lumber Company, Huntsville, TX

can move our products into the future to be more cost

efficient and utilize the latest technologies.

This year SII is celebrating over 50 years in business.

We consider this a milestone that we are very proud of

and know that our company founders would be as well.

We look forward to the next 50 years and respectfully

ask that you contact us (800-545-6379) with any lumber

drying needs you may have.

More details are available at www.siidrykilns.com.

Please visit us at Booth #322

Edwards Wood Products, Laurinburg, NC Steely Lumber Company, Huntsville, TX Canfor Southern Pine, El Dorado, AR

Page 82 ADVERTORIAL Wholesale/Wholesale Distributor Special Buying Issue
---
D&L 180° SwingBlade

THE WORLD'S MOST VERSATILE PORTABLE SAWMILL

A COMPLETE WOOD PROCESSING

SOLUTION

D&L twin saw ready for a test run before shipment.

Introducing D&L Timber Technologies Ltd.

D&L Timber Technologies Ltd. is a world leader in the development and manufacturing

of portable sawmills and wood processing equipment. With more than 40 years of industry

experience, their reputation for outstanding design and fabrication is built upon three generations

of sawmilling. Operating across Canada and the USA, D&L Timber Technologies

has a proven track record of producing robust sawmills leading the industry in simplicity of

operation, reliability and low maintenance. The D&L team focuses on building the world's

best portable sawmills upholding their customers' trust in the quality and reliability of all

their products.

D&L supplies their sawmills, accessories and custom shop solutions around the world.

Their performance engineered products are made in Canada and backed by a two-year

limited warranty. All their products are skillfully designed and extensively tested for optimum

performance in any environment.

Optional attachments available to produce

dressed and edged pre-drilled timber products

D&L Timber Technologies is located in the heart of British Columbia's Caribou region.

WORLD'S MOST ADVANCED PORTABLE SAWMILL

The 180SB Series portable sawmill, the world's most advanced wood processing solution,

features D&L Timber Technologies' 180° SwingBlade technology. Like all D&L mills,

the 180SB is precision-built for longevity and functionality.

Kirk Forbes, D&L's owner, says "We manufacture the only sawmill on the market that is

capable of swinging the blade 180 degrees without removing the guards or adjusting the

head. The 180° cutting capability of the 180SB Series enables you to process logs from

either side, allowing for safe, and efficient breakdown of a log from both sides, without

ever having to move the log. This innovative sawmill edges as it cuts and features a double

riving knife that follows the blade preventing it from entering the cut backwards. We

have optional, easy to change accessories available that make this sawmill a versatile,

one-man wood processing centre for any timber project." He adds, "We've built reliability

into the design of every product, so service and repair tasks are simple and fast. Routine

maintenance will keep your sawmill running perfectly, and we store an inventory

of bearings, belts, shanks, saw blades and blade teeth in stock to reduce unnecessary

downtime."

The D&L SwingBlade sawmill has an electric start and can process entire logs (Soft-

The D&L 1040 Super Pro SwingBlade ready to cut

The shop is packed full just before moving into our new production facility.

wood and hardwood) into rough cut lumber and value-added timber products. Our unique

six-tooth Carbide-tipped blade is the industry leader in cutting accuracy and speed with a

minimum amount of blade sharpening.

The blade can be sharpened quickly and in-place with the Diamond sharpener included

with the sawmill. An optional Radial Multi-catch system allows the blade position to be set

quickly and accurately, providing horizontal, vertical, or angle cutting.

Designed for safety and one-person portability, the D&L 180SB sawmill provides higher

capabilities with a lower cost of operation over band mills. It is built with stainless steel

and aerospace grade aluminum for maximum strength, performance and durability. The

sawmill comes with a modular, lightweight, maintenance-free rail system with adjustable

feet and 7½' extensions. Every mill comes equipped with a unique guard that swings with

the blade for safer operation, a diamond sharpener and jig, and fully assembled carriage.

The D&L SwingBlade 180SB Series is available

in 4 sizes with a variety of options to suit any

project.

Along with performance driven design,

D&L Timber Technologies Ltd. is committed

to excellent customer service. The mills come

mostly assembled, with the rails and all attachments

in one crate, making set-up quick and

easy. All customers are provided free access

to our member only web page which features

training videos for set-up, operation and tips. In

addition, our knowledgeable staff are happy to

assist — from choosing the best mill, to ensuring

the setup for best operation.

D&L Timber Technologies portable sawmills

are built for hobbyists and full-time sawmill

operators. If you have a dream project in mind,

The only limitation is your imagination. want your own small business, or just enjoy

cutting wood, a D&L sawmill is the answer. You

will have the means to harvest lumber from your

own trees, use different species and work with

virtually any dimension of wood, from beveled

siding to ridge beams. That cabin in the woods

is within your reach! Ask us how!

Cut at multiple angles without moving

the log.

Learn more at

www.dltimbertech.com

or call 877-420-5998.

Page 84 ADVERTORIAL Wholesale/Wholesale Distributor Special Buying Issue

Innovative One-Man Operation

180° Cutting Capability High Production

Optional Planer Head Attachment

Optional Slabbing Bar

Key Features

• Unique 180° Swing

• Built with Aerospace Grade Aluminum

and Stainless Steel

• Processes Logs 6" up to 60" Diameter

• No Moving or Turning of Logs

• Powered Vertical Setworks, Standard

on Most Models

• Modular, Extendable Rail System

• Diamond Sharpener and Jig Included

• Radial Multi-Catch & Bevel Siding

Attachments Available

1.877.420.5998 • 250.396.4607

www.dltimbertech.com • info@dltimbertech.com
---
PPG

Duracolor

PPG Duracolor coatings are formulated to deliver excellent adhesion, color retention and firm flexibility to enhance a project's durability and beauty.

PPG –The Standard In Prefinished

Durability, Color And Performance

With lumber and building materials at a premium due to fluctuating

prices and demand, it's more important than ever for consumers

to protect their investments with factory-applied primers and

finishes from manufacturers that can ensure long-term durability

with beautiful and lasting protection.

As a pioneer and leader in the machine-applied coatings industry

for more than 90 years, PPG coatings for pre-priming and pre-finishing

continue to offer significant advantages over field-applied

coatings on exterior siding and trim projects and provide a key

value-add to building material sales for wholesalers and retailers.

Field-applied coating methods can be inconsistent and rely on

the applicator to ensure complete protection in uncontrolled conditions.

Yet, coatings applied in the factory coat every edge, angle

and groove more thoroughly to deliver better, more consistent

protection. Additionally, factory-applied coatings provide a more

uniform film build and color consistency than many field-applied

coatings, providing a significant advantage in performance and

aesthetics.

The Power of Prefinishing

PPG DURACOLOR TM Exterior Finish Coatings are leading the

way. Specifically designed for machine application, PPG Duracolor

creates dynamic performance and durability over all types of composite

siding and trim boards.

PPG Duracolor delivers the durability benefits of powerful UV

protection that ensures the best defense against color fade resistance

and chalking. Additionally, PPG Duracolor provides superior

mar resistance for the best appearance after install with the least

touchup needed. Specifically, the PPG Duracolor IM Ten-Base

Intermix System provides factory applicators with a wide variety of

color options with computer-driven accuracy.

At PPG, we have the ability to make any color vision a reality.

PPG features a research and development lab solely dedicated to

advancing factory applied primers, finishes and stains as our coatings

are available in colors and hues that complement every style.

This resource helps chemists and engineers to evaluate and enhance

new product technologies such as the advancement of new

resins, pigments and colorants. Their focus is on understanding

how extreme weather conditions like extended UV-exposure, salt,

heat, wind and corrosion can affect not only coatings durability, but

long-term color integrity.

A Global Resource

The value of PPG extends far beyond its coatings expertise.

PPG's global service and support team works alongside our customers

to establish best practices, help in designing coating systems,

setting up equipment and processes and assuring the best

quality control with regular technical line audits.

As a global company with operations in more than 75 countries,

50,000 employees strong, PPG is uniquely equipped to service every

coating need. Our global supply chain enables PPG to deliver

products on-time anywhere in North America.

Please visit us at Booth #313

For more information, visit PPGprefinished.com.

Ready When You Are

Specifically designed for machine applicators, PPG

Duracolor exterior finish coatings create dynamic

performance and durability over fiber cement and

composite siding and trim boards.

Product Features:

• Powerful mar resistance

• Excellent flexibility and adhesion

• Machine application formula for better overall

consistency versus field application

• Long-lasting color retention and exterior durability

• Wide range of custom colors available

• 100% acrylic latex

Coatings for Prefinishing

PPG is the leader in advanced factory-applied primers,

finishes and stains for building materials. We combine a

global reach with a dedicated service and support team,

who deliver expertise you can count on.

Together, we can change what's possible.

Layer on the possibilities at PPGprefinished.com

Layer

Without

Limits

Page 86 ADVERTORIAL Wholesale/Wholesale Distributor Special Buying Issue Wholesale/Wholesale Distributor Special Buying Issue ADVERTORIAL Page 87

Visit PPG at #313 at NAWLA Traders Market
---
A&E Carriage Optimizer with JoeScan Scanner Heads

A&E Upgrades Mills To Optimize Profitability During Manufacturing Backlog

Since 1986, Automation & Electronics has

been focused on supplying the sawmill and

lumber handling industries with controls and

automation. Founded in New Zealand by Brian

Smith and his partners, A&E felt there was an

opportunity to provide supportable, PLC based

control systems when their competitors were

still focused on 'Black Box' compu-electronics.

Thirty six years later, this focus on customer

support and maintainability remains at the

backbone of everything they do, including their

expansion into optimization in the last 20 years.

In the current state with machinery deliveries

out 1-3 years from trusted suppliers, labor

shortages at their all-time most 'frustrating' and

microprocessor shortages causing vendors to

'obsolete' old electronics at a frightening pace,

A&E has managed to work with its customers

to deliver results. A&E has been able to provide

additional control options to improve deliveries

while maintaining Allen Bradley programmability

and upgrade optimization systems to improve

support and recovery from older technology.

While it's not realistic to make 'Optimization

Systems' as open for maintenance as PLC's

are, that hasn't stopped this customer support

culture from permeating every aspect of the

A&E product line. Their latest, full suite platform

of optimizers utilize modern, web-based

interface and technology to ensure that their

'supportable' lifespan isn't reduced by Microsoft's

endless obsolescence cycle. In the past

three years since starting this new platform of

optimizers they have been able to incorporate

merchandising, whole log breakdown at the

Sharpchain, carriage, edger, gang and trimmer

optimization. While the trimmer and edger products

are not 'auto grading' based optimization,

they offer a cost effective, modern, and supportable

upgrade path for those faced with scanner

hardware or computer obsolescence.

With their three locations in North Carolina,

New Zealand and British Columbia, A&E

have been able to leverage each site's diverse

experience to enhance the development of the

platform and provide regional support. These

improvements have allowed A&E to service

their customers on quick installation and startups

while upgrading a variety of optimization

platforms. "Each upgrade comes with its own

unique challenges, but we've focused on giving

customers short startups and strong support,"

exclaims Joe Korac, President Automation &

Electronics USA. These included upgrades

from Hi-Tech, USNR, Lewis Controls, Silvatech,

and Inovec systems for customers faced with

'end of life support' on their existing scanning

and computing technology. When contacted for

this article, Joe was on his way to yet another

weekend upgrade project from another vendor

to A&E optimization.

Joe stresses that not all the projects are optimization

ones. Recently A&E has been upgrading

sorter projects on short timelines, as low as

a weekend. "While we work with many OEM's,

TS Manufacturing is an investor in A&E and we

worked with them to develop AccuTally a modern

sorter control software with the same 'web

based' interface of our optimizers," explains

Joe. Recently, A&E has been involved in a couple

of 'quick turnaround' sorter upgrades when

customers with older Autolog, Silvatech, USNR

and Prologic systems needed a quick upgrade

for hardware that was no longer supportable.

"We've even upgraded our BinView Tally Software

to AccuTally at a couple of sites in order

to resolve some Microsoft Windows upgrades.

The advantages of web-based interfaces are

really staggering; managers have access to

setups and reporting from their desks, Windows

compatibility and upgradability is simpler and

the whole experience is so much better for the

customer. We're even upgrading our Industry

leading Kiln Controls to use this technology."

If you have a system that needs upgrading,

changing or just desire a better support experience,

contact Automation & Electronics at 704-

200-2350 or sales@automationelecusa.com!

A&E has a long partnership providing kiln controls and

software.

Optimized Edger: Many Transverse Optimizer upgrades

have been completed in a long weekend.

A&E Trimmer Optimizer running Southern Yellow Pine

Page 88 ADVERTORIAL Wholesale/Wholesale Distributor Special Buying Issue Wholesale/Wholesale Distributor Special Buying Issue ADVERTORIAL Page 89
---
Continuous wood drying

greatness by Valutec

Worldwide Continuous Success For Valutec TC-Kilns

As the leading developer and world leader in continuous lumber

dry kilns, Valutec has delivered more than 2,000 continuous kilns

to sawmills around the world. In 2020, the company commissioned

North America's first TC continuous kiln at Pleasant River's site

Moose River in Jackman, ME, and today another eight kilns are up

and running or being installed in North America.

"It does a great job, in a lot less time than we're used to and puts

out a much better product," says Fred Haigis, Lumber Yard Supervisor

at Moose River.

The TC Kiln

Valutec is the only company offering TC kilns. It is a kiln type

that comes with distinguishing features such as low energy consumption,

high flexibility and superior capacity. It gives the operator

the possibility to create the ultimate drying process with unlimited

freedom to mix dimensions, minimal moisture content variation and

reduced risk of checking. Annual capacity can reach 150 MMBF

with target moisture contents down to around 12-18 percent. The

principle is based on the timber package being fed length-wise

through zones in which the air circulates laterally across the drying

channel. This enables the separate regulation of the climate in

different zones according to a schedule that comes very close to

the ideal schedule of a batch kiln. The TC kilns are equipped with

Valutec's control system Valmatics 4.0, which has an integrated

simulator that enables simultaneous optimization of capacity, quality,

and energy consumption. "The leap in technology has fundamentally

changed the way of working at many sawmills. Higher

flexibility creates significant advantages, particularly when it comes

to planning. Competition is extremely tough in the sawmill business,

where margins are tight. So, customers in this sector rely on

high efficiency and quality," says Ingo Wallocha, Managing Director,

Valutec Wood Dryers Inc.

"Today, we're selling TC continuous kilns in markets all over the

world. It's the result of thousands of development hours during

which we studied, evaluated, tested and reinvented every part of a

type of lumber kiln which, in its original design, was first used back

in 1927," says Wallocha.

First Canadian TC

The startup of Pleasant River's TC kilns did not go unnoticed,

and several sawmills have visited Pleasant River to take a closer

look at Valutec's TC-kilns. The response from the visits has been

overwhelming and one year ago the first TC kiln in Canada was

started up at J.D. Irving, Grand Lake Timber Chipman, NB, Canada.

It's a twelve-zone kiln with a yearly capacity of 125MMBF.

"In summertime the TC kiln saves about 35 percent energy compared

to our other kilns and in wintertime it saves up to 50 percent

energy while delivering a higher quality," says Mario Desjardins,

General Manager of J.D. Irving

Around the same time, the first TC kiln on the west coast at

Hampton Lumber Company, Warrenton, OR was commissioned.

Valmatics 4.0

Valutec's control system Valmatics 4.0 allows

sawmills around the world to automate and optimize

drying in all types of lumber kilns.

Valmatics 4.0 is the only control system on the market

that combines simulator technology with adaptive

control, and enables optimization based on capacity,

quality and energy consumption, simultaneously. The

new Valmatics 4.0 means modern TC continuous kiln

functions can be put to full use. All the kiln operator

needs to know is the incoming and desired outcoming

moisture content; the system does the rest. This frees

up time for more important operations such as saw

planning, quality control and sampling.

Sawmills around the world are discovering the benefits of Valutec's TC continuous

kilns. Like Pleasant River sawmill group that recently invested in TC kilns to their

sites in Dover-Foxcroft and Moose River, ME. They are now experiencing a shorter

drying process, lower energy consumption, higher quality and the intelligent drying

schedule simulator that makes Valutec's kilns the leading product on the market.

Read more at www.valutec.ca

The kiln does a great job in a lot less

time than we're used to and puts out

a much better product.

Fred Haigis, Lumber Yard Supervisor, Moose River

For more information, go to

www.valutec.ca.

J.D. Irving Grand Lake Timber, Chipman, NB Please visit us at Booth #636

Ingo Wallocha

Managing Director Valutec Inc

Page 90 ADVERTORIAL Wholesale/Wholesale Distributor Special Buying Issue Wholesale/Wholesale Mobile Distributor +1 778 868 Special 3695 Buying Issue ADVERTORIAL Page 91

Phone +1 416 640 7478

ingo.wallocha@valutec.ca
---
Paw Taw John

Services:

Quality Hi-Tech at

Competitive Prices

Paw Taw John Services, Inc., is a Veteran-owned Company established

in 1986. PTJ had humble beginnings and is now the developer

of Motion Control Systems primarily for sawmills, but also offers to

develop systems for any manufacturing application.

Our systems are supported with Virtual Private Network Technology

that ensures successful trouble calls with our highly educated

engineers, programmers, and field technicians. PTJ also travels to

locations on a moment's notice for repairs so the customer can stay in

production.

PTJ also builds Custom Cables, Proportional Valve Testers, Servo

Valve Testers, and Servo Sensors. We offer all of our services at a

competitive price and back up our products with stellar, knowledgeable,

exceptional customer service and support.

PTJ is the #1 Temposonics ® distributor and repair center in the

nation. Our assemblers and tech repair departments are very precise

and efficient.

Jerry Johnson, Owner

With over 100 years of collective experience of the owners, the innovative

nimbleness offered by them and their employees is stellar. The incredible

team that supports this Company are all enthusiastic about the Company

and its future. PTJ is adding new features for our scanning system that will

give mills real time information about production.

Currently, we are developing and experimenting with more efficient and

cost-effective systems. We are constantly doing research and development

to improve the options for our customers. A good product, and cost effectiveness,

is our primary focus. Paw Taw John welcomes anyone who would

like to speak about their options and their needs.

Our team is positive and productive. Here is what they have to say about

Paw Taw John.

"Paw Taw John operates as a

family with a laser focus on our

customers. We understand how

lowering downtime for Industrial

Manufacturers is valuable, so

we do our best to help our customers

operate their machines

with confidence."

Othman

Chief Engineer

"I am proud to work for a

company that is Veteran-owned,

produces American-made

products, employs locally, and

treats us like family. In the

years being here the one thing

that stands out most loudly is

that we do our best every day to

help our customers"

Jusina

Production Manager / Sales

"Paw Taw John Services has

been my home and my family

for the last 10 years. Here I

have had the opportunity and

pleasure to work with an extremely

gifted team. Together

we aim to expand and bring new

innovations into the industry."

James

Systems Manager

"At Paw Taw, I'm certain that

my future and the future of our

customers is foremost. Being

able to apply our knowledge in

unique ways is Paw Taw John

Service's most important quality."

Ed

Field Technician

"We are a wonderful, tight knit work family that works hard every

day and are always doing something different daily so it is always

a learning experience. We work hard for our customers to provide

them with products and service to make their lives better. We

promise to do that every day. We are grateful to work with a team

that collectively focuses on quality in all things at Paw Taw John on a

daily basis."

Ben, left, and Johnathon

Assemblers / Repair Techs

"The owners are sharing their

knowledge with newer members of

our company with the goal of a long,

bright future for the company and

its members. PTJ's staff includes

individuals with wide ranges of

experience which adds to the culture

diversity of the company."

Patty

Accounting Senior

"I am grateful to have been

part of PTJ for the last 25 years.

All of this time has been hands

on repair experience. Watching

the company grow to where it is

at and their continual progress

makes me happy to have been

a part of it."

Ken

Lead Repair Tech

"As a family-owned company

the location may be small but

the ideas are big. As we look to

the future, we see nothing but

growth. As the projects continue

to expand, our aim for perfection

never ceases."

Johnathon

Repair Tech

To learn more, go to www.pawtaw.com.

Page 92 ADVERTORIAL Wholesale/Wholesale Distributor Special Buying Issue
---
Ally Global Logistics:

More Than Your Forwarder, We Are Your Ally

More than your Logistics Partner

We are your Ally

Stephen Zambo

President

Ally Global Logistics

Ally Global Logistics is a privately owned NVOCC/

OTI/Freight Forwarder specializing in Domestic,

Export and now Import Transportation of Forest

Products. Since 2013, Ally Global Logistics (AGL)

has provided clients with efficient and personalized

service throughout North America, reaching customers

around the globe. Ally Global Logistics has 60

total employees over 6 states and two countries. Ally

is headquartered in Weymouth, MA, about 20 minutes

south of Boston, MA. Their sales and operations

team sits in their office located in Jacksonville, FL

with remote teams in Michigan, Montana, Tennessee,

and South Carolina. In 2022, the company is on pace

to ship north of 30,000 containers and over 7,000

domestic truck loads. Through the years they have

remained focused on catering to one of the United

States' most important industries, forest products, as

this is 95 percent of their business.

AGL's two founders have spent more than 72 cumulative

years in the logistics industry. Stephen J.

Zambo, once a Vice President with Evergreen shipping

line, signed the first lumber specific contract for

export back in 1982 as an NVOCC at his previous

company. His son, and current President, Stephen

A. Zambo, attended his first lumber convention at the

ripe age of 2. Shipping lumber is in their blood. When

the Zambos decided to found Ally, their mission was

to be more than a shipping company, but to be an

Ally to their clients. There are many nuances in the

shipping world, and knowing that you have a company

that is there to help take the stress out of shipping,

allowing customers to focus on selling, is why

the brand was created. Forest products are part of

the backbone of America with many family businesses

being a vital contributor to the industry. Ally Global

Logistics, wanted to bring a family approach to the

industry, and to the way they service their clients.

Ally's domestic trucking division was founded in

2020. There are many lumber-related loads moving

around the country every day. Our export customers

were constantly asking if we could run domestic

lanes for them, so we decided to open up a division

focused on that business segment. AGL's domestic

trucking arm focuses on shipping in 53' Dry Vans,

Step Decks, Flatbeds and Conestogas within the continental

USA. AGL's approach to that business is similar

to their export business. AGL locks in drivers on

specific lanes to ensure the business becomes like

clockwork for supplier, receiver and trucker. It makes

it very easy for all parties involved. In addition, their

LTL group, aka less than truckload, has an online

portal and a proprietary rate system. Any customer

can log in anywhere in the world, punch in their load

dimensions and book a truck for pick up within 24-

48 hours with the carrier of their choosing at the rate

they have selected in real time. It makes shipping LTL

with Ally easy.

AGL's bread and butter is their export division. Each

day they move hundreds of containers. AGL has built

a reputation and a team over the years to cater to

the various nuances that are associated with shipping

to over 80 countries. There are many special

requirements on each export shipment. In-house they

have created "The Ally Way," which is their process

to ensure customers are compliant, paid and left with

a stress-free shipping partner. We intend to continue

to refine this side of the business, becoming a better

organization each day.

In 2021, Ally started their import division from the

ground up. That division has been growing, as we

continue to find ways to offer round trip services for

clients, and our drayage partners. By offering a more

attractive full circle shipment, it is easier to secure

drayage for Ally compared to many of our counterparts.

While AGL is a shipping company, they very much

care about giving back. Each quarter, every employee

in the company submits a charity that they would

like to donate to. We then vote on those charities and

donate $1 for each container or truck that we move

for that Quarter. In the 1st Quarter of 2022 we donated

$7,236 to the Boston Children's Hospital. When

the Ally Cares program was created, we set out to

donate $100,000 over a 5 year period. As it stands,

we are on pace to hit $100,000 by the end of 2022.

When you ship with Ally, you are also giving back to a

charity that matters to us, and hopefully to you.

For more information on how to begin shipping, or

simply to reach out to Ally, please contact their Vice

President of Sales and Operations, Jeffrey Dougherty,

at JDougherty@AllyGlobalLogistics.com or

call their main line at 781-544-3970.

Page 94 ADVERTORIAL Wholesale/Wholesale Distributor Special Buying Issue

Domestic Freight • International Export • Transportation Management

781.544.3970

sales@allygloballogistics.com

WEYMOUTH, MA • JACKSONVILLE, FL

www.allygloballogistics.com

Wholesale/Wholesale Distributor Special Buying Issue ADVERTORIAL Page 95
---
Delivering Greatness to You with Every Loaded Truck

When customers purchase wood, most understand

that it comes from a sawmill before it arrives in the

lumber yard or big box store, but few likely think

about how it actually got from the mill to the shelf.

That's where Blair Logistics comes in. Based out

of Birmingham, Alabama, the company helps make

sure that lumber and many other products get from

point A to point B, thanks to a network that includes

hundreds of flatbed trucks.

Nick Allen, President at Blair, explained how

CEO, Jay Bowling, who already had an extensive

background in trucking, grew the business from its

humble beginnings in 2009.

"Jay started with just 12 owner operators. He and

Travis Nobinger would head up the operations at

Blair after Robby Pike and Scott Smith, founders of

PS Logistics, opened the doors and expanded their

company." he said. "Blair has grown from 12 contractors

to where they sit today at over 800."

The contractors are hired by the company as

owner operators or lease purchase operators, while

Blair provides them with customer loads, offering

connections that span the 48 contiguous states. In

addition to Birmingham, the company has terminals

in Indianapolis, Indiana, Memphis, Tennessee, Hope,

Arkansas, Dallas, Texas, Houston, Texas, and Valdosta,

Georgia. Nick said the network is designed to

help the contractors be successful. The team works

collaboratively to help connect the contractors to the

customers.

Blair's top priorities are customer service, partnership,

and safety.

"We do this in the most efficient and economical

ways possible. We do this by using the latest

technology to ensure every load is picked up and

delivered on schedule. We believe we have the best

contractors in the industry. We keep them safe and

deliver greatness."

Forest products make up a sizable piece of the

company's business. The company has been awarded

top carrier consecutively for multiple lumber

shippers. Their reputation has been built on superior

customer service.

Each contractor working with Blair

goes through rigorous, three-day

orientation process in Birmingham

to ensure that they have the proper

equipment and know-how to safely

load, haul, and unload the lumber.

"We do extensive securement training

with all our contractors. We have

safety functions in place to ensure

the load securement meets Blair

requirements as well as any shipper's

specified requirements. Contractors

send pictures to their driver manager

who analyzes the load to confirm that

it is being secured and tarped properly,"

he said. "That way our customers

are not getting a damaged load. If a

load needs to be tarped, we are going

to make sure it happens."

The company has also worked to build ties with

the industries it serves. As such, Blair Logistics is a

member of the North American Wholesale Lumber

Association, the National Hardwood Lumber Association,

the Indiana Hardwood Lumbermen's Association,

and the Southern Forest Products Association.

Nick added that continuing to make these types of

connections will be instrumental to the company's

future success.

"We have plans to continue our growth and through

partnerships, we will continue to grow. With that in

mind, I have hopes that we will be having this discussion

in two years, and Blair is over 1,000 trucks and

continuing to meet the needs of more partners," he

said. "You meet people and learn their needs. If you

can fulfil their need, you make that commitment to

walk beside them."

And, Nick pointed out, it is the people of Blair Logistics

that have driven and will continue to drive the

company's success.

"They work hard. I think we give them a good

foundation so that they understand their importance

in what we do here at Blair. Our employees know our

priority is to take care of the contractors. We have

Blair's Birmingham Terminal

Learn more at www.blairlogisticsinc.com.

Loaded lumber load headed out of a shipper.

Nick Allen, President of Blair

been blessed with the growth, but

we've been blessed because we have

been surrounded by people who are

very strong and passionate about their

jobs."

Page 96 ADVERTORIAL Wholesale/Wholesale Distributor Special Buying Issue
---
Before each processing step, SAM measures the size, shape, and position of logs, cants, and flitches, and then measures them again

after cutting using Flitch Matching technology.

Automating Quality Control Through Technology

LEVERAGING SCAN DATA TO IMPROVE PROCESSES

Self-Adjusting Machine (SAM) technology automates the size control

process. SAM effectively replaces many quality control functions typically

performed manually. This new technology has been running in production

since 2017.

Imagine a mill where products are quality controlled through technology,

where mill QC staff is deployed for higher level analytical work. Manual quality

control measurement for PLC correction is seldom required. Only then is it

possible to operate the mill at its peak efficiency, value recovery, throughput

performance, and safety.

SAM Technology brings you the future!

• Automatic sawing variance control

• Machines self-monitoring, adjusting

• All pieces input/output scanned

Closing the loop

Automated quality control systems have been available for years from

third parties, but to fully close the loop the original optimization data is also

required. For example, to automatically adjust the edger system it is necessary

to know how the piece was positioned before the saws, as well as the

measurements of the resulting piece. If the piece is not on size or not cut at

the target location, it is important to know which saw is out of position, and

the amount and direction that it needs to be adjusted. This is where USNR's

SAM technology closes the loop, providing complete data to automatically

adjust the saws. USNR has had this technology operating globally since

2017.

How it works

Before each processing step, SAM measures the size, shape, and position

of logs, cants, and flitches, and then measures them again after cutting using

Flitch Matching technology.

SAM combines the before-and-after measurements with the optimizer's

solution to:

• determine the differences between what was intended to be cut, and

what was actually cut

• identify which saws, chippers, and positioners were used to process

each piece

After collecting a statistically significant set of samples, SAM calculates

how to bias the PLC to minimize those errors, making recommendations for

each saw, chipper, and positioner.

Your QC staff can choose to manually approve and implement these recommendations,

or SAM can automatically implement the adjustments.

To learn more, go to www.usnr.com.

Flitch Matching

After being cut at the log line, flitches pile up in an unscrambler – and it's

not obvious to the human eye which log the flitch came from, or which saws

and chippers produced it.

USNR's patented Flitch Matching technology associates flitches with

their parent log. The unique 3D shape characteristics of the flitch lets SAM

identify each piece by comparing the flitch shape from the edger optimization

scan to the original log line optimization scan. SAM can identify the parent of

almost every piece, and identify which cutting devices on the log line produced

them. Feeding this data back to the log line lets SAM calculate PLC

bias adjustments to help eliminate cutting errors.

Log Line

SAM calculates and sends bias adjustments to the PLC to correct chipper

and saw errors, and to correct machine positioning errors.

Gang

The same Flitch Matching technology is used to identify each cant, and

the cutting devices upstream that produced the cant. At the gang, SAM

calculates and sends bias adjustments to the PLC to correct chipper and saw

errors.

Edger

SAM calculates and sends bias adjustments to the PLC to correct positioning

pin errors and saw errors.

Trimmer

SAM calculates and sends bias adjustments to the PLC to correct fence

positioning errors and saw errors.

USNR is continually adding to this suite to provide the highest level of efficiency,

value recovery, and safety.

Advantages and benefits

SAM takes thousands of precise measurements on thousands of pieces

each shift. SAM calculates the off-size errors for pieces as they're cut. SAM

evaluates the errors calculated for recent pieces, and at regular intervals,

recommends PLC bias adjustments that will minimize the errors. SAM's bias

recommendations are continuously updated as more pieces are measured,

keeping the adjustments in sync with the current state of the machine.

•Where possible, existing scanning systems are utilized

•Frees QC staff for higher-value analytical work using SAM's trending data

•Increases safety; reduces hands-on QC measurement

•Improves uptime, efficiency, and throughput

•Available on systems with USNR optimization and PLC controls

Page 98 ADVERTORIAL Wholesale/Wholesale Distributor Special Buying Issue
---
TAYLOR GT-155

TAYLOR XB-360L BIG WHEEL FORKLIFT

Taylor Brings Durable Technology And

Value To Its Customers

WE ARE TAYLOR

Design, Engineer, and Build... It's What We Do!

FOLLOW US ON SOCIAL MEDIA

You Can DEPEND On

www.taylorbigred.com

TAYLOR T-1045 WHEEL LOADER

The wood products industry relies on manufacturers that can provide durable,

dependable solutions for heavy lift requirements. Founded on the principles of

"FAITH-VISION-WORK" and ingrained with 95 years of heavy industrial material

handling experience, Taylor meets our customers' demanding industrial needs

with over 120 models and lifting capacities that range from 4,000-lbs to 125,000-

lbs. Decades of working in our customers' unique sites have given us the experience

to plow ahead with lift equipment built to withstand unreasonably hostile

environments.

Taylor X-Series Lift Trucks and Log Stackers, with capacities up to 125,000-

lbs, are specifically engineered to meet the needs of our customers and have

served the wood industry for decades. Taylor Wheel Loaders are heavy industrial

equipment used to move or load materials such as finished lumber, logs and

poles (Millyard Applications), wood chips, and much more for processing and

manufacturing. The full line of T-Series Wheel Loaders ranges from 182-hp to

351-hp and can be equipped with any attachment to fit your needs. Our GT-Series

of Taylor Lift Trucks are available to handle all your smaller lift needs with

capacities from 4,000-lbs to 18,000-lbs. GT Lift Trucks are rugged and built for

TAYLOR XH-350L

long life, offering solid performance in a smaller, dependable forklift, comfort

and control with simple ergonomic design, and powerful engines with electronic

engine monitoring. For additional information on the Taylor Product Line, visit

www.taylorbigred.com.

Taylor Products Are Backed By Taylor Sudden Service's 24/7 Service

And Support Network

Taylor Sudden Service prides itself on being there when you need us. Companies

continue to work longer hours to keep up with increasing demands, and

Taylor Sudden Service is no different. It is nice to know that technicians are on

call 24/7 to provide the parts or service to get you back up and running when

equipment breaks down. Backed by a network of parts and service centers, a

nationwide dealer support organization, and factory-trained service technicians,

Taylor Sudden Service is committed to providing the industry's best parts and

service support.

For information on Taylor Sudden Service, visit

www.taylorsuddenservice.com.

TAYLOR XH-360L

TAYLOR GT-60

Page 100 ADVERTORIAL Wholesale/Wholesale Distributor Special Buying Issue Wholesale/Wholesale Distributor Special Buying Issue ADVERTORIAL Page 101
---
TP flatbed hauling construction materials.

TP Logistics: The Optimal Partner To Help You

Optimize Your Supply Chain

Rick McCain, Sales

Manager Trucking

Sherri Tarr,

Western Sales

Manager

Tami Chesnut,

Transportation

Manager

TP Logistics is a full service 3rd party logistics provider that can help

your company with all logistics needs including rail, trucking, dedicated

fleet, brokerage, marine, as well as warehousing and transload services.

In addition to providing your company with all logistics needs, The TP

Logistics team can help your company save time and money through

rate and route optimization. TP Logistics has its own in-house trucking

fleet, known as TP Trucking. For over 50 years, TP Trucking has served

customers by providing custom shipping solutions, backed by our expert

in-house logistics team, in-house maintenance and training, experienced,

professional drivers and a fleet of predominately-new equipment.

With locations in Oregon, Georgia and Indiana, the TP Trucking fleet

operates in the 48 contiguous states. The fleet currently consists of

approximately 215 trucks with plans to grow the fleet to 500 trucks. With

a fleet of flatbeds, maxis, curtain vans and roll tops and roots in the wood

products industry through our sister company, Timber Products, TP

Trucking is ideally positioned to haul all types of wood products and other

building products, including over dimension loads.

The TP Logistics team utilizes lean management principles to optimize

our business and we regularly work with customers to help optimize their

shipping processes. Let us evaluate and optimize your team, process or

systems to ensure you are maximizing your bottom line. We can conduct

on-site programs ranging from one to three days in length. Contact us to

learn more.

At TP Logistics, we pride ourselves on providing timely, reliable, safe,

TP curtain van being loaded with veneer.

and trustworthy transportation services that can grow with you as your

needs change. TP Logistics is the single source for all your logistics

needs. Our wide range of transportation solutions allows us to ensure

the safe transport and delivery of your freight. With over 50-years in the

business, we have the track-record to show why we are the ones to get

the job done.

TP Logistics is the ideal partner to help your company develop a strategic

supply chain. Our team will help your company optimize your supply

chain through a holistic approach to getting products and raw materials

to and from customers, suppliers and others in your supply chain, allowing

you to focus on the core competencies of your business. Contact our

experienced sales team to learn how we can help you. For more information

visit our website at www.tptrucking.com. Contact Rick McCain,

Sales Manager, 706-699-5014, rmccain@tptrucking.com, Sheri Tarr,

Sales Manager, 458-209-6613, starr@tptrucking.com or Tami Chesnut,

Logistics Manager, 541-744-5433, tchesnut@timberproducts.com.

TP Conestoga trailer being loaded with wood products.

Page 102 ADVERTORIAL Wholesale/Wholesale Distributor Special Buying Issue Wholesale/Wholesale Distributor Special Buying Issue ADVERTORIAL Page 103
---
WHO'S WHO VENDORS - C. Miller - Continued from page 63

A.W. Stiles is a member of the National Hardwood Lumber Association,

the Indiana Hardwood Lumbermen's Association, the Southeastern

Lumber Manufacturers Association and the Hardwood Manufacturers

Association.

Miller has worked for A.W. Stiles for six years. He has worked more

than 20 years in the lumber industry. His earlier years were spent at a

local hardwood flooring company, where he started in maintenance and

worked his way to production manager. He graduated from Warren County

High School in McMinnville, TN in 1997.

In his free time, Miller enjoys spending time with his family and working

on leather as a hobby. He and his wife of 24 years, April Miller, have one

son, Austin Miller.

For more information, please visit www.awscontractorsinc.com.

took some magnetic field theory and superconducting magnet technology

classes at the Massachusetts Institute of Technology in Cambridge, MA,

in 1993 and 1994.

For more information, contact Baker at 603-455-6613 or by email at

Michael.gbaker@bidgroup.ca.

WHO'S WHO VENDORS - Allen - Continued from page 63

Nick currently lives in Shelby County with his wife, Haley and his three

kids: Kinsley (10), Kassidy (8) and Knox (5).

In his spare time, Nick enjoys hunting, spending time with family and

church family, and vacationing. His biggest prayer and concern daily is for

the safety of all our contractors and the public. Nothing is more important

than everyone getting home safe to family and friends.

Learn more at www.blairlogisticsinc.com.

Corley builds three carriage models in openings from 30 inches to 60 inches.

Corley Manufacturing:

For Over a Century Corley

Continues to Be Innovative

Chattanooga, TN—The Corley, Lewis, and Tyrone-Berry

commitment of providing the sawmill industry

with rugged, dependable, and innovative sawmill

machinery and optimization systems has spanned over

117 years and four generations. Corley acquired Lewis

Controls Optimization in 1983 and Tyrone-Berry Carriage

Drives in 2003 to expand their line of sawmill machinery.

Today, Corley's product line includes carriages, band

mills, carriage feeds, optimization, linebar and horizontal

resaw systems, edger and trimmer systems, and conveying

equipment for the entire sawmill.

A large part of Corley's business is their line of optimized

carriages. The acquisition of Lewis Controls with

their optimization products and the Tyrone carriage drive

has positioned Corley to be a single source manufacturer

of carriage systems.

This past year, Corley introduced their Precision Linear

Guide Carriage. The innovative design takes carriage

accuracy to the next level while reducing regular maintenance.

Conventional head block guide assemblies have

been replaced with precision linear bearings and rails.

The company reports multiple sales of the new carriage.

Each Corley carriage is designed to increase production

and recovery and reduce downtime, maintenance

Corley Carriage Frames are stress relieved then

machined on their CNC Mill.

and operating costs. Corley's unique Straight Line Dogs

are known for fast positive dogging with the strength and

durability to hold when scanning, setting, and sawing at

today's speed. This proven design places the dogging

assembly in the center of the knee for good balance and

protection with no pivot points or other linkages that will

require additional maintenance.

Lewis Controls, a subsidiary of Corley, has been a

leader in sawmill optimization for over 50 years. With

over 400 ReadyScan carriage systems installed, Lewis

Controls continues to lead the industry in carriage optimization.

According to Marv Bernhagen, Vice President of

Lewis, "The Engineers at Lewis decided to take a fresh

look at the Ready Scan product. In keeping with the

Lewis tradition of fast, simple rugged products that are

easier to tune, troubleshoot, wire and install the result is

a new system – the ReadyScan 2.5. Our latest generation

of ReadyScan keeps all of the positive features that

made the ReadyScan II so popular and adds a few new

ones. The SQL Database report package catches your

attention, but the most striking difference between the

ReadyScan II and the 2.5 is the massive size reduction

of the cabinet relative to its older cousin. The new system

will easily fit in most saw cabs."

Corley Lumber Handling Equipment.

According to Chuck Boaz, President of Corley, "The

purchase of Tyrone-Berry carriage drives put the final

piece of our carriage product line together. We now manufacture

carriages, optimization, carriage drives, band

mills, slabbers, and log turners, along with a number

of outfeed lumber and cant handling products. To my

knowledge, we are the only company in the U.S. that

manufactures the complete line of carriage equipment. If

it is part of the carriage line, we build it."

"Historically, we have not pushed our product line

Corley Head Rig Slabber.

Corley Linear Guide Carriage Knee.

outside the boundaries of the sawmill building. We focus

on the sawmill floor and do a good job there. We don't

want to branch out so far that we become thin in certain

areas. We are absolutely devoted to this industry and

we have been for all of our 100-plus years," Chip Corley,

Chairman of Corley stated.

The parts department at Corley is open five days a

week from 8 a.m. to 5 p.m. EST and 8 a.m. to 5 p.m PST

at Lewis. Phones are answered 24 hours a day, every

day at both Corley and Lewis. Emergency parts services

are available 24 hours a day seven days a week and they

do not charge for phone support and trouble-shooting

calls. "If it weren't for repeat business, we wouldn't be

in business today. It is our responsibility to take care

of our customers. Getting the order, manufacturing the

equipment, getting it in the mill are all important, but our

life's blood is the after market service to take care of our

customers," Jack Corley, Vice President concluded.

For more information, please contact Jack Corley and

Chuck Boaz by phone at 423-698-0284 or sales@corleymfg.com

or Marv Bernhagen by phone at 503-648-

9119 or mbernhagen@lewiscontrols.com.

For more information, visit www.corleymfg.com and www.lewiscontrols.com.

WHO'S WHO VENDORS - N. Miller - Continued from page 63

Miller's first position working with air filtration and dust collection

machinery was in 1972 as an installer of dust collection equipment. That

same year he graduated from North Iredell High School in Statesville,

NC.

Miller and his wife, Althea, have one son. In his free time, Miller enjoys

classic cars and hunting.

For more information, visit www.airsystemsmfg.com.

WHO'S WHO VENDORS - Baker - Continued from page 63

land, ME, as a laborer during the summers following his senior year of

high school and freshman year of college. His first job in the industry was

as an engineering draftsman with Northeast Mill Services, Inc., starting in

1998. He is now owner of Northeast Mill Services LLC and continues to

provide consulting and lumber manufacturing support with BID Group and

its Comact and PHL brands.

Baker graduated from Ashland Community High School in Ashland,

ME, in 1986. He then earned a Bachelor of Science degree in Mechanical

Engineering from Northeastern University in Boston, MA, in 1992. He also

Corley Sawmill Machinery

Lewis Controls Optimization

Throughout 4 generations, our sole focus has been on

the design and manufacture of rugged and dependable

sawmill machinery that will help you run a profitable

operation. We don't have any side line businesses, only

sawmill machinery and we promise to back it up with

first class personal service.

• Tilted Carriages

• Flat Carriages

• Band Mills

• Log Turners

• Slabbers

• Tyrone-Berry Drives

Chattanooga, Tennessee

Phone 423-698-0284

www.corleymfg.com

Kirk Forbes is president/CEO of Brunette Machinery

Co. Inc., headquartered in Surrey, BC.

Brunette Machinery is an 80-year-old company

that markets its products across North America

with its largest market in the Southeastern United

States, followed by the Pacific Northwest and

throughout Canada.

Brunette's most successful product line is the

Drum Chipper for sawmill residuals, large Lilly

Pads, veneer and waste products at veneer mills

Kirk Forbes

as well as whole log Tree Chippers. Complimentary

to Brunette's Chippers and Hogs are its

Scalping Screens, which basically function as a sizing device on wood

products and residuals.

Brunette is also highly regarded for its Flared Butt Reducer product,

which significantly reduces the flare on the butt end of the log, allowing

the mill to have more log to optimize, producing lumber more efficiently.

The CBI Grizzley Mill Hog is another product by Brunette Machinery.

This is a heavy duty waste wood grinder. Brunette also manufactures the

• Ready Scan II Optimization

• Shape Scan 360

• Small Log Optimization

• Edger Optimizers

• Custom Controls

Cornelius, Oregon

Phone: 503-648-9119

www.lewiscontrols.com

USA Representative for Linck Profiling Lines

Continued on page 116

Page 104 ADVERTORIAL Wholesale/Wholesale Distributor Special Buying Issue Wholesale/Wholesale Distributor Special Buying Issue ADVERTORIAL Page 105
---
CELEBRATING

The team at Lewis Controls: (Left to Right seated) Ariel Shelley, Daniel Jordan, Samuel Schaefer and Martyn Jacobson (Left to Right standing) Chris Hough, John

MacDonald, Lisa Machado, Laurie Nunnenkamp, Marv Bernhagen, Karen Fifer, Kaitlin Larson, Patrick Brown and Donna Brock.

Lewis Controls Inc.: Five Decades Of

Innovation, Quality and Success

Cornelius, OR–Lewis Controls Inc.,

based here, remains forward-thinking,

vibrant and dedicated to providing innovative

technology after leading the way

for the past 50 or so years. Decades-long

industry veteran, Lewis Controls Vice

President and Chief Operating Officer,

Marv Bernhagen said, "We've managed

to do this while maintaining the high

standards of startup quality and service

response that our customers have grown

to expect and appreciate."

Karen Fifer, Lewis Controls Office

Manager and Donna Brock, Receptionist.

Bernhagen is eyeing retirement after

years of service in the industry, yet

his expertise and knowledge is being

handed down to a team of engineers fully

equipped to carry on the superb reputation

built by Lewis Controls since its

founding in 1971. The company began as

one of several offering optimization and

control systems to the lumber industry.

Today, they stand alone as the leaders.

Bernhagen has been a large part of the

leadership in the company's evolution.

Lewis Controls was established by

Laurie Nunnenkamp, Materials Manager.

Dick Girouard and Bob Lewis. Hydraulic

linear positioner cylinders, and many

elements of modern scanning and

optimization technology were integral

parts of their early work. Now, along with

Corley Manufacturing, Chattanooga, TN,

Lewis specializes in primary breakdown

systems for sawmills along with selective

downstream machines.

CEO Chip Corley said, "In the beginning

Lewis Controls' Dick Girouard and

Bob Lewis were involved in electronics;

they were doing any kind of electronic

control application that they could find

in the Pacific Northwest. Eventually they

began making setworks for carriages and

edgers. Over the last 50 years as the

industry has changed, Lewis remains one

constant that the industry can count on."

Bernhagen added, "At Lewis Controls,

we like to categorize ourselves as a bit

of a blue-collar optimization company.

We make equipment that is simple,

effective, and also on the leading edge

of technology. We have people that have

backgrounds in sawmills that know how

to program and maintain the system's

features to put into these machines to

be effective. We focus primarily on large

log processing systems for Softwood

and hardwood. Our primary product is

our Carriage Setworks and Scanning

followed by Edger Optimization. We also

offer a variety of custom controls for various

products like end-dogging, small log

mills, multiple resaws, trimmers, etc."

With over 300 machines and operating

systems currently in the industry,

Bernhagen said advanced technology

provided by Lewis Controls assures that

the majority of issues that may arise can

be handled remotely so production time

is restored almost effortlessly. "When I

worked for other companies prior to Lewis

Controls, I wished I had control of the

service department," he explained. "As

a salesman it's frustrating to listen to a

mill problem, report it back and the issue

goes unfixed. You have to call the same

person again that didn't fix it the first

time. I vowed that if I ever got involved

Ariel Shelley, Assembly Technician.

in a position where I had control of that,

it wouldn't be that way. That's one of the

policies we instill in our people at Lewis

Controls the moment they are hired: to

be responsible and follow-up with every

issue."

Lewis Controls can also supply a complete

set of spare parts to a system at a

deferred billing rate after the full system

is installed.

Other incentives at Lewis Controls

Patrick Brown, Fabricator.

For more information visit www.lewiscontrols.com.

Inc. include no-cost troubleshooting by

phone.

With software that is applicable for all

types of sawmills, Bernhagen said, "The

largest carriage I have ever worked on

has an 84-inch opening. The carriage

itself was made by a competitor but Lewis

did the Setworks. We've done a 24-inch

carriage, cutting logs that were 6 or

8-inches in diameter."

An important offering at Lewis is

retrofitting. Corley offered, "One of our

customers has 26 carriages and only two

of them are ours but we service them."

Bernhagen added, "We are on a first

name basis with every carriage manufacturer

out there and many of their technical

employees. We prefer our own equipment

of course, but we understand that mills

have their own preferences."

With substantial representation in

North America and Canada, Lewis

Controls Inc. has installed equipment

at sawmills including Vicksburg Forest

Products, Vicksburg, MS; Kalesnikoff

Lumber Co. Ltd., Castlegar, BC; and

Canfor, Wyndell, BC.

Founded in 1971, Lewis Controls is the oldest continuously operating

controls company serving the sawmill industry today.

Lewis has a full-time staff of 18 with

more than half of those involved in the

Engineering and Technical side of the

business.

We are specialists, not generalists with

80% of new system revenue coming from

Carriage Scanning and Edger Optimizer

Systems. The remaining 20% is covered

through our ability to create Custom

Controls.

Solutions can be set to recover true

random width lumber for hardwood, fixed

width for softwood or a combination for

specialty items

Carriage Systems, ReadyScan Features and Function

Over 275 ReadyScan installations covering three product

releases (the ReadyScan I, II and 2.5)

All releases based on Windows PC technology

Scanners carry full 5-year manufacturer's warranty

SQL Database report capability

Edger Optimization

What Makes the Lewis Edger Optimizer Unique?

Lewis can offer three styles of Edger Optimizer–Two

Transverse models and one Lineal model

Easy to understand parameters allow you

to customize the appearance of a board

– either to Grading rules or to specific mill

appearance rules

Contact: Marv Bernhagen - Vice President / COO

260 N. 26th Ave., Cornelius, OR 97113

Telephone: (503) 648-9119 Fax: (503) 693-1110

Email: sales@lewiscontrols.com

www.lewiscontrols.com

Page 106 ADVERTORIAL Wholesale/Wholesale Distributor Special Buying Issue Wholesale/Wholesale Distributor Special Buying Issue ADVERTORIAL Page 107
---
McDonough Manufacturing Company

Helping Customers, Communities and Families since 1888

McDonough Manufacturing Company was

founded in 1888 in Eau Claire, Wisconsin,

with the intention of building the best custom

sawmill equipment available - a vision that has

stood the test of time. Focusing on mutual honesty,

long-term ethics and open and respectful

communication, McDonough strives for efficient

machine solutions built on a foundation of trust.

Currently on the fourth and fifth generation of

ownership with President/CEO/CFO Sue Tietz

and her son, VP/Owner Matt Tietz, McDonough

has never lost its thirst for quality, innovation

and superior customer service.

Carriages

McDonough Carriages are designed with

accuracy and ease of maintenance in mind

with state-of-the-art features you will only find

on a McDonough. There are models to fit your

operation with 36", 42", and 48" openings and

configured the way you need it with options

such as round way knees, 17 degree slant,

UHMW cant kickers, Brownsville turners, chain

turners, Tong Dog, rail, operators cabs, car-

It's a McDonough.

The 6-7A Band Mill with steel wheel guard.

From left are President/CEO/CFO Sue Tietz and

VP/Owner Matt Tietz.

Board Edger Systems

McDonough's complete line of board edger

systems ranges from some of the fastest optimized

edger systems in the world, affordable

hybrid systems and manual edgers. Our OptiFit

linear edger has become the most popular

edger system for modern hardwood sawmills

delivering exceptional yield, short payback and

long-term durability using our proven linear

edger sawbox.

The recently launched Sterling YieldBoss

Hybrid edger by McDonough is ideal for mills

looking for a combination of affordability and

performance, leading to higher yield and profit.

Starting at $517,000, the YieldBoss is a revolutionary

new approach to edging that combines

the benefits of optimized saw placement with

the simplicity of a manual edger system.

Resaws

The McDonough name is synonymous

with band resaws and headrigs in the lumber

industry, having patented the machine now

known as the Linebar Resaw in 1892. Experts

in linebar, center split, and horizontal resaws,

combined with a complete line of high speed

infeeds, computerized setworks and operator

cabs, McDonough is the natural choice for all

your resaw needs.

The MAXX infeed resaw is the fastest

resaw feed system for linebar and horizontal

resaws, and available exclusively from Mc-

Donough. The newly launched AutoMAXX is

a revolutionary machine that combines physical

controls with a visual operator interface,

high-quality digital imaging, and optimization

to maximize yield of grade and input.

Our modular horizontal is a low-cost solution

to increase grade, production and yield,

and is perfect for sawing cants, slabs or multiples.

The first linebar resaw was designed

and built by McDonough in the 1890s, with the

modern version ideal for increasing production,

grade and yield. The A Series Horizontal

is the sturdiest horizontal on the market,

ideal for high production mills looking for slab

recovery or cant operations. The machine that

started it all way back in 1888 was the 54"

center split and has been continually updated

over the years to provide mills with the most

durable, versatile and production-oriented

center split you can find. Under the Sterling

by McDonough brand, the Sterling 44"

horizontal resaw is a durable and affordable

horizontal resaw system for mills wanting to

take advantage of thin kerf technology without

sacrificing feed rates.

The McDonough Premium Duty Carriage.

Material Handling

McDonough supplies the forest products

industry with precision engineered and built

material handling equipment of all types, for

all applications. From simple lumber transfer

decks to our MAXX Resaws Infeed, the fastest

linebar feed system for all brands of resaw,

McDonough can supply all your material handling

needs.

The Unscrambler and Hooked Queue Deck.

Parts & Service

McDonough can provide quick and efficient

service on any McDonough machine, as well

as on machines built by manufacturers who

are no longer in business. We can also repair

and service other machinery outside of

the sawmill industry. Do you need parts? Our

parts team has decades of experience and is

a wealth of information on parts to service our

machinery.

edgers . resaws . band mills . carriages

gangs . material handling

The McDonough OptiFit Linear Board Edger.

Band Mills

Known as the band mill company in the

lumber industry, you will see more McDonough

headrigs in operation than any other brand.

Ranging from 54" to 8', a McDonough band

mill offers time tested features like our exclusive

Air Strain system, cartridge type pressure

guides, cast iron wheels, linear rail and bearing

top guide, and Timken railroad car bearings.

The McDonough A Series Horizontal Resaw

system.

Get in touch today to chat about

how McDonough can help you

achieve your goals.

Go to www.mcdonough-mfg.com,

call (715) 834-7755 or e-mail

mcdonough@mcdonoughmfg.com.

www.mcdonough-mfg.com

(715) 834-7755

Page 108 ADVERTORIAL Wholesale/Wholesale Distributor Special Buying Issue Wholesale/Wholesale Distributor Special Buying Issue ADVERTORIAL Page 109
---
BRAIN WAVES. RIPPLE EFFECTS.

Increase The Value Of Your Softwood Production With

Proven Artificial Intelligence Models

In the transformational wood processing industry,

Softwood grading and defect detection are real challenges.

Certain defects like incipient decay, splits and shakes

in dry lumber, blond knots, and subtle appearance will

undeniably complexify machine grading. The drying process

can also be difficult when species are not sorted, or

off-species are not managed.

BID's Artificial Intelligence (AI) with deep learning

technology is taking Softwood defect detection to the next

level. Its AI models can now distinguish all elements, so

errors are less frequent than with previous technology. In

fact, the Comact technologies enhanced with AI, combined

with BID's industry-leading optimization software, have

proven to be the most powerful and reliable.

Key features

•Custom AI models developed by BID's AI

experts specifically for wood to ensure a better

performance than with generic algorithms

•Use of a combination of several AI models to

ensure speed (100x faster) and unmatchable

accuracy

•Same accuracy of defect detection on rough,

dressed and appearance products

•Can be used with all softwood species (SPF,

Cedar, Douglas Fir, White Pine, etc.)

ment usually require a short downtime. Our qualified team

performs final calibration and tuning on site and supports

you to ensure a smooth transition.

See results within the first week of production. After a

few weeks of operation, you will reach maximum performance.

Afterwards, support is available with BID's

renowned 24/7 service team.

BID's AI is so innovative it can be applied to much more

than lumber grading: AI-Enabled BID Solutions

•Defect detection for grading (GradExpert TM ), trimming

(TrimExpert TM ), and edging (EdgExpert TM )

•Residual bark detection

•Split detection on logs

•Wood species identification (boards and logs)

•Green-board density separation for optimized

wood drying

•Robotic systems

•And more in development

MAXIMIZE YOUR

PRODUCT VALUE

WITH THE BEST

ARTIFICIAL

INTELLIGENCE

MODELS

FOR WOOD

PROCESSING

BID ARTIFICIAL INTELLIGENCE

BENEFITS

• Increases your softwood/hardwood board production value and recovery

• Fastest ROI in the industry for sawmills with small or large volume production

• Eliminates bottlenecks at wood grading

• Maintains constant production quality to meet customer expectations

AI models customized for your production

BID customizes its AI models specifically for your production

by identifying your Softwood grading and defect

detection challenges and setting objectives accordingly.

Softwood samples are then collected and analyzed by

AI experts to be integrated in deep-learning AI models.

A customized AI model for your production will allow you

to attain objectives such as increasing the value of your

Softwood production.

Installations and upgrades

BID has a large team of experienced AI specialists.

To accelerate the start-up process on site, systems are

preconfigured, AI models are pre-educated, and several

tests and validations are performed. Installation of a new

scanner or an AI upgrade on an existing Comact equip-

Awesome facts from our clients

With BID's deep learning AI models, Softwood recovery

value with a GradExpert is 99% to 99.5%. The bottom

line is that a 1% increase of recovery value translates into

a significant boost of your production value and a short

payback period (a few months only). These numbers are

based on data collected from over 100 clients with BID's AI

models for Softwood.

Have no doubt, BID's AI is the best. Its AI models were

also adapted for hardwood processing and as you know,

defect detection in hardwood is complex. BID has already

sold over 30 systems, and its AI models have also proven

to be the best for this market. Imagine what this level of

defect detection accuracy can do for Softwood processing.

No matter the size of the project, our AI system

offers the fastest ROI in the industry.

Assess the value of AI, contact us now

1-843-563-7070

Curious to learn more, contact us now

1-843-563-7070

BID is the leader in Operational Lifecycle Excellence,

transformational wood processing technologies, and integrated

solutions. It's at the forefront of Artificial Intelligence

and Digital Solutions in the industry, empowering customers

to achieve their best overall performance.

BID adds strategic value for its customers through its

ability to provide complete, smart connected, turnkey

manufacturing systems that include engineering, project

management, equipment, software, installation, startup,

and after-sales parts and services. BID is dedicated to

delivering to its customers superior performance, innovation,

remarkable service, and results through continuous

improvement of its products and services. The company

has offices in 15 locations with over 1,800 employees

throughout North America situated to serve its global

customer base.

Visit us at bidgroup.ca

Watch our new video

about AI

Call now to find out how you can maximize

your production value.

450-435-2121 | www.bidgroup.ca

Page 110 ADVERTORIAL Wholesale/Wholesale Distributor Special Buying Issue
---
Brunner Hildebrand Provides Latest-Generation Drying Kilns

Pictured are the four new track loaded kilns at San Industries

in Port Alberni, BC

With the growing demand for Softwood, drying

time optimization and automation are becoming

increasingly important. Brunner Hildebrand,

known for its high-quality and reliable drying kilns,

has had interesting projects over the past year

and created great opportunities in these areas.

One of the four kilns is loaded at San Industries

Brunner Hildebrand has recently completed four

kilns at San industries in Port Alberni, BC—each

with a capacity of 100,000 board feet for drying

Hemlock, Douglas Fir and Red Cedar. Kilns are

equipped with powerful booster coils and controlled

with the newly developed B-Vector control

system.

For Millpar in Guarapuava, Brazil, Brunner

Hildebrand supplied a 100,000 board feet

track-loaded kiln for drying local Pinus species as

an extension to their existing drying capacity. Millpar

confirmed that thanks to the newest B-Vector

control system a much higher quality is achieved

compared with the existing kilns including a much

better color, which is important for their final

product. Millpar is also very pleased with the low

energy consumption of the kiln, which is not only

achieved by the design of the kiln but also by the

earlier mentioned B-Vector control system.

Currently, the first 16 of a total of 32 kilns

are being commissioned at Berneck in Lages,

Brazil. The kilns each have a capacity of 90,000

board feet for drying Pinus Elliottii and Pinus

Taeda. Again, the kilns are controlled with the

new B-Vector control system including our newly

On the far right the new track loaded kiln at Millpar in

Garapuava, Brazil. The kiln is equipped with multiple

energy saving high capacity heat exchangers.

developed HWPT weighing system for accurate

measurement of wood moisture. The new sawmill

and kilns will be put into operation in the middle of

this year.

Four Hildebrand Continuous Kilns of the latest

generation with an annual capacity of almost

70 million board feet for Pine and Spruce will be

supplied in Northern Europe. The kilns are unidirectional,

saving significantly on forklift movements.

Lumber packages are placed lengthwise

on carts and dried during a single path transport

through a number of zones with

separate climate conditions.

With the fully automatic feeding

system, prepared packages can

be picked up by the kiln independently.

Because the control

room is located above the kiln

along its entire length, easy

maintenance on fans and control

components is possible. Almost

all of Brunner Hildebrand's

special features are included in

this project. Hildebrand Turbo

Technology and Hildebrand

weight precision technology

together with a pneumatic pressure

frame system ensure best

quality. Thanks to the unique

GreenKilns technology, all zones

are connected via an air duct

system, which saves energy and

drying time.

Please visit us at

Booth #504.

The National Solution To Your Local Risk

GET TO KNOW CONTINENTAL UNDERWRITERS, INC.

If you operate a business in the forest products industry, you

understand the challenges present even in the best of times. Today,

supply chain issues, employee turnover, and rising costs add to

these challenges creating mounting pressure on the industry.

In challenging times like these, you need a team of experienced

professionals to guide you through important decisions. One of

the most important decisions for your business is the purchase of

insurance. This is where Continental Underwriters, Inc. comes in.

We specialize in all aspects of forest products insurance, and in

everything we do, we advocate fiercely for our customers. Together

with your local insurance agent, we help you manage and mitigate

risk, and if you suffer a loss, we work to get you back up and running

as quickly as possible.

Who We Are

Founded in 2013, our team has over 175 years of insurance experience,

including 125 years specific to the forest products industry.

It is our mission to bring quality, passion, and expertise back to

the insurance industry. As a leader and true specialist, we not only

understand your unique needs, we have designed our business to

give yours the best service possible.

Underwriting

Our underwriters know the forest products industry. They understand

the challenges and the opportunities, and they know how

the insurance market responds to each. We partner with over 30

insurance carriers that specialize in, or have an affinity for, forest

products. These carriers are valued partners, enabling us to negotiate

competitive and unique programs that are constructed to fit

your needs and protect your assets.

Risk Assesment

Analyzing operations, pinpointing risks, and providing solutions

is what we do. With our

unique, consultative

approach, we are here to

help with new construction,

existing systems,

and general procedures.

When you ask for our

help, you become our

priority 365 days a year.

We provide in-person

risk assessments and

technical evaluations of

your facility and operations,

a comprehensive

set of workplace safety

procedures, and the

expertise of our multifaceted

team.

Rapid-Response Claims

Process

Getting you back to

business is our first priority.

We understand how

difficult it is to navigate

the unknowns throughout

the claims lifecycle. That's why we designed our team and claims

process to be as responsive and fast as possible.

Quick Response Team

Our Risk Assessment Director, Corey Bounds, and Claims and

Risk Assessment Coordinator, Andrea Morrison, lead our quick response

team. They ensure that key personnel are always available

to respond to a notice of a significant loss. Corey has even dropped

a vacation and driven hours to be onsite with an insured to answer

questions and manage the carrier and adjuster.

Rapid Response Claims Process

As soon as we are notified of a loss, our team expedites the

claims process, reviewing the loss details, contacting parties, and

ensuring all relevant policies and endorsements are applied. As we

set the tone for an expedited resolution, we monitor for any issues

or delays and maintain constant contact with you, your insurance

agent, and the field adjuster.

OUR PROMISE TO YOU

We're always working to bring consistency, stability, and

affordability to forest products insurance. When you work with

Continental Underwriters, Inc., you become a part of the long-term

relationships we have built with carriers, agents, and brokers over

the years. You can count on us for fast service, thoughtful advice,

and expert guidance. Our goal is not simply to sell you insurance;

it's to ensure that you are proactively protected from risks and fully

supported when losses do occur.

No two operations are the same. Your risks are unique and

your insurance should be too. Discover How Continental Underwriters,

Inc. is the National Solution to Your Local Risk!

www.contund.com • info@contund.com

804.643.7800

Assembly of the kilns for Berneck in

Lages, Brazil.

Row of eight kilns under construction

at Berneck. In the background

the Combined Heat Power (CHP)

plant which supplies steam to the

kilns and the MDF plant. The CHP

also provides 30 MWh electrical energy

for the sawmill, kilns and MDF

plant.

Kilns at Berneck ready for commissioning.

Electrically operated doors

give access to the kilns with a clear

span of 57 ft.

Page 112 ADVERTORIAL Wholesale/Wholesale Distributor Special Buying Issue Wholesale/Wholesale Distributor Special Buying Issue ADVERTORIAL Page 113
---
Equipment / Dry Kiln Manufacturers / Other Vendors

Increase Operational Efficiency and Drive Profitability with Legna Software's 'Angel'

By Sue Putnam

Geoff Gannon, TS Manufacturing Co., Plymouth, NH; Joe

Korac, Automation & Electronics USA, Arden, NC; Peter

McCarty, TS Manufacturing Co., Dover-Foxcroft, ME;

John Rees, Ram Forest Products Inc., Shinglehouse,

PA; and Riley Smith, TS Manufacturing Co., Lindsay, ON

David Nelson, Mike Brandano and Steve Zambo, Ally

Global Logistics LLC, Weymouth, MA

Eli Gould, Quebec Wood Export Bureau, Brattleboro, VT;

Frédéric Jacques, Alex Fortin, Nathalie Houde, Èmilie

Desmarais, Elizabeth Sorba, Sven Gustavsson and Alain

Boulet, Quebec Wood Export Bureau, Quebec City, QC

Kirk Forbes and Patrick Browne Brunette Machinery Co.

Inc., Surrey, BC

James Morton, Tyler Stiles, Justina Smiley and Steve

Johnson, Paw Taw John Services Inc., Rathdrum, ID

Dan Mathews and Ken Matthews, SII Dry Kilns, Lexington,

NC; Bob Pope, SII Dry Kilns, Montpelier, VT; and

Jim Higgins, Ben Mathews and Brian Turlington, SII Dry

Kilns, Lexington, NC

Angel is a wood and fiber procurement platform that

consolidates data from three mobile applications used

in the field by loggers, scale operators, and log yard

managers. Because the data lives in the cloud, information

is captured at the source and is available everywhere

in real time. Angel is your eyes in the forest,

scale house and log yard.

Winston Salem, NC – Leading software developer

Legna Software, recently launched its newest product,

'Angel.' The software-as-a-service (SaaS) platform

manages timber procurement and inventory management

in one, easy-to-use, cloud-based interface.

Serving the forest products industry for more than

30 years, the people at Legna know what data is most

important because they know the industry. Through

real-time visibility and access to insights throughout the

entire process, Legna helps its customers make educated

decisions.

"Angel ensures that all stakeholders in the value

chain – loggers in the field, truck drivers transporting

logs to the mill, and management – have access to

data they need in real-time, eliminating wasted time

and costly errors while increasing transparency and

log security," said Woody Rich, Chief Executive Officer

at Legna Software. "Our goal with Angel is to increase

operational efficiency and overall business productivity

with a single end goal in mind: drive profitability for our

customers."

"We saw a need for visibility into the procurement

process due to the dispersed nature of the operations,

Angel's applications are persona driven, so loggers

and scale operators see only what they need to see to

work productively. Mill managers and owners see the

big picture. Angel removes the guesswork in assigning

loads.

coupled with a large presence of subcontractors. Most

mills procure from a 100-mile radius and trying to

manage those resources effectively is cumbersome.

We saw the benefits of a cloud native application;

it is extremely powerful to provide visibility into this

dispersed process by using technology. Management

can make better decisions in real-time. One of our

clients said they had an eleven-day lag between some

of their procurement activities from when they happen

until they had to report around them and so that was a

discussion I had early on about running this business

and this would bring a tremendous amount of value.

Saving time by leveraging the technology tools that

are available today results in real dollar values to the

clients and market."

Accessible anywhere, Angel is a SaaS platform that

captures data from persona driven applications used in

the field by loggers, truckers, scale operators, and log

yard managers. Angel improves workflow by capturing

data at the source, preserving data integrity for all

stakeholders in the supply chain.

"Angel has given us the ability to know exactly how

many loads have been shipped and to where – even

letting us access this real-time information while we're

away from our office," said Chris Charest, a procurement

forester with H.W. Culp Lumber Company in New

London, NC. "Being able to see and assess procurement

data from anywhere instantly is unbeatable.

With Angel's immediate access to real-time information,

teams stay ahead of settlements and processing

and focus on higher value business tasks.

This real-time information enables us to maximize our

merchandising value. Angel lets our team stay ahead of

what needs to happen with settlements and processing

so there are no surprises."

"Angel is a life saver," said Lowell Gibson, a procurement

officer at Hankins Lumber Company, Inc. in Grenada,

MS. "Prior to Angel, we lacked real-time visibility

into what is going on in the yard. After implementing the

solution, we have immediate access to what's going on

in our business. Inventory is more accurate and faster,

especially per deck. With assigning loads in real-time to

decks, there's zero guesswork on where tons and cost

are applied."

Data gathered in the mobile applications feeds into

Angel, making the information readily available for whoever

needs it. "We are here to provide business tools to

solve business challenges," Rich explained. "This will

enable your team to focus on the higher value tasks.

Some manual procedures will go away just because

Angel improves workflow. As a process-oriented organization,

we always want to understand the 'why.' Why

do you do that? We will figure out the best way to solve

it. We hire the best of the best to find and resolve the

challenges that the industry faces."

Visit www.legnasoftware.com/angel for more information

and sign up for a demo of Angel.

Chad Smith, USNR, Hot Springs, AR; Alan Robbins, USNR, Jacksonville, FL; Sonia

Perrine, USNR, Woodland, WA; Tracey Mitchell, USNR, Perry, GA; and Robert Wagner,

USNR, Graham, NC

Chris Hough, Corley Mfg. Co., Cornelius, OR; Shawn Leibering, Leibering Lumber & Logging

Inc., Ferdinand, IN; Marv Bernhagen, Corley Mfg. Co., Cornelius, OR; Chuck Boaz,

Corley Mfg. Co., Chattanooga, TN; Kurt Rehagen, Rustic Wood Products Inc., Perryville,

MO; and Jim Burris, Corley Mfg. Co., Chattanooga, TN

Norvin Laudon, Bob Bell, John Rhea and Chris Cournyer,

MiCROTEC, Corvallis, OR

Skip Stoen, Jeff Eisfelder, Jason Thompson and David

Turner, Taylor Machine Works Inc., Louisville, MS; and

Jim Maltese, Stella-Jones Corporation, Winslow, IN

Ingo Wallocha, Valutec Wood Dryers Inc., Vancouver, BC;

and Devin Harsin, Valutec Wood Dryers Inc., Auburn, AL

Adam Duplisea and Jeremy Howard, Nyle Dry Kilns,

Brewer, ME; Brant Forcey, Forcey Lumber & Veneer Co.,

Woodland, PA; and Jeremy Pitts, Nyle Dry Kilns, Lenoir,

NC

Matt Tietz, Jenna Kennedy and Matt Frazier, McDonough

Manufacturing Company, Eau Claire, WI; and Troy

Brown, Kretz Lumber Co. Inc., Antigo, W

Brady Johnson, Erik Bailey, and Deb and Kelly Johnson,

Biolube Inc., Fort Wayne, IN

Page 114 ADVERTORIAL Wholesale/Wholesale Distributor Special Buying Issue Wholesale/Wholesale Distributor Special Buying Issue ADVERTORIAL Page 115
---
WHO'S WHO VENDORS - Forbes - Continued from page 105

SmartVibe, which is a unique vibrating conveyor that operates on torsion

bars rather than the leaf springs or coil springs from which traditional

vibrating conveyors operate. The SmartVibe is known to reduce maintenance

and increase the up time of vibrating conveyors.

Forbes and his wife, Jiyoung, have two sons: Phoenix (12) and Jax (9).

The family enjoys spending time together camping as well as swimming

in the Coquitlam River, which runs near their home. Kirk Forbes is also a

loyal NHL hockey league fan, and is devoted to the Canucks.

Learn more at www.brunettemc.com.

Bob Pope is a regional salesperson for SII Dry

Kilns, headquartered in Lexington, NC. He has

worked for SII Dry Kilns since 2017, after a 30-

year career with another dry kiln manufacturer. He

started grading hardwood lumber for a furniture

manufacturer in the late 1970's, then advanced to

new opportunities with increased responsibilities.

Currently, he is actively involved as an instructor

in kiln drying workshops, and he provides individual

and small group on-site training. Pope has a

Bob Pope

Bachelor of Science degree in Wood Science and

Technology from the University of Massachusetts

in Amherst, MA and a Master of Business Administration from the University

of North Florida in Jacksonville, FL.

Pope and his wife of 42 years, Karen, have three daughters, three

grandsons and two granddaughters. In his free time, he enjoys woodworking,

bluegrass music and spending time with his family.

SII Dry Kilns is an equipment manufacturer providing quality drying

systems for over 50 years. The company specializes in Softwood and

hardwood dry kilns, batch or continuous, with a variety of energy systems

including steam and direct fired. In addition, they offer press or air

vacuum and thermal modification systems for a variety of applications.

Each system is available with computerized control systems for maximum

performance. SII also provides repair services and a full line of parts and

accessories. SII Dry Kilns operates throughout North America.

SII Dry Kilns is a member of Appalachian Hardwood Manufacturers

Inc., Appalachian Lumbermen's Club, Great Lakes Kiln Drying Association,

Hardwood Manufacturers Association, Indiana Hardwood Lumbermen's

Association, Kentucky Forest Industries Association, Keystone Kiln

Drying Association, National Hardwood Lumber Association, National

Wooden Pallet and Container Association, New England Kiln Drying Association,

North American Wholesale Lumber Association, Northeastern

Lumber Manufacturers Association, Southeastern Dry Kiln Club and the

Southeastern Lumber Manufacturers Association.

To learn more, visit www.siidrykilns.com.

U-C Coatings LLC in Buffalo, NY, has promoted

Chris Fehr to National Sales Director. Fehr joined

the company in 2017 as a sales representative

covering the Great Lakes and Midwest territories.

In his new role, Fehr will oversee the sales team

across North America as U-C Coatings continues

to grow as a trusted partner in the logging and

lumber protection, wood products manufacturing

and woodworking industries.

"Chris has done a remarkable job representing

Chris Fehr

U-C Coatings," CEO Eric Degenfelder said. "He

has served our customers well, grown his territory,

and partnered with customers on the launch of new products such as our

Contechem line of sapstain control and brighteners. We are excited for

him to take on this expanded role with the company."

Fehr has over 20 years of experience in the forest products industry as

a procurement forester, lumber trader and sales director for several hardwood

lumber companies including Northwest Hardwoods, Baillie Lumber,

Keiver-Willard Lumber, Ron Jones Hardwood Sales and Clear Lake

Lumber. He sits on the Great Lakes Kiln Drying Association's Board of

Directors.

Fehr graduated cum laude from the State University of New York College

of Environmental Science and Forestry with a Bachelor of Science in

Natural Resources Management.

For more information, visit www.uccoatings.com.

Continued on page 147

South Coast Lumber Co. and Pacific Wood Laminates, Inc.

South Coast Lumber Merchandiser Operator

South Coast Lumber Co. was established back in

1950 and has been sustaining the ultimate philosophy

and pride of being an integral part of the Brookings

economy and growth for over 72 years now.

Pacific Wood Laminates, Inc. was established as

a specialty manufacturing affiliate several decades

later to produce innovative alternatives to traditional

millwork, specialty panels, and industrial products.

As a reputable competitor in the wood products manufacturing

industry, we are proud to provide over 500

reliable family-wage jobs for our local communities.

On our timberlands, we plant seedlings and care

for them to maturity. Once our trees are ready to

harvest, we transport them over to our mills on our

trucks. From there, the logs are either sawn into

lumber at our sawmill or peeled into veneer for

plywood or Laminated Veneer Lumber (LVL) layup at

our veneer mill. The veneer is then transported to our

plywood plant where it is dried and laid up into panel

form. About 30 percent of those panels are sent to

our LVL mill where they are further processed based

on customer specifications for their window and door

systems. Throughout all our processes, we strive

to produce virtually zero waste, and a large portion

of our residuals is generated into renewable green

energy that powers our mills.

Mixed Truckload for Various Building Needs

Over the years, we have strategically and continuously

upgraded our facilities to stay on top of market

demand and maximize our effective resource management.

We have developed exemplary products,

installed state-of-the-art machinery and plants, and

expanded to new markets on national and international

scales. Reinvestment continues to be a key

factor in our company and our innovations as we are

always looking for ways to improve and manufacture

products even more efficiently while assuring the

quality and timeliness are never an issue.

Our vertically integrated strategy allows us to

maintain our consistent product quality, inventory

levels, and punctuality of orders with so much being

overseen internally. Outside contractors are still

integral to our success; being involved in every step

simply keeps us present and aware from start to

finish. We have remained a strong competitor in the

wood products industry largely due to the confidence

and trust of our loyal customers.

We continue to expand our full line of fine wood

products which now includes durable concrete

forming panels, premium-grade green and kilndried

Douglas Fir lumber, PS-1 rated plywood, and

solid LVL door and window components. With a

zero-waste mentality, we also produce and sell a

Pacific Wood Laminates Machine Operator

wide variety of wood by-products that are used for

landscape timbers and made into everyday necessities

such as paper and pellets.

Rob Rowe, Plywood Sales Manager

Stop by our booth #319 at NAWLA this year where

our Plywood Sales Manager, Rob Rowe (robr@socomi.com),

and a few other members of the team will

be providing more information about our company.

For more information, visit www.socomi.com.

You need

Lumber

Blue Book

Find New Customers or Suppliers

With a searchable database of over 23,000 lumber

companies, finding your next trading partner is fast and

simple. Lumber Blue Book is your go-to resource for

profitable leads.

Get Predictive Credit Scores

Ever wish you could predict the likelihood of negative credit

events like defaults and delinquent payments? Fueled by

over $25 billion of industry-specific Accounts Receivable data

each year, Blue Book Scores deliver just that.

Real Cedar turns the outdoors into the great outdoors.

Nothing beats real Western Red Cedar for decks, gazebos, shade shelters and virtually

any other outdoor project. It's naturally beautiful, sustainable, and most of all affordable,

which means you'll spend more time outside with your family, and less money.

LEARN MORE at lumberbluebook.com or call us at 630-668-3500

realcedar.com

Contact Ryan, Carlos, or Max

604 945 0251 | furtadoforest.com

Please visit us at NAWLA booth #602

Page 116 ADVERTORIAL Wholesale/Wholesale Distributor Special Buying Issue Wholesale/Wholesale Distributor Special Buying Issue ADVERTORIAL Page 117
---
Western Forest Products Is Emerging As A Leader In The

BRANDED Wood Products Sector.

WFP's newly branded products provide the highest level

of standards that professionals have come to expect.

Wood building material is, typically, an un-branded

product category. Piles of manufactured wood often

sit facelessly next to each other, with little obvious

distinction between quality, sourcing or company

reputation. Western Forest Products is introducing

a new branding approach which makes it easy for

professionals to confidently identify and choose products

they trust when purchasing through their valued

distribution partners. We're simplifying the consumers'

selection process of high-quality building materials by

emphasizing our products' environmental and performance

benefits, and offering species education and

project inspiration.

We are introducing Western Forest Products' beautiful

and convenient new brands:

•WFP TRUESTYLE: This encompasses all of

Western's legacy brands that fell into the premium

grade categories of decking, trim, fascia, siding, and

4x4.

•WFP COAST TIMBERS: Western's legacy timber

brand, Silvertree, is transitioning to this more-representative

image.

See It. Trust It. Buy It. Love It.

Enhancing the online consumer experience through the

new "Products" section on Westernforest.com.

Additionally, Western is investing further into field

marketing representatives in key Cedar markets to

continue to drive demand at the architect, builder, installer

and general contractor level. This is to support

Western's distribution partners as well as its customers

in each market, to keep Western Red Cedar relevant

and prevalent in front of people today. Western

has boots on the ground: a representative today in

the Pacific Northwest as well as Texas, where they

are working through the product ecosystem to create

demand at the pro-dealer level, the retailer level and

architects to be funneled back to their distribution

partners in the key markets.

Western is also improving the consumer experience

through our new "Products" section at www.

westernforest.com. It has never been easier to

research and plan a project, with all the details about

Western's products accessible via desktop and

mobile devices: images, sizing and lengths, seasoning,

where to buy, and more. Color spec sheets are

Western Forest Products new brands: WFP TRUE-

STYLE and WFP COAST TIMBERS. WFP TRUESTYLE

provides premium grade decking, trim, fascia, siding,

and 4x4. WFP COAST TIMBERS world-class appearance

and structural timbers to suit any project where strength

and visual appeal are crucial.

available for download, along with high-quality CAD

and resources for professionals.

All newly-branded products remain of the highest

standards that professionals have come to expect

from Western, including the highest grade and consistency.

For more information, go to

www.westernforest.com

Please visit us at

Booth #245 & 738.

Build Better with Rosboro Glulam and Lumber Products

Rosboro's X-Beam is the industry's first full-framingwidth

architectural appearance glulam.

Located in Oregon's lush Willamette Valley and surrounded

by millions of acres of productive forest lands, Rosboro is North

America's largest producer of glulam beams. Founded over 100

years ago, we are a company rooted in tradition but continuously

adapting to the changing needs of our customers. Our unique

capabilities, including production of our own lamination feedstock,

enable us to provide the construction industry with the most

cost-effective structural framing solutions in the market.

Rosboro manufactures a wide range of glued-laminated timber

products including our flagship X-Beam, the high-strength Big-

Beam DF, as well as rim, mass timber decking, and other innovative

products. Western Structures is our custom glulam division,

providing our customers with extremely flexible fabrication capabilities

and lead times as short as one week. From high-volume stock

glulam programs to custom sizes, variable lengths, and job packs,

Rosboro is your premier source for all things glulam.

Carrying Rosboro glulam gives our customers a distinct competitive

advantage. X-Beam has an architectural finish, allowing

wholesalers and dealers to inventory a single product that works in

both concealed and visually exposed applications.

Builders and framers prefer Rosboro glulam because it is cost

effective, easy to use, and fast to install. The full-width architectural

appearance X-Beam integrates seamlessly into both traditional

and EWP framing systems. Since glulam is not overly compressed

like other engineered wood, it is light-weight and easy to cut, drill,

and nail. Builders know Rosboro X-Beams can be delivered same

or next-day to keep them on schedule and the economical price

will keep their projects profitable.

Architects prefer Rosboro Douglas Fir glulam products for

their warm aesthetic, environmental benefits, and affordable

cost. Wood is the only truly renewable construction material and

Rosboro products are produced exclusively from 2nd and 3rd

generation Douglas Fir forests. The production of glulam beams

requires 14 times less energy than the manufacturing of equivalent

steel framing.

Structural engineers specify Rosboro glulam because it is proven,

cost effective, and widely available. Our team works directly

with specifiers to increase their product knowledge and ensure

that they are using the right products in the right applications.

Knowing that the X-Beam is stocked through Rosboro's extensive

distribution network offers engineers peace of mind that their

builder can always find what they need.

Our service and support set us apart from all other glulam

manufacturers. Rosboro has representatives in the field to work

directly with you and your customers. We do whatever it takes

to ensure your success with our products, be it working with

specifiers, consulting on jobsite issues, or educating your sales

team. For the more difficult technical challenges, we even have a

licensed Structural Engineer on staff.

Rosboro also manufactures high-quality traditional lumber

products including western species studs and dimension lumber.

Rosboro products are the ideal choice for a wide range of applications

in single-family, multi-family, and light commercial framing.

ROSBORO'S PRODUCT LINE

• Rosboro X-Beam is the industry's first full framing-width

architectural appearance glulam, making it ideal for both exposed

and concealed framing applications.

• BigBeam-DF is a high-strength 3,000fb, 2.2E Douglas fir

glulam that is the perfect solution for longer spans and heavy load

conditions.

• X-Rim is the first glulam beam manufactured specifically for

rim applications. It is zero-camber, kiln-dried, and manufactured to

tight depth tolerances so it installs flat in floor systems and stays

that way.

In addition to glulam, Rosboro produces high-quality

western species studs and dimension lumber.

Rosboro is North America's largest producer of glulam

offering everything from stock beam programs to custom

project work.

• Rosboro Engineered Structural Lumber (ESL) is a cost-effective

alternative to LSL for beams, headers, and other light-duty

framing applications.

• Western Structures Custom Glulam is your premier source for

custom sizes, variable lengths, job packs, industrial uses, exterior

applications, and even metric dimensions.

• Green and kiln-dried Douglas Fir and Hem-Fir studs that are

never Prior Selected, meaning the product won't be cherry picked!

Studs are stocked 8', 9' and 10' lengths and custom trim orders

are always welcomed. We also produce quality #1 and #2 green

Douglas Fir products including S4S 3x4, 3x6, and 4x6 in lengths

up to 10 feet.

• #2 & Better green and kiln-dried Douglas Fir dimension

lumber in widths of 2×4, 2×6, 2×8 and lengths from 8' to 20'.

Our beams and lumber may be highly regarded, but customer

service is our greatest product. A live person will always greet you

when you call, and Rosboro's professional service team is there to

support them through every stage of the job. We pride ourselves

on being easy to work with so you can focus on what's important

in your own businesses.

Learn more at www.rosboro.com.

Please visit us at Booth #1022

The's No Suc Thi s

Comty Ser.

Some people say plywood is

all the same. Well, "some people"

are wrong.

That's why the Boise Cascade®

plywood team continues to invest

in the right people, customer service,

and information to deliver the best

overall value.

Our industry may change, but the

importance of doing what's right

never does.

bc.com | 800.228.0815

© 2020 Boise Cascade Company. All rights reserved.

Bryson Bennett,

4th generation

Kirk Todish, Sales

Brett Bennett,Vice President,

3rd generation

Jim Vandegrift, Sales Manager

FAMILY-OWNED AND OPERATED

SINCE 1939

• Two Sawmills – Clarkston, WA and Princeton, ID

• Over 180 million board feet annually.

• A quality product from environmentally managed forests.

• Douglas Fir, Larch, White Fir, Engelmann Spruce, Lodgepole Pine,

Idaho White Pine, Inland Red Cedar, and Ponderosa Pine.

• A multi-generational company here to serve you now

and in the future.

SFI Certified since 2003

Bennett Lumber Products Inc.

P.O. Box 130 Princeton, ID 83857

Sales: available 6 am (PST) to 4 pm

Phone: (208) 875-1321 Fax: (208) 875-0191

web site: www.blpi.com • e-mail: jim@blpi.com

Page 118 ADVERTORIAL Wholesale/Wholesale Distributor Special Buying Issue Wholesale/Wholesale Distributor Special Buying Issue ADVERTORIAL Page 119
---
Family-owned Nicholson And Cates Continues To Thrive

The Lumber Journey

By Ted Ellis, President & CEO of Idaho Timber

Caledonia Distribution Centre

Based out of Burlington, Ontario, Nicholson and Cates

Limited is the rarest of companies: a family-owned business

that has not only survived, but thrived with its second

generation at the helm. Purchased by the father, Wilf

Livermore, back in the 1960s, then passed on to the three

sons in the 90s, this distributor and wholesaler of building

supply products has grown and expanded while some

competitors have come and gone. Today, the brothers,

Jim, Peter and Dave, are still in charge with Jim Livermore

serving as president.

Jeff Leich, the Purchasing and Sales Manager within the

Lumber Milling/Trading Division of Nicholson and Cates,

joined the business back in 2003, and said the company

has succeeded in attracting and retaining people for the

long term.

"They have trust in their employees," Jeff said of the

management team. "I've been here for 19 years, and I

can't think of more than one or two occasions when ownership

said, 'Don't buy that' or, 'Maybe wait, and give it some

extra thought first.' Nicholson and Cates trusts the instincts

of its employees. They believe in the experienced people

to make good decisions. When we believe the market's

going up, we buy extra. We are fully supported."

The company is divided into three sales divisions: Specialty

Building Products, Industrial Panel and Lumber

Milling/Trading, as well as three milling divisions including

Fraser Wood Siding which support the sales divisions.

Ohsweken Remanufacturing Centre

Together, Nicholson and Cates sells everything from Softwood

and hardwood lumber to Trex composite decking,

Fraser Wood Siding, MDF, plywood and more. Their customers

include retail yards, builders' yards, industrial and

pallet manufacturers and remanufacturers.

Leich's focus is on the industrial division, headed by

Morgan Wellens, which is dedicated to buying and selling

all industrial Softwood and hardwood lumber of many

grades and sizes, as well as commodity plywood, and

OSB. He said SPF is the biggest volume product in this

division, approaching 200 million board feet annually.

"We are proud that we are a leader among our competitors.

We constantly inform our customers of the market,

and often team up with them to make strategic decisions.

Sometimes our customers will take our information and

buy elsewhere, but over the long term, Nicholson and

Cates gets its fair share of business, which is our goal. We

like to be present in the market at all times," he said.

To achieve and maintain this level of success, the company

stocks a wide array of sizes and grades of lumber at

their various inventory locations and offers timely processing

and delivery. Nicholson and Cates tends to favor quality

products for its customers, which leads to better customer

satisfaction. In this case, less SKUs, less problems.

"From our main distribution in Caledonia, Ontario, we

ship anywhere in Canada and the U.S., but heavily in Ontario.

From our remanufacturing plants in Ontario and New

To learn more, go to www.niccates.com.

Brunswick, we sell furring strips and industrial products to

the North American markets. Additionally, we export lumber,

literally, all over the world."

What truly makes Nicholson and Cates distinct, according

to Leich, is the spirit of innovation that permeates the

company as a whole. "We're growing, we're hiring, and we

don't like to say no to anyone. Invariably, on a regular basis,

we contemplate new products. If it can work for us,

and work for the customer, we will try it," he said. "Whether

it is acting as a broker, which is a low-risk endeavor, or it is

capital expenditure required for a new piece of equipment

or it is retro-fitting an old piece of equipment or it is adding

a night shift, we are open to expanding products and services

for our customer."

Jeff Leich is confident about the future of Nicholson and

Cates because he knows it is built on a solid foundation of

trust and respect for both the company's customers and

vendors.

"One of the things we profess on a daily basis, especially

to our newest hires, is that our customers and our suppliers

like us and trust us. We're the company who calls the

mill even when they've undercharged us even by one dollar.

We care that everything is right. The same goes for all

aspects of a transaction. We're in early and stay late. No

one ever questions the way we do business. Our business

partners know when they deal with Nicholson and Cates,

they've done good business."

Ted Ellis celebrates Idaho Timber #1 Division Award with

GM Jim Bowen and his Chadbourn, NC team.

I have been in the lumber business for over 40 years,

and several of the people I work with have been in the

business for at least three decades. However, you would

be hard pressed to find any of us that have stayed in the

industry for this long who wish they would have done

something else.

What other industry does deals on a handshake and

often pays for product prior to arrival and inspection?

Accordingly, those who strive to do business and life

correctly rise to heights never imagined long ago when we

decided to give the lumber business a try.

Even today as we experience market changes, we

seem to enjoy the excitement of the challenge. Most of us

understand "what goes up, must come down," and that the

market volatility makes each day unique and exciting.

During my time in the lumber industry, my faith in people

and my faith in God have risen, and the term "blessed" has

been bestowed upon many of us who have chosen this

industry for our life's work. It has not been easy, and life/

work balance has been elusive, but I thank God for directing

me to Chandler corporation so many years ago and

allowing me the opportunity to meet so many wonderful

people.

America is great, our global wood products industry is

great, and all along the way, the roads traveled give all of

us the opportunities to meet and do business with some

remarkable people.

Let's pause and be thankful for all we have experienced

and set our hearts on the road ahead which will surely test

us all again.

Speaking of change and opportunity, I am pleased

to confirm Idaho Timber's value-added manufacturing

Trucks turn 4x faster than cars, require 80 percent less

capital and space, keep inventory balanced.

operations were recently sold to Hampton Lumber, while

our SYP sawmills were sold separately to a third-party investor,

Blue Wolf Capital. The "Great Eight" Idaho Timber

companies in Boise, Troy and Weiser, ID, Albuquerque,

NM, Fort Worth, TX, Lake City, FL and Chadbourn and

Henderson, NC will continue to operate as Idaho Timber

with the same seasoned management teams in the field

and at our headquarters in Meridian, ID. We already see

great synergy in working with Hampton, and look forward

to expanding our capacity to better serve our customers

under their exceptional leadership.

If you are familiar with Idaho Timber, you know that

a hallmark of our service is improving our customers'

profitability through Just-In-Time delivery from our regional

production facilities.

Our inventory of several million board feet per location

serves as their personal reload, allowing them to bring

in just what they want right when they want it, receiving

highly specified loads of dimension and studs or boards

and pattern stock in 24-48 hours. Compared to bringing

lumber in by railcar, this service vastly improves key

inventory metrics, quadrupling turns and GMROI, and

cutting customers' capital and space requirements by 80

percent. Reducing inventory and accelerating turns also

trims their carrying costs and cull losses, frees up yard

space for higher margin products and may enable them

to get all their lumber under roof where it yards better and

sells better.

With current market uncertainties, this sourcing model

becomes all the more valuable because it provides safety

in falling markets. Customers can have a truckload of our

stock sold and posted to their Accounts Receivable before

Another multifamily project more profitably served by

Idaho Timber's jobsite-direct delivery.

the invoice is even due, precluding market moves from

significantly impacting its value, while also doing wonders

for cash flow.

If you're not familiar with Idaho Timber, I invite you to

call our people and let them show you how our wide range

of lumber products and unique services can significantly

improve your results.

Idaho Timber's manufacturing capacity exceeds 700

million board feet per year. Kiln-dried dimension lumber

is offered in Doug Fir, Hem-Fir, SPF, Southern Yellow Pine

and Premium European Spruce. Boards and pattern stock

are produced in Western Whitewoods, Cedar and Southern

Yellow Pine. The company also manufactures Cedar

split rail fencing and fence boards, plus 1x and 2x pattern

stock and specialties such as tile battens and banding

groove.

Additional services include jobsite-direct delivery,

special stud trims, proprietary grading, custom packaging

and barcoding. Products are shipped by truck, rail and

container.

Idaho Timber is a member of the Idaho Forest Products

Commission, North American Wholesale Lumber Association,

American Wood Council, and Treated Wood Council.

Facilities are SFI and/or FSC certified where appropriate.

For more information, visit www.idahotimber.com or

call Idaho Timber at (800) 654-8110.

Please visit us at Booth #701

SPECIALIZING IN DOUGLAS FIR.

PRIME FOREST PRODUCTS

IS A SECONDARY

REMANUFACTURER THAT

PRIDES ITSELF ON PROVIDING

HIGH QUALITY SOFTWOOD

PRODUCTS WITH PRIME

CUSTOMER SERVICE.

• Full Service Pressure Treated Lumber & Plywood

• Cedar Deck Accessories

• Specialty Decking Products

Tacoma, WA 800-426-8430

PRIMEFOREST.COM

1-503-628-0441

Page 120 ADVERTORIAL Wholesale/Wholesale Distributor Special Buying Issue Wholesale/Wholesale Distributor Special Buying Issue ADVERTORIAL Page 121
---
Expansion Continues at Diprizio Pine Sales

Jamie Moulton, Sales & Finish Production Manager and Ian Penney, Finish Production

& Shipping Coordinator.

Middleton, NH–DiPrizio Pine Sales is recognized as

being in the forefront of the forestry industry with technology,

alternative energy, and Customer Experience. Established

in 1938 by the DiPrizio family, the operation known

as DiPrizio Pine Sales was purchased by LaValley Building

Supply in 1993.

Exclusively an Eastern White Pine sawmill, DiPrizio

produces common boards and specialty products for every

project including paneling, wainscoting, flooring, decking,

millwork, moulding, siding, trim, crating, and shelving.

The company currently processes 18 million board feet of

Larry Huot, Owner Eastern White Pine annually. Jamie Moulton, sales manager,

says, "Most of our selection is 4/4 in a wide selection of

and President,

DiPrizio Pine Sales. textures. Our mill offering also makes available 5/4, 6/4, and

8/4, and timbers on request."

"Eastern White Pine is such a unique specialty species," says Larry Huot, Owner

and President. "We are very optimistic on the future for Eastern White Pine. The

characteristics with its ease of machining, interior and exterior applications, natural

resistance to decay, and unparalleled compatability with paints and stains."

"Today, there isn't any part of the operation that hasn't been replaced or renewed

and it's time again for the next level," he said. In fact, another expansion is underway,

utilizing smart technology to scale-up volume through increased automation

and optimization to make jobs easier and address the labor shortages that are

challenging everywhere. "We have begun a three-year expansion plan, working with

Northeast Mill Services, Mid-South, USNR, P.L.C., Nicholson to name a few key

suppliers.

AVAILABLE

NOW!

By Terry Miller

"We are looking to automate our processes at every step," he explained, "utilizing

smart cameras, grade optimization, and an automatic stacker."

Huot said, " 'Customer Experience' is all about respect for our employees, our

customers, and every one of our stakeholders. We are in a 'People Business First

and Foremost,' serving the needs of others. Our responsibility is to understand our

customer, anticipate their needs, and DWYSYWD – Do What You Say You Will Do.

That is the standard we uphold here, and that is what builds trust and relationships,

even when things do not go as planned."

Well-known for their ability to offer a multitude of specialty, high-end products, Diprizio

provides most every NELMA pattern and grade, as well as their own. Textures

available include: Band-Tex, Striated, both Standard and Coarse Rougher-head, and

Live Edge.

"Our Weinig moulder processes up to ten-inch widths," he explained. "We grind

our own knives and what we are able to offer in patterns is limitless. We are very

agile.

"From the sawmill, we'll dip everything to prevent stain and assure our customers

reliable clean product and best milling. We have a combination of Irvington Moore

package kilns with SII Track Kilns. The kilns can dry 600,000 feet per charge. To

address our high cost of electricity in NH, our former operations manager, Marcella

Perry, launched our Bio-Mass Plant, utilizing a Hurst 600 horsepower boiler to

burn chips and sawdust, fueling steam for our kilns and driving our Rand electric

turbine. To further utilize the created steam, our new project includes the installation

of Pex-Underground steam piping to heat our facilities. Our 1-MW Solar Plant (over

3,300 panels on 7.7 acres of land) contributes about 1/3 of our sawmilling operations'

electrical needs."

When asked how Diprizio remains successful, Huot offered, "We've been very

fortunate. Talent, Experience, Commitment, Relationships and Teamwork are foundational

keys to our success. Our focus is to listen to our people, to affirm their ideas

and emphasize the importance of their front-line diligence and creativity as drivers

for our shared successes. Our duty is to provide a safe place to work, to listen, to

validate opportunities or concerns, and to encourage continuous learning as No One

of Us is Smart as All of Us. We commit to actively supporting our industry associations

and events. We are in a fantastic industry with the most driven, committed, and

courageous personalities you will find, an industry that prizes respect, trust, relationships

above all else. If we take care of our employees and resources, if we make our

customers successful and our suppliers successful, we all succeed together."

DiPrizio Pine Sales is a member of Northeastern Lumber Manufacturers Association,

North American Wholesale Lumber Association, NH Timberland Owners

Association and Lumbermens Merchandising Corporation. LaValley Building Supply

is a 3rd generation family owned company operating multiple lumberyard / home

centers in NH and VT.

Learn more at www.dipriziopine.com.

The Online Softwood Marketing Directory

Experience the power of using our upgraded "GREEN BOOKS"

as the sales tools that provide endless opportunities!

Leading North American lumber suppliers know the best sales leads are found in Miller Wood Trade

Publications' Green Book Softwood Marketing Directory Online. Tailored to help you grow your business, the

"Green Book" features over 4,600 listings of lumber buyers with their purchasing requirements.

Our Softwood Marketing Directory also lists buyers of particleboard, plywood, hardboard,

fiberboard, veneers, squares and dimension.

"The Green Book Online is a great sales

tool filled with substantial information which

allows a lot of possibilities for our company to

generate new business."

Johnny Rodriguez, Idaho

Timber, LLC, Fort Worth, TX

McGinnis Lumber Company – A Century of Changes and Constants

One hundred years have passed since J.

Earl McGinnis founded The McGinnis Lumber

Company, Inc. in Meridian, MS. Economic,

political, and industry conditions changed

over those years, but the philosophy that

drives the company today remains constant:

"We do business equitably, and understand

the only unique quality we bring to the marketplace

is our reputation, which has to be

earned. We do our best to treat our suppliers,

customers, and employees with respect", said

J.E. (Jim) McGinnis, III, President. "We have

employed many people in our history, four of

them have been named McGinnis; I never

forget who is responsible for the success

achieved by our company."

Earl McGinnis served as President until his

death in 1969.

James E. McGinnis, Jr. served that capacity for 36 years until turning those

responsibilities over to Jim in 2005.

The company is one of the oldest wholesalers in the country operating under

continuous family management. Its primary purpose has always been to provide

a quality product at a competitive price, and to transact business with a high

level of integrity and trust.

Earl's tenure was characterized by financing Pine sawmills in return for

finished product to sell, and survived the Great Depression and WWII. James

helped pioneer Western species (utilizing contracts with mills and railroads) to

retail markets in the South, while navigating the Korean and Vietnam wars, price

freezes during the Nixon years, and dramatic changes societally and politically.

There were good times and bad, but the company persevered.

Jim joined the business in 1980. After enduring difficulties in the lumber business

due to recessions in the 80's and 90's, he began to question the long-term

viability of perpetuating the same business model. The company had already

begun to renew focus on Southern Pine, but still had a strong focus on retail and

homebuilding-related sales. Railroad deregulation, the advent of wholesale distribution

and big-box stores, mill-direct sales to customers that historically had

been the province of the wholesaler, and other market and economic changes

convinced Jim that the company would not survive without making a radical

change in suppliers and customer base. The mid -nineties saw a gradual shift

towards an industrial customer base, and that strategy has served the company

well for over 25 years. "My dad told me late in life that he didn't recognize this

company," Jim laughed.

DOWNIE

TIMBER LTD.

SELKIRK

Dimensions

2.5"/3.5"/5.5"/7.25"/9.25"/11.25" Width

Nominal 7/8" Actual 0.83" Thickness

Nominal 3/4" Actual 0.75" Thickness

Width Breakdown

4" 25-35%

6" 35-40%

8" 30-35%

Length Breakdown

6 to 16'

18's and 20's available upon request

Kiln Dried

Now Producing

Hemlock Boards

You know our high-quality cedar? Try our Hemlock KD boards!

Milled from high quality non-resinous interior tight grain

Hemlock (Tsuga heterophylla).

10" 5-10%

12" 10-15%

Davis McGinnis joined the company in

2014, and buys Pine and hardwood in support

of the sales team, plus significant amounts for

his own sales. Davis said with a smile, "My

Dad never pressured me to join the business,

but my grandad sure made it clear that he

wanted me to."

He has an exercise science degree from

Ole Miss (where he met his wife, Karli; they

have a one-year old son named Parks), but

along the way realized that joining the family

business was his true calling. "Another sawdust

breathing McGinnis," Jim says, and adds

that "Davis has the family gift of gab, and an

Four generations of McGinnis Lumber Company, Inc.: Jim, Earl, James and

unteachable feel for the market and trading,

Davis.

a strong work ethic, and is respectful to everyone

in our company, our suppliers and our

customers. He will have a long, successful career in this industry because he

does things the right way."

Davis continues: "We still do business with a handshake and verbal agreements.

Our mill partnerships are our lifeblood.

"Our goal is to continue to grow and diversify; we constantly are expanding

our customer and supplier base. If we can continue to do that, maintain good

employees and the positive environment our company strives for, we will be fine

in the future."

Jim said, "Davis will have to stay aware of coming changes, adapt to them as

we always have, while always maintaining what is currently working well. I'm

supremely confident that he and the rest of our staff will make good progress

towards our second hundred years."

McGinnis has had a very long relationship with NAWLA, with both Jim and his

dad serving as Chairman.

"NAWLA is about relationship-building, and our company and myself personally

have benefited greatly from our long membership," Jim continued. "My philosophy

is to never let business get in the way of life. Meaning, work is important

and we need to do it well. But it's also very important for our people to attend

ballgames, school plays, and travel to see family; in other words, the most important

things." About business, he says, "I'm proud of our family business, and

thrilled that Davis is here as the fourth generation. Business success is wonderful,

but my legacy is my family and the friends I've made along the way. I'm truly

blessed."

Grades

C&Btr. Clear (Nested Units only)

Selkirk Silver

#4 Common

Patterns

WP4 Channel

1/8" Nickel Gap

please inquire

Details

• S1S2E Rgh-Hd / S4S

• Waxed Ends

• End Stamped

Learn more at www.mcginnislumber.com.

Lease the Softwood and Hardwood "Green Books" today

by calling Jennifer Trentman at 800-844-1280 or email

her at jennifer@millerwoodtradepub.com.

1x3" to 1x6" dried to 12-13% M.C.

1x8" to 1x12" dried to 15-16% M.C.

Downie Timber and Selkirk Cedar Ltd.

Revelstoke, BC www.selkirkcedar.com

Page 122 ADVERTORIAL Wholesale/Wholesale Distributor Special Buying Issue Wholesale/Wholesale Distributor Special Buying Issue ADVERTORIAL Page 123
---
Market Challenges Mean Going 'Back to the Basics' for Boise Cascade

No matter where you sit in the supply chain, current market

conditions make almost everyone's job tougher. From labor and

materials shortages to the tangle of logistics complexities, today's

environment presents very real challenges — but also tremendous

opportunities.

The team at Boise Cascade® Wood Products realized early that

successfully navigating the breadth of current market dynamics

would require them to lean on their values and each other to continue

delivering results — and product — for their customers.

Better Together

According to Michael Elliott, Boise Cascade's General Sales and

Transportation Manager, it all started with trusting and empowering

the Boise Cascade Wood Products team to do the right thing.

"Our employees have done an amazing job representing both the

company and customers in a challenging environment," Elliott says.

"We empowered them. They have the autonomy to do what they

need to do to get materials to the market."

This approach helped the company to efficiently adapt to changing

conditions by pushing decisions to those with the knowledge

and ability to take action. While this did not eliminate the broader

issues the entire industry faces, it did allow Boise Cascade Wood

Products to meet its commitments to customers and retain its reputation

as a reliable supplier.

Take logistics, for example. In his 16 years in the industry, Elliott

notes he has not seen such a sustained pace of transportation

bottlenecks.

"Shipping via trucks and rail has been a challenge," Elliot explains

"There are not enough people, and the labor issue has affected

each facet of the supply chain."

The vast shipping network is much too large and complex for any

single company, let alone a person, to solve. But working together,

the Boise Cascade Wood Products team has continued to focus

on their values of "integrity" and "pursuit of excellence" by finding

solutions for getting the GLULAM, plywood, and lumber where it

needs to be when it needs to be there.

"It's taken a collaborative team effort to ship product on time," Elliot

says. "But we've done

it and we're proud of it."

Of course, having a nationwide

footprint helps.

"If you look at the business,

our locations are

relevant," Elliot explains.

"Our mill allows Boise

Cascade Wood Products

to reach anywhere from

the Northwest to the

Southeast."

In other words, Boise

Cascade Wood Products

has helped customers

through these challenges,

partially by the long-term

strategic planning of mills

and distribution locations.

But it takes a team of

professionals to put these

structural advantages to

work for customers.

Built on Relationships

Amy Vitek, Glulam

Sales Manager at Boise

Cascade's Homedale,

Idaho mill, points out that

their customers have

been integral to ensuring business runs as smoothly as possible.

"We've leaned on the relationships with our customers and

they've supported us throughout," she says.

Clear, honest communication, a can-do attitude, and the knowledge

that Boise Cascade Wood Products is doing everything

within its power to take care of its customers allowed employees to

live their corporate value of "respect" and enabled more creative

problem-solving at every level.

"The longevity of our relationship with our customers and trust is

at an all-time high," Vitek says. "When we say it's going to ship, it

ships."

This "focus on the basics" approach to business has paid off

for both Boise Cascade Wood Products and its customers. By

relying on customers and teammates to work together for the best

outcomes, the Boise Cascade Wood Products company not only

lives its corporate values, it brings value to customers — even in

tougher times.

"This type of service and honoring our word strengthens our

relationships with our customers," Vitek says. "It's this collaborative

spirit that helped get Boise Cascade Wood Products and our

customers to grow in the past, and it's what will keep us all growing

for decades to come."

BOISE CASCADE WOOD PRODUCTS VALUES

Boise Cascade Wood Products approaches business with these

core values:

Integrity

We are our word. Integrity goes beyond the lasting structural

strength of our products; it is our uncompromising commitment to

do the right thing. We nurture long-term relationships every day, in

everything that we do.

Safety

We each have the responsibility for our own safety and the safety

of those around us, both at work and at home. Together, we strive

to create an injury-free environment by identifying risks, eliminating

hazards, and requiring safe behaviors.

Respect

We cultivate a climate of mutual respect, camaraderie, and teamwork.

We welcome diverse backgrounds, views, and skills because

we believe it results in stronger teams, inspired solutions, and

greater agility as an organization.

Pursuit of Excellence

We are committed to the continuous improvement of people,

processes, and the quality of products that we deliver. We apply

best practices in our environmental management and forest stewardship.

We all have the autonomy to apply our knowledge and

experience to solve problems, make decisions, and implement new

ideas to drive sustainable results.

Learn more at www.bc.com.

Please visit us at Booth #528

Quality People Creating Quality Wood Products at Gates Milling, Inc.

A one-inch slab from a log being processed on Gates

Milling's MIT headrig

Gatesville, NC—Gates Milling, Inc., located here, manufactures

green and kiln-dried Softwood and hardwood lumber; planed and

moulded products such as tongue and groove v-joint and nickel

joint, decking, shiplap, and exterior siding; trim and fence boards;

and natural and color-dyed bulk mulch and shavings.

A fully integrated, state-of-the-art, quality producer of specialty

wood products, Gates Milling produces 12 million board feet of

Softwoods and hardwoods annually. The company offers Atlantic

White Cedar, American Cypress, and Poplar in 4/4 through 12/4

thicknesses.

"Gates Milling is a full-service milling facility starting with the log

and following through entirely to the finished product," said Vice

President of Operations and Marketing Kelsey Kennedy. "Pairing

the capabilities of a sawmill with a finishing facility allows our

company the flexibility to create virtually any woodworking product

in-house, without having to outsource to other companies."

Brian H. Martin founded the family-owned company as Gates

Custom Milling, Inc. in 1978, and began with a goal to remanufacture

Atlantic White Cedar lumber into both interior and exterior

products. After a devastating fire in 1981, Gates began the process

of expanding into a full-service, fully integrated operation, taking

control of all aspects of the milling process. Over the years, a

sawmill, Weinig Moulder, and dry kilns were added to the operation.

In addition to the new equipment, a second generation of Martin's

family joined the team. Today, Gates produces a full product line,

from interior paneling to exterior siding and mulch, completely inhouse.

An ongoing commitment to new technology keeps Gates at

the forefront of customization and specialty milling.

With nearly 30 years in the forest products industry, current

owners Mark and Nancy Tuck took over the family business from

Nancy's parents and founders in 2012, and renamed the company

Gates Milling, Inc.

Kennedy explained that the owners of Gates Milling, Inc. started

sister company American Cypress, LLC in 2011. "The goal of this

separate entity was to reach different areas of the market than

Gates could reach previously," said Kennedy. "The success of this

venture was more accelerated and greater than we could ever have

expected."

Select Cypress exterior siding manufactured by Gates

Milling and applied in Michigan

In response to this growth and success, Gates Milling, Inc.

merged with American Cypress, LLC in 2019 to synchronize and

upgrade resources so that they could deliver the best possible

customer service and product available. Kennedy said, "By combining

American Cypress & Hardwood's highly-successful sales

leadership with Gates Milling's vast, highly technical production

capabilities, the company is more confident than ever in our ability

to produce premium lumber products delivered with finesse and

expertise."

To further ensure that the success of American Cypress & Hardwood

was not forgotten, Gates launched a trademarked product,

American Cypress, produced exclusively at Gates Milling, Inc.

"The mill remains the nation's number one producer of Atlantic

White Cedar and a top producer of both American Cypress (now

trademarked Cypress products) and poplar serving wholesale

distributors across a majority of the country as well as internationally,"

said Kennedy.

Equipment at Gates Milling, Inc. includes:

•Cleereman Carriage with 3D Scanning

•Nicholson 6A Debarker

•CAE Line Bar & Resaw

•McDonough Horizontal Resaw

•Salem Edger

•Dawson Brothers Drop Saw Trimmer with Lucidyne controls &

Grade Mark Reader

•Dawson Brothers 34 Bay Sorter with Lucidyne controls

•Dawson Brothers Automated Lumber Stacker with Industrial

Systems Consultants controls

•Fastline Small Log Processor and Brewer Horizontal Twin Band

Planer Mill Operation:

•Kentwood High Speed 8-Head Moulder with 12-inch capacity

•Weinig Hydromat Moulder

•Woods Planer

•Stenner Resaw

•Cornell Drop Saw Trimmer

With a total kiln capacity of 200,000 board feet, Kennedy said

moisture content depends on the species but ranges between 6

Atlantic White Cedar decking from Gates installed on a

Florida waterfront property.

and 12 percent and is compliant with NHLA Grading Guidelines for

each species.

Key personnel at Gates Milling include: Chief Operations Officer

and Owner Mark Tuck; Chief Executive Officer and Owner Nancy

Tuck; President of Sales and Purchasing Christopher Sackett;

Vice President of Operations and Marketing Kelsey Kennedy; Vice

President of Finance and Sales Kaitlyn Wood; Logistics Scheduling

Manager and Mulch Sales Representative Hunter Manning; and

Office Manager and HR Director Carla Martin, as well as many

seasoned and skilled personnel in the mills.

When asked about the keys to their continued success, Kennedy

offered, "Part of the successful tenure of the team is due to a

benefits package that enables the mill to attract and retain highly

valuable team members. Having an awareness of the value of renewable

resources while being good stewards of its raw materials,

Gates Milling is technology driven as well as focused on maintaining

a premium work environment. We continue to enrich our team's

experience in the industry through active involvement in relevant

trade associations and like-minded organizations, including those

that promote stewardship and sustainability."

Gates Milling, Inc. is a member of the North American Wholesale

Lumber Association, National Hardwood Lumber Association,

Southern Cypress Manufacturers Association, Hardwood Manufacturers

Association, North Carolina Forestry Association, and the

National Federation of Independent Business.

Learn more at www.gatesmilling.com

C&D Lumber – Your Home For Cedar and Douglas Fir Lumber Products

Riddle, OR – When C&D Lumber Co. filled its first order in 1890,

the timber was harvested using hand tools, and transported off the

mountain using horses and the currents of Oregon rivers. It was

milled using steam power, and loaded into the backs of wagons,

bound for booming Northwestern towns.

Today, C&D Lumber counts on skilled log harvesters who comply

with strict environmental guidelines to purchase sustainable raw

material that allow us to consistently offer carefully crafted products

at competitive prices–just as we have for over 130 years. With the

use of flatbed trucks, vans and railcars our carefully milled products

travel to distributors and job sites across the United States and

beyond.

Today's highly efficient facility produces high-quality lumber

products in over 100 different product lines and sizes. With a very

diverse product line and a flexible manufacturing facility, C&D is

truly considered a "cutting mill" where customers can find a variety

of products and sizes to fit their needs and where shipping truckloads

or railcars of mixed lumber products is a norm.

We are proud of the three species we can mill with Douglas Fir

making up the majority of our production, but our product line is

enhanced with two unique and beautiful Cedars: Incense Cedar

and Port Orford Cedar. In each species, we offer products including

2-inch Appearance Plus decking, rough exposed timbers, fence

rails and a variety of Cedar lumber dimensional products ideal for

many types of remanufacturing. Incense Cedar is highly rated in a

majority of physical properties including natural durability, shrinkage,

checking, weathering, warping, and insulation value. Port

Orford has physical properties that rate almost as high as Douglas

Fir in regards to strength, plus its creamy white color makes it even

more desirable as a stained product.

In Douglas Fir, we offer a full line of surfaced lumber that includes

2-inch dimensional lumber, 4-inch and 6-inch timbers in a variety

of grades from No. 1 and Better to Economy. We also specialize

in one of the highly sought after product lines called Premium Ex-

We make a wide variety of 2" surfaced dimensional lumber

in widths from 2x4 through 2x12.

posed® Douglas Fir. With natural beauty, exceptional strength and

"when appearance matters," our Premium Exposed® rough sawn

timbers have become the preferred products for open-beamed

construction.

Our success in milling these fine products depends on healthy

forests and sustainability. At C&D Lumber, we do everything in our

power to sustain the health of our natural resources as we produce

our wood products. We buy our timber from foresters who practice

scientifically sound and efficient forest-management techniques

that provide habitat for wildlife and aquatic life, and maintain forest

tree species, soil, air and water resources. These practices ensure

the continuous growth and harvesting of trees for the benefit of

"When Appearance Matters" order C&D Lumber's Premium

Exposed Rough Sawn Timbers.

future generations of Oregonians, and for our mill. We are proud

to say that we are committed to only working with those that

comply with the Oregon Forest Practices Act and the regulations

established and enforced by the Oregon Department of Forestry.

We have also gone the extra step to receive third-party certification

from the Sustainable Forestry Initiative®.

Yet our commitment to sustainability goes farther. We have a

responsibility to be as efficient as possible with our logs. To do

this, we utilize every part of the log, leaving virtually no waste. The

bark removed for a log is used for landscaping bark or mulch. The

wood chips are used to make paper products, and the sawdust and

We stock on the ground 4" and 6" surfaced timbers ranging

from 4x4 - 4x12 and 6x6 - 6x12.

planer shavings are sold to make pressed board products.

We stand out from the crowd because we offer more than a

commodity: our customers return to us over and over again, citing

our attention to promptness, accuracy and service. As much as

we'd like to become accustomed to the compliments, we don't. We

believe there is always room for improvement, and that we can repay

the praise through that effort. If you are a current C&D Lumber

customer, we are grateful for your loyalty and your business. If you

are new or considering us for the first time, please visit us at our

booth at the Trader's Market or give us a call in our office located

in the heart of the sawmill in Riddle, OR. We believe our future is

bright because of the dedication and loyalty of our customers, the

demand for quality lumber products, our close proximity to efficient

shipping routes and being located right in the middle of a rich raw

material source.

For more information, contact C&D Lumber Co.

at 541-874-2241 or visit www.cdlumber.com.

Please visit us at Booth #1018

SKANA

FOREST PRODUCTS LTD.

Lumber wholesalers of SPF, Douglas Fir, Pine, Plywood and Western Red Cedar

Skana is both a manufacturer and distributor of quality forest products. At our remanufacturing facility in Vernon, BC, we

produce a full program of high-grade specialty Western Red Cedar products while the Herbert, Saskatchewan plant's primary

focus is specialty SPF products. If we don't manufacture what you're looking for, our experienced Wholesale Distribution

Division will help you find it.

604.273.5441 Skana.com

Toll Free: 800.665.4213

Page 124 ADVERTORIAL Wholesale/Wholesale Distributor Special Buying Issue Wholesale/Wholesale Distributor Special Buying Issue ADVERTORIAL Page 125
---
Cersosimo Lumber: 75 Years Young And Still Going Strong

Pacific Western Wood Works Increases Its Capacity

To Produce Dependable Lumber By Zach Miller

Cersosimo Lumber Company President Michael Cersosimo

and Chairman of the Board Butch Cersosimo.

In 1947, Tony Cersosimo was planning to open a premium

lumber company and decided to brand his product

from the start. He chose the Red Hunter, a mark now

known throughout the world as a symbol of quality.

Over the ensuing 75 years, the Cersosimo Lumber

Company, located in Brattleboro, VT, has continued to

carve out a reputation for itself as a locally-renowned

family-owned lumber company. In fact, company president

Michael Cersosimo represents the third generation of his

family to run the business, with his father, Butch, still serving

as chairman of the board.

The business has, in particular, carved out a niche for

itself in terms of its sales of White Pine. Jeff Hardy, Vice

President and General Manager at Cersosimo Lumber,

said the company caters to a number of industries.

"We sell a variety of thicknesses up to 12/4 and a variety

of grades, whether it's products that work for the furniture

industry or for moulding and millwork, and even manufacturing

of doors and windows," he said.

"We ship a lot domestically to distribution yards and end

use manufacturers. We also ship lumber export, whether

it be to Europe or Canada," he said. "Our graders are

trained over a number of different grading rules, whether

it's NELMA, WWPA, or proprietary grades for customers to

fit their needs."

In fact, in any given year, the company produces

anywhere between 25 million and 30 million board feet of

White Pine alone. To keep up with this demand, the com-

Cersosimo Lumber Company Vice President and General

Manager Jeff Hardy and Eastern White Pine Sales

Manager Ryan Satterfield.

pany employs 225 people and operates five sawmills.

"We usually like to procure our Softwood logs within

a 60-mile radius of the sawmills," Jeff noted. "And the

hardwood logs could run up to about a 100-mile radius.

We certainly have some of our own timberlands, and we

buy a large portion of stumpage. It is probably the biggest

portion of our cut. Along with that, we do accept gatewood

in all the sawmill locations. That mix seems to just give us

a good supply of logs through most of the year."

This stable supply chain has been crucial to maintaining

the company's reputation as a reliable source for lumber.

In fact, Cersosimo Lumber has been working with some

customers for 30, 40, and even 50 years, a true testimony

to the quality of the company's products and its service.

But the team at Cersosimo does not rely on its past; they

remain committed to meeting their customers' needs every

day.

"We tend to have a niche doing other things," noted

Ryan Satterfield, Eastern White Pine Sales Manager. "A

Cersosimo sells Eastern White Pine in a variety of grades

and in thicknesses up to 12/4.

lot of Pine mills here in the northeast tend to just cut one

inch or 5/4 stock. We do everything from one inch to 12/4,

even four-by-four White Pine squares, so we get into a lot

of different thicknesses. We're able to do things other mills

in the area cannot."

Ryan added that one area where the company specializes

is furniture grade lumber – Knotty Pine that's dried

to 6-8 percent, making it ideal for furniture and cabinet

construction.

"Not many people dry their lumber dry enough to use

it for those applications. It's become a specialty for us,

whether it's 4/4 lumber, 5/4, 6/4, 8/4, or 12/4. We dry a lot

of products to that spec," he said.

Jeff noted that like every business in the industry, Cersosimo

Lumber faces challenges, but unlike others, the

company is uniquely positioned to meet those challenges

head-on.

"I certainly think finding good timber is always a part

of the equation. Good labor can't be replaced easily, and

attracting new people to our industry can be tricky. What

separates us is that we continue to have good people and

our ability to purchase timber, and good timber has really

been a part of the growth of this company for the last 75

years."

www.cersosimolumber.com

Please visit us at Booth #908.

PWW new 20' Doucet Clamp Carrier

Delta, BC—Pacific Western Wood Works Ltd. (PWW),

based here, has manufactured Cedar products for more

than 30 years, exporting them to the United States, Europe

and Asia. "Our promise is to always offer dependability

that can be relied on by each one of our customers," said

Head of Sales Dennis Wight.

Now, Pacific Western Wood Works is adding equipment

and increasing their capacity to meet customers' needs.

"We are expanding and growing and investing in the future,"

stated Tyson Palmer, sales manager of PWW. "Over

the last six months we have doubled our capacity. We

added a second Weinig moulder line that can process up

to 12-inch widths and 6-inch thickness. We added another

resaw line and a sanding line, to complement the existing

production lines we already had in, and we have basically

doubled the volume that we are capable of producing.

"This has the potential to expand our customer base,"

Palmer continued, "but for the short term it's expanded

what we have been able to do for our existing customer

base with room for growth and more customers.

"So, that puts us up to four resaws, two full moulder

facilities, two full grinding rooms, an edge-gluing machine

and a sanding line," Palmer remarked.

One innovation this new equipment might afford is the

addition of other species of wood. "These machines will

run hardwood and Softwood. We could technically manufacture

oak, Fir, Cedar and Hemlock if we wanted to, all in

the same day," Wight noted.

Besides doubling production capacity, this additional

Jointed 8 head Weinig Moulder production line

equipment gives PWW the ability to respond to the market

"when it goes more boutique," Wight observed. "So, there

are going to be some specialty things needing to be

done, and earlier we would have had to say 'no' because

of our big moulder line. We couldn't shut it down. Now,

with the other moulder line, we should be able to take on

some more specialty work if we want to." Also, with two

moulders, PWW can carry out all of its work in one shift,

avoiding difficulties that could be experienced by having

two shifts.

All aspects of PWW's manufacturing process are controlled

to ensure customers get what they need, when they

need it. Innovating and use of state-of-the-art equipment

are critical to keeping PWW at the forefront of the industry.

PWW's Signature Cedar products fall under its Pacific

Select and Pacific Clear lines. Pacific Select Signature

Cedar products include high quality, select knotty, fascia,

trim, siding and other specialty products. Pacific Clear

Signature Cedar produces a wide range of superior, clear

vertical grain decking, siding and other specialty products.

The company also offers kiln-dried Select Tight Knot

fascia, pattern and boards.

All of PWW's products are carefully manufactured on

industry-leading machinery by the long-term team who

have the knowledge and ability to consistently process

Cedar with ultra-high quality and finishing. Whether it's

Clear Vertical Grain Boards or Knotty kiln-dried tongue

and groove, PWW strives to be the best and to change

with the market as needed.

1 x 4 A&Btr 7/16" T&G ready for packaging

"We are committed to our customers, and we operate

our facility as if they are part of our team," Wight stated.

"I believe there is strength in partnerships. And as the

supply of Cedar, Clear and/or Knotty is constantly changing

– it is imperative that we maintain communication

with our customers. Through this communication we will

build a successful strategy to navigate the ever-changing

landscape together."

Since PWW's inception, it has offered products in

multiple categories, such as Clear Cedar finish, VG Bevel,

siding, decking, paneling, trim, Cedar deck accessories

and more. Each product is consistently manufactured to

a level that exceeds industry standards and PWW takes

pride in their work, monitoring each product throughout the

manufacturing process.

Pacific Western Wood Works maintains active memberships

in the North American Wholesale Lumber Association,

BC Wood, Western Red Cedar Lumber Association

and also holds PEFC certification.

"To new and existing clients of PWW, I would like to say

that our mission will always be to listen to our customers

and to produce quality Cedar products that consistently

exceed industry standards," Wight said.

To learn more, go to www.pwww.ca.

Please visit us at Booth #305

Bennett Lumber Products, Inc. Welcomes New Installations In 2023

By Terry Miller

Fourth generation Bryson Bennett (left) is the most recent

generation to join Bennett Lumber Products Inc.

and is pictured with Brett Bennett, Vice President.

Princeton, ID—Bennett Lumber Products Inc. celebrated

84 years of business in 2021 and is preparing to

welcome a new 18-inch planer mill in 2023.

Jim Vandegrift, sales manager, explained the planer is

strictly for the company's 5/4 and 6/4 shop business. "We

are one of the very few capable of offering 16 to 18-inch.

It gives a lot of flexibility for a lot of our cuttings. Both

our mills in Princeton and Clarkston will have the same

capabilities. Both mills are a little different but both are

capable of cutting the 'oversized' log that our competitors

can't cut."

Family owned and operated, the company encompasses

approximately 70,000 acres of forest land in northern

Idaho and eastern Washington. High-quality lumber is

produced at the operation's two mills located in Princeton,

ID and Clarkston, WA. Among the most state-of-the-art

mills in the world, they are designed for efficiency, safety

and production. Bennett Lumber takes pride in providing

high-quality lumber products while practicing sustainable

land management principles.

Operating under 2nd through 4th generations, company

President Frank Bennett is still active. Frank's son,

Brett, is the current Vice President; Jan Dimke serves as

Secretary/Treasurer; Mitch Dimke is the Clarkston Plant

Superintendent; and Jim Vandegrift is Sales Manager.

"Family is very important here at Bennett Lumber," Jim

Vandegrift explained. Bryson Bennett became the most

Kirk Todish (left) and Sales Manager Jim Vandegrift

are pictured. At its Princeton location, Bennett Lumber

Products offers Ponderosa Pine, Idaho White Pine, Engelmann

Spruce, Inland Red Cedar, White Fir Dimension

and Fir Larch dimension and boards. The Clarkston location

is producing Ponderosa Pine, White Fir, Douglas Fir

and Engelmann Spruce boards.

recent generation to join the company and is actively

involved in daily operations of the mill and the planer.

Bennett Lumber Products has undergone extensive

capital improvements within the last couple of years.

Among those improvements were a USNR Gang Edger

and USNR Optimized Trimmer, both of which were

installed at the Princeton location. "We also put in the

USNR Board Edger that programs to the grade," Vandegrift

explained. "As it scans it's reading the grade and its

edging for grade as well as optimization of a board. In

2022, we put in a new debarker at Princeton." In 2023,

the company will install its new planer along with a USNR

autograder.

With about 270 employees between the two locations,

Bennett Lumber operates nine hour shifts, five days/

week. Princeton has two shifts for 90 hours total. Clarkston

has one shift at 45 hours/week. Vandegrift noted that

every lumber species in the Inland area goes through the

company's Princeton location. At Princeton, the company

specifically offers Ponderosa Pine, Idaho White Pine,

Engelmann Spruce, Inland Red Cedar, White Fir Dimension

and Fir Larch dimension and boards. The Clarkston

location is producing Ponderosa Pine, White Fir, Douglas

Fir and Engelmann Spruce boards.

Vandegrift said the Princeton location has the ability to

cut Douglas Fir and White Fir 2x4 through 2x12 dimensional

products and 1x4 and 1x6 White Fir and Douglas

Fir boards. "We offer all five widths in Ponderosa Pine,"

he explained. "We have 4-inch through 12-inch and a

plethora of grades including anything from C and Better

through No. 4 and No. 5 Common as well as the industrial

products of 4/4, 5/4 and 6/4 Moulding, No. 2 & Btr and

No. 3 Shop. We cut in the mill to optimize the logs and

obtain the best value the logs will bring."

As for Cedar products, the firm offers Imperial Grade

1x4 through 1x12, graded two faces, regular No. 3 &

Better graded to the Rough Face. "We pull a 1x4 Shop

that gets utilized by a customer who cuts it, chops it,

finger-joints it and turns it into other products. We also

provide some Shop grades to the food market, so there's

a lot of diversity there."

Committed to the wholesale/wholesale distribution

market, Bennett Lumber products are shipped into all

corners of the United States and additionally into five foreign

countries. To accommodate their customers, Bennett

Lumber pulls out all the stops and adds a few new ones.

"Ninety-five percent of our product is paper wrapped so

it has the option of being shipped tarped or without tarp,"

Vandegrift said. "We will offer half-packs in certain situations

to accommodate our customers. All of our industrial

products such as 5/4 and 6/4 Shop grades are going to

window and door manufacturers. All of that material is 100

percent tarped."

From a volume standpoint, Bennett Lumber produces

180 million board feet annually. Vandegrift said many

things factor into meeting those numbers. "Market numbers,

demand and species availability of the logs are all

factors," he explained. "We are very unique in what we do

here."

Bennett Lumber Products is a member of the North

American Wholesale Lumber Association.

For more information, visit

www.blpi.com.

Please visit us at Booth #700.

DO YOU HAVE WHAT IT TAKES TO MAKE THE GRADE?

Introducing The Grader Academy by NELMA, a FREE interactive on-line

grader training program. Built by the Northeastern Lumber Manufacturer's

Association as a grader training tool for Eastern White Pine and Spruce-Pine-

Fir species, The Grader Academy is now available to the entire industry.

*Learn about lumber grading standards

*Test your grade rule knowledge

*Play Above-Board, the real-time Grader Game

*Compete with your friends and colleagues

Visit www.graderacademy.org to test your knowledge and skills at

the lumber grading profession.

© 2018 NELMA

Page 126 ADVERTORIAL Wholesale/Wholesale Distributor Special Buying Issue Wholesale/Wholesale Distributor Special Buying Issue ADVERTORIAL Page 127
---
Western Forest Products Purchases Calvert Co.

Specialty Lumber Remanufacturer Patrick Lumber Company

Continues Adding Value

"Things are constantly changing and evolving, but these

markets and relationships that we have with some customers

and agents go back 50 years."

– Export Division President, John Quast

Pictured are Atlantic Forest Products curves at Saint

Catherine Church in Morgan Hill, CA.

Vancouver, WA—Western Forest Products (Western)

recently acquired Calvert Co. Inc. – one of the oldest

and most respected glulam manufacturers in the U.S.

With operations on the B.C. coast and Pacific Northwest,

Western is a leading specialty lumber products company

dedicated to providing the most sustainable building

products on the planet.

By joining together, they will capitalize on growing

demand in the mass timber market. Mass timber is a

natural, renewable and sustainable building material with

a lighter carbon footprint, providing exciting growth opportunities

for their collective employees while delivering

greater value to customers.

Calvert Co. owner and operator Doug Calvert said the

operation will still carry the Calvert name and the new

company will be WFP Engineered Products, Calvert

Division. Calvert Co.'s approximately 60 employees will

join Western, becoming part of an organization made up

of approximately 4,000 team members who are singularly

committed to defining a higher standard in all aspects

of the business. Calvert Co.'s owner, Doug Calvert will

remain with Western in a consulting capacity to lend his

strong relationships and expertise in glulam as the partners

work together to further grow the business.

Calvert Co. has a uniquely storied history. Founded in

1947, it has grown it into the longest-running most diversified

glulam facility in North America. Western's intent is to

This is the Hidden Creek Community Center, located in

Hillsboro, OR. Calvert teamed with Swinerton Builders to

create the nation's first mass timber community center.

(Photo by Brews Photo LLC)

build on this strong legacy to further grow the business,

and in turn, provide even greater value to customers.

Located in Washington State, Calvert Co. adds to

Western's presence in the Pacific Northwest comprised

of its Columbia Vista Division and Arlington distribution

and processing center. Calvert Co. has two operations,

one in Vancouver and another in Washougal, Washington.

Calvert explained, "The Vancouver operation is

more custom oriented, it's where we do all of our arch

production and custom orders. But we can also do the

one-off-two-off-three-off smaller beam orders here.

Washougal is a commodity-based operation for bigger

projects. Our stock programs are run out of there and

our production for Japanese markets is also run at the

Washougal plant."

With a history in the forest products industry, Calvert

said, "When the business was established in 1947, we

made trusses and things of that nature. By 1952, we

started manufacturing glued laminated beams. We progressed

from there. The company was first very small,

focusing on custom work and growth happened over

time. Today we've developed into an operation that ships

to all parts of North America and we have export markets.

Our major export markets have been Japan, Korea,

China, Taiwan and Australia."

When asked about what sets Calvert Co. apart from

The Gerry Frank Salem Rotary Amphitheater is a project

Calvert Lumber completed with Western Wood Structures.

This project featured unique radii on each Alaskan

Yellow Cedar curve.

other glulam operations, Calvert said, "We set ourselves

apart from our contemporaries with our diversity. We

have the ability to manufacture curved and arched glulams,

straight glulams, heavy timber trusses and many

other products. We have continued to make changes

in manufacturing processes to meet current market

needs and this will continue at an accelerated pace with

Western."

With the acquisition of Calvert Co., Western is building

the foundation for a new engineered wood products

division to service the North American market and

abroad. Both Calvert and Western are excited about the

opportunities brought on by the new partnership. "When

we first started talking, Western was excited and we were

excited to see what we might be able to do together," he

explained. "Now that we're here, it's a great partnership.

Like Calvert, Western is a safety-oriented, customer-focused

company that is committed to sustainability. The

goals of Western mirror Calvert Co. so we are looking

forward to this new venture."

For more information visit

www.calvertglulam.com.

Please visit us at Booth #245 & 738

From left, Dave Halsey, Wendela Smit, Bastiaan Smit, John Quast, Jan Martis Kemps

and Jack Alley.

Portland, OR – A lumber company over 100 years old has faced and overcome hurdles

time presented them by strengthening relationships and growing an extensive export network.

Established in 1915, Patrick Lumber Company is a specialty lumber remanufacturer and

exporter of high-grade wood products sold through a network of worldwide distribution. That

network, mainly its people, are the heart of PLC.

The export experience of PLC dates back before World War II. By the 1970's the company

had become one of the largest lumber exporters to Western Europe and Southeast Asia.

Then, by the 1980's they dominated the Australian and UK markets.

PLC's expertise in international markets is supported by solid relationships with foreign

based agents, most of whom have represented PLC for decades. Their export market footprint

includes more than 25 countries with the majority of business in Europe, Asia, and Australia.

Export Division President John Quast said PLC's export offerings are a "full menu" of North

American Softwoods.

"That includes Douglas Fir, Western Red Cedar, Hemlock, Alaskan Yellow Cedar, Southern

Yellow Pine, and Ponderosa Pine," Quast stated. "I don't know many companies that offer all

these species. So, if you look at our overall company, it is diversified.

"In the 1980's we were shipping large volumes of Western Red Cedar into Australia and that

is still an important market for us in WRC today," Quast explained. "In the UK and throughout

Europe we would export Douglas Fir. Today Europe is still an important market for Douglas Fir

as well as Southern Pine and Hemlock. So, things are constantly changing and evolving, but

these markets and relationships that we have with some customers and agents go back 50

years."

Top quality, clear grades are the focus for PLC. The company is known for vertical grain

clear Softwoods including Douglas Fir, Hemlock, Western Red Cedar, and Southern Yellow

Pine.

"We ship pretty much all the sizes," Quast said. "On the West-Coast Softwoods we have

our own manufacturing plant in Philomath, OR, which we purchased from Mary's River a few

years ago. We have dry kilns and re-saws; we do remanufacturing and custom kiln-drying as

well. At our plant, we can produce whatever sizes a customer needs."

Quast calls the broad base of customers and markets "diversification." U.S. markets remain

the majority of business for PLC, while championing international lumber exports which allows

them to shift when markets change.

"We have our West Coast exports; then we have our Southern Yellow Pine division which

has grown in recent years," Quast explained. "We now have four employees in North Carolina

and with the expansion of production in the South we see a good future with this species."

Even though all species are sold, Southern Yellow Pine is a large and growing portion of the

business, according to Quast.

The relationships with people are the heart of PLC's business, providing strength to their

market dealings.

"We do our best to support our partners overseas," Quast said. "It's satisfying; as our business

has grown, we've hired more people and expanded and entered into new markets with

new customers."

Including Quast, nine traders and assistants work in the export division: The West Coast

export sales are handled by Quast (Europe/Asia), Jack Alley (Australia/NZ); Dave Halsey

(Belgium, the Netherlands, and Luxembourg), while logistic support is handled by export coordinators

Kimberly Stevens and Gaby White. The Southern Pine business is led by Quast, Jeff

Baumgartner and Todd Barker, as well as Trader Assistants Abigail Pierce and Paulina De

Los Santos. The export division also includes a team of experienced agents who represent

PLC in key export markets. The overseas agents inform the company on market trends while

visiting customers as the sales arm and establish a deeper presence for PLC.

Alley said, "Exporting is an important part of our business just like our domestic business.

The future is good, I think, and it's always changing. You have to be forward thinking."

Asked about PLC's future plans for exporting, Halsey said, "We used to have an office in

London and an office in Melbourne, Australia. So, I think it could be we would have offices in

other countries sometime in the future. There are countries, especially in Asia, that consume

a lot of wood. We'd benefit from an office over there. Our future also includes exporting West

Coast products to the world and U.S. and North American products because we handle a lot

of Yellow Pine as well."

Also, looking ahead, PLC is currently building a new office to showcase products they manufacture

"like Douglas Fir timbers, Western Red Cedar, and Hemlock," Quast said. "It's just

going to be a nice facility to gather and have our sales meetings. There's a lot of good stuff

going on at Patrick Lumber Company."

Find out more about Patrick Lumber Company at www.patlbr.com or follow on Instagram.

To learn more about the history of PLC contact your salesperson for a copy of our book,

"Business is Good."

Westervelt Lumber Deepens The Company's Commitment To Quality

And Sustainability While Expanding Capacity To Meet Customer Demand

DEFINING A

HIGHER STANDARD

OF SUSTAINABLE PRODUCT

Finished Lumber on the transfer rolls at the Moundville

Sawmill

How do you know quality lumber when you see

it? For decades, the iconic "green tree" stamp on

Westervelt Lumber has signaled a top-quality, durable

product. The green tree represents a dedication to

superb quality, service, and sustainability.

Quality and sustainability are synonymous with the

future and growth of the Company. Westervelt Lumber

is part of the integrated forest sector that provides a

natural solution to climate change. They have begun

the process of quantifying the positive climate impacts

of our operations. In 2021, the carbon sequestered

in the forests and stored in wood products from the

trees harvested and forest products manufactured

was significantly greater than the emissions it took to

grow and produce those products. They will continue

to improve and enhance their understanding of how to

optimize carbon storage capabilities in wood products

while ensuring that future generations can enjoy the

same benefits and products by being good stewards

of the land to the more than half a million acres of land

under Company ownership.

While strengthening their commitment to sustainable

forests, they are also continuing to increase operations.

With demand continuing to increase for the

exceptional lumber produced by Westervelt Lumber,

plans have been announced to expand the flagship

facility in Moundville, AL in 2023.

The Moundville mill continues to produce the

highest-quality lumber available, including specialty

Lumber being dried in one of the Continuous Kilns at the

Moundville location

products, and offers rail shipping. The mill offers small

timbers, valued in several different markets for their

quality and consistency. Timbers offered are 4x4, 4x6

and 6x6. The mill is known for producing the highest

quality Pine boards in the industry, available in 1x6

and 1x8, along with 2x4 – 2x12 dimension lumber. All

products produced at Moundville are available in 8' –

16' lengths.

Additionally, the moulder in Moundville produces

an array of Pine patterns, all of which are suitable for

modern building and finishing. Southern Yellow Pine

provides years of functional service, takes finishes

readily or can be left unfinished to age naturally.

Pattern stock is produced in lengths ranging from 8"

through 16". Westervelt offers tongue and groove in

standard match, center match, center match V-joint

(122 and 116) beaded ceiling and 105 siding in both 1"

and 2" profiles.

Westervelt Lumber recently opened a second mill in

Thomasville, AL in 2021 to keep up with customer demands.

Positioned in south Alabama, the Thomasville

facility takes advantage of the nearby company-owned

lands to be a high-volume producer of 2x4, 2x6, 2x8

and 2x10, and 5/4 decking, all available in 8' – 20'

lengths. Shipping by rail and truck, and proximity to

Port of Mobile, means easy transport.

Most of the dimension lumber produced is used in

new home construction, and repair and remodeling

markets. It's highly desired in the marketplace due to

Spiral rolls in the planer mill in Thomasville, Alabama

its outstanding quality and durability.

With more than 50 years of lumber manufacturing

experience, Westerv