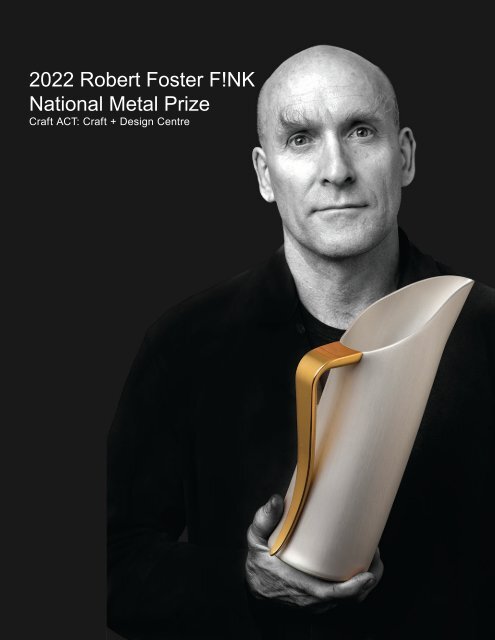 2022 Robert Foster F!NK National Metal Prize
Create successful ePaper yourself
Turn your PDF publications into a flip-book with our unique Google optimized e-Paper software.
2022 Robert Foster F!NK

National Metal Prize

Craft ACT: Craft + Design Centre
---
Craft ACT: Craft + Design Centre is partial supported by the ACT

Government, the Visual Arts and Craft Strategy – an initiative

of the Australian State and Territory Governments, and the

Australia Council for the Arts – the Australian Government's arts

funding and advisory body.

Craft ACT: Craft + Design Centre acknowledges the

Ngunnawal people as the traditional custodians of the

ACT and surrounding areas. We honour and respect

their ongoing cultural and spiritual connections to this

country and the contribution they make to the life of this

city and this region. We aim to respect cultural heritage,

customs and beliefs of all Indigenous people.

Craft ACT: Craft + Design Centre

Tues–Fri 10am–5pm

Saturdays 12–4pm

Level 1, North Building, 180 London Circuit,

Canberra ACT Australia

+61 2 6262 9333

www.craftact.org.au

Cover image: Portrait of Robert Foster. Photo by Damian McDonald.
---
2022 Robert Foster F!NK

National Metal Prize

Alison Jackson | Bic Tieu | Gretal Ferguson | Johannes Kuhnen |

Jonathon Zalakos | Kirsten Haydon | Larah Nott | Lindy McSwan |

Oliver Smith | Sean Booth

Craft ACT: Craft + Design Centre

27 October - 10 December 2022
---
Image: Portrait of Robert Foster with Ossolites, 2010. Photo by Eddison Photographic Studio.
---
2022 Robert Foster F!NK National Metal Prize

Craft ACT is honoured to present the new

Robert Foster F!NK national metal prize,

supported by the Tall Foundation and F!NK +

Co Director, Gretel Harrison, and Craft ACT:

Craft + Design Centre.

The award will celebrate outstanding work

in the field of contemporary metal working

by designers and craftspeople - both

established and emerging. In recognition of

the value of high-quality craft making skills,

good design and innovation ten artists will

be selected and have their work exhibited in

the popular DESIGN Canberra Festival. From

the finalists, three makers, representing an

established artist, an emerging artist, and

an acquisition, will be selected and awarded

generous cash prizes.

This program is generously supported by the

Tall Foundation, F!NK + Co., and Craft ACT:

Craft + Design Centre.

Image: Robert Foster, Yes Sir Teapot, 2007. Photo Courtesy of F!NK + Co.
---
Image: Robert Foster, Squashed Vessels. Photo Courtesy of F!NK + Co.
---
Gretel Harrison | Director F!NK Designs

Robert Foster (1962-2016) had a deep love for

metal and exploring its endless possibilities

and was prolific in his career spanning over 30

years working from artistic tea pots, functional

hollowware, furniture, lighting, jewellery and

sculptural installations. Robert had a deep appreciation

and understanding of metal and was

able to manipulate it in numerous ways, creating

amazing, organic shapes many would not

normally associate with the material.

Robert invited many emerging makers to work

with him and collaborated with numerous

artists and designers with metal as their focus.

He was generous in taking on mentorships and

internships and helped shape the development

of the careers of many Australian artists and designers.

He would give lunch time classes at the

primary school where his daughters Ineska and

Mischa attended and the students would line

up every year to get into his classes. They were

attracted to him like he was a rock star! He was

committed to teaching and embracing the possibilities

of metal as it was his religion and his

magnetic personality (that's a metal joke!) made

it impossible not to be excited about metal.

From the mid-1980s Robert became internationally

recognised for his expressive yet functional

hand-made forms. He founded F!NK +

Co in 1993 with the aim of creating a design

and manufacturing business that would support

and generate opportunities for Australian

designer-makers. Joined by Gretel Harrison in

1995, together they built F!NK + Co. into the

business it is today – a much loved and respected

Australian design company with an international

reputation for producing world-class

tableware, hollowware, jewellery and lighting.

Be it the iconic F!NK Water Jug, the squashed

Storage Vessels, the graceful Coolamon Platters,

the Ned Kelly-esque Wine Chiller or the subtle

curves of the Beaker, every F!NK product melds

refined craftsmanship with shapes and colours

largely inspired by the Australian landscape –

tropical corals and fish, endless blue skies and

vast deserts. Today, F!NK + Co. is spearheaded

by Gretel Harrison, who is not only the face of

the company but who also leads a dynamic

team of practitioners. The company has continued

to go from strength to strength as Gretel

and the F!NK staff builds on the legacy of Robert

Foster.

Robert believed strongly in the value of working

between art, design and manufacture,

respecting both form and function, pushing

material boundaries and creating innovative

forming processes, always with an expression

of optimism and recognising the importance

sustainability and longevity. He will be remembered

as an imaginative and resourceful designer,

who also had the mind of an engineer

who never let the words 'not possible' into his

mindset.
---
Tragically, Robert's life was taken from us in a

car accident on 13 July 2016. Since this time, it

has been Gretel's focus to keep Robert's legacy

alive and to encourage others to invest in learning,

experimenting and exploring the art of

designing and making with metal. This is what

he would have continued to do, if his life was

not cut so short. At the time of his death he had

numerous exciting plans and projects in front of

him. Gretel wanted this prize and exhibition to

not only celebrate the affection and admiration

we all held for Robert, but to reflect his continuing

influence and showcase the extraordinary

talent and diversity of metal makers in Australia

today, whilst also showing the breadth and

depth of ways that metal can be formed.

Robert was a long-term, respected and active

member of Craft ACT. He became an Accredited

Professional Member in 1993, so it seemed

fitting to Gretel to collaborate with Craft ACT

for this Metal Prize given their commitment

to metal crafts and Robert's great respect and

admiration for the organization. The careers of

all three of the Metal Prize's judges have intertwined

with Robert's career and share his love

for metal.

As a journalist back in 1999, Ewan McEoin witnessed

Robert explosive forming his vases out

in a back paddock in Queanbeyan, instilling in

him a love and respect for metal. He is now the

Senior Curator of Contemporary Design and

Architecture at National Gallery of Victoria.

Brian Parkes and Robert crossed many paths

starting when Brian was at the National Gallery

of Australia in 1998, later at Object Gallery in

Sydney and again as the Chief Executive Officer

at The Jam Factory in Adelaide.

Finally, this prize and exhibition would not be

possible if it weren't for the incredible generosity

and support from Roger and Maxine Tall from

the Tall Foundation. They have been incredibly

supportive of the Canberra arts and craft community

at large and have pledged their continuing

support in the future so that this significant

prize and exhibition can continue in the years

ahead.

Rohan Nicol collaborated with Robert back

in 1998 on the FINK Bracelet when he was an

emerging metalsmith. They continued to be

close associates during Rohan's Time as the

Head of the Metal Working Department at the

Australian National University. Rohan is now the

Associate Head of School, Creative Arts and Media,

Associate Professor of Fine Art, University of

Tasmania.
---
Alison Jackson | Two Vessels Converse | 2022

The vessel as a concept can be viewed with

many perspectives both in a literal practical

sense and as an imagined form of containment.

I like to use the idea of the vessel to

explore form, function, anthropism but primarily

the craft of silversmithing.

Raising is the process of forming vessels

from a single sheet of copper, an age old

traditional silversmithing technique where the

sheet metal is skilfully hammered in rounds on

specialised steel forms. What can seem like

a simple process with rudimentary tools is in

fact a nuanced and skilled technique that is

a dying craft. Each vessel has had thousands

of hammer strikes applied to manipulate what

was once a uniform flat sheet into a three-dimensional

vessel form.

My process is a conversation between materials,

ideas and forms. It is often one of repetition,

heat, hammer, heat, hammer. Heated

to soften and hammered to form. It is both

rhythmic and mediative, my technique is

about allowing the vessel to emerge rather

than having a rigid idea of the final form. I

think of it as the vessel emerging out of the

material and out my thoughts, emotions and

instinct. Each hammer blow moves it closer

to a resolved form but also an individuality, it

asserts itself and I start to think of them as

characters. I often make pieces in pairs; this

is because once the vessel leaves my hands

the conversation between maker and vessel

stops and a new dialog between the two

vessels can begin.

Photo: Tim Bean Photography
---
Bic Tieu | Flowers Between | 2022

Using the format of a vase as a tangible

metaphor to articulate in-betweenness. The

vase as an ornamental container to display

flowers changes by what is placed in the

vessel. Similarly, this notion can be related to

the framing of one's identity living in-between

and of cultures. This work is an exploration

of myself as a Southeast Asian – Australian

woman living between two cultures.

The vessel design is a reflection of my

experiences, my identity and the intercultural

connections of life living between the eastern

and western cultural spheres. I acknowledge

the reality that exists 'in-between' and

this work expresses a visual and material

framework for my ongoing interest and

belief in the value of the shared experience.

Through living between these I revel

The re-positioning and layered arrangement

of the emblematic motif of deconstructed

peonies are contextualized with Australian

floral natives including fan flower, flannel

flower, kangaroo paw, sturt desert pea,

waratah and wattle. These motifs have a

deep historical association with Asia and

Australia connecting place, cultures and

movement and metaphorically contribute to

the layered meanings with identity.

The design of the surface tension creates a

dialogue for the Australian Southeast Asian

diaspora, but more importantly, becomes

instruments for articulating cultures that exist

'in-between' cultural spaces.

in the creative and metallurgical processes

that inform my art and design practice.

The surface design language is developed

through a series of processes where I begin

with collecting and rendering of flowers

using digital graphic application. Through

the illustration, I then take this into the laser

cutting of components in which I use lost wax

casting for metal alloys of silver and mixing

of gold and copper into the composition.

Numerous cast components are then further

manipulated, cut and soldered to form the

final sheet pattern. I then take this sheet to

construct the final geometric form through a

process of silver soldering to formulate the

final form.

The imagery on the vase draws on both

eastern and western floral motifs endemic to

my cultures to construct a visual language.
---
Photo: Tim Bean Photography
---
Gretel Ferguson | Out of Frame 1 | 2022

After completing an Advanced Diploma of

Jewellery and Object Design at Design Centre

Enmore in Sydney, Gretal Ferguson moved to

the UK to complete her Masters in Jewellery,

Silversmithing, and Related Products at Birmingham

City University's School of Jewellery.

On her return to Australia Ferguson moved to

Adelaide and completed the 2 year Associate

Programme at JamFactory where she now

shares a private studio.

Raised and formed to resemble the metal in

its molten pre-worked state, the piece spills

from an ornate gold frame, a placeholder for

the artwork that once was. The laboriously

hammered form is left blank and without

function, suggesting the growing absence of

skills required to rework it.

Ferguson creates conceptual exhibition work

using traditional craft skills in a sculptural setting,

challenging the utilitarian traditions of her

craft while honouring what came before. With

the material process an integral part of her

conceptual motivation, Ferguson embraces

the arduous nature of silversmithing, using the

hours of hammering to explore the work both

aesthetically and conceptually, allowing it to

unfold in a way it wouldn't if the process was

quick and less laborious.

Out of Frame explores what happens when

the intrinsic value of an objects' material is

seen to be more precious than the centuries

of tradition involved in its creation. Throughout

history metalwork has been melted down to

create new objects or be hoarded in bank

vaults, disregarding the original craftsperson's

hand, most only seeing value in the material

itself. Yet as fewer artisans carry on these

skills and traditions, we are in danger of losing

the craft completely.

This new work questions the future of silversmithing

traditions. Though appearing to

be silver the metal is actually plated copper,

a result of artisans being priced out of their

craft as their medium is a traded commodity.

Photo: Tim Bean Photography
---
Johannes Kuhnen | Vessel 2022 | 2022

Johannes Kuhnen is one of Australia's most

well-recognised gold and silversmiths.

Coming from a well-developed European

tradition, his contribution to Australian silver

and jewellery, and hence Australian design,

has been profound and has firmly established

Kuhnen's wok on an international platform.

Johannes Kuhnen was the former head of

the gold and silversmithing workshop at the

Australian National University. Johannes has

exhibited widely throughout Australia and

overseas in both group and solo exhibitions.

His work is held in the collections of the

National Gallery of Australia, Canberra, the

National Gallery of Victoria, Melbourne, the

Powerhouse Museum, Sydney, the Art Gallery

of Western Australia, Perth, Museum für

Kunst und Gewerbe, Hamburg, Museum

Boymans-van-Beunigen, Rotterdam,

Staatliche Museen Preussischer Kulturbesitz,

Kunstgewerbemuseum, Berlin, the Victoria

and Albert Museum, London, the National

Museum of Scotland, Edinburgh, Die Neue

Sammlung, the design museum at Pinakothek

der Moderne, Munich.

Johannes' practice has remained at the

forefront of innovation, in particular his

pioneering use of anodised aluminium. A

fascination with the colour options of the

aluminium as well as titanium continue to

provide inspiration for his work and has

also inspired many others to explore such

potential. Johannes's current practice

continues to capture his mastery and sense

of understanding of what you can do with

hard materials such as titanium, which

currently takes a leading role in his objects

and wearable art.
---
Photo: Tim Bean Photography
---
Jonathon Zalakos | Hydroformed Sake Set | 2022

Jonathon Zalakos is an emerging artist and

contemporary jeweller based in Canberra,

Australia, on Ngunnawal and Ngambri land.

He seeks to integrate traditional goldsmithing

materials and techniques with contemporary

practices and philosophical thought. His work

takes the form of jewellery, interactive objects,

digital media and installation. Jonathon is particularly

interested in how meaning is co-produced

through the processes of expression

and perception. This drives exploration into

the visual language of cultural phenomena

including contemporary pop jewellery culture,

online viral media and the two-way relationship

between the human and manufactured

worlds. These concepts are deconstructed

and reassembled so as to consider the different

worlds we occupy with our bodies and

minds.

My application for this prize is inspired by

Robert Foster's own pursuit of craft innovation

and aesthetically streamlined design. For

me, this means embracing curiosity, experimentation

and a keen eye for finishing details.

I explore hydroforming as a manufacturing

technique - a method of 'inflating' closed

metal vessels with pressurised water so as to

create complex hollow forms. Typically this is

done with tube in heavy dies to create repeatable

and precise components: car exhaust

pipes for example. I integrate classic silversmithing

processes to create hollow forms

that are then inflated like balloons, where the

final shape is unpredictable and emergent.

A tension between divergent properties of

liquid are captured in the process as the jug

and cups seem to be nearly bursting at the

seams, yet remain completely functional for

containing and gently pouring out sake.

Photo: Tim Bean Photography
---
Kirsten Haydon | Ice Draw | 2022

Kirsten Haydon investigates the potential

of gold and silversmithing to communicate

human experience and connections with

the environment. Kirsten Haydon completed

a PhD in 2009 and has been teaching at

the School of Fine Art, RMIT University in

Melbourne since 2002. Kirsten travelled to

Antarctica as a New Zealand Antarctic Arts

Fellow in 2005. Her art practice, crafts and

explores connections and observations of

the environment through concepts of historic

photography and micromosaics. Site and

archival studies inform works which aim to

engage the act of remembering and the

fragile futures of ice by assembling and

drawing on metal and enamel surfaces.

Ice has a salient condition in the preserving

and storing of atmospheric knowledge

and histories within its structure. Through

precipitation, ice, and its inclusions both

the micro and macro are created from the

surrounding environment and atmosphere,

this provides details about the moment the

ice was formed.

Glacial ice is considered mono-mineralic rock

and is the metamorphism of thousands of

individual snowflakes into crystals of glacier

ice. Over ninety percent of the earth's glaciers

are in Antarctica, a mass of ice forms, all

these landscapes are locked, holding water

droplets in freezing conditions. As global

temperatures rise these landscapes begin to

fall away, ice once stored is then released as

individual water droplets dispersing into the

ocean and evaporating into the clouds high

above.

Ice Draw is a response to two experiences

of fieldwork. First was the immense and

macro experience of standing beneath the

gigantic ice wall known as the Barne Glacier

on the Ross Ice Shelf in Antarctica. The

second, reflecting on the micro investigations

undertaken by international climate scientists

in 2012 at the GNS Ice Core Research

Laboratory in Wellington. Standing and

seeing for myself the handling of precious

individual ice cores being manually cut and

sectioned before being melted sequentially

in a controlled environment. This process led

to the collection of atmospheric data and

individual water droplets to investigate the

stability of the Ross Ice Shelf.

Ice draw is created to depict ice landscapes

and connect with concept of archiving,

preservation and holding. Draw has many

meanings, and in this work, draw connects

with the notion that 'to draw' or 'draw up'

takes or obtains liquid from a container.

The work Ice draw references the drawer

as a container not a static archival drawer

but a porous work comprised of parts and

elements.

Perforated, hand drawn and etched, the

heat blackened Layered steel containers are

transitional and changing. The containers are

scaffolded fragments that depict sections

of the Barne Glacier as it was in 2004.

The enamelled image is reflective when

experienced, as the micro glass reflector

beads produce retro-reflection, a type of

reflection that redirects incident light from the

surface back to the source. The enamelled

microspheres represent the countless

individual snowflakes or drops of water that

combine to form the Barne Glacier. The

boundaries of the transparent spheres

reference the unique precious souvenir

micromosaics depictions of significant

landscapes.
---
Photo: Tim Bean Photography
---
Larah Nott | Pleat One | 2022

Pleat: a double or multiple fold in a garment or

other item made of cloth

My practice is always evolving. Working with

geometric and architecture inspired shapes

I produce large wearable pieces in titanium

and mild steel. Another part of my practice

is vessels. I enjoy working at a larger scale,

pushing materials and working with shadow

and depth. Previous works have explored

light and dark, where light falls and shadow

prevails. The flow of line is important to the

scale and materials of the work.

This new work, Pleat, is a further exploration

in to materials and form. During research

for this piece, I wanted to expand upon the

fold concept and found pleating the material

added a vibrancy and movement to the work.

The eye wants to travel around and explore

the work. I am asking a lot of the materials,

designing with industry and using a combination

of modern and traditional techniques. My

practice is always a balance of machine and

handmade, a joining of traditional and new

ways of working with materials.

Photo: Tim Bean Photography
---
Lindy McSwan | To Cart Carry Convey | 2022

The mild steel vessel, often in combination

with other materials, has been the foundation

of my practice since my undergraduate

studies in gold and silversmithing. More

recently I have developed a deeper material

focus looking to material properties, qualities,

and transformation in the life cycle of

steel. This begins with iron ore, the primary

material essential to iron and steelmaking.

Experimenting with different methods of using

iron ore, the most effective to date has been

grinding the material by hand and blending

it with vitreous enamel, then applying to the

surface of these vessels before firing in a kiln.

In this body of work the vessel forms

respond to my fieldtrips to the Whyalla and

Port Kembla steelworks. The steelworks are

effectively an extensive system of vessels

and structures, mostly made of steel, that

transport, store, and process material in the

production of iron and steel. Kilometres of rail

networks, carriages, monumental industrial

vessels, conveyors, furnaces, cavernous,

corrugated steel sheds and forming systems,

empty, fill, move, transform, and contain vast

quantities of material in a continuous process

of steelmaking. The title given to this work

reflects on this experience as well as notions

of containment embodied in the vessel more

broadly.
---
Photo: Tim Bean Photography
---
Oliver Smith | Naturally Wild | 2022

I propose to create a metallic sculpture referencing

antlers from which hang a series of

metal utensils. This work will be an exploration

of the hot-forging process. This hammer

forming technique will be used to produce

sculptural and functional objects that support

the activities of cooking, serving and eating.

The title and source of inspiration is Cernunnos

- The Lord of Wild Things.

The major elements in this work will consist of

two sculptural forms, hot-forged in metal, that

reference the horns of Cernunnos, the archaic

divinity that watches over the wilderness. The

antlers will branch upwards and outwards,

visually suggestive of growth and movement.

They will be three-dimensional flow charts,

manifestations of energy transfer in the

broader river of life or the movement of blood

in an individual circulatory system.

hot-forging process will imbue the objects

with a gestural quality that will heighten the

dynamism of the collection of forms. These

purposeful utensils are in turn further enlivened

through use, the daily rituals of food

preparation and social eating becoming a

homage to the source of the foodstuff itself.

This proposal builds upon my established

body of work exploring the realm of cutlery

and the technique of hot-forging. This foundation

will be extended through the larger

scale antler inspired elements, resulting in

purely sculptural outcomes. The work is intended

to be a living altar to that which we

owe benefaction, the turning of the seasons

and nature's many gifts. The antlers and utensils

will be a salute to the craft of silversmithing

and a celebration of the rich bounty of all

that nourishes us.

The metallic interpretation of the antlers will

support a series of minor elements consisting

of a series of knives, forks, spoons, serving

spoons, ladles, scoops and tongs. The collection

of hot-forged utensils will be designed

for the preparation, cooking, serving and

consumption of food. Each item will hook and

hang from the pronged ends of the major

forms, akin to a taxonomy of flora or fauna

whose interconnectedness is made evident

when viewed as a group. When at rest each

utensil is an oblation, an offering made to a

deity dedicated to the natural world.

Advancing the aesthetic sensibility activated

in the antlers, the design and material language

of each utensil will reflect the requirements

of function brought to life through the

malleable and ductile properties of metal. The

Photo: Tim Bean Photography
---
Sean Booth | Tranquillity|

My intention is to bring together traditional

and modern methods of working with metal,

to produce a holloware object that combines

my experience and training in hand forming

techniques with digital technology and

modern machining processes.

Drawing inspiration from Robert's deep and

unique understanding of metal forming and

manipulation, my work employs traditional

silversmithing techniques to generate

a dynamic asymmetrical hand formed

aluminium vessel. The hand formed vessel is

the first phase of the process. I then digitise

the form to allow me to engage with the work

in the digital workspace. Utilising computer

aided design software, I then design and

program the processes that will transform

the handmade surface. I use these powerful

modern tools to program the intricate tool

paths, manifesting this digital language onto

the work's surface and form.

As a maker I feel that I have a foot in two

camps, one the traditional handmade

organic physical world and the other modern

computer derived and control production that

is accurate and defined. With this approach

I blend traditional hand forming techniques

and modern machining together to generate

a unique and innovative work that progresses

contemporary craft while acknowledging its

heritage. This work embodies my 20 years of

learning and commitment to development of

skills across a variety of disciplines. Bringing

together my hand forming, digital design and

machining knowledge in one work.
---
Photo: Tim Bean Photography
---
Alison Jackson, Two Vessels Converse,

2022

hand raised copper, patination

110 x 110 mm (larger), 75 x 70 mm (smaller)

$5,000

Bic Tieu, Flowers Between, 2022

Sterling silver and shakudo

215 x 155 x 51 mm

$5,000

Gretel Ferguson, Out of Frame 1, 2022

silver plated copper, frame

260 x 330 x 80 mm

$4,990

Johannes Kuhnen, Vessel 2022, 2022

titanium, anodised aluminium, monel, stainless

steel

477 x 402 x 217 mm

$40,000

Oliver Smith, Naturally Wild, 2022

316 stainless steel, monel, .900 silver, brass

wall mount

Knives $360 each, Forks $360 each, Spoons

$400 each, Serving Blades $420 each, Slotted

Serving Utensils $420 each, Serving

Spoon & Ladle $900, Stand & Wall Mount

$800
---
Jonathon Zalakos, Hydroformed Sake Set,

2022

Powder coated copper

200 x 80 x 80 mm (bottle), 70 x 70 x 70 mm

(cups)

$700

Kirsten Haydon, Ice Draw, 2022

Vitreous enamel, photo transfer, reflector

beads, etched and heat blackened steel, inkstained

Tasmanian oak, sterling silver

430 x 630 x 250 mm

$7,000

Larah Nott, Pleat One, 2022

mild steel, titanium, sterling silver, wax

145 x 300 x 250 mm

NFS

Lindy McSwan, To Cart Carry Convey #1-5,

2019

mild steel, vitreous enamel, iron ore

140 x 120 x 40 mm (#1), 210 x 70 x 60 mm

(#2), 230 x 160 x 65 mm (#3), 130 x 68 x 60

mm (#4), 85 x 80 x80 mm (#5)

$1430 (#1), $1580 (#2), $1800 (#3), $1430

(#4), $1210 (#5)

Sean Booth, Alisterus, 2022

Anodised aluminium, hand formed and CNC

machined vessel

90 x 80 x 195 mm

$5940