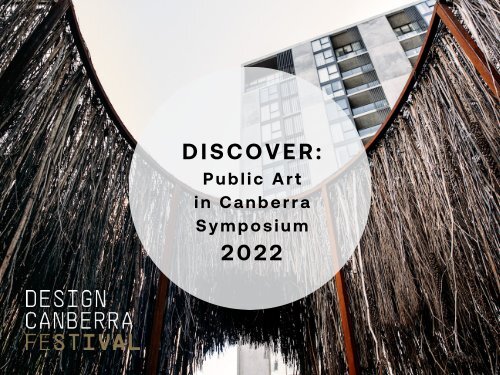 DISCOVER: Public Art in Canberra Program
Create successful ePaper yourself
Turn your PDF publications into a flip-book with our unique Google optimized e-Paper software.
D I S C O V E R :

P u b l i c A r t

i n C a n b e r r a

S y m p o s i u m

2 0 2 2
---
Marking the final weekend of the Canberra Art Biennale and the opening weekend of DESIGN

Canberra comes a major symposium that brings together diverse voices of artists, curators,

designers and creative producers all working at that powerful but complex intersection of art

in public space.

If you are an artist, designer, project manager or fabricator keen to understand more about

building your practice in this area, the symposium will offer insights into the possibilities,

considerations and practicalities and include some of the additional considerations related to

Canberra's role as the National Capital.
---
D I S C O V E R :

P u b l i c A r t i n

C a n b e r r a

2 0 2 2

FIRST NATIONS

LEGACY OF PUBLIC ART IN CANBERRA

ROLE OF MENTORING IN PUBLIC ART

Neil Hobbs Virginia Rigney Jodie Cunningham

Canberra Art

Biennial

Canberra Museum

and Gallery

SATURDAY 29th October 2022 1-5 pm

Craft ACT: Craft +

Design Centre

d e s i g n c a n b e r r a f e s t i v a l . c o m . a u
---
FACILITATORS

JODIE CUNNINGHAM

Jodie Cunningham is CEO + Artistic Director of Craft ACT: Craft + Design Centre, one of Australia's leading creative centres

for the development of visual art, craft and design. She is the public face of the organisation, curating a vibrant program of

exhibitions, residencies and cross-disciplinary collaborations including the DESIGN Canberra Festival. She is a highly creative

arts leader, visual artist and educator with extensive experience in developing and delivering innovative exhibitions, public

programs in museums, galleries and art contexts. She also has an extensive background in visual art and design education

and a commitment to mentoring developing artists and fostering collaboration. Jodie advocates for the power of creativity,

the arts and cultural activity to provide hope to our communities, strengthen our local and national cultural identities, and

facilitate social change.

NEIL HOBBS

Neil Hobbs is a landscape architect and director Canberra Art Biennial, previously Contour 556. The Canberra Art Biennial is

now in its fourth year and has expanded to include the National Arboretum (contour 656), the University of Canberra

(contour 606) as well as maintaining and building further on our presence in North and South Canberra, centred on contour

556, the height above sea level of Lake Burley Griffin. Neil is committed to the development of the ACT and regions visual

arts sector through philanthropic activities such as the Canberra Grammar School Small Sculpture Prize, and the annual ANU

School of Art and Design Harris Hobbs materials award to a post graduate student.

VIRGINIA RIGNEY

Virginia Rigney is Senior Curator Visual Art at the Canberra Museum + Gallery. She is a curator, writer and creative producer

who has developed exhibitions, publications, digital platforms, installations, short films and public programs within

museums. She is also a commissioned writer for industry, peer reviewed and popular journals and a producer of short films

and public art projects. FFollowing studies at ANU and Sydney University, she began her curatorial career at the

PowerHouse. She worked on large temporary exhibition projects in several major galleries before joining Glasgow Museums.

While senior curator at Gold Coast City Gallery, she developed an extensive program of inclusive programming exploring

new perspectives on Gold Coast character and culture. A major element of Virginia's curatorial practice has been to work

with Aboriginal and Torres Strait Islander artists. She also has a close interest in public art and was chair of the art+place

curatorial panel for a $14million Arts Queensland fund for public art. She has been a recipient of a Queensland Government

Smithsonian Fellowship.
---
Introduction

1:00 pm

Welcome to Country with Paul House

Jodie Cunningham

Neil Hobbs

Session One: First Nations in Public Art

1:40 pm

Paul House

Kauri Hawkins

Afternoon tea in foyer, Kambri

2:30 pm

Session Two: Context and Contemporaneity

3:00 pm

Chair: Virinia Rigney

Cassie Plate

Brett Stone

Sonia Van der Harr

Session Three: The Role of Mentoring in Public Art

4:00 pm

Chair: Jodie Cunningham

Dr Jennifer McFarlane

Annie Trevilian

Rose Armstrong

Moraig McKenna

Drinks in the foyer, Kambri

5:00 pm
---
Session one

First Nations Artists in Public Art

First Nations artists have been redefining the way that we understand Country and public art is particularly powerful – Paul House

discusses his scar tree installations (right in the heart of the capital) and Kauri Hawkins discusses his art practice in Aotearoa New Zealand

PAUL HOUSE

Paul House is a Ngambri-Ngunnawal custodian with multiple local Aboriginal ancestries from the Canberra region, however identifies as a

descendant of Ngambri – Walgulu man Henry 'Black Harry' Williams and Ngunnawal – Wallaballoa man 'Murjinille' aka William Lane ('Billy the

Bull'), including Wiradjuri ancestries. Paul began his public service career in the Commonwealth Department of Aboriginal Affairs and has

since occupied various positions across both New South Wales and Commonwealth public sector agencies.

KAURI HAWKINS

Kauri Hawkins was born in Palmerston North and raised in Turanganui-a-Kiwa Gisborne in the far east of the North Island of Aotearoa New

Zealand. His heritage is Māori, Pākehā and Rarotongan. Although defined by his ancestry in life and art, he is keenly aware that culture is in

a constant state of evolving as is cultural wisdom and understanding. He looks to celebrate and make visible this cultural legacy. He aims

to make culture highly visible and to unite people in a collective sense of pride but also to sit in tune with their environment: the natural

environment that surrounds them and reverberates under foot. Kauri utilises high key colours across his works and gives prominence to the

red, black and white central to Māori creation stories. Significantly, these colours also form the basis of give way and stop signs

internationally.
---
Session Two

Context and contemporaneity: legacy artworks and how they mark the city

Canberra has an important legacy of mid-century public art and we are especially fortunate to have the work of significant women artists

Margel Hinder Margo Lewers and Barbara Hepworth as part of our everyday streetscape at the Rex Hotel, Woden Town Centre and

Commonwealth Park. Curators Virginia Rigney Cassie Plate and Elanor Clayton discuss the significance of those works.

Brett Stone and Sonja Van der Harr artists who have made new work in response to the legacies of this period for both festivals will discuss

their work.

CASSI PLATE

Cassi Plate is a curator, writer and former ABC broadcaster. As the daughter of artists Carl and Jocelyn Plate, she grew up around a circle

of modern artists in Sydney that included Frank and Margel Hinder and Gerald and Margo Lewers. She has contributed an essay to the

recent publication Margo Lewers No Limits 2022, and in 2015 she curated SYDNEY 6: Hinders, Lewers, Plates. Abstract Artists, Friends,

Partners, Siblings 1940s-1970s' for Newcastle Art Gallery.

BRETT STONE

Brett Stone became a potter after years of representing ceramic artists in his other life as an art dealer. Focussing on the bowl, he

incorporates these into stacks and massed groupings. His interest in the raw materials in clay and glazes often shape his interpretation of

landscape and interiors. Each bowl is like a potted history from our personal narrative and experiences.vBrett is based in Sydney and is

represented by Utopia Art. He is a founder and director of Claypool, a large communal ceramic studio in Sydney and has exhibited for over

20 years.

SONIA VAN DER HARR

Painting brutalist buildings is a purely hypothetical exercise, a playful imagining of an act I would in reality find hard to support.

Applying paint to off-form concrete (an ephemeral coating over an extremely durable surface) goes against my thinking about

materials in architecture. Yet, the temptation of these monolithic structures with their impervious façades and bold geometry was

impossible to resist. Now middle-aged, not of heritage status, and no longer novel, brutalist buildings across the country are ripe for

transformation.
---
Session Three

How to succeed in public art: Knowledge transfer and role of mentors

There are few "how to" templates to build knowledge in making public art. The third session explores how to succeed in public art and the roles of

knowledge transfer and role of mentors. The DESIGN Canberra DISCOVER: Craft + Design Trail aims to support craft artist and designers to create

work for the public realm. DISCOVER offered participating artists the opportunity to work with an established artistic mentor, as well as significant

financial support to develop and make a work of public art.

Facilitated by Jodie Cunningham (CEO, Craft ACT and visual artist) who has experience in both commissioning and being commissioned to create

public art – this session showcases the work of artists and mentors who have worked on public art projects for both the urban and health

environments. Craft and Design artists Hannah Quinlivan and Rosie Armstrong discuss their experience working with mentors for the DESIGN

Canberra Discover: Craft + Design trail (supported by City Renewal Authority.) Textile artist Annie Trevillian and curator Jennifer McFarlane discuss

the complex process of developing work for the Canberra Hospital environment
---
JENNIFER MCFARLANE

Dr Jennifer McFarlane is an art historian and the inaugural Curator of Arts in Health at Canberra Health Services (since 2012) where she has

worked with some of the ACT Regions' most interesting artists in a range of unique and challenging environments. She is a member of the

National Arts in Health Community of Practice (COP) working towards the integration of contemporary arts in health environments,

including through the significant development and implementation of The Australasian Health Facilities Guidelines Arts in Heath

Framework. Jenny has worked with diverse public collections in the ACT for many years. Research interests include the work of artists

from the Canberra region and the intersection of arts and health. She is co-author of Arts + Health: New Approaches to Arts and Robots in

Health Care, International Conference on Human Robot Interaction at the University of Cambridge (2020).

ANNIE TREVILLIAN

Annie Trevillian is an established Canberra based textile designer, artist and screen printer with a professional studio practice

spanning more than 30 years. She is a long-time member of Megalo Print Studio and CraftACT. Previous commissioned work and

projects such as Sydney Harbour YHA (2009), What Still Remains (2012) and Canberra Centenary Community Tapestry Project (2013)

have involved adapting archival materials with historical and cultural research into images and motifs that explore and interpret

heritage sites, places and experiences. Annie is represented in the National Gallery of Australia, artsACT (local government), Canberra

Museum and Gallery, ACT Legislative Assembly, National Library of Australia and State Libraries, Megalo Print Studio Archive, Royal

Automobile Club of Victoria Print Collection as well as private collections in Australia and overseas.

MORAIG MCKENNA

Moraig Mckenna is the Public Programs Manager at Craft ACT and develops delivers and evaluates a range of public programs for diverse

audiences including public arts installations, craft and design workshops, creative kids programs, professional development programs for

artists. Moraig is an accomplished ceramic artist and specialises in wood fired and salt glazed pottery. She has a bachelor of Education

from Melbourne University and a Master of Arts by research from Southern Cross University. Moraig exhibits regularly both in Australia and

overseas. She has work in private collections in China, The United States, Singapore, Europe and Australia and in the public collection of

the Canberra Museum and Gallery.

ROSIE ARMSTRONG

Rosie Armstrong lives and works on Ngunnawal and Ngambri Country. She graduated with First Class Honours in Visual Art (Textiles) at the

ANU School of Art and Design in 2021. Her practice has evolved to be an investigation of the nuance and effects of change in response to

growing concern over lack of engagement with climate change. This has employed a range of methods including textile, ceramic and

digital processes such as laser cutting. Rosie has extensive workshop facilitation experience and a passion for community engagement

projects. She has assisted Lucy Irvine and Hannah Quinlivan on large scale public art projects, both who incorporate textiles into public

installation.
---
D I S C O V E R :

P u b l i c A r t

i n C a n b e r r a

2 0 2 2