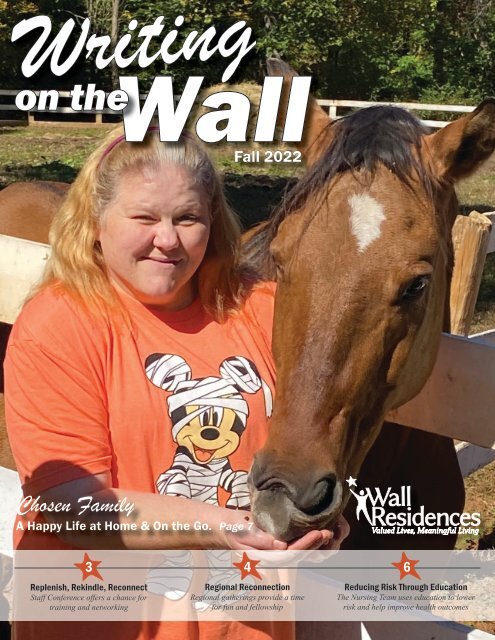 Writing on the Wall: Fall 2022
The quarterly newsletter of Wall Residences: a Virginia agency who provides services for individuals with intellectual or developmental disabilities. Services include sponsored residential, group homes, community engagement & community coaching, nursing, therapeutic consultation, and behavioral support. This issue highlights recent achievements of residents, providers, staff, and the agency as a whole during the third quarter of 2022.
The quarterly newsletter of Wall Residences: a Virginia agency who provides services for individuals with intellectual or developmental disabilities. Services include sponsored residential, group homes, community engagement & community coaching, nursing, therapeutic consultation, and behavioral support. This issue highlights recent achievements of residents, providers, staff, and the agency as a whole during the third quarter of 2022.
SHOW MORE
SHOW LESS
Create successful ePaper yourself
Turn your PDF publications into a flip-book with our unique Google optimized e-Paper software.
ong>Writingong>

on the

Wall

Fall 2022

Chosen Family

A Happy Life at Home & On the Go. Page 7

3

Replenish, Rekindle, Reconnect

Staff Conference offers a chance for

training and networking

4 6

Regional Reconnection

Regional gatherings provide a time

for fun and fellowship

Reducing Risk Through Education

The Nursing Team uses education to lower

risk and help improve health outcomes
---
President's Corner

John Weatherspoon

Welcome to another edition of ong>Writingong>

on the Wall! This is a very special

issue focusing on reconnecting with

co-workers, the individuals we serve,

providers, and leaders around the

state. In addition, this has been a season

of reconnecting with our purpose

individually and as an agency.

In August a group of us from Wall

Residences were invited to meet with

the new Commissioner of DBHDS,

Nelson Smith, and the new Deputy

Commissioner, Ellen Harrison, in

Richmond. This provided us with

an opportunity to share the accomplishments

of Wall Residences, how

we serve local communities across

Virginia, and our plans for continuing

our mission moving forward. We

want to thank Commissioner Smith

and Deputy Commissioner Harrison

for their hospitality, for sharing their

vision, and for listening to ours.

In September, we held our first staff

retreat in Floyd since

2019. Over 100

managers and staff

joined us. During the

retreat, we had the

pleasure of hosting

Assistant Commissioner

of DBHDS,

Heather Norton, who

took time out of her

very busy schedule to

meet with our leadership

team and spend time talking

with a large number of staff about the

future of the settlement agreement and

developmental services. We appreciate

Christine Morris, Senior Licensing

Specialist, and Ashley Bennet, Lead

PA Consultant, joining us as well.

Perhaps one of the most important

changes over the last three months has

been the ability to begin to meet again

in person with our contracted providers

and the individuals in their services.

Throughout this newsletter you

will notice a significant focus on the

importance of those connections. As

always, thank you for all that you do!

2
---
Replenish, Rekindle, Reconnect

For the first time since before the

pandemic, Wall Residences staff were

able to gather in person for a Staff

Conference at the Floyd EcoVillage.

Held September 20 - 22, the event

combined team specific training,

cross-department strategic planning

discussion sessions, and activites

intended to provide a bit of respite.

Tuesday kicked off the event with

team building and training for the

Therapeutic Consultion, Applied

Behavioral Analysis, WRAP, and RN

Care Management teams. More staff

arrived at lunchtime. In the afternoon,

we heard from state representatives

from the Office of Licensing and

Division of Developmental Services,

as well as from Heather Norton, the

Assistant Comissioner from DBHDS.

Wednesday found staff sorted into

diverse groups to allow differing

experience and viewpoints to come

together as staff from various regions

and roles formed small discussion

groups. It was a day of open, transparent

sharing as we tackled the big

questions of what is working, what

creates frustrations and hurdles, and

brainstormed together for solutions.

The day closed with activity stations,

including a private concert by staff

member and singer/songwriter Emmaline

Hicks, who was recently featured

at FloydFest.

Thursday's focus was Sponsored

Residential Services, with detailed

trainings provided on home studies,

compliance, and capacity evaluations

for Program Managers, Regional Coordinators,

Admissions & Marketing,

and the Quality Assurance Team.

While the training and small group

discussion formed the content

of the agenda, the real

key to the event was the

simple fact of being together

in person. Wall Residences

has grown remarkably in

the past several years and

for many staff, the conference

was the first chance

to interact with others as

more than just a face on

a screen. Both new and

longtime staff shared simply

being together and meeting those

they had not yet was meaningful

and appreciated. We are grateful

for this chance of time set aside to

replenish, rekindle, and reconnect!

~Angie Covington

3
---
Leadership

As an Employee Owned company,

Wall Residences has a Board

of Directors to provide agency

oversight. Serving on the board

are Founder Jack Wall (Chair),

John Weatherspoon (Vice Chair),

Co-founder Kamala Bauers

(Secretary), Carey Wrenn, Joe

Klein (former provider), and

Valerie Cooper (current provider).

Leadership is also provided by

our senior management team.

Several title changes were

recently made to better reflect

team member responsibilities.

John Weatherspoon

Chief Executive Officer

and President

Matthew Rosenbaum

Chief Financial Officer

Amanda Craig

Operations Officer

Western Region

Deanna Rennon

Operations Officer

Eastern Region

Regional Reconnection

With in person gatherings at last

feeling safe again, our regional coordinators

began planning events to

bring together individuals, providers,

back-up workers, and staff for fun and

fellowship. Central Virginia kicked

things off with an end of summer

Luau party, featuring a Kona Ice

Truck and photo booth. Our Roanoke,

New River Valley, and Southwestern

regions all enjoyed catered picnics.

The Staunton/Charlottesville region

gathered for lunch, live music, and

Kona Ice.

At all of these events, it was clear

the best part was the chance to catch

up in person with old friends and

aquaintances and to meet new ones.

After the isolation required for Covid

safety, spending time together is a

blessing we cannot take for granted!

Some regions have fall events still to

look forward to as this issue goes to

press, including fall crafts and games

for the Harrisonburg/Winchester

region and a Halloween party for the

Richmond region. Whether past, present,

or still to come, we are grateful

for the chance to reconnect!

Alex Jackson, Director of

Admissions; Sara Viers, Director

of WRAP Services; and Heather

Cromer, Director of Therapeutic

Services complete our senior

management team.

www.wallresidences.com

4
---
Reducing Risk Through Education

Wall Residences continues to exceed

expectations for quality care. One

way we do this is looking for opportunities

where training and education

can better equip Providers to handle

the most common incident types. Our

Registered Nurse Care Management

team is key to these efforts. In reviewing

incident reports, our Compliance

Coordinator discovered the highest

percentage of medical incidents

were falls, choking, urinary tract

infections, and seizures. The

Compliance Coordinator, Operating

Officers, and Lead RN

Care Manager collaborated on

a method to improve health and

safety outcomes through greater

understanding by Providers on

prevention methods. Due to the potential

fatality, choking was chosen to

be addressed first.

Wall Residences RN Care Managers

uphold the recommendations given by

the Office of Integrated Health (OIH)

at the Department of Behavioral

Health and Developmental Services

(DBHDS). The protocols used in our

services are based on those recommendations

as well as the training of

the Direct Support Providers.

For this project, the Lead RN Care

Manager contacted the Office of

Integrated Health for their Choking

Prevention Health and Safety Alert

and test, then developed a presentation

for the RN Care Managers to

provide in the Wall Residences Provider

Meetings statewide. Throughout

June and July, the RN Care Managers

who support each region attended

"

The educational presentation identified

many risk factors for choking that staff

and providers reported not knowing

before the training.

Provider Meetings and offered consistent

training. Our goal was to improve

awareness and skills of the Providers

and Program Management staff who

assure safety in the homes. The educational

presentation indentified many

risk factors for choking that staff

and providers reported not knowing

before the training. This supported the

need for advanced training but also

led to more deeply investigating how

to prevent choking in Wall Residences

services.

The next step was comparing the

training information to the Support

Intensity Scale (SIS) assessment

and the Support Coordinator's Risk

Assessment Tool used in developing

plans of care. It was determined

these tools did not address the risks

as determined by OIH, and were

often incomplete, therefore would not

adequately identify potential risks for

choking in individuals. The Lead

RNCM also noticed risks were

inconsistently identified in some

plans for support. This showed an

opportunity for a new tool to be

developed.

An Aspiration/Choking Risk

Assessment tool was developed

from the OIH materials, consistent in

structure with the Fall Risk Assessment

already in use by Wall Residences.

The RNCM team reviewed

and edited the document, which is

now with the Quality Assurance team

for initial review and determination of

next steps.

Together, through education and plan

development, we can prevent some

future health emergencies!

~Kevyn Burn

Know Someone Who Could Benefit from Our Services?

The Wall Residences Admissions team has staff in all parts of the state to respond to your referral needs and

answer questions about the services we offer. We work quickly to find the right match for longterm success

while striving for the quickest placement in services possible. The Admissions Team is here to serve you.

Alex Jackson

Admissions

Director

(434) 610-7578

Emily Eagle

Central Virginia, Danville,

Charlottesville, Staunton/

Waynesboro/Lexington

(434) 907-5067

Ashea Green

Northern

Region

(202) 760-6411

Brooke Keen

Roanoke, NRV,

SWVA

(540) 541-8563

Lisa Schalasny

Eastern

Region

(804) 380-4309
---
Chosen

Family

Walking across the lawn toward

fenced off pastures, two huge horses

can be seen in the distance. In

the closer paddock is a small stable.

Shannon's voice rings out as she

talks about 34 year old horse, Theo,

who she helps care for. Suddenly, the

horse bursts out of the stable, neighing

excitedly and shaking his head.

While there are seven people strolling

toward the horses, it is markedly

clear who Theo is delighted to see

as he beelines to Shannon, nuzzling

her shoulder and neighing contentedly.

The feeling is mutual. Shannon,

whose lifelong dream has been to

learn to ride horses, shares that when

she came to visit the Dyers four years

ago and learned there were horses on

the property, it immediately sealed the

deal for her. "I said, 'That's it! I'm

moving in!'" she recalls.

The loving relationship between Theo

and Shannon is not unique. Indeed,

that comfort and closeness are visible

between all four individuals, Providers

Jim and Diana Dyer, and primary

backup worker Holly Brooks. Shannon,

a four year household member, is

the most recent addition to the happy

bunch who call this peaceful property

home. Mamie moved in twelve years

ago when the Dyers

first became Sponsored

Residential Providers.

David has lived here

six years and Irvin for

five, after the Dyers enlarged

their home and

moved to group home

status. Holly joined

their staff in 2014 after

"Diana wouldn't stop

texting!"

several times a year. Some trips and

traditions are annual favorites, such as

a spring trip to the same home on the

Emerald Isle beachfront and buying

coordinating souvenir or holiday

tshirts. Others are new experiences to

explore together. A trip to the Bahamas

five years ago fulfilled Mamie's

life dream: to swim with the dolphins!

A more recent cruise took them to

Bermuda this year.

For all the fun and adventure, the

four individuals are quite upfront

about why they love living here:

respect and relationships. David

notes, "I like Diana! I like Jim!

He's my buddy! Like my dad! Holly

is grandma!" Mamie elaborates,

"They're almost like a mom and

dad... my second mom and dad,

you know?" Shannon adds, "They

help me out a lot. I like to go places

together. Like family." Irvin puts it

simply, "They're nice to me."

Bottom: Mamie, Back-Up Worker Holly Brooks, David.

Middle: Shannon and dog Sadie.

Top: Diana Dyer, Irvin, Jim Dyer.

Words tumble over

each other as all eagerly

describe everyday

activities at home and

in the community, with

jobs, WRAP, and day

support. This predictable

and comforting

pattern of routine is

punctuated by travel

adventures together

7

Indeed, all seven people are full of

far more affirming words about one

another than can fit into one article.

This is a home filled with love and

care. "All of us care about each other.

If Irvin is worried about something or

needs someone to talk to... same thing

with Shannon," Mamie explains. She

sums it up perfectly, as three other

heads nod. "I love living here."

~Angie Covington
---
October 2nd marked the second

anniversary of Wall Residences being

a 100% ESOP company. October is

also Employee Ownership Awareness

Month.

ESOP stands for Employee Stock

Ownership Program: a company's

employees own shares of its stock.

The stock is sold back to the company

when someone leaves or retires,

and the profits are paid out to employees

as retirement benefits.

October is ESOP Month!

Wall Residences was founded and

owned by Jack Wall and Kamala

Bauers. Jack and Kamala wanted to

assure the company would further the

values and practices they established,

after they retired. This may not have

happened if Wall Residences had

been sold to another company.

Some of the Wall Residences Employee Owners gathered in Floyd at the Staff

Conference in September for training and networking.

Establishing the ESOP was a win-win

situation! Employees carry on the

original company values of meaningful

relationships, quality of life,

creativity, innovation, and personal

growth for themselves and the indi-

viduals in our services. It's wonderful

for employees, who earn retirement

benefits at no cost to them. The people

in our services benefit as well, with

lower staff turnover due to the ESOP's

structure encouraging longevity.

Digital Bonus: In Their Own Words

We celebrated the important work of DSPs during Direct Support Professionals Week in September. Wall Residences

DSPs say it best in their own words! We asked our DSP team: what does being a DSP mean to you. Their answers are

insightful and it's our privilege to share them with you. Direct Support Professionals: truly the key to it all!