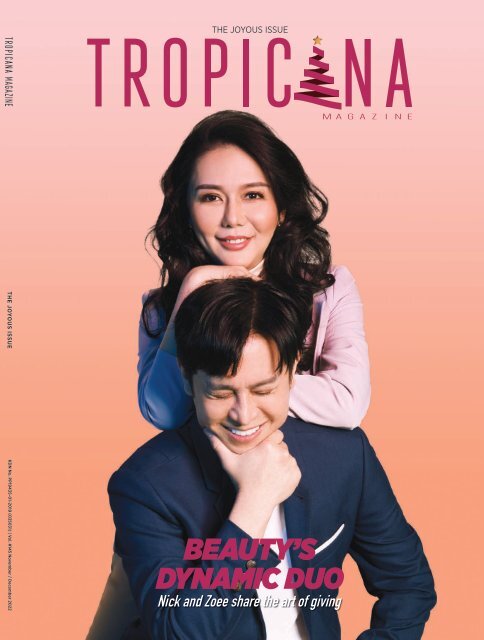 Tropicana November-December 2022 #145 The Joyous Issue
Tropicana Magazine November-December 2022 #145 The Joyous Issue
Tropicana Magazine November-December 2022 #145 The Joyous Issue
SHOW MORE
SHOW LESS
You also want an ePaper? Increase the reach of your titles
YUMPU automatically turns print PDFs into web optimized ePapers that Google loves.
THE JOYOUS ISSUE

THE JOYOUS ISSUE

KDN No. PP19435-01-2019 (035031) | Vol. #145 November / December 2022

BEAUTY'S

DYNAMIC DUO

Nick and Zoee share the art of giving
---
Amarald.Co

N e o n C a r b o n S e r i e s
---
Neon Carbon Series

Our aim is to allow users the option to customise and

redesign the physical features of the apple watch. For

most reason's the wrist has always acted as a holy ground

to symbolic things. Things that are special. However, as

technology advances further into our lives daily many

would opt to wear an Apple Watch for professional

reasons.

With the release of the Neon Carbon Series, we have

pushed the limits further where we have produced the

new Carbon Frame series with neon coloured strap. They

will be available in 4 different colourways. Introducing

the Freshwater Teal, Amber Orange, Lime green and

Amber Orange. Users have the choice to select from

these eye-catching watch frames featuring its bright neon

colours with carbon composite frames.

Am arald.co

www.am arald.co

Find us out more on our website www.Amarald.Co or on our Instagram Amarald.co
---
Tropicana

Buggy

of

Joy
---
Annual charity drive by

Come spread the joy of Christmas with us.

Give a little, help a lot! Let's donate now.

Please drop off your donation at our Buggy of Joy

28 OCT - 15 DEC 2022

Centre Court (near to Qi Odyssey), CC Floor,

Tropicana Gardens Mall

WHAT TO DONATE?

Cash Donation

Name: Tropicana Foundation

Bank: CIMB Bank Berhad

Account: 8003575210

Cooking Essentials

Salt, sugar, cooking oil,

and etc

Healthcare Products

Masks, sanitisers, cleaning solutions, toothpaste, diapers,

adult diapers, sanitary pads, vitamin C, shampoos and etc

Bulk Dry Goods

Rice, oatmeal, noodles,

biscuits, pasta and etc

Beverages

Coffee, Milo, milk powder,

tea, baby milk and etc

Halal Canned Food

Sardines, baked beans,

mushrooms and etc

*We don't accept expired goods, loose packs, clothing or cooked food.

Donated items will be channelled to underprivileged homes across Klang Valley.
---
NOVEMBER/DECEMBER 2022 EDITOR'S NOTE

Editor ' s Note

Time has passed once again much faster than we would have liked. When the clock strikes midnight

on December 31, we can start afresh - a rebirth, in a sense. As the New Year begins, many of us

feel compelled to make positive changes in our lives, embark on exciting new adventures and

finally put to rest the demons of the past year. Let's greet 2023 with joy and enthusiasm. Be

passionate about your goals and be motivated to maintaining a positive outlook if you want to

achieve them in the coming year. Our cover stars, Nick Chong and Zoee Low are driven, optimistic

and enthusiastic. They run Synthesis Aesthetic, a full-service beauty salon, as a team. Since starting

Synthesis Aesthetic over ten years ago, the married couple has expanded their business to three

locations, including its headquarters at Tropicana Gardens Mall in Tropicana Indah, Petaling Jaya.

"We believe that flawless skin is within everyone's reach, and it is our mission to help you realise

your aesthetic goals. After all, all great accomplishments have their beginnings in a dream," says

Nick. On the subject of dreams, Tropicana Aman's final Signature Villa Series, Hana Residences is

unrivalled. The beautifully-designed bungalows and semi-detached residences are situated within

a private enclave. Plus, the development's elevated perch affords stunning vistas of the surrounding

area. Since this is our year-end issue, we have compiled a list of locations where you may celebrate

the New Year as well as destinations where you can play golf while your family enjoys a holiday

filled with activities. We also have fantastic tips for an eco-friendly Christmas as well as creative

gift-wrapping concepts that are guaranteed to impress. As for Christmas gifts, check out our Tech,

Jewels, Beauty and Showcase sections, where you will find gift ideas, which are so interesting that

you might end up buying them all for yourself! With that, we would like to wish everyone a Merry

Christmas and a Happy 2023! Let's cheers to the future together!

8

Tropicana Magazine Editorial Team
---
THE JOYOUS ISSUE

Vol.

#145

TROPICANA SHARED SERVICES

BOARD OF DIRECTORS

Tan Sri Dato' Tan Chee Sing

Dato' Dickson Tan Yong Loong

Dion Tan Yong Chien

Lee Han Ming

Din Tan Yong Chia

Jared Ang Tzer Shen

Jeffrey Tan Siew Yang

DIRECTORS

TROPICANA GOLF & COUNTRY

RESORT BOARD OF DIRECTORS

Dato' Dickson Tan Yong Loong (Chairman)

Tan Sri Dato' Nik Hashim Bin Nik Ab Rahman

(Deputy Chairman)

Tan Sri Dato' Tan Chee Sing

Dato' Gan Nyap Liou @ Gan Nyap Liow

Datuk Hj. Md Afendi Bin Hamdan

Dato' Seri Dr Chan Chaw Min

Dion Tan Yong Chien

Dillon Tan Yong Chin

Jared Ang Tzer Shen

Diana Tan Sheik Ni

Din Tan Yong Chia

DIRECTORS

GROUP CORPORATE

COMMUNICATIONS

EDITORIAL

Serena Lim

EDITOR-IN-CHIEF

Angie Tan

SUB-EDITOR

Winnie Ooi

PR & MEDIA

MANAGER

Chloe Lim

BUSINESS & CONTENT

DEVELOPMENT MANAGER

Nor Hamimah Abdullah

LEAD DESIGNER

Eric Ho

Evelyn Wan

Aliff Yusri

Sharifah Nong-Jasima

CONTRIBUTORS

PUBLISHER

TROPICANA SHARED SERVICES SDN BHD

[199201017499 (249003-K)]

(A Member of Tropicana Corporation Berhad)

FEEDBACK & INQUIRY

GROUP CORPORATE COMMUNICATIONS

Tropicana Shared Services Sdn Bhd [199201017499 (249003-K)]

Unit 1301, Level 13, Tropicana Gardens Office Tower,

No 2A, Persiaran Surian, Tropicana Indah,

47810, Petaling Jaya, Selangor Darul Ehsan

T. 03-7663 6888 F. 03-7663 6688

corp.comm@tropicanacorp.com.my

www.tropicanacorp.com.my

PRODUCED BY

STAR MEDIA GROUP (10894-D)

SMG BRAND STUDIO

Elicia Wee

GENERAL MANAGER

EDITORIAL

Daz Manan

EDITOR

CONTRIBUTORS

C. Jamil

Lea Azbad

Michelle Siew

SENIOR MANAGER &

COMMUNICATION STRATEGIST

DESIGN

Merrissa Emilda

CREATIVE DIRECTOR

Raymond Pung @ Unknown Imagery

Brian Fang @ M Eight Studio Sdn Bhd

PHOTOGRAPHERS

Lisa Chong

ASSISTANT MANAGER

TROPICANA MAGAZINE IS EXCLUSIVELY CIRCULATED TO

• Tropicana Privilege Cardmembers

• Residents of Tropicana's developed properties

• Members of Tropicana Golf & Country Club

• Honorary members of Tropicana Golf & Country Club

• Select group of VVIP

• Tropicana Gardens Mall

• Tropicana Digital Platform

• Tropicana 360 App

• W Kuala Lumpur Hotel

• Courtyard by Marriott Hotel

When you have

finished with this

magazine please

recycle it

GO GREEN!

Tropicana Magazine is published by Tropicana Shared Services Sdn Bhd, a member of Tropicana Corporation Berhad KDN No. PP19435-01-2019 (035031). The views and opinions expressed or

implied in Tropicana Magazine are those of the authors or contributors and do not necessarily reflect those of Tropicana Shared Services Sdn Bhd, Tropicana Golf & Country Resort Berhad, its

directors or editorial staff. All rights reserved by Tropicana Shared Services Sdn Bhd and Tropicana Corporation Berhad. All information is correct at time of printing, however, certain information

may differ due to pandemics, natural disasters, technological or other circumstances. Reproduction in whole or in part, without written permission is prohibited. All materials published remain

the property of Tropicana Shared Services Sdn Bhd. Transparencies, CDs or films submitted for publication are sent at the owner's risk and while every care is taken, neither Tropicana Magazine

nor its agents are responsible for any loss or damage. Printed by Percetakan Skyline Sdn Bhd (135134-V) 35 & 37, jalan 12/32B, TSI Business Industrial Park, Batu 61/2 Off Jalan Kepong, 52000

Kuala Lumpur, Malaysia.

Scan and download to

read our magazine
---
Vol.

#145

CONTENTS PAGE

42 Showcase

TGCR's Popular Nite Race Draws Over

88 Showcase

Cool Kicks

12

76

ON THE

COVER

Making Beauty

Their Business

250 Fitness Lovers

48 Sojourn

A Terrific Christmas

52 Swing Tools

BigShot Officially Tees Off

54 Tropicana Journey Club

Best New Year's Eve Getaways

58 Tropicana Journey Club

Stay and Play Holiday

62 Space

Hana Residences' Heavenly Homes

68 Nature

Tranquility At Home

72 Showcase

The World of DC Exhibition

74 Trailblazer

The Multifaceted Talents of

Michelle Yeoh

80 Beauty Focus

Get That J.Lo Glow

82 Beauty Snippets

Hermes Beauty

84 Jewels

Ring In The New Year!

90 Fashion Spread

Viva Versace

96 Tech

Gifts From The Future

100 Health & Wellness

Juice Up Your Health

102 DIY

How To Have A Green Christmas

104 Lifehacks

Charming Gift Wrapping Ideas

108 Wheels

Hit The Road In Style

114 Showcase

The Seasons of Gifting

116 Savour+

Roasted Delights

120 Savour

Holiday Treats

124 Milestone

Tropicana's Journey Through 2022

132 Group Directory

Corporate

Tropicana Golf & Country Resort

Tropicana Gardens Mall

86 Chronometer

It's Party Time!
---
PHASE 1

FULLY SOLD

PHASE 2

OPEN FOR SALE
---
edefining

the art of living
---
16

CENTRAL
---
NORTHERN SOUTHERN EASTERN

Signature

17

developments
---
NOVEMBER/DECEMBER 2022 PROPERTY

The Art ofLiving

Since 1979, Tropicana has grown and evolved into one of the country's

premier property developers. As a pioneer in resort-styled townships, we

continue to build our dreams and yours, by crafting townships of choice,

where communities can live, learn, work, play, and thrive.

Set in Kota Kemuning, this huge 863-acre township is one that embodies a

healthy living concept with its walk and bike-friendly community. Its main

feature include a massive, 85-acre central park, as well as international and

public schools nearby. It is close to highways like the KESAS and ELITE

enabling easy access to nearby neighbourhoods such as Subang Jaya, Shah

Alam and Klang. Visit www.tropicanaaman.com.my

18
---
TROPICANA MAGAZINE

The 625 acres Tropicana Golf & Country Club is an award-winning township

that is home to a picturesque golf course with the largest 450,000 sq ft

Clubhouse in Malaysia. Strategically located in Petaling Jaya with easy

access to major highways such as NKVE, LDP and SPRINT, this matured

development is filled with grand homes and the finest of facilities including

educational institutions. Visit www.tropicanagolf.com

In the heart of Tropicana Indah in Kota Damansara, lies Tropicana Gardens.

This 17.6 acres transit-oriented mixed-use development features the Tropicana

Gardens Mall, four residential towers and the Tropicana Gardens Office Tower.

Equipped with modern amenities and facilities, it is also connected to the

elevated Surian MRT station via the mall. Visit www.tropicanagardens.com.my

With a Tropicana Metropark Link which connects the 88-acre master plan

of Tropicana Metropark to Federal Highway, and Sri KDU International

School which offers quality education, this township comes complete

with various residential and commercial elements designed to provide a

holistic lifestyle, all anchored by a verdant 9.2-acre urban park.

Visit www.tropicanametropark.com.my

19

A picture perfect 199-acre freehold estate, this exclusive township is centred on

a 16 acres Central Park and 750m Linear Lake. A stunning haven with prestigious

residences for the modern families, it is located only 15 minutes from Kajang and

accessible via Persiaran Bangi, Jalan Semenyih. There are education centres like

Nottingham University and amenities such as supermarkets, hospitals, banks and

the Bangi Golf Resort, nearby. Visit www.tropicanaheights.com

Specially designed for the discerning, the Tropicana Miyu residences are

equipped with convenient amenities and essential trappings of modern

living. Accessible via Jalan Harapan with smooth transfer to the NKVE,

this prime Petaling Jaya property in Section 17 is close to an abundance of

retail, commercial and educational institutions.

Visit www.tropicanamiyu.com.my
---
NOVEMBER/DECEMBER 2022 PROPERTY

The Art ofLiving

Welcome to your holiday home, in the highlands

or on the island. Come live every day like you are

on a holiday. The Tropicana Journey Collection

makes life simply divine.

20
---
TROPICANA MAGAZINE

Tropicana WindCity in Genting Highlands is a mega development spanning 596 acres with three

distinguished master plans – Tropicana Grandhill, Tropicana Paradise and Tropicana Avalon. Each

township is distinctively different and purpose-built, featuring a curated collection of proposed residential

selections, recreational retreats and hotels, educational institutions, commercial spaces, entertainment

hub, silver hair village, wellness sanctuary and green enclaves. Visit www.tropicanawindcity.com

21

Discover your dream home by the beach at Tropicana Cenang, Langkawi. This 5.3 acres mixed

development will feature a deluxe mix of residences accompanied by retail and dining components

as well as the luxurious 5-star Sheraton Resort & Spa. The beachfront serviced suites comes

with hotel-grade services, including 30 resort-themed facilities and amenities, plus a professional

management team to attend to every wants and needs. Visit www.tropicanacenang.com.my
---
NOVEMBER/DECEMBER 2022 PROPERTY

The Art ofLiving

We are guided by our eight Tropicana DNA – accessibility, connectivity,

amenities, facilities, innovative concepts and designs, generous

open spaces, multi-tiered security and quality – to design integrated

developments for homeowners seeking a holistic lifestyle.

22
---
TROPICANA MAGAZINE

Strategically located on 37 acres of freehold land in Iskandar Malaysia, Johor,

Tropicana Danga Bay includes a holistic blend of upscale serviced residences,

investment grade offices, commercial blocks, luxury hotel and convention

centre. Expect a host of amenities and facilities with lush greeneries and

expansive views of the sea. To top it all, this development is easily accessible

via major highways. Visit www.tropicanadangabay.com.my

Tropicana Danga Cove is an integrated 227 acres development in Iskandar

Malaysia. It is an exclusive urban enclave featuring upmarket shop offices and

landed homes. This emerging development is flanked by full-fledged township

such as Bandar Baru Permas Jaya and Bandar Seri Alam. It is connected to

Johor Bahru via the Eastern Dispersal Link, JB East Coast Highway, and the Pasir

Gudang highway. Visit www.tropicanadangacove.com.my

The Lido Waterfront Boulevard is a 163-acre mixed development strategically

located by the Straits of Johor, Johor Bahru. Set against a stunning coastal

backdrop, it is envisioned to be an integrated transportation hub and

components including serviced residences, five-star hotel, offices, retail

shopping, coastal park, cultural centre, as well as recreational, educational

and healthcare facilities. Visit www.tropicanacorp.com.my

Tropicana Uplands is a thriving 244 acres mixed-use development Iskandar

Malaysia, which includes landed properties as well as high-rise residential and

commercial components. Excellent connectivity is enabled via the Skudai-

Pontian Highway and Malaysia-Singapore Second Link. It is also surrounded by

matured residential neighbourhoods and within its vicinity are Educity Iskandar

and Legoland. Visit www.tropicanauplands.com.my

23

Located in the Southern Corridor and next to Singapore, Tropicana

Industrial Park is a major industrial development area that spans over 1,188

acres of freehold land. It comprises eight interconnected and sustainable

phases and is located near four major highways to allow for easy access

and improved freight transit. It will also be equipped with workers'

dormitory and recreational park. Visit www.tropicanacorp.com.my
---
NOVEMBER/DECEMBER 2022 PROPERTY

The Art ofLiving

Providing Tropicana with sustainable income for the long-term are

our investment properties, which currently comprises international

schools and branded hotels.

24
---
TROPICANA MAGAZINE

St. Joseph or SJIIM is located at Tropicana Indah, offering holistic

LaSallian education to children aged between 3 and 18 years old. Sited on

6.5 acres land, the school has a Gross Floor Area of 423,000 sq ft and can

accommodate up to 1,770 students. To build well-rounded students, the

school is well-equipped with a swimming pool, tennis court, soccer field,

and sports hall. Visit www.sji-international.edu.my

Tenby International School is located on a large 10 acres of purpose-built

campus within Tropicana Aman. This school provides quality international

education to the young minds of the Kota Kemuning communities. Tenby

offers a UK-based curriculum for students aged between 3 and 18 years of

age, including the International Primary Curriculum, National Curriculum for

England, IGCSEs, and A-Level programmes. Visit www.tenby.edu.my

Tropicana Gardens Mall is a shopping paradise with 1 million sq ft of retail

space spread out over seven floors with a 50,000 sq ft convention centre.

It houses a wide tenant mix from fashion to entertainment as well as indoor

and al fresco F&B areas that offer a variety of dining options. It is accessible

via Persiaran Surian and Persiaran Tropicana, and conveniently connected

to the Surian MRT Station. Visit www.tropicanagardensmall.com.my

25

Located at one of the most coveted addresses in Kuala Lumpur, Tropicana

The Residences and W Kuala Lumpur in the heart of the city centre comprises

353 serviced residences and 150 hotel suites. Built on a 1.28-acre freehold

commercial land, it is within walking distance to the Petronas Twin Towers.

Visit www.tropicanacorp.com.my

This 2.1 acres mixed development on Penang Island encompasses Neo

Suites, Serviced Residences, retail shops, and Courtyard by Marriott.

Strategically located in the middle of George Town, it is surrounded by

many tourist spots. Amenities and facilities are aplenty at the hotel for the

convenience and comfort of guests.

Visit www.tropicanacorp.com.my
---
NOVEMBER/DECEMBER 2022 PROPERTY

TROPICANA & MARRIOTT

TO OPEN SHERATON IN LANGKAWI

AS TOURISM ROARS BACK

Marking another

successful milestone for

Tropicana and Marriott

Dion Tan, Group Managing

Director of Tropicana

(centre), Joanne Lee,

Deputy Chief Executive

Officer (left), Jared

Ang, Group Executive

Director (second left) with

Kevin Chen, Senior Vice

President of Asia-Pacific

Hotel Development,

Marriott International

(fourth left) and Andree

Susilo, Senior Director of

Hotel Development, Asia

Pacific (fifth left)

26

Tropicana signed a hotel management agreement with Marriott

International to build a five-star 270-key Sheraton Langkawi

Resort & Spa at Tropicana Cenang, Langkawi. This collaboration

comes as Langkawi sees increasing tourist and investor interest,

with potential to reach a pre-pandemic tourism peak of 4 million

arrivals annually. This is Tropicana's third hotel collaboration with

Marriott International, continuing the Group's ongoing expansion

plans in Langkawi and strengthening its presence in the hospitality

segment. The agreement was signed between Tropicana

subsidiary Cenang Resort Sdn Bhd, represented by Dion Tan,

Group Managing Director of Tropicana, and Marriott International

Inc, represented by Kevin Chen, Senior Vice President of Asia-

Pacific Hotel Development, Marriott International.

"Building on Tropicana's long-standing and fruitful partnership

with Marriott International, we are excited to develop this fivestar

Sheraton Langkawi Resort & Spa at the popular Pantai

Cenang beachfront. Leveraging on the strategic location and

increasing tourism footfall in Langkawi, we are confident that this

270-key hotel will draw a lot of interest from tourists. In addition,

Tropicana Cenang is a unique mixed development offering

residential, hospitality and commercial components. With all

these components in place, the planned hotel underscores

our commitment to continue Redefining the Art of Living in

Langkawi," said Dion during the signing ceremony.

"We are thrilled to expand our portfolio of hotels and resorts

in Langkawi - one of the most beautiful and beloved islands

in Malaysia. This signing further strengthens our commitment

to bring a host of choices across our extraordinary brands to

consumers in the country.

"Sheraton is the most global brand under Marriott Bonvoy

portfolio and this is our third collaboration with Tropicana,

with the first two being the popular W Kuala Lumpur

and Courtyard by Marriott in Penang. Once opened,

Sheraton Langkawi Resort & Spa expects to offer urban

conveniences as well as majestic skyline views of the

surrounding, stunning Langkawi landscape," added Andree

Susilo, Senior Director of Hotel Development, Asia Pacific,

Marriott International.

Designed by award-winning architects and consultants,

Sheraton Langkawi Resort & Spa is set to be the new

gathering place for locals and travellers. It will complement

Assana Serviced Suites, Tropicana Cenang's latest holiday

homes comprising 831 modern seafront serviced suites.

Those interested in joining the growing Tropicana Cenang

community can learn more by visiting tropicanacenang.com.

my or contacting +016 363 0900.
---
TROPICANA MAGAZINE

Dion Tan (right) and

Kevin Chen (left)

viewing the Tropicana

Cenang and Sheraton

scale model

27
---
NOVEMBER/DECEMBER 2022 PROPERTY

Tropicana was presented with three awards

at the StarProperty Awards 2022

Representing on behalf of Tropicana were

Joanne Lee, Deputy Chief Executive Officer

(seventh left); Lee Han Ming, Deputy

Chairman of Property Development (fifth

left); and Jared Ang, Tropicana's Executive

Director (sixth left), flanked by Loke Wei

Feng, Executive Director, Project (second

left); Adrian Chin, Executive Director, Project

(eighth left); Ixora Ang, Executive Director,

Marketing & Sales and Business Development

(tenth left); Emma Lim, Senior General

Manager, Planning & Design (eleventh left);

Serena Lim, Senior General Manager of Group

Corporate & Marketing Communications

(fourth left); Nikki Lee, General Manager,

Marketing & Sales (third left); Ang Siu Ping,

General Manager, Project (twelfth left); Tan Vi

Lex, Deputy General Manager, Project (ninth

left); and Winnie Ooi, Senior Manager, Group

Corporate Communications (first left)

Tropicana also won three awards at the Asean Property Developer Awards 2022

Joanne Lee, Tropicana's Deputy Chief Executive Officer (third left); Allan Wong,

Executive Director (fifth left); Ixora Ang, Executive Director, Marketing & Sales and

Business Development (fourth left); Simon Yoong, Executive Director, Project (left);

and Nikki Lee, General Manager, Marketing & Sales (second left)

The Group was named among the Top 10 Developers at the BCI Asia Awards 2022

Joanne Lee, Tropicana's Deputy Chief Executive Officer (front, second left); Pietter

Sanjaya, General Manager of Emerging Market Asia, BCI Central (front, third left);

Kok Sook Leng, General Manager of BCI Central Malaysia (front, fourth left); and

Kenny Bi, General Sales Manager, Jotun (front left)

28

TROPICANA BAGS 7 ACCOLADES AT

3 PRESTIGIOUS INDUSTRY AWARDS

Tropicana was recently recognised at the prestigious

StarProperty Awards 2022 and BCI Asia Awards 2022. Its

recognition at the StarProperty Awards included the All-Stars

Award; Proximity Award (Excellence), Best Integrated Transit-

Oriented Development for Tropicana Gardens, Tropicana

Indah; and Family-Friendly Award (Excellence), Best Family-

Centric Development (Landed) Within Greater KL for Gemala

Residences, Tropicana Aman. The Group was also named

as a Top 10 Developer at the BCI Asia Awards 2022 for its

masterplanned townships such as Tropicana Danga Cove,

Iskandar Malaysia; Tropicana WindCity, Genting Highlands;

and Tropicana Metropark, Subang Jaya. Capping off the hat

trick, Tropicana also took home Best Developer accolades at

the Asean Property Developer Awards, along with Best Leisure

Living Development for Tropicana Grandhill, Genting Highlands;

and Best Mixed Use Development for Tropicana Cenang,

Langkawi. "We have participated in the StarProperty Awards

since 2017 and the BCI Asia Awards since 2012, and we are

honoured to have won more than 30 awards collectively. Our

Tropicana team is truly honoured and proud to continue to be

recognised by these prestigious platforms. This is a testament

of Tropicana being a committed developer as we Redefine the

Art of Living. We will continue to expand Tropicana's presence

across Malaysia and build thriving communities centred around

our unique development DNA," enthused Jared Ang, Tropicana's

Group Executive Director.
---
NOVEMBER/DECEMBER 2022 PROPERTY

THE COOLEST MST GOLF ARENA

OPENS AT TROPICANA GARDENS MALL

MST Golf Arena takes another step forward with the official

opening of its second outlet at Tropicana Gardens Mall. As the

region's leading golf retailer and golf services provider, MST Golf

is making golf more inclusive and accessible through the unique

MST Golf Arena recipe of entertainment, dining and retail.

The spanking new outlet makes for a great place for people

to chill after work and has everything a golfer wants from

indoor golf to a cigar lounge and bar. The evening launch

was attended by some of the country's top golfers including

Malaysian number one Gavin Green, rising star Shahriffuddin

Ariffin and amateur talent Malcolm Ting, who won the Sukan

Malaysia (SUKMA) men's individual gold medal recently.

This location is perfect due to its proximity to a huge suburban

population, as well as golf clubs such as Seri Selangor and

Tropicana," said MST Golf Chief Executive Officer, Ng Yap.

Located on the ground floor, the 36,000-plus square foot

MST Golf Arena has 13 tech bays and five private rooms,

each featuring Foresight Sports' industry-leading GCHawk

or GCQuad launch monitors. Golfers can choose to tee off at

some of the world's top golf courses including Pebble Beach

and St Andrews, work on their swings, or have fun playing one

of the many carnival-style games.

Gavin joined MST Golf Managing Director, KP Low and

Tropicana Corporation Group Executive Director, Jared Ang

to hit ceremonial tee-shots before the traditional Lion Dance

performance to mark the auspicious occasion.

"We are proud to bring the MST Golf Arena 'whole-in-one'

experience to Petaling Jaya here at Tropicana Gardens Mall.

30

(From top) L-R: MST Golf CEO Ng Yap, Gavin Green,

Tropicana Corporation Group Executive Director

Jared Ang and MST Golf Managing Director KP

Low; and guests teeing off at the launch
---
TROPICANA MAGAZINE

Tropicana Gardens Mall is a one million

square foot retail landmark with seven

floors and more than 160 stores

SINGHA HOSTS ITS

LARGEST BEER

FEST AT TROPICANA

GARDENS MALL

Tropicana Gardens Mall, the retail arm of Tropicana, recently launched

Malaysia's first and largest Singha Fest 2022, which ran from 22

September 2022 to 2 October 2022. Held at the Hillside from 12pm

to 12am daily, the festival saw beer lovers from every background

converging to treat their taste buds to the original Thai beer, slowbrewed

with premium barley malt, Saaz hops and Thai springwater

since 1933. Complementing Singha's tantalising range of beverages,

including Singha beer, soda lemon and soda water, the festival also

featured more than a dozen food stalls serving mouth-watering Thai,

Korean, Western, Taiwanese delicacies and more.

Singha Fest 2022 features the

world's only beer to be stamped

with Thailand's Royal Garuda.

31

Weekend visitors were treated to live performances, featuring dynamic

vocals and melodies to elevate their dining experience. Andrew Ashvin,

Managing Director of Tropicana Gardens Mall, shared more on the

lifestyle event. "Experiential engagement is the key retail driver and

differentiator today. With this in mind, we are very pleased to bring

the first Singha Fest 2022 to the country! This festival invites visitors

to celebrate the full-bodied flavour of Singha, the only beer in the

world to be stamped with Thailand's Royal Garuda." Part of the 17.6-

acre Tropicana Gardens integrated and transit-oriented development

in Tropicana Indah, Tropicana Gardens Mall is a one million square

foot retail landmark with seven floors and more than 160 stores. To

learn more about the mall and other exciting upcoming events, visit

tropicanagardensmall.com.my and follow the Tropicana Gardens Mall

Facebook page at facebook.com/TropGardensMall.
---
NOVEMBER/DECEMBER 2022 PROPERTY

Tropicana sponsored 50 runners for

the Sports Paragon Run 2022 under its

charity arm, Tropicana Foundation

The run included a Lucky

Draw with a Fitness

Concept treadmill and

more up for grabs

32

Muhammad Ariff bin Alias

came first in Sports Paragon

Run 2022's 3km fun run

Category
---
TROPICANA MAGAZINE

Tropicana go-go-FIT Park Adventure Race saw over 100 participants in a series of challenges as individuals or teams in Tropicana Metropark's Urban Park

FUN RUNS DRAW HUNDREDS TO

TROPICANA GARDENS MALL

AND TROPICANA METROPARK

Much early morning merriment and mirth were in the air at the

first Sports Paragon Run 2022 at Tropicana Gardens Mall and

Tropicana go-go-FIT Park Adventure Race at Tropicana Metropark.

The weekend events drew hundreds of fitness lovers for the Sports

Paragon Run 2022's 3km and 5km fun runs around Tropicana

Indah and Kota Damansara, as well as Tropicana go-go-FIT Park

Adventure Race's challenge stations showcasing its serene Urban

Park spanning 9.2 acres in Subang Jaya. Fifty Tropicana staff were

sponsored for the Sports Paragon Run 2022, in support of the

ongoing Tropicana go-go-FIT health campaign and the Group's

mantra of Redefining the Art of Healthy Living. Joanne Lee,

Deputy Chief Executive Officer of Tropicana, shared more on the

collaboration. "It was our pleasure to work with Sports Paragon as

venue sponsor for its inaugural Sports Paragon Run 2022, while

organising the Tropicana go-go-FIT Park Adventure Race, as we

foster fitness and health as a fun part of everyday life. At the same

time, these events showcased the accessibility and connectivity in

and around Tropicana Gardens Mall and Tropicana Indah, as well

as the generous open spaces and facilities of the Urban Park in

Tropicana Metropark, in line with Tropicana's unique development

DNA. Seeing their gratifying success, we deeply appreciate the

support shown by the community for these events," she said.

Kicking off with a vigorous set of warm-up activities and

safety briefing for participants, the Sports Paragon Run 2022

flagged off from Tropicana Gardens Mall with more than

500 runners. Both 3km and 5km routes proceeded past the

picturesque grounds of Seri Selangor Golf Club and Tropicana

Golf & Country Resort before returning to the mall. Runners

also stood a chance to walk away with prizes worth up to

RM5,700 in the event's Lucky Draw, with a Fitness Concept

treadmill up for grabs along with Mr DIY vouchers and Futuro

Knee Stabilisers by 3M. Meanwhile, the Tropicana go-go-FIT

Park Adventure Race drew over 100 participants in 20 teams

to a series of challenges in Tropicana Metropark's Urban Park.

Challenges ranged from solving number puzzles and fitness

tests to the "Footsteps to Healthy Pathway" activity. In line

with the Tropicana go-go-FIT campaign, a mini wellness fair

offered educational sessions such as free health screenings

and mental health assessments as well as a juice making

workshop. To learn more about Tropicana go-go-FIT and

other upcoming events, visit tropicanacorp.com.my/gogofit/

and follow the Tropicana Facebook page at facebook.com/

TropicanaCorp.

33
---
NOVEMBER/DECEMBER 2022 PROPERTY

2022 TGCR SPORTS

CHAMPIONSHIPS RETURN

34

Sports fans made their mark at the 2022

Tropicana Golf & Country Resort ("TGCR") Sports

Championships, participating in four different

racquet games, namely tennis, badminton, squash

and table tennis.

1996 and this year, the games are back, taking

place from 20 August until 11 September 2022.

The prize giving ceremony and high tea was

held at the Function Room on the last day of the

championships.

Some of the winners at the

prize giving ceremony on 11

September 2022

The championships have been running since

A hearty congratulations to all the winners!
---
TROPICANA MAGAZINE

TGCR IS BACK IN THE GAME

WITH ANNIVERSARY CUP

35

The Tropicana Golf & Country Resort ("TGCR") is

proud to host its Anniversary Cup once again after

a two years break. The event which took place on

27 August 2022 drew the strong support of 140

participating members.

At the prize giving ceremony, General Manager

Ravindran Varnagopal thanked all the members for

their continuous support through the years. He also

shared that this has allowed the club to grow in its

reputation and presence.

"The 230 acres golf club which comprises of 27-

hole East and West Course was founded in 1990

with the East Course opened later in 1993 and

the clubhouse in March 1994. It has been almost

30 years since TCGR was officially opened on 13

January 1996.

"Do you remember the club's first hole in one? The

date was 1 February 1993, which was 29 years ago,

scored by Lim Jit Toong at Hole 13 East Course

1. Let's continue to make memories like this

together," said Ravindran to loud cheers.

The Anniversary Cup was first held in 1994 and

TGCR will continue with this great tradition in the

years to come.

Clockwise: All the winners;

General Manager Ravindran

Varnagopal recapping historical

moments of the clubs and

presenting the grand lucky

draw prize of a golf bag and

TGCR merchandise to the

winner
---
36

NOVEMBER/DECEMBER 2022 PROPERTY
---
TROPICANA MAGAZINE

Clockwise: The uber happening

Creative Art Market, cosplayers

in action, booths at the Toys

and Collectibles Market

TAGCC 2022 DRAWS 70,000-STRONG

CROWD TO TROPICANA GARDENS MALL

The third installation of the Toys Anime Games and Comic Con (or

better known as TAGCC) at Tropicana Gardens Mall was a huge

success, pulling in fans, hobbyists and collectors by the hundreds.

The convention was an unforgettable experience for many as

this was the best chance for fans to get hold of limited edition

merchandises, meet up with cool cosplayers, admire detailed

figurines and toys, and more.

were two tournament areas for Cardfight!! Vanguard, one being

the Bahasa version.

The Creative Art Market proved to be a big hit with tons of

merchandises, from stickers to pins, wax seals to prints and

even tote bags, selling like hotcakes. Long queues were also

seen at the Cosplay Market as fans turned up to show support

for their favourite cosplayers and grab exclusive merchandises.

37

The response for the two-day event, from 22 to 23 October

2022, was overwhelming thanks to the tremendous support and

backing of the community. This time round, in a world rising

from the Covid-19 ashes, the convention managed to fill up 120

booths at its Creative Art Market with another 45 exhibitors

at the Toys and Collectibles Market, and played host to 19 hot

names in the Malaysian cosplaying scene. On top of that, there

Special guests for the convention included Japanese artist Ma

and local cartoonist Ernest Ng; cosplayers YingTze and Luna

Lorrain; and VTubers Liliana Vampaia and Lunaris Urufi.

Fans sang praises for the fun event packed with an impressive

line-up and well thought out layout, making the TAGCC 2022 an

outstanding chapter indeed.
---
NOVEMBER/DECEMBER 2022 PROPERTY

EVERY PINT MATTERS

Tropicana Foundation's blood donation drive

38

Staying true to Tropicana's main goal, Redefining

the Art of Caring, Tropicana Foundation remains

committed to running its bi-annual blood donation

drive in collaboration with the National Blood

Centre. The success of this drive is only possible

through the immense support of all Tropicana staff.

stepped forward to help, resulting in the successful

collection of 55 bags of blood.

As always, the safety of donors and the future

recipients remains a priority. All participants are

screened and tested by the medical officers first to

ensure that the donors are eligible to donate.

Tropicana staff from various

departments came out in full

force to support the blood

donation drive

The second edition of the blood donation took place

on 11 October from 10am to 4pm at the Tropicana

Experiential Hall in the Tropicana Gardens Office

Tower. The campaign drew 76 generous hearts who

Please bear in mind, if you are keen to help, do

drink plenty of water, eat hearty, top up on iron

supplements and get well rested, before and after

donating blood.
---
Caring is the art of living.

Lift yourself up

by lifting someone else.

Tropicana Foundation thank everyone involved in our initiatives for

lighting up the lives of those in need. We are making a difference,

one charity at a time.

We welcome good ideas and collaborations.

Contact us: evelyn.wan@tropicanacorp.com.my
---
NOVEMBER/DECEMBER 2022 SHOWCASE

TO THE RESCUE OF

OUR FURRY FRIENDS

Tropicana Foundation reaches out to support homeless animals

40
---
TROPICANA MAGAZINE

Property developer Tropicana Corporation Berhad ("Tropicana")

reached out to support more than 400 rescued pets and strays

at My Pets Haven, Setia Alam and PAWS Animal Welfare Shelter

("PAWS"), Ara Damansara. Organised through the Group's charity

arm, Tropicana Foundation, the initiative saw 20 volunteers

pitching in to clean cages, prepare food, walk and feed the

animals, and more.

The Foundation donated 380kg of dry pet food, 50L of hand

wash liquid, 60L of bleach, and 60kg of soap powder in total,

as well as the services of volunteers comprising Tropicana staff,

who donated their time and energy. The initiative was first held

at My Pets Haven on 27 September 2022, followed by PAWS on

15 October 2022.

Dion Tan, Group Managing Director of Tropicana, shared that this

campaign is important to help raise awareness on the issue of pet

abandonment and strays in the society.

"This charitable endeavour marks the growth of Tropicana

Foundation as we extend aid to our furry friends. Animal welfare

is an important issue that needs to be addressed. These homeless

animals have their rights but in the long run, strays on our streets

equally pose a possible threat to public health.

"As a society, we all have our roles to play and with this initiative,

Tropicana will endeavour to Redefine the Art of Living for both

man and animal," he said.

Founder of My Pets Haven, 65-year-old Aileen Lee, stressed on

the need for the public to start adopting and stop buying. She

also underlined the importance of spaying and neutering these

homeless animals to control the population of stray dogs and cats.

Running the shelter alone, Lee, better known as Aunty Aileen,

starts her day as early as 5am to walk the dogs, prepare their

meals, clean their cages, and more. She relies greatly on

volunteers for help with all the chores to provide a conducive and

clean environment for the cats and dogs at her shelter. She also

shared that the shelter constantly needs funding for food and

medical treatment for the animals.

Over at PAWS, the shelter is currently housing more than 400

cats and dogs, and is also in need of the assistance from the

public, be it in cash or in kind, as well as volunteers.

Scan here

for full video

41
---
NOVEMBER/DECEMBER 2022 SHOWCASE

TGCR'S POPULAR

NITE RACE

DRAWS OVER 250

FITNESS LOVERS

Tropicana Golf & Country Resort ("TGCR") welcomed more than 250 fitness lovers

to its serene green grounds in early October for its popular Nite Race. The signature

event saw families in high spirits as well as fun seekers vying for cash prizes worth

up to RM500 while enjoying the cool evening breeze and panoramic vistas of the

golf club at night.

42
---
TROPICANA MAGAZINE

43
---
NOVEMBER/DECEMBER 2022 SHOWCASE

44

The signature event showcased the serene greenscapes of Tropicana Golf & Country Resort

"Launched in 2010, the annual TGCR Night Race was the first

of its kind organised by a golf club in a golf course. Due to

the Covid-19 pandemic, we were unable to hold the run in the

past two years. We are pleased to revive this tradition as part

of our core mission in Redefining the Art of Healthy Living. It

is gratifying to see the strong support from the community and

turnout for the event, right here at the Tropicana Golf & Country

Resort where Tropicana's journey began," said Sharudin bin

Kamarudin, General Manager of Tropicana Golf & Country Resort.

The signature event kicked off with an invigorating warm-up

session at the club's Golf Wing before the runners were flagged

off to happy, loud cheers against a stunning backdrop of sunset

on the greens.
---
TROPICANA MAGAZINE

Safety was a priority, with security personnel present throughout the

route to monitor runners and race conditions

45

The Tropicana Elite team of athletes represented the Group at the

signature event

The TGCR Nite Race was opened to diverse age groups with

two course of fun runs, 5km and 8km, and participants were

grouped into the following categories:

• Category A – 5km, Boys & Girls, Junior – 13 years to 17 years

• Category B – 8km, Men & Ladies, Open – 18 years to 44 years

• Category C – 5km, Men & Ladies, Open – 45 years and above

Here, safety is top priority and security personnel were

present throughout the route to monitor the runners and race

conditions. Each hole was closed as the final runners crossed,

to safeguard participants and the community.

For the winners, each were rewarded with a medal for their

achievement. On top of that, participation also entitled the

runners to a lucky draw, with prizes such as a flight ticket

to Vietnam up for grabs, thanks to Vietnam Airlines. Other

goodies included vouchers from Focus Point, Komugi and

McDonald's.
---
NOVEMBER/DECEMBER 2022 SHOWCASE

Winners in each category received a medal for their achievement, and runners participated in a lucky draw

CATEGORY A WINNERS

CATEGORY B WINNERS

CATEGORY C WINNERS

GIRLS

1st Place Yingxue Fan

(20min 40sec)

LADIES

1st Place Lim Ket Yeng

(50min 1sec)

LADIES

1st Place Cindy Lai Williams

(18min 18sec)

2nd Place Lok Yanxi

(24min 28 sec)

2nd Place Chan Xue Li

(51min 9sec)

2nd Place Lew Mee Ling

(22min 0sec)

3rd Place Jenny Lee Siew Gaik

(25min 28 sec)

3rd Place Julianna Hyvonen

(51min 16sec)

3rd Place Heng Sooi Huang

(23min 40sec)

BOYS

1st Place Tireshh a/l Rajamogan

(16min 11sec)

MEN

1st Place Pearljit Singh

(39min 28sec)

MEN

1st Place Wang Kim Sieng

(20min 12sec)

46

2nd Place Sashvein Rao Ramkumar

(16min 51 sec)

2nd Place Goh Swee Hoe

(42min 5sec)

2nd Place Lim Beng Chai

(21min 2sec)

3rd Place Carwyn Lai William

(17min 2sec)

3rd Place Darius Lim

(42min 52sec)

3rd Place Kenichi Izawa

(21min 54sec)
---
NOVEMBER/DECEMBER 2022 SOJOURN

The popular Christmas

Wonderland in Singapore

48
---
TROPICANA MAGAZINE

A TERRIFIC

CHRISTMAS

Experience an amazing holiday getaway at one of these

great destinations in the region

While a white Christmas is the quintessential

symbol of the holiday season, those of us who

call the tropics home know all too well that this is

a fantasy. On the other hand, we have a tendency

to overlook the fact that celebrating Christmas

in the tropics can actually be quite enjoyable.

In fact, people in other parts of the world would

go to great lengths to escape the cold and visit

tropical countries. Here are some of the top

tropical Christmas getaways for an unforgettable

celebration.

THAILAND

There are not many Christians in this predominantly

Buddhist country, and 25 December is not a

national holiday except in several provinces.

However, the spirit of Christmas is still very much

present. You may find Christmas trees, lights

and decorations in many malls over the holiday

season. In fact, the Christmas period is the best

time to travel to Thailand. When planning a trip to

The Land of Smiles in December, you can pretty

much count on the weather to be on your side,

with lots of sunshine and very little to no rain at

all. Daytime highs often hover around 25°C to 30°C

while evening lows can dip to 15°C.

One of the most vibrant capitals in Southeast Asia,

Bangkok is an effortless mix of the modern and

the traditional, making it an absolute must-see. In

this city, not only can you find trendy restaurants

and exciting nightlife, but also discover Buddhist

temples, discount shopping and wonderful street

cuisine. For a beach break, head to Pattaya, which

is situated about an hour south of Bangkok. Along

with its reputation for a pulsating nightlife, Pattaya

is famous for its fantastic water sports and diving

excursions to some of Thailand's top wreck sites.

If you'd rather stay on an island, Phuket is the

place to go. The extent to which locals have

adopted Western Christmas customs might

surprise you. Even though many of them are either

Buddhists or Muslims, they spare no effort to make

sure tourists have the best Christmas ever. At

several of the island's five-star resorts, you'll

discover special Christmas meals and celebrations,

along with games and activities suitable for the

whole family.

49
---
NOVEMBER/DECEMBER 2022 SOJOURN

Golden Christmas

trees in Hong Kong

HONG KONG

Thanks to its Winterfest, Hong Kong has firmly

established itself as one of the best places to enjoy

a tropical Christmas. There is solid justification for

its global fame. The city morphs into a magical

winter wonderland decked out in Christmas trees,

artificial snow, fairy lights, Santa Claus and his

reindeer statues and other seasonal decorations

throughout the holiday season.Then there is Hong

Kong Disneyland, which is an excellent choice for

a Christmas vacation with the family. If Disneyland

isn't your cup of tea, there are plenty of activities

to experience in the city such as festive parades,

fireworks, free live performances and carolling.

Carolers from local churches and schools perform

in public spaces like parks and shopping centres

in the days leading up to Christmas and on

Christmas eve. Free performances are also usually

presented by music groups and orchestras. And,

don't forget to spend time to appreciate the retail

experience. To help clear out their inventory, many

Hong Kong stores, including designer boutiques

reduce prices and offer attractive discounts in the

month of December.

50

SINGAPORE

Despite the lack of winter wonderland trappings

such as snow and reindeer, Christmas in

Singapore is just as wonderful as it is anywhere

else in the West. The dazzling display of colourful

lights around Orchard Road is a must-see and will

surely put you in a merry mood. Another fantastic

location to witness an extravaganza of lights,

sound and spectacle is at the annual Christmas

Wonderland event at Gardens by the Bay. Dubbed

Singapore's biggest Christmas fair, it features a

festive market, carnival games, rides, giant light

sculptures, Santa's Grotto and many other fun

things to do and see. The artificial snow, towering

Christmas tree and Christmas carols all contribute

to the holiday spirit. It should come as no surprise

that the popular event, which is expected to take

place from 30 November to 26 December 2022 is

likely to attract more than three million visitors.
---
NOVEMBER/DECEMBER 2022 SWING TOOLS

52

BIGSHOT OFFICIALLY

TEES OFF

At BigShot in Tropicana Golf & Country Resort, you can

play golf at world-famous courses like Pebble Beach and

the Old Course at St Andrews!
---
TROPICANA MAGAZINE

Dani (left) and Tan Sri Effendi enjoying a game of golf

Tropicana Golf & Country Resort ("TGCR") has a new

attraction, which provides a golfing experience that is at

the cutting-edge of technology. Welcome to BigShot Indoor

Golf & Entertainment centre. Located at TGCR's Sports Wing,

BigShot is the perfect playground for serious golfers looking

to level up their swing, as well as those who simply want to

have fun discovering and experiencing the game with family

and friends. Open to both TGCR members and the public,

this innovative concept offers a realistic golfing experience

and allows players to replay and analyse each shot. Plus, you

can play whenever you like, no matter the weather and do

whatever you wish - practise, coach or just play.

The simulator bays and private suites at BigShot are

equipped with the Bravo Golf system, renowned for its

exceptional visuals and advanced graphics of world-famous

courses. Its high-speed dual camera system and threedimensional

monitoring tracks measures shots with a high

degree of accuracy. The Swing Analysis function follows the

ball flight of every shot; showing the distance, ball speed,

club head speed, trajectory and more. Bravo Golf's Impact

Analysis lets you evaluate exactly how you are striking the

ball, so you can analyse your clubhead path with real images

all the way through the impact zone. Additionally, dynamic

sound and scenery and variable weather mode creates the

feeling of being out on the course of your dreams! Choose

from 100 of the best courses such as Pebble Beach or the

Old Course at St Andrews. BigShot is the brainchild of father

and son team Tan Sri Effendi Norwawi and Dani Effendi.

"One of our best family investments was a home golf

simulator that we installed before the pandemic hit. During

the MCO, while people were complaining about not being

able to golf, we kept on playing, and we were getting better

at our game. When my dad finally went back to playing

again with his friends, they wondered how he was suddenly

hitting the ball further than them and scoring way better!"

Dani exclaims. BigShot also has three Private Golfing Suites

with karaoke, suitable for parties, family celebrations,

corporate presentations or hosting corporate events. What's

more, the venue features a multi-sports simulator offering

games such as football, frisbee, baseball and foosball. There

are also pool tables as well as virtual reality machines like

the Light Bike and VR Racing Simulator. Discover more at

www.bigshotgolfmy.com or call 03-7887 5777.

53
---
NOVEMBER/DECEMBER 2022 TROPICANA JOURNEY CLUB

BEST NEW

YEAR'S EVE

GETAWAYS

These destinations might help you decide

whether you want a romantic break, a lively

festival vibe or a relaxing family getaway to

ring in the new year

Symbolic release of

lanterns into the air

accompanied by a

display of fireworks

in Chiang Mai

54

CHIANG MAI, THAILAND

While cities all over the globe celebrate the arrival of the new year with

fireworks and bright lights, none shine brighter than in Chiang Mai,

where thousands of paper lanterns are released into the sky to mark

the passing of the previous year and to usher in the new with hopes of

prosperity. At midnight, locals and tourists gather along on each side of

the Ping river to take part in the symbolic release of lanterns into the

air, which is accompanied by loud applause and an amazing display of

fireworks. You can also celebrate at the North Gate or also known as

"the gate", which is home to fine dining restaurants as well as a vibrant

nightlife scene consisting largely of pubs and clubs that cater to those

seeking a livelier evening out. No matter how you choose to ring in the

new year in Chiang Mai, you will find that the city has a way of making

the occasion feel magical.
---
TROPICANA MAGAZINE

55
---
NOVEMBER/DECEMBER 2022 TROPICANA JOURNEY CLUB

56

SYDNEY, AUSTRALIA

During the height of the summer season in the southern

hemisphere and the celebrations that accompany the arrival

of the new year, Sydney is transformed into a site of sparkling

celebrations and beauty. One of the most technologically

advanced fireworks displays in the world takes place over

Sydney Harbour, setting the entire city ablaze with festivities.

Neighbourhoods across the city offer unique opportunities to

experience Sydney's rich cultural heritage, iconic landmarks

and thriving daily life. More than one million people gather

along Sydney Harbour's foreshore to see the fireworks every

year, and the show is broadcast live to more than 425 million

viewers around the world. The stunning Sydney Harbour, the

gorgeous Sydney Harbour Bridge and the magnificent Sydney

Opera House will be the focal points of two spectacular

fireworks shows, the first of which will take place at 9pm and

the second at midnight.

BALI, INDONESIA

If you're looking for a spectacular setting to ring in the new

year, the Island of the Gods is a strong contender. Every type

of traveller can find their ideal activity in Bali, from the calm

and private to the bold and boisterous. You're bound to get

the coolest clubbing experience in Bali because the swankiest

beachfront clubs offer the biggest parties. What's more,

in south Bali, there are numerous private beach events that

provide a bustling and never-ending nightlife. Be sure to check

out the events and parties in Kuta, Seminyak, Sanur, Canggu

and Nusa Dua. For a romantic and relaxing atmosphere, head to

the nearest beach. Being outside in the fresh air by the sea is a
---
wonderful way to unwind. And, as the clock strikes twelve, you

will be treated to the spectacle of fireworks, which will light up

the night sky and cast a beautiful glow over the water.

• Langkawi is an ideal island destination for ringing in the new

year, as there are many places to party, dine, and relax on the

beach. The tropical island paradise is also home to Tropicana

Cenang, a premium integrated development by the sea.

SEOUL, KOREA

The passing of one year and the arrival of the next are both

publicly declared in South Korea by the customary ringing of a

bell located at a key location. The Bosingak Bell, which is close

to the Jonggak Station (Line 1), is the most recognisable bell

in Seoul. Each year, at the stroke of midnight on 31 December,

a total of 16 people, including the mayor of Seoul, ring the bell

33 times. The ringing of the bell is a common ritual in Korean

culture since the Joseon Dynasty when the bell was rung daily

to announce the beginning and end of the day. However, many

Koreans prefer to welcome the new year by witnessing the

first dawn of the year from the country's eastern coast or the

tallest nearby mountains. They believe that wishes made while

witnessing the first dawn of the year are granted more readily

than those uttered at any other time. One of the easiest summits

to reach is Haneul Park or Sky Park, which offers a 360° view of

Seoul. You can get there by walking up a wooden staircase with

291 steps or by taking an electric tram.

• Resorts World Genting, Genting Highlands also provides a lively

environment in which to welcome in the new year, with a variety

of restaurants, nightlife and entertainment options. It is 12km

away from Tropicana Grandhill.
---
NOVEMBER/DECEMBER 2022 TROPICANA JOURNEY CLUB

58

STAY AND PLAY

HOLIDAY

Golf season is in full swing, now that the holidays are

here, and we have some options for a family vacation

that includes plenty of golfing opportunities

The 27-hole championship

golf course at TGCR is

among the best in Malaysia
---
TROPICANA MAGAZINE

TROPICANA GOLF & COUNTRY RESORT, MALAYSIA

The 27-hole championship golf course at the Tropicana

Golf & Country Resort ("TGCR") is widely regarded as

being among the best in Malaysia. As a result, many golf

fans make it a point to make this location an important

stop on their golfing itinerary on a regular basis. Golf

may be played at TGCR, located in Petaling Jaya,

Selangor at any time of day or night. There are three

different "dream nines" that are both demanding and

enjoyable for golf pros and amateurs alike since they

were built according to the standards set by the United

States Golf Association. The nine-hole West Course and

the 18-hole East Course both boast carefully-placed

bunkers and water hazards among scenic holes on the

undulating green. The clubhouse at TGCR is massive,

with a gross built-up size of over 450,000 square feet.

Since March 1994, it has served as Malaysia's largest

Clubhouse for residents and members alike, and it has

won numerous accolades including Bloomberg's Best

Golf Development Award with the highest Five-Star

rating in Asia Pacific and Best Clubhouse/Facilities

Award in Golf Malaysia Readers' Poll. The Main Wing, the

Golf Wing and the Sports Wing make up the Clubhouse's

three different sections, and they provide a variety of

facilities that bring leisure and pleasure to people of all

ages. BigShot Indoor Golf & Entertainment centre is one

of TGCR's latest family-friendly attractions. It's designed

as the ultimate playground for serious golfers wishing to

improve their swing and those who just want to have fun

with family and friends.

59
---
NOVEMBER/DECEMBER 2022 TROPICANA JOURNEY CLUB

The clubhouse at Bali

National Golf Club

60

Laguna Lang Co is

Vietnam's first world-class

integrated resort

BALI NATIONAL GOLF CLUB, INDONESIA

Whether you are a beginner, a pro or just a casual

weekend golfer looking for a relaxing golf holiday,

Bali National Golf Club is the place to visit. It

offers visitors a luxurious golfing experience with

the redesigned Bali National Golf Club, which has

three distinct playing environments throughout

the 18-hole course. The first nine holes feature

creeks, canyons and native vegetation as well

as tropical birds, while holes 10 through 16 offer

the golfer gently contoured fairways. Finally, the

island green hole 17 and lakeside hole 18 are the

challenging finishing holes to test every golfer.

The course has received many awards including

Best Golf Course in Indonesia 2018 by Asian Golf

Awards, Best Golf Course by Exquisite in 2021,

and Best Golf Course and Resort by Bali Tourism

Awards 2022. The Bali National Golf Villas are

located within the resort and feature seven villas

with views of the breathtaking 17th and 18th holes

as well as access to a private beach. Each villa can

accommodate up to six people and a dedicated

butler is available to attend to your needs.
---
TROPICANA MAGAZINE

Banyan Tree Phuket

Serenity Pool Villa

LAGUNA LANG CO RESORT, VIETNAM

Nestled along the coast of central Vietnam, Laguna

Lang Co is the country's first world-class integrated

resort. The development is located in a unique

crescent bay offering privacy and exclusivity, and

includes Banyan Tree and Angsana branded hotels

and spas, a golf course, private villas and residences

and convention facilities. Laguna Lang Co has a wide

range of activities to accommodate groups, couples

and families of all ages. Jet skiing, parasailing, water

skiing, wind surfing, kayaking and banana boat rides

are available at the Marine Centre, while archery,

mountain biking and horse riding are offered at the

Activities Centre. The Laguna Lang Co Golf Club,

an 18-hole, par-71 championship course delivers a

golfing experience that can be enjoyed by skilled and

novice players alike. The site's natural rugged terrain

has been preserved, offering a distinctive course with

changing landscape framed by mountains on three

sides and the East Sea to the west. The oceanfront

golf course is known for its scenic location among

towering trees, streams, verdant paddy fields and

rock formations. It is one of only three golf courses

in the world to be Earth Check Gold Certified and

has been listed as one of the most sustainable golf

courses in the world.

BANYAN TREE PHUKET, THAILAND

Discover your ideal getaway with a golf package

from Banyan Tree Phuket. Packages include a threenight

stay in a luxury Banyan Pool Villa or Signature

Pool Villa, two complimentary 18-hole green fees for

two guests per stay, and a 60-minute massage at

the Banyan Tree Spa Phuket. This Phuket resort is a

private paradise, with all-pool villas tucked around

a lagoon and surrounded by lush greenery, making

it ideal for families, couples, golfers and guests

interested in discovering the island's rich history,

vibrant culture and beautiful beaches. Explore the

interesting places that Phuket has to offer by taking

a dip in the clear blue sea, going on a hike through

the island's lush forests or taking in the exciting

atmosphere of the bustling night markets. Excursions

to experience the wonders of the surrounding area

with your family are also available, such as a visit

to the Phuket Elephant Sanctuary, participating in

a beach clean-up or learning about the traditional

practise of almsgiving.

61
---
NOVEMBER/DECEMBER 2022 SPACE

62

Homes by a beautiful lake
---
TROPICANA MAGAZINE

HANA

RESIDENCES'

HEAVENLY HOMES

Hana Residences, the final Signature Villa series

of Tropicana Aman, a haven for life made beautiful

63

Artist's Impression
---
NOVEMBER/DECEMBER 2022 SPACE

The late Swiss-French architect, Le Corbusier once said, "The home should be the treasure chest of

living". A home is a place where you can unwind, enjoy and feel safe. It should be a haven of rest

and rejuvenation, where you can relax after a long day and share joyful, memorable experiences

with those you love.

Introducing Hana Residences, the final Signature Villa Series of Tropicana Aman in Kota Kemuning,

which offers all these and more. The superbly designed multi-generational homes at Hana

Residences are nestled within a private enclave, featuring bungalow and semi-detached homes on

lots ranging in size from 45' x 80' to 80' x 100'. In addition to this, the development is situated on

an elevated ground with breathtaking views of the surrounding landscape. Some of the units are

situated on a prime locale, offering both lake and garden views. These North/South facing homes

are designed with comfort, spaciousness and luxury in mind. The meticulous planning makes it

possible to have living spaces with double volume ceiling height in the dining and living areas,

which results in layouts that are incredibly effective and filled with the most possible natural light

64

Spacious semi-detached units
---
TROPICANA MAGAZINE

and enhanced ventilation. Take pleasure in thoughtful touches, such as stylish fittings and advance

home features, to complete your ideal home. The provision of a lift in our 3-storey bungalows,

wide walkways and doors all contribute to an increase in the level of comfort provided for multigenerational

living. A smart home system is already installed in your home, providing you with all the

ease and convenience that goes along with living in a high-tech house. On top of that, a safe and

secure living environment bolstered by multiple levels of security further reassures.

Each day, you can greet the sunshine and crisp air flowing in from one of the many nearby pocket

parks designed with family togetherness in mind, where family members of all ages, from toddlers

to seniors, can engage in a variety of activities. Discover the natural splendour tucked away within

this exclusive enclave and experience the peaceful calmness as you take a stroll through the treelined

Linear Park that is right outside your front door. You can also choose to unwind and reflect at

one of the many pavilions that are scattered around this picturesque environment. With the Central

Garden located within easy walking distance, getting away from life's daily stress can be done easily.

65

Artist's Impression
---
NOVEMBER/DECEMBER 2022 SPACE

An overview of the gardens

Artist's Impression

The amphitheatre, exercise terrace, play pavilion, reflexology area and many

other leisurely opportunities are just some of the options that are waiting to

be discovered. This opulent tropical refuge also has direct access to the

85 acres Central Park that is filled with lush greenery and over at the

exclusive Recreational Hub, more activities await you.

66

The abundance of facilities here — a seven-kilometre walking and

biking trail, lakes and more — make it easy to adopt a better and

healthier lifestyle through activities such as walking, jogging and

cycling. With so many attractive qualities, Tropicana Aman's final

Signature Villa Series is fittingly named Hana. It is a beautiful name

which means flower in Japanese, number one in Korean, and shine,

glow, give out love, or radiance in Maori, to reflect the brilliance of

the address.

Artist's Impression

Wake up to a beautiful view

in this lovely bedroom

UNIQUE SELLING POINTS

* Gated and guarded

* Commercial neighbourhood

* Recreational hub

* 85-acre Central Park

* Nearby educational institutions, medical centres, malls, banks,

public facilities, transportation hubs

* Easy access to major highways

Call 1700 81 8868 to find out more
---
NOVEMBER/DECEMBER 2022 NATURE

68

TRANQUILITY

AT HOME

Reflexology paths, jogging tracks and lakes are

just some of the amenities bringing property

developments like Tropicana Heights and Tropicana

Metropark to the forefront of peace and well-being
---
TROPICANA MAGAZINE

In order to recreate the experience of

a true retreat, Tropicana places a high

value on holistic well-being and the

link between the mind, body and soul.

To ensure residents enjoy a high quality

of life, Tropicana's amenities foster a

variety of healthy pastimes, including

physical activity and exercise, as well

as a connection to nature. For instance,

one of the most alluring features of

Tropicana Heights is its 16-acre Central

Park featuring walkways with a breadth

of three metres and a 750-metre

Linear Lake, which provide a healthy

environment for residents' overall wellbeing.

There are also lookout pavilions

and floating gazebos, which invite

passers-by to take in the serenity of the

park's water features.

69

Tropicana Heights

is distinguished

by many features,

including a lake

and lush greenery
---
NOVEMBER/DECEMBER 2022 NATURE

Exercise facilities and spaces such as a children's

playground, basketball court, and sports lawn can

also be found here. The township, envisioned as a

modern village in the heart of Kajang, was designed

in harmony with the surrounding community and

environment, with preservation and revitalisation

of the surrounding natural eco-system taking

precedence. The Recreational Hub located in the

heart of Tropicana Heights features luxurious facilities

consistent with the township's prestige including an

Olympic-sized infinity pool overlooking the Linear

Lake, gymnasium, sauna, rooftop tennis court and

more.

Committed to sustainable development, the township

is built based on an environmentally-conscious

design that is inclusive of the community, focusing

on characteristics such as topography and rainwater

management; wide, wheelchair-accessible paths; and

gross pollution traps; among others. Additionally,

Tropicana Heights' units feature expansive, open

layouts with double-volume spaces, unobstructed

views and enough windows to facilitate natural airflow

and indirect lighting. At Tropicana Metropark, highrise

homes encircle a lake that is located within the

development's Urban Park, bringing together the best

of city living and the great outdoors in one convenient

location. The development's philosophy is reflected

in the thoughtful incorporation of scenic, open

spaces. Spread out across more than 88 acres of

freehold land in Subang Jaya, this integrated mixed

development, comprising residential, commercial

and recreational areas, is designed around a 9.2-

acre park complete with a canal. Inspired by the

Yarra River in Melbourne, Australia the design

emphasises spatial permeability and connectivity.

The energy of the city and the natural environment

are brought together in a way that is seamless,

creating a synergy that makes it possible for this

development to continue to be appealing thanks to

the wholesome value proposition it offers to those

looking for a holistic urban life.

Hills, slopes and lawns rise gently over the walkways

and waterways in the park, complementing the

environment and offering ample open space for

residents. There is also a 1.3km jogging track around

and through the park, while the bridges across the

park provide easy access to the development's

commercial areas. Additionally, the park has

two promenades, an open lawn, fitness station,

playground as well as a reflexology zone. Not only

do these amenities make the lives of the residents

easier and provide them with a taste of luxury, but

they also enable them to make better use of their

time - a commodity that can never be replaced.

70

A recreational

area in Tropicana

Metropark
---
TROPICANA MAGAZINE

71

There is a basketball

court and other

fitness facilities in

Tropicana Heights
---
72

SEPTEMBER/OCTOBER 2022 SHOWCASE
---
Justice is eternal. Legends never

die. This 23 December 2022,

experience "The World of DC

Exhibition" first launch in Asia

TROPICANA MAGAZINE

"THE WORLD OF DC EXHIBITION"

IS COMING TO TROPICANA

GARDENS MALL

Fans will be pleased to know that this coming December

Tropicana Gardens Mall will be home to "The World of DC

Exhibition". This is the first exhibition in Asia and the largest

in Malaysia, covering about 35,000 sq ft. "The World of DC

Exhibition" will run from 23 December 2022 to 1 April 2023,

featuring the first-ever assembly of all DC characters such as

Superman, Batman, Wonder Woman, Aquaman, Suicide Squad

and Birds of Prey. Look out for limited edition movie props and

merchandise, designer concept art, one-of-a-kind costumes,

life-size exhibits and interactive elements as well as behind-thescenes

production to engage visitors of all age groups.

"We are pleased to launch the first "The World of DC Exhibition"

in Asia. With DC's growing popularity in Malaysia, driven by

cinematic blockbusters such as Man of Steel, Justice League and

Wonder Woman 1984, it was a natural step to reach out to and

reward fans here. Bringing them closer to the iconic, beloved

characters of the DC Cinematic Universe, "The World of DC

Exhibition" will take movie aficionados and comic lovers alike on

an interactive journey through the most celebrated milestones

of their favourite superheroes – and supervillains! The enduring

success of these larger-than-life characters underscores their

timeless appeal as eternal symbols of hope, inspiration and

justice," shared Mary Koh, Executive Director of WOW Event Asia.

"We couldn't be more excited to finally bring "The World of DC

Exhibition" to Malaysia. Our team here worked tirelessly alongside

Warner Brothers, Beast Kingdom and Tropicana Gardens Mall to

prepare a spectacular superhero showcase for all fans, young and

old alike," she concluded.

"This much-anticipated and must-see exhibition is finally

coming to our Tropicana Gardens Mall and we are so honoured

to be home to this international expo. Aligned with "The

World of DC Exhibition", we have also lined up many exciting

superhero-themed activities such as a Superheroes Meet &

Greet, the Largest "The World of DC Exhibition" Christmas

Tree in Malaysia, a Cosplay Competition, Cosplay Runway

and much more," said Andrew Ashvin, Managing Director of

Tropicana Gardens Mall.

"The World of DC Exhibition" will be held at the Convention

Centre on Level 3A of Tropicana Gardens Mall, the retail arm of

Tropicana Corporation Berhad ("Tropicana"). The 35,000-sq ft

exhibition will feature seven distinct zones focusing on specific

characters and themes.

Tickets for "The World of DC Exhibition" are priced at RM38

for children aged three to 12 years, RM55 for MyKad holders,

RM65 for non-MyKad holders and RM150 for VIP Express

tickets. Admission is complimentary for children below three

years old. To learn more about "The World of DC Exhibition"

and for ticket sales, please visit woweventasia.com or email

hello@woweventasia.com.

73
---
NOVEMBER/DECEMBER 2022 TRAILBLAZER

THE MULTIFACETED TALENTS OF

MICHELLE YEOH

Michelle Yeoh is as busy as ever, starring in the Avatar sequel and Everything,

Everywhere, All at Once, which may earn her an Oscar nomination

74

Tan Sri Dr Michelle Yeoh has had a

long and illustrious career in the movie

business - over 30 years - but now that

Everything, Everywhere, All at Once

is garnering awards buzz and roles in

Avatar: The Way of Water, A Haunting

in Venice, and Transformers: Rise Of

The Beasts, she is at the pinnacle of the

industry. Michelle has gotten some of

the best reviews of her career for her

latest role in Daniel Kwan and Daniel

Scheinert's sci-fi adventure, Everything

Everywhere All at Once, with many

predicting she will be nominated for an

Academy Award for Best Actress.

And, of course almost everyone is

excited about the upcoming sequel to

sci-fi epic Avatar titled Avatar: The Way

of Water, where she plays scientist Dr

Karina Mogue alongside Kate Winslet,

Sigourney Weaver and Edie Falco.

Last August, Michelle made headlines

when she was awarded an honorary

Doctorate of Fine Arts by the American

Film Institute, a non-profit organisation

dedicated to filmmaking and its various

disciplines.

And, most recently, the Ipoh-born of

Hokkien descent, received the first

ever Share Her Journey Groundbreaker

award at the Toronto International

Film Festival. Michelle's first on-screen

appearance was in a Guy Laroche

wristwatch commercial with Datuk

Jackie Chan in 1984. A year later, she

got her acting career started by starring

in action movies with Hong Kong-based

D&B Films, a company co-founded by her

ex-husband businessman Dickson Poon.

The former Miss Malaysia/World 1983

rose to fame in the 1990s after appearing

in several Hong Kong kung fu films,

including Yes Madam! and Police Story

3: Supercop. Despite having no formal

martial arts training, she does her own

daring and risky stunts. Once, she jumped

from a speeding van onto a convertible,

bounced off the windshield, and came

dangerously close to losing her life as she

fell to the ground.

It is her passion for acting that she's

willing to take such great risks. In real

life, Michelle is the United Nations

Development Programme ("UNDP")

goodwill ambassador for greater road

safety worldwide. Michelle has been

UNDP's goodwill ambassador since 2016.

Her job as goodwill ambassador ranges

from shining a spotlight on the work

UNDP does all over the world to help

achieve equality for the most vulnerable

and address the effects of climate

change, participating in awareness

raising initiatives and events, mobilising

support through digital platforms, as well

as speaking at high-level meetings and

events at the UN headquarters in New

York.

On the acting front, Michelle gained

global stardom when she proved to be

a mighty match for Pierce Brosnan in

the James Bond franchise, Tomorrow

Never Dies. However, it was her

warrior character in Ang Lee's multiple

Academy Award-winning Crouching

Tiger, Hidden Dragon that made an

indelible mark on her career. What's

noteworthy is that her acting strength

is not limited to flying kicks and

daredevil stunts. Michelle is a versatile

actress having starred in movies

of various genres like the titillating

tear-jerker Memoirs of a Geisha,

the biopic The Lady, where she

played Aung San Suu Kyi and the hit

rom-com Crazy Rich Asians, which

earned her a Screen Actors Guild Award

nomination.

The petite actress, who turned 60

on 6 August, keeps herself busy by

spending time with her fiance Jean

Todt, former president of the Fédération

Internationale de l'Automobile, which

oversees the Formula One World

Championship, working and travelling

between her homes in Ipoh, Paris and

Geneva. In a recent interview with Town

& Country magazine, she said that her

guiding principle is to do what you want

to do with passion. "Our life is a gift, and

hopefully when it's time to go I will say,

'I lived it to the fullest'," she was quoted

as saying.
---
TROPICANA MAGAZINE

M I

C H

Photo: youtube.com/variety

E L L E

Photo: adweek.com

Photo: channelnewsasia.com

Photo: cheatsheet.com

Photo: freshairarchive.org

Photo: cheatsheet.com

75

Photo: huffpost.com

Y E O H

Photo: cheatsheet.com

Photo: latesthunts.com
---
NOVEMBER/DECEMBER 2022 COVER STORY

76
---
TROPICANA MAGAZINE

Patrons at a restaurant close to the studio couldn't

help but take notice of the attractive power

couple as they pulled up in their sleek black SUV

for our cover photo shoot. Nick Chong, who is

almost 50, and Zoee Low, 42, do not look a day

older than their ages and could be mistaken for

movie stars thanks to their lean physique, flawless

complexions and lustrous hair. Good looks aside,

the two who have been together for over 19 years

not only represent the ideal example of a married

couple, but they also make a formidable business

team. Together, they run a beauty company called

Synthesis Aesthetic, and between them they have

20 years of professional experience in different

fields prior to starting their own business.

MAKING

77

THEIR

BUSINESS

Nick and Zoee founded Synthesis Aesthetic

to help others in attaining beautiful,

healthy skin, drawing on their combined 20

years of professional experience
---
NOVEMBER/DECEMBER 2022 COVER STORY

Clarity Essence Enzymatic Serum

High Potency Gel Plus Enzymatic Cream

78

"I would say that Zoee and I make a great team as

I handle the management aspect and she manages

the operations. I have 10 years' experience in multilevel

marketing while Zoee worked with well-known

dermatologist Dr. Ko Chung Beng for 10 years," Nick says.

Synthesis Aesthetic provides treatments from head to

toe including body waxing, facials, eyebrow embroidery,

slimming and laser facial. The latter is the most popular

as laser aids in the gentle removal of dead skin cells. This,

in turn, results in numerous benefits, such as minimising

post-acne scars, pigmentation and open pores.

According to Nick, every session helps to brighten

the skin, lighten pigmentation and improve product

absorption. "Laser is the same as exfoliation, but

self-exfoliation with harsh chemicals can lead to skin

inflammation without expert supervision. After each

laser treatment, we will apply cooling masks and

perform a relaxing massage to help reduce redness and

promote healthy skin," Zoee explains.

In addition to the laser facial, Synthesis Aesthetic also

offers the Bio Meridian treatment, which was developed

in Japan. "It delivers electrical impulses throughout the

body to stimulate the production of more red blood

cells and increase oxygen flow to the entire body. This

treatment will leave you feeling rejuvenated."

One of the latest offerings at Synthesis Aesthetic is the

Female Ovarian treatments, which will benefit women

who suffer from frequent vaginal discomfort. According

to Zoee, the treatments were developed in Korea using

only natural ingredients and have received unanimous

praise from her employees who have tried them.

Synthesis Aesthetic also has its own skincare product

range with natural, organic ingredients from Switzerland.

"Our products do not contain harmful chemicals other

than the preservatives used to stabilise the chemical

compounds of the active ingredients. They are designed

to be gentle on the skin, making them ideal for all skin

types. We currently have ten products, including a Gentle

Cleansing Gel, Essential Facial Toner, Clarity Essence

(serum), Vitamin C Cream (moisturiser), Anti-acne Cream

and UV Glow (sunscreen)."

The majority of their clientele are walk-ins as well as family

members and friends. The age range includes everyone

from teenagers to senior citizens. "We also cater to men

and the most popular treatment among our male clients

is Micro-Hydrabration, which facilitates in the removal

of black and white heads. For our male clients who do

not have skin concerns, we recommend the premium

treatment, which is designed to help with hydration and

overall skin health. The treatment incorporates fresh

caviar, which has a revitalising and restorative effect on

the skin," Nick explains.

He notes that regardless of age and gender, Synthesis

Aesthetic can help anyone achieve beautiful, healthy

skin. "Synthesis Aesthetic has been around for over 13

years. We will continue to strive to help individuals with

unsolved skin issues. If you are committed to improve the

appearance of your skin, then we will do everything in

our capacity to assist you in accomplishing your aesthetic

aspirations."

Working together has undoubtedly brought the pair

closer but there are also challenges that they have to

deal with. "The drawback of co-managing a business is
---
TROPICANA MAGAZINE

Synthesis

Aesthetic's

client

feedback

"Great facials to be

had here! The most

personalised service

ever. I'm definitely

coming back!"

Ivana Savic

UV White Multi

Protection

UV Glow Multi

Protection

Vitamin C

Cream

the stress of work and the ongoing struggle to balance

personal and professional obligations. My wife and I always

take a moment to discuss any disagreements that may

arise over a cup of tea. Communication is essential to our

relationship's success," says Nick. The most important

thing they have learned is to keep their personal lives

outside of the business and professional lives in the office.

"Once at home, we remind ourselves that office matters

should remain confined to the workplace. Whenever one

of us notices that something is interfering with the other's

work, we make it a point to find a quiet place to discuss

it. Then the rest of the day is devoted to seizing the day's

opportunities," shares Zoee.

There are currently three Synthesis Aesthetic outlets in the

Klang Valley and the one at Tropicana Gardens Mall is its

newest location, having recently relocated from eCurve,

which had been in operation for over ten years. "We've

always wanted to operate a business in Tropicana Gardens

Mall for a variety of reasons, including its broad customer

base, strategic location, proximity to the MRT station and

the NKVE Highway. Plus, Tropicana is one of the biggest

and most stable organisations in the real estate industry.

We are a business couple, therefore we have to think long

and hard before we enter a new market with the intention

of forming a sustainable partnership there. We need to

evaluate not just the clientele, the site and the facilities,

but also the experience of the team behind it and whether

or not they have the ability to grow and adapt over time.

Ultimately, we seek a partner and a location where we can

sustain our business over the long term and Tropicana fits

the bill perfectly."

"My friend and I had the

laser treatment at Synthesis

Aesthetic, and we both thought

it was fantastic - soothing and

refreshing on the skin. A big

thank you for the wonderful

service and the friendly, helpful

staff. We will definitely return."

Jacquelene

"I have been doing facials at Synthesis

Aesthetic regularly and I am very happy

and satisfied with the service they

provide. The first time I went to them,

I had a lot of pimples and acne on my

face but after some treatments my

complexion has improved tremendously.

No more pimples and acne. I'm also

using their products, which are really

good! I feel confident and prettier now

thanks to Synthesis Aesthetic."

Sheila Correa Ramos

"I'm so glad to have

discovered a great place

to do my facial treatment.

For someone who just

experienced acne breakouts,

my priority is for my skin to

heal and stay healthy. Thanks

to Synthesis Aesthetic, my

breakouts are gone!"

Justine Enide

"Love the services

provided as well as the

friendly and dedicated

staff. Always looking

forward to my next visit.

Well done!"

Alice Chan

79
---
NOVEMBER/DECEMBER 2022 BEAUTY FOCUS

80

GET THAT

J.LO GLOW

Jennifer Lopez recently celebrated her 53rd birthday

by giving us a gift: JLO Body
---
TROPICANA MAGAZINE

Nothing can stop superstar Jennifer Lopez from pursuing

her passions. In between singing engagements, interviews,

photo shoots and her surprise wedding to Ben Affleck,

she released JLO Body, the body skincare product from

her beauty line JLO Beauty. The Firm + Flaunt Targeted

Booty Balm is, of course, the first product offering, given

that Jennifer, also known as J.Lo, has an incredible figure,

not to mention a derriere famous enough to merit its own

Instagram account. The product is a clinically tested, highperformance

formula inspired by the most iconic posterior

that promises to visibly firm and hydrate skin and diminish

the appearance of stretch marks for a smoother, more

refined-looking booty. It contains active ingredients like

guarana seed extract and pink pepperslim.

Jennifer's tip: "Apply a generous amount to the booty,

thighs, waist and any area you'd like to see visible

firming. Massage into the skin in circular motions until

fully absorbed." As for her beauty line, JLO Beauty, which

was released early last year, fans and beauty enthusiasts

have been raving about it. The range includes a gel-cream

cleanser, hydrating cream, serum, and eye cream, among

others. Jennifer attributes her flawless skin to her mother.

So she challenged her formulators to create an inventive

compound that is newer, better, and groundbreaking,

drawing inspiration from her mother's time-honoured

beauty secret: olive oil.

That Overnight

Hustle AHA +

BHA Resurfacer

That Limitless

Glow Sheet Mask

Firm + Flaunt

Targeted Booty Balm

"Olive oil isn't always great for the skin," says Jennifer.

"So how do we take what's moisturising and rejuvenating

about it, and combine that with other ingredients?" The

result - JLO Beauty Olive Complex - takes these legendary

properties of the olive and delivers them in a luxurious

blend that's custom-designed for the skin to deliver

clinically shown results." JLO Beauty Olive Complex is

anything but your mother's olive oil. This proprietary,

antioxidant-rich blend addresses two major causes of

ageing - oxidative stress and dehydration.

"Our tagline is, 'Beauty has no expiration date' because to

me, ageless isn't just a mindset - you can feel youthful at

any age and feel great, not just great for 50. The goal was

to create luxurious but accessible skincare you can afford

to use daily and products that follow you through life. Our

skincare has to work as hard as you do, so we integrated

potent ingredients in combinations and concentrations

that work. We went through over 100 rounds of product

development to bring you formulas that offer a range of

benefits such as instant as well as longer-term, clinically

shown results," Jennifer explains.

That JLO

Glow Serum

J.LO'S BEAUTY

SECRETS - THE FIVE S's

S1

S2

S3

S4

S5

SLEEP Jennifer makes sure she gets a

solid eight hours, every night.

SUPPLEMENTS She believes glow

starts on the inside.

SUNSCREEN She's been using SPF

every day since her early 20s.

That Hit Single Gel

Cream Cleanser

SERUM A long-time fan of serums,

she says That JLo Glow serum visibly

tightens and brightens her skin like no

serum she's ever tried before.

SANO In Spanish, they say "vivir

sano", which translates to living a

healthy, sane life. For Jennifer, that

means no drinking or smoking, eating

healthy, exercising and drinking lots

of water.

81
---
NOVEMBER/DECEMBER 2022 BEAUTY SNIPPETS

HERMES

BEAUTY

Hermes' beauty range reflects the same refinement and

quality as its ready-to-wear and accessories collections

The Les Mains

Hermes nail

polish in Rose

Porcelaine is

long-lasting and

coats the nail in

one single swipe.

82

A trio of lipsticks

in pretty variations

of pink.

This make-up brush

with a lacquered

wood handle

features natural goat

hair fibres handassembled

by a

French brush-maker.
---
TROPICANA MAGAZINE

This Poudre d'Orfevre

Face and Eye

Illuminating Powder

has a fine texture and

metallic reflectors

that leave a luminous

veil on the skin.

Each Hermes

lipstick comes in

a Pierre Hardydesigned

tube

and presented in

the label's iconic

orange box.

83

Hermes' Plein Air

Natural Enhancing

Complexion Balm

SPF 30 enhances the

skin with a weightless

veil of sheer colour

and a radiant finish

that lasts for hours.

The Hermèsistible

Infused Care lip oil

contains 93% active

care components

and plant oils that

protect, nourish and

hydrate the lips.

Hermes' semi-matte blusher

in Rose Blush is a fresh pink

blended with coral, which

promises a healthy glow.
---
NOVEMBER/DECEMBER 2022 JEWELS

RING IN THE

NEW YEAR!

Whether you're looking for a bold design or a delicate piece,

cocktail rings are a jewellery essential. These stunning pieces

will give any party attire extra pizzazz

84
---
TROPICANA MAGAZINE

This brilliant Van Cleef

& Arpels creation

reimagines the graceful

beauty of fluttering

butterflies.

This platinum Faberge ring features

round and trilliant-cut diamonds,

and a marquise-cut ruby from the

Gemfields reserve in Mozambique.

Raise a glass to the

elegance and exuberance

of Piaget's Funny Pink Tea

ring set with morganite,

peridot, white chalcedony,

yellow sapphire and

diamonds.

Louis Vuitton's

Fantasy ring in white

and yellow gold is a

stunner featuring a

8.73 carat round-cut

diamond as well as

two LV monogram

star-cut diamonds.

85

Like a sparkling bouquet in

winter, Van Cleef & Arpels'

Lotus Between the Finger

ring features four flowers in

white gold accented with

diamonds.

Piaget's white gold ring

features a 7.89 carat

cushion-cut sapphire, pearshaped,

marquise-cut and

brilliant-cut diamonds.
---
NOVEMBER/DECEMBER 2022 CHRONOMETER

86

Prepare for an evening of

extravagance with Piaget's

Dazzling Swirl watch, which

is adorned with a design

inspired by the way a lavish

gown twirls.

TIME TO

CELEBRATE!

Watches adorned with feathers, jewels, and other eye-catching

details are the right wrist accessory this party season
---
TROPICANA MAGAZINE

Hublot's Big Bang Caviar

Red Gold boasts an elegantly

perfect diameter of 41mm, and

a sleek, graphic aesthetic with

sharp angles that will stand

out at any soiree.

In conjunction with Cortina Watch's

50th anniversary recently, Franck Muller

unveiled five unique renditions of its

groundbreaking Revolution 3 Skeleton

model including this stunning piece.

Roger Dubuis' Excalibur

Monobalancier has been

reimagined by renowned

Japanese artist Hajime Sorayama,

and the final product is both

bold and striking.

Inspired by Art Deco, Harry

Winston's Avenue collection pays

homage to New York. The Big

Apple's persona is reflected in this

watch, which dial is set with 156

baguette-cut diamonds while the

white gold bracelet features 260

baguette-cut diamonds.

87

The Bell & Ross BR 03-92

Radiocompass is a bold, colourful

timepiece with a graphic dial

and striking hands, giving it an

expressive character that is sure

to spark attention.

For versatility, Van Cleef & Arpels

offers a selection of interchangeable

bracelets in several colours from

white to red for its Sweet Alhambra

timepiece. Removable with a simple

press of the fingers, they will match

any outfit or mood.
---
NOVEMBER/DECEMBER 2022 SHOWCASE

COOL

KICKS

Take your footwear game to the next level

with these designer sneaker collaborations

Nike's Air Force 1 footwear,

released 40 years ago, is one of

the company's most popular, and

this year, Louis Vuitton's artistic

director, Virgil Abloh created

47 bespoke Air Force 1 editions

blending the sneaker's iconic

characteristics with Louis Vuitton

insignia and materials.

The latest Maison

Margiela x Reebok

collaboration

highlights Reebok

classics rendered in

Maison Margiela's

unique code. The

result is a revamped

and stripped-down

Reebok icon.

Crafted from grey and white

leather, this Dior x Air Jordan

1 sneaker takes on the iconic

low-top silhouette and gets a

luxurious update with a Dior

monogram swoosh logo.

88

Chitose Abe of

Japanese fashion label

Sacai merges two

iconic Nike sneakers

for a special-edition

silhouette that blends

the Nike LDV and Waffle

Racer designs.

Designed by Gucci's creative director,

Alessandro Michele, adidas x Gucci

merges the emblems of the Italian

fashion house with those of the iconic

sportswear brand.
---
With corsets as outerwear, bold

neon tones and latex leggings,

you're guaranteed a spectacular

entrance at any party this festive

season.

90

Energy seems to erupt throughout

the latest Versace fall/winter 2022

collection, with tweeds fraying

and dripping in crystal and metal

chains, while tightly cinched

waists appear to embrace and

amplify pure female power. Kneehigh

boots and latex gloves border

on the subversive. Typically regal

pearl jewellery is contrasted with

sharp punk spikes, and needlethin

stilettos are finished in latexlike

brushed leather with sharp

metal heels for greater va-va-voom

effect.

IVA

ERSACE

No one does sexy like

Donatella Versace
---
TROPICANA MAGAZINE

91

Bella Hadid in a mini

dress with corset details
---
92

NOVEMBER/DECEMBER 2022 FASHION
---
TROPICANA MAGAZINE

At the heart of the collection is the

unmistakableAtelier Versace bustier. As it

is incorporated into sculptural outerwear

and sportswear shapes, its details are

simplified and updated to reflect modern

aesthetic preferences. Silhouettes are

seductive and empowering as the

bustier is revealed under open suiting

or momentarily glimpsed beneath

voluminous overcoats. A bustier can be

perceived as both overtly provocative

clothing and protective armour, giving

the wearer an air of dominance.

Deep red, plum, charcoal and black

are the predominant colours in this

collection, with occasional pops of

avocado green, pink and blue. The

contrast concept is carried on through

the collection's use of different

textures. A long, glossy red puffer in

the style of a trench coat envelops the

wearer like a cocoon while outerwear

that features the label's La Greca motif

in closely-shaved sheepskin is paired

with a racy latex top and tights.

Clockwise: Bodysuit with

corset boning paired

with cargo pants; new

interpretation of the classic

bomber jacket; demure yet

sexy dress with a corseted

accent; raw-edged tweed

coat tops off corset and

low-rise pants; an arresting

number perfect for postpandemic

nights out; the

La Greca motif features

prominently in this outfit;

frayed form-fitting tweed

dress with latex tights; and

fur and latex make for an

interesting combo

The new Greca Goddess range of

bags and accessories brings Versace's

heritage of myth and luxury to the

forefront. The La Greca motif sits

in perfect harmony with the golden

hardware and chain shoulder straps.

Ingeniously, the motif is repeated

across a hand-slip, allowing the bag to

be snugly held, and carried for more

spontaneous styling. Take a good

long look at Versace's newest lineup

and you will notice that it embodies

strength, style and self-assurance,

much like Donatella Versace, who at 67

is still going strong.
---
ADRENALINE GTS 22

GHOST 14

ADRENALINE GTS 22

GHOST 14
---
NOVEMBER/DECEMBER 2022 TECH

3

1

Acerpure pro (P2)

2

Acerpure cool (C2)

GIFTS FROM

THE FUTURE

Here are some devices that will boost efficiency and give

life a feel of the future

96

1

Give clean air to family and friends

with Acer Malaysia's acerpure

cool (C2) and acerpure pro (P2).

These air purifiers have four-layer

protection that isolate fur, dust,

PM1.0 particles, and eliminate

allergens, bacteria, coronavirus

(229E) and Influenza A (H1N1).

Users can set the air purifiers'

control panel to smart mode to

purify air based on air quality.

Their smart sensors can detect

odours, PM2.5 and PM1.0 particles,

while their LCD display provides

real-time air quality data.

2

The Ember Mug and its companion

app on your iPhone or Apple

Watch let you set drinking

temperature for hot beverages,

track caffeine usage, and

more. It also keeps your drink's

temperature for 1.5 hours.

3

With this Click & Grow Smart

Garden, tech buffs with a green

thumb can grow fresh herbs and

veggies indoors, thanks to an LED

light that can withstand a variety

of climates.

4

The Apple AirTag is a user-friendly

tracking gadget. Put it in your

purse or on your keychain, and

then relax knowing that you're

only a few clicks away from

locating your belongings via the

Find My app.

5

Meural's Canvas II Digital Frame

allows you to display an everchanging

collection of photos and

videos on a wall. It has an antiglare

AHVA LCD panel with a 1920

x 1080 resolution that is optimised

for art.
---
TROPICANA MAGAZINE

7

4

5

6

8

6

Bose's SoundLink Micro Bluetooth

speaker is small enough to carry in

a purse or pocket but surprisingly

powerful, with a rechargeable

battery providing six hours of play

time.

8

The Canon PowerShot G1 X Mark III

WiFi-Enabled Digital Camera has a

large 24.2-megapixel APS-C sensor

and a Dual Pixel CMOS AF technology

for quick autofocus, even on moving

subjects.

9

97

7

Get in on the vinyl revival with

a sleek turntable from Pro-Ject.

It includes built-in Bluetooth,

allowing it to connect wirelessly to

audio systems.

9

Everyone needs the SoloQi SLIM. It

features a kickstand, wireless charger,

battery, and a USB plug for quick

charging. Use it to power up any

wireless-enabled gadgets on the go.
---
ADVERTORIAL

THIN. LIGHT. POWERFUL.

Stylish workhorse with focus on sustainability

Introducing the all-new Acer Swift 5. A power-packed laptop that

is all about performance and portability encased within a sleek

design. Its exterior sports a classy look courtesy of a unibody

CNC-machined chassis made of aerospace-grade aluminium.

This svelte 1.2kg machine is backed up by a 12th Gen Intel®

Core i7 Processor and Intel® Iris® Xe graphics for an impressive

performance. Meanwhile, up to 16GB dual-channel LPDDR5

memory and up to 1TB PCIe NVMe SSD storage ensure smooth

and quick computing experience even with multiple applications

opened simultaneously.

Just as neat is its security function with a built-in fingerprint

reader on the power button. The WQXGA touchscreen display

that is made with Antimicrobial Corning Gorilla Glass to protect

touch surfaces. Viewing real estate is maximised by thin bezels

on all four sides allowing for a screen-to-body ratio of 92.22%.

The new Acer Swift 5's backlit keyboard features an air inlet,

which adds to the cooling system of an upgraded TwinAir

dual-fan system with D6 heat pipes. Together, these further

increase the airflow and thermal efficiency to support its

powerful hardware.

As a final touch, the laptop's OceanGlass touchpad is made

from ocean-bound plastic waste, providing a glass-like tactile

feeling while supporting multi-finger gestures.

The new Acer Swift 5 is verified by Intel® Evo to meet key

experience targets such as instant wake from sleep, 10 hours

of real-world battery life and a 30-minute charge that yields

over 4 hours of battery.

You can shop now at any Acer eStore, Acer official stores on

Shopee and Lazada as well as authorised Acer resellers.

For more information, please visit Acer Malaysia's Facebook @

AcerMalaysia or call Acer's Product Infoline at 1800-88-1288

(9am – 6pm, Mondays to Fridays).
---
NOVEMBER/DECEMBER 2022 HEALTH & WELLNESS

JUICE UP

YOUR HEALTH

Detoxification has many positive health effects,

including boosting the immune system and

reducing the risk of developing diseases

100
---
TROPICANA MAGAZINE

Toxins, which are harmful substances that

we are exposed to through water, food

and environmental sources, affect the

proper functioning of our organs. Which

is why, detoxifying the body is essential to

maintaining good health. Toxin elimination

is important for preserving mental clarity as

well as preventing health issues like lethargy,

insomnia, excess weight, backaches and

digestive disorders. Here is a collection of

quick and easy detox juice recipes. All you

need to do is put everything in a blender or

juicer, blend and drink!

GREEN GOODNESS

If you want to increase your daily

consumption of greens, blend two green

apples, one cup parsley, one cup spinach

and a cucumber. This healthy concoction

is packed with nutrients such as vitamin

K from parsley and cucumber, vitamin B

from green apple as well as iron, folate and

potassium from spinach.

IDEAL DETOX

The main ingredient in this detox juice

is a bunch of dill. Dill is an excellent

source of vitamins A and C, and it also

has trace amounts of important minerals

like manganese, iron and magnesium. In

addition to being a rich source of calcium,

dill is also beneficial to the immune system.

Mix the dill with four carrots, one lemon and

an apple. Carrots contain a lot of vitamin

A, while apples and lemons are packed

with vitamin C. Lemons also work as a mild

cleanser, which help restore the body's

internal equilibrium.

BEET IT!

With this mixture, you can reap the antioxidant

benefits of beet without having to

put up with its overpowering taste. Simply

blending together three celery stalks, two

carrots, one beet, one green apple, 1cm

ginger and half of a lemon is all that is

required to make this healthy juice with a

flavour that is easy on the palate.

FRESH POTION

This juice supports the digestive system

and aids in the discharge of toxins and the

reduction of body heat. Ginger, cucumber

and apple come together to make a tasty

and energising juice that is good for

detoxing, especially in our hot and humid

weather. The ginger gives the drink a spicy

kick, while the freshness of the cucumber

pairs beautifully with the sweetness of the

apple.

ANTI-INFLAMMATORY TONIC

This detox juice recipe contains potent

ingredients that can help reduce

inflammation. Turmeric and ginger, two

of the most effective anti-inflammatory

ingredients, are combined to create a

nutrient-dense beverage. All you need to

do is blend 1cm fresh ginger, 2cm fresh

turmeric, three celery stalks, four carrots,

an orange and half of a lemon.

REMINDERS

• Juice is best consumed on an empty

stomach first thing in the morning to

maximise nutrient absorption.

• Consume your juice as soon as possible

because the nutrients are depleted by

oxygen contact. If you want to drink later,

store the juice in the fridge in a dark glass

air-tight container.

• Before you take a sip, give your juice a

good shake so that you're drinking an even

mixture of everything.

101
---
NOVEMBER/DECEMBER 2022 DIY

102

HOW TO HAVE

A GREEN

CHRISTMAS

'Tis the season to be jolly mindful about the environment,

and here are some tips for a green Christmas
---
TROPICANA MAGAZINE

GREEN CHRISTMAS ORNAMENTS

When you learn that tinsel and other Christmas

ornaments cannot be recycled, the holiday spirit

quickly fades. So, why not make your own instead?

You can use dried orange, lemon or grapefruit slices,

cinnamon sticks and salt dough (modelling material,

made of flour, salt and water) to decorate the tree with.

They are all completely biodegradable. What's more, if

kept in a cool dry place, the dried fruit slices can last up

to two years or maybe longer!

CREATE YOUR OWN WREATH

There is no question that wreaths make stunning

Christmas decorations, but there are varieties that are

better for the environment than others. Steer clear

of wreaths embellished with plastic components and

flashy embellishments. Not only are these constructed

using materials that are not sustainable, but if they are

hung outside, they can be potentially dangerous for the

health of birds and other creatures. Instead, choose a

wreath that is constructed with real, fresh foliage and

seasonal, natural embellishments whenever possible.

Make your own out of fabric that will keep its shape

year after year for an even better option.

REGIFTING AND PRE-LOVED PRESENTS

A study revealed that the amount of artificial material

created in one week is equivalent in weight to the whole

human population of the planet. Avoid adding to it by

giving away unwanted gifts or scouting for "treasures"

in charity or pre-loved shops. Making your own ecofriendly

present is another option, and it may even have

more sentimental value since you created it yourself.

ECO-FRIENDLY CHRISTMAS TREE

Despite being reusable, artificial Christmas trees are

not eco-friendly. Most are constructed of PVC, which

is bad for the environment in many ways. For example,

almost 90 percent of them are shipped all over the

world from China, increasing carbon emissions and

resource consumption. An alternative would be to

rent a Christmas tree. Or, get crafty by making your

own out of books, used bottles, ladder, driftwood or

anything your creative mind could think of. This is a

terrific way of exhibiting your Christmas joy. Plus, it

gives your Christmas decorations a personal touch and

it could be a fun family project.

AVOID FOOD WASTAGE

Although most of us are capable of finding new uses

for leftovers throughout the year, we tend to be less

frugal over the holiday season. One alternative is

to purchase fewer items. However, when you have

guests staying over, this can be quite difficult. A better

solution is to contact What a Waste ("WaW") - a

social enterprise dedicated to collecting food surplus,

packaging it and passing it on to needy communities.

The food saved from events or contributors is packaged

on-site, and donors have the option of packing the

food themselves or requesting WaW do so on their

behalf. Once the food has been packed, weighed

and sealed, it will be quickly delivered to the nearest

beneficiary, who are mostly urban poor. For details,

email whatawaste.my@gmail.com

103
---
NOVEMBER/DECEMBER 2022 LIFEHACKS

104
---
TROPICANA MAGAZINE

CHARMING GIFT

WRAPPING

IDEAS

Flex your creative muscles with some unique

Christmas present wrapping styles

While the act of giving is more

significant than the actual gift itself, it

would be lovely to produce a beautifully

wrapped present because it shows that

you put more effort into the gesture.

However, if you're not particularly

crafty, it can be hard to figure out which

methods of gift wrapping are the most

easy and attractive. There is a variety

of fantastic options available and

we have some suggestions for you

right here.

Don't have any nice wrapping paper?

You may make something just as

pretty by topping a present box with a

beautiful artificial flower. For a quirky

present topper, repurpose any tinsel

you have lying around the house. Just

trim off a couple of inches from the

end and then use double-sided tape to

secure it to the gift box. Another way

of lending a whimsical look to your gift

box is by decorating it with mini pom

poms or buttons, which you can get at

any haberdashery shop. Choose red and

green colours for a Christmas-y touch or

vibrant neons for a lively surprise.

Wrapping anything up can still look

charming even if you don't have any

fancy paper. You only need some sprigs

and a few pinecones. Simply use a

string to fasten the natural elements

and you'll have a lovely presentation

perfect for Christmas. Layering paper

in jewel tones with lace and finishing

off the look with a satin ribbon makes

for a gift presentation that appears

luxurious and extra special.

Another alternative is to use doilies.

Crafting one-of-a-kind wrapping

paper is a breeze when using the

paper that looks like lace that is

available in a wide range of colours

and patterns. Now here's something

that's not just stylish but also simple.

When you think of holiday gift wrap,

black may not be the first colour that

springs to mind. However, a simple

satin ribbon in the dark tone looks

unexpectedly classy when paired with

brown kraft paper commonly used for

wrapping parcels.

For something traditional, try

Furoshiki. The wrapping technique

dates back to the Nara period in

Japan, around 710 AD, when people

used cloth to carry their belongings.

You can use handkerchiefs, bandanas,

linen napkins or any scraps of fabric

you have at home. The method?

First, spread out the fabric wrap on

a flat surface and place the gift in

the centre. Then, bring one set of

opposite corners to the middle, tie a

simple knot, and do the same with the

other corners.

105
---
ADVERTORIAL

ADVENTURE IS

OUT THERE!

The iconic Suzuki Jimny makes its return to Malaysia!

One of the world's most beloved 4x4, the Suzuki Jimny has

officially made its return to Malaysian shores. Incorporating

design elements inherited from its predecessors, the new 4th

generation Jimny is instantly recognisable and even more

ready to tread on new challenges.

Since the first Jimny made its debut in 1970, it has been a

masterpiece of Suzuki's 4WD technology. Today, the all-new

Jimny is packed with even more functionality and practicality

on both its appearance and performance. Right at the core,

it stays true to the spirits of its ancestors – small, lightweight

and a highly capable 4WD vehicle. Built to take on nature's

challenges, SUV enthusiasts can expect more fun exploring

Malaysia's terrains.

This fully-imported SUV from Japan comes equipped

with a 1.5L petrol engine paired with a 4-speed automatic

transmission. Jimny's robust 1.5L engine generates strong

torque throughout a wide rpm range for efficient urban drives

and powerful off-road performance. The drive is sent to either

the rear or all four wheels via 'ALLGRIP PRO' system, featuring

a selectable 4WD with low-range transfer case as well as hilldescent

and hill-hold functionality.

Other essentials incorporated in the Jimny for serious fun offroading

– a ladder frame, 3-link rigid axle suspension with

coil spring, high 210mm ground clearance and three excellent

clearance angles. Weighing in at only 1,095kg (min. kerb

weight), the lightweightness of the Jimny also complements

its off-road capabilities while delivers high fuel efficiency.

Built for the digital age, drivers of the Jimny will find some

niceties including a well-featured touchscreen infotainment

system, which supports Apple CarPlay and Bluetooth

telephone and audio functions.

The Jimny comes in four different colours, Kinetic Yellow &

Bluish Black Pearl 3, Jungle Green, Medium Grey, and Bluish

Black Pearl 3 and is priced at RM174,900 on the road without

insurance. Its debut here is the second official launch of new

generation Suzuki Cars in Malaysia, under its new distributor

- Naza Eastern Motors Sdn Bhd.
---
NOVEMBER/DECEMBER 2022 WHEELS

HIT THE

ROAD

IN STYLE

When speed and style come together,

expect a coveted car that is in top gear

108

Emma Raducanu is Porsche's new

brand ambassador
---
TROPICANA MAGAZINE

The special edition

Lamborghini

Aventador S

The fashion industry has always been driven by

speed and style. Both are exhilarating and the

pace changes so quickly that it can be hard to

keep up with the Joneses or shall we say, Lewis

Hamilton? It's no surprise that some of the

coolest cars come with a fashion designer, highend

brand or celebrity's touch. Among the latest

partnership is between Porsche and tennis ace,

Emma Raducanu. The 19-year-old was recently

appointed as brand ambassador for the sports

car manufacturer.

"Porsche is one of the brands I've always loved

from a young age. One of my first tennis coaches

drove a 911. Whenever I turned up for practise

in the morning, I would see his Porsche. I would

go wow and be like dreaming of one day

sitting in my own. Growing up, I would go to

Brands Hatch and watch the Porsche Carrera

Cup finals. The adrenalin I would get from

motorsports and seeing the Porsches was the

most fun part of my week. It's important for

me to align with partners and brands that I feel

passionate about and that I identify with. This

partnership with Porsche is incredible and I'm

excited to see what sort of exciting things we

can do going forward," Emma explains.

The death of fashion designer Virgil Abloh last

year prompted Mercedes-Benz to introduce

the Project Maybach as a tribute. Virgil worked

with Mercedes' chief design officer, Gorden

Wagener to create the concept for the offroad

luxury coupe. Now, Mercedes has unveiled

the 2023 Mercedes-Maybach S680 by Virgil

Abloh, the design of which was completed

before Virgil's death and which the company is

calling the "last chapter" of Virgil and Gorden's

cooperation.

109
---
NOVEMBER/DECEMBER 2022 WHEELS

110

Fiat B.500 by

Bvlgari - Mai Troppo

BMW M4 Comp x Kith

2023 Mercedes-Maybach S680

by Virgil Abloh

Then there is the partnership between

BMW and Kith, a lifestyle brand founded by

Ronnie Fieg. They collaborated to produce

the M4 Comp x Kith, a limited edition

2022 M4 Competition. The Kith touch can

be found throughout the vehicle, which

was influenced by Ronnie's own E30-

generation BMW M3 and an M4 design

study. Most notable is that the BMW logo

has been tweaked for this project, which

BMW claims is the first time it has done,

to integrate the Kith emblem with the

classic BMW rounded badge.Impressed

by the striking red and black contrasts

he saw on a Paris catwalk, Lamborghini's

Head of Design, Mitja Borkert requested

their creator, Yohji Yamamoto to help him

develop a designer edition Lamborghini.

The result is the Aventador S adorned with

the same vibrant hues and patterns as

the mod coat, bomber jacket and hoodie

featured in Yohji's capsule collection. "With

their inimitable design, Lamborghini super

sports cars are instantly recognisable. I am

therefore delighted to see the realisation

of this collaboration, highlighting the

uniqueness, the timelessness, and the

abundant passion, which are characteristic

of both our brands," notes Yohji.

For something that's traffic-stopping,

check out Fiat's collaboration with Bvlgari

for a limited-edition version of its electric

500 supermini. The model is known as the

B.500 by Bvlgari - Mai Troppo, Italian for

"never too much", which Bvlgari wants

to emphasise despite its bejewelled

appearance. Its metallic paint in Imperial

Saffron - a shade iconic to Bvlgari - is

obtained through the integration of a

special gold dust. The dashboard is made

of multicoloured silk hand-painted with

the Maison's trademark motif, while the

steering wheel's emblem is studded with

a trio of gemstones comprising amethyst,

citrine and topaz, which can be detached

and used as a brooch!
---
edefining

the art of leisure
---
2022

The Season

with
---
Share the season's

splendour and elevate your

Christmas gift-giving with

these enticing limited festive

confections by Japanese

chocolatier ROYCE'

From L - R:

ROYCE' Happy Selection,

Nama Chocolate "Christmas Mild Milk",

Decoration Cake Box "S" & "L",

Nama Chocolate "Gianduja",

Popcorn Chocolate "Honey Fromage",

ROYCE' Christmas Selection,

Roasted Almond Chocolate.
---
NOVEMBER/DECEMBER 2022 SAVOUR+

ROASTED

DELIGHTS

There's no better way to spread the holiday cheer than by

sharing these roasted treats from The Palm Coffee House and

Twenty7 Restaurant at Tropicana Golf & Country Resort with

your loved ones this Christmas

116
---
TROPICANA MAGAZINE

This New Zealand whole lamb

leg is seasoned with the finest

ingredients and roasted to juicy

perfection, making it a luscious

addition to any festive feast. It is

served with a sweet and tangy

mint sauce as well as roasted

vegetables, buttered mashed

potatoes, Brussels sprouts and

fresh sweet corn.

117
---
NOVEMBER/DECEMBER 2022 SAVOUR+

118
---
TROPICANA MAGAZINE

Succulent and tender on the inside, with a golden buttery skin, there will most

certainly not be any leftovers from this roasted chicken. Enjoy it with roasted

potatoes, grilled vegetables, garlic bread and mushroom sauce. Round the meal off

with a Yule Log cake smothered in dark chocolate that tastes absolutely divine!

THE PALM COFFEE HOUSE

Location: Ground Floor, Main Wing

Tel: 03 - 7804 8888 ext. 306

TWENTY7 RESTAURANT

Location: Ground Floor, Golfers Lounge

Tel: 03 - 7804 8888 ext. 325

119
---
NOVEMBER/DECEMBER 2022 SAVOUR

HOLIDAY

TREATS

Tropicana Gardens Mall boasts the best sinful yet heavenly

assortment of sweet treats during this season of indulgence

Ainul Cookies & Co.

Ainul Cookies & Co.'s cookies and

brownies are made with premium

ingredients. They are prepared

fresh daily to guarantee customer

satisfaction. Hard cookies, soft

cookies, cookie-based brownies and

cookie bars are all available. Plus, the

all-pink shop is Insta-worthy!

Location: CC-45 & 46, Concourse

Floor - Centre Court

Instagram: ainulcookiesandco

120
---
TROPICANA MAGAZINE

The Coffee Bean & Tea Leaf

This popular F&B chain is well-known for

its excellent coffee and tea selection, but it

also offers tasty savoury and sweet options.

These include puffs and pies, Cookies & Cream

Tiramisu, Chicago Cheesecake and Royal

Chocolate Cake among others.

Location: CC-51, Concourse Floor - East Walk

Tel: 03-7625 8567

Krispy Kreme

It's tough to pick a favourite Krispy Kreme

doughnut because they're all so delicious.

The selection is huge, with flavours like

Almond All Over, Chocolate Dream, Chocolate

Peanut Butter, Powdered Strawberry Filled,

Caramel Cookies and many more!

Location: CC-K02 & K03,

Concourse Floor - East Walk

Tel: 03-7625 8187

121

Beard Papa's

Beard Papa's cream puffs are always served

fresh, allowing you to savour their crispy

skin and moist filling. They are prepared with

natural ingredients and do not include any

preservatives. Choose from Eclair Puff, Cookie

Crunch Puff, Mango Puff and more.

Location: Lot CC-K01A, Concourse Floor

Website: beardpapa.com.my

Gula Cakery

Want to taste a slice of heaven? Head to

Gula Cakery. You'll be spoiled for choice

as the shop has 150 original cake flavours!

Among them are Nutella Burnt Cheesecake,

Momofuku Strawberry Cake, Blackout

Chocolate Cake, Raspberry Pistachio Cake,

Keylime Tart, Twix Caramel Pie and more!

Location: CC-47, Concourse Floor -

Centre Court

Tel: 03-7660 6719
---
NOVEMBER/DECEMBER 2022 SAVOUR

Secret Recipe

This famous cake shop and café has a wide

range of cakes available to suit your fancy.

Highly recommended is the Chocolate

Indulgence, a cocoa sponge cake with layers of

Belgian white and dark chocolate, coated with

melted chocolate. Simply divine!

Location: Lot CC-49 & 49a, Concourse Floor

Tel: 03-7662 7091

Cottle Coffee

Cottle Coffee from Australia offers not only

13 varieties of freshly roasted coffee beans

from around the world, but also a selection of

sweet treats that pair well with the coffees.

Cinnamon rolls, muffins, burnt cheesecake

and pain au chocolat Danish are among them.

Location: Unit CC-01 (Office Tower),

Concourse Floor

Tel: 03-7660 4739

122

Maison Des Pains

In search of authentic French breads

and pastries? Look no further than Maison

Des Pains. Pistachio Cherry Financier,

Valhorna Dark Chocolate Madeleines,

Chocolate Raspberry Molten Cake, Crème

Patisserie Peach Tart, Rye Loaf and more

can all be found here.

Location: Lot CC-76 & 77, Concourse Floor

Tel: 03-7661 1894

Auntie Anne's

The pretzels at Auntie Anne's are really fresh,

which is a key selling point. Must-try flavours

are the Cinnamon Sugar Pretzel, Chocolate

Mint Pretzel, Choco Eclairs Pretzel and

Caramel Raisin Pretzel with dips that include

caramel, cheese and chocolate.

Location: CC-K51, Concourse Floor -

East Walk

Tel: 03-7665 3067
---
NOVEMBER/DECEMBER 2022 TROPICANA GROUP MILESTONE

TROPICANA'S

JOURNEY

THROUGH

2022

We continue to move forward with initiatives that underscores

Tropicana's commitment to Redefining the Art of Caring, in line

with our recognised role as a community builder.

124
---
TROPICANA MAGAZINE

In light of the 2021 year-end

floods, Tropicana Foundation

stepped forward to offer

assistance to Rumah Charis

Shah Alam, Taman Sri Muda. We

donated more than 200 packs of

dry goods and essentials as well

as medical masks to the home for

the elderly ahead of the Chinese

New Year festive season.

Tropicana celebrated Chinese New Year

with the children from Ti-Ratana Welfare

Society Malaysia on the tranquil grounds

of Tropicana Aman Property Gallery

in Kota Kemuning. The prosperous

programme line-up included a lion

dance performance, God of Prosperity

walkabout and a sand art competition

and over 200 care packs comprising

essentials and dry goods handed over to

the home.

JANUARY FEBRUARY MARCH

125

Tropicana teamed up with Tropicana Gardens Mall for

the Multi-Million Mania campaign, which drew hundreds

of participating property seekers and shoppers keen

on winning millions in prizes and vouchers, as well as

the Grand Prize of an Edelweiss Small Office Flexible

Office (SOFO) unit at Tropicana Gardens in Tropicana

Indah.

This month marked the groundbreaking ceremony

of the RM2.5mil Pantai Kok Rest & Recreation

centre, officiated by YB Dato' Haji Juhari Bulat,

State Assemblyman of Air Hangat. Working

hand-in-hand with Majilis Perbandaran Langkawi

Bandaraya Pelancongan to uplift the community,

the 0.49 acres site will see an upgrade of the

commercial space, and enhanced washroom, surau

and carpark amenities.
---
NOVEMBER/DECEMBER 2022 TROPICANA GROUP MILESTONE

In the holy month of Ramadhan,

Tropicana Corporation Berhad

teamed up with OhBulan! to

bring festive cheer to more

than 160 children from Pusat

Jagaan Cahaya Kasih Bestari,

Shah Alam. This charitable

endeavour saw the donation

of essentials, footwear, and

books to the home.

Over at Tropicana Golf & Country Resort, the club brought

back its celebrated Santapan 29 Malam dinner buffet for

a sumptuous buka puasa spread, which offered a mouthwatering

feast with more than 200 dishes. This gastronomic

experience at the Palm Coffee House featured more than 20

stalls serving fine fares with hospitality from the heart.

APRIL

126

Tropicana launched the Power Up campaign as a boost

for property seekers, offering exciting incentives such

as down payment assistance, free stamp duties on

loans, MOT, double referral rewards, and attractive

bonuses on SPA.

Also in the spirit of Ramadhan, Tropicana Golf & Country

Resort treated 100 children from three orphanages,

Pertubuhan Kebajikan Al Mahabbah, Pusat Jagaan

Haneen Firdous, and Pusat Jagaan Kasih Murni, in

Klang Valley, to the Santapan 29 Malam Iftar buffet.
---
TROPICANA MAGAZINE

Tropicana Gardens Mall partnered with

the Royal Thai Embassy and Thailand's

Department of International Trade

Promotion to host Malaysia's largest

Thai festival, Think Thailand. The 12-day

extravaganza from 26 May to 6 June 2022

allowed shoppers to experience the best

of Thailand with exciting activities such as

cooking and martial arts demonstrations,

lively cultural performances, a Thai bazaar,

and more.

Tropicana appointed leading short stay management company in

Malaysia, HostAStay Sdn Bhd, as its tenancy management service

provider for the TwinPines Serviced Suites in Tropicana Grandhill,

Genting Highlands and Assana Serviced Suites in Tropicana

Cenang, Langkawi. This collaboration synergises Tropicana's highvalue

property portfolio in key tourism hotspots with HostAStay's

established track record for excellence in the short-term

accommodation segment. The initiative is also set to drive hasslefree

returns for Tropicana purchasers and homeowners.

MAY

JUNE

127

Tropicana Foundation collaborated with

NGO, The Lost Food Project, to channel

surplus food to the needy. Together

with subsidiaries – Tropicana Golf &

Country Resort and Greenhouse Farm

& Fishery – the team cleaned, wrapped

and delivered 300kg of fish to the NGO's

charity partners across Selangor.

A significant milestone for the Group was the

unveiling of two momentous achievements –

the launch of Tropicana WindCity in Genting

Highlands and the improved T Privilege loyalty

programme. In line with its digital transformation

journey, the T Privilege programme is available

on the Tropicana 360 app.
---
NOVEMBER/DECEMBER 2022 TROPICANA GROUP MILESTONE

Tropicana Foundation, the charity arm of

Tropicana Corporation Berhad, gave back

to the Johor community with a RM500,000

sponsorship for the Johor Rugby Union

to further the development of sporting

activities apart from donating to homes in

need and charitable organisations such as

Yayasan Sultan Ibrahim and Rumah Anak

Yatim Syafar.

Tropicana hosted its fifth signature cycling event, the Tropicana gogo-FIT

Cycle, this August. Officiated by Menteri Besar of Selangor,

Datuk Seri Amirudin Shari, the event was a huge success, drawing

more than 900 fitness enthusiasts, families and fun-seekers to

Tropicana Aman, Kota Kemuning. The event also saw the donation

of 105 care packs to the Bukit Cheeding Community Management

Council and House of Love Children's Home. Aside from daily

essentials, Tropicana's agriculture arm, Greenhouse Farm & Fishery,

contributed fresh vegetables to 75 orang asli families in Bukit

Cheeding as well as the children at the House of Love.

JULY

AUGUST

128

Tropicana Corporation Berhad launched its

Tropicana go-go-FIT campaign, Redefining

the Art of Healthy Living with an engaging

series of fitness activities. Aimed at

fostering healthy and active lifestyles among

Malaysians, the on-ground sessions are

complemented by monthly virtual challenges

with exciting prizes up for grabs.

Great times were had all around as Tropicana hosted

a successful 3km Beach Fun Run at Tropicana Cenang,

Langkawi, continuing the momentum of its popular

Tropicana go-go-FIT campaign. The event saw

more than 200 enthusiastic local and international

participants descend on the signature development's

vibrant beachfront for a day of fun in the sun, including

exciting activities such as a mini kite-flying and chime

workshop along with health and diet checks for the

community.
---
TROPICANA MAGAZINE

This year, Tropicana initiated its first pet support programme,

lending pet shelters a helping hand. Employees volunteered at

My Pets Haven in Setia Alam and assisted with walking the dogs,

preparing meals for the animals and cleaning the cages of our

furry friends.

The first Sports Paragon Run 2022 at

Tropicana Gardens Mall and Tropicana gogo-FIT

Park Adventure Race at Tropicana

Metropark drew hundreds of participants.

Both weekend events showcased the mall's

accessibility and connectivity as well as the

generous open spaces and facilities of the

Urban Park in Tropicana Metropark.

SEPTEMBER

OCTOBER

129

For a run with a twist, Tropicana Golf & Country Resort

brought back its popular Nite Race. Set amidst the

resort's soothing greens, the race on the golf course

is well complimented by the cool evening breeze

and continues to be a signature event. It is open for

Malaysian citizens aged 13 years old and above, offering

cash prizes of up to RM500 for winners.

Tropicana Foundation continued with its bi-annual blood donation

drive in support of the National Blood Bank. Organised at the

Tropicana Experiential Hall in Tropicana Gardens Office Tower, the

blood donation drive was open to all staff members of Tropicana and

the response was encouraging, as always.
---
NOVEMBER/DECEMBER 2022 TROPICANA GROUP MILESTONE

Tropicana Foundation held its

annual donation drive called

Buggy of Joy with Tropicana

Gardens Mall to collect daily

essentials for various charity

homes and NGOs across

the Klang Valley. We truly

appreciate the generosity and

support of all donors.

In celebrating the season of giving, Tropicana Foundation

organised a special Christmas luncheon for children

from underprivileged homes at Tropicana Gardens

Mall. It was a day of fun as the children delighted in the

wonders of Christmas, from fun to food.

NOVEMBER

DECEMBER

130

The Group introduced

the Tropicana Journey

of a Lifetime campaign

where home buyers

stand a chance to win a

pair of first-class flight

ticket to any European

destination of their

choice.

Welcome to "The World of DC Exhibition". This exhibit is the

first in Asia and largest in Malaysia. Tropicana Gardens Mall

is thrilled to host the world's favourite superheroes from 23

December 2022 to 1 April 2023.
---
TROPICANA MAGAZINE

AWARDS &

RECOGNITION

1

Tropicana

won two prominent

awards for Tropicana Gardens,

its vibrant mixed development

landmark in Tropicana Indah.

The Group gained global

recognition at the International

Property Awards 2022-2023 in

London, United Kingdom, when

Tropicana Gardens was awarded

the coveted international 5-Star

Award in the Best Mixed Use

Development Malaysia category.

While, Tropicana Gardens

Office Tower's stellar design

earned the Silver Award in the

Corporate Offices category

at the Malaysian Institute

of Interior Designers REKA

Awards.

2Tropicana was recognised at

StarProperty Awards 2022

with All-Stars Award; Proximity

Award (Excellence), Best

Integrated Transit-Oriented

Development for Tropicana

Gardens, Tropicana Indah;

and Family-Friendly Award

(Excellence), Best Family-

Centric Development (Landed)

Within Greater KL for Gemala

Residences, Tropicana Aman.

3The Group was named Top 10

Developer at BCI Asia Awards

2022 for its masterplanned

townships such as Tropicana

Danga Cove, Iskandar Malaysia;

Tropicana WindCity, Genting

Highlands; and Tropicana

Metropark, Subang Jaya.

4Tropicana also won Best

Developer accolades at Asean

Property Developer Awards,

as well as Best Leisure

Living Development for

Tropicana Grandhill, Genting

Highlands; and Best Mixed Use

Development for Tropicana

Cenang, Langkawi.

5The Group took home the

Transformation Award for

Tropicana Metropark at FIABCI-

Star Malaysia Developer Awards

2022.

6Tropicana won the Top 10 Best

Property Developers Award

again at The Edge Malaysia

Property Excellence Awards

2022.

131
---
GROUP

DIRECTORY

MAIN CONTACT NUMBERS

Head Office

+603 7663 6888

CORPORATE OFFICES

TROPICANA CORPORATION BERHAD

Head Office

Unit 1301, Level 13

Tropicana Gardens Office Tower

No. 2A, Persiaran Surian, Tropicana Indah

47810 Petaling Jaya

Selangor Darul Ehsan

Tel: +603 7663 6888

Fax: +603 7663 6688

corpcomm@tropicanacorp.com.my

www.tropicanacorp.com.my

Office Hours:

9am - 6pm (Monday - Friday)

Closed (Saturday & Sunday)

Customer Care Support & Tropicana

Privilege Card Services

+603-7663 6888

customercare@tropicanacorp.com.my

TROPICANA GOLF &

COUNTRY RESORT BERHAD

Clubhouse

Jalan Kelab Tropicana

Tropicana Golf & Country Resort

47410 Petaling Jaya

Selangor Darul Ehsan

Tel: +603 7804 8888

Fax: +603 7804 3688

gm@tropicanagolf.com

www.tropicanagolf.com

Office Hours:

9am - 6pm (Monday - Friday)

9am - 1pm (Saturday)

Closed (Sunday)

www.tropicanacorp.com.my

PROPERTY GALLERIES

TROPICANA GARDENS (KOTA DAMANSARA)

Property Gallery & Show Unit

Level G, Tropicana Garden Mall,

No 2A, Persiaran Surian, Tropicana Indah

47810 Petaling Jaya, Selangor

Tel : +603 7663 6600

enquiry@tropicanacorp.com.my

www.tropicanagardens.com.my

Office Hours: 10:00am – 6:00pm

(Monday – Sunday)

TROPICANA MIYU

Property Gallery

Unit 1301, Level 13

Tropicana Gardens Office Tower

No.2A, Persiaran Surian, Tropicana Indah

47810 Petaling Jaya

Selangor Darul Ehsan

Tel: 1700 81 6113

info@tropicanamiyu.com.my

www.tropicanamiyu.com.my

Office Hours: 10:00am – 6:00pm

(Monday – Sunday)

TROPICANA METROPARK (SUBANG JAYA)

Property Gallery & Show Unit

No.1, Jalan Delima 1/1

Taman Perindustrian Teknologi Tinggi Subang

47500 Subang Jaya

Selangor Darul Ehsan, Malaysia

Tel: 1700 81 8887 / +603 5637 3018

enquiry@tropicanacorp.com.my

www.tropicanametropark.com.my

Office Hours: 10:00am - 6:00pm

(Monday – Sunday)

TROPICANA HEIGHTS (KAJANG)

Property Gallery

No 2, Persiaran Tropicana Heights 2,

Mukim Semenyih, Daerah Hulu Langat

Bandar Batu 18 Semenyih

43500 Kajang, Selangor

Tel: 1700 81 9566

enquiry@tropicanacorp.com.my

www.tropicanaheights.com.my

Office Hours: 9:30am – 6:30pm

(Monday – Sunday)

TROPICANA AMAN (KOTA KEMUNING)

Property Gallery & Show Unit

No 2, Persiaran Aman Perdana 3

Bandar Tropicana Aman

42500 Telok Panglima Garang, Selangor

Tel: 1700 81 8868

enquiry@tropicanacorp.com.my

www.tropicanaaman.com.my

Office Hours: 10:00am - 6:00pm

(Monday – Sunday)

TROPICANA DANGA BAY

(ISKANDAR MALAYSIA)

Property Gallery & Show Unit

Lot PTB 22902, Teluk Danga

Jalan Persiaran Abu Bakar Sultan

80200 Johor Bahru, Johor

Tel: +607 2341 585

enquiry@tropicanacorp.com.my

www.tropicanadangabay.com.my

Office Hours: 9:00am – 6:00pm

(Monday – Sunday)

TROPICANA DANGA COVE

(ISKANDAR MALAYSIA)

Property Gallery & Show Unit

Lot PTD 28845-28892

Taman Cahaya Kota Puteri, Plentong

81750 Masai, Johor

Tel: +607 3823 355

enquiry@tropicanacorp.com.my

www.tropicanadangacove.com.my

Office Hours: 9:00am – 6:00pm

(Monday – Sunday)

TROPICANA UPLANDS

Sales Gallery

Lot PTD 15346

Jalan Tanjung Kupang

81150 Gelang Patah, Johor

Tel: +607-510 3838

customercarejb@tropicanacorp.com.my

www.tropicanauplands.com.my

Monday – Friday 9:00am – 6:00pm

Saturday – Sunday 10:00am – 6:00pm

TROPICANA WINDCITY / TROPICANA

GRANDHILL (GENTING HIGHLANDS)

Property Gallery & Show Unit

Jalan Permai 2, Genting Permai Avenue

69000 Genting Highlands, Pahang

Tel: +6018-390 9988 / +6018-390 9988

enquiry@tropicanacorp.com.my

www.tropicanagrandhill.com

Office Hours:

9:00am – 6:00pm

(Monday – Sunday)

TROPICANA CENANG (LANGKAWI)

Property Gallery & Show Unit

Lot 60177, Jalan Pantai Cenang

07000 Langkawi, Kedah

Tel: +6016-363 0900 / +604-952 3939

enquiry@tropicanacenang.com.my

www.tropicanacenang.com.my

Office Hours:

10:00am – 6:00pm

(Monday – Sunday)
---
PROPERTY MANAGEMENT OFFICES

TROPICANA MANAGEMENT

SERVICES (TMS)

Jalan Kelab Tropicana

Tropicana Golf &

Country Resort

47410 Petaling Jaya, Selangor

Tel: +603 7804 8888

ext : 513/557

Fax: +603 7806 5044

tms@tropicanacorp.com.my

Office Hours:

9:00am – 6:00pm (Monday – Friday)

9:00am – 1:00pm (Saturday)

Closed (Sunday & Public Holiday)

TROPICANA HEIGHTS

(FAIRFIELD/PARKFIELD)

Off Jalan P6/2, Bandar

Teknologi Kajang 43500

Semenyih, Kajang, Selangor

Tel: +603 8725 9800

fairfield@tropicanacorp.com.my

parkfield@tropicanacorp.com.my

Office Hours:

9:00am – 5:30pm (Monday – Friday)

9:00am – 1:00pm (Saturday)

Closed (Sunday & Public Holiday)

TROPICANA AVENUE

P-LG-01, Lower Ground Floor

Tropicana Avenue

No 12, Persiaran Tropicana

Tropicana Golf & Country

Resort, PJU 3, 47410 Petaling

Jaya, Selangor

Tel: +603 8605 3608 /

+603 8605 3609

Fax: +603 8605 3618

trop.avenue@tropicanacorp.com.my

Office Hours:

9:00am – 5:30pm (Monday – Friday)

9:00am – 1:00pm (Saturday)

Closed (Sunday & Public Holiday)

TROPICANA

METROPARK (PANDORA)

Level P4, Menara A,

Pandora Residensi

Jalan MP1, Tropicana Metropark

47500 Subang Jaya, Selangor

Tel: +603 5036 2088

Fax: +603 5036 2089

pandora@tropicanacorp.com.my

Office Hours:

9:00am – 5:30pm (Monday – Friday)

9:00am – 1:00pm (Saturday)

Closed (Sunday & Public Holiday)

TROPICANA

METROPARK (PAISLEY)

01-01, Residensi Paisley,

Jalan MP1, Tropicana Metropark

47500 Subang Jaya, Selangor

Tel: +603 8601 4188

paisley@tropicanacorp.com.my

Office Hours:

9:00am – 5:30pm (Monday – Friday)

9:00am – 1:00pm (Saturday)

Closed (Sunday & Public Holiday)

TROPICANA GRANDE

Level 1, Management Office

Block A, Tropicana Grande

Condominium, No 3, Persiaran

Tropicana, PJU 3

47410 Petaling Jaya, Selangor

Tel: +603 7610 0968

Fax: +603 7610 0966

tropicanagrande@

tropicanacorp.com.my

Office Hours:

9:00am – 5:30pm (Monday – Friday)

9:00am – 1:00pm (Saturday)

Closed (Sunday & Public Holiday)

TROPICANA HEIGHTS

(RIDGEFIELD)

Jalan Tropicana Heights 2/1

42000 Kajang, Selangor

Tel: +603 8723 5191

ridgefield@tropicanacorp.com.my

Office Hours:

9:00am – 5:30pm

(Monday – Friday)

9:00am – 1:00pm (Saturday)

Closed (Sunday & Public Holiday)

TROPICANA

AMAN (ARAHSIA)

Arahsia Tropicana Aman

Jalan Aman Arahsia 2

Bandar Tropicana Aman

42500 Telok Panglima Garang,

Selangor

Tel: +603 8687 5512

arahsia@tropicanacorp.com.my

Office Hours:

9:00am – 5:30pm

(Monday – Friday)

9:00am – 1:00pm (Saturday)

Closed (Sunday & Public Holiday)

TROPICANA

METROPARK (PALOMA)

Tower B, Level 4,

Paloma Residensi

Jalan MP1, Tropicana Metropark

47500 Subang Jaya, Selangor

Tel: +603 5022 9099

Fax: +603 5022 9097

paloma@tropicanacorp.com.my

Office Hours:

9:00am – 5:30pm (Monday – Friday)

9:00am – 1:00pm (Saturday)

Closed (Sunday & Public Holiday)

TROPICANA INDAH

Jalan Kelab Tropicana

Tropicana Golf &

Country Resort

47410 Petaling Jaya, Selangor

Tel: +603 7804 8888

ext : 154/557

Fax: +603 7806 5044

tisb@tropicanacorp.com.my

Office Hours:

9:00am – 6:00pm

(Monday – Friday)

9:00am – 1:00pm (Saturday)

Closed (Sunday & Public Holiday)

THE RESIDENCES

Basement 1, Menara TR

No 121, Jalan Ampang

50450 Kuala Lumpur

Tel: +603 2770 6338

Fax: +603 2270 6343

theresidences@

tropicanacorp.com.my

Office Hours:

9:00am – 5:30pm

(Monday – Friday)

9:00am – 1:00pm (Saturday)

Closed (Sunday & Public Holiday)

TROPICANA

AMAN (BAYAN)

Bayan Tropicana Aman

Jalan Aman Bayan 1

Bandar Tropicana Aman

42500 Telok Panglima Garang,

Selangor

Tel: +603 8687 5525

Fax: +603 8687 5530

bayan@tropicanacorp.com.my

Office Hours:

9:00am – 5:30pm

(Monday – Friday)

9:00am – 1:00pm (Saturday)

Closed (Sunday & Public Holiday)

TROPICANA

DANGA BAY (BORA)

No 01-01, Residensi Bora

Jalan Danga 1/1, Teluk Danga

80200 Johor Bahru, Johor

Tel: +607 2074 234

boraresidences@gmail.com

Office Hours:

9:00am – 5:30pm

(Monday – Friday)

9:00am – 1:00pm (Saturday)

Closed (Sunday & Public Holiday)

CASA TROPICANA

B-5-17, Block B, Casa Tropicana,

No 5, Jalan Persiaran Tropicana,

PJU 3, Tropicana Golf &

Country Resort

47410 Petaling Jaya, Selangor

Tel: +603 7883 0982

Fax: +603 7883 0292

casatropicana@

tropicanacorp.com.my

Office Hours:

9:00am – 5:30pm (Monday – Friday)

9:00am – 1:00pm (Saturday)

Closed (Sunday & Public Holiday)

TROPICANA GARDENS

(ARNICA & BAYBERRY)

Level 5, Residensi A

Tropicana Gardens

No 2A, Persiaran Surian

Tropican Indah

47810 Petaling Jaya, Selangor

Tel: +603 2714 6172

trop.gardens@

tropicanacorp.com.my

Office Hours:

9:00am – 5:30pm (Monday – Friday)

9:00am – 1:00pm (Saturday)

Closed (Sunday & Public Holiday)

TROPICANA

AMAN (CHERIA)

No 1 Jalan Aman Chria, Bandar

Tropicana Aman, 42500 Telok

Panglima Garang, Selangor

Darul Ehsan Malaysia

Tel: +603 8686 1088

Fax: +603 8686 1087

cheria@tropicanacorp.com.my

Office Hours:

9:00am – 5:30pm

(Monday – Friday)

9:00am – 1:00pm (Saturday)

Closed (Sunday & Public Holiday)

TROPICANA

DANGA BAY (TROPEZ)

G-03, Blok B, Tropez Residences

Persiaran Danga Perdana

80200 Johor Bahru, Johor

Tel: +607 2446 559

Fax: +607 2374 088

tropezmanagement@gmail.com

Office Hours:

9:00am – 5:30pm

(Monday – Friday)

9:00am – 1:00pm (Saturday)

Closed (Sunday & Public Holiday)

TROPICANA CHERAS

No 6, Jalan Tropicana Cheras 1

Taman Tropicana Cheras

43000 Kajang, Selangor

Tel: +6013 202 0746

tropicanacheras@

tropicanacorp.com.my

Office Hours:

9:00am – 5:30pm

(Monday – Friday)

9:00am – 1:00pm (Saturday)

Closed (Sunday & Public Holiday)

TROPICANA GARDENS

(CYPERUS & DIANTHUS)

Level 6, Residensi C

Tropicana Gardens

No 2A, Persiaran Surian

Tropican Indah

47810 Petaling Jaya, Selangor

Tel: +603 2714 6175

trop.gardens@

tropicanacorp.com.my

Office Hours:

9:00am – 5:30pm

(Monday – Friday)

9:00am – 1:00pm (Saturday)

Closed (Sunday & Public Holiday)

TROPICANA LANDMARK

Level 5, Tropicana Landmark

Lorong Kondo Bundusan

Off Jalan Bundusan

88300 Kota Kinabalu, Sabah

Tel: +6088 742 052

tropicanalandmark@gmail.com

Office Hours:

8:30am – 5:00pm (Monday – Friday)

8:30am – 12:30pm (Saturday)

Closed (Sunday & Public Holiday)

PROPERTY MANAGEMENT OFFICES

TROPICANA GARDENS MALL

(TROPICANA INDAH)

Level 3A, Tropicana Gardens Mall

No. 2A, Persiaran Surian, Tropicana

Indah

47810 Petaling Jaya

Selangor Darul Ehsan

Tel : +603 7763 8988

customerservice@

tropicanagardensmall.com.my

www.tropicanagardensmall.com.my

Office Hours: 9:00am – 6:00pm

(Monday – Friday)
---
GROCER & DEPARTMENTAL

STORE

Village Grocer

JONETZ by Don Don Donki

FOOD & BEVERAGE

Ah Yip Herbal Soup

Ainul Cookies & Co

Alice Kitchen

Asam Pedas Premier

Auntie Anne's

Ayam Penyet D'Kota

Bankara Ramen

Beard Papa's

Beauty In The Pot

Bee Cheng Hiang

Big Food Street

Boost Juice

Bungkus Kaw Kaw

Burger King

Chillax

Chizu

Cottle Coffee

Delay No More Crab Restaurant

De Irrfan's Cafe

D'Italiane

Dodo Dim Sum and Bowls

Dubai Food Gallery

Dubuyo

Dunkin' Donuts

Esquire Kitchen

Famous Amos

Fire Korean Restaurant

Gossip Cafe

Gong Cha

Grand Taipei *

Gula Cakery

Herb Valley

Hokkaido Bakery

Ilao Ilao

Juice Works

Kenny Rogers Roasters

Koong Woh Tong

Krispy Kreme

Liang Sandwich Bar

Little Penang Kafé

Madam Croffle *

Maison Des Pains

Meet Snacks Town

TROPICANA GARDENS MALL

Nyonya Cendol Café

Pak John Steamboat & BBQ

Park's Bagels

Rakuzen

Restaurant Extra Super Tanker

Royce'

Salad Atelier

Secret Recipe

Shang Guan Chi Tse

Seoulnami Korean BBQ *

Shu Guo Yin Xiang Hot Pot

Simple Life

Siong Tong Gai Restaurant

Sopoong

Squid Boy

Starbucks Reserve

Sukishi

Sushi Jiro & Yakitora

Sushi King

Sushi Zanmai

Taco Bell

Tealive

Tendon Kohaku

The Chicken Rice Shop

The Coffee Bean & Tea Leaf

The Travelling Duck

Truedan

Xiao Man's Dumpling

Yakitori Ebisu

Yogurt Cow

Yuan Lao Si Hot Pot

Zus Coffee Academy

FASHION

6ixty8ight

Adidas

Bebebutterfly

C By Camel Active *

Camel Active

D'Famous Optical *

DeFacto

Dr. Specs

Eightiin *

Extreme

Geox

H&M

HLA

Jac's Optometry

Joey'L

Levi's

Mimu

Mirrocle

Time Galerie

Mothercare,Gingersnaps&ELC

Ms. Read

Puma

Skechers

Sports Paragon

SportsDirect.com & USC

Vans

Xixili

OWN

Wings

HEALTH, BEAUTY & PERSONAL

CARE

Ascen+ Pharmacy

Brown Sugar Hair Salon

Curvena

Fitness Concept

LAC

Guardian

KENT, O'Care, D'Natural Beauty

House, Organic Hair Professional

Life Hot Yoga

Marina Skin Expert SG

Medic Deno *

Missy Nail

MST Golf X *

Nailed It Spa Services

Qi Odyssey

Restyle

Sasa

Skinz Sanctuary & Hair Over

Sothys

Synthesis Aesthetic

Thai Odyssey

The Face Shop

Top Passion

Venusde

Vogue Galere

Watsons

HOME & IT

Cuckoo

Daiso

HOCO

IT World

Mr. DIY, Mr. Dollar & Mr. Toy

Serta Mattress

SOFFURNI

TBM

Vivo Concept Store

Switch

LEISURE, EDUTAINMENT &

ENTERTAINMENT

BookXcess

Co-labs Coworking

EnerG X Park & Xctive Kidz*

Flow Academy

GSC

Invictus Forge

iMazing Realty

Kidzooona & Molly Fantasy

Kindyland

Laser Battle

Loud Speaker

Palo

Party Wonderland

Premier Card Grading *

The Entertainer

Toy World

Tribe Boxing Studio

SERVICES

7-Eleven

50's Barbershop *

Althea Vitality By Dandelion *

Cars International

Chiropractic First

Elite Cobbler *

Garden Scents Florist

i-Alter

iCare Dental

Mail Boxes Etc.

Mama Jo Launderette

My Clinic

MyHome Lock

Pet Lovers Centre

Plant Meets Art

* Opening soon

www.tropicanagardensmall.com.my

Tel: 6012–715 8988

Email: customerservice@tropicanagardensmall.com.my

No. 2A, Persiaran Surian, Tropicana Indah, 47810 Petaling Jaya, Selangor

FOOD & BEVERAGES

Twenty7 Restaurant

The Palm Coffee House

Gin Shui Tei Japanese Restaurant

Spring Garden Chinese Restaurant

QingHeGu Korean Traditional

Restaurant

Jojo's Italian Restaurant

Poolside Cafe

TROPICANA GOLF & COUNTRY RESORT

BEAUTY & WELLNESS

Thai Odyssey Spa & Massage

Eco Hair Salon

RETAIL SHOPS

MST Golf Pro Shop

De Manshop

OTHERS

The Green House Florist

Alam Convenient Store

Tropicana Clinic

Kindyland Tropicana

Banquet & Seminar Facilities

Tropicana Sales Gallery

Havana & Glamour

SPORTS

Bowling Alley

Driving Range

Tennis

Table Tennis

Squash

Badminton

Golf

tropicanagolf.com

Tel: 603 7804 8888

Email: gm@tropicanagolf.com

Jalan Kelab Tropicana, 47410 Petaling Jaya, Selangor Darul Ehsan
---
SPECIALISED SERVICE CENTRE EXCLUSIVELY FOR

MERCEDES-BENZ, BMW AND AUDI CAR OWNERS

AT KOTA DAMANSARA

We provide a full range of fixed-price services, each performed in a structured series

of operating procedures to ensure faster and more efficient performance servicing;

especially for Mercedes-Benz, BMW and AUDI car owners whose car warranties have expired

LIST OF SERVICES

Lubrication & Maintenance Service

Air Cond Service and Maintenance

Programming and Adaptation using latest STAR Diagnostic Compact 4 and BMW

ISID Diagnostic Tester

Computer and Electronic Programming complete with SCN Coding

Suspension System

Engine and Automatic Transmission Overhauling

Braking System ABS/ETS/ASR/SBC/ABR

Hydraulic and Pneumatic Suspension System

Prominent Autotech Sdn Bhd

No 8-E, Jalan Teknologi, Pusat Teknologi Sunsuria

Kota Damansara PJU 5, 47810 Petaling Jaya Selangor

Tel: +603-6151 5369 / +603-6151 8369

Fax: +603-6150 5369

Email: enquiry@prominentautotech.com.my

OPERATING HOURS

Monday to Friday, 8.30am - 5.30pm

Saturday, 8.30am - 3pm

Closed on Sunday and Public Holidays

www.prominentautotech.com.my

prominentautotech
---
"Everyone able to Talk

But nobody want to Listen"

Let

Synthesis

listen to your skin

ORDER NOW!

Formulated in

Switzerland

Synthesis Aesthetic

Synthesis_Aesthetic

Established Since

2008